Air New Zealand and United Airlines trip report. WLG-AKL-LAX-ORD-DTW and DTW-DEN-SFO-AKL-WLG.
Each year NZ have a sale for early bird flights to the USA, Canada, UK and Europe. This year as part of their sale NZ was offering free Koru Club membership ranging from 2 – 6 months depending on what class you booked. I booked Y+ so I was given 4 months free membership plus I also managed to secure a REALLY fantastic deal on the USA domestic flights at the same time, so naturally I was really happy.
It was finally time to make my yearly trip to the USA to visit friends who I now consider as Family in Michigan. After a busy day finishing off packing, getting my cars service and WOF done, helping my sister move flat and getting some final things at the supermarket thats on my packing list it was time to wait for my ride to the airport to begin the long journey back to Michigan.
After arriving at WLG it was a direct line to the Koru Club/Business class/Star Gold check-in desk. After waiting around 5 mins it was my turn to check-in and after sorting out some problems with my USA domesic flights it was time to proceed to the Travelex counters to purchase some more USA currency. Like many currencys around the World, the US dollar was having a very rocky week with constant ups and down, but no side to sides. After getting slightly less then I expected I was off to the Air New Zealand Koru Club lounge to enjoy some quiet time till my flight was called
Airline: Air New Zealand
Aircraft: Boeing 737-300
Rego: ZK-NGF
Seat: 6F
Class: Economy
Flight: NZ486
STD/ATD and STA/ATA: 5pm/5pm and 6pm/5.50pm
Route: WLG-AKL
View Large
View Medium


Photo © Gabriel Savit - AirTeamImages
Boarding was called and it was time to go. After clearning secuirty, it was a direct walk to the gate agent to board the aircraft. Once on board it was a nice to be greated by a nice warm aircraft. After waiting a few minutes for others in front of me to take their seats, I quickly got to my assigned seat. A few minutes later and the doors were closed and the announcement came that the doors were now closed and all electronic equipment is now required to be switched off. Push back started and NZs very own domestic safety video started playing. If you havn't seen the video, then here is the link to it on YouTube
http://www.youtube.com/watch?v=7-Mq9HAE62Y
While taxing to the runway the weather in Wellington certainly hadn't cleared up so I wasn't going to miss the constant rain that we've been having. Once rumbling down the runway towards Cook Strait it was a quick launch into the very overcast skies and up into the fog/clouds and then a nice sight greeted us....sunny skies! After about 10 minutes an announcement came that a snack service will be provided with free water/tea/coffee. Since it was a weekend flight, Koru Hour isn't served. Koru Hour is served between 4-6pm on weekdays with free beer, wine, soft drinks and several snack options, so todays offering was dried fruit, biscuits and fruit bar. I decided to have the dried fruit and water. This flight was a very uneventful flight apart from some very nice bumps just north of Wellington. Around 5.40pm the FA's came around and started clearing the rubbish before taking their seats. One thing I quickly noticed was that no one came around offering the airlines famous lollies. I've noticed recently on several main trunk domestic flights on NZ that the lollies arn't being given out. Once landed it was a short taxi to the gate. After disembarking the rain in Auckland had stopped so I decided to walk between the terminals which takes around 8-10mins.
Once inside the International terminal after a nice walk from the Domestic terminal it was straight to the Premium check-in areas which has had a make over this year. One of the new features is a private lift that takes Premium customers to the dedicated Customs booth up stairs and a quick short cut to the secuirty check point. Once cleared secuirty I headed to the International Koru Club which is located in a private area of the terminal which makes for a nice quiet stroll to the club. Once inside the only things playing on the TV screens was the Auckland Warriers Vs Melbourne in an NRL game, followed shortly afterwards with the All Blacks Vs South Africa in Wellington (which I will happily add, new Zealand thrashed South Africa  ). After getting a snack and a drink I found a quiet spot away from everything and relaxed for two hours. Boarding was scheduled to begin at 8.50pm but was pushed back to 9pm due to the popularity of the All Blacks Vs South Africa game to allow customers to get an idea of who was going to win. Guess Air New Zealand and customers are really rugby crazy!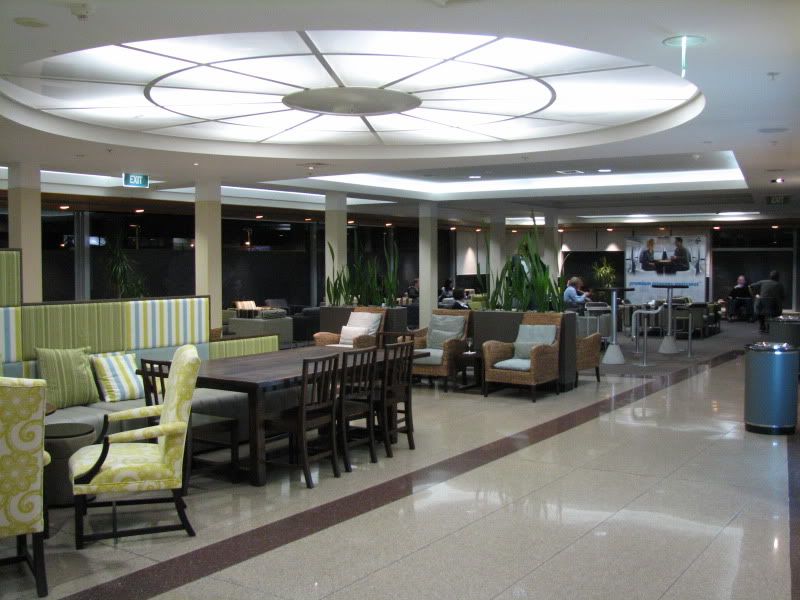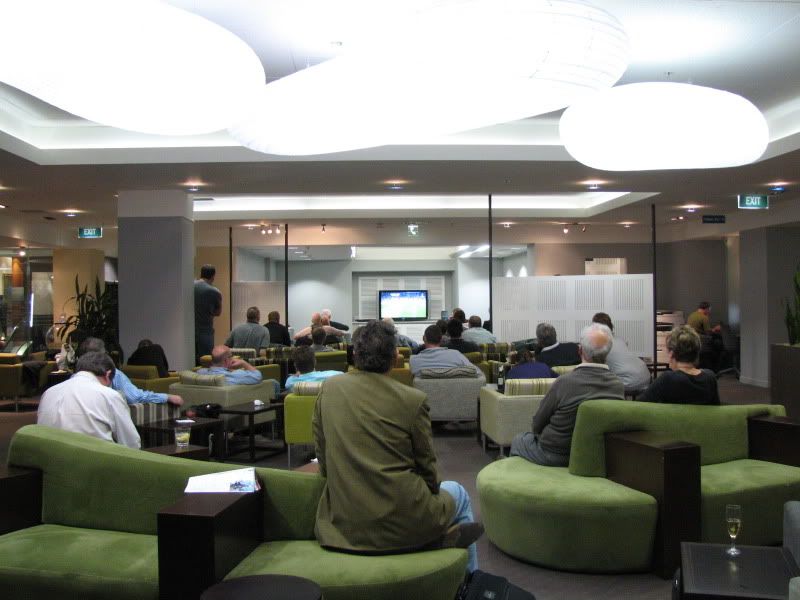 watching the rugby
Boarding was called and a mass exit of the Koru Club began with the next stop being an extra secuirty check point
Airline: Air New Zealand
Aircraft: Boeing 747-400
Rego: ZK-SUJ (City of Auckland)
Seat: 2A
Class: Business
Flight: NZ2
STD/ATD and STA/ATA: 9.30pm/9.35pm and 2.30pm/2.40pm
Route: AKL-LAX
View Large
View Medium


Photo © Sarmad Al-Khozaie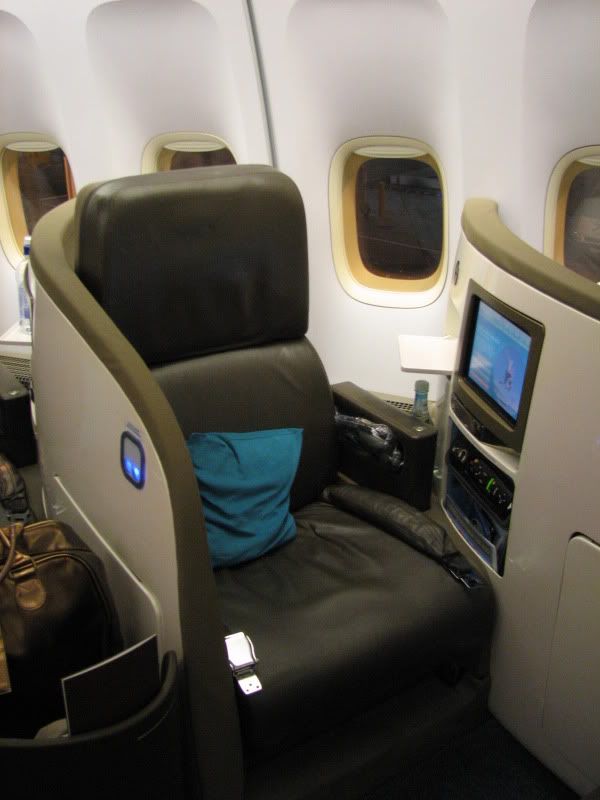 Being one of the first Business Class passengers on board allowed a good conversation with one off Business FA's called Pete. Pete informed me that the loads today were good for business class passengers but bad for premium economy and economy passengers. Business Class was around 45% full, Premium Economy was 90% full and Economy was roughly 98% full. In the front cabin of Business there were only 5 other passengers so this section basically became a personal Limo.
Pete handed out everyones drinks and afterwards spent time with each passenger talking and explaining how the seat functions work. The doors were finally closed shortly before 9.30pm and push back was at 9.34pm. Take off was to the East towards South Auckland and we turned North shortly afterwards to cross over the Pacific. During the first 30mins of flight the Turbulance was moderate and shortly afterwards the Dinner service began.
Tonights Dinner was:
Starter – Vanilla poached Salmon with cherry tomato with endive salad and dill creme fraiche with Garlic bread.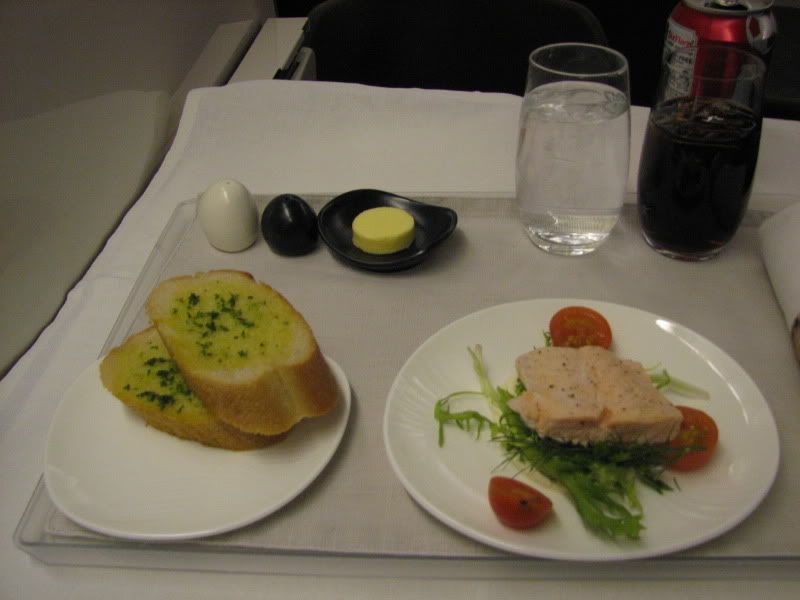 Main: I decided to have the New Zealand Snapper on yuzu braised fennel with potatoes, green beans and red pepper, caper and macadamia salsa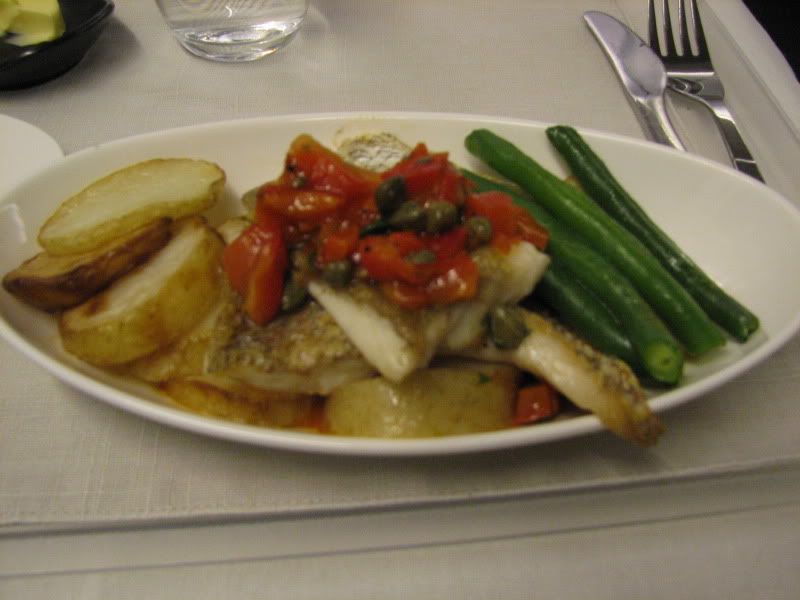 Dessert: White chocolate raspberry ice cream and hokey pokey ice cream with chocolate almond wafer and dessert wine.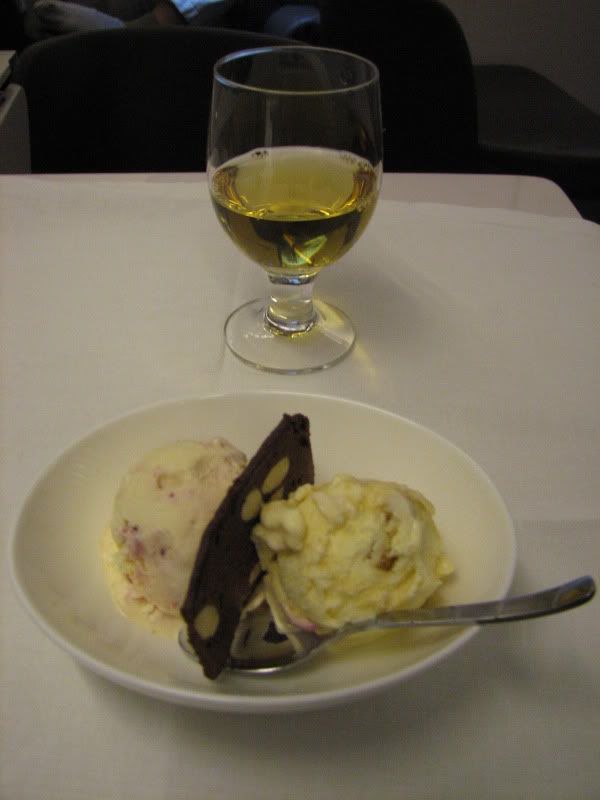 The empty dinner plates were quickly removed after each passenger was finished and the FA's came around and made our beds for us.
After getting around 6 hours sleep it was time for another hot towel and morning drinks came around. The choice for breakfast this morning was:
Morning advice: Fruit smoothie, juice, tea, coffee, herbal tea or hot chocolate.
Light breakfast: Bowl of museli with greek style yoghurt and fresh fruit
OR
Full breakfast: Fruit and cerials followed by a hot bakery selection and a hot breakfast
Bakery: Croissants, muffins, Vogel's, brioche or fruit toast served with fruit conserve
Hot Breakfast: Cheddar and chive scrambled egg with chicken sausage, mushroom ragout and roasted cherry tomatoes
OR
Cinnamon spiced toast with fresh orange marmalade and mascarpone cream.
As I wasn't really hungry I decided to have the Light breakfast option and a cup of tea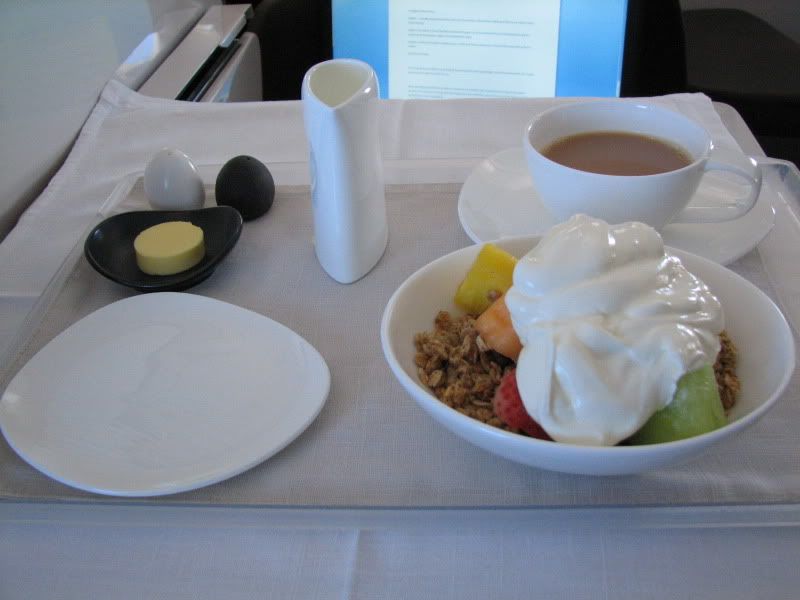 Paula (an FA) came around each seat and made the tables before Pete and Peter came around with the options of the light breakfast or the full breakfast and drinks.
After breakfast was over the FA's came around to ask if there was anything else they could do or get for me. I requested another fruit smoothie was which swiftly given to me. After breakfast was all cleared up the FA's started perparing the galley for landing and I continued watching movies. Around 30mins later the pilot come on over the PA and announced the weather in LA and the landing route we will be taking. The weather was a very nice 25 degrees with a light sea breeze which certainly helped to keep the heat down. Our landing route would take us slightly beside Katalina Island where we made a right turn and past over Long Beach while heading further inland before turning around to line up the runway. We landed on the runway beside T1, T2 and T3. Taxi took around 5mins compared to the normal 10mins when landing on the other runway beside the UA, CO and DL terminals. Arrival into the gate was via the normal tug which didn't require a long wait for. After disembarking Customs only took 10mins which is always nice but with a long lay over ahead of me, I was really wishing that NZ2 was delayed.
After spending 9 hours in LAX and relaxing at the park beside the In N Out bar and several hours in the United Red Carpet Club it was time to depart to Chicago for the red eye flight. The United Red carpet clubs IMHO is a nice place to spend time away from the normal crowds, surf the internet using Wi-fi and spend time writing this report. The food wasn't impressive. All that was on offer was small pieces of cheese, nuts, celery, and tomatoes. Drinks were a little better with the bar ($5 beers but not sure how much for wines) and a coffee vending machine.
Airline: United Airlines
Aircraft: Boeing 767-300 (International version)
Rego: N646UA
Seat: 22J
Class: Economy
Flight: UA66
STD/ATD and STA/ATA: 11.10pm/11.08pm and 5.15am/4.45am
Route: LAX-ORD
View Large
View Medium


Photo © Oliver Brunke
Once boarding had started it became obvious that this red-eye was going to be 100% full with the FA's frequently announcing on the PA that every bit of overhead space will need to be fairly used and if your travelling with two bags then the smaller one needs to be under your seat. Considering the problems the crew had with finding overhead space the flight managed to depart on time which is a big credit to the crew. Push back happened fairly quickly afterwards and we were pushed all the way to the taxiway before departing under our own power. After a quick taxi to the runway we had a rolling run take off and quickly was rumbling into the clear LA skies. The condition of this aircraft was certainly starting to show on the inside and the paint is certainly in need of a refresh. Around 10mins later an announcement came with tonights beverage/snack for purchase service. I passed on the drinks service and tried to get some sleep. Around 1 hour later I still didn't have any luck with sleeping so resorted to watching the inflight movie and ordered a drink, which the FA quickly responded to. This flight was very uneventful which is most likly good considering its a night time flight. After watching the movie and several shows of 'Gary unmarried' the pilot came on with our arrival information into ORD and shortly afterwards the bright lights of Chicago appeared on my side. Landing was quick and a short taxi to the terminal ended up in a long wait to disembark due to the full flight.
My next flight was departing from concourse F which resulted in a very long walk to the next departure gate. Its always nice to walk throu the tunnel that connects both United concourses because of the very bright LED lights on both the roof and the walls which makes for a nice calm area.
Airline: United Airlines
Aircraft: ERJ145
Rego: N10575
Seat: 2A
Class: Economy
Flight: UA5812
STD/ATD and STA/ATA: 7.23am/7.23am and 9.36am/9.30am
Route: ORD-DTW
View Large
View Medium


Photo © Jeffrey S. DeVore
Before boarding was called for the Detroit flight it was announced boarding for three other flights would also happen in the same gate area around the same time. The Detroit flight was called first. I was the first to board and the gate agent allowed me to enter the gate bridge but another gate agent obviously failed to hear boarding was starting or there was a total break down in communication as when I was half way down the bridge the other gate agent screamed at me to stop. When the other agent told her I was boarding, she never apologised. Once on board the ERJ145, the interior really strikes you as a welcoming and spacious interior with the leather seats and 1-2 seating layout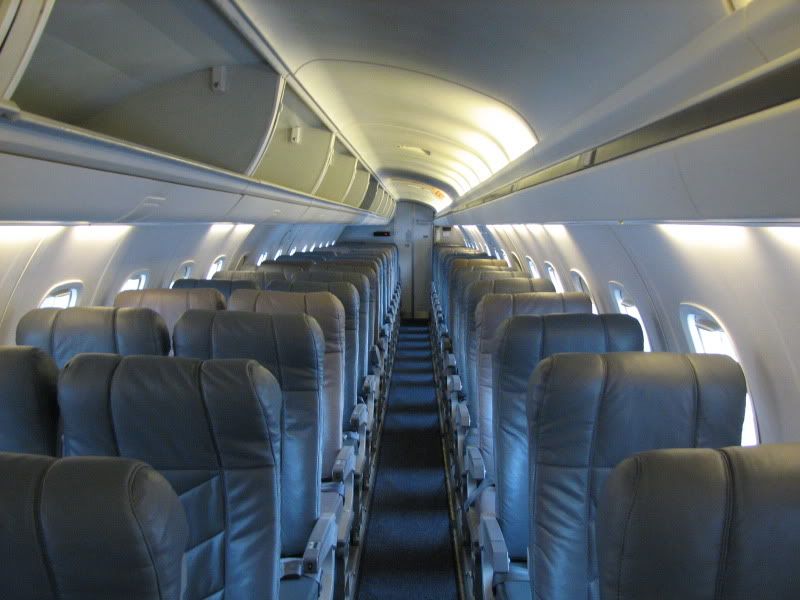 Once seated, the other passengers quickly boarded. Todays flight had 10 spare seats. The doors were quickly closed and a quick safety demo was performed by the sole FA. Push back was quick followed by a long taxi to the runway on the other side of the airport with a take off towards the south. About 10mins after take off the FA announced that todays service will only be a water service due to the length of todays flight. After the FA finished the short service she went back to the galley and prepared the galley for the rubbish round before going to sit back down in the FA chair. Around 30mins before landing the FA came round on the rubbish round before sitting back down and announcing everyone to please turn off all electronic equipment, put their tray tables back and put their seats upright.
Final impressions:
Air New Zealand – Check-in was very helpful with my booking problems and quickly solved the problem. Koru Clubs were kept in an excellent condition and were well stocked with snacks, meals and drinks. On-board service was excellent with a good personal service feel. The FA's and In-flight Concierge were very helpful with every request. Meal service was well presented. Final rating 10/10
United Airlines – No experience with check-in as my bags were already checked to my final destination. Red Carpet Clubs were a disappointment in terms of food/drinks selections by the quiet environment was excellent. In-flight service wasn't much due to the red-eye flight and the short ORD-DTW flight. The very rude gate agent and obvious severe breakdown in communication really ruined United's final rating for this first half sectors. Final rating 5/10