The Jumbo of The North – UK Domestic - BA 747 LHR-NCL
Why aye man! This is a report from my recent trip on the BA 747 from London to Newcastle, which quite a few fellow a.net members took (and I'm sure I won't be the only one to report this trip) This report is about my flight on the 747 from London and my return to London from Edinburgh onboard BA Cityflyer.
B A C K G R O U N D
When I found out from a fellow a.nutter, bmiflyer, that BA would be using a 747 as a one off special on their LHR-NCL-LHR route to celebrate Newcastle airports 75th anniversary, I instantly had to book it, the chance to fly a 747 on a domestic flight, would be a silly opportunity to miss and certainly a much welcomed change to the normal A319/20/21's that do the BA domestic runs. Even better the fare was just £50 one-way. (£30 from NCL-LHR) Having flown on only 2 747's in the past (VS examples LHR-SFO-LHR) and that was 8 years ago, I hardly had any memory of what they were like to fly on, so again it would be almost like a new experience for me and it would also be my first time visiting the 'Toon'.
I managed to secure a day off work then went ahead and booked. I would be flying the LHR-NCL leg of this flight, as this was a lot more convenient for me, living just a few miles from LHR. However, most people on here would be flying the NCL-LHR leg. After speaking with good friend and fellow member Pawsleykat, he booked up and would be flying the LHR-NCL leg with me, before flying back to LHR on the 747.
T H E T R I P
Twenty-four hours prior to departure I checked in online and chose my seat for the flight. I had been allocated 46K, up the back in the World Traveller cabin. There were no other window seats available to select, but this suited me fine. There were a few seats available in the World Traveller Plus cabin but these were middle seats. First and Club World cabins were not open for my leg of the flight but, however, I know Club World was opened for its return flight to London. I also tried to check in for my flight from EDI later in the day and I kept getting an error message. I tried to use the BA iPhone app and got the same message. I know airbuseric had issues with BA online check in also.
Error message from the iPhone app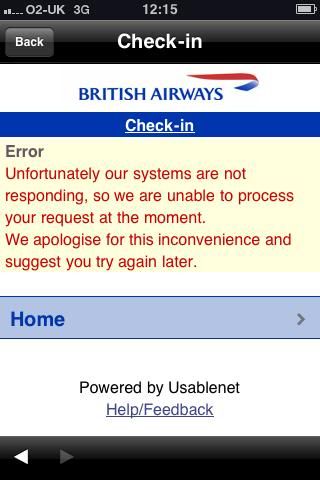 The next morning I had set my alarm for 7am, but I had woken up at about 6:30. I jumped in the shower and did the usual before having a cup of tea (I can't start the day without one). I was ready to leave the house at 7.40. Luckily for me, both my parents were on a day off from work so my Dad drove me the short 10 minute drive along the M25 to Terminal 5. Just before I was about to leave, Jordan had text me to say he had just arrived at Feltham train station, where he would catch the Bus to Heathrow Central Bus station located at T1,2 and 3, then take the Heathrow Express train to T5, where we had arranged to meet at 8am.
The journey to LHR involved traversing 3 junctions of the M25 motorway, the bain of the motorway commuter's life, often referred to Europe's largest car park, but today was an exception to that rule and it was surprisingly fast flowing at this time of the morning. I arrived at the still fresh and new looking Terminal 5 just shy of 20 minutes later, where I called Jordan, who was just exiting the train station a few floors below me. We then met outside the entrance to Zone A and had a smoke before going inside to print our boarding passes from the self serve kiosks, this was all done very easily, as always when using these machines in T5. I also tried to print and change my seat for my flight later on that evening from EDI-LCY as I had problems the night before, and these problems were still happening, with the same error message.
Next stop was clearing security checkpoint. As with all domestic flights departing LHR, my photo was taken, to then be verified at the boarding gate against my boarding pass, then we passed trough for screening. I didn't bother counting how many lanes there were but there was certainly more than the last time I passed through. We were guided down to lane 4 where we joined the relatively short queue and we were both called forward within a few minutes.
I passed through the metal detector no problems, but my bag was put to one side for further screening. I had to wait 10 minutes before my bag was searched, no apologies for waiting, but the member of staff was too nice for me to complain. We both engaged in a little conversation, she was nice enough. She then made a joke about the person before me leaving all their rubbish all over the table. Turns out I made a schoolboy error. Note to self: Check/empty bag of all items before using again!!! I had left a bottle of sun screen in my bag from my day at the Farnborough Air show, DOH! That was mildly embarrassing after telling the member of staff I had no liquids in my bag. Whilst she was searching through my bag, a French lady kept rudely interrupting our conversation and was basically asking to jump the queue for her bag to be searched as she had a flight to catch, don't we all love!
Terminal view just past security check point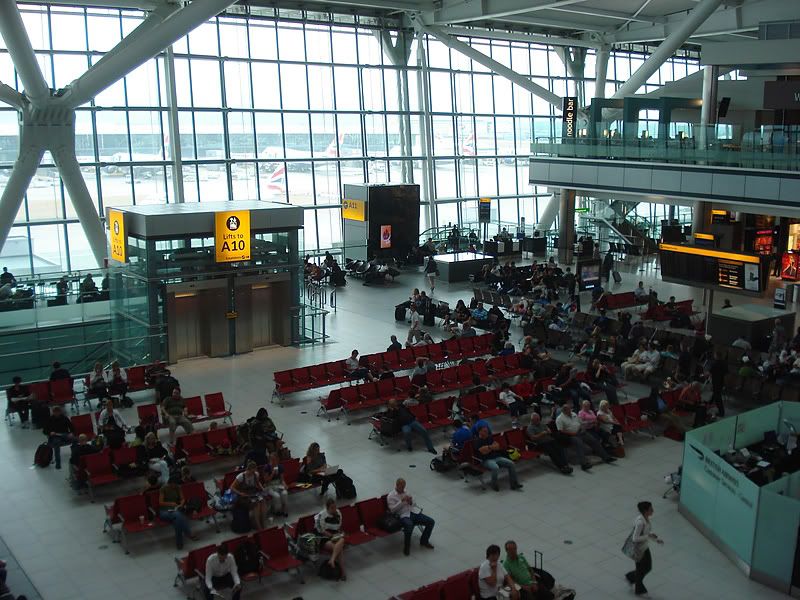 After my case of embarrassment Jordan and I had a wander around the terminal. I needed some cash so I found an ATM and withdrew 40 notes, should keep me going for the day.
We then made our way down to the main departures level where the majority of shops and eateries are located. I splashed out and went the whole hog and bought a Cheese and Ham croissant from EAT which was actually rather nice, one to remember for next time. Then we had about half an hour until our gate would be announced on screen so we did some more wandering around.
Terminal views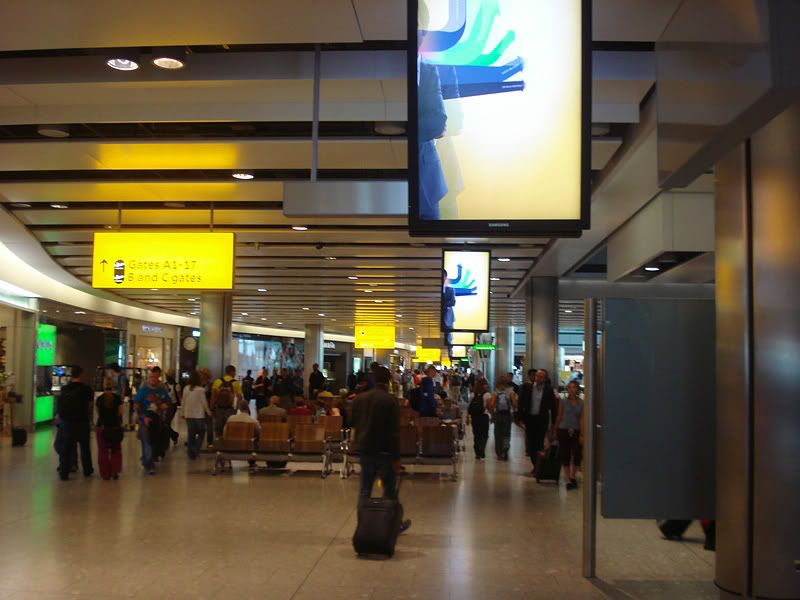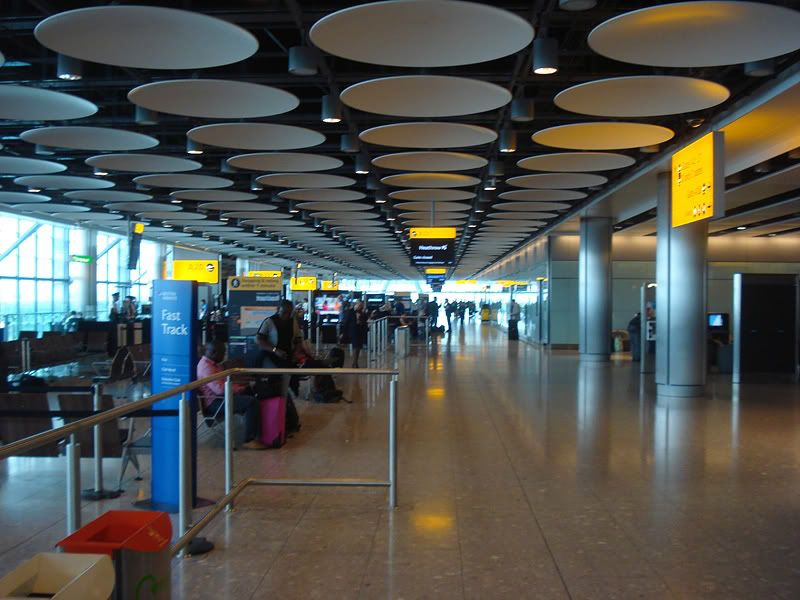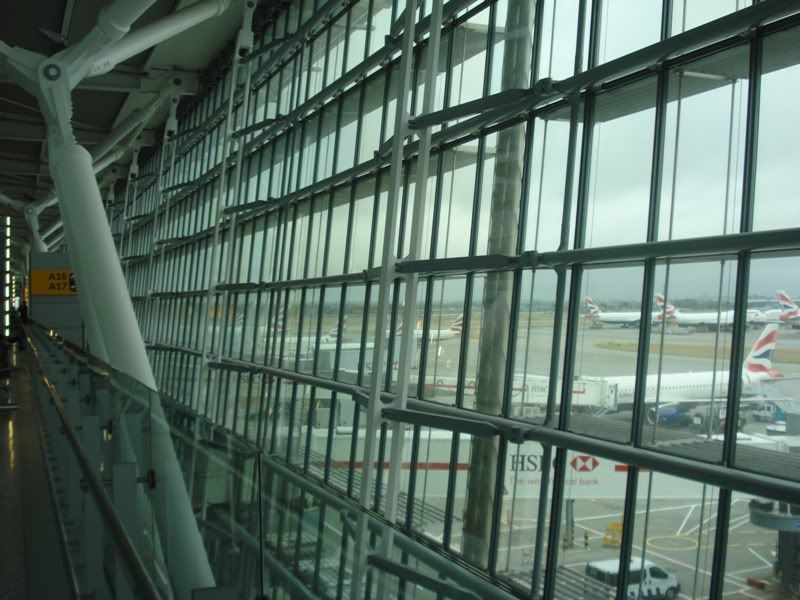 We had figured that we would be departing from either the B gates or remote stand as there were no stands free on the main building capable of handling a 747.
Date: 26/07/2010
Route: LHR-NCL
Flight: BA1326
Aircraft: Boeing 747-400 (3rd flight on Boeing 747-400 and 1st flight on this aircraft)
Reg: G-CIVI
Seat: 46K
Scheduled Departure Time: 10:00
Actual Departure Time: 10:26
Scheduled Arrival Time: 11:10
Actual Arrival Time: 11:11
G-CIVI is one of 50 Boeing 747-400 in the BA fleet as was delivered brand new to the airline in May 1996.
Departure Screens
A glance at the departure screens revealed that A4 would be our designated departure gate today, a bussing gate located on the North side of the building. When were got there, there were a few people milling around, a small sign was there that said "Please do not go to gate until your flight shows as boarding" A lot of people had ignored this messaged and proceeded down the escalator to the gate, we then decided to be rebels and do the same.
View from gate entrance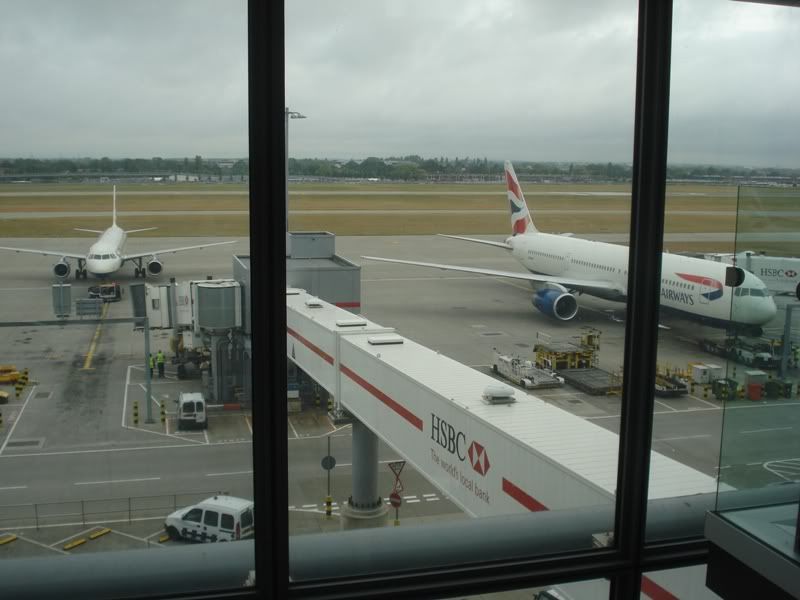 Literally about a minute after getting downstairs, a voice came over the speakers and announced boarding. He told us not to be alarmed when we arrived at the aircraft, as the flight WAS indeed scheduled to be a 747. We piled onto the bus and soon were traversing length and breath of the T5 building before diving underground to the gutter of T5
Bus Journey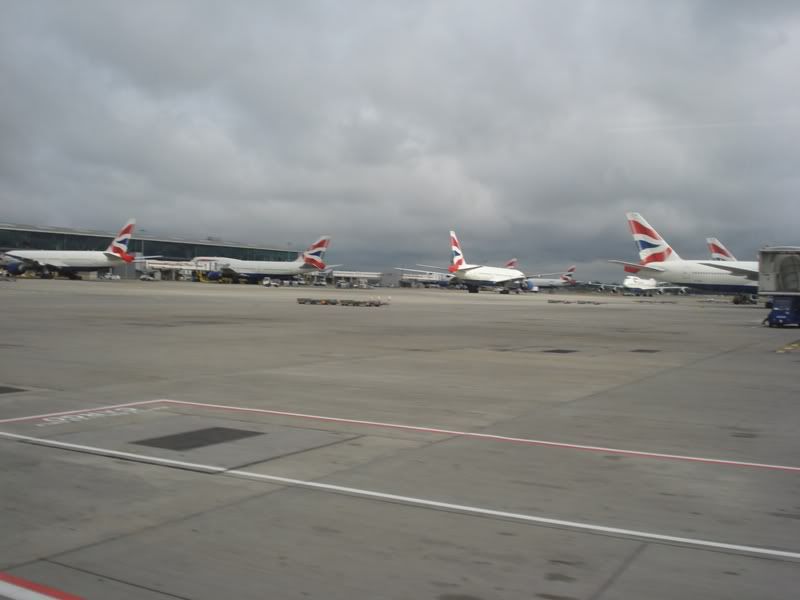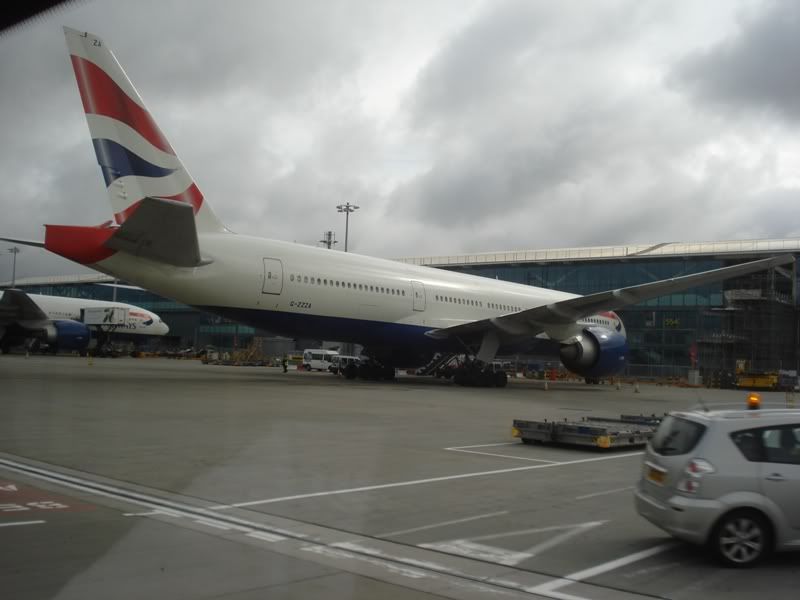 We emerged a short while later at the C gates, currently being built, mostly for A380 I believe. Just 2 747's were visible right at the far end of the building, I had thought BA would be putting us on one of their oneworld logo jets, as this event was bound to get some publicity and this would only add free advertising for BA and oneworld. This thought had become true, as we edged closer I saw our aircraft, G-CIVI; a 14 year old jumbo and one of 7 BA 747's painted in the oneworld alliance scheme, hiding behind another 747.
Our ride hiding behind another 747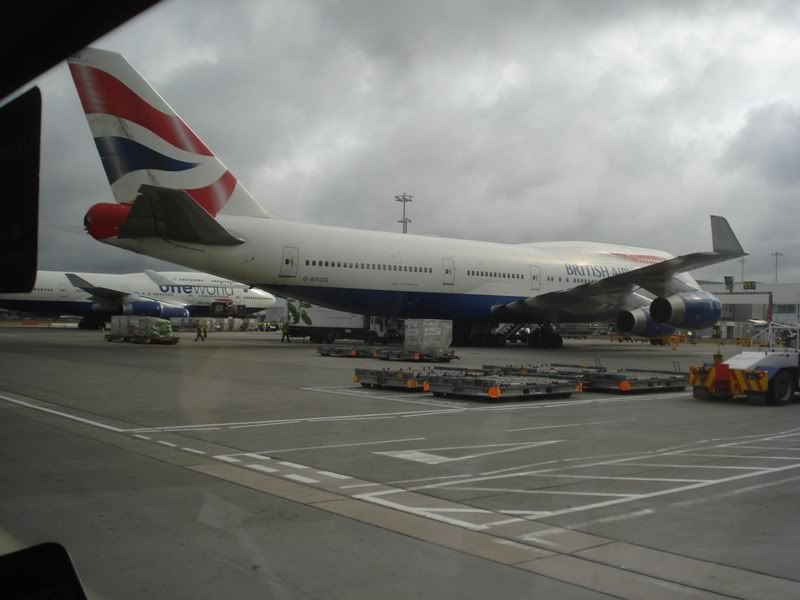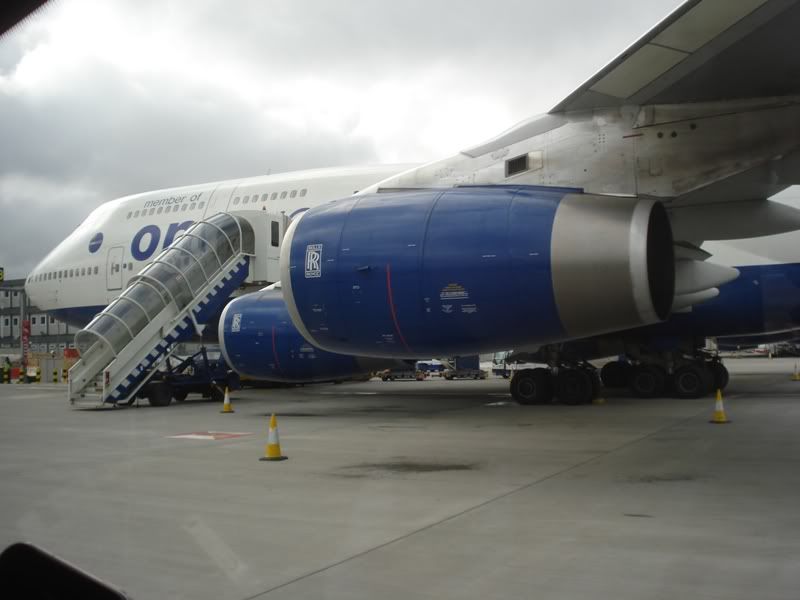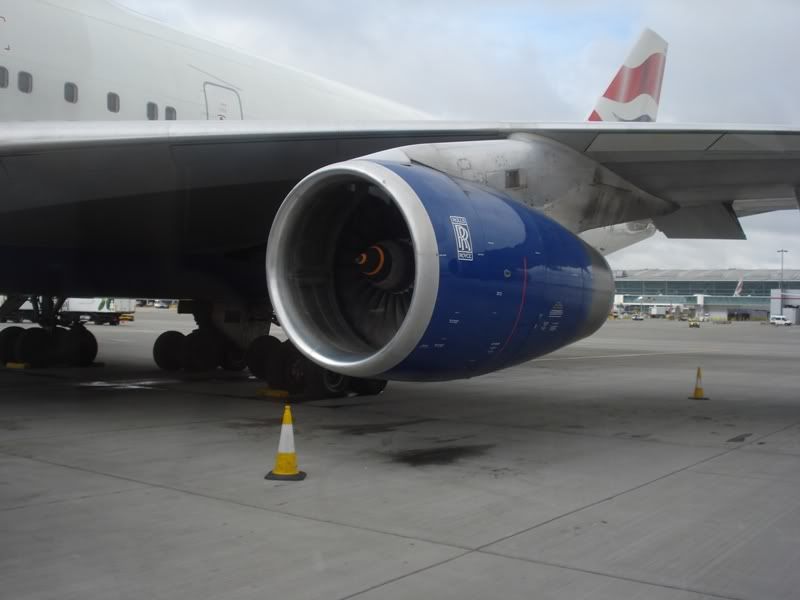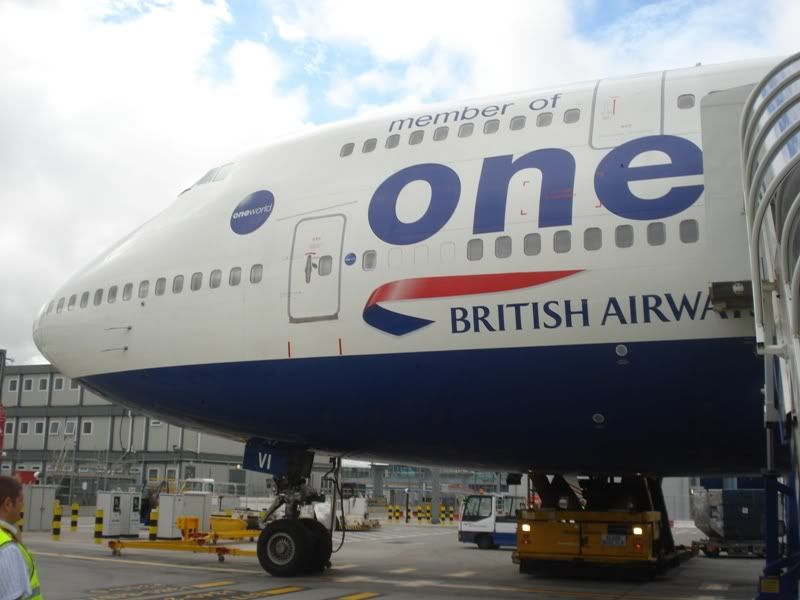 We pulled up along side the jumbo and were then let out of the bus to board. I'm normally used to a big scrum when leaving by bus to board, but there was none of that today and it was nice to board such a big aircraft by stairs for a change. Standing at the bottom of the stairs was one of the crew directing us up the stairs, not sure where else we might have wanted to go? Once at the top there were 2 members of the crew checking boarding passes and directing us passengers. I was directed "over the other side and straight down, sir". I passed through the 2nd Club World cabin, which did look very nice, through World Traveller Plus, then finally to World Traveller, where my seat, 46K was located, roughly in the middle of the rear part of the cabin. Jordan was sitting 7 rows ahead of me in the bulkhead row.
Club World cabin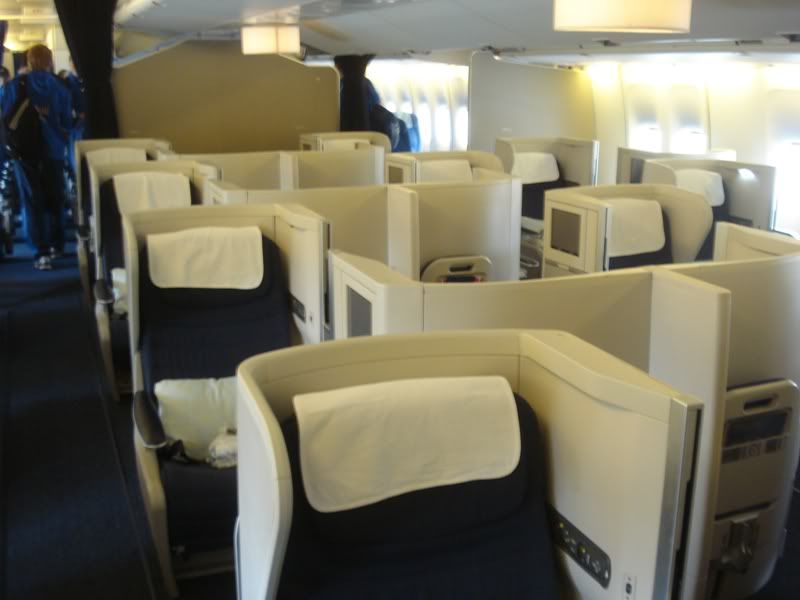 First impressions were good; seats looked comfortable and were laid out with Pillows, Blankets, and headsets, not quite what I was expecting for a domestic flight. The seats were indeed very comfortable and I liked the way the headrests folded down each side, I could see them being comfortable for sleeping on a long haul. However, legroom was nothing to write home about. I found it a bit cramped myself and I'm not exactly the tallest person in the world, even more so when I had a seatmate turn up. I certainly wouldn't fancy flying to say LAX or HKG in BA Y, especially if someone was seated next to me. I remember from flying on VS the legroom was better, not miles more room but definitely less cramped.
Legroom shot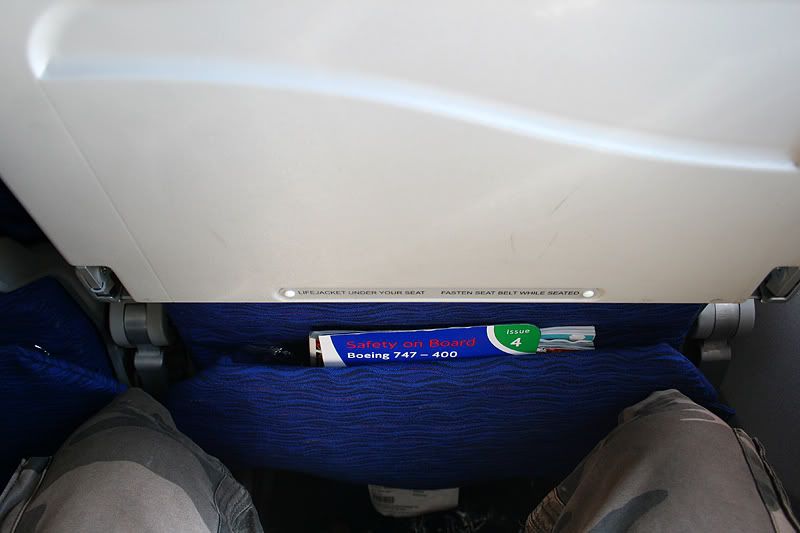 The flight soon filled and was very busy, but there were quite a few seats free in the middle section, cabin crew actively asked people to more for a bit more comfort and space. The lady seated on the aisle in my row moved to the row behind and the man sitting next to me, even when asked by the crew to move, did so reluctantly. I don't think he quite understood. He eventually did move to the aisle, freeing up a bit more space for us both.
Window view – C gates under construction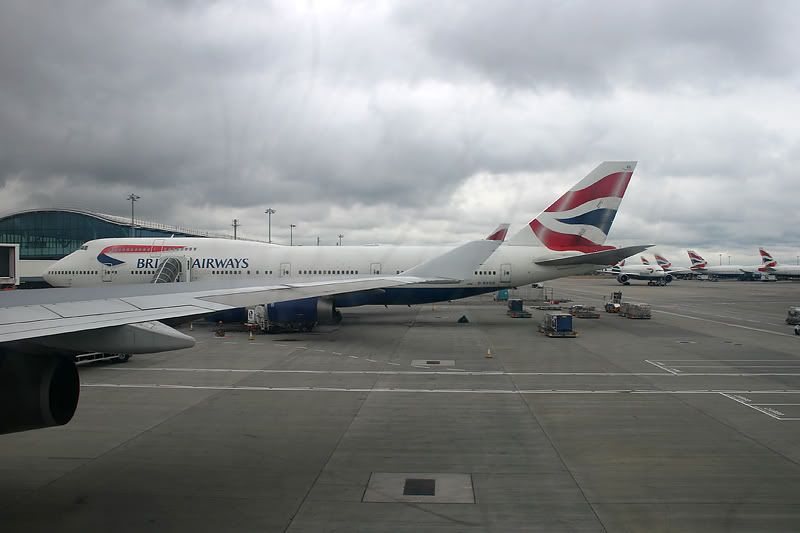 Once everyone was onboard we had an announcement from the captain explaining the reason we were flying a 747 today and he then wished Newcastle Airport a happy birthday. Flight routing was also explained; Flying north over Northampton, Nottingham and Leeds before flying over the Pennines then we would make a right turn and fly out over the North Sea before turning back for a Westerly approach into Newcastle. Flight time was advised as 50 minutes, but he hoped some ATC co-operation might bring that down. Push back from stand 558 was at 10:00 and the crew performed a manual safety demo, they did look a bit unsure at times.
Various scenes of LHR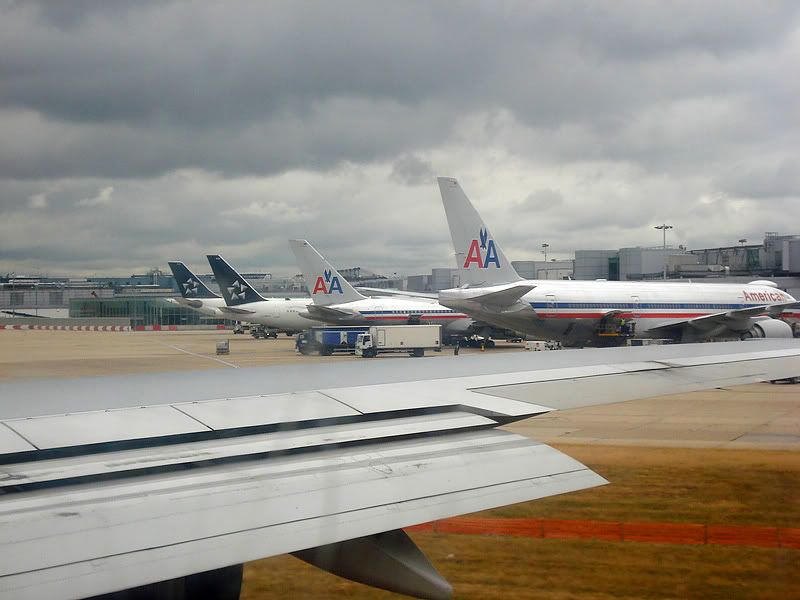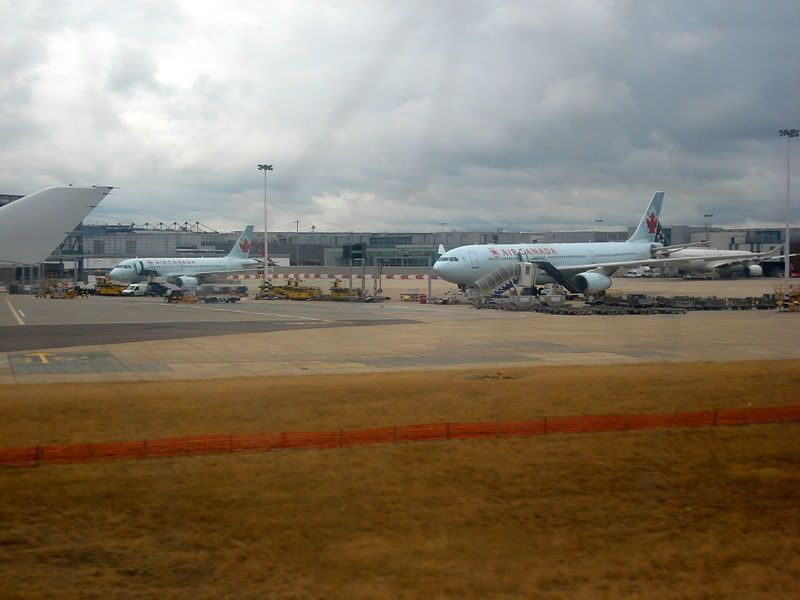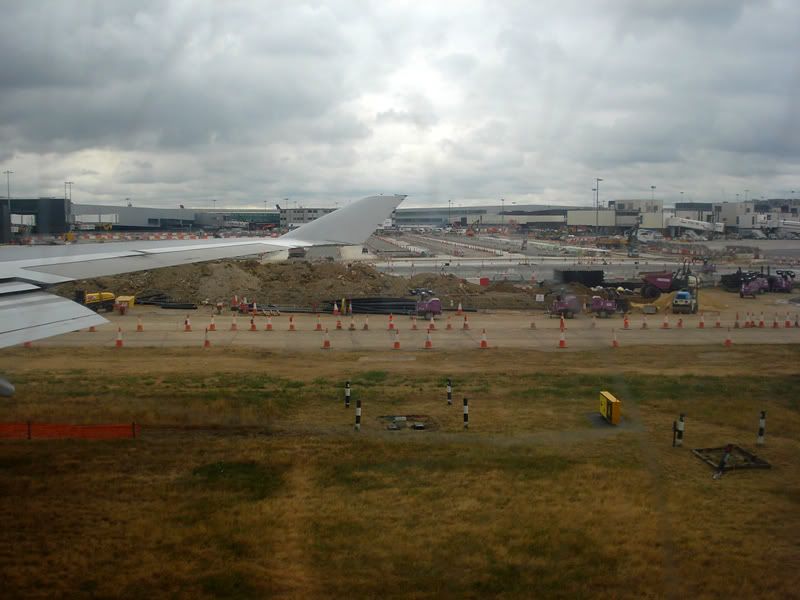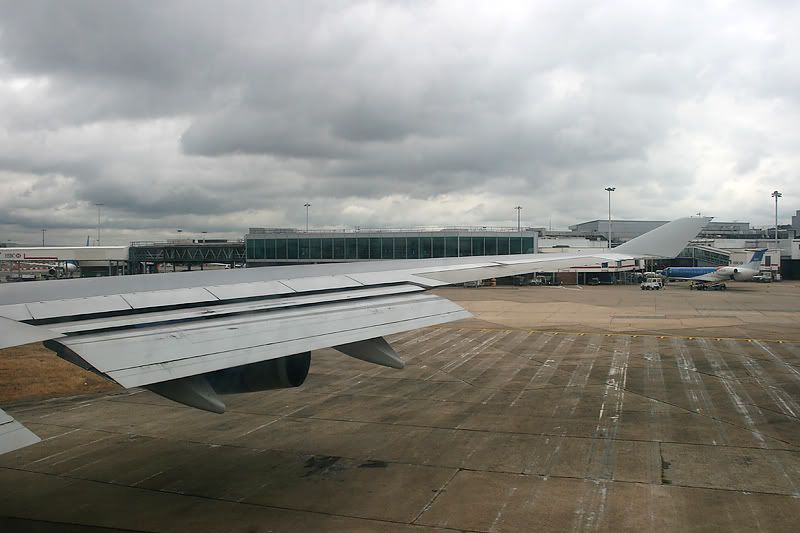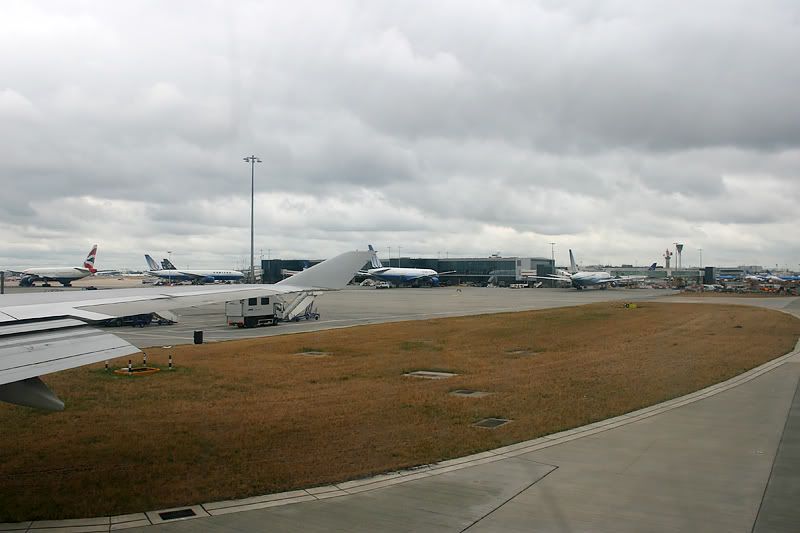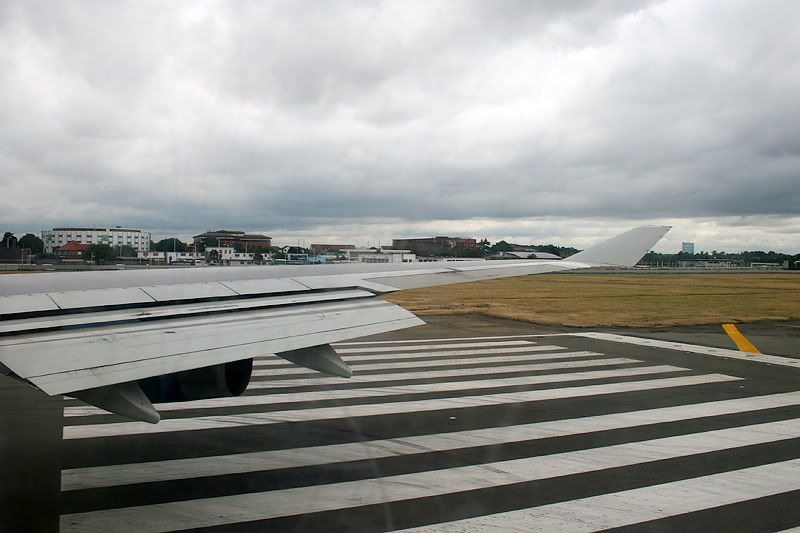 After a 25 minute taxi along the side of 27R and snaking in and out for the various Terminal 2A building works happening around the T1 area we taxied onto the 27R and the 4 Rollers under the wing sprung into full power, rocketing us down the runway and we were soon in the air.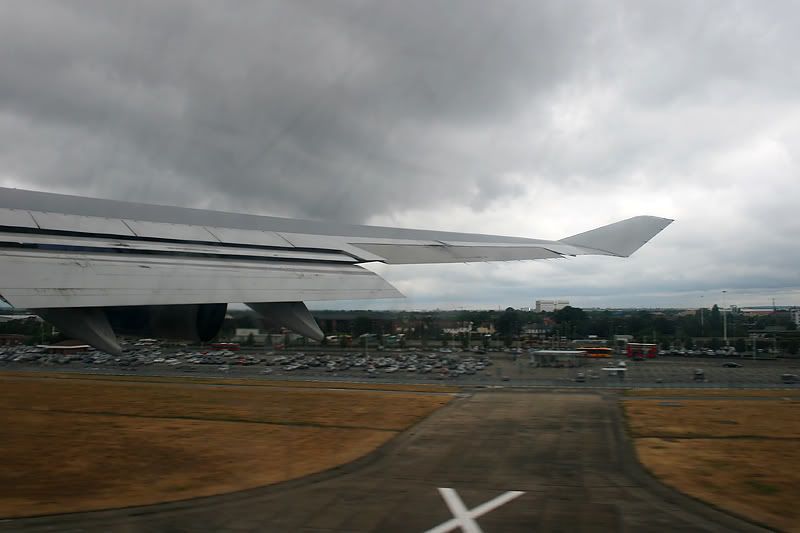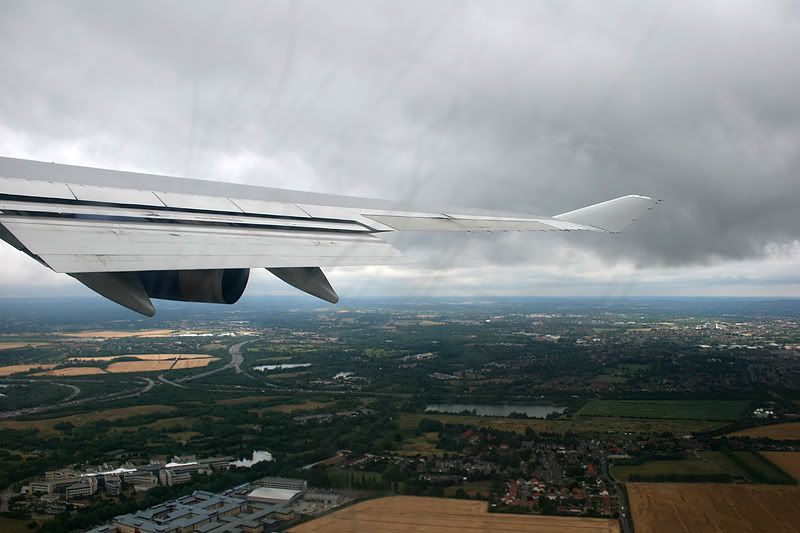 The crew then announced that they would be shortly passing through the cabin with a bar service. Crew were pleasant and friendly but we didn't see too much of them on this short flight.
My window was very scratched so photos were not that great.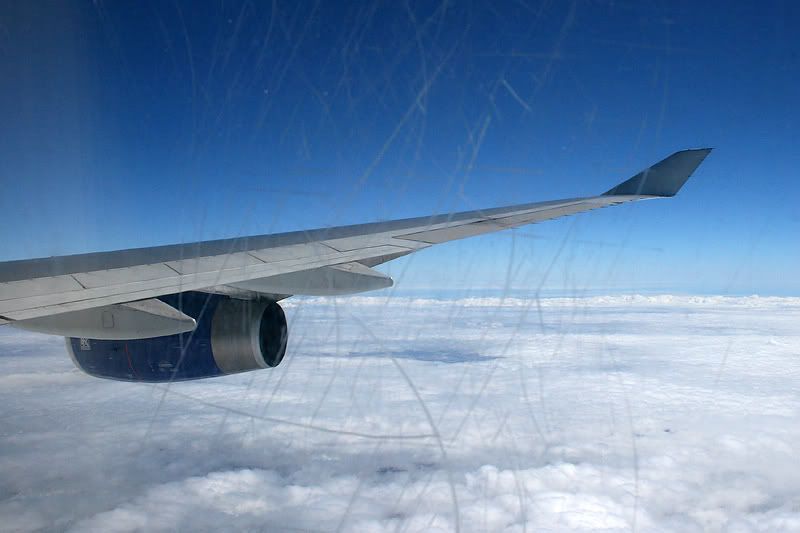 With the service started it was time to crack out the iPod and get some tuneage on the go. We had full use of the IFE system, bar the moving map, which was "Unavailable" but there was no point in settling down to watch some TV on such a short flight. I did however have a play around with the system, I found it easy to navigate and I liked the use of the touch screen, as well as having the option of controls in the armrest. A wide range of TV and Films were on offer, a good selection too.
IFE screen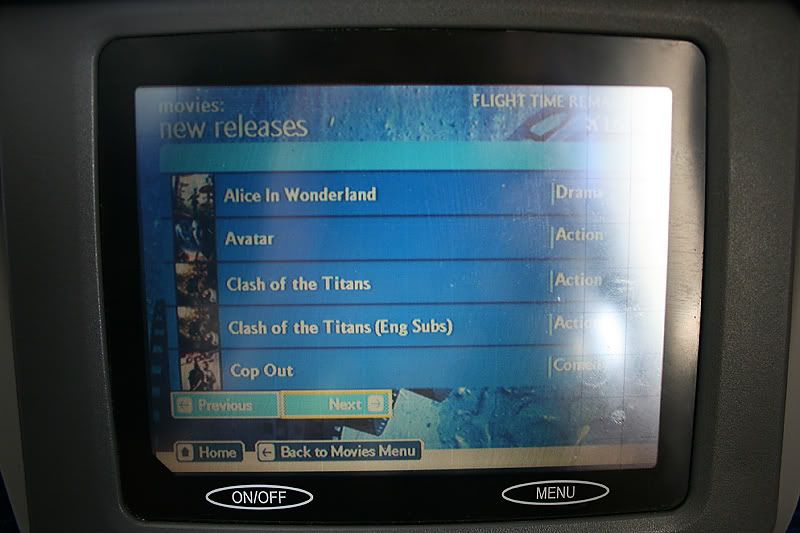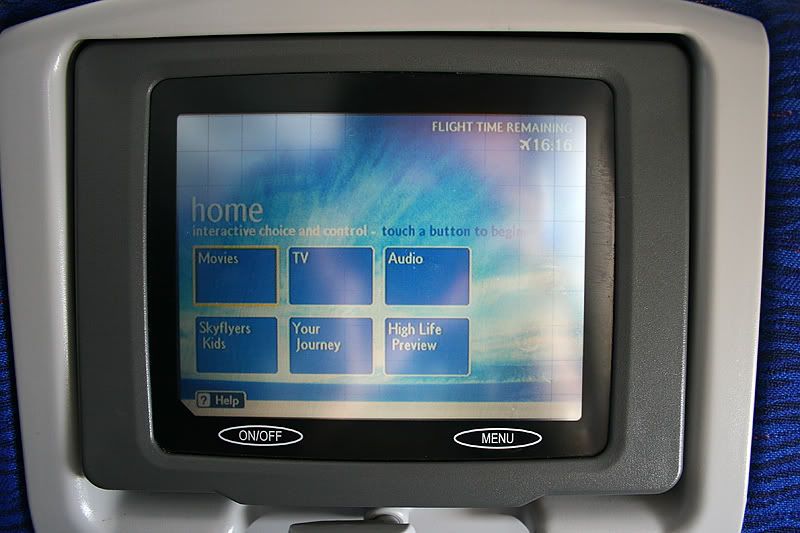 Seeing as the bar service was free, not a common standard on some airlines these days, I took advantage and went for a cold Heineken, accompanied of course by the standard bag of BA rabbit food, sorry, 'Savoury Cocktail Assortment', which were alright, filled a hole as they say. I didn't eat them all but I save them for later.
Living the dream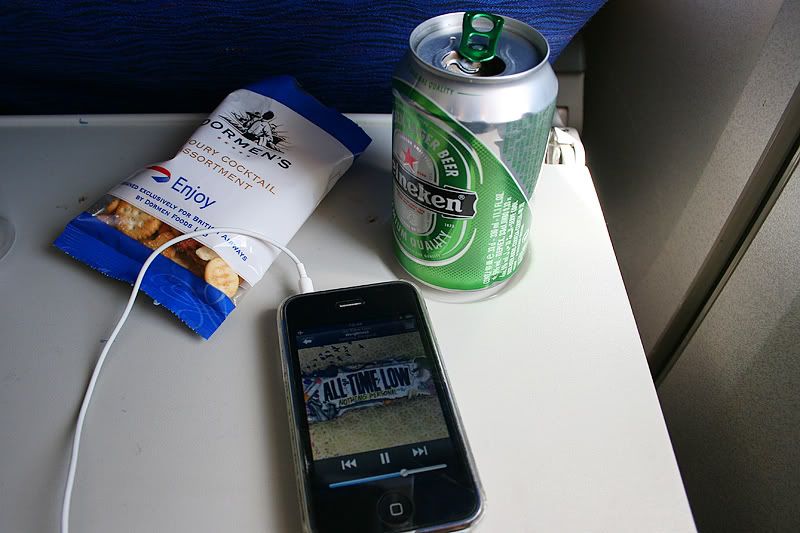 No sooner than I had a few swigs of my Heineken, I could feel us descending and the crew quickly did a run collecting rubbish and passengers were asked to return to their seats in preparation for landing. There was cloud cover for the whole flight until we started descending over the North East coast of England. After turning over the North Sea we were now on finals for Newcastle International.
Northumberland countryside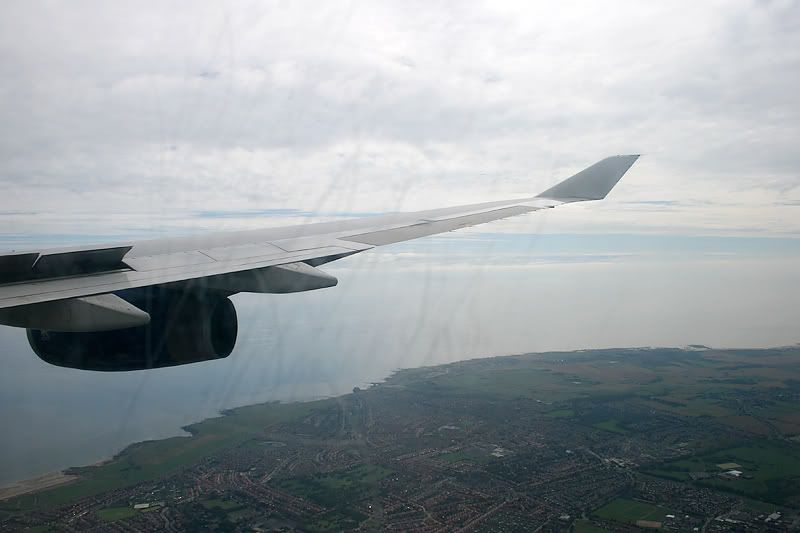 The Town of Blyth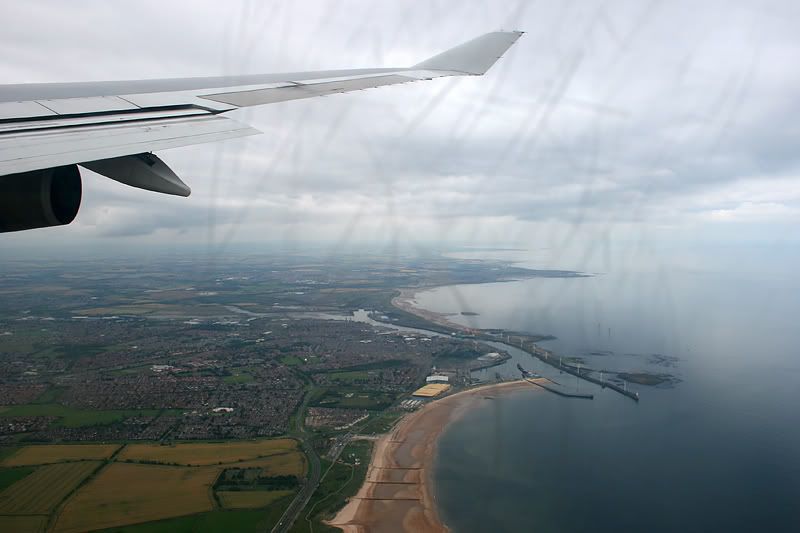 The Town of Cramlington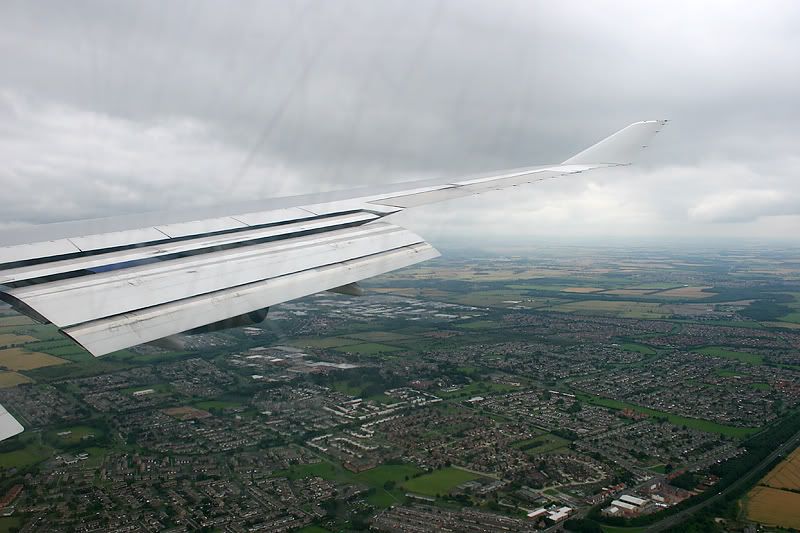 Top