Feedback always appreciated.

I > Background:
As some of you are aware, I am "junkie" for 5th freedom flying. Since I was in Chicago for work, I decided that it was time to take advantage of Pakistan Airlines' (PIA) recently launched KHI-BCN-ORD flight. Barcelona is one of my favorite cities in the world, and any excuse was good enough to visit friends. So without much thought, I bought a ticket on the PK flight and then found a rather cheap Avianca connection to CCS via BOG for a week home. As a side note for those interested, PK's JCL fare was probably the cheapest J-ticket I have bought in my life for a trans-Atlantic flight. Even more remarkable given the lie-flat seat that you get. More on that later.
There is an absolute dearth of PIA reports on A.Net. The ones I could find were The777Man's excellent coverage of a ORD-MAN flight (http://www.airliners.net/aviation-forums/trip_reports/read.main/55073) and the always awesome UK_Dispatcher's report on KHI-HKG (http://www.airliners.net/aviation-forums/trip_reports/read.main/107547). This will be the first report on their ORD-BCN flight, the first involving North America in JCL, and the first featuring their "new" product in Business Class.
II > Pre-Flight:
a) Before Airport:
Pakistan International Airlines, commonly known as PIA, is the flag carrier airline of Pakistan. The airline is based at Karachi and operates scheduled services to 24 domestic destinations and 39 international destinations in 25 countries across Asia, Europe and North America.
PIA's website at
www.piac.com.pk
has gone through some amazing improvements and is now actually quite easy to navigate and use. This is probably for the best as their OTA distribution on the web is abysmal, and they still rely heavily on ethnic agents to sell their tickets. Within minutes, I was able to buy my ticket, select my seat, and even modify it online. The only thing you cannot do is change your reservation … which is only a minor issue.
However, my theory of not many people using the website for their tickets was confirmed when I received a call from PIA Chicago office (thank God, I gave them my U.S. mobile number) which warned me that I was not going to allowed on the flight without the card in my possession and supporting ID.
b) At Airport:
Like most other foreign carriers, PIA uses the international terminal 5 at Chicago's O'Hare airport. Its counter is situated at the far left of the check-in area, and separated by Alitalia from the Air India counter. I wonder what happens during cricket matches between these two countries
. Anyways, J class had a separate check-in … which was nice … as Pakistanis travel with more luggage than Colombians (sorry guys) … and Y class check-in was taking forever. It made me wonder how much PK makes on excess baggage fees.
At check-in, I was requested to present 3 forms of ID and my original credit card. A tad too much I thought? Is fraud really such a concern in Pakistan? I had lived there in the past and didn't think so … but perhaps our Pakistani A.Netters can tell us more. Anyways, the check-in agent had not seen a Liechtenstein passport and had to look at TIM to see if I needed a visa for Europe … LOL. After deeming me fit to enter the old Continent, I was given my boarding pass and issued a lounge pass. She was shocked to hear that I had no check-in luggage …
After a rather long security process (what's up with ORD having no premium lines?) filled with American families taking their summer break and being stunned by the liquid restrictions (can someone remind them that most of these attacks have targeted their jetliners?), I made it to the rather unimpressive (and quiet) T5 at ORD. PIA uses the Air France lounge at ORD, which I know very well … however, it was nice at this time of the evening as the AM, AF, and KL flights had all departed and the lounge was rather empty. The lounge is nothing special … has the basic bar option and some rudimentary snacks. It affords great views of the apron, and free wifi. What was interesting was that half the lounge was PIA crew and staff. Now, in all my travels, I have never seen crew members use the lounge facility that passengers use. What do y'all think?
There was no mention, but boarding was delayed … it was 6,45pm and the crew were still at the lounge. Anyways, around 7,30pm boarding was called, and I made my way to the boarding area where I must have been one of three white persons … and only one in J-class. While waiting for the boarding, I struck up a conversation with an Indian who was telling me how the check-in staff was a little perplexed when he went and guided him to the Air India counter. He mentioned that the front line girl had to check with the supervisor on whether Indians were allowed on-board. He was quite amused by the whole thing and wondered what kind of attention he would get on board. We both agreed though that the J class tickets were an absolute steal!
When boarding was called, there was a mad dash to get onboard … "ILBST" was well alive. However, the PIA staff were very good at enforcing JCL boarding and we made our way to the aircraft. Interestingly, just post boarding pass scan, there were 2 tough looking Immigration staff members who were "randomly" screening passengers and asking for their passports. Now, I had NEVER seen this in the U.S. and wonder if it is just reserved for PIA flights? One of the men started yelling at why he was single handedly called out … yelling was probably not a good idea as I did not see the man later on board.
Upon boarding, I got a nice warm welcome from the crew as I made my way to the seat. The boarding process was a little haphazard ... but the crew kept busy with offerings of juices (orange/pineapple), newspapers, and finally, skimpy hot towels. J load of 90%; Y load was 95%. However, I would venture that over 50% of the J load were non-revenue passengers as I personally spoke with 3 of them, and sat next to the wife of a former PK 747 pilot.
>Airport - External:
(Chicago's O'Hare Airport, Terminal 5)
*
Check-in:
(Counters)
(And the bags … all of this belonged to 1 person)
Airport - Internal:
*
*
(FIDS)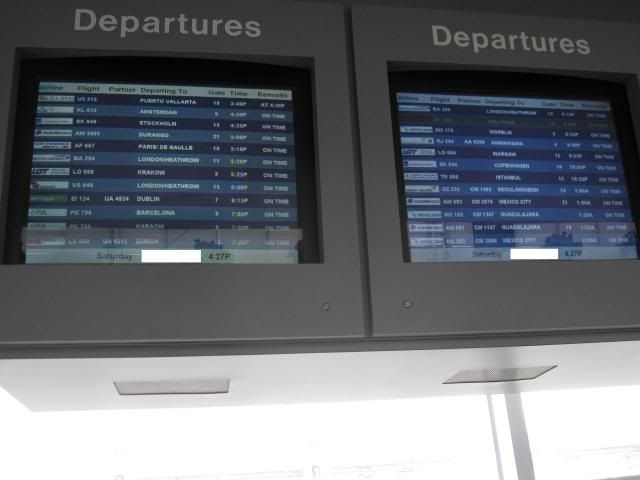 *
(Post Security @ ORD)
Scenes of the tarmac:
(LX's beautiful 340 to ZRH)
*
*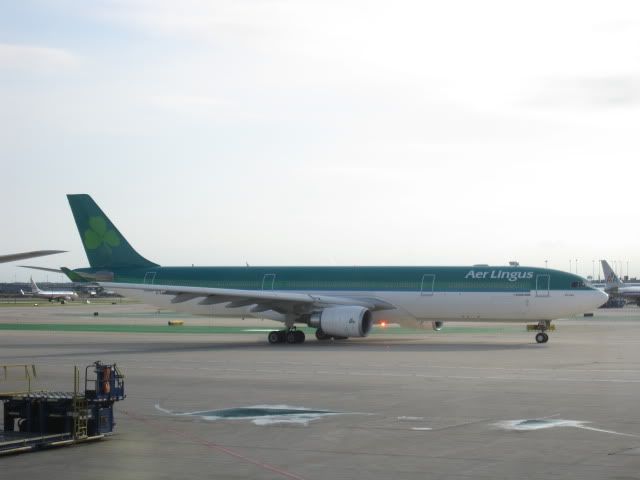 Lounge
(Air France lounge)
*
(Never seen crews in lounge)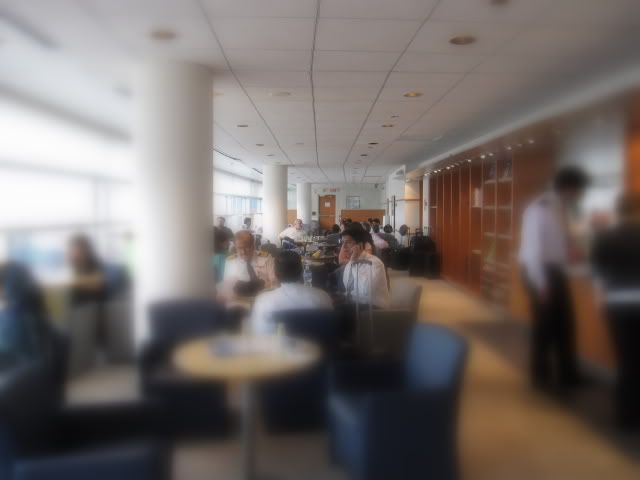 *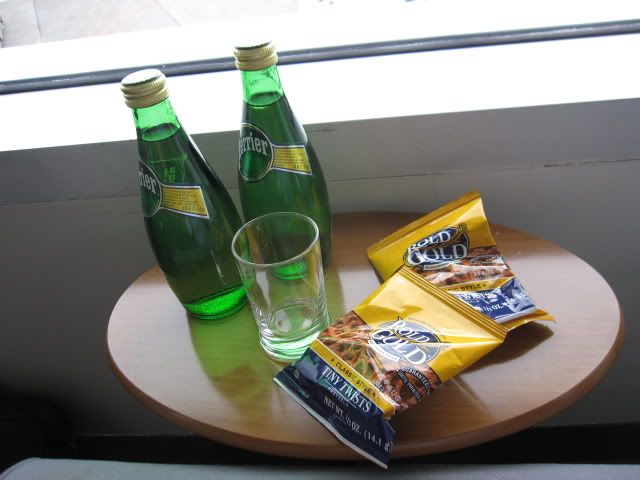 Boarding:
(Boarding gate area)
("ILBST" in action)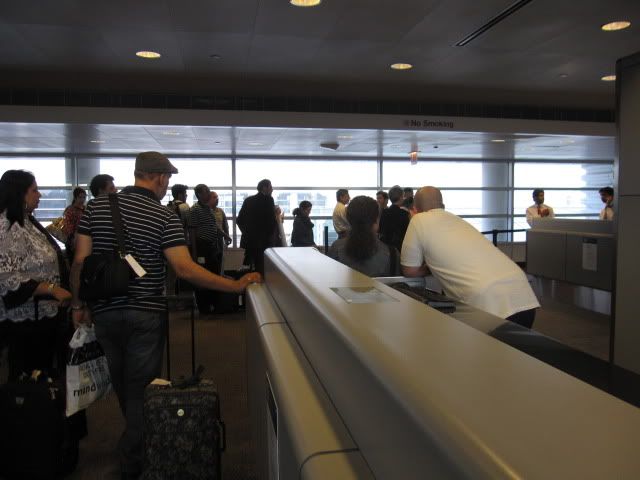 III> In-Flight:
a) Service Schedule + Impressions:
If I was taking this flight for business purposes, I'd be annoyed with the S-L-O-W service delivery on the flight. On an evening trans-Atlantic departure, dinner service should be rushed and done with cabin lights dimmed … this was not the case at PIA where everything happened with too much pomp. Guess PK's clientele demands the same … though, both Kuwait and Air India does a decent job of balancing both. Prior to take off, drinks were offered, along with luke warm towels. After take-off, the skimpiest JCL blankets and pillows were distributed, followed by an economy class amenity kit (seriously PIA, I wanted your old amenity kit so badly), and (now officially tied with SATA as) probably the worst set of headphones I have ever been offered in Business Class anywhere in the world. Menus were distributed post take-off, and both meal services were very elegant trolley service.
b) Aircraft + Seats:
PIA's Boeing 777-200 was in good condition and rather well maintained. Bathrooms were well maintained throughout the flight … though, I was disappointed at the lack of amenities … only toothbrush and toothpaste … again, very Y-class.
The seat itself was a very average lie-flat seat … sort of reminded me of the seats on Air France. Now, I am not a fan of these seats and I even prefer old-style J seats to these. The only other decent angled J for me was on the old SQ. However, in PK's defense, I must say that you were getting an extremely good value on the seats. In seating position, the seats are great … but in the lie-flat position, you struggle as the leg rest is awkwardly placed and makes your body slip into an uncomfortable position.
Aircraft:
(My hidden 772 @ ORD)
Views from Aircraft:
*
*
(And, then the Star love fest)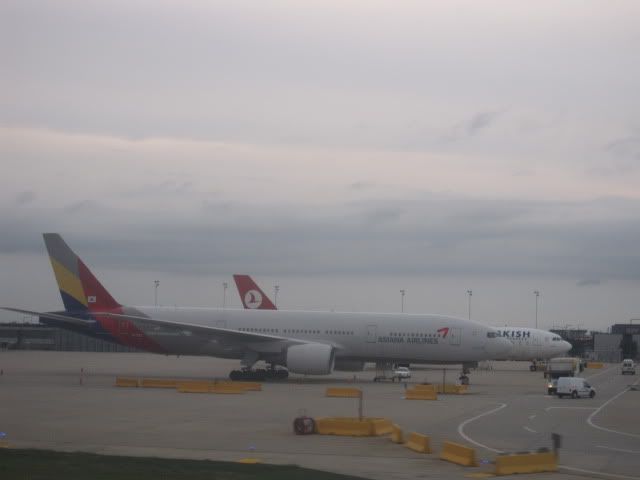 General Seat Views + Seat Legroom
(Seat)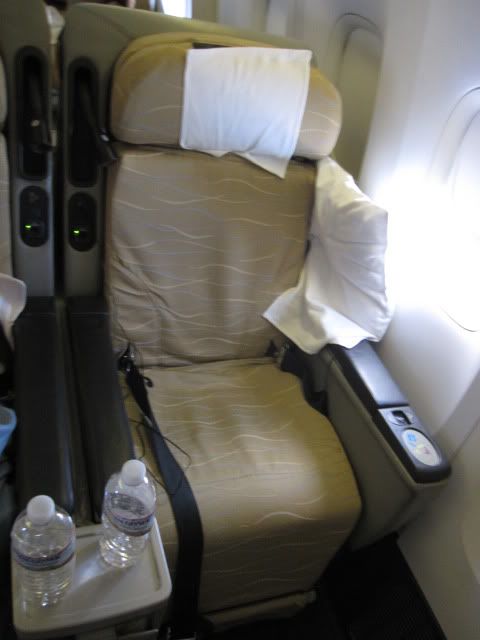 *
(Seat controls)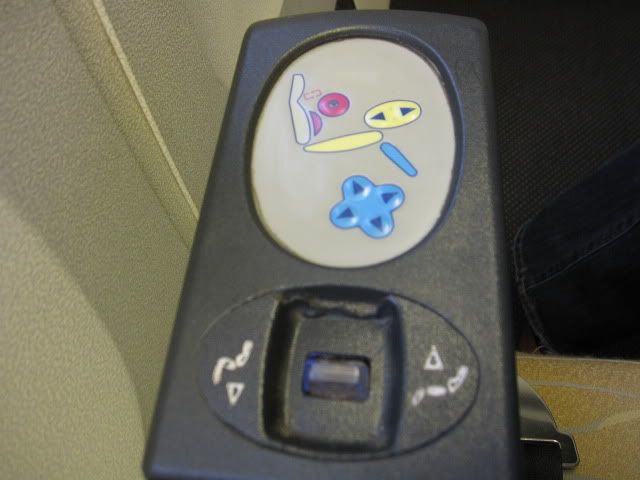 *
(Seat area)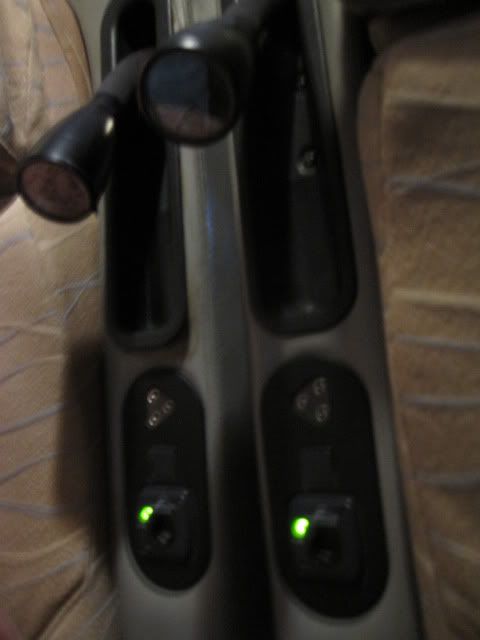 *
(Legroom)
*
(Slightly akward)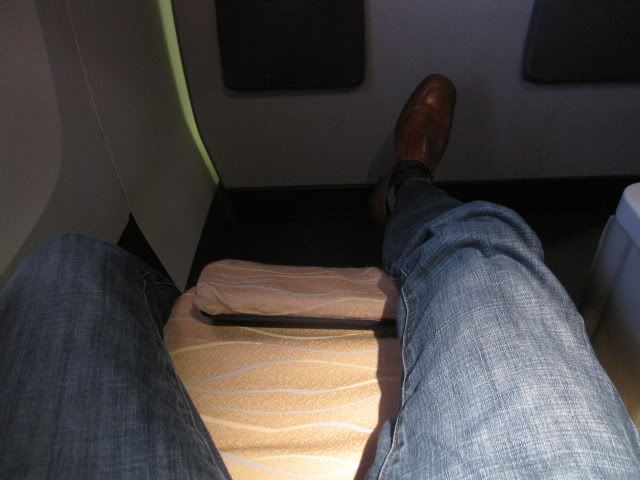 *
(Blanket – kinda skimpy)
Seat Recline + Angle View: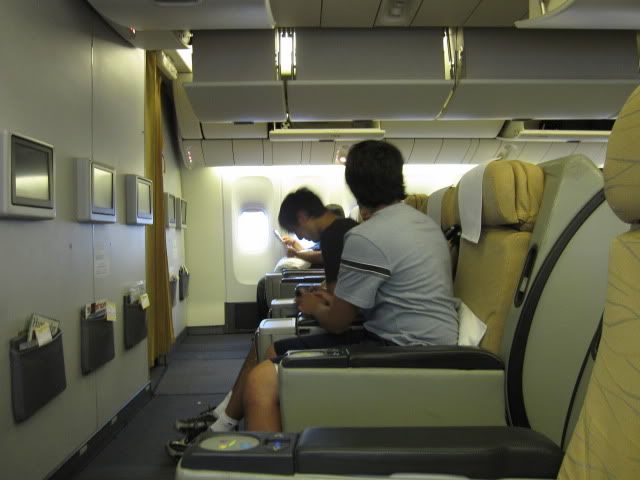 (The final part – foot area of the seat rest made the seat mediocre in lie-flat mode)
Cabin:
*
*
(Bathroom Amenities)
c) Meal + Beverage:
Dinner took forever to be served – on a late evening flight of such length, there really is no excuse for the entire service to take 2+ hours. Meal service was from the trolley and consisted of a super fresh salad, a really nice soup, and then an assortment of Pakistani food to chose from the trolley. The food was absolutely delicious and I even went for seconds. The chicken curry and the chicken kababs were both restaurant quality, and the rice was soft and warm. Just perfect food … presentation from the trolley was classy … though, the ambience was slightly taken away as the meals were still in tin foil from restaurants … and, what's up with the plastic cutlery? Dessert was a cake or a Pakistani dish … I chose the latter and was pleasantly surprised. The Pakistani woman sitting next to me thought it was horrible and had a word with the cabin crew. Again, I thought it was fine … but am sure that she is a better judge than I am!
Breakfast was served 2 hours prior to landing. Again, while I appreciated the glamor of the trolley service, it could have done much faster. Also, I know that the purser was yelling at the ORD ground handlers for not loading cutlery … now I realized why. The meal was served on paper plates (and again, with plastic cutlery). Not too classy for JCL! I was full from the dinner, so did not venture much into the breakfast options. However, there were enough options including two trolley services – the first one consisting of cereal and yoghurt; the second one having sausages (slightly nasty looking), and a little dried omelets and scrambled eggs.
All in all, I maintain that meal options on South Asian carriers are generally the best in the world, and PIA did not disappoint. While there is much to be said about the actual presentation, the quality and quantity of food was incredible. The dinner was especially restaurant quality and amongst the best meals I have had on a plane. Pakistan Airlines should be significantly praised for this … and be gently reminded that a truly memorable experience also factors in presentation.
Finally, PIA is a dry-airline. While it did not bother me on this flight, and I recognize religious sensibilities, I hoped alcohol would have been offered to those who were not practicing Islam. After all, this is a global industry … and the flight connected 2 non-Islamic countries. Not a super deal breaker however.
(Menu)
*
*
*
*
(Dinner)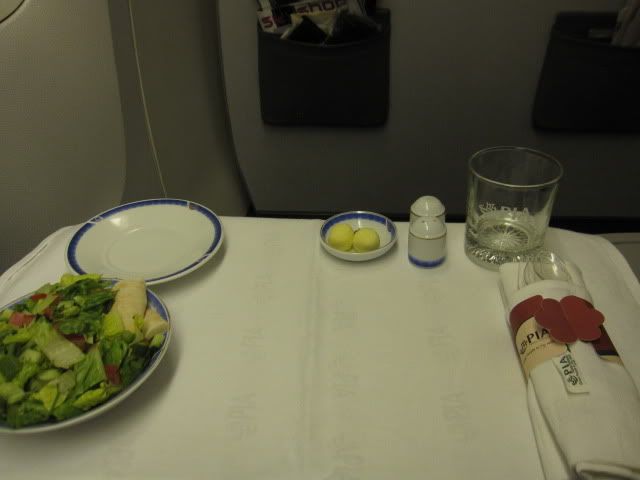 *
*
*
(Trolley service)
*
(Yummy seconds)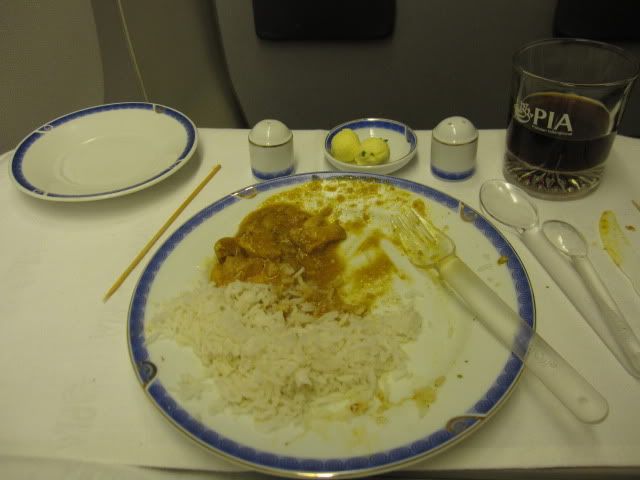 *
*
*
(Thoughtful water for the night)
*
(Breakfast)
*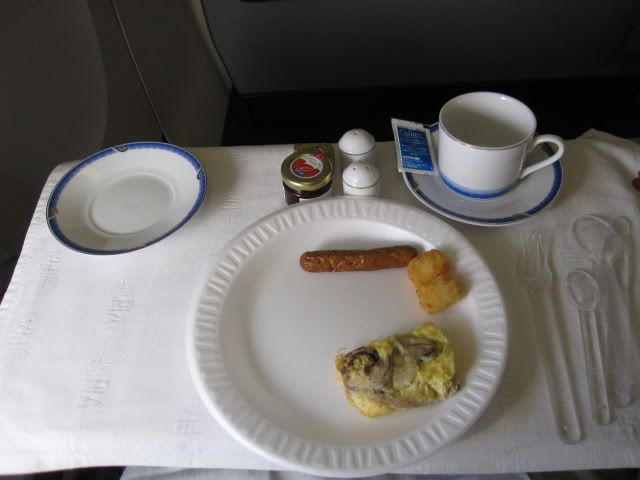 d) Inflight Entertainment:
IFE on PIA consisted of 12 movies in 1st generation AVOD format. The quality and quantity of movies were not spectacular and I was amused to find the presence of 3 Indian movies. I was convinced Indian movies were banned from being shown in Pakistani theatres? Anyways, for old-time sake, I made the "mistake" of watching a Pakistani movie called "Mera Naam Hai Mohabat" which did not have any subtitles, but one could guess the plot by just staring at the screen. What was uniquely interesting was how much Pakistani society had become conservative since the 1960's. It sort of reminded me of Egypt in the 1960's vs. Egypt today. Maybe, the Pakistanis on the board can correct my perception?
Anyways, the IFE also included a decent selection of music and television programming as well. However, nothing could hide the abysmal headsets given out. There really is no excuse for this in YCL! Supplementing the AVOD options were the always amusing in-flight magazine "Humsafar", and several Pakistani magazines which all had depressing headlines.
(IFE)
*
*
*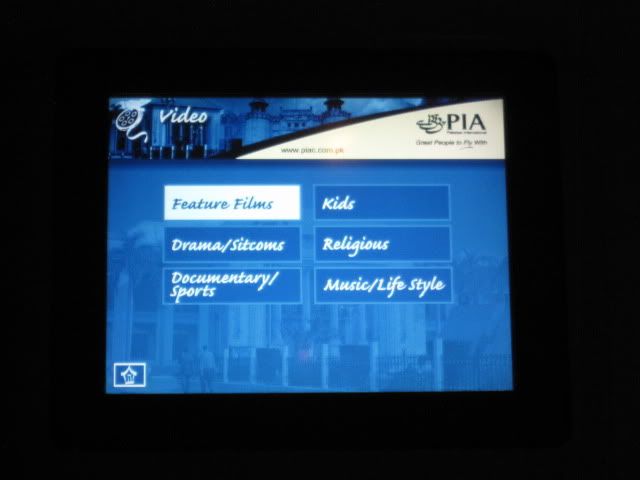 *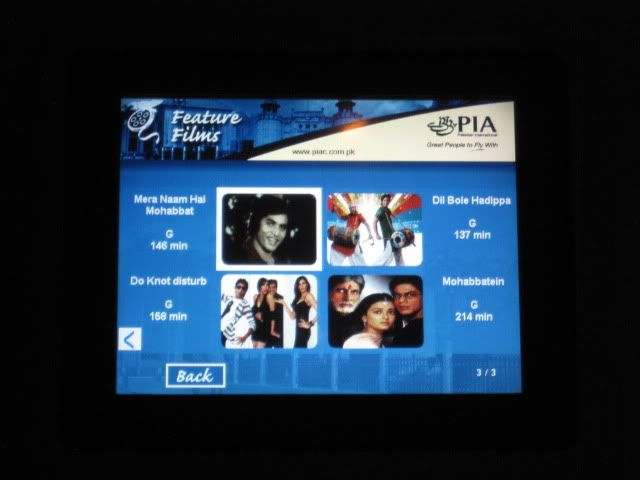 *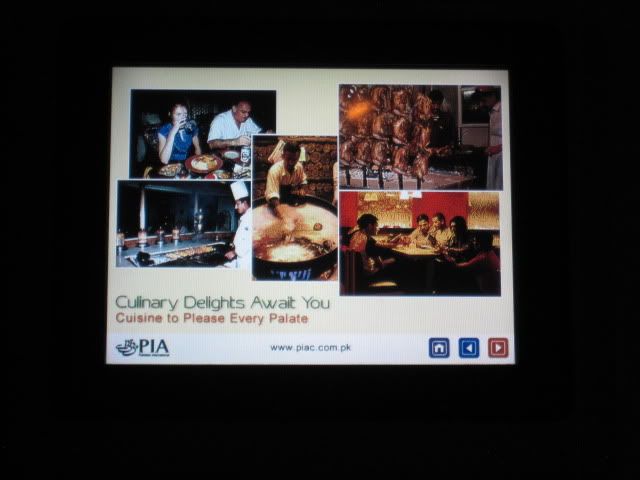 *
*
*
(Pakistani flick…)
*
(…featuring a new find)
*
(Abysmal Headphones)
*
(Lots of videos on how to "behave" on board)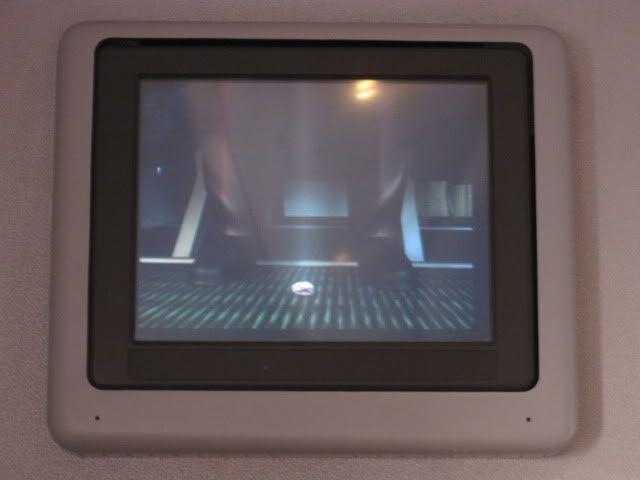 *
("In-flight magazines", Boarding Passes, etc.)
e) Crew:
South Asians do their hospitality right. I am a huge fan of crew on board Sri Lankan Airlines, and on most of the Indian carriers (particularly, Air India). PIA was no different. Overall, most of the crew was warm and genuinely cared about the passengers onboard. During boarding, they were nice and attentive and walked me to my seat. They also genuinely checked with me throughout the flight to make sure I was enjoying the same. Some highlights:
+ During the meal service, I had requested my tea with saccharine/sugar-free and some milk. On subsequent requests, this one crew member remembered the same each time.
+ After each meal offering, they would check and see if I needed something else, or if I was sufficiently happy.
+ At duty free sales, the purser took time to explain the evolution of the colorful buses present in Karachi.
Of course, the crew wasn't perfect. First off, there was this one rather "fundamentalist" crew member who was apparently not too happy with the alcohol purchased at the duty free by a passenger in seat 1C and they got into an argument. It was not his business! Also, the crew was a little too laid back during the meal service for my liking. Just like the boarding process, it was generally accepted to be very mellow and totally OK not to rush things. With this attitude, no wonder the flight took off over an hour behind schedule.
IV> Post-Flight:
Arrival into Barcelona was smooth as the captain pointed out to watch out for the city several times during the flight. Disembarkation was fast ... though, the weird layout of the airport meant going through arrivals security check, immigration, and then a long walk to the exits.
(BCN Airport)
V> Impressions + Scores:
In terms of value for money, PIA is probably the best across the Atlantic right now. True, this is a limited offering on ORD-BCN, but nevertheless. For around USD 795,00, I was getting a lie-flat seat that was significantly better than other "random" options such as Icelandair and SATA. Topping that was very nice food (especially dinner), basic AVOD, and a warm dedicated crew. Where PIA fails is the attention to detail … the cutlery and presentation in JCL is absolutely unacceptable; the headphones given are sad; some of the crew could be more professional; and, the overall service must be refined. Without these changes, PIA will never be taken seriously, or compete with the true major airlines of the world.
Having said that, I will gladly fly PIA, and will even seek them out on routes where they compete against more established options. One thumb up.
VI> Other Trip Reports:
PREMIUM:
8.66:
Brussels Airlines (93): FIH-BRU: 01/2010
8.64:
Turkish Airlines (59): JFK-IST: 11/2008
8.63:
Jet Airways (88): JFK-BRU: 10/2009
8.61:
Air Canada (49): YYZ-SCL: 06/2008
8.54:
Turkish Airlines (77): GRU-DKR-IST: 04/2009
8.36:
Kingfisher (98): BOM-HKG: 01/2010
8.30:
Jet Airways (74): KWI-BOM: 04/2009
8.23:
United Airlines (72): SFO-SYD: 03/2009
8.11:
Aeroflot (33): MOW-DEL: 09/2007
8.05:
Air India (80): CCU-JFK: 06/2009
8.04:
Korean Air (40): NRT-ICN: 10/2007
8.02:
Delta Airlines (24): JFK-CDG: 08/2007
7.64:
Royal Jordanian (91): AMM-YUL: 12/2009
7.57: Pakistan Airlines (102): ORD-BCN: 06/2010
7.46:
LAN (55): YYZ-JFK: 09/2008
7.82:
Singapore Airlines (06): EWR-SIN: 09/2006
7.25:
Iran Air (88): BOM-IKA: 12/2009
7.23:
Virgin Atlantic (81): BOS-LHR: 07/2009
7.14:
Swiss (52): SCL-GRU: 06/2008
7.11:
Austrian (79): VIE-JFK: 06/2009
7.07:
Privatair (84): BOM-FRA: 08/2009
7.02:
Qatar (68): DOH-JFK: 01/2009
6.96:
Etihad (61): JFK-AUH: 12/2008
6.93:
Delta Airlines (18): SEA-JFK: 11/2006
6.84:
ConViasa (65): CCS-DAM: 01/2009
6.81:
Air Canada (17): ICN-YYZ: 10/2006
6.70:
KLM (32): EBB-AMS: 08/2007
6.52:
Emirates (99): LHR-DXB: 02/2010
6.39:
South African (97): EZE-JNB: 01/2010
6.36:
Privatair (60): MUC-BOS: 12/2008
6.29:
TAM Brasil (96): POA-EZE: 02/2010
6.25:
Korean Air (45): NAN-ICN: 10/2007
6.21:
Iberia (87): BOS-MAD: 10/2009
6.11:
TAP Portugal (53): GRU-OPO: 06/2008
6.00:
Gulf Air (75): BOM-BAH: 04/2009
5.88:
African Express (89): DXB-NBO: 11/2009
5.75:
Singapore Airlines (16): CCU-SIN: 10/2006
5.64:
SATA Azores (101): BOS-PDL: 04/2010
5.64:
NorthWest (46): ICN-NRT-SEA: 10/2007
5.54:
Ethiopian Airlines (95): ADD-BOM: 01/2010
5.46:
Icelandair (83): KEF-BOS: 08/2009
5.39:
LOT (54): WAW-JFK: 06/2008
5.21:
Egypt Air (73): CAI-IST: 02/2009
5.07:
TACA (66): JFK-SAP: 01/2009
4.42:
Air France: CDG-JNB (25): 08/2007
ECONOMY: Long + Medium:
9.26:
Air India (48): JFK-DEL: 02/2008
7.38:
Avianca (01): BOG-LIM: 07/2006
7.07:
Sri Lankan (62): KWI-CMB: 12/2008
7.00:
LAN (94): IPC-SCL: 01/2010
6.41:
Avianca (78): JFK-BOG: 05/2009
6.41:
American Airlines (58): LHR-BOS: 11/2008
6.39:
Condor (85): SEZ-FRA: 09/2009
6.26:
Jet Blue (21): CUN-JFK: 02/2007
6.06:
Air Canada (04): YYZ-YVR: 09/2006
5.89:
USA 3000 (19): PUJ-BDL: 01/2007
5.85:
Spanair (69): MAD-LPA: 02/2009
5.79:
Air New Zealand (42): RAR-NAN: 10/2007
5.52:
Aerolineas (86): USH-AEP: 10/2009
5.46:
TAP Air Portugal (23): OSL-LIS: 05/2007
5.19:
Air Europa (70): LPA-MAD: 02/2009
5.16:
Iberia (71): MAD-BOS: 02/2009
5.11:
Air China (82): FRA-PEK: 08/2009
ECONOMY: Short
8.56:
Paramount Airways (38): BLR-MAA: 09/2007
8.56:
Kingfisher (64): HYD-CCU: 12/2008
8.24:
Kingfisher (14): IXA-GAU: 10/2006
7.87:
Indian (34): BOM-MAA: 09/2007
7.72:
Alliance Air (13): CCU-IXA: 10/2006
7.57:
Indian Airlines (10): DEL-CCU: 09/2006
7.23:
West Jet (03): YYC-YVR: 09/2006
7.15:
JetLite (37): BOM-GOI: 09/2007
6.98:
Air Koryo (100): PEK-FNJ: 04/2010
6.70:
Spice Jet (09): CCU-DEL: 09/2006
6.63:
Air Fiji (44): NAN-SUV: 10/2007
6.63:
Jazeera (67): DAM-KWI: 01/2009
6.58:
Air Tran (02): EWR-MDW: 08/2006
6.48:
Air India Express (63): CMB-MAA: 12/2008
6.44:
CO Micronesia (39): ROR-YAP: 10/2007
6.41:
Pacific Sun (43): NAN-SUV: 10/2007
6.37:
Skybus (47): SWF-CMH: 02/2008
6.33:
Kenya Airways (29): NBO-BJM: 08/2007
6.33:
Sky Europe (56): LTN-BTS: 10/2008
6.31:
Indigo (15): GAU-CCU: 10/2006
6.31:
easyJet (57): BUD-LTN: 11/2008
6.22:
Air Link Swazi (28): MTS-JNB: 08/2007
6.22:
Air India (36): HYD-BOM: 09/2007
6.13:
Adam Air (07): SIN-CGK: 09/2006
6.13:
Air Rarotonga (41): RAR-AIT: 10/2007
6.00:
Transairways (27): INH-MPM: 08/2007
5.95:
Air Canada (05): ALB-YYZ: 09/2006
5.85:
SAS Norge (22): OSL-AES: 05/2007
5.81:
LAM Mozambique (26): JNB-MPM: 08/2007
5.69:
Air Deccan (12): IXZ-CCU: 10/2006
5.67:
Rwanda Air Exp (30): KGL-NBO: 08/2007
5.37:
Felix Airways (92): SCT-SAH: 12/2009
5.11:
Aero Republica (76): BOG-CCS: 04/2009
5.07:
Go Air (35): MAA-HYD: 09/2007
5.00:
Sky Airline (51): IQQ-SCL: 06/2008
4.96:
Valuair (08): CGK-SIN: 09/2006
4.78:
Air Comet Chile (50): SCL-IQQ: 06/2008
4.74:
Fly 540 (31): MYD-LAU: 08/2007
4.33:
Viva Aerobus (20): ELP-MTY: 02/2007
4.11:
Air Sahara (11): CCU-BOM: 09/2006
(Note on Codes: Y – Economy, J – Business, F – First :: I/D – International/Domestic :: SR/MR/LR – Short/Medium/Long Haul)
(Note on Date: Dates are modified to be +/- 3 days from actual flight date to not reveal actual flight pattern)
VII> Other Pictures:
(YCL kit)
(More airlines should learn on cool merchandizing in duty-free … including first souvenir of a country I have seen for onboard sale)