Date: 4 July 2010
Route: Santiago De Chile (SCL) – Sao Paulo (GRU)
Distance: 1626mi
Flight: JJ 8027
Flight Time: 3:29h
Dep. Time: 13:45
Aircraft: Boeing 777-32W/ER
Registration: PT-MUD
Dep. Gate: 10
Seat: 37A
Movie: The Notebook
175th flight on a Boeing 777
10th flight on a Boeing 777-300/ER
First flight on TAM Linhas Aereas
44th 777 carrier flown
Fresh from my trip on V Australia, I started to look at fares to fly on TAM from Satntiago De Chile to Sao Paulo. There was a great round trip fare which came to USD 315.00 including all taxes. I basically picked days that I could get the low fare and this route would be the cheapest and easiest way to fly TAM. Ticket was purchased on TAM's website and it was very easy to navigate.
I had arrived in the morning via DFW on American Airlines and did some spotting. About two hours before departure, I started to look for a transfer desk where I could check in but I couldn't find one. I walked to the gate and about 30 minutes later, I found a TAM agent at the adjacent gate. I gave her my e-ticket receipts and passport and after a minute or two, she gave me everything back along with my boarding pass.
I noticed on the departure screens that there was a Aerolineas Argentienas flight leaving from the same gate as the TAM flight and that the AR flight was running late. The TAM flight arrived about 20 minutes late at about 1210 and had to wait for about 30 minutes before the gate was available.. The gate next door was available but for some reason, TAM did not switch gates. Perhaps they couldn't fit the large 777-300/ER at that gate but there had been a Iberia A340-300 there earlier so not sure about that.
So the plane got to the gate at about 1240 so a 1250 departure wasn't going to happen. First people had to get off and then the aircraft had to be serviced. Servicing took a while and boarding finally commenced at about 1310. The gate area was so crowded so it was very difficult for the gate agents to be heard. There was a huge line of about a hundred people trying to board but they started with families with children first and then boarded from the rear of the aircraft. Since I was towards the back, I boarded early which is what I prefer. As I was about to sep onto the aircraft, I noticed that the captain was in the jet bridge greeting all the passengers. That was a nice gesture and I have never noticed that on any other airline that I have flown. I was two rows behind door 4 so that I would have nice view.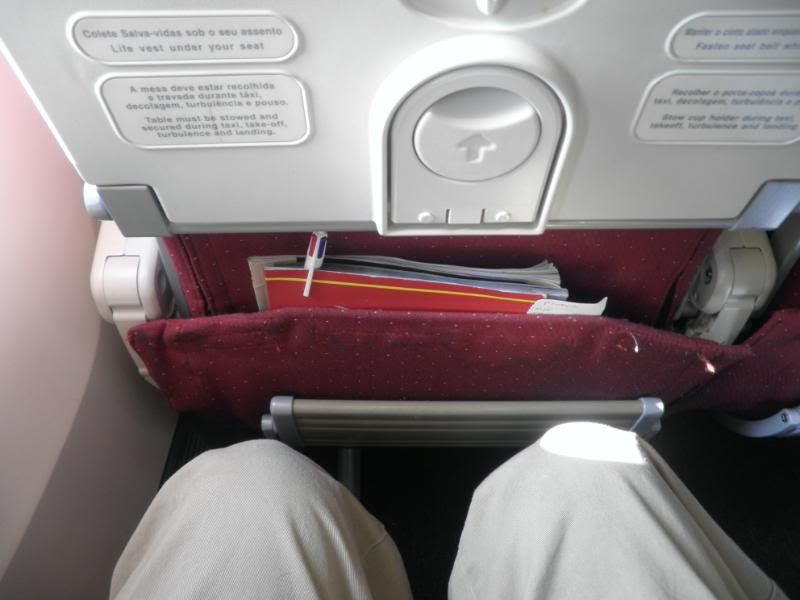 Seat was comfortable and legroom was okay. There was also a foot rest which was nice. Seating is 3-4-3 on TAM but did not feel cramped on my short flight.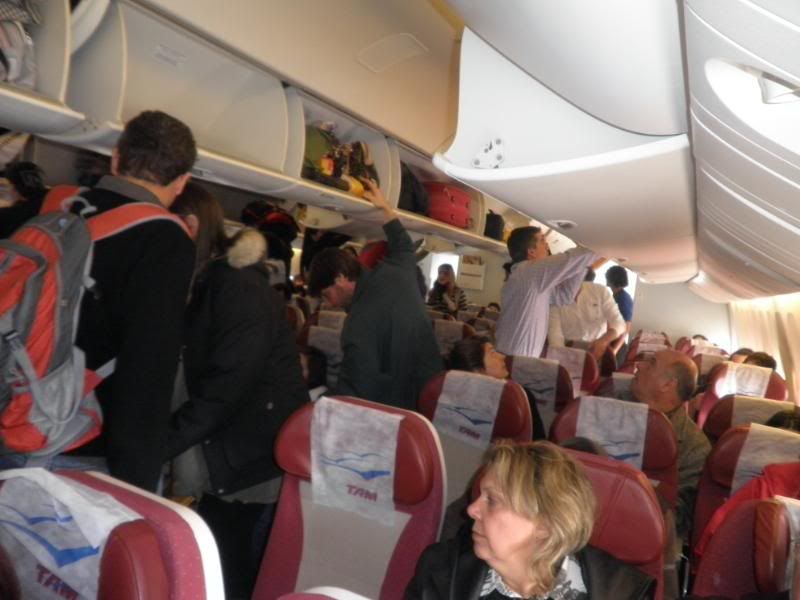 The flight attendants were all around 25 and looked absolutely gorgeous! Almost all of them looked like models. All flight attendants in economy class were female but a few in business class were male. Flight was completely full and most people seemed to be Brazilians returning from a shopping weekend by judging all the shopping bags. I couldn't see any empty seats. I started to explore the entertainment system and it was very extensive; lots of movies under different categories, outside camera, air show and videogames.
We finally left at 13:45 and then had a long taxi where we taxied past the Chilean Air Force's 707s and sole 763. The safety video was a cartoon which seems to be very common these days. The flight attendants passed out candy during the taxi.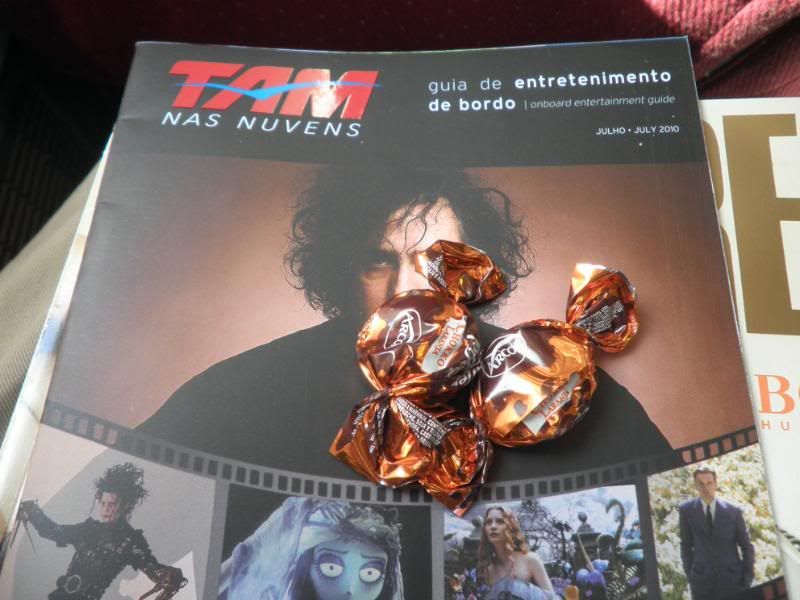 Take off was to the south and we passed downtown Santiago on climb out.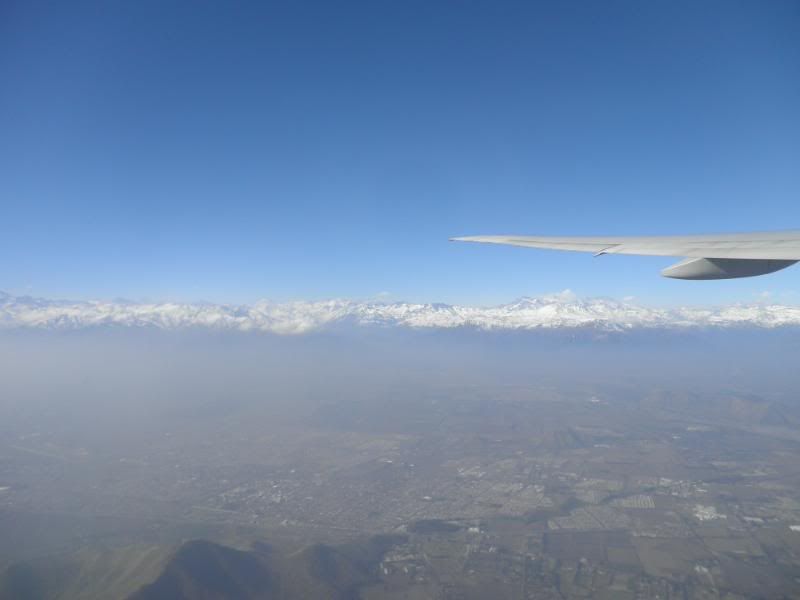 We continued straight for about 20 minutes before we finally turned to cross the Andes. Shortly thereafter the lunch service started. There were two options; pasta and chicken with rice; I had the chicken and it was really good. The portion was of good size as well. To drink, I had a glass of Coca-cola and a glass of Guarana which is a Brazilian soft drink. Each glass had one huge piece of ice, never seen such big ice cubes before. Salad was good and so was the chocolate cake for dessert.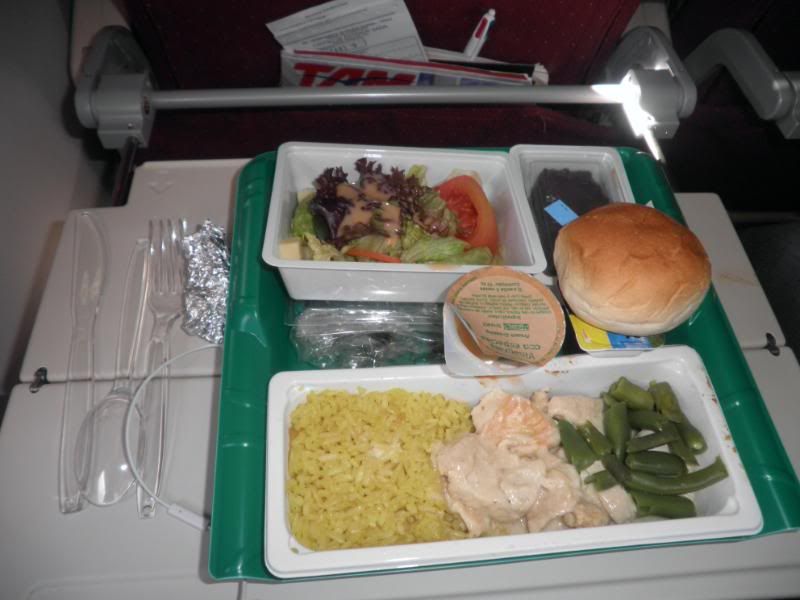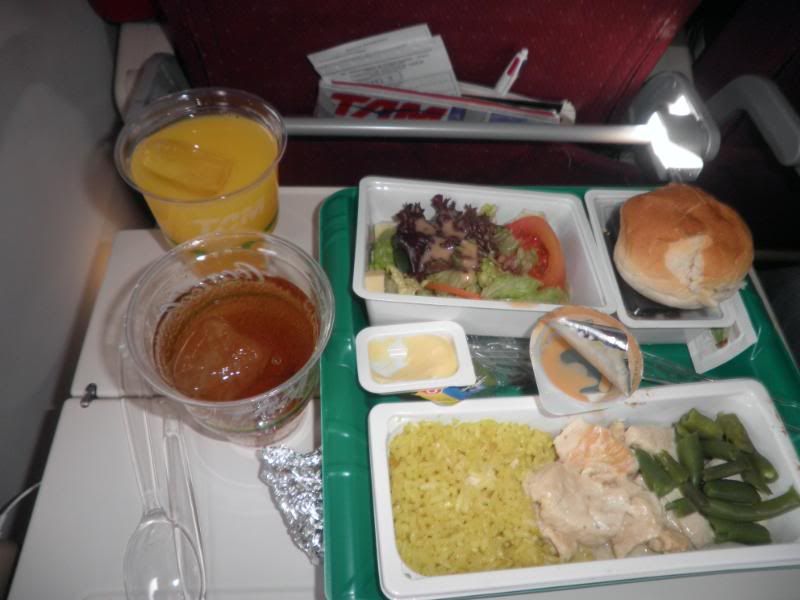 I watched The Notebook and it was very good. Later, I listened to some Brazilian Samba music on one of the audio channels, which I find very relaxing.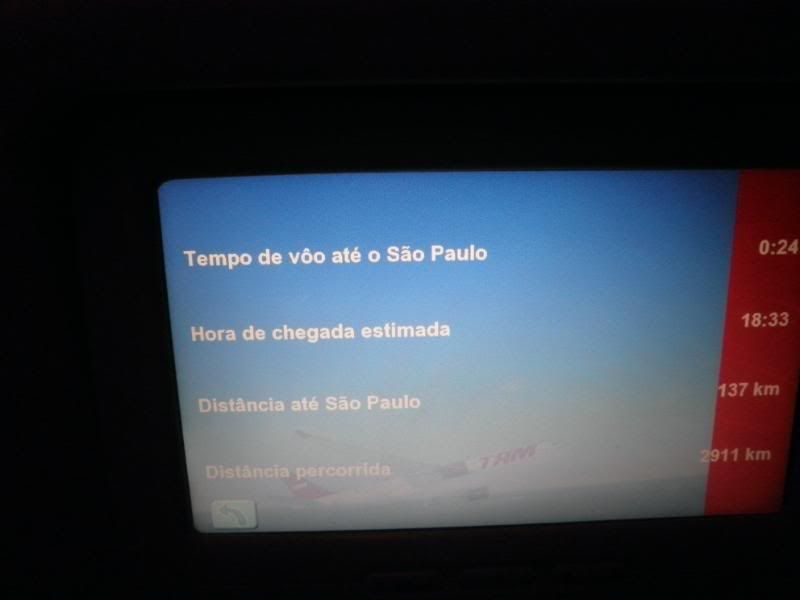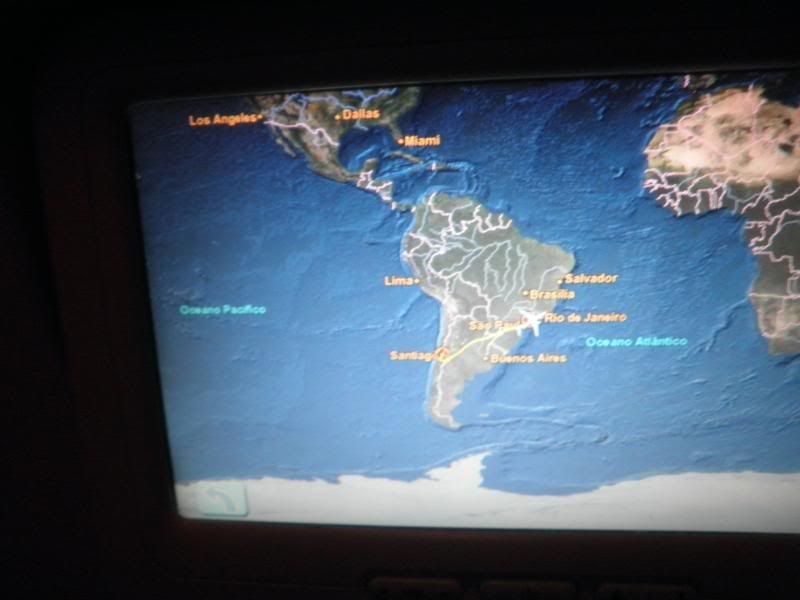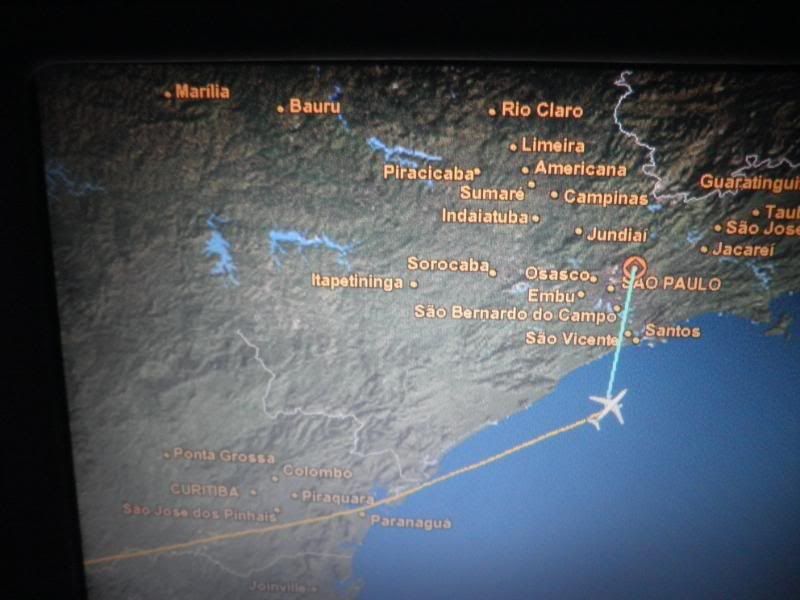 Rest of flight was uneventful and on approach we flew past the airport and landed from the northwest. I was one of the last to get off the airplane so that I could take some more pictures of the cabin.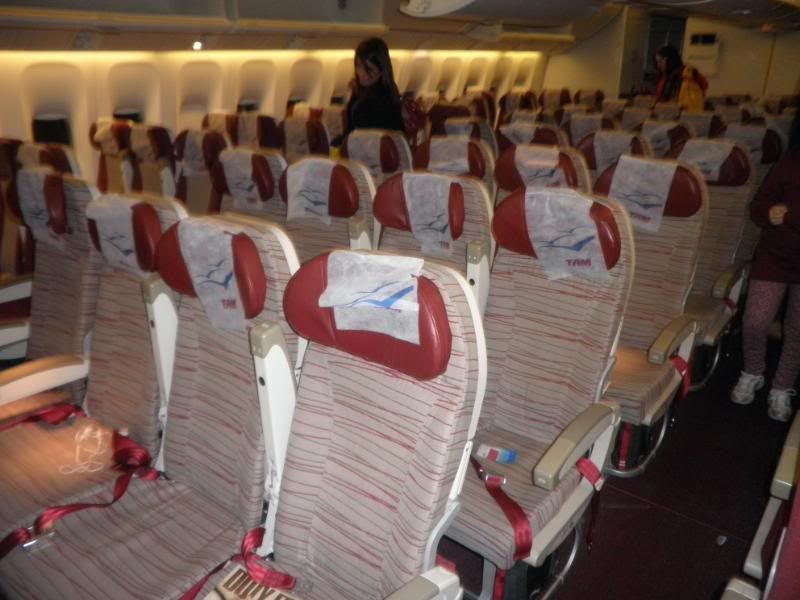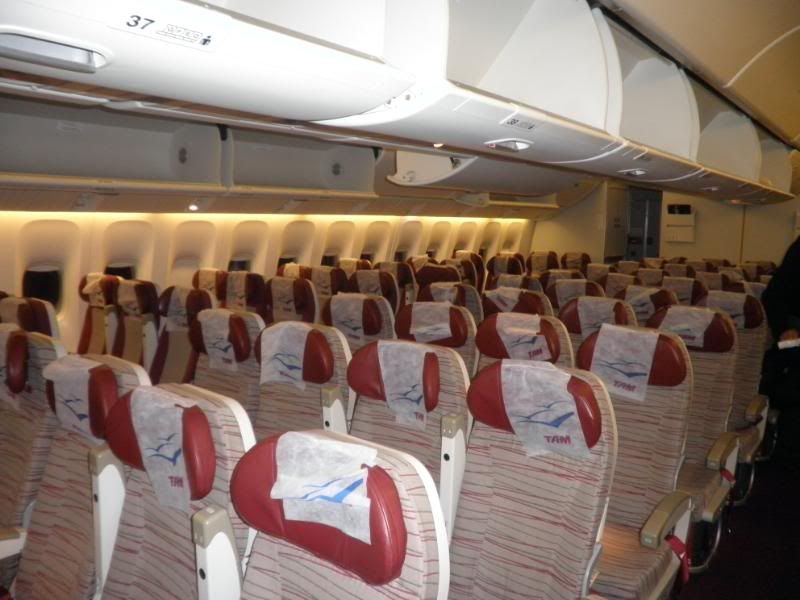 A nice flight on TAM and I highly recommend them.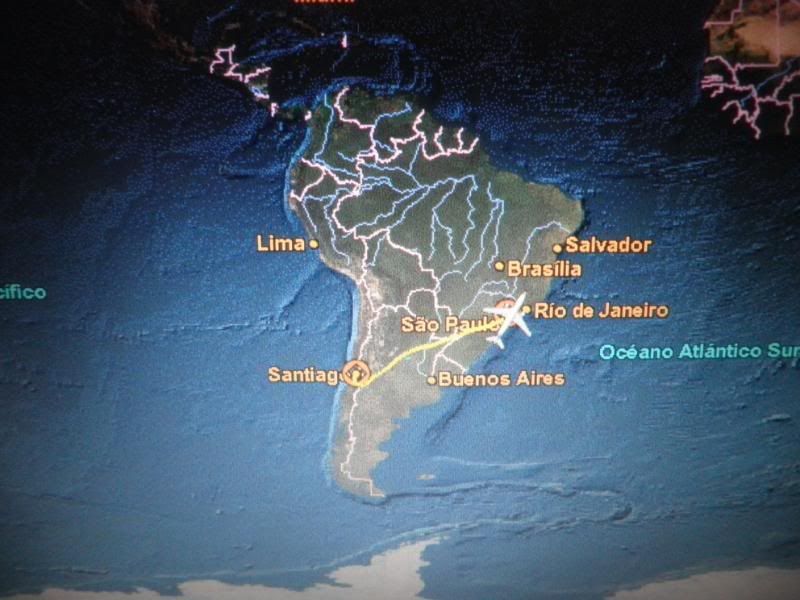 Next 777 carrier for me ? hopefully Ethiopian Airlines before the end of the year, otherwise Turkish Airlines in March 2011.
Comments or questions ?
The777Man