Banner based on Airliners.net picture #1757564 by Hans Veldman.
I'm not a big fan of organized, mass tourism, and to be honest, I'm even a bit allergic to it. However, after my trip to Ukraine in May (report here :
Ukraine Part 1 : BRU-WAW-ODS And SIP-KBP (Pics)
(by
BrusselsSouth
May 30 2010 in Trip Reports)
), I had promised to my wife that we would spend 10 days under the Turkish sun in an all-inclusive hotel, something she wanted to experience for a long time. So, beating my reluctance, I surfed on the
Neckermann Belgium
tour-operator website, selecting a few hotels that looked interesting for a family with a 4-year old kid, and asked my wife for the final choice among them.
To exorcise my apprehension for that kind of "travel", I decided to put myself in the skin of a stupid tourist and to base my resort and hotel selection on futile criteria such as the shape of the pool, the size of the buffet and the look of the beach. Oh, and the price, also...
As for the flights, it's not like the aforementioned website would give me any choices. All I had to do was to select my dates of travel and read the small characters in the conditions :
"
the flight will be operated by one of : Air Malta, Brussels Airlines, Condor, Iberia, Iberworld, JetairFly, Jet4You, Kenya Airways, LTU, Lufthansa, Nouvelair, Pegasus, Royal Air Maroc, Sky Airlines, TAM, TAP, Thomas Cook Airlines, Transavia, Tunisair, XL Airways France, Air Berlin, Icelandair, Jet Airways, AMC Aviation, British Airways, Bulgarian Air Charter, Cathay Pacific, Cyprus Airways, El Afriqiyah, Ethiopian Airlines, Ethiad Airlines, Estonian, LOT Polish Airlines, KLM, Malaysian Airlines, Air Mauritius, Martinair, Olympic Airways, Qatar Airways, Singapore Airlines, Air Namibia, TNT Airlines, Thai International Airways, Turkish Airlines, Air Transat, United Airlines, Viking Airlines, Air Via and Vietnam Airlines. We will notify you of the exact airline before departure
".
And sure enough, one week before departure, I received an e-mail containing my travel documents and flight times. Early morning departure, late evening return, and guess what ? Of all the airlines in the list, we didn't get Qatar Airways or Singapore Airlines, but...
Pegasus Airlines
(not that I had expected anything else
).
So, here's what I found after a bit of googling. Founded in 1990 by Aer Lingus and a couple of Turkish investors, Pegasus began as a purely charter airline. It experienced years of growth and was profitable when Aer Lingus sold its shares to a Turkish bank in 1994, making it a fully Turkish owned company. In 1997, it became the first Turkish airline to order B737 NG's directly from Boeing. In 2005, it was bought by Istanbul based ESAS Holdings, an investment company active in food, health and retail sectors, but also in aviation through shares in Air Berlin (15.3 %), Izmir based IZair and helicopter operator MedAir. The first scheduled flights were launched in November of the same year.
Today, Pegasus has become an important player on the Turkish aviation scene, with a fleet of 25 Boeing 737 aircraft (plus A319/A320s operated for IZair), operating scheduled flights to domestic and European destinations from Istanbul's Sabiha Gökçen airport, as well as a sizable charter division. It has its own maintenance and training facilities.
Having not flown a charter airline for more than 10 years, I didn't know what to expect, and was actually pleasantly surprised by Pegasus. It may not be a 5 star airline, but the overall experience is certainly better than your average euro-LCC flight, and getting a hot meal on an intra-European flight is becoming a luxury these days.
Flight details
Pegasus flight PGT5328
From BRU - Brussels, Belgium
To AYT - Antalya, Turkey
STD 05:55 - STA 10:35 (time zone +1) - On time
Boeing 737-800, registration unknown (would be *very* interested if someone had a way to find it
)
Pegasus flight PGT5541
From AYT - Antalya, Turkey
To BRU - Brussels, Belgium
STD 20:20 - STA 23:20 (time zone -1) - 35 min delay on departure, arrival on time
Boeing 737-86N, TC-AAR, CN28624 / LN585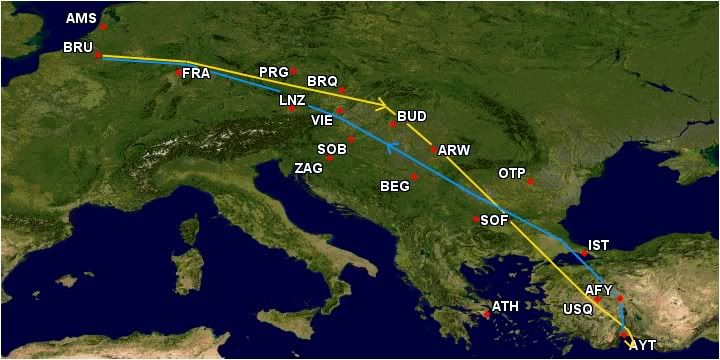 Approximate routings, based on some points taken with my handeld GPS (outbound in yellow, inbound in blue).
Brussels Airport
A scheduled departure time of 05:55 AM meant an early wake-up and an easy drive to Brussels Airport on almost empty highways. Add a few hours and it can get very busy around the airport, especially on the Brussels "Ring" highway. We left the car in the "
Front Park 3
" to take advantage of the special 79 Euros for 10 days offer, and walked down the long hallway to the terminal, this park being further away from the terminal than "Front Park 1" and "2". Although check-in for our flight was in progress in the main check-in hall, I decided to have a look at the "new" check-in hall, which is basically the old 1958 terminal after renovation. It was the first time I went in since its opening in March and it didn't impress me much. Granted, it's clean and modern, but a little to white for my taste, not to mention a somewhat cheap feeling. With 36 check-in counters, it mostly handles holiday (charter) flights and hosts tour-operator desks.
Back to the check-in counter for our Pegasus PGT5328 flight to Antalya :
-
Judging by the queue, a packed plane could be expected, but fortunately, the well-organized process limited the wait to less than 10 minutes before a friendly agent handed us out our boarding passes.
-
We were to depart from Pier B, which is adjacent to the main terminal building and used for all non-Schengen flights. Pier A, handling intra-Schengen flights, is much further afield and requires a long walk, but is also arguably more modern. We don't have to queue at all for passport control and security check, thanks to the numerous active lanes and efficient agents.
In the summer, the 05:00 – 07:30 time range can get busy with the morning wave of holiday flights. As an example, today I count no less than 25 charter departures during that period, 9 for JetairFly, 6 for Thomas Cook Airlines, the rest being a mix of Corendon Airlines, Pegasus, TNT Airways, Tailwind and Freebird. This is in addition to the 18 or so scheduled flights in the same interval. A peek out of the windows didn't reveal anything extraordinary, the most "exotic" departures being a Syrian Arab A320 to Damascus and Alep, and a JetairFly 738 to Ilha do Sal and Boavista in Cape Verde (at 4500 km, a long sector in a 737 !).
We grabbed some coffee and ate a couple of croissants watching our son having fun in the nice playground of the gates area. Boarding was called soon after the last drop of coffee. Unfortunately, the airbridge configuration prevented me from getting our 737-800's registration. All I could see was that we were parked beside TC-AAR, a company 738 which would incidentally be our ride for our return home, ten days later.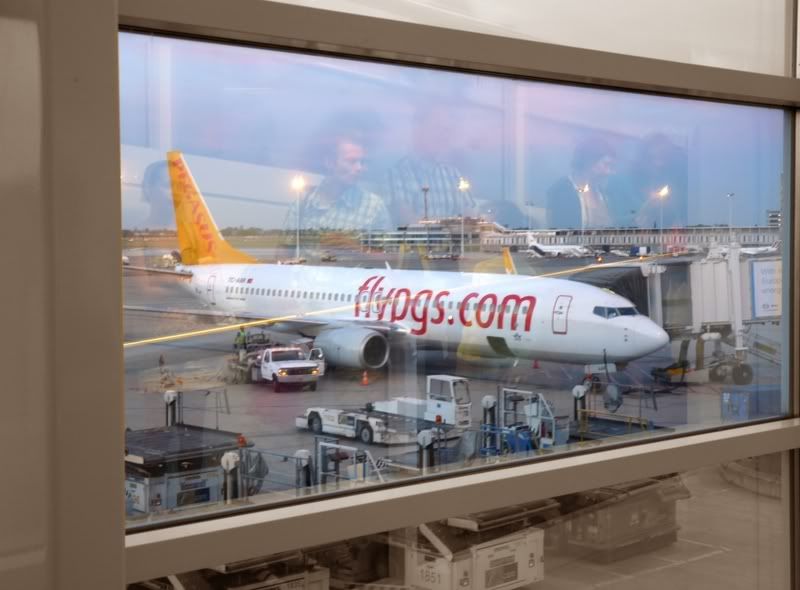 TC-AAR, through the terminal window.
The aircraft
As expected, our flight was so packed that I couldn't spot a single free seat anywhere in the cabin. Seats were leather, legroom was standard for charter flights (i.e. not much), all in all acceptably comfortable without being really good. The cabin seemed well maintained, save for a few dirty details here and there, such as this old chewing gum stuck in my seat pocket. Audio controls were installed into the armrest, but they didn't seem to control anything.
-
-
This should give you an idea of the legroom inside this Boeing 737-800.
Flight attendants had Turkish names, but spoke very good Dutch and French, covering the native languages of probably 100% of the passengers. They seemed to be doing their job professionally without being especially friendly. A manual safety demo was carried out in Dutch and French (I don't remember whether there was an English and Turkish version), during the taxi to runway 25R in glorious sunrise light.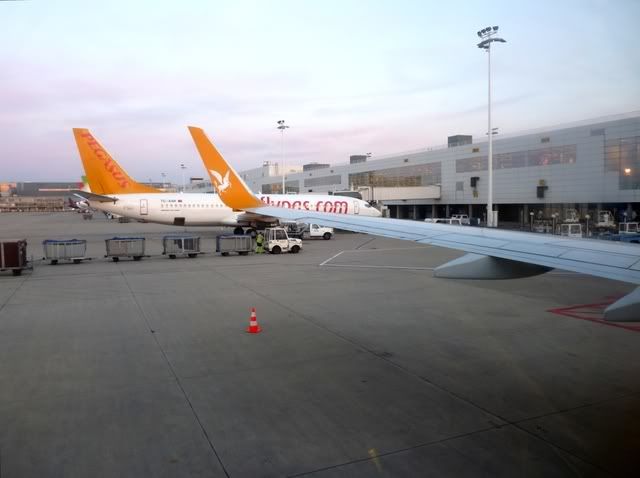 -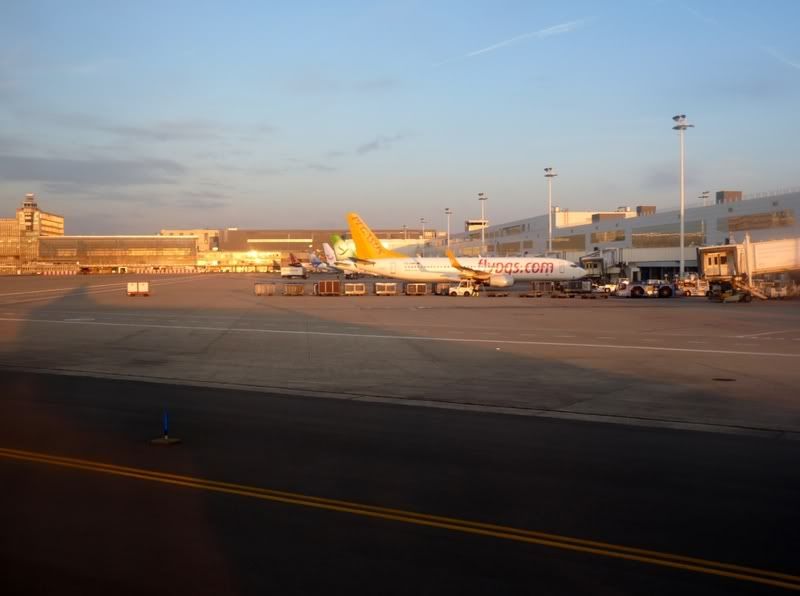 -
JetairFly B737-5K5 OO-JAT at the start of her take-off roll on rwy 25R.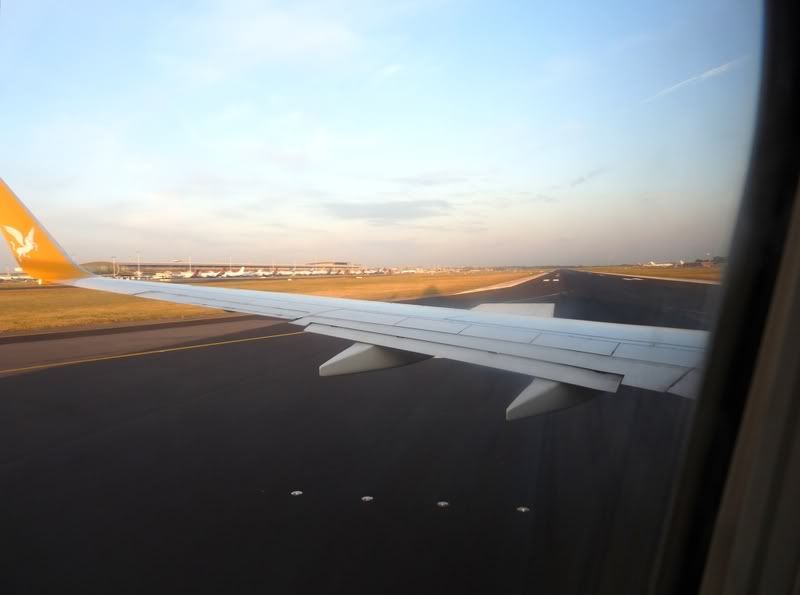 Entering the active (25R)
The long take-off roll hinted at the high combined weight of a cabin full of holiday makers with their luggage and fuel for a 3 and half hours flight.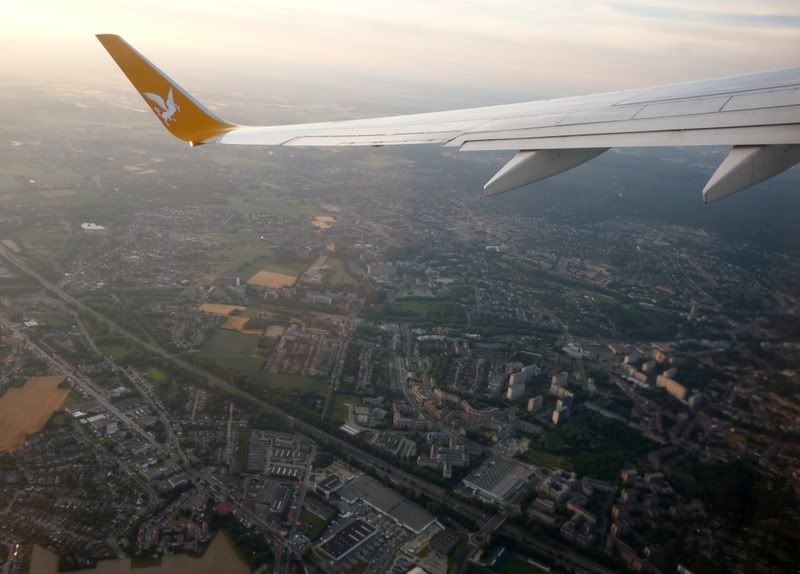 -
Brussels Airport visible in the upper left corner.
-
A breakfast tray was served 30 minutes after departure, consisting in two different kinds of bread with jam, cheese and strawberry yoghurt, with the accompanying choice of soft drinks or tea/coffee. Again, nothing really special, but still a welcome breakfast.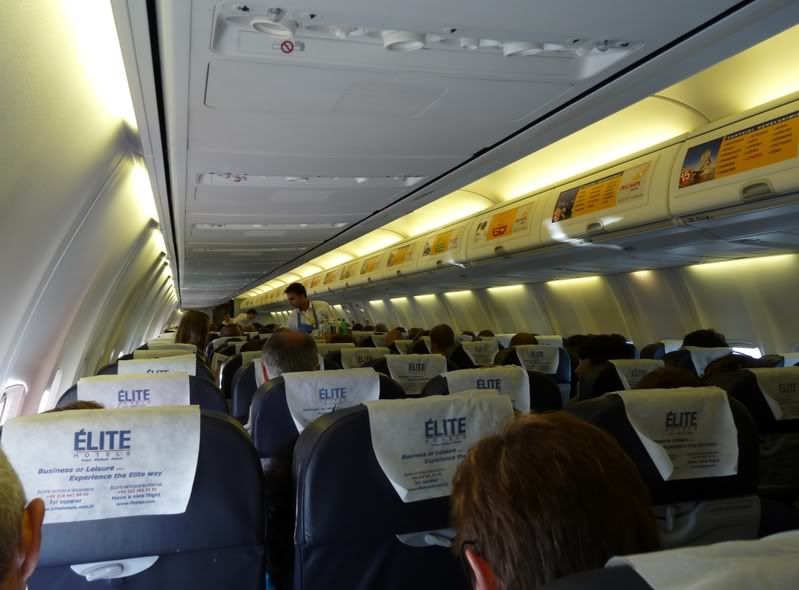 -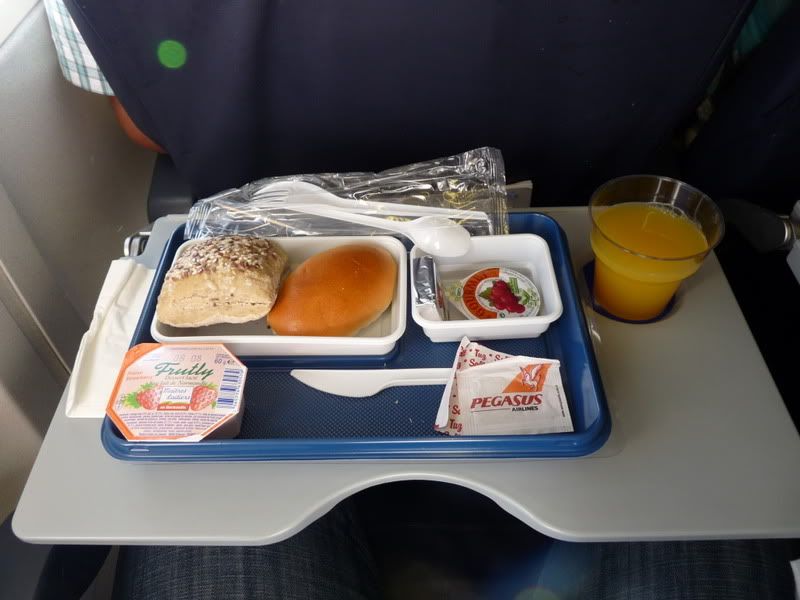 -
The flight took us across Germany, southern Czech Republic, southwest Slovakia, Hungary, western Romania, Bulgaria and Turkey. Facing the sun reduced my photographic opportunities, but here are a couple of shots out of the window :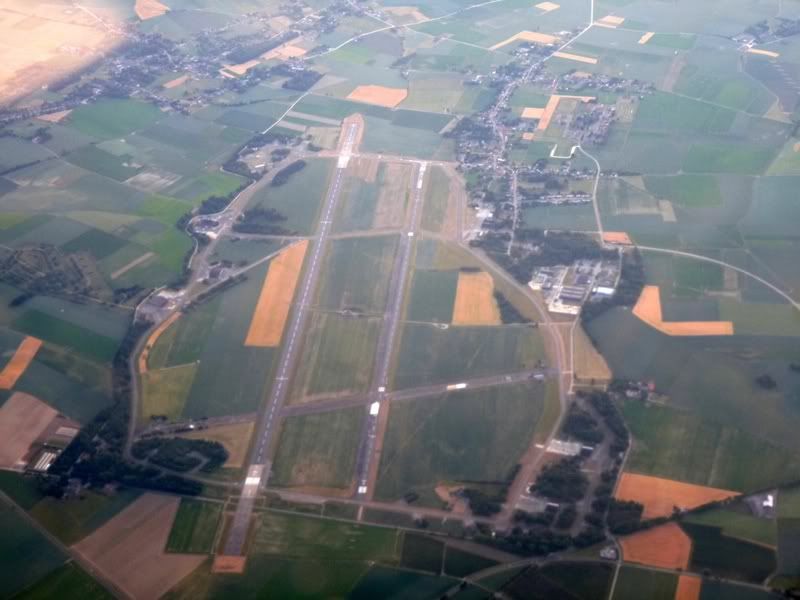 The military airfield of Beauvechain (EBBE), 13NM SE of BRU.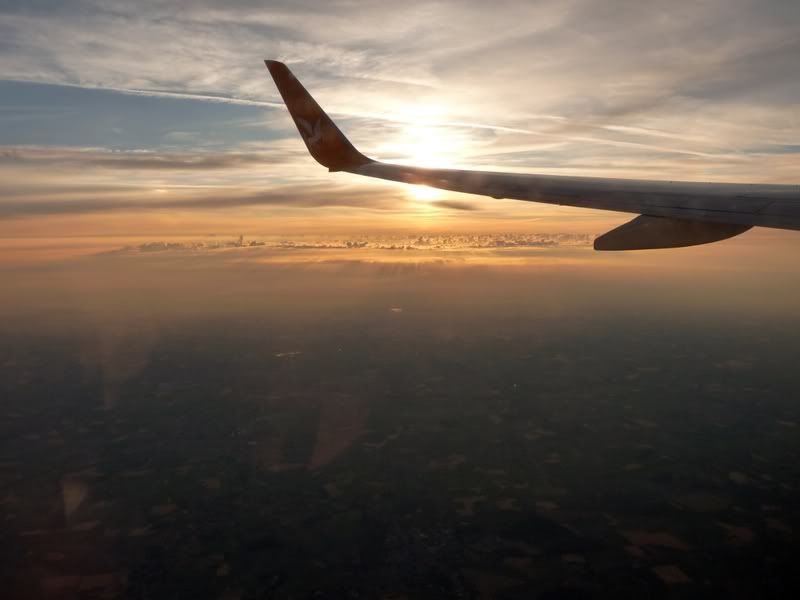 -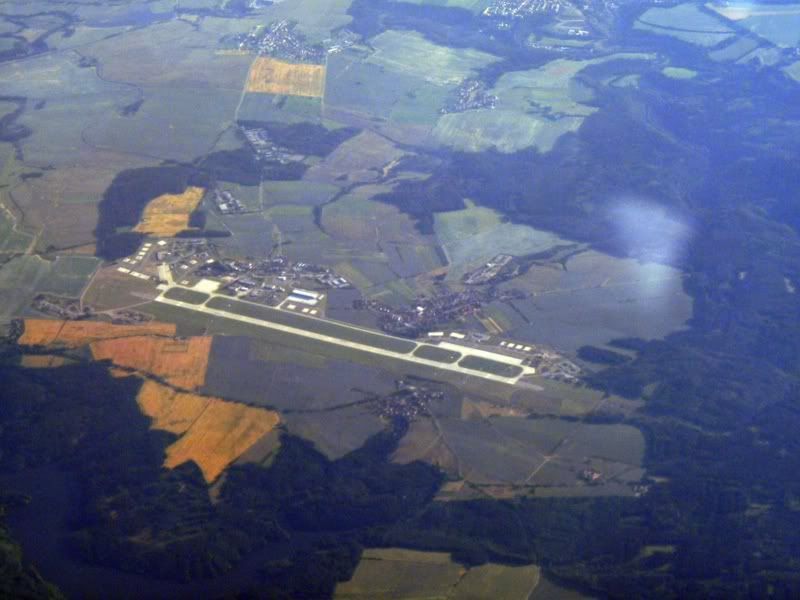 Airfield of Namest (LKNA), Czech Republic.
-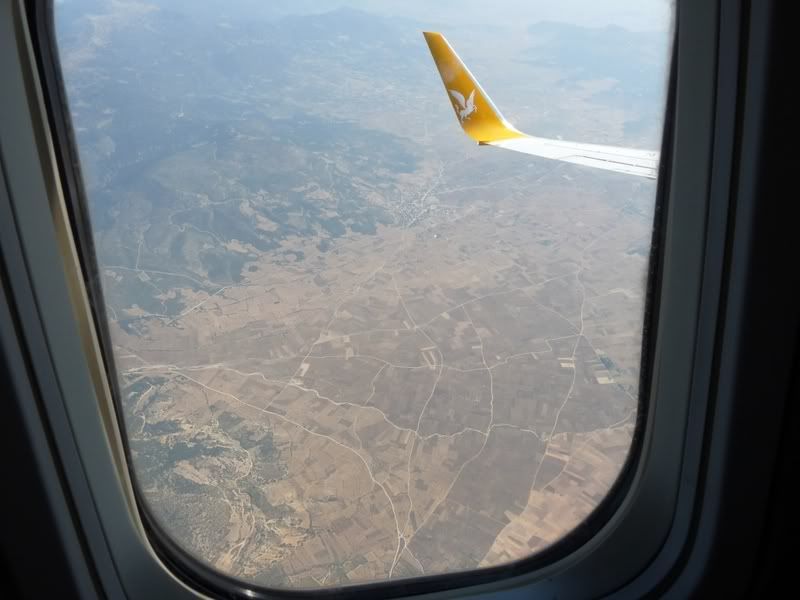 -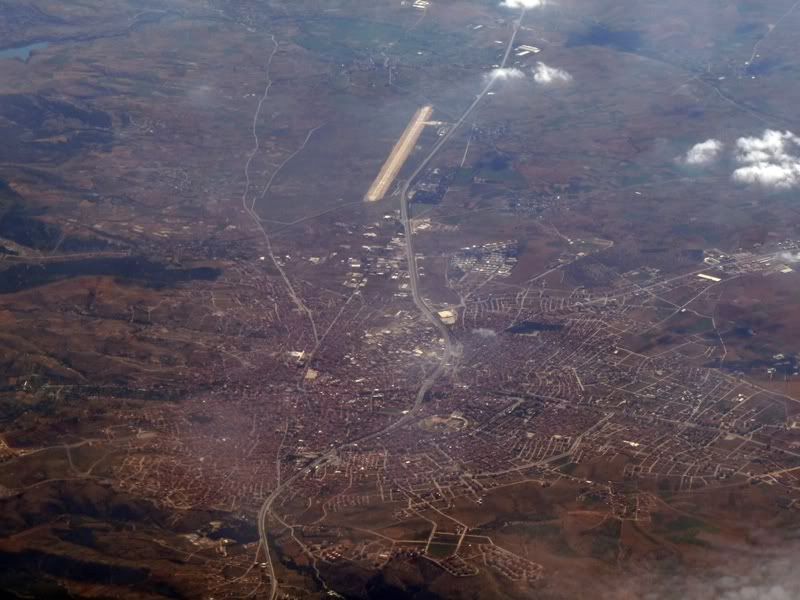 Usak airport, Turkey (LTBO).
-
-
3 hours and 20 minutes after take-off, we passed directly over our destination airport and began a long (16 minutes) final approach over the sea, concluding it by a smooth landing on Antalya's runway 36C.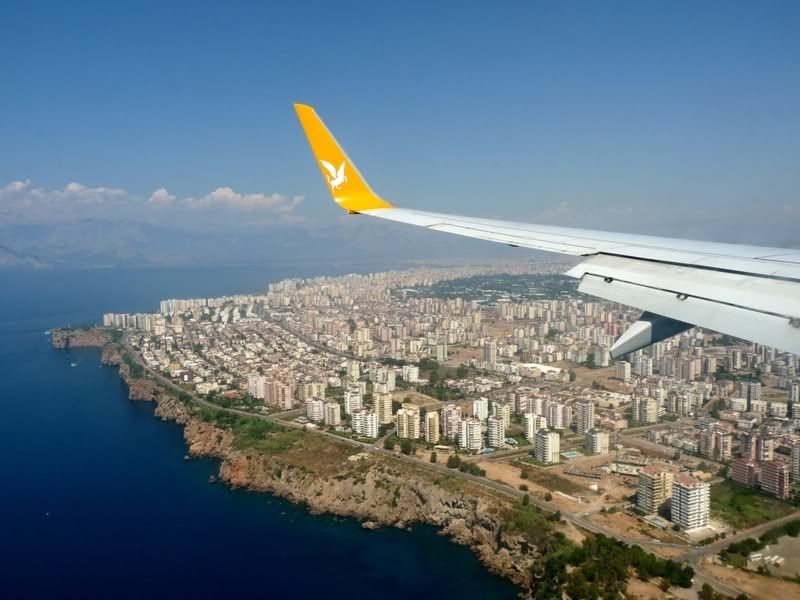 Suburbs of Antalya, a few seconds before touchdown.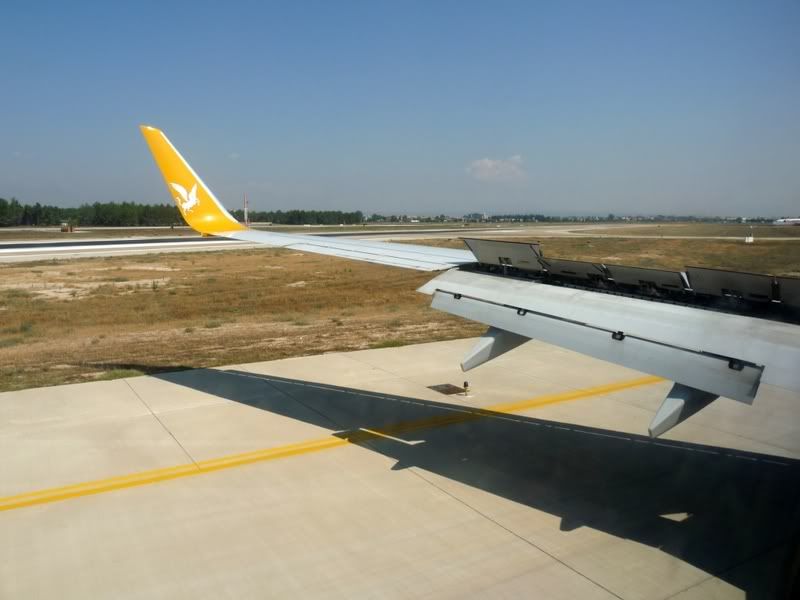 -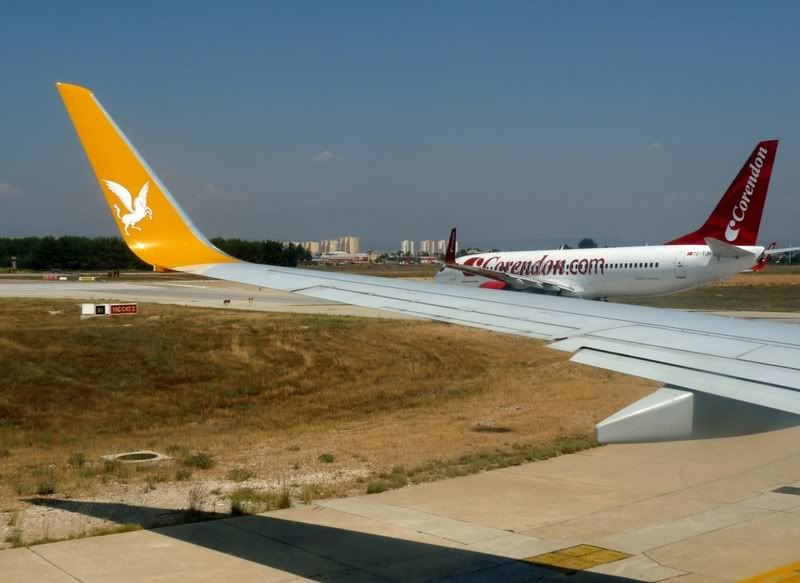 Corendon B737-86J TC-TJH
Donavia Il-86 RA-86124 squeezed between two Nordwind 767s.
After a short taxi, we docked at a Terminal 1 airbridge, beside a Transavia 737, a LOT Charters 737, and no less than two Atlant-Soyuz Il-86's, the Antalya area resorts being very popular with Russian holiday makers.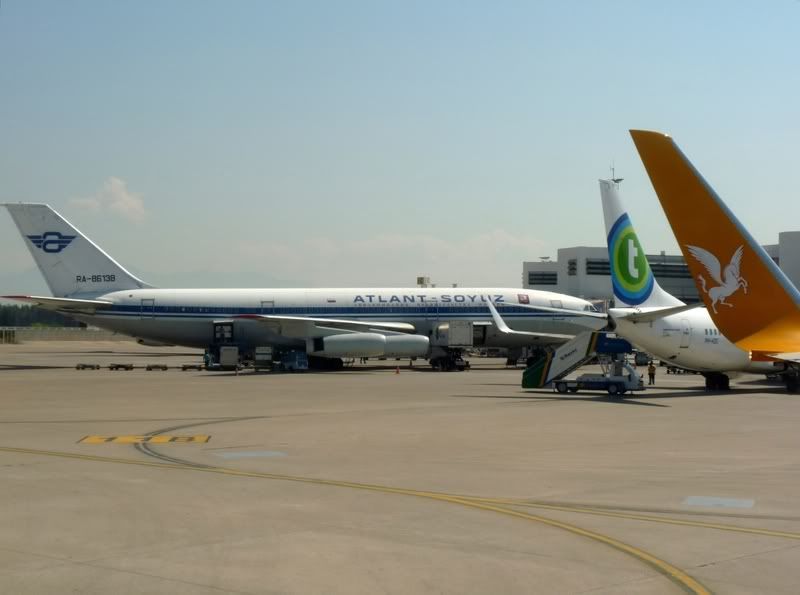 Atlant-Soyuz Il-86 RA-86138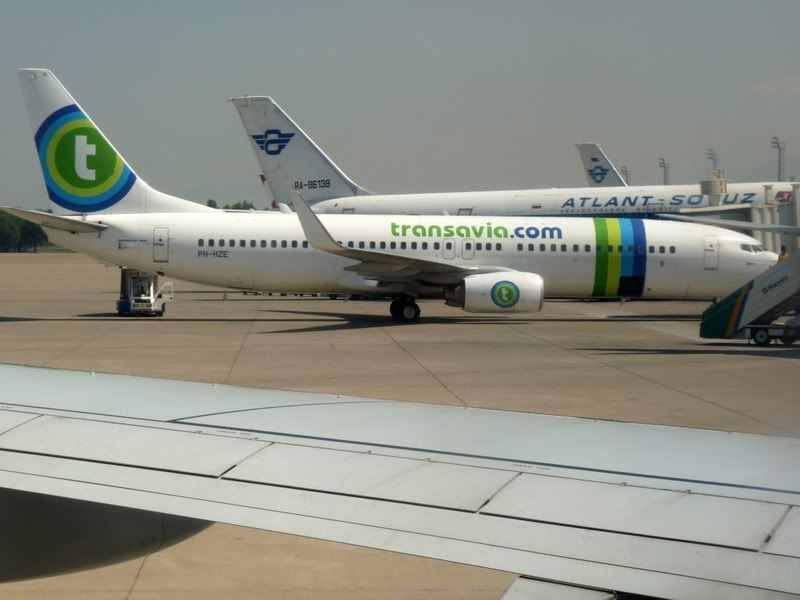 Transavia B737-8K2 PH-HZE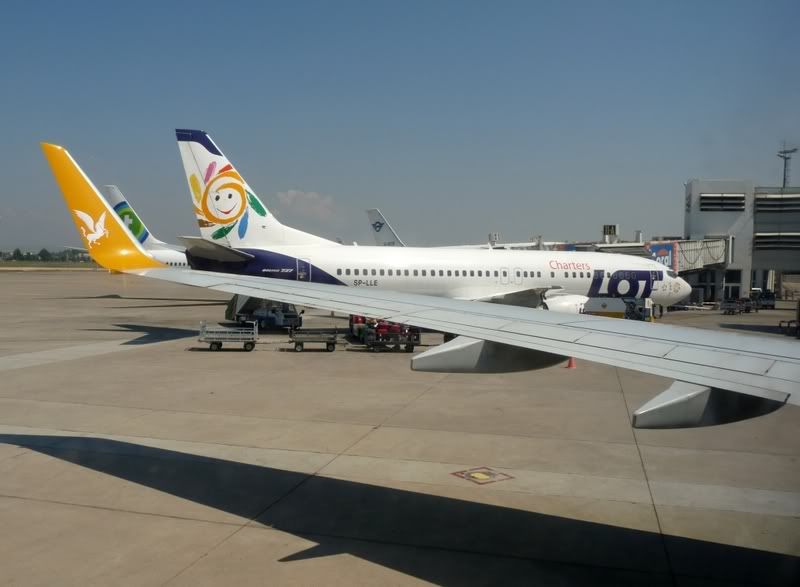 LOT Charters B737-45D SP-LLE
Arriving in Antalya
The airport gave me a good impression : modern and clean, without long waits, save for the chaotic lines at the visa desks (as Belgians, we had to buy visas for 15 Euros each). We collected our luggage, took some local cash at one of the ATM's in the arrivals hall, and exited the terminal into the sun-soaked Turkish morning. We were directed by a Neckermann representative to a very large coach parking where a bus was waiting to drive us to our hotel.
Arrivals level at AYT Terminal 1. Above is the departures level.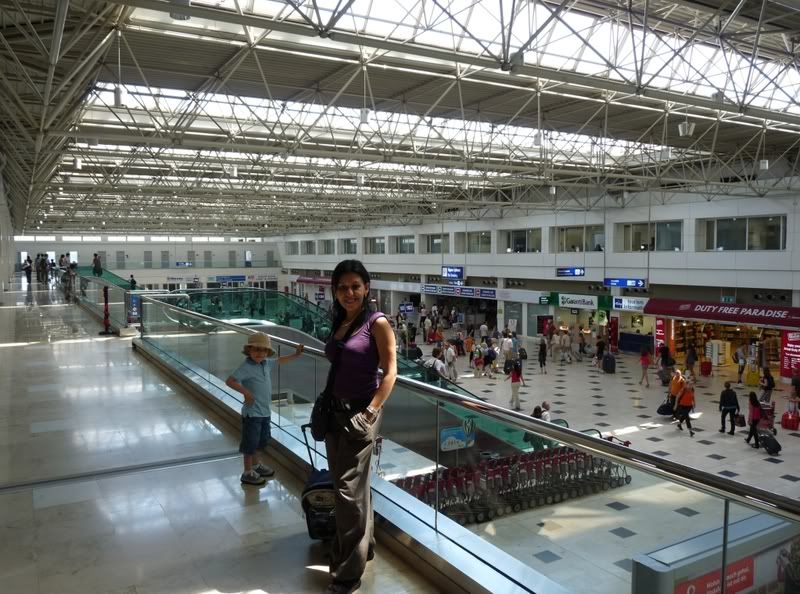 Terminal 1 baggage reclaim hall.
Terminal 1 landside, seen from the coach park.
The hotel
One hour later we were dropped off in front of our hotel, the
Astoria Sorgun Resort
hotel near the city of
Side
. Although the hotel was nice, with great rooms, lovely gardens, large pool and lots of amenities, I must say that I'm still not convinced by this kind of travel. Granted, all was made to give us a great holiday, but I've got issues with the industrial aspect of mass tourism, and, most of all, I dislike the fact that it's possible to spend a full holiday in Turkey without seeing anything really Turkish. However, I realize that it might just be a matter of personal taste, as most customers seemed to appreciate staying in the hotel, enjoying its so-called "animation program" while sipping beers in plastic glasses or sleeping all day long under a scorching sun without being bothered by the outside world. In the coach back to the airport, I overheard in amazement the conversation of a couple who had not left the hotel for their entire two weeks vacation, and who were surprised to discover through the bus window that there are mosques in Turkey...
-
-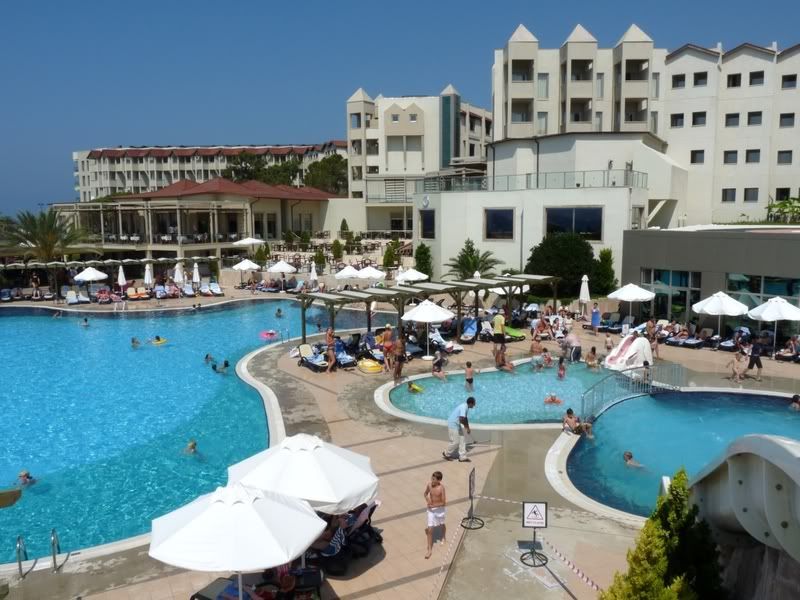 -
BrusselsSouth Jr and Sr.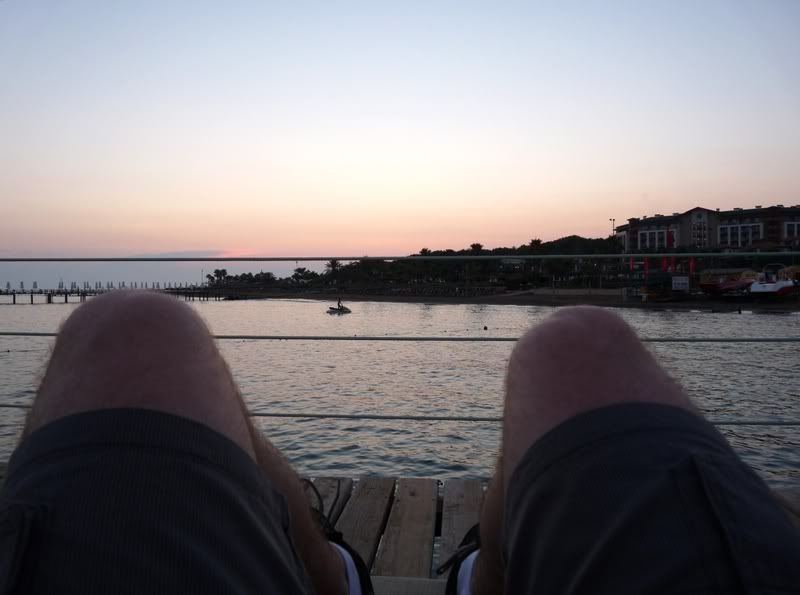 That's me, watching...
...the daily evening photo shooting session on the hotel beach.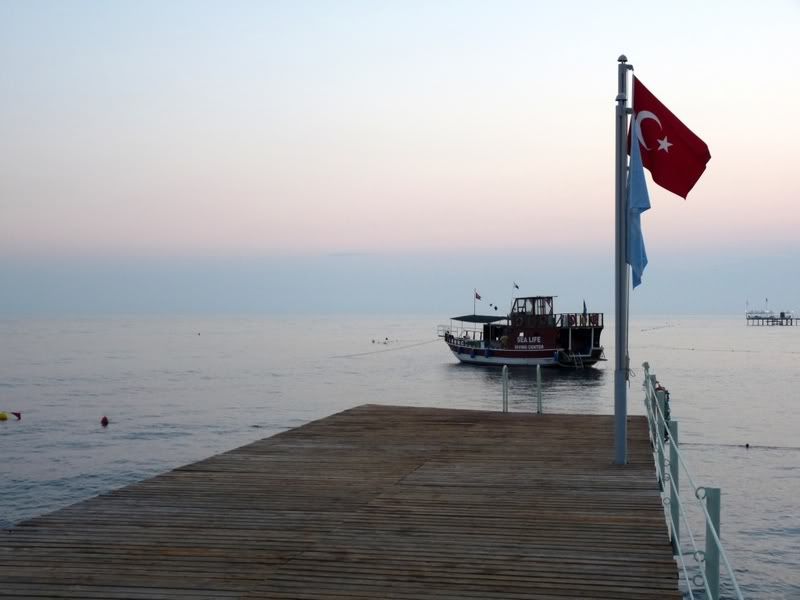 -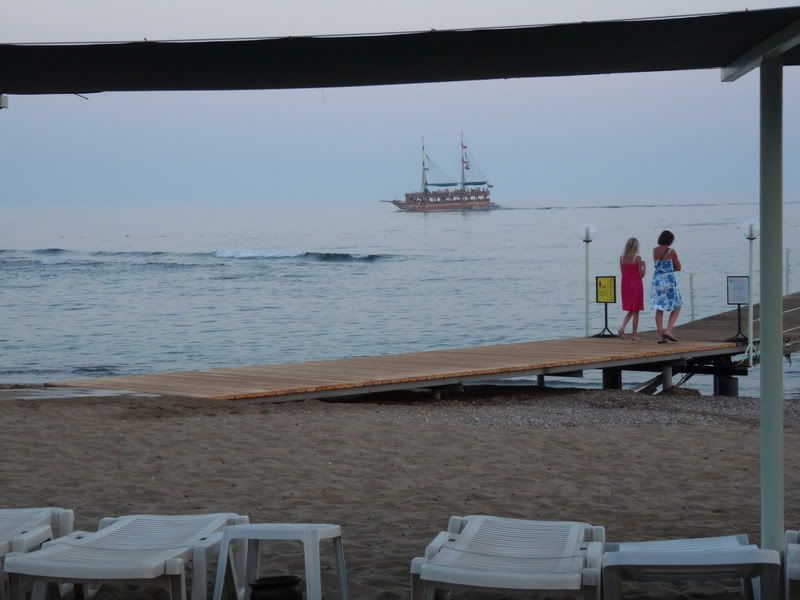 -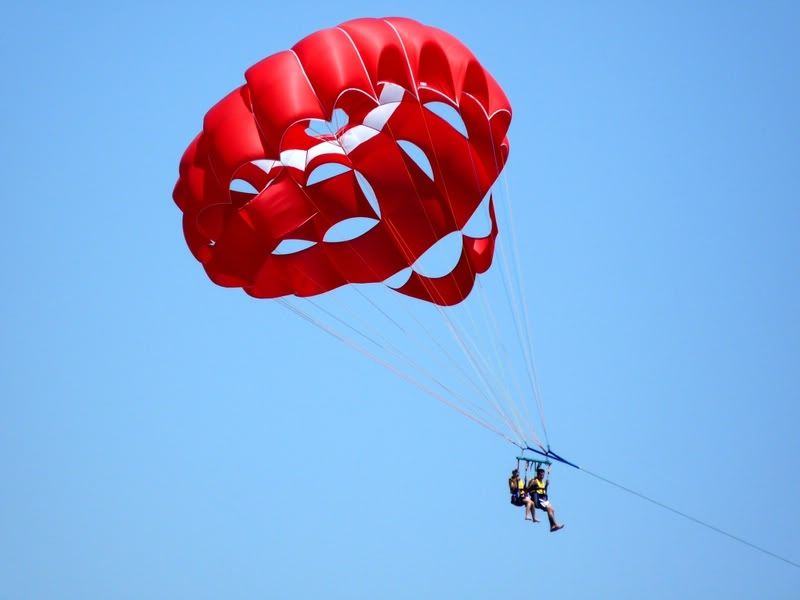 -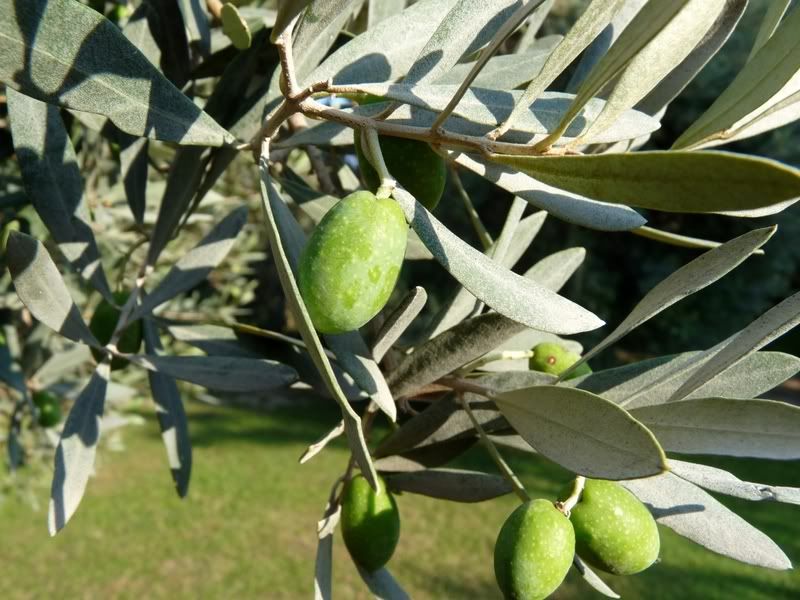 -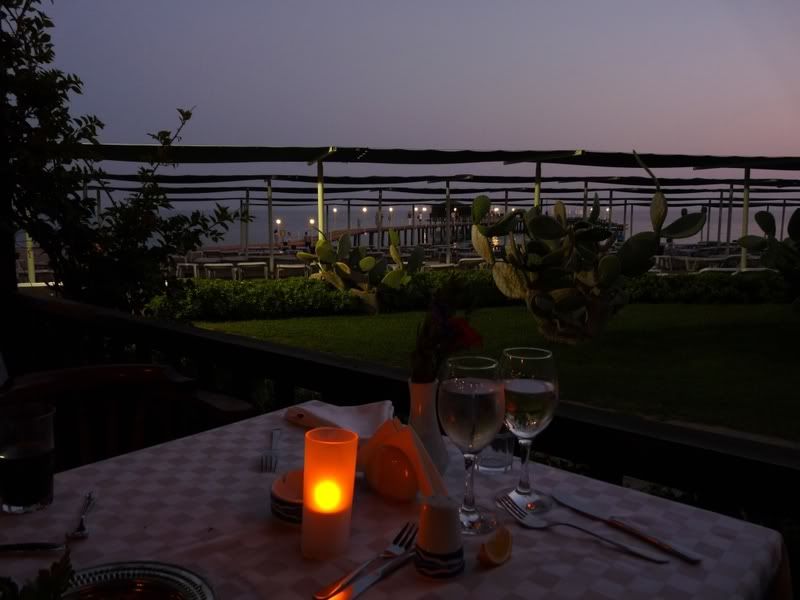 The city of Manavgat and its surroundings
Anyway, after five or six days of trying to live and enjoy this all-inclusive tourist life, I decided it was time to pass the exit door and see by myself how this part of Turkey really looks. I grabbed the first available rental car I found, called my wife and son, turned air conditioning on and took the road. As I hadn't prepared anything, we just drove more or less randomly and visited the town of
Manavgat
and its surroundings.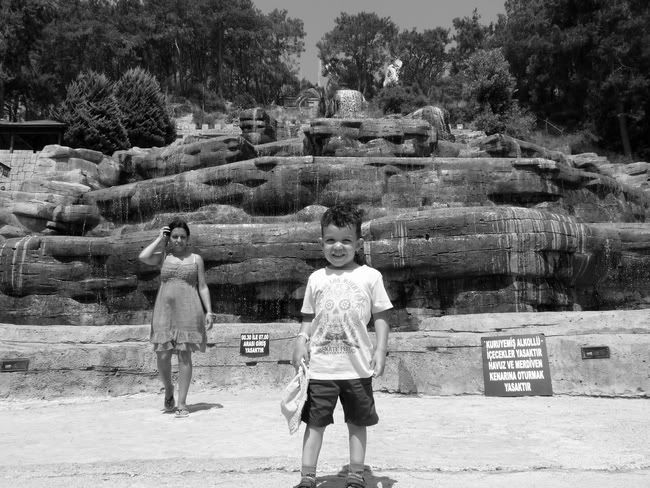 Fountain in Manavgat.
Manavgat city.
A random residential street in Manavgat.
We then headed due North on secondary roads flirting with impracticability, under a barely bearable heat, to reach the
Oymapinar Dam
and its lakes. It was fun to pass through remote villages, with the turquoise color of the water putting a most beautiful touch on the predominantly burnt mountainous landscape.
-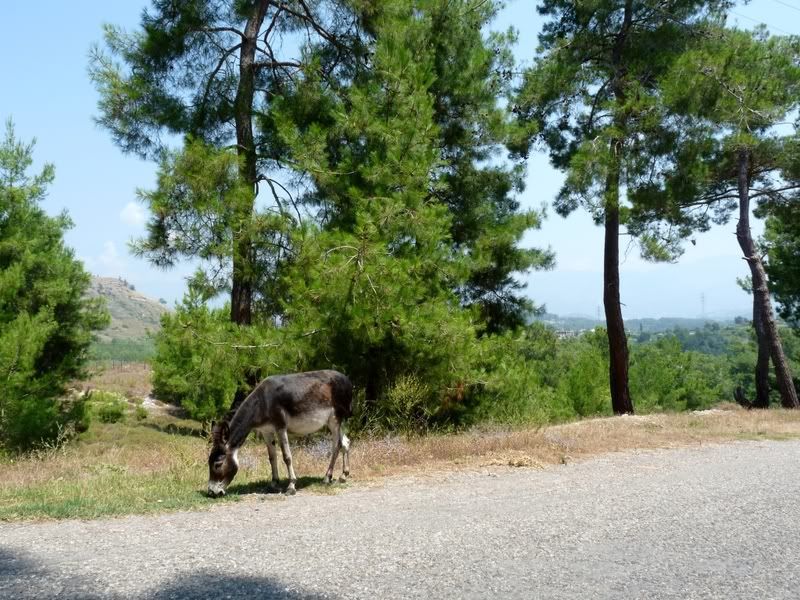 -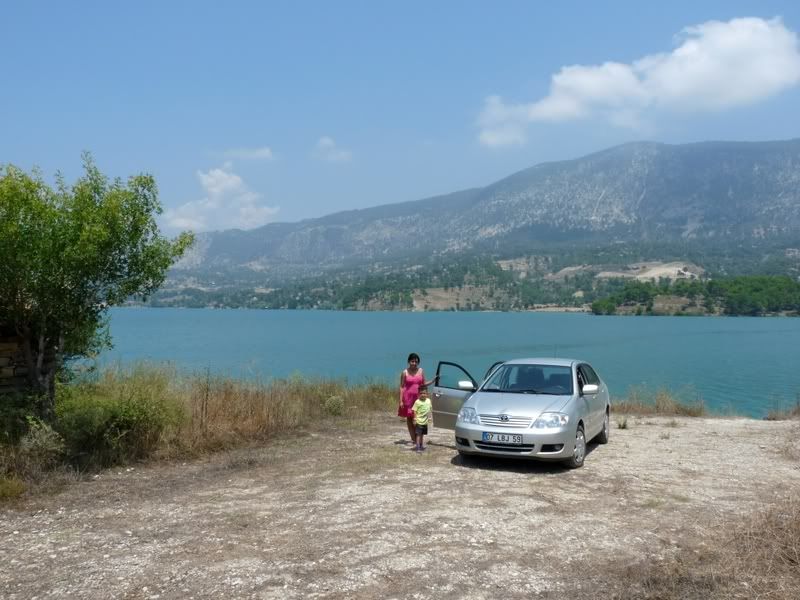 -
-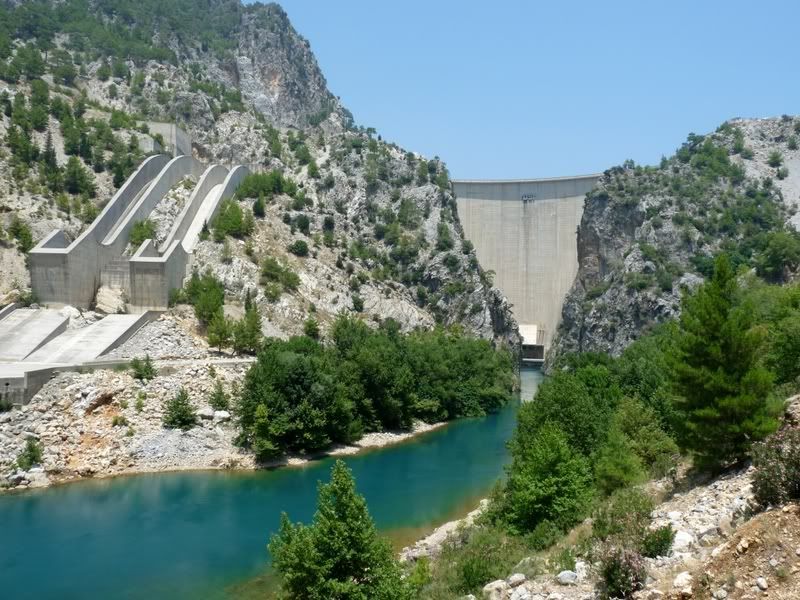 The Oymapinar dam.
Catching sight of a boat boarding jetty, we decided to make a boat tour on the lake, only to learn that boats were reserved for organized groups. We had no choice but to get back in our car, heading back to the hotel, this time using the main, touristic road on which we encountered a number of touristic coaches.
Close to the coast, we paid a visit to the crowded but still nice
Manavgat waterfall
. We ate at a correct restaurant overlooking the falls, with the proximity of the water giving an enjoyable sensation of freshness. Getting back to the car, we were ripped off by insane prices in one of the numerous souvenir shops.
The fall seen from our restaurant table.
Not the cleanest place to take a nap, but this gentleman does not seem to care.
All in all, and even though a full month wouldn't be enough to discover the vastness of Turkey, this was a fun day which allowed us to sample very different aspects of the country, from the shiny resorts of the coast to the small, apparently poor countryside villages, to the average-sized and relatively modern city of Manavgat.
Side
Back in the hotel, we decided to book an organized excursion so that we could still experience a boat tour on the lake we had just come back from. After dinner, we took the car again to visit the nearby city of Side, which, although lovely at first sight, is nothing more than a vast, crowded souvenir market.
-
Could be a good time for a cup of Viagra tea... not that I really need it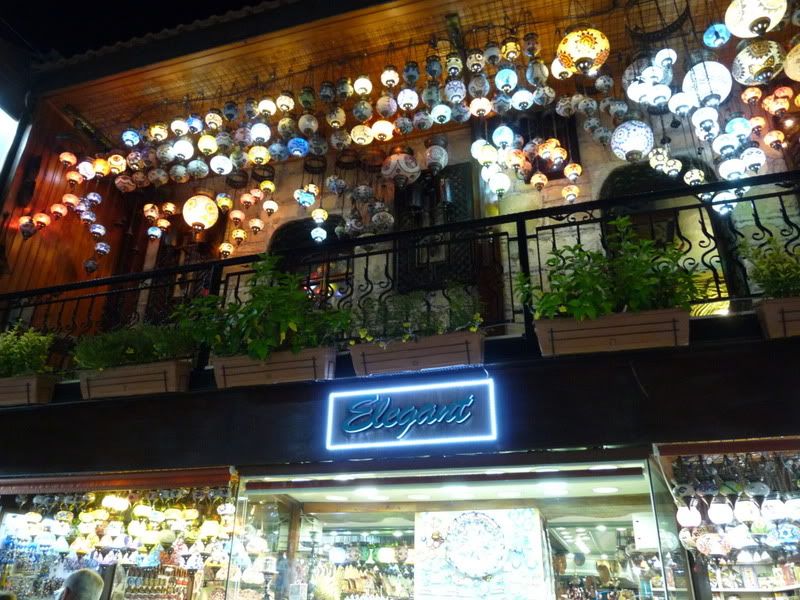 -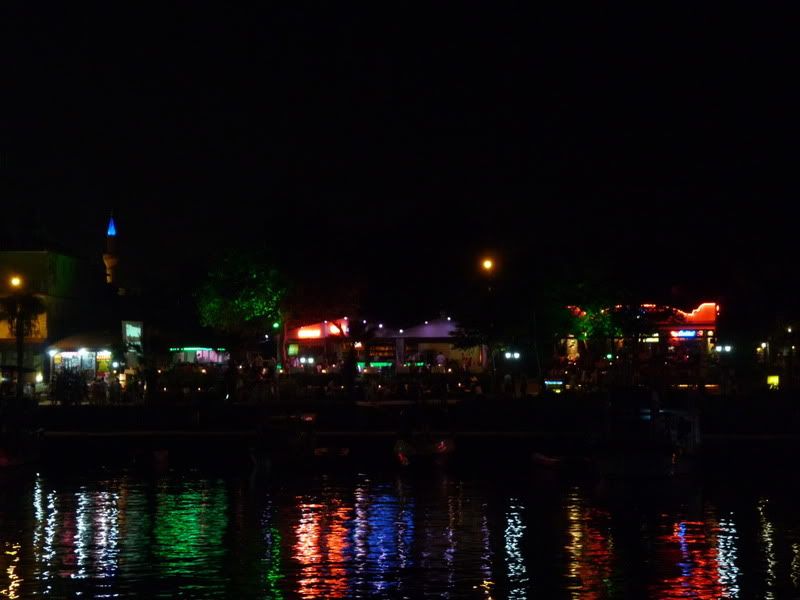 -
-
Some ancient Greek ruins try to confer the place some historical interest :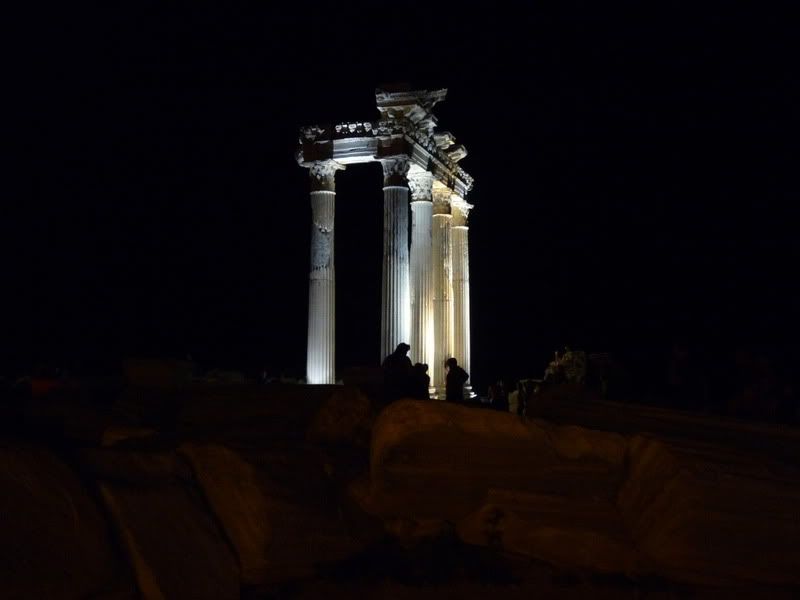 -
We went back to Side the next morning, to enjoy the much more quiet atmosphere, everyone being probably busy forgetting last night's hangover :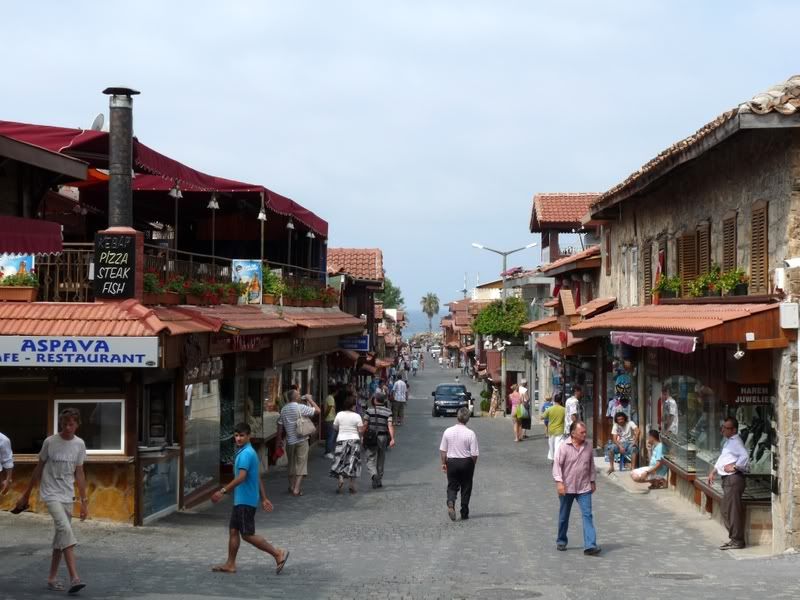 -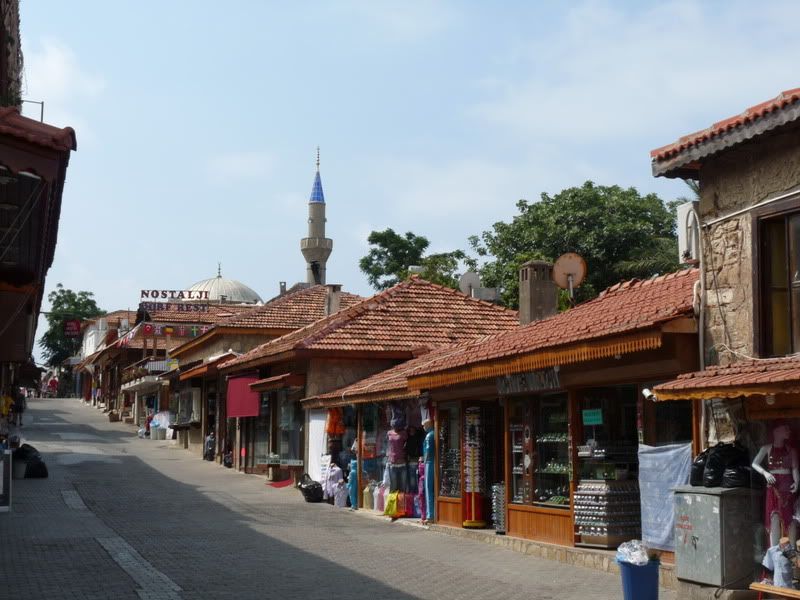 -
-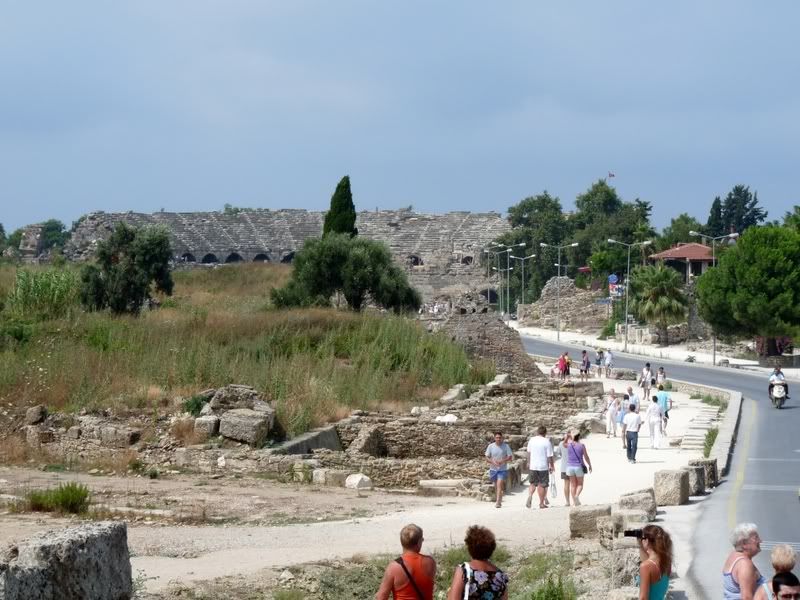 -
Boat excursion
The boat excursion could be considered as a tourist trap because of its relatively high price, the low grade food we were served for lunch, the very basic explanations we got in the bus, and the continual requests for tips. However, the landscape was beautiful and swimming in the fresh water in such a nice setting made my day. We made friends with another Belgian couple and had a nice chat with them for a good part of the day. When we went back to the hotel, we had the impression of a day well spent.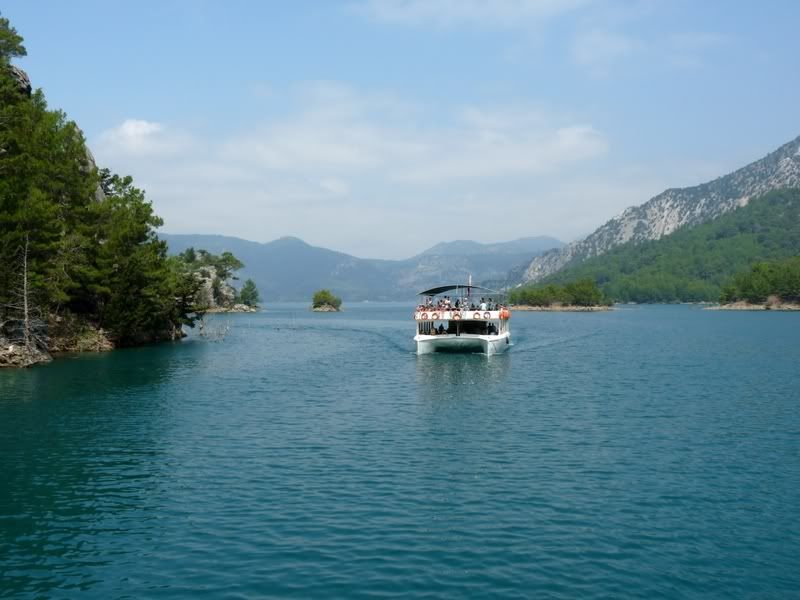 -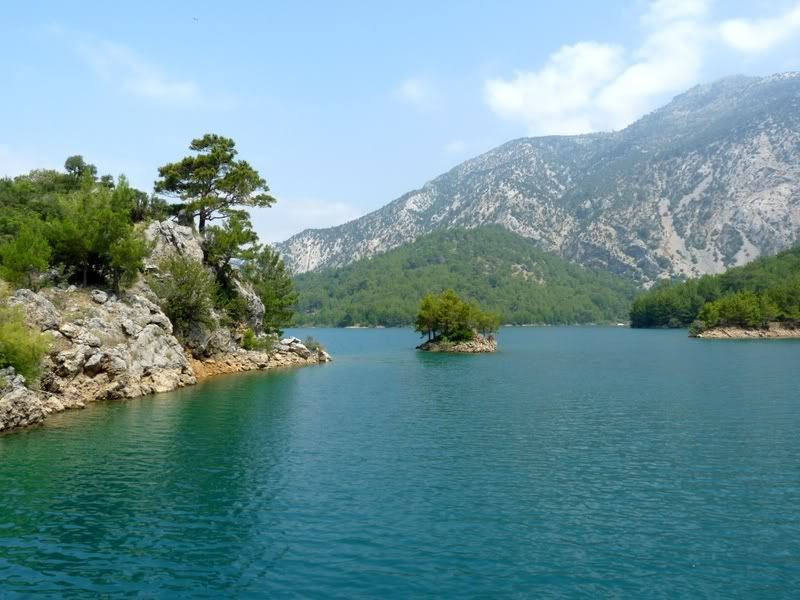 Nothing like swimming in those waters
[Edited 2010-08-20 05:15:58]