Feedback always appreciated.

I > Background:
I had been working for a client in MAD for a week – and had to return the following week for some follow-up work. As much as I love Madrid and its "la marcha" on weekends, I wanted to surprise a friend of mine in DC and do a little bit of partying Capitol style. What was interesting is how cheap UAL (I mean Aer Lingus') 330 nonstop was between the two cities on a last minute purchase. I maintain UAL's 1K status as well and have these SWU's that I never seem to use. All fell into place when the 1K desk confirmed that there was upgrade space on both outbound and inbound flights, and in a matter of minutes I had tickets (via their website).
Initially, I had not planned on writing a TR on this flight. For whatever reason, I checked A.Net on the day of departure and noticed that this flight was not covered in any trip report (please correct if I am wrong). I was definitely surprised and decided to change this.
So here you have it: the first trip report on United's controversial "out-sourced" flying. UA/EI's flight from Madrid to Washington, IAD.
II > Pre-Flight:
a) Before Airport:
United Air Lines, Inc., is one of the major U.S. airlines and operates from hubs at ORD, IAD, DEN, SFO, and LAX. It is a founding member of Star Alliance and has a network spanning across the U.S., extensively into Far East/Oceania, with limited service to Europe, Latin America, and the Middle East. While it has struggled post 9/11, it is on a revamped track with a buzz-generating merger with Continental in store. It recently refurbished its fleet of 763, 744, and soon the 772 to flat-beds on J and F as part of a major exercise. In January 2009, United announced a code-sharing agreement with Aer Lingus for flights between Washington Dulles International Airport and Madrid, Spain. Aer Lingus will operate the service, which is permitted under recent open skies agreements between the US and EU. The service has been criticized by many (especially United unions) as it has "outsourced" flying to cheaper labor.
United's website at
www.ual.com
is referred by many in the aviation community as the ".bomb" due to several technical glitches. I actually find the website pretty intuitive and easy to use. In a matter of minutes, I was able to book and pay tickets which arrived electronically in less than 5 minutes. I was able to book seats and request an upgrade, which surprisingly as mentioned cleared immediately. I love UAL's higher Y buckets and I have plenty of SWU's to last a lifetime. Even more impressive is that UAL's site gives you access to modify your reservation and change seats as many times as one wish. Many brownie points . It was interesting that during the entire booking process, the flight was referred to simply as an United flight, operated by Aer Lingus.
Interestingly, you could also book the flight on the Aer Lingus website, where it appears as a full EI flight with completely separate and unrelated flight numbers. So it wasn't the traditional "wet lease" agreement in that sense. Also fascinating was that the YCL fares were cheaper via EI than via UAL. Of course, I could not have utilized by SWU's then.
b) At Airport:
Aer Lingus/UAL uses the rather depressing looking T1 at Barajas. For those used to the elegance of T4, T1 is a step back in time and really reminiscent of some of the depressing terminals at LHR. Thanks to my JCL seating (and Star Gold) status, I was able to use the significantly shorter premium line where the lady quickly processed my boarding pass, took my U.S. immigration information, and told me about lounge usage. Unlike the inefficient and rude airport personnel at some other European gateways (think a little north and Skyteam), the staff at MAD are surprisingly nice, and I was soon talking about my headache from the night's "la marcha". Nice.
What was interesting about the check-in process was that the counters and branding were all for United – and none for Aer Lingus. Imagine the surprise those who booked on EI's site must be getting …
Anyways, security early in the morning was a breeze and I was soon off to the modest (but functional) AENA/airport authority lounge. It is nothing special – the bonus being lavish views of the apron and runway – though no computer terminals offering internet access, and a convoluted paid WiFi system. It was bizarre because the AENA lounge in T1 had free terminals the last time I was there.
After checking some of the aircraft movements, including a beautiful Santa Barbara arrival from CCS which made me homesick, I made it to the boarding gate. The boarding gate itself was rather chaotic and disorganized – and the process was a little too crazy for my taste. Even the premium boarding was stressful. It seemed that the MAD flight had significant amount of people who were redeeming miles, and a lot of upgrades due to overbooking and SWU's. Anyways, I have never encountered a more "entitled" crowd who thought it was OK to push-and-shove to the front of the premium line. I rarely lose composure during these moments, but had to tell off a mid-aged man who insisted on pushing forward and skipping the line. In his mind, all the others could not possibly be premium passengers! Anyways, the first thing you notice upon boarding is how cramped the entire space looked – and how frantic it looked. In the middle of all the chaos, I wasn't welcomed at any point by the crew … nor offered any welcome drinks … nor have my jackets hanged … until I requested the last during the security announcements.
J load was 100%, and Y load was 90%.
>Airport - External:
(Madrid Airport Terminal 1)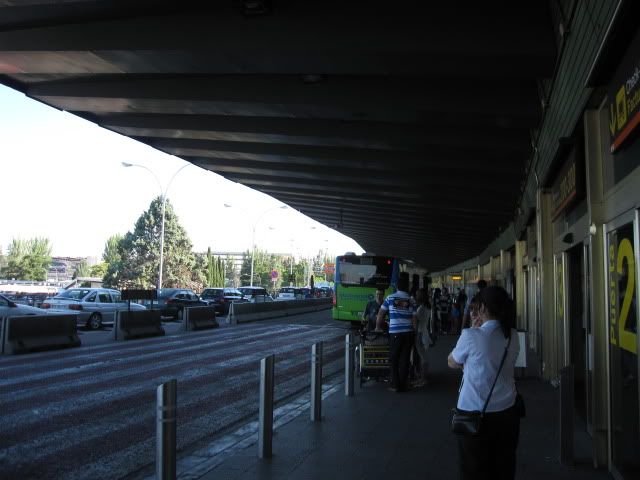 Check-in: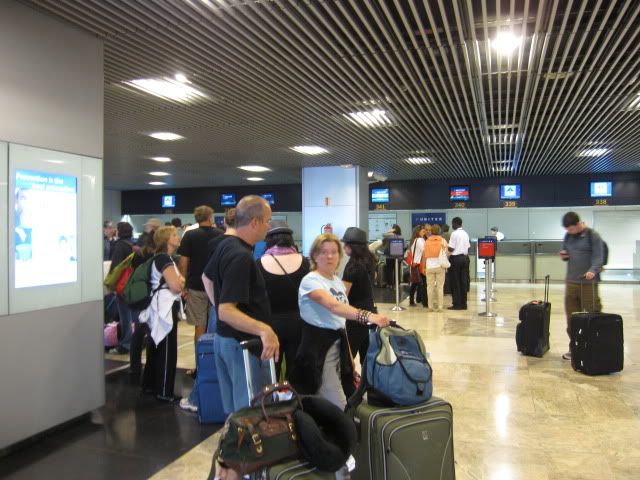 Airport - Internal: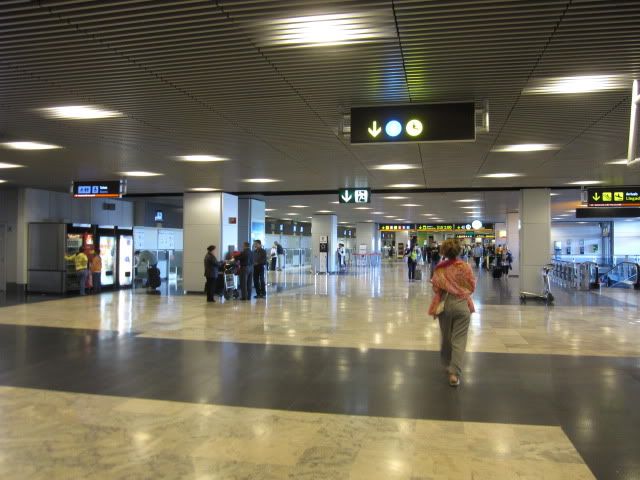 (FIDS)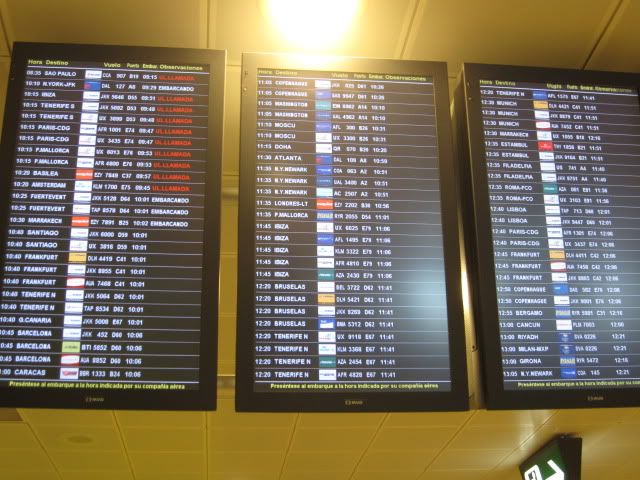 (Post Security @ MAD – aka, "the other Madrid" – a tribute to "the other" series)
Scenes of the tarmac:
*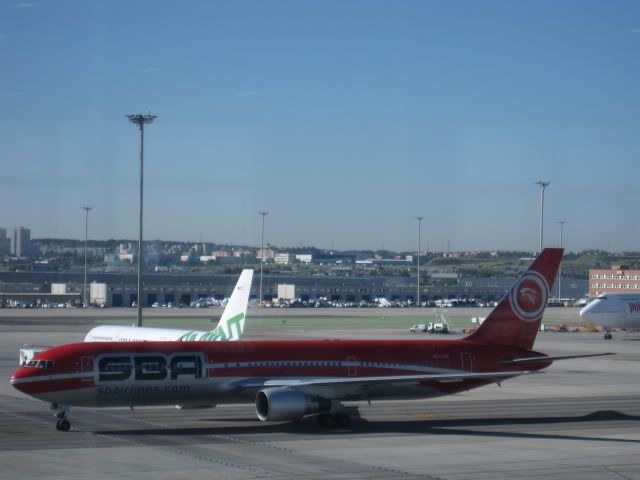 *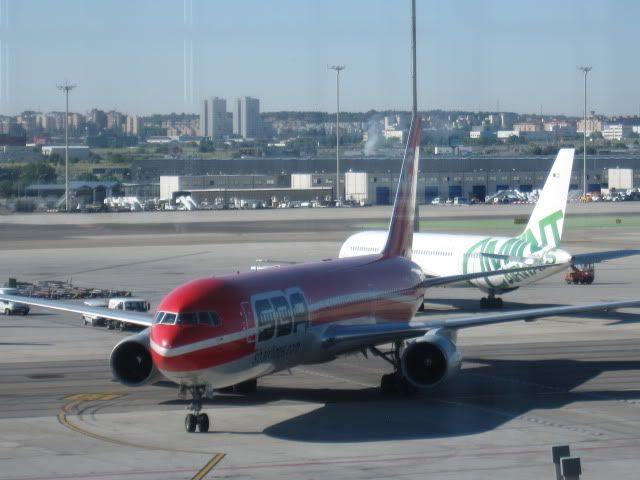 Lounge
(AENA Lounge)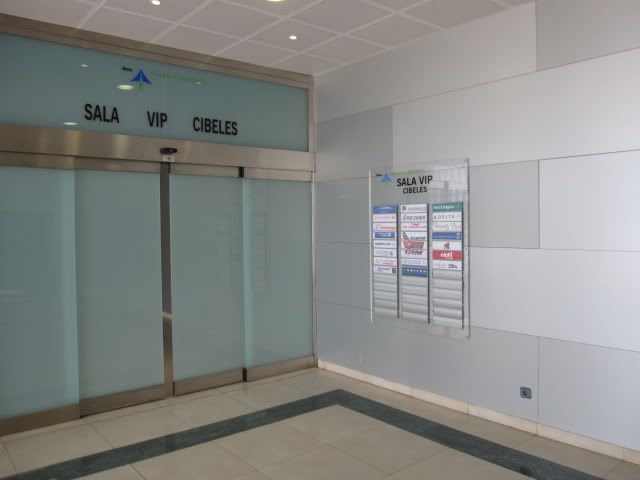 *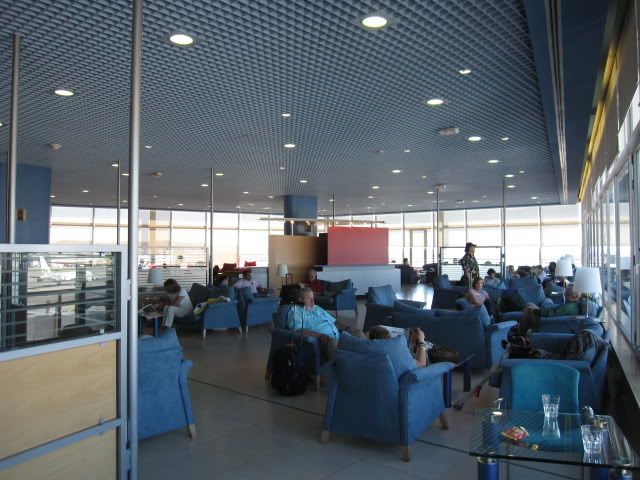 *
*
Boarding:
(Gate area – ILBST very much in action)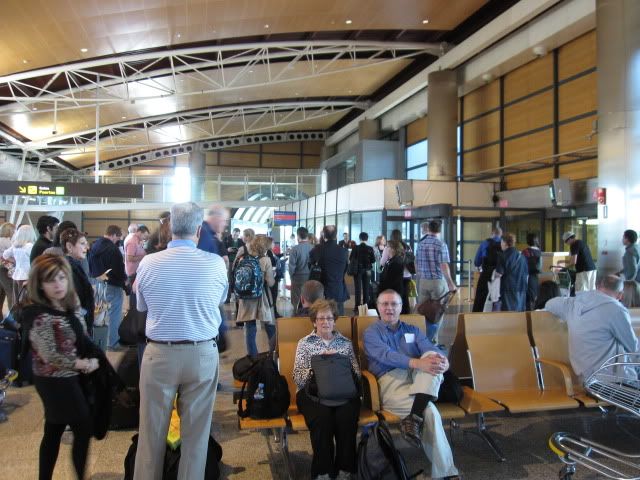 III> In-Flight:
a) Service Schedule + Impressions:
Prior to take-off, a shocking lack of drink service (though, to be fair, each seat had a bottle of water). After take-off, skimpy luke warm hot towels, menus, order taking, lunch and then pre-arrival dinner service. Average amenity kits by L'Occitane on seats upon arrival – they had above average stuff in them, but the actual case was a tad cheap.
b) Aircraft + Seats:
Aer Lingus's 330's looked pleasant in their overall green attire, and the cabin was in good condition. However the premium cabin felt a tad too cramped for my liking – as the pictures will attest - perhaps it is because it was a full load in 2-2-2 seating? While the bathrooms were clean enough, I was disappointed at the lack of amenities found in them. United's own JCL has some wonderful products, and why it couldn't be stocked on EI's bird is beyond me.
The seat itself was a very average lie-flat seat … sort of reminded me of a cross between a Korean Airline and Air France seat. Now, as many of you know, I am not a fan of these seats and I even prefer old-style J seats to these. The only decent angled J for me was on the old SQ. Worse, the actual legroom for non bulk-head was very limited and I missed those on CZ. In seating position, the seats are great … but the moment you make it in any other position (cradle, lie-flat, etc.), you start feeling the cramped surroundings, and the overall lack of space.
Aircraft:
(330 @ DUB – PC: Web)
Views from Aircraft:
(Pullmantur – the new Emirates … hehe)
*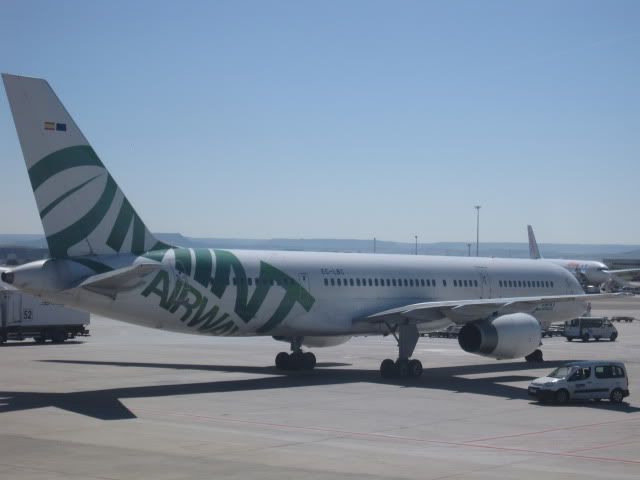 General Seat Views + Seat Legroom
(Seat)
NONE
(Front of seat)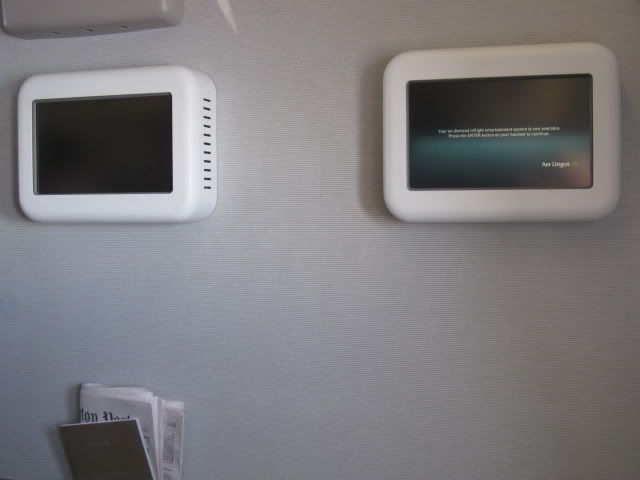 (Seat controls)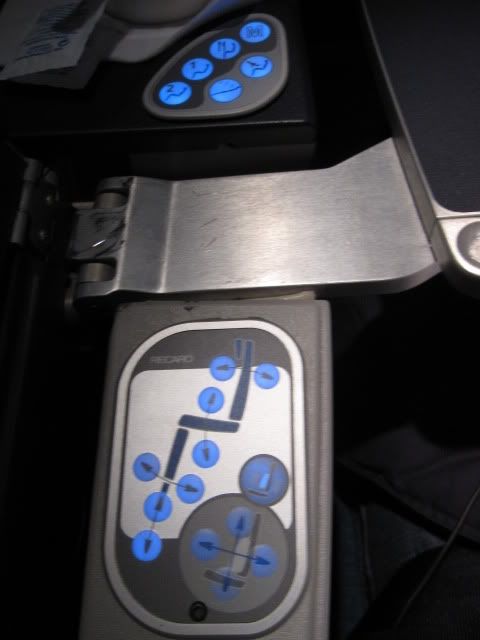 (Legroom: only decent in the bulkhead)
(Blanket)
Seat Recline + Angle View: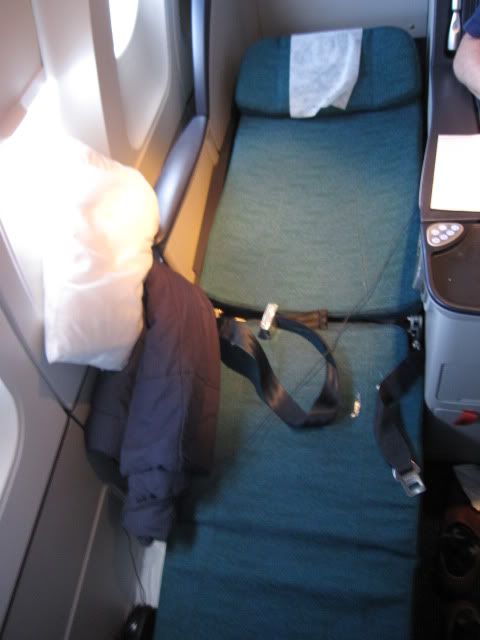 *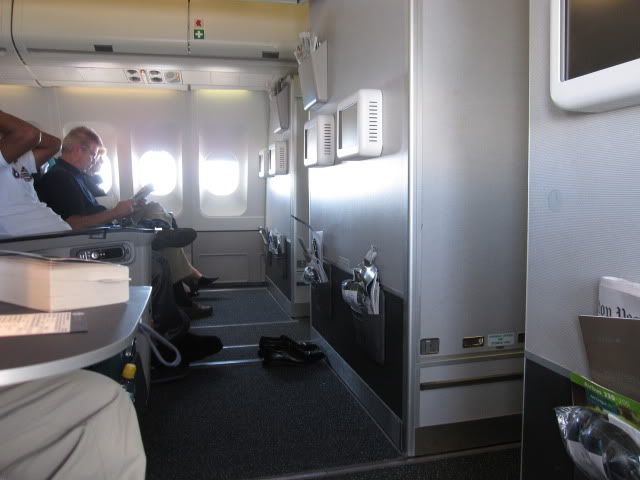 Cabin:
*
(Bathroom Amenities: or lack thereof)
c) Meal + Beverage:
I generally find United's J class food offerings to be just about industry average for Business Class … except for flights to/from Dubai and Kuwait when they are rather good. Anyways, Aer Lingus' offerings were significantly better than "mainline" UAL – though presentation could have been improved.
Lunch service started with some yummy canapés including an excellent mini tuna pie and a tasty cream cheese and walnut tartlet. Presentation could have been better if they had given me the table cloth and placed it accordingly – as it was super cramped on the side table. This was followed by a starter which consisted of a poorly presented salad (sort of looked like they had just opened a bag and tossed everything in), and a nice Serrano ham with smoked salmon and cream cheese – it was nice, and the portions generous.
For the entrée, the choice was between a beef tenderloin, a salmon loin, and a vegetarian Girasol pasta. I choose the salmon which was OK – however, the white rice was nice and the grilled courgette and peppers very well cooked. Overall, an average meal … though commendable portions.
Finally, dessert included a choice between a fruit salad or a Santiago cake. This I found to be quite nasty and incredibly sweet. It was like an after-thought to the meal and hastily put together. A limited collection of cheese and grapes were also on the offering. After the meal service, I asked for my café twice … and it took over 30 minutes for it to be delivered. Not good!
Prior to arrival, there was an afternoon tea service which consisted of an open sandwich with various accompaniments (OK, could be better presented), some biscuits, and a wonderful warm scone with butter and jam. Sadly again, it took several attempts to get the attendant to get me some tea …
Overall, I found the food offering to be generous for a TATL flight, and definitely better than what is normally offered on United mainline for these segments. However, presentation and delivery left much to be desired.
(Menu)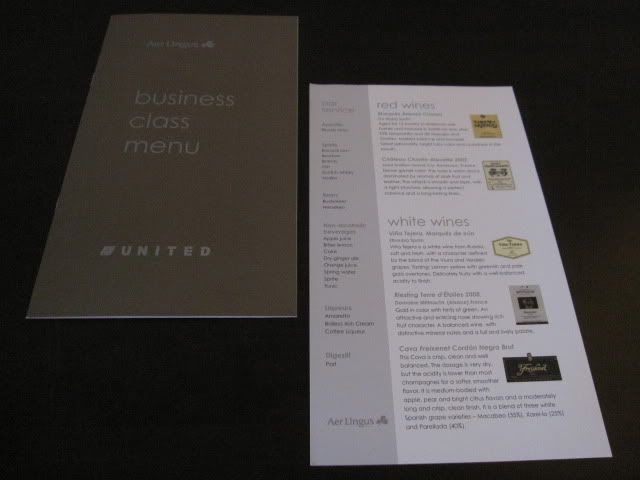 *
*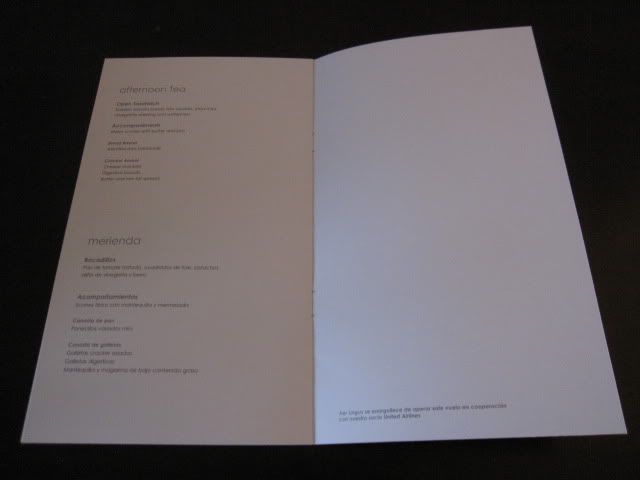 (Canapés)
(Starter)
(Main)
(Dessert)
(Afternoon Tea)
d) Inflight Entertainment:
Aer Lingus' inflight entertainment system is average at best. The screens are small and flickering for JCL, and I missed the proper quality of mainline UAL. The headphones were OK. While the old-school AVOD was OK, the limited 11 movie offerings made for rather slim pickings. Outside movies, all other options were also limited.
It was funny to see both copies of Hemispheres and Cara – both pretty above average in-flight magazines.
(IFE Screen)
(IFE)
*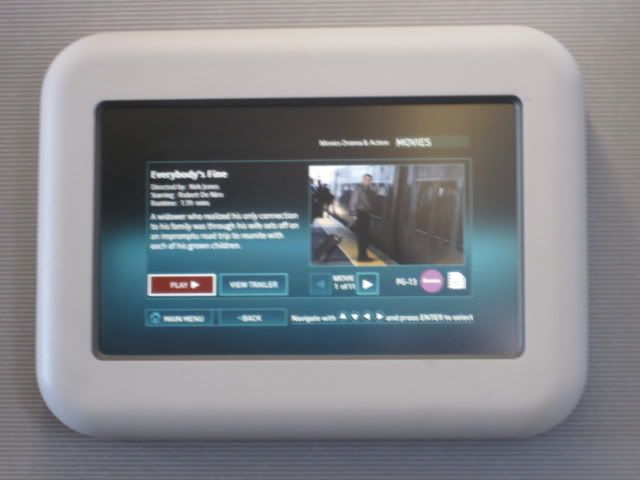 *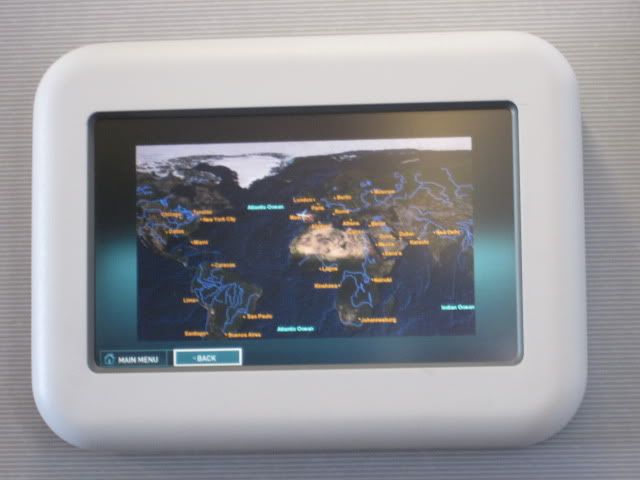 *
(Controls)
("In-flight magazines", Boarding Passes, etc.)
e) Crew:
The entire Aer Lingus crew for the IAD-MAD-IAD flight is American (except the cockpit crew) and one girl who has dual Irish/American nationality. She was actually probably the only "saving grace" is a rather lacklustre operation. I will give them that they had a full cabin ... but any good crew is trained to handle that situation. While they were not rude or grumpy, their overlooking of major details in service delivery was disappointing. I can understand being really busy during boarding to forget a welcome-drink or do welcomes or hang jackets ... but consistently during the flight, inability to respond to the call button, and forgetting stuff (coffee and tea among others) is just not acceptable standards ... especially in the premium cabin.
IV> Post-Flight:
Arrival into Washington IAD was smooth, and I was quickly out curbside.
NONE
V> Impressions + Scores:
I wonder how long this arrangement with Aer Lingus will last. Compared to the mainline product, the only thing that really was better was the in-flight meal. In almost all other departments, Aer Lingus is behind United's own JCL product. The best description of all of Aer Lingus is "blah". It is not an airline you'll remember for either stellar service, or for shock value. They embody this very "blah" write-up of mine, because they were just that. Ground service at MAD was good – and as mentioned, food+beverage options were generous … though, presentation and delivery could be improved. The hard product (seats, IFE) were OK. And, the crew was also OK.
Aer Lingus is not an airline I would go out of my way to fly. I would chose them over price and schedule mostly. I cannot recommend or not recommend EI – and no thumps going in either direction. Basically, a very BLAH affair.
VI> Other Trip Reports:
PREMIUM:
8.66:
Brussels Airlines (93): FIH-BRU: 01/2010
8.64:
Turkish Airlines (59): JFK-IST: 11/2008
8.63:
Jet Airways (88): JFK-BRU: 10/2009
8.61:
Air Canada (49): YYZ-SCL: 06/2008
8.54:
Turkish Airlines (77): GRU-DKR-IST: 04/2009
8.36:
Kingfisher (98): BOM-HKG: 01/2010
8.30:
Jet Airways (74): KWI-BOM: 04/2009
8.23:
United Airlines (72): SFO-SYD: 03/2009
8.11:
Aeroflot (33): MOW-DEL: 09/2007
8.05:
Air India (80): CCU-JFK: 06/2009
8.04:
Korean Air (40): NRT-ICN: 10/2007
8.02:
Delta Airlines (24): JFK-CDG: 08/2007
7.66:
Sri Lankan (104): DEL-CMB: 07/2010
7.64:
Royal Jordanian (91): AMM-YUL: 12/2009
7.61:
China Southern (103): LOS-DXB: 04/2010
7.57:
Pakistan Airlines (102): ORD-BCN: 06/2010
7.46:
LAN (55): YYZ-JFK: 09/2008
7.82:
Singapore Airlines (06): EWR-SIN: 09/2006
7.25:
Iran Air (88): BOM-IKA: 12/2009
7.23:
Virgin Atlantic (81): BOS-LHR: 07/2009
7.14:
Swiss (52): SCL-GRU: 06/2008
7.11: Aer Lingus/United (105): MAD-IAD: 05/2010
7.11:
Austrian (79): VIE-JFK: 06/2009
7.07:
Privatair (84): BOM-FRA: 08/2009
7.02:
Qatar (68): DOH-JFK: 01/2009
6.96:
Etihad (61): JFK-AUH: 12/2008
6.93:
Delta Airlines (18): SEA-JFK: 11/2006
6.84:
ConViasa (65): CCS-DAM: 01/2009
6.81:
Air Canada (17): ICN-YYZ: 10/2006
6.70:
KLM (32): EBB-AMS: 08/2007
6.52:
Emirates (99): LHR-DXB: 02/2010
6.39:
South African (97): EZE-JNB: 01/2010
6.36:
Privatair (60): MUC-BOS: 12/2008
6.29:
TAM Brasil (96): POA-EZE: 02/2010
6.25:
Korean Air (45): NAN-ICN: 10/2007
6.21:
Iberia (87): BOS-MAD: 10/2009
6.11:
TAP Portugal (53): GRU-OPO: 06/2008
6.00:
Gulf Air (75): BOM-BAH: 04/2009
5.88:
African Express (89): DXB-NBO: 11/2009
5.75:
Singapore Airlines (16): CCU-SIN: 10/2006
5.64:
SATA Azores (101): BOS-PDL: 04/2010
5.64:
NorthWest (46): ICN-NRT-SEA: 10/2007
5.54:
Ethiopian Airlines (95): ADD-BOM: 01/2010
5.46:
Icelandair (83): KEF-BOS: 08/2009
5.39:
LOT (54): WAW-JFK: 06/2008
5.21:
Egypt Air (73): CAI-IST: 02/2009
5.07:
TACA (66): JFK-SAP: 01/2009
4.42:
Air France: CDG-JNB (25): 08/2007
ECONOMY: Long + Medium:
9.26:
Air India (48): JFK-DEL: 02/2008
7.38:
Avianca (01): BOG-LIM: 07/2006
7.07:
Sri Lankan (62): KWI-CMB: 12/2008
7.00:
LAN (94): IPC-SCL: 01/2010
6.41:
Avianca (78): JFK-BOG: 05/2009
6.41:
American Airlines (58): LHR-BOS: 11/2008
6.39:
Condor (85): SEZ-FRA: 09/2009
6.26:
Jet Blue (21): CUN-JFK: 02/2007
6.06:
Air Canada (04): YYZ-YVR: 09/2006
5.89:
USA 3000 (19): PUJ-BDL: 01/2007
5.85:
Spanair (69): MAD-LPA: 02/2009
5.79:
Air New Zealand (42): RAR-NAN: 10/2007
5.52:
Aerolineas (86): USH-AEP: 10/2009
5.46:
TAP Air Portugal (23): OSL-LIS: 05/2007
5.19:
Air Europa (70): LPA-MAD: 02/2009
5.16:
Iberia (71): MAD-BOS: 02/2009
5.11:
Air China (82): FRA-PEK: 08/2009
ECONOMY: Short
8.56:
Paramount Airways (38): BLR-MAA: 09/2007
8.56:
Kingfisher (64): HYD-CCU: 12/2008
8.24:
Kingfisher (14): IXA-GAU: 10/2006
7.87:
Indian (34): BOM-MAA: 09/2007
7.72:
Alliance Air (13): CCU-IXA: 10/2006
7.57:
Indian Airlines (10): DEL-CCU: 09/2006
7.23:
West Jet (03): YYC-YVR: 09/2006
7.15:
JetLite (37): BOM-GOI: 09/2007
6.98:
Air Koryo (100): PEK-FNJ: 04/2010
6.70:
Spice Jet (09): CCU-DEL: 09/2006
6.63:
Air Fiji (44): NAN-SUV: 10/2007
6.63:
Jazeera (67): DAM-KWI: 01/2009
6.58:
Air Tran (02): EWR-MDW: 08/2006
6.48:
Air India Express (63): CMB-MAA: 12/2008
6.44:
CO Micronesia (39): ROR-YAP: 10/2007
6.41:
Pacific Sun (43): NAN-SUV: 10/2007
6.37:
Skybus (47): SWF-CMH: 02/2008
6.33:
Kenya Airways (29): NBO-BJM: 08/2007
6.33:
Sky Europe (56): LTN-BTS: 10/2008
6.31:
Indigo (15): GAU-CCU: 10/2006
6.31:
easyJet (57): BUD-LTN: 11/2008
6.22:
Air Link Swazi (28): MTS-JNB: 08/2007
6.22:
Air India (36): HYD-BOM: 09/2007
6.13:
Adam Air (07): SIN-CGK: 09/2006
6.13:
Air Rarotonga (41): RAR-AIT: 10/2007
6.00:
Transairways (27): INH-MPM: 08/2007
5.95:
Air Canada (05): ALB-YYZ: 09/2006
5.85:
SAS Norge (22): OSL-AES: 05/2007
5.81:
LAM Mozambique (26): JNB-MPM: 08/2007
5.69:
Air Deccan (12): IXZ-CCU: 10/2006
5.67:
Rwanda Air Exp (30): KGL-NBO: 08/2007
5.37:
Felix Airways (92): SCT-SAH: 12/2009
5.11:
Aero Republica (76): BOG-CCS: 04/2009
5.07:
Go Air (35): MAA-HYD: 09/2007
5.00:
Sky Airline (51): IQQ-SCL: 06/2008
4.96:
Valuair (08): CGK-SIN: 09/2006
4.78:
Air Comet Chile (50): SCL-IQQ: 06/2008
4.74:
Fly 540 (31): MYD-LAU: 08/2007
4.33:
Viva Aerobus (20): ELP-MTY: 02/2007
4.11:
Air Sahara (11): CCU-BOM: 09/2006
(Note on Codes: Y – Economy, J – Business, F – First :: I/D – International/Domestic :: SR/MR/LR – Short/Medium/Long Haul)
(Note on Date: Dates are modified to be +/- 3 days from actual flight date to not reveal actual flight pattern)
VII> Other Pictures:
(Amenity Kit)