Introduction
The jet-powered version of the Dornier 328 regional aircraft (FRJ) is still missing from my log, despite attempting to log one example last year but failing, detailed here:
To Dornier Or Not To Dornier? HEL-CPH-BLL-RIX-HEL
(by
FlyingFinn76
Dec 21 2009 in Trip Reports)
I managed to log the Prop version with Cirrus Airlines in Germany this summer:
The D328 And A Surprise: HEL-FRA/MHG-TXL-RIX-HEL
(by
FlyingFinn76
Jul 26 2010 in Trip Reports)
Sometimes fate deals you great hand of cards - this summer both Finnair and Sun-Air from Denmark, a BA franchise carrier announced their intentions to open, once again, the route between Helsinki and Bromma, Stockholm's old city airport located far nearer to the city centre than its main airport Arlanda. There would be a total of four flights each weekday, two operated by AY with E170 and two by Sun-Air with, (drum roll...) the FRJ! All services carry both AY and BA flight numbers.
This was of course the perfect opportunity for me to have another shot at flying the FRJ and Sun-Air. As is customary, the AY one way fares were astronomical and roundtrip fares had a min stay requirement - not too well suited for my intentions for a day trip. Luckily BA is much more flexible, and all the flights could be booked under the BA code as one way tickets for around 110 EUR. Not exactly cheap for such a short hop, but perfectly acceptable for a rare plane and a niche carrier.
I chose the earlier of the two Sun-Air flights at noon in order to log some Swedish domestic flights as well - even though I've flown into BMA three times before I have never departed from there so that should be interesting. First I fixed my return flight to HEL, the infamous last flight of the day on SK from Arlanda, often called here "The drunkard flight" for obvious reasons. The fare was cheap 42 EUR.
Bromma of course has a good number of obscure Swedish airlines flying domestic services, most of them of the virtual kind operated by a smaller number of real airlines. I had far too many options and new airports to log, looks like I have to do a couple of these trips in the future as well! Anyway I decided to fly into Växjö in southern Sweden as I found a cheap fare of 40 EUR on FlySmaland, another virtual carrier as the flight would actually be operated by Golden Air.
One of the reasons I chose VXO was also the fact that there are lots of airports offering connections back up to Stockholm not too far from it, so it should be possible to log yet another new airport for the return journey. In the end I settled for Rönneby/Karlskrona (RNB) on the southern coast as the train connection there looked the most convenient one with some leeway in the schedules to cater for moderate delays. SAS offered a convenient evening departure straight to ARN for 53 EUR which had more than enough connection time for my pink eye (as opposed to "red eye") flight to HEL - so I went for it. Finally I booked my train ticket from Växjö to Karlskrona, only 8 EUR from the SJ web site on a pair of local trains, not bad at all.
Here's the whole route:
Wednesday 25.8.2010
A nice noon departure for a change means no need to get up too early and a lazy morning with even time to run a few long overdue errands before heading to the airport, arriving there around 1h20mins before departure. OLCI was not possible for this flight, so it has to be done the traditional way. I find a lone BA check in desk hidden in the middle of closed ones at the main check in hall of T2, and a minute later am holding a boarding pass for my preferred seat 11A with a sequence number of 002. The load is apparently quite light - "It is a new route and a small plane" says the friendly agent - "Yes, I know" I answer.
The main check in hall and departures board of T2, still a very impressive sight after all these years:
I decide to grab an early lunch at the rather nice restaurant on the basement floor of the airport - it caters mainly for people working here and thus the prices are far more reasonable than on the main restaurants and cafes aiming to make a quick buck from busy travelers. Besides it is always nice to eat being surrounded by pilots and some beautiful FAs
. Oh well, there are some ramp workers in their dirty coveralls as well, so it is not all that glamorous...
Afterwards I head through the deserted security check, fire off a couple of work-related phone calls and find a nice spot on the corner of the terminal to watch for traffic. Here's a KL CityHopper E190 pushing back - notice the AY example behind it: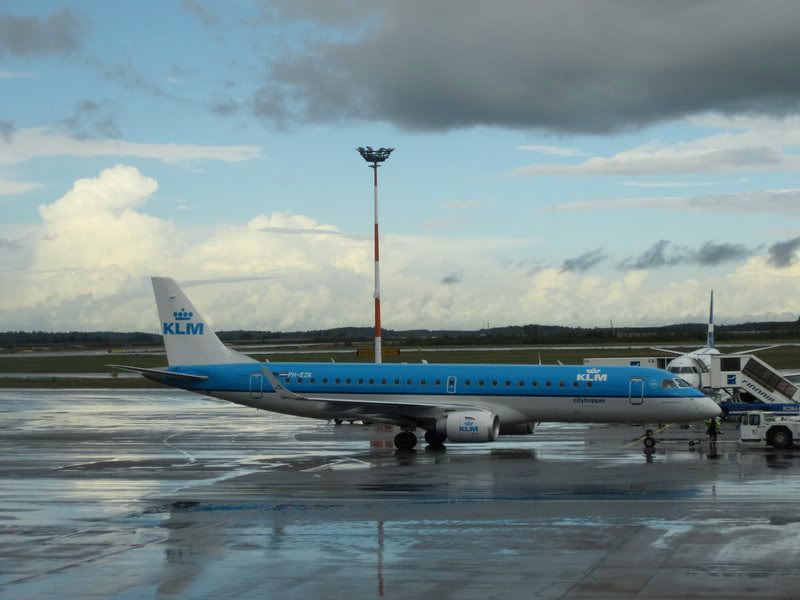 FIDS - noon isn't exactly a peak time here:
Some Aalto Vases at the appropriately named Aalto Cafe: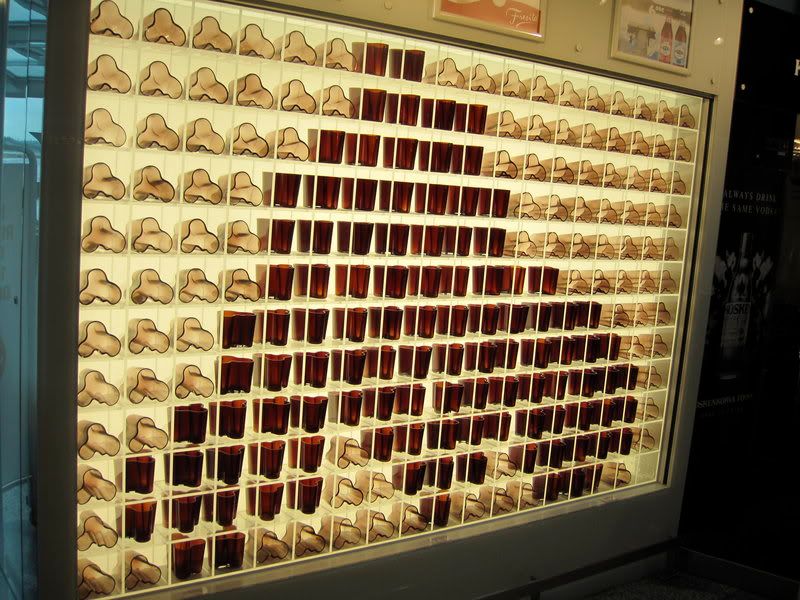 This reminds me that it is over a month since I've flown my beloved BT - luckily things will change in two weeks: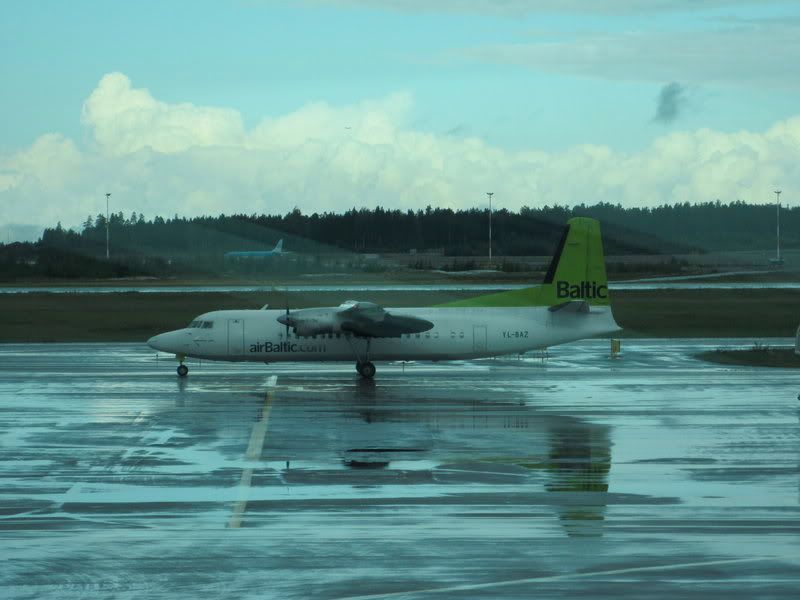 I spot the inbound landing on runway 15 at 11.15 and a few minutes later it stops right were I expected it to stop - in front of me - guided by a Follow Me -car: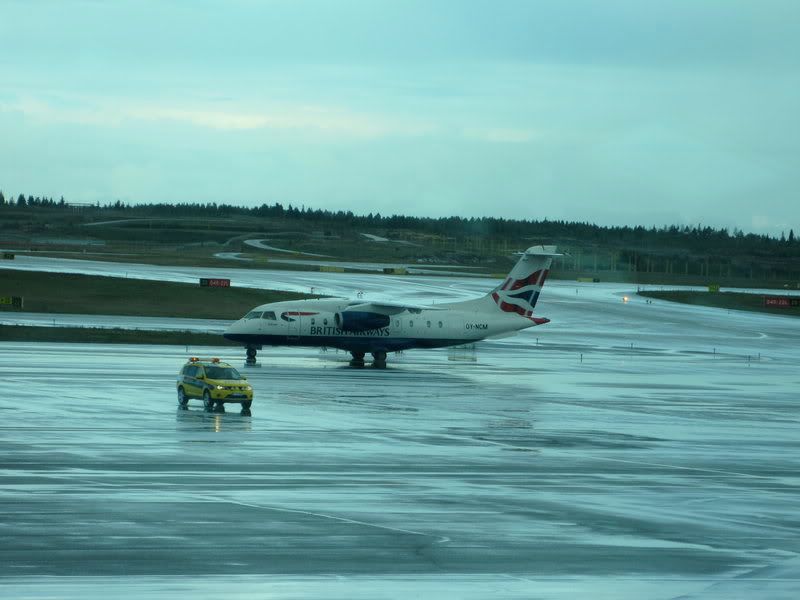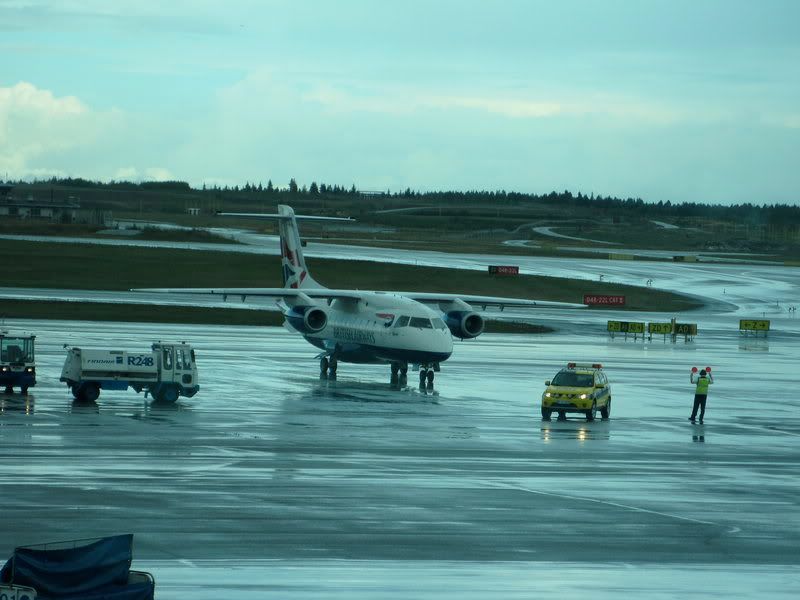 Yes, it is the expected FRJ!
It is pouring outside - the whole morning has been rather wet with frequent showers and an early thunderstorm so the ramp agents are actually carrying the "Delivery at Aircraft" -bags inside the waiting bus in order for them not to get wet before the pax are allowed to deboard - a nice touch!
More E-jets: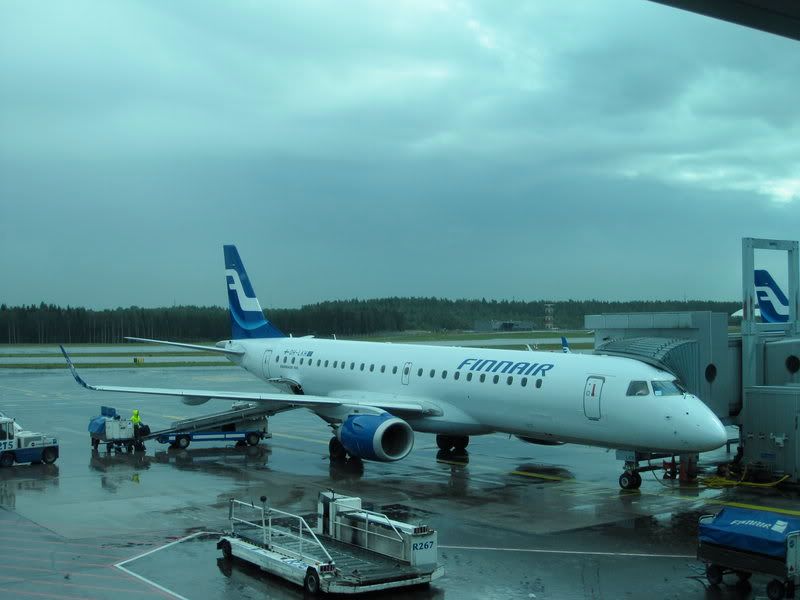 After watching this I head to the bus gate 21A anticipating that we will board soon. It still takes ten minutes or so before boarding commences. I am the first one to board the bus and do a bit of statistics while watching the other people come onboard the bus - of the 12 total pax on this flight ten are wearing a business attire - only me and a Swedish girl are dressed in casuals - of course as is always the case with the Swedes the gal is dressed more like a fashion model than what most people understand as casual so I'm feeling somewhat scruffy in my jeans and T-shirt... The target audience of this route is obvious, though.
A bit of a wait in front of the plane before they give us the thumbs up - it looks like they want the refueling to be finished before getting pax on board.
HEL-BMA
BA8250 Operated by Sun-Air
Dornier 328 JET OY-NCM
Seat 11A
12.00 - 11.55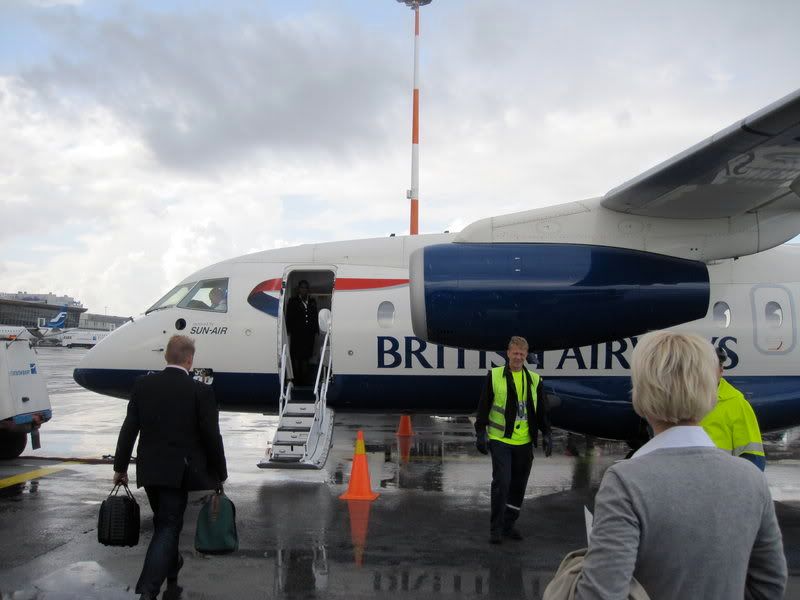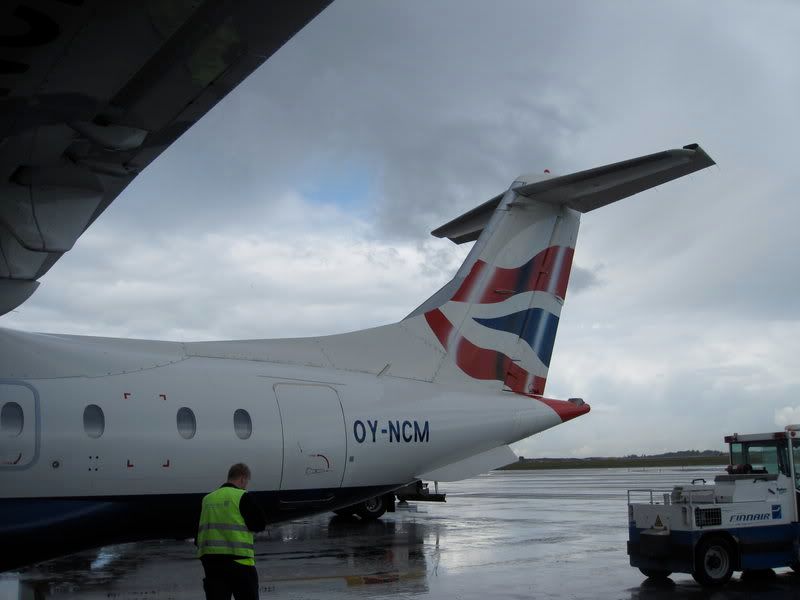 Funny, I keep expecting another pair of these engines on each wing - I guess I'm far too used to Avros:
Sun-Air it is: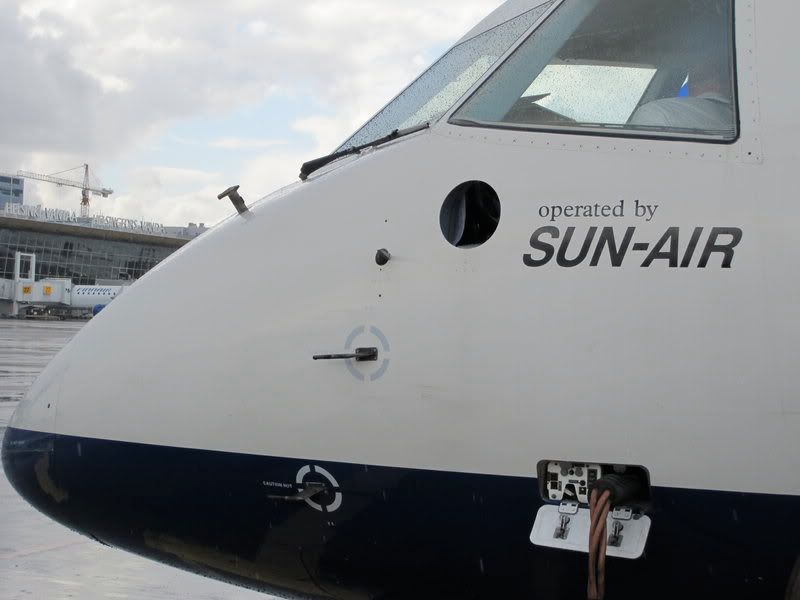 As per BA policy the young Danish "business friendly" (to borrow Markus' term) FA is checking boarding passes when boarding - this being so rare here most (all?) of the pax are not prepared and the subsequent shuffling for the cardboard pieces slows the progress down. It is still raining, so the couple of guys in suits behind me are not very amused by this slowness.
Finally getting onboard I sit down on my seat at the penultimate row. This plane has a somewhat different configuration back here than the Cirrus Prop version I flew a month previously. There's an extra row, 12 with two seats, A and B (I guess) where the galley was with C9. If I had to sit on a middle seat I'd pick that one over any other: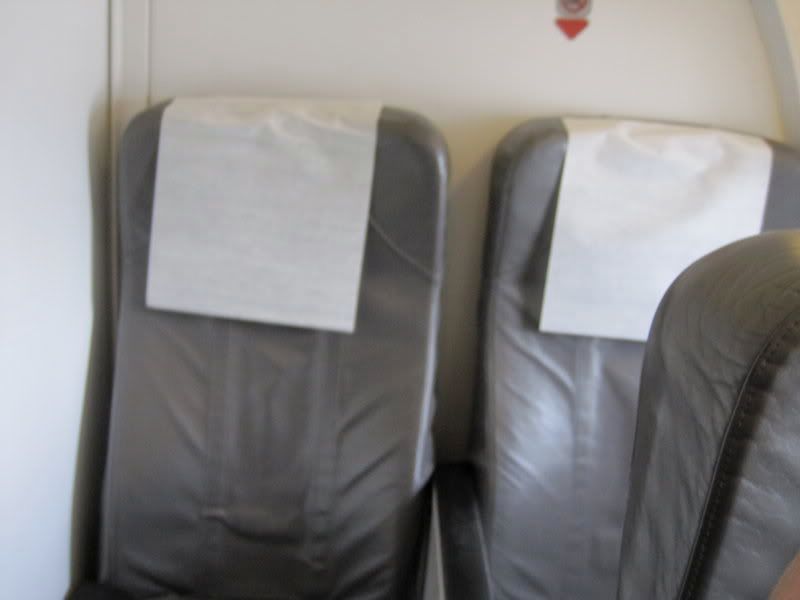 The galley is located in front of the lavatory next to the emergency exit right next to me: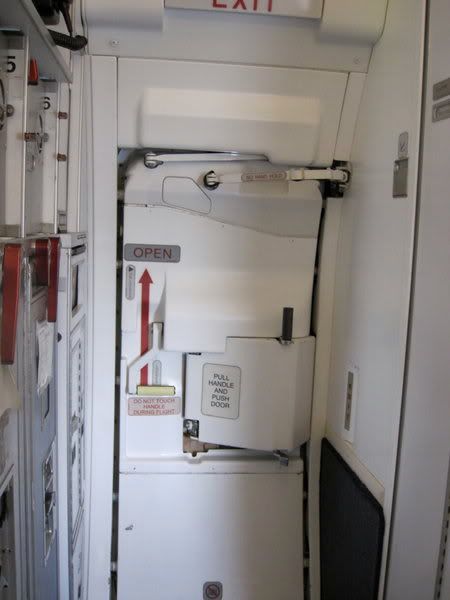 Seats are very comfortable leather ones with just about the best legroom I've had for ages in a regular economy seat - it actually is far better than it looks at this picture, the seat pockets are weird floppy ones: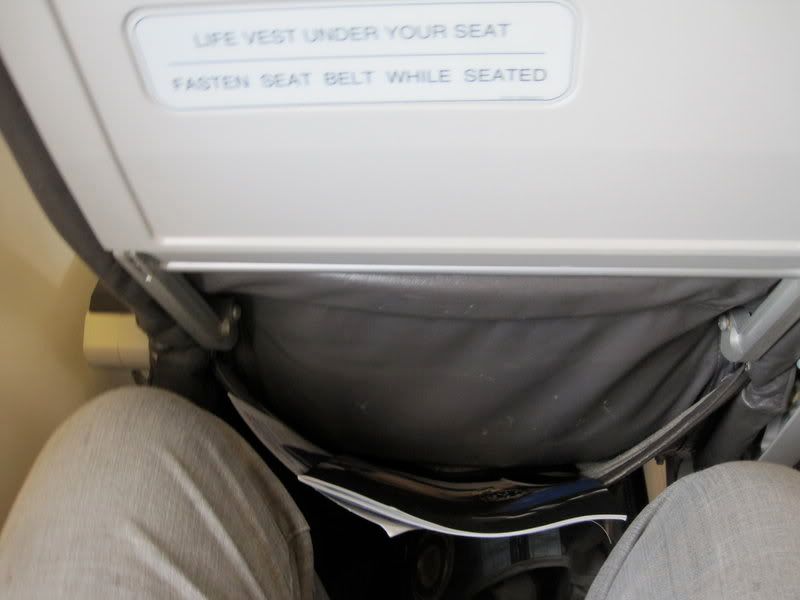 I overhear a couple of other passengers praising the legroom as well so it's not just me. Right when people are still sitting down the captain announces a flight time of 50 minutes with some moderate turbulence to be expected due to the bad weather both here and Stockholm as well.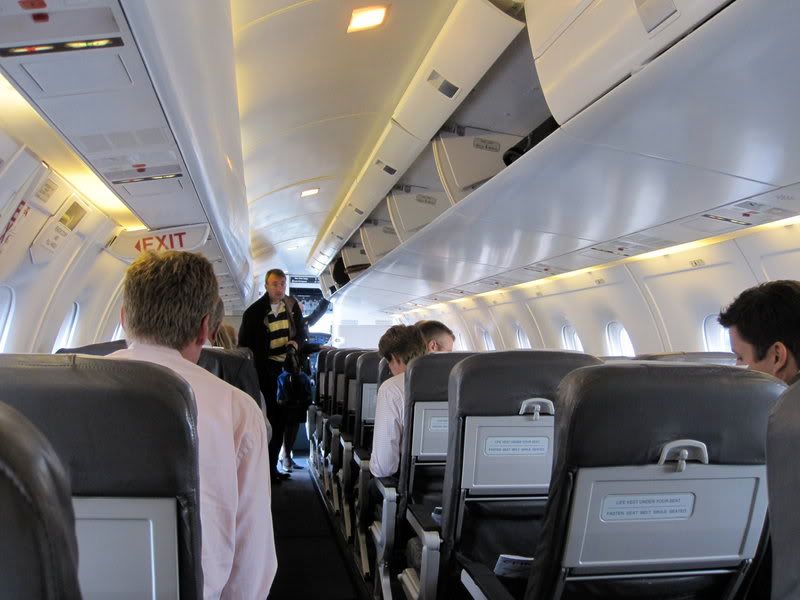 Looks like Ryanair is not the only airline with crumbs - this is from the galley floor: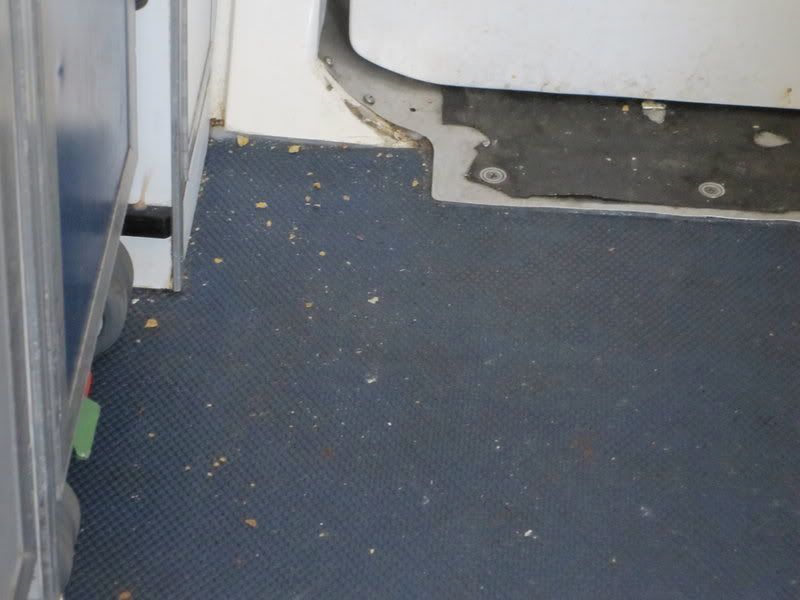 Departure is bang on time at noon and take off from 22R five minutes later. I'm very impressed by the raw power of this little beast - the acceleration and climb rate is even better than on the already-quite-impressive Prop version! The feeling of being squashed against my seat reminds me of good old days of flying AY DC-9s between KUO and HEL - I always had a similar feeling at take off!
Weird weather - quite clear on the western side: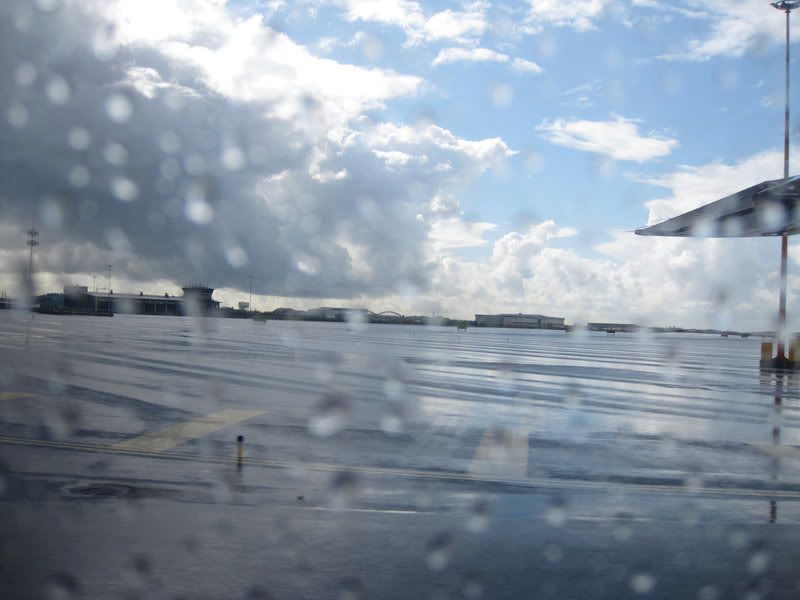 And very gloomy towards the east: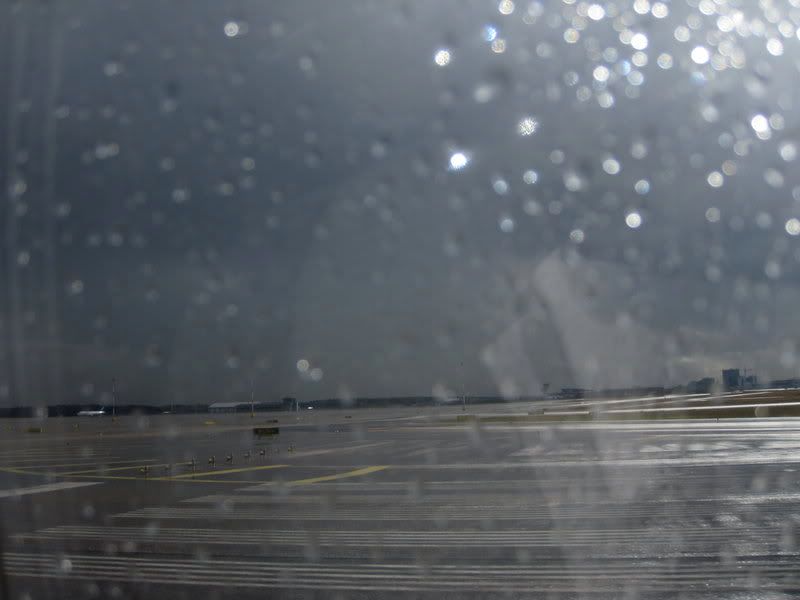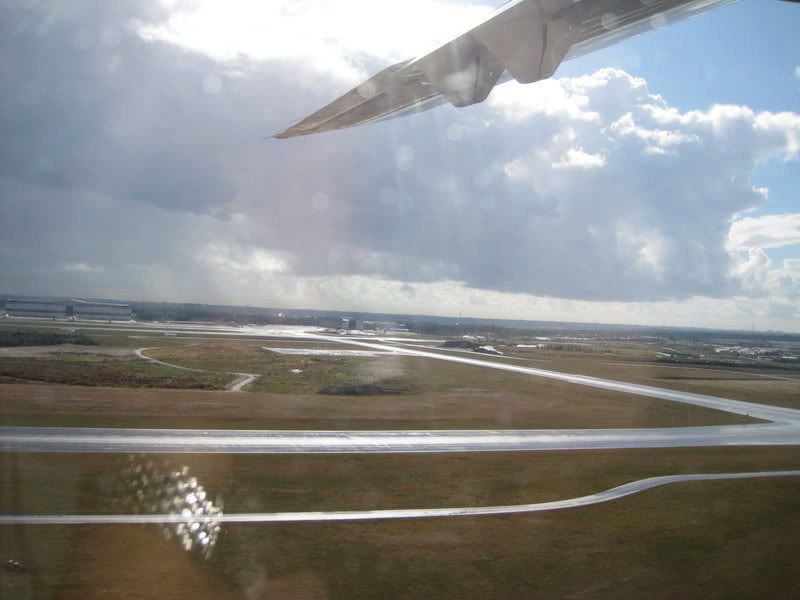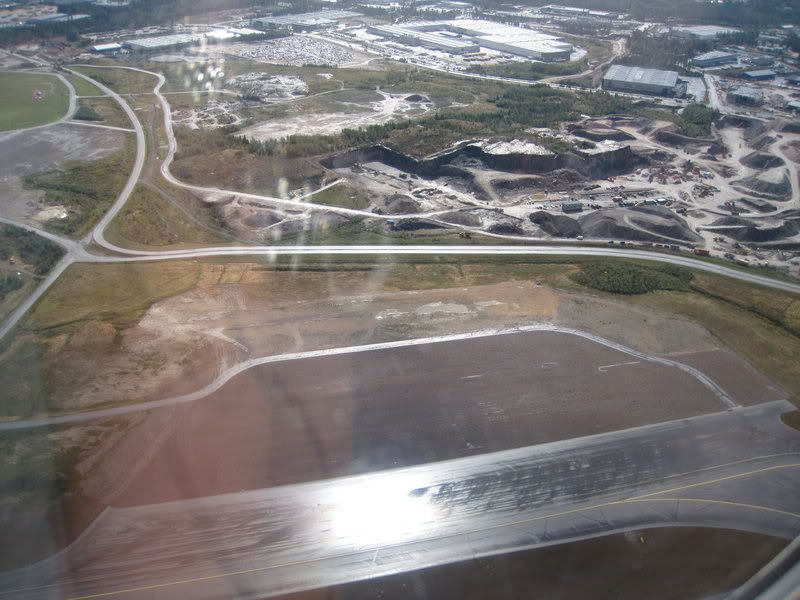 A bit bumpy on climbout as promised by the captain, nothing too bad though. On my last trip
Low Cost Red Eye: HEL To BBU And Back Via Detours
(by
FlyingFinn76
Aug 18 2010 in Trip Reports) we flew through some pretty spectacular clouds after departure - this time mother nature's display is a bit less grandeur, but still very beautiful: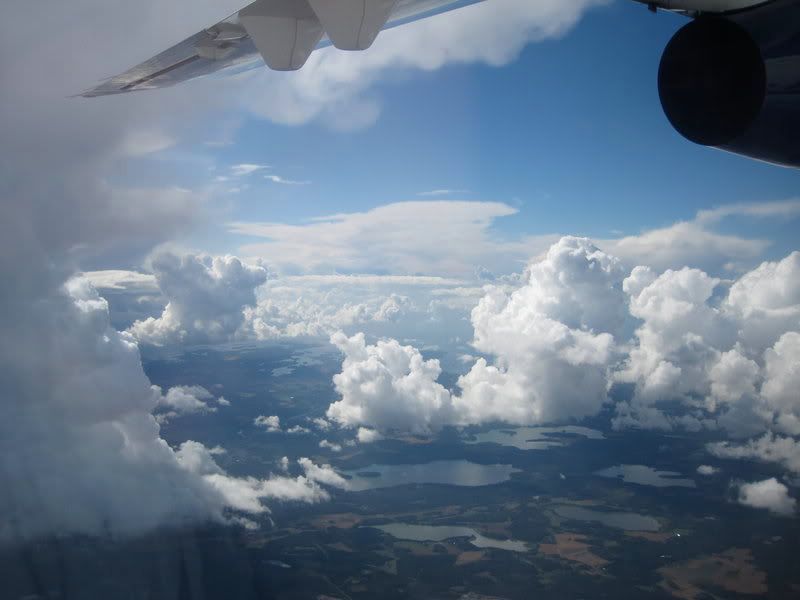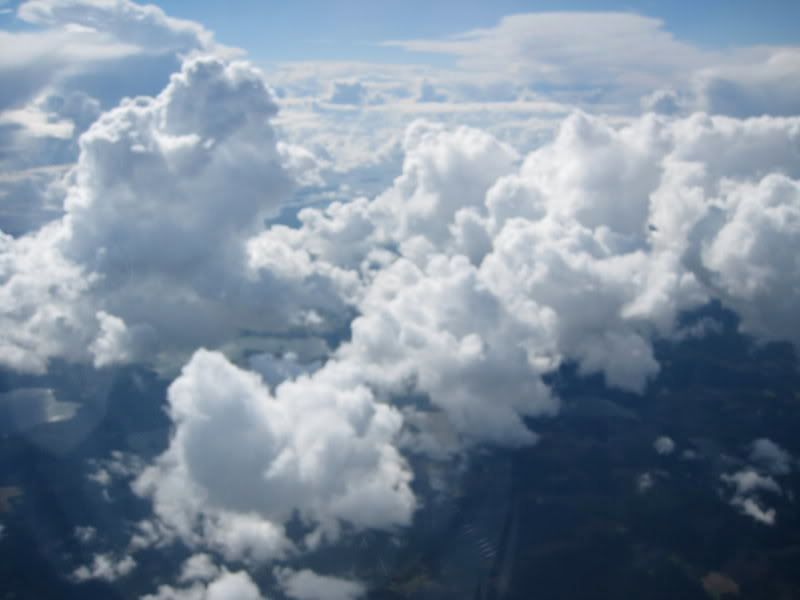 Service soon commences, I was expecting a drinks round and maybe some cookies but this is what I get: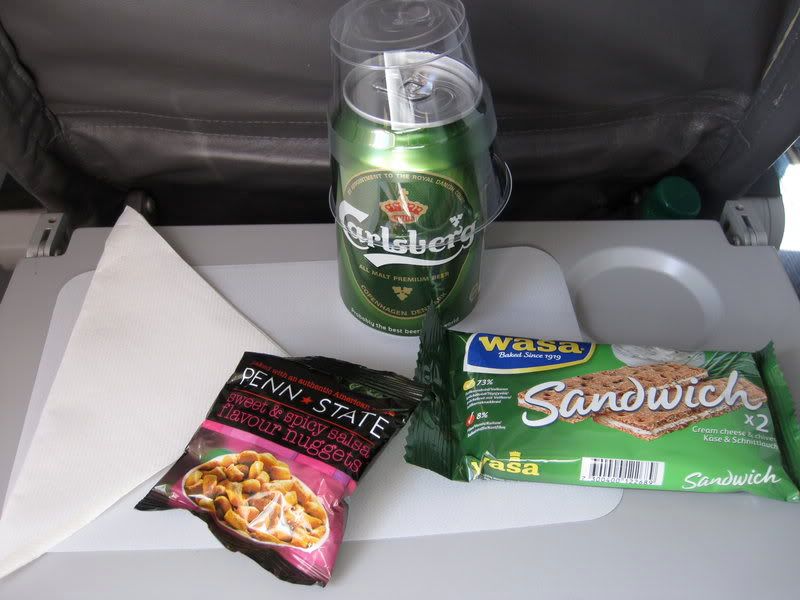 Note the paper tray cover - a nice little touch.
Later a coffee/tea round follows - I decline but the FA still offers me a small pack of cookies served with the hot drinks - I decline this as well.
Descent starts just 25 minutes after take off, with landing in 20 minutes announced by the flight deck. By the time we are over the Stockholm Archipelago: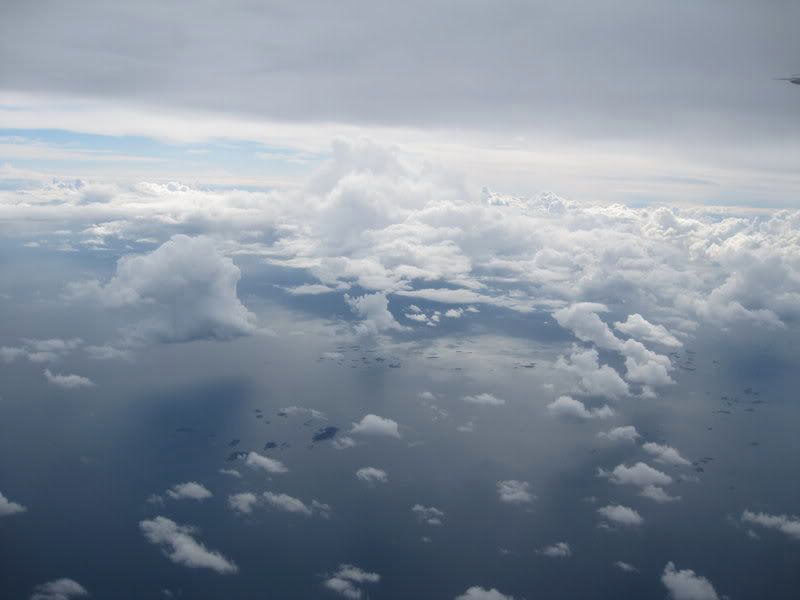 A ferry: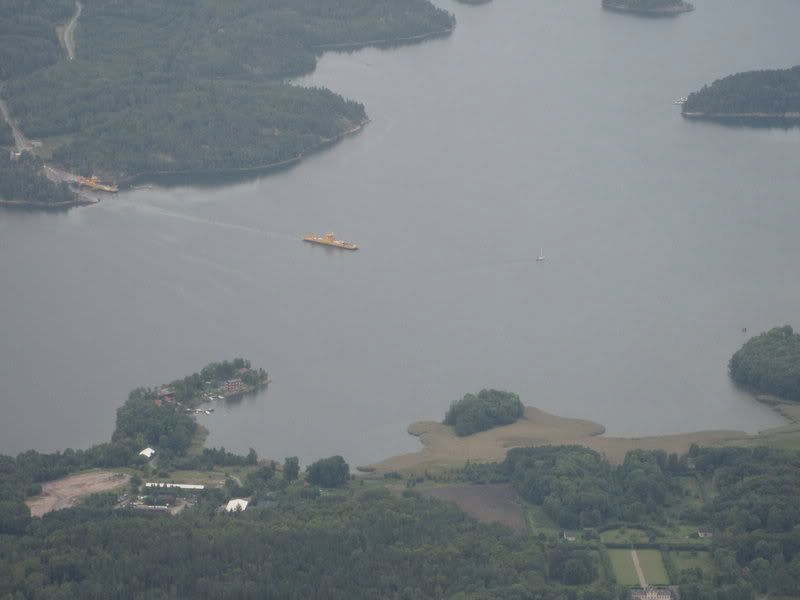 Barkaby Airport, a former Swedish Air Force base nowadays used for general aviation: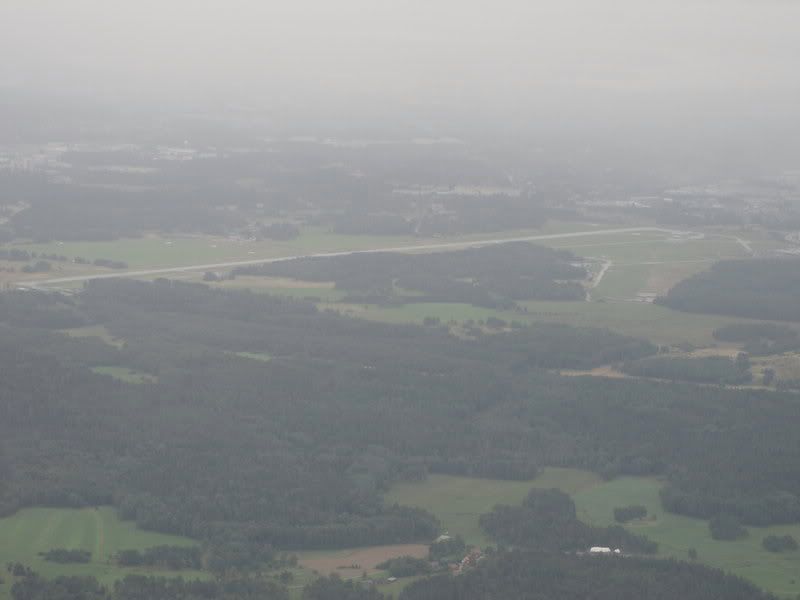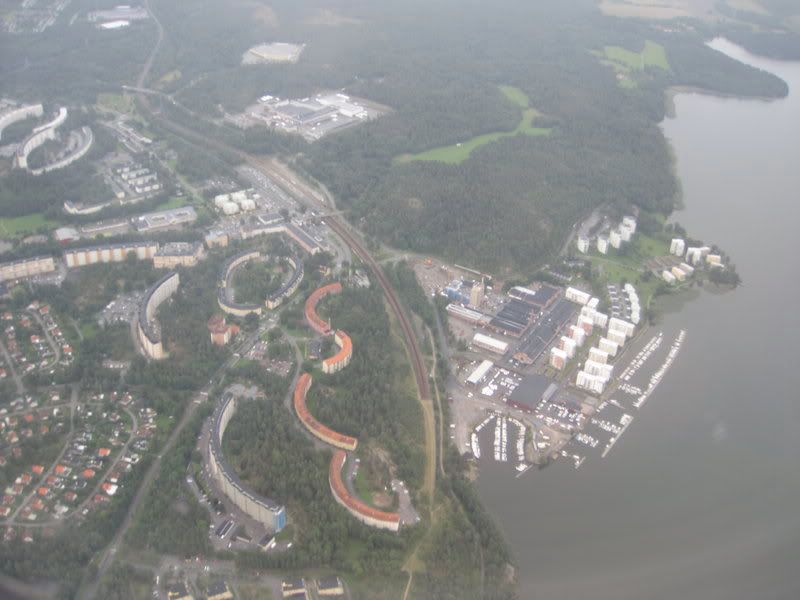 A grass airfield: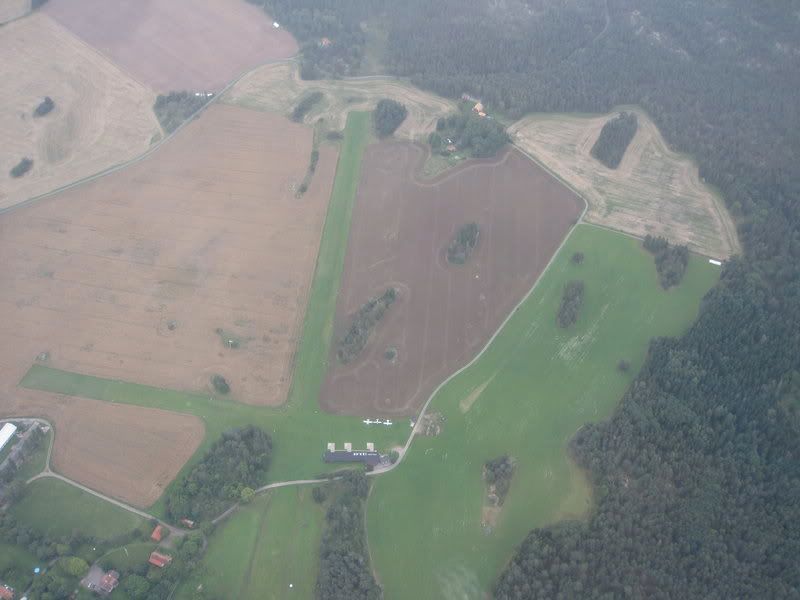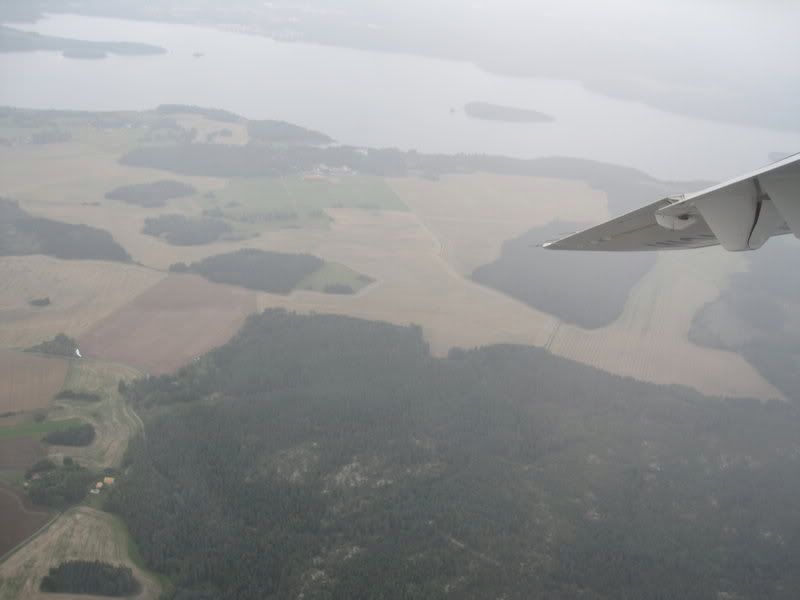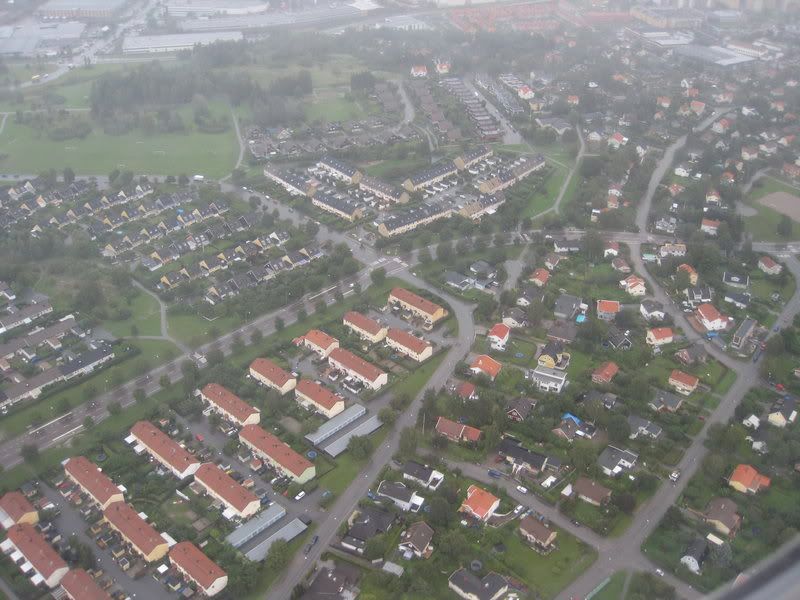 The weather is even worse than HEL:
Oh, there was an airport here after all: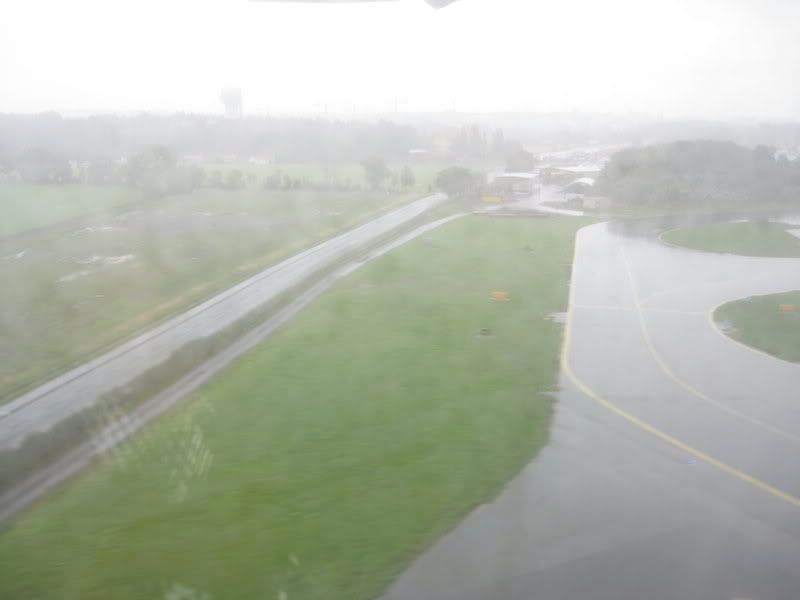 Landing is very hard on runway 12 after 50 minutes of flight time:
A pair of TF Avros: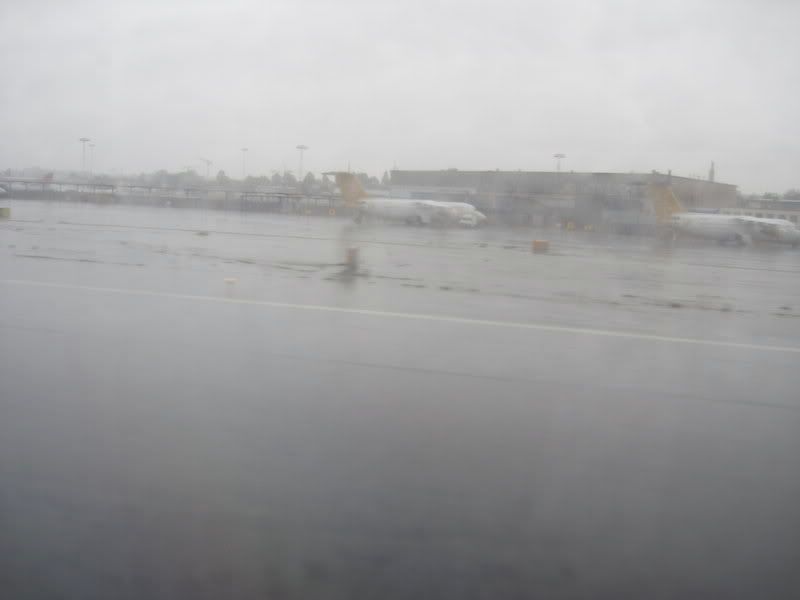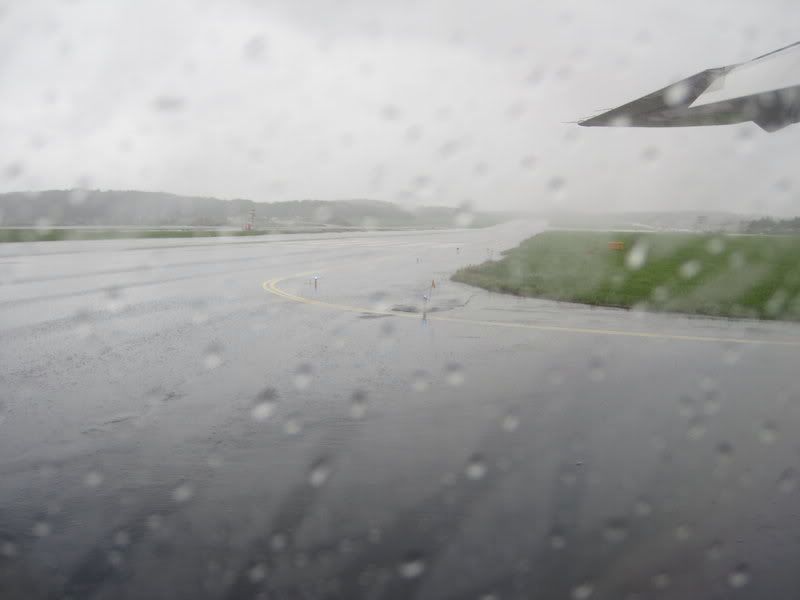 A DC Saab 2000: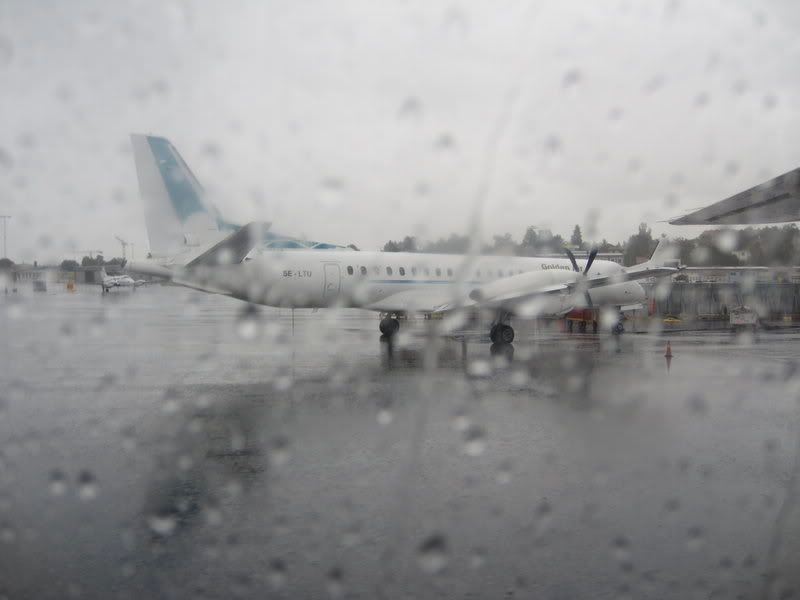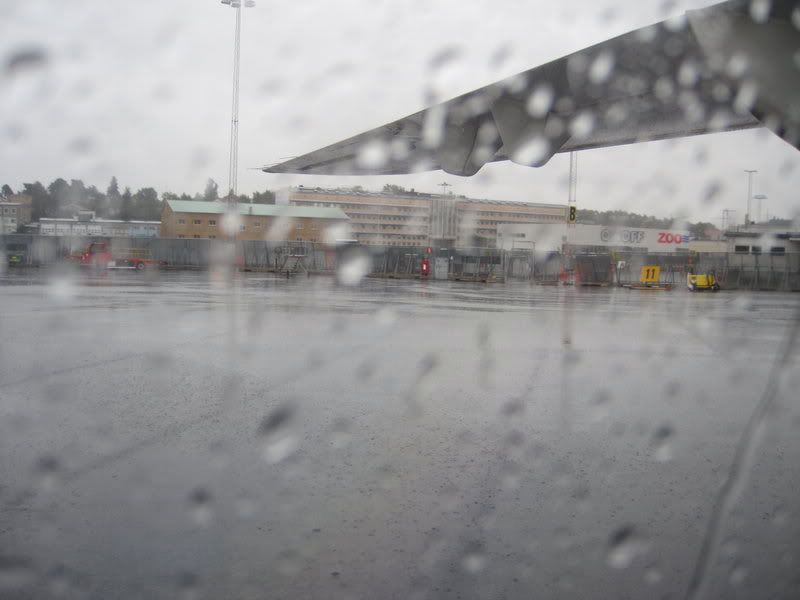 My comfortable seat: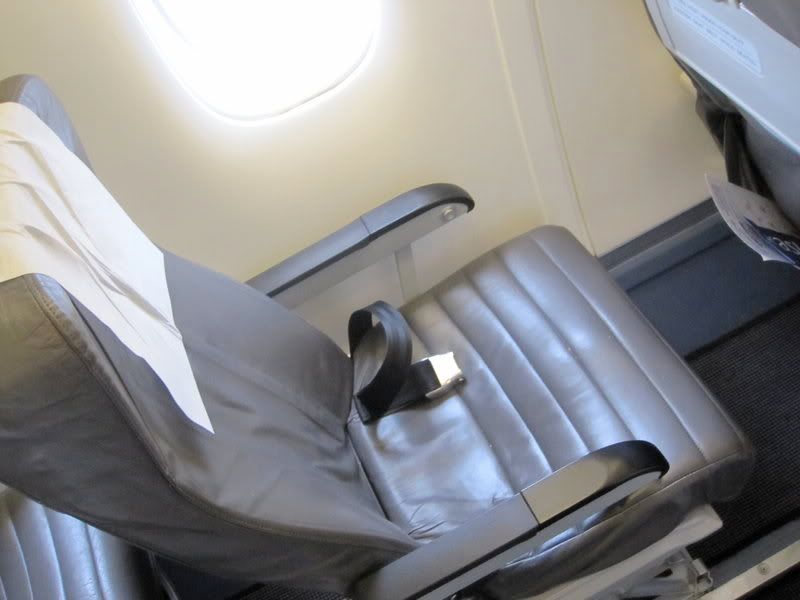 Cabin view - while deboarding as the last pax I thank the FA and tell her: "I'll take one last shot - it is a very special plane." - she agrees with me.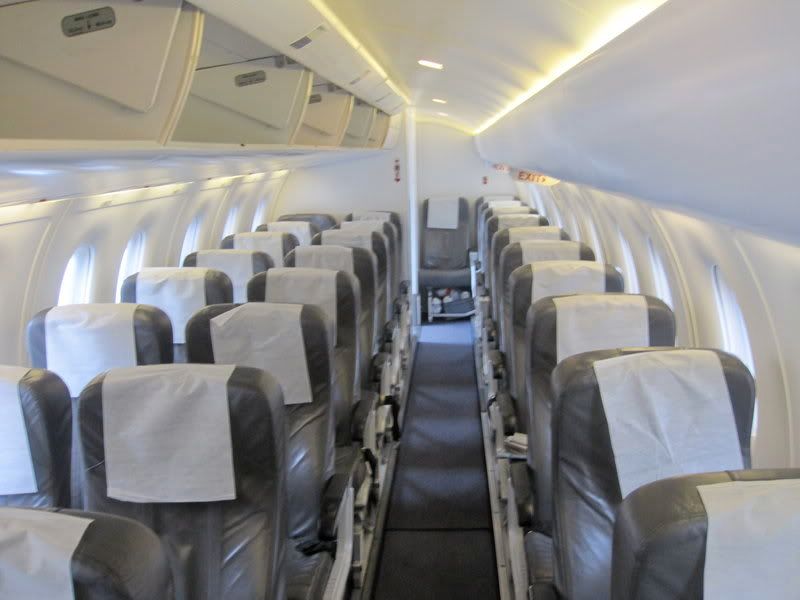 Bye: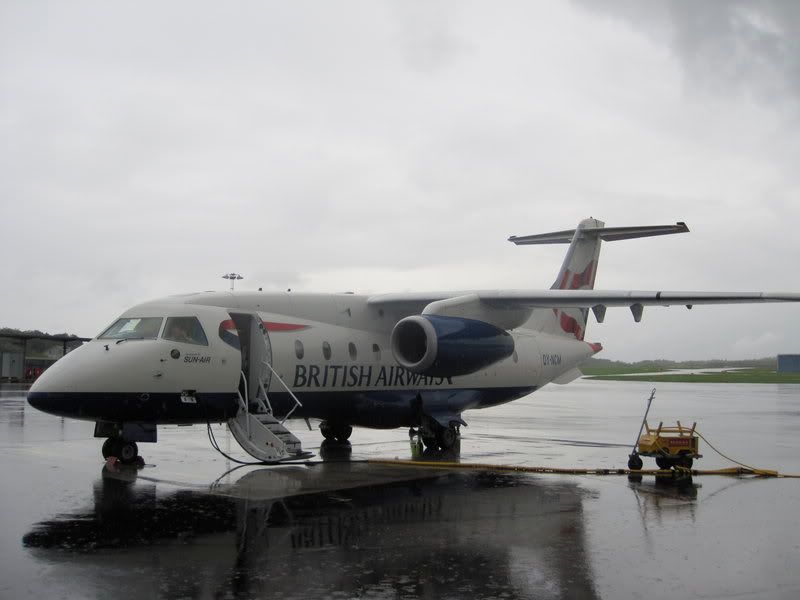 OY-NCM will head back to HEL after 45 minutes, then fly back here and finally continue back to its home in BLL. I wonder if it all is done with the same crew?
Stockholm Bromma Airport
Well, it is pouring down so I make my way fast to the terminal building: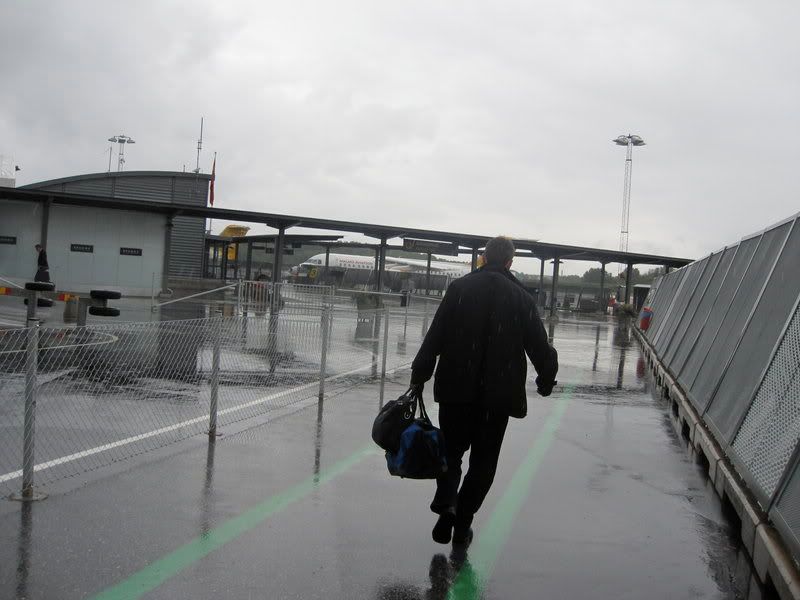 Once inside, I head straight to the check in desks - there are combined desks for Malmö Aviation and SN Brussels Airlines and a bunch of desks for Bromma Handling who handle all the other airlines here. No queue at all, so in half a minute I'm holding my mini boarding pass (it's the same credit card size that TF uses) with free seating written on it.
Surprisingly many flights: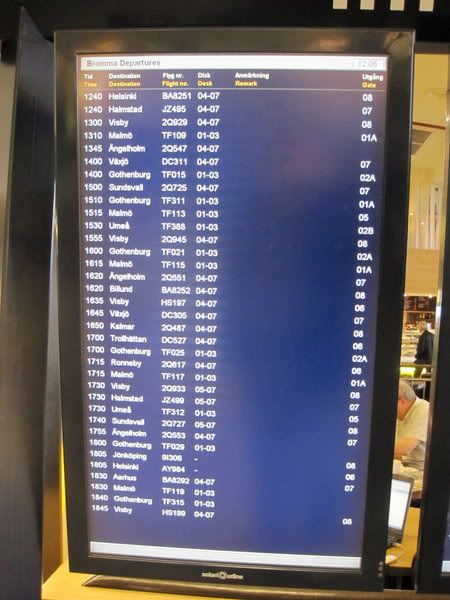 The main check-in (and arrivals as well) hall:
There's a small aviation store - luckily they didn't have anything I fancied - I saved the money:
TF's Yellow Room - the closest thing BMA has to a real lounge: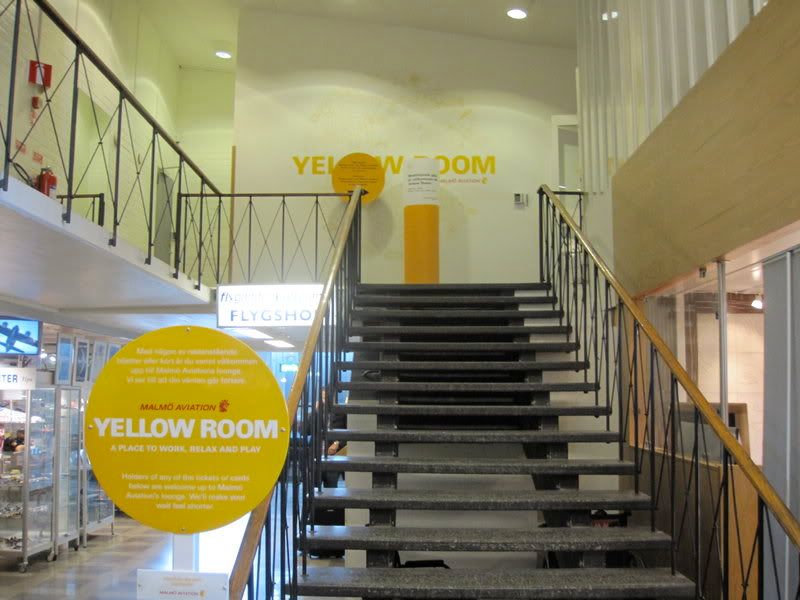 BMA isn't the most exciting of places to kill a couple of hours - if it wasn't raining I'd probably head outside for a short walk but alas I'm stuck inside. So I find a bench and while away an hour with some videos on my Ipod. I head outside, but it is still raining: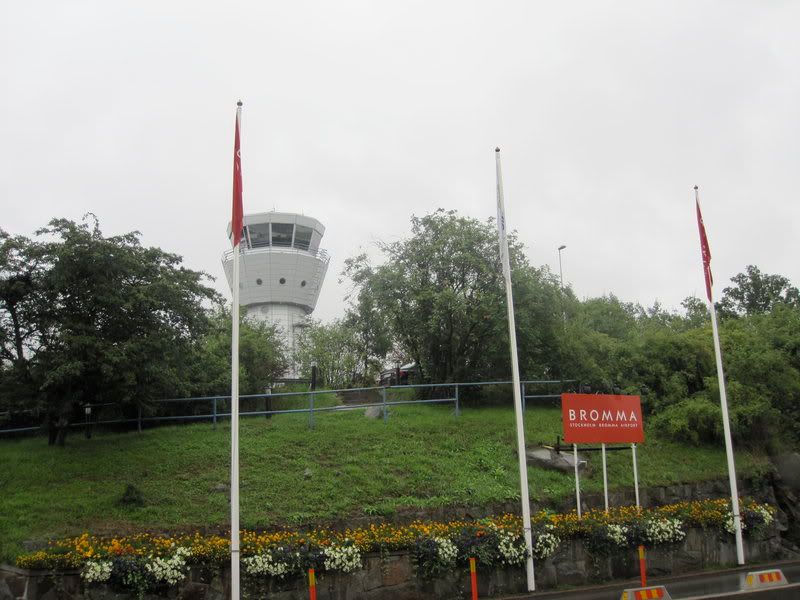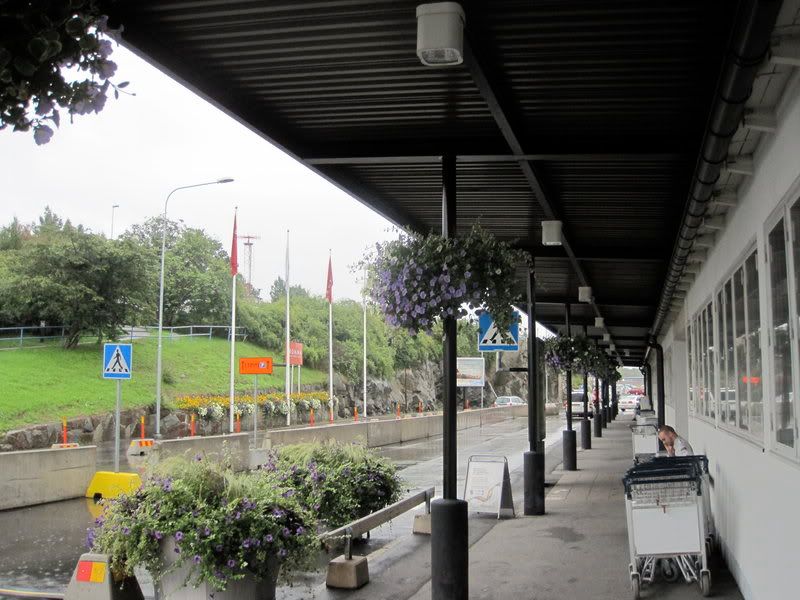 Advertising the new route: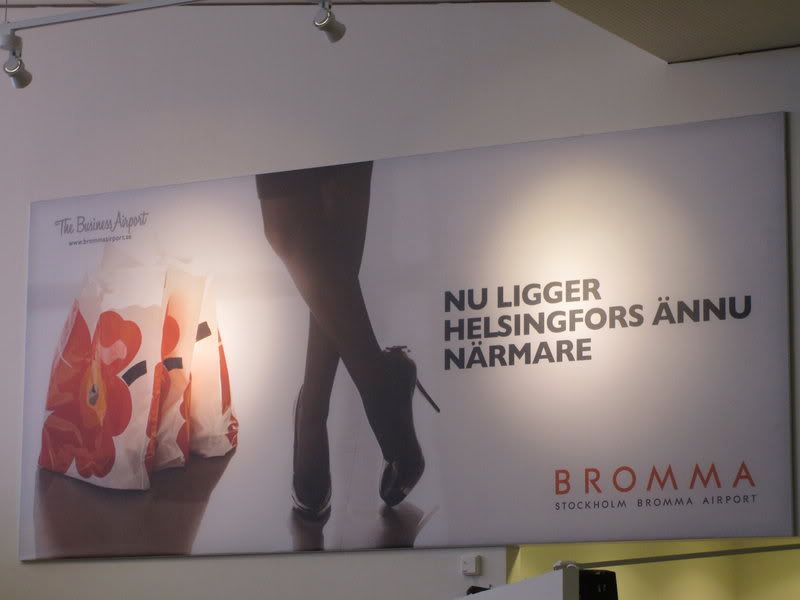 With nothing better to do I decide to head to the gate area. Security dumps you right in the middle of the duty free store, which is something I very much dislike. Beyond it the main gate area is surprisingly large: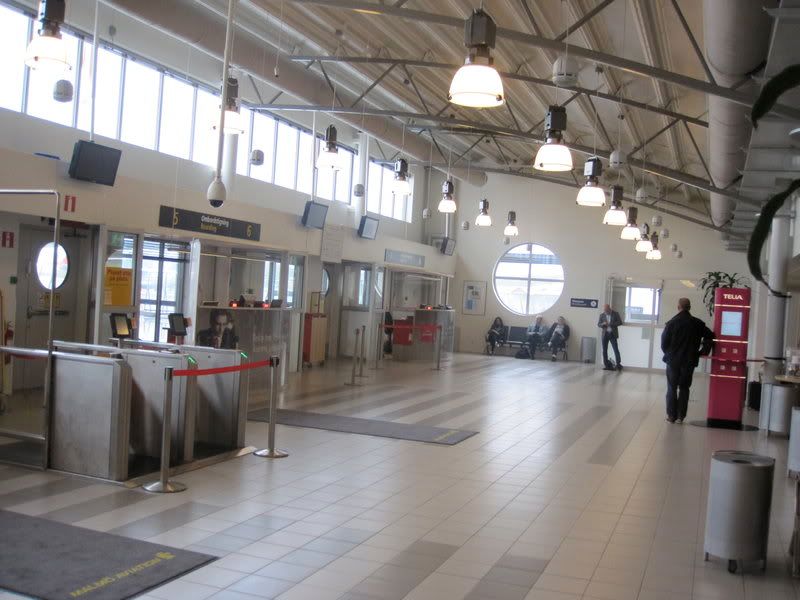 Oh, sorry, they are not gates, they are "Boardings". This reminds me of Vueling's welcome speech where they keep referring to the flight as "Vueling":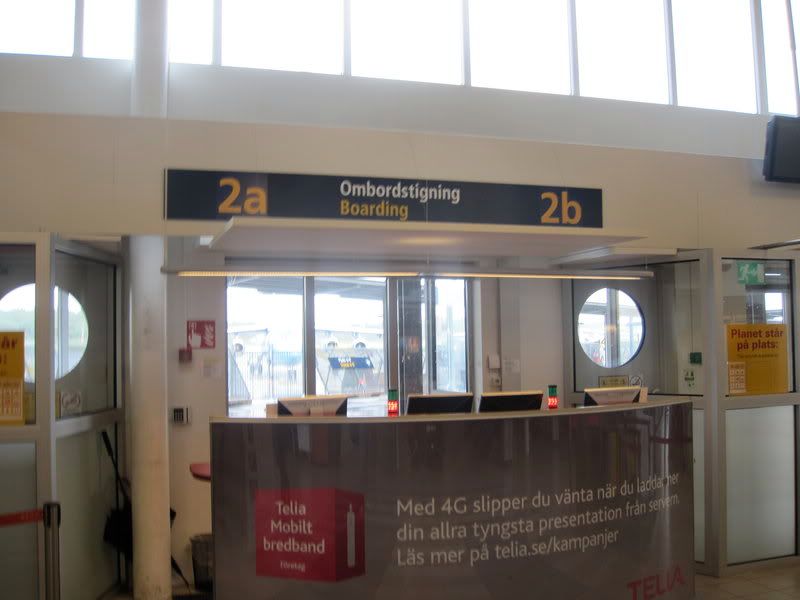 There's a bar staffed by a very nice Thai girl so I grab a pint there. Afterwards I head to the gate - right when I arrive there boarding is called and again I'm the very first one to pass the gate.
Boarding procedures here are a bit different - basically they tell you the stand number where your aircraft is parked on and you follow the signs and the fenced walkways there - great in good weather, not that great when it is raining and there are huge puddles on the ground - I manage to completely soak my shoes. I think it is time to invest in some Goretex!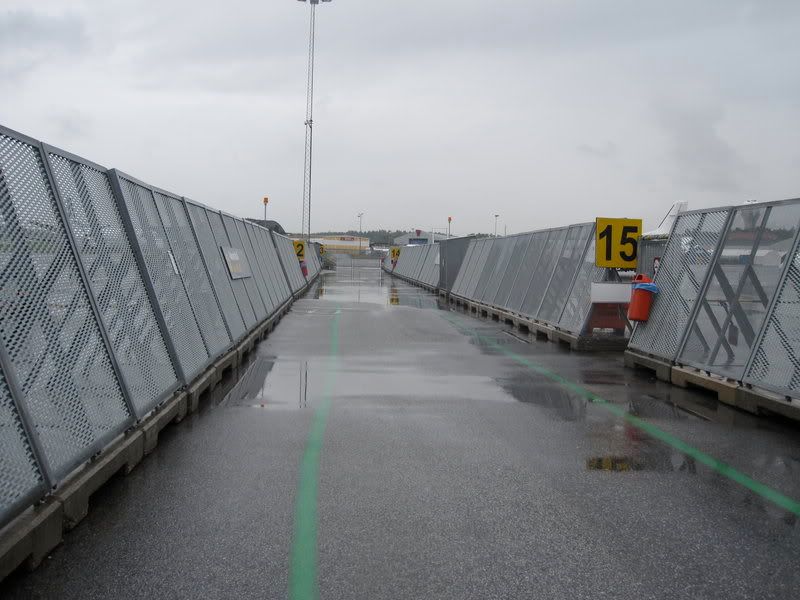 Once I reach our assigned stand 14 the captain is there to unlock the fence door and welcome me onboard - I mention my soaked shoes and he gives me a little laugh, I'm still not sure whether it was Schadenfreude or good natured!!
It is the expected Saab 340, completely white, though: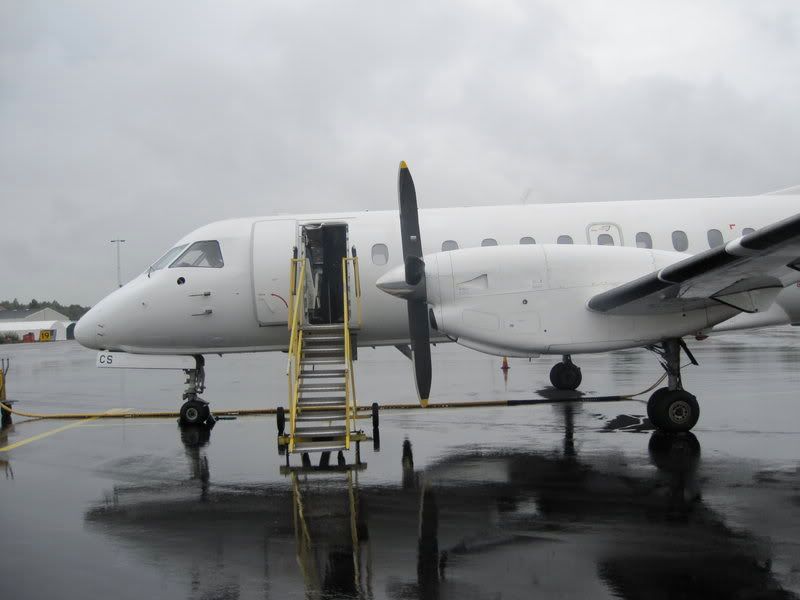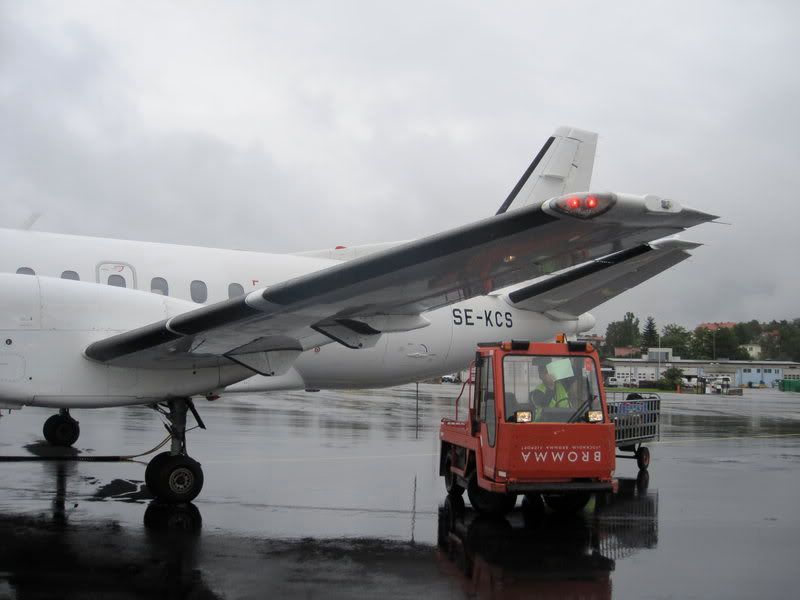 Now this plane is a bit of a mystery to me. SE-KCS was originally delivered as OH-FAB to Finnaviation (of Finland of course!) back in 1986 (which makes this plane almost 24 years old!). Later on it operated for Finnair (who took over Finnaviation), before being transferred to Skyways of Sweden and reregistered as SE-KCS. It has spent time operating for Direktflyg, Highland Airways and even Loganair. The current operator is marked as Avitrans Nordic/Avitrans Leasing.
However this flight is operated under the Golden Air DC flight number, there must be some sort of complex leasing arrangements or whatever behind it. Anyway a new bird for me.
BMA-VXO
DC311 Operated by Golden Air
Saab 340 SE-KCS
Seat 12A
13.55 - 14.51
After I step onboard the young blonde FA says something to me in Swedish which I don't quite understand. I ask her to repeat it in English, and she says "I see you are taking photos of our beautiful plane!" - "Yes, all nice and white isn't it!". There are actually two FAs onboard, I think it is a training flight as the younger one does pretty much all the work with the other one just supervising. Speaking of the FAs I don't really like their uniforms as they are wearing jeans together with a smart blouse and a scarf. This reminds me too much of the cheesy Niki cabin crew uniforms for comfort.
With free seating I decide to grab seat 12A on the single seat side of the aisle (the configuration is 1-2). The last row has four seats - that would make for the ultimate sleeper seat I think!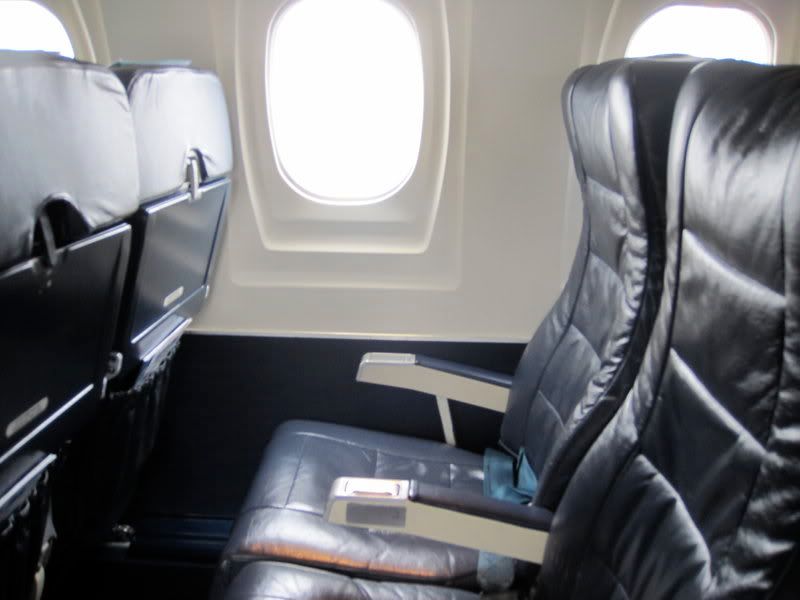 I may be wrong but I think the Golden Air Saabs I used to fly a lot in Finland had a lavatory in the back so the last row was in 1-2 configuration as well. But it might just be my memory playing tricks on me.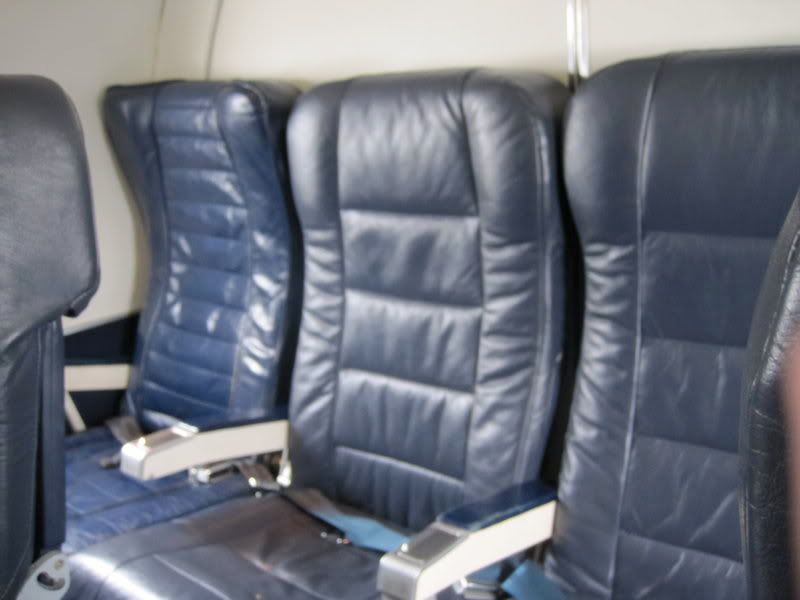 Seat pitch on these Saabs has always been decent: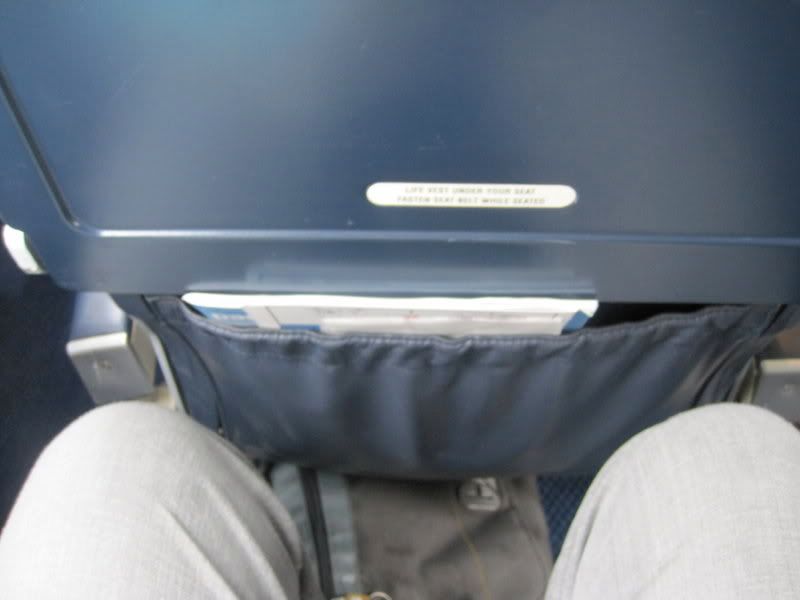 The seats (apart from the back row) have Golden Air headrest covers, however the safety instructions card is a NextJet one: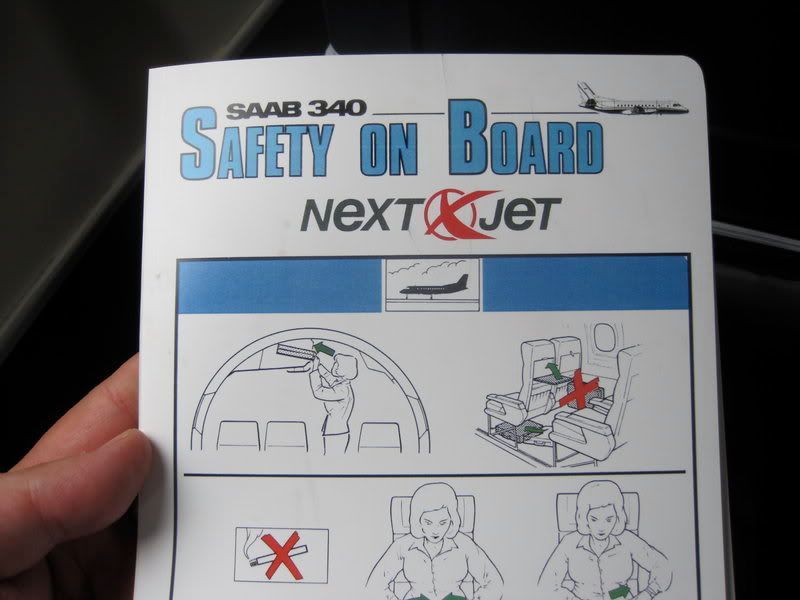 Soon we are welcomed (in Swedish) to "This Flysmaland flight to Växjö, operated in co-operation with Golden Air and NextJet". Flight time is announced as 55 minutes. I count 18 passengers onboard today.
Departure is five minutes early and take off from runway 12. Some nice views of Stockholm right after take off: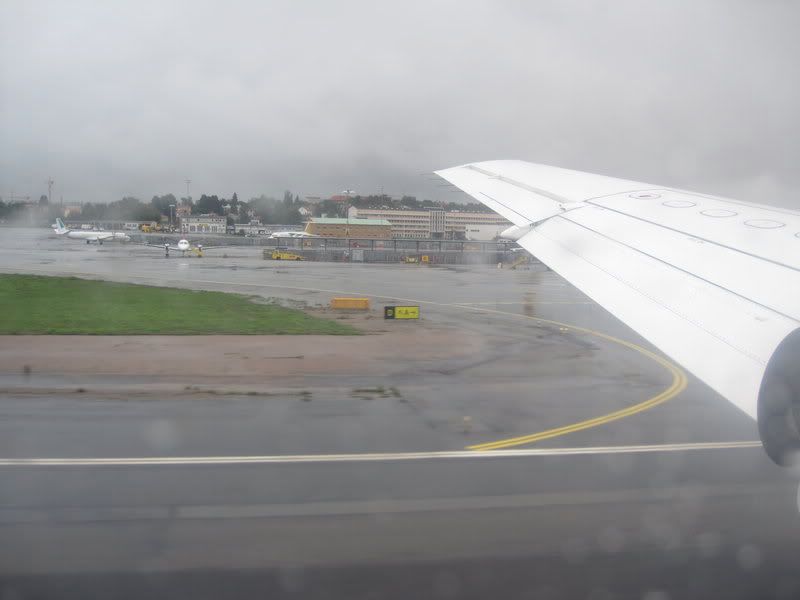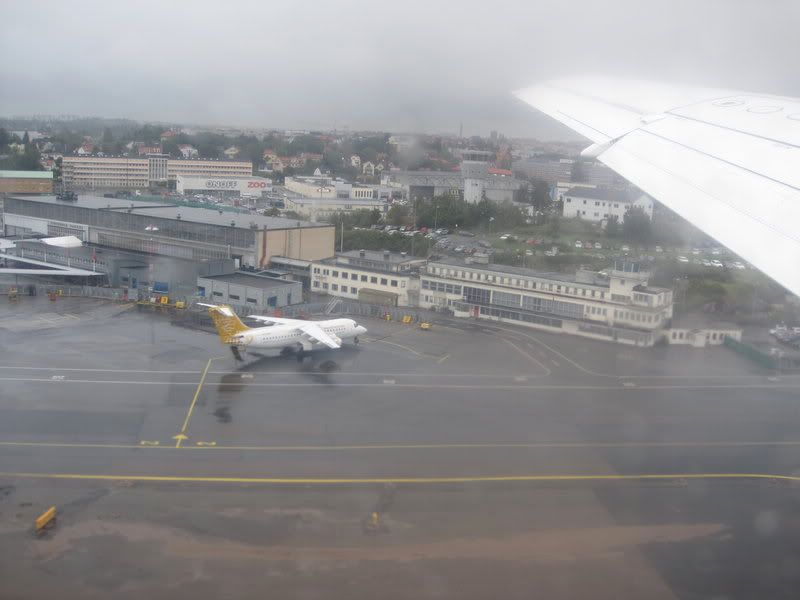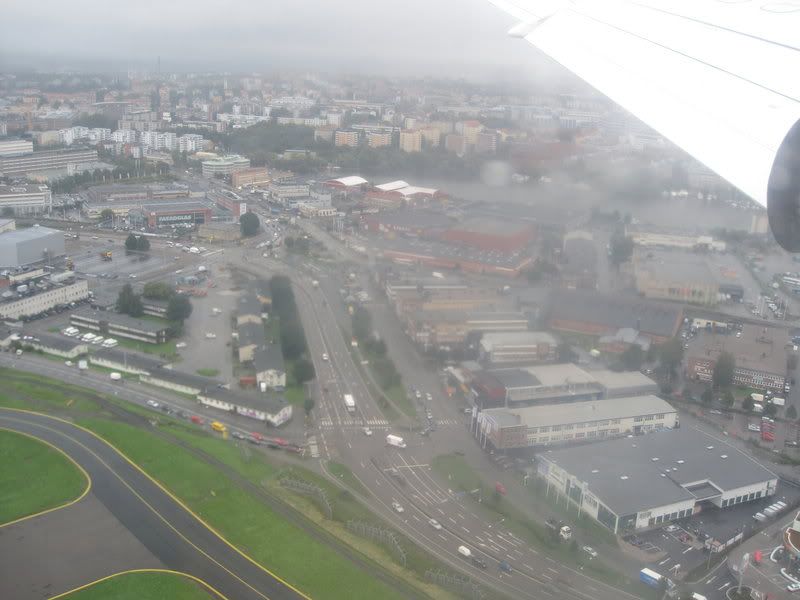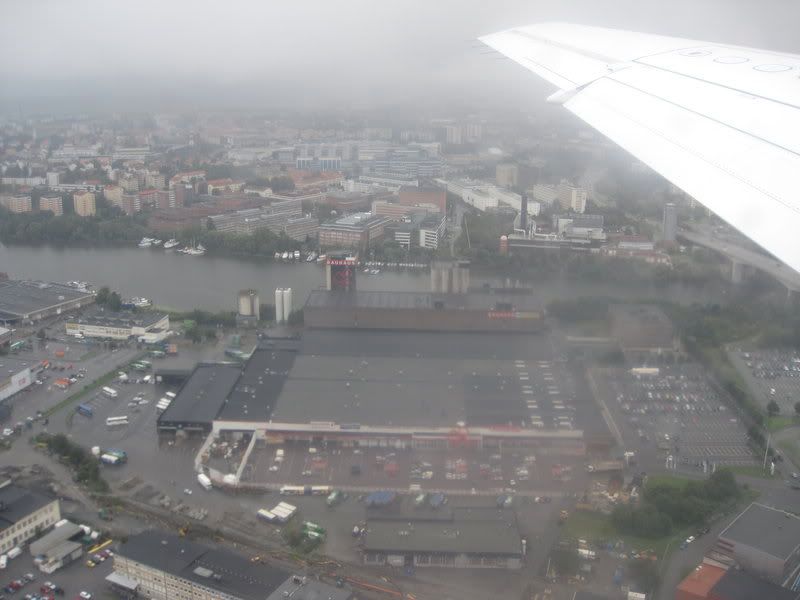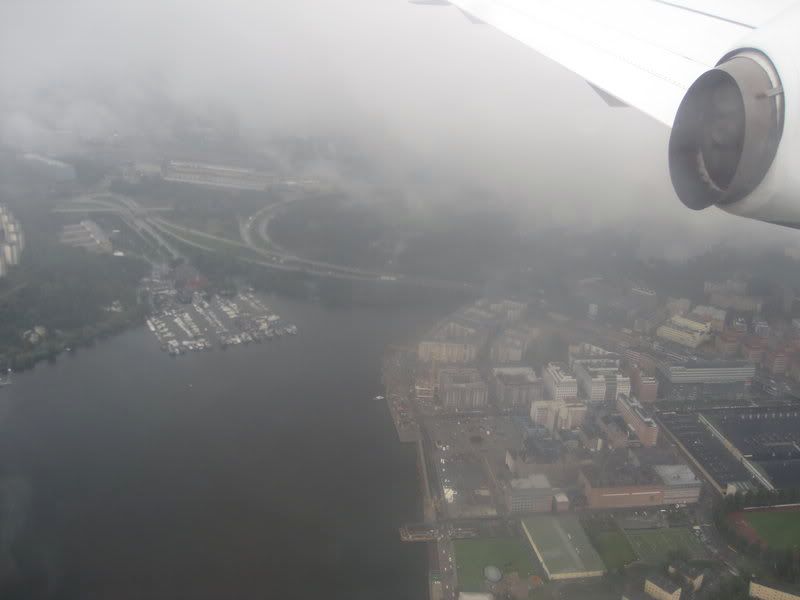 But with the bad weather we soon disappear into the clouds. The first five minutes are rather bumpy, but after finally breaking through the cloud layer it is smooth sailing: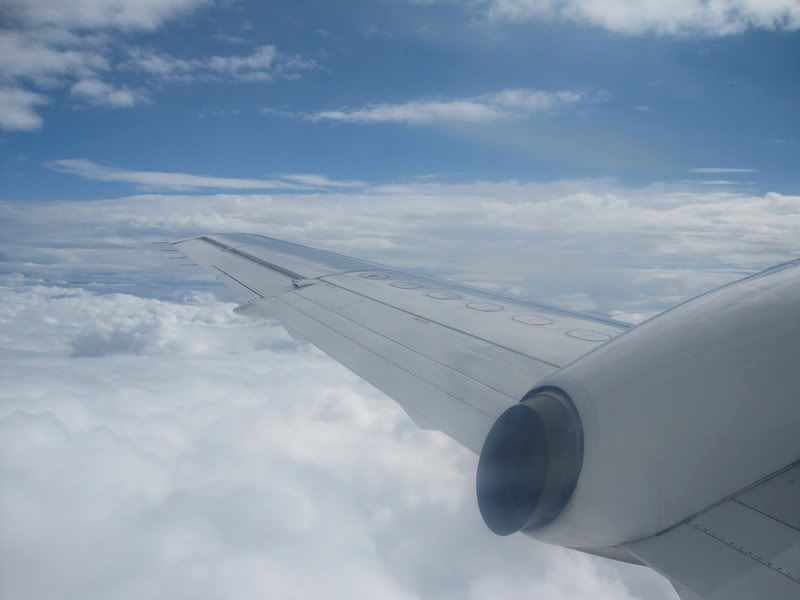 I wasn't going to indulge in the BOB service, but when I see they have Småland beer I can't resist and get a can for 40 SEK.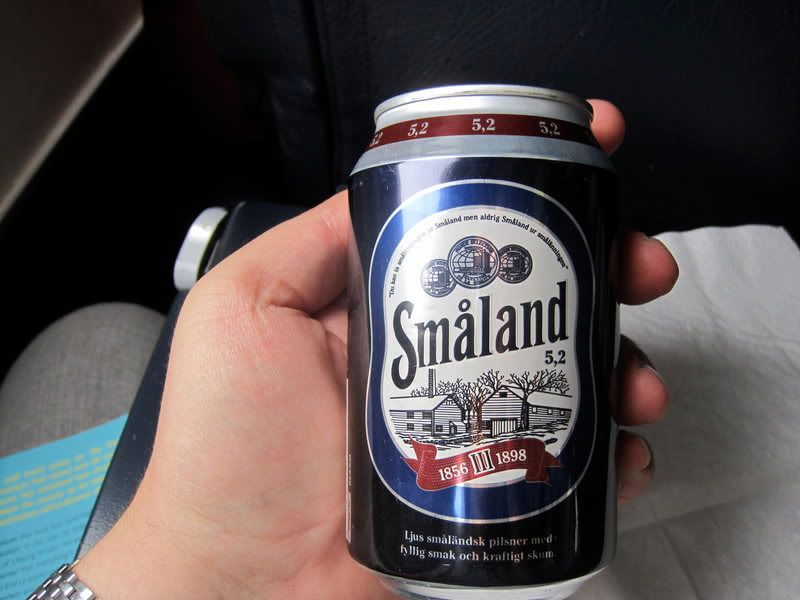 Around 45 minutes into the flight the captain comes on (only in Swedish again), announcing that we will start our descent for Växjö Småland airport "which has autumn weather, rain and 13 degrees." Due to the weather some heavy turbulence is to be expected, with landing in ten minutes.
Gear down: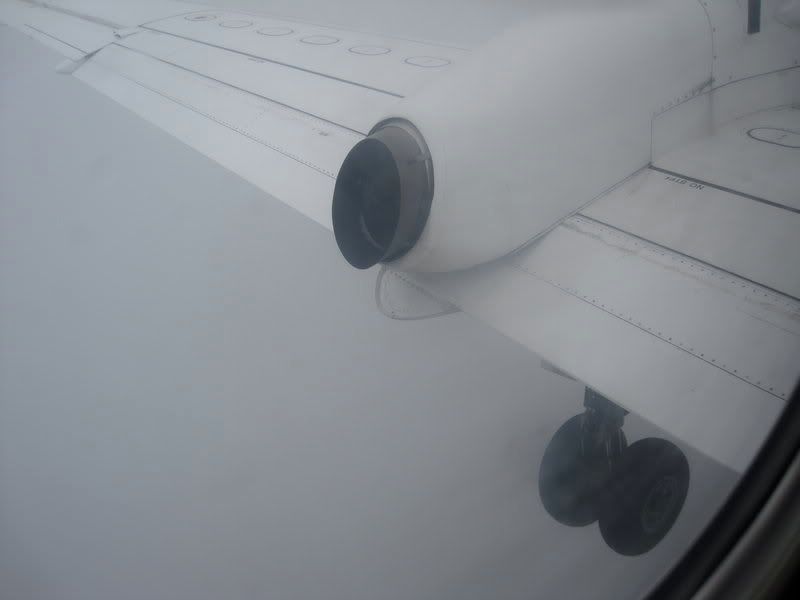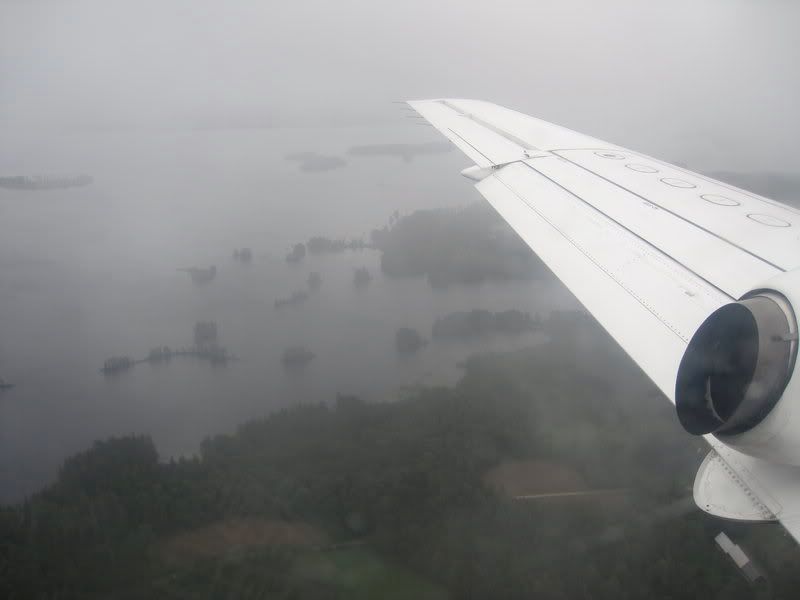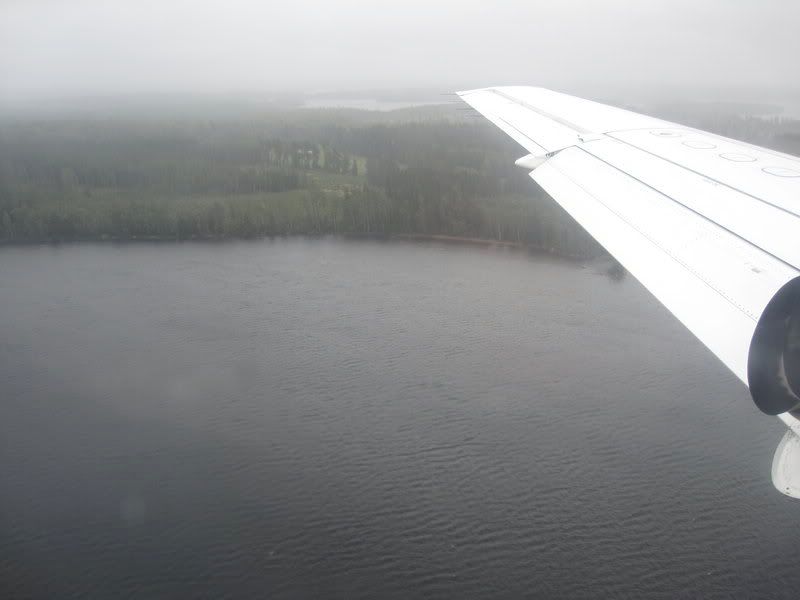 Approach is indeed very bumpy, the little Saab is bouncing left and right and the seat in front of me is making annoying and a bit worrying squeaking noises under the weight of the guy sitting there and violent forces shaking our plane - I certainly hope it doesn't break!
Are we landing on water: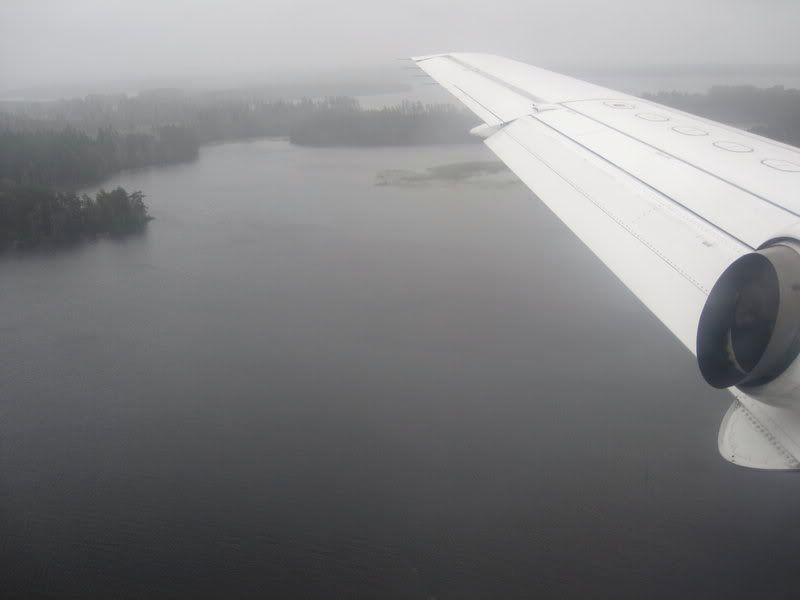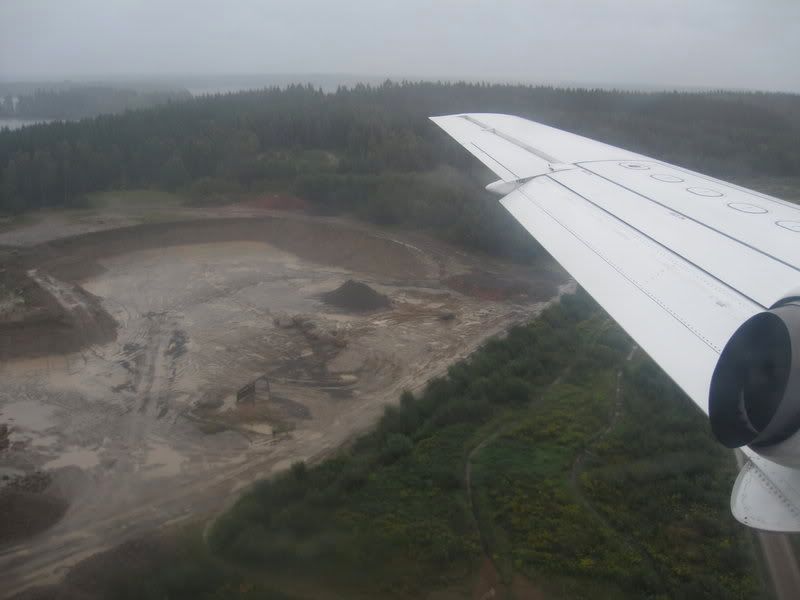 Oh, there's an airport after all: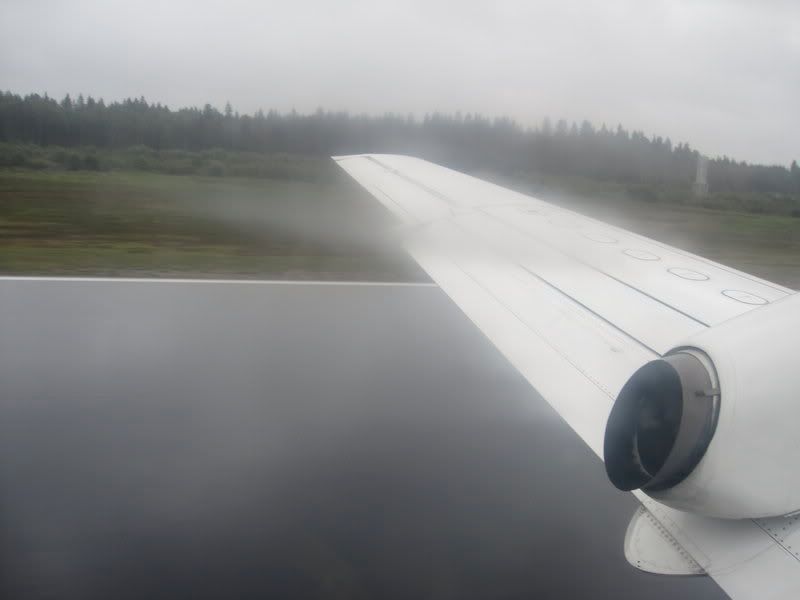 Even when right on top of the runway the plane is still shaking a lot and very unstable, but the guys up front certainly earn their pay today and bring us down safe and sound on runway 19 after around 55 minutes of flight time.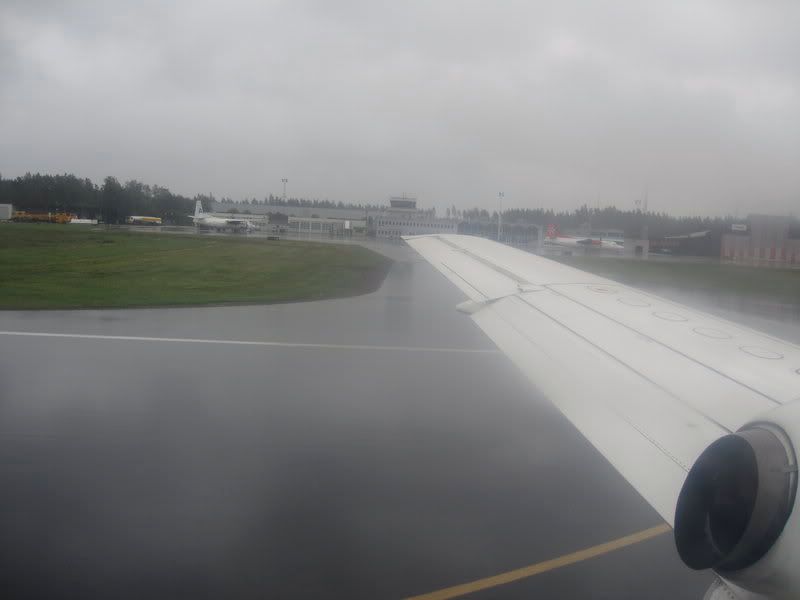 A minute or so later we stop on the apron in front of the small terminal.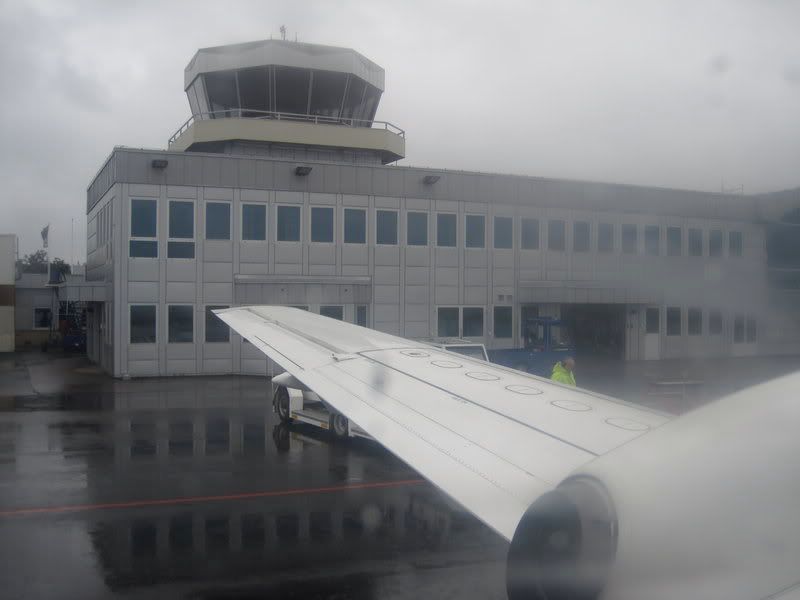 Cabin shot: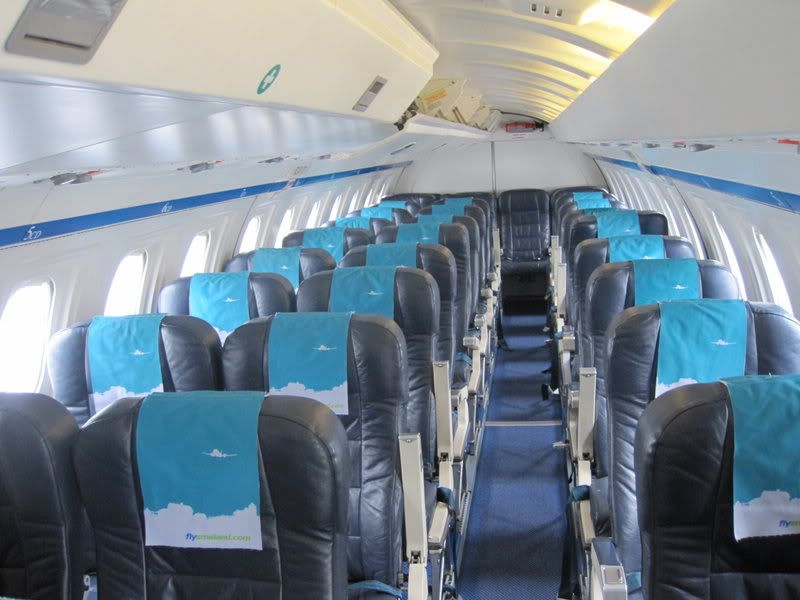 Växjö
Bye:
A JZ Fokker 50 awaiting its flight to ARN: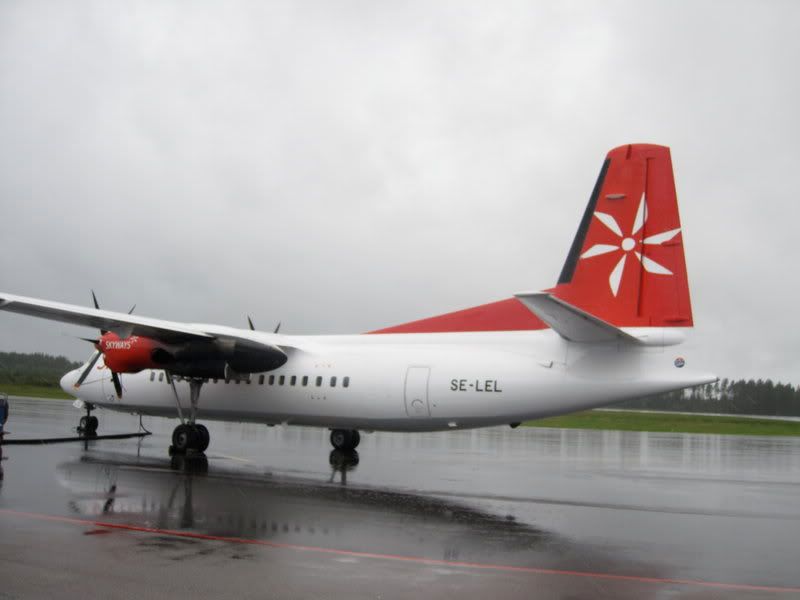 I dash through the rain inside, through the tiny baggage hall and outside the terminal entrance where the airport bus is just arriving:
The ride is only 20 SEK, cheap and cheerful. All the four of us in the bus appear to be going to the final destination, the combined train and bus station, so the driver takes a shortcut and shuttles us directly there: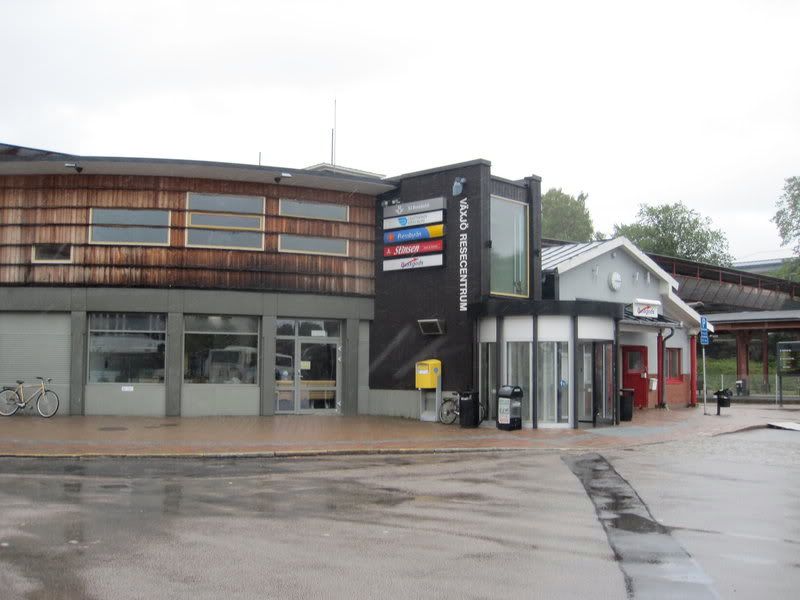 I have half an hour or so before my train - but with the rainfall I don't really want to venture that far. I just hit a nearby ICA supermarket for some supplies and a quick look around - Växjö looks like a nice small Swedish town, shame about the weather.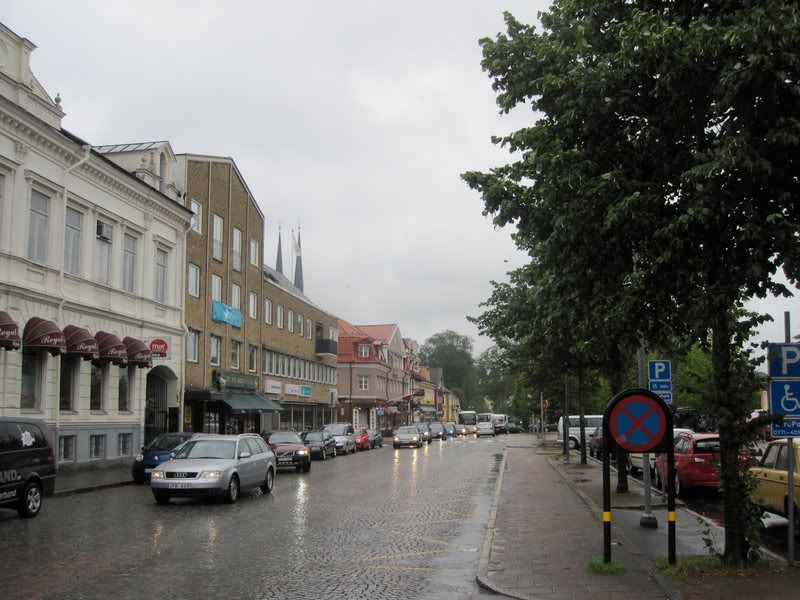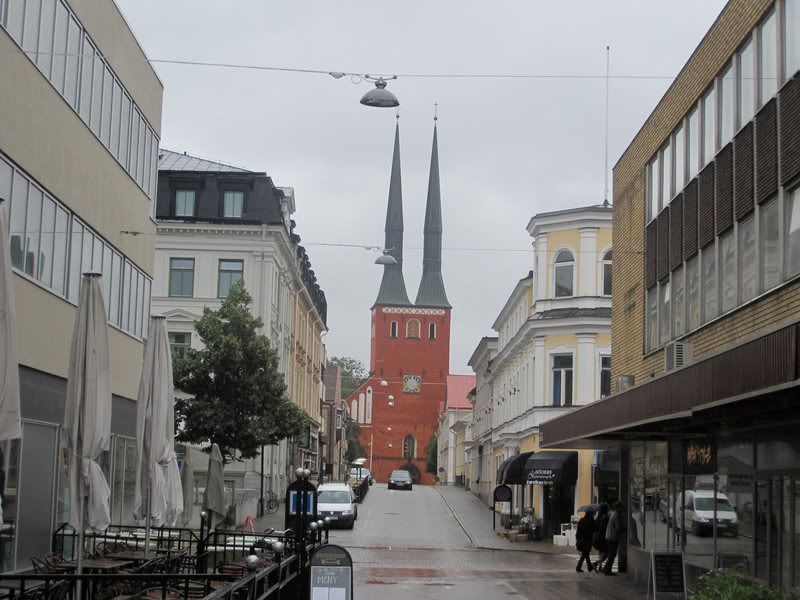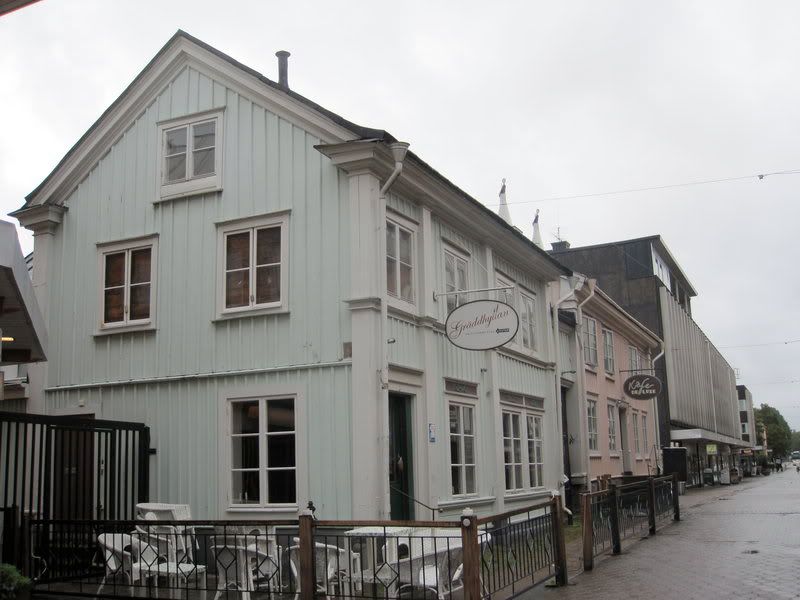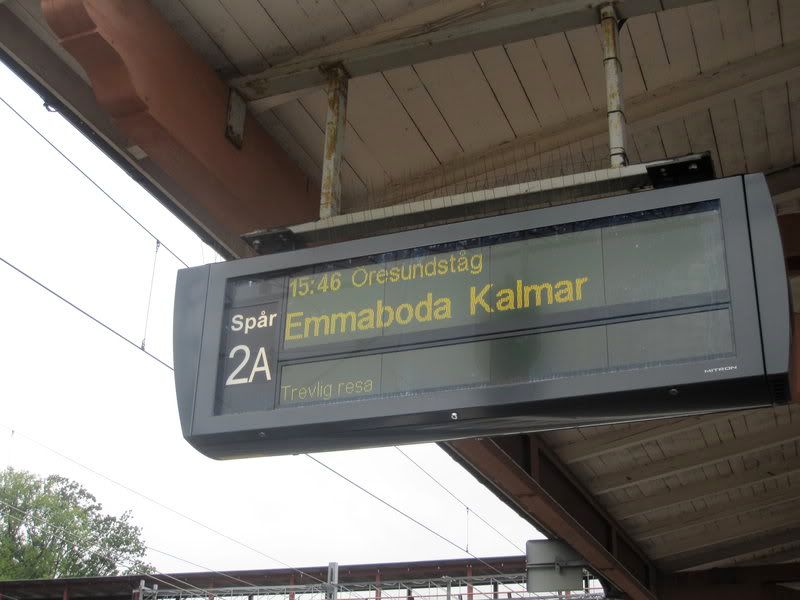 Right on time an Øresundstog from Copenhagen to Kalmar shows up - anybody who's ever taken a train from CPH airport will instantly recognize the ugly face of these trains - they remind me of leeches for some reason: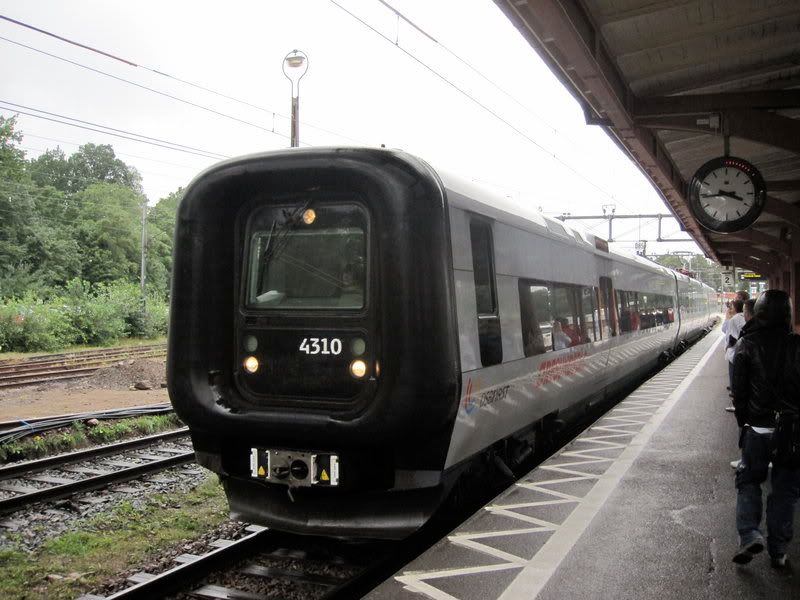 Unfortunately luck isn't on our side as a couple of stops down the line while stopping at Lessebo it is announced that we will have to wait for 20 minutes for a train passing on the opposite direction which is running late - ahh the joys of single track operations! With less than a ten minute connection to my next train at Emmaboda I'm not amused by this. Luckily they also announce that anybody changing to the Karlskrona train should report themselves to the conductor when she passes through the train.
I do, and she says that she is going to make a call to see if they will wait for us - a couple of minutes later she comes back with the great news that yes, the next train will wait for us - good news for me as otherwise I was in serious risk of missing my next flight!
Finally a freight train passes us to the opposite direction and we continue our journey. At Emmaboda another Øresundstog is waiting, and me and another man board it.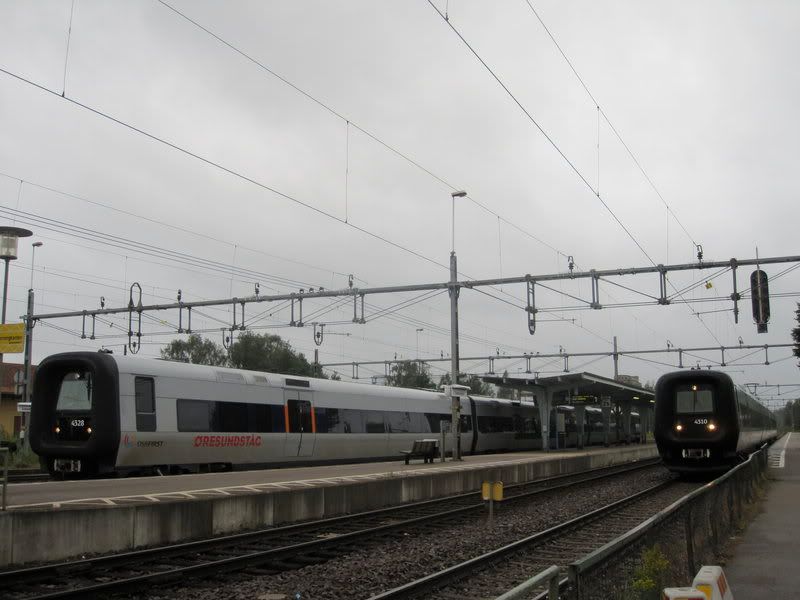 Apparently we are the only passengers as the conductor asks if both of us are going to Karlskrona and after getting a positive answer the train skips the couple of intermediate stops it was supposed to take. Still there are some signaling problems nearer to Karlskrona so in the end we still are ten or so minutes late pulling to the station.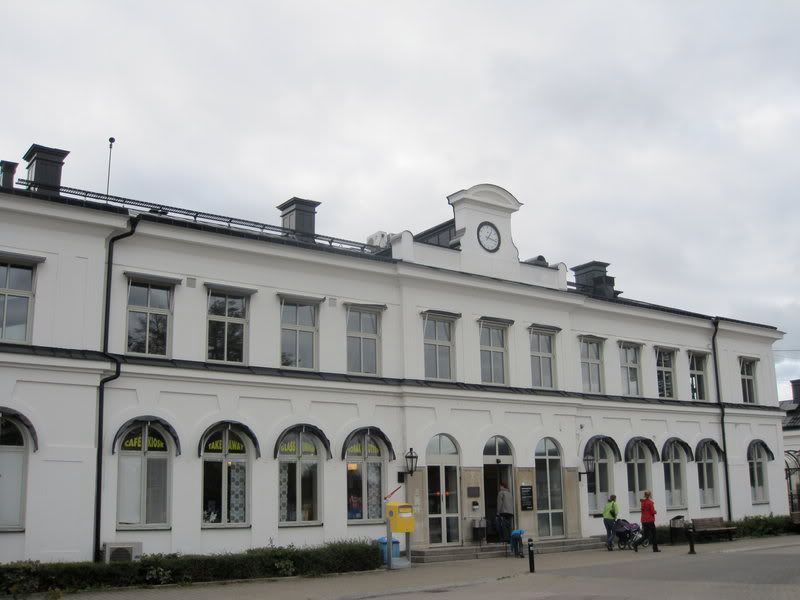 Karlskrona
Karlskrona was built on an island as the main base for the Swedish Navy back in 1680, a status which it still retains. The city features some very pretty buildings and baroque architecture which have earned it a place on the Unesco World Heritage list. Too bad I only have less than an hour here before I need to catch the airport bus to RNB, so no time for the naval yards and harbor - I just stick to the city centre located on top of a rather steep hill in the middle of the island. The weather is quite gray and very windy (hmm, should make for an interesting flight!) but at least it is not raining.
This building is apparently bad for you (or maybe you just swim inside):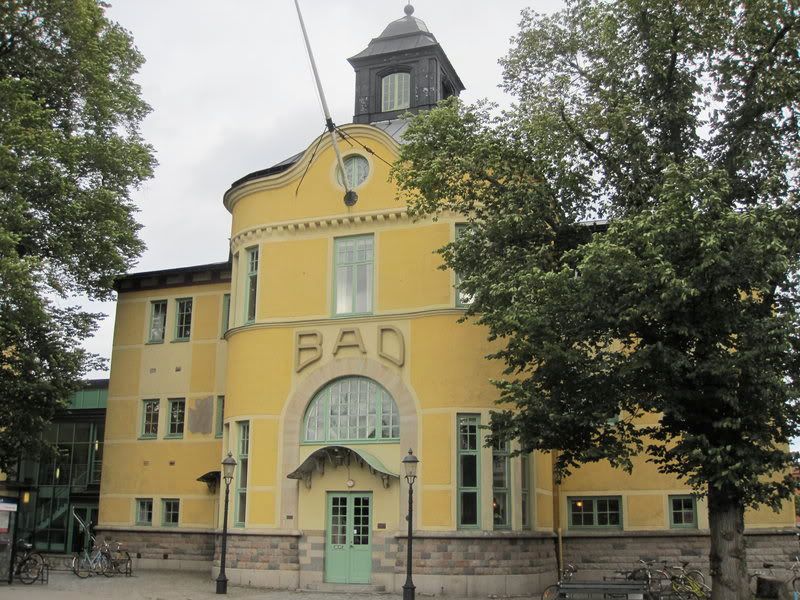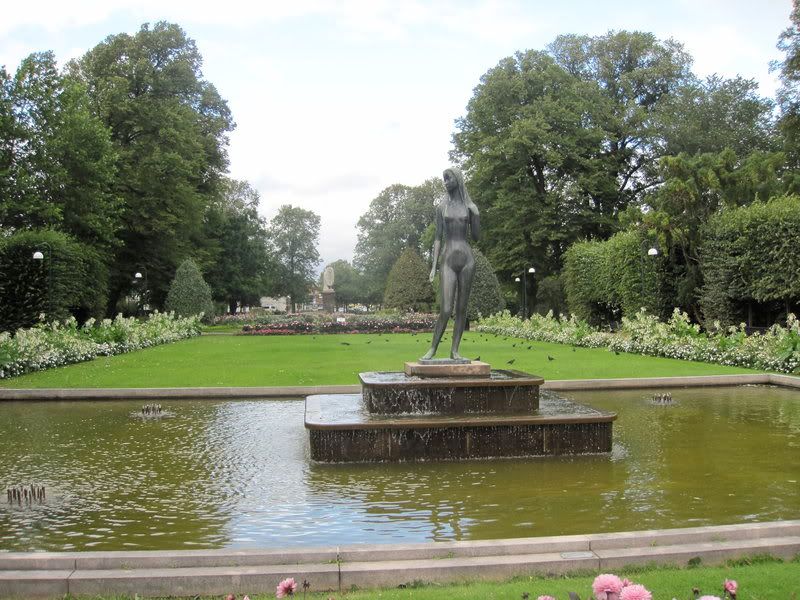 Top