Since I went on a very unique flight to an even more unique destination compared to the typical travel that most of us go through, I decided to write a quick trip report about TAME airlines. It is the civilian division of the Ecuadorian Air Force. I flew them in 2000 on old 727s which felt like they were about to fall out of the sky. I was hoping for a better trip this time.
I met up with my family in Guayaquil Ecuador after flying in the night before on American SEA-DFW-MIA-GYE in first/business. I was fairly well rested since the business on the AA 767s is quite nice. The rest of my family had flown in from ATL on a DL 737 which diverted to FLL due to a mechanical problem and landed after being in the air over 4 hours, which forced them to spend 9 hours on board the various 737s ATL-FLL-GYE, which is not very comfortable even in first class, especially since they didn't cater the plane in FLL. I was the lucky one.
Anyways, we were headed to a vacation adventure cruise in the Galapagos Islands. Our tour company picked us up from the very nice Hilton and we arrived at the beautiful GYE airport. Our agency handled all of the check in and gave us forms to fill out and boarding passes. I'm not sure if it was Tame or the tour company which was less organized, but we ended up scattered. It didn't matter to us much for a 600 mile flight. The airport in Guayaquil is new and very nice. I have never seen a fish pond at an airport before.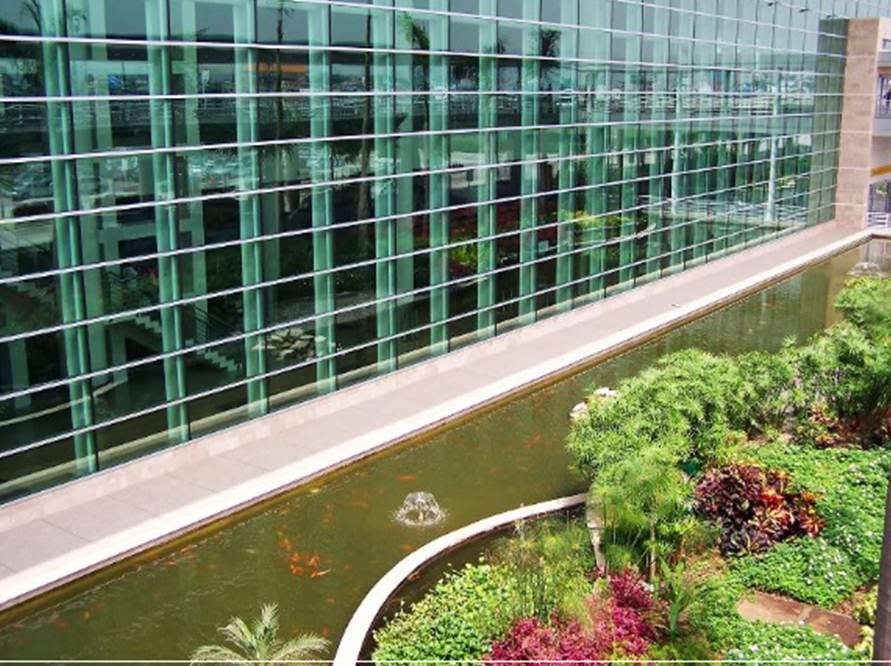 Tame 191
Guayaquil - Baltra (Galapagos)
Dep 10:05 am
Arr 10:45 am
A320
Seat 20D
Flight Duration: 1hr 35min
Load Factor: 70%
We headed through to security which was not very strict. After that, they make you walk through a shopping arcade to get to the gates. This is where things were confusing to us. The gate listed for our flight was blocked off behind a glass wall. Our flight to Baltra was listed out of gate 5, yet we were in the boarding area for only gates 1-4. There were no airline staff anywhere. We were confused and found a guard who said that they often switched gates and that there would be an announcement. Since I had not eaten, I went to the coffee bar to get a snack since I was hungry and did not want to wait 3 hours for food.
20 minutes before departure, we were curious along with some others where to go. Finally they opened up the door to a common use gate between the international and domestic gates. Everyone boarded at once. They took our ticket and we got on the plane where there were already about 50 people on board that had come from Quito on the same plane. This is an actual 1 stop service flight.
I have seat 20E. We had checked our luggage as well as basically everyone else since the tour company arranges for it to your stateroom on the boat in Galapagos. Because of this, there were only purses and small backpacks on board. The overhead bins were completely empty. There was a 3 row business class section and the rest was economy. Pitch felt about the same as the typical US 31 inches. The seats however were as hard as a rock. There was no contouring to your body or headrests. They felt like the lowest and cheapest seats out there. There were a few pieces of evidence around that this was an ex BMI plane.
When the boarding door closed, everyone was still standing and talking. The person next to me in 20D jumped up and upgraded himself to an empty seat first class. None of the 4 cabin crew seemed to care about what was going on.
We started pushing back and people were still standing and getting situated. The flight attendants went around closing the bins that people were not standing next to. Eventually around engine start, everyone had sat down and the flight attendants did a safety demo in Spanish and English.
We taxied past a few parked planes and made it to the runway. Takeoff was a typical derated takeoff. The seat belt sign went off at about 10,000ft, but all the crew and passengers stayed seated as there were a few bumps and the plane was still climbing at a steep angle. It is nice to see an airline not keep the sign on at all times other than cruise like they do in the US. However, the tough pilots flying around the Andes might be used to a bit more turbulence than the primarily American crowd on the plane.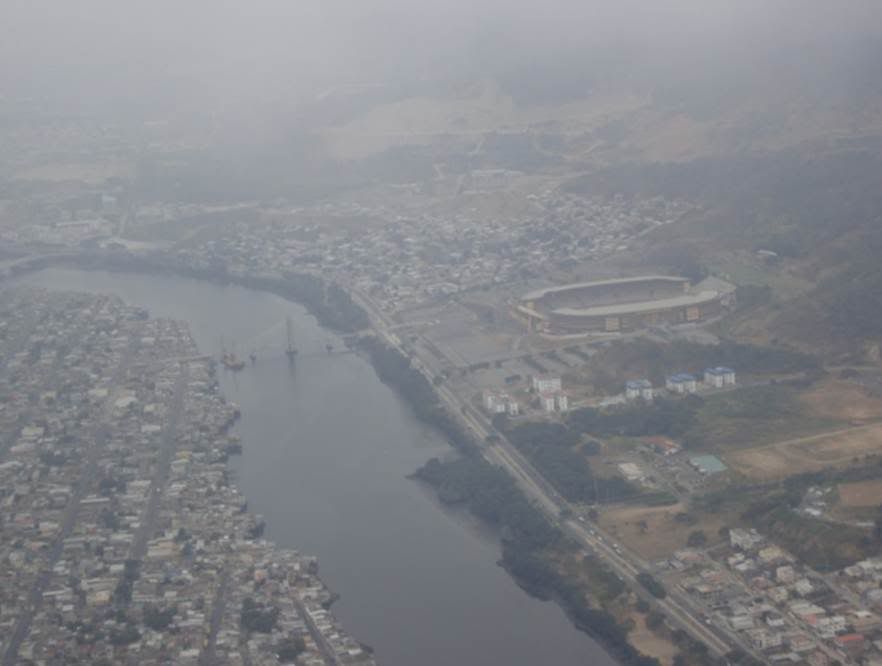 After we made it to cruise, the captain made some announcements, but the volume was too low to hear them. I hate it when that happens. Next the cabin crew announced that they would come through and asked everyone to put their trays down. Wait, what? Put trays down? Does that mean food?
The answer soon came as they rolled out a cart in the first class cabin with plastic boxes of food and began handing them out. They provided beverages at the same time. They tried to guess at each passenger whether to offer in English or Spanish. Most got English, but when they got to me, they asked me in Spanish what I wanted to drink. I slightly broken Spanish I asked for coffee and water.
Sorry for no picture, but the meal was four slices of cold chicken breast with peas and carrots. It came with a small roll (no butter), a fruit bowl of papaya, pineapple and grapes and a small sweet dessert piece of cake. I nibbled through most of it. There was no taste in anything so I can't say it was good or bad tasting unless you have an opinion of what nothing tastes like. At least they provided salt and pepper.
After about 20 minutes, they collected the remains. The 4 flight attendants got through the cabin very quickly and then all went to the back galley for the rest of the flight. At one point a pilot came out and got some coffee from the flight attendant. He left the flight deck door open for the entire time.
After reading my book for a while, I felt us throttle back and perform an idle thrust descent. As it only receives 2-3 flights per day, the airport at Baltra doesn't have any traffic to contend with. After about 20 minutes, islands started poking out of the clouds and we could see the Galapagos. Truly an interesting place.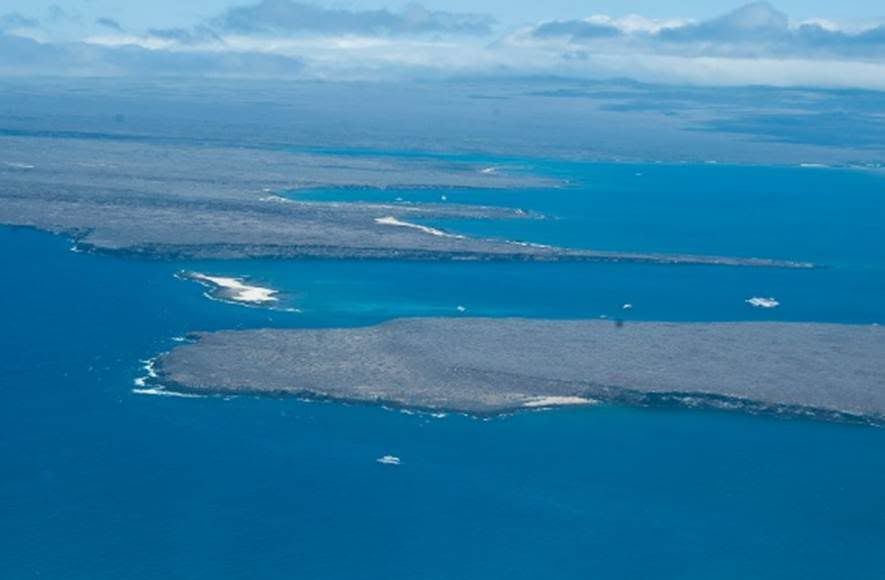 Landing was smooth enough even though there appeared to be some wind. Full reverse thrust and spoilers before we were stopped. We back taxied on the runway and stopped in front of the terminal. This is the least used airport I have ever been to. The only smaller one was Bora Bora which only sees ATRs. Being on an uninhabited island, this airport had little infrastructure, but it did have a fire truck.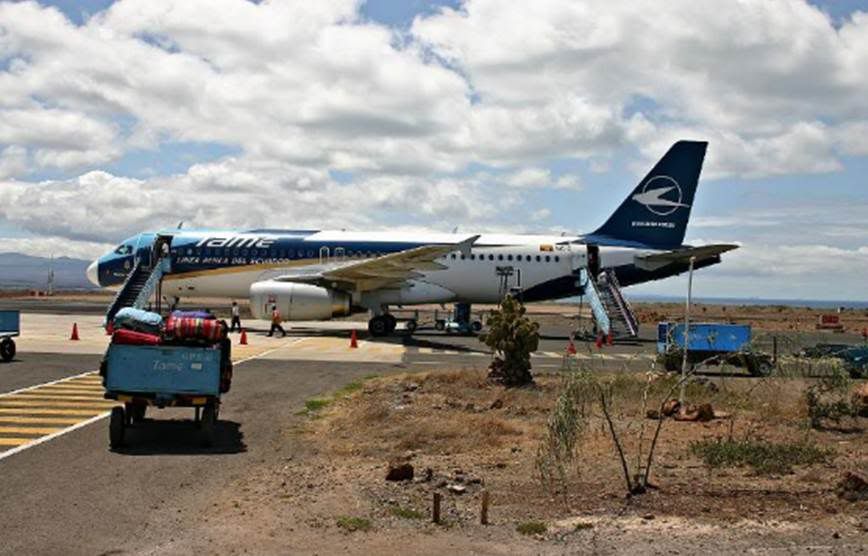 We exited via stairs in the front and went to customs inspection. After handing in documentation, we made it to the open air terminal, which was a roof covering about a dozen wood benches. Our tour group picked us up and we were off to our ship.
Summary
Tame is an interesting airline. The service is apathetic. The planes are uncomfortable. There is little direction ever given. It is almost like traveling in a different time period for us use to US regulations. Food was a nice surprise. Other than that, there is nothing that great about them other than them getting you to where you need to go. Flying on a modern A320 was a big change from an old 727, although boarding via rear stairs under the tail was interesting. 10 years ago, the food was hot on board. With Aerogal giving competition on ancient 737-200s and Lan soon coming to the Galapagos, there is more competition. However, I doubt service will change on a government run airline.
[Edited 2010-08-29 10:09:41]