Tallinn to London, with Estonian Air and BA, via ARN
Hello everyone!
This trip covers my trip back from Tallinn in Estonia, back to London via Stockholm. I had already booked my flight from Stockholm back to London on BA using BA miles, so booked a connecting flight from Tallinn with Estonian Air (OV). Luckily they had a cheap one way flight available, that had a reasonable connecting time before the London flight. Strangely, OV have 4 TLL-ARN flights a day, one early, one late (both B737s), then one at 1020, and another at 1050 (both Saab 340s). Rather strange timetabling.
Tallinn was a very pleasant city – I was only there for 2 nights, but I think another night or two could be well used – you just have to hope for nice weather!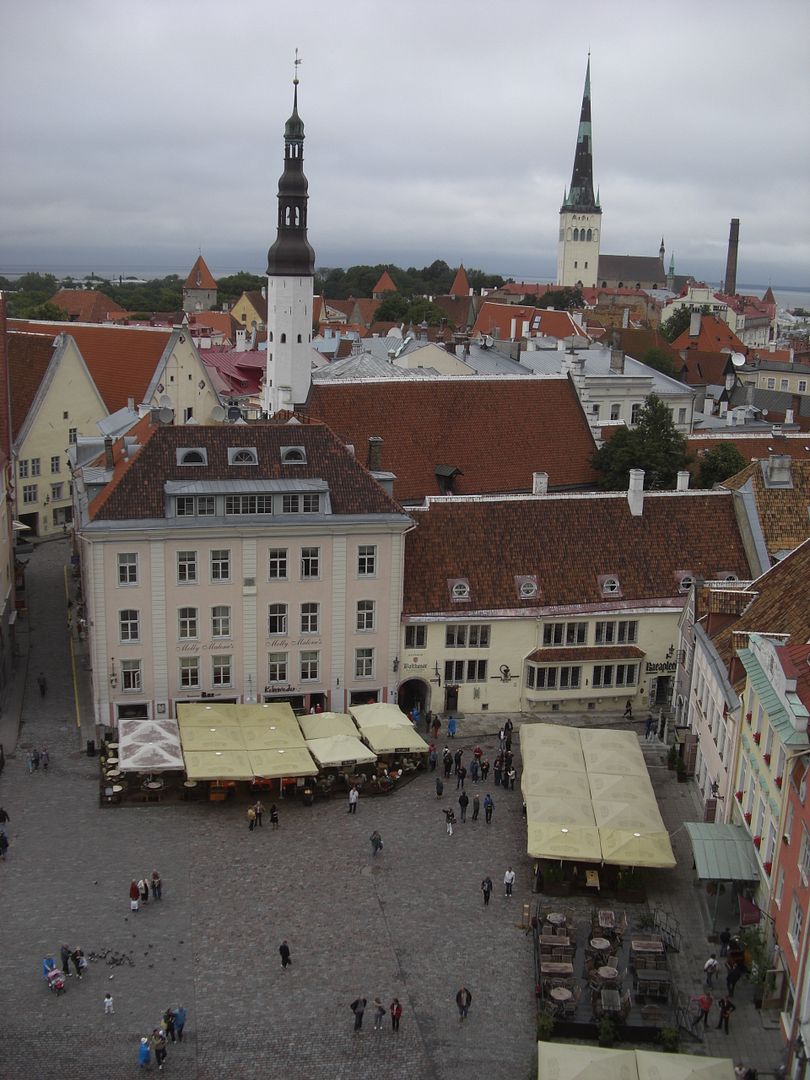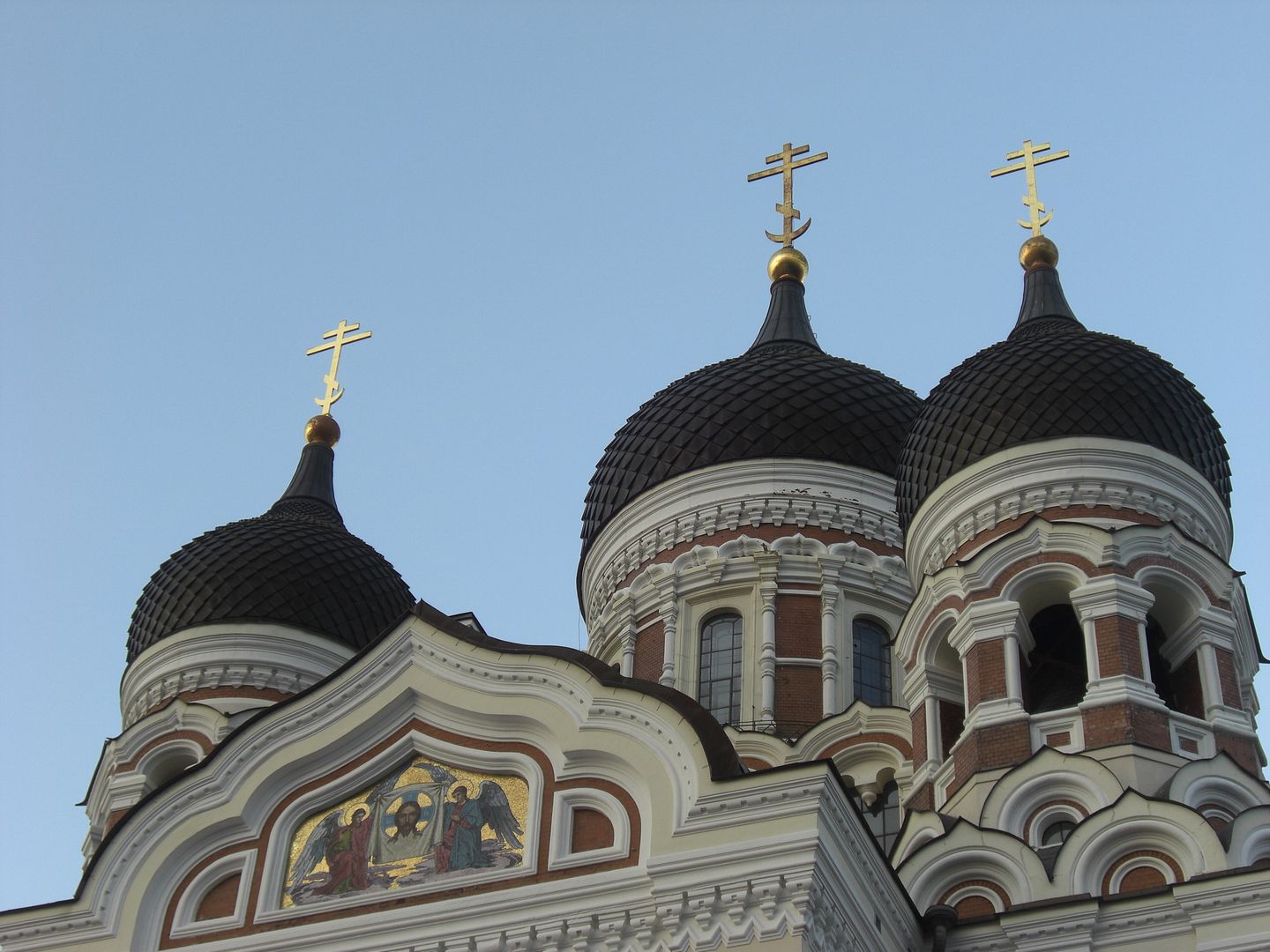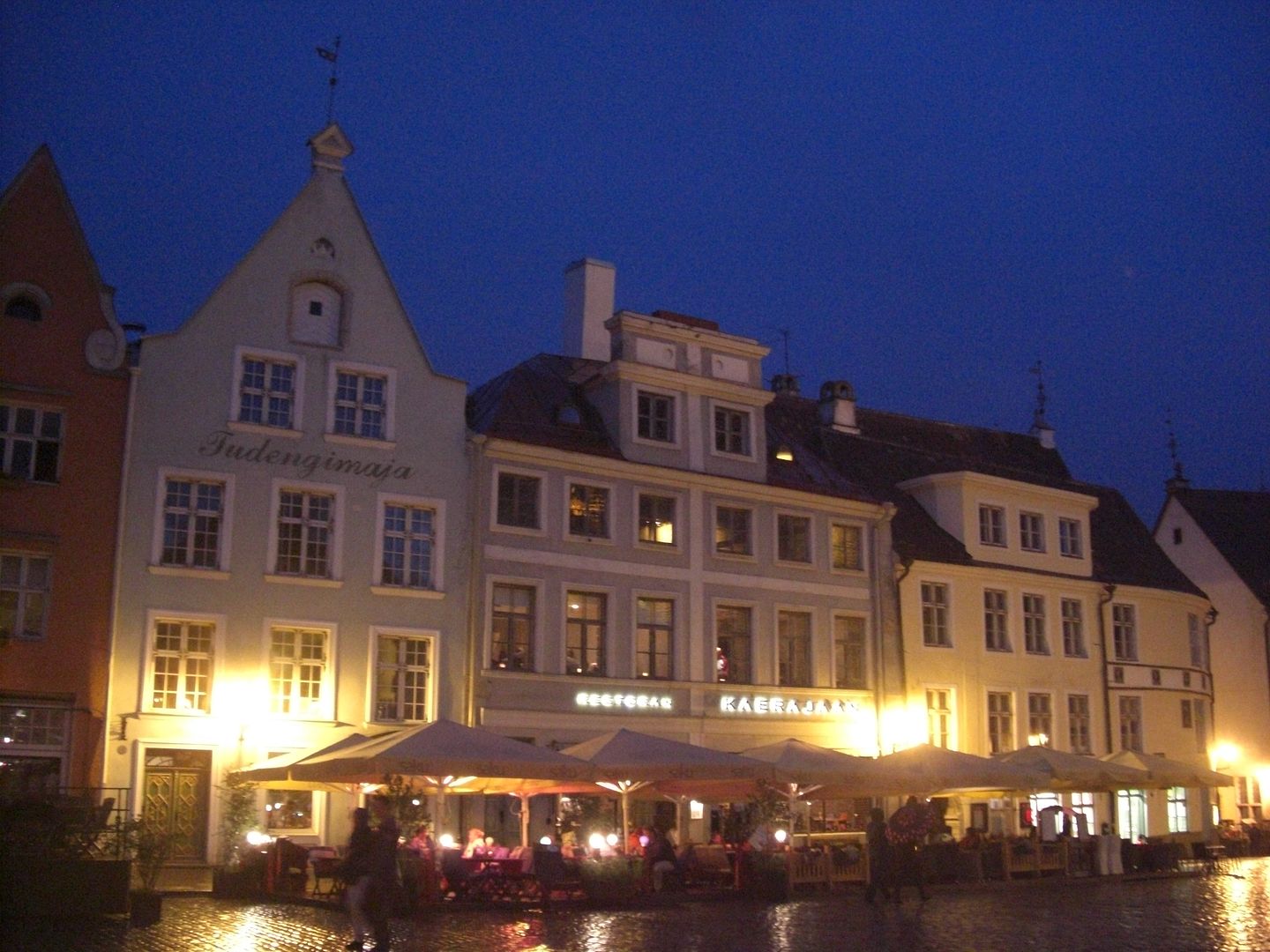 The Estonian Air office in town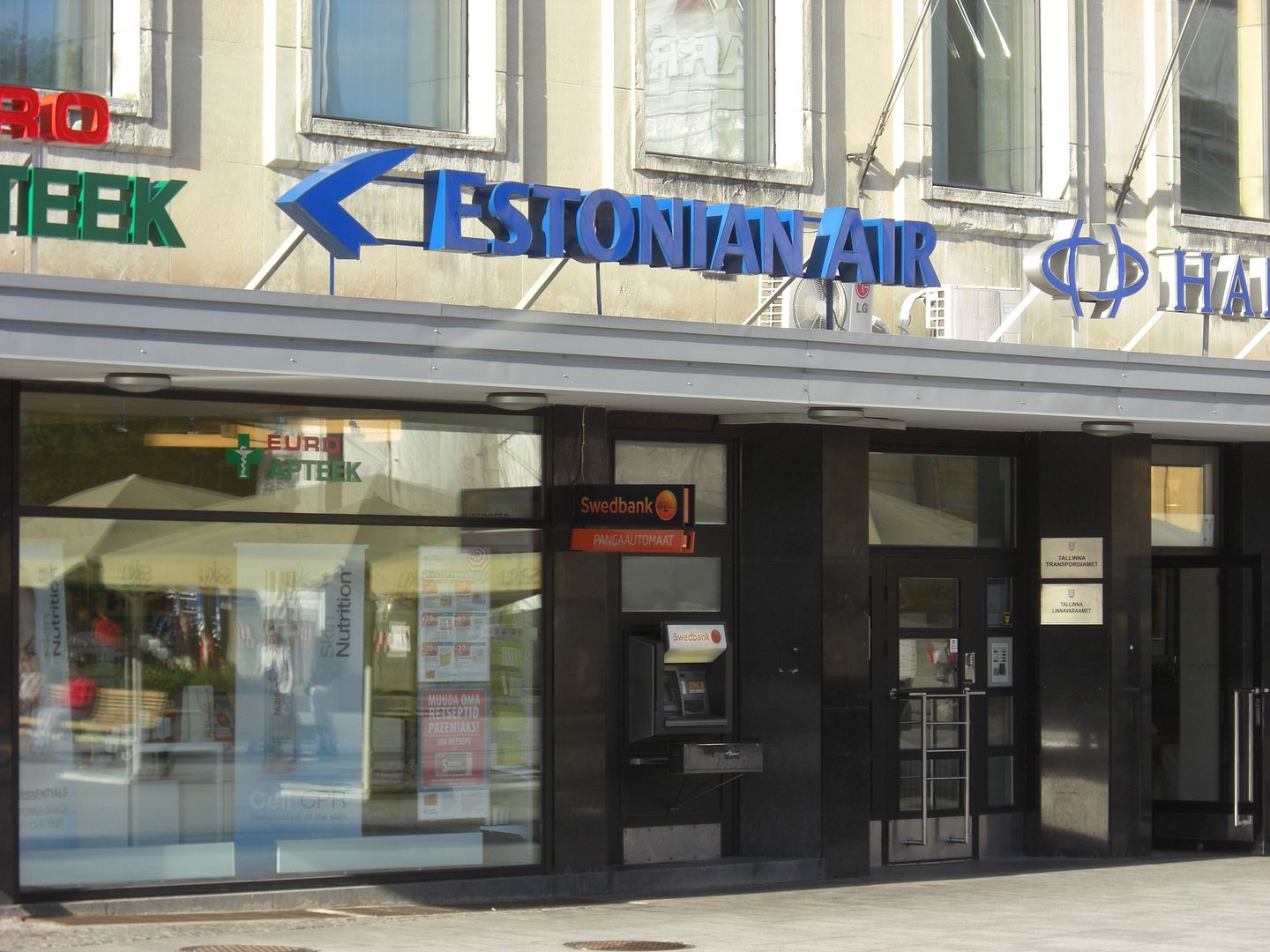 Tallinn's small, but very efficient airport, is located just outside the city centre - a taxi from my hotel took les than 10 minutes. I had checked in online, so just needed to drop my bag. There were only 2 desks open, one business, and one economy. I was called over to the business desk, where the very friendly lady checked me in. She also filled out a 'delivery at aircraft' tag for my normal sized backpack hang luggage.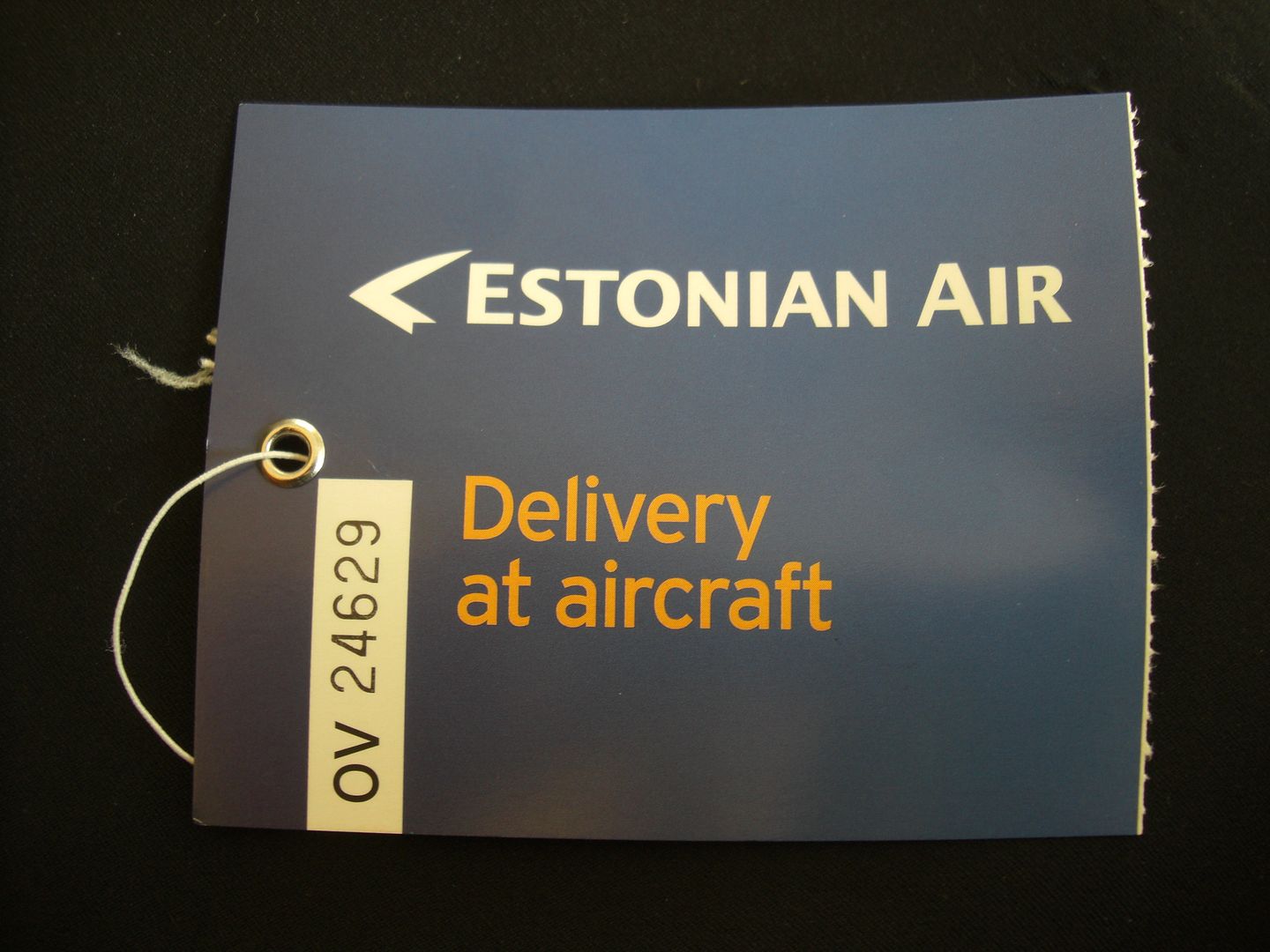 Once checked in, I went to check the screens, and noticed a one hour delay. I went back to the desk, and the woman there called up/spoke to at least five different people, before coning back, saying that there was indeed a delay. No problem for me as I have four and a half hours between flights in Stockholm with nothing to do.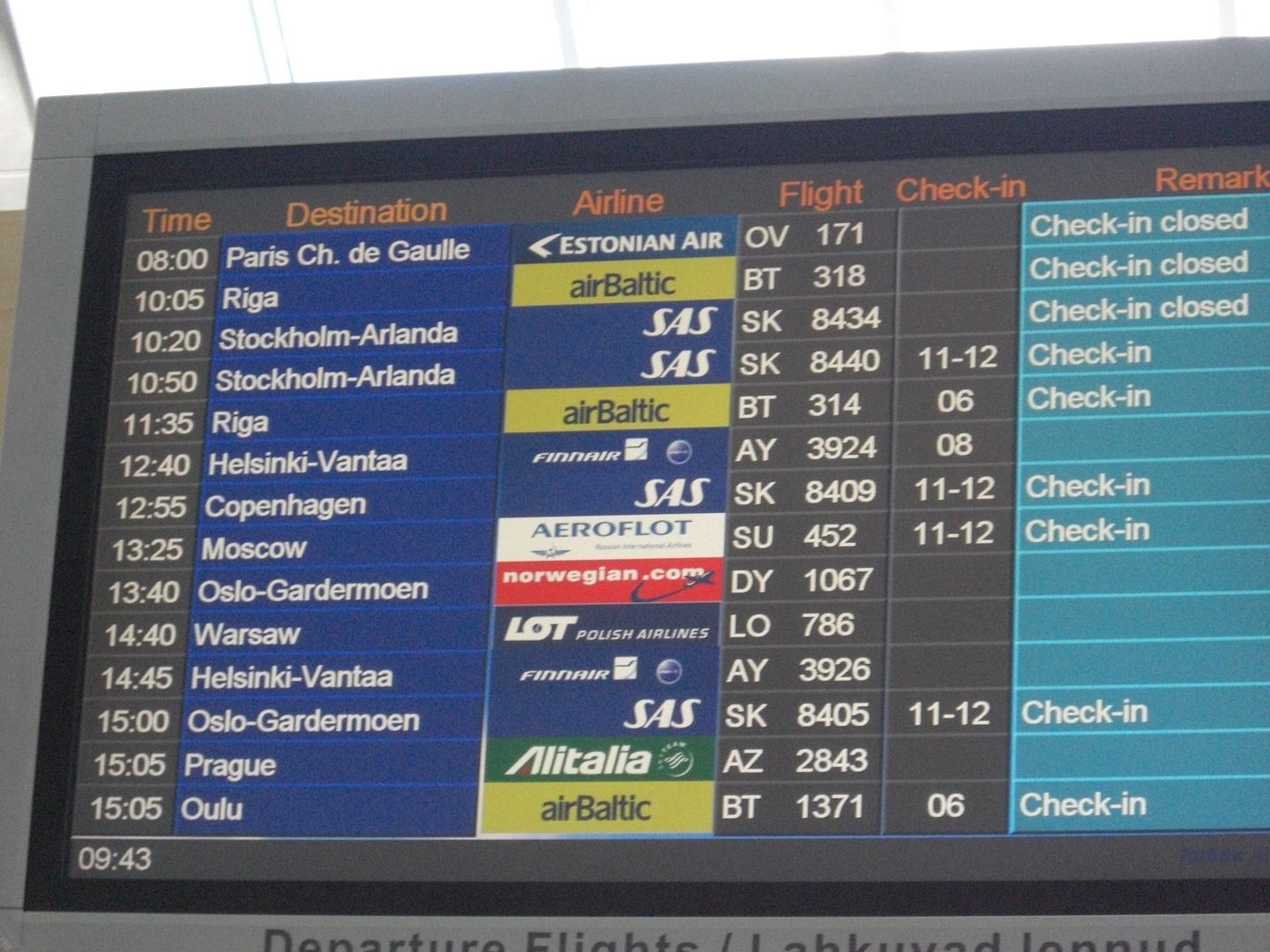 I took a short walk around the terminal – new, efficient, and pleasantly empty, which was understandable given that other than the two Stockholm Saabs, there was just an Air Baltic Fokker 50 to Riga, and a delayed B737 for Paris worth of passengers around.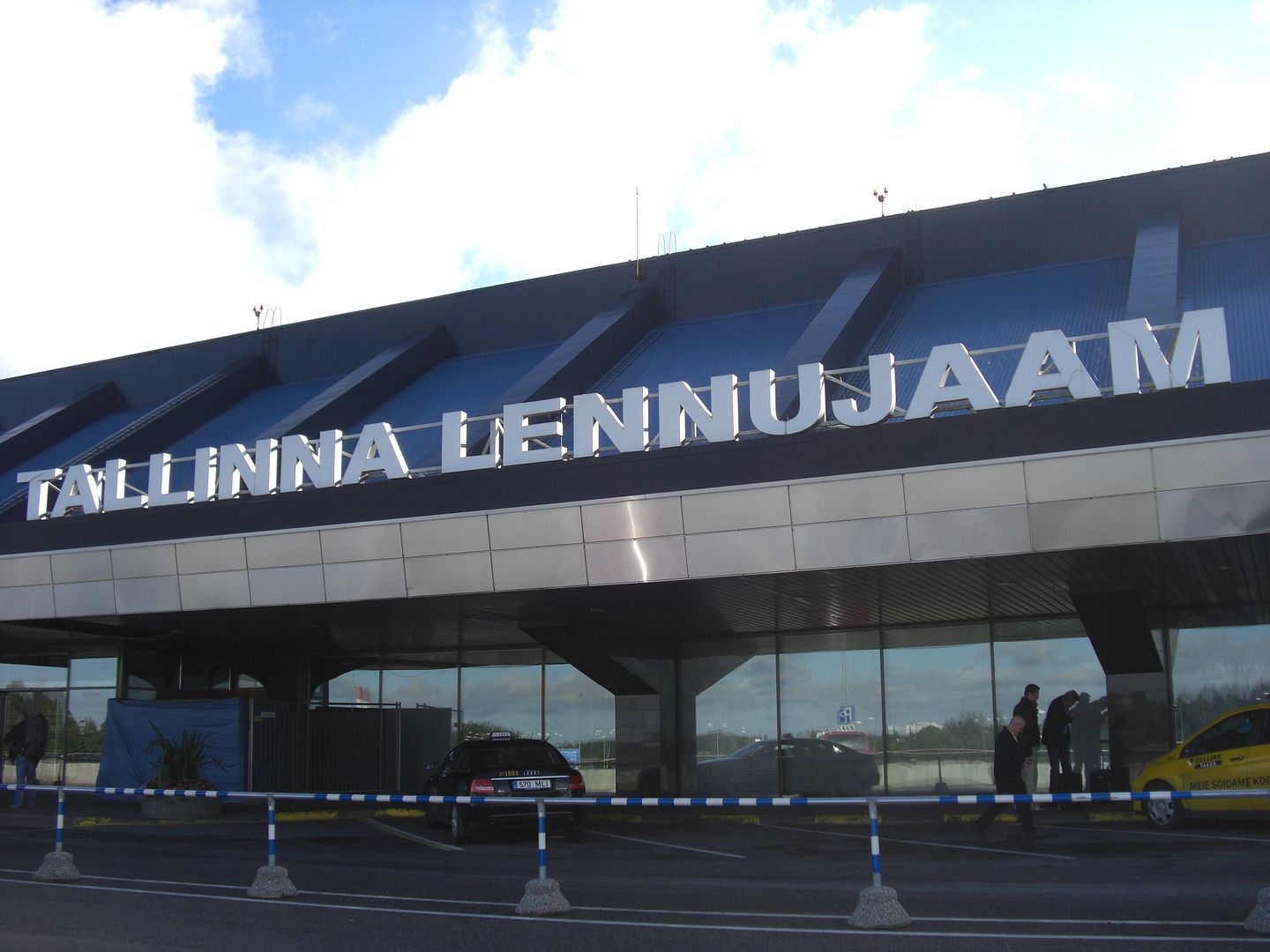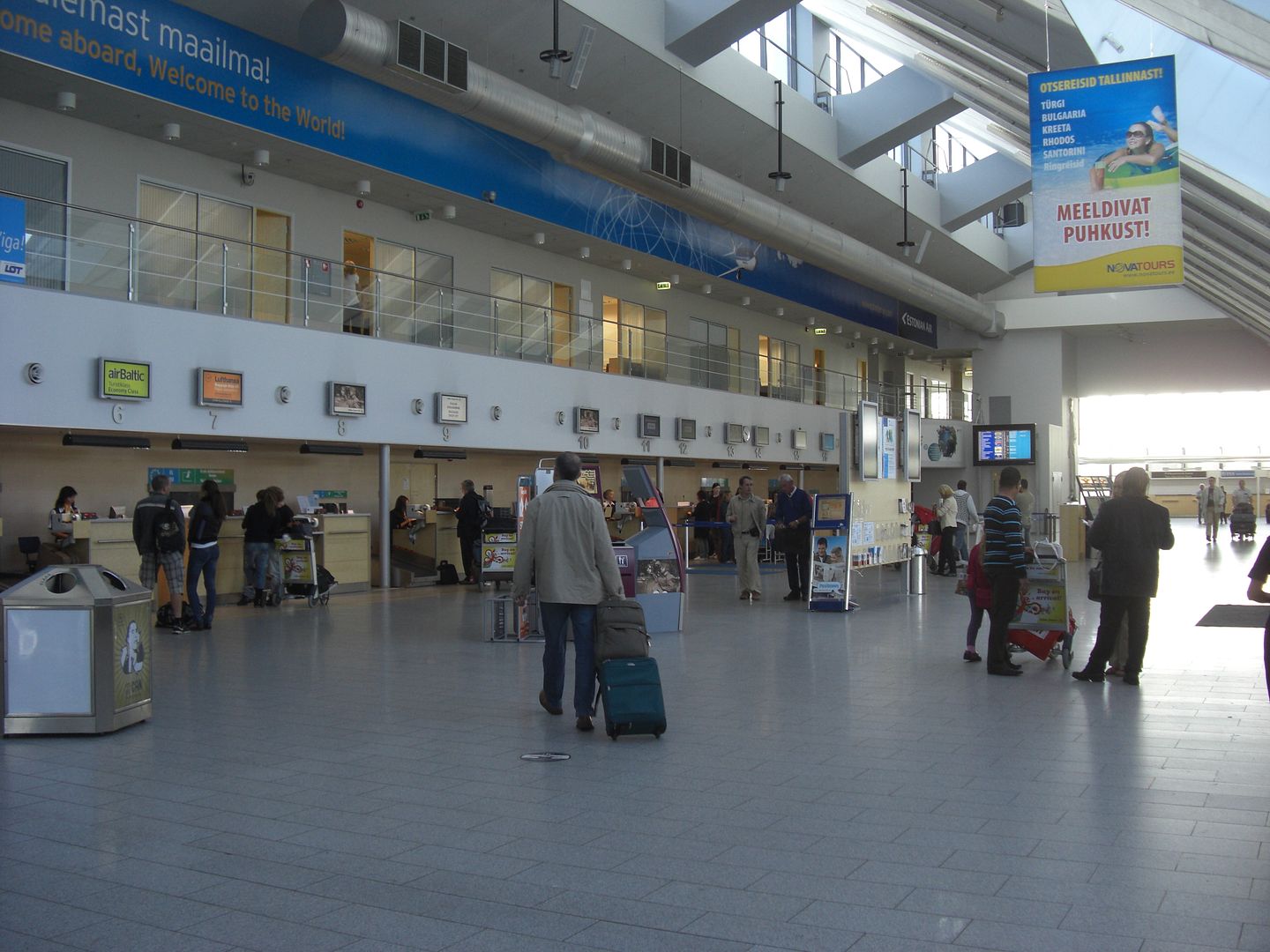 Security was very fast, with just one person in the queue ahead of me. The airside area didn't have a lot of shops, but there was a Cuban cigar shop.
One of the gates has been 'dedicated' to Estonian Air, complete with vintage uniforms and aircraft models. Check out the cool gate background.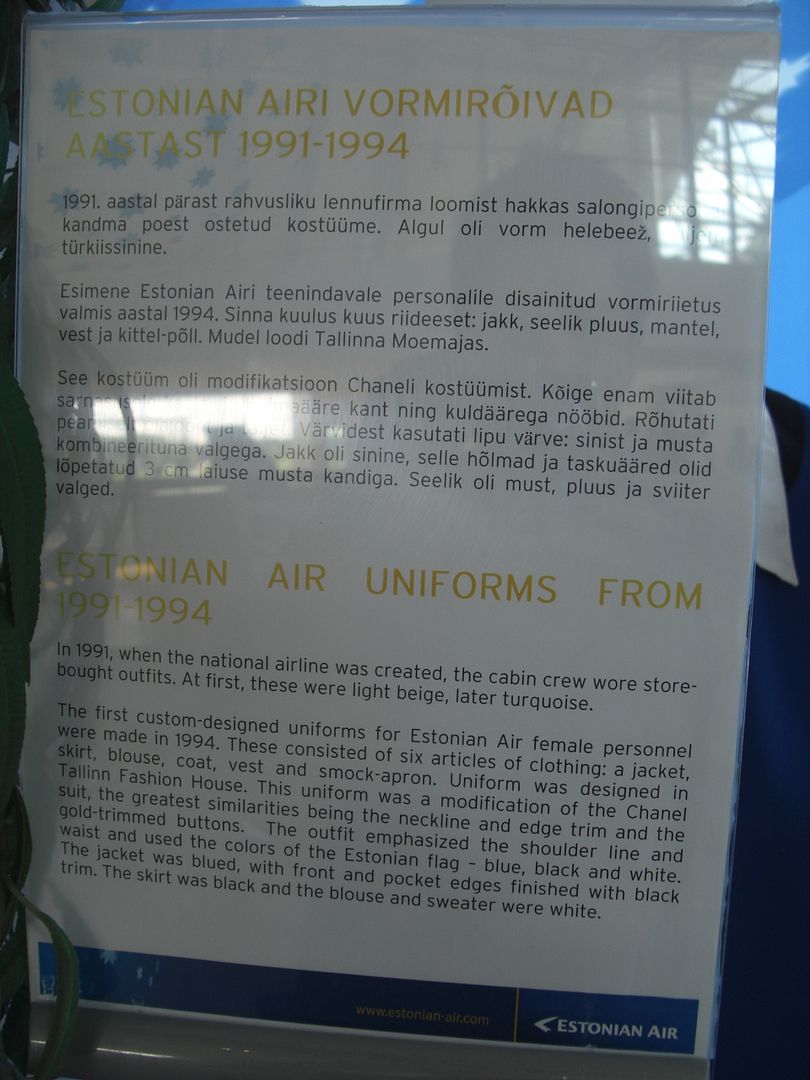 The seating area
Air Baltic to Riga
I took the time waiting for my delayed flight by using the free wifi. There were also free computers to use around the airport. did you know the Skype was made in Estonia?
The arrivals area
Departures for the whole day
August 2010
Estonian Air OV 683
Tallinn (TLL) – Stockholm Arlanda (ARN)
Saab 340B (ES-ASM)
Scheduled: 1050-1105 (1h15m)
Actual: 1154-1153 (0h59m)
Economy Class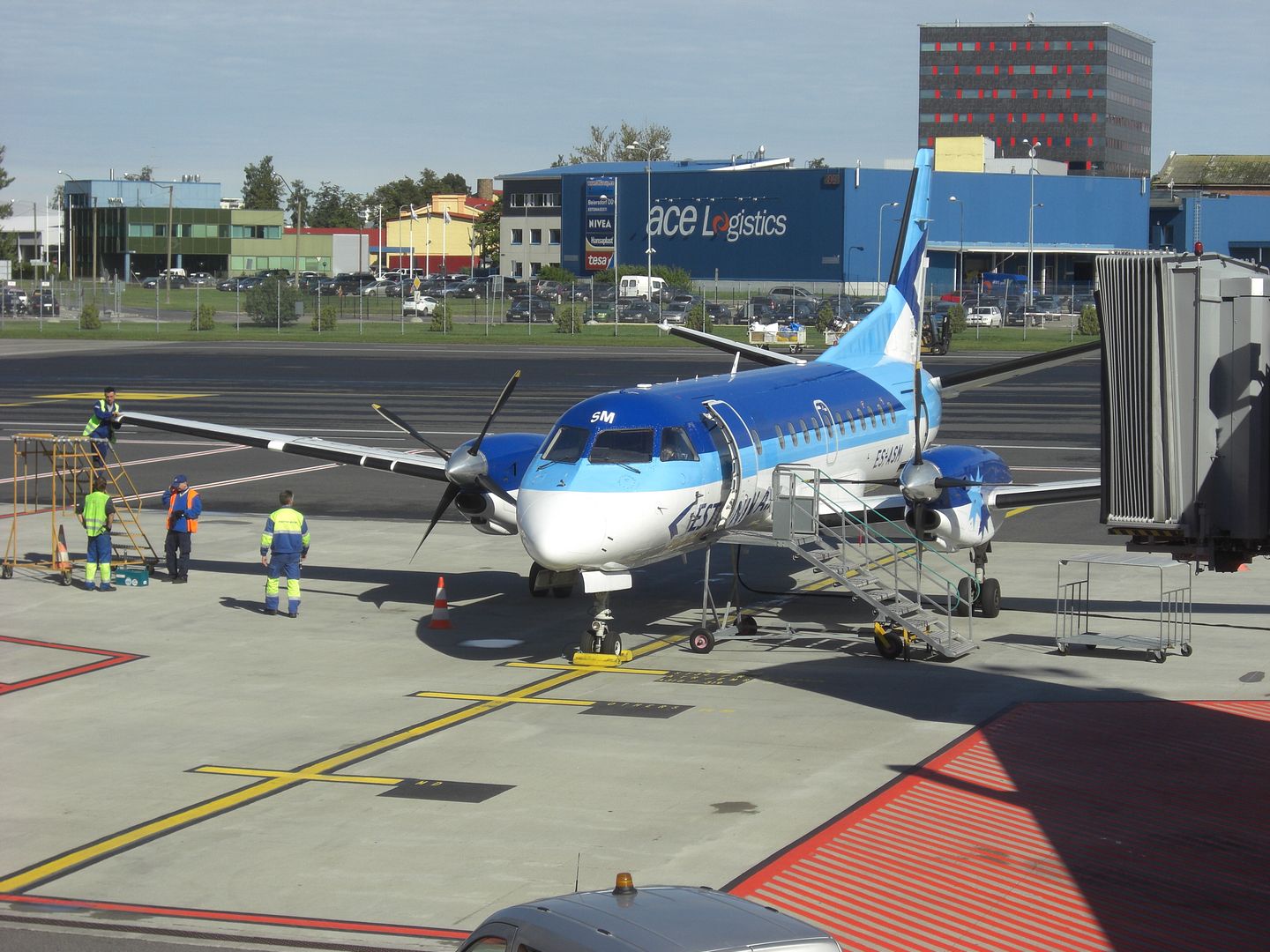 It was announced that our delay was due to the aircraft being diverted to Helsinki the previous day to the overrun of an aircraft in Tallinn the night before.
Comfy and cozy cabin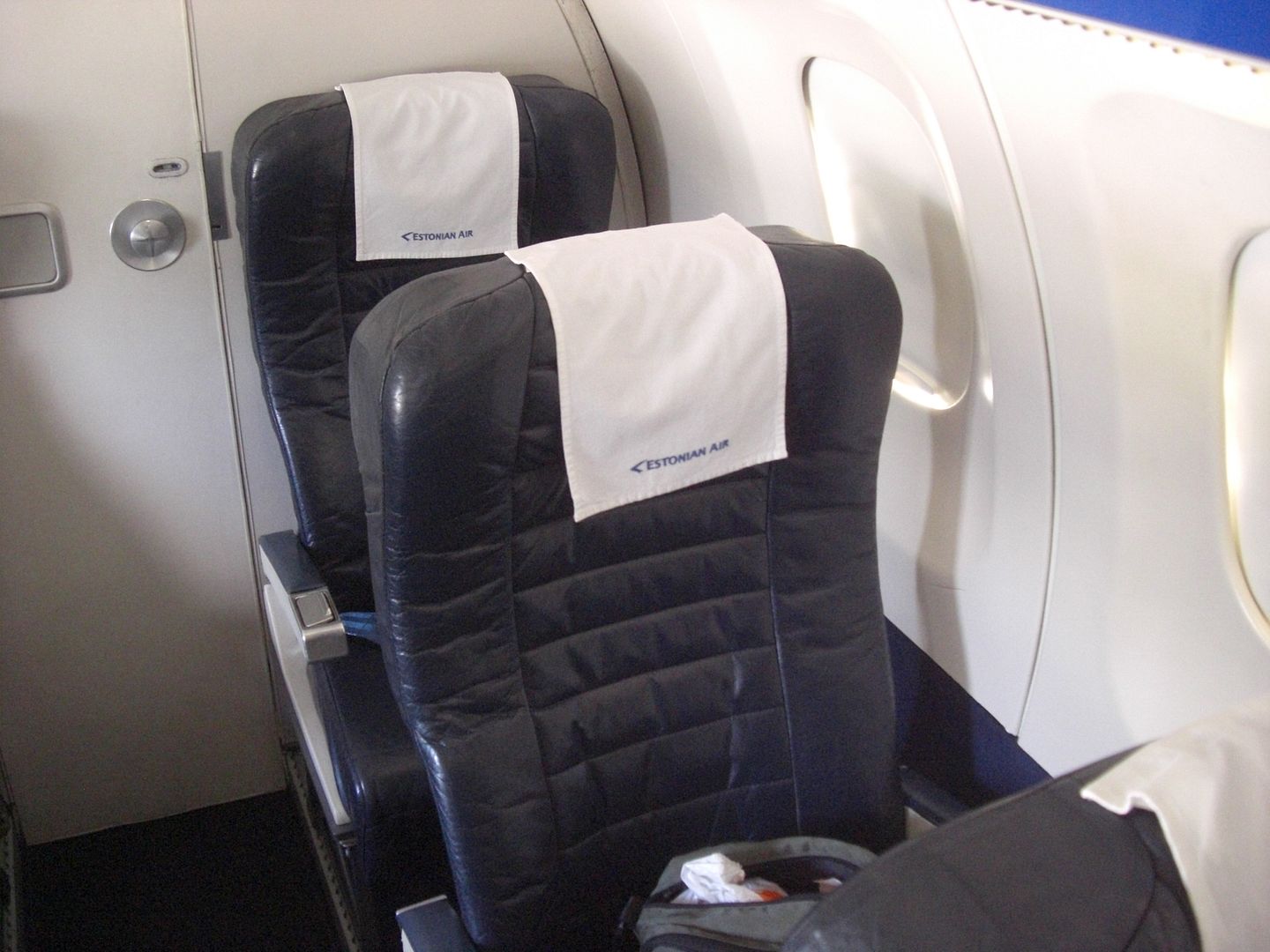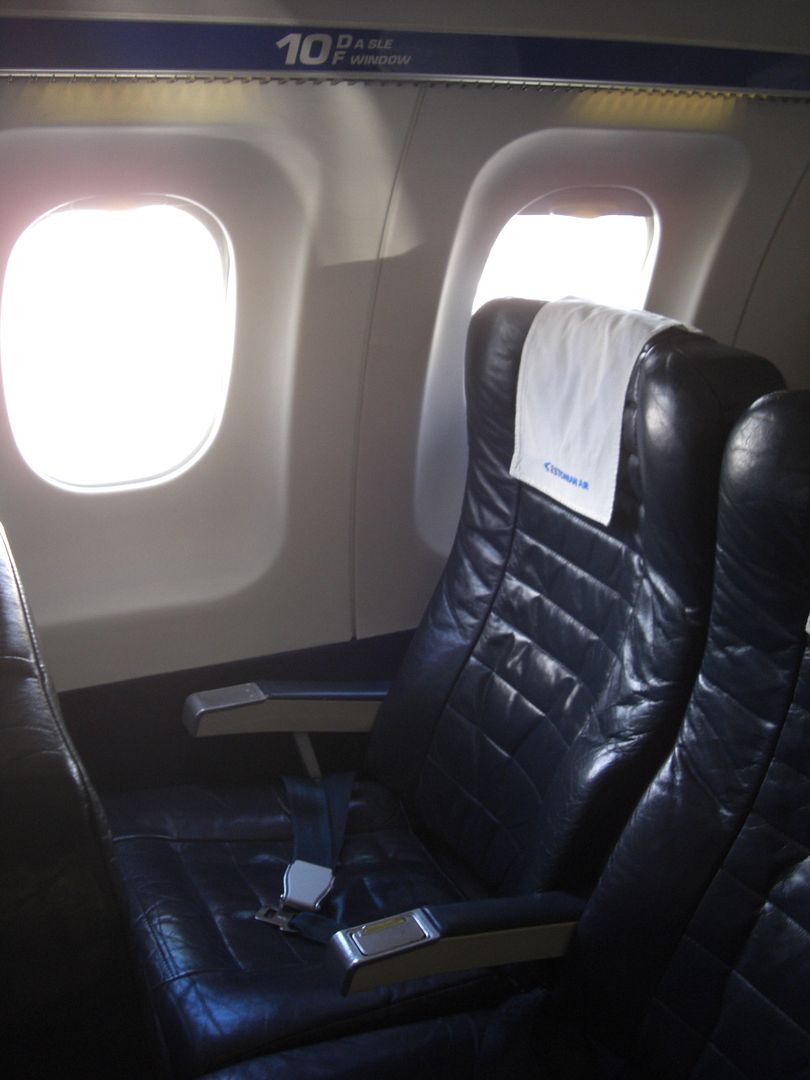 Off we go
The aforementioned overrun
Nice shadow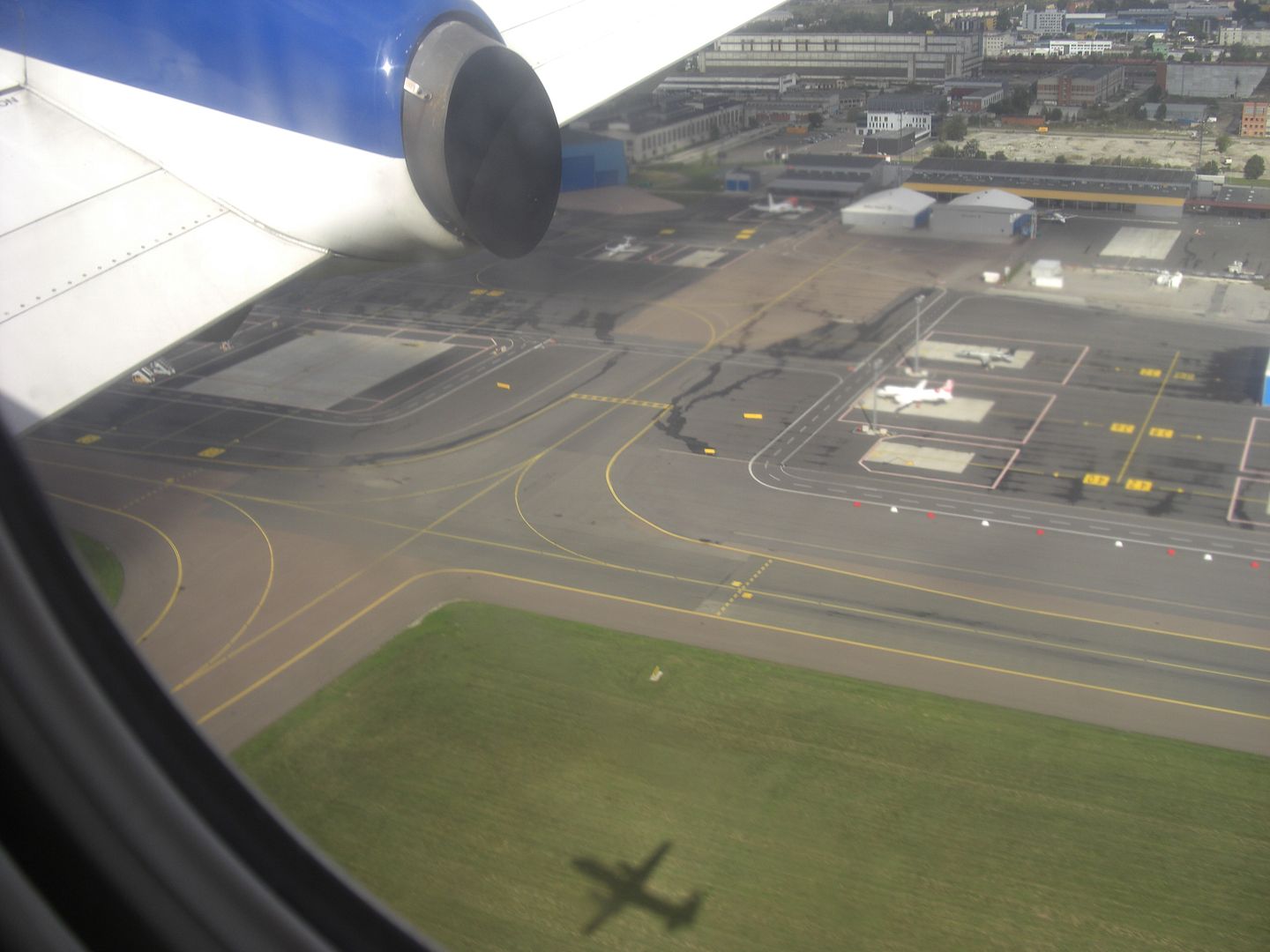 TLL terminals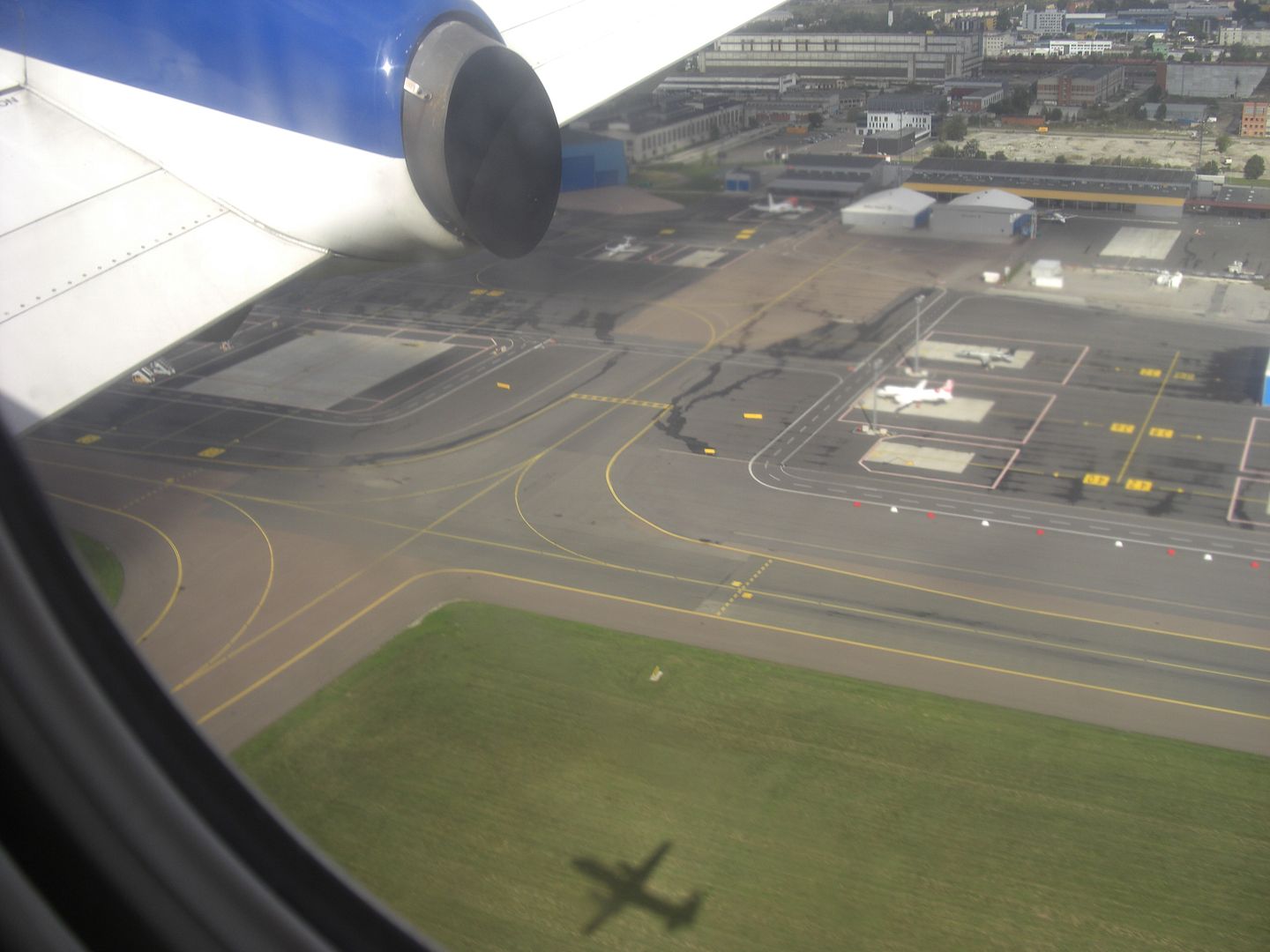 There would have been some brilliant photos, except for the exhaust vapours which warped them a bit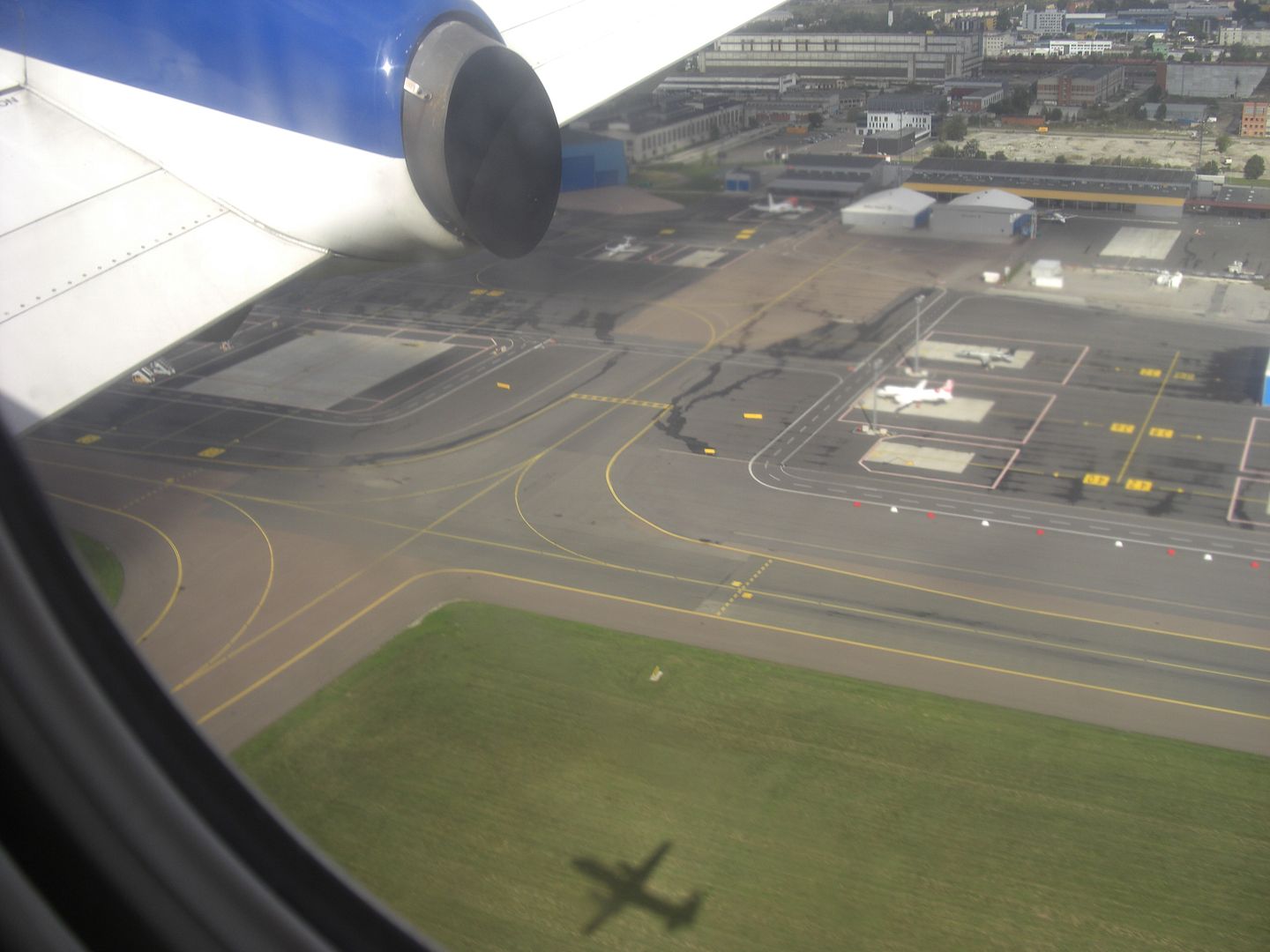 With the last of my Estonian currency, I bought a can of beer (cheeky I know, but tasted good)
The Baltic Sea
The single FA offered a choice of non-alcoholic drinks, and a cupcake and a sweet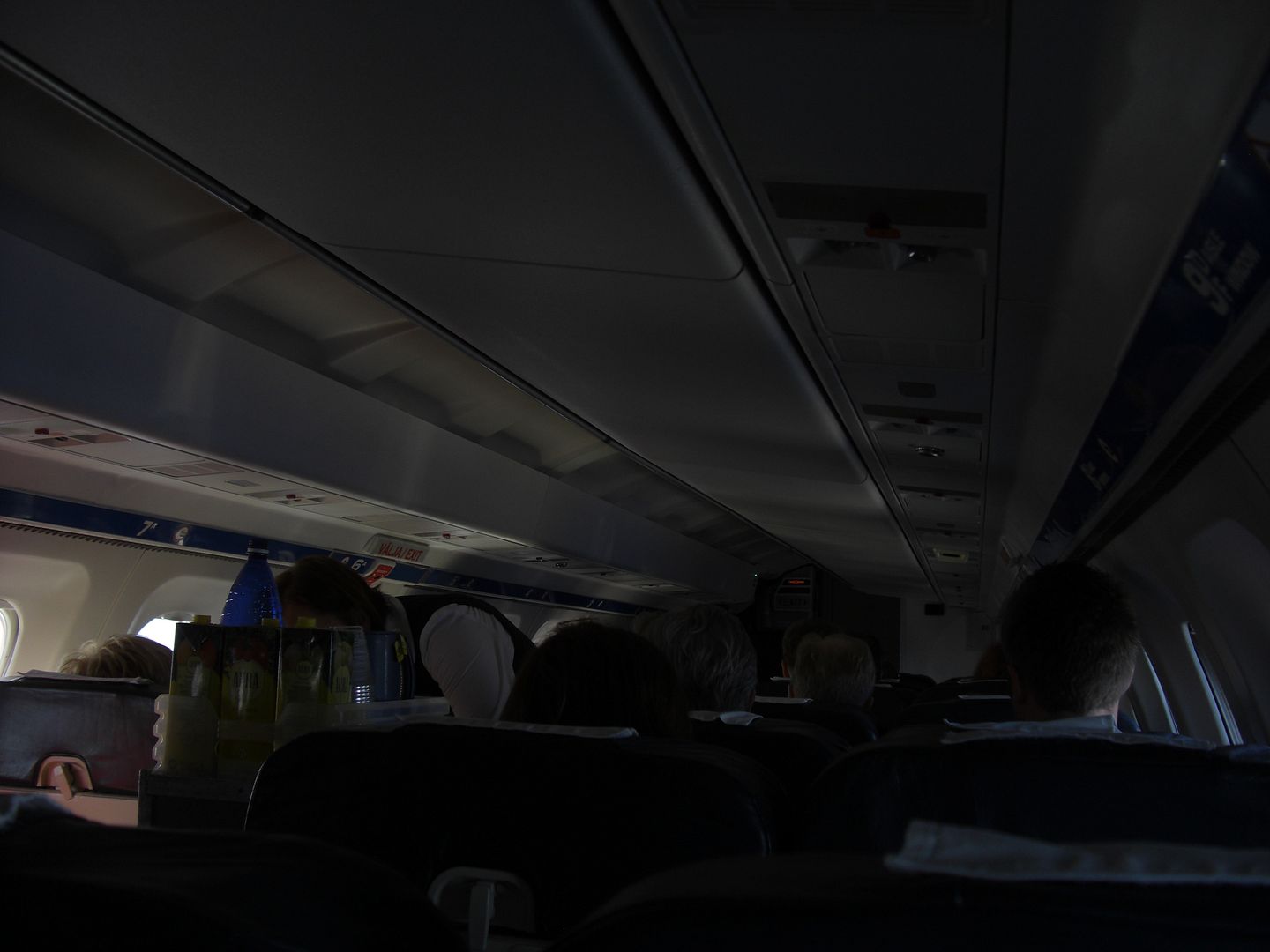 Details
Bits from the very interesting in-flight magazine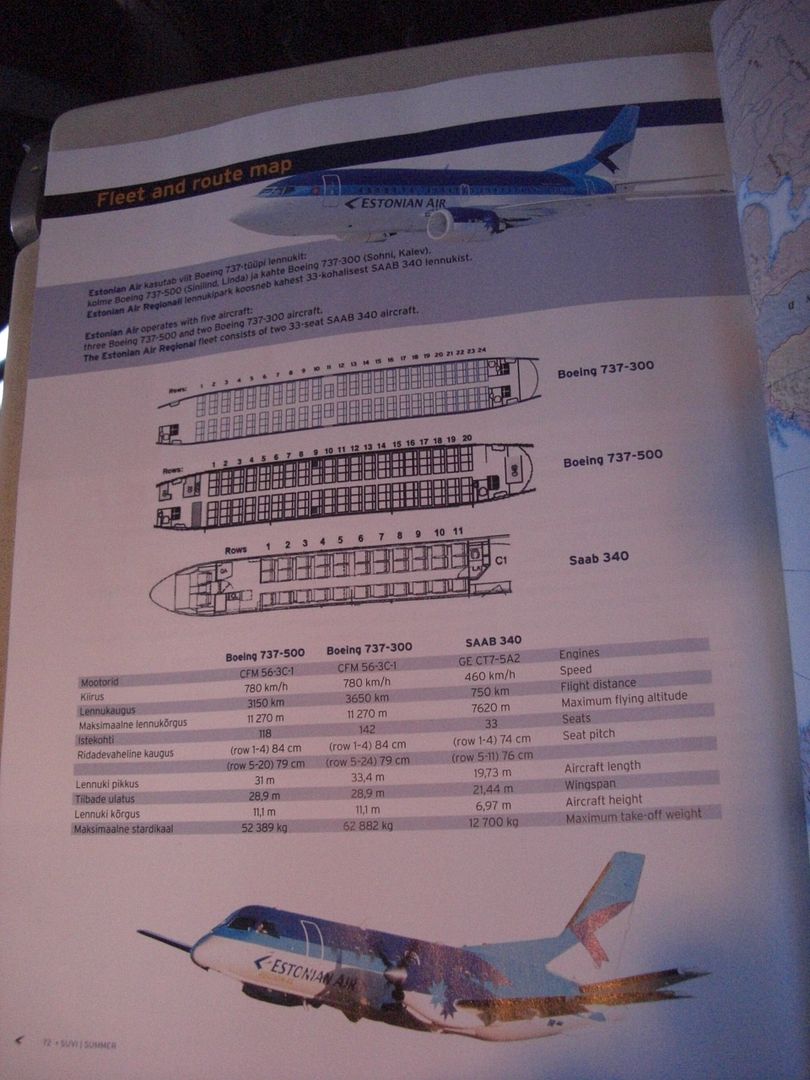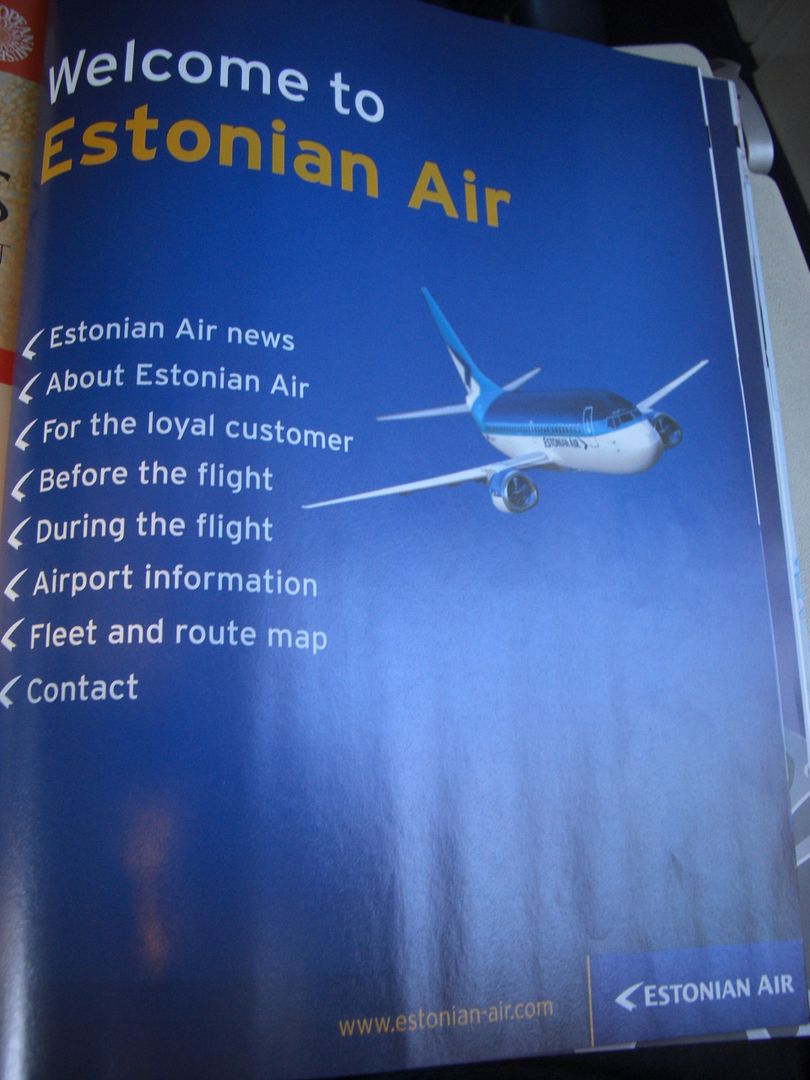 Approach to Stockholm over the beautiful and expansive Stockholm Archipelago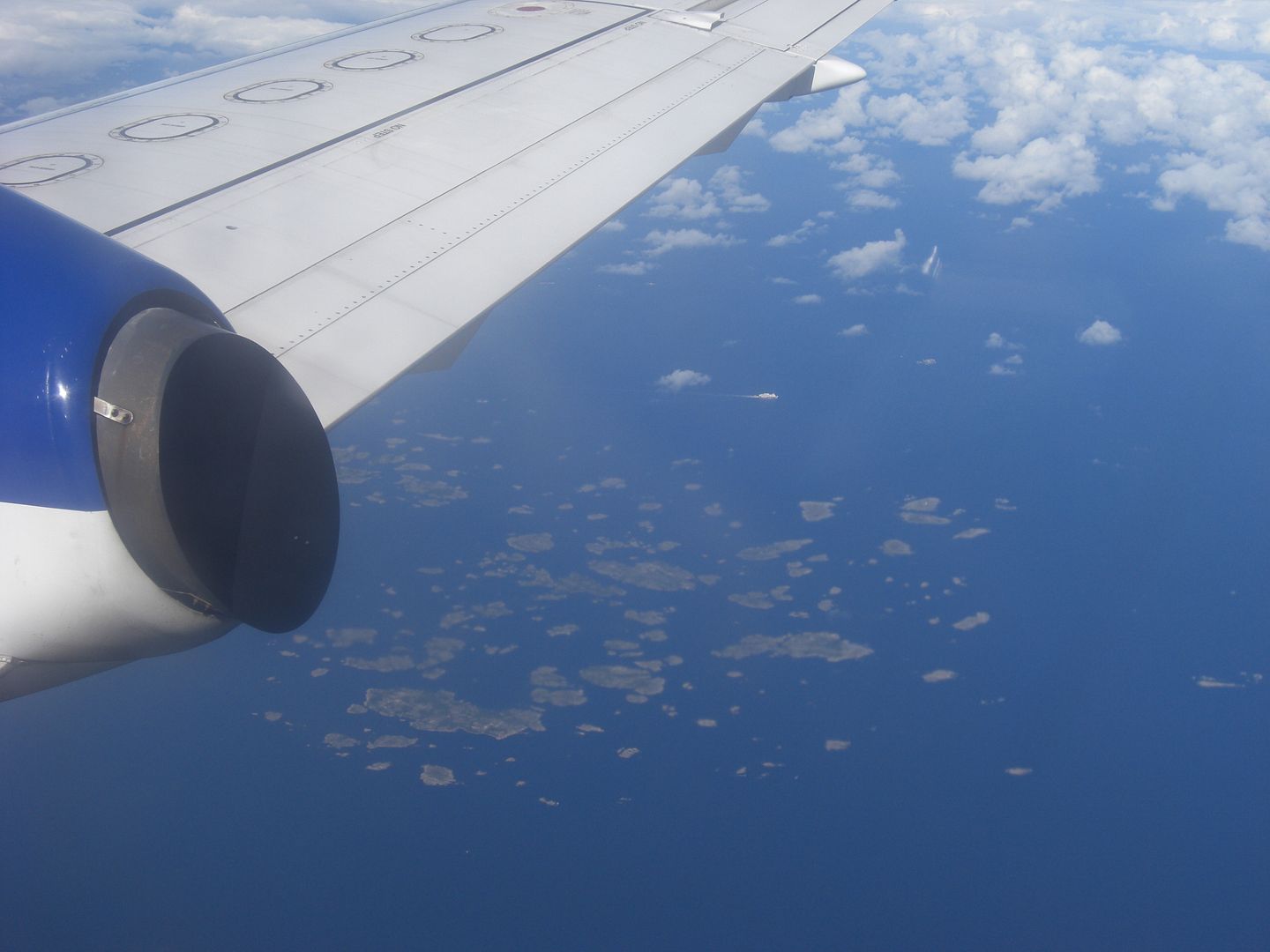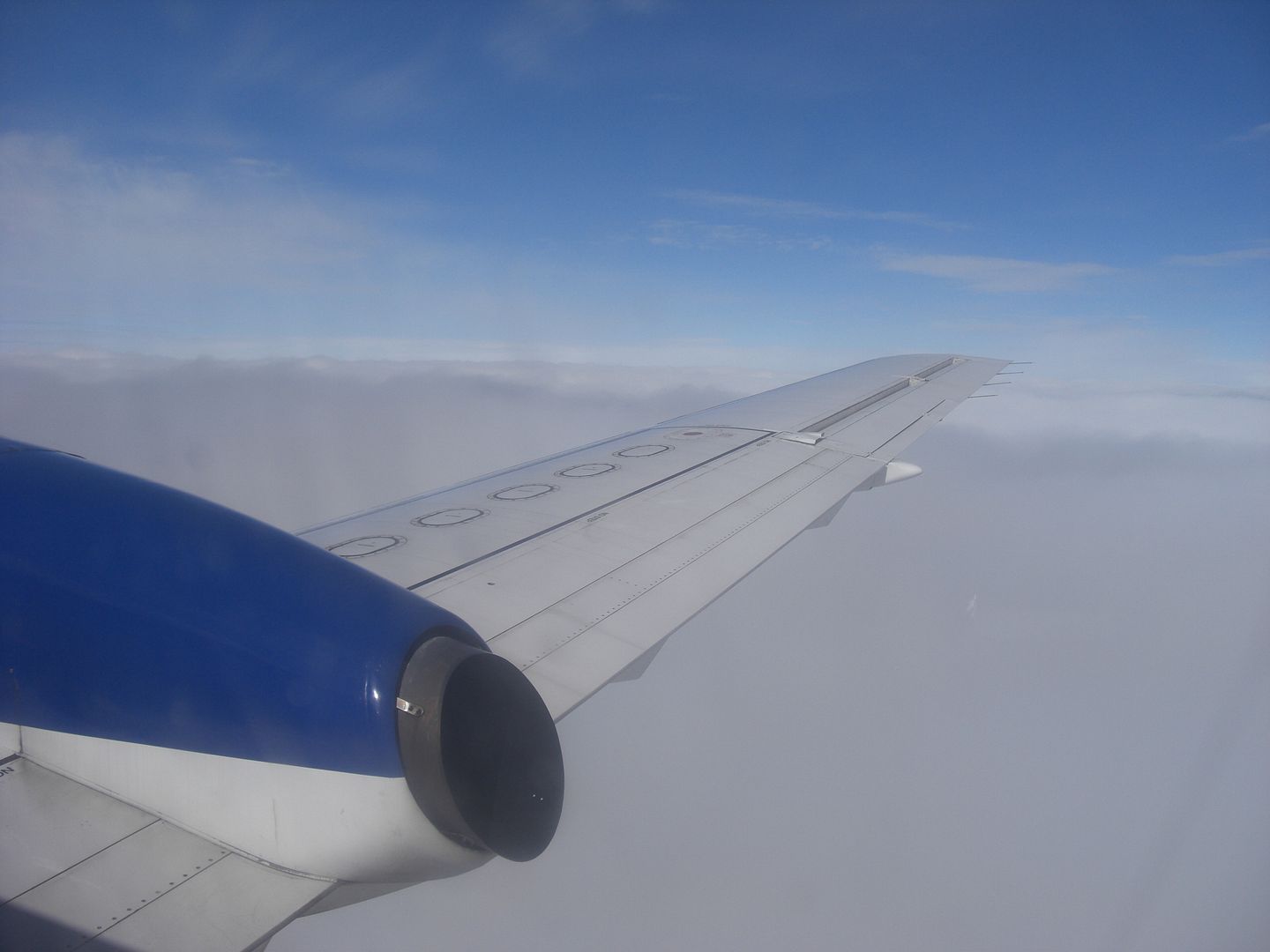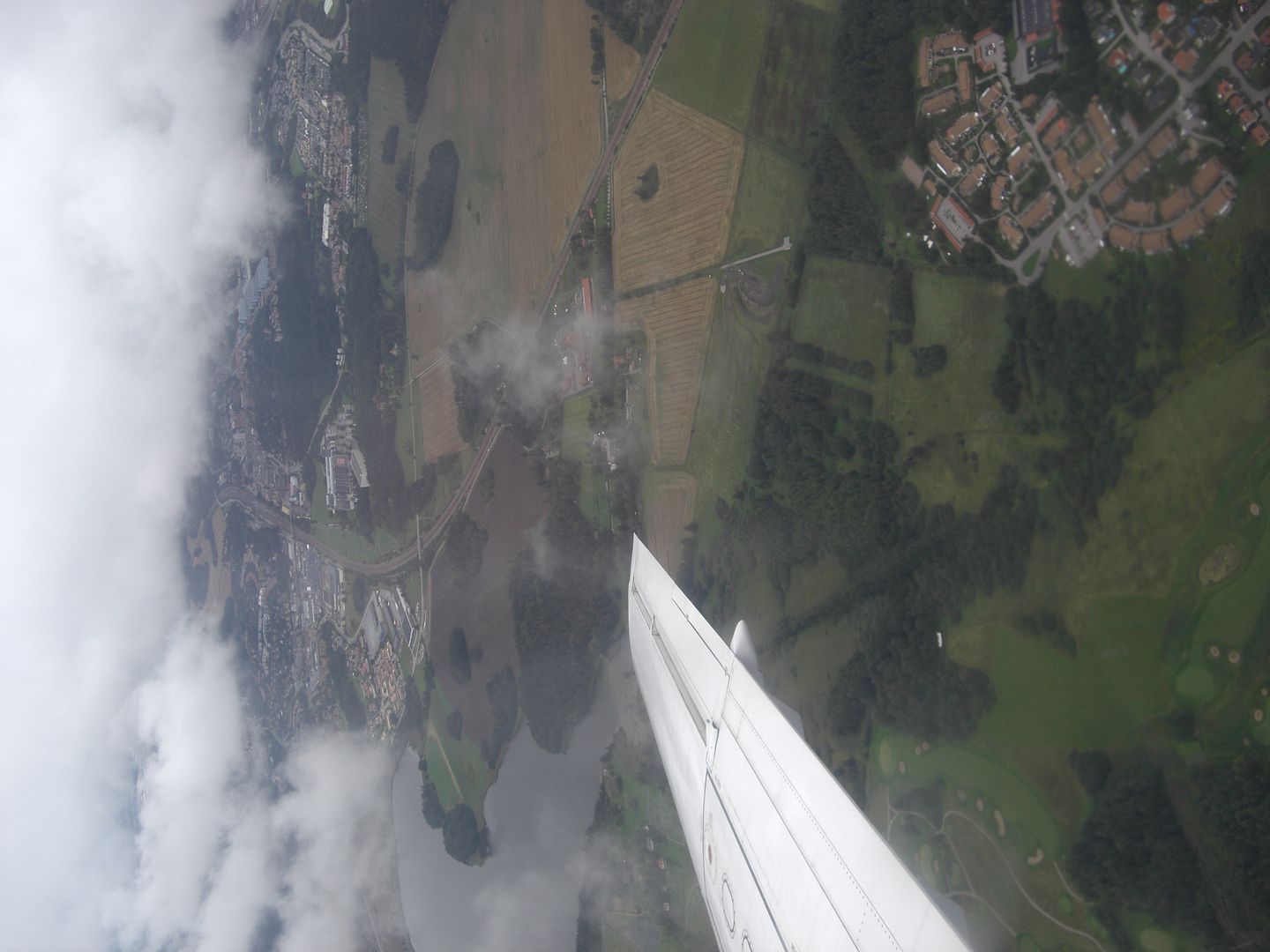 Jumbo Hostel
A real Jumbo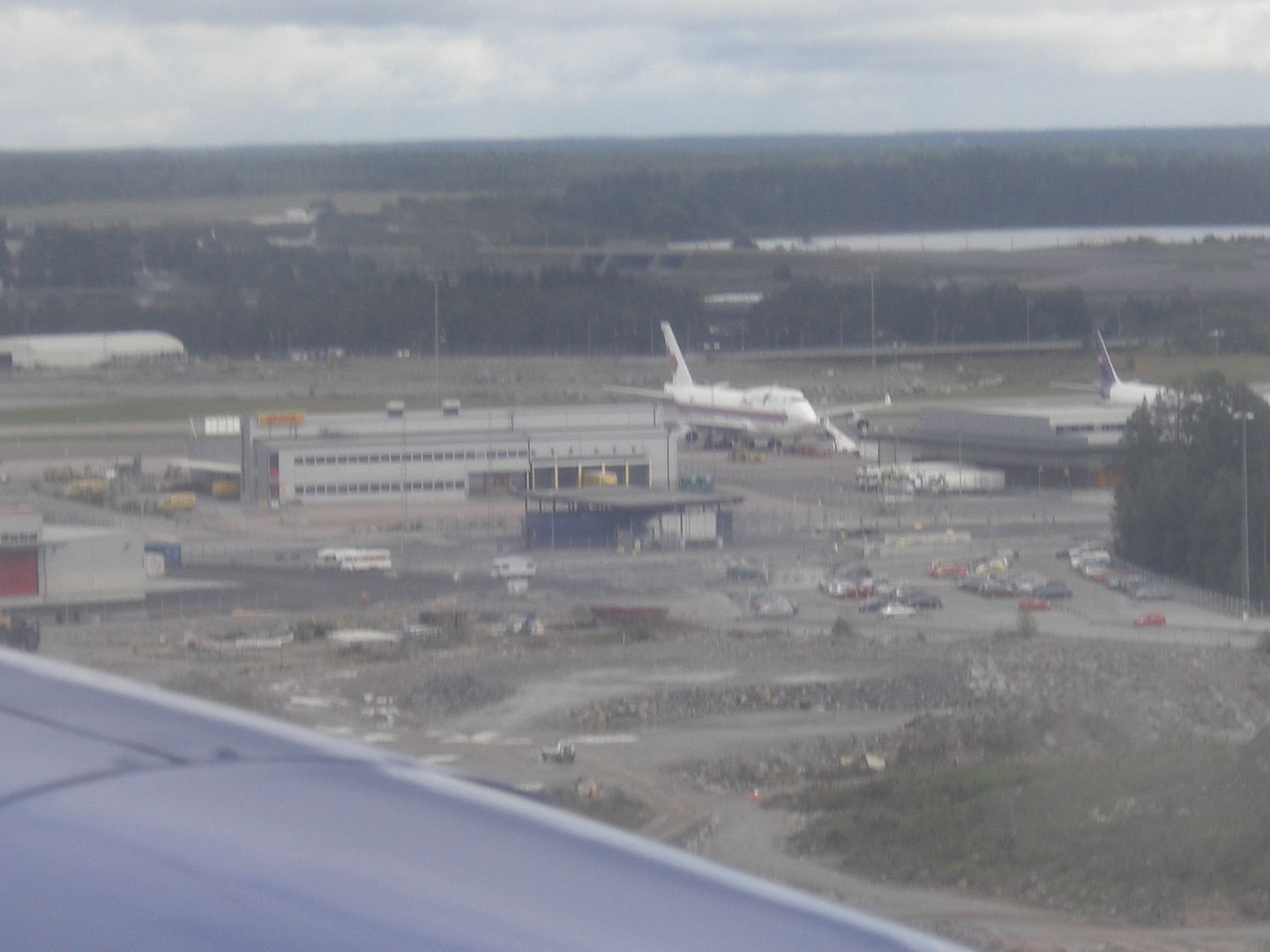 Taxi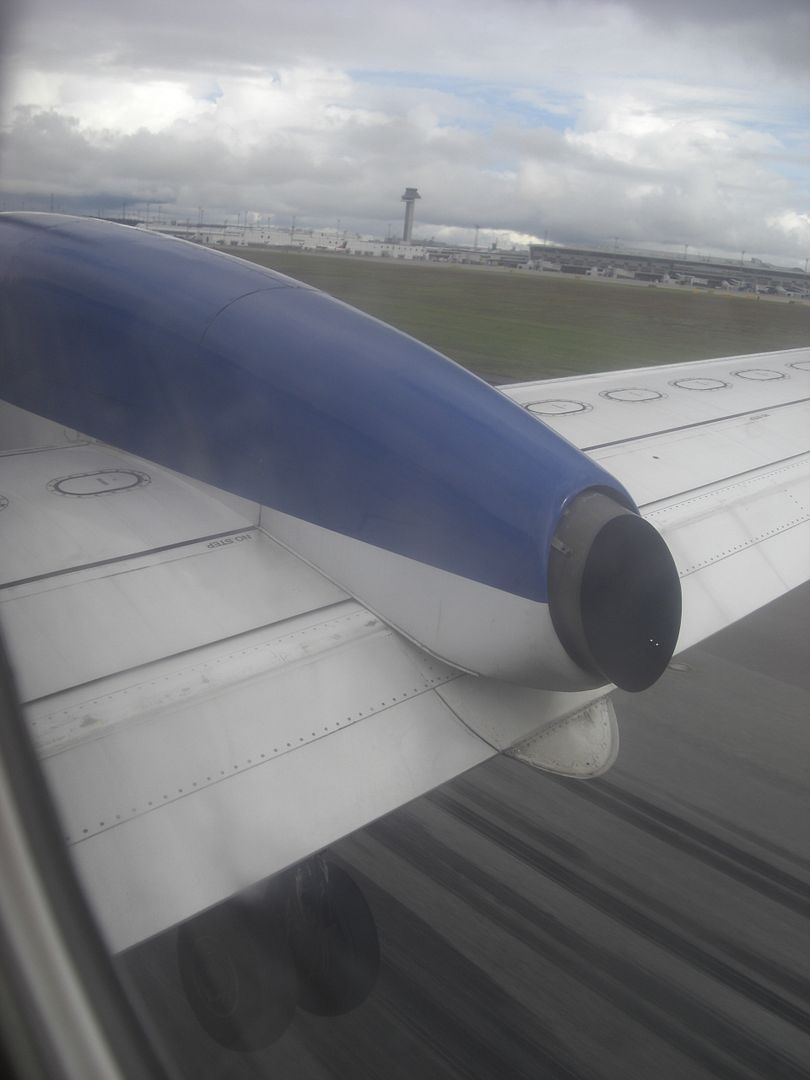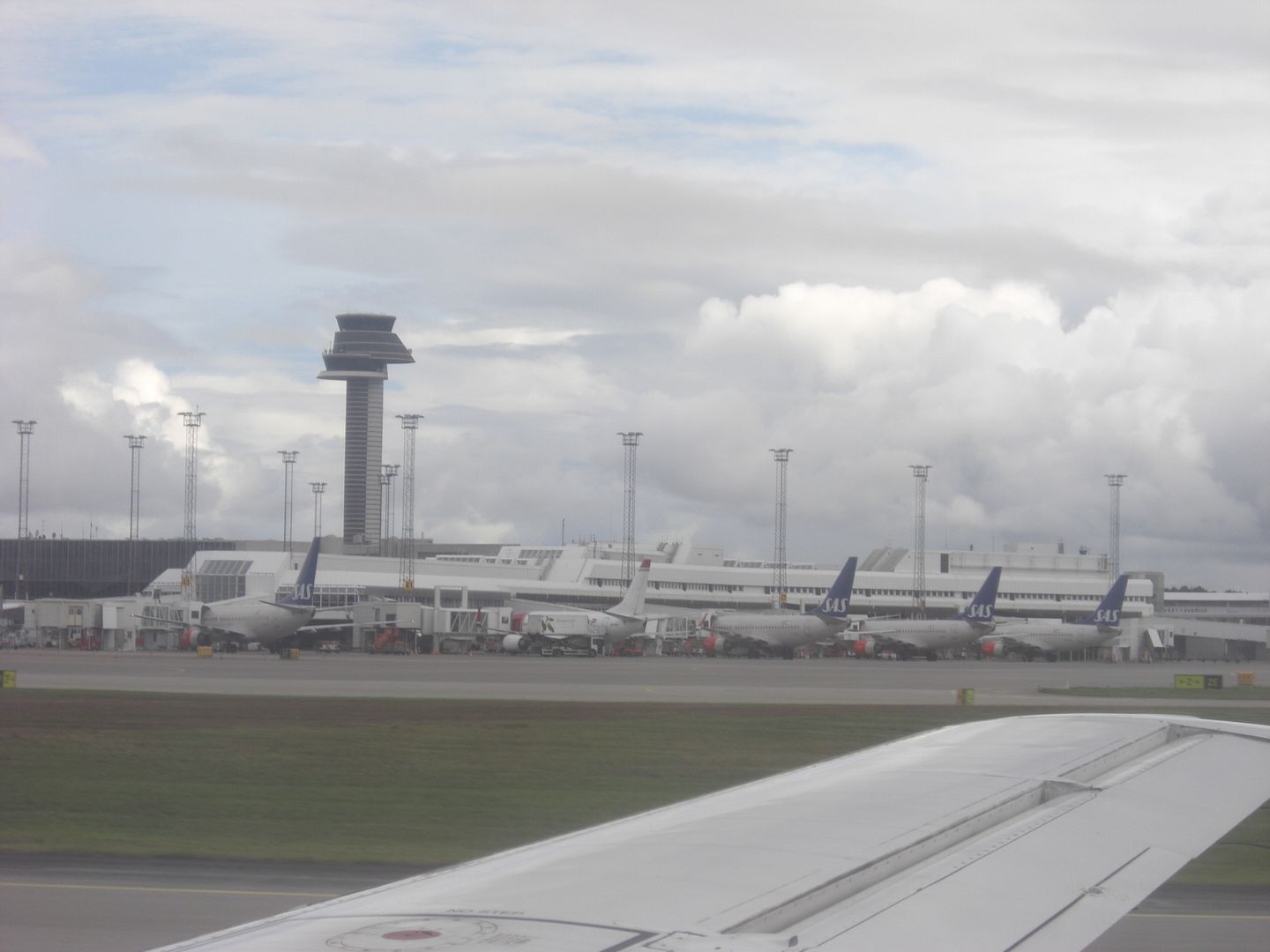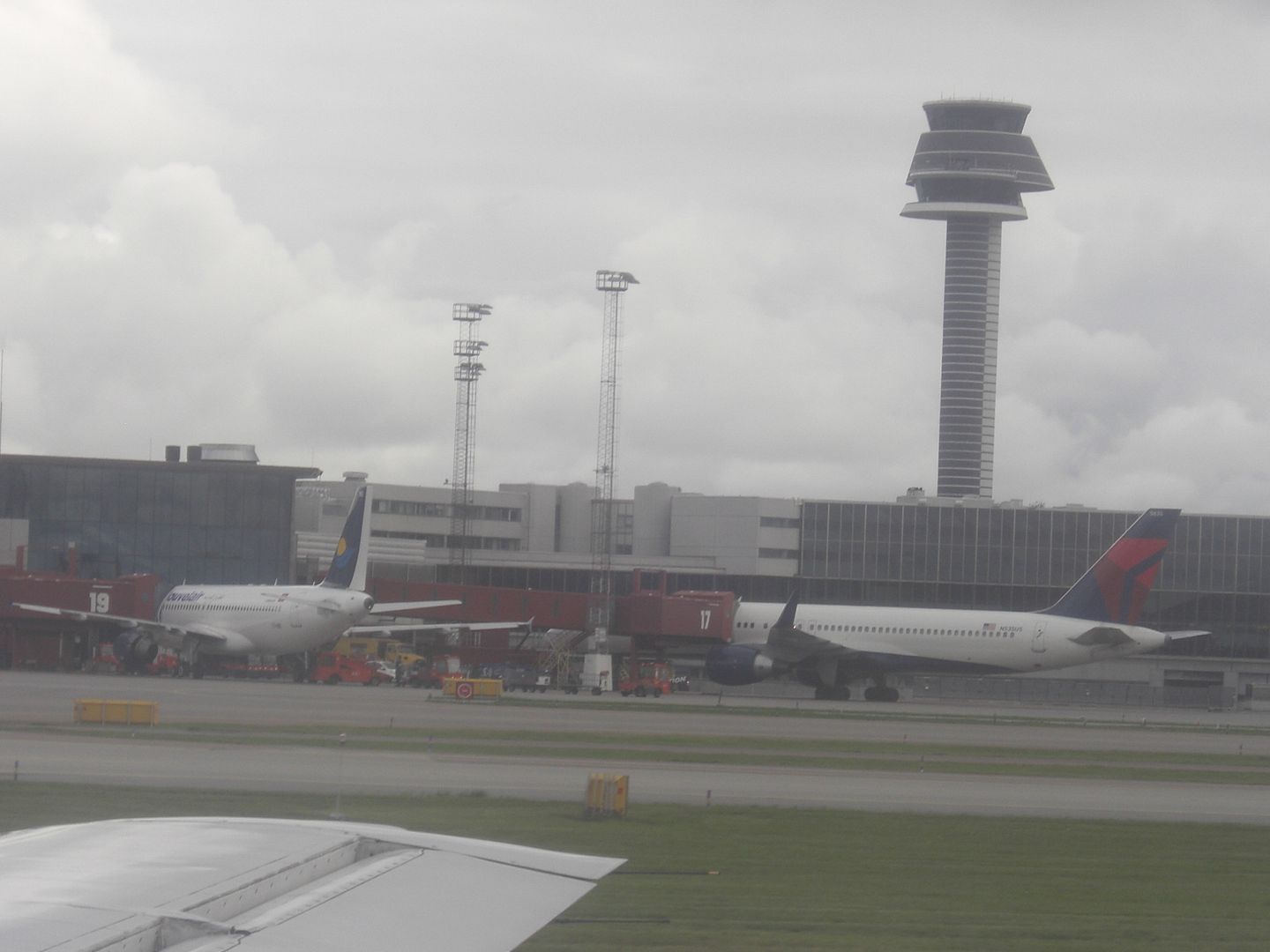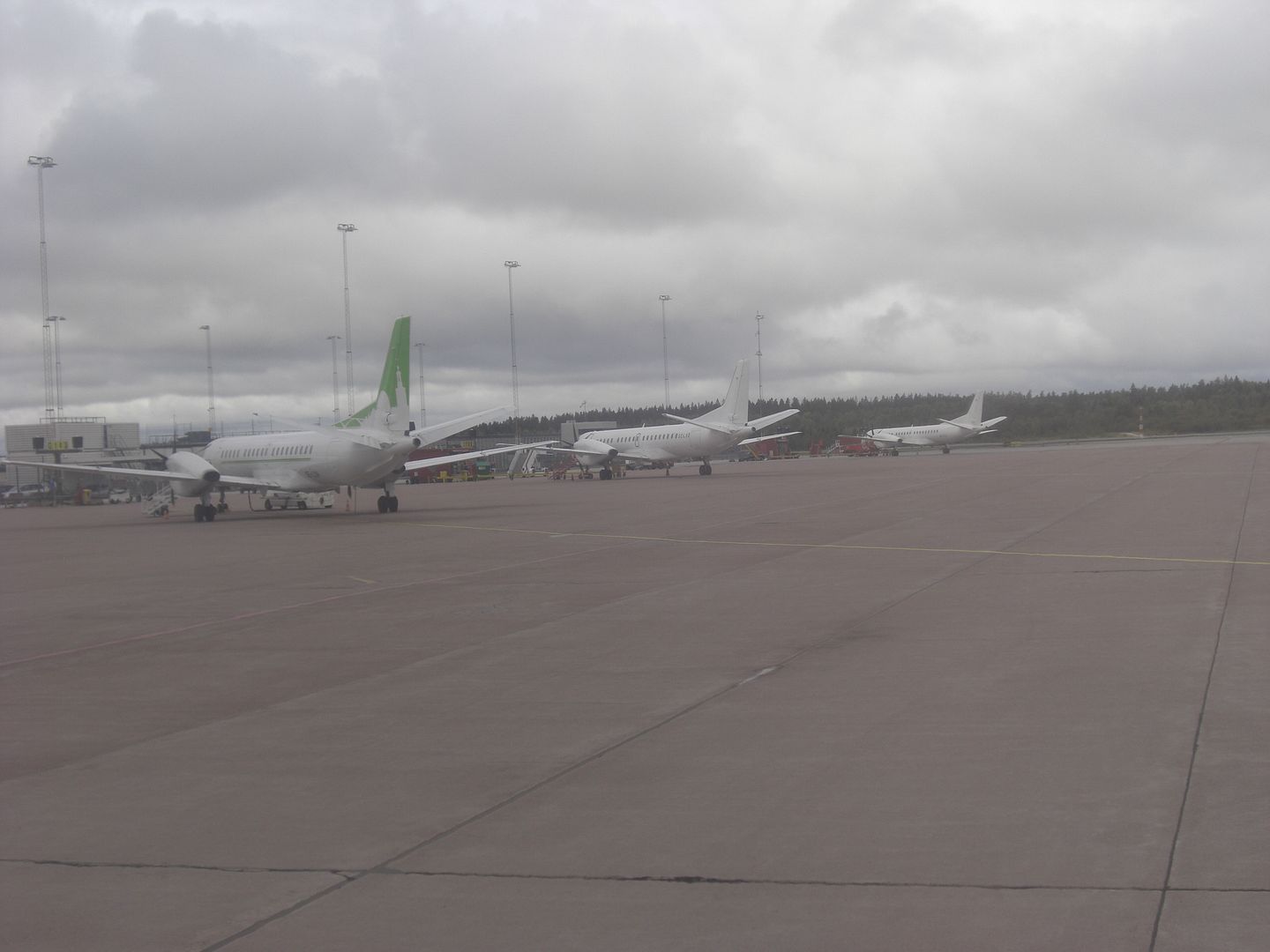 In ARN. I'm quite glad that my first flight into Sweden was on a Swedish built aircraft
The earlier BA flight that I totally missed
Onward flights
Arrivals and Baggage Hall
I had just over an hour to wait before I could check in for my flight to London, so I went and had some food in 'Skycity' a sort of restaurant area, with some good views.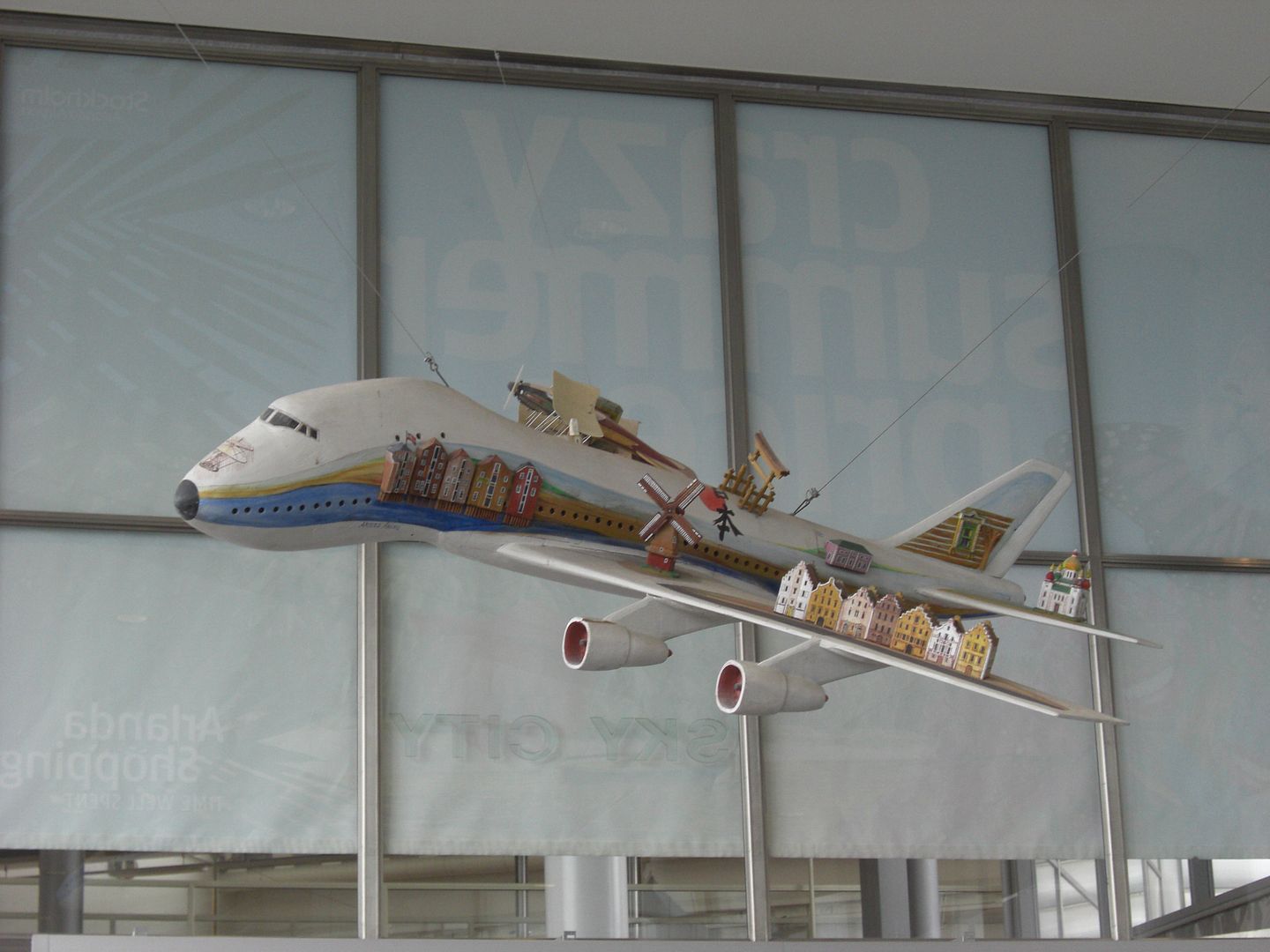 T5 check in area
Viking Airways flight to Baghdad
After dropping my bag at the bag drop, I headed though security, which was quite quick, and went to find the Menzies operated lounge. This would be my first flight since reaching BA Silver (One World Sapphire), so I was keen to make the most of my benefits. The lounge itself was nothing special, but the G&Ts were good. The flight was listed as being half an hour late, so the lounge was a good place to hang out.
August 2010
British Airways BA 779
Stockholm Arlanda (ARN) – London Heathrow (LHR)
Airbus A320-200 (G-EUUM)
Scheduled: 1540-1715 (2h35m)
Actual: 1625-1751 (2h26m)
Economy Class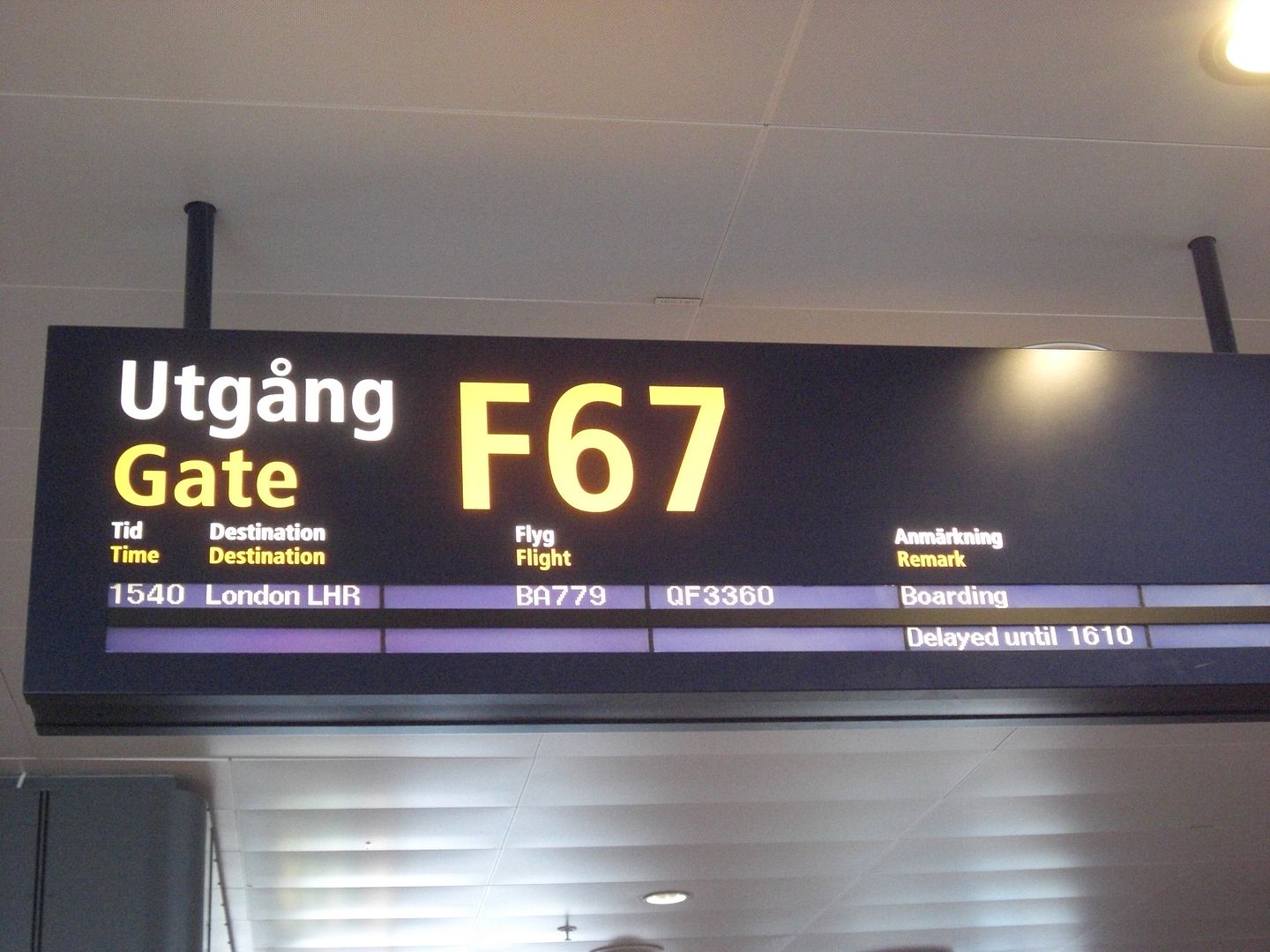 The flight was completely full. One of the benefits of Silver is being able to choose your seat in advance, so I got a window seat in the exit row. Unfortunately, there was a rather wide guy in the middle seat, which encroached into my space a bit – we spent the flight fighting for space. Can't have been comfortable for him either, but it was his fault.
Following the poor snack BA (courtesy of Air Finland) served on my May flight to Helsinki, I was expecting a biscuit, but thankfully, we were given a very reasonable chicken salad sub for our meal.
And drinks – two double G&Ts in total from the friendly crew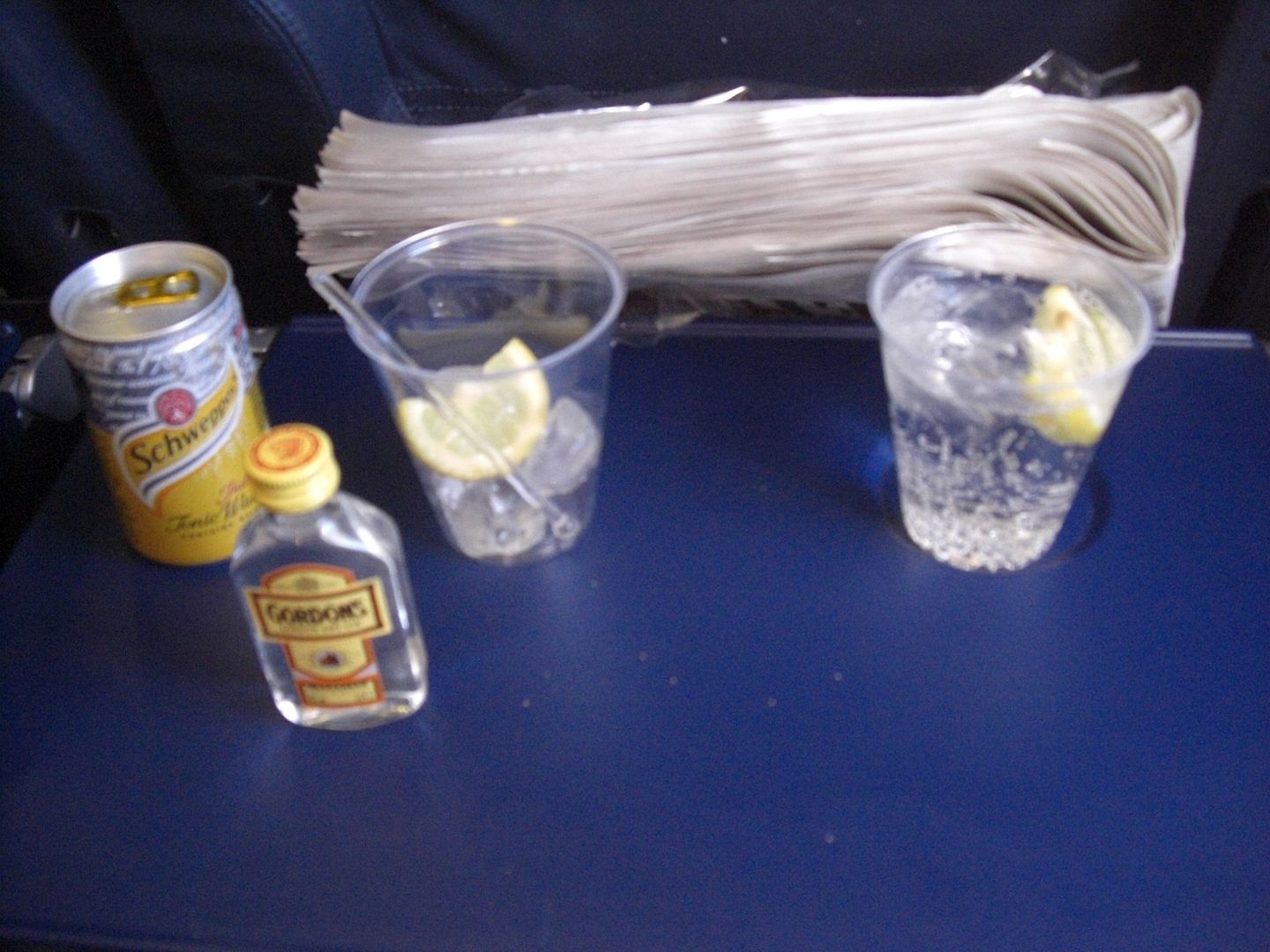 We didn't make up much of our delay, and soon landed into a monsoonesque London. My priototy tagged bags came out about 30th, but given the number of bags overall, this wasn't too bad.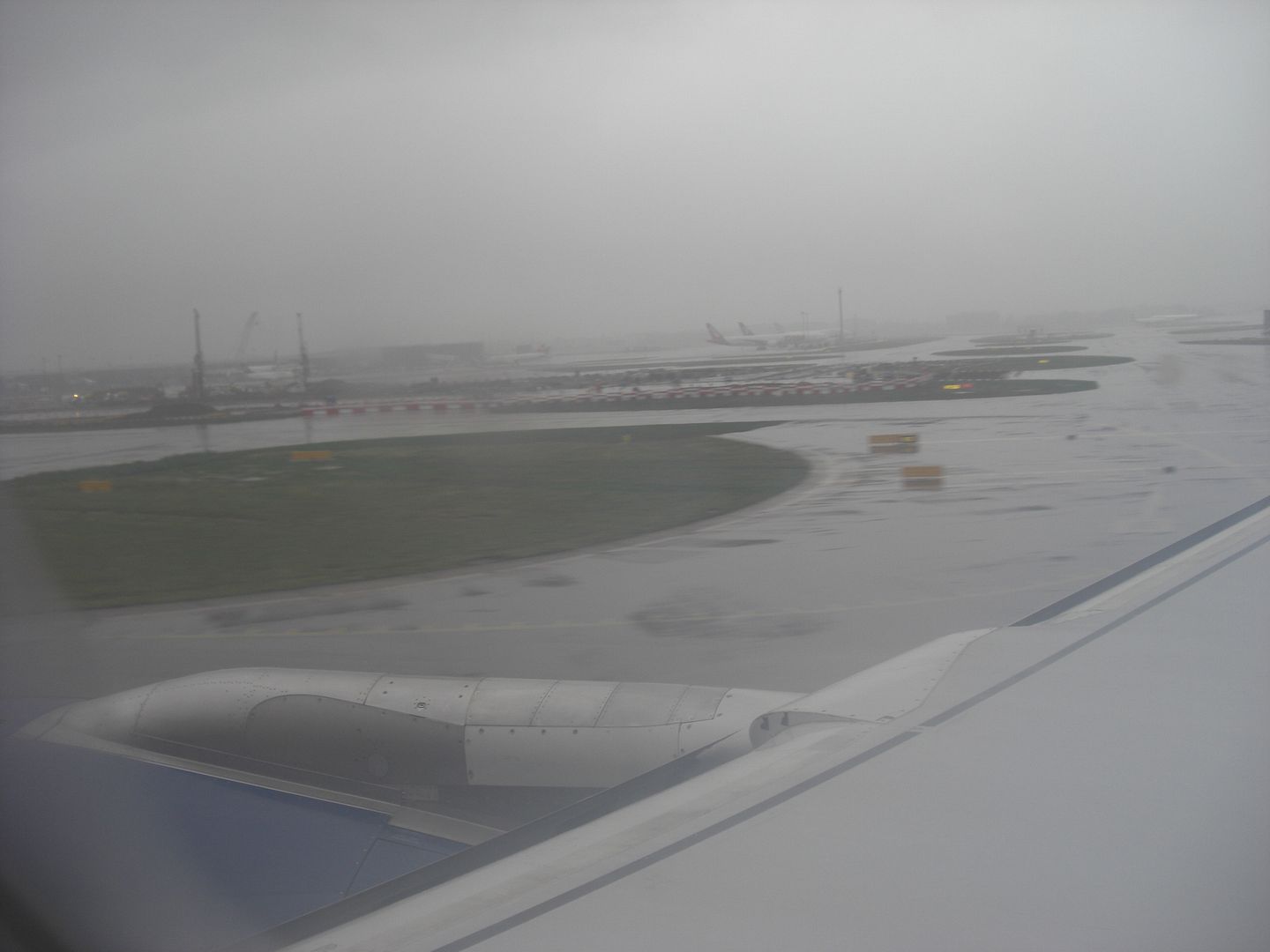 Well, Estonian Air was a very pleasant experience. Had I not had such a long connection, I might have been annoyed with the delay, but in fact, I'd have rather spent the time on the free TLL wifi, than waiting to check in in ARN. The Saab 340 was a great plane to fly in, helped, no doubt, by the beer I smuggled on board.
BA offered a good product, as always. The perks of being Silver are very nice. I can now see why it is harder to get BA Silver over LH Silver. The BA lounges are better, and are much more plentiful (nearly every airport served has a lunge for BA, whereas LH has very few outside Germany).