Why this trip:
First of all welcome to my second trip report, which includes my flight to my summer holiday destination Curaçao! In this trip report I made an overview about my impression on board KLM's flight KL783 with destination Willemstad, Curaçao located in the Netherlands Antilles. We also had a stopover at the neighbor island Aruba, which was fine with me.
The flight was on the 12th of August and would be operated by a Boeing 747-406, luckily for me because the 747 is my favorite aircraft because of its looks and appearance. I've been on almost every Boeing 747-400 of KLM because of my school internships, but this was the first time I was fortunate enough to actually fly on one of these beauties called ''The Queen of the Skies''. Most of the 747's in KLM's fleet are now equipped with the new IFE screens, which turned out to be a nice entertainment on this flight with a duration of 11 hours and 5 minutes.
Normally my summer destinations were always in Europe, mostly to the Canary islands because of its long stretched sand beaches. Most of those flights were booked on the Dutch carrier Transavia with their cheap summer offers. This time there was a larger choice to fly from Amsterdam to Curaçao. The airliners included where Arkefly, Martinair and KLM Royal Dutch Airlines directly from Amsterdam. I heard some stories about delays and technical problems from friends about Arkefly and Martinair that both operate the 767 to Curaçao. In this case the choice was quickly made and KLM was also the cheapest of the three. I did had some problems on the return flight, more of that is in the end.
We booked the tickets and house where we stayed in the beginning of April and in the beginning of August I decided to make a trip to SXM with local carrier Inselair. I will make a trip report of that flight to. I was really looking forward to the cozy and relaxed atmosphere of the island.  
Before the flight:
As you could have read in my first TR onboard the Air France A380 flight to LHR, I was pleased about the way this flight turned out. Regarding this, my expectations were high because KLM and Air France are very close together. On KLM you are able to select you're seat 90 days in advance and the online check-in opens 30 hours before the departure of the flight. The KLM webpage is user friendly and the tickets were ready again in PDF format.
Also KLM is implementing a IFE system in their older aircraft that are used on the long haul routes all over the world. All of the full passenger 747's are equipped with this system and they are now working on the Combi's and MD11's.  
The Airport:
After a period of working during the summer holidays it was finally time for me to go on vacation to Curaçao, most of my friends went in an earlier period so I was really looking forward to go myself. The day started early around 5am and we were picked up by taxi at 6am to arrive at Schiphol at 7am. There wasn't a long waiting que at the desk so I got rid of the suitcases before I knew it.
I actually never had any problems with the passport control at Schiphol and also this time the process went very fast. I still had some hours to kill so grabbed some coffee and did some shopping in the terminal. As you all know Schiphol Amsterdam is a very big airport and they are very keen on improving the terminals and buildings, they recently opened the Holland Boulevard where you can see a verity of things out of the Dutch culture.
1.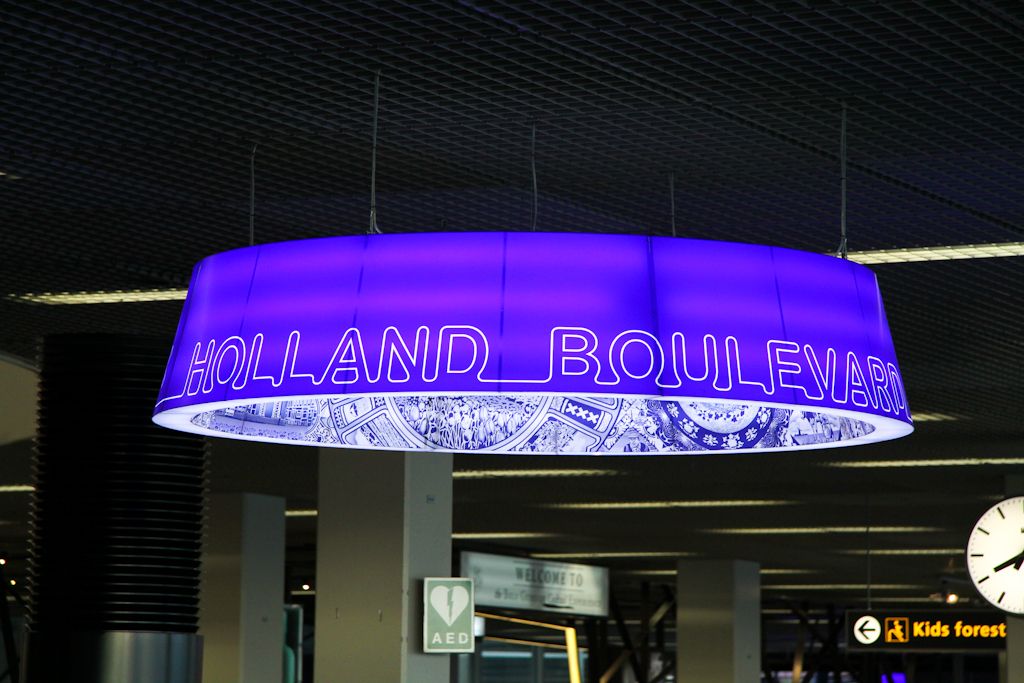 2.
The gate for my flight was F07 located at the top of the Fox pier. On this pier most of KLM's 747-400 and 777-200ER are being handled so there was enough to see.
3.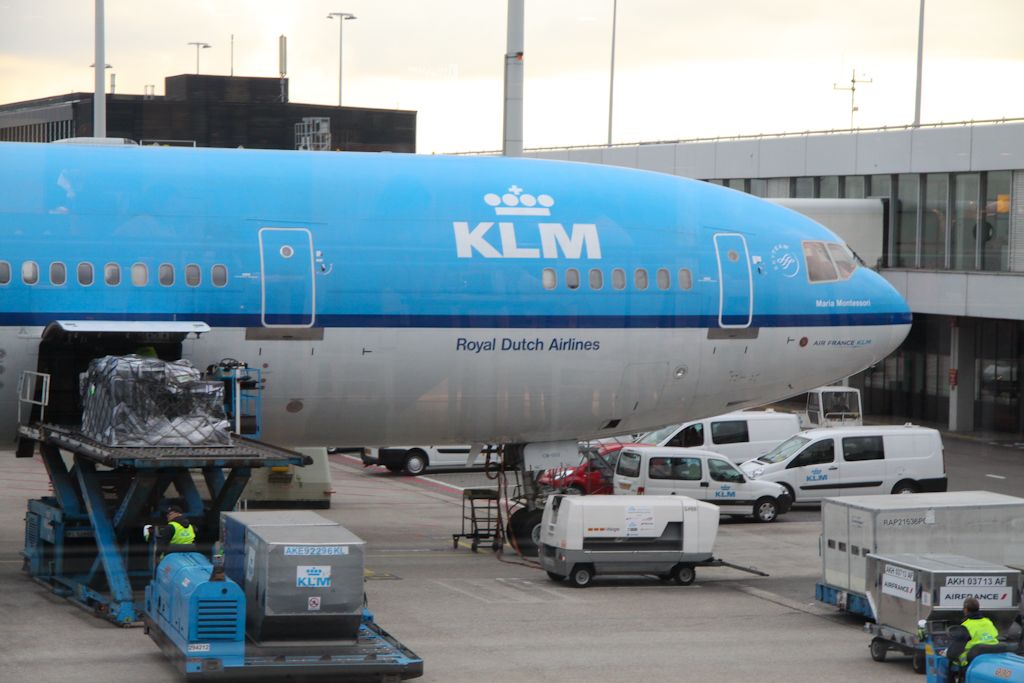 4.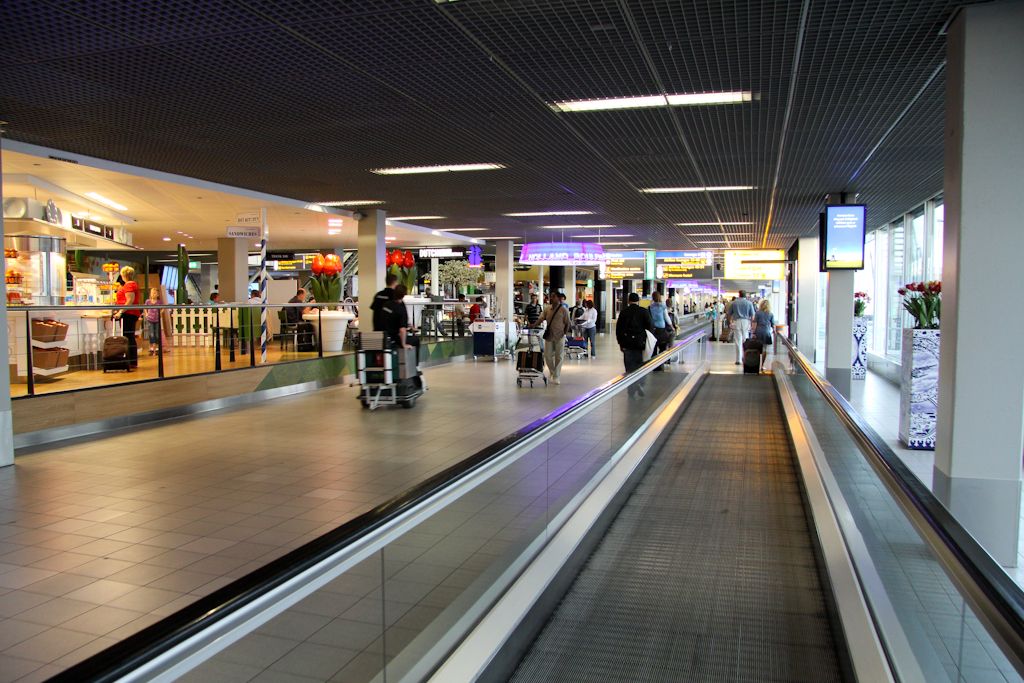 When I reached the gate there already was a long waiting line for the security check. I noticed a woman with a dog in the line?! I never saw that person again on board... I really don't know how that's actually possible, because pets are always in the bulk as AVI's or are there some exceptions?
The Flight, Seat, Entertainment, Cabins and Crew: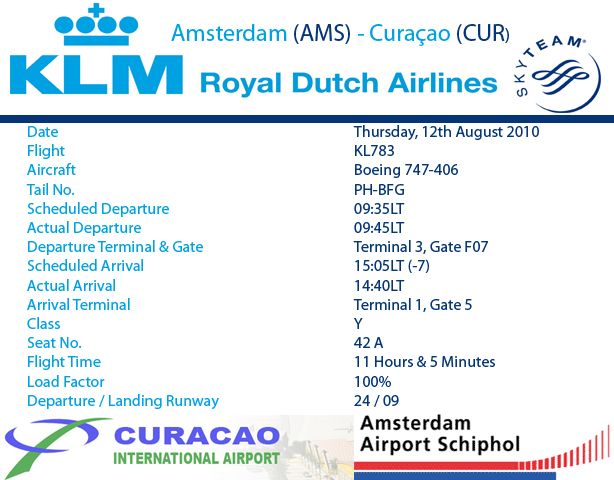 The boarding process started on time, first Business Class passengers and Skyteam members and last but not least the Economy Class passengers. There were a lot of Business Class passengers, think the load combined with Economy Passengers was 100%, in the cabin all the seats where occupied. Aircraft for today's flight was the Boeing 747-406, PH-BFG a 20 year old aircraft that made its first flight on March 1990 and joined KLM in April 1990.
At the F pier at Schiphol they use 2 gates for 1 flight. One gate goes over the wing, I was seated in row 42 so I could use that gate. At the door I was greeted by two stewardesses wearing the new KLM uniforms, looked very smart to me. I asked if I could make a visit to the flight deck but they reclined, because of security reasons.
5.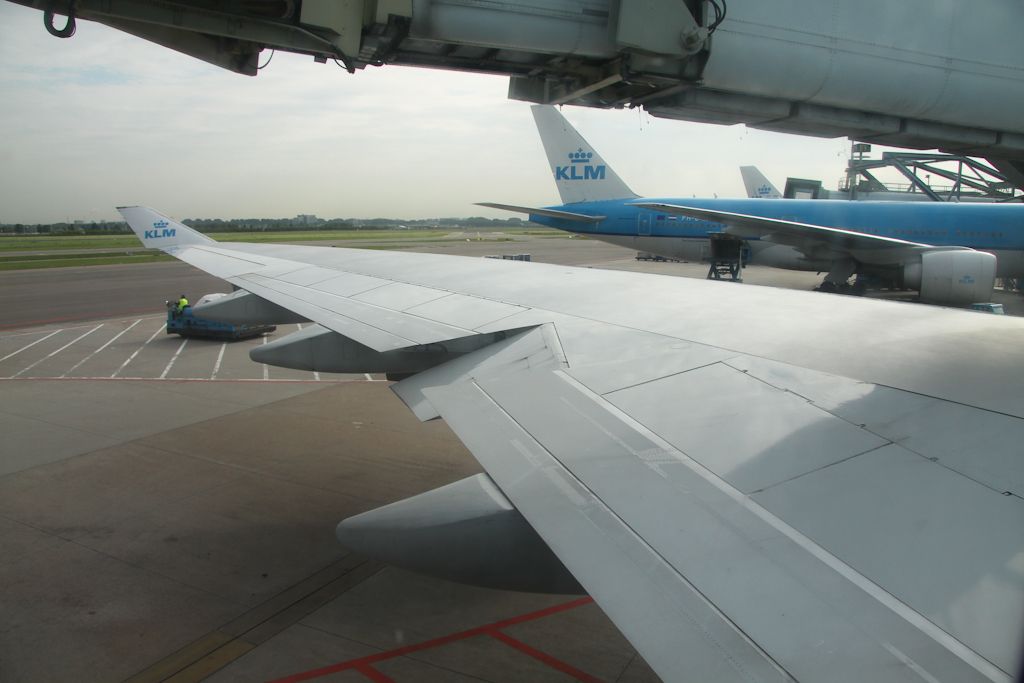 No problem, that are the rules of todays aviation, of to my seat then. My seat was 42A on the left side of the plane right behind the wing. Seat was as I said equipped with the IFE system and there was a blanked an a pillow located on the seat.
6.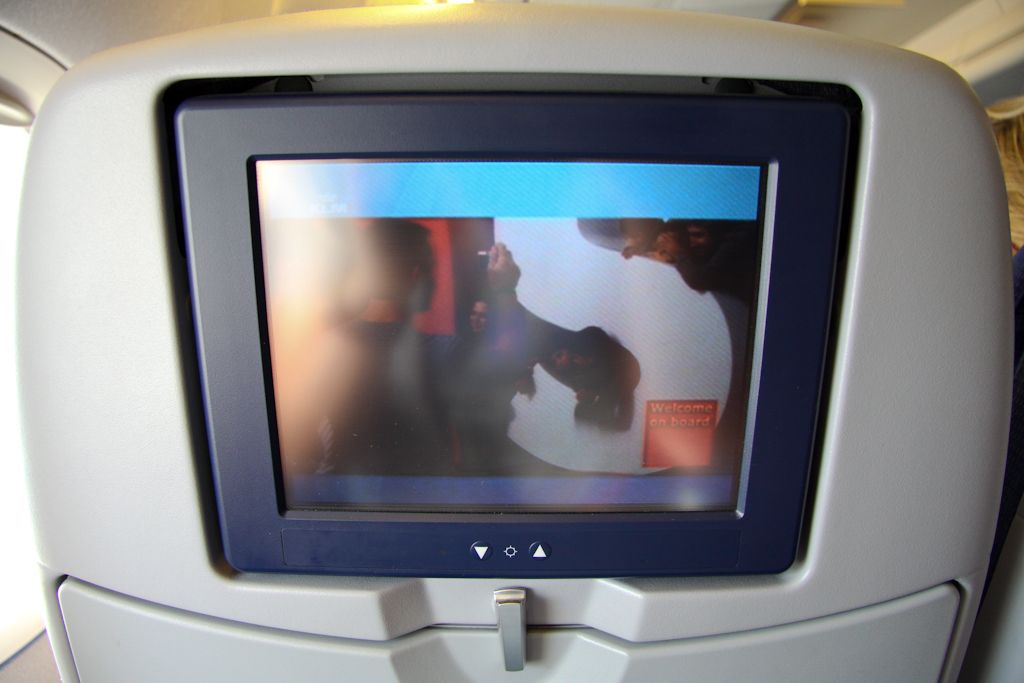 Legroom was decent, KLM uses a 3-4-3 configuration in Economy with 337 seats, 36 Economy Comfort Class seats and 42 World Business Class seats.
7.
Our routing for today was displayed during our push-back, 4,952nm of fun.
8.
9.
Taxiing to runway 24, with an Air Transat Airbus A310 in the background.
10.
11.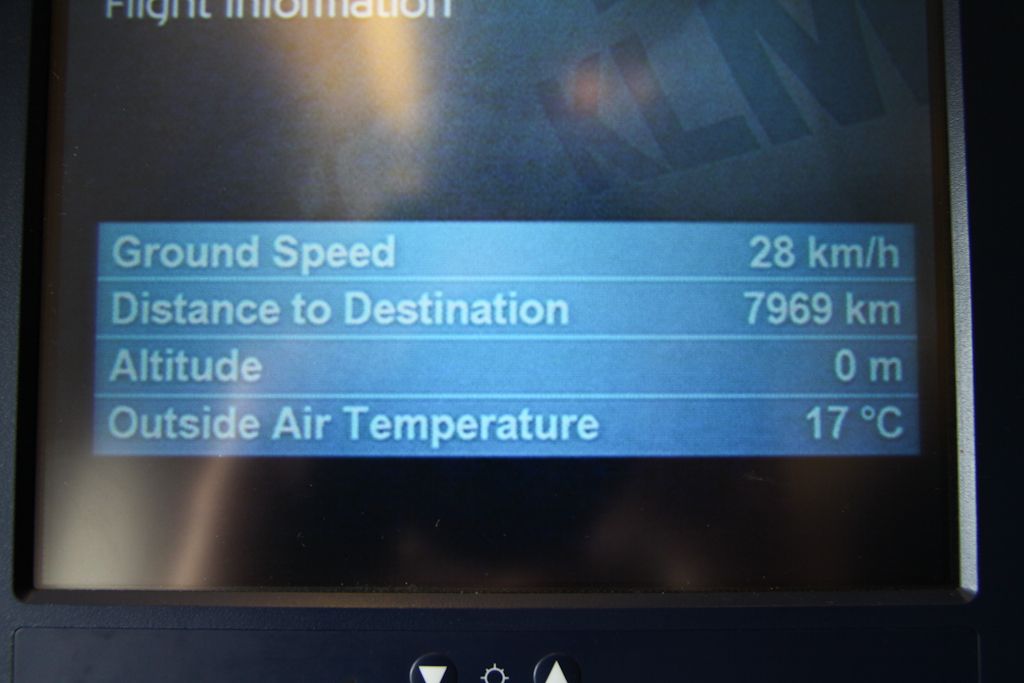 It was not that busy at the runway so we were first in line to blast down the runway, and what a take-off run it was!
12.
After smooth a left turn we headed for London to continue our way to the Atlantic Ocean where we caught a cloud layer that stayed with us for almost the whole flight.
13.
14.
Sadly enough there were a lot of clouds above the UK so I didn't see any land, but you have to love that massive wing and the blue skies!
15.
16.
Headphones were distributed, the sounds was good but there was a sound difference between the left and right side. And the Holland Herald, cool front.
17.
Again some information, hot towel service started 1:15 hrs in the flight.
18.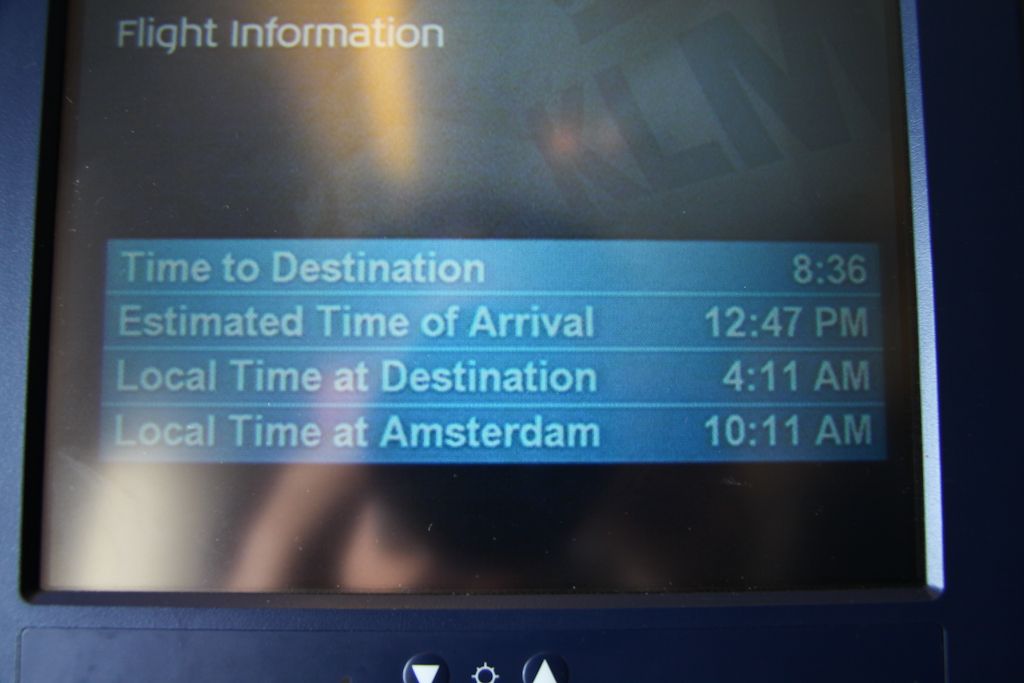 First drink service was 1:45 hrs in the flight with a little snack, I had nothing to complain during the flight there was plenty of catering on board.
19.
20.
Almost there…
21.
Exploring the IFE system.
22.
The main screen.
23.
The main control with the game controls and telephone.
24.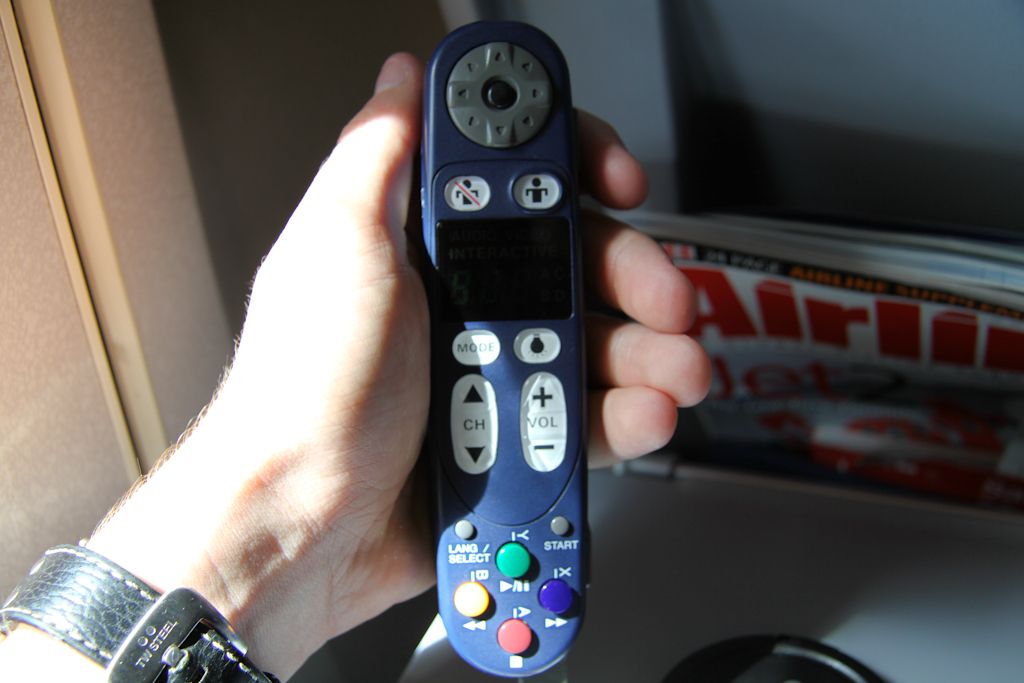 25.
Classic!
26.
When you pause a movie you can see the remaining time of the program and remaining flying time.
27.
Above Ireland they served dinner my choice was the Pasta shells with spinach sauce with a salad and bread, as desert there was vanilla pudding with raspberry's.
28.
29.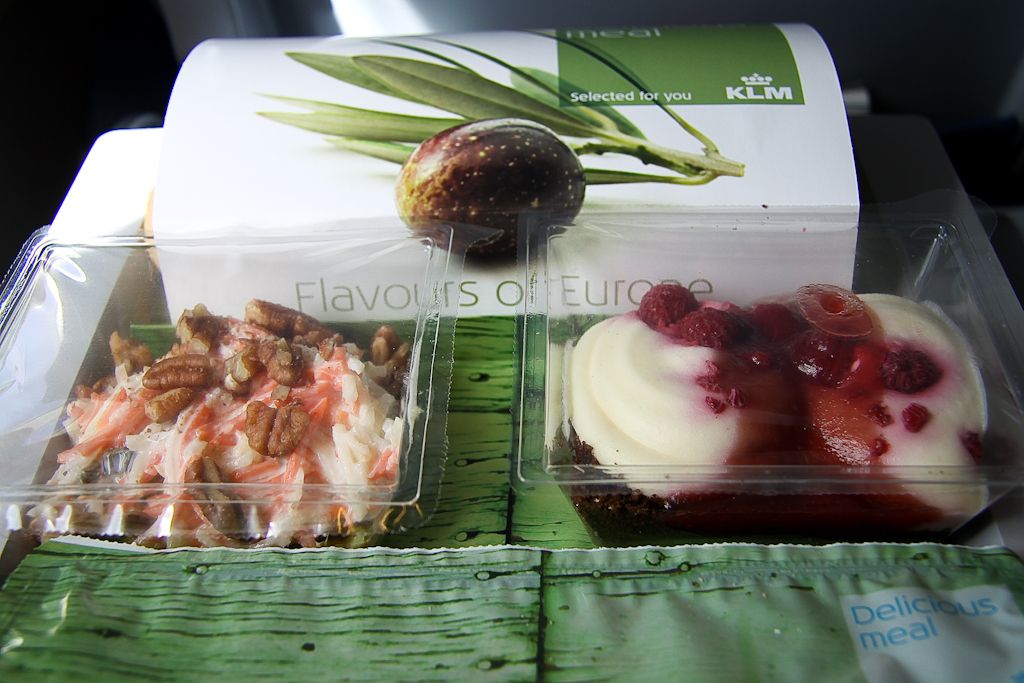 For an Economy meal it was good to eat but nothing special.
30.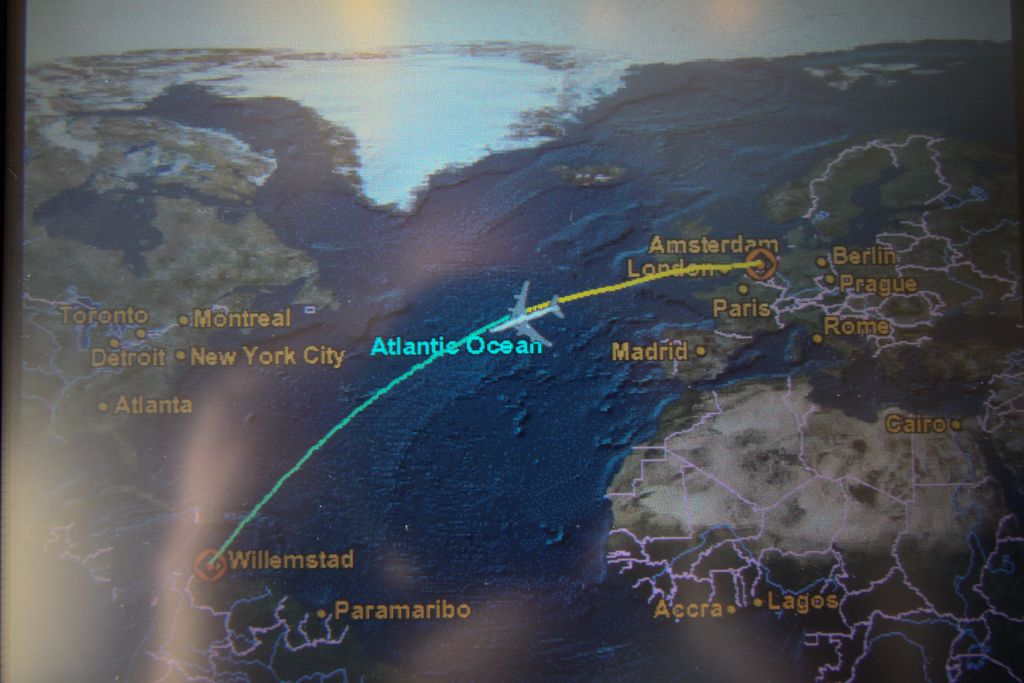 2 hours later Strawberry ice-cream and water.
31.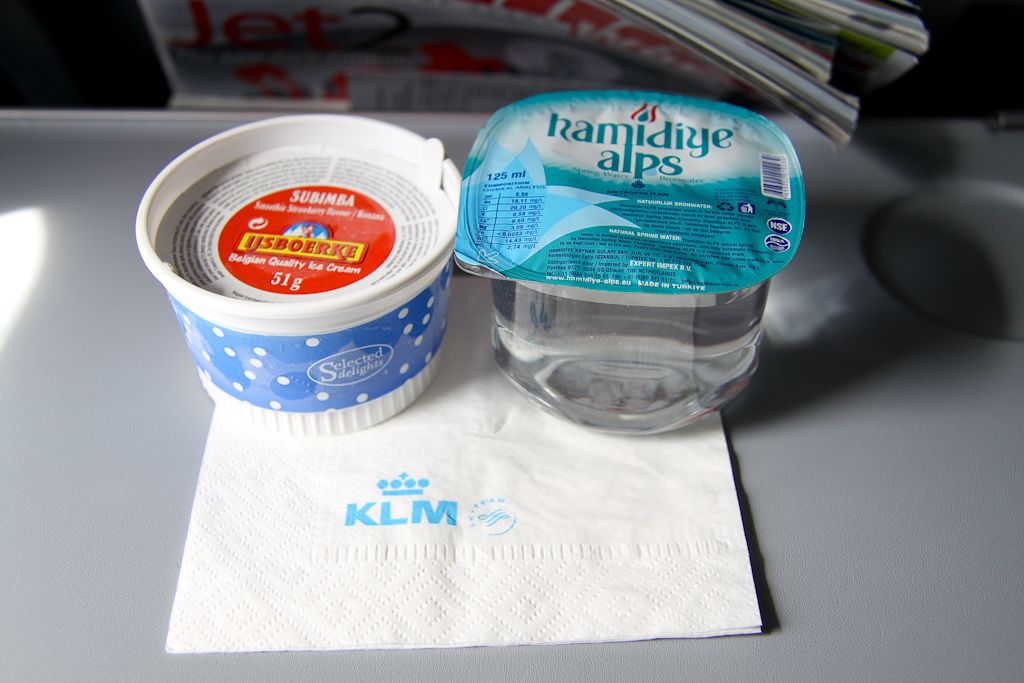 We reached our final flight level, this is my first flight on a Boeing 747 and on cruise it was a very stabile aircraft sometimes it was a little turbulent but nothing shocking.
32.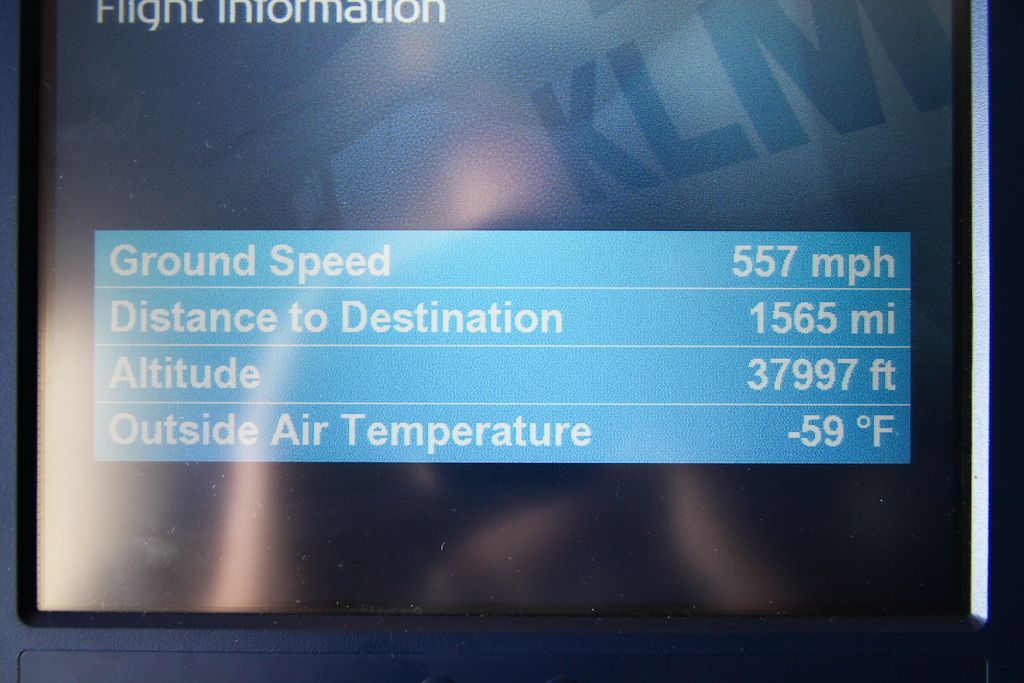 1:40 hours before landing there was meal consisting of a Pizza snack, apple crumble cake (was really nice), salad and fresh fruits.
33.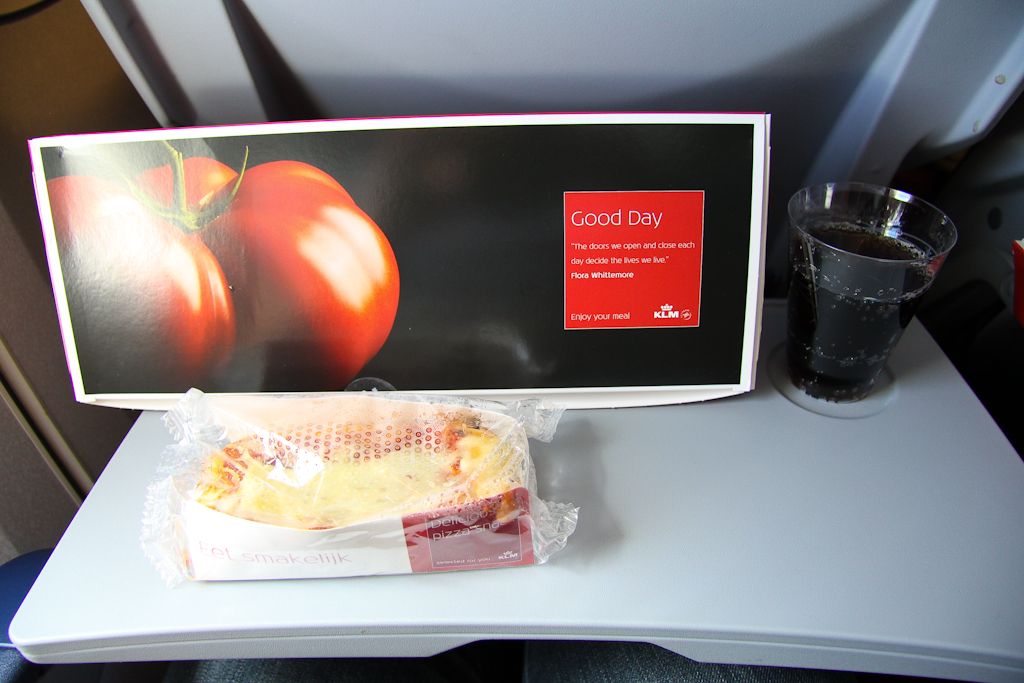 34.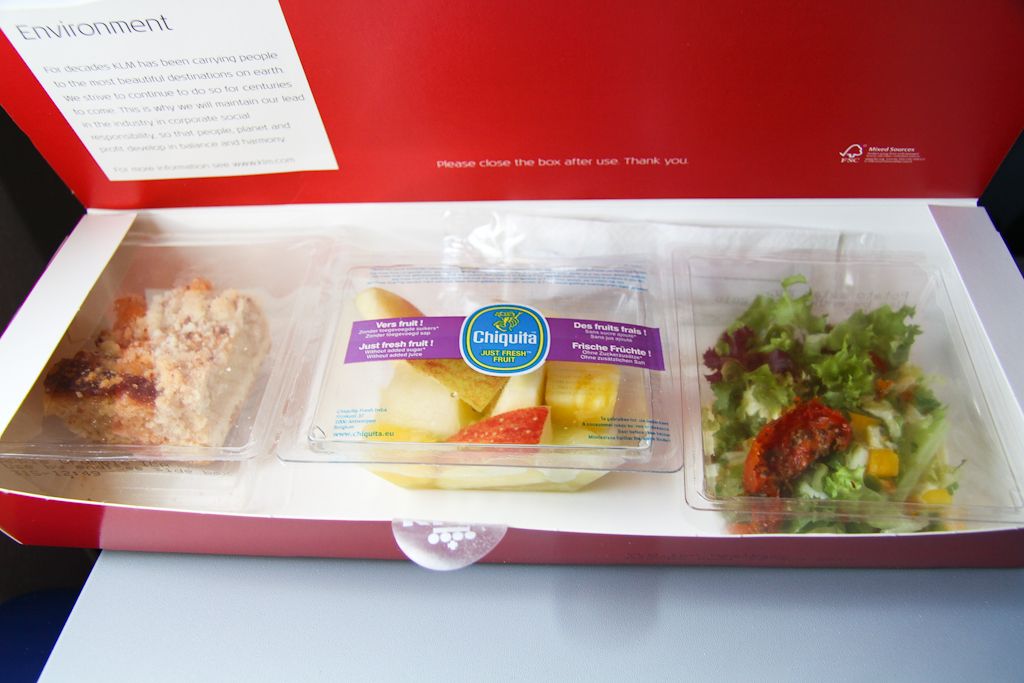 The sun is catching us.
35.
Almost crossing Puerto Rico and the city of San Juan, hoping for some clear skies. Our arrival point is also on the map.
36.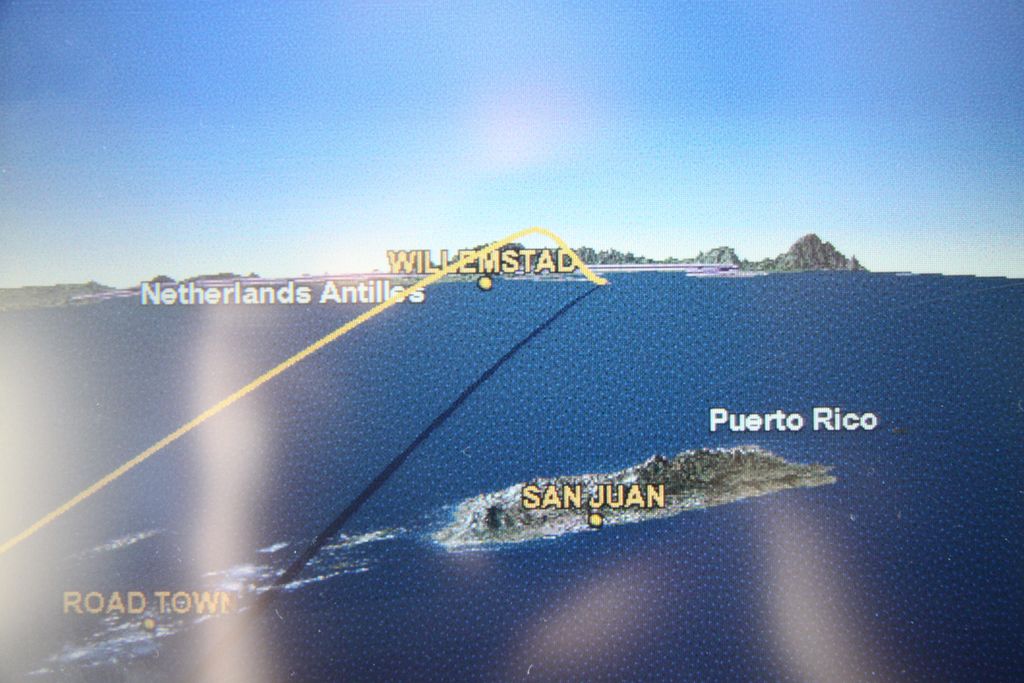 37.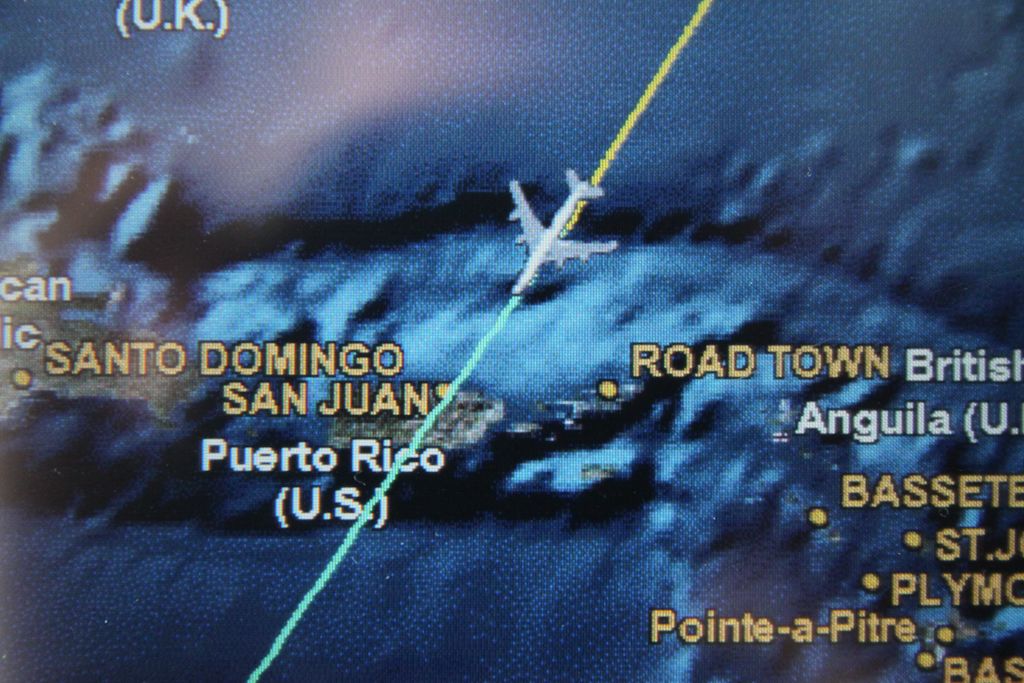 Trough a gap in the clouds I could see the main airport of San Juan called Luis Munoz Marin.
38.
A huge CB.
39.
Landing runway was 11 as we were coming from the North it was a sharp right turn to fly parallel to the runway and then a good left turn the line up with the runway. Really like the Caribbean water in this picture.
40.
Finals runway 11.
41.
Close-up of the winglet with some resorts in the background.
42.
And a very soft touch down.
43.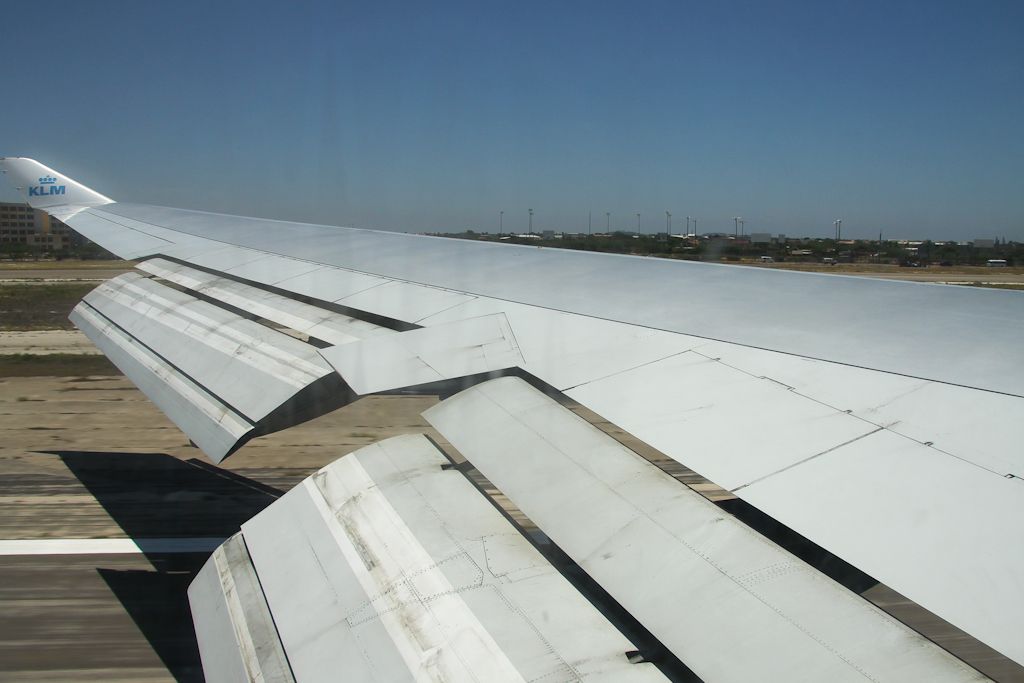 44.
Lucky me the Continental's 75th anniversary retrojet popped up next to me.
45.
The captain announced that the ground time at Aruba was 45 minutes, so I was able to stretch my legs a little. He also said that the aircraft was refueling so the seatbelts must be lose. The passengers for Aruba disembarked the plane and some new passengers for Curaçao joined again the plane was fully loaded and before I knew it the push began and we were off for a really short flight to Curaçao.
46.
Taxi again to runway 11 for a short but powerful take-off roll, now I experienced both heavy and light take-off runs.
47.
The runway.
48.
And rotate in front of the terminal building!
49.
50.
51.
It was a straight in approach for runway 11 at Hato Airport.
52.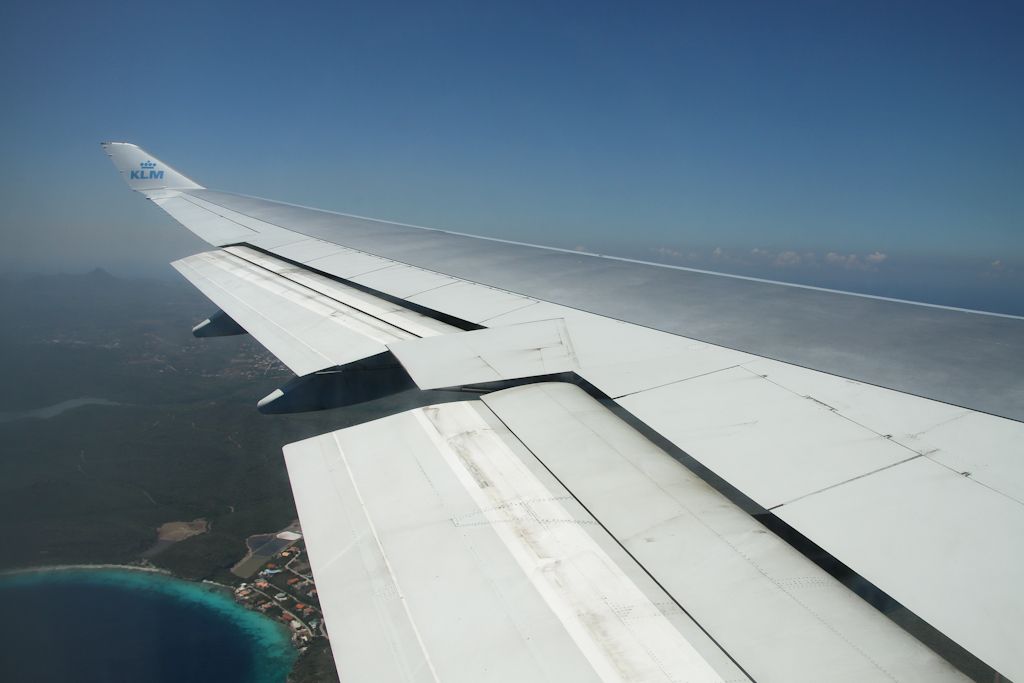 And again a very smooth touchdown.
53.
Some private jets during taxi to our gate.
54.
The control tower.
55.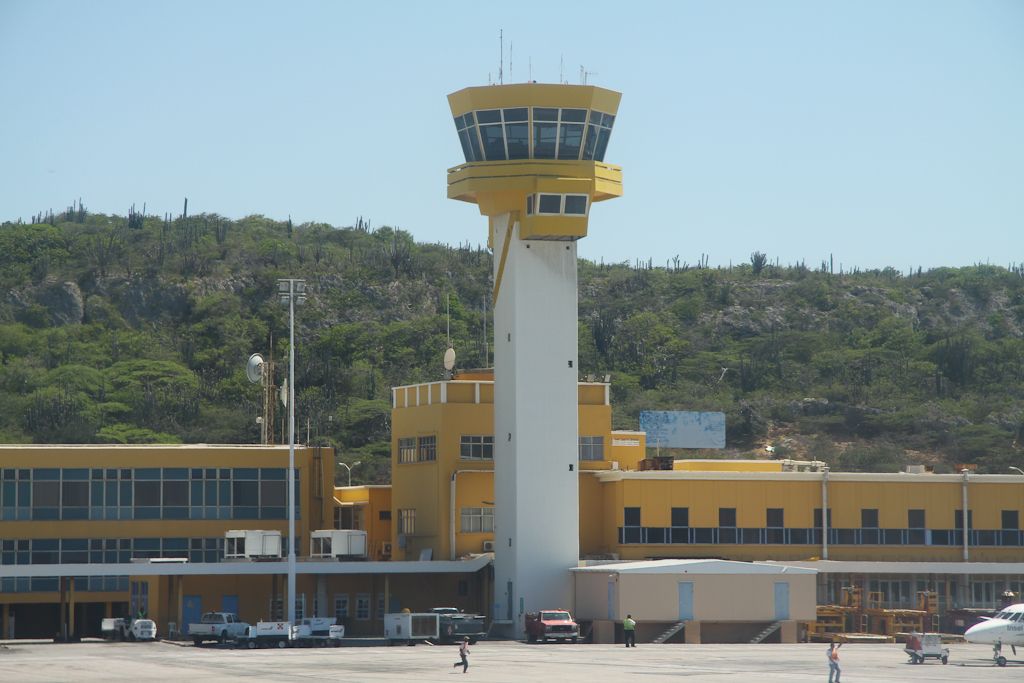 A Fokker 100 next to us belonging to Dutch Antilles Express.
56.
When we were at the gate I asked again if it was able to make a photo of the flight deck, it was fine and I went upstairs. On my way to the cockpit I came by the pilots think they were in a rush to grab a cold beer, so the upper deck was mine. The cockpit was still open for me to make a photo to.
The rushing crew.
57.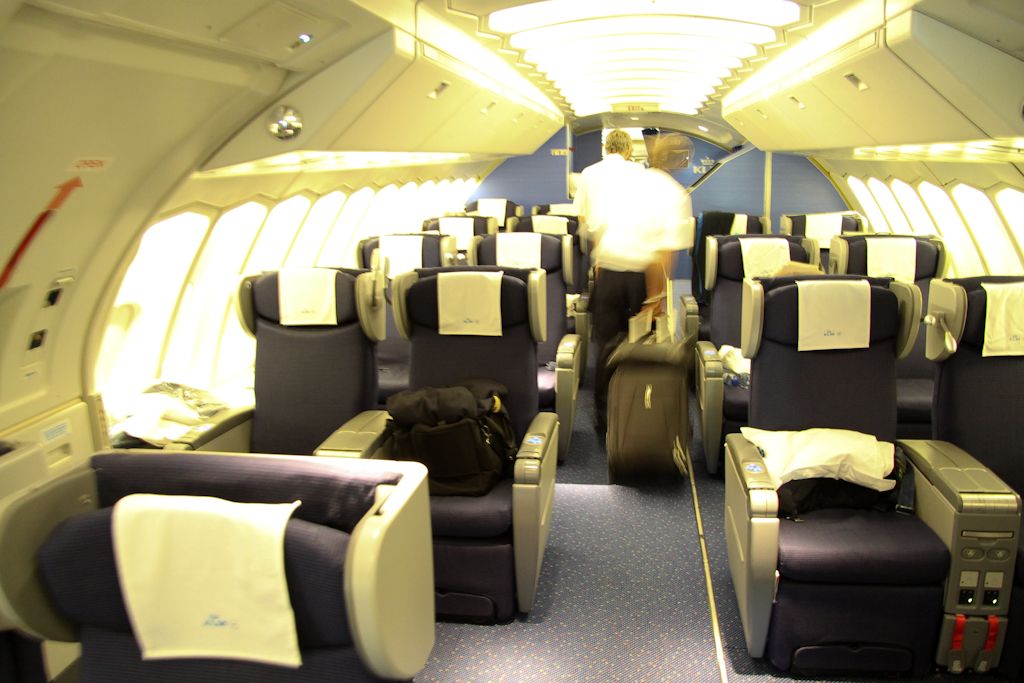 The cockpit.
58.
Then it was time to leave this beauty behind me, and enjoy my holiday on the island.
59.
Impression:
As this was my first flight on KLM so I can't really compare it to my other experiences, but I really enjoyed this Long Haul product. It was also my first long haul so that's new to. I flew the AF A380 to LHR and I think these airliners fit well together. The 747 will always be my favorite aircraft and it's a pity KLM is thinking of retiring these wonderful aircraft. The screens are a nice extra to and I'm glad KLM is still upgrading their older aircraft. I hope to fly on one of these beauties again!
On the return flight we had a problem with the aircraft. It was on the 26th of August when I should have flown back to Amsterdam. The aircraft was on the same rotation again AMS-AUA-CUR-AMS. When I arrived at the gate there was nothing special. About 30 minutes after boarding should have started an announcement came. ''Ladies and Gentlemen, there is a problem with the aircraft cargo door. During the offloading on Aruba a truck drove into to door and needs repairs because it's unsafe to fly back to Amsterdam. I will inform you as soon as possible, you can get a voucher for a drink and a snack at the boarding desk.'' Ok so the aircraft was able to fly from Aruba to Curacao because it's a low altitude flight, on the Willemstad – Amsterdam leg they will have a pressure problem.
There was a lot of staff running at the check-in desk so there was seriously something wrong. Then the announcement came: ''Ladies and Gentlemen our apologies for the long waiting, the staff is not able the repair the aircraft at this moment. We are flying in mechanics from Amsterdam so the suitcases are being offloaded and you will be driven to a hotel, all will be paid by KLM.'' That was kind of a bummer but I prefer to fly a safe plane than one with a malfunction. I was transported to the Renaissance Curacao Resort & Casino ****, it was a great hotel and there was a infinity pool & beach.
The next day (27th of August) I came to the lobby of the hotel and saw that the departure was again suspended a day, so I was now going to fly back on the 28th of August to arrive on the 29th that's 2 days of delay. The next day, on check out it was well arranged we handed over the key and had no problem with the staff what so ever.
When I arrived at the airport on the 29th I was guided to the KLM customer desk and got a voucher of 600eu (ticket cost for the AMS-CUR-AMS flight) and 2000 Flying Blue Miles. I just want to say KLM handled everything very professional and all the passengers were happy to go home again.
As I said I also visited SXM during my stay on Curaçao, I will make a trip report of the CUR-SXM leg onboard Inselair. Currently I'm in the middle of a KLM training program for Load Control so I don't have that much time but I will work on it.
Thank you for reading my second full trip report and I hope you enjoyed it much as I did.
Feedback is always welcome.