Feedback always appreciated.
I > Background:
As some of you know, I was in Nigeria for a project in April. I had to pay a visit back to check on implementation in June, and decided to take a week break to visit some of the lesser known countries. I have always wanted to go to Mali, Burkina Faso, and Benin – so that is exactly what I did. Now, between BKO and OUA, you had a choice of airlines and I decided to try Air Burkina.
This report is going to be many of "firsts" on A.Net. It will be the first report on Air Burkina, the first featuring a Group Celestair airline, the first on the routing from BKO-OUA, the first featuring the countries of Mali and Burkina Faso. I mean, how cool is a trip to any city called Ougadougou! I am actually shocked at the lack of coverage of Western Africa on A.Net, and hope this starts changing things.
II > Pre-Flight:
a) Before Airport:
Air Burkina is an airline headquartered in the Ouagadougou, Burkina Faso. It is the national airline, operating scheduled services to one domestic destination (Bobo-Dioulasso), as well as regional services to Togo, Benin, Mali, Niger, Côte d'Ivoire and Ghana (among others) from its main base at OUA. Along with Air Mali (and Air Uganda), it is owned by Group Celestair.
Air Burkina has a relatively well maintained website at
http://www.air-burkina.com/.
While I could see the fares and flights, it only allows you to "hold" a booking. You then have to go to their office to have it ticketed. Given the (lack of) penetration of the internet in this part of the world, I was actually quite impressed by the setup. An airline should not have e-commerce as a priority if that distribution model is not relevant. Anyways, Orbitz surprisingly had Air Burkina tickets and I was able to book the one-way with relative ease. Of course, no seat selections – but that is OK on such flights.
b) At Airport:
After a wonderful 3 days in Mali, I made my way to the airport. Bamako is a very "conventional" West African airport – and it feels like in a perpetual work in progress. Actually, compared to some other "gateways" in the region, it is rather relaxed. But then again, I did not go during the "ex-Colonial" rush flight (i.e.: AF). The agent at check-in was really nice and I was soon able to get my boarding pass, and my window seat. I also managed to take random 2J souvenirs.
Immigration was remarkably smooth – and the official was super duper nice. He asked me about my trip, and when I'd be back in Mali. Aaw. Why can't these people be there all across the world? Anyways, after immigration, I made myself to the departure area which also had a small lounge on the side. The lounge was nothing to write home about … and was manned by two rather indifferent women. One of them made me a café and I sat down with and a bottle of water. As boarding was called, I made a quick visit to the lounge bathroom, before heading to the gate. The lounge bathroom was "interesting" (see picture) … I can only imagine what the general usage bathroom would look like.
We were bused to our aircraft (in Air Mali's colors) which had arrived from DKR and bound to OUA. Boarding (like other African countries) was chaotic. Thankfully, my seat was up in front, and I soon sank into the rather nice leather JCL. The flight attendant came soon thereafter with a welcome drink – much needed – and, an offer to hang my jacket. I was impressed that she was able to do this even as crazy boarding continued on the narrow M80 aisles. Major props.
J load was 90%, and Y load was 100%.
Airport - External:
(Bamako Airport)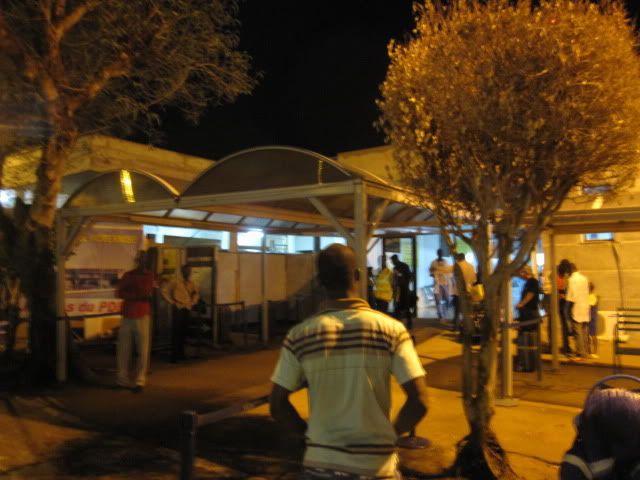 Check-in:
Airport - Internal: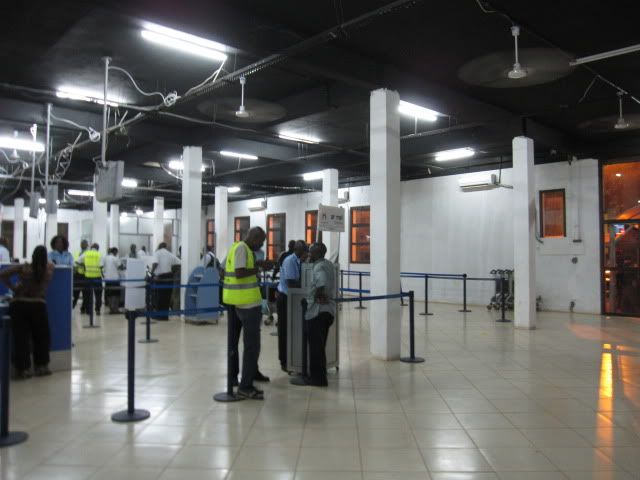 (FIDS)
NONE
(Post Security @ BKO)
NONE
Scenes of the tarmac:
NONE
Lounge
(Generic Lounge)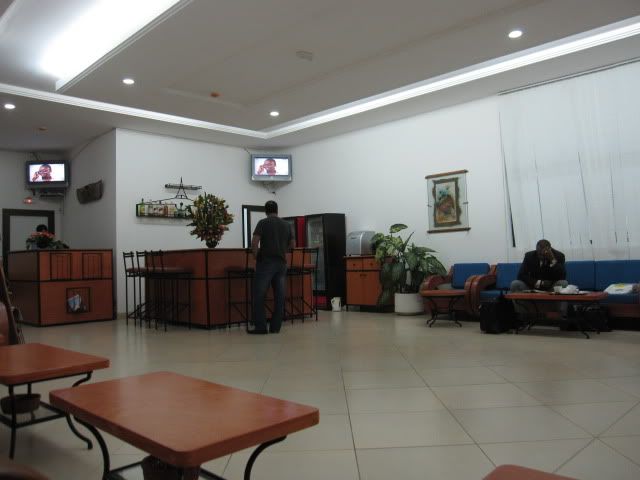 *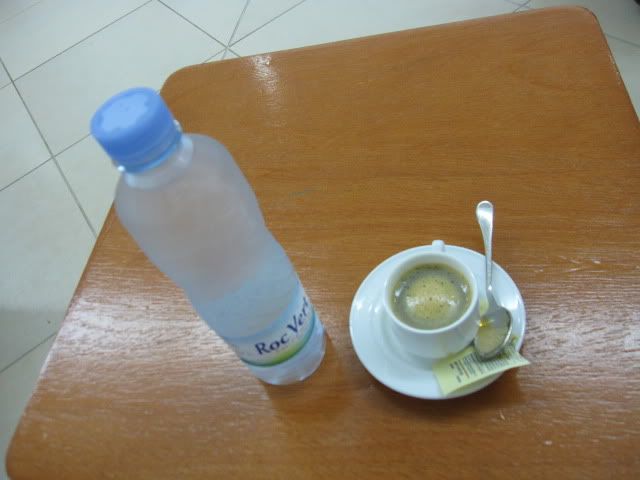 *
(Lounge bathroom)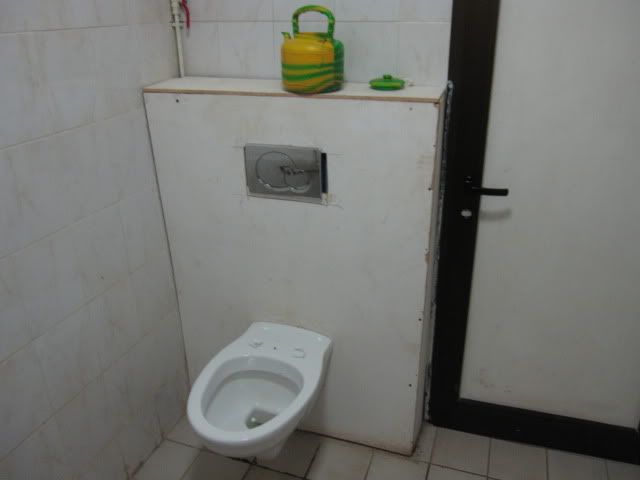 Boarding:
(Gate area – ILBST very much in action)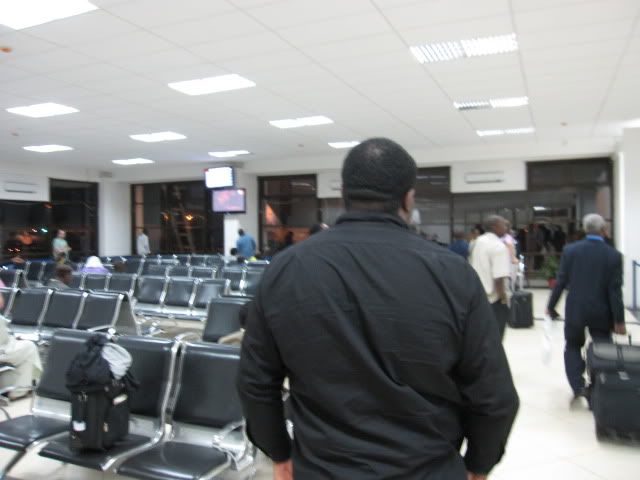 III> In-Flight:
a) Service Schedule + Impressions:
Prior to take-off, a drink service of water and OJ and distribution of newspapers. After take-off, the nicest cold towels I have encountered on a flight in a long time (and nice embroidered), and then drinks and dinner. Keep in mind that block time was only 1,25.
b) Aircraft + Seats:
Air Burkina's flight was operated by an Air Mali liveried M87. The airlines pool aircraft and I was not surprised by this. I seem to be on a run of these confused flights (EI/UA, and another coming soon). Anyways, the aircraft looked pleasant, and the Business Class cabin was in good condition. Of course, an aircraft of this age shows it – for example, the gloomy 1980s/1990s yellowish lighting. Having said that, the cabin was immaculately maintained, and I was rather impressed by the seats. They are domestic U.S. leather seats in 2/2 layout – but much more plush and a slightly larger seat pitch. All in all, more than sufficient for a flight that was less than 500 mile in length. Only average thing in this "genre" was recline … it seemed to be nothing spectacular compared to other similar F/J type seats.
The bathroom was extremely well maintained throughout the flight. Again, kudos to the crew.
Aircraft:
(M87 @ BKO – of Air Mali)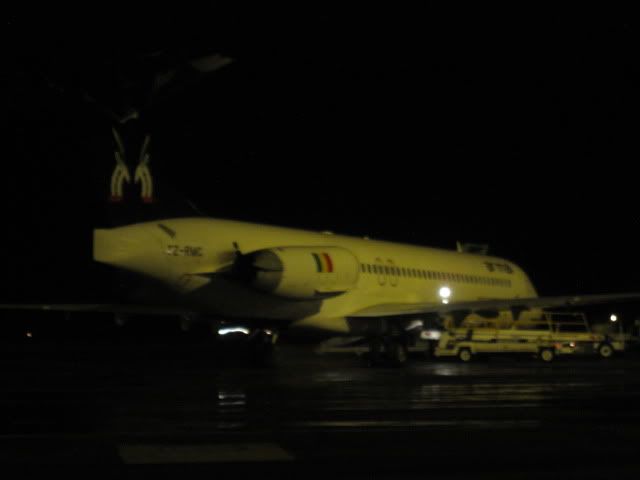 Views from Aircraft:
NONE
General Seat Views + Seat Legroom
(Seat)
(Front of seat)
NONE
(Seat controls)
NONE
(Legroom: decent)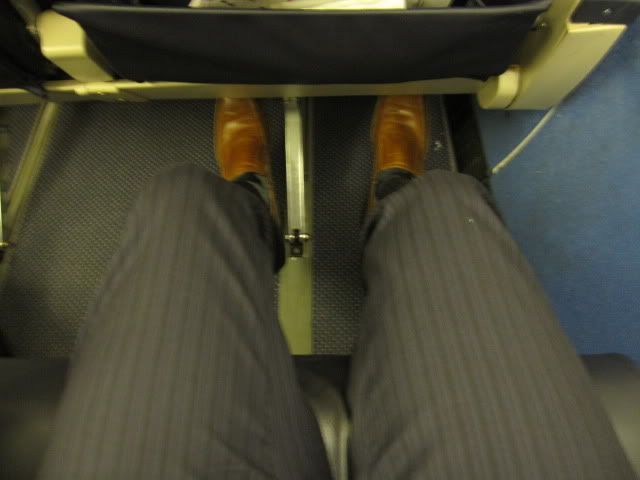 (Blanket)
NONE
Seat Recline + Angle View:
*
Cabin:
*
(Bathroom Amenities: surprised with the branded cologne)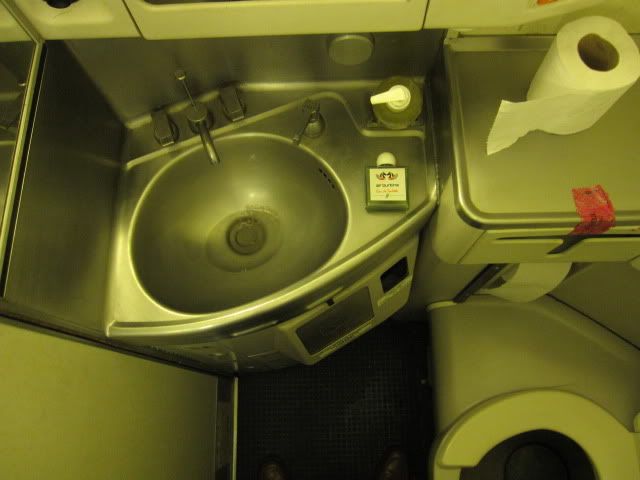 c) Meal + Beverage:
Now, this is probably the highlight of my Air Burkina experience. I did not have much expectation on an intra-regional flight in Africa. Especially, given the flight was less than 500 miles. Wow, was I wrong!
Soon after take-off, the crew sprang into action. First came the drink service – which had generous amounts of alcohol. I was still recovering from the weekend so skipped the same. However, fellow JCL passengers took full advantage of it. The crew obliged attentively to each of the requests and I was impressed by the amount of alcohol consumed in this supposedly majority Muslim country. Definitely, a different version of Islam! The female FA came and set up my table. Now, I was again impressed by the 2J logoed linen – again, attention to detail that wins in my book. I was asked if I would like to eat ("Yes" was my response), and soon dinner was brought. Man, I was impressed! While there were no choices (come on, it is a 1,25 flight), the absolute quantity and quality of the food blew me away. Take a look at the picture yourself. There was a very nice fresh salad; lots of different warm breads in foil (!), a nice rice with seafood curry (excellent!); a decent dessert; and a great cup of café (though, they had no milk)! All this served with grace and panache in very nice 2J cutlery. I was really impressed. I think I am going to start sending these pictures to that airline whose JCL offering I ridicule … seriously folks, next time you sit on a short JCL hop, think of this meal – on a 90% load – and the crew able to do the entire service run within less than an hour!
Needless to say, I remain impressed – and communicated my pleasure to the crew prior to disembarking.
(Nice thick logoed cold towels)
(Menu)
NONE
(Nice table setting)
(Dinner on a flight less than 500 miles)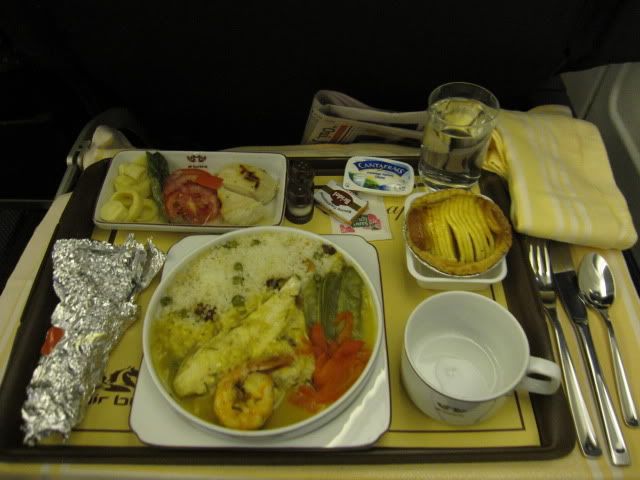 d) Inflight Entertainment:
Air Burkina has no IFE in the flight – no inflight magazines, nothing. While this was not a problem on such a short flight, it might be more troublesome would I have taken this all the way to MRS or ORY.
NONE
("In-flight magazines", Boarding Passes, etc.)
e) Crew:
I liked the crew on Air Burkina. They were definitely very (in my perception) African in their service delivery. They were helpful during boarding and throughout the flight – very quick with responding to call buttons. I was particularly impressed with how quickly they were able to get the entire service done on a packed flight. I did not find them to be particularly engaging with the passengers – it seemed like they were a little aloof, and my perception was that they did not have the natural warmth which is so obvious on crews from South Asia. Perhaps, experts on Western Africa can tell me the cultural nuances that I might have missed. Maybe, JCL passengers in this part of the world do not find it socially acceptable to chat up those not in their social strata? In any case, extremely efficient crew who must be lauded.
IV> Post-Flight:
Arrival at OUA was smooth and we walked from the parking stand to the "terminal". Thankfully, I had no checked bags, and soon made it to the madness of yet another African city – where my French and negotiating skills ensured that I had a taxi without much anger ... hehe.
(Air Burkina @ OUA)
*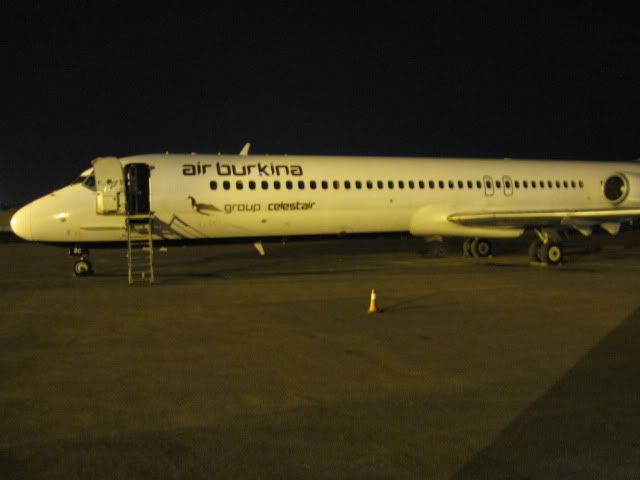 *
(Other ramp action)
V> Impressions + Scores:
I must admit to have been pleasantly surprised by Air Burkina. On a short flight, they clearly shone. Check-in was smooth, ground staff in BKO were pleasant, flight crew were efficient (though, could do with some lessons to be "smiling"), food was excellent, and seats more than adequate. The only thing that sticks out was the lack of IFE options. As I mentioned, not really an issue on these short flights, but I wonder if there is anything different on their offering to Europe. At the very least, a magazine would go places in entertaining passengers and promoting these two great countries. Another stand-out thing for me was the consistent and cool branding – from the check/in tags, to the meals settings, to the bathroom cologne, to the cold towel. Very impressive!
Air Burkina is an airline I would fly if I had choice. I would even be willing to pay a price premium for them. Thumps up for them.
Question for readers: I benchmark the service with the overall average; and, am thinking of comparing just within cabin type (so, Y or Premium). What do y'all think? Feedback appreciated for sure.
VI> Other Trip Reports:
PREMIUM:
8.66:
Brussels Airlines (93): FIH-BRU: 01/2010
8.64:
Turkish Airlines (59): JFK-IST: 11/2008
8.63:
Jet Airways (88): JFK-BRU: 10/2009
8.61:
Air Canada (49): YYZ-SCL: 06/2008
8.54:
Turkish Airlines (77): GRU-DKR-IST: 04/2009
8.36:
Kingfisher (98): BOM-HKG: 01/2010
8.30:
Jet Airways (74): KWI-BOM: 04/2009
8.23:
United Airlines (72): SFO-SYD: 03/2009
8.11:
Aeroflot (33): MOW-DEL: 09/2007
8.05:
Air India (80): CCU-JFK: 06/2009
8.04:
Korean Air (40): NRT-ICN: 10/2007
8.02:
Delta Airlines (24): JFK-CDG: 08/2007
7.66:
Sri Lankan (104): DEL-CMB: 07/2010
7.64:
Royal Jordanian (91): AMM-YUL: 12/2009
7.61:
China Southern (103): LOS-DXB: 04/2010
7.57:
Pakistan Airlines (102): ORD-BCN: 06/2010
7.46:
LAN (55): YYZ-JFK: 09/2008
7.82:
Singapore Airlines (06): EWR-SIN: 09/2006
7.25:
Iran Air (88): BOM-IKA: 12/2009
7.23:
Virgin Atlantic (81): BOS-LHR: 07/2009
7.14:
Swiss (52): SCL-GRU: 06/2008
7.11:
Aer Lingus (105): MAD-IAD: 05/2010
7.11:
Austrian (79): VIE-JFK: 06/2009
7.07:
Privatair (84): BOM-FRA: 08/2009
7.02:
Qatar (68): DOH-JFK: 01/2009
6.96:
Etihad (61): JFK-AUH: 12/2008
6.93:
Delta Airlines (18): SEA-JFK: 11/2006
6.84:
ConViasa (65): CCS-DAM: 01/2009
6.82: Air Burkina (106): BKO-OUA: 06/2010
6.81:
Air Canada (17): ICN-YYZ: 10/2006
6.70:
KLM (32): EBB-AMS: 08/2007
6.52:
Emirates (99): LHR-DXB: 02/2010
6.39:
South African (97): EZE-JNB: 01/2010
6.36:
Privatair (60): MUC-BOS: 12/2008
6.29:
TAM Brasil (96): POA-EZE: 02/2010
6.25:
Korean Air (45): NAN-ICN: 10/2007
6.21:
Iberia (87): BOS-MAD: 10/2009
6.11:
TAP Portugal (53): GRU-OPO: 06/2008
6.00:
Gulf Air (75): BOM-BAH: 04/2009
5.88:
African Express (89): DXB-NBO: 11/2009
5.75:
Singapore Airlines (16): CCU-SIN: 10/2006
5.64:
SATA Azores (101): BOS-PDL: 04/2010
5.64:
NorthWest (46): ICN-NRT-SEA: 10/2007
5.54:
Ethiopian Airlines (95): ADD-BOM: 01/2010
5.46:
Icelandair (83): KEF-BOS: 08/2009
5.39:
LOT (54): WAW-JFK: 06/2008
5.21:
Egypt Air (73): CAI-IST: 02/2009
5.07:
TACA (66): JFK-SAP: 01/2009
4.42:
Air France: CDG-JNB (25): 08/2007
ECONOMY: Long + Medium:
9.26:
Air India (48): JFK-DEL: 02/2008
7.38:
Avianca (01): BOG-LIM: 07/2006
7.07:
Sri Lankan (62): KWI-CMB: 12/2008
7.00:
LAN (94): IPC-SCL: 01/2010
6.41:
Avianca (78): JFK-BOG: 05/2009
6.41:
American Airlines (58): LHR-BOS: 11/2008
6.39:
Condor (85): SEZ-FRA: 09/2009
6.26:
Jet Blue (21): CUN-JFK: 02/2007
6.06:
Air Canada (04): YYZ-YVR: 09/2006
5.89:
USA 3000 (19): PUJ-BDL: 01/2007
5.85:
Spanair (69): MAD-LPA: 02/2009
5.79:
Air New Zealand (42): RAR-NAN: 10/2007
5.52:
Aerolineas (86): USH-AEP: 10/2009
5.46:
TAP Air Portugal (23): OSL-LIS: 05/2007
5.19:
Air Europa (70): LPA-MAD: 02/2009
5.16:
Iberia (71): MAD-BOS: 02/2009
5.11:
Air China (82): FRA-PEK: 08/2009
ECONOMY: Short
8.56:
Paramount Airways (38): BLR-MAA: 09/2007
8.56:
Kingfisher (64): HYD-CCU: 12/2008
8.24:
Kingfisher (14): IXA-GAU: 10/2006
7.87:
Indian (34): BOM-MAA: 09/2007
7.72:
Alliance Air (13): CCU-IXA: 10/2006
7.57:
Indian Airlines (10): DEL-CCU: 09/2006
7.23:
West Jet (03): YYC-YVR: 09/2006
7.15:
JetLite (37): BOM-GOI: 09/2007
6.98:
Air Koryo (100): PEK-FNJ: 04/2010
6.70:
Spice Jet (09): CCU-DEL: 09/2006
6.63:
Air Fiji (44): NAN-SUV: 10/2007
6.63:
Jazeera (67): DAM-KWI: 01/2009
6.58:
Air Tran (02): EWR-MDW: 08/2006
6.48:
Air India Express (63): CMB-MAA: 12/2008
6.44:
CO Micronesia (39): ROR-YAP: 10/2007
6.41:
Pacific Sun (43): NAN-SUV: 10/2007
6.37:
Skybus (47): SWF-CMH: 02/2008
6.33:
Kenya Airways (29): NBO-BJM: 08/2007
6.33:
Sky Europe (56): LTN-BTS: 10/2008
6.31:
Indigo (15): GAU-CCU: 10/2006
6.31:
easyJet (57): BUD-LTN: 11/2008
6.22:
Air Link Swazi (28): MTS-JNB: 08/2007
6.22:
Air India (36): HYD-BOM: 09/2007
6.13:
Adam Air (07): SIN-CGK: 09/2006
6.13:
Air Rarotonga (41): RAR-AIT: 10/2007
6.00:
Transairways (27): INH-MPM: 08/2007
5.95:
Air Canada (05): ALB-YYZ: 09/2006
5.85:
SAS Norge (22): OSL-AES: 05/2007
5.81:
LAM Mozambique (26): JNB-MPM: 08/2007
5.69:
Air Deccan (12): IXZ-CCU: 10/2006
5.67:
Rwanda Air Exp (30): KGL-NBO: 08/2007
5.37:
Felix Airways (92): SCT-SAH: 12/2009
5.11:
Aero Republica (76): BOG-CCS: 04/2009
5.07:
Go Air (35): MAA-HYD: 09/2007
5.00:
Sky Airline (51): IQQ-SCL: 06/2008
4.96:
Valuair (08): CGK-SIN: 09/2006
4.78:
Air Comet Chile (50): SCL-IQQ: 06/2008
4.74:
Fly 540 (31): MYD-LAU: 08/2007
4.33:
Viva Aerobus (20): ELP-MTY: 02/2007
4.11:
Air Sahara (11): CCU-BOM: 09/2006
(Note on Codes: Y – Economy, J – Business, F – First :: I/D – International/Domestic :: SR/MR/LR – Short/Medium/Long Haul)
(Note on Date: Dates are modified to be +/- 3 days from actual flight date to not reveal actual flight pattern)
VII> Other Pictures:
(This is Bamako!)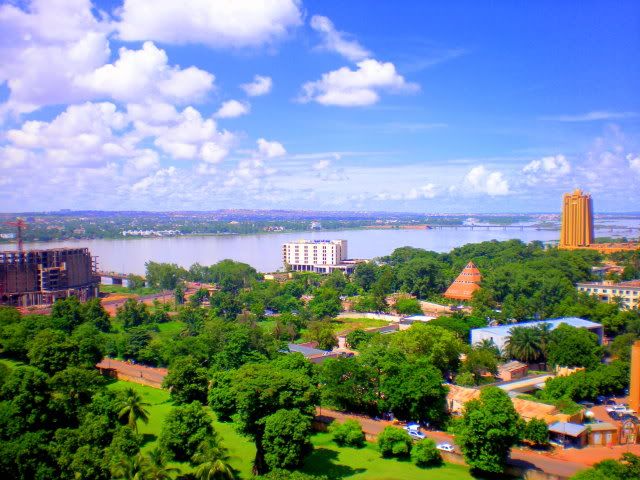 *