Itinerary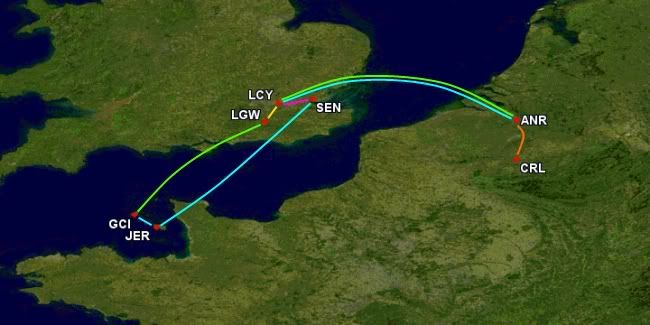 *
- Orange : by car between my home in Charleroi and Antwerp airport.
- Cyan : Saturday flights : ANR-LCY / SEN-JER / JER-GCI.
- Magenta : by train between central London and Southend airport.
- Green : Sunday flights : GCI-LGW / LCY-ANR.
- Yellow : by train between Gatwick Airport and London City Airport
Planning
While browsing the web in April, I found more or less by chance this intriguing banner on the front page of
Aurigny.com website
: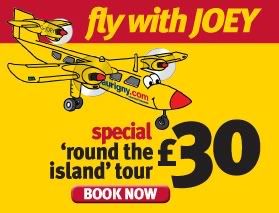 *
Wondering what it could be, I clicked it and discovered it was a special sightseeing flight around the island of Guernsey, on the airline's most famous Britten-Norman Trislander (G-JOEY). I didn't pay too much attention to it, until the idea began to grow on me on the following days. I went back to Aurigny.com to get more details, and noticed the flight was bookable online, for a mere 30 GBP all-in. Surrendering to some kind of pulsion, I took my credit card out of my wallet and booked myself on one of the two dates proposed, a Sunday at the end of August.
This left me plenty of time for planning. My initial plan was to find the cheapest option from Belgium to Guernsey, but after some thinking I decided it would be nice to take the opportunity to log some aircraft types and airports missing in my log.
As the most obvious way from Belgium to the Channel Islands was through London, I first decided to make use of
CityJet
's Antwerp to London-City service, something I had wanted to do for quite some time in order to fly on the Fokker 50, use the less known Antwerp airport and experience the famous LCY approach. I found some decent fares on CityJet's website, except that no option would allow me to arrive on time in Guernsey on Sunday for the Joey flight, so I opted for the Saturday morning flight which would leave me with plenty of options to reach the island on time.
My next stop was
FlyBe's website
, an airline still missing in my log. The plan was to fly from Gatwick to Jersey, then catch an inter-island flight to Guernsey, until I discovered this seasonal once-weekly (!) Southend to Jersey service, which turned out to be the only scheduled flight at the southeastern England airport. It didn't take me more than this to be booked on that strange service...
From Jersey to Guernsey, there is a wide array of flight options, with no less than 25 daily flights on a typical day (12 on Blue Islands, 10 on Aurigny and 3 on FlyBe). As I would be arriving on a FlyBe flight, and as the special "Joey" flight would be on Aurigny, I selected
Blue Islands
just for the sake of logging another airline. The only drawback is that it was impossible to know that far in advance which specific aircraft type would be operating the flight, but as Blue Islands operate Jetstreams and Trislanders, I thought the chance was good to get one of these. I just hoped I wouldn't get on their sole ATR-42, a type which is relatively easy to get elsewhere.
For the return back to Belgium, as I had booked a return flight on CityJet's Antwerp to London service for budget reasons (the return ticket being significantly cheaper than a one-way), I needed to get to London first. As I had spent enough money, I simply selected one of FlyBe's many Guernsey to London-Gatwick services. At least, it would be an occasion to finally see Gatwick, as all my London flights so far had been to Heathrow or Stansted.
Finding a cheap single room for one night in Guernsey in August was another matter, but with a bit of research I found a single room at the "
Auberge du Val
" for 45 GBP with breakfast included and the added benefit that, judging by the Google Earth view, the airport looked within reasonable walking distance (a 45 minutes walk being reasonable in my book).
Antwerp airport
On the morning of Saturday, August 28th, I left my home near Charleroi, Belgium around 6:40 am and thanks to the very light traffic, I arrived at Antwerp airport less than 1 hour and 20 minutes later. As it was earlier than planned, I decided to explore the surroundings with my car and found what could be considered as an ideal spotting location on the local "Krijgsbaan" road. I stepped out the car to snap a couple of pictures and was surprised to see that I could approach the runway almost till the 29 threshold, a basic barbed wire being the only separation between the public road and the runway.
The threshold of runway 29, as seen from the public road :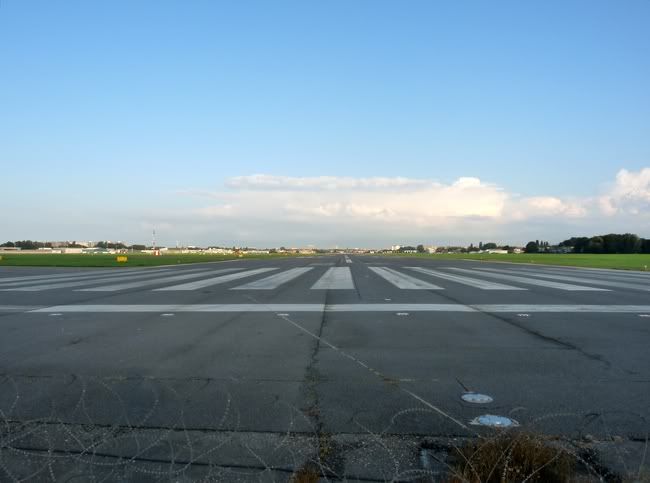 *
Zooming in towards the terminal building, with CityJet F-50 OO-VLP parked.: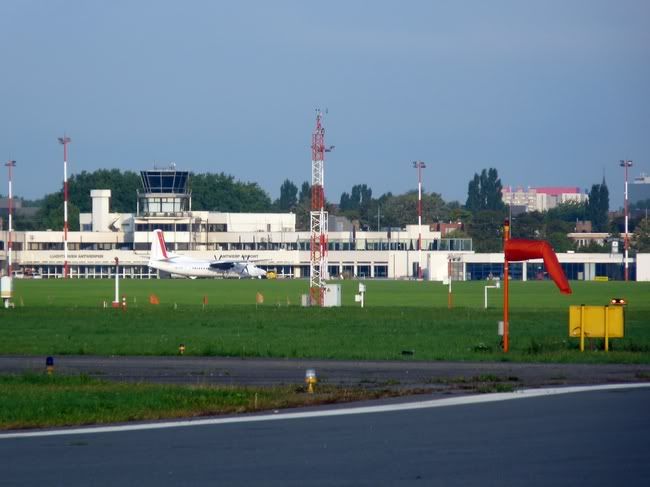 *
The
Krijgsbaan
, the public road from where I took the above photos :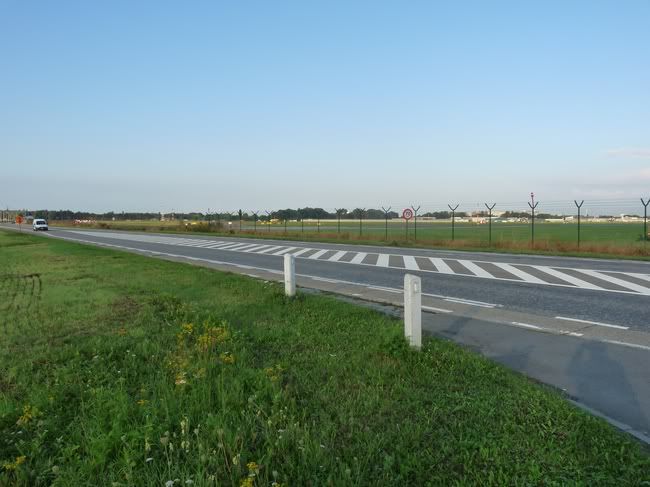 *
Air traffic was non-existent at this time, though, so as the time for my flight approached, I went back to the terminal. The small building is located in the middle of a residential area... I mean, it really is a mere 50 meters from the nearest house to the terminal door. Opened in 1930 (the airport itself was inaugurated 7 years before), it features an emblematic modernist architecture from Belgian architect Stanislas Jasinski, although multiple alterations were added during its existence.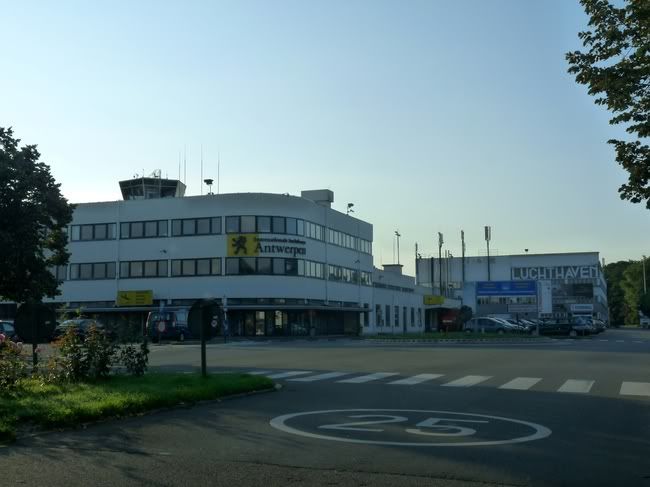 *
I encourage anyone interested to have a look at this nice brochure available on the airport website about its history and which contains some cool historical pictures :
http://www.antwerp-airport.be/bijlag...schiedenisLuchthavenAntwerpen.pdf.
The following images are meant to illustrate the very urban location of the airport :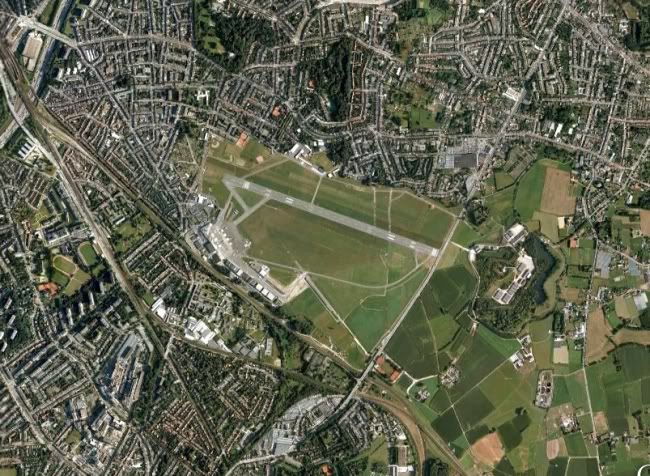 *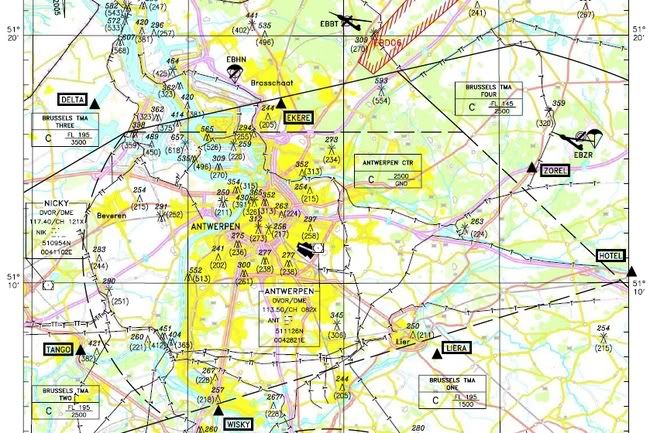 *
An appreciable advantage of the airport is its free car park, with plenty of free spaces at the time of my visit. In fact, all the terminal surroundings gave a strange feeling of quietness while I was there.
Inside, the terminal is nothing to write home about, although it has all the amenities needed to handle its yearly 170 000ish passengers, including 3 or 4 check-in counters, a café, drinks vending machine, ATM, a so-called "Business Center" and even an art gallery.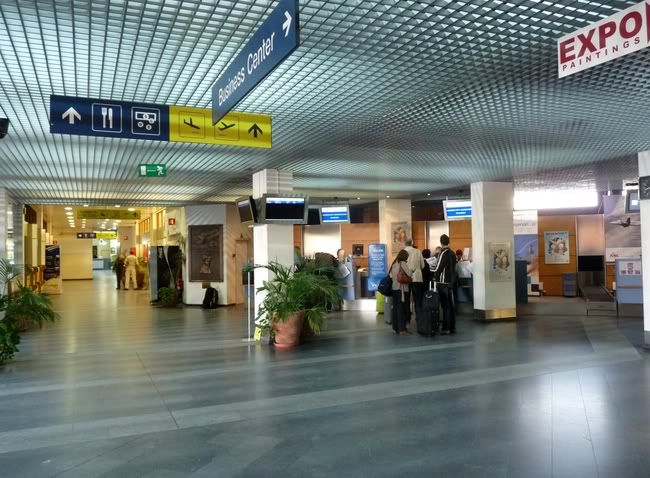 *
I passed through the security check area which was tiny but sufficient for the modest passengers flow, then had my passport checked before entering the departure lounge. There are two of those pretty basic rooms (one for intra-Schengen flights, the other for extra-Schengen), with just enough seats to handle two Fokker 50 departures. Free newspapers were available, as well as another drinks vending machine and restrooms. Apart from that, nothing else to do other than watching Fokker 50s sitting on the apron (limited views only).
In addition to our flight to LCY, another CityJet flight was departing to Manchester. Those passengers were called first, and bussed to their aircraft which was strange as their Fokker 50 (OO-VLO) was parked closer than ours, and we were the ones having to walk. The load to Manchester didn't look high, but then again, it was a Saturday morning flight on a business oriented route. It had just started raining when we were allowed to board our aircraft.
*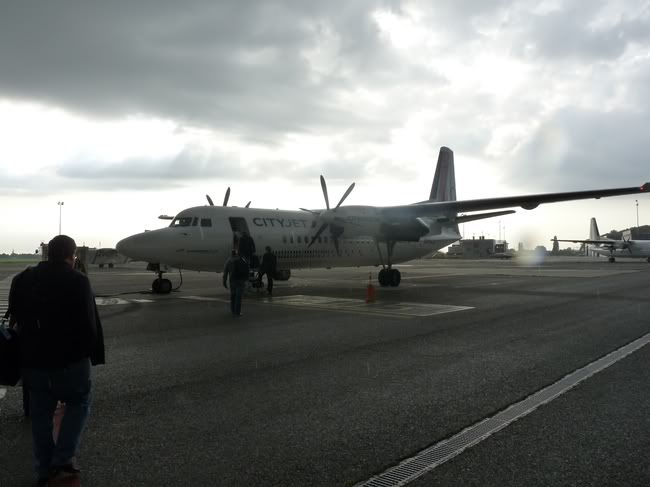 *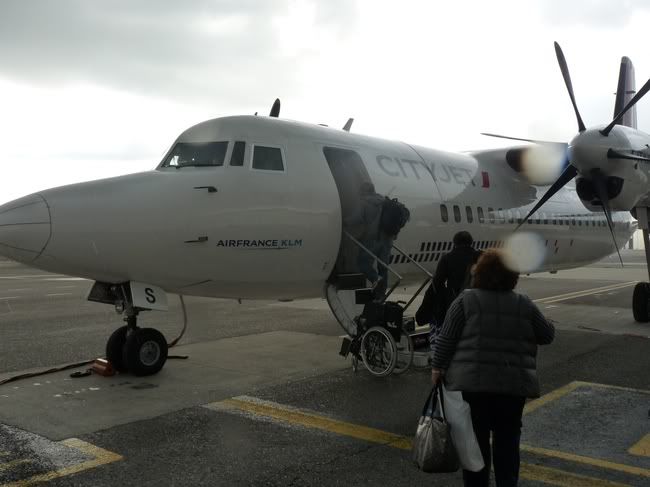 *
CityJet Fokker 50
As I stepped inside OO-VLS, I was impressed by the pristine condition of the cabin. True, a couple of details give it a somewhat old fashioned look, such as the overhead bins, the control units above the seats (oxygen, lights, air vents, ...) or even the general lighting.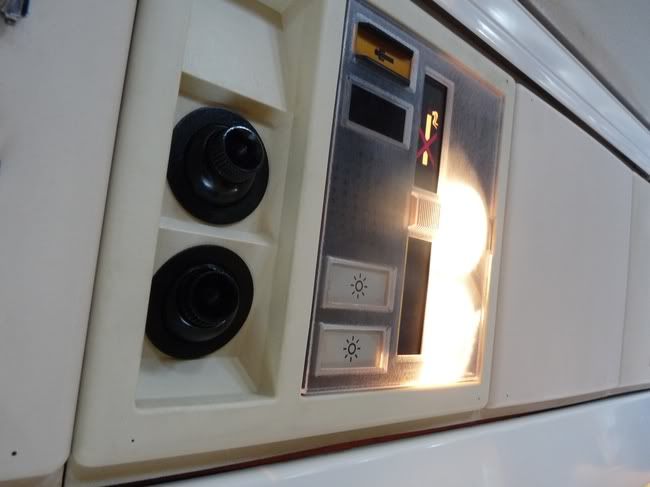 *
But it was really well maintained, impeccably clean, and the seats were covered by an eye-catching beige leather.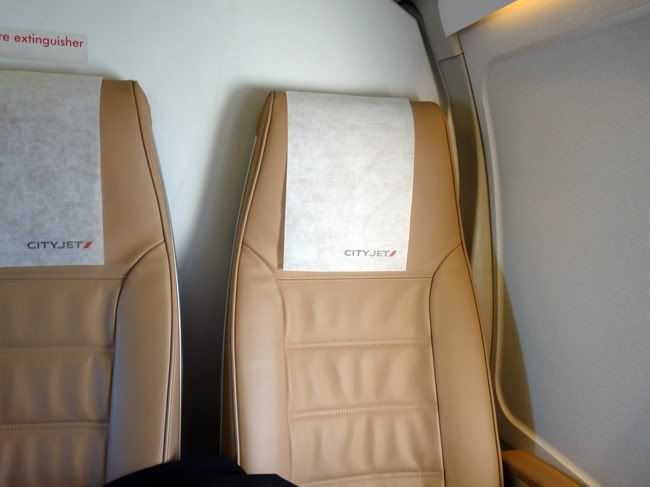 *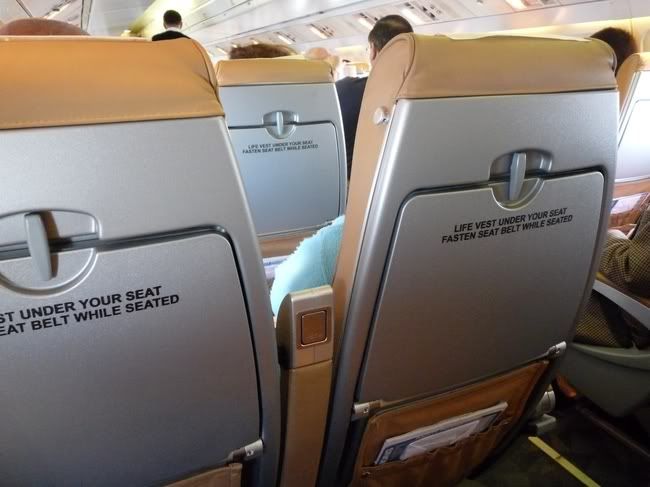 *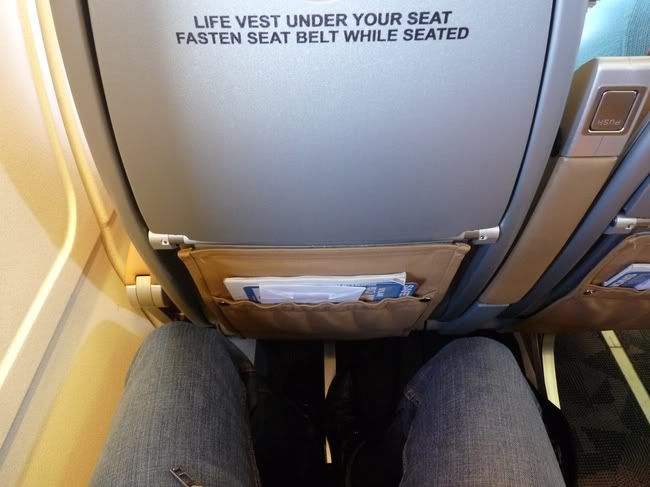 *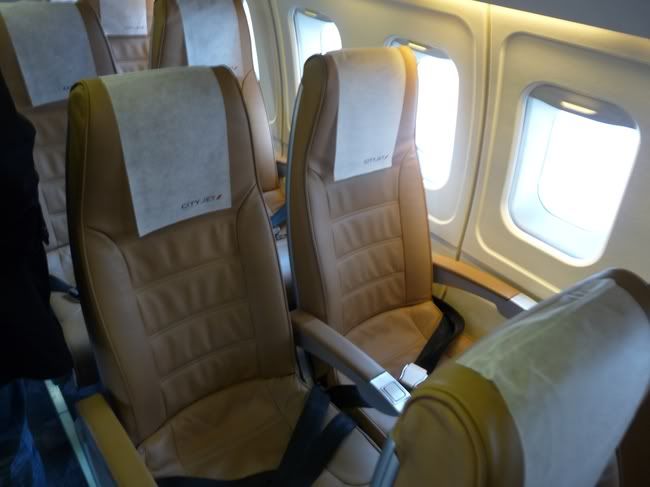 *
The door being open, I noticed that the flight deck was not on the same level as the cabin and had to be accessed with a step.
When I reached my seat (11A, at the back of the cabin), it was already occupied by an Indian gentleman, accompanied by his disabled wife. As I didn't want to cause trouble, I asked the male flight attendant standing at the back if it was OK to sit on the last row. He agreed but seemed quite disturbed to see that both the Indian couple and me had been assigned the same seat, and I had to insist to make him understand that it wasn't a problem for me to sit elsewhere. However, just before departure, the second F/A (female) came to me and asked me in a somewhat rude manner to move one row as I couldn't sit on the last row. To be fair, I must say that's it was the only time I received this kind of treatment, as both attendants were friendly and professional for the rest of the flight.
Sweets were distributed as a welcome present and the manual safety demo followed, while the 2 Pratt & Whitney Canada PW125 turboprops were started. I found the seat comfortable with adequate legroom, the only thing I didn't like being the relatively low position of the windows. The weather had really deteriorated by the time we reached the runway 29 threshold. Power was applied before brakes were released, and I was surprised at the acceleration of the thing. At 1510 metres, ANR's runway poses no problems for a fully laden F-50 (not that ours was).
As soon as we reached the top of the clouds layer, the inflight service was started. Considering the short flight duration, I was satisfied by the offering : tasty sandwiches (choice of salami or cheese), cold and warm drinks with refills offered by the crew, refreshing towel, Belgian chocolates. The crew was friendly, one of them (the male) seeming a bit more motivated than the other.
The A12/R1 interchange near Antwerp, and the Germinal Beerschot stadium :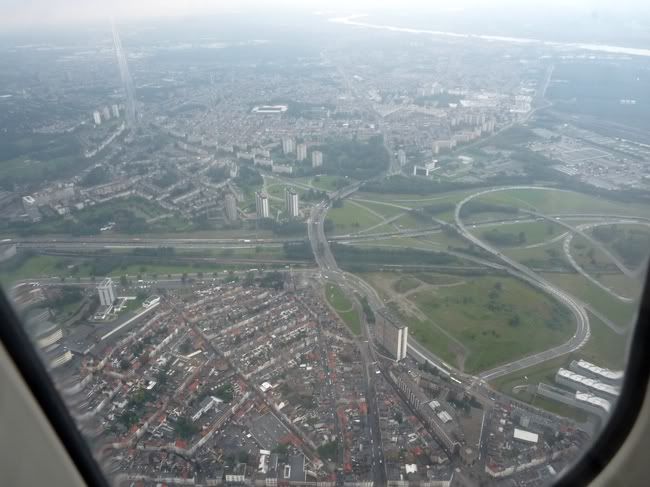 *
Part of the port of Ghent, with the cities of Sas van Gent and Zelzate visible :
*
The coast of Belgium :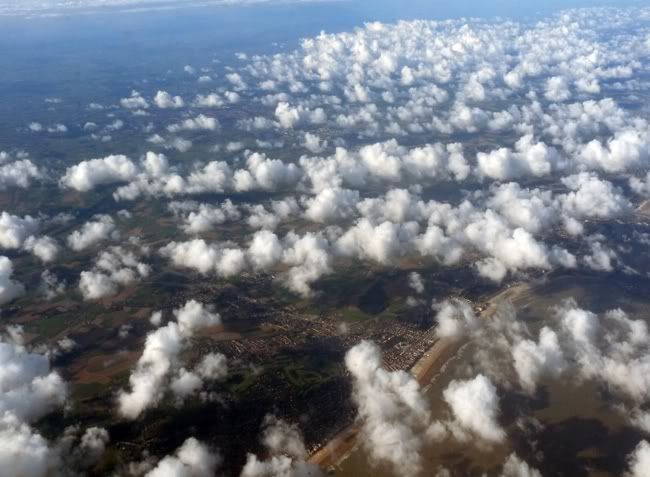 *
Southend-on-Sea and its long pier. I would be close to it in a couple of hours :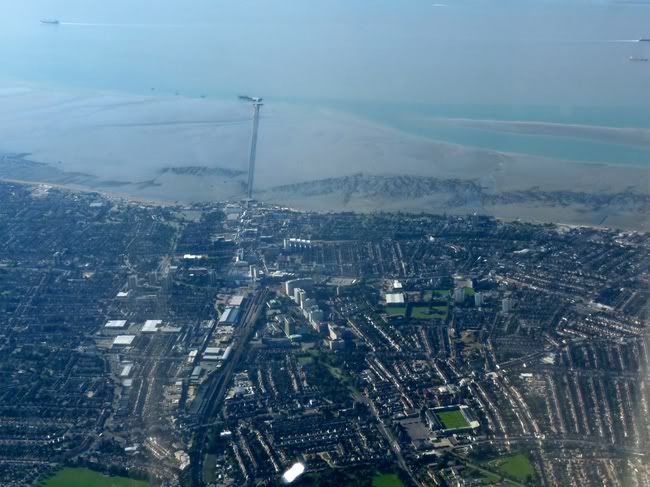 *
London City Airport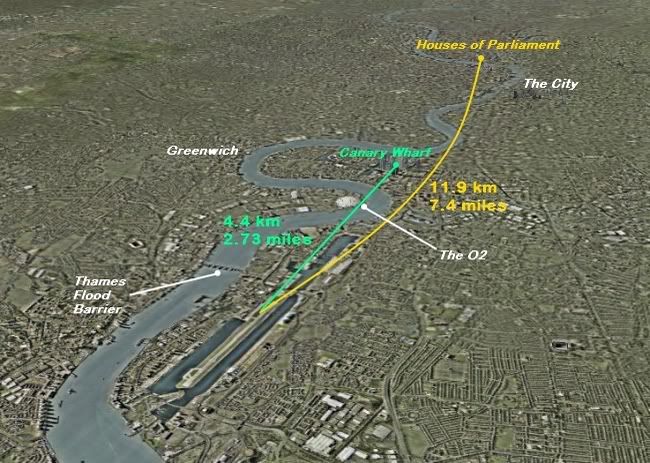 *
The approach to London City airport was as steep and scenic as I hoped. With an ILS glide slope set at 5.5 degrees (7.5 in the early years !) (3 degrees at usual airports), aircraft literally dive onto the runway, sometimes in an extreme manner, as shown in this video :
http://www.youtube.com/watch?v=TmT1MbhyBZE
.
Built between 1986 and 1987 as part of the London Docklands regeneration programme, London City Airport features a short 1508 metres runway (actually similar in size to Antwerp's
) built in the heart of a dense urban area. Apron and taxiway space is severely restricted, which poses interesting operational challenges at peak times when as many as 38 flights an hour can depart or arrive. Only specifically certified crews and aircraft are allowed to use the facility, which is closed on Saturday afternoons and Sunday mornings. Due to the close proximity of London's financial institutions, City Airport is mainly used by business travellers and this is reflected in the range of destinations offered, which are mainly European business centres although some leisure oriented routes are also operated. British Airways Airbus A318 service to New York JFK via Shannon is the longest route from the airport, as well as the largest aircraft type allowed.
On an interesting side note, a few years before the airport construction began, Captain Harry Gee from Brymon Airways landed a Dash-7 STOL aircraft at Heron Quay to demonstrate the feasability of operating aircraft in the middle of the Docklands :
http://www.lcacc.org/history/heron.WMV.
Readers interested in the history of London's City Airport will find further reading on those pages :
http://en.wikipedia.org/wiki/London_City_Airport.
http://www.lcacc.org/history/origins.html
http://www.lcacc.org/archive/index.htm
(this page contains interesting archive documents and photos).
Back to my trip, here are a few pictures I took to illustrate the airport location and its steep approach :
The Queen Elizabeth II bridge in Dartford, also known as the
Dartford Crossing
: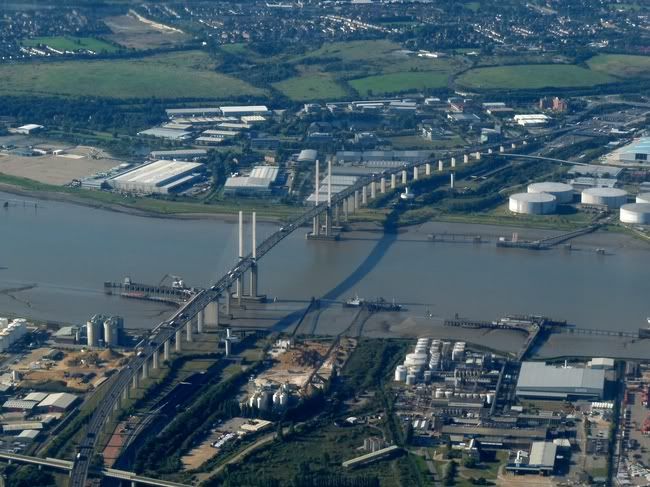 *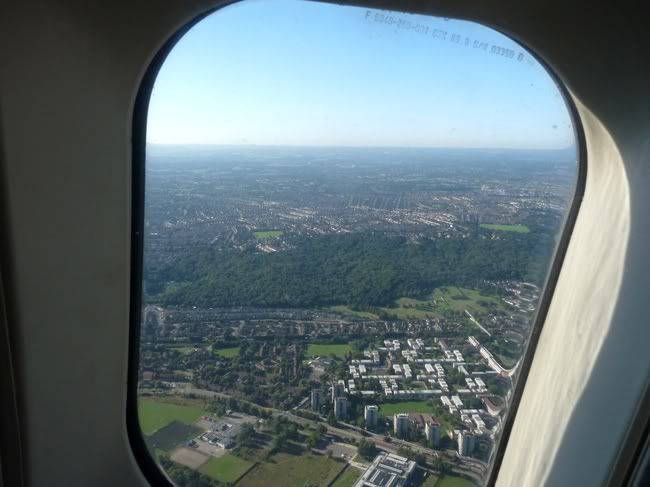 *
*
As I disembarked, I wanted to take a picture of our aircraft but was told not to by an airport agent.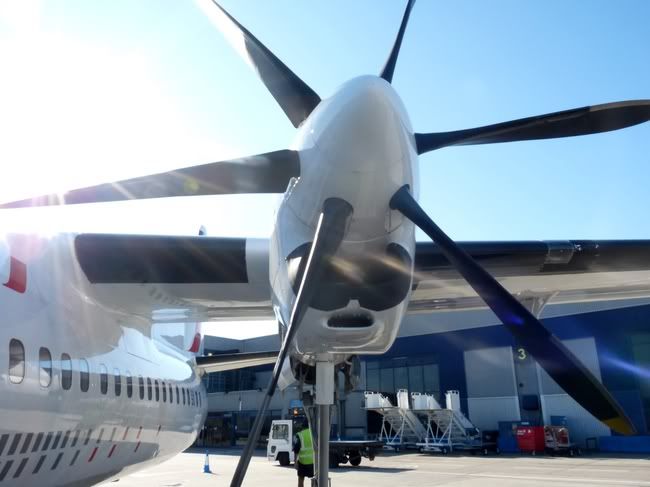 *
However, once inside the terminal building, I managed to snap this :
*
There was a relatively long queue for immigration but as it was moving fast, it only took a couple of minutes to clear it and I soon found myself inside the public hall of the airport. The hall was not especially pleasant because of works in progress, so I decided to proceed without delay to the adjacent DLR (Docklands Light Railway) station to get to central London.
Southend Airport
After one or two hours of wandering around in London, I took a tube train to Liverpool Street station where I stepped in a National Express East Anglia train to Rochford (near Southend-on-Sea). The Class 321 EMU was not in the best condition, but at least it was on time. 50 minutes later, I was at Rochford, ready for the 30 minutes walk to Southend Airport.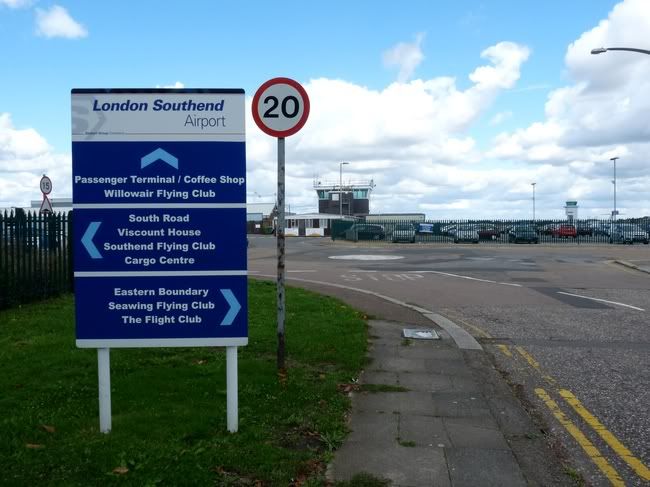 *
Once the third largest airport in the UK, Southend airport has come a long way from the sixties. The only scheduled service nowadays is FlyBe's Dash-8-400 flight to Jersey, a Saturday only seasonal route accounting for most of the modest 4000 annual passengers passing through the airport. The place however is very active with general aviation, and is an important aircraft maintenance and storage centre. Ambitious plans, including a new terminal and railway station with direct service to London, exist to turn the facility into a viable gateway to London, in time for the 2012 Olympics. However, those are conditioned to a much needed runway extension (from the current 1605 metres) which is blocked by the presence of 12th century listed church in the runway axis.
More information can be found on this Wikipedia page :
http://en.wikipedia.org/wiki/London_Southend_Airport,
as well as a full article in the September edition of
Airliner World
.
Arriving at the airport, I went to the car park from where I could take pictures (through fence) of a couple of parked and stored aircraft.
G-BXAS, an ex-BA CityFlyer RJ100 :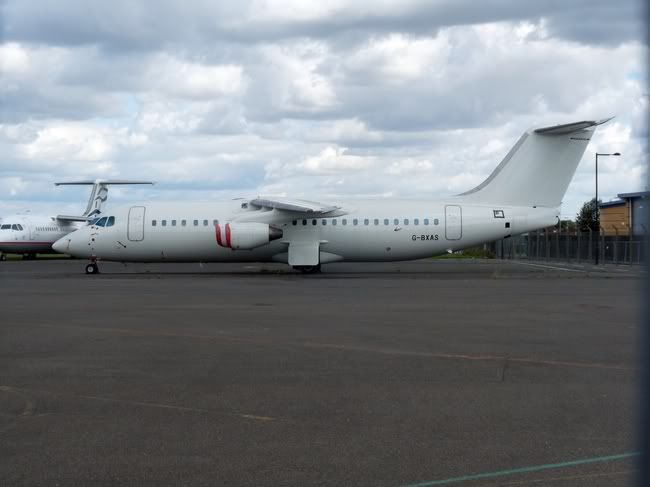 *
A former Aegean example :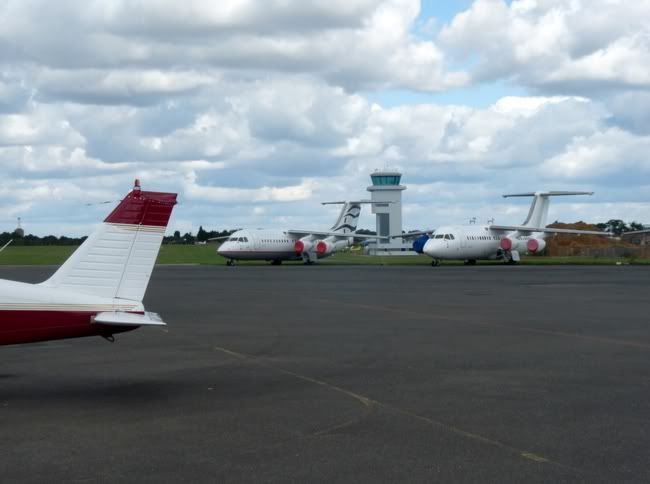 *
XL426, a preserved Avro Vulcan :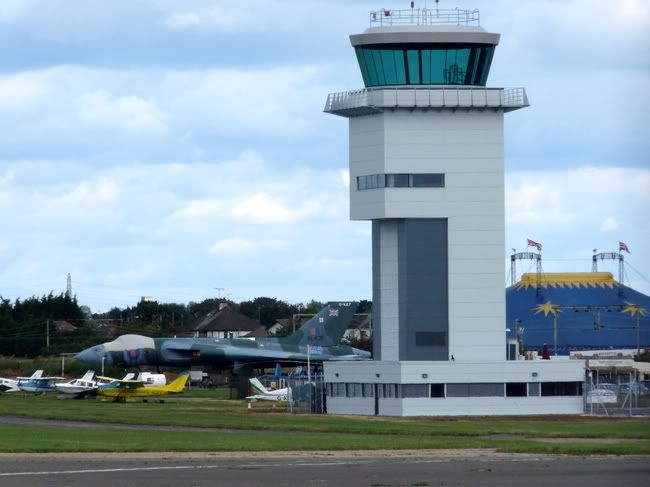 *
*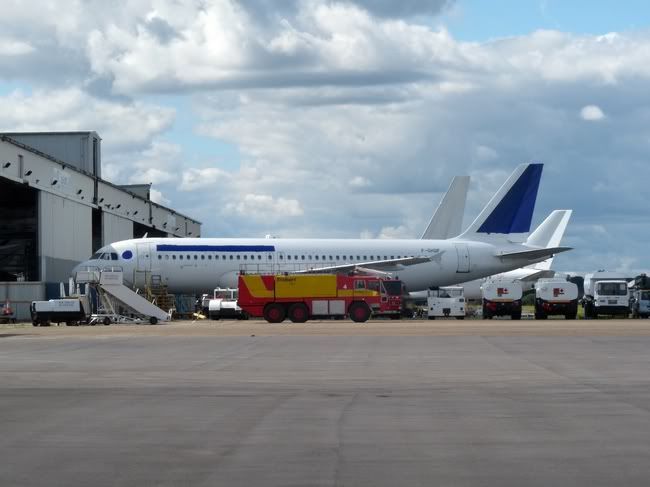 *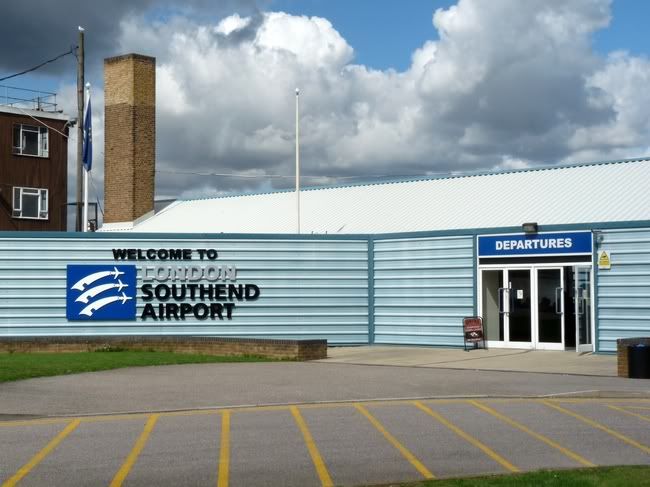 *
I then entered the tiny terminal building to get my boarding pass at one of the check-in desks, online check-in being unavailable on FlyBe's website for flights departing from Southend. The terminal had a very quiet atmosphere, with most passengers waiting at the only café. After some time, a P/A was made to direct us to security, hidden behing a wooden door with a "Departures" sign on it. It was fun to see the same staff operating the check-in desks, the security check and other duties. After that, I entered the departure lounge, basic but offering nice views of the apron and the general aviation traffic on runway 24. Most of my fellow passengers were elderly people going to Jersey for vacation.
FlyBe Dash-8-400
Exactly at the scheduled time of 13:45, our aircraft arrived from Jersey, creating the "event of the week" as all the airport staff ran around, taking visible pride in making the turnaround as efficient as possible.
*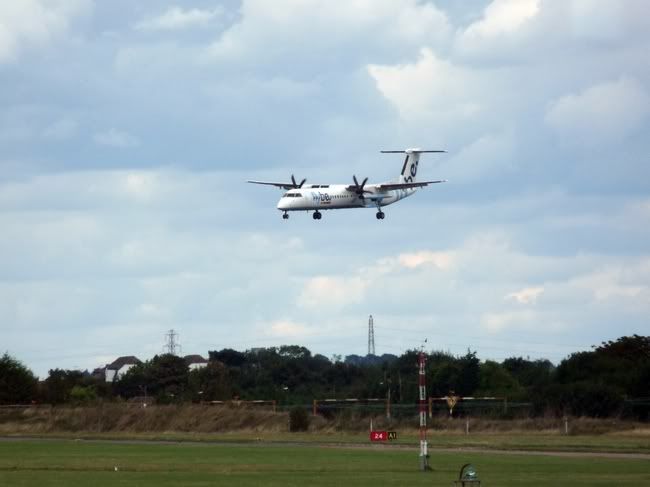 *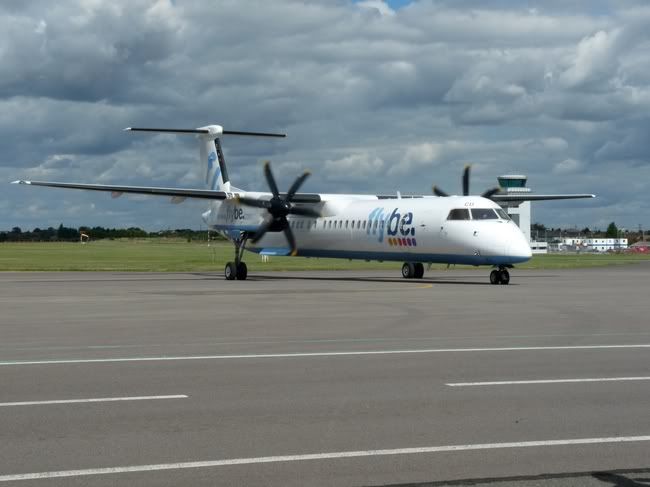 *
*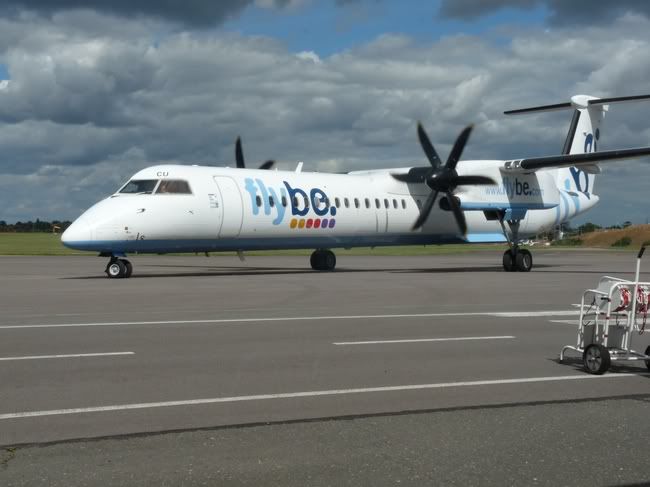 *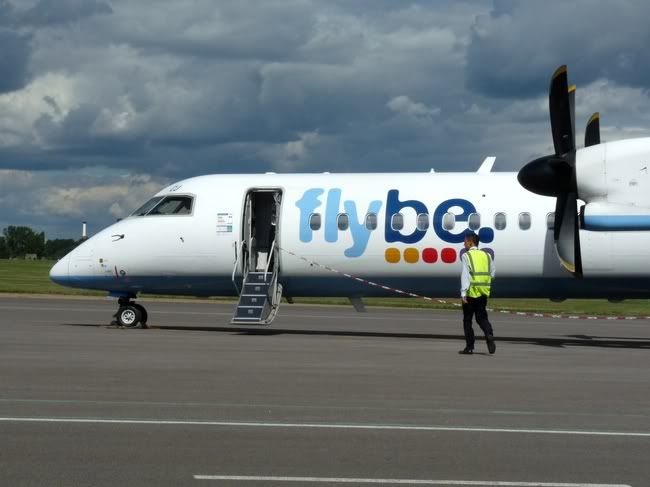 *
And indeed, boarding began less than 20 minutes after the aircraft had landed. I was greeted by a friendly and smiling female flight attendant in a beautiful red and black uniform. I took my seat 20A and was joined by a joking elderly gentleman, who later moved one row behind, leaving me with 2 seats.
*
The load was not 100% but still high. The cabin was in good condition and the seat reasonably comfortable. FlyBe's Dash-8-400 has a modern and bright cabin featuring 21 rows of 2+2 seats. The two attendants made a manual safety demo and the engines were started. The cabin remained much quieter than on the Fokker 50 I was on in the morning. We took off from runway 24 with a small delay, unfortunately most of my views were somewhat ruined by the presence of condensation and numerous scratches on my window.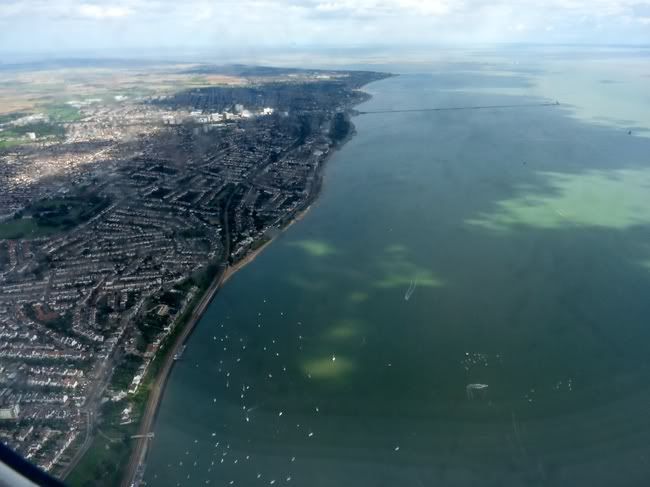 *
The in-flight service consisted of one round of cigarette sale, followed by a round of buy-on-board service. I took a can of Pepsi for 1.60 GBP, while other passengers also bought food and drinks. During the descent into Jersey, we encountered some brief but intense turbulence while crossing the cloud layer. During a particularly hard bump, I saw coffee from a fellow passenger a few rows in front of me litterally fly from its cup and hit the ceiling. The poor woman got burnt in the process, and the cabin crew tried their best after landing to help her, giving her some special burnt treatment towels I had never seen before.
We landed on Jersey's runway 27 after a flight time of 45 minutes, without further incidents.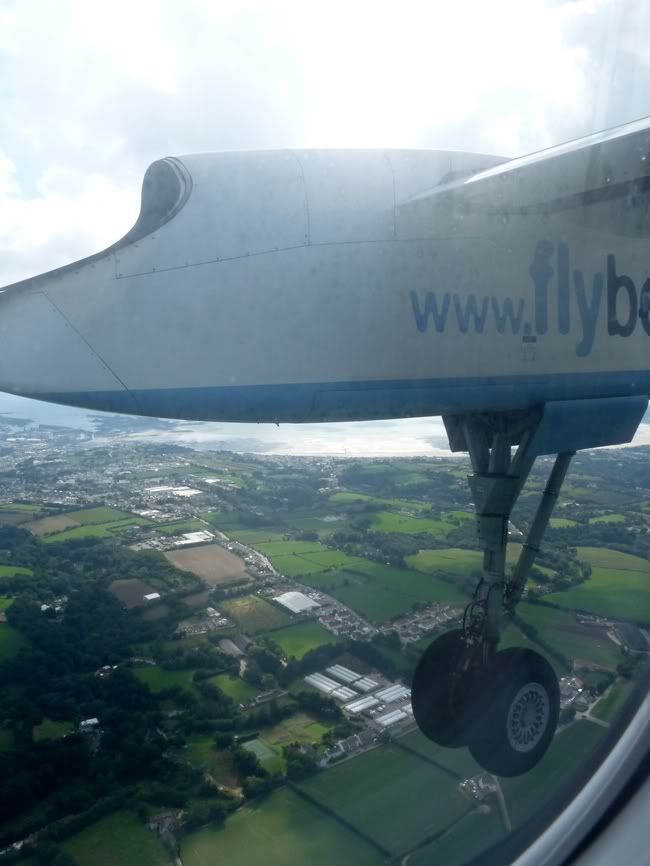 *
We taxied past an Air Berlin 737 and a couple of FlyBe machines before parking at the terminal.
Jersey airport
The island of Jersey, with the airport runway in red :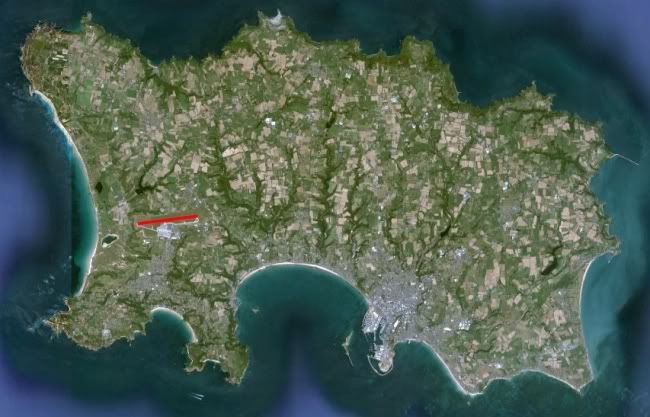 *
Once inside the terminal, I realized that it was possible to reach the departure lounge directly from the arrivals, but I opted against it as I had a lot of time before my next flight, and wanted to explore the landside area. So I followed the exit signs and found myself on the street in a nice sun and 20 degrees. The terminal complex consists in two main buildings (one for arrivals, the other for departures) forming an "L" shape. The arrivals part is the original 1937 building, while the modern looking departures part was opened in 1997.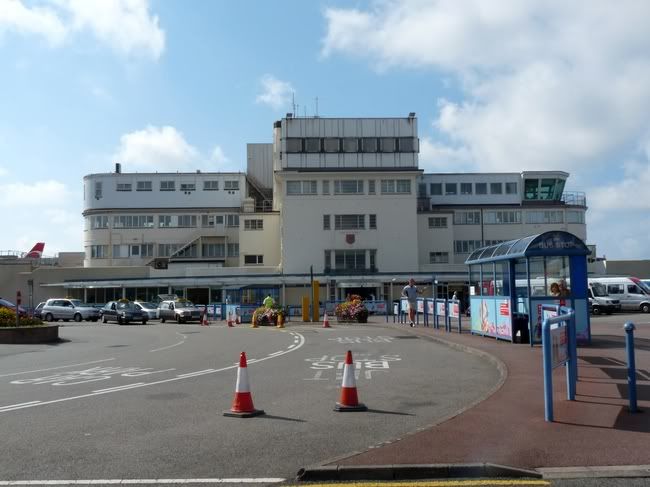 *
A 165 metres long concourse extends from the intersection of both buildings, hosting most of the gates. Half of the departure hall is a public section equipped with a Starbucks, info desk, airlines desk and check-in counters from which it is apparent that the dominant operator here is FlyBe. In the middle of the hall is the security check, and the other half is the departure lounge, featuring a surprisingly decent choice of shops and bars, as well as a seating area with a TV tuned on the BBC.
I bought some aviation magazines from the bookstore and had a couple of beers while reading them, until our flight was called for boarding at gate 7. I went to the gate where an agent directed me to the Blue Islands lounge, a complimentary service available to all Blue Islands customers. The lounge was equipped with comfortable seats, TVs and complimentary non-alcoholic drinks were on offer, along with coffee and newspapers. After some waiting, a Blue Islands agent came into the lounge, counted the passengers and, seeing that everyone was there, asked us to follow him to the aircraft.
Blue Islands Jetstream 32
As I have written in the introduction, I very much hoped to get on the Jetstream, a type I had never flown before, and more difficult to get than an ATR. The day before the flight, while checking in online, I realized with disappointment that the seat map displayed was one of an ATR-42. I then cancelled the check in process and went to the online booking modification tool to try to change my booking to a later flight (actually, the last Blue Islands flight of the day). The system was willing to let me change for only a 10 GBP fare difference, but there was no indication of the aircraft type. I decided to try my luck and booked that flight. Then I immediately went back to online check-in and bingo ! The seat map was now that of a Jetstream.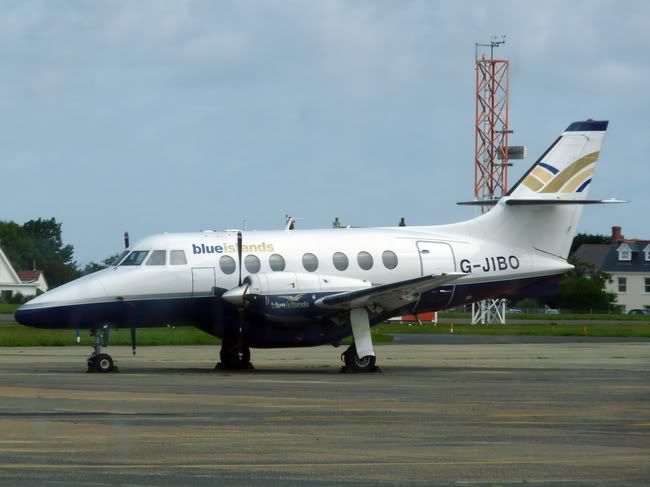 *
As I walked to G-JIBO, I began to feel some excitement... I mean, this machine is so different from your everyday 737 or A320 ! I climbed the stairs and sat on the lone seat 7A at the very back of the small cabin.
The British Aerospace Jetstream 32 is part of the successful Jetstream family, built between 1988 and 1993, powered by two Allied Signal TPE 331 turboprops, featuring 19 seats (6 rows of 1+2 plus my lone seat 7A...), a pressurised fuselage, and a small lavatory and luggage hold at the rear or the cabin.
The whole experience was very cool, with the first officer welcoming us on board, explaining the safety features, and making a lot of jokes all along his speech.
The first officer during his speech :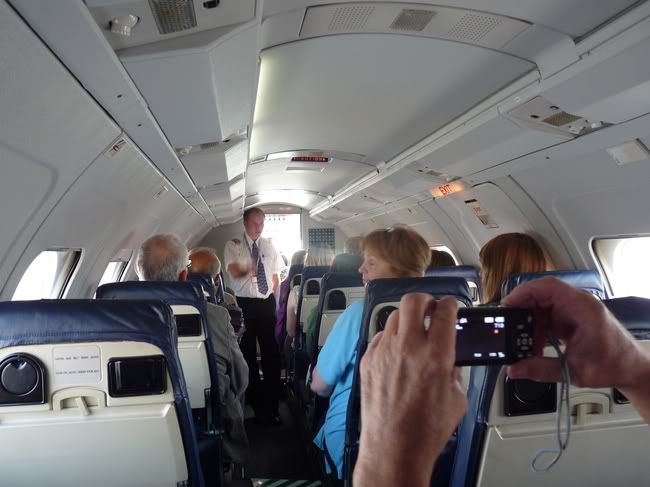 *
Also, as there was no flight deck door, it was very cool to watch the pilots in action and to have a forward view in addition to the lateral windows.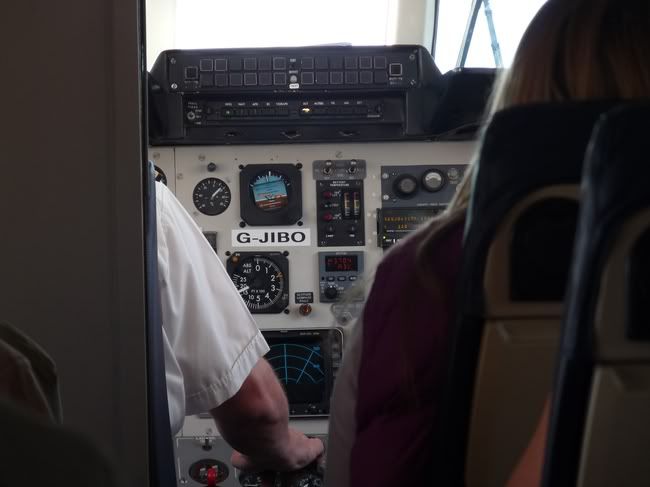 *
With a width of 6 ft 1 in, and a max height of 5 ft 11 in, the cabin does not feel too claustrophobic, and is actually larger than that of a Beech 1900D or a Fairchild Metro.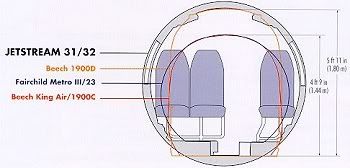 *
A caution sign reminds inattentive passengers that a wing strut passes through the cabin floor. The 31" seat pitch is adequate for the intended flights. Of course, there is no flight attendant on this aircraft, but it is not required on a 15 minutes flight with a maximum seating capacity of 19...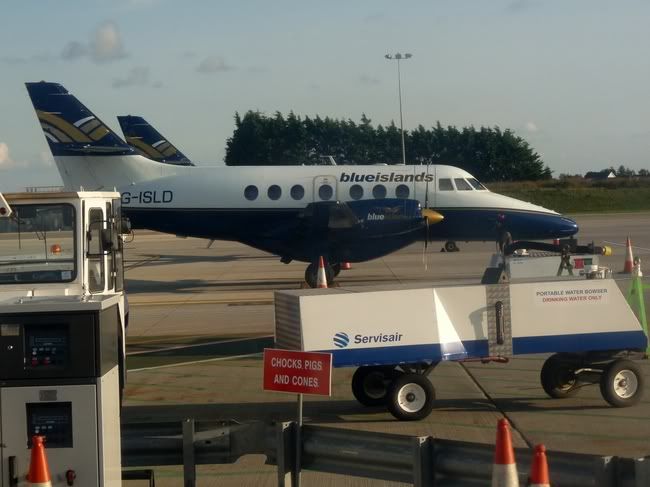 *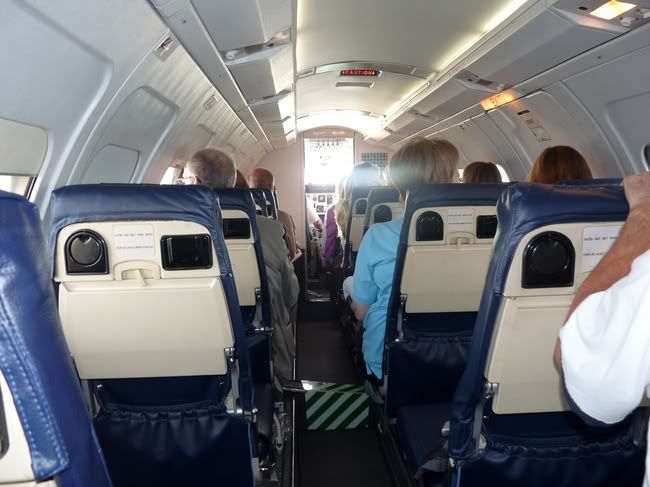 *
*
The lugage compartment near the rear door.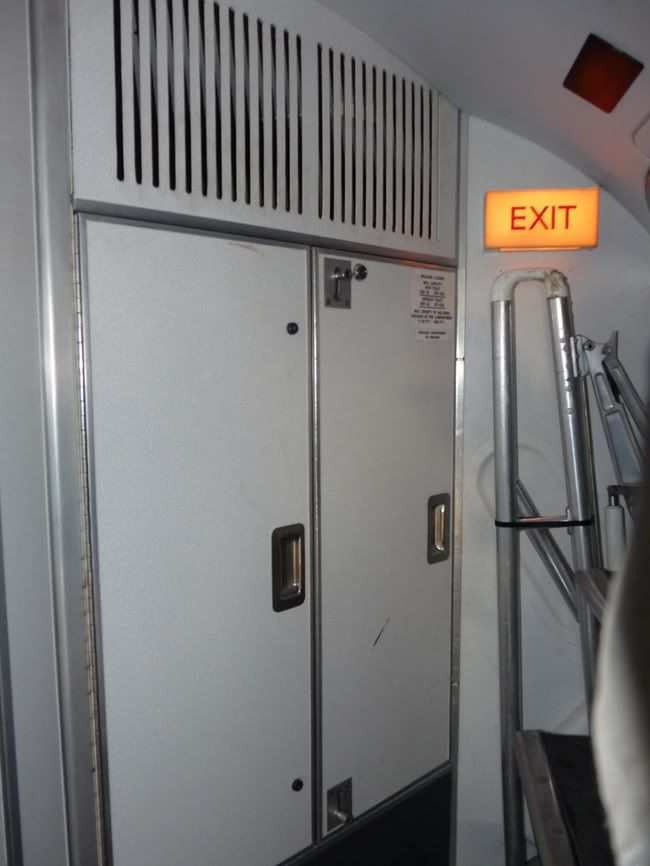 *
Video of the taxi :
http://www.youtube.com/watch?v=Tfdrj5st9oU
The load factor for this short interisland hop was 79% (Blue Islands operate up to 12 daily rotations between both islands with aircraft up to the ATR-42). After engine start, the cabin became quite noisy, even more so when take-off power was applied, but this was certainly part of the charm of flying the Jetstream. The low altitude offered fantastic views of Jersey and Guernsey, and I wished the flight would have lasted a bit longer (the pilot told us he once completed the flight in 7 minutes...).
Between the islands :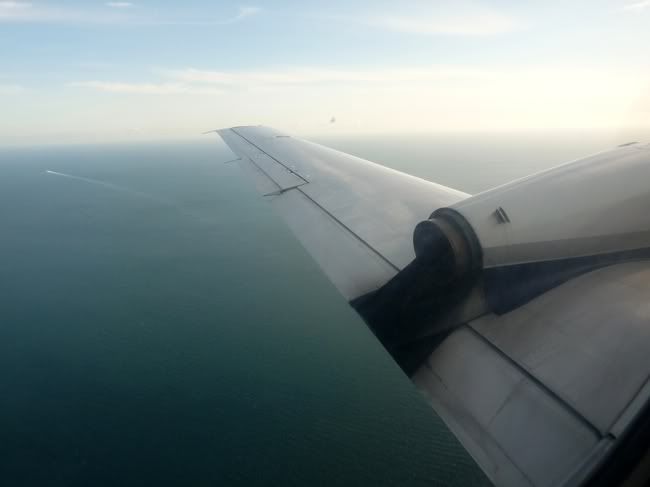 *
Same with gear down :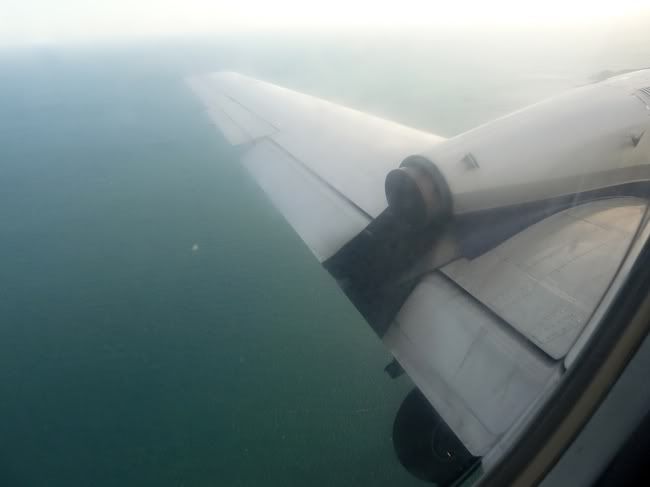 *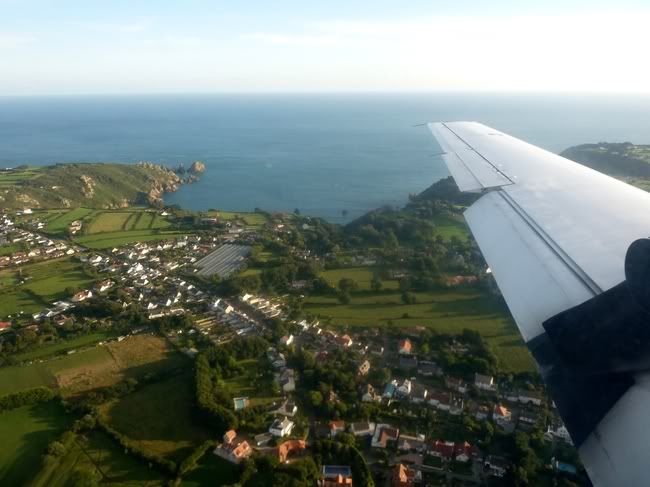 *
Anyway, after a smooth landing and short taxi, we disembarked and were bused to Guernsey's terminal building in a Blue Islands branded bus.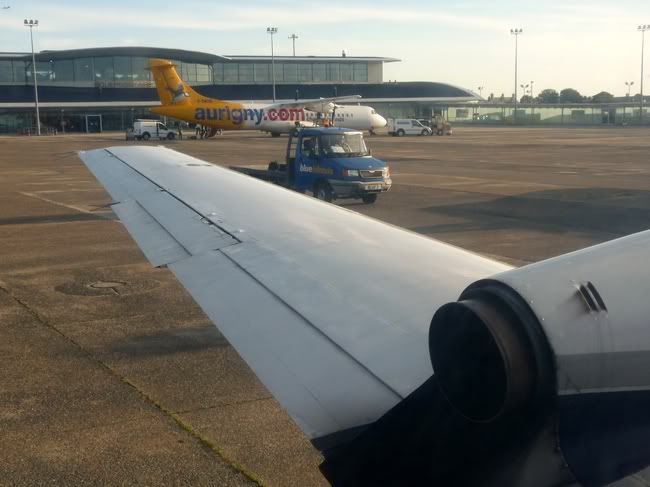 *
The airport was very quiet, with only one or two general aviation planes taking off, and a couple of Aurigny (Trislanders and ATR) and Blue Islands (Trislanders and Jetstreams) parked.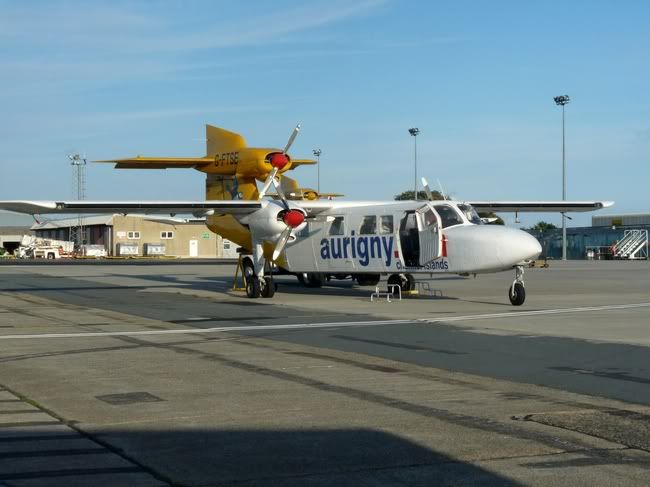 *
The arrivals part of the terminal was basic but modern, with two baggage reclaim belts.
*
As I prepared to exit the reclaim area, I was randomly selected by a police (or customs ?) officer, who asked me a couple of questions about my trip and its purpose. He was amazed when I explained that I was coming to the island just to fly a Trislander, and that I had come via Antwerp, Southend and Jersey just because I wanted to try some flights which were exotic to me
. Anyway, he was very friendly with me and let me go without any trouble, after asking me where I was planning to stay.
Guernsey
The island of Guernsey, with the airport runway in red :
*
At that point, I was becoming tired of the long day, but I decided to walk to my hotel instead of taking a taxi, as I like to discover things while walking. However, I realized that the center of the island is a real labyrinth of small country roads with no signs anywhere. I was really glad that I had my handheld GPS device with me, and that I had taken the precaution to mark the location of my hotel, otherwise I would have had a hard time finding it.
Anyway, 45 minutes later, I was in the "Auberge du Val", a charming address in the middle of the countryside, where I was welcomed by the very friendly owner, Mr Fernando.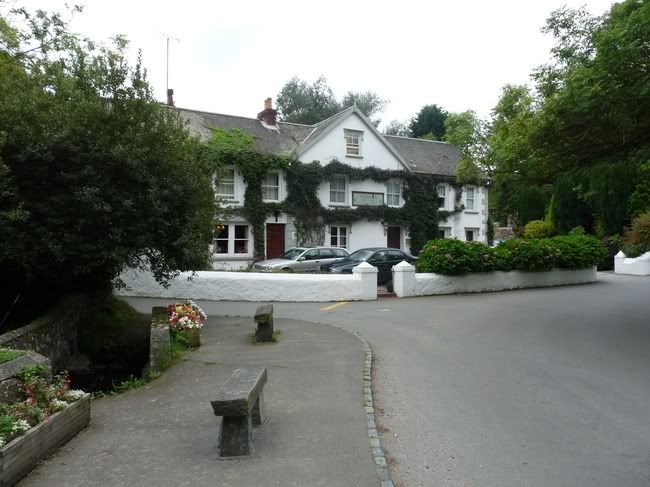 *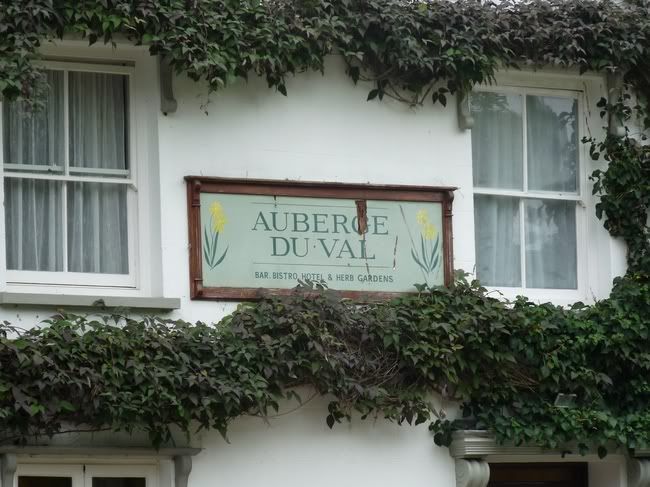 *
Although the small restaurant was fully booked, Fernando made his best to accomodate me and I had one of the best steaks of my life, accompanied by some good red wine. After that, I went to the quiet lounge to taste a local beer and read, until I got really tired and went to bed.
*
The view from my room :
*
The next morning, after the excellent breakfast, I left Fernando and his nice hotel and, as it was earlier than planned, I decided to explore the surroundings before going to the airport. It was really nice to walk through the lovely countryside in the fresh morning air.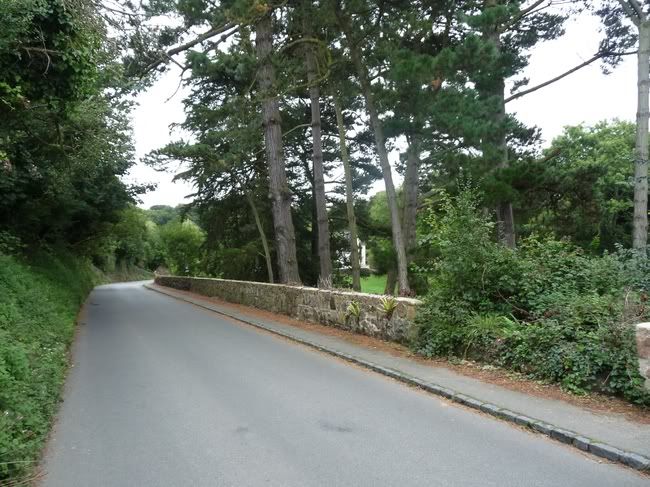 *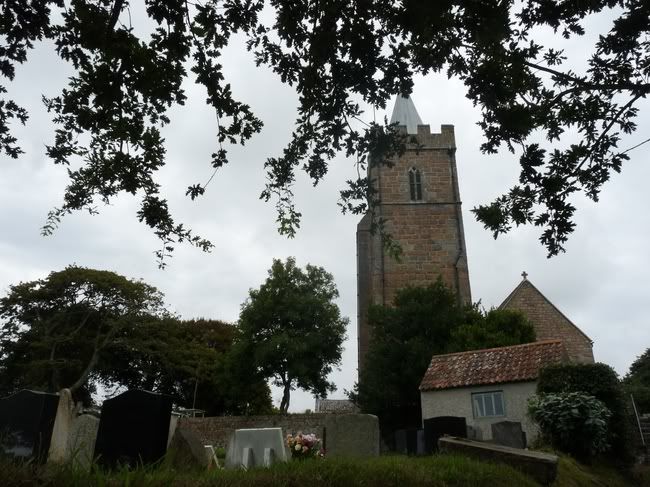 *
*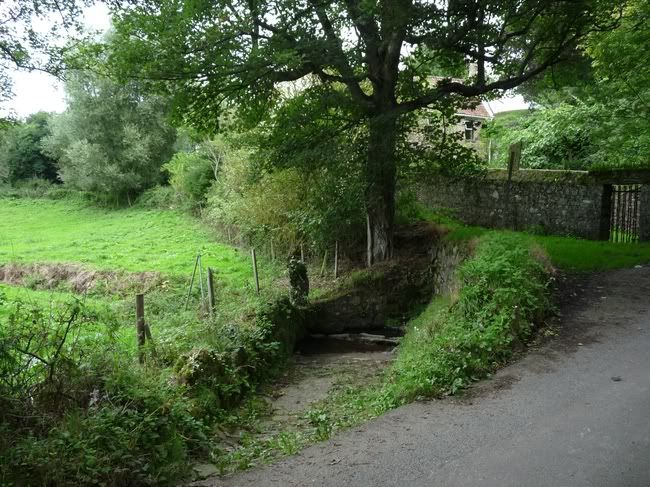 *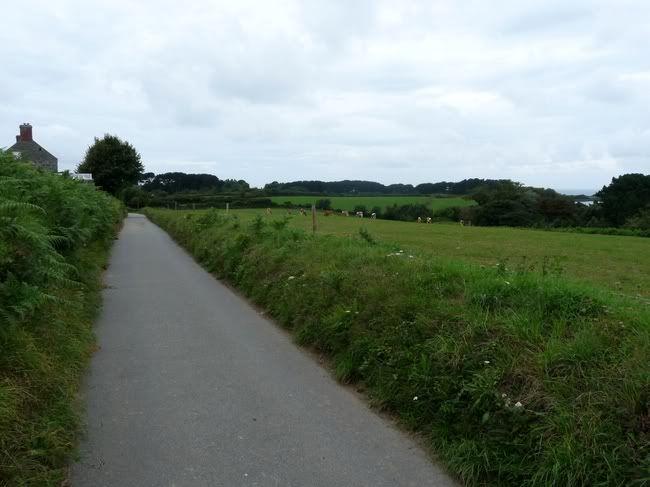 *
*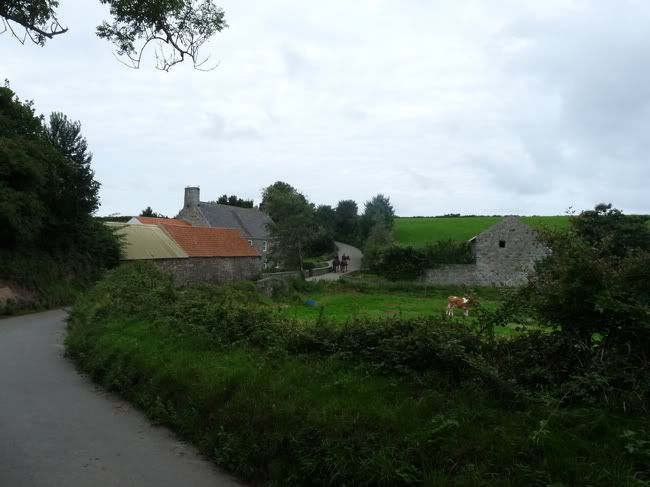 *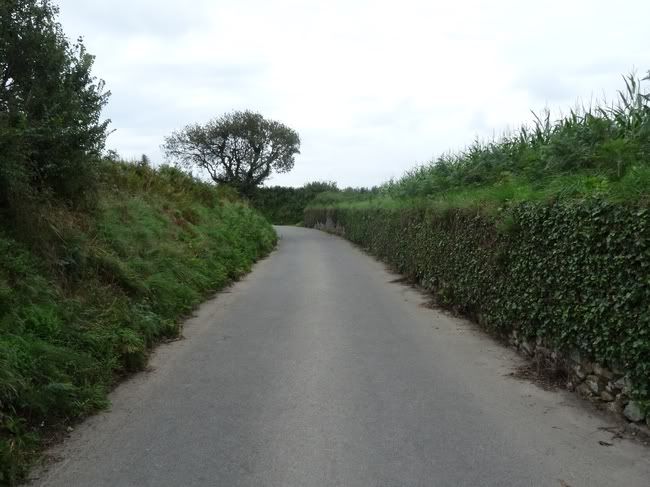 *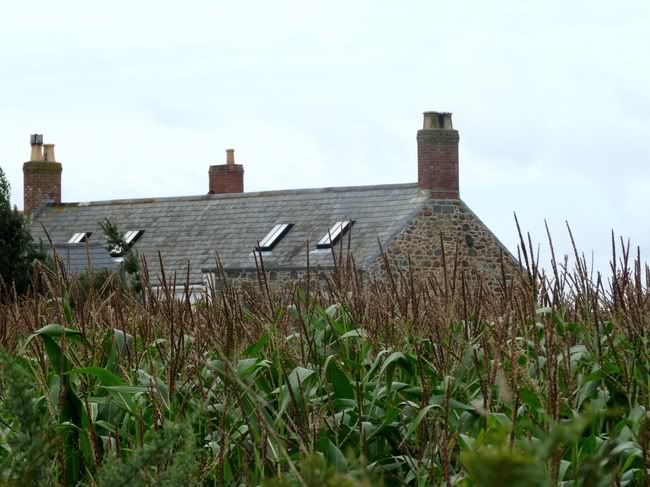 *
I then approached the airport from the North and walked all around the perimeter fence, discovering some perfect spotting locations.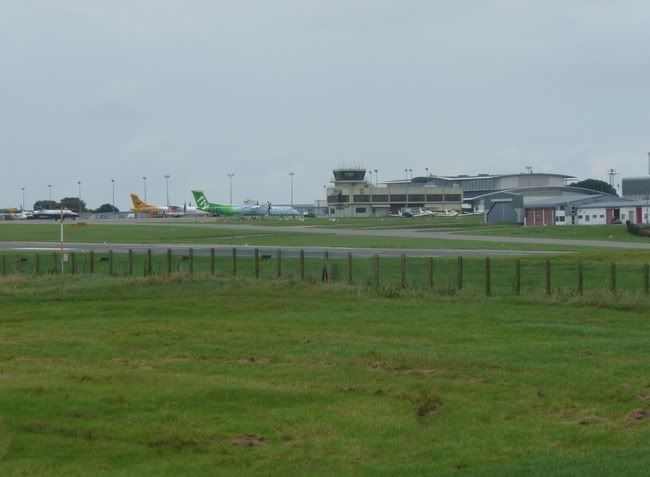 *
*
An Aurigny ATR arriving :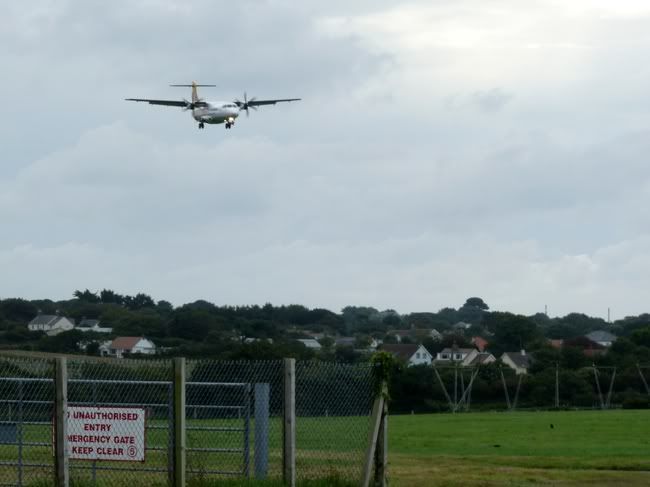 *
This is what you get when you press the shutter a few tenths of second too late :
*
G-JOEY in the back... I would be flying on it in a hour or two :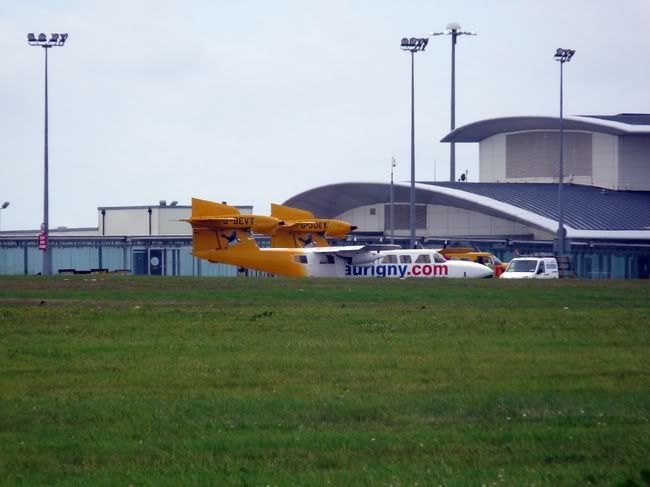 *
Finally, I arrived in the terminal 1 hour and 30 minutes after leaving the hotel.
"Joey" flight on the Aurigny Trislander
I went to the Aurigny desk to ask the agent whether there was something special to know about my special Joey flight, to which she responded that the pilot would give me a special personalized souvenir certificate.
Look...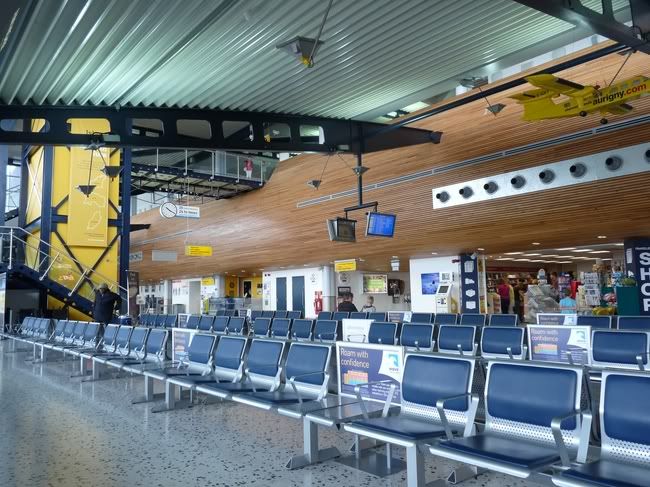 *
... that's G-JOEY hanging from the ceiling of the public area !
*
I then proceeded through security without problems and entered the departure lounge. Guernsey is a small and quiet airport, but the terminal is really modern (opened in 2004) and has all the necessary amenities including a duty free shop and a restaurant. The departure lounge, located at ground level, offers correct views of the apron, with aircraft parked very close to the building, and is equipped with 5 departure gates. There is plenty of seats and the general atmosphere is relaxed.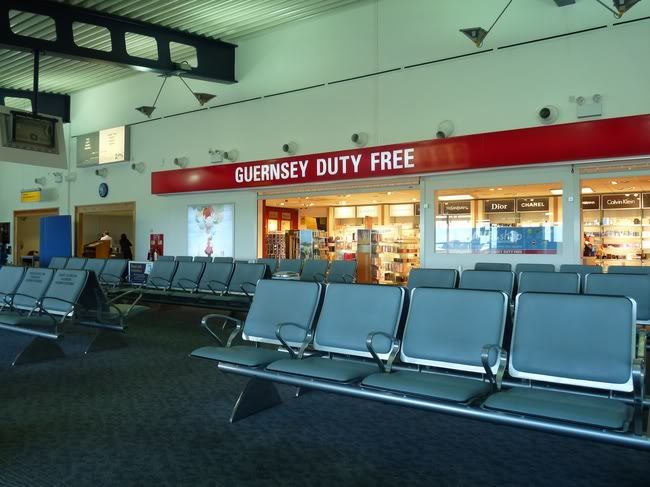 *
Two lounges, one for Blue Islands passengers, similar to the one I was in in Jersey, the other for FlyBe's premimum passengers, are installed at the end of the terminal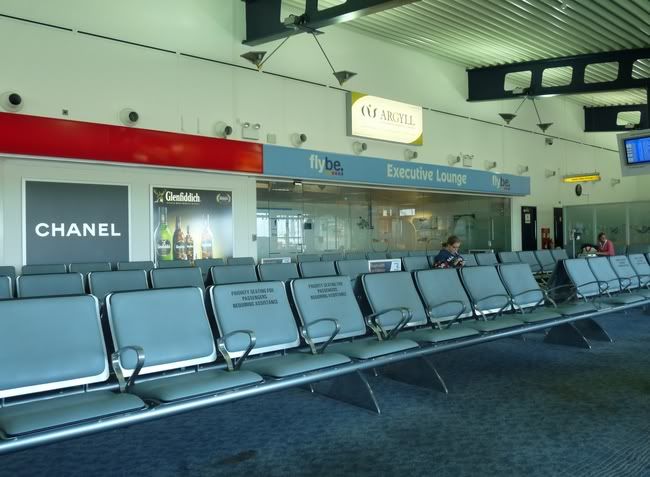 *
Owned by the States of Guernsey since 2003, but with a history going back to 1968, Aurigny Air Services is the "national" airline of Guernsey. Joey is the nickname given to Aurigny's Trislanders in general, but the particular G-JOEY has become a local star after being featured in a set of children books by Peter Seabourne. It has since been decorated with a big smile, a red nose and a pair of funny eyes.
The Britten-Norman Trislander is a 18 seats, high-wing aircraft powered by three Avco Lycoming O-540 piston engines, with exceptional low speed handling characteristics and economical operating costs, capable of operating from unprepared fields.
I recommend reading the September issue of
Airliner World
, as it features a complete article about the Trislander and its twin-engined brother, the Islander.
When boarding was called, I realized that all other passengers (the flight was full) were locals from Guernsey, mainly families with children.
G-BEVT, another Aurigny Trislander :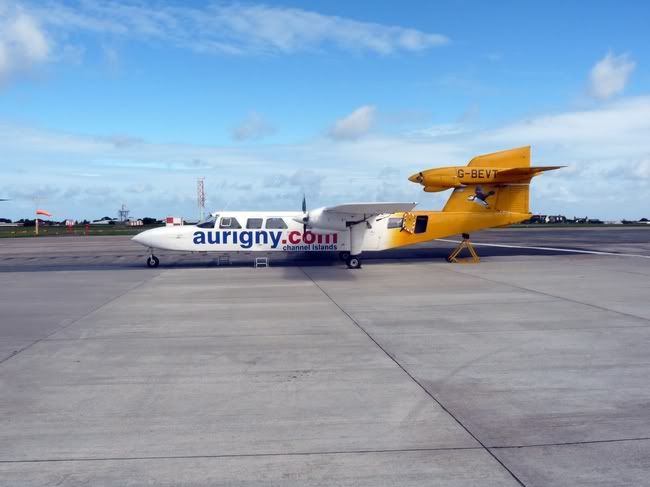 *
G-JOEY :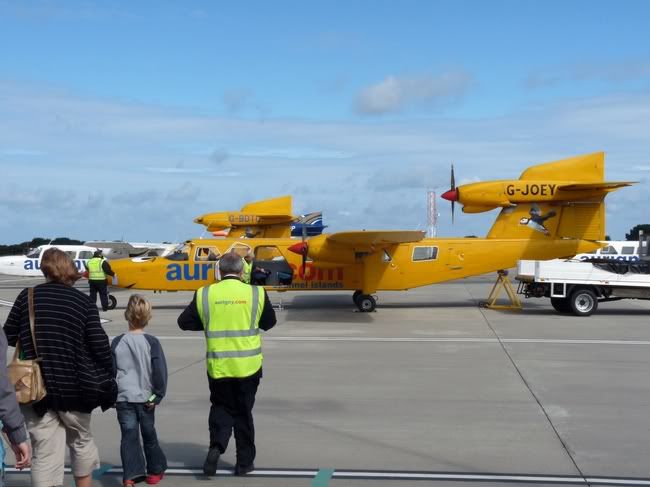 *
The boarding process was a bit special, as the aircraft has no aisle, but instead a door for every two rows of seats (alternating on each side of the fuselage). A dispatcher assigned a seat to everyone, in a specific order probably for balance reasons. A kid was even assigned the seat beside the pilot
.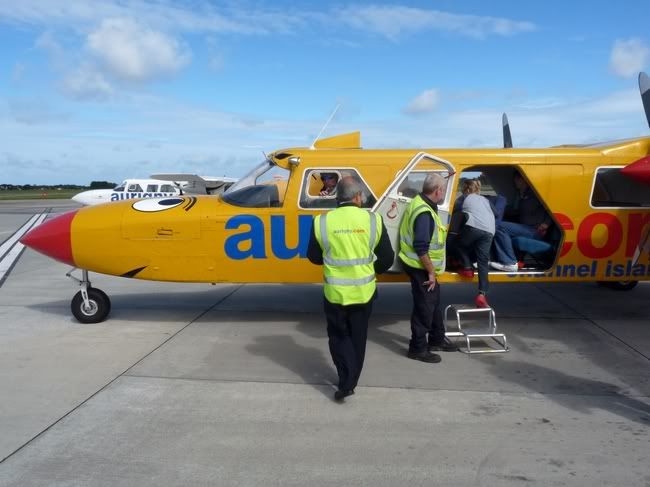 *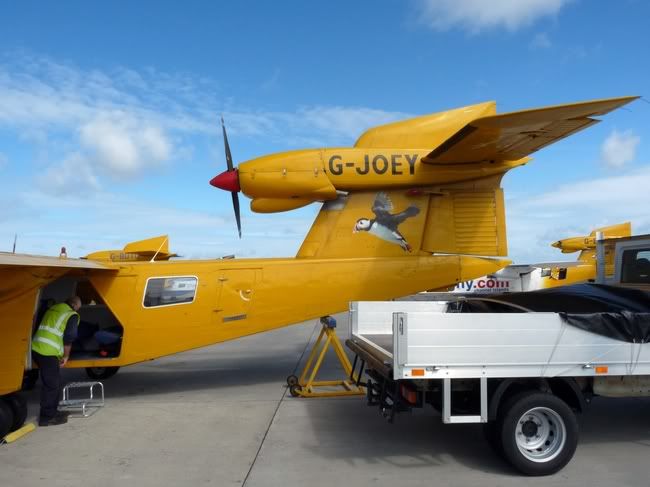 *
The cabin was long and narrow, but large windows ensured a relatively airy feeling. When everyone was onboard, the pilot welcomed us and gave a few details about the flight, basically a tour around the island of Guernsey.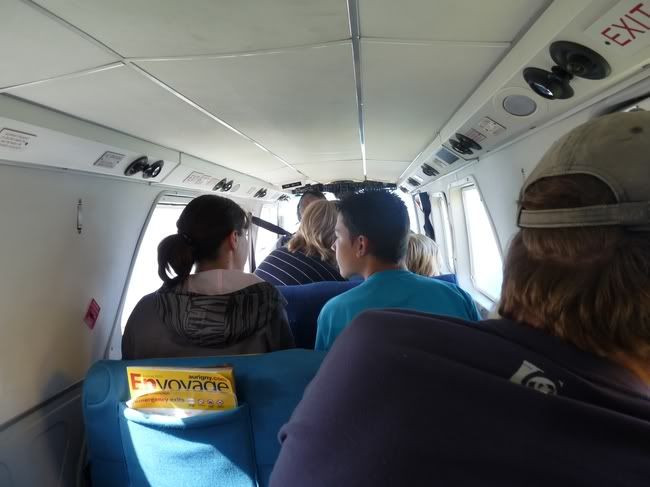 *
*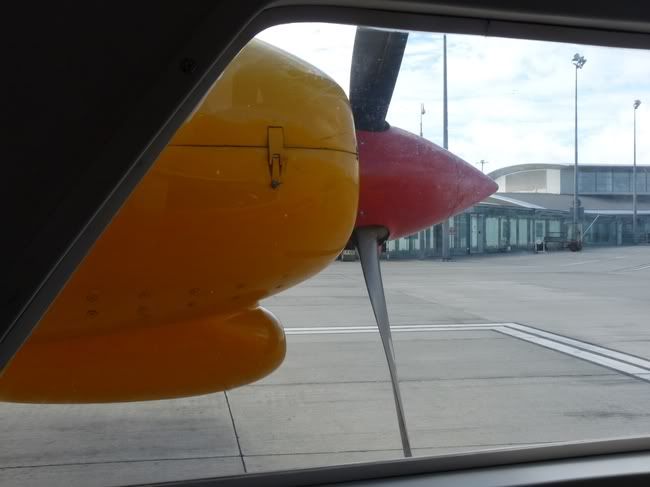 *
Engines were started and it became difficult to speak inside the cabin because of the noise, but it was nice to hear the sound of piston engines. We taxied to runway 27, applied full throttle and... wow ! What a feeling ! The thing was really floating in the air, swinging in the wind, agile like a bird. A true aviation experience.
Video of the take-off :
http://www.youtube.com/watch?v=4-aoGovAW4A
We were lucky as the sun had decided to break the clouds, leaving us with breathtaking landscapes.
Video taken during the flight :
http://www.youtube.com/watch?v=F2V5anXxMK4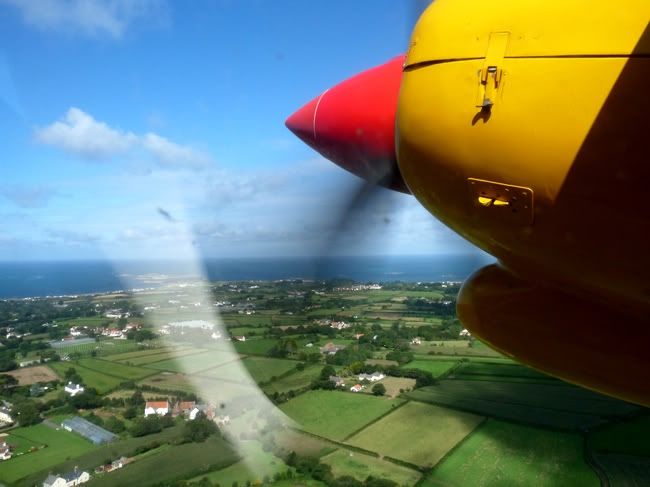 *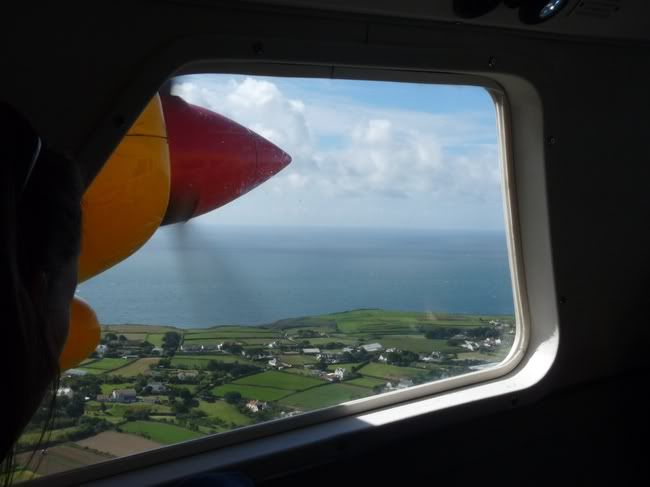 *
*
*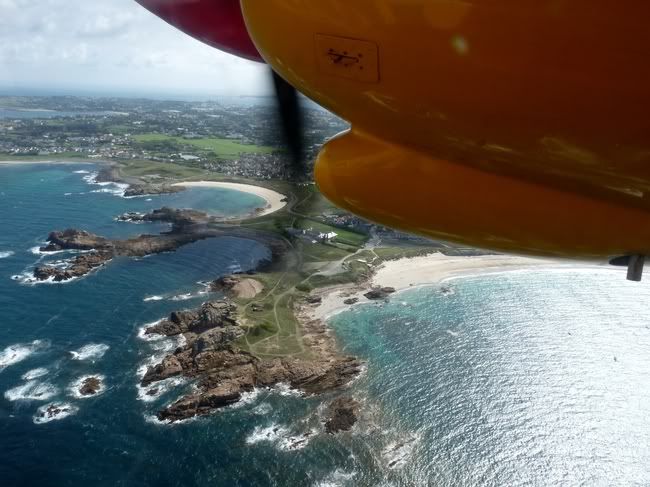 *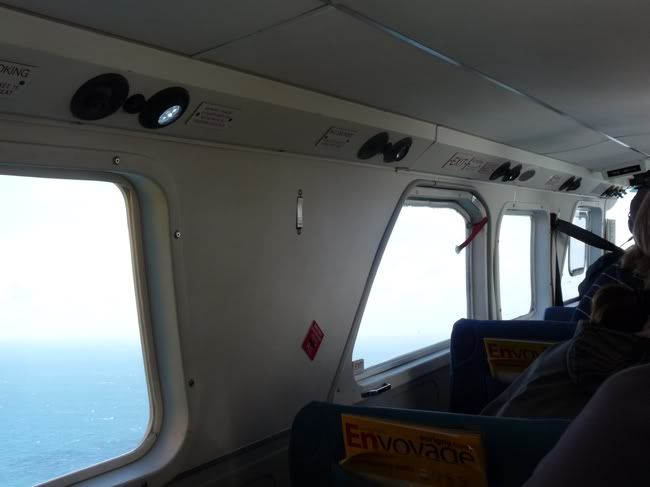 *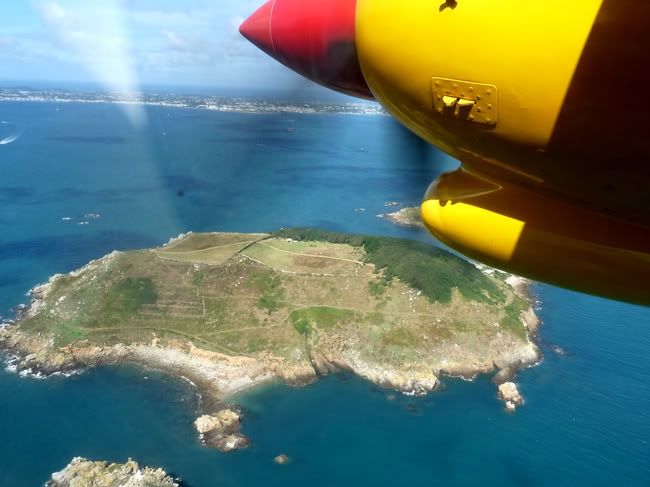 *
*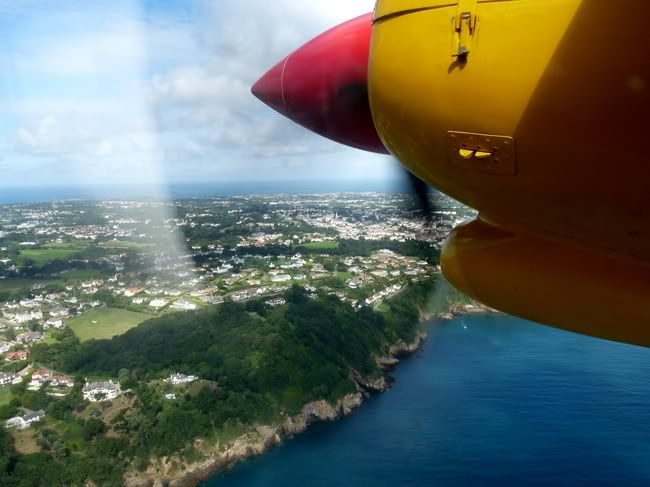 *
We flew for a good 15 minutes around Guernsey and the numerous surrounding rocks, before landing back on runway 27. After disembarking, we received the promised certificate, and I snapped a picture of the instrument panel, while the pilot could not believe his eyes as I told him I had come from Belgium just to enjoy those 15 minutes of flight...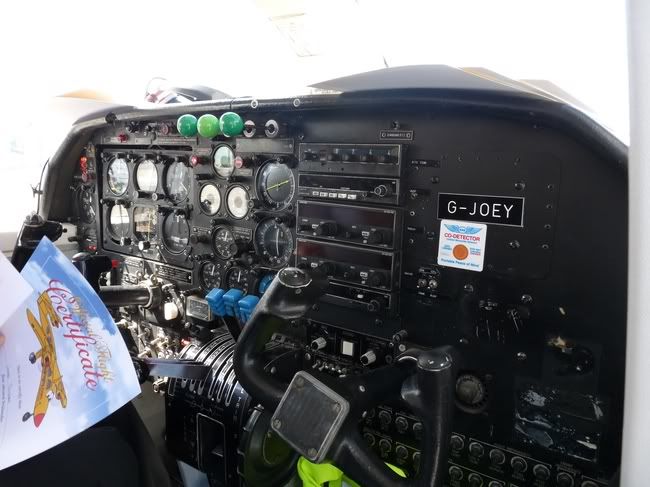 *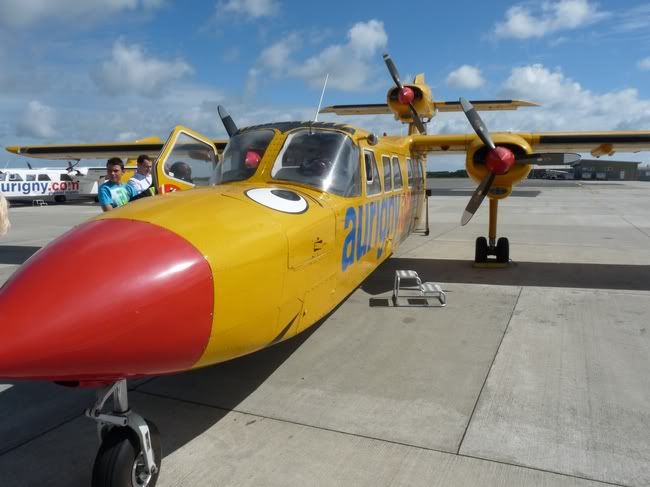 *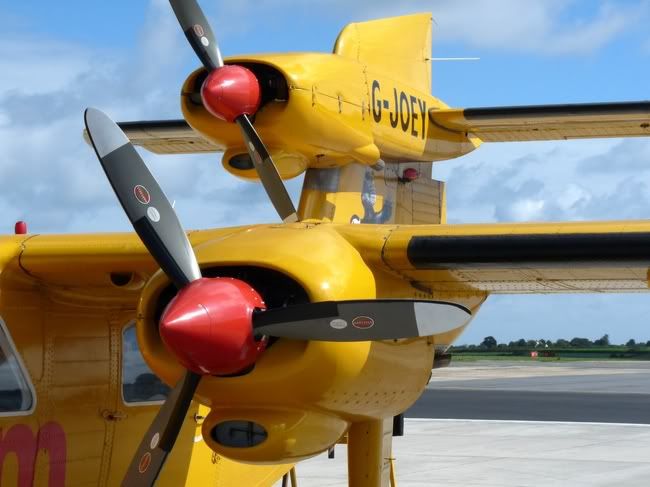 *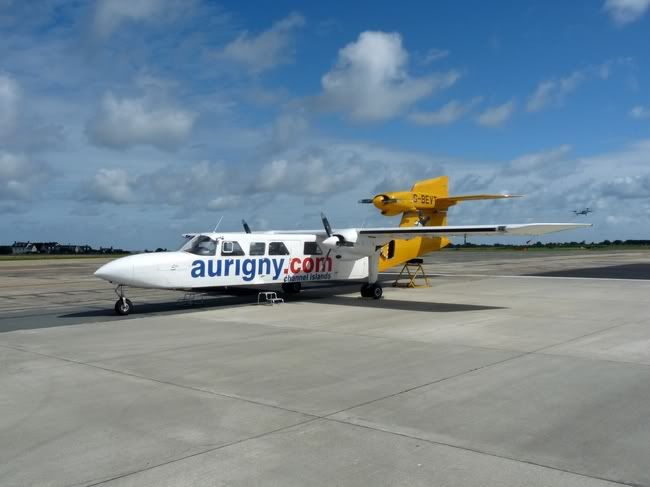 *
Back to Belgium
After this excellent experience, I went back into the terminal, had to pass security again, and waited for my FlyBe flight to Gatwick.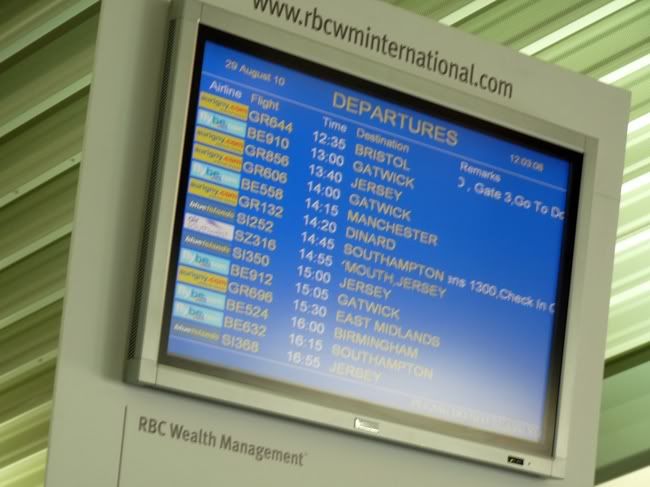 *
I won't write much about it as it was the same as yesterday's SEN-JER flight, except that I was lucky enough to get on G-JEDP, which has a special
"Low cost, but not at any cost"
livery.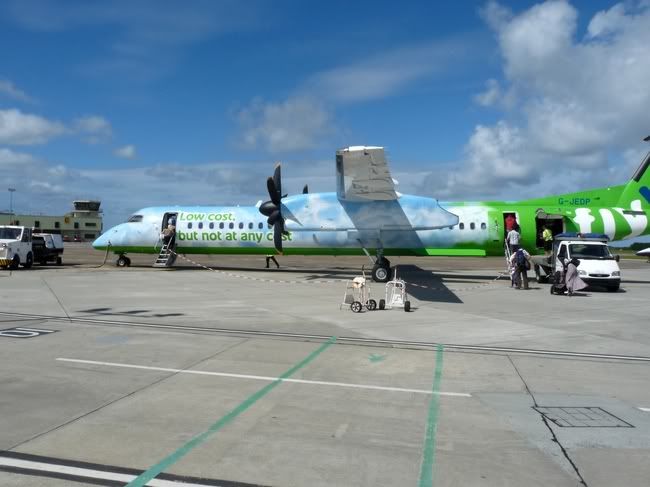 *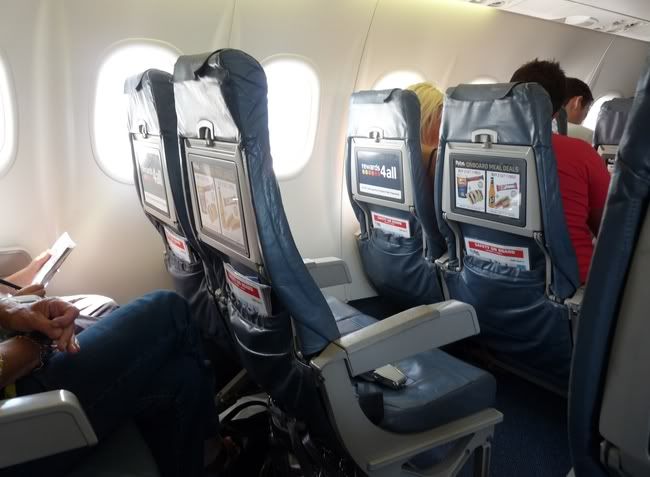 *
We were treated with beautiful views of Guernsey, and after 40 minutes of flying, we touched down on Gatwick's runway 26L. EasyJet, Ryanair and FlyBe apart, interesting traffic present at the airport consisted in a Virgin Atlantic 744 and a Belavia 737.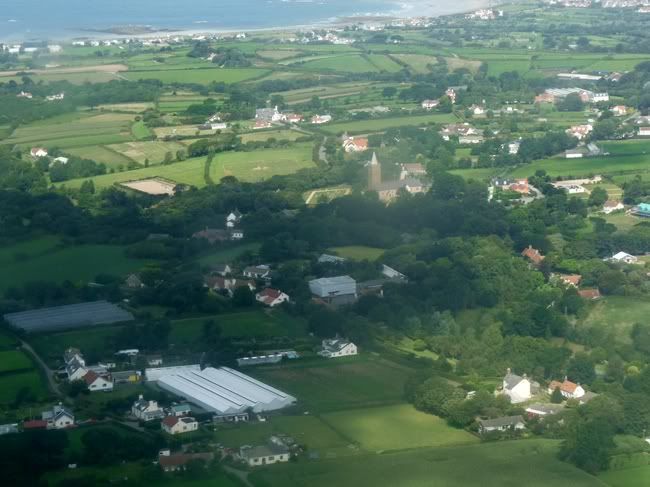 *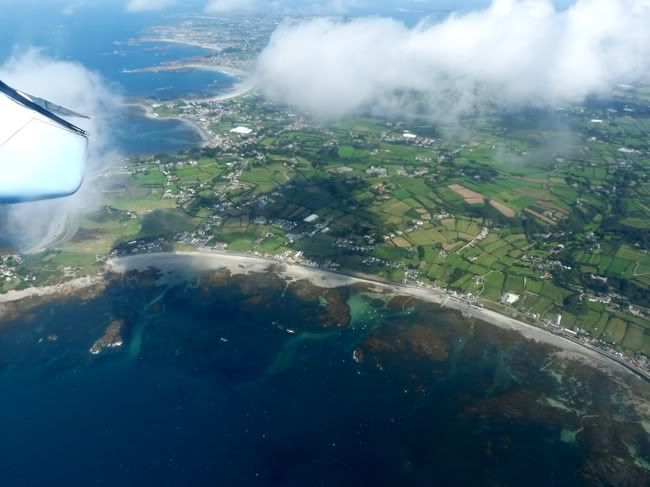 *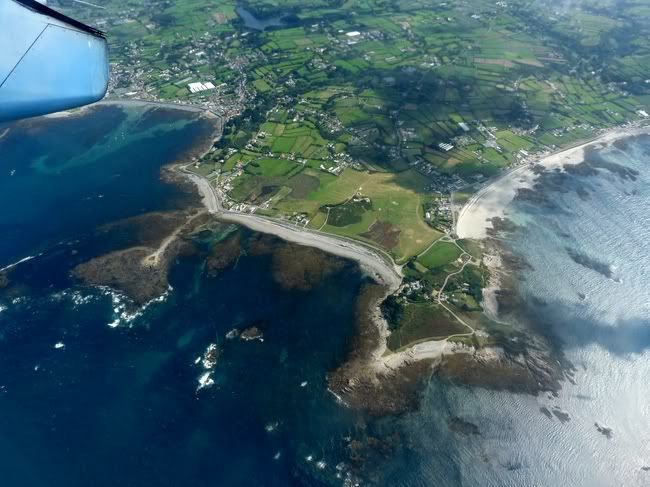 *
Overview of Guernsey airport after departure :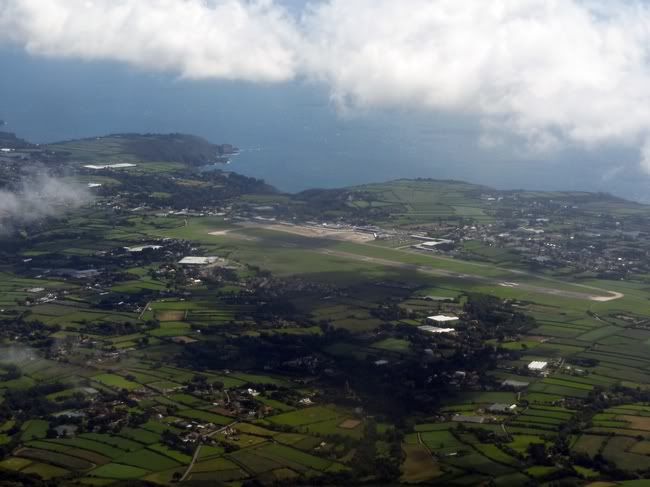 *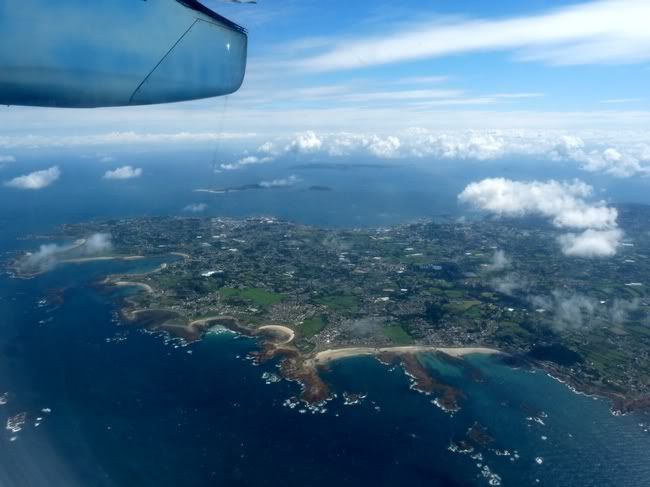 *
*
The former RAF base "Ford" near Littlehampton :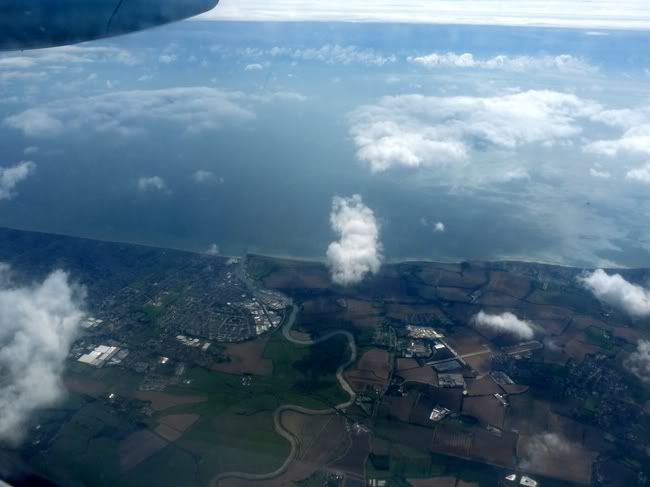 *
The M23 near Gatwick :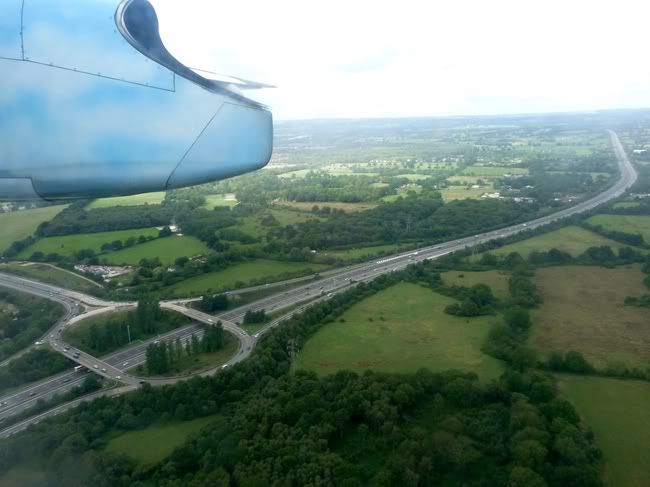 *
We would be parked at this concourse in a few minutes :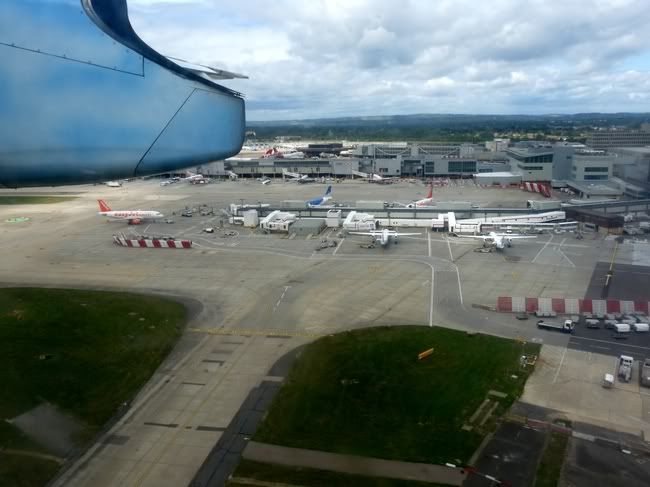 *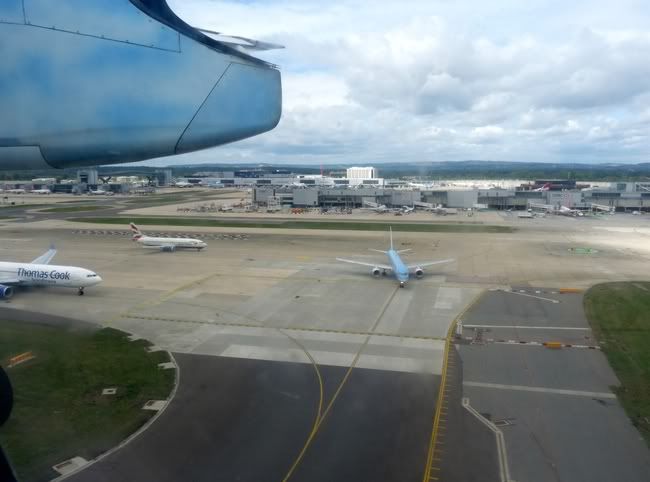 *
We parked at the South terminal. I walked to the immigration hall where long queues were being processed, but fortunately, as I was coming from the Channel Islands, I could skip all the waiting thanks to a dedicated lane where I just had to hand over my boarding pass.
As I was hungry, I stopped at Frankie & Benny's, a New York Italian themed restaurant, to have a steak. I'm sorry to say that the steak was really not good, especially when compared to what I had in Guernsey last night. At least my stomach was filled, so I went to the airport train station and hopped on a Southern train to London Victoria. The Class 377 12 carriage train was much better inside than what I had the day before, going to Southend.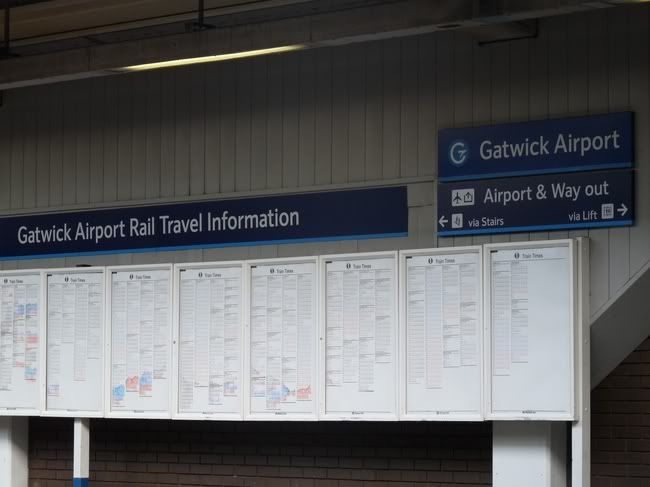 *
Once in central London, I walked all the way between Victoria and Charing Cross, enjoying the sight of tourists taking pictures of famous landmarks such as Westminster Abbey and the Houses of Parliament. I then took a tube train then the DLR and stepped out at London City Airport.
I used one of the numerous self check-in machines to print my boarding pass without hassle, and proceeded immediately through security as there was not much to do in the public area of the terminal.
The departure lounge had a somewhat different feeling, something I would call more casual. The shops and bars were a little more upscale than at other airports, and even the passengers looked more casually dressed. I took a seat beside a window which offered me views towards the runway, and watched a Cimber Air ATR-42 arrive and depart to Copenhagen with a very light load (only a handful of passengers !).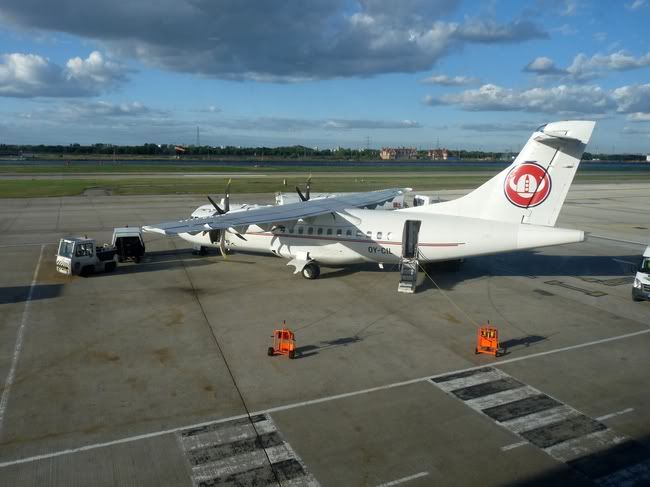 *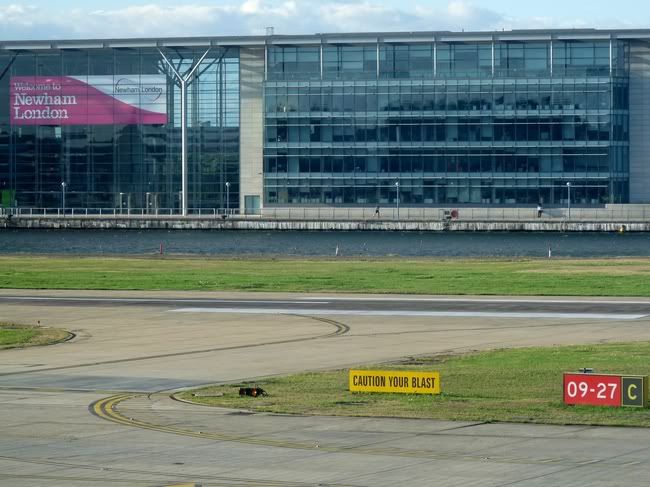 *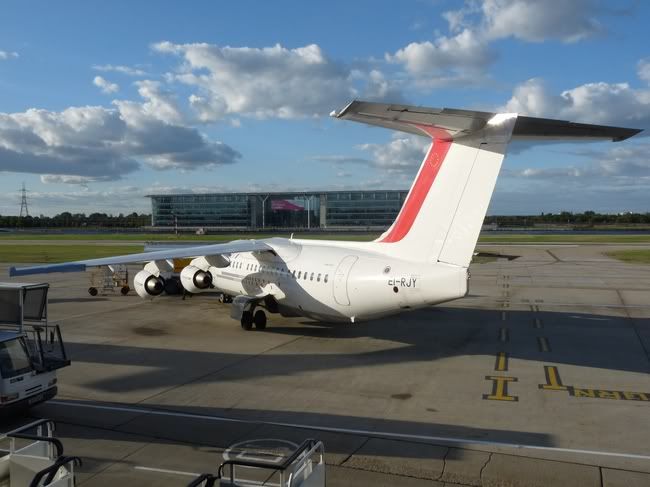 *
After some time, boarding for my flight to Antwerp was called. I made the long walk to the very end of the boarding concourse, where I had to wait for a couple of minutes in a small lounge before being allowed to board the aircraft.
It was once again OO-VLS, the same as on the outbound leg. I had seats 9A and B all for myself, which was comfortable.
*
The flight was more or less the same as the day before, same service : sandwich, drinks, chocolate, refreshing towels, friendly flight attendants. There was some light turbulence until we reached Belgium, which was no big deal, but still very noticeable in this lighter plane.
*
*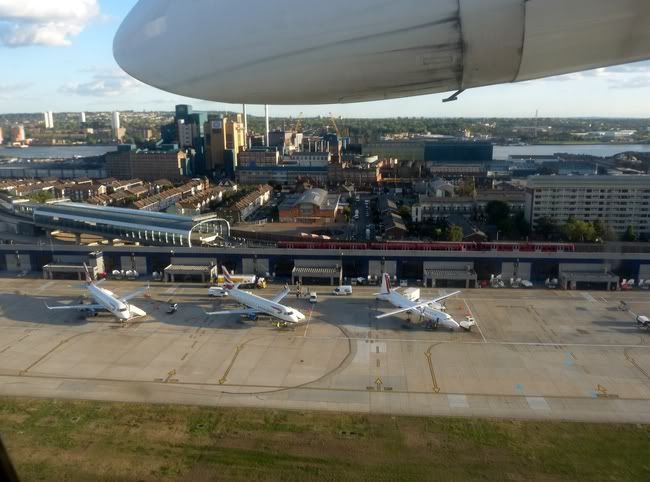 *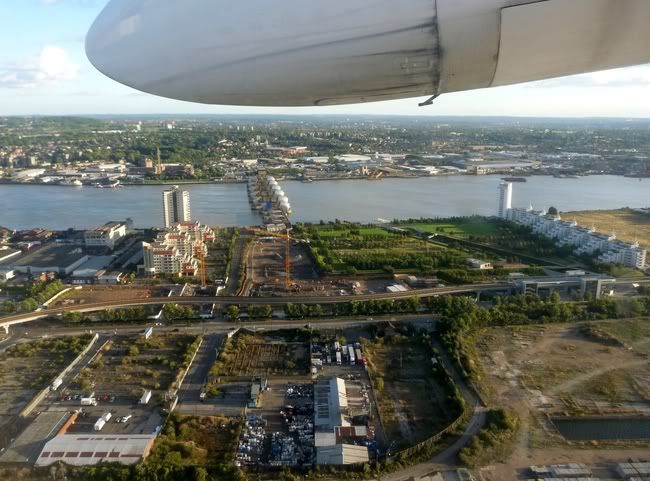 *
The O2 :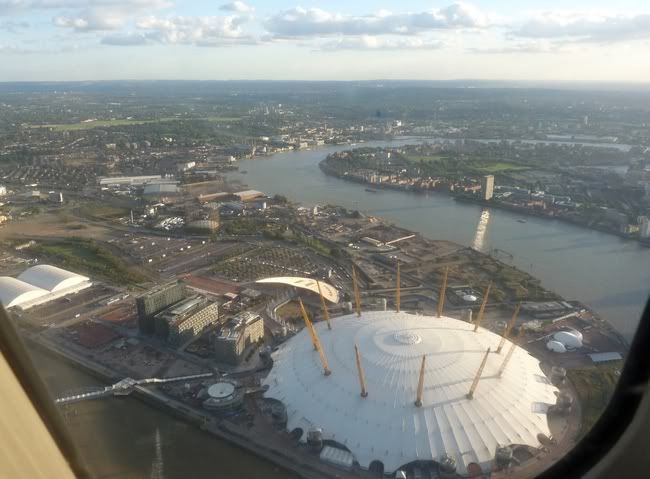 *
Olympic Park in contruction at Stratford :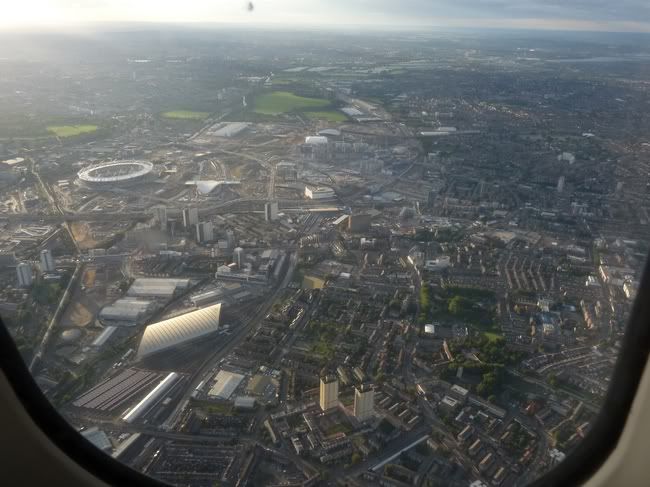 *
Canvey Island :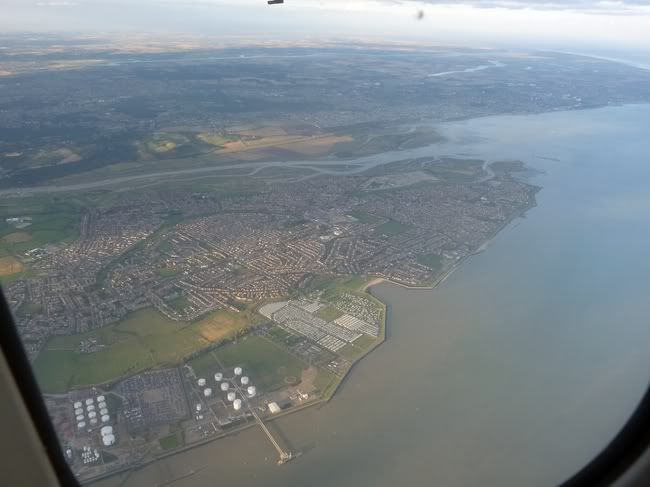 *
Very clear view of Southend airport's runway :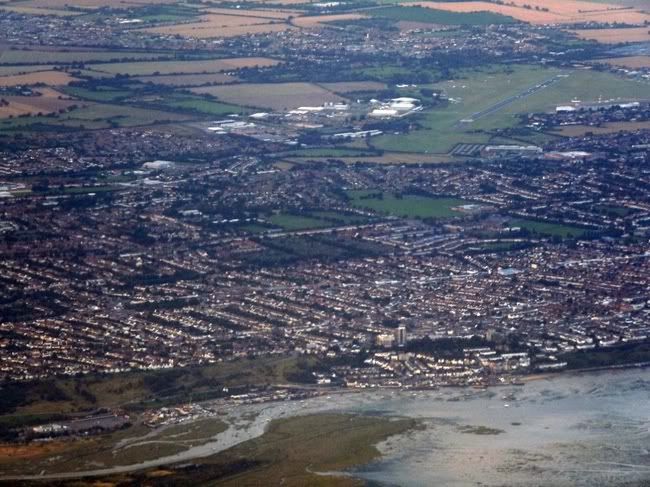 *
A wind farm in the North Sea :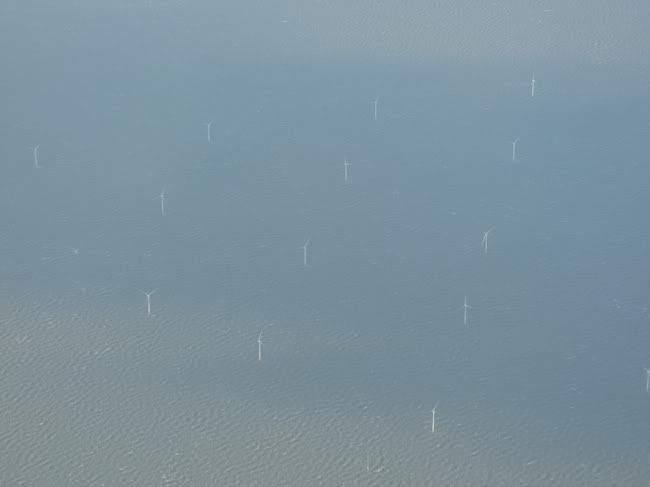 *
We landed at Antwerp on time, once again under the rain, disembarked and walked to the terminal where we quickly passed passport control.
*
*
Approximately 5 minutes after touchdown, I was in my car, ready for the 1 hour 20 minutes drive back home.
Some of my other reports
The All-in Holiday Experience: Turkey With Pegasus
(by
BrusselsSouth
Aug 20 2010 in Trip Reports)
AF A380: WhaleJet Across The Channel (pics)
(by
BrusselsSouth
Aug 12 2010 in Trip Reports)
Ukraine Part 1 : BRU-WAW-ODS And SIP-KBP (Pics)
(by
BrusselsSouth
May 30 2010 in Trip Reports)
Ukraine Part 2 : KBP-LWO, LWO-WAW-BRU (Pics)
(by
BrusselsSouth
May 30 2010 in Trip Reports)
Morocco CRL-FEZ-CMN-CRL FR/Air Arabia Maroc (Pix!)
(by
BrusselsSouth
Mar 11 2010 in Trip Reports)
Canada : 9 Flights W/ LH/US/WS/AC/BD Lots Of Pics!
(by
BrusselsSouth
May 7 2009 in Trip Reports)
Algeria With Iberia (BRU-MAD-ALG Rtn) Lots Of Pics
(by
BrusselsSouth
Apr 20 2009 in Trip Reports)
Central Europe BRU-PRG-KSC-BTS-BUD-BRU (100 Pics!)
(by
BrusselsSouth
Sep 3 2008 in Trip Reports)
BA BRU-LHR-JFK-EWR-LHR-BRU (Pics/Vids/go-around)
(by
BrusselsSouth
May 7 2008 in Trip Reports)
One Day Around Europe : 5 Flts / 5 Airlines (pics)
(by
BrusselsSouth
Mar 15 2008 in Trip Reports)
Brussels Airlines B.flex To Warsaw (Pics+Vids)
(by
BrusselsSouth
Aug 27 2007 in Trip Reports)
Air France And Air Algerie To Algeria, W/pics.
(by
BrusselsSouth
Aug 19 2005 in Trip Reports)
BA/AA BRU-LHR-ORD And Back (with BA Cancellation)
(by
BrusselsSouth
Aug 27 2004 in Trip Reports)
Honeymoon With SN Brussels, Iberia And Binter
(by
BrusselsSouth
Jun 29 2004 in Trip Reports)
Also check those related reports on this website :
Aurigny And Flybe: ACI-GCI//SOU-FRA
(by
FLIEGER67
Jun 20 2009 in Trip Reports)
Flying The Trislander - GCI-JER-GCI
(by
Ms1664
Apr 28 2008 in Trip Reports)
Channel Islands Part 2, GR GCI-JER Trislander+Pics
(by
TupolevTu154
Apr 13 2008 in Trip Reports)
As always, comments welcome !
Regards
BrusselsSouth