Ni hao!
I apologize for the lateness of this Trip Report but school has started and...well....it's busy. This TR is Part IV covering PEK-SFO on Air China and SFO-HNL on UA and HNL-LIH (Kaua'i). I will also apologize up front for no pictures of food as well as no pictures of the UA flight itself or the arrival in Honolulu. It wasn't until after several days in Kaua'i I decided randomly to finally become a First Class Member. If I had planned this I would've taken many pictures
Apologies aside there are MANY pictures.
CA985
PEK-SFO
Seat 54A
B2468
7/31/10
ETD: 16:00
ETA:12:40
ETE:11h 40m
Seat 54A
CHECK-IN
After one night in Beijing at the Xiyuan Hotel we had breakfast followed immediately by lunch and it was off to PEK. The day in Beijing was one of the worse ones, very overcast. Terminal 3 was nevertheless stunning, as it is in any light. Our group went from the curb to Air China intl check-in while the east coast US group went to United check-in for their flight to IAD. Fortunately for us we made it just in time before long lines of passengers filed behind us snaking through the check-in area. After our American and Chinese passports were examined, boarding passes printed (the lady was very accomodating with our requests for seats) and our bags checked said good-bye to our guide in a moment of emotion and proceeded to the train to the international end of Terminal 3.
SECURITY
Terminal 3 at PEK is interestingly designed. We take a very sleak train to the "satellite" end of the terminal which is, on a map, a mirror image of the domestic side of the huge terminal. In between these two terminals is a rectangular satellite terminal which has gates and looks like it would function but I have never seen any departing or arriving flights use this part of the facility. Does anyone know why?
We arrive at the international end of the terminal (which I believe are the E gates) where we are funneled into security which consists of filling out a departure form almost identical to arrivals into China. We proceed to have our passports examined at immigration and then continue to the much quicker security line. Finally we proceed to gate 31 where our Air China flight to SFO was preparing for departure along side its friends from Star Alliance such as UA, OS, OZ, CO, LH, AC, TK, SK, NK. We had about an hour and a half to kill....I chose to take pictures. I love this terminal!!
Our plane, CA B-2468 to SFO as flight CA985
LH to MUC
Some Star Alliance Action
OE-LAZ ready to depart back to VIE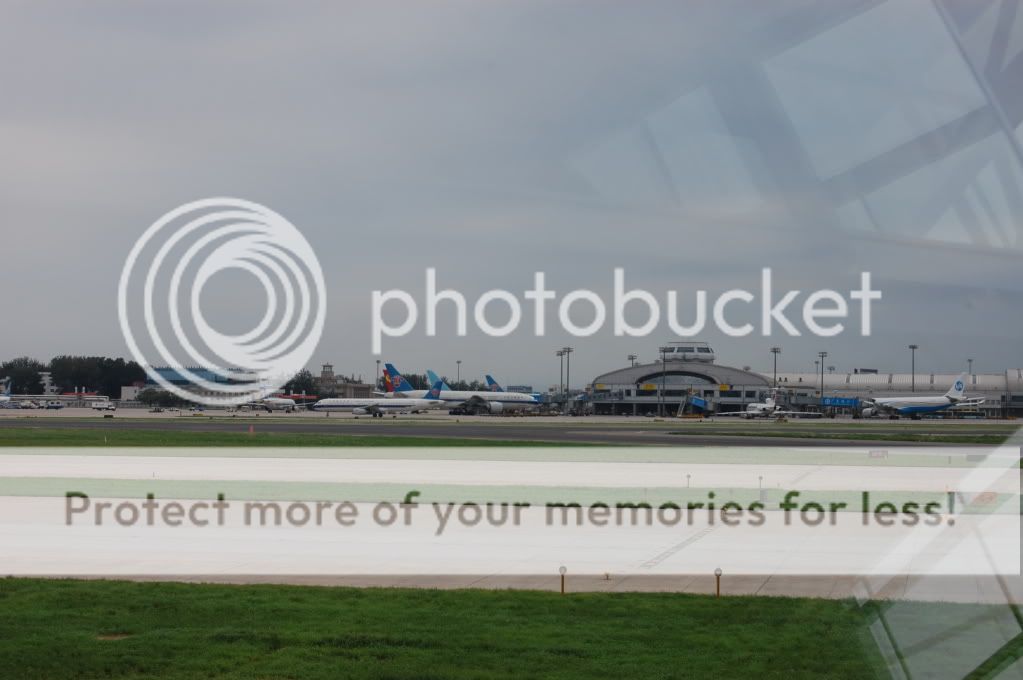 UA from ORD arriving
JAL traffic away from everything else.
CO to EWR
SK to CPH in the process of boarding.
BR 773 pulling in from TPE
After taking pics for about an hour I went back to 31 to find our flight delayed to 19:30. I asked the gate agent what was going on and she explained to me that a flight full of passengers transferring to this flight was delayed in PVG. I asked what the new time of arrival was and she said 15:45 which was fifteen minutes after my connecting flight to HNL would begin boarding. I had to be in Honolulu by the evening of the 31st to sing with my choir the following morning at an important concert. I quickly had to find a phone. I had racked up the bill on my cellular device and I could not figure out how the Hanban phone card worked so I went to the Cathay Pacific/Dragonair lounge where I politely asked if I could use a phone to contact my family. They were very happy to oblige and let me use the phone on the fax machine (?). I contcted my family that would meet me in Honolulu on the 1st at the very latest. I would most likely miss my original connection to HNL on UA so my plan was to get the hotel voucher which Air China staff had promised me in case of an overnight in San Francisco and then speak with UA check-in at SFO to figure out if I could get on the 19:15 flight to HNL or wait until the next day which would result in a flight SFO-LAX and then a 10:00 flight to HNL.
I asked the gate agent at E31 about the hotel voucher. She promised me Air China would have a hotel voucher for me but she said she had no way of giving me confirmation of such a voucher or where the hotel would be, only that a CA agent would be on hand at the arrivals gate in SFO on the arrivals level and I should speak with that person. There was really nothing else I could do but for what it was worth I went to the Air China Lounge and asked them if there was more that could be done about a hotel voucher. They said no (which I expected) and I went to take some more pictures before it was time to board our delayed flight. The last time I had a serious delay IN a terminal was at Las Vegas on the way to Reno/Tahoe the day after Christmas in the Southwest Airlines Concourse so one could imagine the wonderful comparison
UA to IAD
SQ
AC to YVR
late afternoon line-up
The Dragonair logo. One of my favorite airline logos.
UA would end up overnighting in PEK. Didn't know they did that.
AC to YYZ
TG ready for pushback to BKK
CA to KIX
Another Air Macau plane.
Just when I thought the day was over Air Zimbabwe came in to land. I missed it! But I got this fuzzy shot of this rare plane at Terminal 2.
BOARDING
When the agents announced the first boarding call immediately all of the passengers at the gate rushed to file up in line. I was impressed that we formed a line rather than a clamorous crowd after the way many of the passengers had argued with the gate agents over the delay. I was a little sad to be leaving T3 but happy that the return trip was finally beginning rather than being delayed any longer. I filed to the back of the 747 Combi to my seat, 54A. They had calming piano music playing and the FAs were quick to get everyone's luggage stowed, the passengers in their seats, and the doors closed. The cabin looked and smelled worn but the seats and pitch provided on the 747 was quite generous I thought.
TAXI/TAKE-OFF
After the sleepy safety video was played for us the projector went to the map of our flight and we began a very slow taxi to the runway. Traffic was dense that night as numerous smaller aircraft were departing followed by the characteristic large rumbling of the Air Canada 777-300 departing to Toronto. Finally it was our turn. We rolled down the runway and lifted off surprisingly gently into the startlingly colorful Beijing sunset.
IN-FLIGHT
After about one hour at cruising altitude the FAs came through the cabin first with beverages. I had become sick of soda so I decided to just have water. This was followed by the food. The choices were duck or fish. Having learned my lesson with the fish I took the duck. It was extremely salty and fatty so I nibbled at the rice and some of the vegetables that hadn't been soaked in the fatty sauce. I just didn't have enough water to balance out the salt. Apart from this there was a roll, some sort of salad, and a pineapple pastry. The salad was drenched in an odd dressing so I didn't have much of that. All in all the meal was iffy. Air China should always offer a chicken option on their flights because they can always get that dish right. After dinner I had a cup of tea and watched some videos on my ipod till I decided to go to sleep.
I awoke about 4 hours away from SFO. I love openin the window a little and seeing that huge 747 wing and the view of the Pacific at sunrise. sigh. Well breakfast was served but I just passed. Instead I just drank more tea and water. I felt dehydrated from the salty dinner and sleep and was honestly not hungry. My friend got breakfast however consisting of "scrambled eggs" sausage a croissant and fruit cocktail. He said it was iffy as well and stuck to the food around the eggs and sausage.
APPROACH/LANDING
We had a swift approach into San Francisco. It was a pretty gradul descent over the bay area and then a sharp turn over San Jose and Silicon Valley with a pretty quick descent as we lined up with the runway. It is so weird landing at SFO as the water comes closer and closer to you and then...suddenly....Cathay Pacific 747 lined up at the runway as we fly past and land very smoothly coming to a quick, almost complete stop on the runway and then taxi past Terminal 3 to the International Terminal. We parked alongside a UA 772 on preparing to depart to LHR.
TRANSFER
As I meantioned earlier I missed my connecting flight to HNL on United. I deplaned and found no Air China staff. I went to International arrivals and processed through and found no CA staff anywhere. I proceeded up to ticketing and found no CA ticket counters. I correctly guessed that since our plane had been delayed all of the passengers for the flight to PEK had checked in and were ready at the gate. The CA staff had therefore left or disappeared to somewhere else and were essentially "done for the day" at the ticket counters. I went to United International ticketing and saw no lines at Premier so I asked an employee about the voucher issue. The woman said exactly what I had assumed, that CA staff had gone home for the day. I explained I had missed my flight and Air China had promised me a hotel voucher but that I must retrieve it from their staff in SFO. She said I would not need one because not only was the 19:15 flight to HNL wide open (contrary to what I and my family had found online showing an oversold flight) but my original flight was delayed for weather reasons (ORD/DEN) till 20:30. I was very happy about this news and she proceeded happily to check me in even though I was domestic Y class passenger. I recieved my boarding pass which showed I was in seat 16 J, economy plus, a step up from my boarding pass given by CA showing me all the way in the back.
CHECK-IN
I proceeded to domestic check-in and once again felt the grumbling attitude I had found before on United. The check-in agent rolled his eyes when I told him I already had a boarding pass, presented it to him with my passport, and said I just needed to check my two bags. He said "You know this is a domestic flight. Why did you check-in at International?" I said "Because of some issues with missing my connecting flight which they helped me with." He then proceeded to say "well next time unless you are leaving the country you check-in at domestic which means within the country" looking me straight in the eye and talking very slowly. I was so jetlagged I didn't care.
SECURITY
One guy in our group thought it would be okay to carry-on his daggers he had gotten from Henan province. Of course security stopped him and he had to check them.
I was so hungry by then I stopped and had "dinner" (it was 16:00) at Boudin's and had the wonderful clam chowder. I spent the rest of the lay-over walking through Terminal 3 snapping pics as the sun went down.
UA to LAX
UA to LAX
aaahhh
AC to YYC
LX to ZRH.
UA from HNL
UA from FRA
UA to SEA
AC from YYZ
UA79
7/31/10
SFO-HNL
Gate 81
ETD:19:15
ETA:21:45
ETE: 5h 31m
Seat 16J
BOARDING/DEPARTURE
As luck would have it our flight was delayed to depart til 21:30 which would get us into HNL at midnight exactly. Same time as ten years ago on the same day except on a UA 767 rather than a DL L1011 from LAX. And a refurbished 767 at that. The cabin was fresh and very clean with crisp new seats. The flight was of course wide open and a number of seats were free. I ended up with two seats to myself between the window and the aisle. As we taxied and the flight attendants donned flowers and greeted us in Hawaiian I thought of just how old this route was (est. 1947) and what kind of legacy United had thankfully played up during the flight. We took off into the night.
IN-FLIGHT
I was very impressed with United's crisp cabins, new safety video, Hawaiian touch, and meal service. They had several wraps to choose from as well as salads. I went with the Thai Chicken wrap and Peanut Sauce. Excellent! The wrap had lots of fresh crisp vegetables and the chicken tasted excellent. The peanut sauce wasn't even necessary which I believe is a sure sign that the food is good. Though I had to pay for the meal ($9.00 ugh) it tasted delicious and was fresh, filling, and energizing. I think United really knows what they are doing when it comes to in-flight meals.
I spent the rest of the flight watching my ipod and playing sudoku. I kept the window shades up to see the monlight reflect on the wing and the clouds and ocean below. Wonderful last rememberance before began our approach.
APPROACH/LANDING
As we began our approach into HNL many of the passengers began to fill out the Agriculture forms for entering the islands. The FAs handed out pens to everyone. The man across the aisle from me put his pen in the seat pocket. The FA came around and yelled at him why he hadn't returned the pen. He said he had forgotten about it. She said "sir stealing is not acceptable! We have limited pens!" I guess I didn't see United's new policy where passengers are guilty till proven innocent concerning the use of pens. I understand they have a limited number but it's a pen. I have said it before: United needs to work on its people skills. Apart from that fact I think they have really improved their service and I enjoyed the flight.
We passed over Honolulu and then turned to face the runway. We had a smooth landing into HNL and quickly taxied off the runway and hurried to our gate. I was surprised to see how deserted HNL was. The last time I had been outside was in Beijing China, in the muggy humidity and heat. Suddenly as we took the outdoor corridor to baggage claim the Hawaiian weather felt amazing.
baggage claim was "punctuated" with a belt malfunction and the mechanics tossing the bags one by one out onto the floor all to the comedic Hawaiian background music. My dad met me at baggage claim and we took a taxi to the hotel where I tried to close my eyes and sleep while still on China time.
O'AHU
The next two days were first a series of concerts and then touring throughout O'ahu. My parents announced we would take a suprise trip for eight days to Kaua'i and stay at Po'ipu Beach. Woah!
The church my choir sang at. Not too far from the childhood home of President Obama
USS Arizona Memorial
Honululu near Waikiki Beach
HA513L
HNL-LIH
ETD: 9:50
ETA:10:27
ETE: 37m
B717
Gate 60
Seat 21F
CHECK-IN
At 8:30 my family checked in at HNL Inter-island Terminal. It was not too crowded and check-in went pretty fast. We each had two bags to be checked however. We are not heavy packers we had just all come from different trips. I had flown PEK-SFO-HNL, my mom and sister HIA-ORD-HNL (AA) and my dad TUS-PHX-HNL (US).
SECURITY/DEPARTURE
Security was pretty quiet and not very crowded. The TSA agent told me to put my shoes on my bag rather than in a bin. Never ever been told to do THAT before. You learn something new every day I guess? We boarded our flight at 9:20 in a quiet inter-island terminal with nothing but the sound of Hawaiian music to sooth the senses. The Hawaiian music continued on our Boeing 717 aircraft as the FAs cheerfully greeted us for this extremely short flight. By 9:45 we were pushed back from the gate and began our taxi past a Philippines A340-300 off to the coral runway for a departure to MNL. We could really hear the engine rev-up as we began our roll down the runway and swiftly lifted off climbing out past the airport to get a good view of the runways as we turned and it was off to Lihue (pronounced Lih-hoo-wee)
IN-FLIGHT
The FAs came round with guava/citrus juice for the passengers. I thought it tasted...perfect. Just right for such a flight. Immediately following the drink service they came through with trash bags and we began a hasty descent into Lihue.
APPROACH/LANDING
We made a sharp turn to the northwest to line up with the runway and quickly descended over the clear blue ocean. We made a sharp, routine landing on the runway and taxied swiftly to the gate to the word Mahalo from the FAs. LIH was almost entirely deserted apart from an Island Air flight to Kahului Maui. We deplaned and collected our luggage. We recieved our rental car and spent the next week in paradise.
LIH terminal
Island Air to OGG
CONCLUSION
AIR CHINA- After flying on Air China a number of times by now in Y class I would say they are average to mediocre. Their in-flight service is prompt and to the point. Their 747s are actually comfortable and they seem to be making some progress to modernize the fleet. CA however has upkeep issues with its cabins. It's food is sometimes good sometimes bad. They need more consistency with their meal service particularly on international flights. I really wasn't impressed by the uncoordinated and nonexistent effort to assist delayed passengers in San Francisco. I was not alone in looking for Air China staff in SFO there were in fact quite a few in my same predicament. Nevertheless I hope they improve their product.
UNITED- United from experiencing TUS-LAX and SFO-HNL seems to have come a long way in service and its in-flight product. I really think economy-plus is a nice offering and their meal service though expensive to pay for was healthful, filling, and delicious. I really like the little bits of attention United gives to its Hawaiian routes. UA staff people-skills were a disappointment for me. I am sure this will change in the future and I hope I have just had some bad luck.
HAWAIIAN- It was such a short flight it is impossible to comment on the airline.
Thank you for reading
Xiexie
Mahalo