I've been busy writing trip reports on recent and some not so recent trips, so since I have some time on my hands decided to keep going. This report is about a trip I made to Athens in March 2009. LH had some great offers last year (heck, I flew to SIN from AMS via MUC for EUR 400 in October last year, TR will follow soon LOL) and they also had a great offer to ATH. This was a no-brainer for me as ATH was very high on my "must see list" and it would give me the opportunity to fly on LH's a306's. This was a must as LH was starting to phase them out and I did not have the pleasure yet to fly on the a300. The AMS-FRA-AMS sectors were planned with the a320 and 733, planes I had flown before (especially the a320 plenty of times). This would also be my first trip on LH.
My other recent TR's can be found here:
AMS-PBM-AMS On KL MD11
(by
Kappel
Sep 7 2010 in Trip Reports)
AMS-EDI-AMS On KL Fokker 70 And Boeing 73Gw
(by
Kappel
Sep 7 2010 in Trip Reports)
I would be flying the following sectors:AMS-FRA-ATH-FRA-AMS.
Up first: AMS-FRA
Date: 26 March 2009
Flight: LH4689
Aircraft: Airbus A320
Reg: D-AIQR "Lahr/Schwartzwald" (originally delivered to LH on 19 January 1993, flown with Eurowings in 2002 and with Germanwings from 2002 up to 2005. After that it went back to LH)
Seat: 11A
Boarding time: 06:30
Scheduled departure time: 07:00
Scheduled arrival time: 08:10
Loadfactor: just about full, let's call it 95%
It was an early flight, so I got up early, drove to AMS (about 45 minutes, no traffic jams this early in the morning). I reserved a parking spot at the long term parking lot at AMS (P3). At the time they had an offer of EUR 5, not matter how long you stay, as smart parking was only recently introduced. So I'd be crazy not to use this!! The shuttle bus to the departure terminal is convenient and quick, so the whole process was painless. I had already checked in online so I just had to check my luggage and was off to the gate.
D-AIQR waiting at gate B7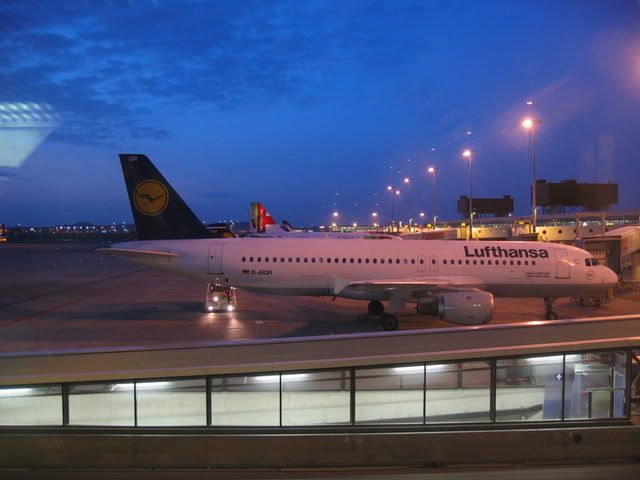 Boarding was quick and push back was on time. Of course still plenty of time to take on of my favorite pictures, the wingview before takeoff: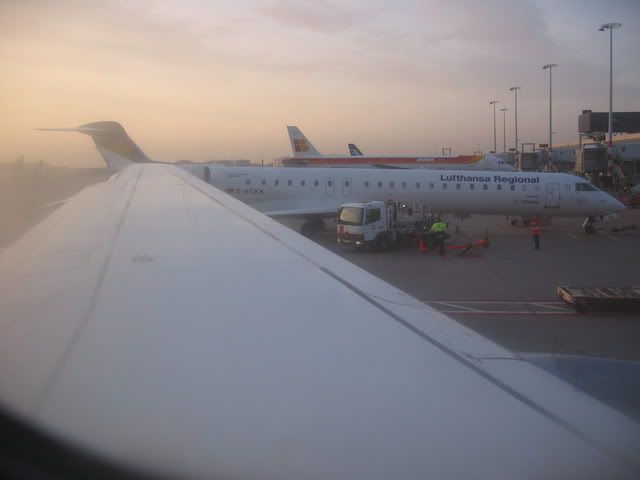 And after takeoff a wingview pic: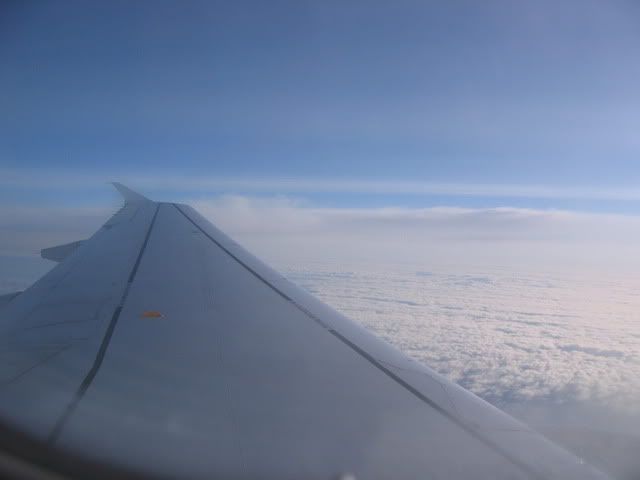 The weather on this sector was a bit cloudy, so not much to see: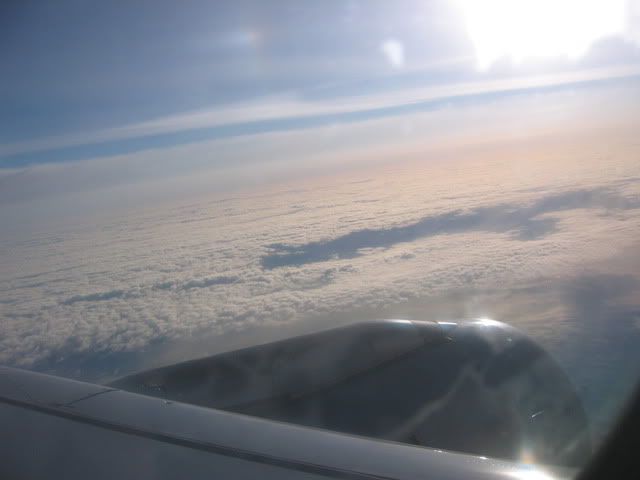 Service consisted of a horrible sandwich and drinks. I compare the sandwich to two sponges with a piece of rubber in between (it was supposed to be a cheese sandwich). It certainly can't compare to KL's sandwiches on their European flights. Other than that the cabin crew was pleasant and professional. As can be expected from LH.
But it improved on approach to FRA:
View of the immaculate cabin of D-AIQR: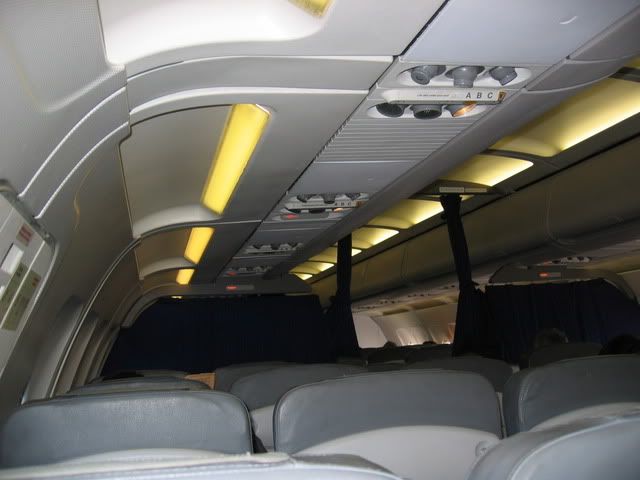 I had about an hour and a half for the transfer. As the first flight was on time, this was plenty. The transfer at FRA was really easy. I still had some time before boarding, so I walked around FRA a bit. The terminal is not really big or airy and feels old, but as I said transferring was really easy and I love how close the aircraft get to the terminal. I got some real up close views of a few LH aircraft, such as the 744. Either way, my a300 was already waiting at gate A21 and soon ready to be boarded. I noticed there were a lot of Canadians on board (they looked like students, not sure though). Probably just arrived with an AC flight.
Second flight: FRA-ATH
Date: 26 March 2009
Flight: LH3380
Aircraft: Airbus A300-600
Reg: D-AIAL "Stade" (delivered new to LH on 18 April 1987, stored from 2003 to 2004 for about a year and returned to service, retired in May 2009 and according to Airfleets.net now with Mahan Air in Iran)
Seat: 34A
Boarding time: 08:40
Scheduled departure time: 09:30
Scheduled arrival time: 13:10
Loadfactor: Y was 100%, not sure about C
Here's Stade awaiting boarding at the gate: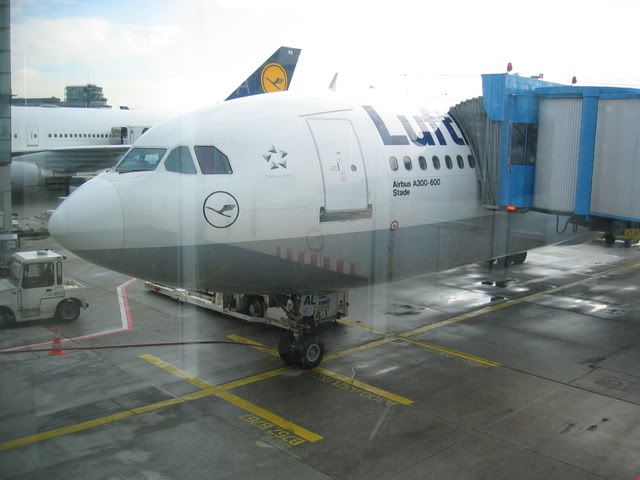 And of course, the wing view before takeoff: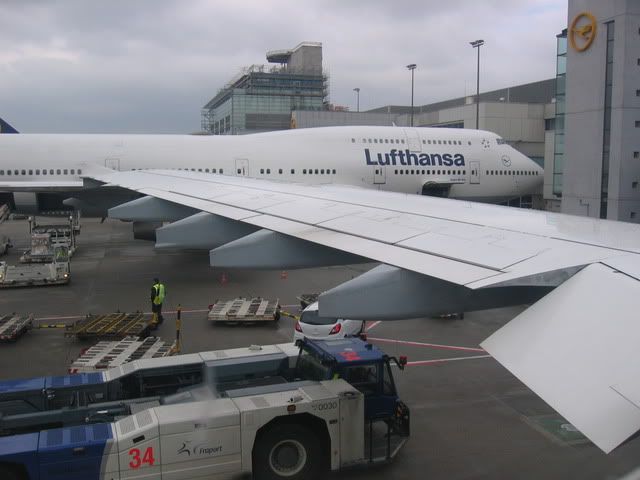 The aircraft was 22 years old, but you couldn't tell that from the inside, it looked immaculate. The cabin crew provided us with a full meal (forgot to take a pic, sorry) and that was not bad at all. Much better than the horrible sandwich on the AMS-FRA sector. I guess LH provided the full meal due to the duration of the flight. Excellent service throughout this flight!!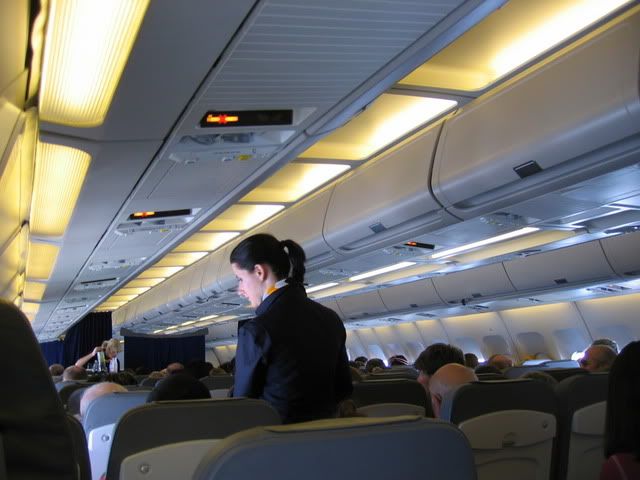 As I mentioned before, the weather cleared up after leaving the Netherlands and stayed clear throughout the flight. This allowed for some very nice views and great pics, such as these over the alps: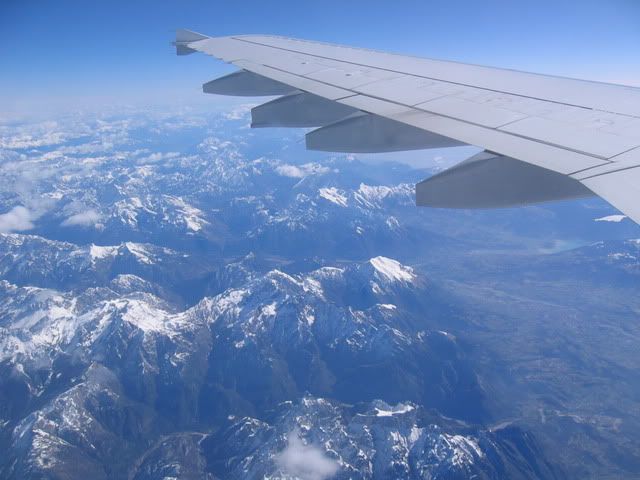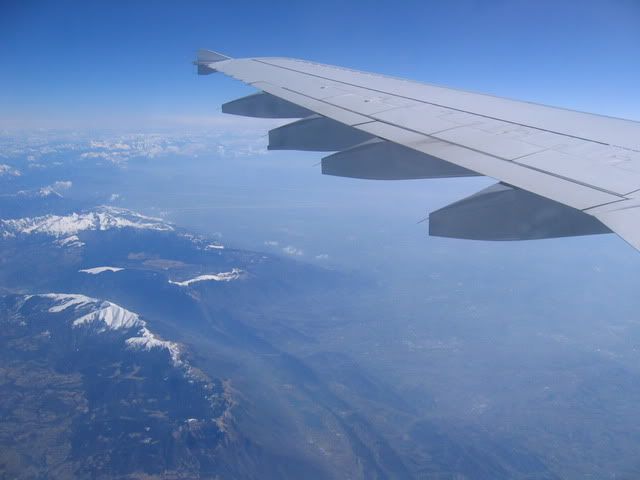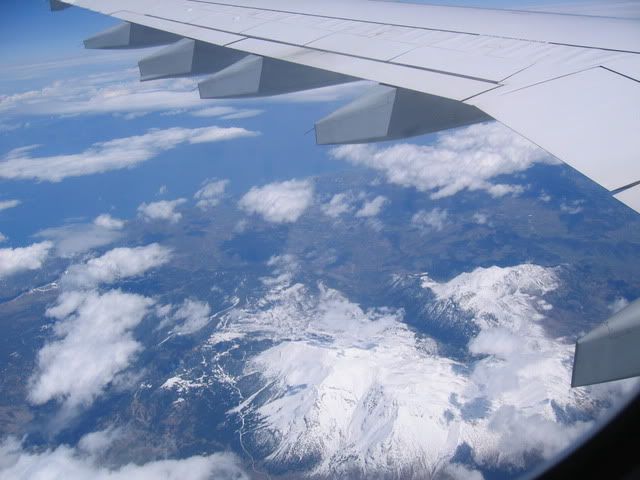 IIRC this was Venice, or at least in that vicinity: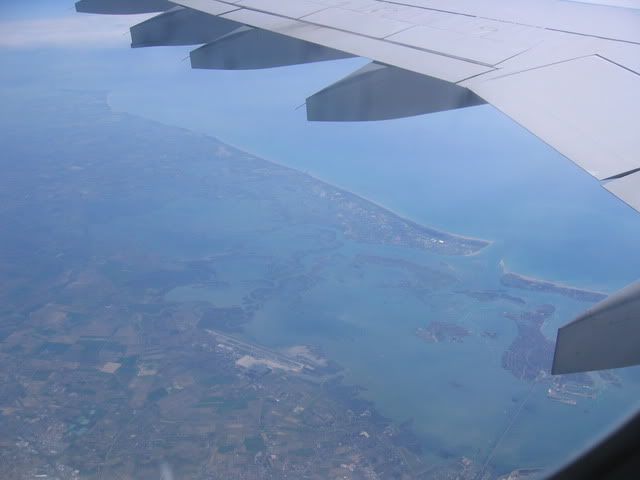 And some fantastic views approaching Greece and ATH: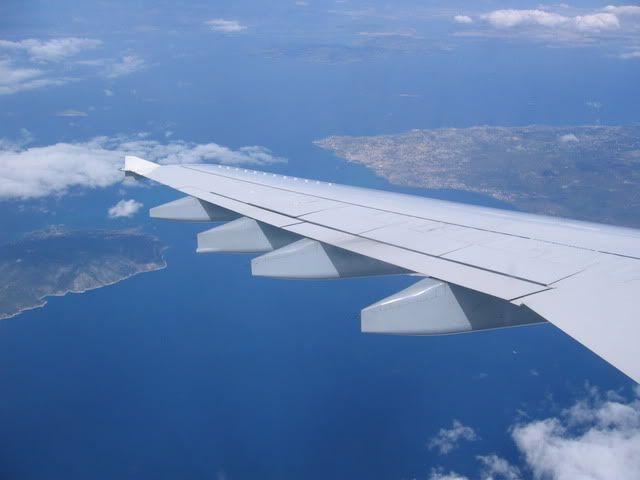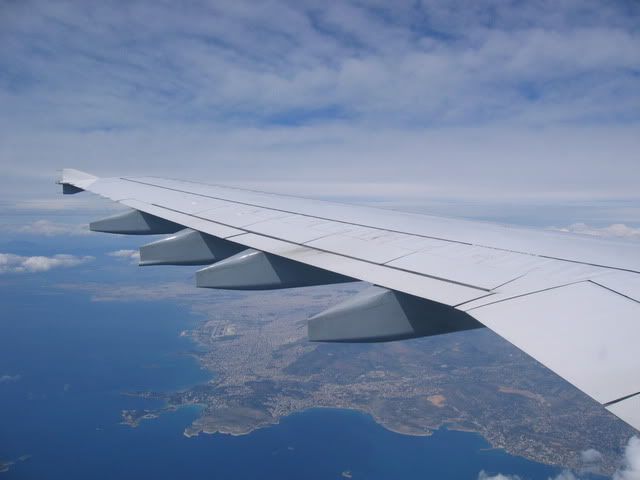 The final approach was very bumpy (is this always the case in ATH??) and to top it off, the pilot retarded the throttle way too early. I noticed the nose pitching up and braced myself for impact. The landing was really hard and some people were screaming in the aircraft!! We definitely bounced up at least once. The pilot quickly came on the PA to apologize for the hard landing.
Right after landing:
I had booked the Arion Athens hotel, a recently refurbished hotel (3 star) near Monastiraki off Athinas street. The room was really nice, you could tell it was recently refurbished. The price was also very reasonable and very centrally located. The only drawback is that it's located on a back street of Athinas and the street looked a bit dodgy. I had no problems in the 4 days I was there though: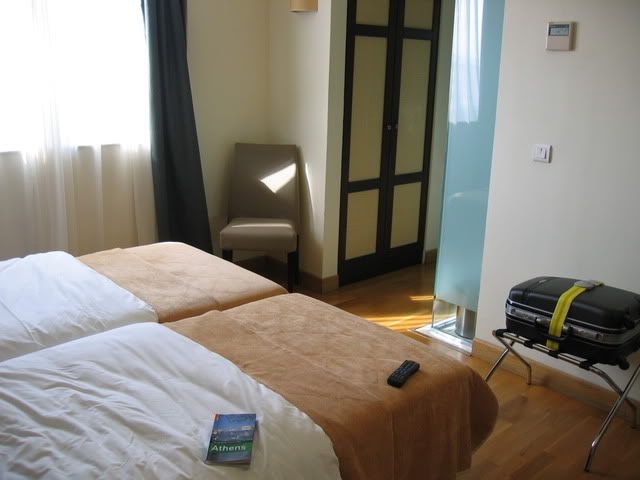 Now time for some sightseeing!! To be honest, 4 days is more than enough for just Athens. I went to Rome a year later and there was definitely much more to see there. So to anybody willing to see both, my advice is, go to Athens first and then Rome. If you do it the other way around, Athens may disappoint. But... Athens is definitely worth a visit, no doubt!! I met some very nice people there and the sights are fantastic, as are the museums. What I did notice is that there are some very poor areas in Athens. I never realized this until I saw it, even some shanty houses! I was shocked to be honest, that this was possible in the EU.
But I also gotta say, I really like Greek food! Anyway, on to the sights!! First on the Acropolis:
Parthenon. I was very disappointed to read that they plan to rebuild the Parthenon including it's roof. I feel this greatly diminishes it's historic value, so I'm glad to see it before that happens: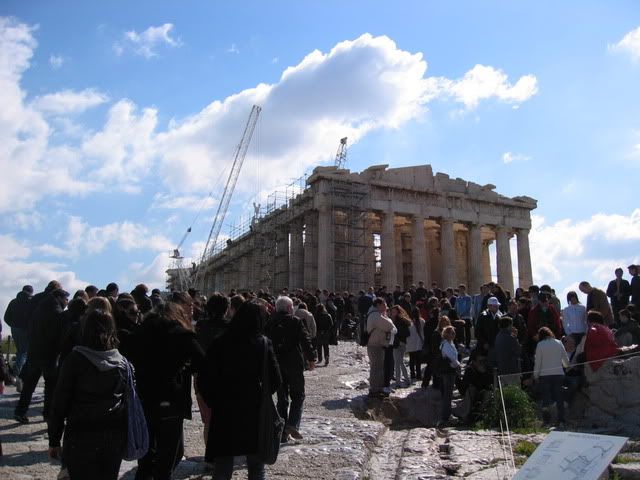 View over Athens from the Acropolis. In the bottom left corner is the new Acropolis museum which hadn't opened yet at the time unfortunately: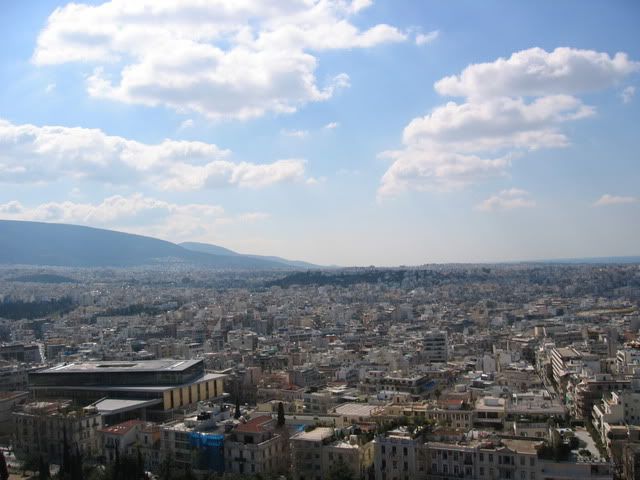 The temple of Olypiman Zeus (Olympeion) seen from the Acropolis. Hadrian's gate can also be seen at the end of the street: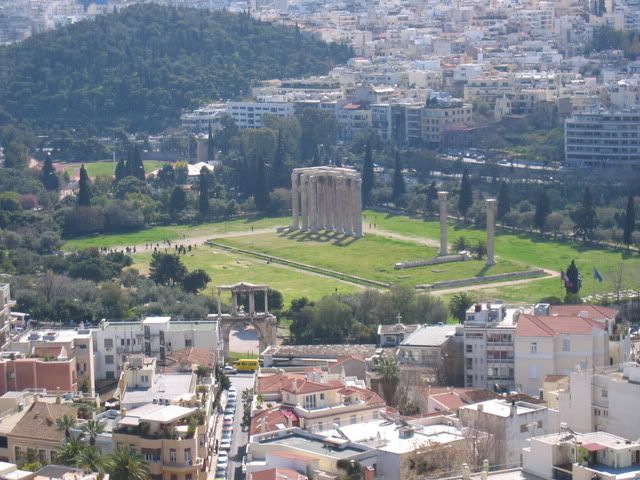 Erechteion:
The Acropolis seen from Aeropagus Hill:
Hephaisteion, the only completely intact temple remaining from the classical times:
Some views of Athens:
Syndagma square:
Parliament building:
The lovely National Garden: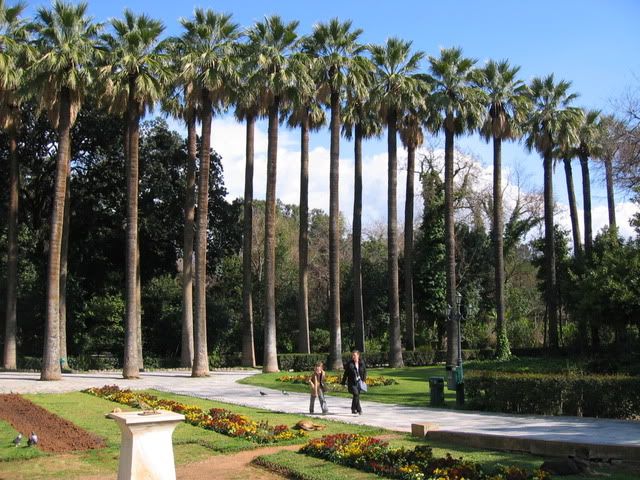 Two goats having at it in the National Garden: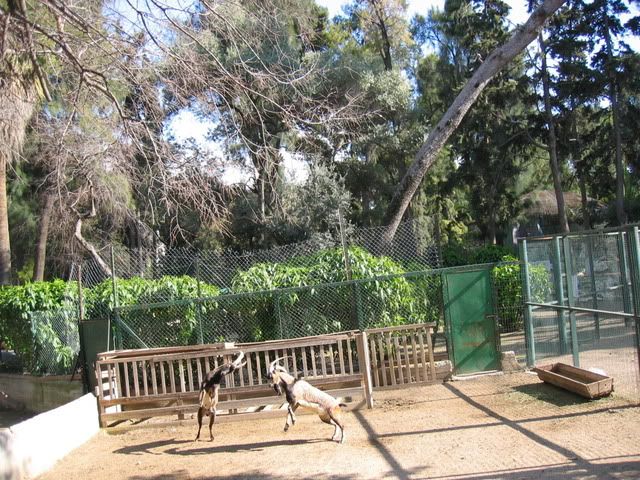 If you want to shop in Athens city centre, go to Ermou!!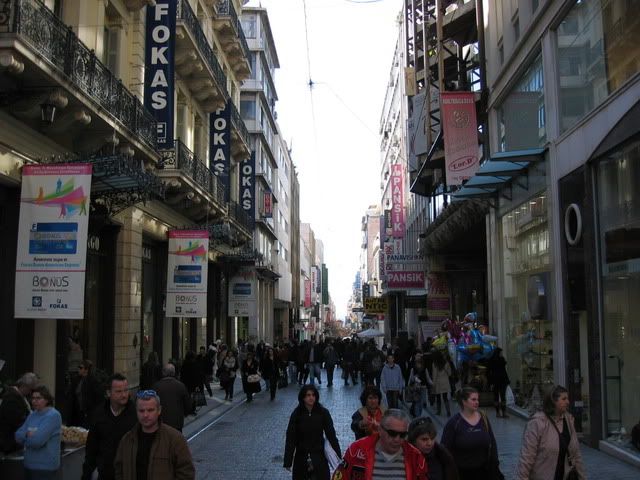 Monastiraki square: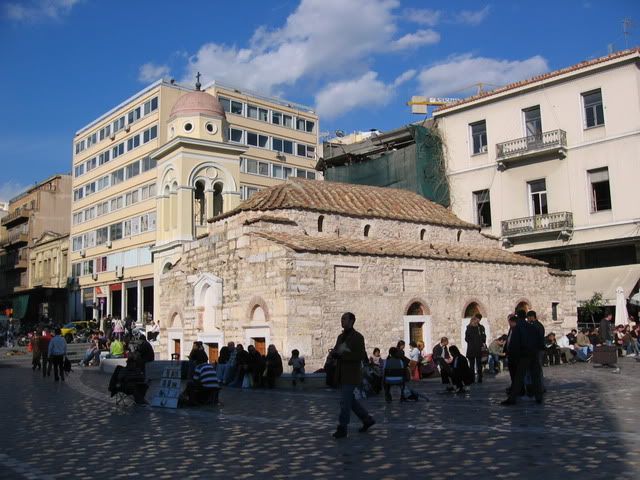 My lovely hotel and it's dodgy street: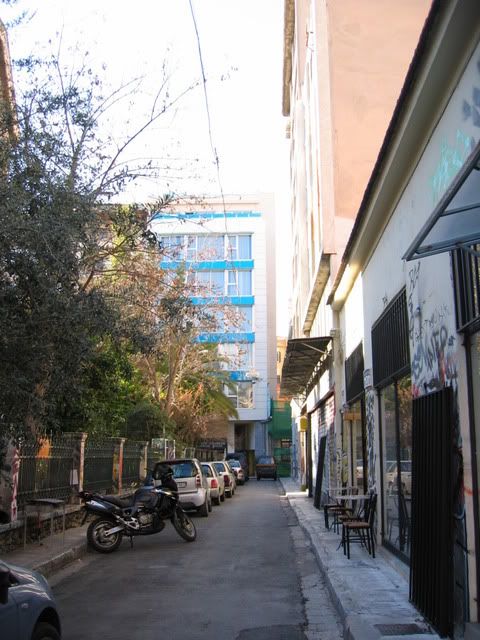 The National Archeological Museum: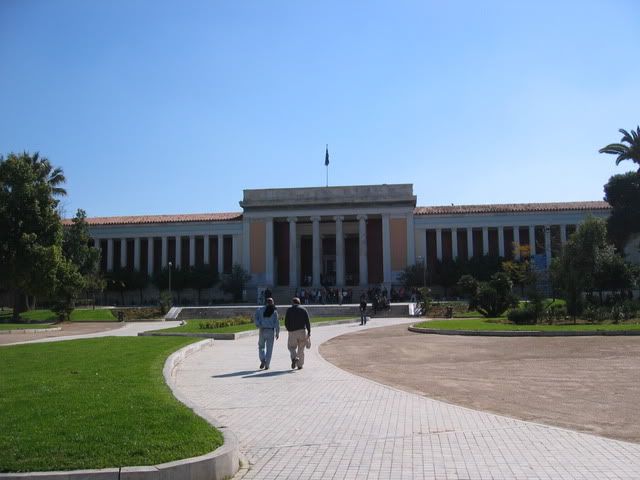 Poseidon: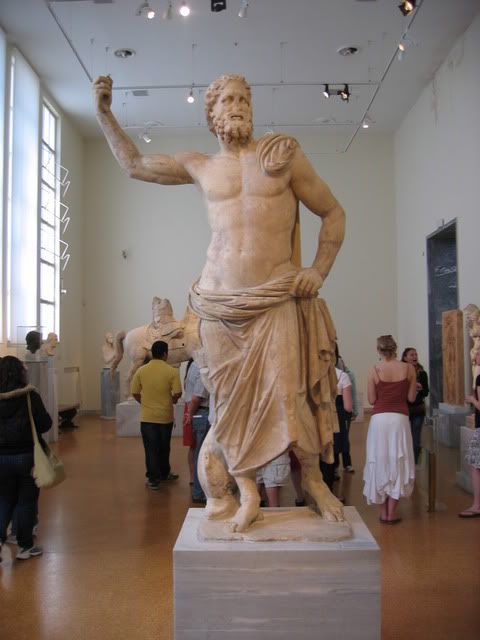 Aphrodite fighting off Pan's advances with Eros:
It's always unfortunate when a vacation comes to it's end and this was no different. I had a great time in Athens, as I said met some very friendly people and enjoyed the great weather, food and sights. One of the days I was there was the night when all the lights went out in major cities all over the world. I could see the Acropolis from my hotel room, so it was fun to see the lights go off and on again an hour later. Anyway, I went to the airport the same way I came, by bus from Syndagma square.
In front of the airport: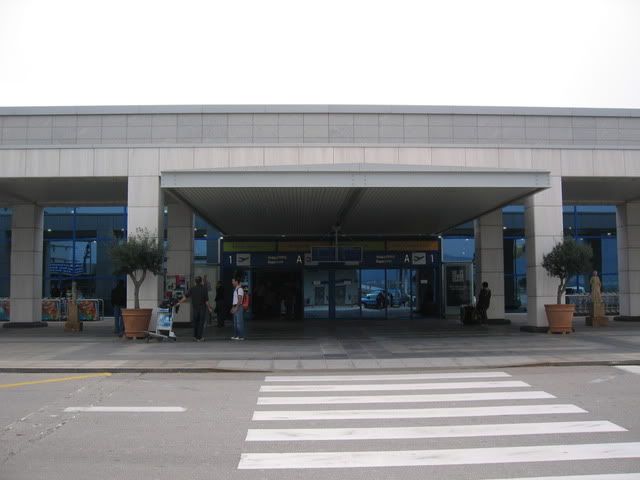 Inside the airport. ATH is a pleasant airport. Clean, airy and lots of natural light. Not that many shops though...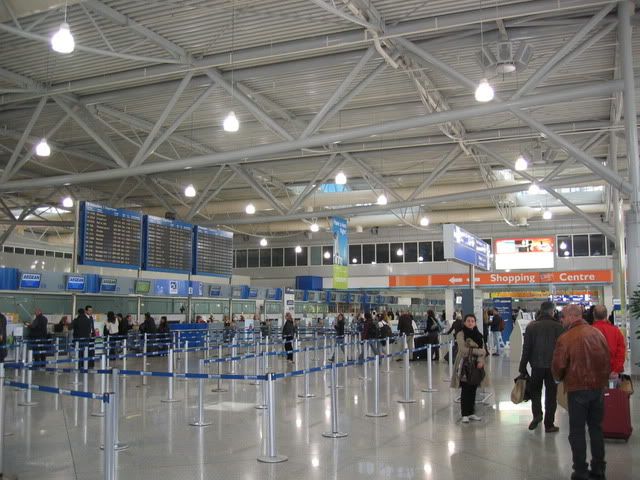 I enjoyed the small museum of items found at the airport construction site:
I went to the McD and could do some spotting from there, such as the Olympic a343 which aren't flying anymore unfortunately:
Now it was really time to head to the gate:
Third flight: ATH-FRA
Date: 29 March 2009
Flight: LH3381
Aircraft: Airbus A300-600
Reg: D-AIAX "Fuerth" (delivered new to LH on 30 December 1996, flew with Hapag Lloyd in 2005 and 2006 and with Swiss in 2006, retired in July 2009 and according to Airfleets.net now with Mahan Air in Iran)
Seat: 22A
Boarding time: 13:30
Scheduled departure time: 14:05
Scheduled arrival time: 16:05
Loadfactor: Y was 100% again IIRC, not sure about C
Fuerth at gate B9: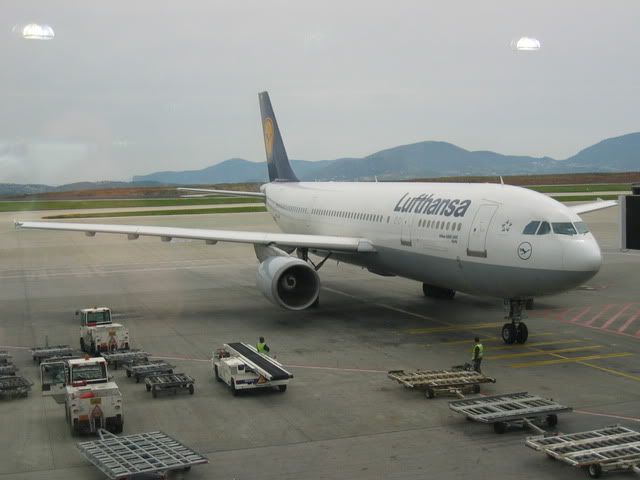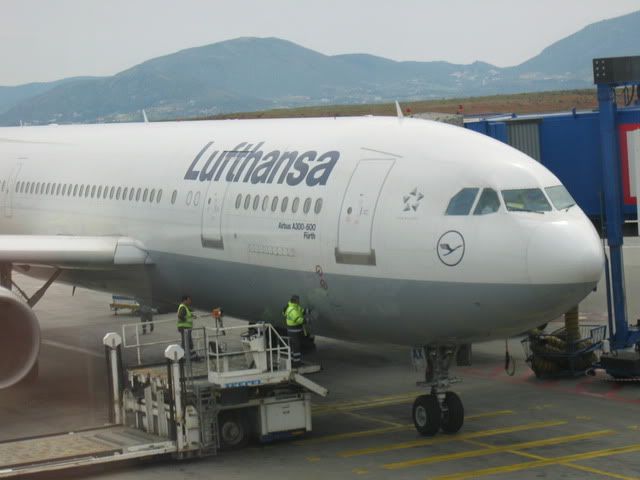 Of course, the wing view before takeoff. We were standing next to a KL 739 that would have taken me directly to AMS on a more convenient, but much less fun flight: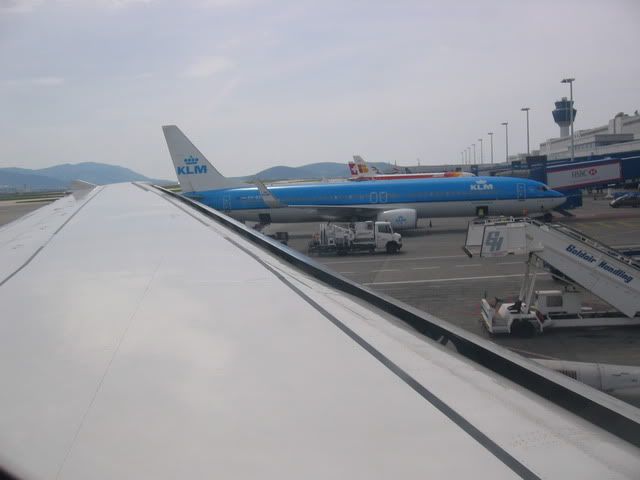 My seatmate was a very lovely German/Greek woman with whom I chatted throughout the flight. This made the time pass really quickly. That was just as wel as this time it was quite cloudy outside, so not much to see most of the time. Again we received a full meal, again very nice. The cabin crew was again very friendly and professional. This was just my third flight with LH, but it's clear that the LH cabin crew is well trained.
Engine pic with reflection of the fuselage in the engine cowling: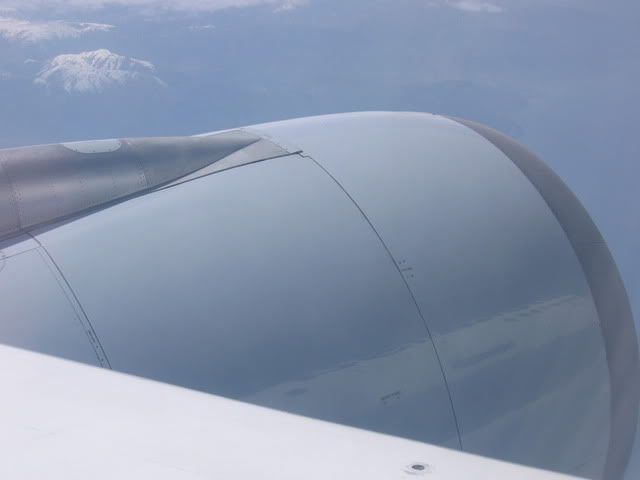 And the wing view in flight. As you can see it was quite cloudy. In fact, for a portion of the flights, the clouds were at our cruising level. I never knew that clouds could reach this high and this is not exactly my first flight (far from it, lol):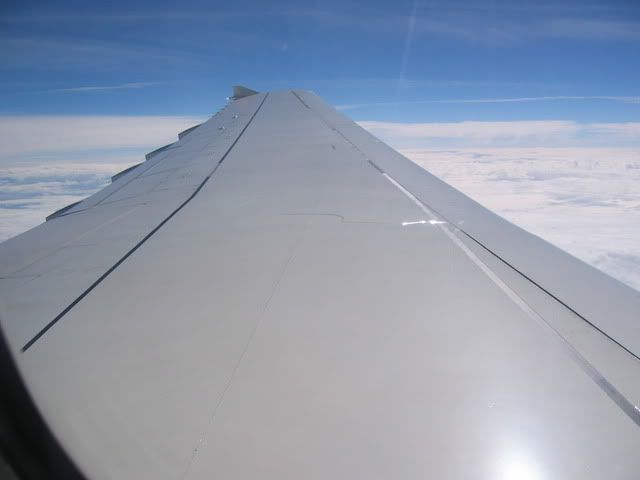 I have to say I really enjoyed the a306 flights. It's really great to fly an EU sector with a widebody and the a300 is really cool. From the powerfull takeoff to the comfortable cabin (and very clean, thank you LH).
Anyway, I was back at FRA. The transfer was again very easy and this time I had even more time so I could do some spotting. FRA sees some very interesting aircraft I found out! Here are a few of what I saw: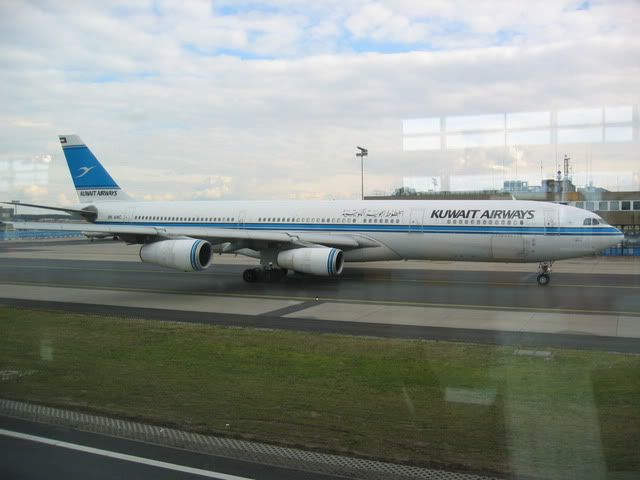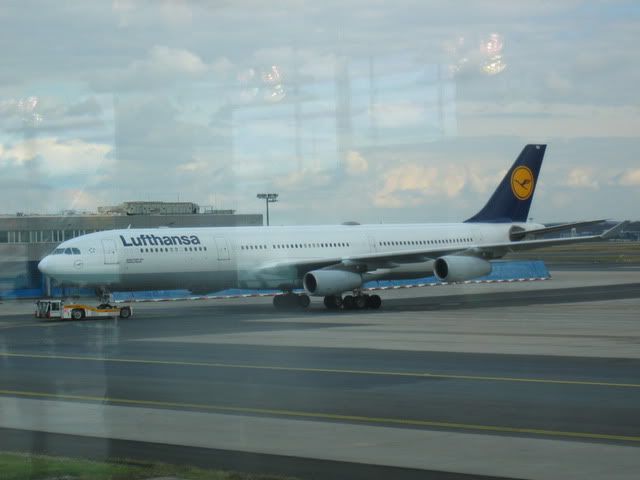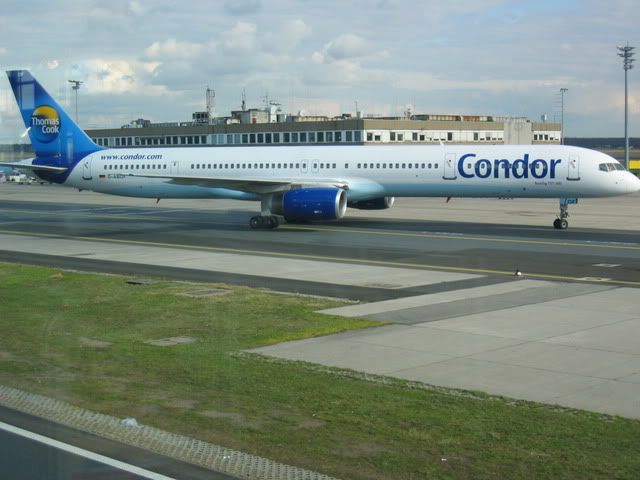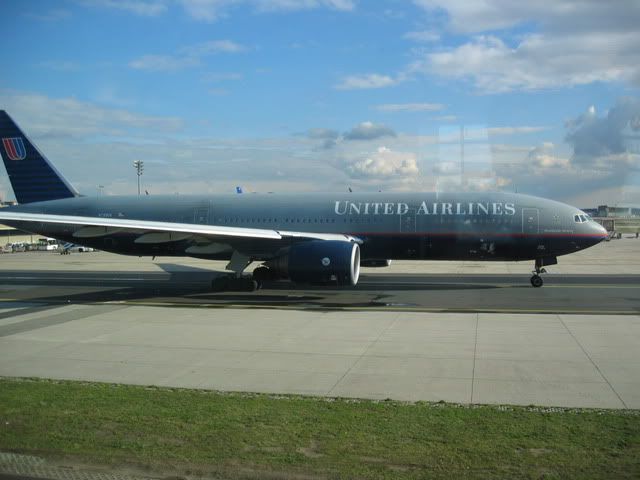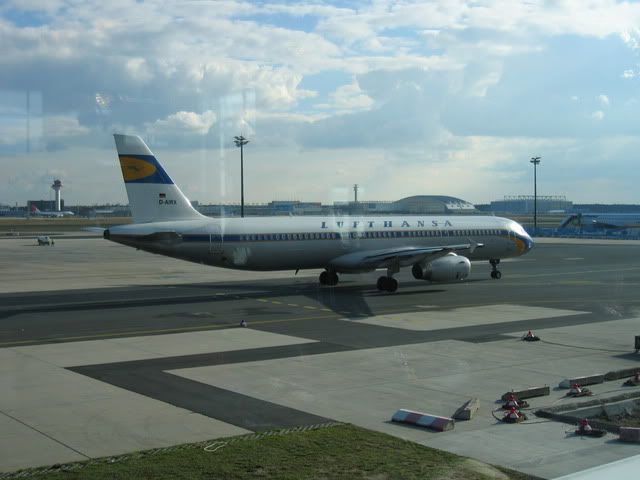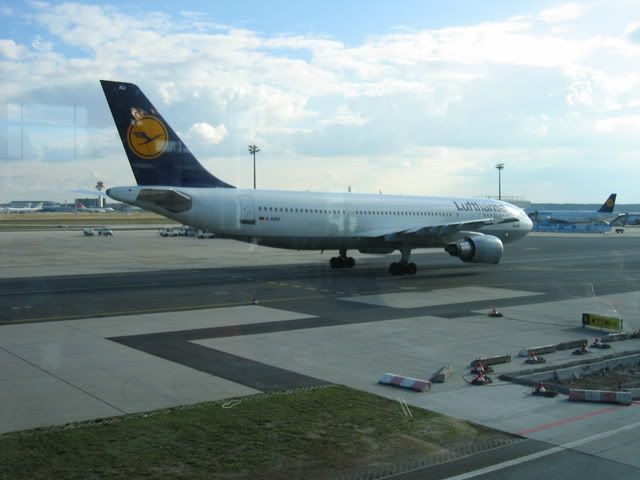 This is just a fraction of what I saw taxiing past. Very nice way to spend the time (nothing else to do at FRA anyway, lol).
Fourth flight: FRA-AMS
Date: 29 March 2009
Flight: LH4682
Aircraft: Boeing 737-300
Reg: D-ABED "Hagen" (delivered new to LH on 12 July 1991)
Seat: 7A
Boarding time: 17:30
Scheduled departure time: 18:15
Scheduled arrival time: 19:20
Loadfactor: Just about completely full, about 95%
First my disappointment, 7A is a windowless seat!! I did manage to take some pics, but had to turn almost all the way to the back for them. Anyway, you could see that the 733 is a workhorse for LH. While the cabin was clean, the seats were not nearly in the excellent condition of the a300's or the a320 I flew on. But the seats were still comfortable, so no biggie.
The trusted wing views before and after takeoff: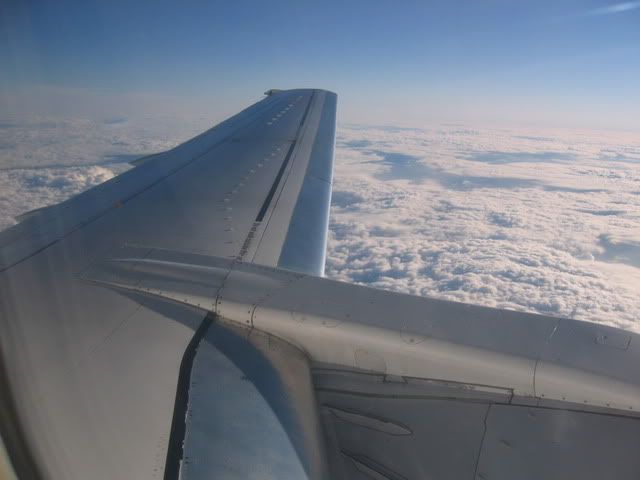 Again an engine shot with the reflection of the fuselage in the engine cowling: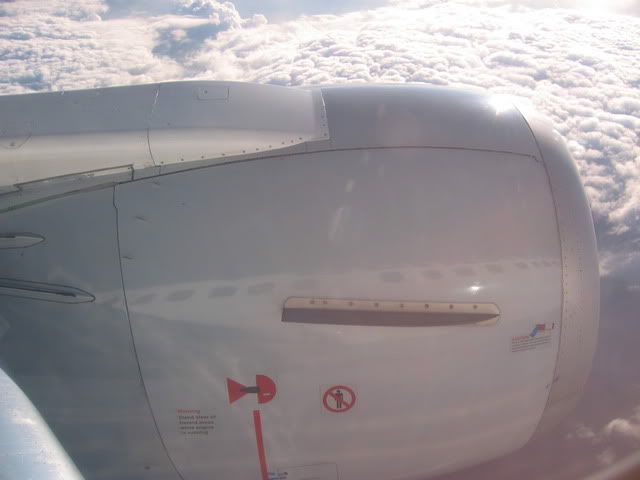 It wasn't long before the approach into AMS was started: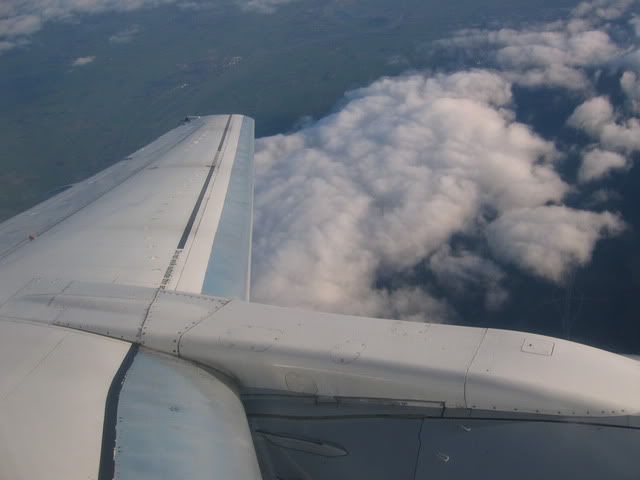 Thrust reversers activated after landing: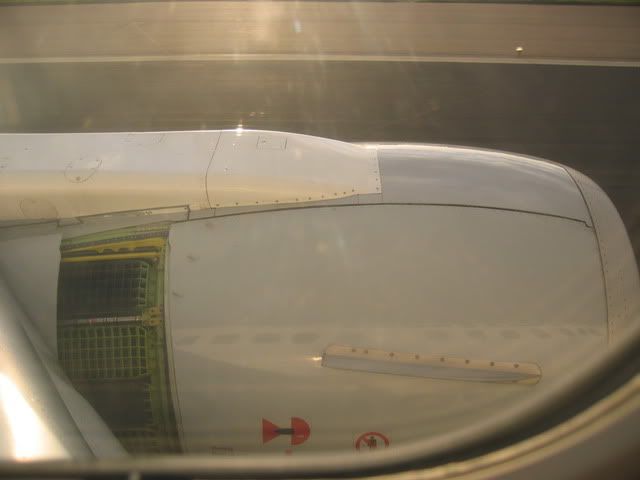 D-ABED at the gate in AMS. Look at the clouds!! Welcome back to Holland, lol:
So, what did I think of my first flights with LH? Well, very good actually! The catering could use some improvements (a fact that became even more clear when I flew them to SIN a few months later), but other than that LH is an excellent airline with a great cabin crew and immaculate aircraft. And what can I say about the a300 other that I really like this aircraft, certainly one of my favorites!! Too bad they are getting rarer by the day, especially in pax service.
Thanks again for reading and as always, comments are very welcome!
Regards,
Sergio