I've been planning to go to SIN for a while, since I was planning to move there for a while for work (unfortunately for personal reasons that has been postponed indefinitely), but when LH had an offer last year for EUR 400 to SIN, I just couldn't resist. So I booked the trip for 26 October to 5 November 2009. And as long as I was in the neighbourhood, I decided to also make a side trip to Kuala Lumpur from 2 to 5 November. This trip would also give me a couple of firsts:
1st time on Augsburg Airways (AMS-MUC)
1st time on an E-jet (Augsburg E195)
1st time on an a346
1st time on MH
1st time on an 734 (I know, long overdue, lol)
1st time on an AVRO RJ (LH Regional on the MUC-AMS route)
1st time I had 6 flights in one trip
When I booked the trip with MH, the KUL-SIN was supposed to be flown with a 772, but this was unfortunately changed to a 734 due to the liberalisation of the KUL-SIN route.
I've recently been busy typing TR's. My other recent TR's can be found here:
AMS-PBM-AMS On KL MD11
(by
Kappel
Sep 7 2010 in Trip Reports)
AMS-EDI-AMS On KL Fokker 70 And Boeing 73Gw
(by
Kappel
Sep 7 2010 in Trip Reports)
To Athens On LH A300-600
(by
Kappel
Sep 8 2010 in Trip Reports)
Feel free to give them a read and/or comment if you haven't already
Anyway, on to the flights, as I had plenty of flights ahead of me.
Flight #1: AMS-MUC
Date: 26 October 2009
Airline: Augsburg Airways (under the LH regional banner)
Flight: LH4699
Aircraft: Embraer 195
Reg: D-AEMB (delivered new to Augsburg Airways on 26 June 2009, so only 4 months old at the time)
Seat: 18F
Scheduled departure time: 17:20
Scheduled arrival time: 18:45
Loadfactor: about 95%
D-AEMB waiting at the gate:
Wing view of the E195 before takeoff. The flight to FRA is waiting next to ours: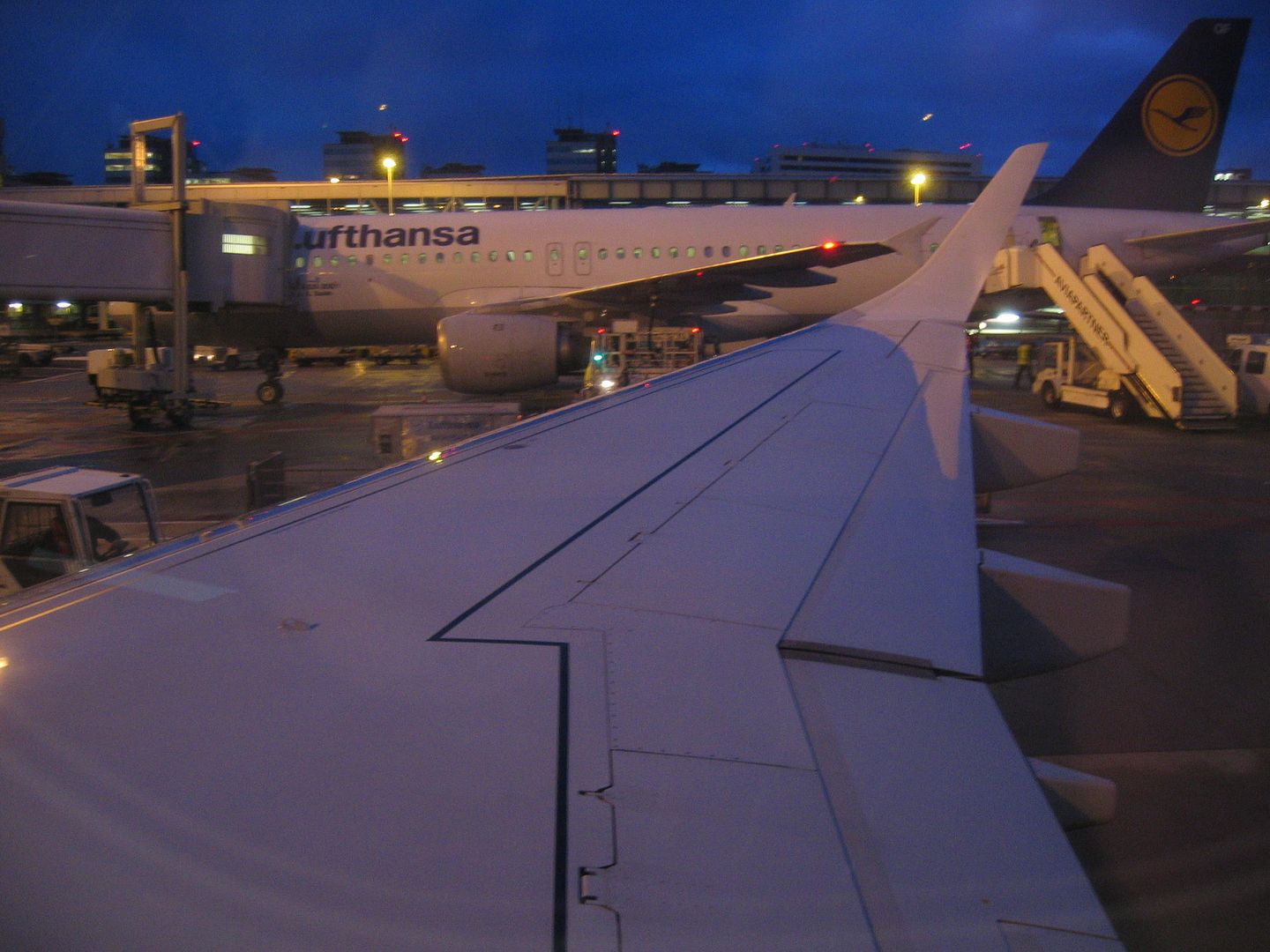 Cabin view. It's obvious this aircraft is brand new:
The flight had a short delay of about half an hour, but since I had a transfer of 3 hours at MUC, I wasn't too worried. Upon arrival at MUC I was looking at the board to check my gate for the flight to SIN when a customs guy in civilian clothing approached me (flashing his badge). He asked me the following:
"Where did you fly from?"
AMS.
"What is your destination?"
I informed him to SIN.
"Are you traveling alone?"
Yes I am.
"Business or pleasure?"
Pleasure.
Then he wanted to see my passport and itinerary. Looking at it he asked me to step aside and another guy joined him, asking me what line of work I am in. I told him tax consultant. They then asked me how long my transfer was and wanted me to come with them to check my handbag. They also swabbed my hand and face with some kind of liquid (I assume to check for drugs). Of course that was negative. And when they saw I had some stuff for friends in SIN in my hand luggage, as well as an e-mail advising me for good places to eat, they seemed to be satisfied that I was not a smuggler or anything and I was free to go.
Either way I had nothing to hide and had plenty of time for my transfer, so I was not worried and quite calm. It's also not the first time I was singled out, even though the last time was 10 years earlier (and I was selected for an extra pat down at JFK when flying to DCA in 2008), but I didn't know customs was checking these flights in civilian clothing as well. Quite an unusual experience. Does anybody have a similar experience at MUC (or another airport)?
Flight #2: MUC-SIN
Date: 26 October 2009
Airline: Lufthansa
Flight: LH790
Aircraft: Airbus A340-600
Reg: D-AIHV (delivered new to LH on 31 March 2008)
Seat: 32A
Scheduled departure time: 21:40
Scheduled arrival time: 15:55
Loadfactor: Y was full, no idea about J or F though...
D-AIHV waiting at the gate:
Wing view before takeoff: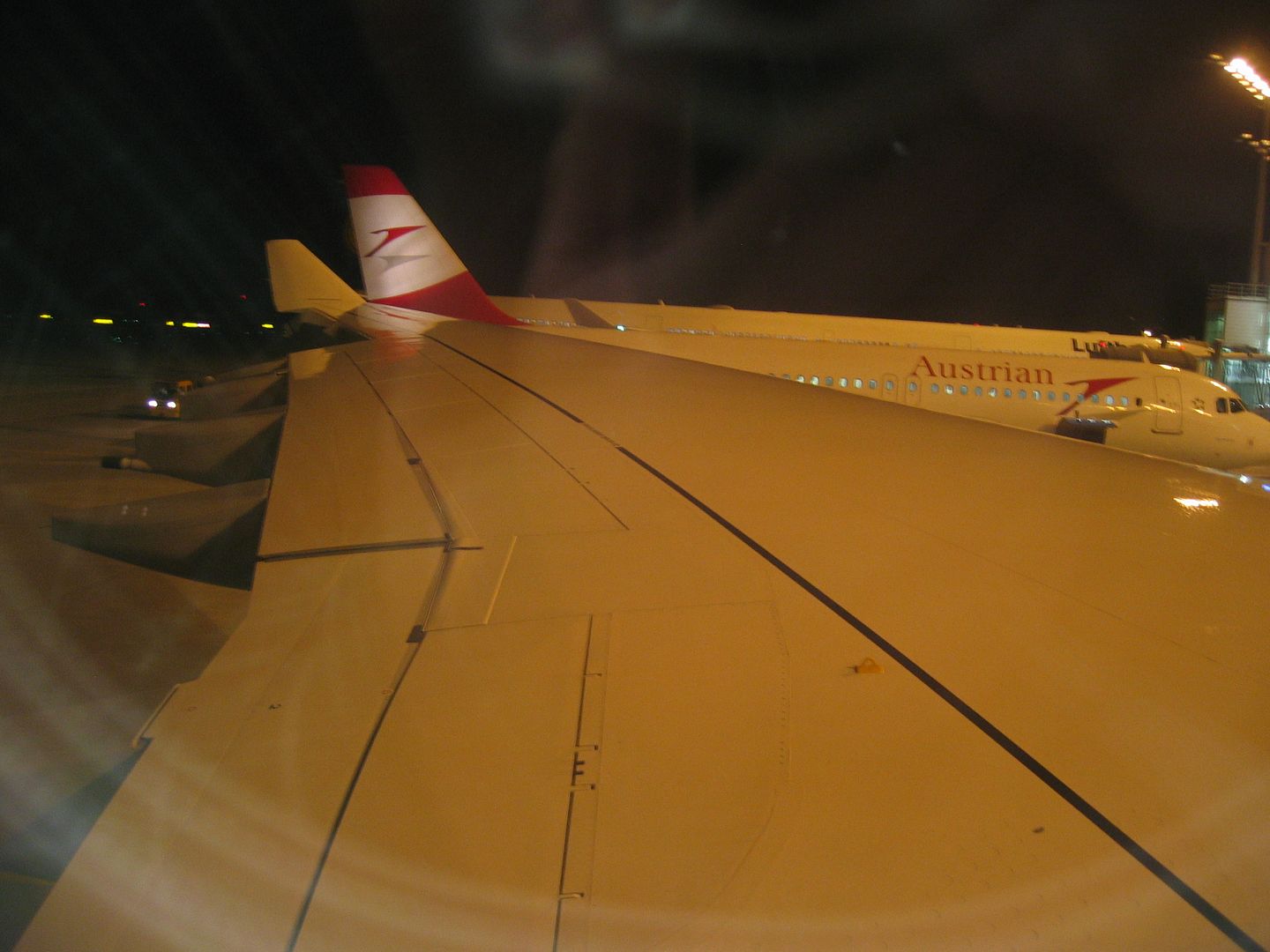 Sunrise somewhere over Afghanistan: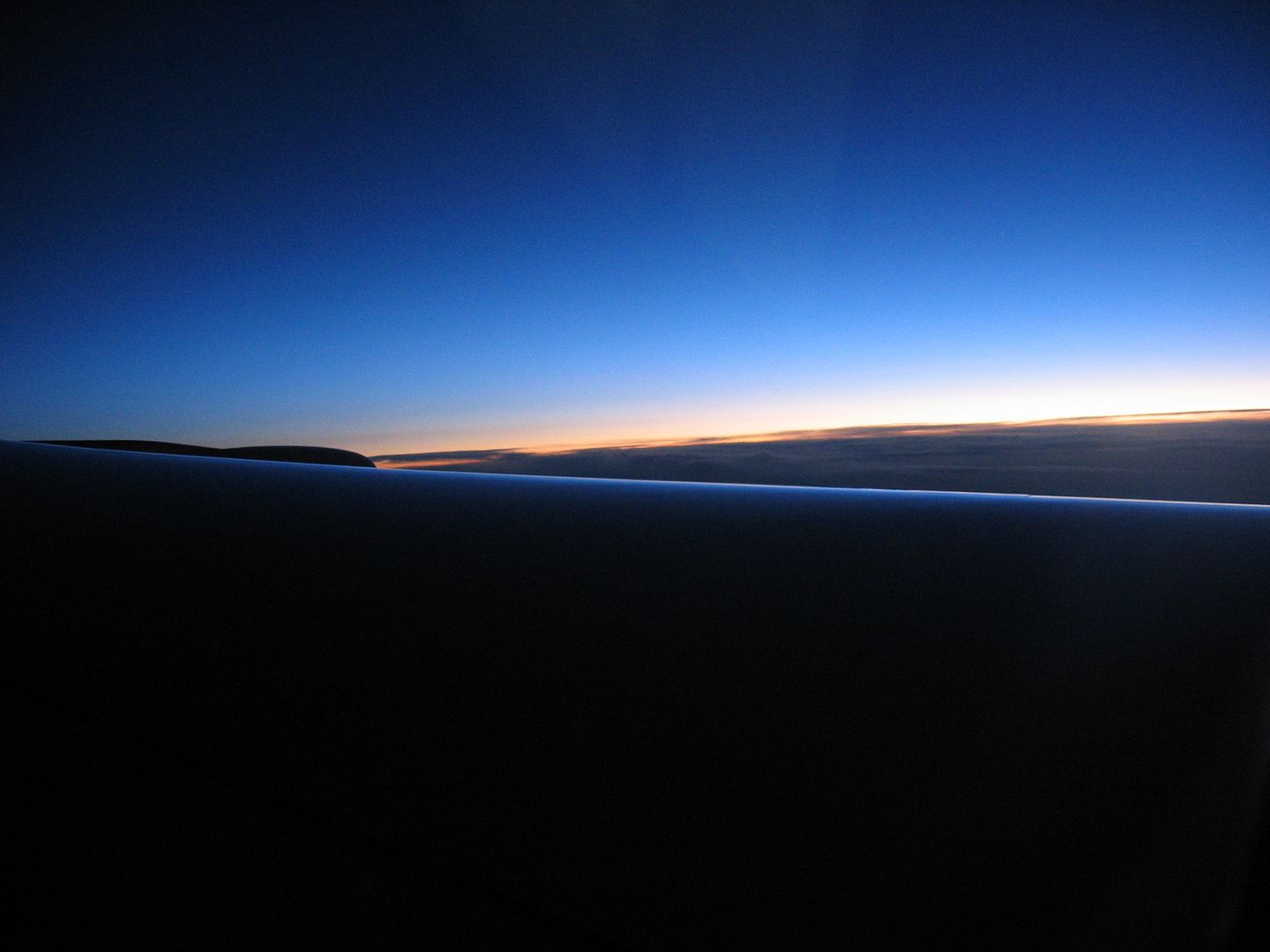 Wing view after sunrise:
Almost there:
View of the lovely LH cabin: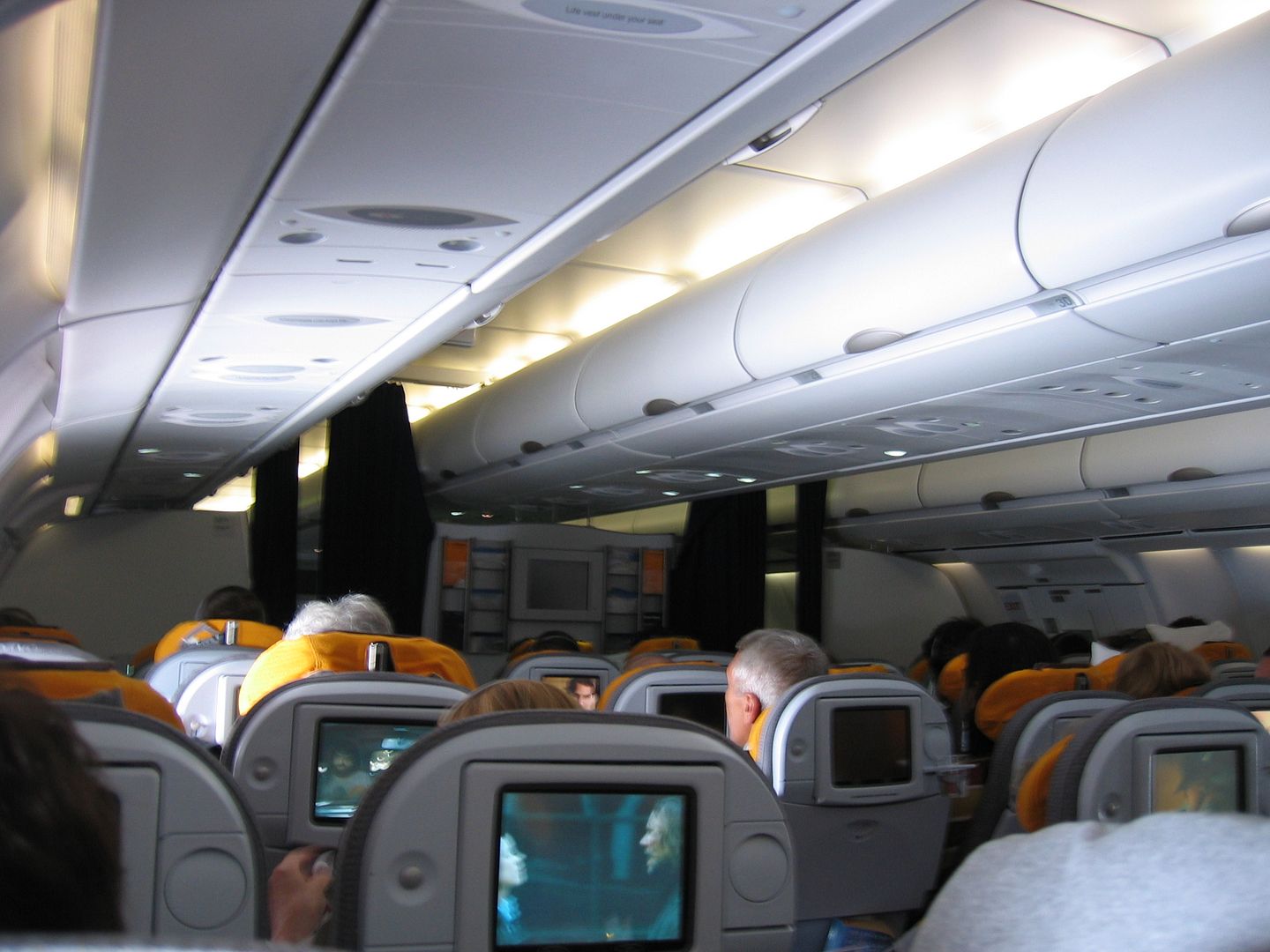 Arrival at SIN:
Definitely SQ country. Unfortunately no a380 to be seen:
The flight went very smooth and I was happy with LH service. Again except the catering. The hot meals especially could really use some improvement. I've eaten much better on other airlines. Unfortunately, the flight back would be even worse in this respect. But the crew was curteous and professional. I have grown accustomed to this at LH, very good!!!
I really like the big PTV's with AVOD, but LH could use some more choices in this respect. KL for example has more movies on offer in their Y AVOD. But it kept me busy and the flight passed quickly, even though I didn't sleep at all. There was a nice German lady sitting next to me, but she hardly spoke English and my German is not that fantastic, so communicating was quite difficult. I did manage to help her with her immigration card though.
Anyway, here are some pics of Singapore:
View over Singapore in the direction of Clarke Quay (the area with blue and yellow lights in the center-right of the picture). This picture is taken from the Equinox bar on top of the Swissotel The Stamford:
My hotel right on Clarke Quay (Swissotel Merchant Court). It was a decent enough hotel with very nice staff. The location was fantastic, MRT station nearby and centrally located: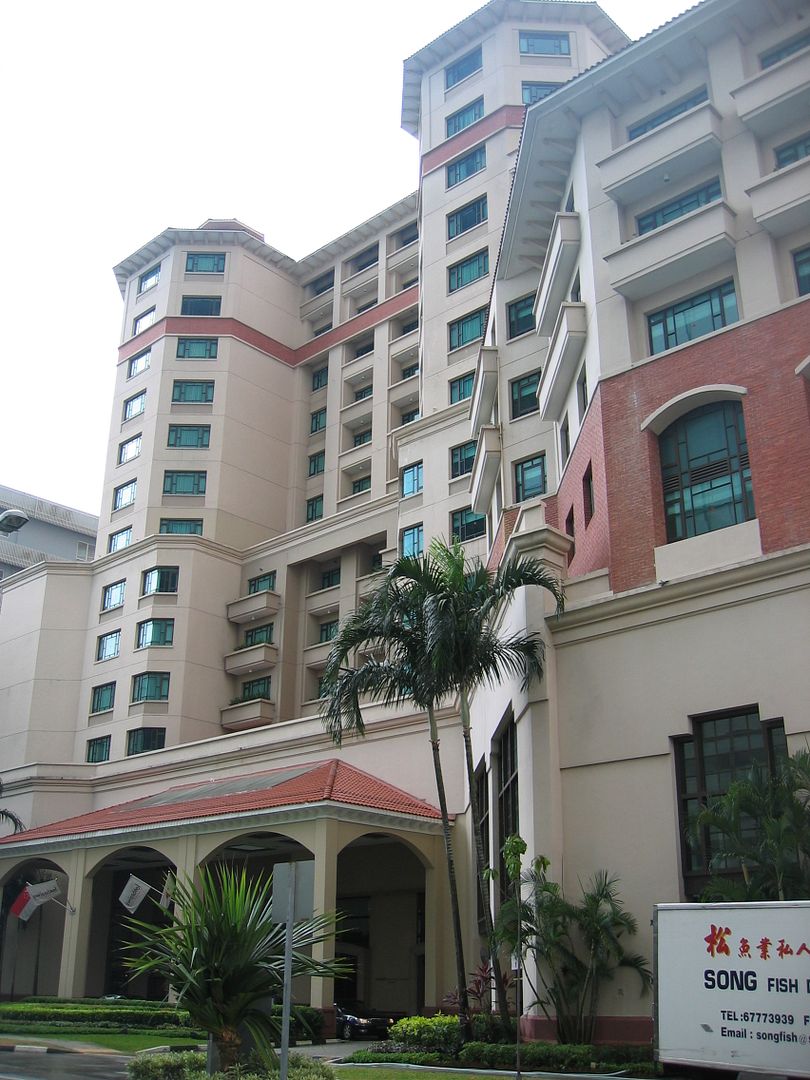 Clarke Quay by day. Of course it's much more lively and fun at night:
Singapore is truly a "fine" city
Singapore has truly excellent food. Maxwell Food Court is no exception: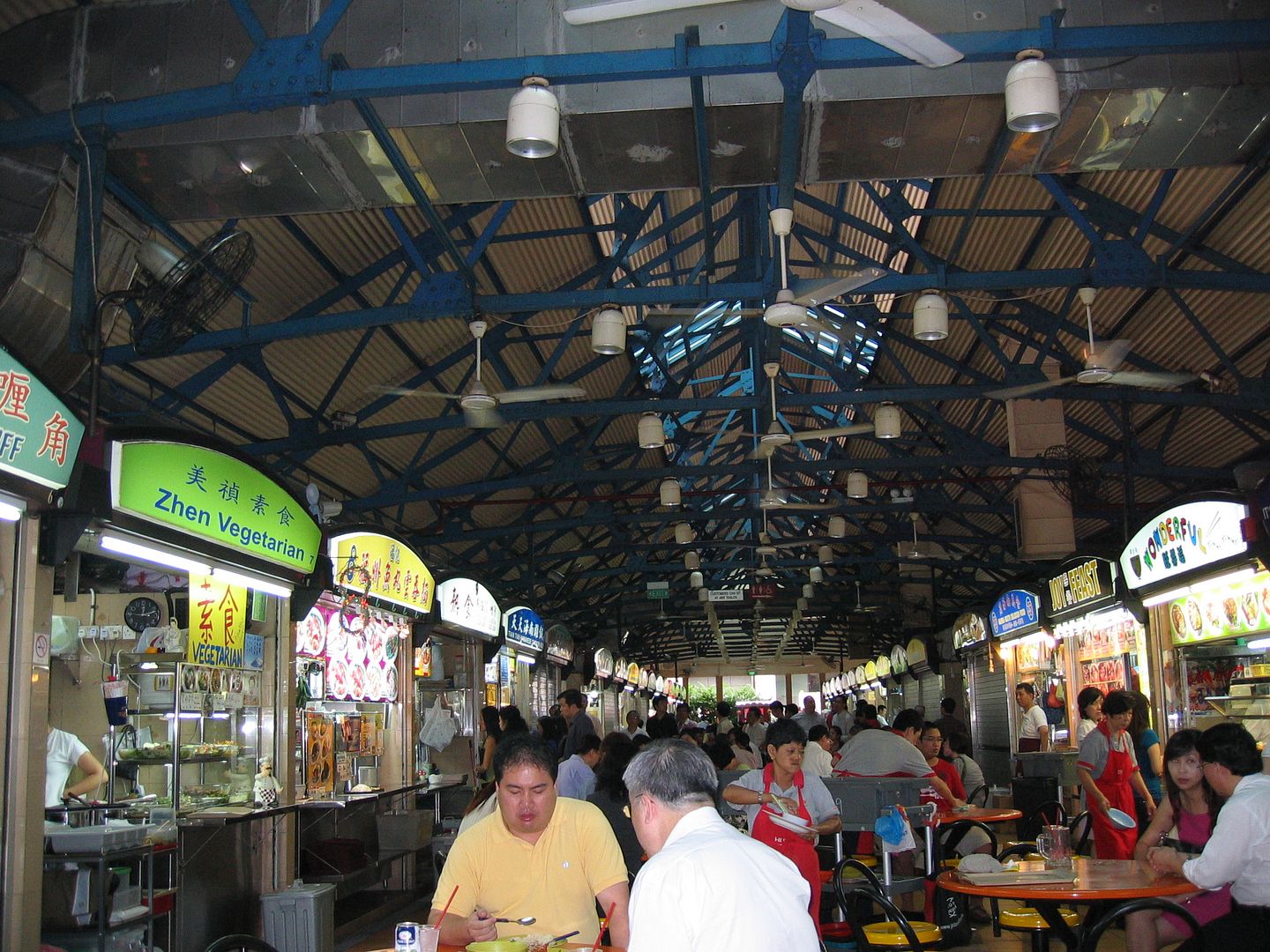 The branch of my employer in Singapore. I was so close to working here
Oh well, I still might...
Thian Hock Keng temple, built in 1822:
Lovely statue on Boat Quay:
The Fullerton Hotel:
The Merlion on One Fullerton: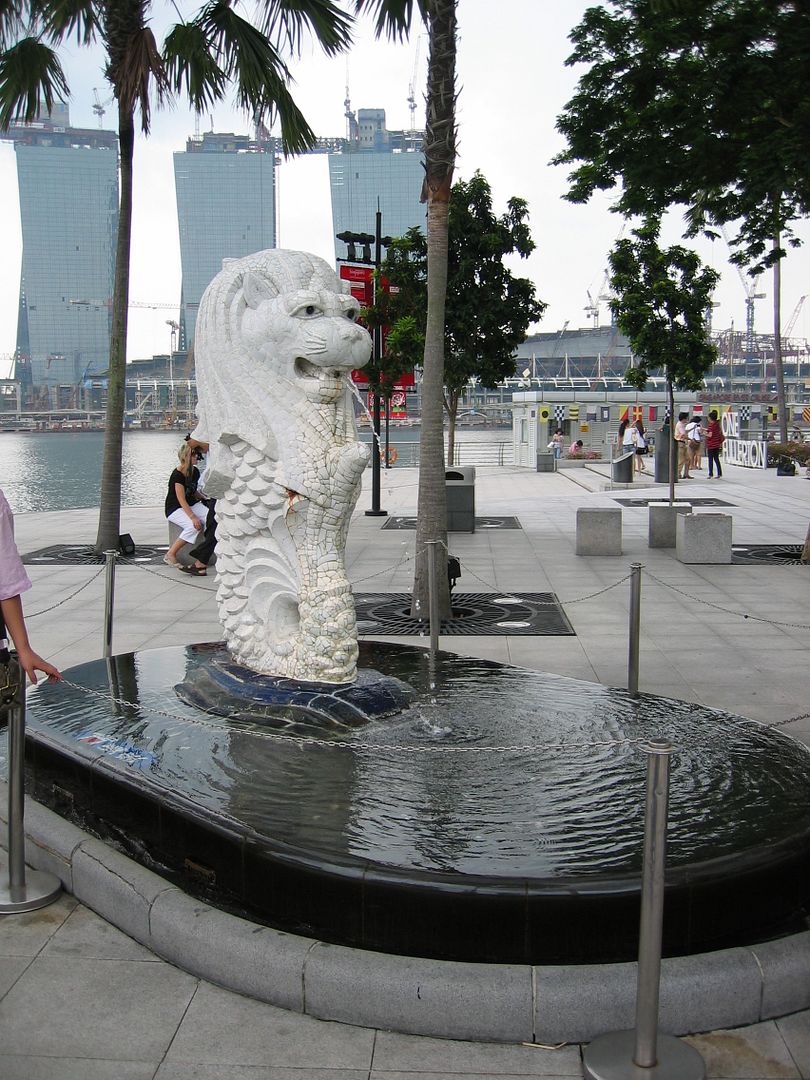 The bigger Merlion was undergoing repairs due to a lightning strike. In the background the CBD (Central Business District) can be seen: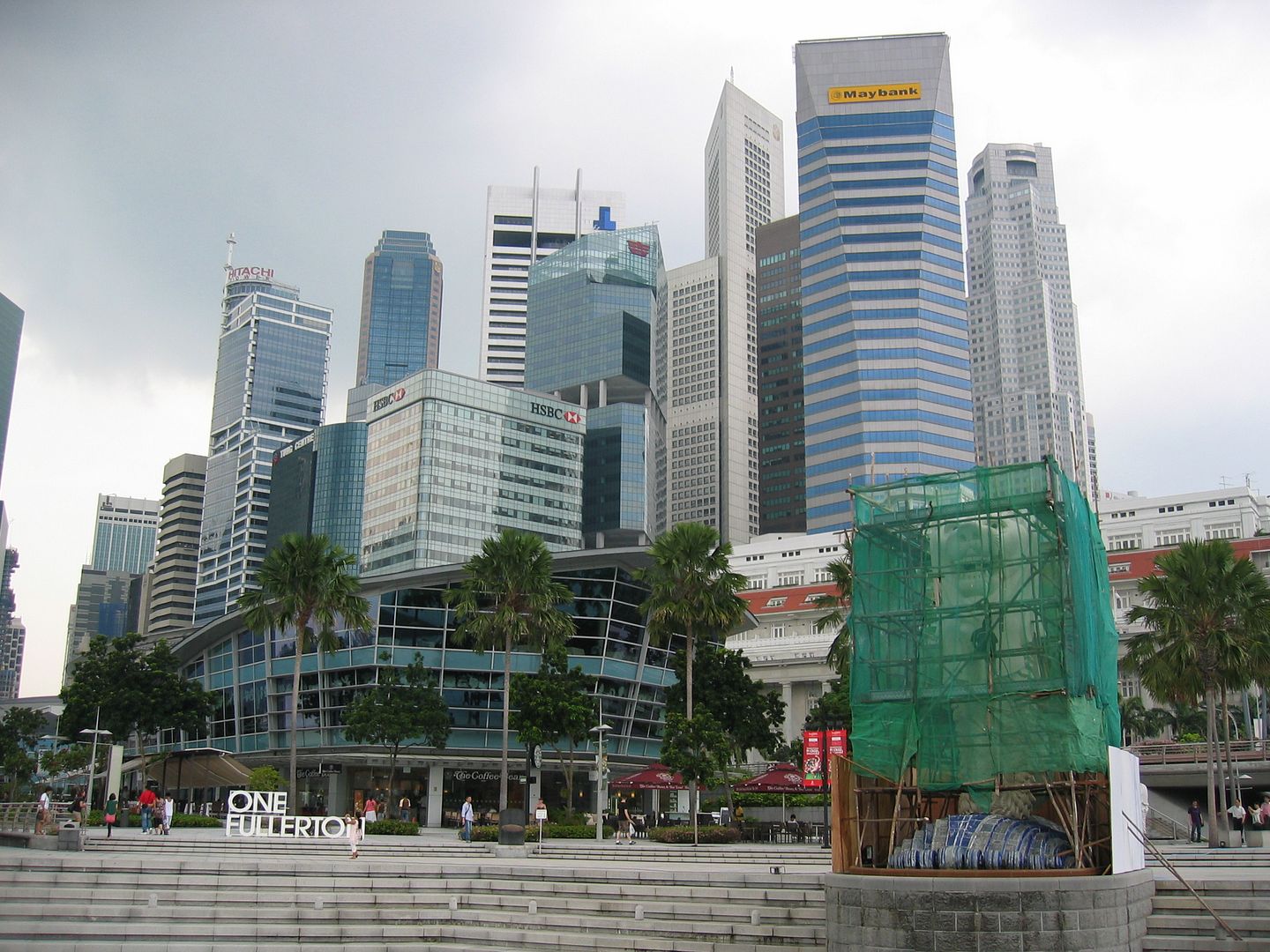 Boat Quay: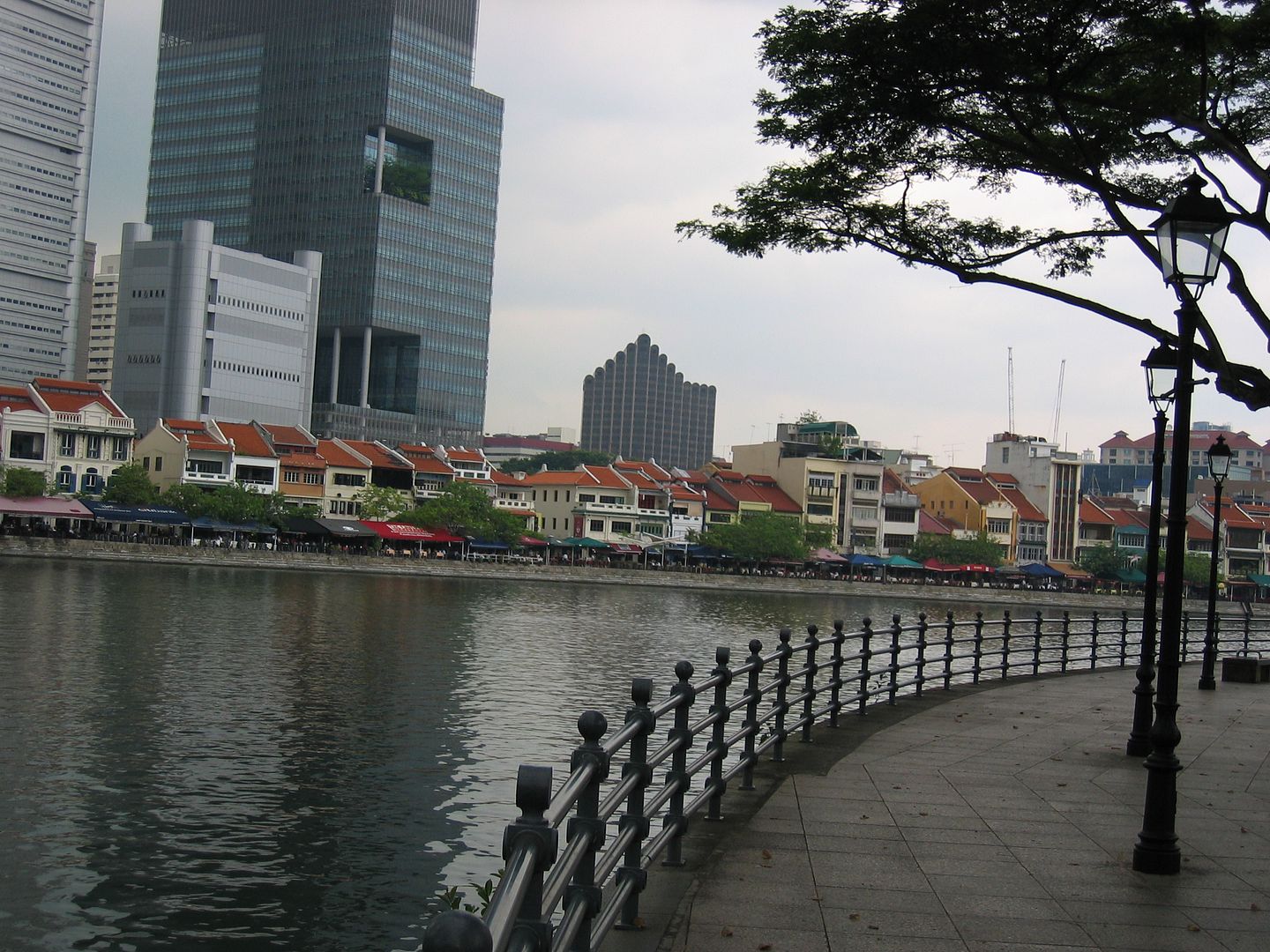 Statue at the Raffles landing site:
Hindu temple in the Bugis area:
Gotta love the Singa-Lion: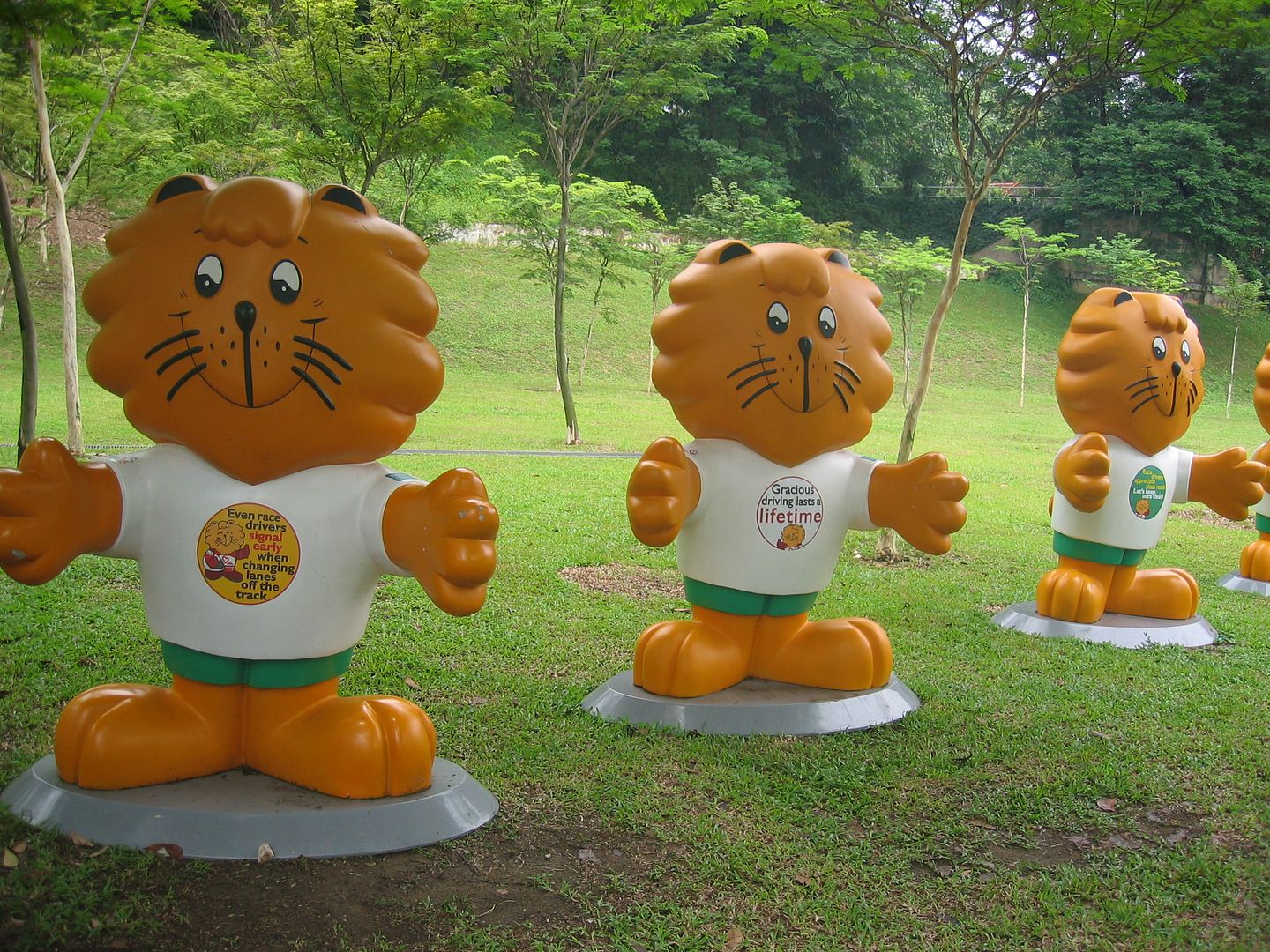 Inside the Chinatown Heritage Centre. Unbelievable that up to 10 people used to live in rooms like this.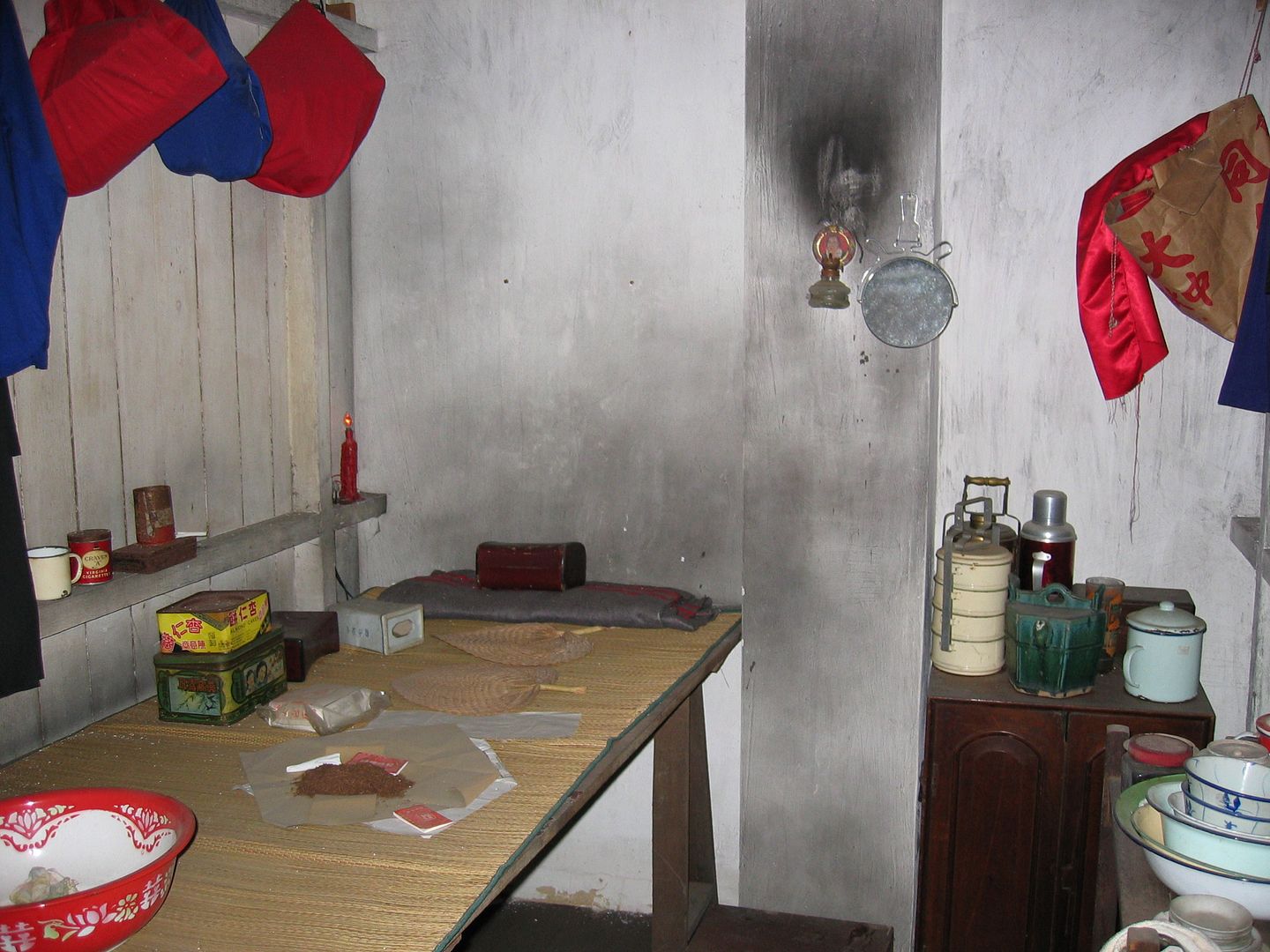 Food stand in Smith Street in Chinatown. Our Dutch readers may appreciate the Dutch interpretation of Bak Kut Teh
I didn't try it though... too much other good food to eat, like Hokkien Noodles, Carrot Cake, Laksa, etc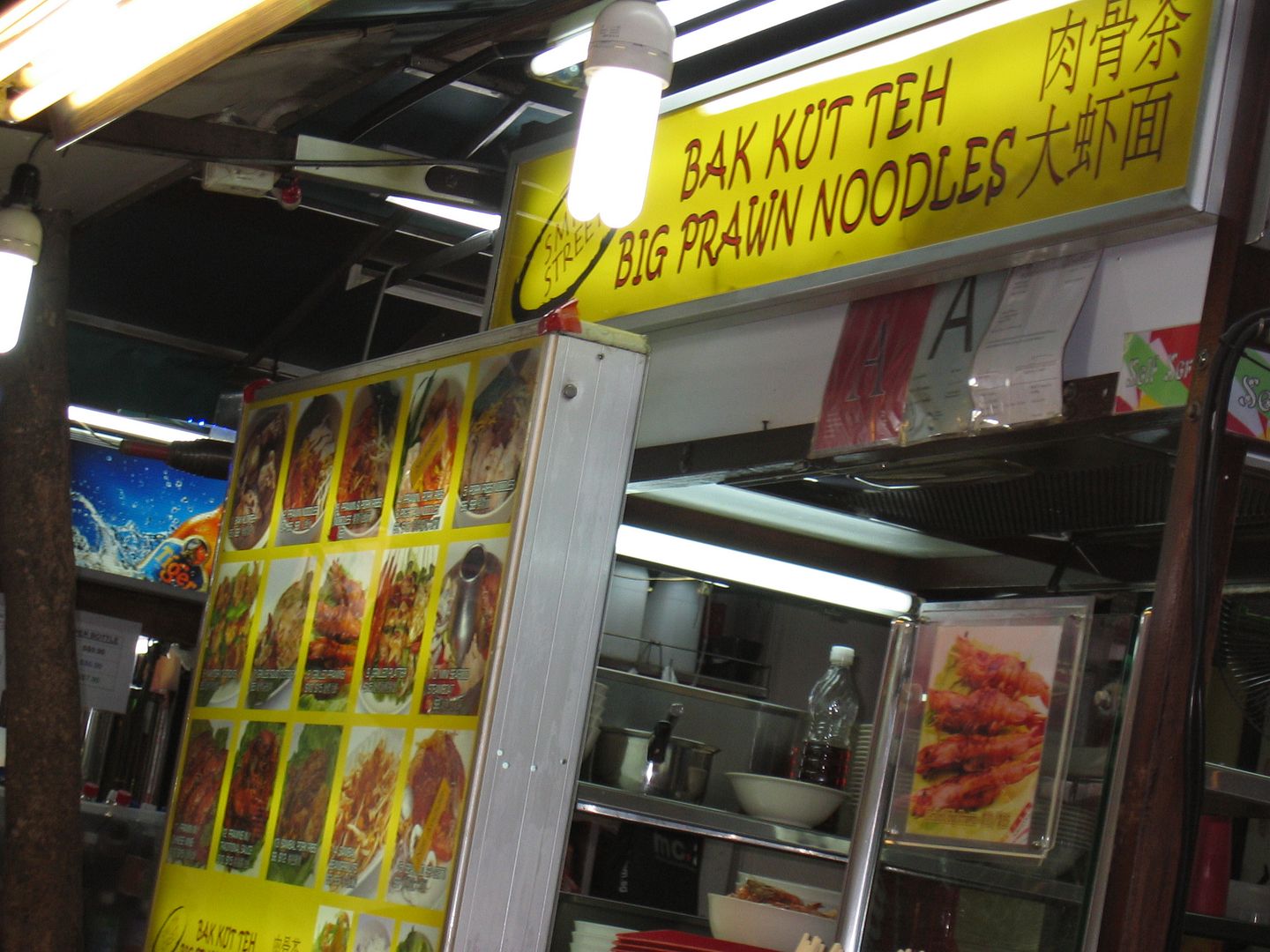 Smith Street, a lovely place to eat. Especially a bit later when it's busier: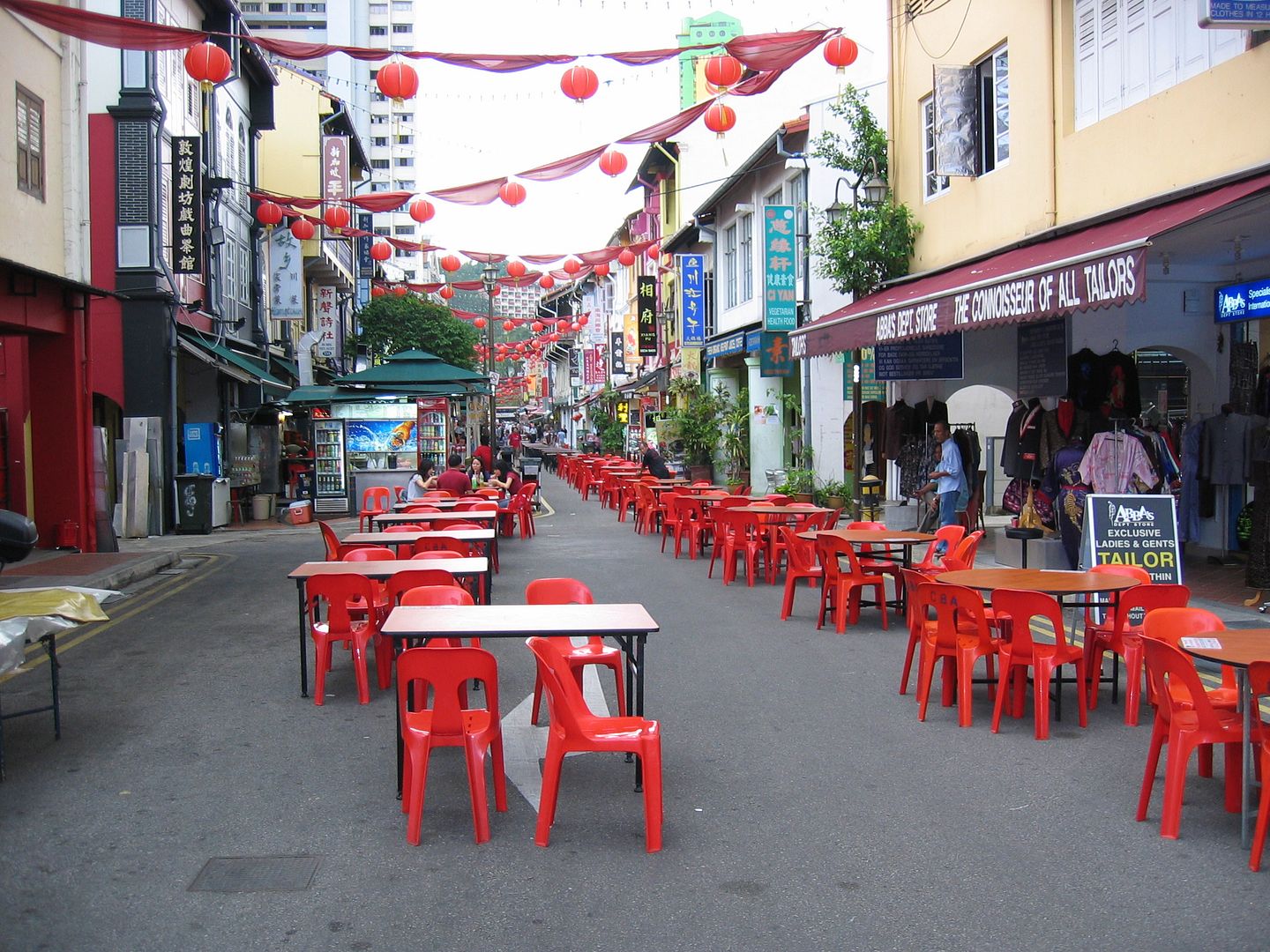 Fort Canning Park: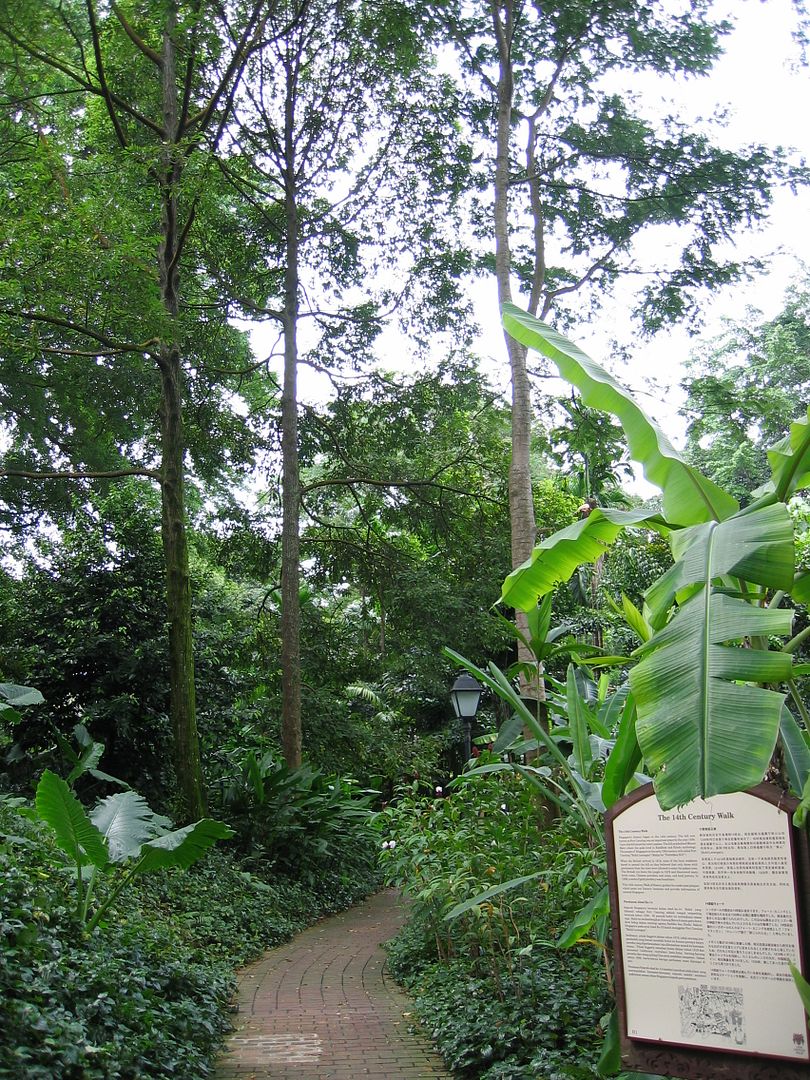 The Chinese and Japanese gardens are a lovely getaway from the busy city centre:
Pagoda in the Chinese gardens: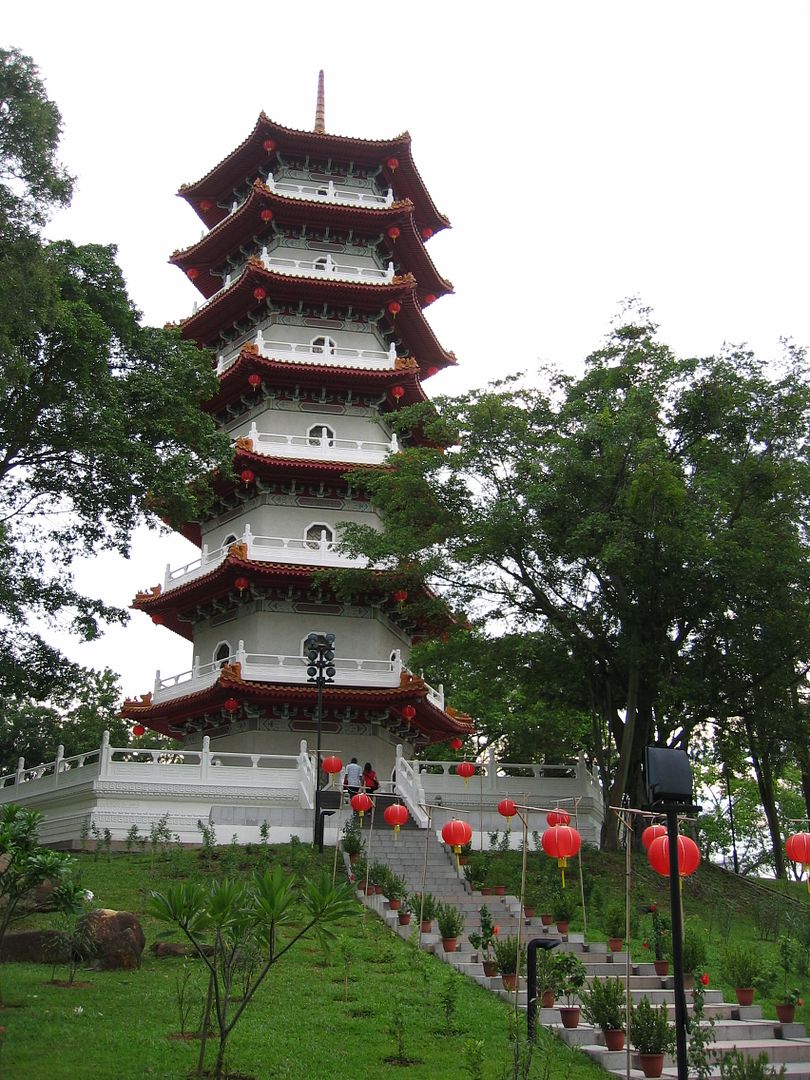 Bonsai Tree and Stone garden in the Japanese gardens
Orchard road, can't go to Singapore without at least one visit to this street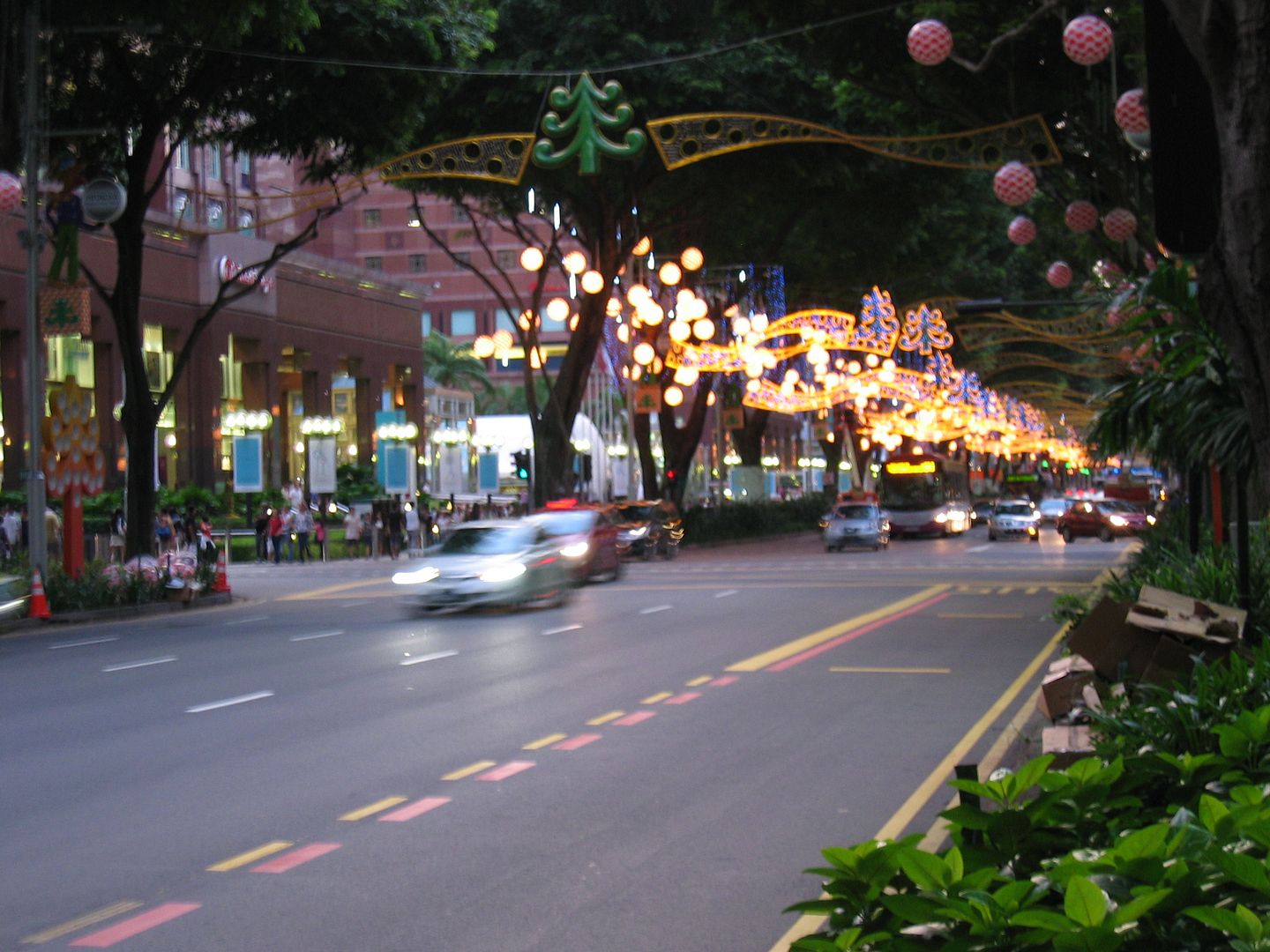 I loved my time in Singapore, but it was time to move on to Malaysia. I took a cab from the hotel to SIN, which took about 20 minutes. Not too expensive either, so no problem. I was thinking about taking the MRT, but it was the morning rush hour and didn't feel like taking my laggage in the MRT at this time of the day. So I decided to take the taxi.
The orchard garden at Changi. I really love this airport!!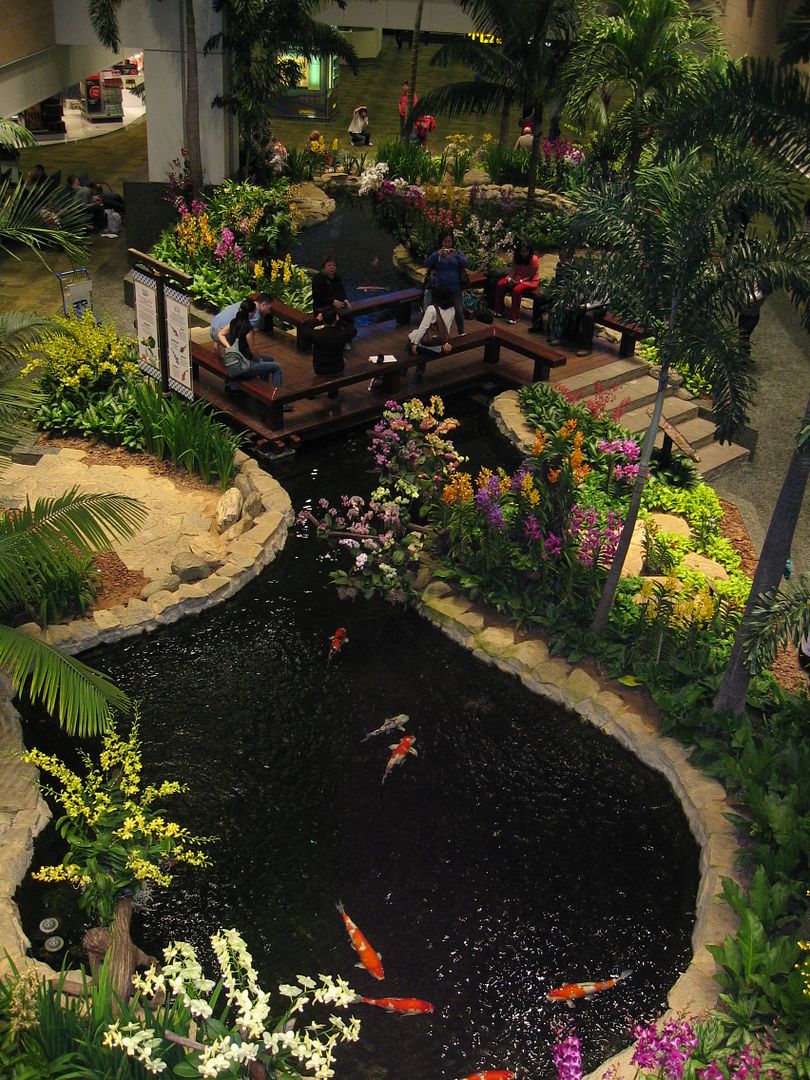 9V-MMQ just arriving from KUL, about half an hour late.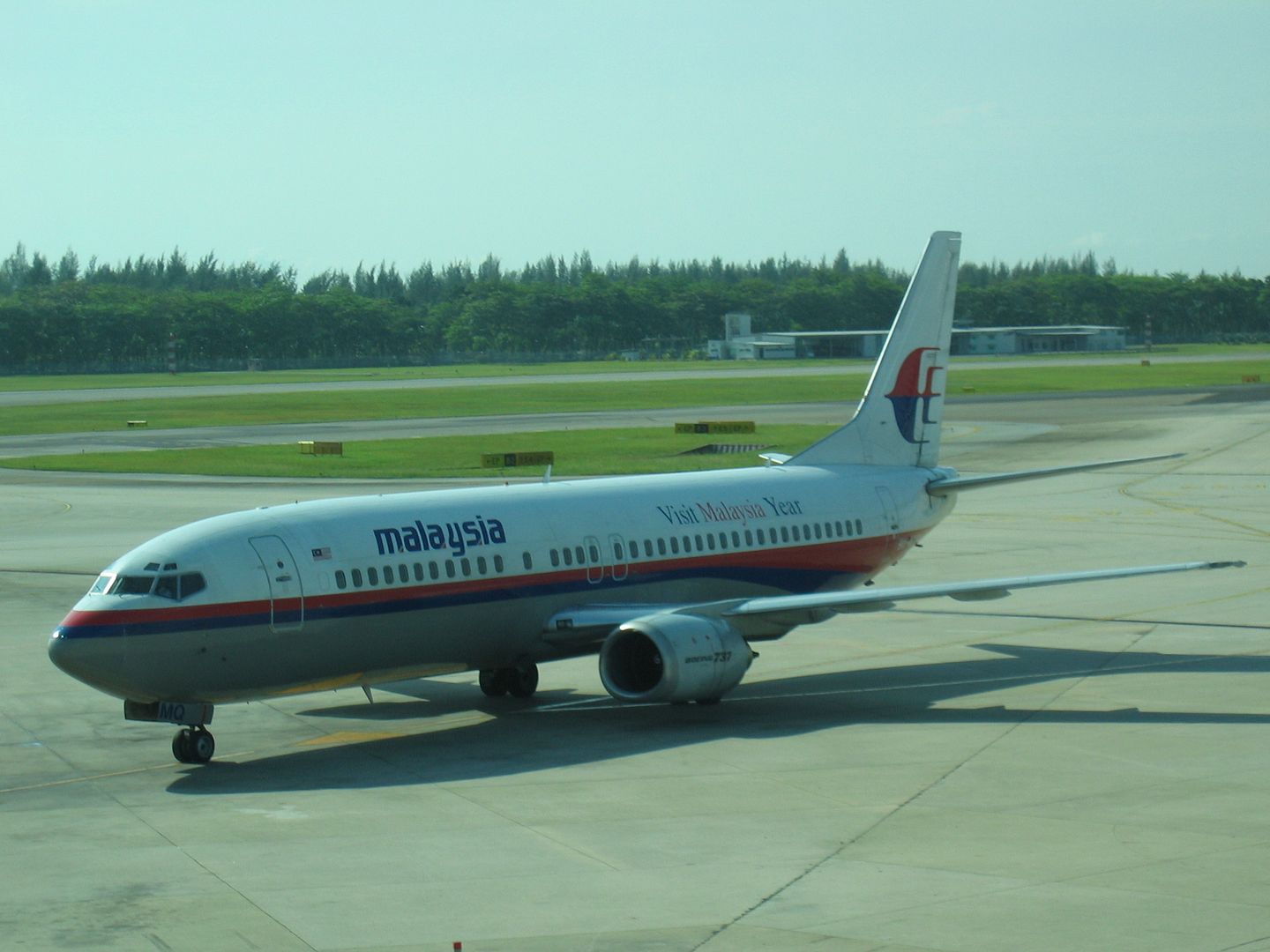 Flight #3: SIN-KUL
Date: 2 November 2009
Airline: Malaysia
Flight: MH604
Aircraft: Boeing 737-400
Reg: 9V-MMQ (delivered new to MH on 30 March 1993)
Seat: 8F
Scheduled departure time: 09:50
Scheduled arrival time: 10:50
Loadfactor: about 95%
It's a good thing MH has ordered new aircraft, because the 734 looks really tired, inside and out! The windows are all scratched up, the seats look tired, etc. I was happy to be back on the ground...
Inflight:
Scratched up windows!! I was trying to take a picture of the numerous palm farms on the ground. Palm oil is one of the biggest export products (if not the biggest) of Malaysia. Unfortunately it's also destroying the rainforest
Arrival at KUL. reverse thrust and spoilers deployed...
The cabin of 9V-MMQ:
It was a very short flight and the cabin crew distributed drinks that clumsy me, dropped while taking pictures. Oh well... the flight was ok, we did have some turbulence and like I said, the plane looked tired.
My hotel room in KUL. I booked the Sheraton Imperial and it was a truly awesome hotel!! Highly recommended... good location as well.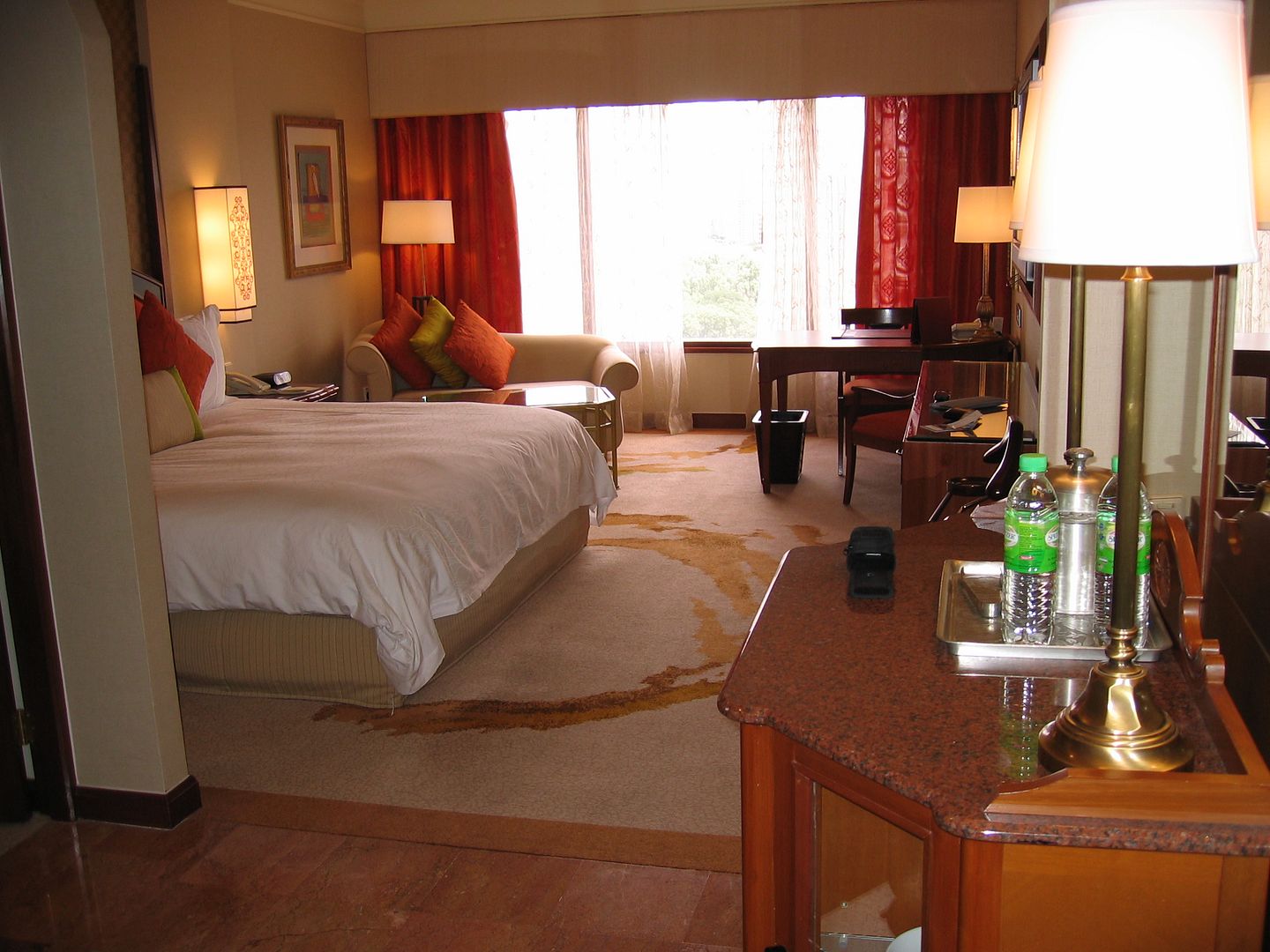 Malaysia Tourism Center. It's located in a lovely colonial building that was almost demolished. Thankfully they kept it. I booked a few trips here, to Melaka and Batu Caves:
Dutch windmill in Melaka:
Stadthuis is Dutch for City Hall. This was the old city hall modeled after the City Hall of the Dutch town of Hoorn. It's a museum now.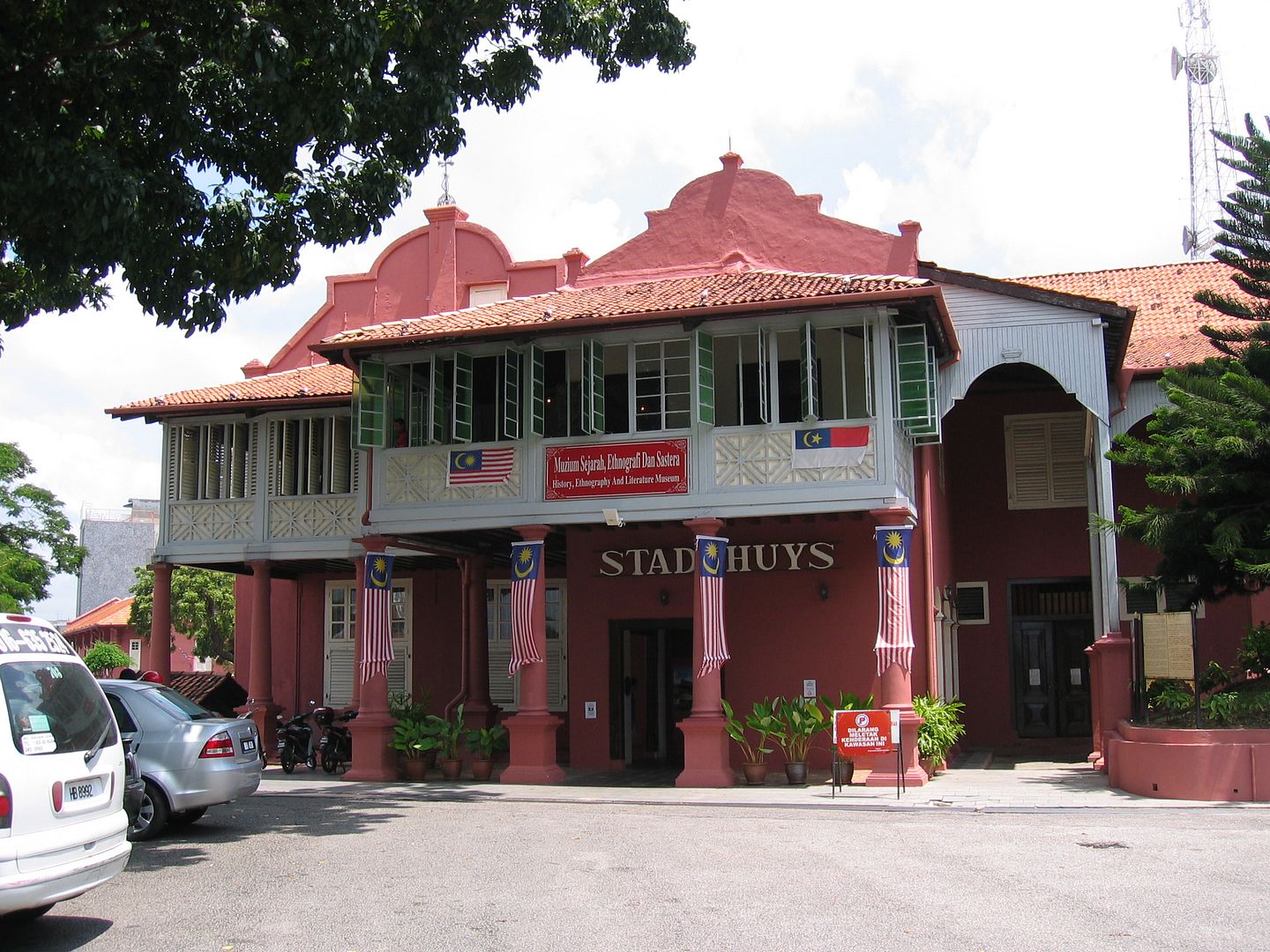 Weird to see a gravestone in Dutch in a fort built by the Portuguese, partly demolished by the Dutch and saved from total demolition by the British. Yes... Melaka has quite a history
The beautiful Petronas twin towers:
The Suria KLCC mall at the base of the twin towers. Lovely mall!!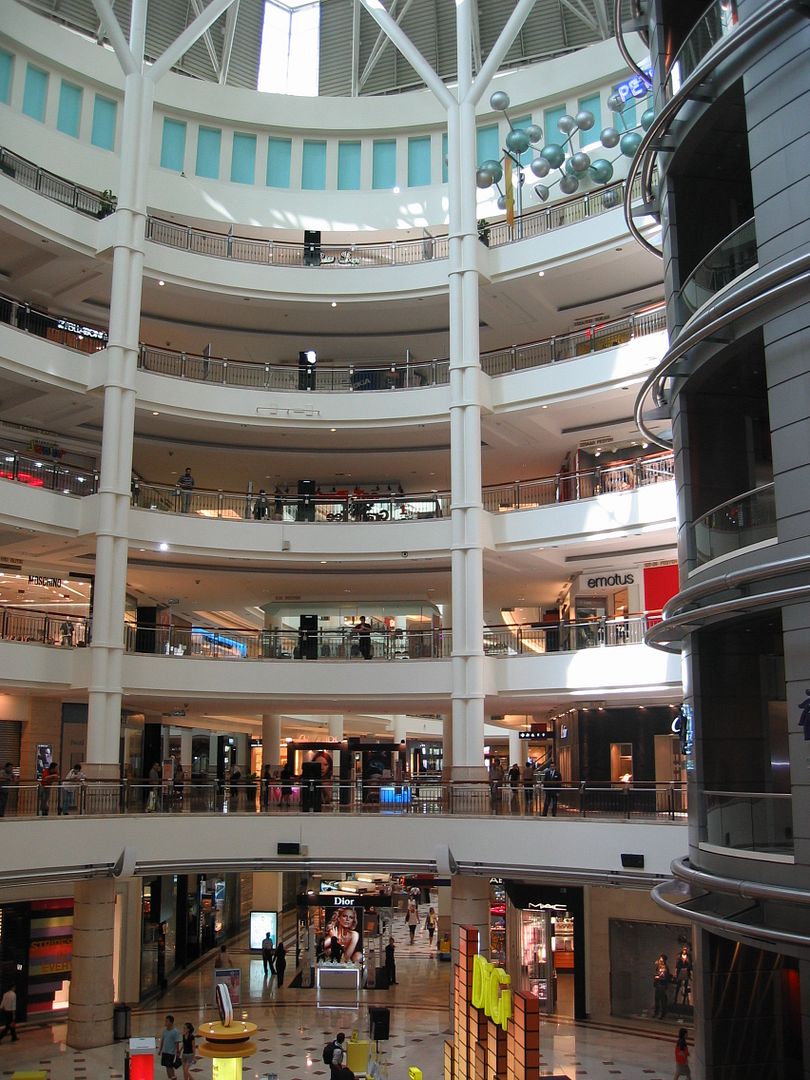 View from the walking bridge between the two towers: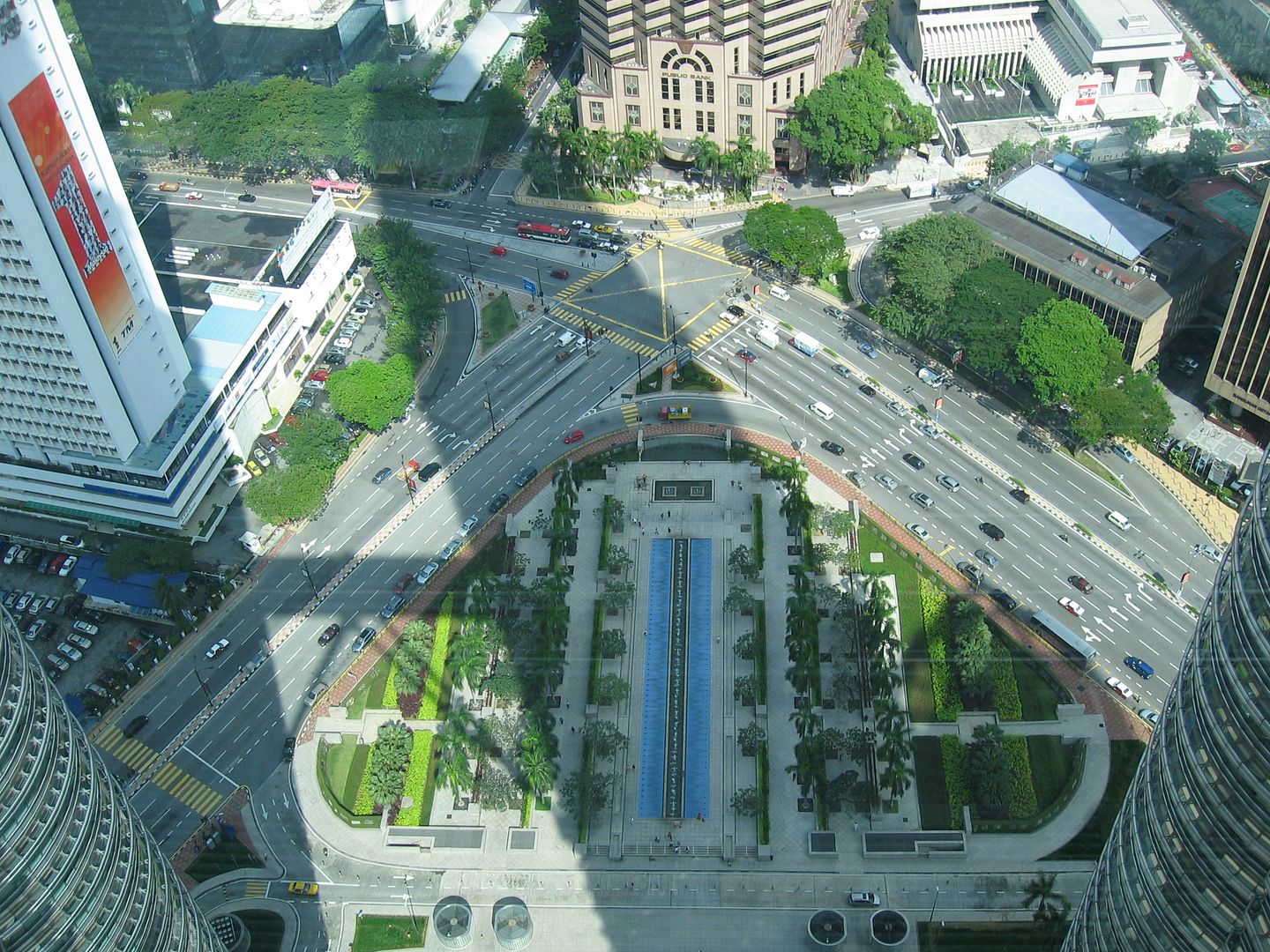 The museum of Islamic art: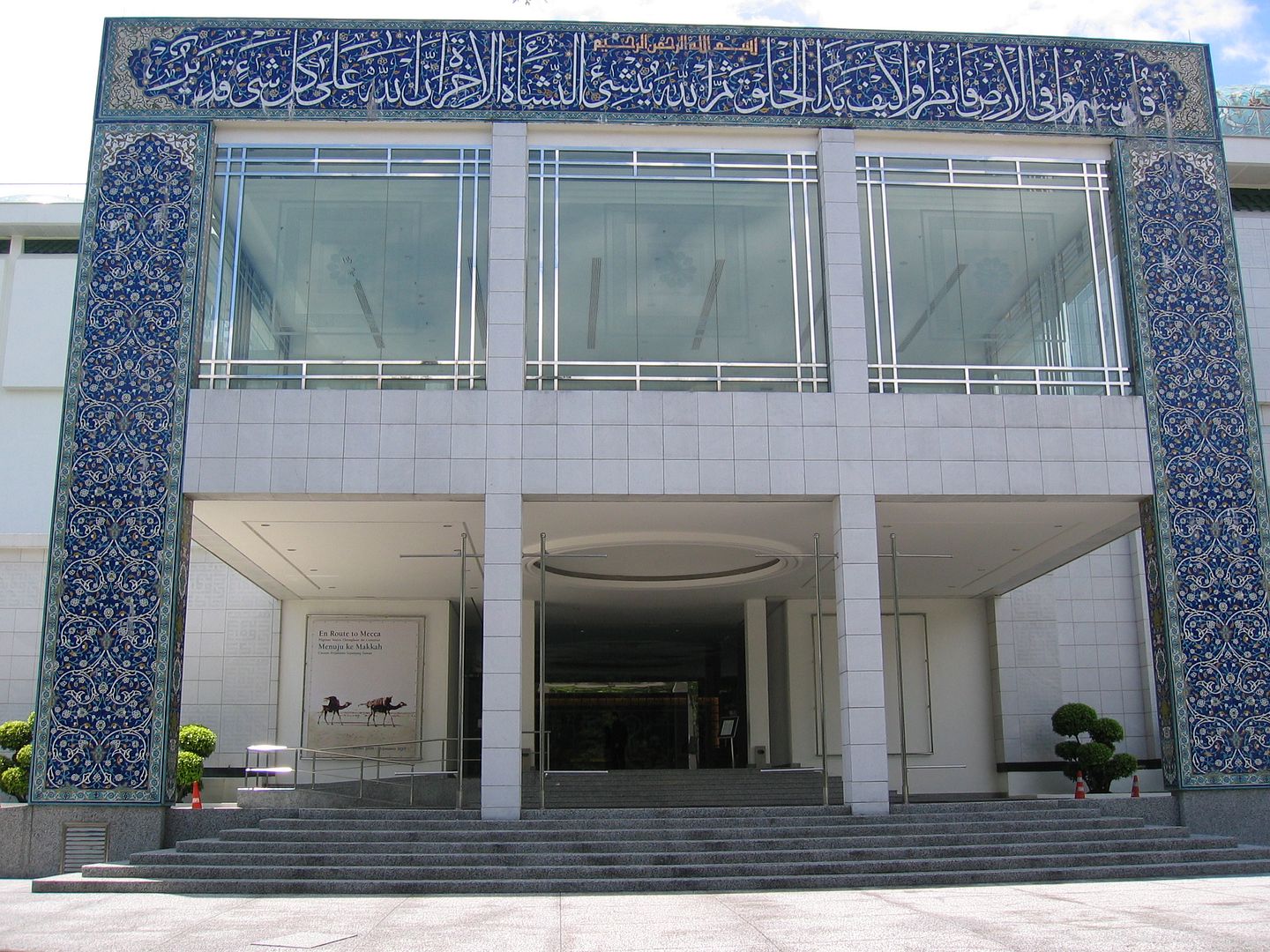 Models of the Taj Mahal and the Ka'ba Mosque (Masjid al-Haram):
If you ever stay at the Sheraton Imperial in KUL, be sure to eat here. It's right around the corner, cheap and more importantly, has delicious food: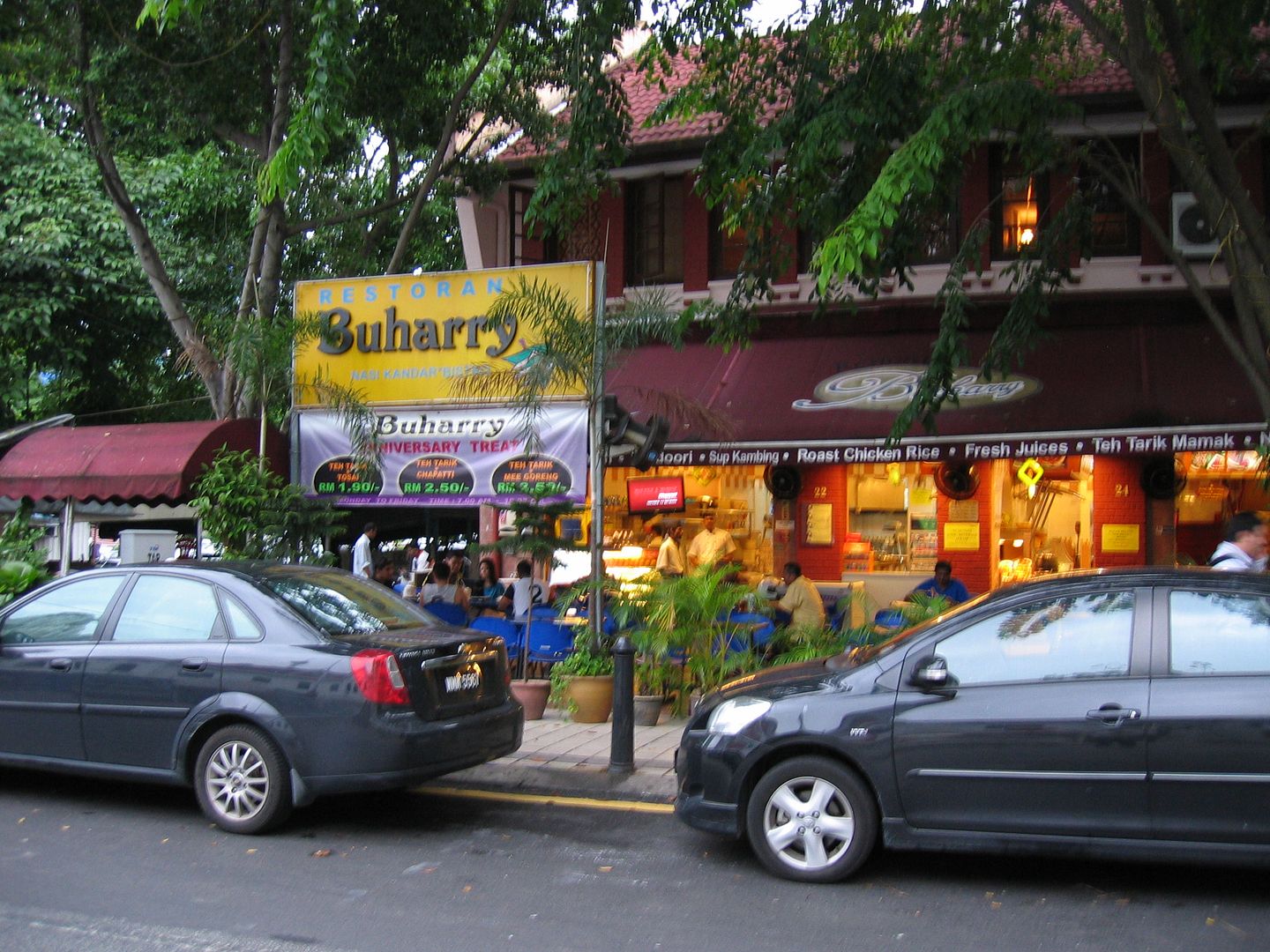 Inside the Royal Selangor Pewter factory:
Entrance to Batu Caves:
Hindu shrine inside Batu Caves: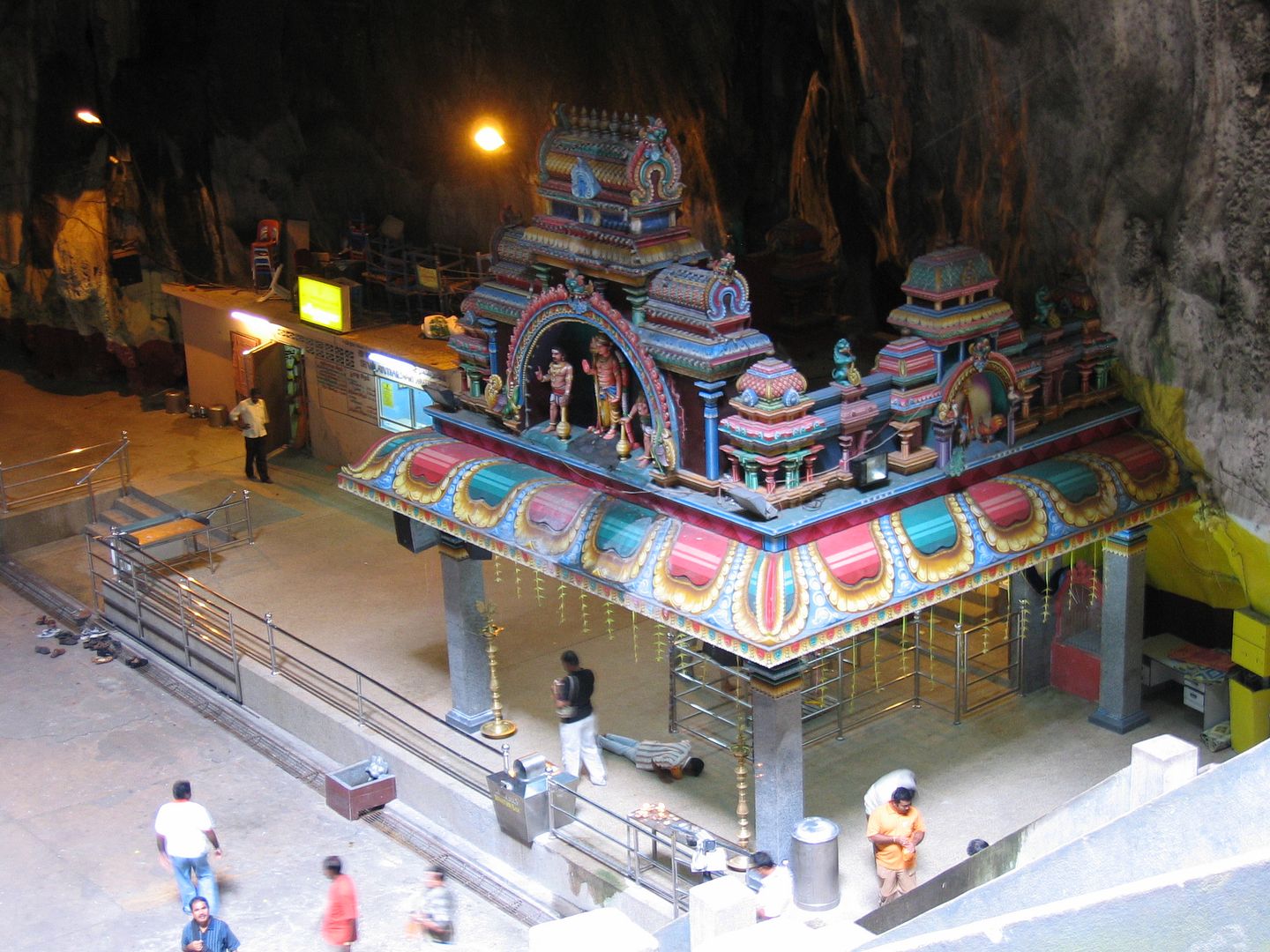 Macaque on the stares to Batu Caves. They are everywhere! And not afraid of people at all...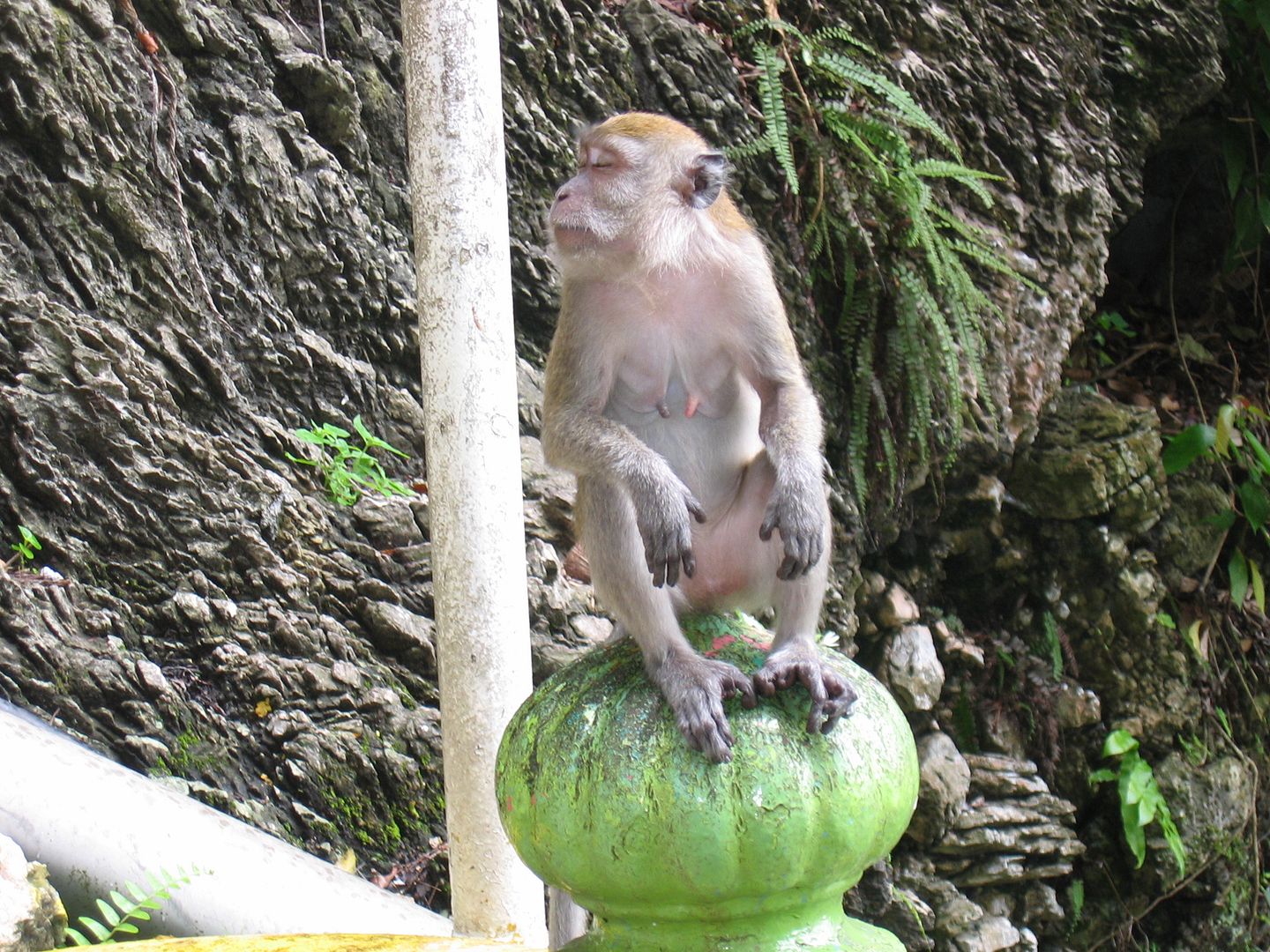 Oh well, that was the end of my Malaysian vacation as well. Malaysia is a beautiful country and I really want to visit again. I will definitely take more time then to see more of the country!!
Departure hall of KUL. It's a nice airport, very modern. But IMHO no match for SIN. The upside is that since it's way too big for the number of pax it handles, it not busy anywhere. MH ground staff was also very friendly and even booked my luggage all the way through to AMS!!
I had time for a quick Nasi Lemak. Not as nice as in the hotel, but still quite tasty: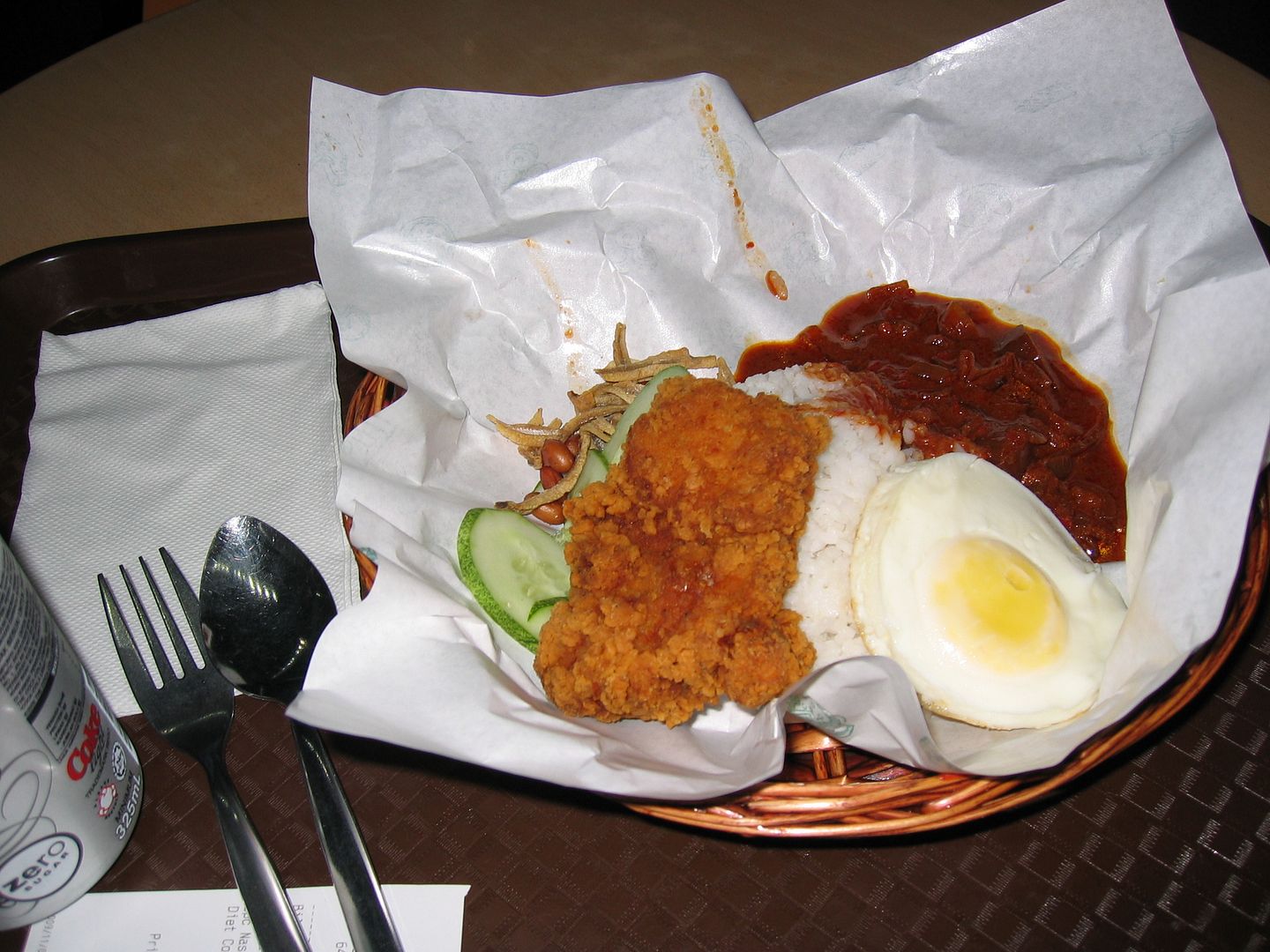 KUL does have a very nice aircraft model collection though!!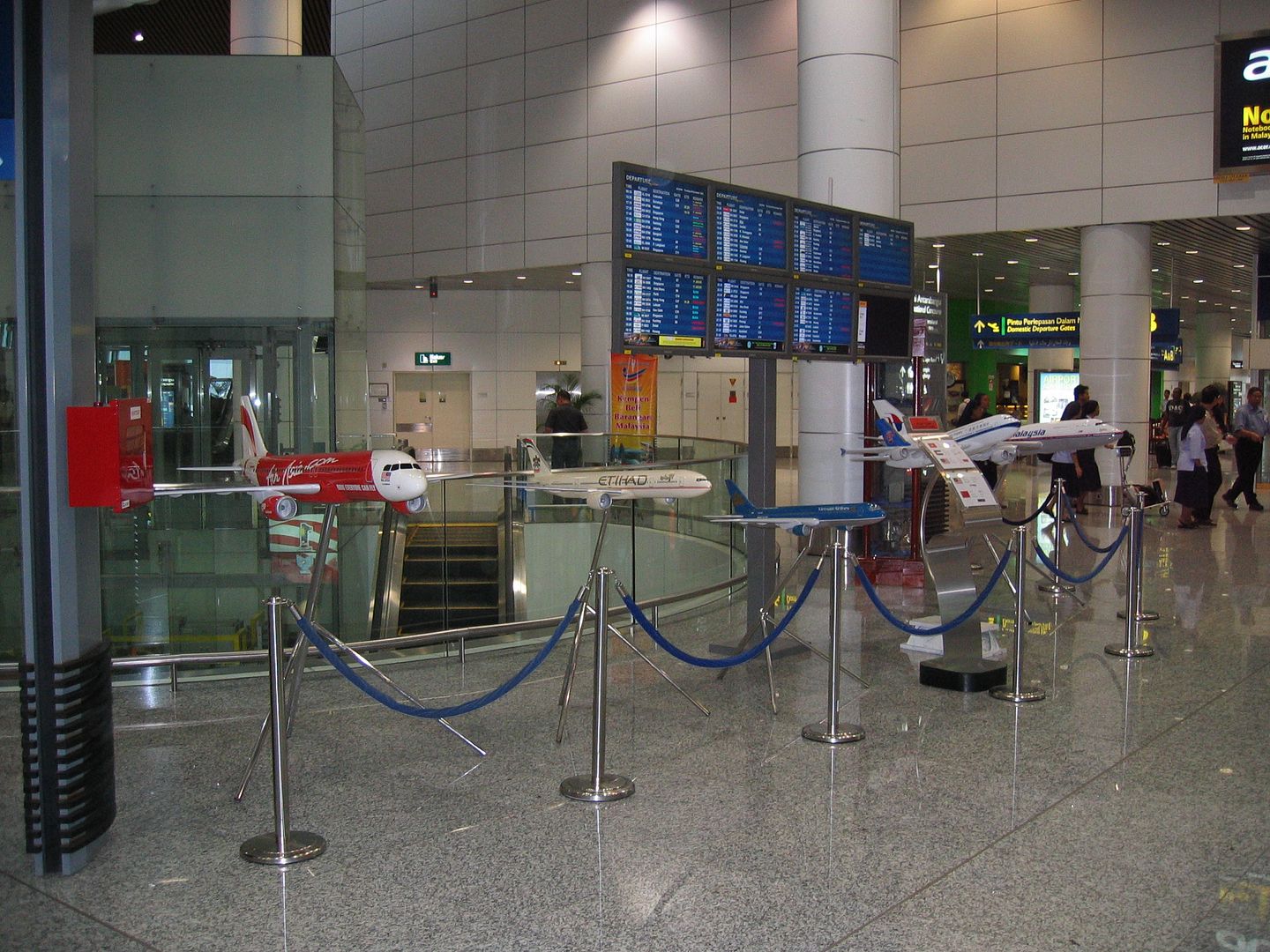 Flight #4: KUL-SIN
Date: 5 November 2009
Airline: Malaysia
Flight: MH607
Aircraft: Boeing 737-400
Reg: 9V-MMG (delivered new to MH on 16 October 1992)
Seat: 20F
Scheduled departure time: 19:30
Scheduled arrival time: 20:25
Loadfactor: about 95%
9V-MMG at the gate. Also half an hour late and also tired looking. MH must work these aircraft to the ground: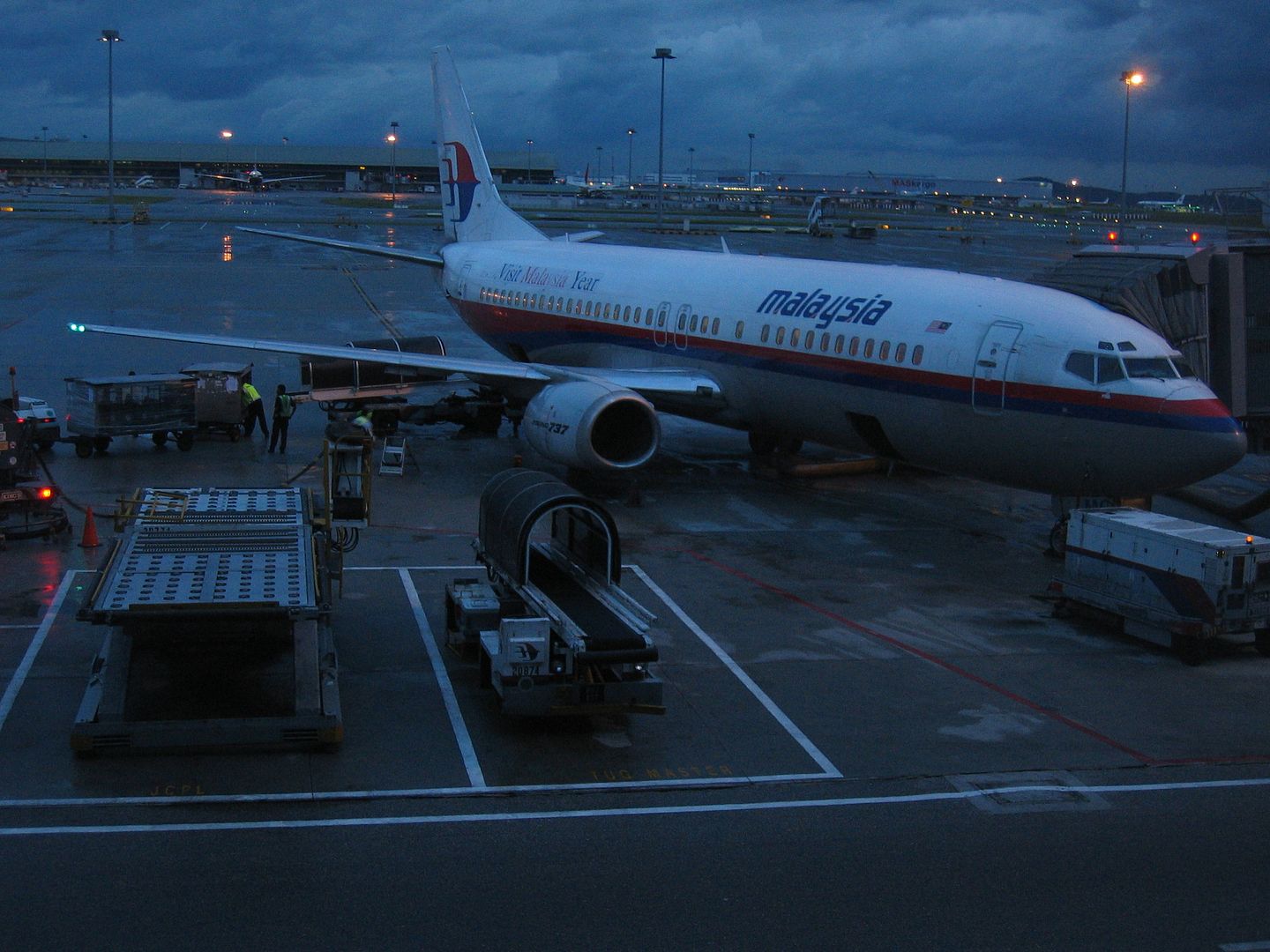 Service again consisted of a drinks service. Again there was quite a bit of turbulence, so thankfully the flight was short. I had some time at SIN, so I looked around some shops, got something to eat and decided to check out the games. Unfortunately those were all taken. So I went to see a movie in the small theater. There was a fun comedy on (forgot the name), so I stayed until it was time to board my flight to MUC. There is really no reason to get bored at SIN during a transfer!
Flight #5: SIN-MUC
Date: 5 November 2009
Airline: Lufthansa
Flight: LH791
Aircraft: Airbus A340-600
Reg: D-AIHT (delivered new to LH on 30 April 2008)
Seat: 33C
Scheduled departure time: 23:35
Scheduled arrival time: 05:45
Loadfactor: Y was at most 80% full, no idea about J or F though...
I normally don't take an aisle seat, but since this flight was completely at night, I decided to forgo the window seat and go with an aisle seat. The guy next to me didn't say a word the entire flight. I also slept for about 8 hours (on and off). Catering was again not good. They had a choice of duck or fish for dinner. I reluctantly decided on the duck as I don't like to eat fish on aircraft. It tasted terrible (when there's so much good food to get in Singapore). I ate the rice and dessert and bits and pieces of the duck, just to have something in my stomach. A couple of hours later I was really happy I took the aisle seat, as the duck really didn't agree with me and I had to go to the bathroom a couple of times. I'll spare you the details
Almost back in MUC:
I again had a couple of hours of transfer time, which is not easy on MUC (especially when tired). Not much to do at all. So I just strolled around the shops, got a bite to eat (and really had to get used to European prices for food again, lol). Finally the time to board came.
Flight #6: MUC-AMS
Date: 6 November 2009
Airline: Lufthansa Cityline
Flight: LH4699
Aircraft: AVRO RJ85
Reg: D-AVRO (best reg ever for an AVRO jet, lol, delivered new to LH Cityline on 17 October 1994)
Seat: 3F
Scheduled departure time: 09:00
Scheduled arrival time: 10:00
Loadfactor: Most of the middle seats were empty, so about 70%
On the way to the aircraft, we came up close to a few others such as the following two:
Engine #3 of D-AVRO during the flight: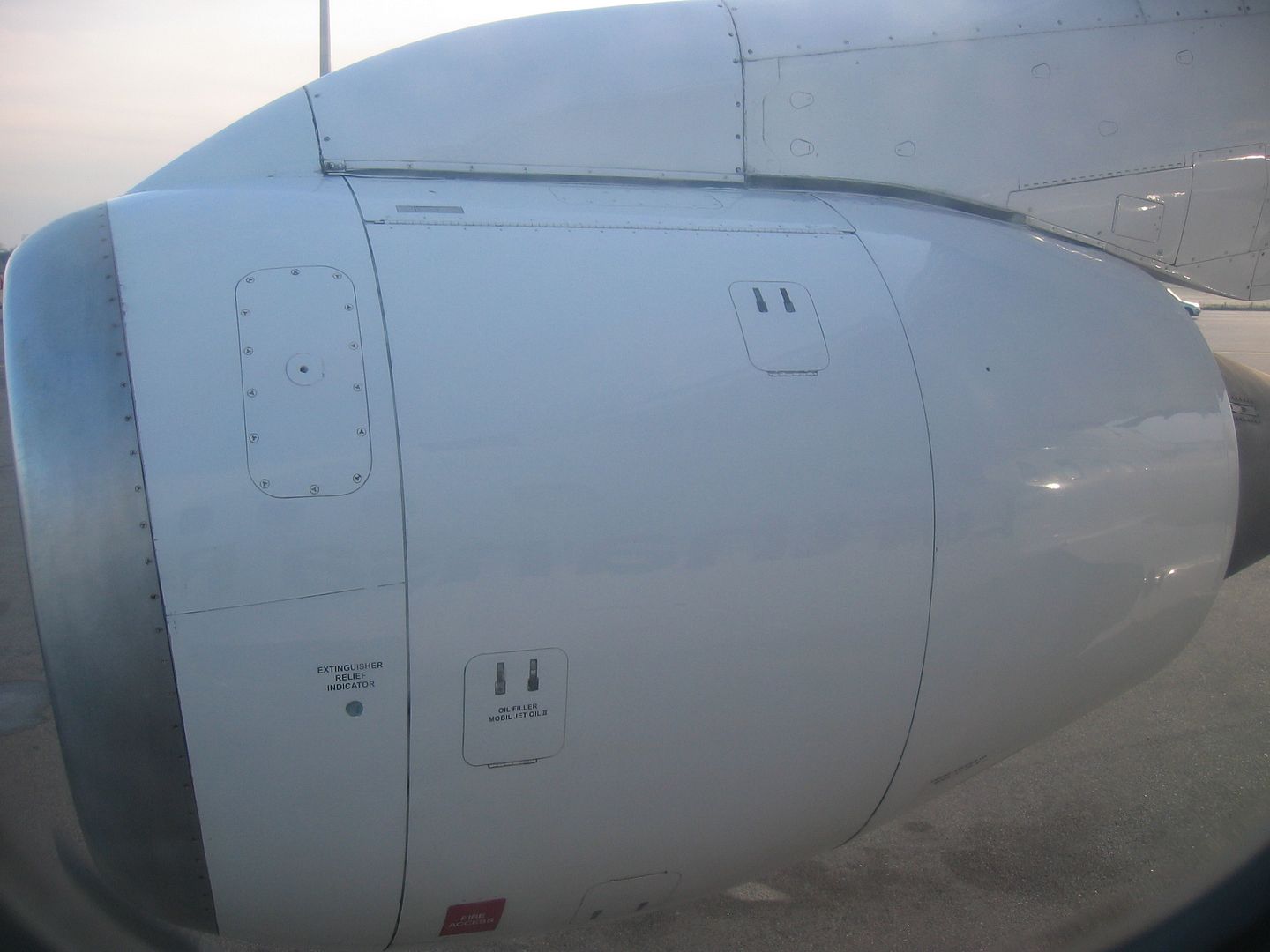 On approach to AMS, the reflection of D-AVRO in the clouds. Of course it was cloudy in the Netherlands, lol:
And finally D-AVRO on the tarmac at AMS: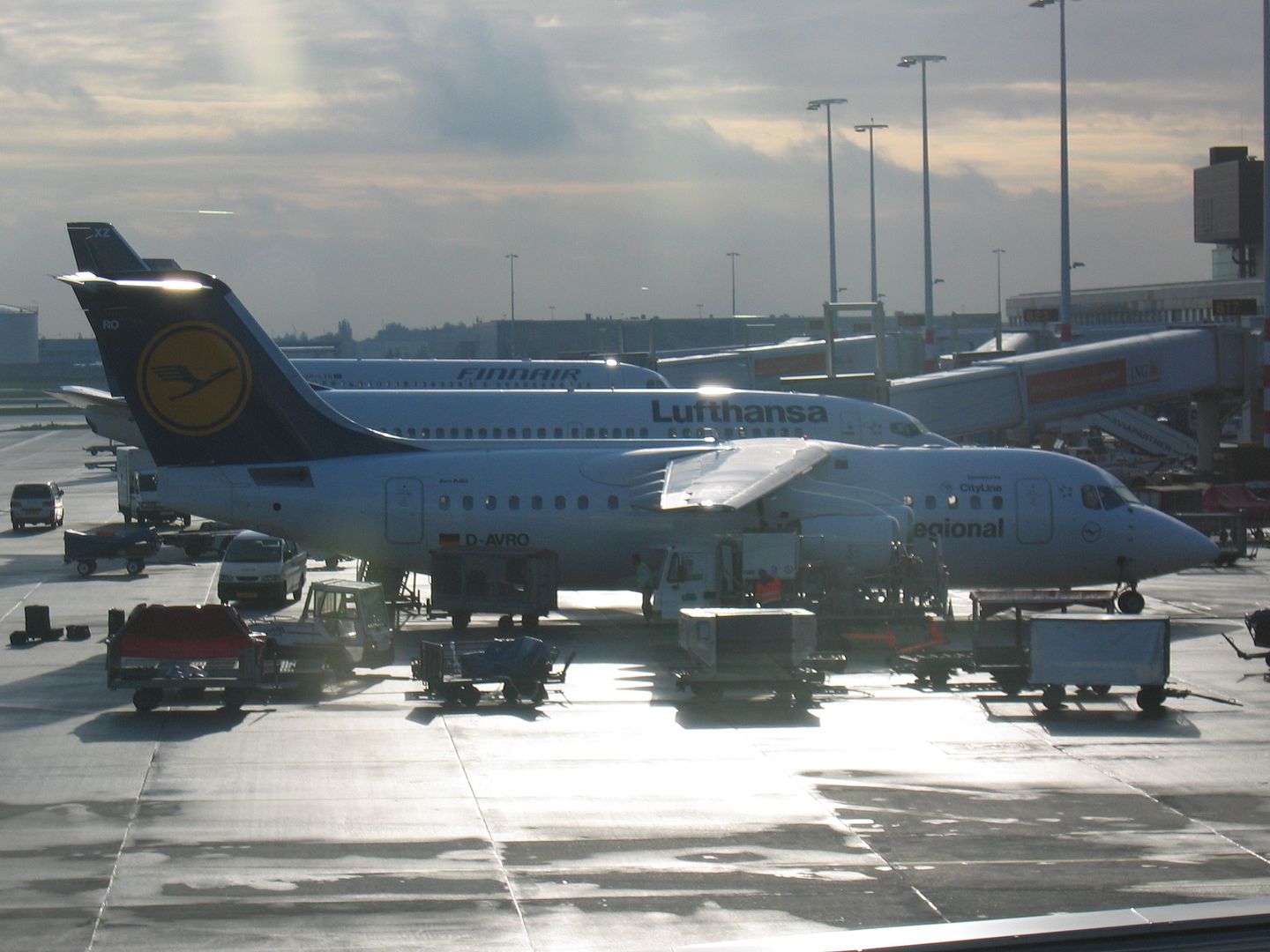 While I did enjoy my first flight in an AVRO RJ, it was quite weird to fly an aircraft with the wings on the top of the fuselage. The seats were also quite narrow (3-3 config), but thankfully the middle seats were empty. The other LH flights were all fantastic (except the LH catering, lol). I like the a346 a lot. I'm a fan of the a330/a340 cabin cross section anyway. And Singapore and Malaysia are really fantastic countries to visit, highly recommended!! And again, so is LH. MH shorthaul I'd avoid, at least until the new 738's have arrived. Next time, maybe I'll try SQ, Silkair or Air Asia.
Again, thanks a lot for reading and as always comments are welcome!
Regards,
Sergio