Introduction
During its early days as a SAS subsidiary company Air Botnia, which very quickly got renamed to Blue1 (Why? I liked the old name way better!) operated with a fleet of 5 Saab 2000 turboprops, 5 Avro 85s and 2 larger Avro 100s. In my opinion this was quite an optimal fleet for the operation back then - the Saabs were excellent for the thinner routes like the feeders to ARN from regional Finnish airports and the Avros suitable for the busier routes.
However back then fuel was still (relatively) cheap, everybody was buying regional jets left and right and any plane with propellers was deemed to be very obsolete by the great unwashed traveling masses - and at some point KF announced that they are getting rid of their Saabs (and adding a bunch of ex-SAS MD-90s as well). They even ran a large advertising campaign in Finland with the message "Always comfortably with jets in Finland!" to make everything out of their all-jet fleet (as a side note Finncomm placed their large order for the ATR 500 series at the same time when demand for them was at an all time low and bargains were easy to strike - I bet they kept laughing all the way to the bank when the fuel prices shot up during the subsequent years!).
Anyway pretty soon somebody woke up and smelled the coffee (or rather the scent of burning money) - soon all kinds of weird "Operated by" arrangements were seen on the regional KF feeder routes to ARN which simply are too thin to make operating with an Avro profitable. During the last couple of years at least Skyways, Golden Air and DAT have operated various routes for KF, all with turboprops, but never to the main hub at HEL yet..
This year all this finally changed as they announced that Golden Air of Sweden will base a number of ATR72-500 turboprops at HEL, operating various domestic flights for KF (in addition to the soon-to-be-reopened ARN-OUL route). What was more bizarre was that these KF/DC hybrid flights would also be used on some Swedish domestic routes, at least on ARN-KLR, carrying both SK and KF flight numbers. That sounded so weird that I just had to book one of those flights to see what it was all about - and as a bonus Kalmar would be a new airport to my log and with decent fares available I really had no excuse not to do it!
So I started by booking the morning SK/KF/DC flight ARN-KLR for a very reasonable 52 EUR.
In the beginning of September Norwegian doubled their frequencies on the HEL-ARN route to four flights each weekday, with an overnighting plane at HEL offering an early morning departure. The schedule suited my plans just fine, and the fare at 30 EUR was very cheap as well - booked less than four weeks in advance!
Now for the return journey I could have easily flown back to STO (ARN or BMA) straight from KLR - there were many flights available for reasonable prices, but inspired by my last Swedish jaunt:
Finally The FRJ: HEL-BMA-VXO/RNB-ARN-HEL
(by
FlyingFinn76
Aug 27 2010 in Trip Reports) I decided to think outside the box a little. In the end I found a Skyways mid-afternoon flight to ARN from nearby OSK available for a "Klick" price of around 42 EUR. A quick look at the bus schedules confirmed that I had enough time to get from Kalmar to Oskarshamn with the bus and the flight was booked. Another new airport for the log, always good!
Initially I thought this flight would be operated by their standard Fokker 50s, but then I found out that this route is actually operated by Direktflyg (HS) for JZ with a Jetstream 32 - unexpectedly a new airline for me, double yay!
Finally to get back home Norwegian's afternoon flight was available for 40 EUR, but that sounded a bit boring. Good old airBaltic offered a routing via RIX for 89 EUR and since I've been cheating on my favorite carrier for too long now, I decided to book it - the schedule showed the new Dash on ARN-RIX, but as always with BT you never know!
Here's the full routing:
Wednesday 8.9.2010
A 6.55 departure time doesn't sound too bad - at least compared to some of the early flights I've taken. However it does sound a bit bad after you fathom in the fact that Norwegian still doesn't offer any OLCI or even a self-service check-in (at HEL). So I find myself getting up around five this morning, doing the usual morning chores half-asleep and still managing to catch the 5.40 bus to the airport. I step off at T1 exactly an hour ahead of the departure time only to find just one person in queue for the lone open Norwegian counter - that's weird! I ask the agent (who used to work for SAS here before, I remember him from those good old times!) what's going on and he says he is wondering too where all the people are. Still it should be a light load, so no worries. I end up with the much appreciated window seat - the last time I checked in at T-1 with DY on this very same route I got a friggin' middle seat!
Off to the toilet and once I come back the crowds have mysteriously at least tripled - there's quite a queue for the DY desk I just conducted business with, plus lots of BT, LH and SK/KF passengers: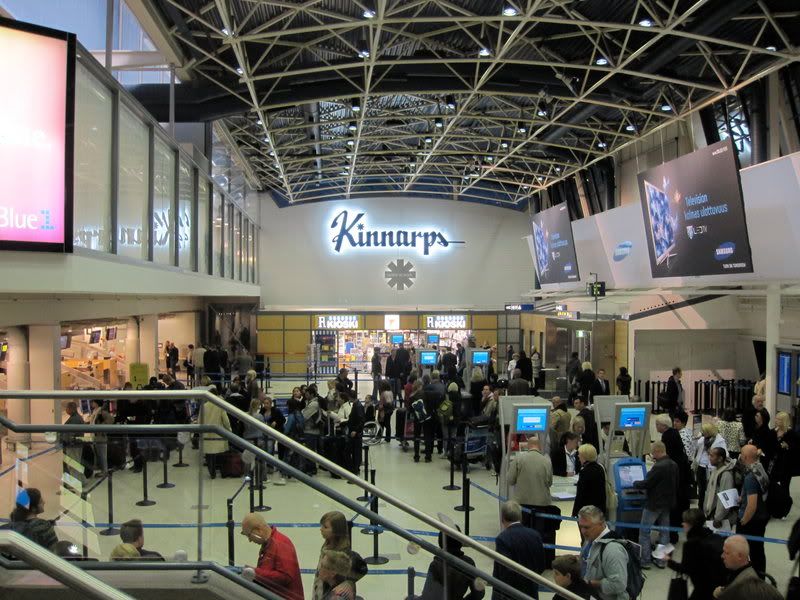 I decide to hotfoot it to security as the queue seems to be growing by the second - a good idea as just a few minutes after I join it actually reaches the stairs and starts growing downwards. In about ten minutes I'm through, ready to face the long trek to T2, as our departure gate today is 26, right in the middle of T2. Not that there's something unusual in that, I don't think I've ever seen a Norwegian plane at the real T1 end of HEL - no matter if their spiritual home is there. This of course causes lots of confusion especially with arriving pax, since it is not very well signposted that one should walk the half a kilometer to the T1 baggage hall instead of the much more convenient T2 one. I've seen so many DY (and some other airline as well) pax at T1 angrily begging for re-entrance to the baggage hall after going through the formalities at T2 without their luggage... Something to improve here perhaps, Finavia?
Anyway once over at T2 I have just enough time to buy a water bottle and exchange some Sterling for next weekend before boarding is called.
Here's today's ride, LN-KKJ, a 737-300 model previously flying for Varig. A new one for me.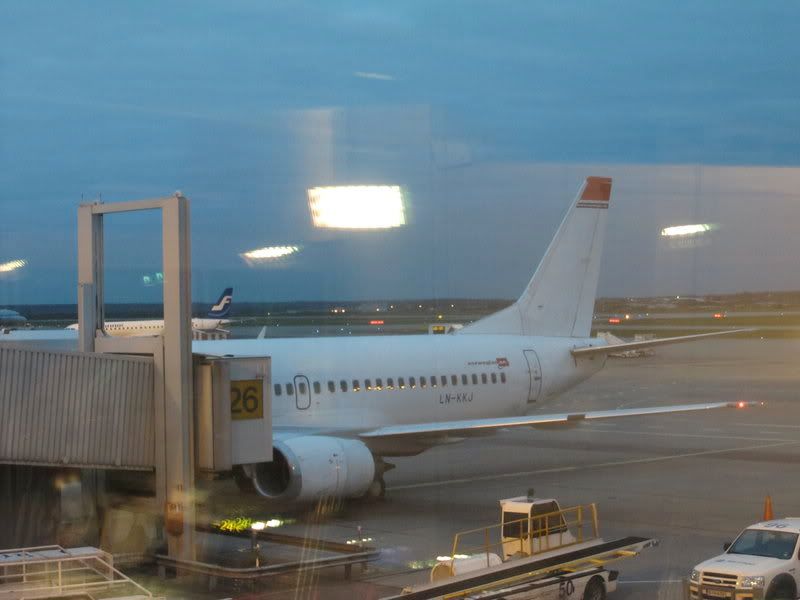 Boarding is called pretty much right after I get to the gate, 20 minutes before departure.
HEL - ARN
DY3866
B737-300 LN-KKJ
Seat 9A
6.51 - 6.41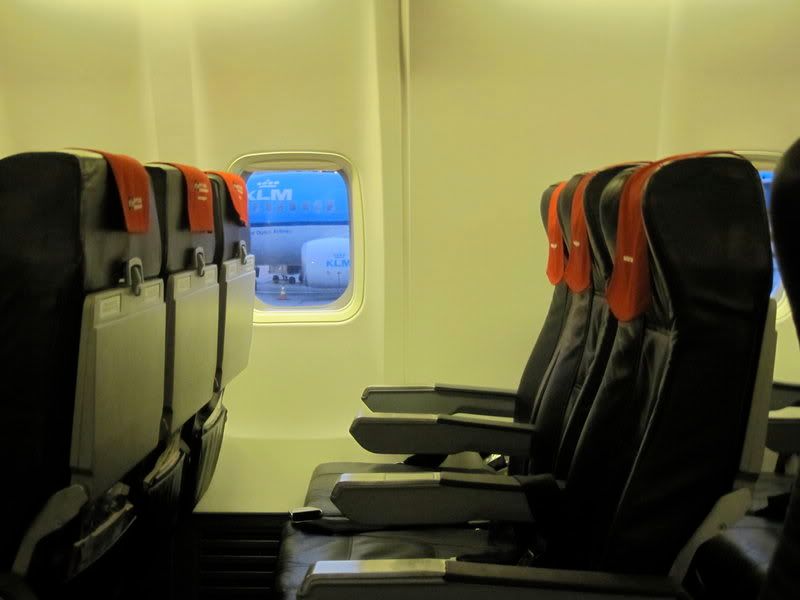 The legroom is a bit better than on the NGs: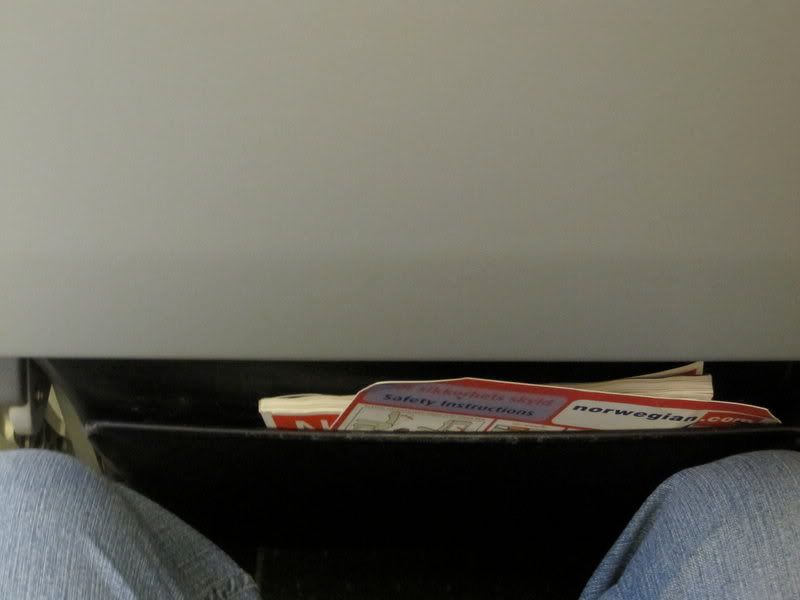 The crew is a bit weird - I witness one girl struggling to lift her rollaboard to the overhead bin while a (male) crewmember patiently stands in front of her waiting to get past, no offer to help her with the seemingly heavy luggage nor anything.
I'm a sucker for engine logos - a shame BT doesn't have them any more: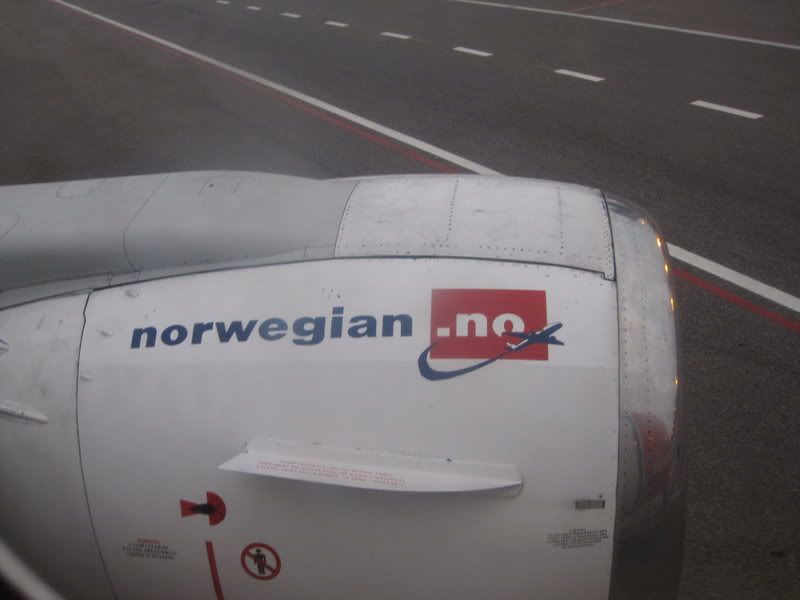 Boarding is quite fast and the load is low, around 40%. Flight time is announced as 45 minutes.
Push back is four minutes early. I'd call this efficient - we vacated that jetway barely a minute ago: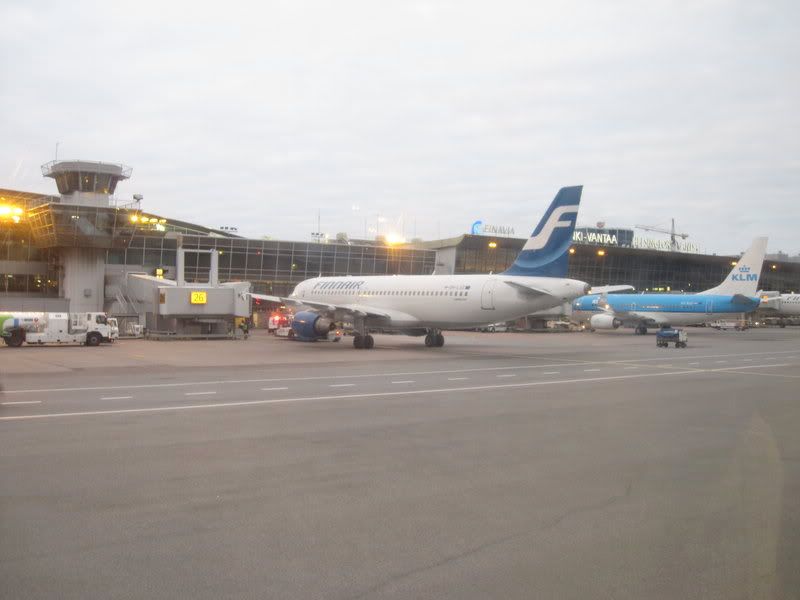 Short taxi to 22R where we take off right at our scheduled departure time after a KF bumblebee: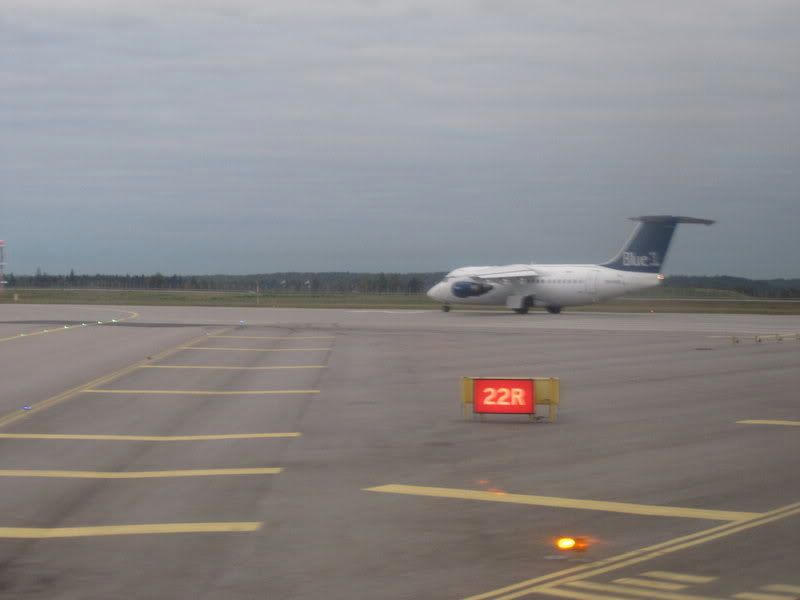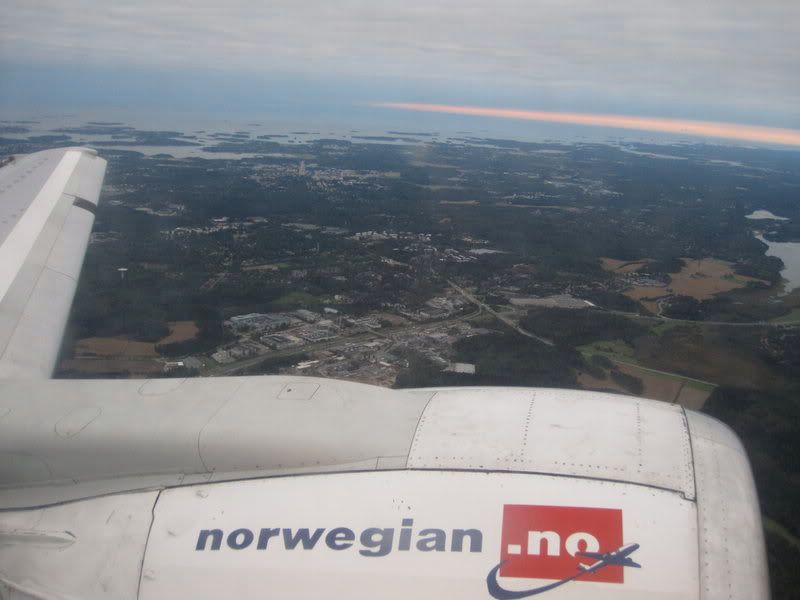 After take off I decide to take a nap and come back when we are already descending towards Stockholm. Hey, didn't I photograph this very same ferry two weeks ago: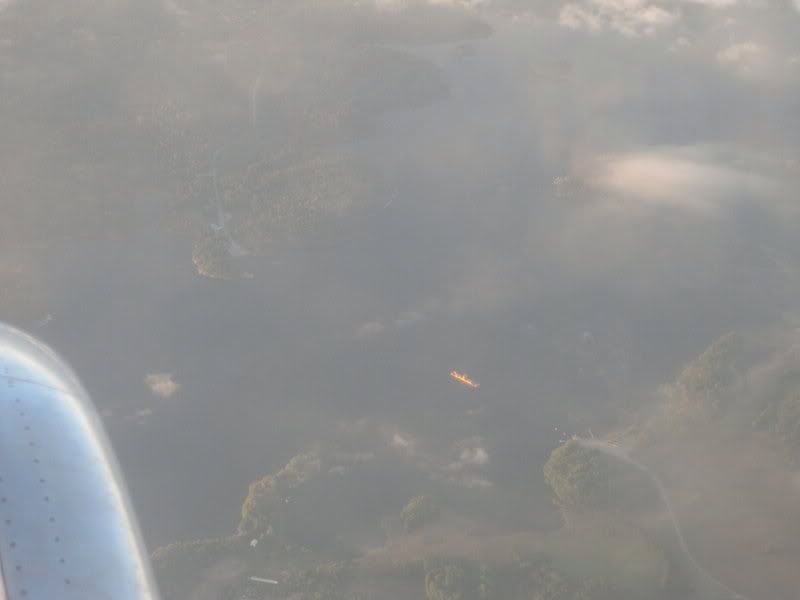 Stockholm, as it is prone to, seems to be engulfed in fog: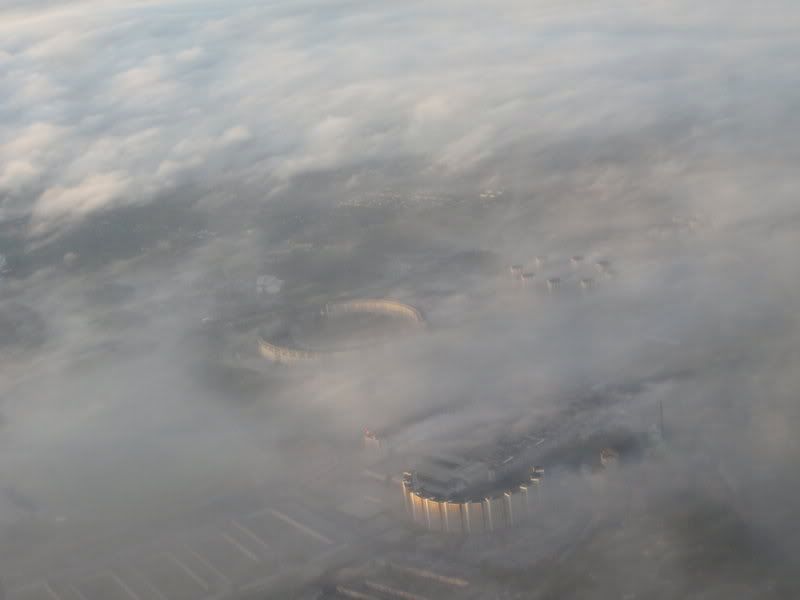 Makes for some funny pictures: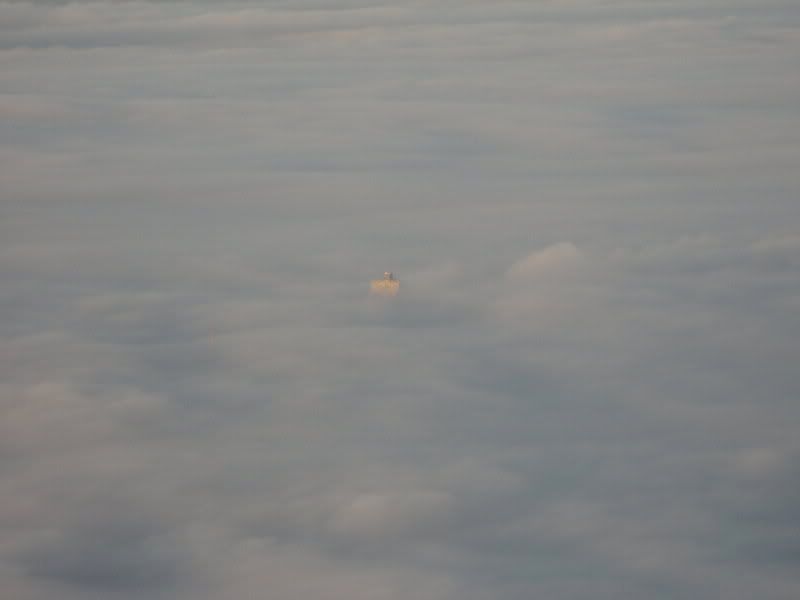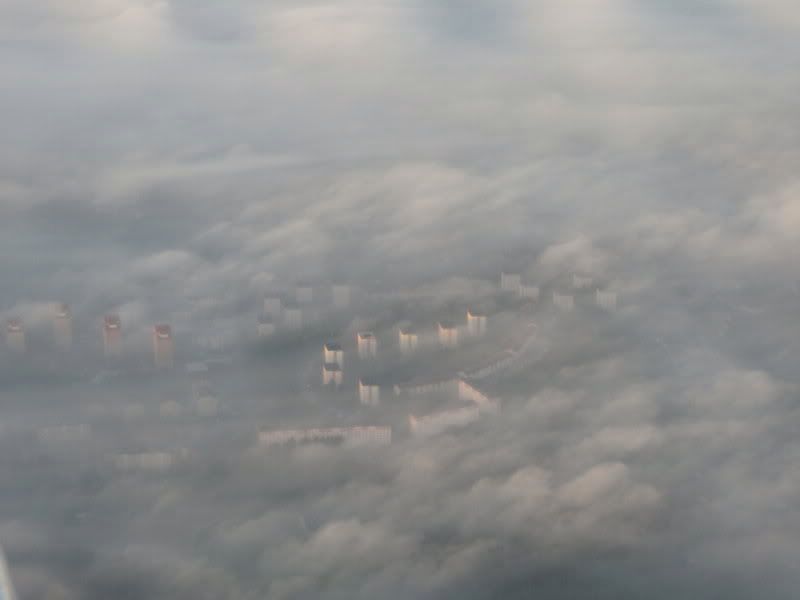 I certainly hope the ILS is properly set up today as the visibility is still very low: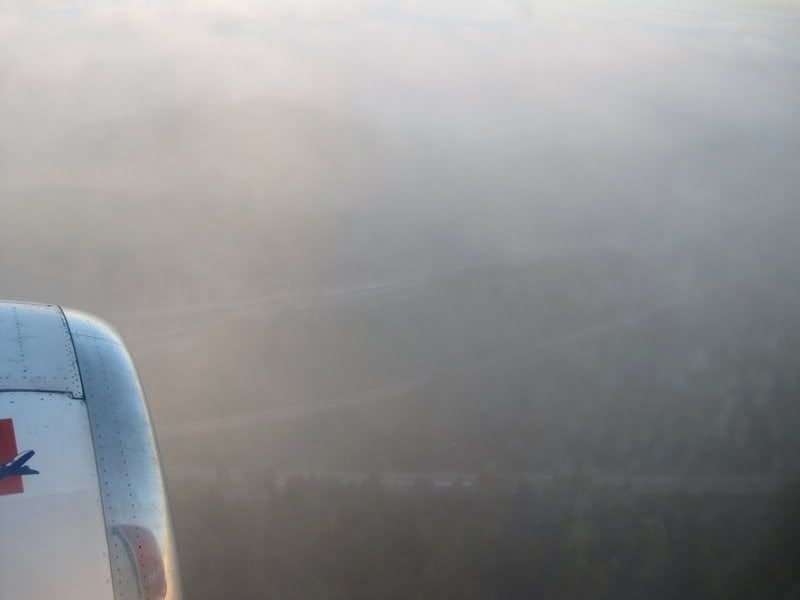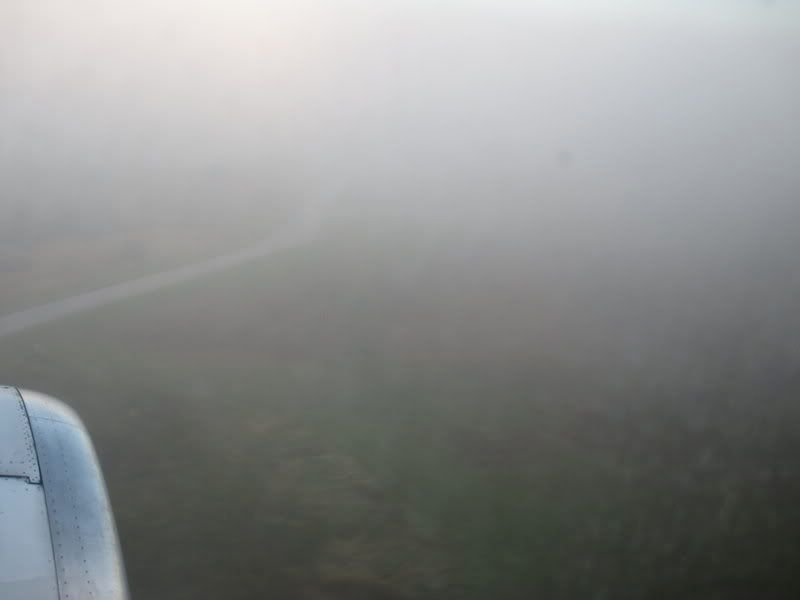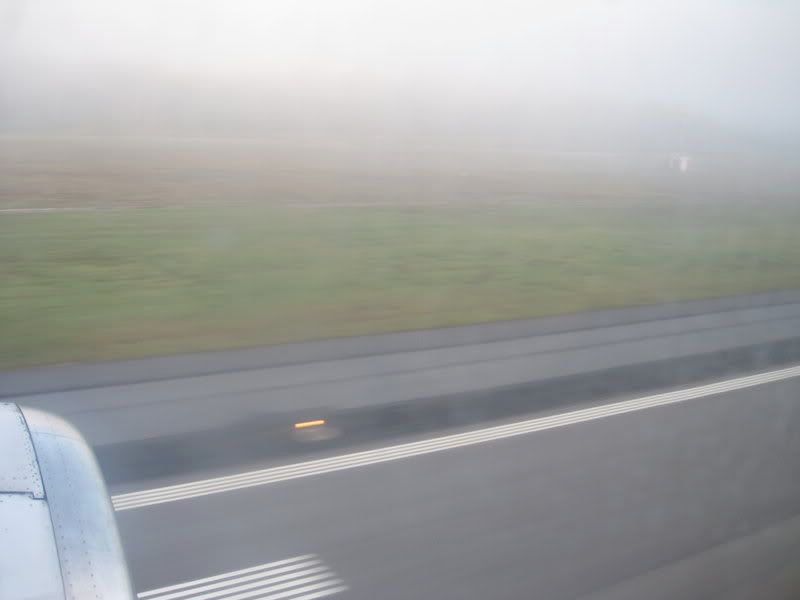 We land on runway 01L after the promised 45 minutes of flight time, ten minutes before we departed HEL. The fog makes for some pretty views: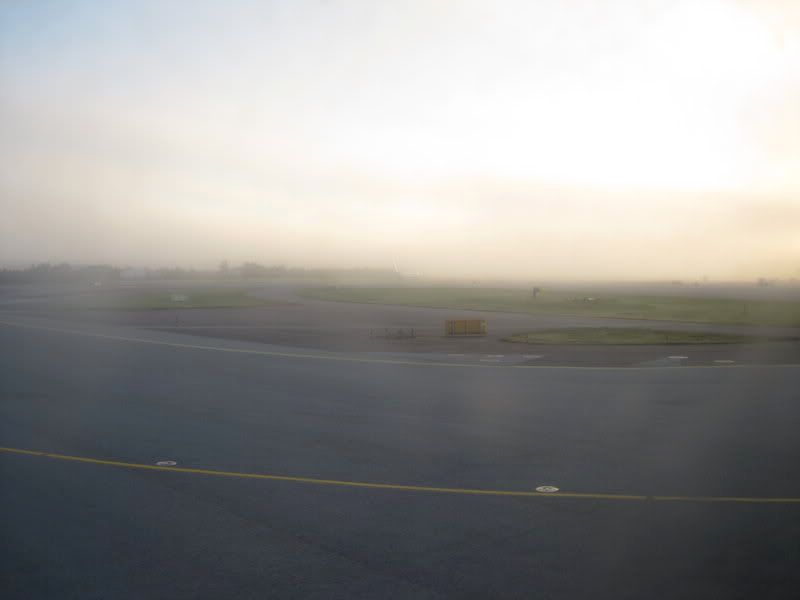 Exotic visitors: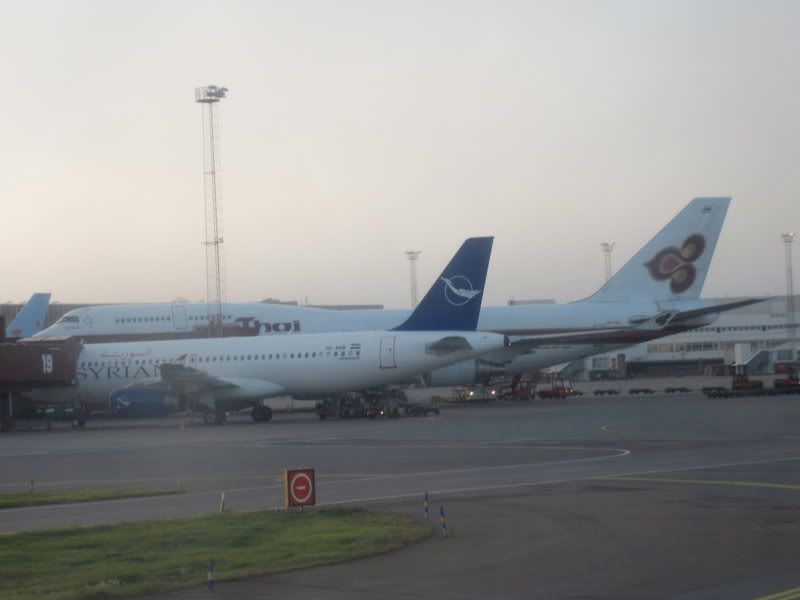 I think that'll be my next ride: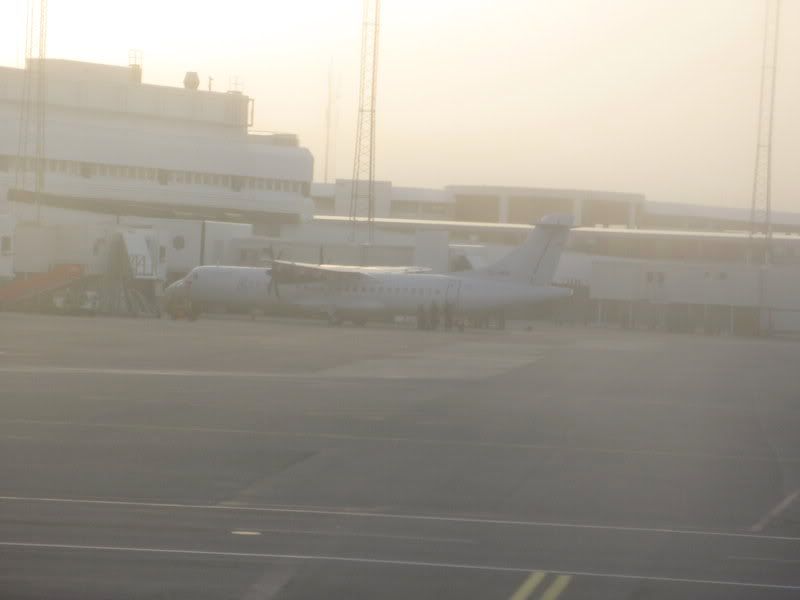 T2 is empty apart from two company birds: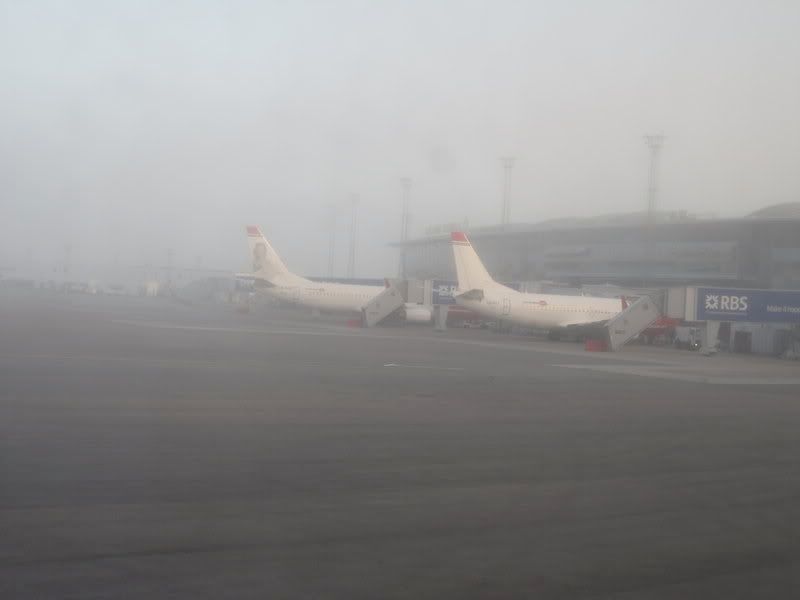 Deboarding is rather swift.
Arlanda Airport, Take 1
Instead of the (domestic) commuter T3 that would be more appropriate for a turboprop the Kalmar flight is actually departing from the main domestic T4. Well, I think the SK Dashes did this too. On the way I see the plane parked at its gate: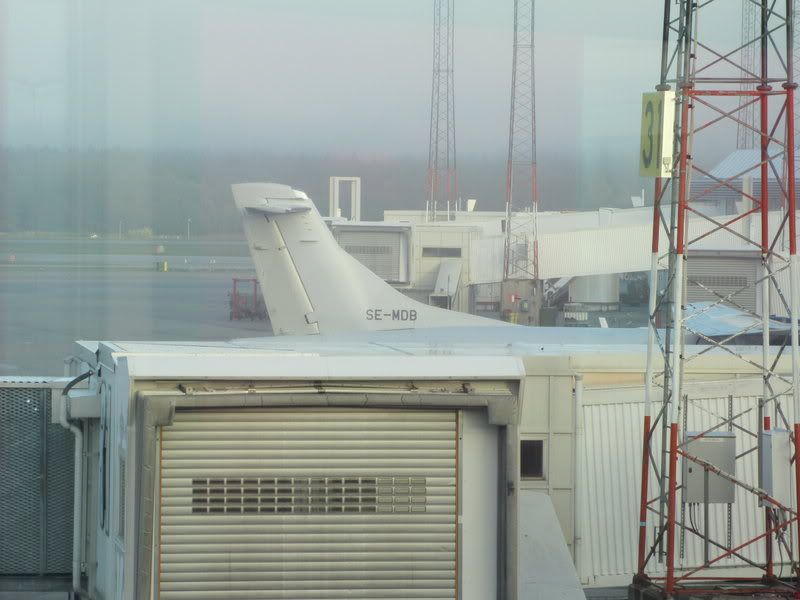 Indeed it is the one I saw earlier, SE-MDB, my first ride on this one.
T4 is deserted: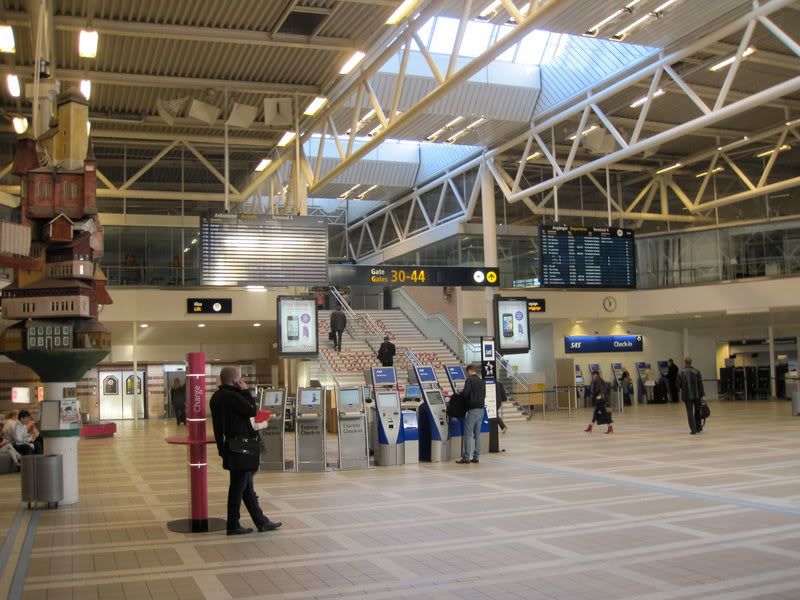 With plenty of time in my hands I have a large (more like huge) coffee at the cafe there before heading to the gate. Bad idea - I should've done that before when it was empty - the terminal has suddenly gotten packed with lots of people and the security queues are stretching down the stairs (hmm, is this a pattern today?). Well, nothing I can do to help it so I queue instead. Actually it isn't too bad, the main problem is that the upstairs floor in front of the security checkpoints doesn't have much room for queuing so even a modest one will spill over to the stairs.
Looks like our flight is one of the few ones NOT posting a delay - must be the fog: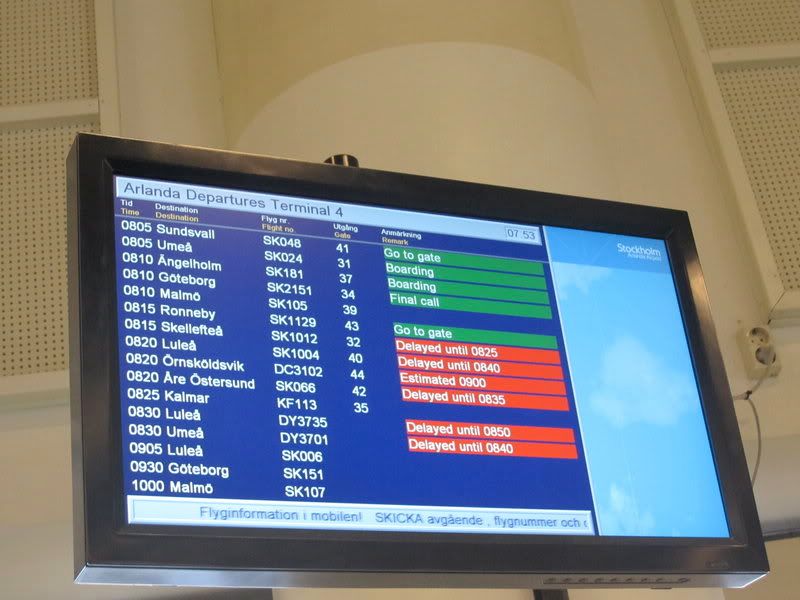 Lots of people waiting at our gate - looks like a good load.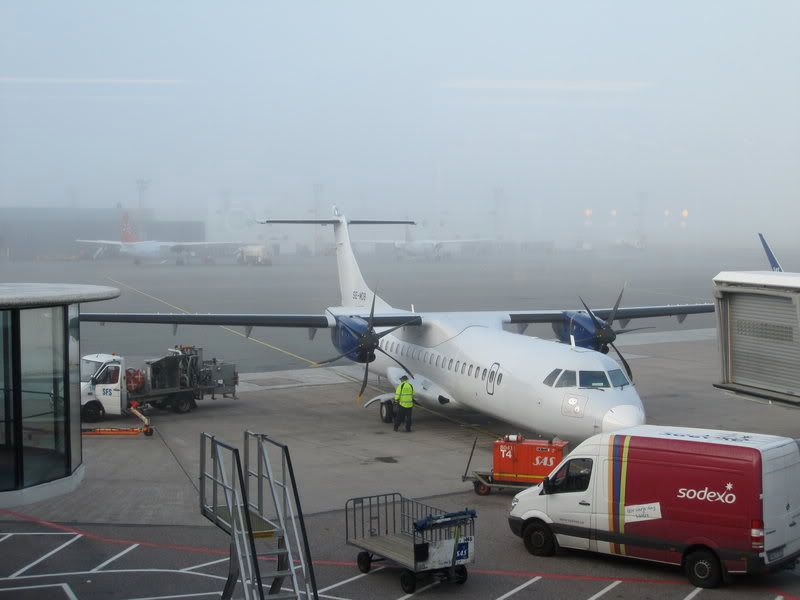 Quite soon boarding is called, they announce the flight as "Blue1 flight operated by Golden Air". The gate agent also announces that this type or aircraft is boarded from the rear. Indeed very useful information as the guy in front of me turns left and heads for the front door right after emerging from the steps to the tarmac only to stop on his laurels after a few steps, looking confused. How about paying some attention to announcements?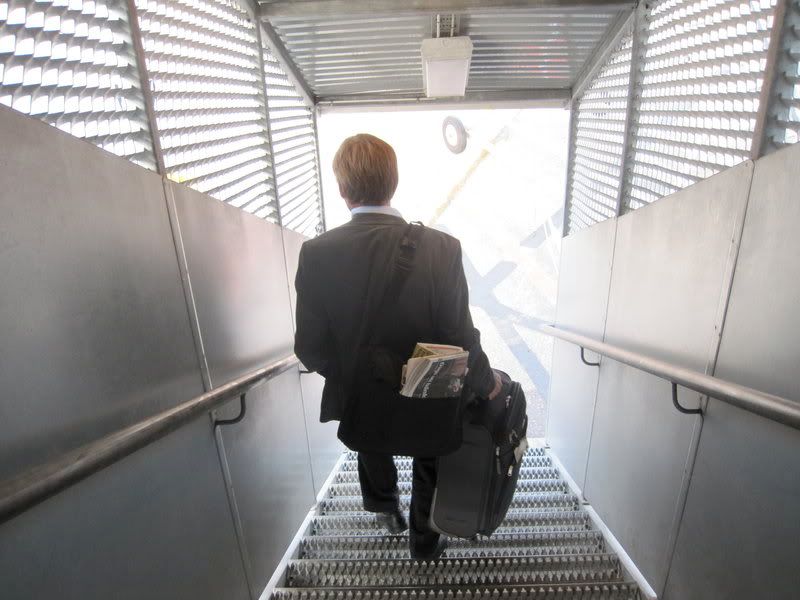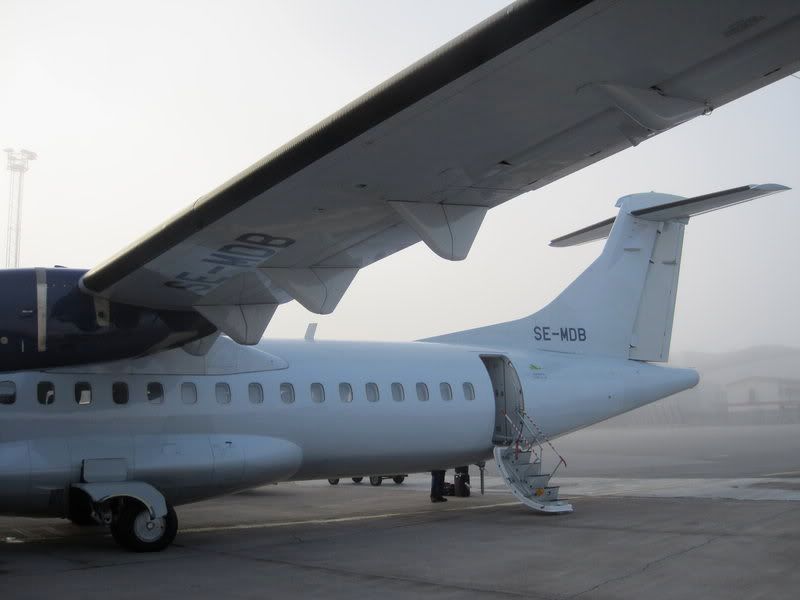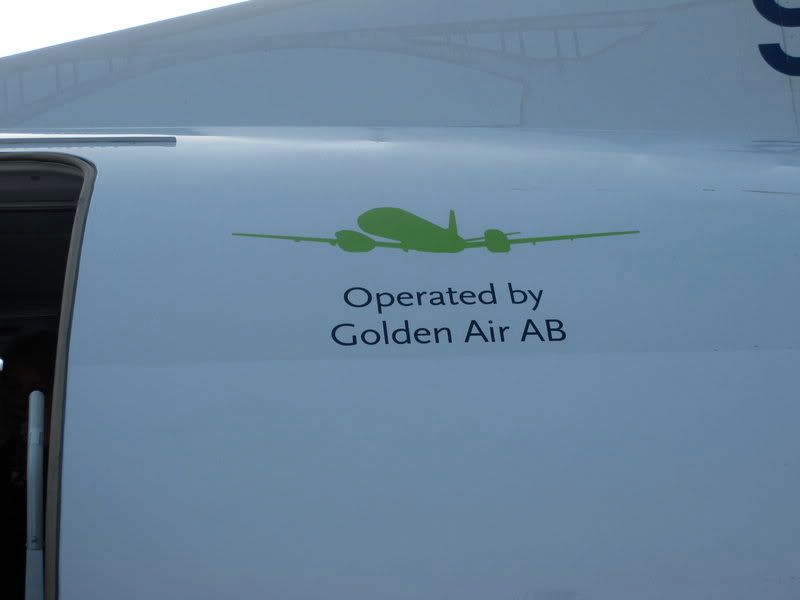 ARN - KLR
KF113 Operated by Golden Air
ATR 72-500 SE-MBD
Seat 15F
8.33 - 9.38
The OLCI seatmap was wrong - I picked a seat on the last row, but in reality it turns out that there are actually 18 rows onboard (just like with FC) so I'm stuck a bit further upstream. I instantly take a disliking on the seats - despite being only two years old they have a certain tattiness to them - maybe a good cleaning would do them good.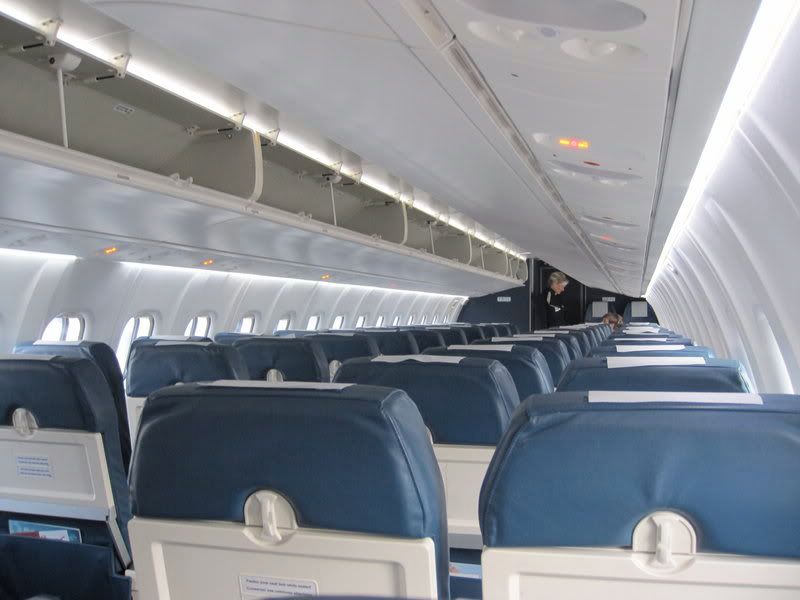 Legroom is what it is - definitely not very good. I like the modern slimline seats on FC much more than these skimpy ones.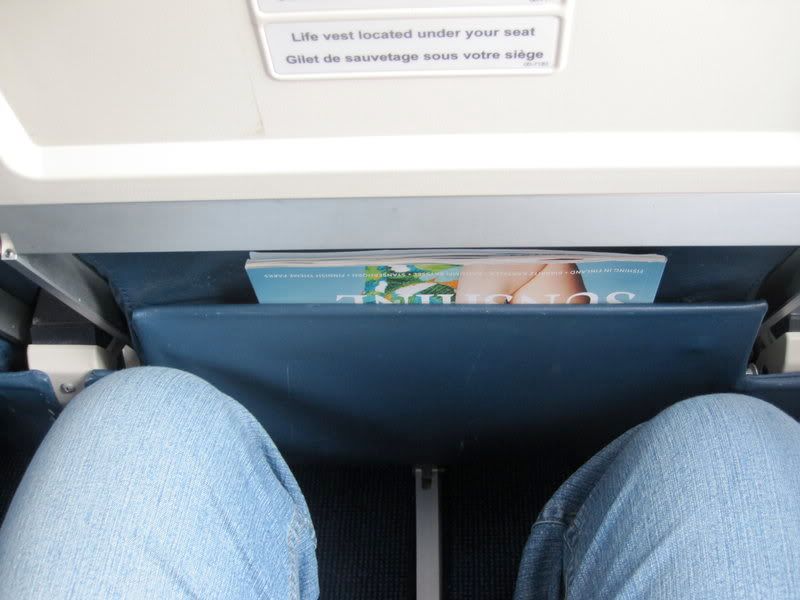 The staffing on this flight is interesting - there are three FAs onboard, all female, Swedish and middle-aged. Oh and very friendly too, but that follows naturally from being a Swede... One of them is wearing a Blue1 uniform, one has a SAS one (!) and one something that I assume is a Golden Air one - at least the red scarf matches their (old) company colors.
The inflight mag is from Blue1: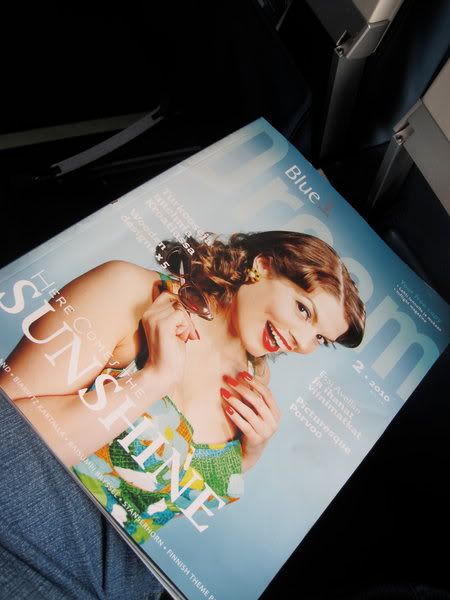 Whereas the safety card from the AOC holder: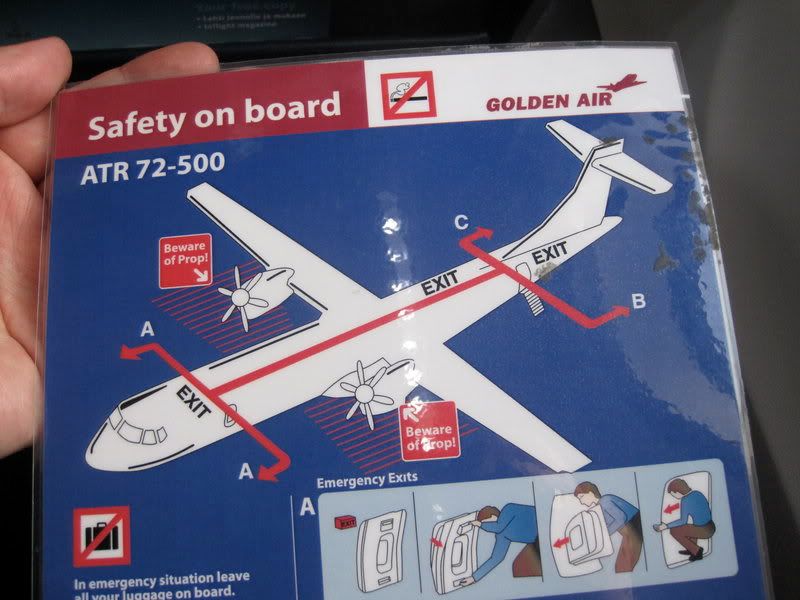 Rather good load today, only a few empty seats here and there. Ten minutes before our scheduled departure time it is announced that we are still waiting for some connecting pax but it shouldn't take long - must be the foggy weather. Finally a bunch of people appear, making the flight even more packed. The flight time is announced as 55 minutes. Oh, and all the announcements mention the flight as "Blue1 operated by Golden Air".
Ships library? What's that?! Books on wheels for airline crew?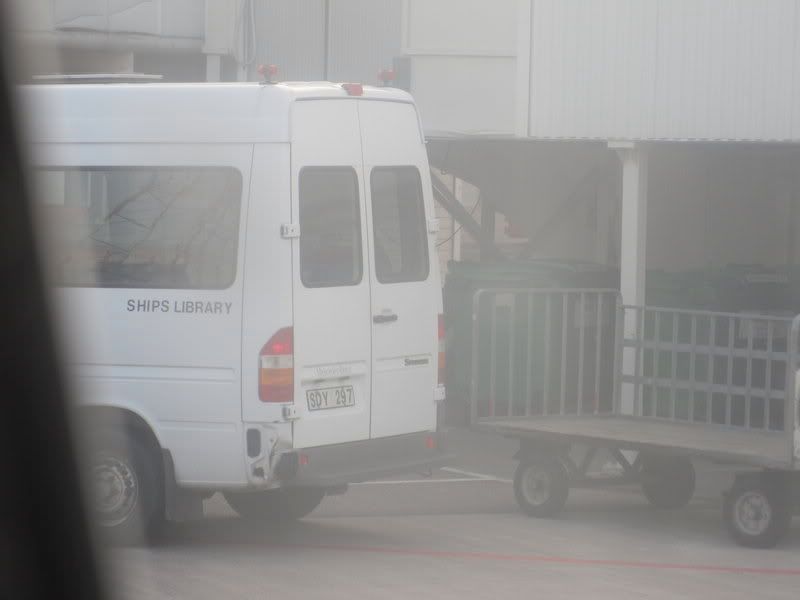 In the end we push back (the traditional way with a tug, not under our own engine power like always happens with FC) eight minutes late. There's quite a queue of planes to runway 08, I count five or six planes - all 737s by the way - in front of us so it takes around 15 minutes to get airborne.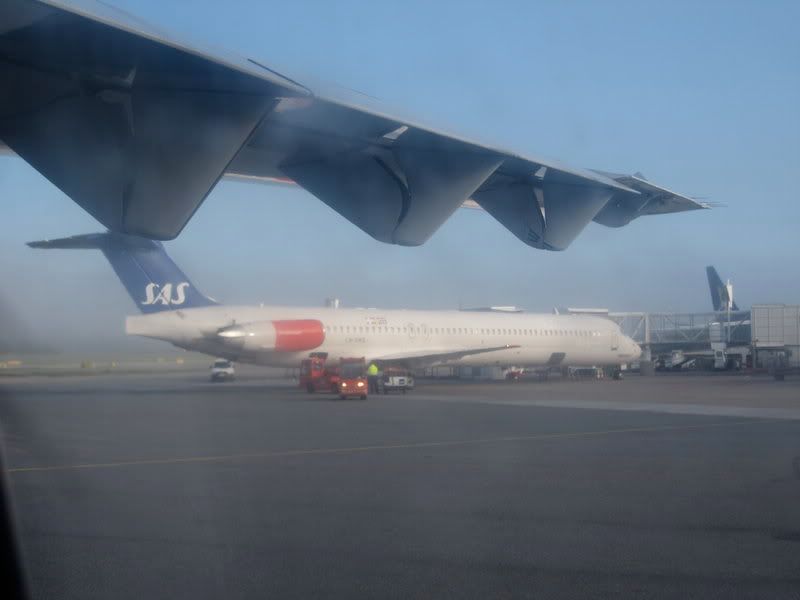 The sun is slowly burning away the fog, but there's still plenty of it left. Makes for an eerie feeling: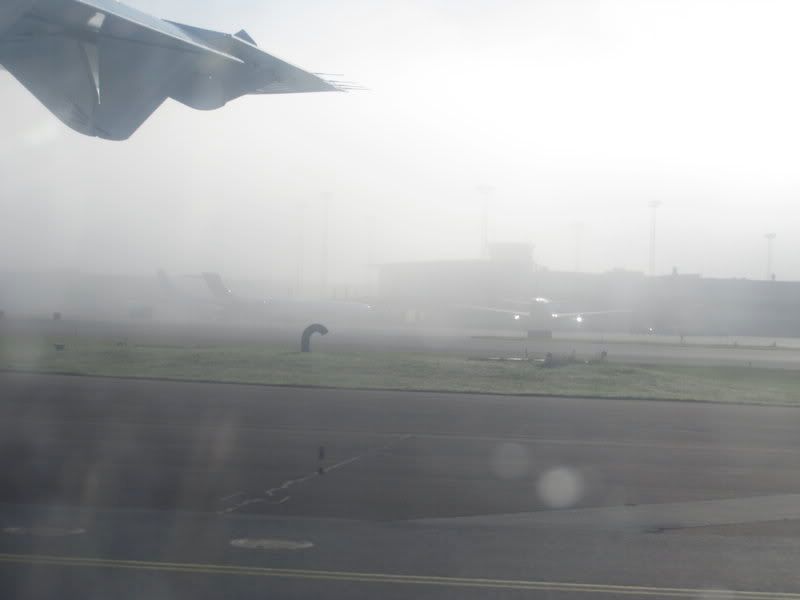 Soon to be no more: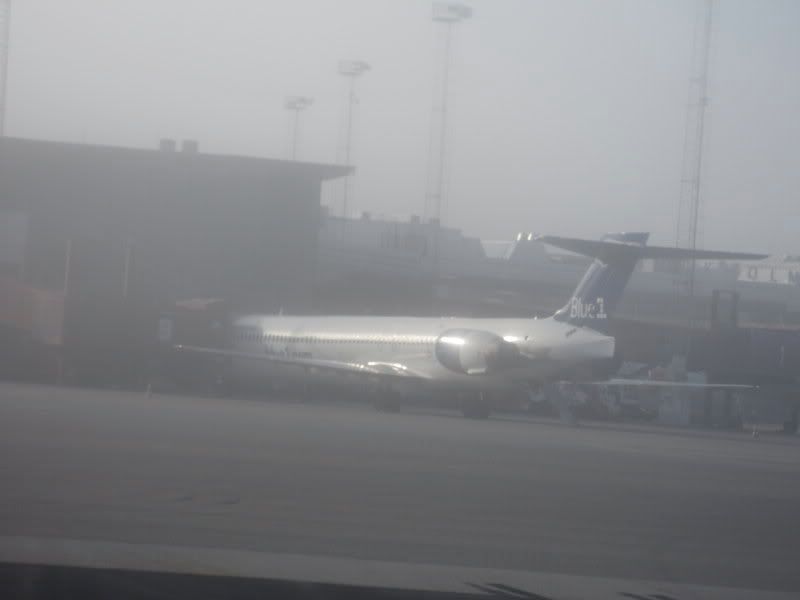 OV 737: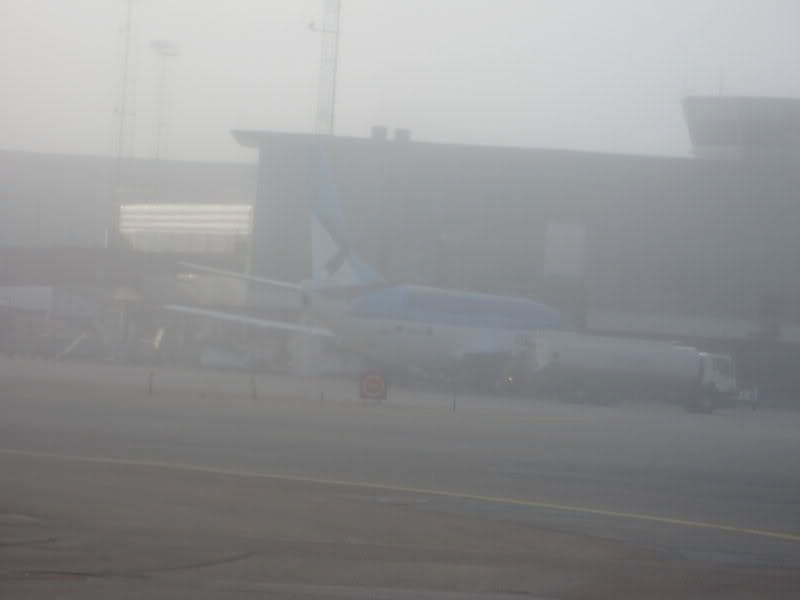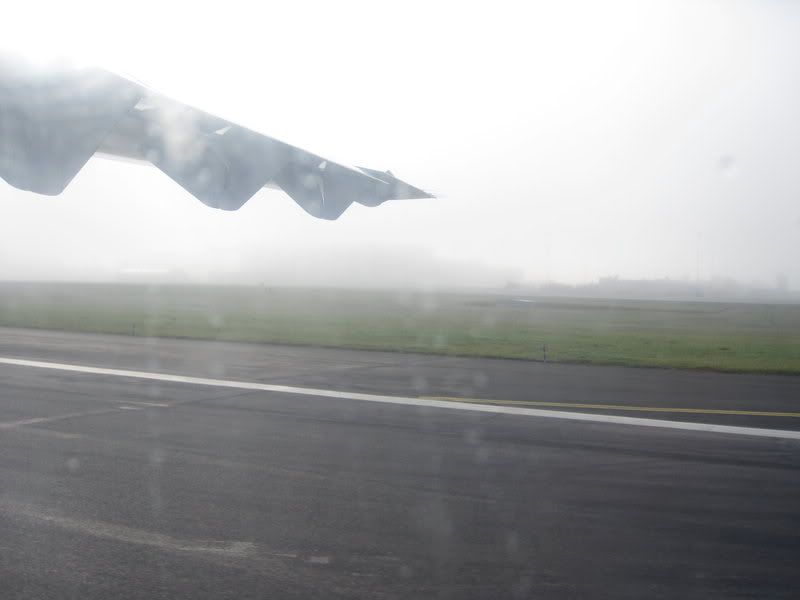 The service on this flight is another surprise. I expected coffee and tea. We get that (and juice as an added bonus), but additionally a ham and cheese sandwich on rye bread is offered as well - I didn't really expect this much: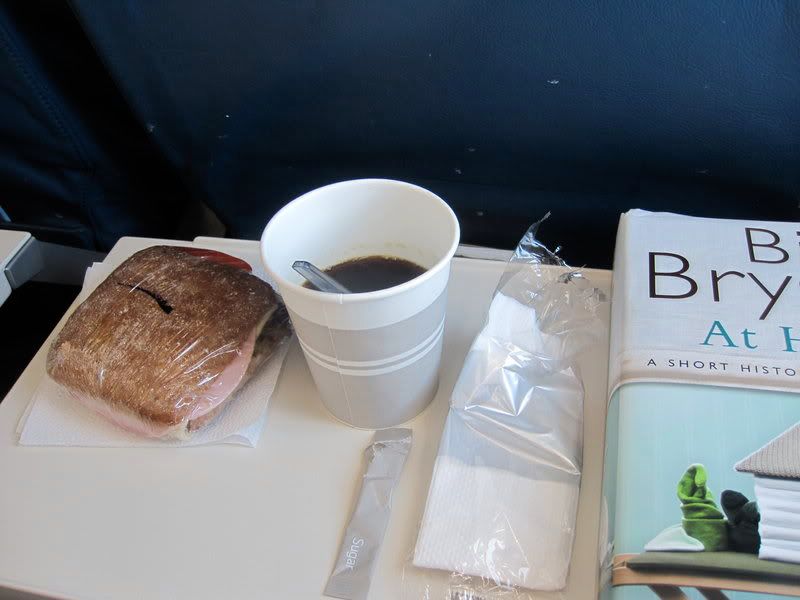 The sandwich is decent, not very fresh so must be a couple of days old, but nevertheless hits the spot nicely.
Heading southwards, the weather gets noticeably better than at the Stockholm area: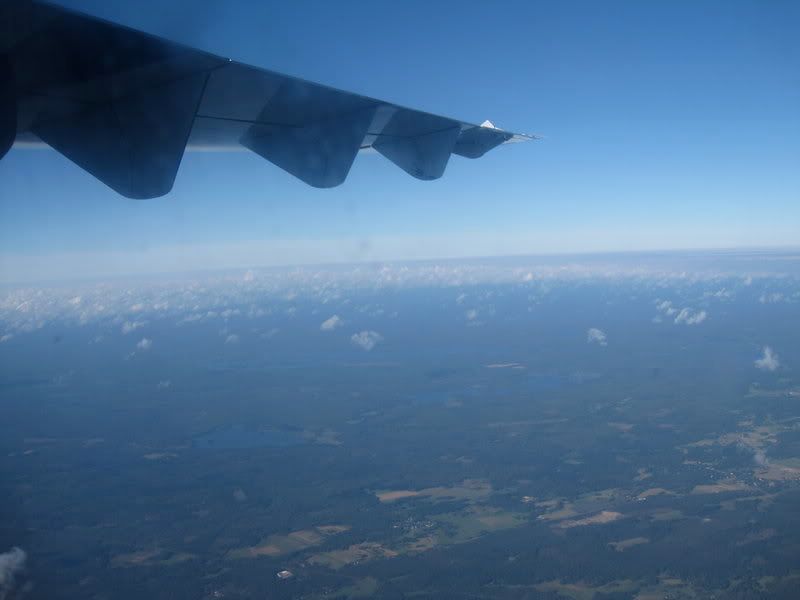 After some 40 minutes of flight "10 minutes to landing" is announced, together with the seat belt sign being switched on. A wind turbine farm under construction: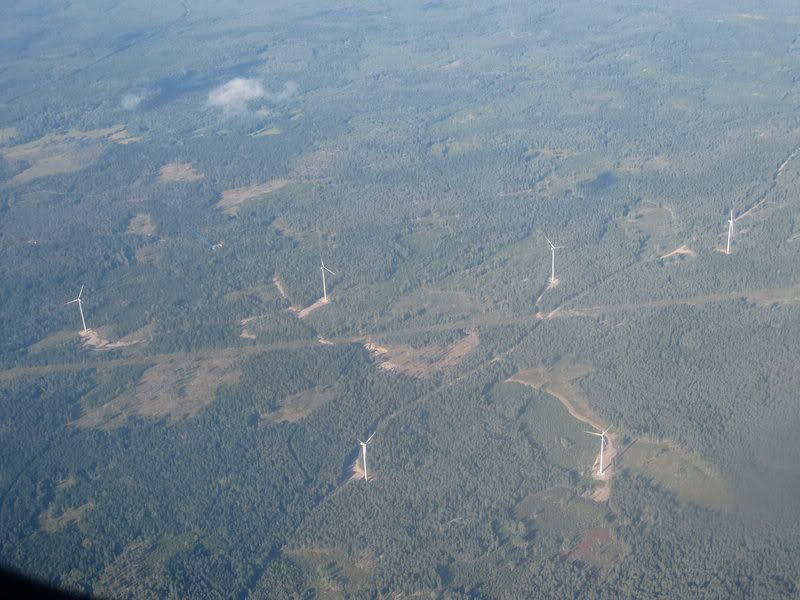 Approach gives some beautiful views over this part of Sweden: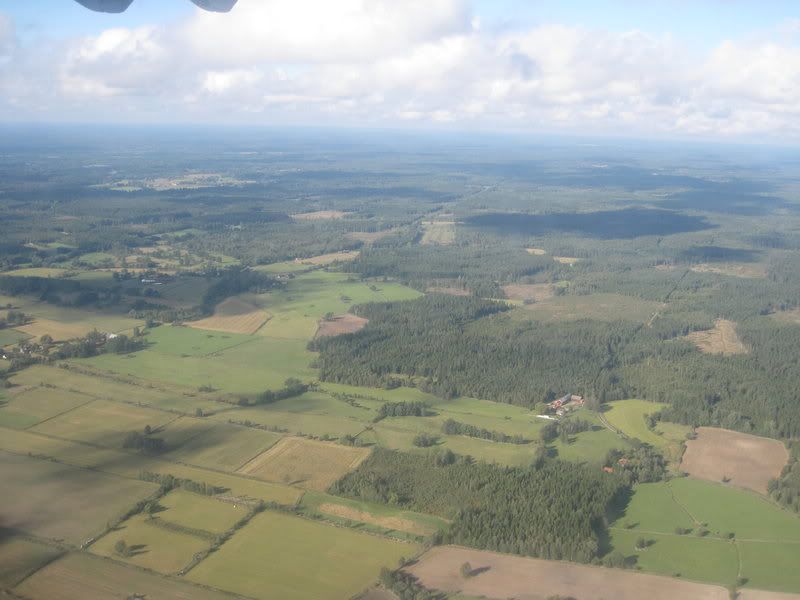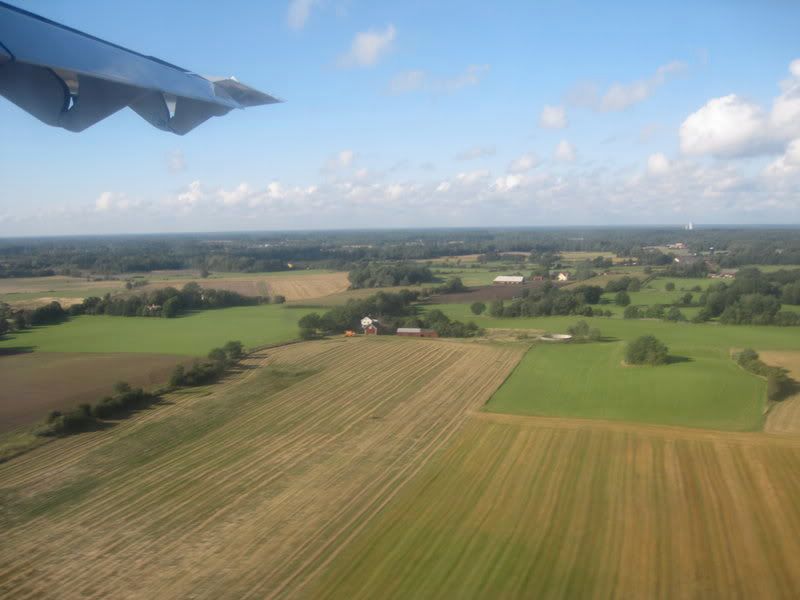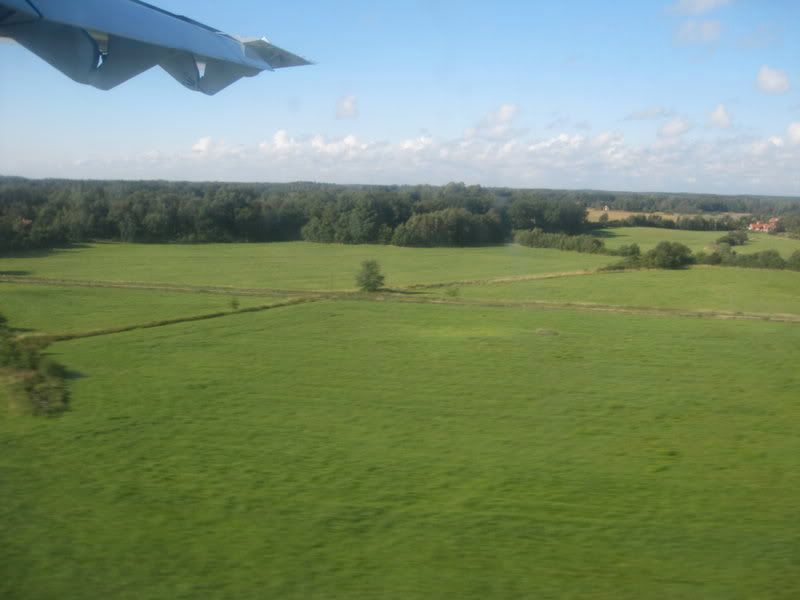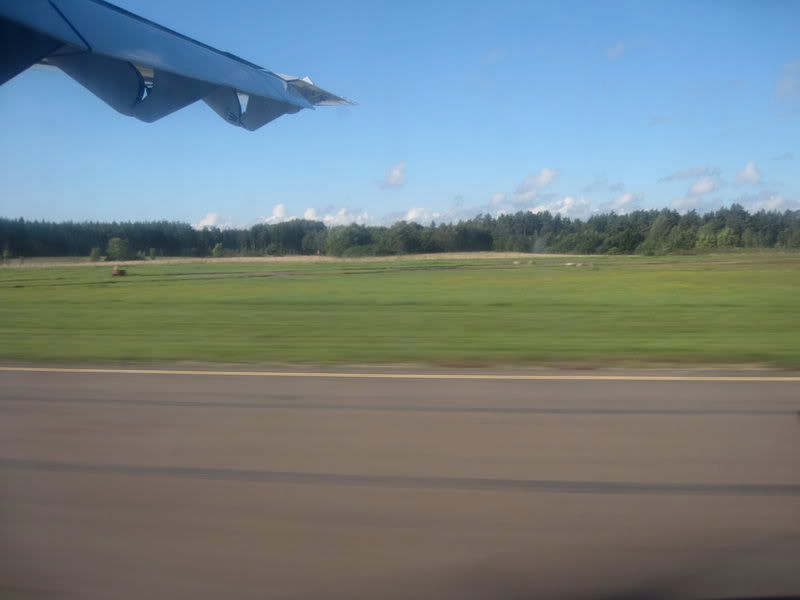 Landing on runway 16 is 13 minutes late, not so good for me as I originally had exactly an hour to get downtown and to catch my onward bus. What's that bright green thing: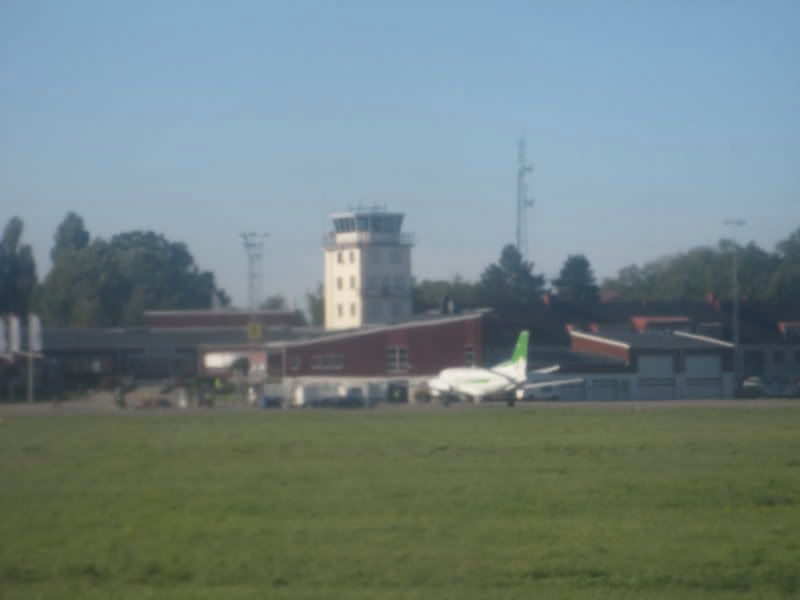 Oh, it's a company Saab to BMA: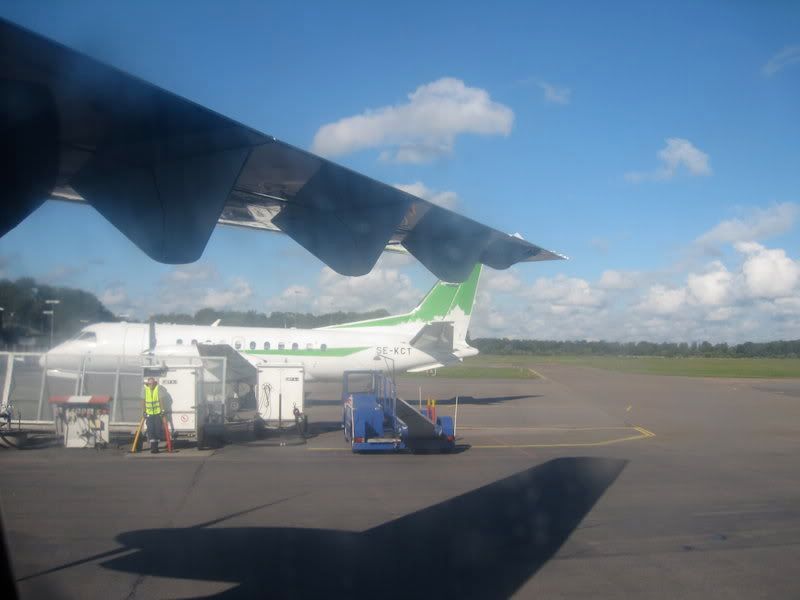 What a cute and very Swedish terminal building: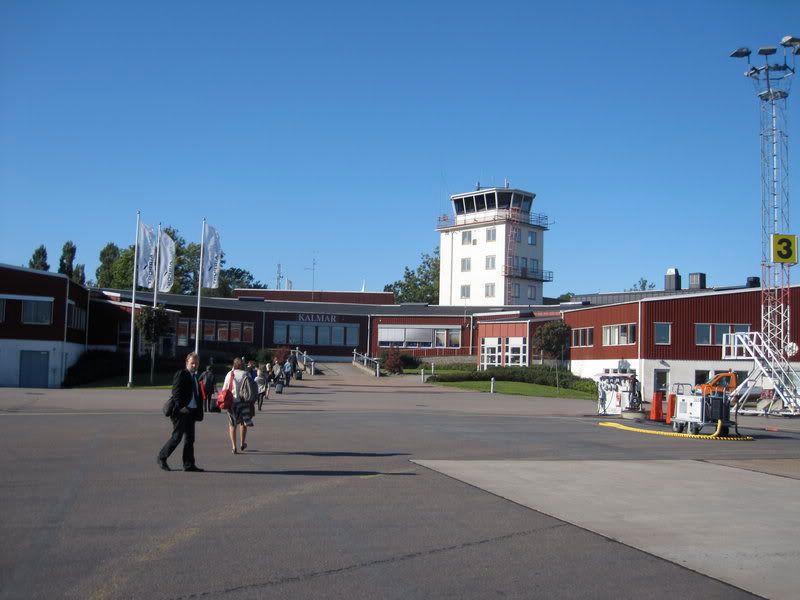 Bye: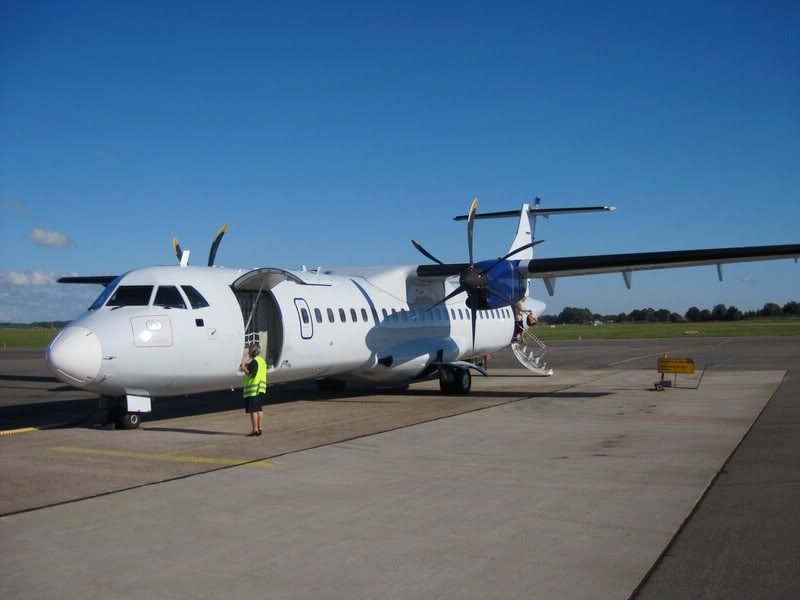 Kalmar
This doesn't look or feel like an airport at all - more like some country house: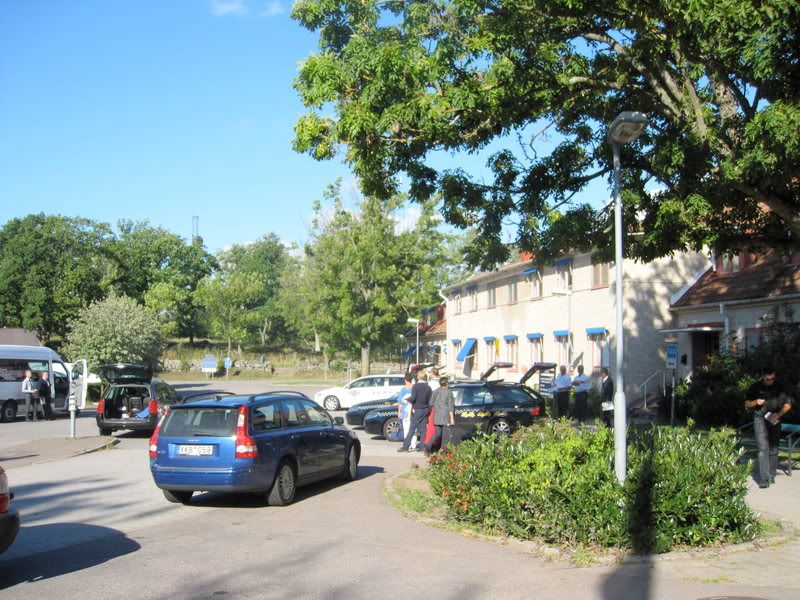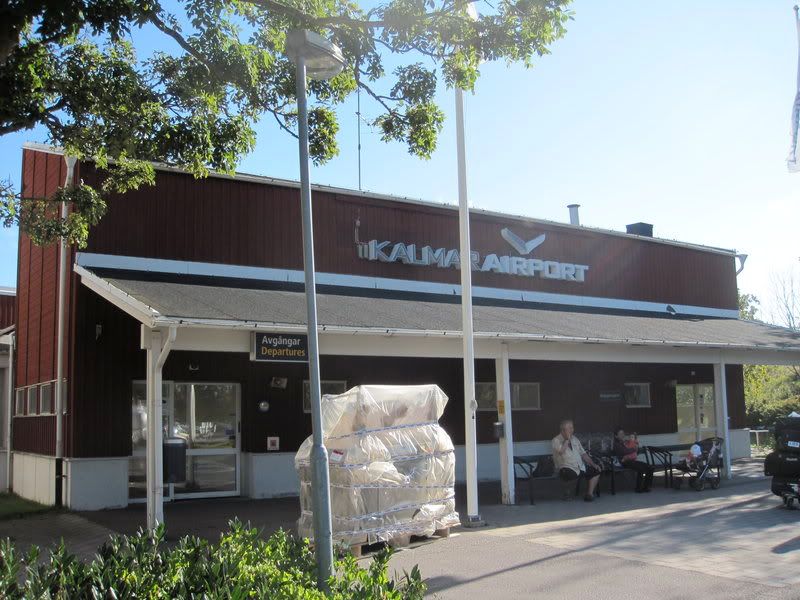 My original plan called for a bus ride to the city - luckily quite a short distance - but due to the delay it turns out I missed a number of buses and the next one is a too risky so I decide to take a taxi. Too bad it isn't that straightforward as all the taxis in front of the terminal turn out to be prebooked. A couple of young Swedish business travelers are just about to call one for them so I ask the guy to request an additional one for me.
Draken: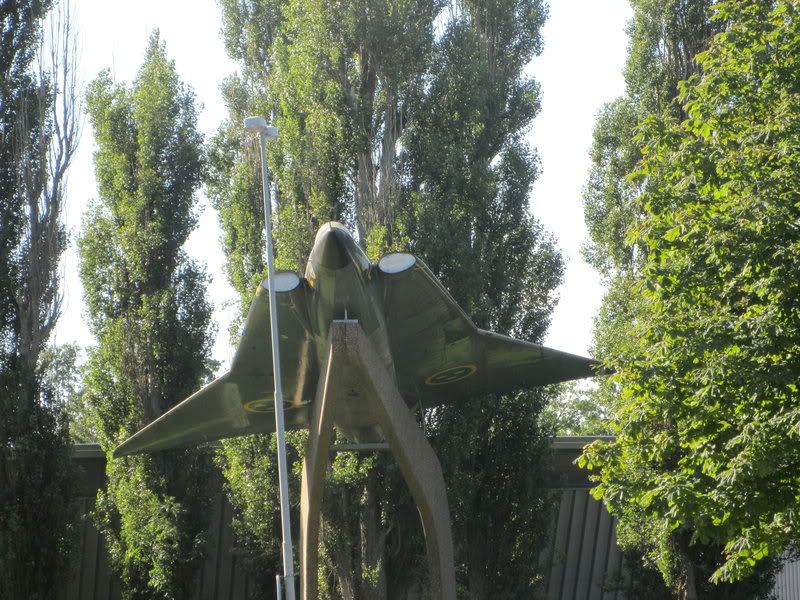 Fast forward ten minutes and still no taxi for me (nor for them), I'm getting a bit antsy - by that time I have less than 25 minutes till the bus. Then a taxi pulls in, it is not the one they ordered for me but available nevertheless so I decide to take it and tell the driver I'm in a bit of a hurry. He asks "How fast do you want me to drive?" - "It's up to you, but I won't pay your fines!" - "Ok, then it's only 10 kilometers over the limit!".
The driver turns out to be a very funny guy, he used to be a local politician for Sweden's "Sverigedemokraterna" populist nationalistic party and has some very interesting opinions about certain matters, including the upcoming elections.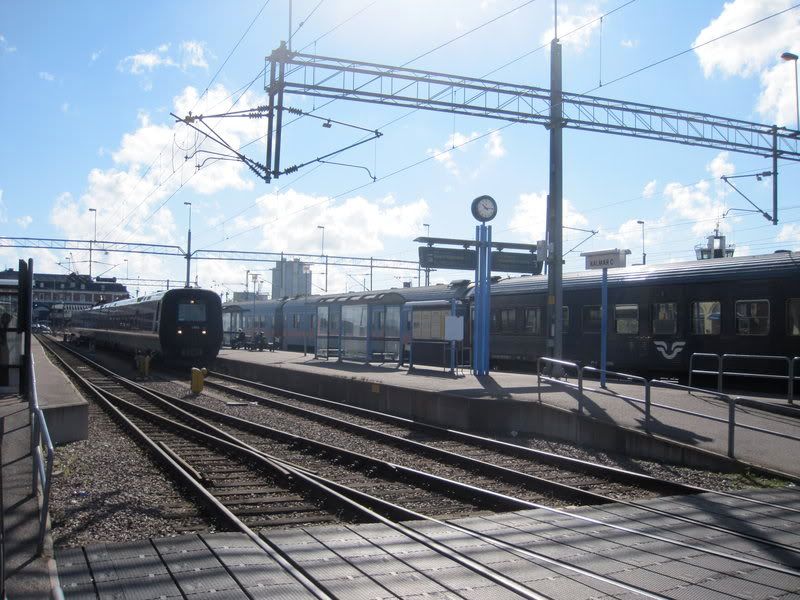 Anyway in ten minutes or so we are at the Kalmar Central Station, also doubling as the main bus station. I have only ten minutes before my bus so I don't venture too far from the station, just shoot a few photos: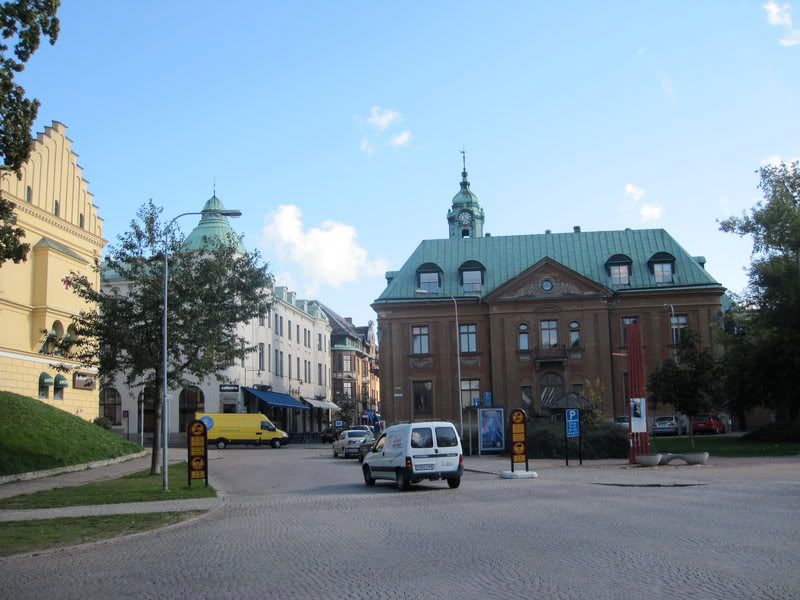 The castle: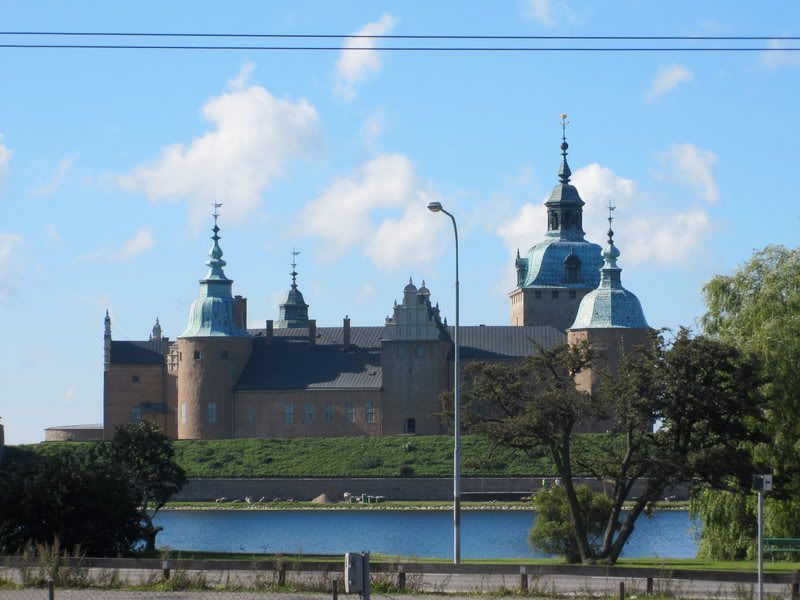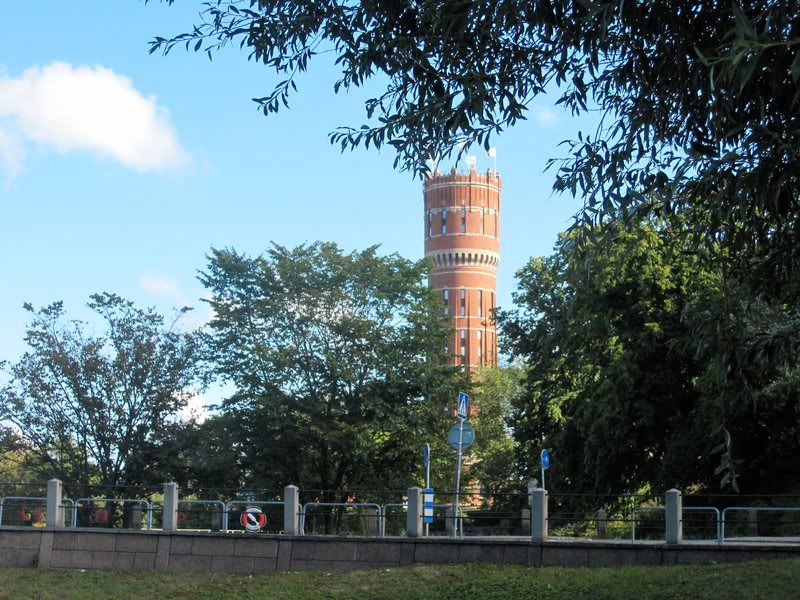 Kalmar looks like a very nice town (and according to the taxi driver it is the sunniest city in Sweden), I think I should come back here for a proper visit at some point. So many places to visit, so little time...
I hop on my bus, running perfectly on schedule for the 1h15min ride up the coast to Oskarshamn. On the way we pass some very pretty rural scenery.
Oskarshamn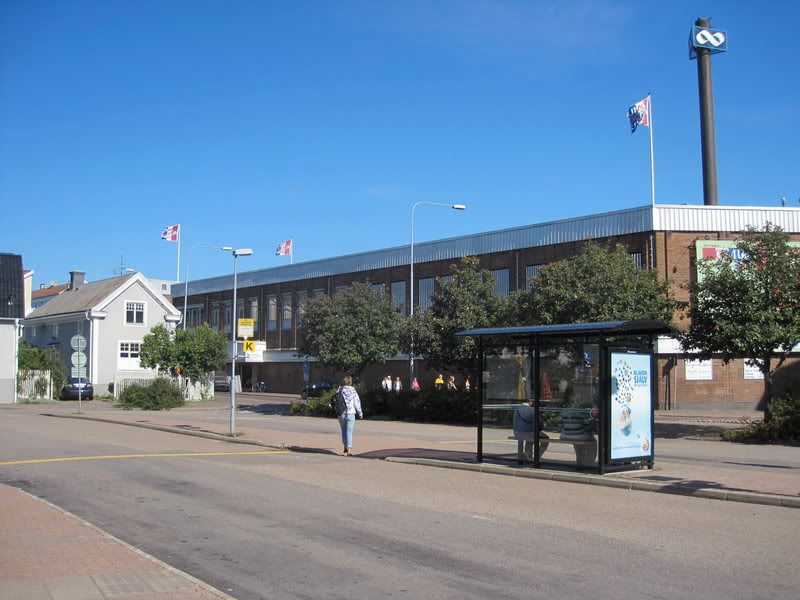 The bus pulls in to Oskarshamn bus station a good five minutes before schedule, leaving me with a bit of time to walk around the small town and to grab a hot dog for lunch.
The elections indeed are coming and all the parties are doing the hard work on the streets and market places: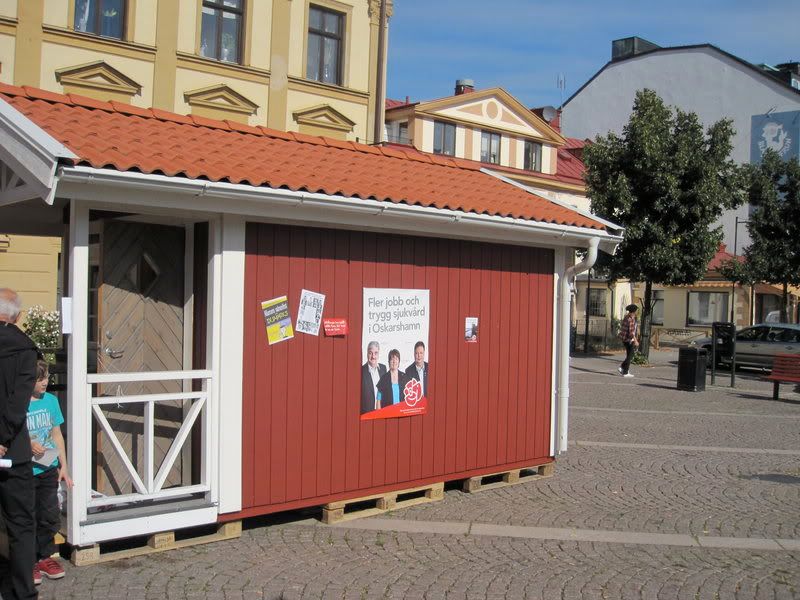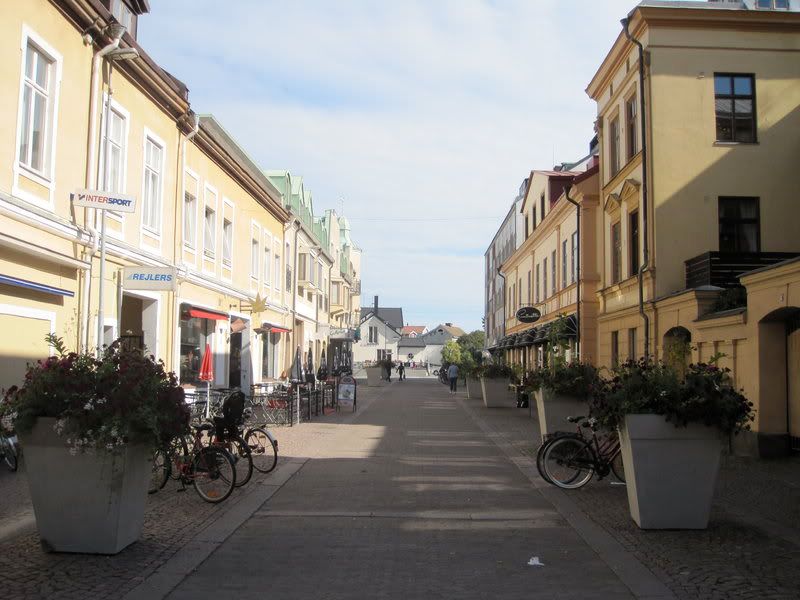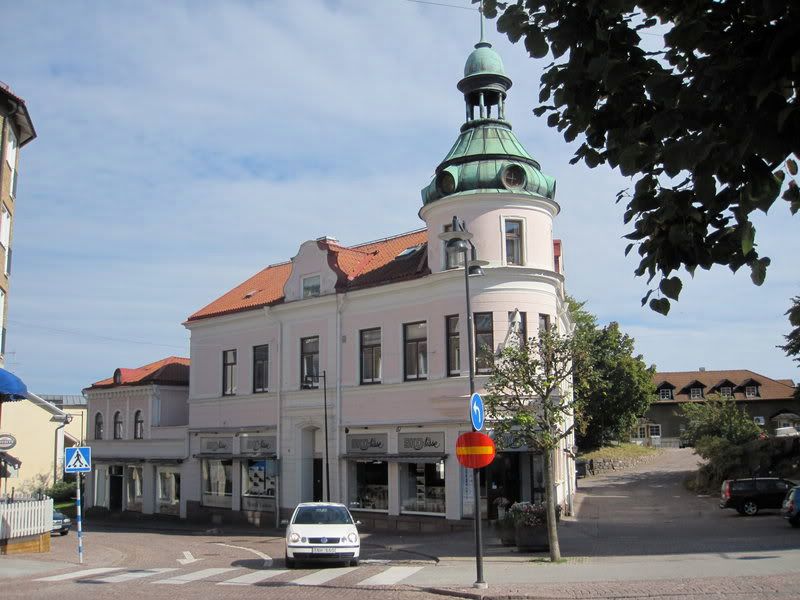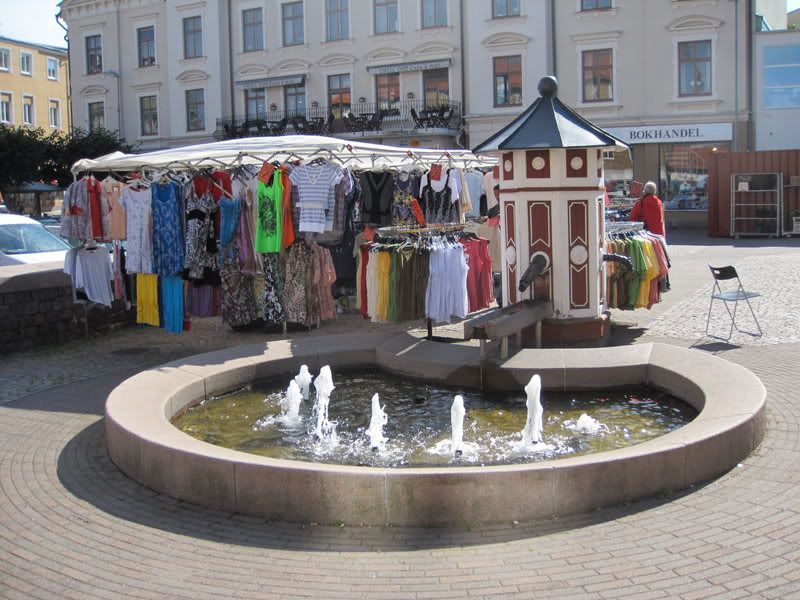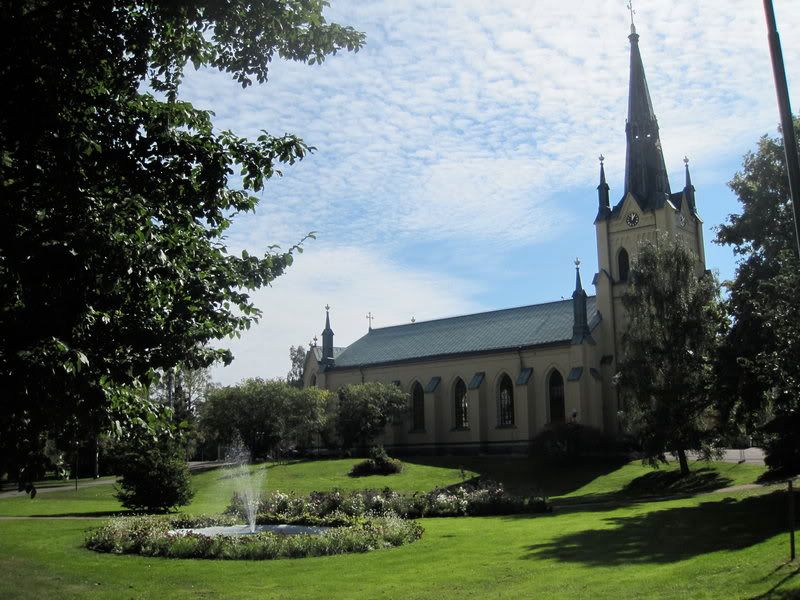 There's no public transportation to the airport - well with three business-oriented flights a day on tiny commuter planes I doubt there's much demand either. I can't see a taxi station anywhere so I go to a hotel and have them call a taxi for me. 15 minutes and 25 EUR later we reach the small airport.
Oskarshamn Airport
First impression after stepping off the taxi: "What an incredibly cute little airport". See for yourself: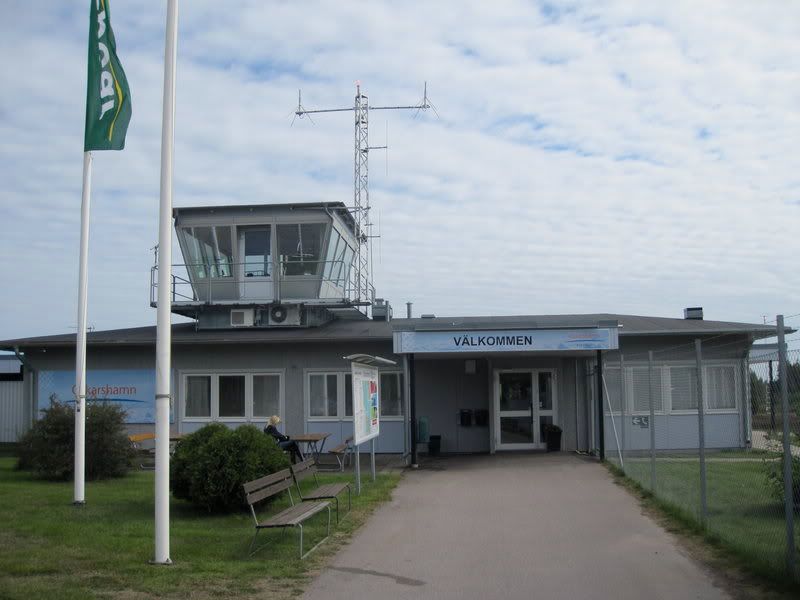 Our ride, I assume:
A lady sitting (and smoking) on a bench in front of the terminal asks me something in Swedish - I can't quite make out what she said so I ask her to repeat herself in English - "Are you here for the flight to Stockholm?" - "Yes, it's not like you can fly anywhere else from here!". She turns out to be a Norwegian on a business trip here and on her way back home in Oslo. I ask if they are already open for check in inside and after she acknowledges this I step inside.
Wow, it really is very compact: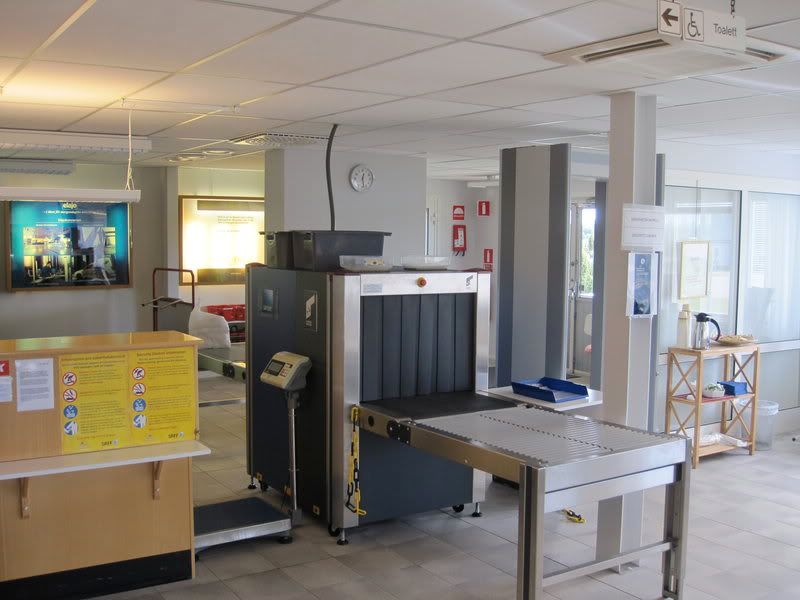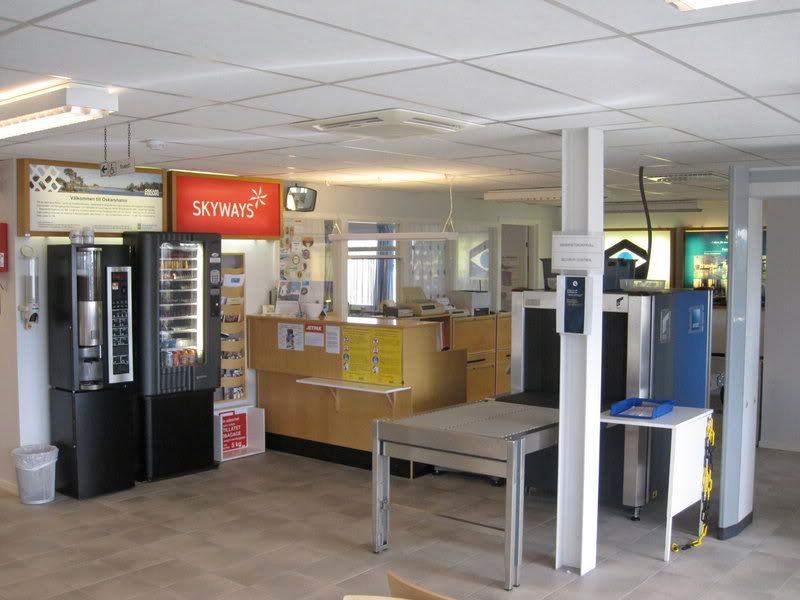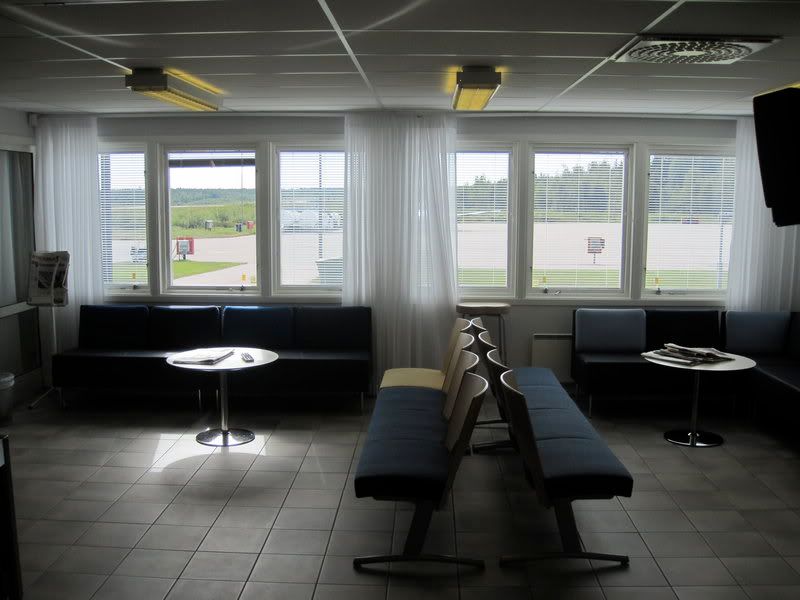 I think this airport is, together with ENF, the smallest airport I've ever flown to or from. The passenger facilities at ENF were even smaller (there's not even a gate lounge, you walk through the metal detector straight to the apron and to the plane!), but the actual airport building was larger so I think it is a tie.
A very friendly (hey, this is Sweden after all!) lady checks me in and hands me my boarding pass already ripped into two pieces. I ask how the load is - "Not so many people on this flight, usually the morning and evening flights are more full." - "I guess that explains the cheap price then!"
Skyways is offering free coffee and snacks to its passengers, and apparently a breakfast in the mornings as well: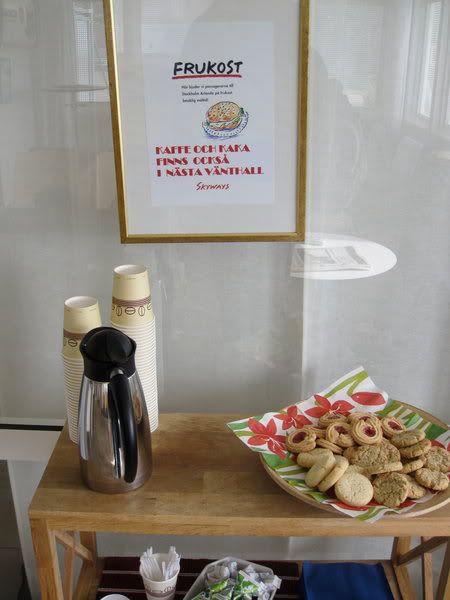 Well, with no service on the flight I guess it is only decent to do so! Actually I once flew URE-TLL with Avies of Estonia and they had a genuine FA on their Jetstream. The service on that short hop was also much much better than on most national carriers nowadays, but that's a whole different story of course.
Back in present day I go back outside to shoot some more photos - while walking out the flight crew enter the terminal, I loudly say "Hej!" to both of them - this Swedishness is very infectious, let me tell you!
No, this is not, I repeat is NOT, the Virgin Clubhouse: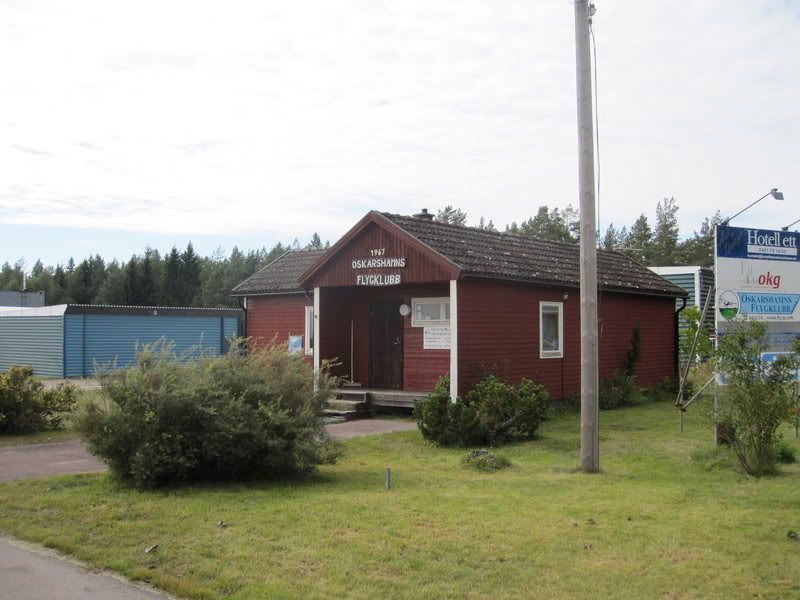 Later on I go back inside, chat with the Norwegian lady a bit more and nibble on the free cookies. A few pax show up - actually all the others are middle aged businessmen types. In the end I count six passengers for this flight - according to her - she does this route every now and then - sometimes there's only one pax onboard...
Twenty minutes before departure the members of the airport fire brigade (really!) doubling as security agents tripling as ramp agents quadrupling as general purpose handymen appear and open the tiny security check point. Once through we are ushered to a holding pen type of room with more free offerings (I grab a pocketful of candy), including ear plugs: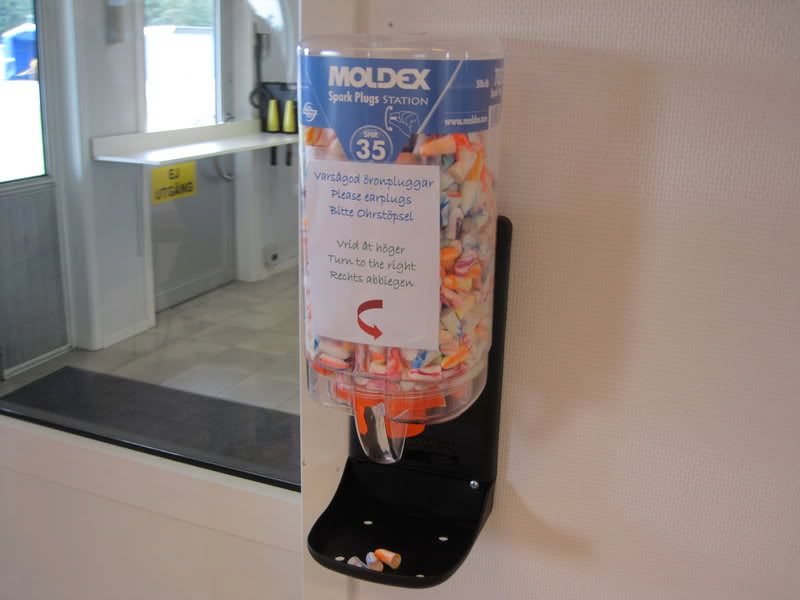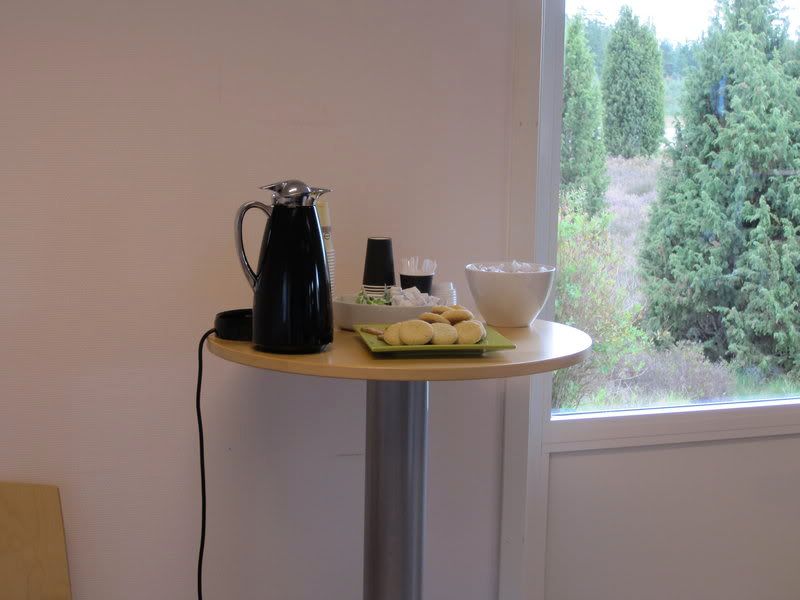 Once everybody is inside the door is closed and the female general purpose agent puts on a Direktflyg Jetstream safety video on the TV set in the corner of the room. The serious expression on everybody and the sheer devotion with which people are watching it almost forces me to laugh but I bite my lip.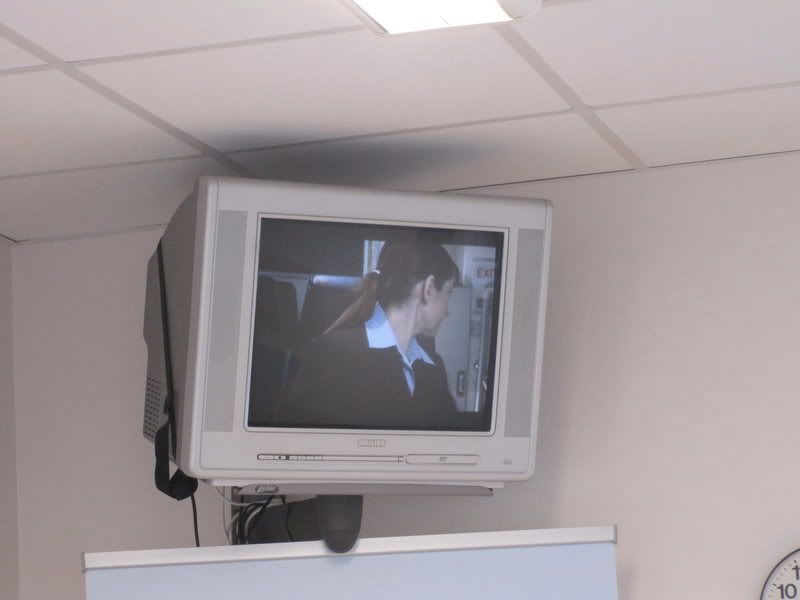 Have all these plane types really been operated in Sweden: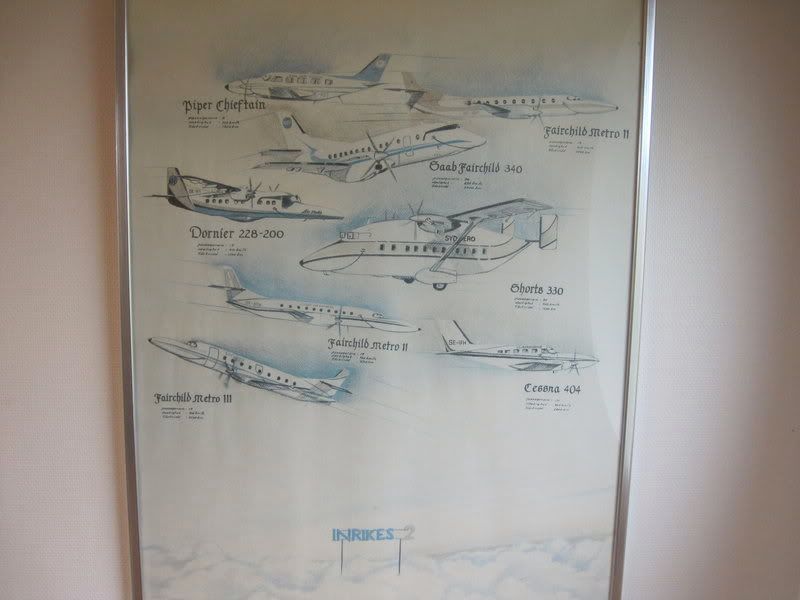 After the video the lady opens the door to the ramp and off we go, walking to the parked plane.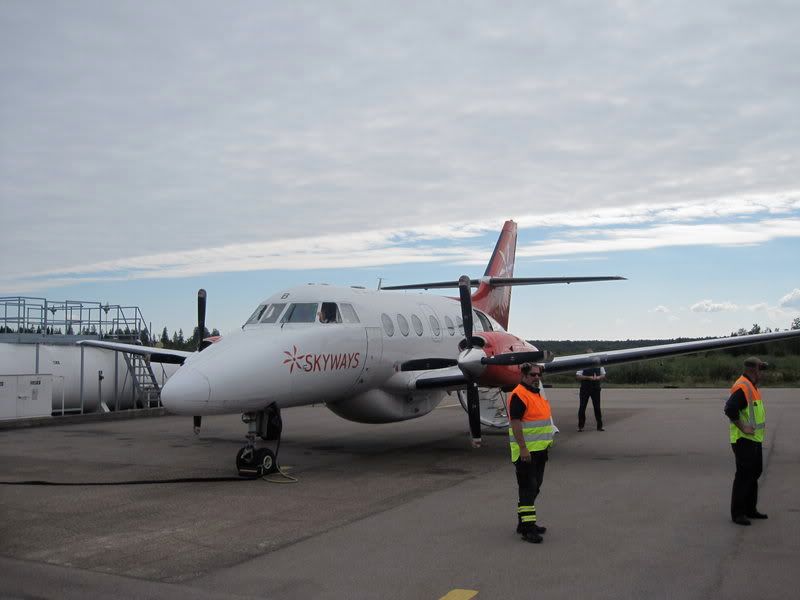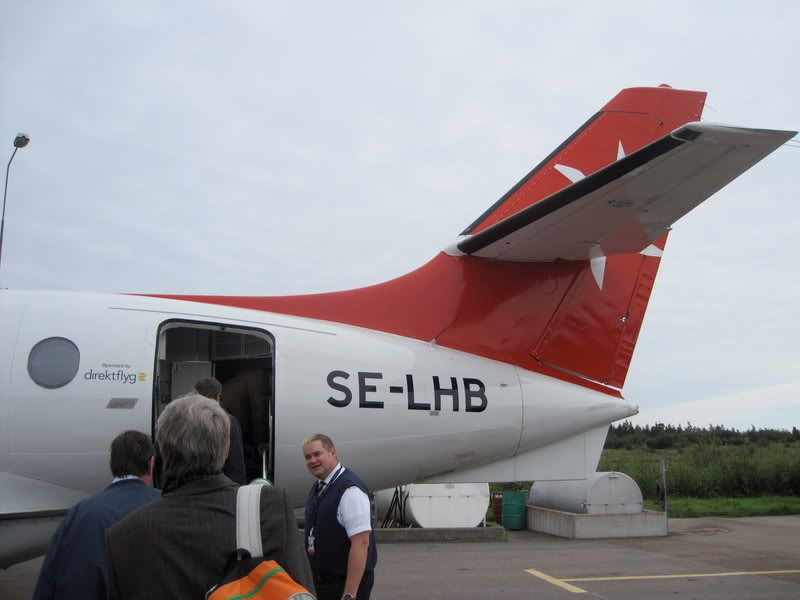 The young FO is assisting people onboard, since I am the last to board I chat a bit with him. He calls the Jetstream "a damn fast little plane", quoting the airspeed as "up to 350", not sure which units he means, knots I guess. Apparently today our speed will only be "around 200" due to some strong headwinds which makes the flight time approximately an hour.
OSK - ARN
JZ844
Jetstream 32 SE-LHB
Seat 4A
13.20 - 14.05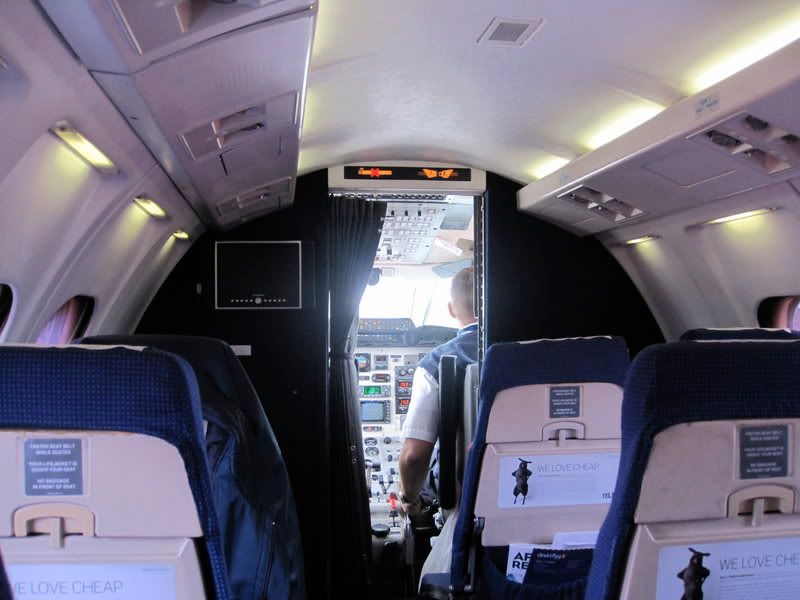 I very much want to sit on the right hand side to catch a view of the nearby Oskarshamn nuclear power plant on the shore of the Baltic Sea, but apparently so do all the five other pax. Or maybe they just want to have two seats for themselves as the seating is 1-2. The first row still has a two-seater vacant (plus you have the open cockpit in front of you, something which I very much enjoyed when sitting there on an Highland Airways J31 some years back) so I head there. Unfortunately the FO wants me to sit on the other side for balance reasons so I have to settle for the exit row 4. You couldn't really tell this is an exit row from the leg room: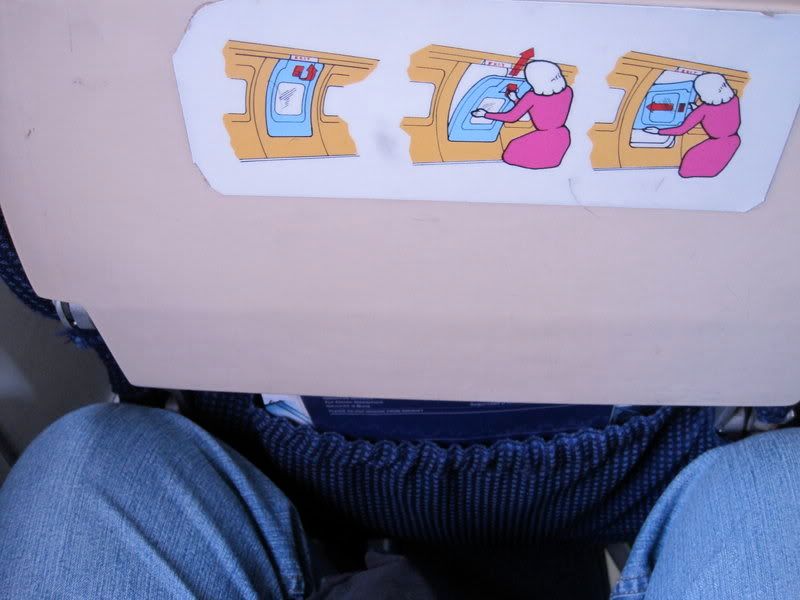 My back bag doesn't fit under the seat so I just put it on the seat in front of me.
What's that - is there IFE as well: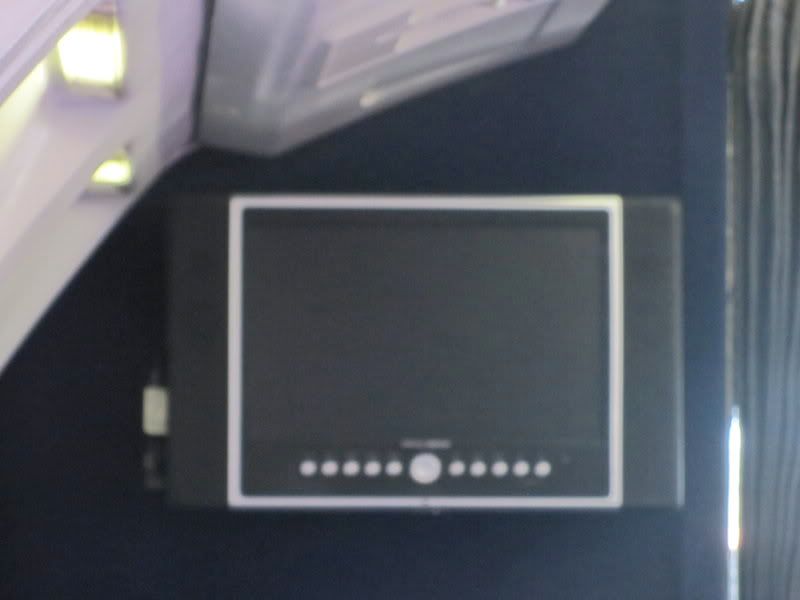 Nope, it never gets turned on. I guess they can provide the safety video this way if needed.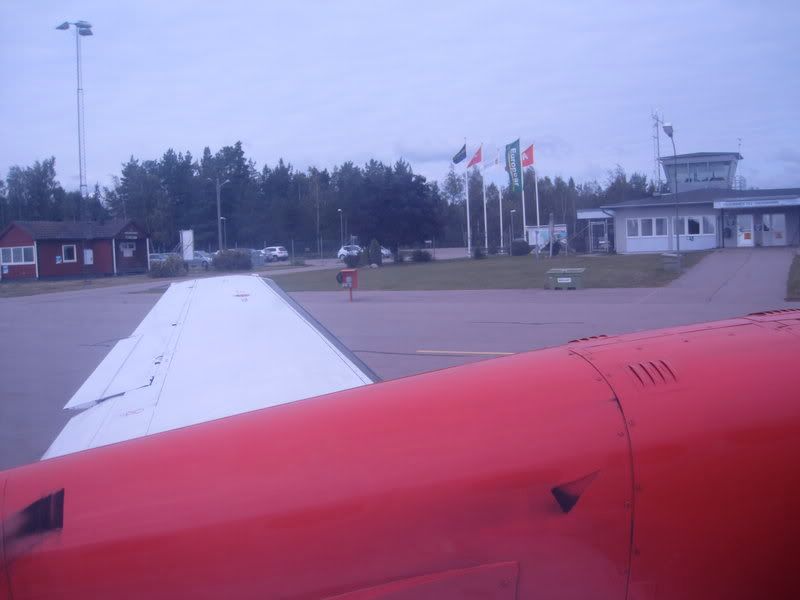 We start moving a good five minutes before the schedule, backtracking to the runway 19 end, turn around and take off towards the south. There's quite a bit of sidewind so the take off is rather shaky.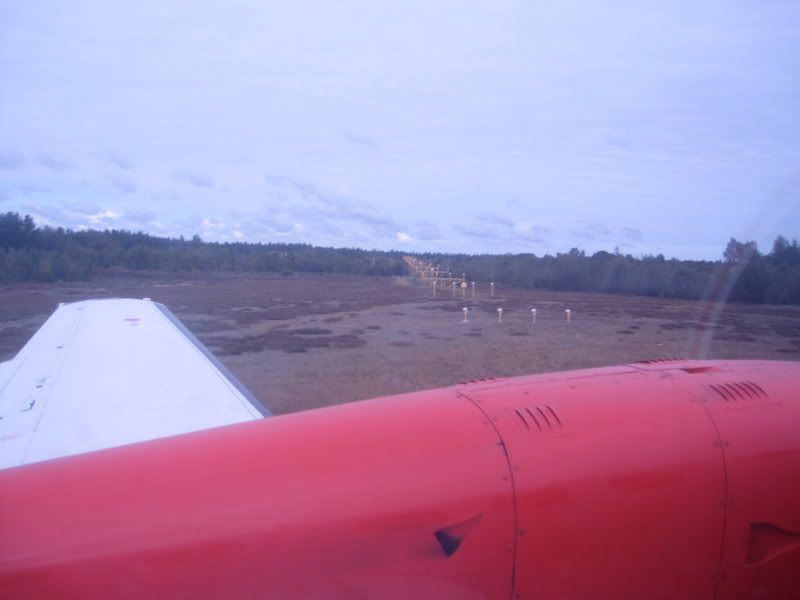 Top