Greetings from Downunder.
It has been sometime since I've returned from my trip, but I humbly present part 4 of 5 of my Europe 2010 trip.
Part 1:
MEL-SIN-DXB-IST On SQ
(by
RobMEL
Jul 2 2010 in Trip Reports)
Part 2:
CKZ-IST-ASR On TK In Y
(by
RobMEL
Jul 3 2010 in Trip Reports)
Part 3:
Planes, Trains, Coaches And Trams. IST-TLL On BT
(by
RobMEL
Jul 10 2010 in Trip Reports)
This report will detail my departure from Estonia and flights to BUD via WAW on LO.
After 10 days in Estonia visiting old friends and my old drinking haunts, it was time to get on with business. I was heading to Budapest, in order to transit for a few days on my way to Romania. I picked Budapest due to it's proximity to Romania, and it's handy location as crossroads. Moreover, I had enjoyed my time there in 2004 immensely, so wanted to revisit.
Getting there, however, was more challenging. It took a lot of forward thinking and lateral planning, which in the end came to nought. My first plan...the "budget" plan was to fly on a 10Euro fare from Tallinn-Riga-Vienna, then get a train. This was to be around a 12 hour day. Not ideal. Moreover, the price jumped from 10Euro to 35Euro overnight. Not a great deal of money, but enough for me to start looking at other options. I looked a direct flights from Helsinki to Budapest...very expensive even with advance purchase. I toyed with other destinations such as Belgrade or even directly to Bucharest via Munich. In the end, it was only that a colleague in Estonia said "hey...LOT are flying to Tallinn again" that I punched in the details and found that I could fly directly to Budapest in the afternoon with a minimum of fuss. Cost was a bit pricey, but not unrealistic at $250AUD inc taxes (or thereabouts).
I had some hassle booking the flight. LO website kept rejecting my credit card. I contacted a friendly travel agent in Melbourne...but they said "we'd have to charge a service fee". I contacted LO in Sydney...they didn't respond. In the end, I booked through Expedia with no hassle. Net result, I got my ticket and was happy.
My colleague collected me from my rented flat and took me to TLL. It's a small, functional airport that has had an upgrade and looks new inside, but very Soviet on the outside. Does the job. Check-in was interesting. The clerk marvelled at my Australian passport, and seem perplexed by my Singapore Airline FF card. I knew that my first flight was on an RJ145, with 1+2 seating. I asked for a window on the 1 side. She said "both sides two seats". Hmmm...interesting.
Had some lunch, a final Saku, changed my EEK's in to Euro's, farewelled my colleague and was through security promptly.
Tallinn Airport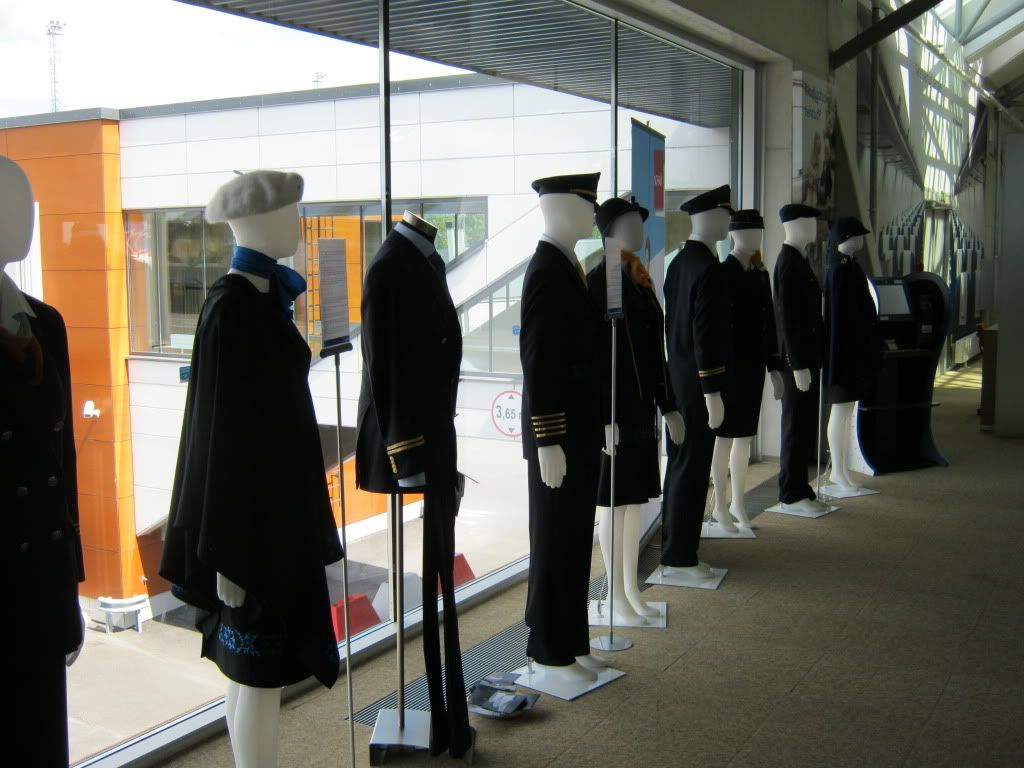 Natty display of old Estonian Air uniforms...dating back to the early 1990's! Smell the history.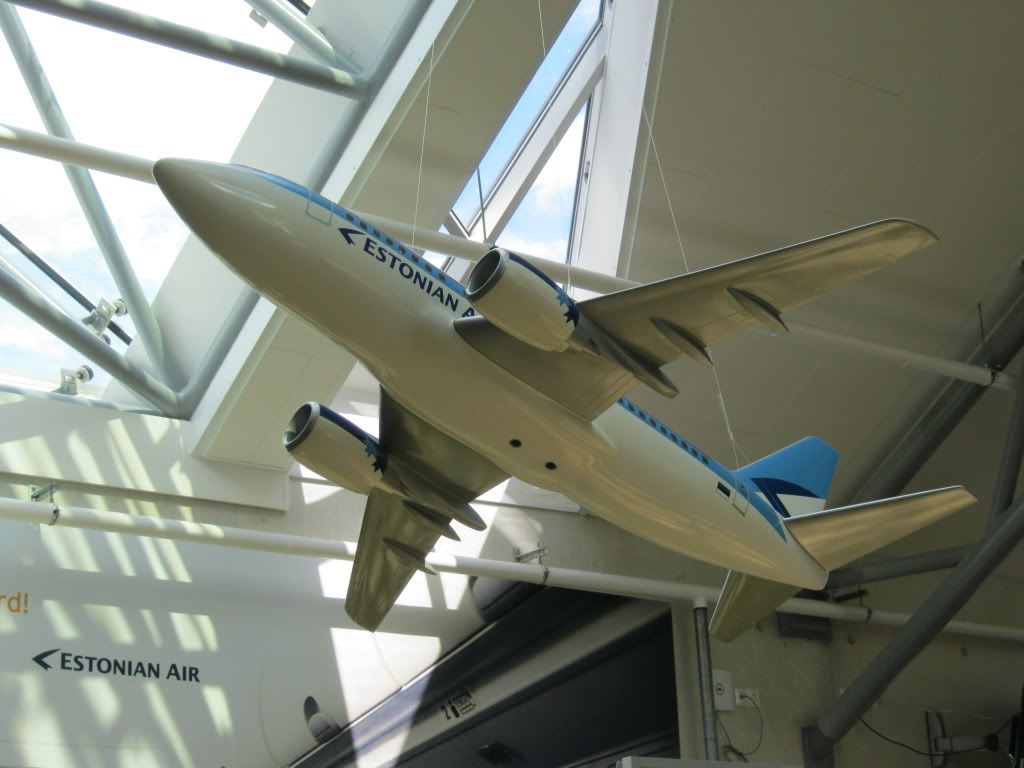 Fairly sizeable model hanging from the ceiling. There were a few of these.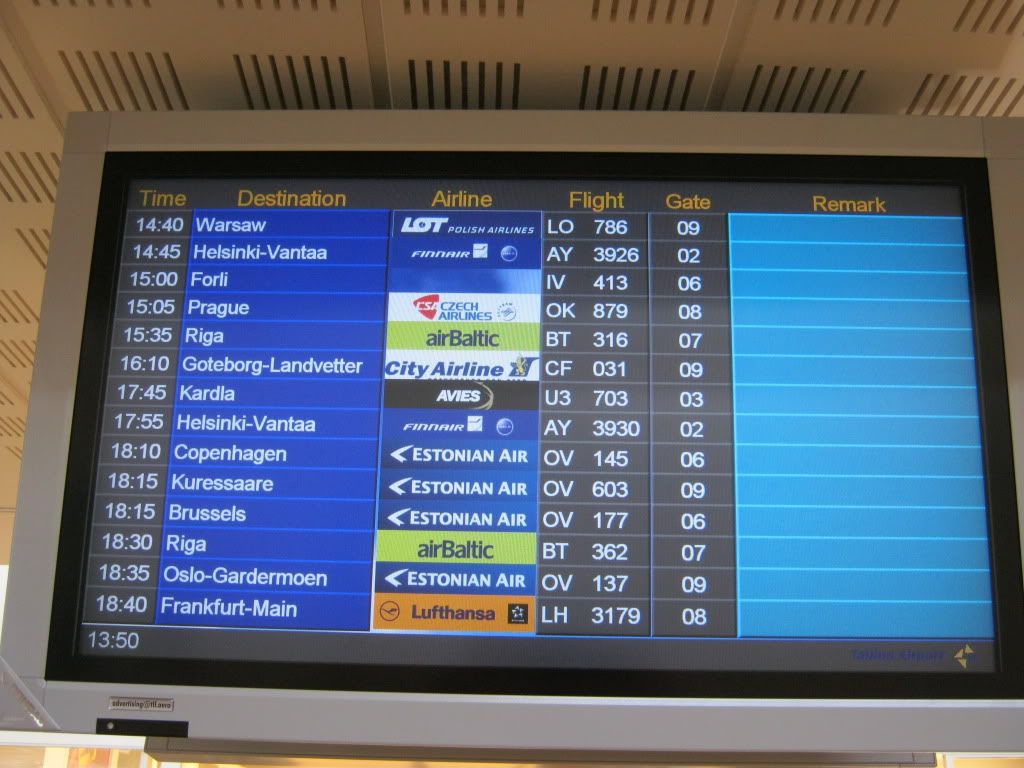 Departure screen a little underwhelming. Not your classic transit stop, that's for sure.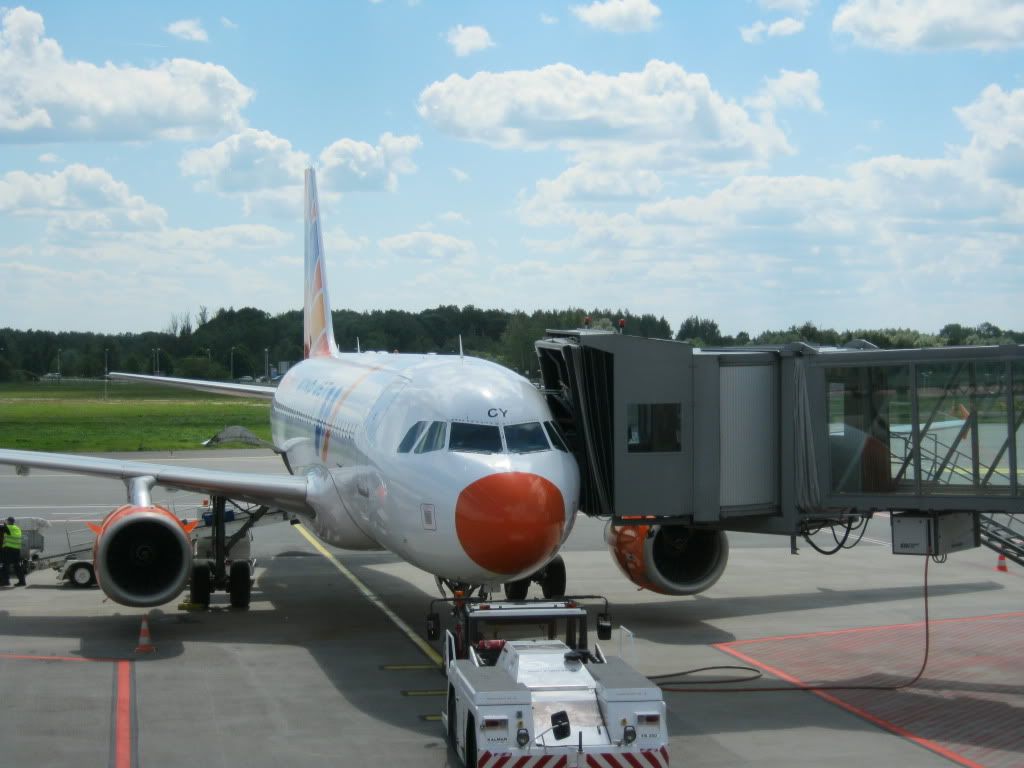 Windjet to Forli. An airline I've barely heard of going to a City I had to look up later on. Thrilling stuff.
LO786 TLL-WAW
Embraer RJ145
30/6/10
Seat ??A
Load- 75%Y,
Push back: On Time
Arrival: Slightly Early.
The beast arrives!
They called forward the usual suspects who need help with boarding, and then the last half of the aircraft. They did not call forward the first half at any stage. After a while, we took it on ourselves to board, lest they then make a shirty announcement.
On boarding through the tiny little doorway, I did indeed find 1+2 seating. I also found 1 older babushka FA, and one younger FA. Both surly.
Cabin shot.
Leg room.
Seat was quite comfortable. A few more inches of legroom and made an inch more width, and I'd have been happy in that baby all the way back to Australia.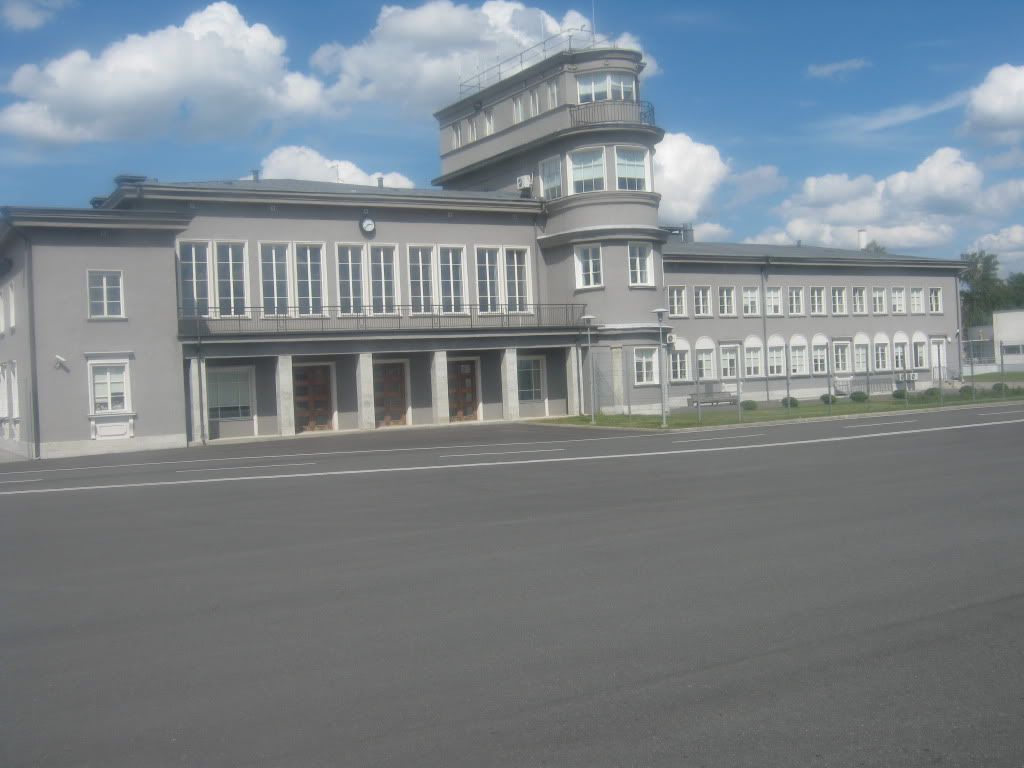 Soviet styling at Tallinn Airport.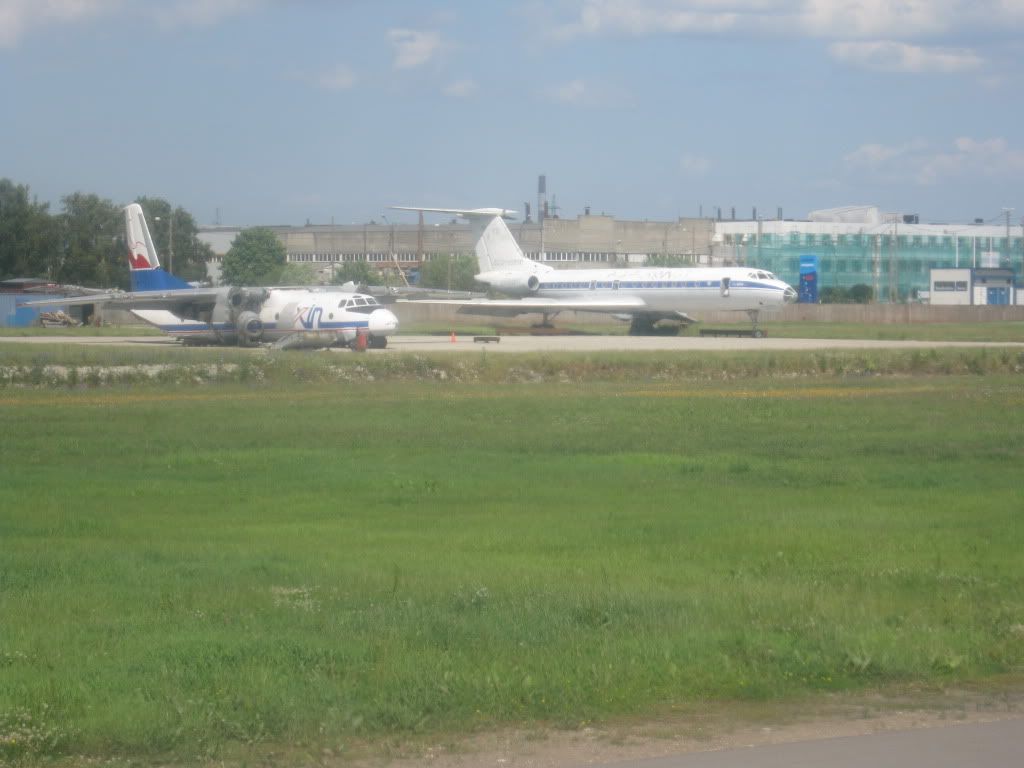 Elderly Russian aircraft. A fixture at any former USSR airport.
BT Fokker hanging about, presumably off to Riga.
Do it right and one day you can paint the tail of your plane in Pink.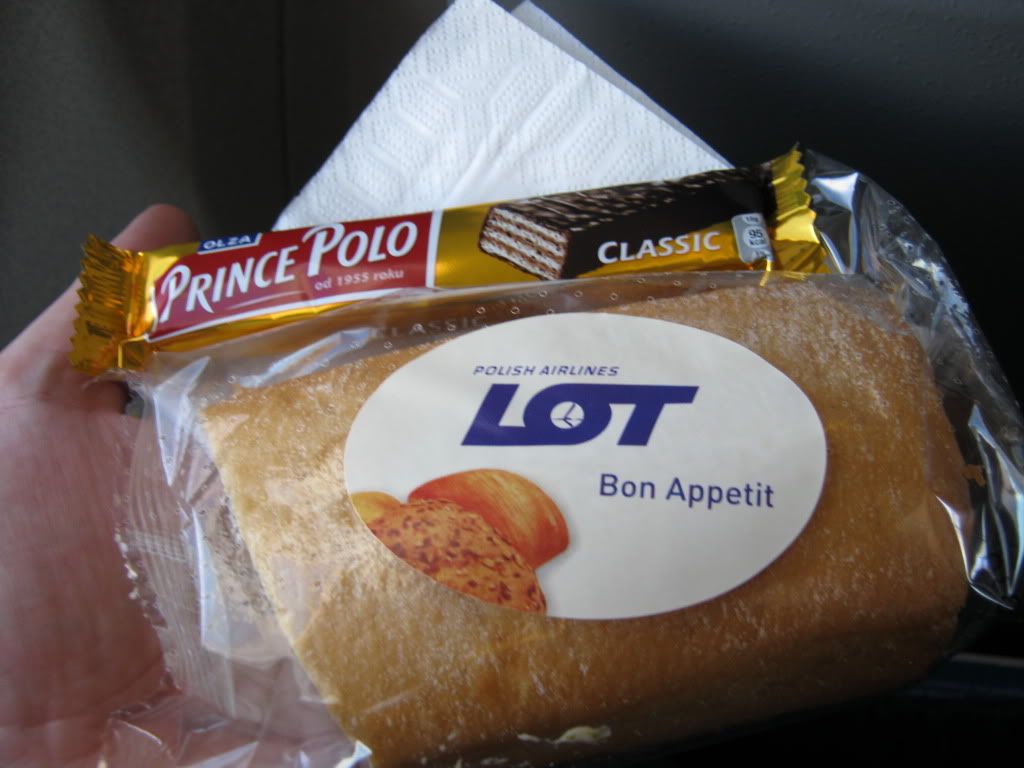 Food! That my colleague assured me I wouldn't see.
Crossing the Gulf of Riga near Pärnu.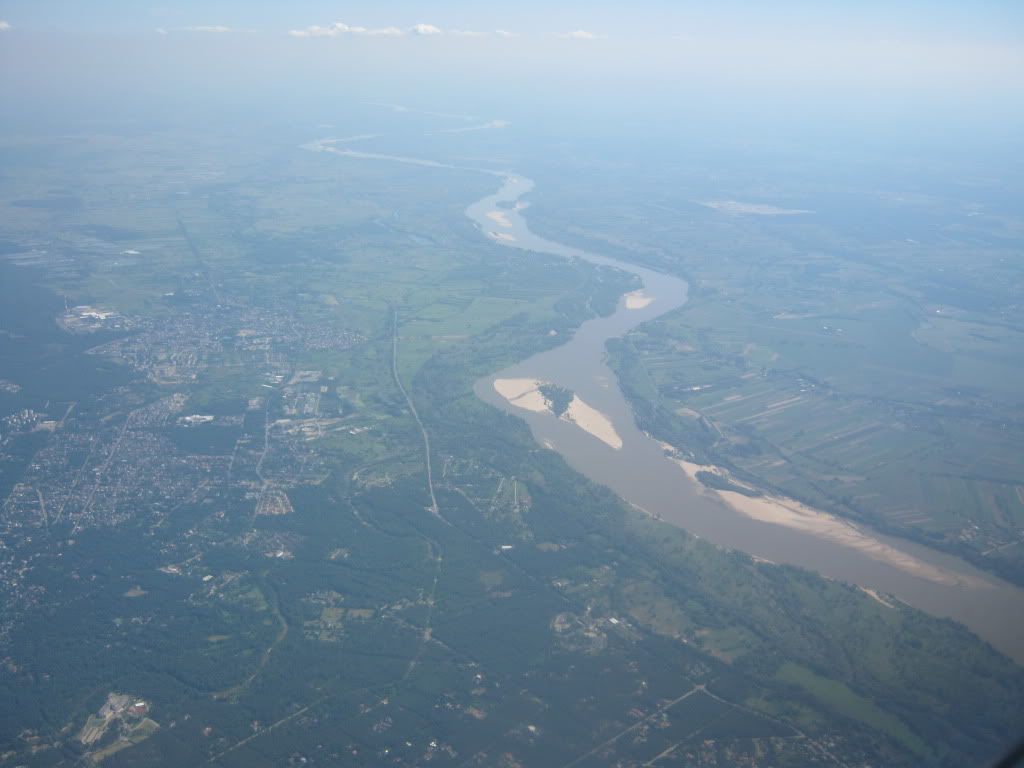 River near WAW.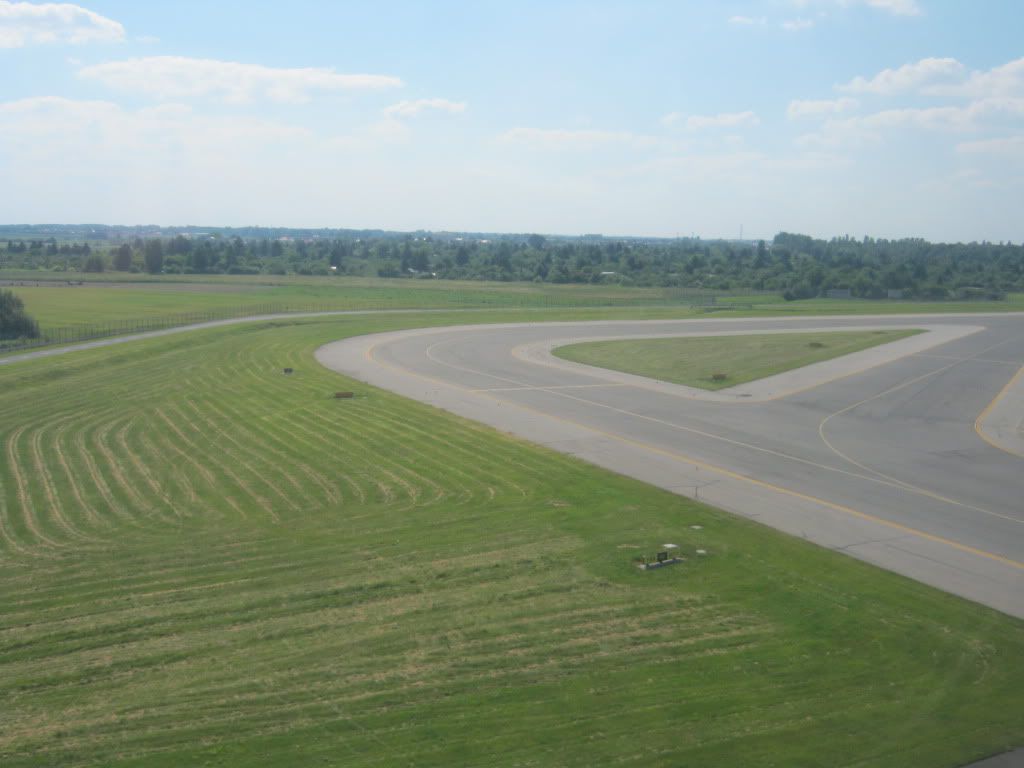 Nearly on the deck.
Miscellaneous aircraft at WAW.
After disembarking, we bussed it to the terminal. And then we stood in a queue for a fair while to pass through security. Plenty of people seemed to either not understand the concept of queuing, or they just ignored it and butted in wherever they felt. A few copped my "gaze of wrath", one I verbally told to go away, but most just ignored me, and a hundred other people. Sigh.
WAW is a cramped little place. The bathrooms were crowded and dirty, there didn't seem to be much in the way of cafe's, and most annoyingly...no free wifi (such a snob!).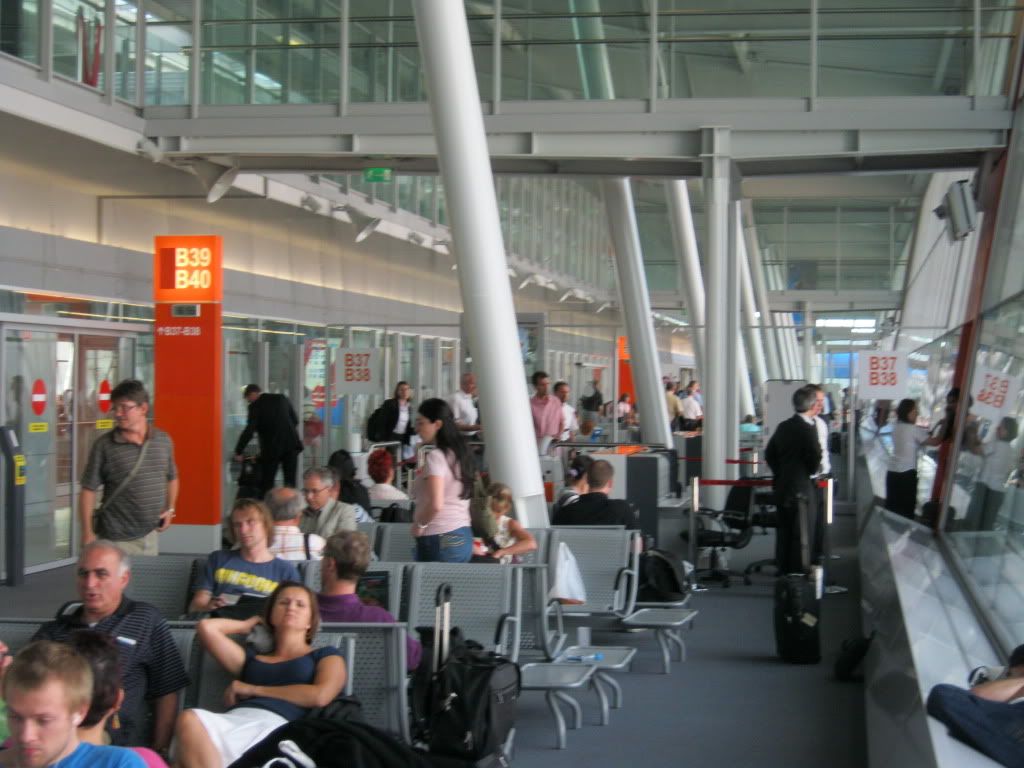 Crowded departure lounge.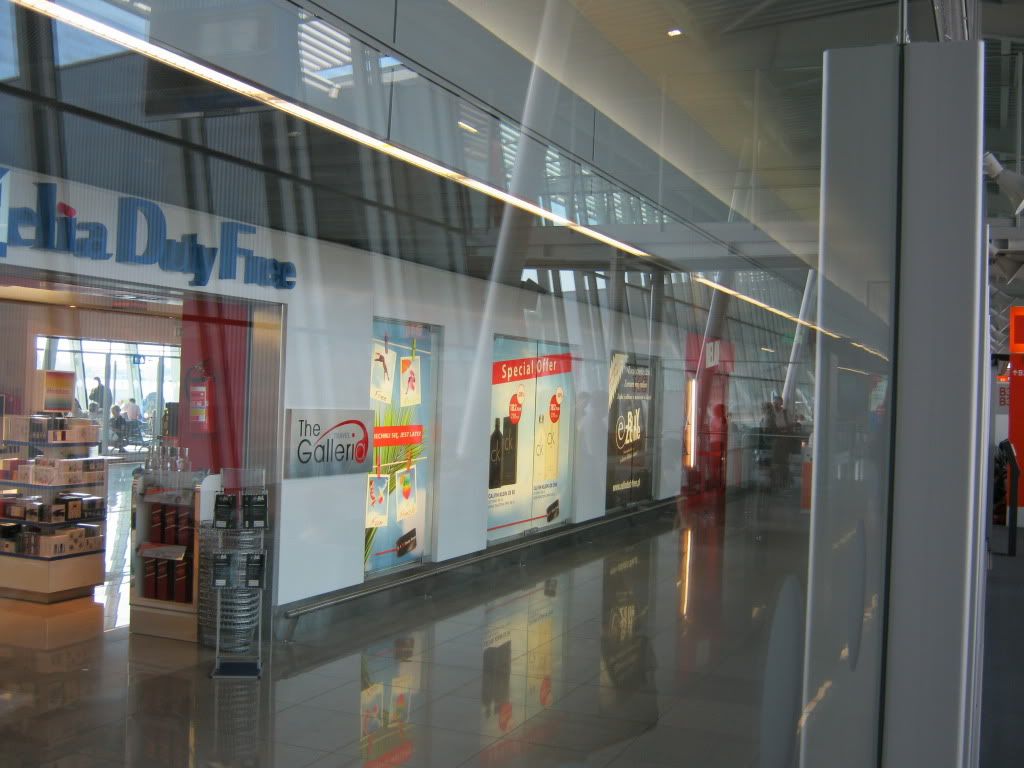 Duty free shopping for those departing the Schengen area. There were a few flights departing to the USA at this time.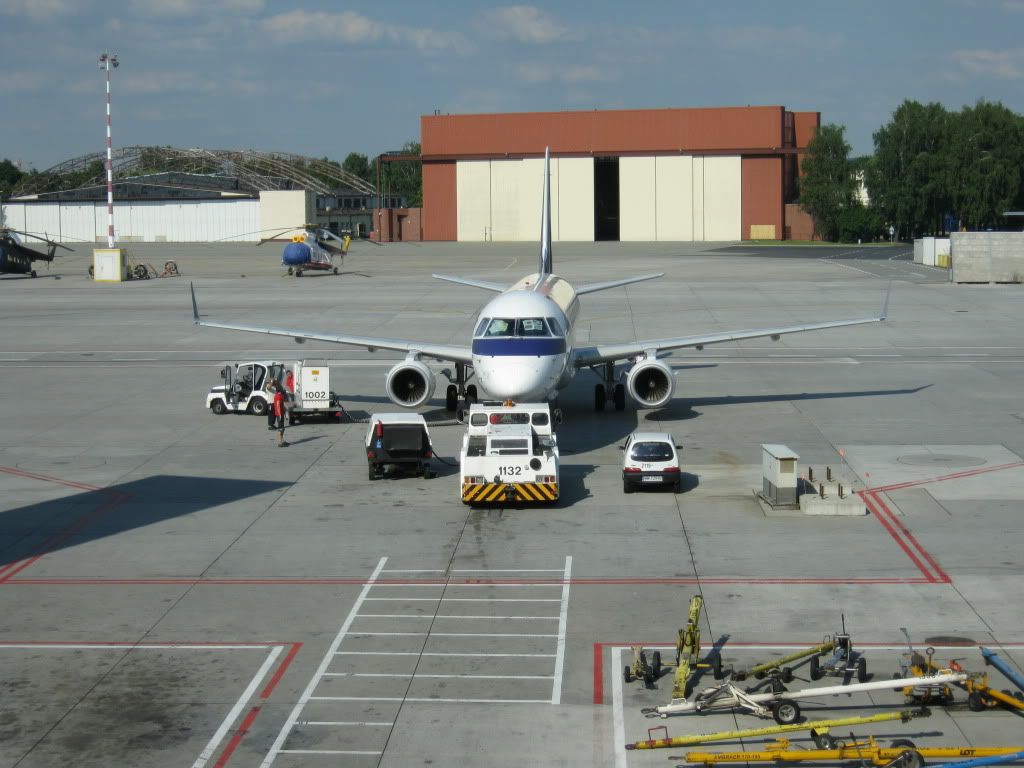 Not my Embraer. But a similar one.
After a leisurely wait in the lounge, time came to board the bus. I promptly got on. We waited for some time for everyone to arrive. This was a bit frustrating. I can understand why they do it...but it was still annoying.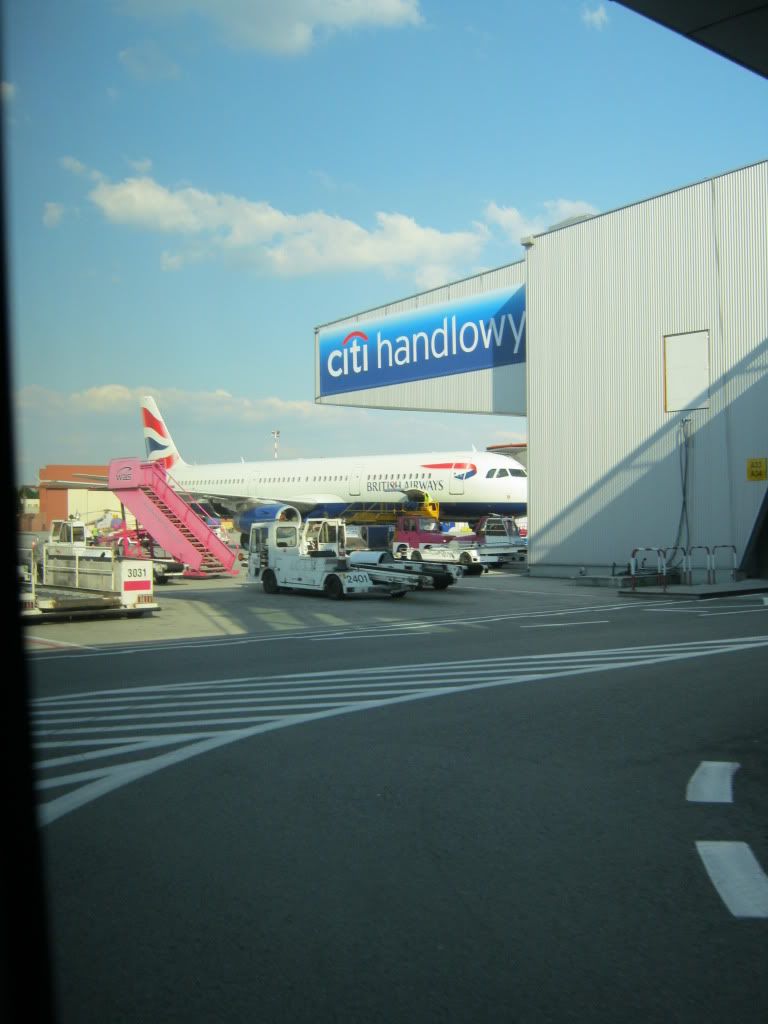 BA arrived just before we left.
LO531 WAW-BUD
Embraer E170
30/6/10
Seat 7A
Load- 95%Y,
Push back: 10 mins late
Arrival: On time.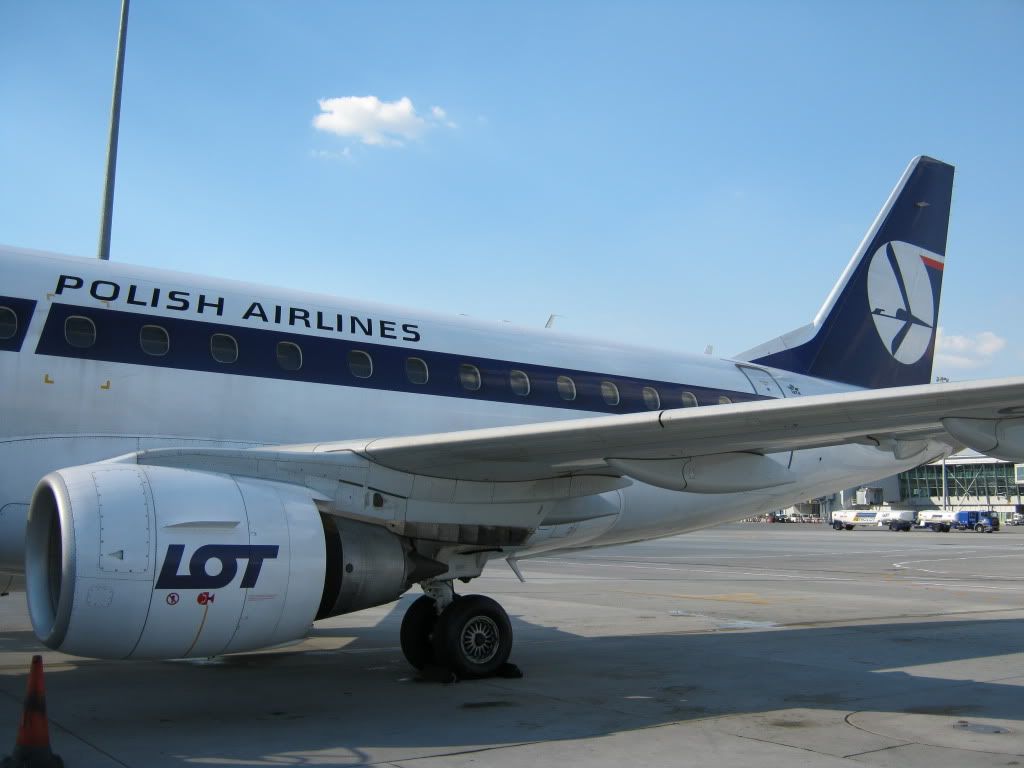 My new Embraer170
In a rush to board.
LO to somewhere farflung by the looks of it.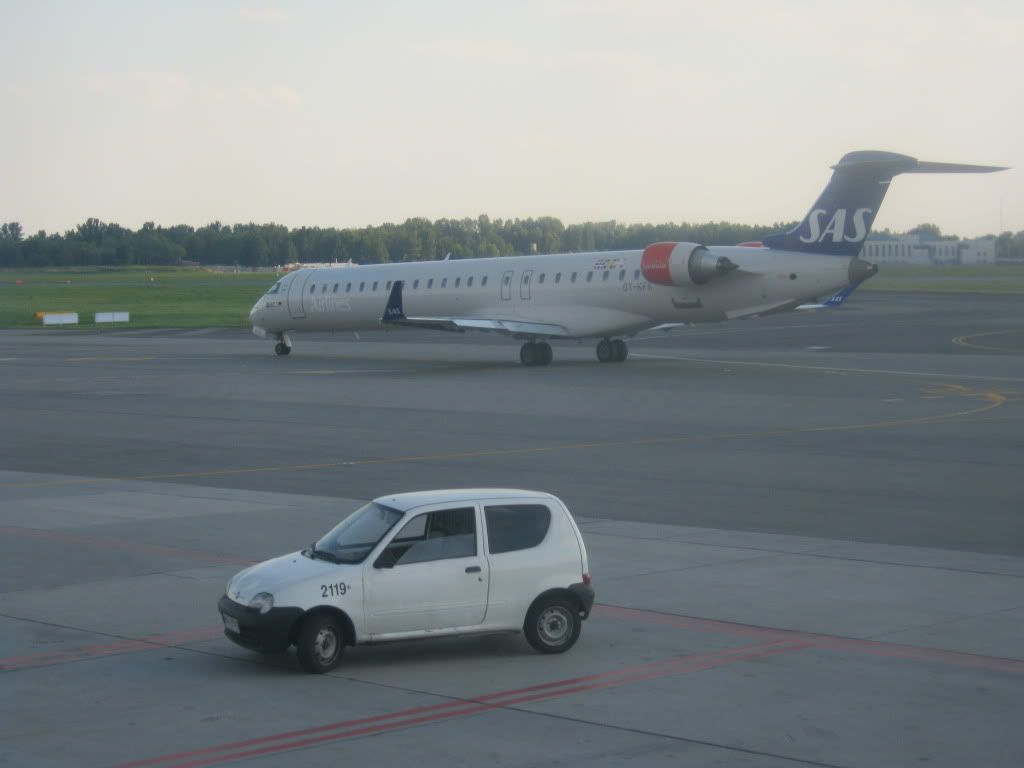 Interesting neighbour #1
Interesting neighbour #2
Cabin shot.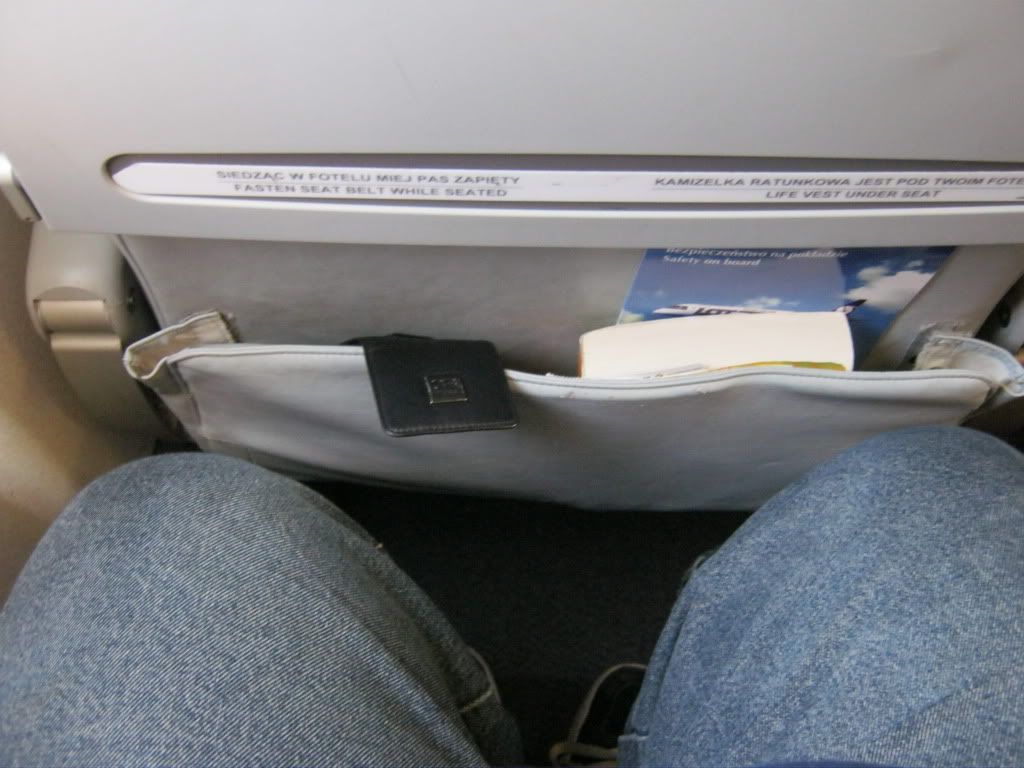 Legroom. Not as good as the RJ145.
On boarding I found a woman in my window seat. Some gesticulation required, but she moved. Im not sure she believed me entirely, as she kept looking at her boarding pass, and then mine (which she swiped from my hand) before asking a flight attendant, who assured her yes...I was in my right seat. Still, she gave me some filthy looks. She also had a habit of crossing herself religiously during the flight. Take-off, landing, during bumps...and during meal service. Very odd.
Same as before. Only with a yellow tortilla instead of a bread roll.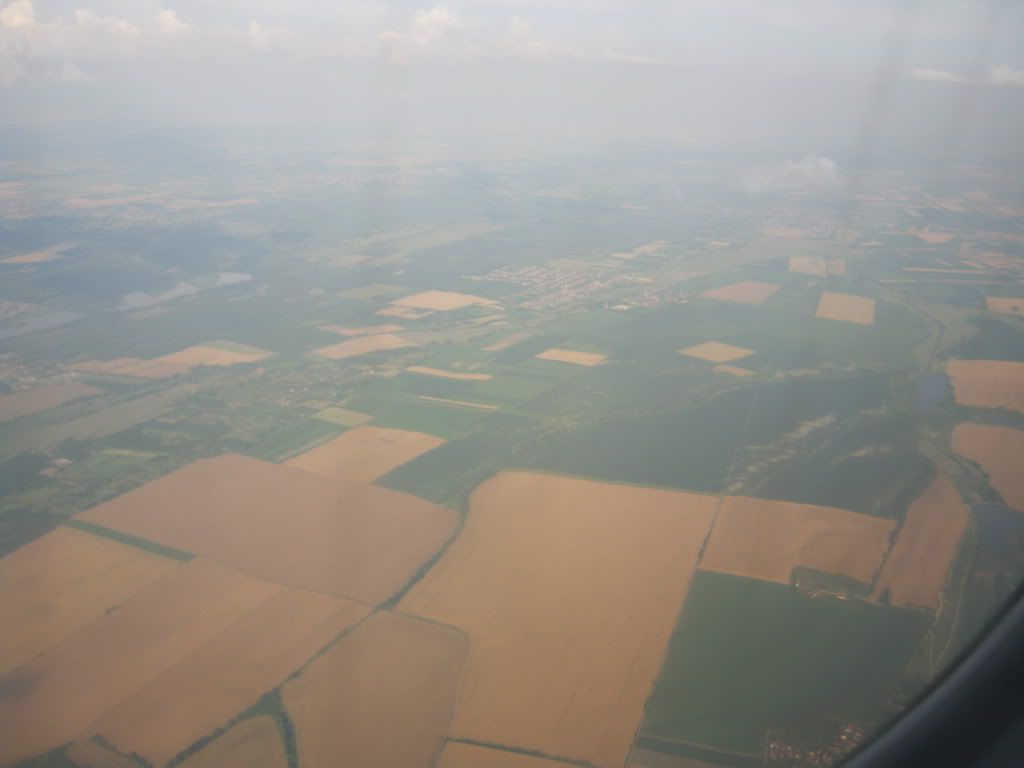 Somewhere over rural Hungary.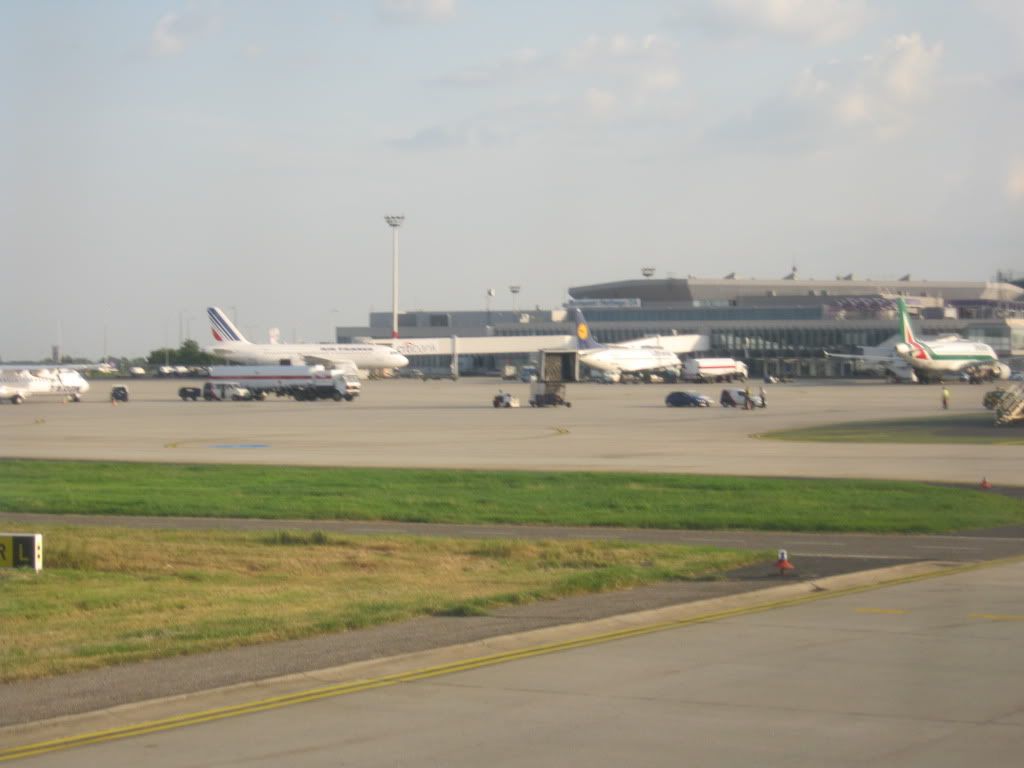 BUD terminal.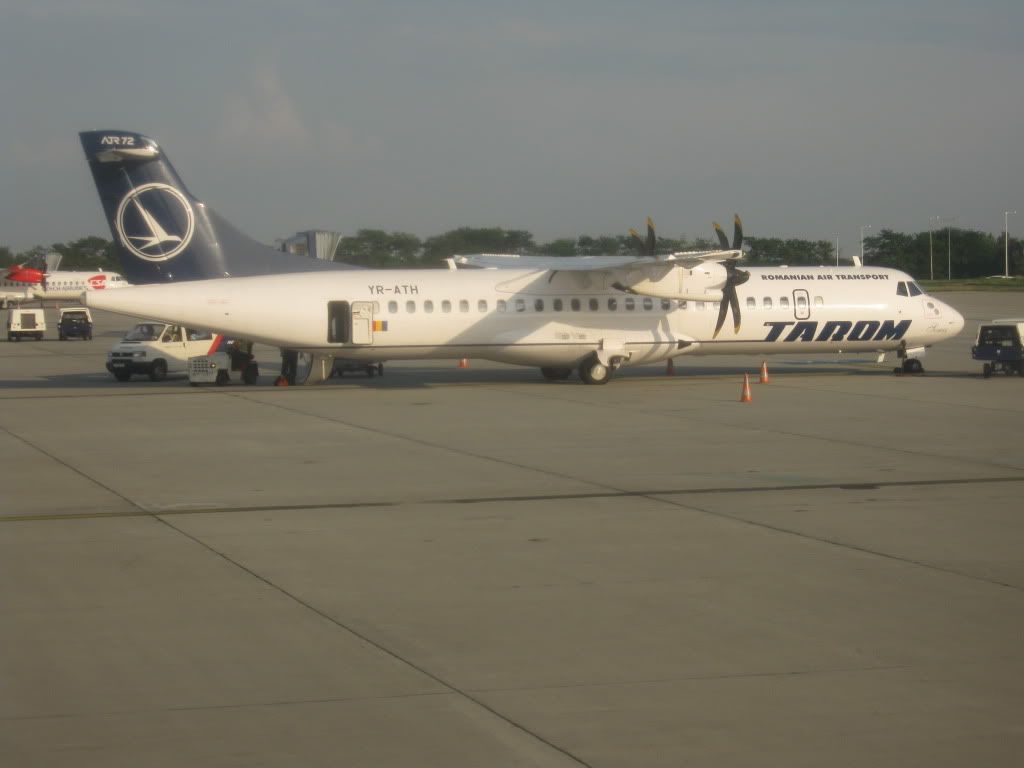 Interesting neighbour at BUD. Ok, so perhaps not SOOO interesting...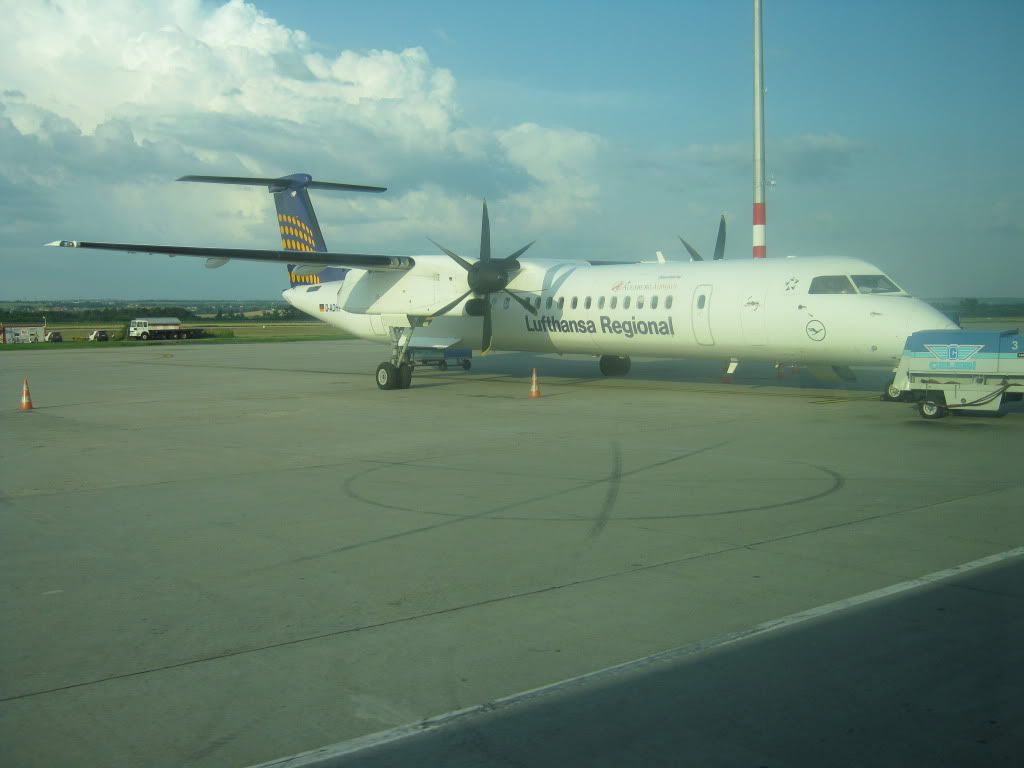 Another neighbour.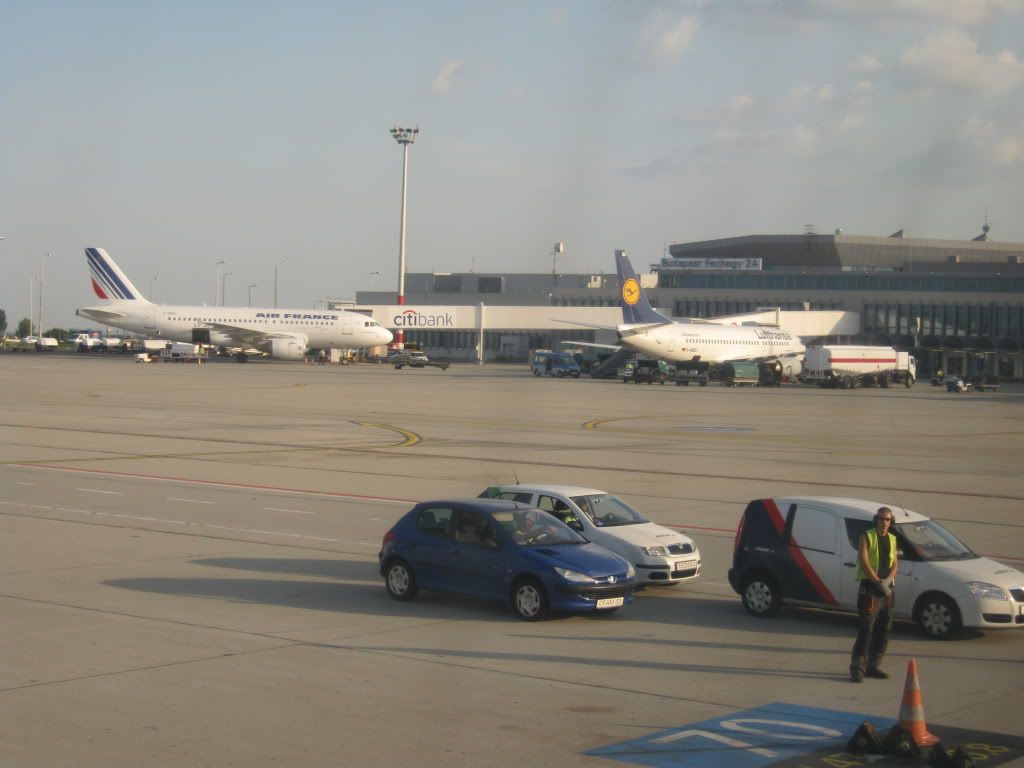 Another view of terminal.
Alitalia heading back to Rome (I guess).
The trip now became interesting. Though I had arrived, my bag did not. Turning to trusty baggage services, I had almost resigned myself to not seeing my bag again (such an optimist). However, the woman, in impeachable English, tracked it to Stockholm of all places. Apparently the dimwits in Tallinn had failed to load the bag, realising the mistake, chucked it on a flight to Stockholm where it would connect to a direct Malev flight that evening. If all went well, it would arrive by 10pm, and be couriered out to me at my hotel around midnight.
Feeling more heartened, I got my shuttle ticket, and went to my digs at the EasyJet hotel. Many mocked me for this. I felt I needed a bed and some privacy after 10 days of couch surfing. Not only that, but at 15Euro a night, it was cheaper than a private in a Hostel, albeit without the Ambience. Still...I had to try it just to say I had.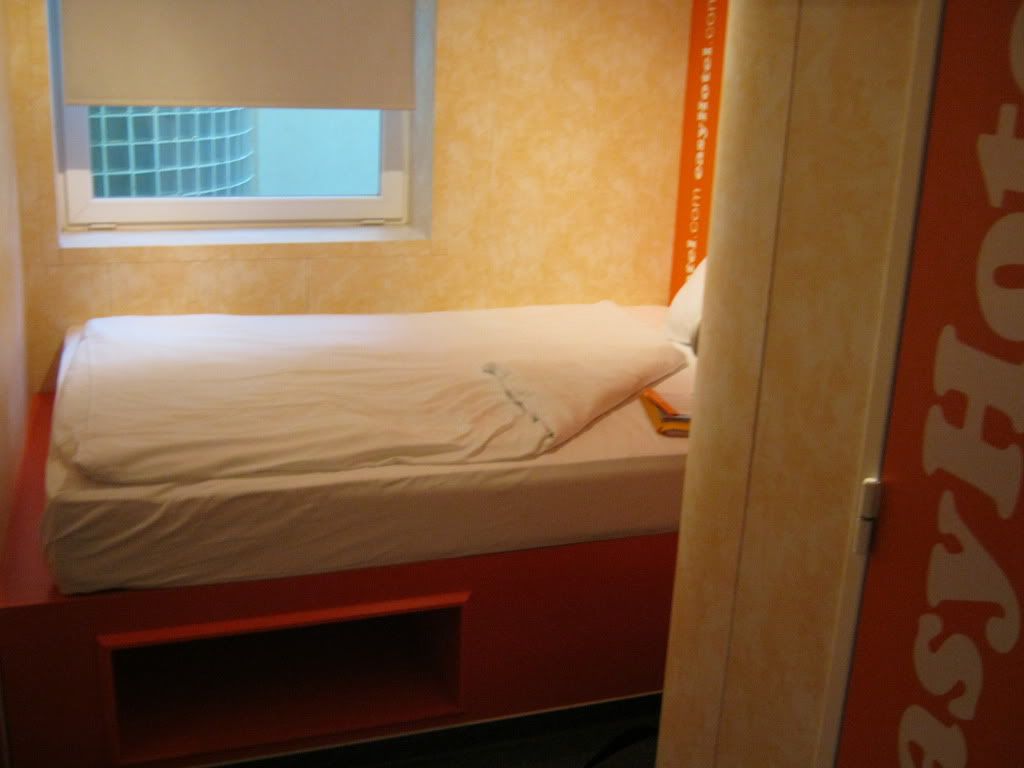 My Pod. Bathroom to the right.
Bed was quite comfortable.
It didn't let me down. Cosy, comfortable, private...and charged for everything extra. An extra pillow was 1 Euro, ditto an extra Towel. Bag Storage was 5 Euro. The list went on. Still, the staff were quite pleasant and helpful, and it was well located to the Oktogon. I don't regret it for one instant. It also has a very nice pub/bar/restaurant next door if anyone is in the area.
But I digress. My bag, as you can probably guess did not arrive. 10am the next morning, the helpful staff rang and said "yes, it will be here by midday...so they say". It wasn't. Next alleged time was 3pm. By that stage, I had passed the magic number of hours my travel insurance required my bags to be missing before they'd pay benefits. So I went...shopping! A couple of fresh polo shirts, some toiletries, and a much needed pair of socks. If I could have got boxer shorts, I'd have been set. But these were hard to come by in my "generous" size. 3pm. Still no bag. I gave up on seeing it that day, and headed out in to the yonder. At 6:30pm, it still had not arrived...but after dinner, 7:45pm, 25 hours after my arrival in Budapest, and nearly 20 hours after it had arrived...my bag showed up!
I was ready to tear LO a new one, but I realise that it wasn't their fault, but was the fault of the contract staff in TLL. The flight themselves were quite good, and I'd recommend them to anyone looking at short or connecting hops across Poland or Europe. The only drawback is that WAW is woefully inadequate to handle the number of Pax that it does. It's stretched to the limit, but hopefully the new works will give it more space to breathe.