Introduction
This trip started as another el cheapo HEL-DUS ticket on Air Berlin for 29 EUR booked well (think half a year or so) in advance for a Saturday in September, coincidentally happening to also be the memorial day of certain world-changing events in New York...
Well, in May Air Berlin made considerable changes to their Helsinki operation, making the TXL flight twice daily and the DUS one just a daily one - it used to be the other way around. Anyway as a result of this I was rebooked on the single remaining afternoon flight instead of the morning flight. I didn't really like this as I had plenty of ideas to connect to somewhere from DUS and the morning flight was essential for making those work, so after a bit of arm wrestling with the AB service center they finally rebooked me on the morning flight to TXL and onwards to DUS from there.
Then something happened - I guess I got too preoccupied with other travel and plans that I didn't give this stub of a trip much thought for a couple of months or so. By the time I got it back on the planning board in early July fares had hiked considerably on the flights I had initially thought about - these included Aegean to SKG/ATH or a Condor 753 to PMI. Bummer, but I can only blame myself. So I continued my search and soon found a decent price of around 70 EUR on the seasonal AB service DUS-JER which offered a perfect connection from my earlier flights so I decided to book that. I have been to Jersey before but somehow the idea of flying an AB 319 there appealed to me a lot.
Of course being around the Channel Islands meant that I had a good chance to fly Blue Islands, a carrier which I haven't flown before. I flew the other carrier offering inter-Island trips - Aurigny on my previous trip there so it would be nice to try out the competition. After a bit of searching I settled for Jersey-Guernsey on Saturday evening for 30 quid. Unfortunately the equipment was scheduled to be a rather boring ATR for this very short hop (to date it remains the shortest flight in my log), but there weren't really any good alternatives.
I decided to overnight at Guernsey and continue my trip the next morning. There were plenty of connection options back to mainland Britain, but I wanted to add a new airport to my log and Southampton seemed to be the ideal choice, with FlyBE selling me a ticket for 36 Sterling.
Finally to get back home I had a number of options, including another BE flight up to MAN and Ezy from there, but the BE flight was a bit pricey (Ezy of course was not!). BA was offering the evening flight LHR-HEL for 106 EUR (the noon flight was even cheaper but too early for me) and since connections to London from Southampton are frequent and good I booked that.
This is what the flights ended up looking:
With plenty of time at my hands between SOU and LHR I looked into the possibility of having a quick a.net (pub) meet with some of the London area regulars - there sure are plenty of you around there! In the end we managed to fix an afternoon meeting of beer and hopefully some Sunday roast as well at a pub near Heathrow with Mark (BA319-131) and Andrew (brewox).
As part of setting up the pub meet I had to fix my schedules to London - and the train fares were very high - 30 quid for a simple second class ticket. And that was only to Waterloo, with more money (and time) needed to reach Heathrow. However National Express offered a number of convenient bus departures direct to Heathrow for around half that price, so that was really a no brainer - I do like trains but no that much, thank you very much!
Enough blabbering, let's get on with the action, shall we?
Saturday 11.9.2010
Another early morning departure, luckily this time with a perfectly working OLCI so I catch a bus just an hour before departure and arrive at HEL T2 with around 45 minutes to go. Once through security (not many people, but all the people who are there seem to be on the number of charter flights departing soon and fall into the category "Oh, I can't bring a litre of water and a six pack of beer through the security and what do you mean by taking off my belt?!" so it is a bit of a frustrating experience). My timing is perfect, however as just when I'm paying for my bottle of water (can't fly without it!) boarding is called, already around 35 minutes before departure.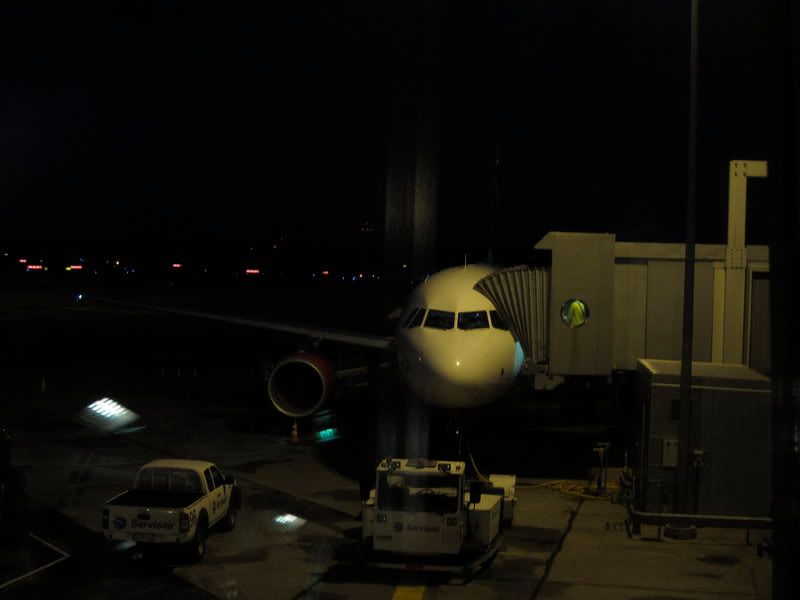 I can't catch the reg from the window, will have do to it at TXL I guess. It still is the expected A319. It turned out to be D-ABGS, my second flight on this one, first one was HAM-PMI back in January.
HEL - TXL
AB8311
A319 D-ABGS
Seat 25F
6.37 - 7.20
My seat on the last row turns out to be a good choice once again, only the A seat is occupied by an UM kid and all the others are empty. Well, for a while at least as an elderly couple, where the woman is a "passenger of size" soon move over from somewhere further up the plane, luckily sitting on the aisle seats and leaving the middle seat free. Fine by me. Load in general is very good, 95% or so.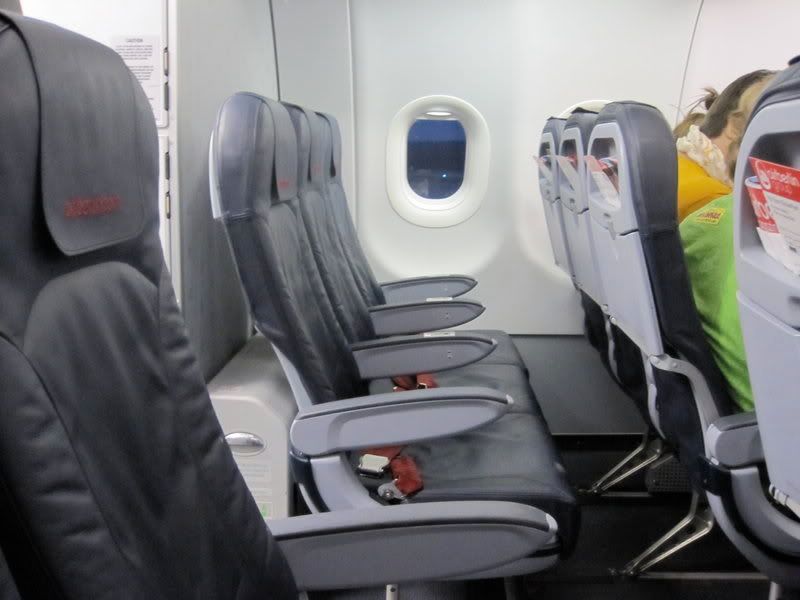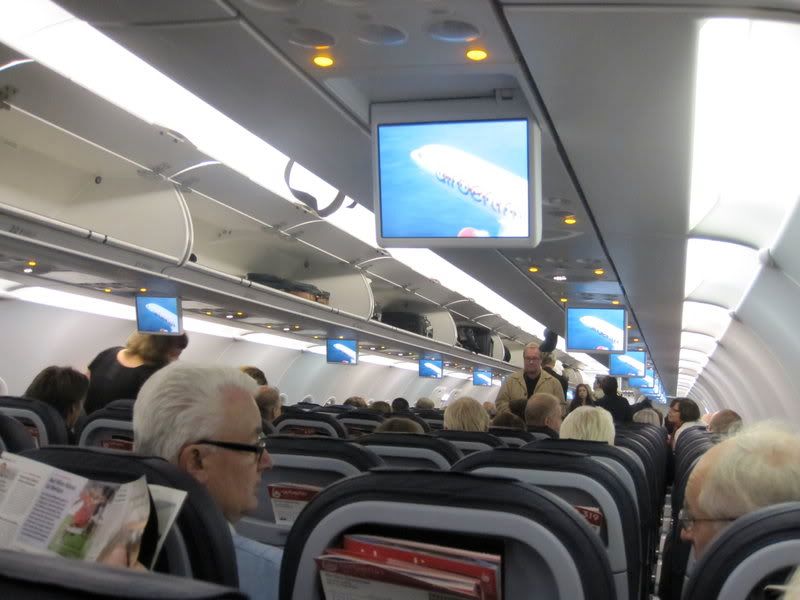 I'm happy to notice that they have introduced new boarding music, I was getting rather tired of the old one. Flight time is announced as 1h35mins and we manage to depart three minutes early, taking off from 22R a couple of minutes later.
Night stoppers: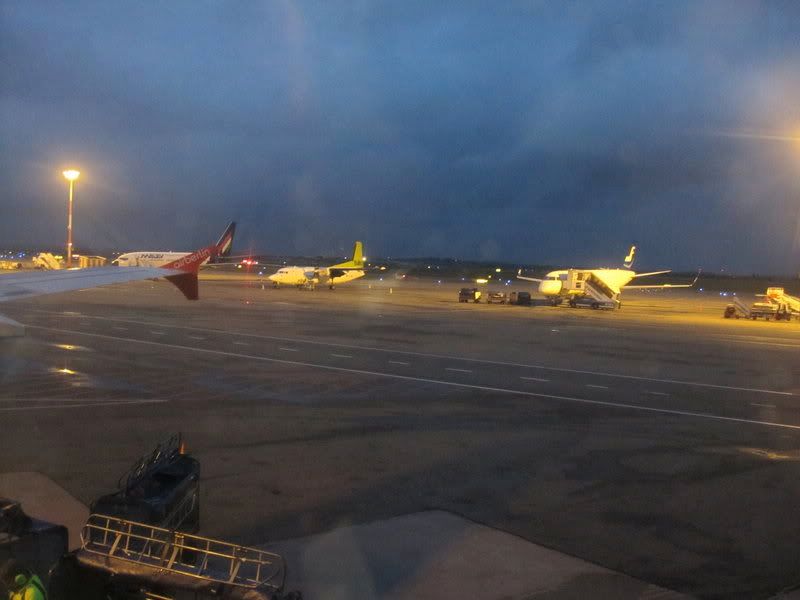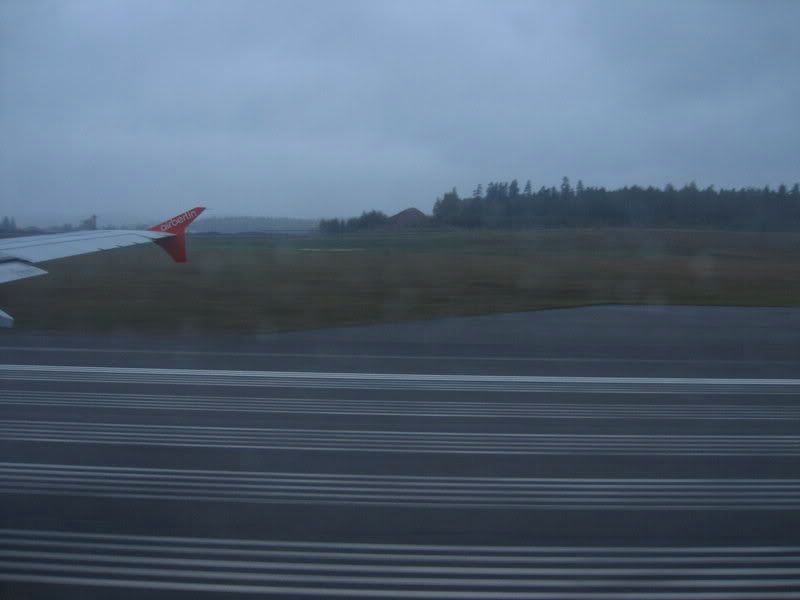 Quite nasty weather this morning with thick clouds: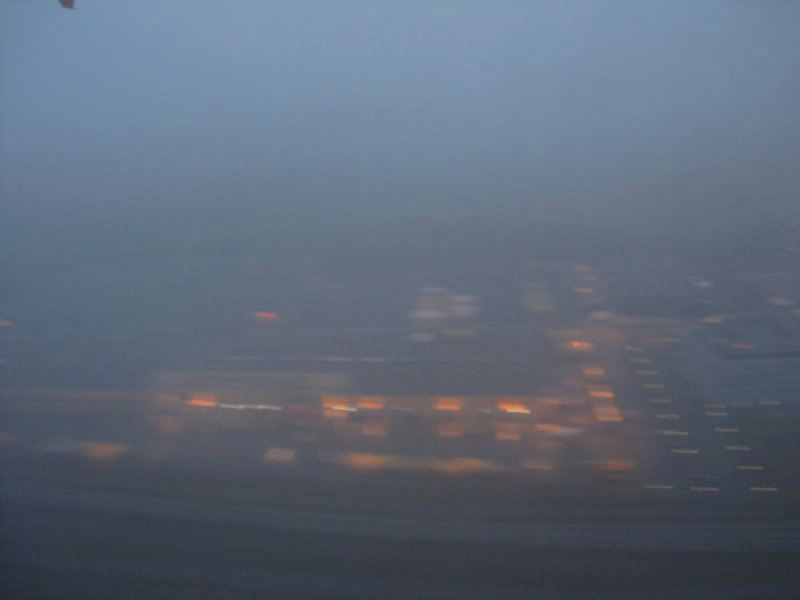 This never fails to crack me up - Tallinn, the Atlantis of the Baltic: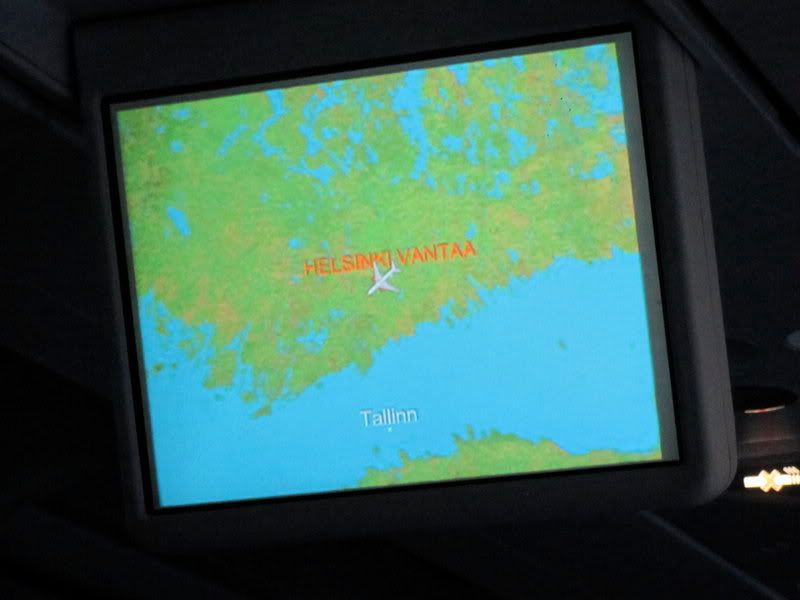 Finally breaking through the clouds: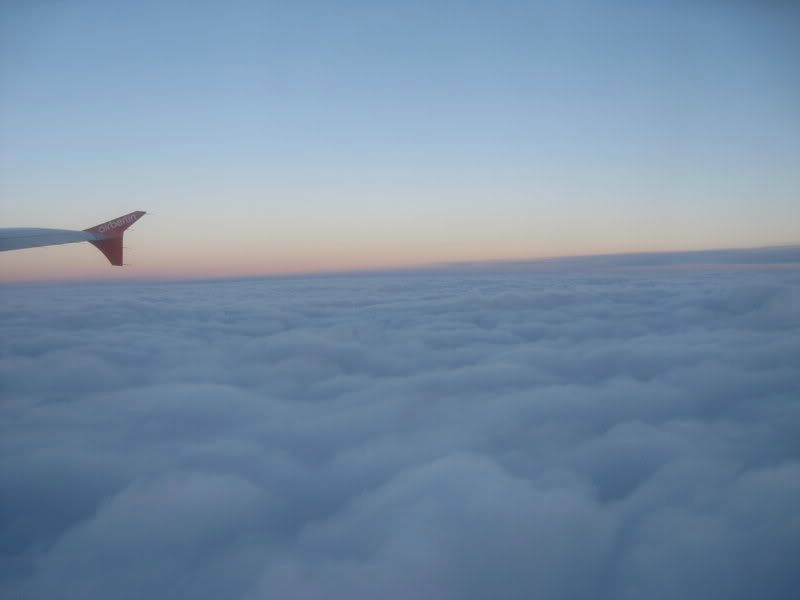 Service is the cookie cutter AB intra-European service - a drinks round and a cheese or turkey sandwich. The cheese one is good as usually, washed down with some decent coffee:
Hello, mainland Europe: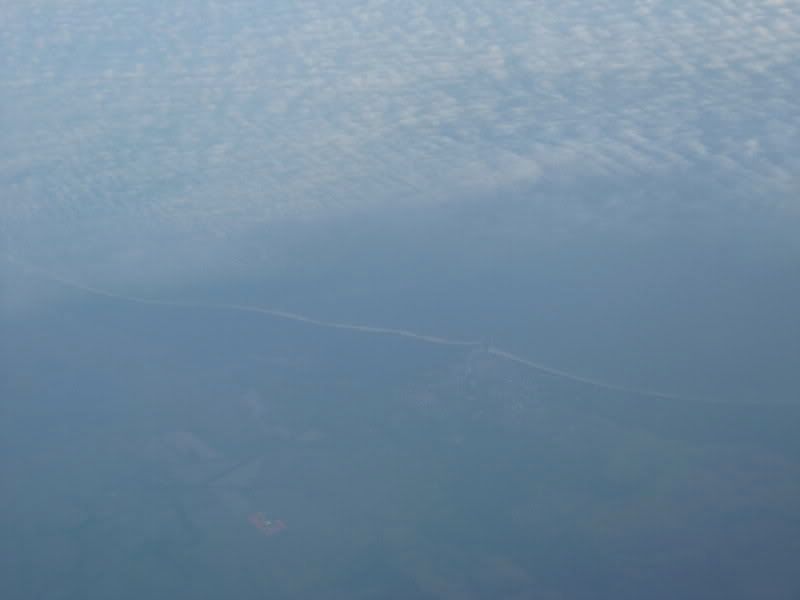 It is a quick and quiet flight, and by 7.00, around than 1h15mins after take off we are already descending again.
Berlin is engulfed in fog this morning: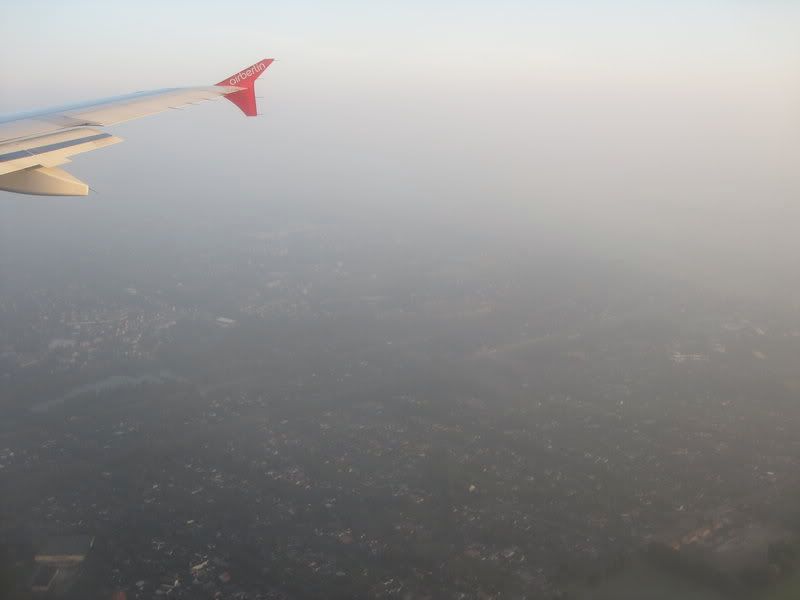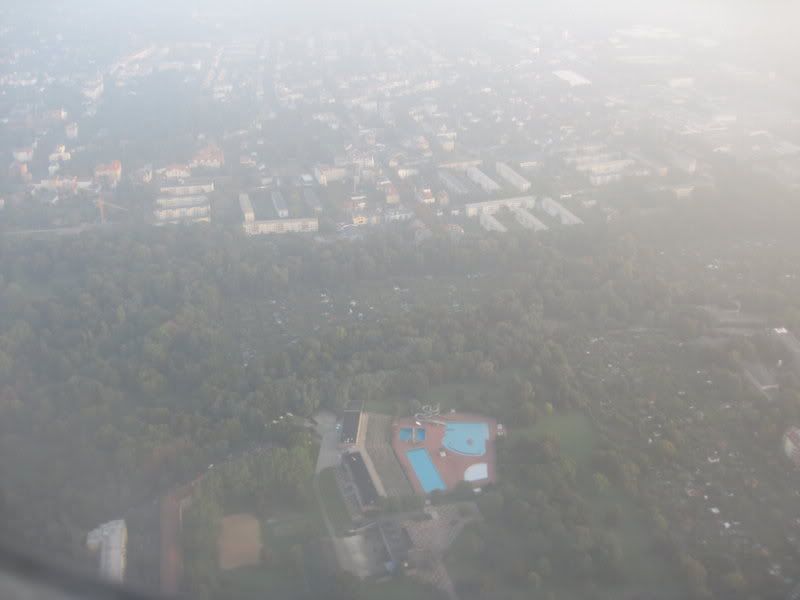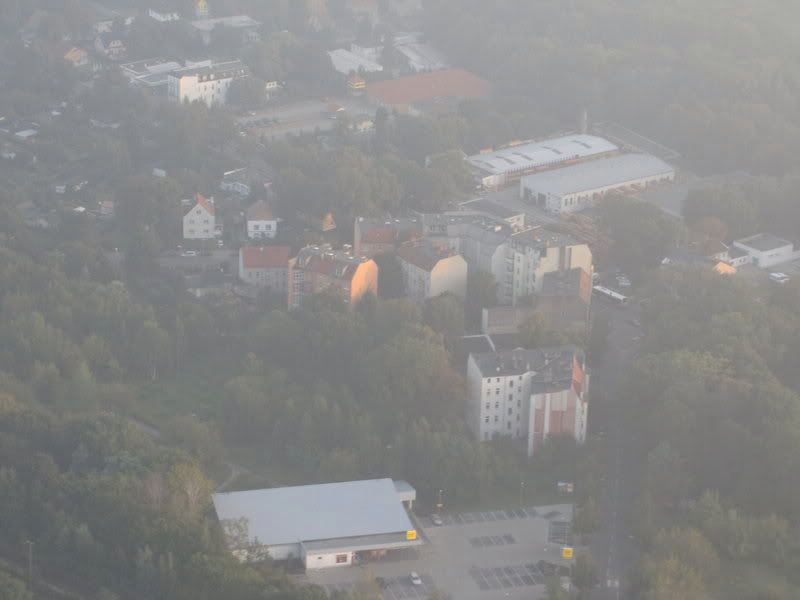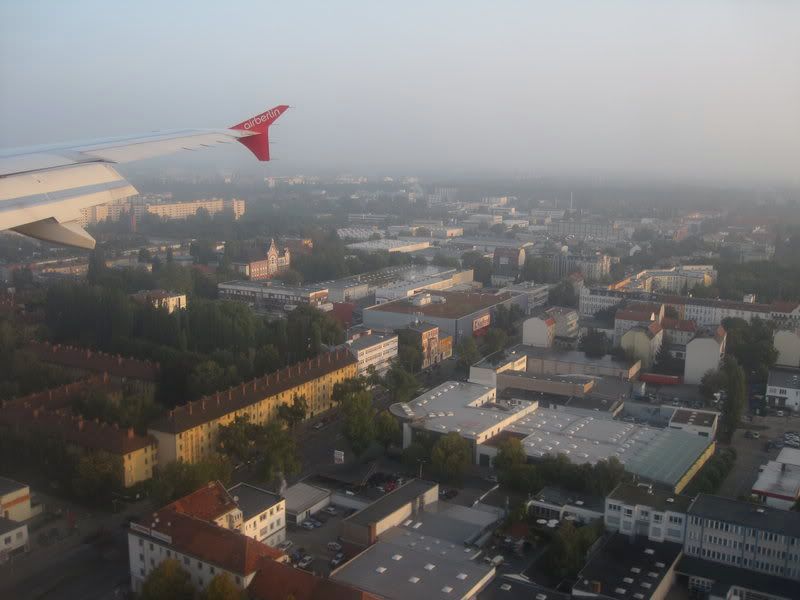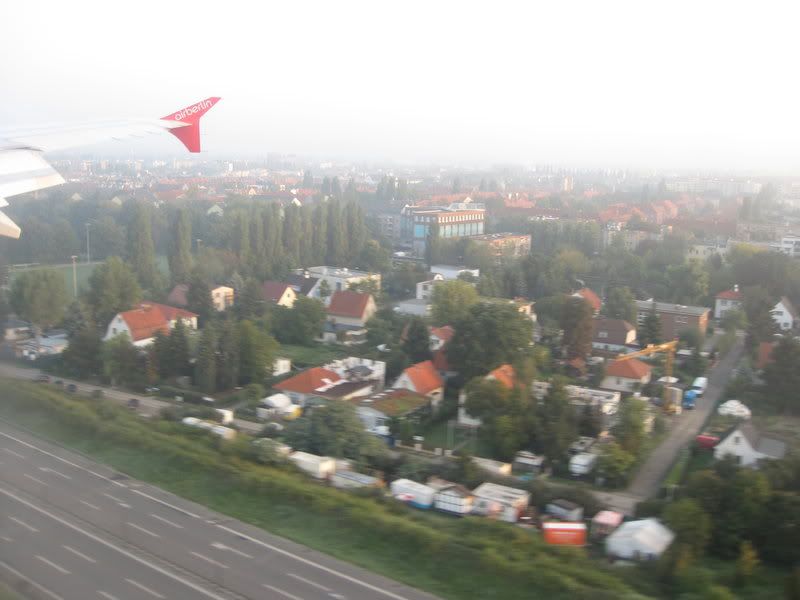 Landing is on runway 26L after the promised 1h35mins of flight. The Russian lady in front of me kept her seat reclined all through the landing - the FAs said nothing and she didn't respond to my kicking of the seat back either. Finally after touchdown she puts it upright.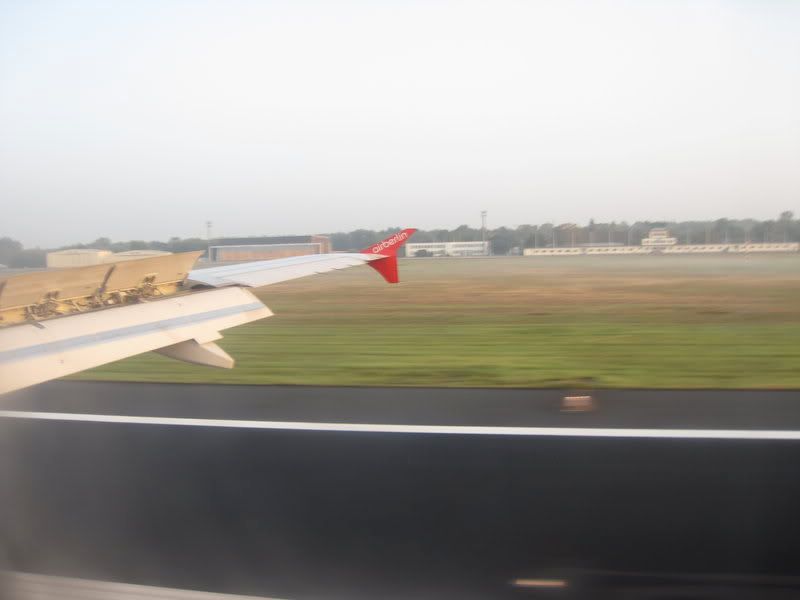 Hmm, what's that Antonov doing here: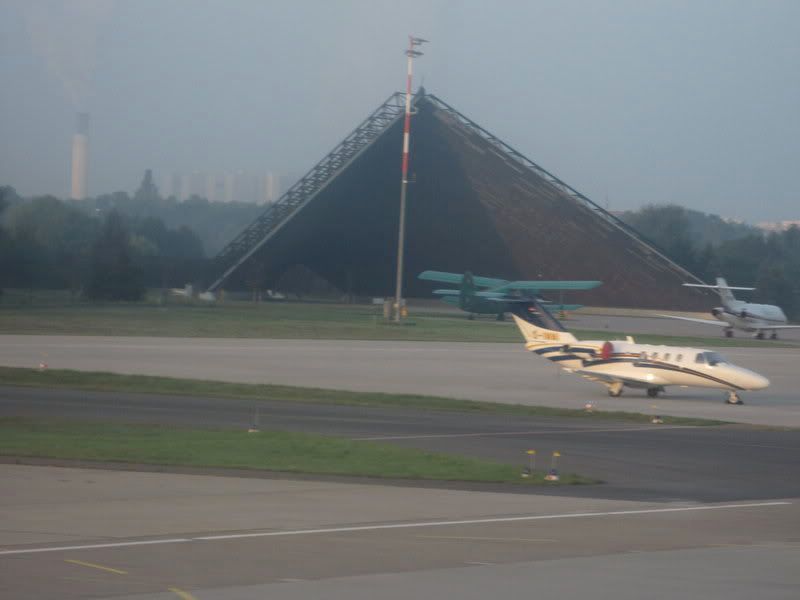 BMI operating for LH to Heathrow: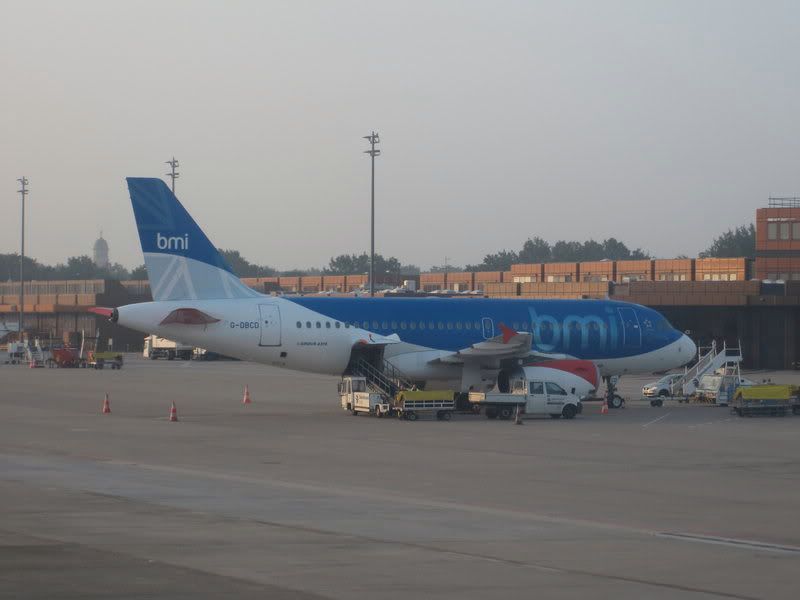 I'm disappointed to see that we dock to the main terminal building - expecting the connection to DUS to leave from the shacklike C-terminal which is a bit of a hike away and the need to reclear security doesn't exactly appear to me.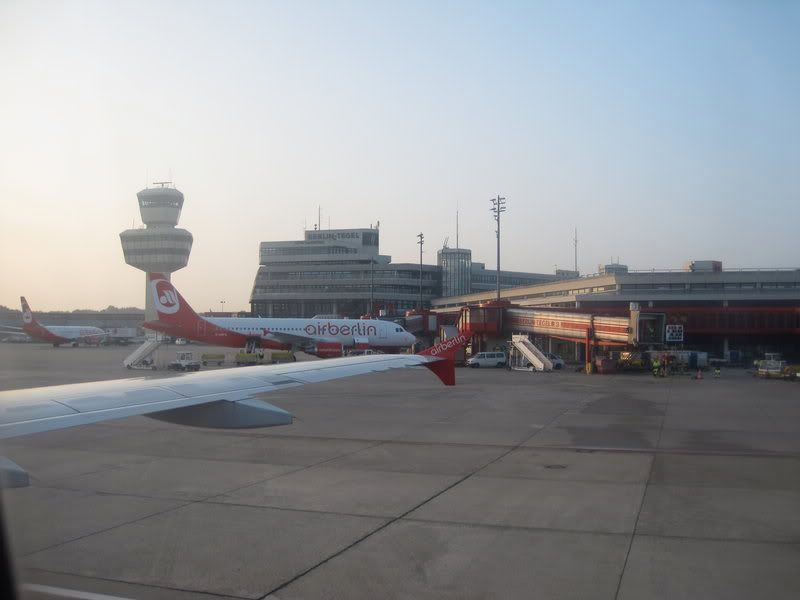 Berlin Tegel Airport
I manage to catch the registration from a window in the jetway: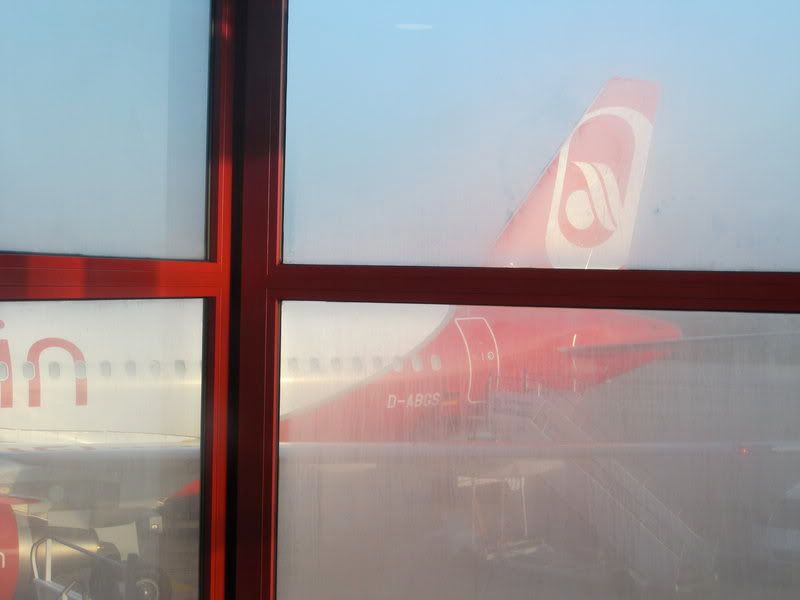 Actually a German guy seems to be doing the same, so maybe I'm not the only one logging this flight. My disappointment at arriving in the main terminal soon turns into joy as I see from the FIDS monitors that the DUS flight is actually departing from here as well, just two gates over.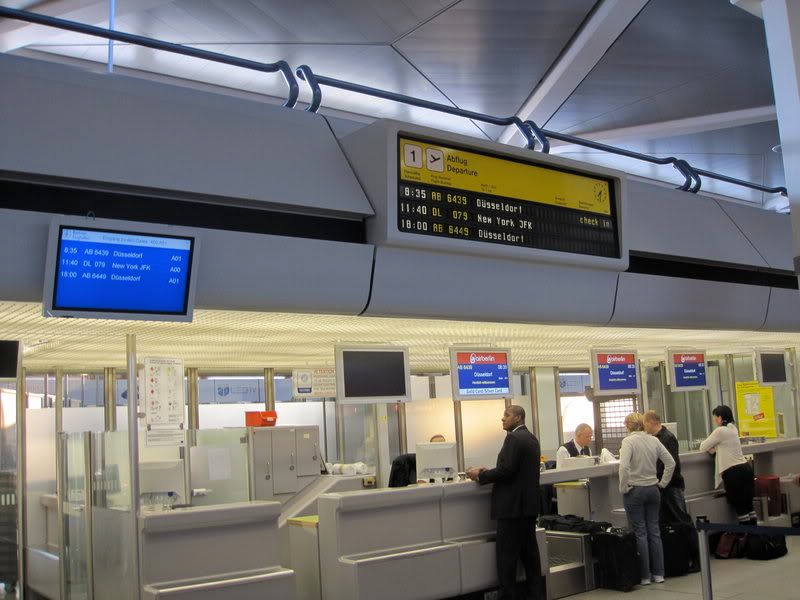 Ok, I guess that explains the An-2:
I head to take a look at the wares on offer in the Lufthansa Worldshop, but decide to save my money this time. They do have some tempting plane models and stuff, so maybe next time I'm here (which is not too far away actually). Back to the gate and through security to the tiny waiting area. All the offerings in the magazine/newspaper rack are nur im Deutsch - but the variety is rather interesting as they have an auto mag, a computer mag and of course the German version of Playboy in addition to the usual stuff. I decide to grab the Playboy (to practice my Deutsch on the articles, of course!) - as a side note Mark was most intrigued by this during our meeting next day!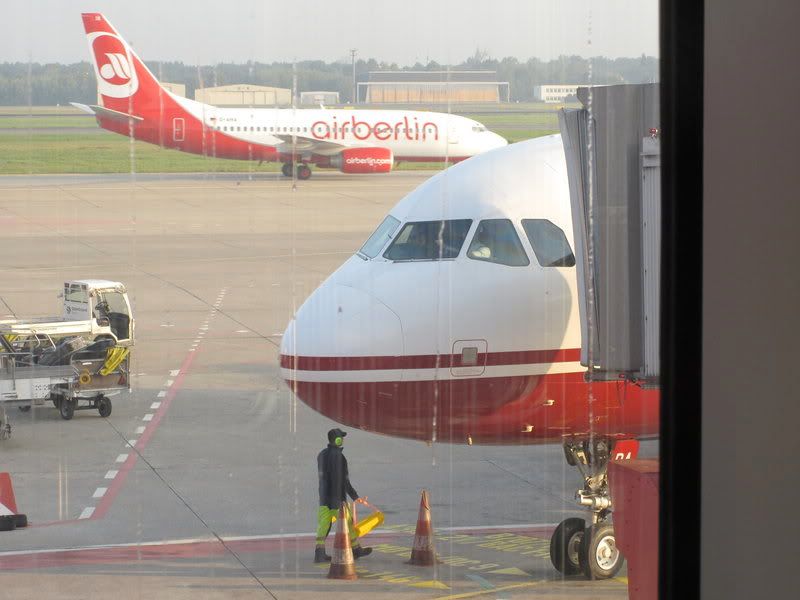 The inbound flight arrives at 7.55, the expected A320 in the old maroon Air Berlin livery. I can't quite catch the registration (is this becoming a pattern?), just see Delta Alpha on the front gear door. Later at DUS I see it is D-ABDA, a new plane for me. Boarding starts 20 minutes later, first an UM (again sitting on the last row A seat - I guess this is SOP for AB, weird actually as on pretty much all other airlines the UMs are always on the front rows) is escorted onboard and then some sort of a VIP person - an old, white-haired man wearing a fancy suit and his wife - all the gate agents are bending over backwards to make sure he is happy and comfortable - wonder who that was?
TXL - DUS
AB6439
A320 D-ABDA
Seat 28A
8.37 - 9.34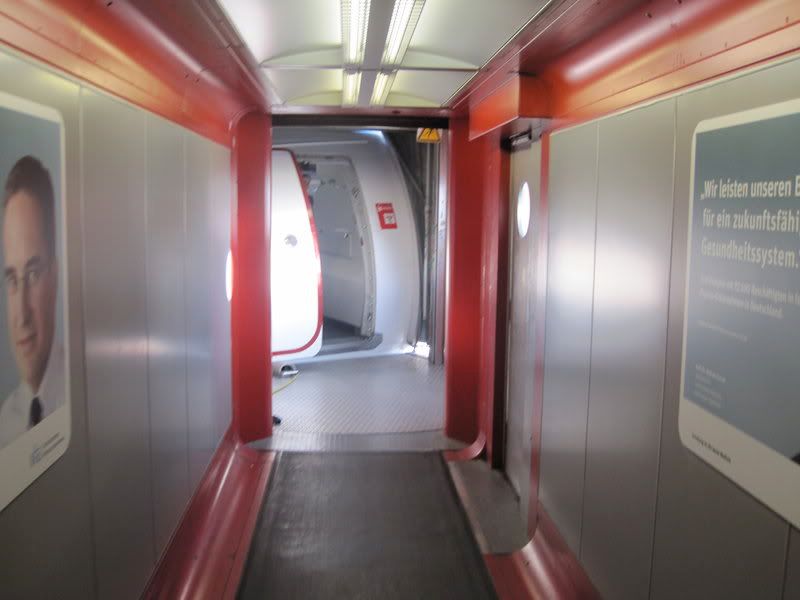 Anyway once the pariah are accepted for boarding I, in my usual style am the first one to board the plane. Second last row this time, again an empty middle seat next to me despite a rather good load of 85-90%. Flight time is announced as 50 minutes, with push back two minutes late. .
The rather massive AB operation over the C terminal: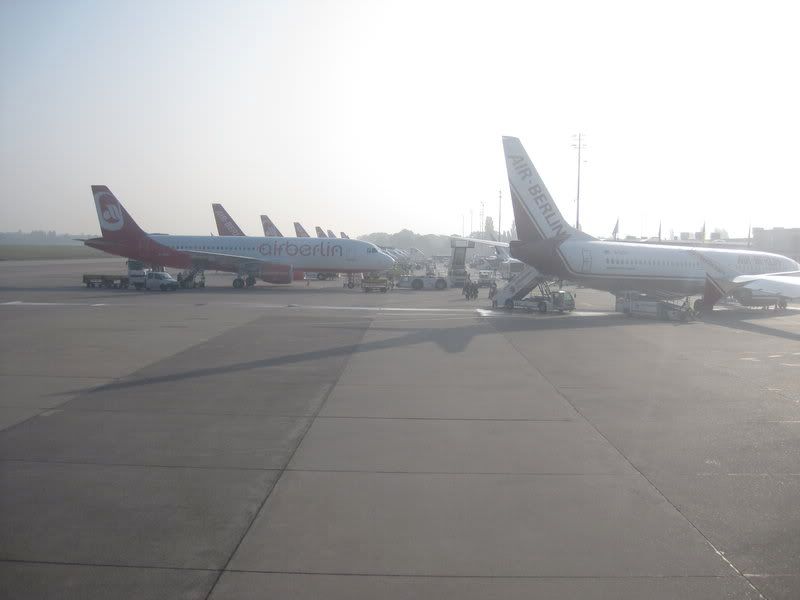 My previous ride departing again: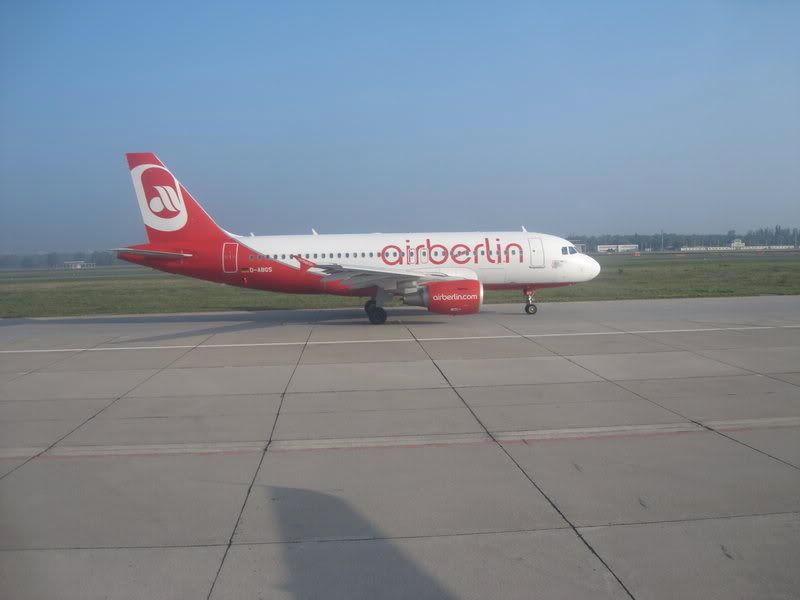 Continental from EWR: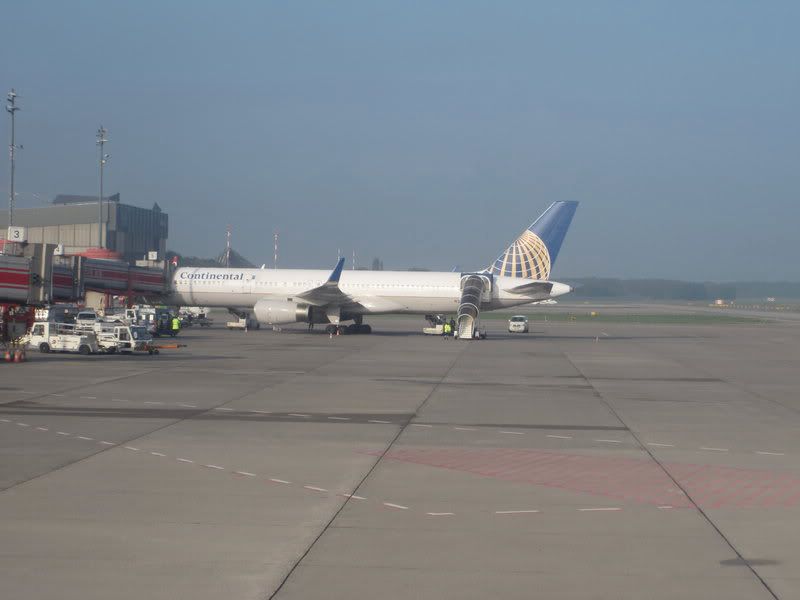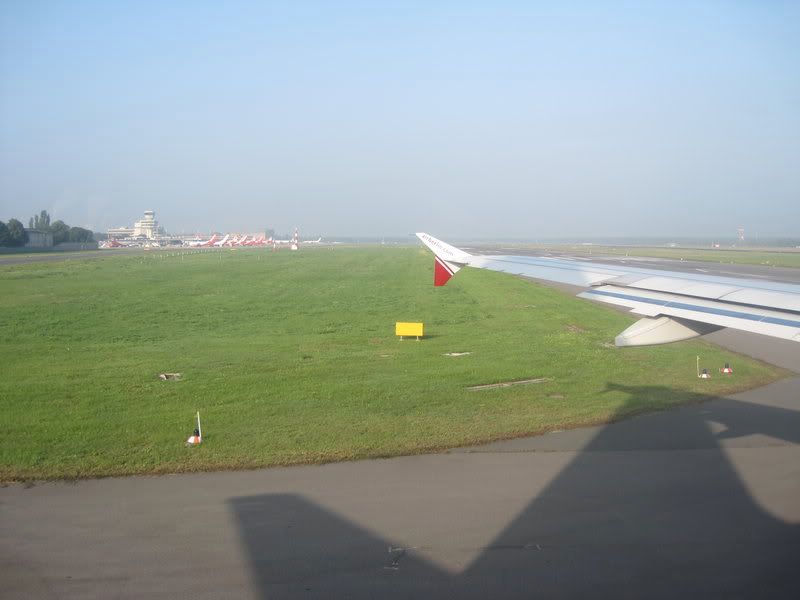 Take off is from 26L towards the west: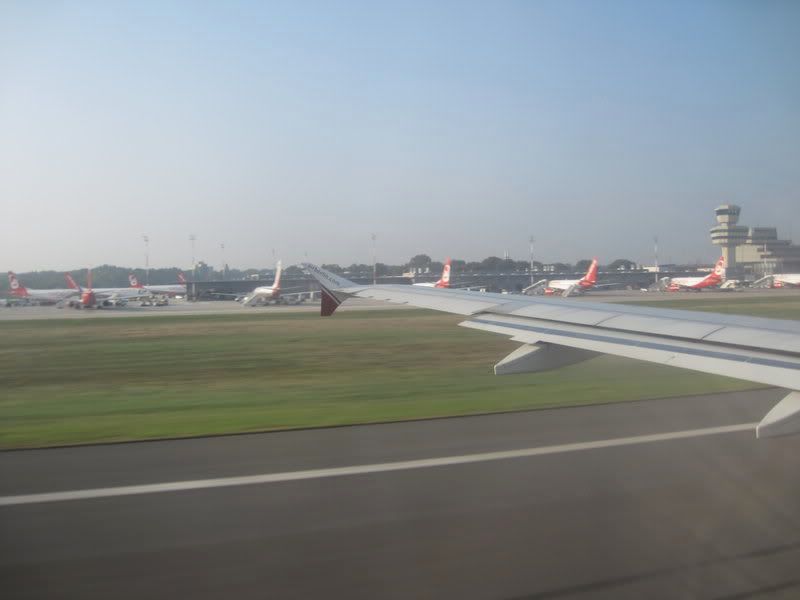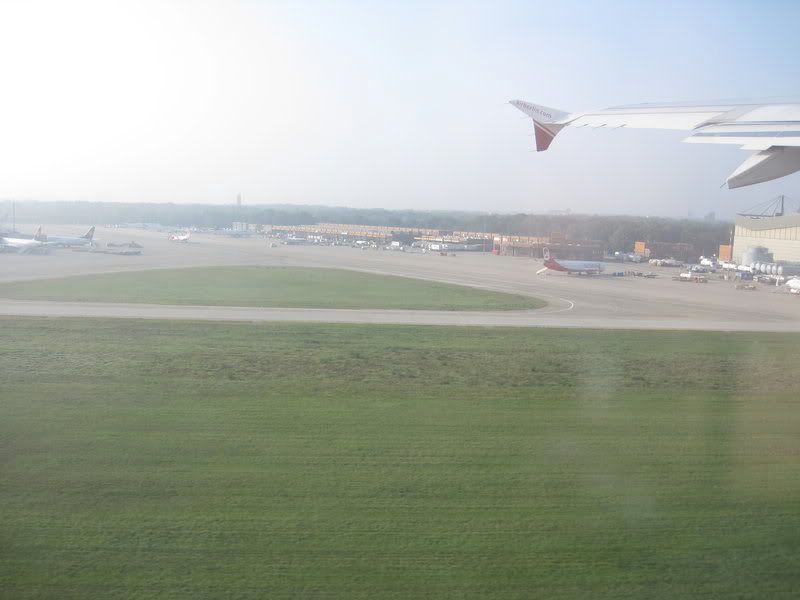 The Spandau Zitadelle: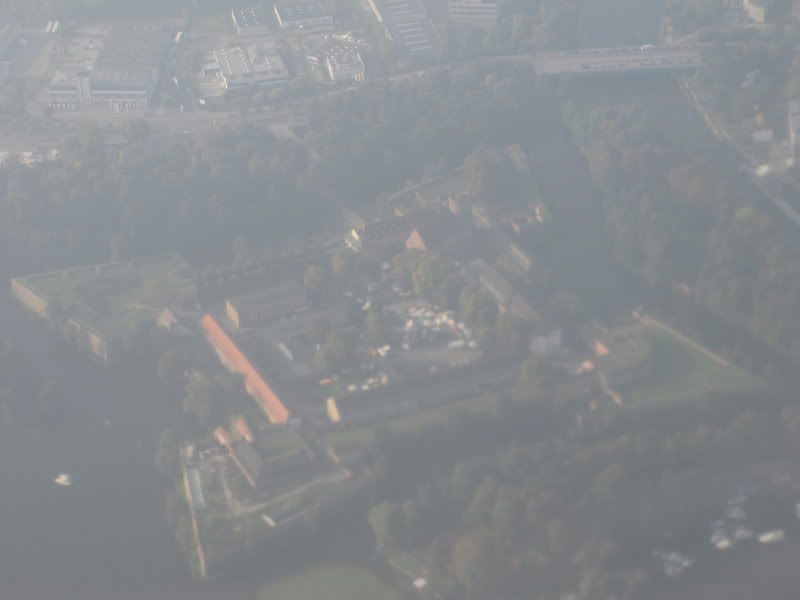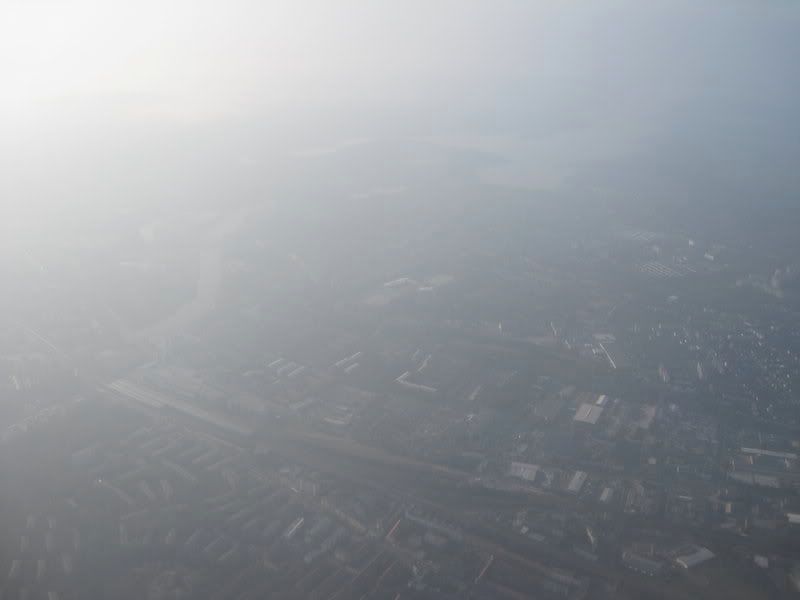 Soon we disappear into the clouds.
Service is again cookie cutter AB on domestic morning flights - drinks plus a warm, very soft and nice, Laugen roll: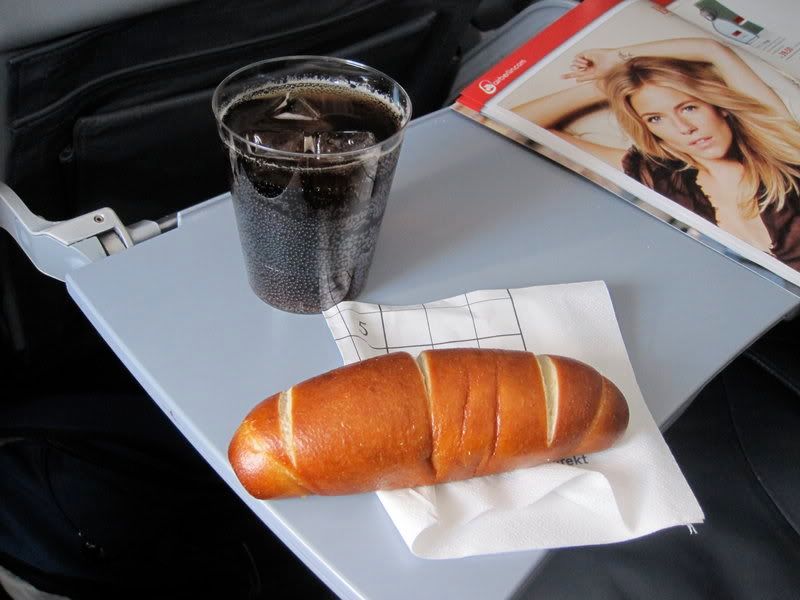 Weather gets noticeably better in the west: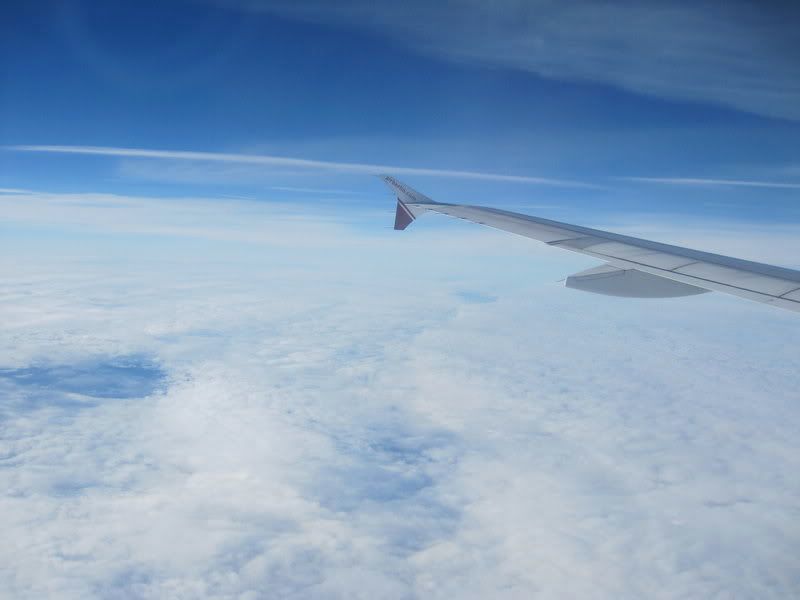 A bit over half an hour into the flight our female FO announces descent and landing in 20 minutes. We spend a bit of a time making some curves in a holding pattern somewhere over the industrial heartlands of the Ruhr before going for the final approach: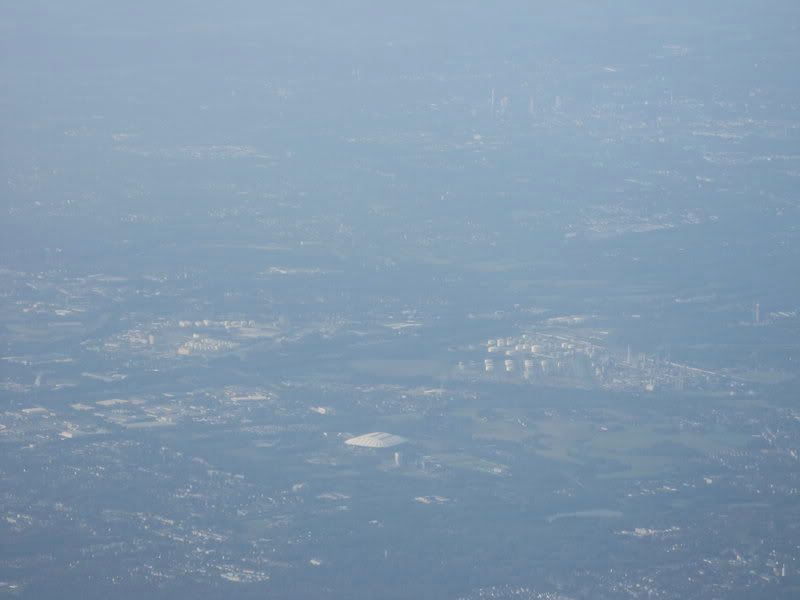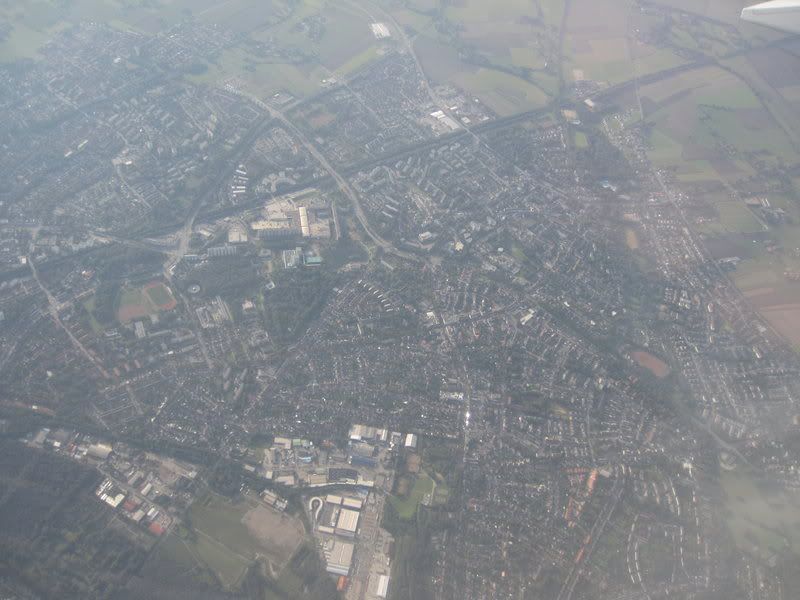 Chemiepark Marl: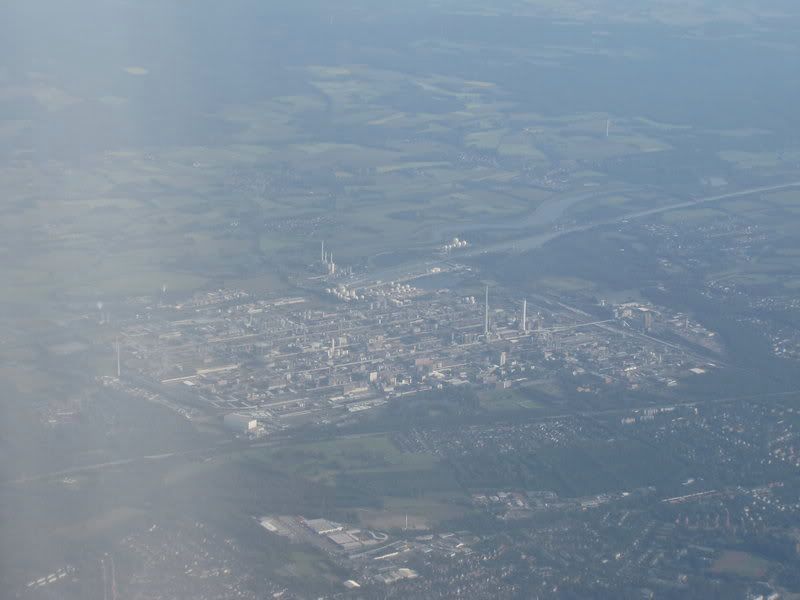 The Halde Hoheward in the city of Recklinghausen near Gelsenkirchen - a landscaped old slag heap from the mining days: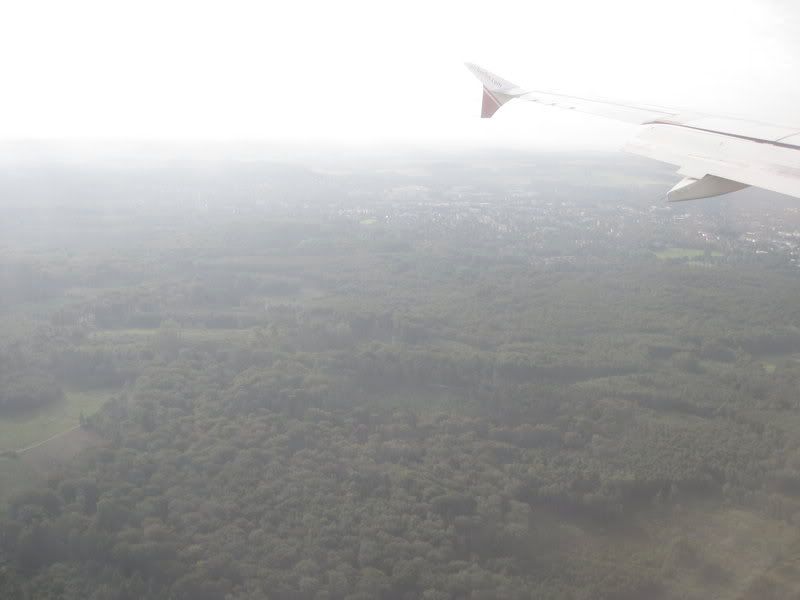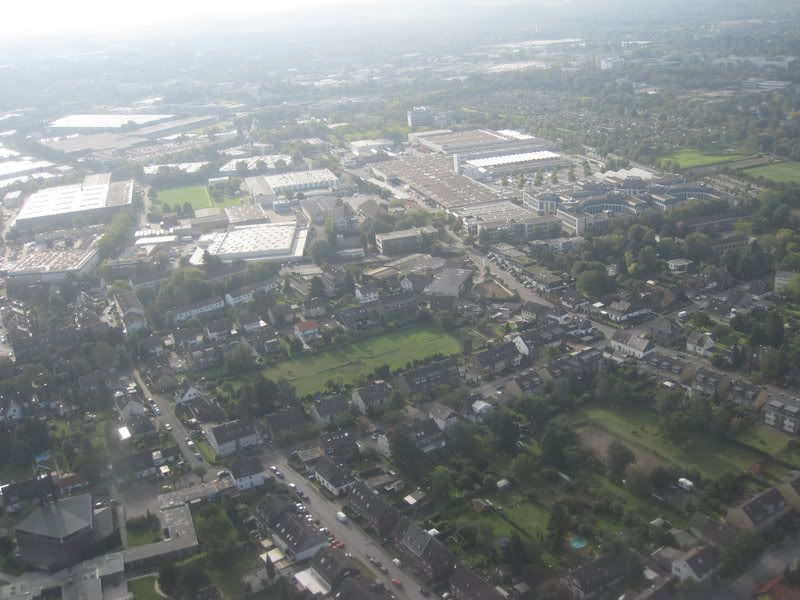 Landing on runway 23L is very rough, there's a bit of crosswind as well so it feels rather wobbly, followed by very heavy braking action.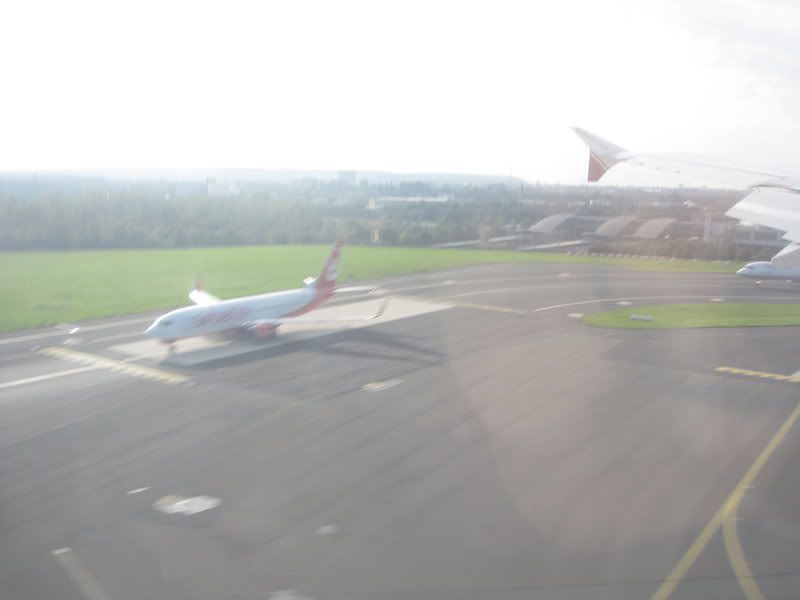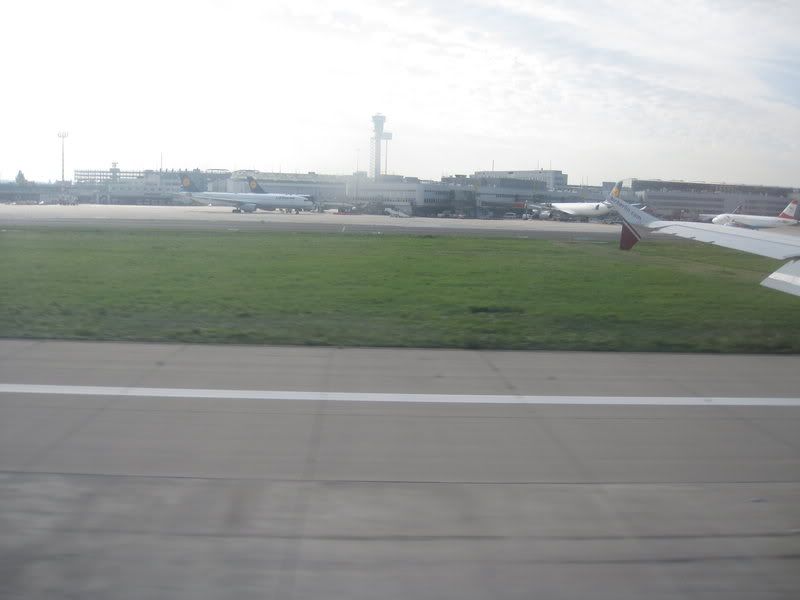 We dock to a jetway in the B pier right next to this Speedbird:
The DBA/AB chocolate hearts are handed out upon deboarding.
Bye: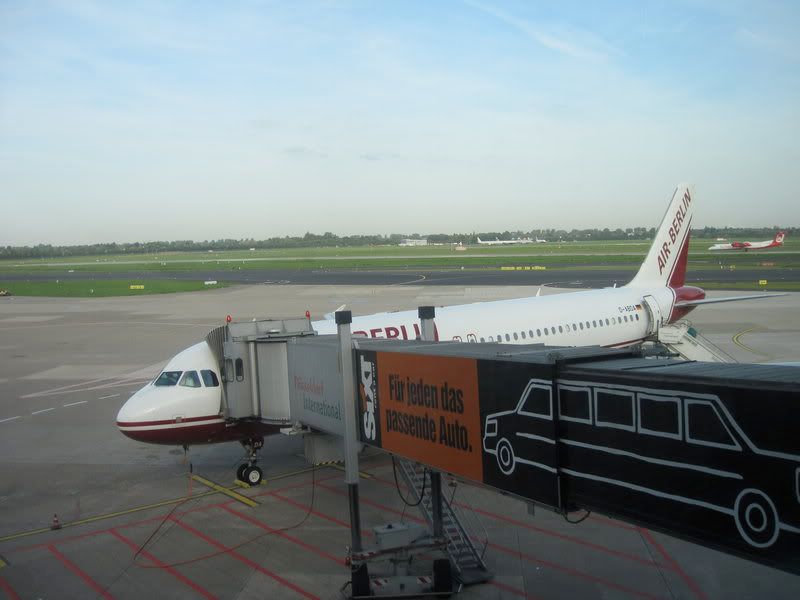 Düsseldorf Airport
With around three hours to go before the Jersey flight and terrific weather outside it is quite clear where I head next: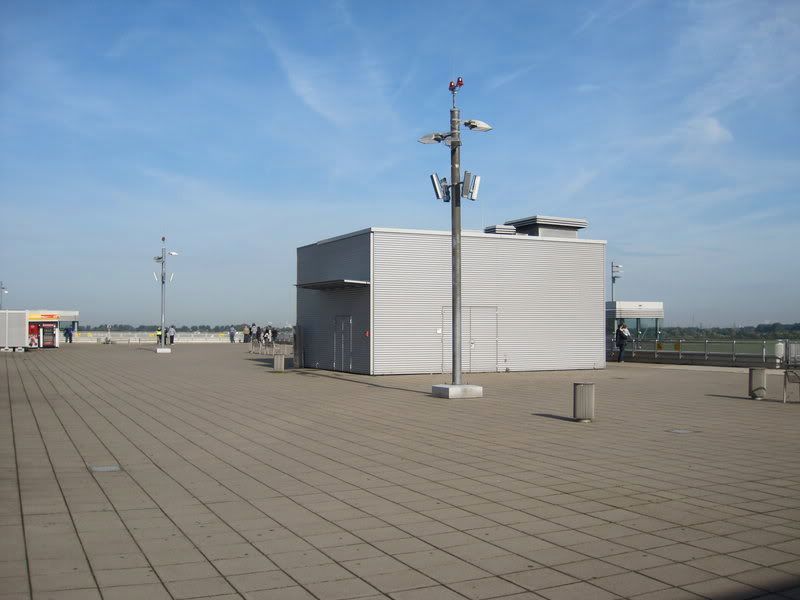 Lots of folks up on the observation deck, with and without cameras, just enjoying the sunny day and the sweet smell of A-1! There are some interesting planes around as well, here's a selection: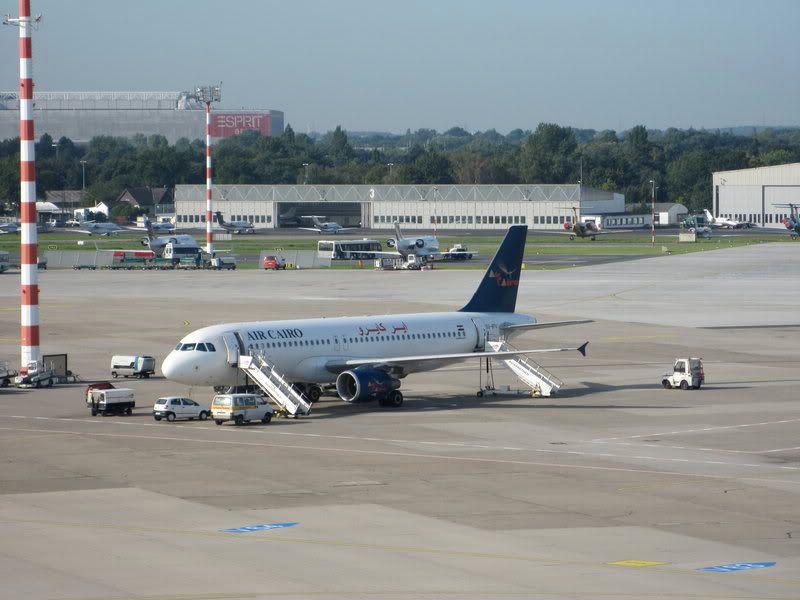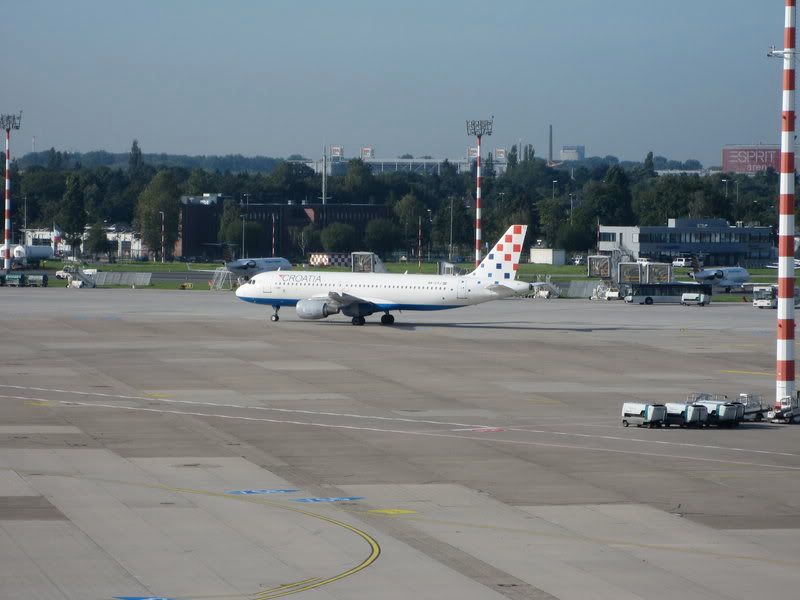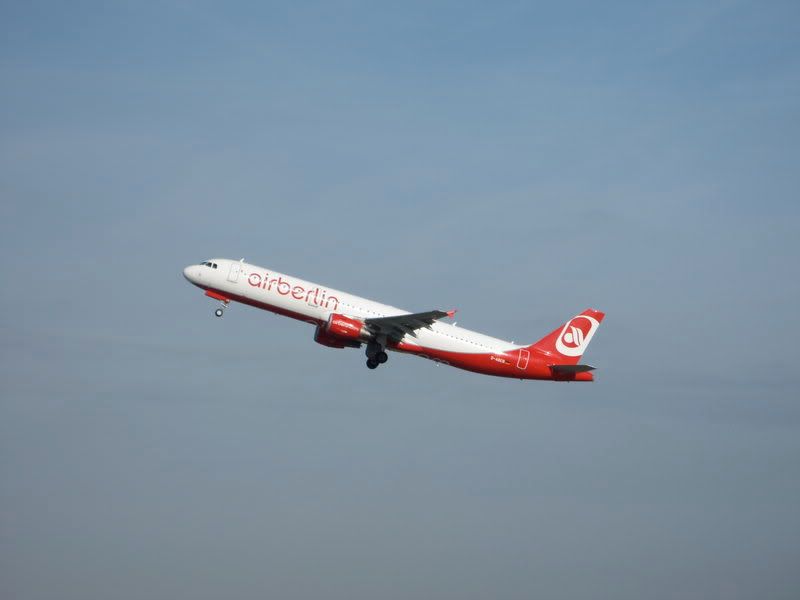 Nice to see some examples still in the Germania livery: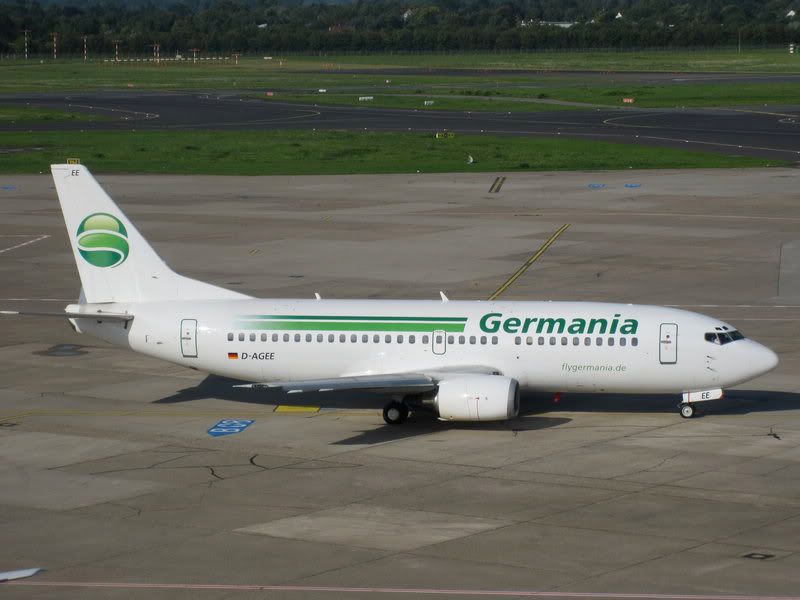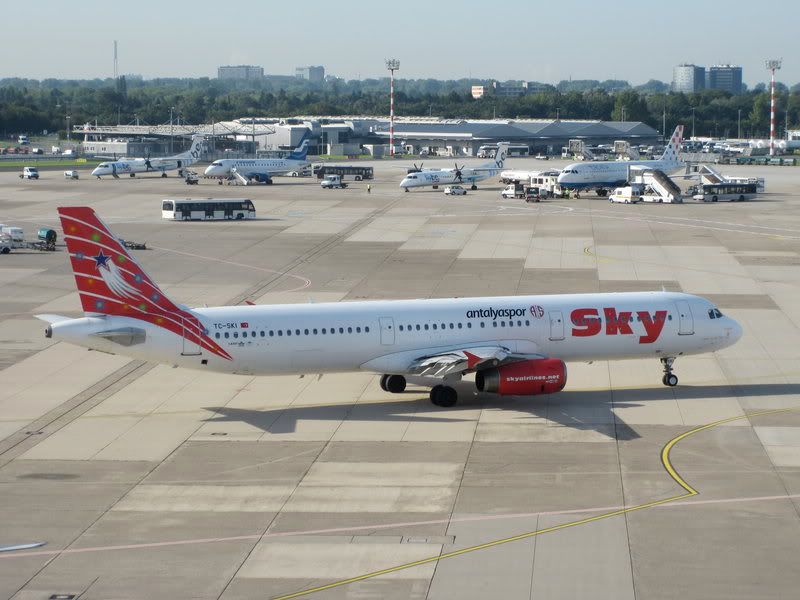 Dedicated to Markus: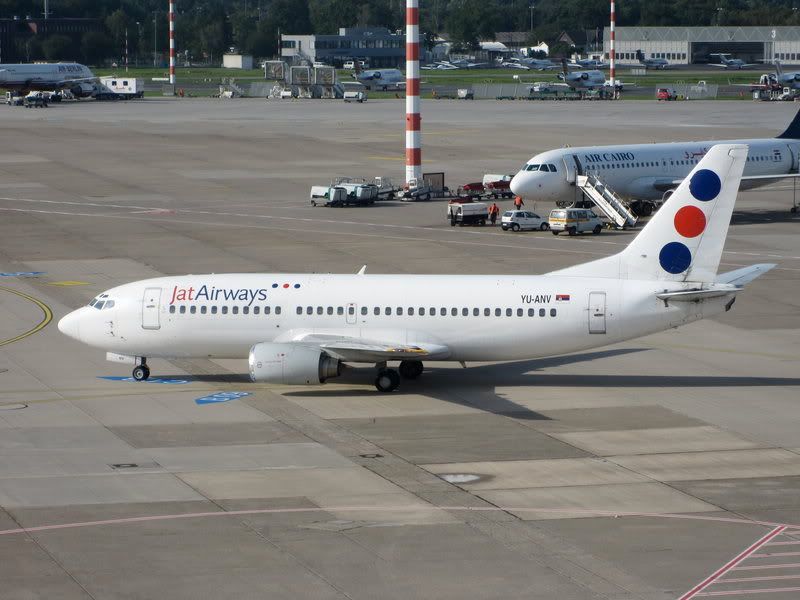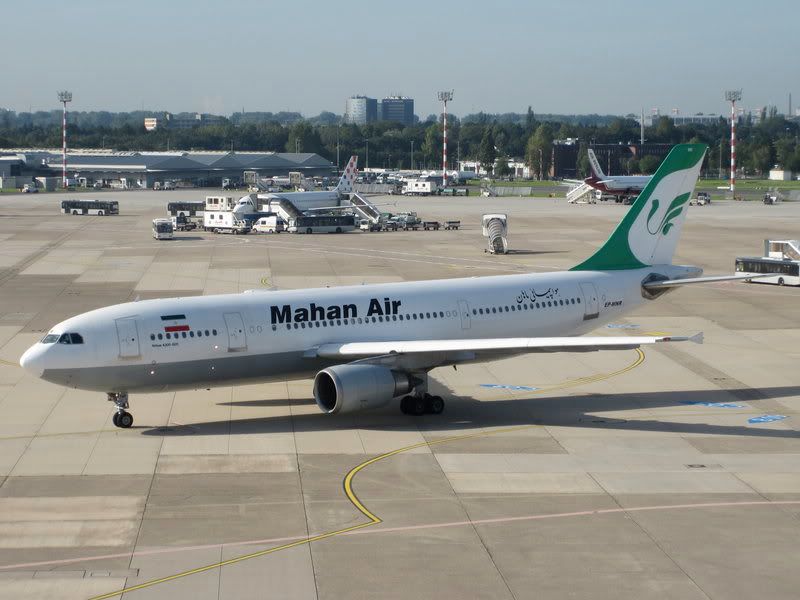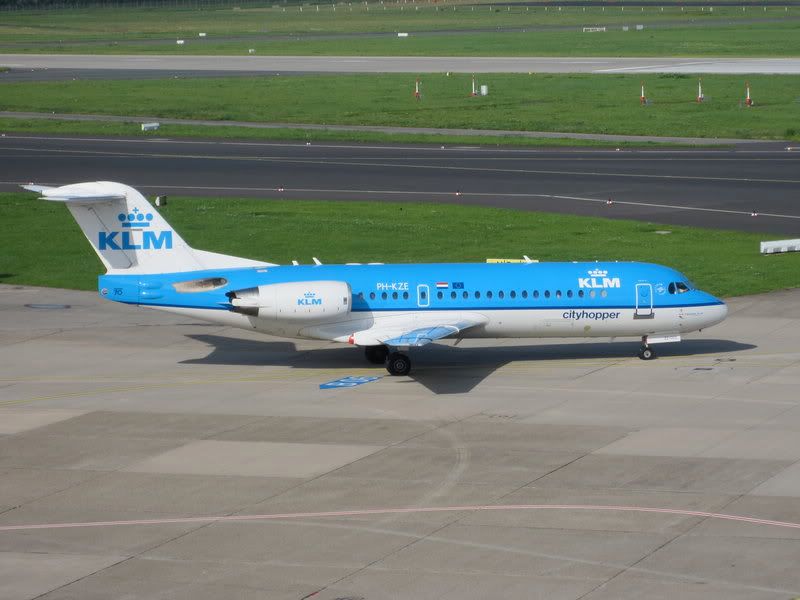 Yummy: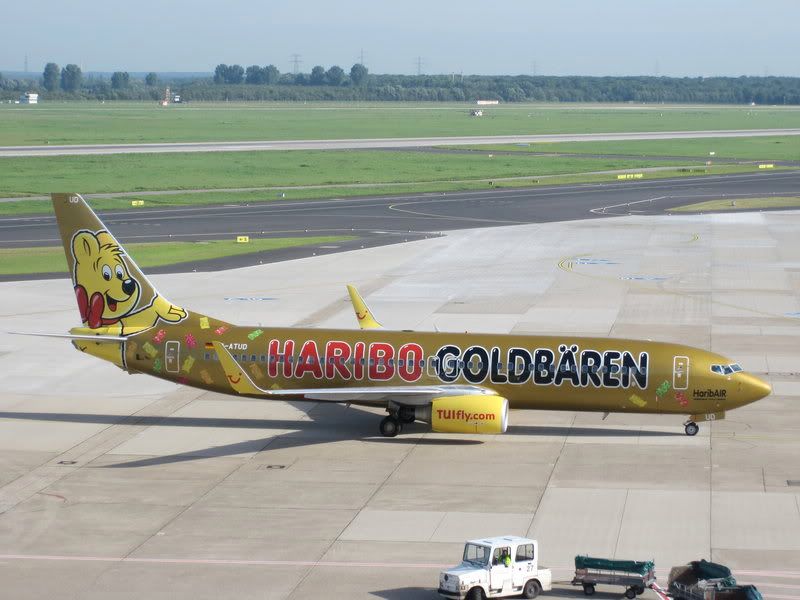 Contact Air not throwing a technical today: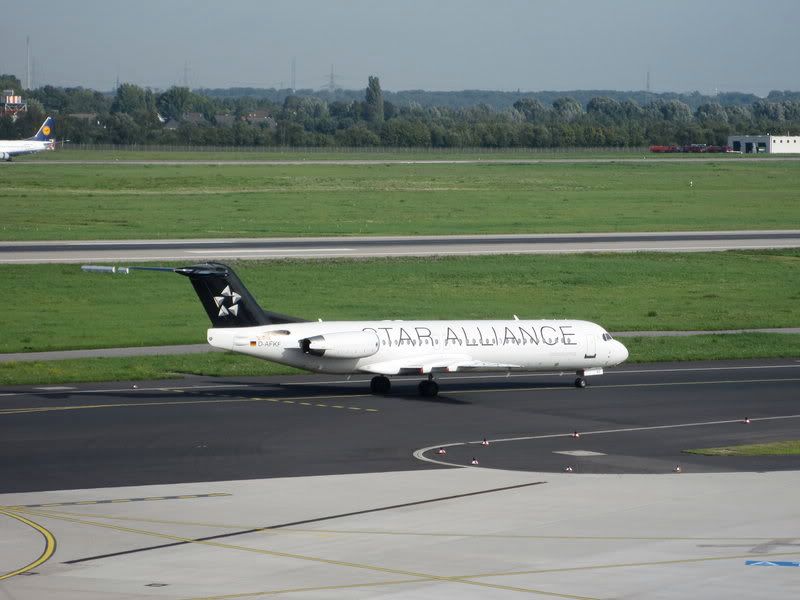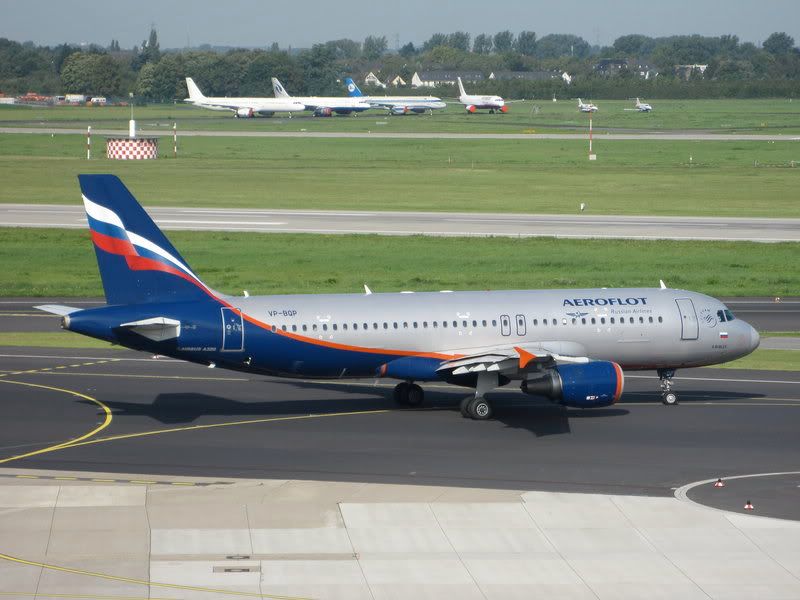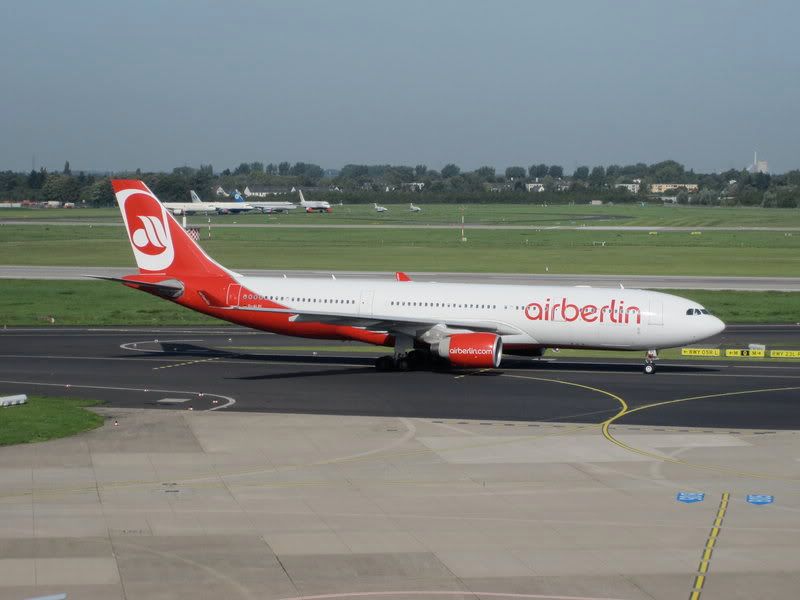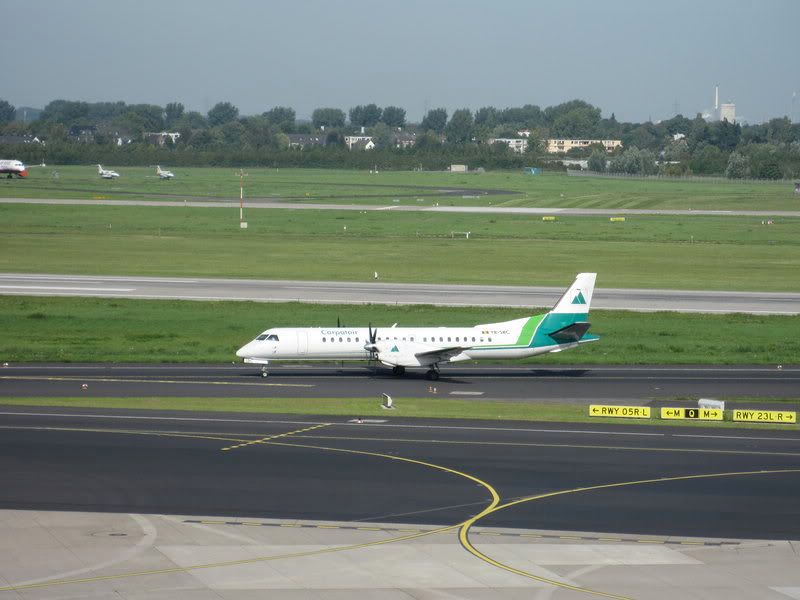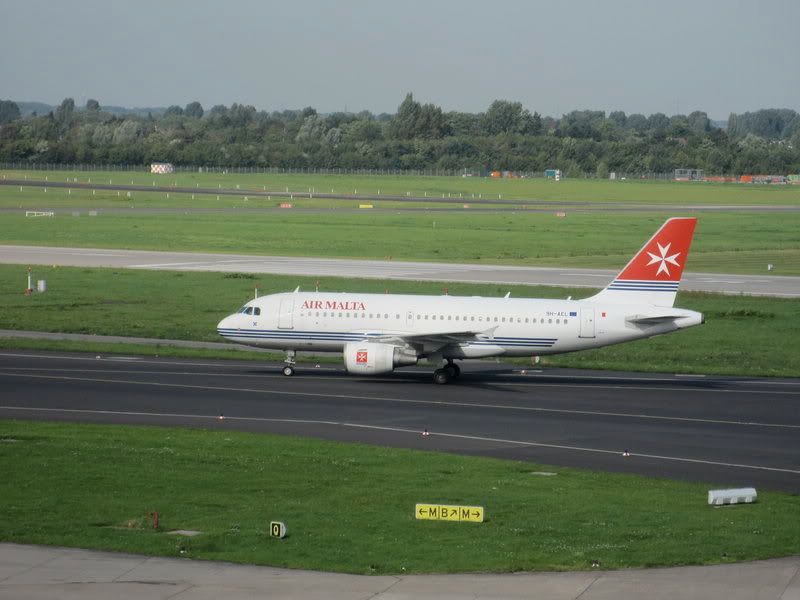 Dashing off: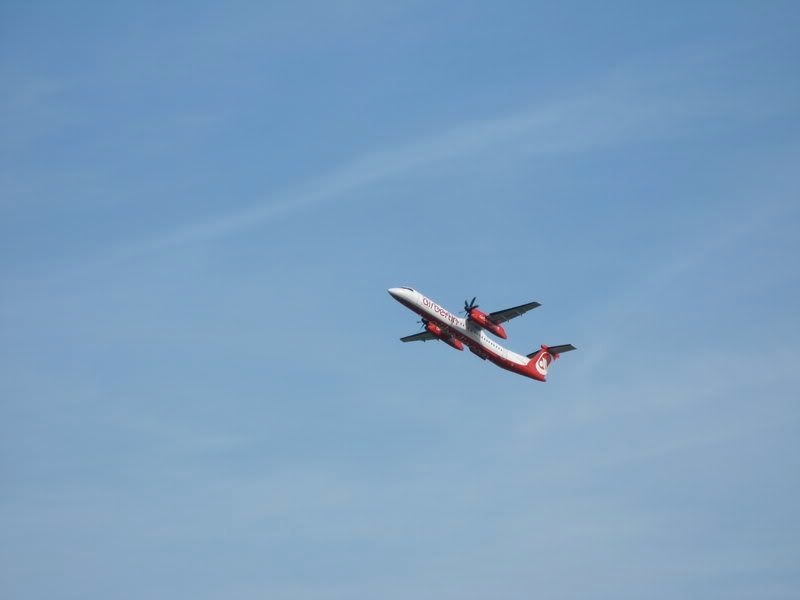 Wacht am Rhein - one Air France relieving the other: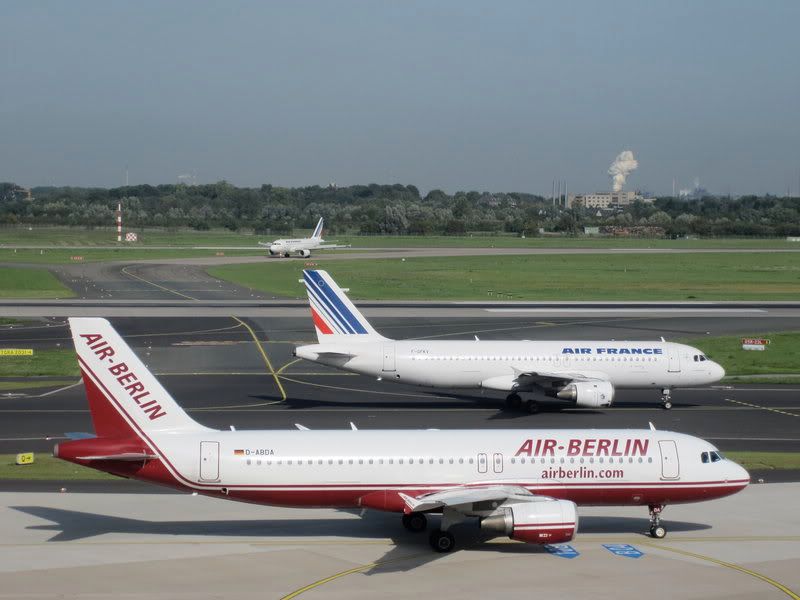 Later on I head back inside, decide to pay the Aviation Store a visit - bad idea as I just have to buy something - but a good idea as well since I end up chatting for a long time with the owner, a very friendly and interesting German man who used to live in the US for a long time. Far too soon I have to head for my next flight, however, so bid him farewell and promise to return in the future - my current schedule has me back at DUS in December.
I head back through security to the B gates area. Very efficient in true German style, although the guy manning the X-ray on my lane is more interested in flirting with hot girls than actually looking at his screen. I buy a can of beer from a store (hey, why haven't I thought of this before - it is way cheaper then the overpriced bars here!), pass through the passport control to the non-Schengen corner and sit down to enjoy my malted beverage and wait.
Soon myself and a couple of other passengers are paged to the Jersey gate. I oblige and ask what's wrong - well apparently since we checked in online they need to input our travel document details manually into the system. The OLCI, of course, did prompt me to enter the exactly same details when I did the check in, but apparently this doesn't really work. Sweet. Once done I ask how long til boarding - "5-10 minutes".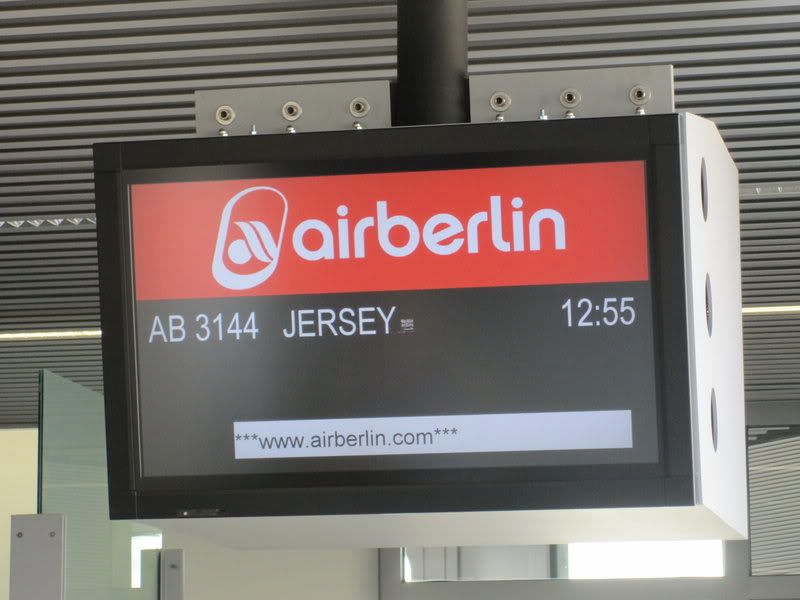 Good time for more plane watching: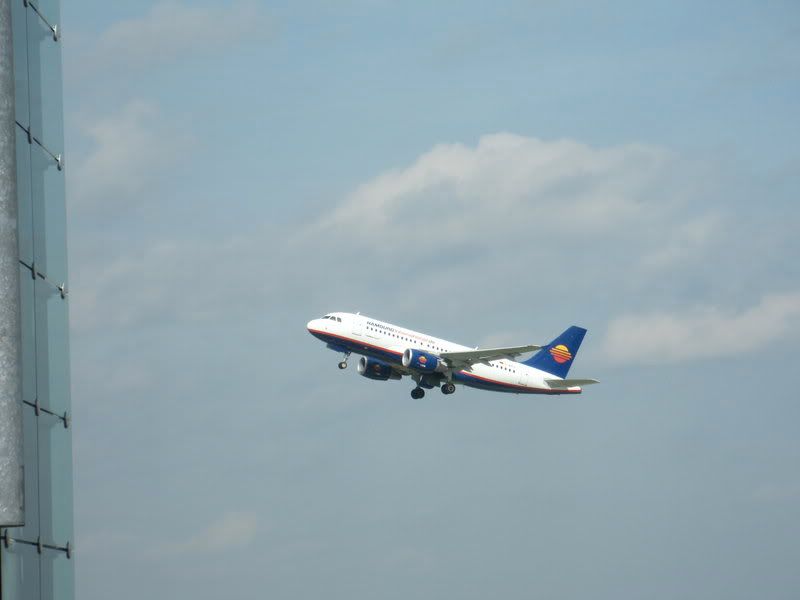 Well, it's more like 20 minutes before boarding is finally called, 10 minutes before the scheduled departure time. Interestingly the girl in front of me has a boarding pass issued on airBaltic stock, once she passes the gate I see she has a Latvian passport as well so I guess she came from RIX on the BT flight. Interesting that they were able to do the interline check in. Boarding is by bus, so down some flights of stairs and to the waiting bus.
Yes, we all hate FOD: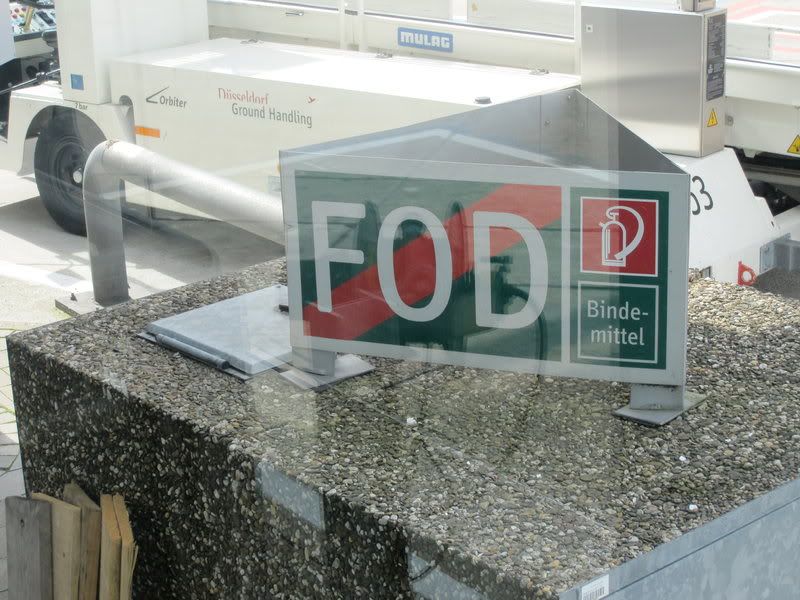 Bye A3, maybe next time: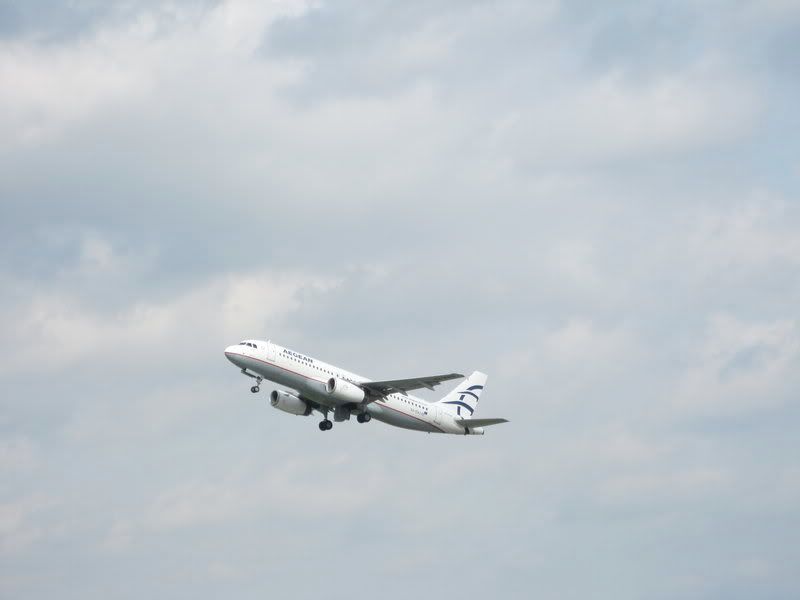 Quite a bit of waiting in the bus as well before we finally pull off. Not many people, less than 40 pax - so looks like a very light load. I think this is one of the last flights on this seasonal route, so I guess that explains it. I'm surprised to see that we stop in front of an A319 instead of the expected 738 (also featured on the OLCI seatmap yesterday). It's D-ABGL, a new one for me.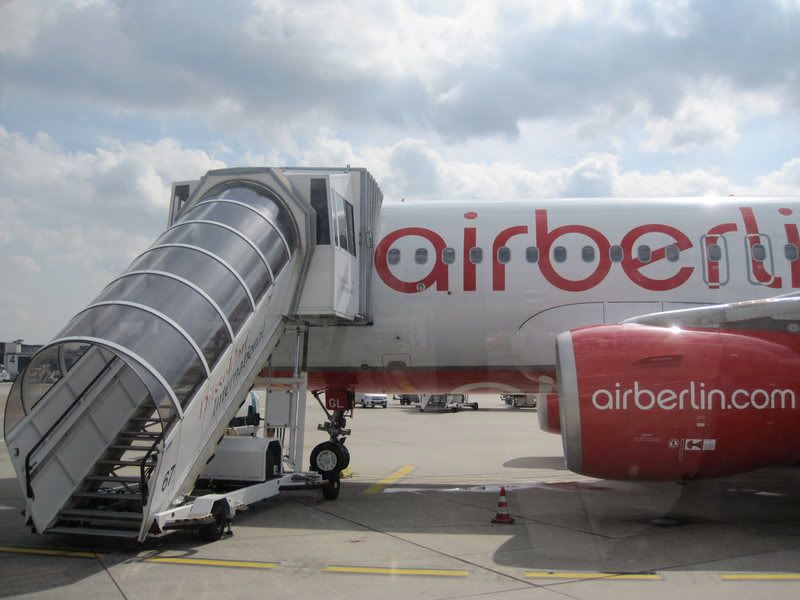 DUS - JER
AB3144
A319 D-ABGL
Seat 3A
13.26 - 13.47
With the light load the boarding is completed rather fast. Soon our captain with perfect American English (who is also fluent in German) comes on and apologises for the delay, explaining it with the slow deboarding of passengers from the previous flight. Apparently they were a few "special passengers" and "ground handling could get the last one of them off the plane only at 12.59". This means we missed our original slot (ahh, the wonders of the European ATC system) and have been assigned a new one at 13.40. Flight time today will be 1h10mins.
Colorful neighbours: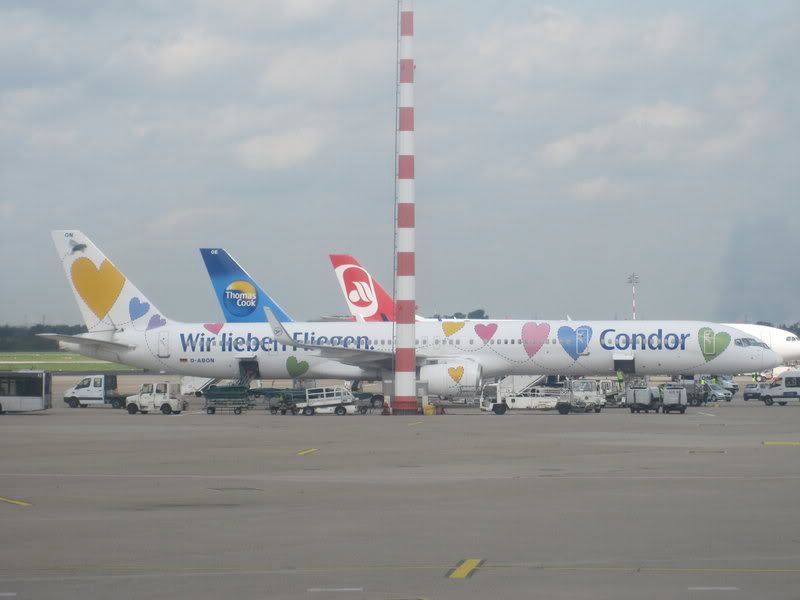 What's so special about Reims? Champagne of course!
Turkish traffic, part one: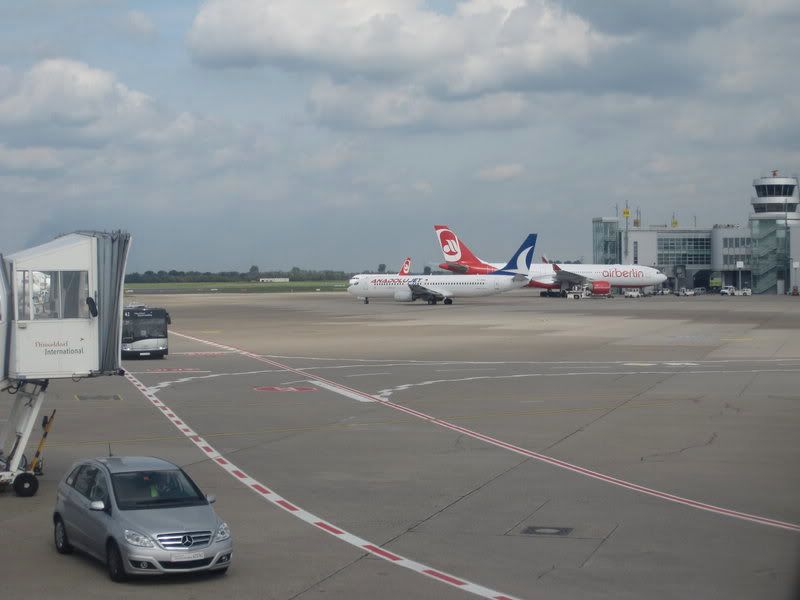 Turkish traffic, part deux:
Now here's something you don't see every day:
Departure is 31 minutes late and we take off from 23L exactly at our allocated slot time, 14 minutes later after this company A330: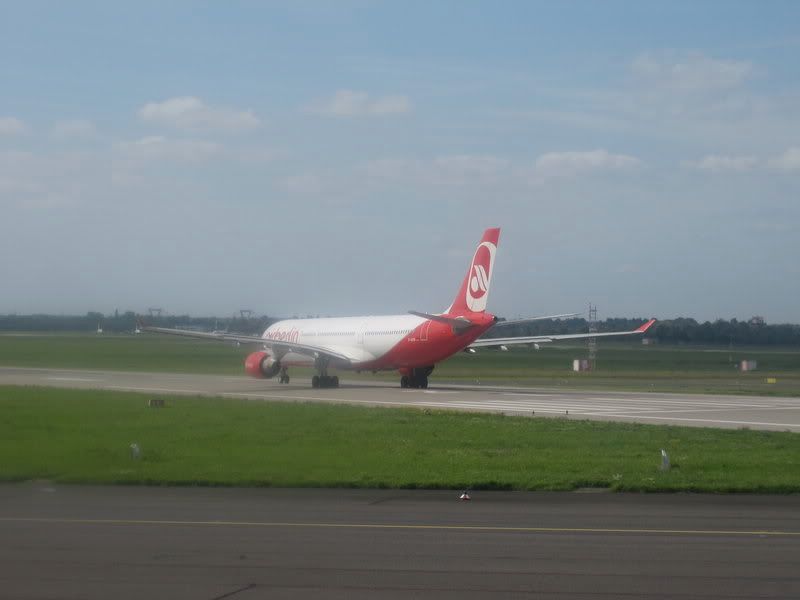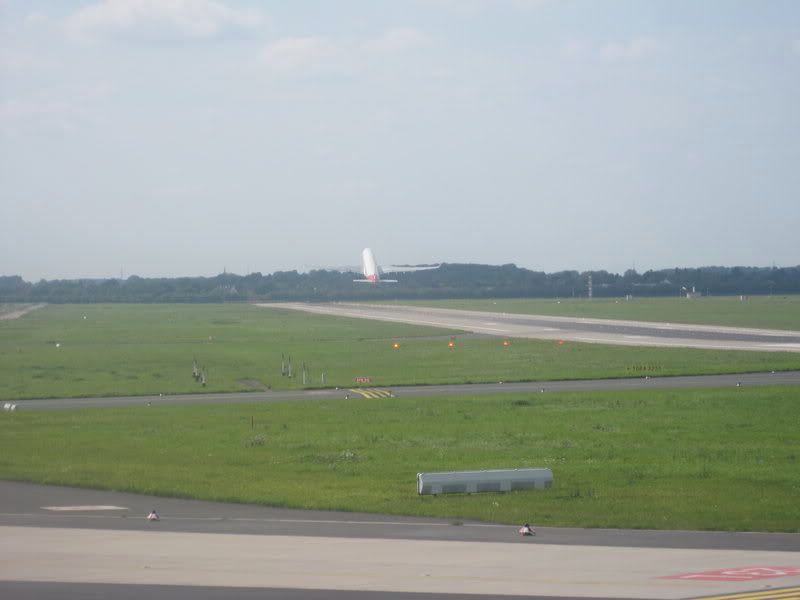 Behind us: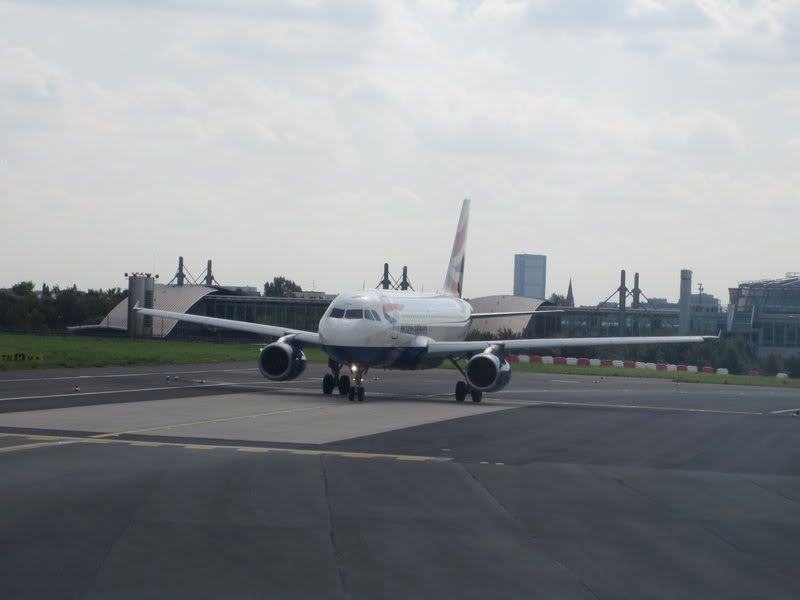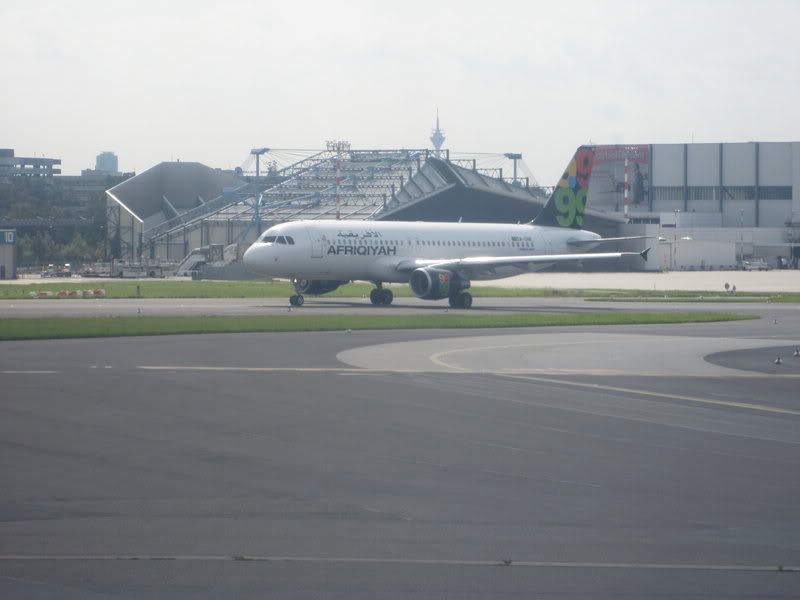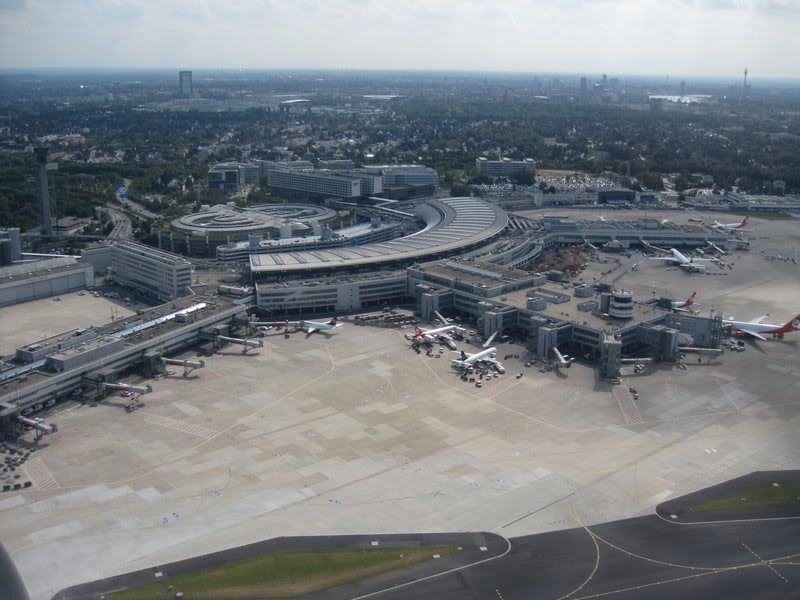 Nice views of Düsseldorf and Neuss on the left hand side: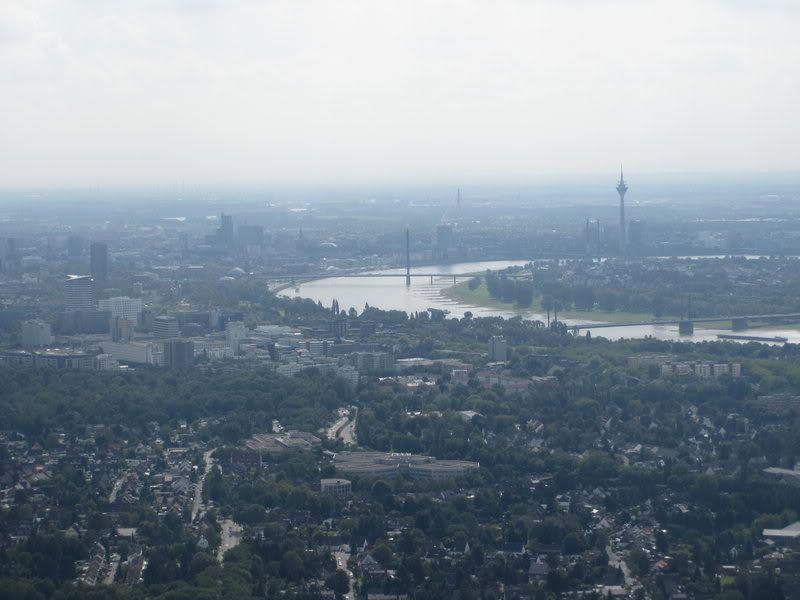 MGL - Düsseldorf-Mönchengladbach Airport: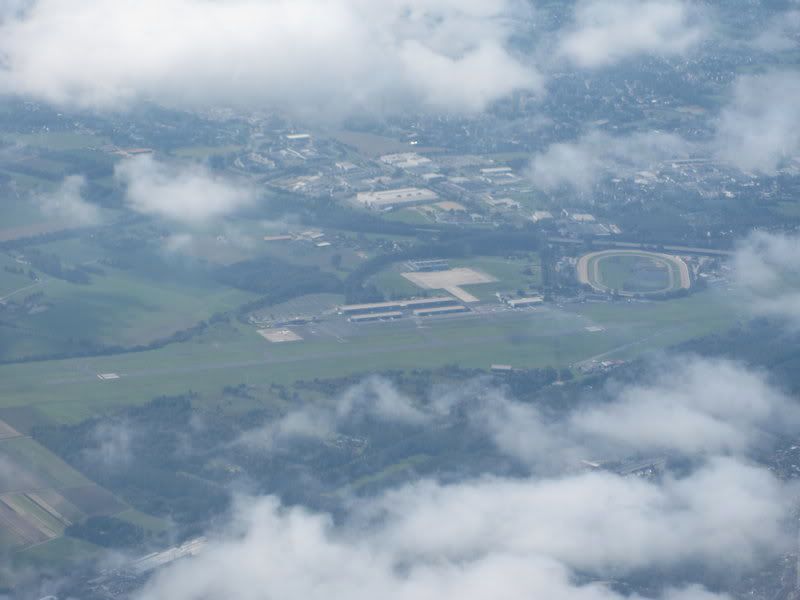 Initially we turn right and fly towards the west for a while, past the former RAF airbase Bruggen: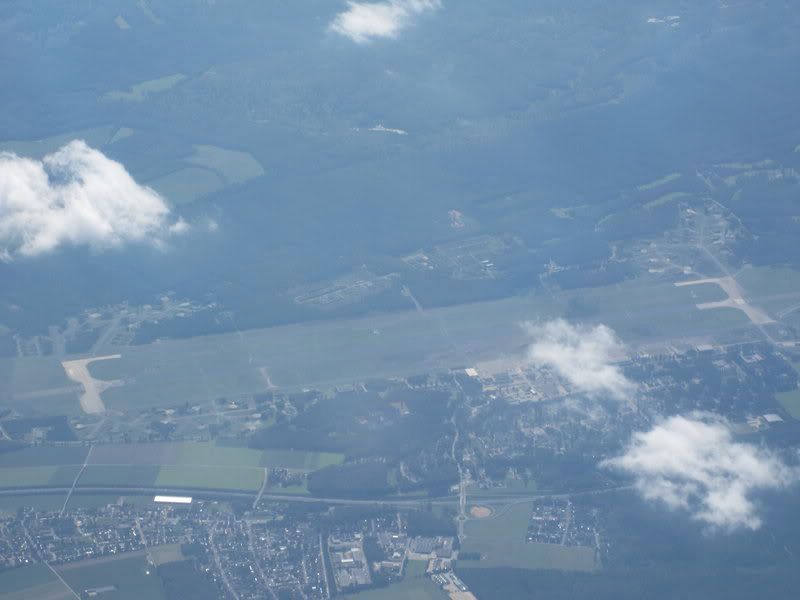 Crossing to Dutch airspace: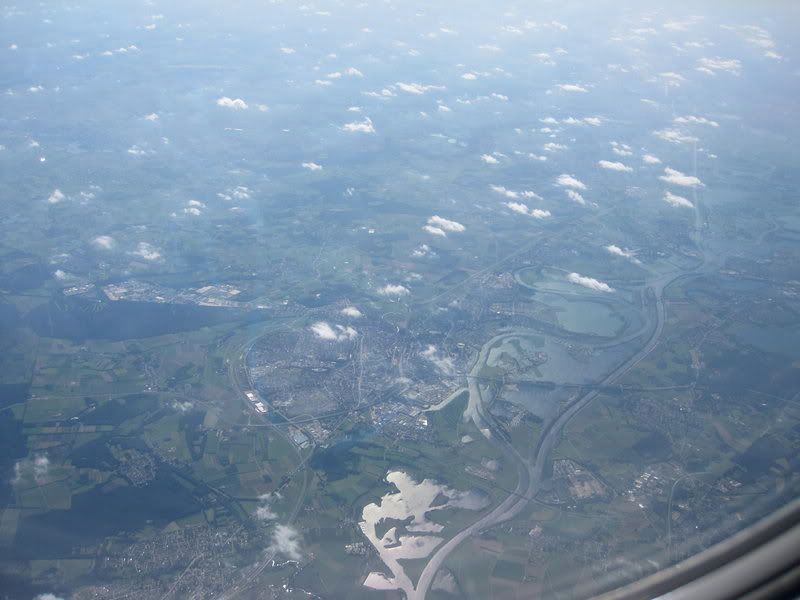 After a short while in Dutch airspace we turning again towards the southwest, crossing into Belgium and passing west of Brussels and towards France.
Kleine Brogel Airbase in Belgium: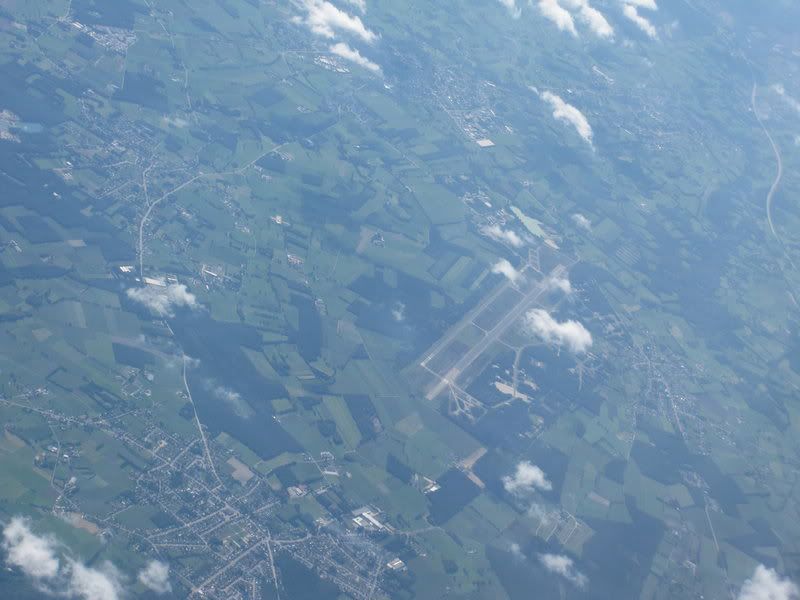 The city of Hasselt: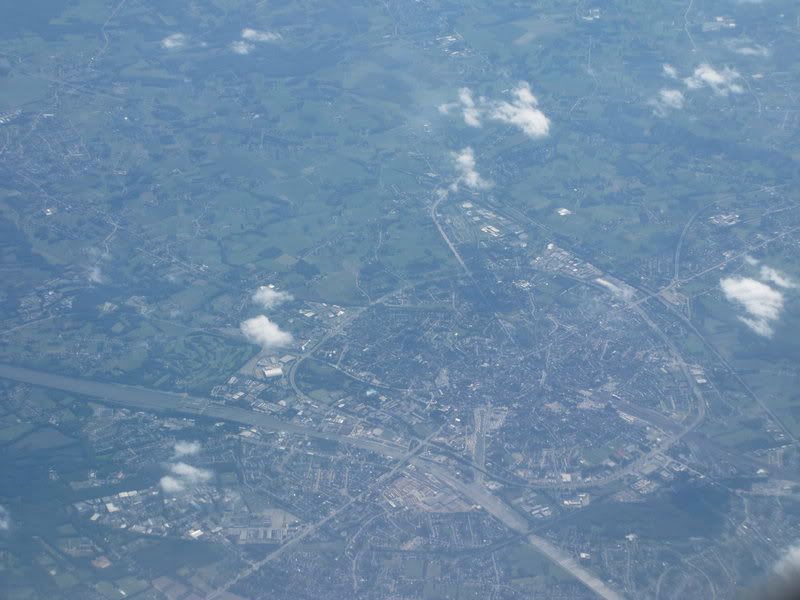 Service is again a turkey or cheese sandwich, I make the mistake of trying the turkey one - the turkey ham is just disgusting. The rest of the sandwich is actually very good, though. The price of Warsteiner (ugh) has gone up to 3 EUR.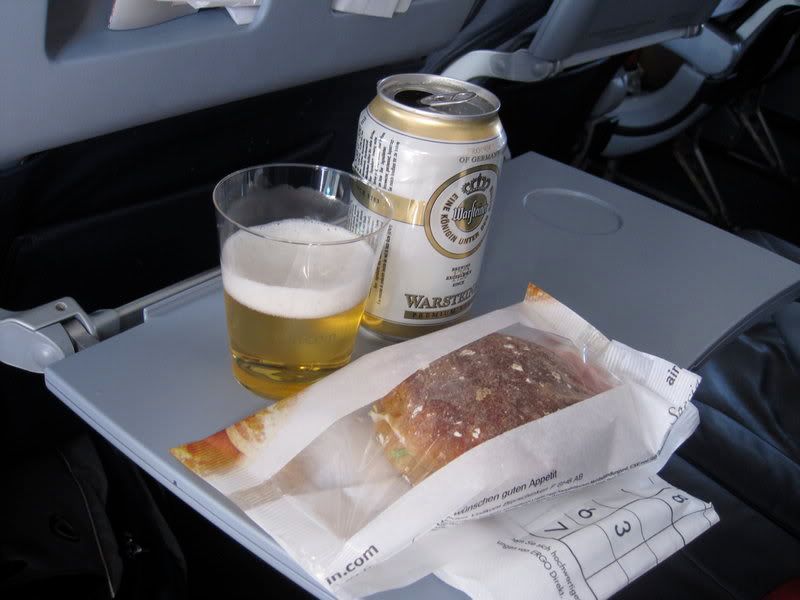 CDG:
Top