Flying With A Friend and a Finn, the Easy Way – Faro With EasyJet/Air Finland
This is a report about my recent trip I took on easyJet/Air Finland from London Gatwick – Faro
B A C K G R O U N D
After a few days away in lovely, sunny and hot Faro last month we were due to fly home on one of the Air Finland 757's that are flying for easyJet over the busy summer period (OH-AFI, the one with winglets to be exact) but we had a last minute change for an Astraeus one, the all blue ex-Zoom one. Bit disappointing as I've not flown a wingletted 757 before. The 757 is one of my favourite aircraft so I always relish the chance to fly on one. I spoke to one of close friends who works for easyJet, Jordan (aka Pawsleykat on the forums) about seeing if there were any cheap fares for a day trip on one of my days off from work, preferably where the 757 was flying, in a hope to catch the wingletted one for the second time. I was in luck… It was doing a late Faro rotation one of the days and fares were real good so it was a no brainer not to book it. In 5 days I'd be off to Faro! I had a choice of departures out to Faro, these included 05:55, 08:10, 12:05 and 13:45. I plumped for the 08:10 so that would give me some time to 'hang out' in Faro; it was scheduled to be operated by an A320 (G-EZTI) and Jordan happened to look up the crew members for that flight to see if he knew any of them, and to my amazement, one of my best mates, Tom, was crewing the flight. I decided I wouldn't mention it as to surprise Tom when I boarded the flight. The return leg would be operated by Air Finland on the 19:45 departure out of Faro by one of their 757s that easyJet have leased for the summer season and are painted in full easyJet colours, which do looks pretty smart.
Apologies for the photos, my Camera isn't what it used to be.
T H E T R I P
Saturday 11th September came around pretty slow after a long and hard week at work so was glad to be getting away, albeit for just one day, but the thought of a few hours in the sun compared to a grim day in England was really perking me up. The night before I did the obligatory printing of the boarding passes and packed my bag for the things I would be taking. I set my alarm for 5AM and hoped to be down at LGW for about 6AM. After one hit of the dreaded snooze button I got out of bed and had a quick wash before jumping in the car for the half hour drive down to LGW. As expected the M25 was very quiet so I had a nice cruise down the motorway.
I parked my car in the nearby Manor Royal Industrial Estate, just south of the airport, to save on the parking charges and it was a 20 minute walk taking me along a few roads before crossing the end of runway 26 to eventually arrive at the South Terminal at 6.20. My flight was departing from the North Terminal so I navigated my way through the congested check in areas of the South Terminal to the newly reopened inter-terminal transit. The next transit was due in 4 minutes. Once onboard it took just 3 minutes to arrive at the North Terminal, in the new transport interchange (I think this is what it's being dubbed as).
Inter-terminal transit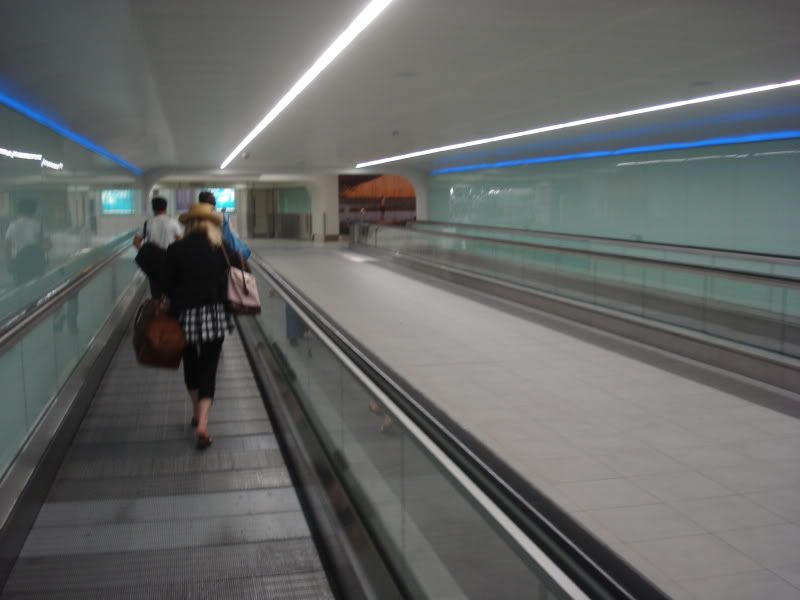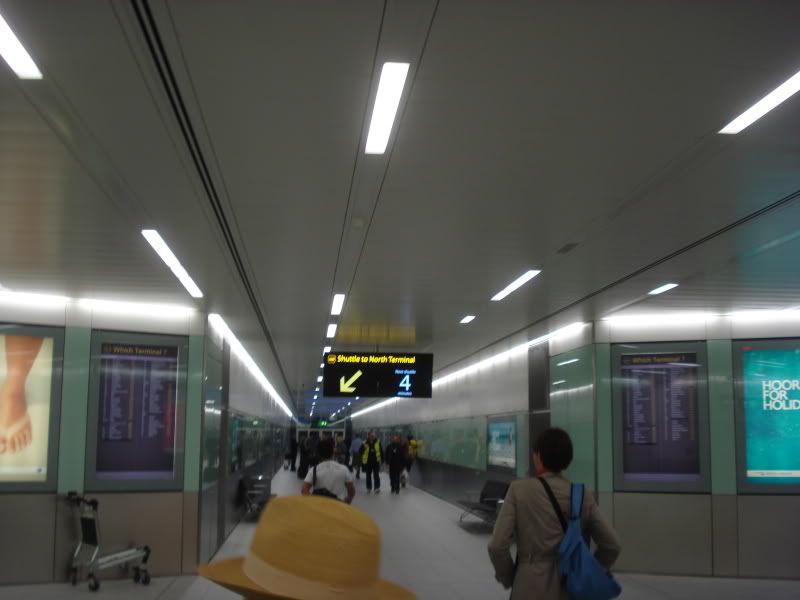 Upon entering the Terminal I took the escalator up to the Departures/Check In level where I found myself in the middle of the BA check in area. The North Terminal is home to BA's entire LGW operation as well as half of easyJet's services, (flights numbered EZY 8XXX) Delta, Thomson Airways, Emirates, Qatar and until the past few weeks, Mexicana. The terminal is starting to show its age now but I'm sure the new owners of Gatwick have plans to turn this around.
Whilst walking towards security I had started to put my items in my bag to save time. I rocked up at the first point with my boarding pass I had printed at home and once scanned in by the guy it took a while for it to register on his screen, eventually; he turned to look at me and said "Faro?" So I responded yes and he wished me a good flight. Queues for the security line were not particularly long but the far left lane is hidden around the corner so you cannot see it, there was no queue whatsoever for this lane so I walked down there, then a few people decided to follow. Bag was put on the conveyor belt and it was time to remove my belt and my shorts were practically around my ankles! (A nice image for you all) I passed through without setting the alarms off
Lucky me!
Not so lucky as regularly happens; my bag got pulled to one side. I got asked was it my bag so said to the lady it was and she asked me to come to the end of the lane and open all my zips as she wanted to search my bag… Guess it was my camera equipment in the bag.
After rifling through my bag, it became very apparent to us both that I am a hoarder of crap! Boarding passes, city guides, pens, ect… you name it, it was in stuffed into most of the pockets inside my bag! Note to self: Must clear bag out more often! Anyways she was quite happy with what was going on in the bag but she just needed to do the explosives test. She was such a nice lady, middle aged but real down to earth and friendly. I chatted to her for a bit and she said the job gets so repetitive asking people the same things, have you got any liquids ect… and she said its so annoying when people say no and they have. I then asked her how the explosives test worked and I must say I found her explanation quite interesting; I had no idea if you touch explosives the residue can stay on your clothes/skin for weeks afterwards.
So after that was all done I headed into the departure lounge to be met with a barrier of people, I noticed all clutching easyJet boarding passes, after managing to break through them I looked at the departure screens to see that the 07:15 easyJet flight to Paphos was delayed until I think 15:00 that afternoon, unlucky people.
Some views from the North Terminal…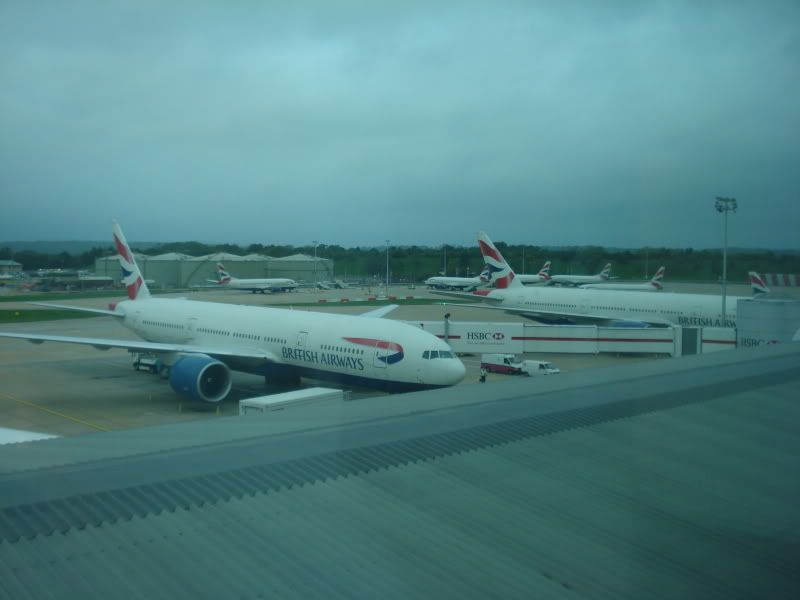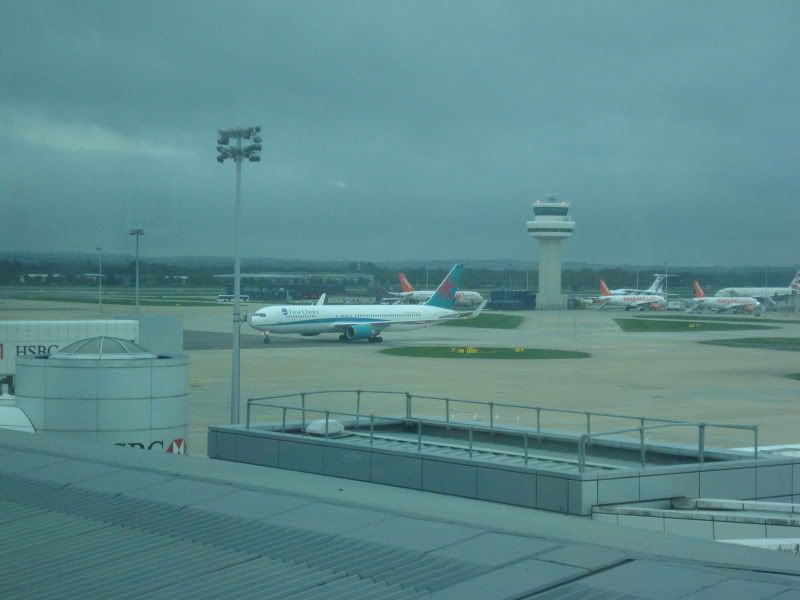 Some better ones from my trip last month…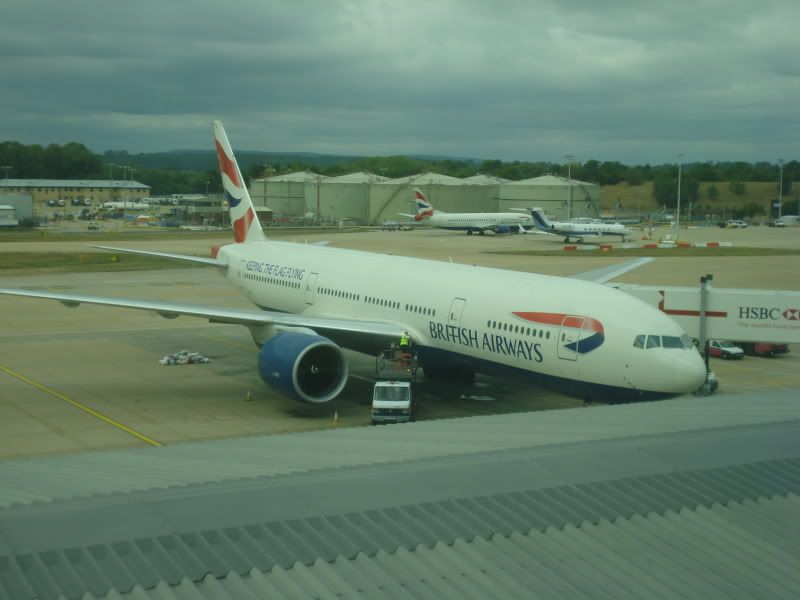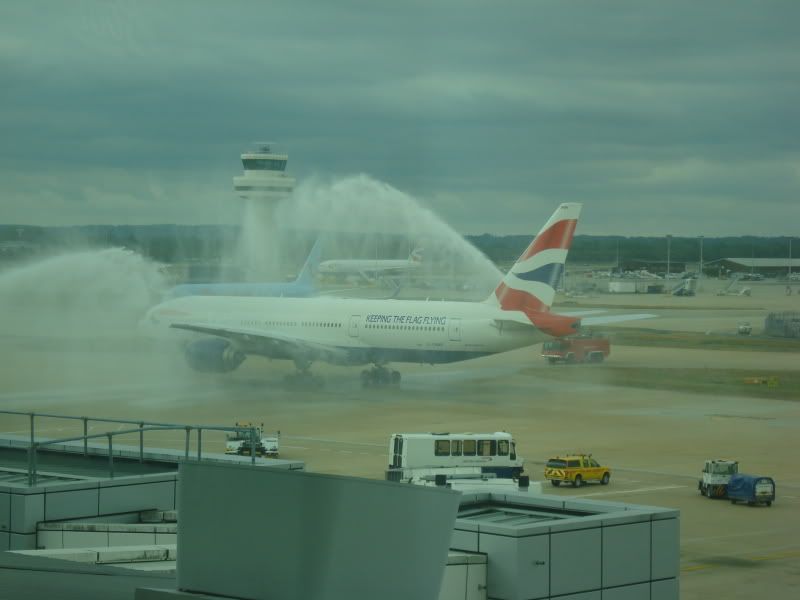 From the Pier 6 Bridge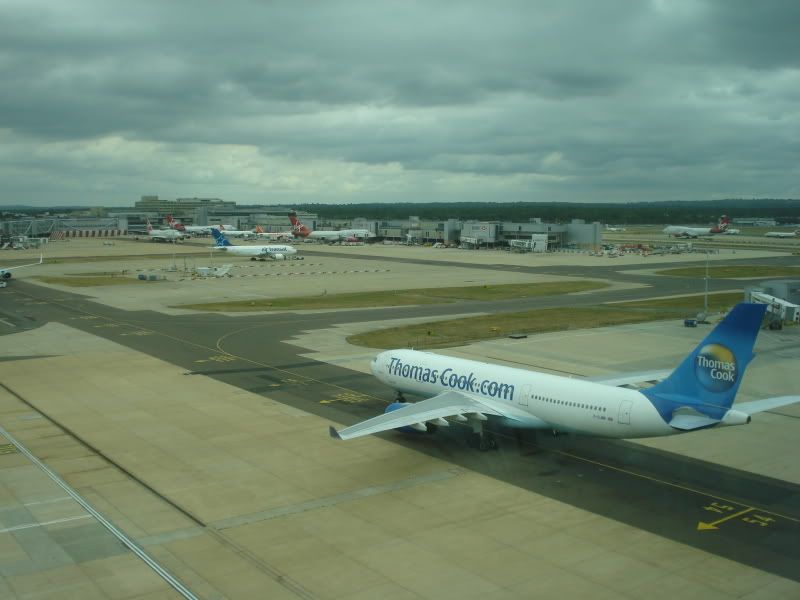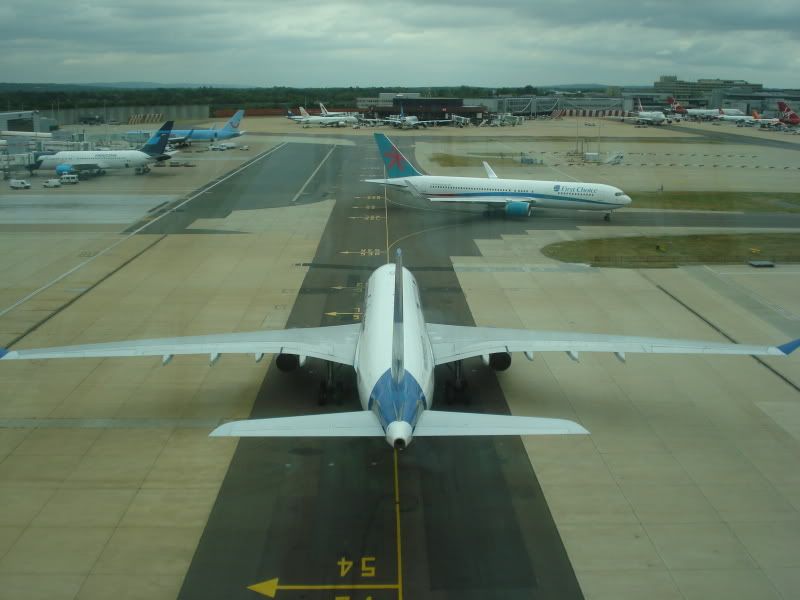 My flight was showing as 'Gate at 07:25' I had a probable feeling it would be from gate 45, the bussing gates as the gate time before departure time was longer than other flights. After a quick stop to get something to eat I happened to check the screens again and it was now showing 'Gate at 08:25', an hour later. Great! Unfortunately today didn't seem like easyJet's day quite a few flights were showing as late, not huge amounts fortunately. The 05:55 departure to Faro was showing as 'Gate at 08:10', lucky I didn't go for that one then!
After killing an hour or so watching the movements outside the window I headed over to the screens just before 08:25, when the gate would be announced.
Date: 11/09/2010
Route: LGW-FAO
Flight: EZY8917
Aircraft: Airbus A319 (14th flight on Airbus A319 and 1st flight on this aircraft)
Reg: G-EZGA
Seat: 23F
Scheduled Departure Time: 08:10
Actual Departure Time: 09:03
Scheduled Arrival Time: 11:00
Actual Arrival Time: 11:32
View Large
View Medium


Photo © Jules Meulemans
Photo taken by me at LGW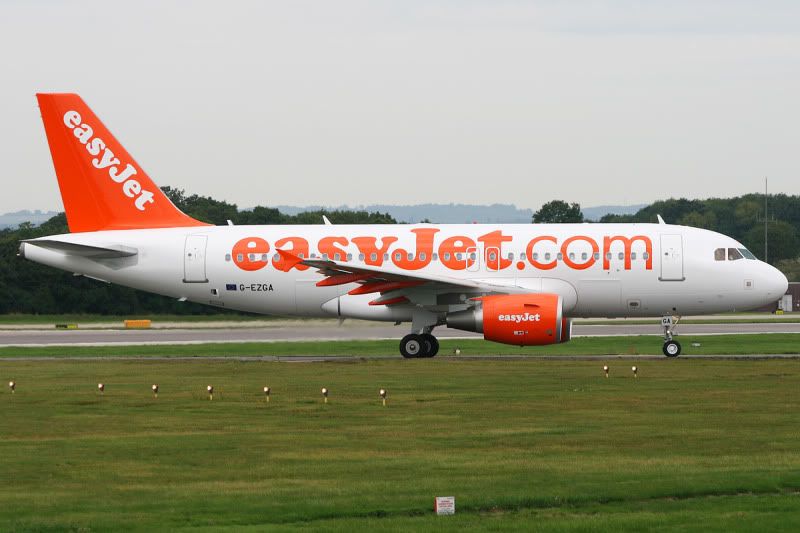 Gate 45J would be the allocated gate, (was right about the bussing gate) these gates are pretty close to the departure lounge so not a particularly long walk today. When I arrived the opposite gate was for the 05:55 Faro flight, so could have been a bit confusing for passengers as they were announcing over the PA for both Faro flights. Passengers slowly filtered through into the gate area and about 10 minutes after I arrived boarding was announced.
Gate 45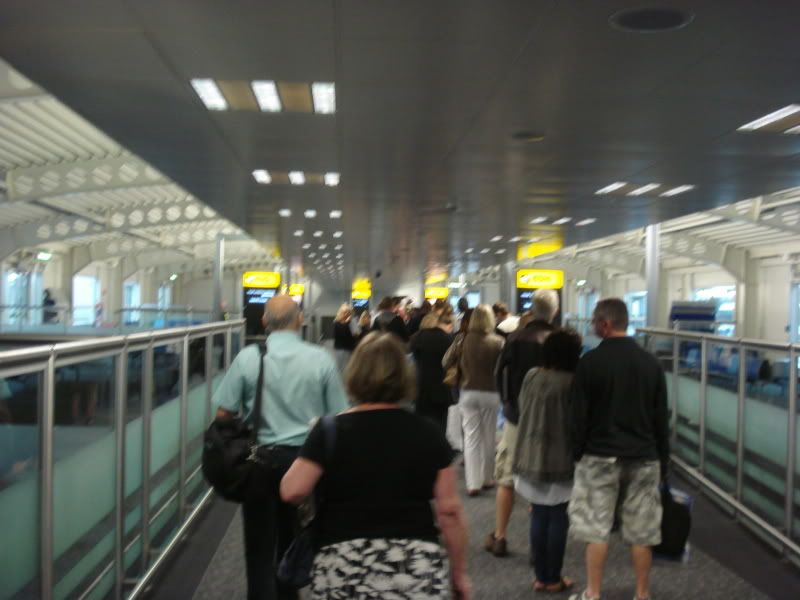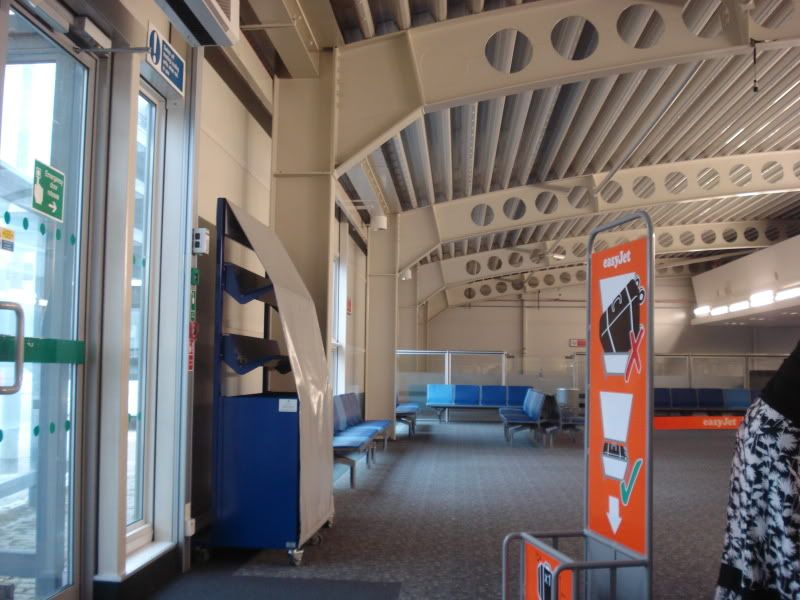 Once onboard the bus we were heading around the gutter of the North Terminal and appeared under the Pier 6 bridge and waited for a Transavia 737 to pass before being allowed to pass. Good thing about the bus gates is getting up close to all the aircraft.
Views from the bus…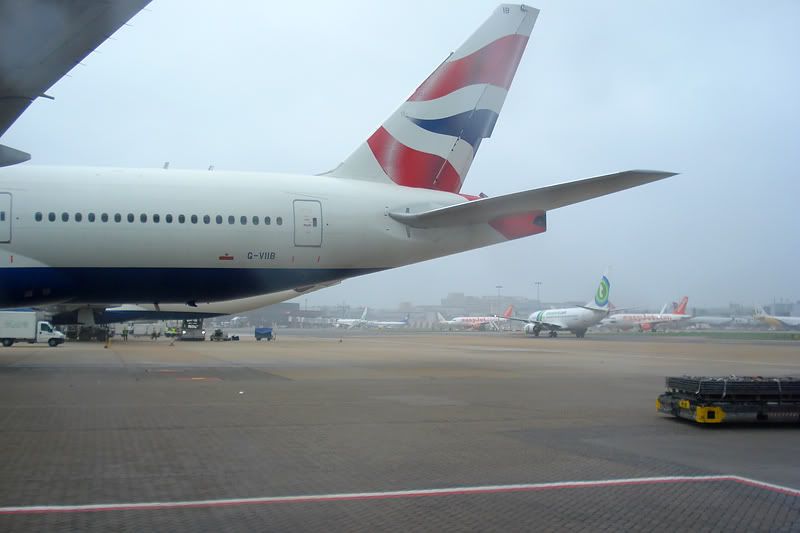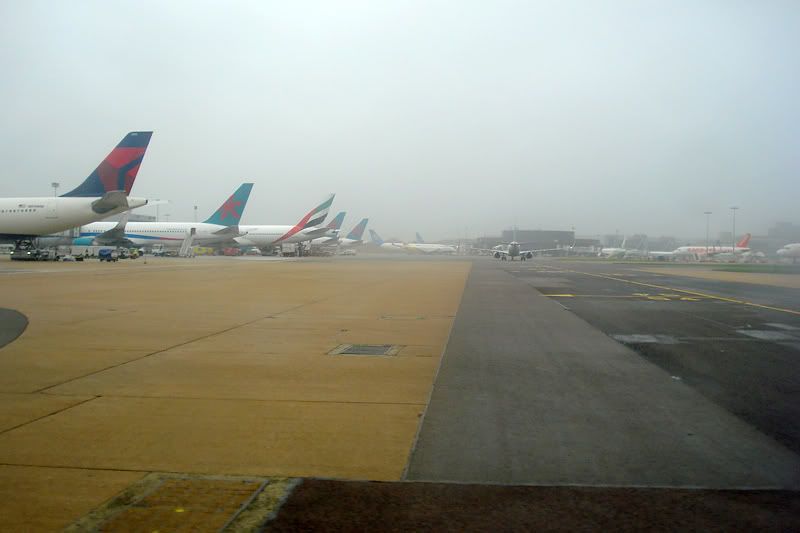 My aircraft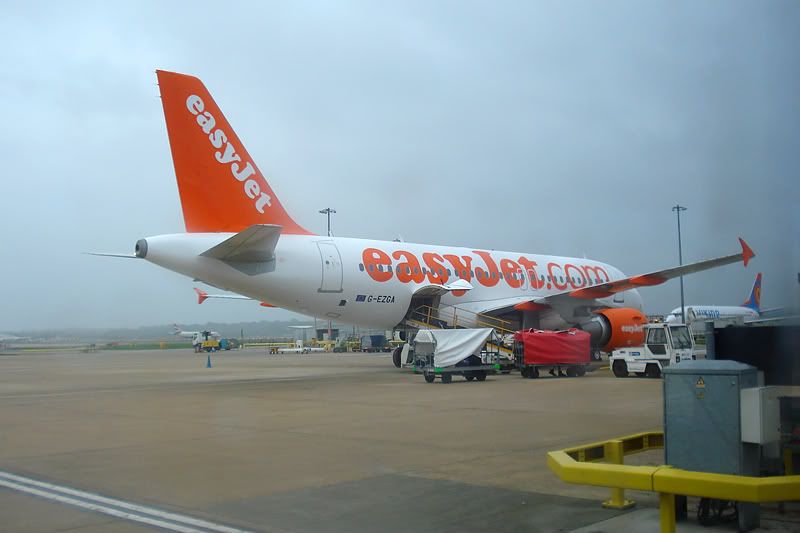 We then neared a flurry of easyJet aircraft; I couldn't see any A320's about so thought we might be heading to the South Terminal, as has been the case before when flying out the North, getting bussed to one of the South Terminal gates. Then we took a left turn towards the newest aircraft in the easyJet fleet, G-EZGA, delivered just 2 weeks ago. Yep, I would be flying on this newbie. Jordan had told me the night before that he took a visit to it that day and that it smelt so new inside and was real tidy inside.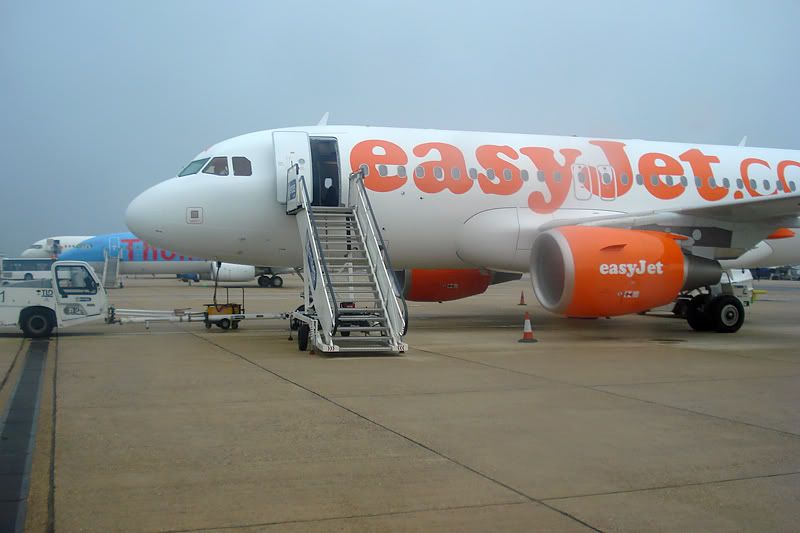 It was raining by this point so I jumped off the bus and briskly walked up the stairs to get inside from the rain. I was welcomed onboard by the Senior Cabin Crew, a German guy, who proved to be a real professional guy throughout the flight. As I turned to walk down the aisle, there was no Tom
I did think that maybe they had swapped the aircraft and crew onto the earlier Faro flight as they were now departing within minutes of each other and my flight was scheduled for an A320. Walking through the aisle you could really notice that this didn't smell like a normal aircraft, it still had that really nice new smell. I then parked myself in row 23 (A personal favourite of mine along with 18 and 21) opting for the F seat. It was 08:15 now so was hoping it wouldn't be too much longer until we would be on our way.
View from my seat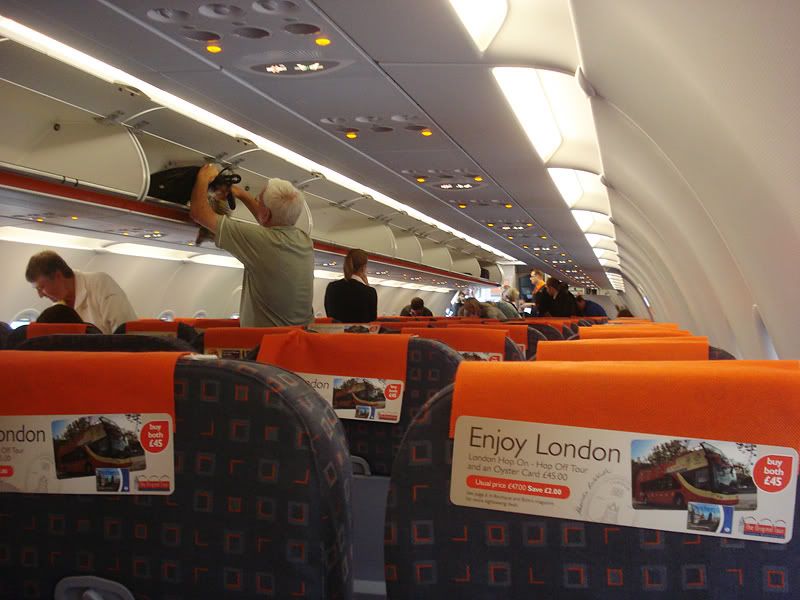 I decided to send Tom a text to see where the hell he was and why he wasn't on the Faro flight. I got a call from a slightly puzzled Tom and found out he got back late from his Tenerife flight late the evening before so wouldn't have had enough rest. He was really gutted that my little plan had fallen apart, as was I. He got put onto a Pisa flight which was the opposite my stand, so we could see each others aircrafts. So near yet so far and didn't get to fly with a friend.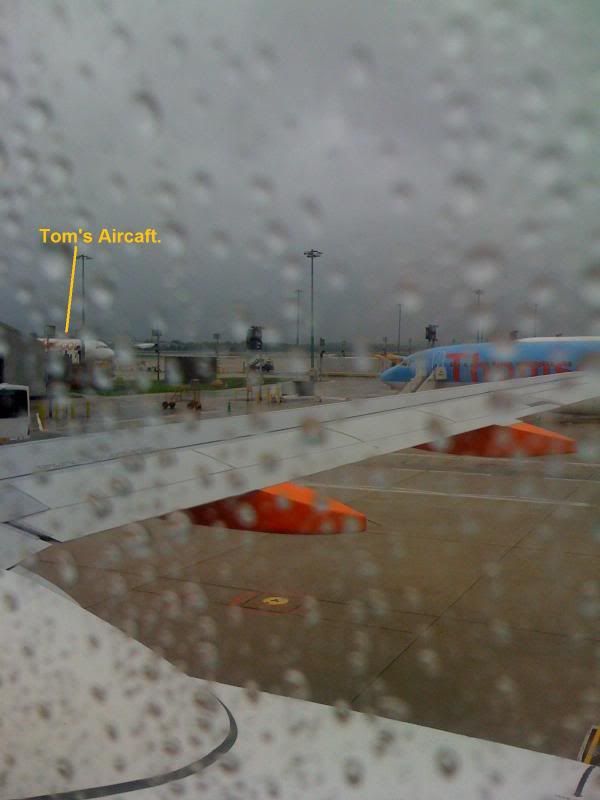 The flight was near on full, but I guess being downgraded from the original A320 there wasn't going to be many empty seats. Twenty minutes after I boarded our senior announced that we were waiting for 10 more passengers and that if they didn't arrive soon then they would start looking for their bags to be offloaded. I was fortunate enough to have the middle seat free and was sharing the aisle seat with possibly one of England's tallest men. Unfortunately the late passengers turned up, one of them wanted to park themselves between myself and Mr Longlegs and she wasn't the smallest of ladies. Long Legs didn't seem too pleased as he was struggling as it was with the legroom. Unfortunately she was encroaching on my space quite a bit but I tried not to let it bother me.
View on stand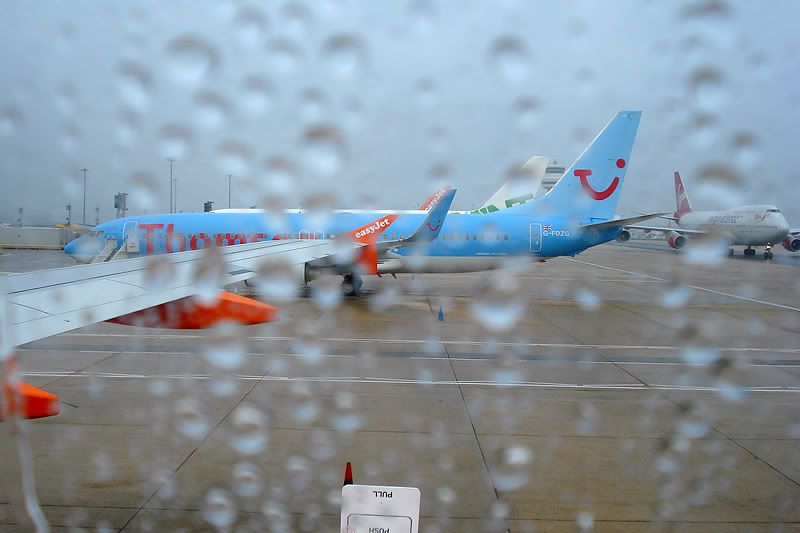 Obligatory legroom shot
Doors were then closed just gone 08:45 and an apology was made for the delay to our flight. It was due to not having a pilot for and one had to drive down from Manchester, he did say it was quicker than waiting for the BA flight, which got a few laughs. Whilst we taxied to RWY 26 safety demo was performed. Our senior who was doing it went into lots of information, for example he said we should pay extra attention as "easyJet fly many aircraft to Faro, The Airbus A319, A320 and A321 and each one has different safety procedures so please pay attention" he also blasted a group of young lads in the centre of the cabin who were apparently trying to put of the girl whilst demonstrating the safety procedures. I did laugh when she spun round and the whistle on the lifejacket spun and hit a bald man on the head.
Taxi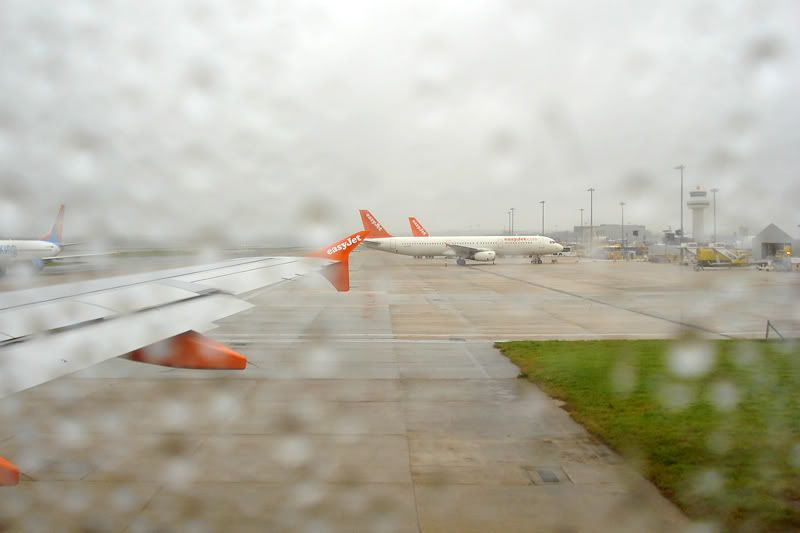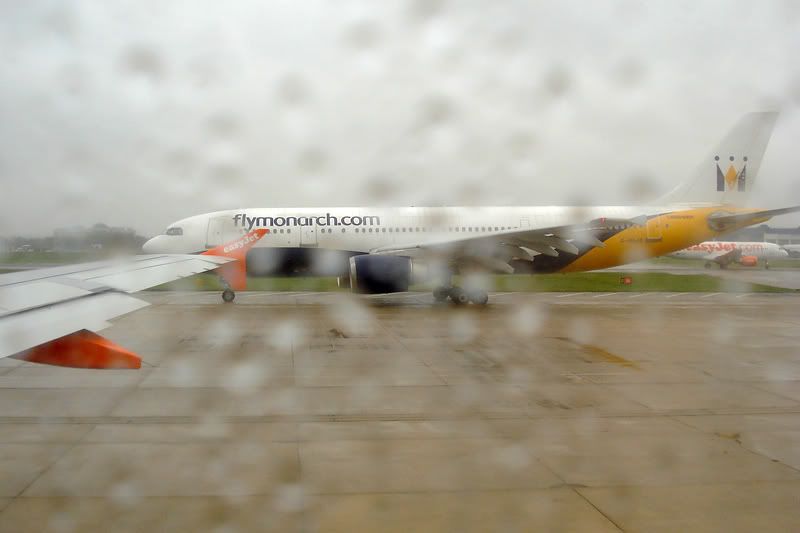 Departing ahead of us was 2 easyJet's and that old workhorse of the Monarch fleet, the A300. (my next target) We entered the active just gone 9AM and after holding the engines powered up and were in the air at 09:03 and soon hit the thick cloud base.
Takeoff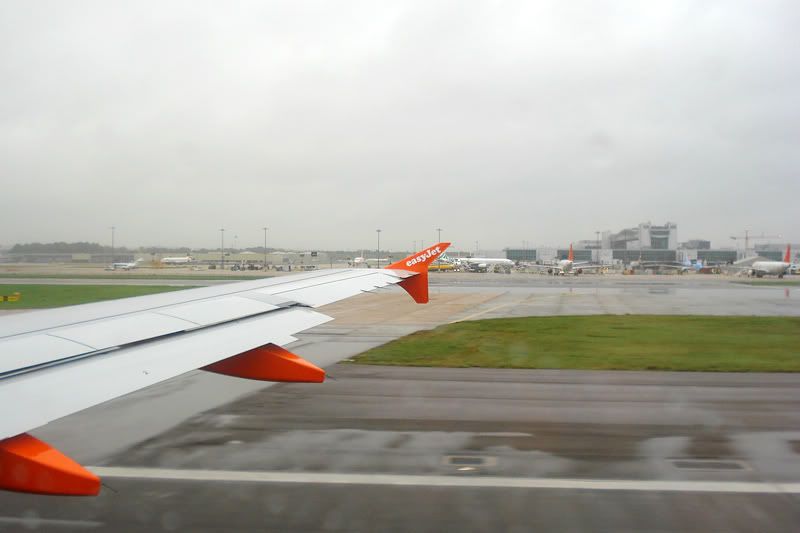 A Russian was in town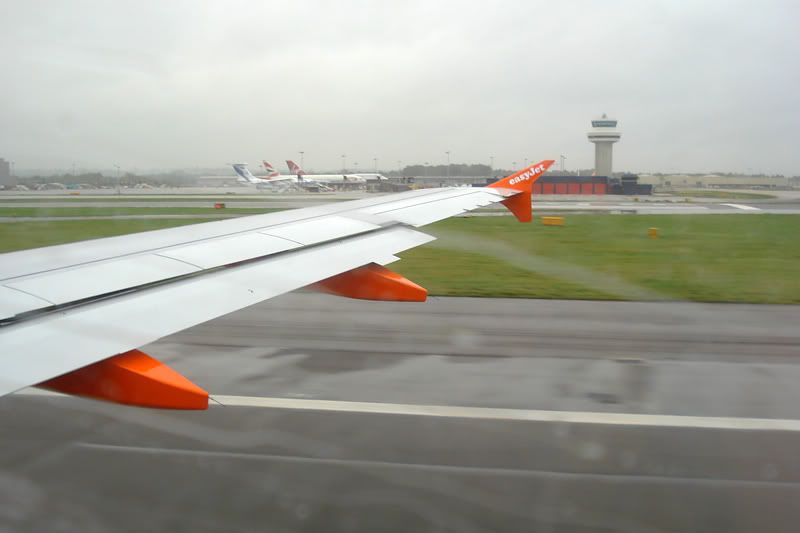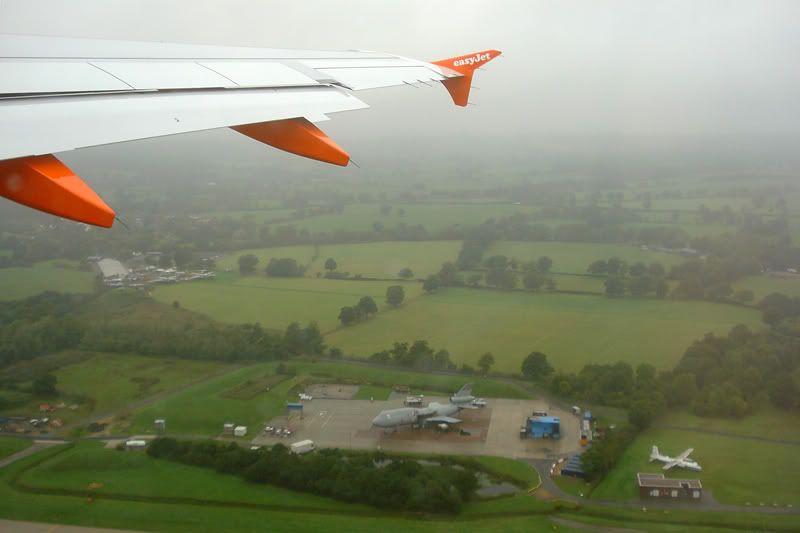 Not long after being in the air, the senior member of crew announced that our seat belt sign would remain on and the noise just was letting the crew know they could begin their work. Washrooms were pointed out (1 and front and 1 at rear) and that passengers were asked not to change babies on the seat backs for hygiene reasons.
Just above the clouds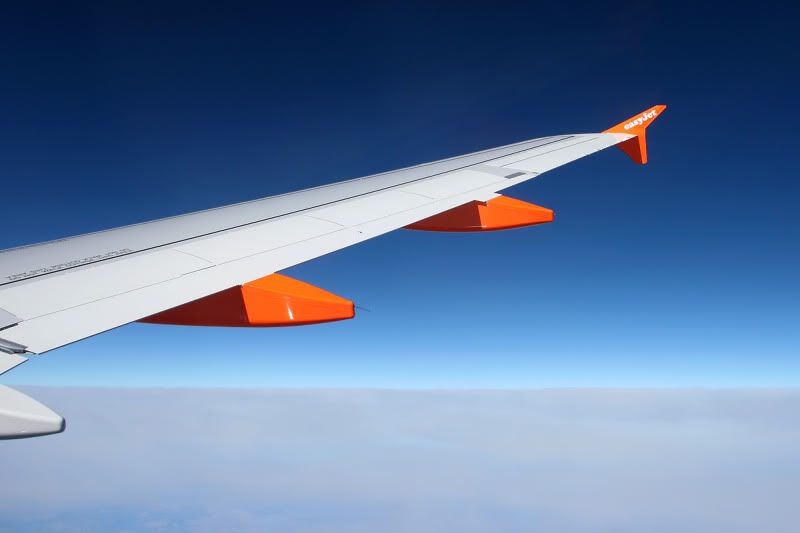 Not long after this announcement seatbelt signs were turned off and people made a quick dash to the toilets, the buy on board service started soon after. There were no hot options available on today's flight due to the oven being broken, bit ridiculous on a 2 week old aircraft! Our senior did say that he would rather not delay the flight any longer rather than to get it fixed! (I don't know how true that was) Damn, I was hoping for a bit of bacon action from the bistro! I decided to go for the 'Muffin Deal' which consisted of a Starbucks Coffee and choice of Blueberry or Chocolate Muffin. These Muffins are the nuts, I love them!
Food and IFE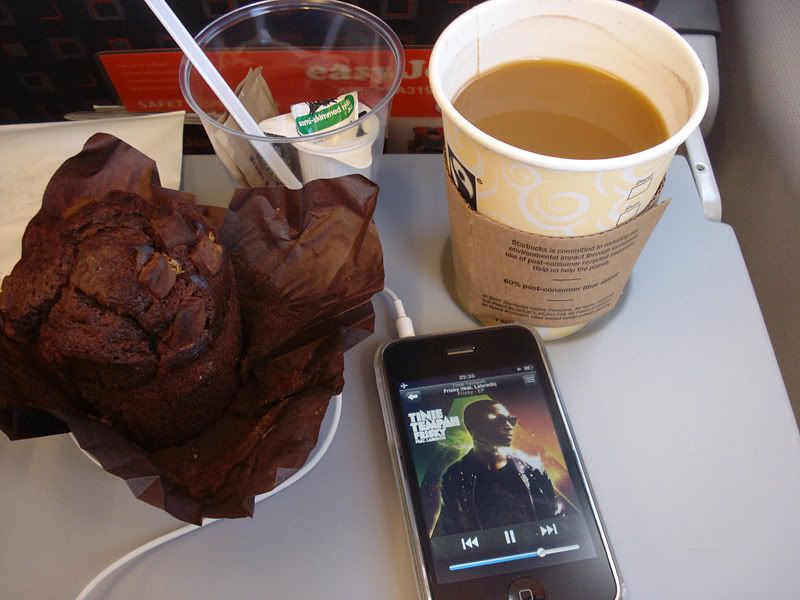 After the service was done the rubbish was soon cleared and I sat back and enjoyed the views.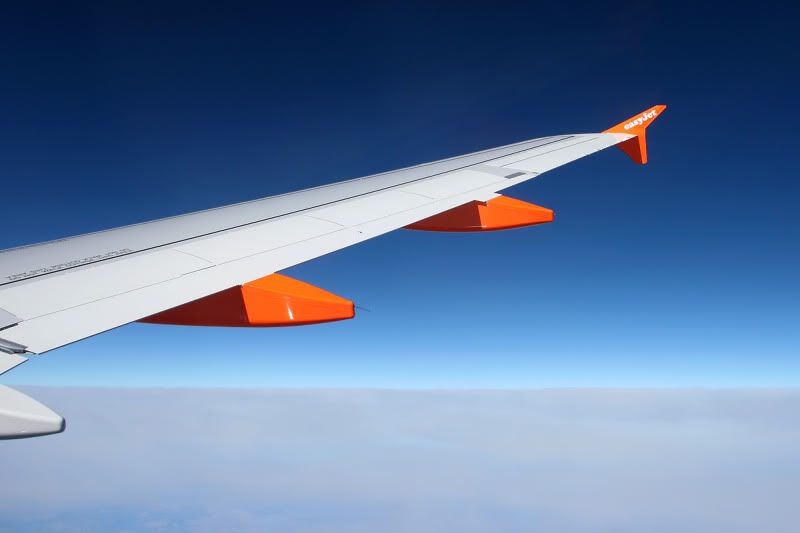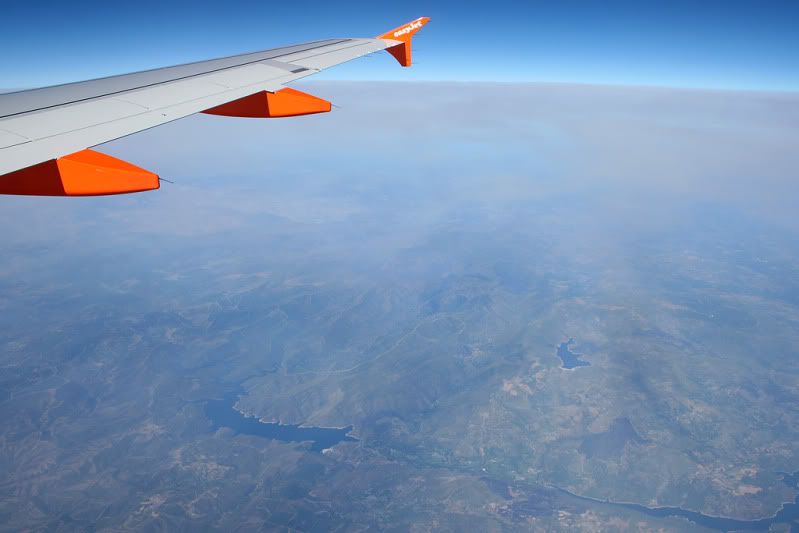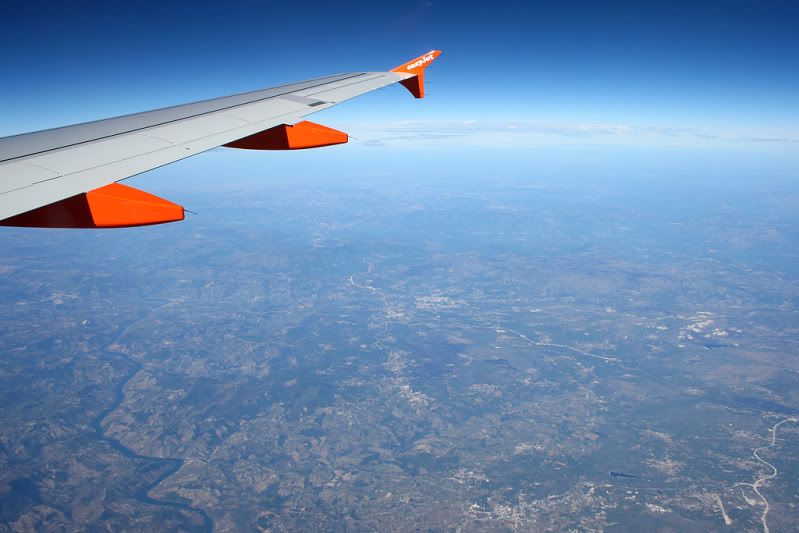 A short progress report was announced from Kaz up on the flight deck, not much really to report apart from the lovely weather down in Faro and that we would be landing on the Easterly runway.
The crew brought the boutique service through the cabin about an hour out of Faro, I did fancy getting one of the funky little Breo watches, but sadly they only had Pink ones on today's flight, not really my colour.
I took a visit to the toilet (much to the annoyance of Long Legs and the Heffer, presumably as they had to move) and had to wait a while for it to be free so I said to one of the crew that my friend Tom should have been on the flight today and she then said "That's why I'm here, I was hoping to get off my standby and go back to bed". I had bit of a chat with her before the toilet became free. One of the guys opened the door for me, which I though was a nice gesture, not a lot but little things like that go a long way in my books. The crew on today's flight was 3 males and 1 female; all pretty cool, really friendly and an all round nice bunch.
After returning to my seats I went back to my music and the views. It wasn't long now until we would start our descent into Faro and soon it was announced. Roughly 20 minutes before landing the crew went through and collected the final bit of rubbish from passengers before asking everyone to return to their seats in preparation for landing.
Descent provided some fantastic views over the Portuguese landscape as can be seen below…
Going down…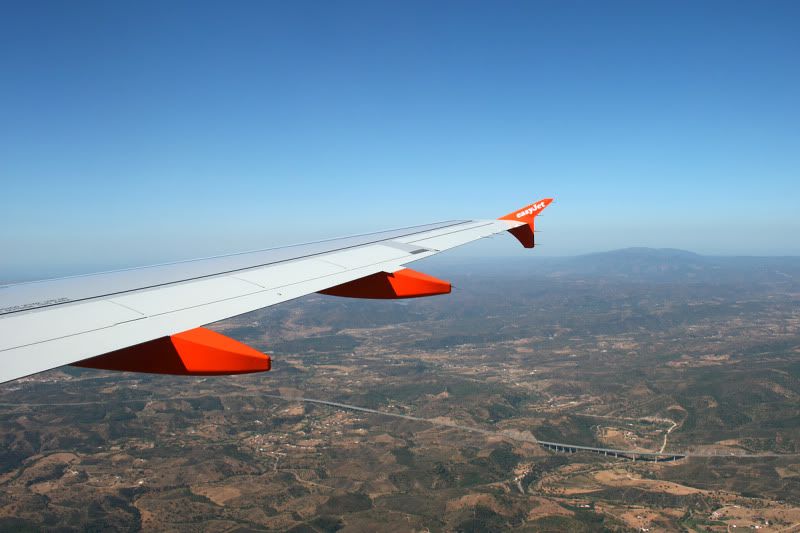 Tourist hot spots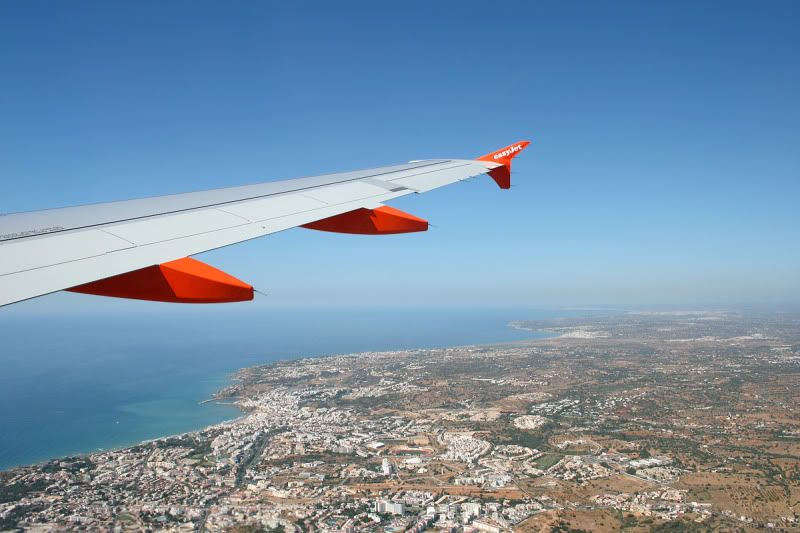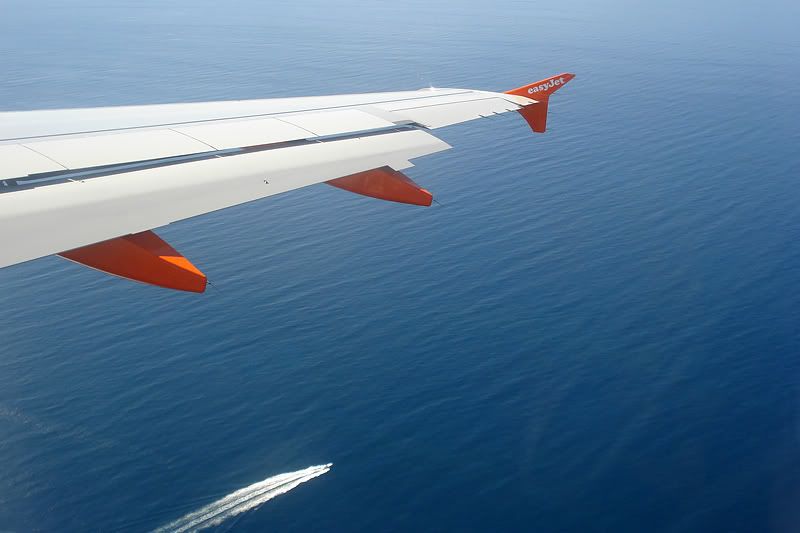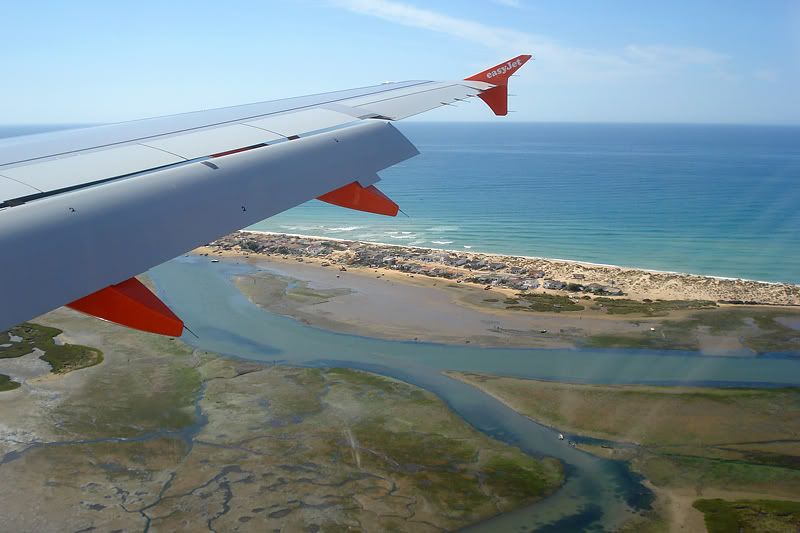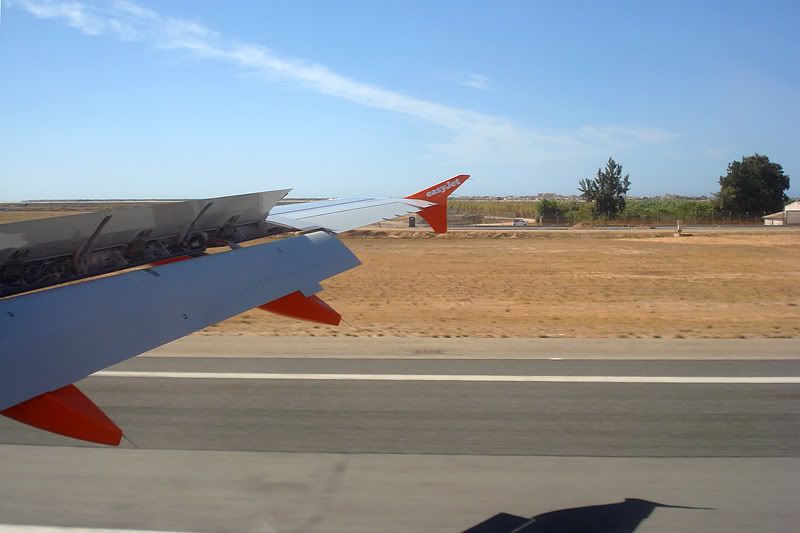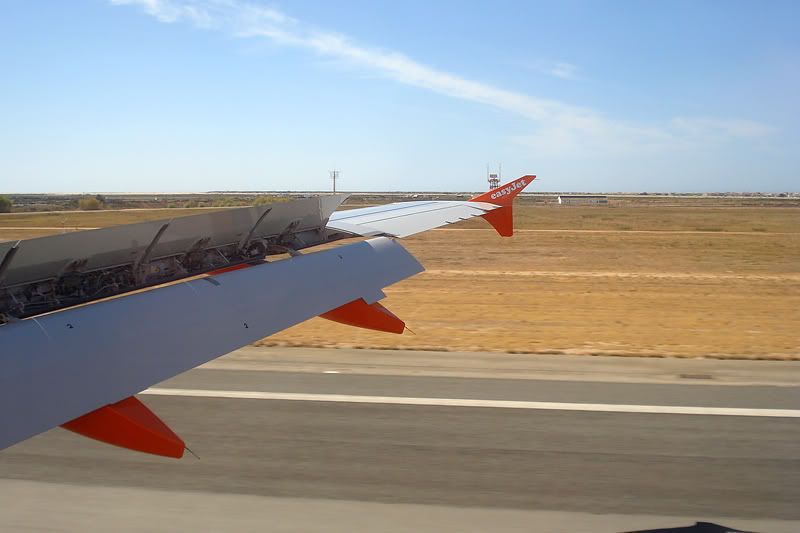 Two hours and twenty nine minutes after leaving dull, dreary and dam Gatwick we made a rather smooth touch down on Faro's runway 10.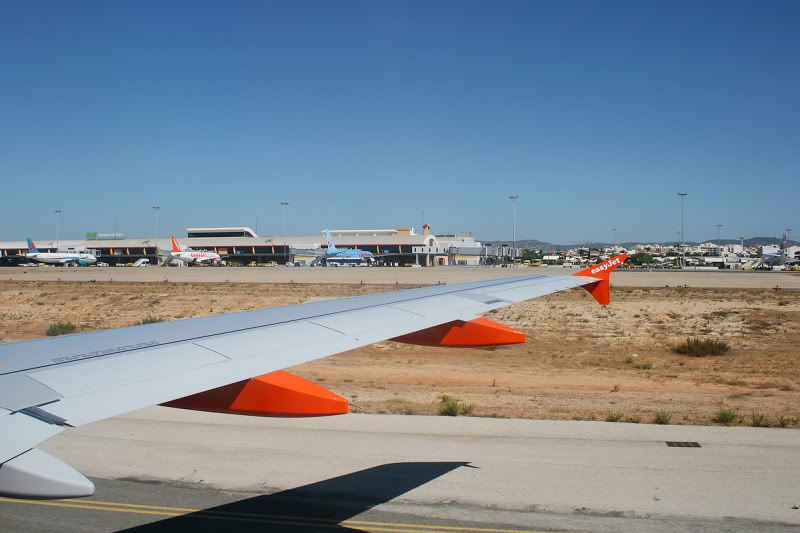 On exiting the runway and taxing to the terminal there was a Jet2 757, Swiss A320, Thomson A321 and 757 and an easyJet A320, the one that was scheduled to do my flight. We parked up on one of the 6 stands at Faro that have a jet bridge.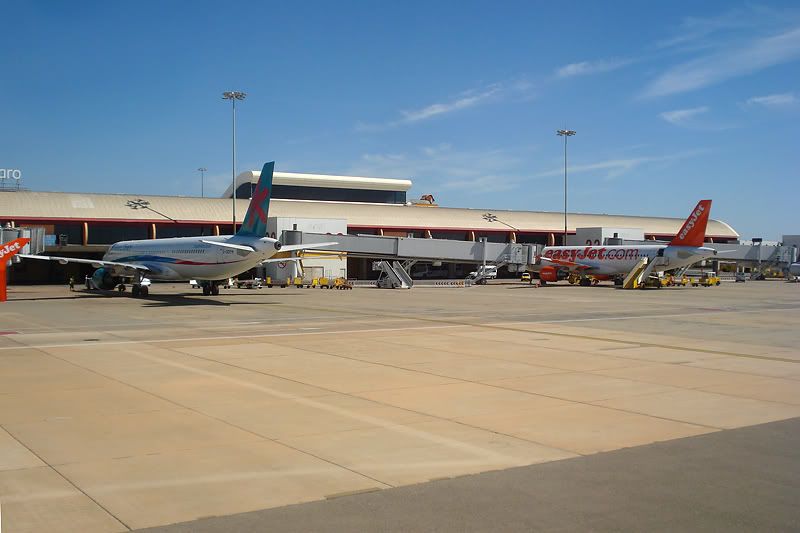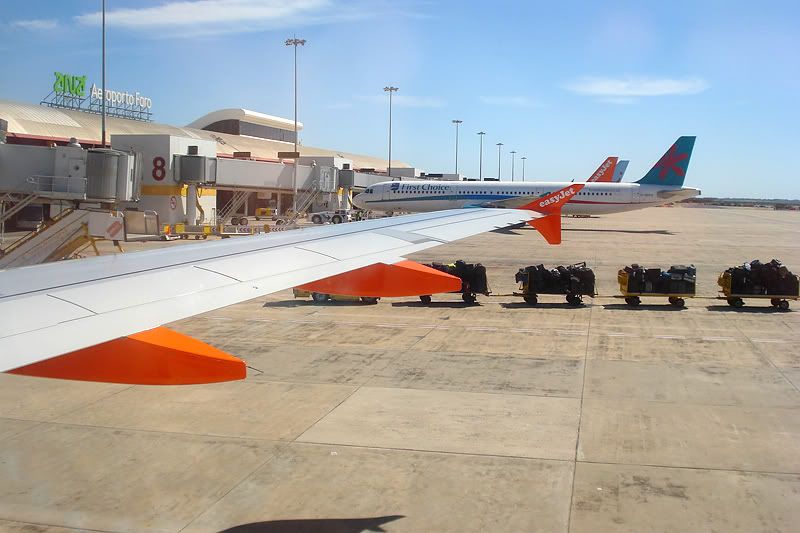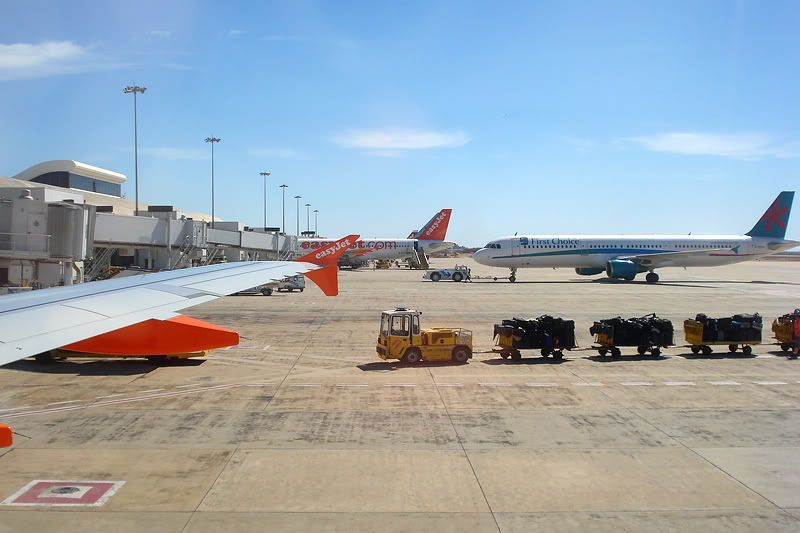 As usual I decided to wait for the scrum of passengers to leave the aircraft before I attempted to leave myself. There were quite a lot of young children on the flight so this took a fair while, but I was in no hurry. When I left the aircraft I was thanked for by the crew but what I was shocked at was the mess that some passengers left the aircraft in.
When I left the aircraft I could feel the heat and boy was I not disappointed, it was great to finally have some sun, even just for a day!
EZGA parked up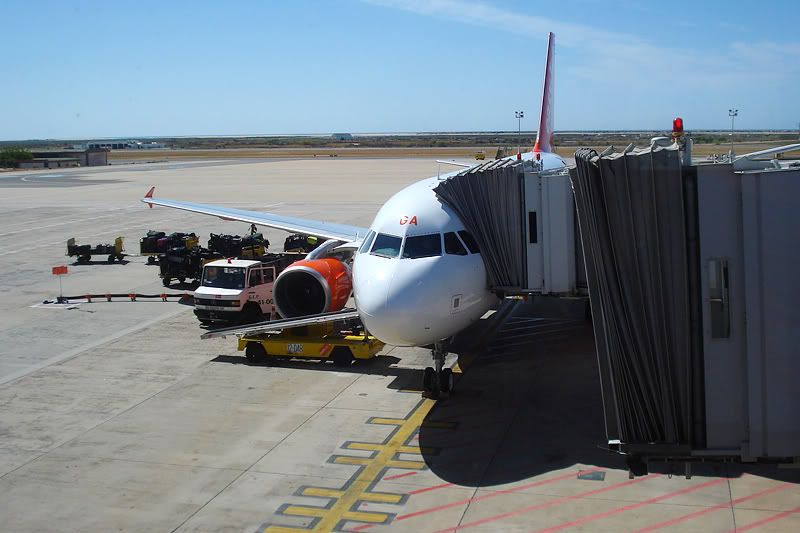 A short walk through the terminal at Faro I was shortly at the immigration area, I was in for a shock at the amount of people down below me waiting to get through. I wish I had one of the new style passports with a chip inside so I could use the automatic machines, which they have installed at Faro. However, the queue looked worse than it seemed. I was through within 7 minutes.
Looked like chaos… it wasn't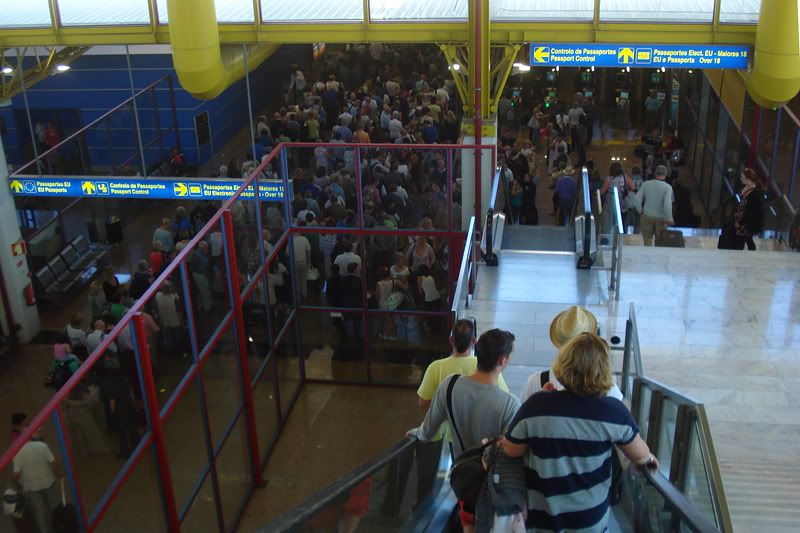 My flight home was due to depart Faro at 19:45 that evening so I had a few hours to spare; I had planned to arrive at the airport at about 17:30 for my flight home so that would give me some time to have a beer or something.
I decided that I would take a walk to the south side of the runway to spend a few hours shooting aircraft and catching some rays in the sun or head down the the sea, which was a little further.
T H E R E T U R N
I checked the arrival/departures for Faro airport via my iPhone to see if my flight was operating to schedule and fortunately it was, the other LGW flights were delayed though.
After staying a little longer than I anticipated, I headed back to the terminal at 17:25 and arrived back at the terminal 25 minutes later, feeling rather worn out and hot from walking in the heat! I had a sit down and some water before preparing my bag to go through security. Once I joined the snaking queue myself and quite a few other passengers got stuck behind this French man who was gawping around as if he was lost and if he was walking any slower he would have being stationary! He then caused upset at the security lane by leaving liquids in his hand luggage. Security for me was a-ok, whizzed through no problems.
I headed over to the Costa Coffee outlet on the far end of the terminal. From my last visit to Faro this proved to be probably the nicest and most reasonably priced food/drink outlet, plus from having it in England you know what to expect.
On the way over to Costa I looked at the departure screens, my flight was showing the gate would be announced 10 minutes before departure time, so I instantly knew, delayed!
I was really hungry and gasping for a drink so I went for a Chicken and Chilli Panini, this was real good and to go with it, being in Portugal, I had to go for a pint of Super Bock. That certainly hit the spot! Whilst sitting down enjoying my Panini I was texting Tom back in England, a quick check on the LGW website arrivals on my phone was showing my flight as "DUE SUN 00:00" Great! The screens in Faro weren't giving much information. So I just thought id take some time to chill. I decided to go get a massive Iced Coffee drink from Costa and sit down by one of the A gate areas, that went down so good, not so good was the hysterical child whose parents obviously couldn't control it! It was so loud and irritating; I mean it wasn't even that young. Quite a few people were clearly showing their annoyance to this child and its parents. I think they were part of the 5 hour delayed Monarch flight back to Manchester.
Not much to see from the terminal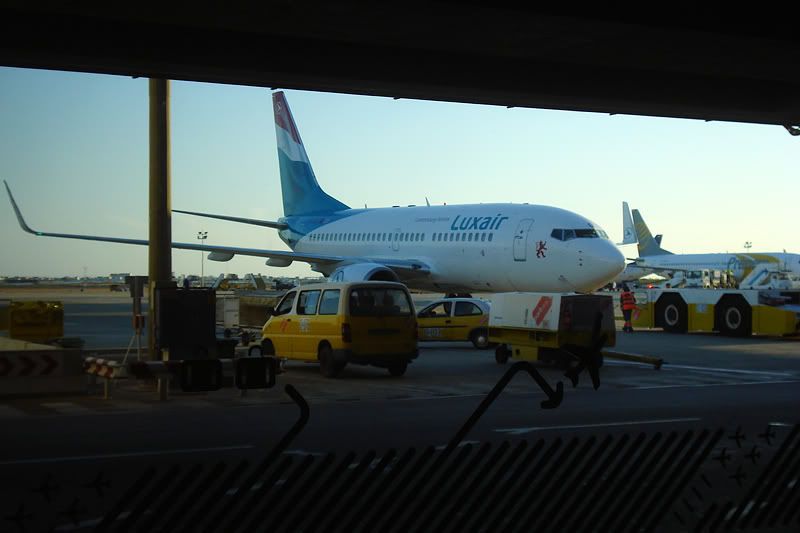 I was pretty bored by now so after endless pacing around the terminal the gate was now being shown as 1 hour after departure at 20:45 and departure time as 21:35.
Departure Screens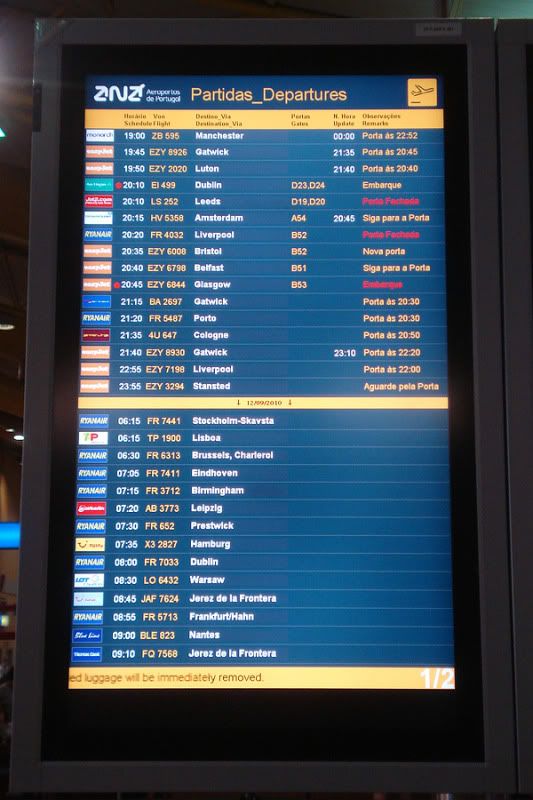 Gate was shown on the screens just gone 20:45 and I saw behind me an influx of passengers making their way up the escalators to D55 gate.
Looking down at the non-schengen bus gate area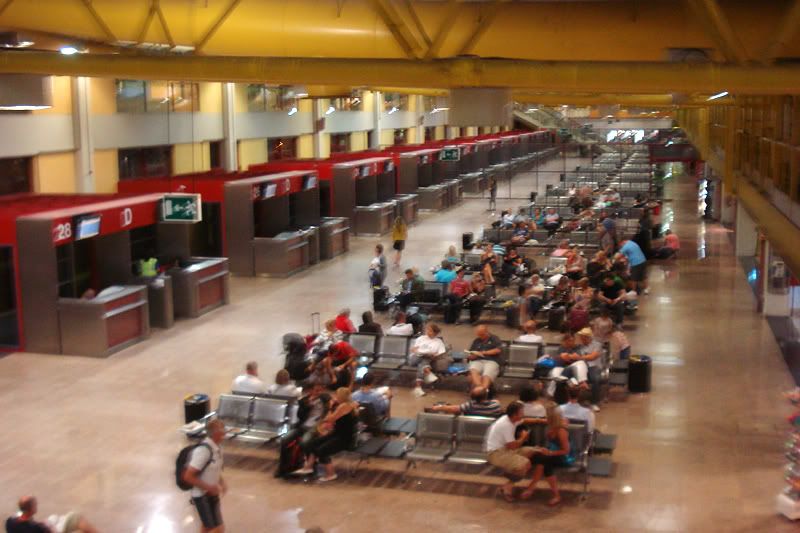 Once at the gate passengers had started to line up for boarding. I had splashed out for the privilege of speedy boarding so I was told to line up on the left; I was about 7th in that line.
Date: 11/09/2010
Route: FAO-LGW
Flight: EZY8926, operated by Air Finland
Aircraft: Boeing 757-200 (12th flight on Boeing 757 and 1st flight on this aircraft)
Reg: OH-AFJ
Seat: 36F
Scheduled Departure Time: 19:45
Actual Departure Time: 22:03
Scheduled Arrival Time: 22:30
Actual Arrival Time: 00:12 +1
View Large
View Medium


Photo © Dan Tanna
Shortly after we saw our aircraft whizz by in the dark and soon it was parked up at the gate. Tonight's flight would be flown by OH-AFJ, One of 2 757's belonging to Air Finland, that easyJet have leased for the busy summer season, the aircraft is in an all Y config of 219 so slightly less than the typical 233/35 capacity of the likes of Thomson and Thomas Cook. The aircraft was number 612 off the line and first flew 08/04/1994 and was delivered shortly afterwards to Baikal Airlines. Later on it served with Avianca from 1996-2003 and was their 80th Anniversary retro jet, before going to Air Finland. easyJet have also leased 757's from Titan and an Astraeus with the latter now returned to the airline.
The flight is operated by Air Finland crew and the aircraft is painted in full easyJet colours. Service offered is no different to a 'normal' easyJet flight. The crews wear Air Finland uniform but with the Orange easyJet neck scarf's or ties. Some wore easyJet badges with cabin crew on them. This was the same as when I flew on the Astraeus example.
A group of 4 pensioners behind me in the queue, obviously returning home from their annual 2 weeks in Portugal in the same place they've been going to for the past 30 years, were banging on about a load of crap like, If they had flown BA they wouldn't have been delayed (not necessarily true) and it was like having 3 parrots behind me, when one person said something the other 3 would repeat it. One of them was going on saying, the lights are off on the plane, it's positioned in empty. No mate, cabin lights were off for landing in the hours of darkness, he ate his words when the passengers came off.
Boarding was called with us speedy lot first and we were entering the aircraft via door 1L. Once on the jet bridge, it was clear they were not ready for boarding, we ended up waiting in the jet bridge for about 10 minutes and it was getting real hot and annoying with the 4 old ducks behind me constantly moaning! When we finally got on board I was welcomed on by one of the smiling Air Finland ladies. I saw that the second bridge had been connected to door 2L and boarding was well underway there. I bypassed the dithering people in the aisles to head up the back and get a seat. On walking through the aircraft, it was clear it had had a hard life. Seats held together with duct tape and one seat even had the whole back missing! Not really a good impression to give, especially as this could be affecting the easyJet brand as the aircraft carries easyJet branding.
I settled down in 36F, second row from the back of the aircraft. The seats were fairly comfortable and were clearly well used. Legroom was miles better than the Astraeus example I flew previously.
Cabin views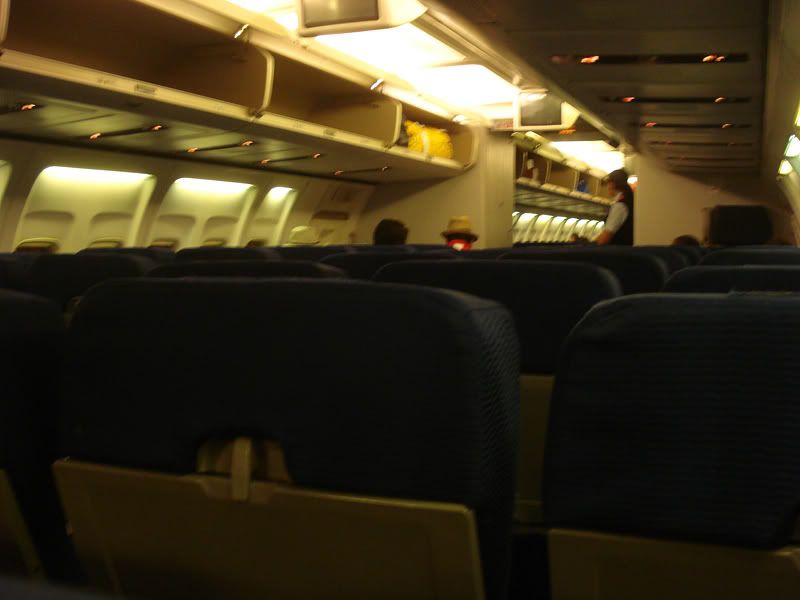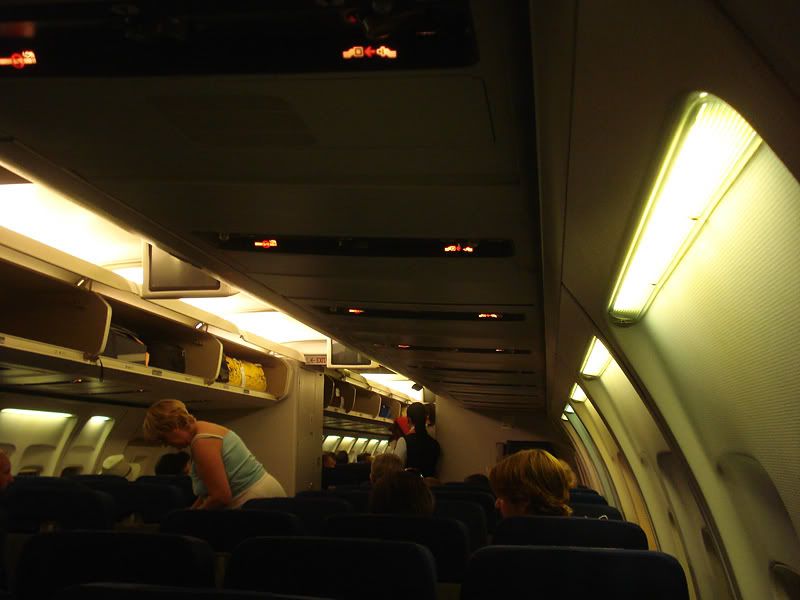 Soon the aircraft had filled up but there were a few seats spread about this small rear cabin. Regular announcements were made during boarding telling passengers to find a seat as soon as possible to avoid any more delay to the flight. Flight time was announced as 2 hours and 10 minutes.
Safety card amused me… Nice whale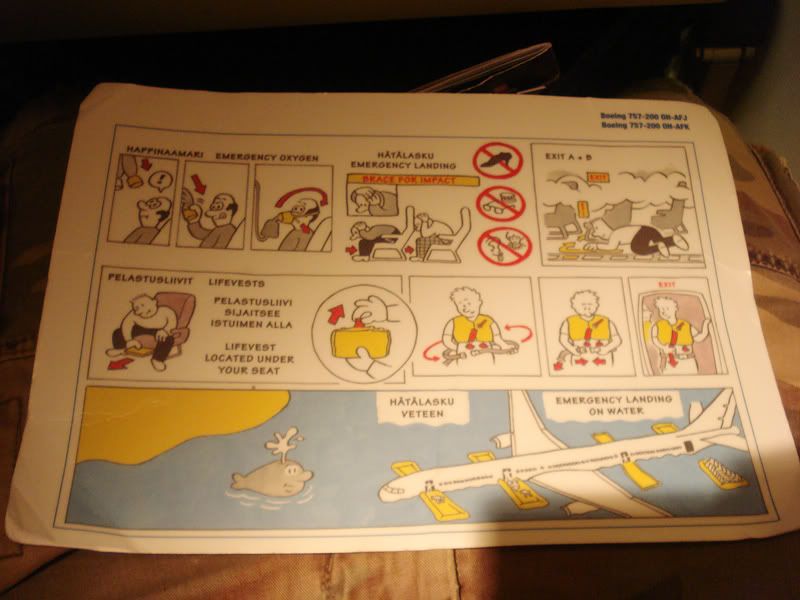 Legroom shot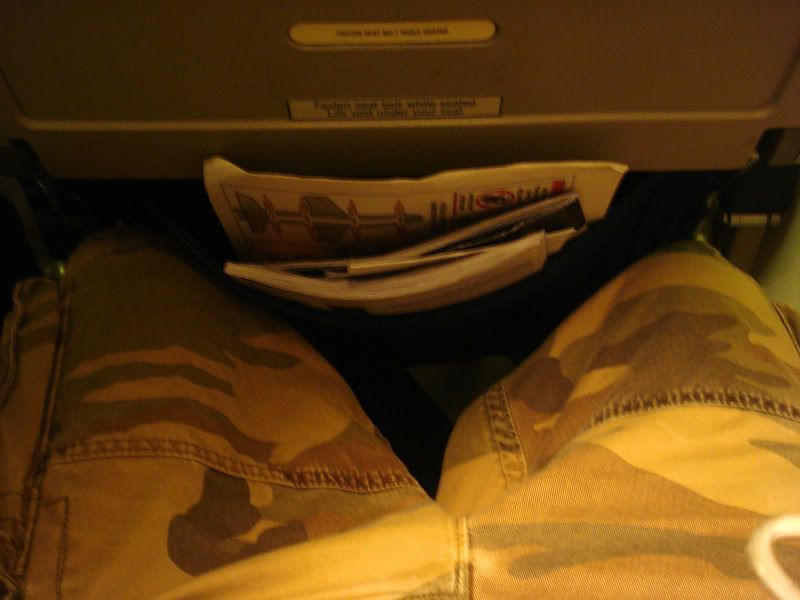 A young Eastern European couple were among one of the last to board and decided to sit in my aisle, no problem whatsoever. However, this really annoyed me, she tried to put her carry on in the overheads, but as they were one of the last to board, there was no room in any of them at this part of the cabin. She put it under the seat, which took some forcing and because of the size, it totally blocked the aisle, which is a key point of the safety procedures. I tried to tell her no, but a convenient language barrier came into play here. I was hoping that the crew would spot this as she had her feet resting on top of her case… they didn't! I wasn't going to say anything and tell them how to do their jobs but this annoyed me. Anyway, moving on… Our crew consisted of 5 Finnish ladies, few young ones and some more mature and one English male. Flight deck was of course, Finnish.
Safety demo was done manually by one of the younger girls in my section of the cabin whilst we pushed back. A short taxi to the runway and we were soon lined up ready for departure… now let them rollers roar! Take off was typical of the 757, up like a rocket! As it was dark I didn't bother with pictures.
Twenty minutes into the flight the service began, was exactly the same as what you would expect on a normal easyJet flight. Before coming out to the aisle one of the Finnish ladies went through what was available onboard to buy, they had quite a big selection including… Bacon Baguettes, Pizza's, Cheese and Ham Melts and Sandwiches. I decided to go for the Pizza, I've had one of these before and it was pretty nice so thought id go for it again and to wash it all down with, a can of Red Bull as I was feeling pretty tired. I paid my £6.50 to the English member of the crew and was thanked for having the correct money and said the Pizza would take 12 minutes… soon one of the Finland ladies emerged from the galley with a couple of Pizza's and some Bacon baguettes.
Dinner time… Pizza, Red Bull and Travie McCoy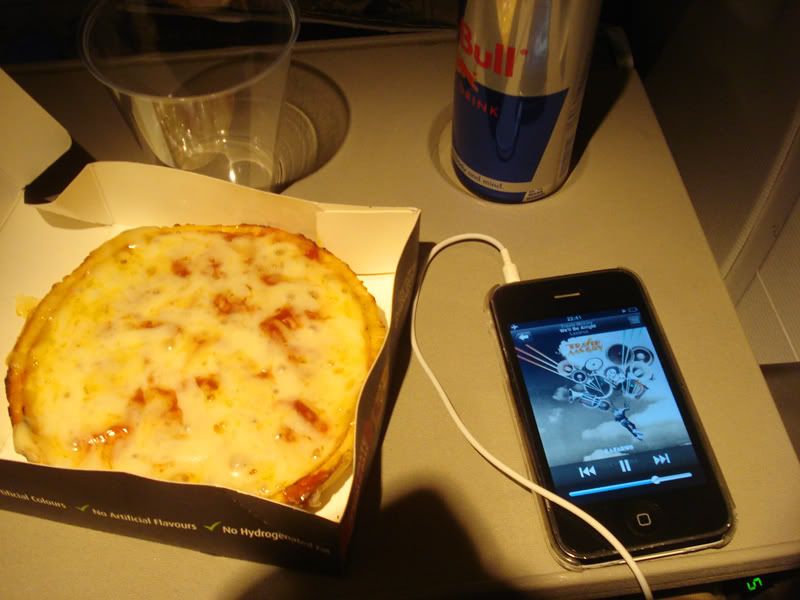 After tucking into my gormet Pizza (I jest!) I decided that I would rest my eyes for a bit as they were starting to get heavy.
An hour later the boutique service was started, hoping to get a Breo watch (not pink) I asked one of the crew if they had any and what colours they had. Just blue I was informed, oh well. So back to the eye rest.
I opened my eyes after a while to see some lights in the distance… that would be England, so not long to go now, as soon as I though that, I felt us start descent. The crew sprung into action again and informed us the usual procedures for landing ect… I was hoping they would notice the passengers carry on under the seat next to me, again, they didn't! After a final collection of rubbish the cabin lights were dimmed for landing in the hours of darkness. As the ground got nearer we made a left turn just south of the town of Tonbridge and a few minutes later the gear was lowered. Minutes later we flew over the M23 motorway and slammed down on Runway 26 nice and hard at 13 minutes past midnight.
A what seemed slower than usual taxi back on ourselves to the terminal area we arrived at the South Terminal, great, a bus back to the North Terminal. I had hoped I would be able to leave the jet bridge in the south as it would make my journey home quicker, this was not possible. After walking up the jet bridge we were led down stairs to the apron and bundled onto a bus over to the North, which actually was a lot quicker than I thought it would take. Unfortunately now I would now have to double back on myself using the inter terminal shuttle back to the South Terminal.
Out on the ramp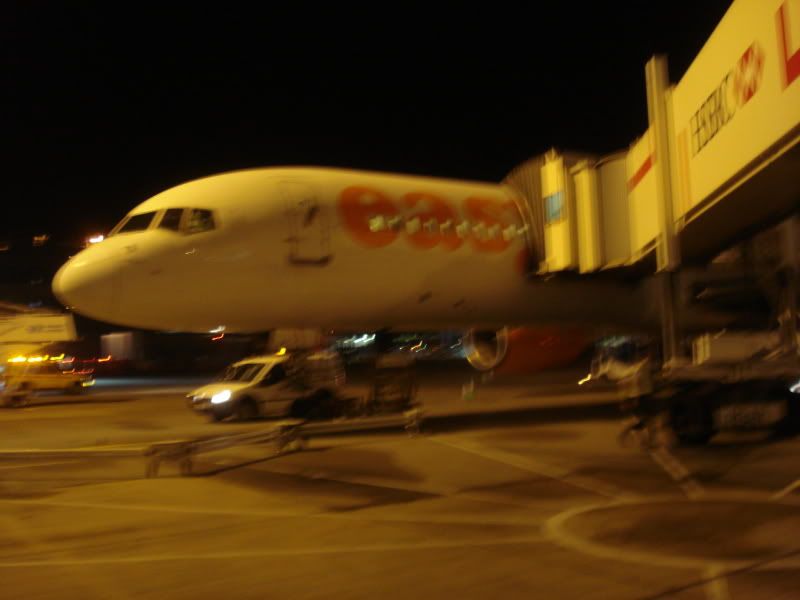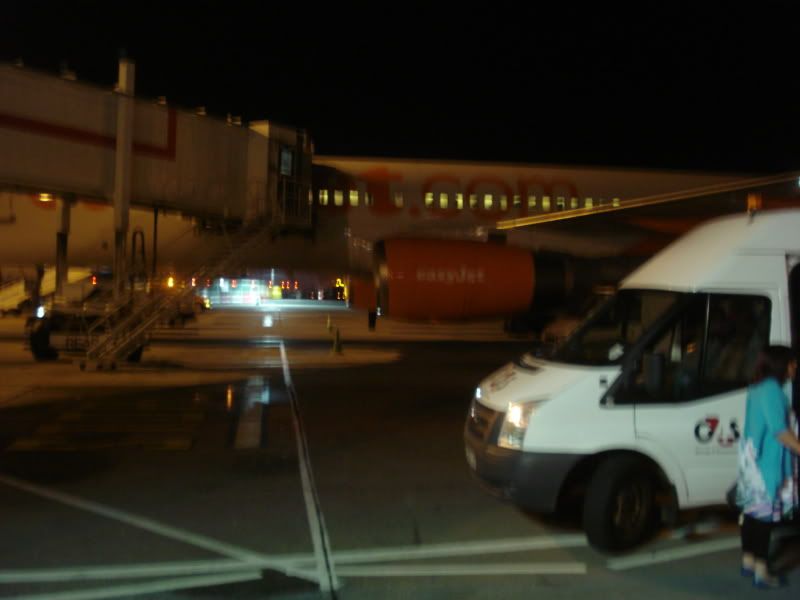 The immigration lines at the North Terminal were not too long and I was through in just a few minutes, only to fight my way through the gaggle of people staring aimlessly at the baggage reclaim screens waiting to see which would be their lucky number. After barging my way through and down the escalator and through baggage reclaim I made my way through the "Arrivals from the European Union" passage and out to the arrivals area.
When I made my way upstairs to the terminal shuttle there was quite a few people waiting, a few minutes later it arrived and we all piled in. When I arrived at the South Terminal I headed over to a dingy corner of the terminal by International Arrivals where there was a staircase that would take me down to the main A23 road where I caught the 24 hour Number 10 bus back to the industrial estate as my legs were killing, I was tired and couldn't be bothered to walk back to my car! Almost home now…
…Half an hour later I arrived home and fell into bed!
Thanks for taking the time to read my report and as always, comments welcome.
Matt
Previous Reports:
The Jumbo of The North – UK Domestic - BA 747 LHR-NCL
Turkish Delight in Istanbul: LHR-IST
Losing my Vegas Virginity with Virgin Atlantic - LHR-LAX-LHR