It is my frist time to visit Japan, but other than visiting Japan, everything were new to me no matter the airlines and the aircrafts.
This report will contain many parts as I had total 7 flights for this trip, including AI's new 77L, OZ new and old business class on 77E, IR's 74L, JL's AB6 and NH's 763, please stay tune
Part I: HKG-KIX on Air India 777-200LR in First Class
Air India operate the route DEL-HKG-KIX-HKG-DEL for a long time with their A310 3 times a week, during this year, AI changed the equipment to 777-200LR with very nice cabin hardware, so I give it a try as their fare are also very competitive with the competitors.
On the very early morning, thanks for my friend to drop me at the Tsing Yi AEL station...
Heading to Airport
I think every good (remote) airports should have express train service connecting to city.
Tight seating piitch
After 20 minutes, arrived the HKIA
Check-in area for Air India
Dedicated First Class counter
Proceed to immigration
AI 314 would depart at Gate 43
U.S. Air Force
Wanna try it!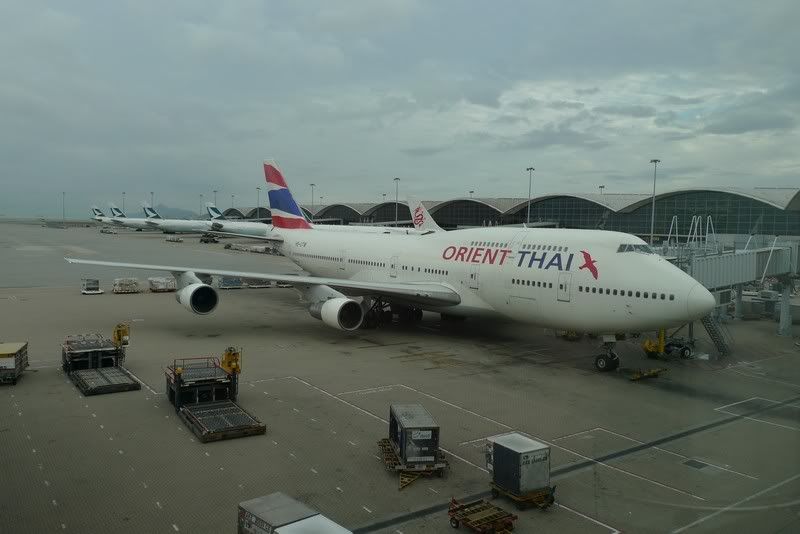 Wow, she is arriving!
Still have some time to spend due to the flight turn around
Lounge visit, AI use The Travelers' Lounge in HKIA which located at the main departure level, it is a pay lounge which welcome everyone
Handed the invitation to the lounge attentant, he look like a disco bouncer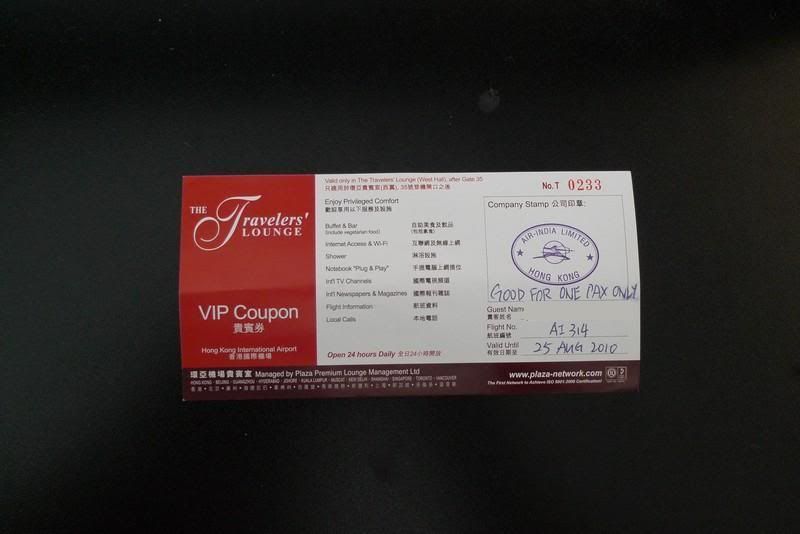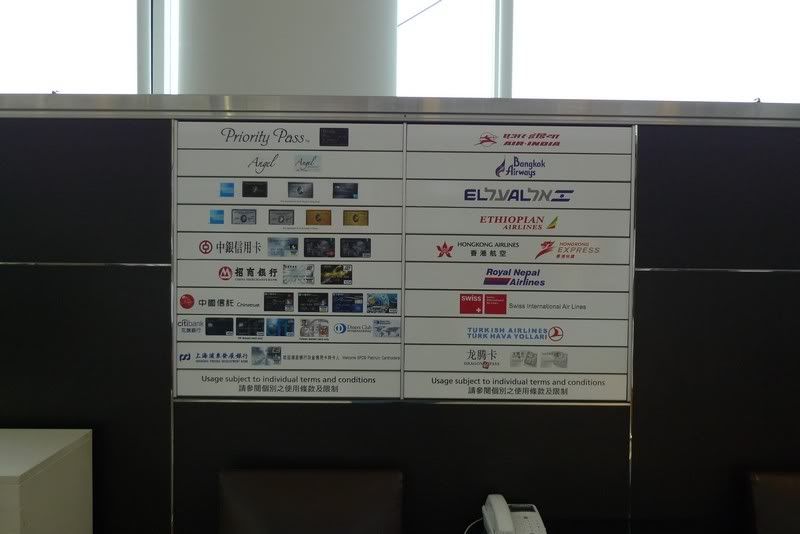 Food offering was quite OK for breakfast
25 August 2010
Hong Kong (HKG) – Osaka/Kansai (KIX)
Airline: Air India
Flight: AI 314
Aircraft: 777-200LR
Registration: VT-ALG
Seat: 2K (First)
Gate: 43
Gate 43
Boarding Pass
VT-ALG, about 1 year old
My seat 2K, huge , spacious and comfortable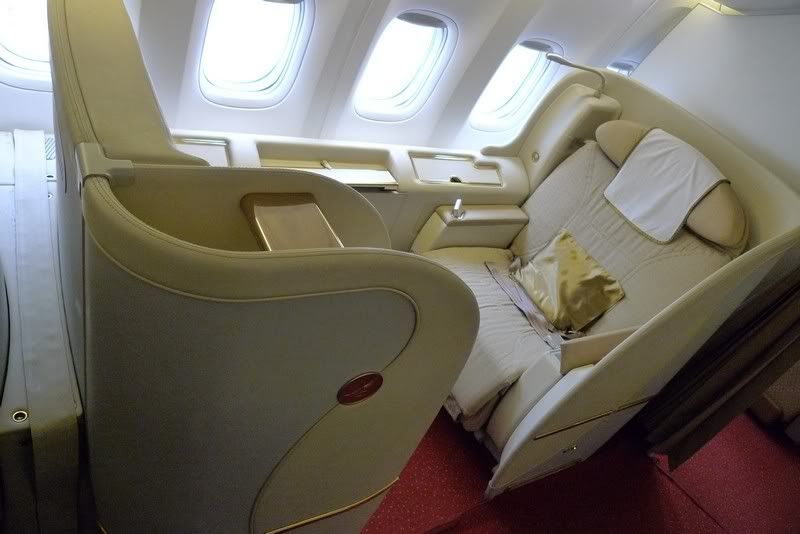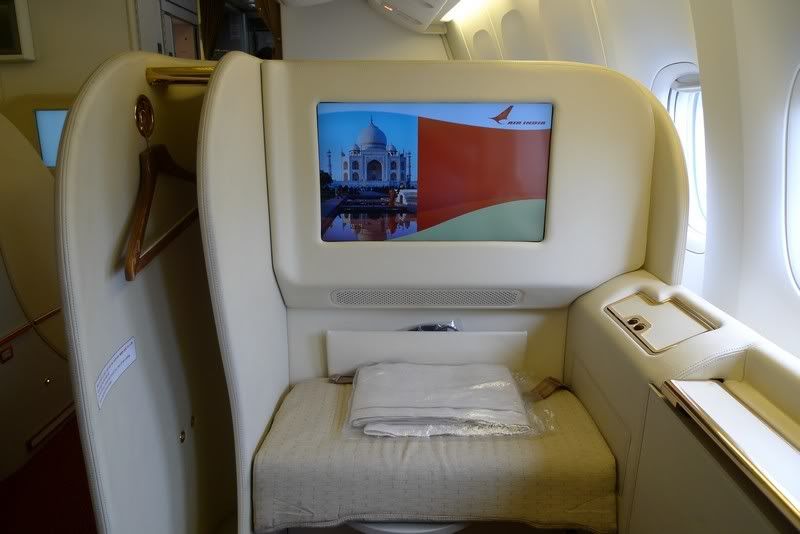 Orange juice as welcome drink
Whole cabin
Huge GE engine
AVOD
Many choices, but most were for Indian
Flight map is more attractive
Breakfast time, the table was not as firm as Emirates First Class seat, especially the left side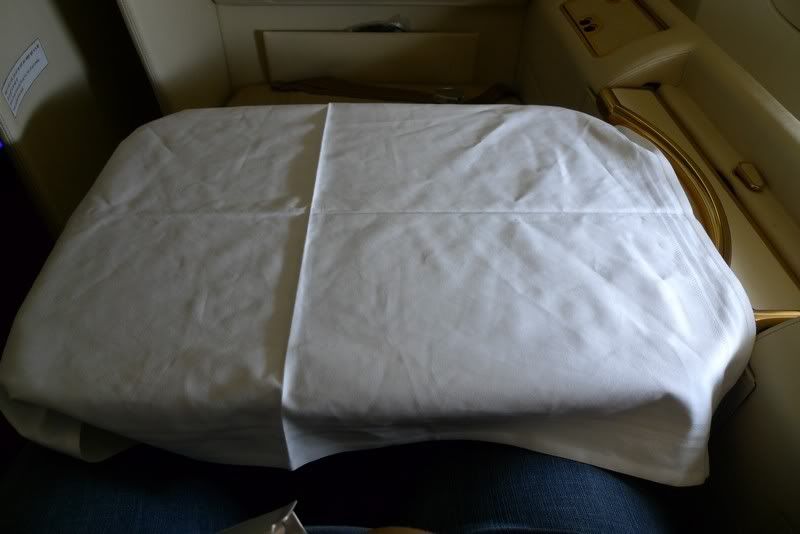 Menu, the FA told me due to the new menu, new menu cards were not available yet, here is the food loading sheet from the caterer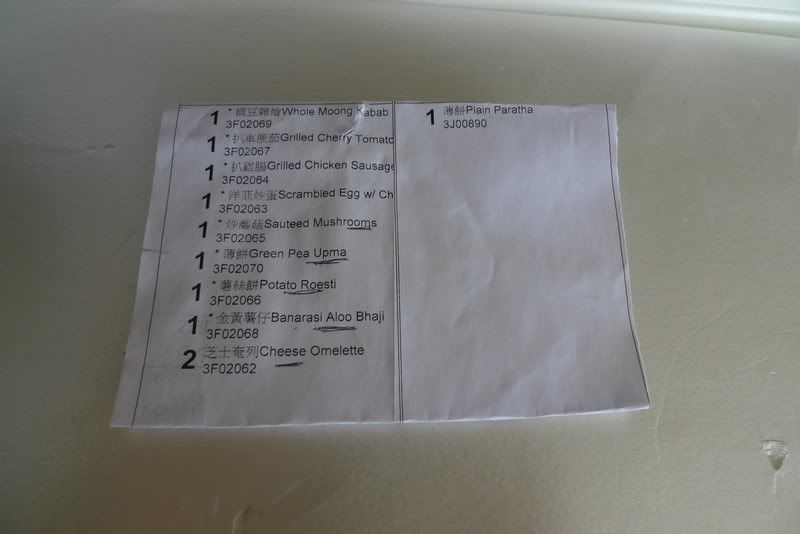 Core Flakes first, there were 3 kind to choose
Main courses
Lots of Air India's logo
Another plate from the kitchen
Although the food was loaded in Hong Kong, the quality of their indian food was quite good
View from the window during Breakfast time, it is the northern part of Taiwan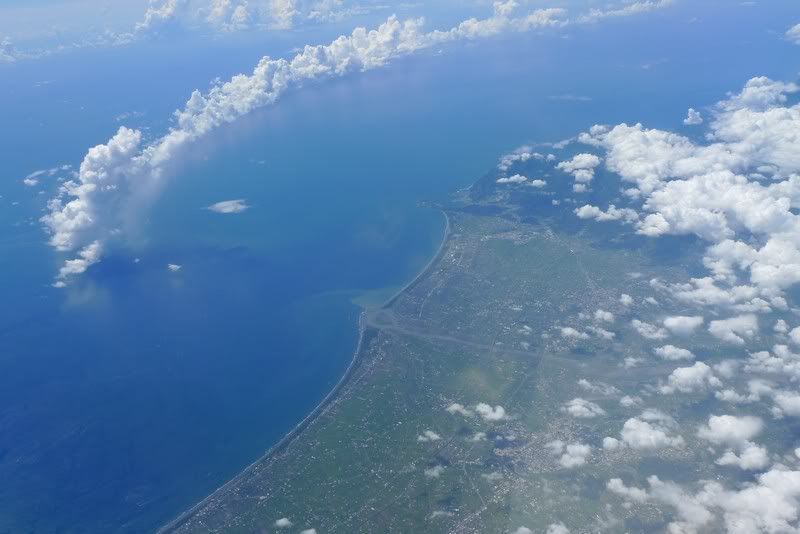 Washroom visit, maybe too simple for First Class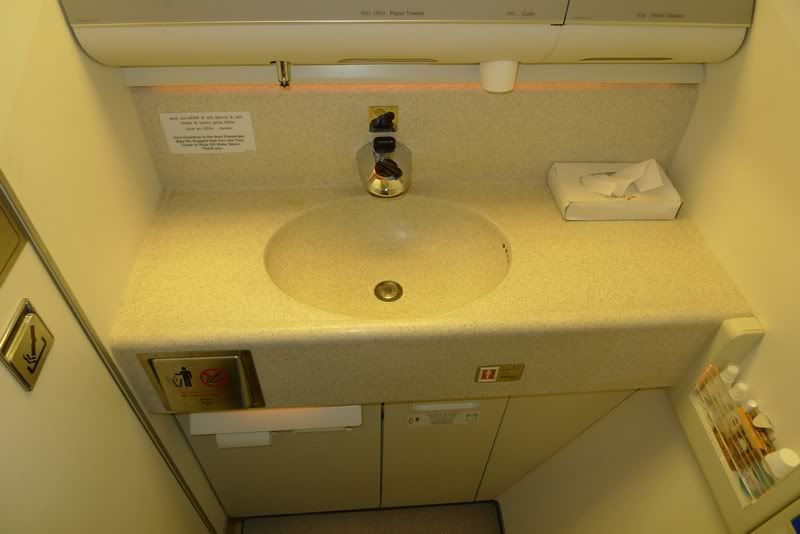 Reading materials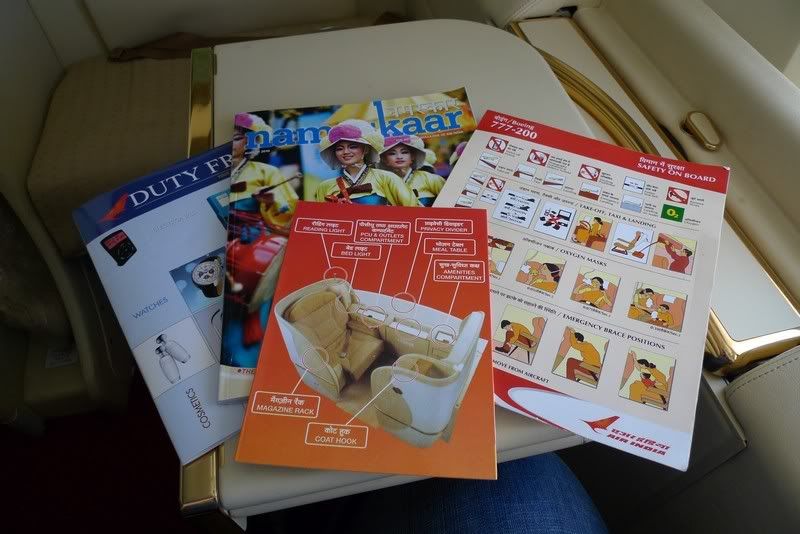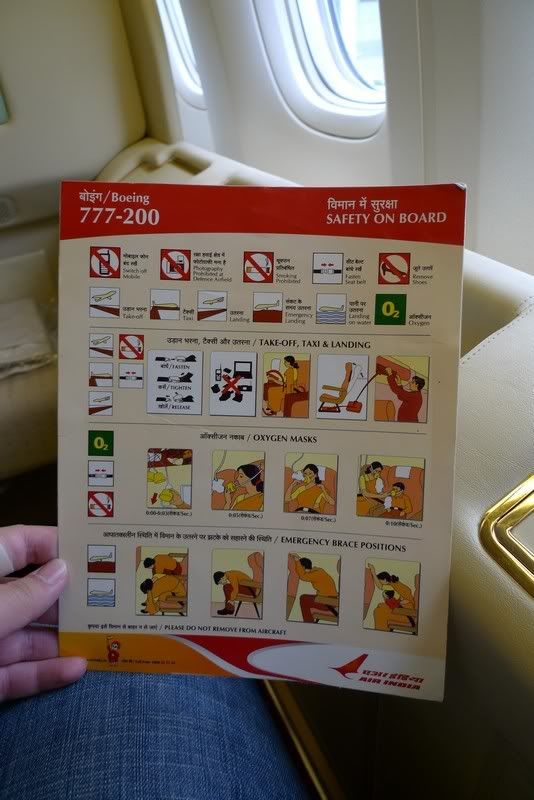 Seats again, it is interesting that AI's 77L with 2 rows of First but 77W only got 1 row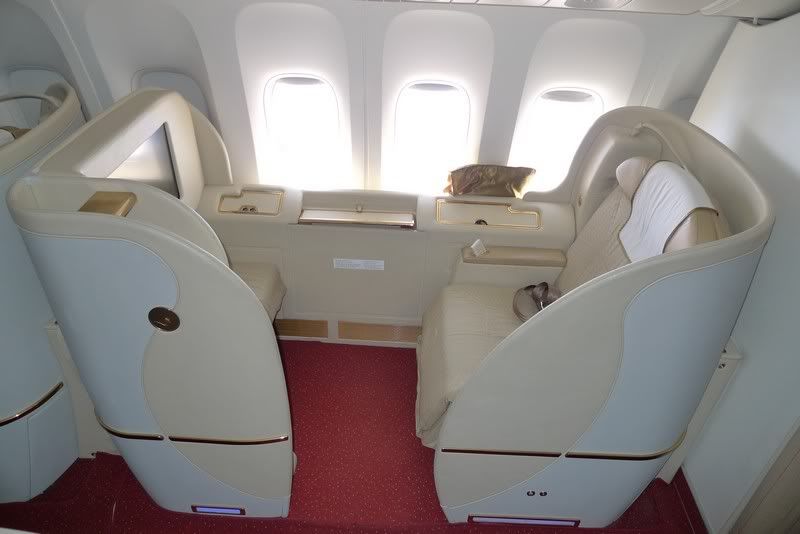 To change to a more comfortable position or to flat , the seat would raise for about 5 inches first and then sink, interesting!
The flat bed was soft and long enough, good for long-haul flights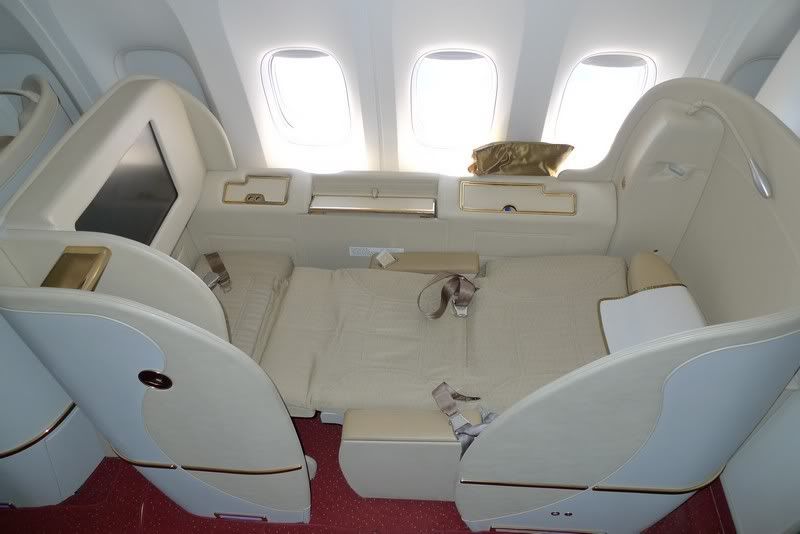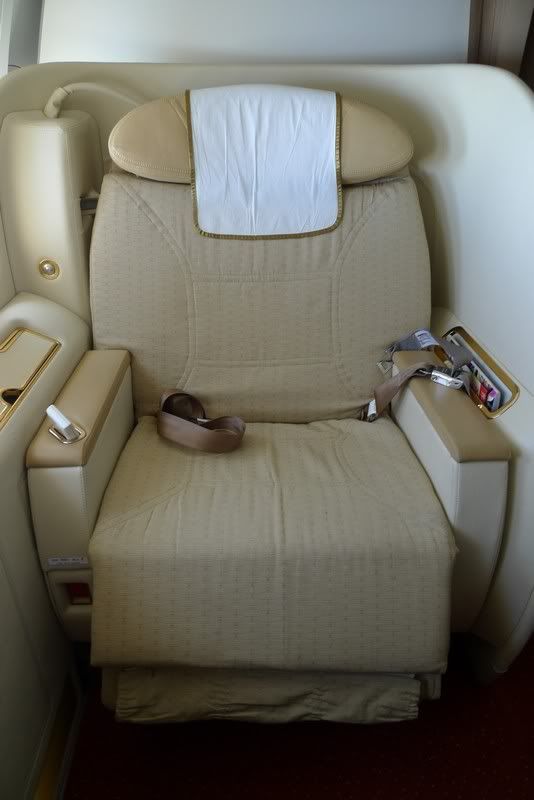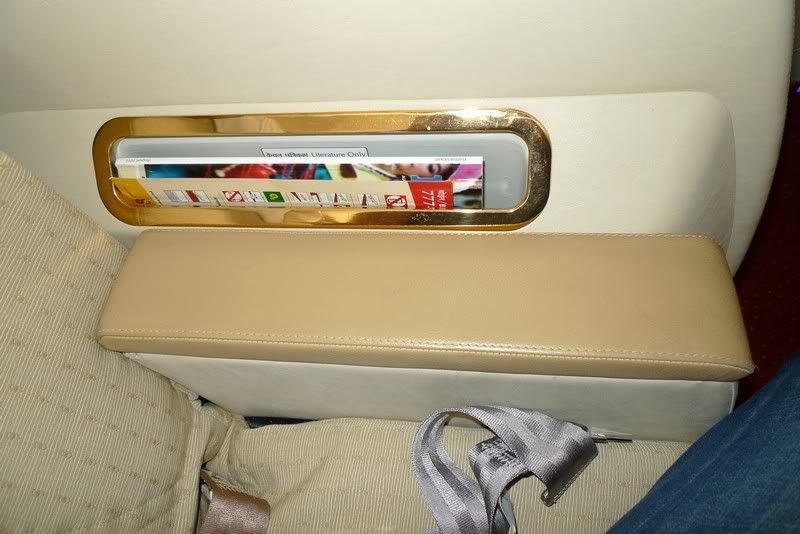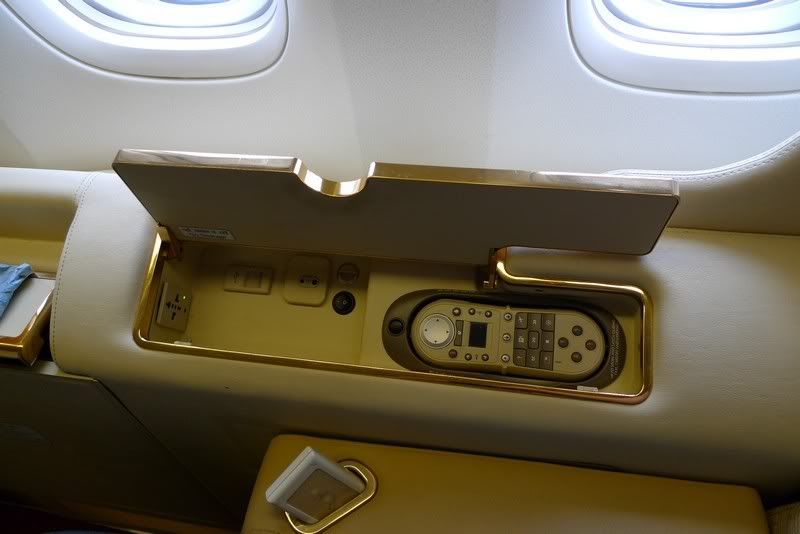 Seat control
AVOD control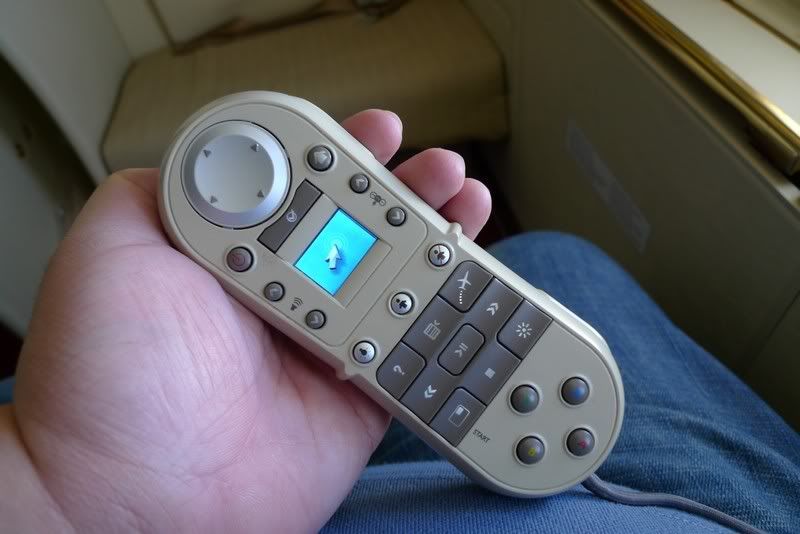 A/C vent for the guest sitting at ottoman also, why SQ and CX do not have this kind of vent??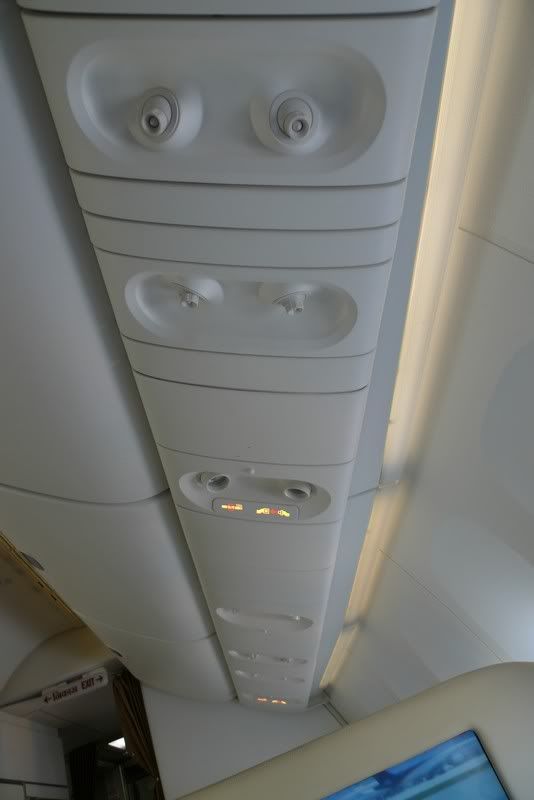 Watching Mr. Bean and sleep for a while
Powerful Big Big Engine, the engine was not as noisy as my past 77W experience in other companies
Landing
Thanks for the comfortable ride!
Little train to arrival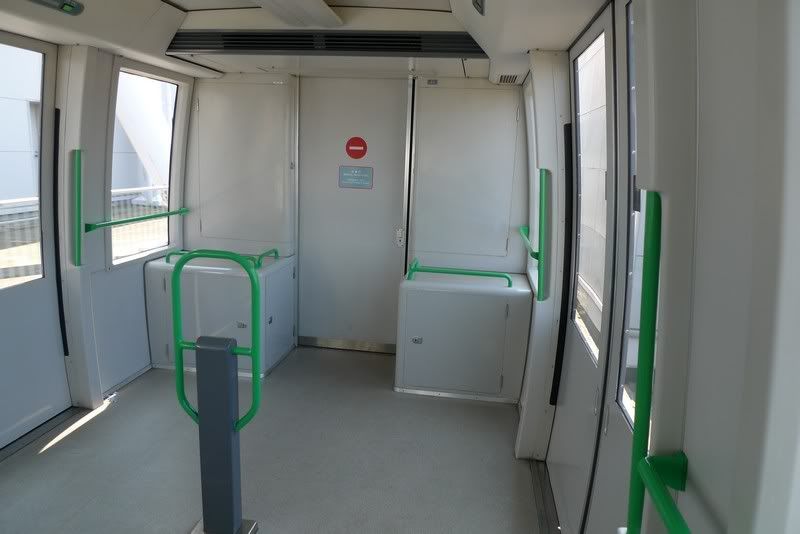 Part II will be available soon.
My past TR:
Three 5-Star Airlines In 8 Days (102pics) (June 2008)
First Touch Of China Southern MD82 (31 Pics) (August 2008)
China Airlines HKG - TPE (47 Pics) (August 2008)
HKG-BKK With China Airlines In C (61 Pics) (November 2010)
HKG-BKK F On Emirates' 777-300ER (67 Pics) (May 2009)
HKG-TPE Turnaround On TG's A340-600 (33 Pics) (June 2009)
HKG,MFM,TPE,SIN,BKK In CX C And BR Y (201 Pics) (August 2009)
SQ Y HKG-SIN In 2009 w/MH And 1st A380(128 Pics) (Year 2009)
Ooop! I did it again Part 1 EVA Air MD-90 (May 2010)(50 Pics)
Ooop! I did it again Part 2 CX HKG-SIN run (May 2010)(116 Pics)
Photo Report: My Trip For BG's DC-10-30 (June 2010)(63 Pics)