Hey all,
I started typing this report yesterday and pushed a wrong button on my browser and it was lost
. And I was pretty far already. So this is attempt number two to type this report.
So anyway, I recently wrote a report on my most recent trip to PBM on KLM with the MD11. However, a year earlier (February 2009) I also went to PBM, but back then KLM still used the 747-400 (full pax) on the route. It was a while since I last visitied Surinam, so when Flying Blue had their promo awards, it was an easy choice for me to book this trip. I even had enough points to fly J on one leg, so I chose the return leg as this is a night flight. I also always wanted to fly on the upper deck of the 747, so this was a prime opportunity.
Be sure to check out my TR on the MD11 flight:
AMS-PBM-AMS On KL MD11
(by
Kappel
Sep 7 2010 in Trip Reports)
And of course my other TR's:
AMS-MUC-SIN-KUL-SIN-MUC-AMS On LH And MH
(by
Kappel
Sep 9 2010 in Trip Reports)
AMS-EDI-AMS On KL Fokker 70 And Boeing 73Gw
(by
Kappel
Sep 7 2010 in Trip Reports)
To Athens On LH A300-600
(by
Kappel
Sep 8 2010 in Trip Reports)
The flight was due to depart at 12:15, so I had some time to visit the then newly refurbished KLM crown lounge. The lounge looks nice, big and has plenty of drinks on offer. However, I found the food lacking. Only some rolls and some cheese, marmelades and meats to eat with the bread. Also some croissants were on offer. The really good stuff (hot snacks and such) only came when I was about to leave. To cater to the lunch crowd I guess....
I did get a chance to do some spotting while in the lounge. It wasn't that busy at this time as most of the heavies had already left in the morning rush. Some interesting aircraft I saw:
China Airlines 744 parked right next to the lounge:
The first time I saw a former NW a330 in the DL c/s: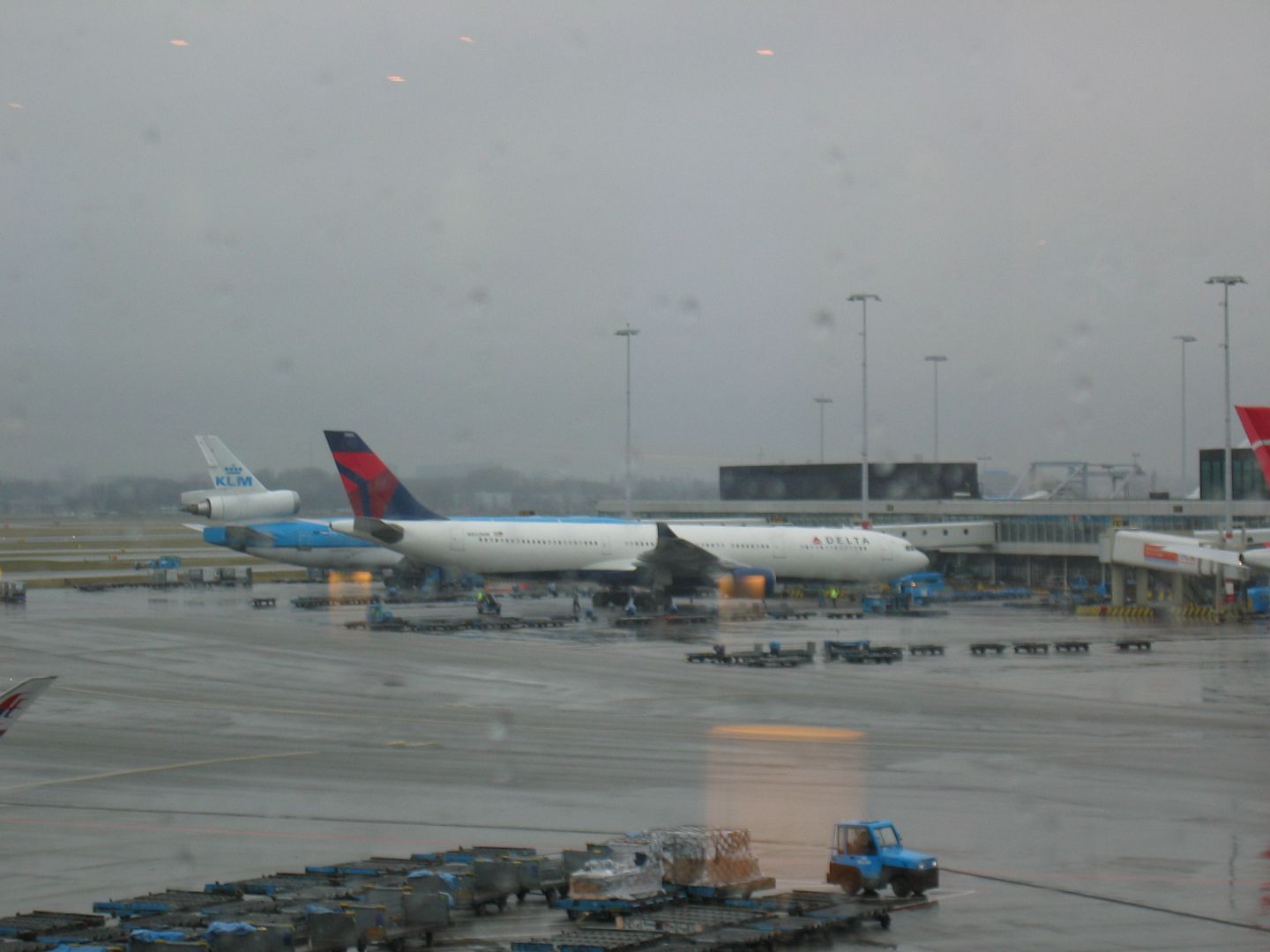 What is a MH 738 doing at AMS? Seems like a strange route for a delivery flight. Perhaps one of the former XL aircraft, maybe got it's paintjob at AMS and about to be delivered to MH. I'm just guessing here!!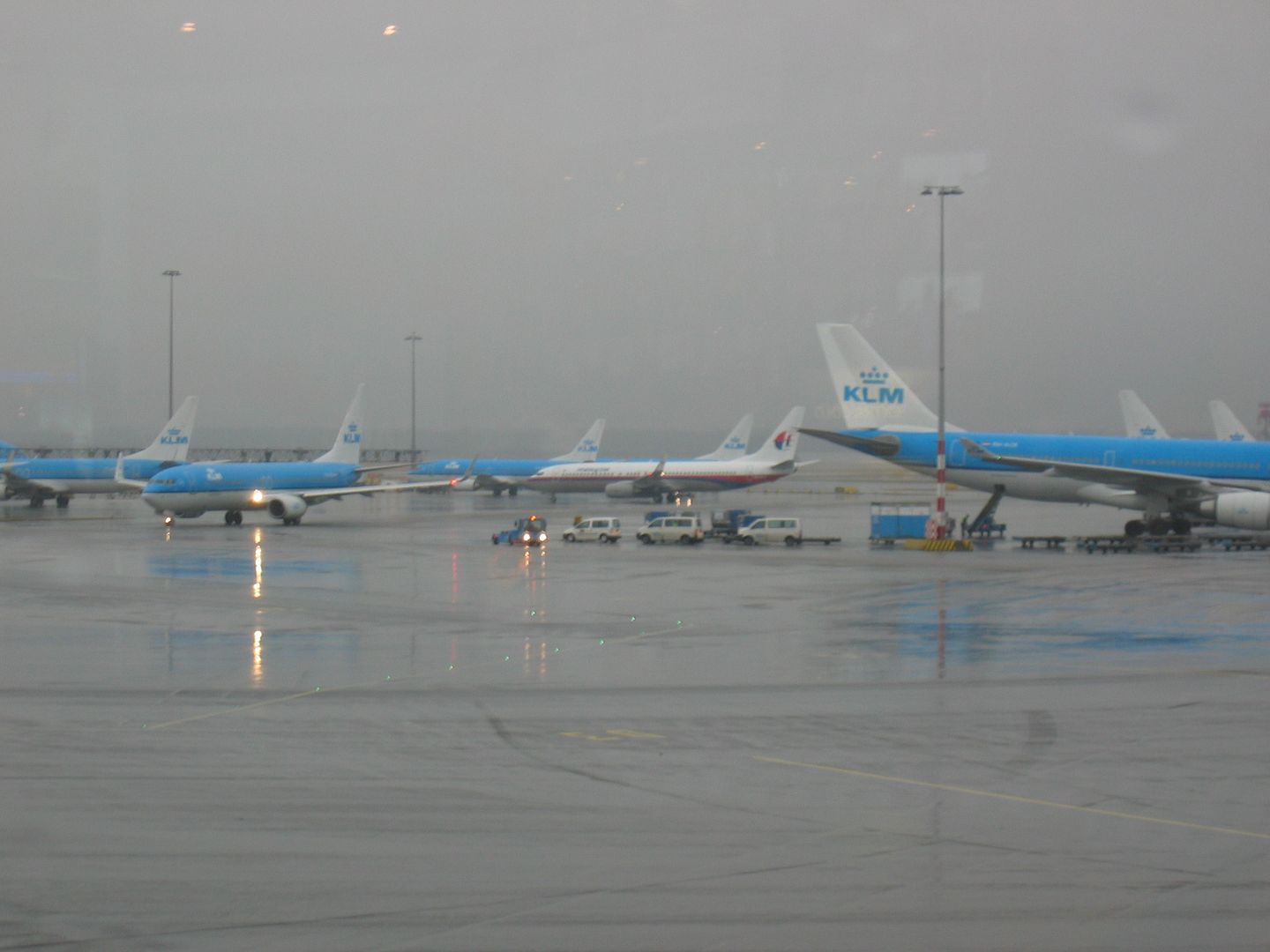 After some spotting and eating some rolls, it was time to head to the gate, where we found BFG waiting for us:
Flight: AMS-PBM
Date: 10 february 2009
Flight: KL713
Aircraft: Boeing 747-400 full pax
Reg: PH-BFG (named City of Guayaquil, delivered new to KLM on 11 April 1990)
Seat: 14C
Scheduled departure time: 12:15
Scheduled arrival time: 17:45
Loadfactor: about 99%
We had a delay before takeoff and in the end we landed half an hour later than planned, around 18:20. Seat 14C is in the front of the Y cabin. Back then it was not economy comfort yet, but was located in a small cabin next to the big forward galley. This part of the cabin has a private feeling, so is quite desirable.
Aft Y section, no AVOD yet (only very recently has KLM fitted it's 744 fleet with AVOD):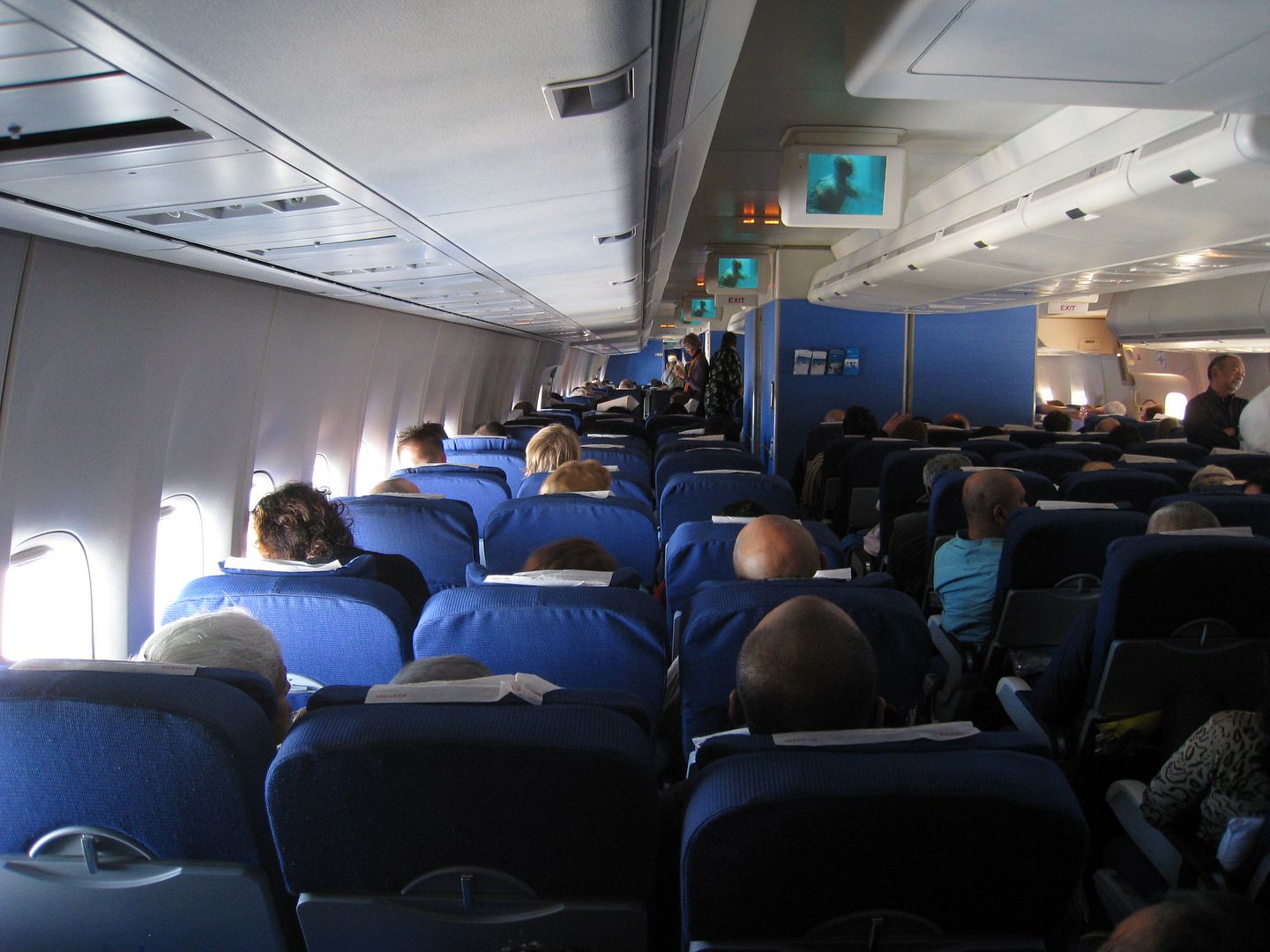 Forward Y cabin, next to the large forward galley: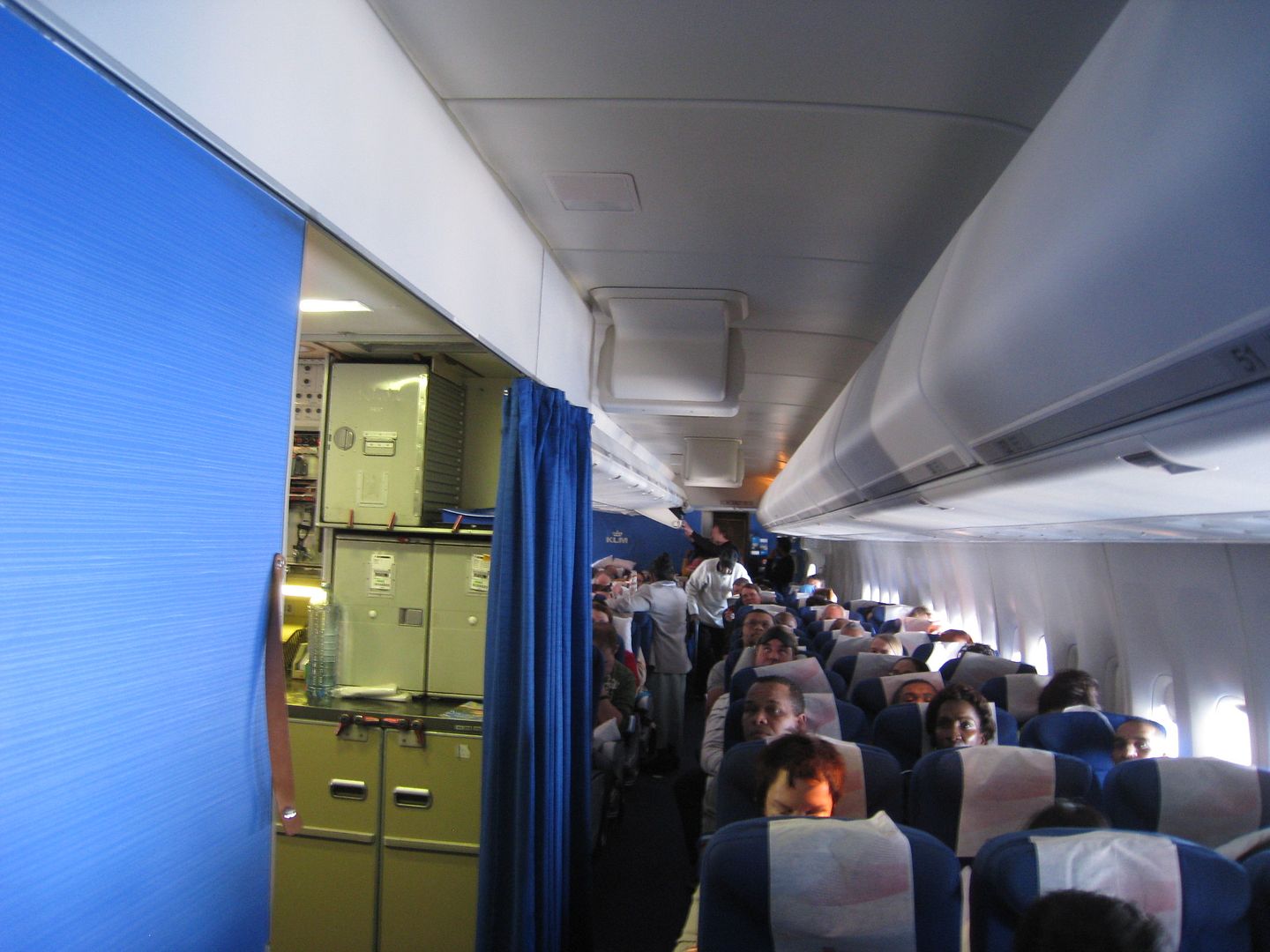 Close-up of two of the 4 massive GE engines powering BFG. Not as big as the GE90 of course, but still very impressive: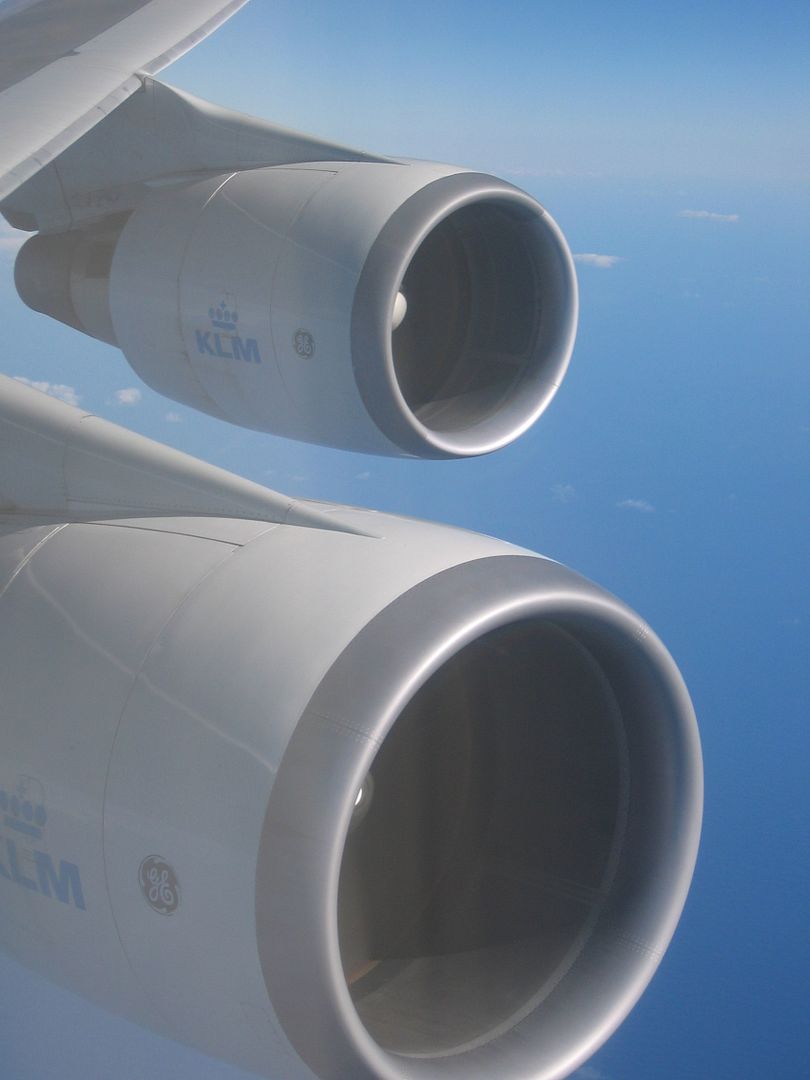 Wing view of BFG's left wing. As you can see nothing but blue Atlantic Ocean. This is the view for over 90% of the flight.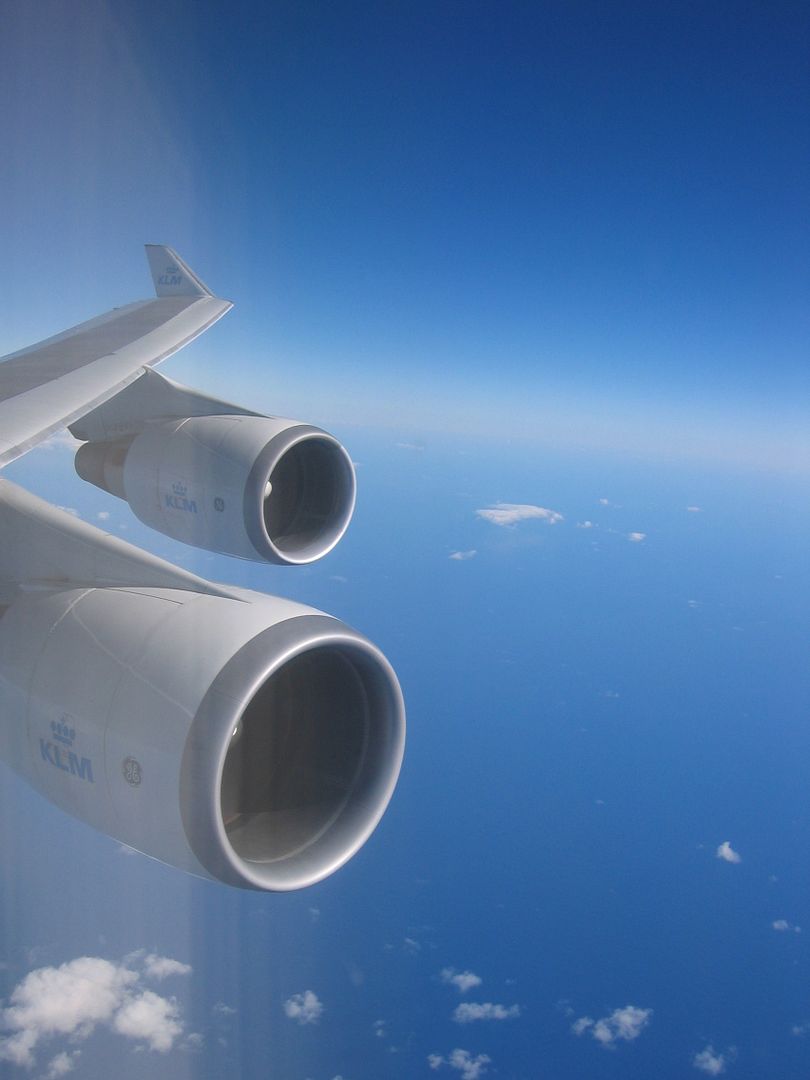 Almost there: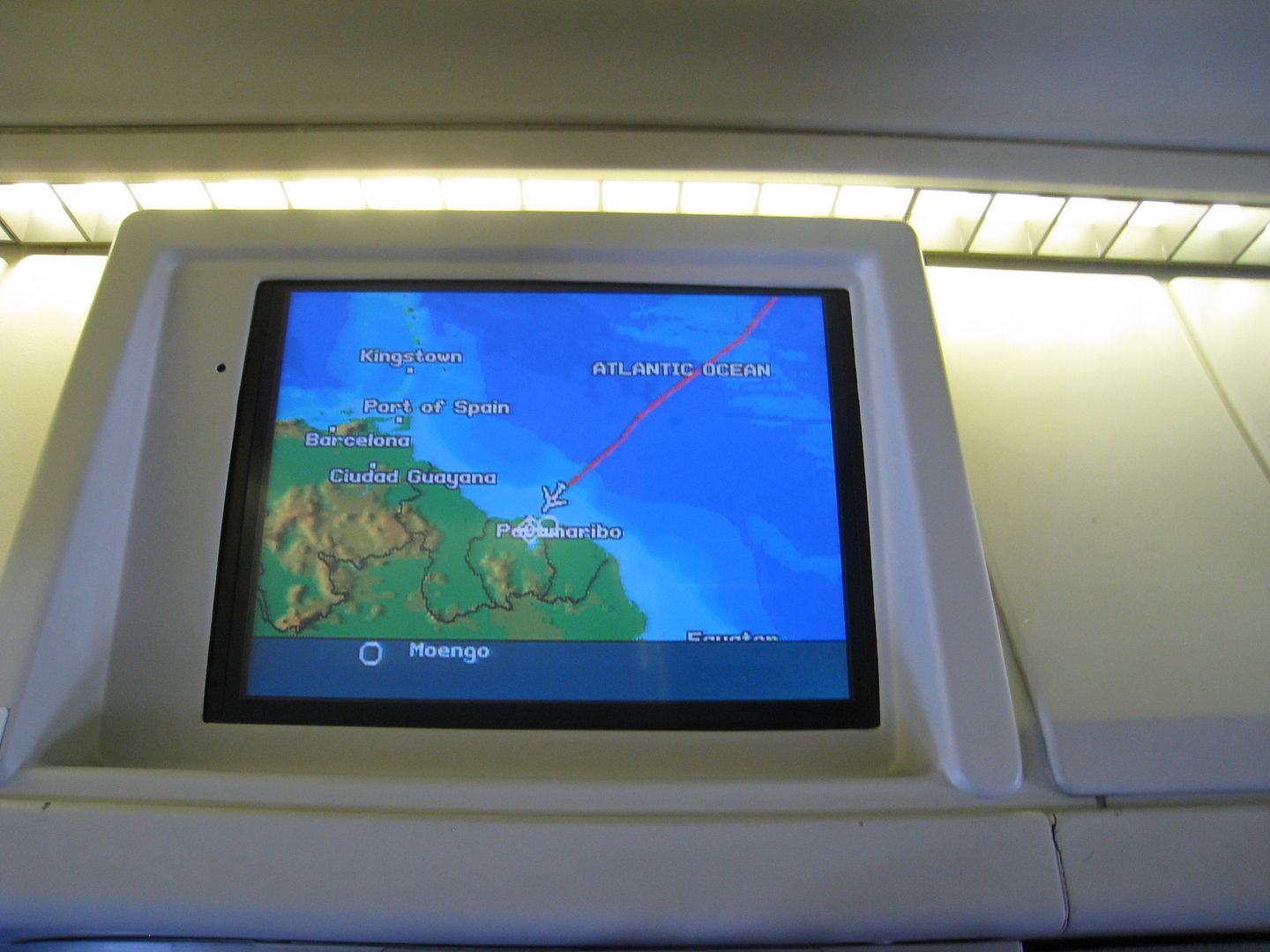 On final approach, nothing but the green tropical rainforest of Surinam: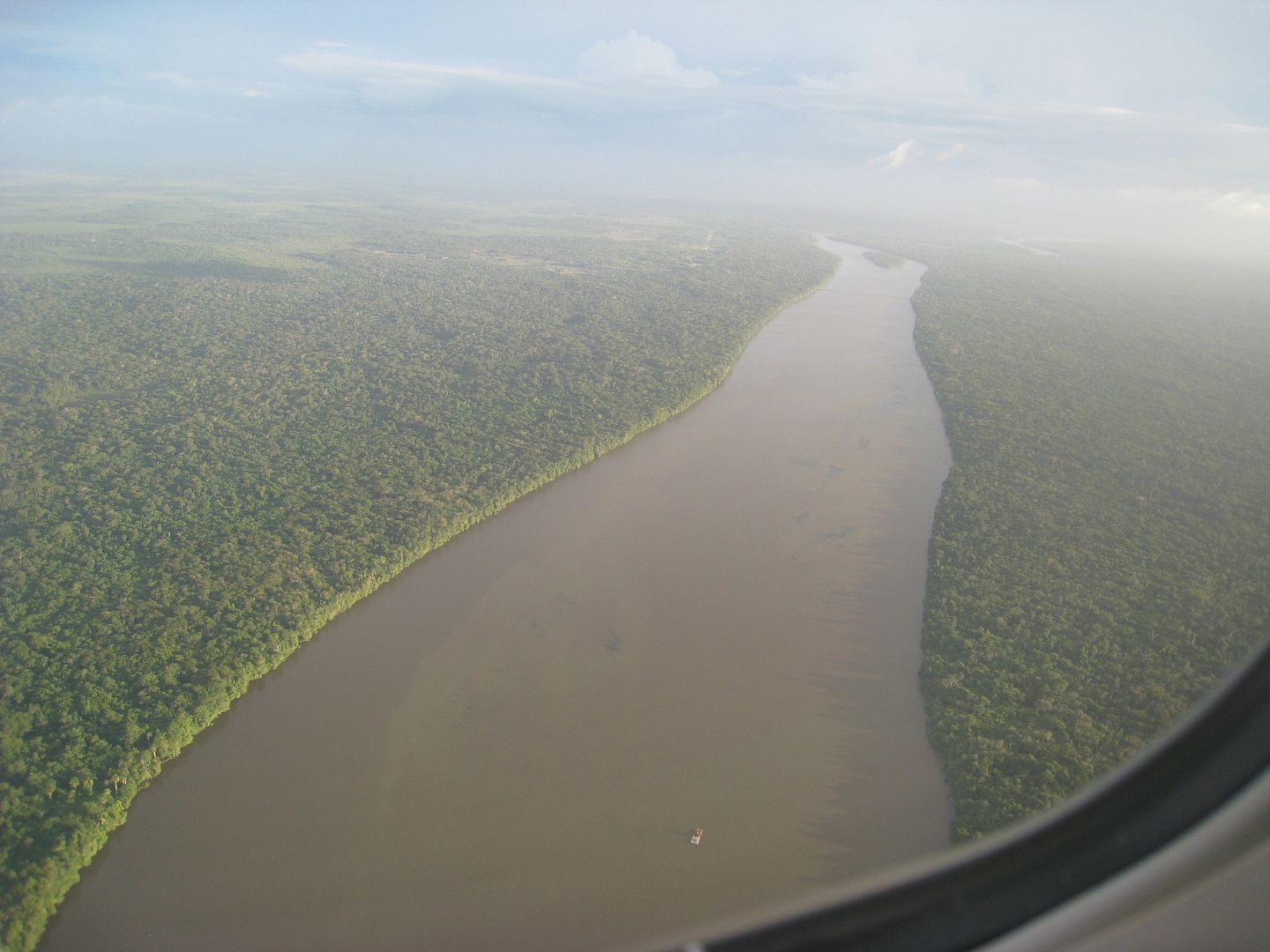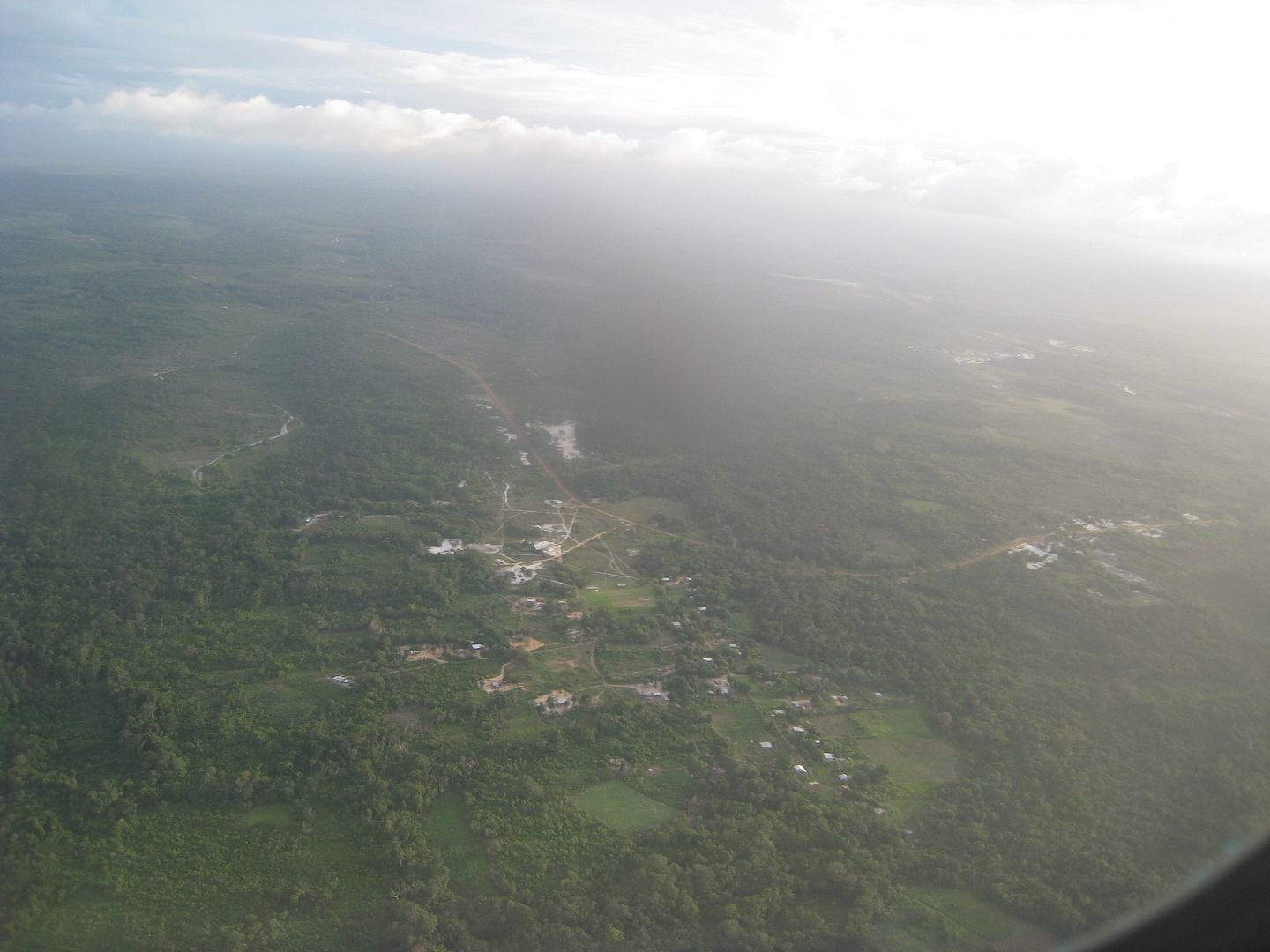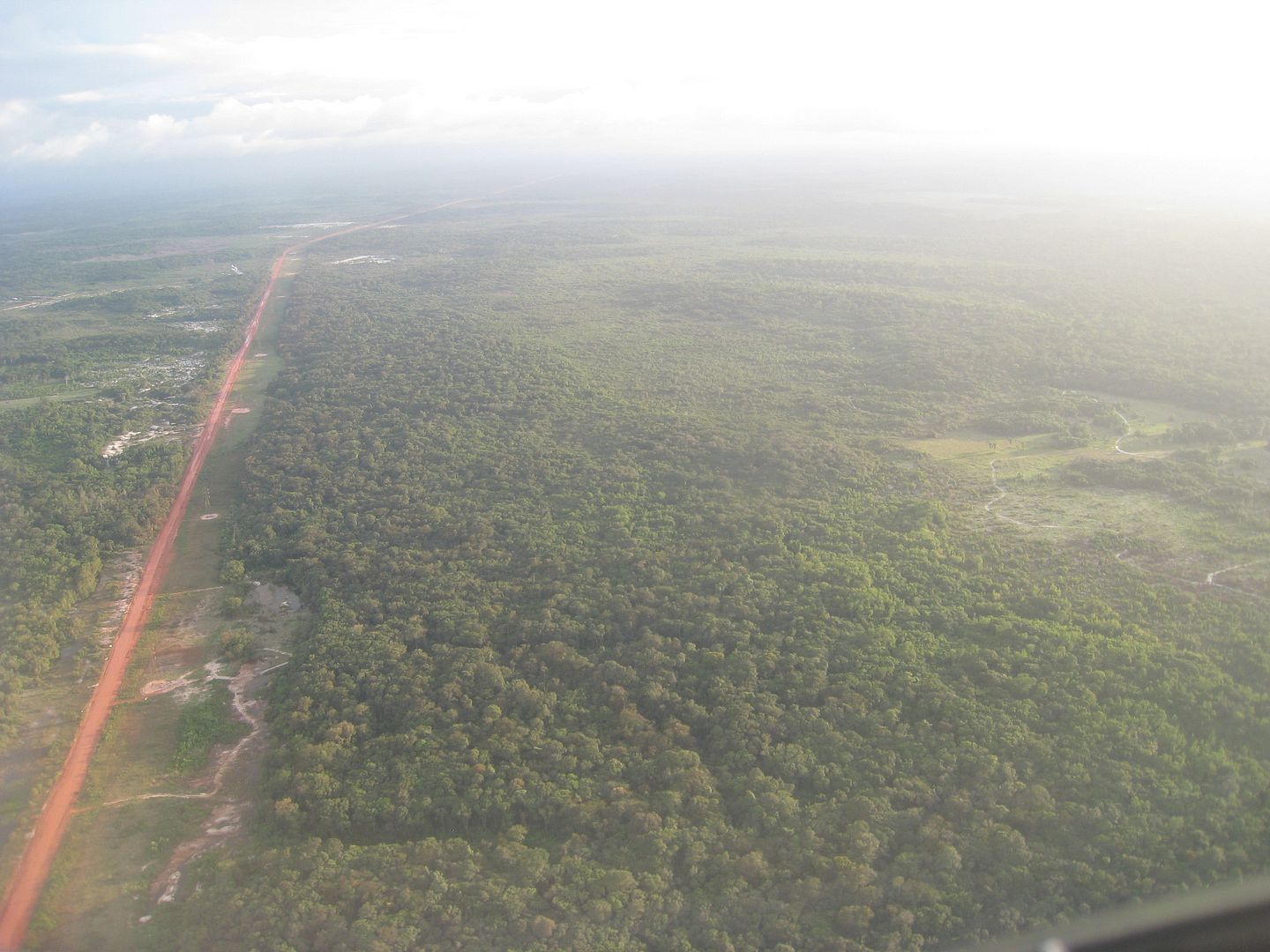 PH-BFG on the tarmac at PBM. The forward stairs are right next to the wing, so you get to walk right past the engines. That really makes you appreciate how big they are and how big the 744 itself is. I love walking on the tarmac at PBM:D!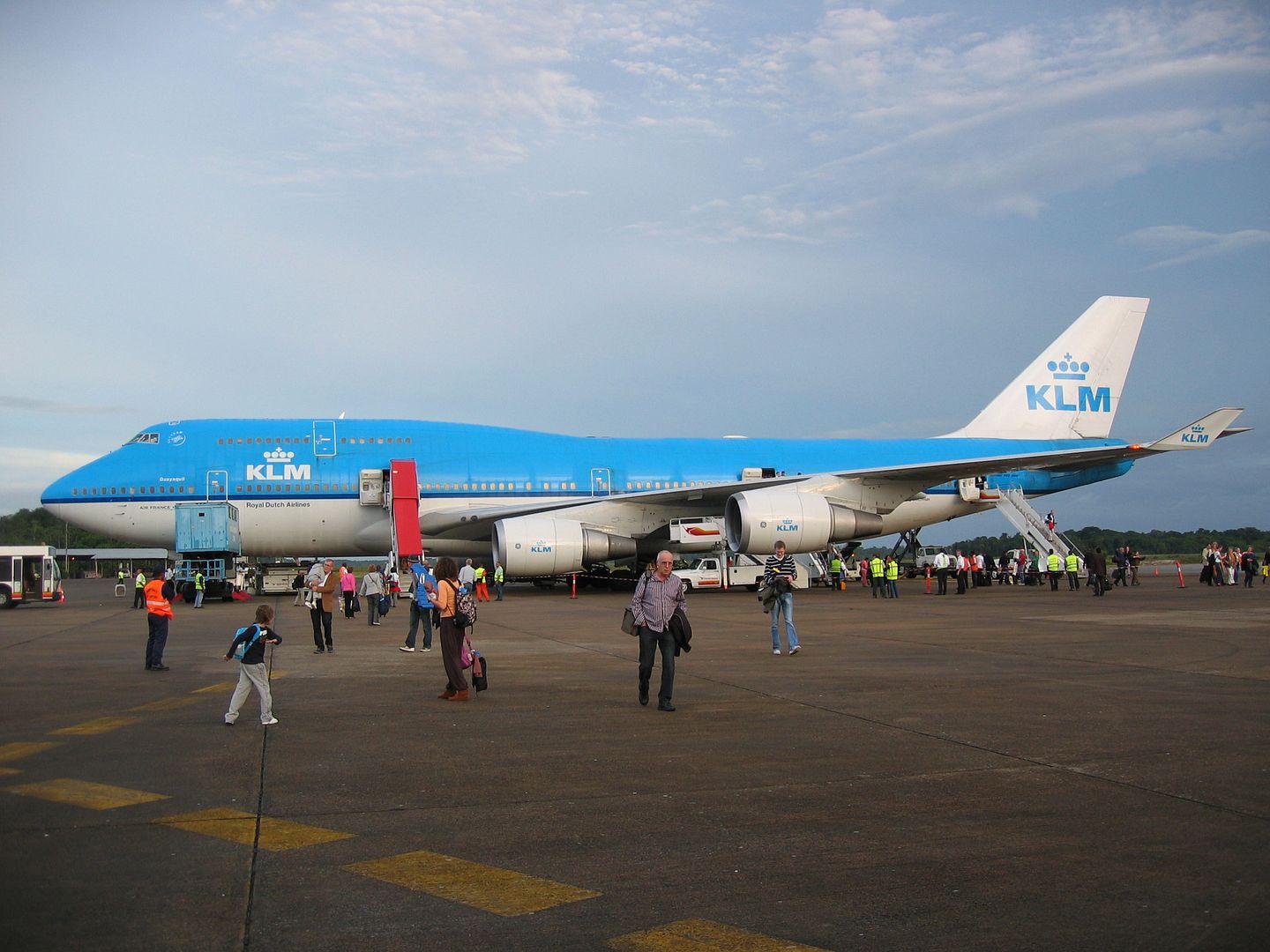 Nice tropical rainshower: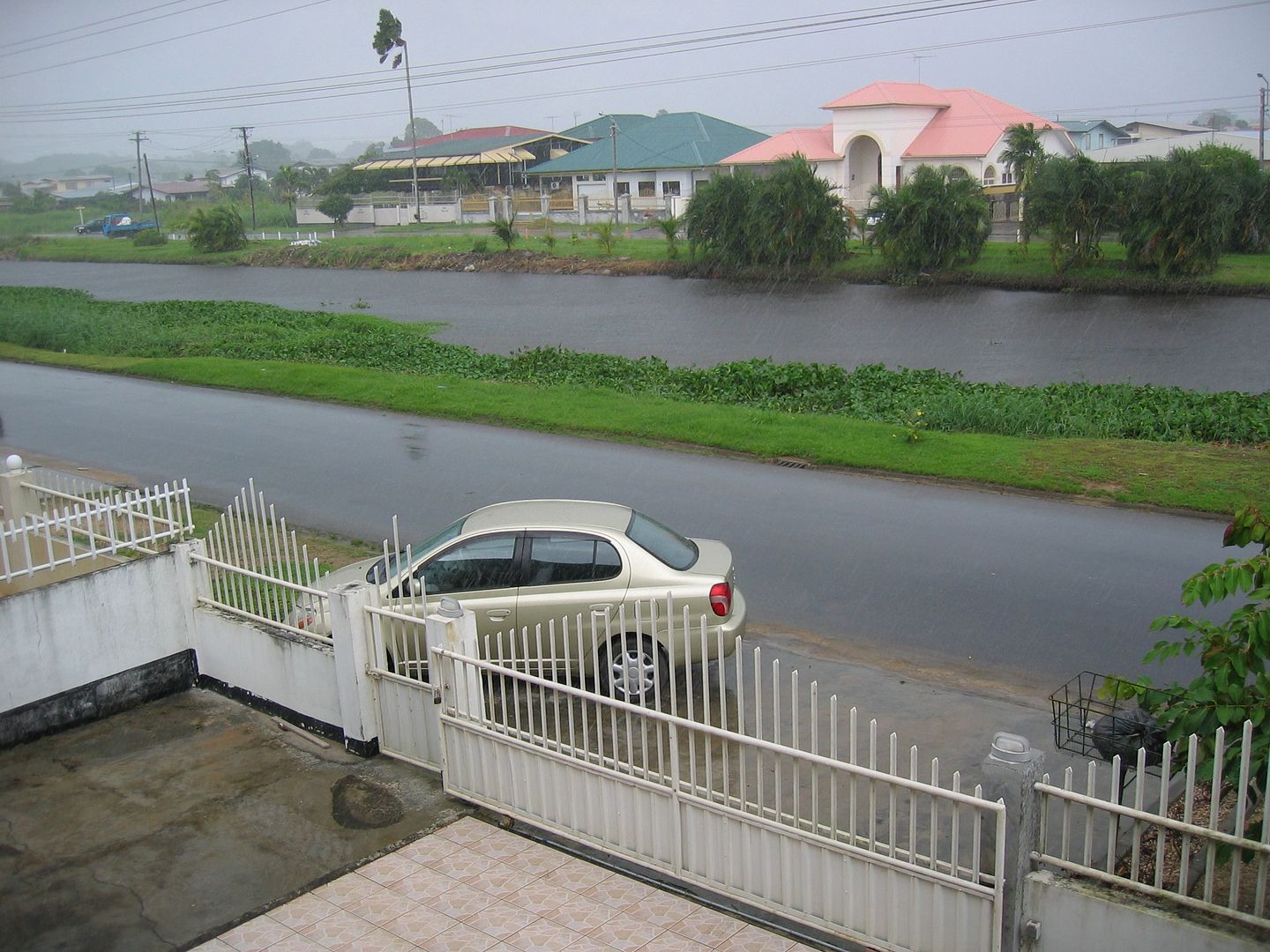 Me on the balcony of my parents' house: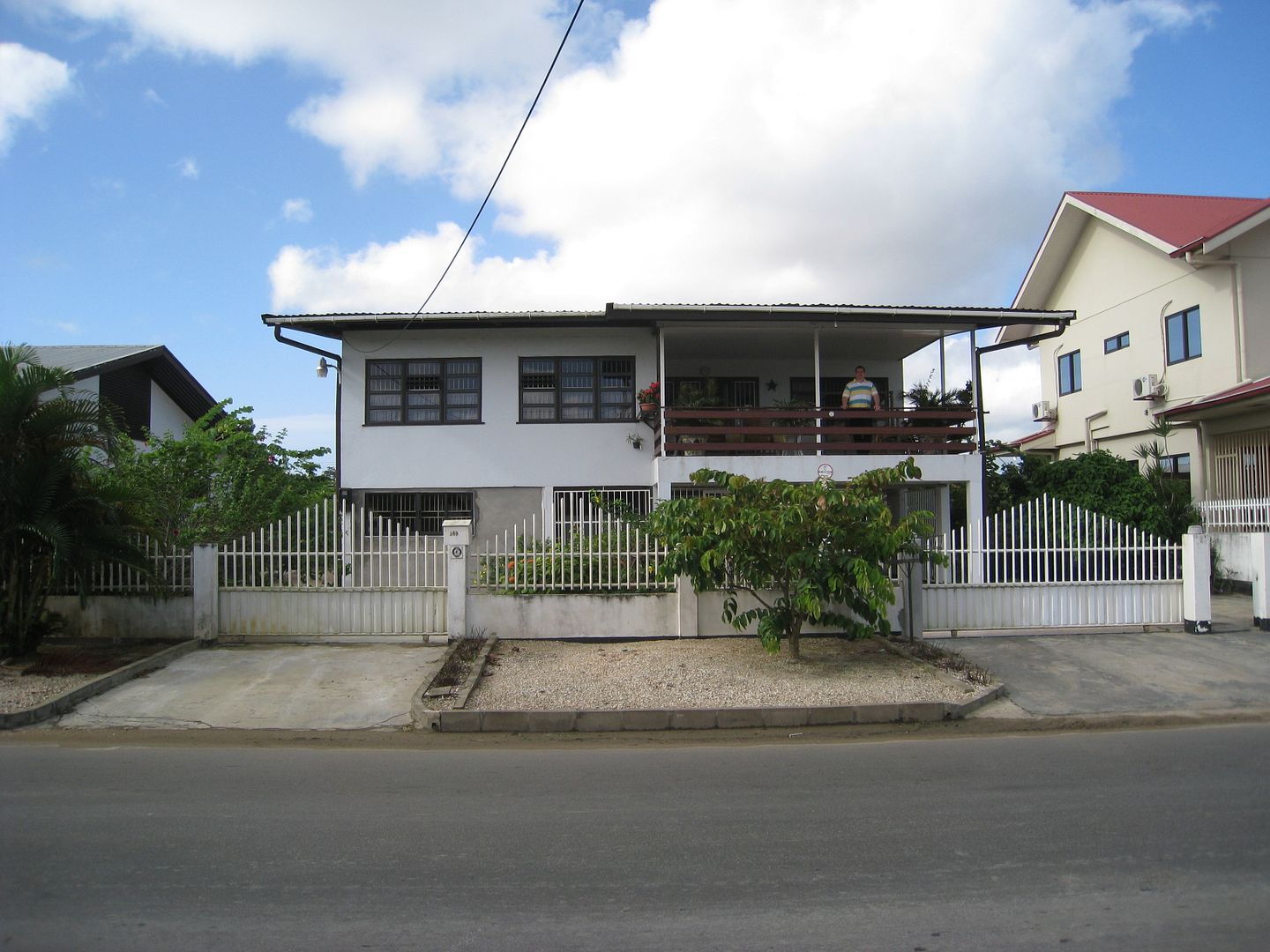 The replica of an old Ducht sailship, the Amsterdam, made a stop in Paramaribo. The ship was finished in 2000 and is 78 metres in length.
The Surinamese presidential palace, I'm standing on the independence square. The palace was built in 1730.
The city center of Paramaribo is on the Unesco World Heritage Site list because of the many 17th - 19th century colonial buildings. This is the ministry of Finance, built in 1836: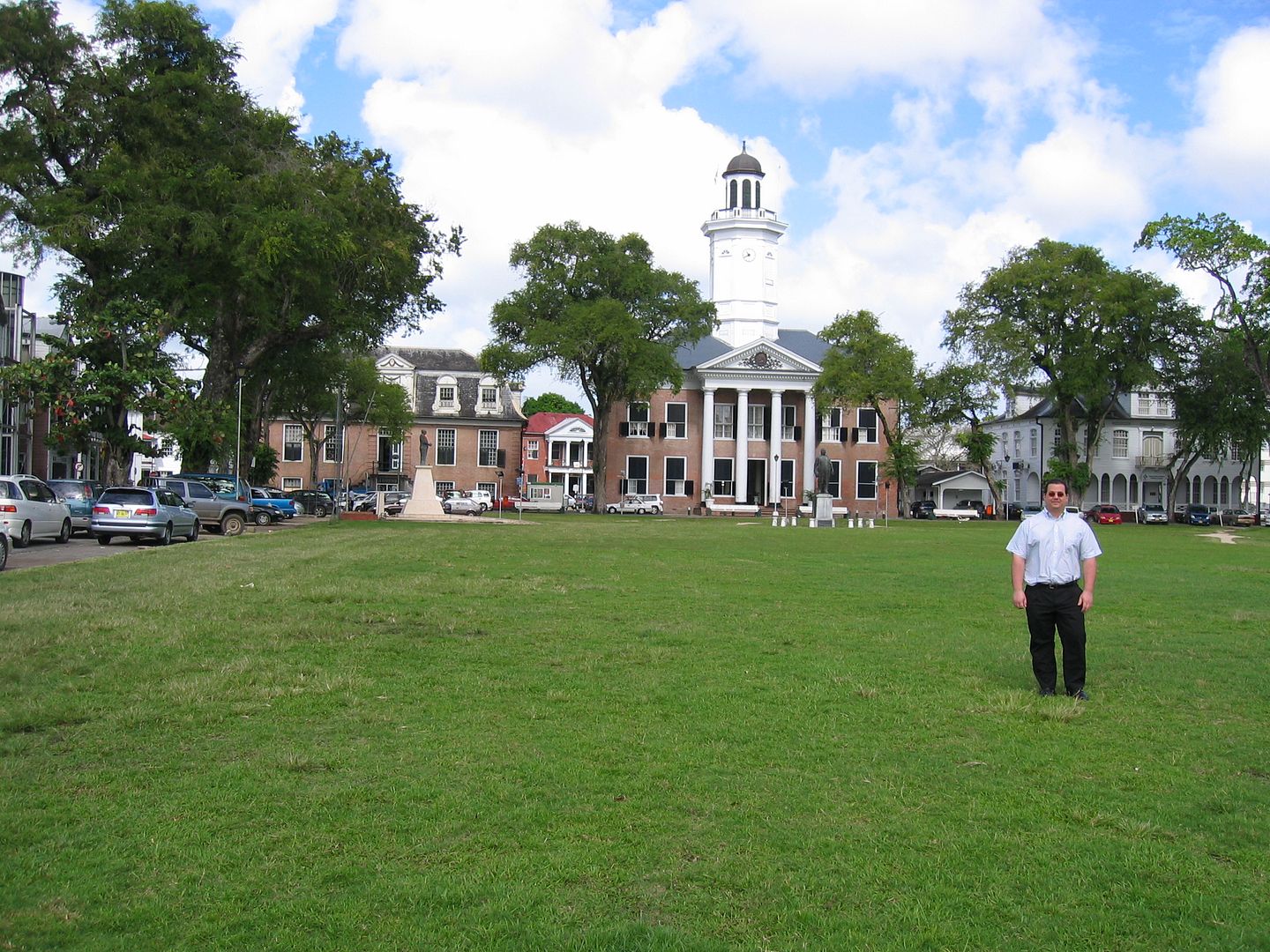 Recreation park Cola Creek. Yes, that's it's real name. Why? Because the water is black! This is a jugle creek and the water is black because of all the plant material in the water. It's actually very clean: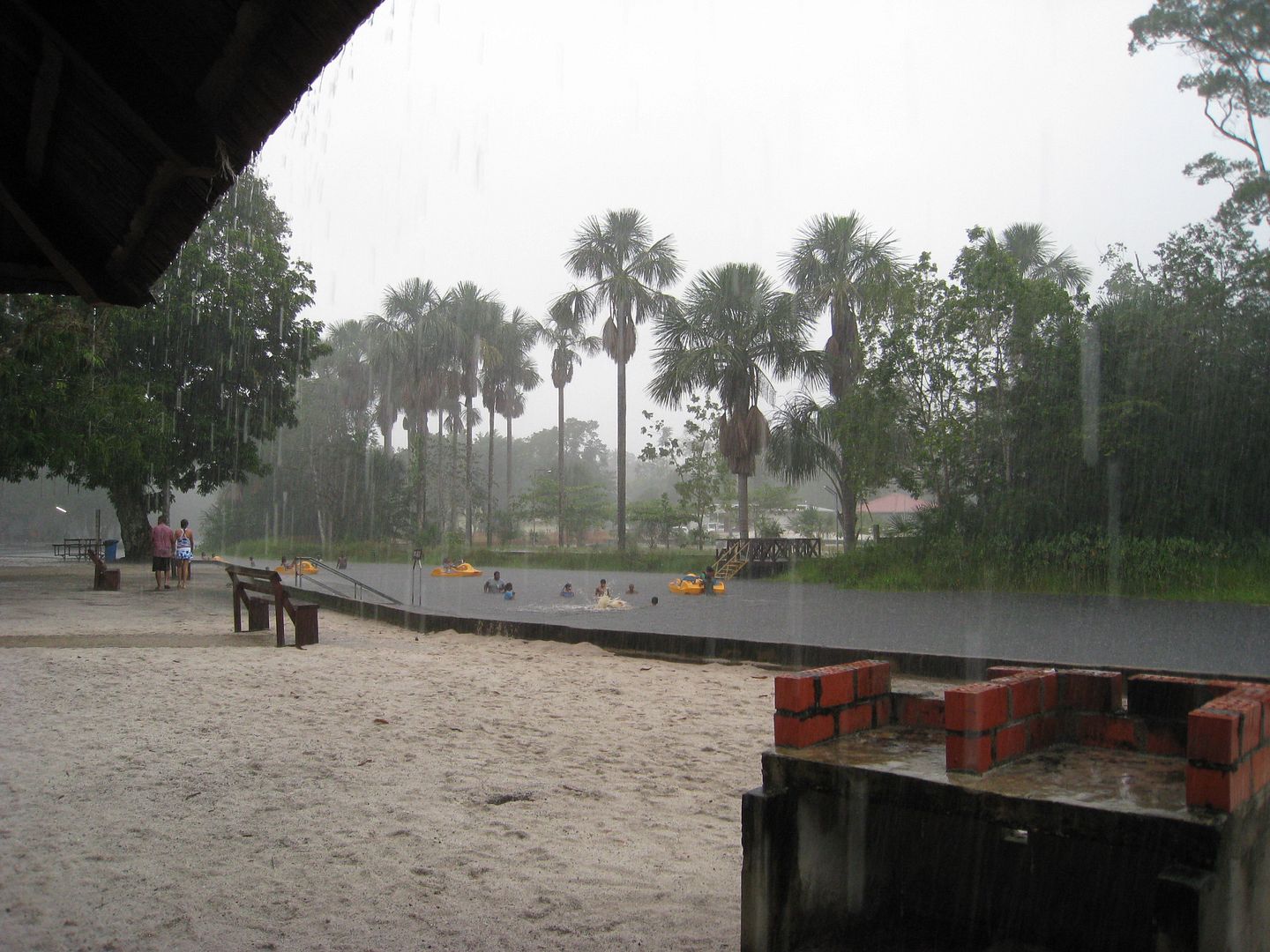 This a house at another inland resort called Republiek. It has very nice houses where you can relax from the busy city life
The water is excellent for a nice swim. It's also relatively cool water, so fantastic to cool off on a hot tropical day!
My old elemantary school in Paramaribo: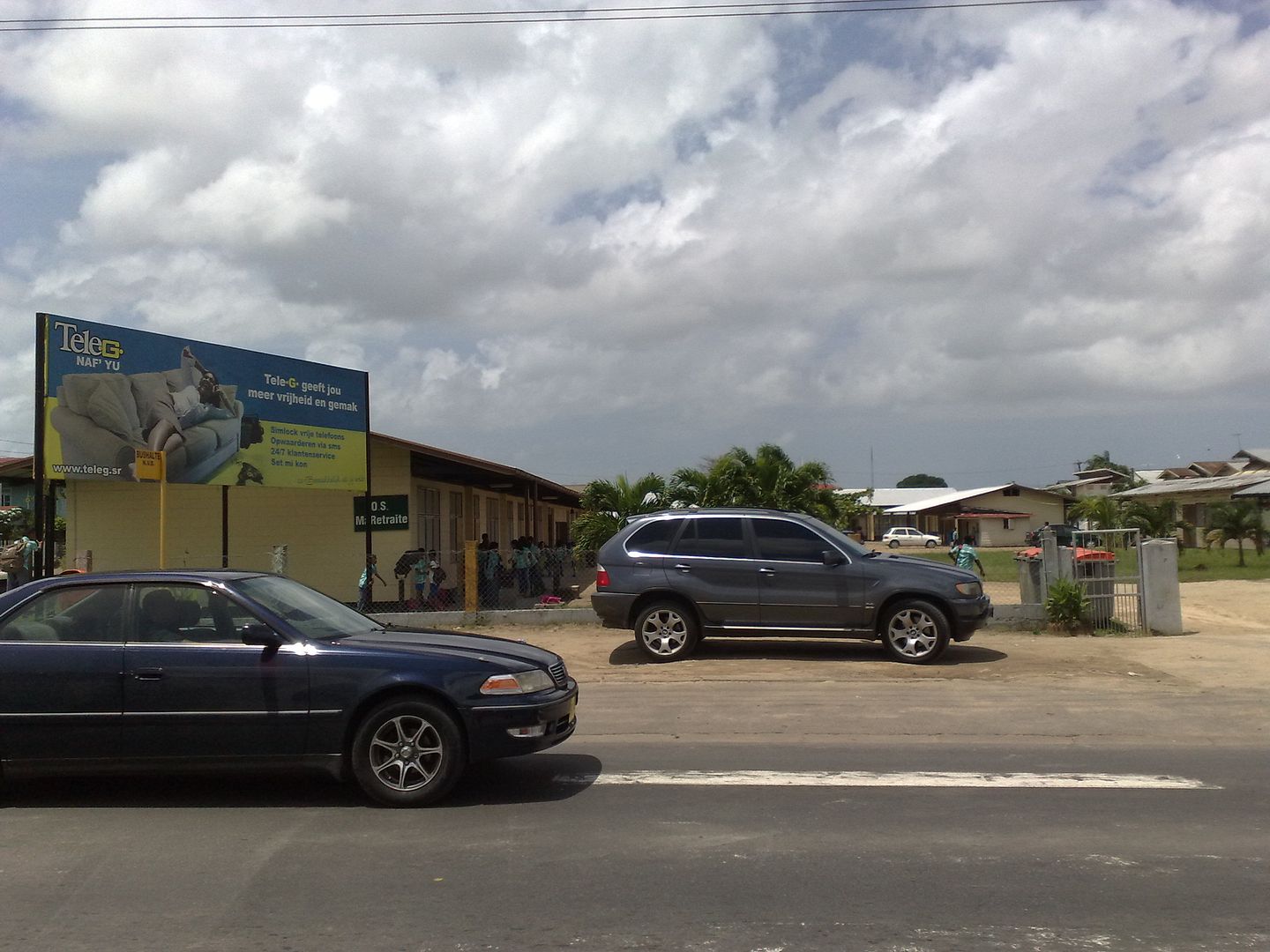 The house of an uncle just outside Paramaribo.. very nice!!
This picture is taken on the bridge over the Surinam river. The black speck in the river is an old German WWII ship called Goslar. It was scuttled by it's captain before it could be sunk by the Dutch navy in Surinam after the Netherlands declared war on Germany. The captain made his crew disembark and then went down with the ship. Because the bottom of the river is mud, it nigh on impossible to get the ship out. So it's been lying there ever since 1940. The Germans were patrolling the Surinamese border in WWII because Surinam was an important supplier of Aluminium to the US war effort (to build aircraft). There is still a lot of Bauxite mining (basically Aliminium ore) in Surinam.
Yep, Engrish can also be found in Surinam:
On the way back to the airport after a short but very sweet vacation. While the Surinamese economy is definitely vastly improved over 10 years ago, poverty is unfortunately still a problem and there are still people living in very poor houses: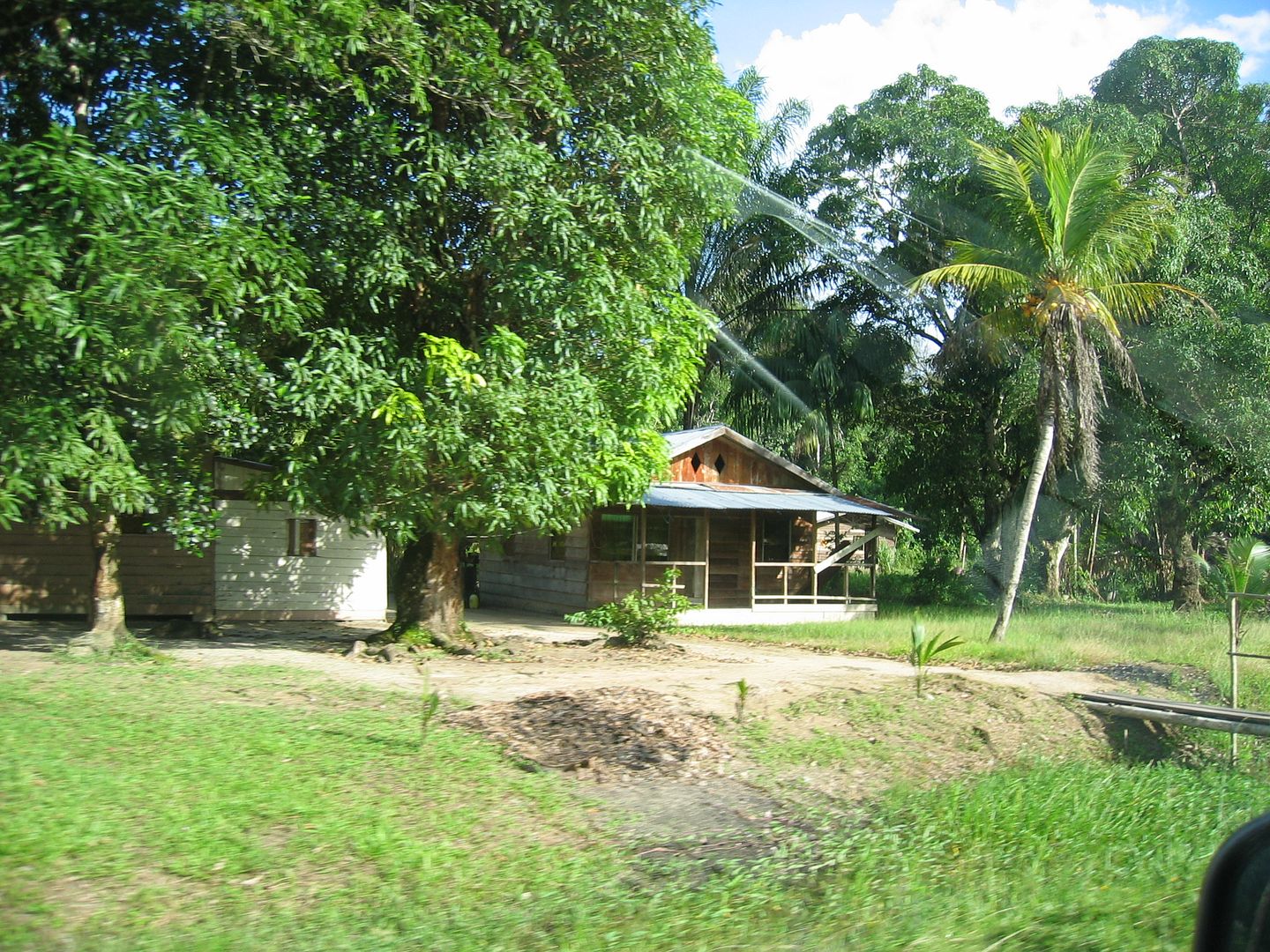 Entrance to the airport: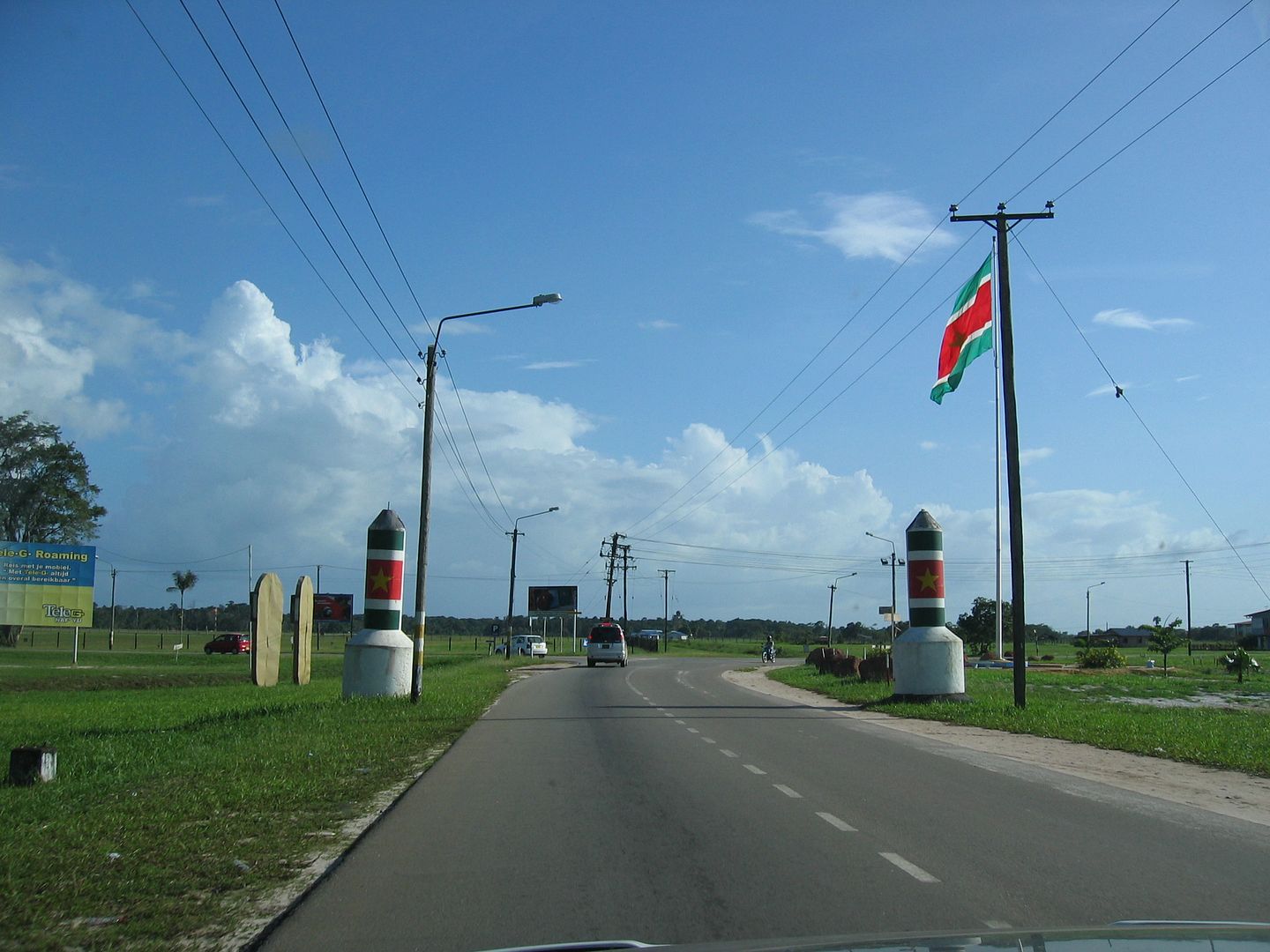 After saying some goodbyes, it was time to head to the departure area, where PH-BFN just arrived from AMS and was waiting to bring us back to AMS:
Flight: PBM-AMS
Date: 19 february 2009
Flight: KL714
Aircraft: Boeing 747-400 full pax
Reg: PH-BFN (named City of Nairobi, delivered new to KLM on 8 April 1993)
Seat: 77A
Loadfactor: full again, at least 99%
PH-BFN was actually in a serious ramp rash incident in 2006. A tow truck slammed into the belly of BFN leaving a sizeable hole in the fuselage. KLM considered scrapping BFN, but decided to repair it anyway. Some pics of the incident: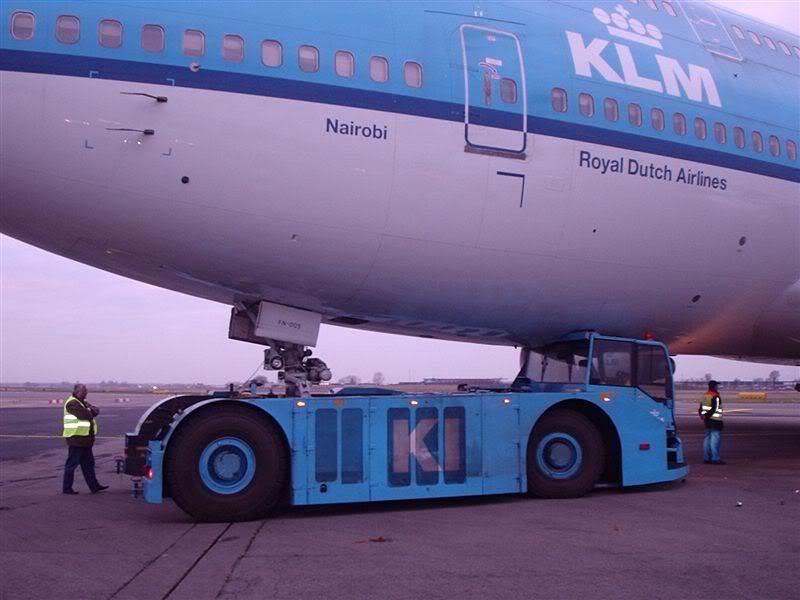 Anyway, it's been flying safely ever since the repairs, but I was still ever so slightly worried about flying this aircraft, with the CI 747 incident in the back of my mind (the shoddy repair after a tail strike). Maybe worried is not the right word, but the CI incident was certainly in my head
Either way, time to board and again we got to walk in the tarmac, right next to the engines:
Upper deck of the 747-400. I was in seat 77A, which is the emergency exit seat on the upper deck. Legroom was absolutely massive
. There were 2 FA's, one female one male. To be honest I never found KLM's female FA's to be very attractive (with a few exceptions and yes I know, that's not why they are here), but the female FA on the upper deck was absolutely stunning!!!
One downside of the upper deck is that because of the angle of the fuselage, it's hard to take nice wing view pics. After about 8 hours in the dark, the sun started to rise in the vicinity of the UK: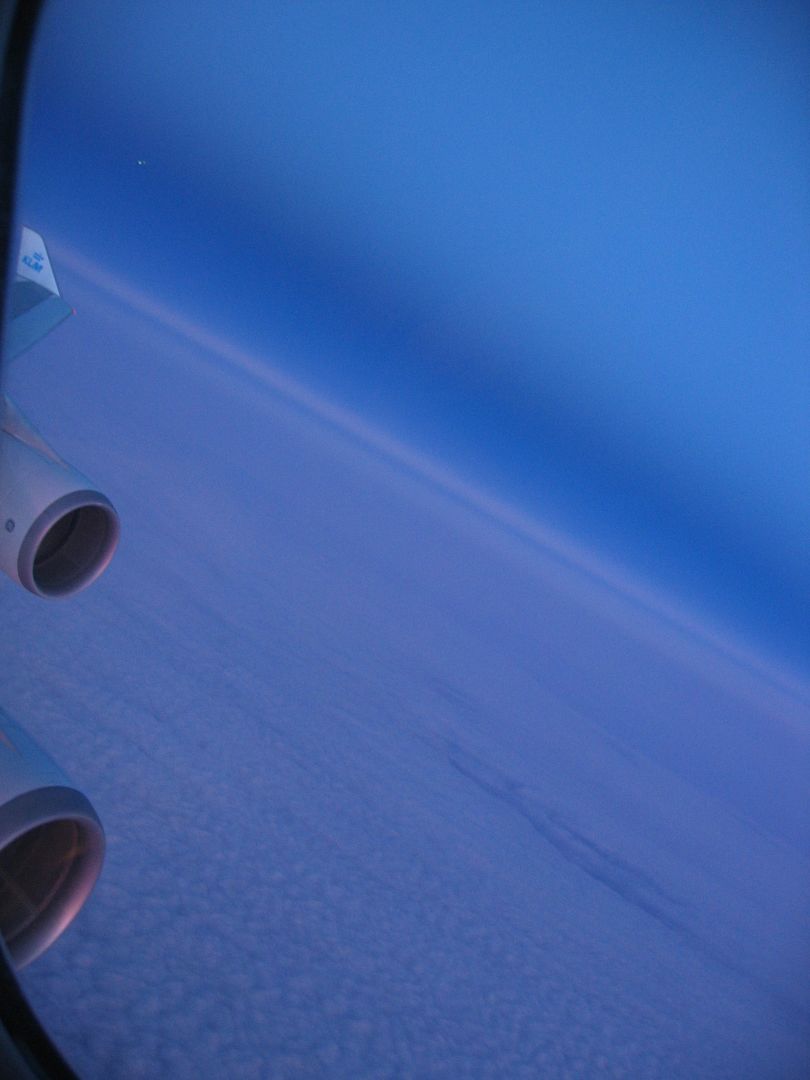 On approach to AMS... for some reason it's always cloudy in the Netherlands when I get back from a vacation in a warm place...
Just landed at AMS:
PH-BFN at the gate at AMS: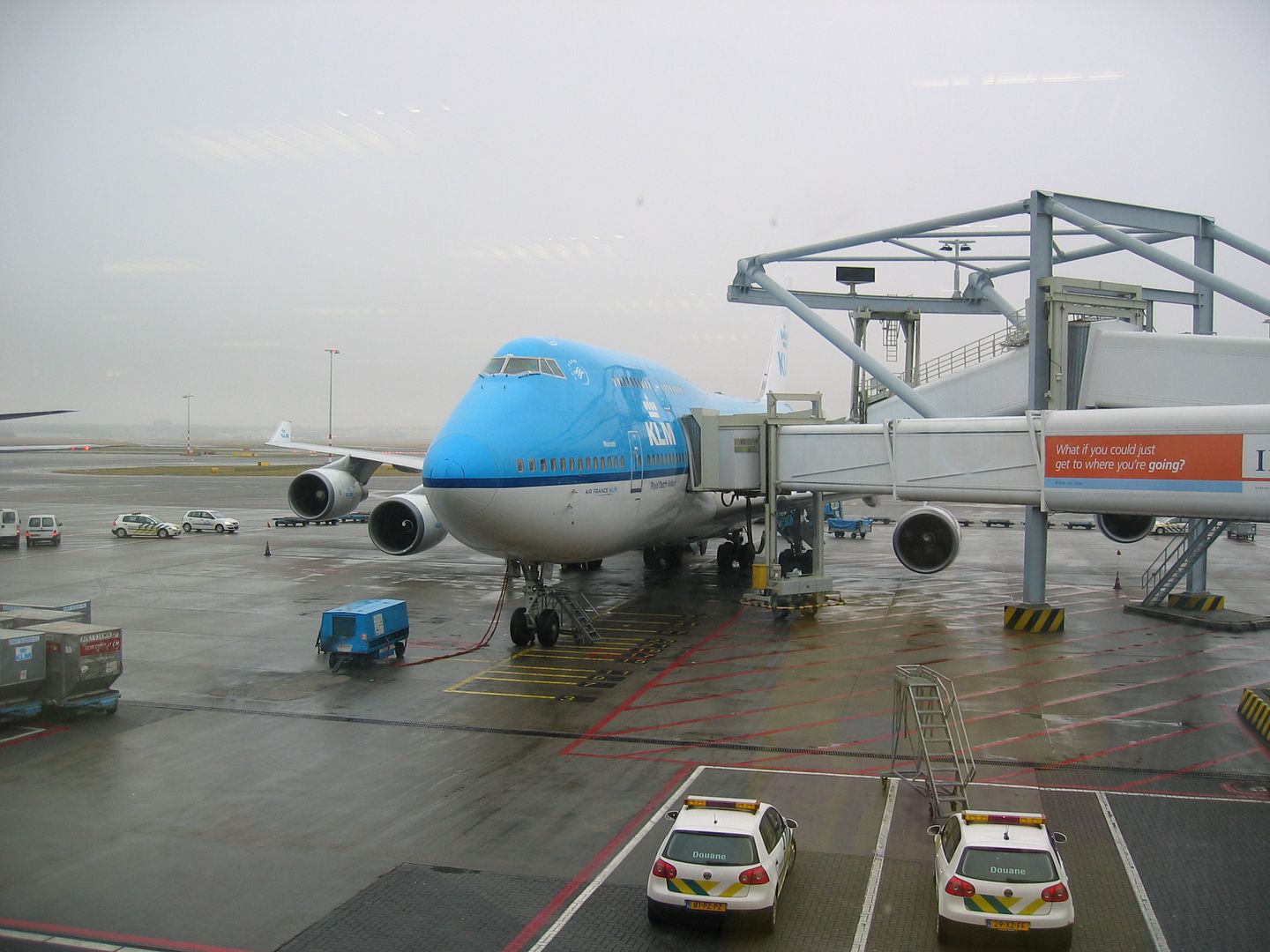 So, what did I think of the flights? The first flight was excellent. I always found the onboard service of KLM to be quite good and this was no exception. The meals were decent enough (unfortunately since then the portions have become smaller on KLM, which is disappointing), and the cabin crew made frequent drink rounds and were very friendly all around. I'm very happy that KLM has now fitted the 744 fleet with AVOD, because this really helps on these longer flights (9 1/2 hours for AMS-PBM, the return flight is slightly shorter). Of course I knew this in advance, so it was not a huge problem.
The return flight was also excellent. The J seat is of course much better than a Y seat, but it's hard to sleep in. However, I found that when I did not make it fully flat, but with a slight curve it was very comfortable to sleep in. The J catering was a bit of a disappointment though. The entree was excellent (shrimp cocktail), but the main course (chicken with noodles) was a letdown. Especially after the great food I ate in Surinam. It felt more like a Y meal than a J meal. Breakfast on both legs was also good enough.
So all in all I was again quite happy with KLM, with a few minor quibbles. The cabin crew is IMHO always the strong point of KLM, catering less so.
I hope you enjoyed this trip report, please feel free to comment.
Thanks!!
Sergio