The shorty A318 twice and a new chance for the Contact F100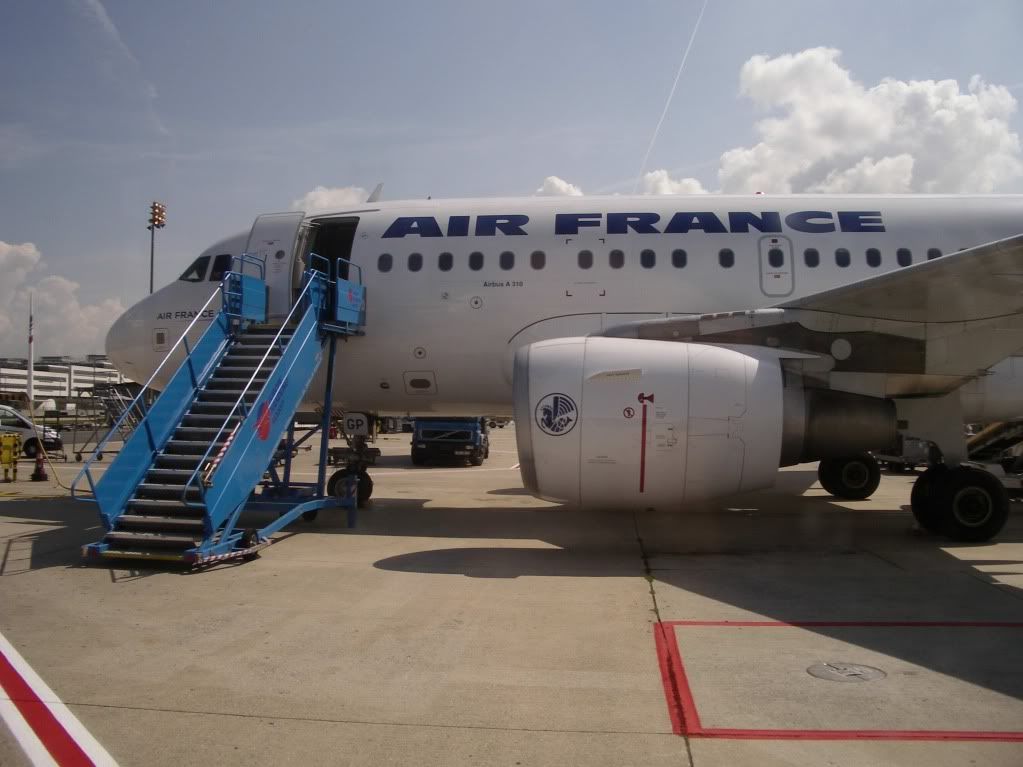 Ciao, dear readers,
two days at home, coming in from Serbia
Belgrade/Serbia On JAT, What Else?
(by
FLIEGER67
Sep 11 2010 in Trip Reports)
and the next flights are on schedule.
It´s a rather long time ago, since my last legs on the shorty Airbus,
counting in flights, close to 300 legs!.
Beside that, another new airport for my log is also on schedule.
So, no need for difficult decisions here.
It´s only me, or feels scheduling on the paper much more easy than for real.
In fact, when you sit in a slow moving, late italian train and see you´re airport shuttle running away.
But, anyway I´am here and write these story, so I finally find a solution!.
Tuesday, 03.08.2010
.
.
.
.
Service AF 1409 operated by Air France
Scheduled: 10.30 // 11.50
The welcoming Airbus A318 on the seatmap during OLCI, the day prior to my flights.
No try with AF this time, KL works easy and quick, 22F, last row window for me, recline is also possible here.
Exp.de wins my business, only some 40.00 Euro´s per leg for flights 1 and 2,
but, as usual with the classic carriers, this is a return booking with legs 3 and 4 later in August.
No need to go that early today, but anyway at the airport at around 8.30 am, also with the usual weekday morning traffic.
Time enough to walk the terminals and view it from above.
AB running well here, so it seems
Surprise, my plane is also present inbound from CDG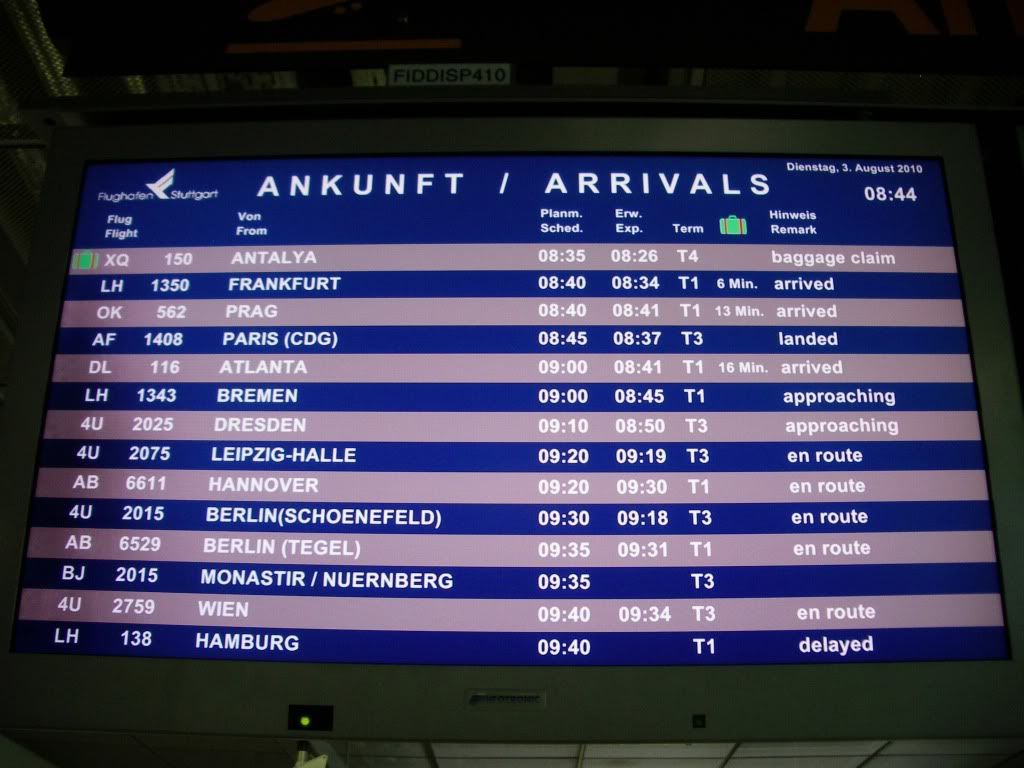 Looks like me and my son for planespotting, but not with that all white hair!.
That´s my fav place at STR, the bridge between T3 and T4 with these round windows to the apron and the screens directly to view. So it´s possible to locate every movement out there.
No time to wait at T3 security and in the gate area around 9.30 am.
My silver elite status grants access to AF´s lounge at STR, but without gold or a biz booking, they want some cash injection, not really worth it for me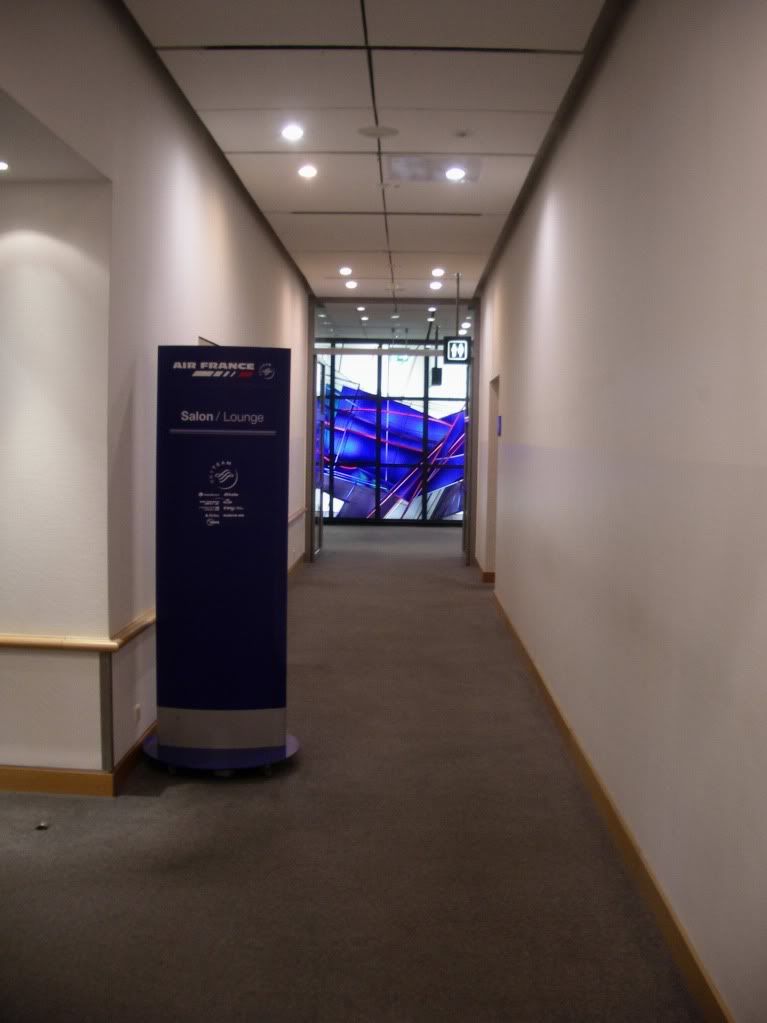 Apron action with my machine at gate 316
It is F-GUGP, indeed the A318, with AF since 14.12.2006.
AF runs 18 planes on type right now.
Leg no. 5 for me on type and the welcoming new registration.
Enough time till boarding for me
From the ground floor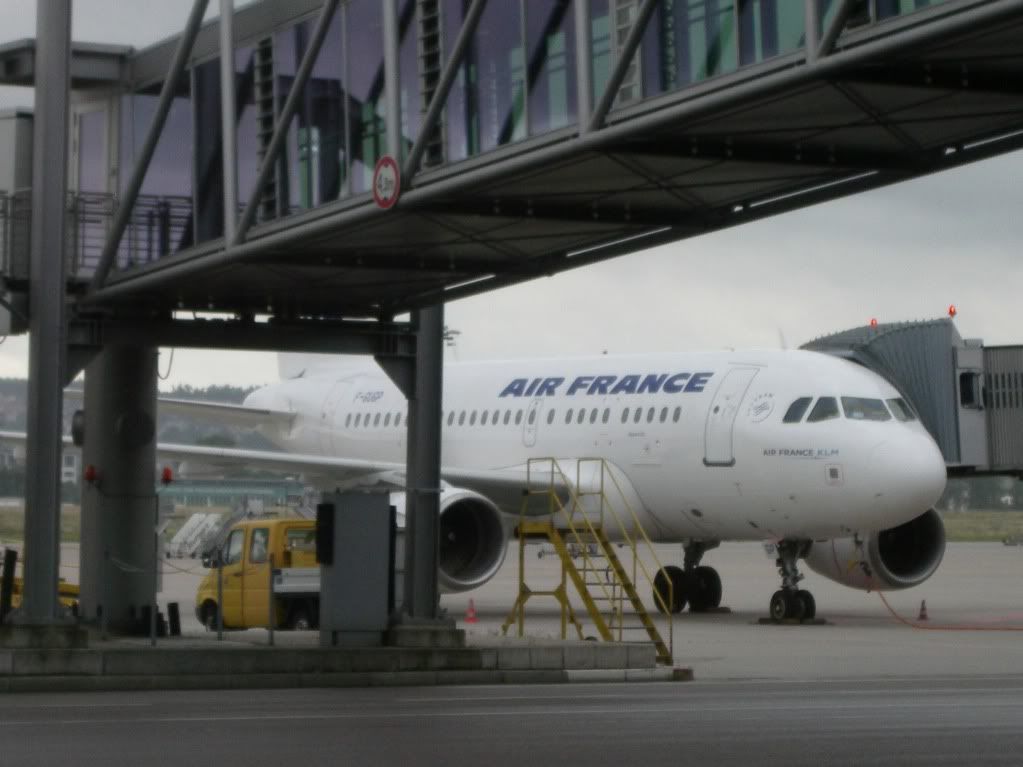 The french captain with a short welcome during boarding, no further information at all.
Nouvelair to Monastir at the gate beside
The load is 100%, finally all seats taken.
My seatmate is a arrogant african girl, no talking action.
No screens, a manual safety demo here.
Departure from runway 25 this morning, with some special colours ahead
It is 10.30 am, perfectly ontime, it´s cloudy and the temperature is 14 degrees.
SunExpress´ Istanbul promotion plane
One hour now to go for France.
One male, two female FA´s here, all middle aged and ok friendly.
The lady in the rear part real nice.
White clouds on the way to France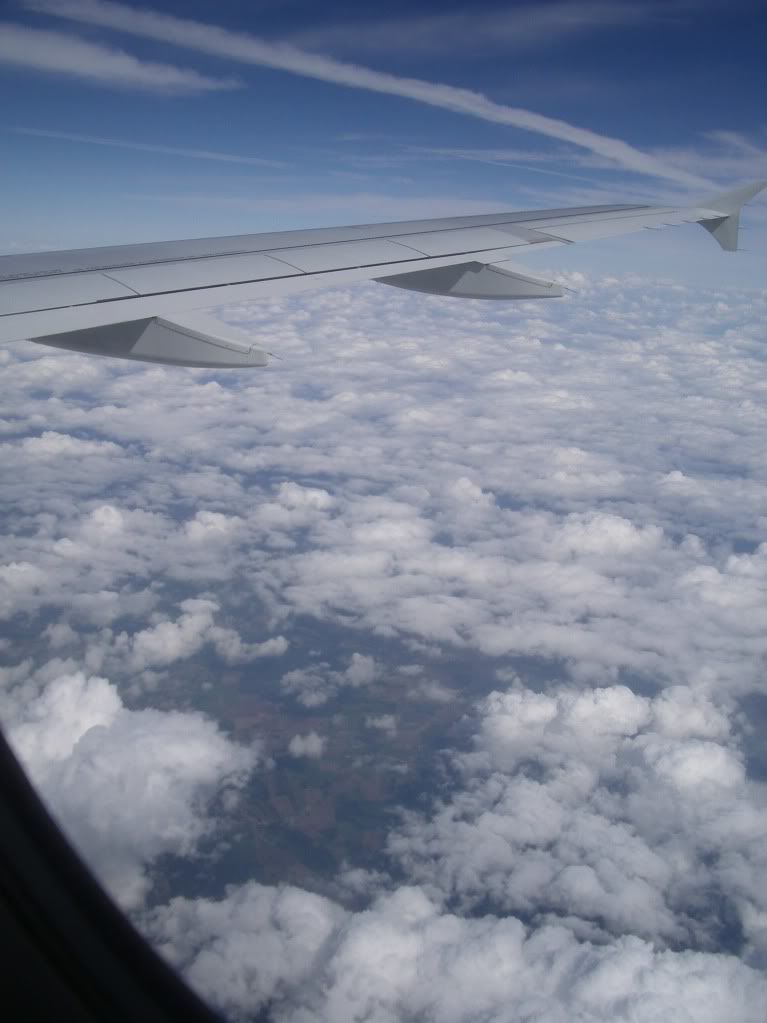 Looks like a herd of sheep while turning in direction close to CDG
The safety card and some snack and free drinks for me
The very nice magazine, one of the best airline magazines in my opinion and Italy, that fit´s!.
Cabin view, dark, blue fabric seats, clean so far, the legroom ok.
On finals for CDG
A soft touchdown at the 2700 meters runway 26L, it is 11.40 am, ten minutes prior to schedule.
The temperature is 19 degrees, some clouds only here.
Holding short to cross 26R
Not only we holding short
Following the Malev B736 to our parking stand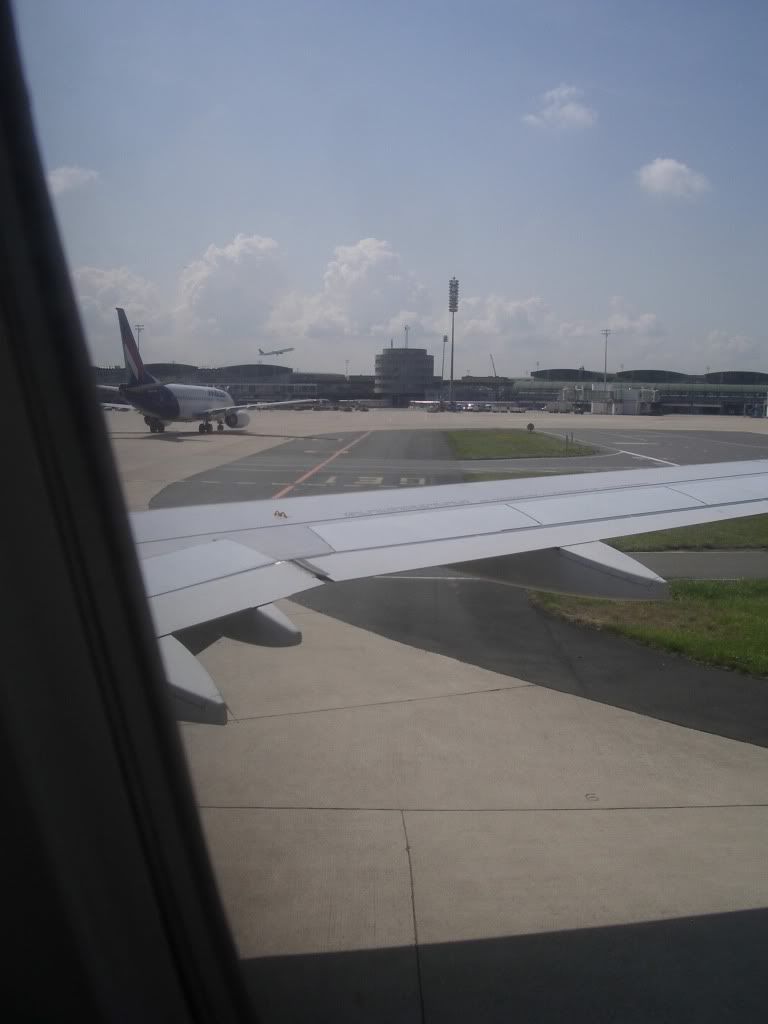 My comfortable seat
Apron disembarking
A nice chat with the FA shows me, that the plane runs back to STR and therefore my next ride will be at least another plane, a chance for a new registration.
Bye-Bye to this A318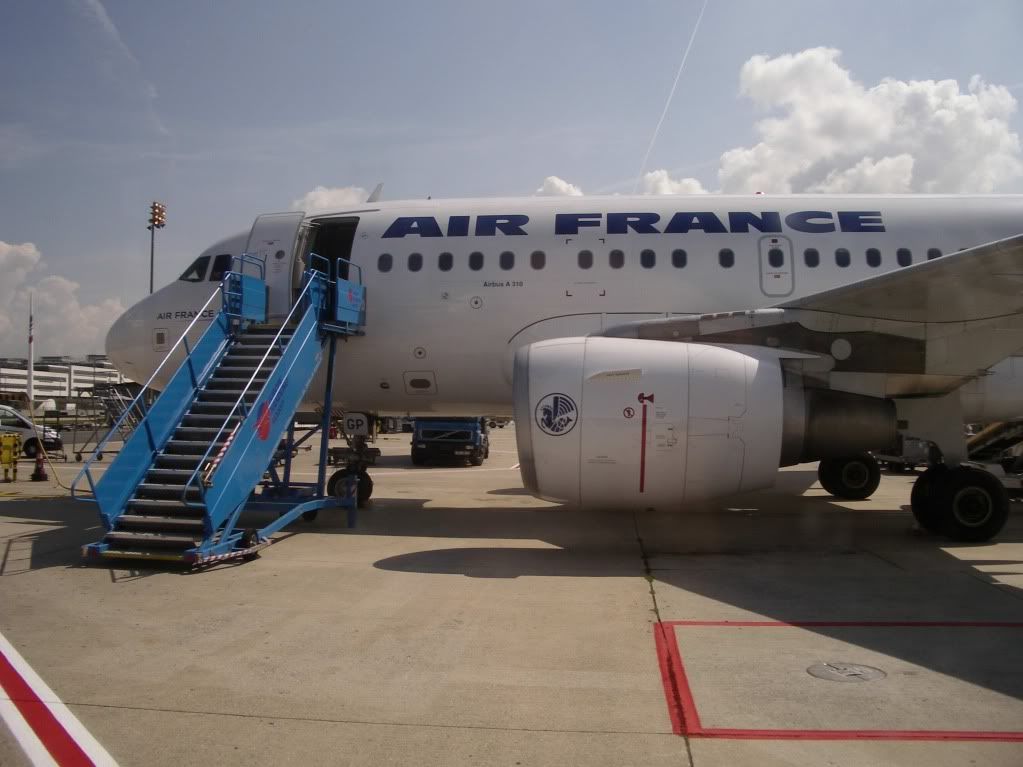 Tuesday, 03.08.2010
.
.
.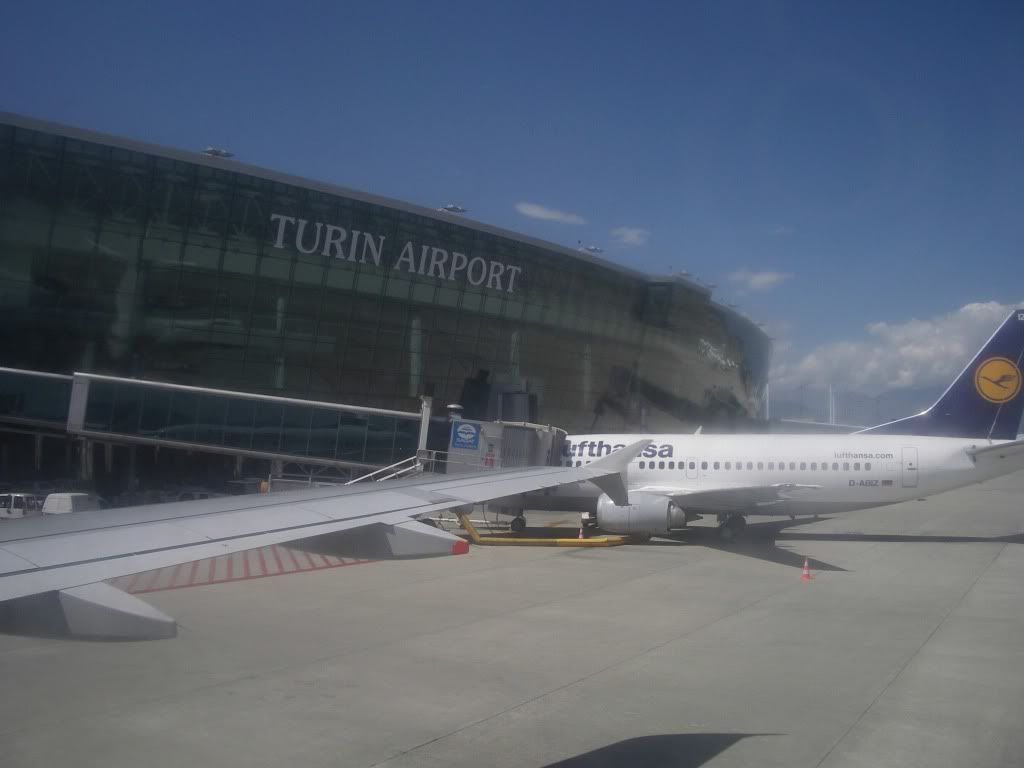 .
Service AF 1702 operated by Air France
Scheduled: 13.15 // 14.40
By bus to the terminal, the usual slightly chaos at CDG, detours, heavy traffic and else.
A real surprise follows, no extra security and direct delivery for me into T2D, also the place for the next flight.
Ontime sounds not bad from gate D62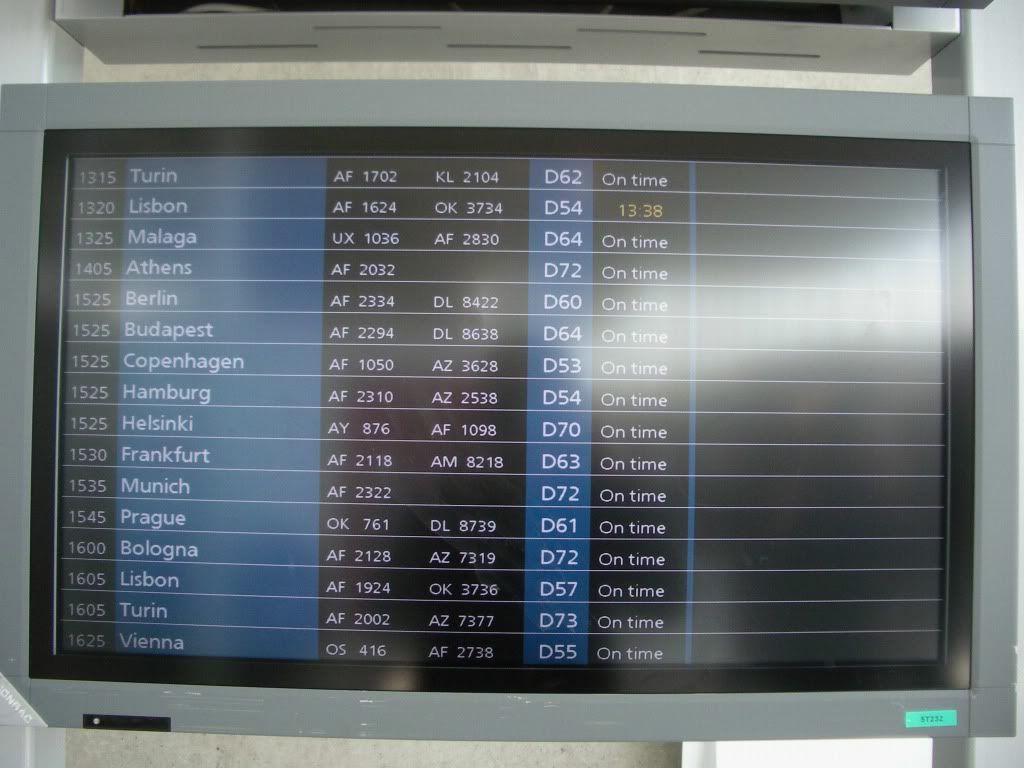 Believe it or not, that´s CDG T2D, a calm place at the far end in direction T2B with new, clean and comfortable leather seaters, direct view to the apron and no one else around.
Looks like more a place for staff rest.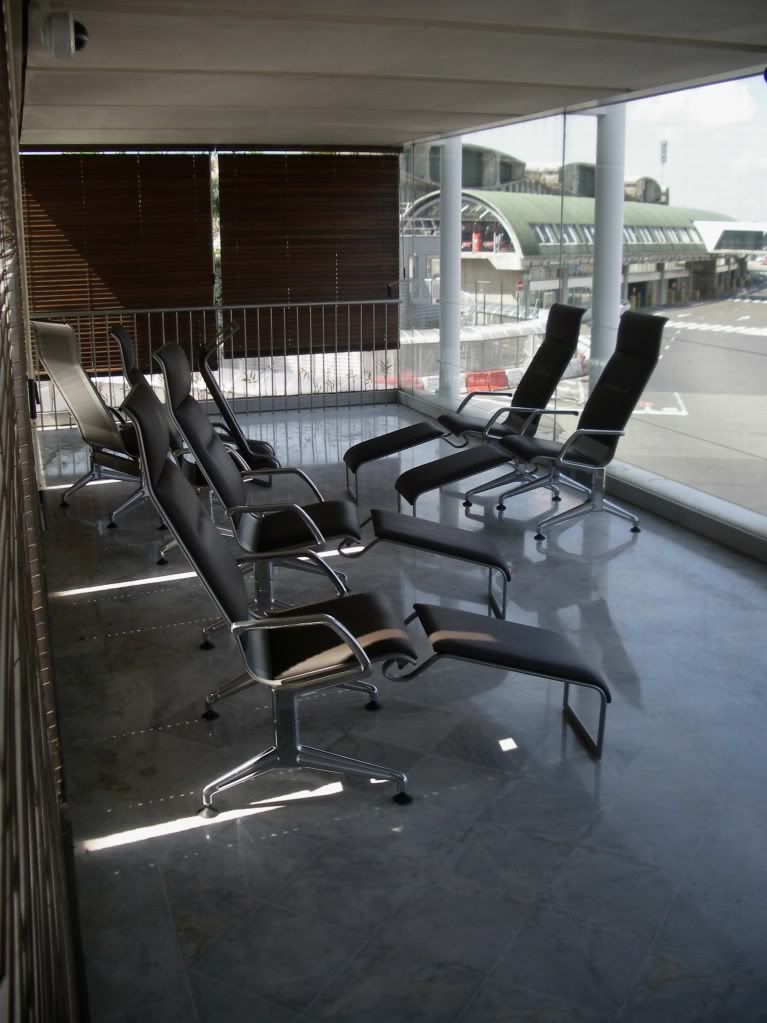 Apron view with the Concorde between T2 and T1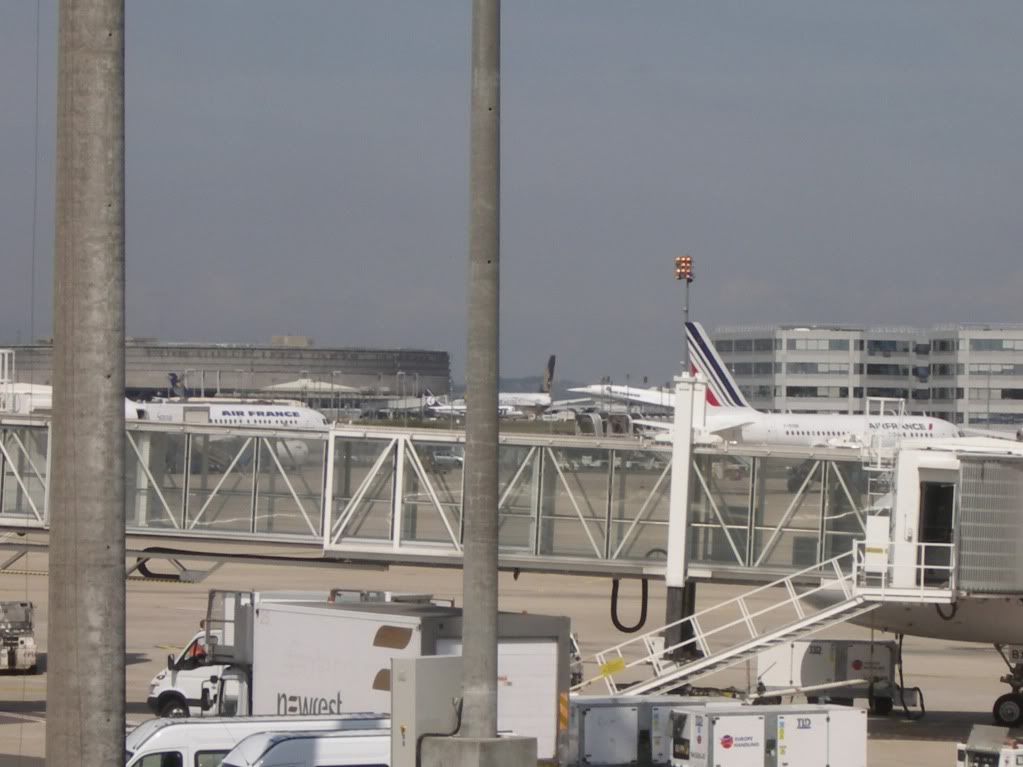 Strange AF coloured needle here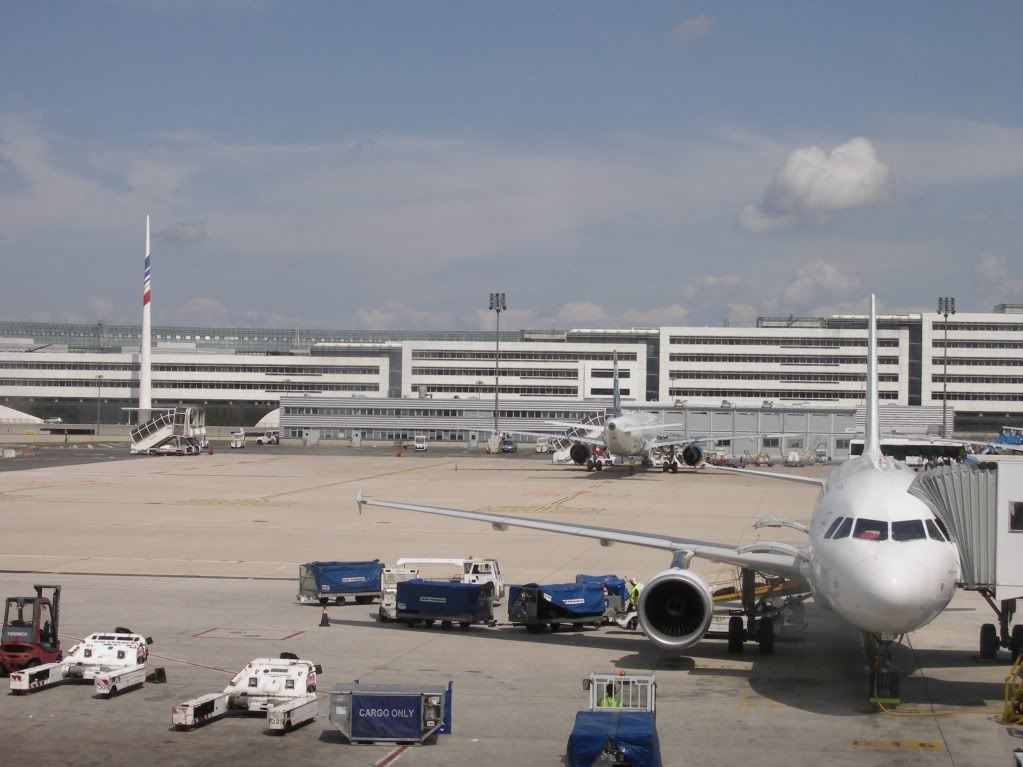 Another bus ride follows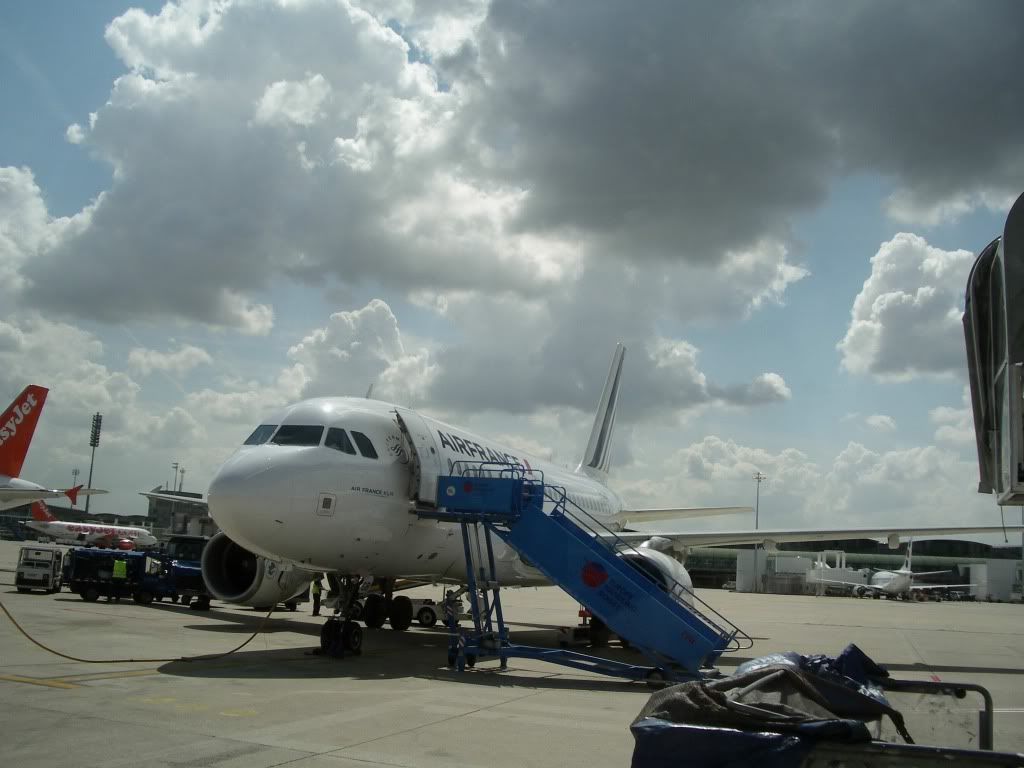 To a new registration hopefully
So it is, F-GUGB, an A318 in service with AF since 07.11.2003.
Leg no. 6 for me on type.
The french pilot with a friendly welcome during boarding.
The FO closes the planes door.
Four female FA´s here. Three middle aged and the younger purser.
She also inform´s us about the spoken languages on the plane.
The lady in the rear part of the cabin is super friendly and well attentive.
It feels like a kind of checkflight today.
A good number of planes ready to go from the 4215 meters runway 26R. It is 1.20 pm, five minutes behind schedule,
still some clouds and the temperature rises to 21 degrees.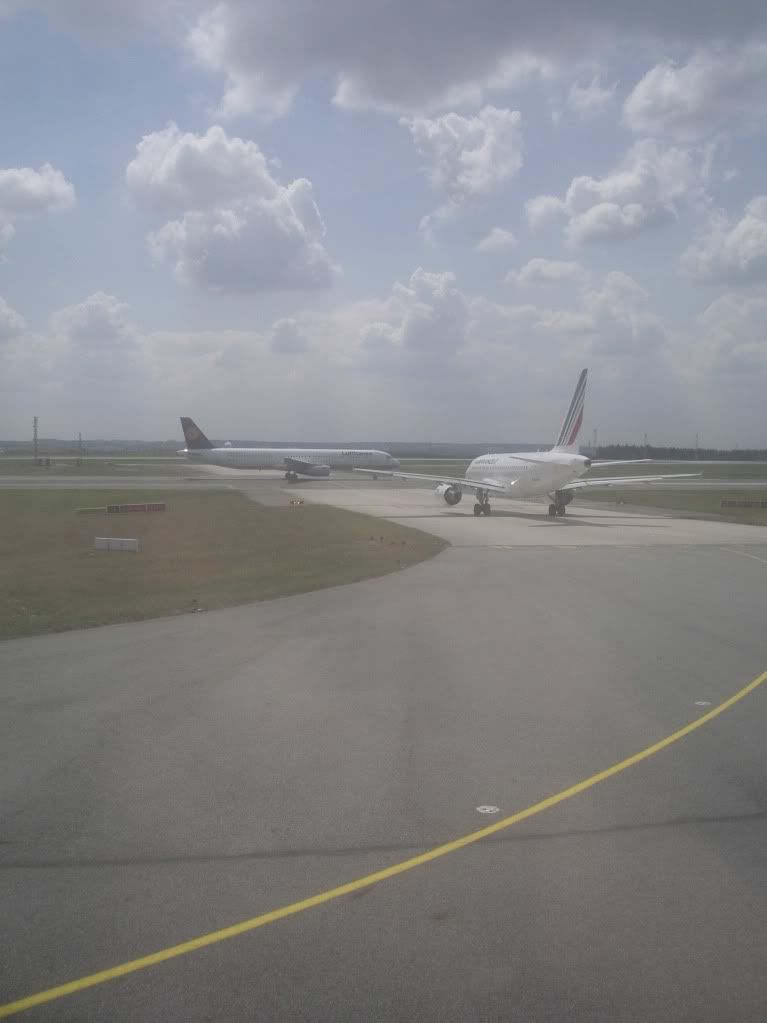 Jat with the B733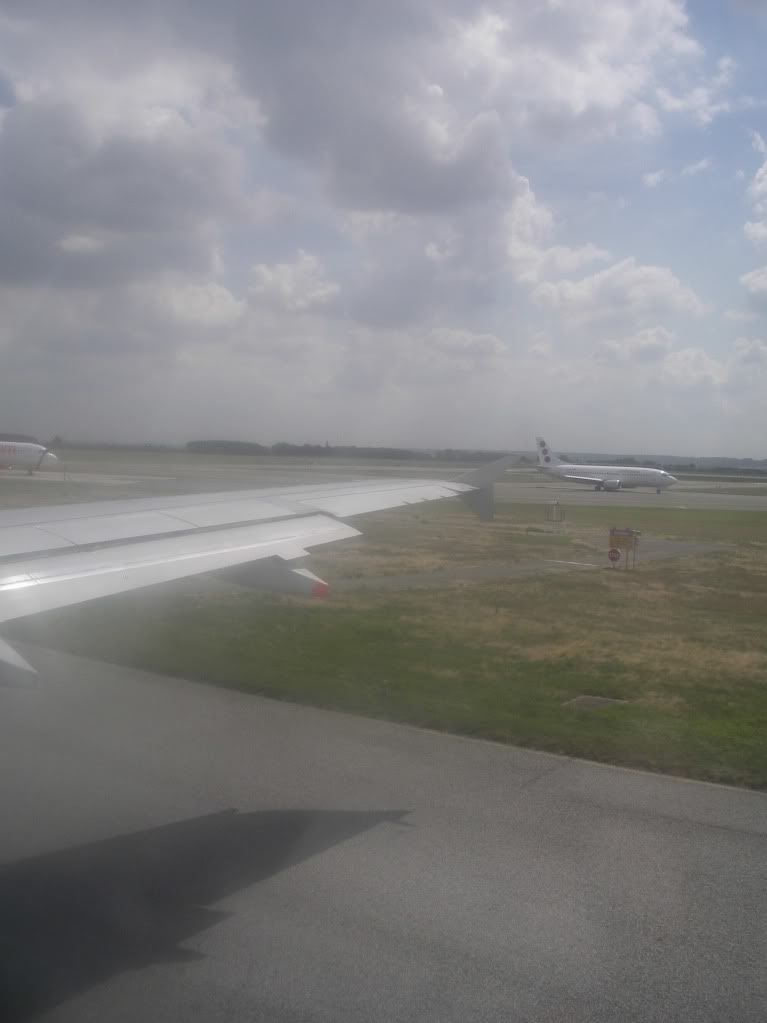 Olympic
And its finally our turn, note the strange runway layout, uphill and the pilots
don´t see the end. 1 hour now for Torino above GVA and close to the Mont Blanc at 31000 feet.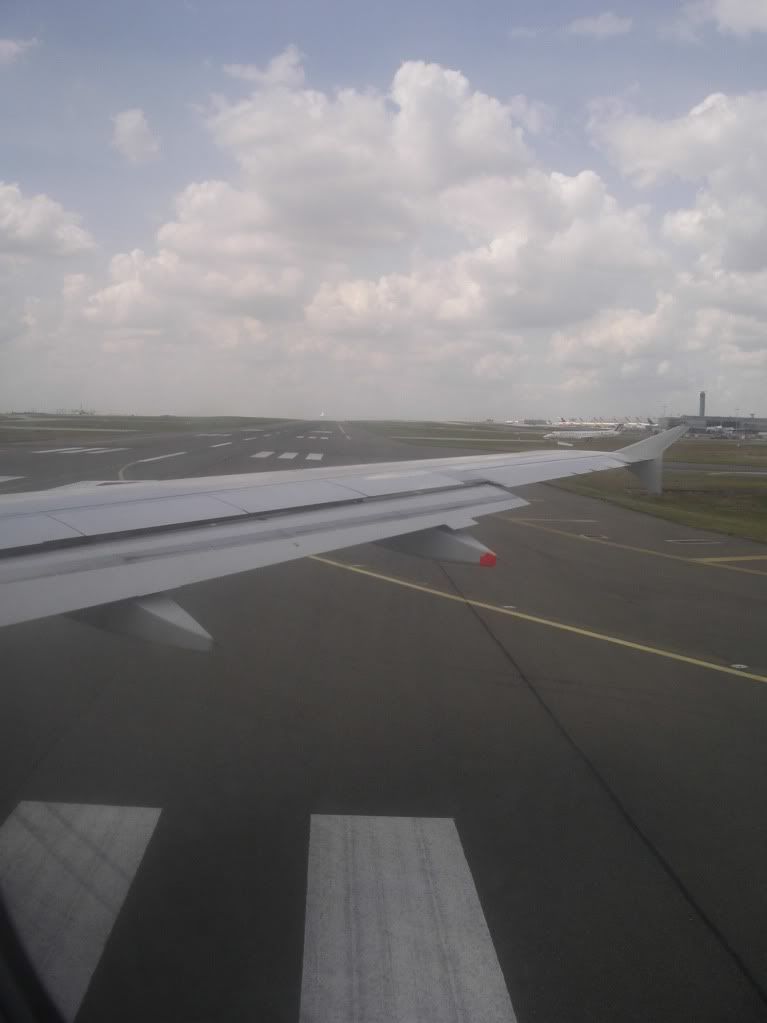 Cabin view with dark blue fabric seats, clean, good legroom. The load is some 50% only.
The safety card
The seats, me again in 22F, last row window, three for me on this service, recline is again possible. The pilot is on the speakers wiht route informations.
Snow covered mountains here during the approach
And deep valleys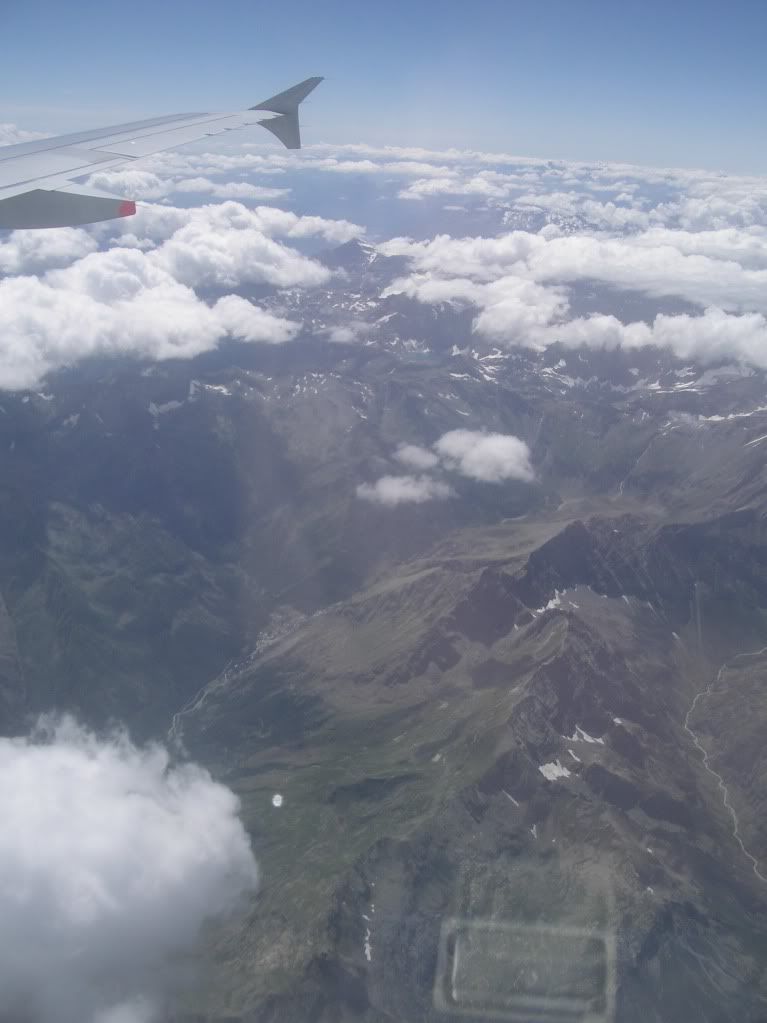 Doing a full circle and turning for finals
Close to Torino
The city center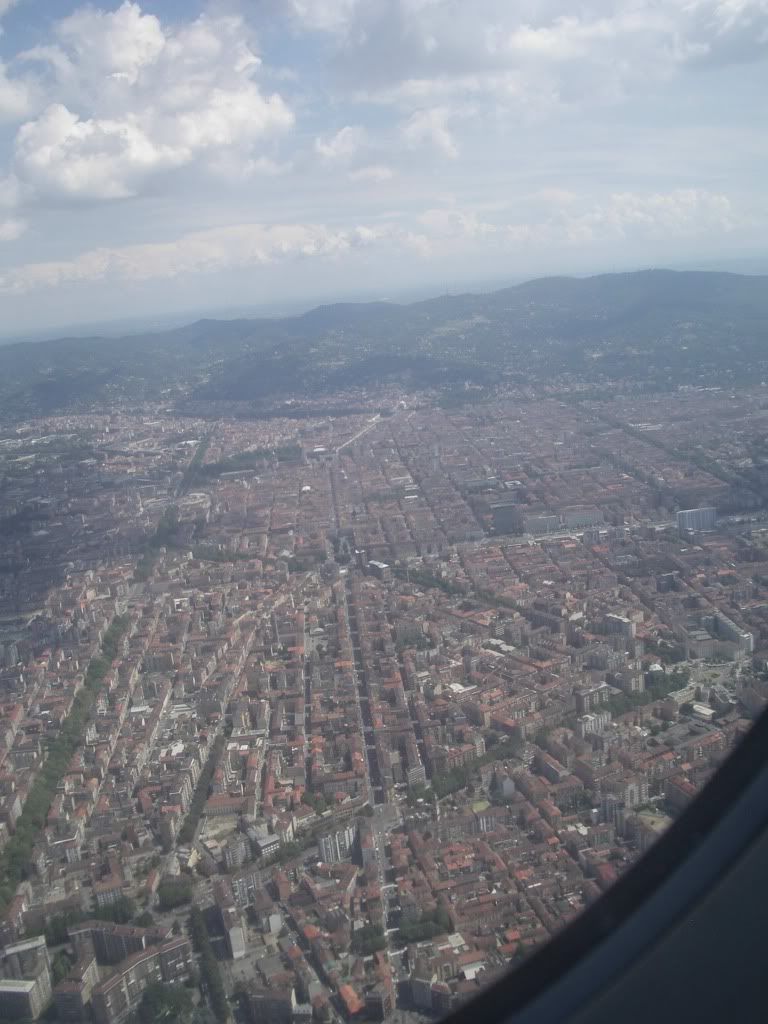 Landing on the 3300 meters 36.
The runway with the mountains in the background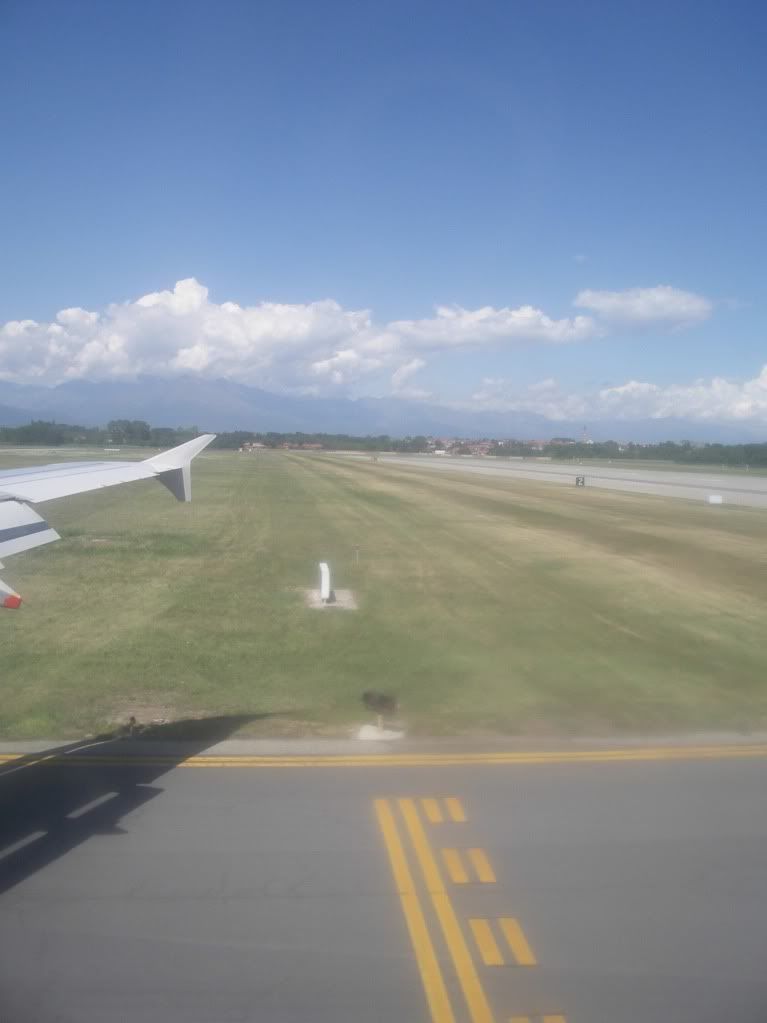 It is 2.40 pm, ontime.
The temperature is 28 degrees and some clouds only.
The pilot with a friendly bye-bye and he is once again on the speakers at the gate with
disembarking informations, far above standard here.
Modern Turin airport
Competition also here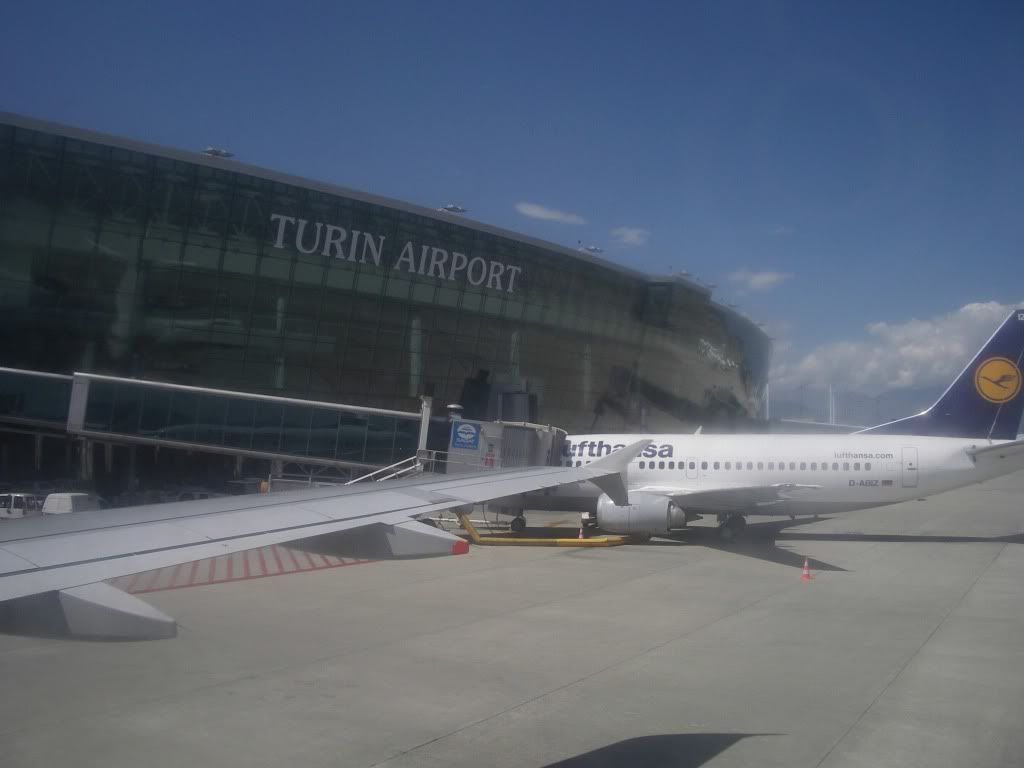 And the Ryan joining the queue
Nice planes, Meridiana with the MD, another chance in October.
Also Jetran Air from Romania with the MD is on the apron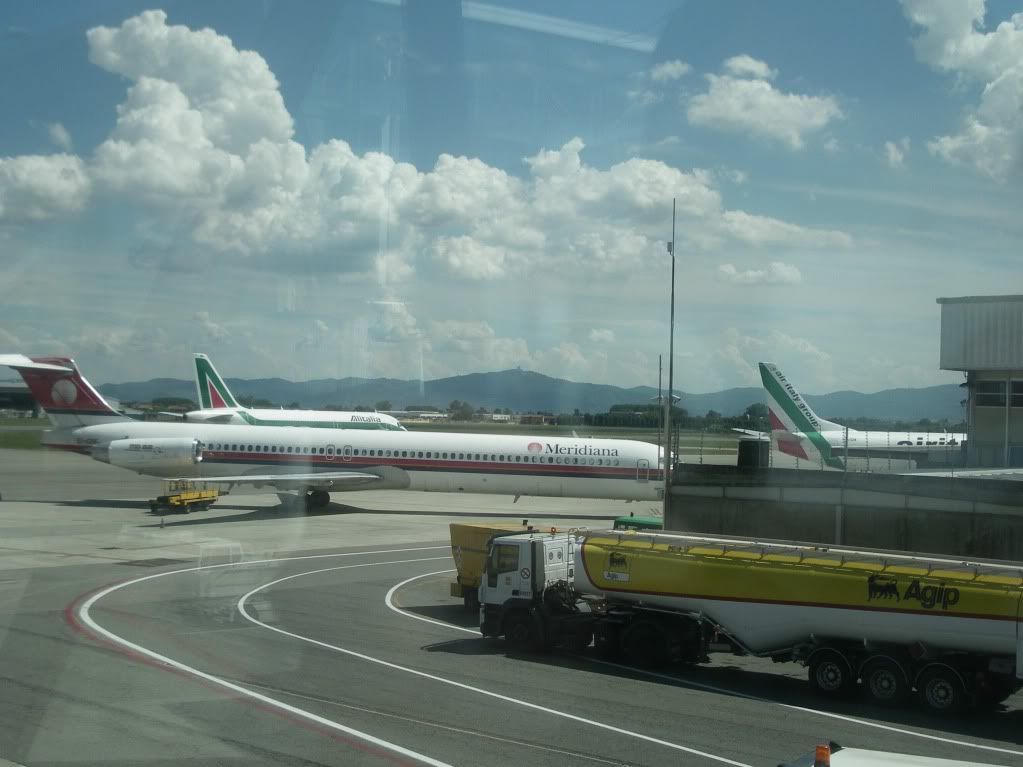 Quickly out in the public, missing the first bus for a minute or so.
The next runs some 15 minutes later, 5.50 Euro´s by SADEM to Porta Nuovo train station
through the city.
City life
The refurbished station
Deutsche Bahn managers take a look, this is not a hotel, this is the train station with a
restaurant, bars and lots of shops.
Trenitalia runs the Eurostar Italia high speed train on the Torino-Roma route.
My choice for the quick nonstop to Milano Porta Garibaldi, 31.00 Euro´s, not cheap, but comfortable, departure 4.40 pm.
The oldfashioned looking interior, it feels much better than it looks like
Green fields and mountains on the way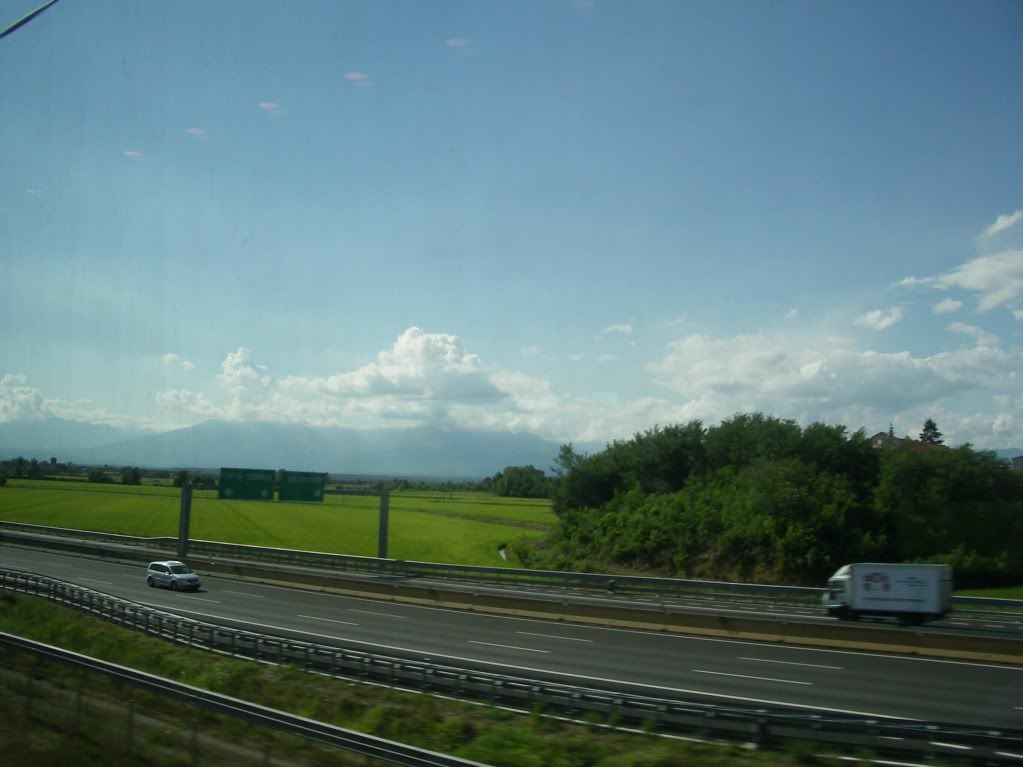 My last flight of the day is cancelled the day prior to my flight, so I´am checking my SMS messages from time to time. There is a new message
Thanks god and good LH service, it´s only a gate change information.
Scheduled arrival at Porta Garibaldi is 5.32 pm. As usual, so it seems, the train is running some minutes late,
5.45 pm will be the next ride to Gallarate.
Lucky me, it´s from the opposite track, disembarking and boarding the next one.
No need to hurry in the end, the train leaves the station also some minutes late
and is also running some more minutes late on the way to Gallarate.
Nothing serious, but enough that I miss the shuttle bus from the station to Malpensa airport.
The next bus will arrive at the airport close to boarding time for my flight, so it seems spending some 20.00 Euro´s for a new Mercedes B class taxi with an old driver, running on the meter, is worth it and much cheaper than to miss the flight in the end.
At the airport at around 7 pm, some 30 minutes prior to boarding.
Tuesday, 03.08.2010
.
.
.
.
Service Lufthansa LH 3931 operated by Contact Air
Scheduled: 20.10 // 21.05
OLCI work´s well here with LH´s website, the fare is some 40.00 Euro´s only, also booking is done as a return flight in October.
Exp.de again with the best offer.
Straight downstairs to security, a mafioso style guy in a white suit ahead.
Some italians dont use a wallet, they go instead with a money-clip and the guy
throws his in the basket for screening, together with a diamond covered watch,
a nice looking bunch of 500.-- Euro notes.
Nearly no time to wait and in the gate area some 30 minutes prior to my flight.
How to compare airport prices?.
Sounds like a strange question, isn´t it?.
For me, staying in close touch with more and more espresso´s, its always a thing to remember when on travel.
Doing espresso´s everywhere, I know how the airport price level is.
And MXP tops the board from a positive point of view, a well designed bar, quick service,
real china stuff and all in for 1.-- Euro, it seems they sell thousands of these small cups every day!.
Some walking around and pictures is nevertheless possible.
All big alliances here side by side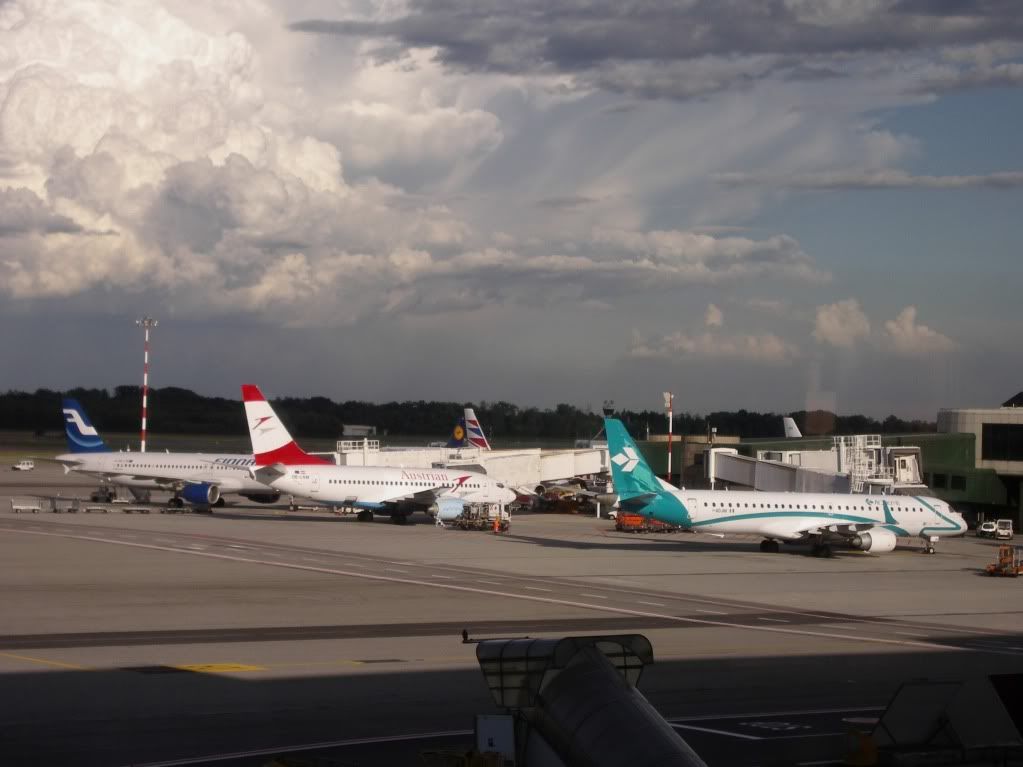 And TAM at the Non-Schengen terminal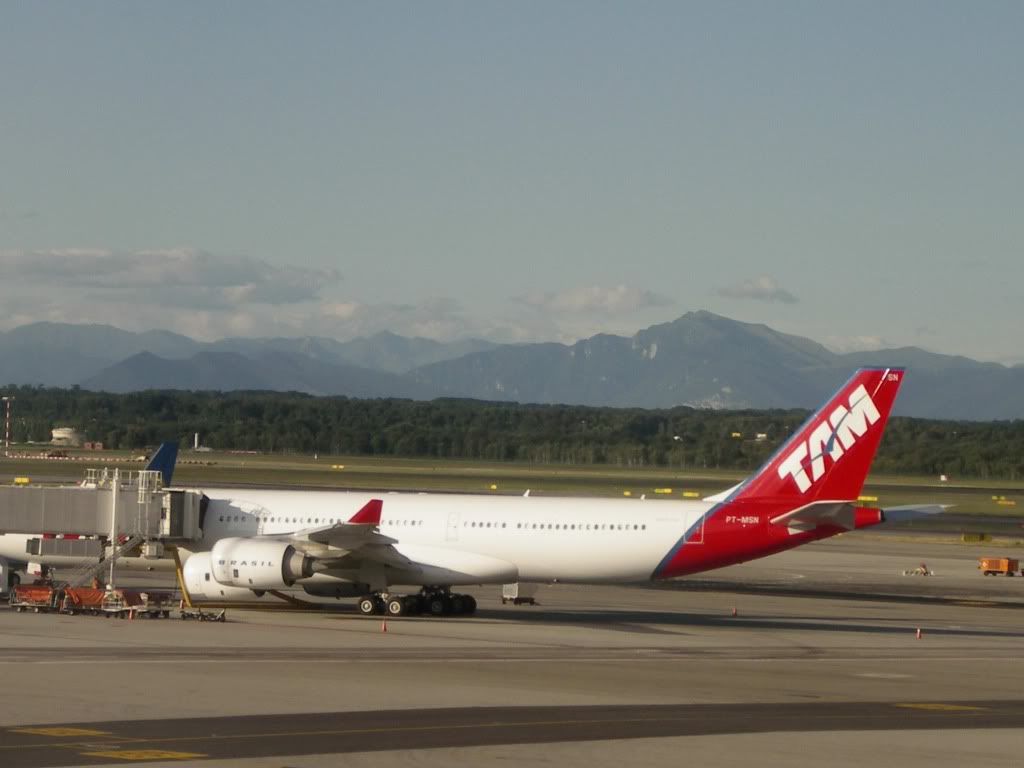 Dolomiti E-Jet scheduled later this month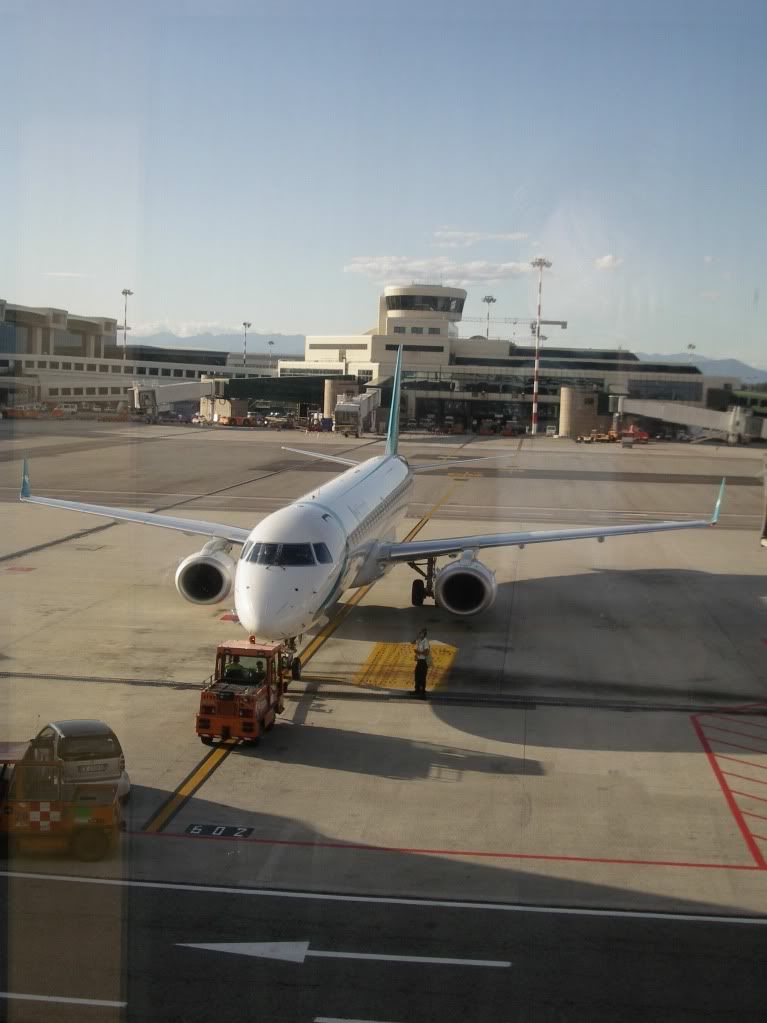 Action around the A gates
No bad news for my flight, so it seems from Gate A35
The Star-Alliance F100 on the apron
Olympic also here
New registration no. 3 today?
Not at all, it´s D-AFKB, leg no. 15 for me on the F100, the second ride on this particular machine.
In service from 03.12.1994 with indonesian Merpati, heading for South America with Tam from 01.07.1998, to Asia again with Mandarin from Taiwan at 01.07.2004, coming to Europe with KL Cityhopper at 09.07.2008 and in service with Contact since 17.03.2009.
The machine looks like clean and new
Star Alliance colours
Good idea, easy to switch from LH to LX services
Boarding
Comfortable seaters, 18A for me, not the last row due to the limited engine view, two for me here.
Dark grey hard, clean leather seats, real good legroom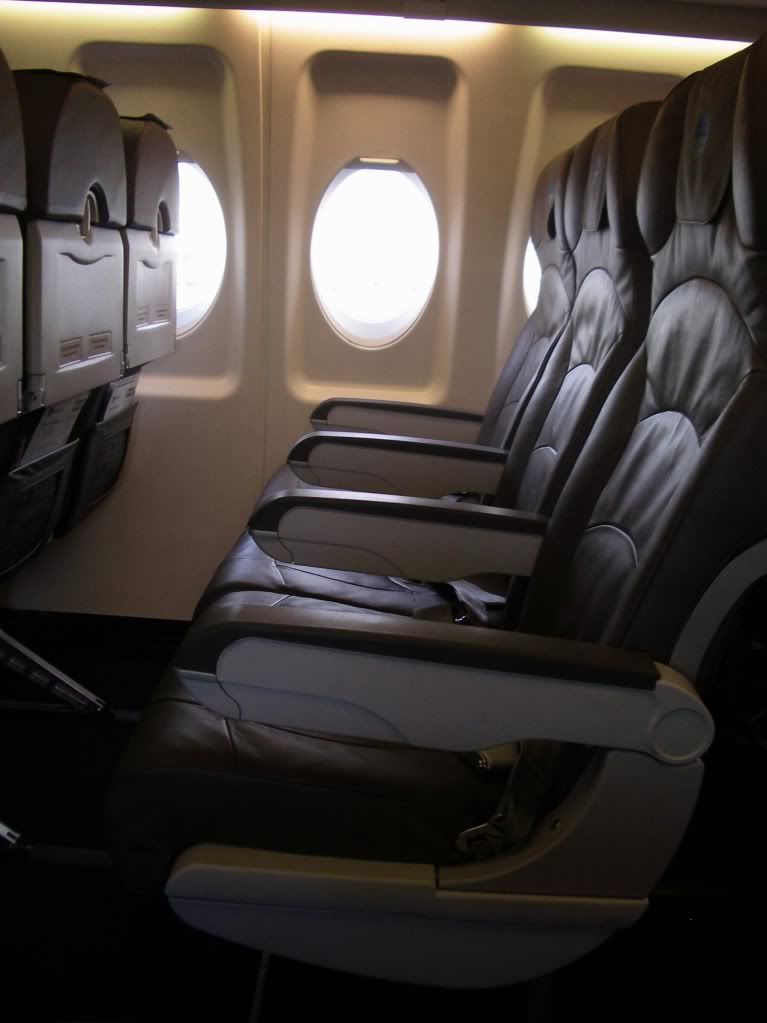 Wing view, the load is some 50 % only.
Cockpit crew is from Germany, the senior captain with a friendly welcome during boarding.
Two female FA´s here, one younger blonde and one older black haired, both ok, but not that especially friendly or not exactly my style.
Another TAM view for the A345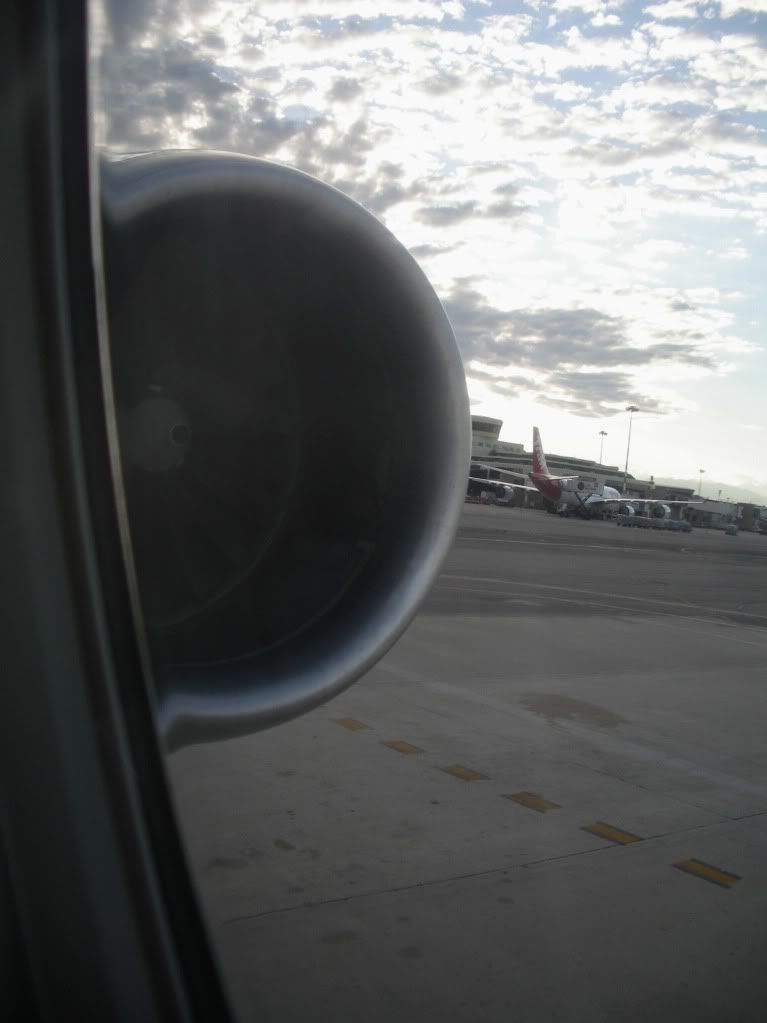 On the 3920 meters runway 35R, it is 8 pm, ten minutes prior to schedule, some clouds only and still 28 degrees
Departure, 50 minutes for STR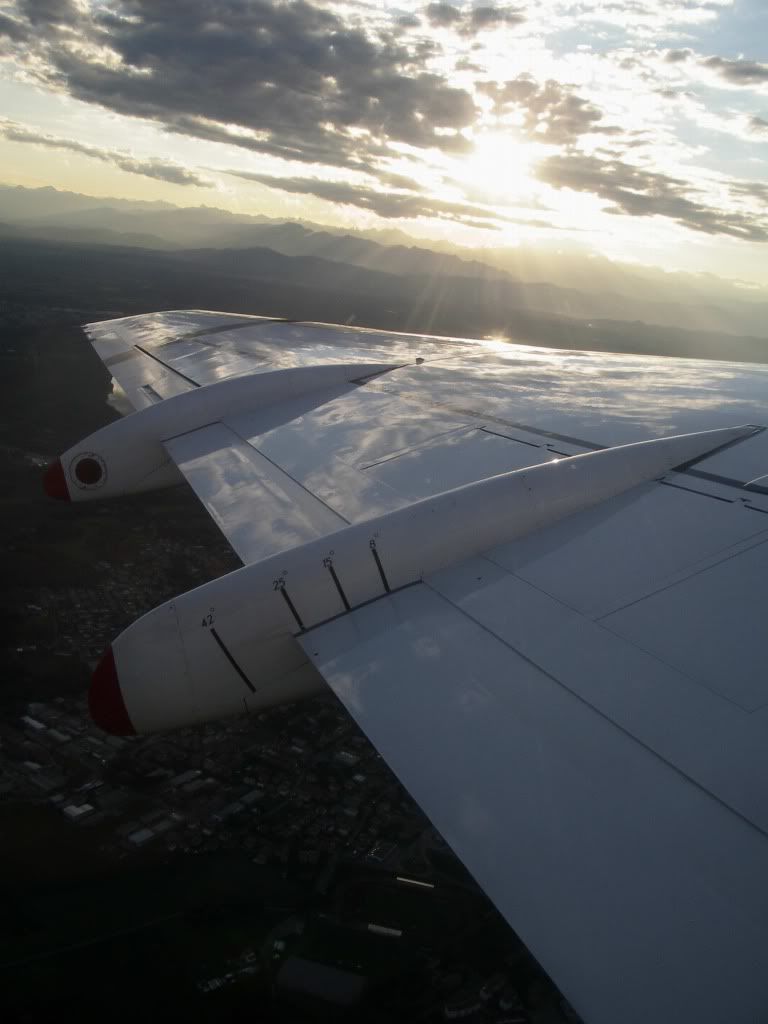 The nice looking lakes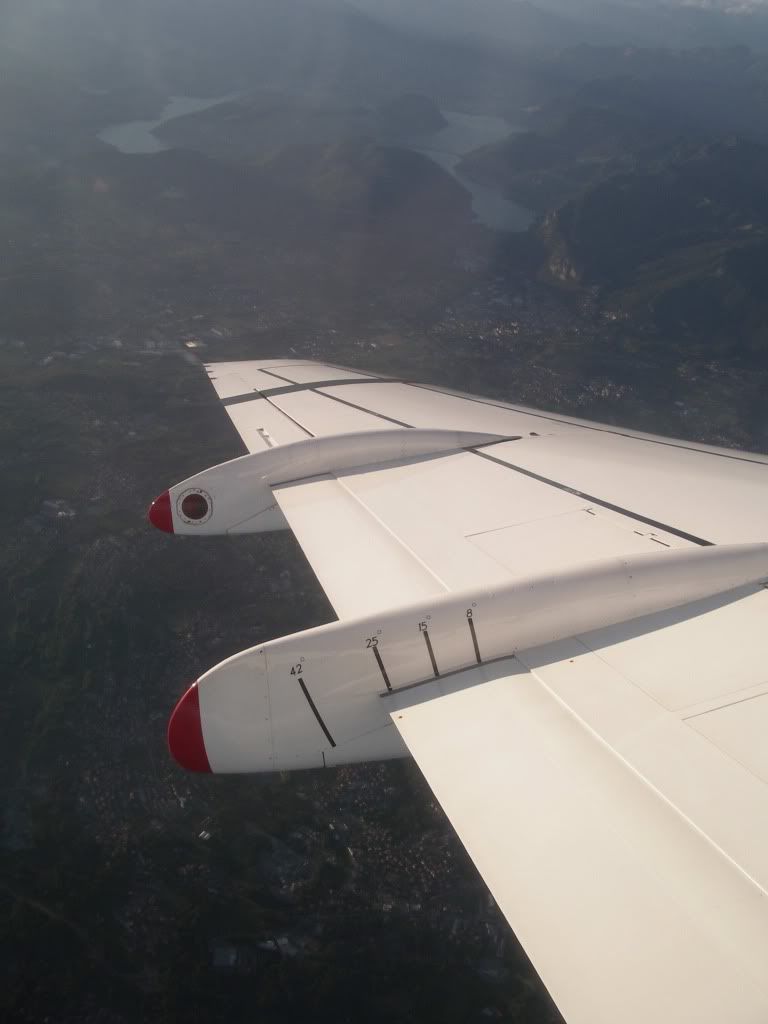 Clean cabin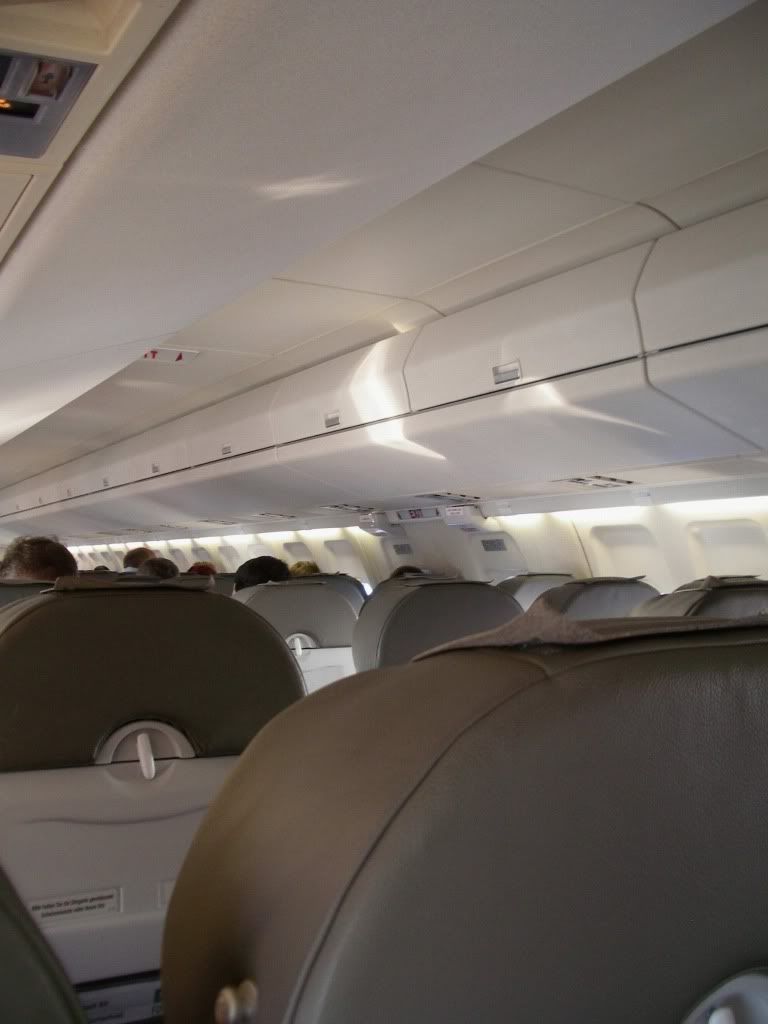 More lakes northbound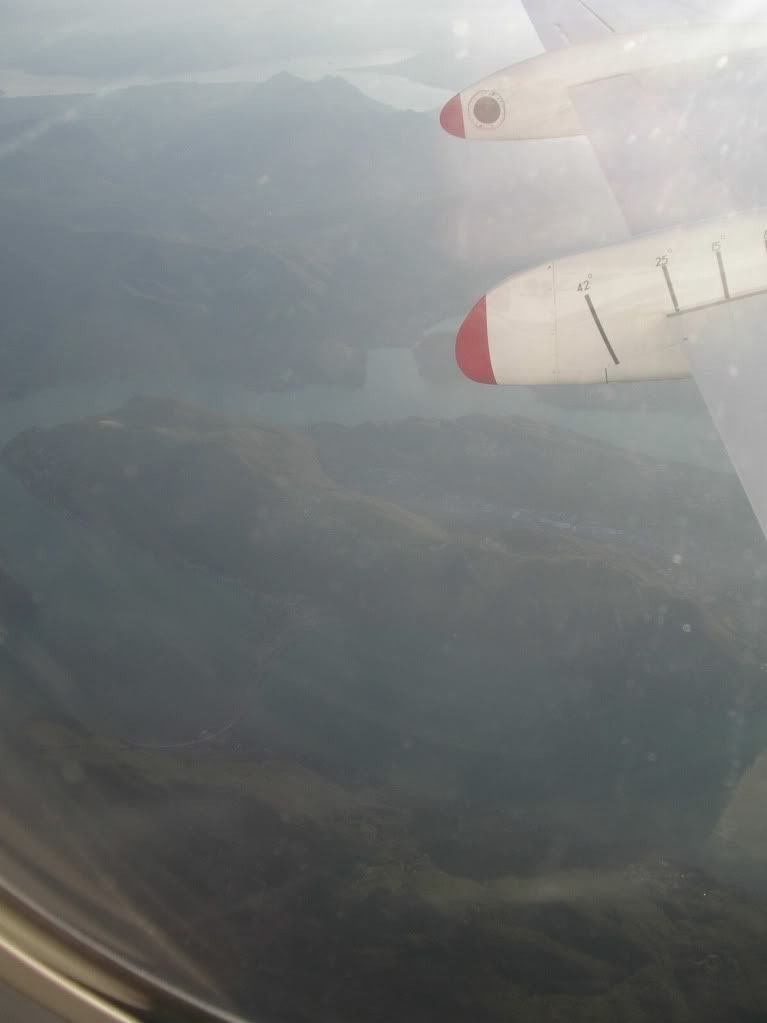 The FO with real detailed informations inflight, well done.
The route above Bergamo and Friedrichshafen at 22000 feet.
Service is snack and coffee for me.
The cabin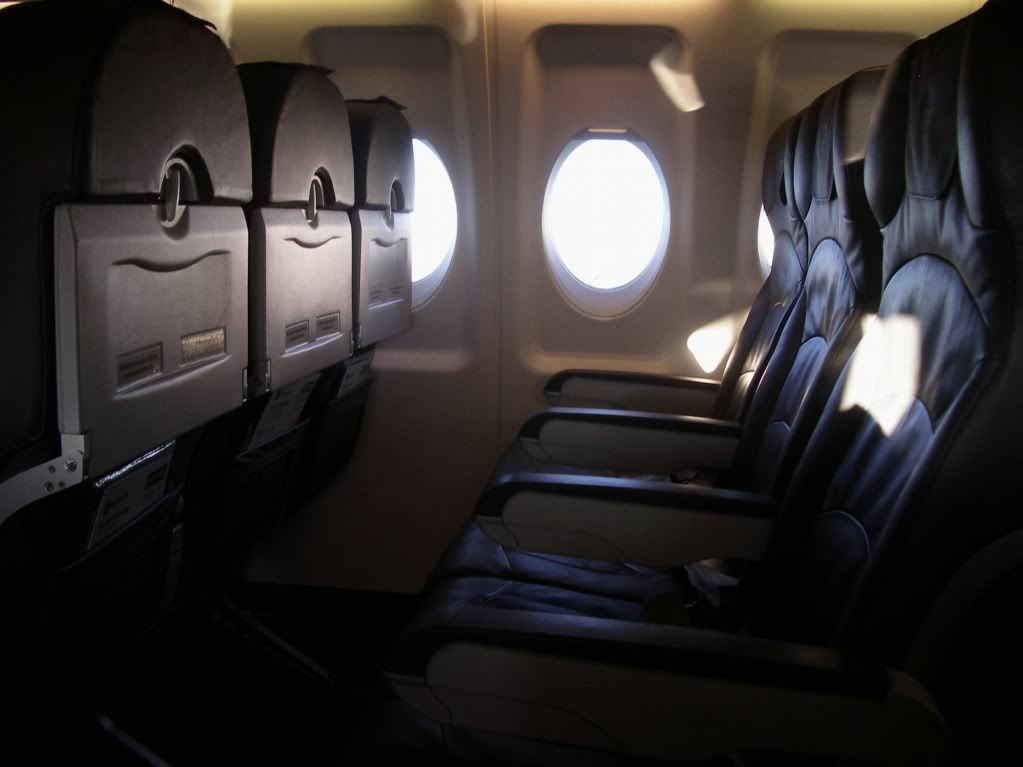 The safety card, note the integrated stairs again
The nice magazin with a very interesting article this time
Planespotting, what the heck is this?.
Planespotting for beginners
Engine and mountains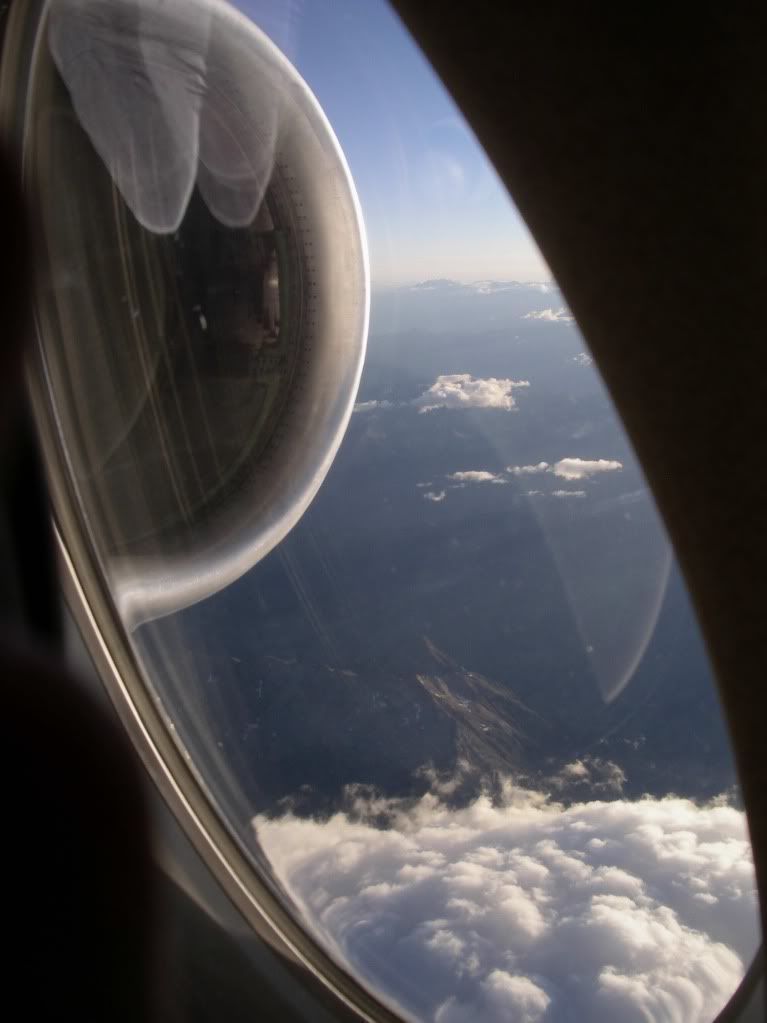 or lakes
We should avoid this, close to STR, looks like a nuclear bombing for me
Soft touchdown with speed brakes on runway 25, it is 8.55 pm, ten minutes prior to schedule, partly cloudy with 19 degrees.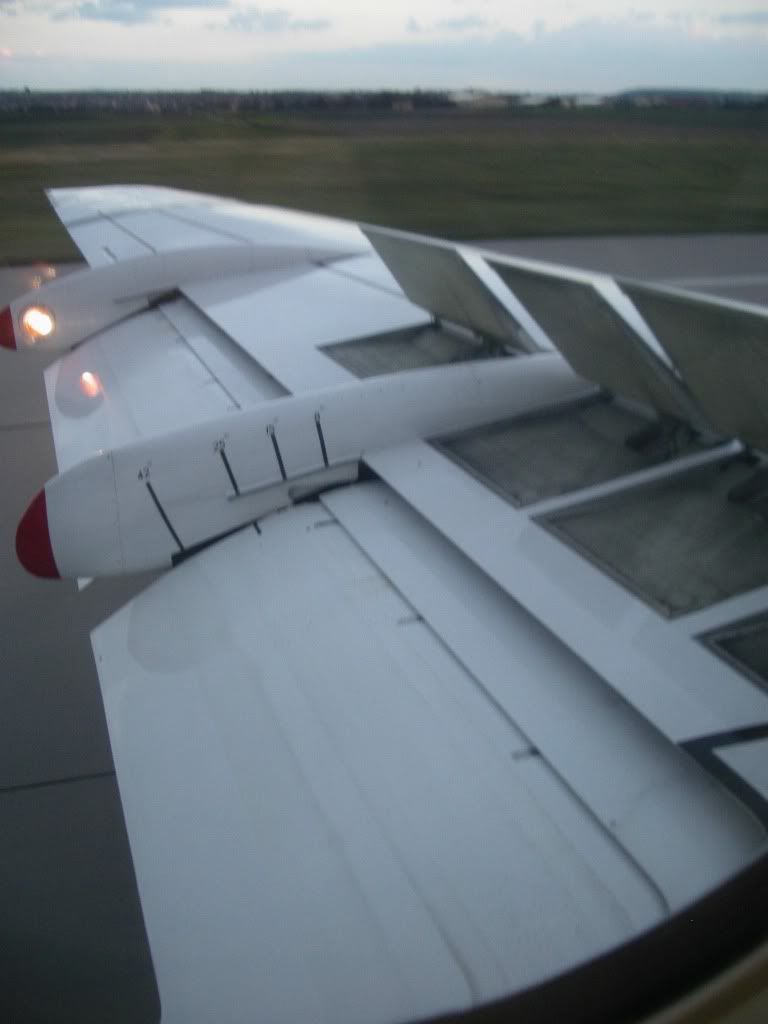 Not all CRJ200s are gone, so it seems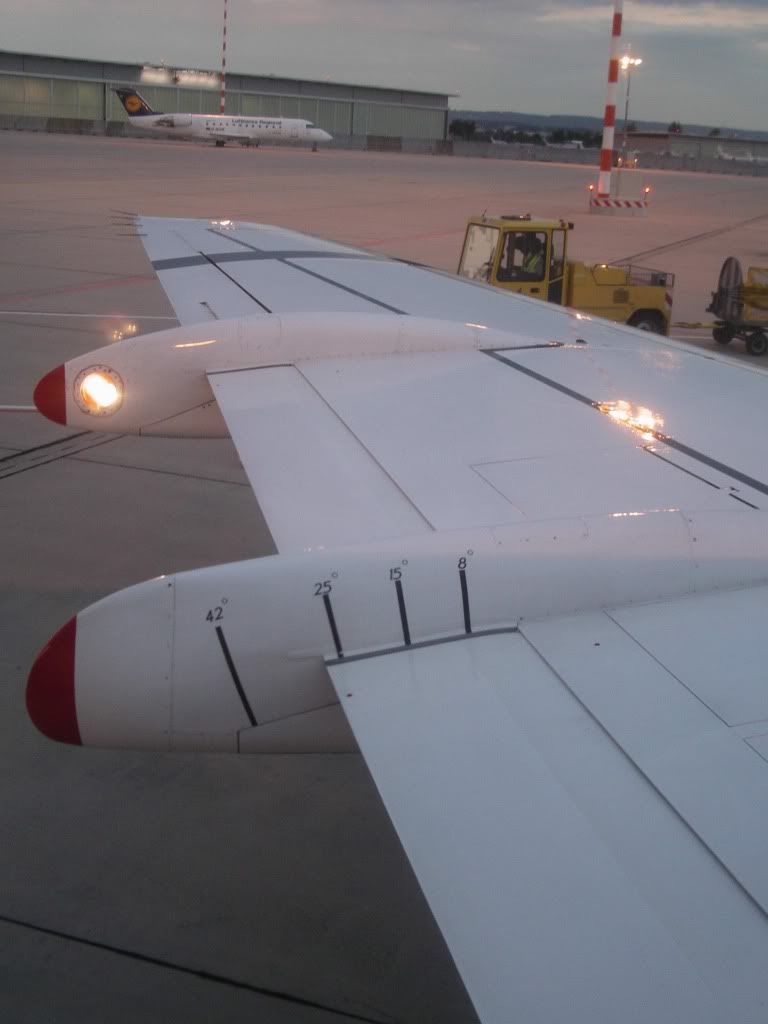 Further on by bus to the terminal.
AF with interesting metal and super nice service on the CDG-TRN leg,
no complaints today with Contact and the F100, all well ontime.
Some two weeks now, till the next story:
"Baboo to Nice with nice companion"
And what about Facebook,
"Markus Klaus Felger", if you want to see me on the friends list.
Comments welcome,
Markus(FLIEGER67)