Is it really the new queen of the skies? AF A380 in Y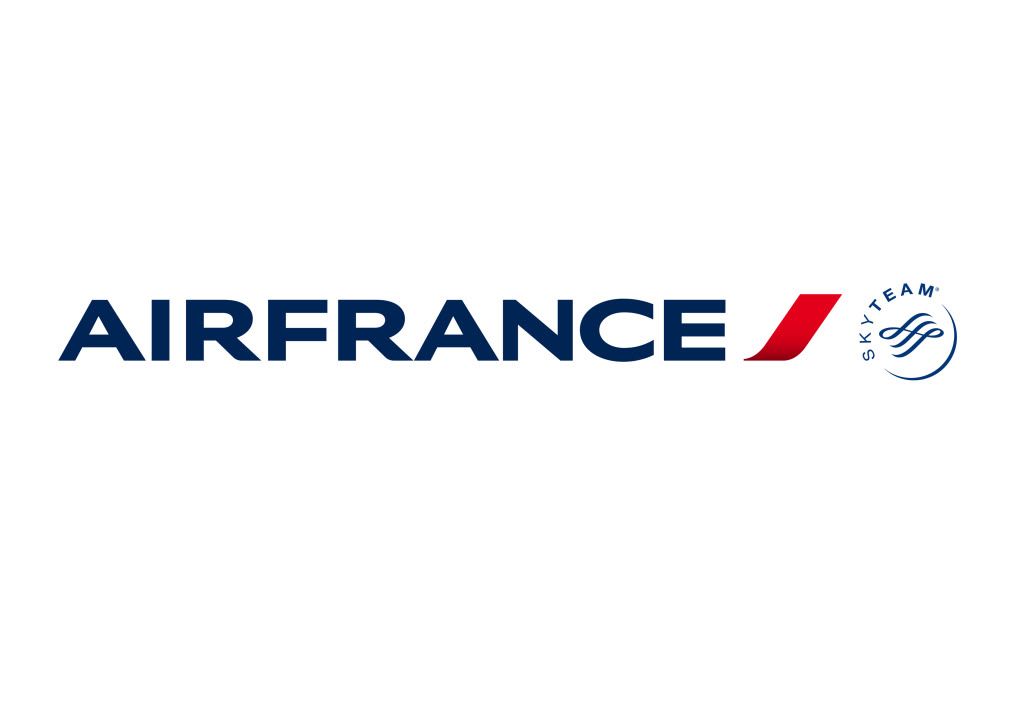 So, I found some time to make a tripreport out of my experience of this very special aircraft and flight.
But there was a background:
Luckily, I read quiete a lot on A.net and so I found out, that the special AF A380 flights will take place between June and August.
As fast as I could, I checked out the Air France website and quickly booked a return flight on the 19th of June.
For 80 Euros, that's a real bargain.
There is quite a lot of stress in such daytrips, especially if you don't live even close to CDG. But for an aviation enthusiastic, nothing is too far away to catch such a flight.
For me, that meant, that I had to get up at half past two in the morning.
After a quick breakfast at home, I rushed to my car and drove down all the way to Paris, which takes about 4 hours.
But there was no traffic at all at this early time and so I arrived at Charles De Gaulle Airport at 7 AM with enough time to check in and a look around the new terminal 2E.
I preselected my seats directly when I did my booking, so I just went to a Self-Service machine and print out my boarding pass. It was only one for the outbound and inbound leg.
I think the self service machines of Air France are way better than other I know, they are easy to understand and are very fast.
Much better than the ones in LUX, where it is actually faster to go to an agent.
But now it was time to go to security and it was the first time for me, where there was no "Beep", when I went through the screener.
To get to the gate E54, I had to use a people mover train, and within 5min I was at the right part of the terminal with still plenty of time to have a coffee and some spotting, because there is a huge window with perfect view on the runway and some taxiways.
Even if the weather was not good at all here some examples of the view.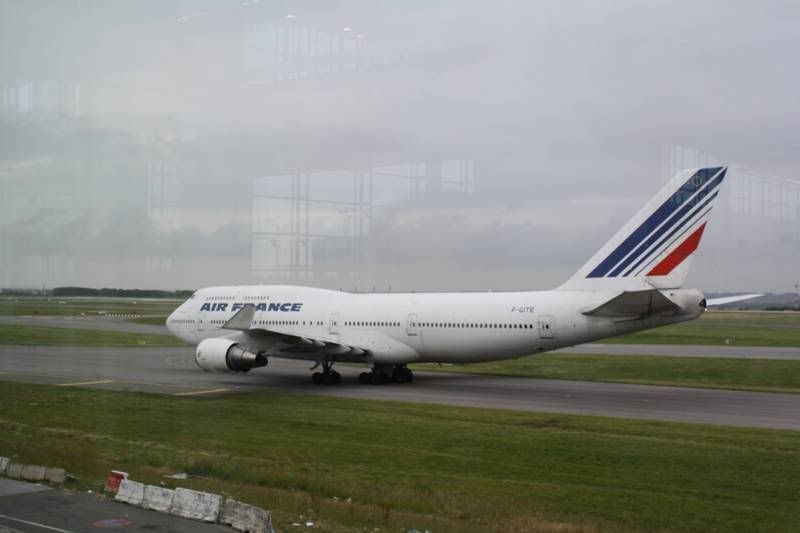 AF 744 with the new livery
And something smaller: AF E-Jet
So now it was time to go to the gate, because boarding will be called very soon.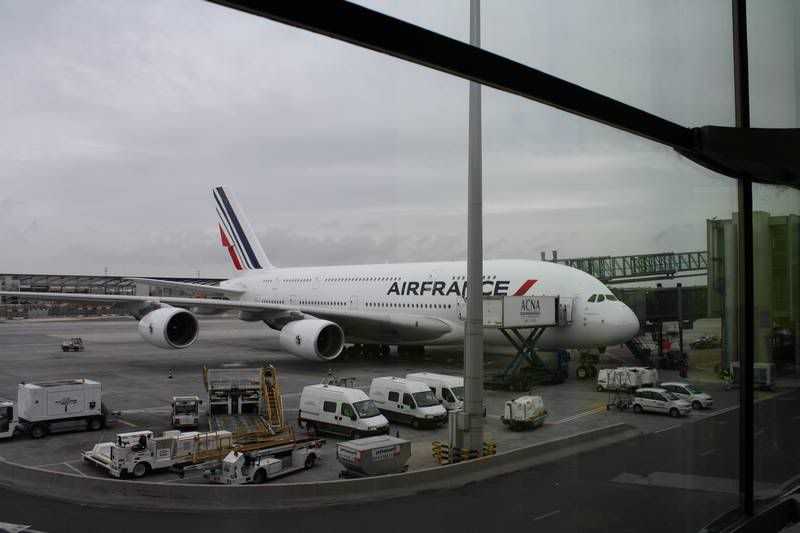 Quickly after that, the boarding started with two fingers, one for the lower and one for the upper deck: very efficient and within no time I was in the plane.
Wow that is really huge and it still smelled new.
View of one of the four engines.
On the lower deck, there is "La Première", the first class of AF and most of the Economy cabin located.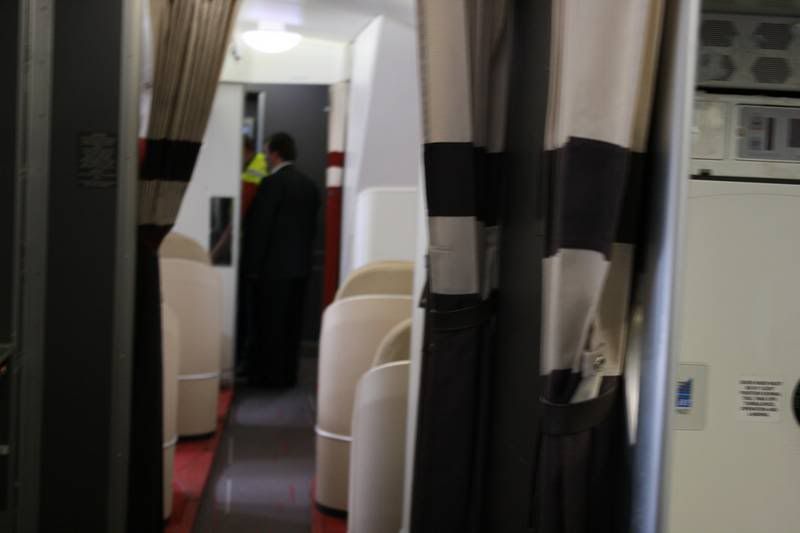 while boarding, I had a quick look into the first cabin.
I don't know why they didn't sell any of the first class seats?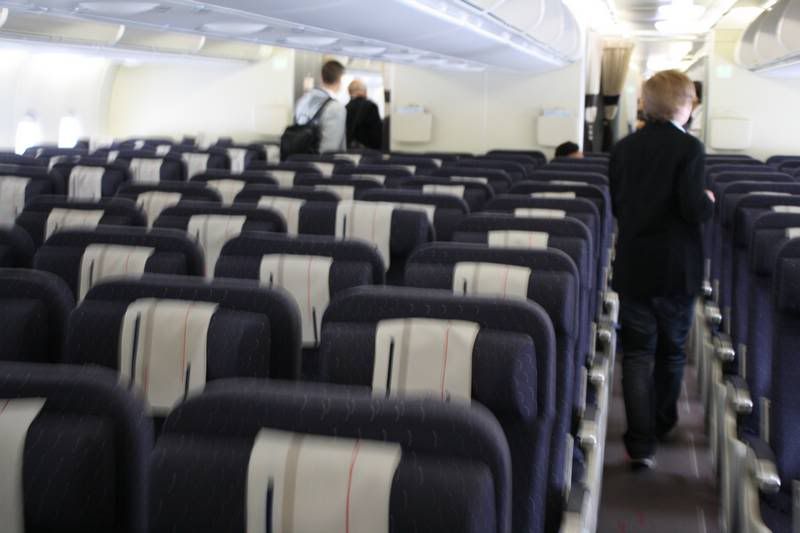 Main deck economy cabin
So than I went to my seat in the last part of the economy cabin, 47A, a window seat, nothing else is okay for an A.netter.
My first impression of the seat is really good, it is comfy and it has a decent legroom.
And the IFE screens also have a good size.
I don't know why AF put such a high-class remote into the Economycabin, as they have a touchscreen. Other airlines uses this remote model in their first cabin, so chapeau for AF.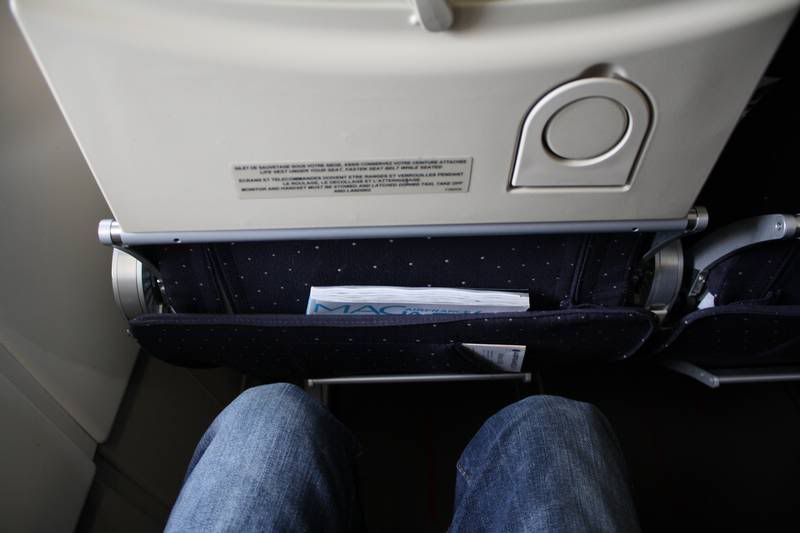 The obligatory A.net knee shot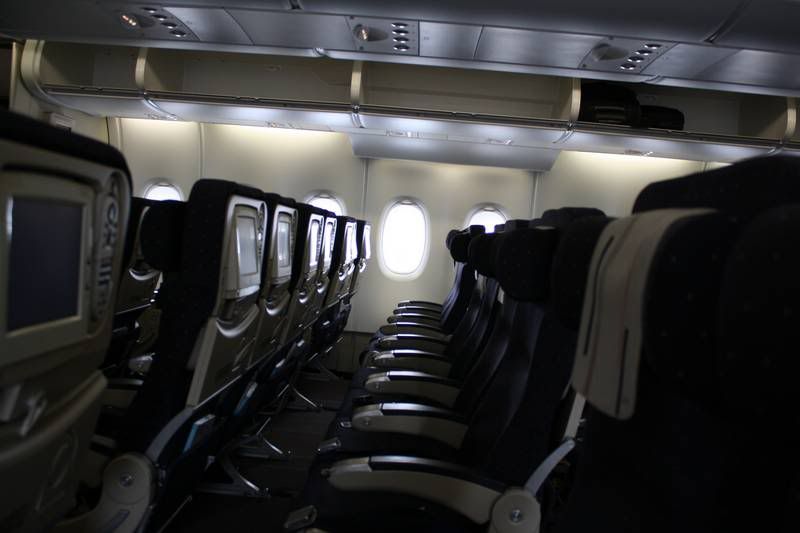 As I boarded as one of the first passengers, the cabin was still empty, a good oportunity to take a picture.
View from my seat
Quickly after I settled down, the IFE turned on and welcomed every guest:
Shortly after that they put the camera view onto each screen.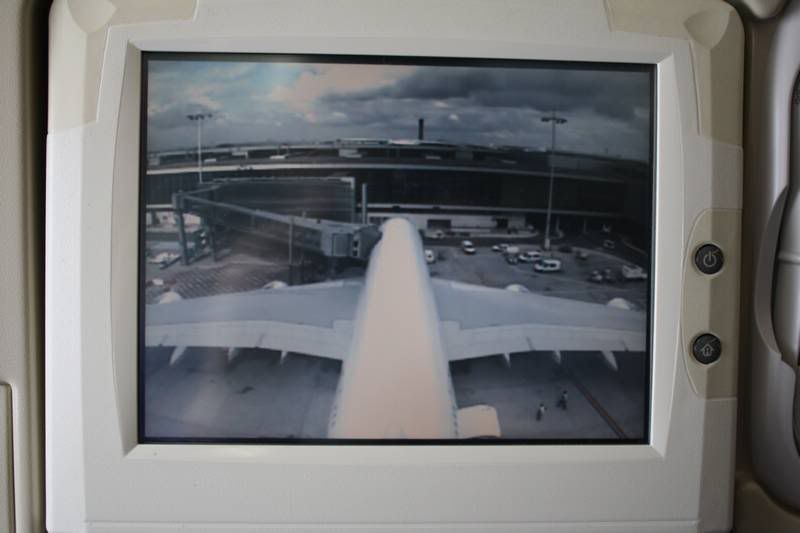 With this view the boarding time was soon over and we were ready to push back.
There was no delay at all with us this morning.
While taxiing, we went past the sistership of our A380.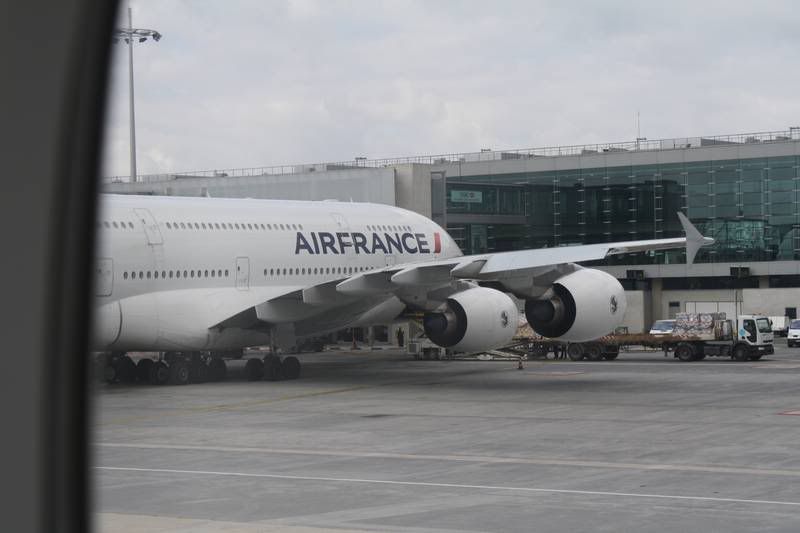 We fastly reached the runway with some others behind us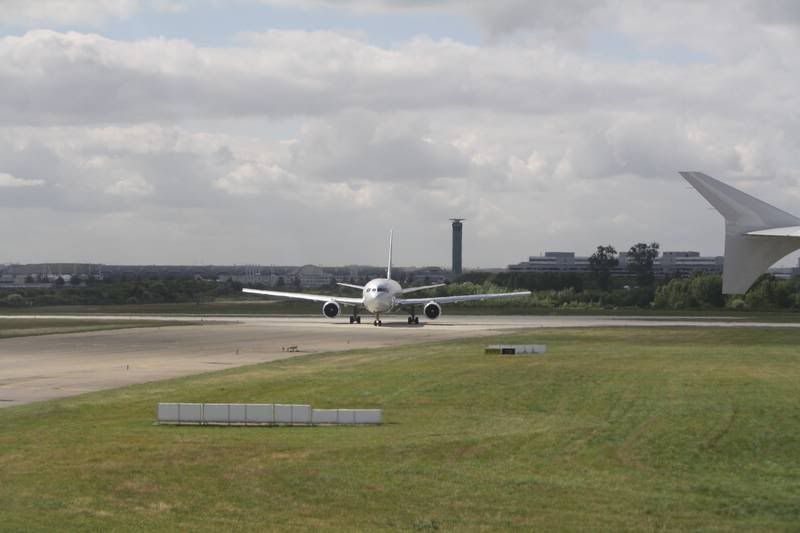 And now it was time to take off!
The front camera is such a nice idea while climb out.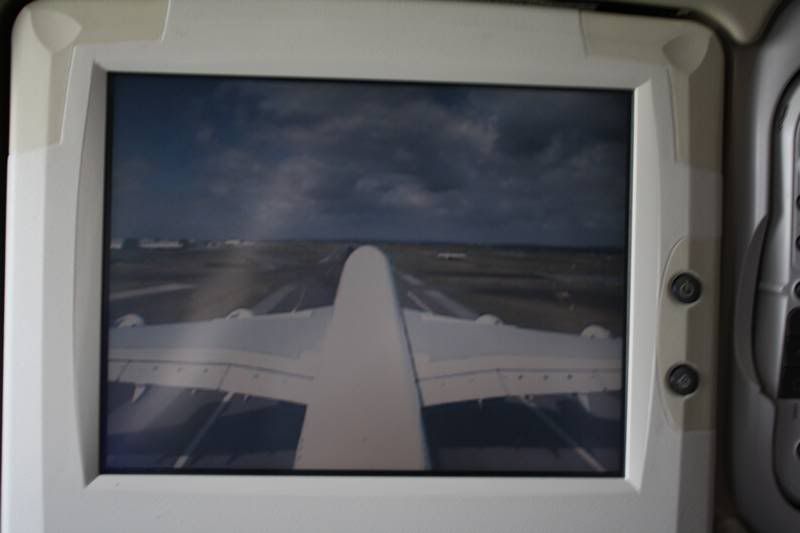 Luckily the weather cleared up and we had a good view of the landscape around Paris: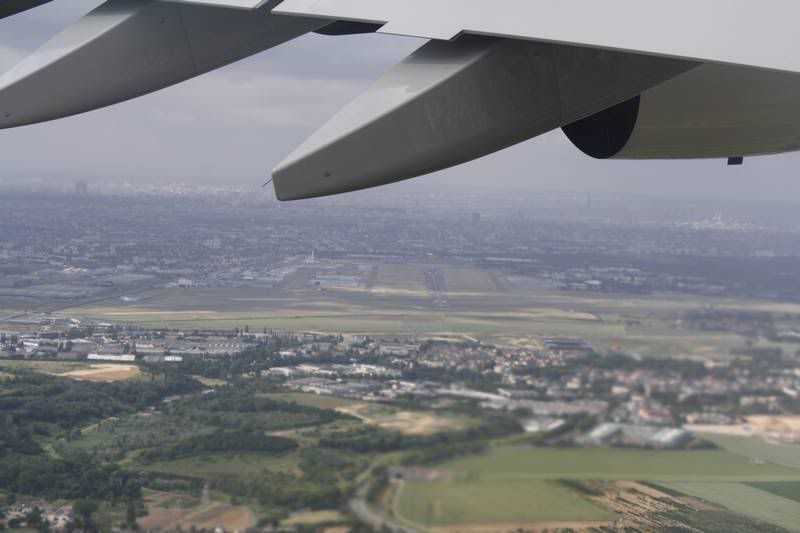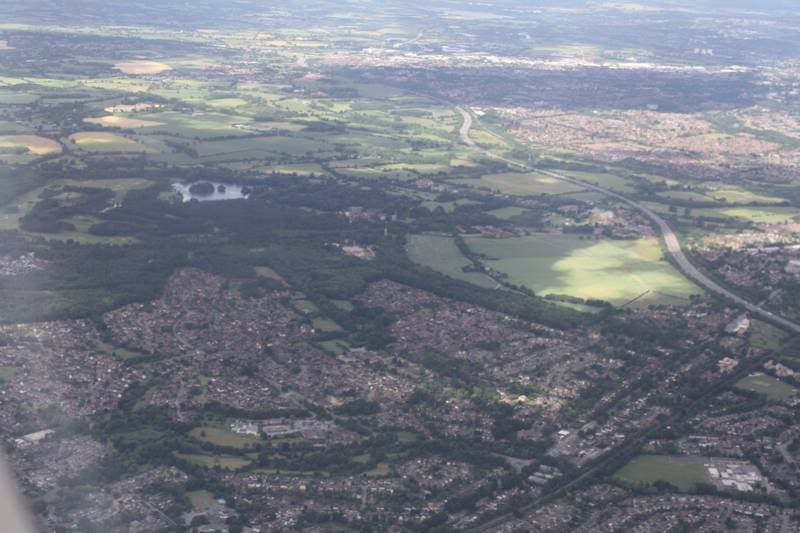 The capitain made an announcement that the flighttime will be 45 minutes.
Soon after this the service began.
As this was a short haul flight, no food was expected, but every passenger had the choise of a sweet or salty snack and a drink.
As it was still morning, and I didn't sleep that much the night before, I opted for the sweet option with a coffee.
The flightattendents were in a rush, because normally, they don't have to serve so many people is such a little amount of time.
Way too soon, the capitain switched on the seatbelt sign again and started its decent into LHR.
While landing in LHR
BA 744
I waited, until the other passengers left, so I could have a look around the Y-cabin and take some pictures: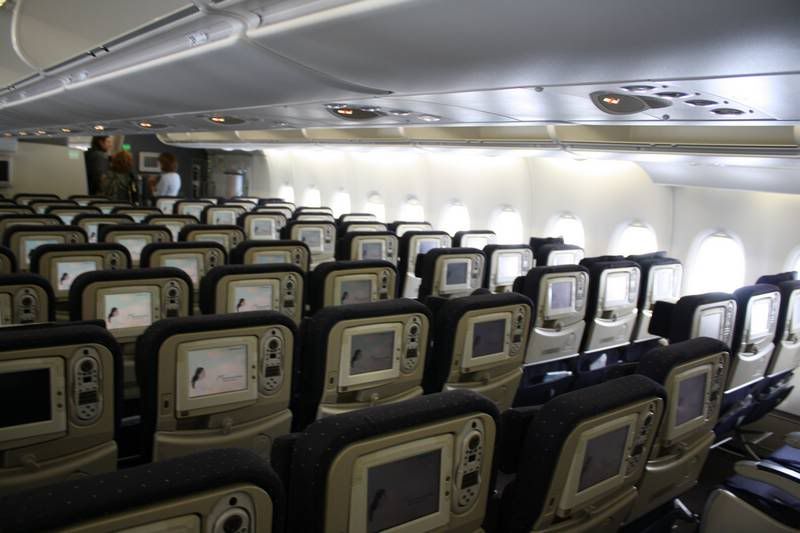 Very nice of the cabin crew was, that they allowed to visit the first cabin and test the seat.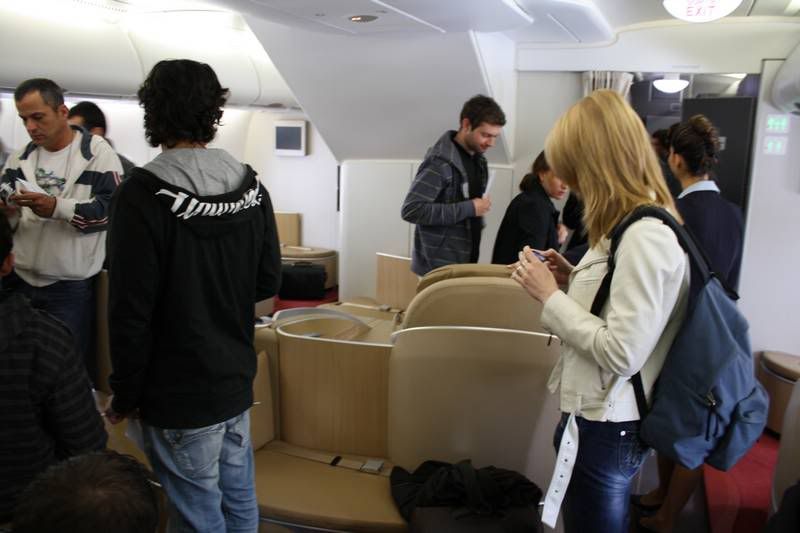 In my opinion, the seat is not "firstish" at all, if you compare it with all the other legacy carriers.
As I had only about one hour in LHR, I had a quick look at the shopping mall, but there was nothing special, except the Harrods store:
After that, I got a Frappuccino and a muffin at Starbucks and found a place with a good view on the runway.
I didn't take that many pictures while eating, but here are some of them: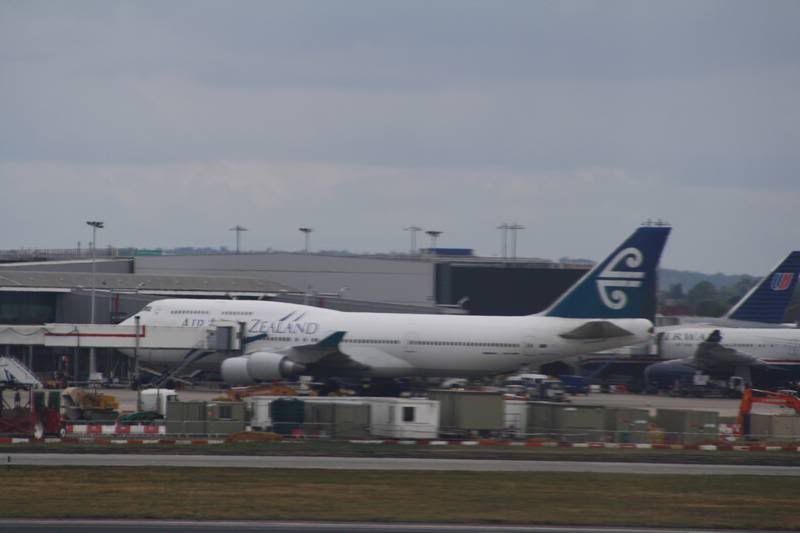 NZ 744
BA 744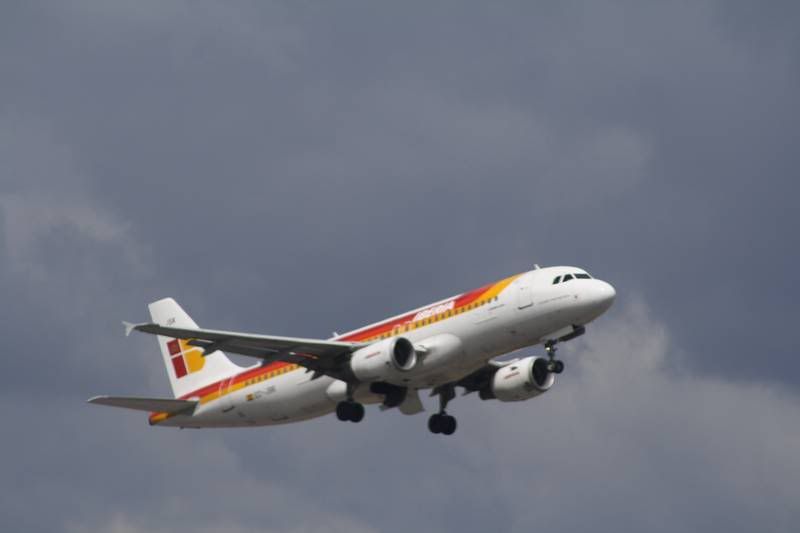 IB A320
AA 772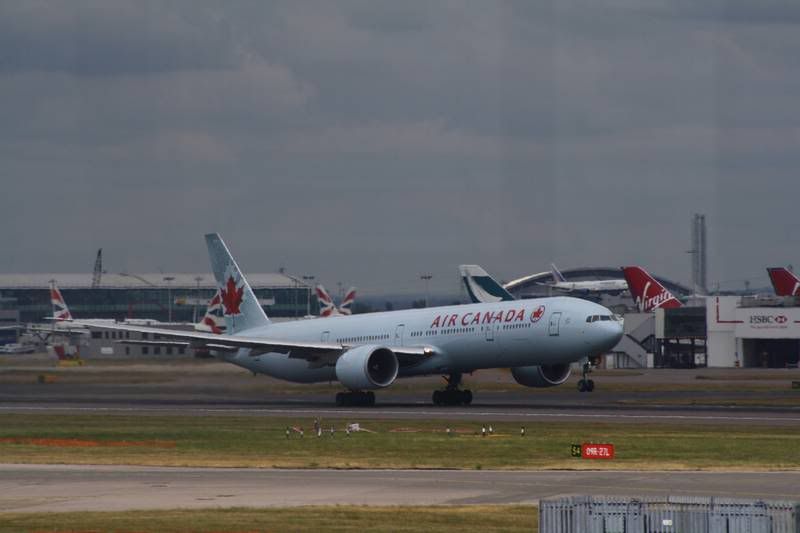 AC 77W
If anyone is interested, where this place has been, it was close to the Garfunkels Restaurant.
Now it was time to head back to the gate 6B to catch the return flight to CDG.
For this flight, I chose a seat on the upper deck: 85A, so I had also a chance to have a view at the "Affaire" cabin, which I found, looked way better the the first product.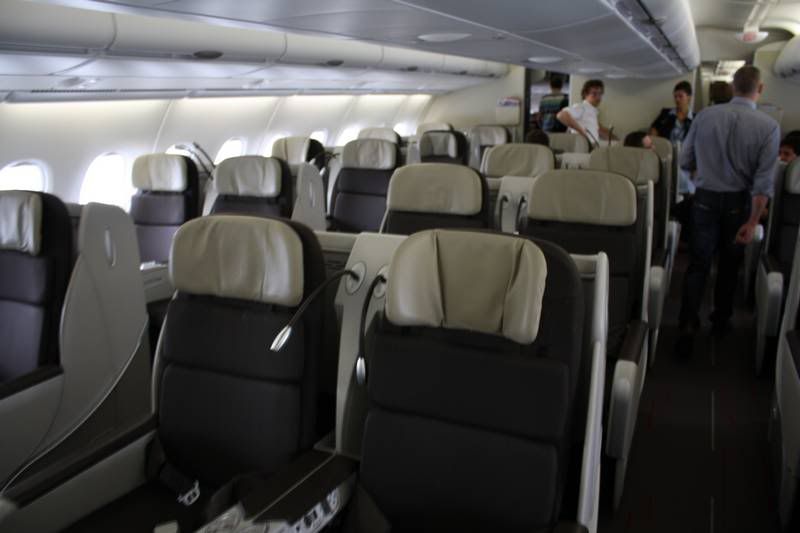 When I settled down, I found out that fellow A.net member TUGMASTER had a seat right behind me.
So we had a nice talk about aviation, because due to "miscounting of the passengers for about 10 times", the flight was delayed for about 45min, but no problem for me.
Finally we pushed back and had a quick taxi to the runway.
Service was the same as on the outbound leg, so I dont write more about that.
After a flighttime of 50 minutes, we touched down and after "the last corner" as the capitain announced, we were at gate E56 and deplaned.
In conclusion it was the right daytrip and the A380 is a nice plane, but I don't think it will ever be the new Queen of the skies: That was the 747, is it and will it ever stay.
Hope you enjoyed reading my second TR.
Feedback and comments are very welcome.
Regards
Johannes.
Next TR will follow in about 3 weeks:
This time the focus will be on the Q400 and an airlines, which doesn't have any tripreport on A.net yet.