Introduction
I never meant to write a TR about this small day trip to Sweden (have been posting many of those recently), but some people requested one so here goes.
The HEL-NRK (Norrköping, a Swedish city of around 85000 inhabitants located some 150 kilometers south of Stockholm) route was initially opened back in 2008 by the Danish airline Cimber Air who had a sort of a mini hub at NRK, offering flights to HEL, CPH and MUC. I flew this route back when it was opened - a very pleasant if heavily delayed short hop onboard a CRJ-200. The main purpose of this route was to act as a feeder to Finnair's long haul routes - quite ironic considering Cimber's history as a traditional feeder carrier for SAS flights at CPH. Anyway the route lasted less than a year until Cimber scaled down their operations at NRK -
today only the CPH route remains. Apparently the route did well enough to make Finncomm Airlines to consider reopening it a bit later, and at September 2009 they did just that - introducing six weekly flights onboard their ATR42-500s.
To celebrate the 1 year anniversary of this route FC were offering tickets for only 1 EUR (well, with the various fees added it came to a total of 22 EUR, still a bargain) in September 2010 and somehow I found myself booking one for a Sunday midday flight.
I had some significant problems finding any flights back home from Sweden for a reasonable fare so I actually was almost ready to just throw away the FC ticket - after all it was a route and airport which I'd already flown before. This was until I realized that I was one segment short of Baltic Miles VIP (Gold) status plus a thousand miles short for an upgrade award - something which I'd definitely appreciate on my next weekend's long MAD-RIX flight! So I decided to go forward with the trip after all, flying ARN-RIX-HEL on BT as the return segment which would yield the needed qualifying flight and the necessary miles. The fare was almost 100 EUR, some 30 EUR more than what is usual on this route, but luckily I still had one of my airBaltic VDB vouchers which I used to buy the ticket.
To connect the dots I booked the X2000 high speed train beween Norrköping and Stockholm C - I originally was going to go for a cheaper regional train as the X2000 fare was rather high, but magically it dropped to a more reasonable level a couple of days before departure so I snatched it to have some more time in Norrköping. Besides I've never been on that particular train type before so it would be a nice experience (well, not so, read on!). Economy class ticket cost around 32 EUR, 1st class was available for 7 EUR more but I decided it was not worth it for an hour's ride - I'd rather spend that money on beer in the restaurant car!
Sunday 26.9.2010
I arrive to HEL T2 around 45 minutes before departure. Not many people around at noon on a Sunday, so security is rather effortless and I have enough time for a cup of coffee after successfully avoiding a girl offering me a free Amex Gold - I did get her chocolates though and tried talk her into giving me a free Platinum, now that would be totally worth it - but no dice!
Boarding is from the bus gate 21A and starts around 25 minutes before departure. 10 minutes to wait in the bus for a last minute pax as always (have I ever mentioned how I hate bus boardings for this particular reason?!) but in the end I count 17 pax in the bus and we set off. A short drive later we pull in front of the expected ATR-42. Today the honors will be served by Tango Alpha, FC's first ATR delivered almost five years ago and one which I have flown three times previously so this will become my fourth ride with her.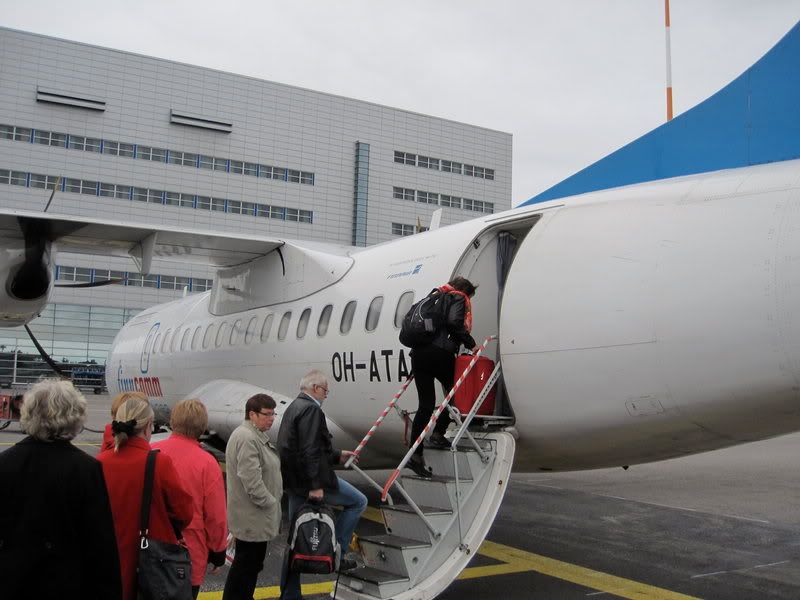 Observant readers will have noticed that contrary to my usual modus operandi I'm among the last pax to board - the reason for this is that I decided to earn some good karma and am carrying the heavy bags of an old lady with a crutch - all the other passengers and ground staff conveniently ignored her even though she clearly has some mobility problems. She's very grateful, though - more on this later.
HEL - NRK
FC633
ATR-42 500 OH-ATA
Seat 9D
12.19 - 12.38
Free seating as always on FC's own flights (as opposed to the "Operated for AY" ones) - so I grab 9D after stuffing the old lady's rather heavy bags in the overhead bin - she takes 9A on the other side of the aisle. With the light load no problem getting a free seat next to me. The legroom is decent for the short hops these birds operate: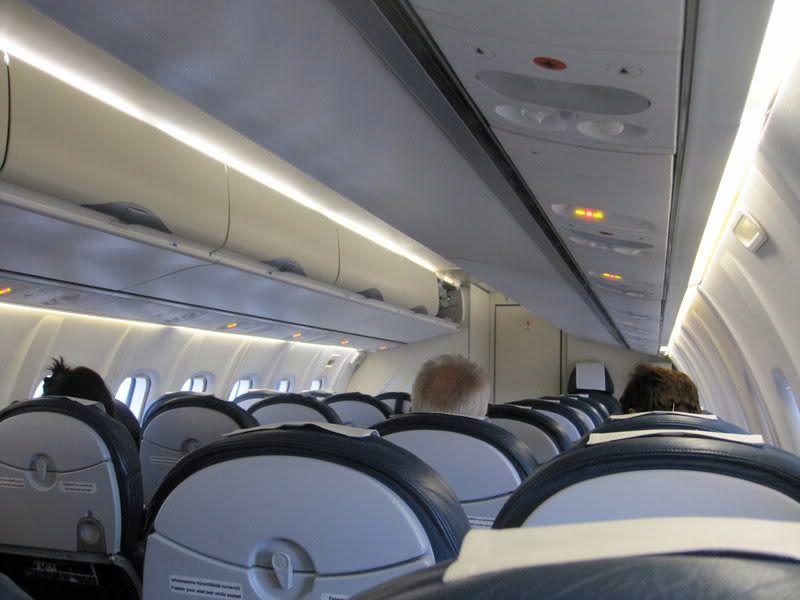 The window is absolutely filthy, sorry for the substandard pics:
The plane is freezingly cold, this must be its first sortie of the day after the cold night.
Flight time is announced as 1h20mins. Pushback is a minute early, under our own engine power as usually on these ATRs - going backwards on a plane is certainly a small novelty!
Right after engines are started the cockpit crew seems to turn on the heat to full blast, the heaters (not the personal air vents or gaspers like some Dutch people refer to them
) start pouring out hot air and it soon becomes uncomfortably hot in the cabin - the air vents do not help as the air they spew out lukewarm air at best.
Taxi to 04R takes a while, but there's no queue so we shoot to the skies barely using up any of the available runway. By the time we start our take off run the heater has been turned down and the air vents are actually producing cold air - a most welcome feeling!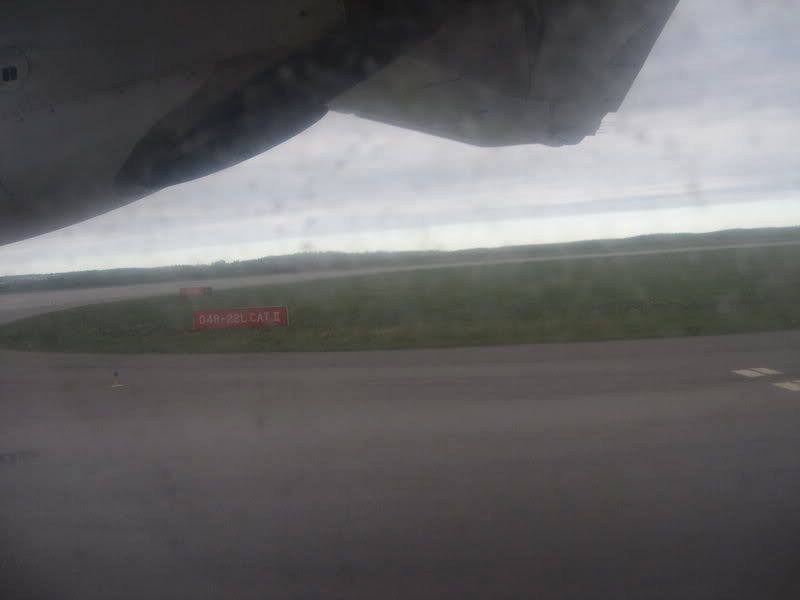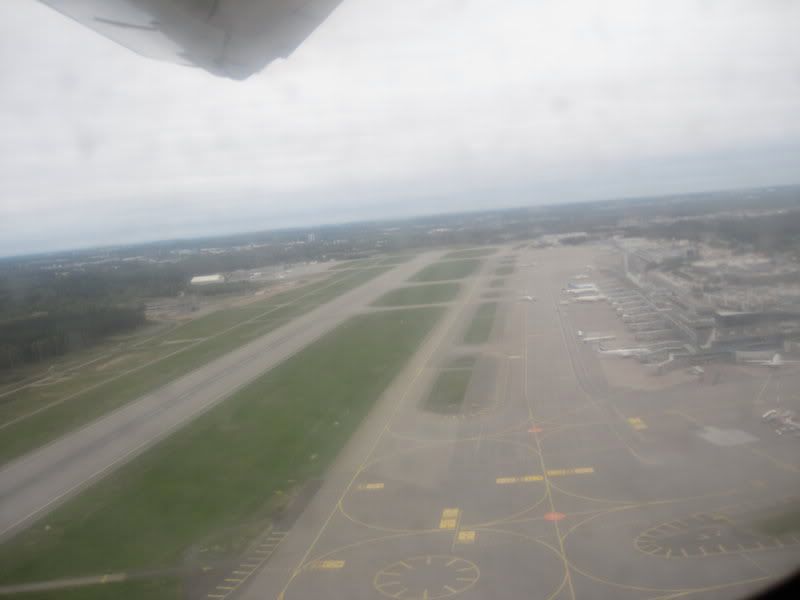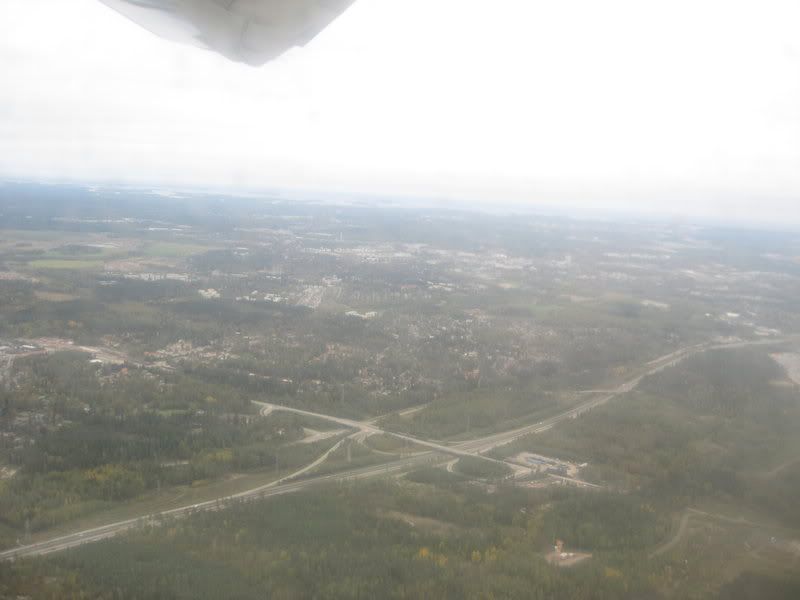 Somewhere over Korso a lefthand U-turn follows, pointing us towards the southwest. There are clouds everywhere so no views of the ground (apart from a small opening showing me a view of... Turku of all places!) until final approach to NRK.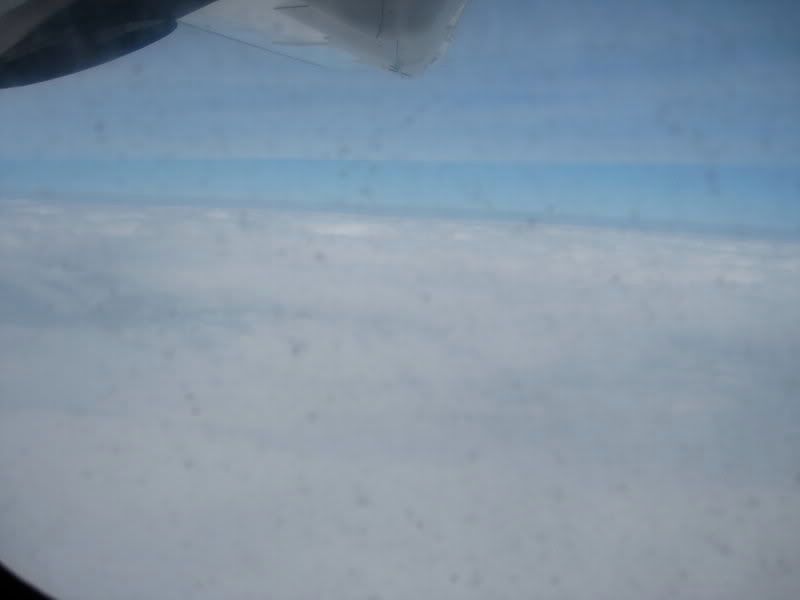 Service is cookie cutter FC one - a sandwich with coffee/tea/water or juice. The sandwich is otherwise good, but continuing with the temperature theme on this flight it is partly frozen - I honestly can't tell whether the mystery meat inside is turkey or ham as it is still so frozen. I suspect the first, though. I guess they even catered the plane the previous night.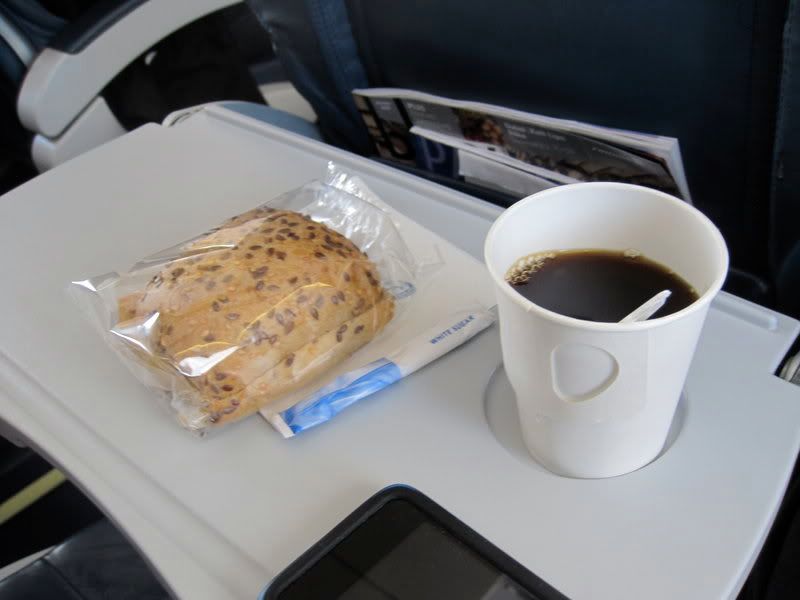 Somewhere over Mariehamn the captain makes a short welcome speech, announcing that we should be landing in half an hour and that the weather in Norrköping is similar to Helsinki, overcast, light winds and eleven degrees.
Descent starts around an hour into the flight with the seat belt sign switched on five minutes later. Once we break the clouds we are already well into our finals with the large bay of Bråviken visible towards the north:
Rather rural surroundings: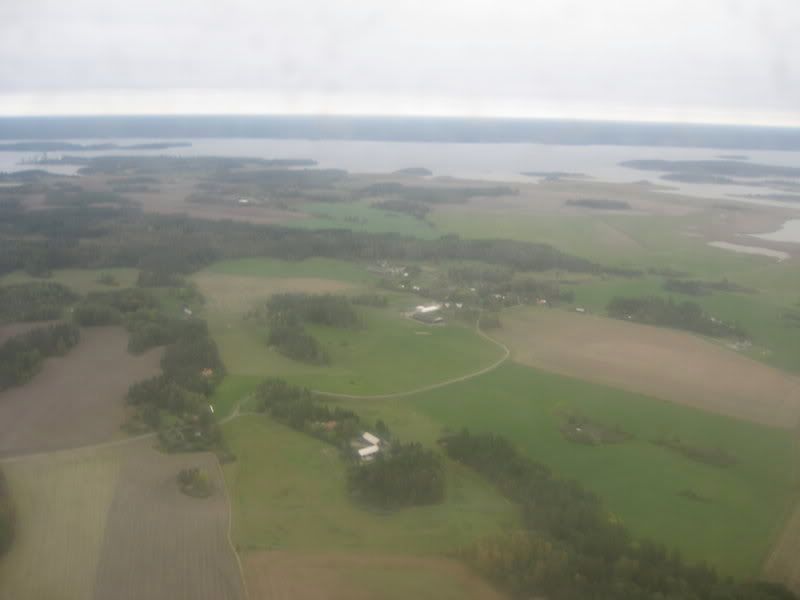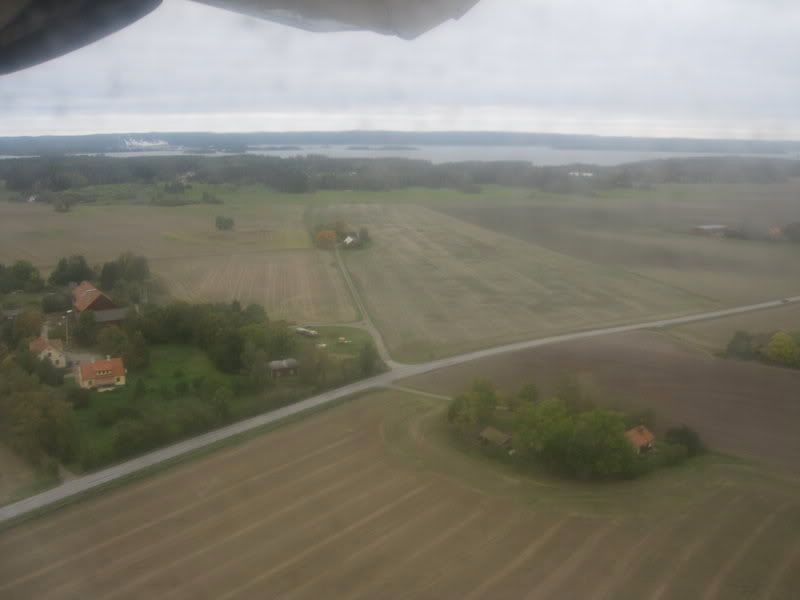 Landing is on runway 27 after some 1h10mins of flight.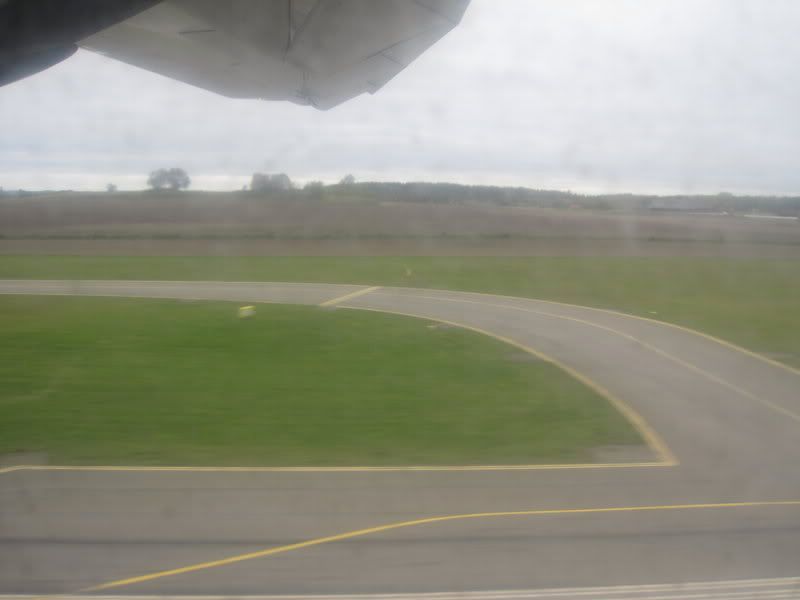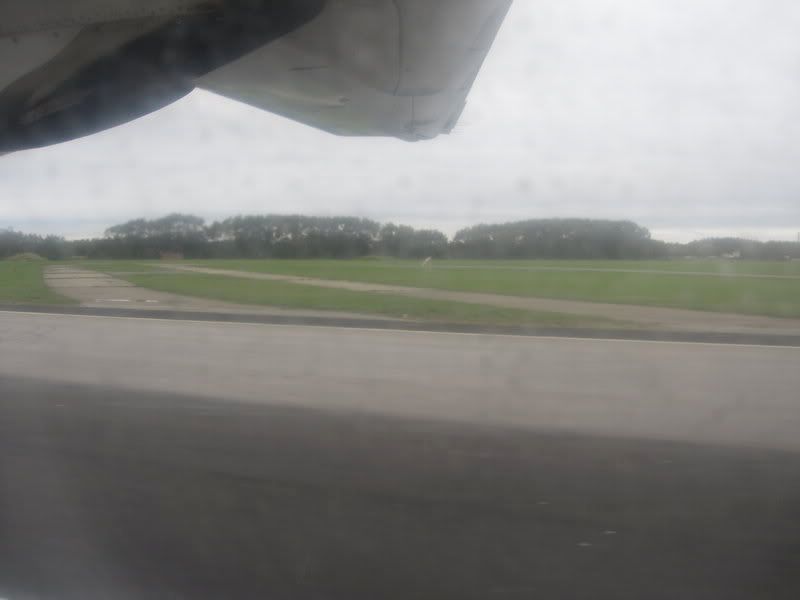 That looks like a NextJet B1900: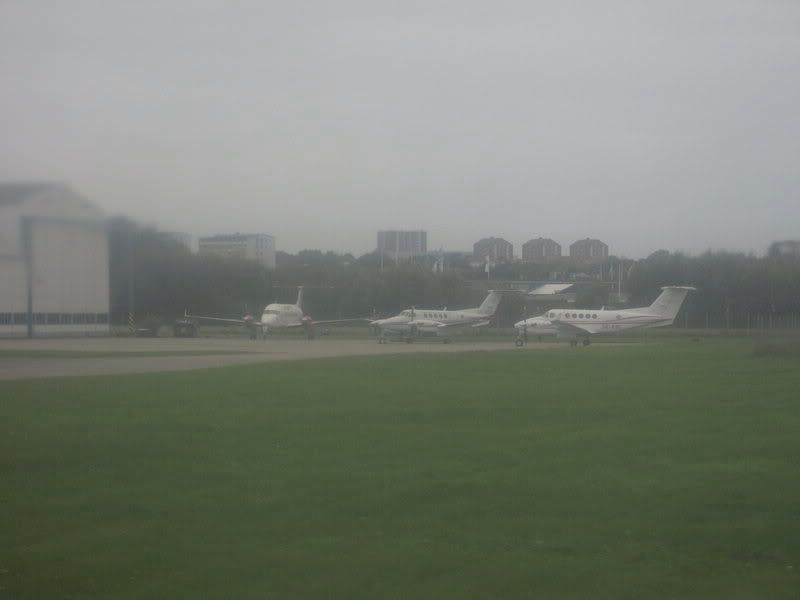 Many Swedish airport terminals are red - this one is refreshingly blue: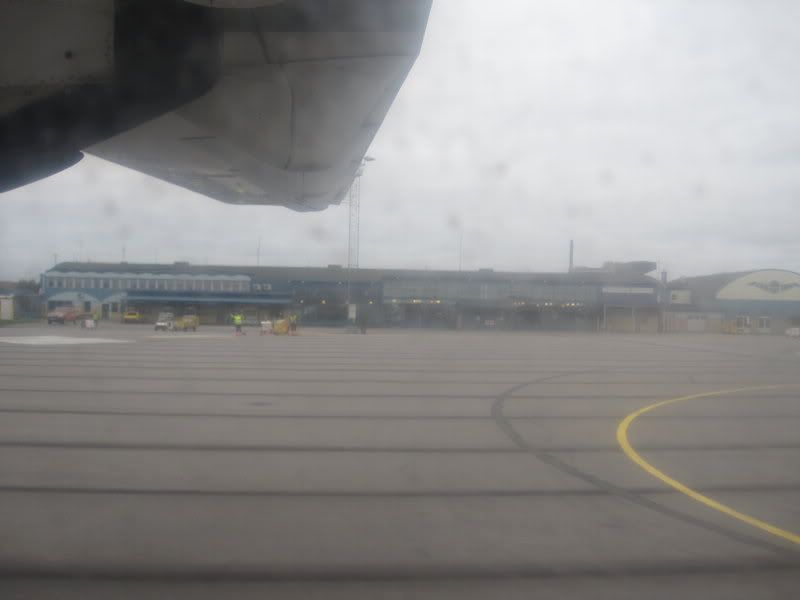 I continue my task of earning good karma (comes handy if I want to misbehave later on!) and again carry the lady's luggage out and help her with the walk towards the terminal building. Bye: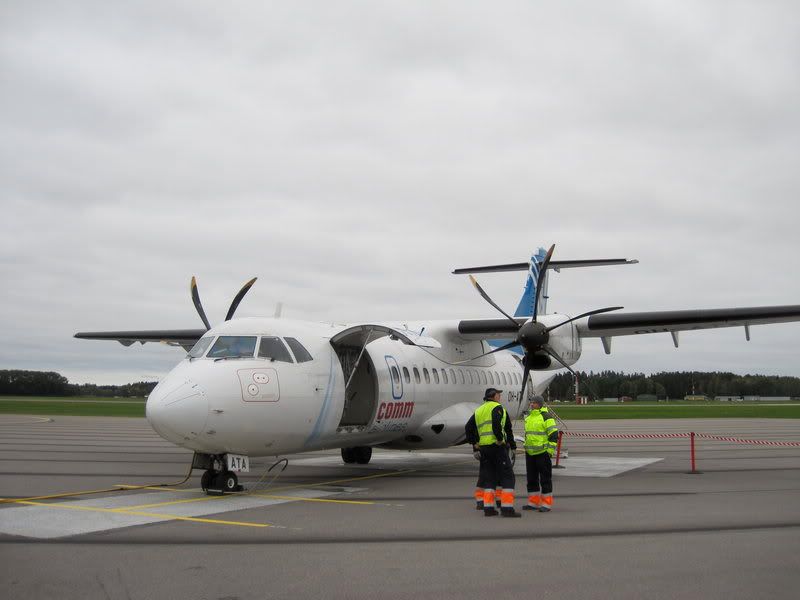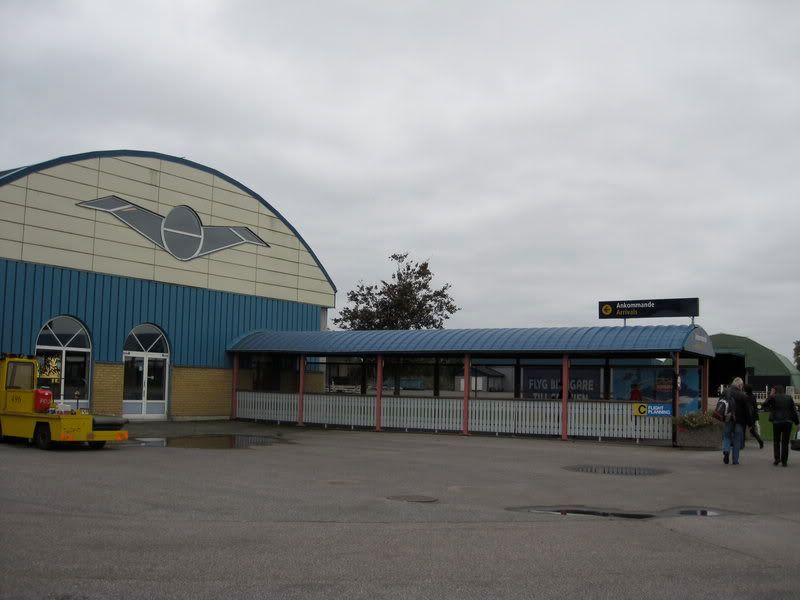 Yes, they are everywhere - despite one of FR's largest bases, Skavsta/NYO being less than 50 kilometers away they fly here as well: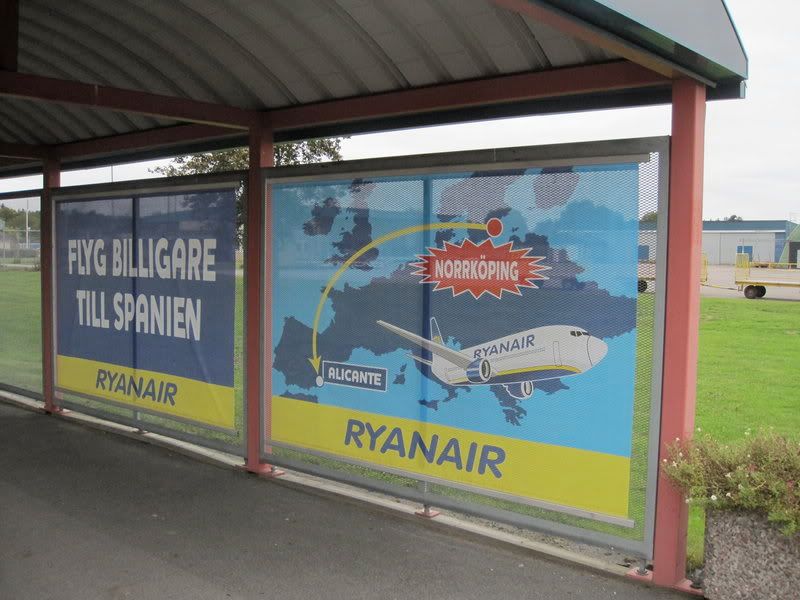 I chat with the lady and it turns out she's a Finn married to a Swede and living in Nyköping. Her husband is here to pick her up so she offers me a ride somewhere, I gladly accept as that means I will gain some time over the bus service I was going to take.
She also offers me a copy of the New Testament wrapped in plastic (!), I try to explain that this is not really my thing and that my view of the world is vastly different, being of the atheistic kind but she doesn't really grasp the concept and I don't want to be rude so I grudgingly accept it...
At arrivals we meet his husband who only speaks Swedish - comes handy for practicing my rusty skills in that language and we hop on to their Volkswagen (not before I have to crack the obligatory joke about a Swede committing the unpatriotic act of not driving a Saab or a Volvo!
) for the 10-minute ride to the city centre.
Norrköping
I get dropped off a block or so from the main street - bid adios and thanks to the kind people and set off for a short exploration of this very Swedish city: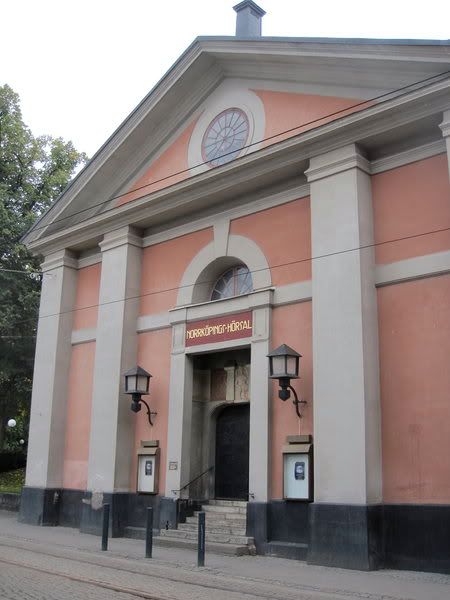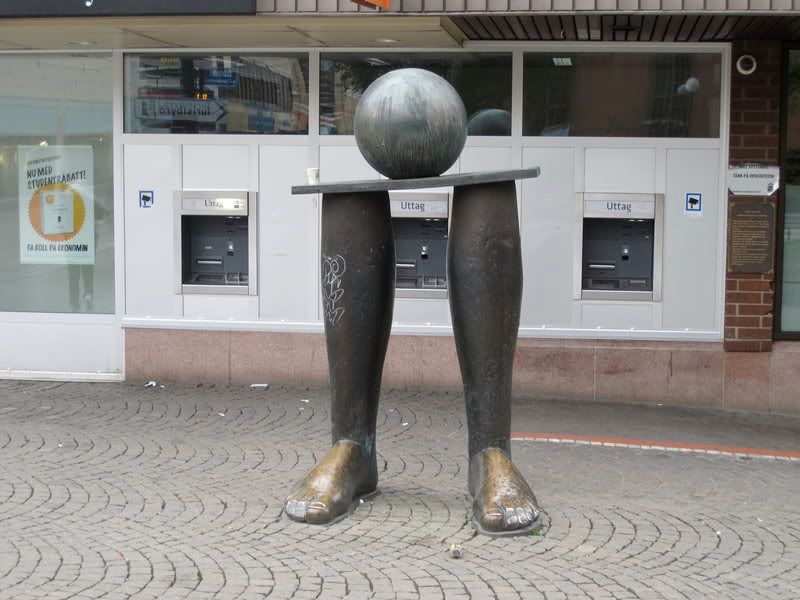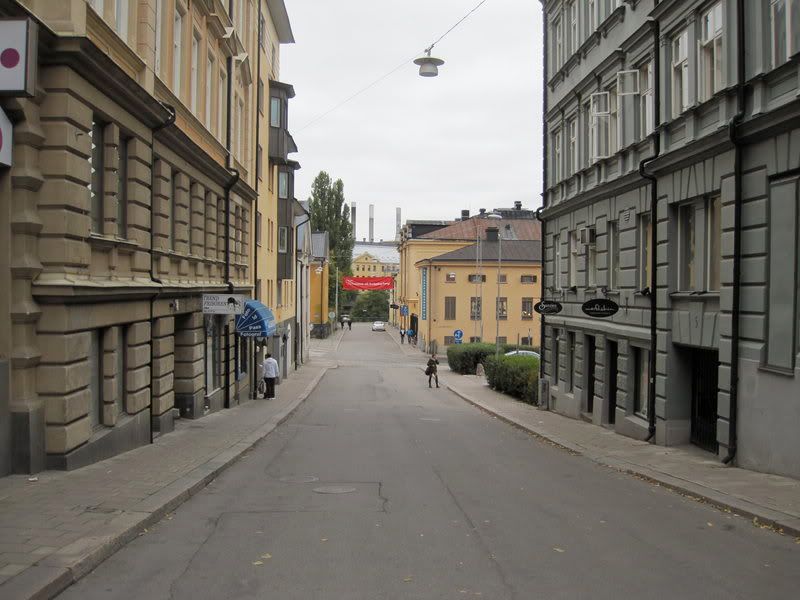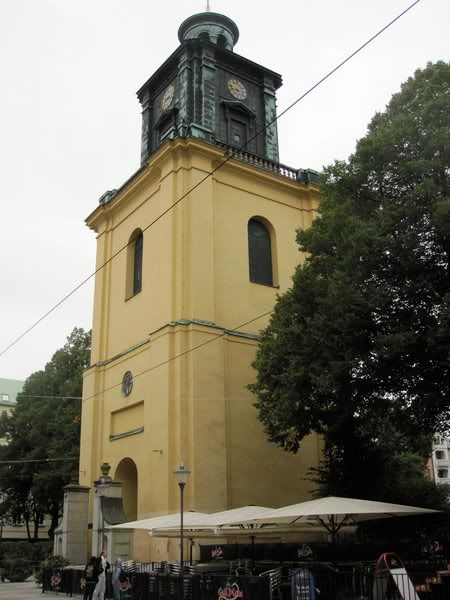 In addition to Stockholm and Göteborg, Norrköping is the third Swedish city to have trams: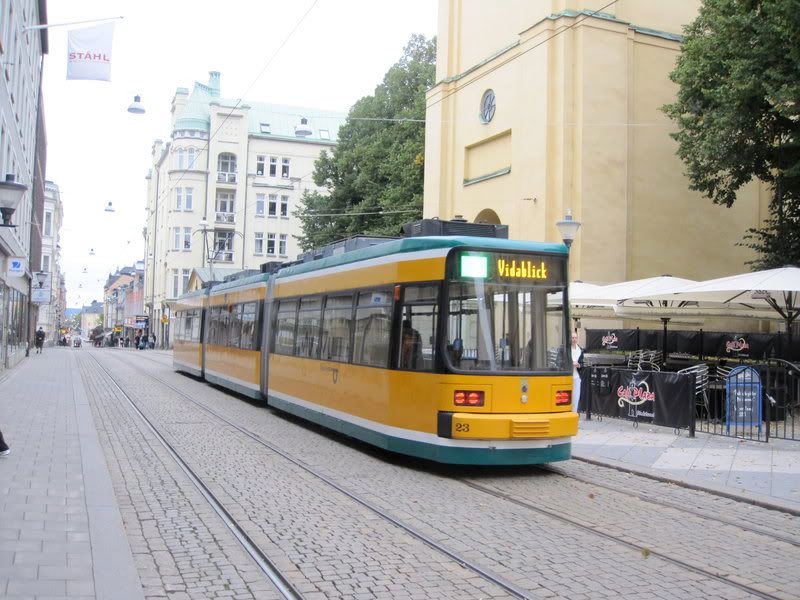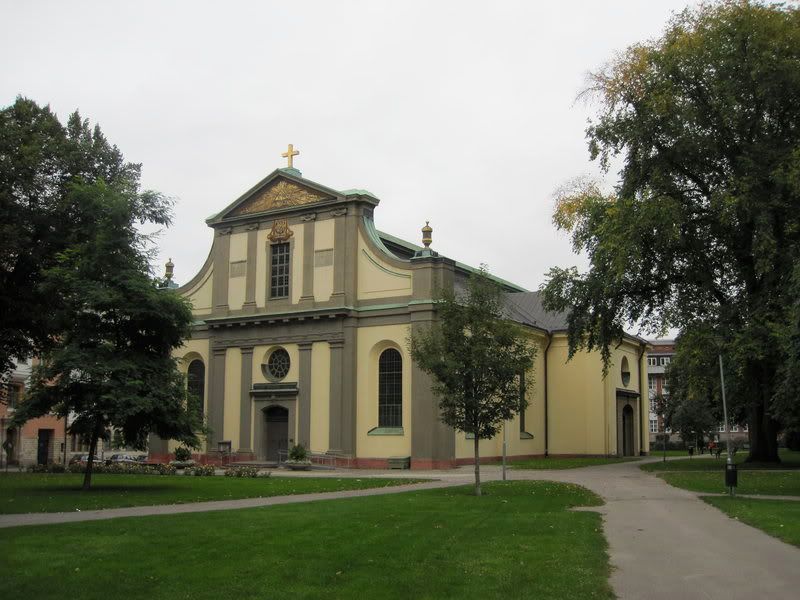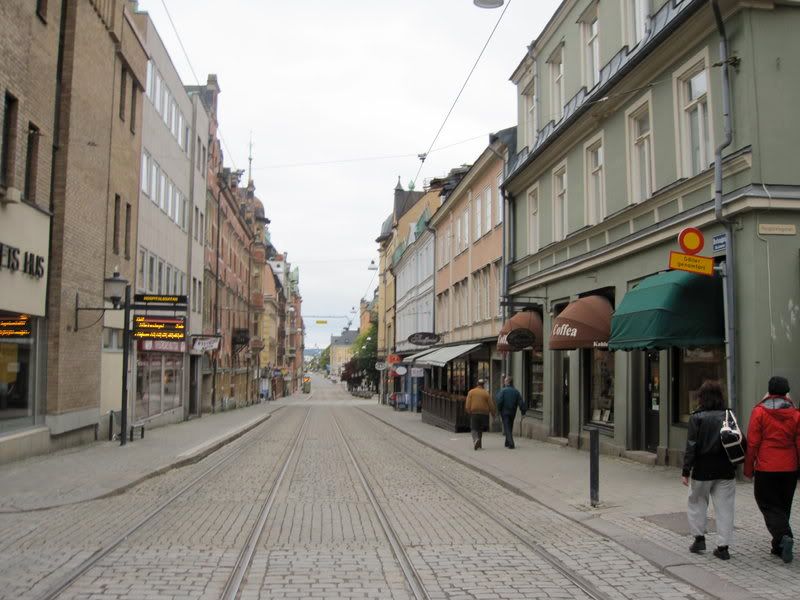 Is this the BA Galleries LHR T5 lounge?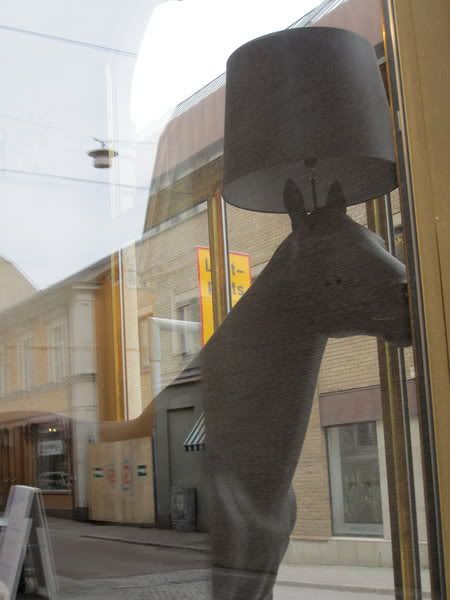 The very impressive city hall: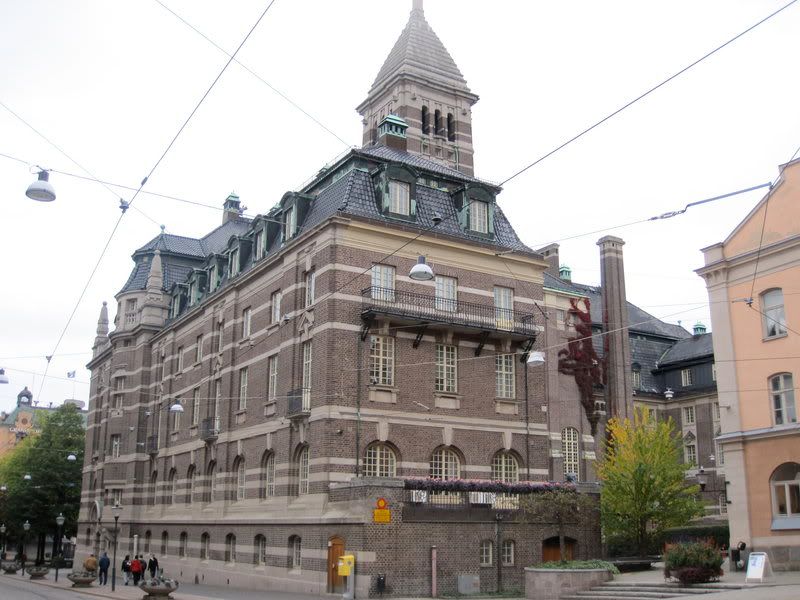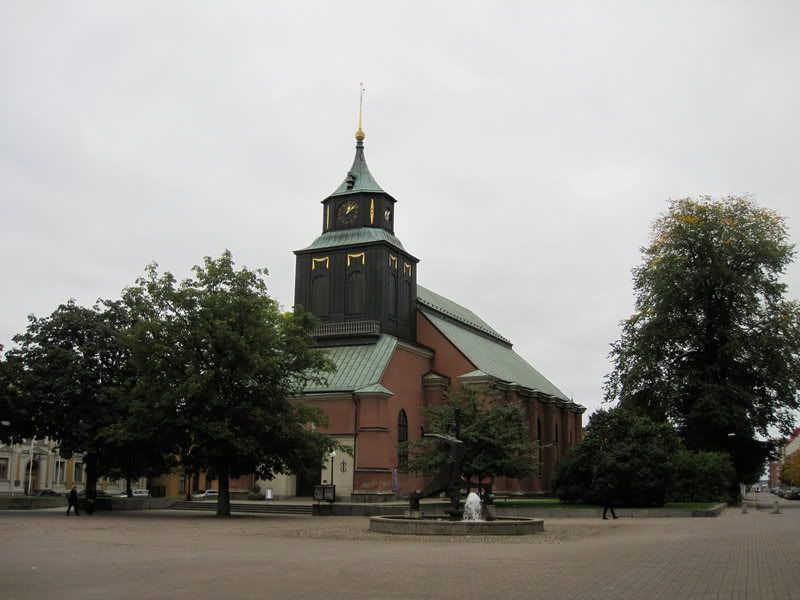 City hall from another perspective: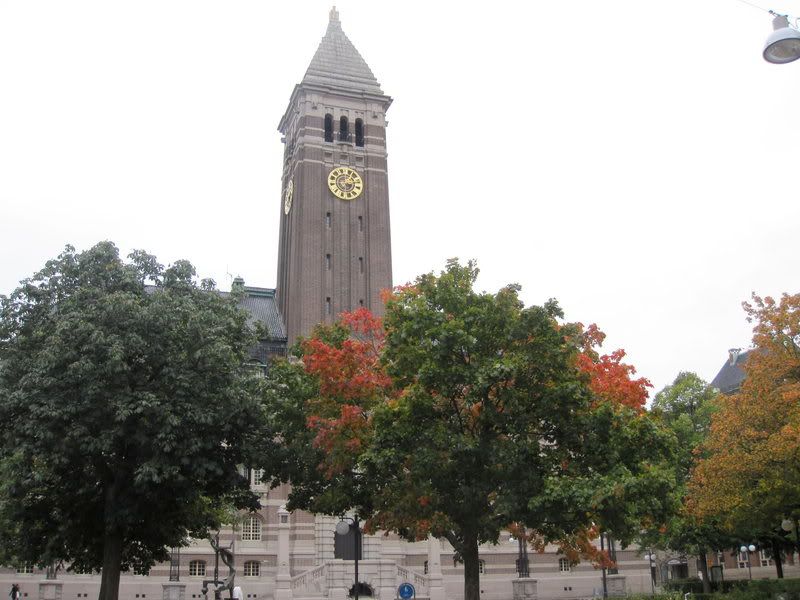 The Motala Ström river: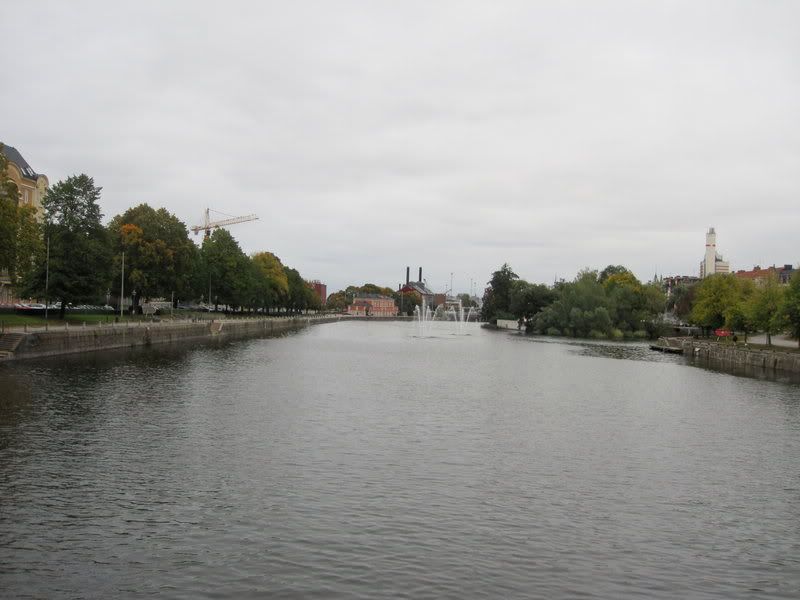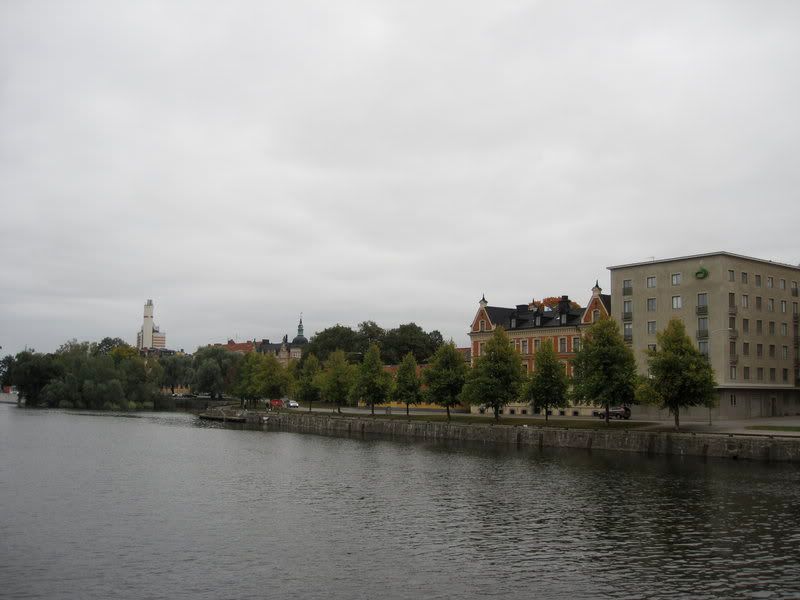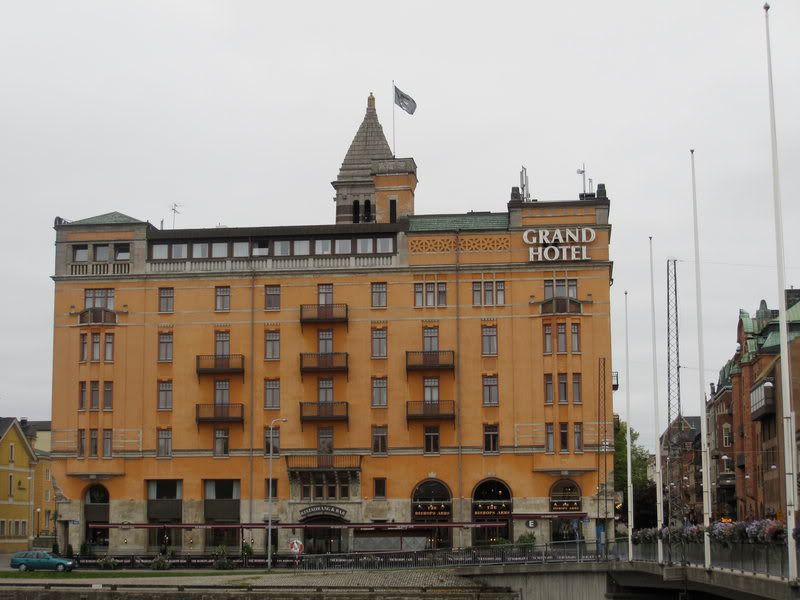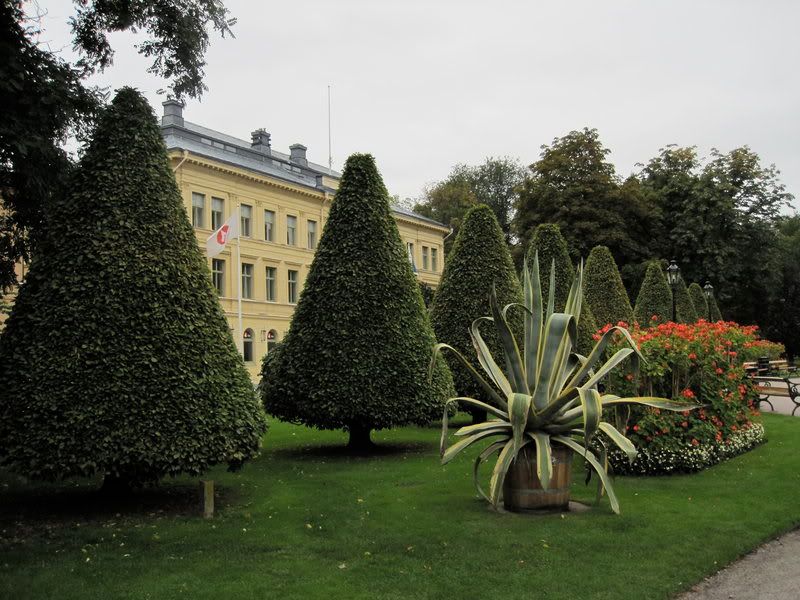 Cacti art: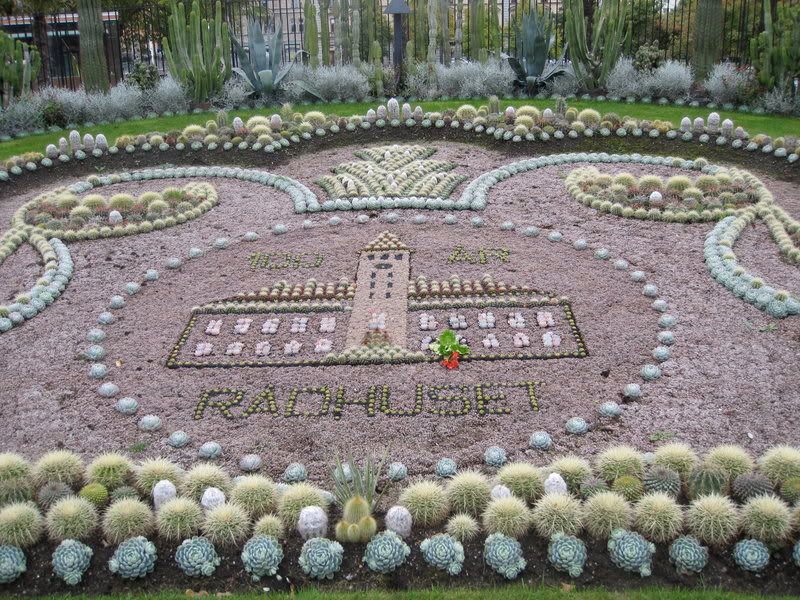 Judging from the thickness, quantity and smell of the foam in this fountain I think somebody pulled the good old "pour a bottle of dishwashing liquid in" prank last night: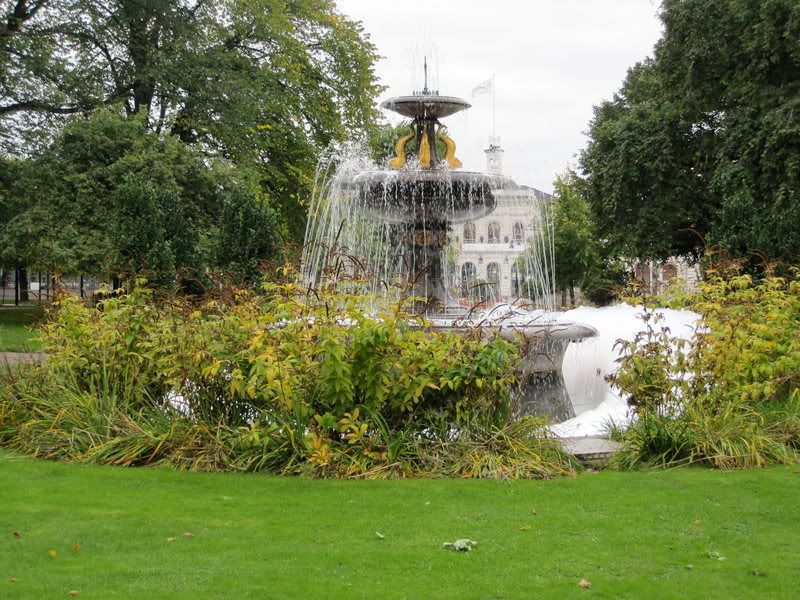 Too bad I don't have that much time - this looks like a nice place to spend a few hours in. Far too soon I end up at the train station: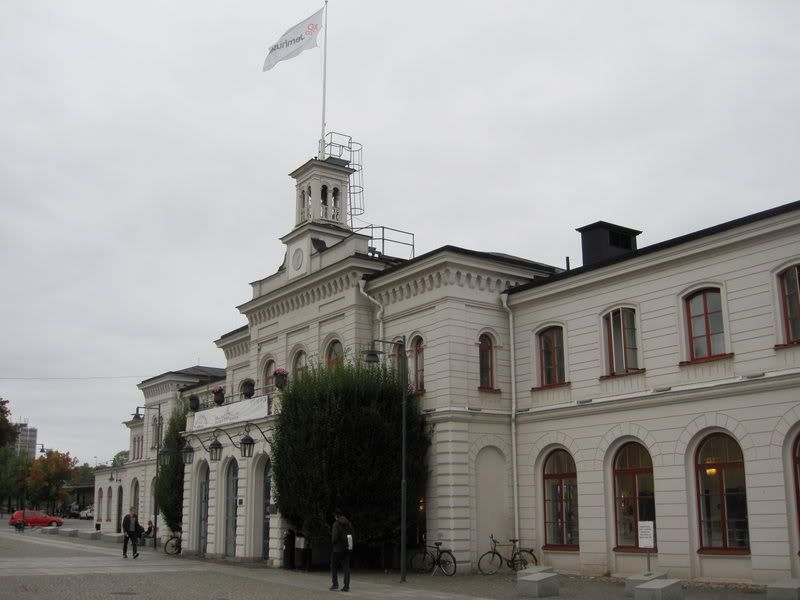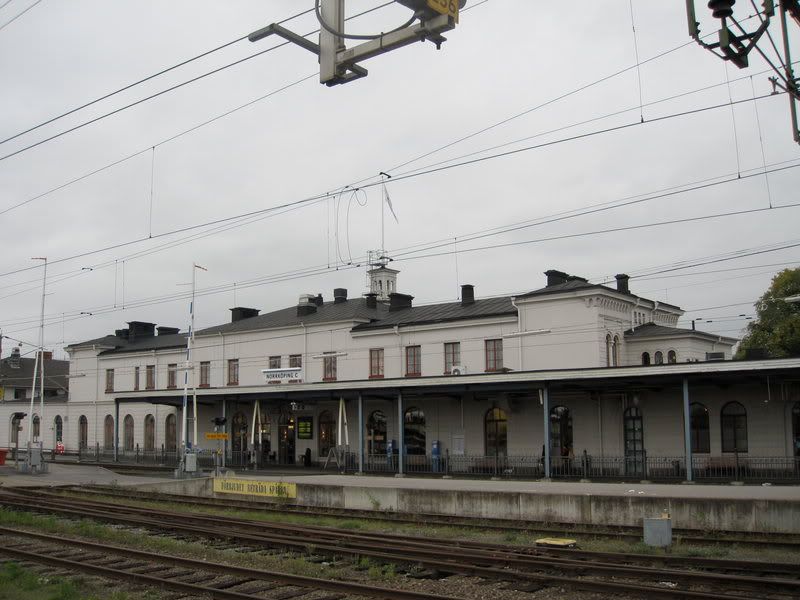 Now in most of the towns around the world the quarters around the station tend to be somewhat... seedy or something, usually offering cheap pizza joints and the like. Well, not here in Norrköping, the station surroundings are much grander. Too bad as I was counting on finding a cheap place to eat here, but no dice. So I end up eating a rather horrible hamburger at the station cafe as I'm not sure if I have enough time to get back to the city for a bite.
Surprisingly the train is only four minutes late - there was an accident a few weeks back on this very same train just before this station where one crashed to a caterpillar (the piece of construction equipment, not the larva) and lately many trains have been delayed due to reduced speeds near the accident side.
Trains and more trains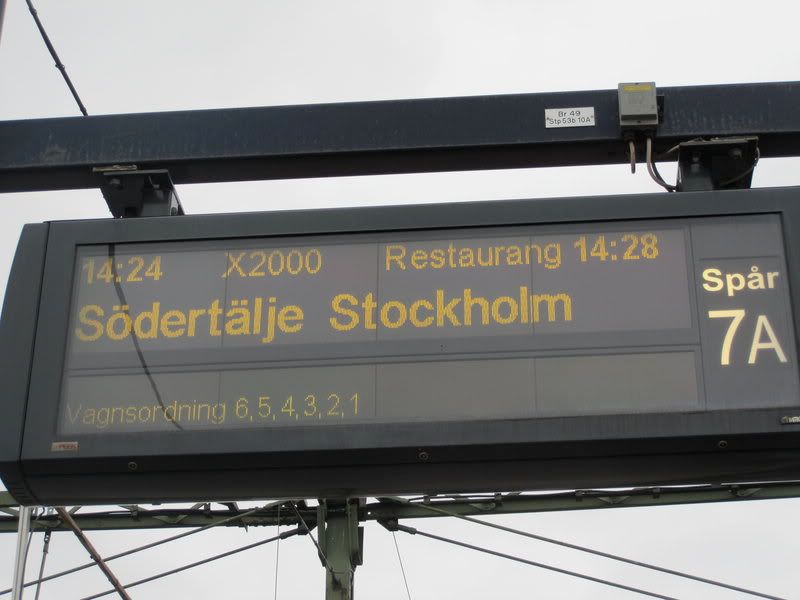 X2000 arriving from Copenhagen/Malmö: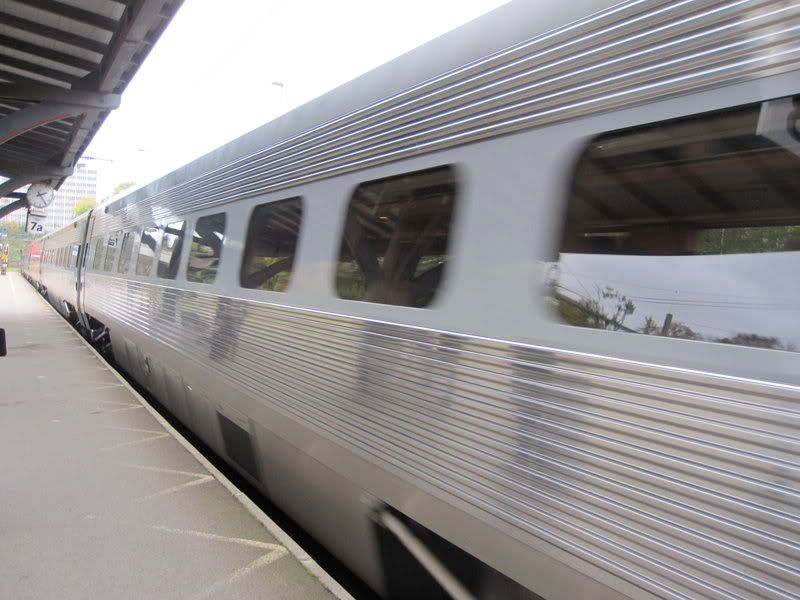 The train is packed - so after getting my e-ticket validated by a conductor I make a beeline for the restaurant car. While walking there I start feeling very nauseous and dizzy - apparently the train's rocking and tilting motion (to achieve the high speed it tilts on curves) have this effect on me. I didn't feel it when I was sitting down but while walking along the corridor it feels very bad. Is this a common phenomena on the X2000? I've never considered myself subjective to any kind of motion sickness, so this is really weird for me..
Even a beer at the restaurant car doesn't cure all of the sickness even though it certainly helps
. The train makes only one stop at Södertälje - the station is very impressive being located high above the valley on top of a bridge. We reach Stockholm Central pretty much on time - right after stepping off the train I feel much better!
Stockholm Central today resembles Mordor Hauptbahnhof as there are masses of people everywhere and some unfinished construction around. My plan was to take one of the frequent buses to Arlanda to save some money, but when I see that an Arlanda Express train is about to leave in just a few minutes convenience and laziness win over and I splurge 25 EUR for the 20-minute ride, around twice as fast as the buses (and twice as expensive as well!).
I used to frequent these trains a couple of years ago - I don't think they had this working area back then - complete with power sockets and invididual reading lights:
Sitting sideways and watching the scenery whizzing past at 200km/h doesn't make me nauseous at all.
Stockholm Arlanda Airport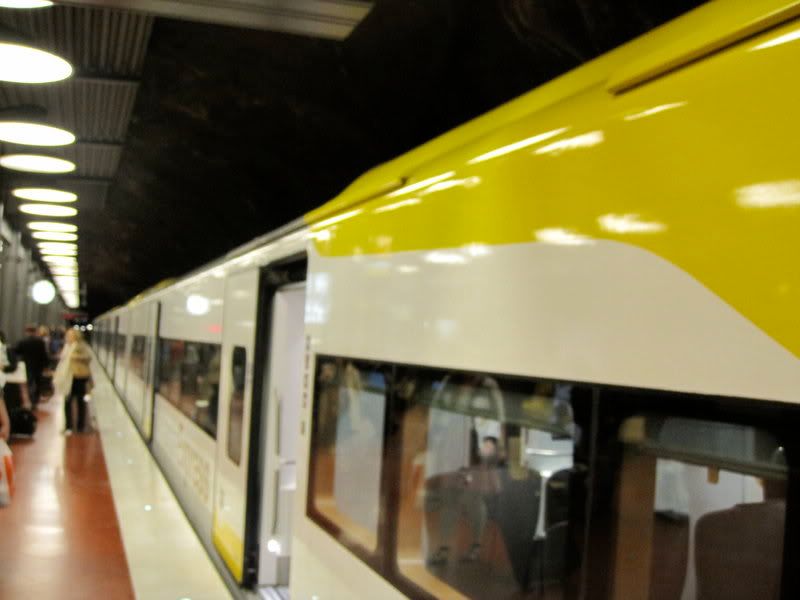 20 minutes later I step off at "Arlanda Norra" serving T5. Quickly upstairs, through security and to the Menzies lounge for some beer and snacks plus of course some great apron views: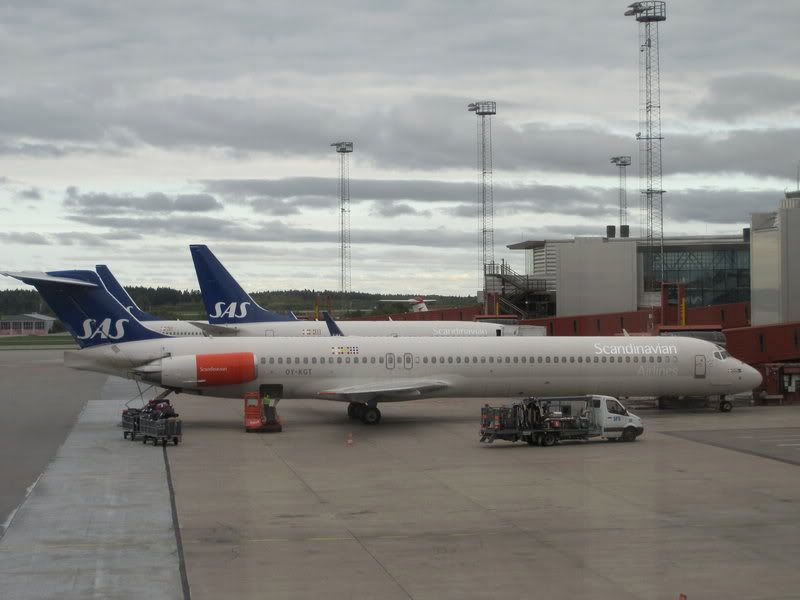 Nice to have some classics still around: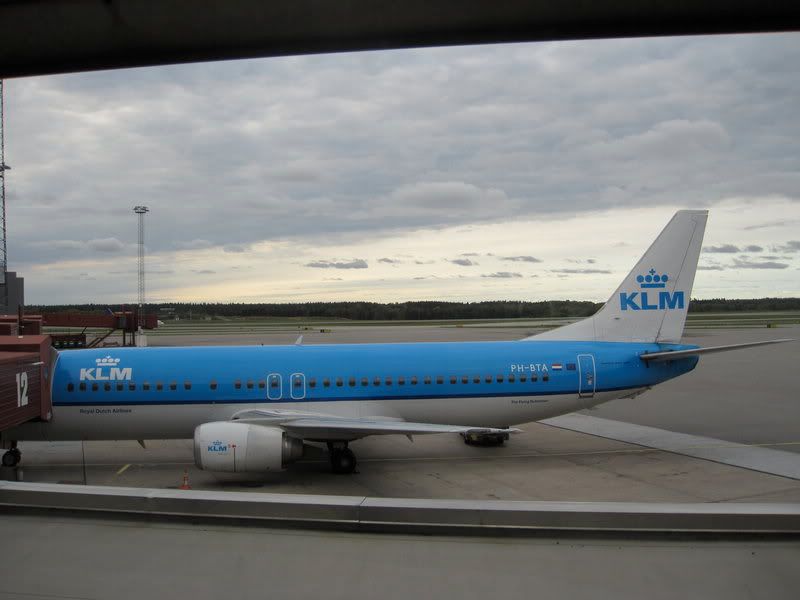 Dedicated to all the a.net regulars from Baden-Württenberg: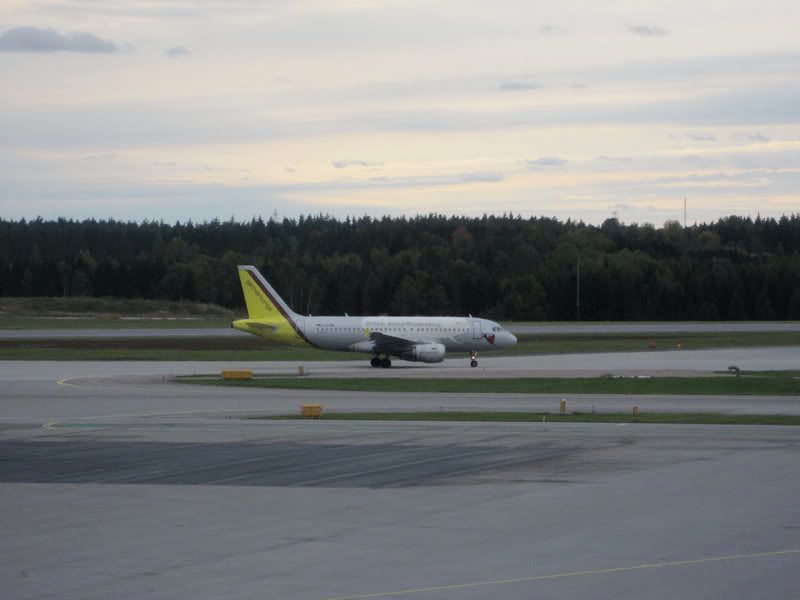 The winglets look actually quite huge on the -700 - is this the reason no -600 series have them?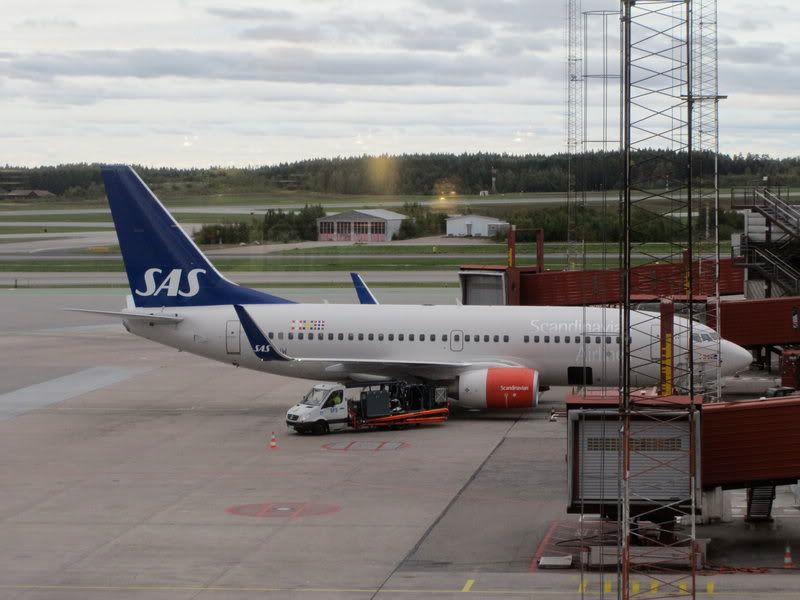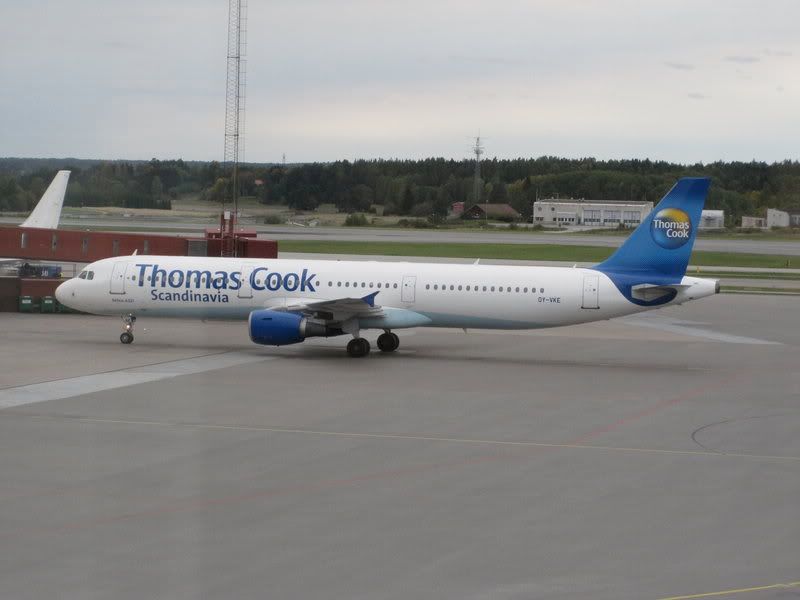 I check the inbound flight status from the RIX airport website - it departed eight minutes late so for once it looks like this flight is going to be on time - it is notorious for being delayed, including having me miss the very same connection the last time I took it:
Blue1 In Sweden: HEL-ARN-KLR/OSK-ARN-RIX-HEL
(by
FlyingFinn76
Sep 10 2010 in Trip Reports)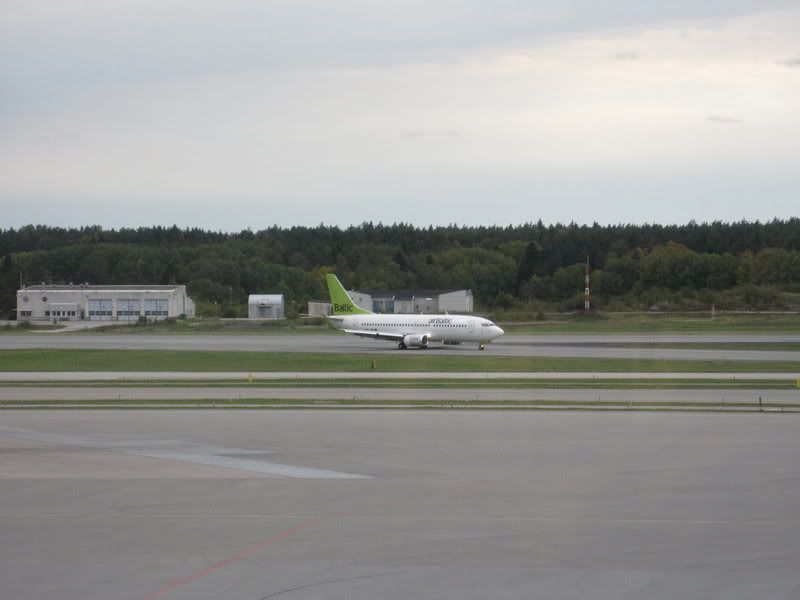 A few minutes before five I spot my plane arriving - it is the expected 737-300 (although the OLCI seatmap showed a F50, but then again this is my fifth time flying this route this year and I think only once the OLCI was correct - and it that particular case it really was a Fokker!).
I give it 15 minutes and head to the gate, have the friendly agent to change my seat for a proper window seat (interestingly enough I still had 11D assigned, only that it is an aisle seat on the Boeing and window on the Fokker...) - she changes it to 11F and says boarding should commence in 7 minutes. Just enough time to go a bit further for a plane shot and to check the registration: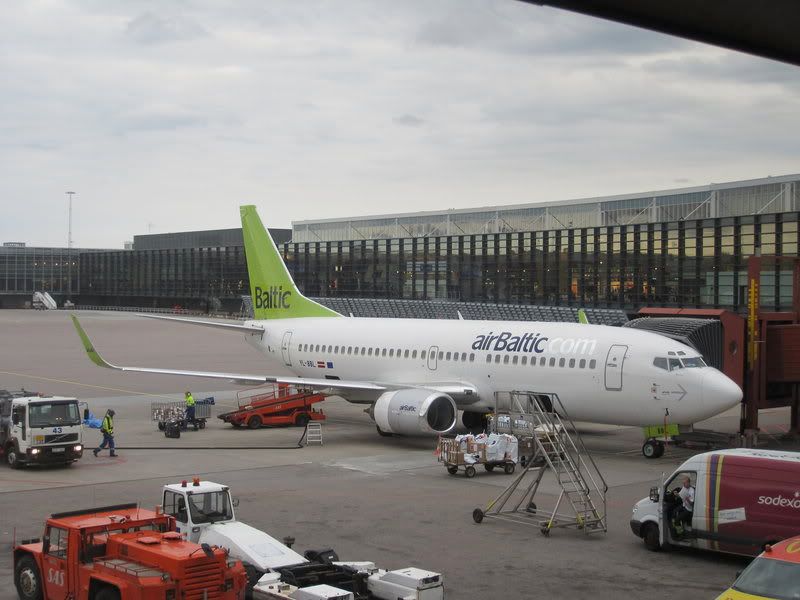 YL-BBL it is, my fourth flight on this particular plane, flew her last less than three weeks ago.
After I head back to the gate boarding starts right away.
ARN - RIX
BT108
B737-300 YL-BBL
Seat 11F
17.37 - 19.31
Load looks light judging from the low number of people in the gate area. Indeed boarding is completed very fast and in the end the load is only around 40% with one pax in business class. I recognize two out of the three female FAs on this flight - quite appropriate for the flight that should mint me gold
.
I liked the old logo on the engines more: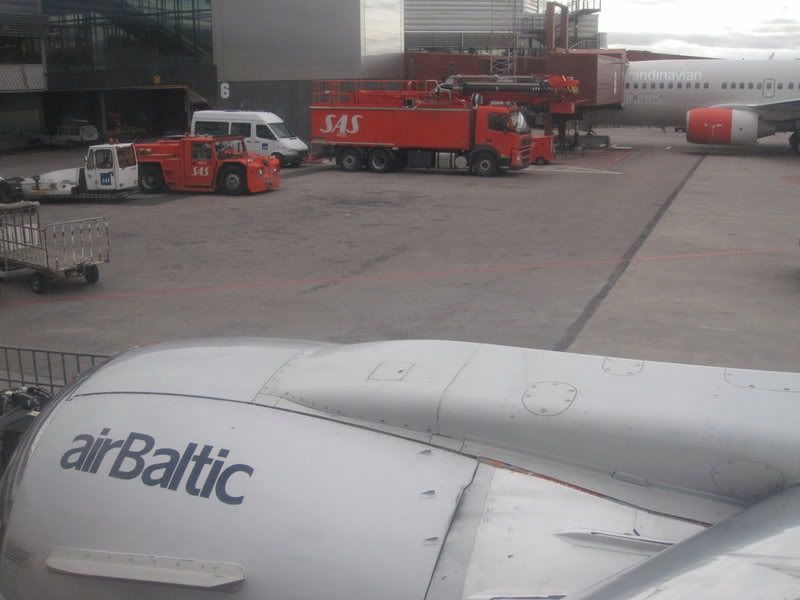 This plane was previously with Ezy - you can still see some orange paint on the engine cowling: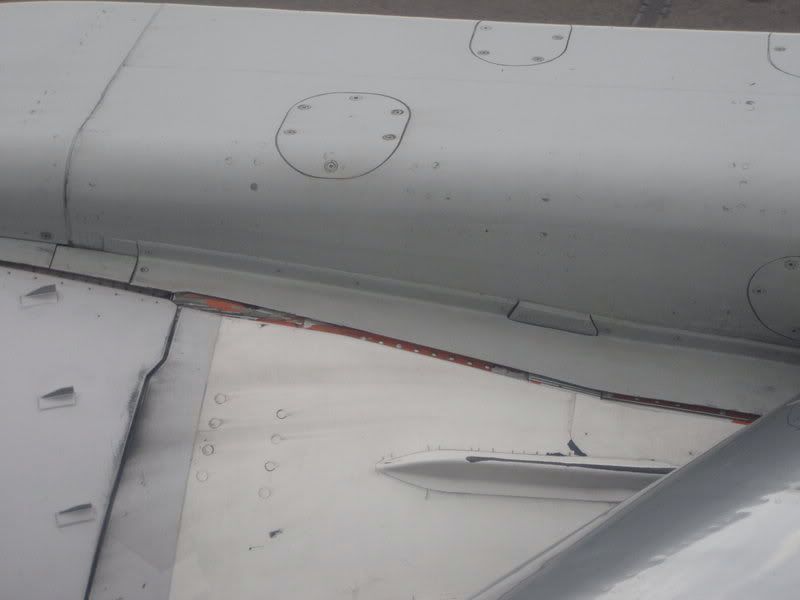 Flight time is announced as 50 minutes with pushback three minutes early.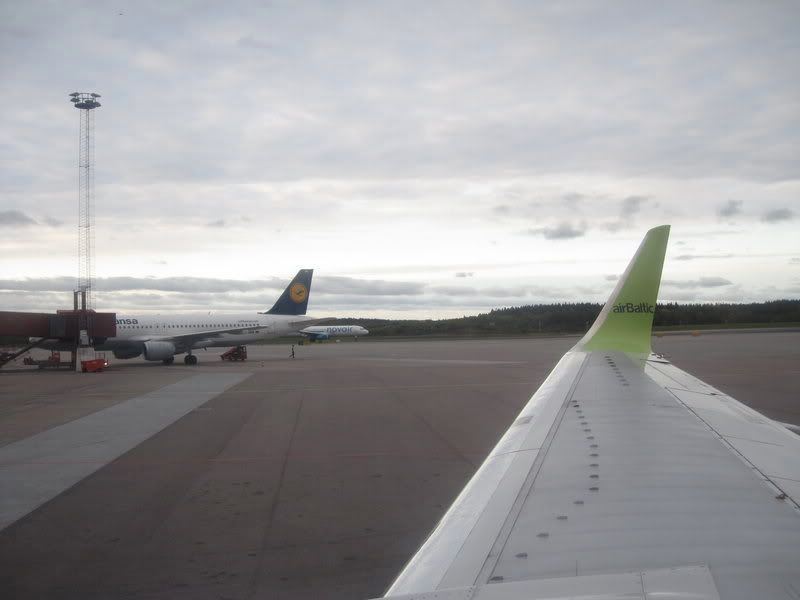 I'd like to fly a 767 with winglets - well maybe not this particular charter bird, though: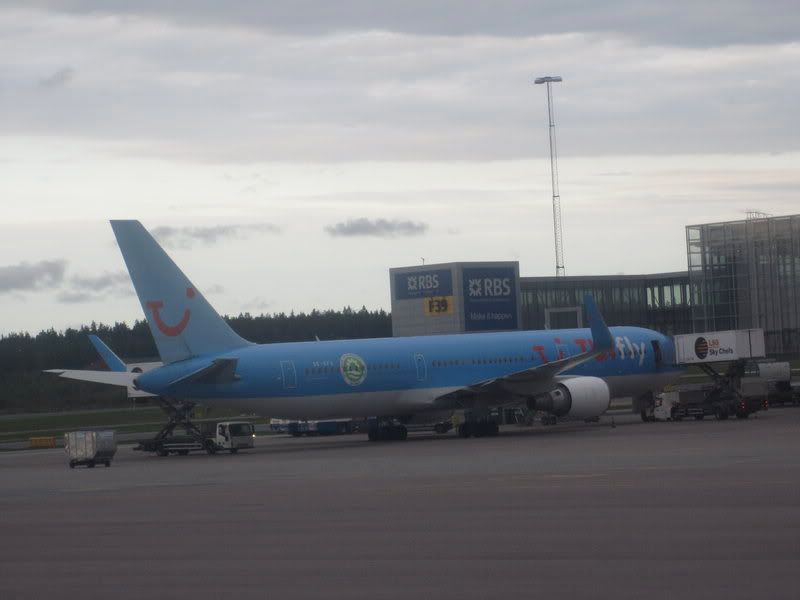 AY retro A319 pushing back the same time:
I'll be flying on this flight up here in January - hope it will still be a 767:
CA arriving: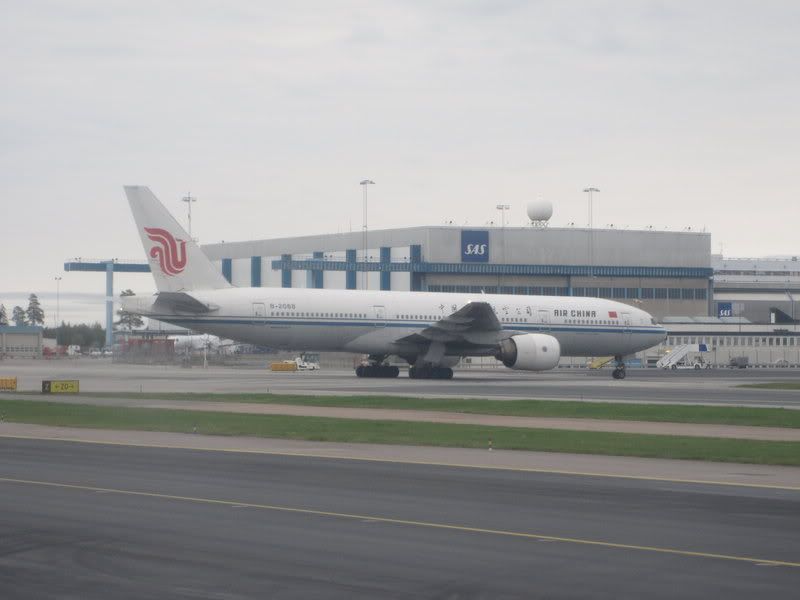 I didn't know Air Sweden had Airbuses: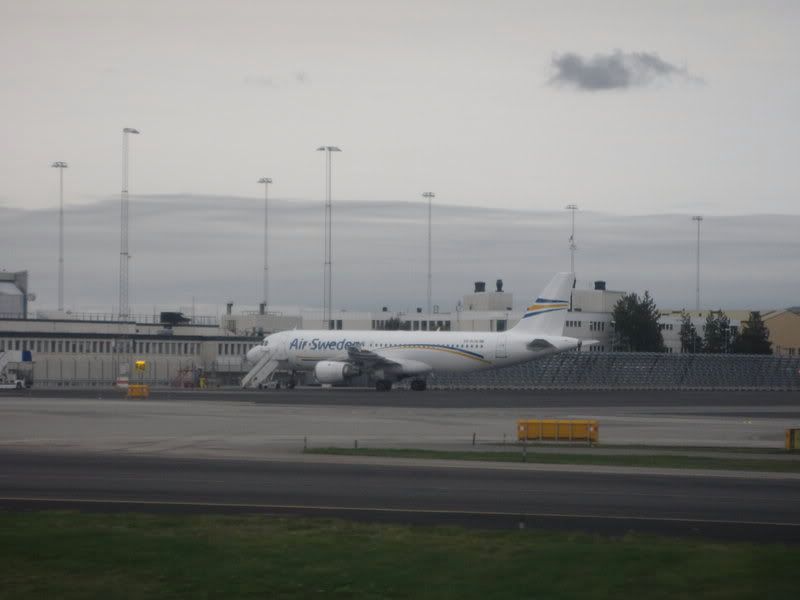 A couple of minutes later we take off towards east from runway 08. The maintenance area/junkyard along this runway always has some interesting planes, this time there are Mad Dogs from Spanair and Alitalia among other ones: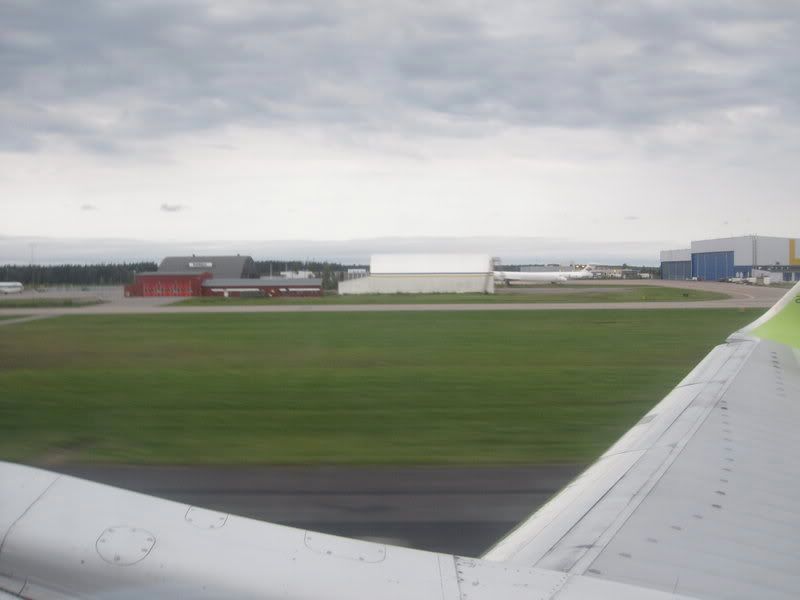 Bye ARN, see you in November: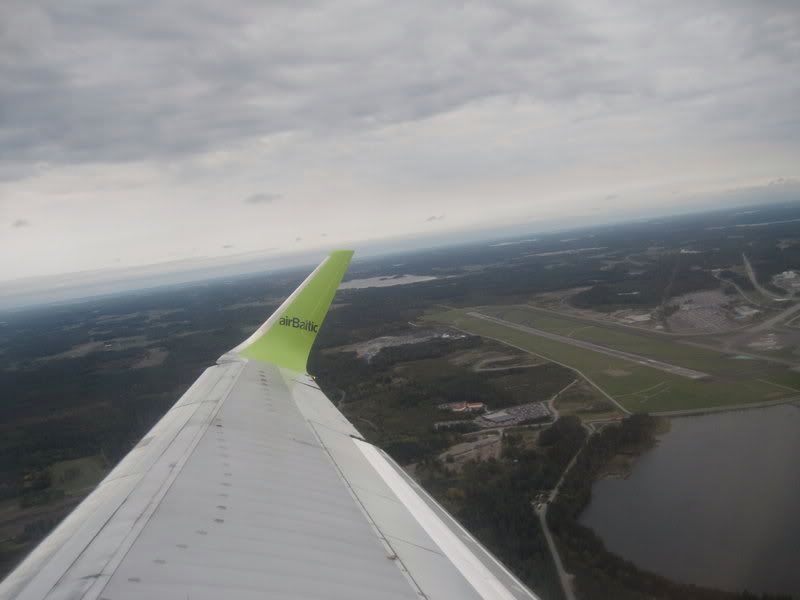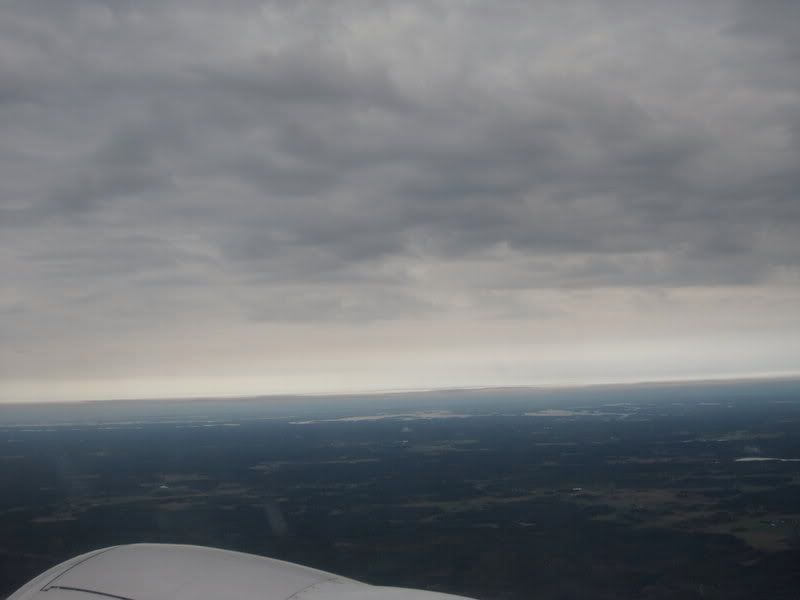 This flight is always good for some nice lighting effects since the sun is setting behind us and has already set in front of us: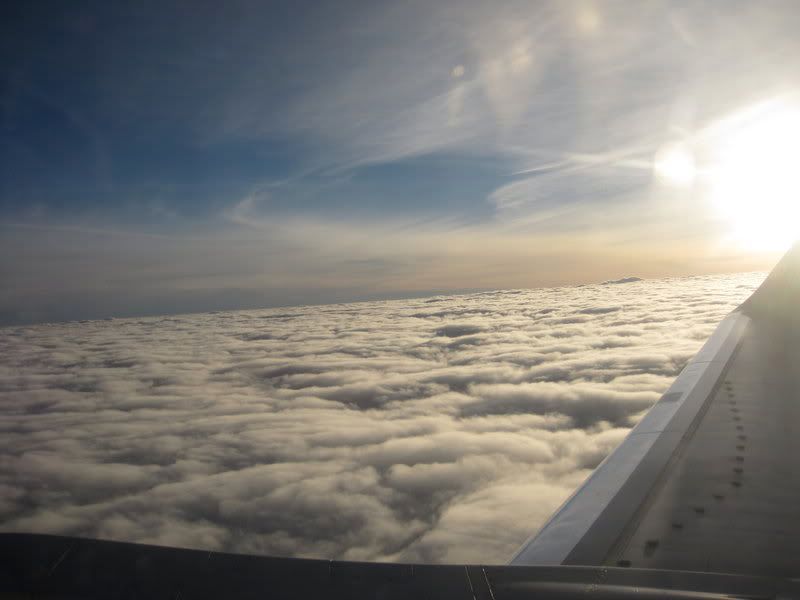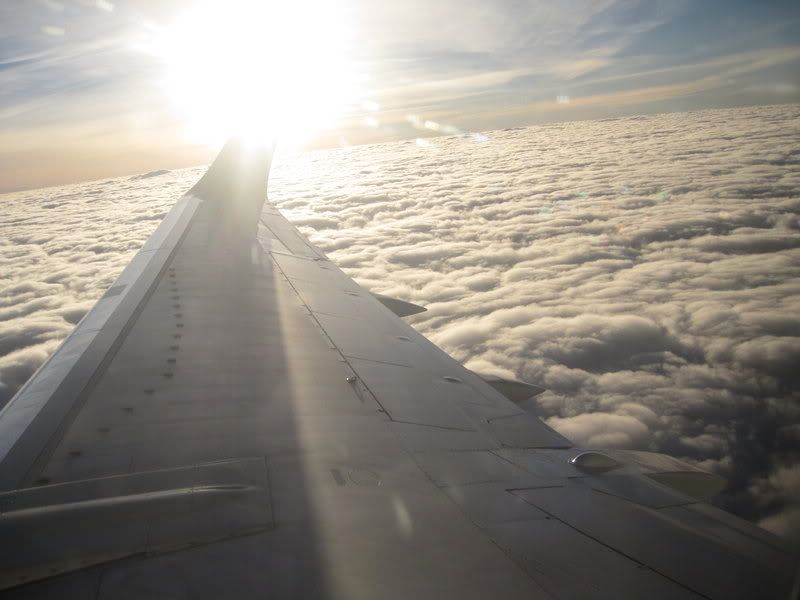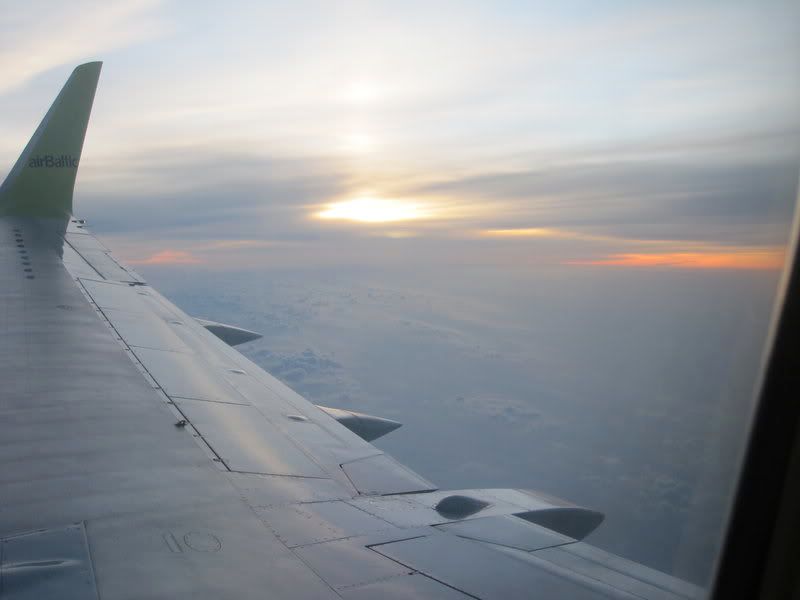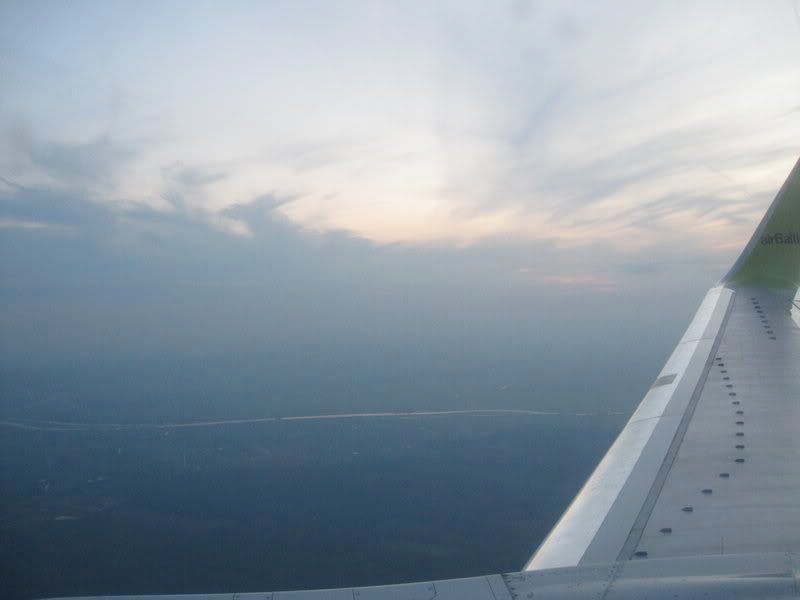 I decide to celebrate with a beer - while signing the credit card slip I notice the pen I'm handed is from a Finnish hotel chain. I comment about this and the FA answers "Yes, we have quite many destinations there." - "Yes, I know, I know..".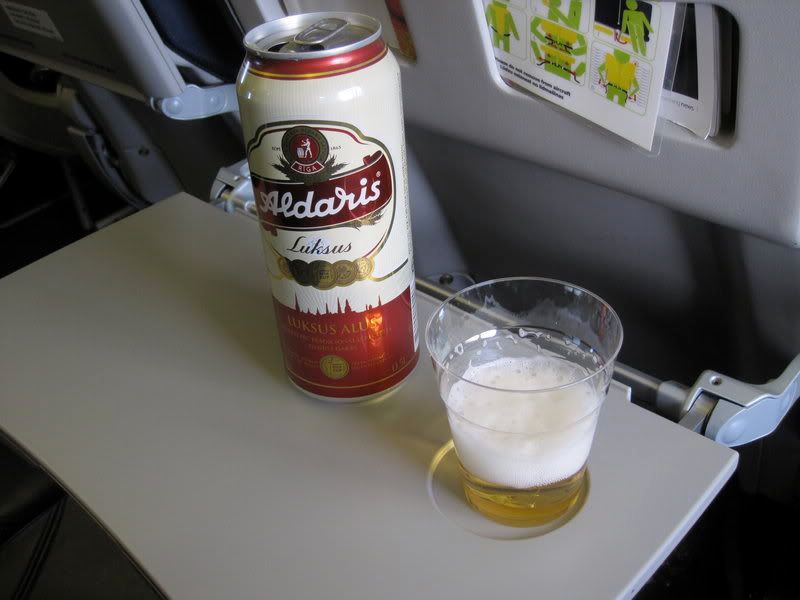 It's a very fast flight, the seat belt sign is switched back on some 35 minutes after take off and we commence our descent towards Riga.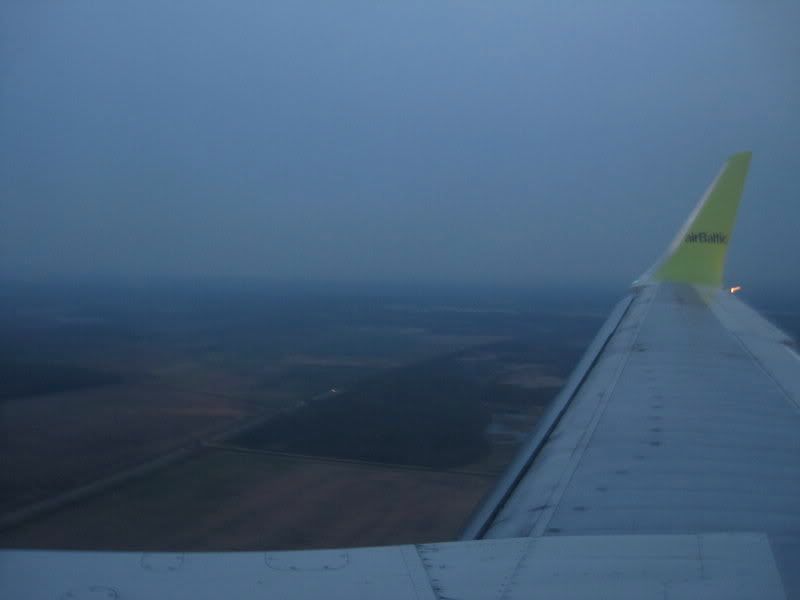 Before landing connecting gate information is read out - among the more logical VNO/HEL/TLV etc. there is also an announcement for SVG - looks like somebody is as crazy as me regarding routings
. Well, one should never underestimate the lure of cheap fares, I guess...
Landing is on runway 36 after the promised 50 minutes of flight time.
Reverse thrust:
We stop next to a company 757 in front of the main pier (but not to a jetway) and walk a short while across the apron and up the stairs on a jetway.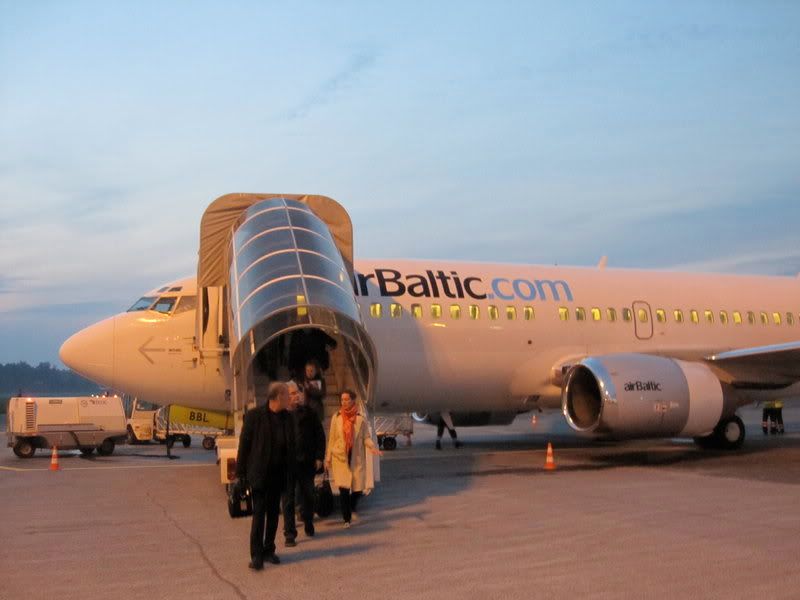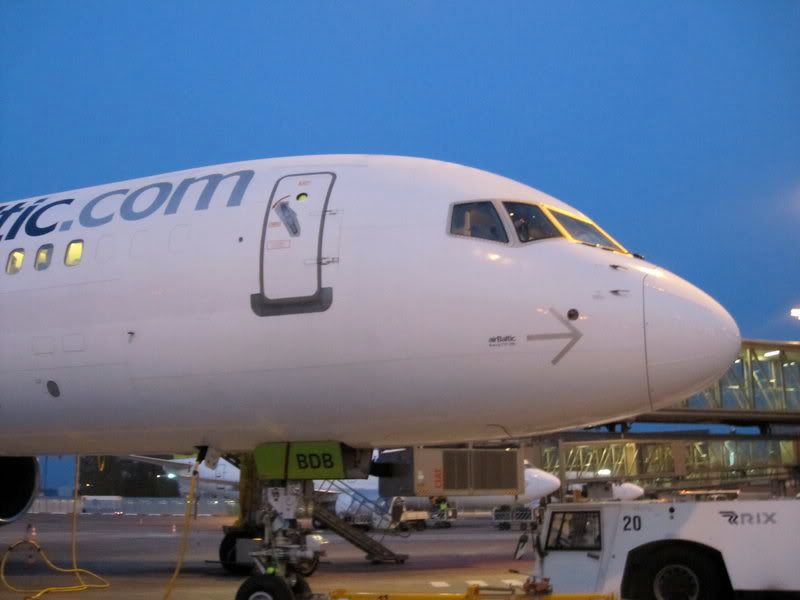 Riga Airport
I step into the B-pier as a fresh Gold Member (for a while I think about faking an overkill Dutch accent and eating flakes of my own skin but decide to leave that to Mike Myers) - somehow people fail to acknowledge my newly acquired status and nobody wants to kiss the ground I'm walking on nor touch me. Oh well, I guess I need to wait until the flights have posted for that...
The airport is completely packed - there are tons of people everywhere with lots of departing flights within the next hour or so. My next flight is already showing "Go to gate B11" but since that is a bus gate just downstairs from the lounge I decide to hit the lounge for a quick visit.
I tell the lounge attendant "This will probably be me shortest visit ever!" - "Oh, why?" - "Well, my flight is already showing go to gate so it should board in a few minutes - I'll just have a quick drink!" - "Ok, welcome". As a side note I'm starting to like the way BT has trained the lounge staff to stand up when a guest enters or leaves the lounge.
I have just enough time to grab some Russian mineral water, a glass of Tullamore Dew and a spinach pastry along with some quality reading material: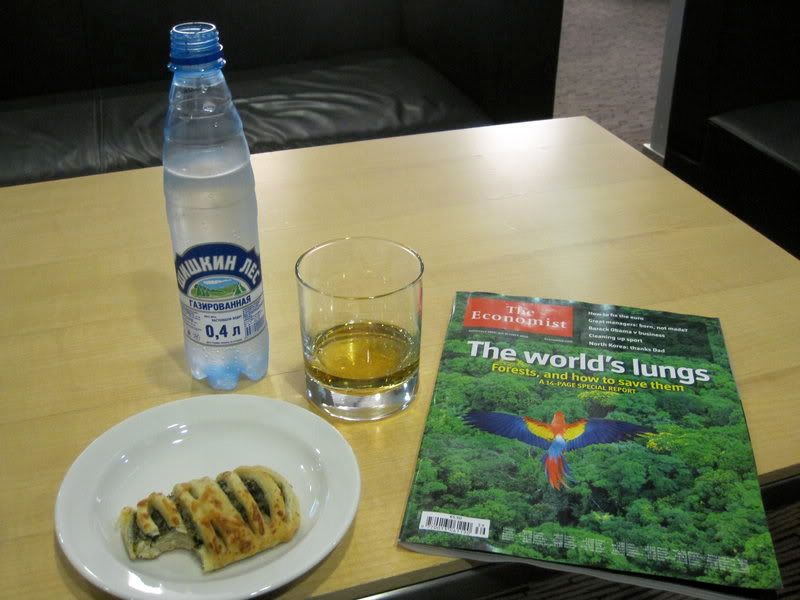 Five minutes later the flight status changes to boarding, I say "I told you it would be fast. Goodbye, see you next Sunday" to the lounge attendant (she stands up again - I could get used to this treatment!) and head downstairs to the newly expanded bus gates area. The place is packed with seemingly full flights to HEL, LPP/KAO and AES leaving from the adjacent gates.
While waiting for the second bus (the first one has already left) I notice a fellow Finn who is completely wasted with a half-full bottle of vodka on his hand. A gate agent is trying to determine whether he is fit to flight - which I very seriously doubt. He seems to be on the LPP/KAO flight, luckily. I comment to the foreigner in front of me who is looking at the whole ordeal with an expression of disbelief on his face: "Welcome to Finland! Your first time in the country?" - "Yes, is this sort of behaviour common?" - "Well yes, unfortunately it is. Get used to it!" I grin
.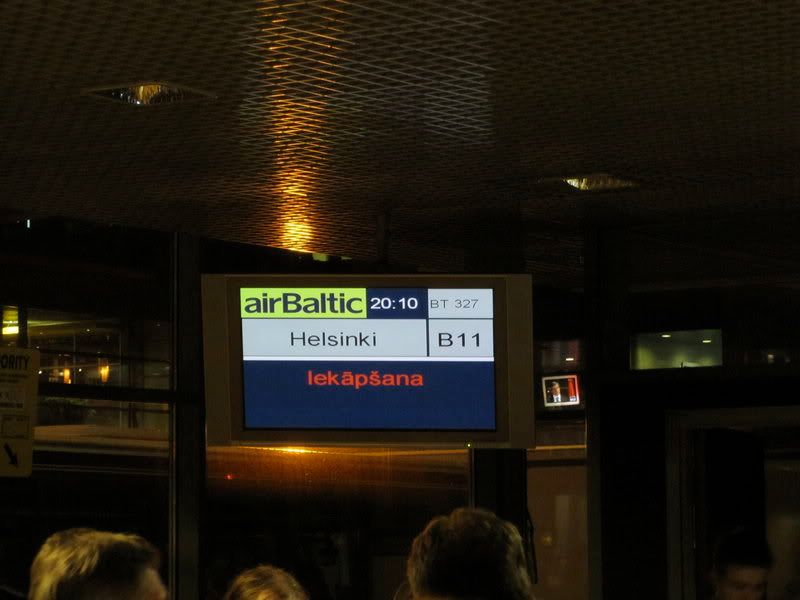 Soon the second bus arrives and we get whisked to the southern apron where another 733 is waiting. This one is YL-BBJ, another well-known friend for me, this will become my fifth flight with her.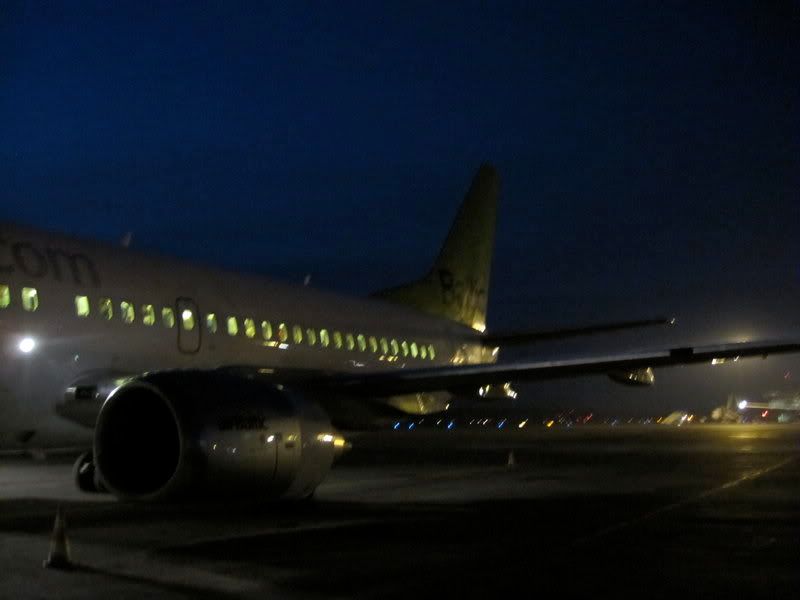 RIX - HEL
BT327
B737-300 YL-BBJ
Seat 4A
20.19 - 21.05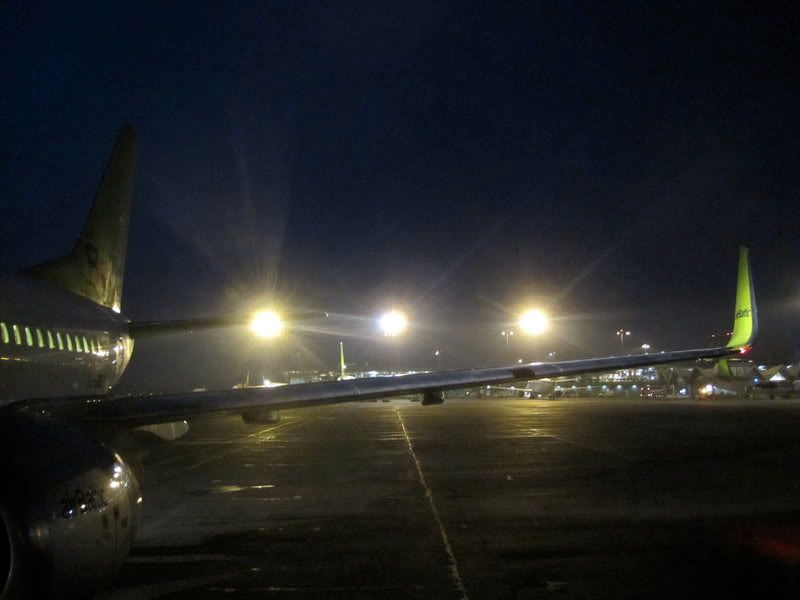 Economy class appears to be completely full with the three rows of business class half full as well - I somehow suspect a few of these people are op-ups, though. Actually it would be nice to know how BT handles op-ups - since the flight manifest (or at least the BP's do not) doesn't list the pax status in any way. I tried asking this while discussing this matter the other day with some North Hub staff at HEL but they were reluctant to give me any details... Anyway with the heavy load boarding takes a while and we finally leave our parking position nine minutes after the scheduled departure time for a flight time of 40 minutes.
It has become completely dark and none of my photos come up any good so no photos. Not that there's much to report either, a take off from 36, a calm flight with approach over Kirkkonummi and Espoo to land on runway 04L after 40 minutes or so in the air, followed by a lengthy taxi to the southern apron where this plane will be spending its night, deboarding to a bus and a short ride to T1.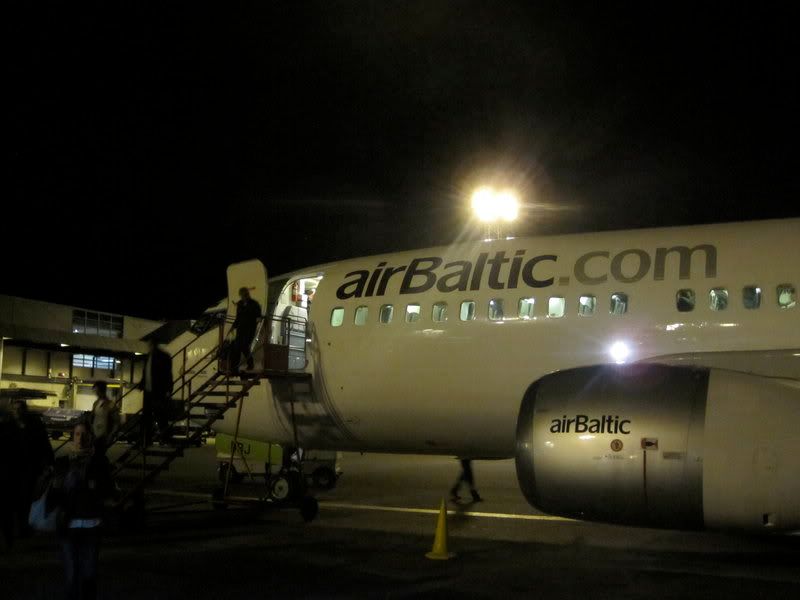 Conclusions
A perfectly enjoyable half of a Sunday, with a short visit to the very cosy city of Norrköping! I'm glad I scored a ride on the X2000 - even though that motion sickness part was a bit disturbing. Hopefully that was just a one off occurrence - I'm willing to give that train another try on a longer route.
FC provided a perfectly enjoyable flight on this rarer route. I'm still a bit baffled at why they chose NRK airport in particular (can you spell: "new route incentives"?) - the area has some other high profile airports as well, namely LPI and NYO. The latter one would've had the advantage of providing some feeder traffic to/from the FR base there - I for one would surely used the route for that particular purpose! Also only six weekly flights with rather awkward timings might be a bit too little for business travelers, but let's see what happens. They've kept it running for a year already, so that's quite an achievement.
BT was on time for a change, two nice short hops aboard 737s - not bad at all.
And finally, after the flight posts to my account I should finally have reached Gold status in BalticMiles - yay! That should come handy in some upcoming trips - especially the lounge access outside RIX perk.
The next weekend has me doing another weekend trip hopping across Europe with HEL-TXL-VCE/TSF-SOF-MAD-RIX-HEL as the itinerary.
Happy contrails!