Namaste Delhi – The Terminal 3 Experience

BACKGROUND
Delhi's much awaited Terminal 3 opened for International operations from 14th July 2010. T-3 as it is popularly known as was expected to be a game changer as far as Indian aviation is concerned.
Traditionally, domestic and international flights in India always operated out of separate terminals. These terminals were usually located next to each other, but in case of major hubs like DEL and BOM, they were located miles apart – and on opposite sides of the airport. Connections and transfers used to be a nightmare. Passengers had to deplane from their inbound aircraft, complete formalities, and then board a bus to the connecting aircraft, which was parked at a terminal situated miles away. No wonder then that neither BOM nor DEL could become real hubs for airlines like Air India or Jet Airways which have sizeable International as well as Domestic operations.
T-3 was going to change all that. It was planned to be a jumbo sized "Integrated Terminal" with domestic and international operations under the same roof. This was essential if you wanted to make transfers and connections seamless for passengers.
Bangalore based GMR group along with their partners Fraport & Malaysia Airports built DEL Terminal 3. It is currently the eighth largest airport terminal in the world with a capacity of handling 34 million passengers annually. Barring a few hiccups here and there, the construction of the terminal was completed pretty much on schedule. However, last minute problems such as lack of a dedicated high capacity power line prevented domestic operations from starting from T-3. Currently the terminal only handles international operations with domestic operations scheduled to start in late October 2010.
Here are a couple of illustrations of T-3 from the DIAL website.
Another view
Welcome to a slightly different Trip Report on the Delhi Terminal 3 experience. This time, I am going to focus mainly on the experience of arriving and departing from T-3 from a passenger perspective rather than the flight itself.
THE ARRIVAL EXPERIENCE
Air India operates its flight – AI 348/349 on the BOM-DEL-PVG route. This flight is operated by AI's A330-200 and originates in BOM. It has a stopover at DEL before heading to PVG. One can buy tickets on the domestic BOM-DEL leg. Considering only international flights were operating from T-3 currently, this flight was my only option (without leaving India) of experiencing the new terminal. So, I booked myself on AI 348 and AI 349 on the BOM-DEL and DEL-BOM sectors respectively.

Sector: BOM-DEL
Airline: Air India
Flight: AI 348
Aircraft: Airbus A330-223
Registration: VT-IWA
Scheduled Departure: 0750 Actual Departure: 0815
Scheduled Arrival: 0955 Actual Arrival: 1020
Seat: 34J
Our departure out of BOM was delayed by 25 minutes because we missed our pushback slot. The flight was 100% full in Y class with a majority of the passengers getting off at DEL. The AI A330-200s are leased from Novair, and have a dense seating configuration. The toilets are situated below the main deck. Here are a few photos from the flight:
Legroom
Toilets situated below the main deck


The cabin: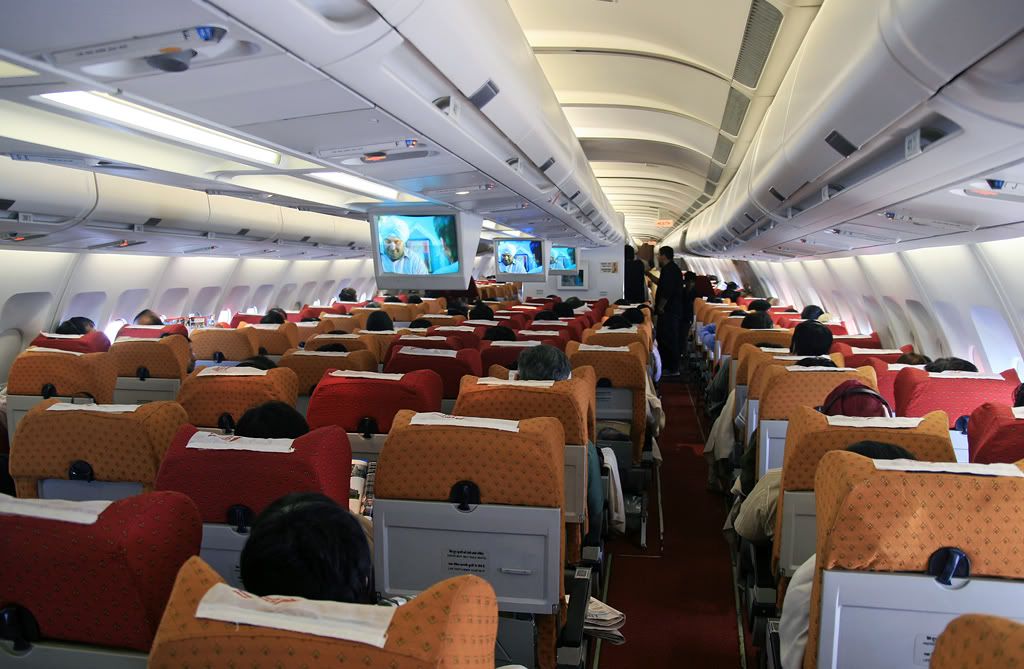 We landed on Runway 29, and I could see that it was sunny outside. Delhi had been experiencing heavy rains for the past couple of weeks, and this clear weather was a welcome change. We docked at an aerobridge at one of the green coloured contact stands.
T-3 has four differently coloured stands. Yellow & Orange coloured ones are for domestic operations whereas Green & Red coloured ones are for international operations.
Right next to us was another AI A330, VT-IWB which had arrived from JED.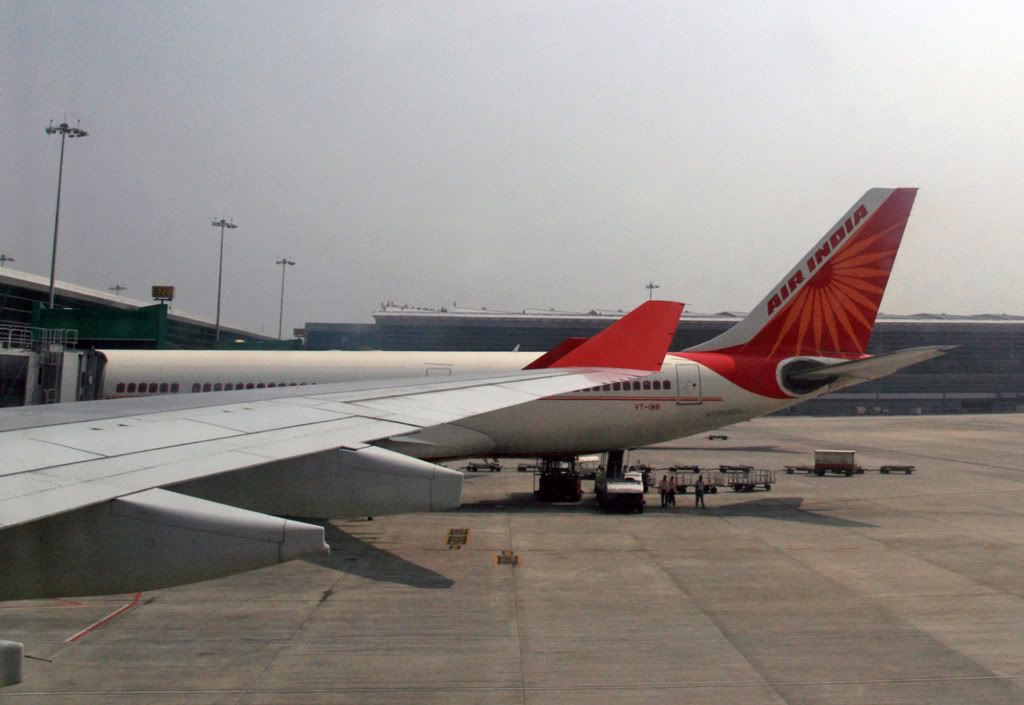 At first glance, the terminal appeared massive. Its piers seemed to stretch for at least a mile on each side.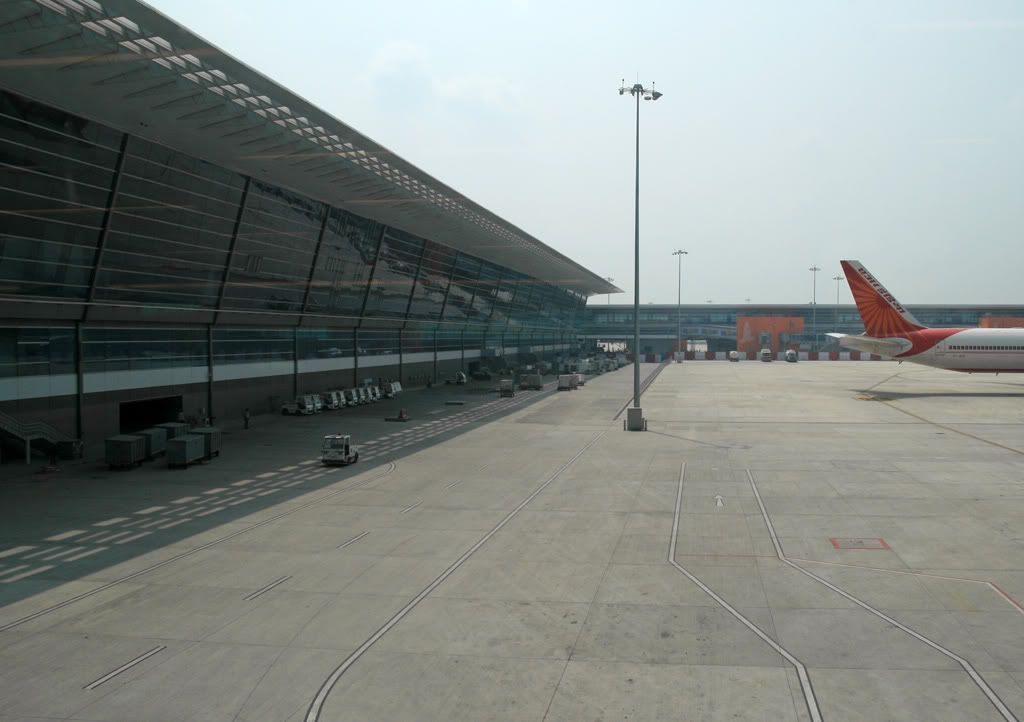 It took atleast 15 minutes for me to deplane, considering the large number of passengers getting off at DEL.
A view of our plane from the aerobridge.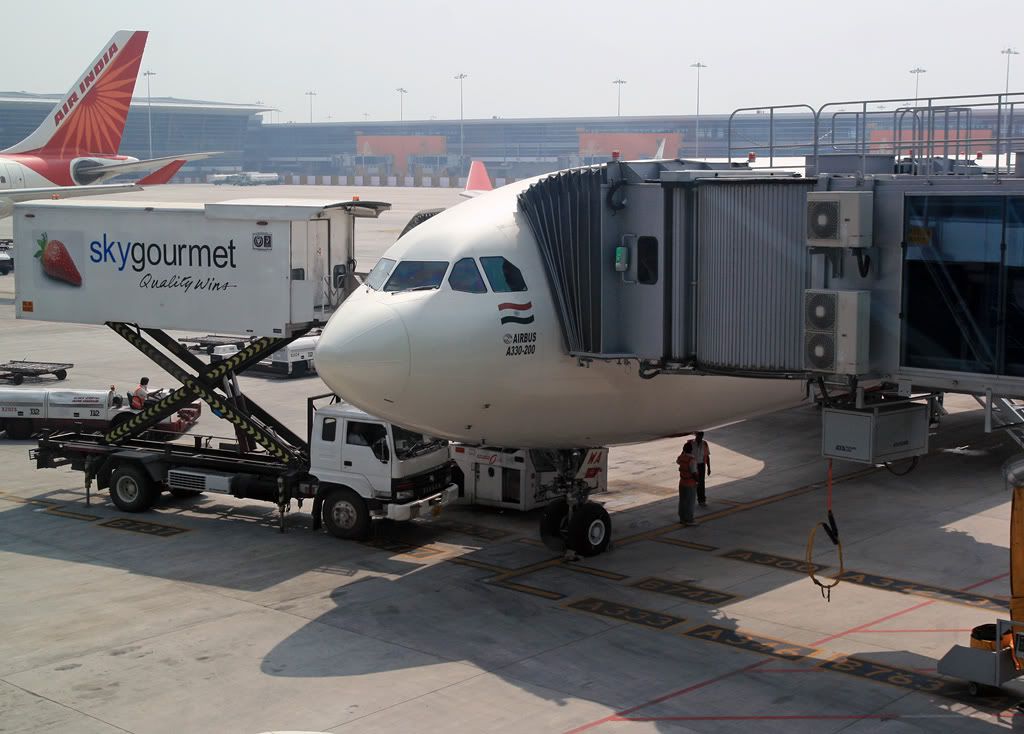 View back towards the aerobridge.
There was a boarding pass check at the entry/exit point of the gate, to ensure that everyone who had deplaned was indeed a DEL bound passenger. This check caused a longish queue to form.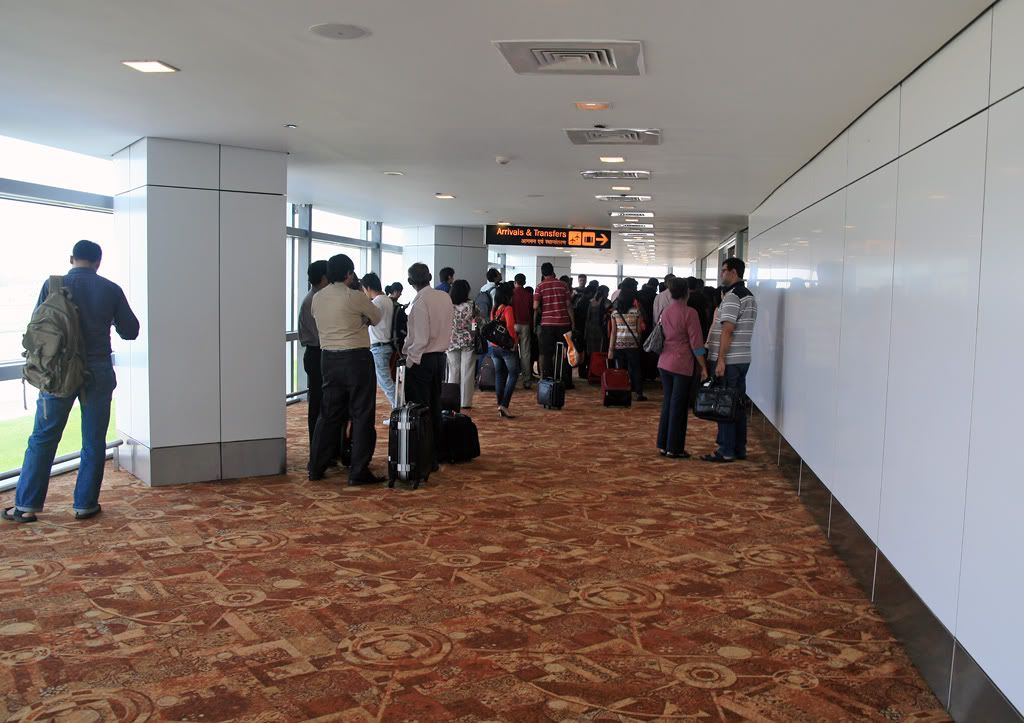 Once my boarding pass was scanned, I entered the arrival section of the pier. This is one long section and looks like a daunting task to walk. Thanks to the travelators, you can cover this distance with minimum efforts.
The entire pier floor has a brown coloured carpet, which reminded me of Changi Terminal 3. The views from the glass walls are fantastic.
The toilets at T-3 have a very interesting theme. Each toilet (Men & Women) depicts a man and a woman in traditional Indian attire from various regions of the country. I think this is a pretty cool idea.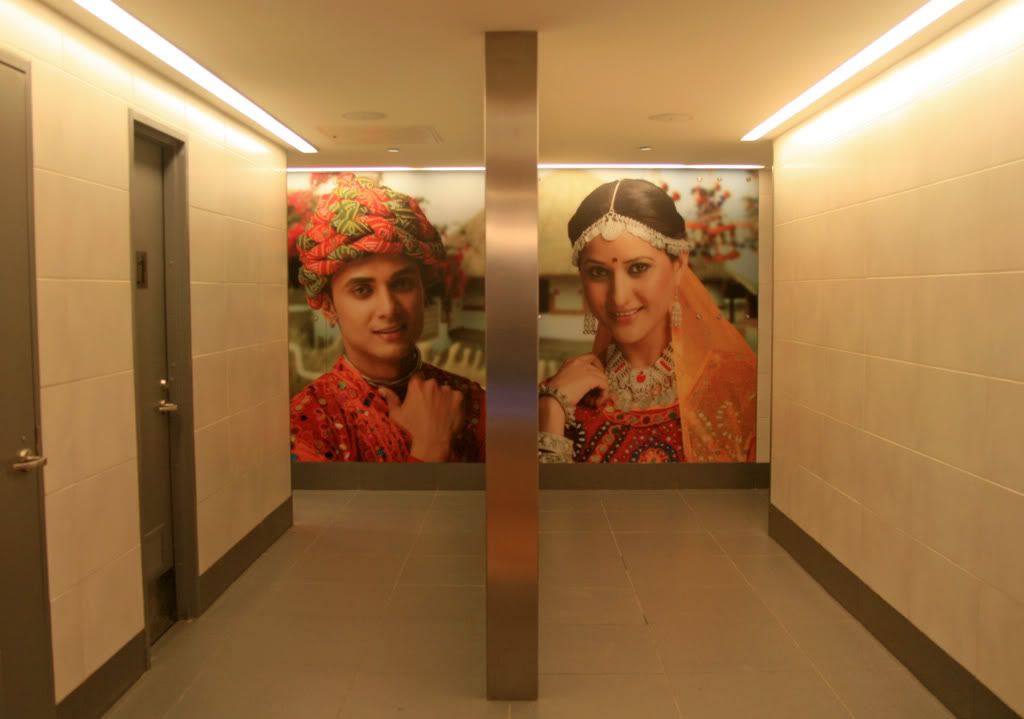 After travelling a distance of a couple hundred metres, you arrive at the intersection of the two International piers.
This leads to the escalators that take you down to the main Arrivals area.
A view of the famous Mudras from the escalators.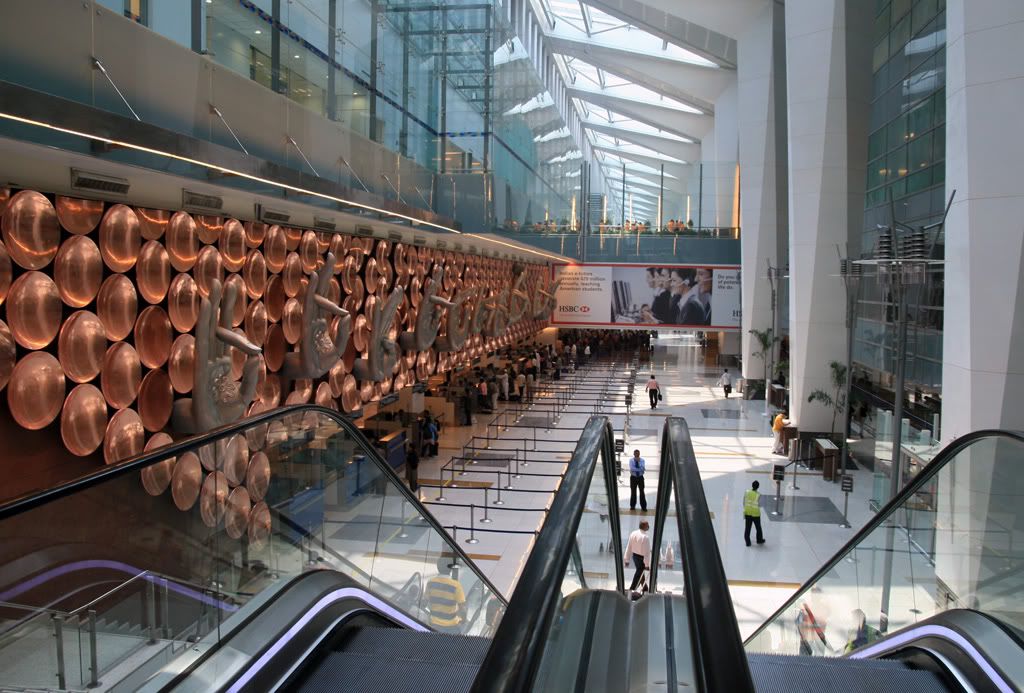 The Immigration counters are directly below the Mudra sculptures. For passengers arriving on a domestic leg of an international flight, there is a separate area that bypasses the Immigration counters, and takes you directly to the arrival Duty Free zone.
Here, your boarding pass is inspected once again and stamped "Domestic Cleared" by Delhi Immigration. The arrival Duty Free at T-3 is huge, and filled with the usual duty free stuff.
FIDS showing Arrival Information
Once you pass through the Duty Free zone, you arrive at the Baggage Reclaim area. T-3 has a total of 14 baggage belts, out of which six are for domestic operations; three are for mixed use – meaning they can be used for domestic or international operations as per need, and five for international operations.
Out of these, Belts no. 13 & 14 are high capacity belts suitable for Code F aircraft like the A380.
Some pictures of the Baggage Reclaim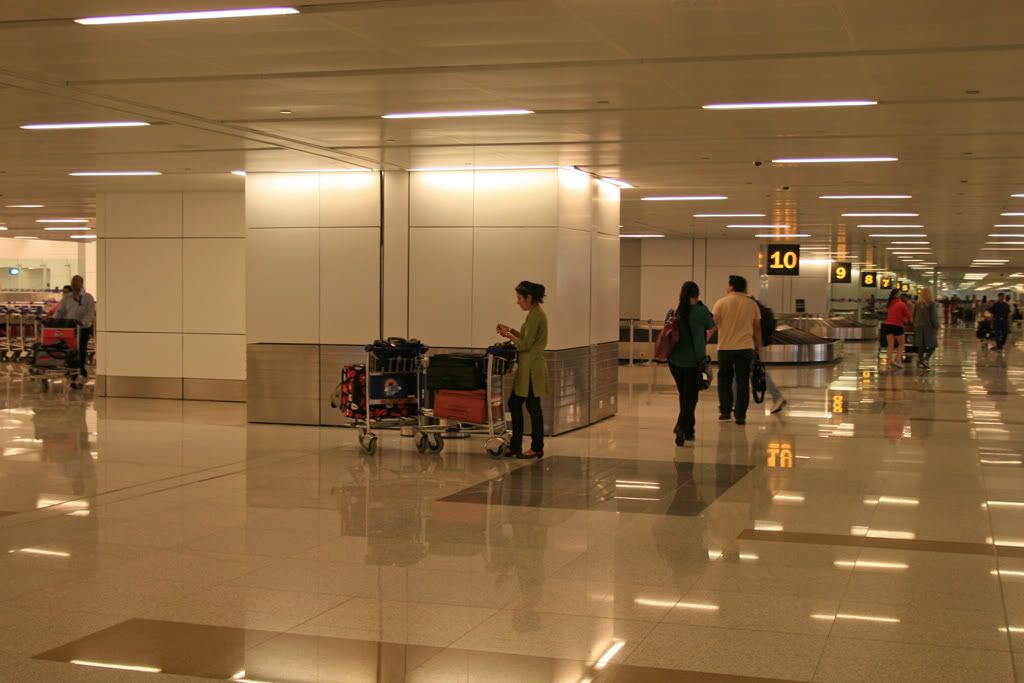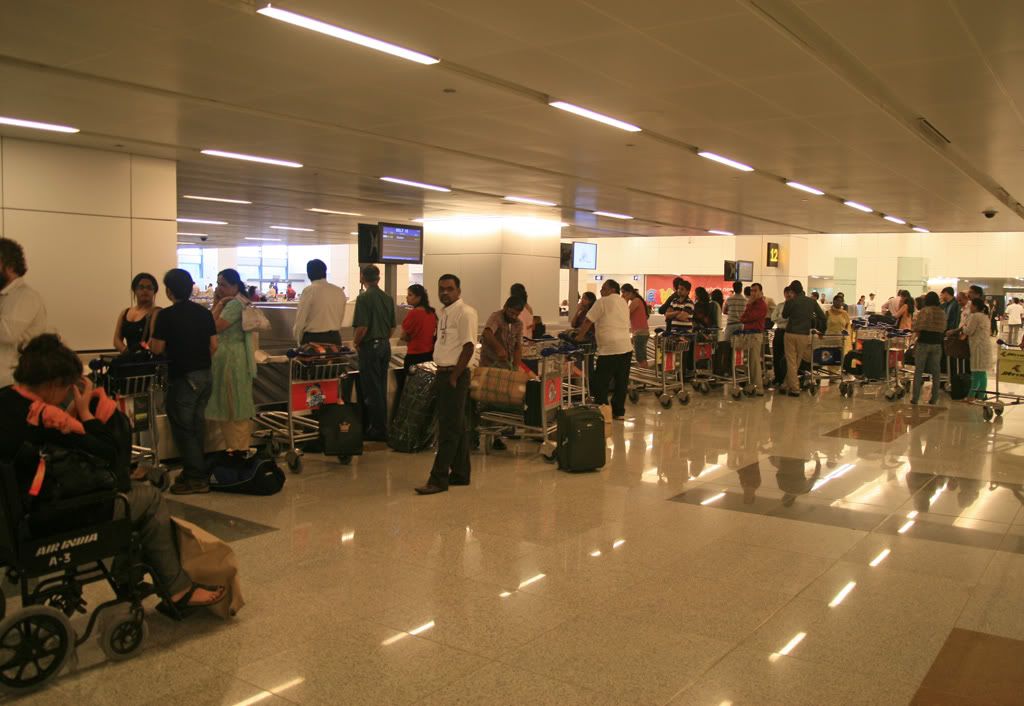 Beyond the baggage reclaim is the Arrival hall, and then the customs declaration area just before the Exit.
Once you exit the sterile customs area, you walk into a Meet & Greet area where visitors who buy an entry ticket can meet arriving passengers. The entry ticket for visitors costs INR 80 (approx 2 USD)
The area is air-conditioned and has a variety of food and drink options.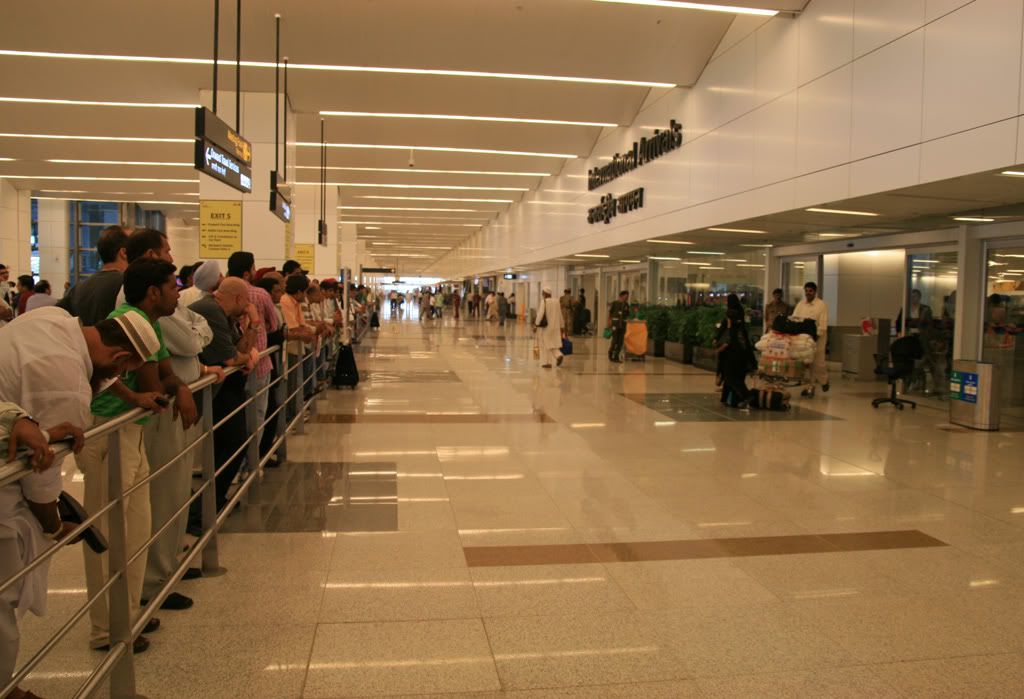 Finally, you reach the main exit of the terminal.
Right ahead of you are dedicated lanes for the airport taxis and the normal black & yellow Delhi taxis. There is also a bus that takes you to the main Airport Bus Station situated a mile or so ahead. From here, you can transfer into a bus that takes you to your destination in Delhi.
The Airport Express Metro line is currently undergoing finishing touches. This will be a high speed train service between DEL Terminal 3 (actually Dwarka Sector 21) and the New Delhi Railway Station.
Once operational, the journey from DEL airport to the New Delhi station is expected to take 20 minutes. The Airport Express line is expected to open by the end of September 2010.
So, this is the experience of arriving into Delhi's Terminal 3. Now lets move on to Departures.
THE DEPARTURE EXPERIENCE
Here are a few pictures of the departure level of Terminal 3 that I had clicked earlier during the day.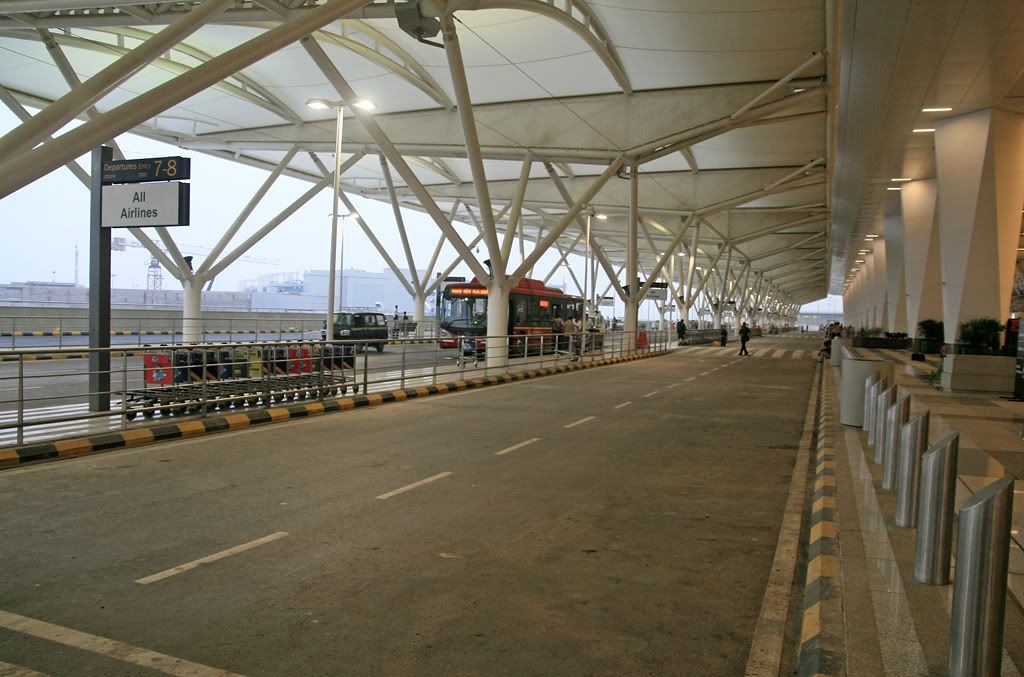 The grey building in the background is the multi-level car parking. This is connected to T-3 by a skywalk.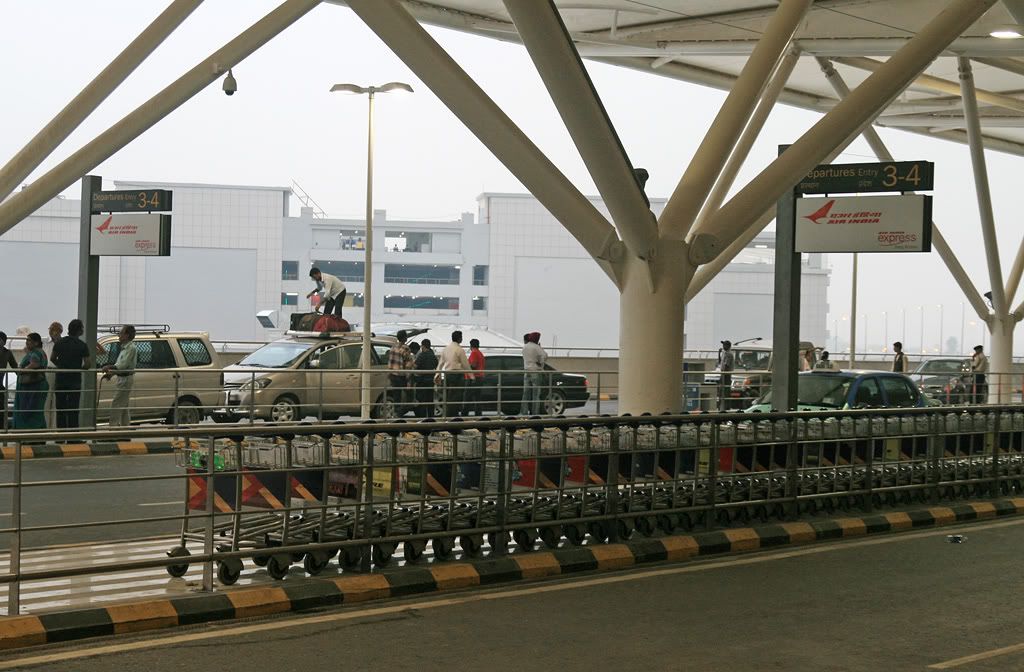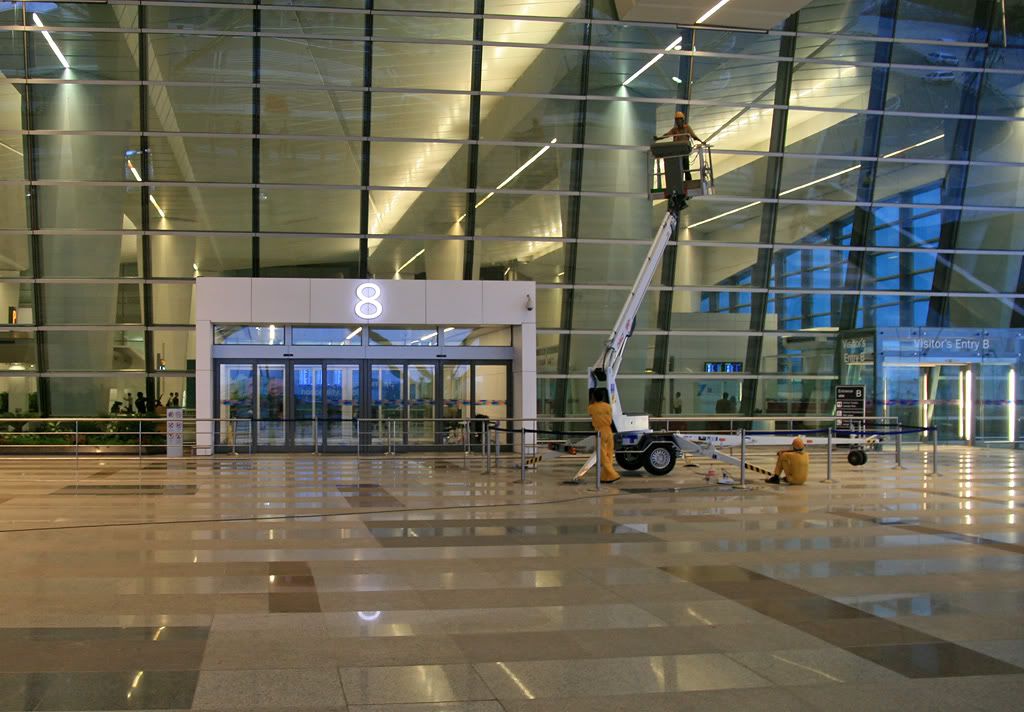 A view of one of the piers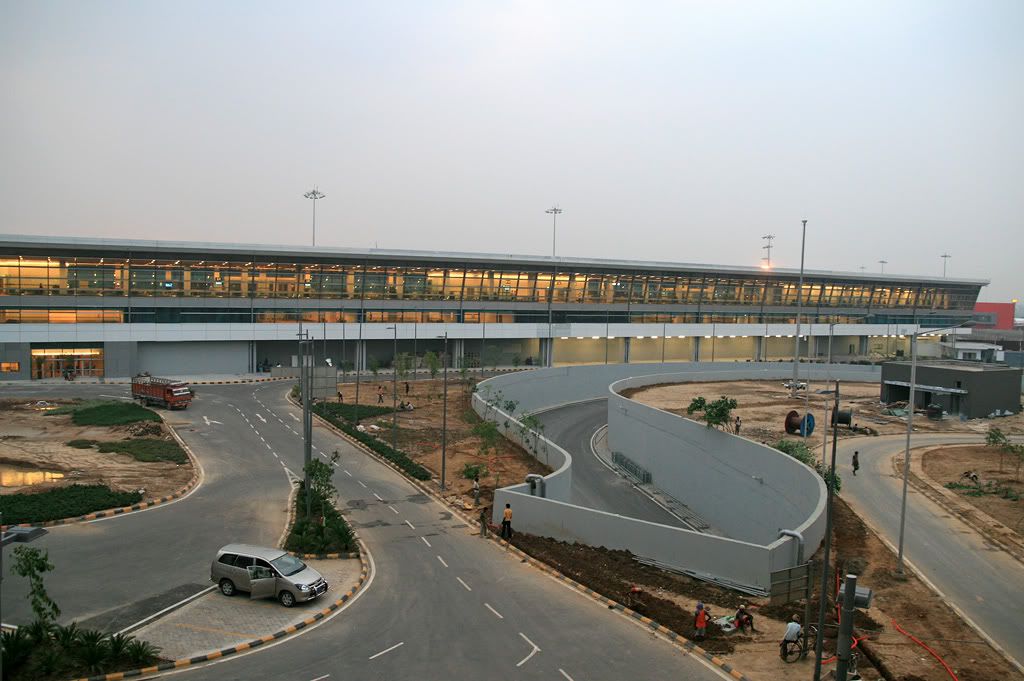 One of the drawbacks of AI 349 to BOM is its horrible departure time from DEL. It leaves at an unearthly time of 0335 hours. However, I had no other choice as this was currently the only domestic flight to BOM leaving from T-3.

Sector: DEL- BOM
Airline: Air India
Flight: AI 349
Aircraft: Airbus A330-223
Registration: VT-IWA
Scheduled Departure: 0335 Actual Departure: 0420
Scheduled Arrival: 0540 Actual Arrival: 0620
Seat: 07A
Such odd timings meant that I reached the airport midnight, giving me plenty of time to explore the terminal.
The drop off area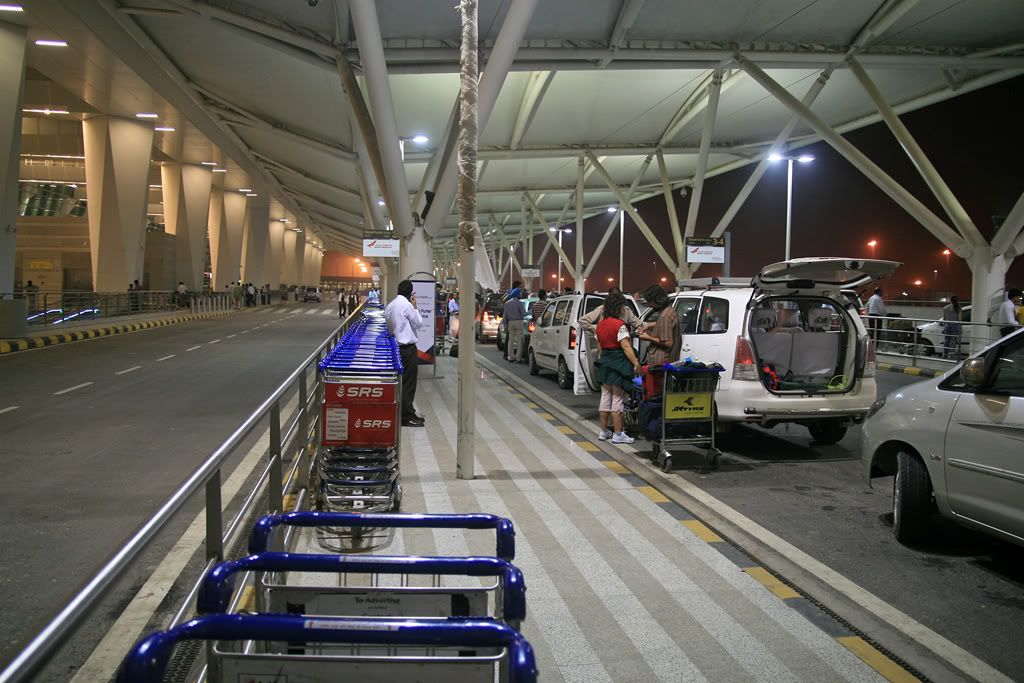 As is the case with all Indian airports, a massive crowd of people had come to drop off their loved ones.
FIDS showing Check-In Information
On entering the terminal, you come across a large spacious check-in hall. There are a total of 7 check-in islands with 14 rows of counters.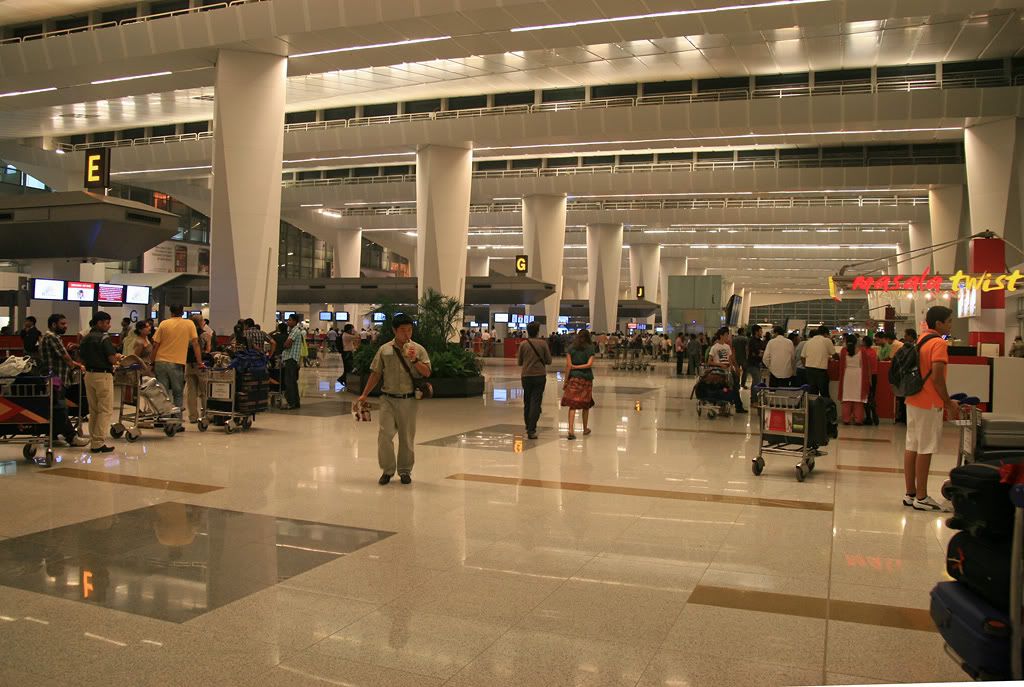 Air India was assigned Check-in island G
The Domestic Departures area, which was not operational yet.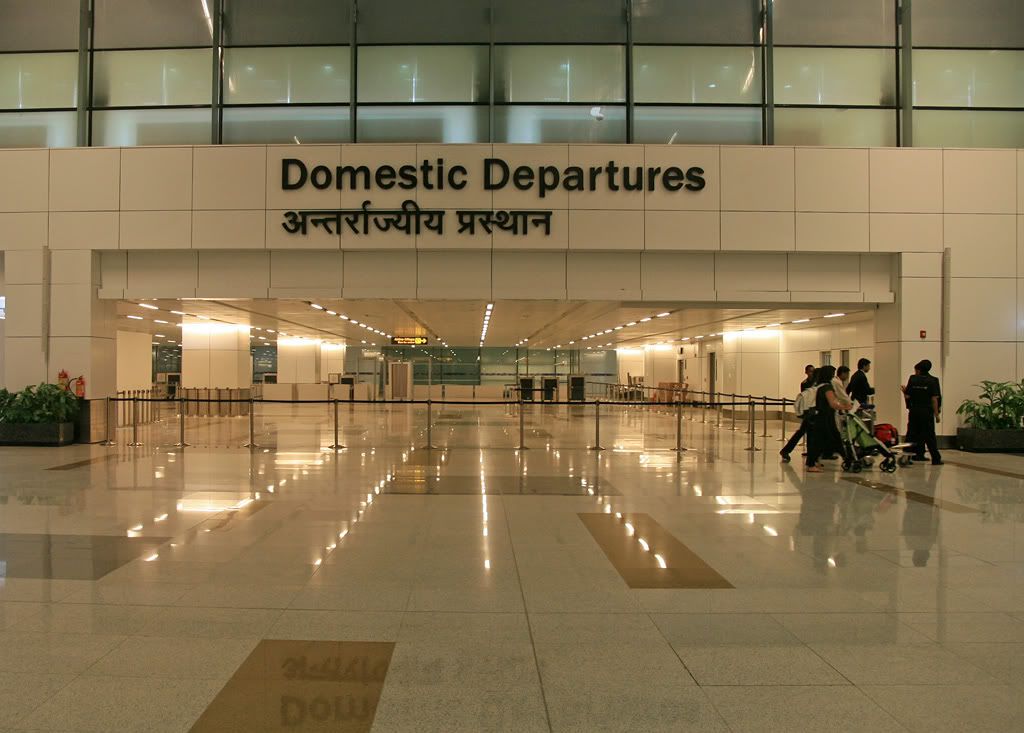 The International Departures area. Beyond the glass partitions are the Immigration counters.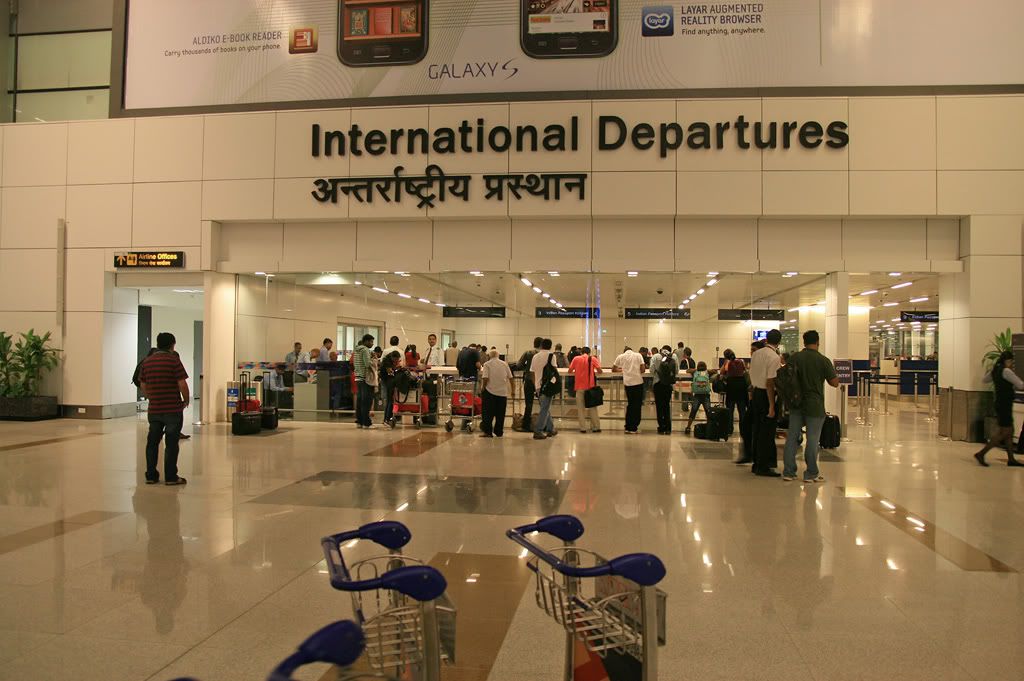 The huge crowds at the Lufthansa counter.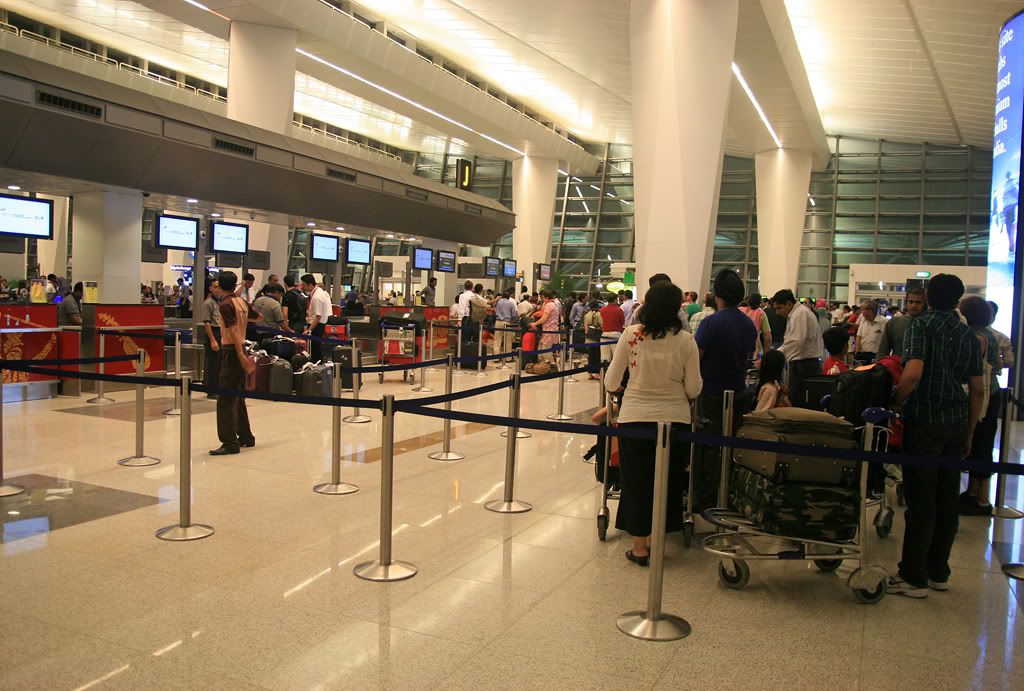 Just ahead of Immigration is Security. Once you clear these formalities, you enter the Duty Free area.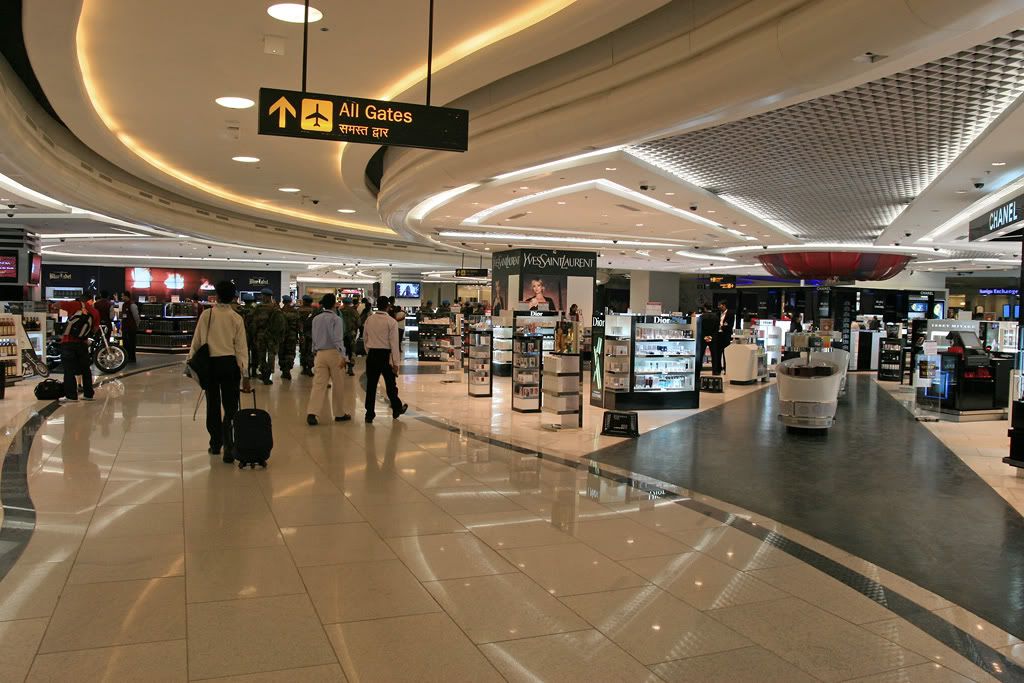 Pretty good selection of Duty Free stuff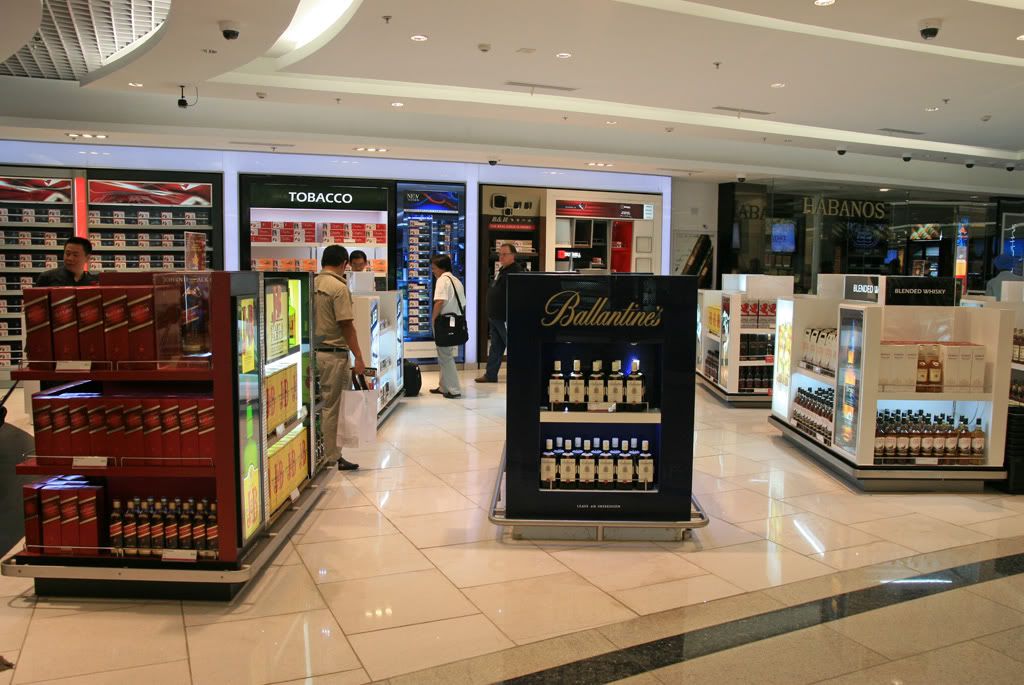 One level up from here are the lounges and food court.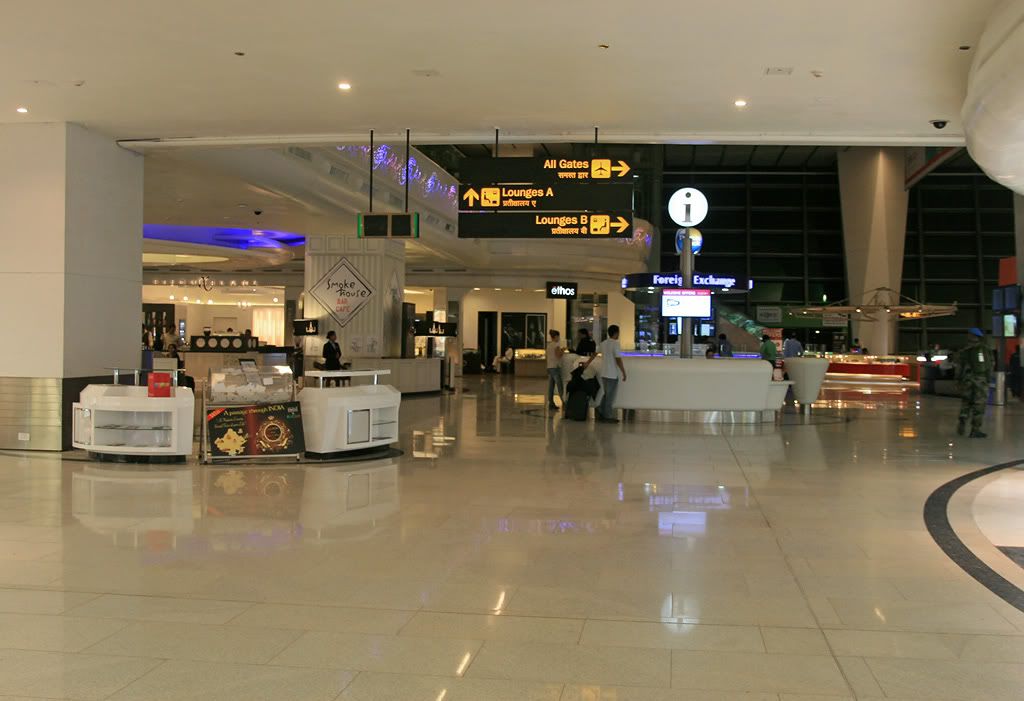 Traditional Indian design on the walls.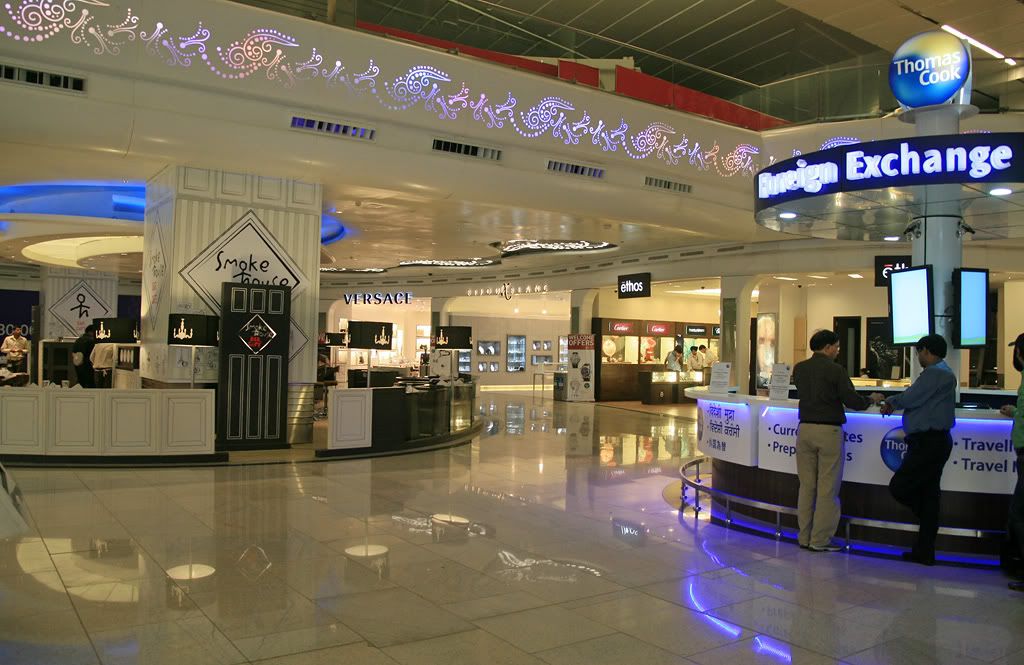 FIDS showing Boarding Information
Currently, the dedicated airline and alliance lounges are not open, and shared lounges are being used.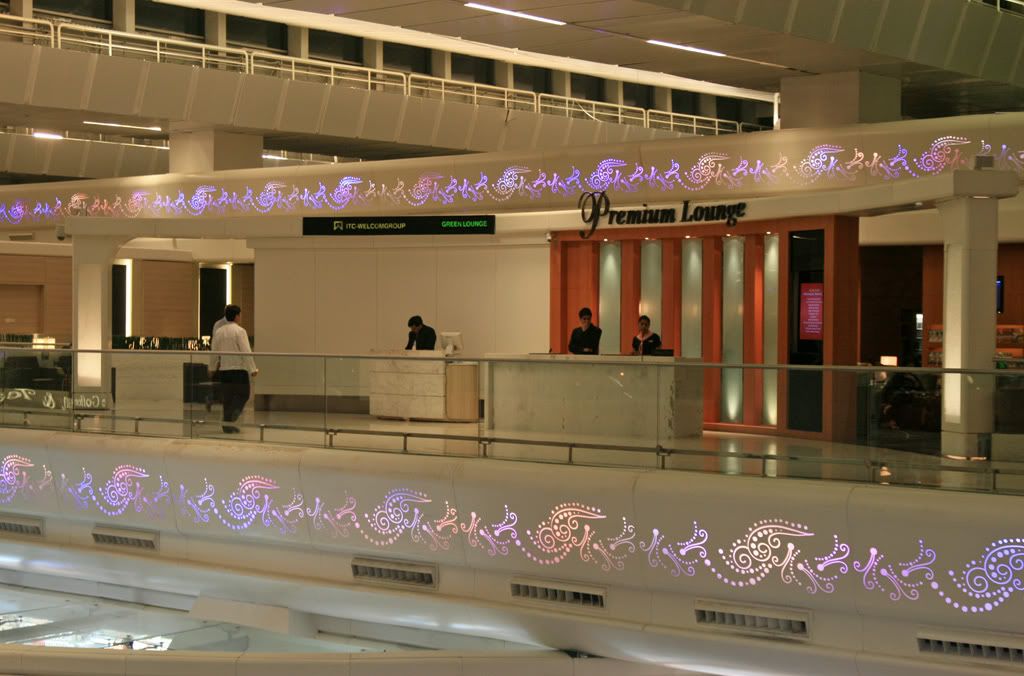 A view of the food court.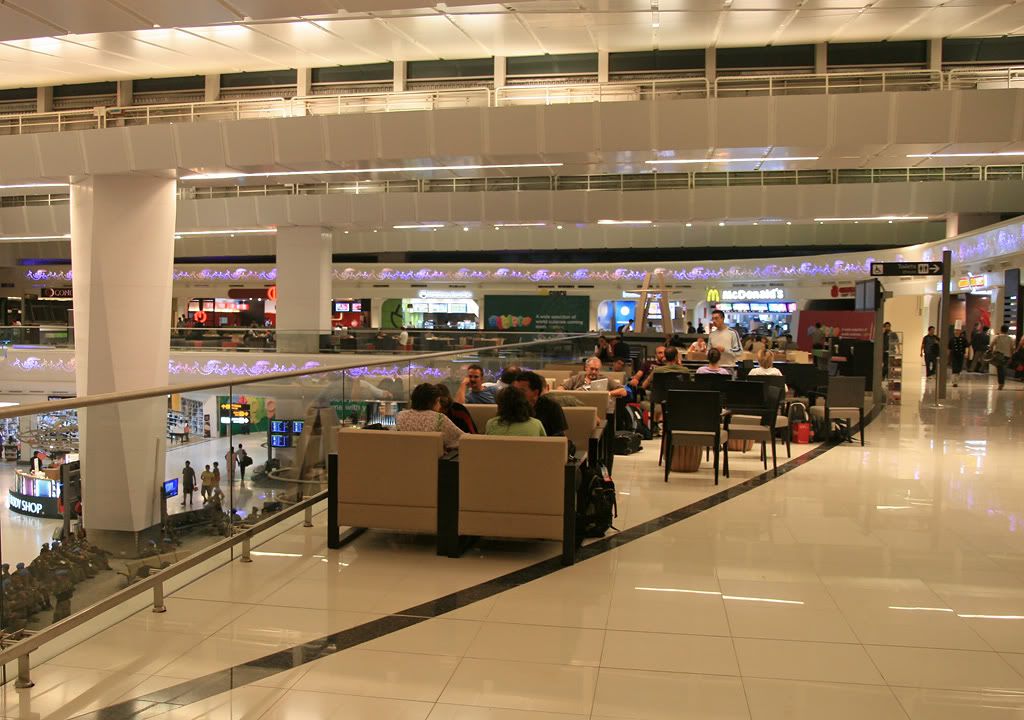 The famous Delhi Daredevils Sports Bar
This is the end of the main terminal building and the intersection of the two International piers.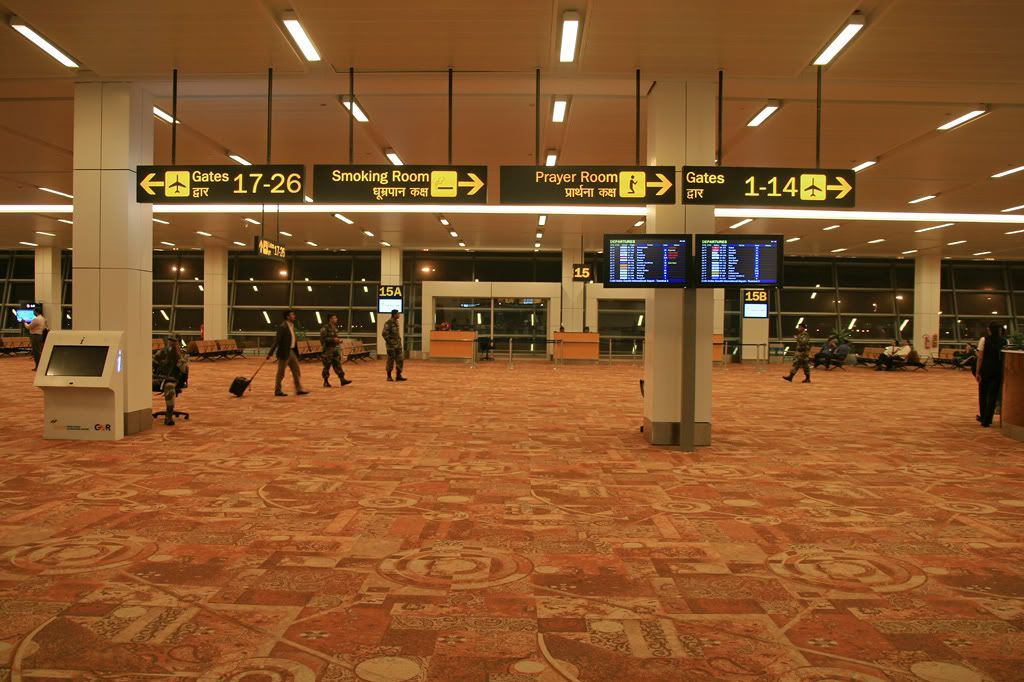 View towards one of the two International piers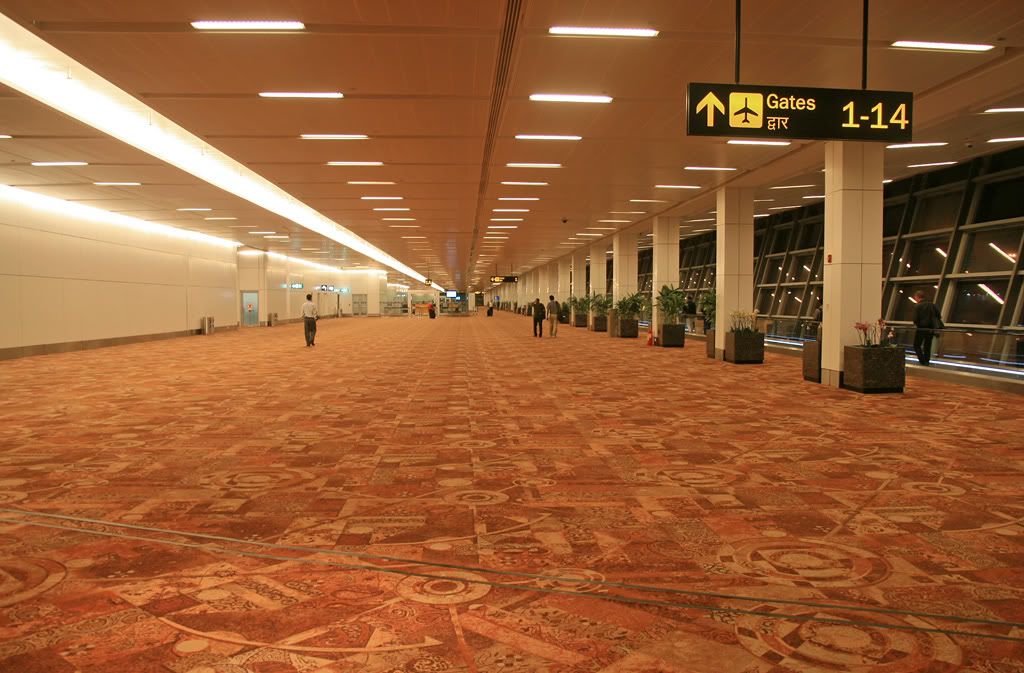 Themed toilets. Just love these!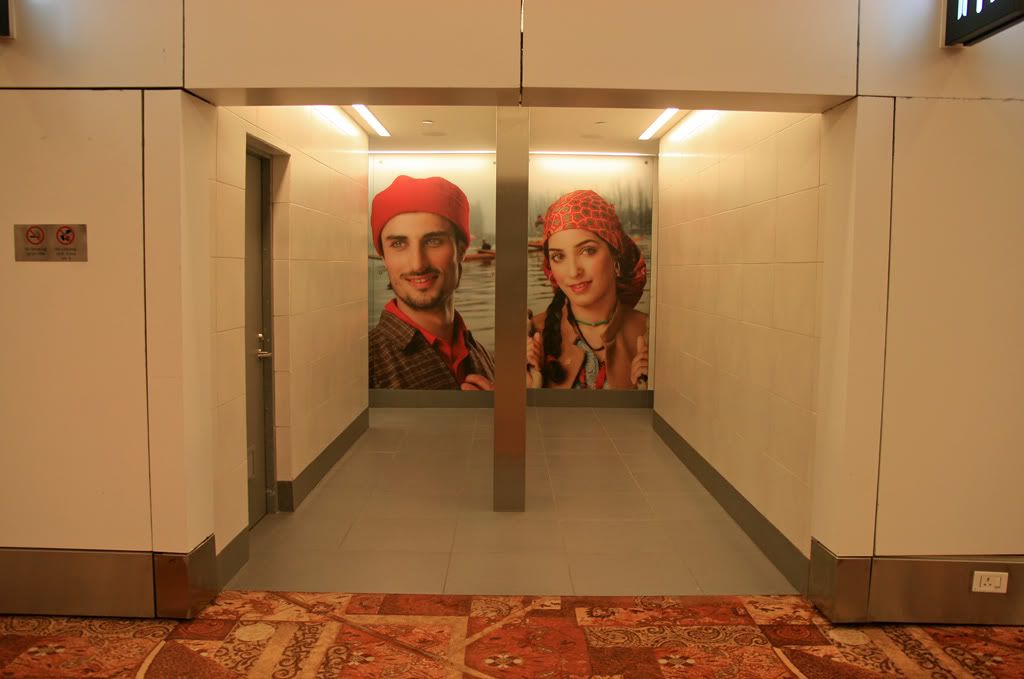 Gate 1-A is one of four gates with provision for secondary security screening and an enclosed security hold. These are used for US bound non-stop flights.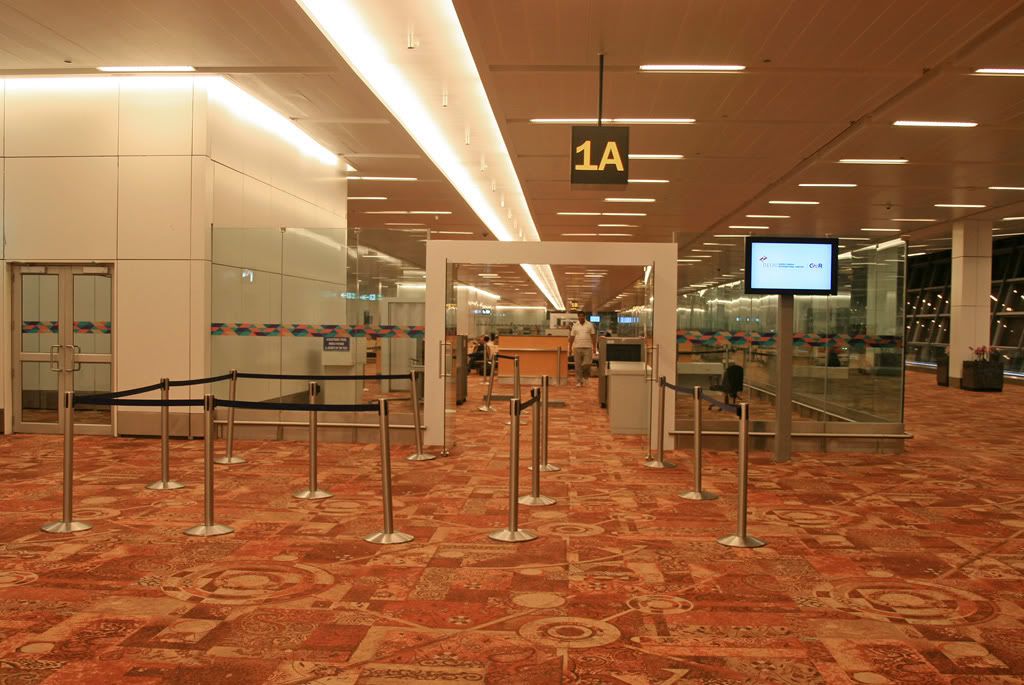 FIDS showing Departure Information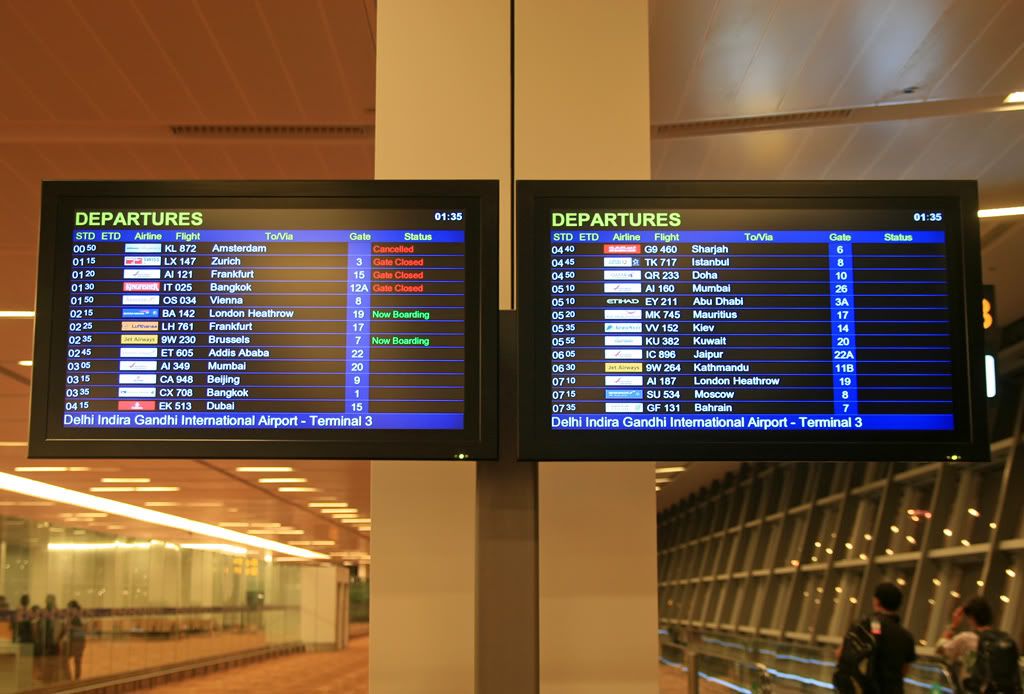 View towards the other International pier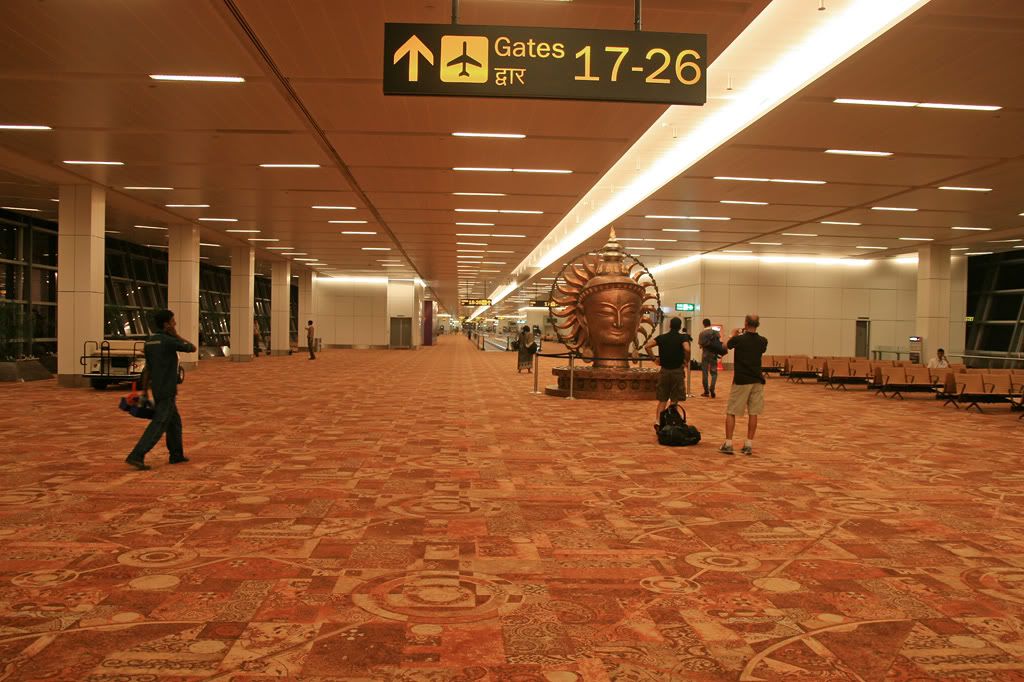 Arguably the most popular attraction in T-3.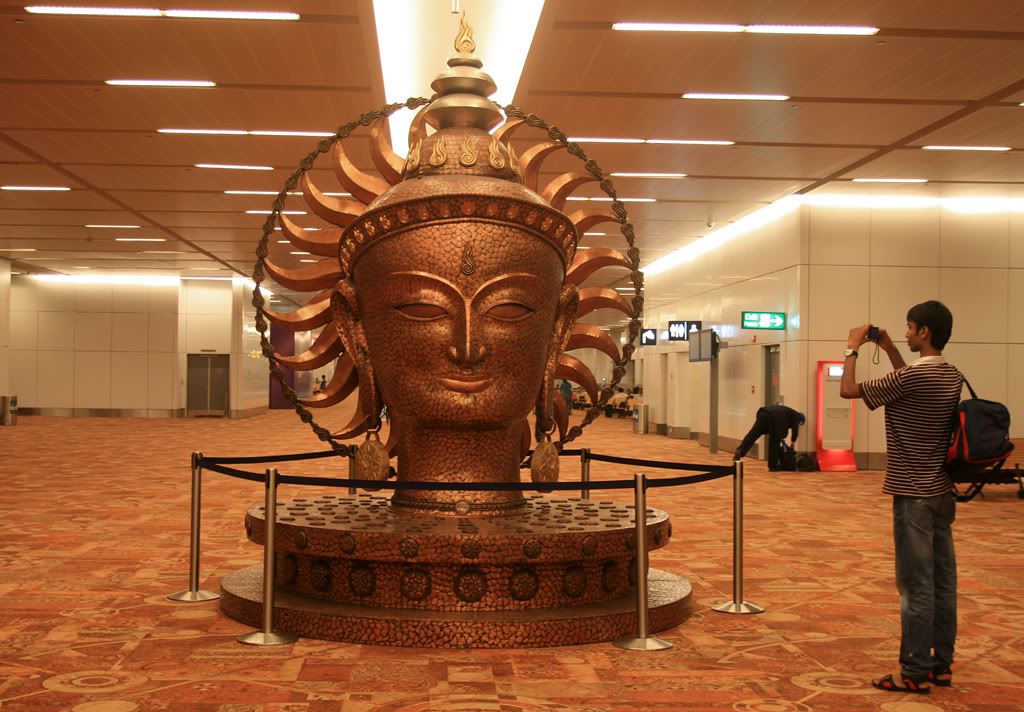 Travellators to take you to your gate.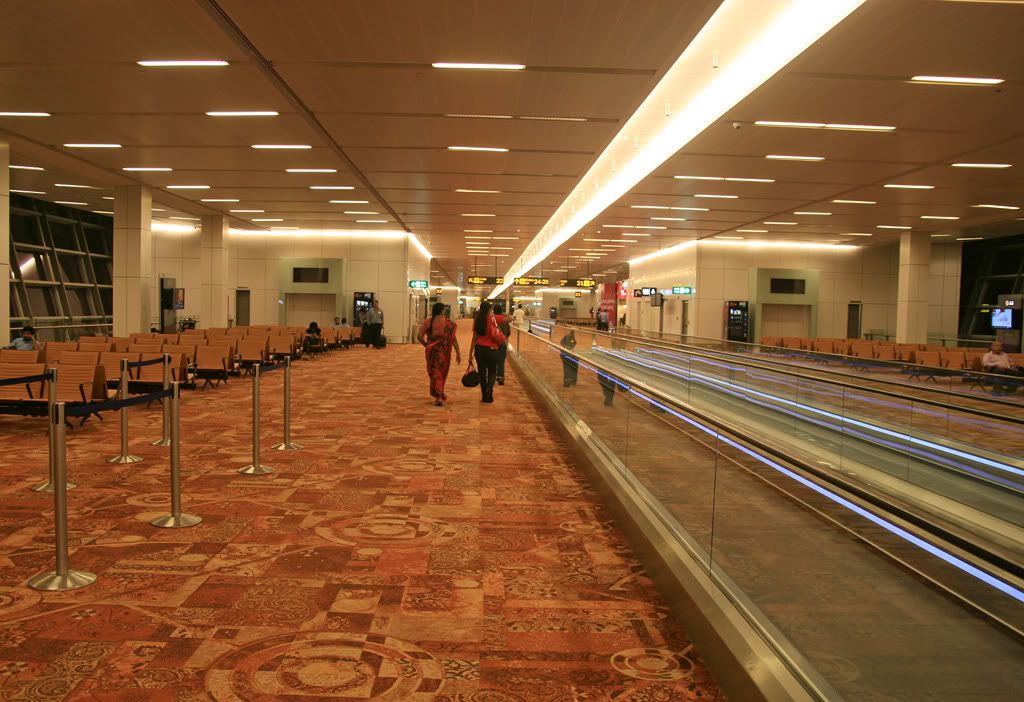 Gate 20B assigned for our flight today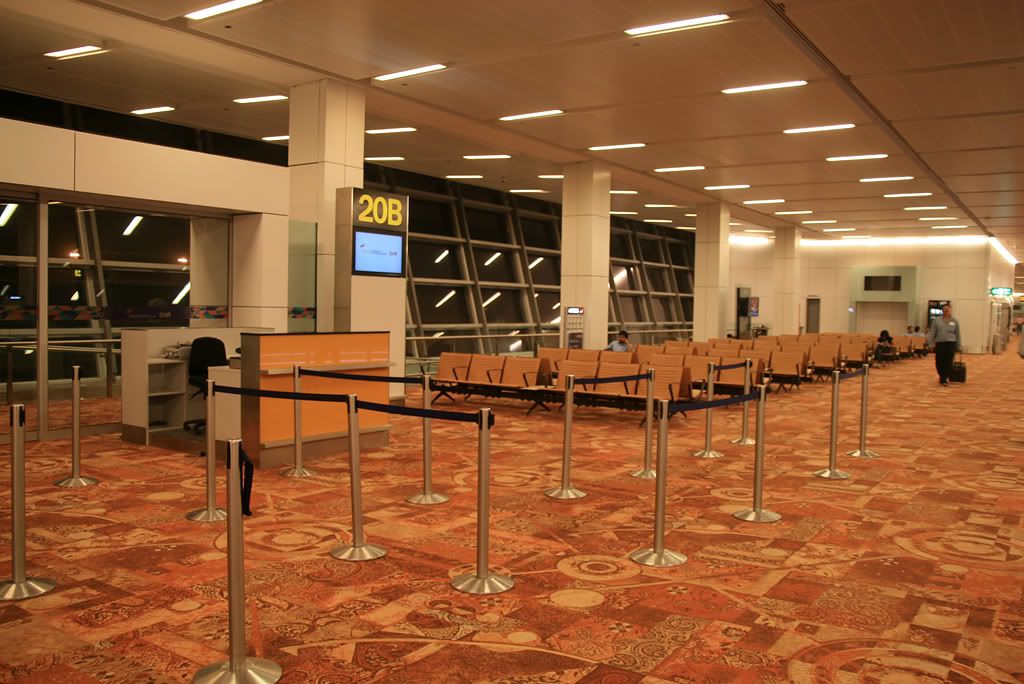 Once boarding is announced, you have to walk down through a ramp to the aerobridge one level below.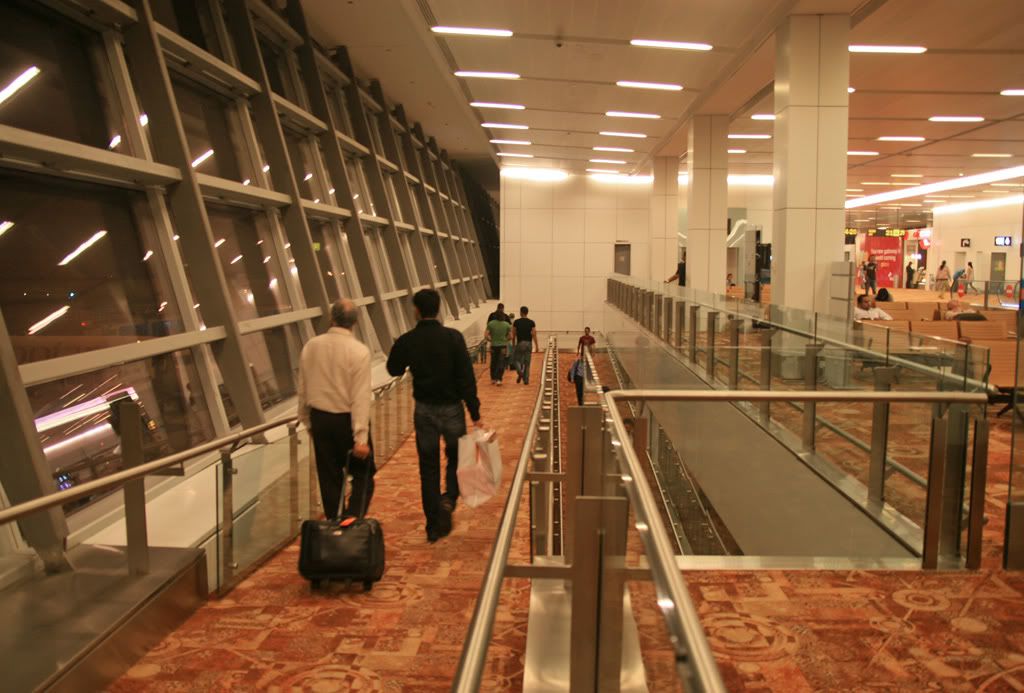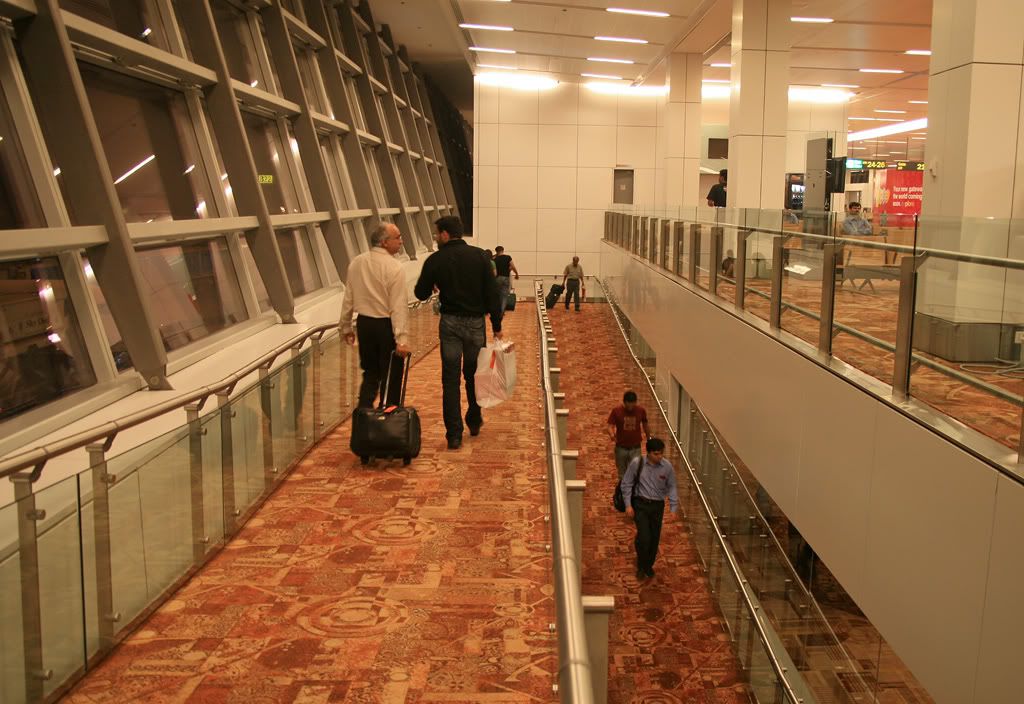 SUMMARY
Delhi's T-3 is a fantastic passenger terminal as you can see from the pictures. It has a combination of aesthetics and functionality, modern architecture and traditional Indian design.
Hats off to DIAL and GMR for building a fantastic facility which will go a long way in making DEL a proper hub for India's airlines. I am eagerly looking forward to the domestic operations moving to T-3. Once this is done, we will be able to see the true benefits of having an integrated mega terminal.
Hope you enjoyed reading the report and viewing the pictures. I am sure you have a fair idea now of what to expect on your next trip to DEL!

My Previous Trip Reports:
Experiencing Emirates Business DXB-BOM A340-500
Discovering Emirates - BOM-DXB - 777-300ER
Flying The Good Times: BLR-BOM On Kingfisher A320
To Bangalore on Jet Airways B737-800
The Kingfisher Experience: BOM-SIN-BOM A330-200
BOM-HKG-BOM Cathay Pacific B744/A333
Voyage To Nepal: Nepal Airlines/Buddha Air
BOM-HYD-BOM On Kingfisher + Spotting At HYD
BOM-DEL On Air India, Brand New A321
BOM-GOI-BOM On IC. A320/A300B4
BOM-DEL-BOM On IC A320/AI 743 Combi DEL Fog
BOM-KUL-PEN-KUL-BOM On MH/Air Asia
BOM-AMD On Air India 743 Combi Upper Deck
BOM-CMB-BKK-CMB-BOM On SriLankan Airlines