Szia!
Welcome to my trip-report. This time I'm headed for my Nagymama (grandmother) in Hungary, with the fast growing Scandinavian low-cost carrier Norwegian. I´m not a big fan of this budget carrier but I had to be in Budapest at lunch-time so DY was my only option. At first I was looking on LH via MUC. Actually LH was 30 euro cheaper then DY:D
Since the flight departed ARN at 9.30 am I had to go to Stockholm the day before. To get a little more sleep I was looking for a room at one of the airport hotels but no rooms were available. When looking around I noticed that all hotels in Stockholm was full. Everything from hostels to Grand Hotel! I was told later that it was a doctors-congress and there were 23 000 doctors in Stockholm during the weekend!
So the only option I had was to stay at my Cousins house in southern Stockholm meaning a very early start and then by Metro and commuter train to ARN.
Monday 30-08-2010
I arrived to Arlanda´s Terminal 2 just after 7.00 am. Terminal 2 is Arlanda´s low-cost terminal with airlines like Air Berlin, Nikki, Easyjet, Germanwings and of course, Norwegian.
Many of these low-cost airlines depart very early in the morning so the terminal was quit empty when I arrived. Self-service machines was only for domestic flights so I had to check-in manual. Only one couple in front of me in the line so check-in was quick, After I ate a overpriced breakfast in the departure-hall before going to the gate.
Security was also quick with not many people. I took a second cup of coffee and sa down looking on A/C taxing to the active runway-01L.
According to my ticket boarding should start a 09.00 so a quarter to nine a went for the gate which today was Gate 63 to see my A/C arrive.
When getting my booking-confirmation it showed a 737-800 so I was very surprised to see a 737-300 standing at the gate! Last I flew the -300 was back in 2001 HEL-BUD on Malév.
The A/C today was LN-KKX. In service with Norwegian since 2006. Delivered new to Sobelair 1998 as OO-SLK and moved to Air New Zealand in 2001 as ZK-NGN.
Flight details
Flight: DY3963 op with Jettime
Dep time:09.30am
Arr time:11.45 am
Load: 120 of 148
Boarding started ten min late at 09.10. By the door we was greeted by Purser Jens and in the back were his colleagues Trine and Joakim. The two guys was Swedish and Trine was Danish.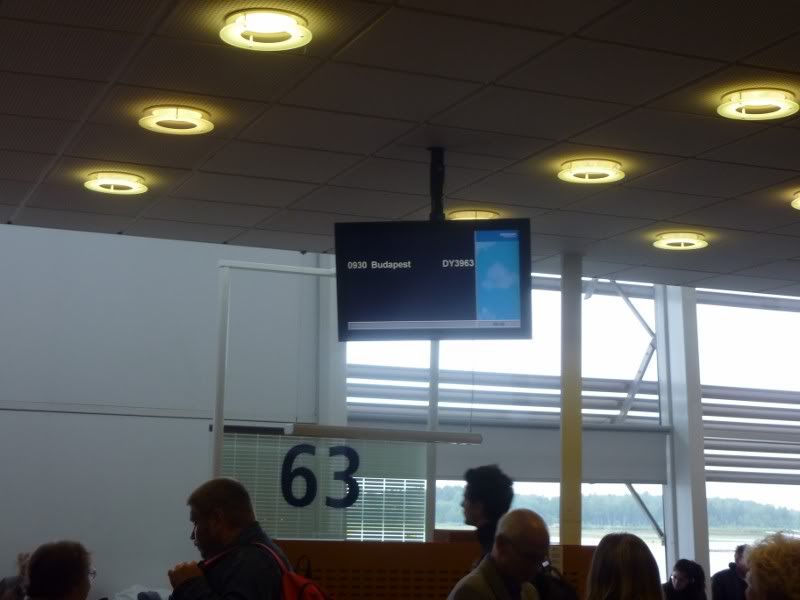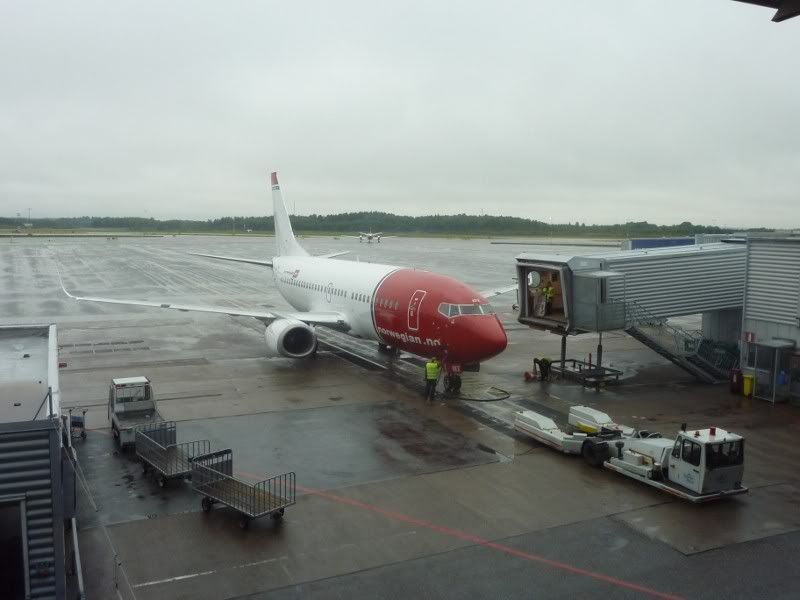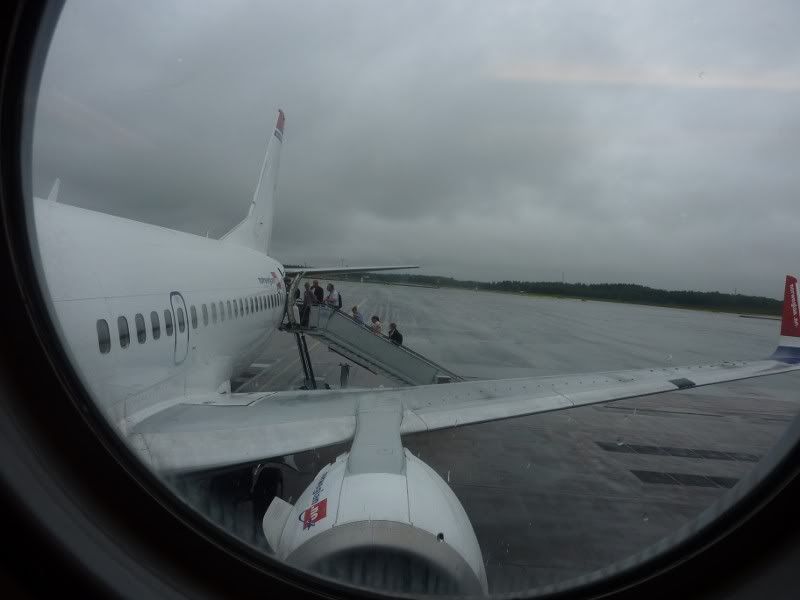 The load today was 120 pax so quit a good load with 28 seats left. I was assigned 13B, a middle seat in the row aft of the over-wing exit. I notice that the exit-row on the other-side was all free so I ask Trine if I could move which was OK. The only bad things with this was that there is no window-seat on this row! So not the best views outside.
Boarding was quick and we started taxing to the active runway which had been changed now from 01L to 08, a less used runway here at ARN.
We hold for a couple minutes before the crew giving take-off power and we went like a rocket down the runway and then start a very steep climb. These 737´s are really powerful!
At 10 000 feet the seat-belt sign was turned of and the crew started their cabin-service. BOB here on DY. I bought a sandwich and a cup of coffee for 75 SEK- around 7 Euro. The three F/A´s was all nice and very friendly.
Some cabin pics:
Seatback
Advertisement on the overhead-lockers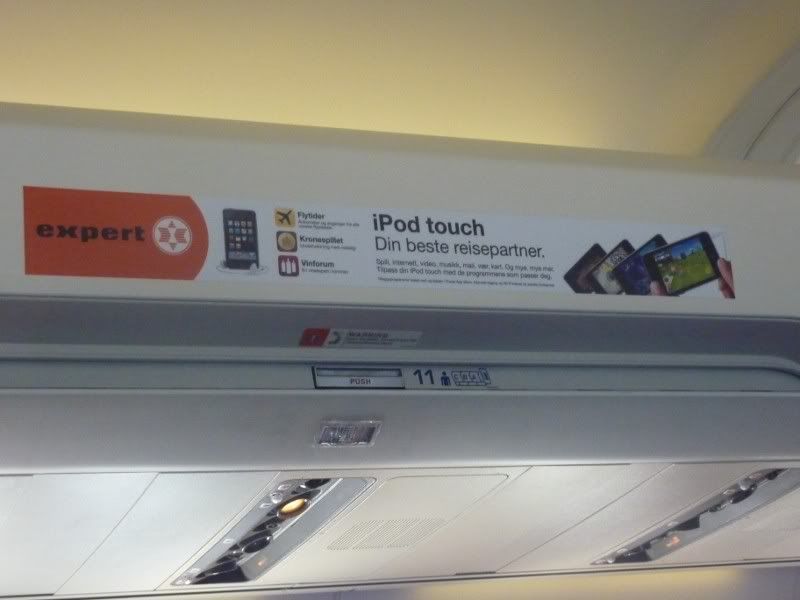 Forward entry door: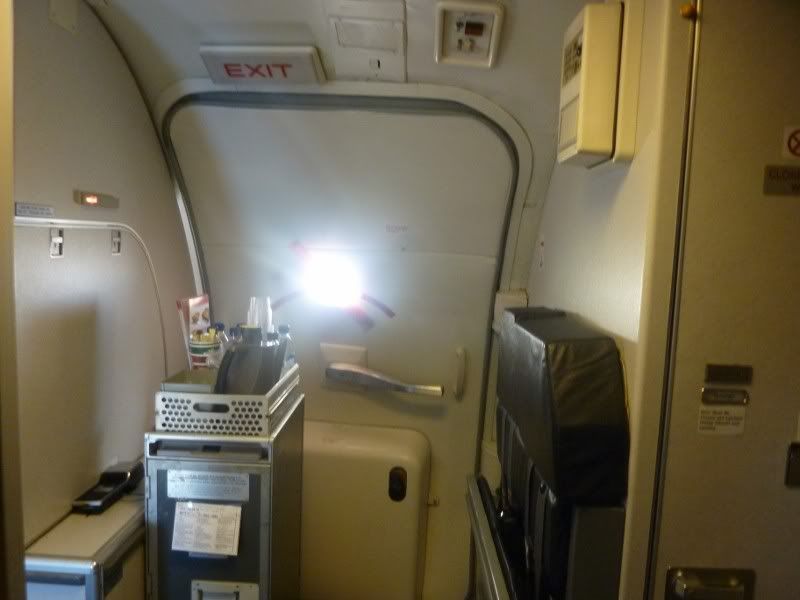 Safety card:
Inflight magazine:
We cruised at 36000 feet
After 1h50 min in-flight we started our descent towards Budapest- Ferihegy 1 airport.
Passing runway 31R: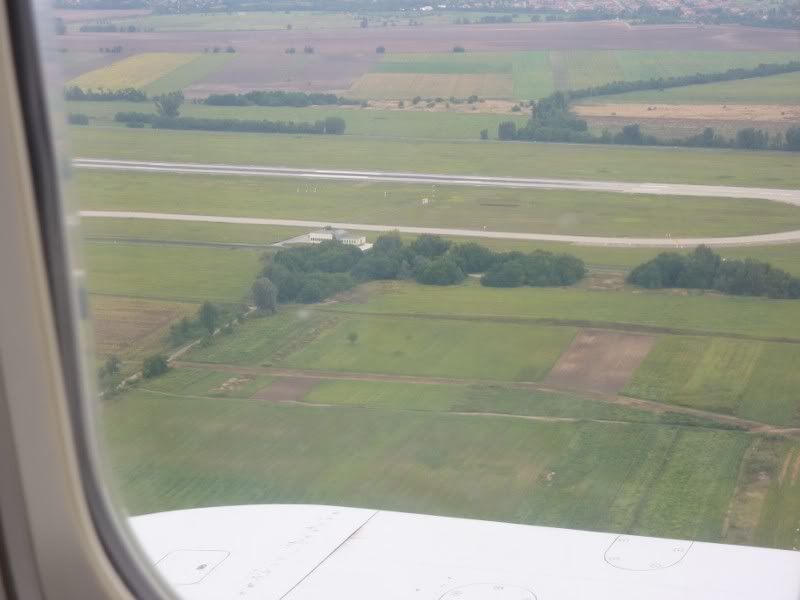 A/C at Ferihegy 2: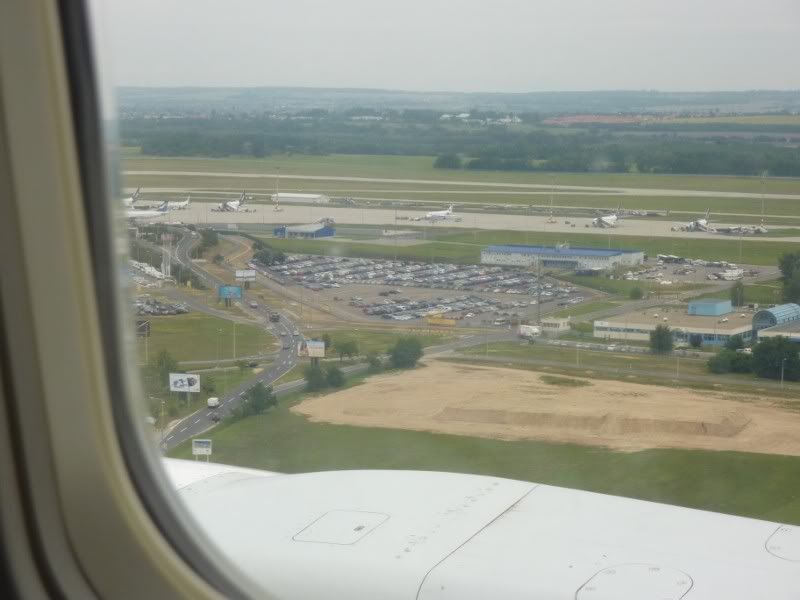 Landed on runway 31L and then a short taxi to Terminal 1. Ferihegy 1 is the old airport build in 30's. It´s nowdays a low-cost airport with the newer one- Ferihey 2 on the other side of the runways.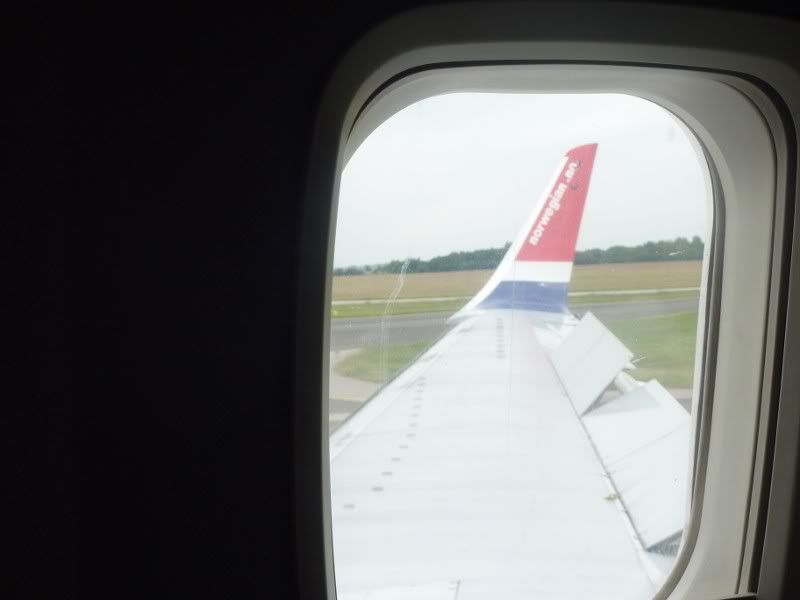 Parked next to a Wizzair A320. Notice the old terminal-building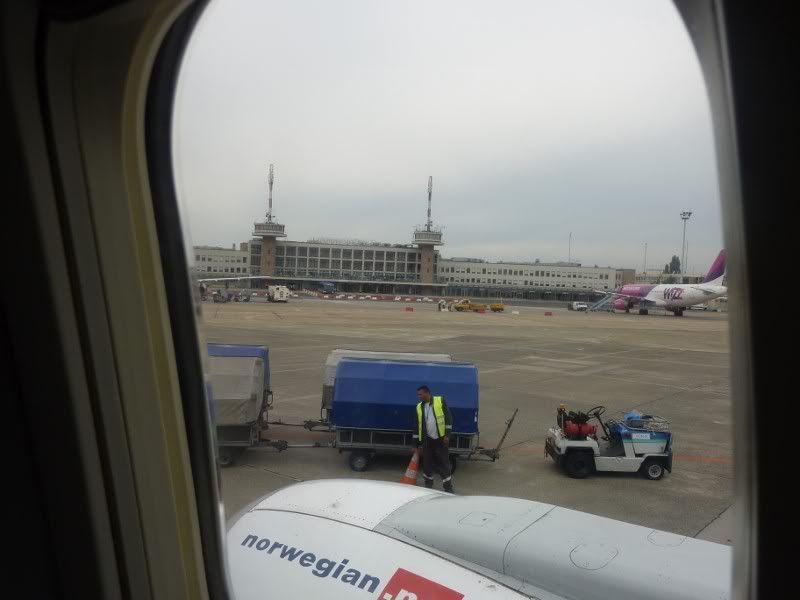 Leaving the A/C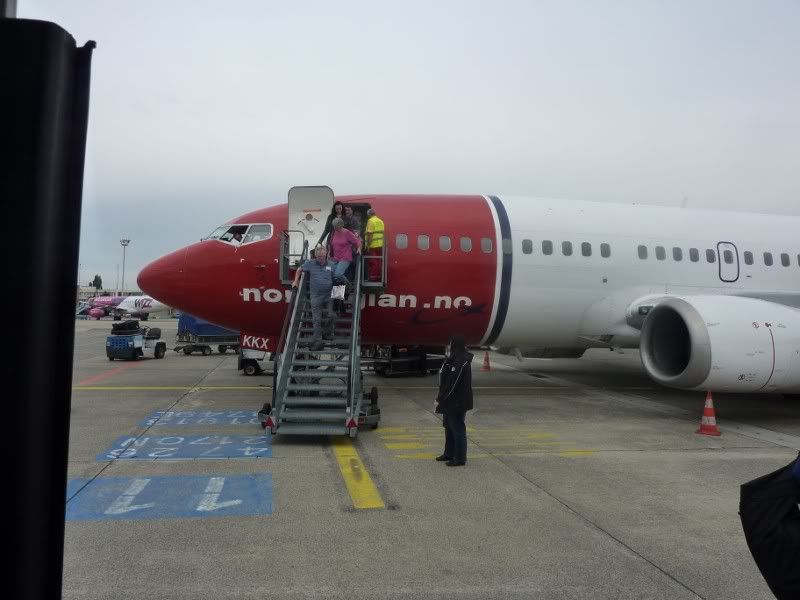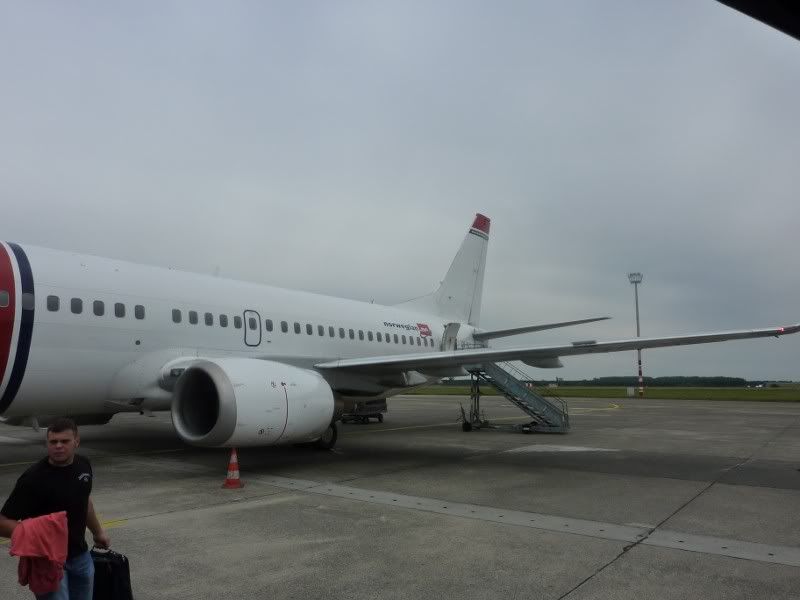 Ferihegy 1 is served by airlines like Wizzair, Ryan, Easy, Jet2, DY and so on. Ferihegy 2 is dominated of the national carrier Malév and also most major European airlines and there also a Delta service to JFK.
The airport had been refurbished quit recently but it feels very old and cramped. When several flights departs in the same time it quit chaotic specially at the check-in area.
Not good-looking:D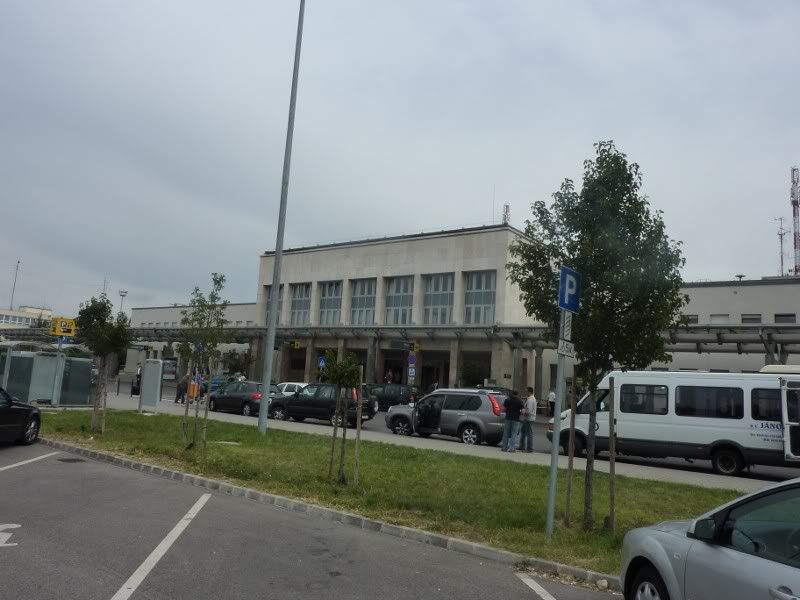 Commercial for Budapest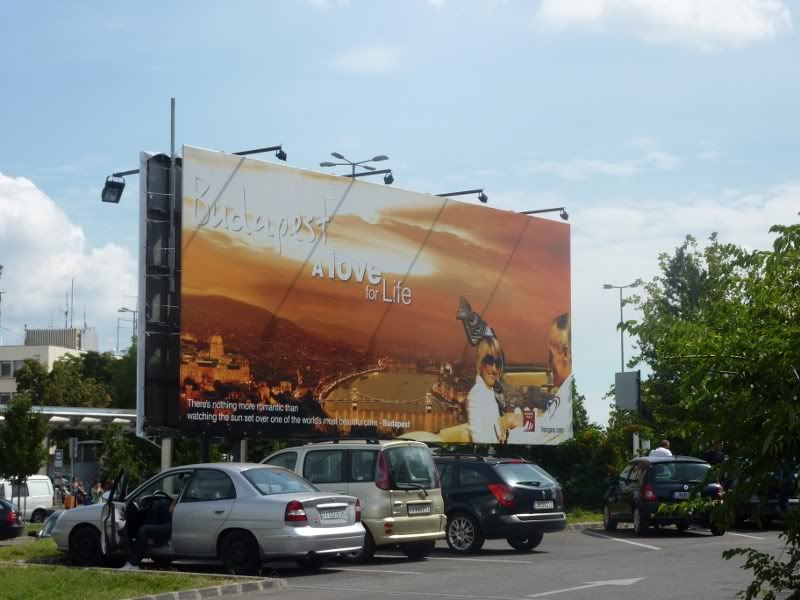 Monday 06-09-2010
After a week in Hungary it was time to go home.
I arrived at the airport at 10.00 am. Almost two hours before departure. Check-in was a mess. 125 pax checking-in and only one counter is open! I was one of the last in the line so after almost an hour I finally could check-in.
After checking-in I went for the viewing-terrace. Not much action here.
Wizzair A320: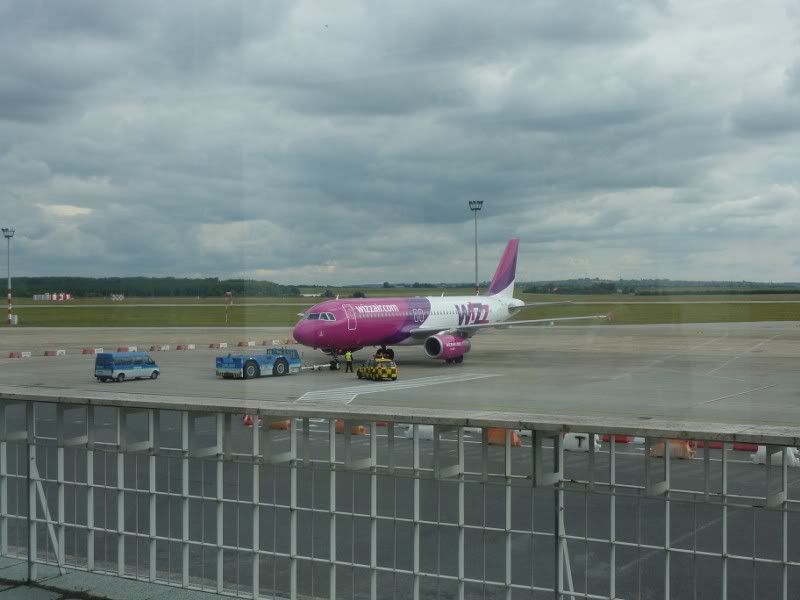 Easyjet 737 just arrived from Dortmund: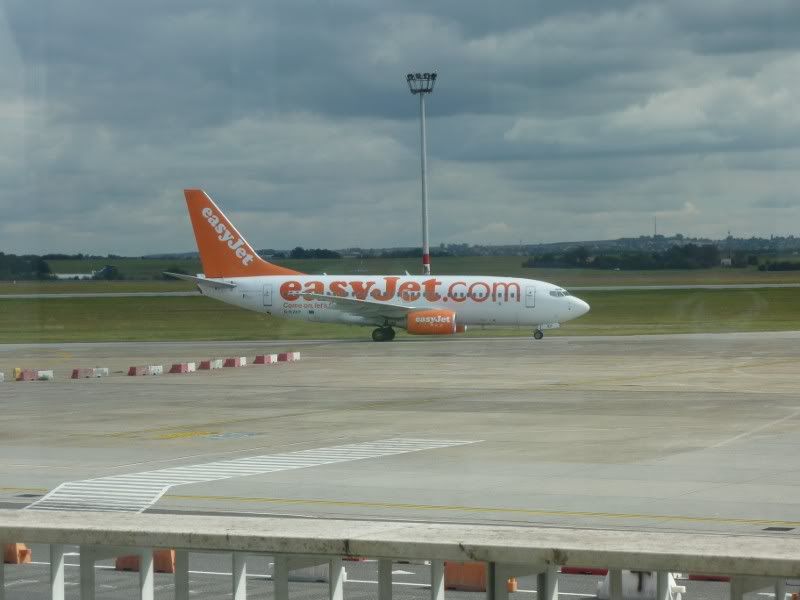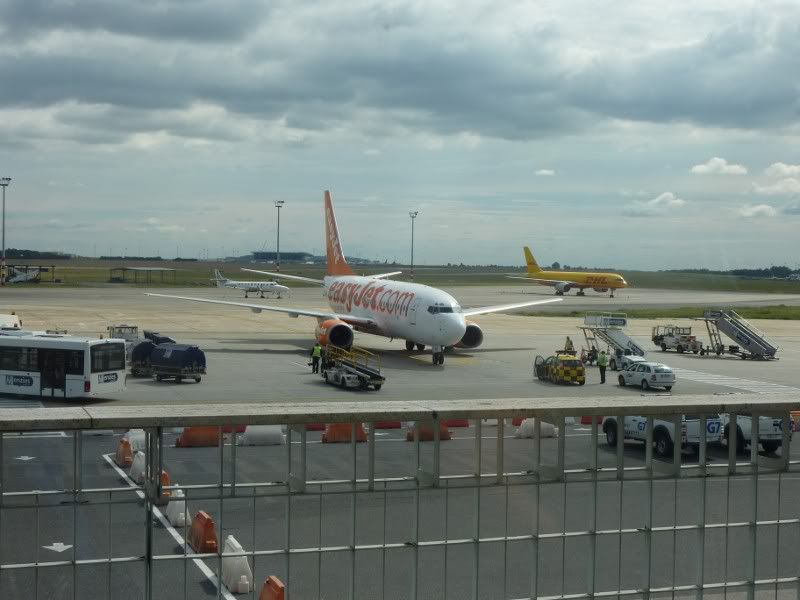 A metro liner and Ferihegy 2 in distance: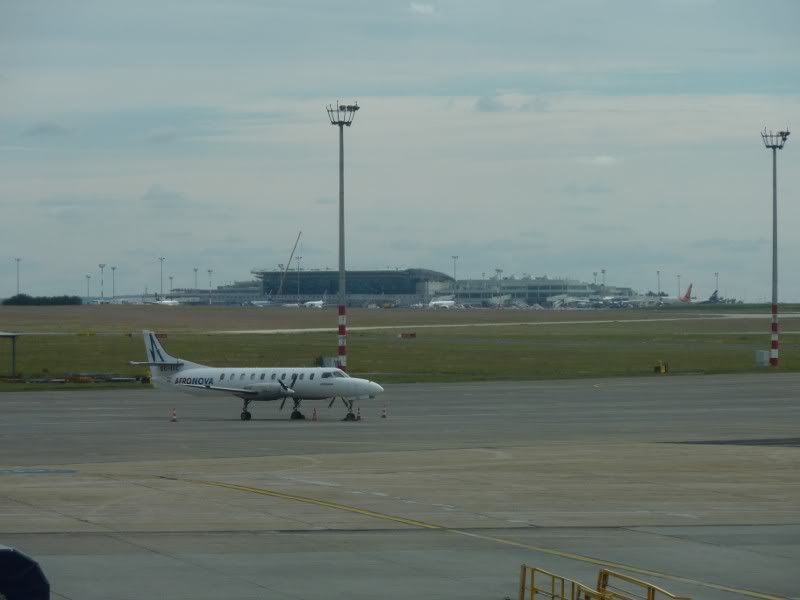 DHL 757: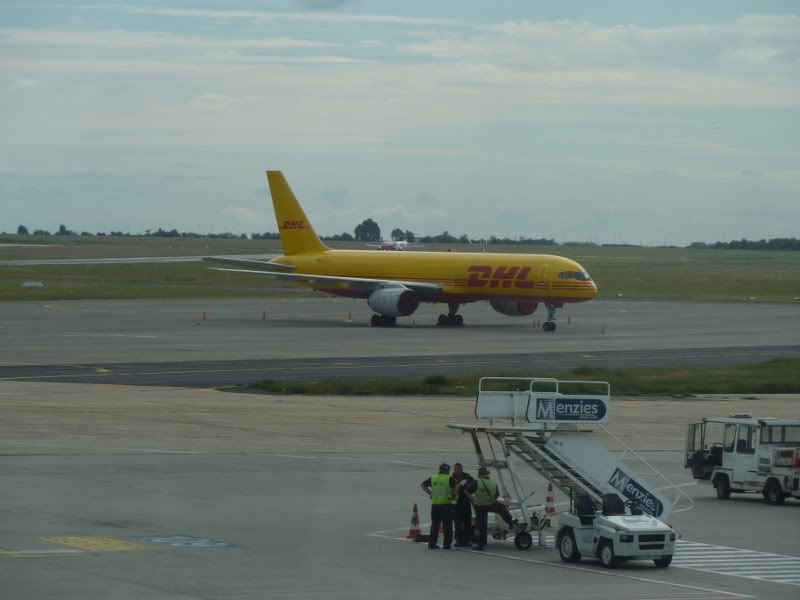 The departure hall:
After some spotting I went security. The gate-ares was also a mess. Very small and hot. All seat occupied.
Thankfully I didn't have to wait to long before boarding started at 12.00. Boarding from gate 5 and bussed to the A/C.
The A/C serving today was LN-KKF. In service with Norwegian since 2002. Delivered new to KLM 1989. Then flying for KLM and Transavia as PH-HVM until 2002
Flight details:
BUD-ARN
Flight: 3964
Dep time: 12.15
Arr time: 14:25
Load: 125 of 148
Greeted at the door by Purser Kajsa. In the back her´s two male colleagues Kennet and……Gurkan!!!! Gurkan in English is "The Cucumber" !:D I've never seen a nickname on nameplate before!
My seat was 12E the same that I moved to on my outbound flight! I´ve was no pleased with since the bad views but no other free windows-seats available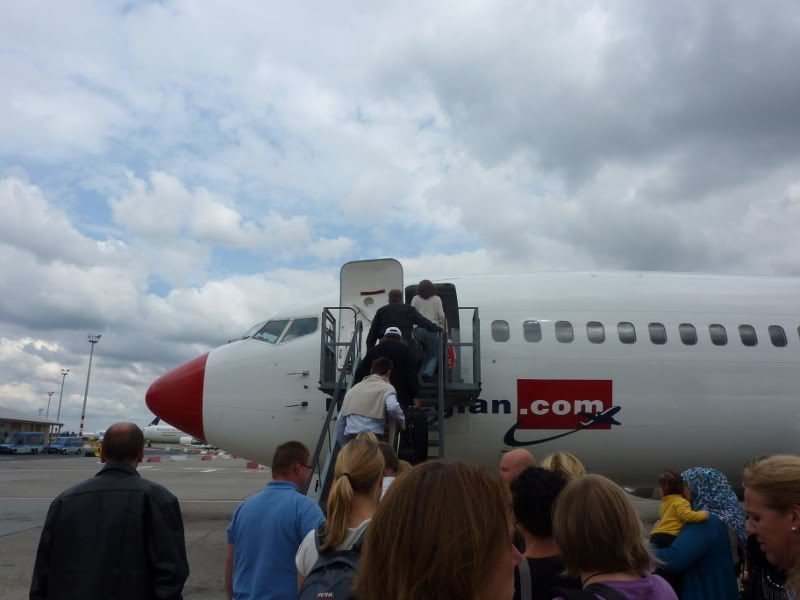 Boarding was quick and we taxiing to the active runway, 31L
Again was the take-off fast and we climb very steep, I was getting a little bit nervous that we going to stall:P
At 10 000 feet the seat-belt sign was turned off and the F/A´s started their cabin-service
This time I only purchased a cup of coffee for 20SEK-2 Euro´s
Cruised at 35000 feet.
Cabin:
Apparently DY have started a cell-phone company: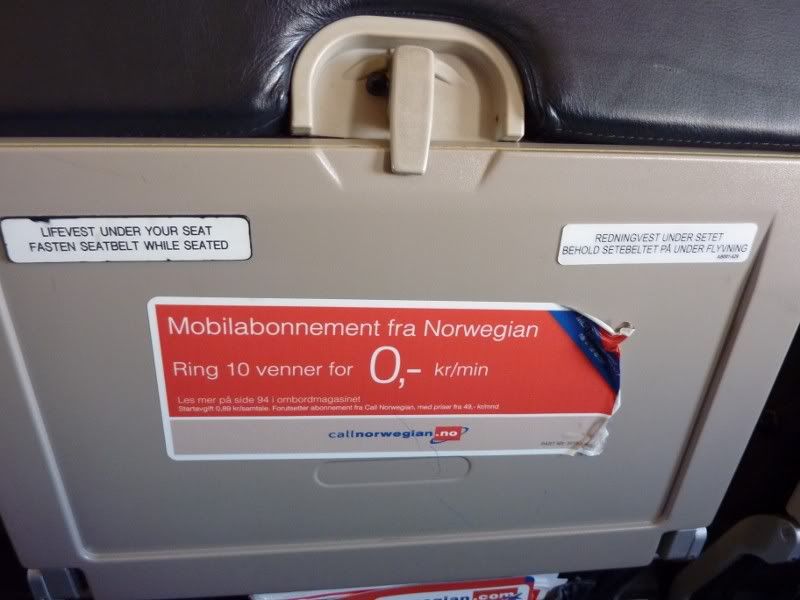 Descending: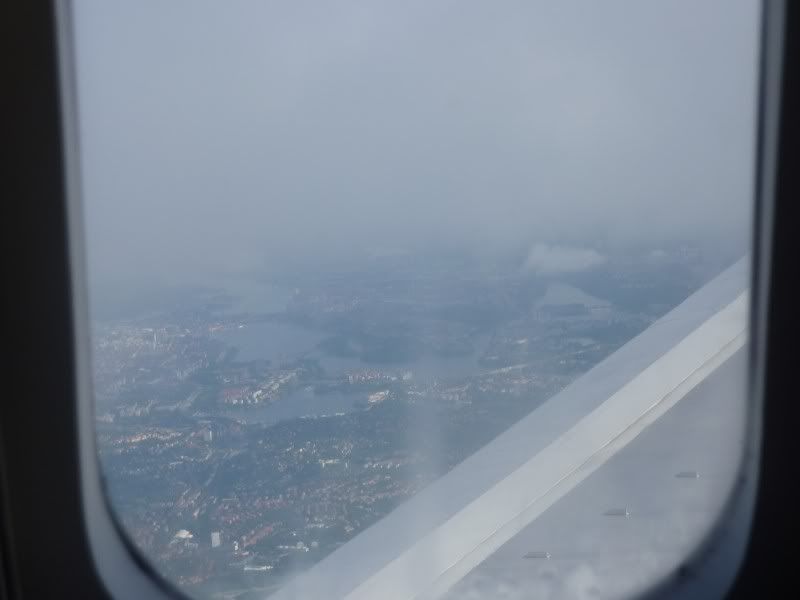 In the right corner you can see Stockholm's city airport Bromma: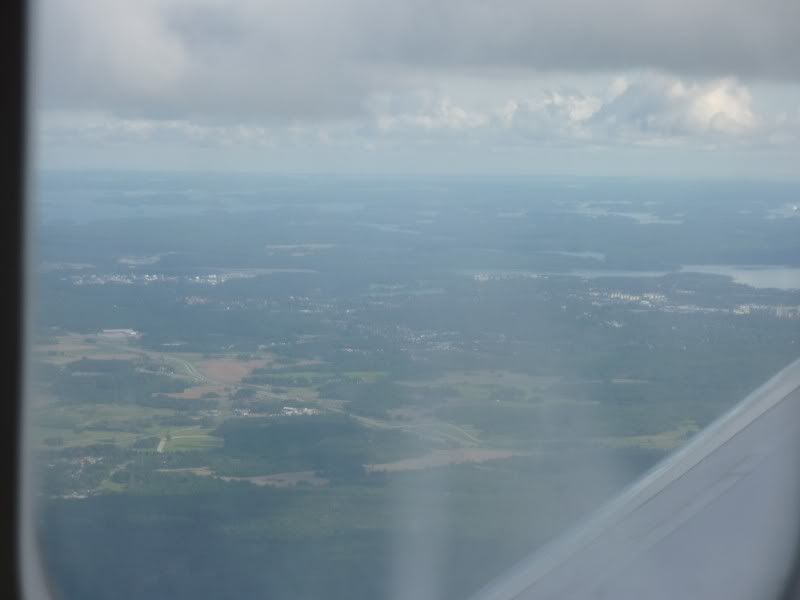 Landed at runway 01L and then taxing to gate 61 at terminal 2
Parked at the Gate!
Hope you like it! In one week I will go back to Hungary. This time with Malév. Stay tuned