On 1 October, Emirates started their A380 flight to HKG via BKK, which is the second airlines using A380 to HKG, with this opportunity, I grab a ticket to be the one on this party!
After my
Japan trip
, I found that all classes was sold for 1 Oct EK385, I call EK's Hong Kong reservation and waitlisted in the First Class. Two days later, they called me that my waitlist was cleared so I issue the ticket at once!
So let's start about the trip!
On 1 Oct 2010 18:04, A6-EDM was landing in HKG, hundreds of people waiting her at the end of the runway and in the Skydeck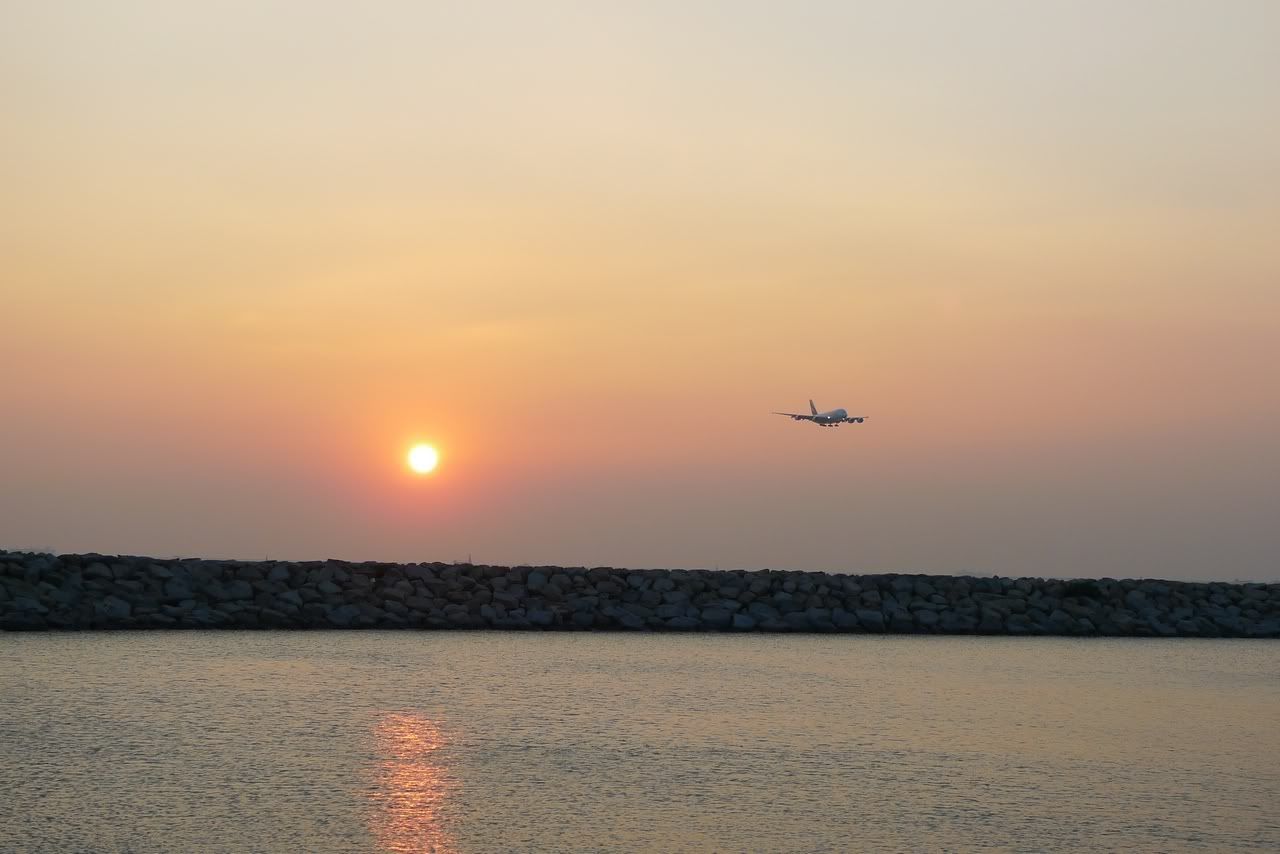 After parking my car, I arrived aisle G in HKIA
Although the check-in counter was not ready, there were many people queuing for check-in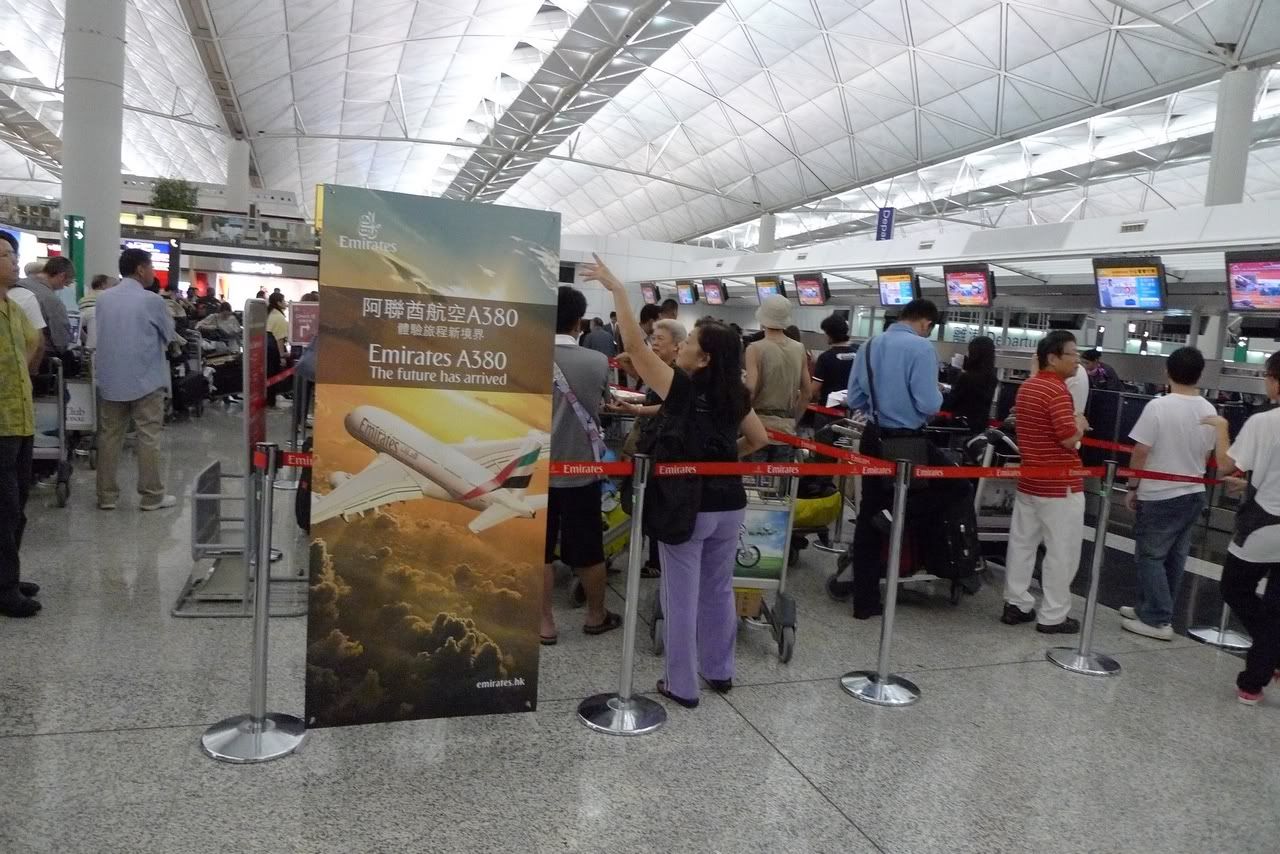 The line in Business Class was quite long too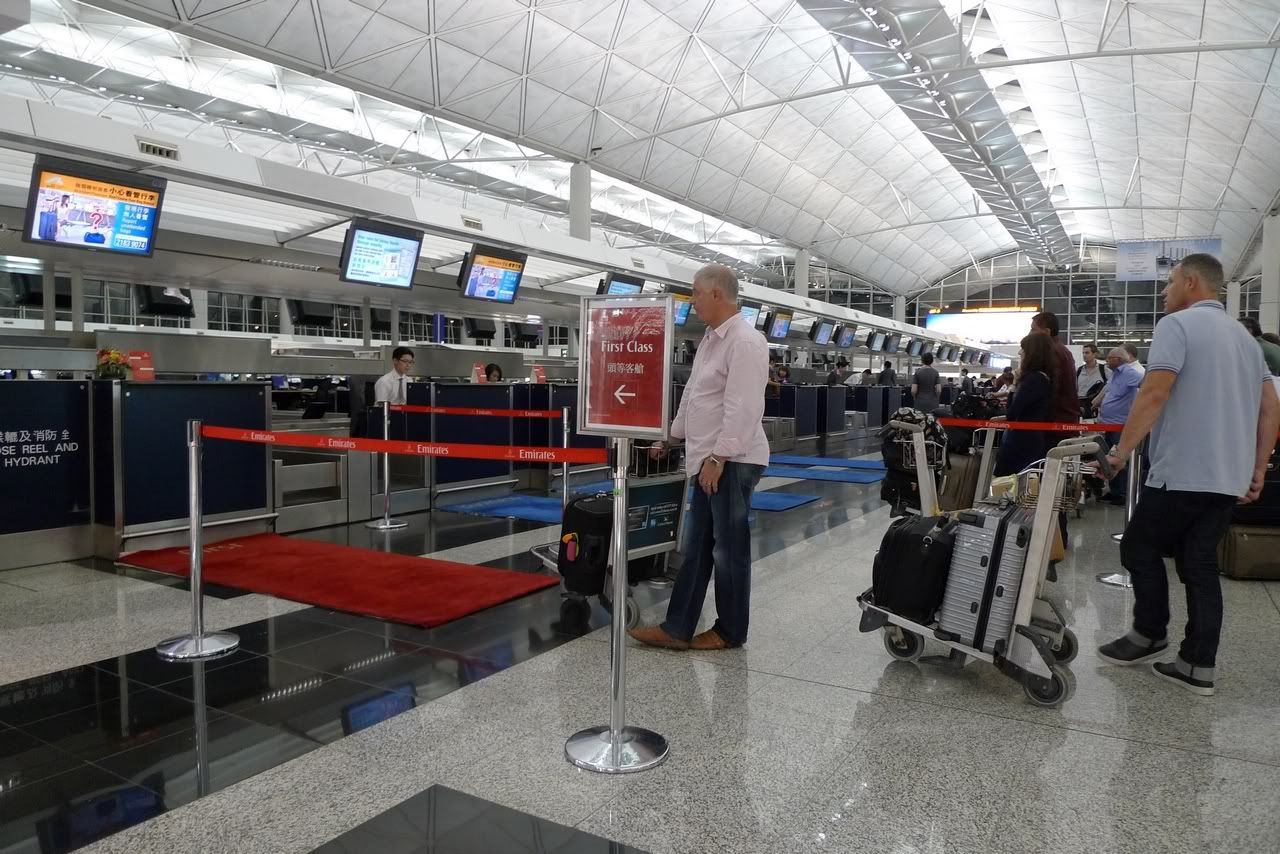 Check-in counter finally opened at 19:25
I was the third one to check-in at the First Class counter
After check-in, time for immigration, quiet at this time
After some photos of A6-EDM, head to the lounge for some food
Entrance
There was no more lounge invitation card, all you need is your boarding pass. After the lounge agent scanned my boarding pass, I entered the lounge and found that many people were there already, I even cannot find an empty table for myself!
The staff arranged me to sit in a round table, with three sole travelers. The food offered was really nice, even better than my last visit on May 2009.
When a staff collecting my plates, he said:' long time no see, how are you?'
Me:' You remember me?"
Staff:' Yes!'
Me:' But it was a long time I haven't been here.'
Staff:' 4-5 months, right?'
Me:' No, it should be more than one year, my last Emirates flight was in May 2009!'
Staff:' Oh well, then you should use more Emirates, than I can see you more often.'
I really surprise that, and it let me add more points to EK's service!
Left the lounge, go to Gate 60, a gate with only 2 bridges but next to EK's lounge
1 October 2010
Hong Kong (HKG) – Bangkok (BKK)
Airline: Emirates
Flight: EK 385
Aircraft: A380-800
Registration: A6-EDM
Seat: 4K (First)
Gate: 60
Gate area
A6-EDM - delivered at 28 September 2010, a 3 days old beauty. According to the information, her first flight was DXB-BKK-DXB on 30 September, so this is her second mission in her EK's life!
Boarding pass
Boarding was started at 21:30. The gate was showing Suites rather than First Class, same as SQ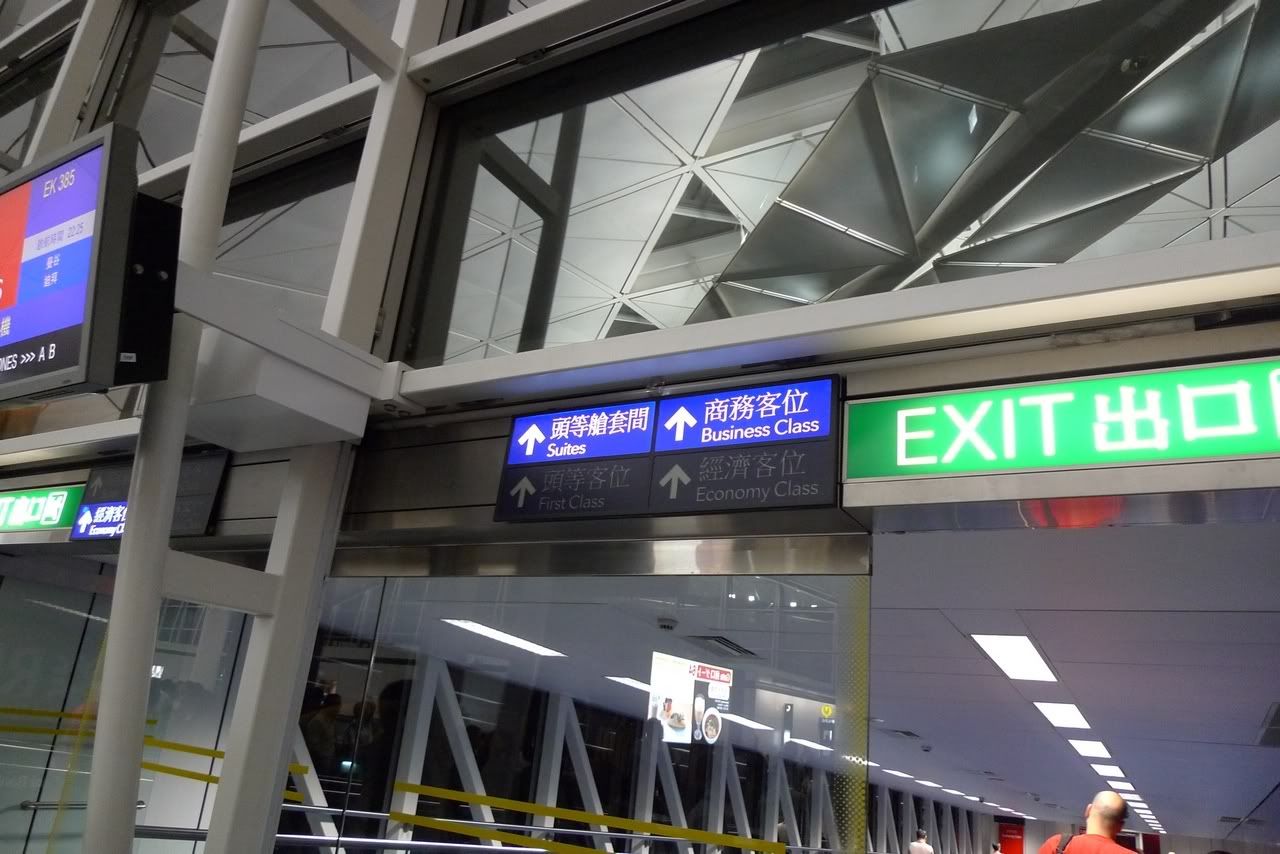 On the second bridge
To upstairs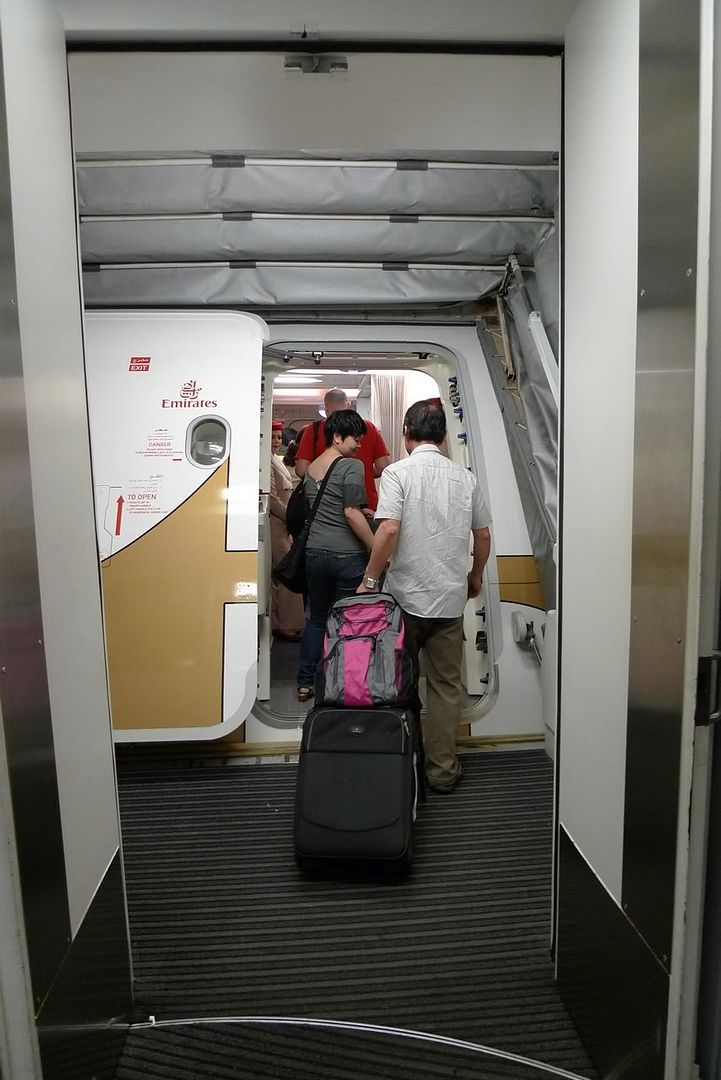 The FA escort me to my suite 4K
I can't believe I was there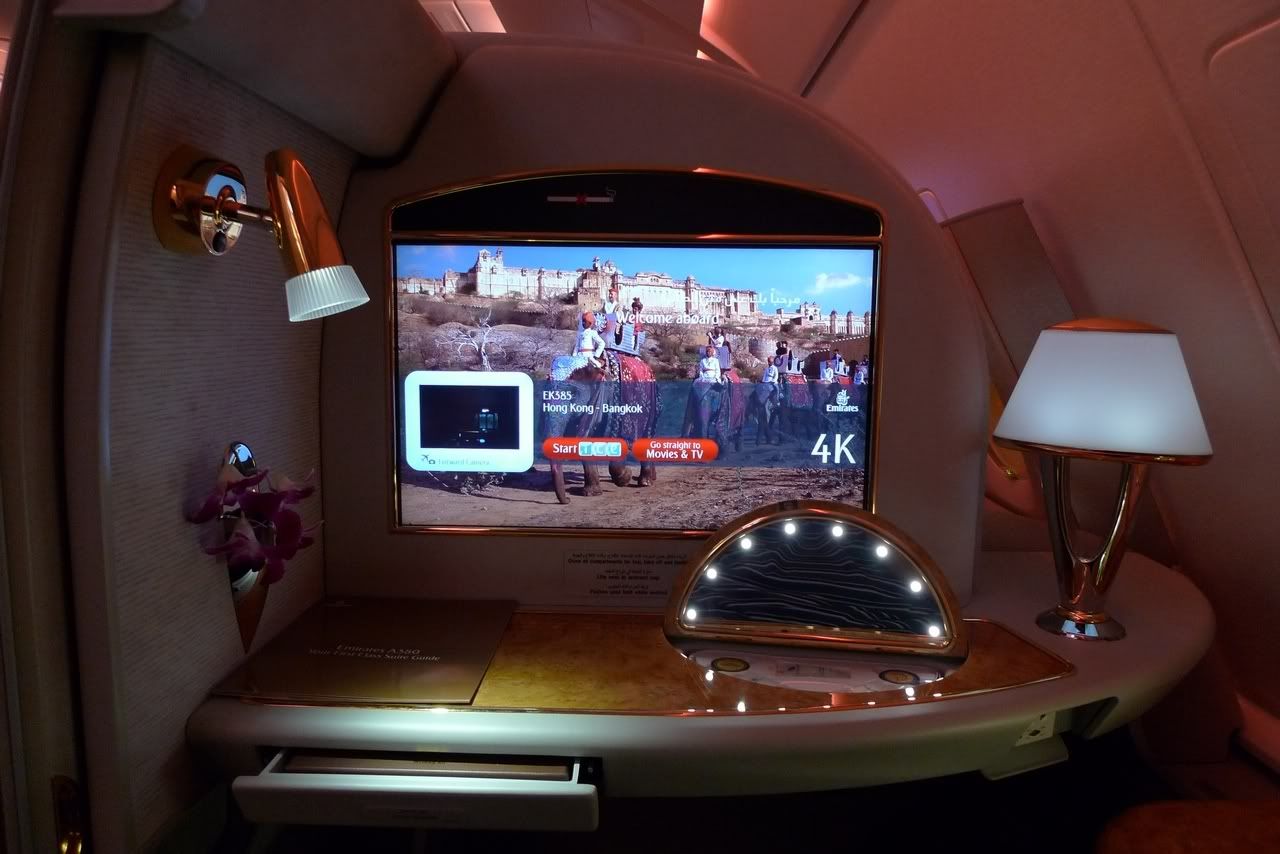 Taking pics here and there like a little boy
View from my seat
My seat 4K, with 2 windows
Still have some times, let's visit the unique facility in EK's A380 – The shower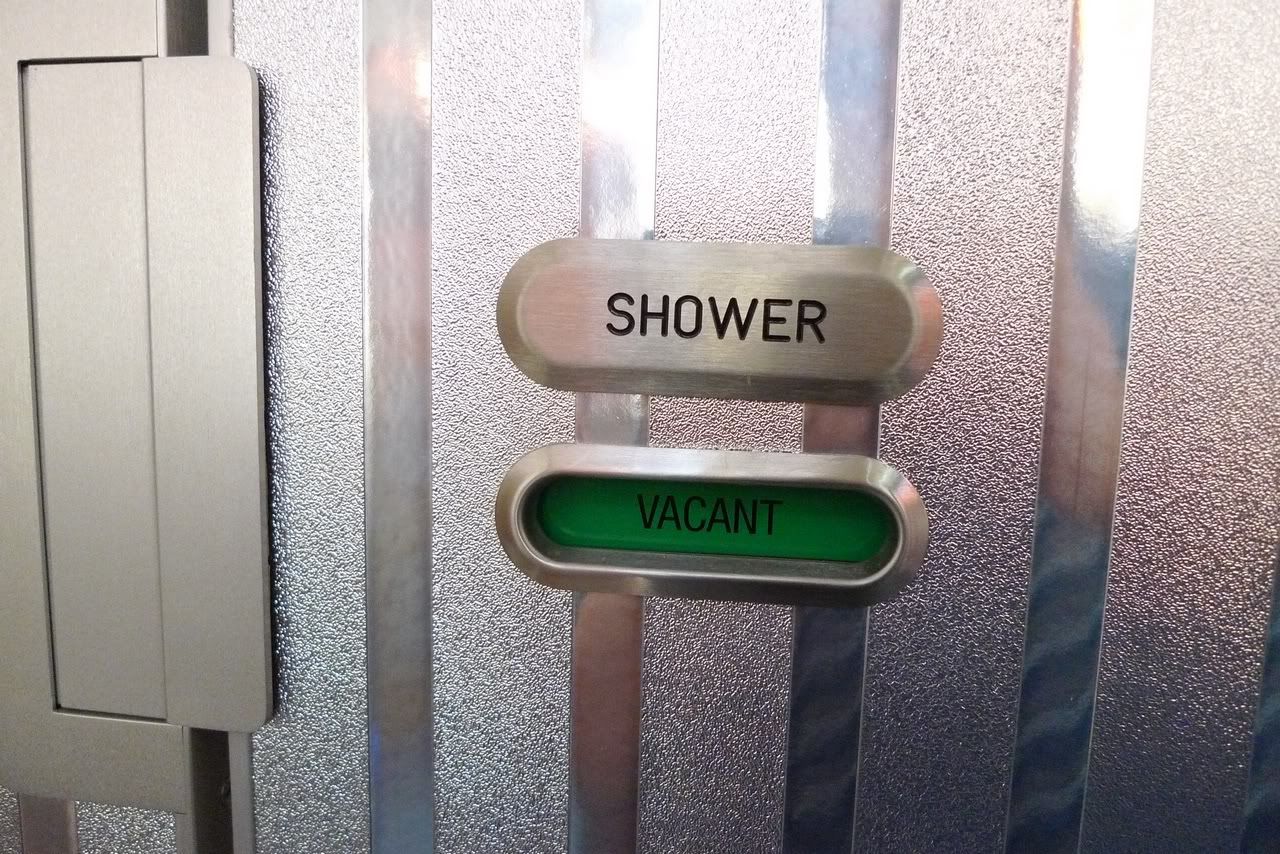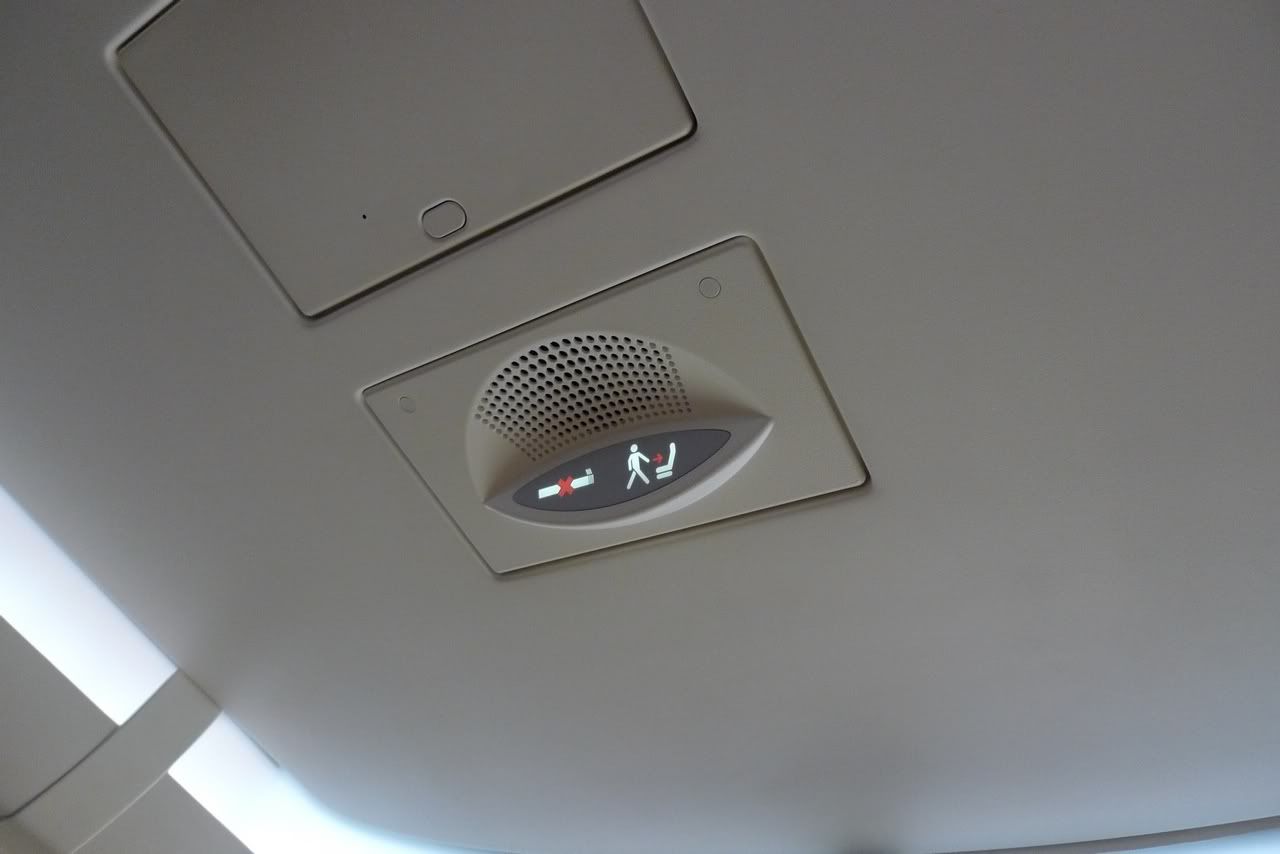 The FA asked whether I want to use the shower, but I denied as the flight time was only 2 hours 5 minutes.
First Class Lounge outside the showers
Stairs to the main deck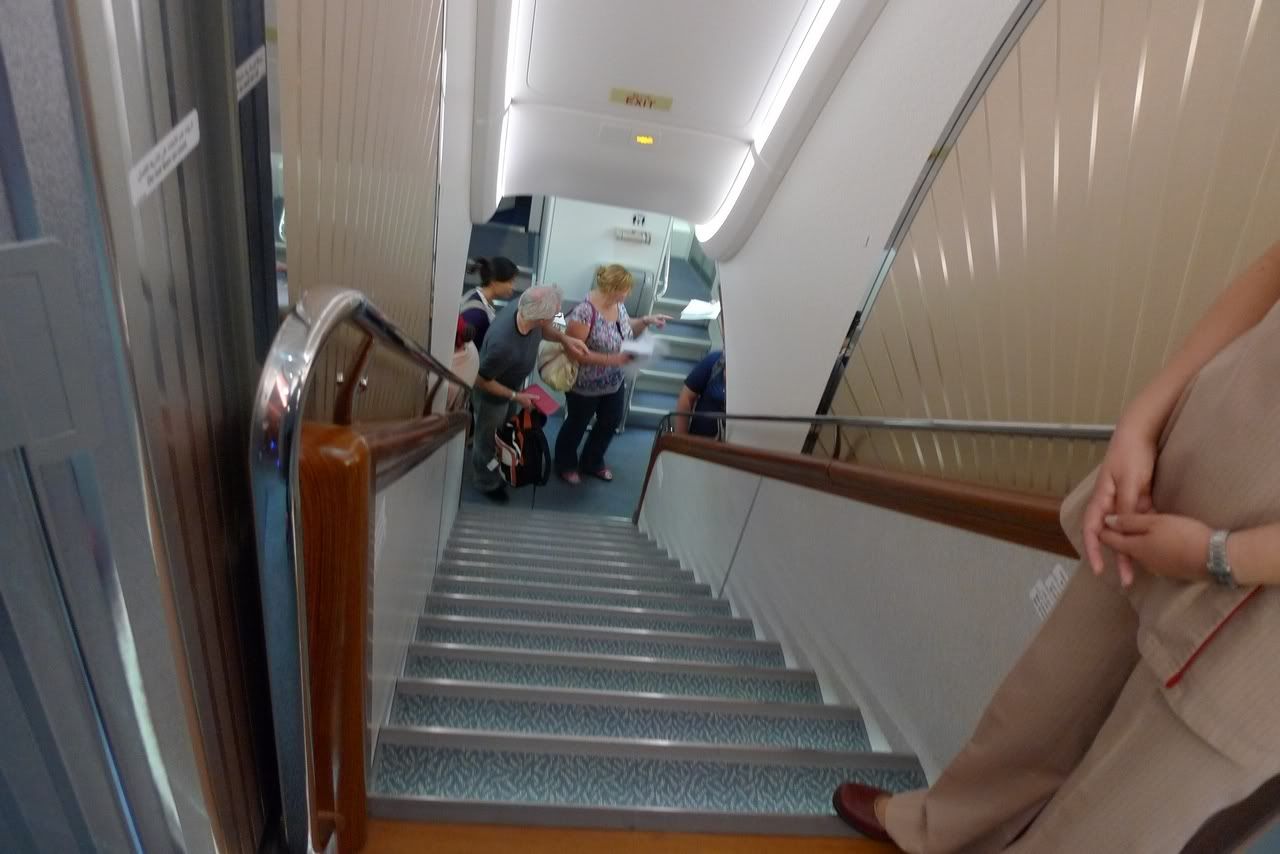 Back to my seat, found there were many reading materials……
……including the safety information card
Doors were closed, I switched to the tail camera
Also on the handheld too, amazing!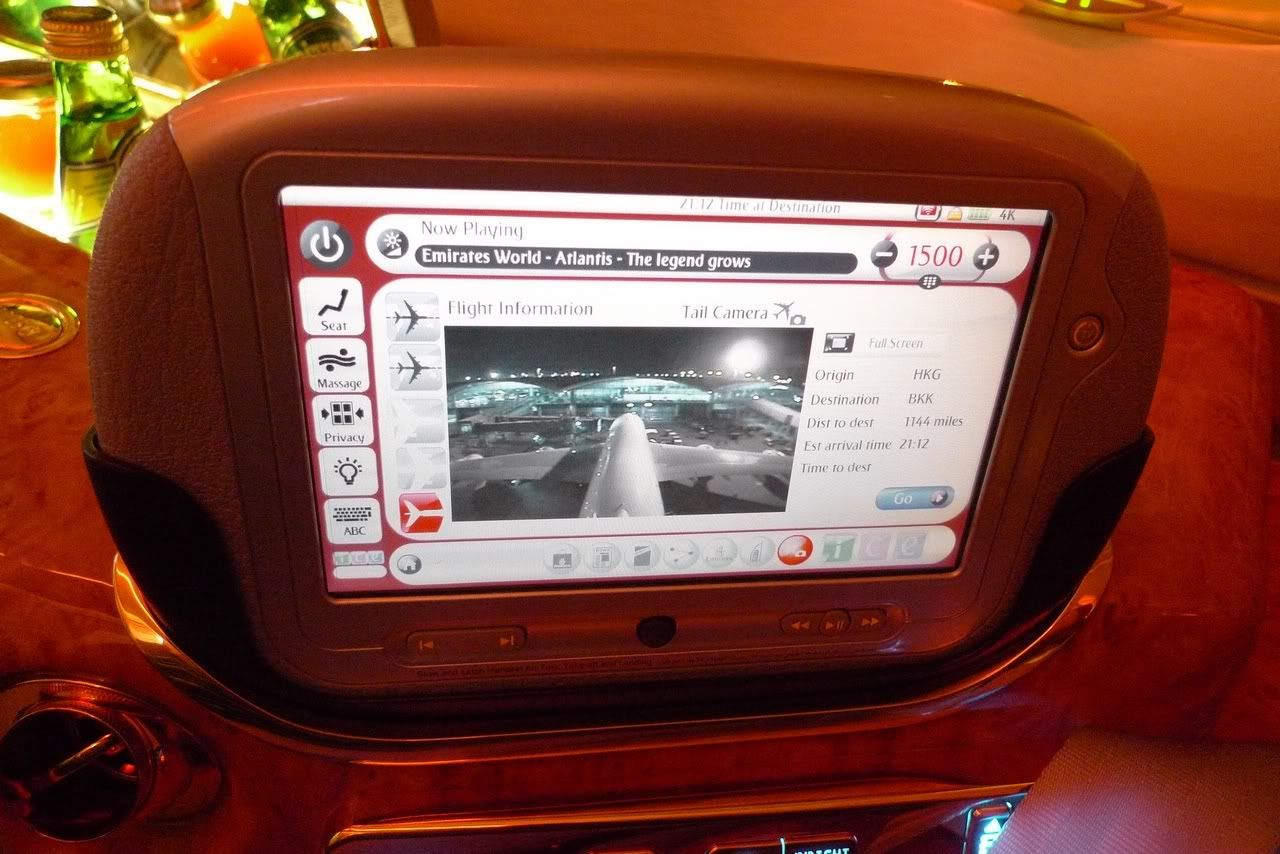 EK's 77W, A6-EBN, doing EK381 next to us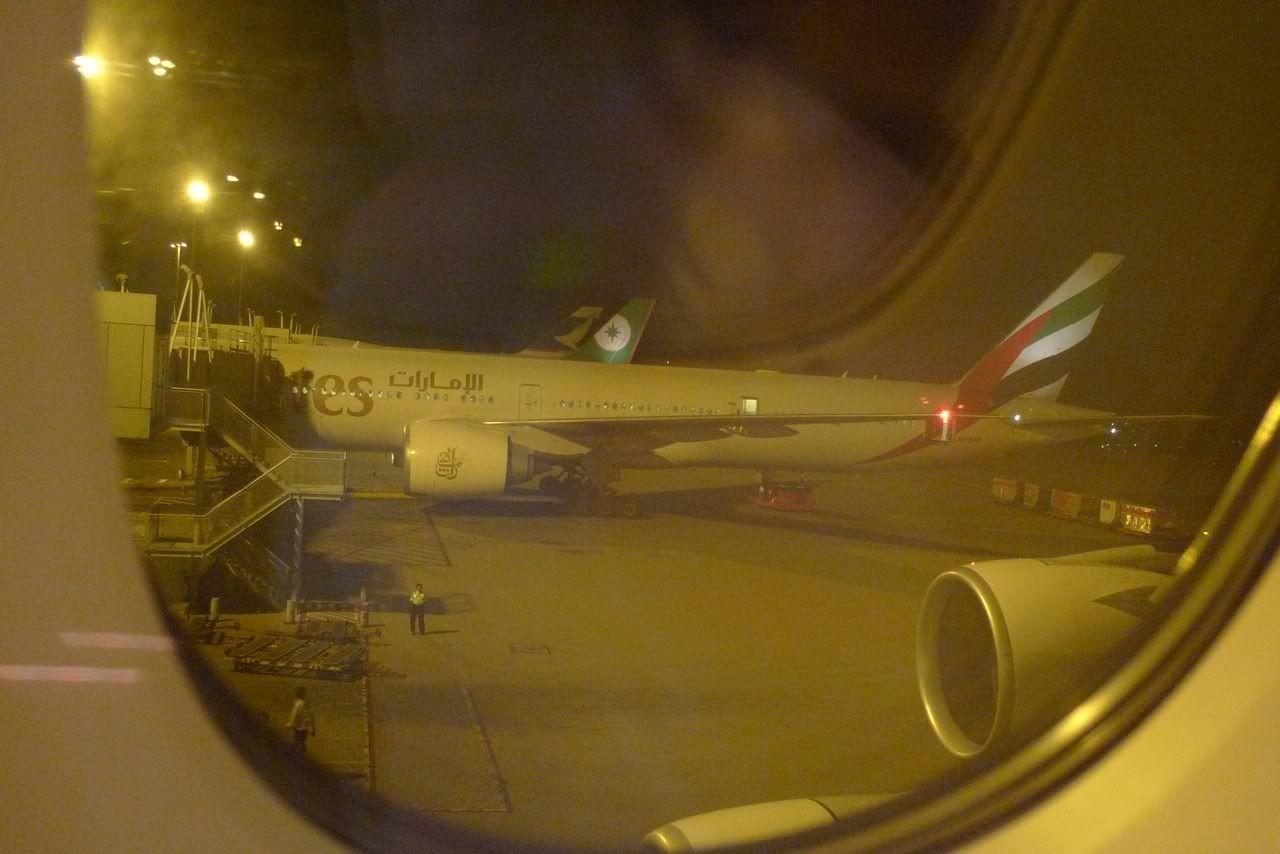 We pushed back on 22:25 and taxi quietly to the runway.
The break released, and the 4 GP7200s bring us to the sky silently, compare to the 77L on my last trip, it is really amazing in the A380 with its quiet cabin even in takeoff!
The seat belt signal went out soon after takeoff, let's change to a more comfortable position
The ICE was full of stuff, I chose Toy Story 3 together with the Dom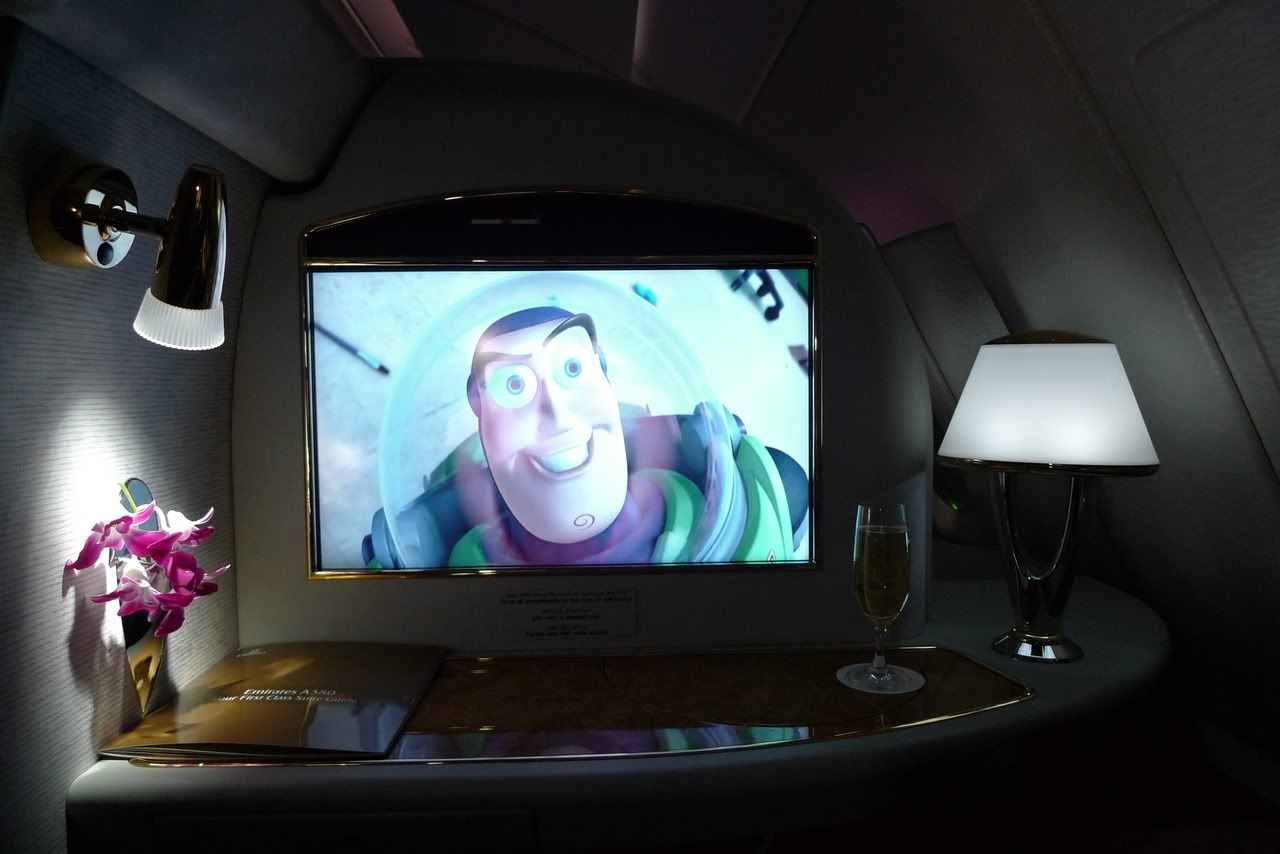 Soon after, light meal was served, I chose to have both appetizers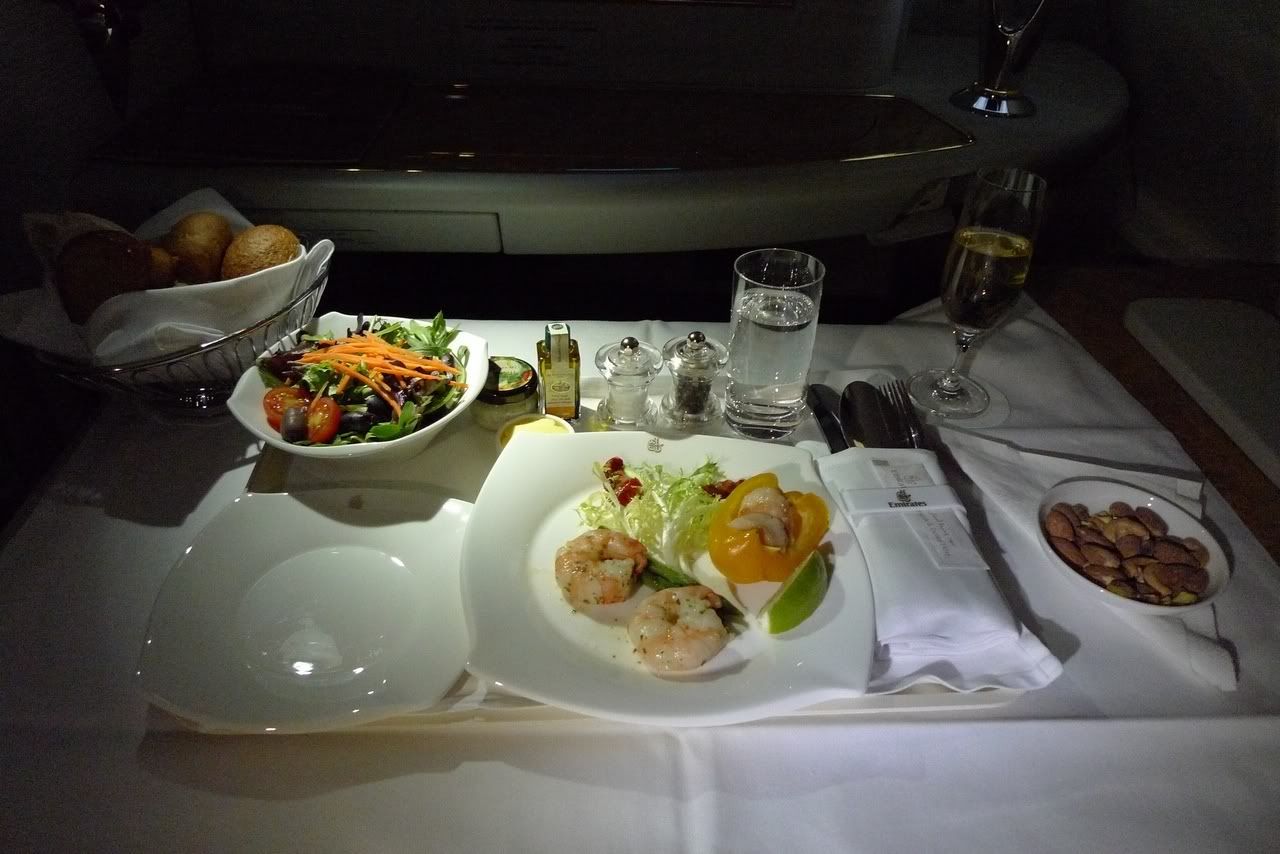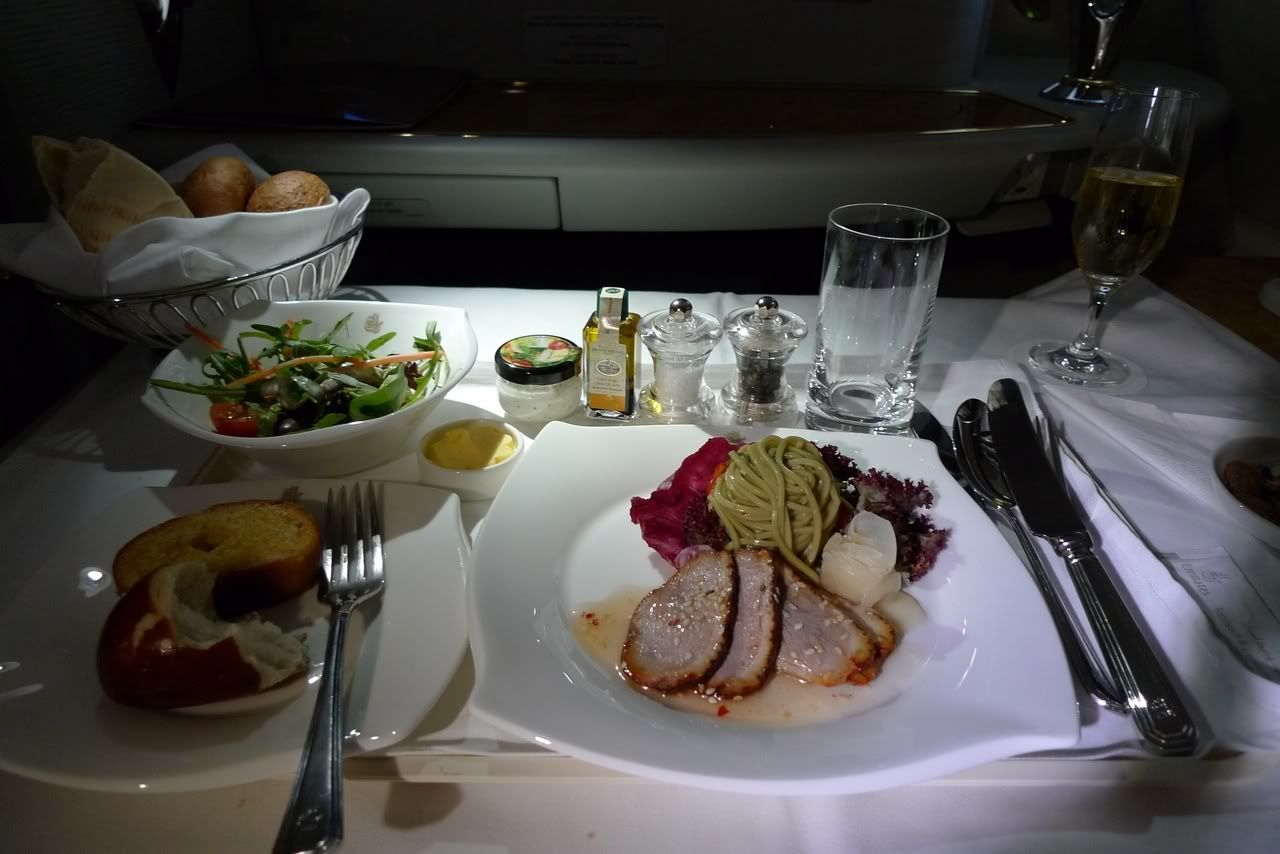 Main: My first choice was gone, this is my second choice, not very good in my opinion
Dessert, rice pudding same as May 2009
I wanted to explorer the cabin, but it is time to descend.
At this moment, the leading purser was presenting the certificate to every passenger.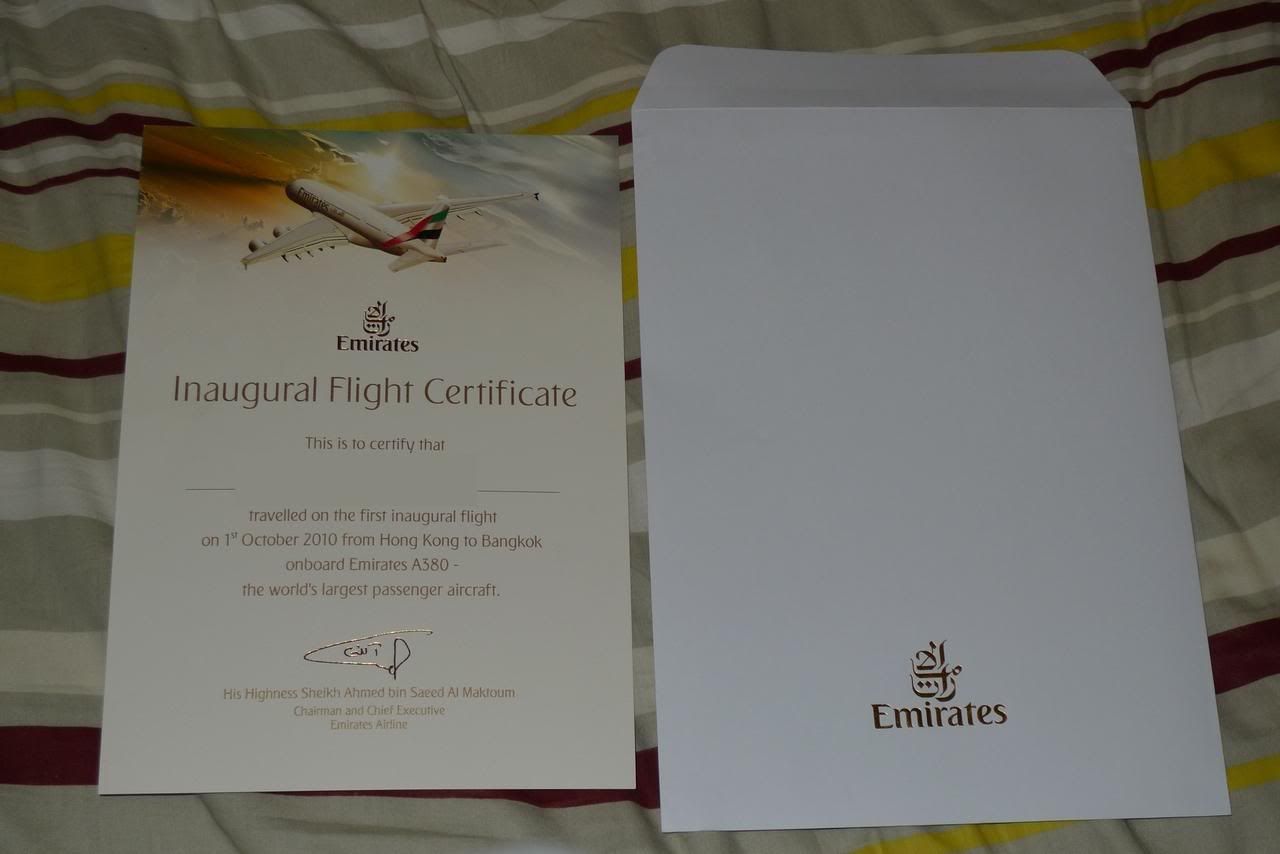 2 hours was over, we were going to land in BKK, I hope to stay longer!
I took the AOT limousine to the Hotel Banyan Tree Bangkok, this is the room in 40/F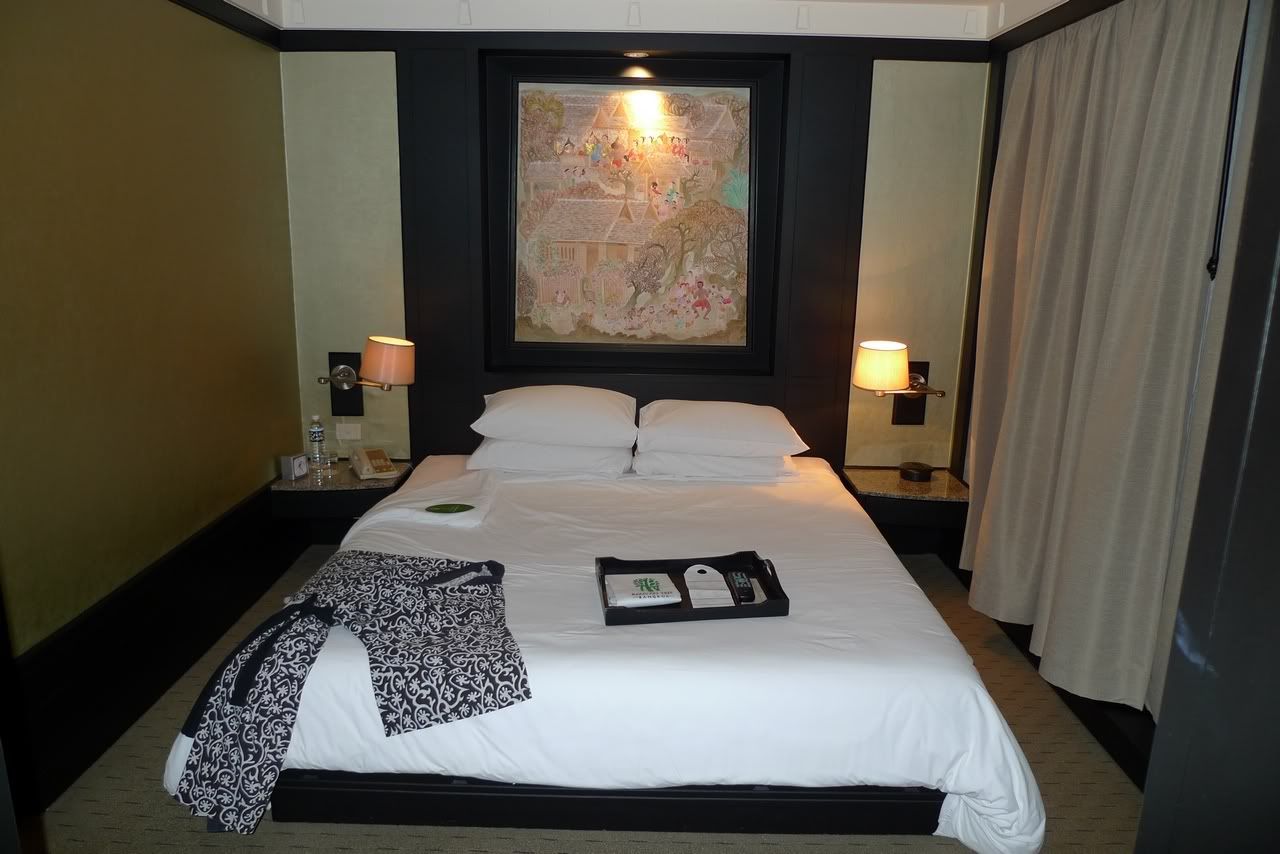 Outside of Banyan Tree Bangkok on 2 Oct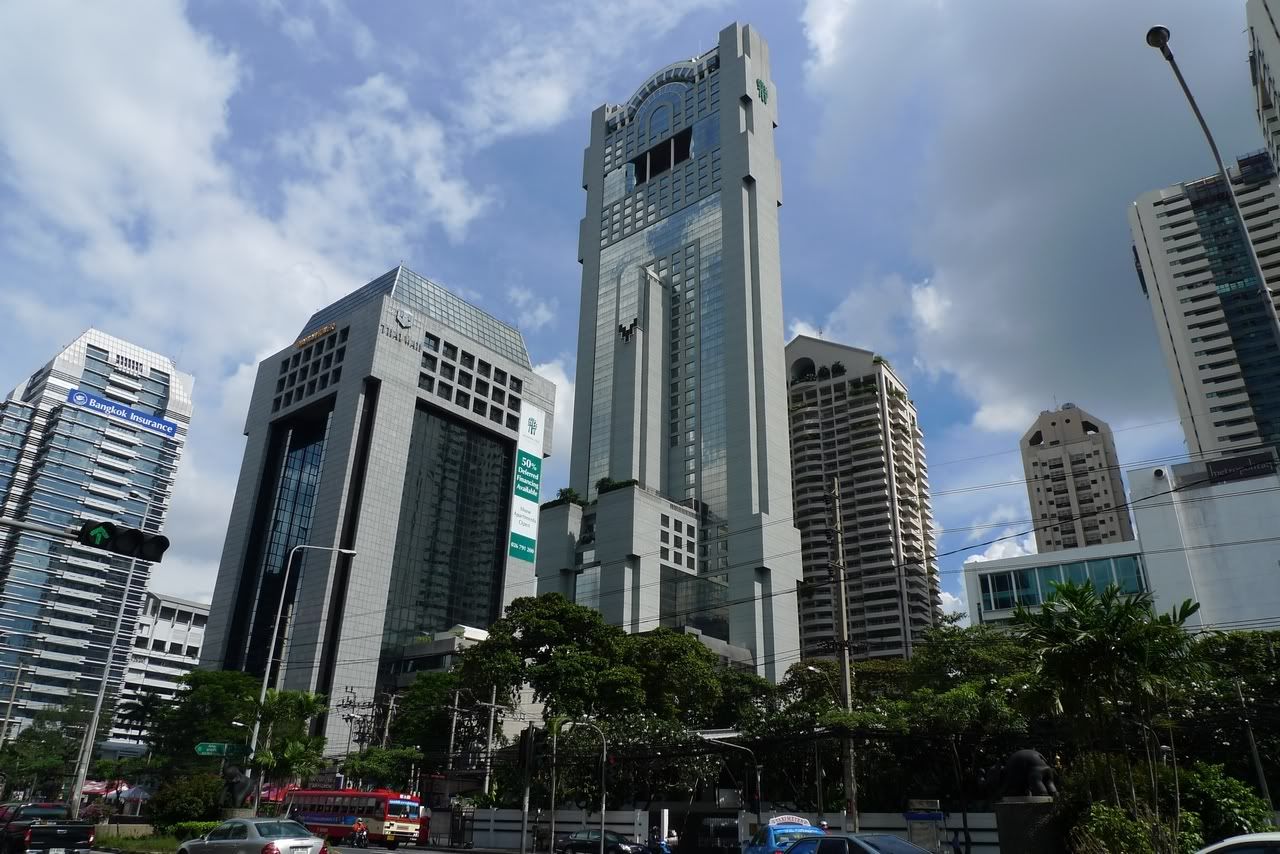 View from the restaurant in 52/F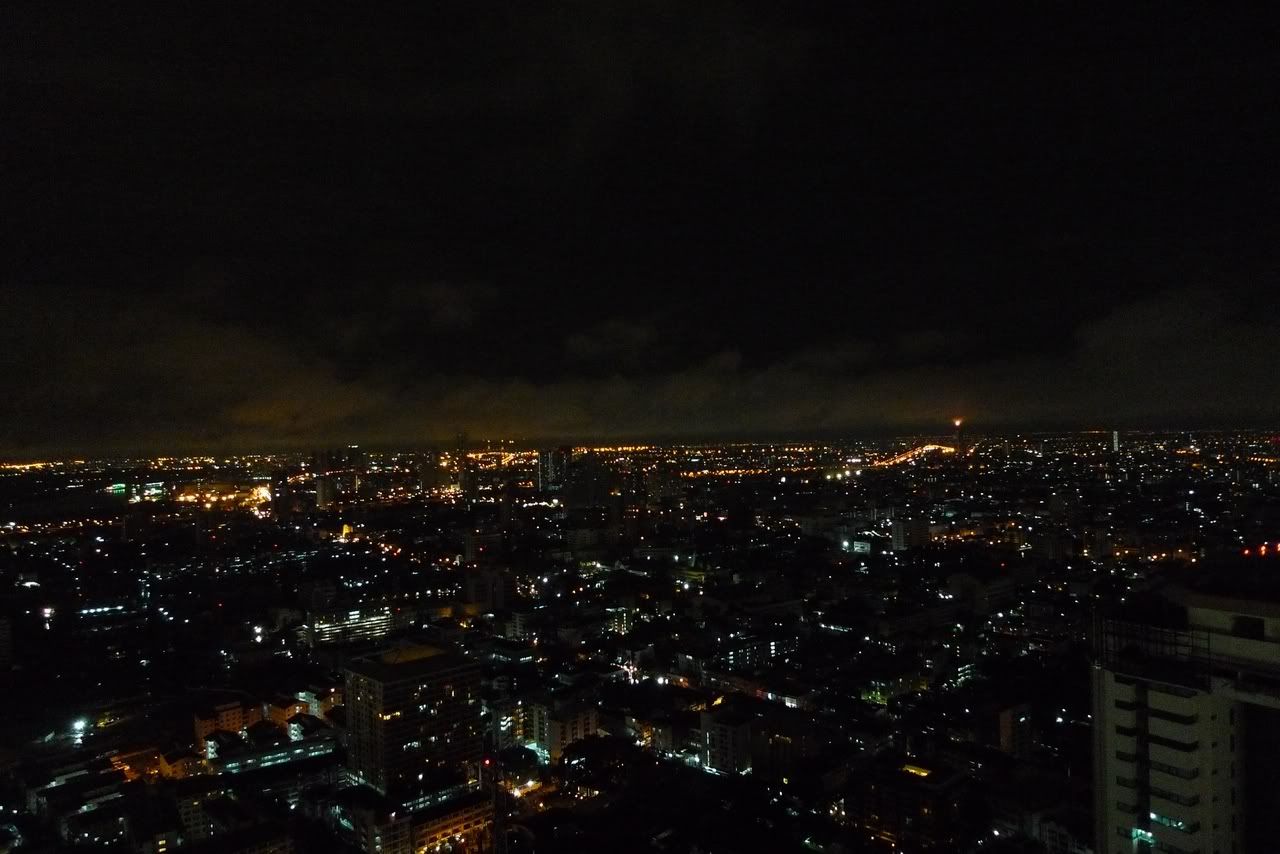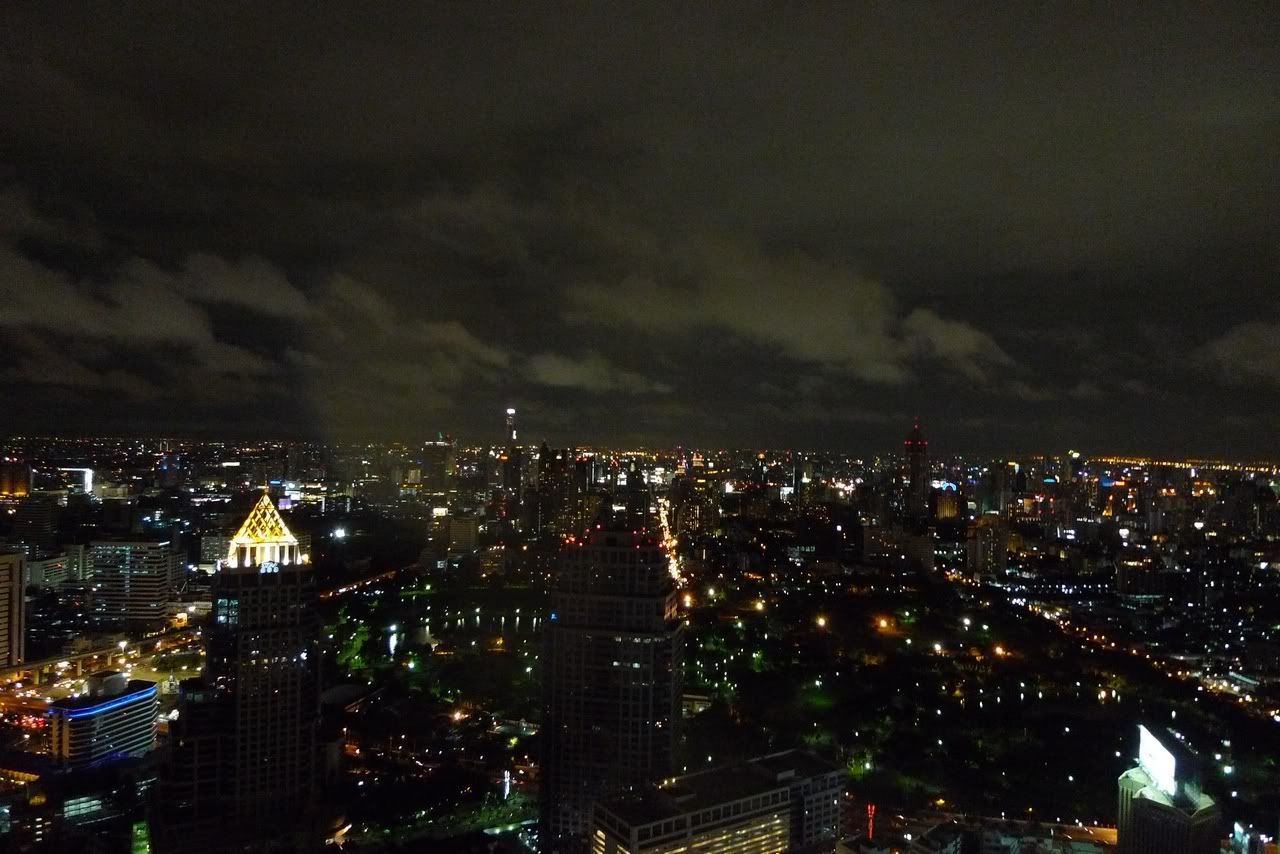 I planned to try the newly open Airport Link in Bangkok
City Line platform at Phaya Thai Station
Airport Line Concourse at Makkasan Station
The check-in facilities will be available soon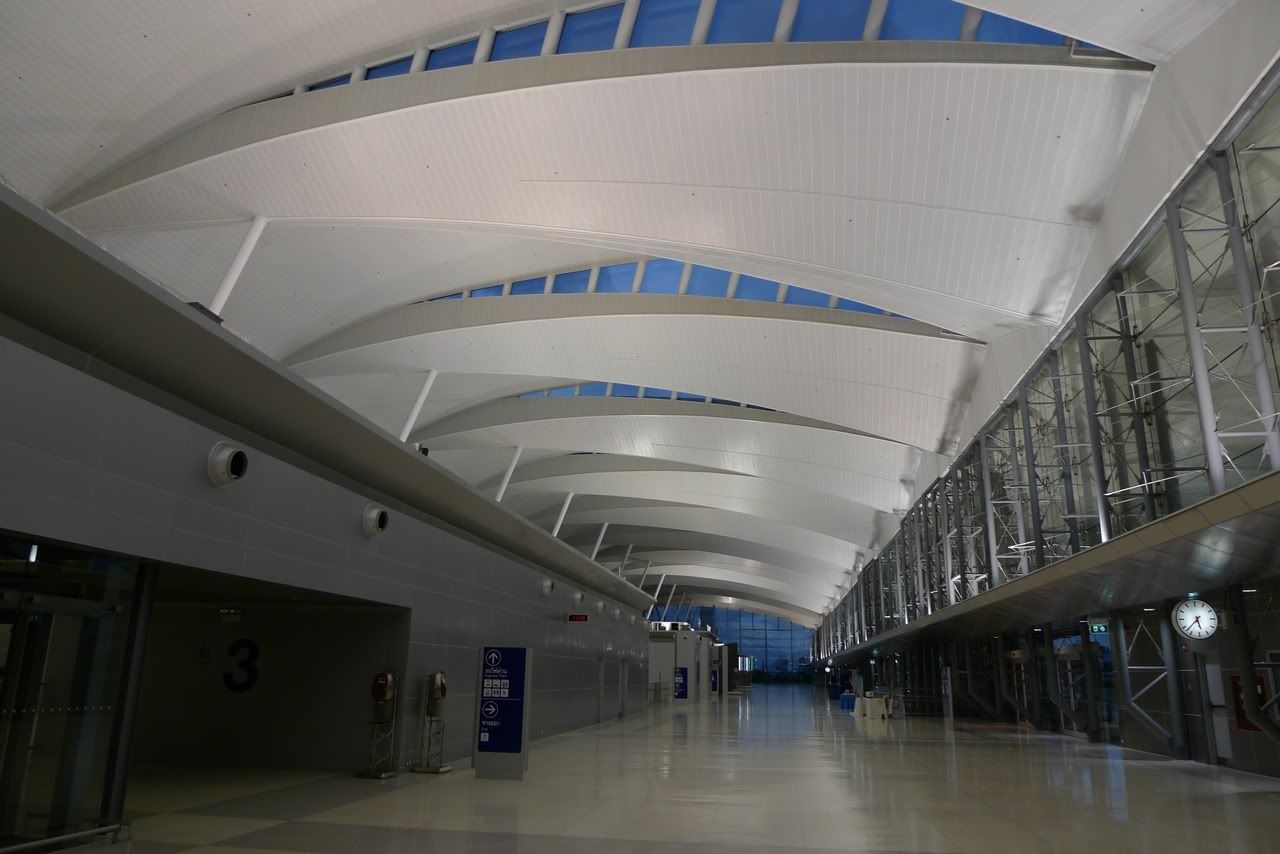 Airport Line Stock
Inside, same as many trains in Europe……
……since they are made by SIEMENS
Not so useful doors control
Route Map
Ticket for Airport Line, promotion price is 100B round-trip
Compartment of the baggage for city check-in
My favorite dessert in Bangkok, Mango and sticky rice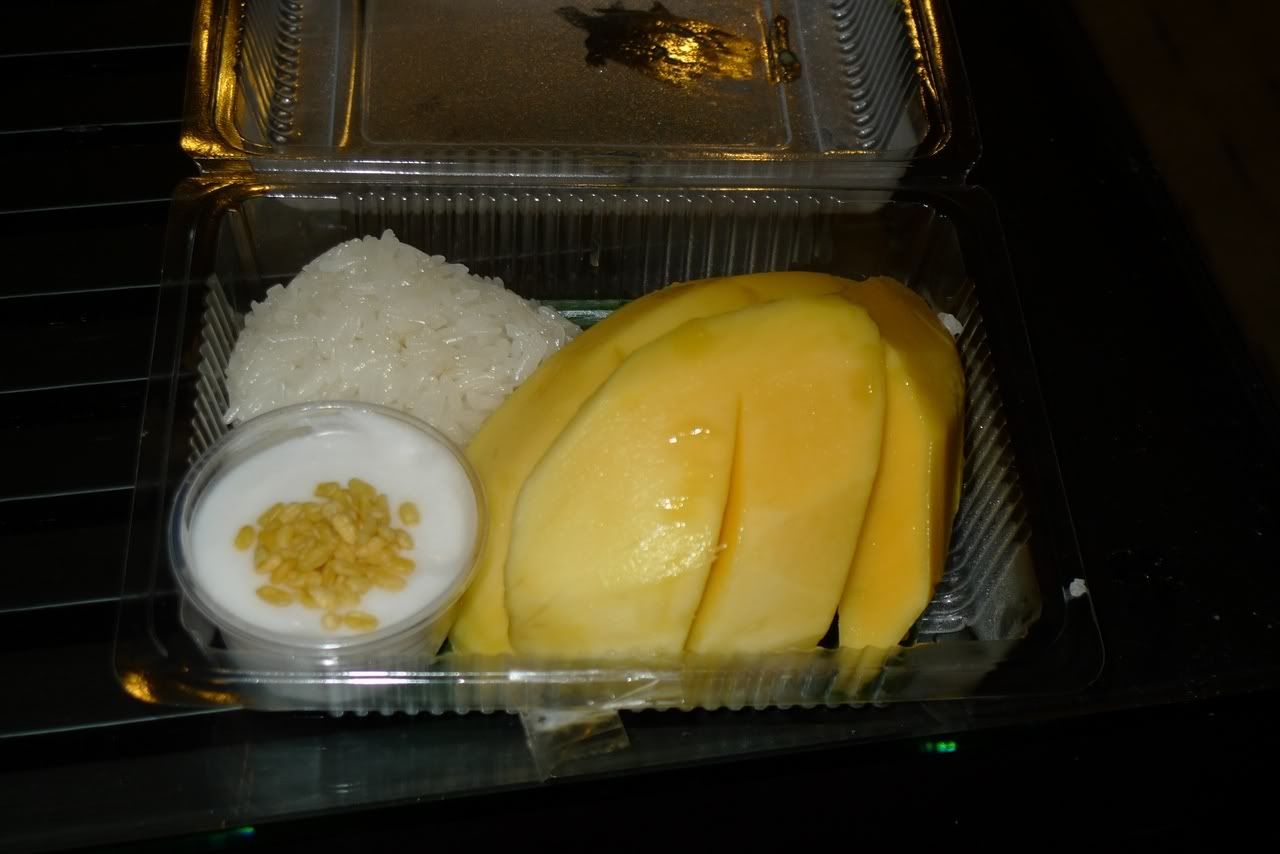 On 4 October, after the breakfast at hotel, I headed to BKK airport again
Aisle T for Emirates check-in
Still early for 13:45 flight
First Class counter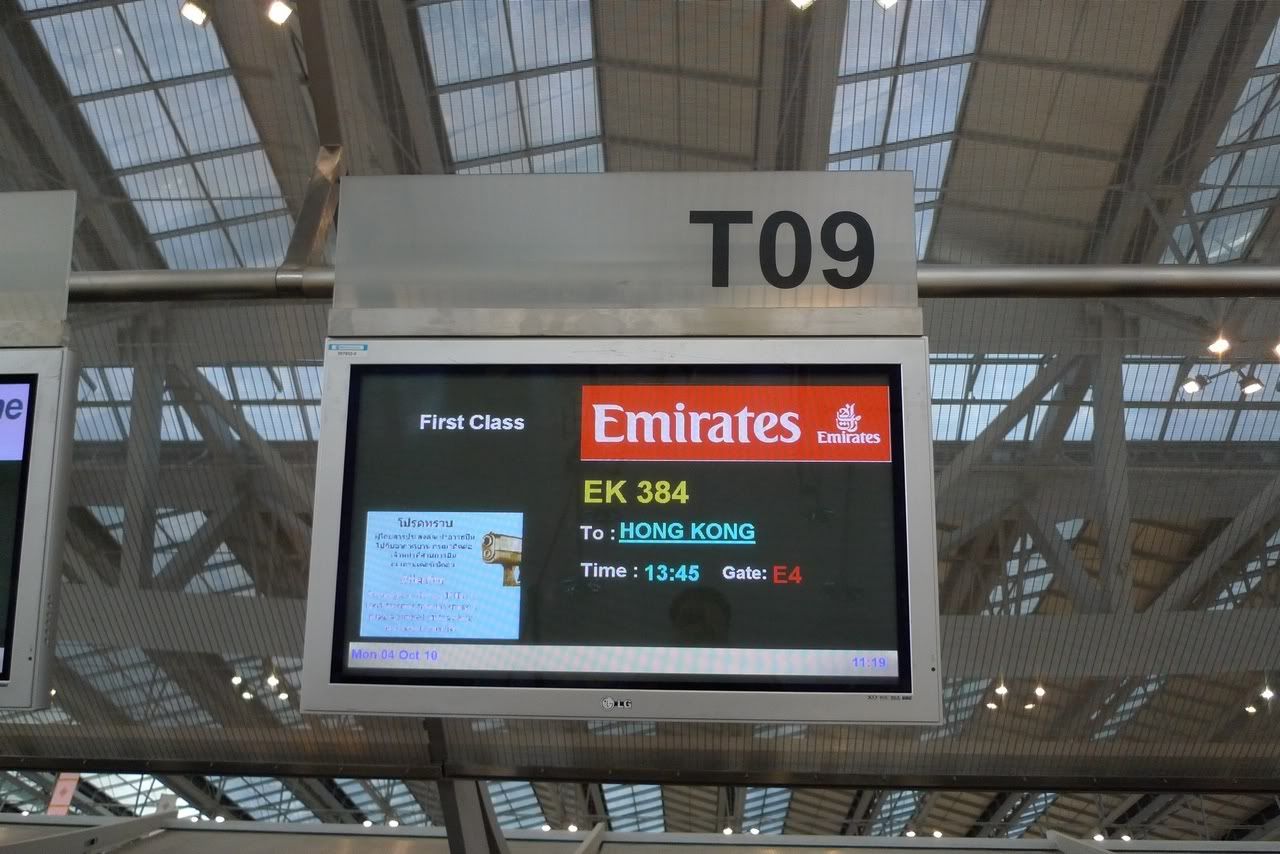 Immigration
Going to the lounge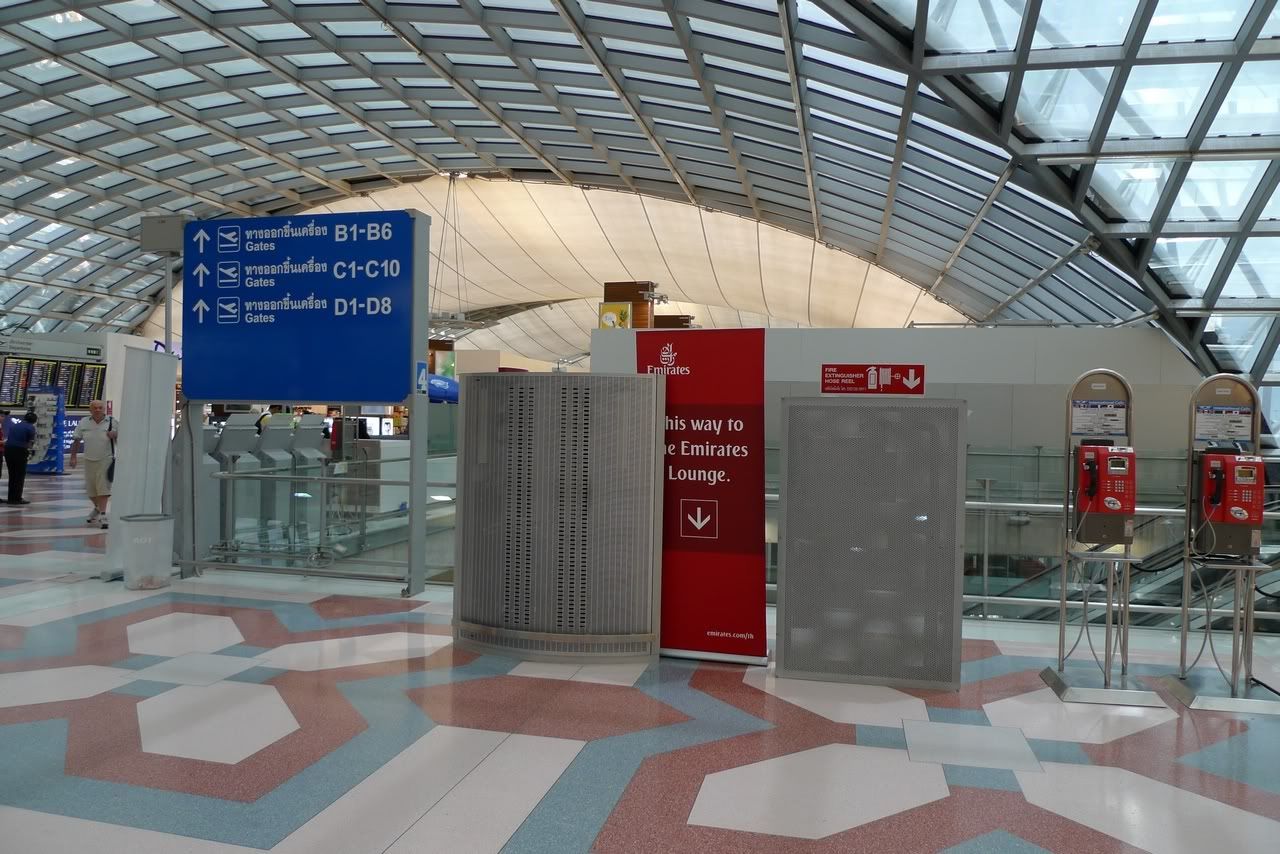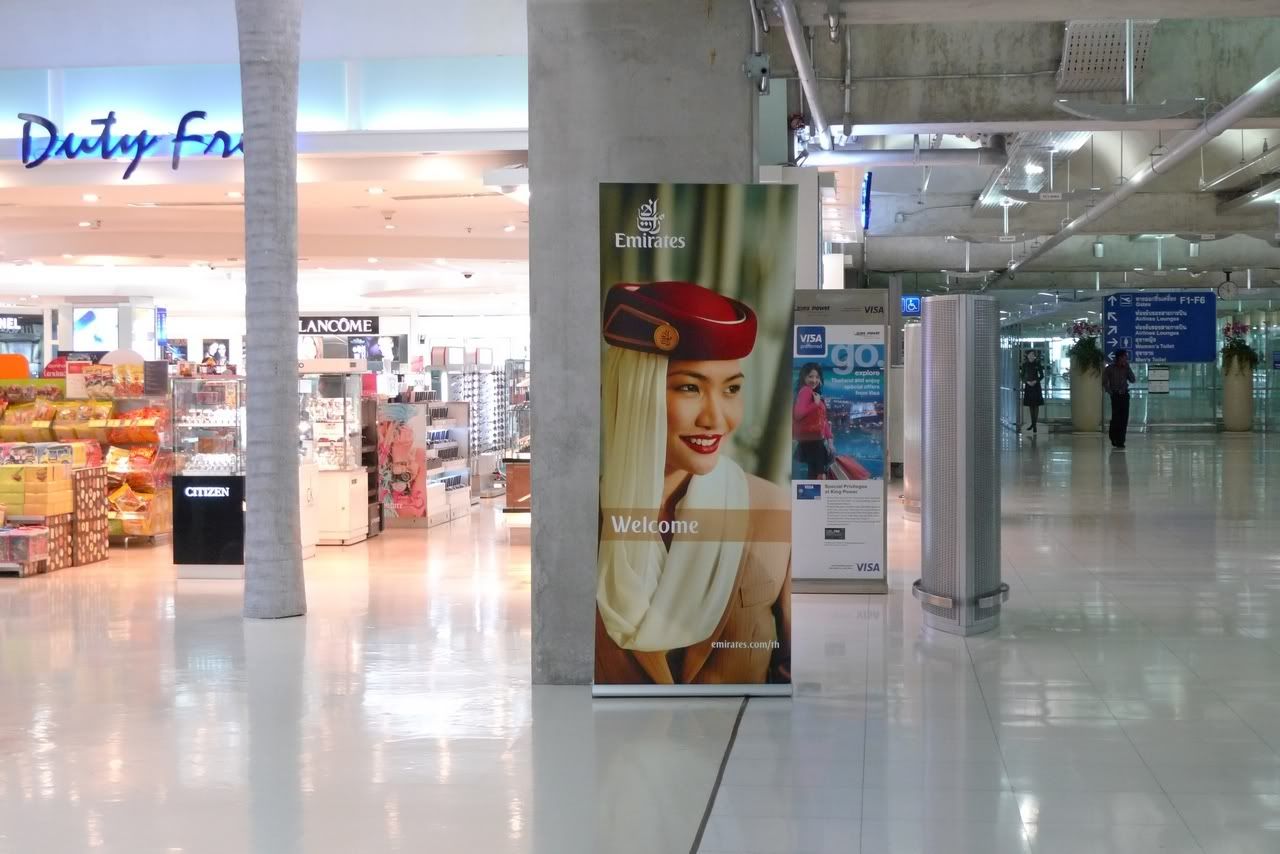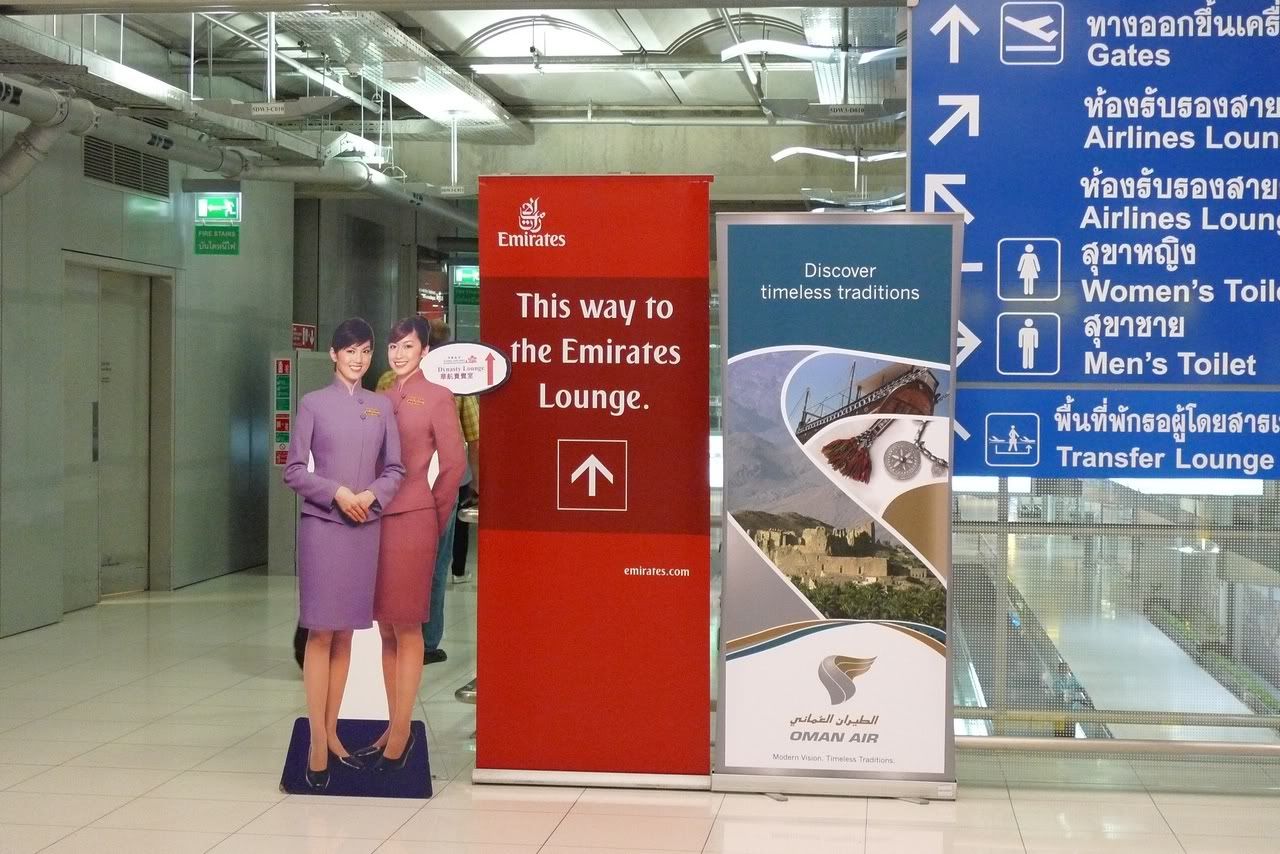 Inside
The food offerings was great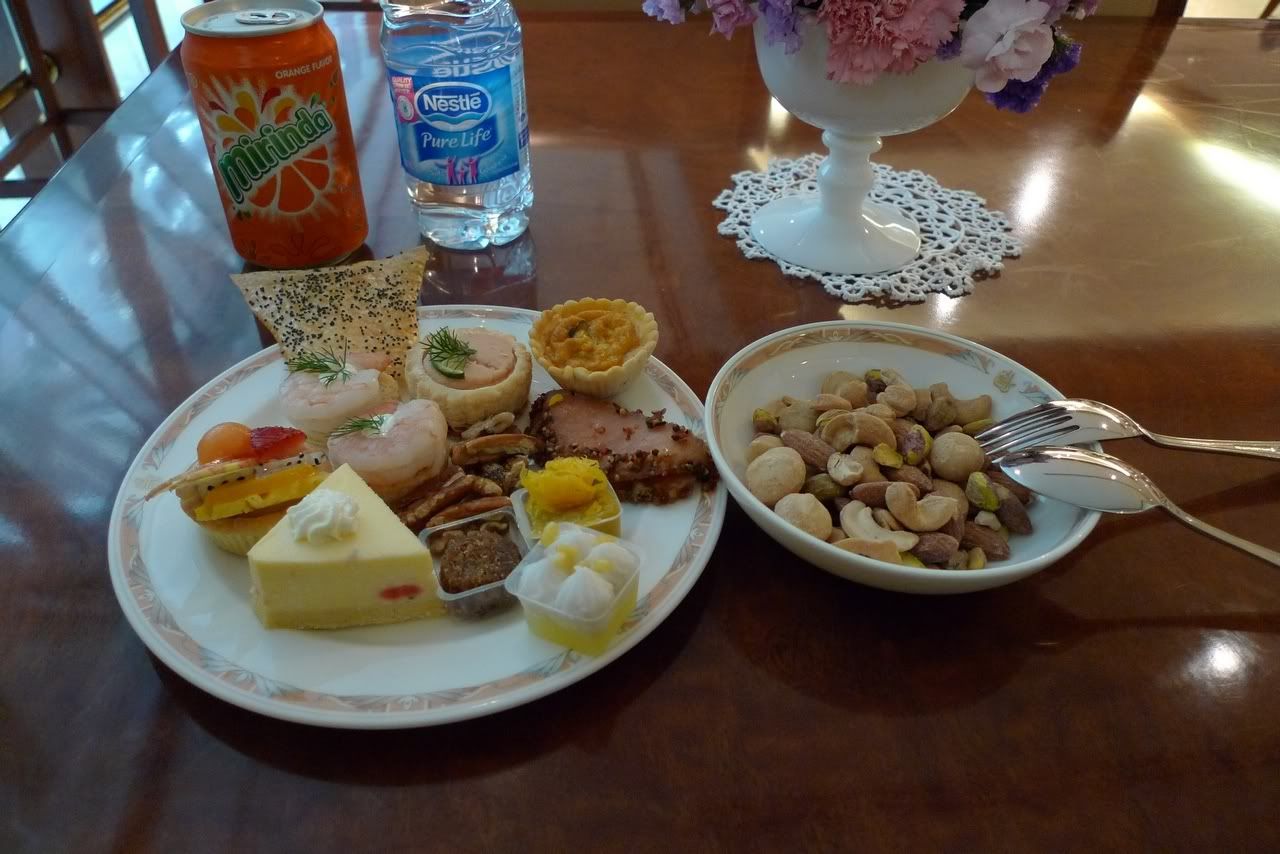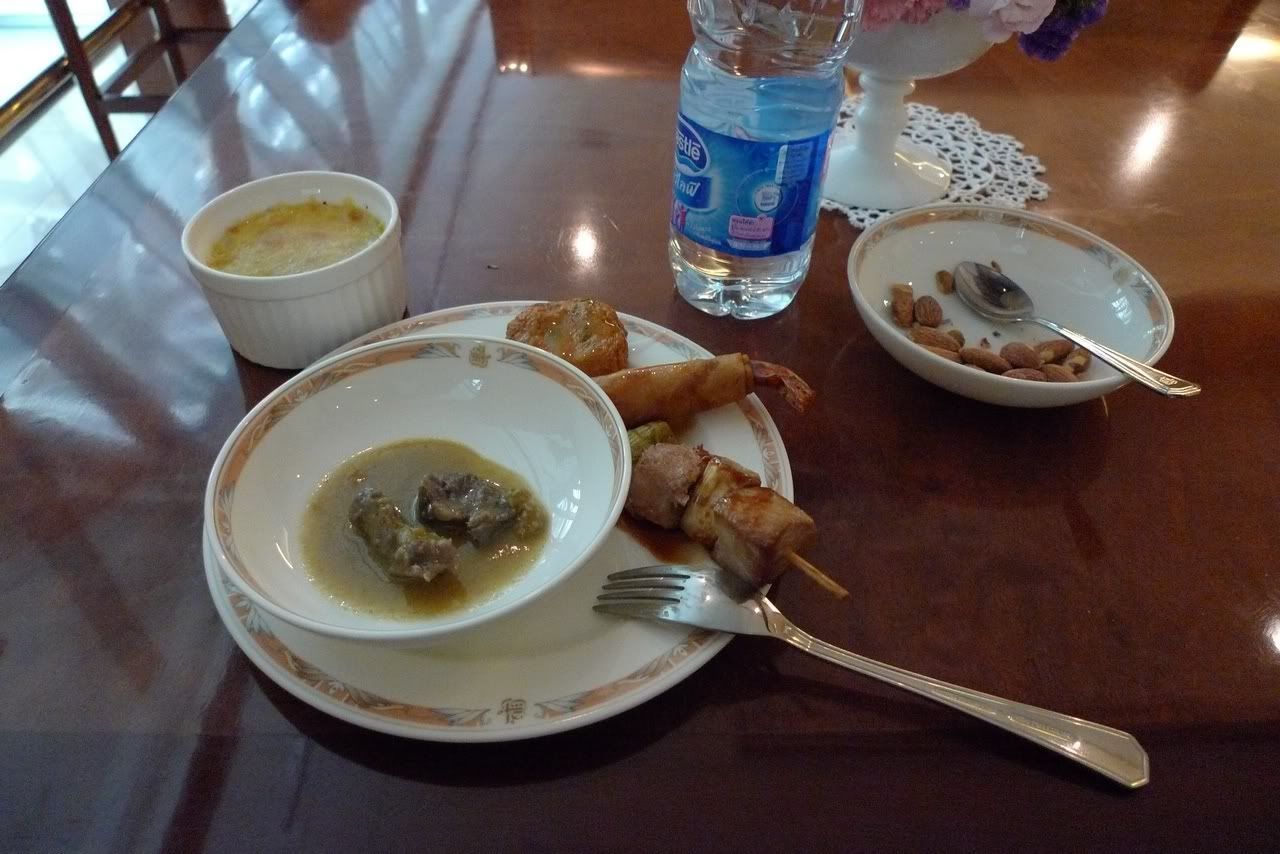 After some duty free shopping, time to go to the gate
Can I take one?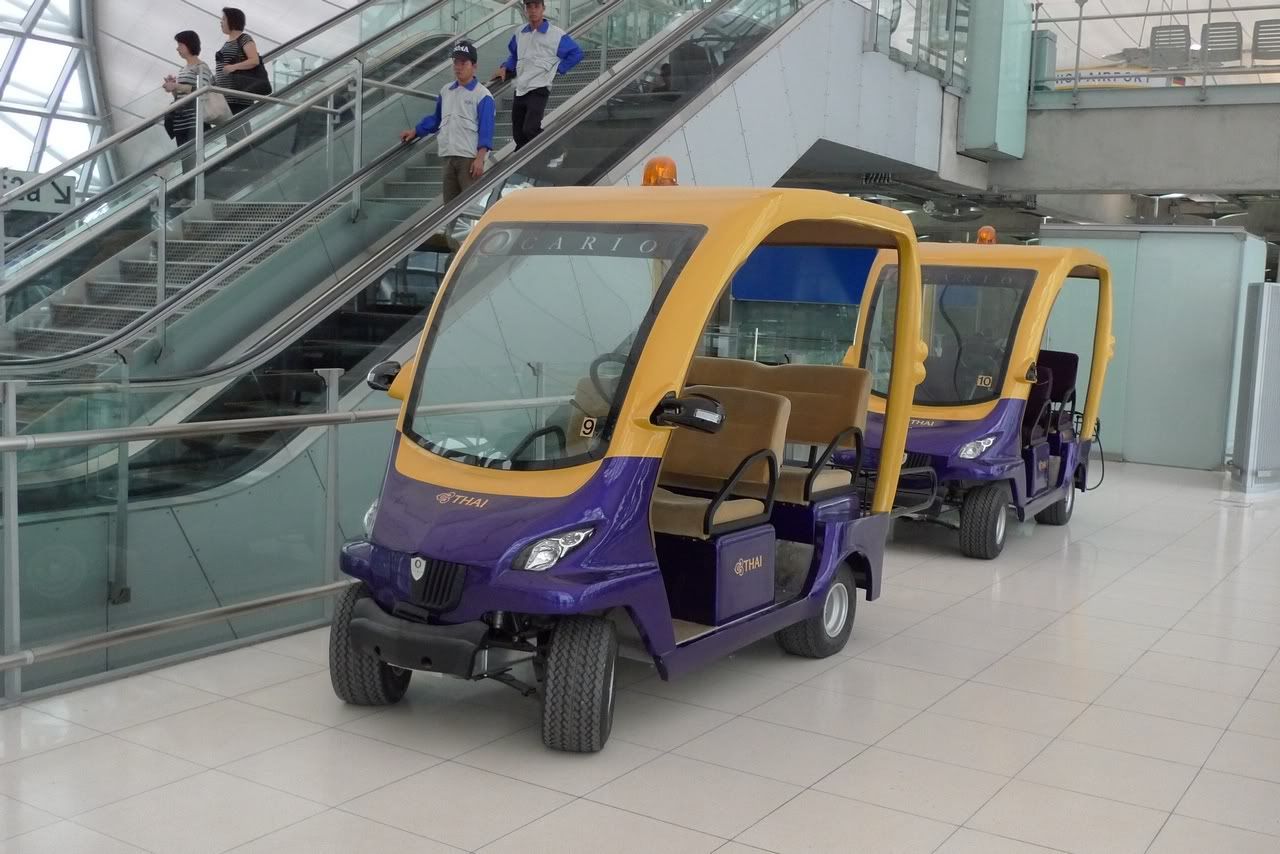 4 October 2010
Bangkok (BKK) – Hong Kong (HKG)
Airline: Emirates
Flight: EK 384
Aircraft: A380-800
Registration: A6-EDI
Seat: 4A (First)
Gate: E4
My boarding pass
Gate E4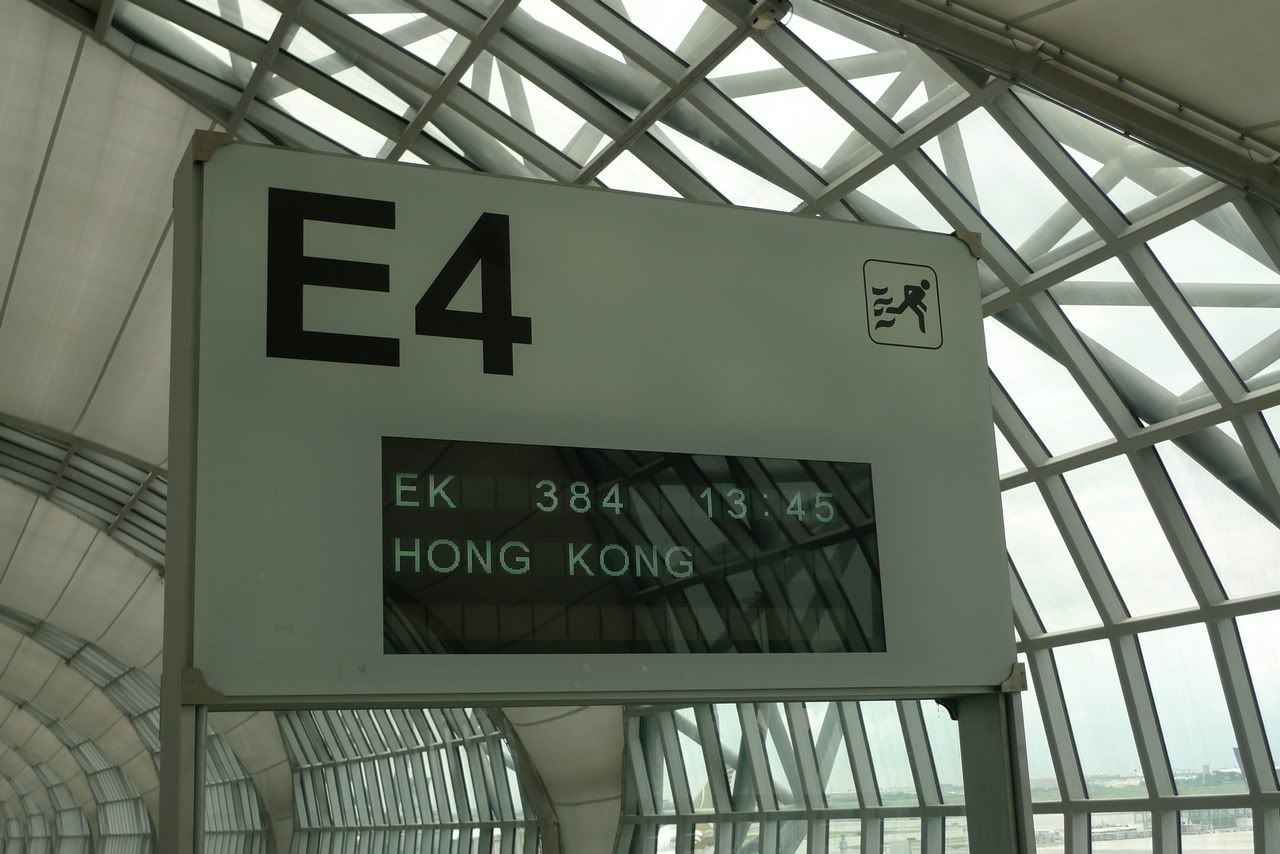 A6-EDI was waiting us already!
Gate area
A6-EDI to take me home
Boarding was commenced at 13:45, a bit delay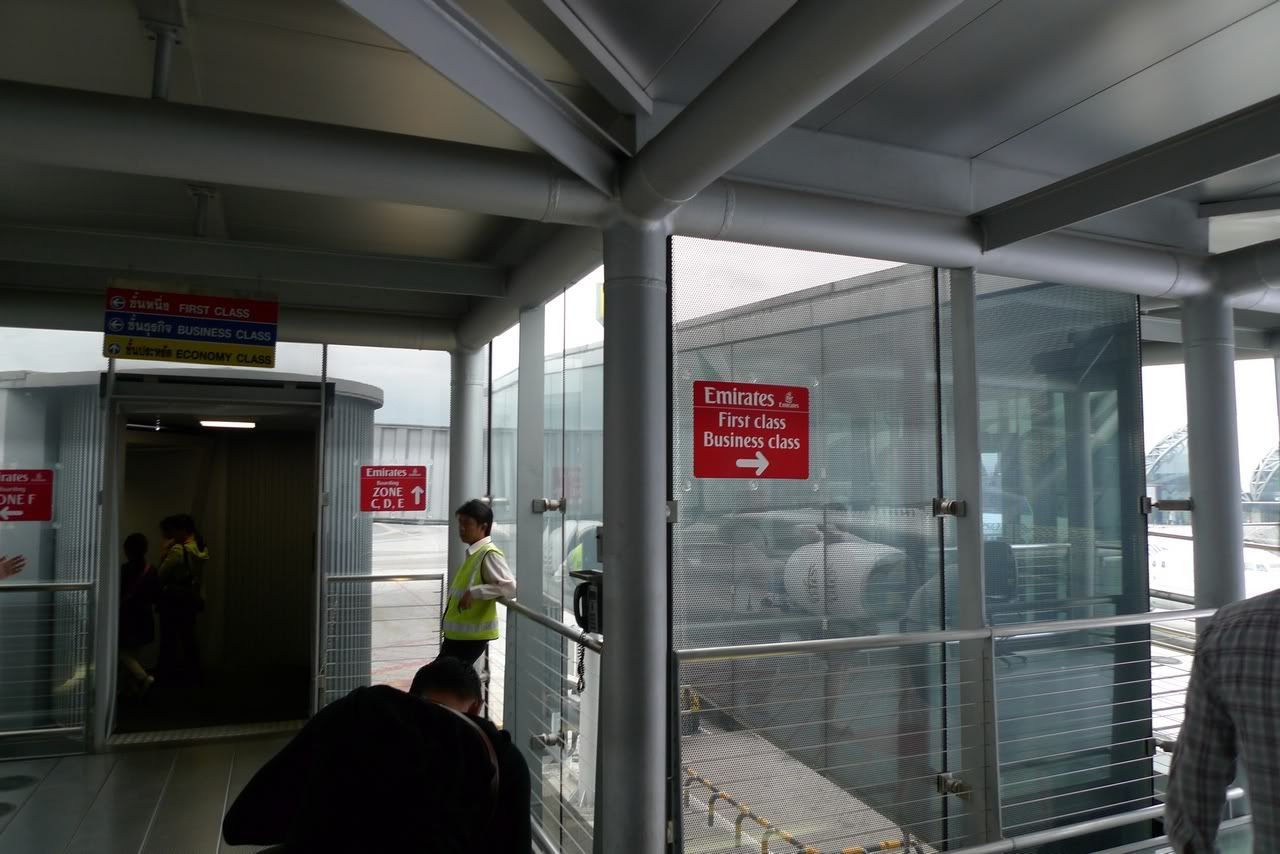 My suite 4A, I love this screen wallpaper very much, and you can find a FA standing at the back of the bus
View from my seat
My seat again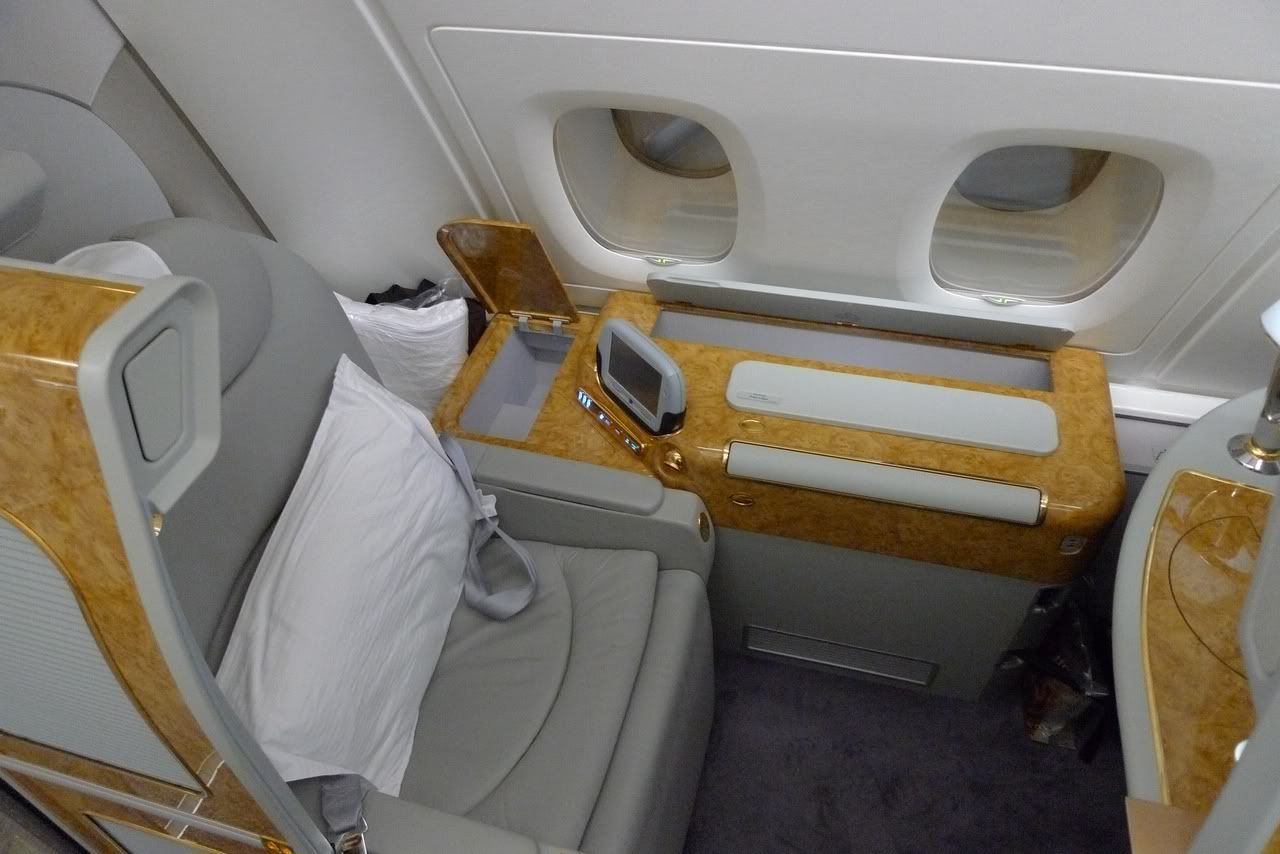 Emirates already have a very firm table in their suite, but they have a table holder to the opposite side, very good design
Doors were still open, I take some time to the Business Class
I have tried the business seat to find whether I can stuff myself into it, and the answer is Yes, the seat was even wider than the new OZ seats and longer in flat bed mode!
The famous on-board lounge
Pushed back 14:15, I saw my favorite bird - A340-500 during taxi, I hope I can have chance to ride on them one day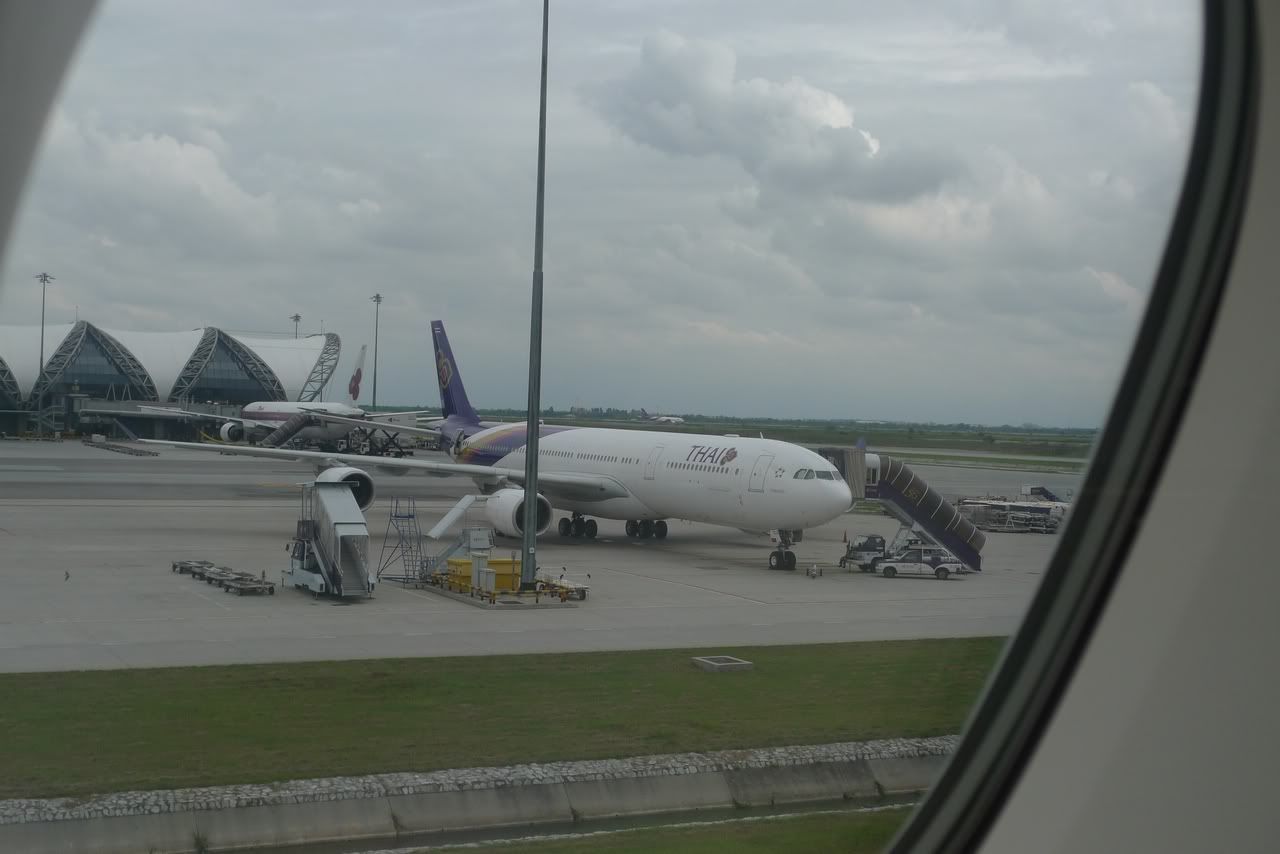 We taxi at 15-30 mph, the pilot hit the break few times to slow down during taxiing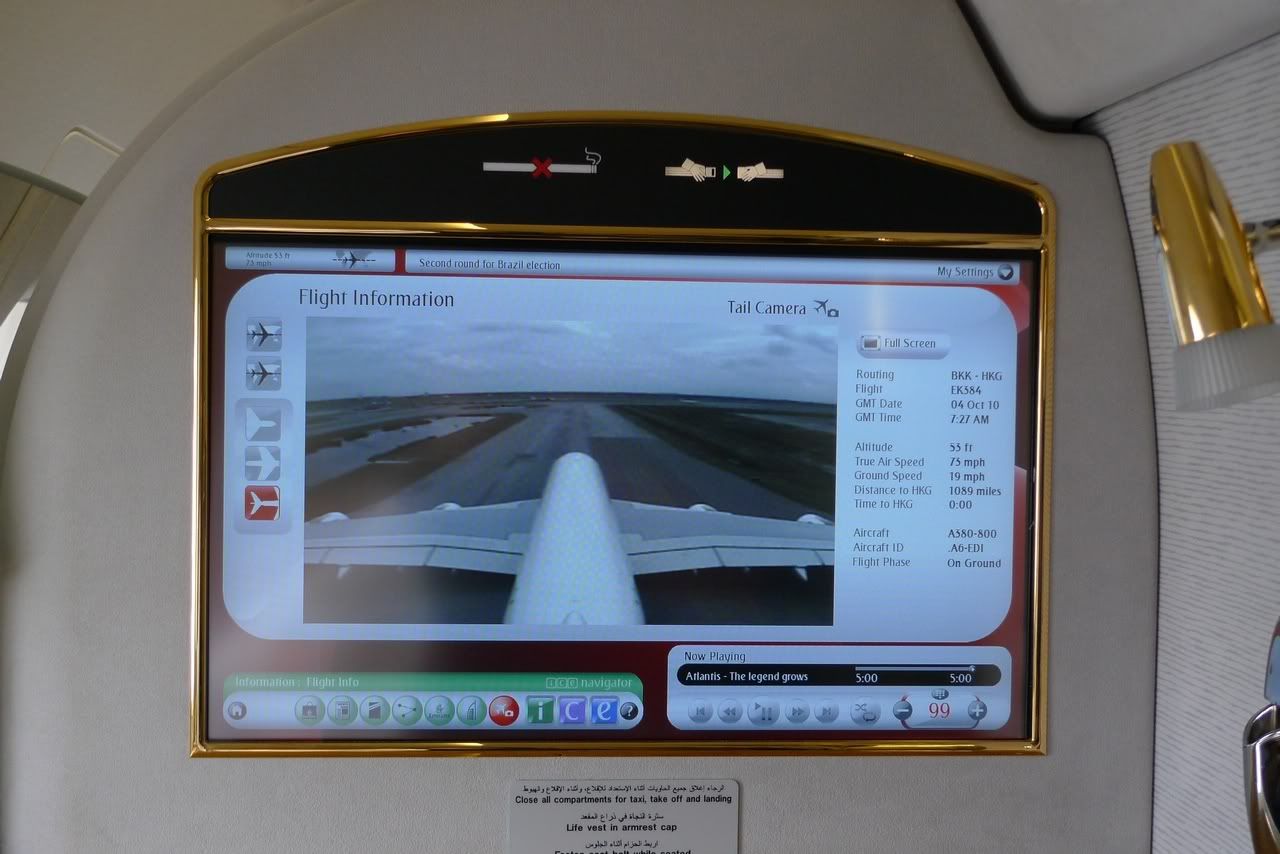 We were on the position to take off, break released for about 20 seconds but the 4 GP7200s were kept idle. The break applied again and an announcement from flight deck:' Ladies and Gentlemen, we find that our break was too hot at the moment, we have to cool it down before our next takeoff, which may need 15 minutes, sorry for the inconvenience.'
Then we following the below path and stop at a path parallel with the runway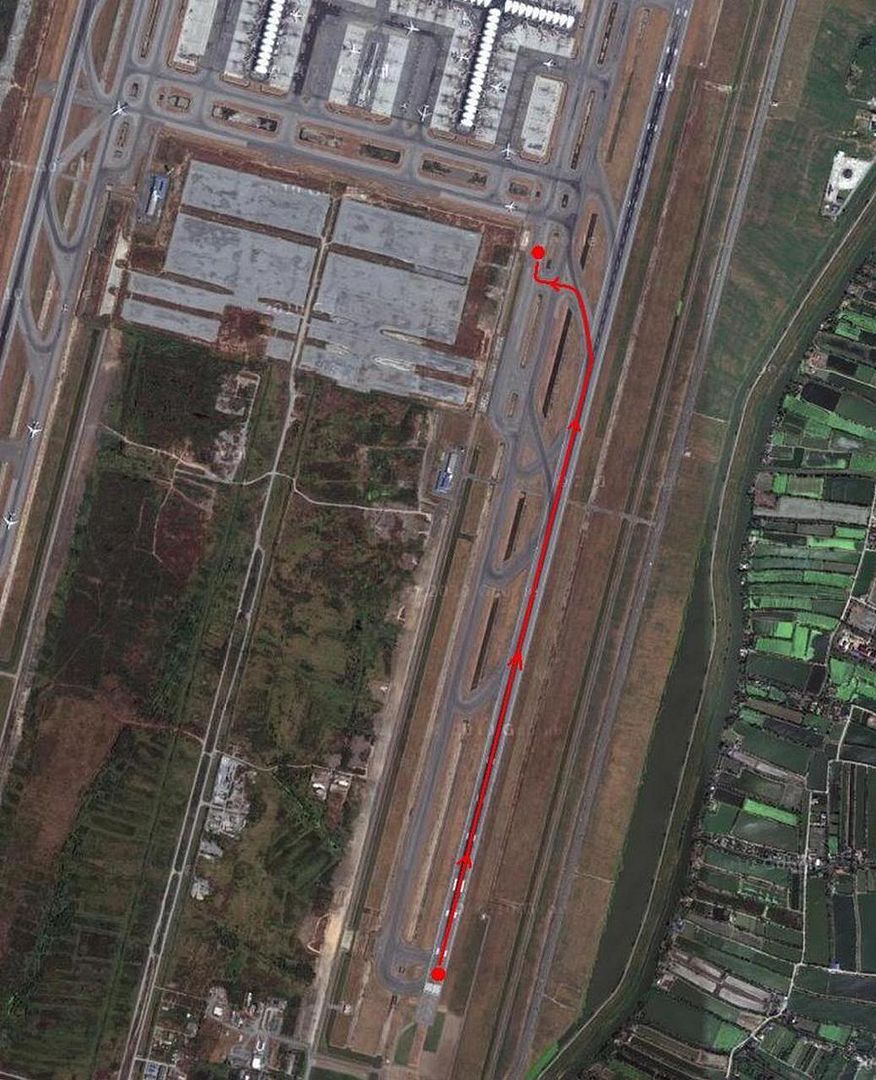 After about 20 minutes, from the flight deck again:' the break was still hot and we have requested the ground to bring some fans to cool down the break'
10 minutes later from a FA, he said we have requested the fans but we didn't have any response from the ground, so we need to wait a bit longer.
During waiting, I planned to take some more pics in the cabin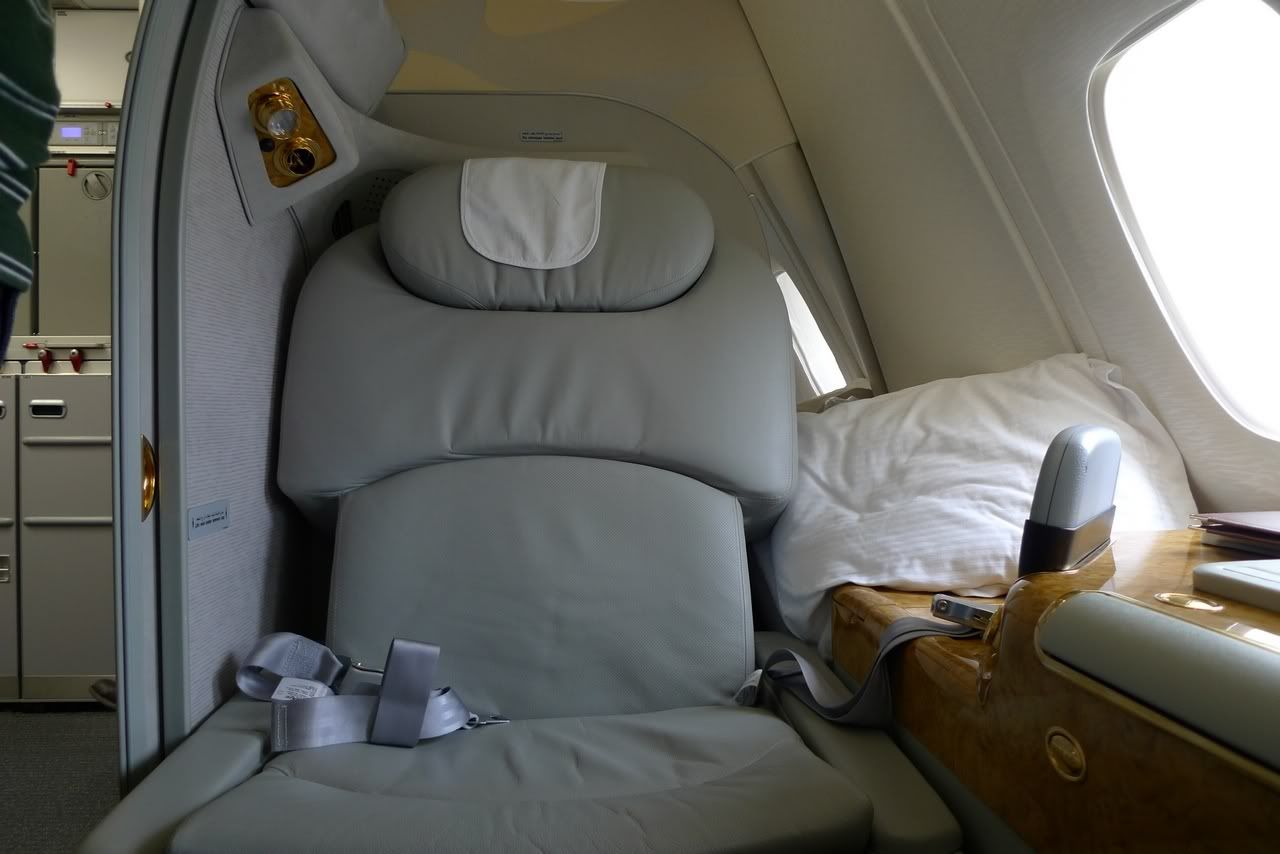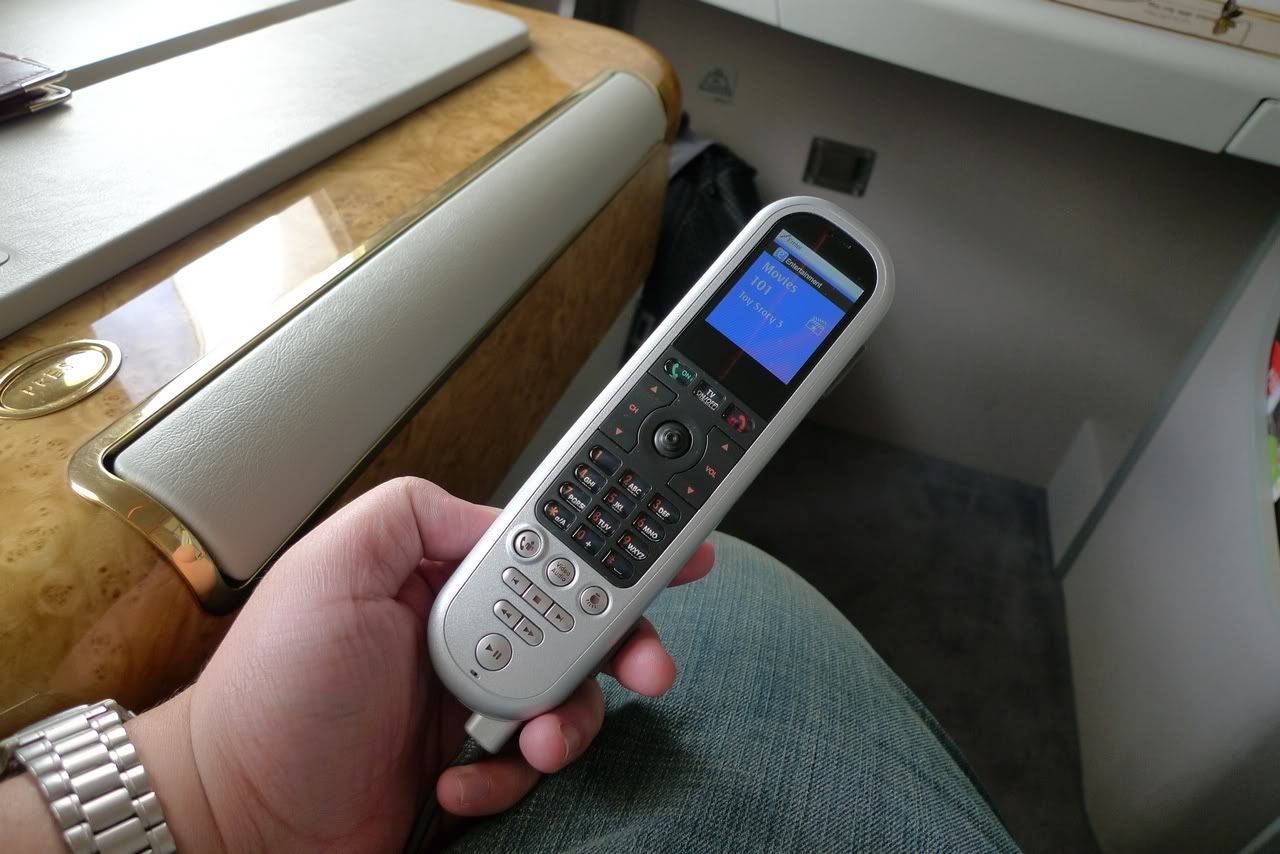 45 minutes have past, the pilot told us we are ready to takeoff again, so we taxi along the taxi way, and go in the runway and takeoff directly, I though it is because the pilot don't want to overheat the break again when making a stop at runway.
Seat belt sign was off, drinks and nuts were offered, I told the FA that I really love EK's nuts as they have different kinds of nuts and taste good (but a bit too salty)
And the meal was followed
Starters: Smoked salmon with crab meat, fresh and tasty!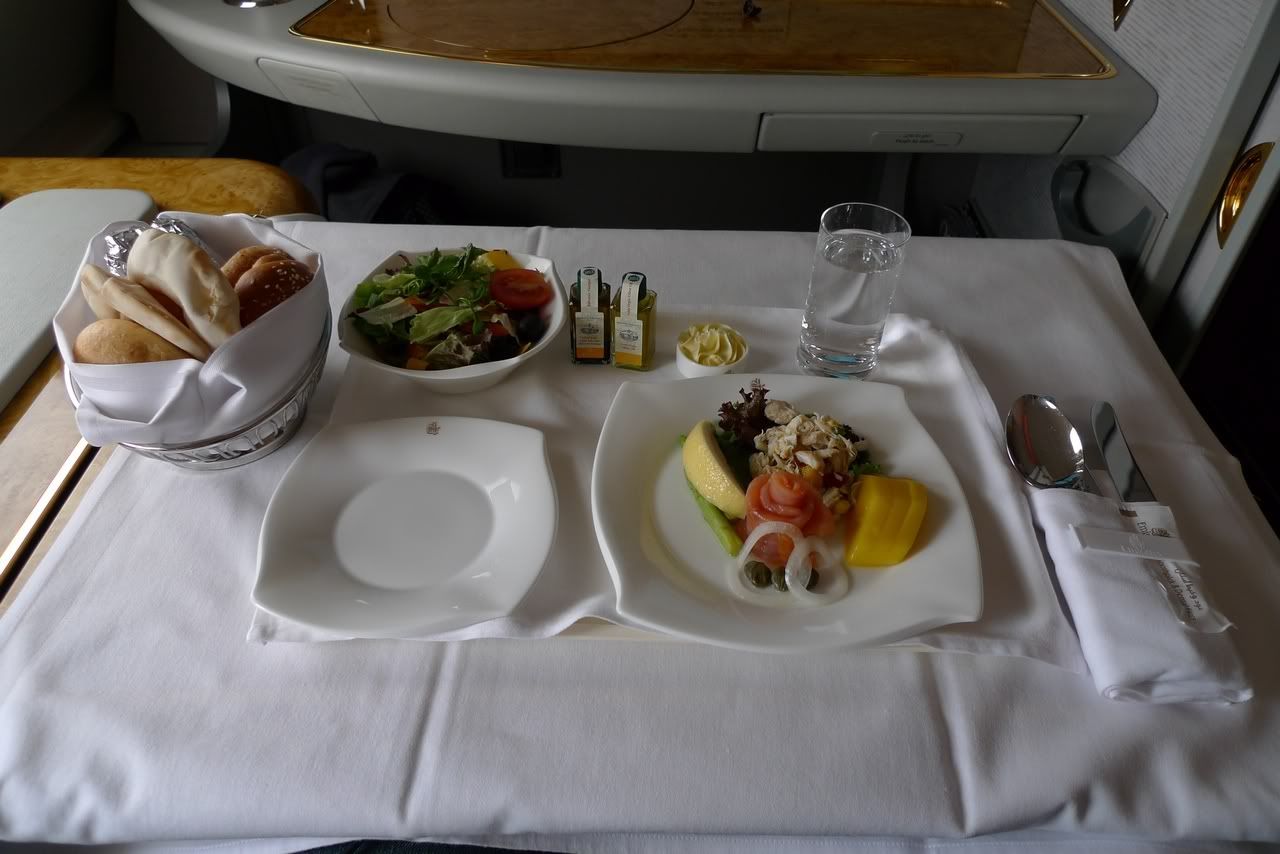 Main course: Fish, a bit overdone
Dessert, really nice one with some tea.
After the meal, I planned to visit the washroom after the first class galley
Nice view in the washroom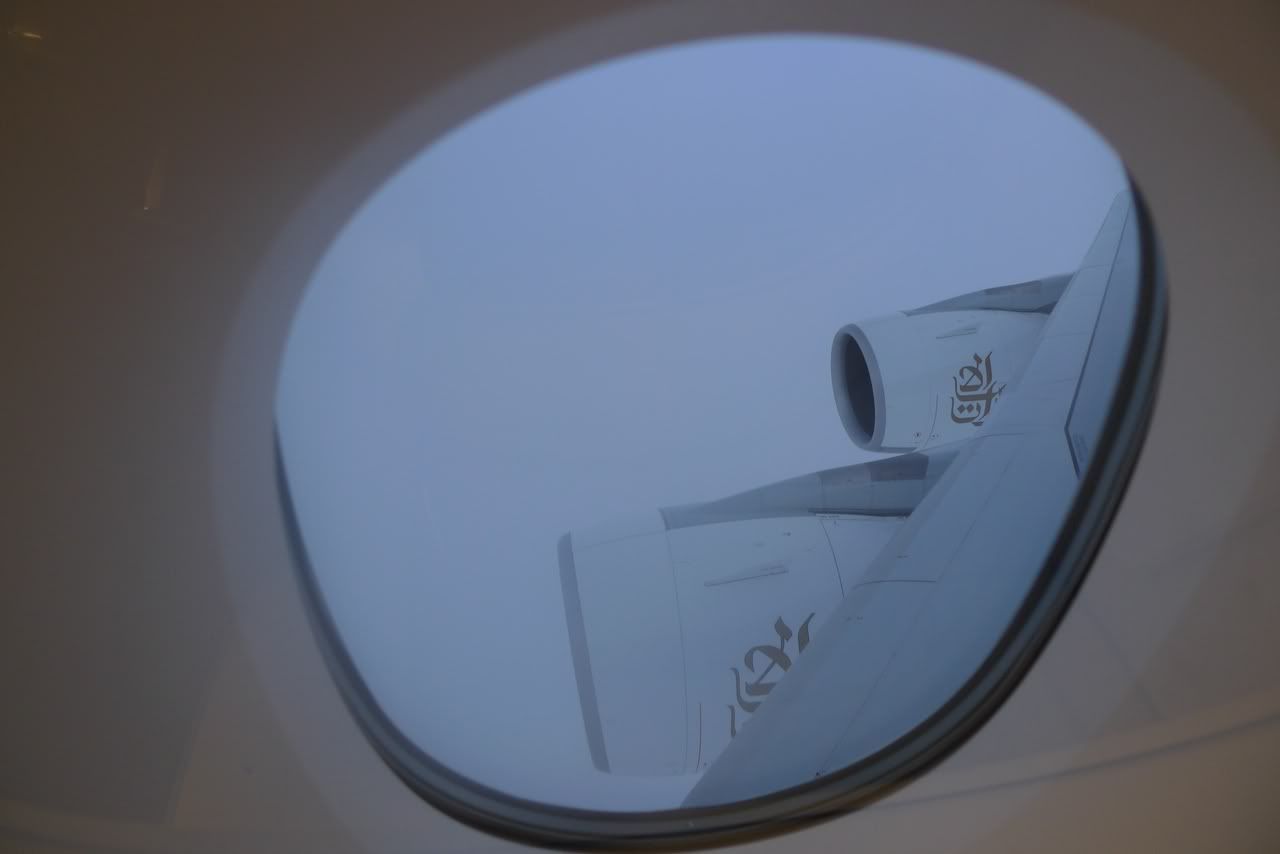 We were about to arrive, times fly!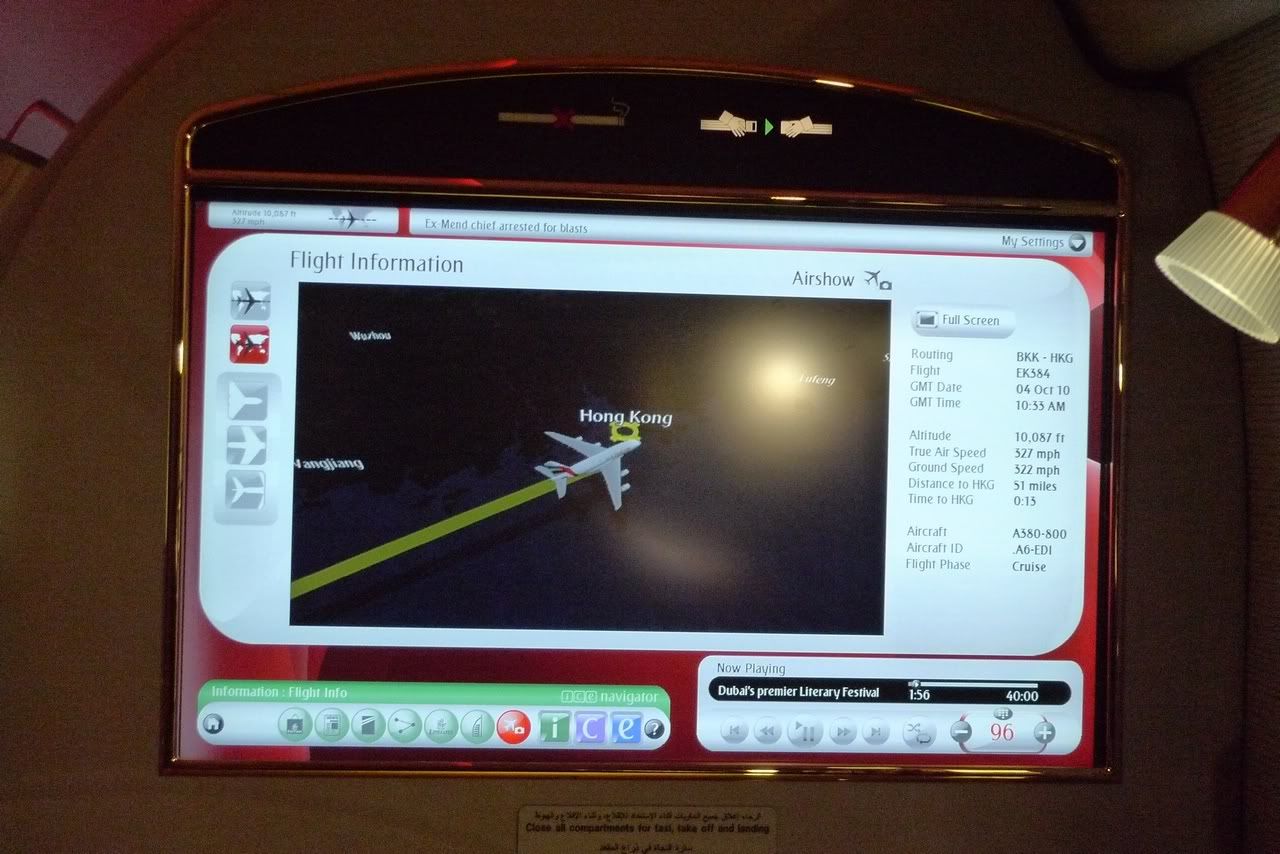 Before landing, the FA gave me a bag:' it's for you!'
I opened and say thank you to him, a really nice touch!
I think I will taste some when I miss EK's service, as my next trip on them would be 1 year later.
Arrived at Gate 60, passed through the immigration and wait for my baggage, which is the end for this trip.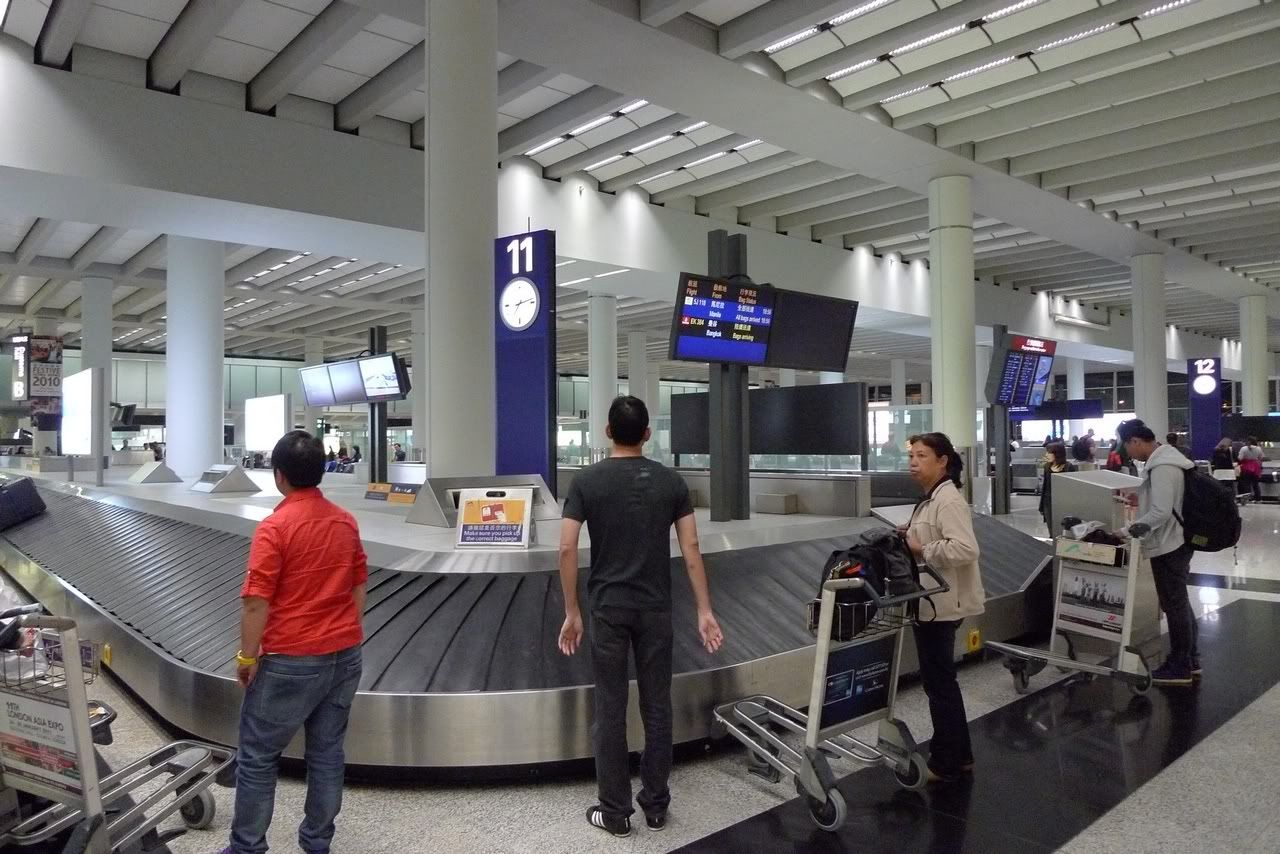 Comment:
After the trip, I can say I love EK more and more, with nice lounges, nice aircrafts and most importantly - nice staff. I found they are working with their passion, the service is from their heart unlike other airlines that those FA were trained to be a robot only. EK's multi-national crew is also a plus as they were willing to share different experiences in different styles, not many airlines outside middle-east can be the same.
For the A380, it was amazing, super quiet even in takeoff. And EK configure them very well, with luxury and classy feeling. But to the suite itself, I still prefer 77W and 77L as they are more spacious with the super high ceiling.
Hope all of you enjoy my trip report, and hope I will have my next trip sooner!
My past TR:
Three 5-Star Airlines In 8 Days (102pics) (June 2008)
First Touch Of China Southern MD82 (31 Pics) (August 2008)
China Airlines HKG - TPE (47 Pics) (August 2008)
HKG-BKK With China Airlines In C (61 Pics) (November 2010)
HKG-BKK F On Emirates' 777-300ER (67 Pics) (May 2009)
HKG-TPE Turnaround On TG's A340-600 (33 Pics) (June 2009)
HKG,MFM,TPE,SIN,BKK In CX C And BR Y (201 Pics) (August 2009)
SQ Y HKG-SIN In 2009 w/MH And 1st A380(128 Pics) (Year 2009)
Ooop! I did it again Part 1 EVA Air MD-90 (May 2010)(50 Pics)
Ooop! I did it again Part 2 CX HKG-SIN run (May 2010)(116 Pics)
Photo Report: My Trip For BG's DC-10-30 (June 2010)(63 Pics)
First Time To Japan Part I: AI HKG-KIX In F (August 2010)
First Time To Japan Part II: JL KIX-HND In J (August 2010)
First Time To Japan Part III: OZ NRT-ICN In C (August 2010)
First Time To Japan Part IV: OZ ICN-PEK In NEW C (September 2010)
First Time To Japan Part V: IR PEK-NRT In C (September 2010)
First Time To Japan Part VI: NH FUK-ITM In C (September 2010)
First Time To Japan Part VII: AI KIX-HKG In F (September 2010)