Hola nois!
Some weeks ago I received a M&M promotion stating that for 11,000 status miles I would get 4,400 extra miles if flown up to the end of October. Mmmmmm... too bad to refuse. Taking into account that my flights had been quite scarce lately, except for a brief encounter in Mallorca with Markus (aka. here as Flieger67) in September, I decided to start looking for good combinations at an affordable price.
LX was my first option and then moved to LH Italia special business class prices that fly you to MXP for just 129€. Finally the combination was set: BCN-MXP-ZRH-BCN and the other way around in a coming week.
My worst fear were cancellations as LH and LX tickets were bought separately. I had been looking at LH Italia operations to BCN, three daily flights to and from MXP, except for the weekend when there are only two. Some cancellations and heavy delays had occurred in the previous weeks so my fears were not baseless. Taking into account that if the first flight, BCN-MXP, were canceled all my plans would be screwed up... If I am writing all this is just to prepare you, dear readers, for what is coming ahead.
All set, fasten seat belts and let's go to the airport or we will be late for the flights.
Being it a quiet Saturday I decided to ride the local bus, 46 Plaça d'Espanya-Aeroport, which takes longer than the Aerobus service but is rideable with my transport pass.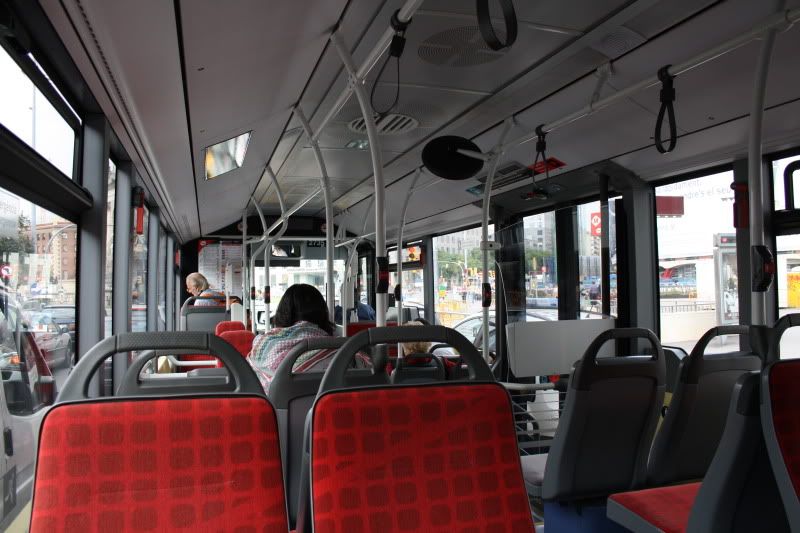 My first ride of the day
On that particular Saturday Barcelona was hosting 'La Festa del Cel' an airplane festival that takes place all years at the end of September-October and during a weekend you have all sorts of exhibition planes flying low and performing acrobatics in front of Barcelona beaches. This year as part of the 100th anniversary of the first flight in Spain that took place in one of the beaches a special guest was expected to come from PMI: the Lufthansa A380. I learn that it will land at BCN around 13.30 and then fly in front of the beaches before going back to PMI and back to FRA. LH had advertised this special flight, FRA-PMI-FRA, on its page and sold all its tickets in a day.
So, luckily I would be there when A380 lands in BCN.
The airport was as busy as it can be on a Saturday noon at the end of the summer season.
Long queues everywhere and security was not an exception, about 15 min. to go through. I realized a special lane opened just for the A380 guests.
Once inside the airport I went around for a while until the time the special LH flight was to land.
Meanwhile I realized there was another strange visitor to BCN, an IB A346 which was just parked at one of the gates. Later I learnt, talking to an IB staff member who was also waiting for the landing of the A380 that she was coming from BOG and had been rerouted to BCN instead of MAD. She did not know why but maybe it had to do with the closing of UIO airport that week due to the failed coup against President Correa. She was not sure about it but I told her that it was a nice addition to BCN log, now that IB has abandoned BCN totally just keeping its 'Pont Aeri' (shuttle) service to MAD.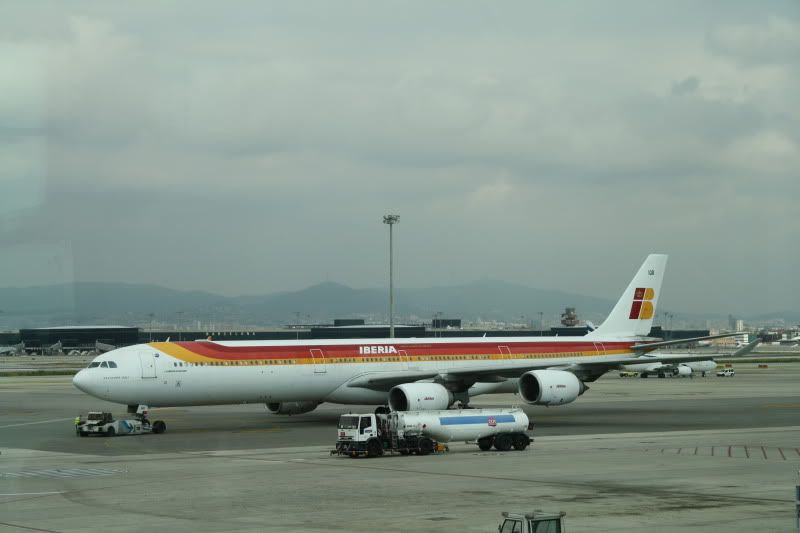 A nice view while waiting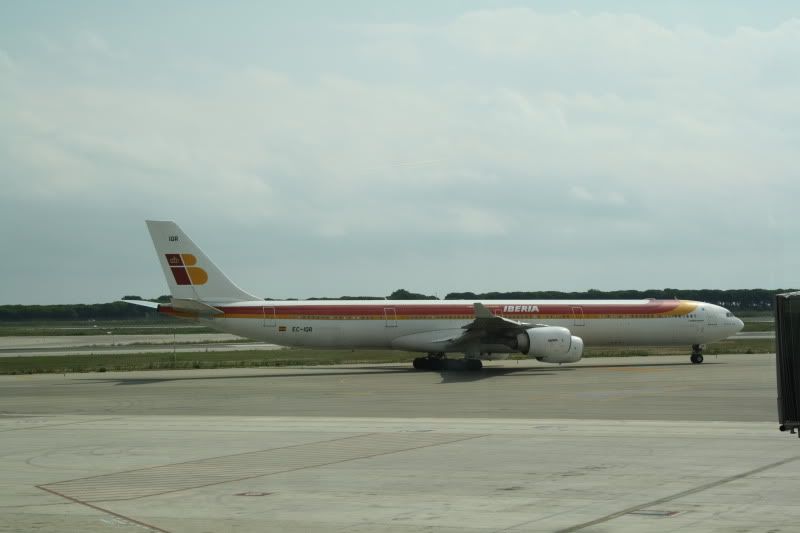 Ready to go to MAD
I followed the A346 to the end of the terminal to see it taking off as today they all occurred on this east configuration, 07R, due to the festival on the beaches where the airspace was restricted and the usual landings were diverted to the 07L runaway.
Taking off, great view at the end of the Terminal.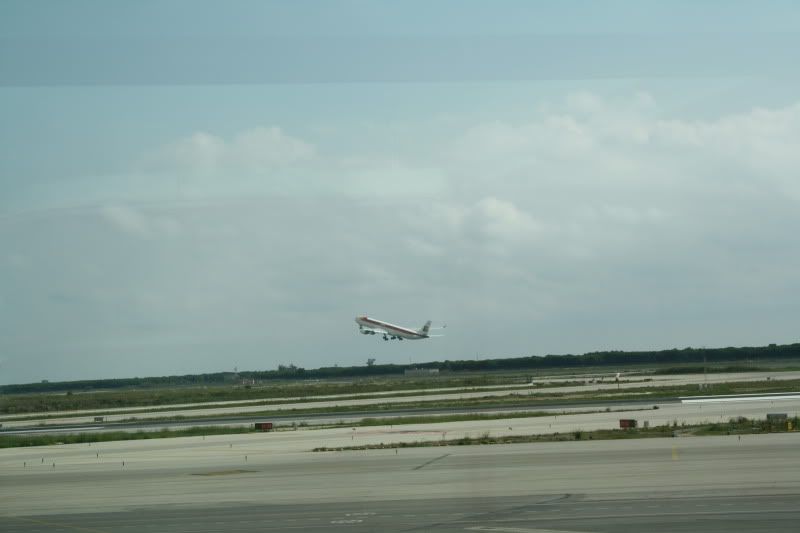 Adéu! Come back soon!
At the same time I was at the terminal I was texting Christian, aka as MIAspotter, who was at one of the beaches enjoying the 'Festa del Cel', and was anxious about seeing the A380.
Finally, at 13.50 the wait was over and here she comes, it was even announced on the speakers at the airport.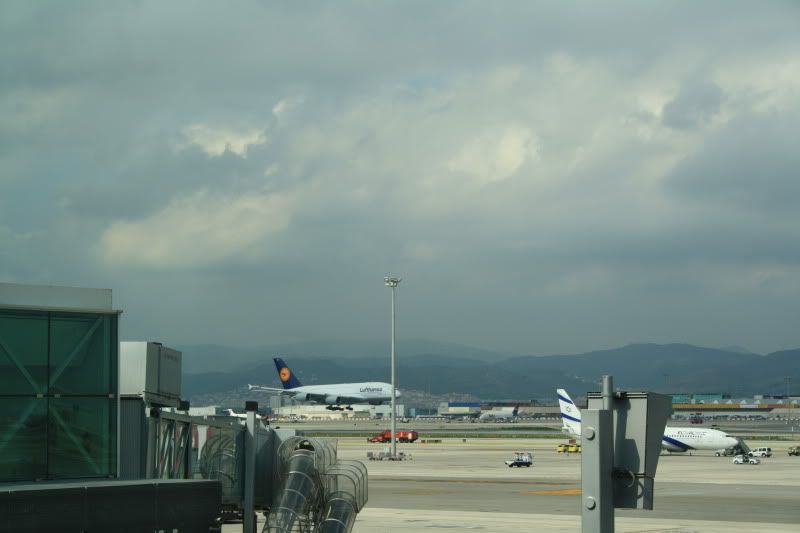 Here she is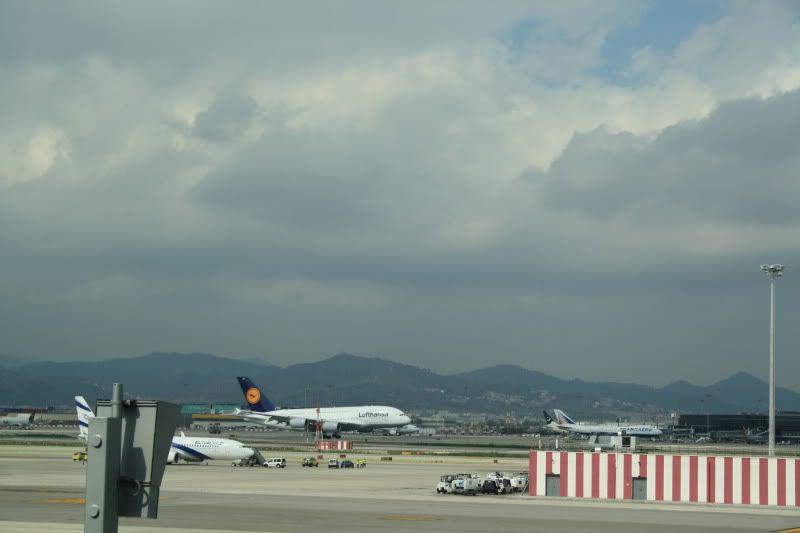 About to land
A difference in size is sometimes meaningful
Firemen ready to welcome her as she deserves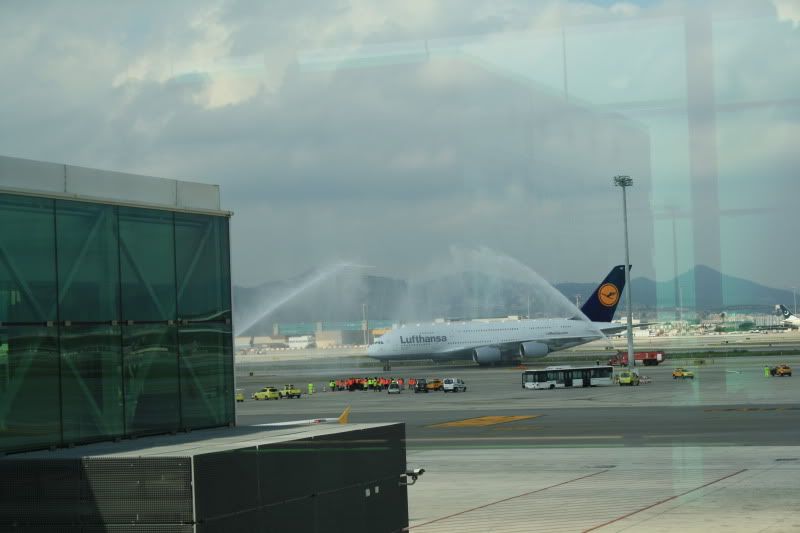 Her first bath at BCN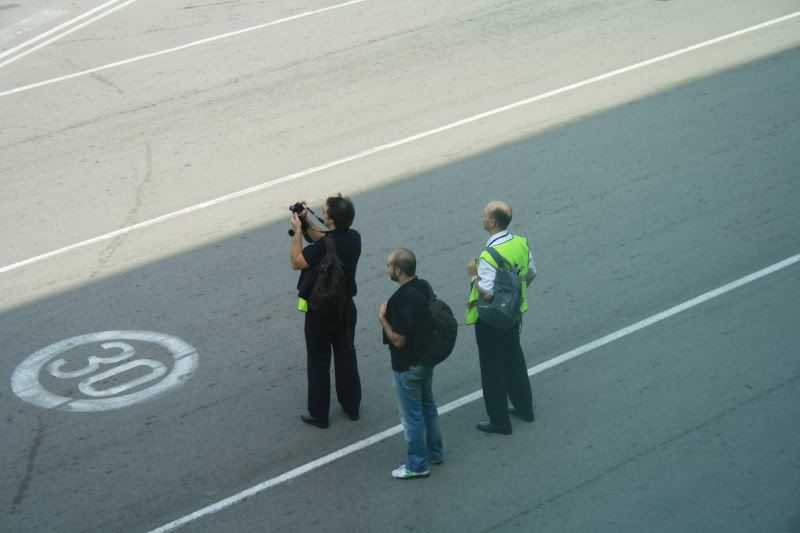 Not the only one waiting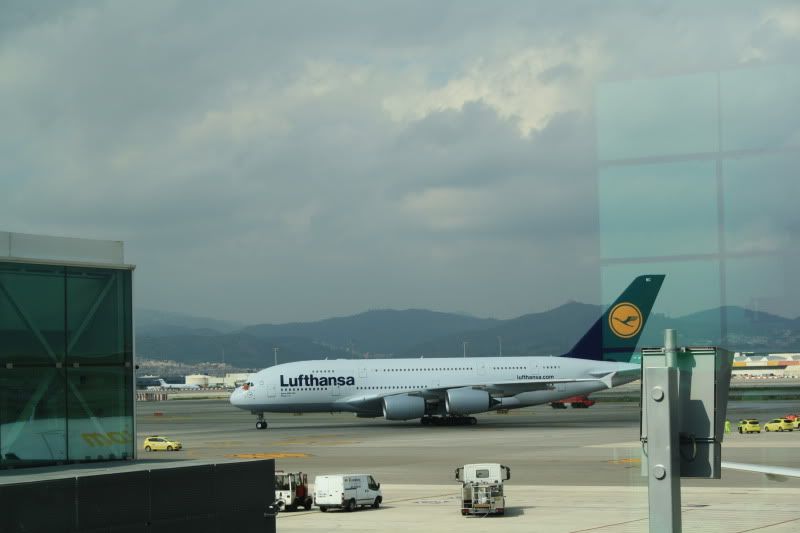 Getting there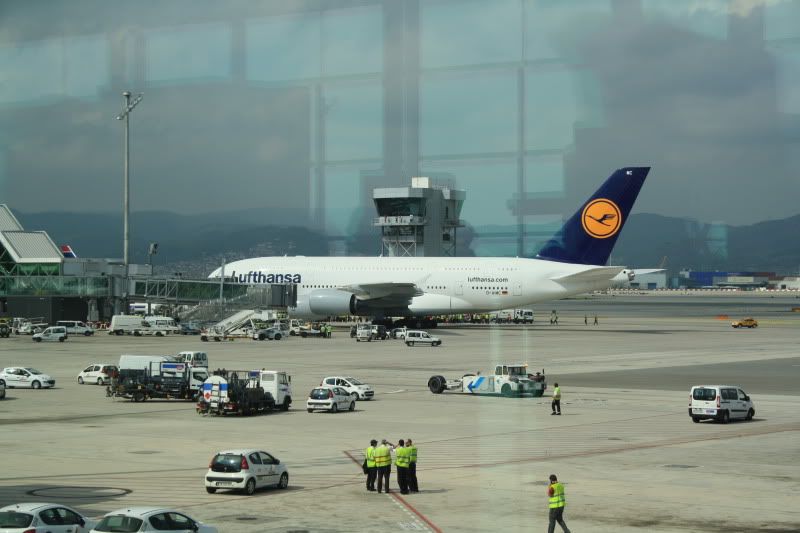 On stand, BTW. the usual stand for the SQ B777
Time to celebrate it my way. A walk to the lounge, operated by Spanair, not very busy today so I was able to grab a seat in front of the computers and had a look at a.net before catching my ride to MXP.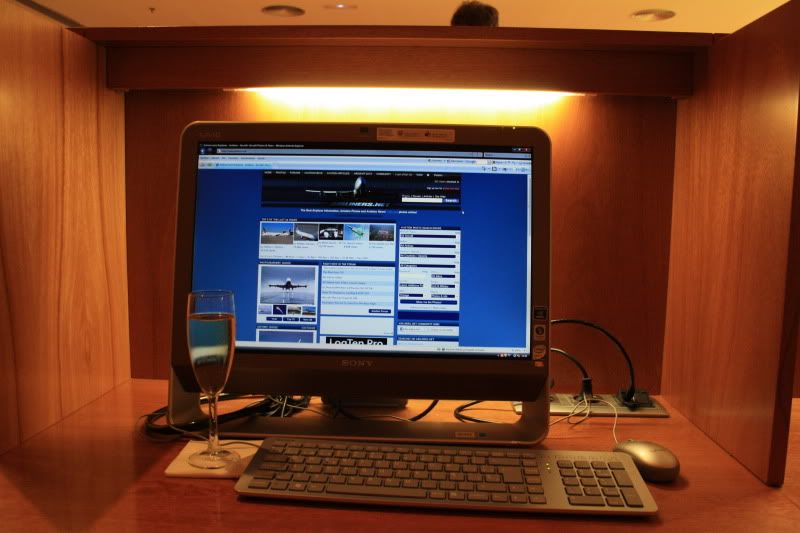 Cheers everyone!
LH 1793
BCN-MXP
A319-100
D-AILF 'Trier'
First delivered to LH in 1996, then to Air Malta and Germanwings. Back to LH in 2005.
Gate A21
Seat 2A
As I was walking to the gate I got a SMS announcing that my LX flight, MXP-ZRH, had been canceled. What to do? If I went to LX desk I would sure miss my LH flight so I decided to play it cool and board my flight to MXP and then once at MXP see what LX had prepared for me.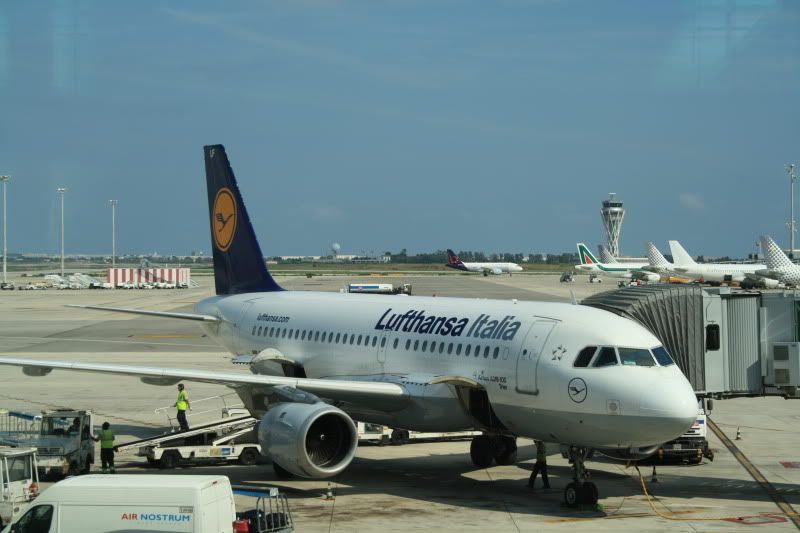 My ride to MXP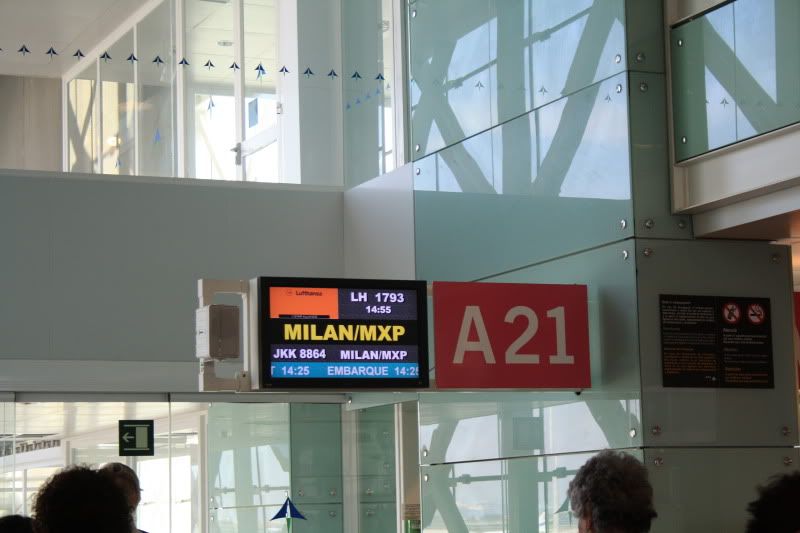 My gate, first time boarding a *A flight on these gates, they usually use B gates.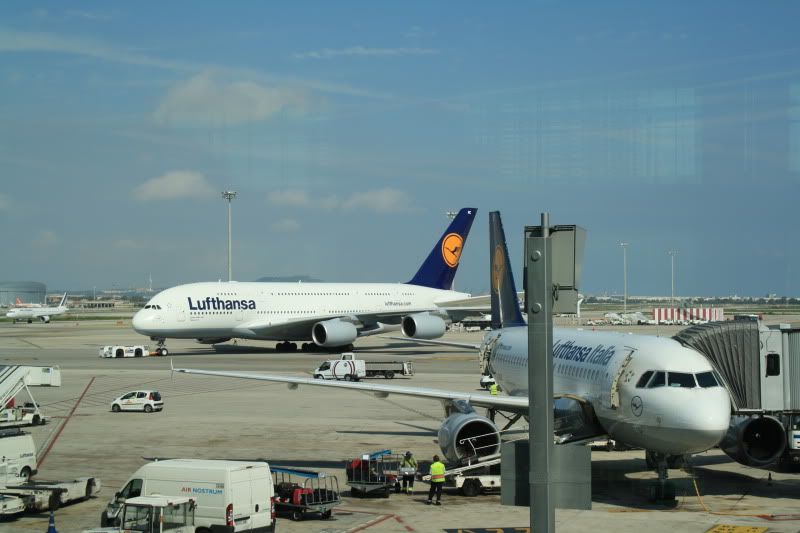 Ready to go back to PMI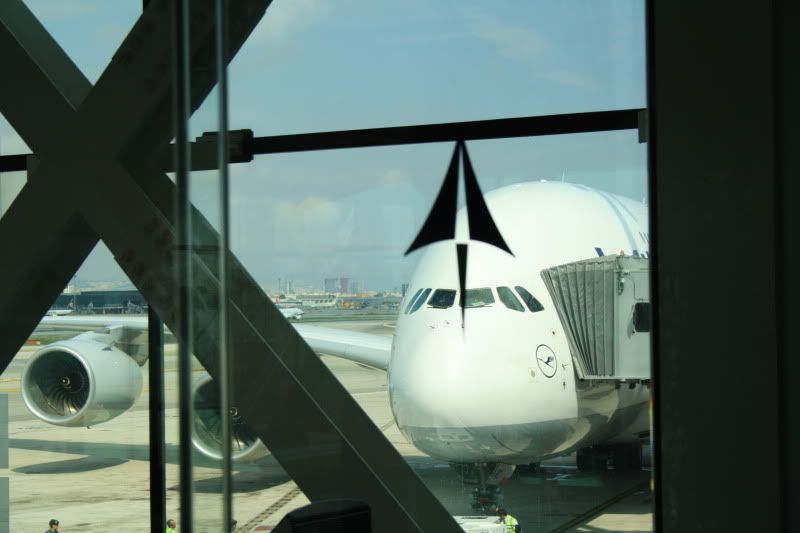 Impressive!
Boarding was a but delayed but with just a 40% load we were all on time on board and ready to fly to MXP.
I was originally booked seat 2A but I got 2F to see the last views of our special visitor today especially as Avianca A330 was landing then.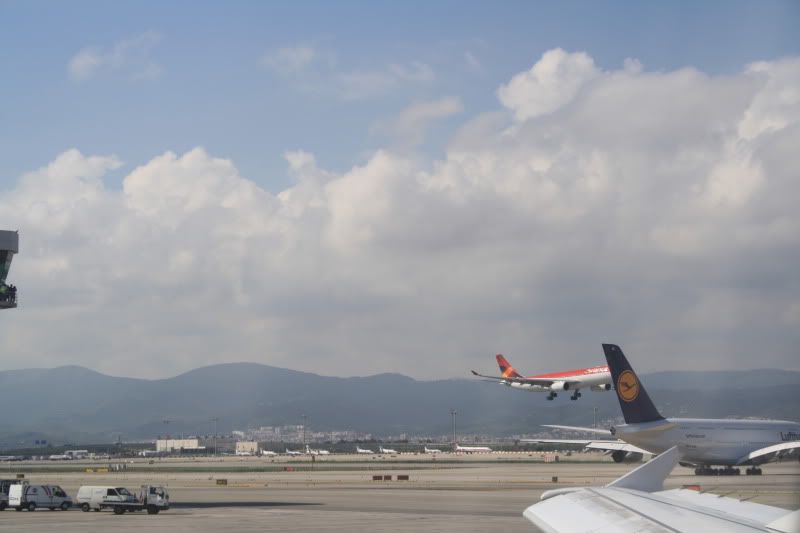 Nice view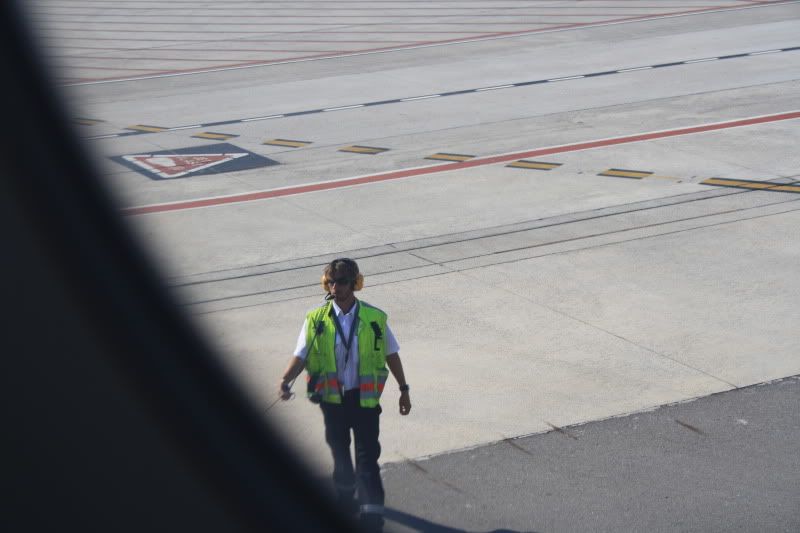 Walking us back to the apron
As we were moving to the active runaway I saw the A380 taking off on the 07L which is only used by heavy aircraft as it is longer than its sister 07R. Unfortunately I was siting on the wrong side and could not move as 2A had been taken by the only other C passenger today who had been assigned 1F previously.
Take off was on 07R and a quick turn to the right was almost a direct path to MXP.
The weather was calm and the flight was almost uneventful except for some very mild turbulence when leaving the sea somewhere over Genoa.
Food was brought individually to me, the other visitor, was sound sleep as soon as he had taken his seat.
Crew were kind enough to have a chat about the visit of the A380 to BCN.
Food was a plate of cold cuts and some fish, two bites, with some vegetables. It tasted pretty well and together with it I got some more champagne, prossecco on LH Italia, to celebrate a great Saturday afternoon, so far. The fun is yet to come.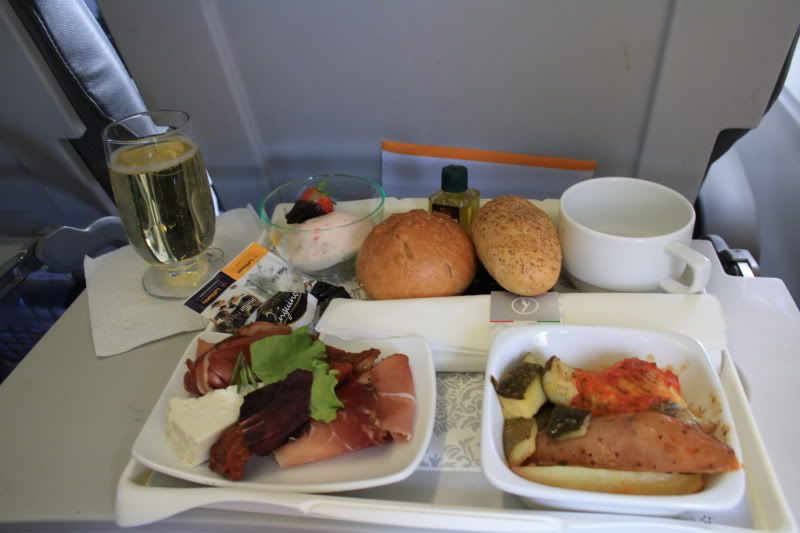 My meal tray, dessert tasted excellent.
Once the meal was over I was asked if I wanted some coffee and I was offered an espresso, no doubt, there we go.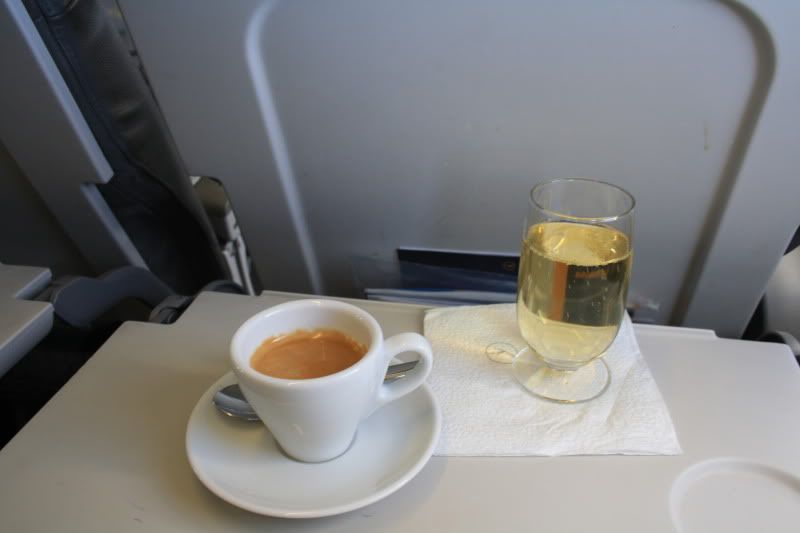 Espresso on LH Italia, what else?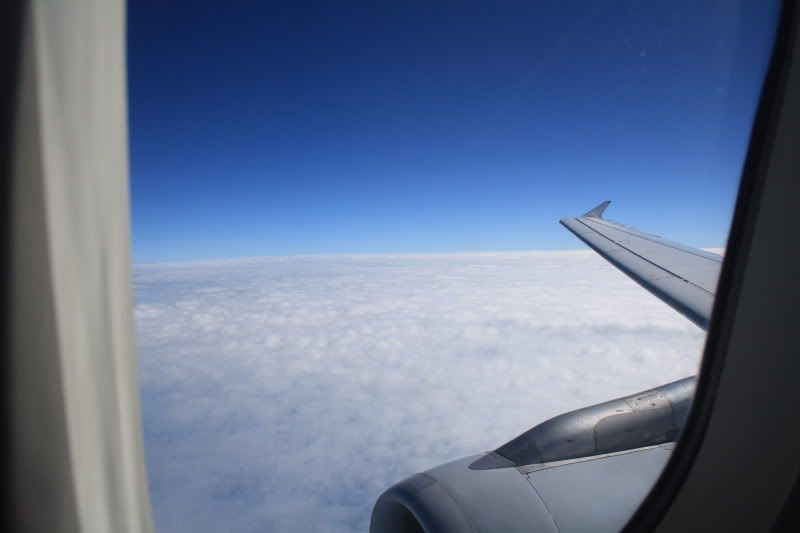 Views were very limited with this overcast sky
I do not remember any announcements from the cockpit but I think we started our descent pretty early somewhere over Italy and kept this was until some Italian soil could be seen close to MXP.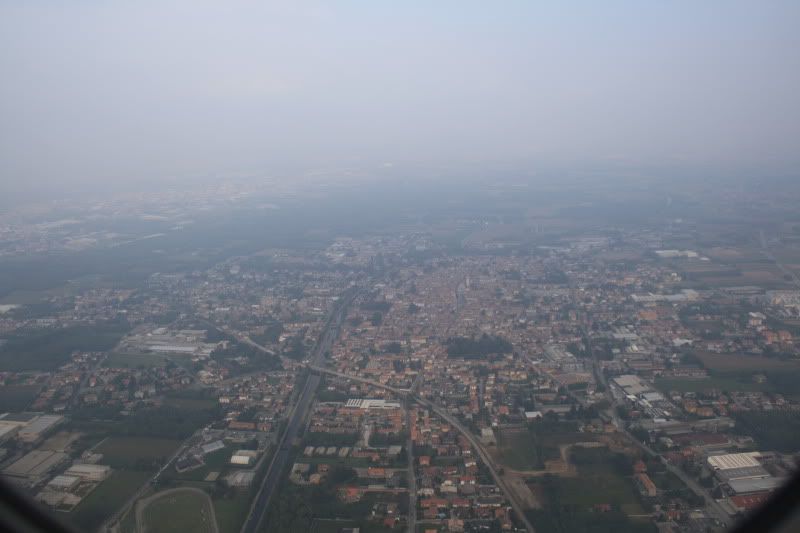 Ciao Italia!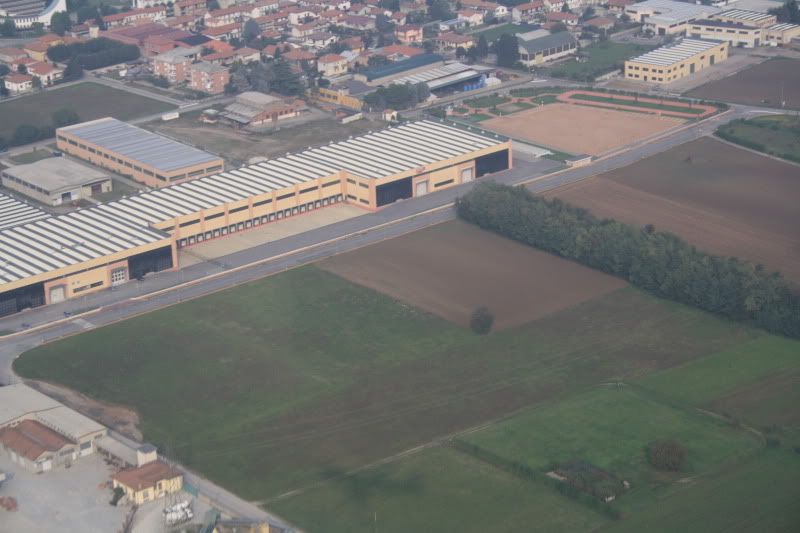 Getting there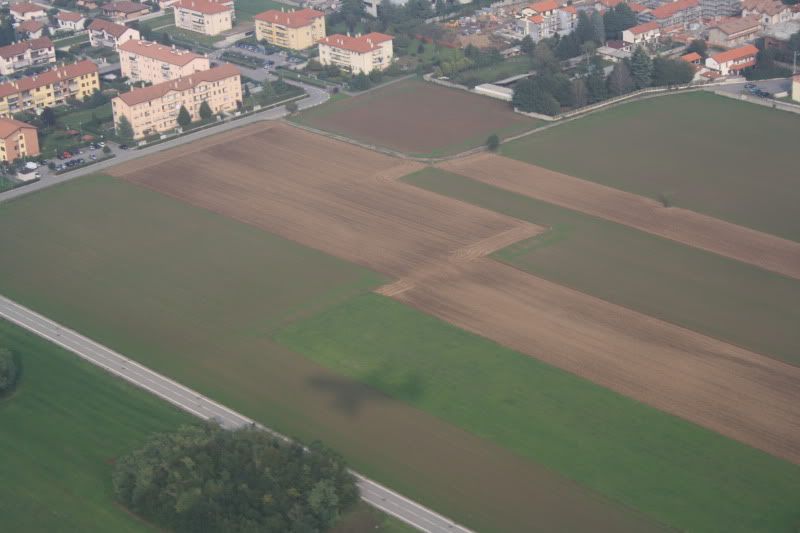 Lombardian fields in the fall
Landing was on time and once on stand I went straight to the LX office on the departures area.
As soon as I started my speech the agent asked for name and said I was re-booked on a flight to MUC and then to BCN, wooaaaaaawwww, that is what I call service, I guess it pays to be a SEN sometimes.
As he hands me my new schedule I
Waiting at MXP is not particularly fun, thankfully there are some great views of the apron from the terminal and I get to see this Belavia, Belorussian airlines, aircraft which I had never heard of.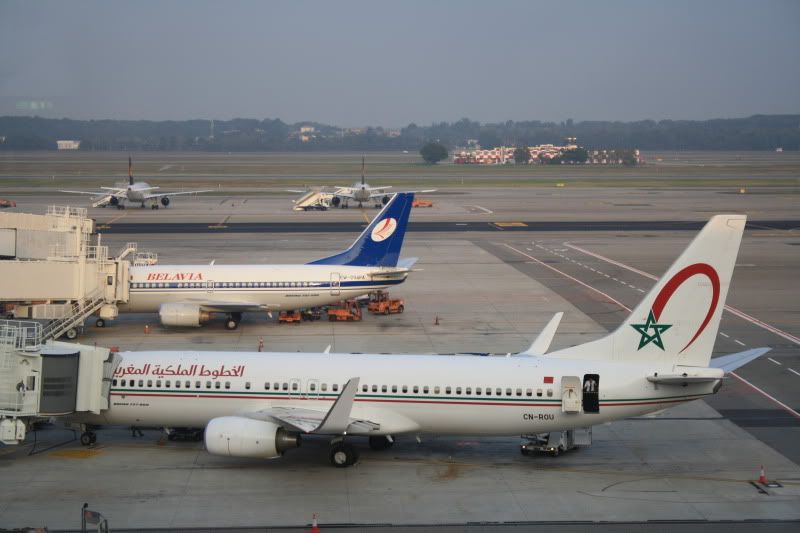 Minsk and Casablanca serviced by this pair.
MXP-MUC
LH 3907
ATR-72
I-ADLT
Delivered to Air Dolimiti in 2000
Gate 35
Seat 5D
My original LX flight was scheduled to depart at 18.20 and the new LH one is supposed to depart at 19.05 so no big time difference. I spend most of the time outside enjoying the beginning of the fall and once I decide to go inside I go to the LH lounge were I grab some pasta salad, prosciutto and cheese that together with some red wine go down very well. Unfortunately the Internet connection is not working in the lounge so I spend most of the time reading and figuring out which aircraft will service MUC today.
I am lucky as I get down to the bus gate area I realize it is not going to be one of LH metal but an Air Dolomiti plane.
My first ride on this company so let's see what it has to offer.
So far my assigned seat, 5A is changed by the gate agent to 5D, no big deal so far.
The bus, full, leaves us at the feet of this beauty.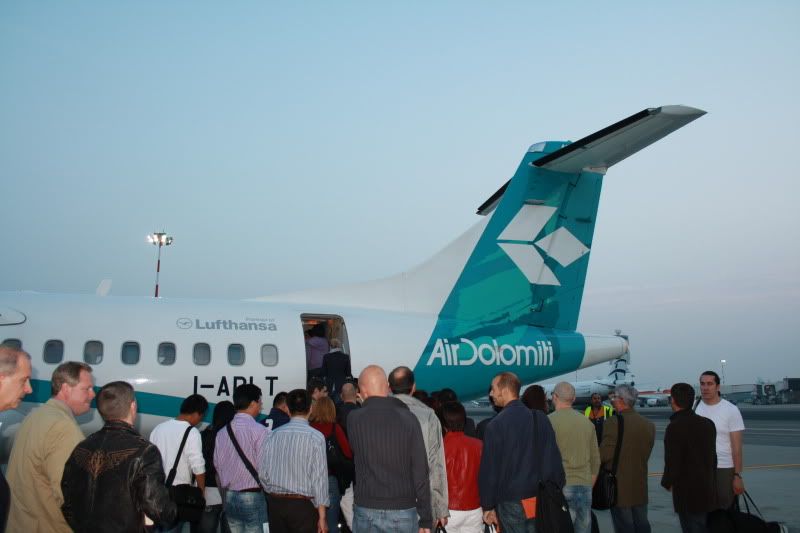 My first ride in one of these planes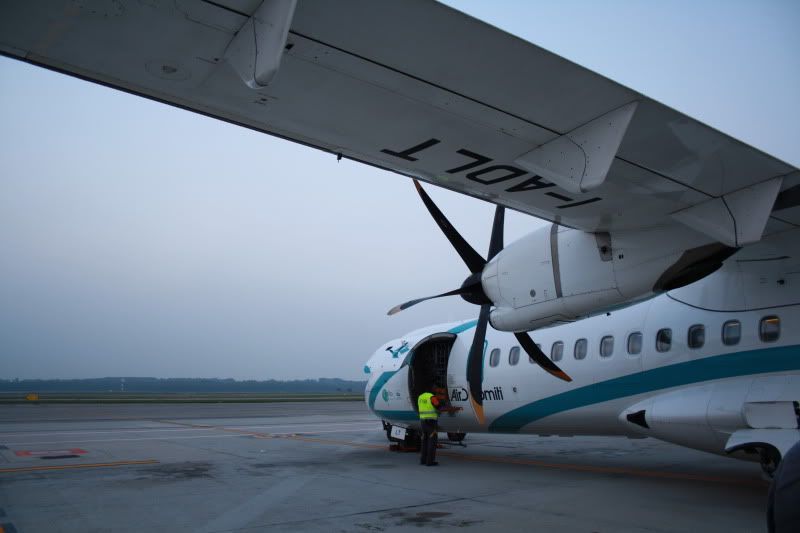 Obligatory under wing shot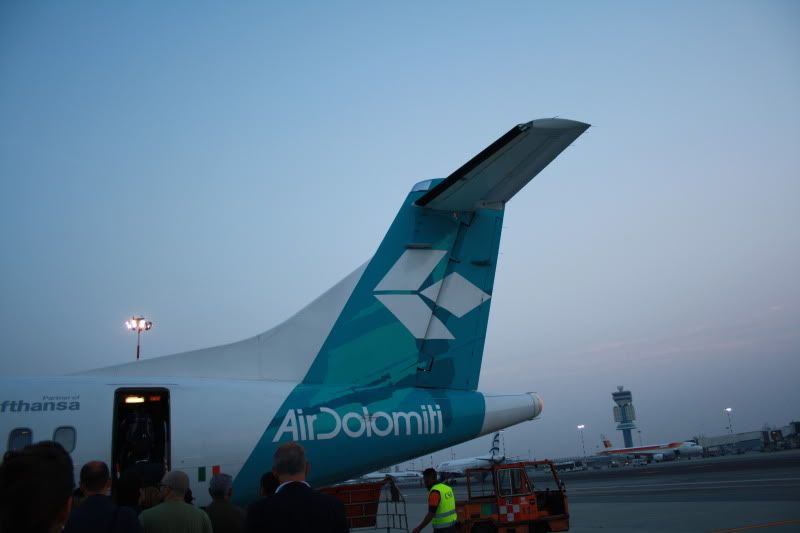 Boarding with an IB plane arriving from MAD
As we board the plane I realize it is going to be a full flight. Yeah! I am right all seats are taken.
My view, nice but noisy
As the plane fills it seems clear that there is something wrong, the captain comes out of the cockpit, later a ramper comes in.
As soon as the captain comes back she informs us that there is a problem with a bag from a passenger who seems has not boarded the flight but they will soon track it and take it so we will be leaving with a slight delay.
Well, 10, 20, half an hour.... time goes by and there seems the problem is not solved. The captain comes in again and says that the problem is still there and adds: 'qualche testa saltera questa sera' (someone is going to lose his head tonight) unless the problem is solved quickly.Gluuuuuuups!
The truth is that it was quite surprising to see that it took us almost an hour to solve this problem with missed bags, if it had been an A380 I don't know what would have happened, we would still be there.
People with connections, like myself, were starting to get anxious about our delay, some of them told the crew, two Italian young Fas. They came on the speakers and said that they will contact LH and inform them about that.
Finally at 19.50 we are ready to go; we speed to the runaway and the noise of the propeller gets into my ears. We take off immediately and once we reach our cruising altitude the captain comes on again informing about the delay and regrets the inconvenience caused to all us.
Although my boarding card stated that I will be not given any meal due to the rush in the connection I am offered a filling salad and I enjoy it. Service is quite rushed, the plane is full and not many smiles are on hand today.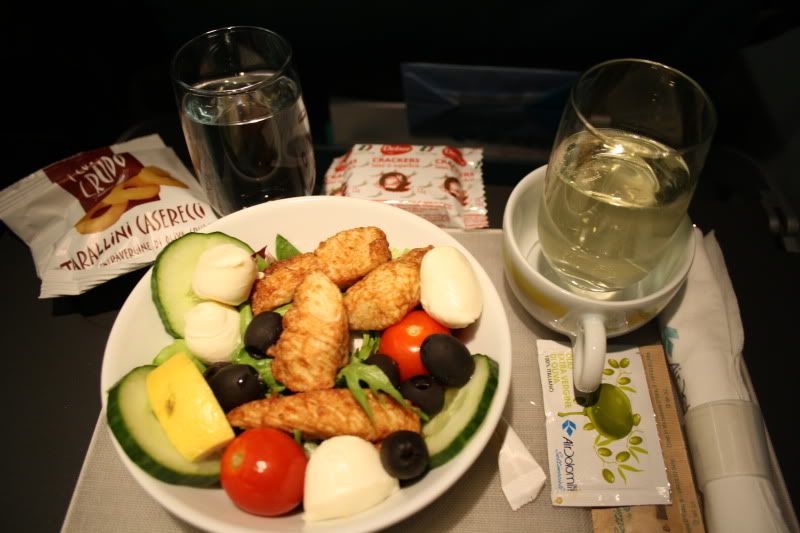 My 'no meal service', not bad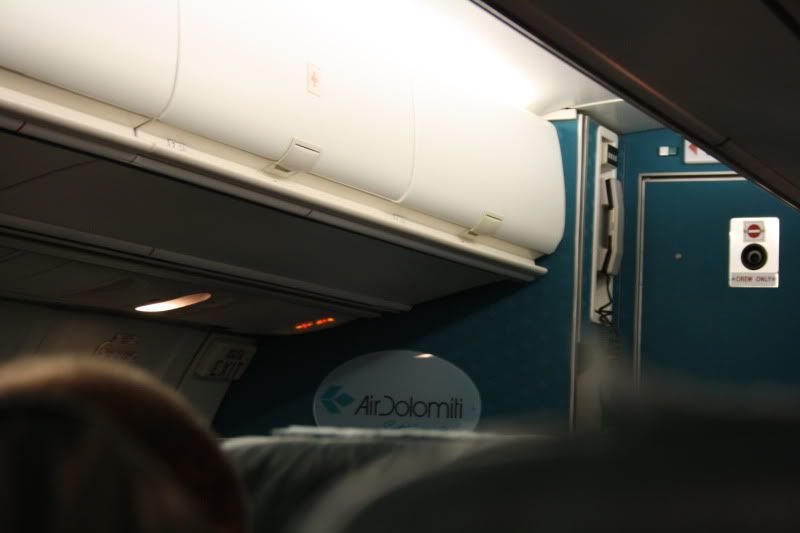 Cabin view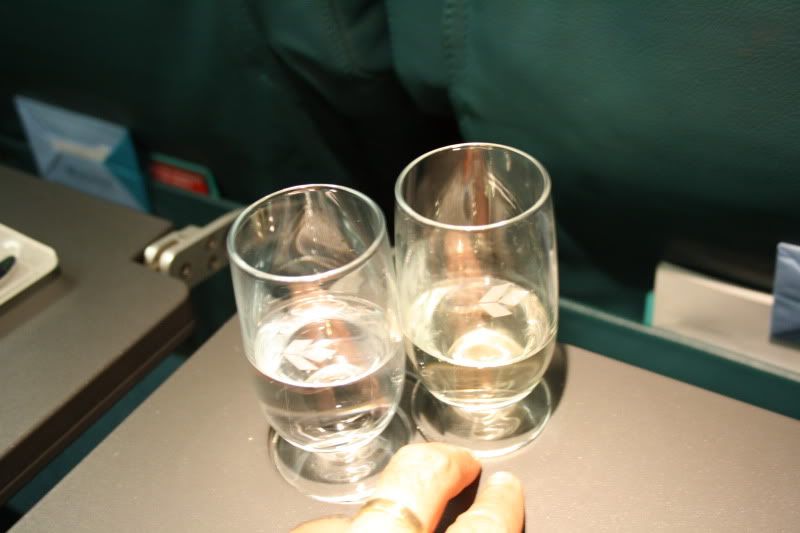 Nice glassware, with Air Dolomiti logo
As we are approaching MUC the FO informs us about our altitude and that a direct approach has been granted to us due to the delay. In a matter of minutes the cabin is cleaned and some jelly candy is passed around.
We land right away and taxi to stand at a high speed.
When we are preparing for disembarking the Fas inform that all people with tight connections (it is 21.10 and my flight is supposed to depart at 21.20 and I still do not have a boarding card as the agent at MXP said I was on a wait list although there were more than 40 open seats), I guess I am one of them , there will be some LH agents with vans taking us directly to the plane. All other passengers boarded the bus.
Connections are mentioned: Stuttgart, Shanghai, Warsaw.... and Barcelona. So there I go.
I get off the plane and I see that guy with a card on which Barcelona is written. I go to him and he asks for my boarding card , I hand him the ticket and after checking I am the one he is waiting for he asks me to ride the van and drives me around the airport. At least there were 6 other vans to collect passengers, so service here is a super ten.
As we drive around, my plane is parked at one of the G gates I thank him for the service and joke about how organized Germans are, he tells me that this works 95% of the time. I do not know what happens to the other 5%.
When we reach the gate I walk left to the outer stairs but he corrects me 'this way please' and takes out a key that opens the lower door to the gate tower. We take the elevator up and head down the bridge to the plane where the crew welcomes me by name.
I am most impressed.
MUC-BCN
LH 4482
A320-200
D-AIPX 'Mannheim'
First delivered to LH in 1991, to Germanwings in 2003 and back to LH in 2004
Gate G??
Seat 2F
The plane is half empty and everybody seems to be there for a time, it is 21.20 so the doors are secured and locked and we move to the runaway.
The plane is clean, fresh and well maintained.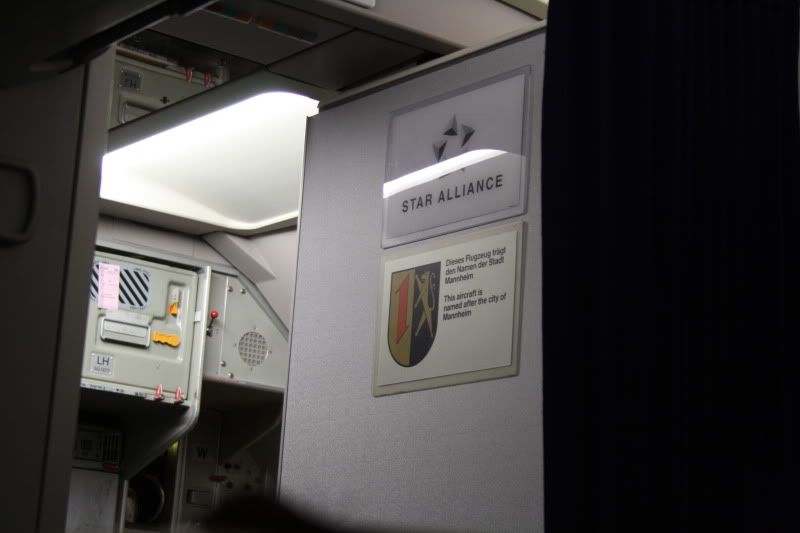 Obligatory shield of the city after which the plane is named
The purser, a middle-aged man, offers me the refreshing towel and some magazines.
Safety demonstration is done manually and we take off after some other LH planes.
Oktoberfest grounds. I assume many people down there would get similar pictures after some beers.
Once we reach our cruising altitude we are offered the traditional cold meal for LH European short flights. The cold cuts are fresh and taste really good but the dessert is like a ball of heavy concrete.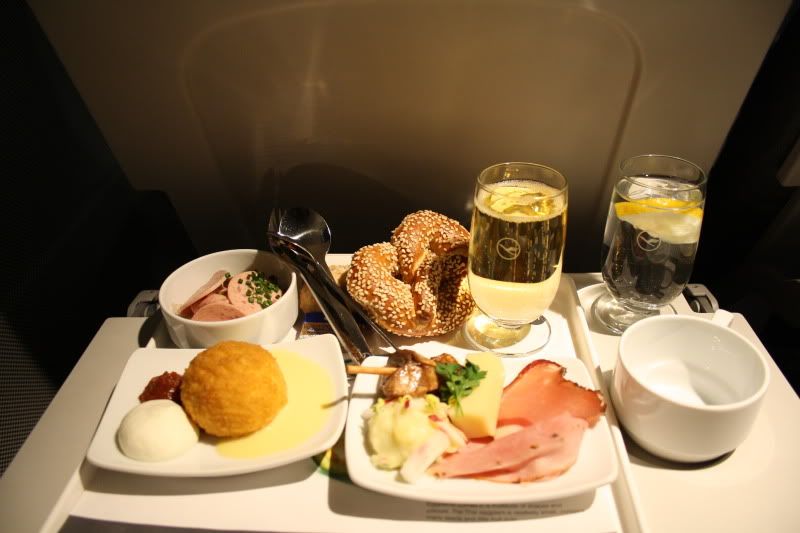 Tonight's meal
The flight is uneventful and refillings and coffee are offered throughout the flight.
Once we reach BCN area some clouds make the plane shake a bit; they are scarce but quiet thick and every time we cross one the plane shakes a bit.
But there is still one surprise before we land, all indicates that we are going to land on 07R but no, we turn over the sea and land on 02, the runaway that crosses the airport from the south and that starts right over the sea, it is a pity it is so dark because it is a nice landing.
We are quickly directed to the gate and once we park I am off for a taxi ride that takes me home in 15 minutes.
All in all a great afternoon/night of flying with some interesting surprises.
Looking forward to flying the next segment: BCN-ZRH-MXP-BCN next Saturday October 9th.
Let's see what surprises it brings.
Thanks fro reading and please feel free to write any comments.
Roger_BCN