Feedback always appreciated.
I > Background:
So my short term engagement in Bangkok ended, and I was heading back to Venezuela. It had been a great time in Asia, but I was really looking forward to sleeping in my own bed. For whatever reason, I had been craving a "cachapa" for a while and promised myself that it would be the first thing I did when I got home. However, being the eternal vagabond, I decided to break my return passage with visiting some friends in Hong Kong, and a night out in London. Though, I did attempt to get on the conViasa flight from Damascus but gave up on getting that Syrian visa.
I decided to treat myself to Cathay's First Class instead of the usual JCL flights I take. Prices on CX, QF, and BA were near identical, and since I had never flown CX, it was an obvious choice. Besides, I'd be taking CX on one of their flagship flights from their home base.
Surprisingly, there are quite a few CX F reports out there – and the lack of consistency in service made me a little worried. Some excellent reports are to be found by "thaia345", "Lufthansa747", "FbgDavidson", "Ronerone", and "Longhornmaniac" among others. I think this will be the 1st report on the HKG-LHR segment originating in HKG …
II > Pre-Flight:
a) Before Airport:
Cathay Pacific Airways is the flag carrier of Hong Kong. An anchoring member of the oneWorld alliance, it flies to 114 destinations in 36 countries worldwide, including codeshares and joint ventures, with a fleet of 126 wide-body aircraft, consisting of Airbus A330s and A340s, Boeing 747s and 777s.
Founded in 1946, Cathay Pacific has been one of the pioneering airlines in the world and has been widely regarded as one of the benchmarks of top notch service. Along with Singapore Airlines, it is probably the most recognized "faces" of consistent Asian hospitality.
Booking was done at Cathay's website at
www.cathaypacific.com.
The site is clean and I was soon able to buy my ticket – including chose my seat. I could also go back and view and edit my seat selection with no problem. There was no ability to change my ticket however … but that is really a super advanced function.
b) At Airport:
After an amazing time in Hong Kong, it was time for my flight to London. Can I just say how much I love the city? While it has definitely changed since the handover, there is still such a positive vibe I get each time I visit the place. It's cosmopolitan and diverse nature, and its entrepreneurial skills are a tribute to the ingenuity of the people of Hong Kong and I really do hope that the city retains this uniqueness and not become another mega-Chinese city. There are changes already. The Dai Pai Dong at North Point is one of my favorite places in HK to catch a meal – this time I heard more Mandarin than Cantonese and was rudely reminded that HK is changing when the mainland woman simply cut me of the MTR queue for tickets. It was just weird.
Anyways, HKIA lacks Kai Tak's charm … but continues to be one of the world's most beautiful airports, and a hub of global aviation routes. Cathay Pacific calls it home … and so imagine my surprise when it took me forever to find the First Class section for CX's check-in. There is no signage I could find, and no porters to eagerly greet me and take me to an exclusive part of the airport. In fact, after 10 minutes of walking, I finally found it at the extreme left hand. Now, unlike excusive areas of other airports (hint: Bangkok), CX's First Class area is basically a few podiums with some fancy lighting. No couches, no welcome drinks, nada. Thankfully, my agent was a sweetheart and she quickly checked me in, confirmed my FQTV info, and gave me an update on the lounges. Now, imagine my "horror" when the agent wished me a safe flight. WTF? She wasn't going to walk me to the lounge? I was supposed to do immigration and security without a porter?! Yes, I am a snob. But I blame this on Thai for having spoilt me … and damn this was an "expensive" treat to myself. C'est la vie. So after having overcome the immense shock, I meandered my way trying to find the "fast track" immigration. Now imagine my horror when this "world class" airport had NONE. I mean, forget the exclusivity of Bangkok … there were not even counters for separate immigration and security. Truly poor. It took 35 minutes to clear the entire thing, and I was not too happy at the inefficiency and pushing and shoving. This is not fitting for a world class airline like Cathay.
Anyways, I needed some breakfast and so went to "The Wing" lounge for First Class passengers. This is one of the two CX F lounges and to be honest I again disappointed. It was more of a Business Class lounge and the frills and pampering that should come from flying First was distinctly missing. I was hungry and so went to the restaurant which was too small and the wait was over 20 minutes for a table. I fail to understand why JCL passengers are allowed in here. Or, create a separate place … or, expand the thing. The poor waiters were rushed and I had to make several attempts to flag someone down for the essentials such as cutlery, etc. I don't blame them for the poor service – they were running around and the entire operation was clearly understaffed.
After my quick uninspired meal (again, all very JCL-lounge-like), I decided to check out what the deal was with the "famous" cabañas. The attendant asked me what time my flight left and let me into a spotless "cabañas". I know some A.Netters find them overrated, but I actually liked it. Amidst an extremely busy lounge, there provided an oasis of serenity and I did like the relaxing lounge chairs outside. I didn't actually take a shower, but it was a nice visit.
Since the lounge did not offer anything special (massages, etc.), I decided to go to my boarding gate. HKIA is such a nice airport and the windows make it one of the best places in the world for plane spotting. Kudos to the designers!
At the boarding gate, I queued up with other Business and First passengers and an agent came to check everyone's boarding passes. Noticing me in the F-cabin, she invited me to follow her to the front of the queue. When boarding was called, she held other passengers to process me, and I made my way to the CX 744. It was the first time I felt like I was receiving a "differentiated" product.
As soon as I entered the CX 744, I was greeted by a group of ladies who were not quite ready to receive passengers. They made a quick "hello", realized I had turned left, and heard the purser yelling, "First has arrived". Hmm. A Filipina crew member (Ms. M) came by in a bit and introduced herself. She said she would take care of me along with her junior Hong Kong colleague. She took my jacket and offered me some champagne. The champagne came in a semi-chilled glass, but was poured at the seat. Next came the usual FCL routine: cold towels, menus, pyjamas (nice Shanghai Tangs), and the amenity kit. Newspapers and magazines were available along a small counter.
F had 2 paying customers (including myself) – 2 captains – and a bunch of operational upgrade. Thus, only 1K remained empty. The privacy of the suites made it feel exclusive, but it lacked the initial welcome I had felt on Thai. Mark (BA 319-131), I think I am beginning to understand your comments on the suites …
Now, I must comment on the first impression of filthiness of the cabin. There was left-over crumbs on display on the 1A magazine rack (unacceptable in FCL, and especially so given that there were in clear display). When I went to the bathroom, there was leftover toilet paper and stuff. Um hello, I am the first to board, and the first to use the FCL lav. Couldn't the crew have checked this during their security check? Uugh.
Airport - External:
(Hong Kong Airport)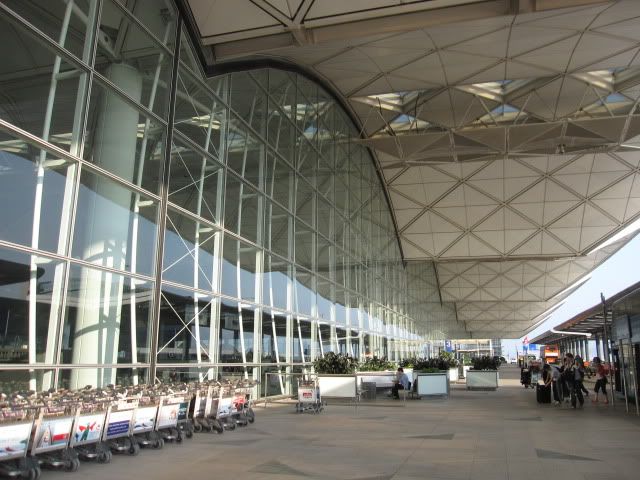 Check-in:
(First Class Check-In Area & Podiums)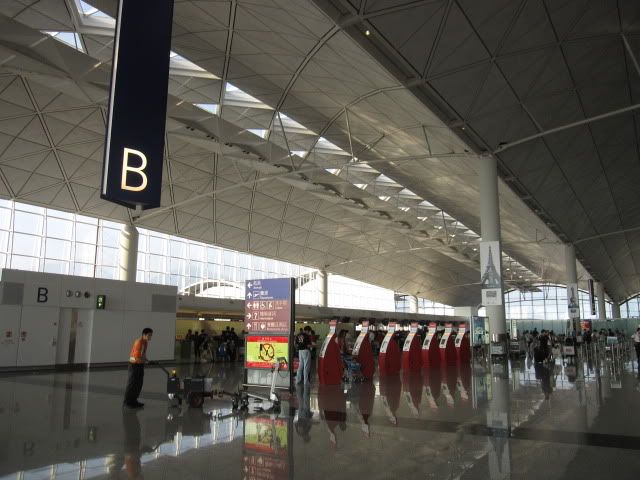 *
Airport - Internal: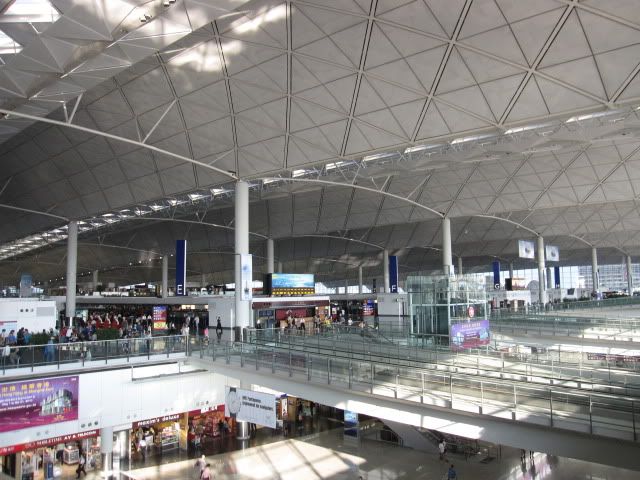 *
*
(FIDS)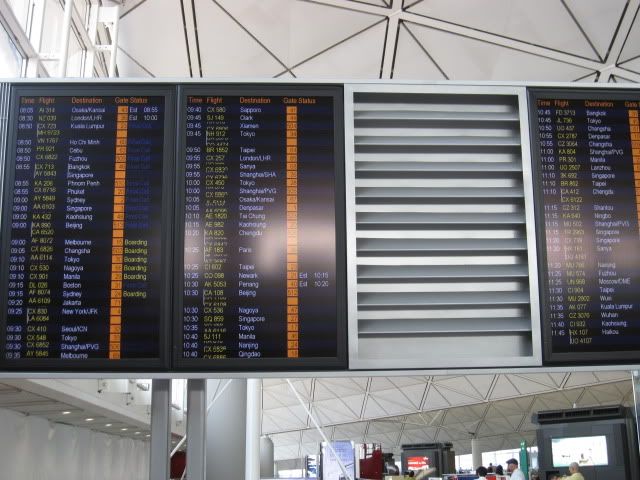 (Post Security @ HKG)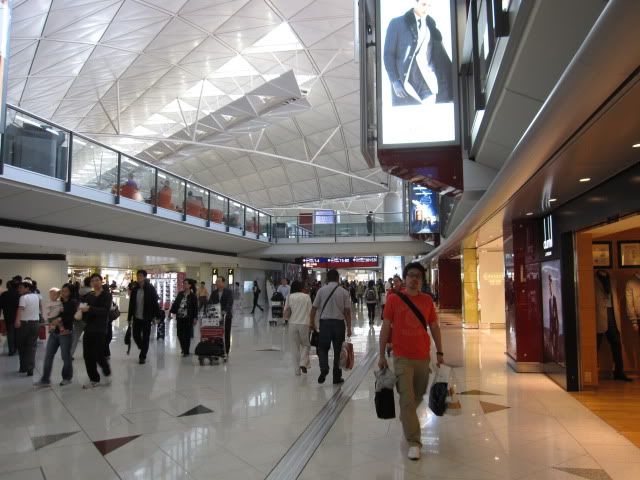 *
Scenes of the tarmac:
*
*
(I always forget how long –and graceful – the 346 is)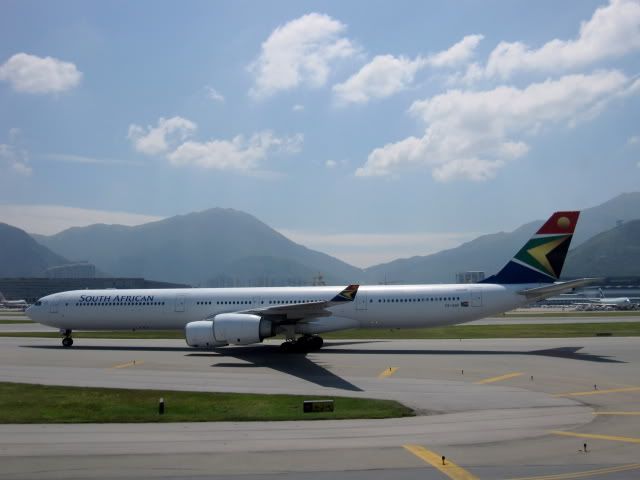 *
*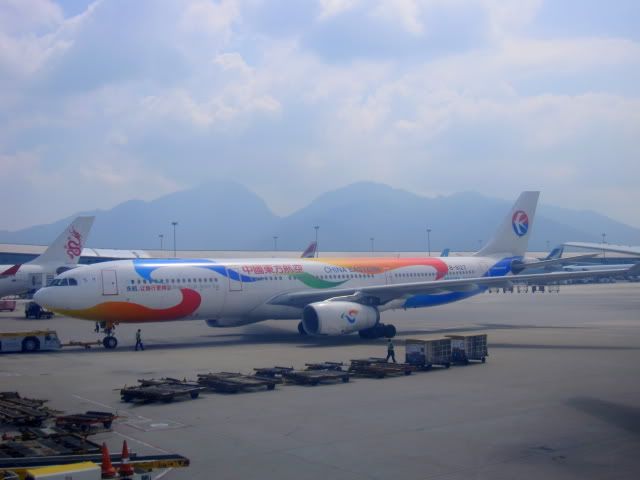 Lounge
(Cathay Pacific's First Class Lounge – The Wing)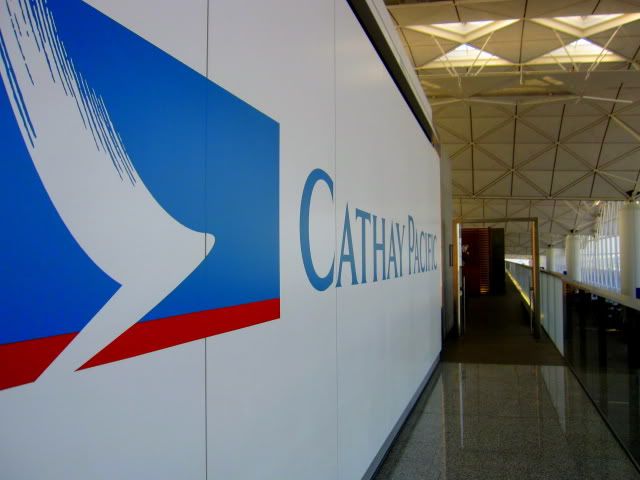 *
(To me, looks like a generic J lounge – and actually, the J section was no different)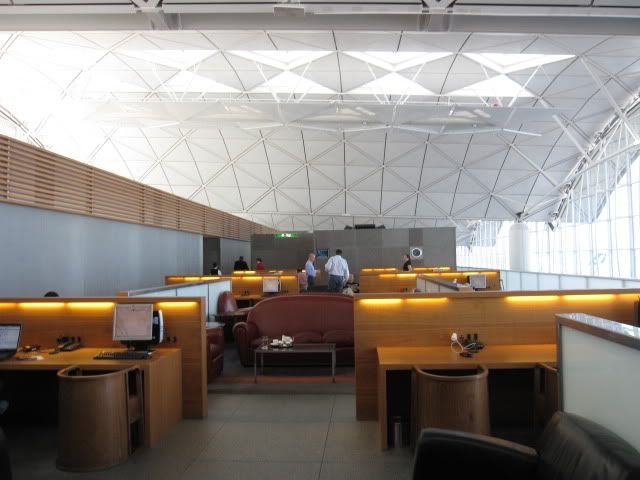 *
(The Library)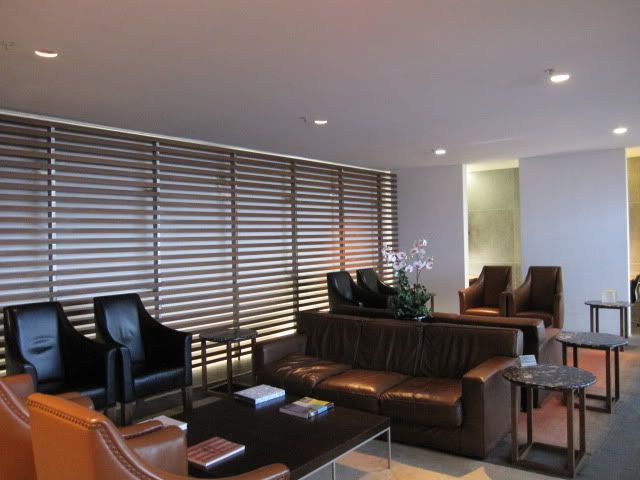 *
(The Busy Dining Room)
*
*
(And, the famous Cabañas)
*
*
Boarding:
(Gate area)
*
(Boarding)
NONE
III> In-Flight:
a) Service Schedule + Impressions:
Cathay's First Class service is supposedly tailored to passenger needs. As mentioned, prior to take-off, drinks – cold towels – menus – pyjamas – amenity kit. After take-off, first meal service commenced. 2nd meal service (larger) taken at leisure. Fast track cards distributed prior to arrival.
So anyways, after we initially pushed back, the captain came on the PA and announced that one of the parts was not working, and we would have to get back to the gate. Always an ominous sign, I decided to catch up on reading the newspaper. Ms. M (Filipina lead) came to ask for more drinks orders – I ordered the always fantastic Pacific Sunrise (one of CX's signature drinks, and something I highly recommend). 25 minutes later, I was still waiting for it, as Ms. M was busy gossiping with one of the captains. Again, not good. The younger crew member (let's call her Ms. HK) came by and I said I had been waiting for 25 minutes … she was super apologetic and soon got me my drink. Anyways, then the fun began …
As the delay kept on getting longer, a lot of us FCL passengers started to socialize. I was having an interesting conversation with a Brit who managed his own fund who joked I should be traveling in the back (when I said I worked in the industry). I always liked Brit humor. Anyways, during this time, I got to partake in an incredible conversation.
Gent in 4A: "Where are you from?"
Gent in 4K: "Australia. And you?"
Gent in 4A: "Oh. Me too. Where abouts?"
Gent in 4K: "You don't sound Australian."
Gent in 4A: (smiling) "I didn't know we all sounded alike."
Gent in 4K: "You know what I mean."
Gent in 4A: "Not really. But, family from Bulgaria … moved to Australia around 15 years back."
Gent in 4K: "See, I knew you were not a real Australian."
The poor "Bulgarian", Brit, and I looked shockingly at the chap in 4K. Here are three people in a premium cabin of a multi-cultural carrier and you get what I would say is kinda xenophobic no? There is this hard working immigrant from Bulgaria who has obviously contributed to Australian society and can pay for a First Class ticket, and this is what he gets?! I shudder to think what less educated people think where he is from! Anyways, I really should keep quiet … but have been trained for otherwise. Quickly, I commented: "Funny. I always thought real Australians were Aboriginal. You certainly do not look the part".
The man in 4K muttered something and went back to his seat. The three of us continued our conversation and it was interesting. The "Bulgarian" appreciated my gesture and said snide remarks such as this are very common in Australia. The Brit chimed in that after growing up in London, he was horrified when he moved to Sydney. According to him, Australia is like England in 1940s. All very fascinating and sad.
Anyways, the delay grew longer and after 2hours, we finally bid adieu to HK and climbed to our cruising altitude. The incident left me with a bitter taste – and as I continued my rather liberal partaking of the cocktail (always, Pacific Sunrise), I got a tad sad thinking of how much misplaced anger there is.
By the way, one thing I did like was that during the delay, the crew offered mobile phones for those who wanted to call and notify people.
b) Aircraft + Seats:
There continues to be something graceful about a 744 – and Cathay's was no different. Perhaps, it is just the feeling I get from seating at 1A and the walls taper elegantly. Looking from the outside, it is also an interesting feeling locating 1A in relation to the aircraft and the thought that the captain is literally above me.
Cathay's hard product in First is very good. It is a near-suite and probably just a notch below the "suites" of Jet Airways and Emirates. There is ample privacy and the seat is comfortable in all positions. In full-flat mode, it goes down to full-bed and the crew makes delivers the perfect turn down service. Another thing one notice is the width of the seat. I found them to be huge and no problem to have a "partner" cuddle with you. Also, the dinner setup is huge and you can comfortably have a meal for 2.
The subdued colors of the cabin are elegant and have a warm hue to it, and the bathroom is one of the nicest I have seen on a F-cabin. I am also trying to remember if there is any other carrier with 2 windows in the bathroom.
What does defeat the ambience is the poor cleanliness level – the filth left over on my seat and in the bathroom while on the ground is not fitting to a premium operation.
Oh finally, why no bar/lounge area?
Aircraft:
(744 @ HKG)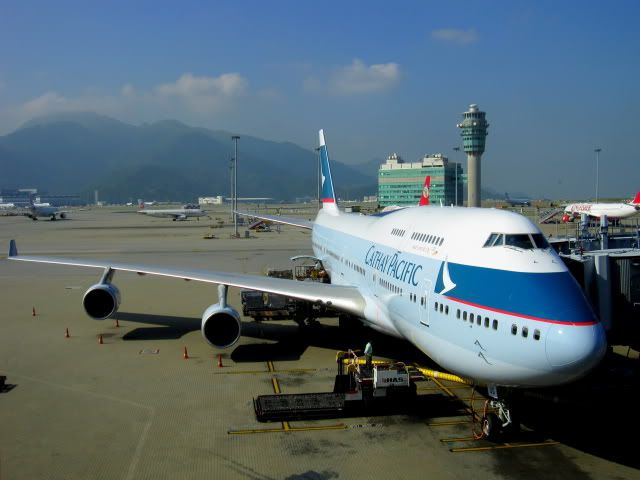 Views from Aircraft:
(Sister ship)
*
*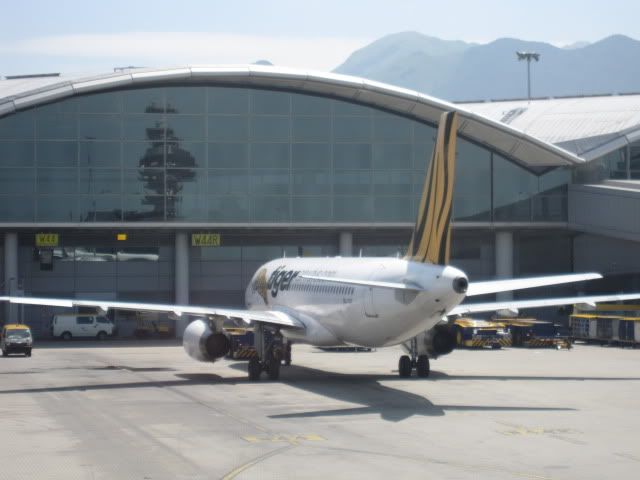 *
*
(Reflections)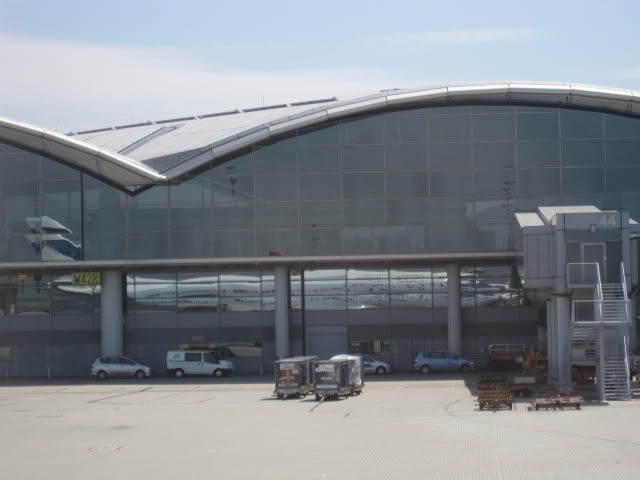 *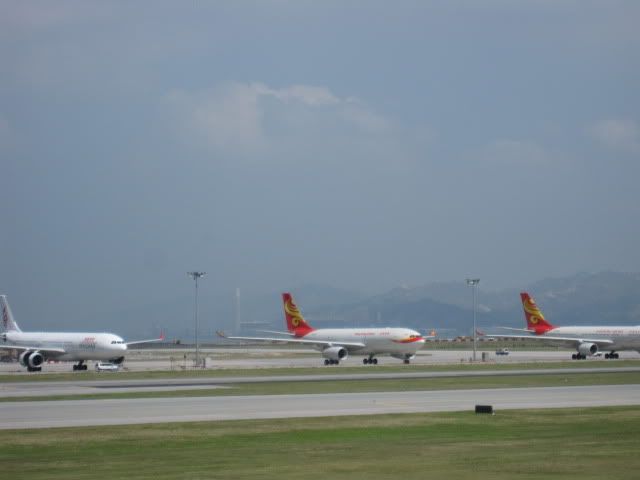 *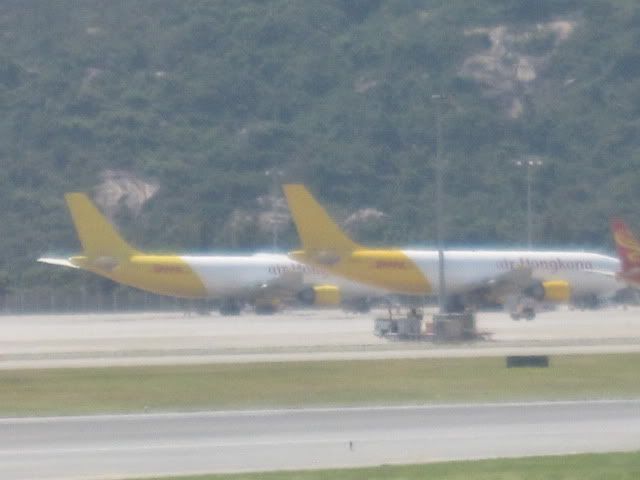 *
*
*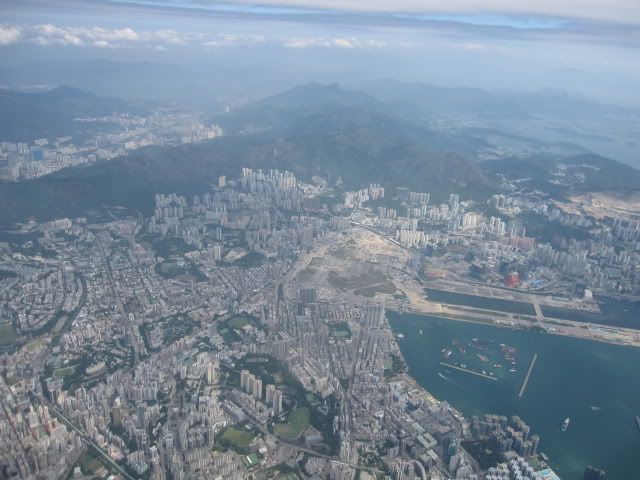 *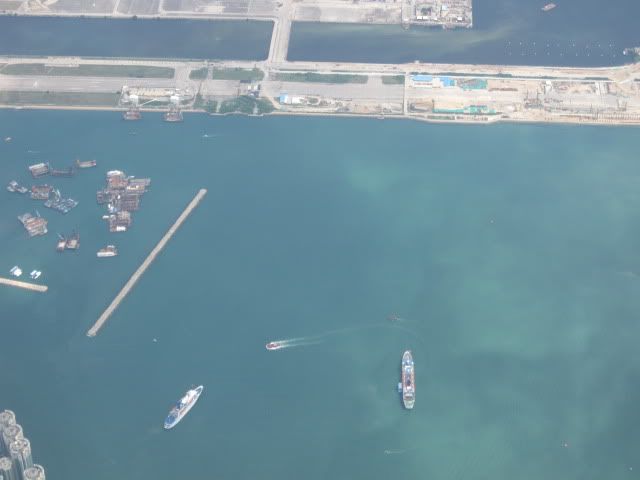 *
*
General Seat Views + Seat Legroom
(Seat)
*
(Front of seat)
*
(Seat controls)
*
*
(Legroom)
*
(Suite Sign)
Seat Recline + Angle View: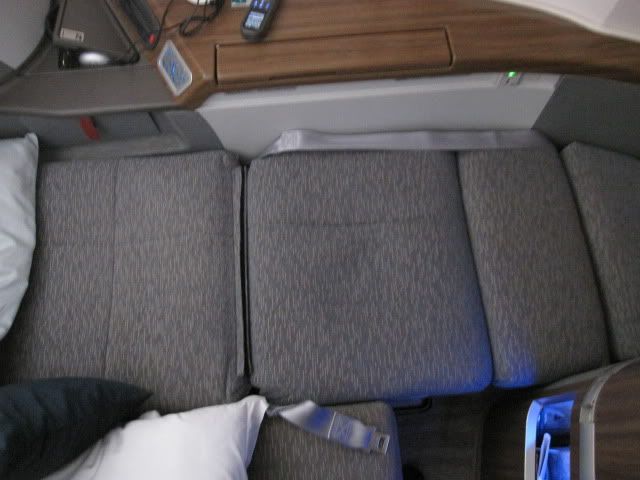 *
(Duvet and turn down service)
*
*
Cabin:
(Oh, Ms.M – other passenger exists beyond the captain at 3A you chat the whole time with)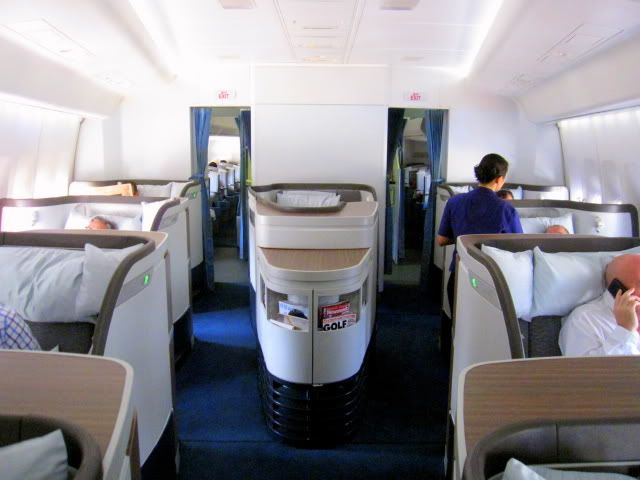 *
*
(Now you know why the first window on the CX 744 looks shut from the outside – love the orchid)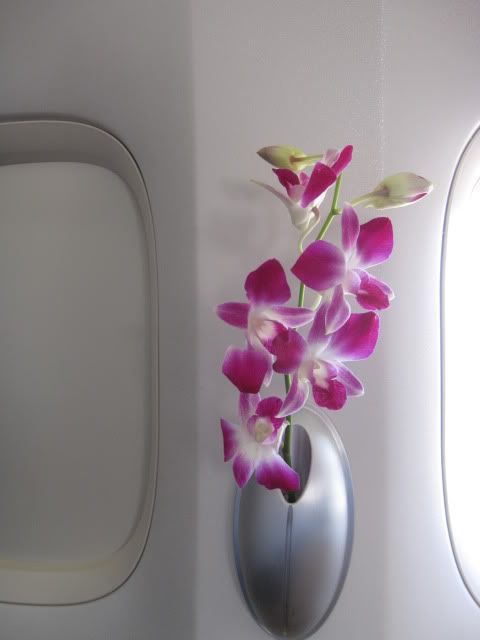 *
(Bathroom Amenities + Awesome bathroom)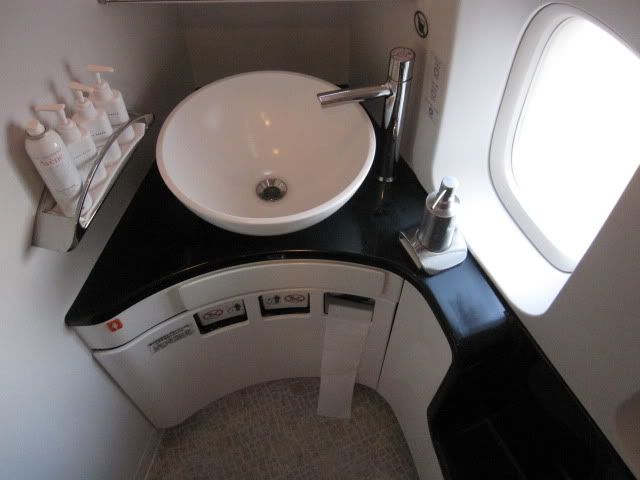 *
(Double window)
*
(Motif)
*
(You just have to look over the filth … at boarding)
*
(… and the crumbs leftover greeting me as I boarded)
*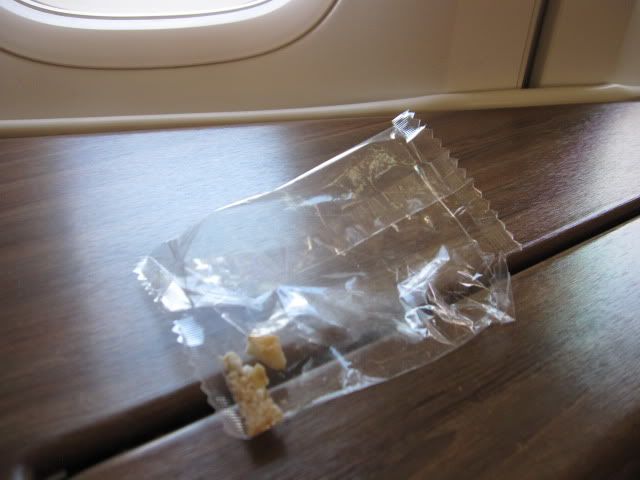 *
(Normally, they are storage spaces)
*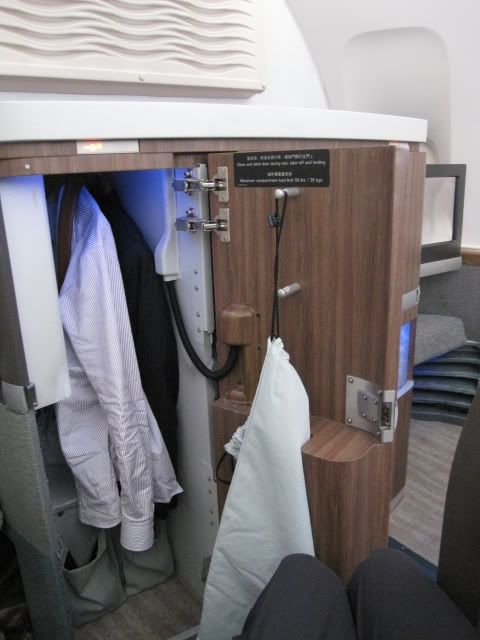 *
(Though, unlike TG-9W-QR, etc., no one will come and hang anything/or offer)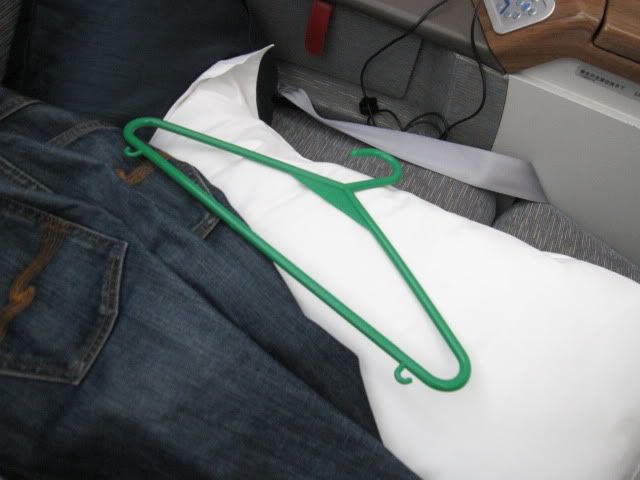 *
(One of the cool things I like about the 744 ceiling – still looks futuristic spaceshipy)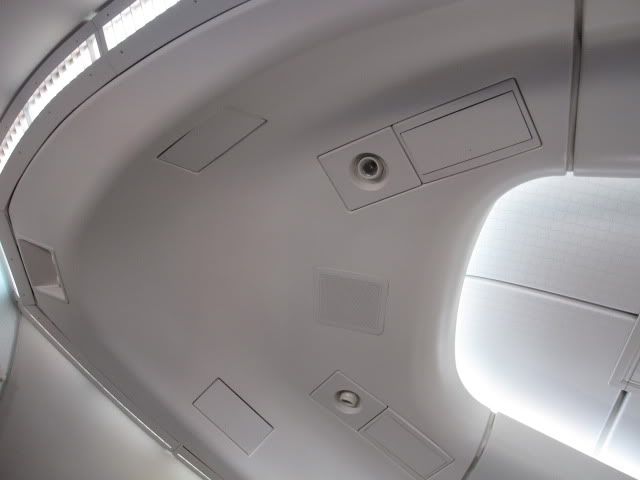 *
c) Meal + Beverage:
FCL meal service should be special. CX definitely leaves much to be desired. There were issues both with the actual meals, and in their execution. Table setting was elegant with crisp linens heralding the start of the service. Again like Thai, I was left underwhelmed by the quality of the crockery. Anyways, the meal service commenced with a generous and nice warm bread basket and fresh fruits. I also took the forest berry smoothie which was delicious. For the main course, I chose the dim sum platter which turned out to be very good. Now, my table setting had a soup bowl placed next to it. Can some of my Chinese A.Net counterparts educate me on why this was? Was this meant for the dimsum? I am fairly experienced in Chinese cuisine and kept on thinking some kind of broth would accompany. This never came. Some pralines were offered, but it took 20 minutes before my request for a glass of port wine came.
Now comes the strange part. The second meal service was supposed to be at me leisure. I requested the same around 3 hours prior to landing. It was supposed to have commenced with a caviar and balik service. But guess what? They ran out! How the hell do you run out of caviar on your flagship flight for one of the two paying customers is beyond me? It was extremely disappointing. Anyways, instead of asking me what I wanted, Ms. M told me that there was very few choices left and I basically had to have the roasted red pepper soup (it was nasty), the mixed prawn salad (OK), and the deep-fried prawn as a main. To their defense, the main dish was delicious and perfect. Why it took another 20 minutes between my salad and my main is beyond me.
Then it got worse. I had gone to the bathroom, and was looking forward to dessert and a glass of port wine when I returned. I had actually mentioned to Ms. M how much I was a fan of the Ramos Pinto port and was looking forward to another glass. So imagine my horror when I came back to my seat with the entire linens cleaned up and the fast track form sitting at my table!
I was disappointed and found the whole affair to be in poor taste. I felt like I was imposing on the crew – and just felt a little weird asking for my dessert. It was like I was entitled to a handout and now whining that I had not received it. Anyways, Ms. M came by when I rang the call button. I asked her about the dessert and this was the exchange:
Me: "I see you cleared my table. I was looking forward to that dessert."
Ms. M: "We are landing and I have to prepare the cabin."
Me: "There is still 90+ minutes of flying time and I'm sure LHR will have a hold."
Ms. M: "Ok. What do you want?"
By that time, and the lack of apologies, had totally turned me against this crew and this experience. I told her "never mind" and went to catch a few winks of sleep.
Overall, beverage choices were excellent – including Blue Label. There wasn't a choice of champagne and I am not a fan of Krug – but I know it is exemplary. CX's signature cocktail, the Pacific Sunrise is truly amazing.
(Menu)
*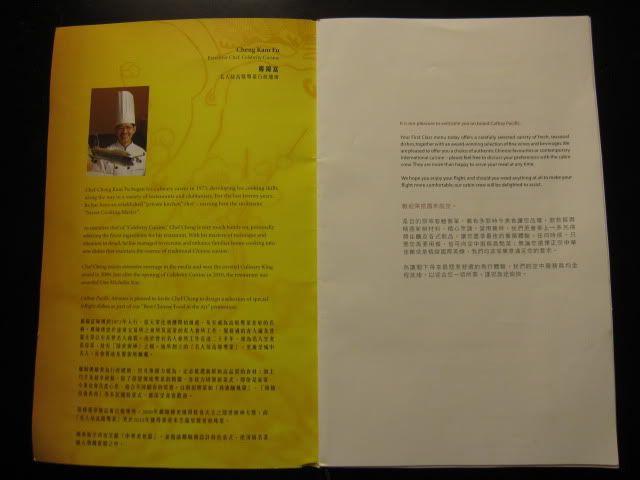 *
*
*
(An uniquely CX touch – welcome note – nice – wish it was genuine ...)
*
(Welcome champagne + more)
*
(Awesome Pacific Sunrise)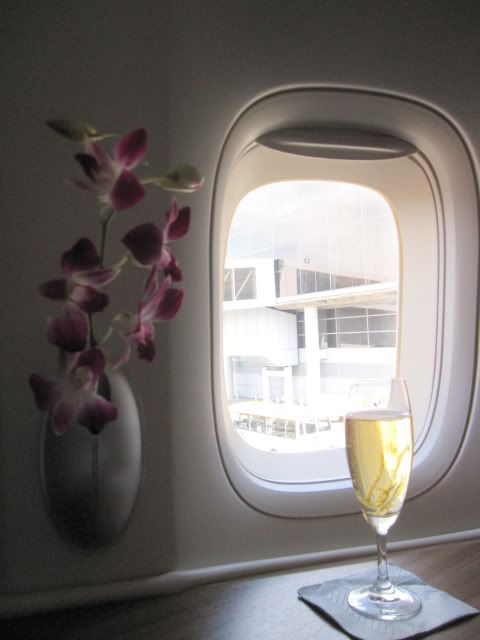 *
(Another one)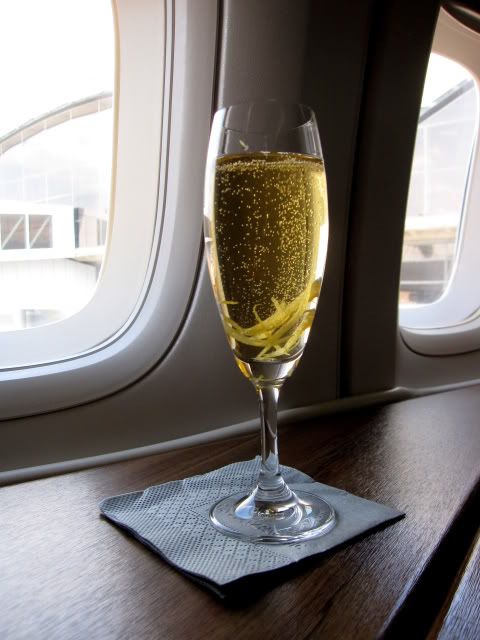 *
(1st Meal Service)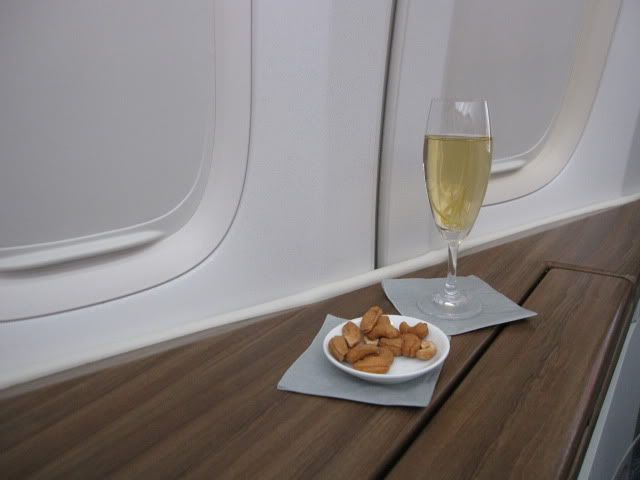 *
*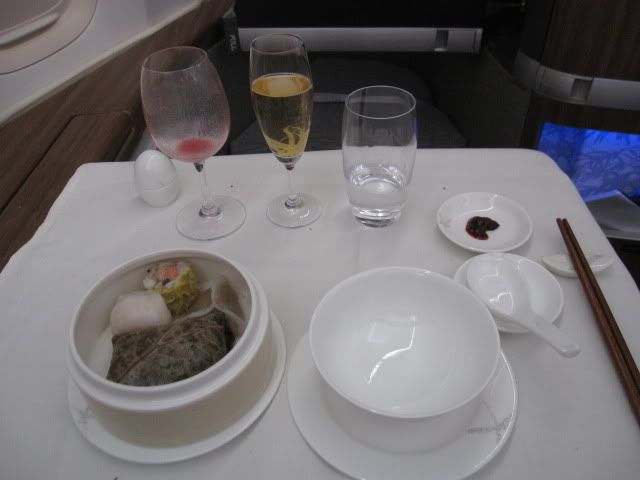 *
*
*
(Tea en-route)
*
(2nd Meal Service)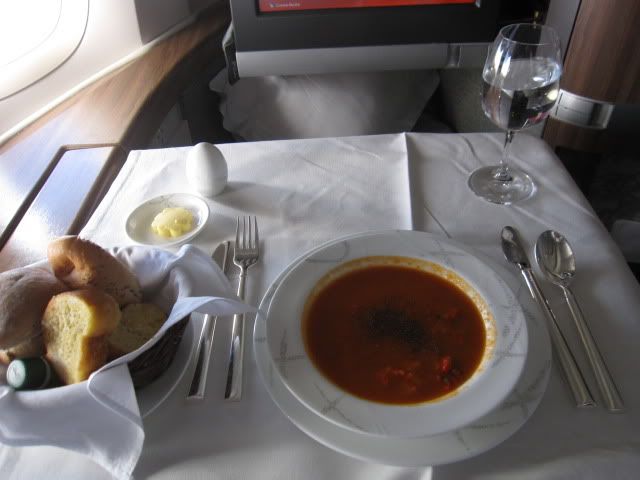 *
*
(Tick-tock-tick-tock ... where is that main course?)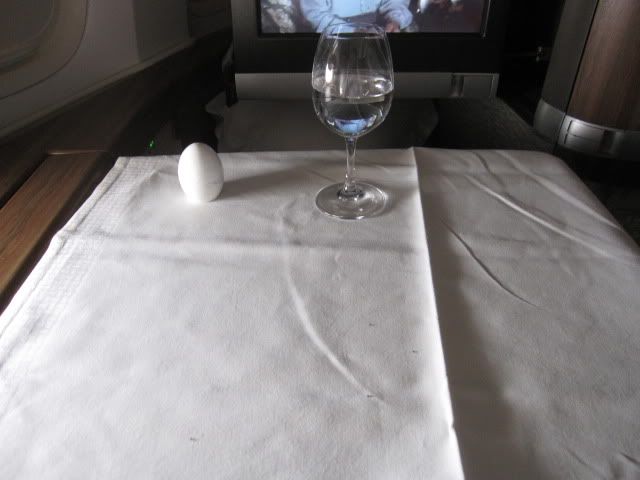 *
(Thankfully, it was great)
*
(Now, for some dessert ... wait ... what? Why have you placed immigration forms instead?)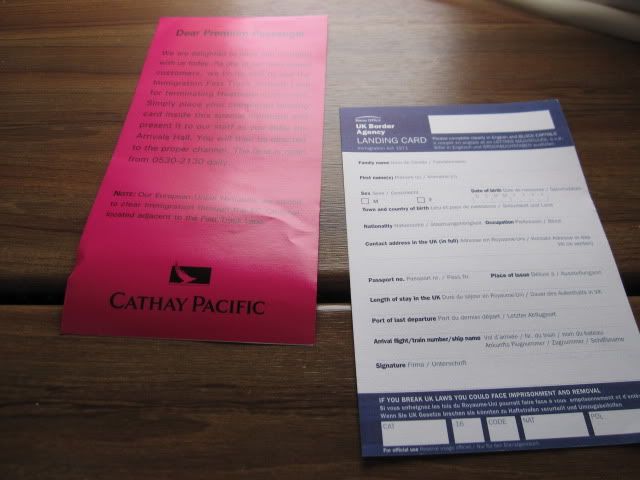 d) Inflight Entertainment:
Cathay's IFE is really good. The big screen and the nice noise canceling headset are good complements to the strong selection of movies, tv, music, games, and other entertainment options. Studio CX has nearly 75 movies – and they are diverse, relevant, and have enough of new releases. It is nothing like Emirates' ICE – definitely the industry leader with SQ, but it is just one notch below that. One feature I did like was the continuous display on the screen and the hand-held joystick on the flight time remaining, and the warning that the program might not end when I chose a tv program towards the end of the flight.
The in-flight magazine was good and had the right balance of articles and airline info. BTW, does CX not produce an in-flight guide anymore?
(Controls + Headset)
*
(Tells flight time)
*
(IFE System)
*
*
*
*
*
*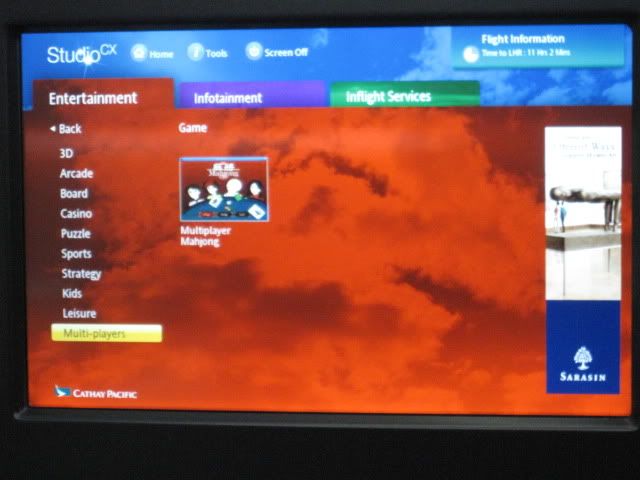 *
*
*
*
(Useful)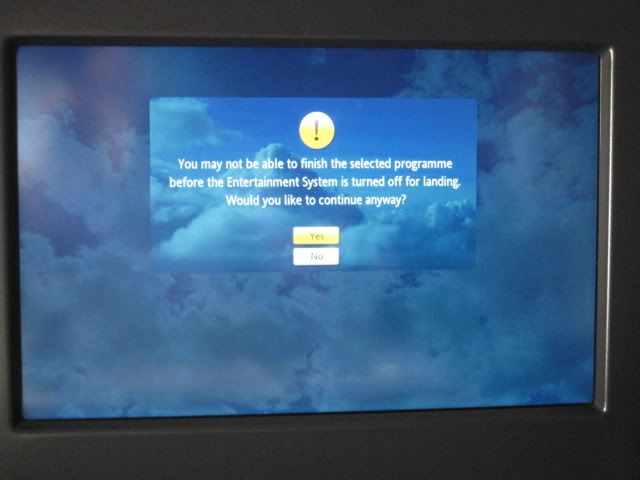 *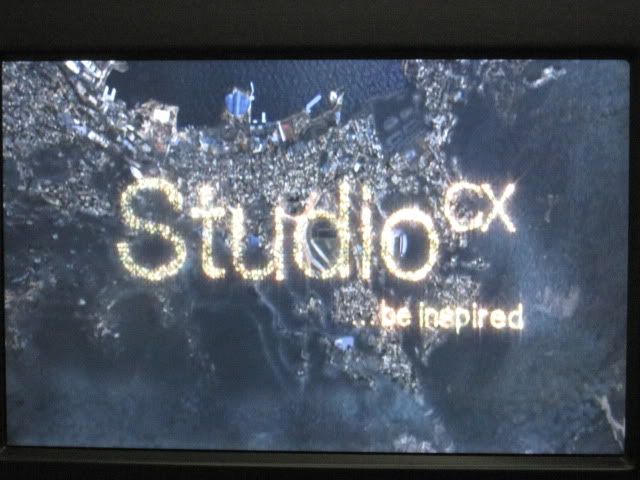 *
("In-flight magazines", Boarding Passes, etc.)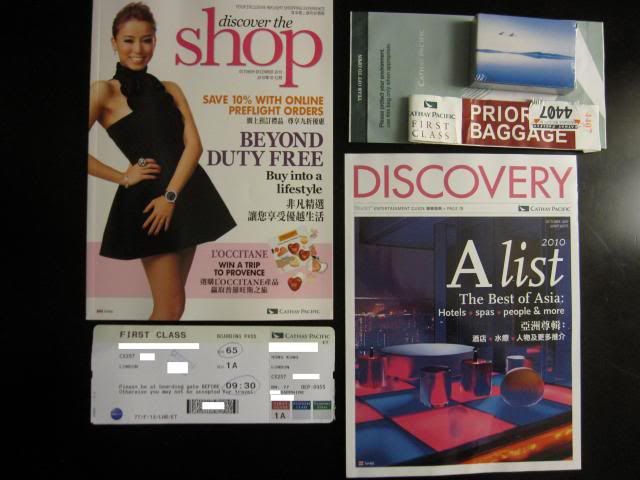 e) Crew:
Besides the actual food and the poor ground experience, this is where Cathay failed most spectacularly. This crew just did not get premium First service. Truly a disappointment as I have always been a fan of CX crew. In fact, I think I feel horrible recommending CX to so many people on this site just because of their crew. I really have no idea what happened to my crew. So many observations on their poor service delivery – here are a few of them which stand out:
+ I was NEVER once addressed by my name during the ENTIRE flight. At the end when I was disembarking, the purser remembered my name for my waiting LHR chaperone.
+ What does the purser do on a CX flight? She never introduced herself during the entire flight.
+ Several times, the crew just forgot my drink order. Or, should I say Ms. M?
+ Ms. M spent a LOT of time chatting with the captain in 3A.
+ I felt like anything I requested was a bother – and was rushed and impersonal. No "enjoy your meal" or any of those standard text book pleasantries learnt at cabin crew training.
+ Service was VERY slow.
+ After I went and changed to my PJs, I got out of the bathroom with my clothes and stood at the galley. Ms. M just looked at me without offering to hang my clothes (a normal F class expectation), or even offering me a hangar. Um, hello? Do I have to ask you for everything?
+ First time that the purser or any senior crew member did not come to thank me for my business.
Basically, a group of crew who just needs to go back and learn what customer service in First Class is truly about. Extremely disappointing service on all levels and not what is usually expected from Cathay Pacific. If they continue down this slippery slope, they will not be the airline that I had grown to love. I recognize they are having a lot of management issues – but this is systematic of an airline not willing to change.
IV> Post-Flight:
Landing at LHR was smooth and I was soon gate-side. Thankfully, a wonderful LHR agent was at the gate to greet me and walk me to my limo. For those unaware (since CX does not publicize this), full paying F pax can take advantage of a limo service and my nice Mercedes limo took me to my apartment in Maida Vale within 45 minutes.
(LHR Arrival – someone at the aircraft door to walk me to my limo)
*
(Limo)
*
(LHR)
*
*
(Hello sister)
V> Impressions + Scores:
Cathay Pacific used to be one of the flag bearers of Asian hospitality. I don't know how long it can continue to claim the same. It seems that inertia has crept into the airlines service delivery – perhaps the lack of any fresh ideas – that management seems to grapple with.
There is nothing special about the service on the ground. The lack of special First class lanes for immigration and security is absolutely poor. The First class lounge is on par with Business class lounges elsewhere, and there really is nothing separating the two.
On board, the dismal crew needs to be retrained on how to conduct proper service delivery. This is First Class people. Perhaps, send them to Thai or Jet Airways to learn how to handle the nuances of top notch service? The only crew who tried was the young girl from HK who was relegated to the background. Where was the purser during the flight? And, what's up with the filth that should have been taken care of prior to my boarding?
CX has the hardware – the new seats are great, and the IFE is also great. It really needs to get back to the basics to improve its customer delivery. BTW, can someone tell me if some kind of conscious decision was taken not to hire any Malaysian/Indian/Thai FA's? These used to be the foundations of great service – and they are increasingly absent.
For the obscene prices First Class commands, it MUST distinguish itself from Business … let alone Economy. In my humble opinion, readers are better suited to spend their hard earned money on flying another airline, or just be OK with Business on CX. I know the narrow seats are a nightmare, but beyond the better seat, there really is nothing distinguished about CX's F.
This experience has left me with a poor taste about CX. I would think twice about spending money to fly them in FCL. Two thumps down!
VI> Other Trip Reports:
PREMIUM:
9.27: THAI AIRWAYS **FIRST** (108): BKK-LHR: 07/2010
8.66:
Brussels Airlines (93): FIH-BRU: 01/2010
8.64:
Turkish Airlines (59): JFK-IST: 11/2008
8.63:
Jet Airways (88): JFK-BRU: 10/2009
8.61:
Air Canada (49): YYZ-SCL: 06/2008
8.54:
Turkish Airlines (77): GRU-DKR-IST: 04/2009
8.36:
Kingfisher (98): BOM-HKG: 01/2010
8.30:
Jet Airways (74): KWI-BOM: 04/2009
8.23:
United Airlines (72): SFO-SYD: 03/2009
8.11:
Aeroflot (33): MOW-DEL: 09/2007
8.05:
Air India (80): CCU-JFK: 06/2009
8.04:
Korean Air (40): NRT-ICN: 10/2007
8.02:
Delta Airlines (24): JFK-CDG: 08/2007
7.66:
Sri Lankan (104): DEL-CMB: 07/2010
7.64:
Royal Jordanian (91): AMM-YUL: 12/2009
7.61:
China Southern (103): LOS-DXB: 04/2010
7.57:
Pakistan Airlines (102): ORD-BCN: 06/2010
7.46:
LAN (55): YYZ-JFK: 09/2008
7.82:
Singapore Airlines (06): EWR-SIN: 09/2006
7.38: Cathay Pacific ** FIRST ** (109): HKG-LHR: 10/2010
7.25:
Iran Air (88): BOM-IKA: 12/2009
7.23:
Virgin Atlantic (81): BOS-LHR: 07/2009
7.14:
Swiss (52): SCL-GRU: 06/2008
7.11:
Aer Lingus (105): MAD-IAD: 05/2010
7.11:
Austrian (79): VIE-JFK: 06/2009
7.07:
Privatair (84): BOM-FRA: 08/2009
7.02:
Qatar (68): DOH-JFK: 01/2009
6.96:
Etihad (61): JFK-AUH: 12/2008
6.93:
Delta Airlines (18): SEA-JFK: 11/2006
6.84:
ConViasa (65): CCS-DAM: 01/2009
6.82:
Air Burkina (106): BKO-OUA: 06/2010
6.81:
Air Canada (17): ICN-YYZ: 10/2006
6.70:
KLM (32): EBB-AMS: 08/2007
6.52:
Emirates (99): LHR-DXB: 02/2010
6.39:
South African (97): EZE-JNB: 01/2010
6.36:
Privatair (60): MUC-BOS: 12/2008
6.29:
TAM Brasil (96): POA-EZE: 02/2010
6.25:
Korean Air (45): NAN-ICN: 10/2007
6.21:
Iberia (87): BOS-MAD: 10/2009
6.11:
A SKY (107): OUA-COO: 06/2010
6.11:
TAP Portugal (53): GRU-OPO: 06/2008
6.00:
Gulf Air (75): BOM-BAH: 04/2009
5.88:
African Express (89): DXB-NBO: 11/2009
5.75:
Singapore Airlines (16): CCU-SIN: 10/2006
5.64:
SATA Azores (101): BOS-PDL: 04/2010
5.64:
NorthWest (46): ICN-NRT-SEA: 10/2007
5.54:
Ethiopian Airlines (95): ADD-BOM: 01/2010
5.46:
Icelandair (83): KEF-BOS: 08/2009
5.39:
LOT (54): WAW-JFK: 06/2008
5.21:
Egypt Air (73): CAI-IST: 02/2009
5.07:
TACA (66): JFK-SAP: 01/2009
4.42:
Air France: CDG-JNB (25): 08/2007
ECONOMY: Long + Medium:
9.26:
Air India (48): JFK-DEL: 02/2008
7.38:
Avianca (01): BOG-LIM: 07/2006
7.07:
Sri Lankan (62): KWI-CMB: 12/2008
7.00:
LAN (94): IPC-SCL: 01/2010
6.41:
Avianca (78): JFK-BOG: 05/2009
6.41:
American Airlines (58): LHR-BOS: 11/2008
6.39:
Condor (85): SEZ-FRA: 09/2009
6.26:
Jet Blue (21): CUN-JFK: 02/2007
6.06:
Air Canada (04): YYZ-YVR: 09/2006
5.89:
USA 3000 (19): PUJ-BDL: 01/2007
5.85:
Spanair (69): MAD-LPA: 02/2009
5.79:
Air New Zealand (42): RAR-NAN: 10/2007
5.52:
Aerolineas (86): USH-AEP: 10/2009
5.46:
TAP Air Portugal (23): OSL-LIS: 05/2007
5.19:
Air Europa (70): LPA-MAD: 02/2009
5.16:
Iberia (71): MAD-BOS: 02/2009
5.11:
Air China (82): FRA-PEK: 08/2009
ECONOMY: Short
8.56:
Paramount Airways (38): BLR-MAA: 09/2007
8.56:
Kingfisher (64): HYD-CCU: 12/2008
8.24:
Kingfisher (14): IXA-GAU: 10/2006
7.87:
Indian (34): BOM-MAA: 09/2007
7.72:
Alliance Air (13): CCU-IXA: 10/2006
7.57:
Indian Airlines (10): DEL-CCU: 09/2006
7.23:
West Jet (03): YYC-YVR: 09/2006
7.15:
JetLite (37): BOM-GOI: 09/2007
6.98:
Air Koryo (100): PEK-FNJ: 04/2010
6.70:
Spice Jet (09): CCU-DEL: 09/2006
6.63:
Air Fiji (44): NAN-SUV: 10/2007
6.63:
Jazeera (67): DAM-KWI: 01/2009
6.58:
Air Tran (02): EWR-MDW: 08/2006
6.48:
Air India Express (63): CMB-MAA: 12/2008
6.44:
CO Micronesia (39): ROR-YAP: 10/2007
6.41:
Pacific Sun (43): NAN-SUV: 10/2007
6.37:
Skybus (47): SWF-CMH: 02/2008
6.33:
Kenya Airways (29): NBO-BJM: 08/2007
6.33:
Sky Europe (56): LTN-BTS: 10/2008
6.31:
Indigo (15): GAU-CCU: 10/2006
6.31:
easyJet (57): BUD-LTN: 11/2008
6.22:
Air Link Swazi (28): MTS-JNB: 08/2007
6.22:
Air India (36): HYD-BOM: 09/2007
6.13:
Adam Air (07): SIN-CGK: 09/2006
6.13:
Air Rarotonga (41): RAR-AIT: 10/2007
6.00:
Transairways (27): INH-MPM: 08/2007
5.95:
Air Canada (05): ALB-YYZ: 09/2006
5.85:
SAS Norge (22): OSL-AES: 05/2007
5.81:
LAM Mozambique (26): JNB-MPM: 08/2007
5.69:
Air Deccan (12): IXZ-CCU: 10/2006
5.67:
Rwanda Air Exp (30): KGL-NBO: 08/2007
5.37:
Felix Airways (92): SCT-SAH: 12/2009
5.11:
Aero Republica (76): BOG-CCS: 04/2009
5.07:
Go Air (35): MAA-HYD: 09/2007
5.00:
Sky Airline (51): IQQ-SCL: 06/2008
4.96:
Valuair (08): CGK-SIN: 09/2006
4.78:
Air Comet Chile (50): SCL-IQQ: 06/2008
4.74:
Fly 540 (31): MYD-LAU: 08/2007
4.33:
Viva Aerobus (20): ELP-MTY: 02/2007
4.11:
Air Sahara (11): CCU-BOM: 09/2006
(Note on Codes: Y – Economy, J – Business, F – First :: I/D – International/Domestic :: SR/MR/LR – Short/Medium/Long Haul)
(Note on Date: Dates are modified to be +/- 3 days from actual flight date to not reveal actual flight pattern)
VII> Other Pictures:
(Amenity Kit – Men's and Woman's)
*
*
(Pyjamas – AWESOME! – highlight of the flight)
[Edited 2010-10-10 00:03:58]