After several failed trip reports due to crashing computers, loss of photographs and other various obstacles, I finally bring you...
Helsinki via Stockholm with an SAS 737-600 and Blue 1 RJ85.
Introduction
In the past few months I've been working as cabin crew with a large European low cost airline, and in my months roster I found that I'd been given 5 days off. Not wanting to waste the time off I figured it was about time I wet exploring. Weeks later I realise I still haven't booked anywhere so three days in advance, I decided to finally book somewhere. With a slightly optimistic mindset I looked at North America and breifly at the Middle East. After (unsurprisingly) not finding any practical options I looked closer to home. Iceland, Eastern Europe, Scandinavia etc. Finally I came across the Blue 1 website and found they had some fairly reasonable options to Finland via CPH, ARN or OSL with aircraft ranging from SAS MD80's and 737's to Blue 1 RJ85's, MD90's and 717's. Having looked a bit closer timings for MD90's and 717's weren't favourable. Prices and times however were looking good for flights on a 737-600 and RJ85, both new sub types for me. Staff travel back from HEL a couple of days later were also cheap so a trip was born. LHR-ARN with SAS on a 737-600, ARN-HEL on a Blue 1 RJ85, two nights in Helsinki, then HEL-LGW on U2. Estonia had always tickled my fancy so looked at Copterline to Tallinn, only to find they'd disappeared. Oh well, the ferry it is! A night in Tallinn was also organised, and I mentioned the trip to a friend and also a.net member and photographer, DunaA320/ Matt D, who decided to tag along.
Fight prices were reasonable at £119 for the first two sectors, and £35 for the return from HEL.
Flight time!
Saturday the 9th of October soon came around and it was time to get up and make the hour long drive to Heathrow's terminal 3, via Chertsey to pick up Matt. We arrived at the terminal around 0915 for our 1035 flight, making our way to the self service check in which was, as always, fairly simple. We'd pre booked our seats on the SAS website free of charge. This option is available 22 hours before your flight departure. Bag tags and a single boarding pass for both our flights were printed and we went to drop our bags.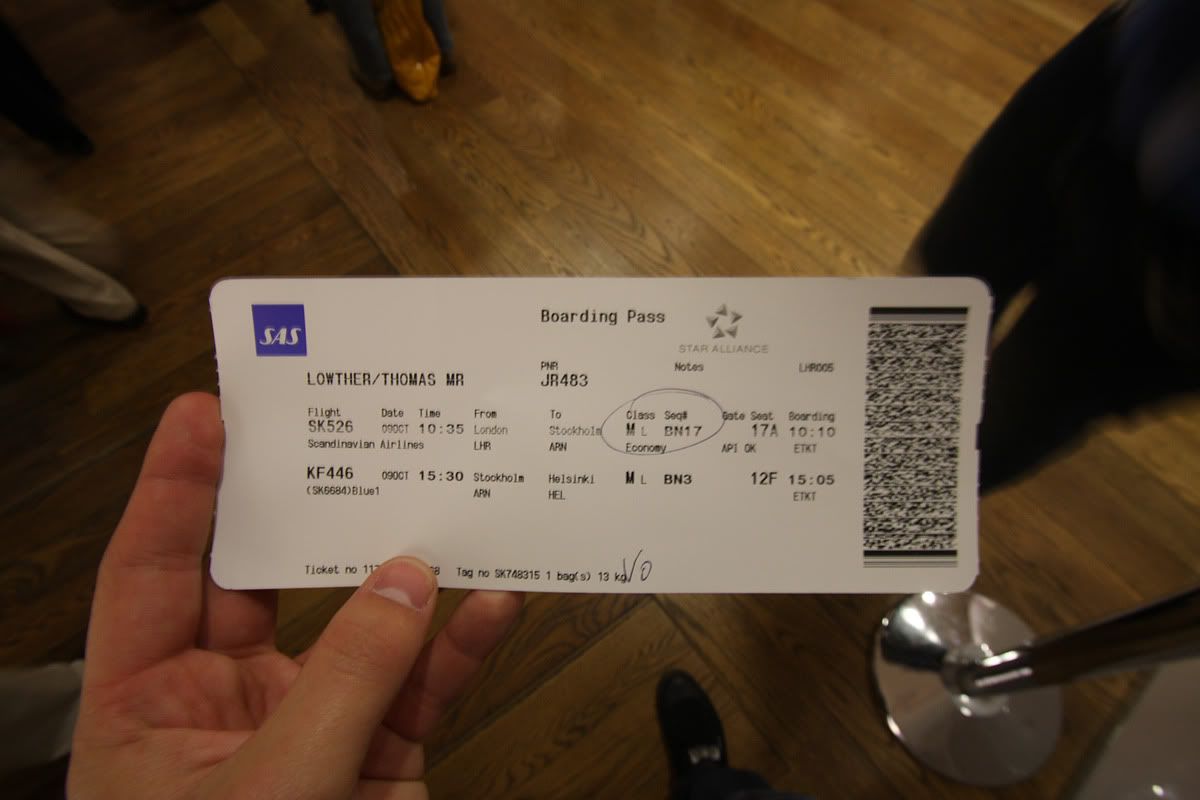 Up the stairs and through security which didn't take long (considering the time of morning) and out into the shopping centre that is any BAA airport. First thing to do (obviously) was to go and see what traffic was parked up.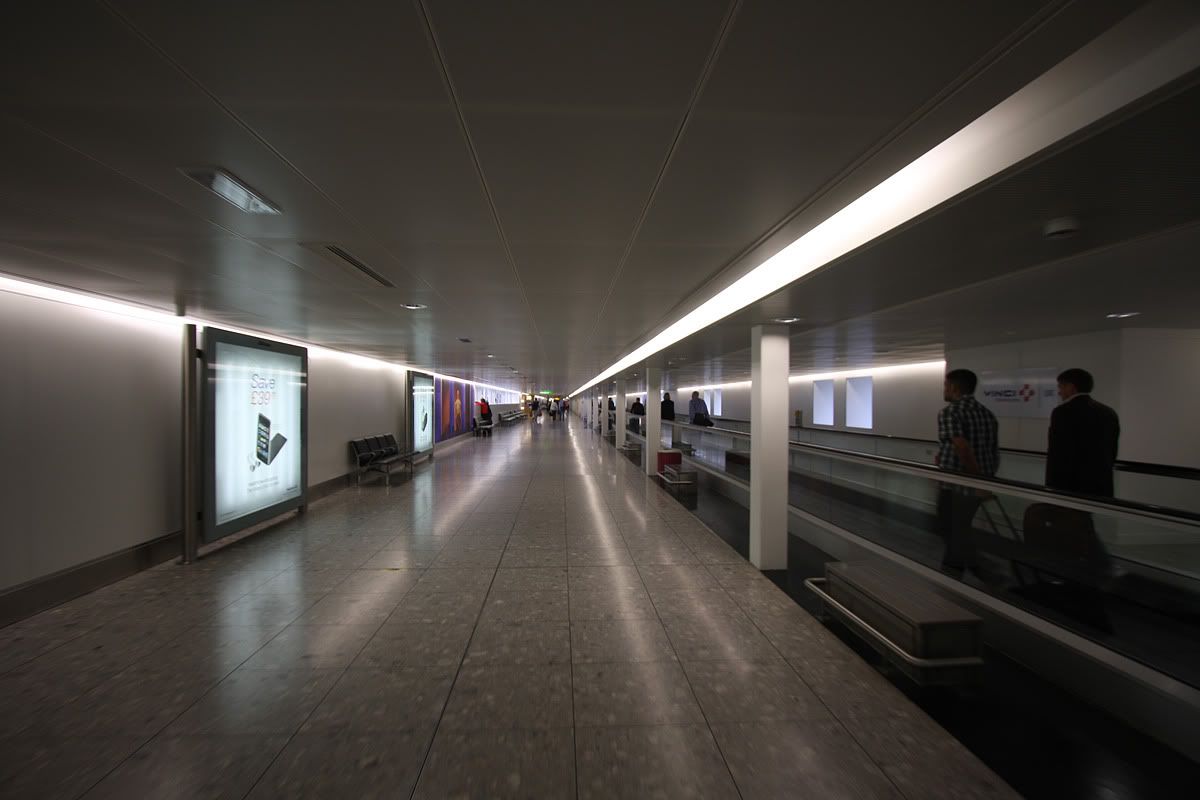 Heading down towards AA, AI and AC's usual gates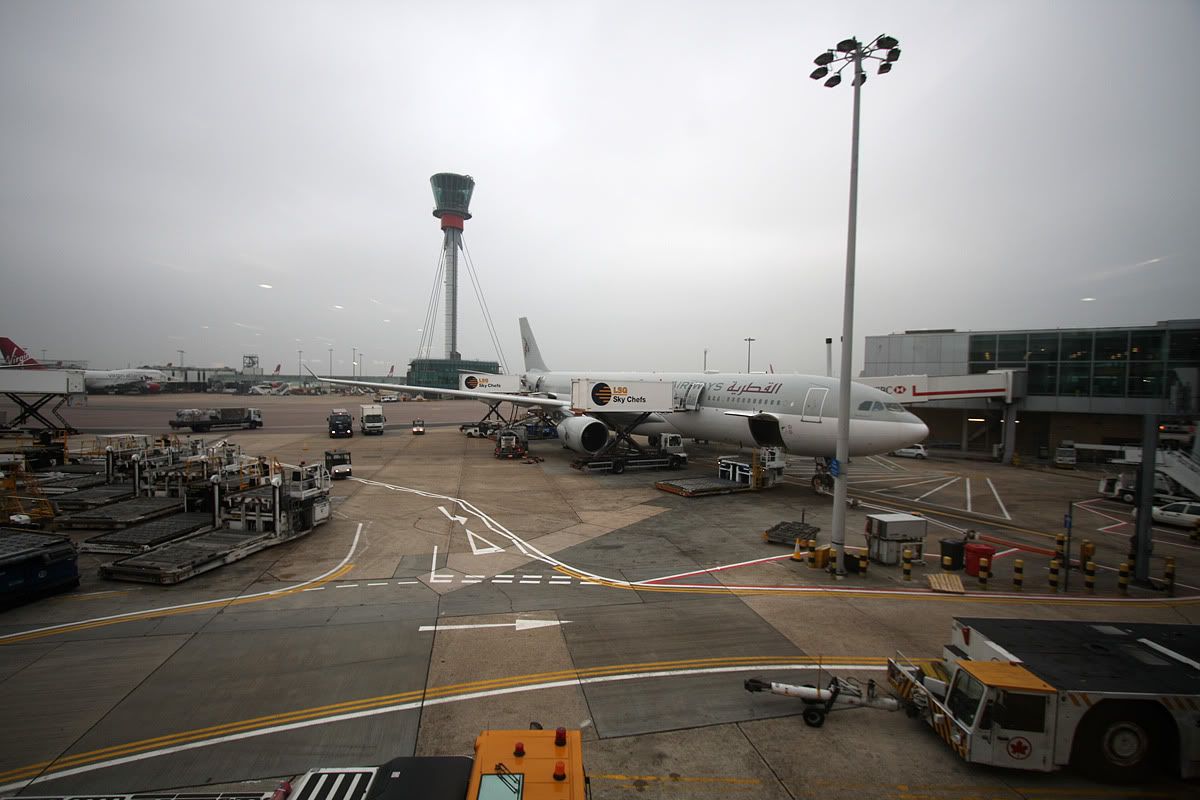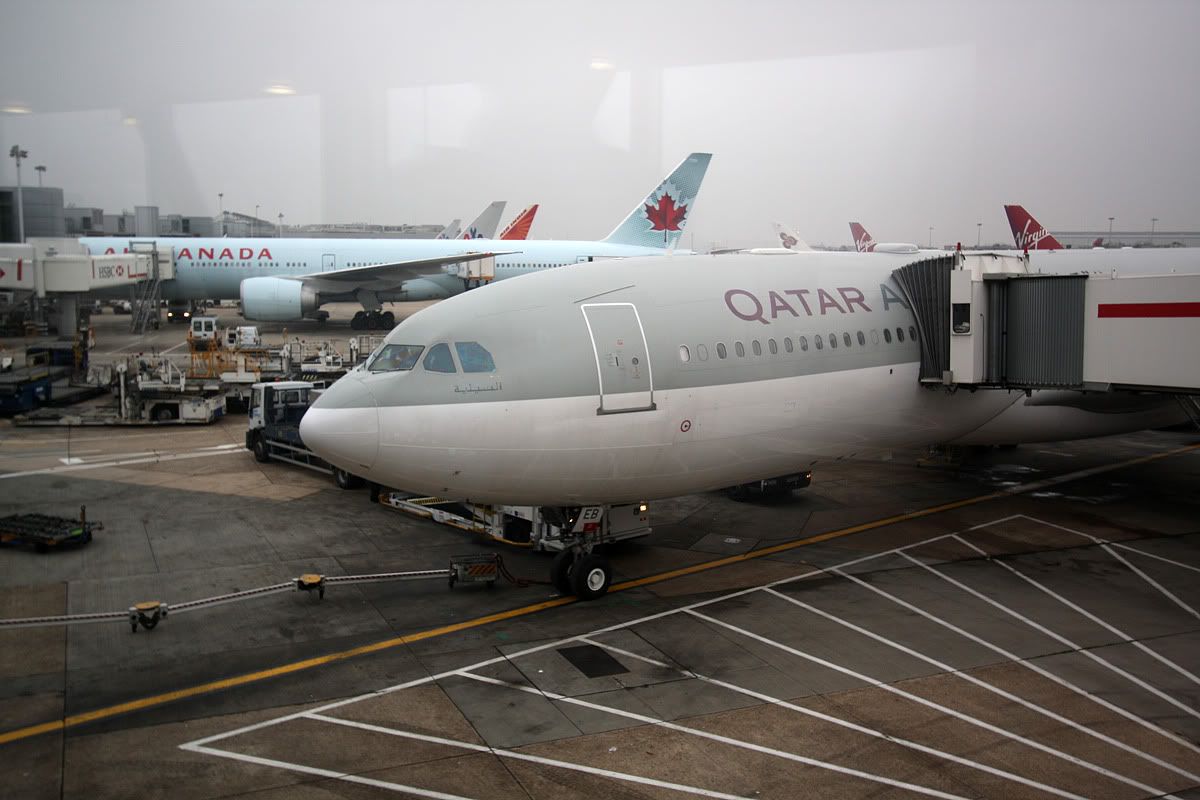 Old colours QR A330 with the usual selection of AC aircraft
After the usual browse we head back in the hustle and bustle of the lounge, where Matt buys a weird looking bacon buttie before we head over to some departure info boards to see which gate our flight will be departing from.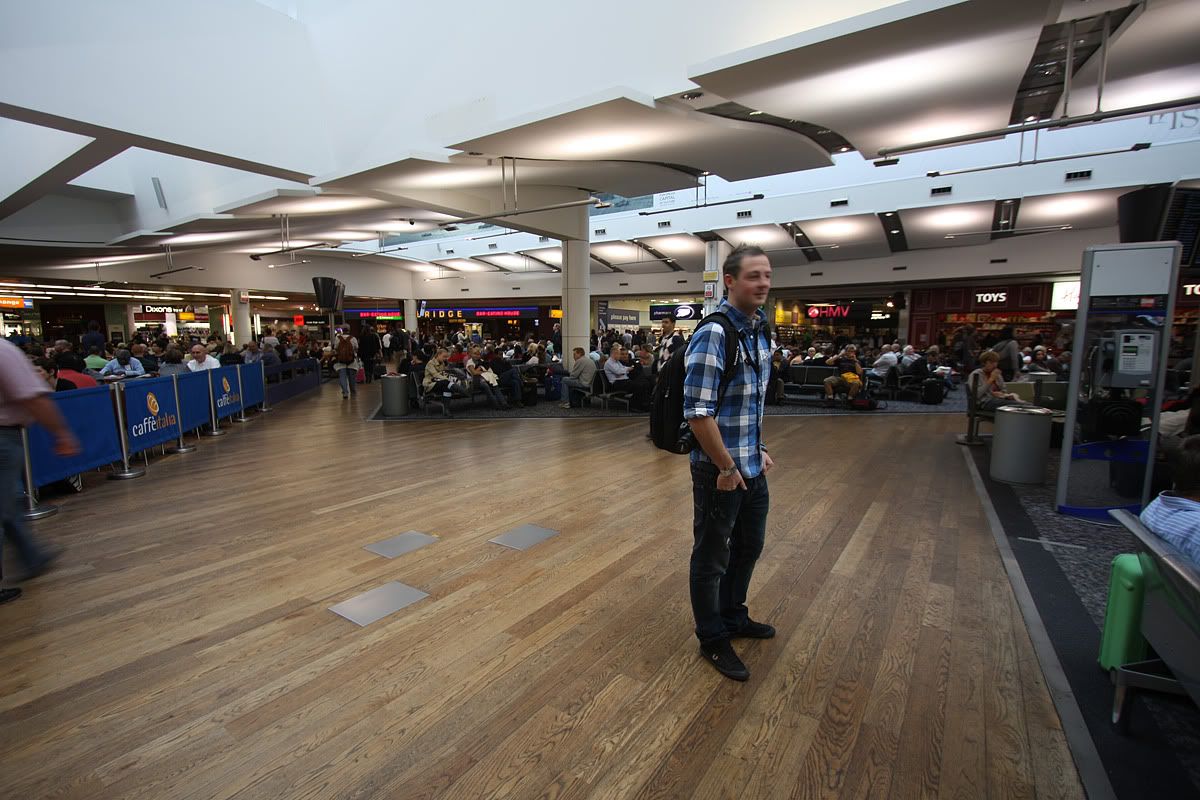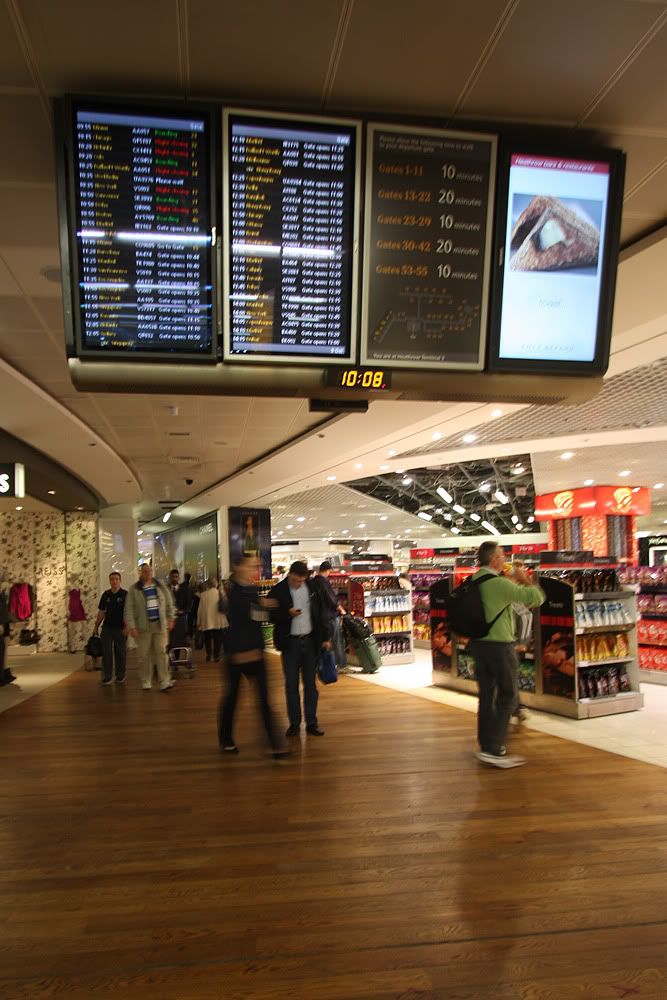 We wait... and wait... and wait... joined by an IB flight heading to MAD as well as other passengers for our flight to ARN. After about 20 minutes stood in front of the screen gate 9 finally shows up, the usual home of SAS flights departing T3. We head over to the gate where we're one of the first passengers to show up, a quick scan of the boarding card and we take a seat near the jet bridge. After 3 or 4 minutes we're called for boarding, nice and sprightly!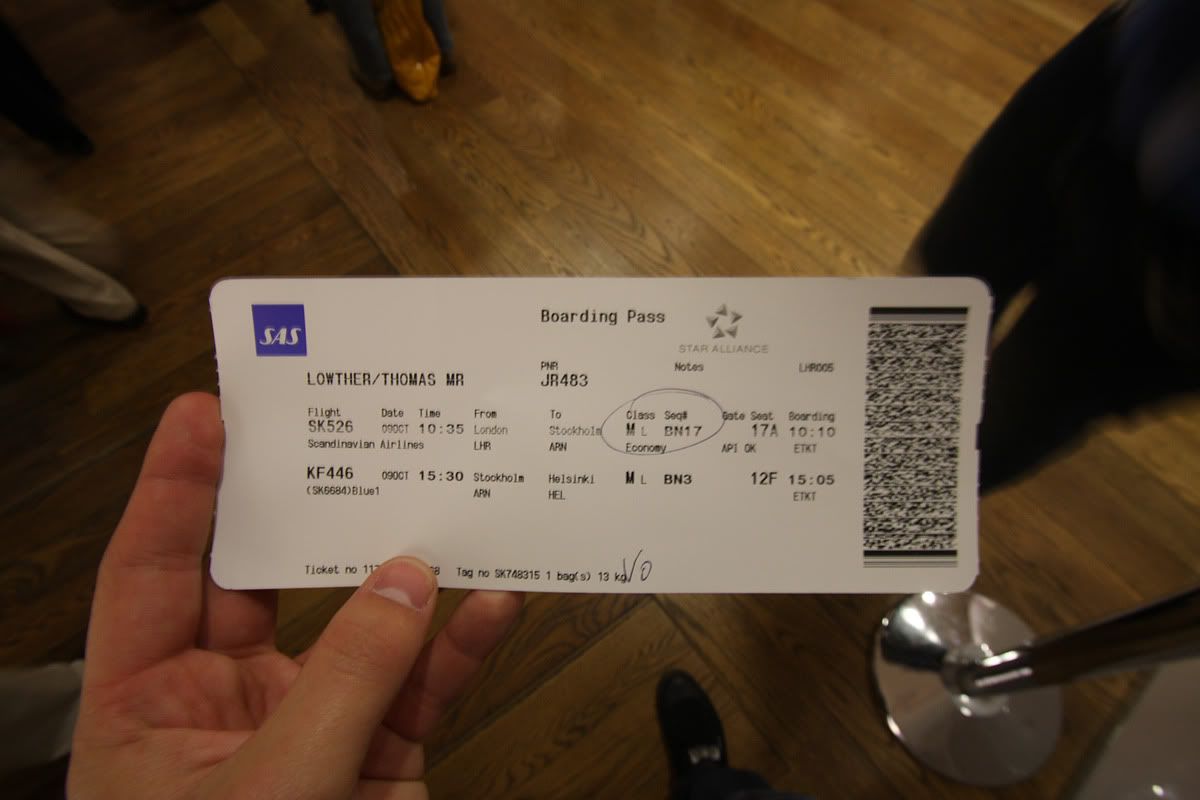 Flight: SK526
Date: 9th October 2010
Route: London Heathrow (Terminal 3) - Stockholm Arlanda (Terminal 5)
Aircraft: Boeing 737-600
Reg: LN-RRO "Bernt Viking"
Seat: 17A
STD (Times in local): 1035
ATD: 1144
STA: 1405
ATA: 1454
Matt and I are among the first 5 or so to board the aircraft, fortunate as I could nab a speedy shot of the cabin, which was very short! I know we were on a 736 but once past J it looked even smaller.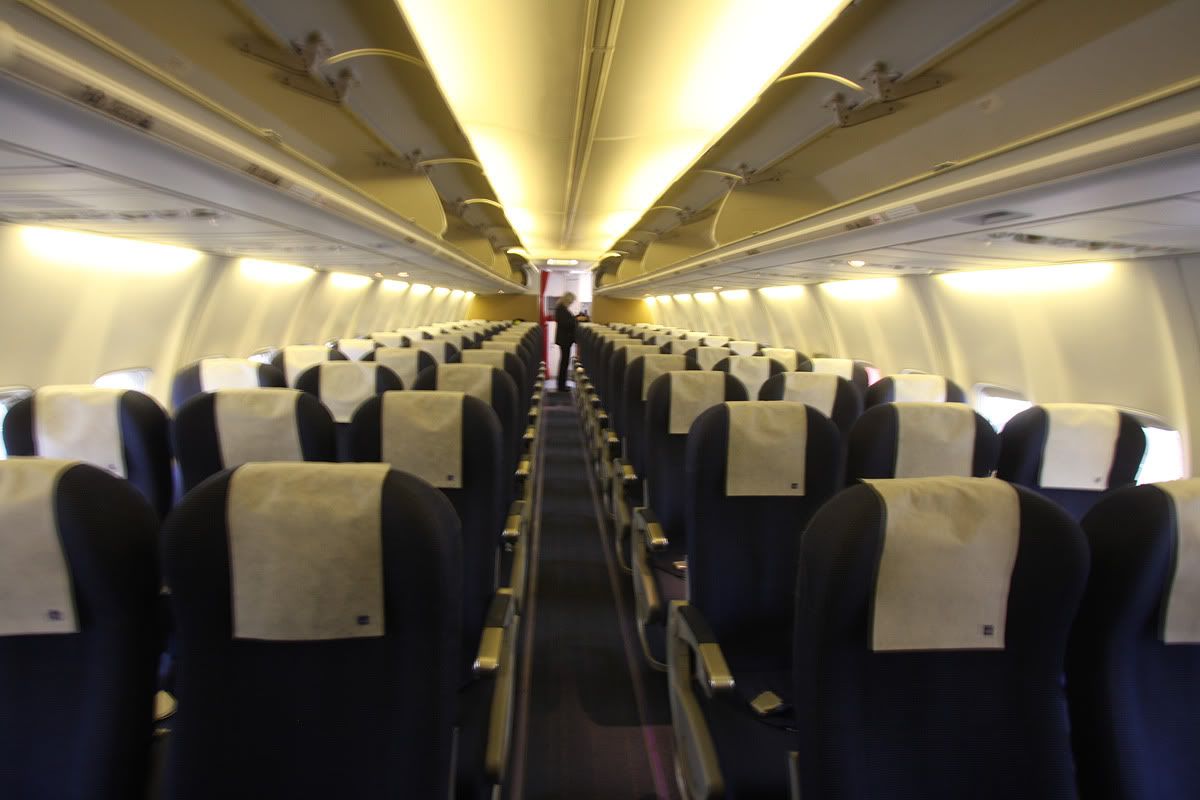 I take my seat, 17A. A little disappointed to find that the windows were pretty dirty and scratched, as well as having them misaligned which makes photography a challenge when shooting at an odd angle. Oh well, legroom was good (I'm not tall, so any legroom is pretty good), seats were okay and I was on a fairly unique sub type of 737!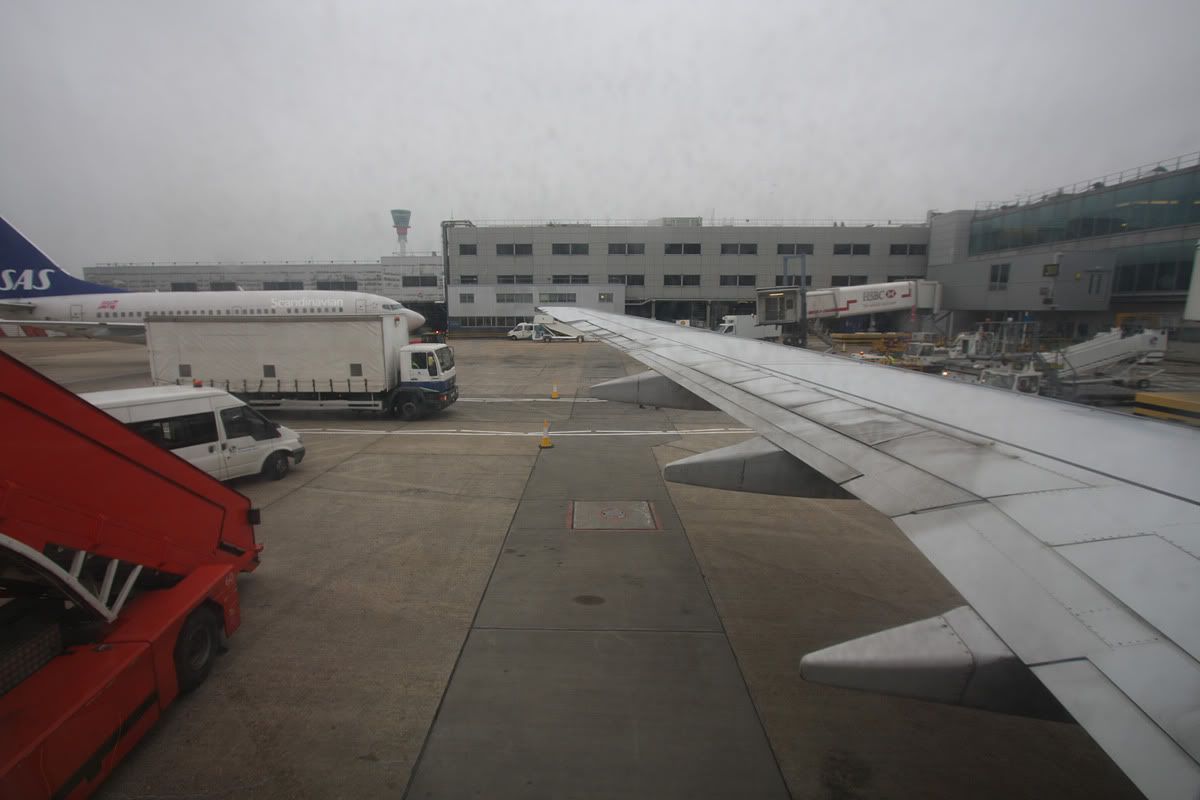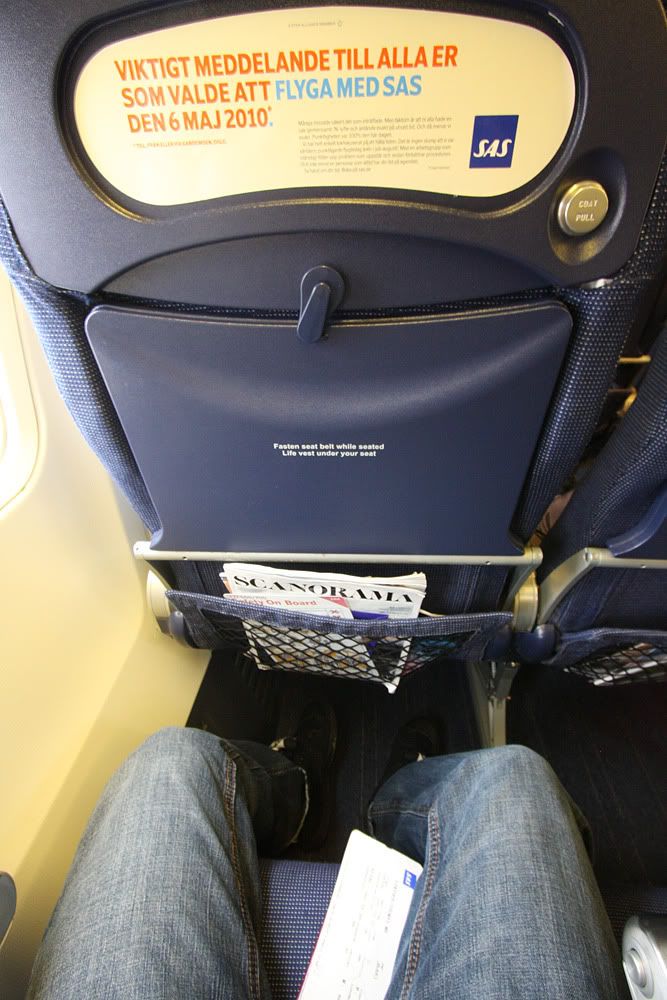 After a few more minutes on the ground loading the last passengers and bags (Most of the middle seats remaining free, so a fair load today), we pushed back around half an hour behind schedule with the help of a wingman checking the distance between our wingtip and that of an IB A320, and made our way out to the active departure runway, which this morning would be 09R. The usual safety demo routine (interesting to see variations from airline to airline) was done, cabin secured, quick word from the captain and crew took their seats.
Our taxi route this morning.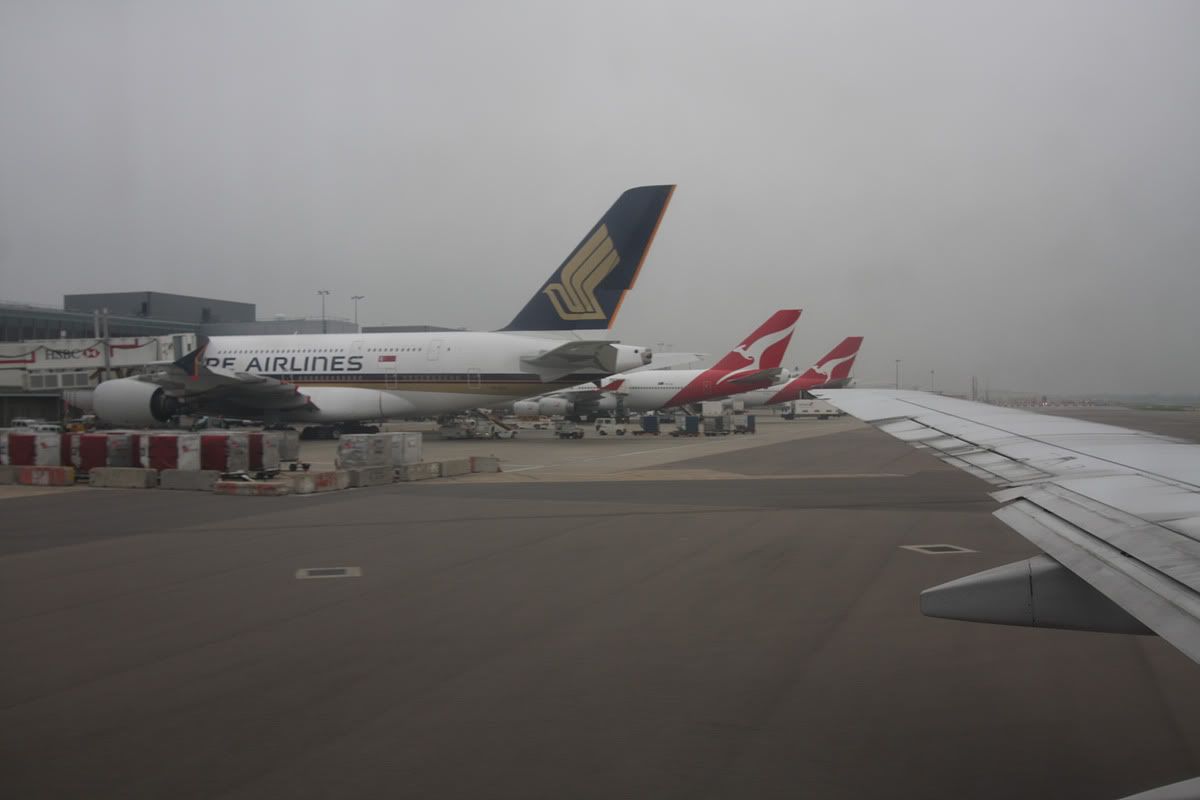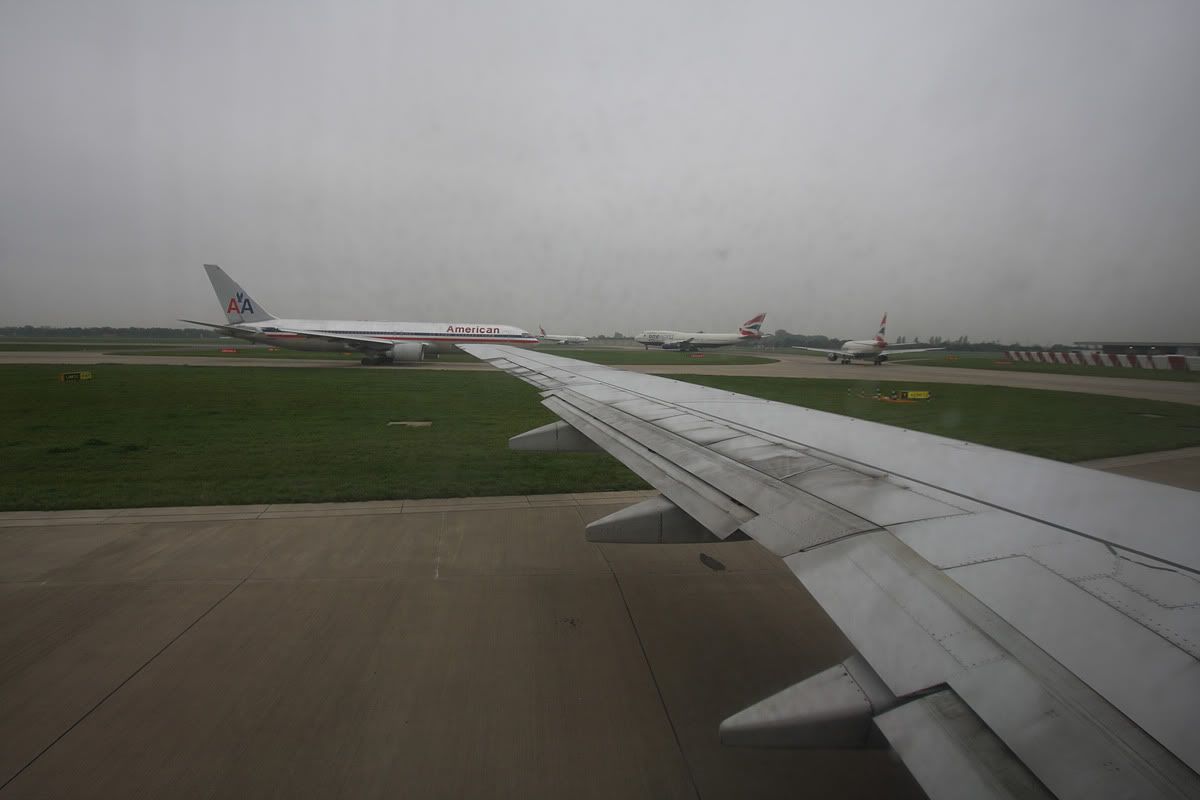 Aaaand this is where we stayed, for a good half an hour. The captain informed us that there were 7 aircraft to depart before us (in reality, I think it was more like 9). Finally it was our turn then we're told that an ambulance helicopter was in the airspace, preventing us from taking off for another few minutes. Oh well, I'm not one to get irate due to things like this and it seems the rest of the pax on todays flight were just as relaxed as I was! We were given clearance to line up over an hour after our scheduled time of departure. With a flight time of 2 hours and 10 minutes this would mean our connection would be extremely tight. Again, Matt and I weren't particularly bothered as we didn't exactly have business to attend to! We took comfort in the fact Blue 1 are a subsidary of SAS so would sort us out had we missed our connection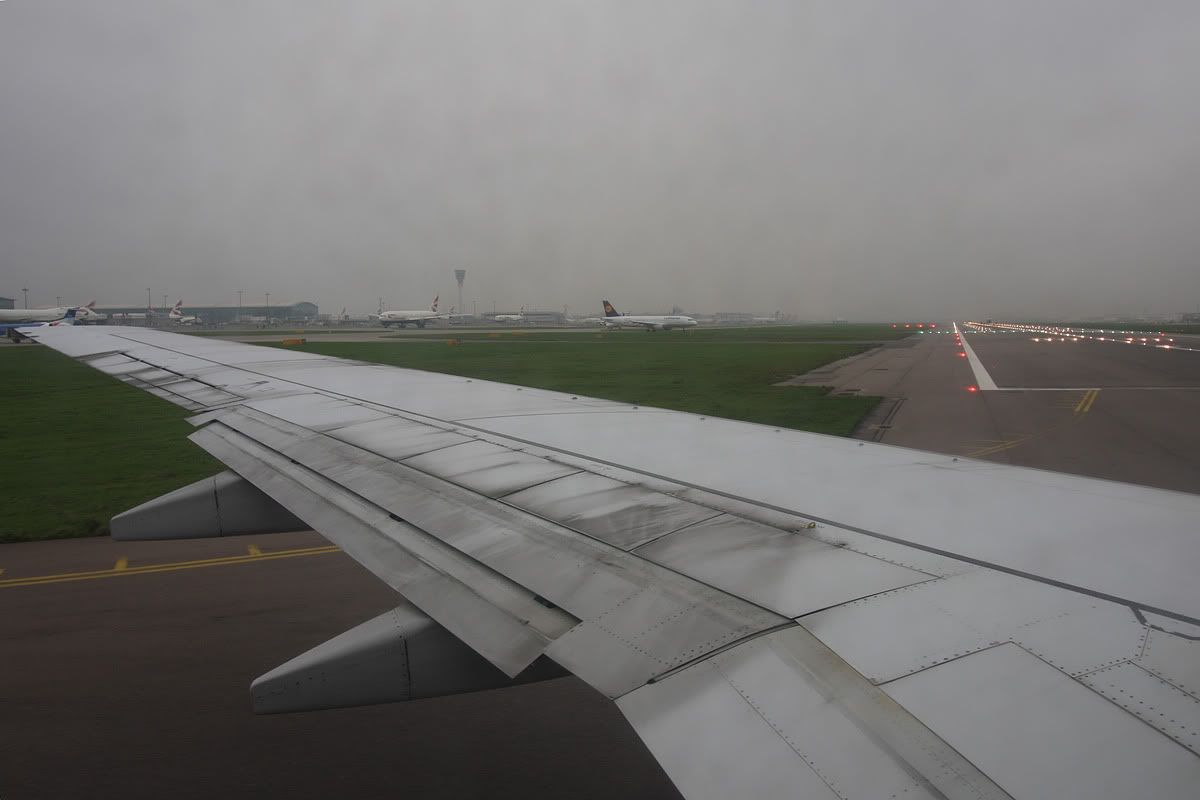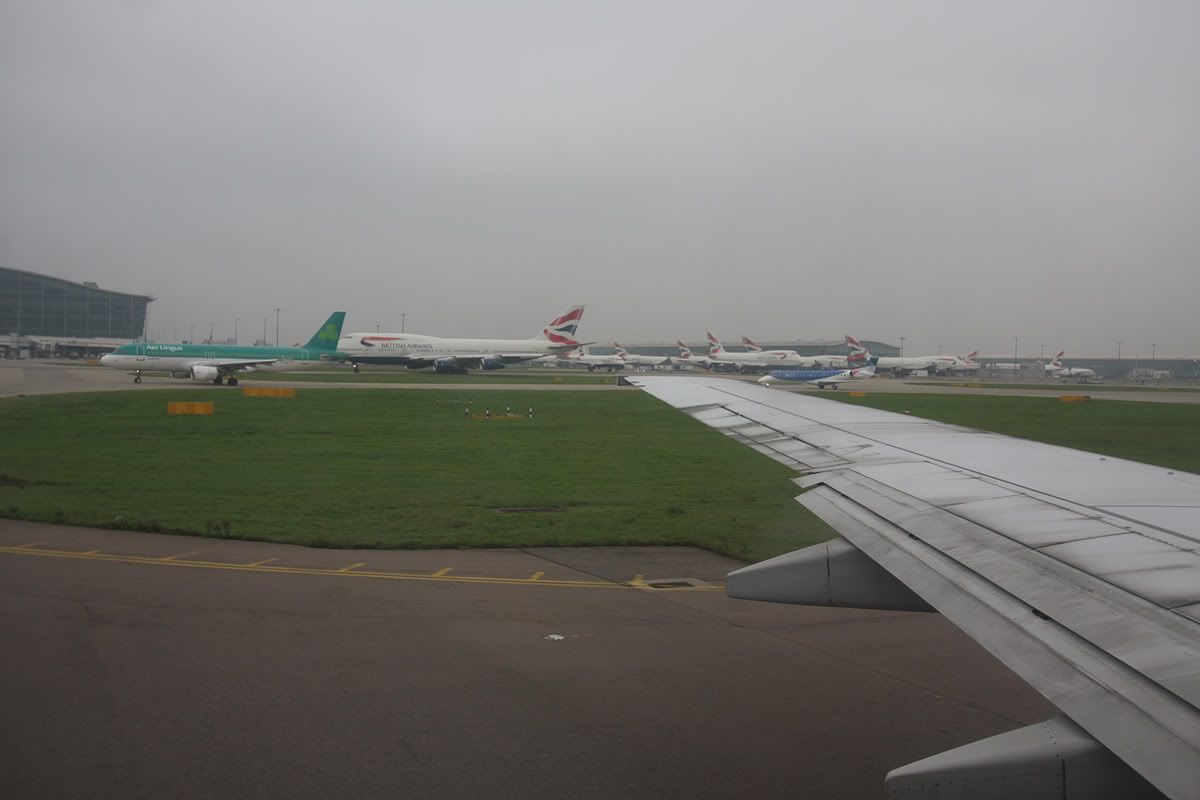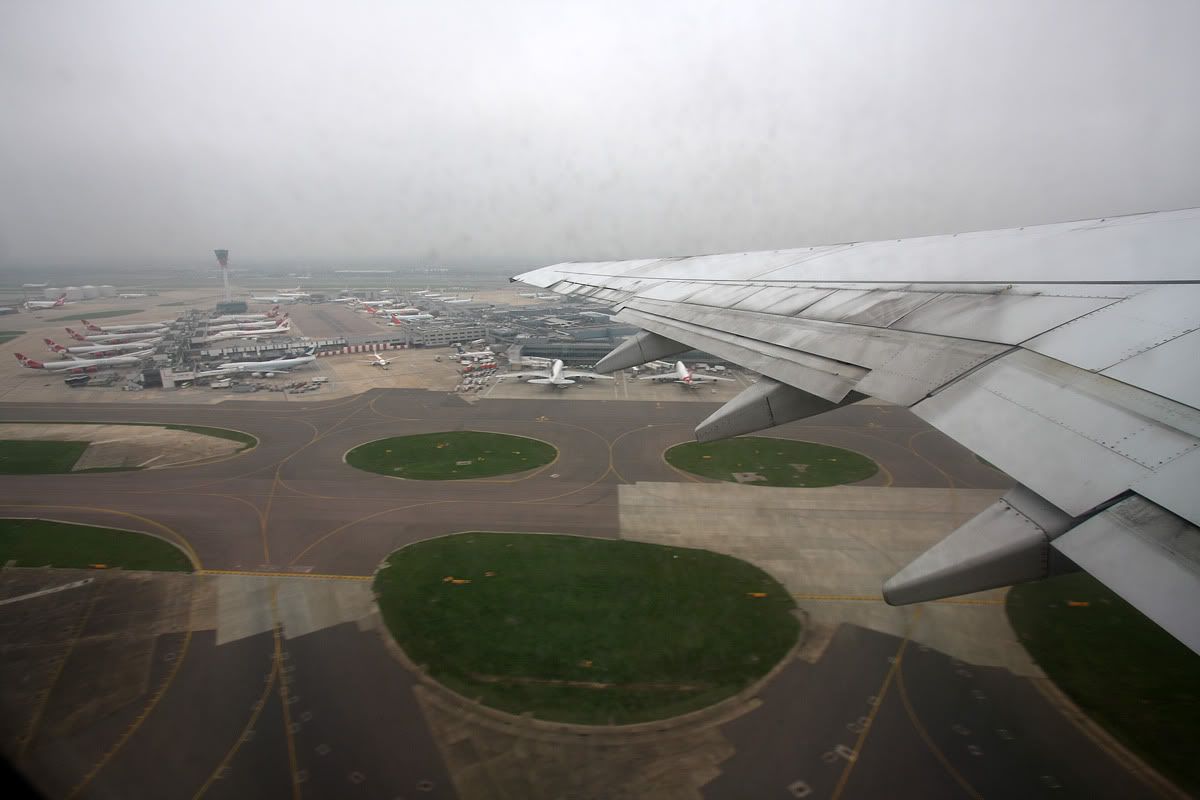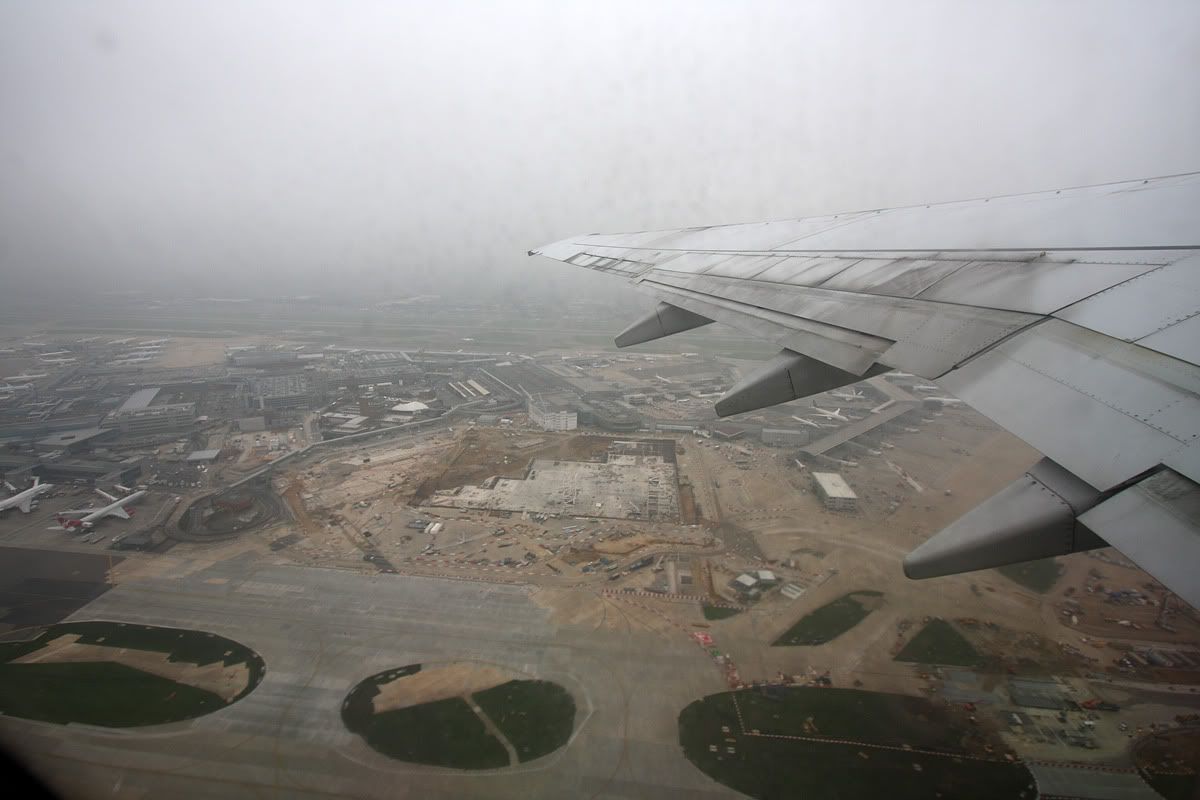 Up up and in the clouds before we even passed over the perimiter fence. The crew were released to continue their duties and I just admired being a passenger for the first time in around 120 flights! Soon fresh sunlight streamed through the windows and the wonderful blue sky graced our dirty wings...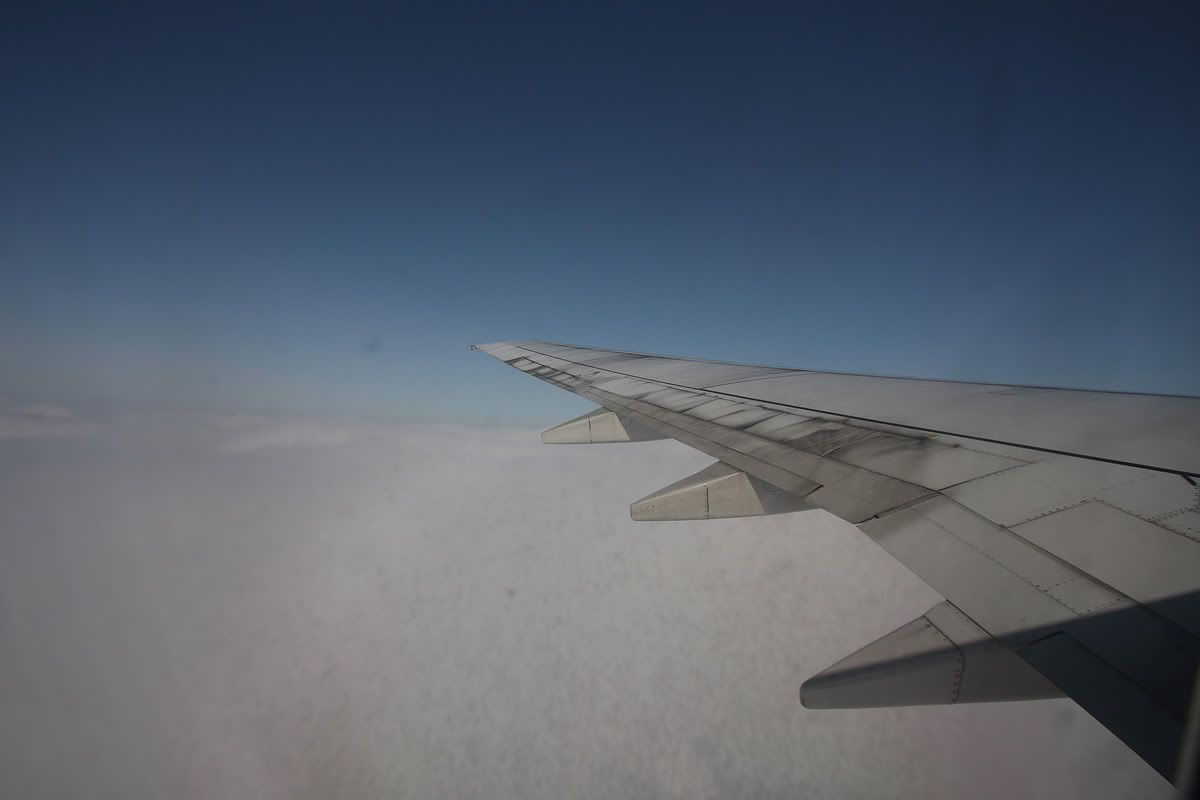 I had a browse through the menu, which was a bit over complicated I think and I bet the crew get irritated by passengers that can't read what's served on what routes. (I get asked on a daily basis for things that are clearly labelled for sale on Spanish, German or French based aircraft. It's not rocket science to work out that an aircraft flying from London to Greece with an all English crew isn't going to be German based!). Various pages were adorned with "Only on italian routes" "only on routes from___ to ___ and from ___ to ___. Not available on these routes between these times and dates blah blah" or so it seemed! Prices were reasonable and slightly less than similar products on other low cost airlines. I was tempted but I was being the kind of passenger I hate and couldn't read. Could I pay in Euros? Doubt it, we're flying London-Sweden! That's all I had on me so I just sat back and read the in flight magazine which had interesting articles on ATC at ARN (Steriotypical Scandinavian female ATC. Blonde, blue eyes, just generally stunning!), how communications work on A340's and an 8 year old with a Star Alliance gold card!
By this time we were passing the northern tip of Denmark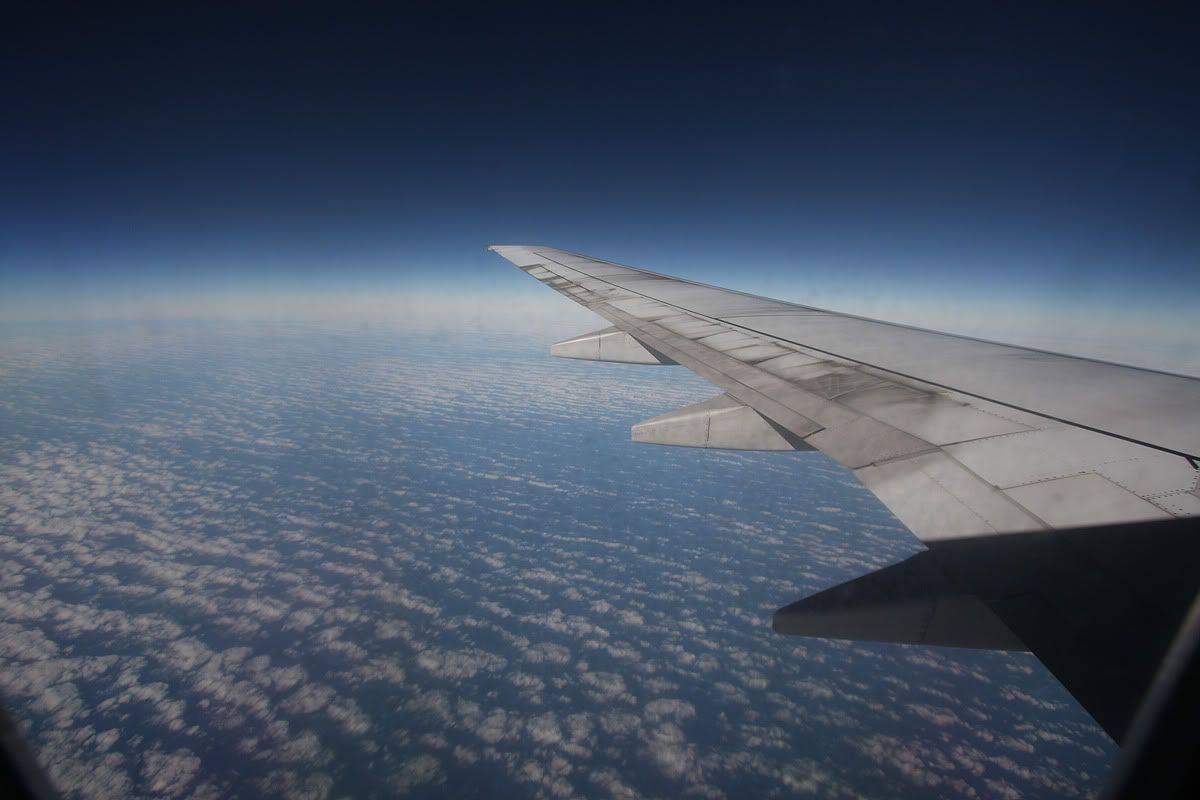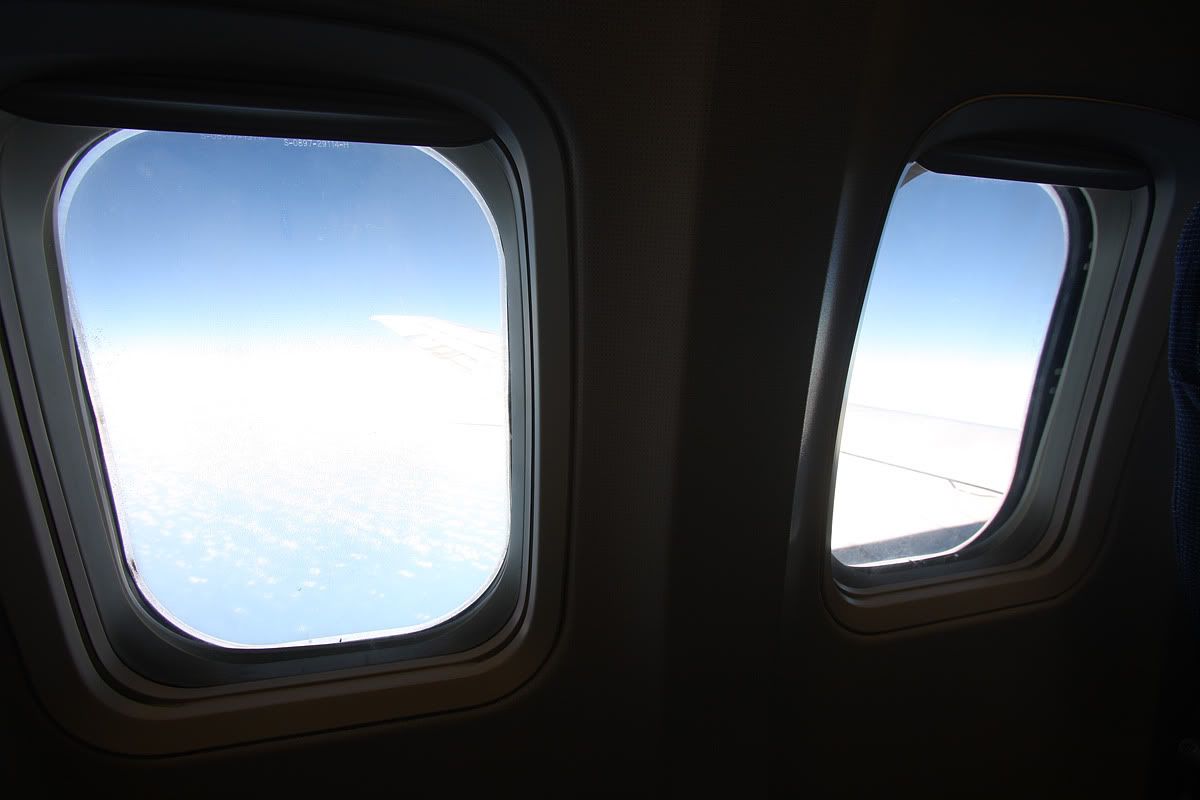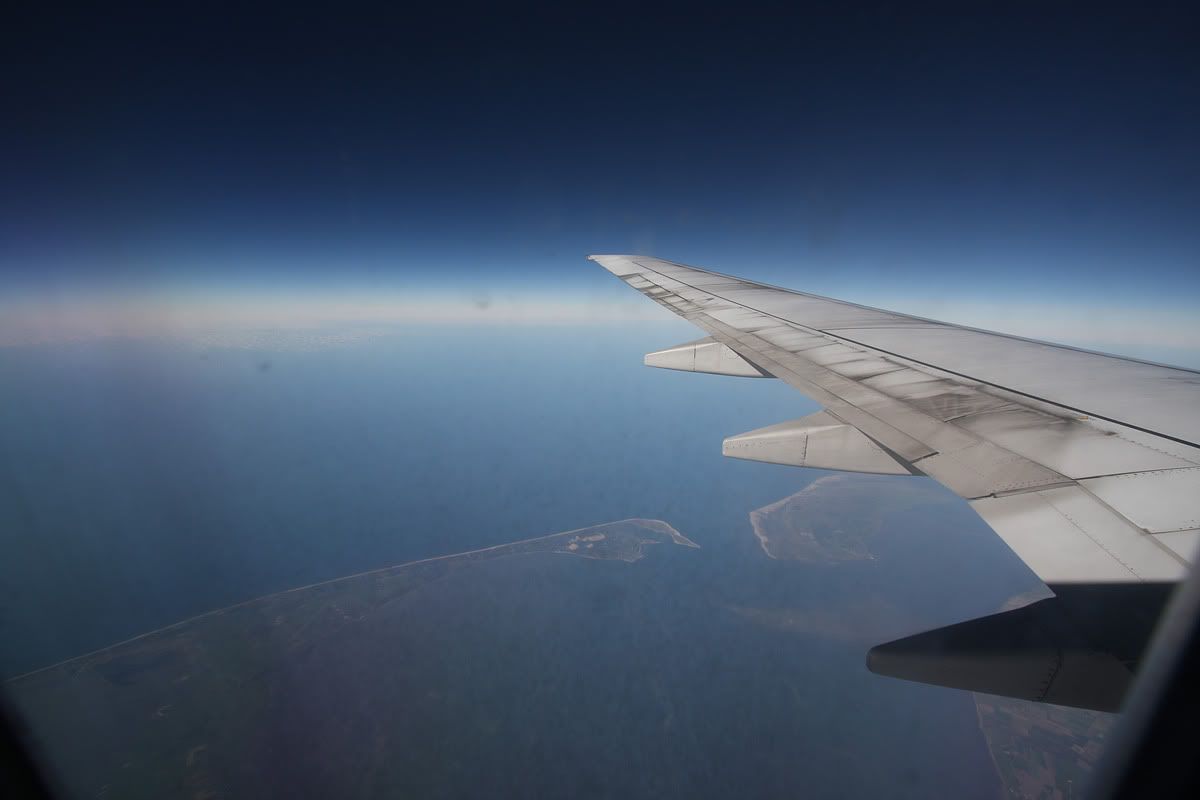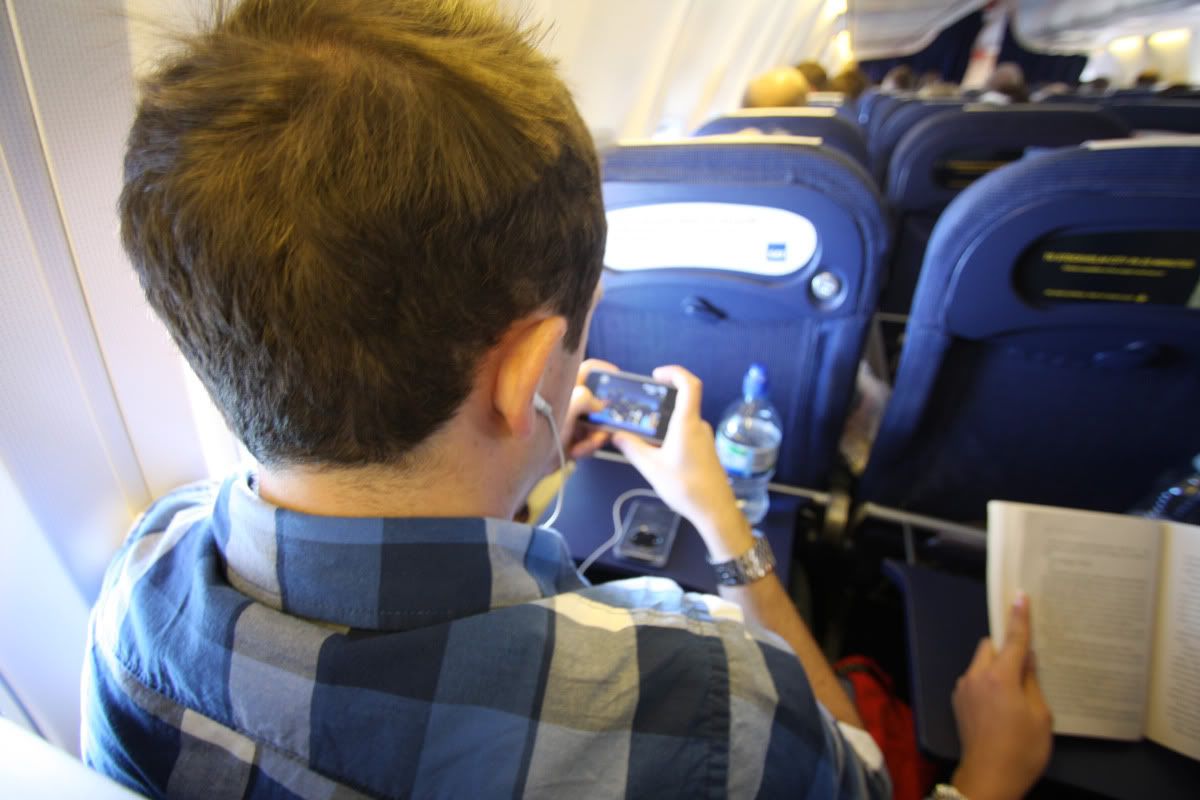 (Matt playing the legendary game that is Angry Birds)
I decided to go and ask one of the crew about our connection and if they recon we'd make it (and to geek it up down the galley with cabin shots!) Matt soon joined me.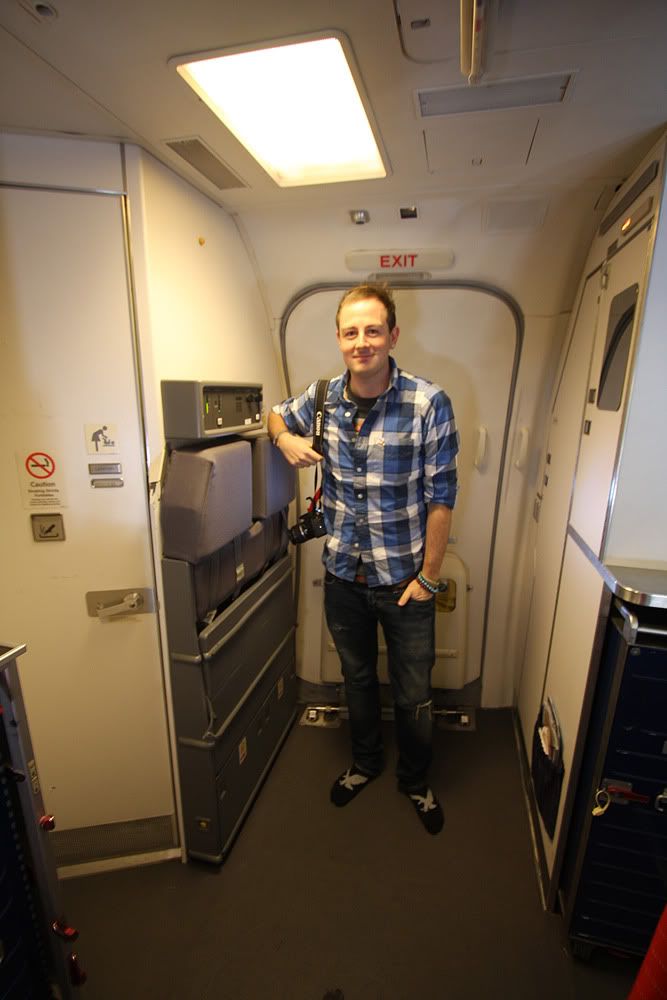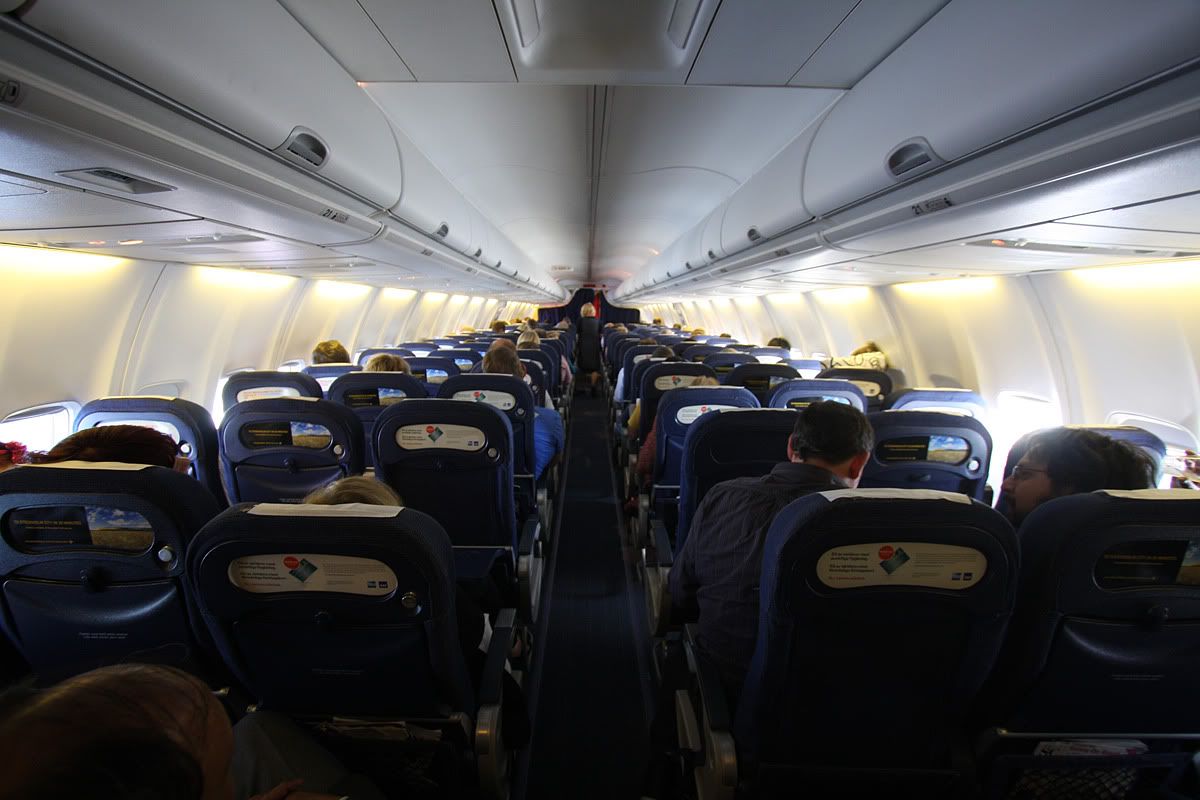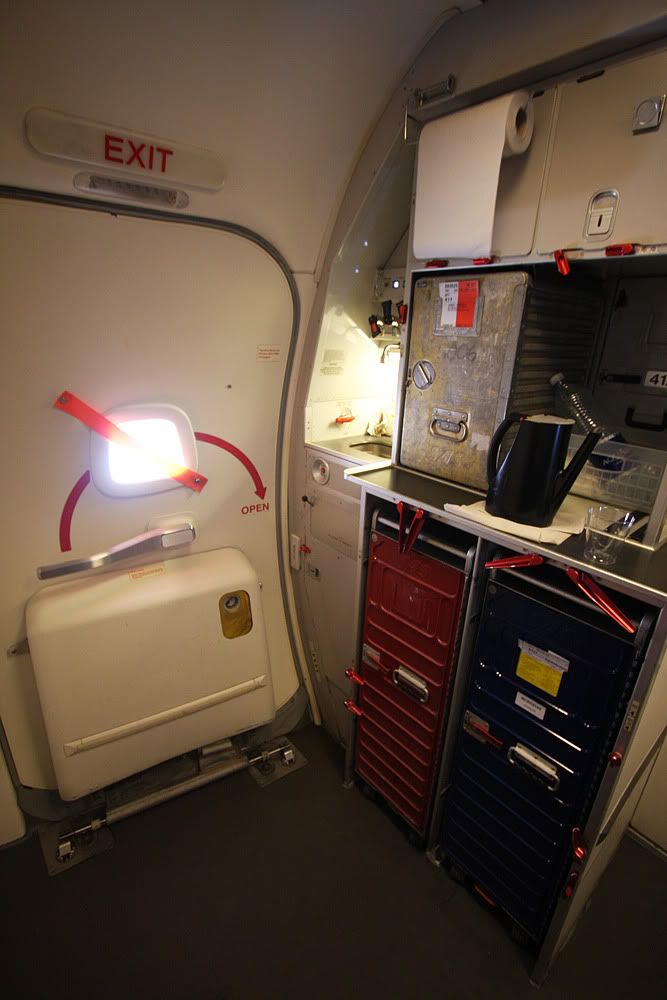 Matt had informed me of the "Vintage" crew to be found on SAS and he wasn't wrong. I asked about the connection times and they were most reassuring. "Ohhh don't worry we know about you! Nothing to worry about, it's very simple in Arlanda". I chatted for a bit and they were very nice people! Genuinely warm and, though "vintage", you'd see them as more of someone's legendary grandmother than a surly flight attendant. Very nice people indeed! They found out what gate our connection would be leaving from and reassured us our bags would make it too. (The gate they told us turned out to be wrong, but that's not the point! It's the thought that counts, right?). I thanked them for the info and the chat and visited the loo before heading back to my seat. Now, I assure you I'm not one to take photographs of aircraft lavs or myself in mirrors, but I'd invested in a new lens the day before and am still astounded as to how wide it can really go. So I took advantage of the mirrors in the toilet!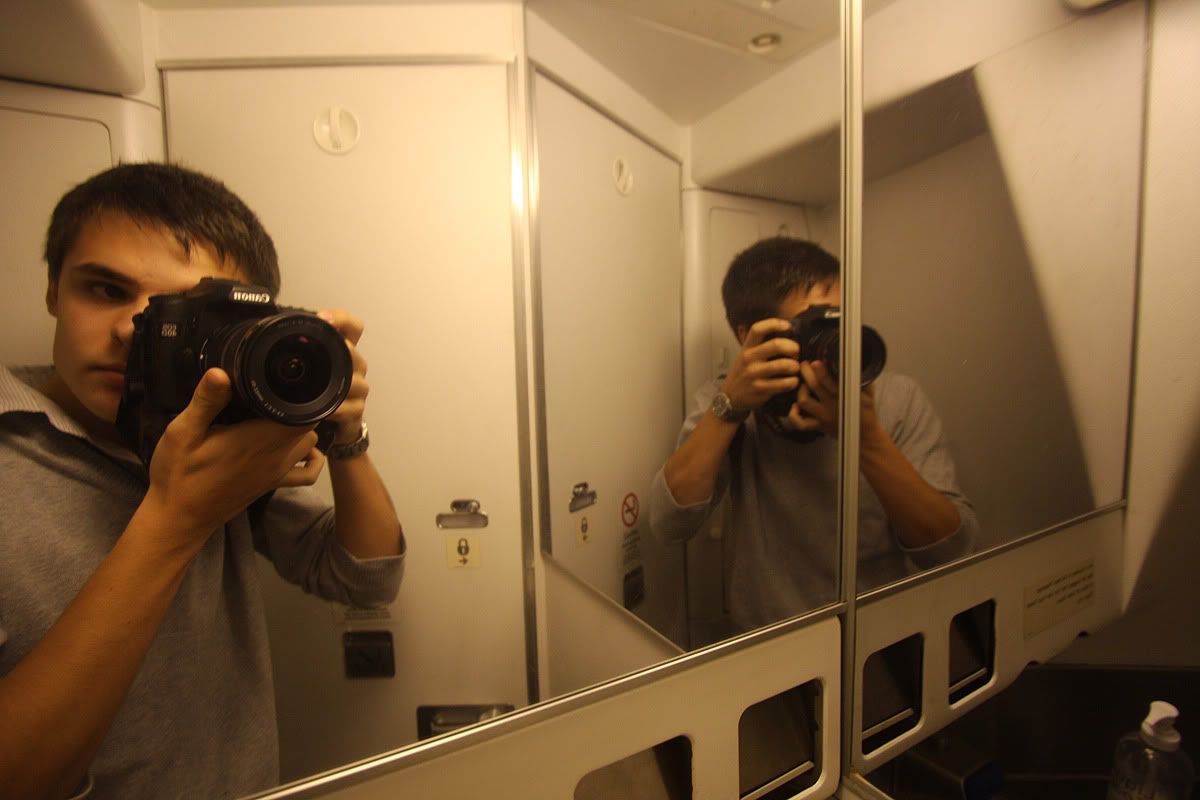 Back to my seat I went to catch my first glimpse of Sweden just at top of descent.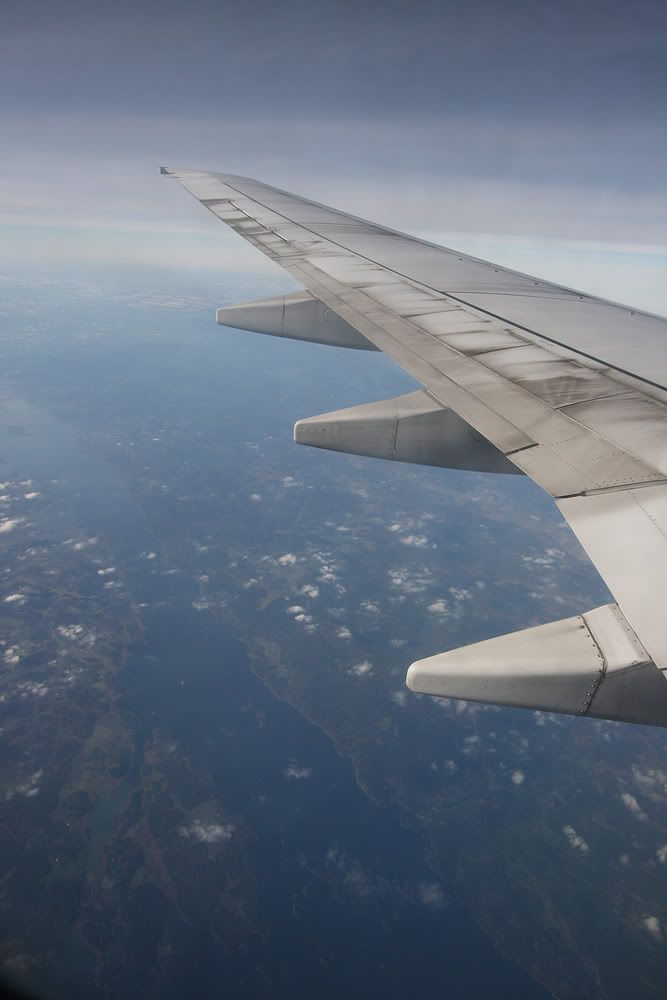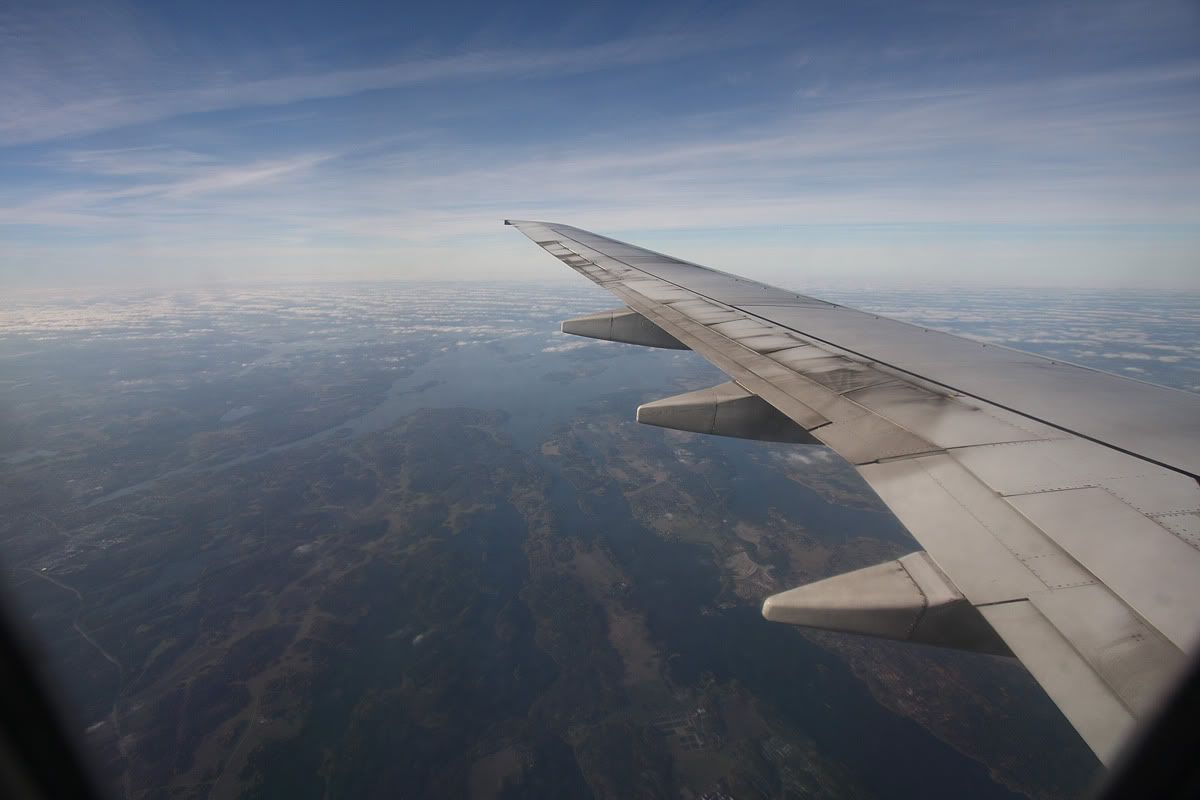 We passed what I thought was GOT (Turns out it wasn't, no idea where it was! Cross runway and a town/city to the south west of the airport), and 20 minutes later Stockholm Bromma. The seat belt sign was illuminated a few minutes prior and the crew sprung into action securing the cabin once more. All PA's were done in Swedish and English, none recorded.
Bromma
A few left banks to line up with runway 26 and we were on final approach. Speedbreaks, flaps and landing gear while we were treated to some gorgeous autumn colours and sunlight.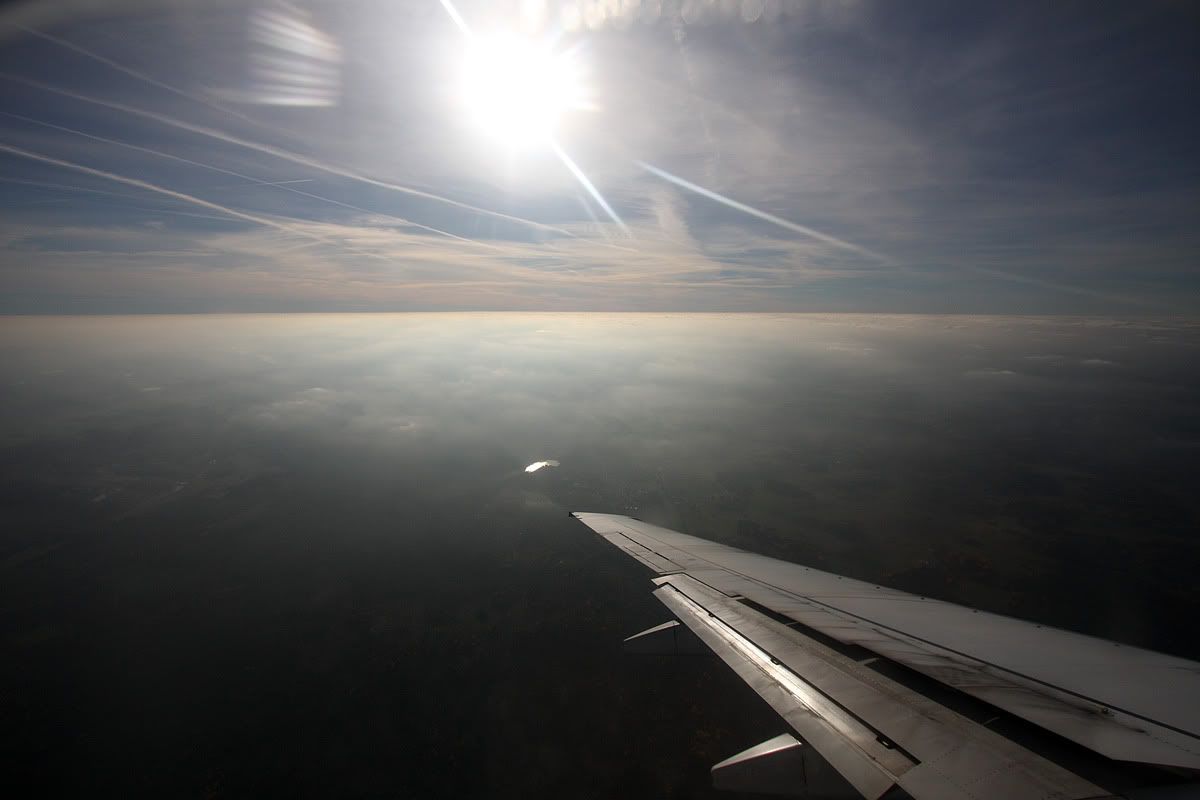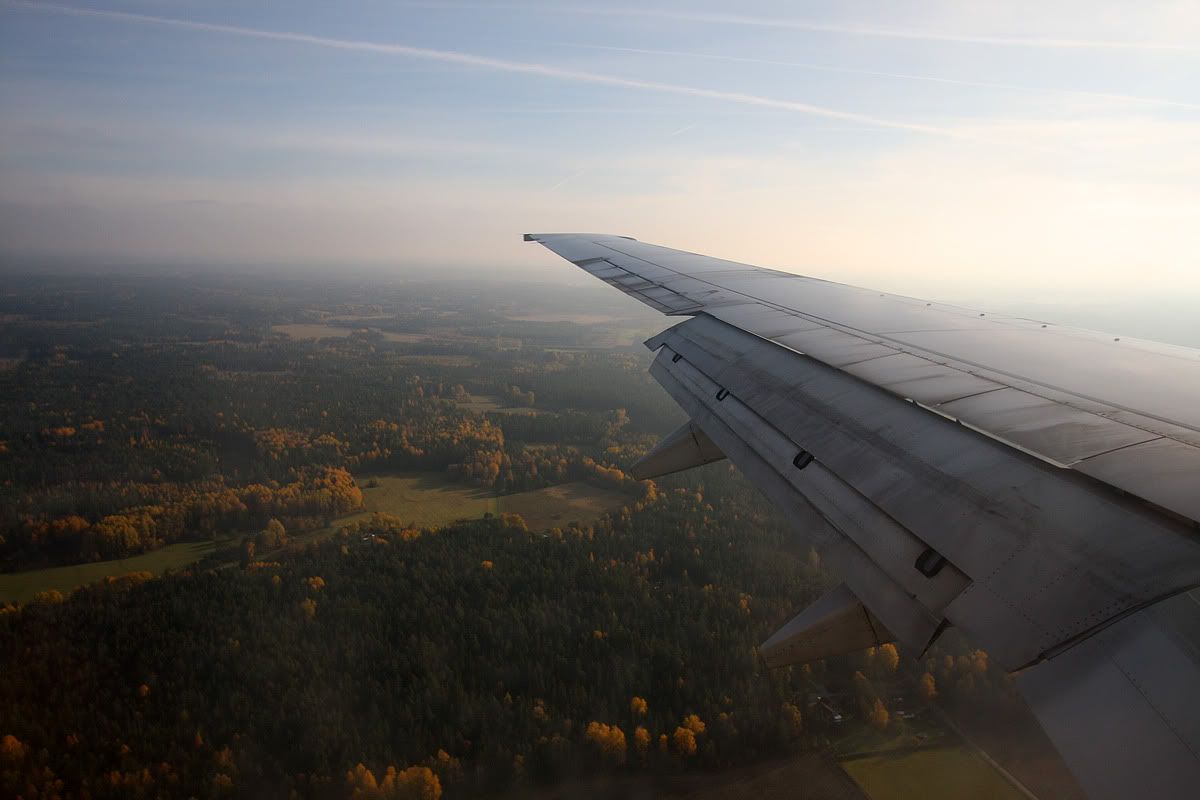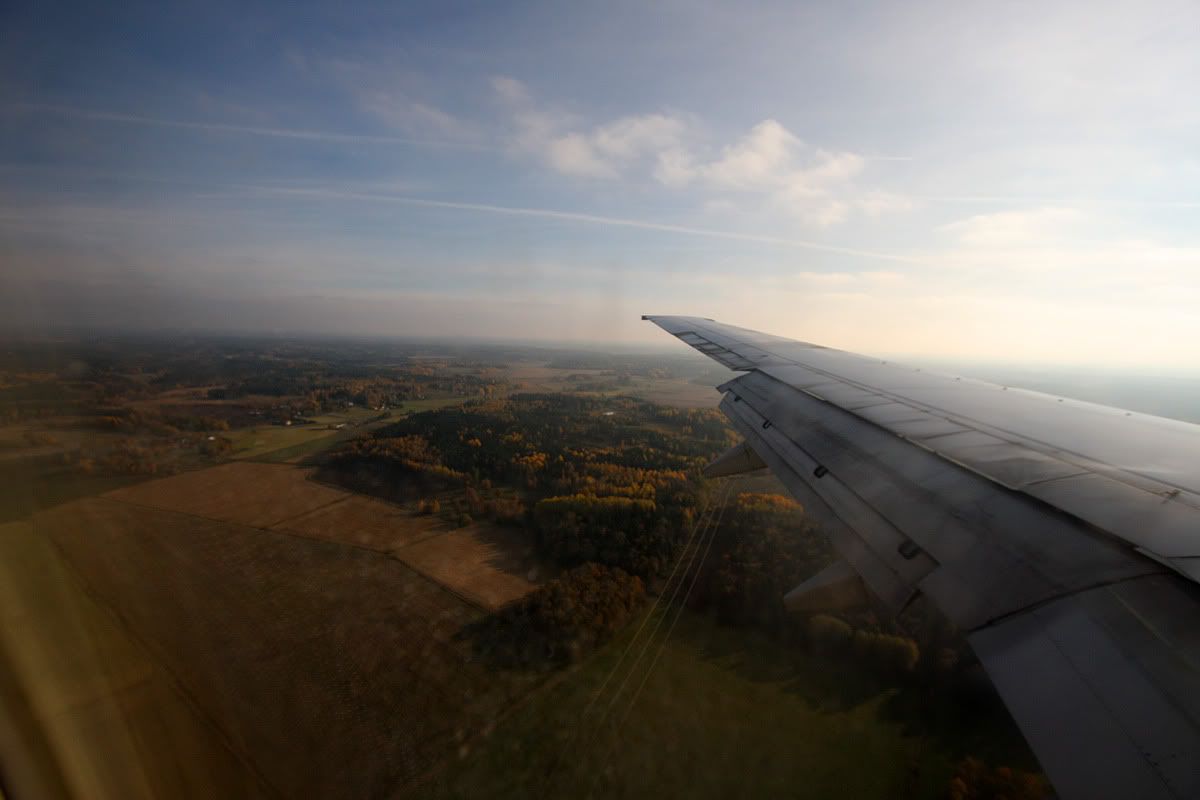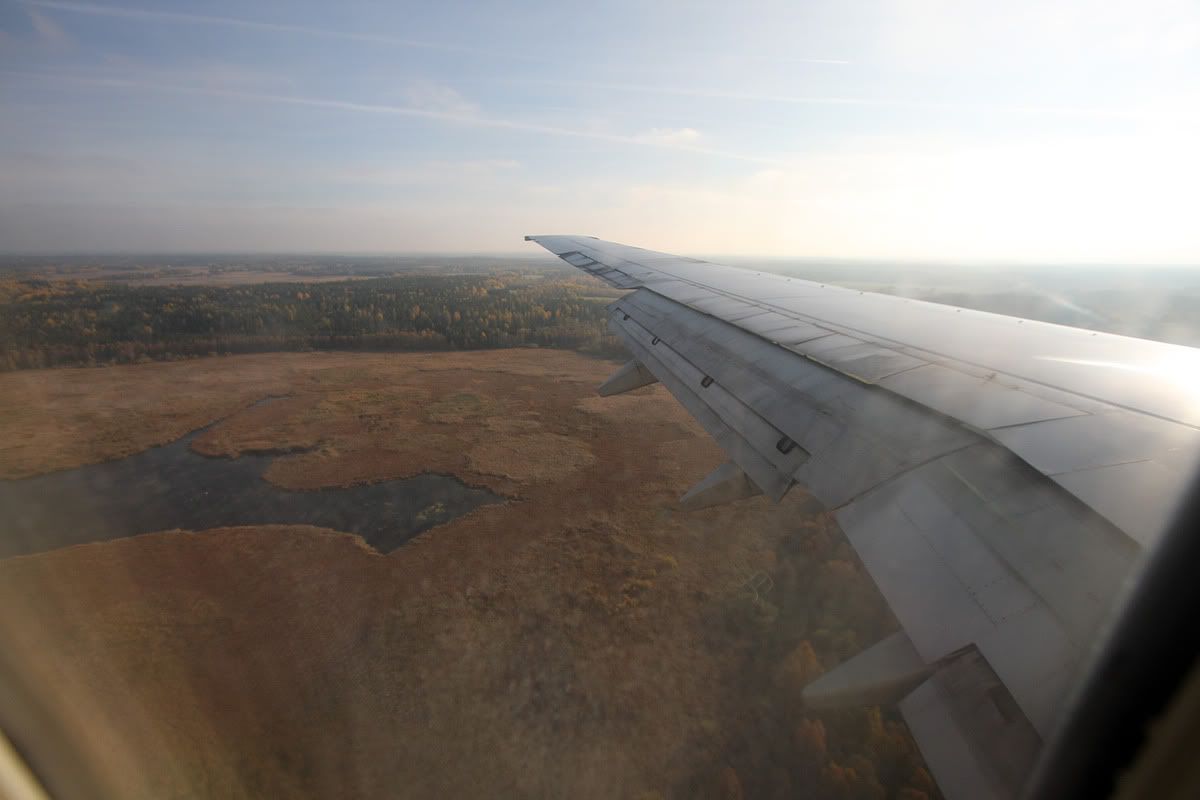 Throttles to idle, flare and the most peaceful, smooth, floating feeling before a lovely soft contact with the runway. It was a very weird feeling, but a good one!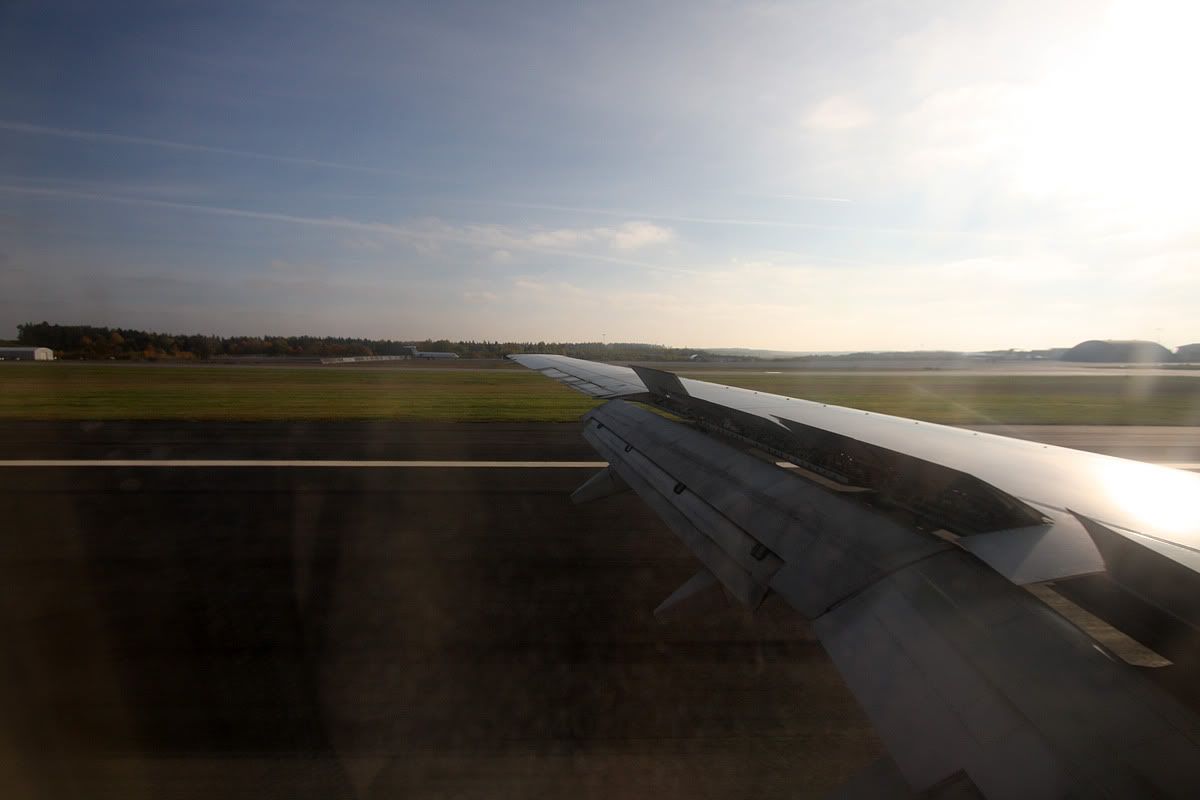 We exited the runway when able and went straight to our gate within 60 seconds of leaving the runway. Scandinavian efficiency at it's best! This left us with 10 minutes to catch our next flight.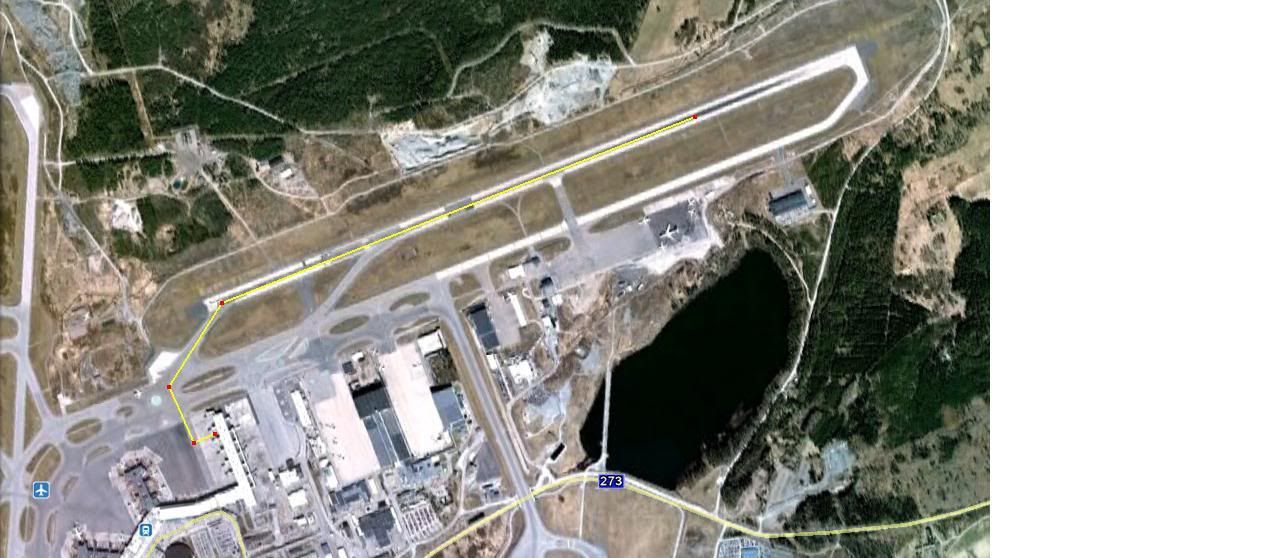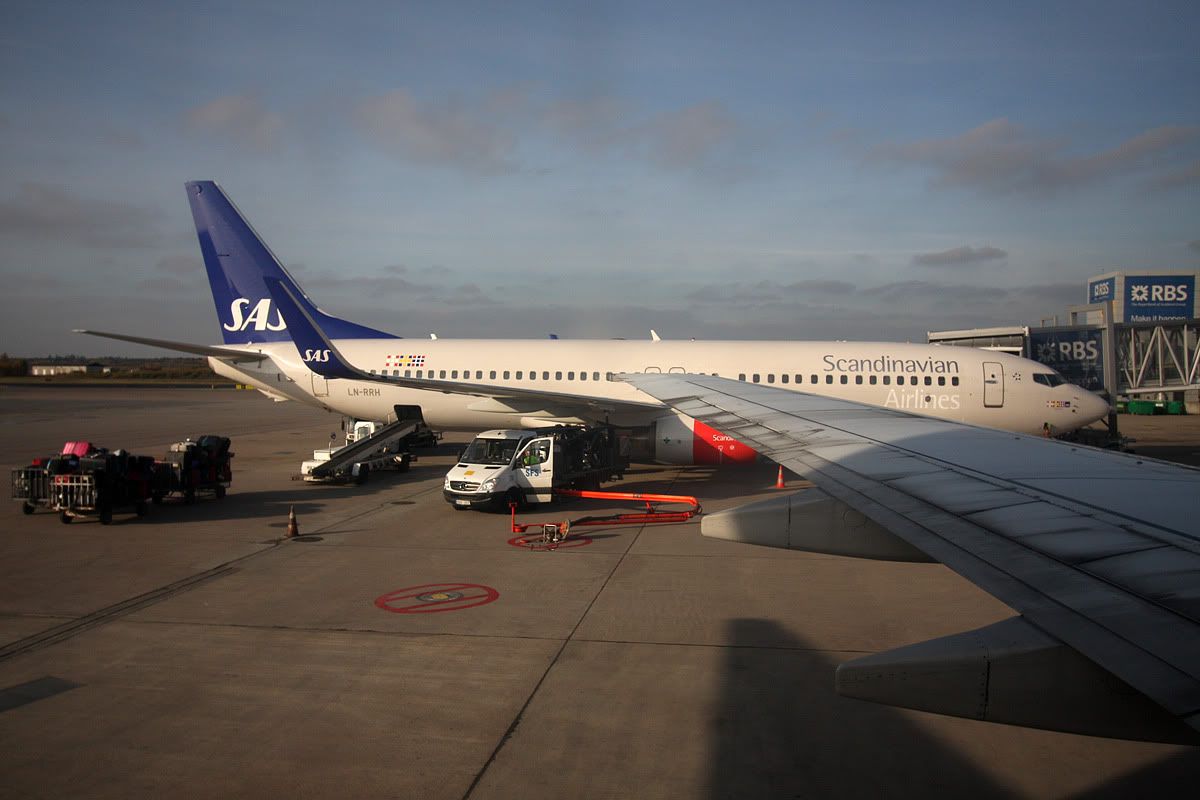 We pulled up next to a very new looking 738, and shut down the engines. I was itching to stay behind and get a decent cabin shot and visit the flight deck, but didn't want to risk missing our next flight. Checking I had everything, we thanked the crew very much and headed out into the terminal. Our aircraft would soon head back to LHR.
Connection
I find it interesting how some airports seperate arriving and departing passengers, yet others (like this one) just release you out into the areas that departing passengers can visit, mixing the two. Makes connecting easier I suppose! ARN's terminal is clean, open, bright and features the usual wooden floors and IKEA style fittings, as well as views over the apron.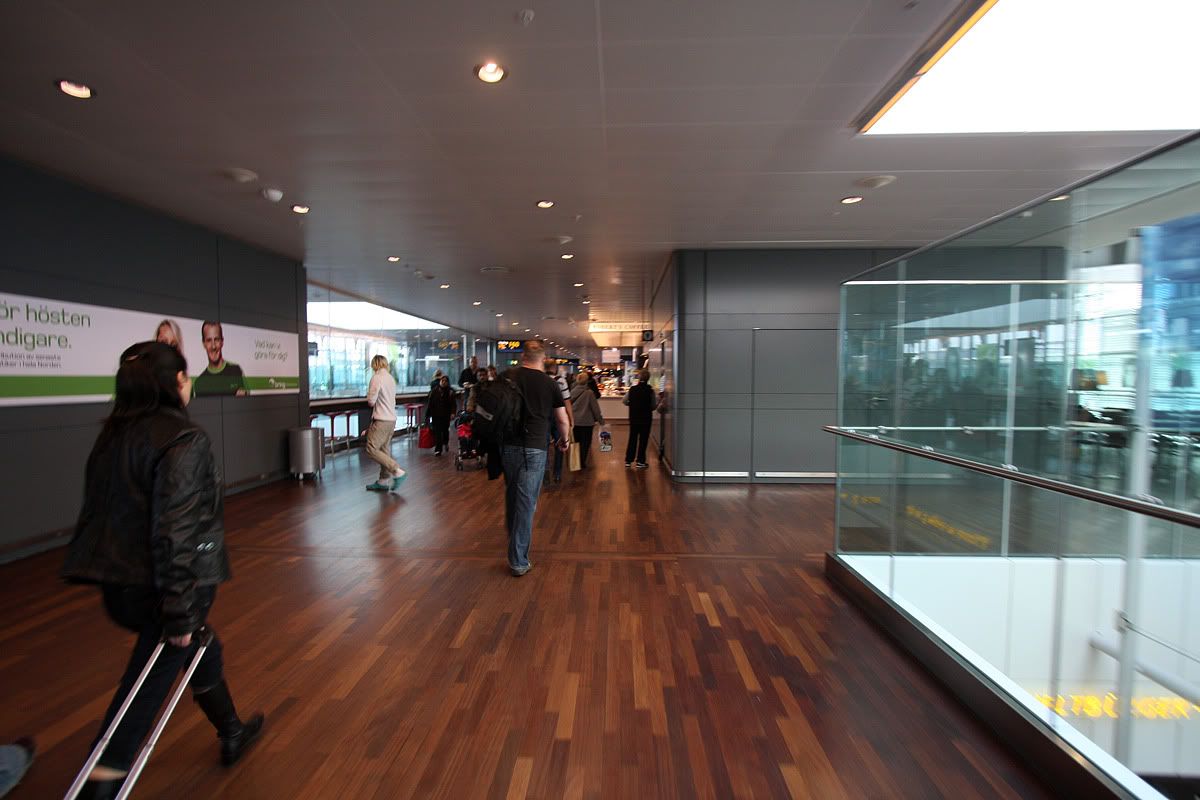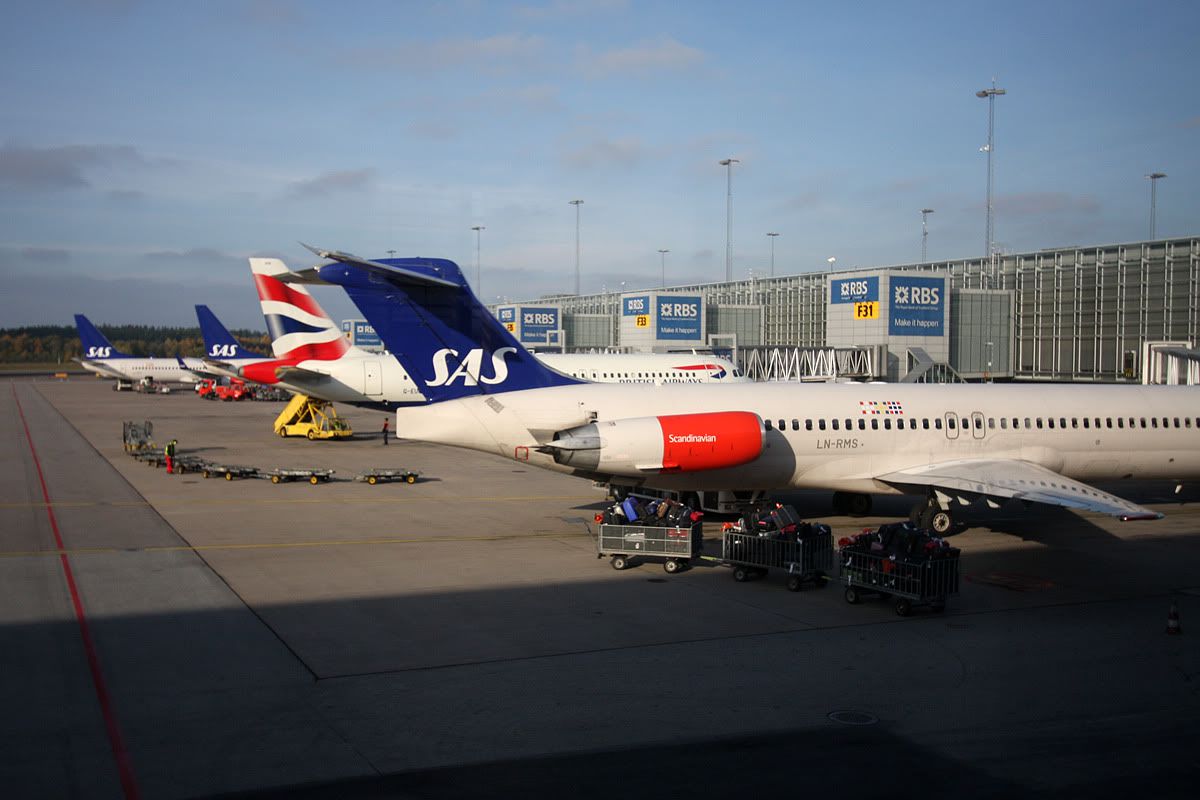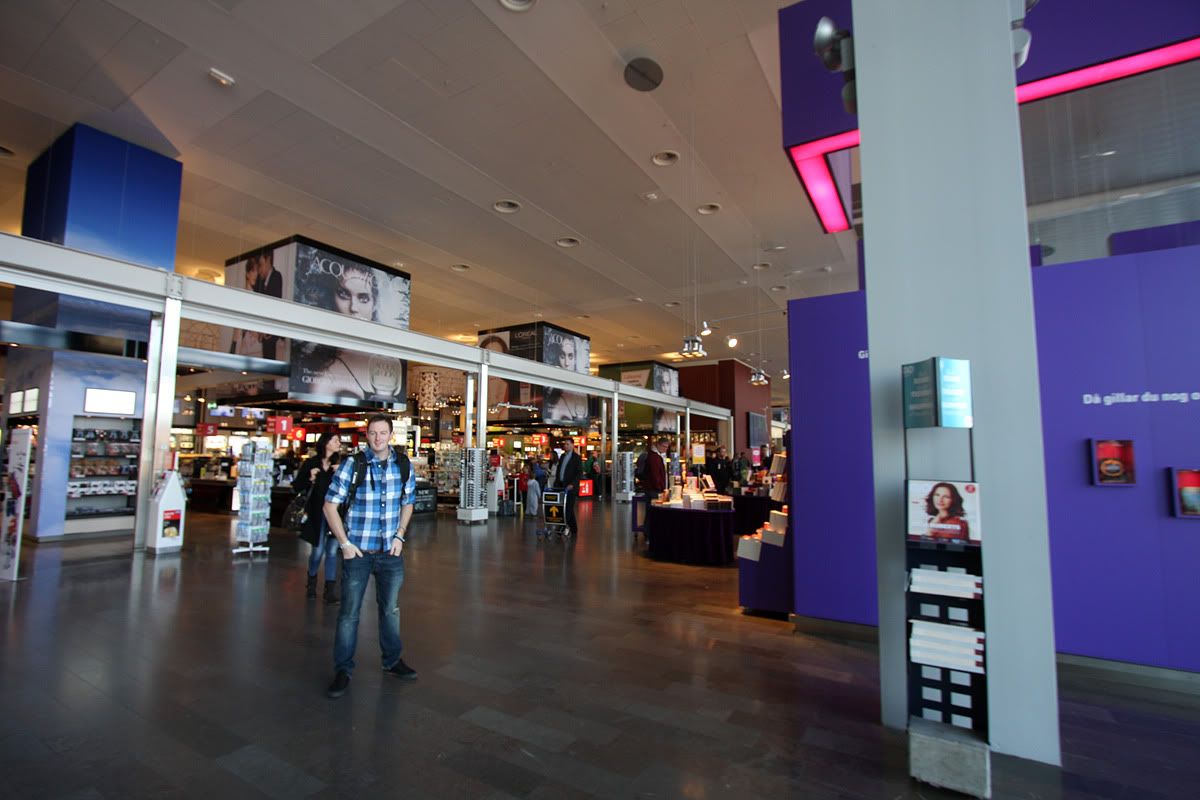 Unfortunately we had to pass through immigration to connect, which was painless. I asked for a stamp but got the response in a rather military fashion, "No I cannot give you a stamp in your passport". Oh well, worth a try. We double checked which gate our flight would be leaving from, contrary to what we were told it was to be 3A (instead of 10A). Unfortunately having just passed immigration, we now had to go through a vaguely signposted mini security point to get to 3A. Fortunately this didn't take long as we were soon in an older section of the terminal, where our next chariot was awaiting.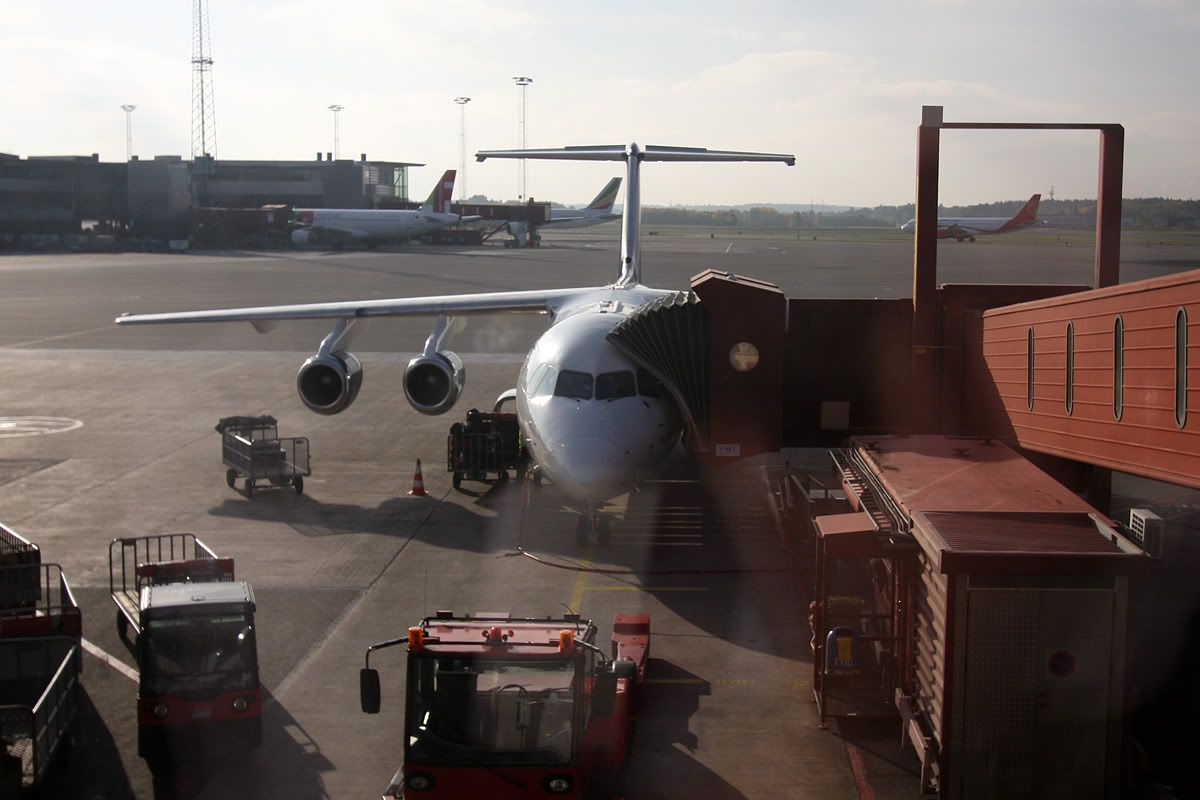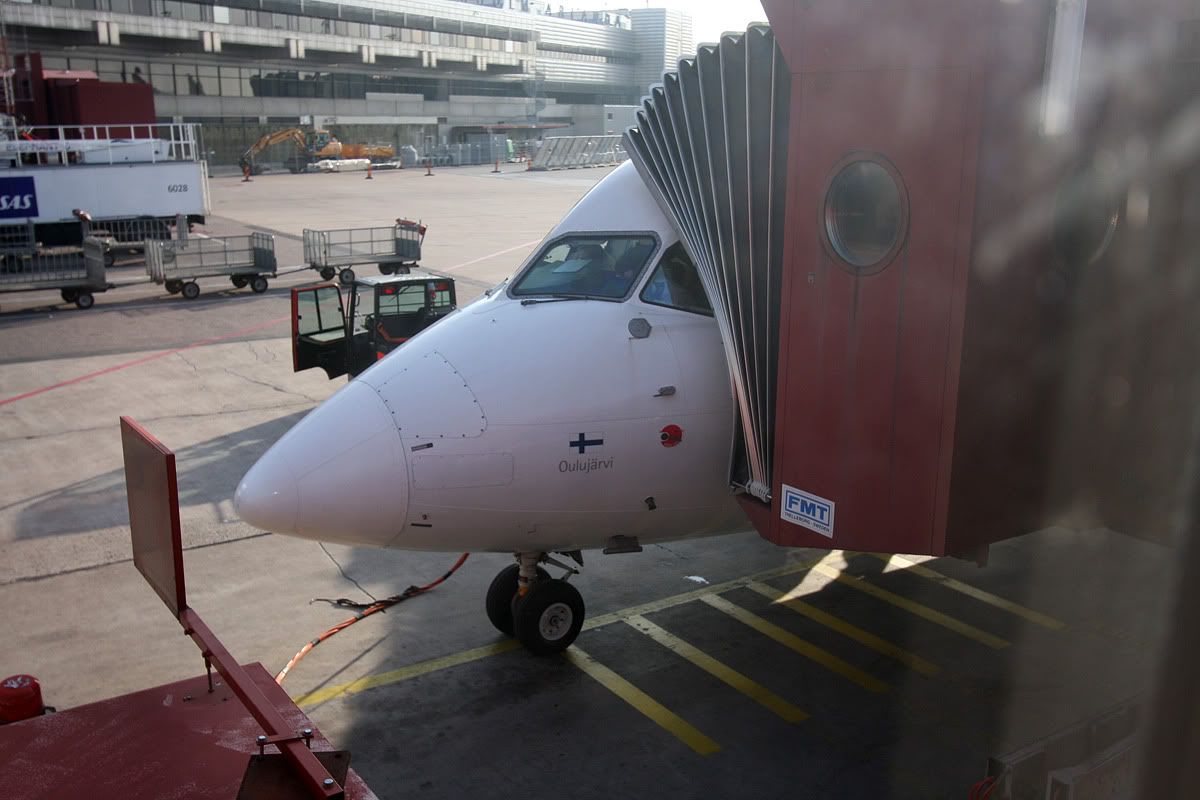 A second scan of our boarding passes and Matt had the sense to ask whether our bags were likely to make it. "Pahhh don't worry about it! There's still 20 minutes before we go, no problem!" That was good to hear! There was no queue and people were just casually ambling up to the gate and getting on. Make a change from the scrums on various other carriers!
Flight: KF446 (SK6684)
Date: 9th October 2010
Route: Stockholm Arlanda - Helsinki
Aircraft: BAe Avro RJ85
Reg: OH-SAO (Oulujärvi)
Seat: 12F
STD (Times in local): 1530
ATD: 1536
STA: 1730
ATA: 1715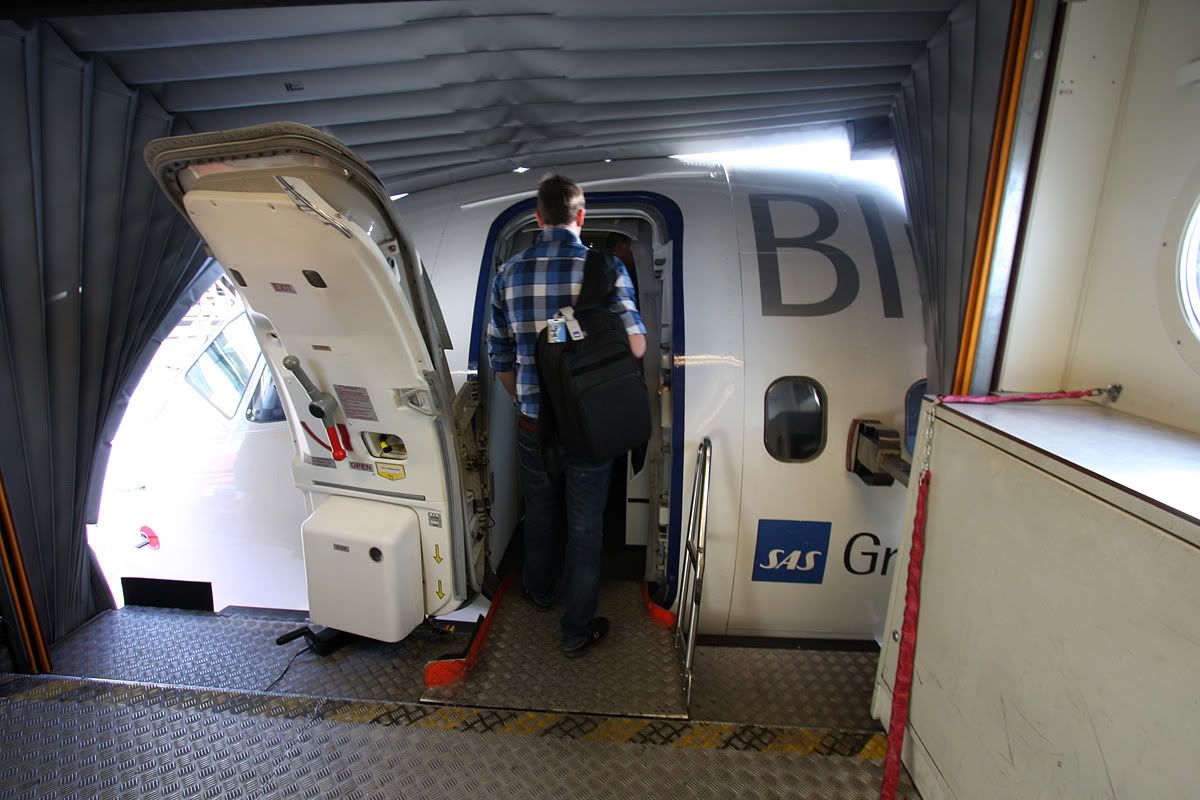 Mind your head!
I was humbled by the tiny forward galley and low cieling (makes an A319 feel like Canary Wharf!) whilst making my way down to 17F. Seating on these Blue 1 Avros is 3-2. I took my seat (Pleasantly comfortable!) and was, again, disappointed to find I had a misaligned window, meaning I had to lean forward quite a bit to see out. Matt was sitting pretty in the row behind me with a grin on his face, I was the lucky one however as I still had a free seat next to me! Oh wait, here come a few more passengers. Oh wait, there's a large woman sitting next to me. Shame...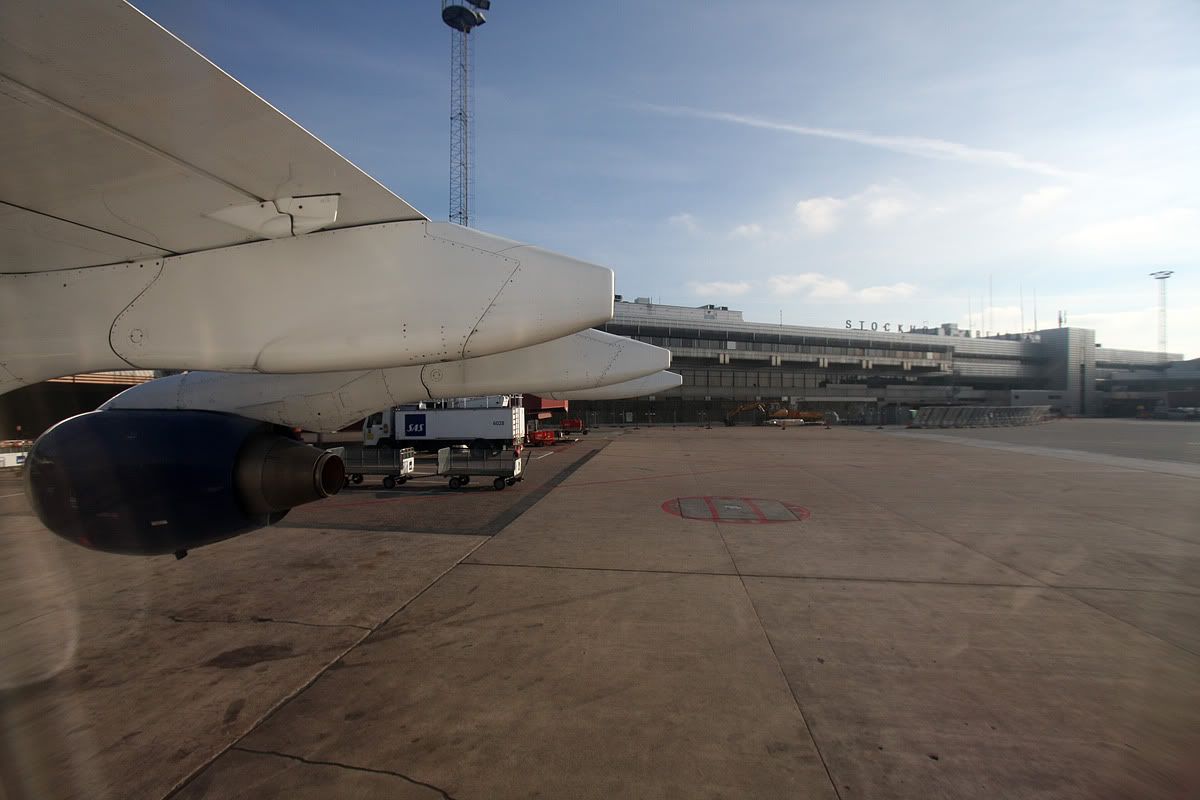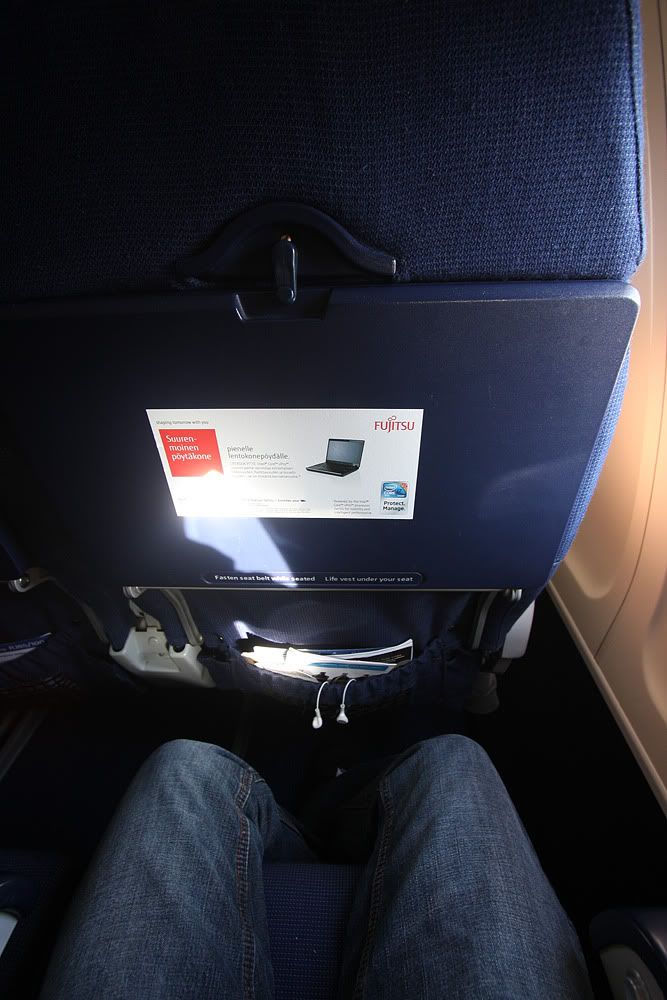 Doors were closed more or less on time and we pushed back and all four engines started up. A blast of power, safety demo done, cabin secure and we were well on our way to the runway, at quite some speed!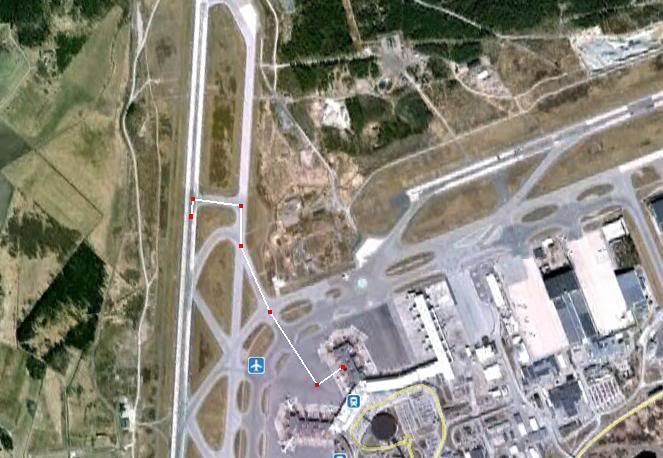 Our taxi route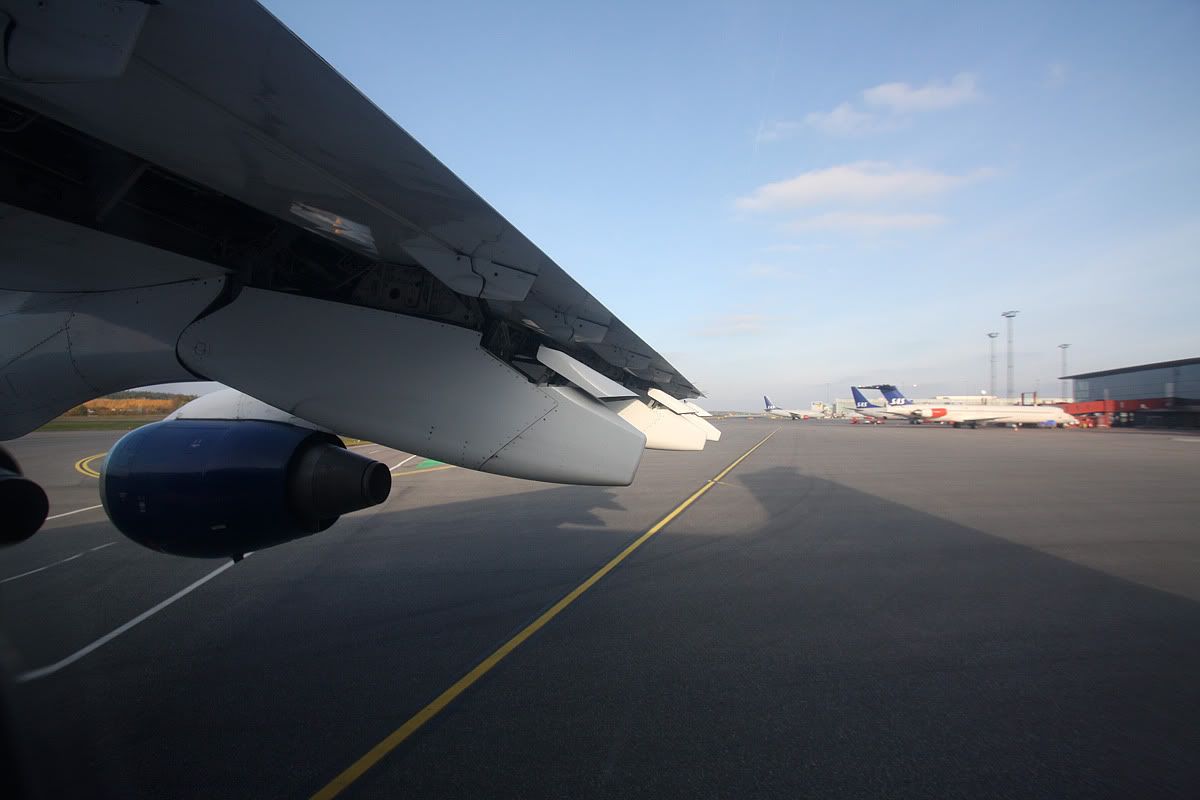 Full length definately wasn't needed and we came on 2,500ft from the end of runway 19R. No pause at all before takeoff power was applied and we were rolling.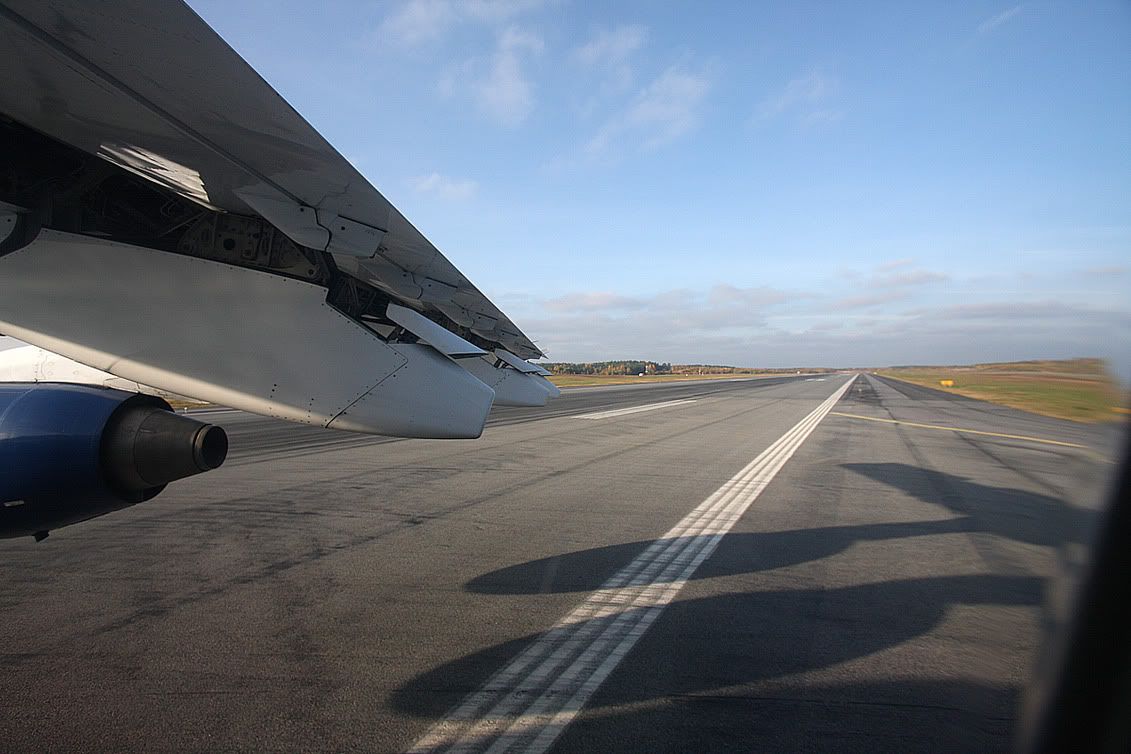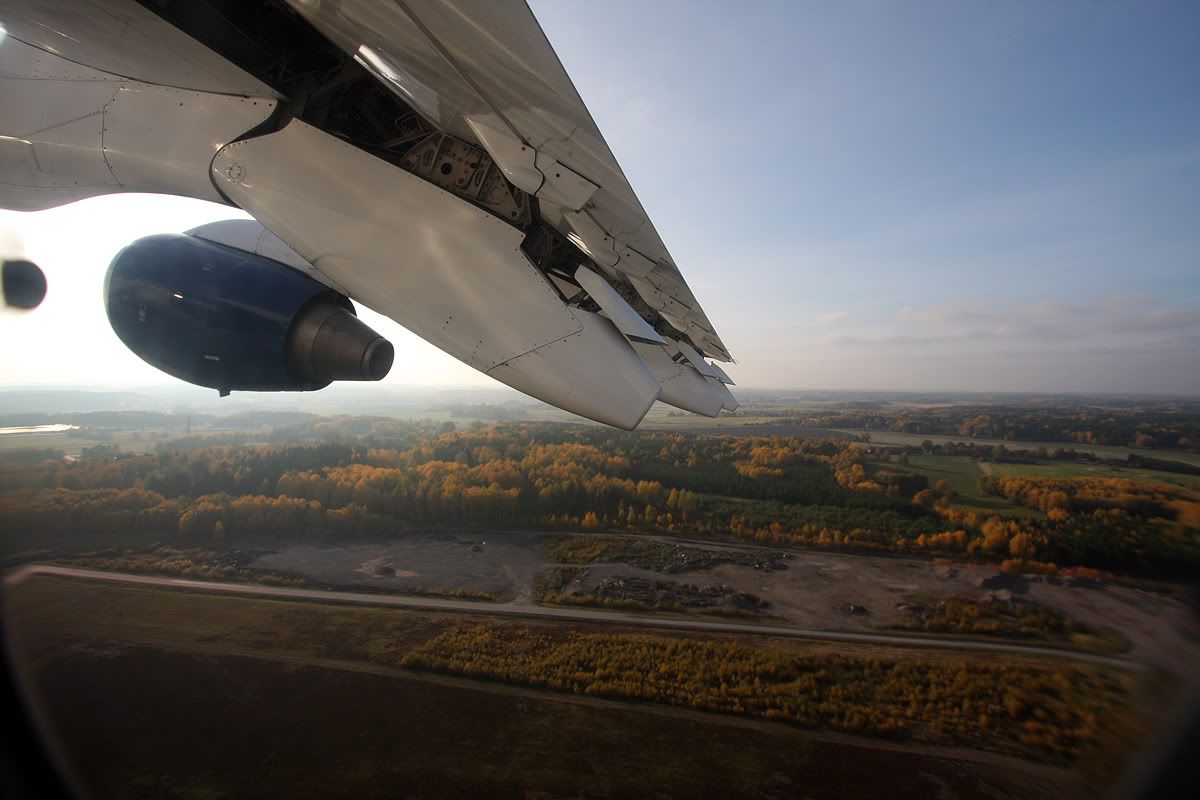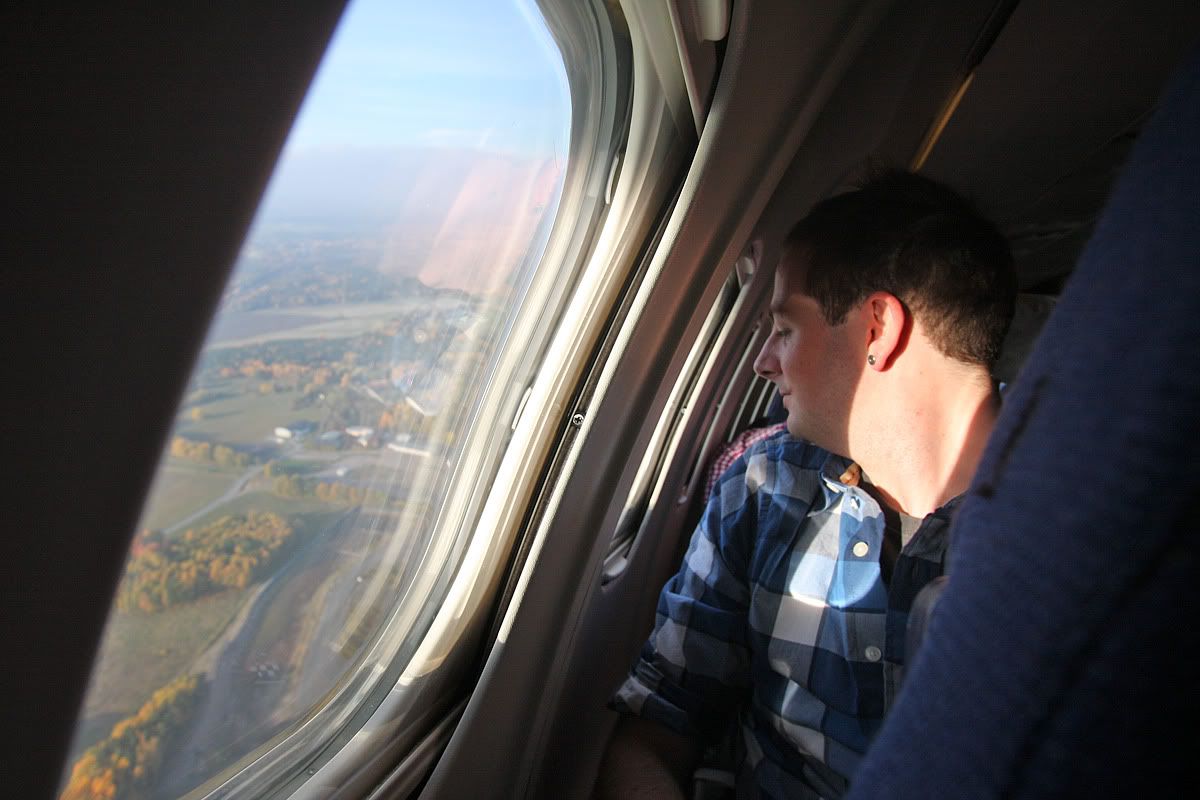 Matt enjoying the view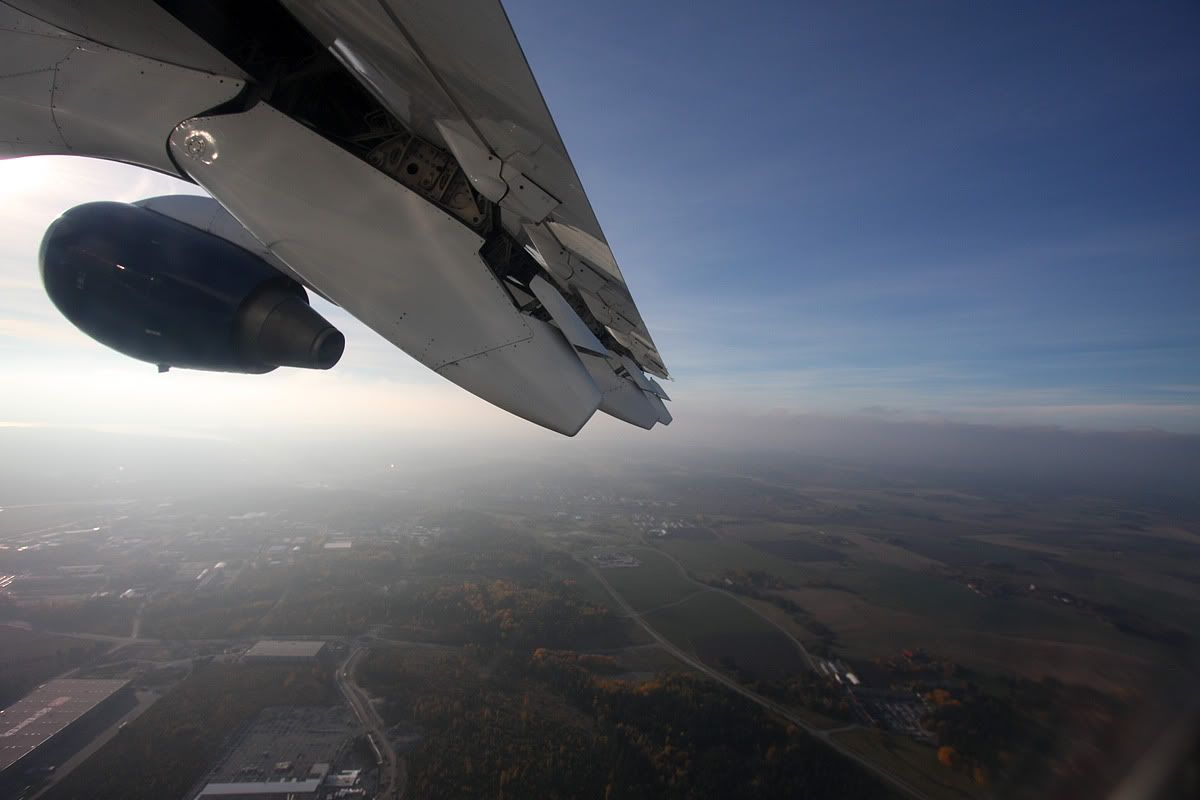 Flaps up and we levelled out. The crew commenced their service in which they were offereing free tea or coffee. By this time I was starving however we were told no food was on offer today. No worries, only a 40 minute flight! I asked for a white tea. With a charming smile (Phwoarrr) she handed me a small cup of... milk?! Allegedly, this was tea. The milkiest cup of tea I'd ever seen, let alone drank in my life. I was grateful nonetheless, and strangely enjoyed it for the first few sips, after which it started to get a bit... nasty. Thanks anyway!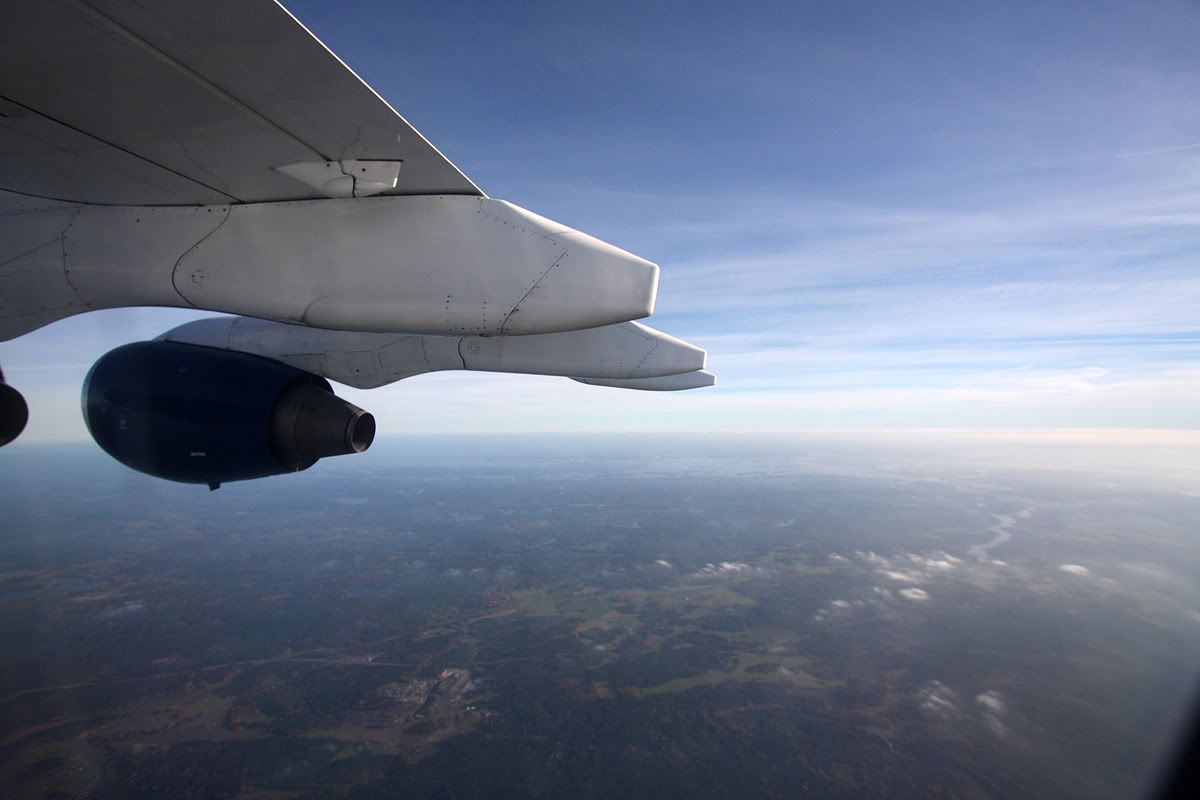 The flight continued on to a gloomy looking Finland, shame Sweden and Finland can't share eachothers weather!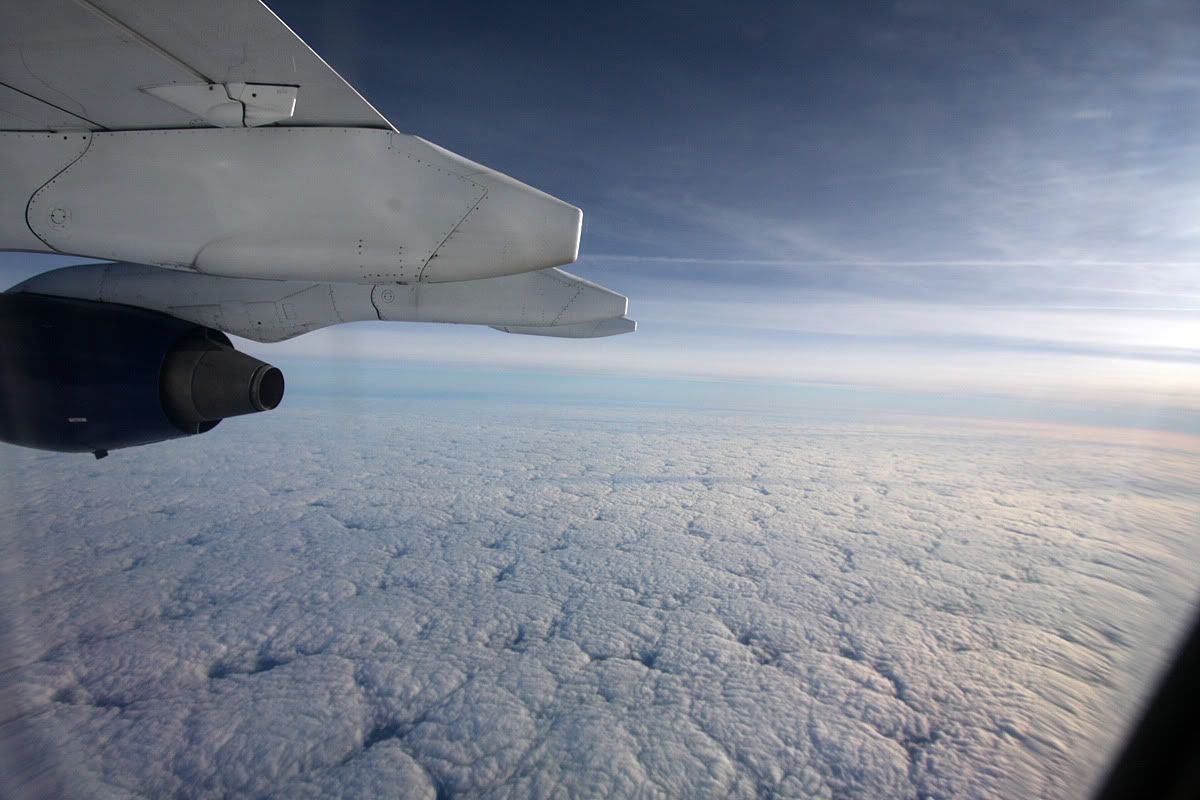 We very shortly started our descent and I couldn't wait to be diving into those clouds. Don't we love flying! Rubbish was collected, seatbelt signs on, cabin secure, admire the view.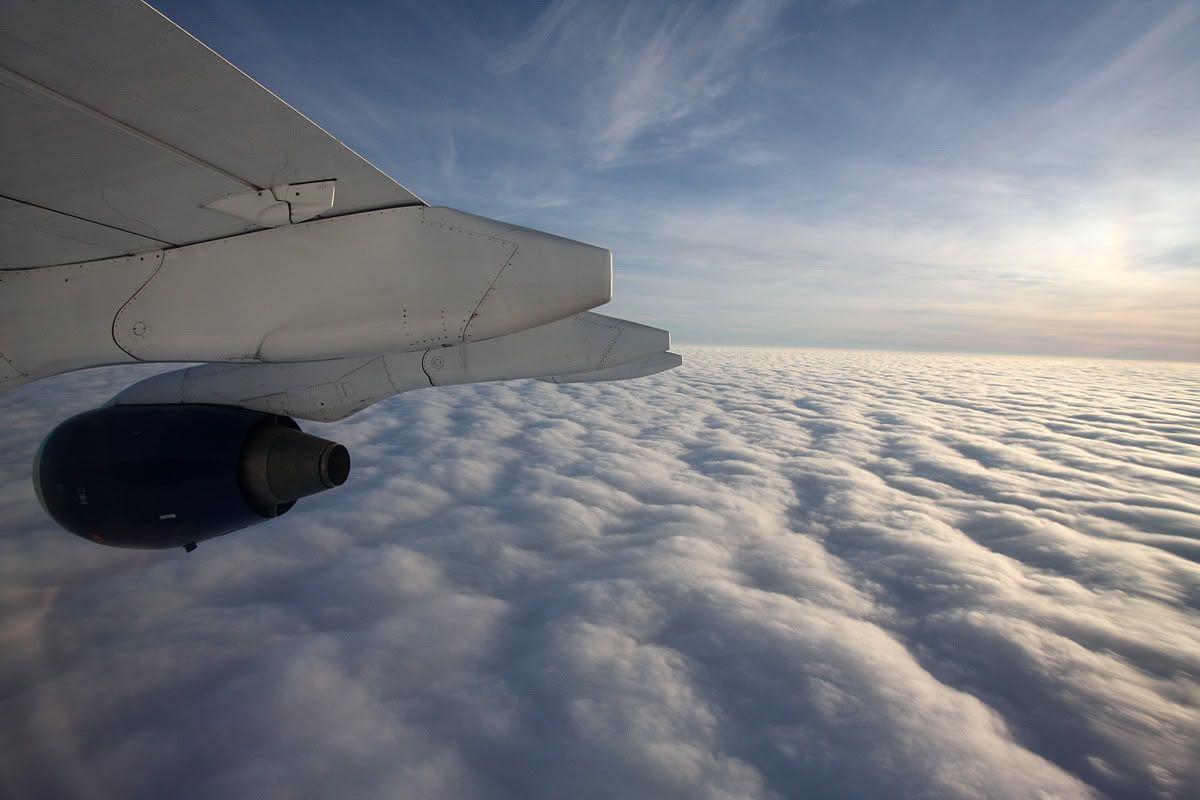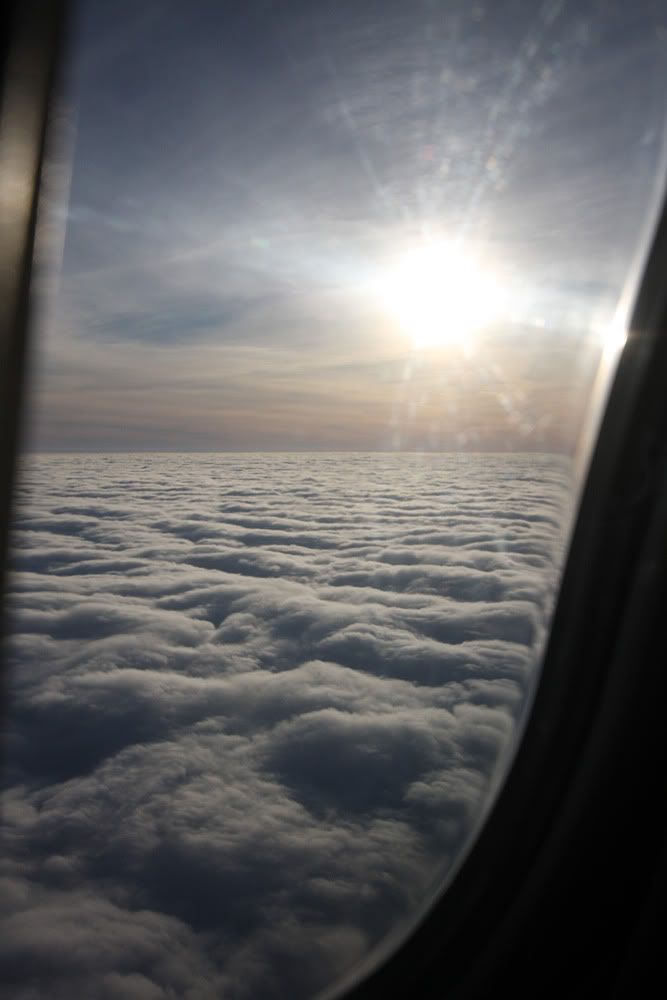 We appeared below the cloud fairly low, and I was shown Finland for the first time. A bit disappointing when you get this!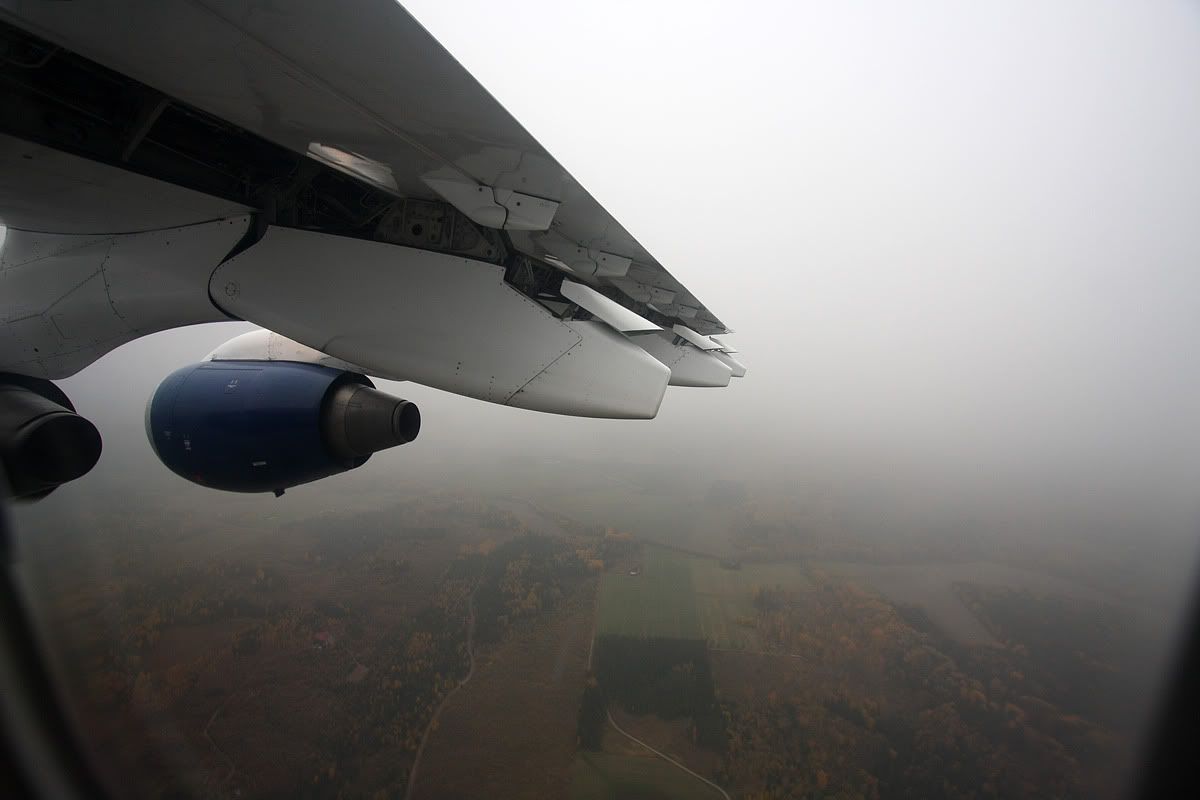 Gear was lowered with a shudder and the door appeared into view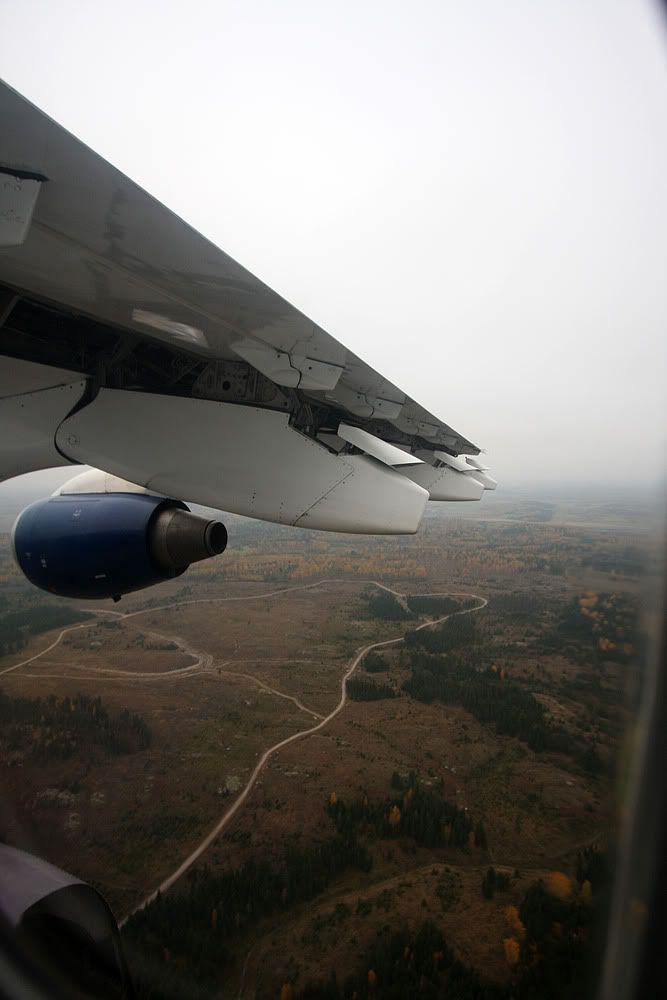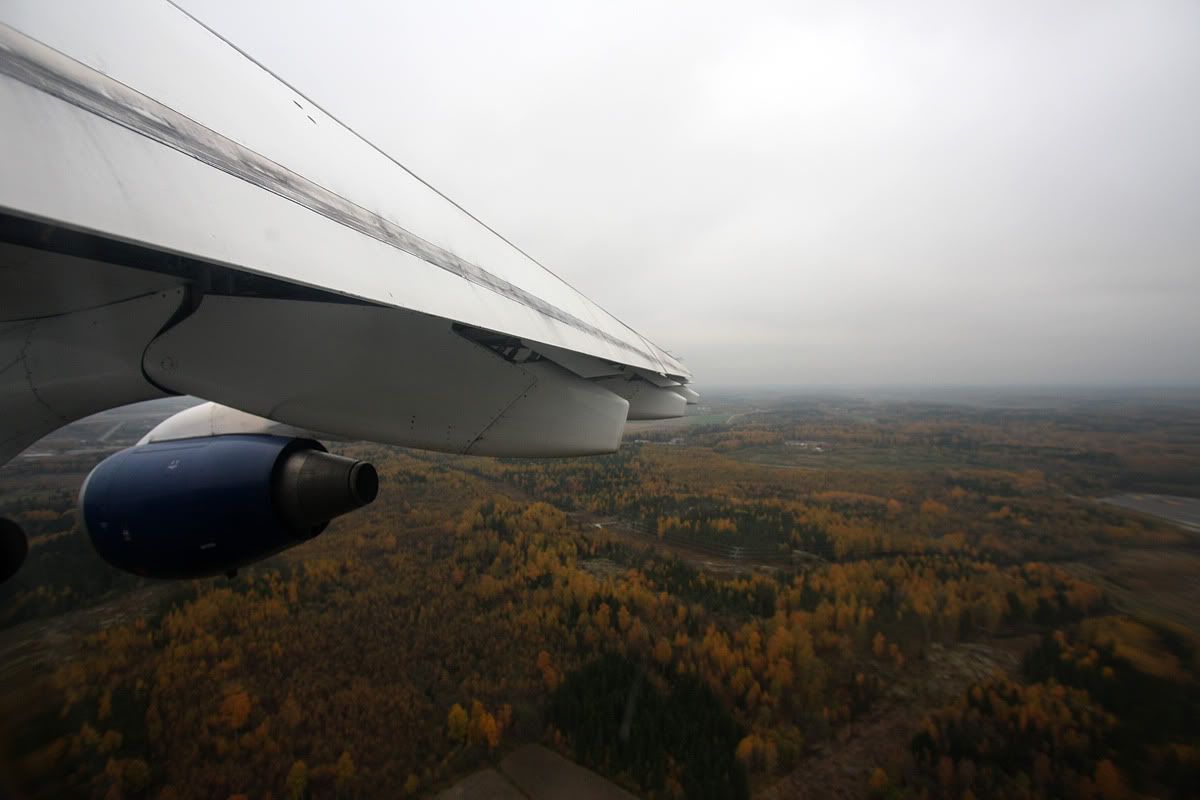 There wasn't a great deal to see on this approach, but we touched down nice and smoothly, 15 minutes ahead of schedule. Fantastic! One right turn off runway 15 and straight onto our stand. Wow, the Finns are efficient too!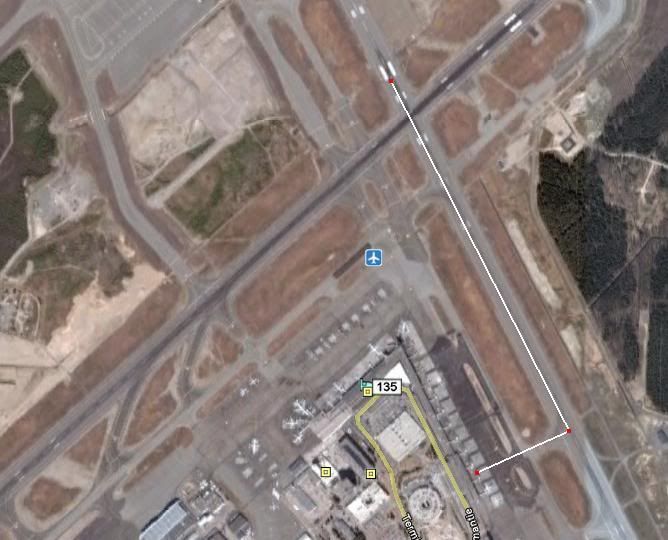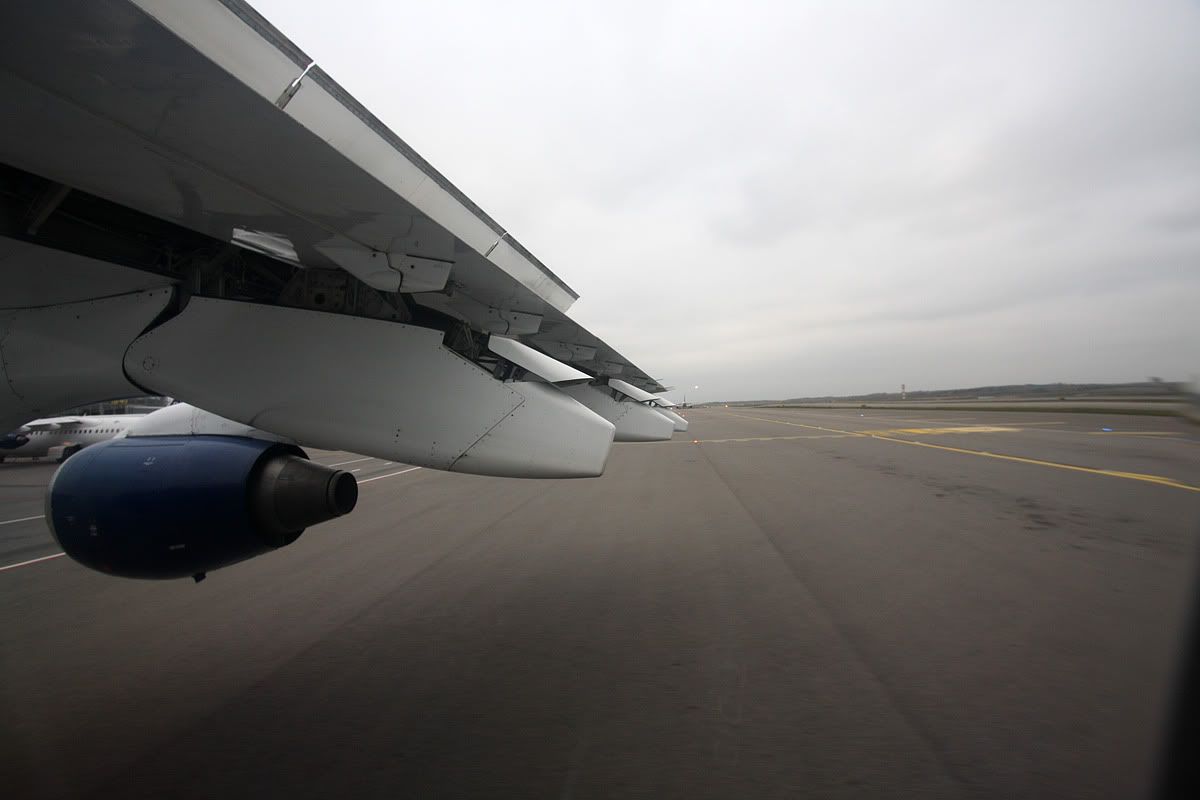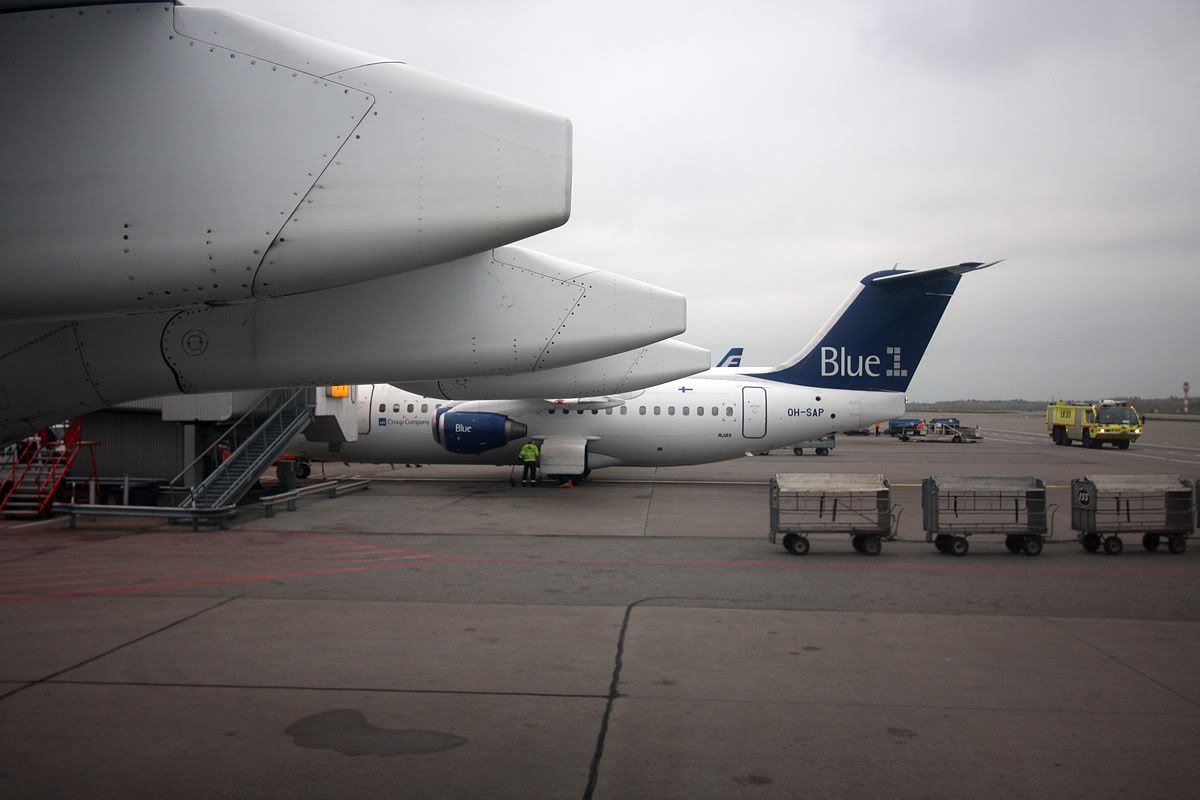 Passengers disembarked and we were the last off. I got a quick cabin shot, thanked the crew at the rear and headed to the front.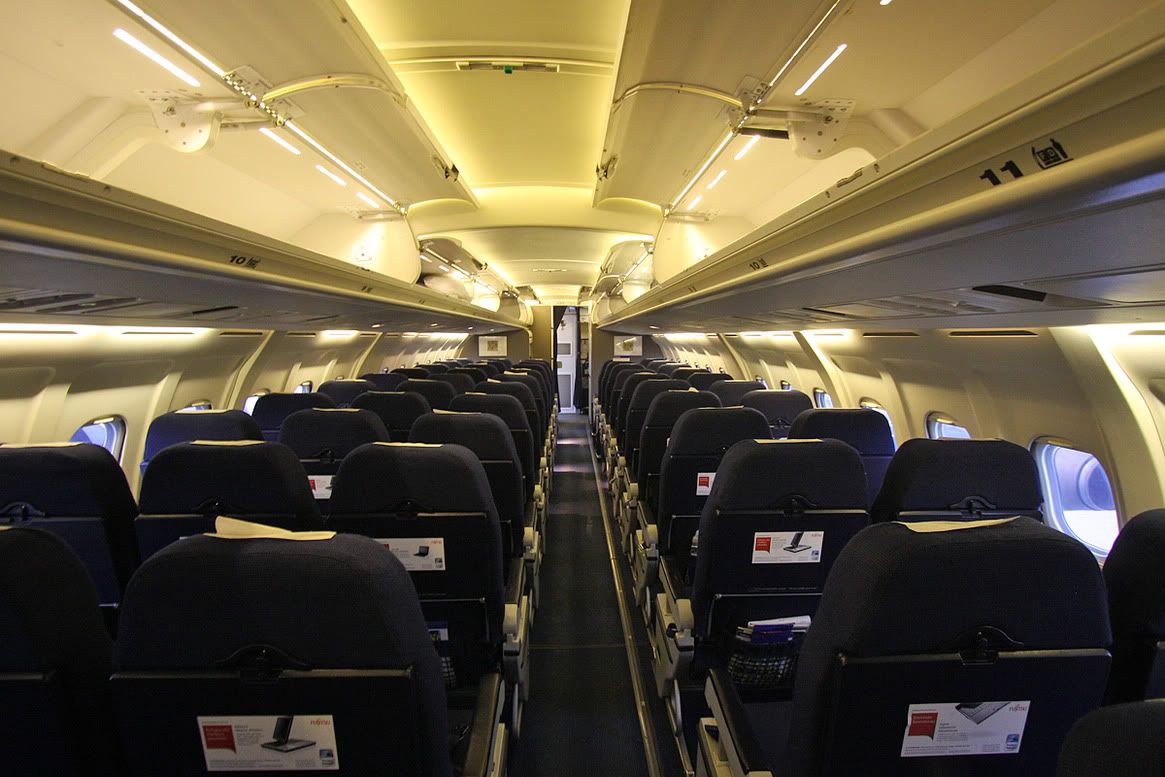 I put on my sweetest face and asked the senior crew member at the front whether I could have a very quick look in the flight deck for a picture, she said she'd have to check which the captain, which she did and he obliged. I quickly stuck my head in and asked how the RJ85 was treating the captain and how long he'd been flying it. 10 years, it turns out.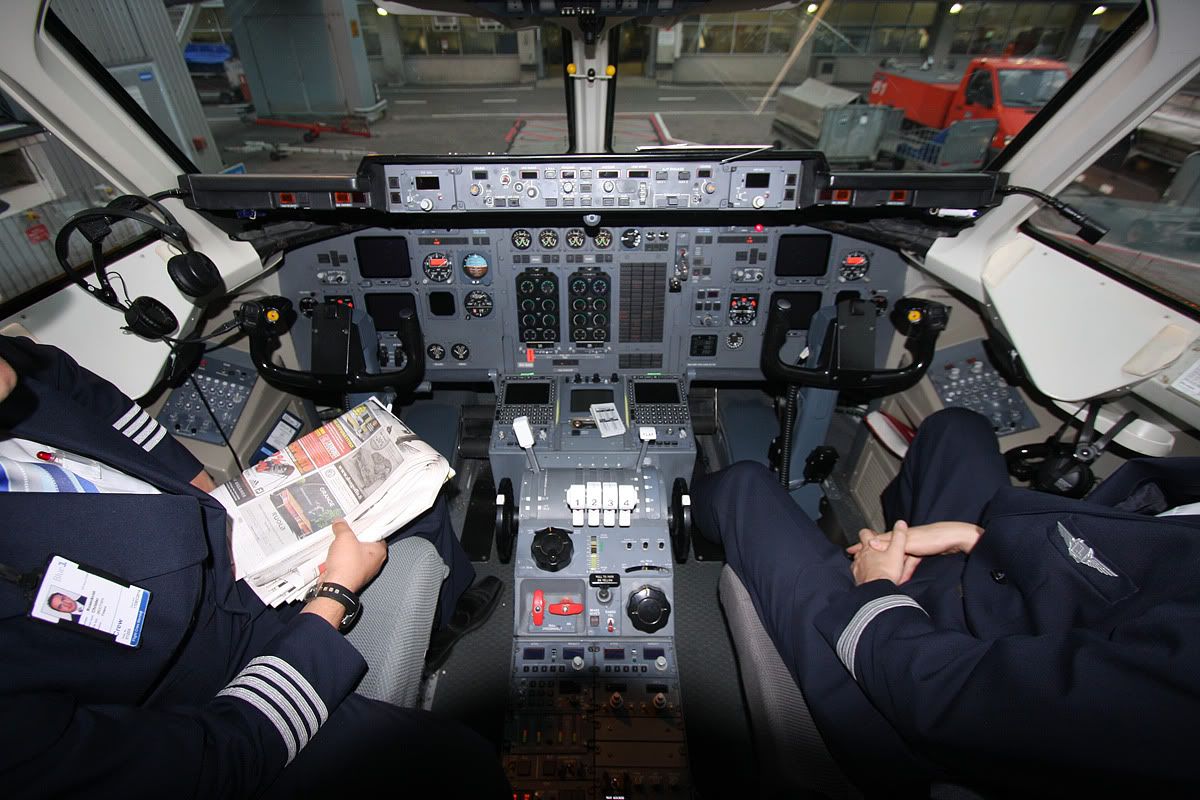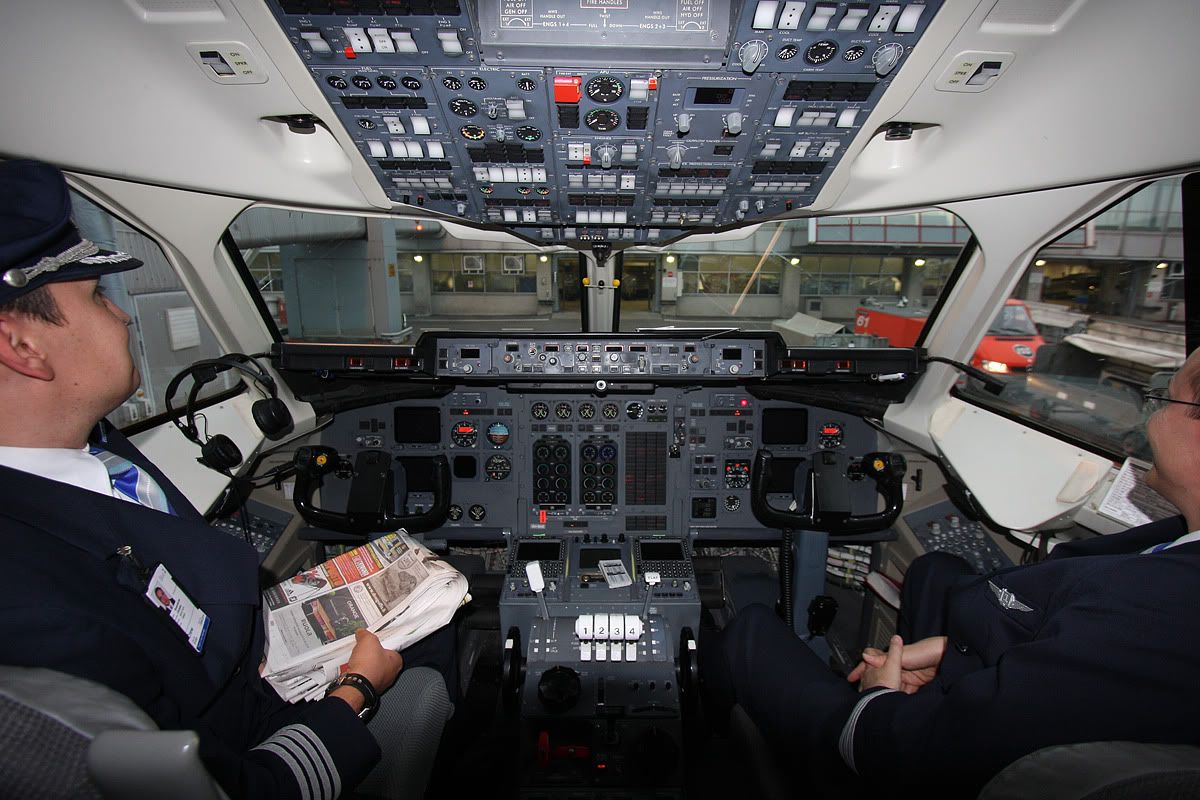 I thanked him very much and made my way out the strange open air jetbridge where I grabbed a last couple of shots,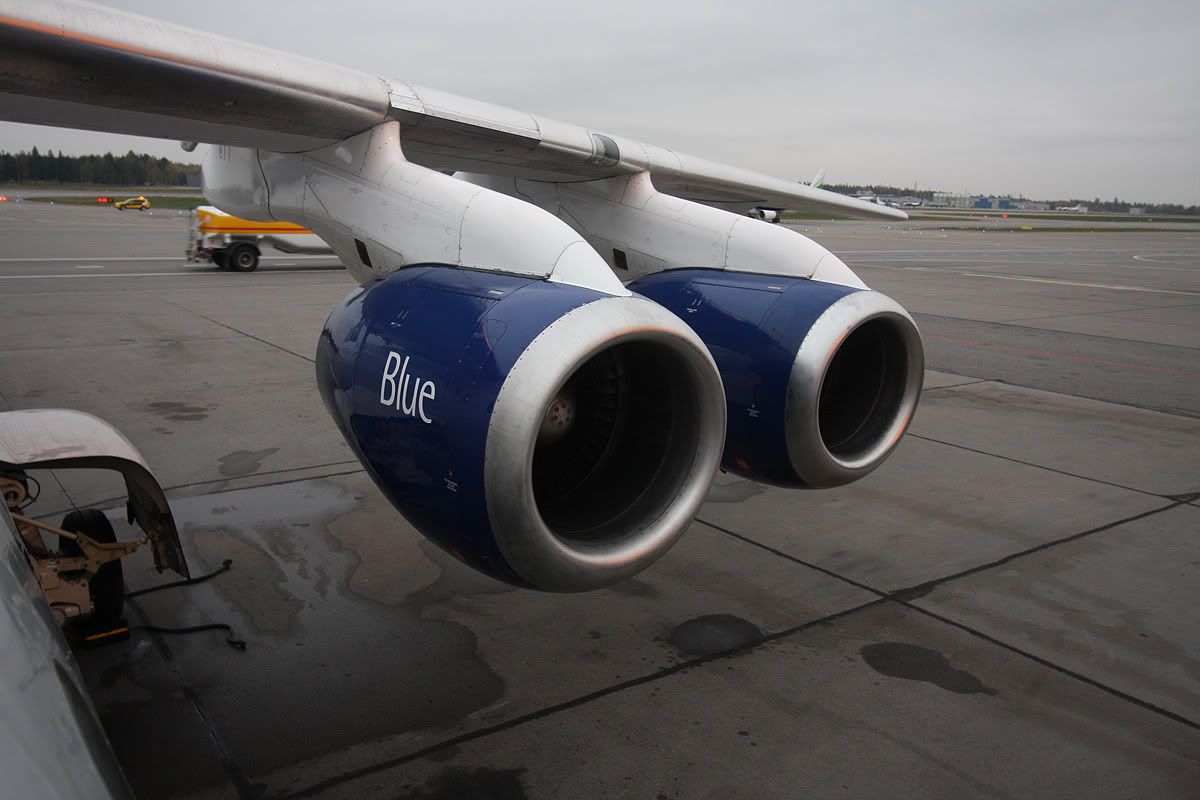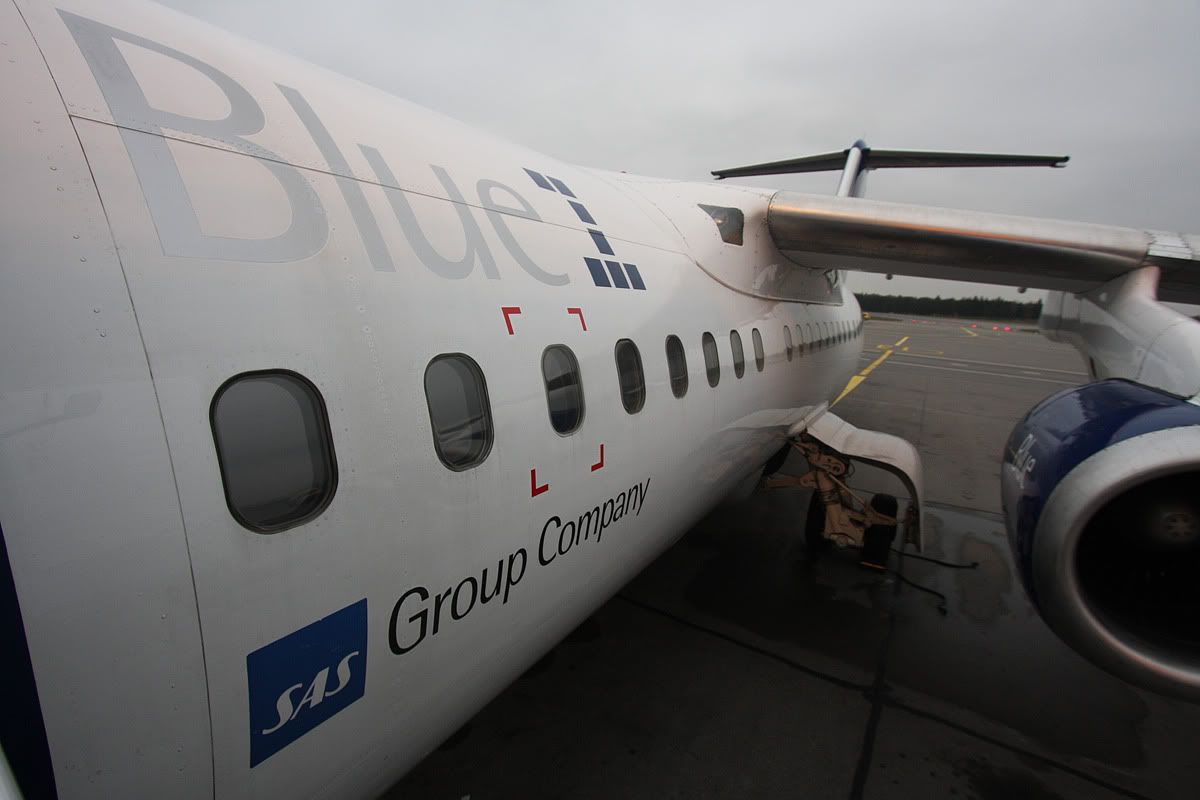 After a walk through the terminal and a couple of minutes at the baggage carosel our bags were amongst the first to appear, a good end to a hectic day!
Conclusion
SAS are one of those airlines that just exist. They aren't famous (or infamous), they don't seek publicity, they don't seem to have many problems that are widely spoken about, and they get the job done well, from my extremely limited experience. Scandinavia is somewhere I'd love to live if I moved away from the UK, so who knows. I could be flying with them alot more in the future! I was impressed by the efficient arrival and connection in ARN, just a shame about the departure from LHR but that is obviously in no way SK's fault. The initial delay was put down to being held to land at LHR. (Of course, what else!). Interiors were clean and well kept and the crew were warm and welcoming.
I was also pleasantly surprised with Blue 1. A very nice little airline that deserves more recognition. Definately plan on giving the LHR-HEL a go on 717's at some point soon, to see how their service is on longer sectors. Aircraft were clean, comfortable, well kept and the free tea (though nasty) was an unexpected bonus and I was grateful nonetheless. The crew were attractive (being the key point, obviously
) and friendly.
Thanks for reading and I apologise in advance for any typos, things that don't make sense etc. Early shifts will be the death of me!
Of course, comments or constructive criticism are more than welcome and I look forward to reading your replies and answering your questions.
Cheers!
Tom