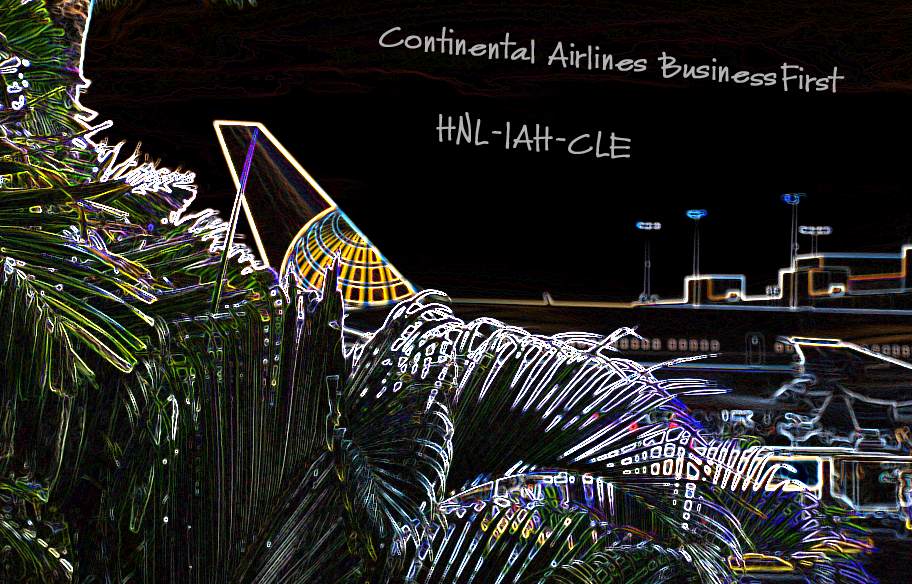 Final flight home on Continental from Hawaii
For the past few years I have always had a tradition when I'm going to work or coming home at the end of a contract, I always treat myself to Continental Airlines Business first on my favorite Boeing 767-400 aircraft. With the upcoming announcement within days that they have merged I knew by the time I would fly home after my next contract (ending around April 2011) they would be United Airlines and the 767-400s will probably be replaced with domestic 777s. Some photos are lower quality then the others. I used a Nikon, my pocket size camera as well as my blackberry for this.
Saturday morning started a little crazier then I would have liked. Due to a few reasons I had to work onboard the ship for disembarkation before I could sign off the ship. My alarm went off at 5am so I could report to Guest Services around 6am to make sure everything was set up because getting 2,500 people and their luggage off the ship in 2 hours is a big operation! I had spent the previous few days packing up my cabin so even though I had to work I was ready to go. Disembarkation went smoothly and by 9:30 I was cleared to leave the ship. A quick stop to my cabin to collect my carry on bag (checked bags were sent to ship security the previous night for inspection) swung past the Personnel office to get my discharge papers and headed towards the gangway!
PICTURE SCREENSHOT
It was around 10:30 am so we didn't want to head to the airport right away so we walked to Aloha Tower with a friend from the ship to have a quick beer. Our excitement for signing off the ship and our flight home got to us and about 40 minutes later we were heading to the airport very early.
Arriving at the airport was very easy. Almost no line and were able to get through inspection, check in and security in about 20 minutes. Honolulu's airport is one of my favorite airports to explore. For starters it has the Hawaii "Aloha Spirit" so its much more relaxed then most US airports. I really encourage anyone passing through to take some time to walk around. In the middle of the airport there is a garden area that holds airline clubs and ponds etc. There are a few fences in the area that you can look right onto the tarmac. Very pretty quiet area in the middle of the airport. Honolulu has some older style terminals that if you walk around after the morning bank of Asia and South Pacific bound flights are completely abandoned. You can walk around and hear a pin drop. As you can see by the below pictures it really is empty.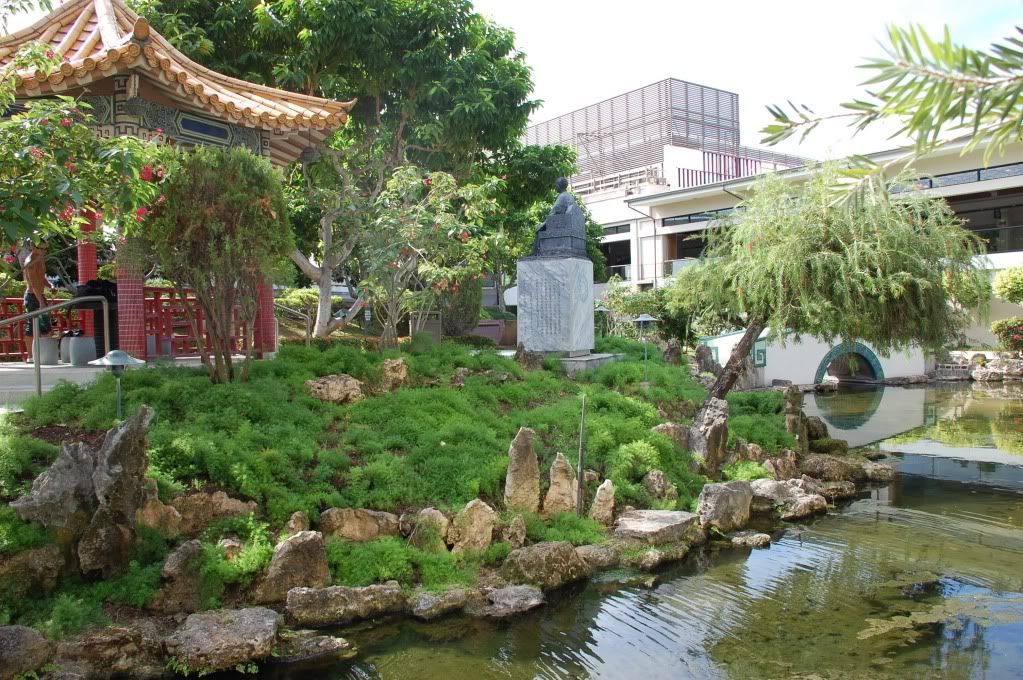 The garden area in the airport
empty terminals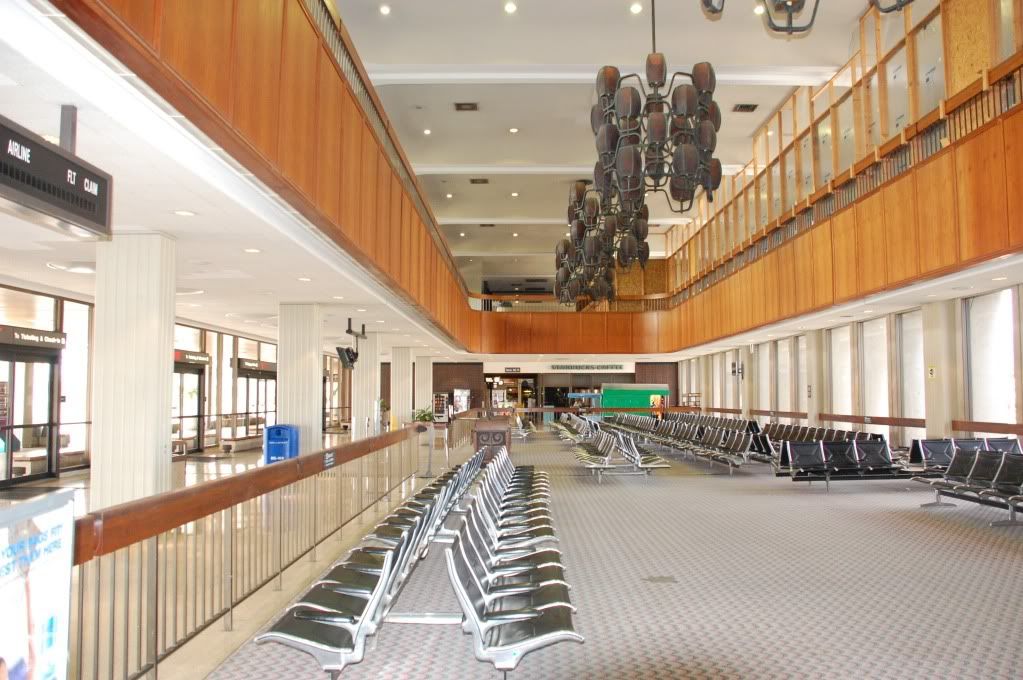 empty terminals
Here are a few pictures from walking around the airport:
An American Airlines 757 with Diamond Head in the background. If you look just to the right of the winglet you can see the smoke stack from my ship!
One of Hawaiian Airlines new Airbus A330 aircraft. It was just sitting in the empty terminal so not sure what it was doing that day.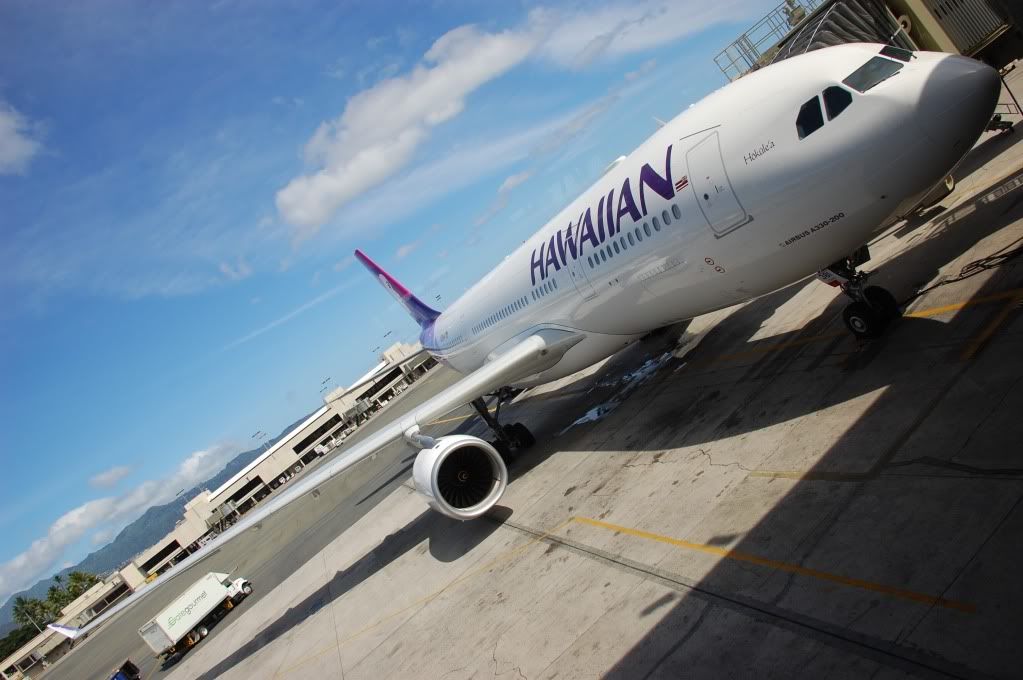 One of Hawaiian Airlines ground workers taking a little relaxing break in the belly of their 767-300.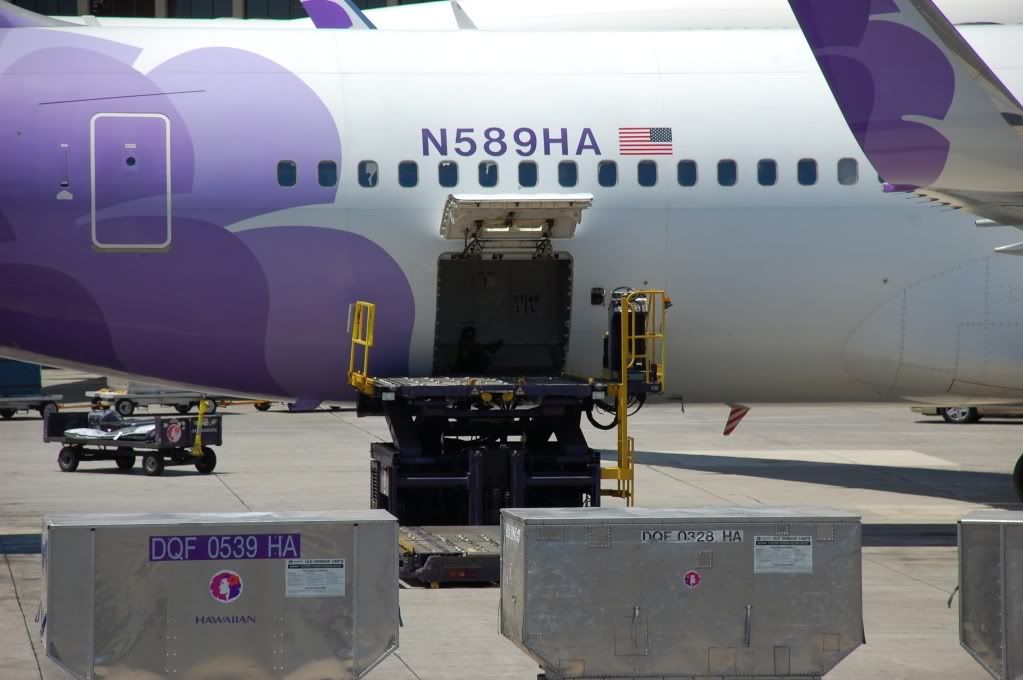 Are we in Hawaii or in Japan?! Not seen in this picture is a ANA 767, 2 more JAL 747s, 2 DL 747s and a United 777 also heading towards Japan!
Our bird has arrived!
As soon as our plane had arrived they started to buff and polish it. I really love its wheel shoe covers!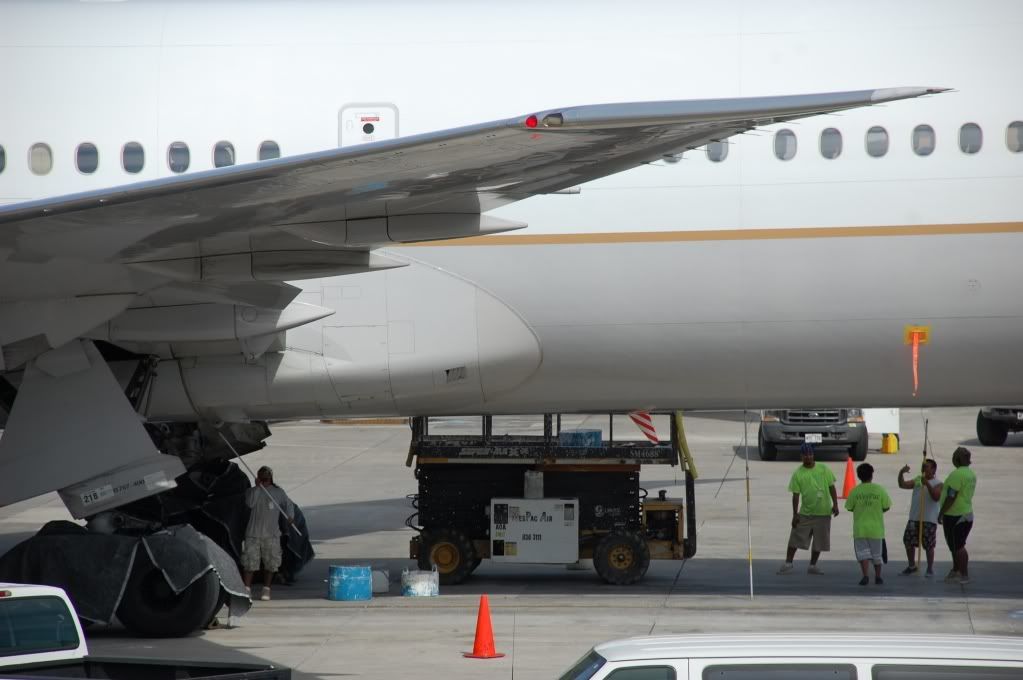 To take a break from walking around the airport we had lunch at Kona Brewing factory in the airport then headed to the airline club. I didn't take any pictures of the Presidents Club but it was a standard small airport lounge room with a free open bar, self serve! After a few preflight cocktails in the airline club we headed to our gate to board our flight.
Continental Airlines Flight #2
HNL-IAH
Departing at 19:20
BusinessFirst Seats 1A and 1B
Boeing 767-400
My friend and I booked this flight together originally in coach but about two weeks before the flight I noticed on the reservation it was giving me the option to upgrade for 15,000 miles and $0 co-pay. Normally it's more miles and a $450 co-pay since I'm on a very cheap coach ticket class. I jumped at that deal and upgraded my friend and I. Looking back I'm guessing it was some kind of mistake on their website. By far the best upgrade deal I have ever had!
Boarding started by boarding BusinessFirst customers through door number 1. Shortly after sitting down a flight attendant came around passing out menus for the flight and took our pre-flight cocktail orders. My friend and I had MY traditional pre-flight drink of a mimosa that was just delish. My friend is a huge United fan so of course with all the interests that we have in common and the merger we have been making fun of each other's airline for months. This was his first flight on Continental and I knew he would be impressed.
David soaking in the pleasure of their BusinessFirst 767 cabin compared to United's domestic 767/777 first class cabins as we await them to finish boarding.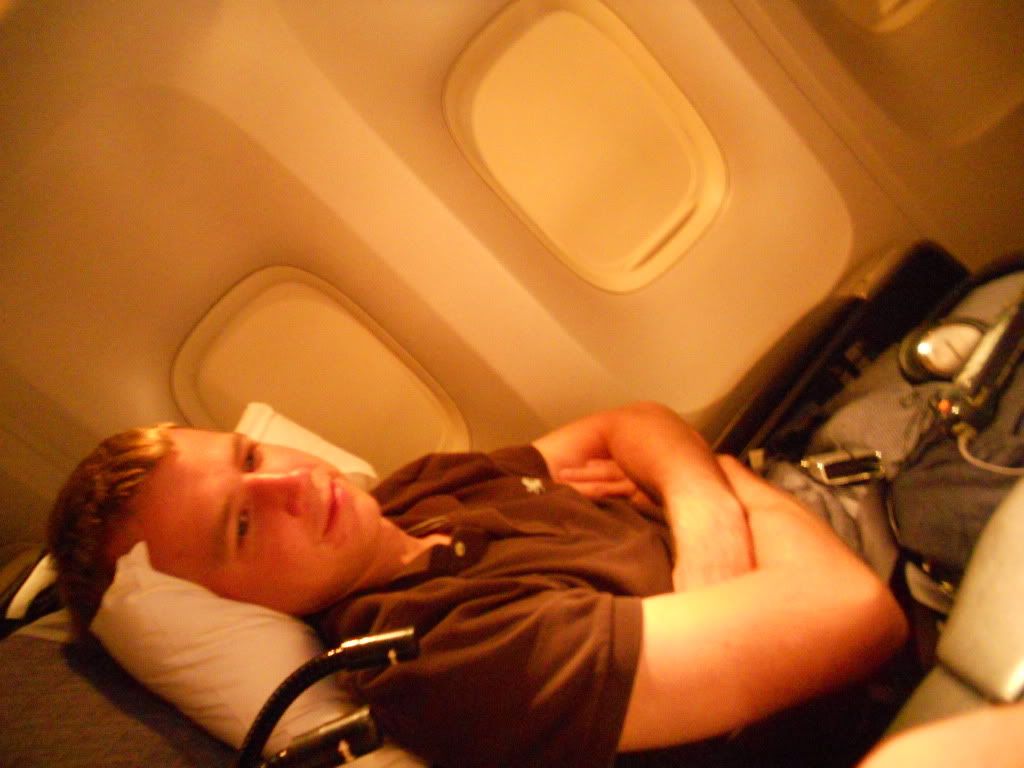 We both had a natural high as our plane was taxing towards the runway. We left at 19:20 and our ship set sail at 19:00 for its next cruise. Watching the ship sail away beautifully light up at night without us on it was a wonderful sight! Take off happened and we were on our way to Houston Texas.
Shortly after take off the flight attendants prepared the cabin for dinner service. Hot towels were passed out and cocktail orders were taken. I decided to have another Mimosa that tasted as good as the first. One cheap thing is Continental doesn't serve the hot nuts in a little bowl anymore . The nuts are hot but they are served in the bags. Oh well not a deal breaker….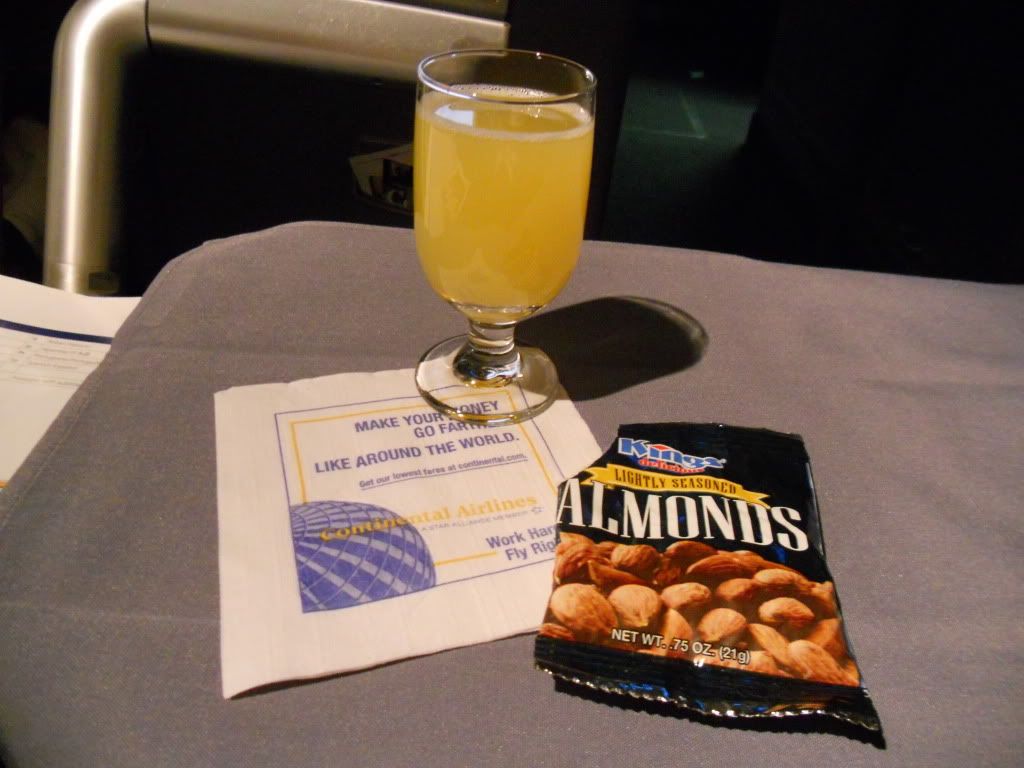 At one time Continental served the appetizer first , collected the plate and then served the Salad but now its served on the same tray with a smaller salad. No big deal and I kind of like it this way. It takes about fifteen minutes off the meal service time.
The appetizer tray started with grilled shrimp with a Korean BBQ sauce for dipping. I hate ship but the sauce helped cover up the texture and flavor! The salad was a basic salad with a Caesar salad dressing. When I was opening the dressing I did it too fast and I made a mess but I tried to cover it up from the photo with the garlic bread. Continental's garlic bread is delicious. Its hot and moist and I can eat lots and lots of it.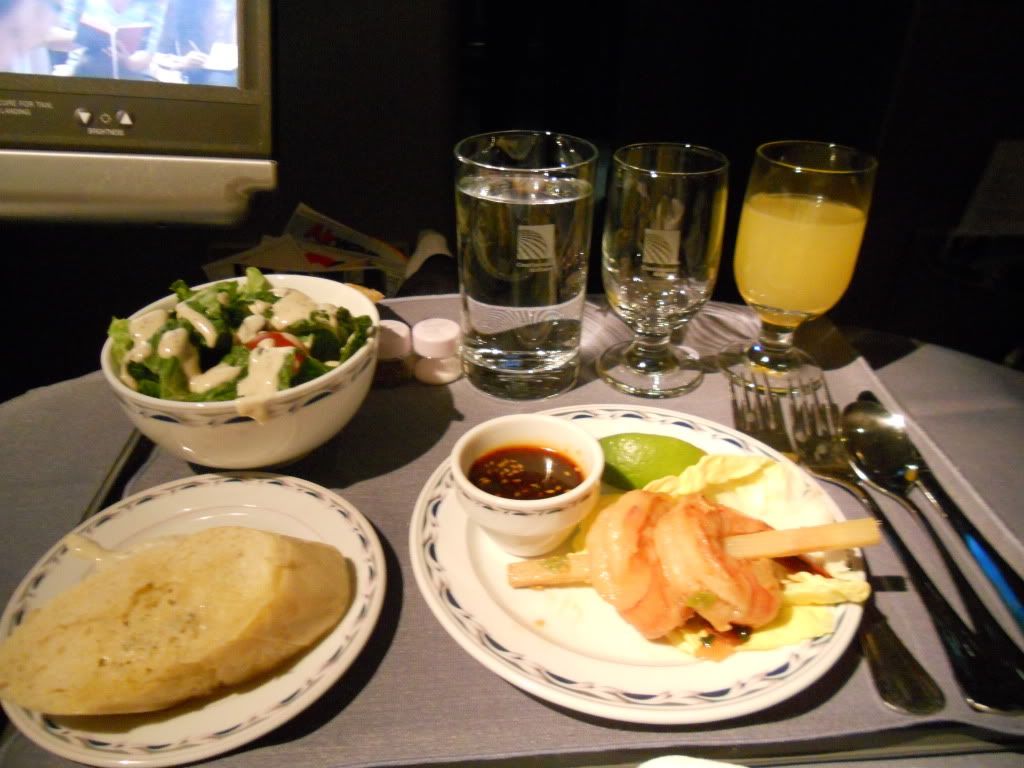 After the shrimp and salad they brought us our steaks. Sorry the picture is a little blurry but basically it's a steak with some potatoes, squash and broccoli. The steak was cooked as medium in the middle and well done around the edges. I did notice the man sitting next to me in 1D had a very rare bloody steak so I guess it was luck of the draw. The flight attendants came around often offering white and red wine with plenty of refills. Overall the meal was good and rather filling.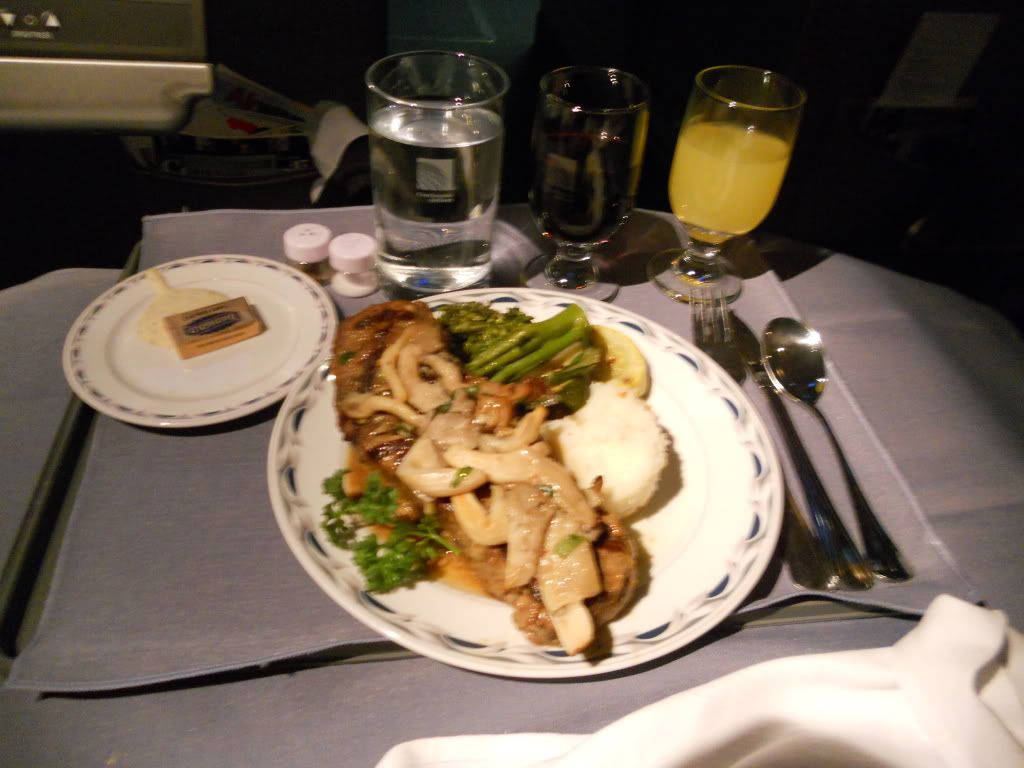 After the flight attendants cleared everyone's trays they came around with their ice cream carts and after dinner drinks. They had any topping you could think of from Hot Fudge to Strawberries. They were delicious as always but it did make me very very sleepy so I was sound asleep right after and slept for about 6 hours.
Due to being really tired I slept for the entire flight so I don't have any photos of the entertainment system but it's a little outdated.
I didn't take a photo of the route for this flight but took one from the last time I did it and it was the exact same about.
About one hour before landing I was awoken by the cabin lights turning on for breakfast service. Breakfast was pretty quick with bread and fruit with a cup of hot tea. Overall it was good and went to the lav to freshen up. We ended up landing in Houston a few minutes before scheduled.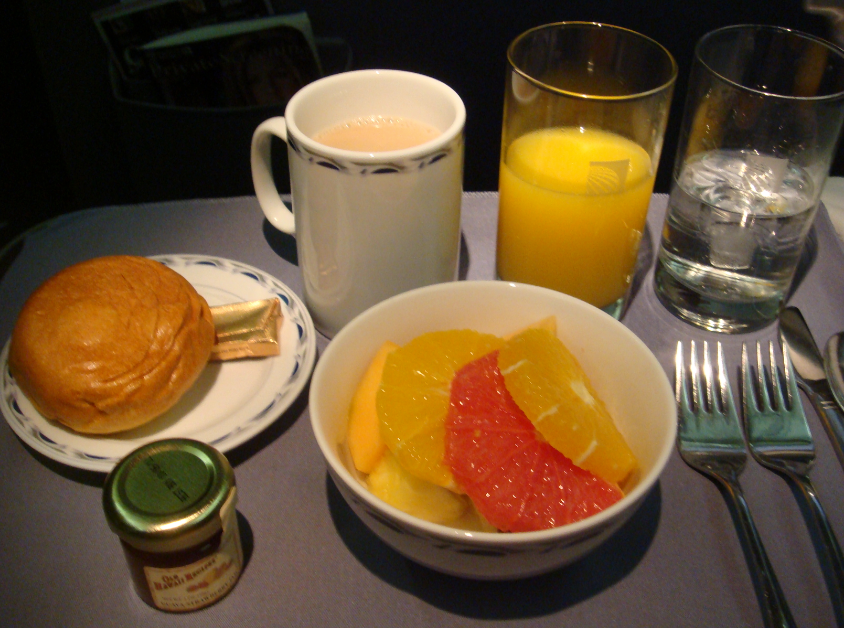 Walking to my connecting flight to Cleveland I passed this kinda tacky sculpture of George Bush!
Connecting flight
Continental Flight ???
IAH-CLE
First Class 1A
Boeing 737-800
This flight was pretty normal and featured Direct TV but I slept for most of the flight after finishing lunch.
Lunch was served that was a chicken parm sandwitch with soup, fruit and Milano cookies. I ordered a Cranberry Vodka and after showing ID to prove I was 21 I was served! I really didn't take many pics on this flight except for a few arrival ones.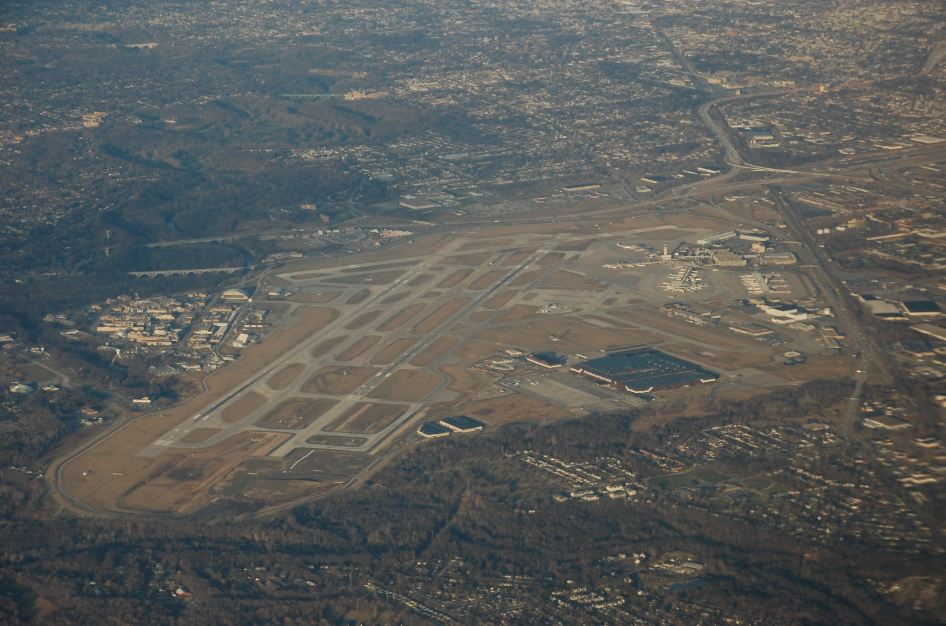 CLE Airport
Downtown Cleveland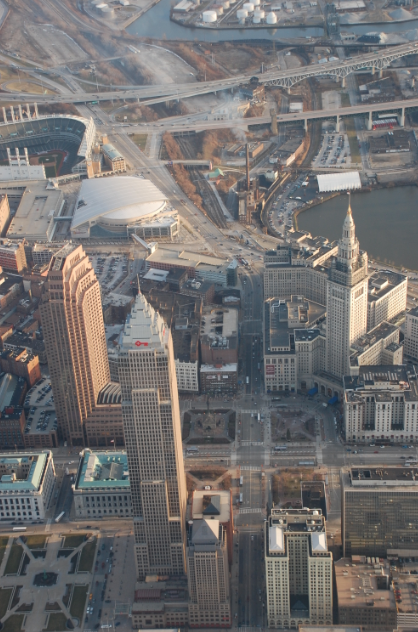 Downtown 2
Thank you for reading my trip report. Please feel free to comment and post any suggestions for future reports.