Turkish Airlines Business Class from London to Istanbul.
Hello!
This trip, as with so many others, started with playing around on Expedia, looking at bizarre routings using random airlines to places nobody wants to go to. After my 2006 trip to Yerevan in Armenia (with a bargain GBP 121 fare from London on Austrian), I really fancied a trip to Georgia, Armenia neighbouring Caucasian state. Of course, I found it hard to justify a trip seeing as I knew next to nothing about it and in 2008, there was a Russian Invasion – hardly a tourist hotspot! However, my salvation came in July when a friend of mine moved to Georgia to teach English. Finally, my chance (and reason) had come.
My friend moved to Batumi, Georgia's second city, on the Black Sea coast, not far from the Turkish border. This meant that I'd be able to use both of Georgia's international airports, the other being the much (comparably) busier Tbilisi Airport. From Tbilisi, I would be flying back to London on bmi on the direct service (via GYD, Baku, Azerbaijan). I'd have 10 days to get from one side of the country to the other.
My route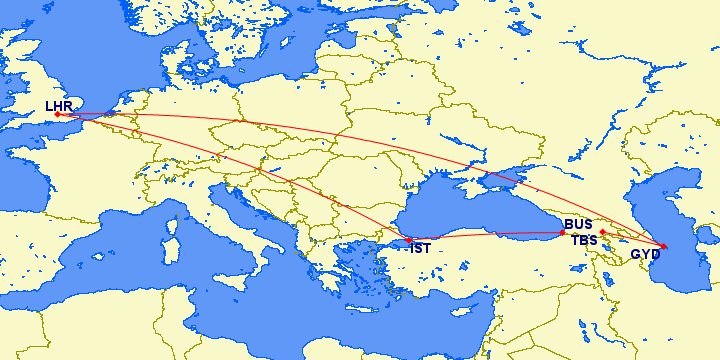 I booked the flights with my bmi miles. Diamond Club, bmi's FF programme, for those of your unaware, is probably the most generous scheme in terms of redeeming miles. A round trip London – Istanbul – Batumi, Tbilisi – London in Business Class cost just 12,000 miles + £150 cash (+ tax). A similar journey booked with Lufthansa miles would have been 60,000 miles (miles + cash not available). Quite a difference. I've split the report into three part (LHR-IST, IST-BUS (both on Turkish Airlines Business) & TBS-GYD-LHR on bmi British Midland).
I originally booked to fly LHR-IST in First Class on one of the Jet Airways' leased B77Ws. Unfortunately, three days before leaving I found out (via flightstats.com) that the flight had been changed to an A343, meaning no First Class. Bmi, however, didn't feel like notifying me until the evening before I left. I got a call around 1530, but I asked them to call back as I was driving. No call back, so I called back later that evening. I explained the situation of a pleasant but incompetent agent. After a 25 minute hold, she said she'd reissue the ticket, and her supervisor would call back regarding a refund of the cash portion of the fare. Guess what? No call back, and no reissue….
As with so many of my journeys, I started this one with a trip on the tube. I just missed a LHR T123 train, so had to wait for the next one, which was annoying. Everyone kept tripping over my bag, even though I had moved it out the way of the morning commuters.
From the tube station at Heathrow, it was a ten minute walk to the check desks.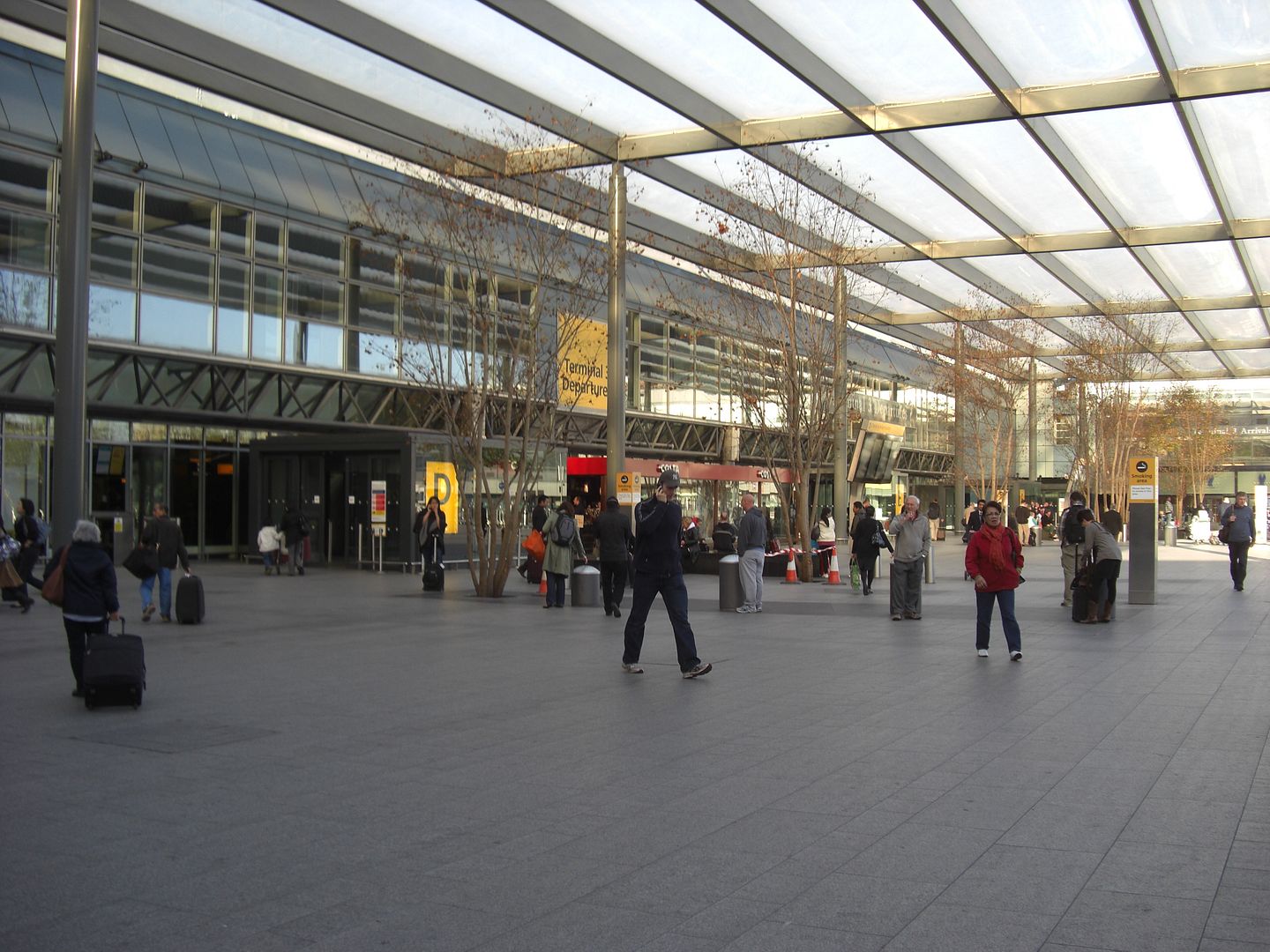 Thinking that my ticket was ok to travel with, I went up to the Biz desks. The lady there (SAS staff) apologised for the lack of First, but then said that as there was a problem with the ticket - I had to go to the ticket desk. After 5 minutes queuing, the stressed out lady at the desk gave bmi a call, and asked them to reissue it. Once that was done, I went back over to the check in desks, where my bag was tagged, and I was issued my C class boarding pass (that all sounded very quick and easy, but took a long time). The TK station manager came over and said that it was bmi's fault for not reissuing the ticket. When I said that TK was the one that caused the change, she looked a bit confused, then said yes, but she blamed bmi for not telling me in enough time. Not terribly professional to blame your partners when you are both culpable. She did arrange my complimentary transfer to my hotel in Istanbul (in line with F pax), so that was something. I was also told that I could use the Singapore Airlines F lounge, and that they were aware of the situation. I'm currently in discussion with bmi and TK about a) the refund of the miles for the difference in C and F fares, and b) to get my 50% compensation from TK for downgrading me (EU directive 261/2004 section 10). We'll see how that goes!
Time to check in for an F-ticketed passenger? 30 minutes. NOT impressed.
As always when using the 'Fast Track', I ask if it's quicker than the normal lines. The staff always say yes, but today, as often is the case, it was faster in the normal lines.
T3 departures
I headed to the SQ lounge, but passed the SK lounge on the way. I went in for a quick look (TK get charged for access, and I was in a really bad mood with them at this point, so when in for the hell of it). 2 minutes later, I headed on to the SQ lounge. The SQ lady said that with a C boarding card, access to the F lounge was impossible. I got her to call TK, and after a quick argument, I was told it was C or nothing. I was fuming. TK really manage to piss people off. I know I'm on a 'reward' ticket, but I'm hardly likely to pay full price now for the privileged to be treated like this.
The SQ lounge was very busy, and not at all what I was expecting. The food selection was ok though, and the Champagne served was nice.
Sorry, no photo of the lounge itself. I needed to print off my hotel voucher before leaving, but after a bit of hunting, I was told that they had no printer, but the SK lounge did. Off I went (third lounge visit in 30 minutes), only to be told that SK didn't have one. By now I was very angry, and stalked off to the gate.
Nice and sunny today. Lots of AC and AA aircraft about
Flight now "boarding"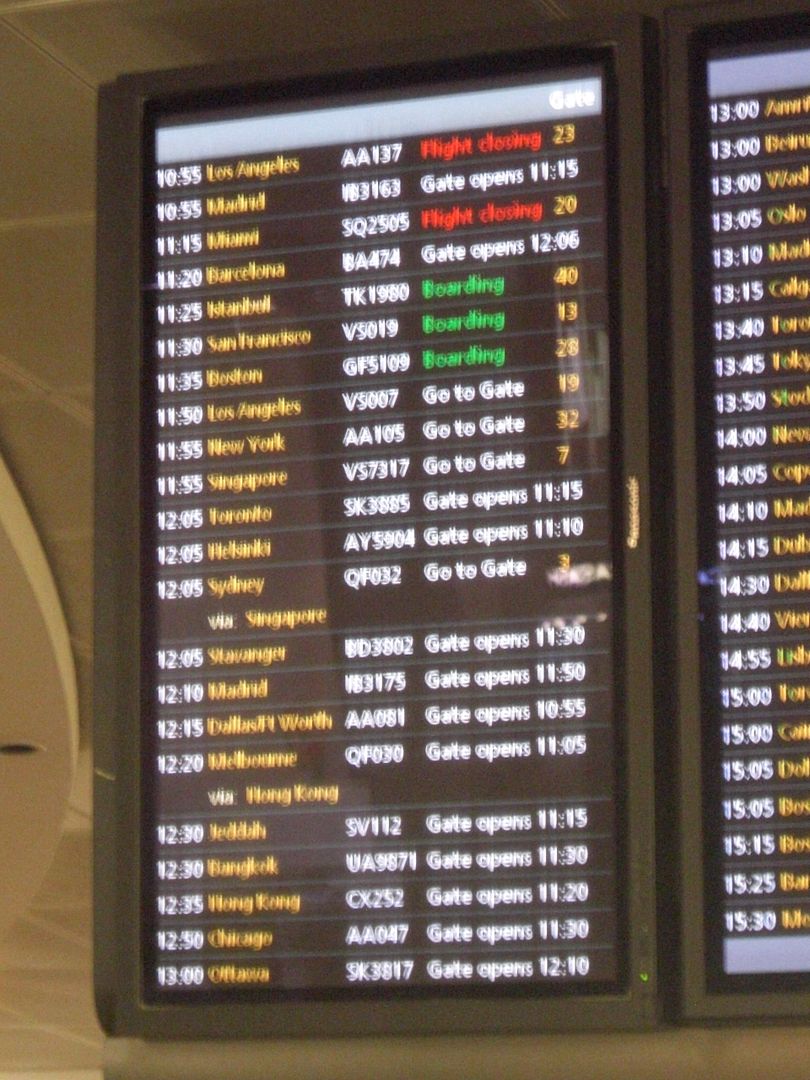 To infuriate me further, at the gate was a called over by a UK immigration officer, who decided he needed to go through every page of my passport. I told him he was free to waste his time, and went and got a seat. He followed me over, and asked questions trying to figure out why I fly so much, and why I have umpteen Chinese visas. After a few monosyllabic answers and a few rolled eyeballs, he thanked me and left me to fume in peace. Next time he'll pick someone with a smile on their face I think - easier to deal with!
Not long after arriving in the departure lounge, a call is made for Star Gold and Business passengers to board. After a bit of a kerfuffle in the airbridge (no idea what's happening), I finally board.
October 2010
Turkish Airlines TK 1980
London Heathrow (LHR) – Istanbul Atuturk (IST)
Airbus A340 (TC-DJK)
Scheduled: 1125-1715 (3h50m)
Actual: 1158-1737 (3h39m)
Business Class
First impressions of the staff and cabin are good. The cabin in bright and welcoming, and the crew seemed friendly. A welcome drink of either juice or water was offered, as well as newspapers and magazines.
On every seat was a pillow, and on nearly every seat too (mine excepted) a blanket. The load in C today was around 15 out of a possible 30 (?) seats, so plenty of room.
We pushed back late (no reason given), and the safety demo was played. For the first time (as far as I recall), there were no staff standing at the front of the cabin to point out the exits. I'm sure normally, even with a safely tape, the staff will manually point out the exits, then check everyone's belt?
We taxied past the edge of T3, past the Irish Terminal and then the rest of T1
TK A343s have a forward and downwards facing camera, so everyone got a good view of the runway. We rotated half an hour late, with no apology.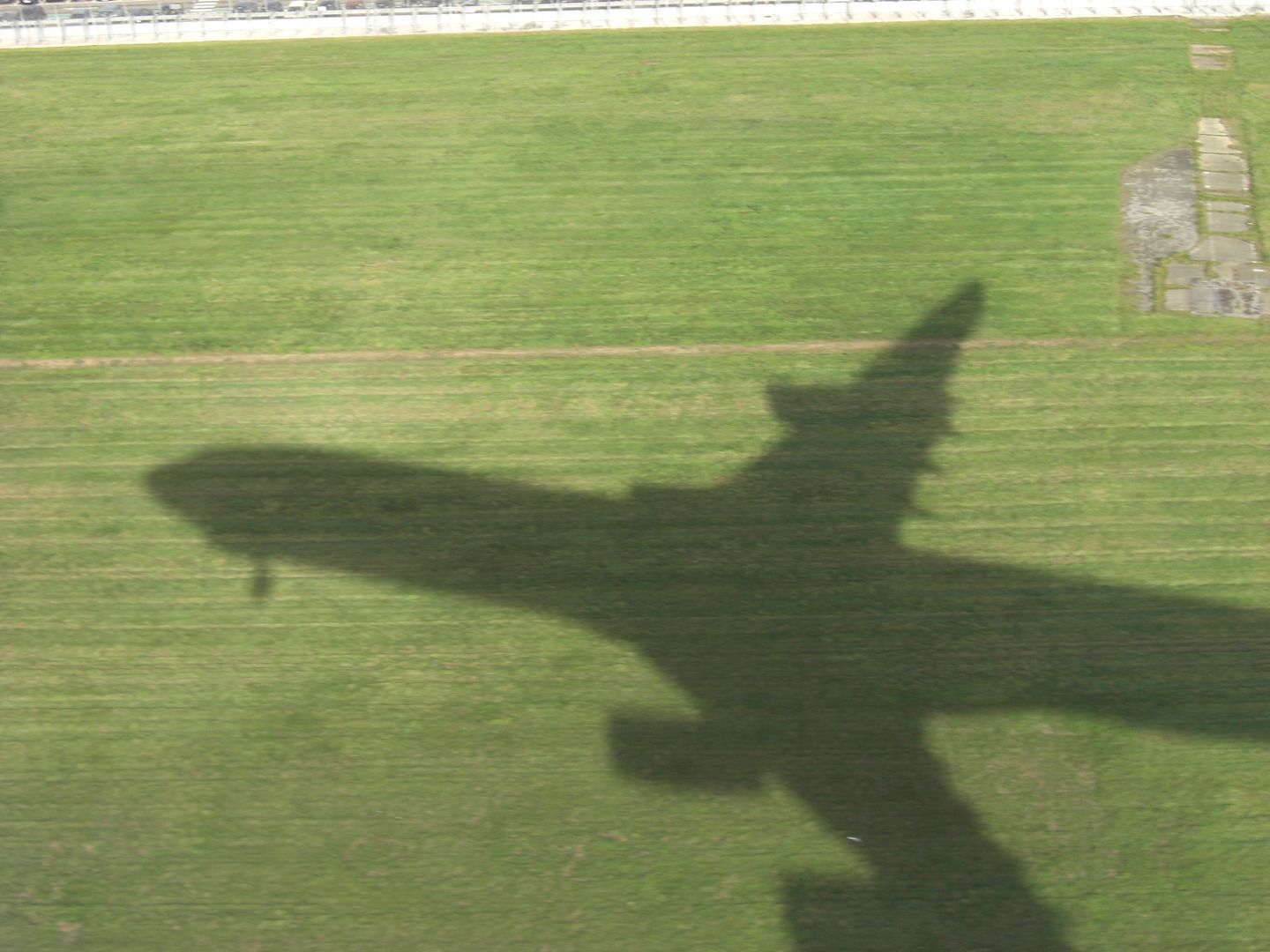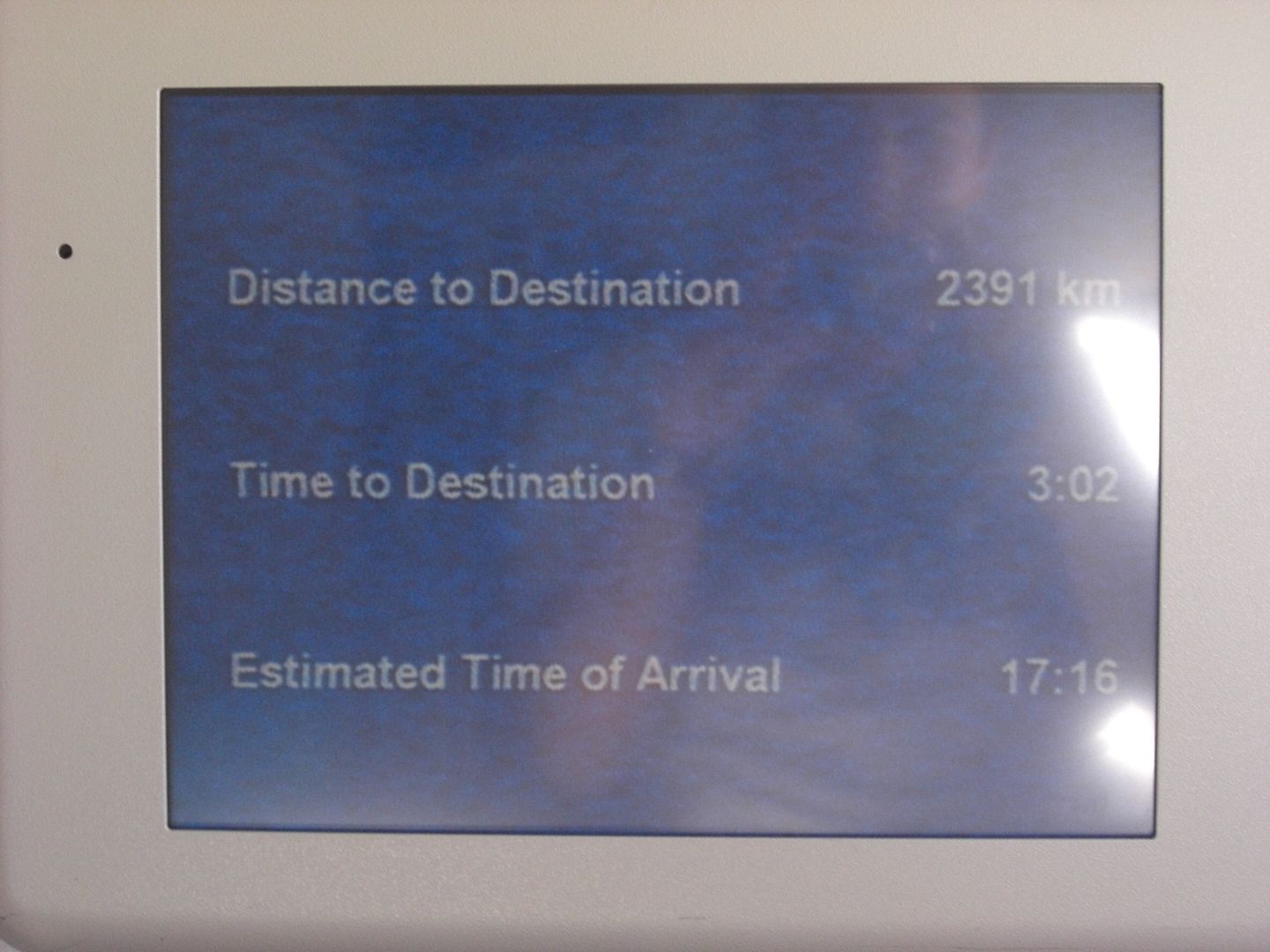 Dover
After take off I had a look through the entertainment guide. Very impressive! There was an enormous number of both new and old films (and sit coms I think) to watch, all AVOD. I choice The Pelican Brief (I know, it came out decades ago!) which was pretty good. I brought my own noise cancelling headphone so didn't have to wait for the cabin crew to give them out.
Inflight Magazine
Once the seatbelt sign came off, the staff came through with menus.
TK is catered by Do&Co Turkish, the same company (different branch) that does Austrian's excellent catering. Perusing the menu, I can honestly say that I wouldn't have been disappointed if my first, or even second choice hadn't been available. However, here's where things went wrong again (at least for me). By the time the starters came out, we had been flying for around 50 minutes, however, there had still been no offer of drinks.
Starter: aubergine, chicken and couscous. Very tasty
I noticed, however, that everyone else had been offered a drink with their tray. Hmmmm. The crew were nowhere to be seen. A it would happen, the AVOD system went down, so the purser came around saying that she'd have to reset it. I took my opportunity and asked for some water which duly came, although I'd have like to have been asked for a drink. When the main courses came out, I asked for a drink (the small glass of water didn't last long – the starter was a bit salty), but the FA said I'd have to wait til she'd finished serving everyone else their food. I said I'd never been offered a drink, and she just shrugged.
The main course: Salmon, sea bass and prawn (singular). Also very good
Once I'd finished my main, the FA who didn't get me a drink tried to take away the tray. I had to stop her as I still had my dessert to go. I asked if I could get some water and champagne, and she went off to get it. So, it took 1 hour 20 minutes before I could get a glass of something fizzy, and that wasn only by asking twice. By this time I was pretty fed up, so decided to fill out the complaints/comments form in the back of the magazine. I handed this back to the purser.
The turnaround
About five minutes later, she came back saying that she was very sorry that everything had gone wrong today. She seemed very concerned, especially with the onboard service. She then asked me (very politely) if I'd be able to reconsider haindg in the form saying that the onboard service was poor, and she gave me another form to fill out. From then on, the service was incredible. I was given a plate of small cakes (not sure where they came from, no one else got them as far as I could see), and my glass was never empty for the rest of the flight.
Just goes to show, that having a word with the purser really can make a difference. Whenever one of the crew walked by, they smiled and asked if they could get me anything else. The form I ended up handing in said I was very disappointed with both TK and BD, but that the onboard service was good.
The AVOD came back on, I reclined my seat, and for the first time started to enjoy the flight.
The cabin mid-flight
The views leaving Europe for The Sea of Marmara were beautiful. We passed Istanbul in a series of very wide loops giving some great views of the city and the Black Sea.
Ataturk Airport from the air. We would dock at the far left hand side of the terminal.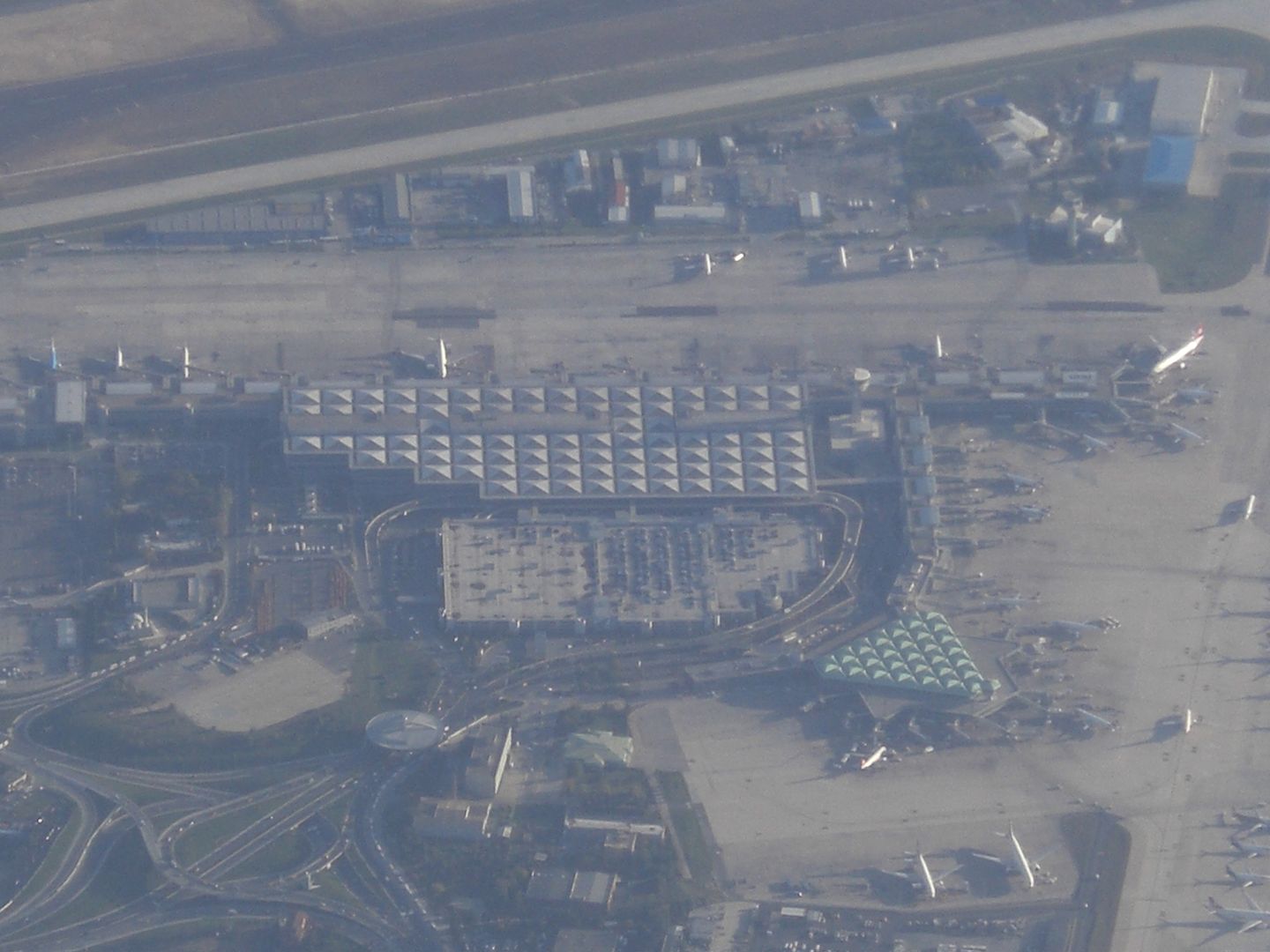 The three parts of Istanbul. Europe on the right, Asia on the left.
Topkapi Palace
The Bridge linking continents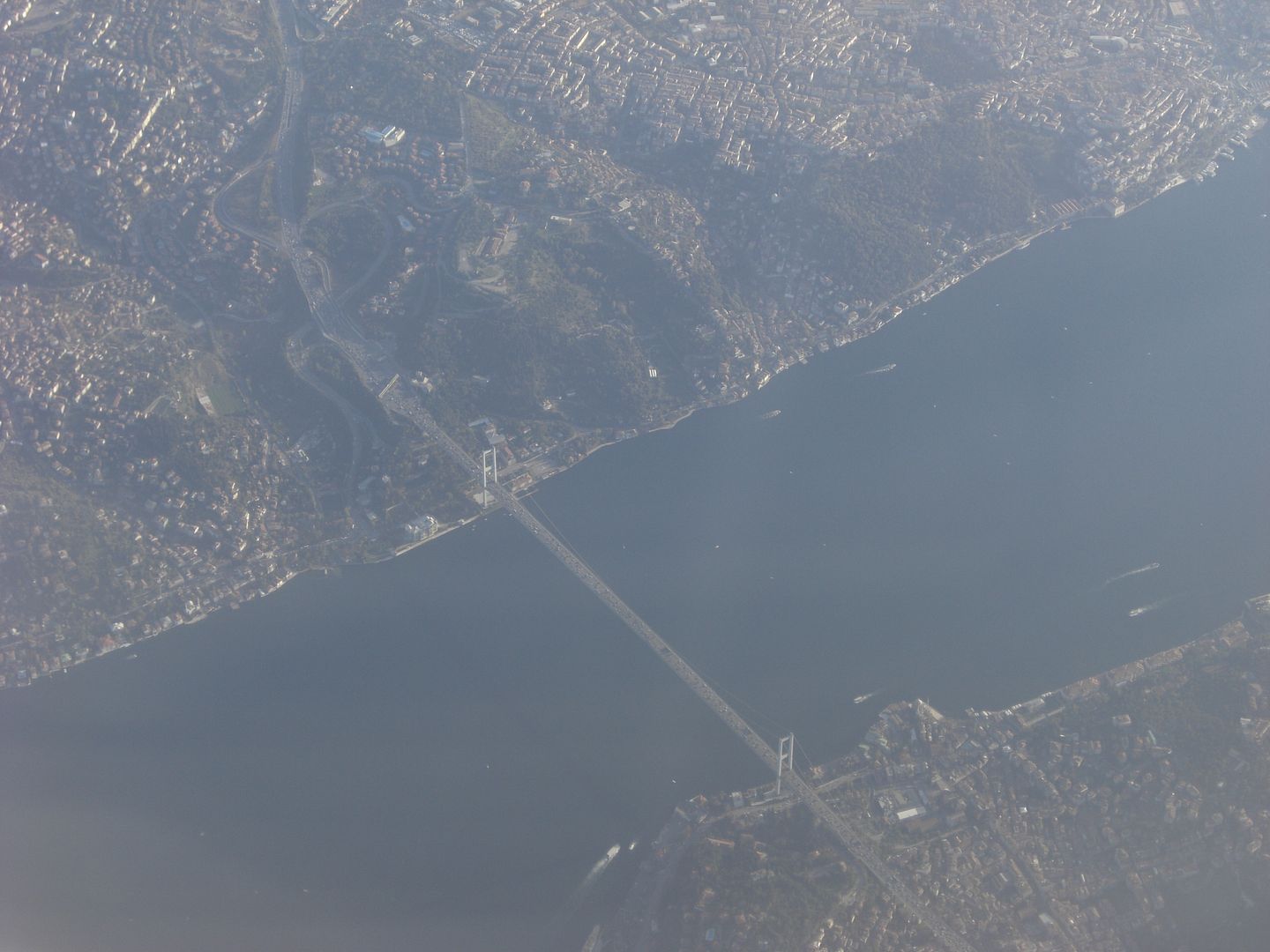 Loops
We finally touched down 20-odd minutes late. The taxi to the gate was a long one.
No 'Welcome to Istanbul' message on the TVs!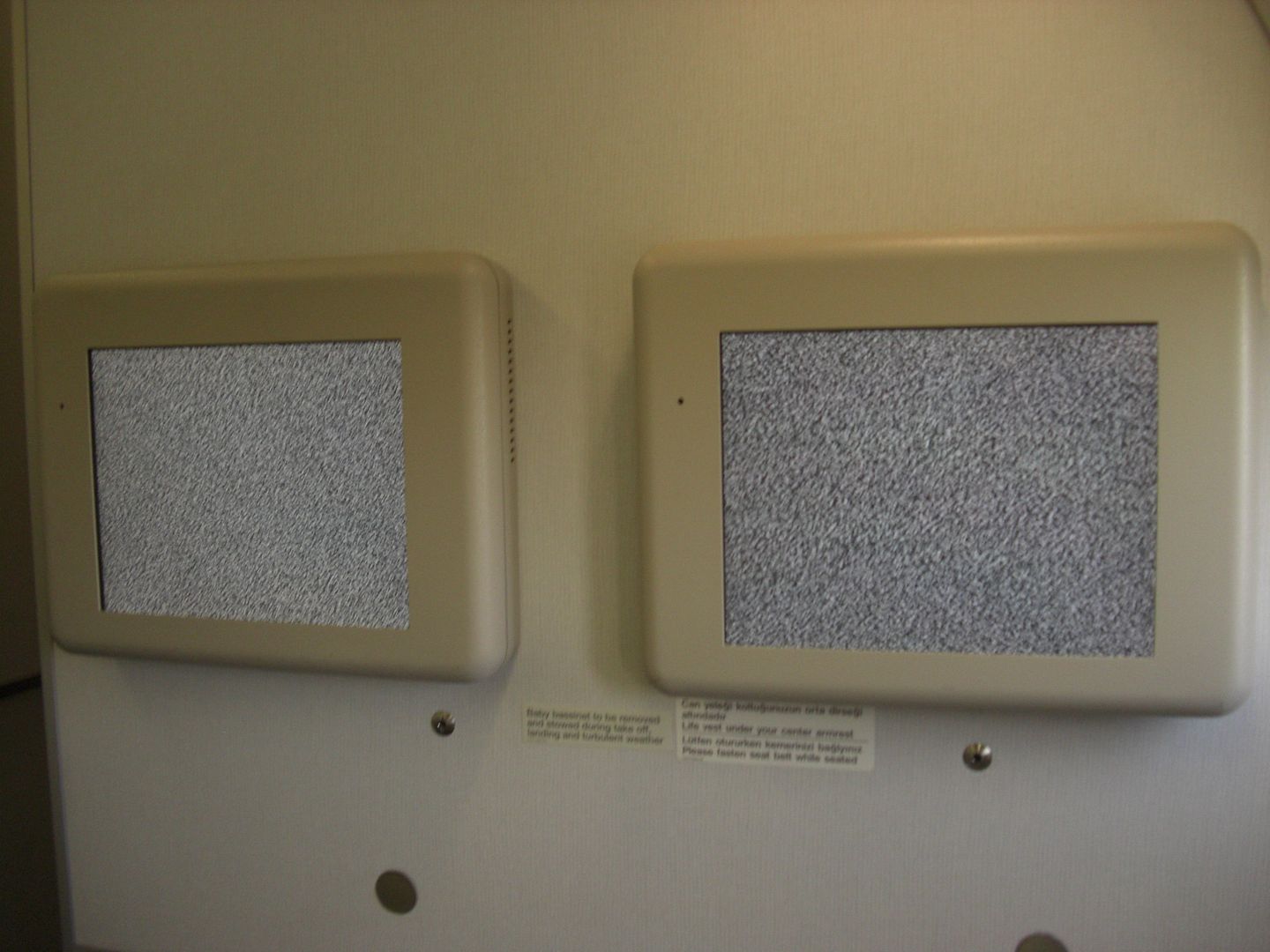 I was half expecting there not to be an escort at the gate (my faith in the LHR ground services team was in tatters). However, at the end of the jet bridge was a gentleman holding my name on a board, along with the other downgraded F passenger. We were welcomed to Istanbul, and invited to take a seat on the buggy.
Another Biz passenger asked if this was the Biz shuttle, but he said no, and promptly zoomed off. The buggy ride saved a good 10-15 minute walk. The escort took our passports and £10 cash (for a Turkish visa) whilst we waiting on the buggy, before he drove us to a fast track immigration. We then walked down to the luggage belt, where we were met by a porter with a trolley, and a luggage handler (not sure if he was around because of us or not). Within a minute of two, two bags arrived, mine and the other passengers, then no more bags. We were then brought outside to one of the car parks, where we were introduced to our driver, and we took our seats in a very comfortable Mercedes S-Class.
This was, without doubt, the BEST arrivals service I've ever experienced. Time from the plane to car was around 10 minutes, including buying a visa, immigration and waiting for bags. I think normal passengers would take a minimum of 40 minutes. Well done TK, something you CAN do right!
Luckily we were going against the traffic, so the ride into downtown Sultanahmet took just 30 minutes.
Conclusion
What started out as a complete balls up by TK and BD was finally resolved by a quick chat to the purser, and a brilliant arrivals service. The incompetence of the BD staff to reissue the ticket (especially given the extraordinarily long hold times whilst they played with the booking) was awful. And why, TK, did you have to downgrade us to an A343! That was my first chance (and probably last for a long time) to get a proper F cabin (complete with private cabins). Grrrr. The poor onboard service went from bad to wonderful, but it took at least half the flight. The second half of the flight shows that a bad crew and a good crew are often one and the same.
So, I'm now in Istanbul, but will be flying off to Batumi in the next day or so. Not sure how easy internet access will be, so it could be another few weeks for the next instalment. Hope you enjoyed reading!