Turkish Airlines Business Class from Istanbul to Batumi (Georgia)
This is part two (of three) of my trip report from London to Istanbul, and onwards to Batumi and Tbilisi in Georgia on Turkish Airlines and bmi British Midland in Business Class. Part one, flying TK Business from London to Istanbul can be found
here.
"Sorry, the gate's closed"
Oh dear, things keep going wrong…
A few photos of Istanbul
Kebab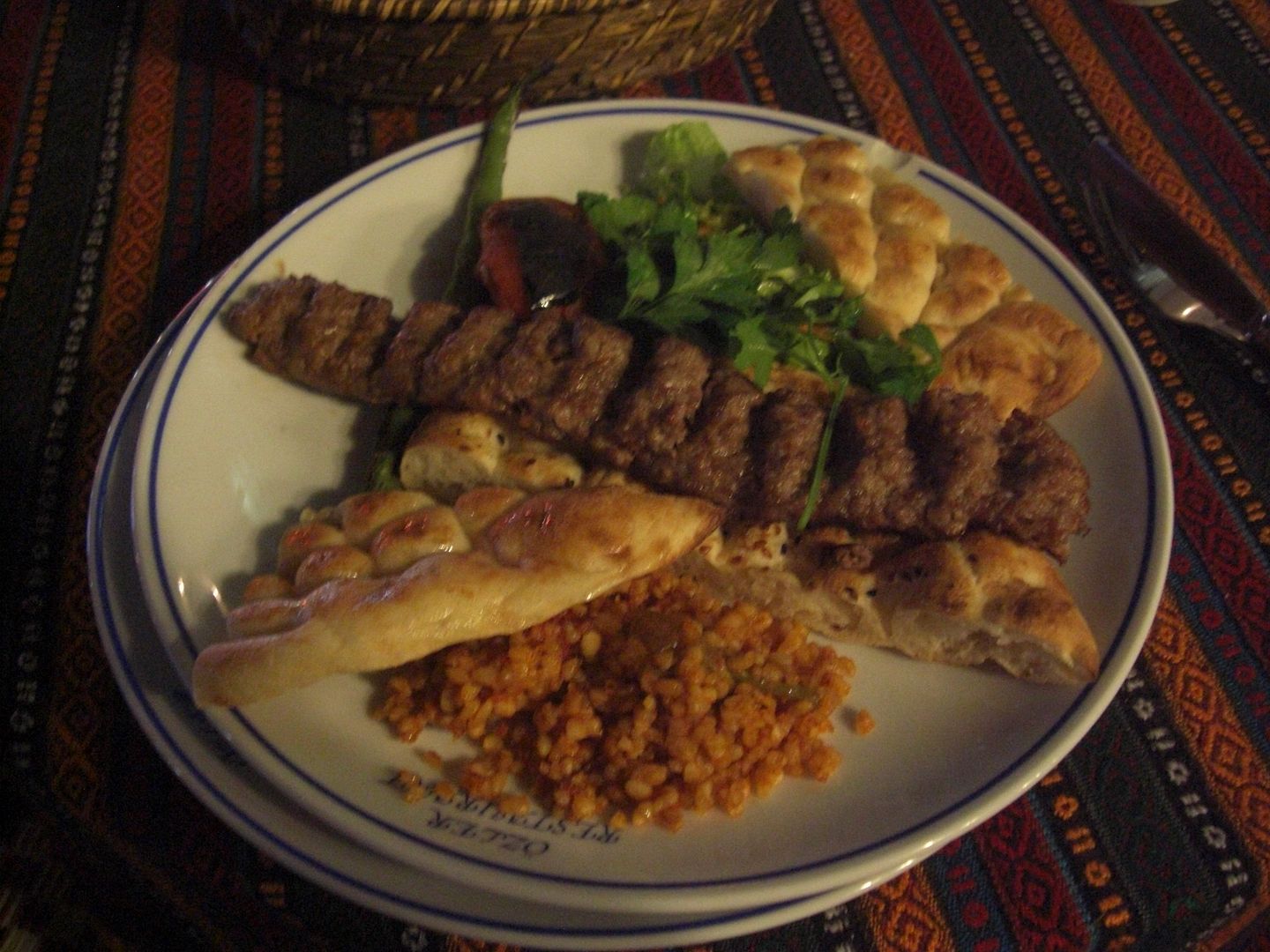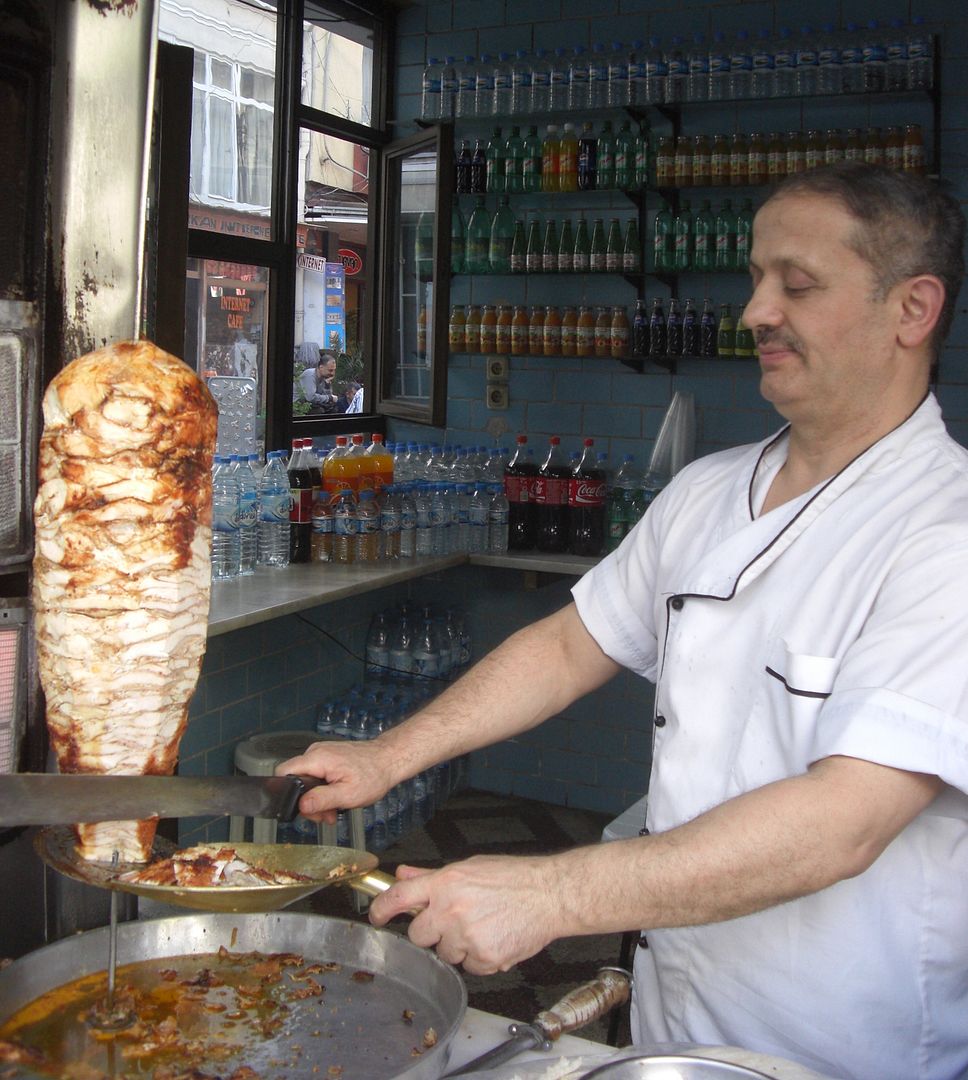 Hagia Sofia (not my photo!)
Spice Market
Topkapi Palace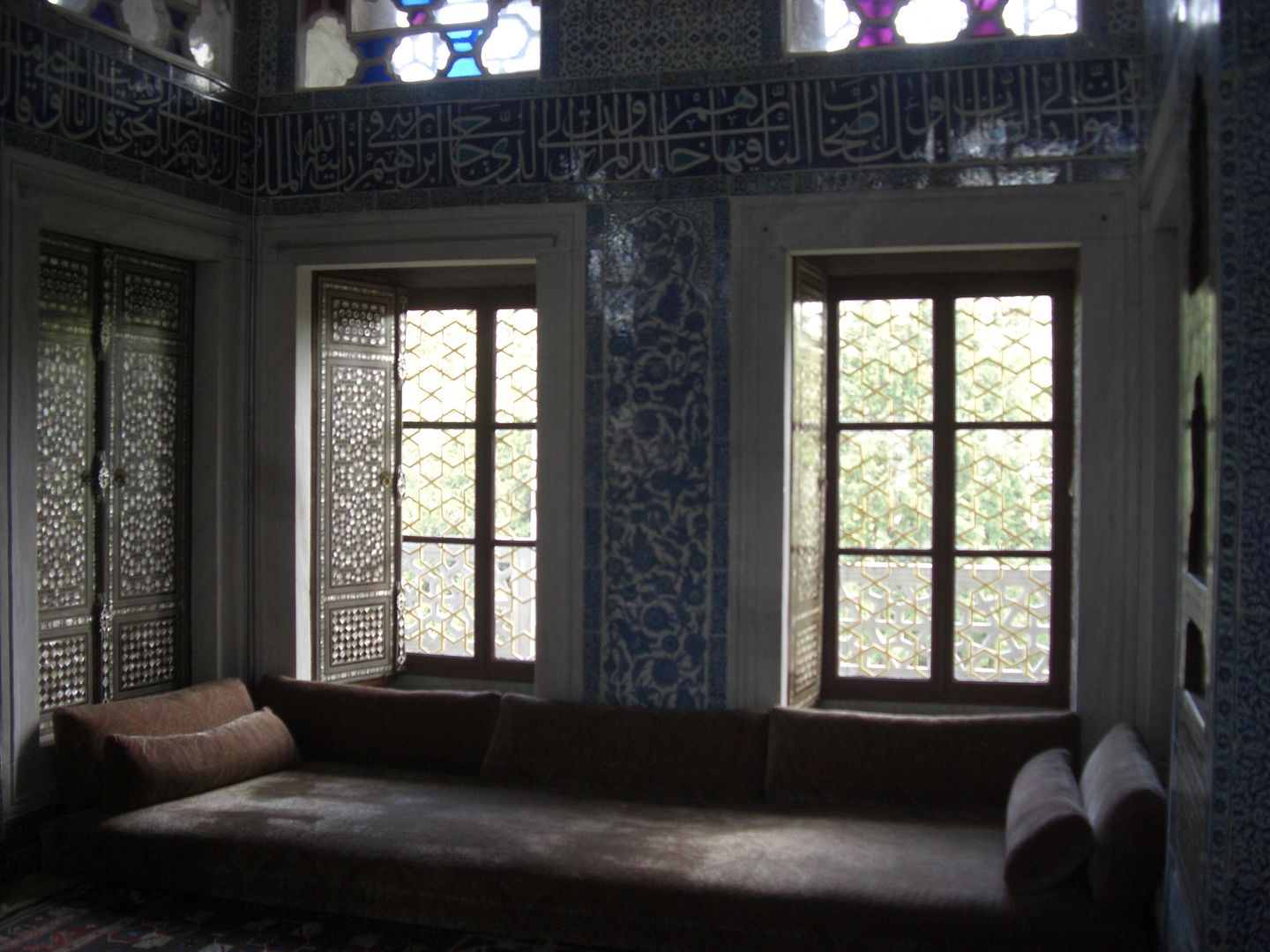 The Cisterns
Tukish Delight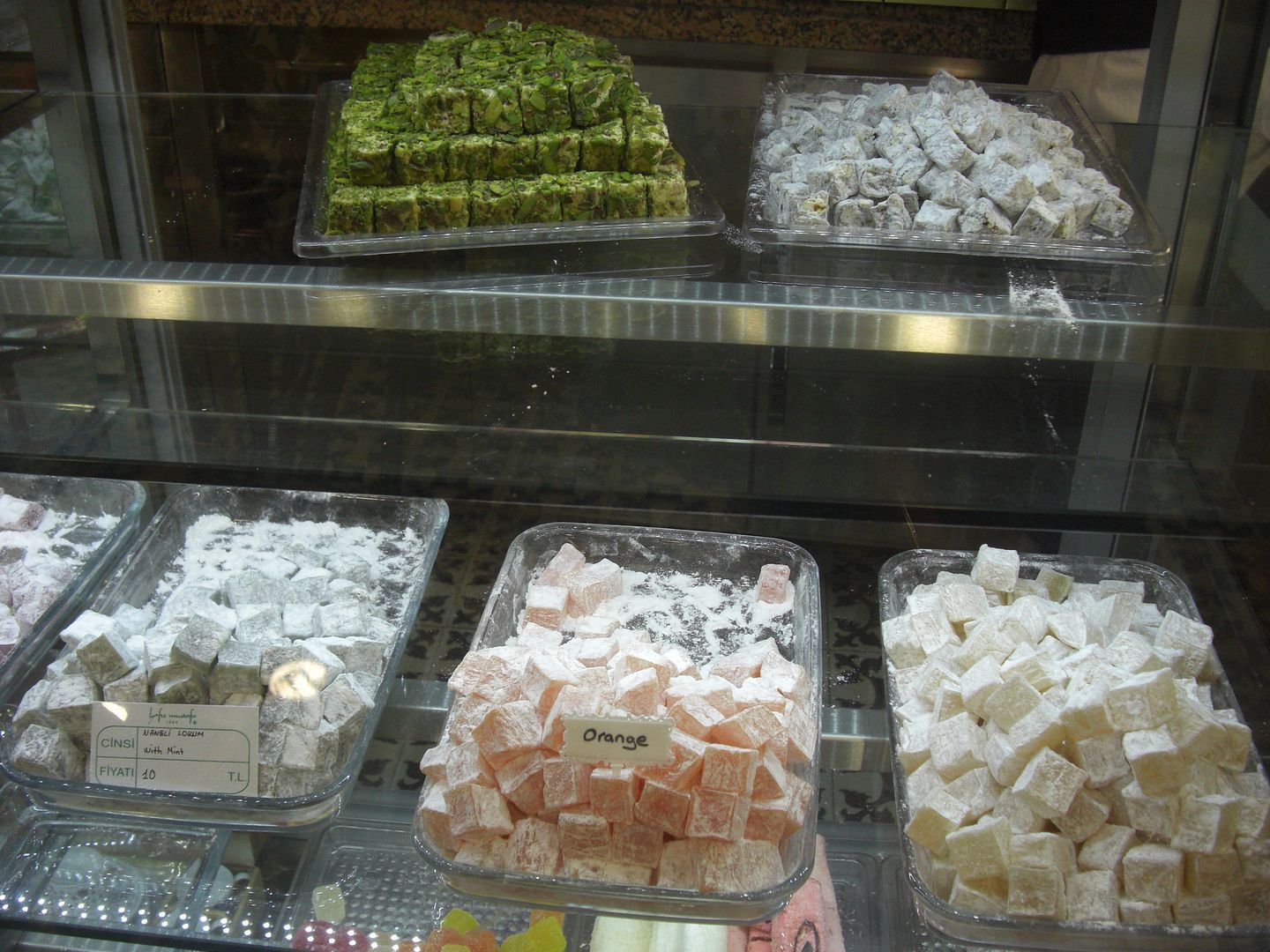 The Blue Mosque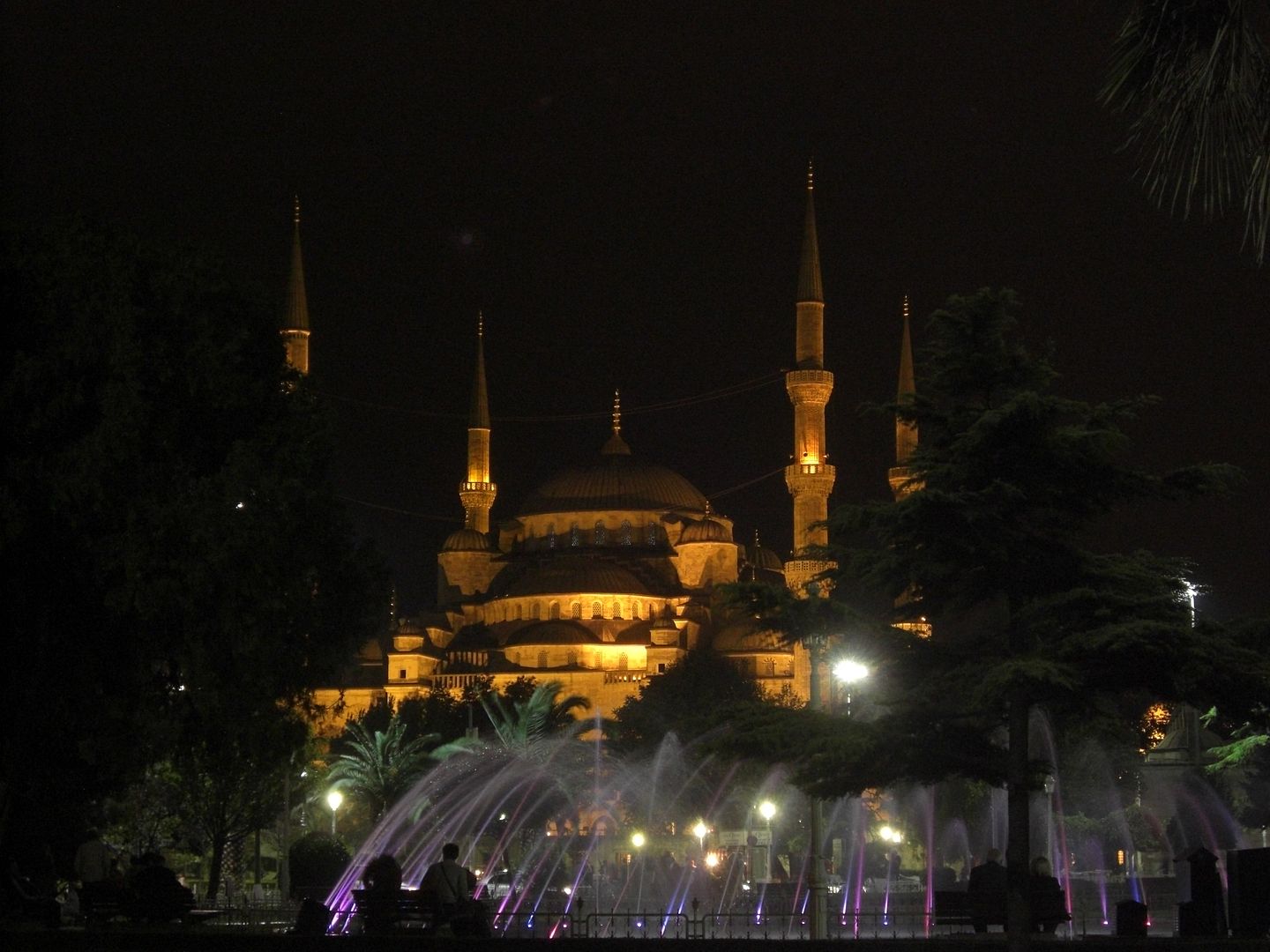 After my eventful journey over to Istanbul (see Part 1 here), it was time for me to continue on the relatively short hop to Batumi, on the Black Sea coast of the Caucasian state of Georgia. I took the tram the metro from my hotel in Sultanahmet to the Airport, which whilst busy, was fairly easy, and very cheap. I arrived around 11am for my 1310 flight. When entering the terminal there is a full security screening. There was no queue at all for the Business Class check in, and a very friendly lady printed out my boarding card, a lounge card (not needed), and tagged my bag. Despite my previous issues with my ticket, I was actually able to check in for my flight online, which was handy for picking seats.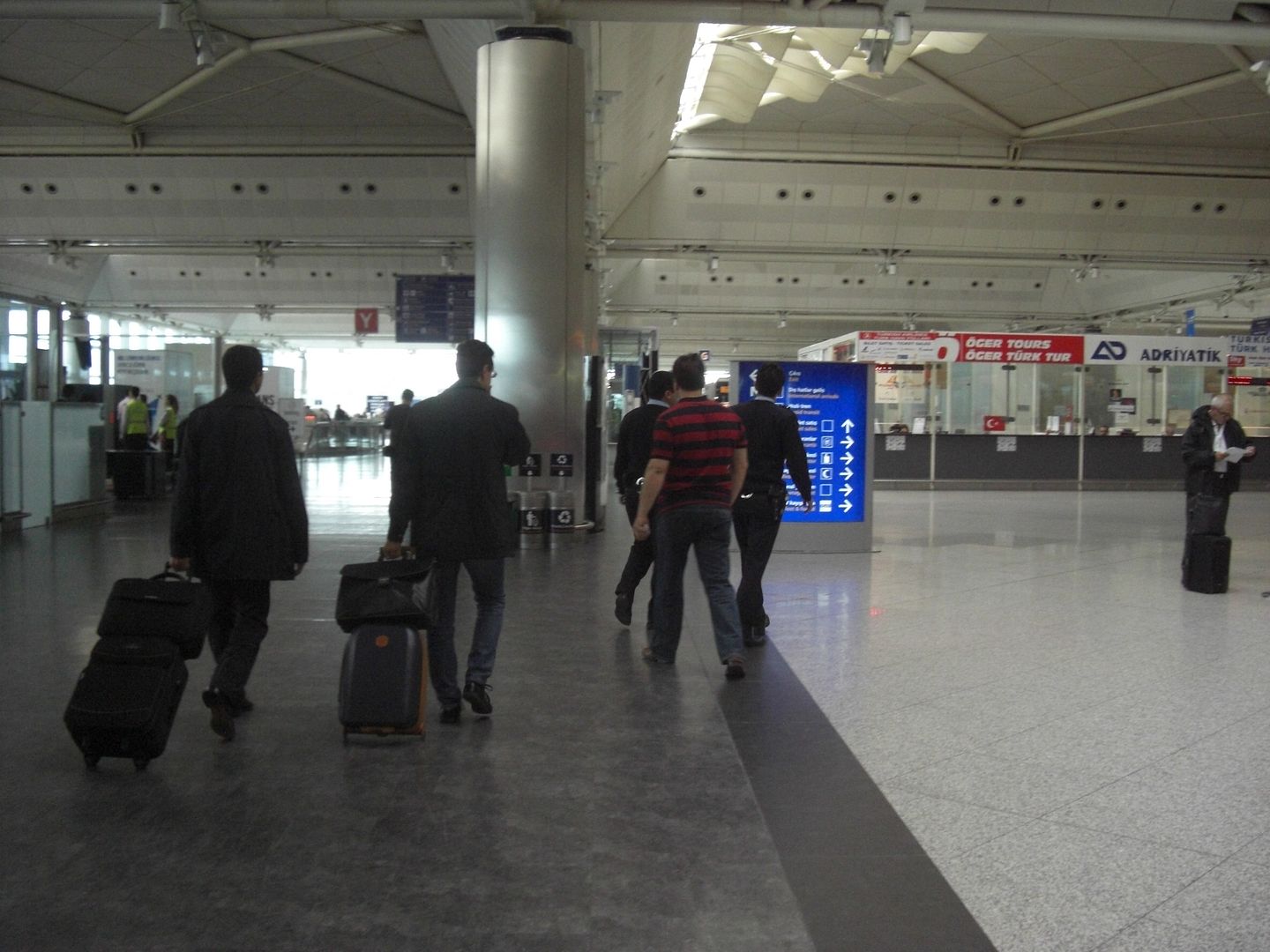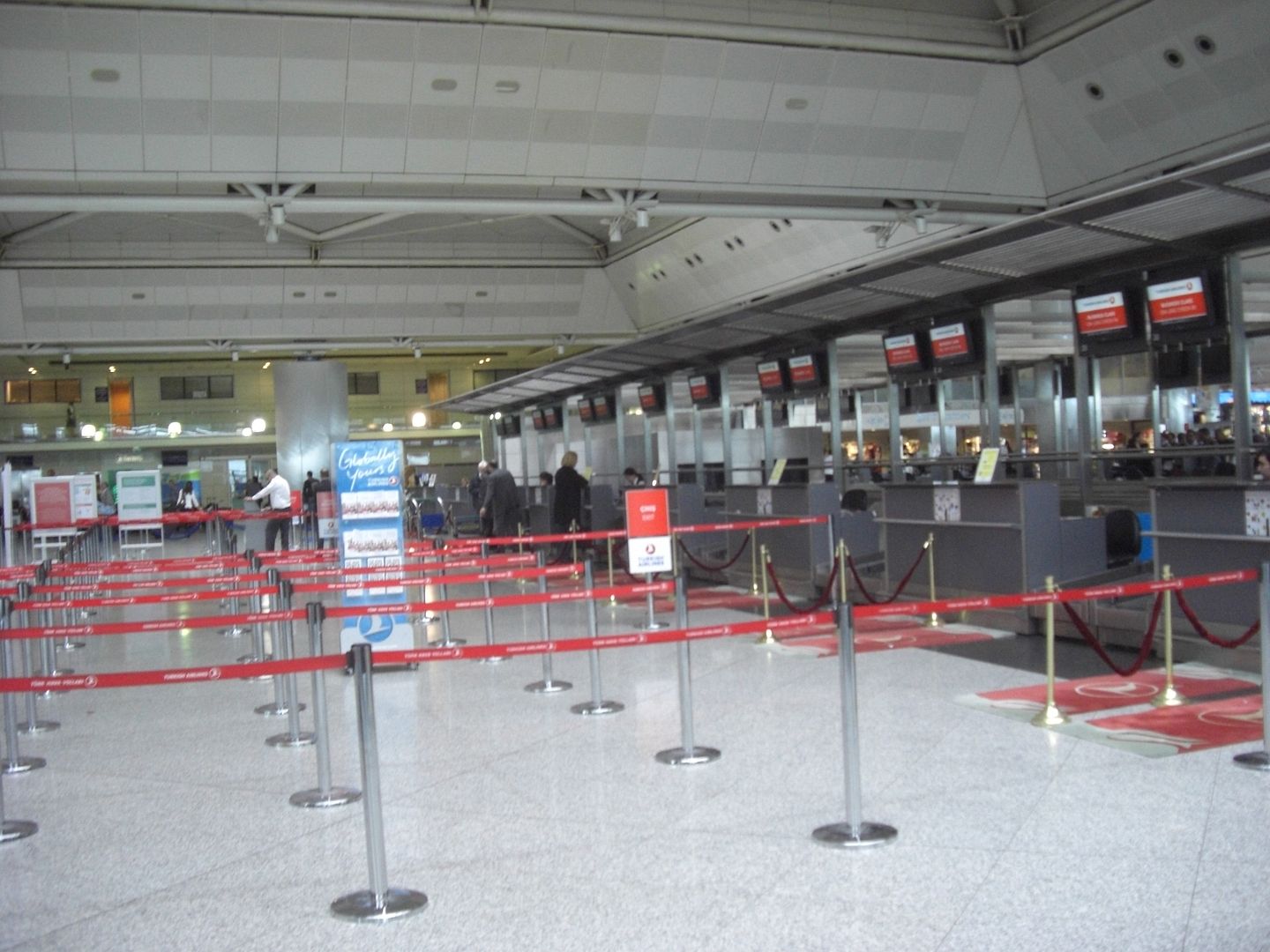 Business class passengers get priority access for immigration, which saved a 20-odd minute wait. I changed the rest of my Turkish Lira for Euros (no Georgian Lari available), then headed to the lounge. The designers certainly went to town in here! It was a weird hybrid of a Sultans Palace, a hotel lobby, and a cheap school buffet. There were chandeliers galore, and lots of comfy leather sofas, along with various portraits. There was a computer room (nicely decorated too, but with the desk way to high for comfort. Facebook was blocked. The buffet area, as I said, didn't look very professional. There was a strange selection of food, including sandwich made with some disgusting looking Spam look-alike. There were some nice cakes though, and a coffee machine. The alcoholic drinks selection had Efes beer on tap, and a there were a few bottles of spirits (I noted vodka and raki, also a few more), but no mixers of any type. Also, no wine. There were bottle of sparkling water, but no still. Maybe I just missed them (but I don't think I did). The toilets had some very ornate taps, but half of them were broken off. Also, there were far too few toilets for the size of the lounge. Overall, interesting, although far from the best lounge.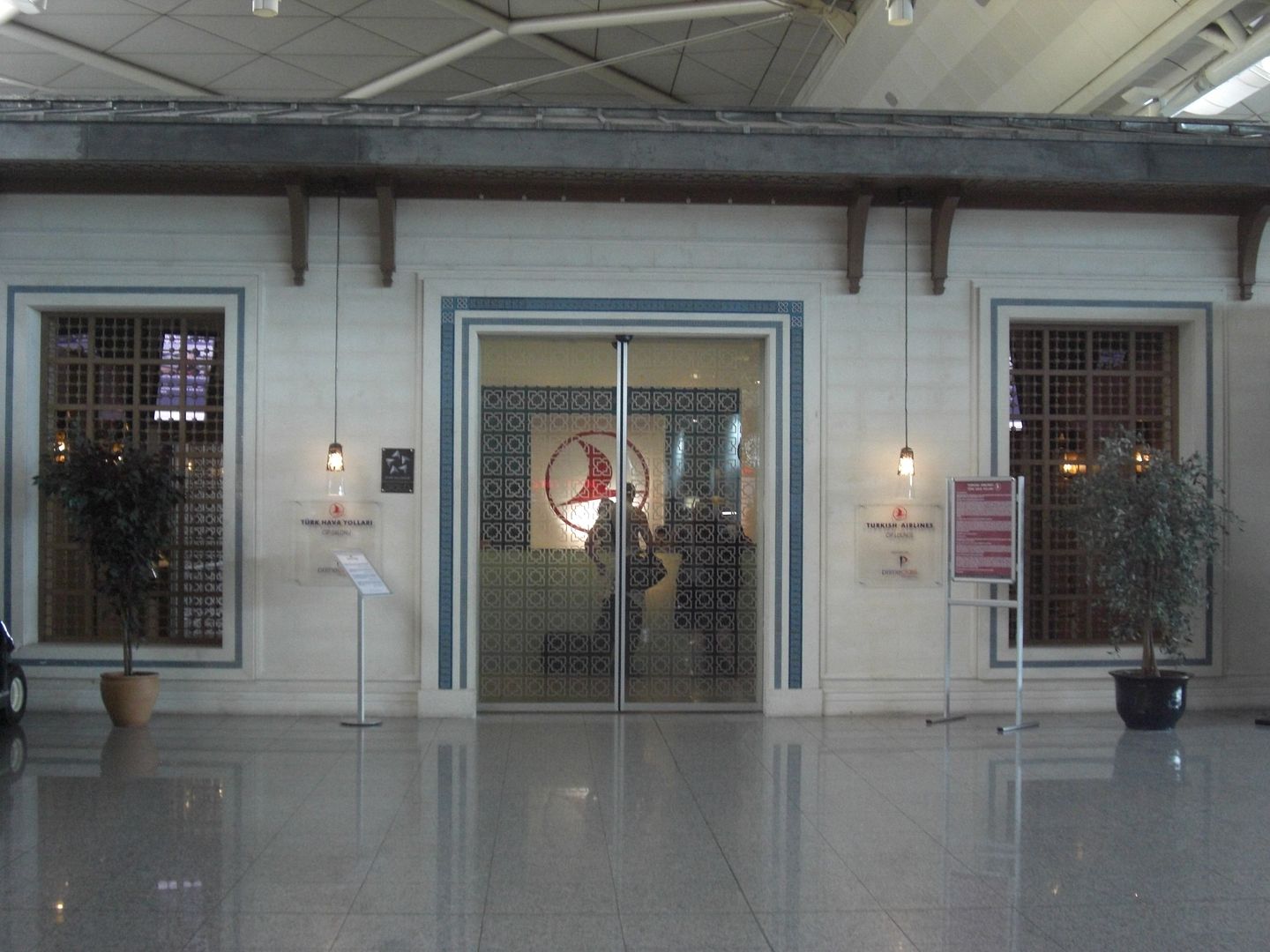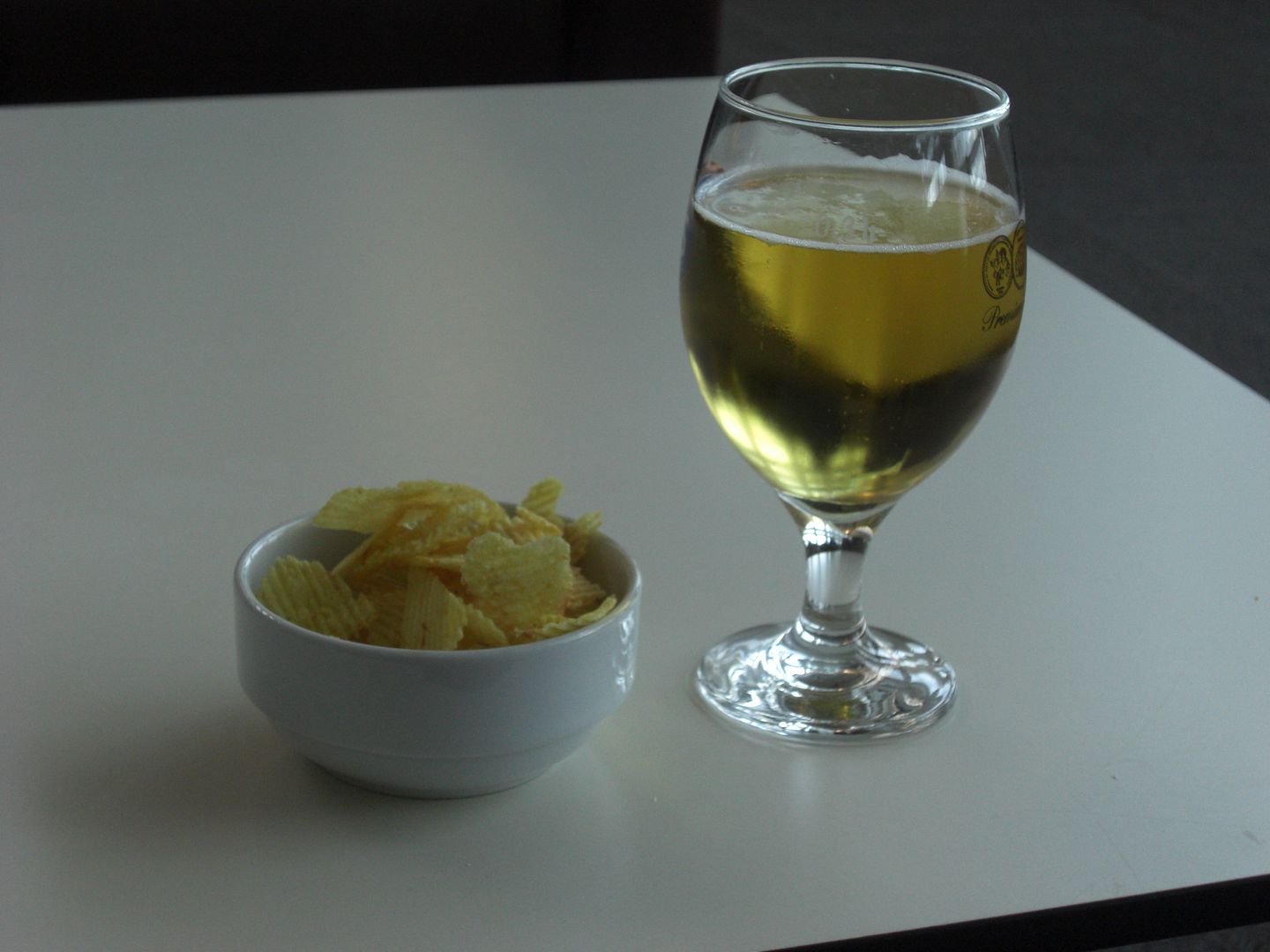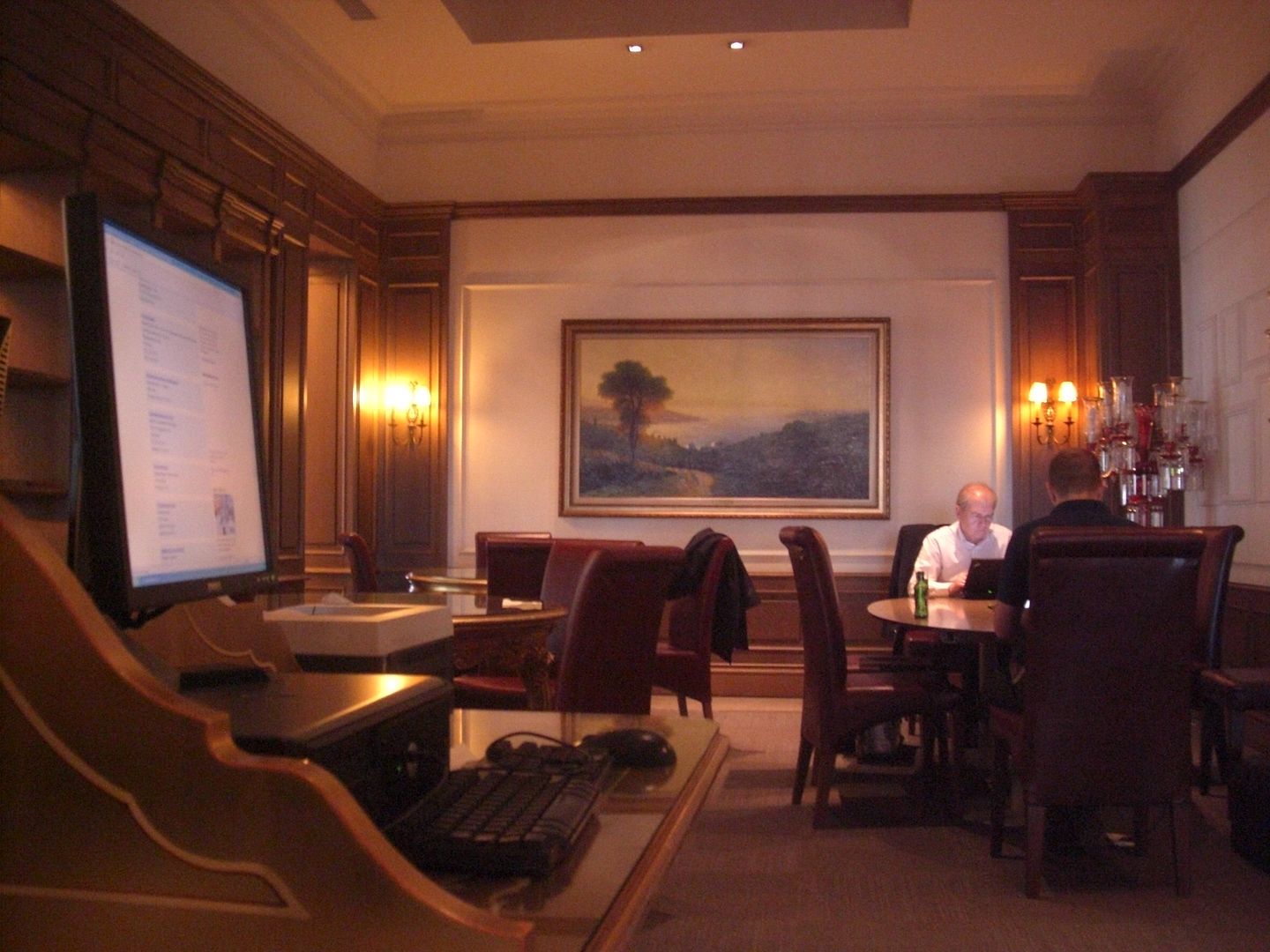 I checked the screens frequently to see what was happening with boarding. I thought it was a bit strange that all the other flights leaving at the same time were listed as 'boarding', but mine was listed as 'wait in lounge'. Now, without trying to put words in your mouths, but what assumption do you make with regards to if your flight was leaving on time?
If you said, it would probably be delayed, then you thought the same as me. Nevertheless, I left the lounge and meandered through the shops and towards the gate. I took a few photos as I went (nothing terribly exciting, although there was an Iraqi Airways flight somewhere).
Newspaper Point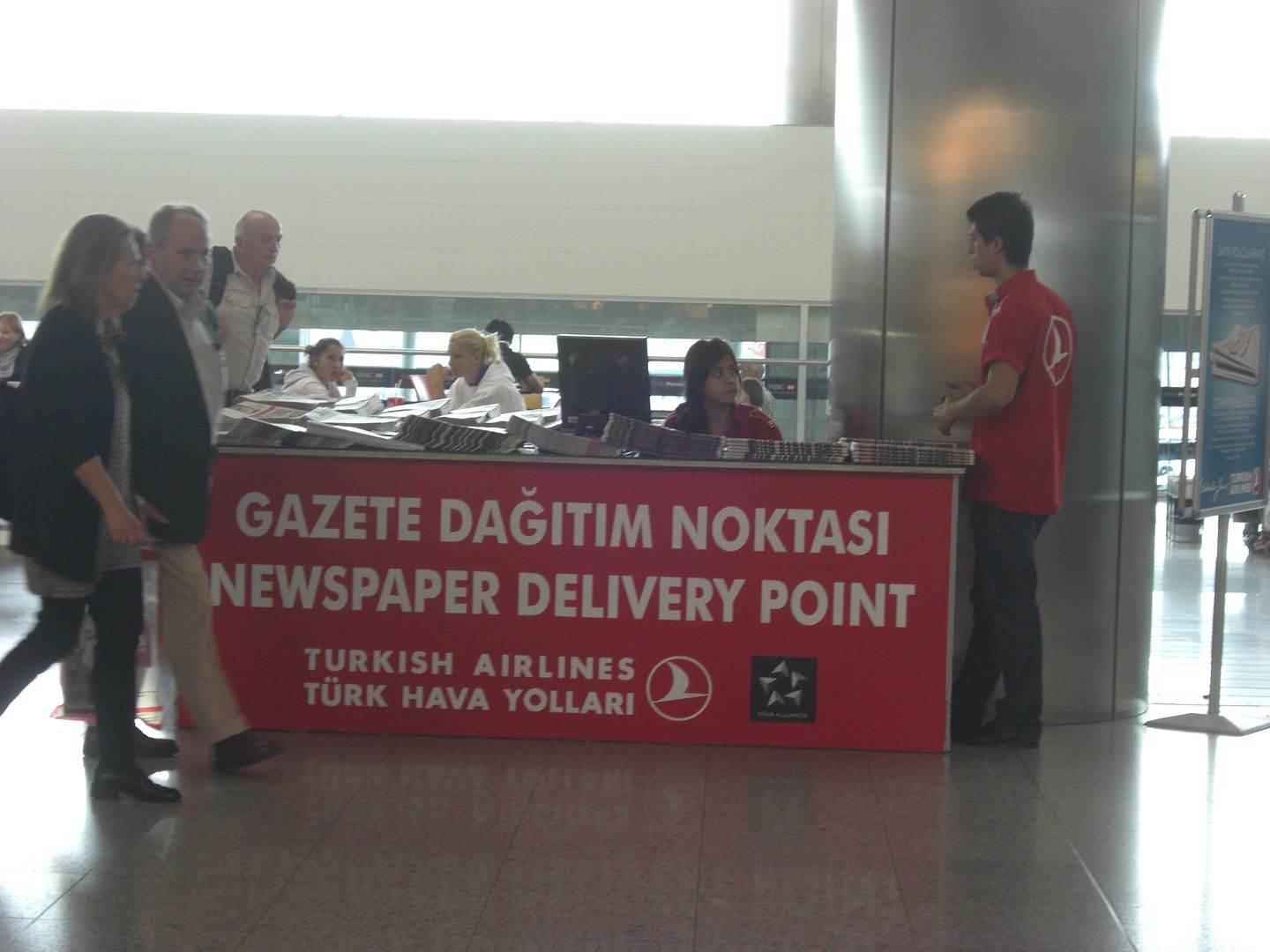 Finally, the flight changed to 'boarding', and I started to make the long journey down to the gate, which was a bus gate. Annoyingly, dispute having gone through security earlier, there was a further screening point going into the bus gate area, and the place was packed. I joined the shortest queue, and waited. I could see the gate, and there were still a few people milling around. In Heathrow, when it says a flight is boarding, it means the airline want you to queue at the gate, and boarding might start in 20 minutes. In Istanbul, I discovered, it means that you'd better run. I pushed past a few people, and went to the front of the queue as I noticed the last passengers had gone. I ran to the gate, and the lady said I'm missed it. What!?? I was slightly stunned. Missed it? Me? But I'm so organised, I've never missed a flight! Having watched more than my fair share of 'Airport' and 'Airline' programmes, I knew that the situation was pretty hopeless. I implored the lady to get me on - "I'm a business class passenger". She called someone, but no. I'd missed the flight. F**k!!!! My first thought was "I don't think they fly to Batumi everyday. I'm going to be stuck in Istanbul for bloody days". I was so angry. I hadn't been dawdling, I followed the signs, I waited when it said "wait in lounge", then went straight to the gate when called. And now I'm up S**t Creek without a paddle. I felt very hard done by. I mean, the signs (well, not the actual signs, but the read-between-the-lines type of signs) implied that the flight would be late. Why say 'wait in lounge' when all similarly timed flights were boarding?
Ah well. Angry, but understanding of the situation, I went to the transfer desk (which took some finding – at some point I ended up in a room full or women waiting to get into a mosque room). I was directed to another desk. I waved my now useless boarding card around saying "Business Class", which meant I could skip the very long queue. I was escorted back through immigration (having my exit stamp cancelled in the process), and then went to the 'Lost and Found' to claim my bag, before going back upstairs to get rebooked. This is where the fun really began. I went to the TK Gold desk, and was told that as I'd booked it with BD, I'd have to ask them. "Oh, actually you can go to LH, it says something about them in the booking". Really? To the LH desk! The very helpful guy there was completely confused. "You're flying with TK, your ticket is BD, what's it got to do with LH?". I could see his point, but persevered. I waved my LH Silver card, and he found the bmi phone number, and gave me the phone (at first he found another company called bmi too – the lady on the other end had the real number handy so they must get a lot of wrong phone calls – when she picked up I thought something must be wrong as a) they sounded English and b) it took 2 second before being answered!). So, it was back to dealing with the ridiculous bmi call centre in deepest India. So as not to be too inconsistent with their service, it took nearly 45 minutes of being told be wait, and being put on hold. I spoke to one guy that said that the rest of my ticket was cancelled, and that I had to buy a new ticket. "What? I don't think so. Supervisor please!" Eventually I got a supervisor to change dates to one day later (apparently against their policy to change dates after the 1st sector, but I mean, what are you actually meant to do if you miss a flight by 1 minute?), and reissue the ticket (so far I've flown 1 sector, and my ticket has been reissued twice!) and was charged GBP 20 for the change (I didn't even bother trying to tell him that BD already owed me £50). Phew.
I went over to the TK checkin desks, and asked to check in. The lady at first said I'd been booked to somewhere else (I think the airport code confused her), but then managed to print out a boarding card for tomorrow. Hurray! Half of tomorrow's hurdles already crossed. I now have a nearly identical boarding card, except for the date, and that now I'm in Group C, not Group D as I was before. Any idea of the relevance of these groups? Same seat number for both. I ask about a hotel, and am told to ask in the arrivals area. Back down I go to arrivals. I lie that someone said I would be entitled to a hotel. They consider me and my boarding cards and say I can't have a free hotel. Fair enough, I'm not a misconnect, but I do blame TK/Istanbul Airport (and possible BAA too, for conditioning me to not believe that 'boarding' means boarding) for my situation. I'm offered a room at the Marriot for Euro 40 (turns out to actually be £31, not bad!).
TK Hotel desk
I take a seat as instructed, to wait for the shuttle. After 20 minutes I ask where the shuttle is. After conferring, I'm told the next shuttle is in 3 hours 30 minutes. "Say again?" Another argument later, and I get a cab. Of course, despite saying yes, and having a map, the taxi driver doesn't know where to go. By this stage I'm not even remotely surprised or even angry, just tired. I get to the hotel, and play dumb that TK would be paying. They don't take the bait, and take a deposit on my card. Ah well, good try! On the bright side the hotel has a pool, and the room is about 10 times bigger than the one the previous few nights, and costs the same. It's in the middle of a motorway junction, but there we go. Oh, and I can see the runway from the room, although nothing much seems to be happening. However, as I begin to unpack I notice that the padlock from my checked bag has gone. Hmmm, in my stress at the airport did I take it off? Or not put it on? A quick search of my belongings later reveals no bright orange padlock. At this stage I'm even sure what to think. Nothing was missing, but still. Hardly encouraging. Maybe it's a punishment from the baggage handlers for getting them to find my bag and offload it? Who knows. I try again tomorrow.
My Marriott Hotel room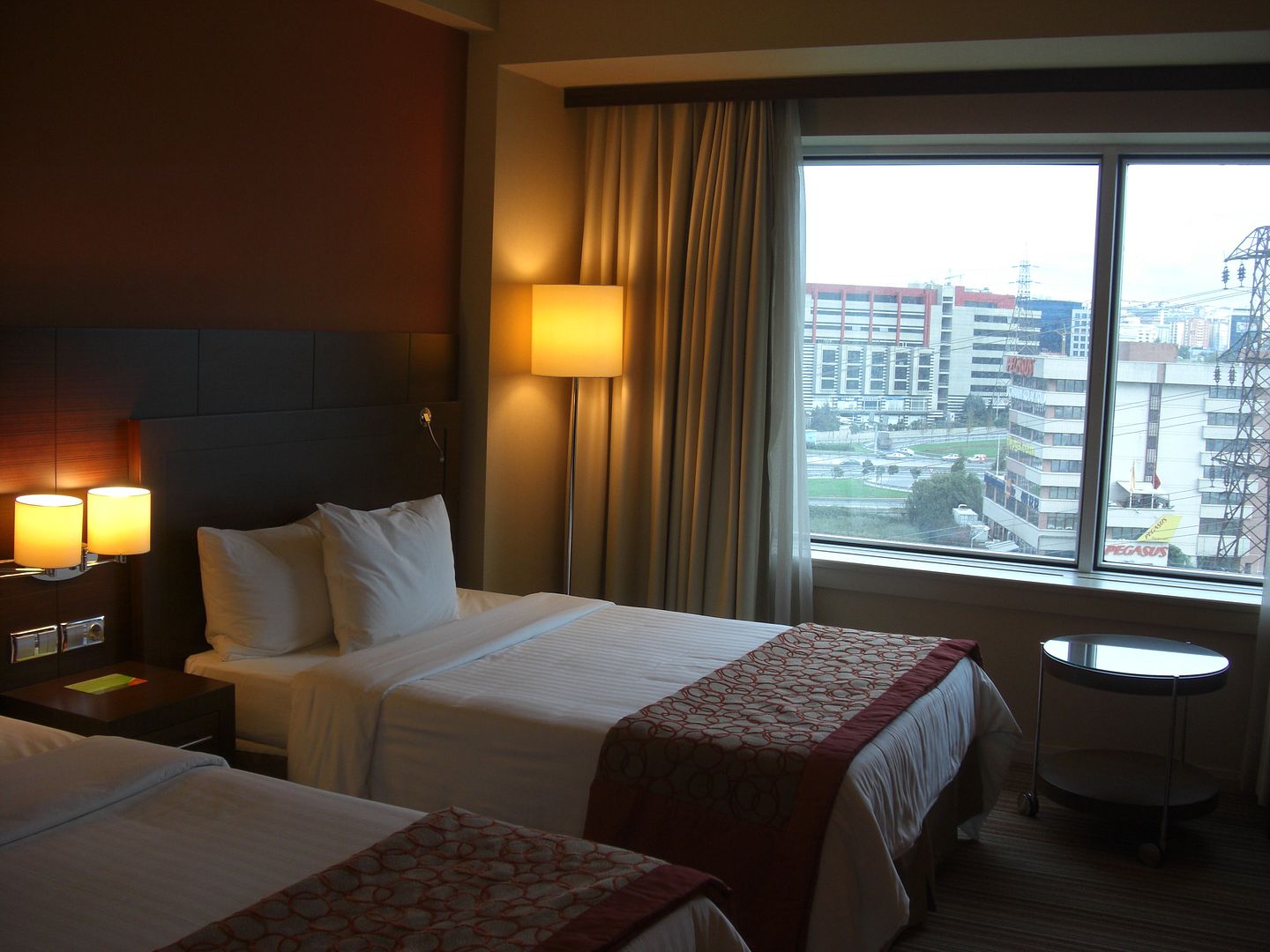 Pegasus HQ from my window
The Next Day!
After a filling breakfast, I finished repacking my bag, and heading down to the lobby for the shuttle to the airport. The drive took around 10 minutes, and after passing through the x-ray machines, I was back at the Business Class check in desks. This time, the check in experience wasn't nearly as good. There were five agents playing on their phones. None of them looked up. I slowly walked down the line in front of them. Finally Nos. 4 & 5 looked up, and No. 5 waved me over. My bag was tagged, and I was given a new boarding card (so now I have 3 boarding cards for IST-BUS!). The economy queue for immigration was far less today. There was only one person in the queue for Business. Having discovered the delights on the lounge yesterday, I only went in, got a glass of water, then used the computers for a bit. With events of yesterday firmly in my mind, I made my way down to the gate a full hour before departure. I wouldn't be taking ANY chances today!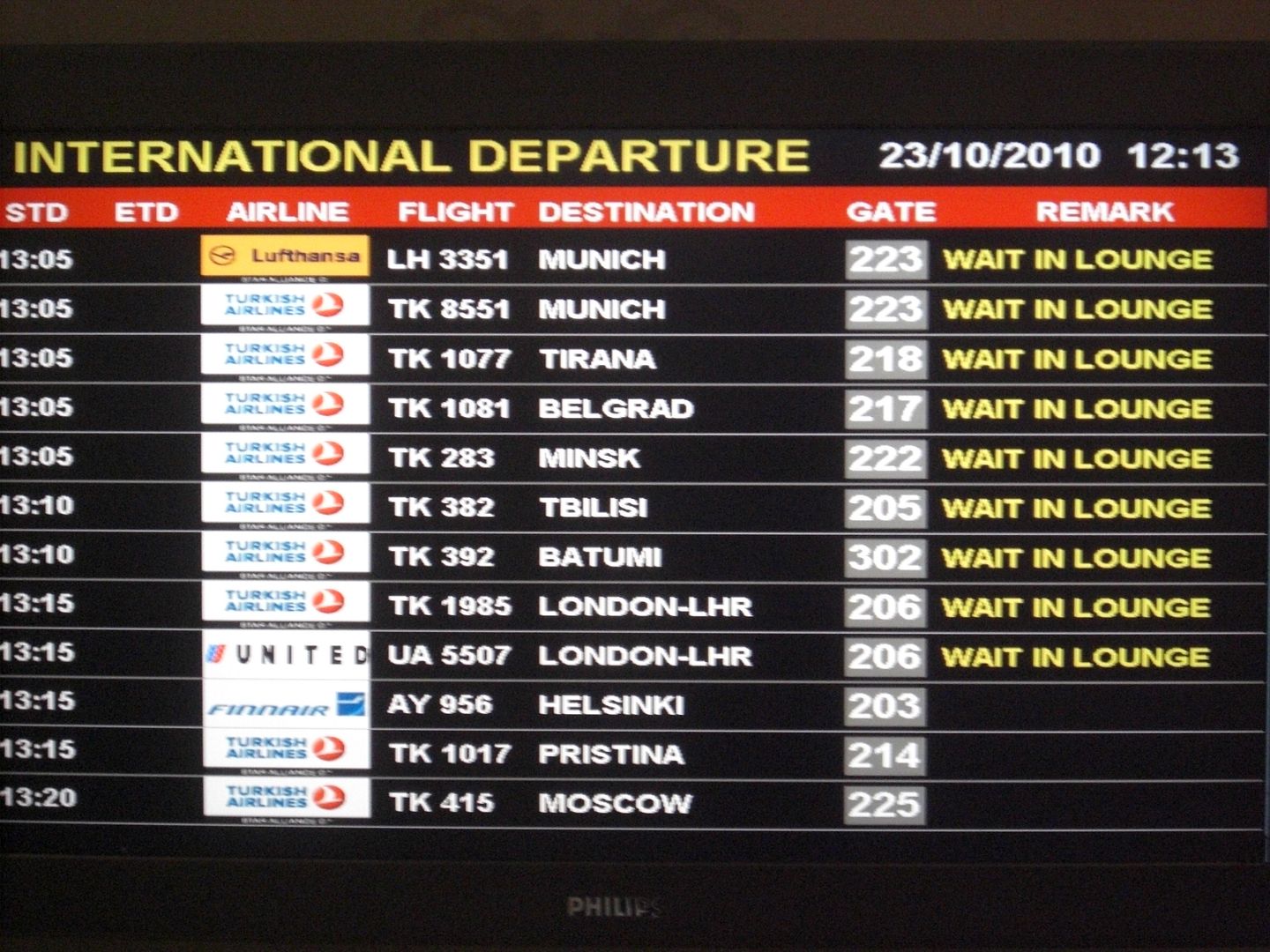 I think this ex-UA B737 is now the Iraqi Airways flight to Baghdad.
Security at the bus-gate area was also a lot less than yesterday, so around 1225 was seated in front of the gate. Phew! Chances of being denied boarding reduced to satisfactory levels!
There was one gate agent checking passports. At 1230, we were invited to board the bus, and shortly, I was sat on the bus. Hurrah! Chances of now missing the flight, close to nil. I texted my friend saying that unless there was some sort of calamity, she should expect me shortly. The bus slowly filled up.
Interestingly, the Turkish A320 parked next to us still had passengers queuing to get into the terminal whilst the new set of passengers were boarding. I wonder what the hold up was for disembarking?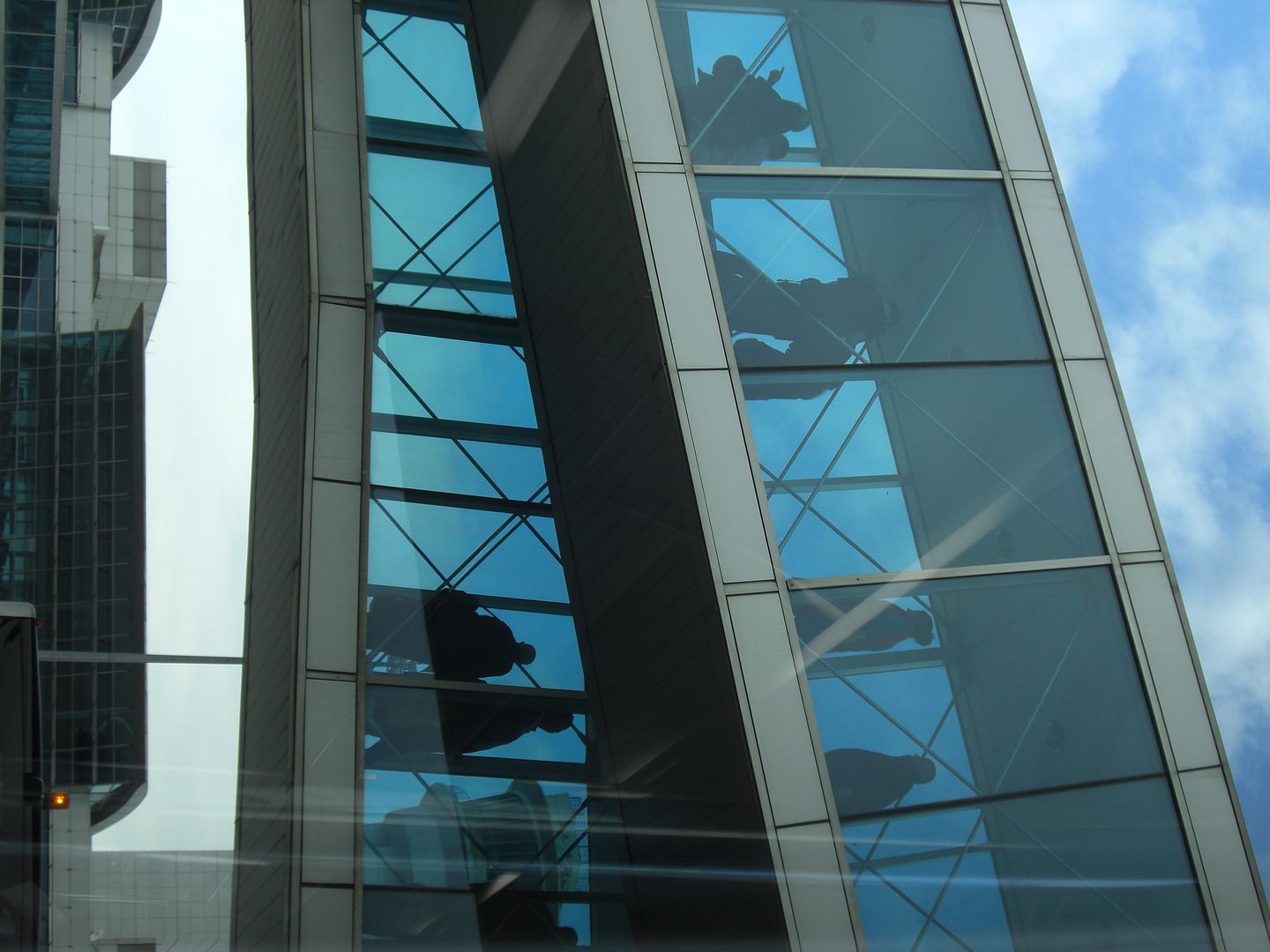 A few shots of the IST tarmac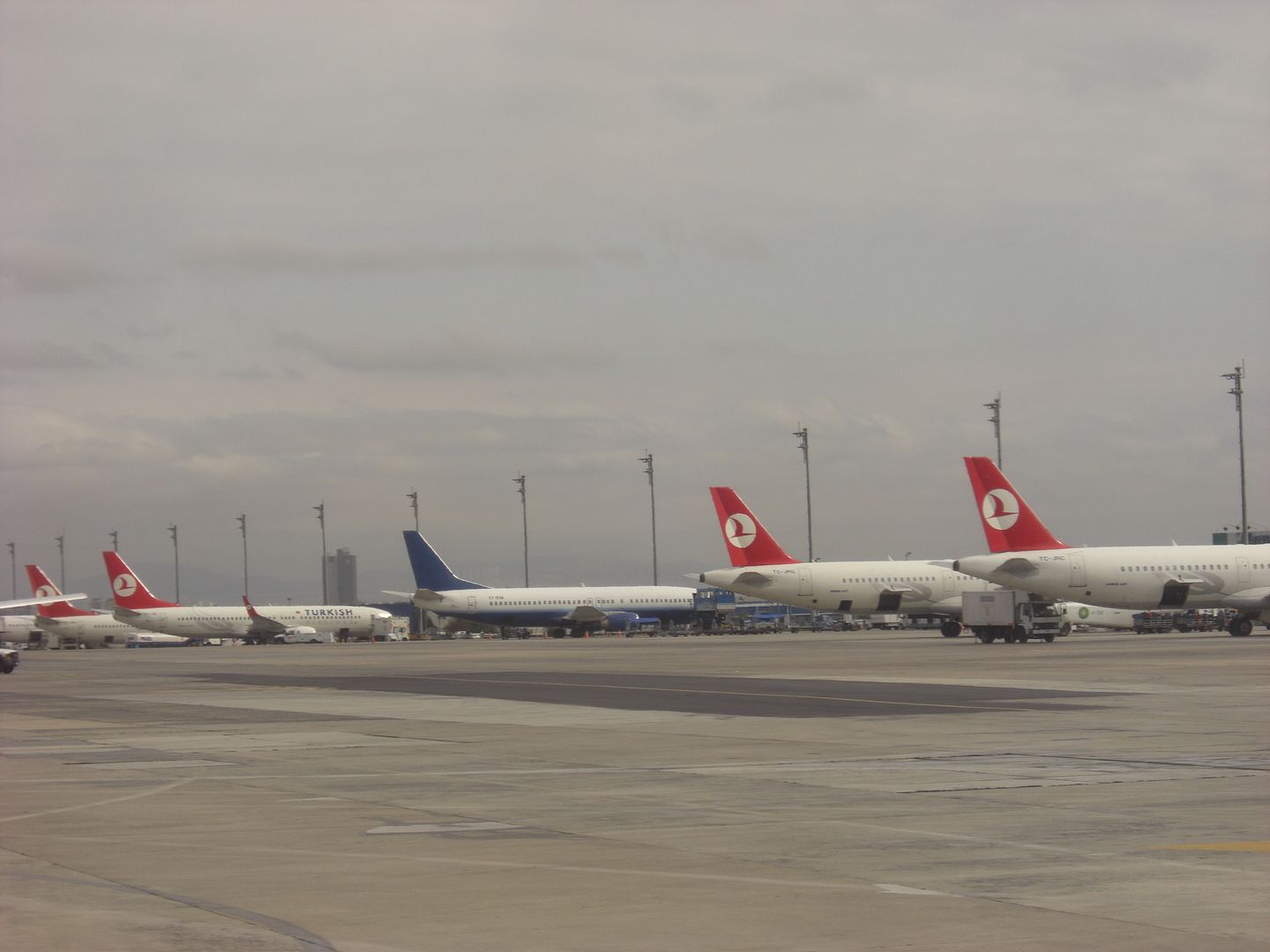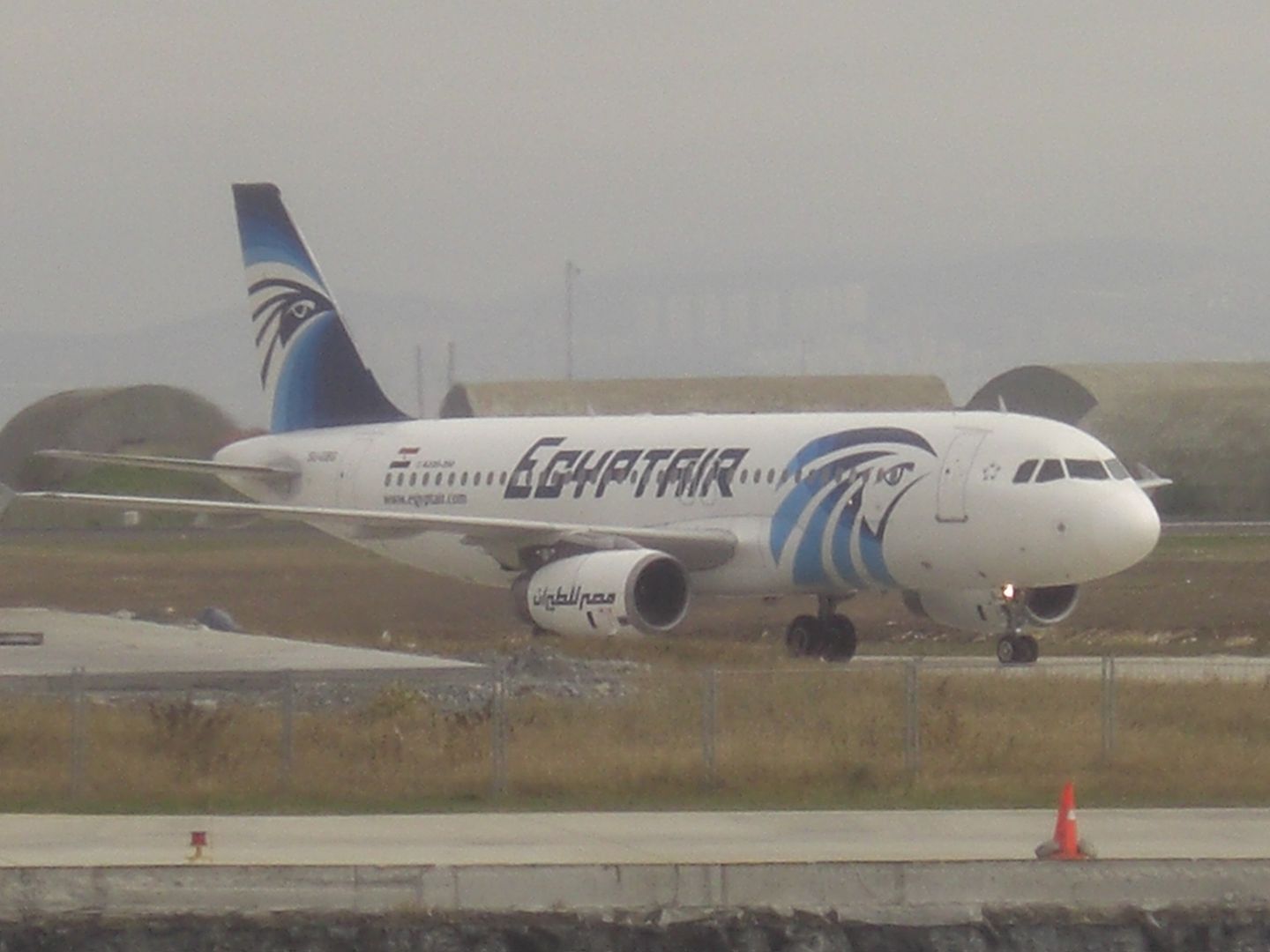 SQ B773 to SIN, and MH B772 to KUL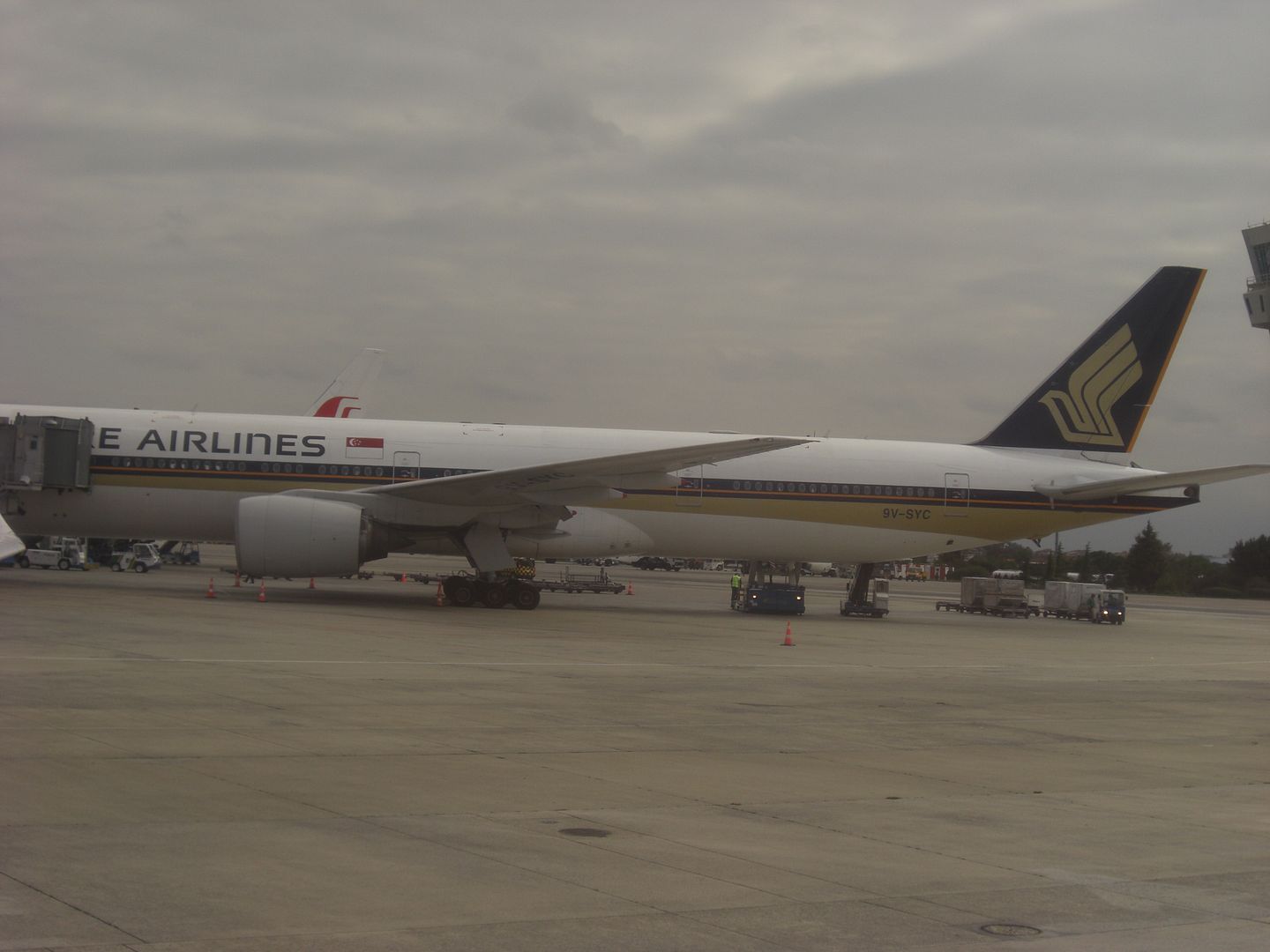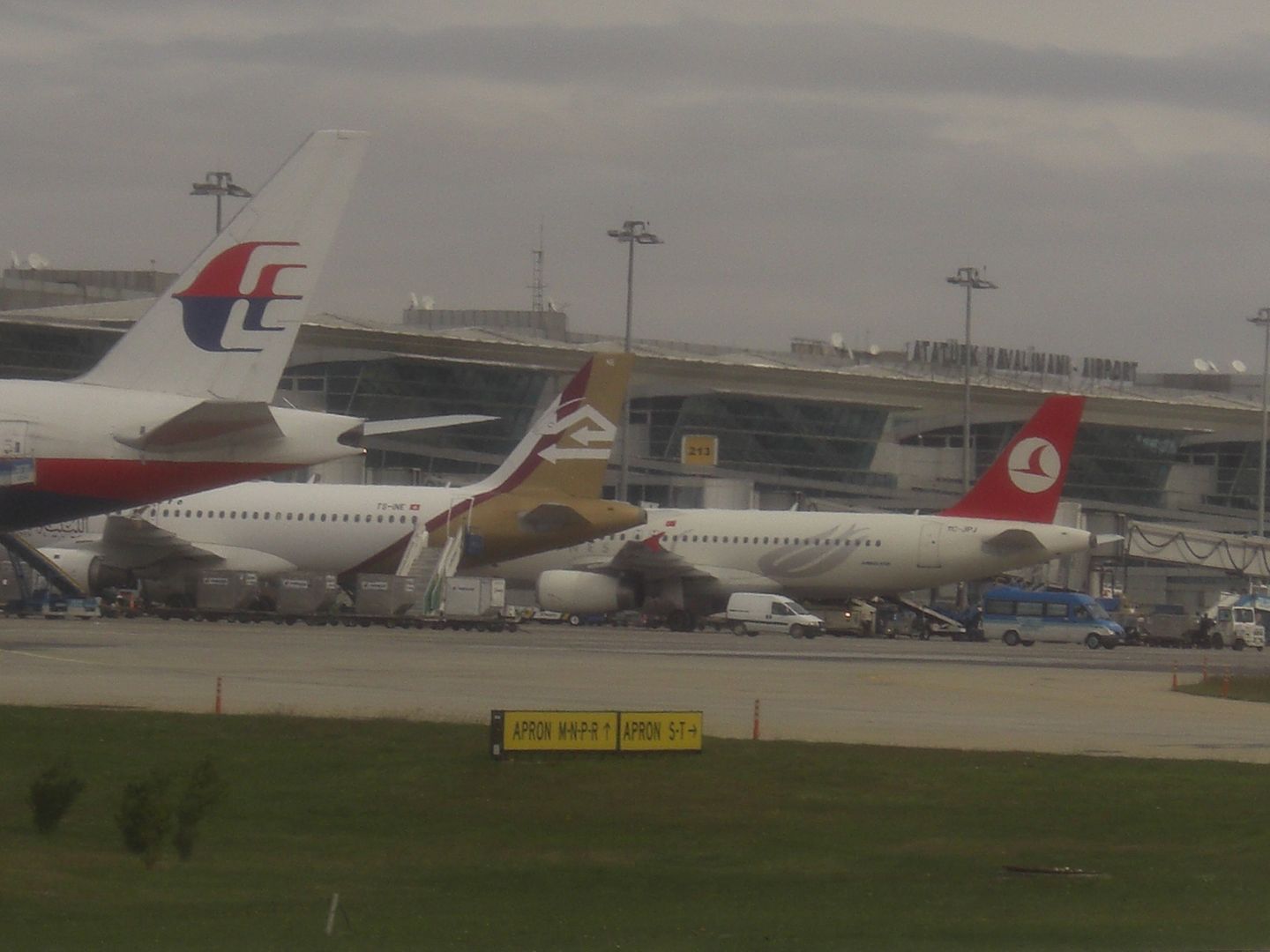 Today, SU was using their B767, as apposed to yesterday's A330.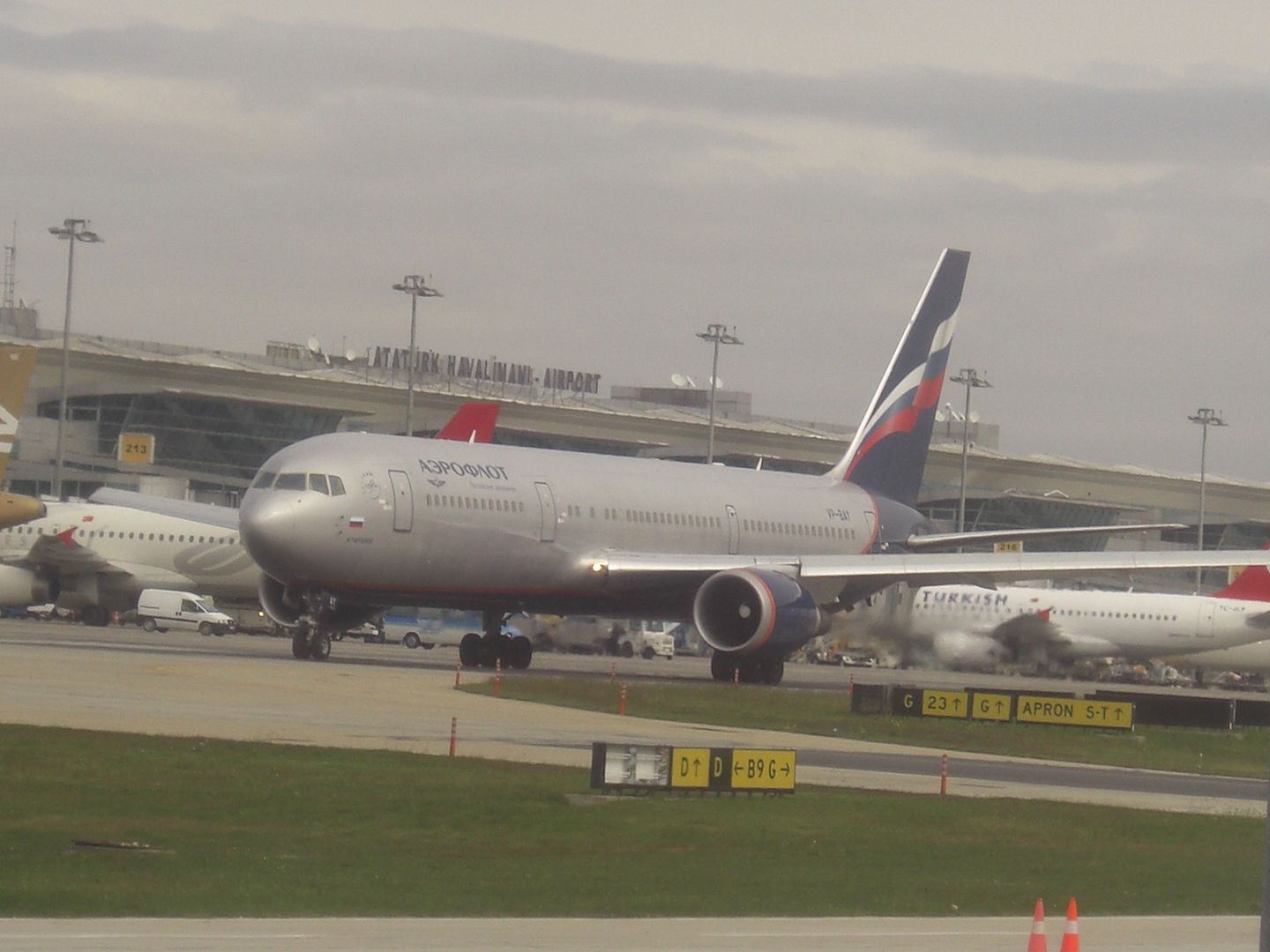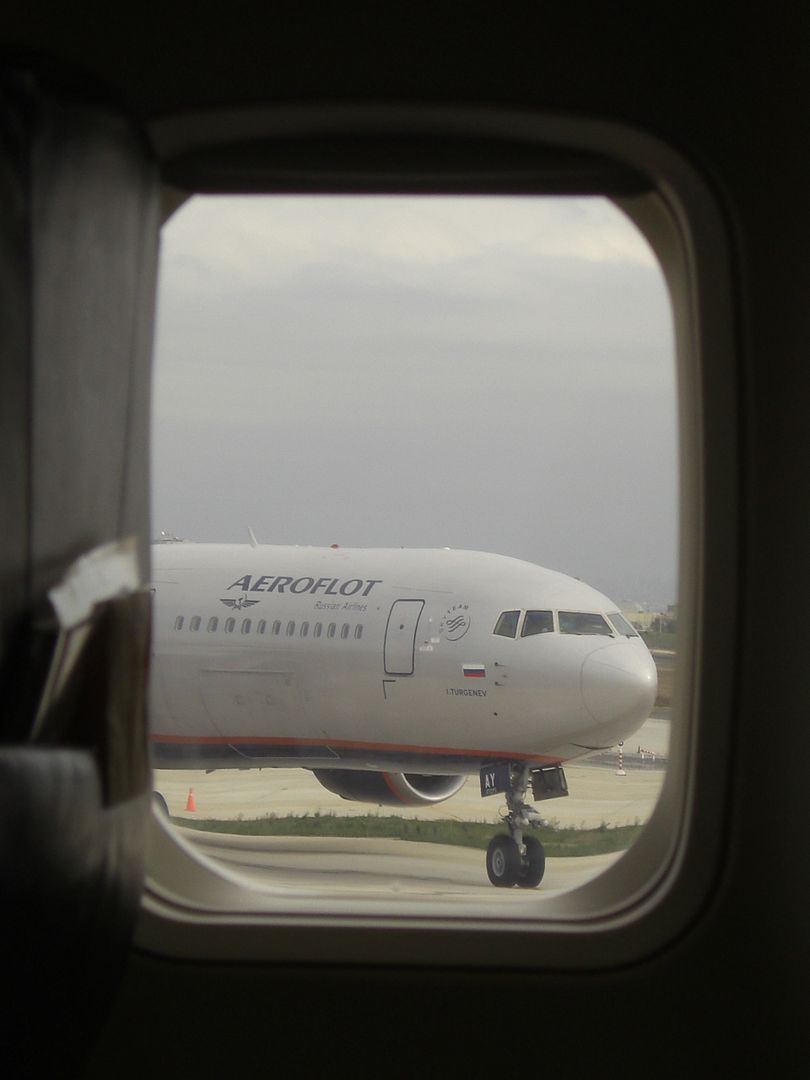 Today's flight would be operated by the B73G (yesterday would have been an A319), which was good news as they have proper Business seating (2 x 2). The A319s have economy seats with the middle left blocked.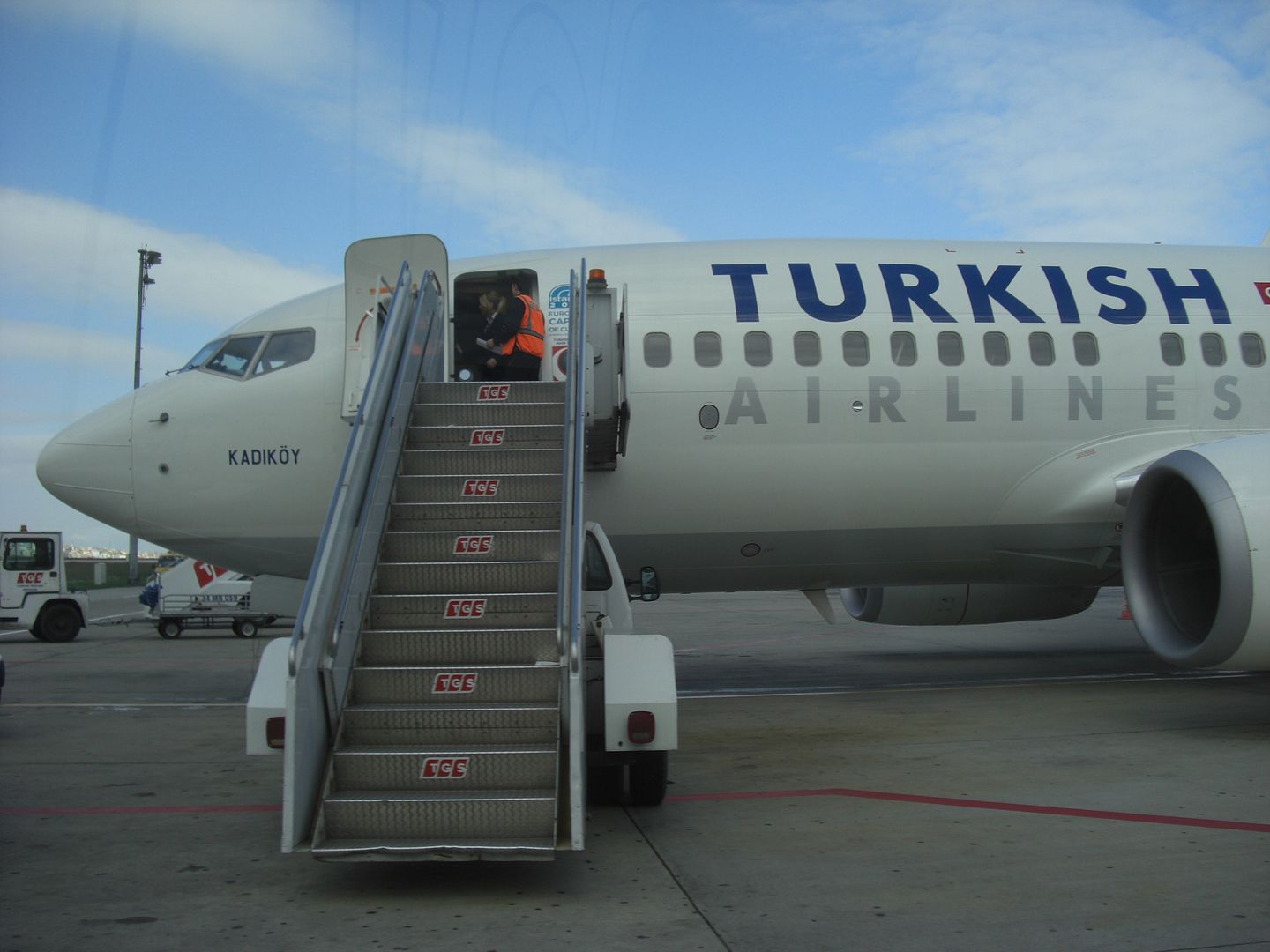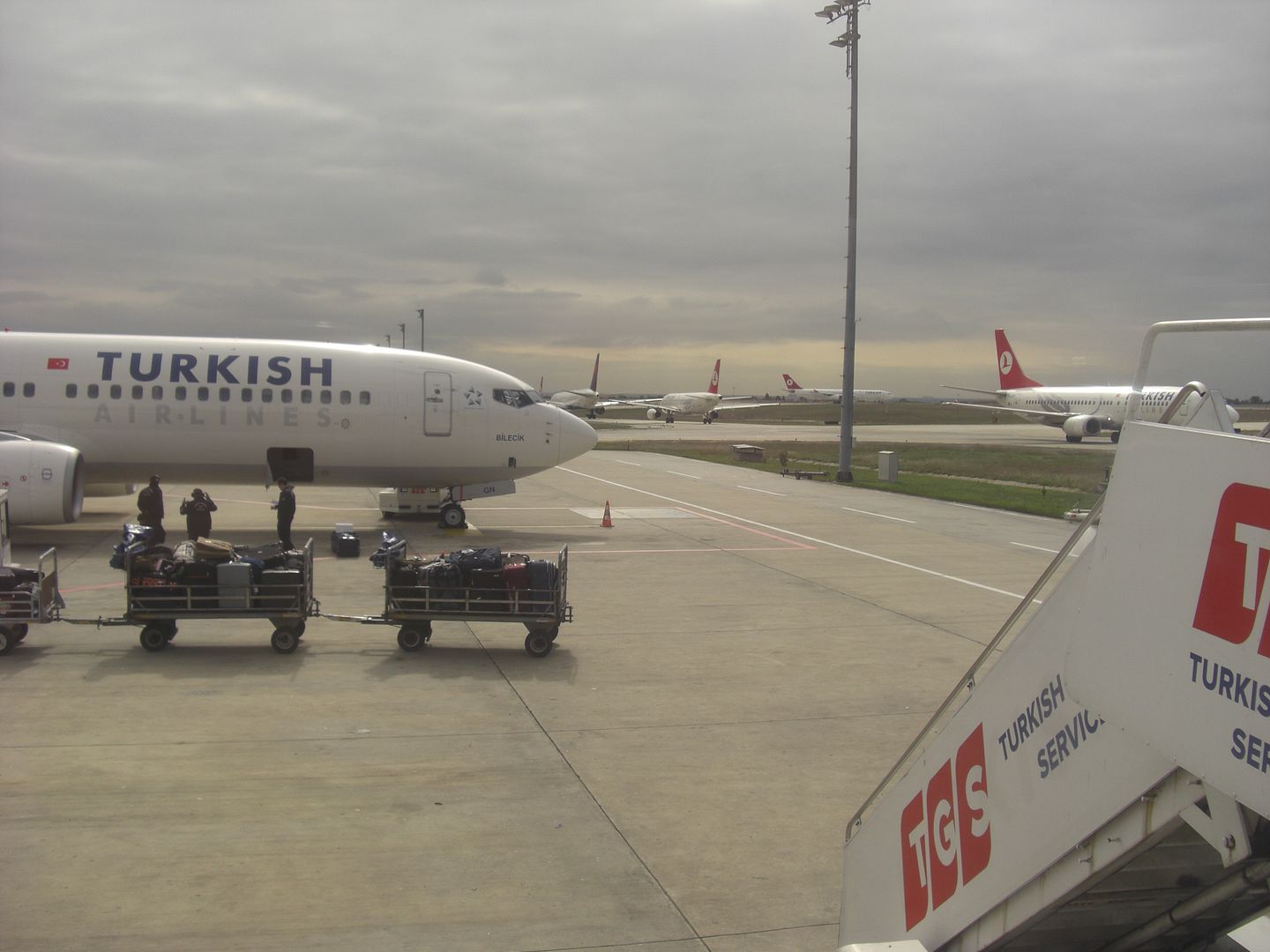 I was assigned 1F, but decided that the legroom was a bit too tight. Also the armrest wouldn't stay down (a problem with the tray table)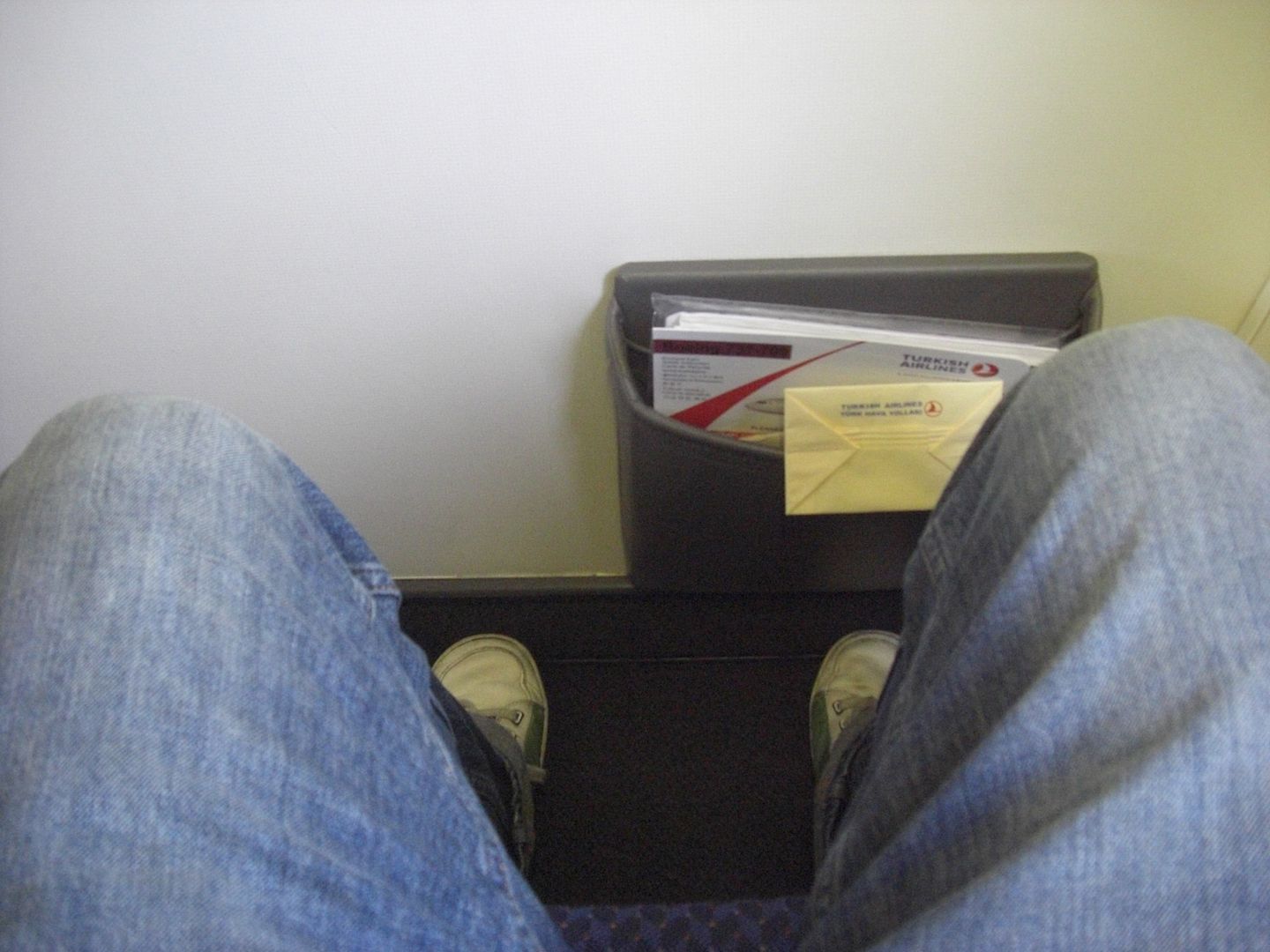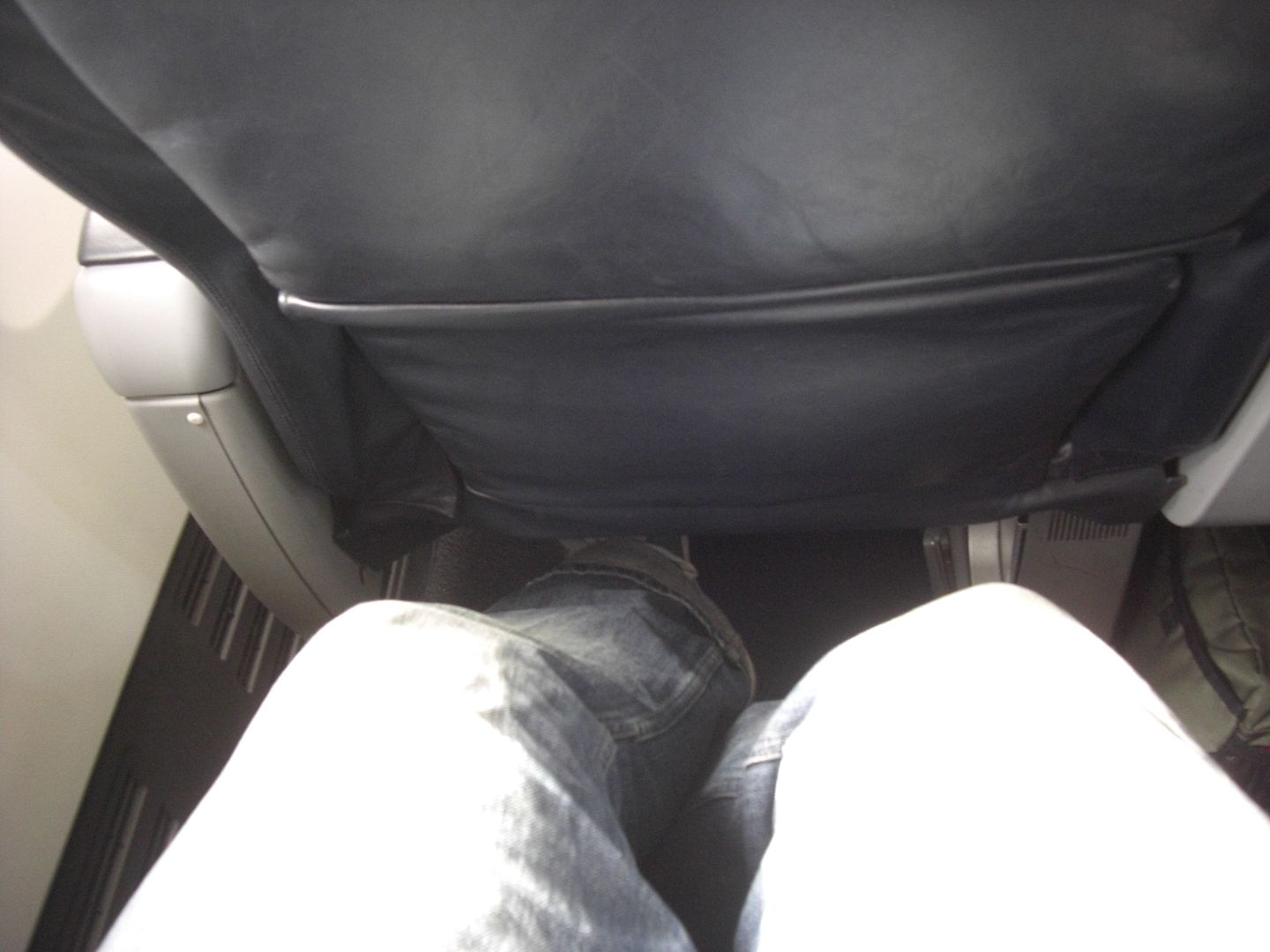 Once boarding was completed, I moved over to 3A. I had to make a choice: view of Batumi on arrival (an A seat), or views of the Turkish coast (F seat). I went with A in the end, but perhaps should have gone with F. A choice of water, orange or sparkling wine was offered before take off. Out of 12 seats, there were only 3 of us in Business Class today
Looks like they need to replace this taxi-light
October 2010
Turkish Airlines TK 392
Istanbul Atuturk (IST) – Batumi (BUS)
Boeing B737-700 (TC-JKO)
Scheduled: 1310-1605 (1h55m)
Actual: 1327-1603 (1h33m)
Business Class
After a bit of a wait we took off a bit behind schedule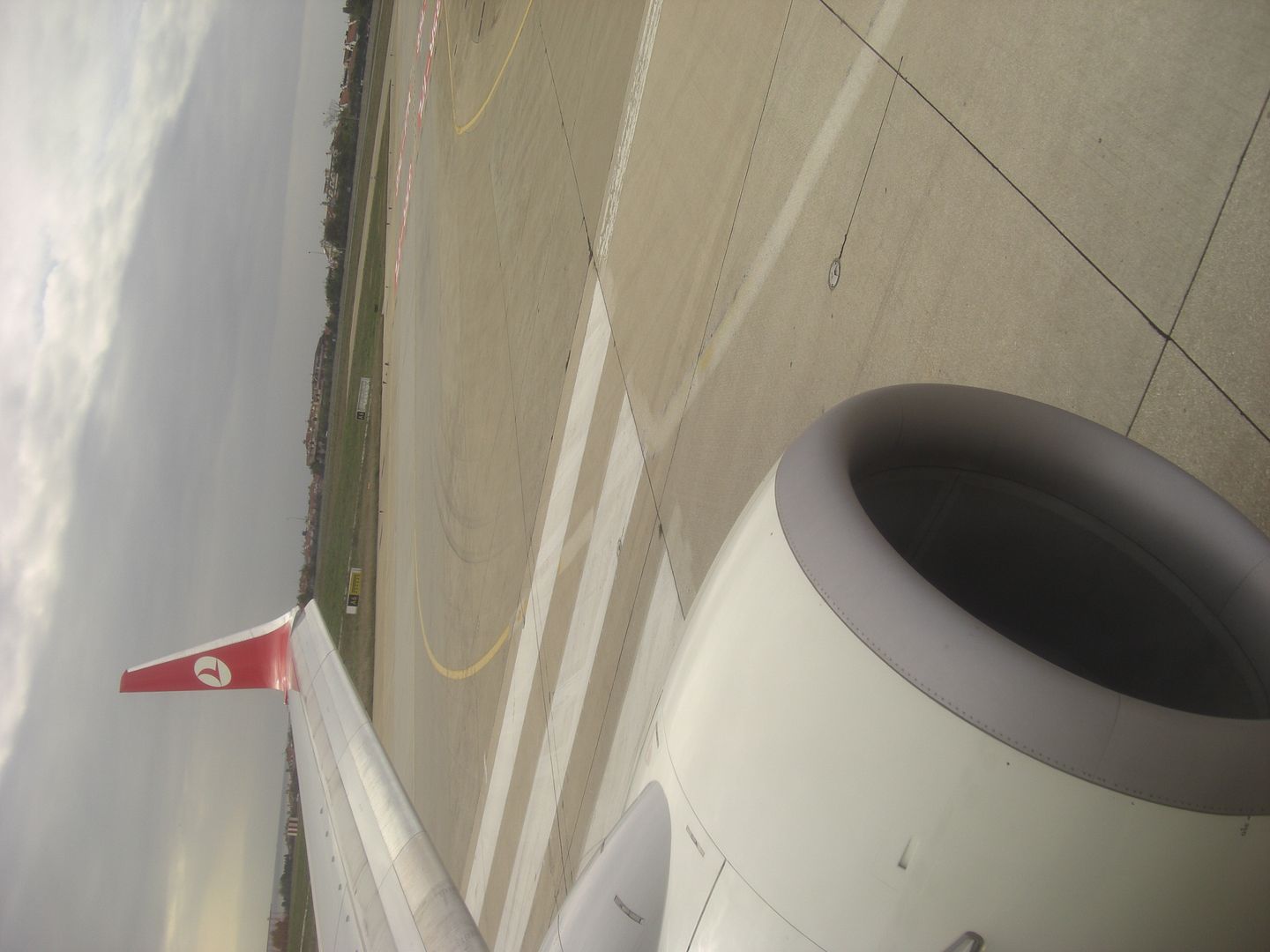 I was sort of pleased to see the Marriott after take off
The FA serving Business was very nice, professional and smiling. She handed out menus, hot towels and headphones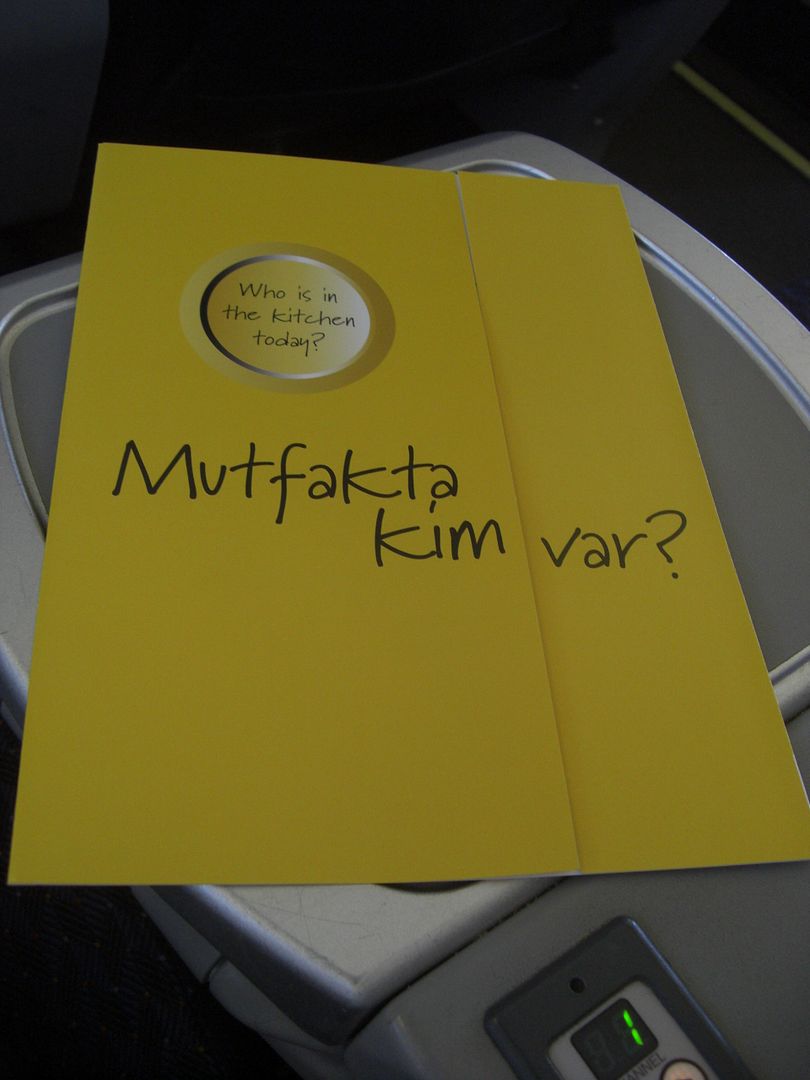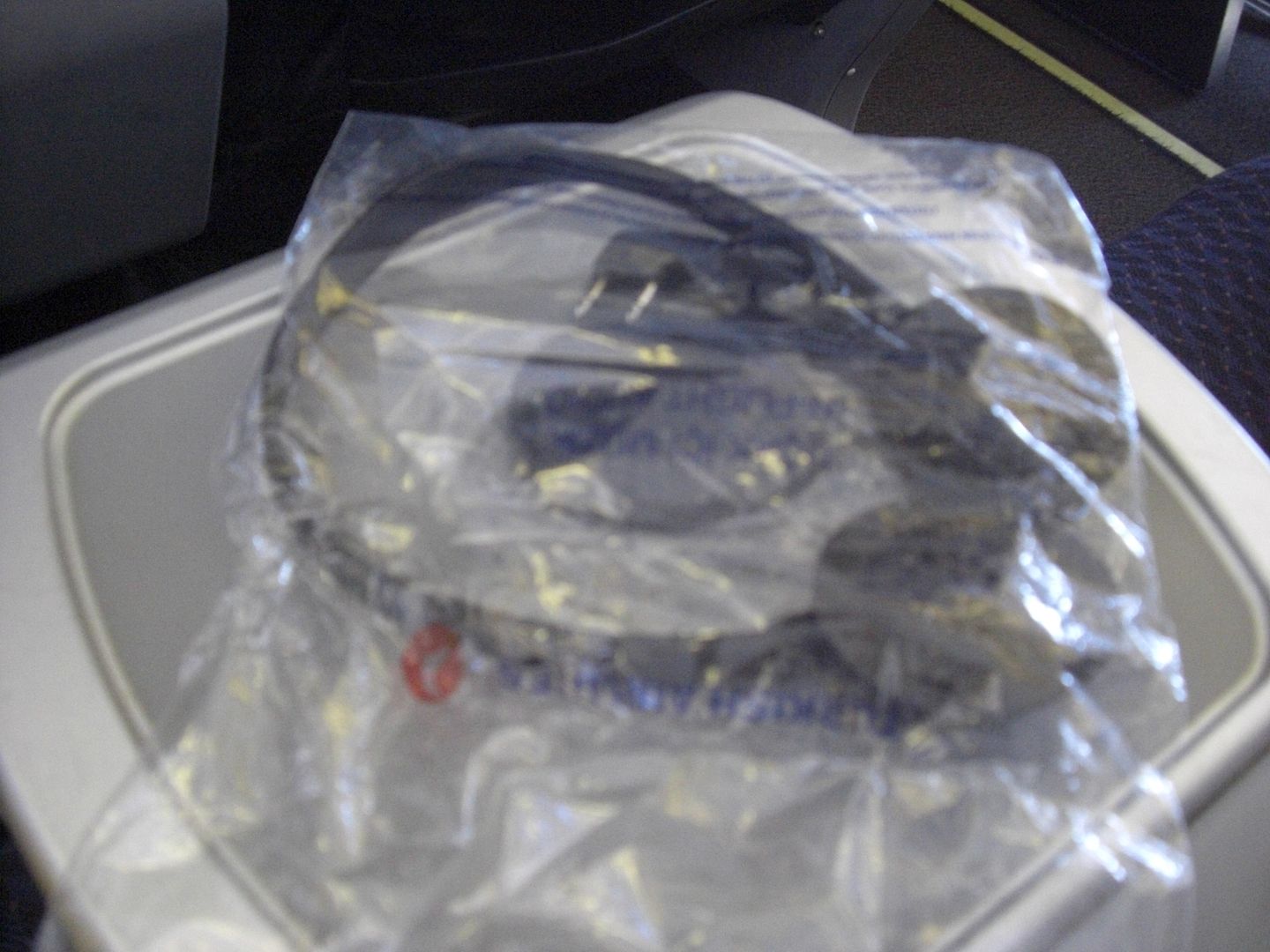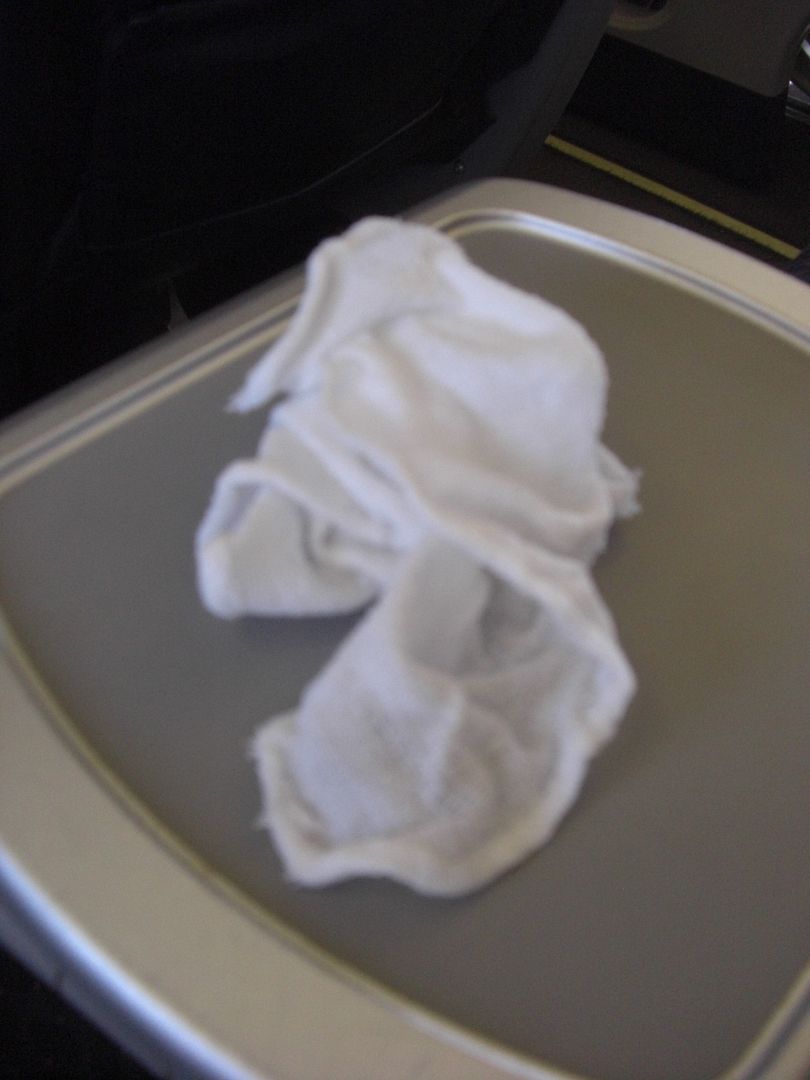 There was no choice of meal, but meal on offer was tasty, and totally adequate for a short flight
My main gripe is that they brought out all three trays (individually), then came out and asked fro drink orders, then after that came out with bread (which was needed to eat the humus). I'm not sure how other people feel about that order, but especially with short flights, I like to have everything brought out at roughly the same time, not a 10/15 minute lag. I asked for some white wine with lunch, and was offered Turkish or French. I went with Turkish, and got a bottle of Pammukale wine, which in my amateur opinion was pretty disgusting.
Once the trays had been cleared (which took some time), I asked for some beer and water, which came out with a smile and a bag of nuts.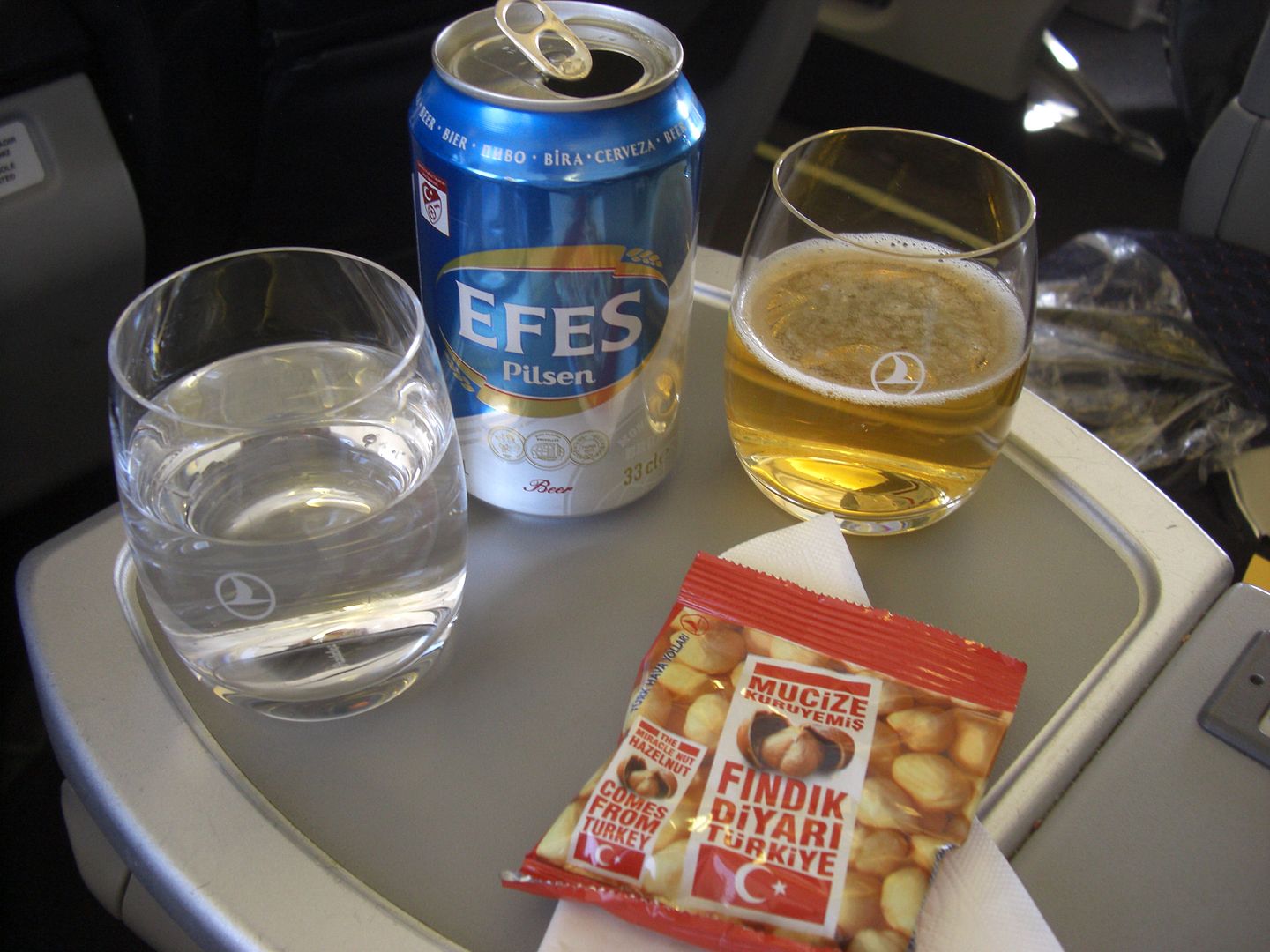 Once that beer was dispensed of, I asked for another, along with some sour cheery juice (which was very tasty)
Views
Why do they show boring, random documentaries on short flights? Where's the air map?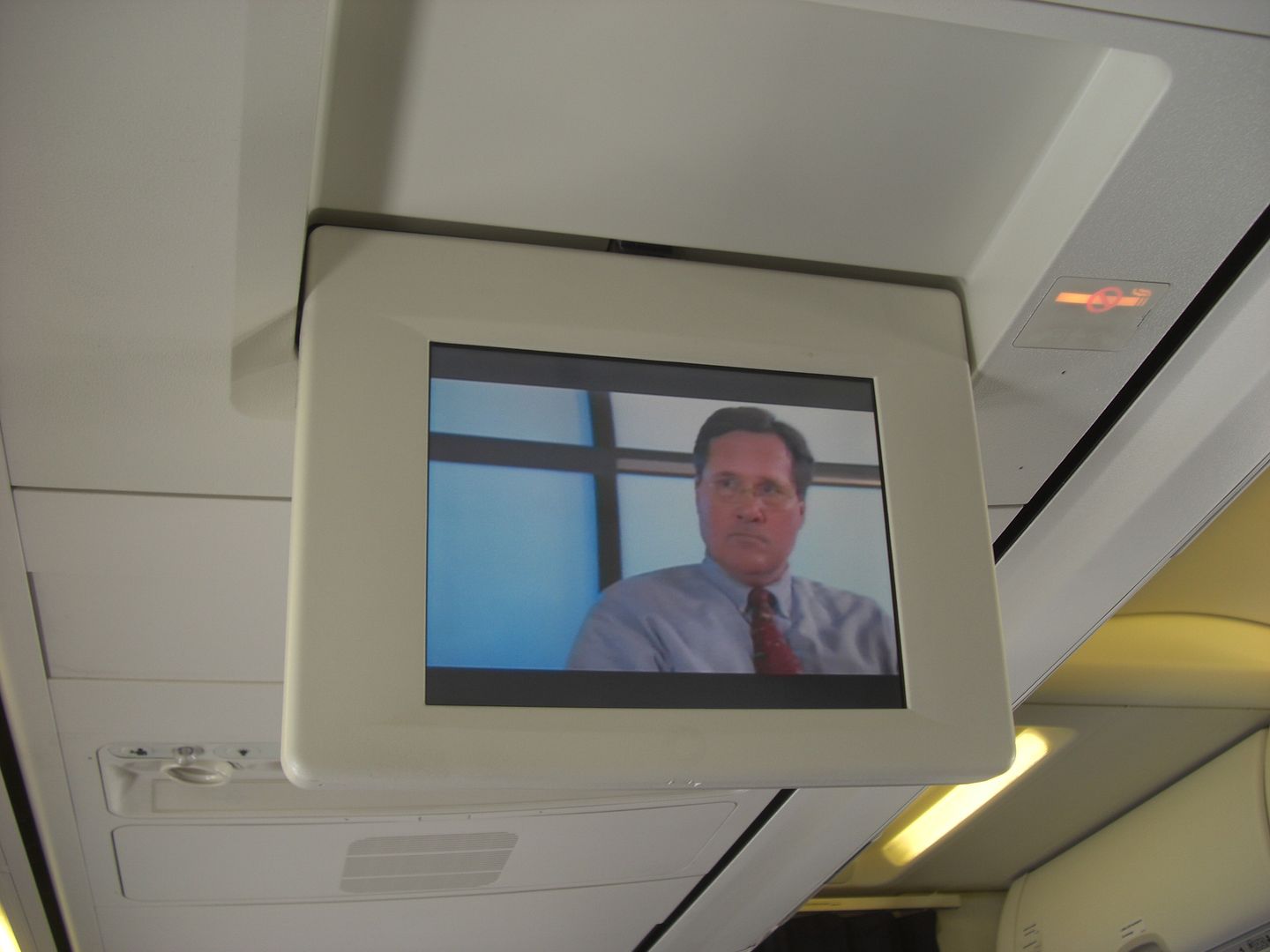 Plenty of room to expand!
A Nazar in the galley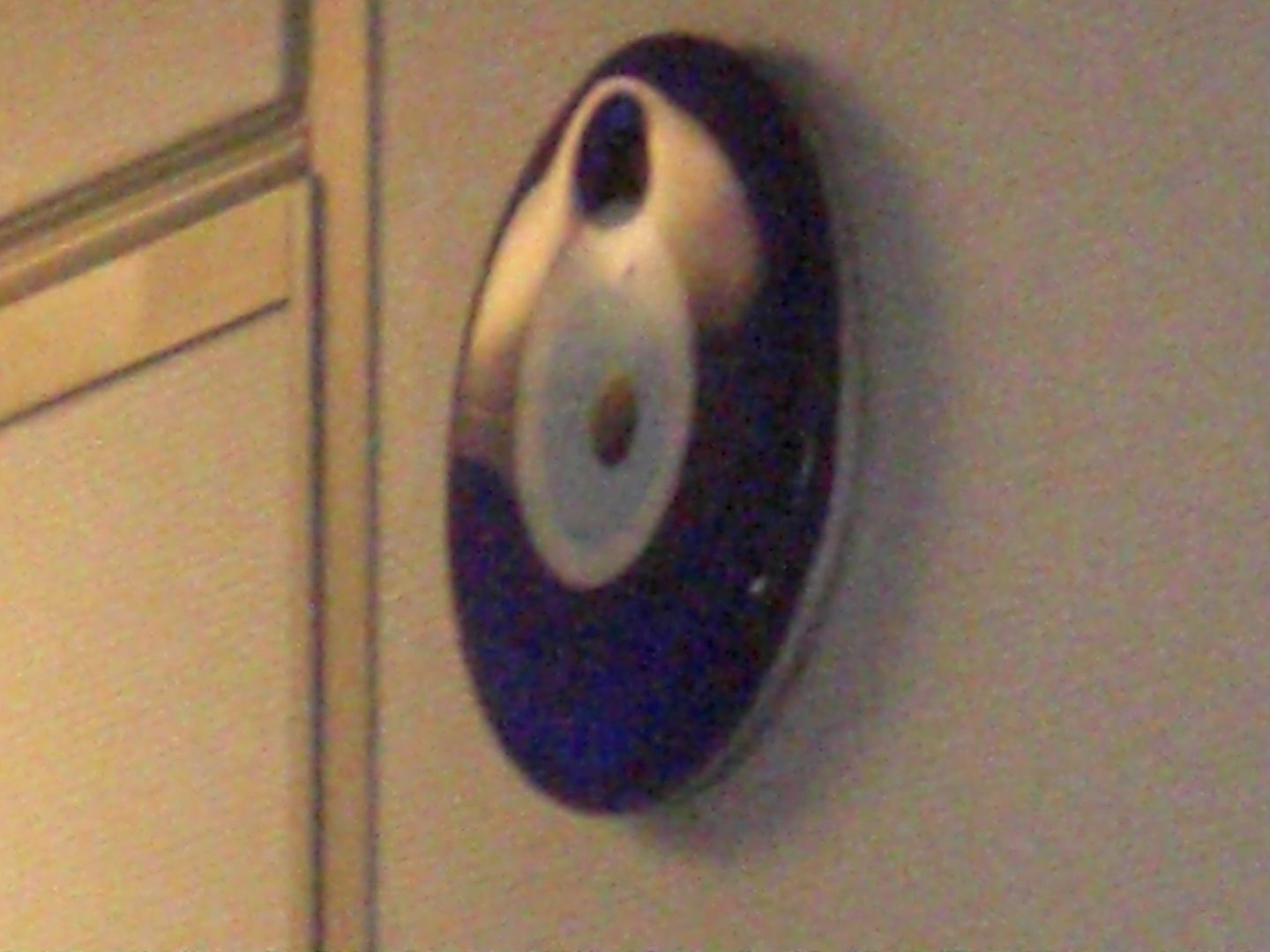 Views of the Turkish coast was pretty nice (from what I could see from the 'wrong' side)
Cabin before landing
Views of Batumi on approach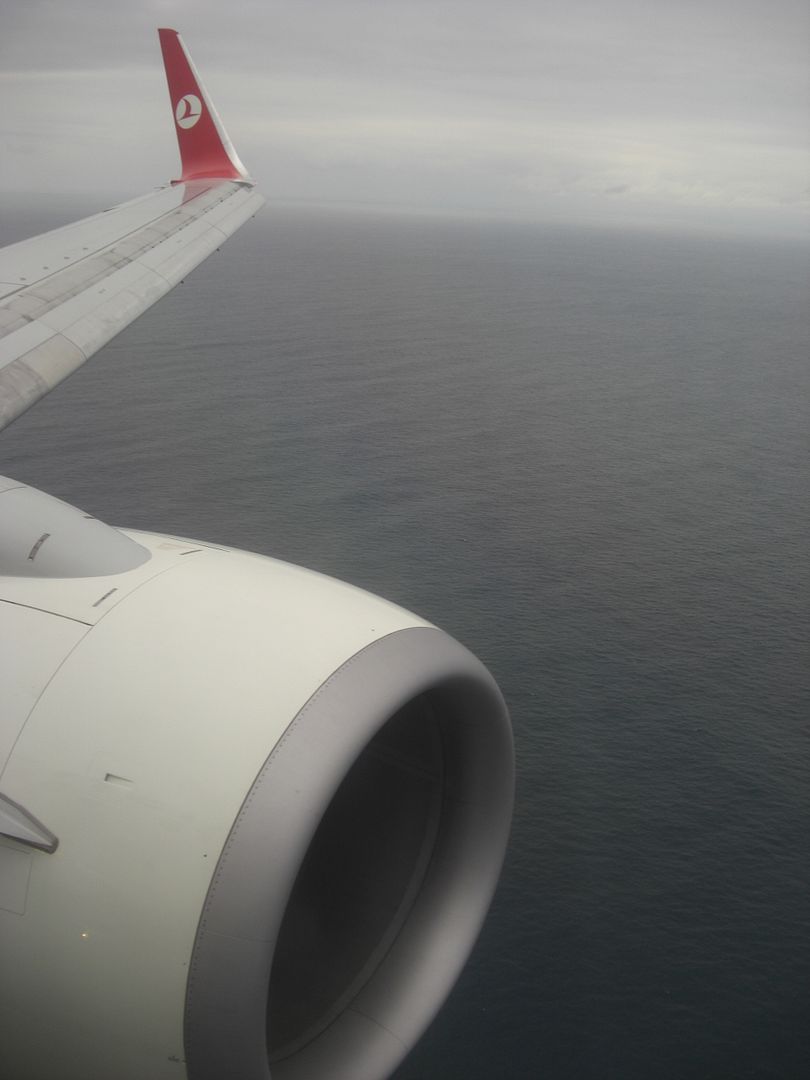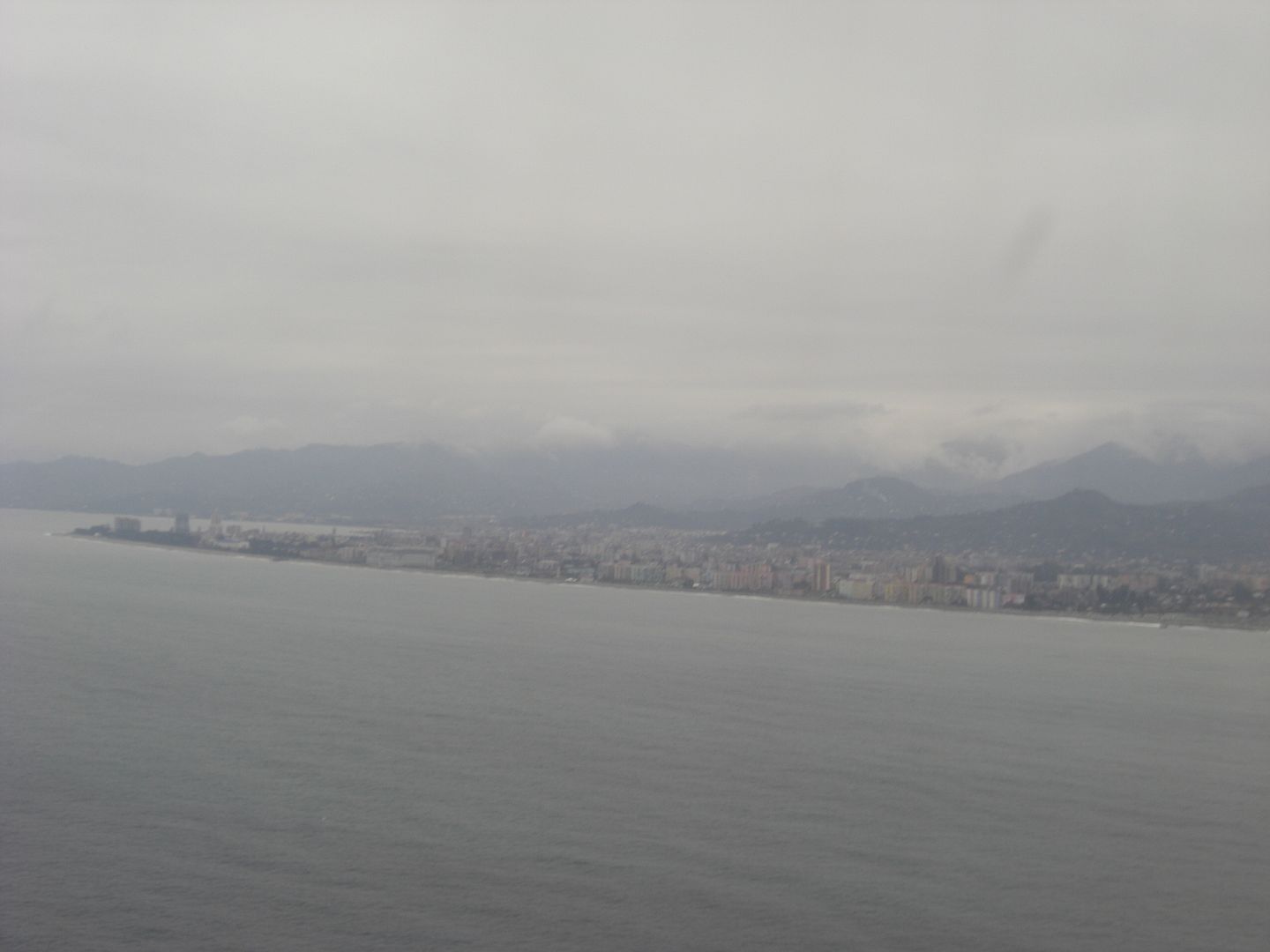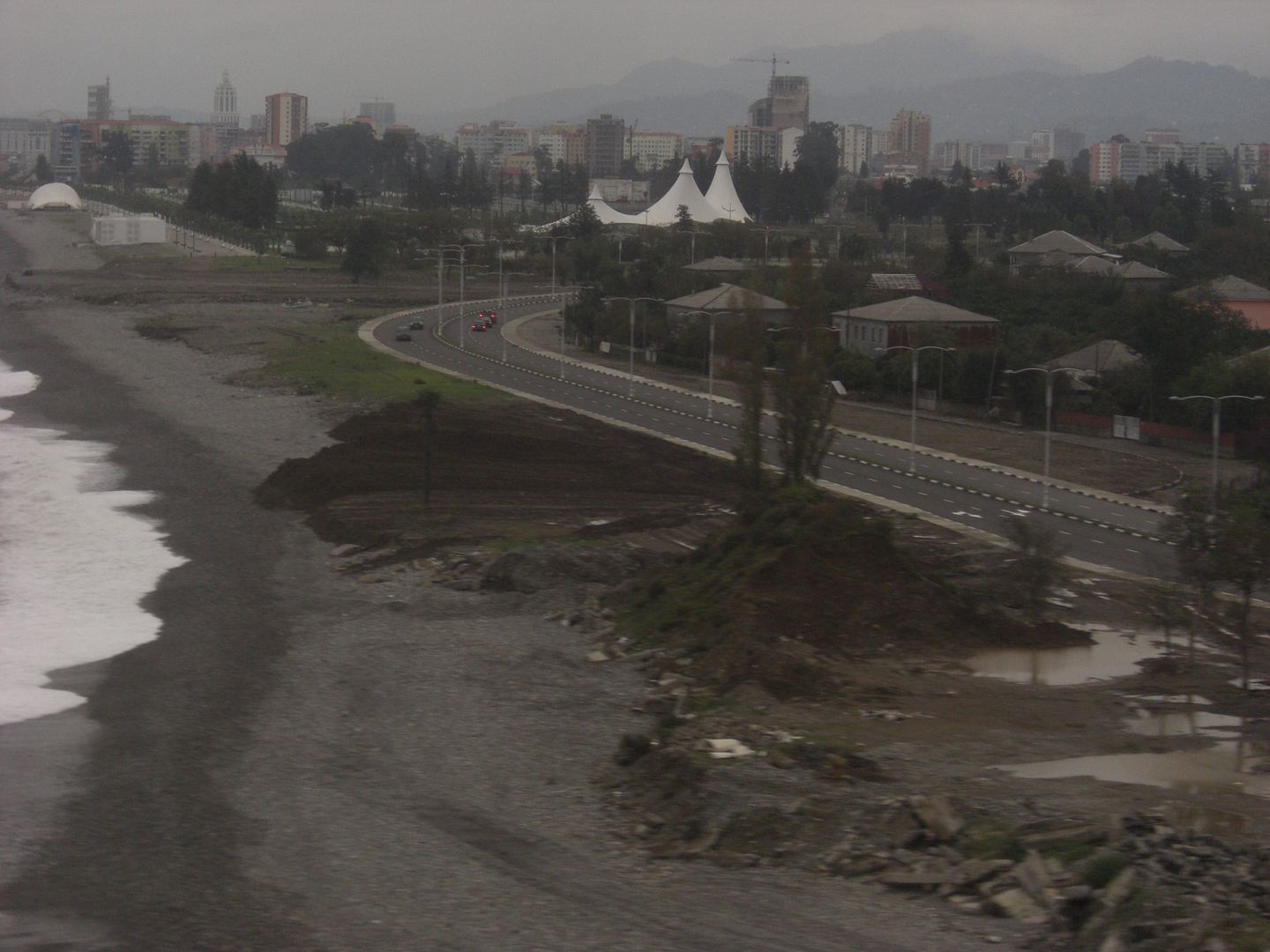 Welcome to Batumi and The Republic of Georgia!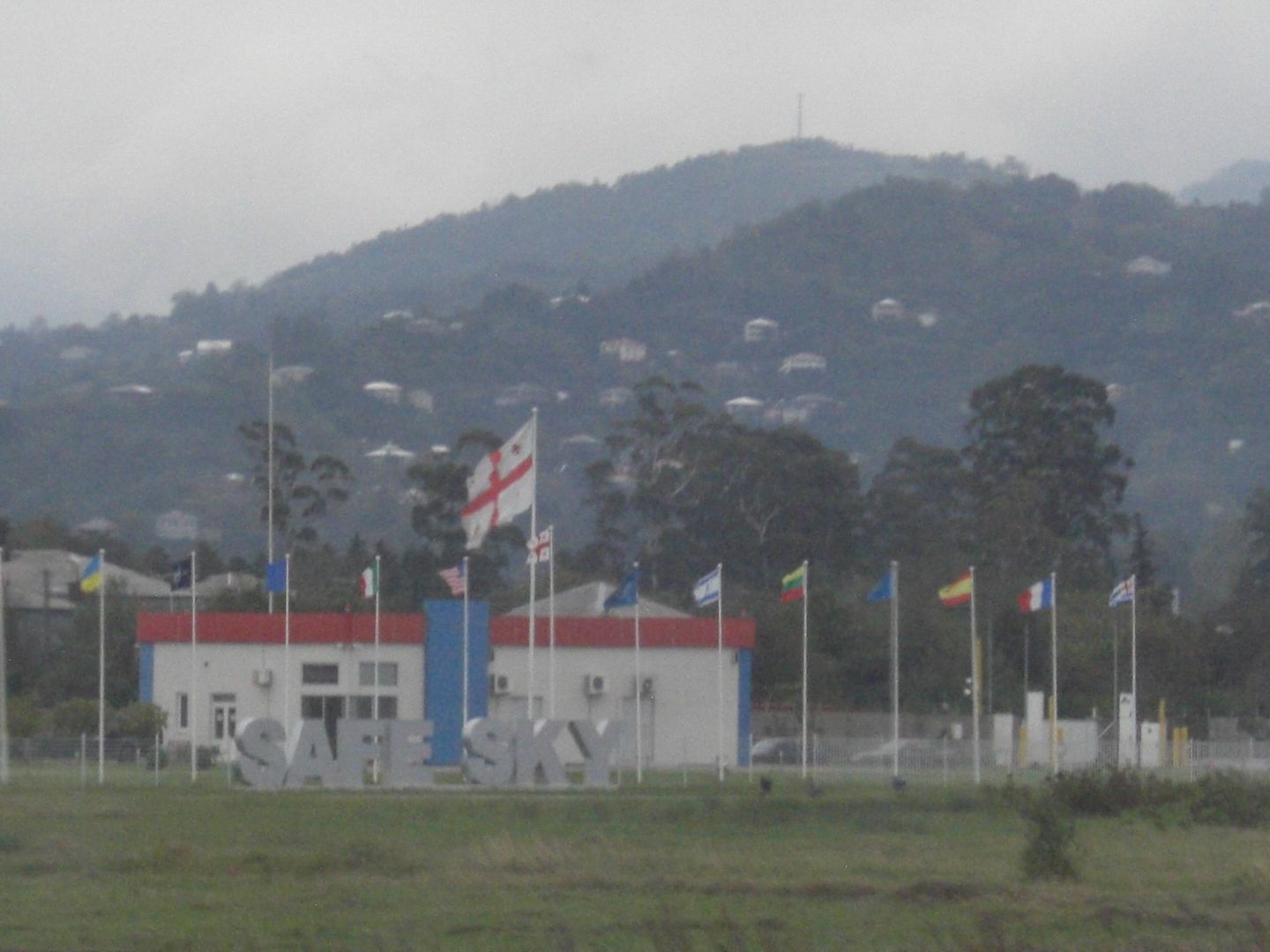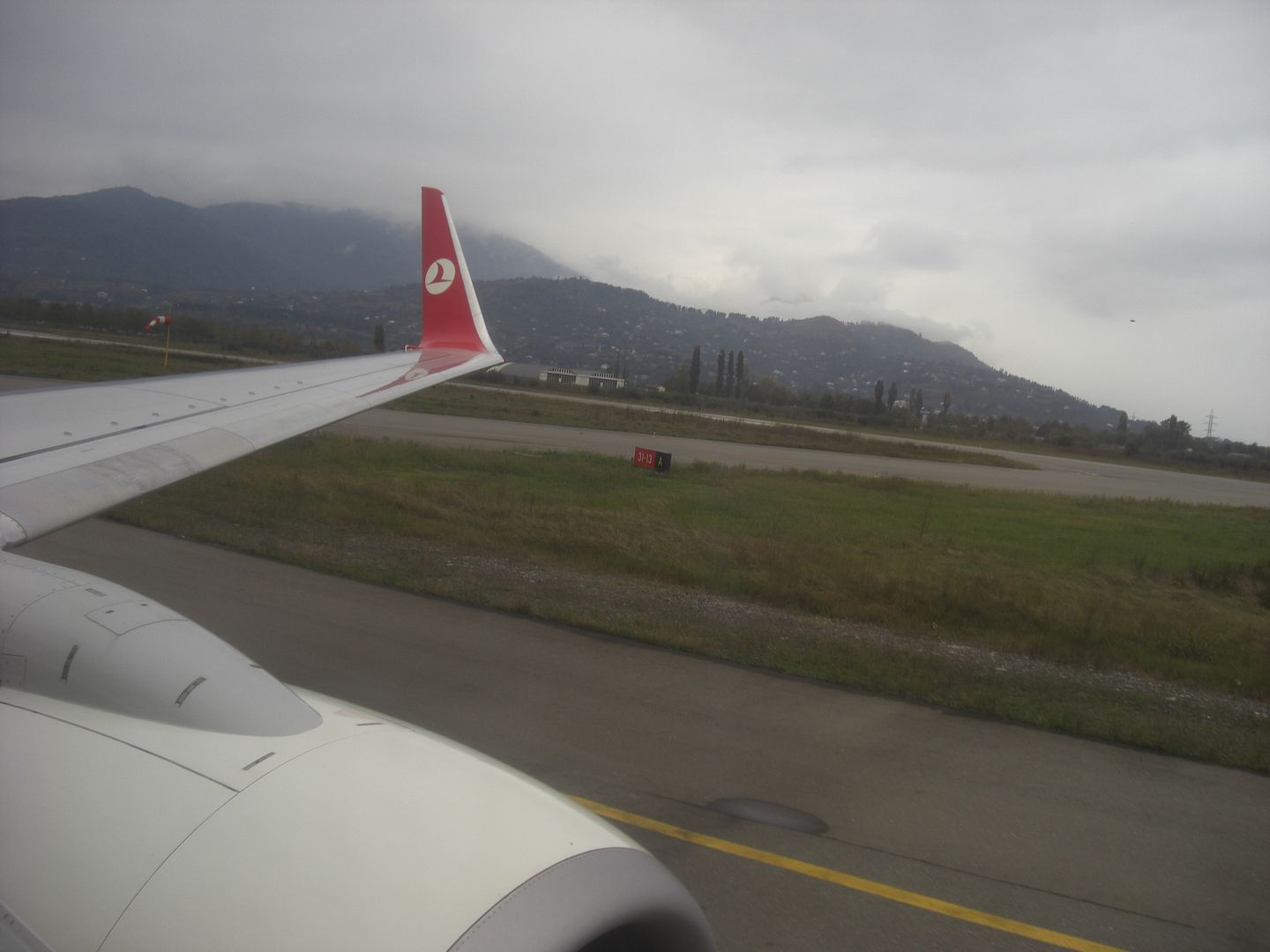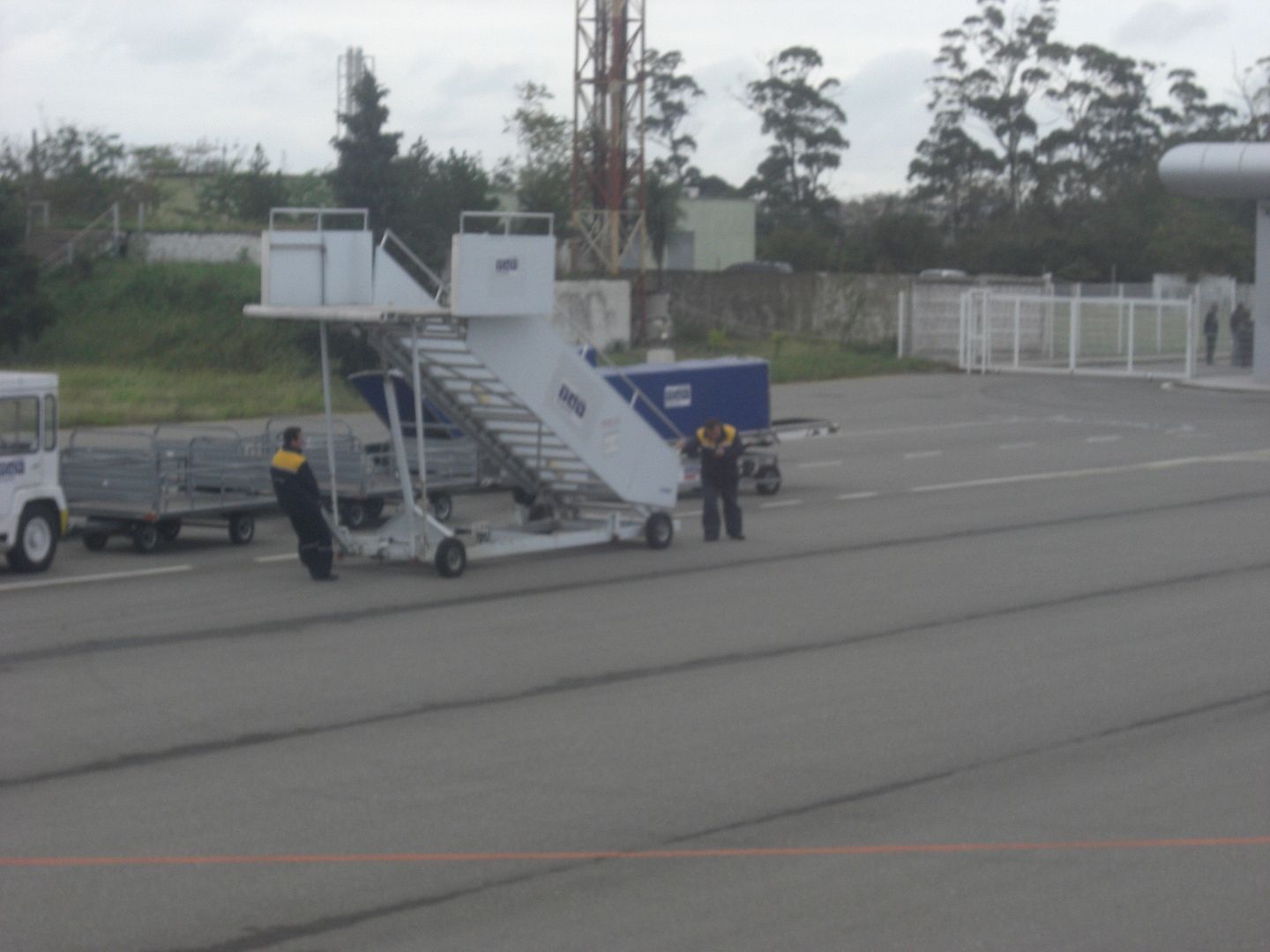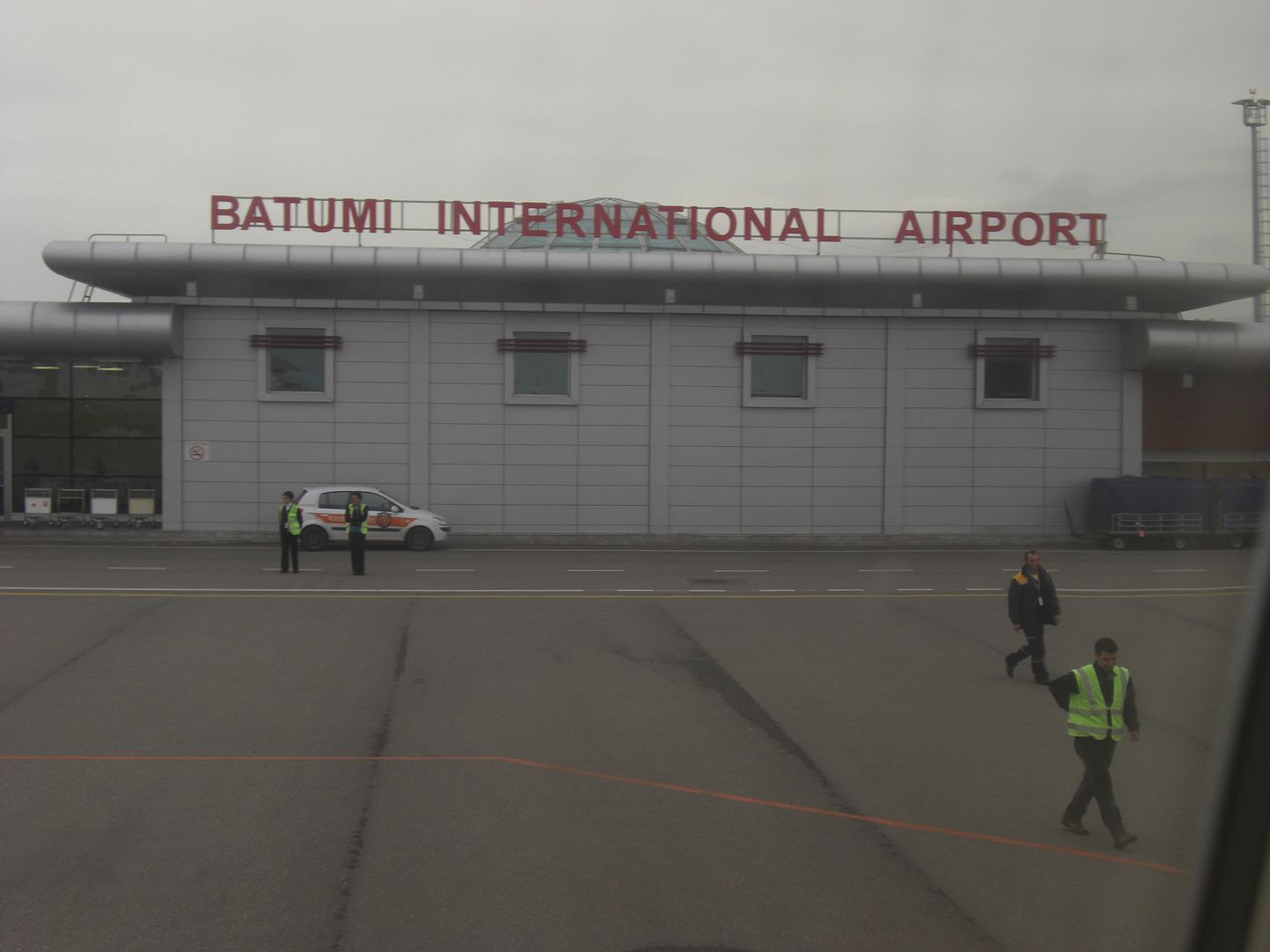 I was second off, and followed the ground agent to the arrivals area.
There were four immigration agents at the desk, and I was stamped in pretty quickly. My bag was the first out, and less than 10 minutes after landing I was in a taxi with my friend.
A few photos of Batumi (more from Georgia in my next report, bmi TBS-GYD-LHR (Tbilisi-Baku-London Business)
The Black Sea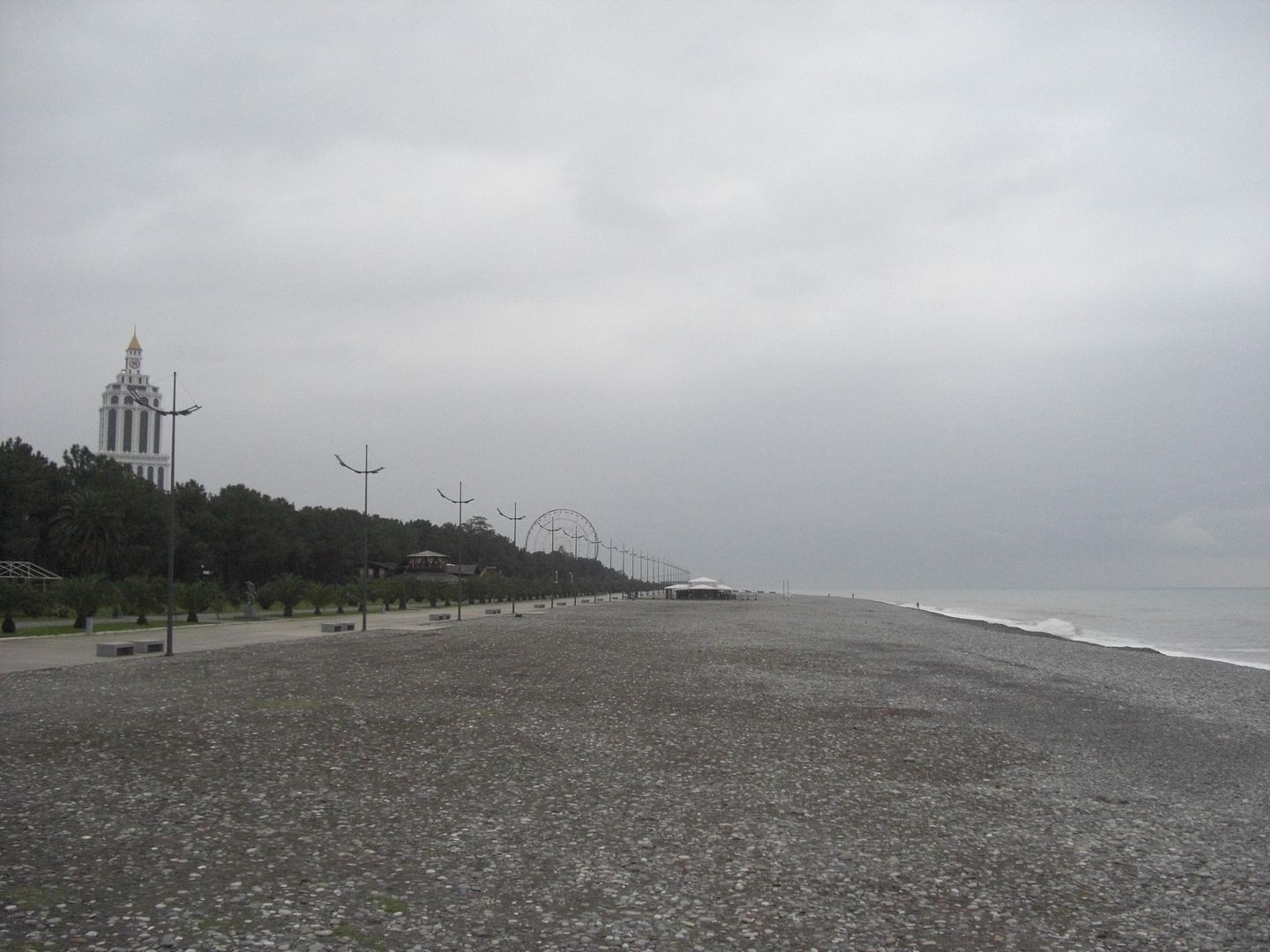 Opera House
My favourite Borjomi water, in it's home country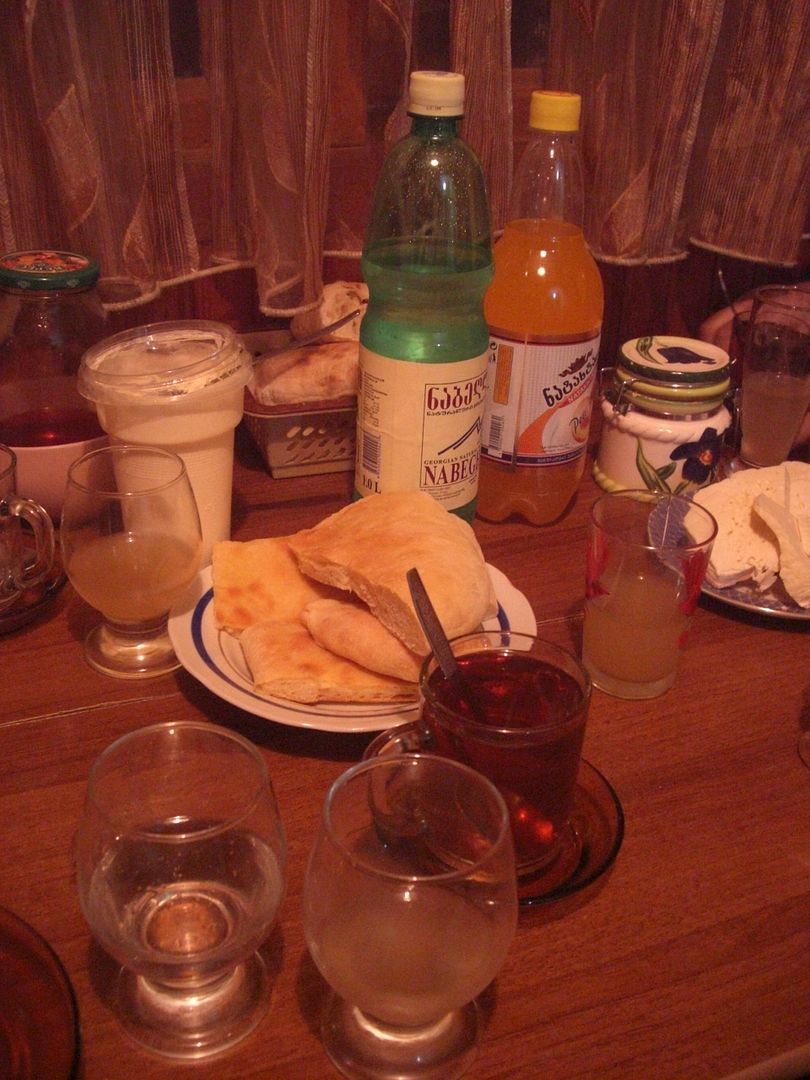 Sheraton Batumi (check out the beautiful Georgian script)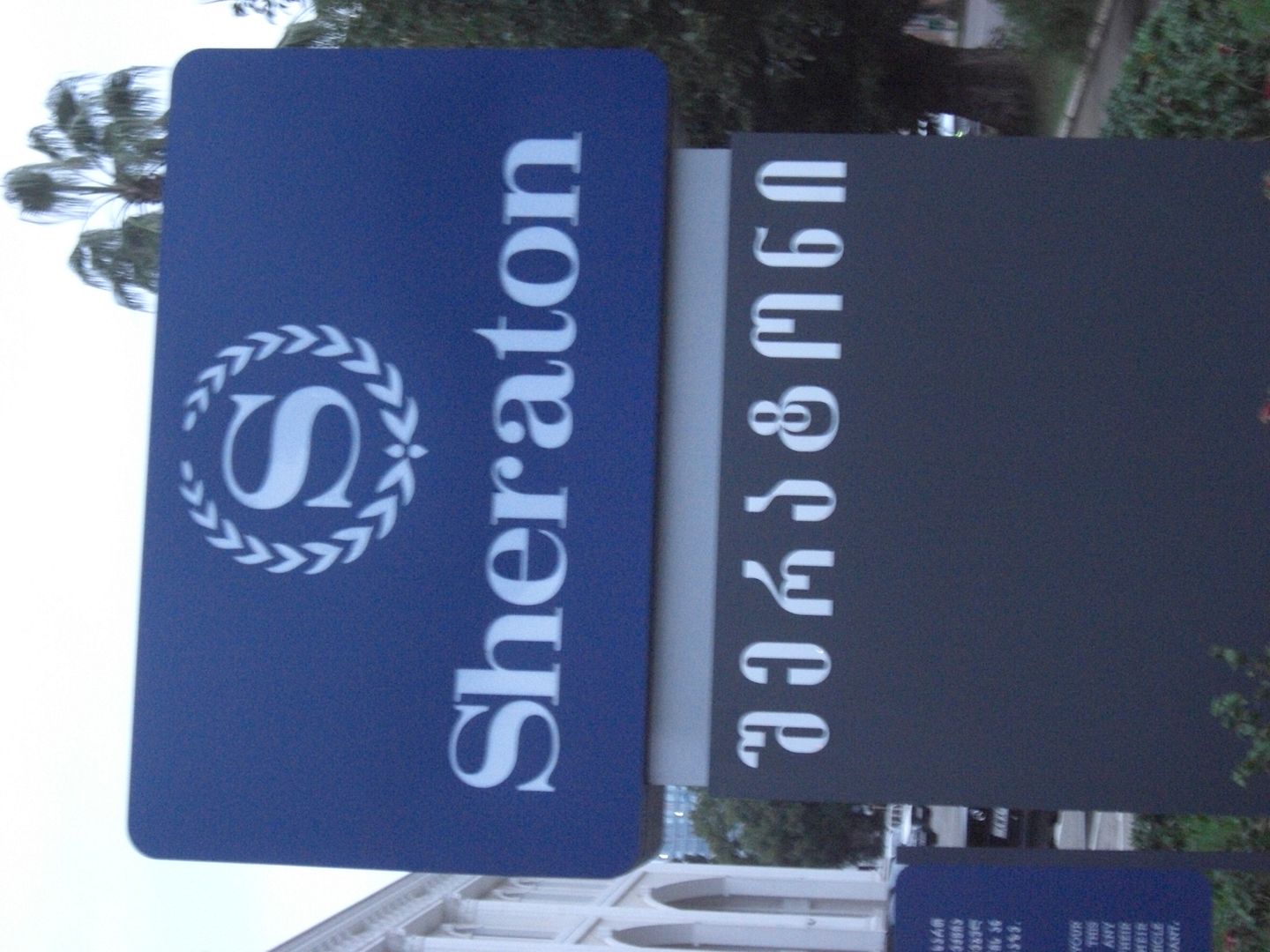 So, the second leg of my trip was also quite eventful. I only accept part of the blame for missing the flight (although I'm sure one of you think it was all my fault!). The service on this short flight was good, no complaints. Batumi Airport was delightfully small!