Introduction
Last spring some of my travel plans needed to be cancelled due to some unforeseen circumstances (and I'm not even talking about the Icelandic Volcano!). One of these tickets was for an Air Berlin flight DUS-HEL, and luckily AB allows pretty much unlimited changes to a ticket (i.e. one can change the routing, dates AND passenger name!), albeit for a change fee of 30 EUR. Since my original ticket was around 80 EUR it was definitely worth it, so I searched for some interesting AB routings and finally found a decent fare to the Island of Sylt, a place which I've wanted to visit for a long time. So HEL-TXL-GWT was booked for a random Wednesday in late October, in the end I had to pay a 20 EUR fare difference on top of the 30 EUR change fee.
I definitely wanted to ride the train back to the mainland from Sylt, over the causeway carrying the tracks so initially thought about flying home from HAM, a 2-3 hour train ride away. However considering the proximity of the Danish border to Sylt I figured out it would be interesting to log another new airport, and the closest Danish one would be Sønderborg. Ok, technically Esbjerg (EBJ) is closer to Sylt as the crow flies but not when going via land. Besides EBJ has VERY limited scheduled traffic so it was not an option.
The Danish airline Cimber Air (or Cimber Sterling nowadays) is based at SGD airport, actually they are the only scheduled operator at this airport. They offer a good number of daily flights to CPH, so after checking the bus and train timetables to see if I had enough time to get there on time (yes) I booked the evening flight up to Copenhagen for the cheap fare of 33 EUR.
Finally to get back home to HEL the only option with enough connecting time was the last flight of the day on Blue1, booked for 93 EUR. Too bad it was scheduled to be an Avro instead of the new 717s, but c'est la vie.
Here's the route:
The initial plan was to take a train from Westerland/Sylt to Husum or Flensburg on the German mainland, both of which have regular express bus connections to Sønderborg. Well, while looking at the train options I noticed that the DB website would sell me one ticket for the whole journey, involving FIVE separate trains (count 'em!), three DB and two DSB. That sounded too crazy and my kind of thing to pass up so I went for it - especially as the full-fare ticket cost only 19 EUR. Well, DB apparently can't e-ticket international train journeys, so I had to shell out an additional 3,50 EUR to get the paper ticket mailed to Finland, where it arrived three days later. I thought I was all set, but things aren't always the way to look like... more on this later.
Wednesday 27.10.2010
Oh dear, yet again I'm taking the way way early AB TXL flight. This morning feels especially hard as I slept very badly the previous night and kept tossing, turning and waking every half an hour or so. Very much asleep I drag myself to the airport bus and arrive at T2 around 6.00 - the bus took an extra five minutes as the construction of the airport train station (finally!) has blocked the normal access ways between T1 and T2 and there are some extra detours involved. I think the next time I'll just get off at T1 and walk over...
Wednesdays are usually the slowest travel days of the week (and hence usually offer the cheapest fares as well!) and today is no exception - the aren't too many people around so security is a non-issue. Again just enough time to buy the bottle of water and head to the gate 27 which is completely packed, at least this flight looks busy enough! Boarding starts right as I get to the gate, and I manage to be the second one boarding today's ride, D-ABFF, a five months old A320 which still has the new plane smell to it. A new one for me, yay.
HEL - TXL
AB8311
A320 D-ABFF
Seat 29A
6.35 - 7.15
I'm again getting bored by the new boarding music - it's cheesy. They should change it on a weekly basis or something to gather for frequent fliers like me: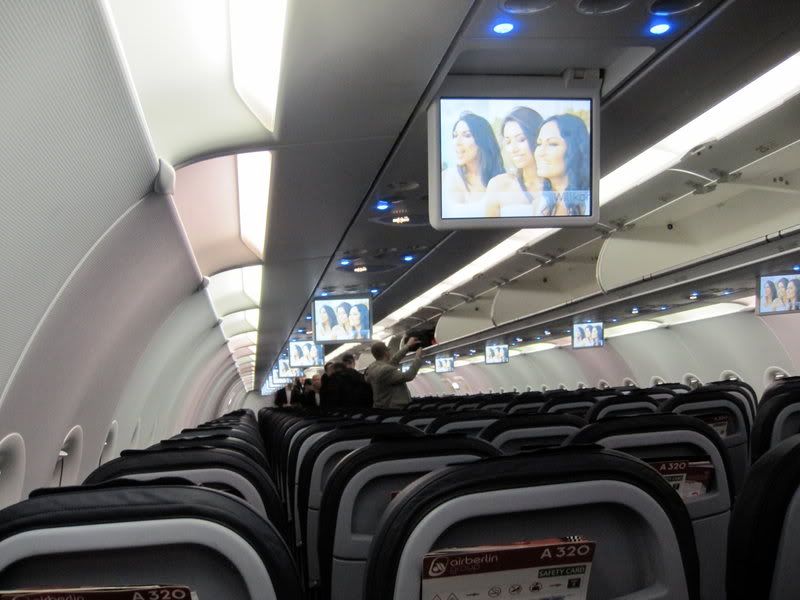 Boarding is completed in about 15 minutes, a very good load of well over 90%, but again some empty seats back here, including the middle seat next to me on the last row. The captain welcomes everybody onboard, explaining our departure today as "Take off from runway 22R, followed by some small turns and finally a turn towards the south and the Baltic Sea". Flight time should be around 1h30mins and we will arrive a good 20 minutes early at Tegel.
The early morning Norwegian flight to ARN next to us - I'm taking this flight a couple of times during the rest of the year:
Push back is bang on time and as the temperature is a somewhat over zero there's no need for deicing like the last time so we taxi straight to the aforementioned runway and take off ten minutes later. There are some great views of the Capital Region all lit up in the morning darkness with long lines of commuters on the motorways and trunk roads, too bad I can't make any decent pictures of it. This is the best I came up with - the bright colors belong to a huge mall in Leppävaara, Espoo:
As usual, service consists of either a cheese or turkey (they referred to it as "ham" but I think it was turkey actually) sandwich and some drinks. I've learned my lesson and try not to experiment with the poultry products, so cheese, OJ and coffee for me:
I doze off, being awakened by another announcement from the flight deck at exactly the half way point of our flight, 45 minutes behind us and another 45 minutes remaining. By the time the sky over the eastern horizon if finally turning red - I guess the day has indeed gotten shorter as three and half weeks ago when I took this same flight it was like this when we took of from HEL.
By that time we are passing Palanga in Lithuania and heading straight towards Poland, making landfall "just west of Gdansk", onwards to Neu Brandenburg and finally landing at TXL "towards the west with beautiful city views on the left hand side of the plane" - I got lucky with my seat choice (of course being based on an educated guess) today!
I doze off some more, try to shoot a picture of the pretty Gdansk area all lit up: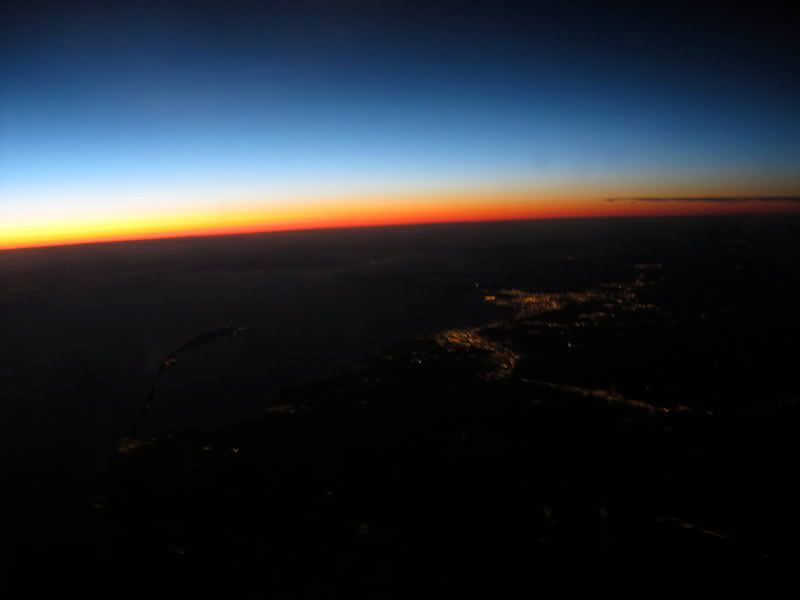 More sleep follows until the seat belt ding wakes me up from my slumber at 1h15mins into the flight. The weather is very clear over Berlin, so there are great views of the whole city lit up in the darkness around us, just as the captain promised. Not so good when viewed through my camera, though.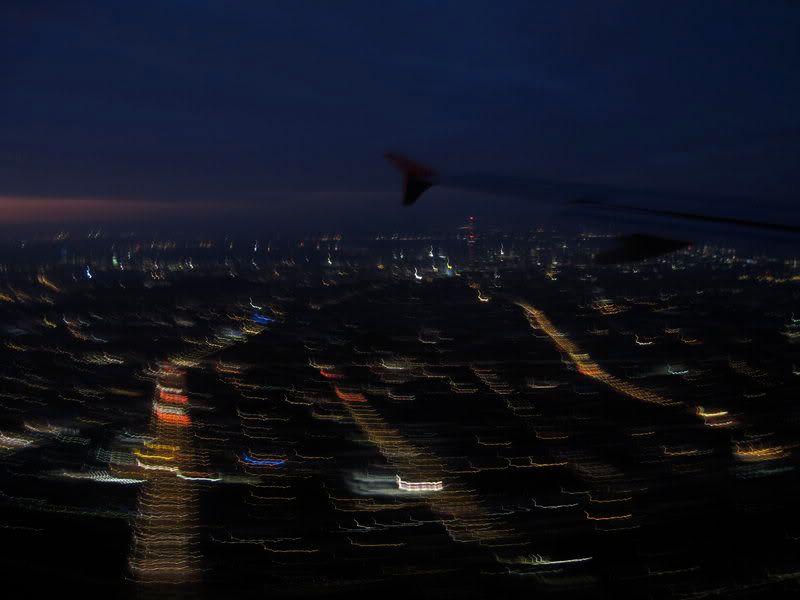 Landing is on runway 26R after a flight time of 1h30mins. The lights of the planes following us, the first of which turned out to be a BT 733:
This time we end up in the C terminal annex, that's good as the flight to Sylt will most probably leave from there as well. This also means deboarding from both exits, so I'm outside and in the bus in no time at all.
Bye:
Berlin Tegel Airport
The 100 meter ride to the entrance door amuses most of my fellow travelers, well it is quite silly! Inside I check the FIDS and after learning that the next flight is indeed departing from this shack of a terminal I head up the stairs marked transfer, down the corridor and down another set of stairs to the Schengen departure area. Quite a few other pax on this flight are connecting as well.
The departure area is still deserted, the main rush hour doesn't start for another half an hour or so so I grab a seat at a table and finish the morning paper together with some people watching. Soon enough the place gets very packed with lots and lots of people so I'm lucky that I snatched that seat well in advance.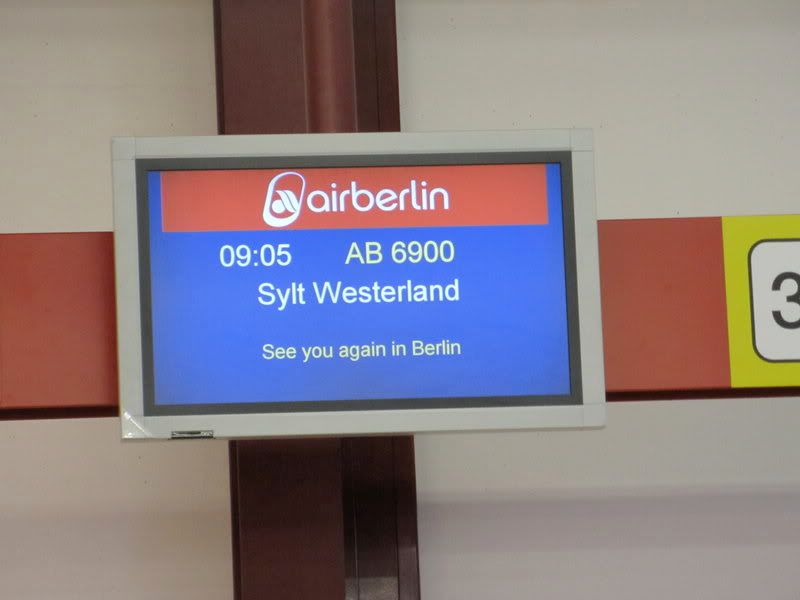 Boarding to a bus is called around 25 minutes before departure. Again a bit pointless really as we wait 10 minutes in the bus for everybody to show up and I can see our plane less than 50 meters away - at least that's what I assume as I see no other AB/LGW Dashes around. You can actually see the plane just behind the bus in this shot: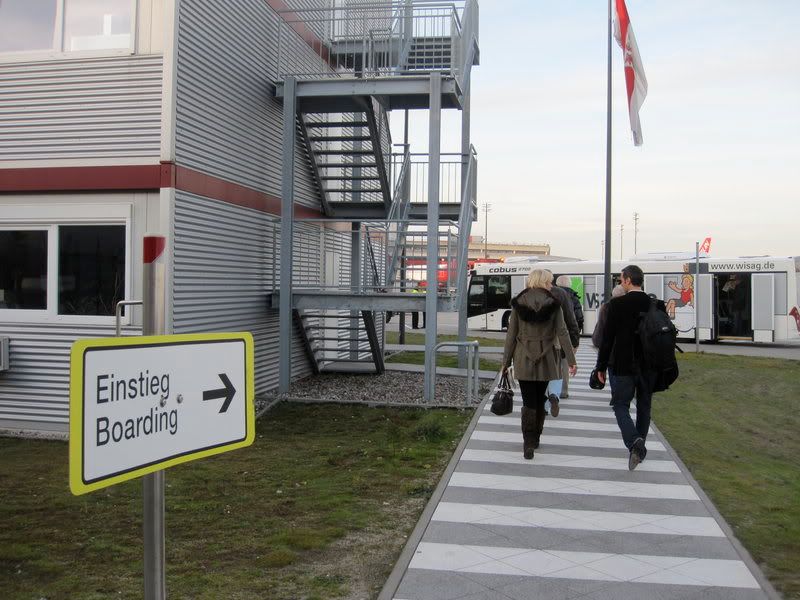 Finally all the pax have showed up and indeed we drive to the plane I assumed it would be, D-ABQB, another new plane for me.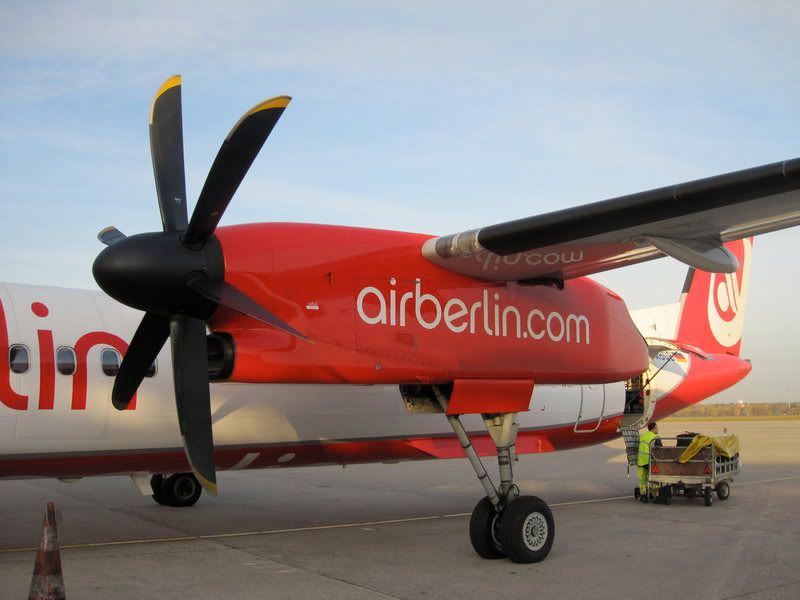 Operated by LGW: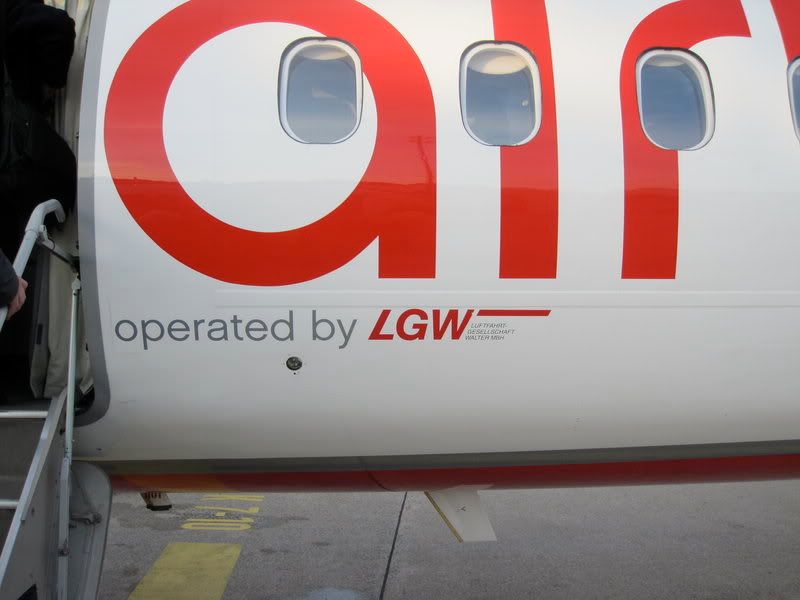 TXL - GWT
AB6900 Operated by LGW Luftfartgesellschaft Walter
Dash 8 Q 400 D-ABQB
Seat 3F
9.10 - 10.13
Inside I find a man already sitting in my seat, he claims to have 3A as well even after I show my OLCI boarding pass to him. When he finds his boarding pass it turns out that he actually has 3F. He offers to move, but as I don't really have any preferences over the side of the plane I offer to take his seat instead. In the end it works out just fine, as both our aisle seats stay empty. Load factor is somewhere around 65%. No complaints about the leg room or pitch: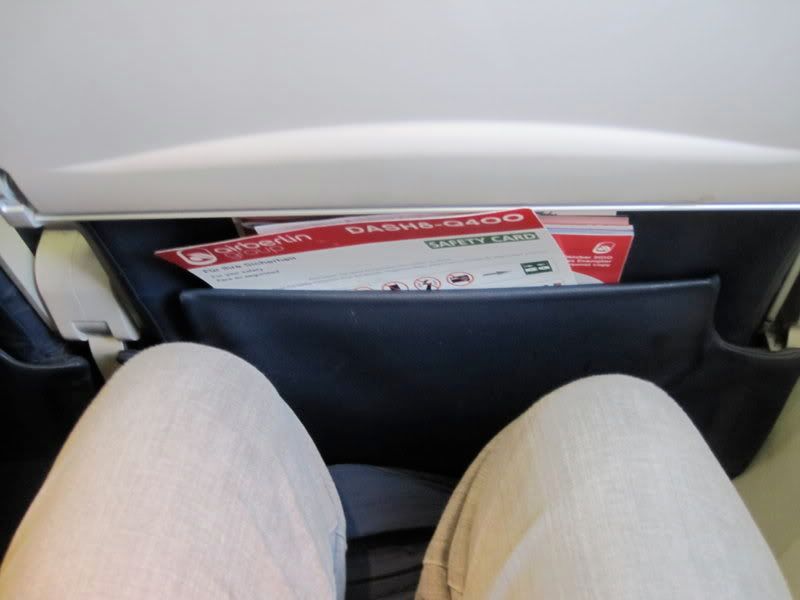 Notice the Swiss-registered AB Airbus behind us:
Flight time is announced as 1 hour. Our push back is five minutes late, I think that Swiss AB was pushing back at the same time and we had to wait until it went on its way. Two distant visitors here: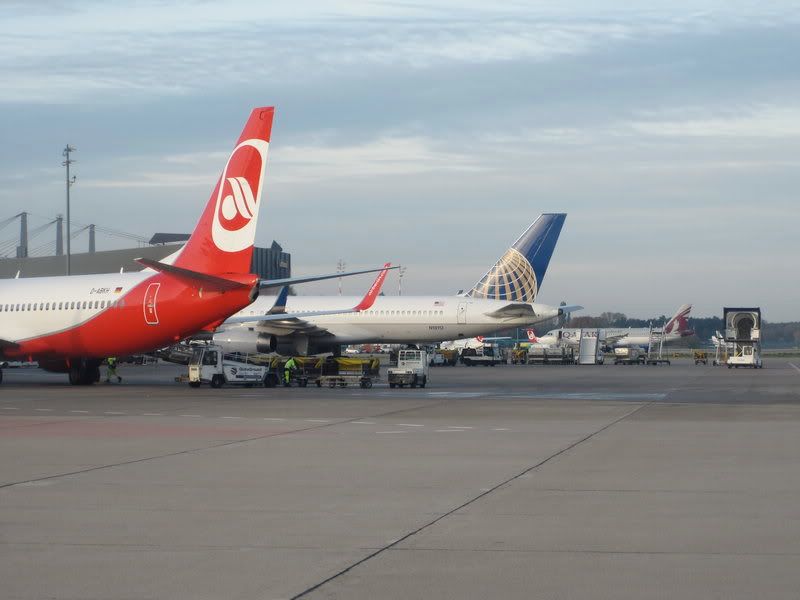 Bulgaria Air operating for ???:
Polizei: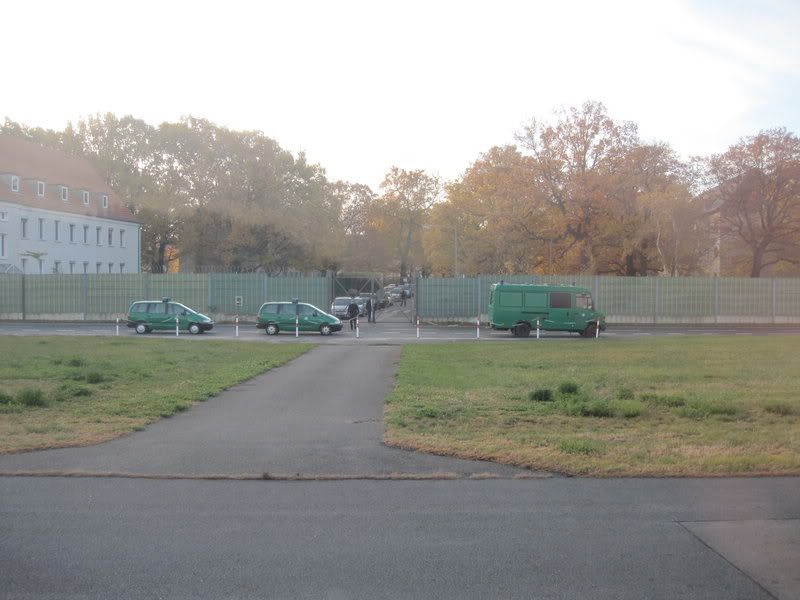 Taxi to runway 26L takes quite a while as well, and we finally take off at 9.24. Air France landing on the parallel runway:
Quite impressive climb rate on this turboprop:
I love these engine shots:
Some pretty views of the autumn colors during our initial descent:
Soon after leaving Brandenburg behind it gets overcast - as we never get that high the view stays very boring for most of the time:
Service is again very standard for AB domestic morning flights - drinks and a croissant. The croissant is quite dry, so it is probably a couple of days old.
Descent starts right at 10.00, 36 minutes into the flight with the seat belt switched on right after. The weather doesn't look too good as the grey clouds are very thick, the first sights of the ground come only a couple of seconds before touchdown: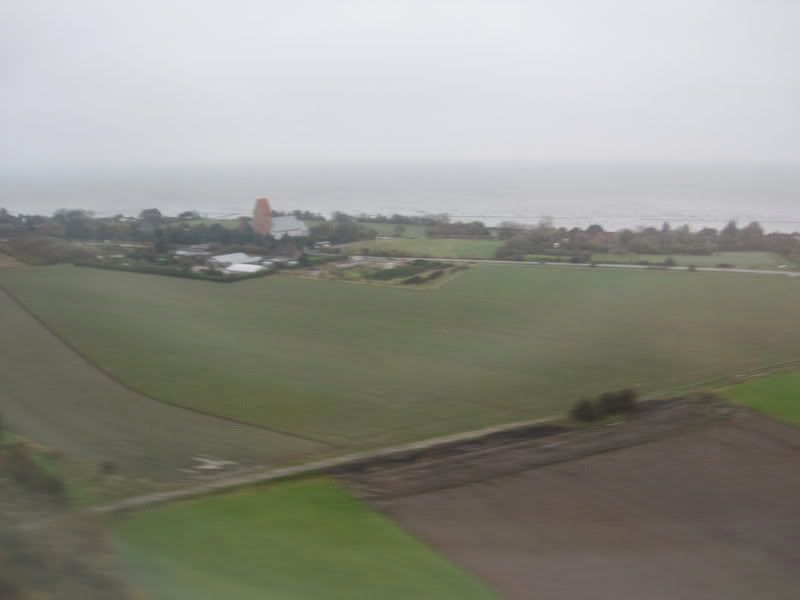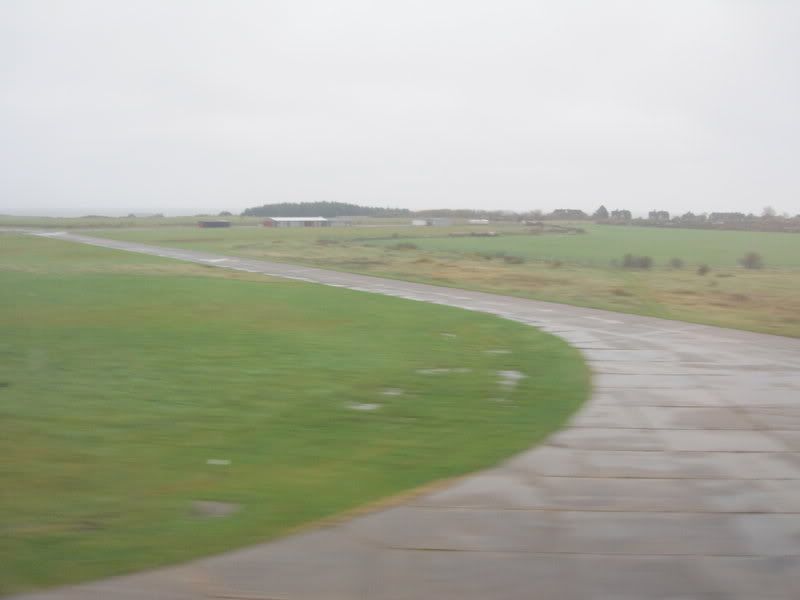 Landing is on runway 32, 49 minutes after take off. We come in very fast, this is one of the fastest landings I remember for a long while which is of course followed by some very heavy breaking action which sends small objects in the cabin hurling forward and makes me glad I have my seat belt on.
We actually have a follow me car in front of us guiding us the 200 meters or so to the tiny and cute terminal - I guess they are so bored here that they take every opportunity to do something.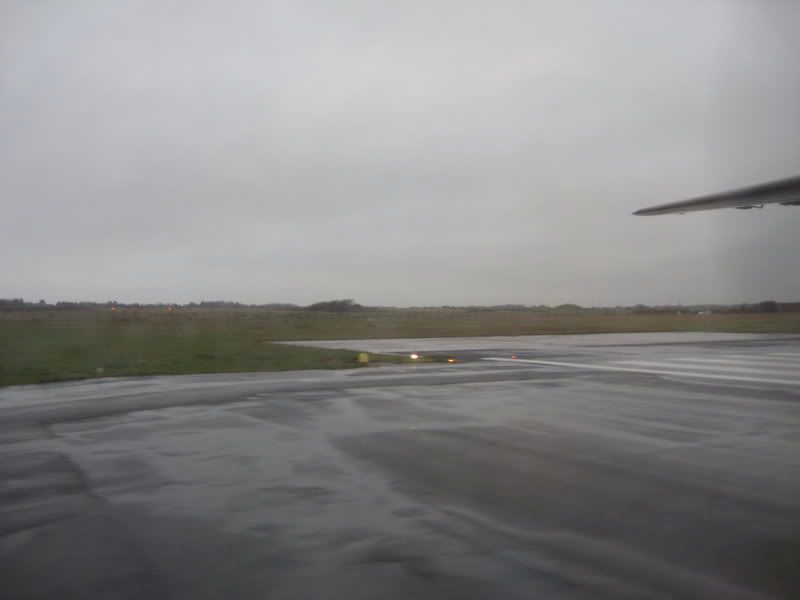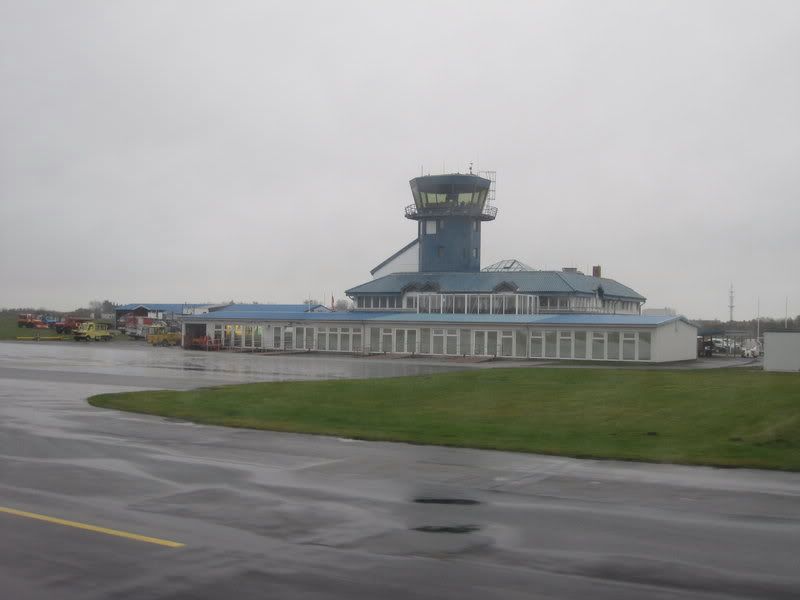 Once I step off the plane the reason for the fast landing becomes apparent, it is extremely windy. Luckily it is not raining at the moment, even though there are puddles everywhere and the skies are very gray. The Air Berlin chocolate heart is handed out upon disembarking.
Sylt
I take a look inside the departures area of the tiny airport - people are just queuing for check in for the return flight to TXL: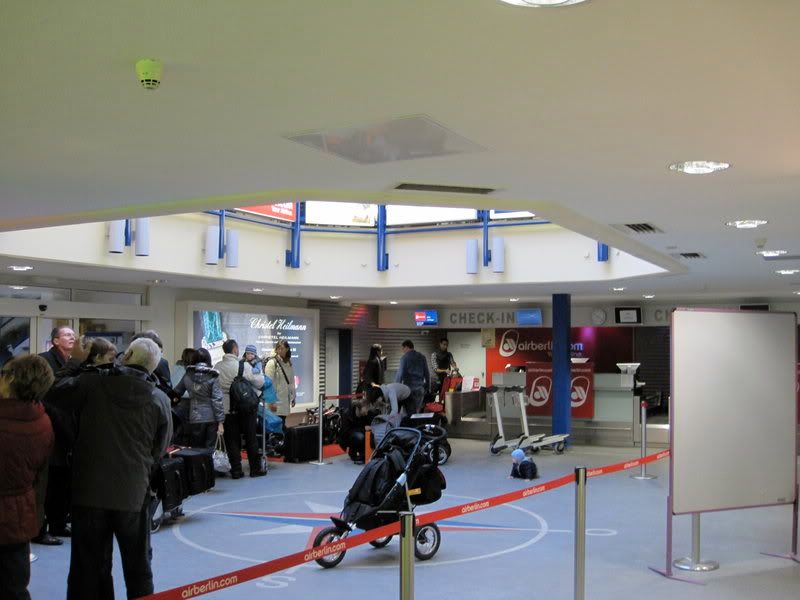 There are plenty of taxis around, but since it is not raining at the moment, my train is in two hours and it is only around 2 kilometers to the main town on the island, Westerland (where my train will depart from) I decide to walk there. There aren't too many airports where you can do this, although I've done it in quite a few places...
The terminal:
Entrance to the airport grounds, no doubt who's the biggest player here: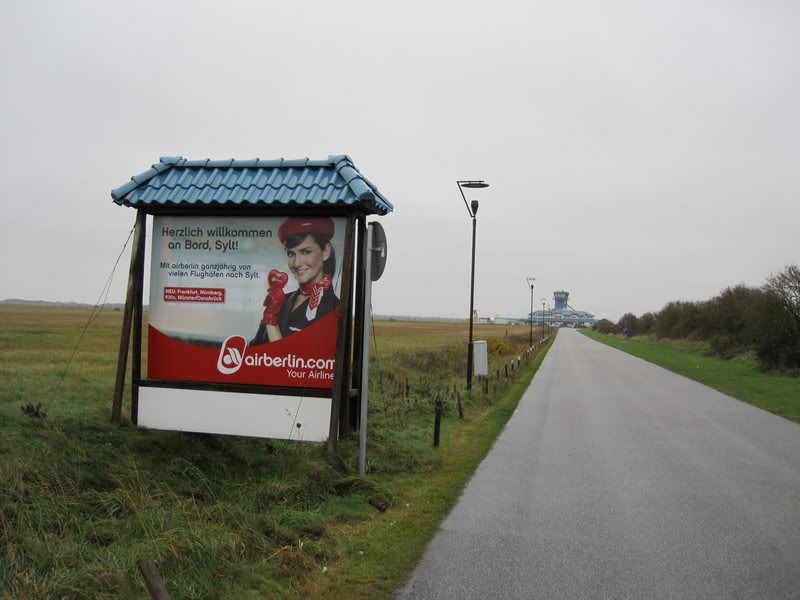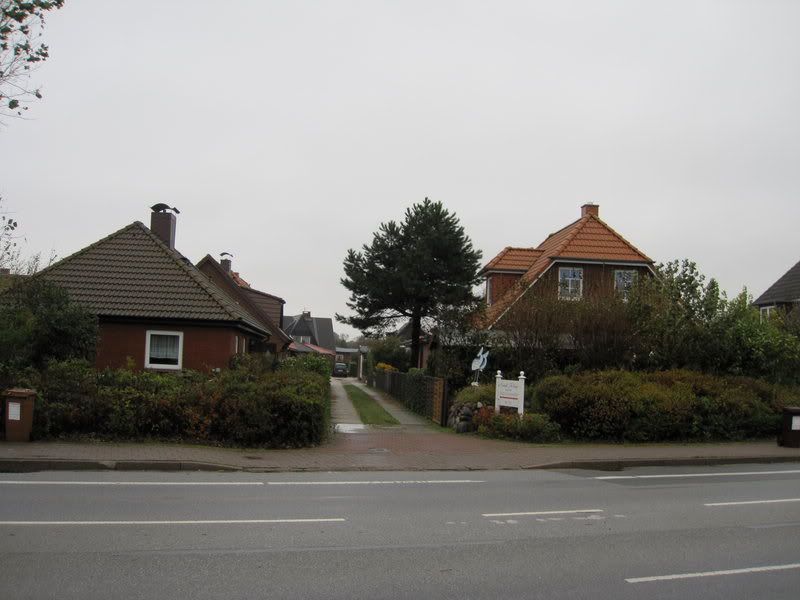 Judging from this tree, these kind of winds are not too uncommon here: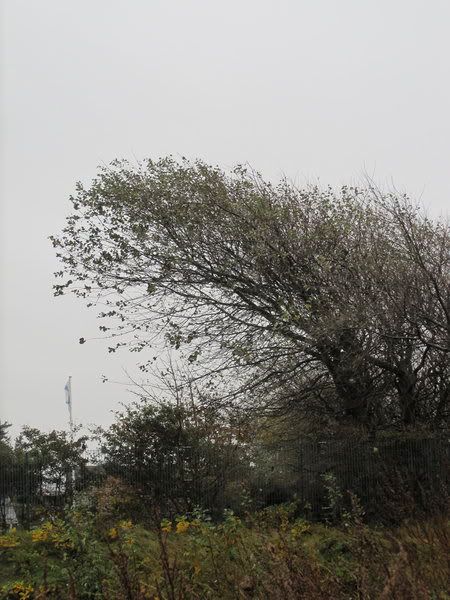 Public transportation for bikes - with the compact distances and flatness of this island cycling is quite a popular way for getting around the island:
The town hall: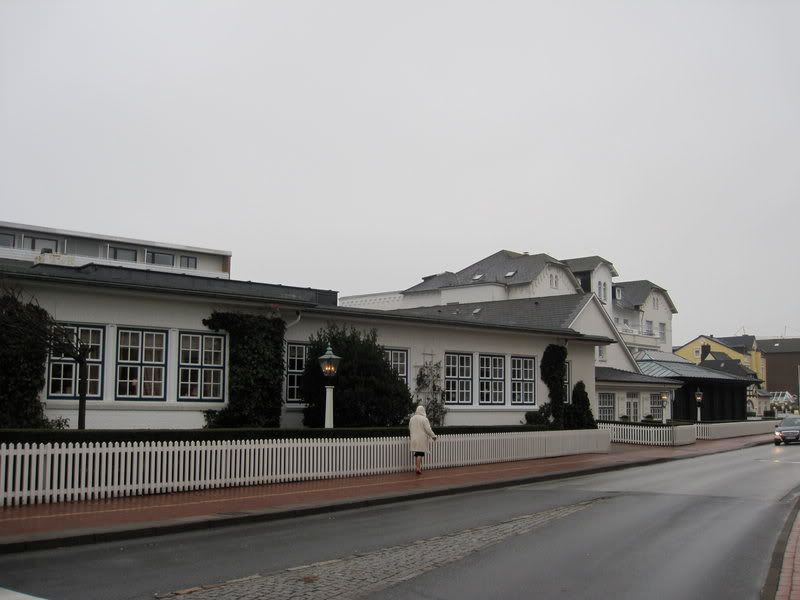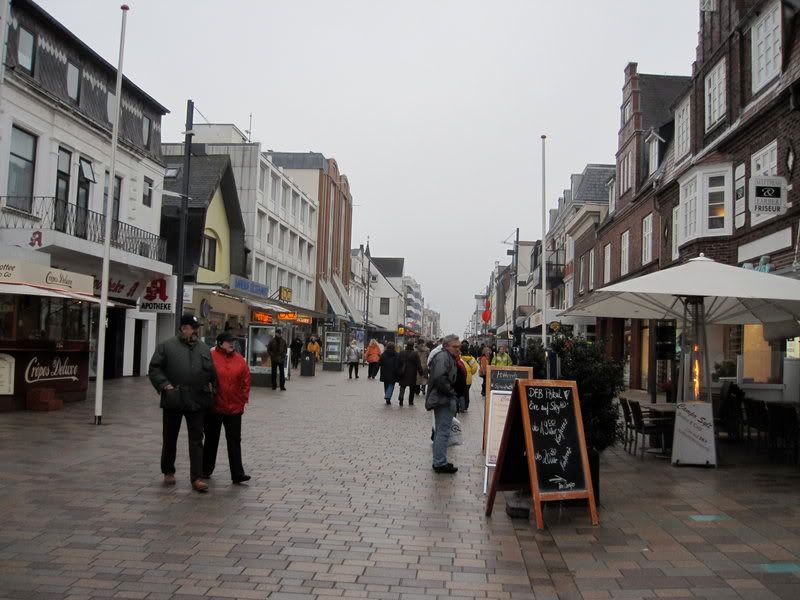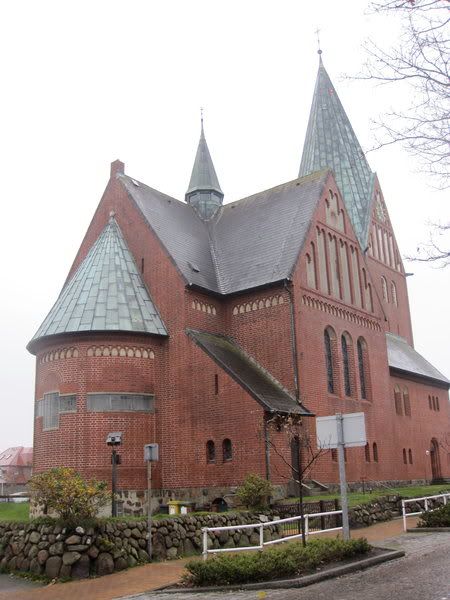 The weather stays bad, heavy winds and the occasional shower so not much sightseeing for me, instead I sit in a cafe with a large capucchino to warm me up before heading to the train station and grabbing some lunch at its restaurant before boarding my train, a "Nord-Ostsee-Bahn" going to Hamburg Altona.
An interesting train journey
The train ends up departing ten or so minutes late, it looks like they have to wait for an arriving car shuttle train. What's that? Well, the causeway connecting Sylt to the mainland only carries a railroad and no traditional road. Thus the only way to get there with a car is either to take a ferry or these special trains which contain only railcars designed for transporting cars - there are plenty of these around the station yard as during the summer season Sylt is very popular and these shuttle trains are both very frequent and very long.
Over the causeway, notice the low tide:
The ride to Husum takes a bit over an hour, first I'm worrying about my connection as it is less than ten minutes and we stop frequently to allow other trains to pass or just slow down for long stretches of time. Then I get some additional worries after the conductor points out that my ticket is not really valid for this journey as it reads "Schleswig-Sonderborg". Well, I'd somehow assumed that it meant the whole state of Schleswig(-Holstein) instead of just the town of Schleswig. Well, after I show him the receipt print out from the bahn.de website detailing my full route today and the fare and argue that this is what the website sold me he kind of just shrugs and let's it slip. Fine, let's see how the subsequent conductors will treat me.
I check the map in my guidebook and make plans B and C: If I miss the train I'll try to catch the bus in Husum or in a worst case scenario take the train to Flensburg and do it there. Luckily I printed out the timetable beforehand as there was a strike hosted by the rail worker's union the previous day and I was a bit afraid that something bad might happen.
Anyway I just make the connection at Husum to another NOB train. No conductor shows up here, so half an hour later I step off at the Schleswig station which is much smaller and rural (it smells like cow dung all around us) than I expected. Come to think of it the whole train journey has been very rural, with just fields, fields and the occasional farm everywhere - having never been to this part of Germany before I expected something different.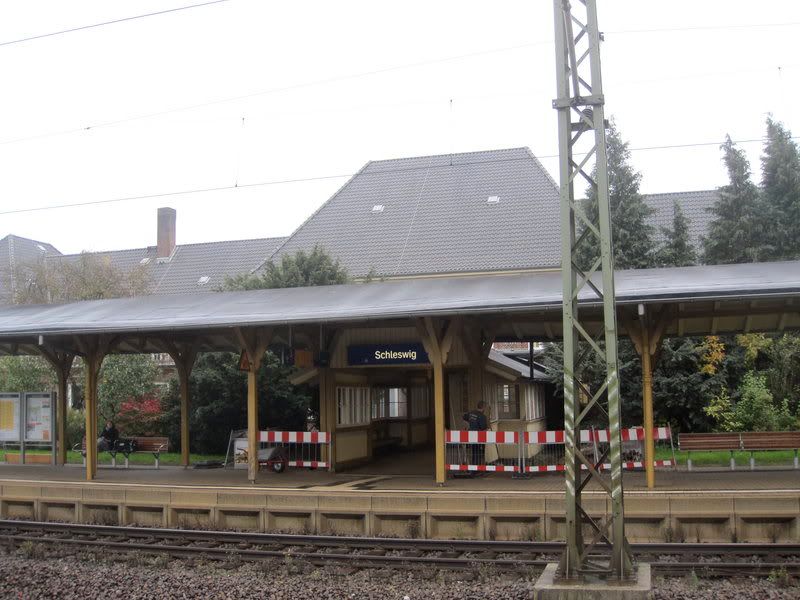 20 minutes later the last German train of the day shows up, this time a genuine DB Interregio running all the way to Padborg, the southernmost point in the Danish rail network: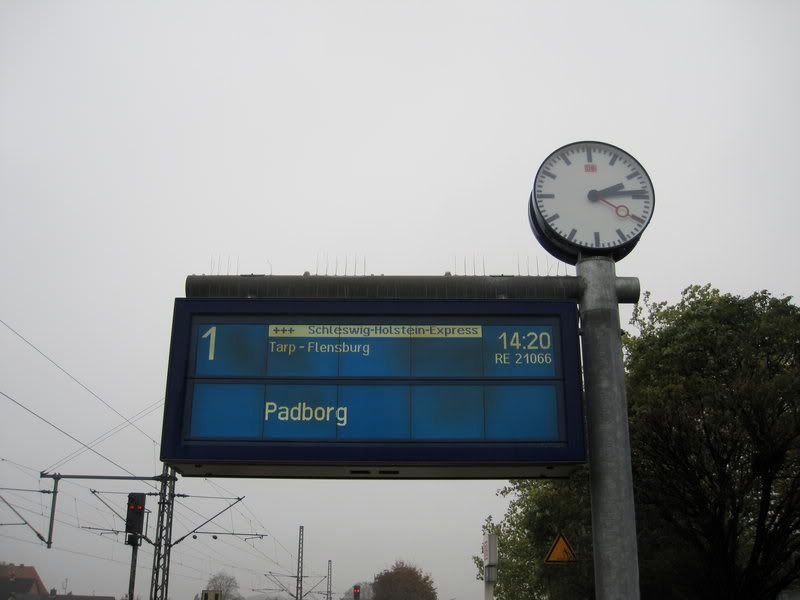 The conductor doesn't bother with me here either. It's half an hour or so to Flensburg but the train stands there for another half an hour, looks like they clean it and service it for the return journey to Hamburg here.
On the way to Padborg I try to spot the Danish border along the fields and huge border markets offering everything from used cars to food, cigarettes and alcohol - the Danes living nearby like to shop in Germany as it is so much cheaper than in Denmark! I fail to spot the border, in a very anticlimactic manner I just suddenly realize that there are Danish flags on the flagpoles and a couple of minutes later we stop at the tiny station at Padborg.
This station is a dump, the waiting room is small, dirty and smells bad - definitely not "hygge" as one has come to expect from the Danes! The next train is 10 minutes late, but that's fine as I have quite enough time.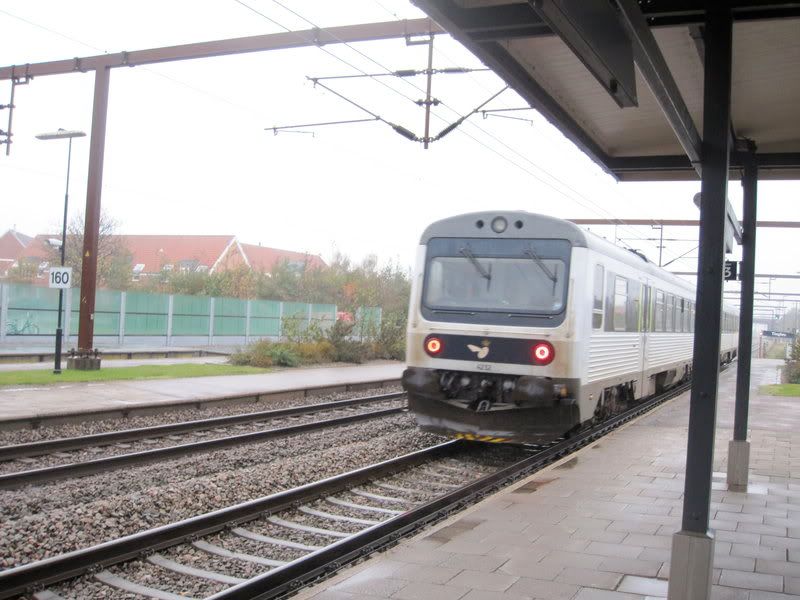 This time there's even a conductor who's interested in me, but no problems with the ticket, he just confirms that I'm indeed going to Sønderborg. Ten minutes later I step off at the next station, Tinglev, which is where the branch line to my ultimate train destination today branches off. I have 40 minutes here, so I go to the city to see if there's anything to see - but as it is raining and cold there's not much going on, all the people seem to be hiding. I just buy a couple of beers at a nearby supermarket and retire back to the station to wait for the last train.
Finally the ugly, leech-like Intercity arrives: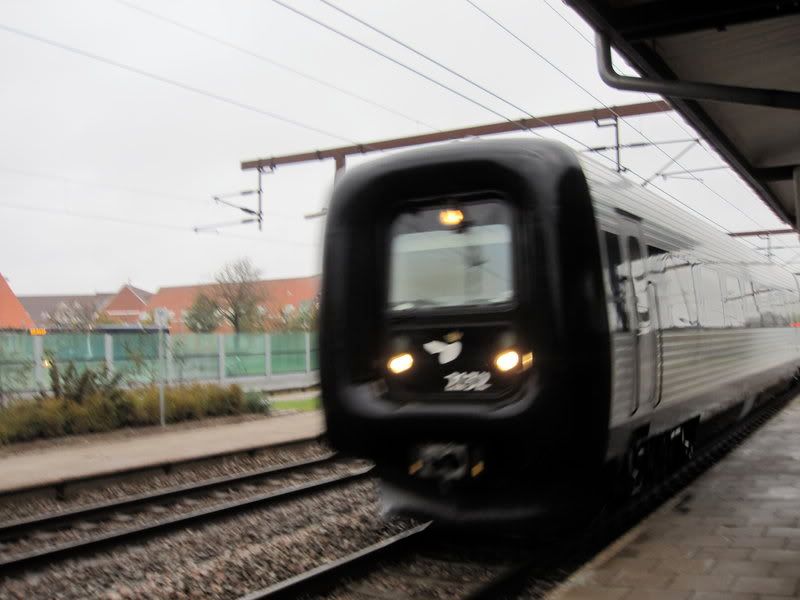 Half an hour later I step off at Sønderborg, having had my fair share of train travel for the day. Still I'm glad it all worked out, a delay could indeed have thrown a major spanner in the works!
Sønderborg Airport
It's raining here as well, so I decide to skip any sightseeing despite having some extra time and just hop on a waiting taxi for the short ride to the airport, chitchatting with the driver about all things Danish along the way.
I first take a look outside, there's an interesting ATR on Hansung Airlines colors parked on the apron, carrying the very temporary looking registration of SE-MCA:
Apparently this plane has been operating for Golden Air in Sweden recently. Furthermore she is an ex-Finnair and Aero bird, and used to carry the registration OH/ES-KRH (thanks Okko!) which means that I've logged three flights with her back in the days. Feels like meeting an old friend! I guess it is here for maintenance, as QI operate quite a sizable fleet of the type.
Picnic tables - too bad the weather isn't very co-operative: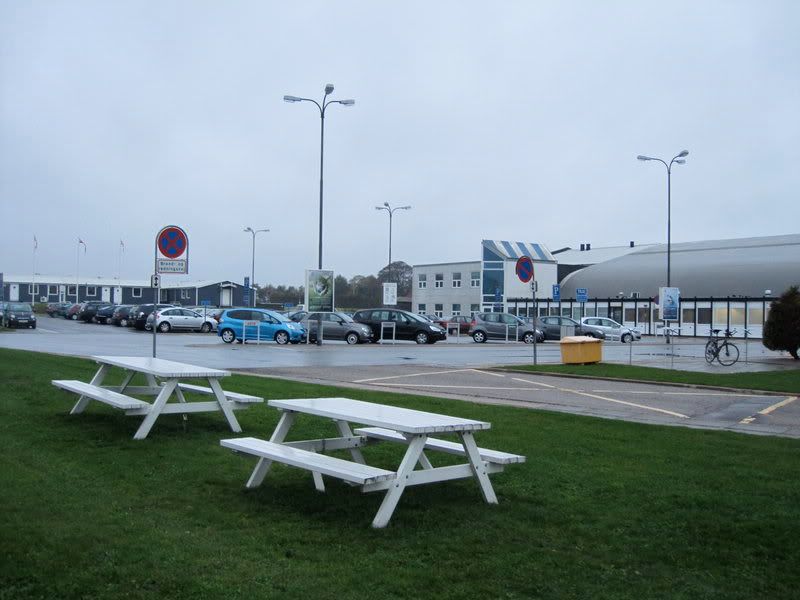 The airport is utterly boring - the inside is cramped, the sole cafeteria closed for renovations and I'm unable to get the advertised free Wifi to work. At least they have a pair of free-for-all computers as well so I while away the time with those - they even provide a charger for an Ipod which I of course take full advantage of! Like the taxi driver put it: "They try so hard to attract all possible passengers!".
Finally half an hour before departure they open the security checkpoint and with nothing better to do I head to the tiny departure lounge. They scan your boarding pass already at the security check point - well it's not like there would be two flights departing at the same time! The incoming plane arrives from CPH right on time at 18.45 and stops in the apron in front of us. It is the expected ATR 42 500-series with the registration OY-CIK, another new plane for my log.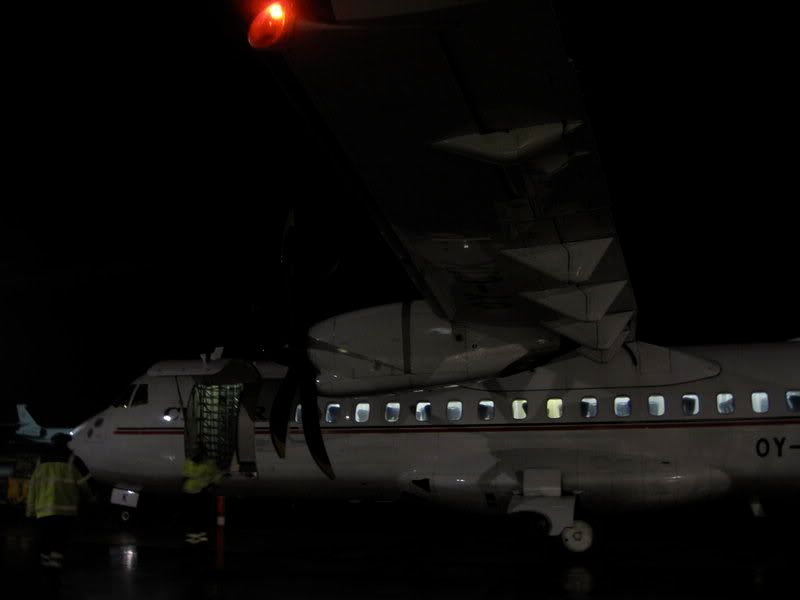 SGD - CPH
QI110
ATR 42-500 OY-CIK
Seat 8A
19.01 - 19.37
Boarding is interesting - a ramp agent approaches the door from outside and unlocks it and waves everybody to board - barely ten minutes after arrival, good job! Inside the cabin looks to have been recently refurbished, despite this plane being almost 15 years old - the cabin controls look just as new as on the couple of years old FC examples.
The seats are old fashioned, thick cloth seats, very comfortable, featuring old fashioned things like ashtrays (no bubble gum this time!):
Load factor is good, 80% or so - there seem to be some other Finns onboard as well, very clearly traveling for business. The flight time is announced as "30 minutes" (in English) or "half an hour" (in Danish). Departure is four minutes ahead of schedule, we backtrack down the runway (no taxiways) and turn around for a departure from runway 14 right at our scheduled departure time.
The clouds are hanging very low so there are no views whatsoever. There's also no service whatsoever - interesting as I flew CPH-BLL a year ago with Cimber and back then we got coffee or tea and a small cookie - the distance is only 15 miles more on that route.
The seat belt sign is switched on again 20 minutes into the flight. The clouds are low at CPH as well, as the first lights are visible already when we are crossing the highway and railroad during our short finals on 22L. Landing is quite rough and shaky, it feels like there's a significant side wind component here - total flight time 32 minutes.
A couple of minutes we stop in front of the far A gates, usually used for domestic flights:
Kastrup Airport
These A gates are a bit of a hike from the main terminal area. On the way I pass this:
Looks like I could have made the earlier SK flight which I was contemplating on booking - but the connecting time of 30 mins gave me cold feet and I couldn't risk it. It sure would have been nice to be back home by bedtime and have another ride on a Mad Dog - but at least I'm taking the very same flight in four days so that's fine.
My plan was to make a beeline for the lounge, but as I'm nearing the main area a sweet smell of a fresh hot dog starts wafting down the pier. By the time a young couple walks past me on the opposite direction eagerly tucking into their precious pork products I'm all sold and just have to get myself one - one can't leave Denmark without getting a genuine Pølse, can one?
At almost 10 EUR this is a horribly expensive, though:
Now how did that happen:
Yes, there's actually an explanation for that - right next to the table across a fence there's the bus gate A2 which is boarding a MA flight to BUD. After the first bus has already departed two Hungarian girls and a young lad arrive running, carrying with them fresh, full pints of Carlsberg. After the gate agents tell them that they can't take the (plastic) pints with them the lad does the manly thing and downs his at one go. The girls, however, can't so they take large gulps, spot me with my almost empty beer and come to me with the infinitely tempting offer of free beer. Who am I to resist, even though this might become the end of me?
Well, luckily it turned out they missed the bus and the gate agent dispatched for a new one, so they have to wait in the holding pen for a while. They turn their heads toward me, I wave and yell "I haven't touched your beers, you can have them back!" - this is very much appreciated and I get thanked - I tell them "No, I need to thank you, you know I need to work tomorrow!" which seems to be very funny to them. Phew, that was close!
After getting my share of gluttony I head to the lounge, accessible with my Diners Club card. During my heydays with SAS I spent countless hours at this lounge - and it hasn't really changed that much. The problem with this lounge is that it is accessible with a variety of credit cards in addition to Priority Pass etc. and has a tendency to get crowded, I remember several occasions on Saturday mornings when it was standing room only, despite all the travelers being of the leisure type. I notice that AY has switched to this lounge (together with SU), how low can they go?
Still, at an expensive airport in an expensive country anywhere with free beer, wifi and some snacks is fine with me.
Bad capucchino and some cognac:
I only realized after grabbing that magazine that it was in Danish, though!
To my shock I learn that the lounge closes already at 21.00 - that's quite bad. I hang around until they ask me to leave, then walk around for a while until a gate is announced for my flight - B16 at the end of the B pier. I head there to find out that the plane has just arrived and is being unloaded - out of the window I see that it is OH-SAK "Näsijärvi". My fifth flight with her, although after a long hiatus as the last time was way back in 2004.
Boarding is called around 15 minutes before departure. I am the second to board, the female first officer is standing in the front galley and is very surprised to see pax coming towards her so she quickly jumps into the cockpit and slams the door shut.
CPH - HEL
KF646
ARJ-85 <