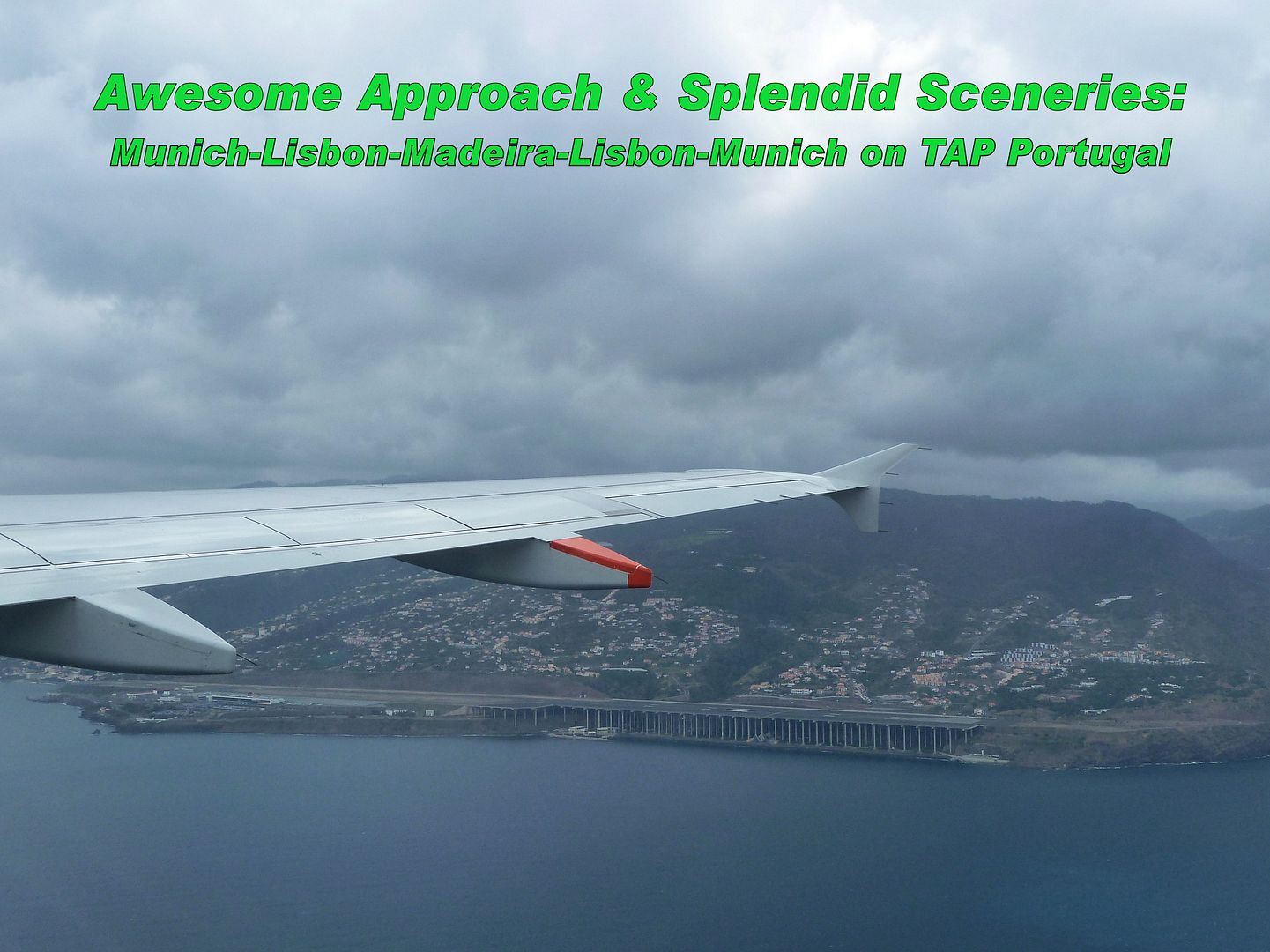 Background
My girlfriend and I had wanted to visit Madeira for a long time and in January an attractive package tour caught our attention: The vacation would include three days in Lisbon and seven days on Madeira - and all four flights would be operated by TAP Portugal which was still missing in my log. We decided to go in mid-June and finally booked the tour.
Monday, 14 June 2010
Munich (MUC) - Lisbon (LIS)
TAP Portugal TP557
12:55-15:05 (13:18-15:22)
Flying time: 02:46 (hrs)
Economy Class, Seat 27B

Airbus A320-214
CS-TNK (MSN 1206), named "Teófilo Braga"
Delivered in 04/2000
1st flight on CS-TNK
32nd A320-200 flight
33rd A320 flight
57th A32X flight
96th airline
We had checked in online in the evening before and selected seats in row 27, so there was no need to hurry at the airport. After dropping off the luggage we went to the gate where we would soon watch the arrival of
CS-TNK
, one of 17 A320s in the TAP fleet: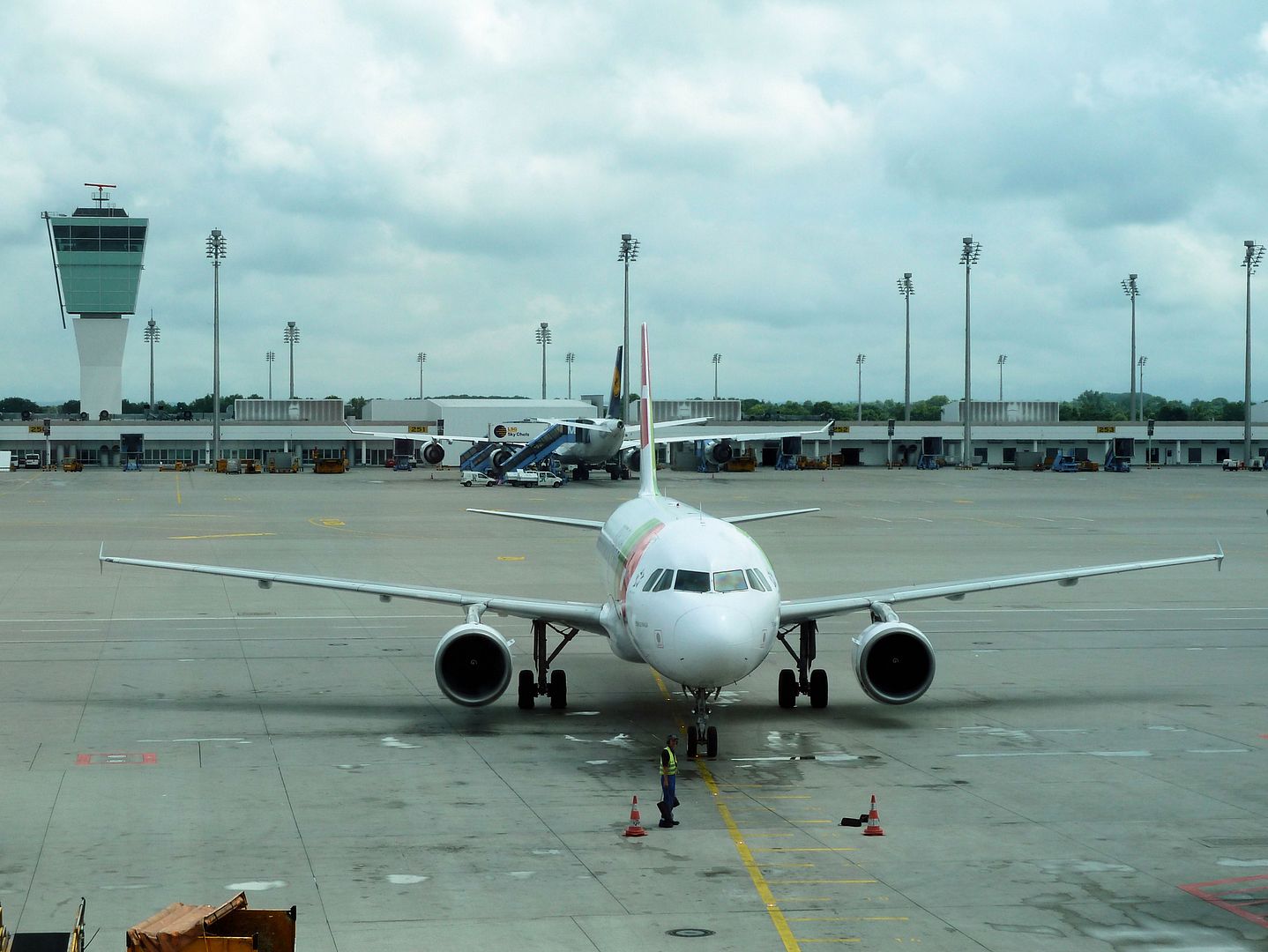 Boarding commenced on time and a friendly flight attendant welcomed us at the door. The plane - unlike some younger sister ships - was still equipped with (rather worn) old-style leather seats. The seating comfort was sufficient, though.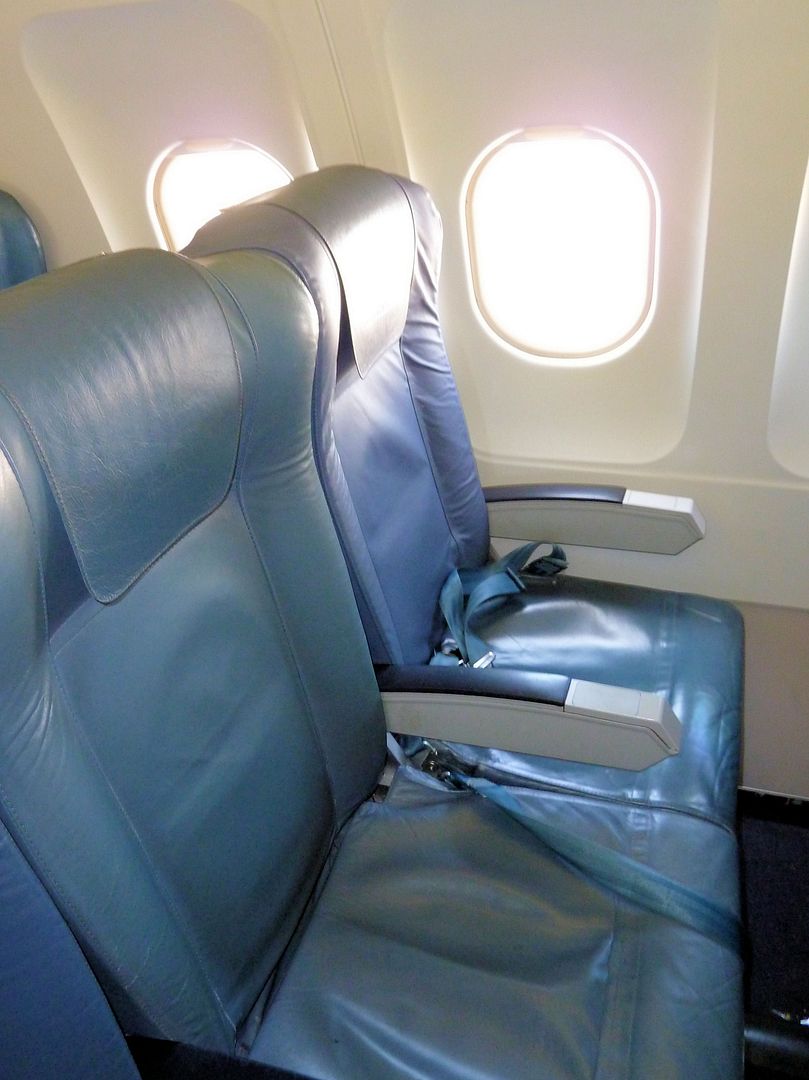 Legroom was acceptable, too: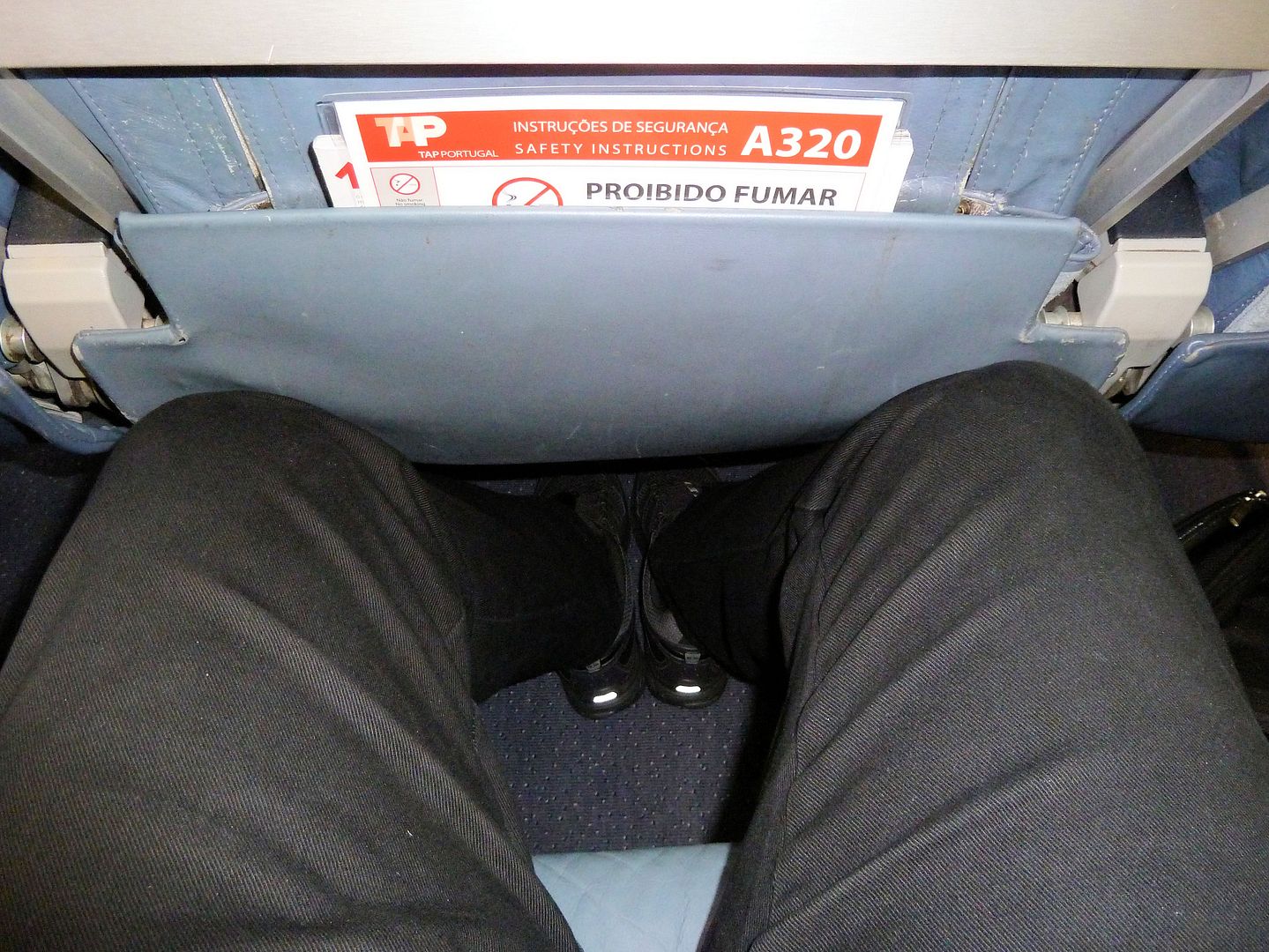 After most passengers had taken their seats (load factor 80-90 percent), some announcements were made. The very flight attendant's German was in need of improvement, but I guess all passengers understood what she meant. Interestingly, she referred to TP550 instead of TP557. And what I also found remarkable was the statement that the number of alcoholic drinks would be limited. Probably they had had some issues with drunk passengers recently?
Anyway, we took off slightly late into the cloudy Bavarian skies: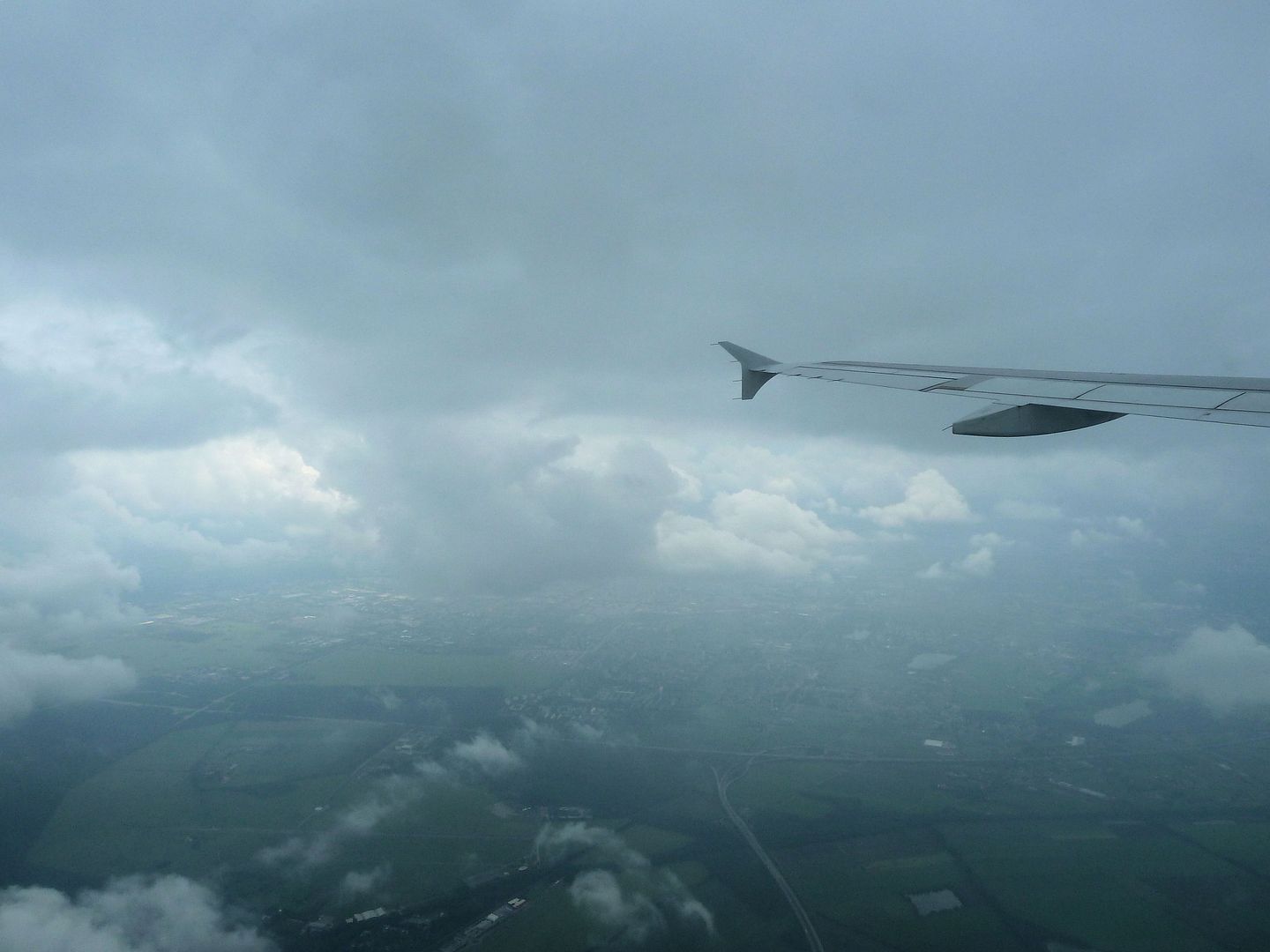 I knew we would receive a hot meal/snack on that relatively long European flight, but I wasn't happy when I got this box: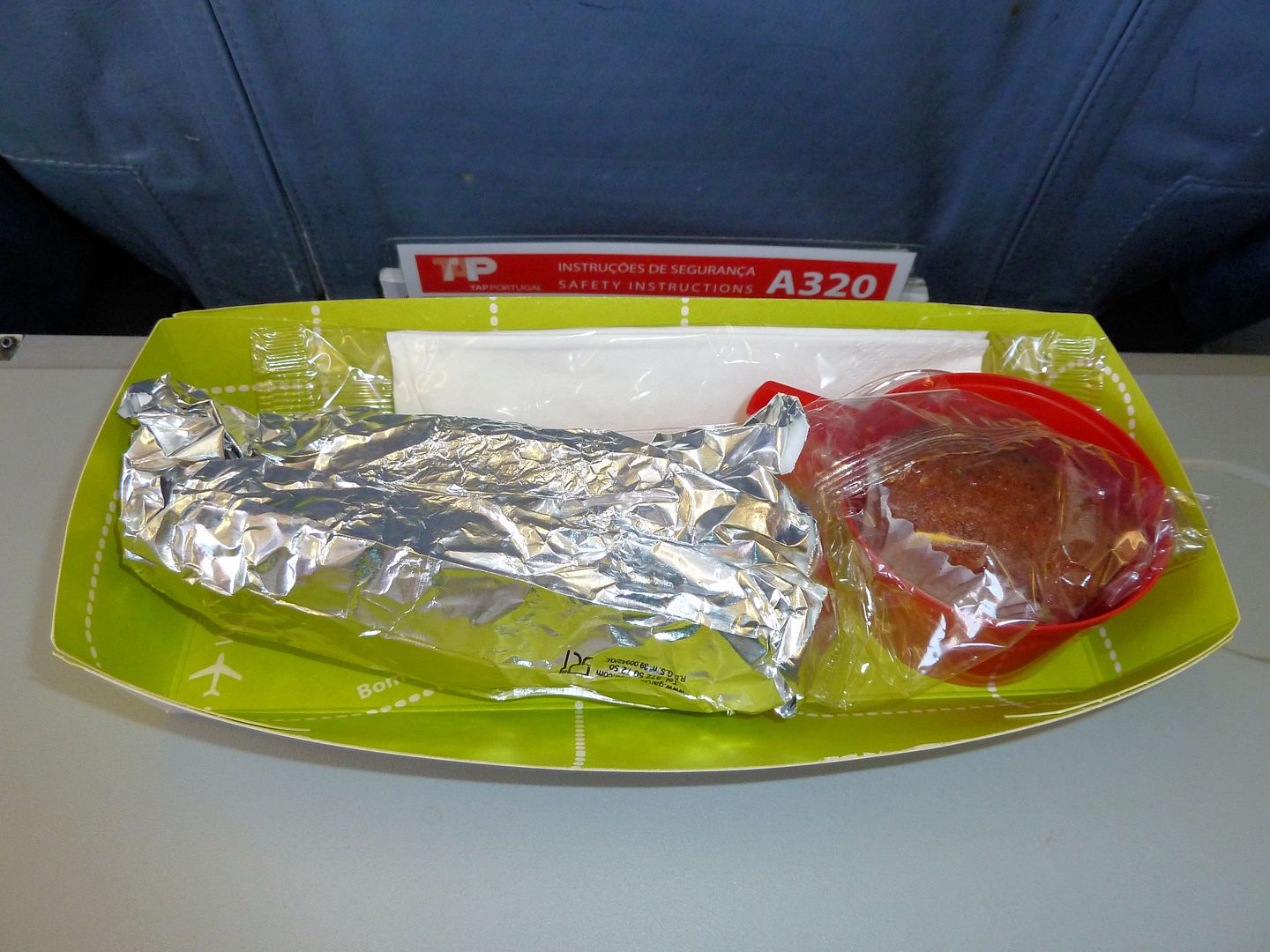 The hot (sort of) ham and cheese sandwich didn't look appetizing - and it wasn't easy to unwrap: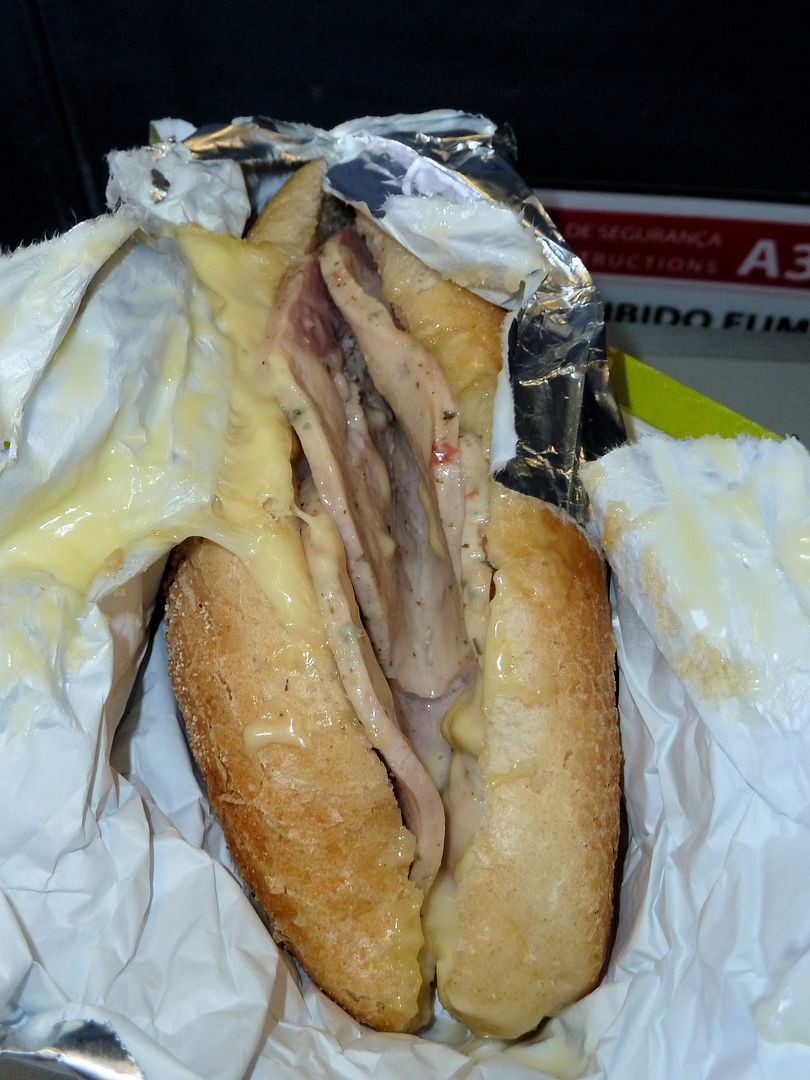 However, the sandwich tasted better than expected and the muffin as well as the white wine weren't bad either: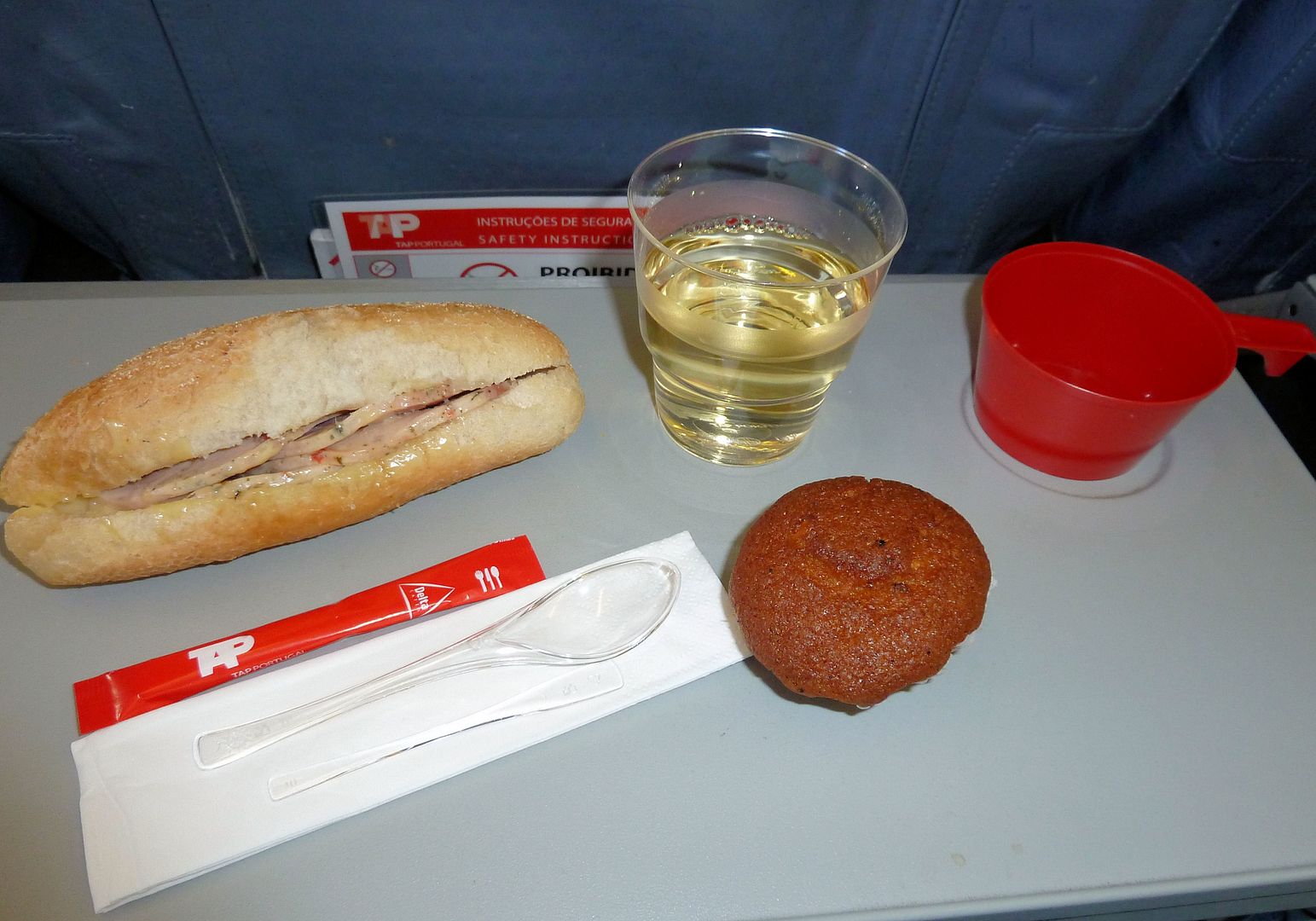 The plane was equipped with foldout screens, but I didn't care about the TV comedy features shown most of the time. Unfortunately, the airshow didn't appear very often: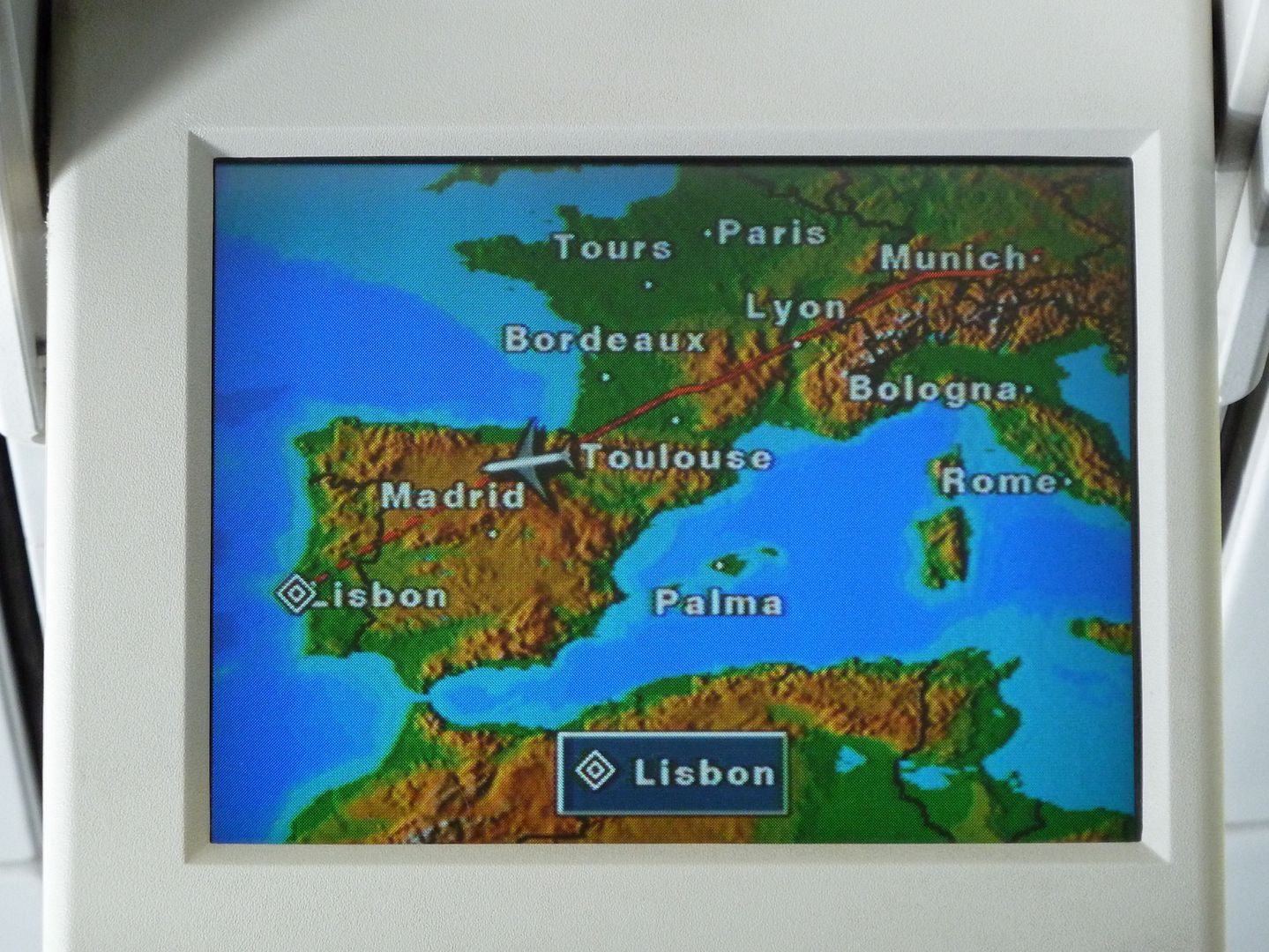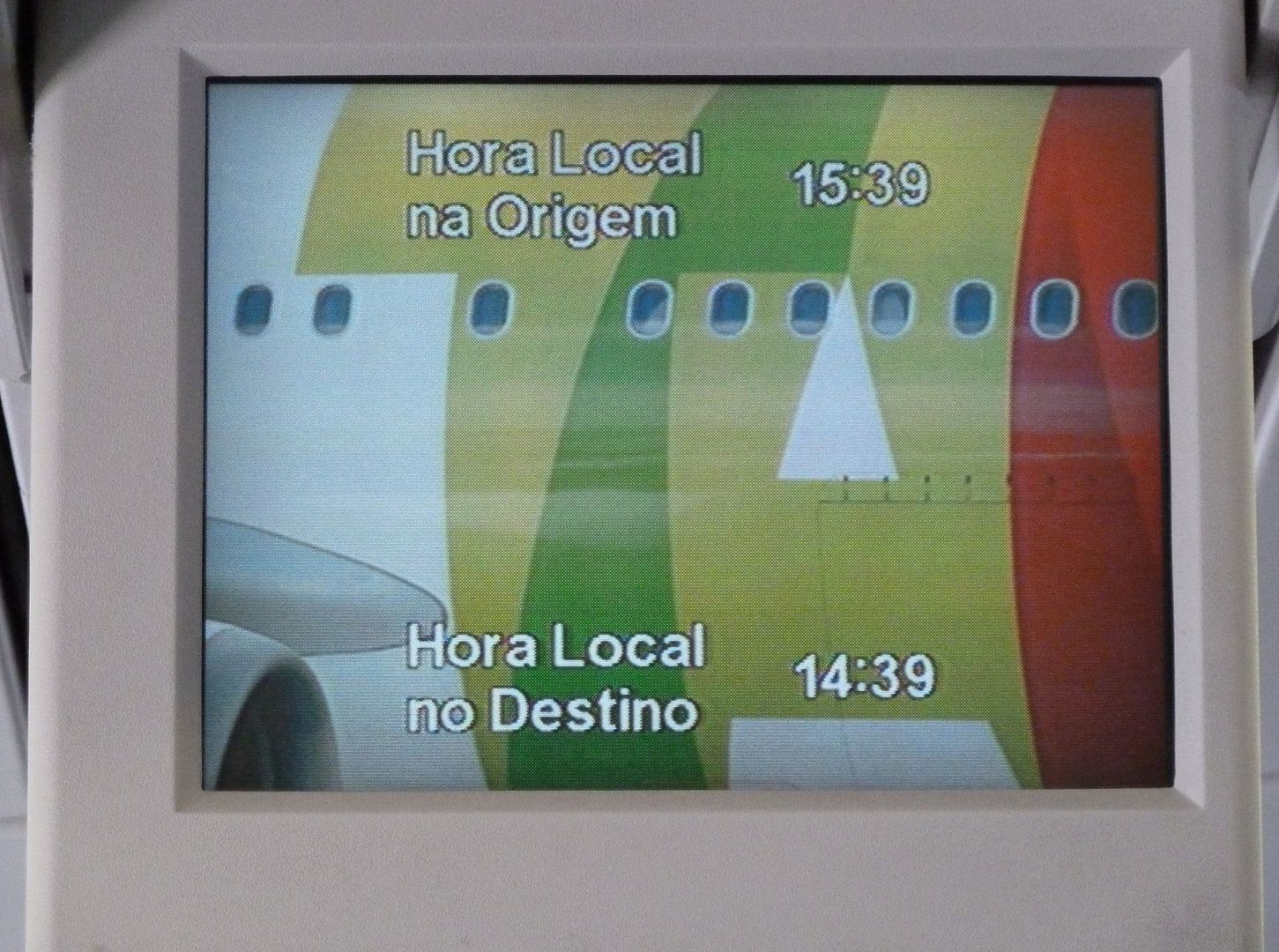 While walking around in the cabin I grabbed some postcards. The picture even showed
CS-TNK
- which was a coincidence, of course: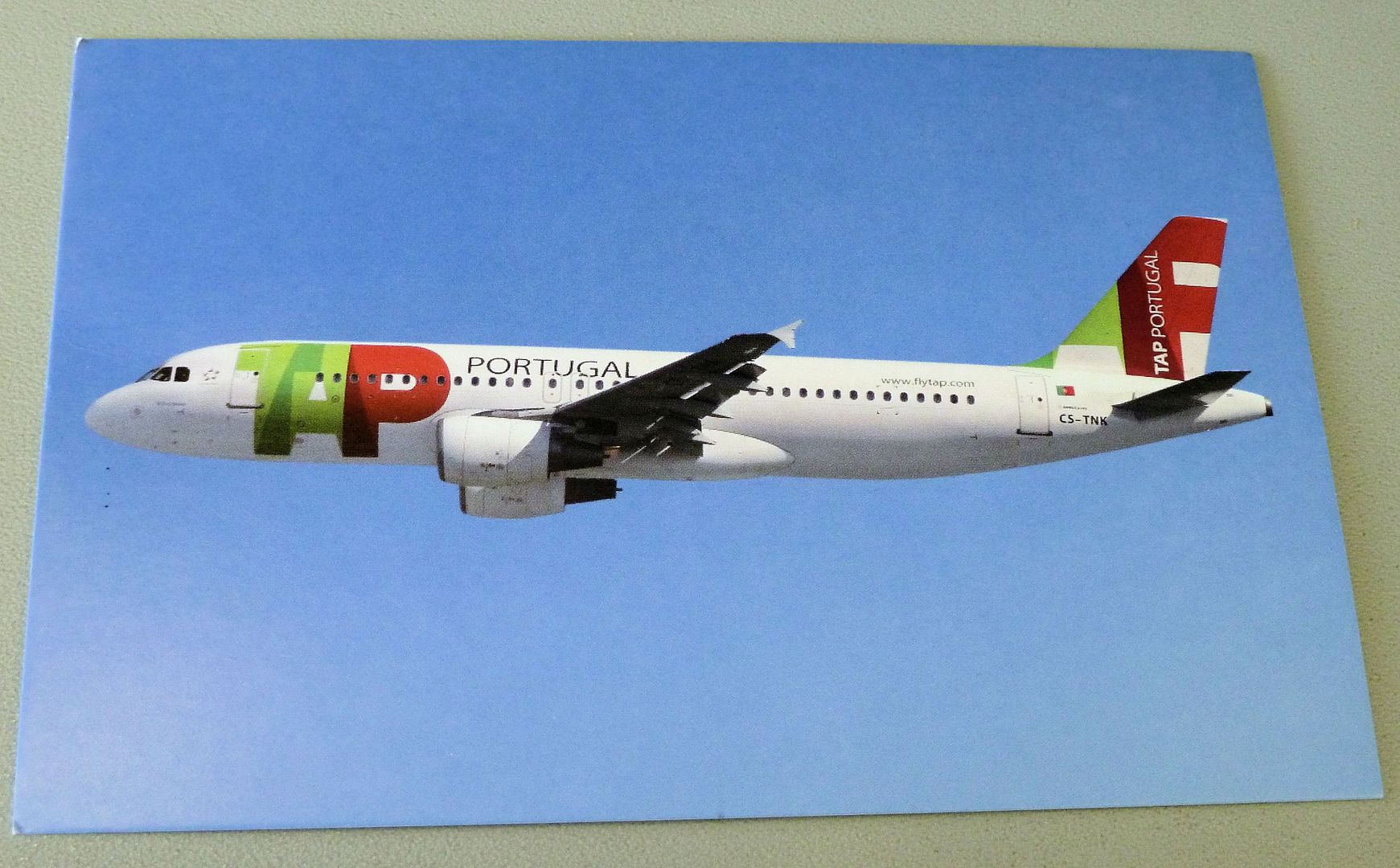 Some 20 minutes prior to landing the captain talked to us for the first time, giving basic information about the arrival. During approach we enjoyed great views of Lisbon. Here's Portela Airport...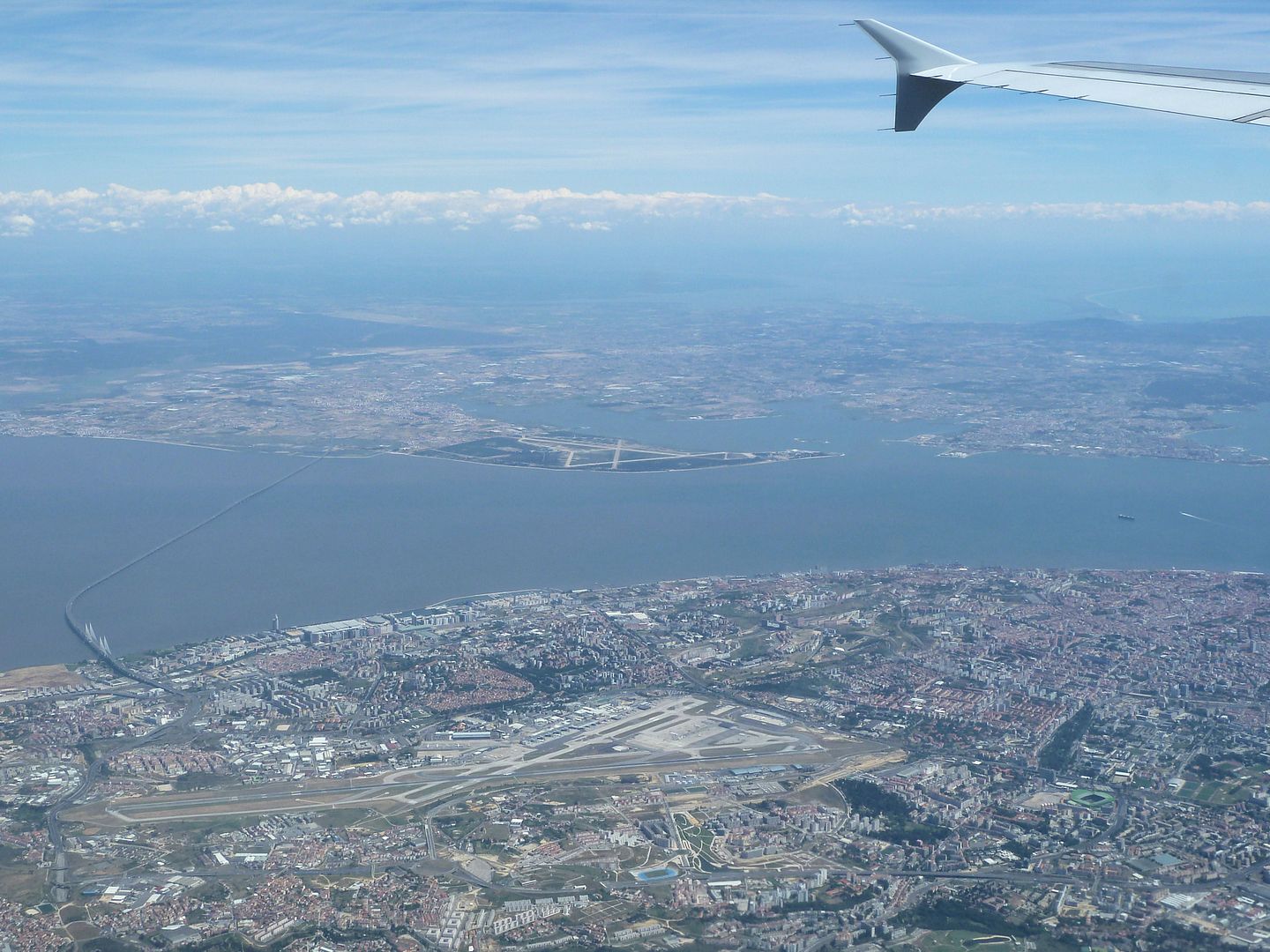 ...and here's the
25 de Abril Bridge
: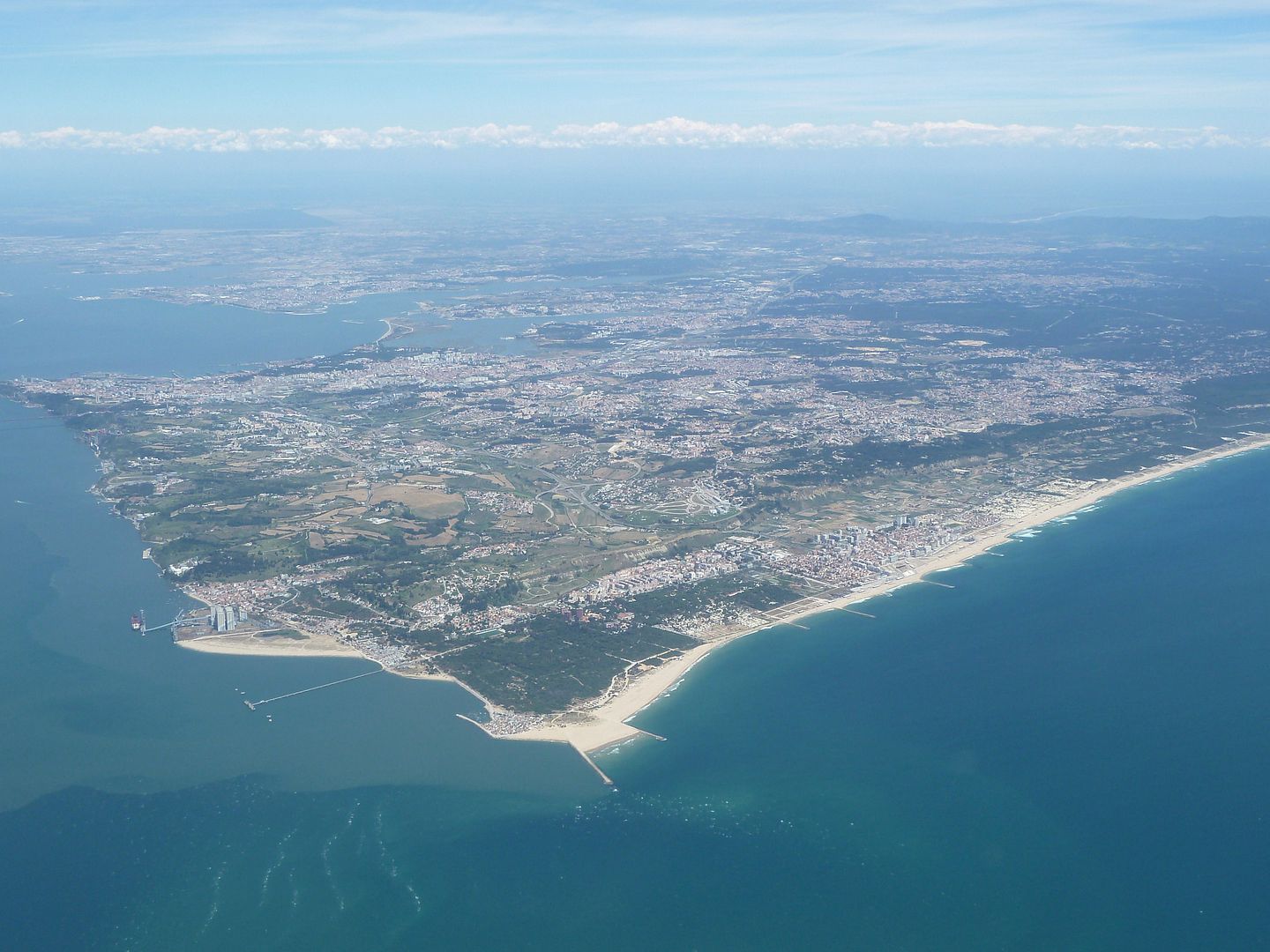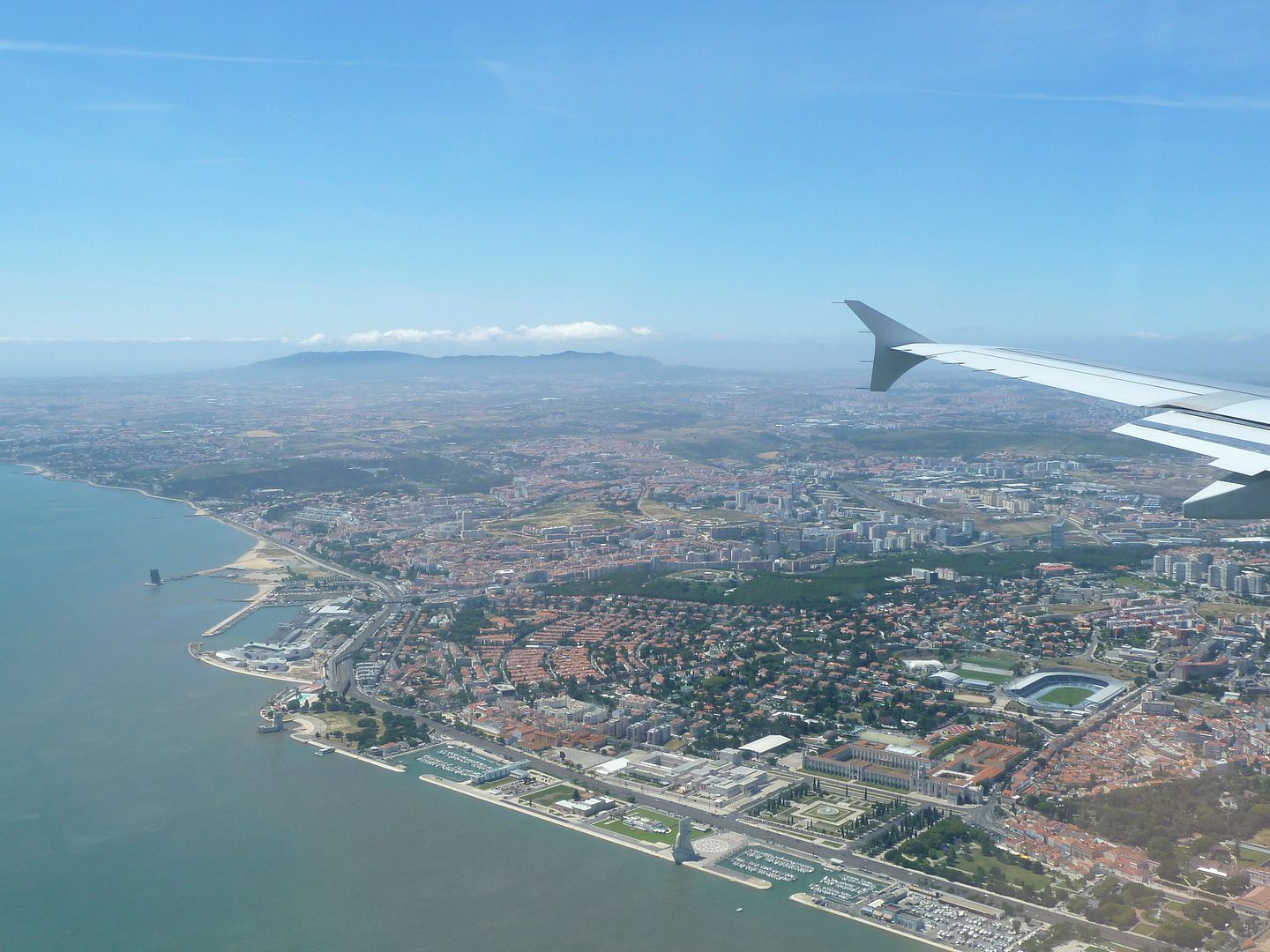 We touched down after a flying time of 2 hours and 46 minutes and came to stop next to A319 CS-TTI:
After grabbing our luggage, we were welcomed by the local tour guide and brought to the Holiday Inn near Alameda metro station. The building is a bit outdated, but the rooms were nice and the service was really good.
Impressions from Lisbon and its Environs
On the next day we took part in a city tour and visited Lisbon's most important sights. Here's the
Belém
area with the
Jerónimos Monastery
...
...the
Discoveries Monument
...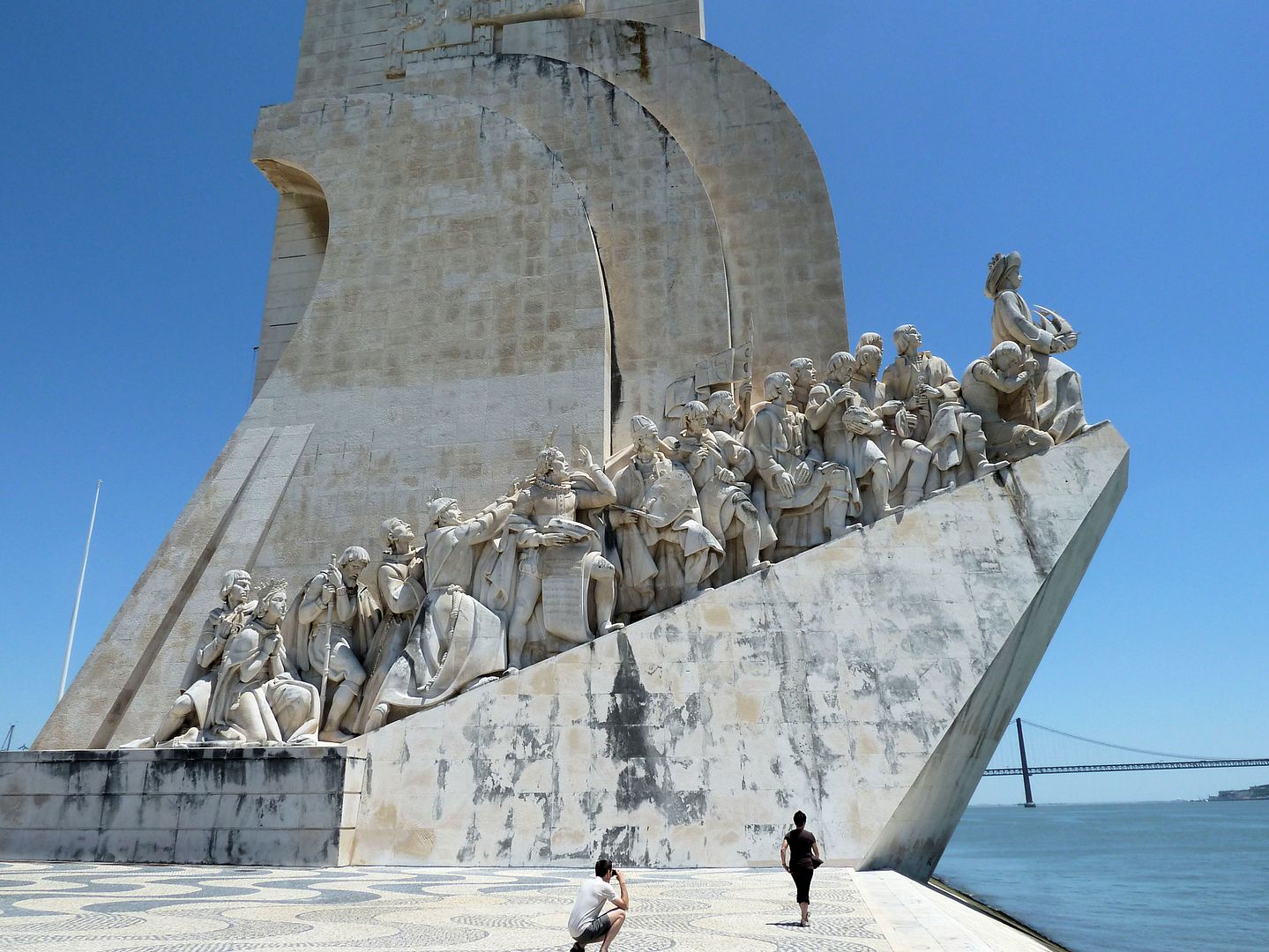 ...and the
Belém Tower
:
Of course we took a ride on the famous Tram 28 through steep and narrow streets - that's really recommendable: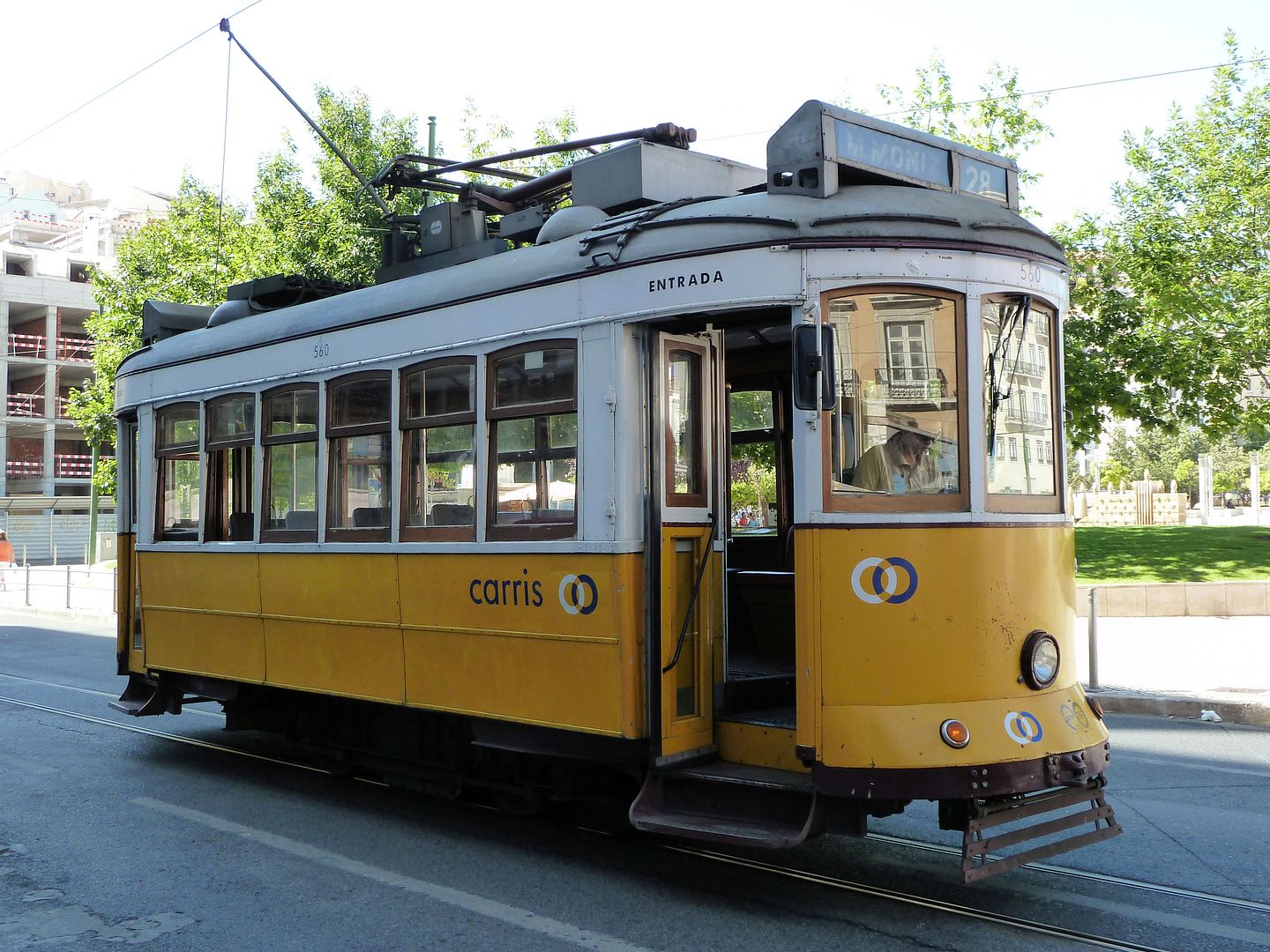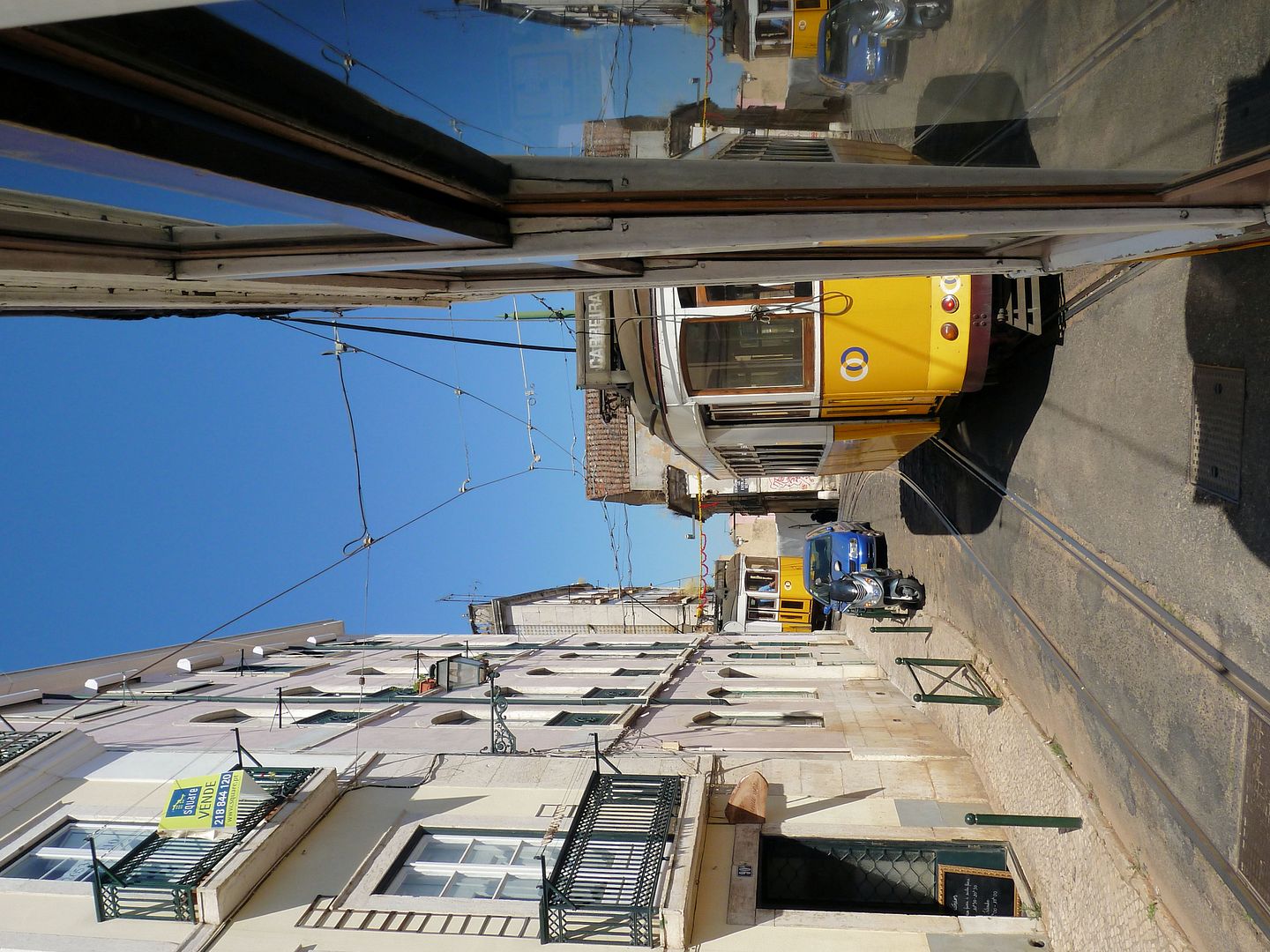 The
Santa Justa Elevator
(finished in 1902) connects the lower streets of the
Baixa
with the higher
Carmo Square
:
Once you reach the top you can enjoy splendid views of downtown Lisbon: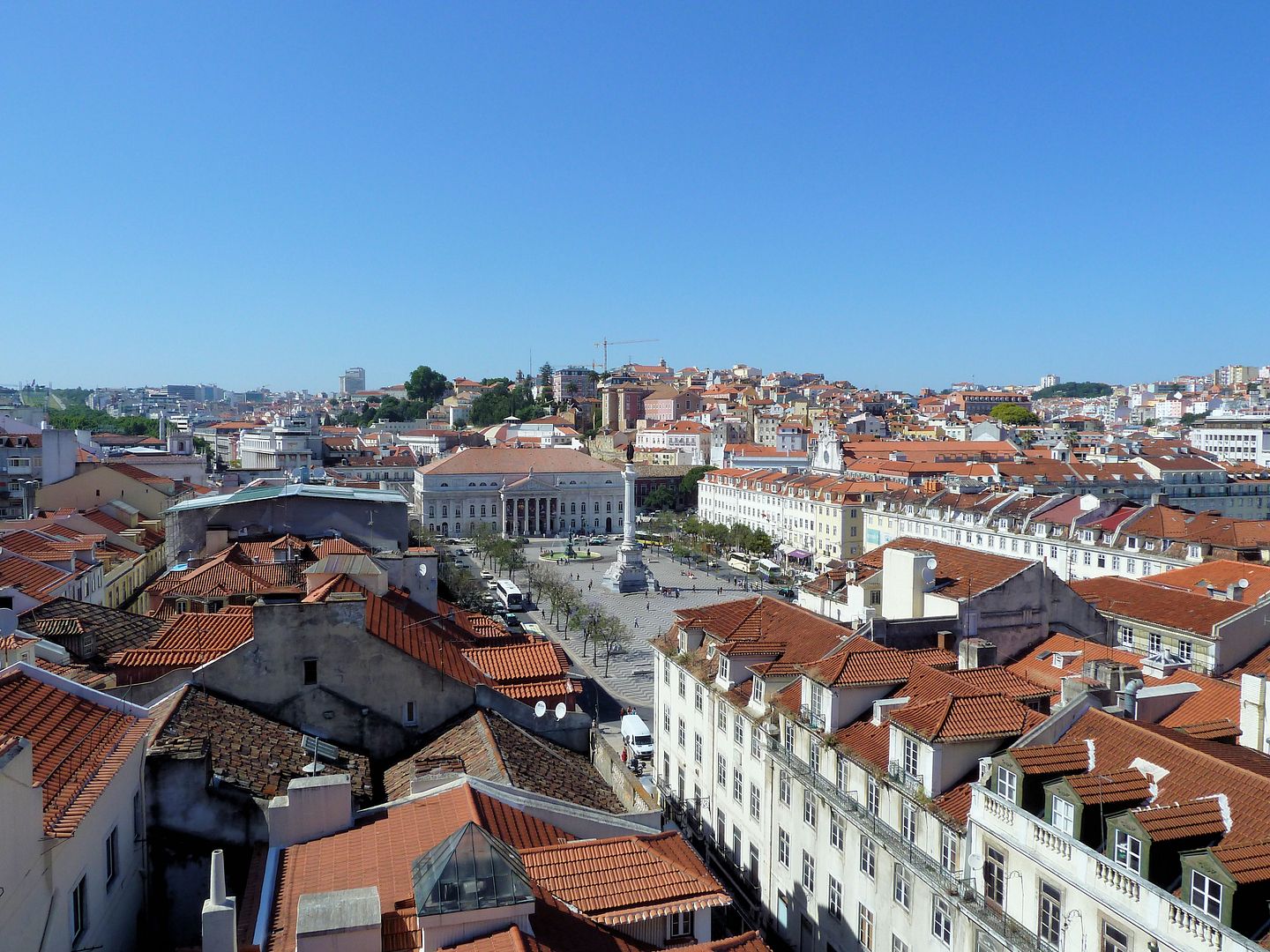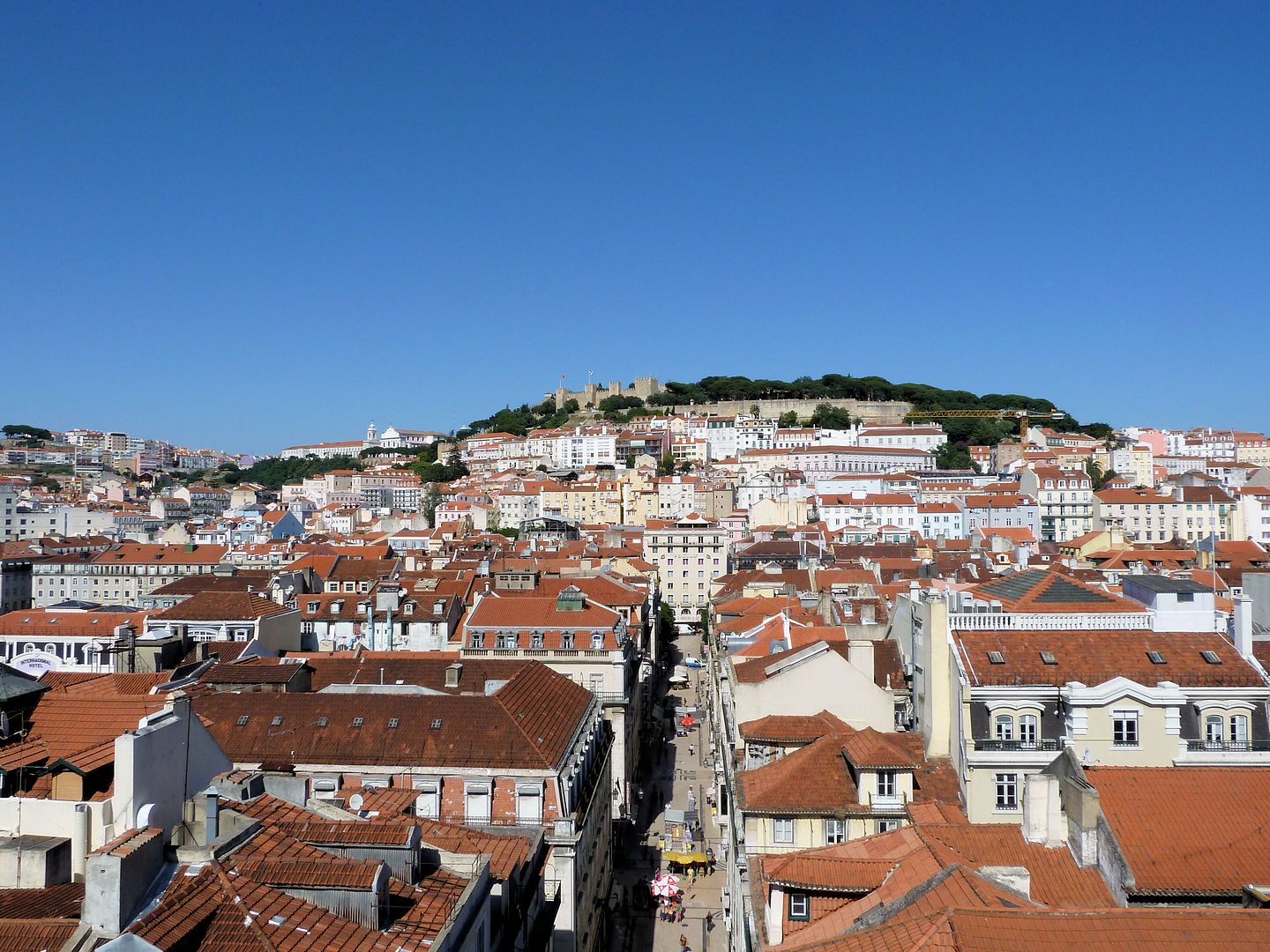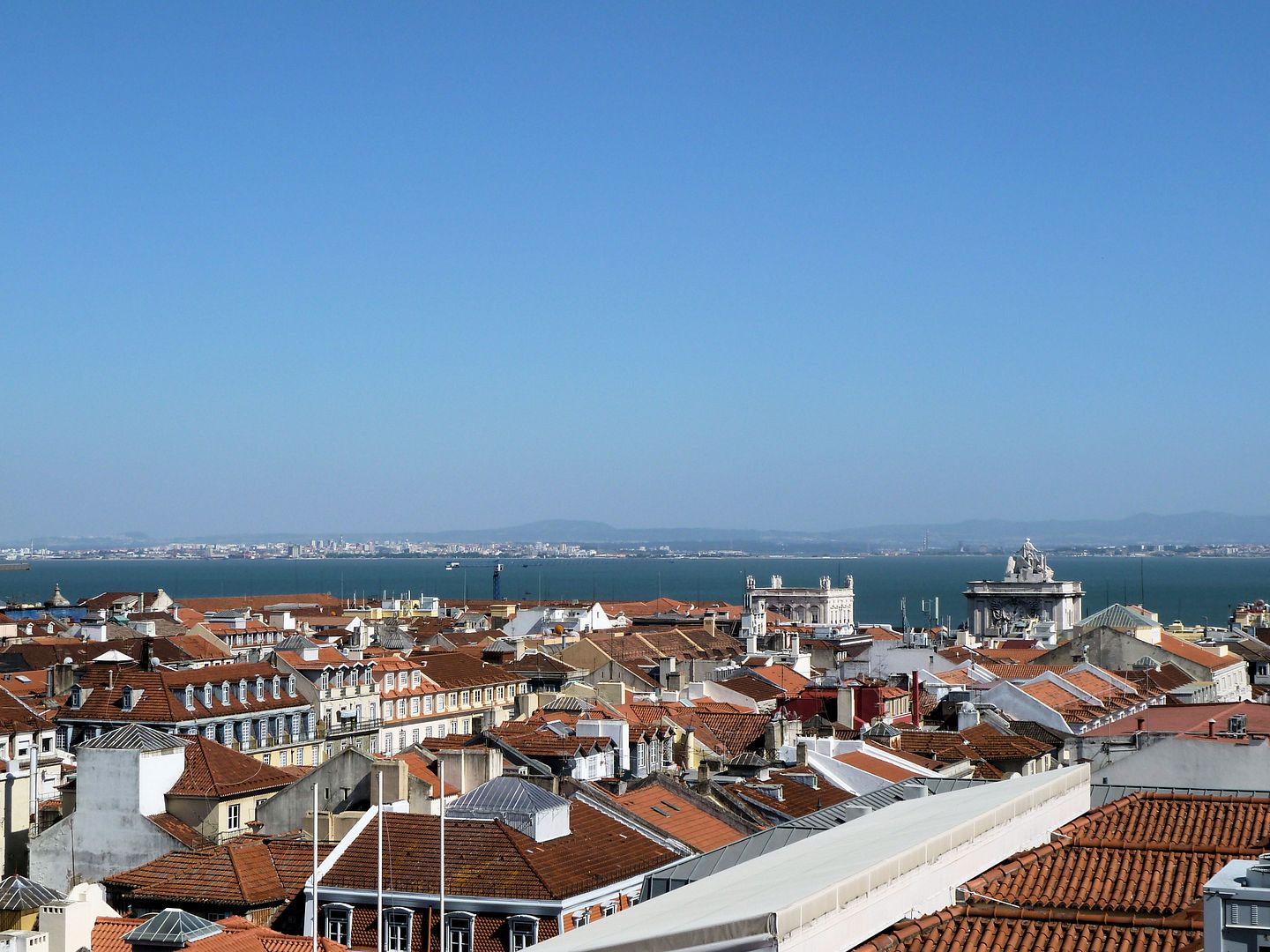 Our favorite place in the city was the Holiday Inn's rooftop pool area...
...which offered great views of the surrounding area...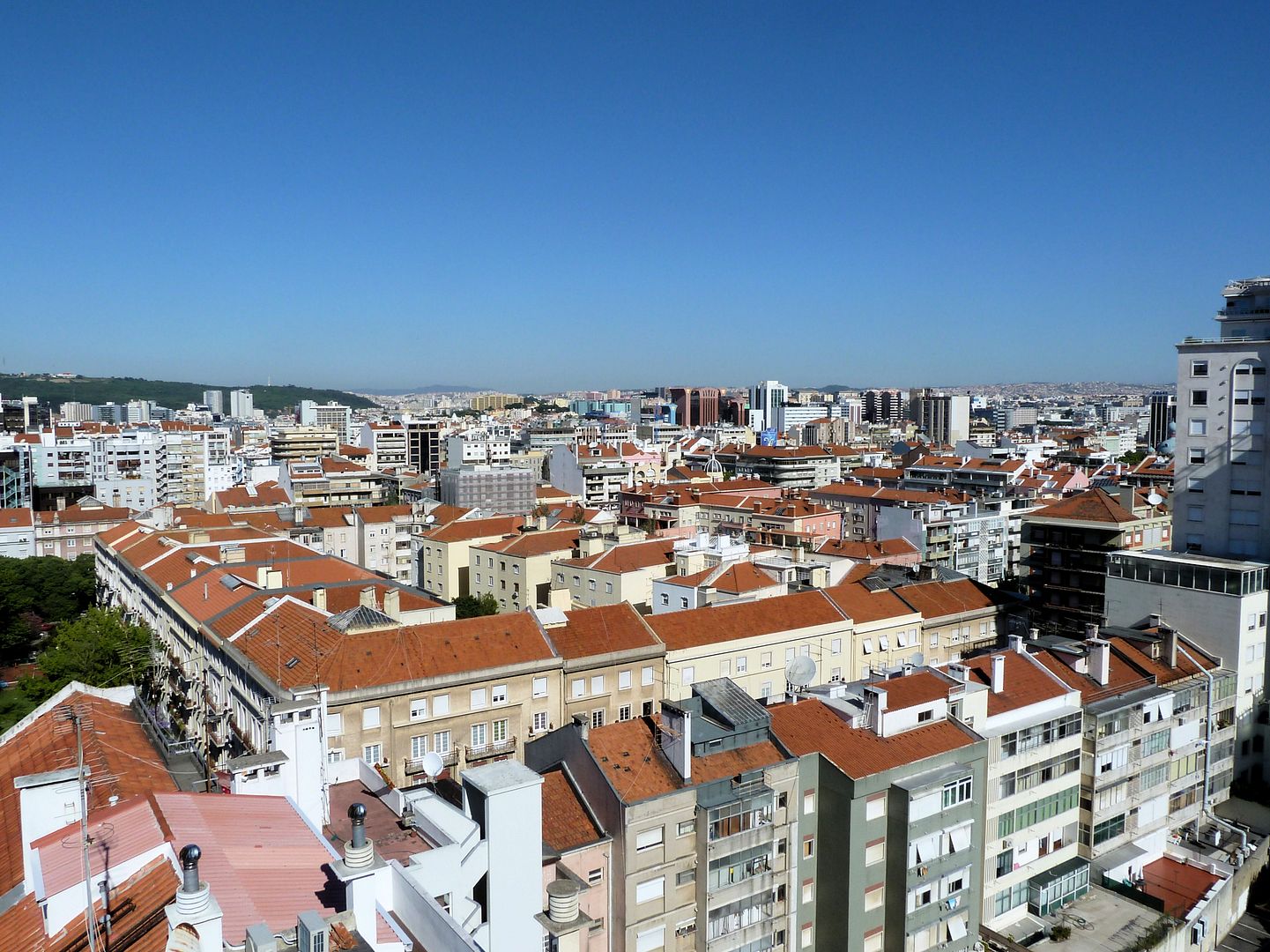 ...and turned out to be ideally located for plane spotting. What's better than logging registrations from a deck chair?
The
Campo Pequeno
bullring was only a stone's throw away from our hotel. It was a popular meeting place during the FIFA World Cup: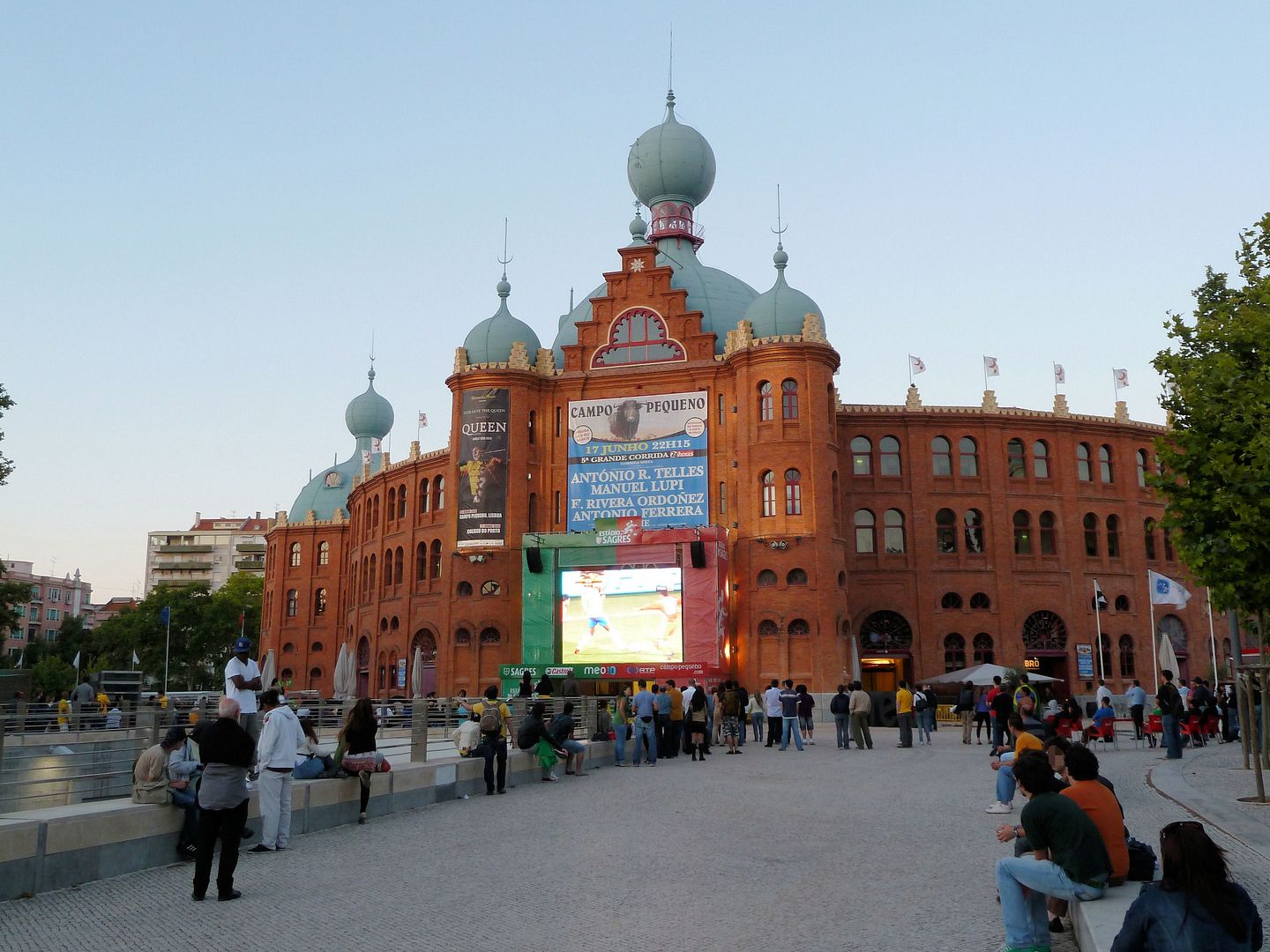 On the next day we made a trip to Sintra, Cascais and Estoril.
Sintra
, a UNESCO World Heritage Site, is a truly beautiful town: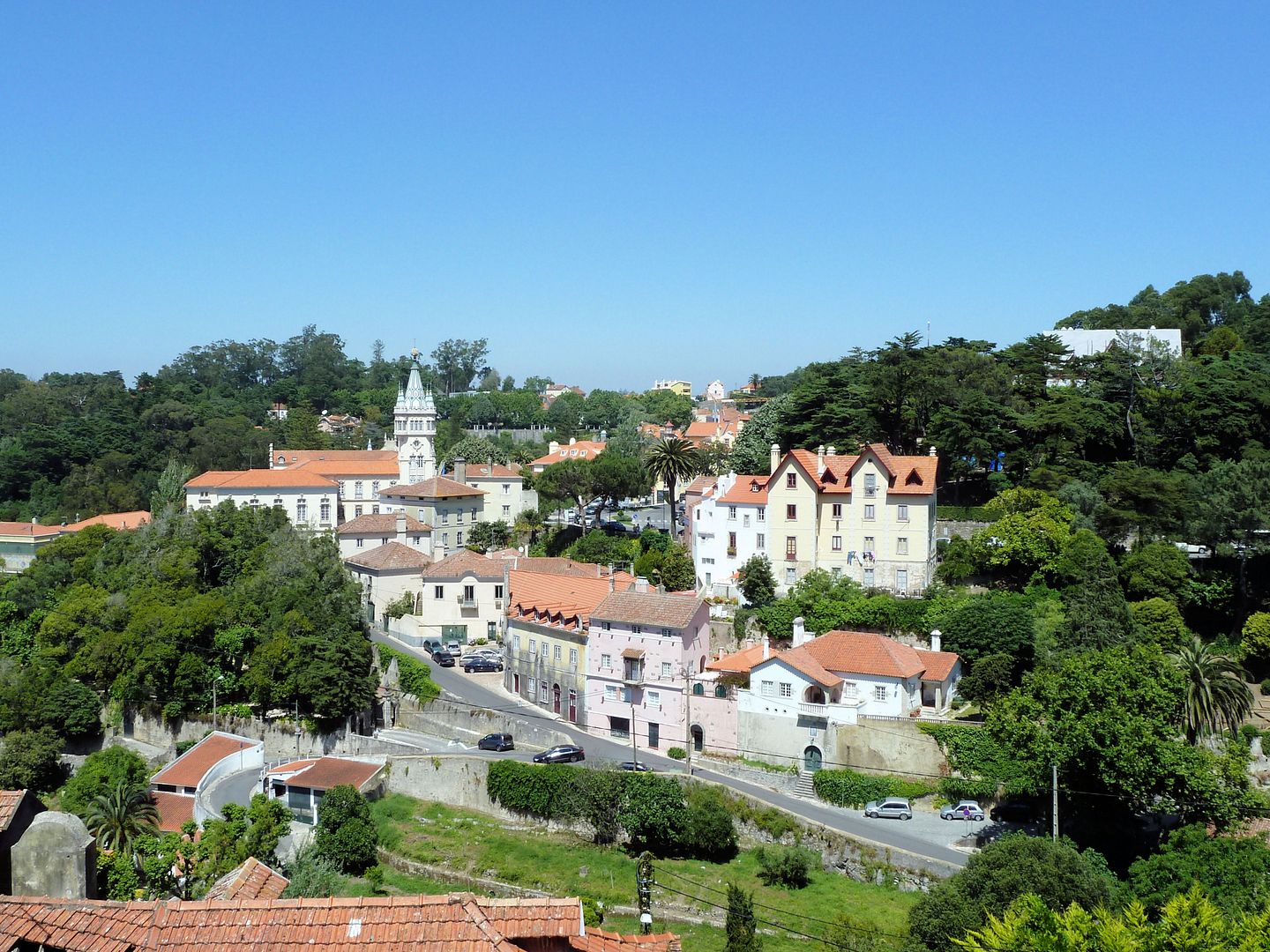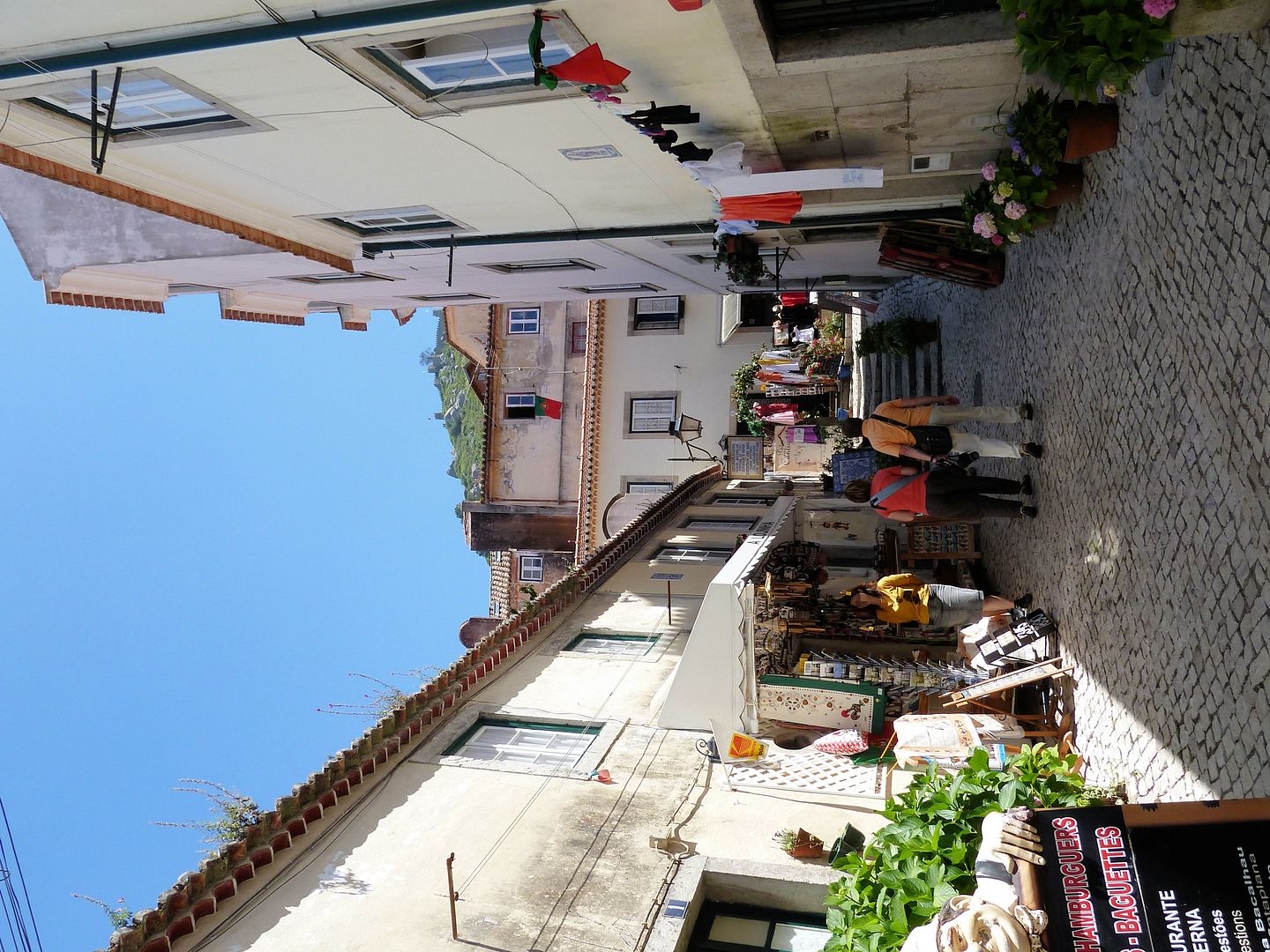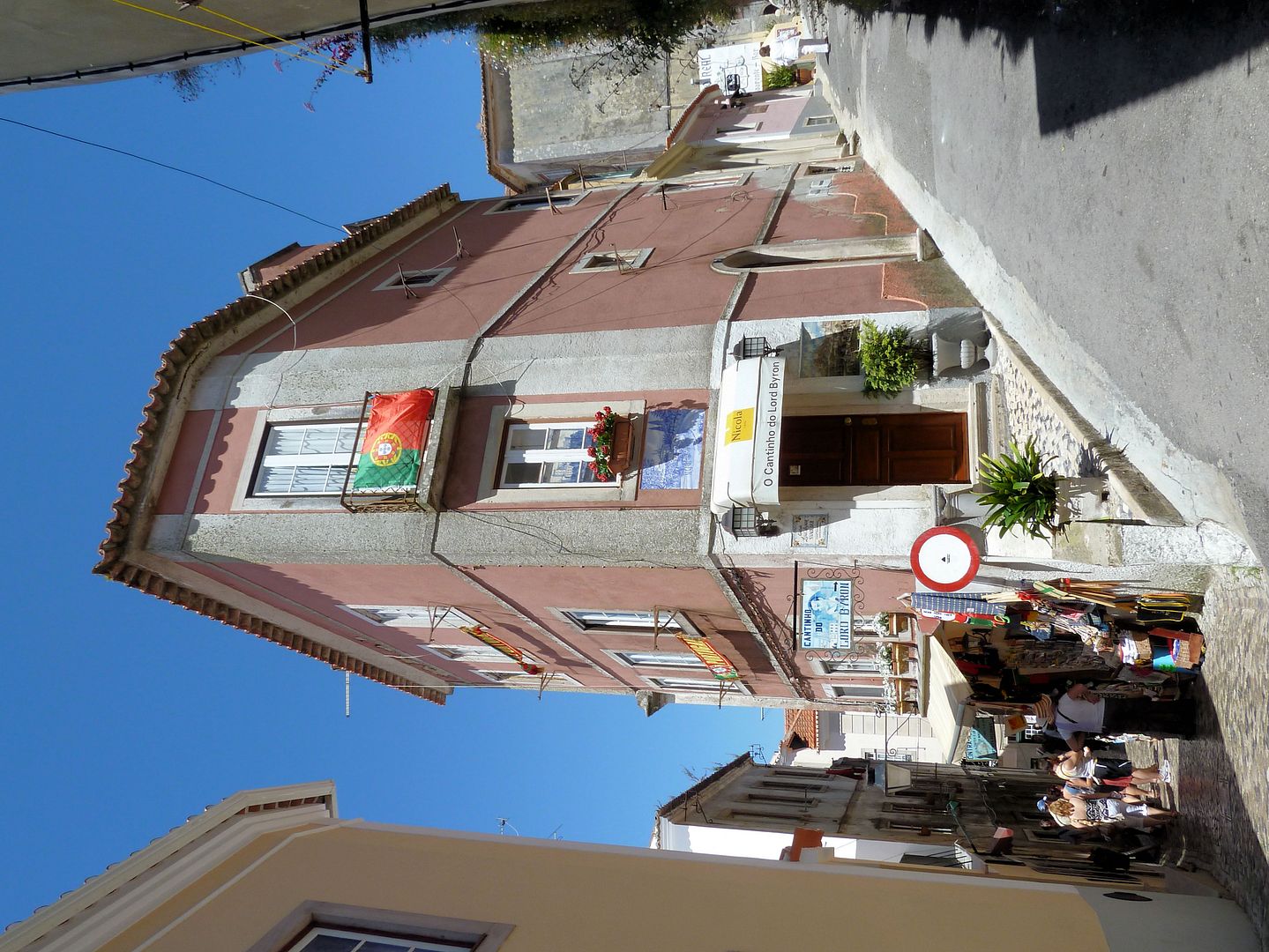 This is the
Cabo da Roca
, the westernmost point of mainland Europe - and probably the windiest place I have ever been to: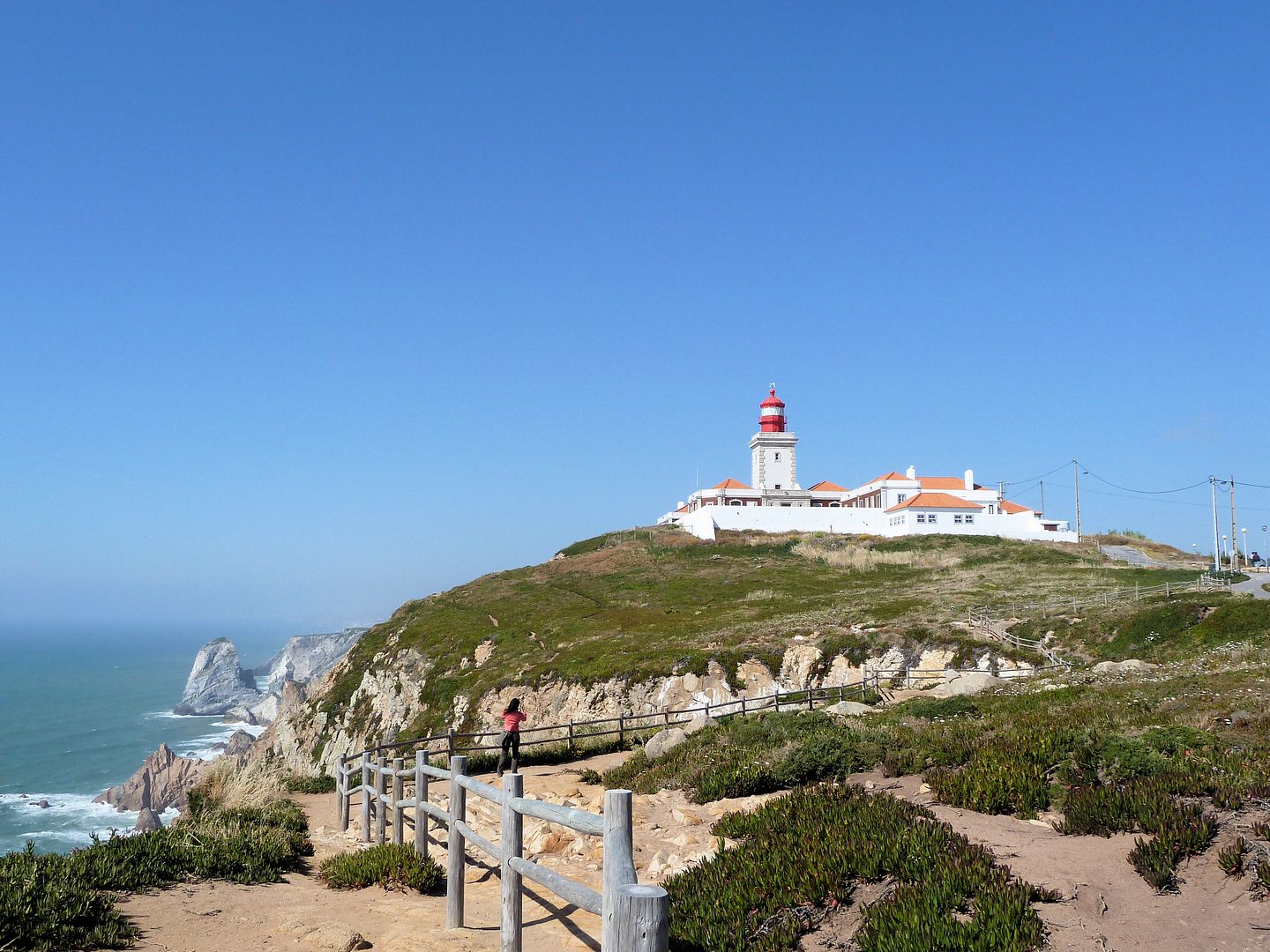 On the next day we spent some more hours on the hotel's fabulous rooftop terrace before checking out and going to the airport.
Thursday, 17 June 2010
Lisbon (LIS) - Madeira (FNC)
TAP Portugal TP1627
14:00-15:50 (13:58-15:39)
Flying time: 01:30 (hrs)
Economy Class, Seat 21F

Airbus A319-111
CS-TTA (MSN 750), named "Vieira da Silva"
Delivered in 12/1997
1st flight on CS-TTA
14th A319-100 flight
58th A32X flight
Two hours prior to departure we were dropped off at the new low-cost-style Terminal 2 which is used for scheduled domestic flights (including Madeira and Azores). In order to avoid getting stuck in a long queue with our fellow tour group members we had already checked in online in the evening before. However, numerous counters were staffed and we already got our boarding passes ten minutes later.
The gate area is located on ground level and viewing options weren't optimal, but I was able to log registrations of all departing and numerous arriving planes: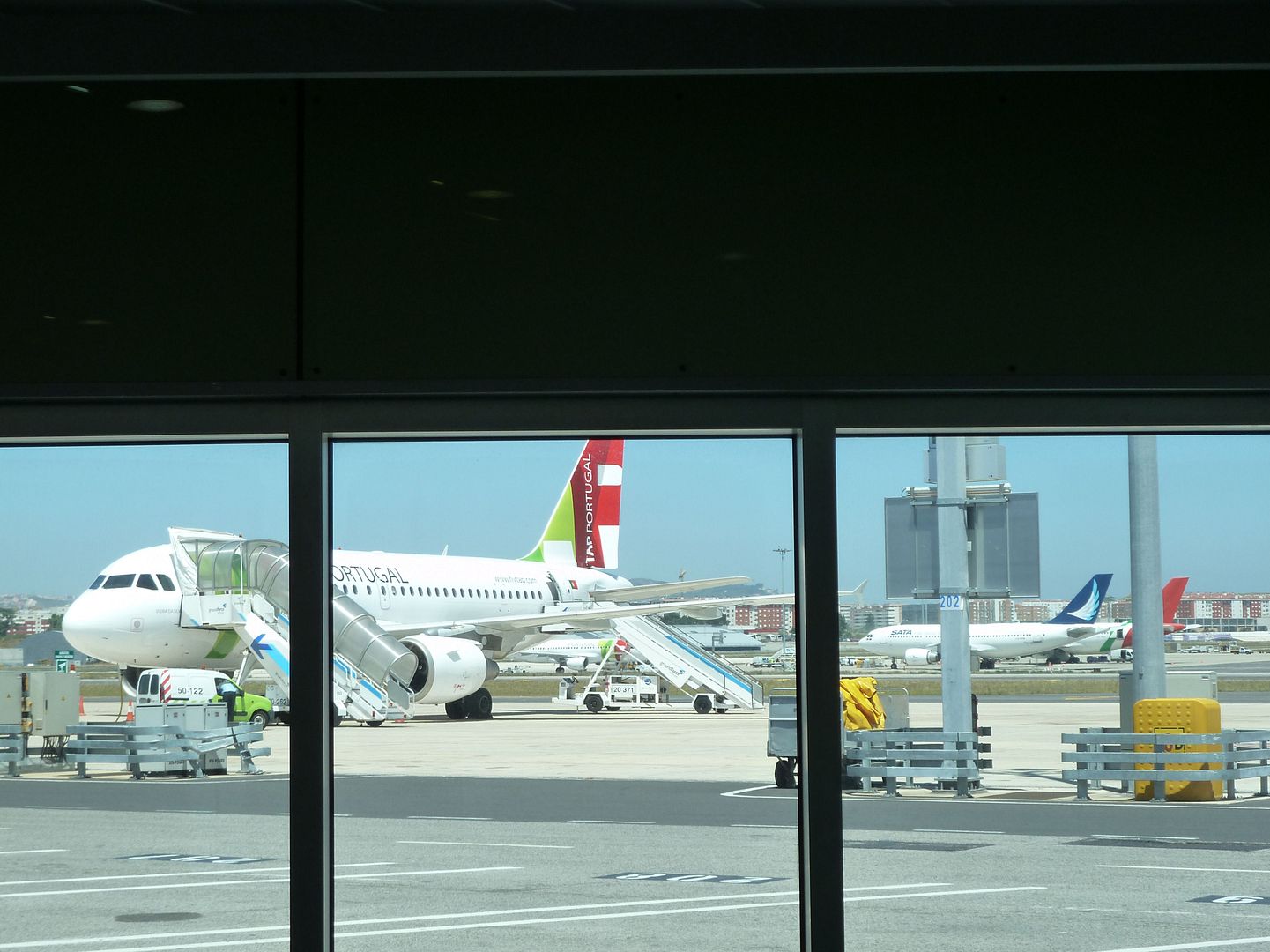 Boarding commenced on time and a bus brought us to the aircraft - even though the walking distance would have been quite short. I was pleased to see that our flight would be operated by
CS-TTA
, the first of 19 A319s delivered to TAP: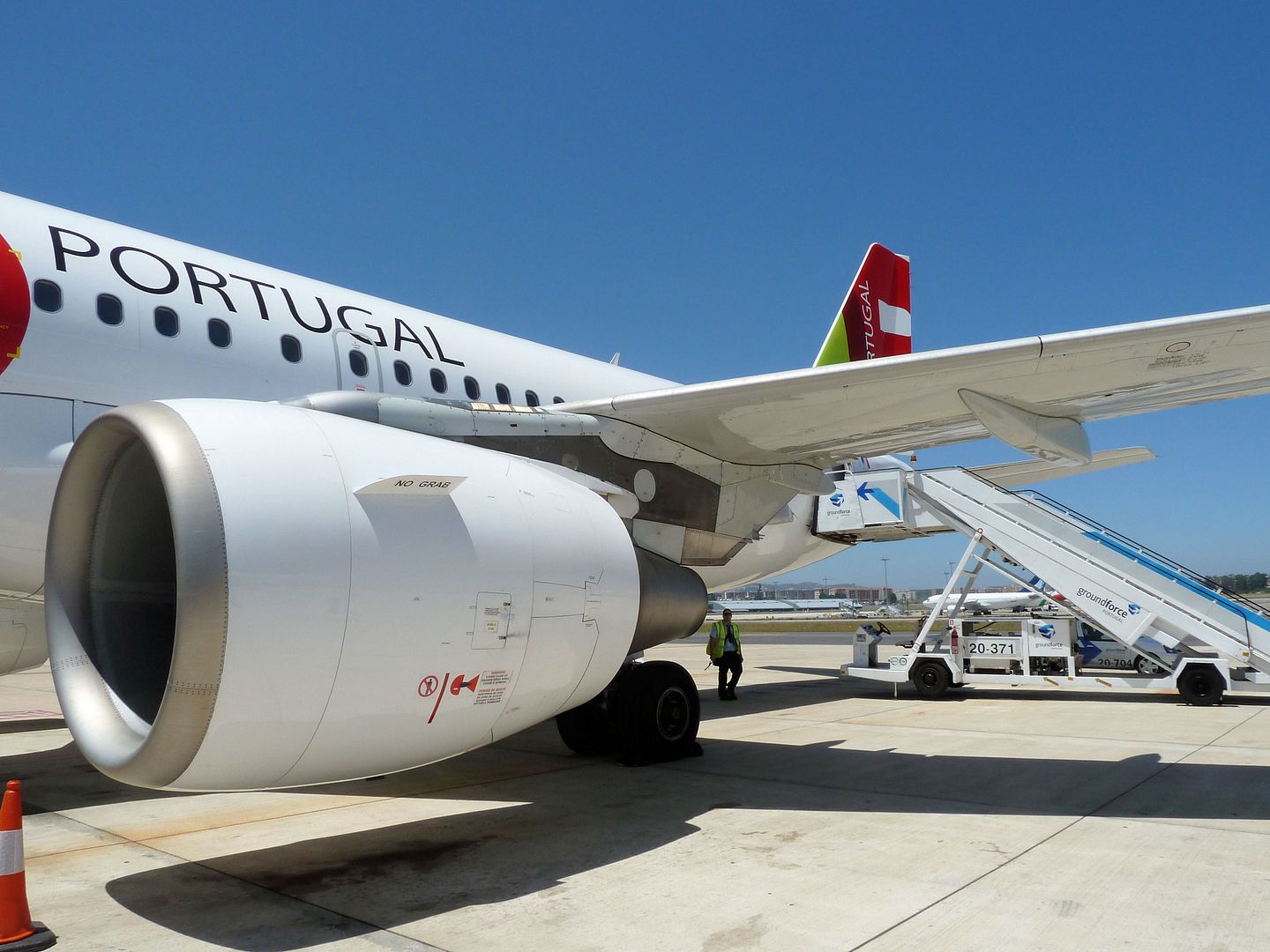 The seats were the same ones as on the A320 three days ago...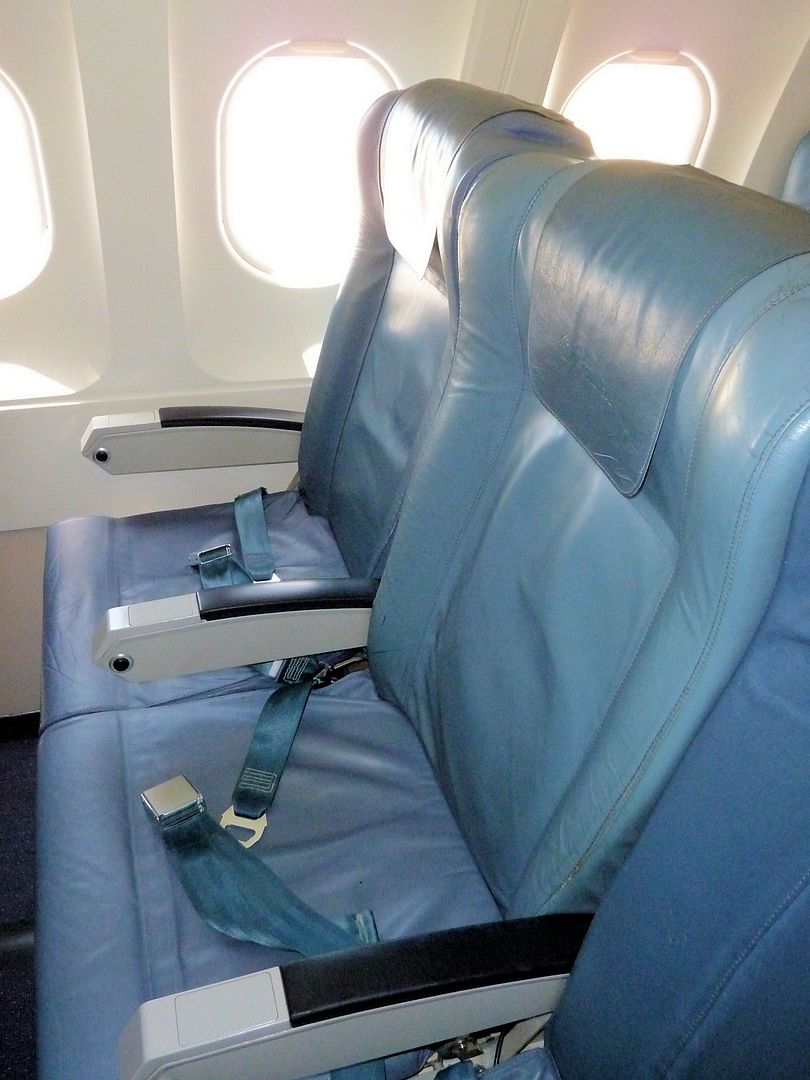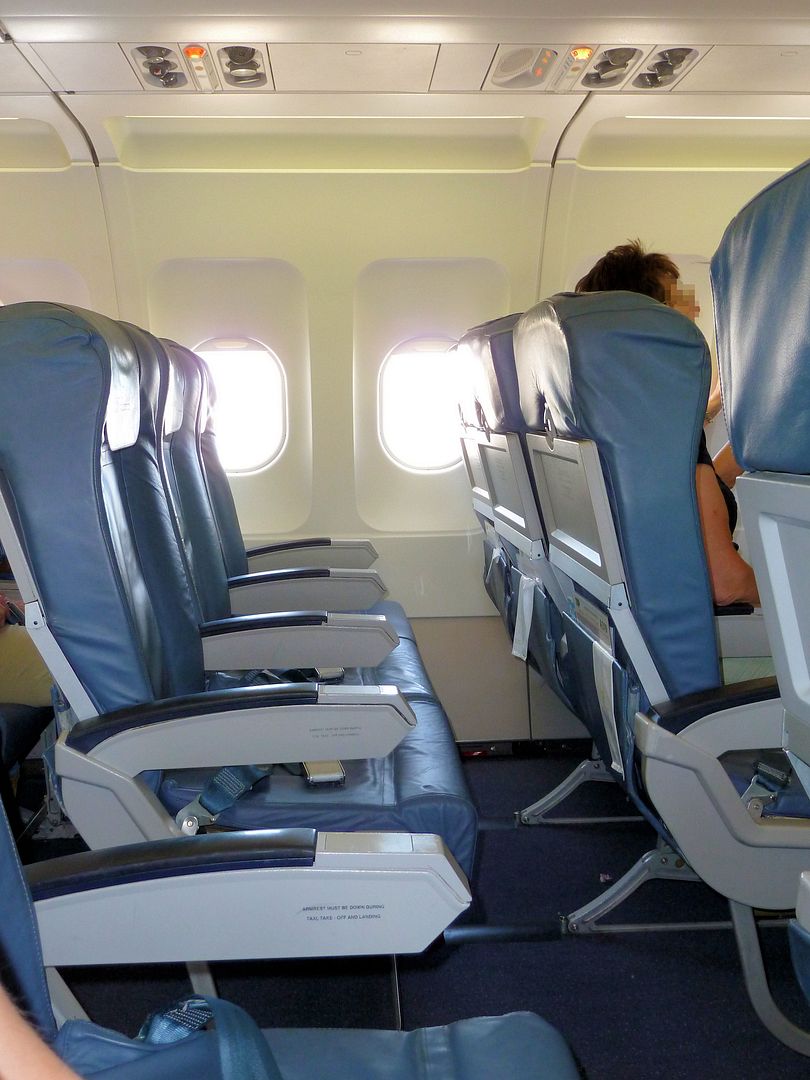 ...and legroom was identical, too: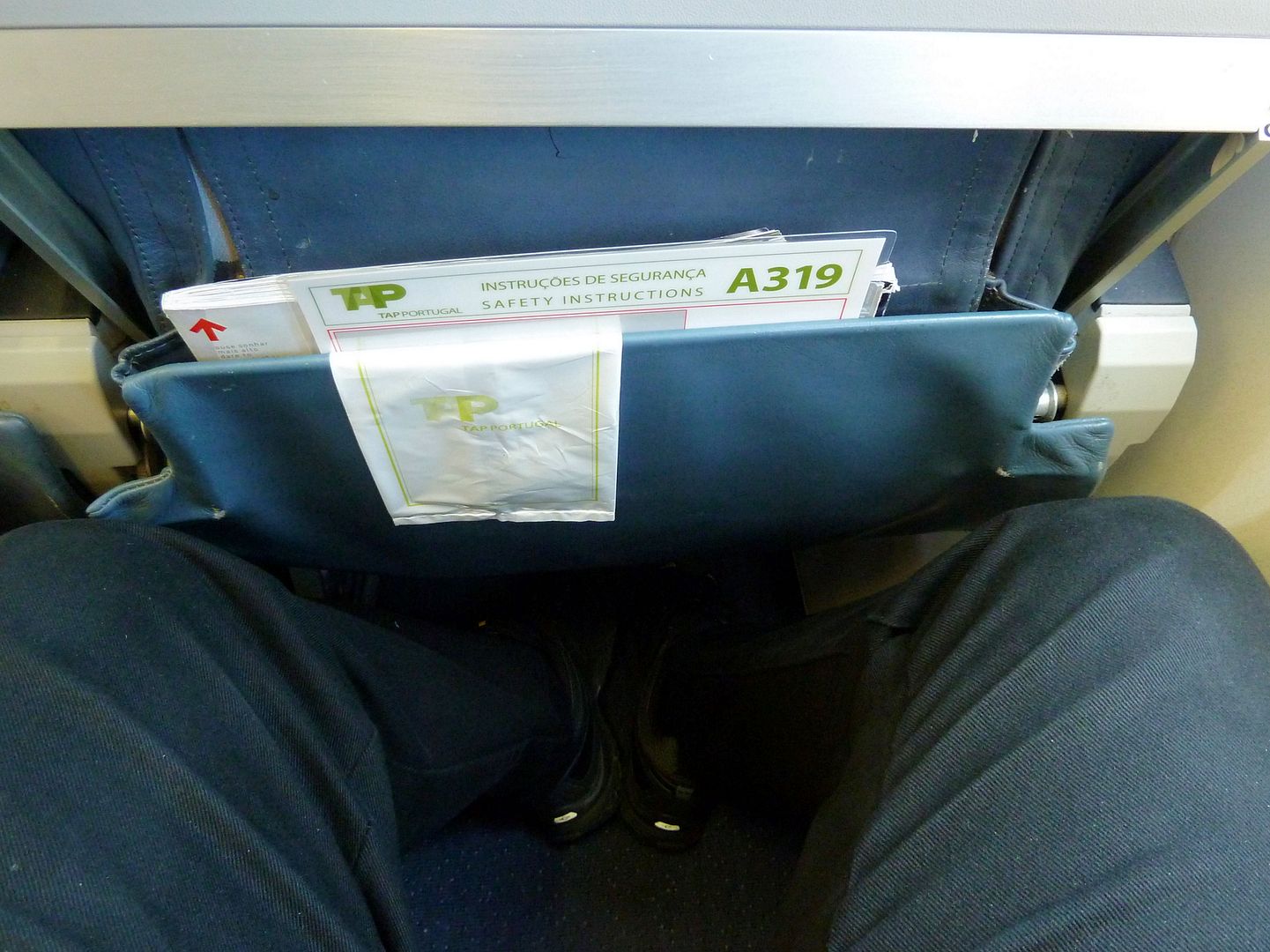 However, the nearest foldout screen didn't work and after swinging in and out a few times it disappeared for the rest of the flight. The load was in the 60 to 70 percent range and the aisle seat in our row remained empty.
We left the gate early and passed two good old A310s, one operated by SATA Int'l, the other one by HiFly:
...and here you can see a part of yet another A310, operated by White: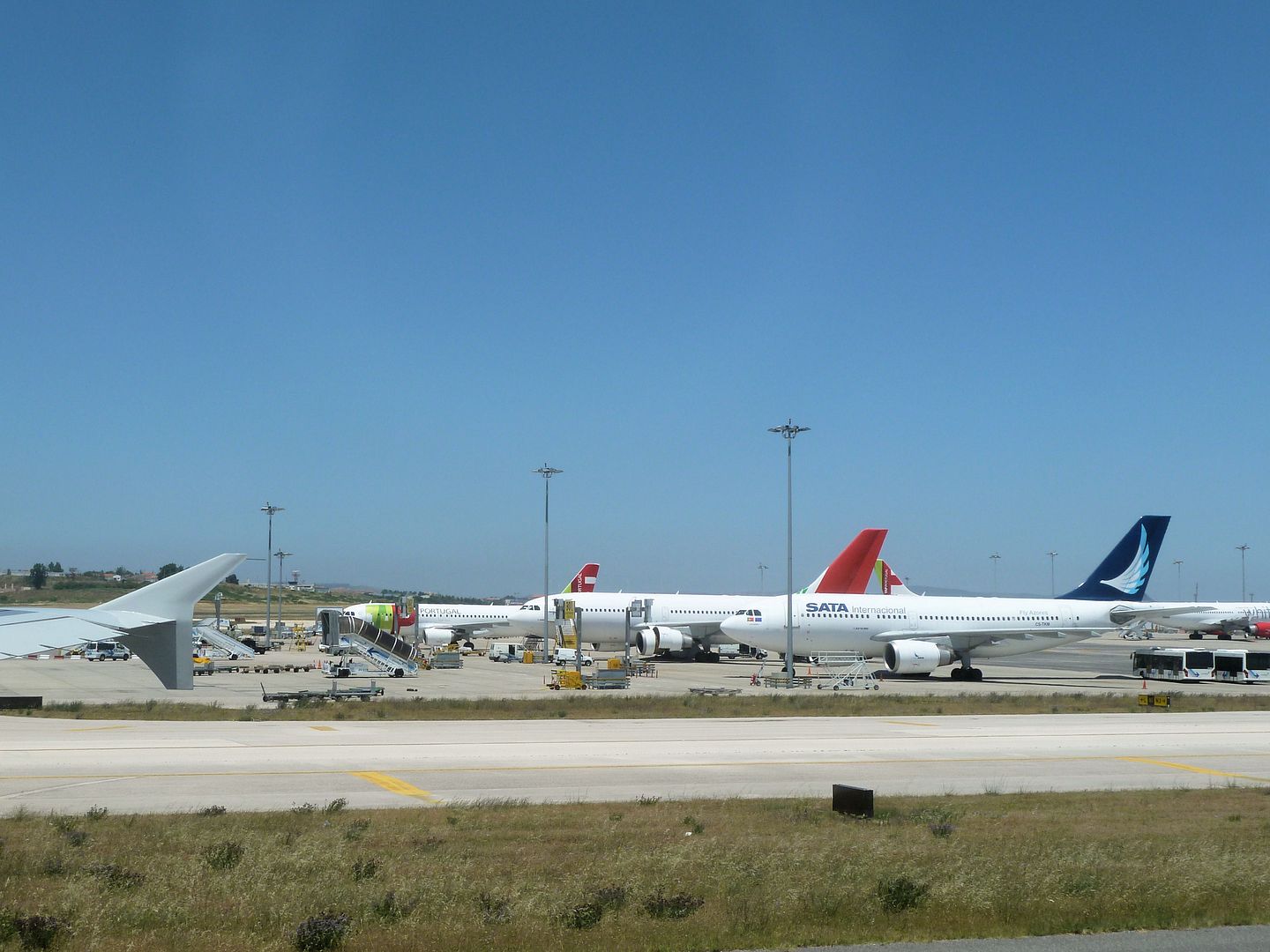 Some minutes later we took off from runway 03 and passed the 17.2 km-long
Ponte Vasco da Gama
, the longest bridge in Europe:
TAP still serves free drinks and snacks on the domestic flights to Madeira:
While the (cold) ham and cheese sandwich tasted quite good, the muffin was a bit dry. The Sagres beer wasn't bad, though.
Almost there: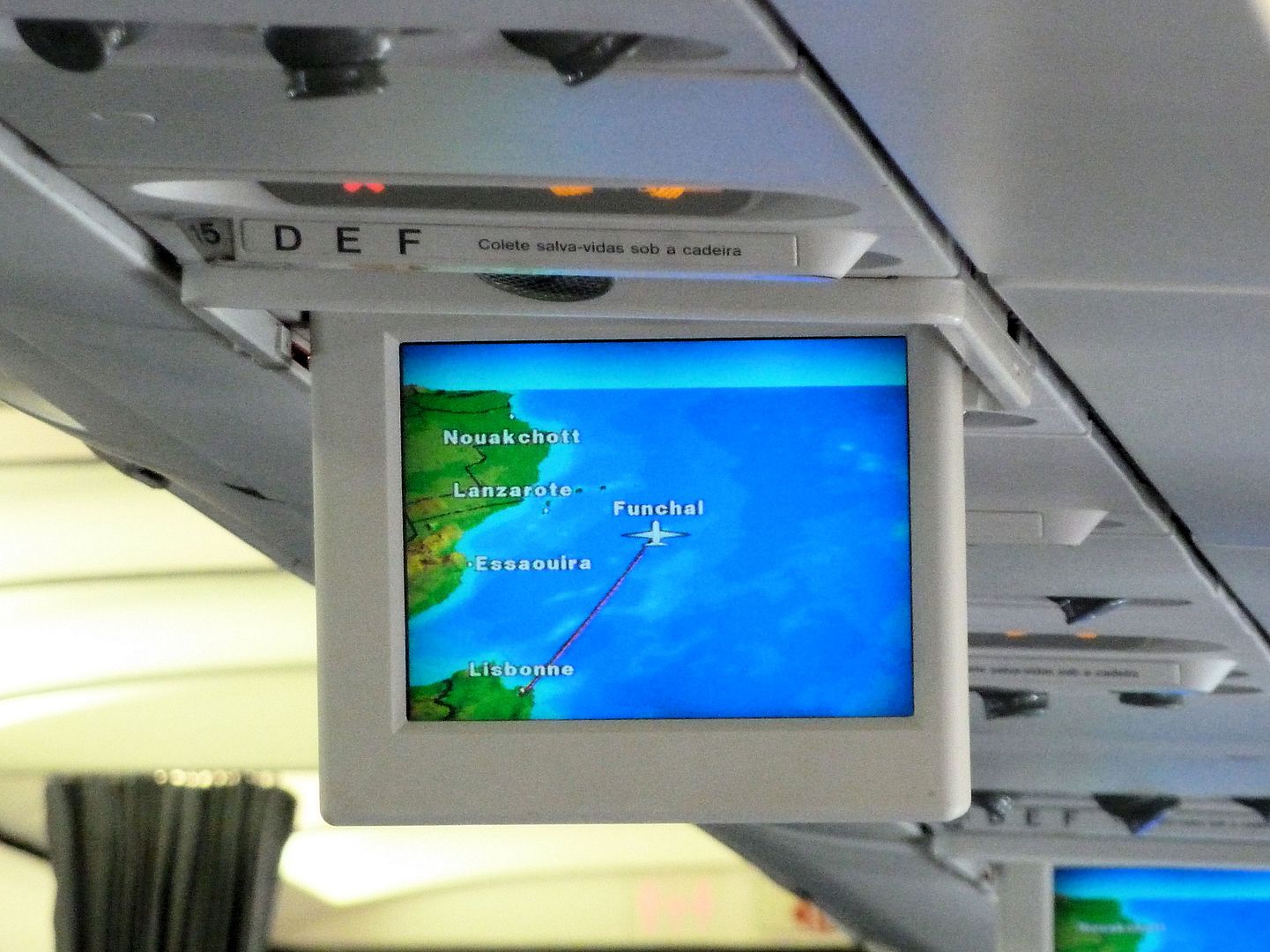 Thick clouds over the ocean near Madeira: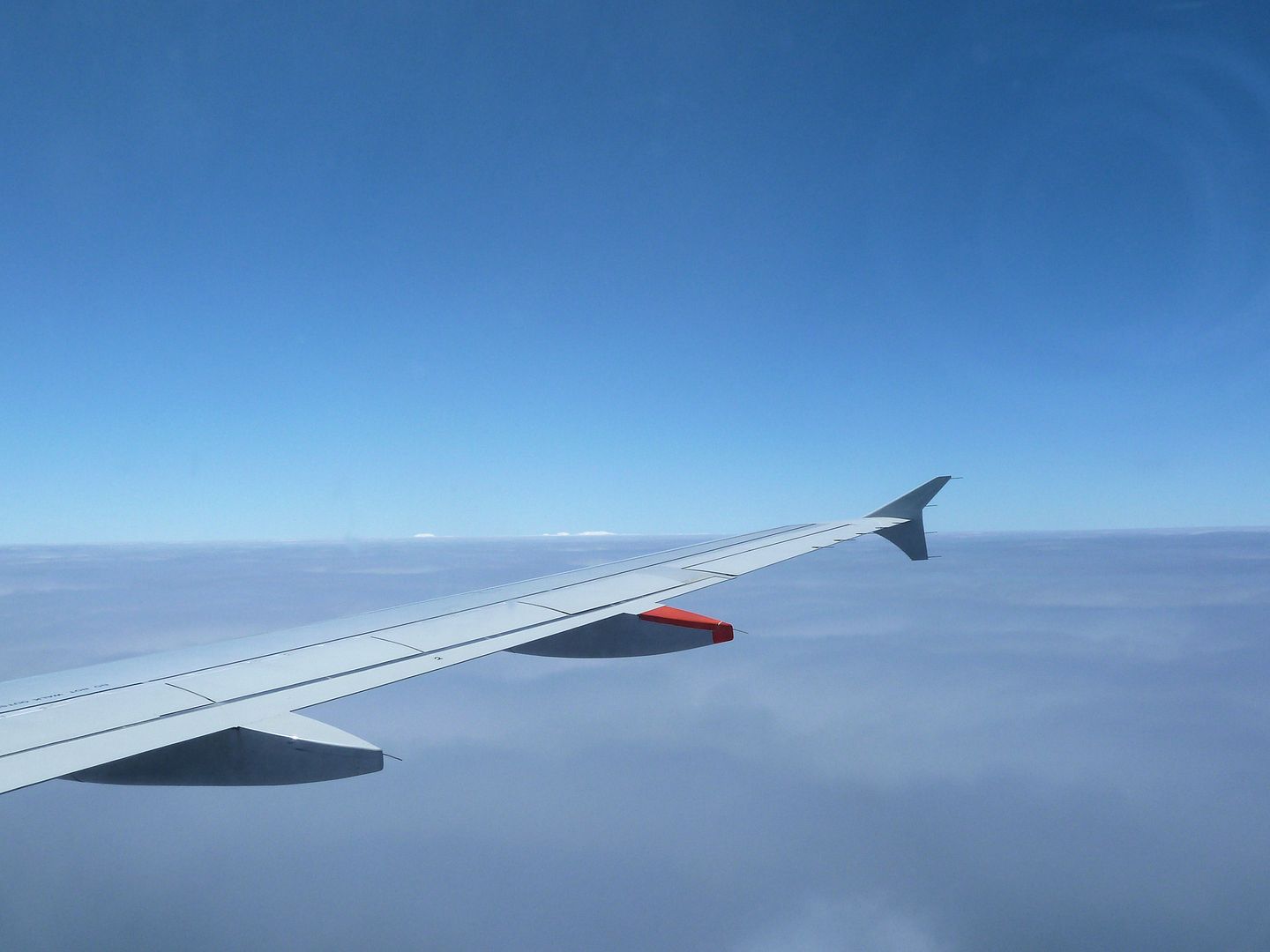 Prior to the trip I had been wondering for a long time whether I should choose seats on the right or the left side for the infamous approach to Funchal Airport. I had finally selected seats on the right side and I was glad about that decision when I discovered Madeira's rocky coast: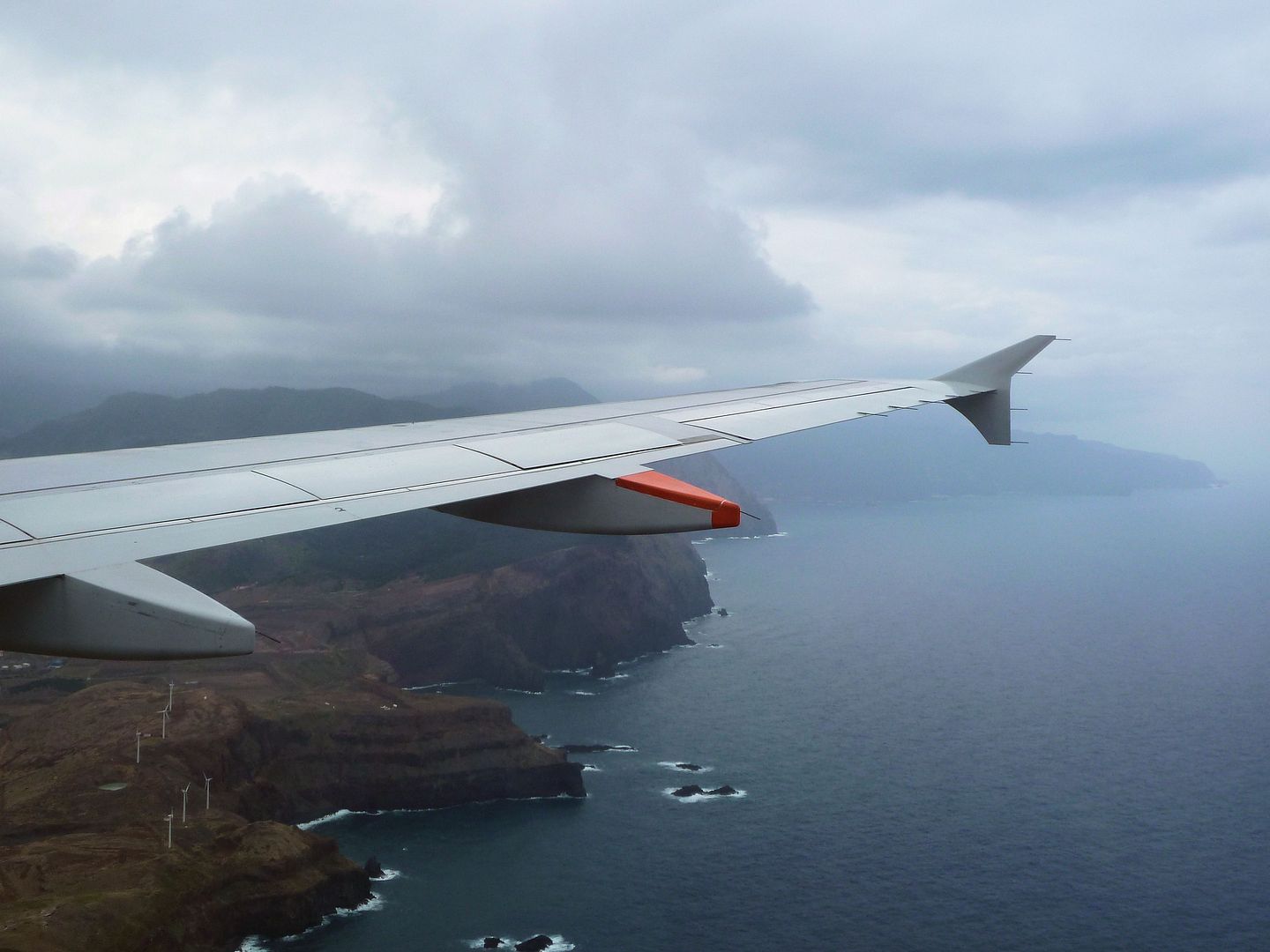 This is
Caniçal
which used to be one of the last European bases for whalers: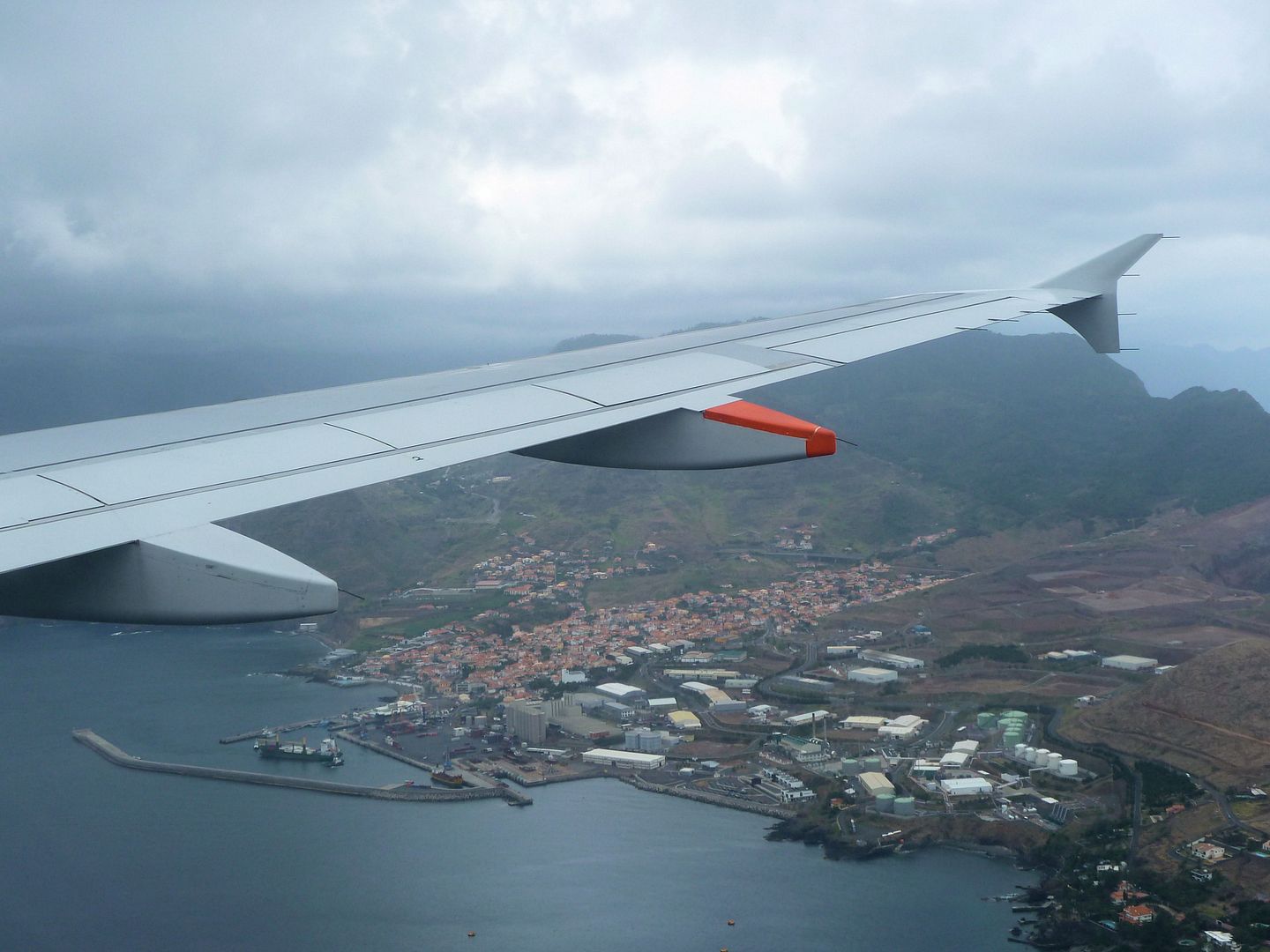 I was expecting a straight approach to runway 23, but it got even better: We would pass the airport, turn right and land on runway 05:
When the runway got expanded, it had to be put on stilts, making the whole thing look like an oversized aircraft carrier, with water at both ends of the runway:
Awesome approach: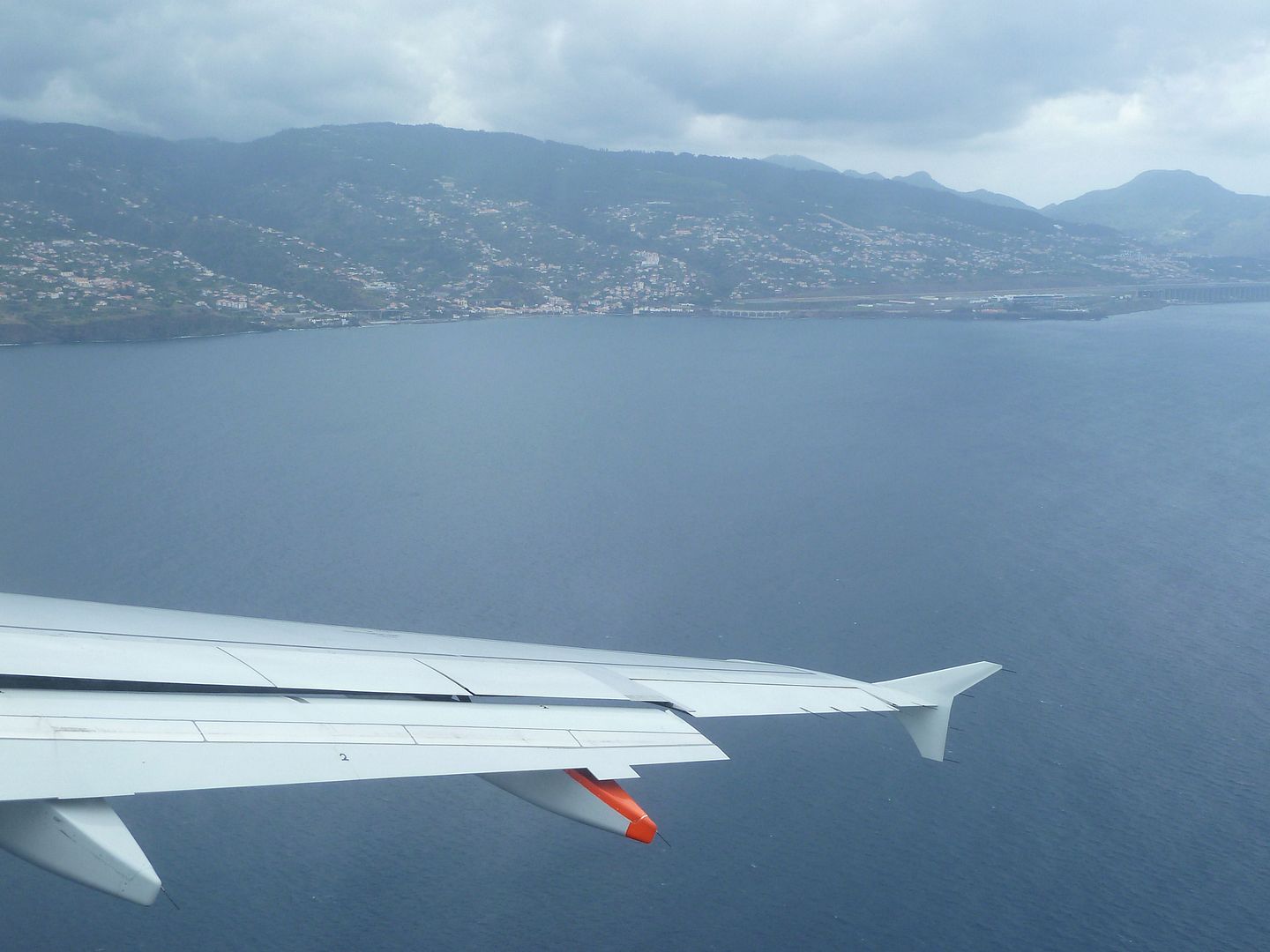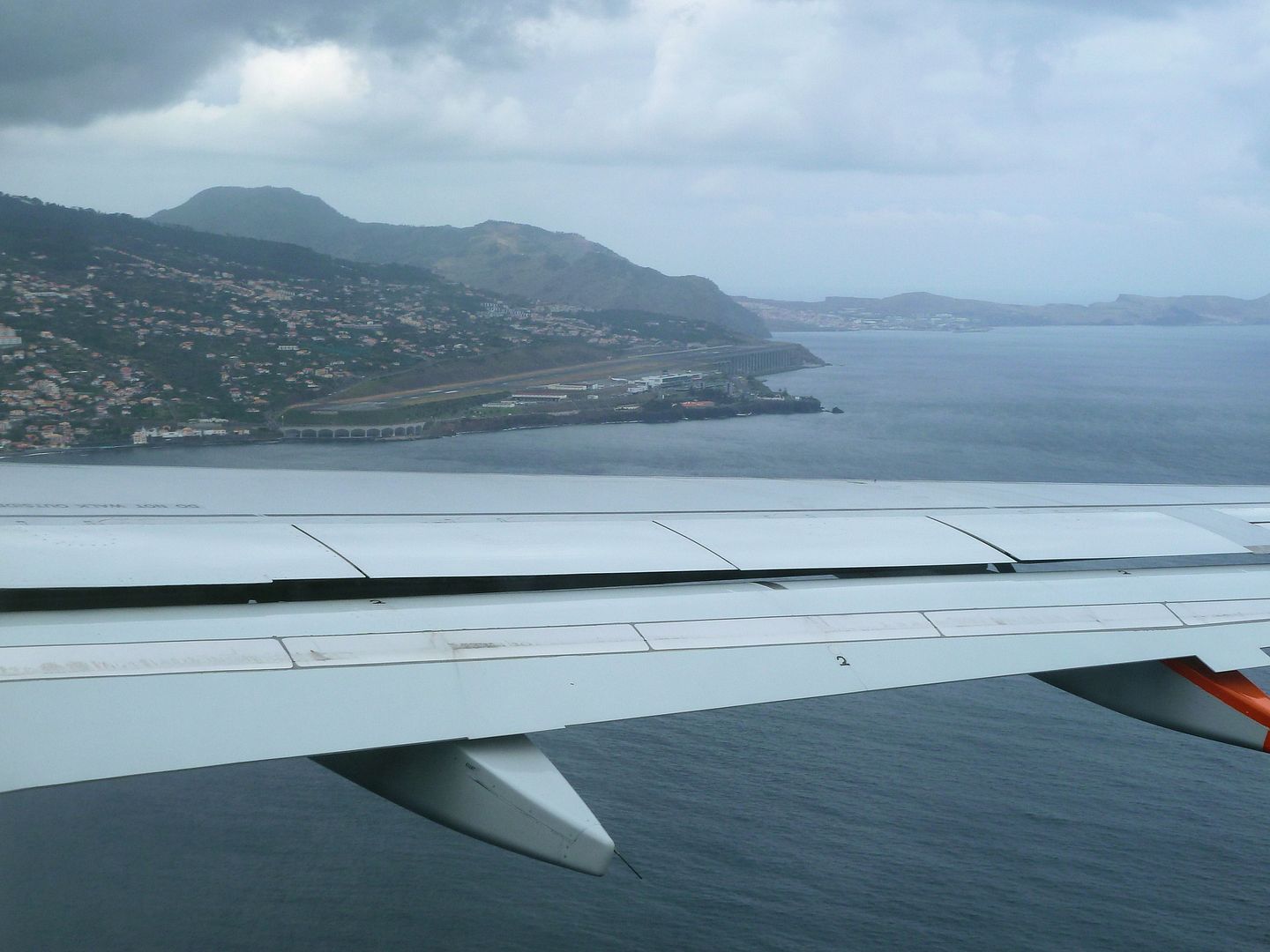 Funchal Airport is also famous for wind shear and go-arounds, but our final approach was quite smooth. Only a few more moments to go: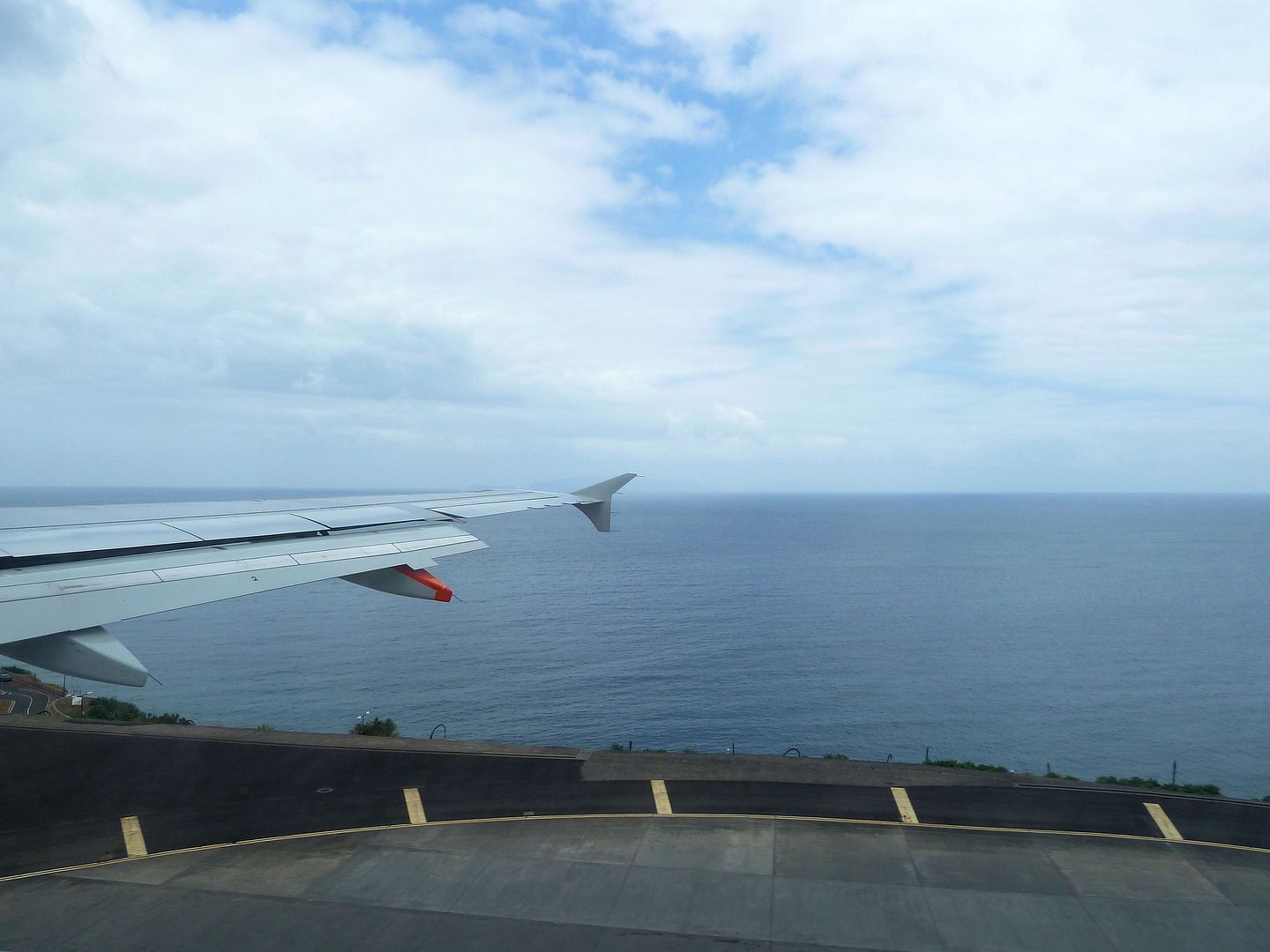 We touched down after a flying time of 1 hour and 30 minutes and back-taxied to the terminal: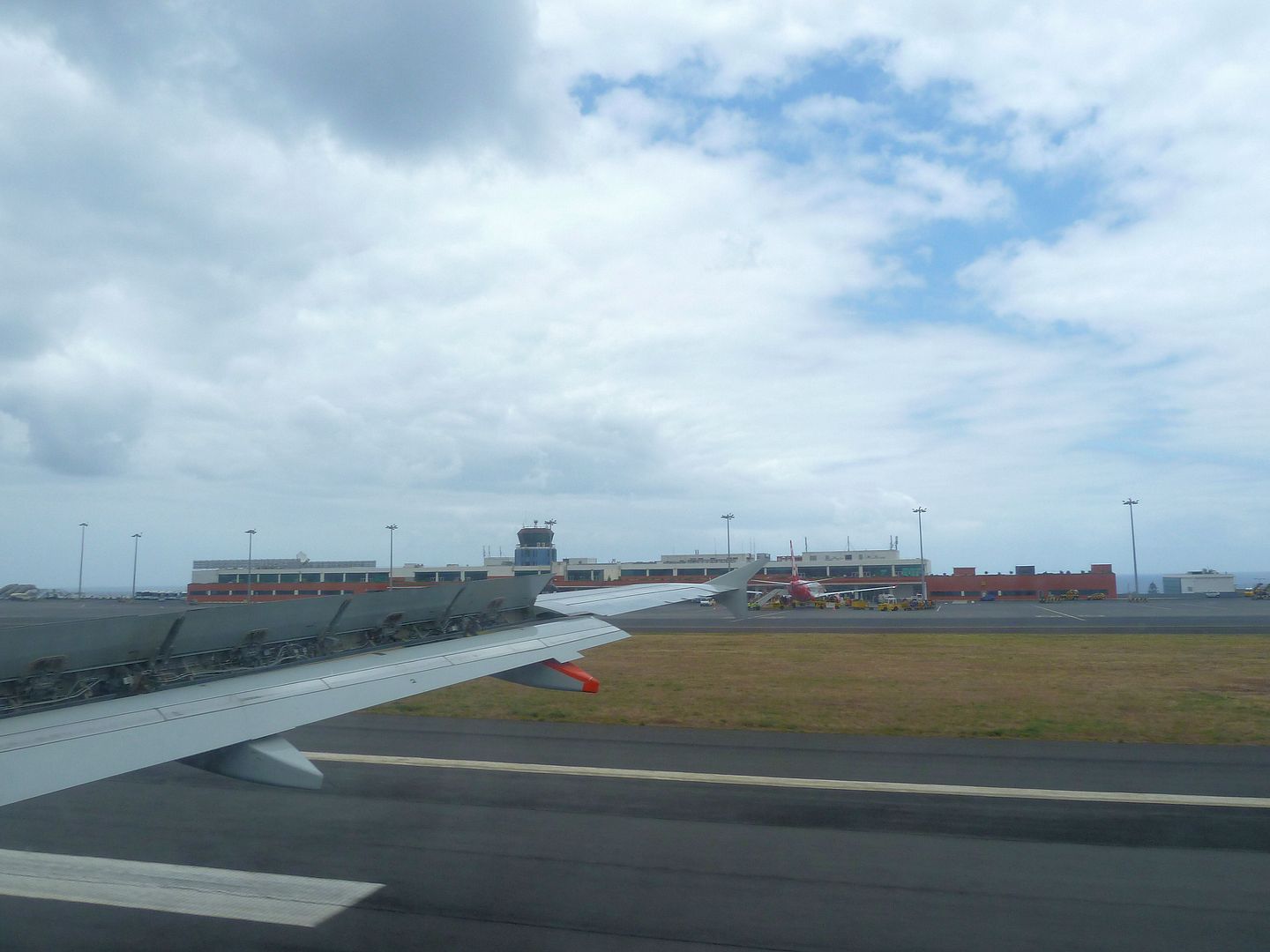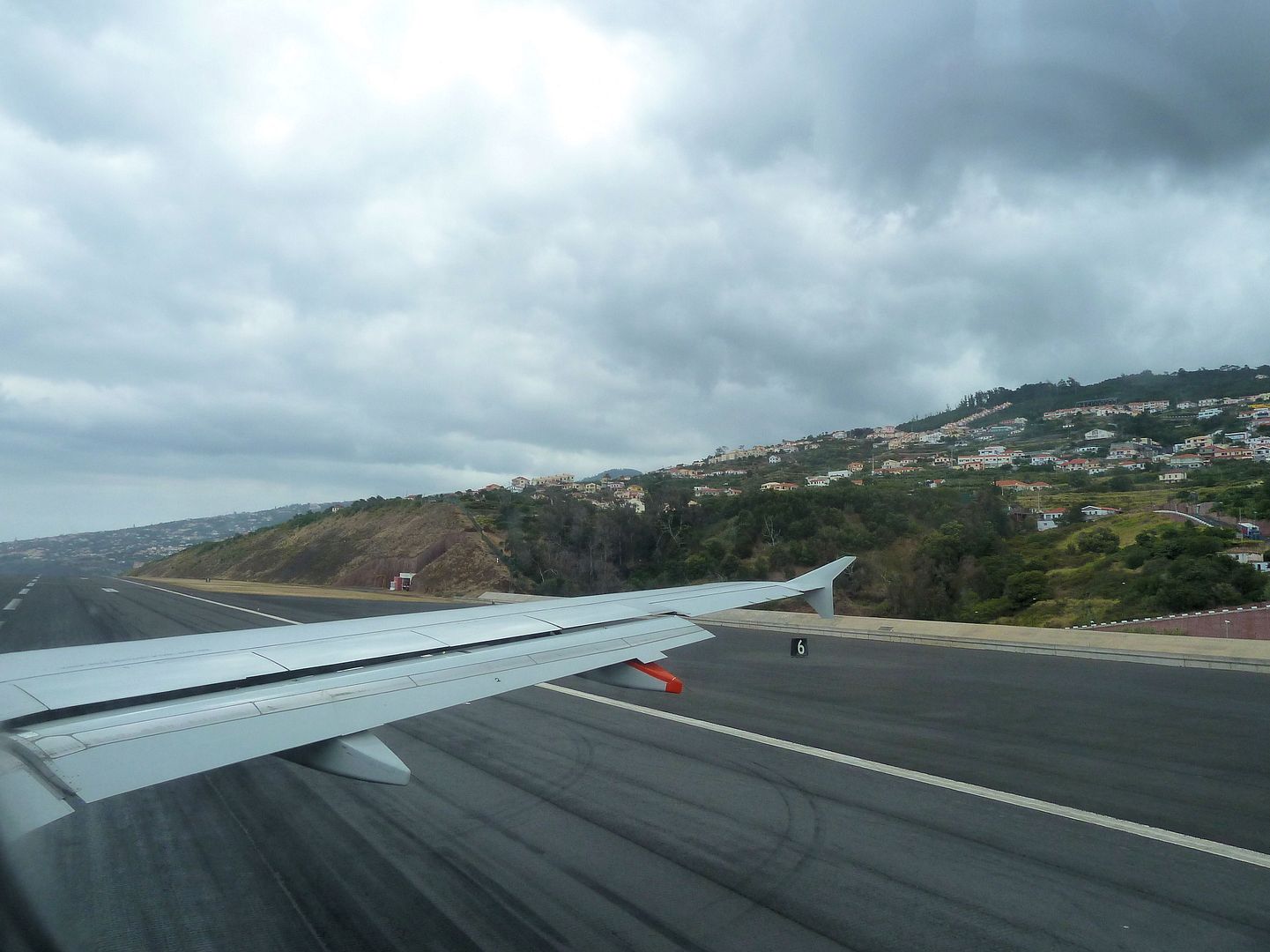 It wasn't very busy at the airport in the afternoon, only an Air Berlin 737-800 and a SATA Air Acores DHC-8-200 were parked on the apron: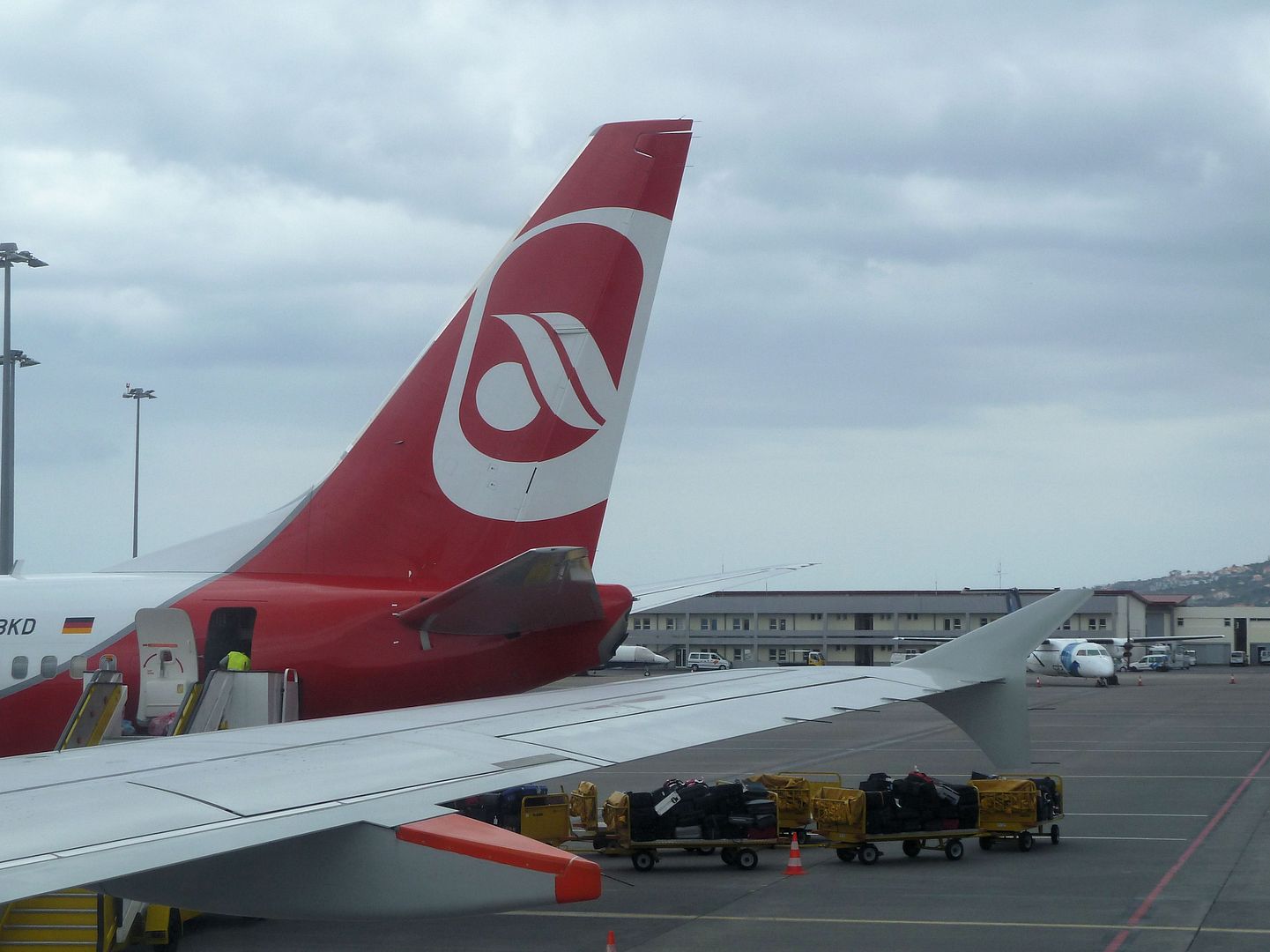 After we had grabbed our luggage, a bus brought us to the
Hotel Panoramico
situated in the western hillside of Funchal.
Impressions from Madeira
The four-star hotel's exterior is unimpressive, but the modernized interior is quite nice and the rooms are very comfortable. We were also satisfied with the friendly service and the food - but what we liked most were the superb views of the sea, the bay and the surrounding mountains: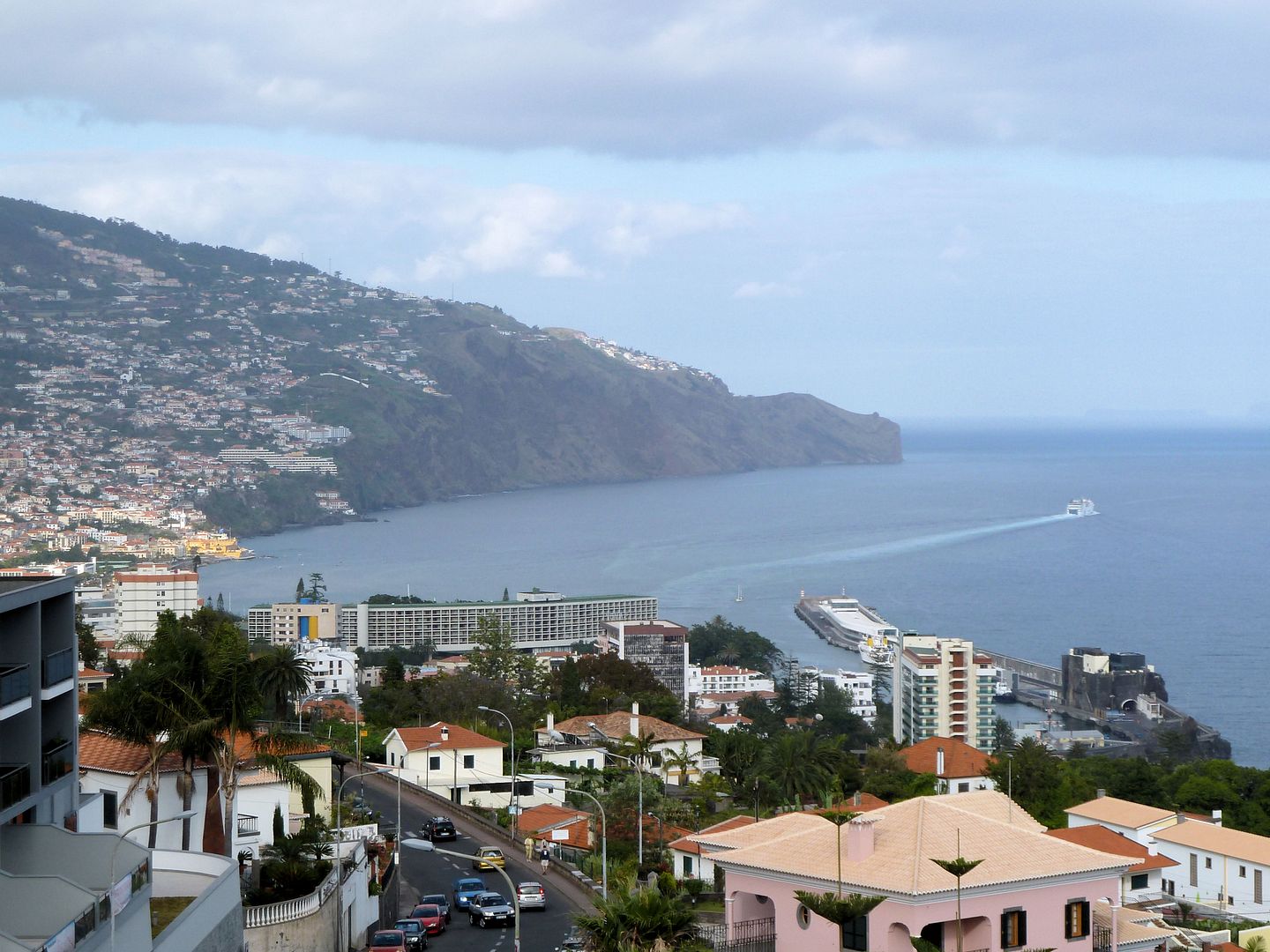 Pool terrace:
There's a lot to see on the island so we made several tours. During a Funchal city tour we visited the market hall where you can buy fresh tuna...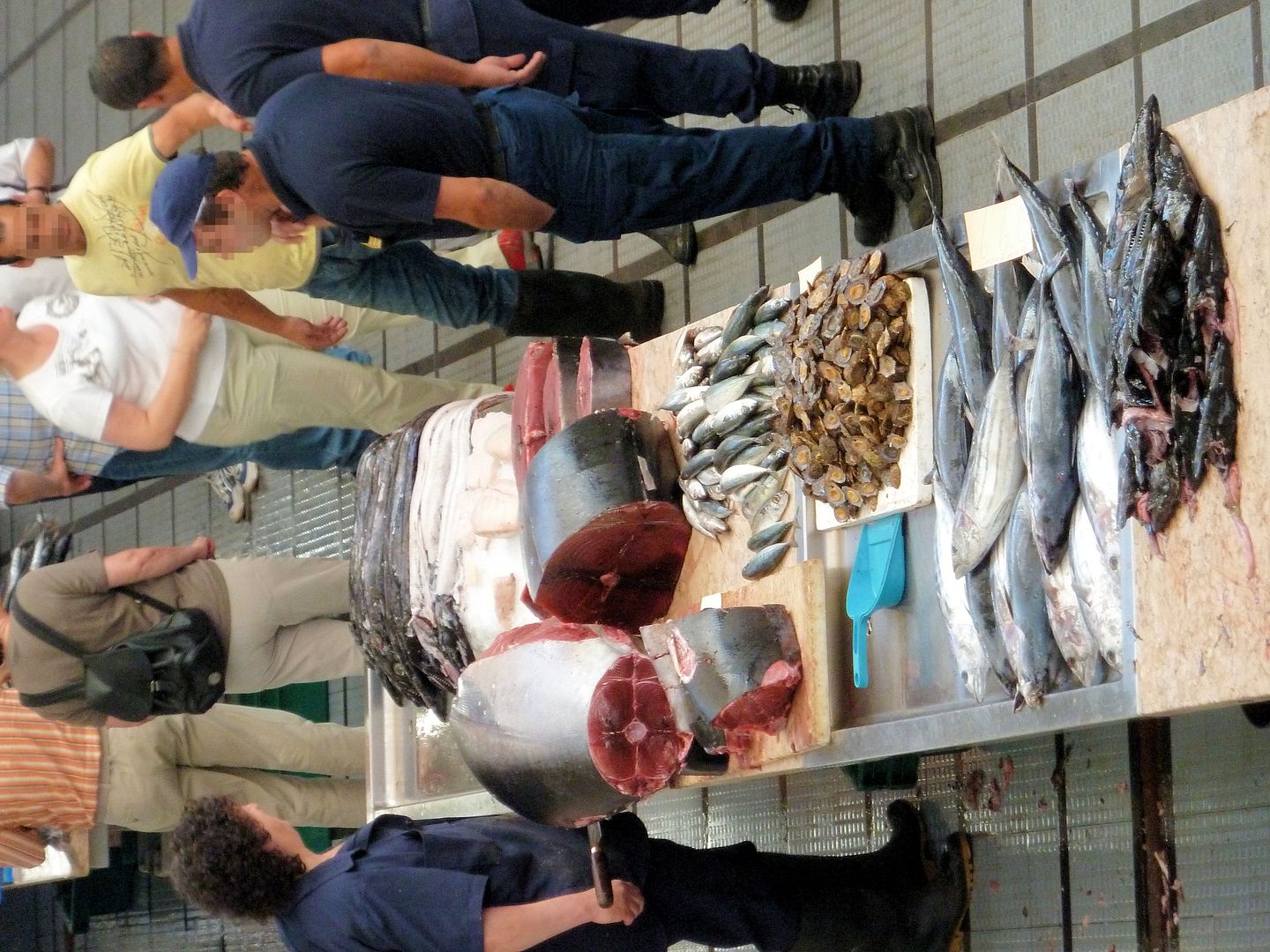 ...or (deep sea) black scabbard fish: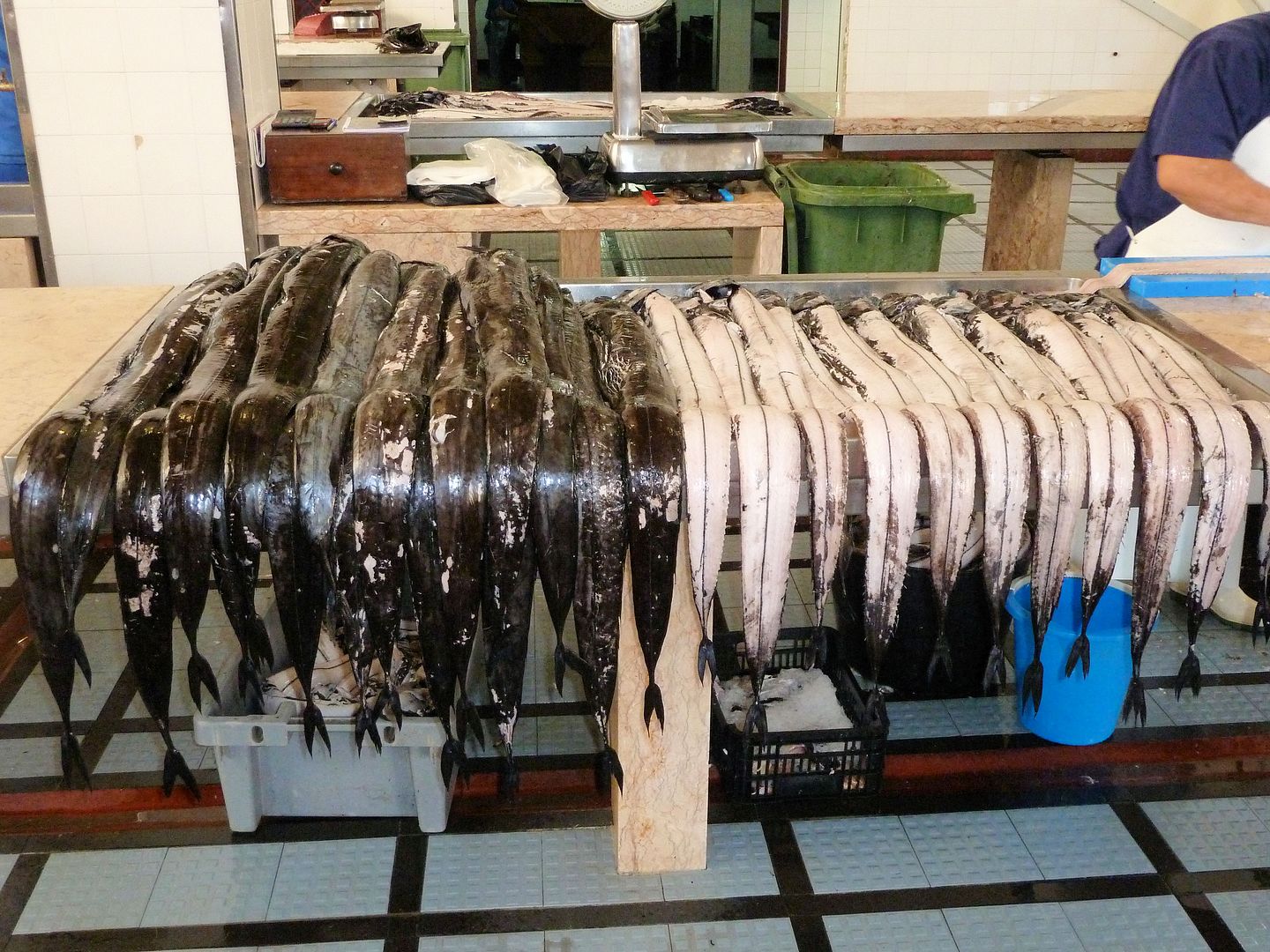 Countless vendors offer fruit, vegetables and - of course - flowers: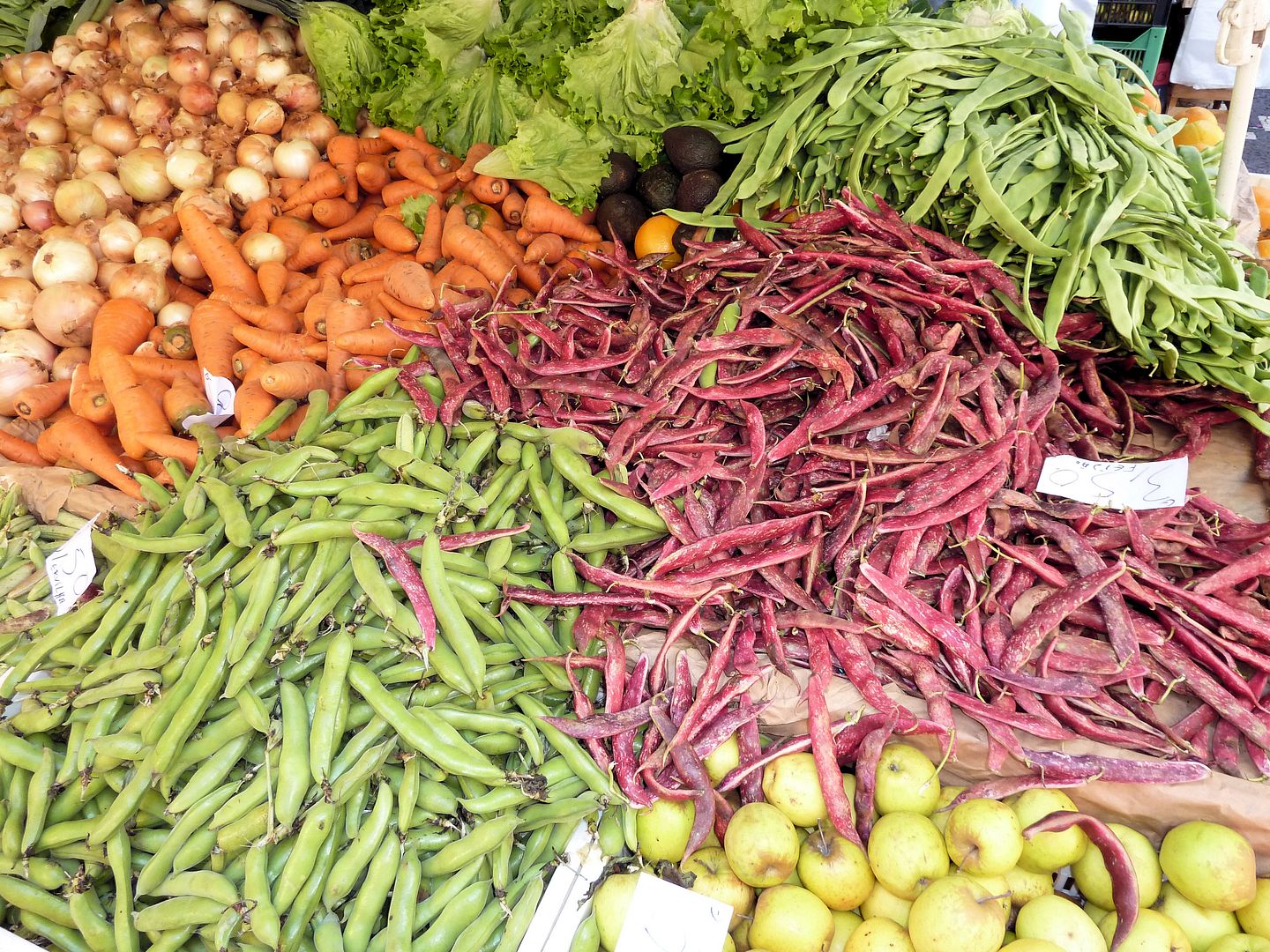 2500 exotic plants can be found in the city's
Botanical Garden
: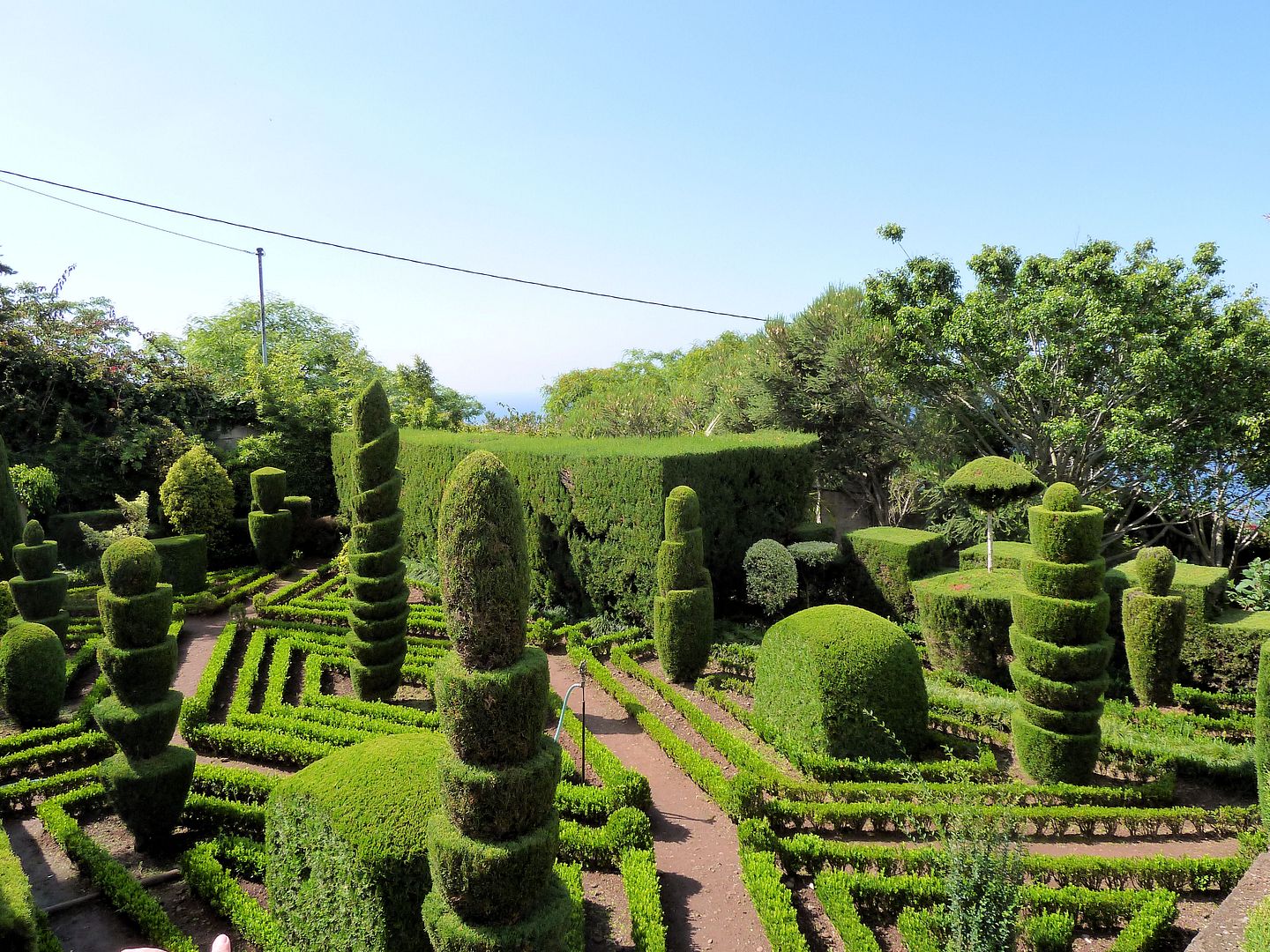 During a day trip we visited several sights in the eastern part of Madeira. One of them is the
Pico do Arieiro
, the island's third highest peak. The scenery was breathtaking: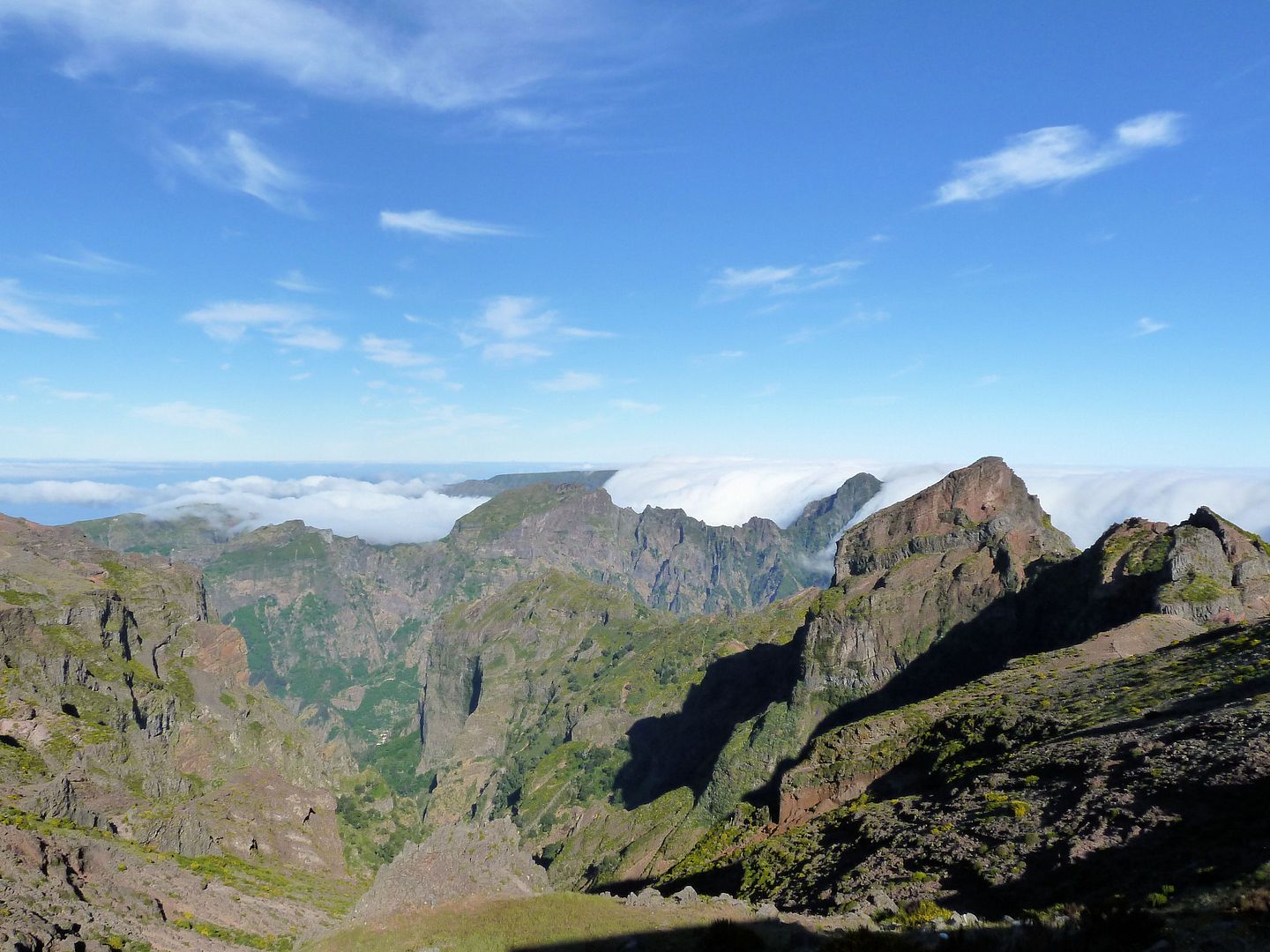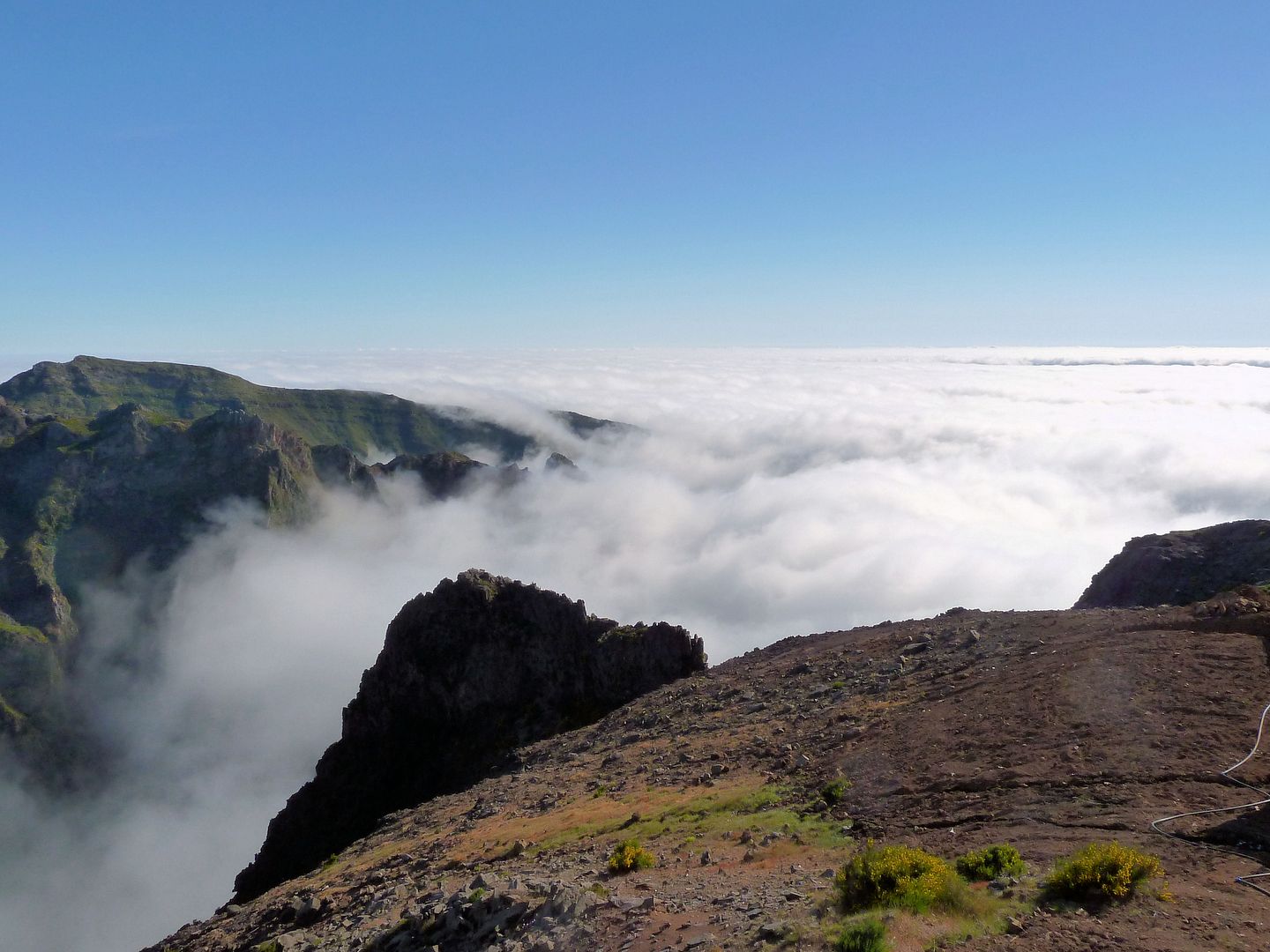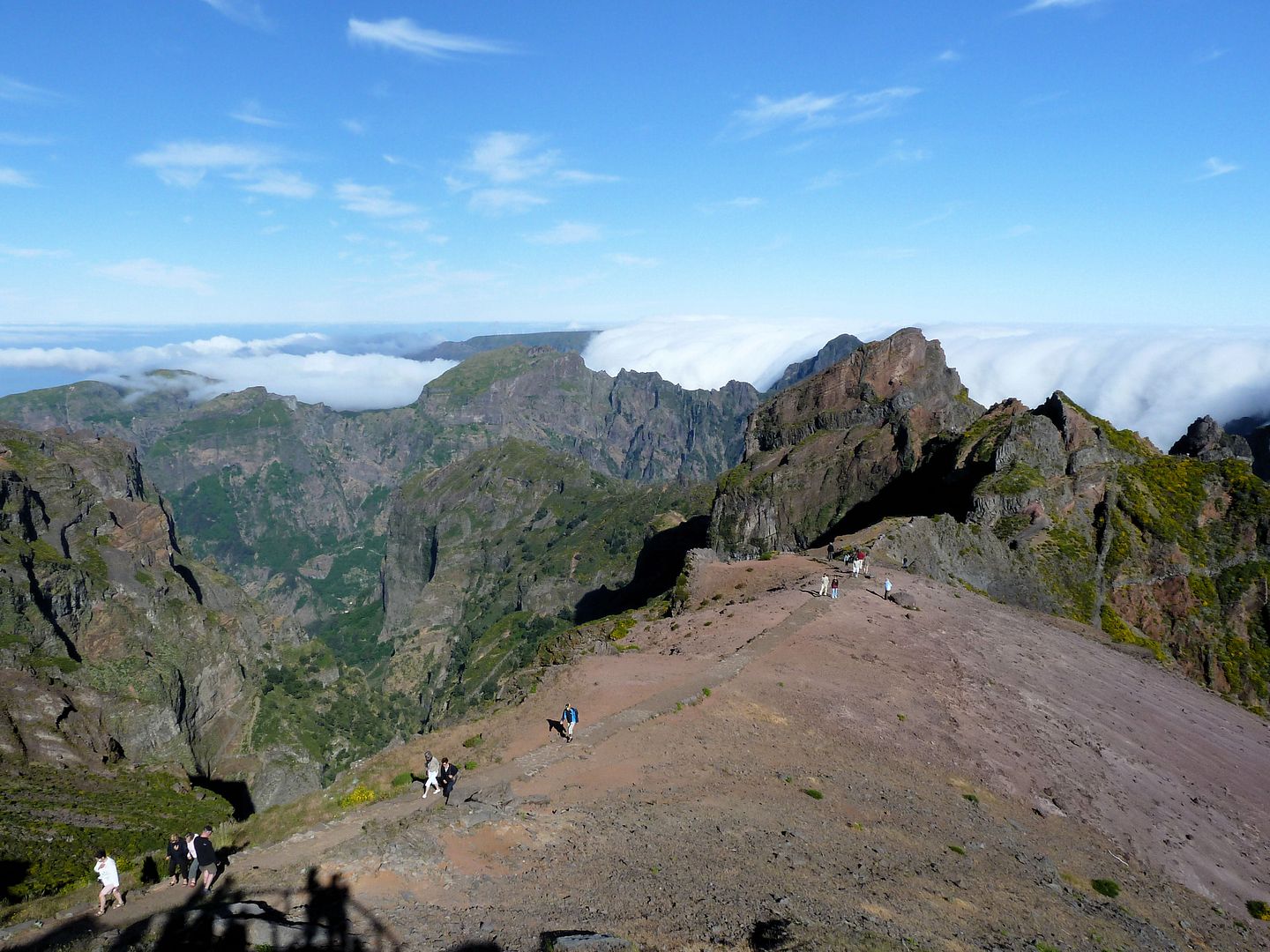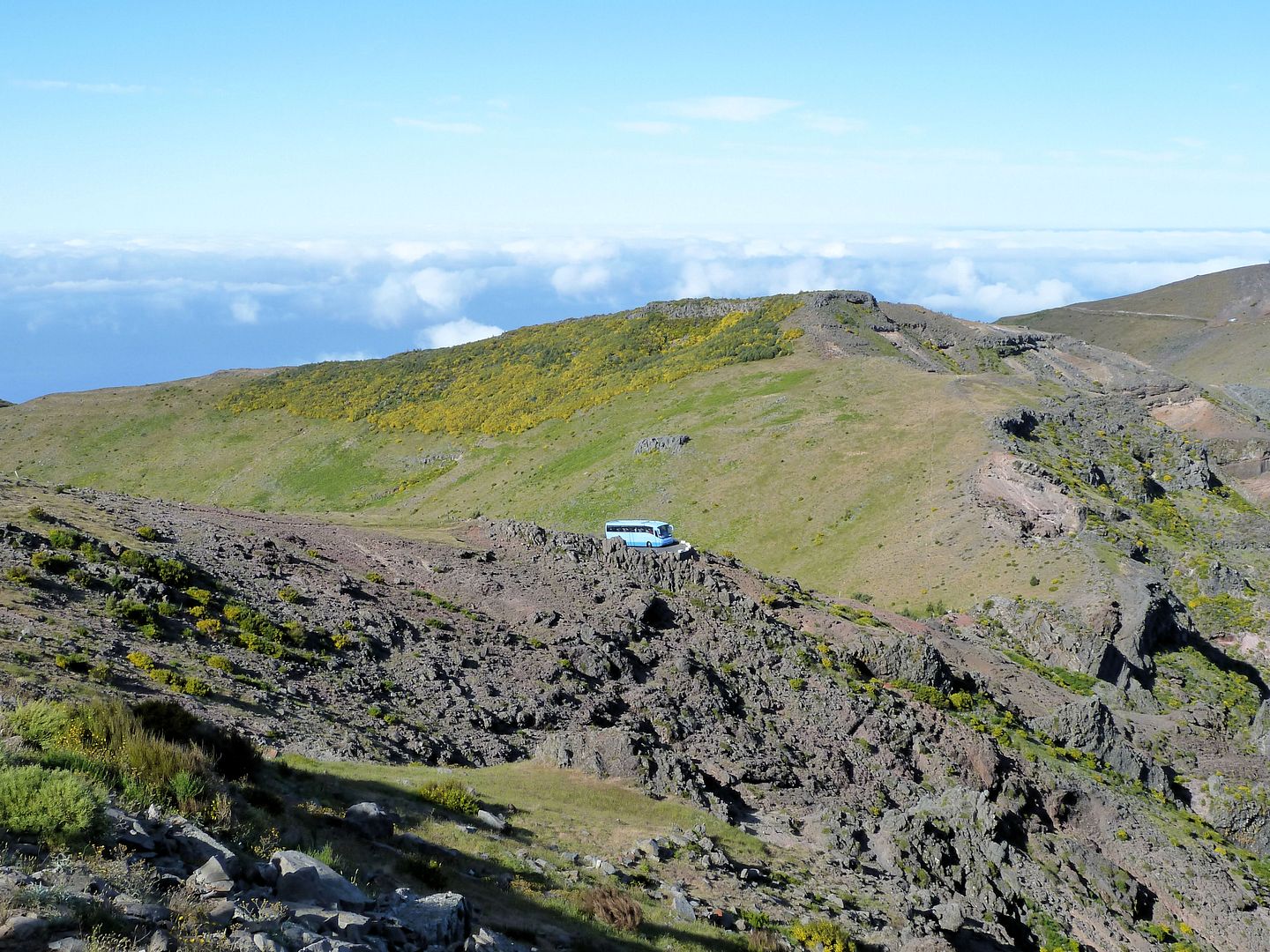 Viewpoints on the eastern shore: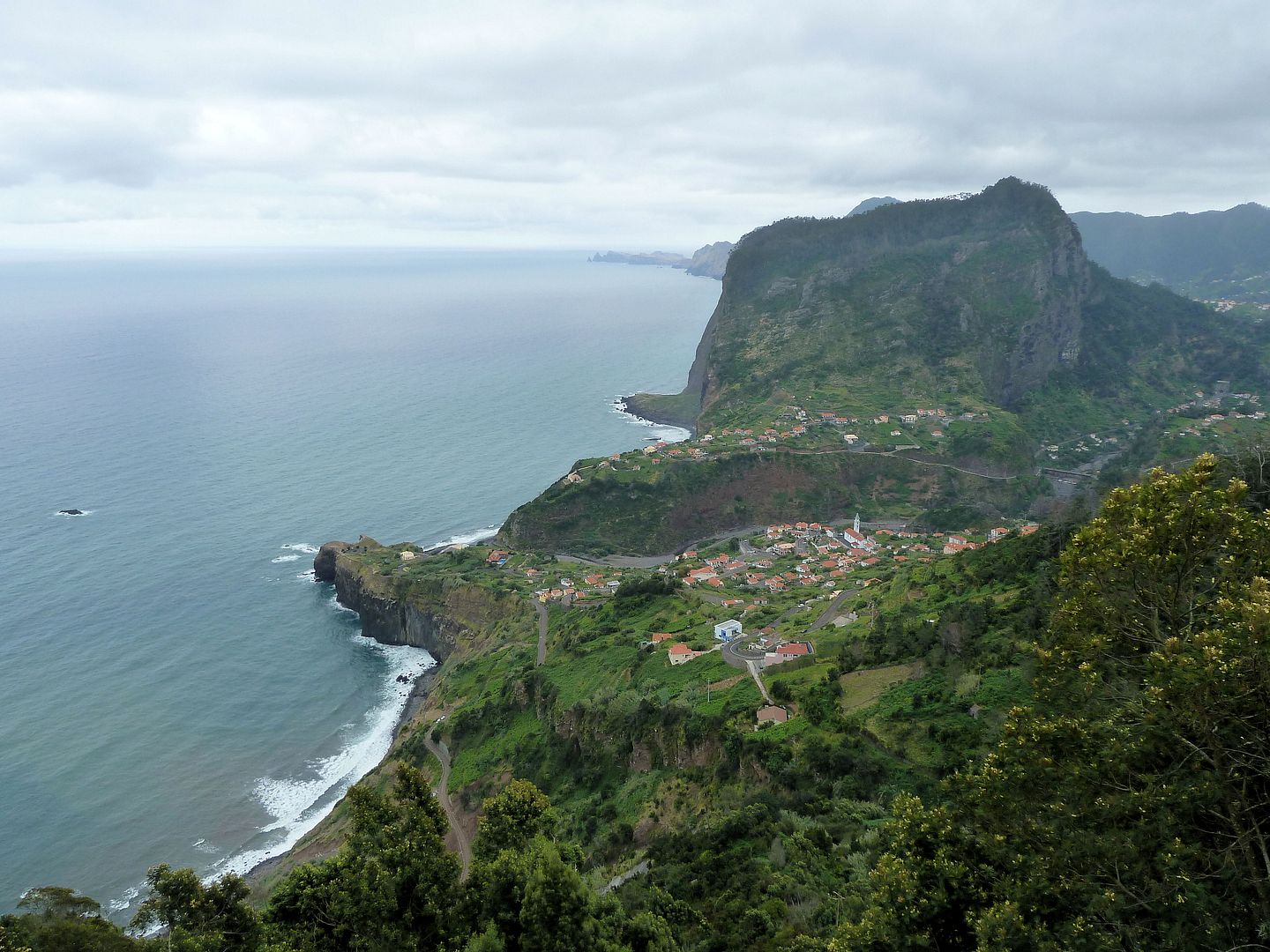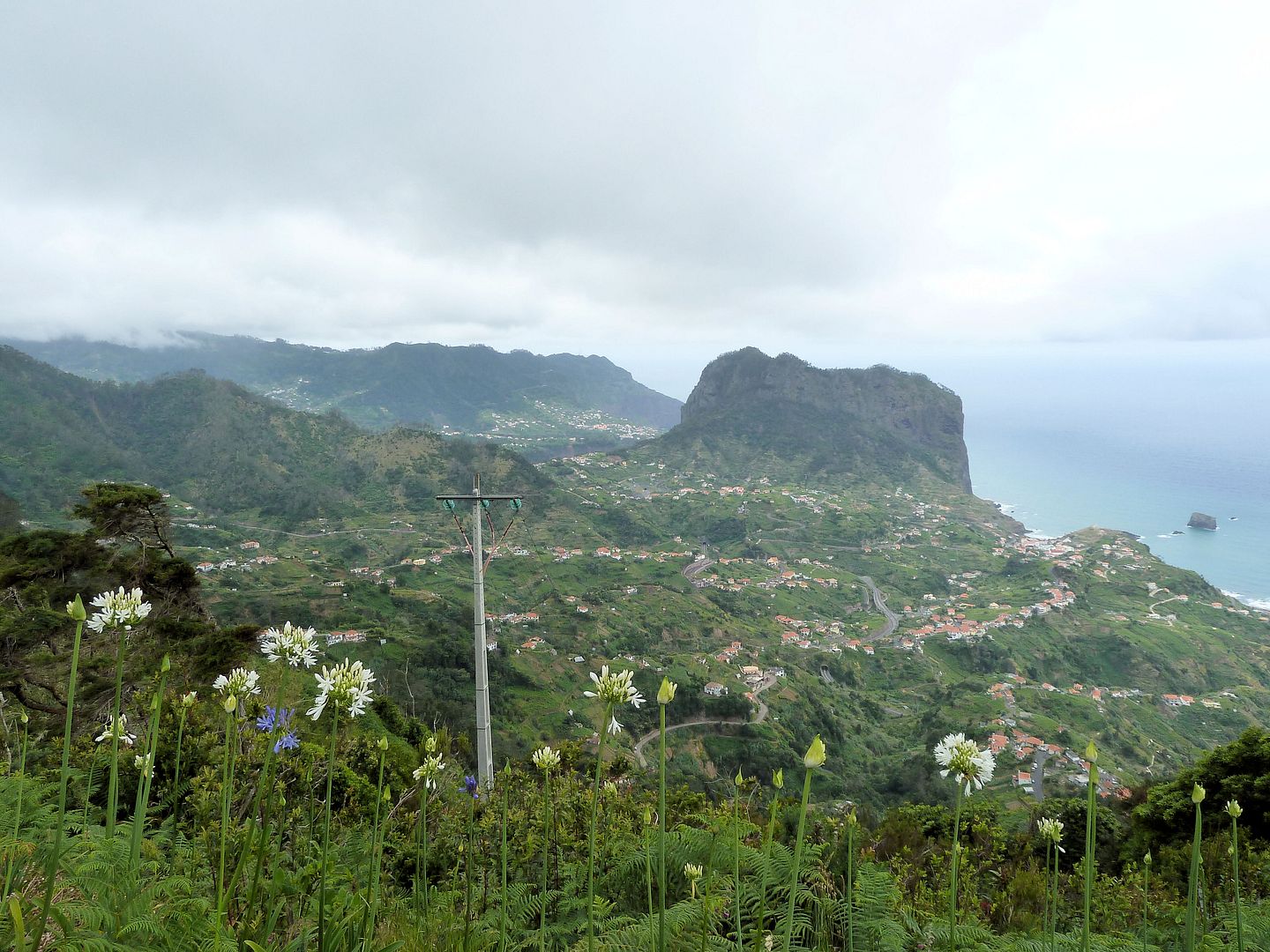 The village of
Santana
is characterized by small triangular houses that are built of natural stone and thatched with straw: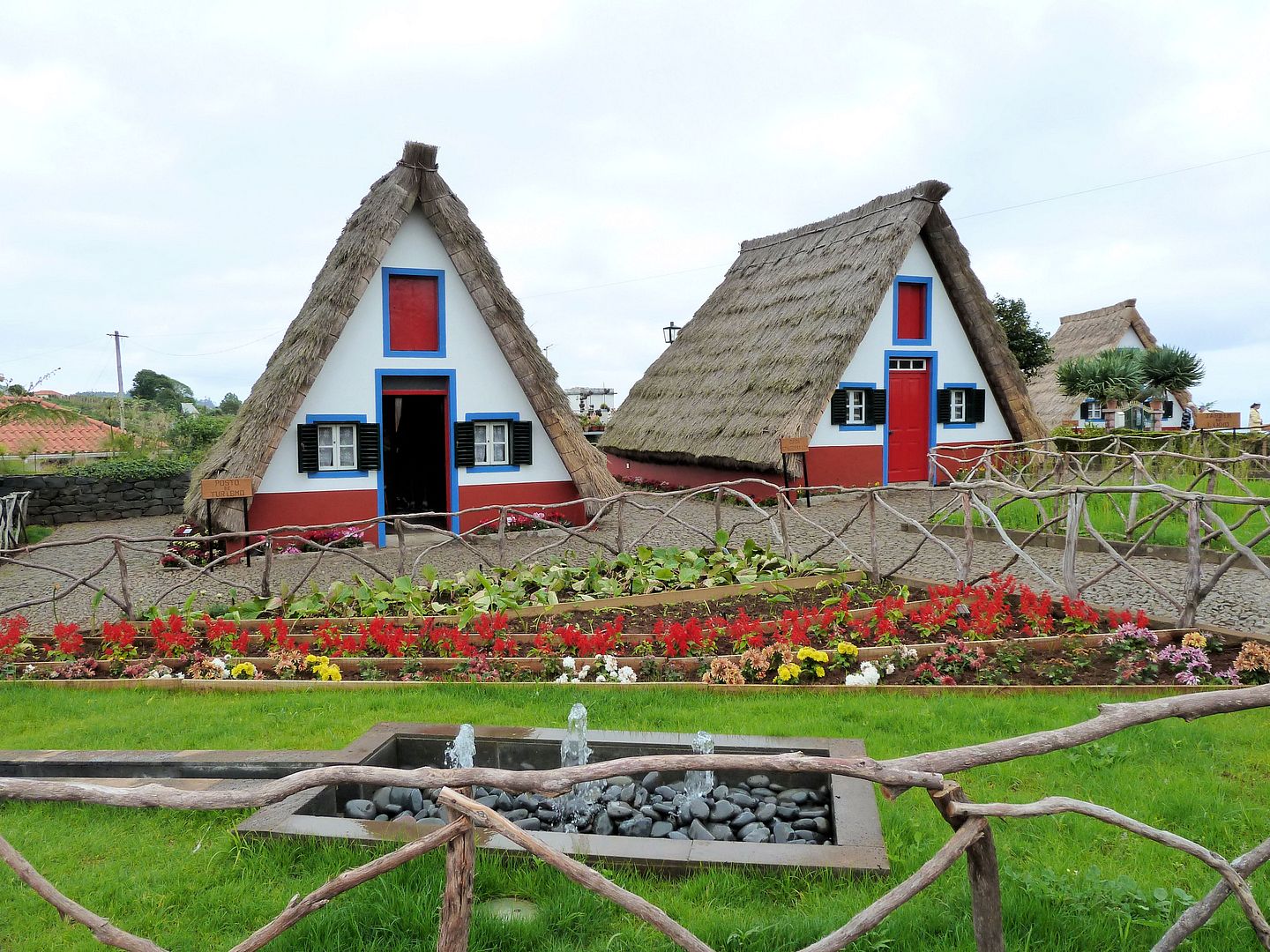 High cliffs can be found at
Ponte de São Lourenço
which is the easternmost peninsula of Madeira: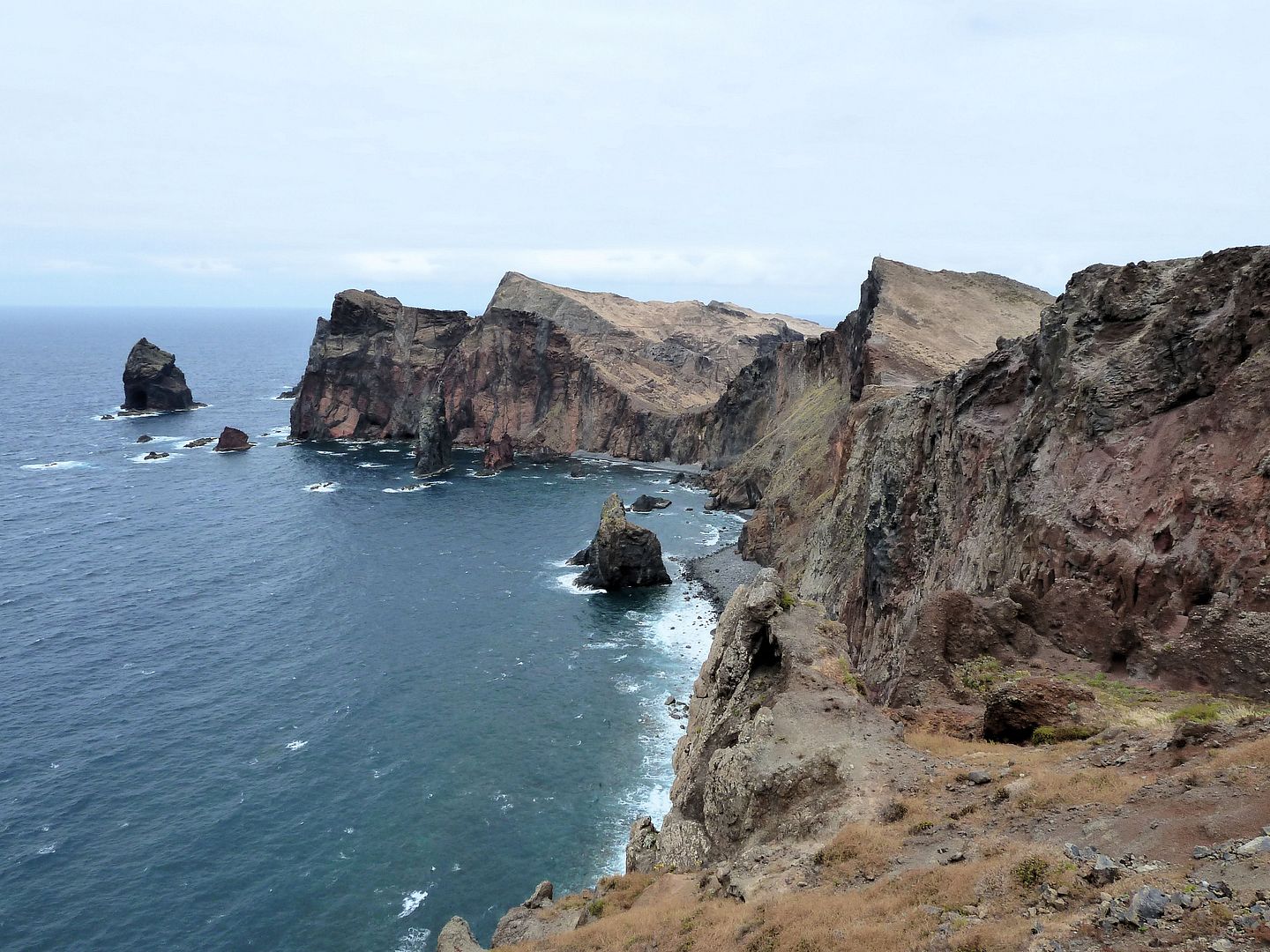 Levada walking belongs to the most popular activities on the island - there's a big choice of trails and all of them offer great views of the beautiful landscape: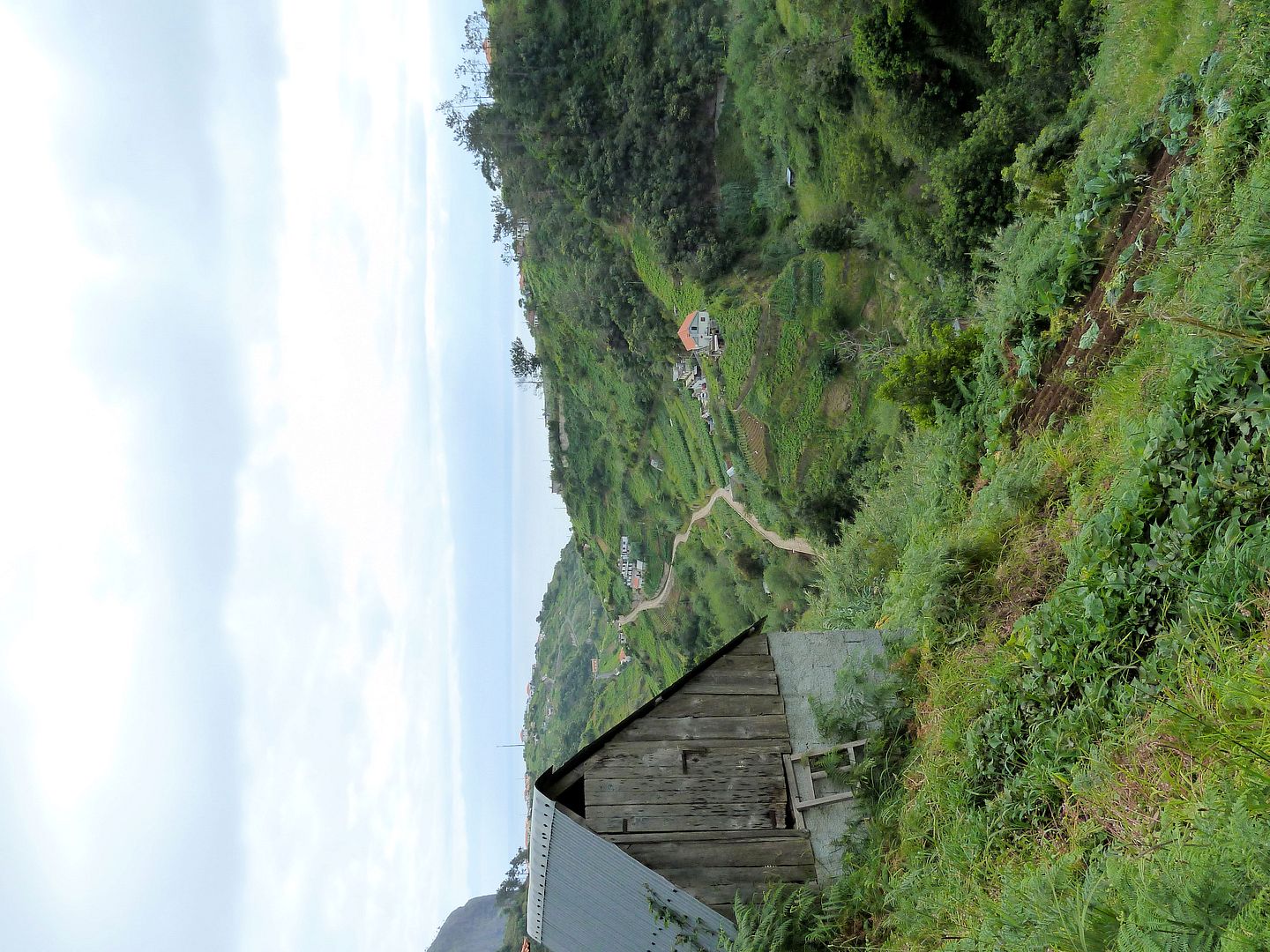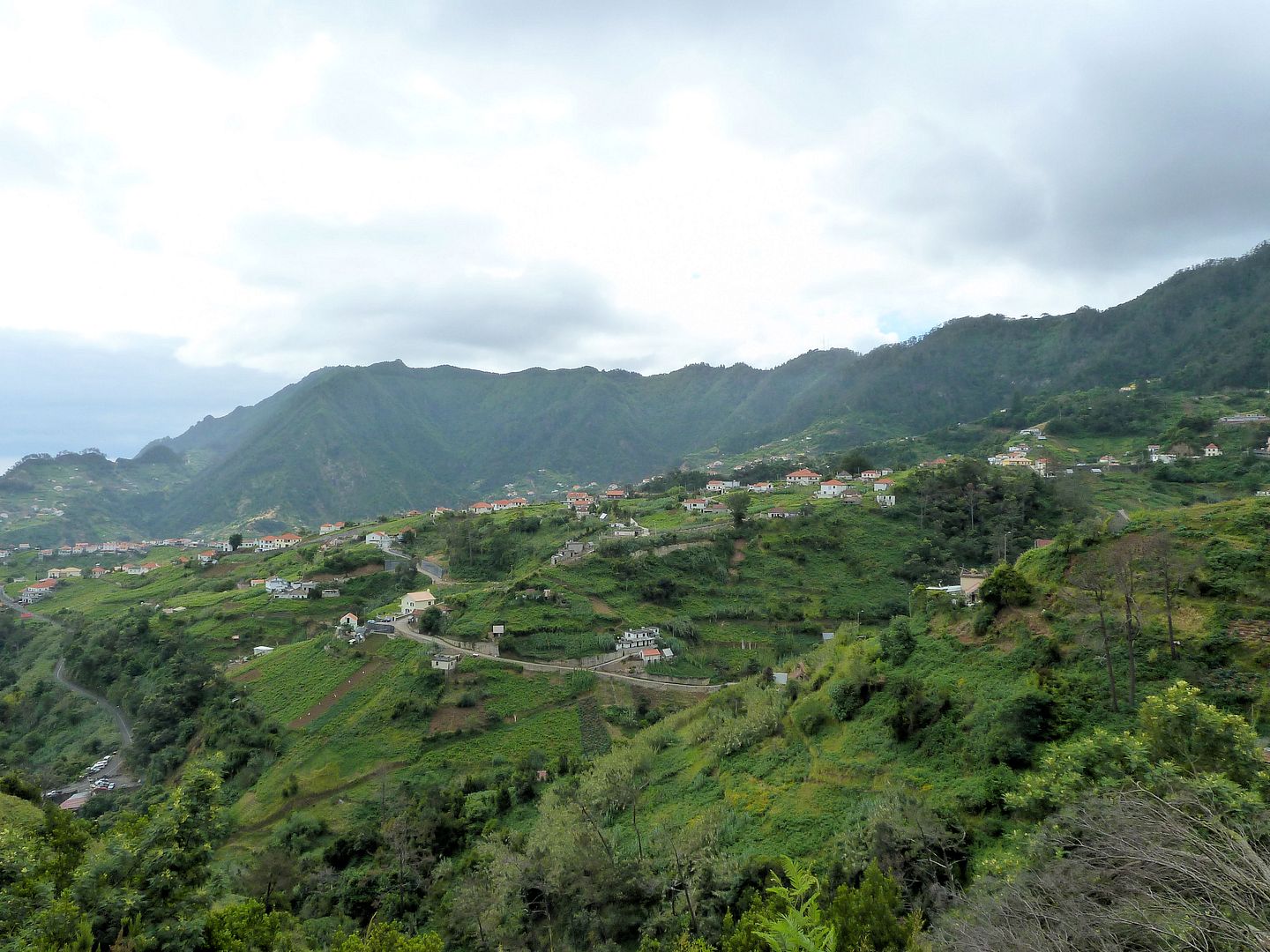 During the
Atlantic Festival
which usually takes place in June you can witness a fireworks contest in Funchal, comprising of four 20-minute shows. I took this picture during the show on 19 June: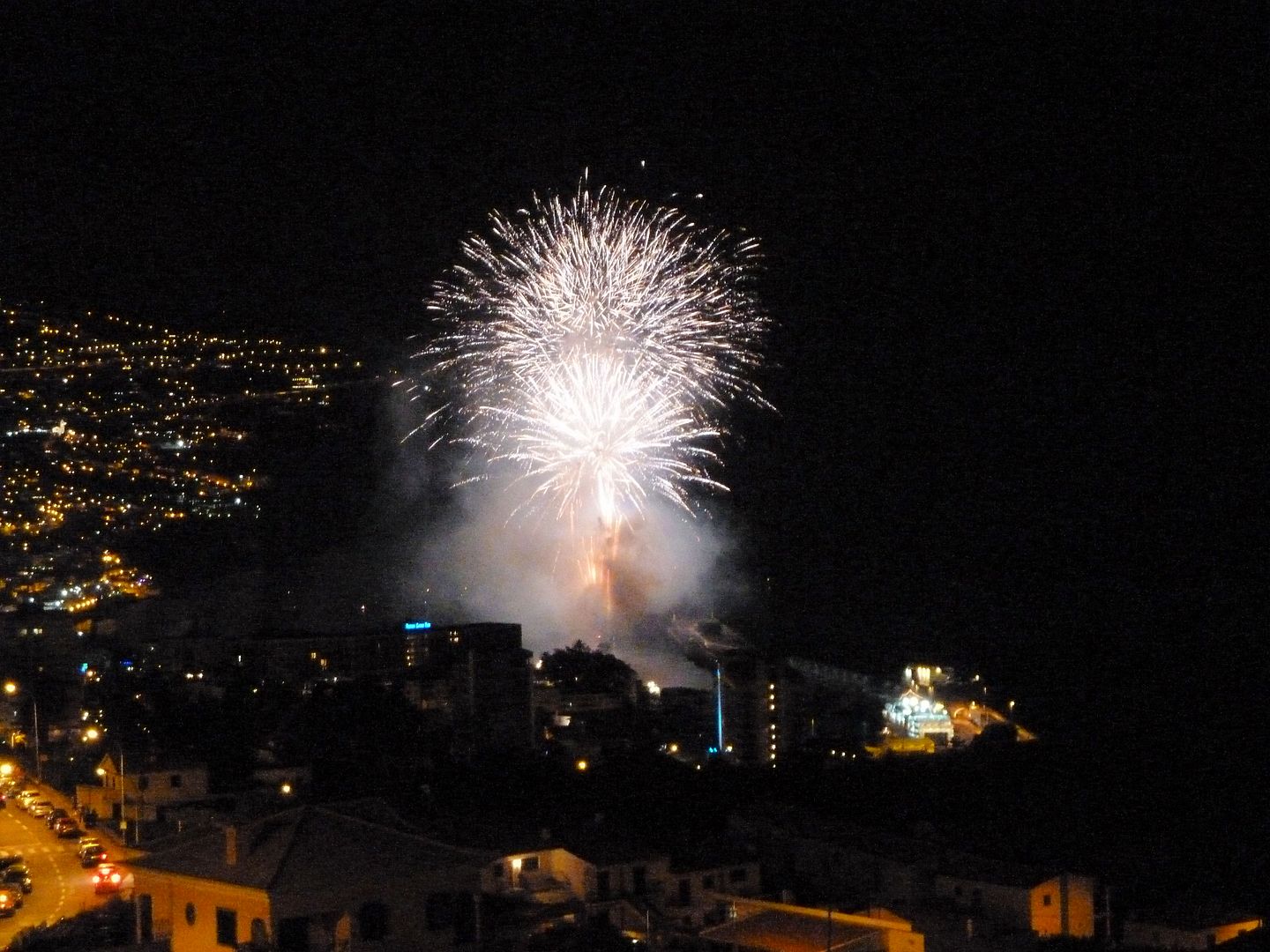 The 15-minute ride on the cable car to
Monte
is a great way to get a good perspective of Funchal and the surrounding area: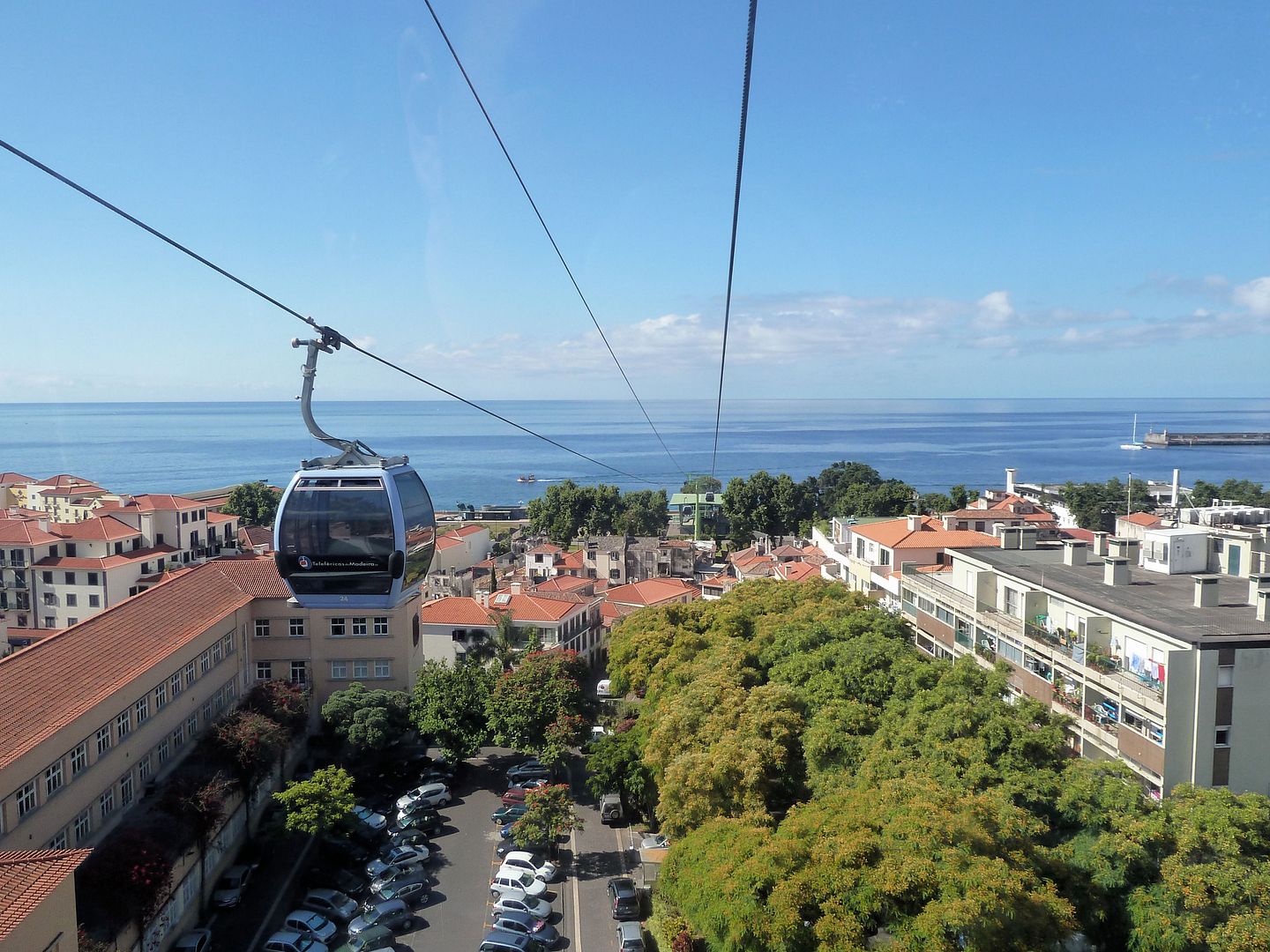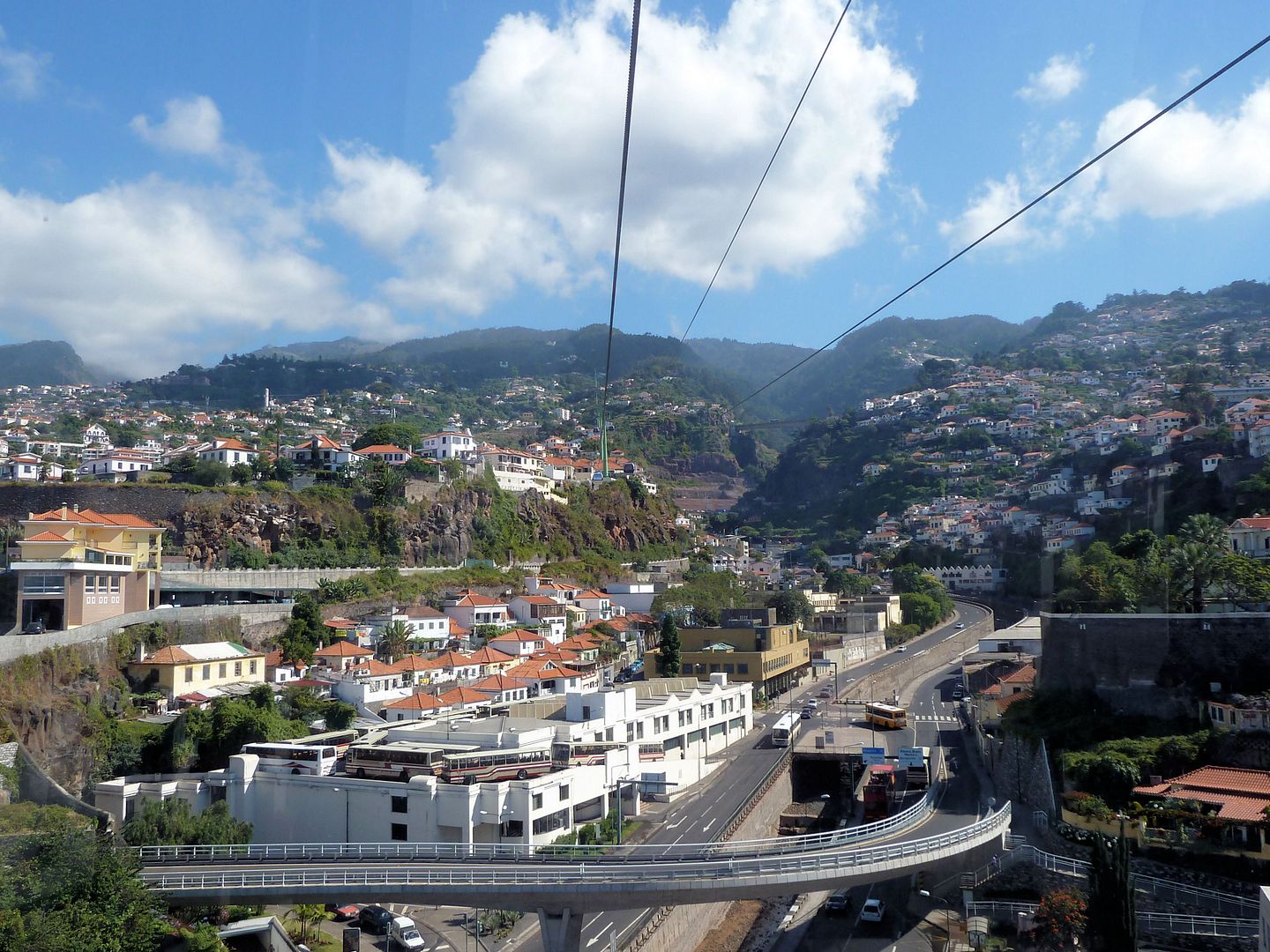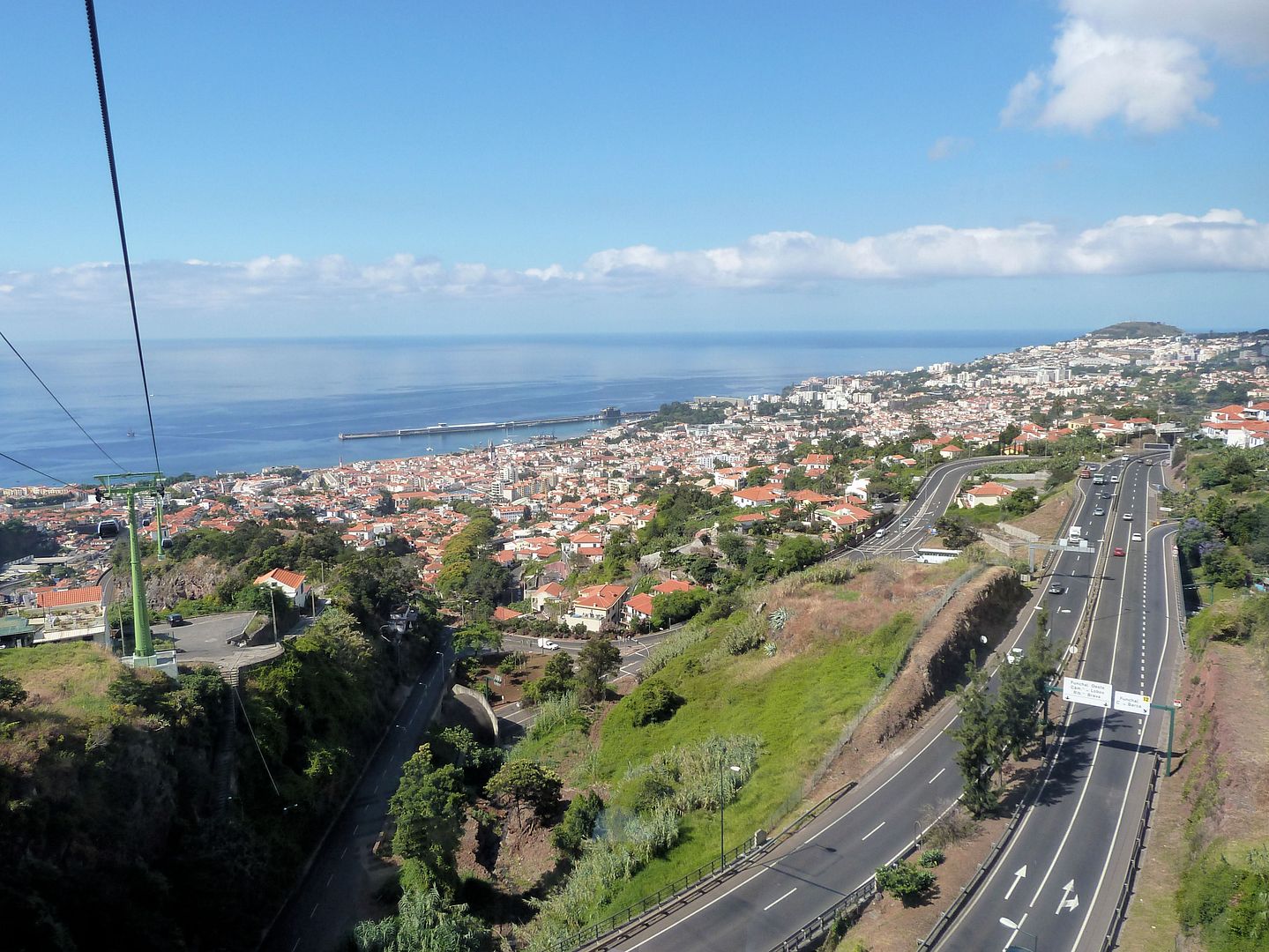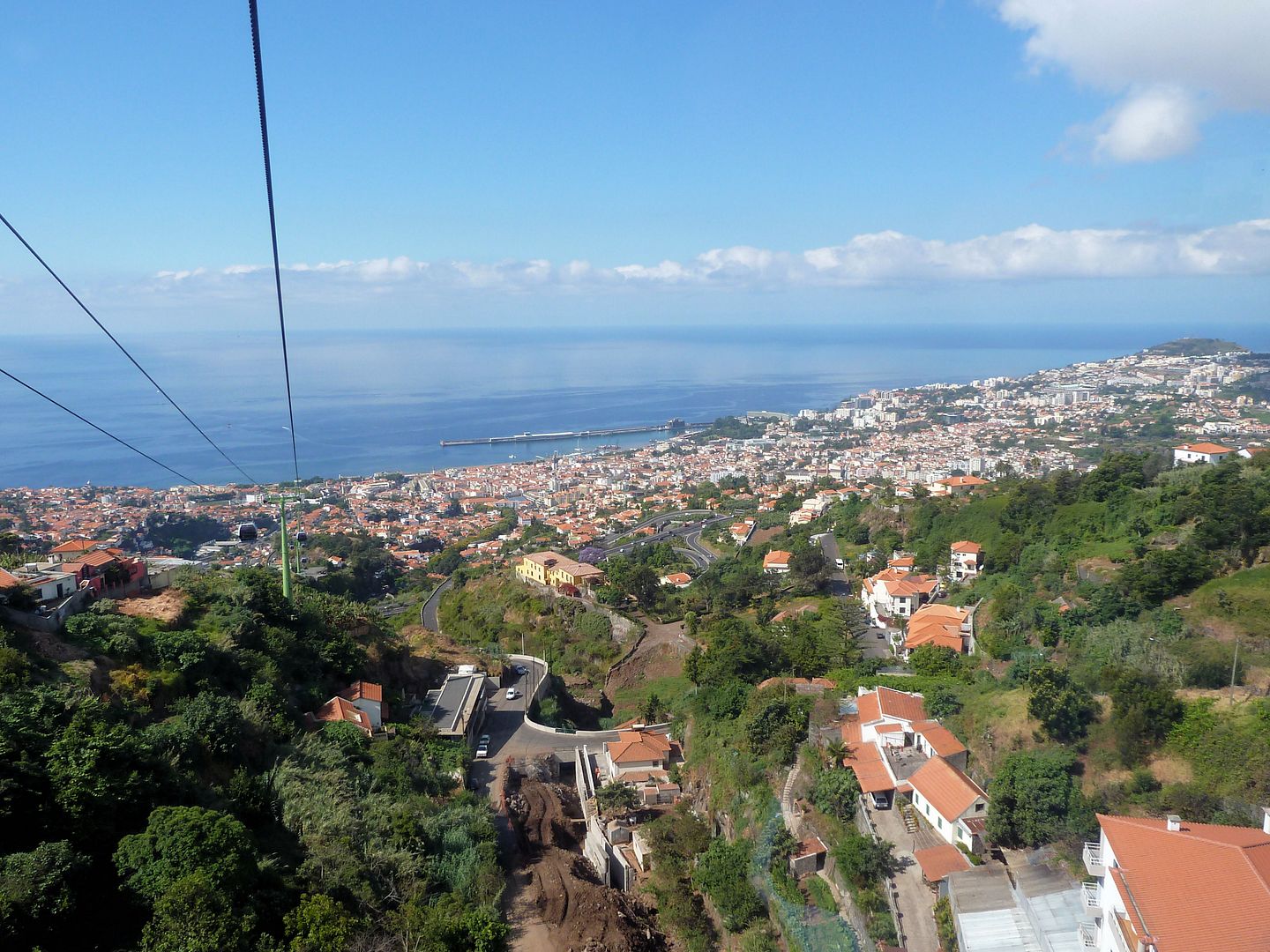 Monte's main church: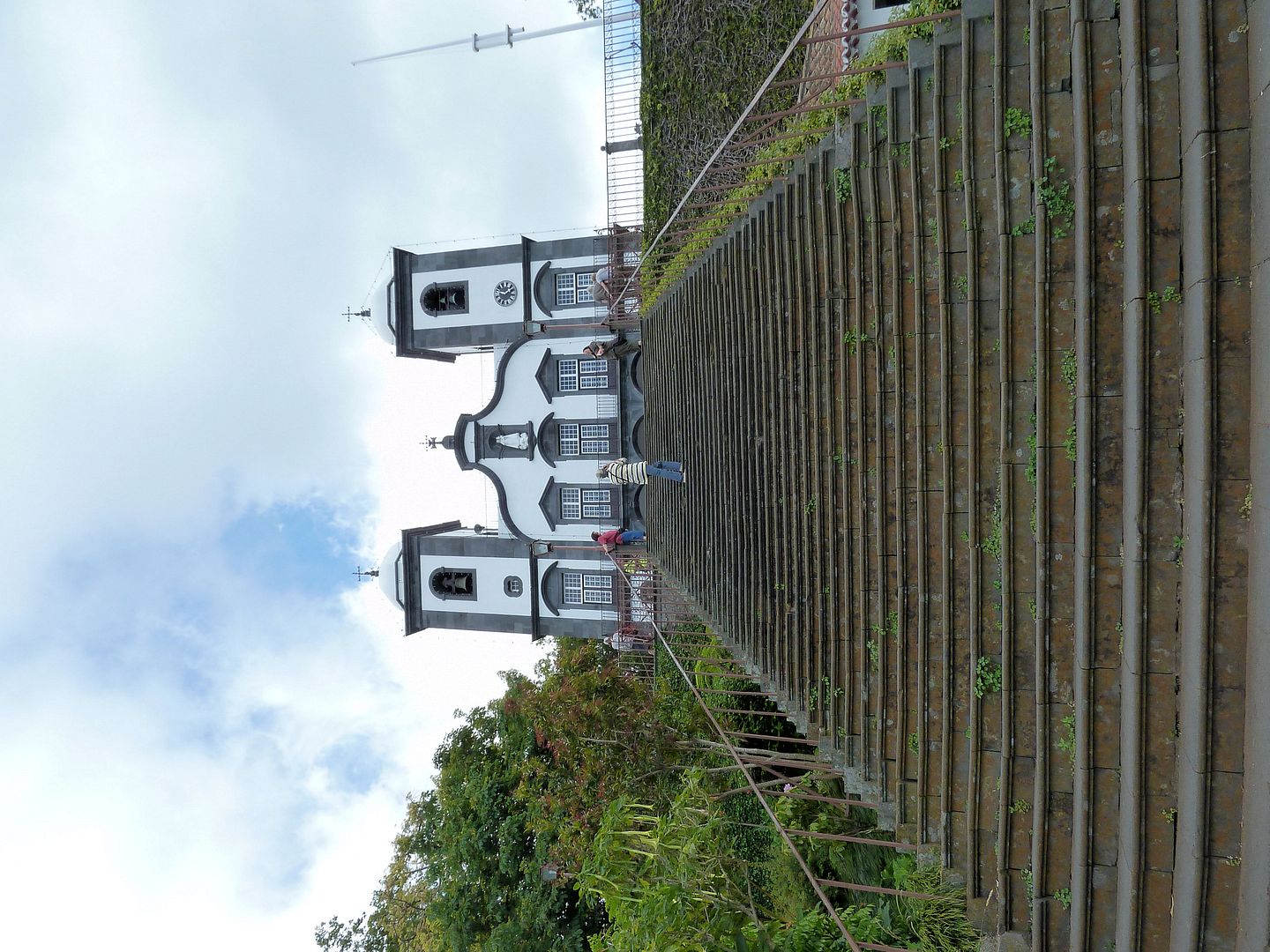 Stunning views from Monte: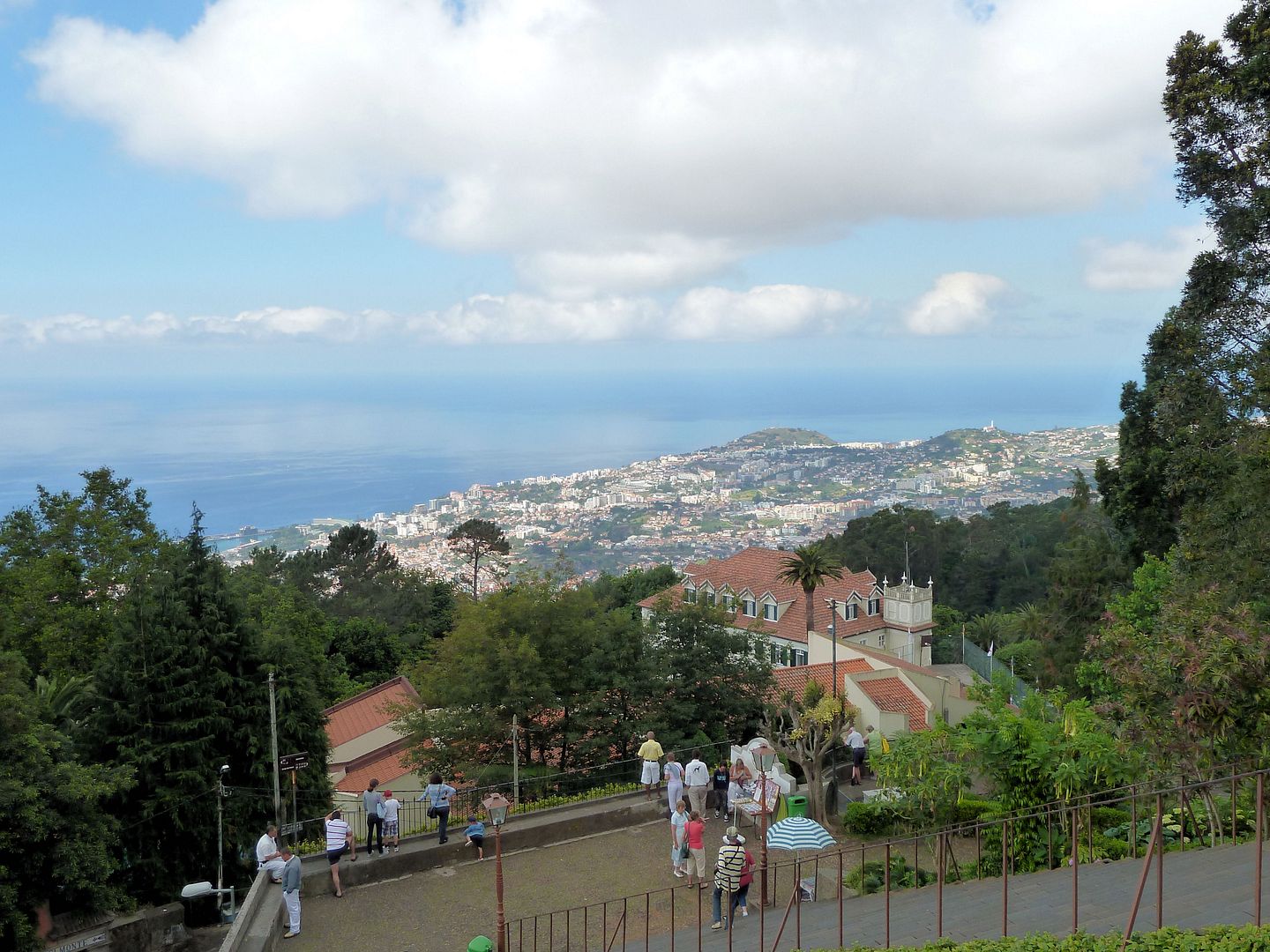 Back in Funchal we walked through the old parts of the city. This is the pretty
Banco de Portugal
building: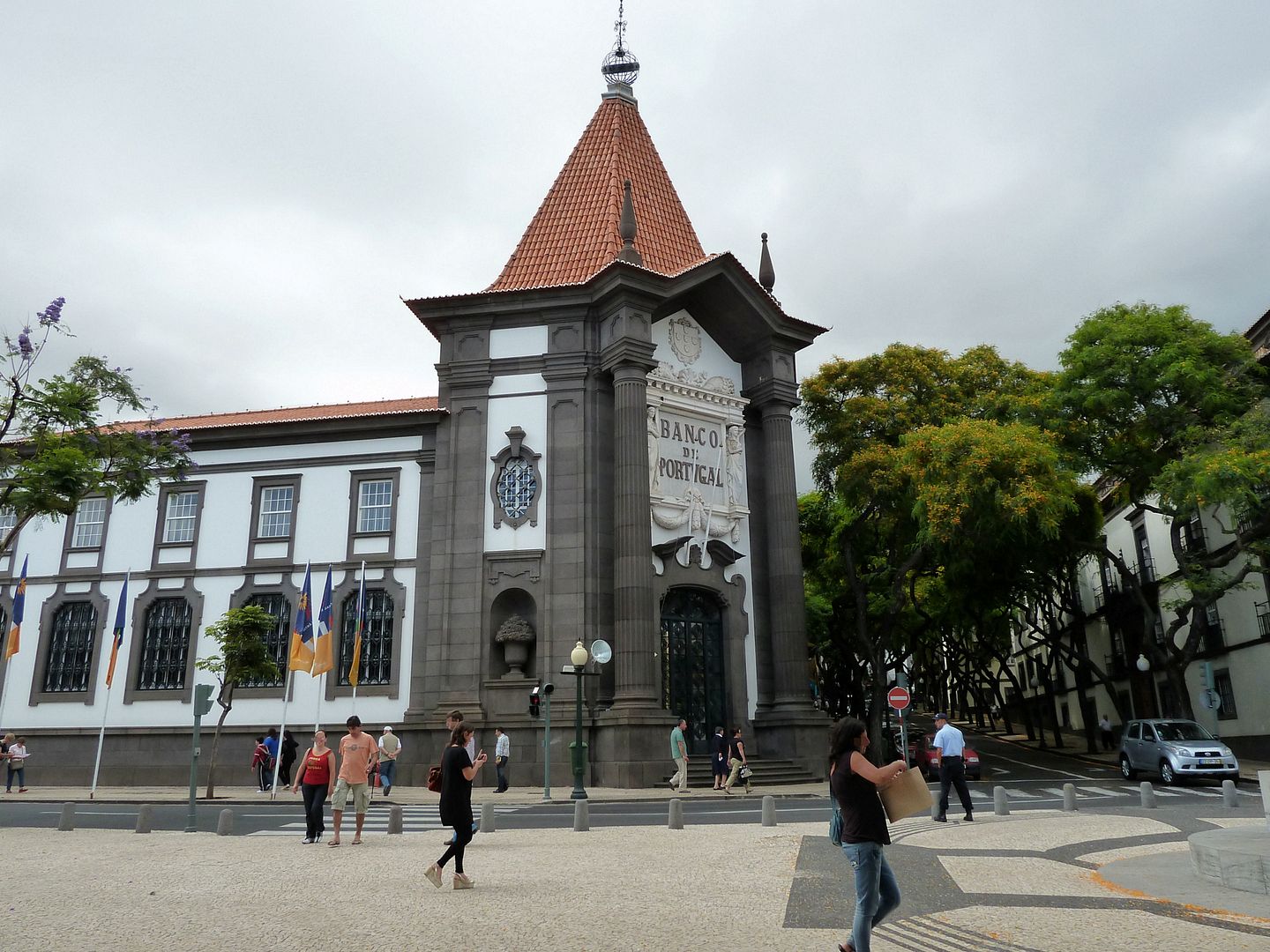 On the last day we took part in a whale and dolphin watching trip on the
"Bonita da Madeira"
: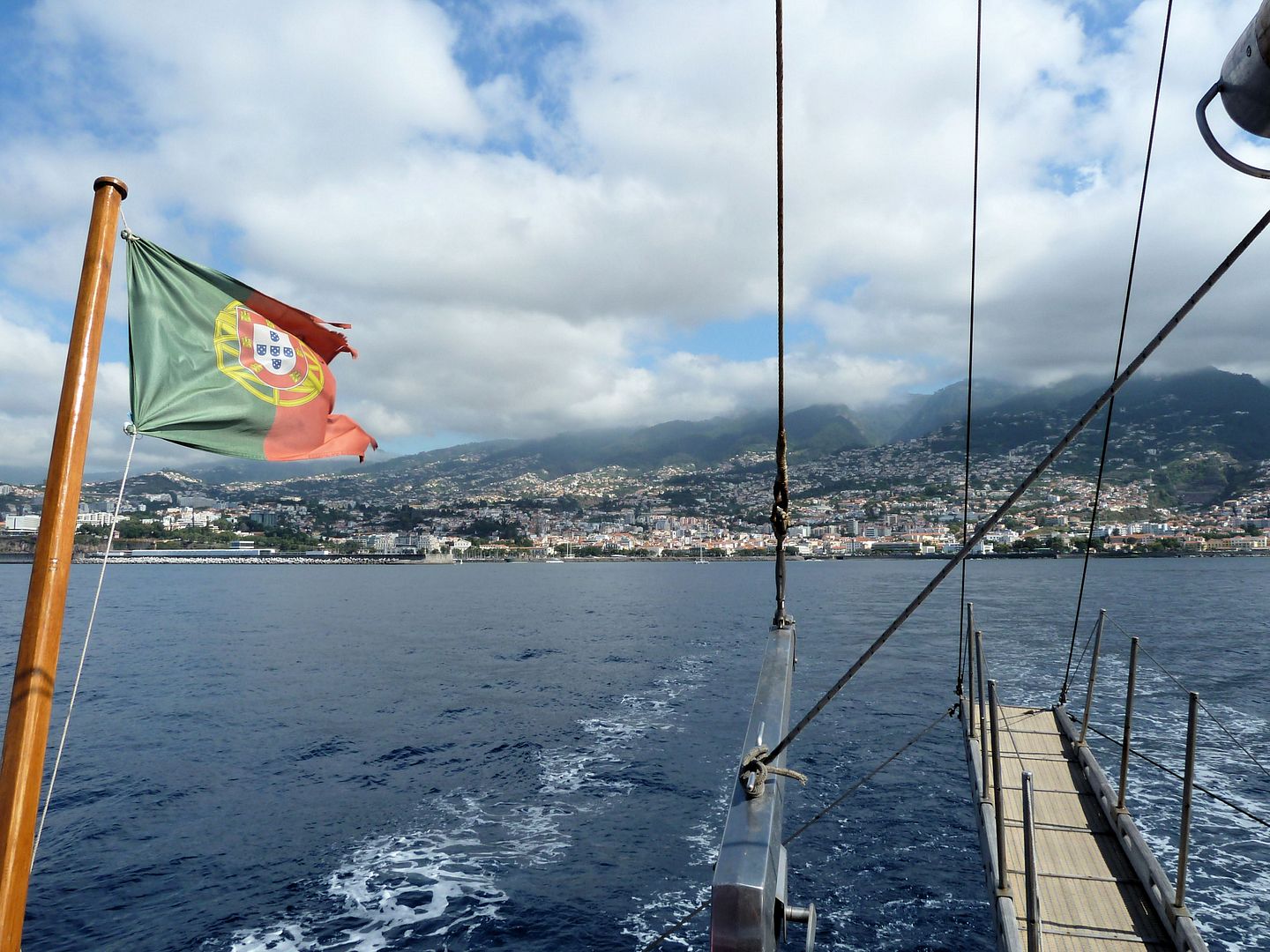 You never know if and how many animals show up - but cruising through the crystal blue ocean and being able to see the island from the sea was already worth it: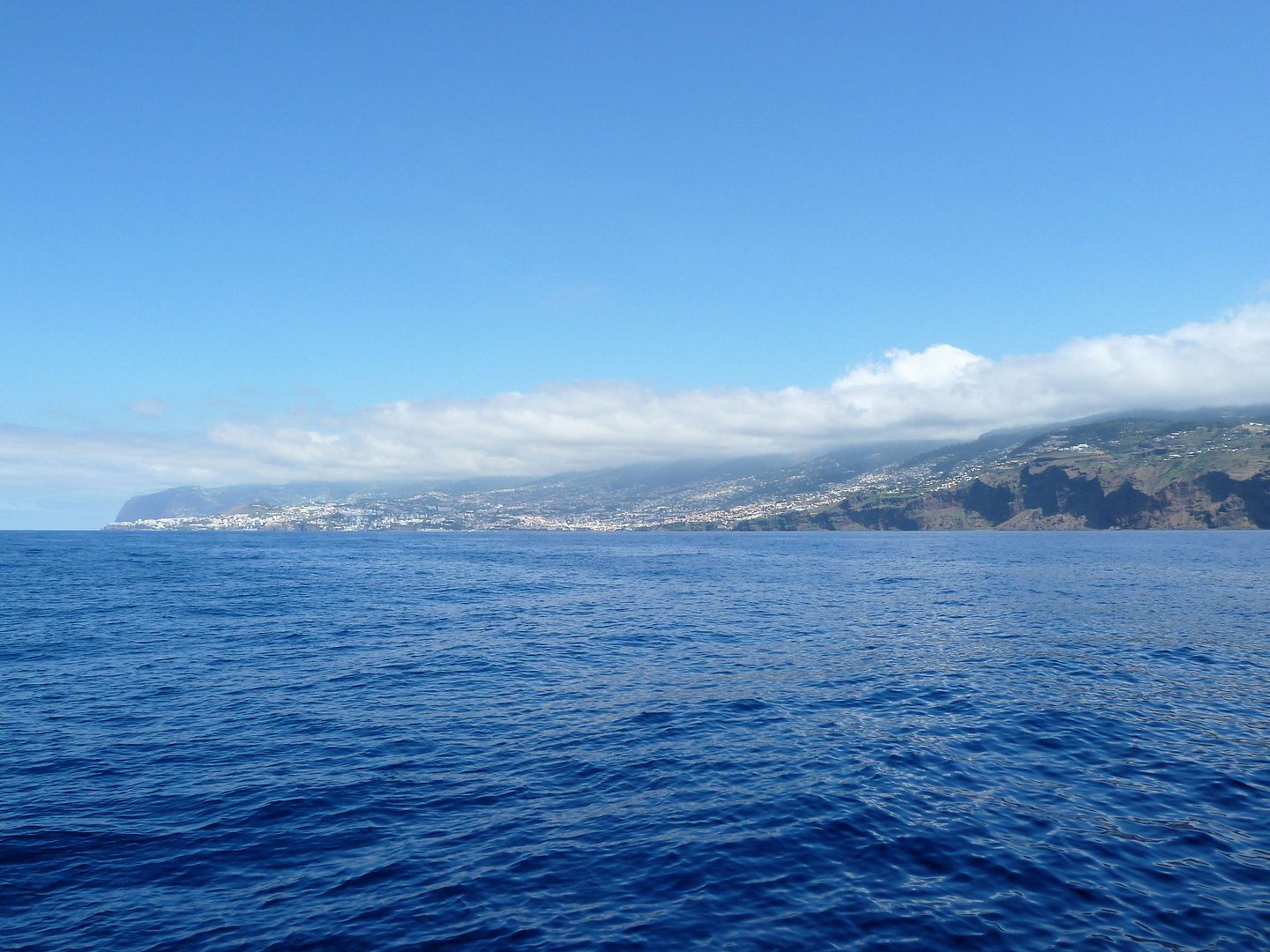 We didn't see any whales, but some dolphins kept swimming around our boat for a while - really nice experience: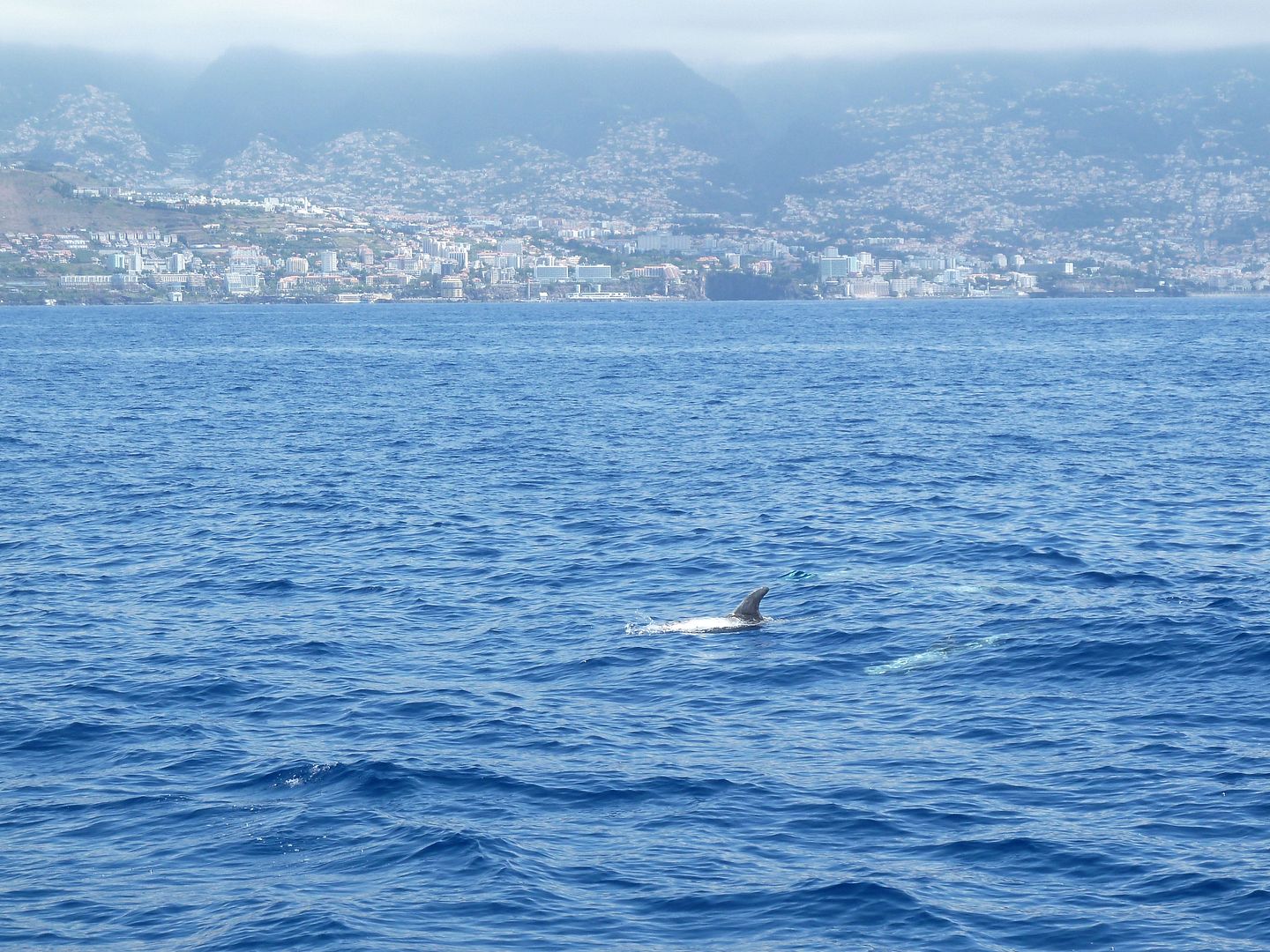 During our stay we also made an enjoyable trip to the neighboring island of
Porto Santo
by ship and plane, but I'll write a separate report about that.
Thursday, 24 June 2010
Madeira (FNC) - Lisbon (LIS)
TAP Portugal TP1626
16:35-18:10 (16:27-18:01)
Flying time: 01:26 (hrs)
Economy Class, Seat 21F

Airbus A319-111
CS-TTH (MSN 917), named "António Sérgio"
Delivered in 11/1998
1st flight on CS-TTH
15th A319-100 flight
59th A32X flight
Two hours prior to departure were dropped off at the terminal. Our local tour guide accompanied us to the check-in counters and even assisted during the check-in process - I guess non-experienced travellers appreciate that. Of course she was surprised when she heard that we had already checked in online. Once we had received the boarding passes we passed security and went to the observation deck. Actually there are two facilities - one for the public and one for passengers.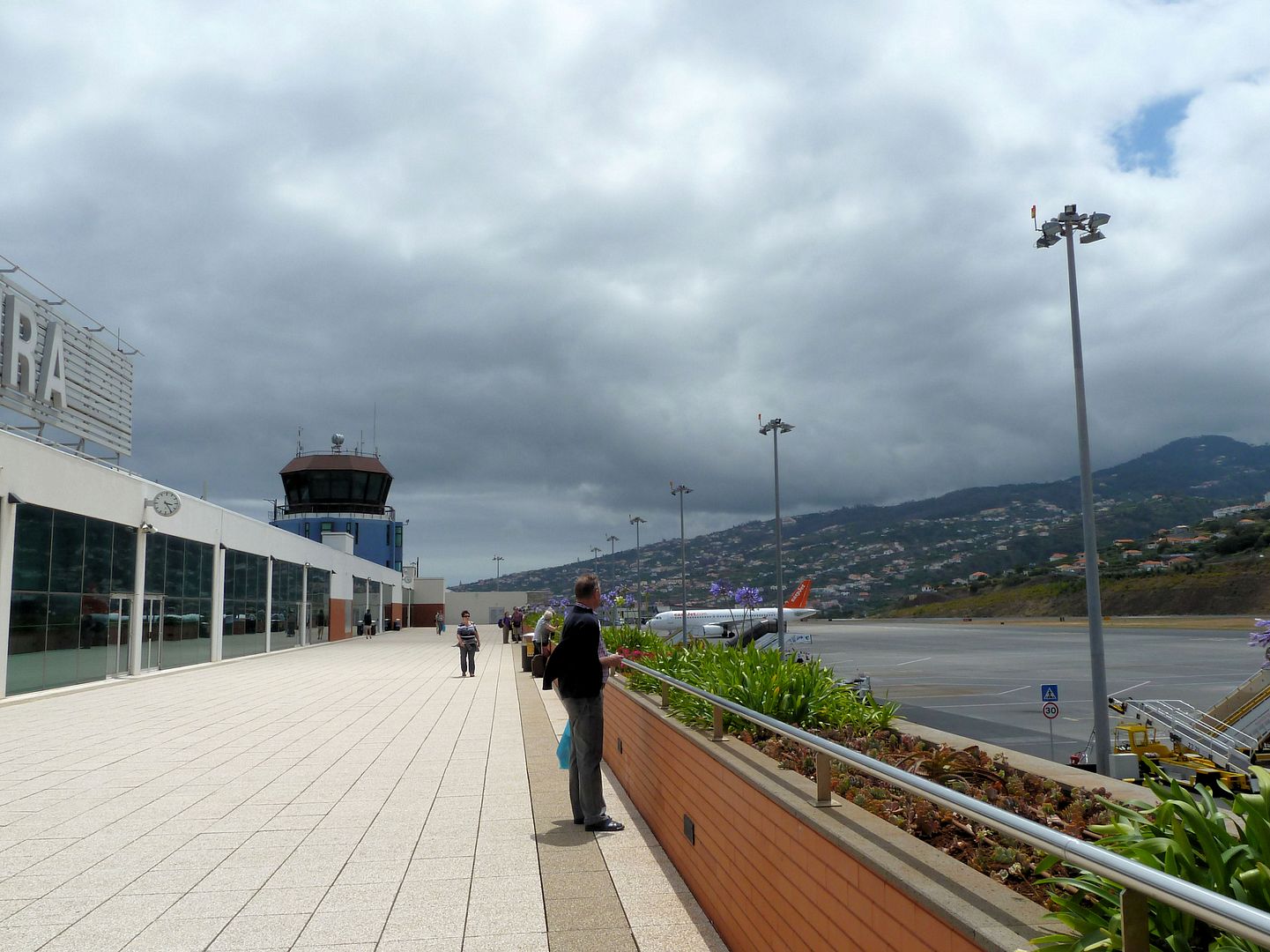 SATA Air Acores DHC-8-200 and (ex-GB Airways) easyJet A320: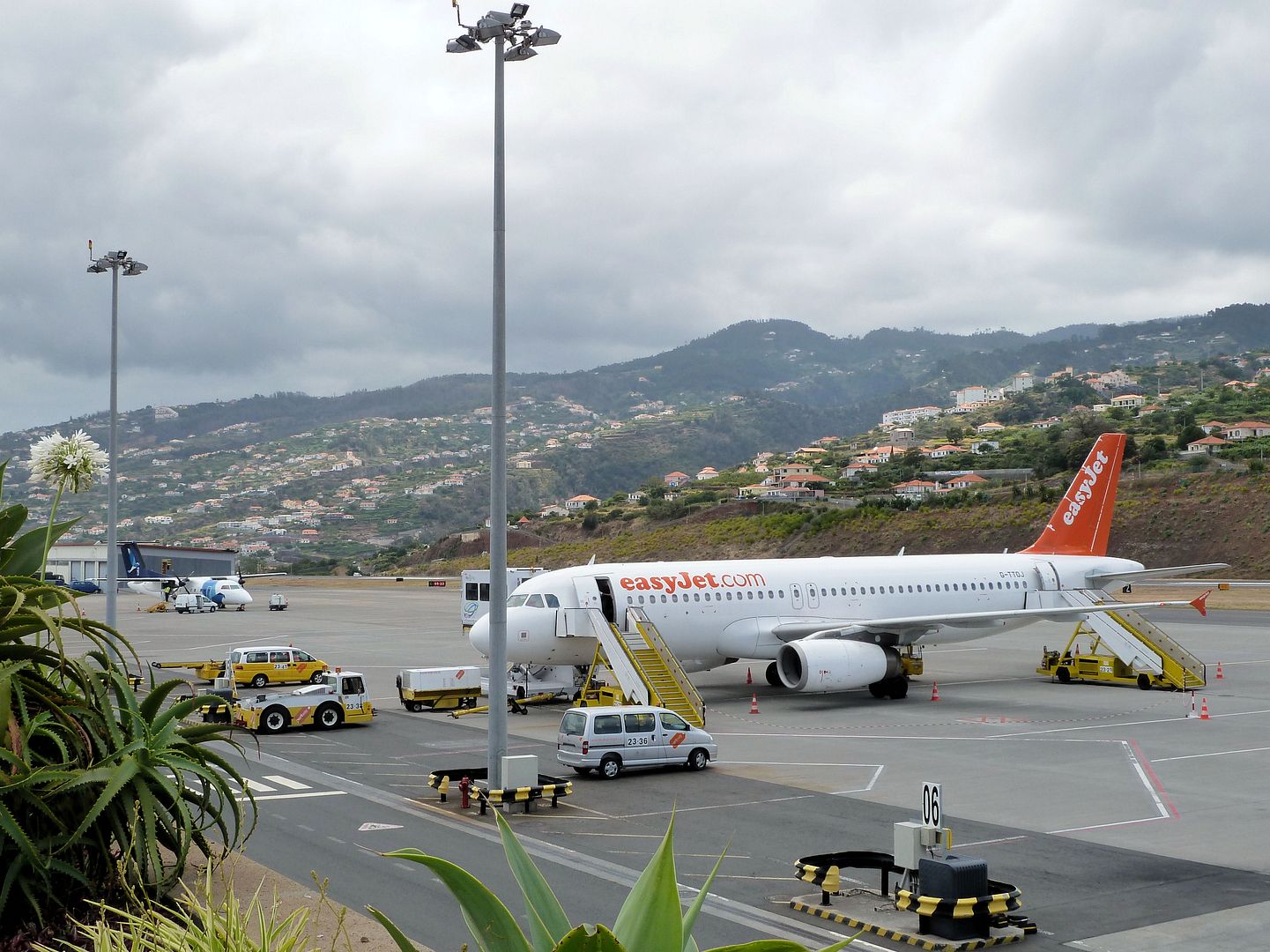 TAP A319 touching down on runway 05 - our plane for the flight to Lisbon: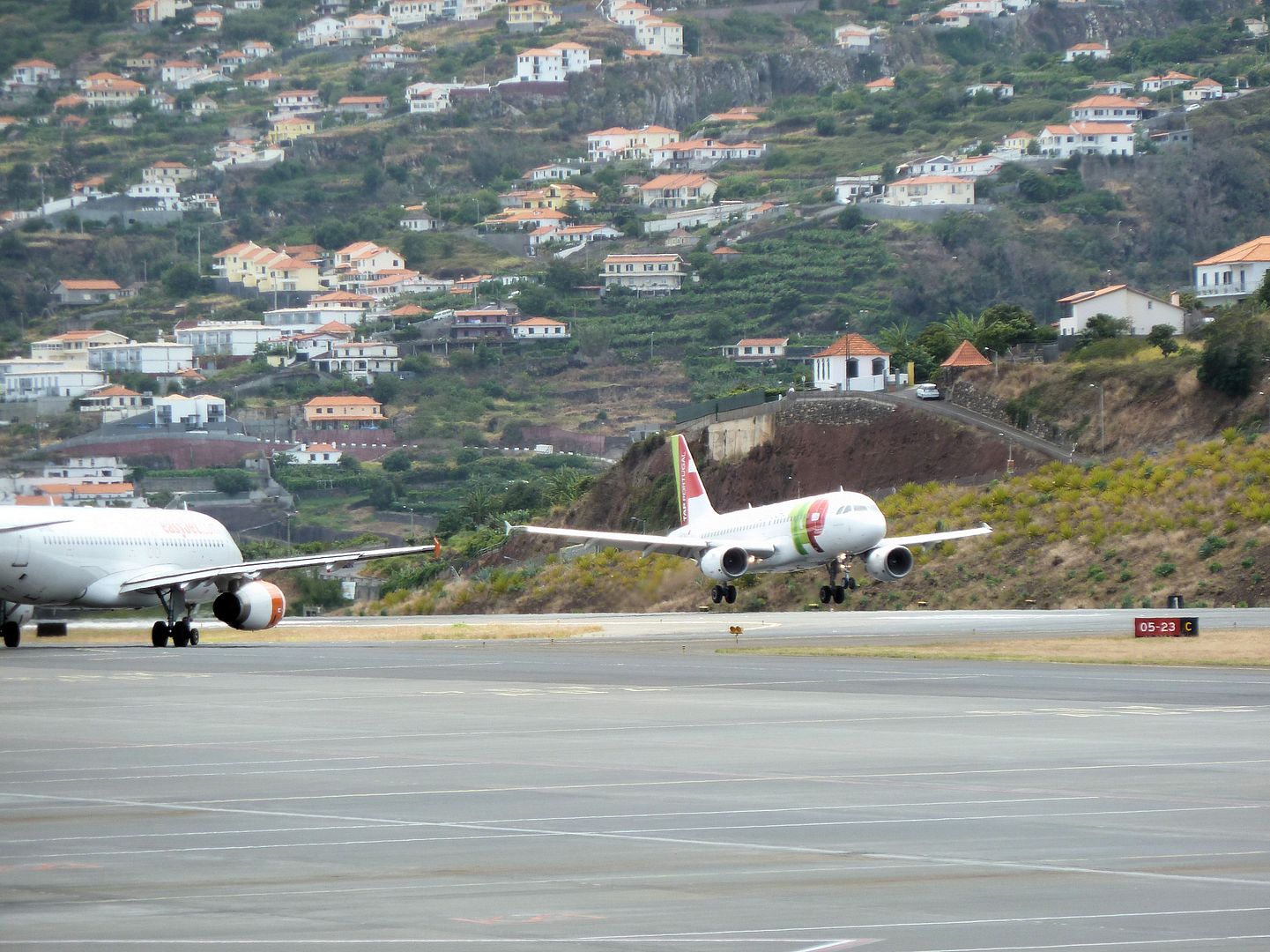 It was
CS-TTH
, delivered in November 1998: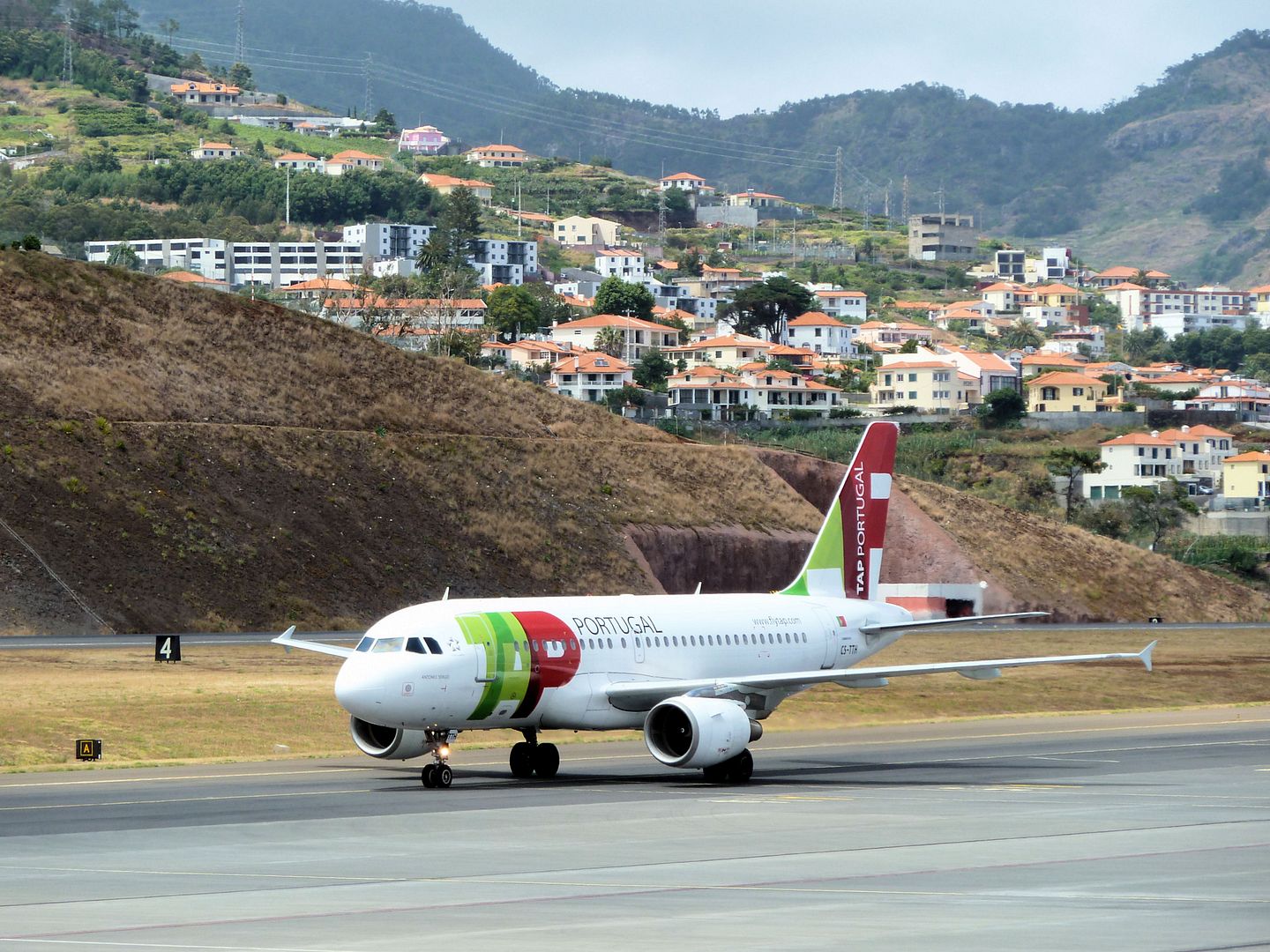 The easyJet A320 finally took off - more than three hours late: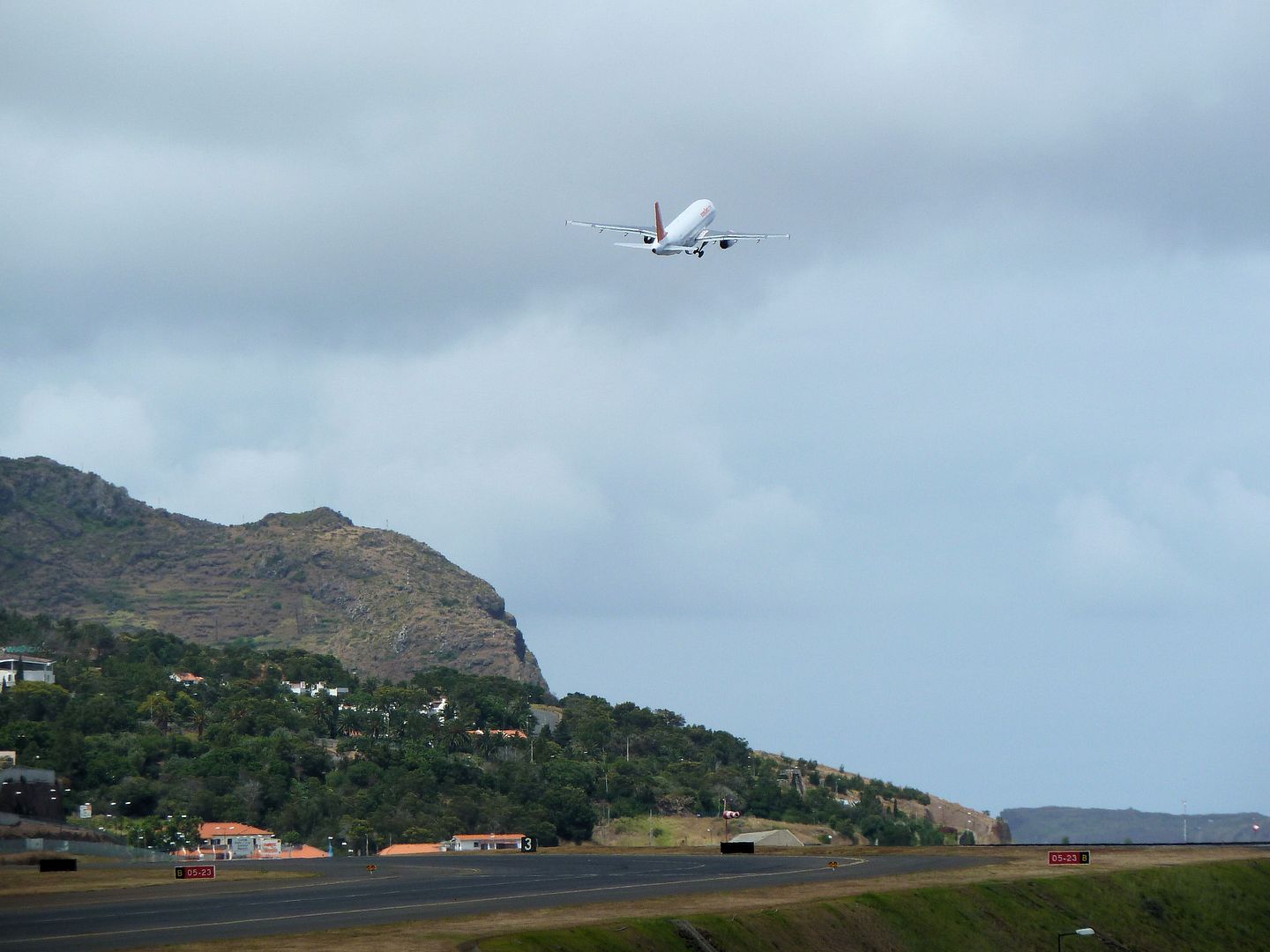 Boarding commenced on time and I managed to take some pictures without being seen by the ground staff who had asked a fellow tour group member to stop one week earlier: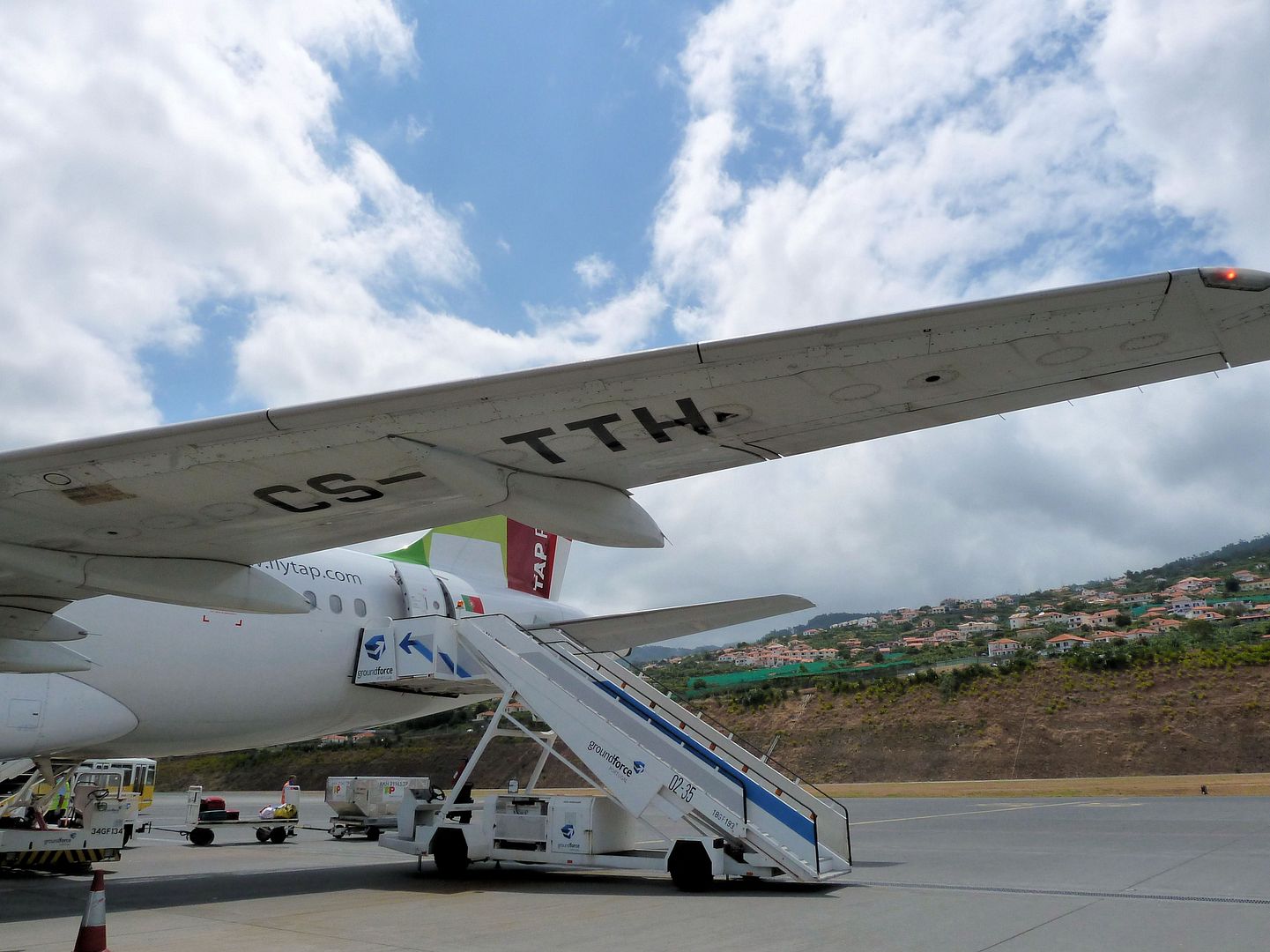 I didn't take any more seat pictures this time, because the interior was identical to that on CS-TTA. The load factor was in the 75-85 percent range and again the aisle seat remained empty. Takeoff was powerful as expected...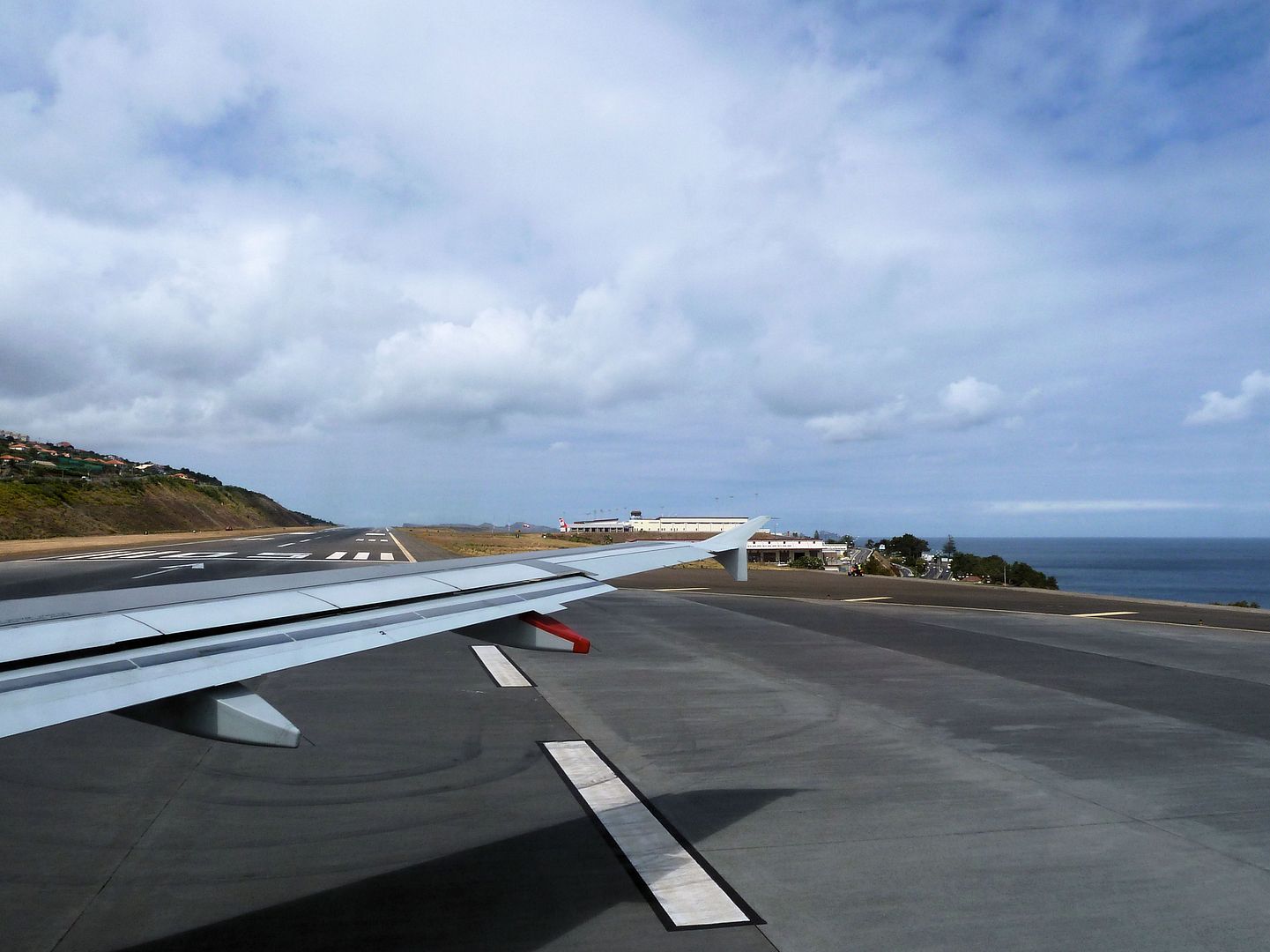 ...and the plane turned right almost immediately after lifting off: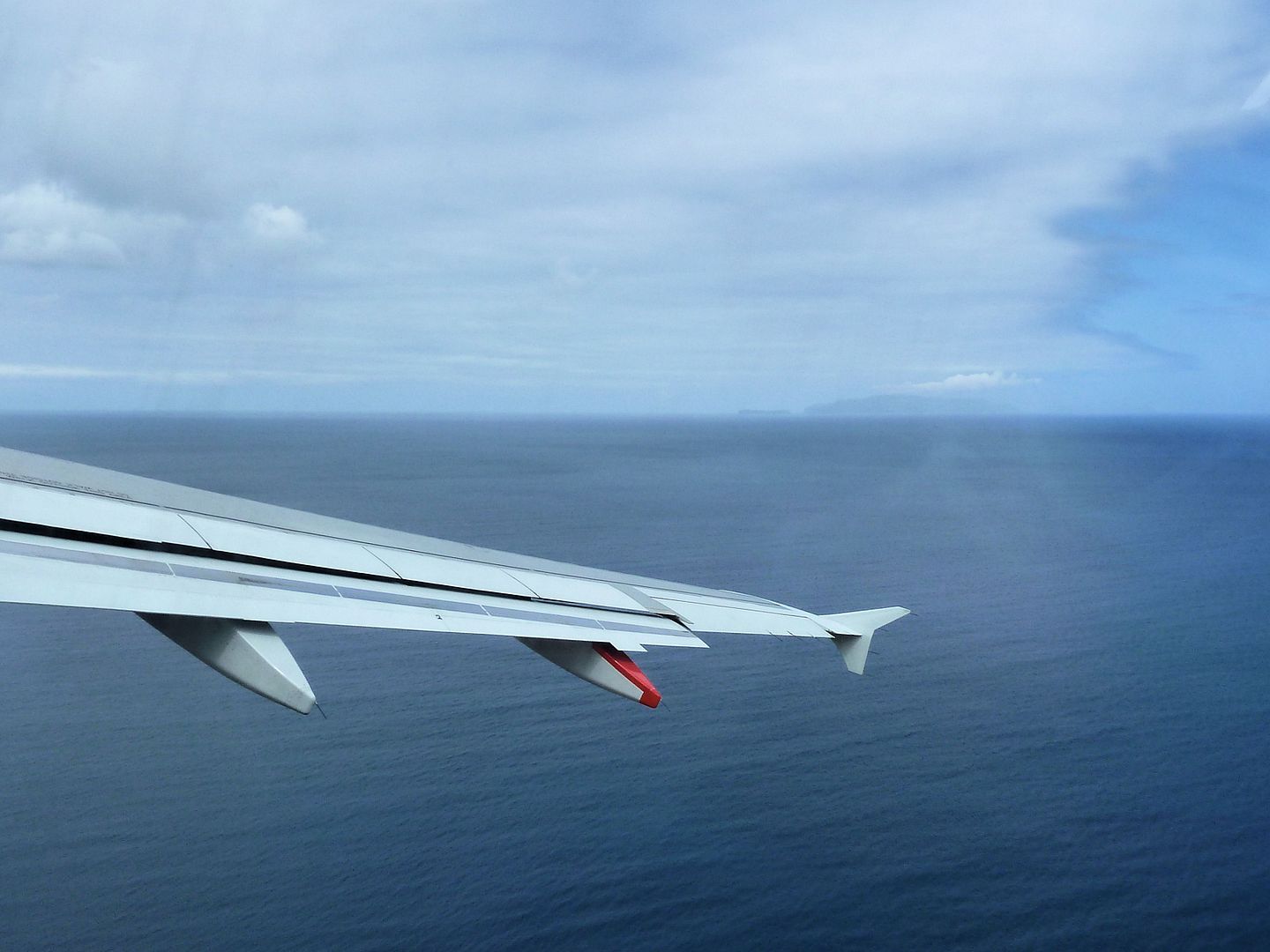 30 minutes after takeoff the flight attendants served a cold snack. I still don't know exactly what the sandwich was filled with - creamy stuff with fish - but it tasted quite good:
The flight attendants were really friendly, but a tall male had a tough job on this flight. Some teenage girls belonging to a handball team permanently tried to flirt with him - by asking questions, repeatedly pressing the call button and even handing out to him small pieces of paper. He remained friendly, but it was obvious that he was pissed off by the girls' childish behavior.
I hadn't taken a cabin picture on the two other TAP flights, so it was about time: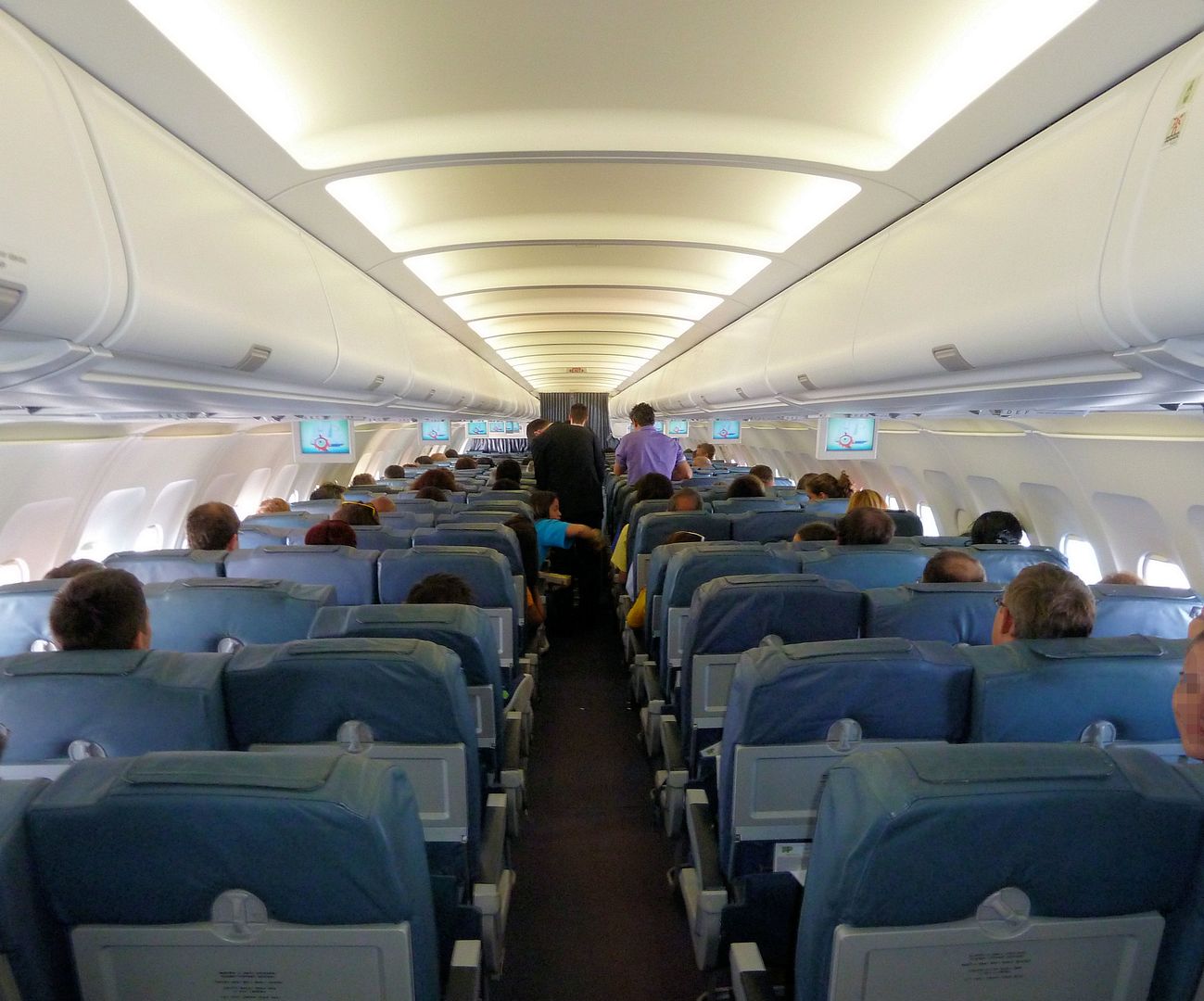 Back again over the European continent: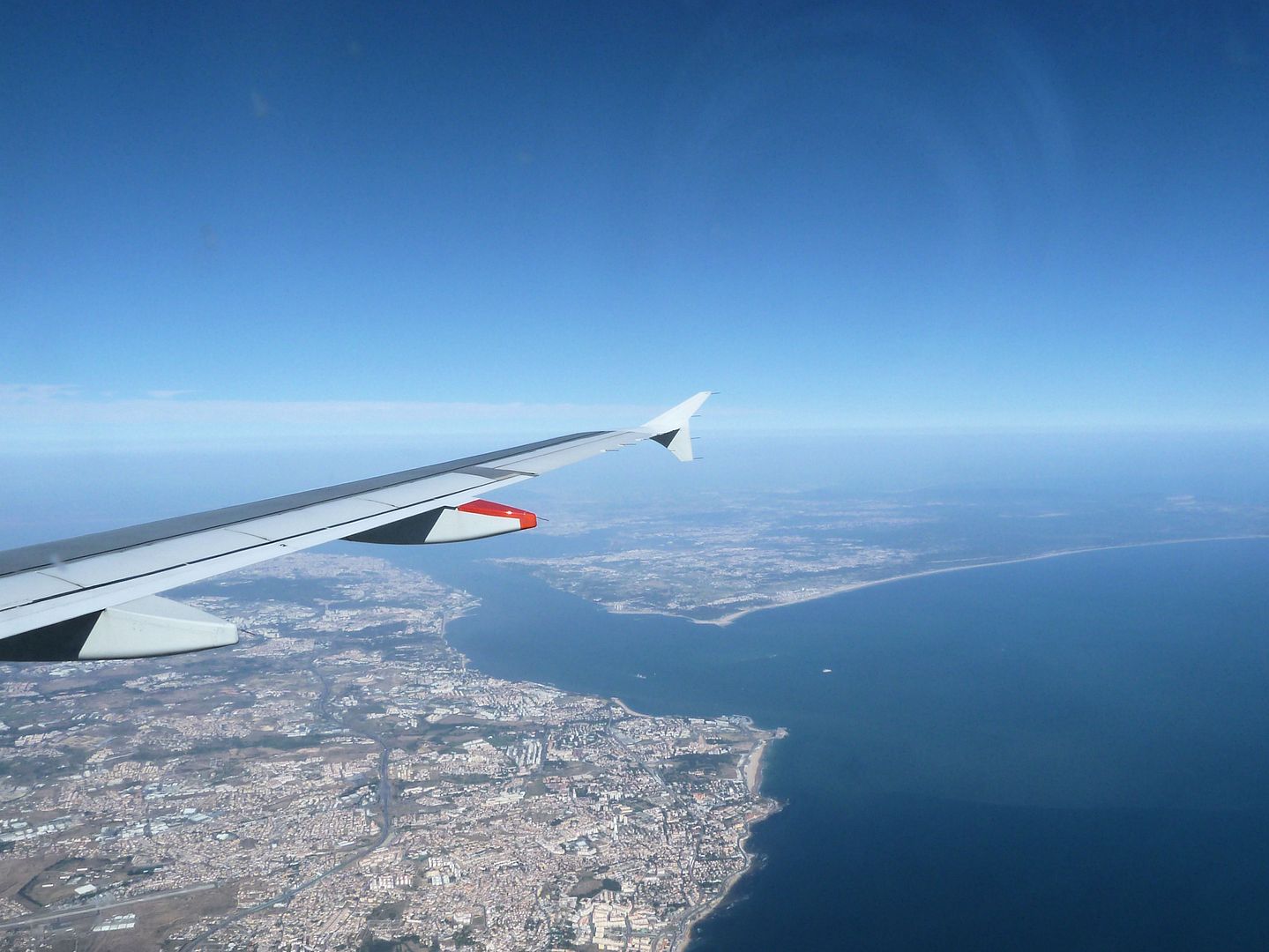 We touched down after a flying time of 1 hour and 26 minutes, taxied to a remote parking position and stopped next to a PGA Embraer 145: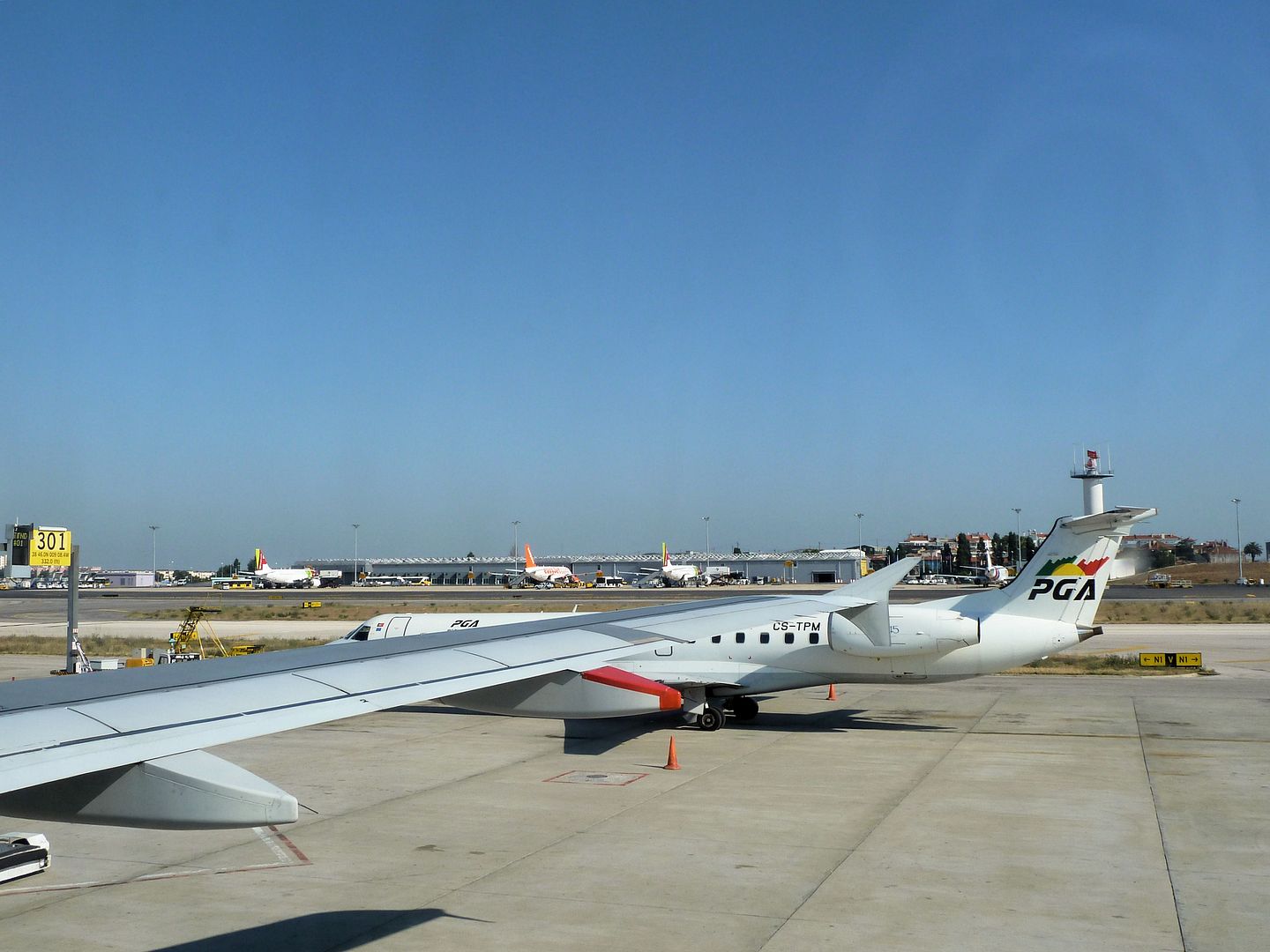 During the bus ride to Terminal 1 I spotted
CS-TNK
being parked at a gate and I was really hoping that it wouldn't operate our flight to Munich. However, after leaving the bus I discovered a flight departures screen which even showed the registrations - and I was glad to see we would get
CS-TNI
and not the same bird again.
Thursday, 24 June 2010
Lisbon (LIS) - Munich (MUC)
TAP Portugal TP552
19:05-23:15 (19:18-00:06)
Flying time: 03:33 (hrs)
Economy Class, Seat 27B

Airbus A320-214
CS-TNI (MSN 982), named "Aquilino Ribeiro"
Delivered in 05/1999
1st flight on CS-TNI
33rd A320-200 flight
34th A320 flight
60th A32X flight
The gate area was crowded in the early evening, but at least I found a good spot at a window and could log some more registrations. Some time later another bus brought us to the aircraft: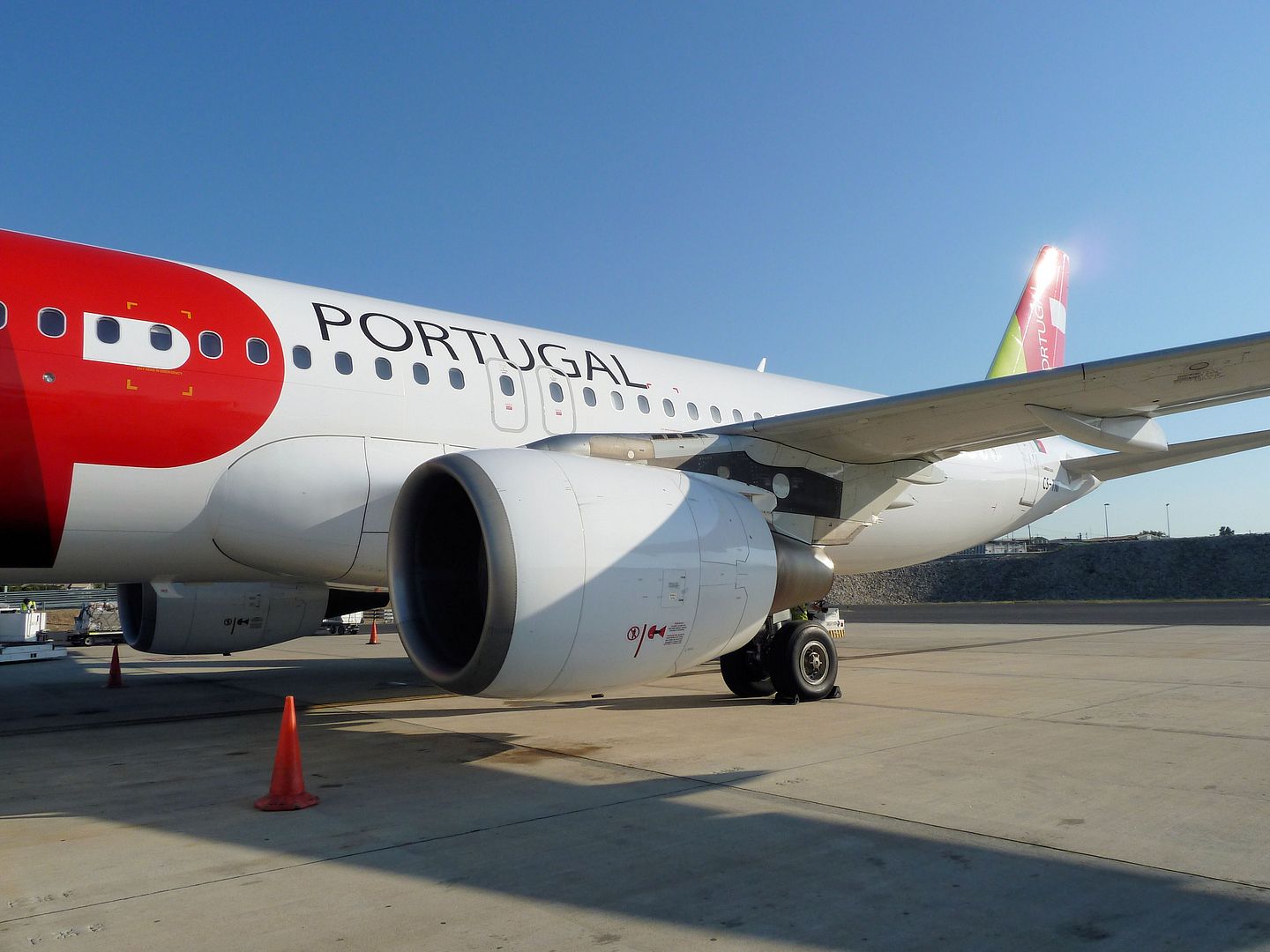 CS-TNI
was equipped with the same interior as
CS-TNK
and the two A319s. However, I finally took some pictures of TAP's safety video. Real crew members...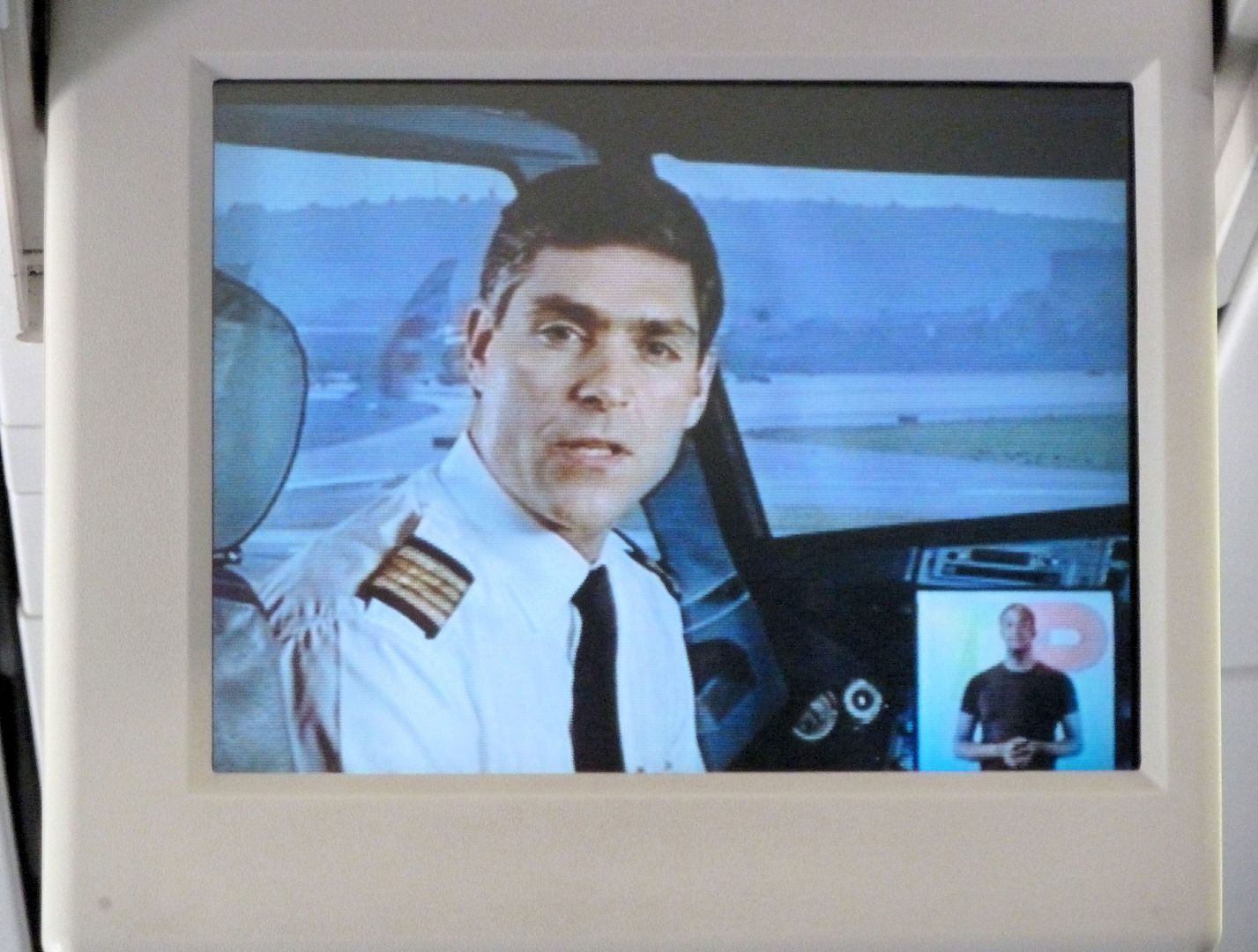 ...were soon replaced by alien-like green figures: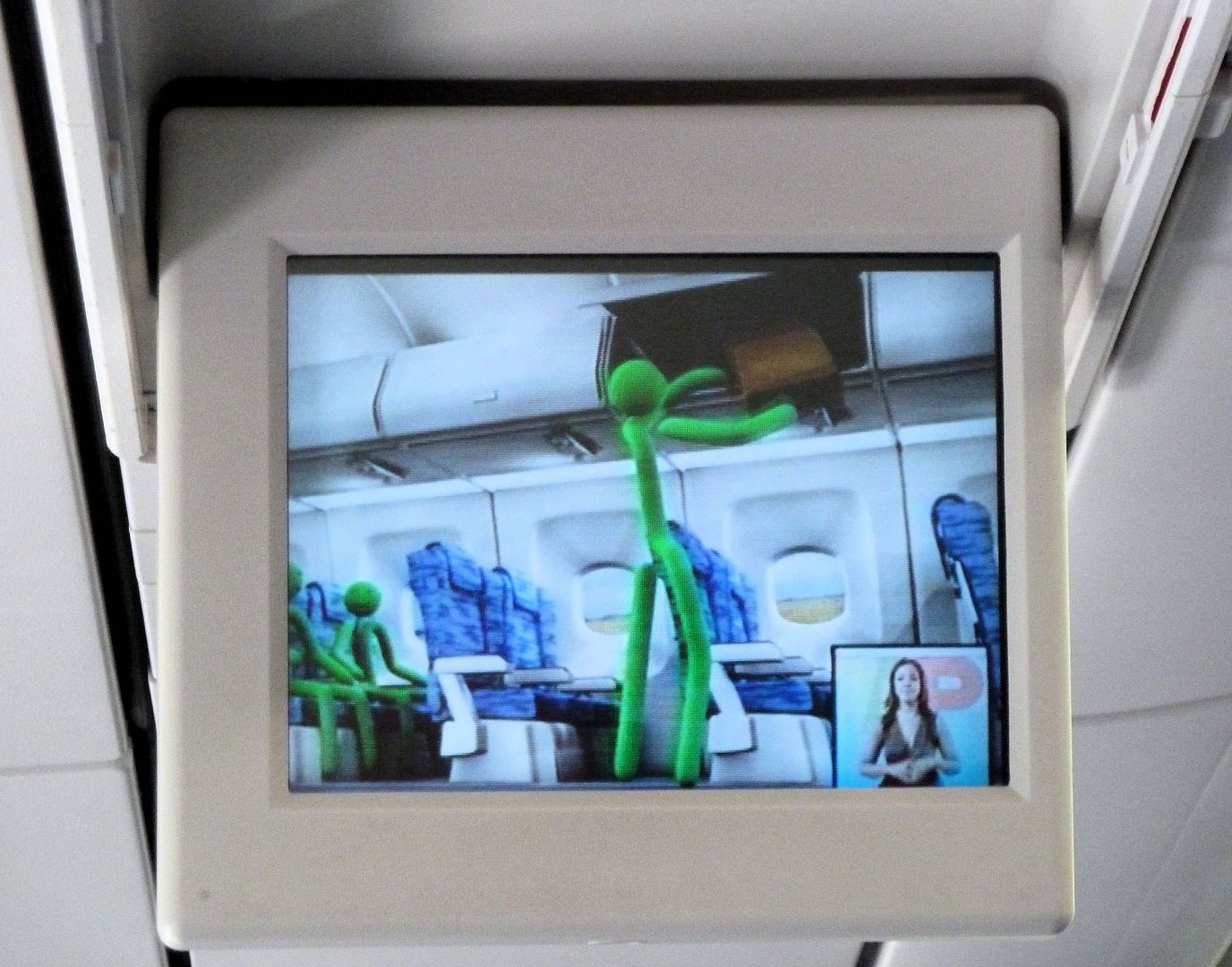 Despite the good load (70-80 percent) the aisle seat had remained empty again - for the fourth consecutive time on that trip. We left the gate slightly delayed and took off from runway 03. Taking pictures against the sun wouldn't have made sense at all.
Shortly after takeoff the captain made an announcement, but it was hard to understand. However, I had clearly heard that the flight would take 3 hours and 30 minutes which was very unusual. Our MUC-LIS flight took only 2 hours and 46 minutes and that had even been west-bound. Some time later the airshow confirmed that our flight would indeed take longer than usual: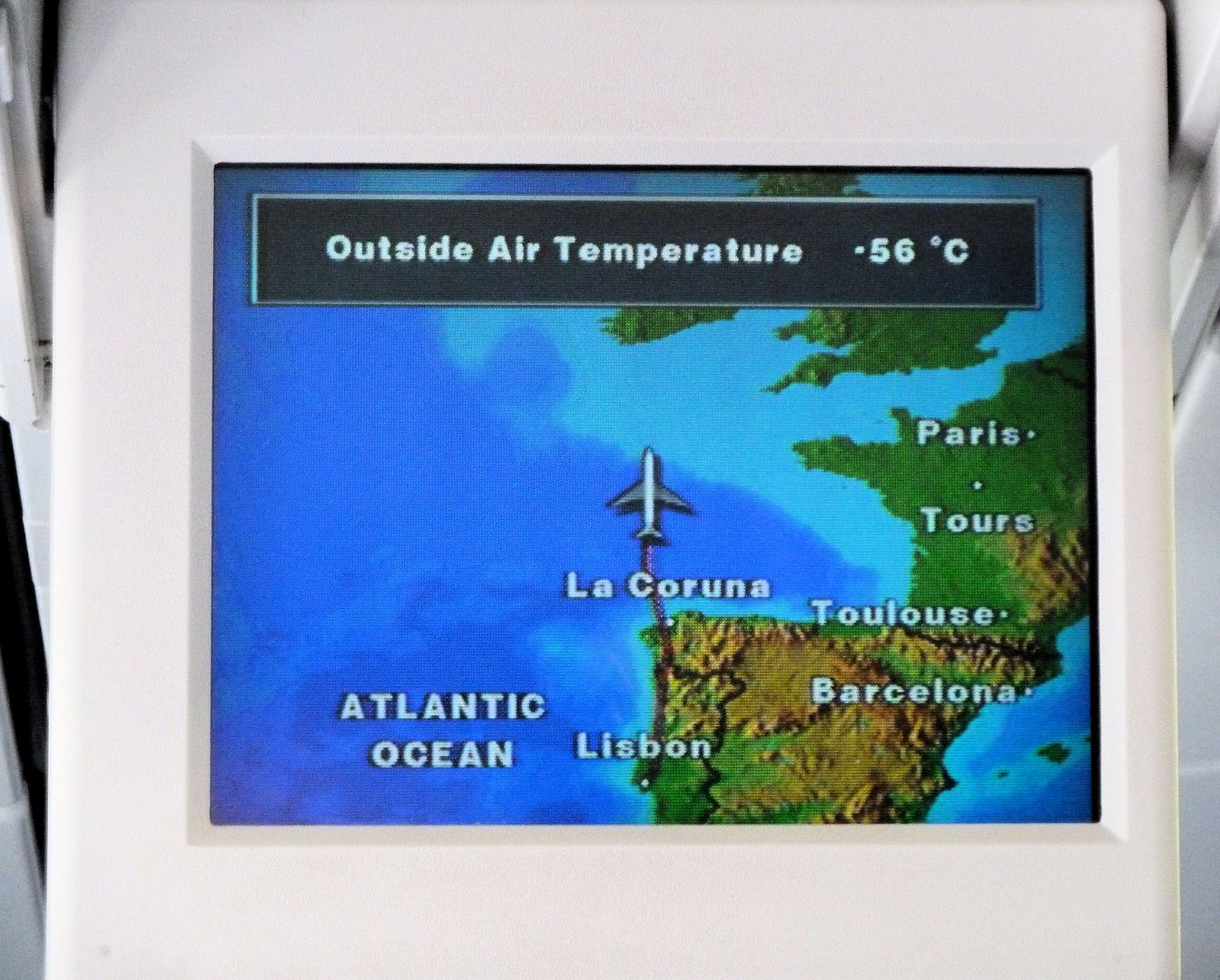 The well-known snack box was served again on this evening flight, containing a hot ham sandwich and a muffin: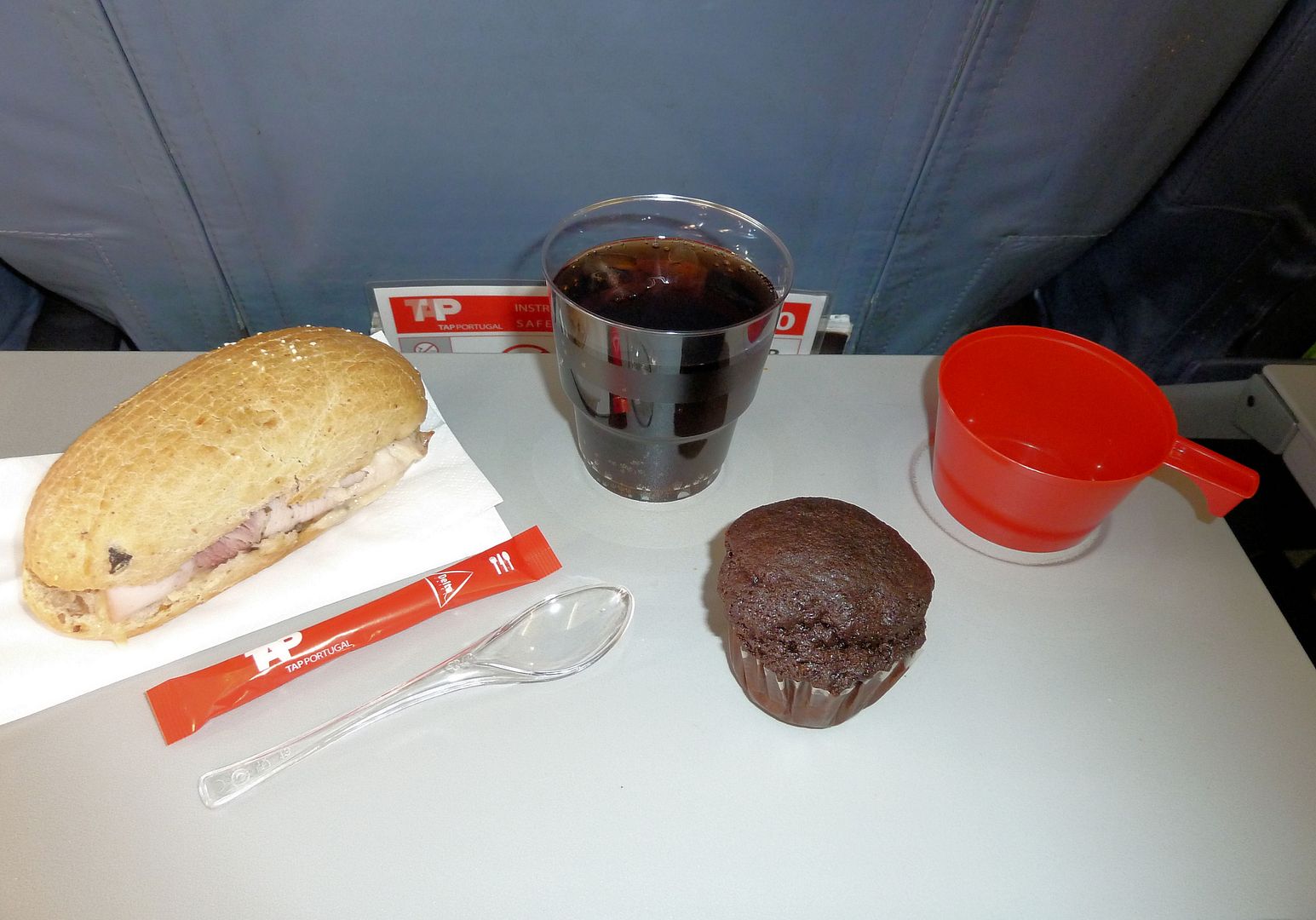 After the flight attendants had completed dinner service I went to the galley and asked them about the reason for the routing. A friendly male flight attendant confirmed what I had assumed - he referred to a strike in France, adding that similar actions had been affecting TAP's operations several times recently. It was really interesting to see how we flew around French airspace: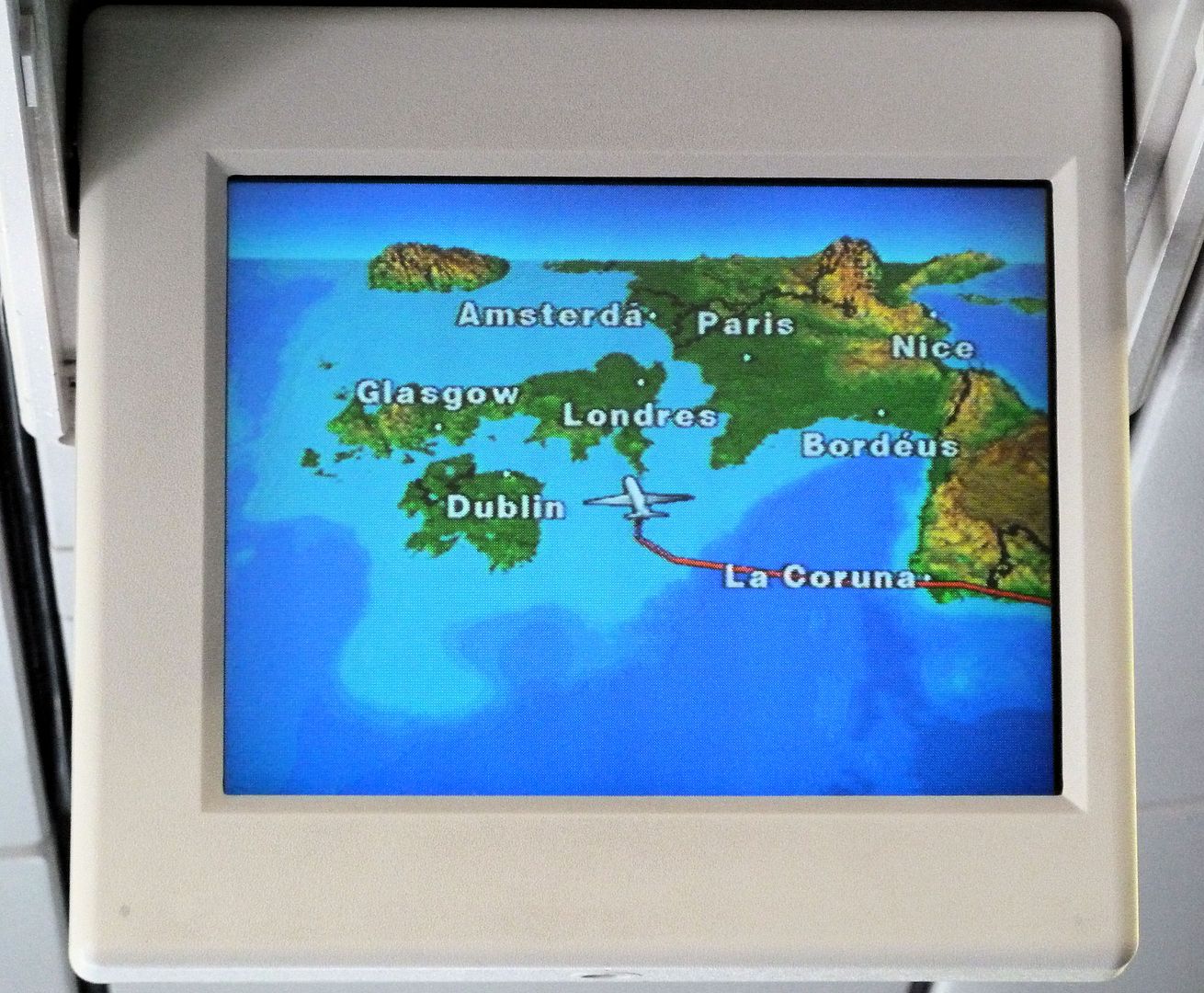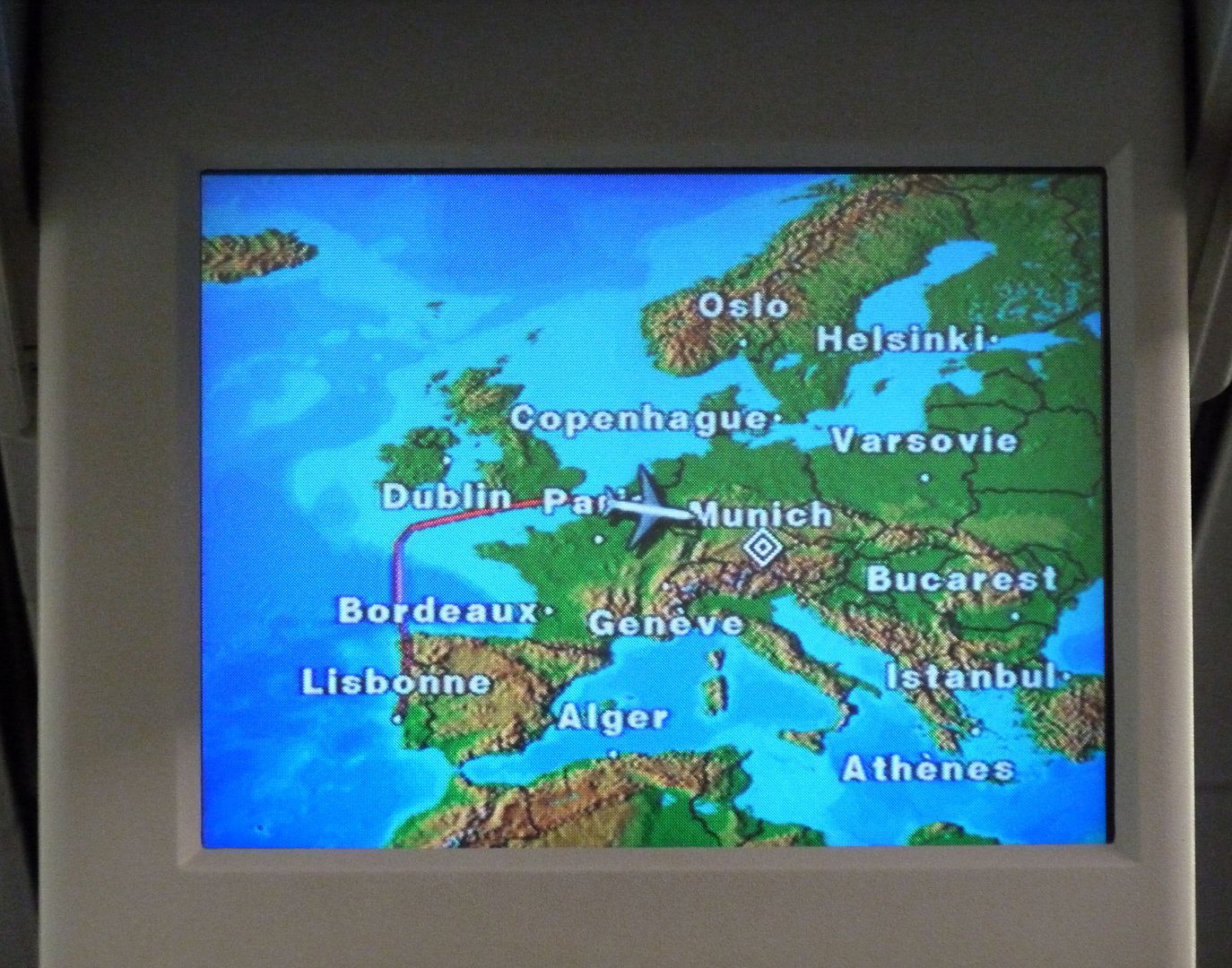 After a flying time of 3 hours and 33 minutes we touched down at Munich Airport and arrived at the gate shortly after midnight, almost an hour late.
Conclusion
TAP Portugal
offers a decent product on European and domestic routes. The seating comfort was sufficient - however, I cannot comment on the newer A320s' interior. Unlike many other European carriers, TAP has equipped its narrowbody fleet with TV screens which can be rated positively. It was good to see that TAP still serves snacks and drinks - even alcoholic ones - free of charge. The food quality was okay, but some more variety would be welcome. In contrast to other posters here, I was positively surprised about the staff: the vast majority flight attendants was friendly and motivated, and I cannot complain about the ground staff either. No doubts, I wouldn't hesitate to fly TAP again.
Best Regards,
PlaneHunter
P.S.: Just in case you missed them - my previous trip reports:
Guernsey, Ash Cloud Alarm & Mostly Empty SQ 77Ws
Totally Thrilling: Scenic Flight On Lufthansa A380
Cirrus D38, Adria CRJ & Captain Niki Lauda On Duty
Monarch Hot Meal, E195 & More: PMI-ALC-MAN-MUC
Premium Meal & Palma Spotting: MUC-PMI, DE 757-300
The Dead Slow Transfer: PEK-MUC On Air China A332
Cancellation Brings Joy: HKG-PEK on Dragonair A330
A380 Cacophony, 777 Star Livery: DXB-SIN-HKG on SQ
The Next 5* Carrier? MUC-MCT-DXB, Oman Air A330
Turkey For 1.5 Hrs: Daytrip To AYT On Sky Airlines
CO Scores Again: ATL-IAH-EWR-FRA On ERJ, 752 & 764
Riding The Ultra Long-Haul Twin: Delta 777-200LR
Pacific Coast Jaunt: 3 Carriers, E120, E140 & Fog
The Ultimate 737: LHR-IAH-PDX On CO 777 & 739ER
Bye Bye, Hell! TRD-OSL-TXL-NUE - DY/AB/HE DH4
My Trip To Hell: NUE-CPH-OSL-TRD On Cimber & SAS
SFO-YUL-FRA: Map- & Sleepless On Air Canada's 77W
Sin City Gloss & Virgin America's Chic First Class
Seat Dilemma & Canyon Glamour: FRA To LAX, AC 763
On Par With Air France? DTW-AMS-MUC, KLM A330
Goodbye, Red Tails! DC-9-40/50 & Chicago Tour
Champagne & World Of Coke: Air France A340 To ATL
"Mission A380": Disappointing Legs On BA/BD/EI
Delights Of Doha, 773 & 77W: DOH-DXB-LHR On EK
A380 Really a Step Forward? LHR-DXB-DOH On EK
Quality & Style: HKG-LHR On Air New Zealand 744
Taiwan Trio: TransAsia, UNI Air And The Taipei 101
"The Wings Of Taiwan": EVA Air A332, 744 Combi
SHA-SZX, Shanghai 757: Delayed By The Military
PEK-SHA, China Eastern A330 & Shanghai At Night
Striking Newcomer: Berlin-Beijing On Hainan A330
Short & Splendid: MXP-MUC On Air Dolomiti's 146
3 Hours On Blue1: HEL-MXP On The MD-90
BCN-MAD-ZRH-MUC: UX Shuttle Meets Swiss Quality
MUC-MAD-BCN: Star MD-87 & The Pain Of Vueling
Low Fares, Lovely Island: AK & Best Of Langkawi
4 Stars Or 5 Stars? FRA-KUL-FRA, Malaysia 777s
First And Last Time? JFK-FCO-MUC, Alitalia 777
JFK For 1 Day: Transatlantic Hop On CSA's A310
Sardinian Sun, Shiny New 73Gs & Cramped Mad Dog
Top And Flop: KIX-HEL-MUC, Finnair A320 & MD-11
The 524-Seat Twin-jet: HND-ITM On ANA 777-300
Kobe For 1 Hour: 767-Quickie On ANA & Skymark
Rocketing To Tokyo: FUK-HND On JAL (ex-JAS) 777
Oddities & Okinawa: JTA 734 & JAL 744D(Domestic)
MUC To Nagoya: Finnair E170 & (Old) "New" A340
Mad Dog, A320 Tech Delay & Best Of Lanzarote
Canaries Prop-Hopping: Islas Airways & Naysa
Canaries And Confusion: LH CRJ900 & Spanair A321
Hubbing For 162 Miles: HOQ-FRA-STR Ret On IQ/EW/LH
BOS-JFK-AMS-MUC: SSSS-Check And KLM 777
ATL-PIT-JFK-BOS: FL B717, JetBlue E190 And Delays
MUC-AMS-MEM-ATL On NWA A332 And 40-year-old DC-9
FRA-BKK-FRA Via CMB: SriLankan A332 & A343
BNE-SIN-DXB-MUC On Emirates B772ER & B773
2 Hours In Paradise: Hamilton Island (JQ/DJ)
BNE-SYD-BNE: Domestic Run On QF's Oldest B747-400
Testing Qantas: SYD-MEL-SYD-BNE (B738, B763, A332)
Going Down Under: MUC-DXB-SYD On EK A332 & A345
9/11 Review: Failed Trip To LAX - Fuel Dump Pics
Surprised By NIKI's Newest A320 & Screw-up By AB
Leisure Vs. Full Service: Condor & SN Brussels
"betterFly" On LH: Business Class For 99 Euro
Weekend Transatlantic Trip (2): US A321 & B762
Transatlantic For A Weekend (1): MUC-DCA On US
[Edited 2010-10-30 07:30:41]