Planning


On a recent trip I had to book a flight to southern China from Bangkok. I decided not to take the usual
airlines like Thai Airways or China Southern to Guangzhou however I noticed Kenya Airways and Ethiopean
airlines held fith-freedom rights on the BKK-CAN sector. Fifth-freedom rights enables an airline to sell
tickets on the B - C sector instead of just A - C. In this case from Bangkok to Guangzhou. Airlines
usually offer cheaper fares on these fith-freedom flights to make sure their aircraft are full on all
sectors. It makes sense because half the people flying from Nairobi disembark in Bangkok and the
aircraft flies with only a handfull onwards to Guangzhou who originated from Kenya. This enables people
like me to grab a good fare on an exotic airline.


Kenya Airways was the best choice as it had the best fare and schedule to meet my travel needs. I
decided to book my tickets through an online travel agency as they offered cheaper fares to what was
listed on the Kenya Airways website.


Flight Information
Aircraft: Boeing 767-300
Registration: 5Y-KQX
Flight No: KQ 886
Route: Bangkok Suvanabumi Airport (BKK) - Guangzhou (CAN)
Seat: 12F
STD / ATD: 12:55 / 17:30
STA / ATA: 16:50 / 21:08
Del Date: 22-Jul-01


Great Circle Mapper -
copyright © Karl L. Swartz


Day of Travel


On the morning of my flight, I logged onto the internet at my hotel to check the flight status to see if
everything was running ontime however it wasn't. It was now showing a 14:40 departure (1hr 45min delay).
This was expected as this airline's reputation isn't built on good on-time performance.


On arrival at the airport, I found the check-in desks open but rather empty. As I approached the
counters it soon became evident why. The departure time had now been pushed back to 16:40 (3hr 45min
delay) as the aircraft was running late from Nairobi. I was able to check-in and received a boarding
pass for 12F which is infact an aisle seat on the forward bulkhead. I had alot of time to kill so I
headed through customs and had some lunch at a nice Thai restaurant. I went to the gate at about 16:00
to find no aircraft present which wasn't a surprise at all. So like everyone else, you had to sit and
wait for the illusive Kenyan 767 to arrive. No delay announcements were made and no refreshment vouchers
were distributed either.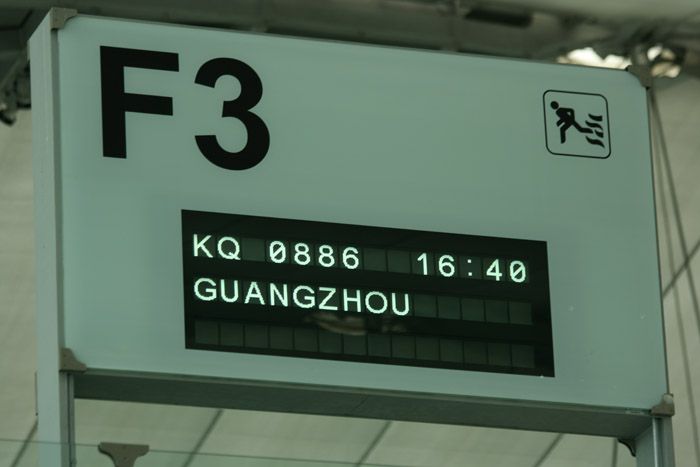 There wasn't much to do in the gate lounge area but to watch watever was on tv and there were a few
internet kiosks which some kids were hogging for about an hour. Then at 16:26 our illusive aircraft
finally arived and parked at the gate.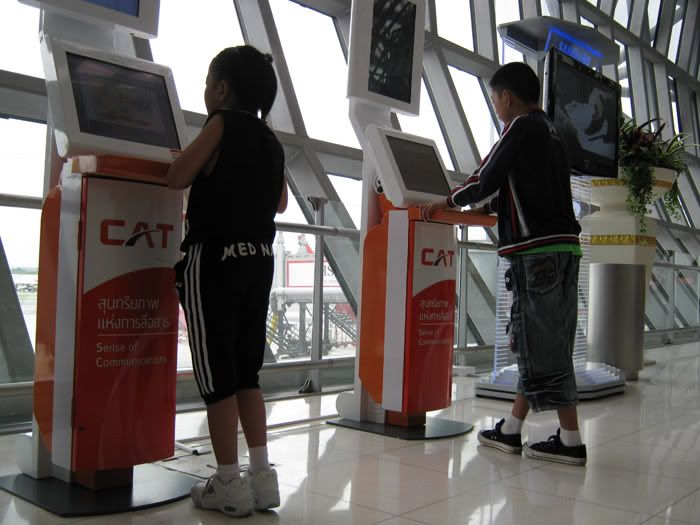 Internet kiosks


Servicing began immediately and a boarding announcement was made at 17:00. Boarding was terribly
unorganised as many passengers made a mad rush for the poor Thai girl holding the boarding pass scanner.
Despite of all the kaos, boarding was completed fairly quickly however an argument soon errupted between
passengers over seating in my section of economy class. The Kenyan pursor and Thai ground staff were
brought into the area of seating to try and rectify the proplem. It turns out some passengers who had
come from Nairobi changed seats during the turn-a-round and decided to sit wherever they liked causing
major problems for families trying to sit togeather. The passengers were finally put back where they
belonged however the whole episode delayed us another 20 minutes. Pushback was at 17:30 (4hr 35min
delay).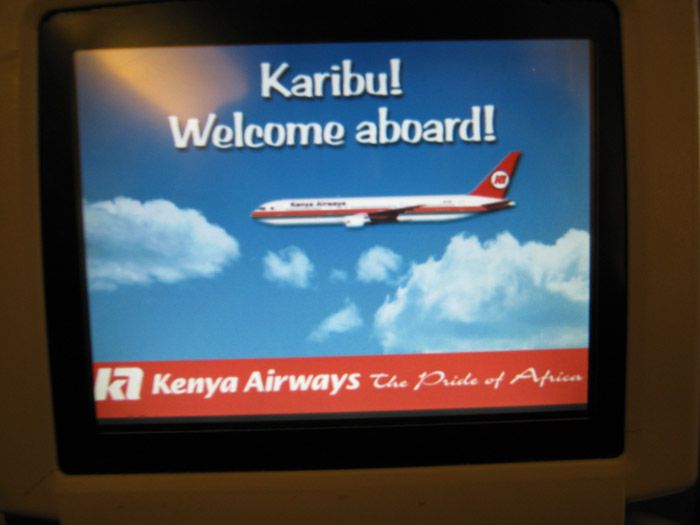 The aircraft taxied out to runway 19L and took off from a rolling start. The flight time was 2hrs 30mins
and we climbed to an altitude of FL370. The cabin was in a configuration of 2-3-2 and lettered very
unusually AB-CDF-GH. I was in 12K which was an aisle on the bulkhead giving me a little bit more
legroom. My personal IFE screen folded out from my armrest however the socket where you plug the
earphones into was damaged. With no sound, all I could do was watch the moving map which was like
watching grass grow. The seat next to me was empty (12D) however its IFE screen was being used by the
passenger in 12C because his wasn't working either.


The main meal was served with a choice of chicken or fish. I went for the chicken and it included
chicken and rice, salad, a piece of cake and apple juice. The meal didn't taste very nice so I just
picked around the edges and gave up. It was the worst aircraft meal I have had so far and the first meal
I haven't finished.


My less than perfect
Chicken and Rice meal


Remarkably the seatbelt sign stayed illuminated for the entire journey and I was discouraged from taking
pictures of the cabin by a Kenyan crew member. My seat pocket was basically empty apart from a safety
card and sick bag. My neighbors seat pocked contained a copy of the inflight entertainment guide called
'Ktainment' which listed about 25 movies. This was no use to me as I couldn't get any sound from my
personal IFE.


We commenced our decent and landed just after 9pm. We taxiied around abit before docking at an
aerobridge. Many people were late for connections so there was a mad rush to get off the aircraft or
maybe their experience was just that bad?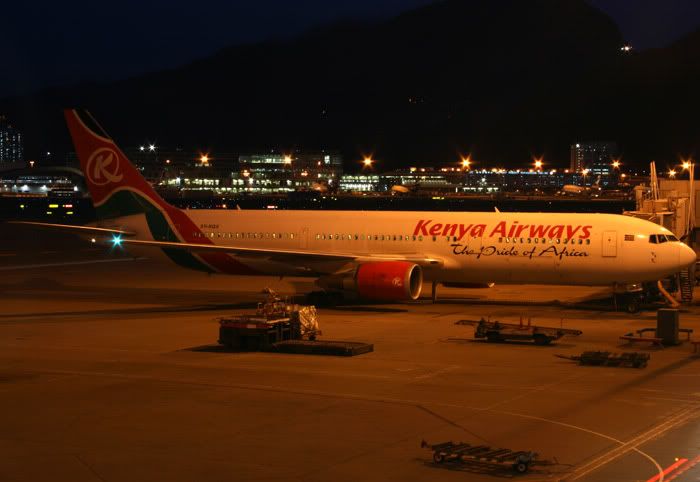 I took this photo of
my aircraft a few days later in Hong Kong.


A rather interesting experience flying on Kenya Airways and an insight to how an African airline
operates. Kenya Airways - The pride of Delays.


Thanks for reading and your comments are welcome!


Sia744


A list of all my trips reports