Yak-40 Severstal Aircompany D2-16/D2-21: VKO-CEE-LED
Dear all,
After some absence I have now found the time to write another trip report - this time it is the Yak-40. I have flown a number of (rare) types this year and I am severely lagging behind writing trip reports about all of them. I have chosen to write about this particular type first due to a very positive impression I have taken home from a very memorable daytrip within Russia.
I hope you enjoy reading this report, and I am looking forward to your feedback. Questions & comments are always welcome.
Background & Booking
I long had the Yaks on the radar and was carefully observing their fleet developments to not miss out on another type. Technically there are still plenty around in Russia and former Soviet Union countries, however the booking process and getting there gets more and more a problem the further east you go. I had Bugulma Air Enterprise and Severstal Aircompany in mind when looking for opportunities. Both are exclusive Yak-40 operators, conveniently eliminating the risk of equipment change.
A bit of research revealed that Severstal was the better option due to two reasons:
1) Severstal has its base in Cherepovets between Moscow and St. Petersburg, meaning I did not have to go east of Moscow which I tried to avoid. Some research with their schedules revealed the opportunity to fly from Moscow (both, VKO and DME) to Cherepovets (CEE) and continue to St. Petersburg Pulkovo (LED). But it was a bit complicated as the flights did not operate daily and on some days it worked out, on some not. Combining this restriction with lots of other flights on rare types on the other days with similar restrictions made this a challenging exercise. But it eventually worked out to fly in the morning VKO-CEE, stay 8h in CEE and then continue on a 7pm flight to LED.
2) Severstal has a very good website with an online booking engine and quite a modern design in comparison the types they operate. Only problem was it is entirely coded in Russian and I had to use Google Translate to get along. But I was able to decode their schedules and got to the stage where payment could be made. Then it turned out that they do not accept credit cards or PayPal or any other known system in Europe. They only accept a local Russian PayPal equivalent system or cash in their booking office. Help was required and I then thought of contacting the Russian visa agent in Frankfurt who I went through last year for a visa application. I called their office, described the problem and they then provided me a contact of a travel agent in Moscow who they work with. I called this Moscow agent and a friendly lady confirmed they can book flights for this airline. Via email I was then able to communicate the flights I wanted to get on, and I was able to pay with credit card by faxing a booking form. Booking was done within minutes and I received an email confirmation. Cost was not necessarily cheap at EUR 350 for the entire trip. But nevertheless there was no way I would let this opportunity pass.
Here are the two aircraft I flew on:
PS: And here is an overview of the route map of Severstal Aircompany displayed by the Airlineroutemapper tool:
I also found a good website with the production lists of Russian aircraft and lots of statistics for each type:
http://russianplanes.net/EN/REGISTR/Yakovlev/Yak-40
This page also has production lists of most other Russian types although they are not linked yet on the home page, e.g. there is an Il-62 list as well as a Tu-134.
Part 1: Moscow Vnukovo (VKO) – Cherepovets (CEE) (D2-16)
It is now time to get into the details. I flew into Russia on Saravia's Yak-42D service from Hannover to Saratov two days earlier, stayed overnight in Saratov to continue to Moscow Domodedovo Airport the next morning on the first flight, again on a Yak-42D. On that way I had also covered the Yak-42 which I will write about in a separate report.
On the departure day I headed out to Vnukovo by train and went upstairs to the non-airline associated check-in desk for carry-on luggage travelers only as I did not have any check-in luggage. I asked for the rearmost possible window seat, which was understood by the check-in lady.
I headed to the departure lounge which is always very crowded and placed myself in front of the advertised departure gate with a good view of the apron. Always a beautiful sight to see the Il-86, which I was due to fly on two days later (click into the photo to zoom in).
As a queue built up at our designated departure time I lined up as well only to get a funny look from the grumpy counter lady, saying something in Russian and asking me to move aside. Obviously this was the wrong flight for me, and I had no idea what she said. I asked politely if she could repeat in English, but got no response. Luckily there was a young couple behind me who were to be on the same flight with me, they also were asked the same thing and they spoke excellent English, advising me that the flight was apparently delayed and we had to wait. I didn't mind the delay at all to be honest, this shortened my 8hrs transit time in a Russian countryside airport.
So I sat near this young couple and asked them to please keep me informed whenever something moves. Having flown through VKO last year to catch the IL-86, I had a similar experience of random gate changes without announcements. Then another 30 mins later the screen still had no gate listed, and one of the young couple asked at the counter about an update. Then suddenly we were told to go to another gate downstairs. When arriving there, we saw that boarding had already commenced - without notice. As it seems nothing has changed in VKO
. Without their help, I would have never found out what was going on and possibly missed this flight.
We were boarded into a bus and I was rewarded by an Il-86 taking off exactly in the moment I walked up to the bus. Initially I didn't know what was going on as I couldn't see what type was in action, but it sounded like war. The noise was equivalent to several military jets taking off in full afterburner configuration. An absolutely crazy noise level, no surprise Egypt and Turkey finally banned them. This one sounded even louder than other ones I have seen before.
Nevertheless there were only about 10 passengers coming onto the bus. Considering I was going into the Russian countryside I was positively surprised by the type of people going there (a very business-like type). I knew we were going to a remote ramp, but it turned out that we were going to the remotest place of VKO airport at the very west, even past the government ramp. It probably was the longest bus ride I ever had on an airport, through some security area locked off from the rest of the airport and around the threshold of runway 20. From the government ramp we had to wait for a MChS Rossii Yak-40 to taxi out. I also spotted the government Il-62s, Il-96, Tu-154s and many other types. Also, I was surprised to see a large amount of (VIP?) Yak-42s, Yak-40s and other types I thought would be quite rare by now. Even the amount of Tu-154s and -134s was still remarkable, I had the feeling I saw more Russian types than last year although this may have been a due to the long bus ride along the remote ramp. I also noted at least three Tu-154B from Orenair and KMV, which was a beauty to see. During the bus ride I had to be discrete with photos, some people in the bus looked at me and hence the photo quality is not great, but you get the idea of what types are around.
Upon boarding, I had to hold myself back not to take my camera out, as there was lots of security staff. We boarded through the rear stairs and the APU was already running, leaving all of us almost deaf. We pushed back about an hour late, and although the flight attendant was right behind me in the last row, I was able to capture engine startup, taxi and takeoff on video. I will link the footage below. We taxied across runway 02/20 and got to the holding point of Rwy 24 relatively quickly. The government Yak-40 is in front of the CRJ, and there is a beautiful UTair Tu-134A lined up at the holding point.
Here is a GPS log of the taxi and departure route:
We were the next in the queue and had to hold short for this great Tu-154M. Looks like Yakutia but I may be wrong. Then it was time for us to line-up for departure. Here are the details:
Yak-40
Reg: RA-88180 (s/n 9622047)
Delivered to Aeroflot 13/07/1976 as CCCP-88180
Delivered to Severstal 08/2002
Routing: VKO-CEE (D2-16)
Date: 03. September 2010
09:50 - 10:55, flying time 1:05h, departed 1h late
Seat 9A
Load factor was approx. 50%.
Here is a video of engine start-up, taxi and take-off. Climb performance of the Yak-40 is everything but great, after lift-off we barely had the nose up. Checkout the great sound of these three tiny Ivchenko AI-25 turbofans.
http://www.youtube.com/watch?v=nalGb-hqxL4
The initial climb was very wobbly, likely due to the design of the short tail in relation to the CG of the plane. The nose yawed left and right for a long time until we entered a higher speed phase where the flight got more stable. We made some turns and passed the western suburbs of Moscow and took a northern-bound heading. From my GPS log, I noted that the cruising altitude is also far below what is common for jets, hence the crew was very busy navigating the clouds. We avoided several large towers during this flight. So it never got boring. Cruising speed was only around 500km/h. The flight attendant served some soft drinks but no food was served, hence no meal photos
.
I started to have a closer look around the cabin and it was a bit tricky to take shots as the flight attendant was always behind me, so I took the opportunity when drinks were served. The Yak-40 has a small toilet and a carry-on luggage compartment in the rear section. A galley as such does not exist in the back, but there may be one in the front. The front section was always closed and I cannot say if there was another locked off section between the cabin and the flight deck. I also went to the toilet which was a mistake, at 1,92m I was definitely too tall. It was a hassle to even turn myself around in this tiny toilet. Nevertheless a unique experience, and this is how I took it.
After about 45 mins of flight we started to descend and I was able to spot Cherepovets city at the left along the river. The city is a purely industrial city ruled large industry complexes run by the company Severstal, a steel manufacturer. They are also the owner of this airline. Population of this city is only about 300k.
We turned from a northern-bund heading to the left to line up with Rwy 21.
RA-88180 in Landing configuration:
The landing itself was interesting due to the reverser of #2 being engaged before touchdown, also SOP on the Il-62 and Caravelle. Here is the landing footage, if you pay attention you can hear the reverser before touchdown:
http://www.youtube.com/watch?v=BsTdkg7eF5E
At arrival a company Yak-40 was about to depart in the moment we got off the plane. It turned out to be the flight to Petrozavodsk and Helsinki. More to this service later.
Part 2: Layover in Cherepovets Airport (CEE)
When I arrived, I was still not sure what to expect, but it didn't take long until I was very positively impressed. Cherepovets had a new terminal building adjacent to a local flight school. De-boarding was fast, and I was in the building within minutes. I asked the friendly Russian couple if they could assist me in getting a Taxi to the city, but after seeing the terminal from inside I decided to stay at the airport and not going to the city. There was a small restaurant / cafeteria, where I had lots of coffees and some food. I was able to do some work emails and time passed quickly.
Here are the few flights coming in and out CEE throughout the day:
Mid-day the entire airport and flight school staff came for lunch into the restaurant, and I was impressed by the people working there. Everyone looked professional, they had very good working clothes and equipment and it was the total opposite from what I experienced in Saratov two days earlier (though knowing that outer appearance is not the whole package). After 2h I relocated myself back to the waiting hall, where I started to chat with a person who was also with me on the in-bound flight of the morning. He was about to fly back to Moscow with the early evening flight, after a meeting at the local flight school. It turned out that he is a former Aeroflot (Yak-42) and Transaero (767) pilot, now flying CRJs for a VIP operator. He spoke good English and we ended up chatting for over 2hrs.
Some dark clouds to the north:
I told him of my passion for rare types, and that I enjoy making these trips for this particular purpose. I also asked whether cockpit visits are still possible in that area, and immediately he asked a senior pilot of Severstal who walked past in that moment whether he knew who will be piloting the evening flight to LED to see if I can jump seat the flight. Unfortunately there was the chief Severstal pilot scheduled to join this flight as a check captain, so I was unlucky this time.
Time for check-in came closer and after some bad experiences in Sochi last year where I was held up by a local police men prior to checking in (where I only made it on my flight through a bribe), I was a bit worried to pass through security by myself. I asked the pilot whether we could pass through security together and it turned out to be no problem at all, everyone was very friendly and no bribing required  adding a positive impression.
At the check-in desk he also assisted me in getting the right seat, I asked for the last window seat on the right side. I was allocated seat 6B, hence I verified if this is an aisle seat, but he then translated from the check-in lady that this plane has a different 3 abreast configuration (although still making this an aisle seat, but the flight was empty anyways and I eventually moved over to 6C).
Here is a snapshot of Severstal's 70ies style advertising, love it:
Due to the small architecture of the airport, I was able to wait outside and observe the busy traffic pattern of the local flight school. There were three Yak-18Ts in the pattern and one Cessna 172. The sound of the Yaks was absolutely amazing, produced by a single Vedeneyev M14P 9-cylinder air-cooled radial engine with 268 kW (360 hp). I also observed the blue Yak-40 returning from Petrozavodsk and Helsinki. Here are some shots from standing in front of the airport building airside:
Eventually the Moscow flight departed and I was able to observe boarding, engine start-up, taxi and take-off from outside the airport building. Unfortunately exactly at takeoff, two airport staff walked past and asked me to stop filming. Nevertheless here is what I recorded, some Yak-18s and the Yak-40 departure to Moscow:
http://www.youtube.com/watch?v=sej2roVd0ao
Part 3: Cherepovets (CEE) – St. Petersburg Pulkovo (LED) (D2-21)
My departure time came closer and I was curious to find out on which Reg I would fly to LED. The check-in lady walked us across the apron and it turned out to be RA-88296. We boarded through the rear stairs again and I grabbed this shot:
Boarding was completed within seconds and the APU fired up, with the engines started up shortly after. We began to taxi to Rwy 21 again in a very rainy Cherepovets.
Here are the flight details:
Yak-40
Reg: RA-88296 (s/n 9421634)
Delivered to Vietnam Airlines (Hang Khong Viet Nam) 06/1974 as VN-A445
Delivered to Severstal in 1993
Route: CEE-LED (D2-21)
Date: 03. September 2010
19:15 - 20:25, flying time 1:10h
Seat 6B
Load factor was approx. 50%.
Here is a video of the takeoff:
http://www.youtube.com/watch?v=k_nKSvH0CBU
The flight was relatively uneventful and I was enjoying the beautiful sunset. Cabin service was limited to another soft drink and there is not much more to report.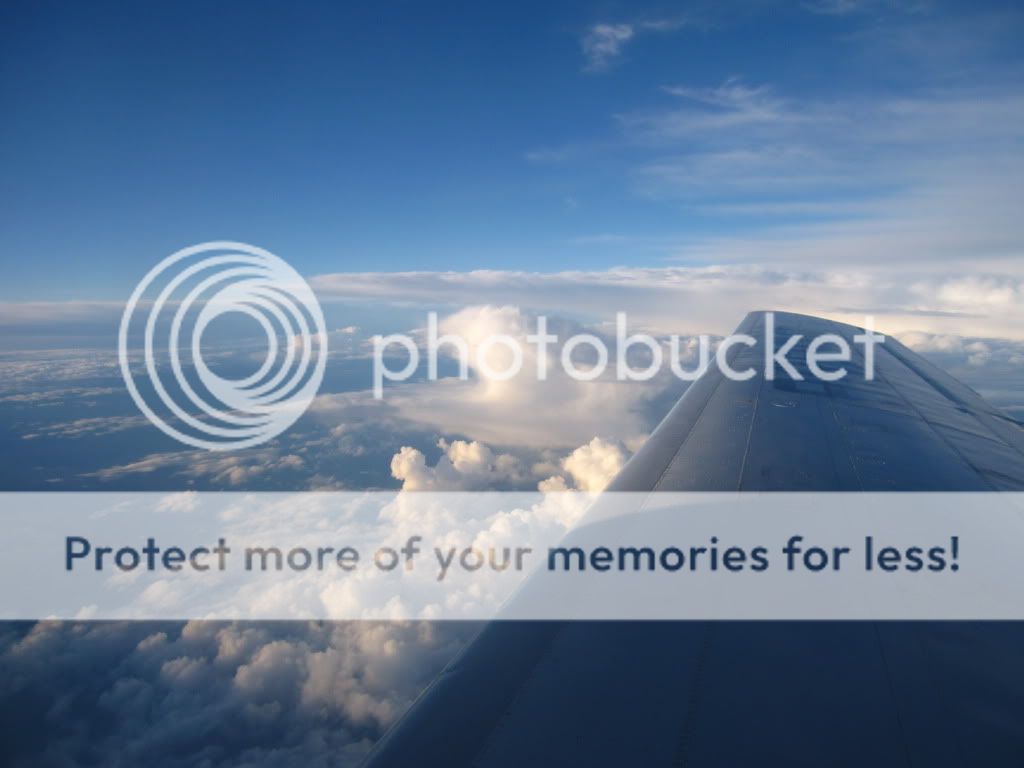 After about 50 mins of flying time we dove into the dense clouds around St. Petersburg area and visibility was sometimes down to zero. The crew successfully navigated to a Rwy 10R approach. Here is a video of the foggy approach and landing. Again note the reverser of engine #2 engages before touchdown.
http://www.youtube.com/watch?v=bff1us88dlk
Similar to VKO we taxied to a remote ramp.
Here is a graph of the GPS log, from the fog I did not realize we actually crossed the airport mid-field during descend.
After the door was opened everyone got off and waited in the bus, but I had to take the opportunity and asked the cockpit crew whether I could grab a cockpit shot. The answer was yes and I quickly fired up my camera for this shot:
I also took a clean cabin shot:
The crew was very friendly, comprising two pilots and the senior check captain today. The captain asked where I was from and that I should come back to fly with them in the cockpit next time. I wish I could have taken his contact details to make sure this rare offer materialises, but unfortunately I had to head off quickly to not let the other passengers wait any longer in the bus. Here is the last shot of this great Yak-40, although a little blurry:
We were then bussed to the terminal and I made my way to the hotel to warm up with some good memories of two successful Yak-40 flights.
Conclusion
All up I have to say I was very positively impressed by this small airline, aircraft and airport. It was totally different from my experiences I had previously in Russia in Sochi and Saratov. People up there were very friendly, polite and helpful. Equipment was in good condition considering its age, the crew made a professional impression to me and I felt safe on all flights. It was probably not the last opportunity to fly on the little Yaks, but I have learnt my lesson with many missed types and this will prevent me from making some last minute travels down the road.
For everyone who may be interested in doing a similar trip, I found out that there is a great way to snatch three Yak-40 flights on a single day by flying the following route as mentioned earlier (also see route map below):
Helsinki Vantaa (HEL) – Petrozavodsk (PES) – Cherepovets (CEE) – Moscow Vnukovo (VKO)/Domodedovo (DME)
The first two sectors are on one aircraft refueling in PES, and upon arrival in Cherepovets the Moscow flight will wait for the passengers arriving from Helsinki transiting to Moscow. This could make a nice little for everyone to fly on the Yak-40. When I booked my flights, I did not know of this opportunity, but the captain I spoke to confirmed that the connection works in both directions and the plane waits for connecting passengers.
I hope you liked the report about this unusual airline, airport and type. If time permits, I will try to also write about all the other types waiting to be wrapped-up in a trip report, including the IL-86, Il-18, Tu-134A/B, Tu-154B/M, and many others.
Regards,
Loran
PS: Here are the three previous trip reports I wrote about memorable flights on the BG DC-10, OX 747-100, and SU Il-96, all from last year. Have a look:
DC-10-30 Biman - Bangladesh Airlines: BG78 DAC-HKG
(by
Loran
Dec 25 2009 in Trip Reports)
747-100B(SR/SUD) Orient Thai 203/200: HKG-BKK-HKG
(by
Loran
Jan 27 2010 in Trip Reports)
Il-96-300 Aeroflot SU552/551 BKK-SVO-BKK
(by
Loran
May 19 2010 in Trip Reports)