Introduction
This small daytrip got its start after fellow a.netter Eric (airbuseric) mentioned that he was doing some segment running on Lufthansa, including visiting Stockholm Arlanda airport a couple of times. The first date I was already traveling somewhere but the second time, a Saturday in November was free for me. Blue 1 was running another fare sale, and since a perfectly timed HEL-ARN morning flight was available for under 50 EUR I decided to book it to hook up with Eric.
To make this trip more worthwhile I decided to add at least one new route to my log, so I ended up booking ARN-TLL on Estonian Air (operated by Estonian Air Regional) for around 70 EUR. The flight left around one and half hours after Eric's LH flight to MUC, so the schedules worked perfectly.
Finally to get home from TLL I initially planned on booking one of the Finnair flights that by that time should be operated by FlyBE Dashes. Well, that deal never came into effect as AY and FC sorted out their arguments and FC keeps operating these flight for AY. Other flying options were thin on the ground - pretty much the only possibility would be BT via RIX, but I really wanted to avoid the notorious "midnight Fokker" this time so I decided to take a ferry home instead.
There are plenty of fast (and a couple of slower ones as well) ferry connections across the Gulf of Finland, and with intense competition the prices are affordable and you can score some nice deals every now and then. So I did this time, Viking Line (a company more widely known for their ferry services between Finland, Åland and Sweden) was offering a special package for 42 EUR that included the ferry ride, a cabin (just what I'm supposed to do with a cabin on a 2,5 hour trip I'm not sure, but nice nevertheless) and a buffet dinner at the ship's restaurant. As Viking Xpress was the only ship I have yet to try on this route I booked myself on it.
Saturday, 13.11.2010
Well, another Saturday, and once again I'm up far earlier than I'd like to be on a weekend. By bus to the airport, arriving at HEL T1 around 7.50 in the morning. Looks like I timed my arrival just right - the place is completely deserted, the morning rush hour has passed and there's a bit time before the next departure wave hits. Security upstairs has more lanes open than customers so it's a joy to pass, for once.
Gate 20 this morning, again in the official T2 territory, but that's HEL for you nowadays. Today's ride is parked there: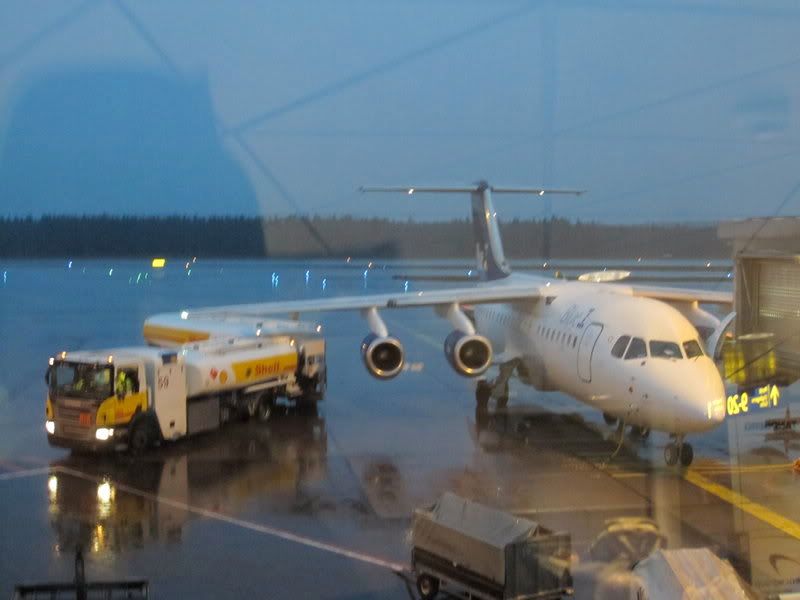 Alpha Joliet "Pyhäselkä", an old friend of mine, this would become my fifth flight with her.
I buy my obligatory bottle of water and sit down at the gate to wait. There's a City Airline crew sitting next to me, apparently deadheading to their home base of GOT. Two pilots and three FAs, so looks like an MD-87 crew to me - they are operating one of those for KF right now since they are a bit short of planes until more 717s arrive.
Boarding commences around quarter past eight. They even do it by rows, now that's something you don't see too often at HEL, hooray! Since I picked the last seat with OLCI, I board among the first pax.
HEL - ARN
KF429
ARJ-85 OH-SAJ "Pyhäselkä"
Seat 18A
8.46 - 8.38
It takes a bit time to get to the last row, lots of not very well seasoned travelers on this flight so simple things like finding your seat or stowing the luggage and clothes to the overhead bins takes a long time for some of them. By the time I reach my row I comment to the FA in the back galley who I remember from my previous flights with KF (well, this is my 89th flight with them...) about it and she just rolls her eyes and agrees with me.
Next to us - LH A321 D-AIRU "Würzburg" - LH has lots of capacity on the HEL-FRA route nowadays, there was an earlier 7.15 flight with an A321 and this one will depart around 9.00: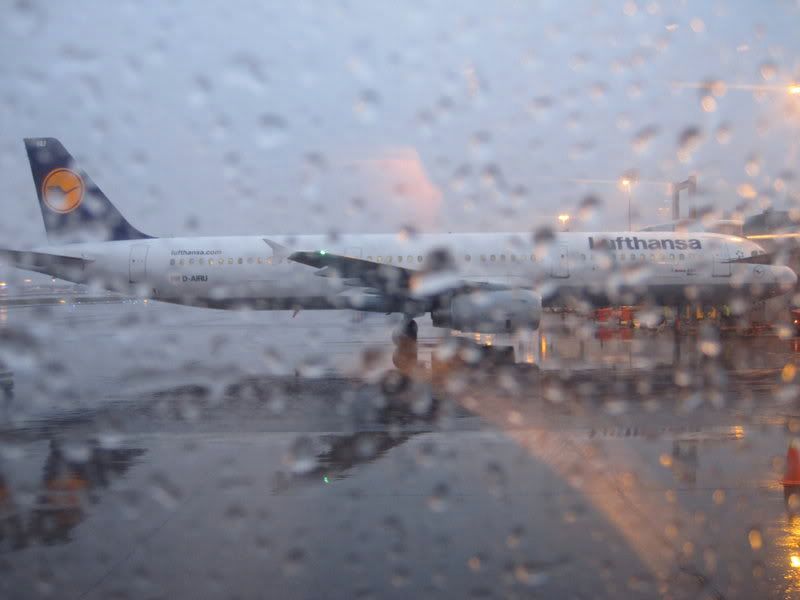 The last row has only two seats on each side, but legroom feels a bit less than on the rows more towards the front.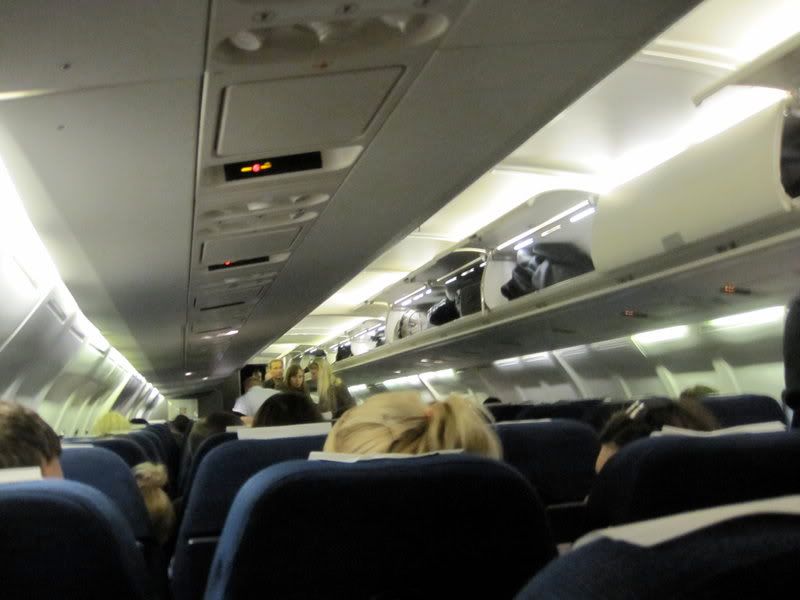 There are five rows of Premium class on this flight, half full or thereabouts - economy is almost completely full, I think I see two vacant middle seats and that's about it.
The captain pops in the announce that we are ready to go but we will still need to go through the bane of winter flying at these latitudes: deicing.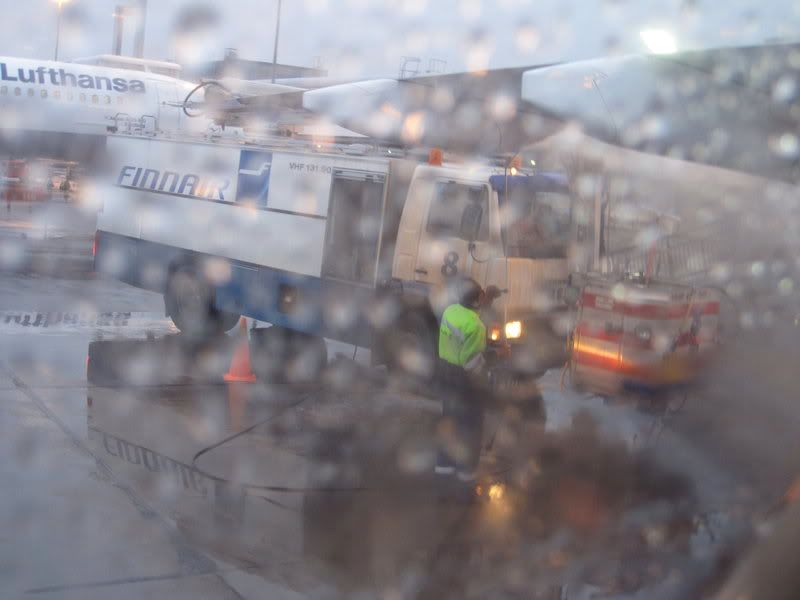 The procedure ends up taking quite a long time - at least they do it at the gate instead of having us taxi to a remote deicing position. By the time we finally push back it is already 11 minutes after our scheduled departure time.
Runway 04R is in use today, taxiing there takes seven additional minutes and we take off 18 minutes late.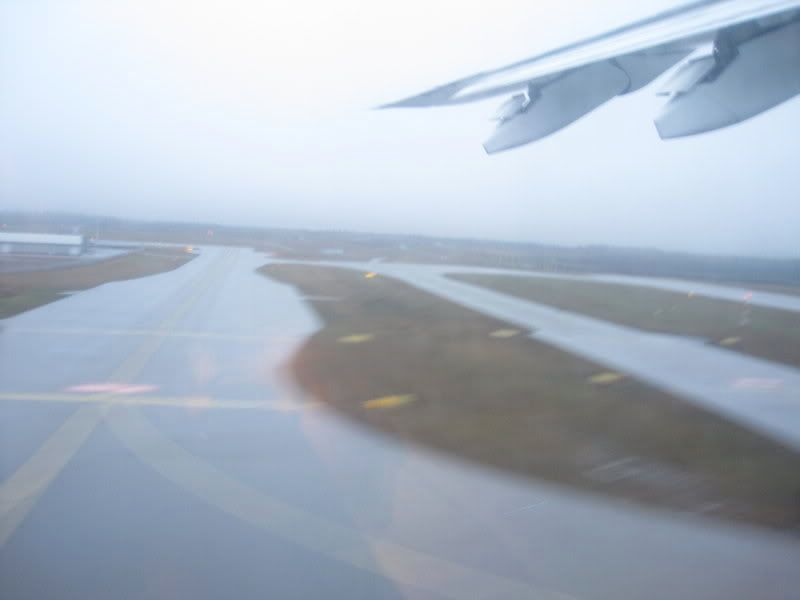 Not many views as the weather is so yucky this morning. Luckily it always shines above the clouds, here as well: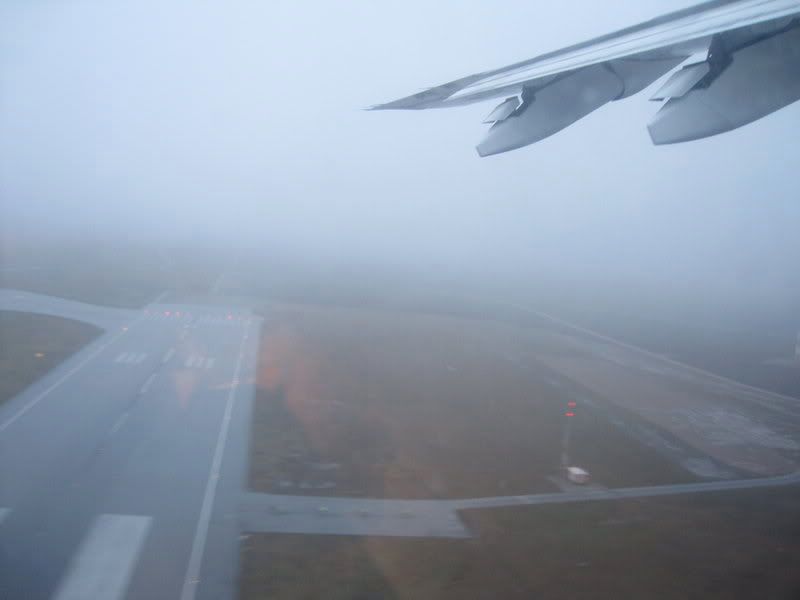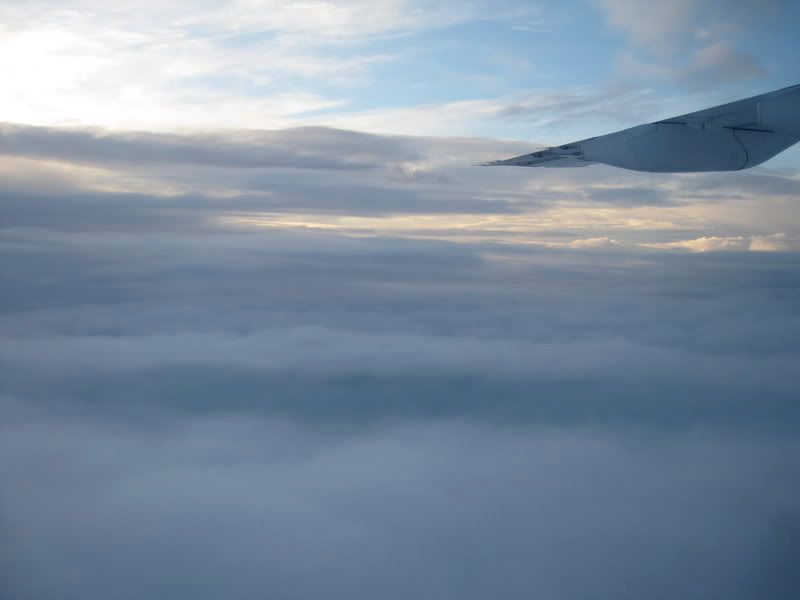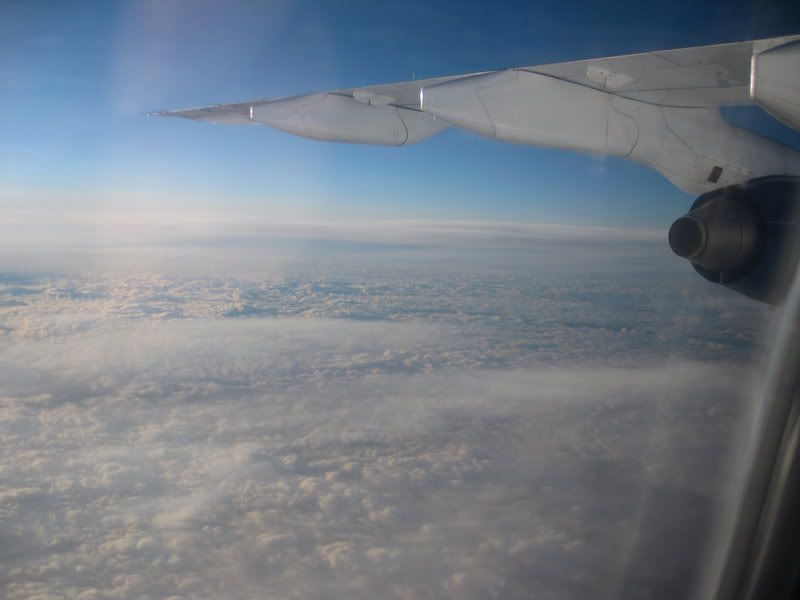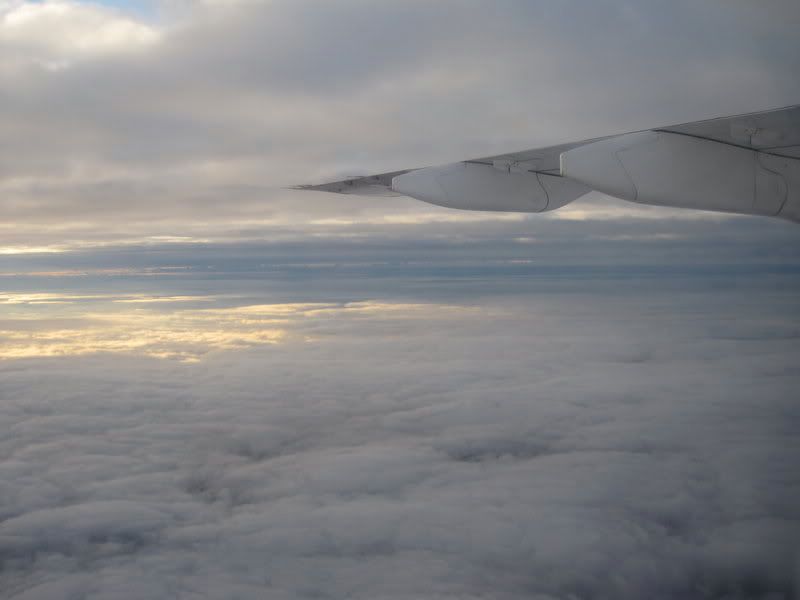 Service is free tea or coffee, some caffeine is desperately needed: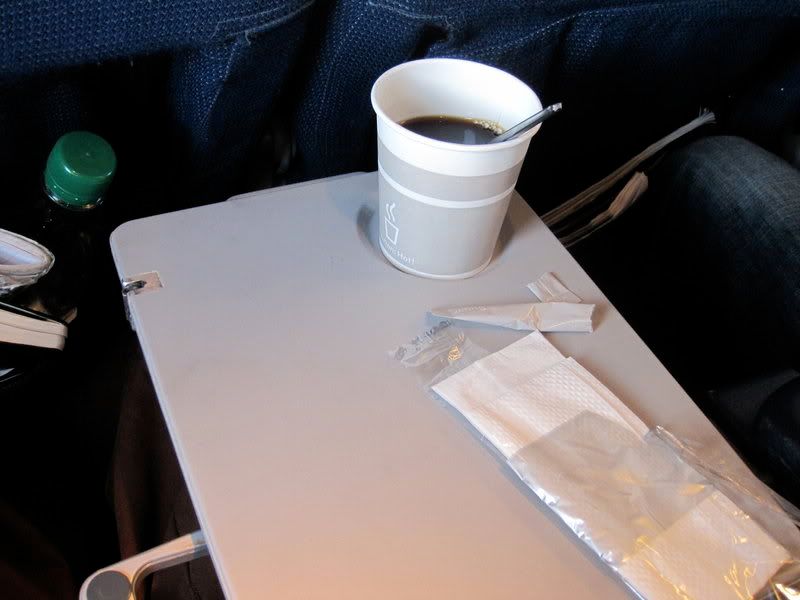 Half an hour or so after take off we are already descending, the Swedish weather looks just as ugly as the one we left behind. Once we break the clouds I'm a bit surprised to see some snow on the ground: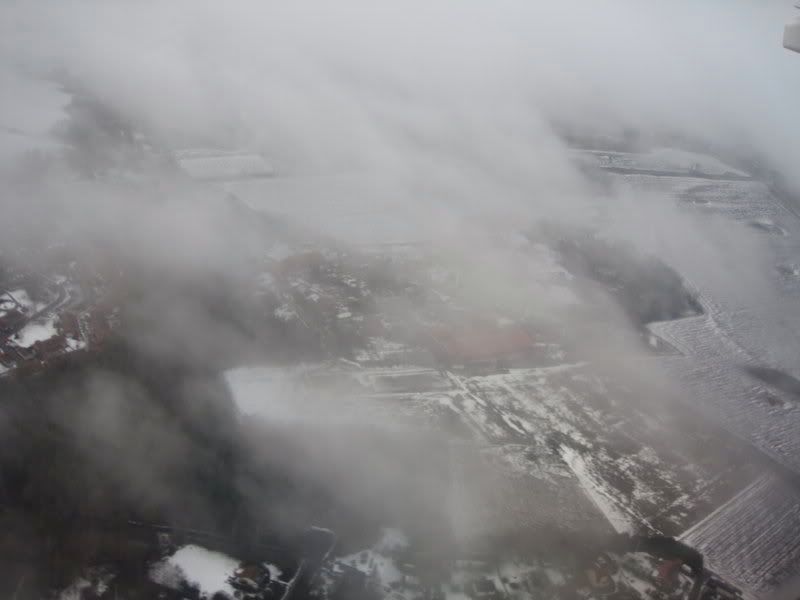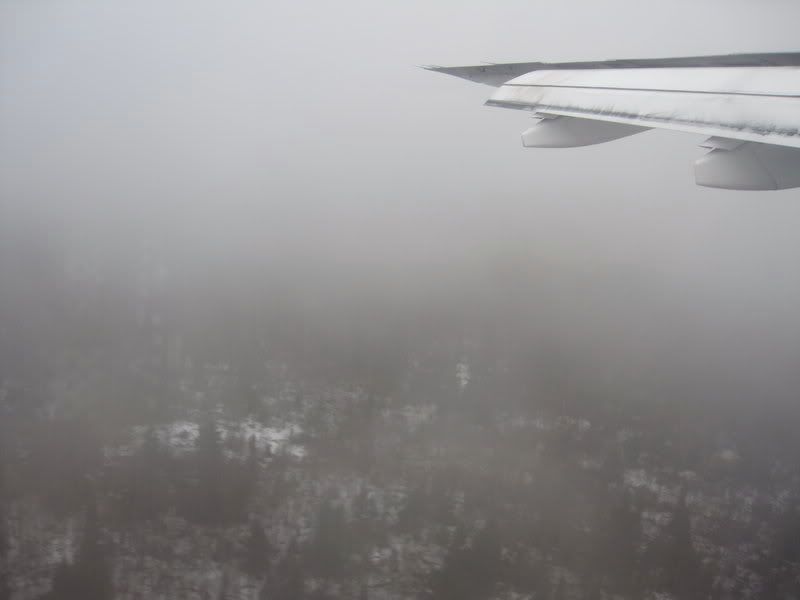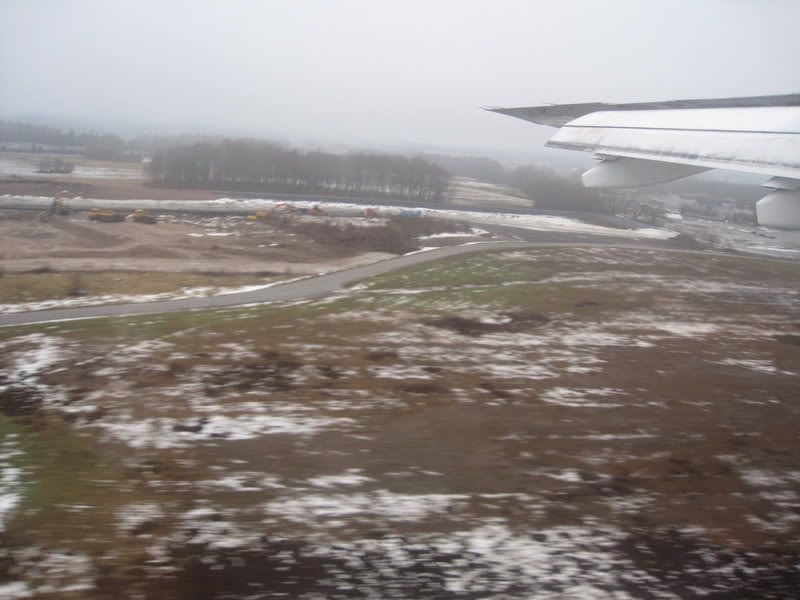 Landing is on runway 01L 45 minutes after take off.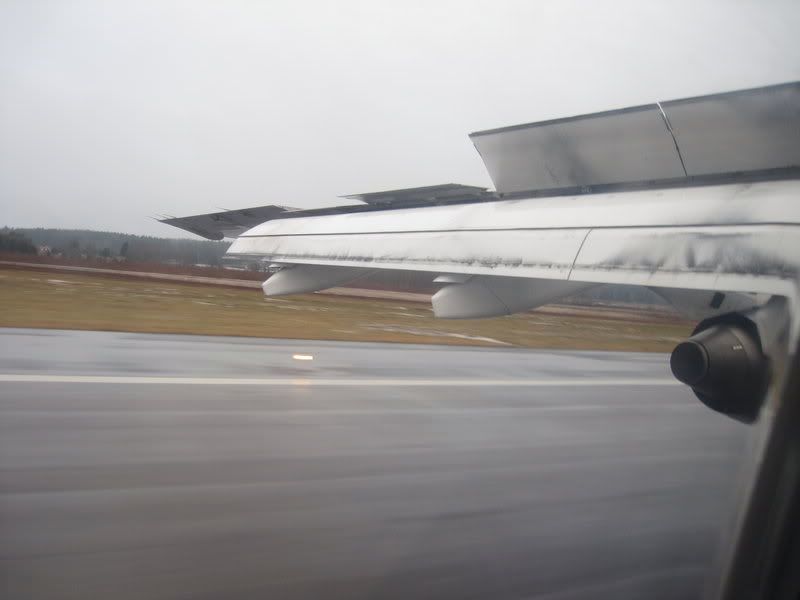 A couple of minutes later we stop at the usual KF gates at the end of the middle pier of T5.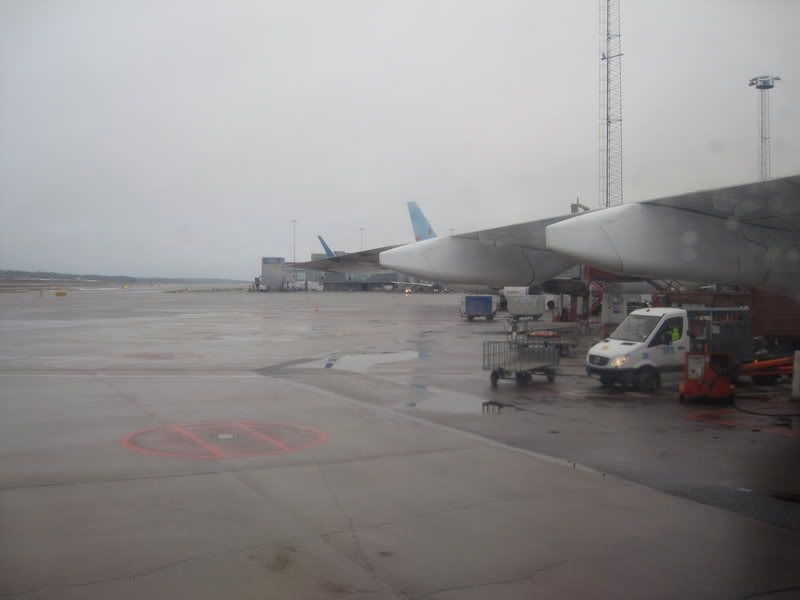 Bye,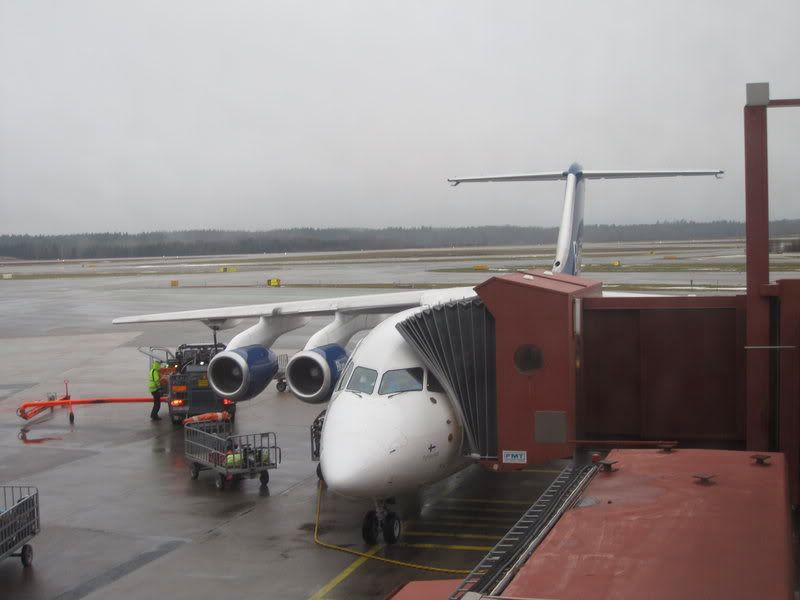 Stockholm Arlanda Airport
Once out of the plane as the last passenger (yeah, the curse of the last row...) I check the monitors to see where Eric's KLM flight from AMS is arriving. Gate 11 is the first gate of the other pier, so I walk there, stopping at the SAS transfer desk to get a boarding pass for my OV flight (their OLCI is very limited and mainly works ex-TLL only). On the way I spot some planes - I like the livery on this cargo Fokker: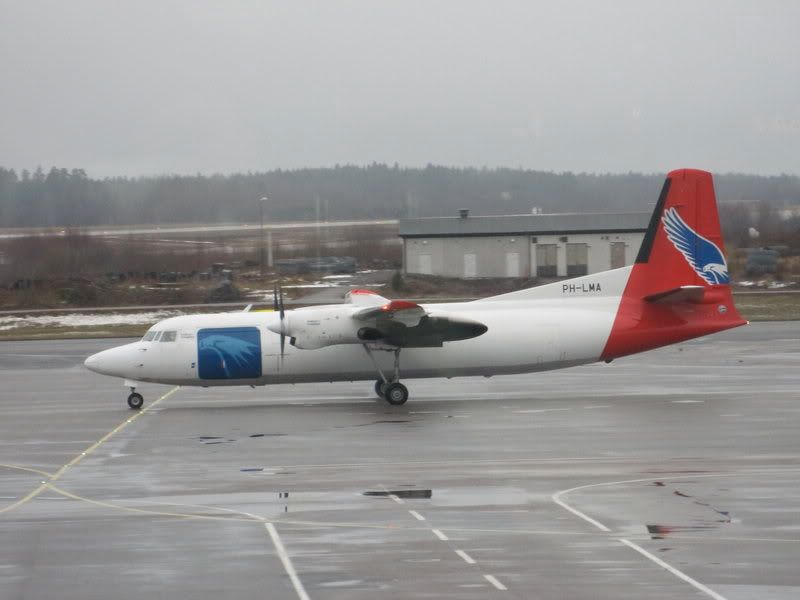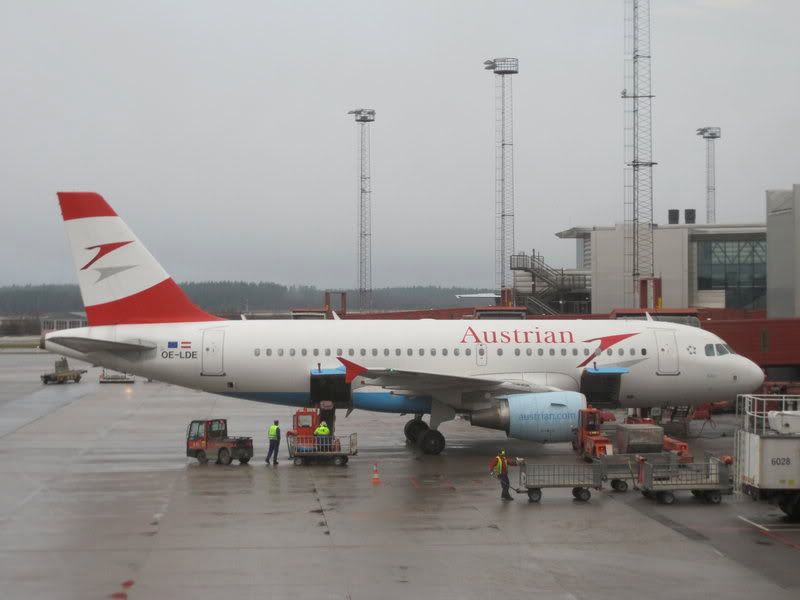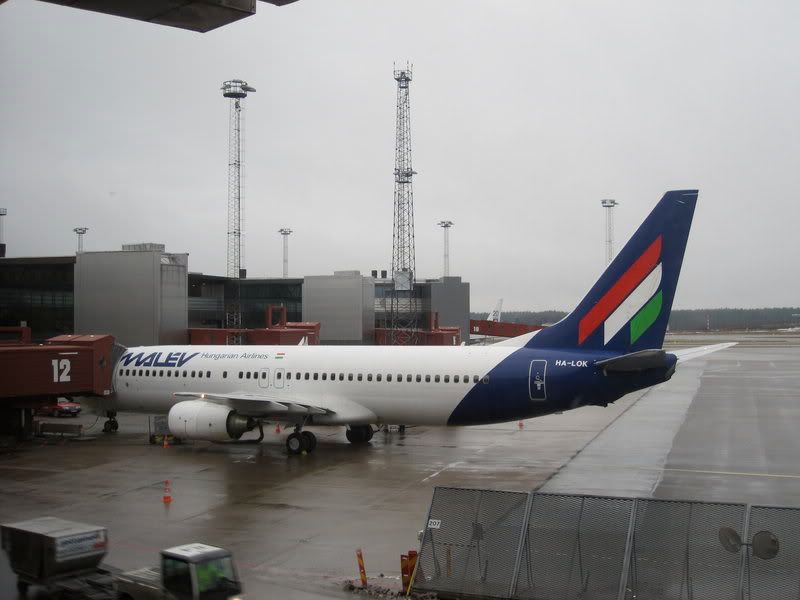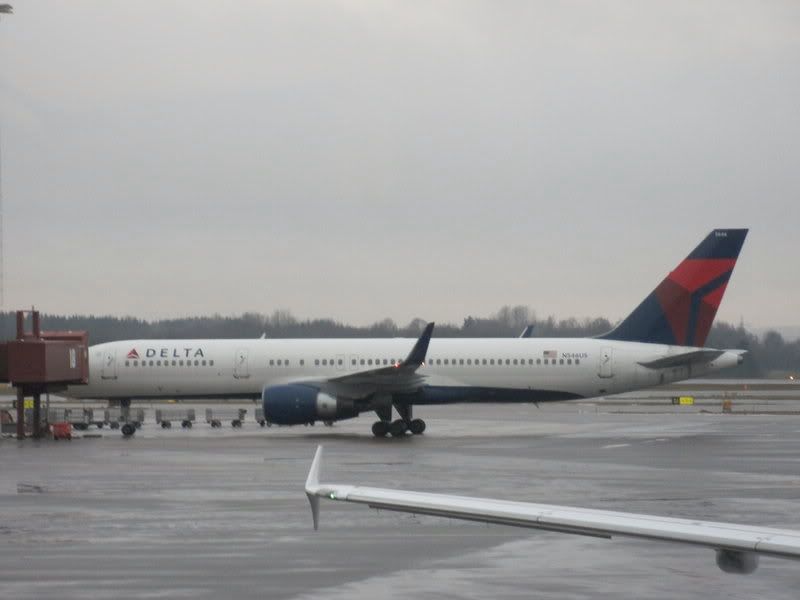 By the time I get to the gate the plane has just arrived, more than twenty minutes early, and a few minutes later Eric emerges among the first passengers from the jetway.
What follows is a couple of hours of interesting chat about all things possible, some coffee at Starbucks (thanks Eric and congrats on the FTL!) and some "slow food" at the Skycity McD. Far too soon it is time to head back for Eric's MUC flight, which today is being operated by D-AIPY: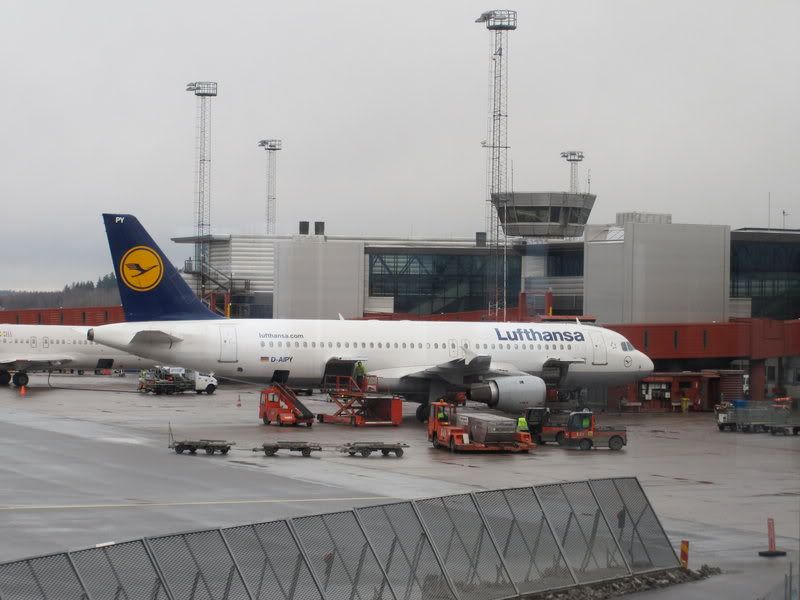 At the gate we bid goodbyes, I head to do a bit of shopping for a colleague and then to the Menzie's lounge where I park myself in a prime position to watch Eric's plane departing - it ends up being a bit delayed but not too much: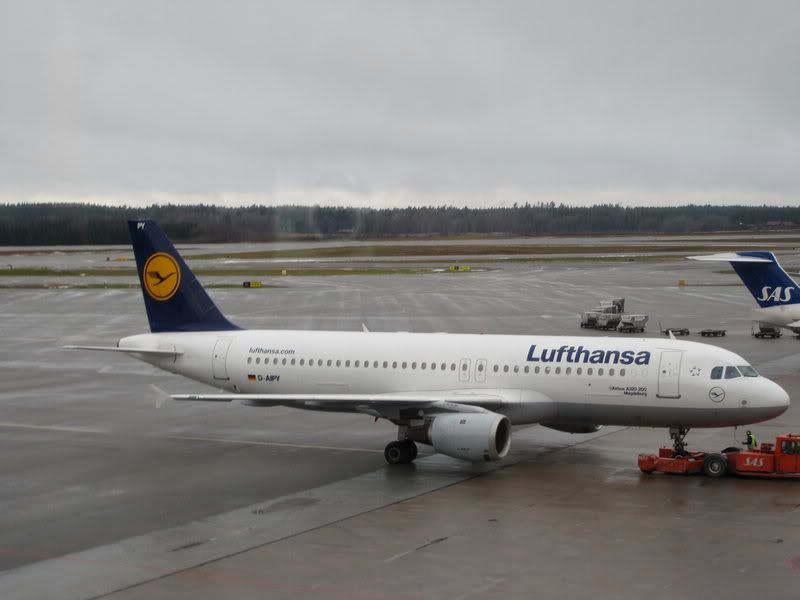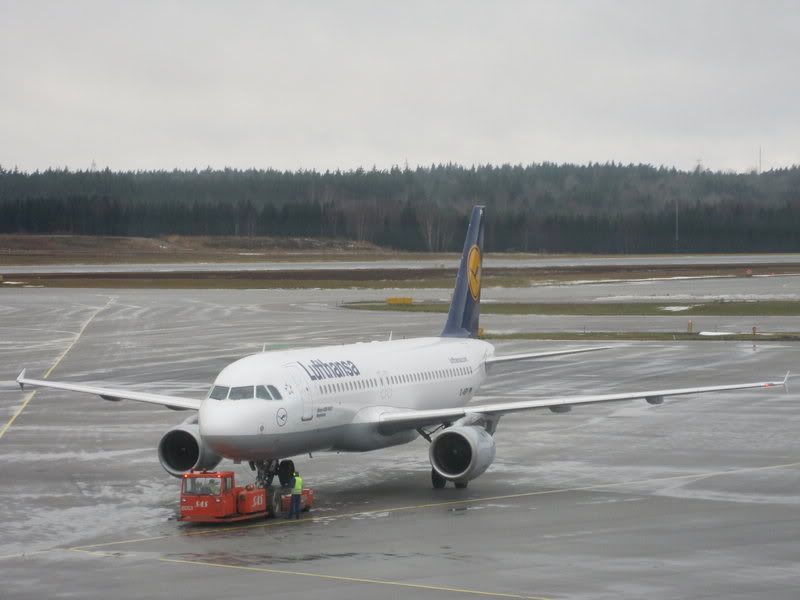 Bye mate, had a blast: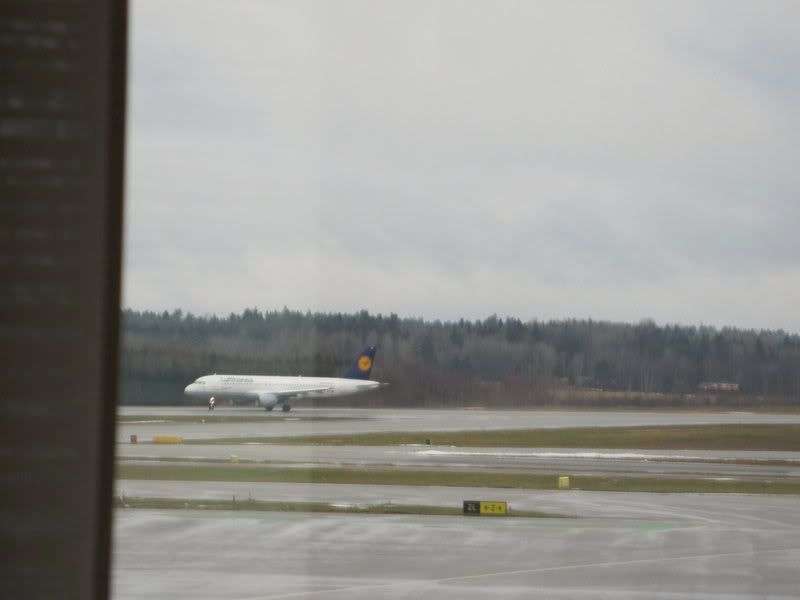 I nibble on some snacks, drink some glasses of beer and use the provided wifi for a while. I like this area that has a view towards the T5 apron between the two older piers: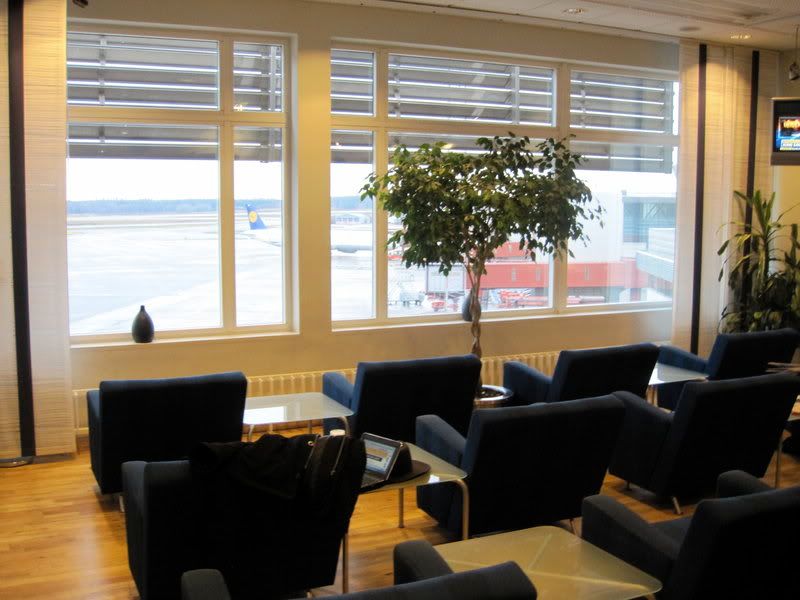 So only employees in wheelchairs can use this facility: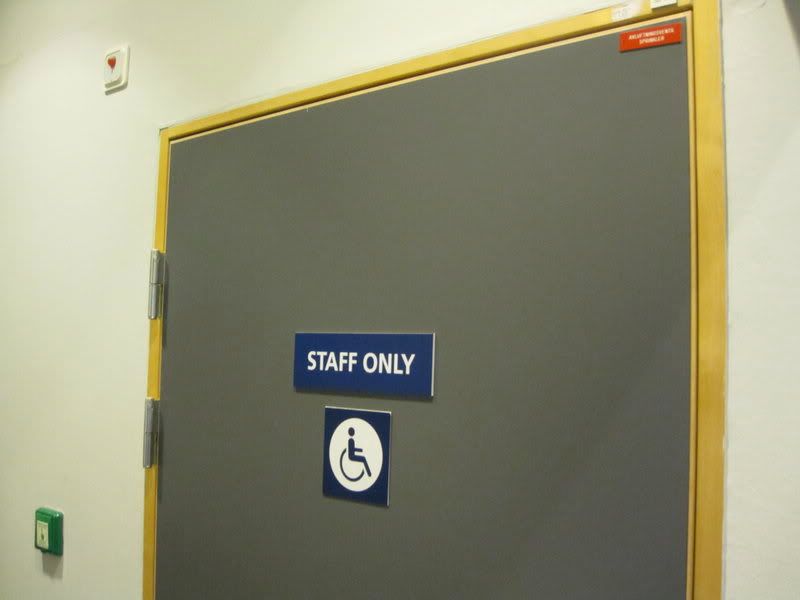 Soon it is time to go to the gate and once I arrive there boarding is in full swing: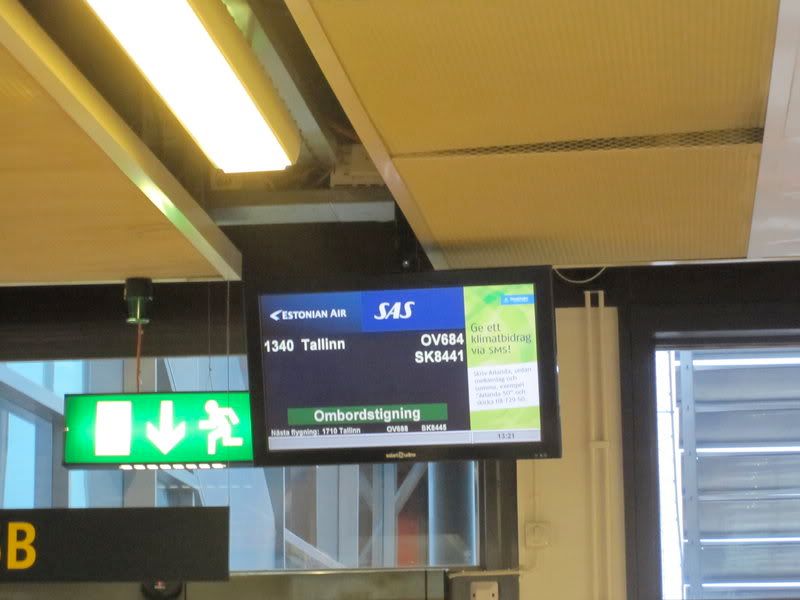 Funny how BT always manages to board their Fokkers (and Dashes) on the spot here, but we have to take a bus ride to the commuter apron: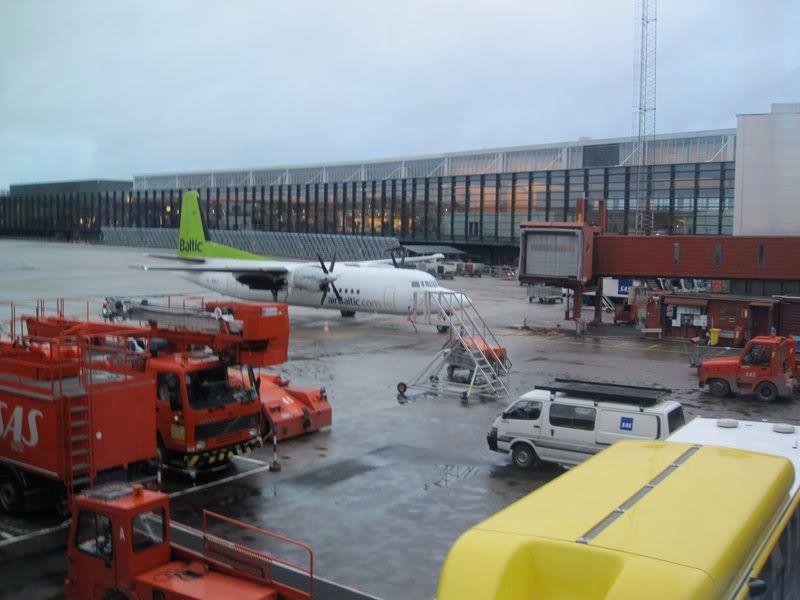 The bus is quite well packed - mostly Swedish people but there's a large Dutch extended family with a small baby and a couple of Estonians as well. On the way to the plane we pass this Air Sweden A320: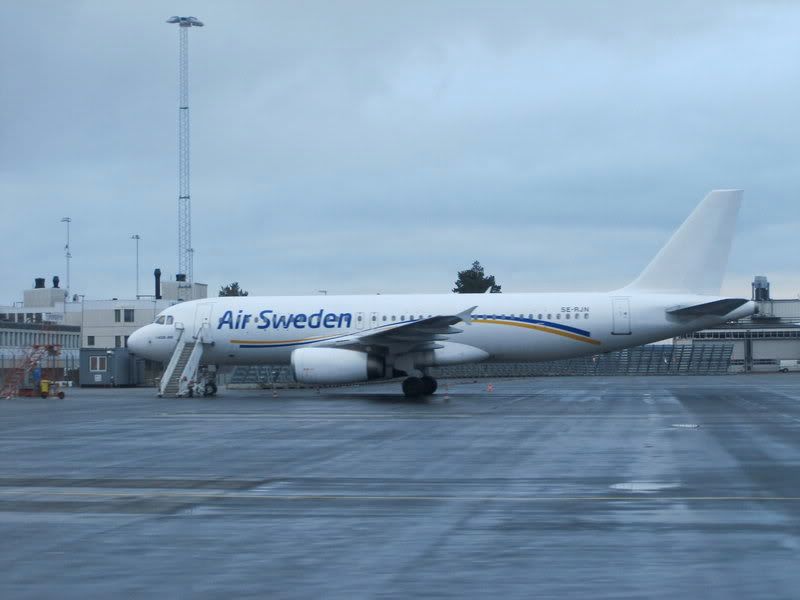 The bus stops in front of ES-ASN, a 21-year old bird and another old friend of mine (well, I've flown many times with both of the Estonian Air Regional Saabs so it's a loosing game for me). Actually this is only my second flight on ES-ASN, but fourth flight on the bird as I flew it twice when it was still SE-KUU and operated by Golden Air for OV in the early days of that operation.
It's actually funny how many people (Eric included!) consider the Saab to be such a rare plane - this is my 32nd flight aboard a S340 - I flew a lot with them when DC still operated domestic routes for FC in Finland...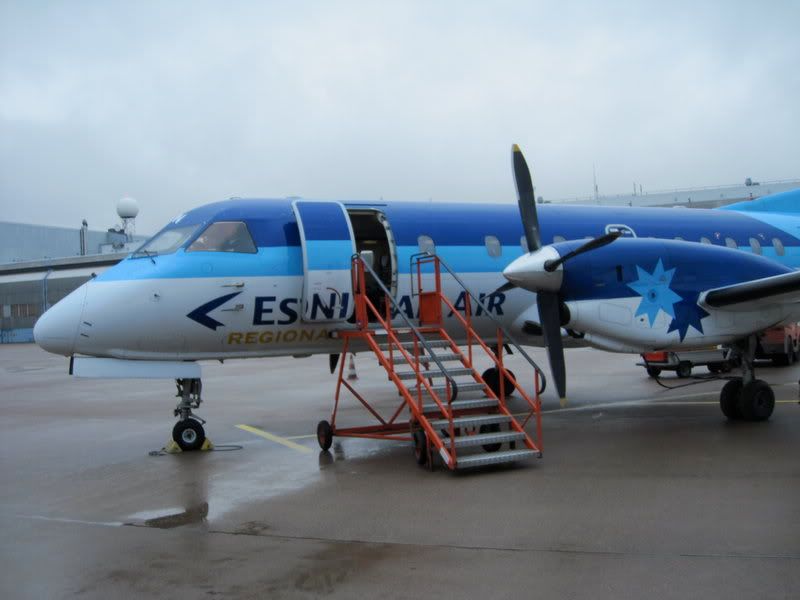 The Dutch people let out some nervous chuckles and expletives (not that I understand Dutch) after seeing the small plane.
ARN-TLL
OV684
Saab-340 ES-ASN
Seat 9A
13.42 - 15.42
Onboard an almost overwhelmingly friendly and young female FA welcomes me onboard. I like the leather seats on these Saabs: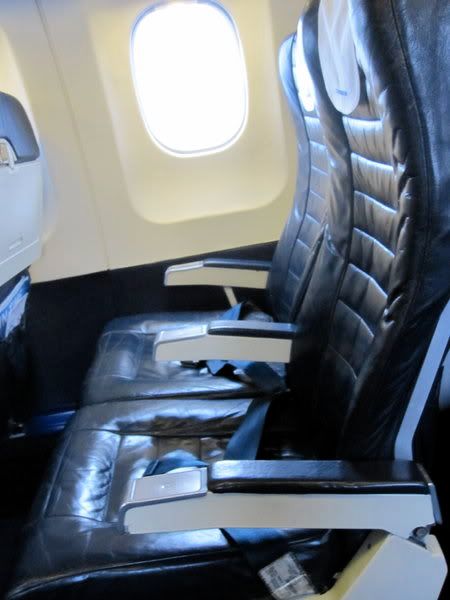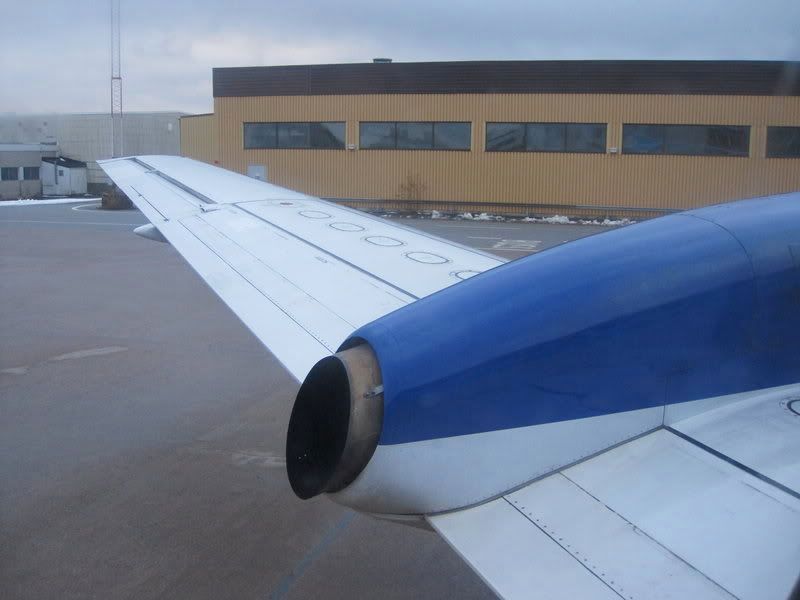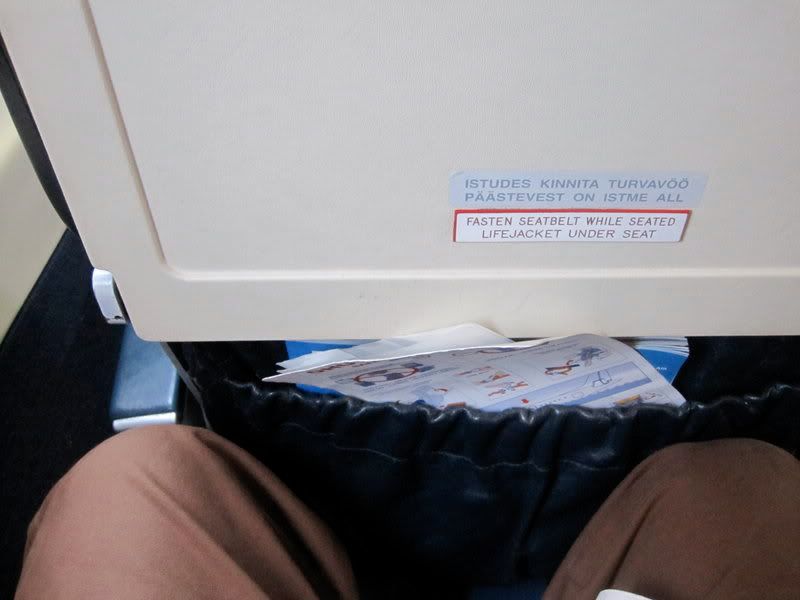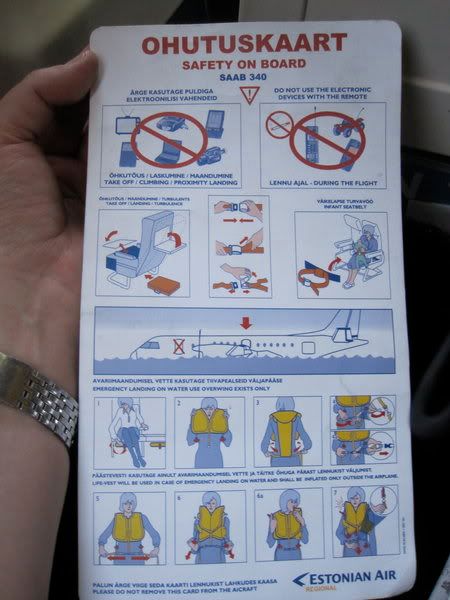 For the record this one has an onboard lavatory, so the last row has only 3 seats, unlike the Golden Air/Next Jet/FlySmåland Saab I flew a couple of months ago.
Quite a good load on this flight, 90% or so. The Dutch baby just happens to be on the lap of his father across me on the aisle seat, but he (I think it's a he) is a good sport - only cries when we are on the ground and is completely silent throughout the flight, only crying again once we have landed at TLL. I think he is just like me - loves to fly so is completely happy and quiet as long as we are airborne...
Flight time is announced as an hour. Departure is two minutes late, followed by a taxi of five minutes or so to runway 19R (yep, a runway switch took place at some point) and take off to the murky skies. On the way we pass this DC S2000: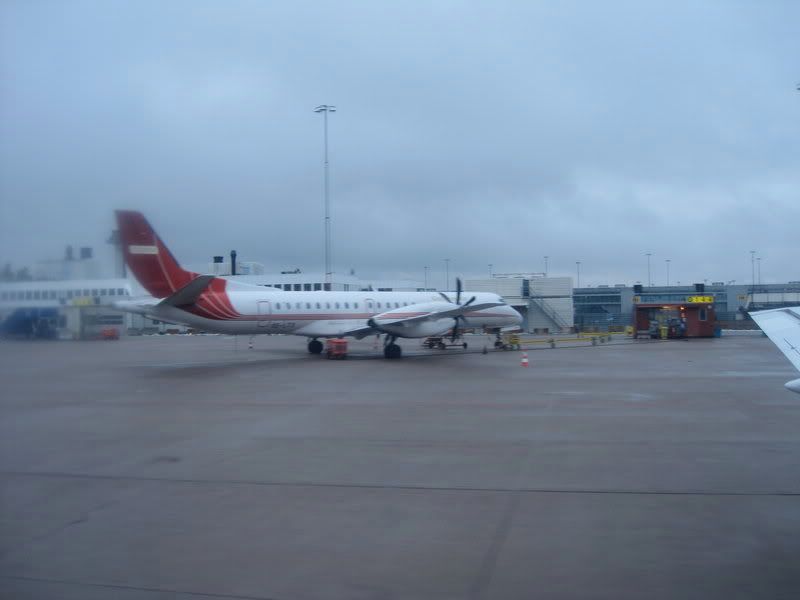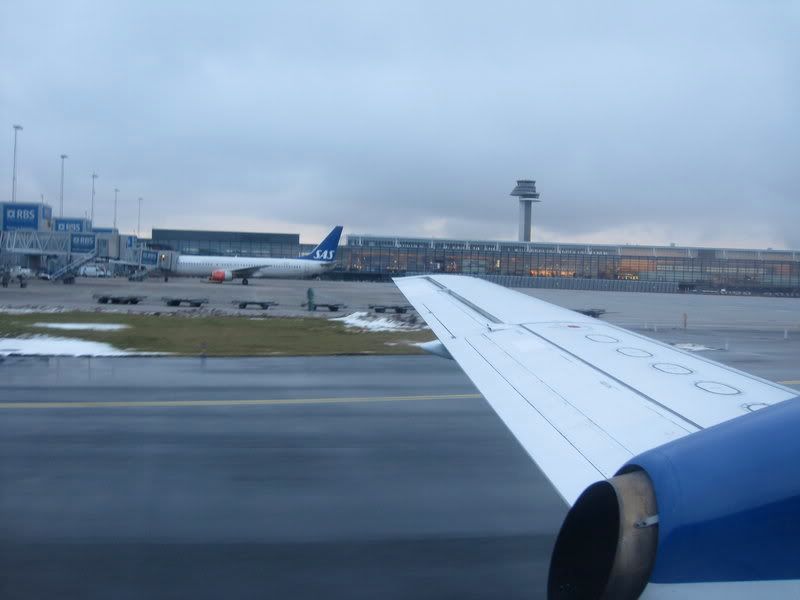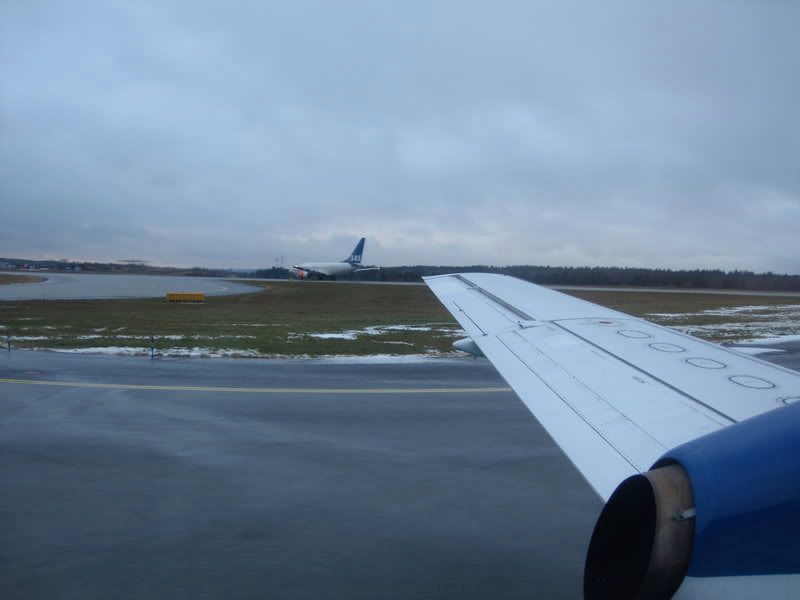 A NextJet ATP in this picture - I should be flying on one just three days later: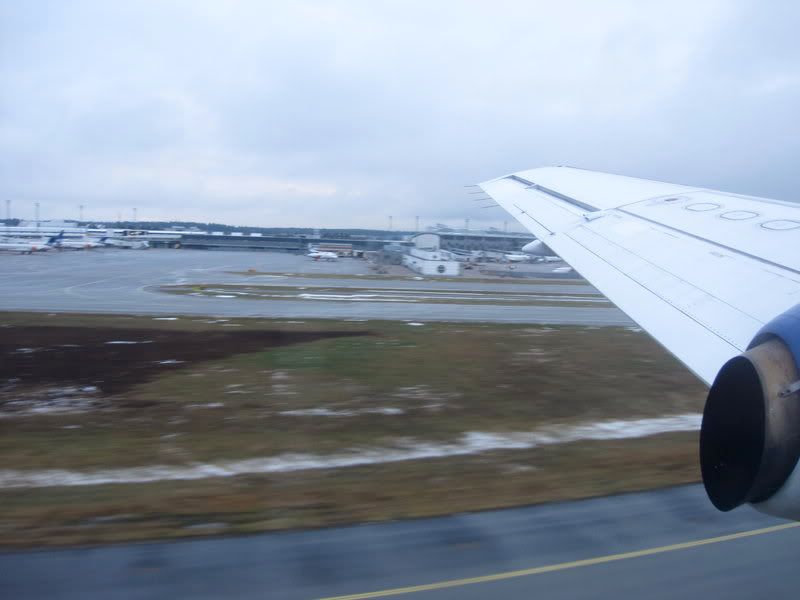 Another upcoming destination of mine in this picture - the Jumbo hostel: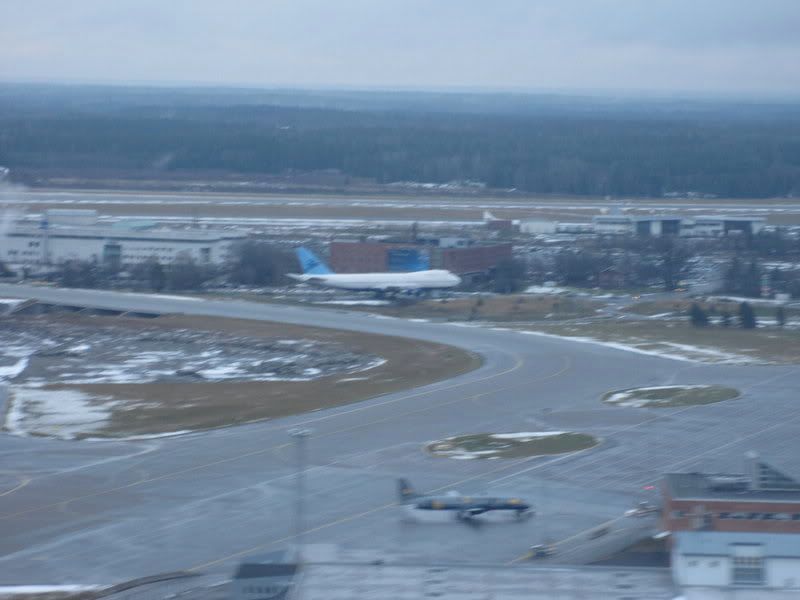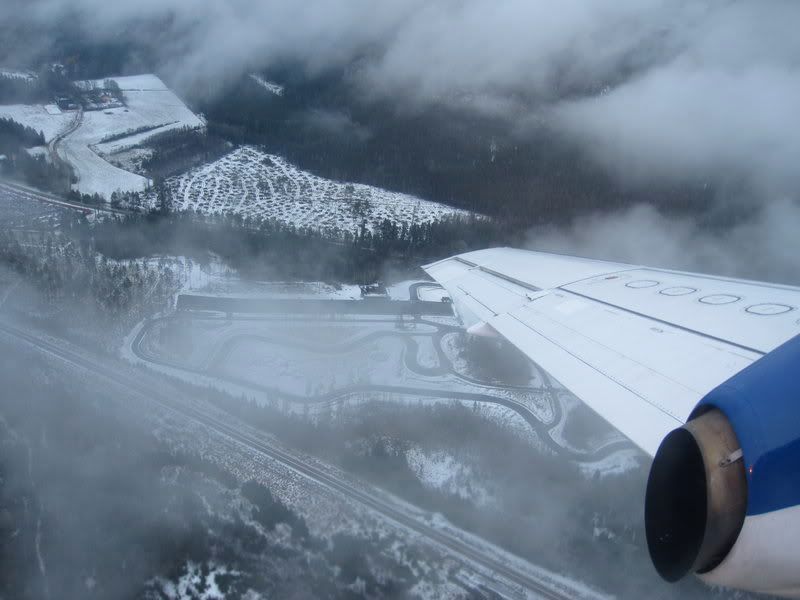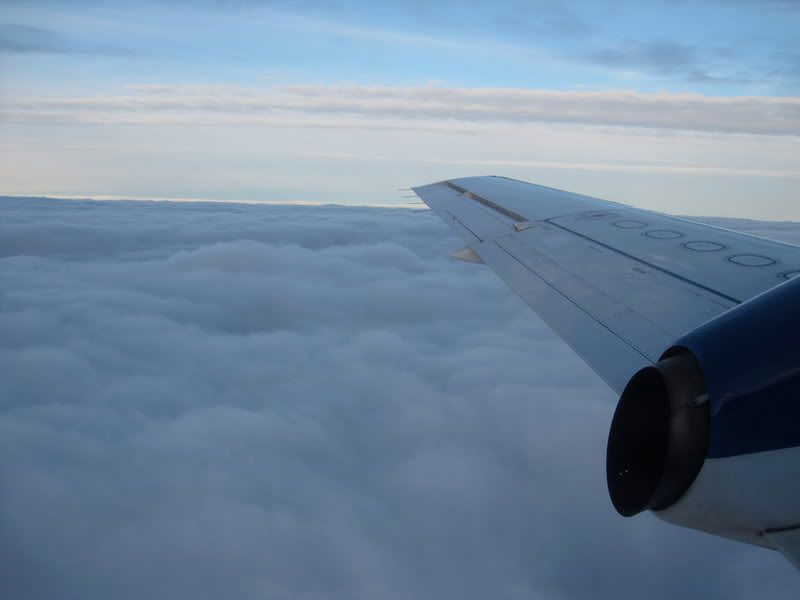 Service has been downgraded since I last flew with OV Regional, that was ARN-URE on this same plane actually and we got a rather large and nice sandwich. This time it is only a muffin, although a warm one and drinks - the FA is again very friendly. The muffin is nice, but the apple juice in true Estonian style far too sugary for my tastes: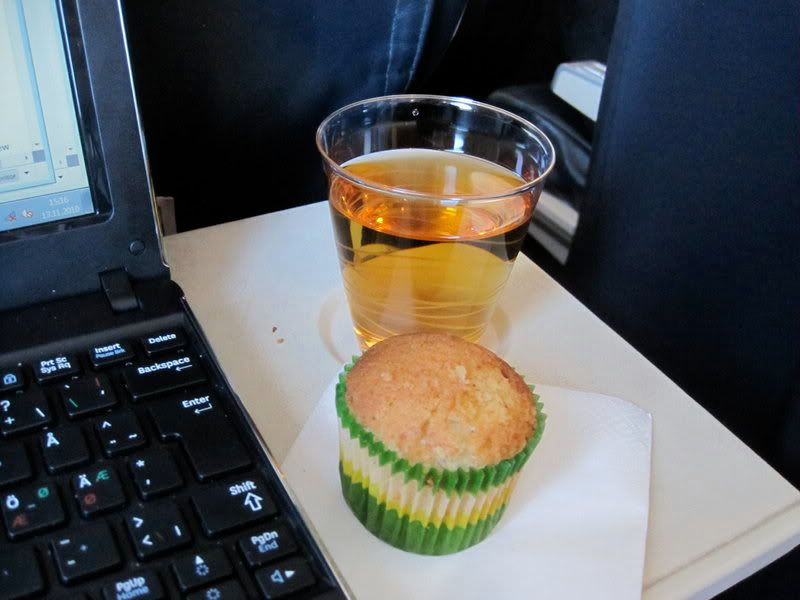 Interesting to note that she served some sort of meal trays to the pilots before starting her rounds throughout the cabin. Cabin view:
The only opening in the clouds during our cruise, showing the Baltic Sea and nothing else: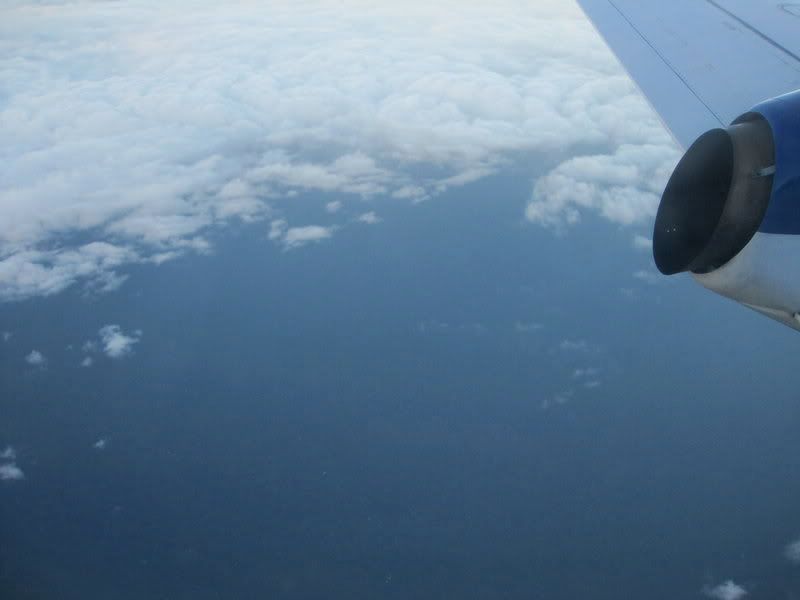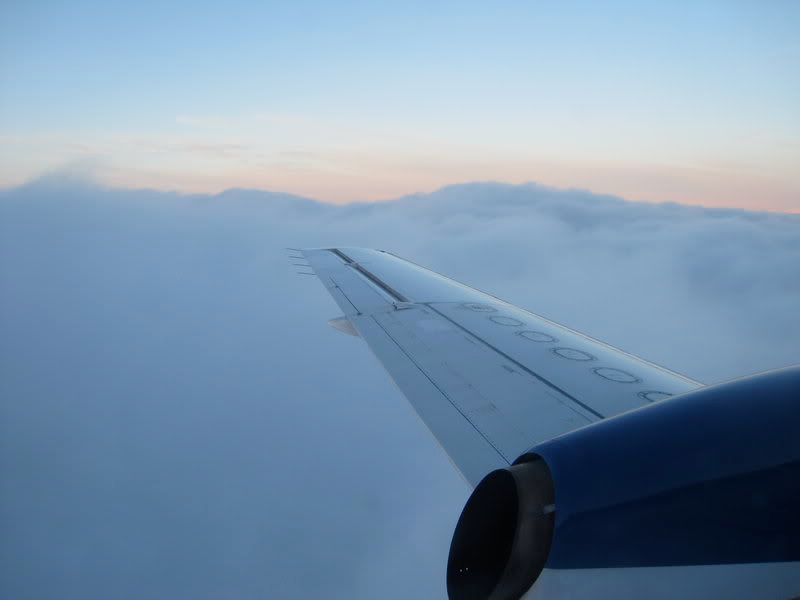 We start our descent around 45 minutes or so into the flight and soon break the clouds for the first view of Estonian soil: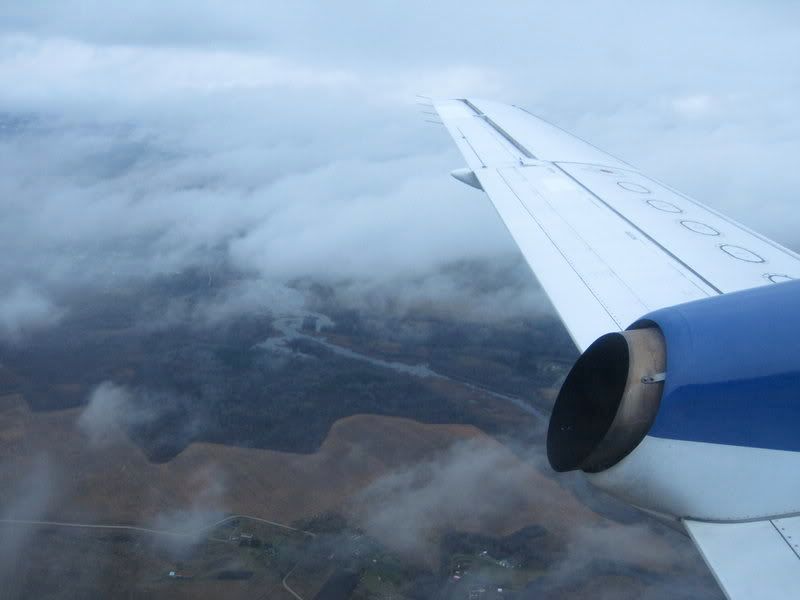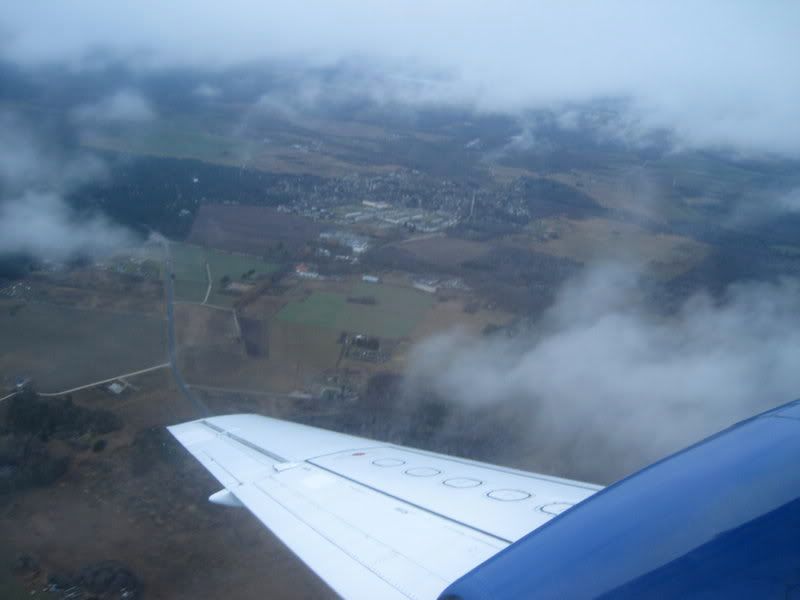 Unfortunately the fact that we are turning left confirms to me that we are landing towards the west on runway 26, which means that there aren't going to be any nice city views, at least from my side. When landing on 08 one gets some great views of the old town and the highrises of the new town from the A side, but not today.
Gear down: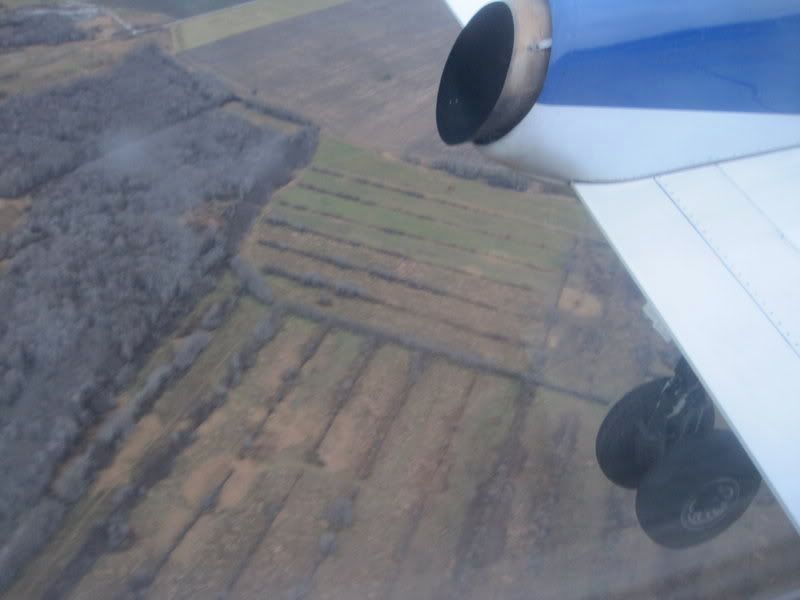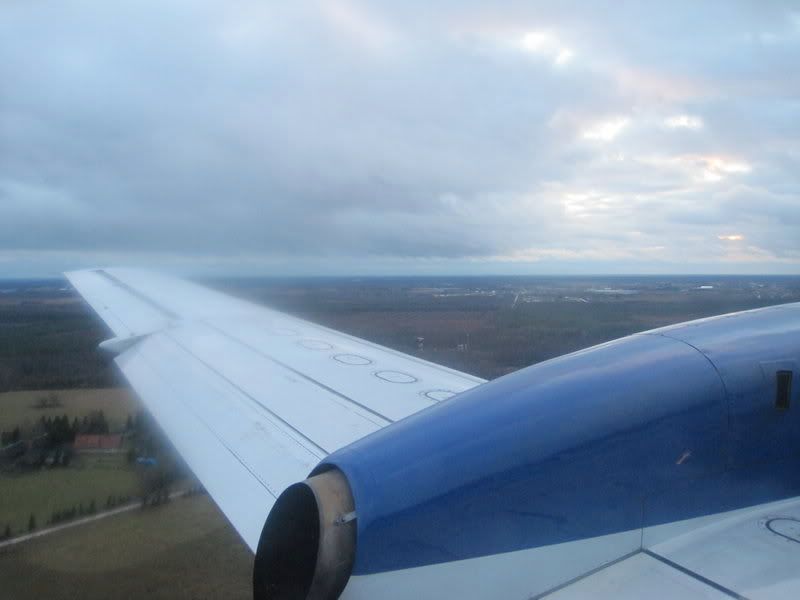 Landing is exactly an hour after we left our parking position, after a flight time of 55 minutes.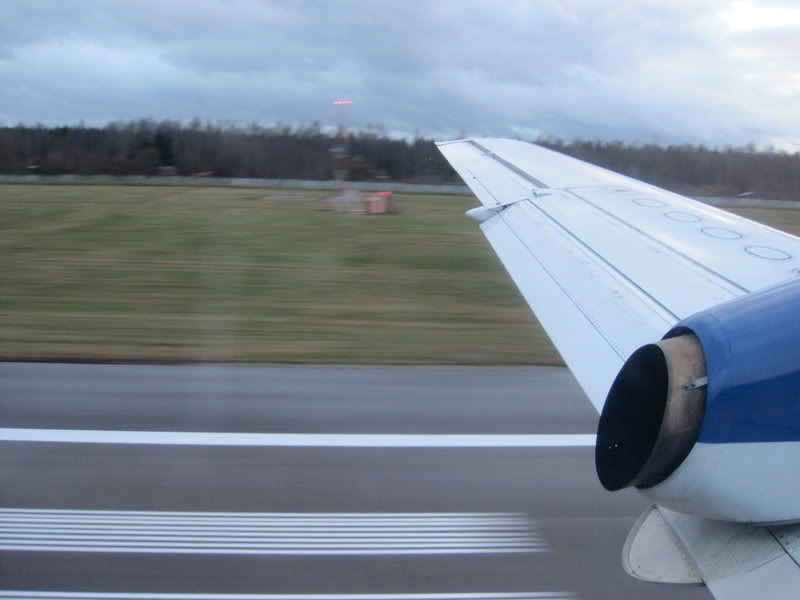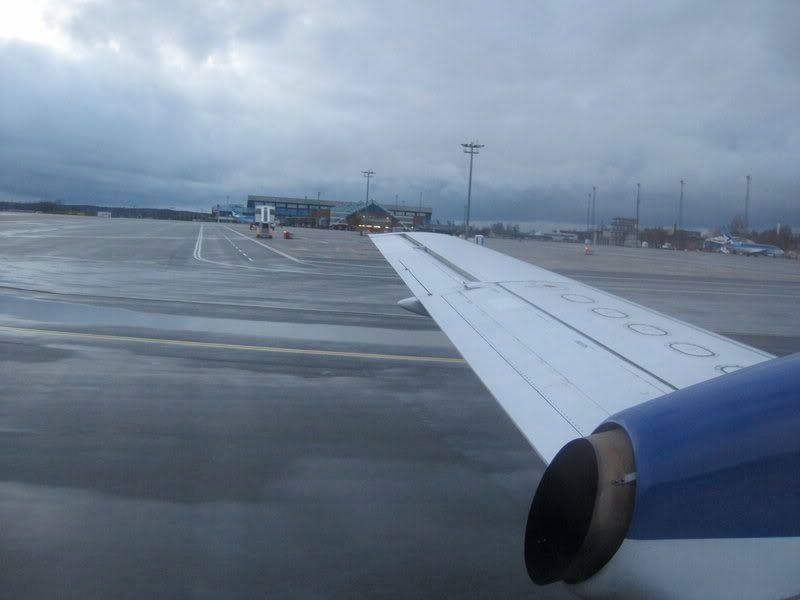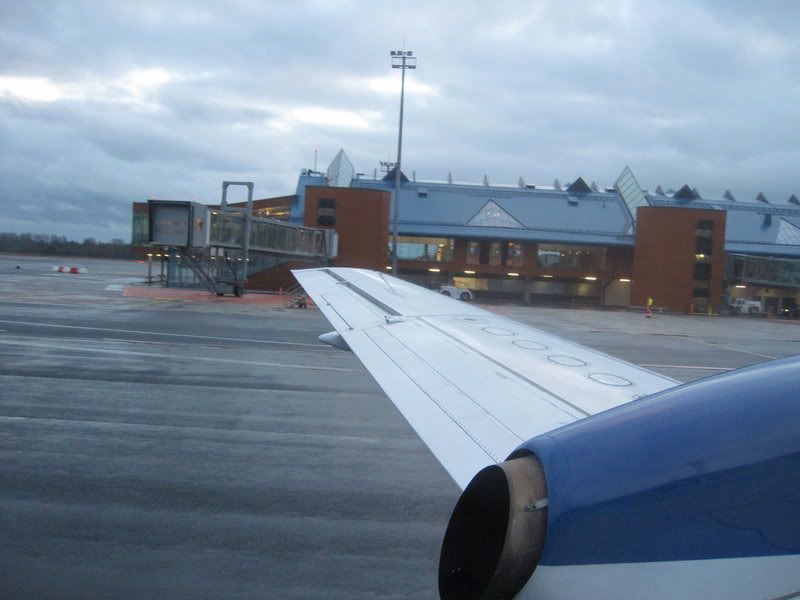 Hmm, what's that Russian Boeing behind the Estonian one, in front of the Estonian Air maintenance hangars - is it some sort of a government plane?
Bye, ES-ASN: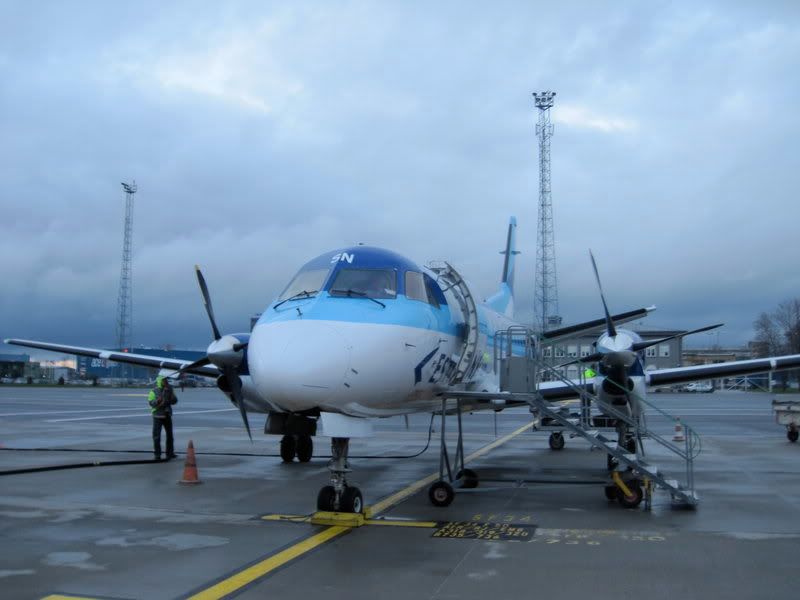 Tallinn
Up the stairs to the jetway, to the terminal where I notice that our plane is going back to ARN in an hour or so and quickly outside. First stop: ATM to get some Krooni (soon to become history as Estonia is joining the Eurozone next year - a remarkable achievement for them during these economically hard times!). Next stop: R-Kiosk to get a bus ticket. Too bad the one I've always used for this purpose is closed, but I found another one in the main check-in hall and for the equivalent of one Euro get my ticket. Ten minutes later I hop in the airport bus, which conveniently goes to the harbor via the city centre. Too bad it also serves some lakes before getting to the airport as there are a couple of old men and women who obviously have been fishing and the whole bus reeks of fish.
20 minutes later I step off in front of the Passenger terminal A. I have some time, but since the weather here is rather bad as well I'm in no mood for going for a walk and go to the terminal instead.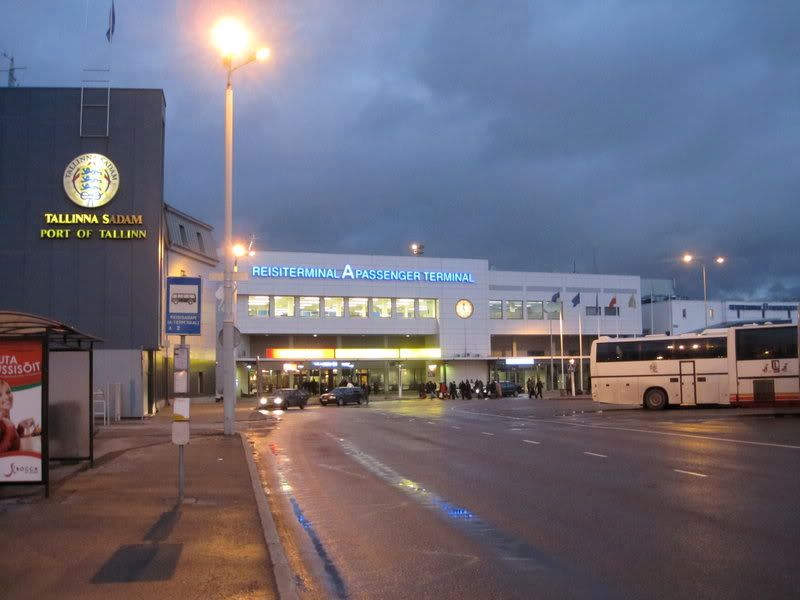 Quick check in at the Viking Line counters and then I go to the bar or a couple of pints while using the provided free wifi (you gotta love Estonia, thank's to their governments "E-stonia" project you have free wifi almost everywhere!). I start having second thoughts about whether this ferry ride on a Saturday night was a good idea after watching the drunken antics of my fellow countrymen in the terminal...
An hour later it is time to get onboard, first upstairs, through the booze store - these 10-packs of vodka are nowadays firm favorites of Finnish travelers: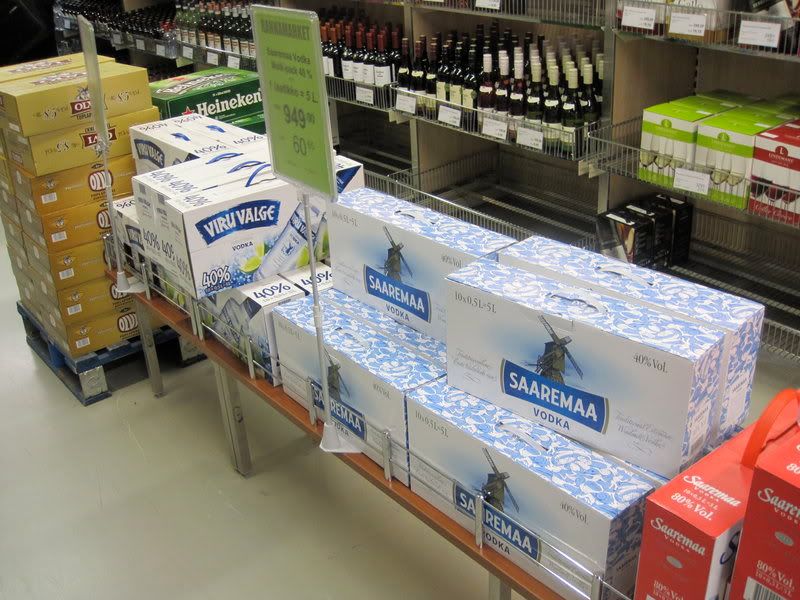 Then through a sort of a "jetway" to the ship: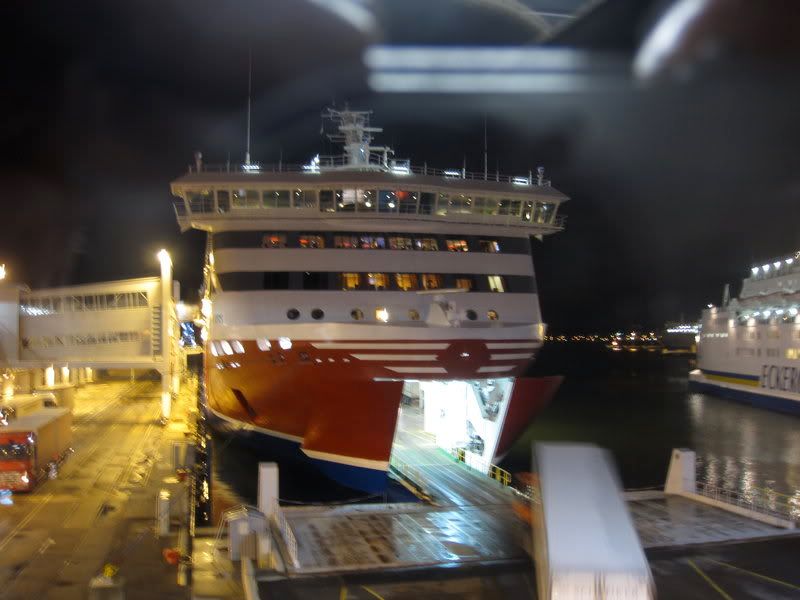 I head to my cabin - not much but then again perfectly acceptable apart from the lack of towels - where the heck am I supposed to dry my hands?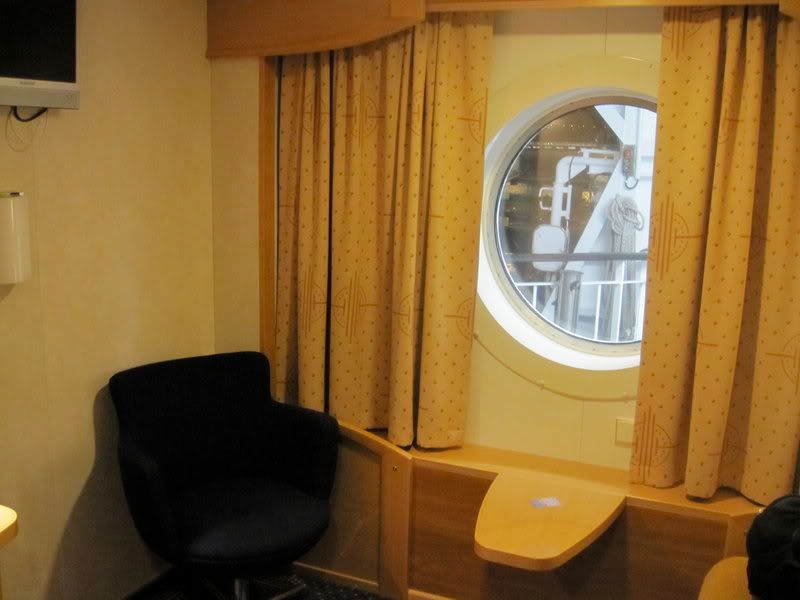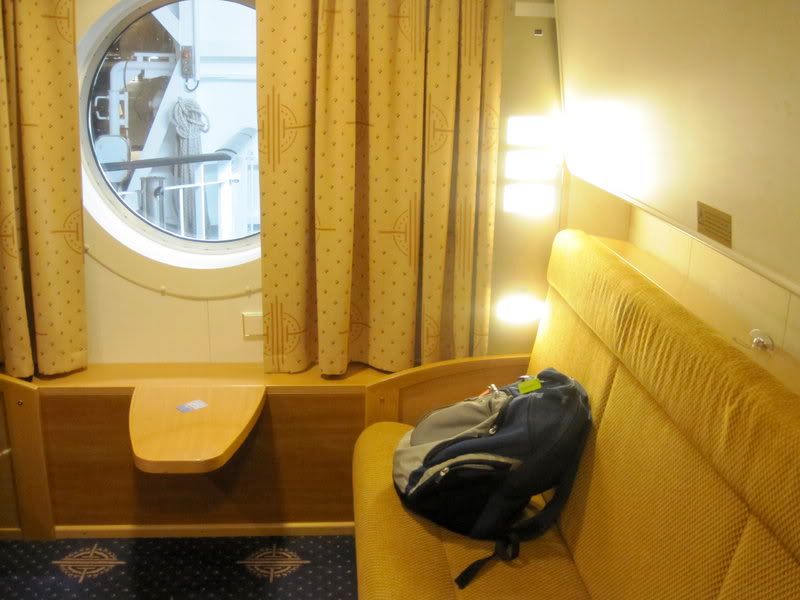 The ferry ends up departing five minutes ahead of schedule - pretty impressive actually. A bit later I head to the buffet for my 18.15 table reservation - and with nothing better to do stuff myself silly with the offerings. First round, mainly seafood: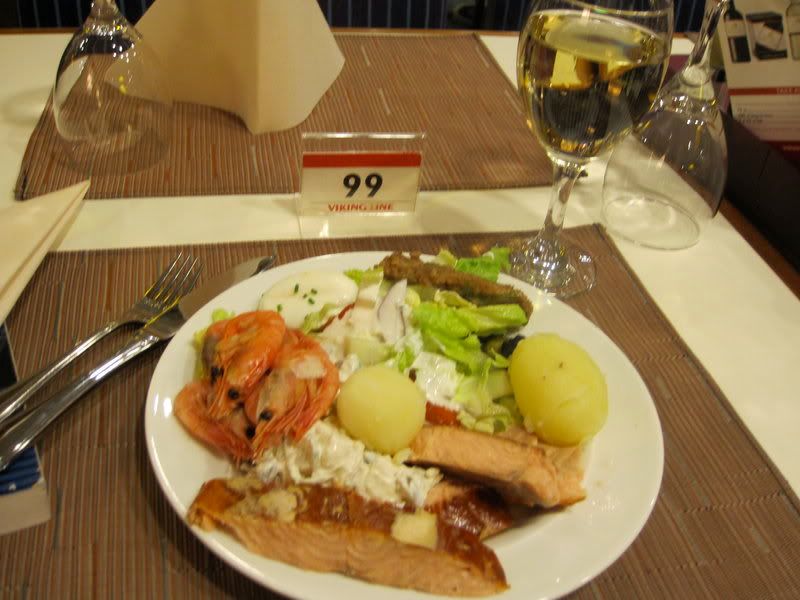 Second round, add some meat: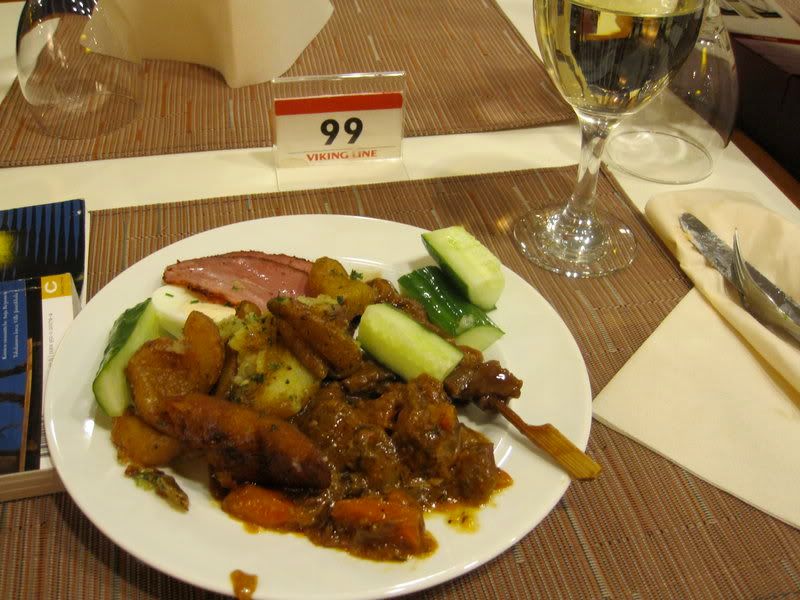 And the sinfully chocolaty dessert: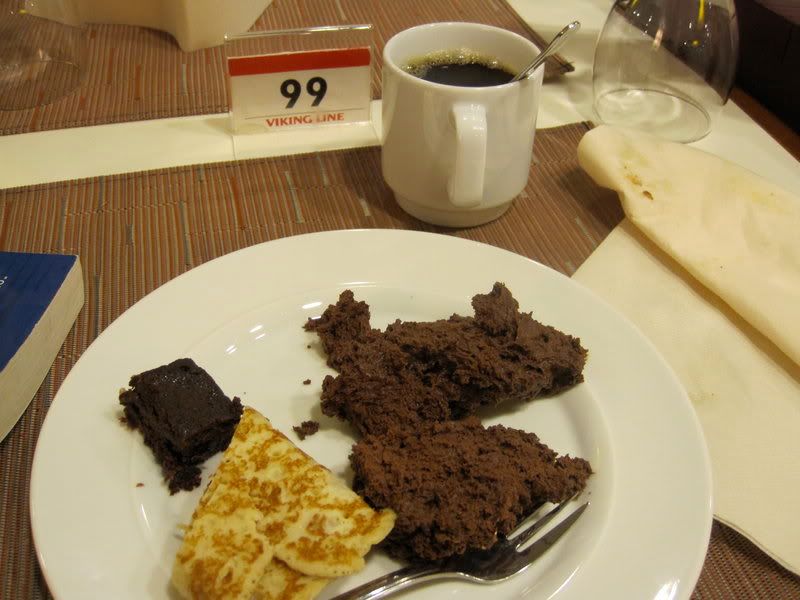 At the buffet I notice that the average age of the passengers on this ship is around 60 years or so - and everybody is more or less drunk. After the gluttony of the buffet I head to one of the numerous bars for some beers, but the general drunkenness level not to mention embarrassingly bad karaoke performances start getting to me and I spend the rest of the journey reading in my cabin.
We reach the ferry terminal at Katajanokka in Helsinki perfectly ontime, although getting off from the boat requires quite a lot of queuing. Once outside, I just manage to catch a completely packed tram to the railway station and a commuter train home from there.
Conclusions
Well, time spent with your mate is never time spent wrong, so this was a good trip. A couple of enjoyable flights on top of that plus a quite bad ferry ride (ok, the food was decent but I ate far too much anyway!) with drunken company - in the end I think I came out as a winner anyway!
Next trip is just a couple of days away, as mentioned to log the nowadays very rare BAe ATP doing HEL-ARN-KRF-GEV/LLA-ARN-HEL as a daytrip.
Happy contrails!