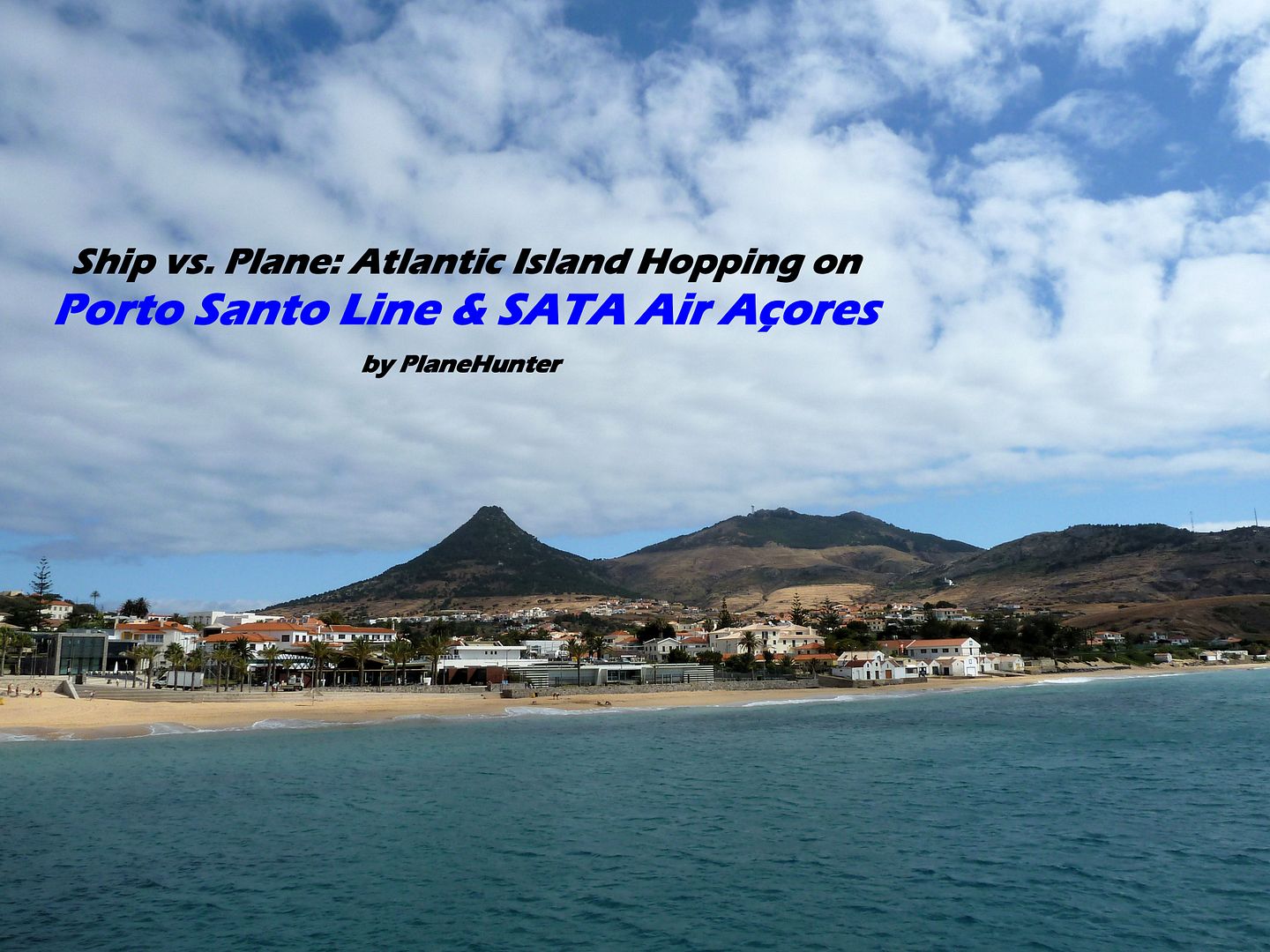 Background
After my girlfriend and I had booked the holiday package to Portugal I soon started searching for interesting side trip options. I knew about SATA Air Açores' flights between Madeira and the neighboring island Porto Santo (distance approximately 57 km), so I checked schedules and fares. Unfortunately, the good old BAe ATP had been replaced on the route in early 2010, but its successor, the DHC-8-200, was still missing in my log, too. And of course, SATA Air Açores would also be a new airline for me. Round trip fares were reasonable, but going on exactly the same plane twice wouldn't be very attractive. Finally we decided to combine a one-way 20-minute SATA flight with a one-way 2-hour ride on the Porto Santo Line ferry "Lobo Marinho", operating mostly daily between Funchal and Porto Santo. The one-way ferry ride cost only half as much as the SATA flight so we decided to accept the small surcharge for First Class tickets. So we would take the ferry to Porto Santo in the morning, spend a few hours there and return to Madeira on SATA in the early afternoon.

If you want to read more about Lisbon, Madeira & TAP, you just need to click here:
Awesome Approach, Splendid Scenery: LIS, FNC & TAP
Funchal-Porto Santo on "Lobo Marinho"
Shortly after 7:00 in the morning we took a taxi to Funchal harbor and arrived at the busy pier only a few minutes later: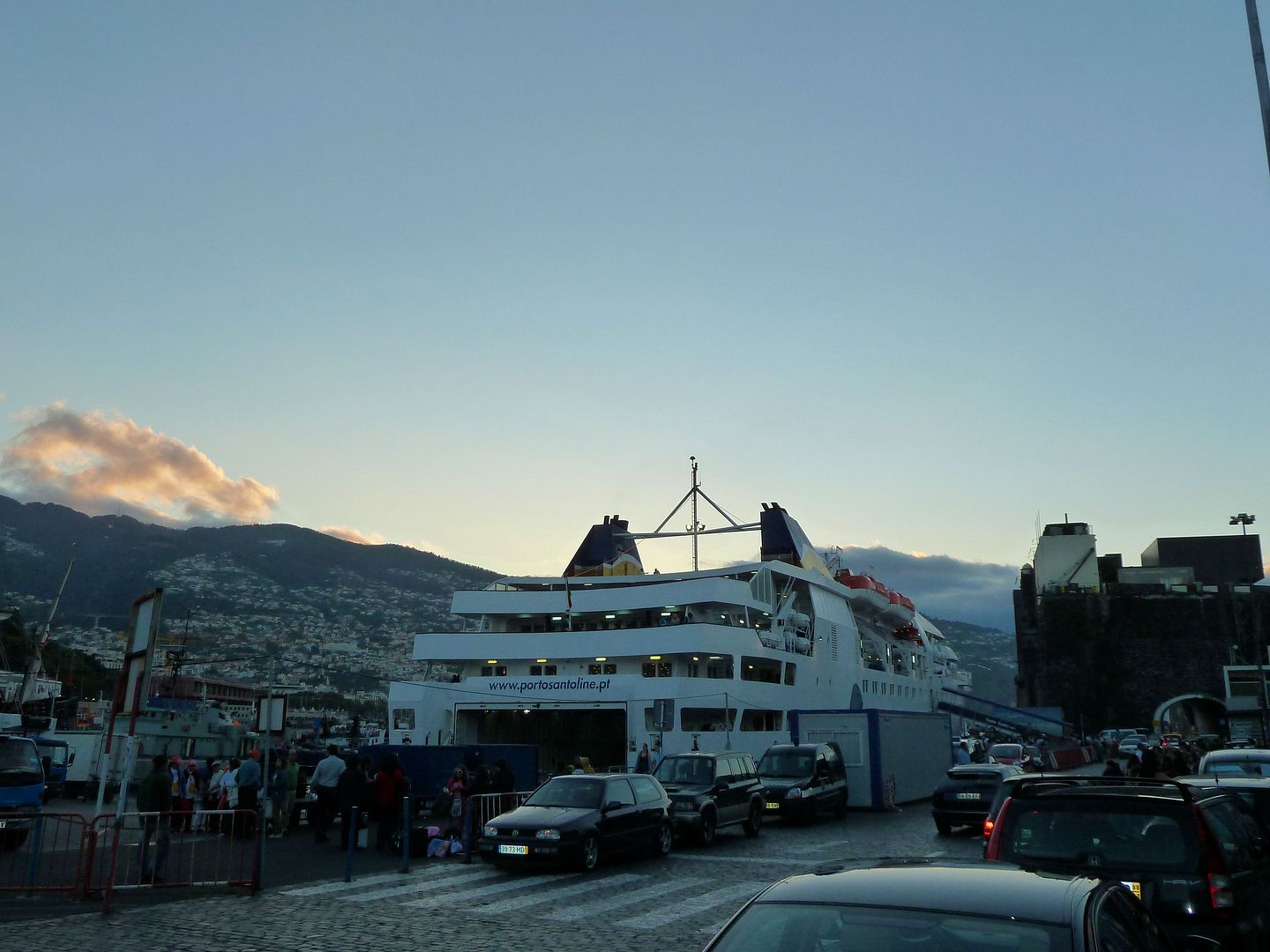 The ro-ro ship
"Lobo Marinho"
has a length of 112 meters and a capacity of 1150 passengers and 145 cars. It is equipped with several bars, restaurants, shops, a cinema, a multimedia room, a playground for children and a sun deck. The maiden voyage took place in June 2003.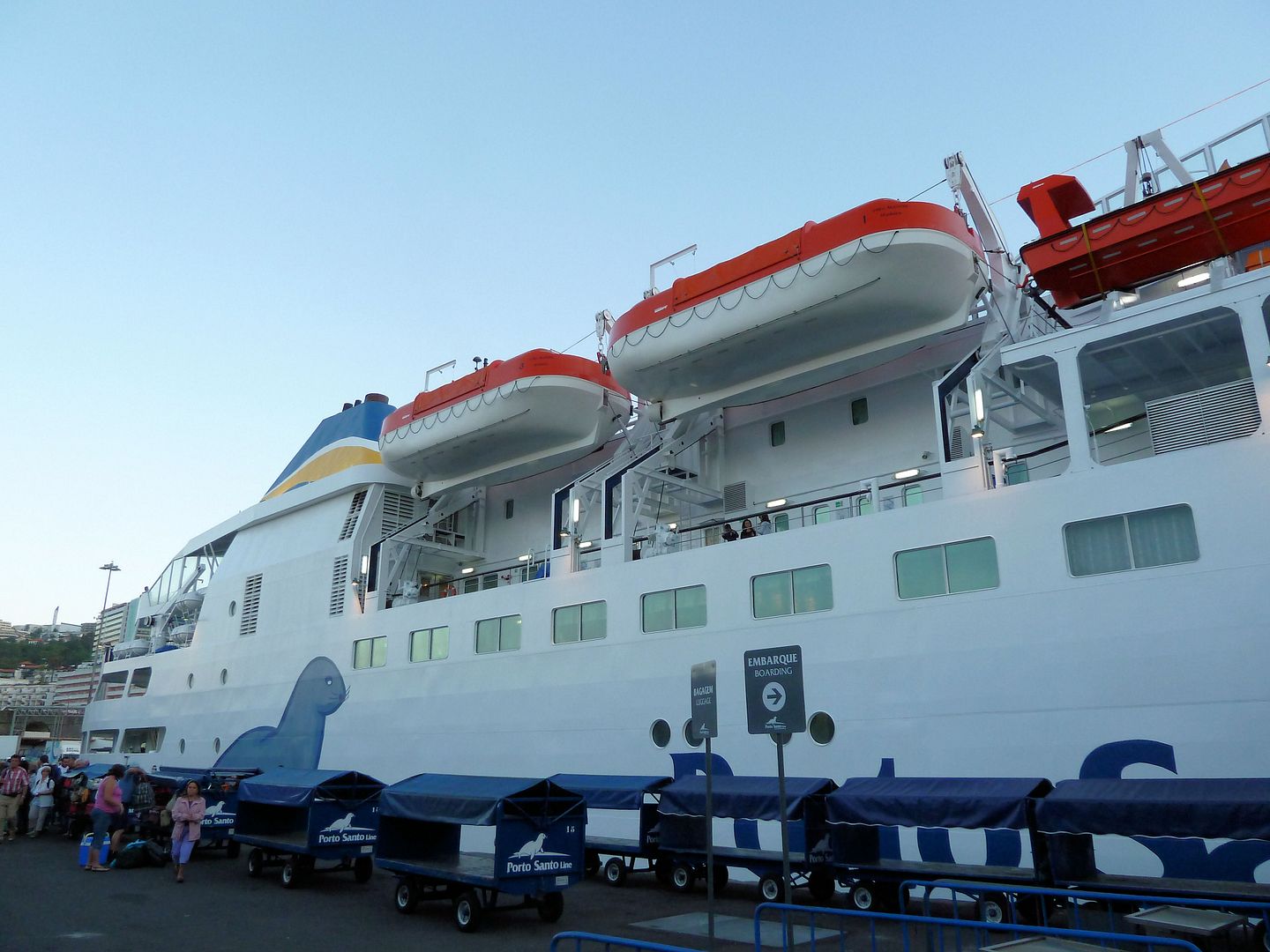 After stepping on board we immediately went to the First Class lounge aka
"Salão Estrela do Mar"
: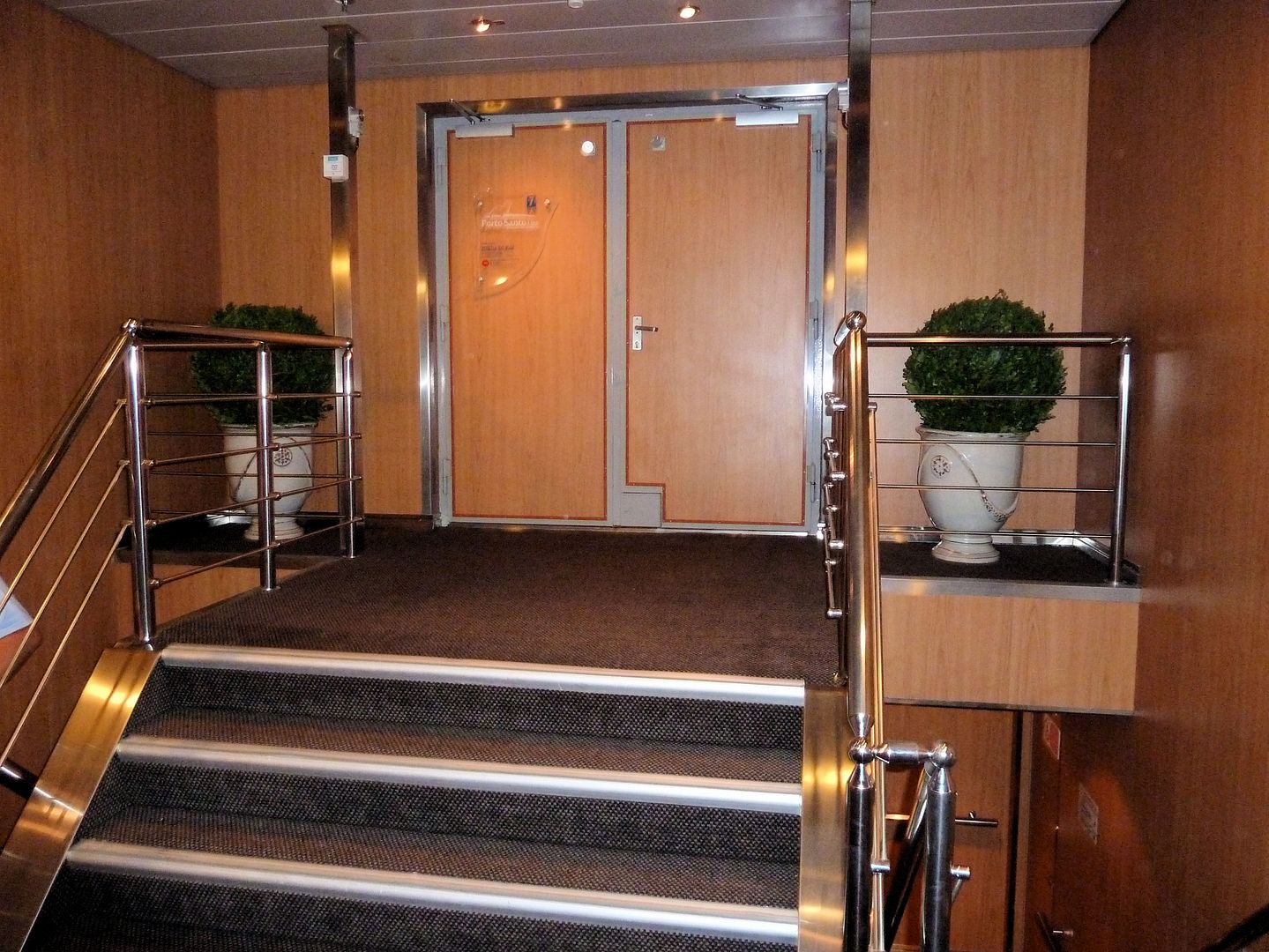 It's equipped with comfortable leather armchairs and a bar:
All First Class passengers can enjoy a free breakfast buffet - the choice of items is limited, though: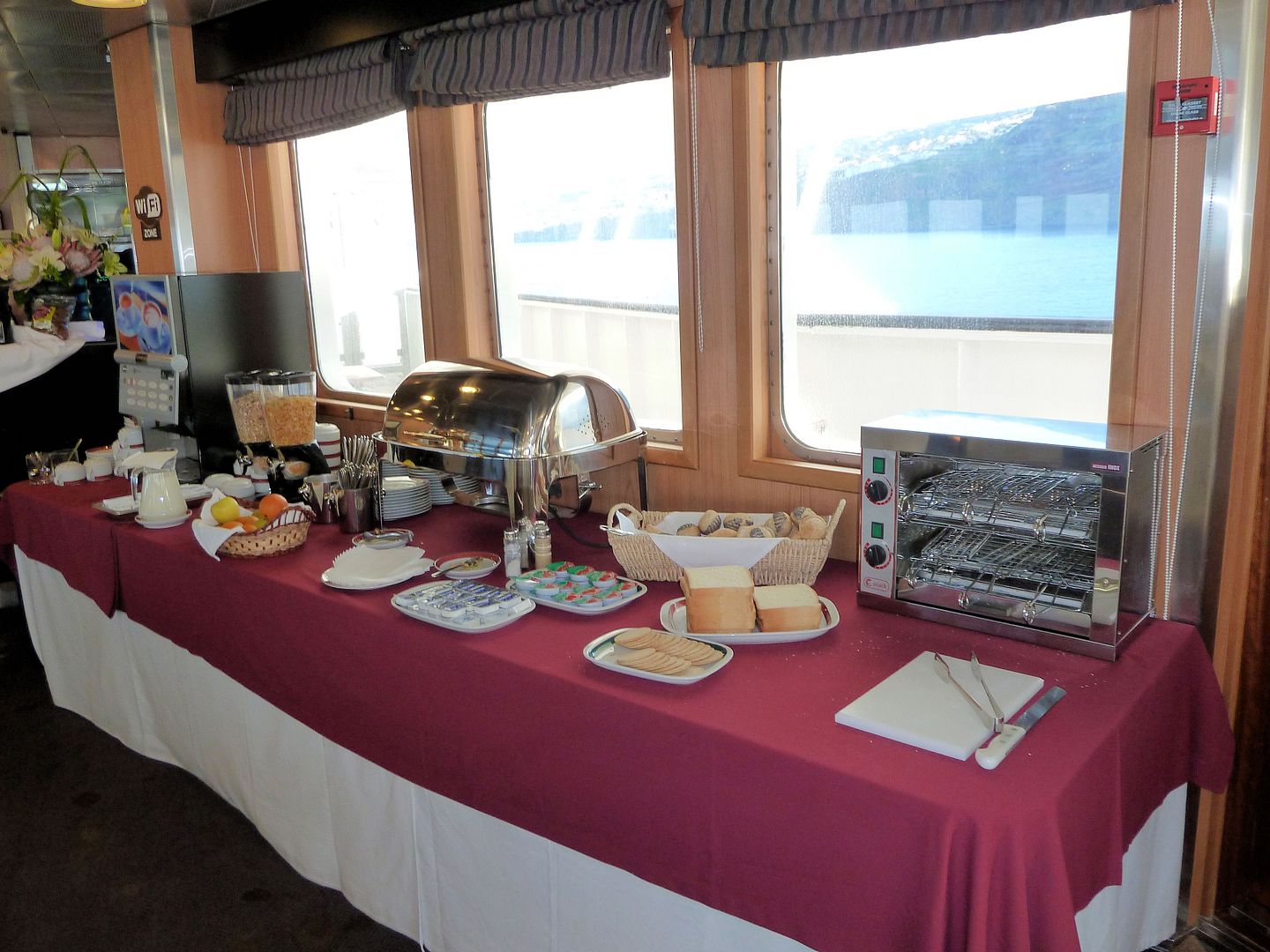 The First Class lounge is located on the 7th floor above the bridge so you can enjoy nice views from outside: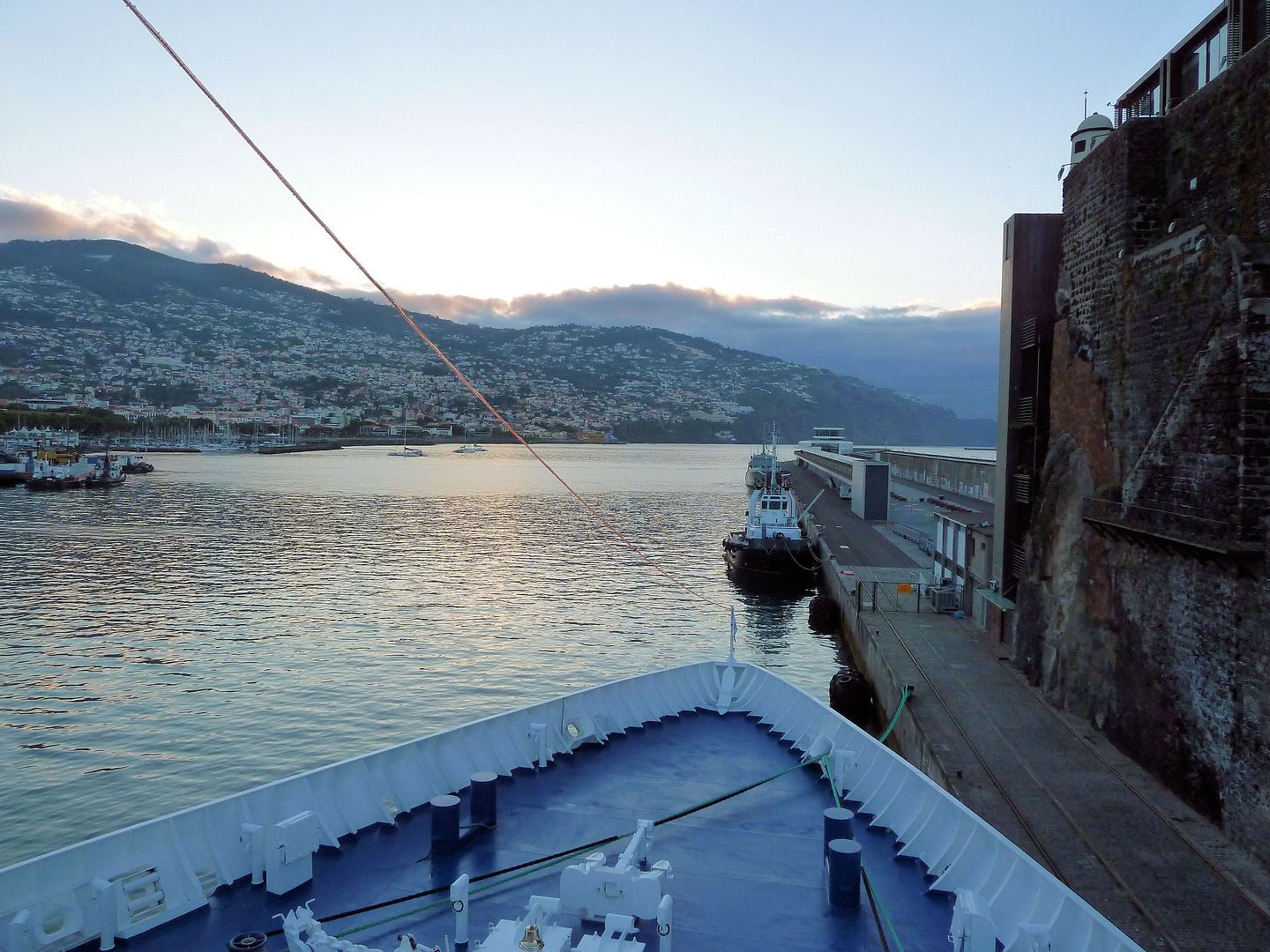 Still very busy down there:
Portuguese Navy vessel:
The
"Santa Maria"
, a replica of
Columbus'
ship, is used for day cruises along Madeira's coast: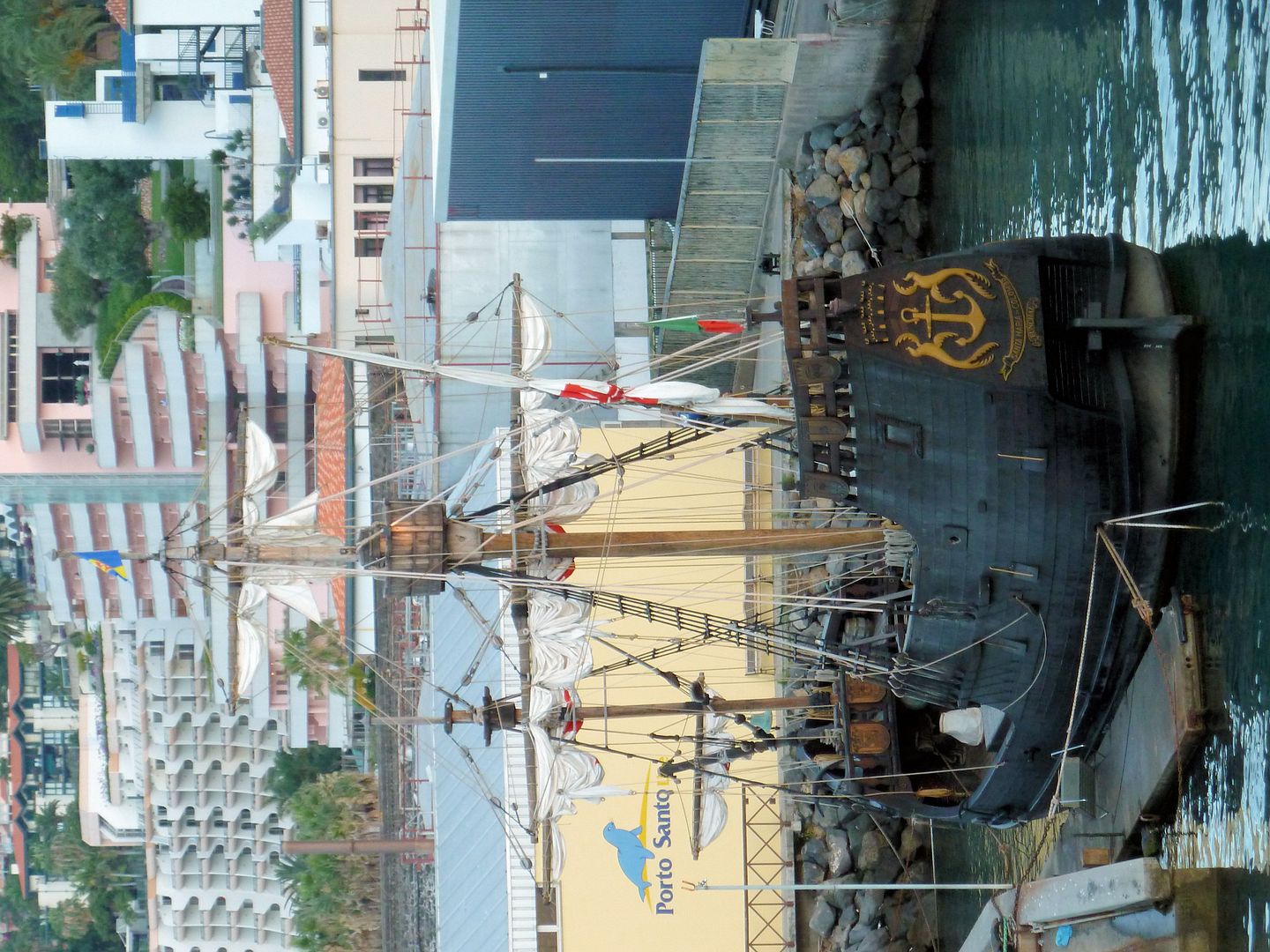 We left the pier on time: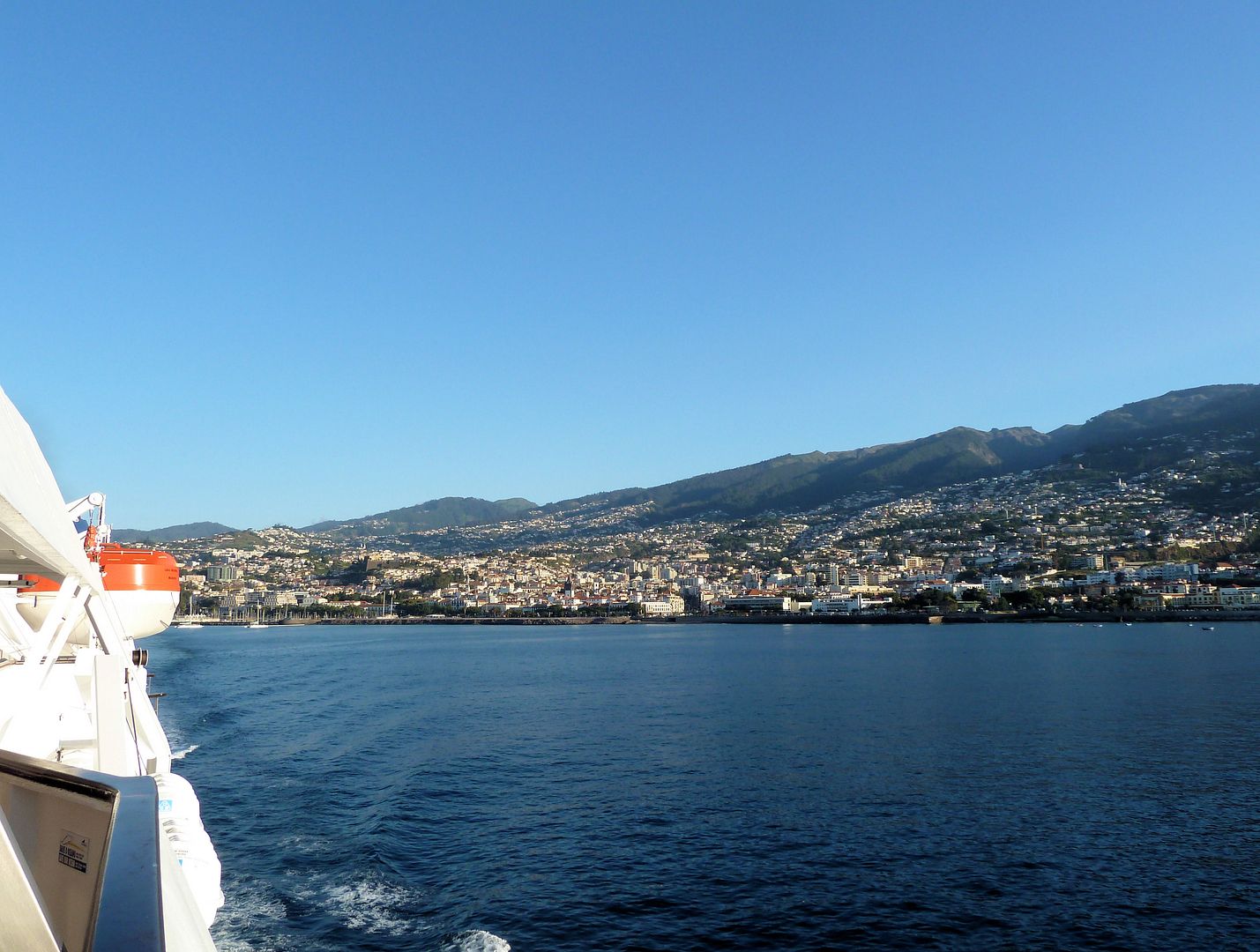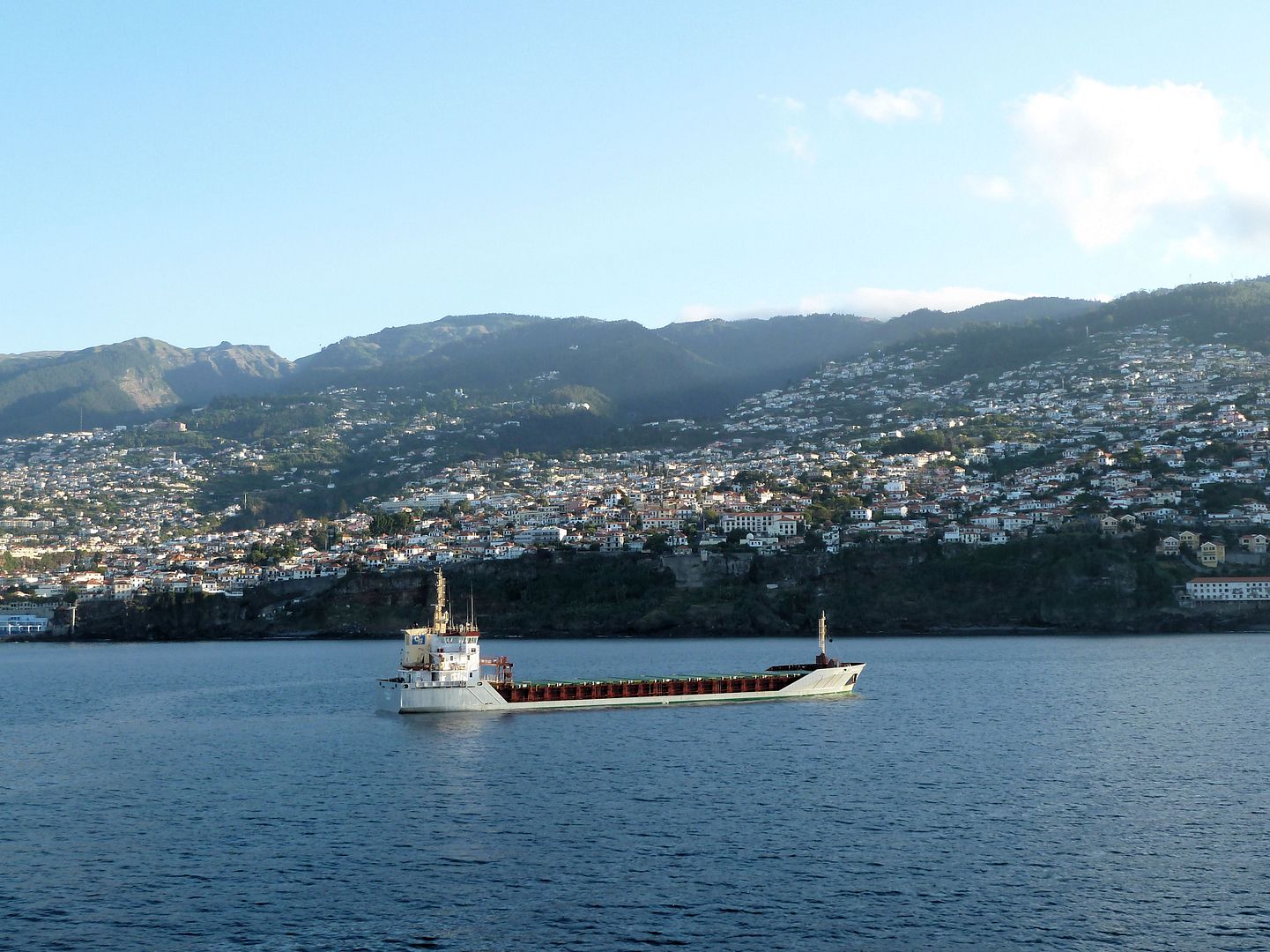 While we were passing the airport, a Jetairfly Boeing 737-700 turned in and landed on runway 05: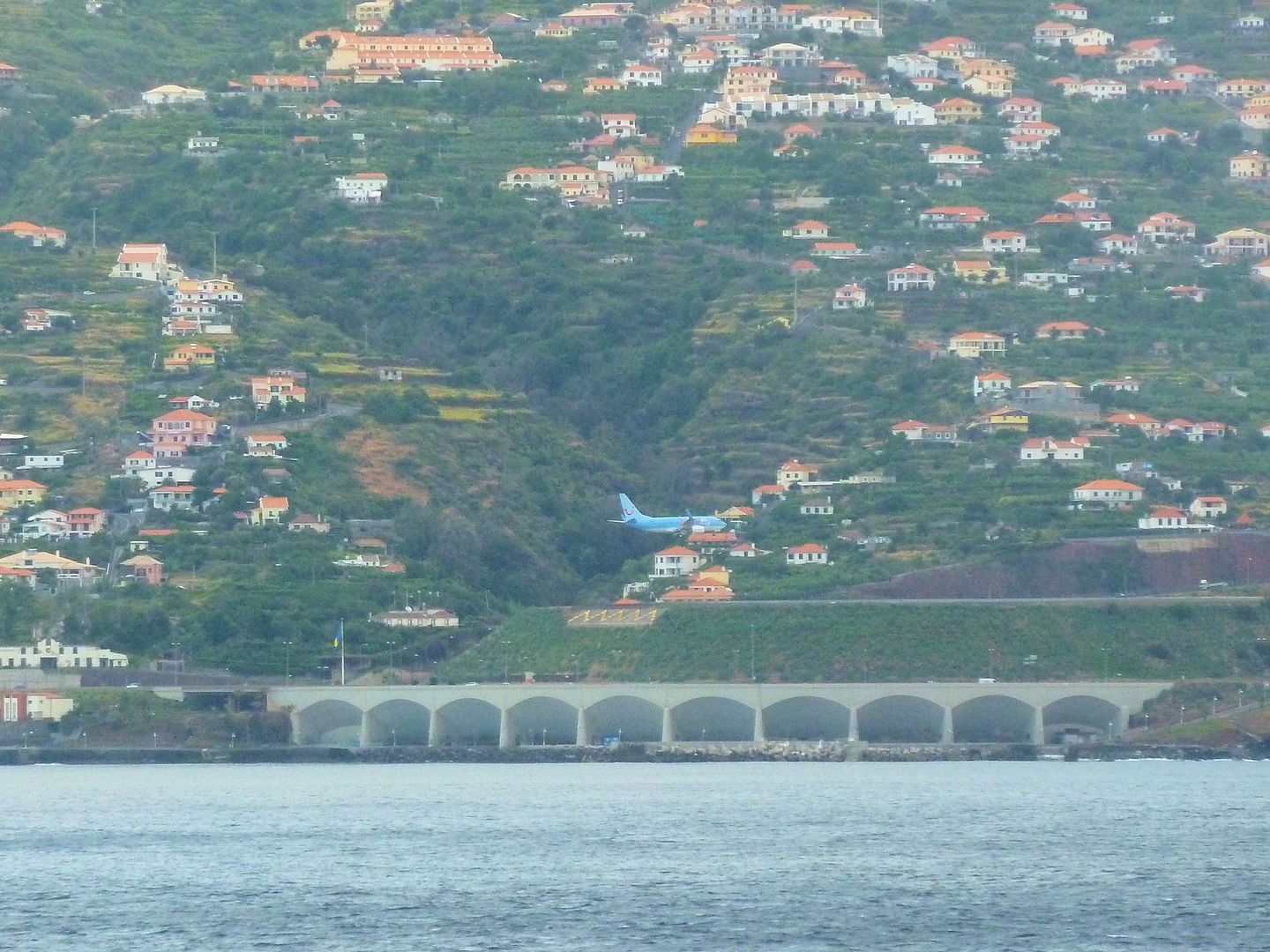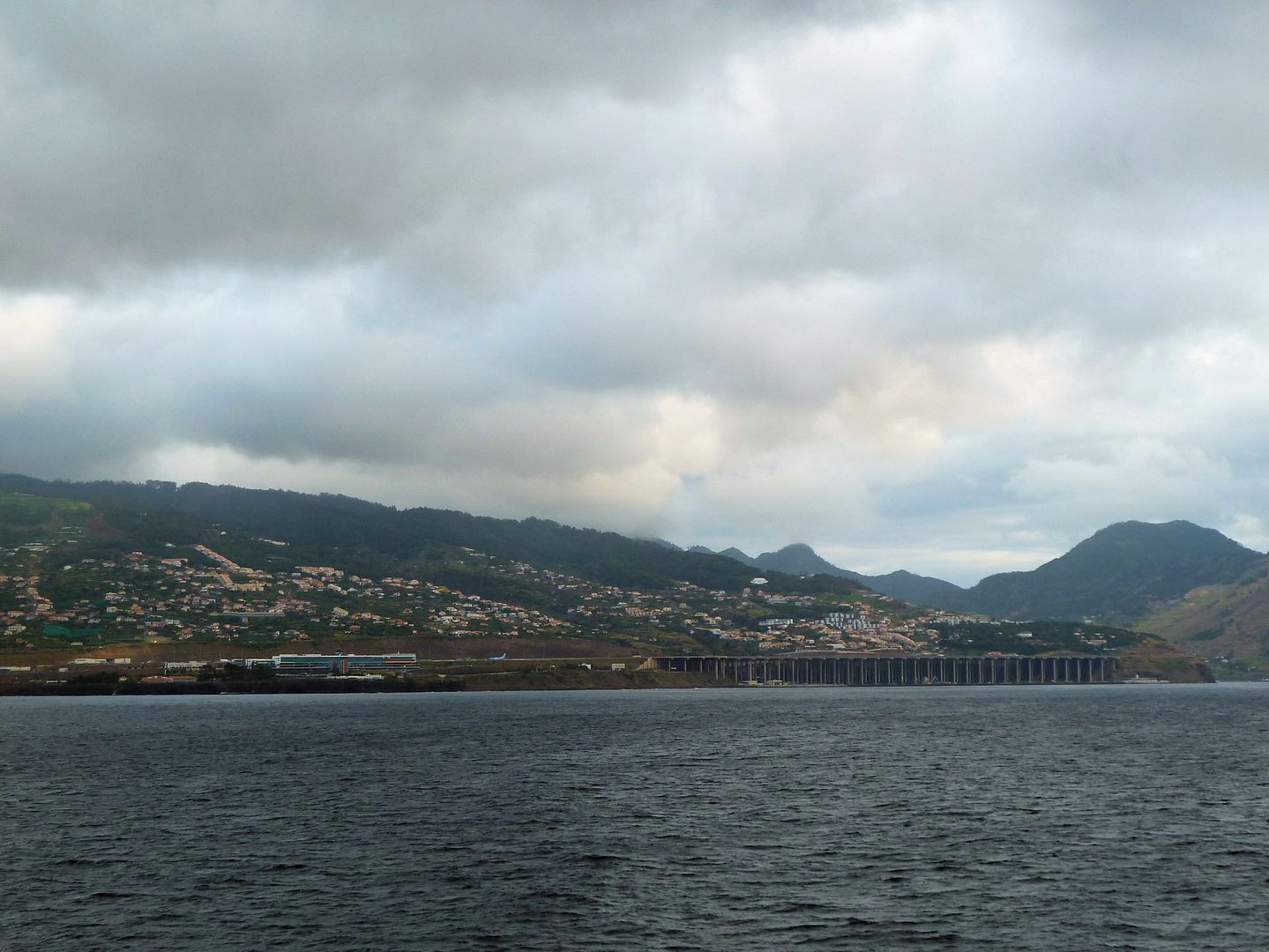 The wind was blowing nastily as we left behind the coast...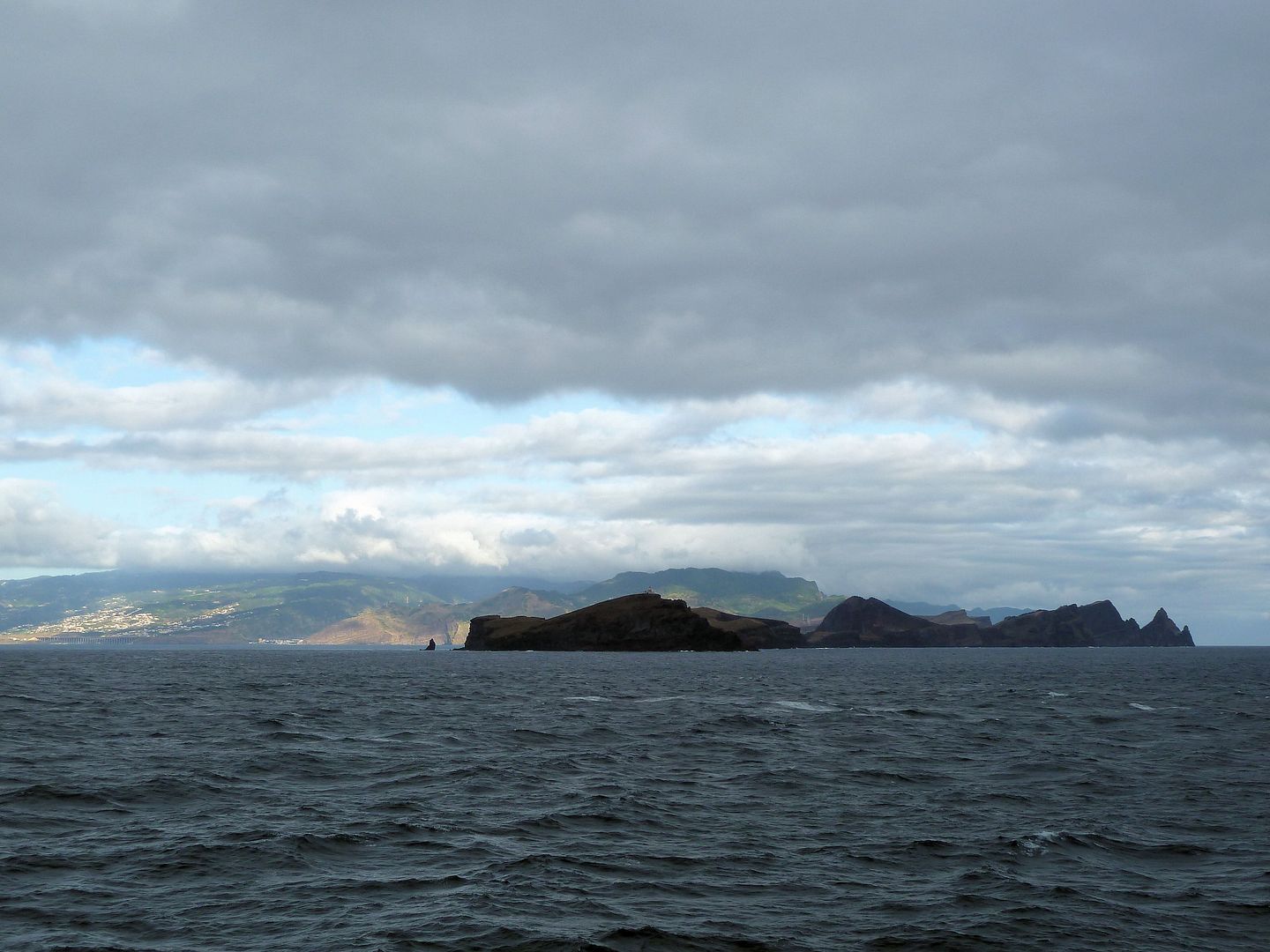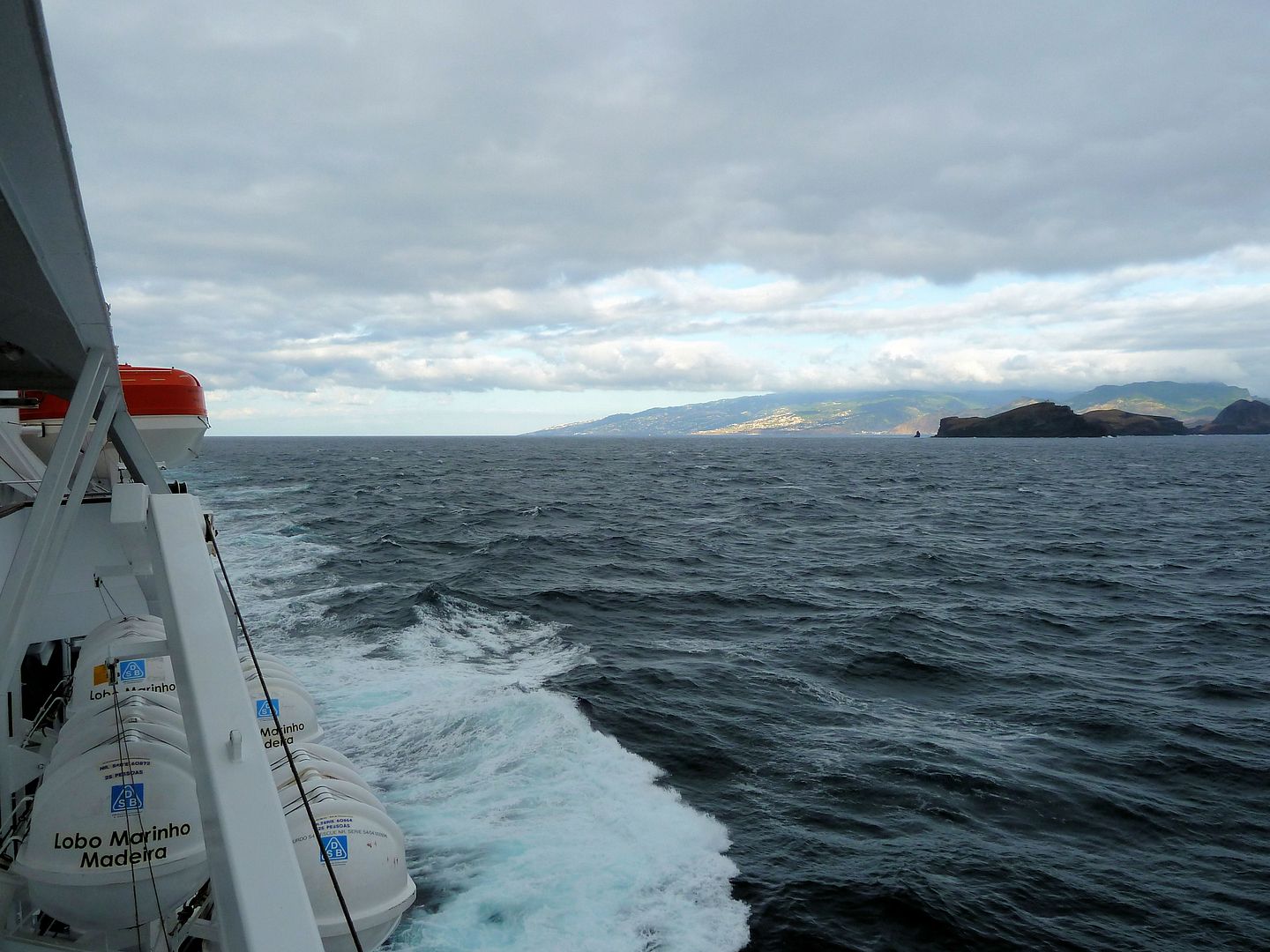 We were planning to have an extended breakfast, but not even 30 minutes after leaving the harbor the stewards already started to remove the buffet items. I was wondering about that, but some time later the reason became clear: rough sea! I'm quite immune to turbulence and rough swell, but it was impressive how the ship was shaken by the waves. The water even slapped against the front windows of the lounge.
Nevertheless, sitting around was boring, so we explored the other sections of the ship. Lobby with shops:
Economy Class: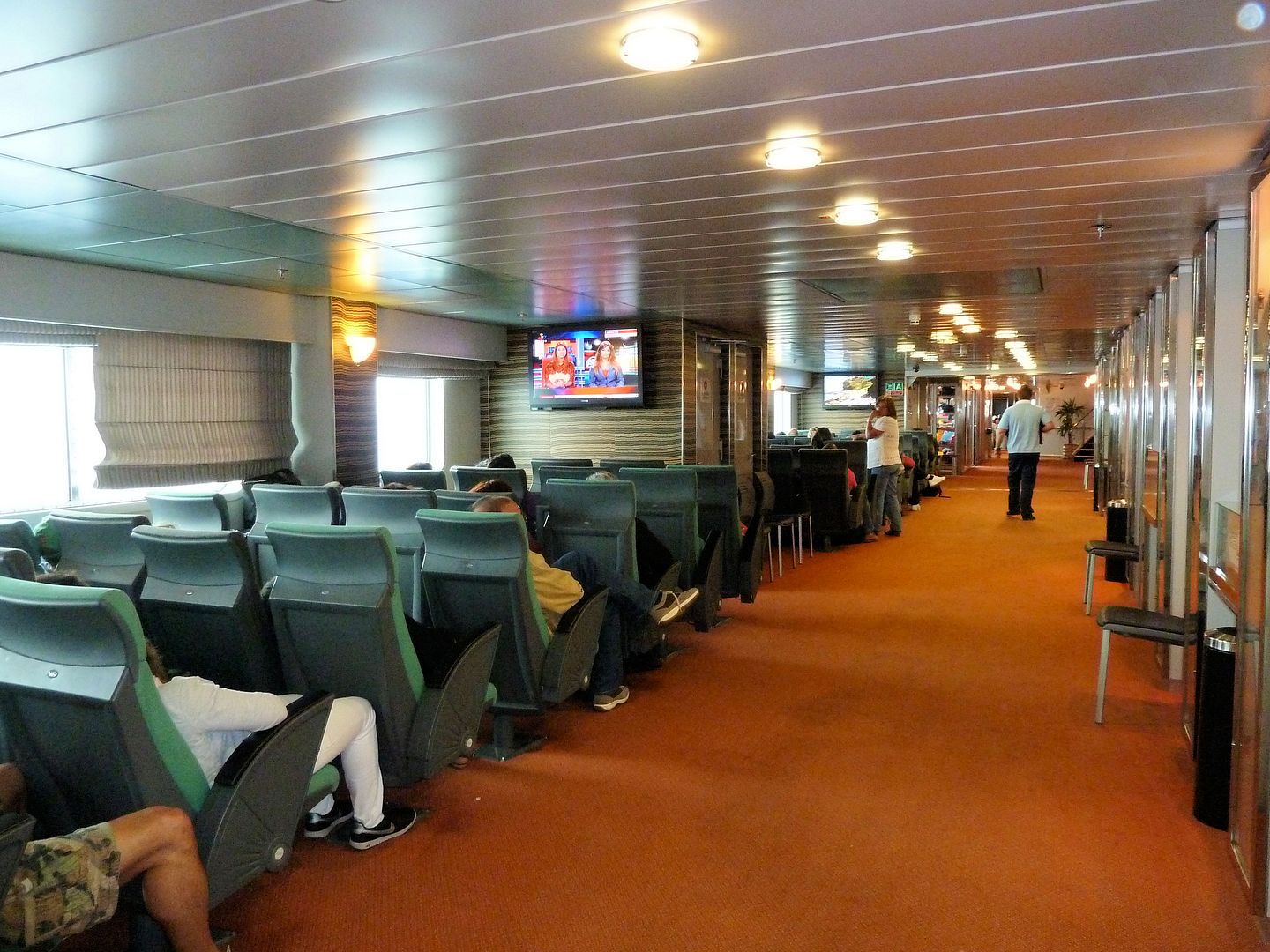 The current
"Lobo Marinho"
...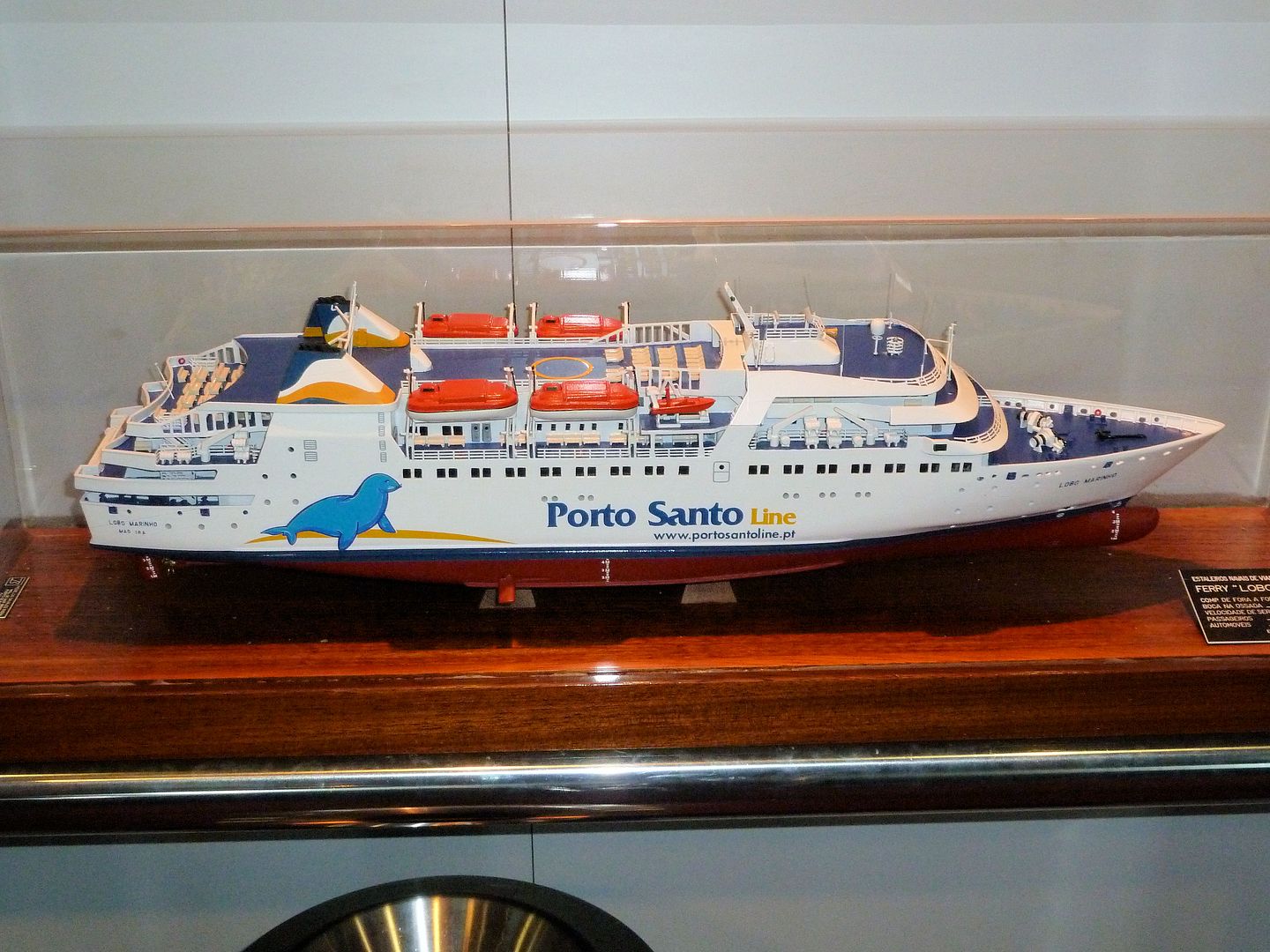 ...and its predecessor of the same name:
Helicopter landing field on the very top: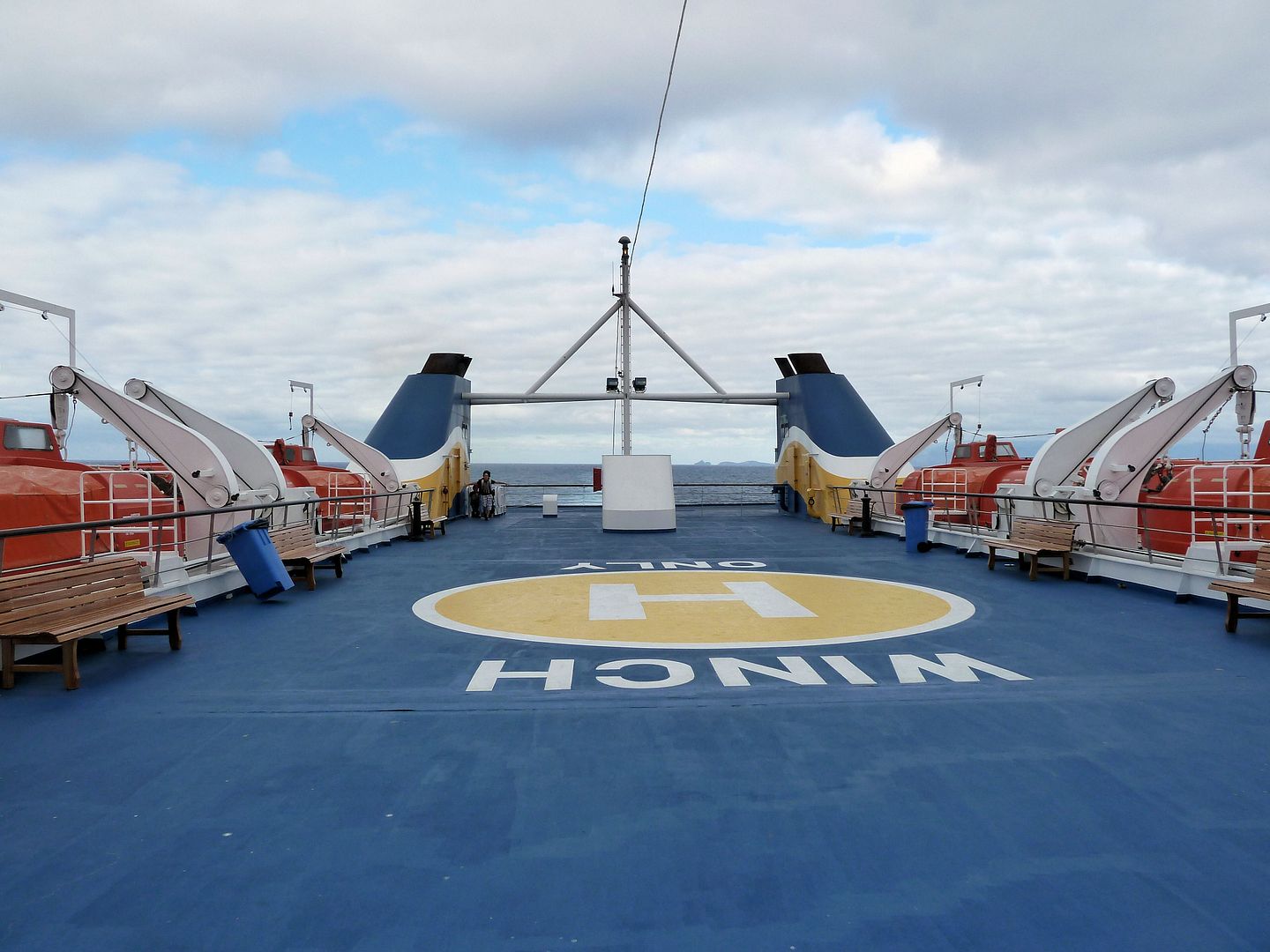 Deck plan: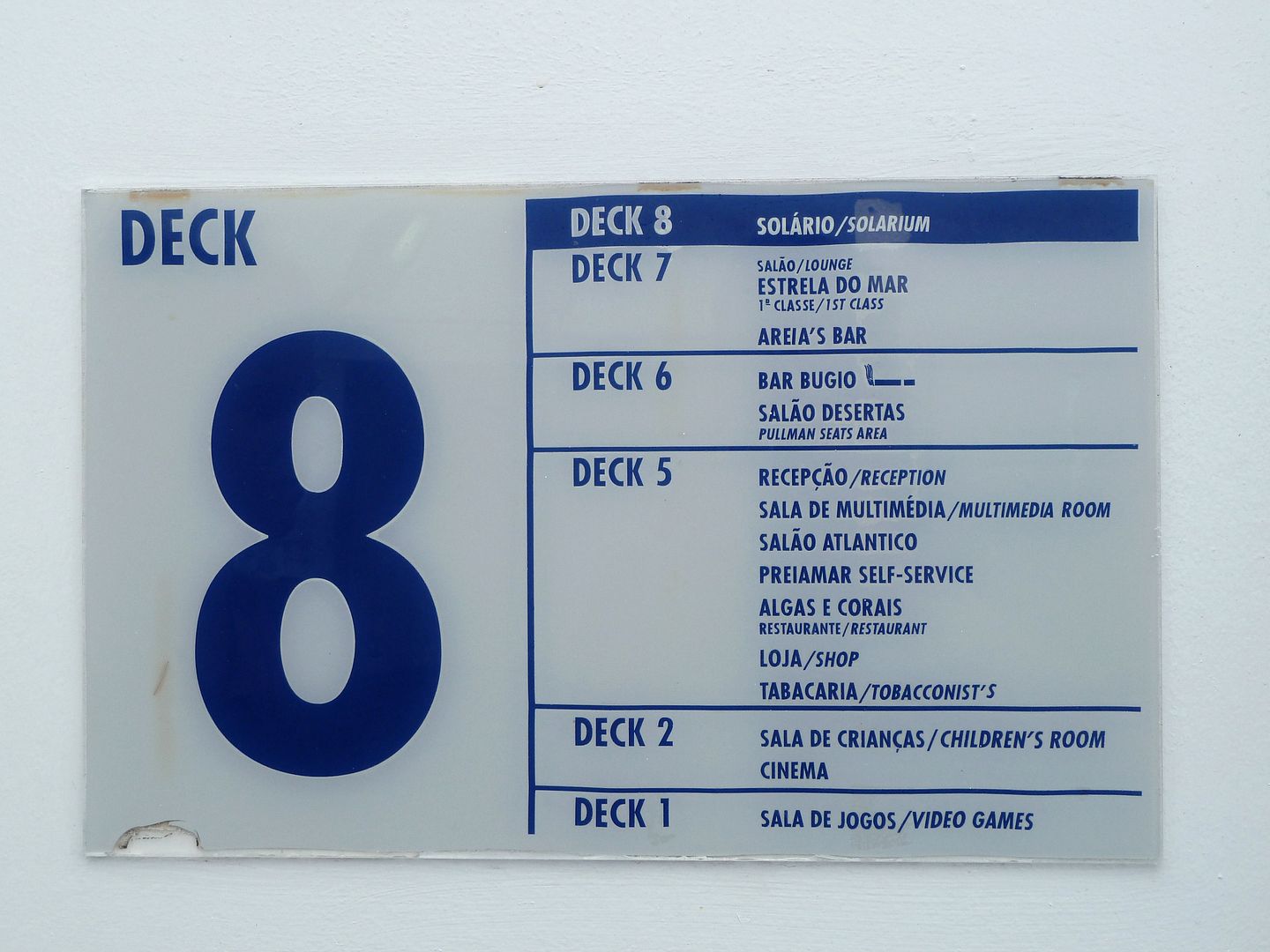 Two hours after leaving Funchal we were approaching Porto Santo: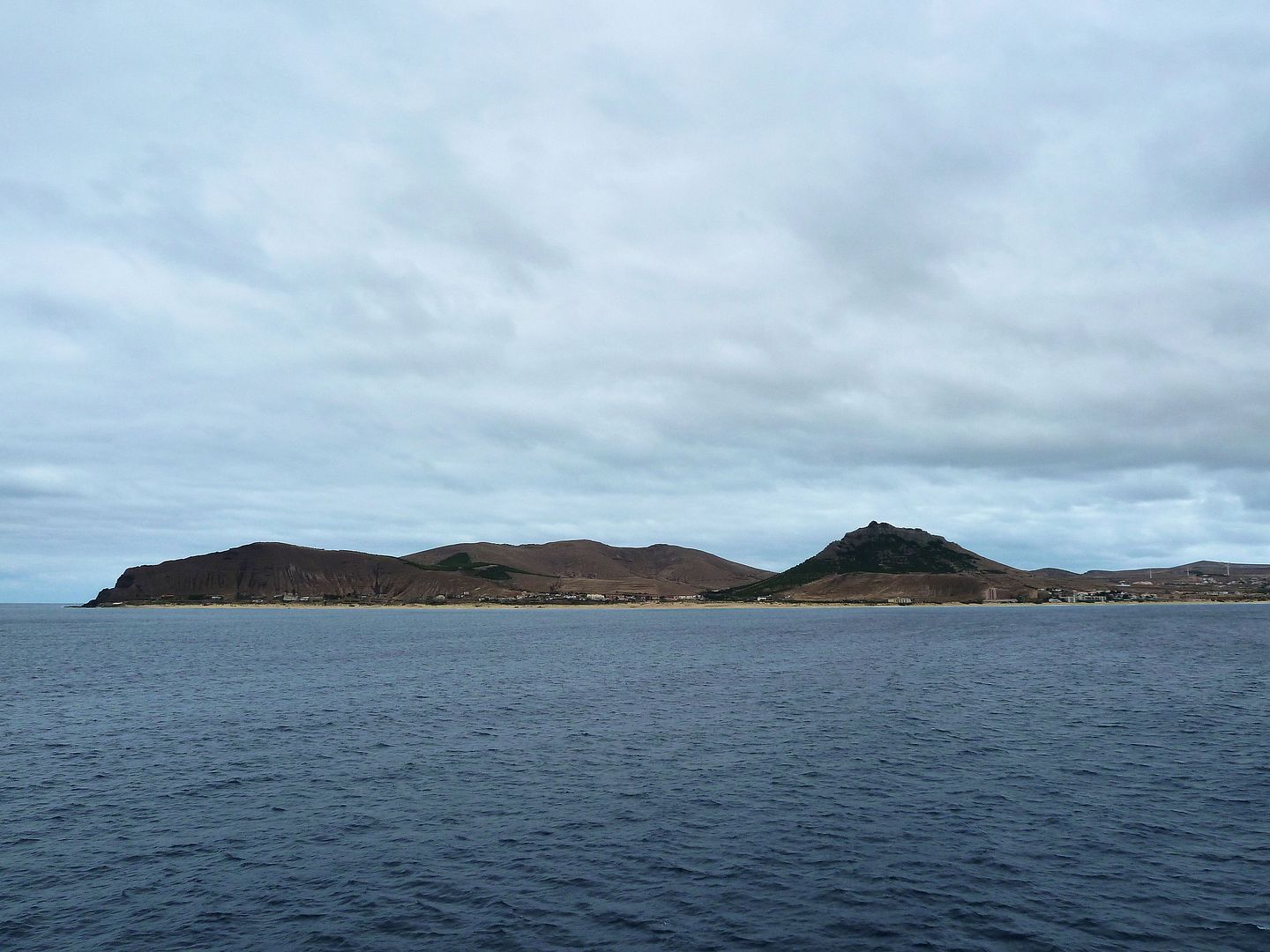 One of the island's most important attractions is a nine kilometer long white sand beach - something that virtually doesn't exist on Madeira:
Most of the island's population lives in the little town of
Vila Baleira
:
Porto Santo Airport is just one kilometer away from Vila Baleira:
Only a few more minutes to go:
Many taxis and some busses were waiting at the pier: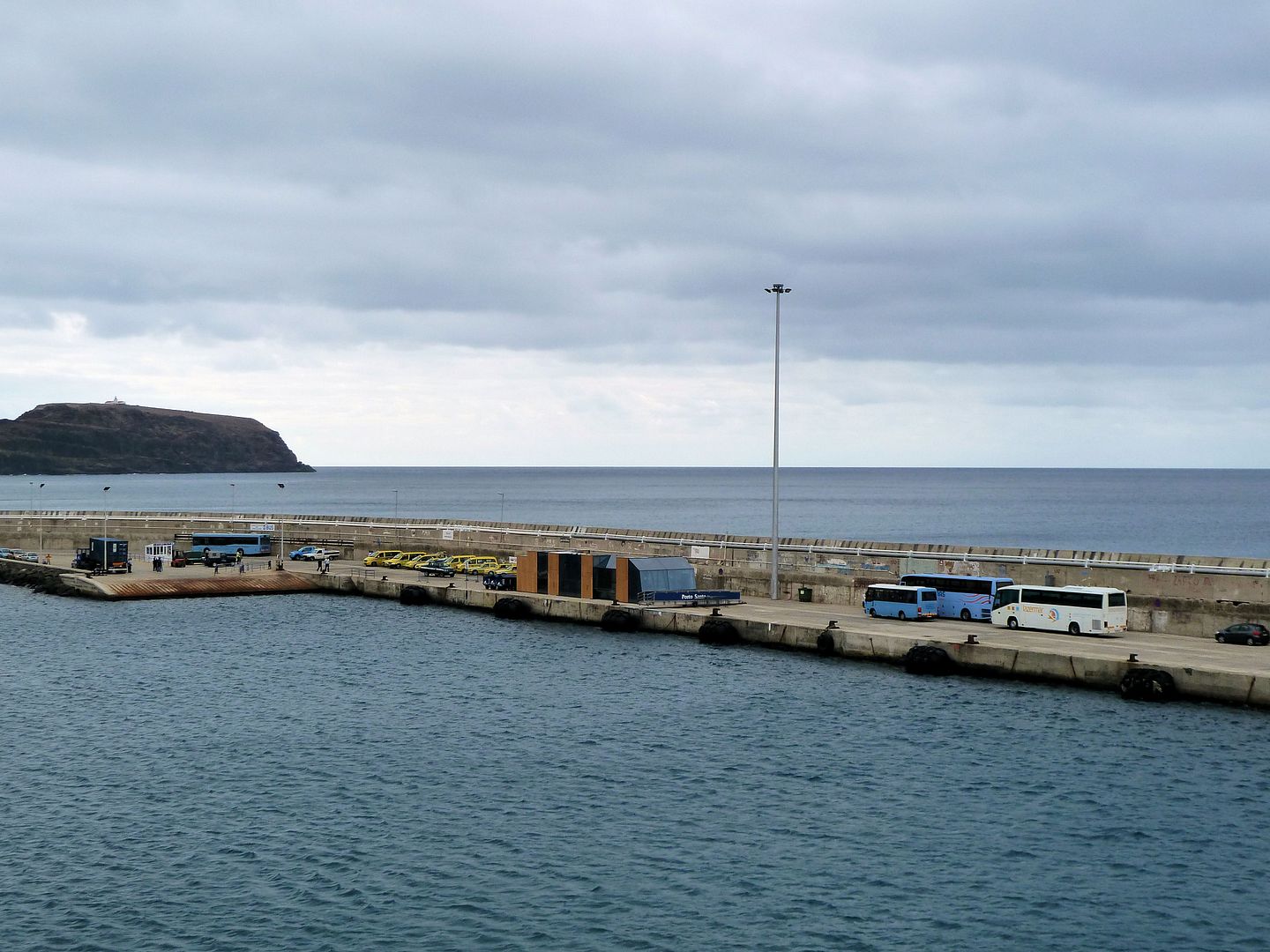 There was a huge crowd of people waiting in the lobby, so after the ship put in it took about ten more minutes until we could walk outside. View from the pier: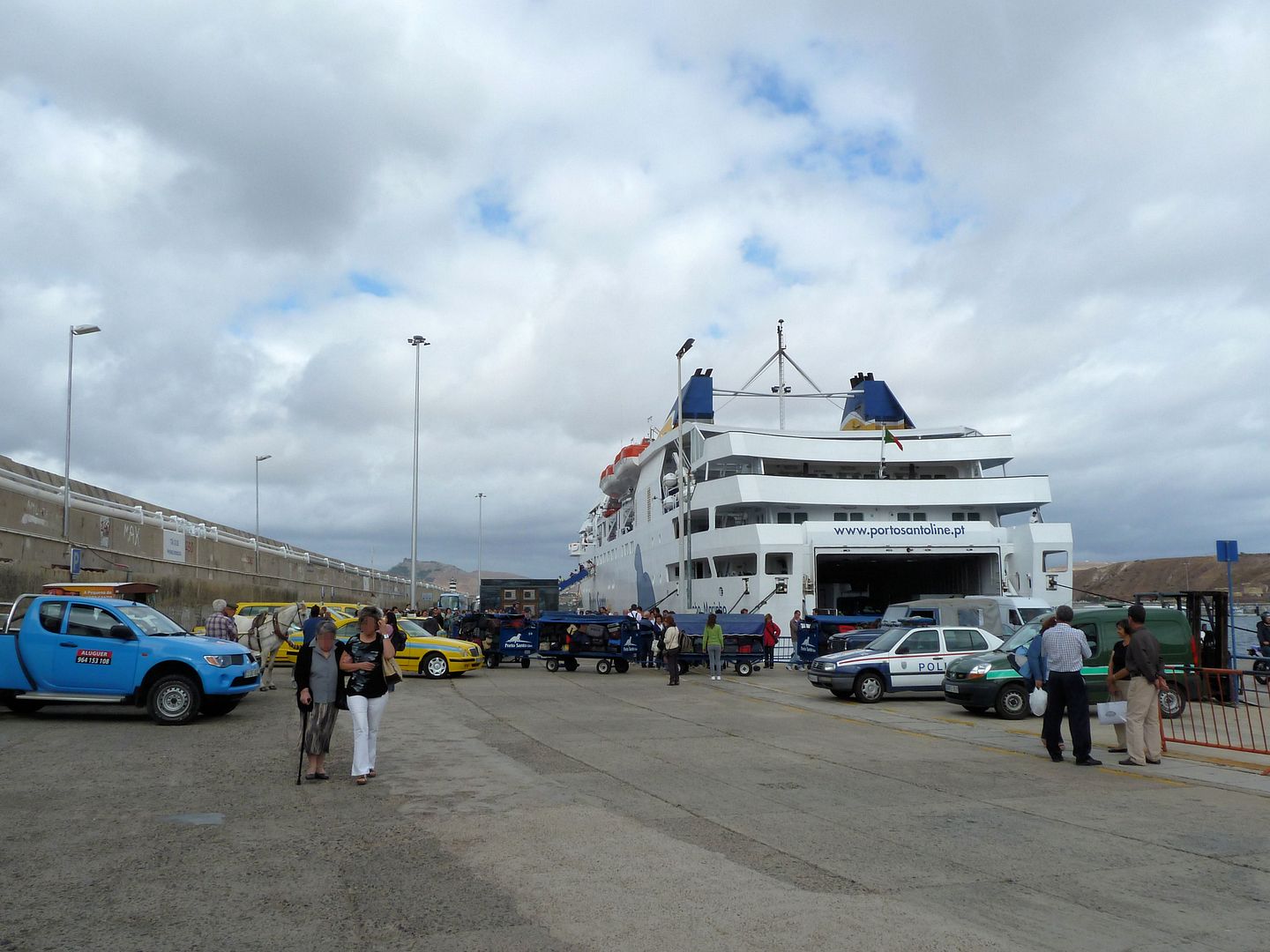 15 minutes later a public bus brought us to Vila Baleira which is about two kilometers away from the pier.
Impressions from Porto Santo
First of all we went to the island's fabulous miles long beach: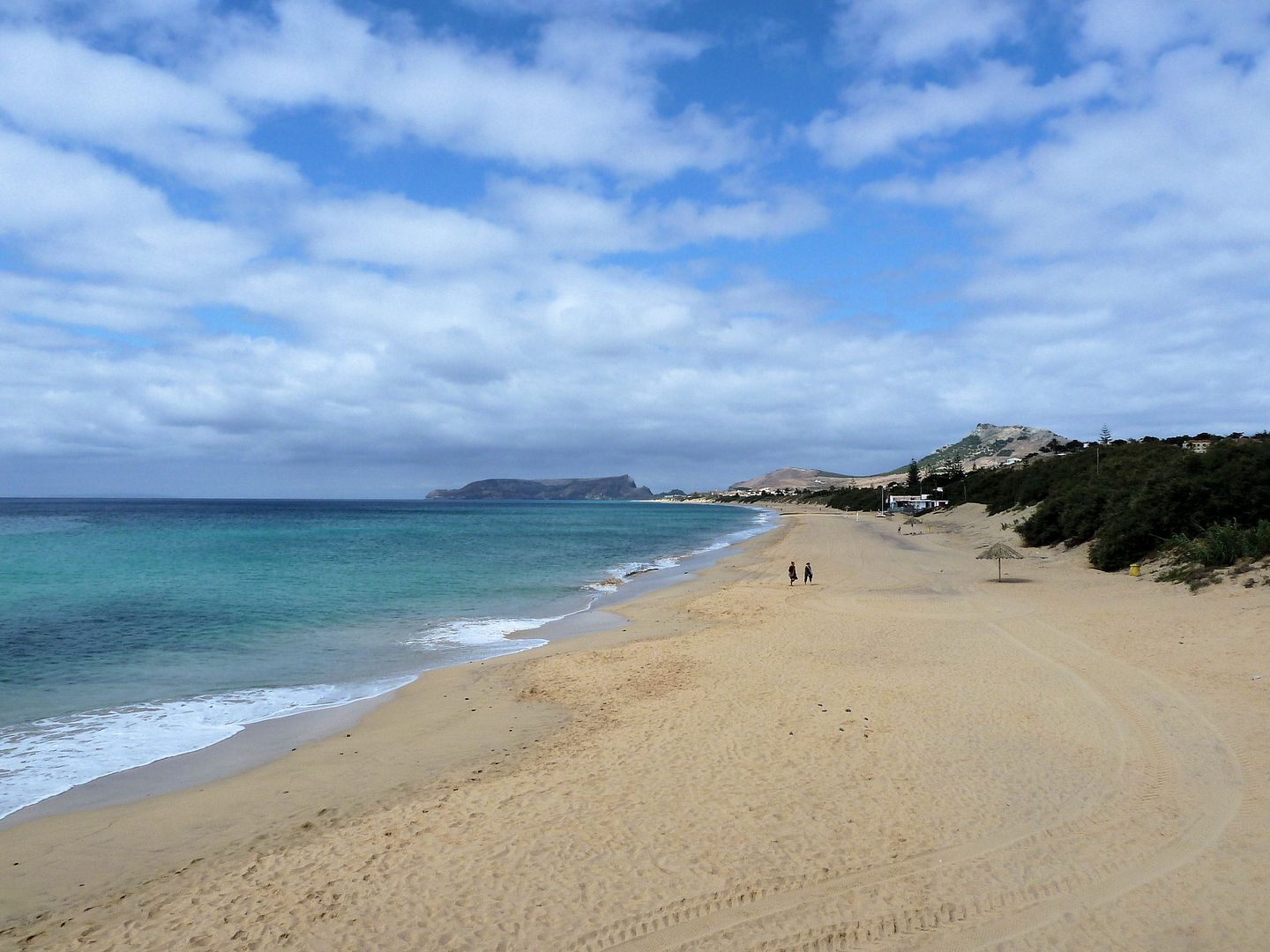 "Lobo Marinho"
from the distance: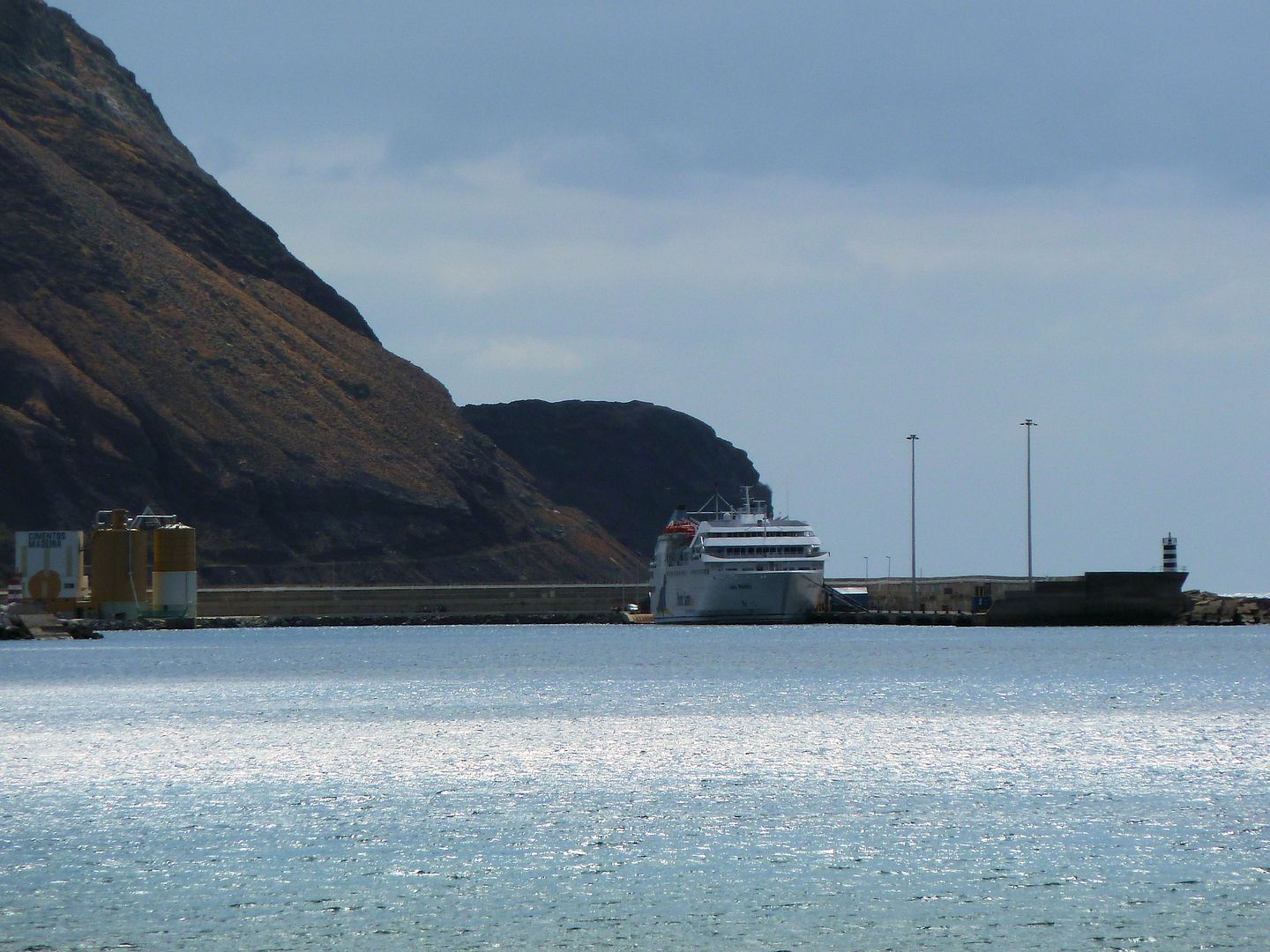 Then we walked down a wooden foot bridge wherefrom we could enjoy beautiful views: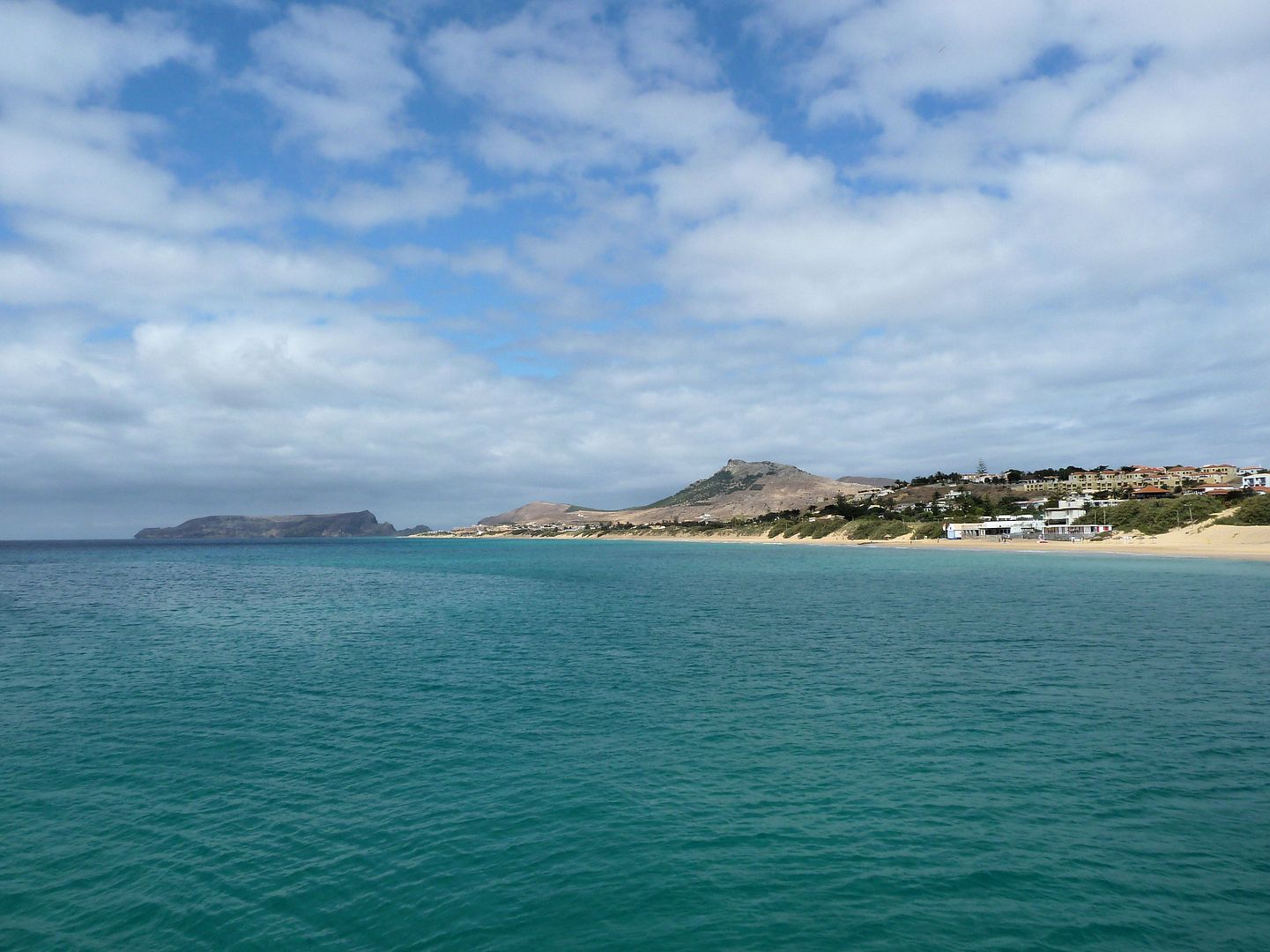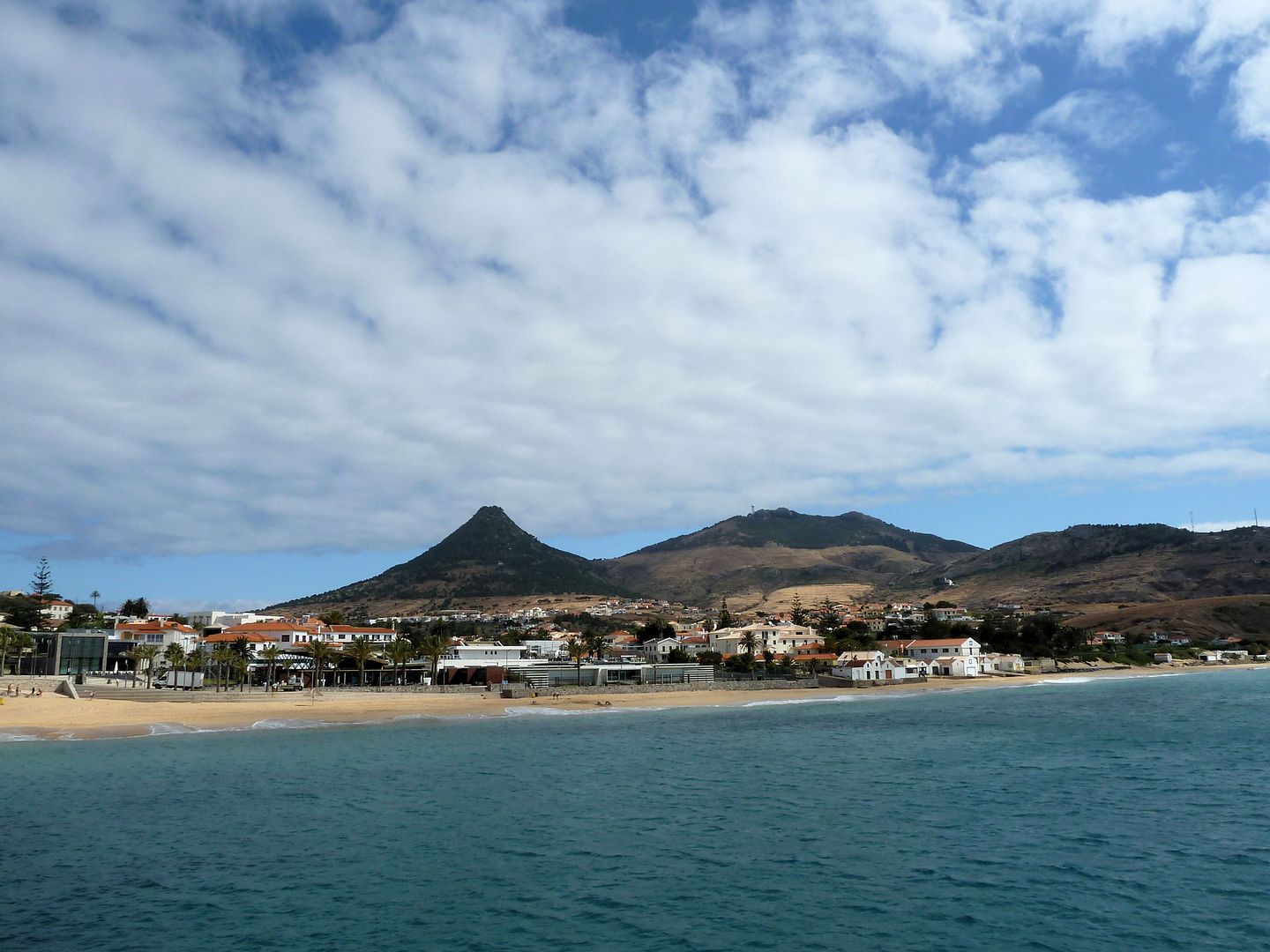 Vila Baleira is a nice little town...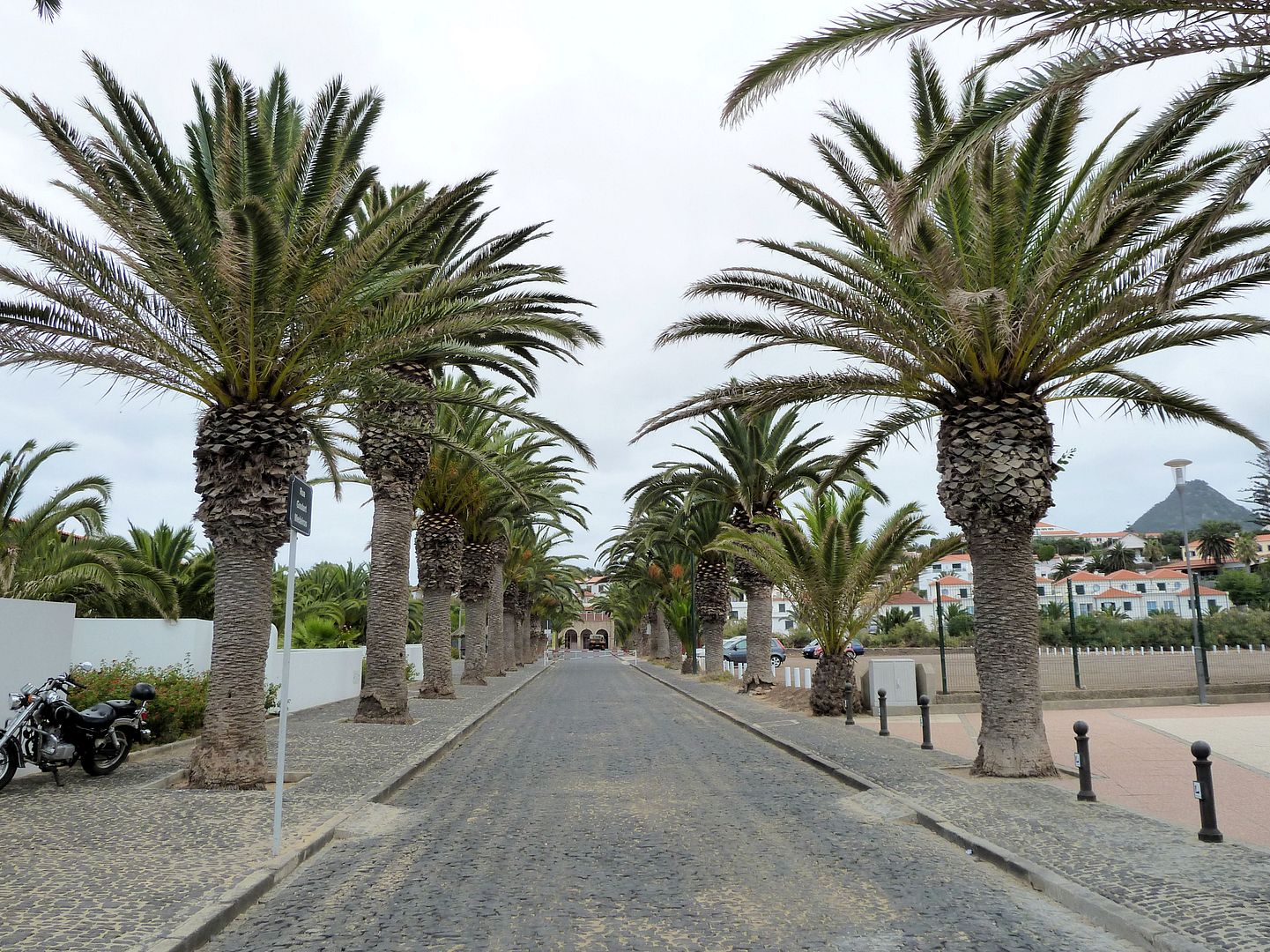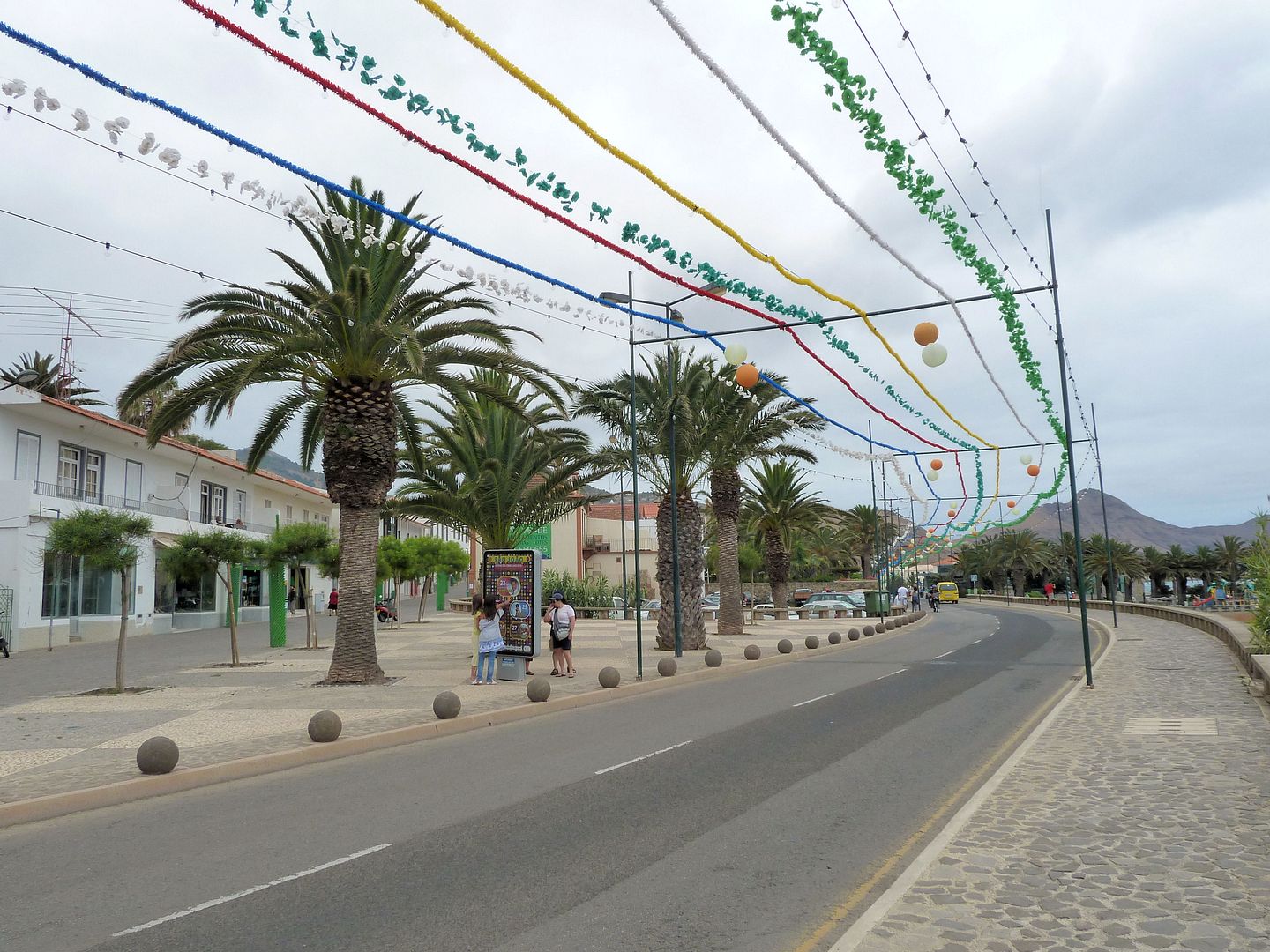 ...but be aware that the number of attractions is limited. After some shopping we took a taxi to the airport about one hour prior to departure. We could have chosen an evening flight instead of the early afternoon flight, but we had never been really interested in a bus tour around the small island and we wanted to be back at our hotel for dinner...
The airport itself was built by the NATO in 1960, the new terminal building was opened in 1995:
Tower:
View of Vila Baleira from the airport:
Monday, 21 June 2010
Porto Santo (PXO) - Madeira (FNC)
SATA Air Açores SP1695
13:30-13:50 (13:24-13:42)
Flying time: 00:11 (hrs)
Economy Class, Seat 9D

Bombardier DHC-8Q-202
CS-TRC (MSN 480), named "Faial"
First delivered to Horizon Airlines as N347PH in 05/1997
1st flight on CS-TRC
1st DHC-8-200 flight
9th DHC-8 flight
97th airline
Previous appearance:
The terminal was mostly deserted, only two more SATA flights to Madeira and a Viking Airlines flight to the UK were scheduled on that day. A friendly female agent checked us in and told us that there would be free seating. Then we passed security and went to the gate where some other Madeira-bound passengers were watching the FIFA World Cup match between Portugal and North Korea which would end 7:0: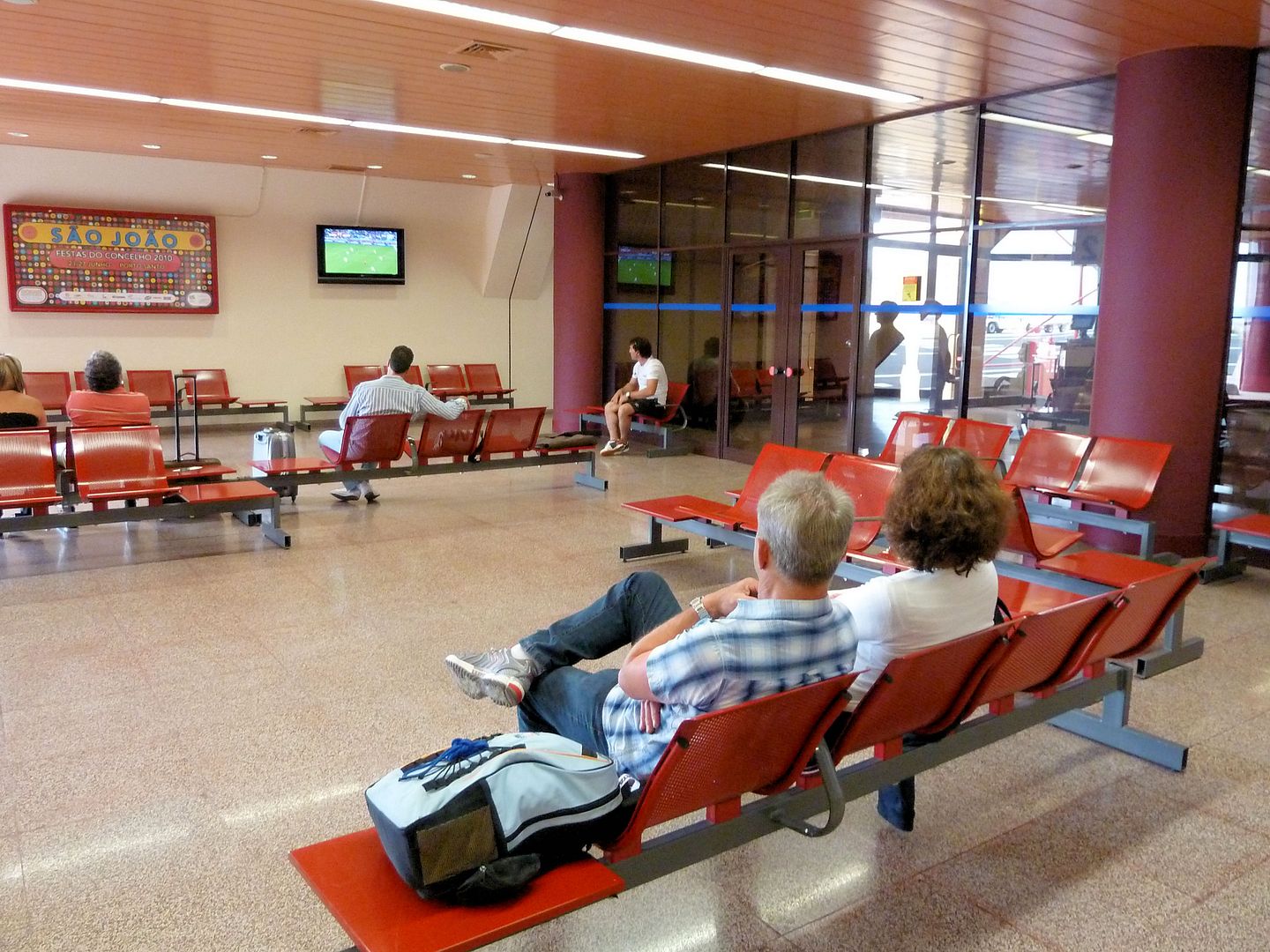 Our Dash 8-200 arrived on time: It was
CS-TRC
, built in May 1997 and delivered to SATA Air Açores in May 2009. It's one of two DHC-8-200s in the SATA fleet: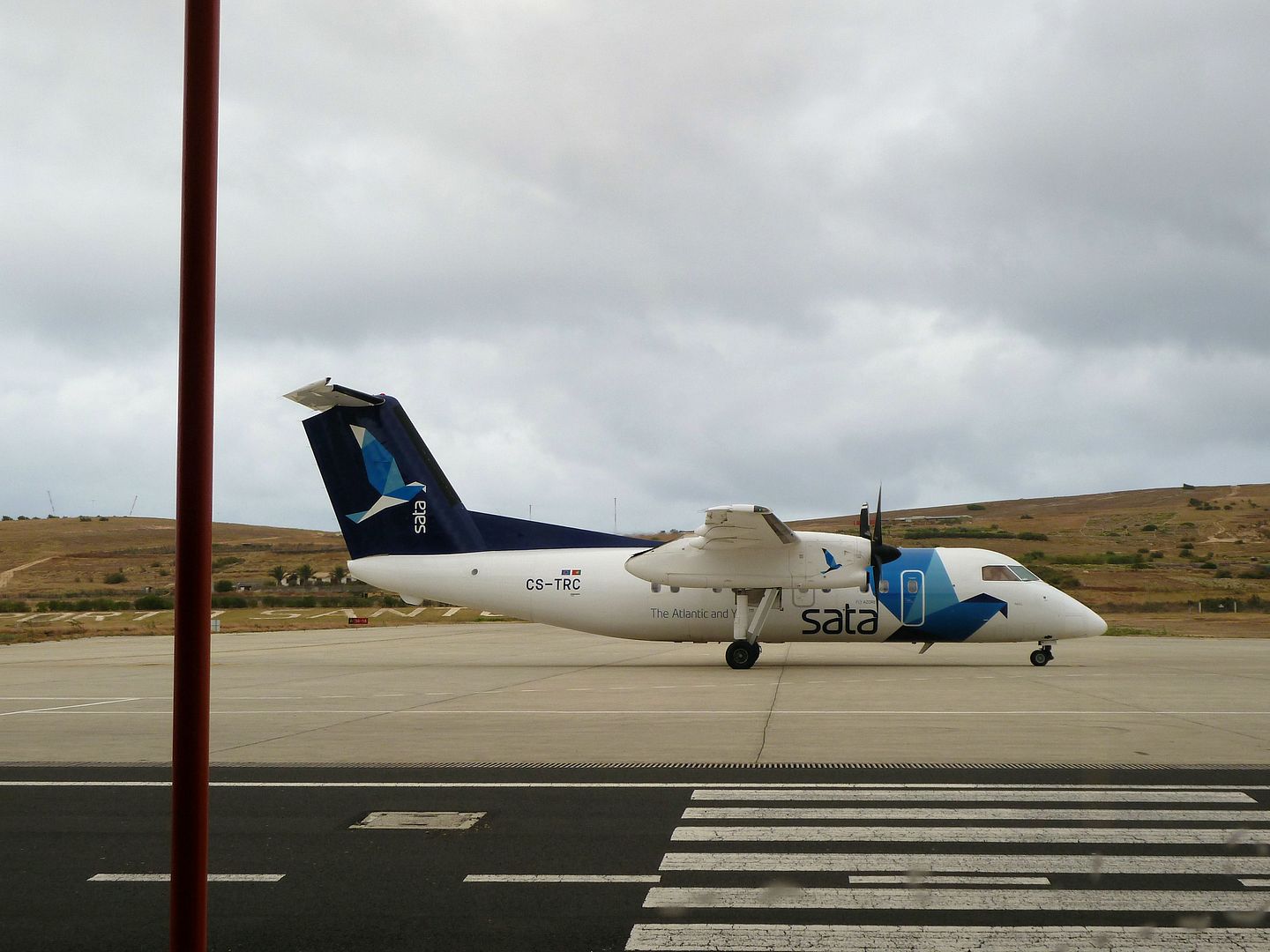 While walking to the aircraft I used the chance to take several pictures: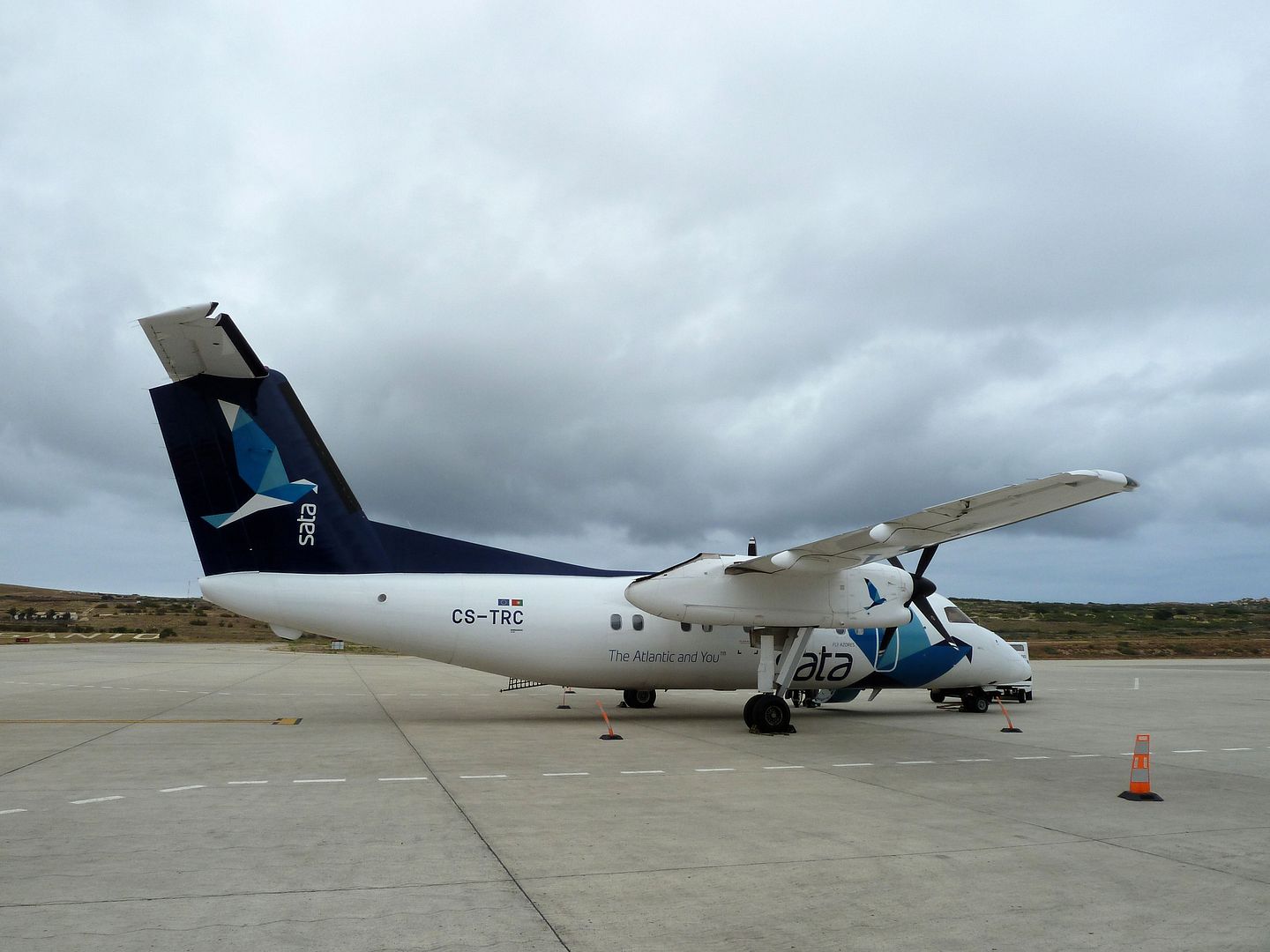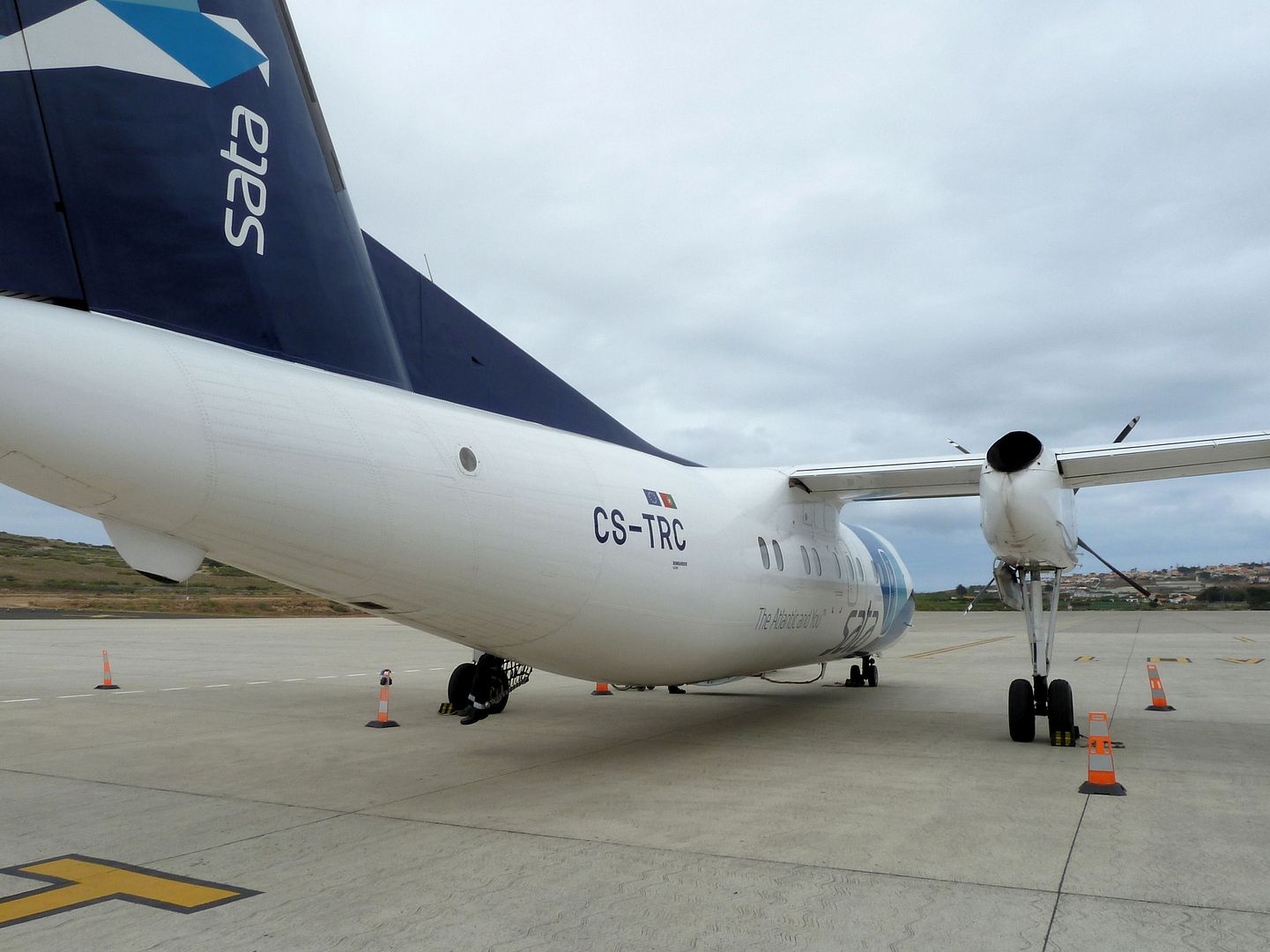 CS-TRC
is named
"Faial"
- that's an island of the central group of the Azores: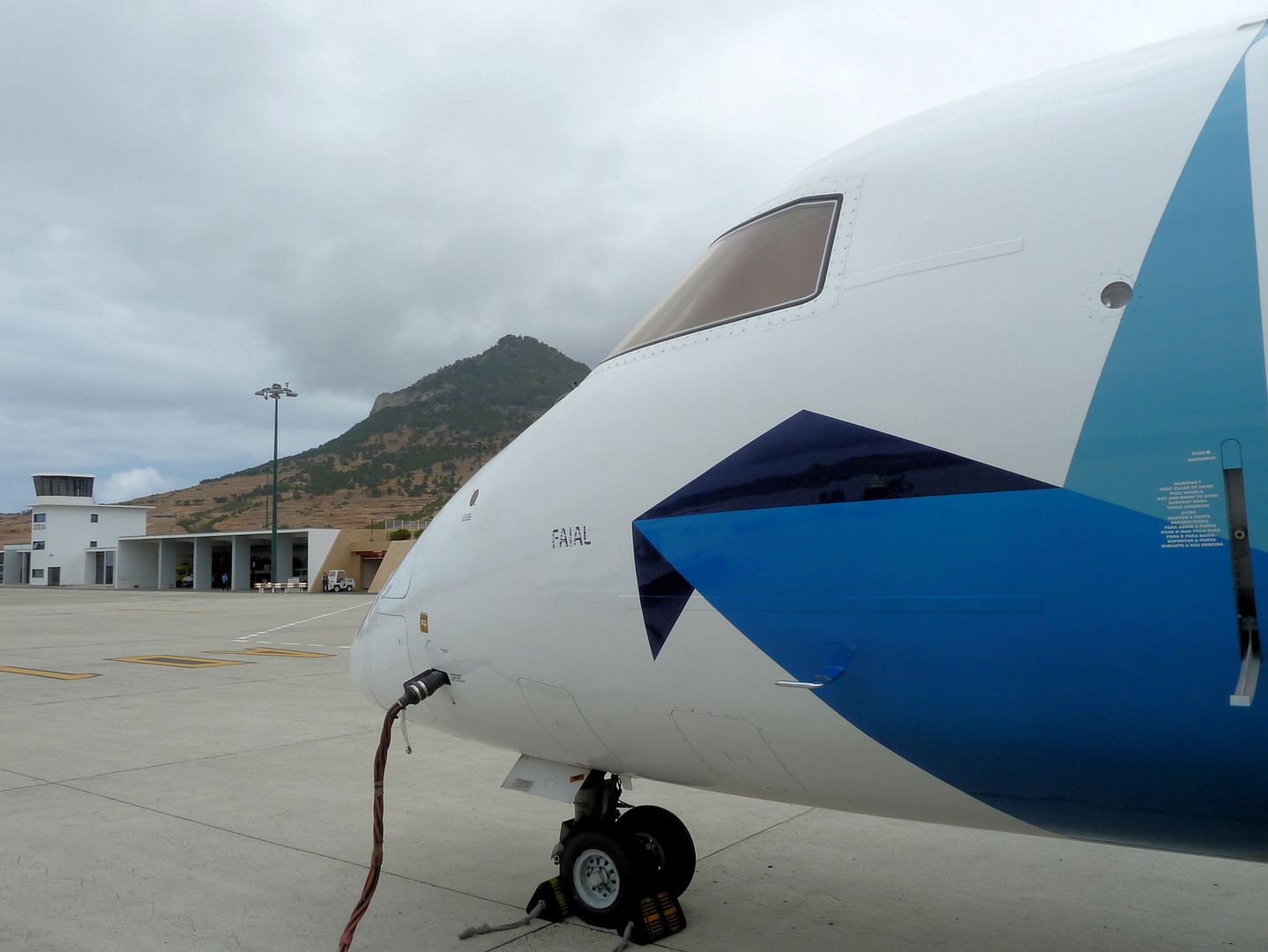 A friendly male flight attendant in the 50s welcomed us on board and we walked down to the last row. The plane is equipped with comfortable leather seats: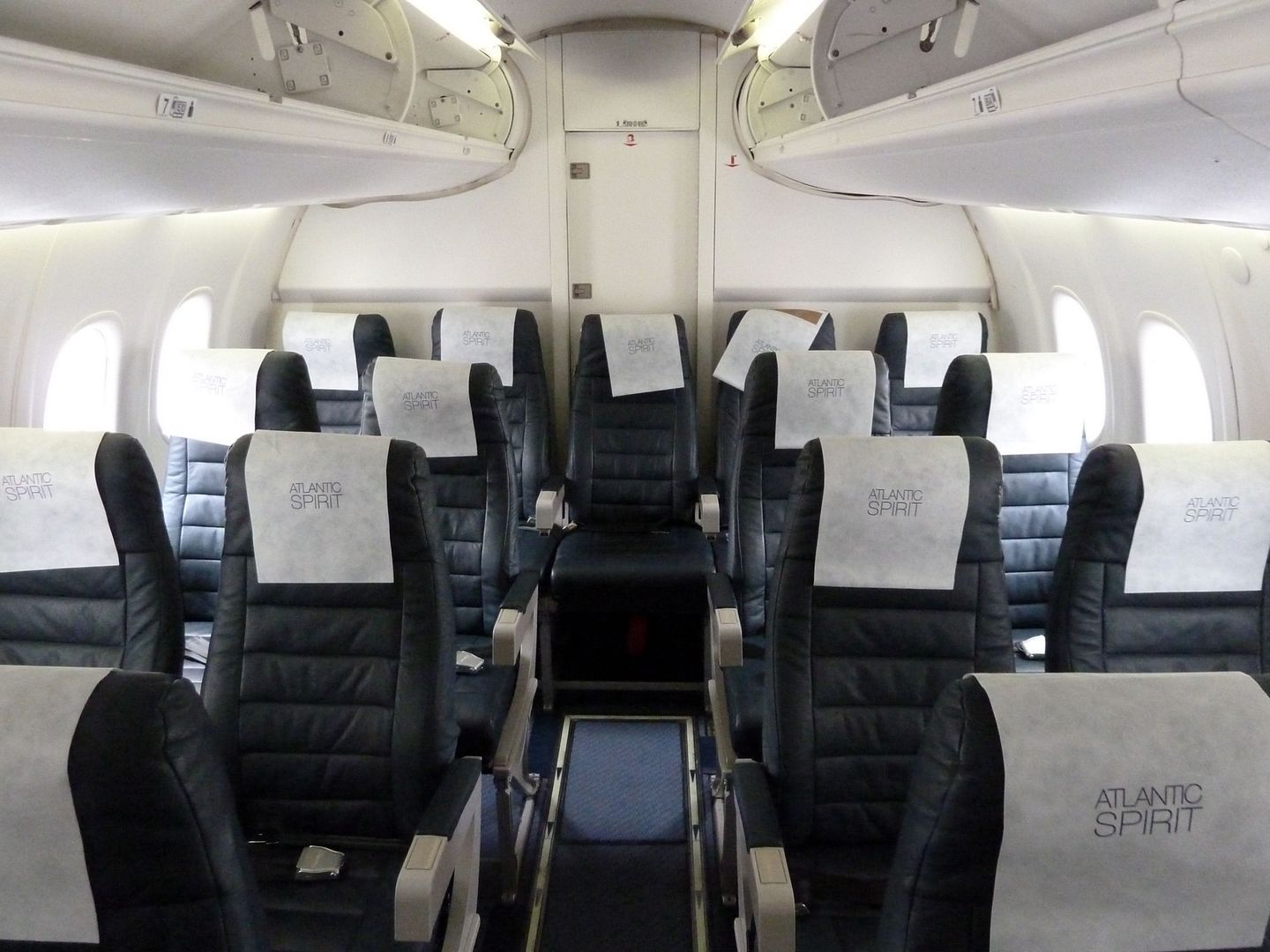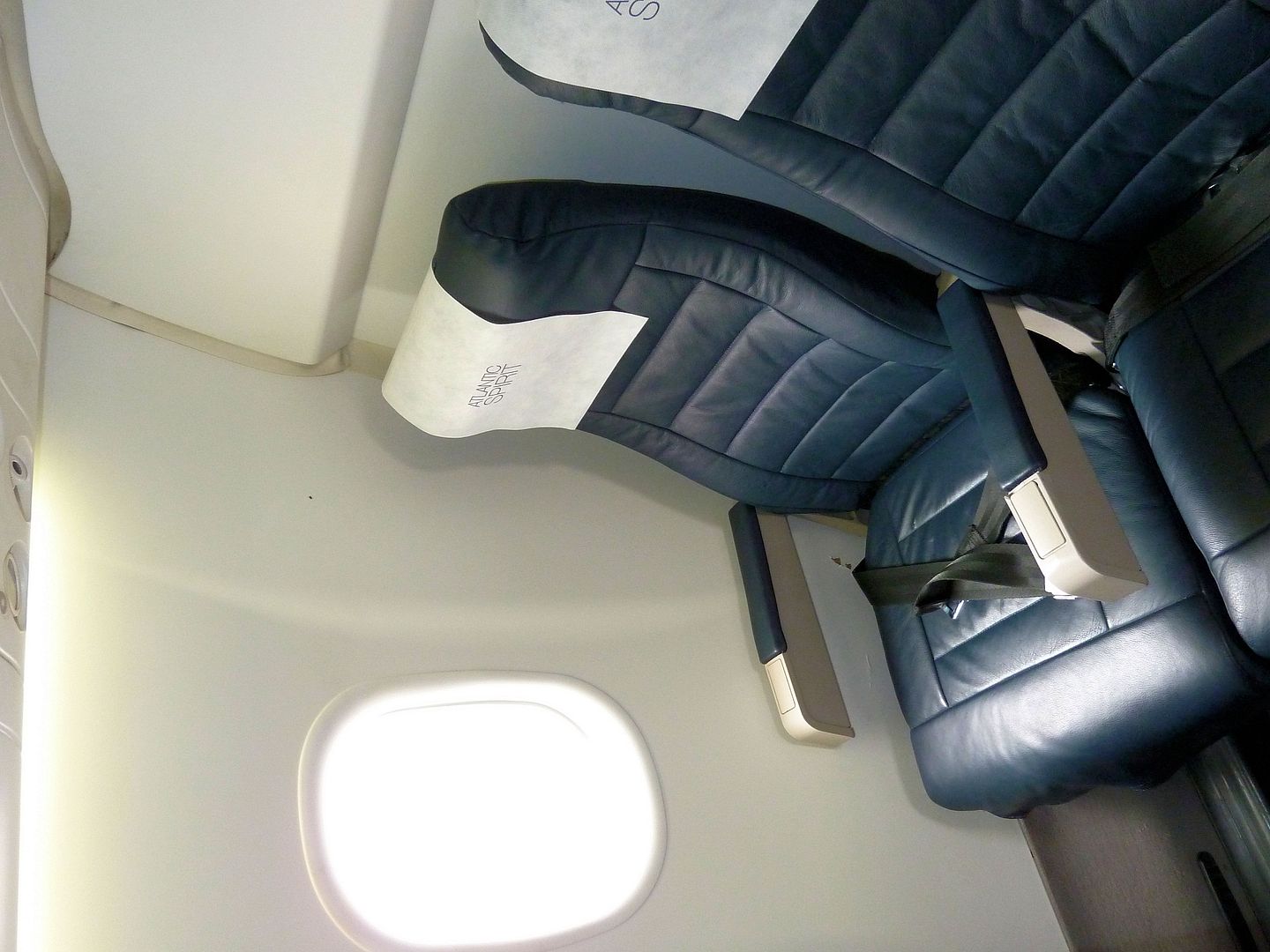 Legroom is quite generous: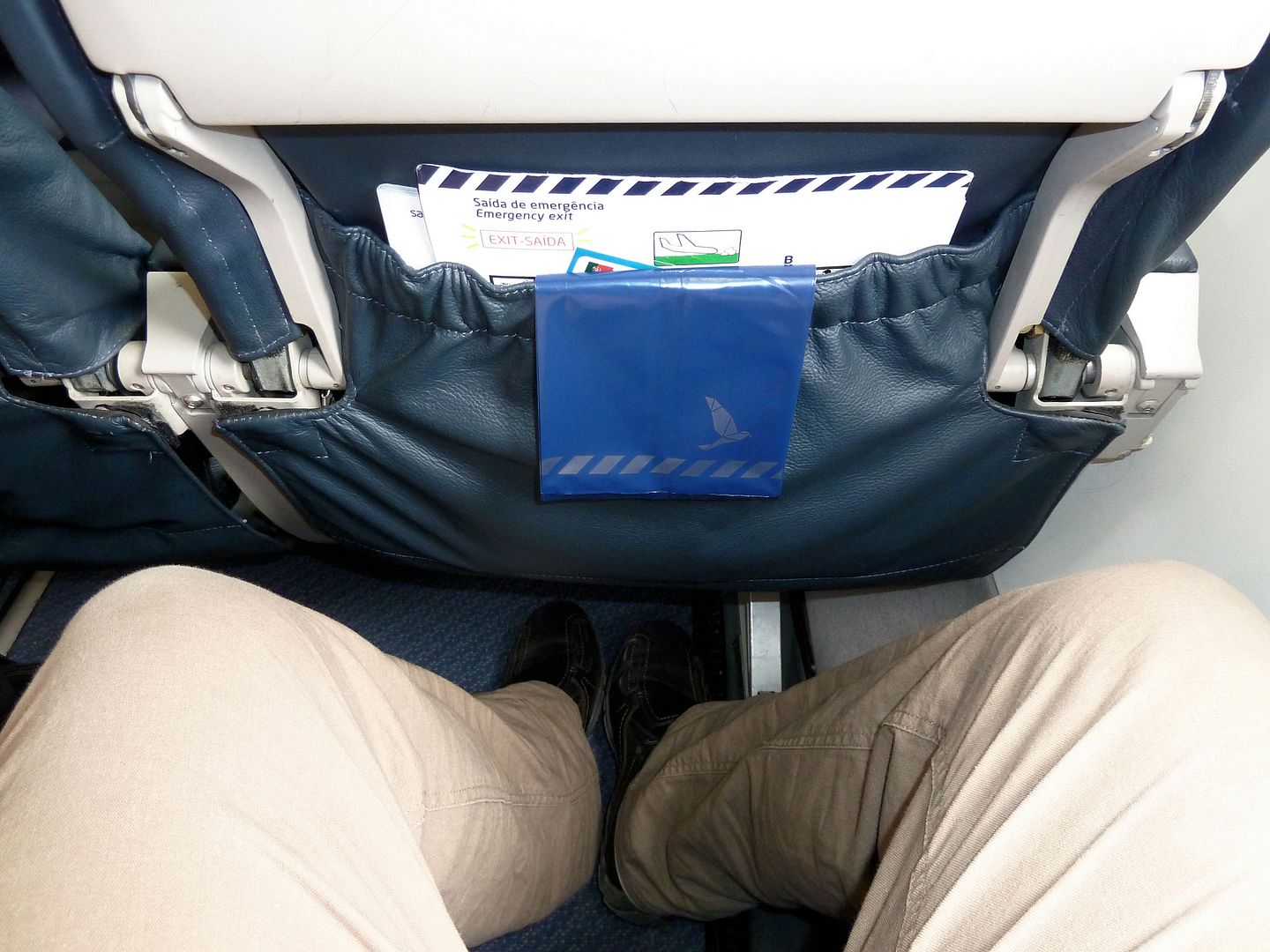 All passengers had taken their seats quickly (load factor about 50 percent), so we left the parking position six minutes ahead of schedule and taxied straight to runway 18: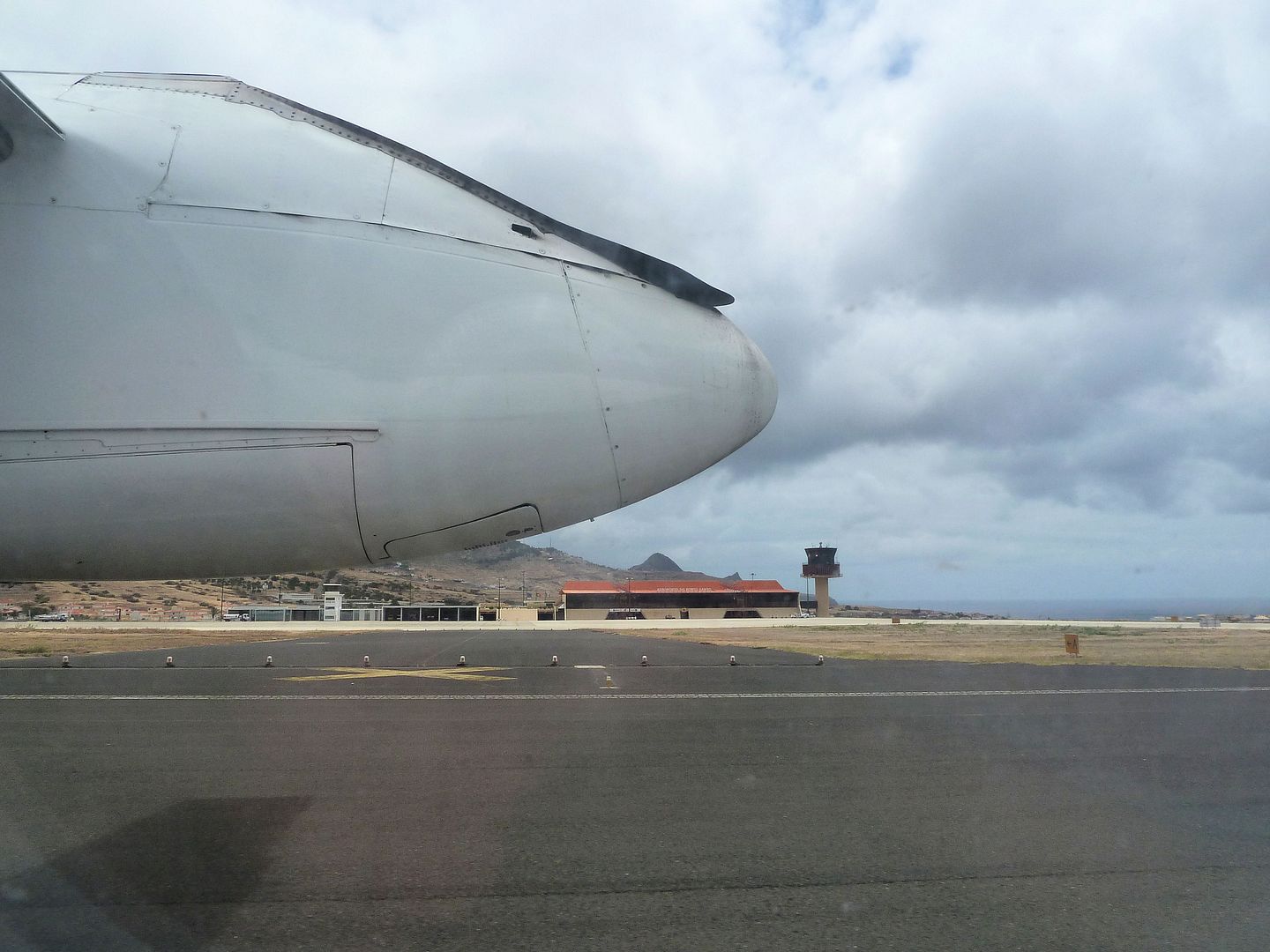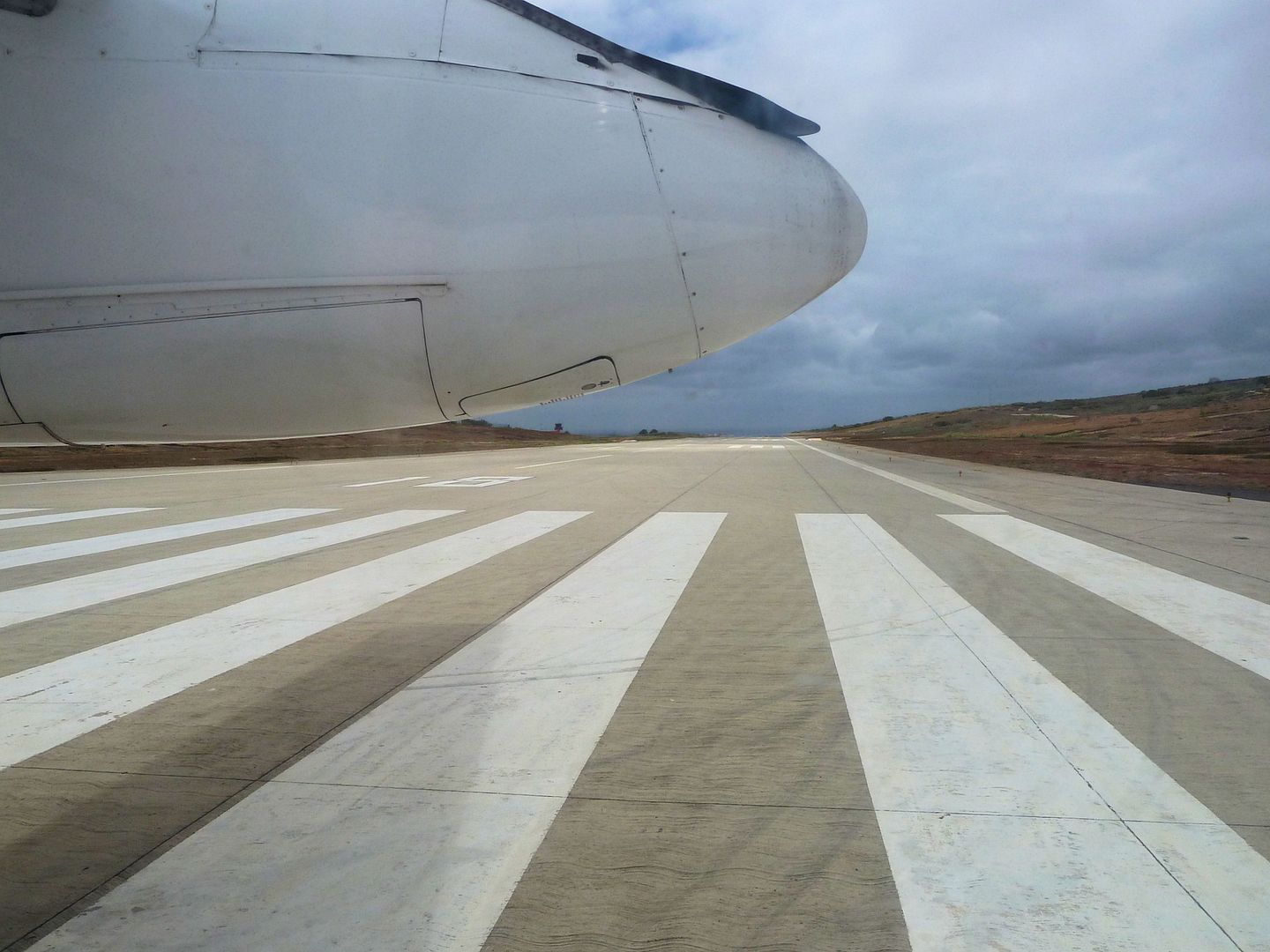 We lifted off after a short takeoff roll: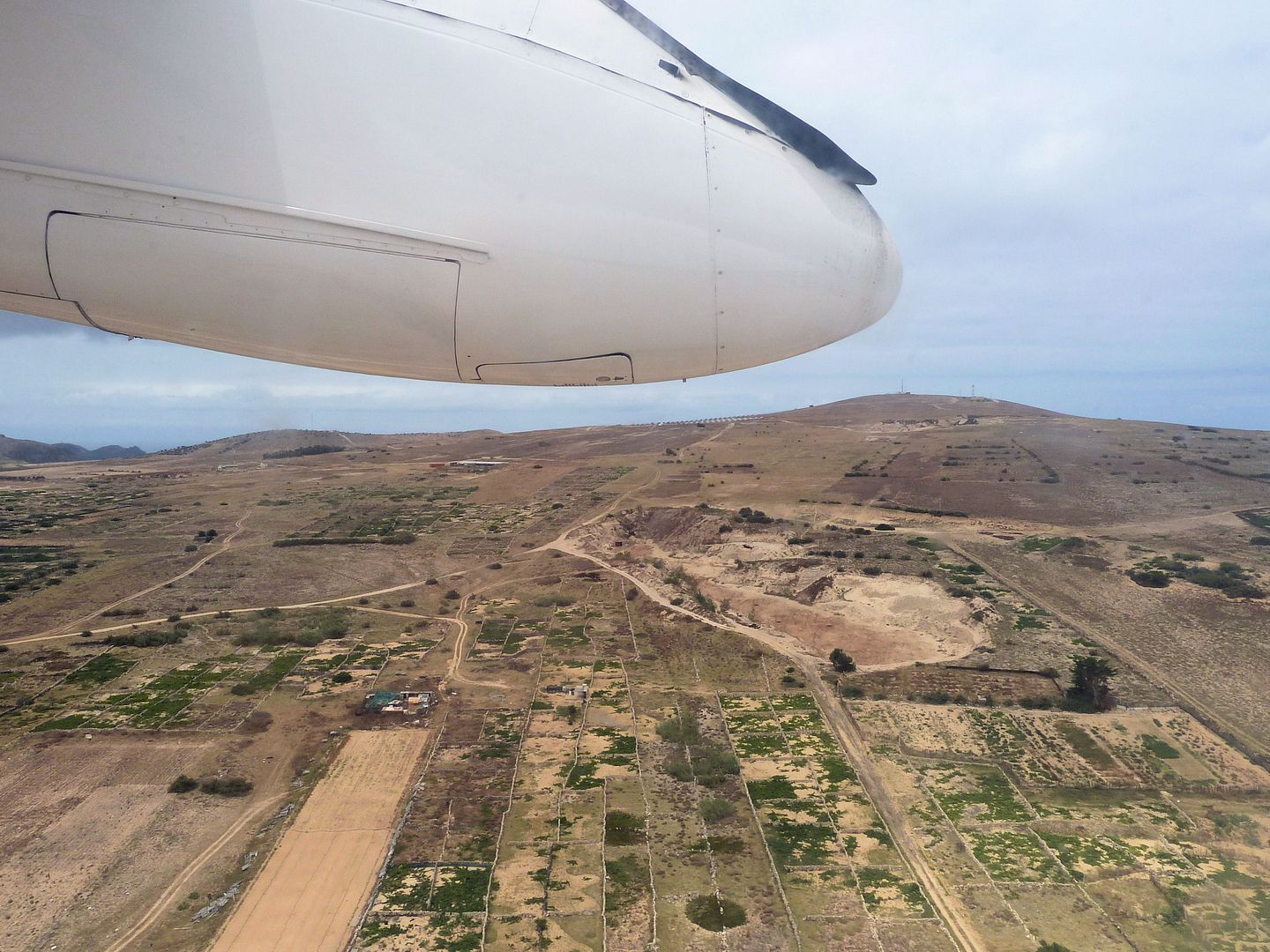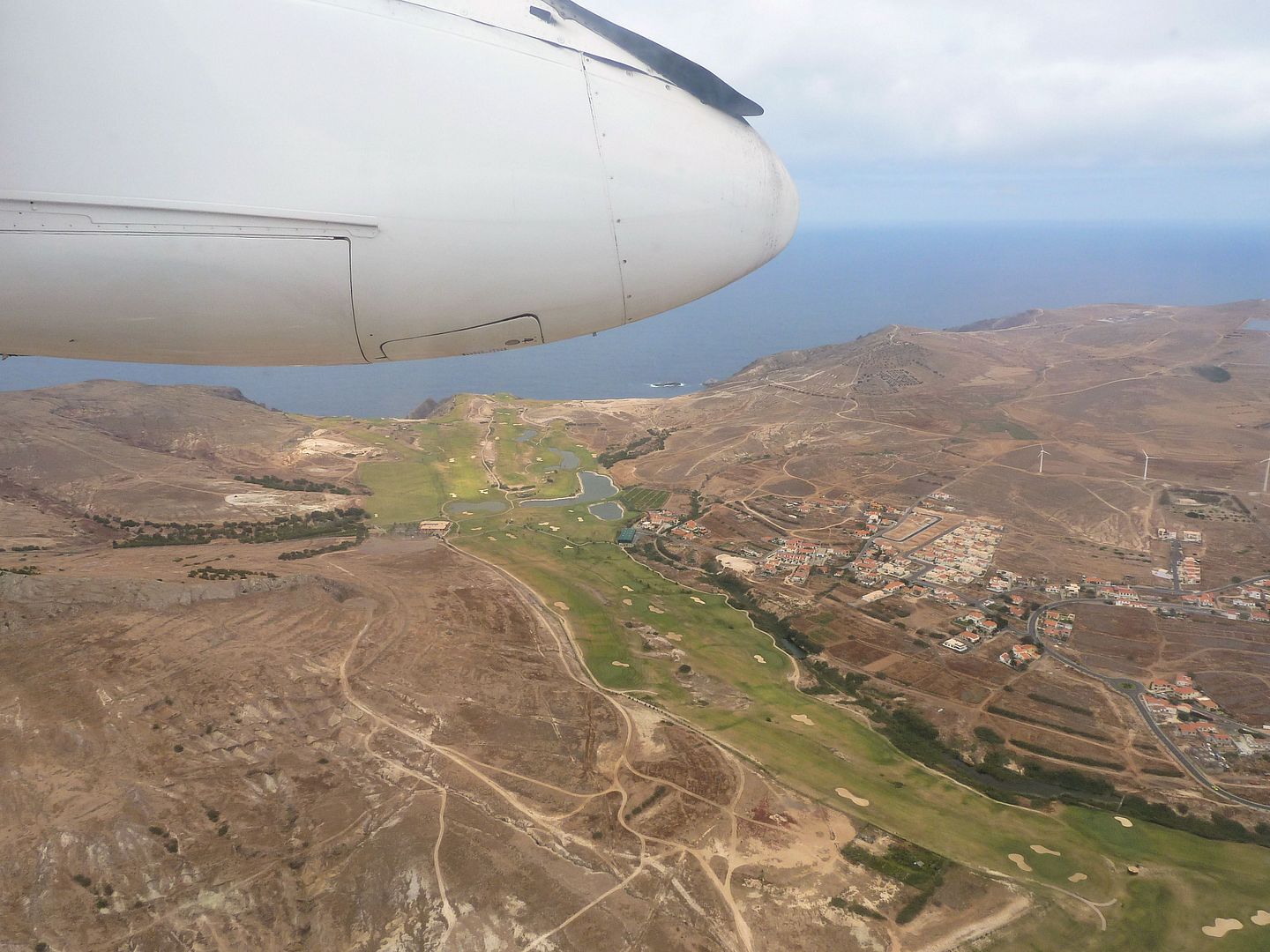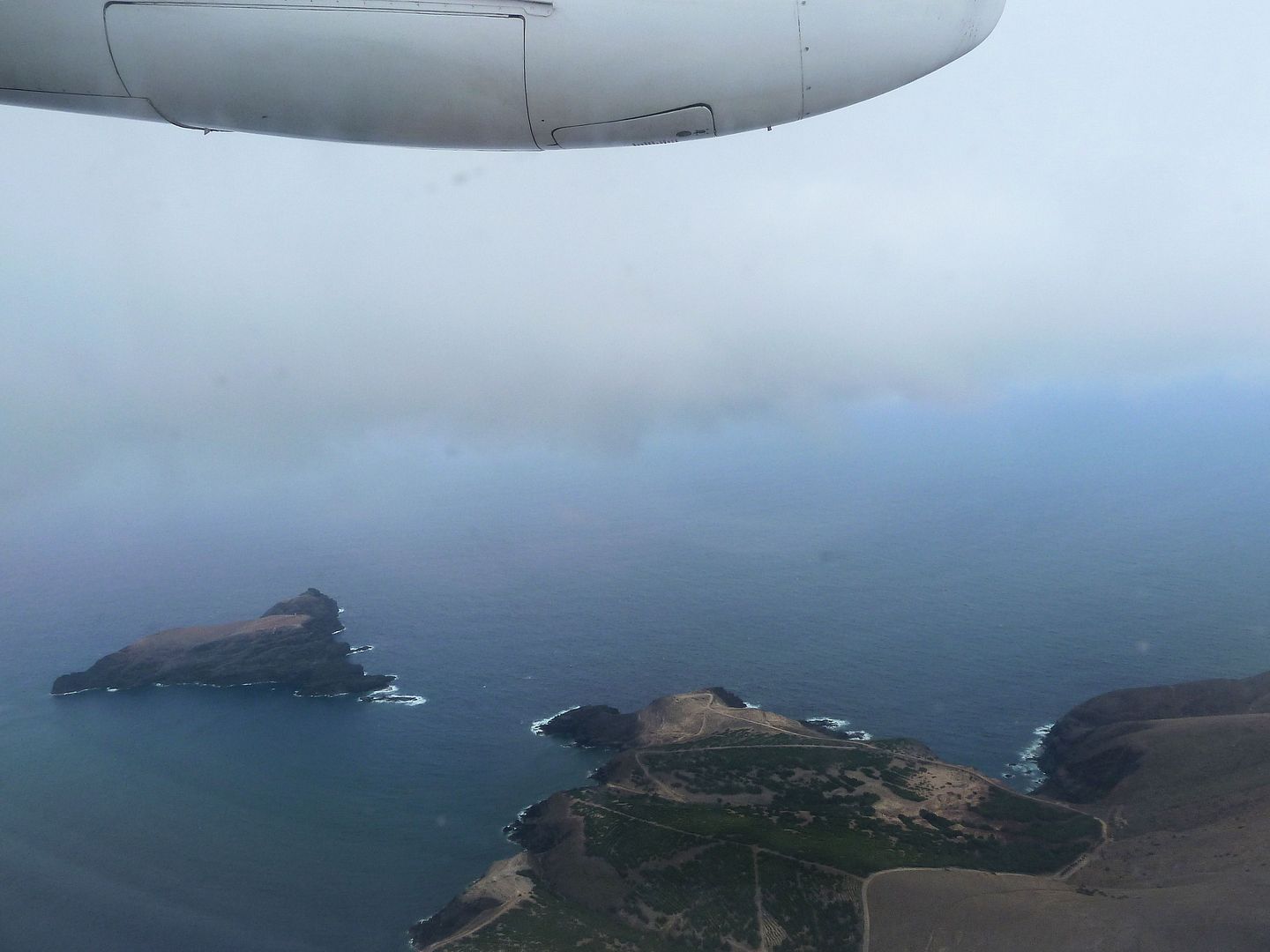 Two minutes later we were cruising over the clouds: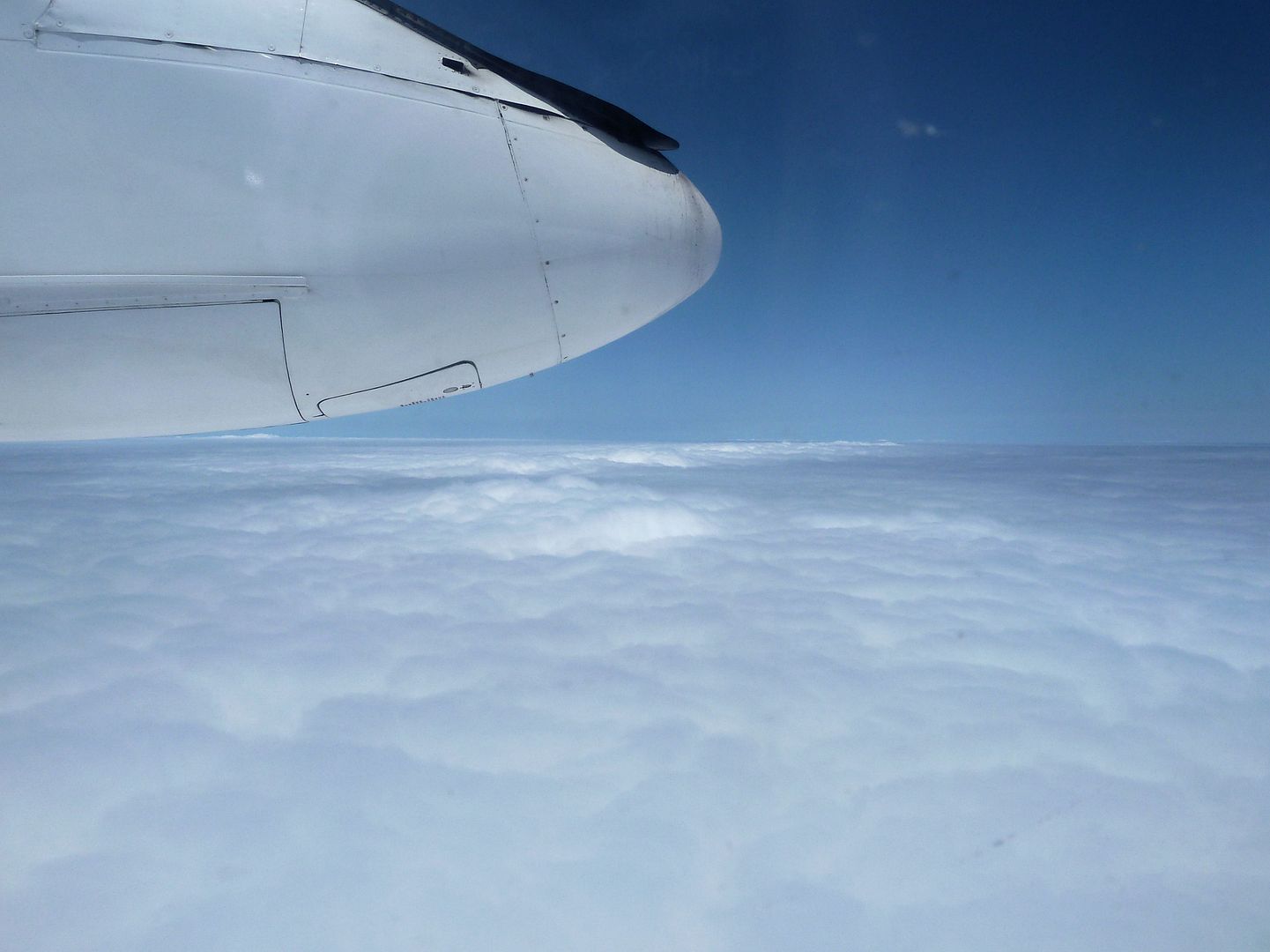 Cabin shot: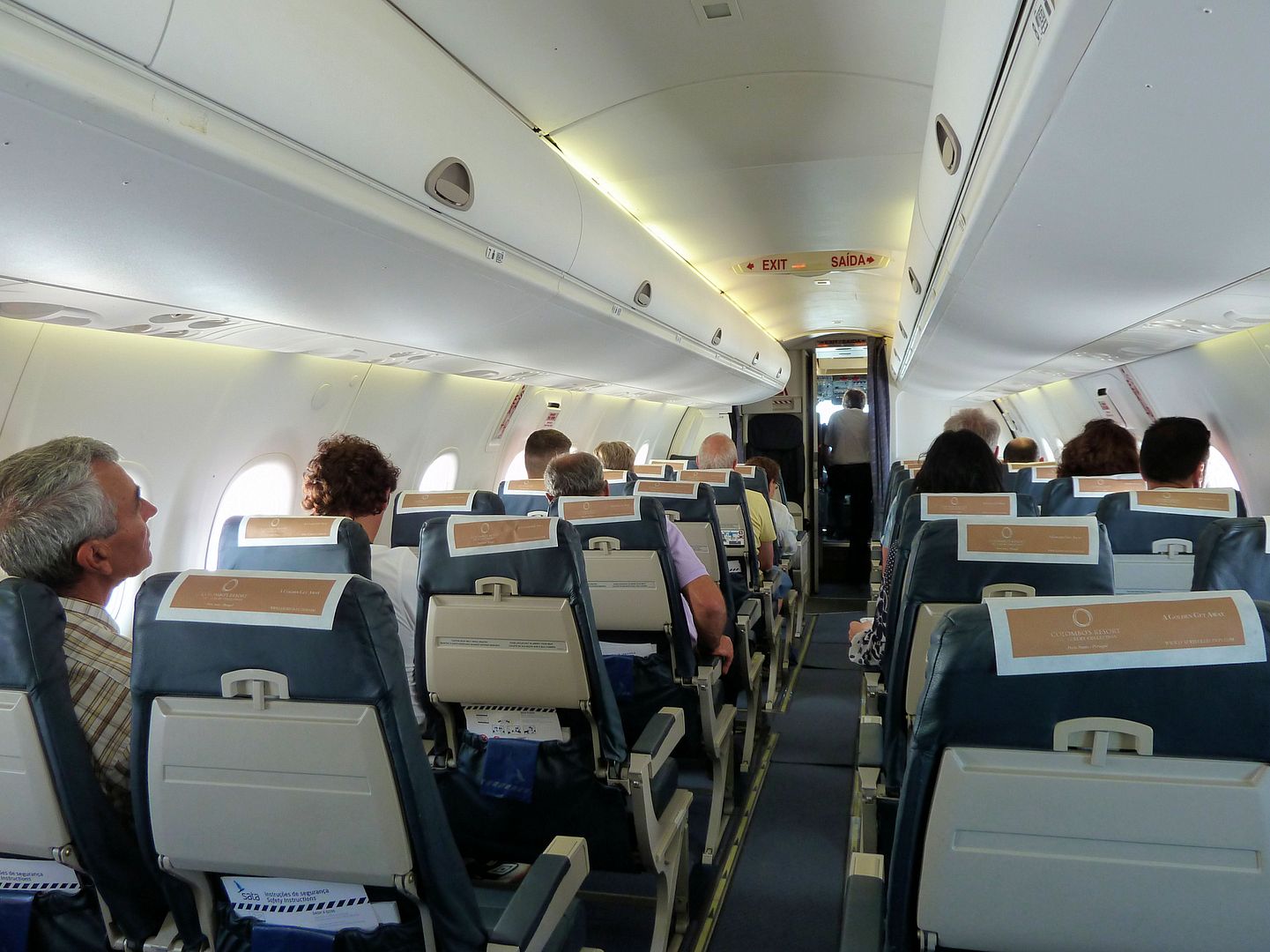 Seven minutes after leaving the ground we were already overflying Madeira's striking coastline: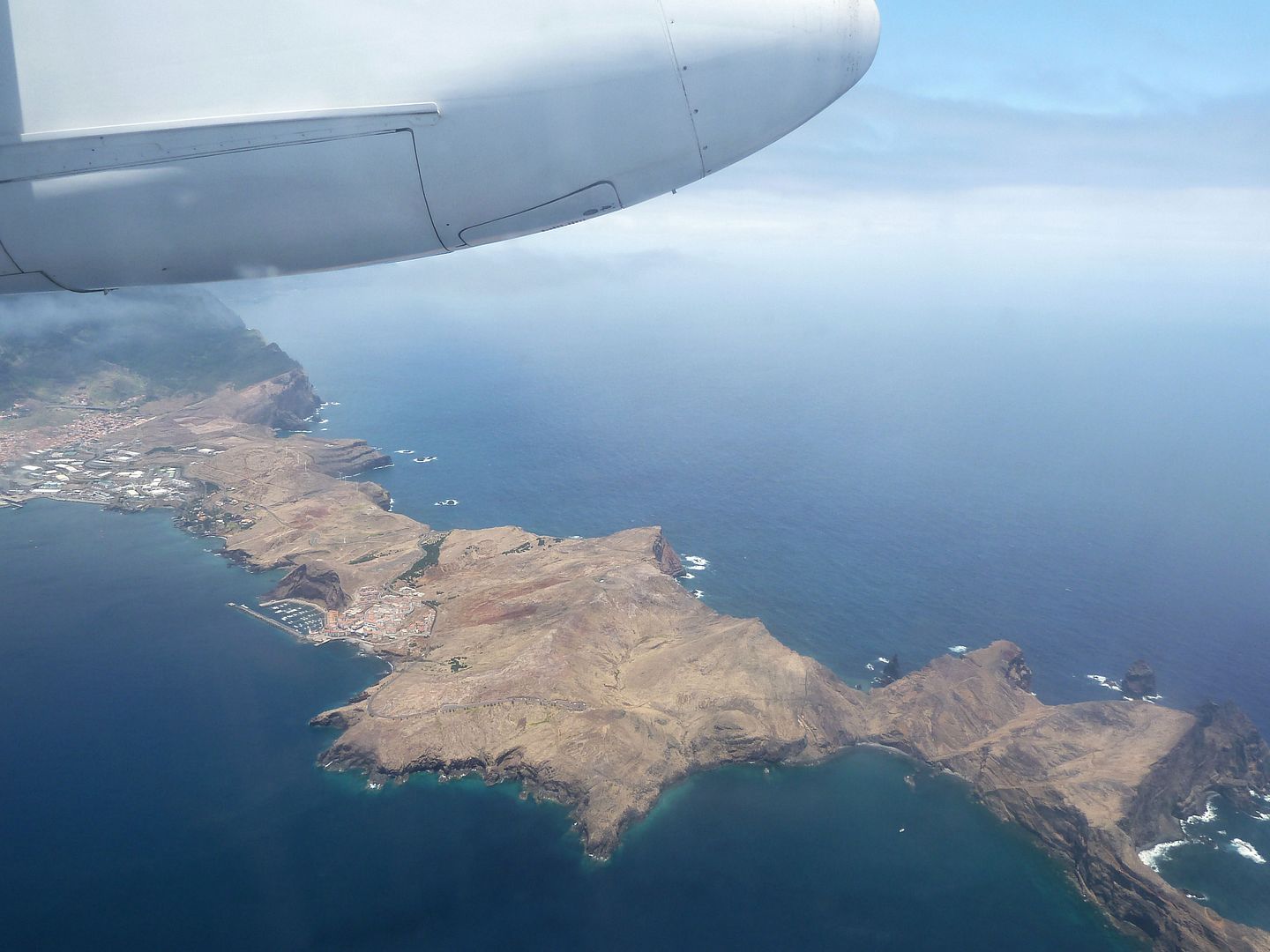 Caniçal
: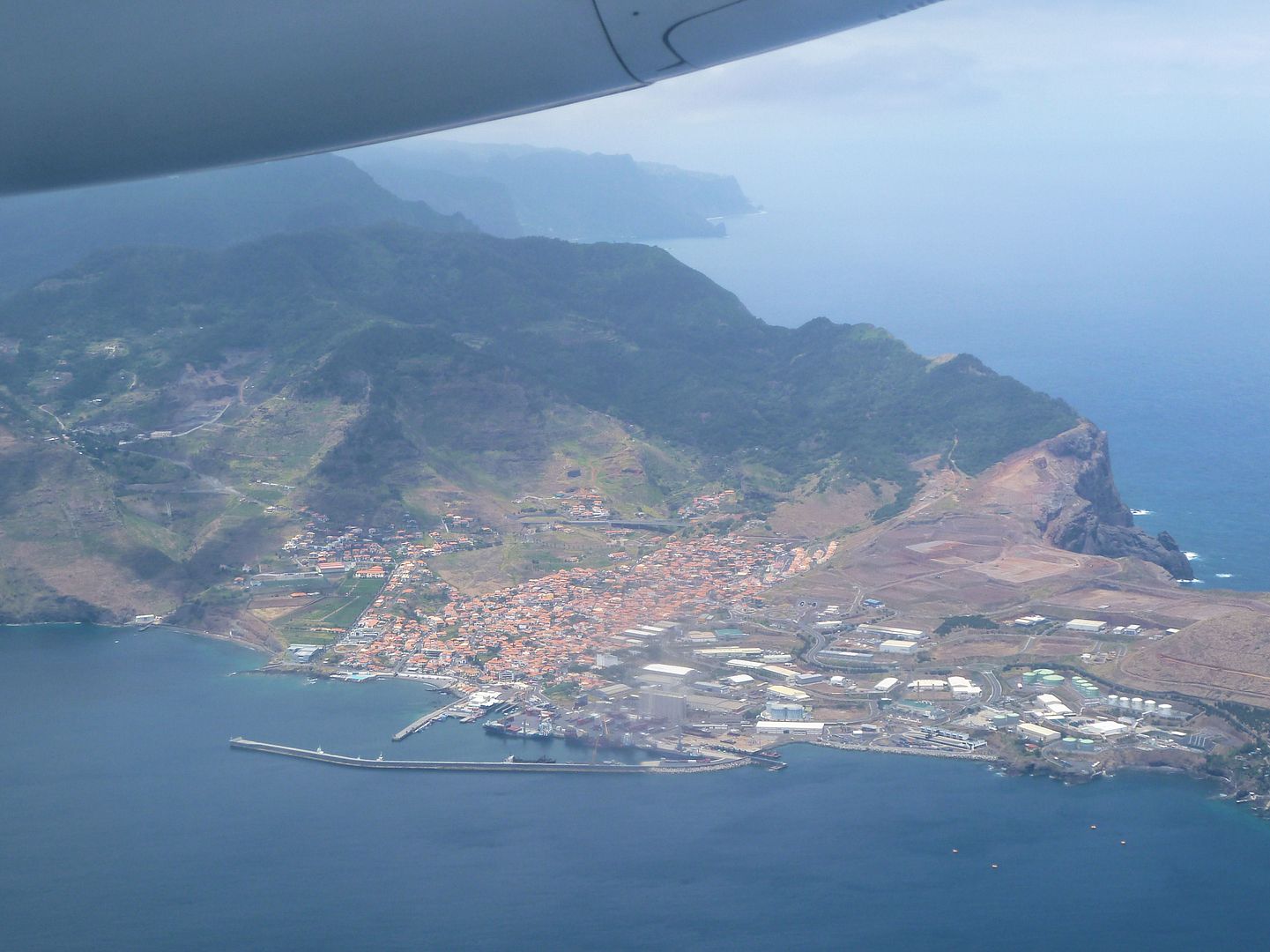 Another approach to the "aircraft carrier's" runway 05:
Unfortunately, I was facing the sun after the plane turned right for final approach. We touched down after a flying time of only 11 minutes - no doubts, this was my shortest flight ever: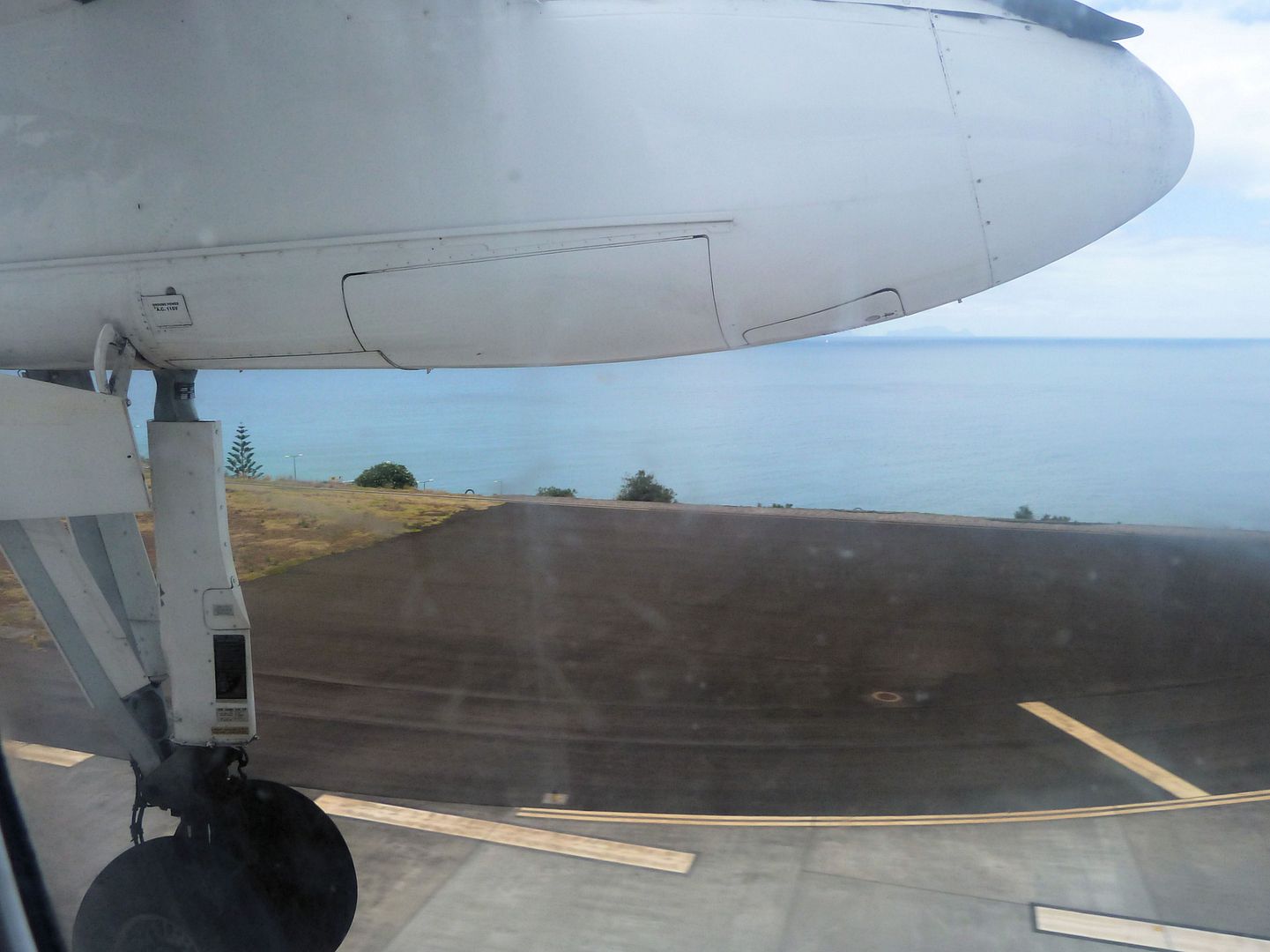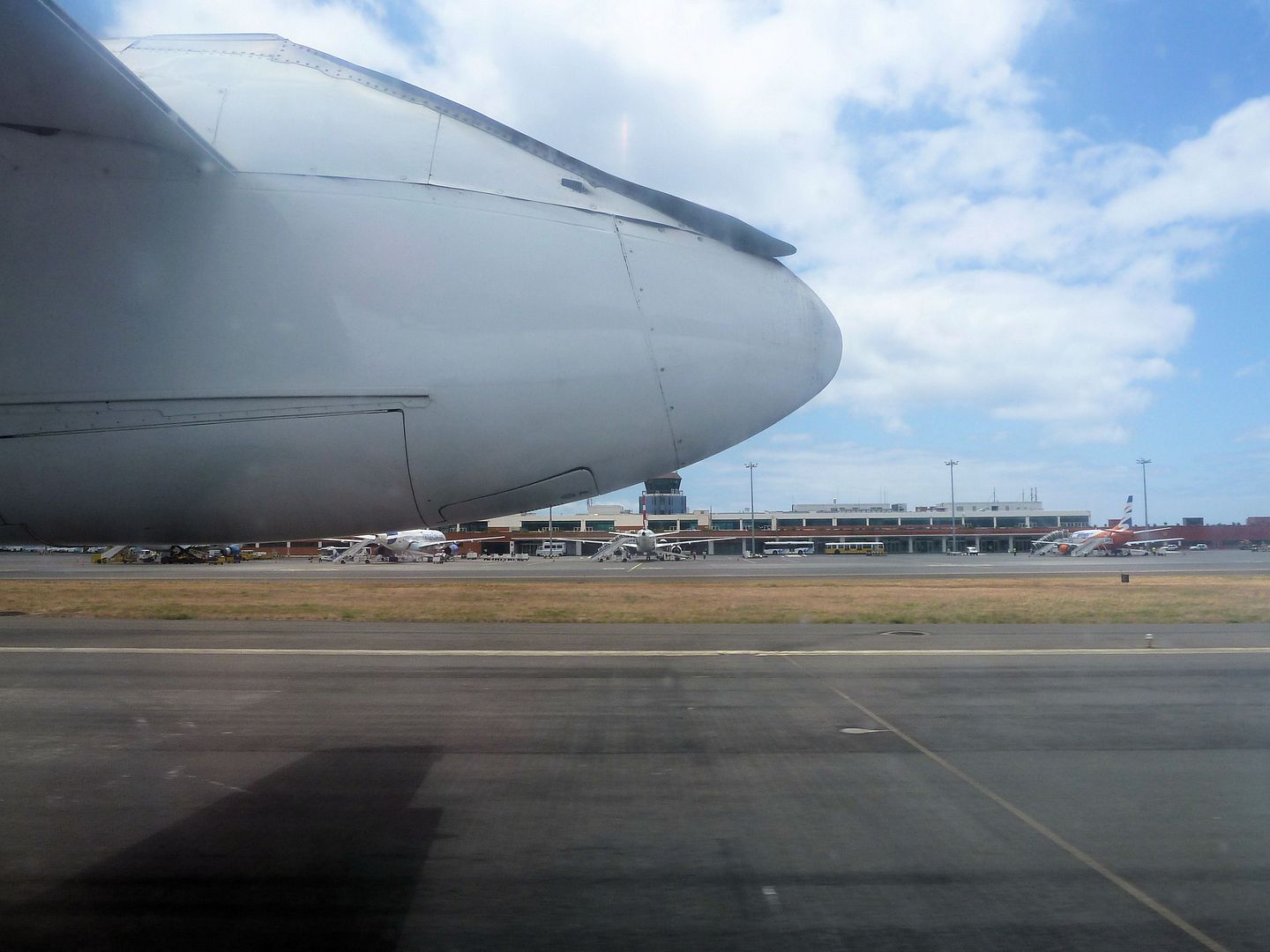 Some minutes later a bus brought us to the terminal building and we went straight to the observation deck.
TAP A319 and Thomas Cook and Finnair 757s: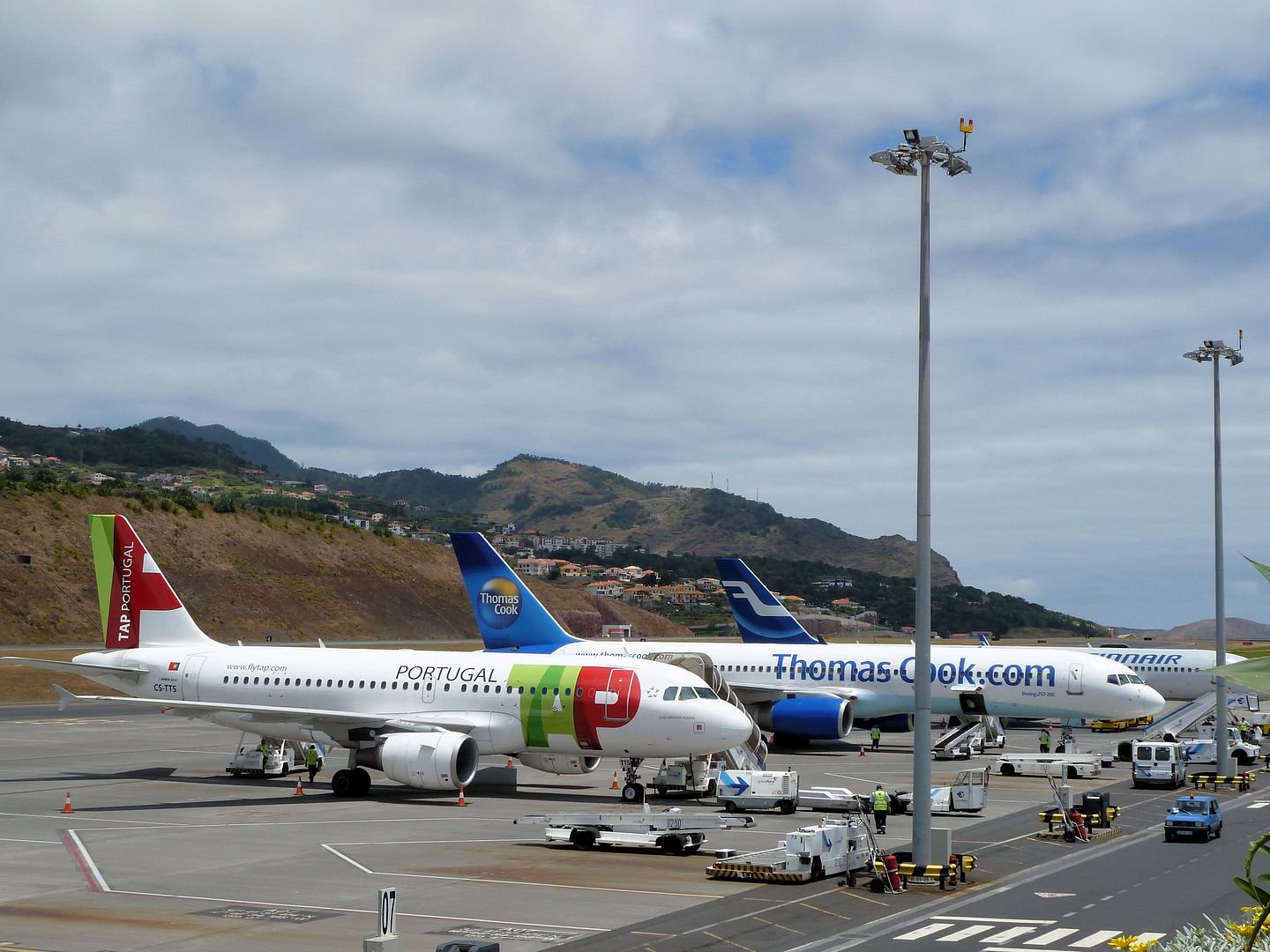 The other side of the apron: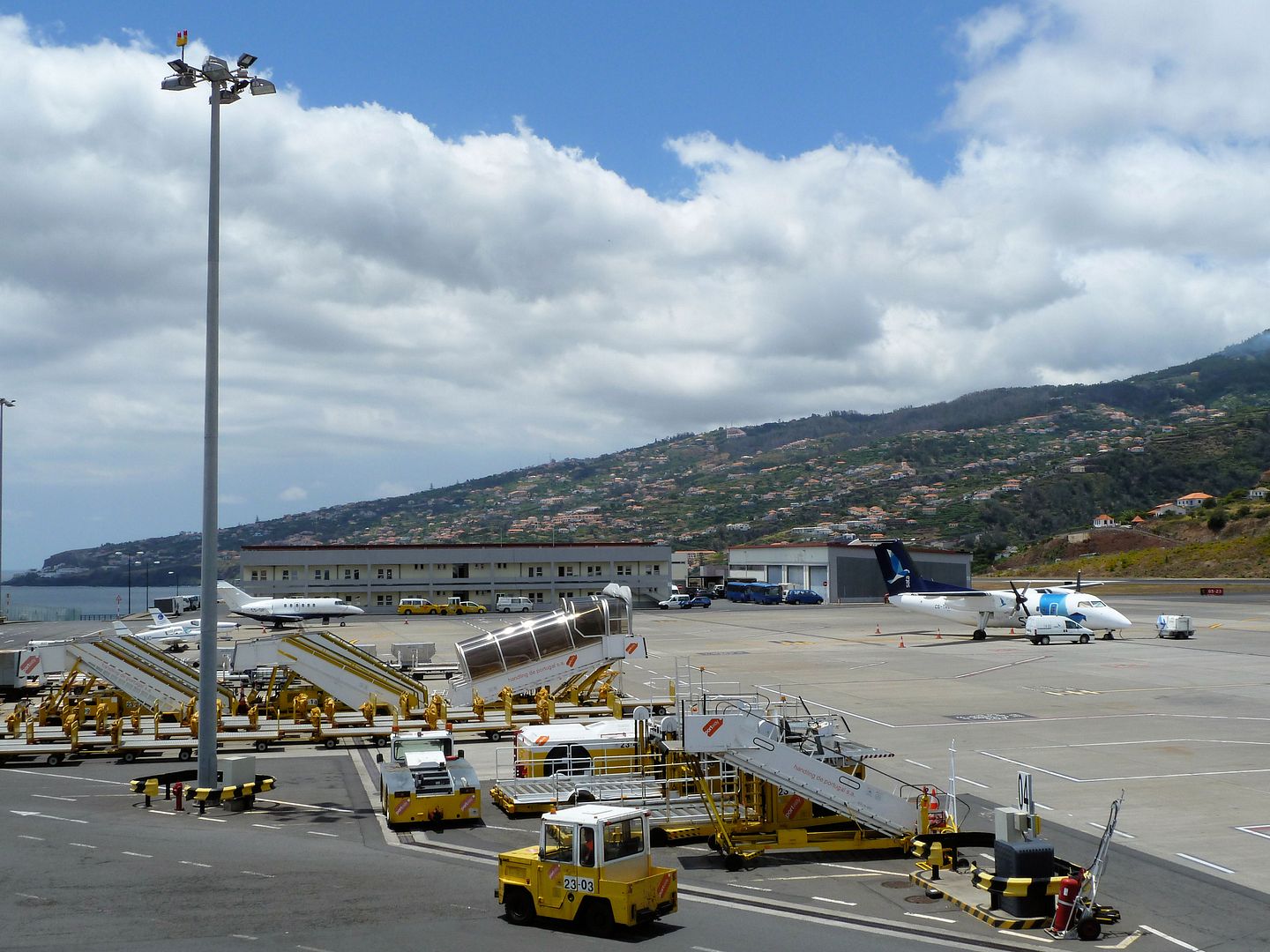 I zoomed in and took a last picture of
CS-TRC
- I really like SATA's new livery: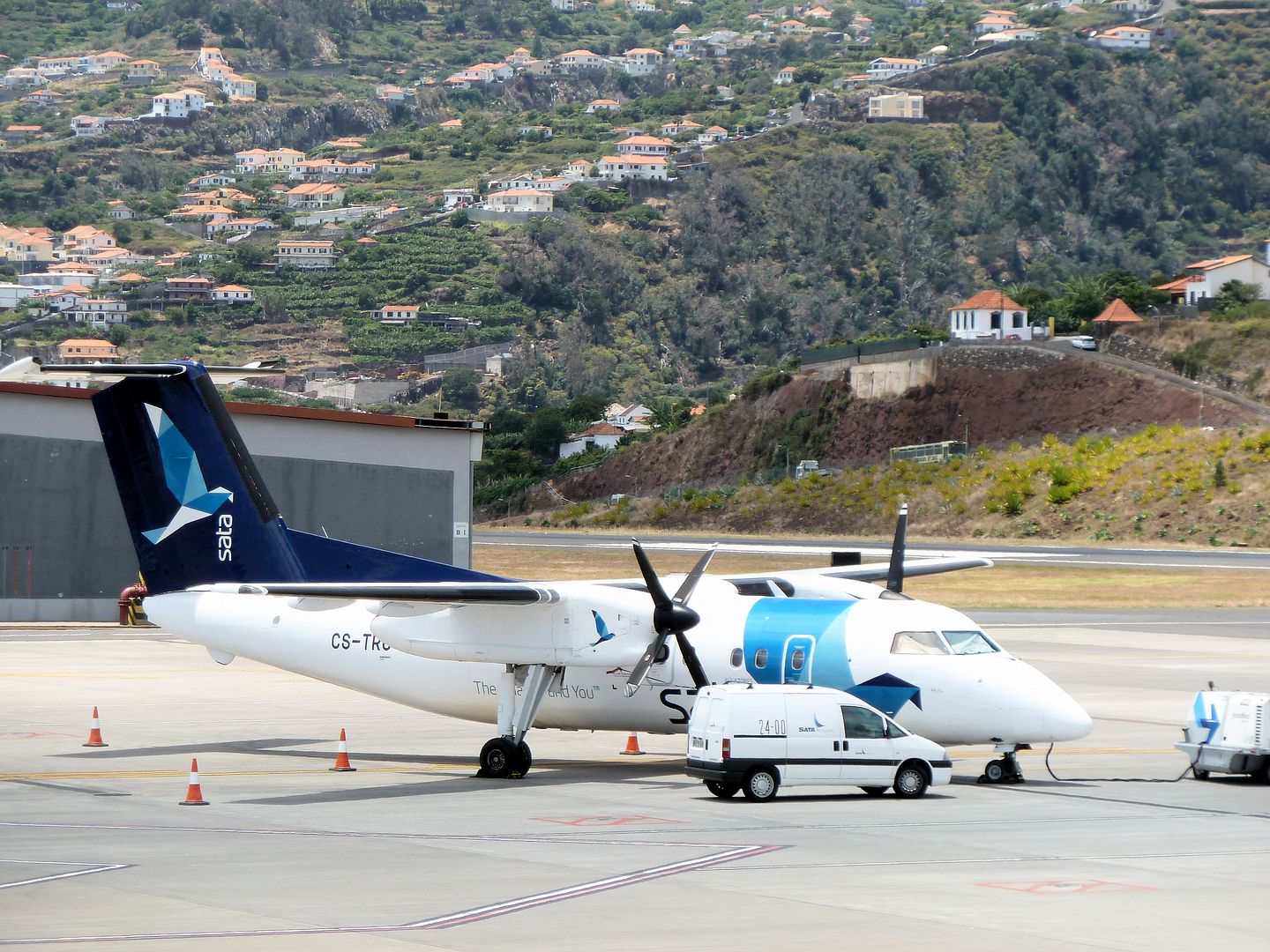 After the Thomas Cook 757 had been pushed back I could see the other plane's registration - and I was pleased that it was OH-LBT, the last missing Finnair 757:
TAP A319 turning right immediately after liftoff: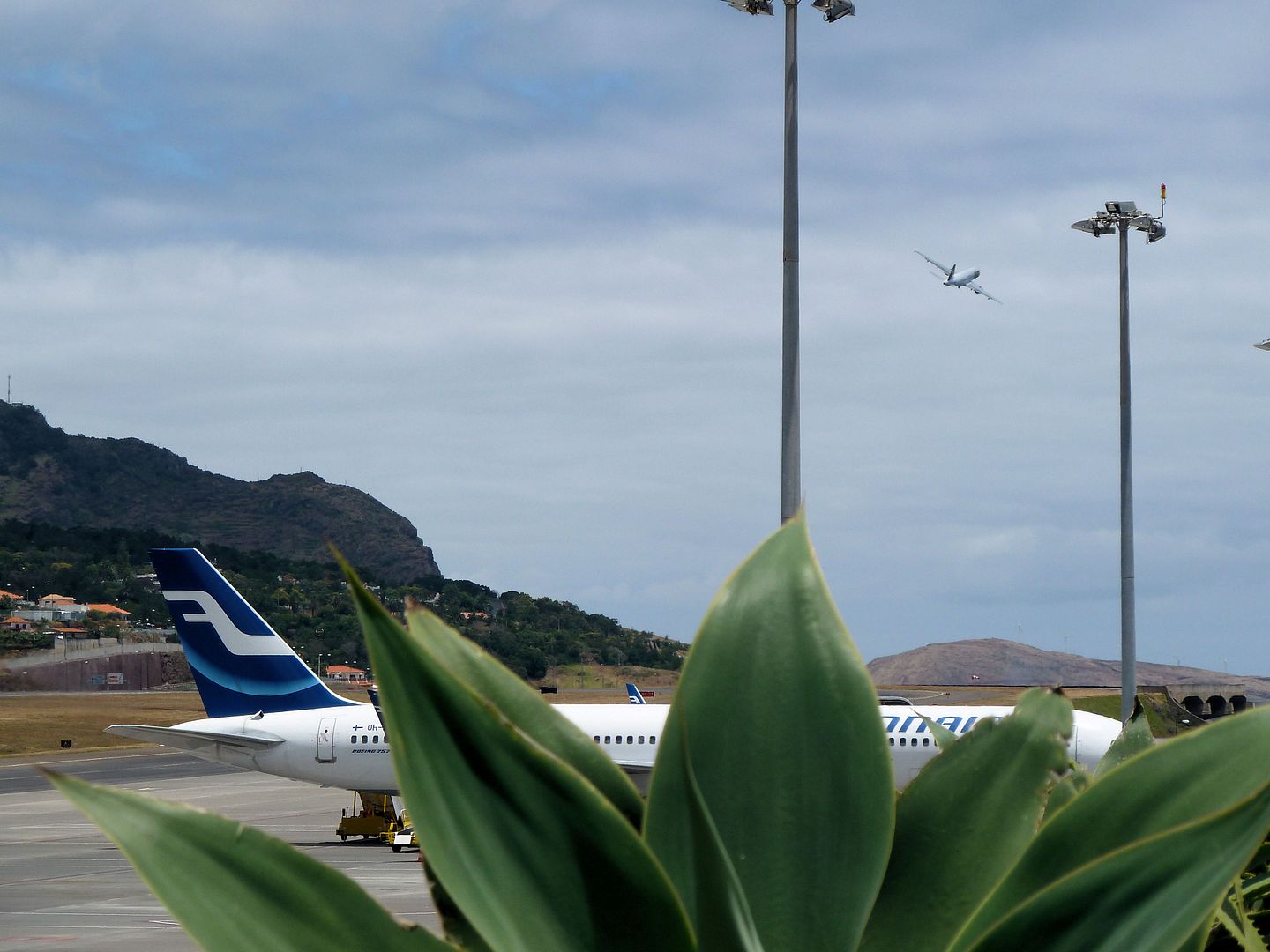 There weren't any more interesting movements to expect, so we took the shuttle back to the city. No doubts, it was a really enjoyable trip to Porto Santo.
Conclusion
The flight on
SATA Air Açores
was very short, but still very enjoyable. Staff members were friendly, the flight operated on time, the plane was in good shape and seating was quite comfortable. I wouldn't hesitate to fly on SATA Air Açores again.
Best Regards,
PlaneHunter
P.S.: Just in case you missed them - my previous trip reports:
Awesome Approach, Splendid Scenery: LIS, FNC & TAP
Guernsey, Ash Cloud Alarm & Mostly Empty SQ 77Ws
Totally Thrilling: Scenic Flight On Lufthansa A380
Cirrus D38, Adria CRJ & Captain Niki Lauda On Duty
Monarch Hot Meal, E195 & More: PMI-ALC-MAN-MUC
Premium Meal & Palma Spotting: MUC-PMI, DE 757-300
The Dead Slow Transfer: PEK-MUC On Air China A332
Cancellation Brings Joy: HKG-PEK on Dragonair A330
A380 Cacophony, 777 Star Livery: DXB-SIN-HKG on SQ
The Next 5* Carrier? MUC-MCT-DXB, Oman Air A330
Turkey For 1.5 Hrs: Daytrip To AYT On Sky Airlines
CO Scores Again: ATL-IAH-EWR-FRA On ERJ, 752 & 764
Riding The Ultra Long-Haul Twin: Delta 777-200LR
Pacific Coast Jaunt: 3 Carriers, E120, E140 & Fog
The Ultimate 737: LHR-IAH-PDX On CO 777 & 739ER
Bye Bye, Hell! TRD-OSL-TXL-NUE - DY/AB/HE DH4
My Trip To Hell: NUE-CPH-OSL-TRD On Cimber & SAS
SFO-YUL-FRA: Map- & Sleepless On Air Canada's 77W
Sin City Gloss & Virgin America's Chic First Class
Seat Dilemma & Canyon Glamour: FRA To LAX, AC 763
On Par With Air France? DTW-AMS-MUC, KLM A330
Goodbye, Red Tails! DC-9-40/50 & Chicago Tour
Champagne & World Of Coke: Air France A340 To ATL
"Mission A380": Disappointing Legs On BA/BD/EI
Delights Of Doha, 773 & 77W: DOH-DXB-LHR On EK
A380 Really a Step Forward? LHR-DXB-DOH On EK
Quality & Style: HKG-LHR On Air New Zealand 744
Taiwan Trio: TransAsia, UNI Air And The Taipei 101
"The Wings Of Taiwan": EVA Air A332, 744 Combi
SHA-SZX, Shanghai 757: Delayed By The Military
PEK-SHA, China Eastern A330 & Shanghai At Night
Striking Newcomer: Berlin-Beijing On Hainan A330
Short & Splendid: MXP-MUC On Air Dolomiti's 146
3 Hours On Blue1: HEL-MXP On The MD-90
BCN-MAD-ZRH-MUC: UX Shuttle Meets Swiss Quality
MUC-MAD-BCN: Star MD-87 & The Pain Of Vueling
Low Fares, Lovely Island: AK & Best Of Langkawi
4 Stars Or 5 Stars? FRA-KUL-FRA, Malaysia 777s
First And Last Time? JFK-FCO-MUC, Alitalia 777
JFK For 1 Day: Transatlantic Hop On CSA's A310
Sardinian Sun, Shiny New 73Gs & Cramped Mad Dog
Top And Flop: KIX-HEL-MUC, Finnair A320 & MD-11
The 524-Seat Twin-jet: HND-ITM On ANA 777-300
Kobe For 1 Hour: 767-Quickie On ANA & Skymark
Rocketing To Tokyo: FUK-HND On JAL (ex-JAS) 777
Oddities & Okinawa: JTA 734 & JAL 744D(Domestic)
MUC To Nagoya: Finnair E170 & (Old) "New" A340
Mad Dog, A320 Tech Delay & Best Of Lanzarote
Canaries Prop-Hopping: Islas Airways & Naysa
Canaries And Confusion: LH CRJ900 & Spanair A321
Hubbing For 162 Miles: HOQ-FRA-STR Ret On IQ/EW/LH
BOS-JFK-AMS-MUC: SSSS-Check And KLM 777
ATL-PIT-JFK-BOS: FL B717, JetBlue E190 And Delays
MUC-AMS-MEM-ATL On NWA A332 And 40-year-old DC-9
FRA-BKK-FRA Via CMB: SriLankan A332 & A343
BNE-SIN-DXB-MUC On Emirates B772ER & B773
2 Hours In Paradise: Hamilton Island (JQ/DJ)
BNE-SYD-BNE: Domestic Run On QF's Oldest B747-400
Testing Qantas: SYD-MEL-SYD-BNE (B738, B763, A332)
Going Down Under: MUC-DXB-SYD On EK A332 & A345
9/11 Review: Failed Trip To LAX - Fuel Dump Pics
Surprised By NIKI's Newest A320 & Screw-up By AB
Leisure Vs. Full Service: Condor & SN Brussels
"betterFly" On LH: Business Class For 99 Euro
Weekend Transatlantic Trip (2): US A321 & B762
Transatlantic For A Weekend (1): MUC-DCA On US
[Edited 2010-11-17 00:42:54]