My very first trip report: HEL-ARN-VIE-MXP-WAW-HEL

Background
I have been fascinated by a.net trip reports for several years already. I´ve met some of my favourite writers (infodesk, Flieger67 and FlyingFinn76) on my previous trips but have never actually written any reports myself. So, on my summer vacation in July I decided to try to create an interesting itinerary for November and try finally writing a report myself.
At first I booked the last flight WAW-HEL on LO. Usually their one way fares have been much higher but by chance I noticed they had started selling tickets for 58 EUR (one way, including all taxes and fees). So, I had to book one, of course.
I had never flown on Lufthansa Italia before, so my obvious choice for getting to Warsaw was MXP-WAW on their A319. As the price was right (53.74 EUR) I made a booking. And to get to Milan, I decided to fly another new airline for me, Niki. Routing would be ARN-VIE-MXP. These flights were booked in August for 100.74 EUR so not bad actually. Lufthansa Italia and easyJet would have been cheaper but more boring alternatives for this leg.
The cheapest alternative for HEL-ARN route would have been Norwegian but their flight schedules were pretty useless for me as my flight to VIE would depart in the afternoon at the same time as their earliest flight from HEL would arrive to ARN. As AY one way tickets cost ridiculous amounts, my only choice was Blue1. Their schedule wasn´t perfect either but I booked a morning flight for 63 EUR. This would give enough time to visit the center of Stockholm – one of my favourite cities!
I had to stay overnight at Malpensa airport. My flight from VIE would arrive at 20 and my departure was at 6.55 in the morning. I decided to book a room in one of the airport hotels. The new Sheraton Malpensa is situated by the terminal building so there should be no hassle with the shuttle buses that sometimes have caused me significant amounts of worries. Sheraton price for a night in single room would be 132 EUR, so not a bargain but affordable.
Sunday November 14th 2010
My flight would depart at 9.20 in the morning so luckily not another far too early wake up this morning. After having a cup of coffee at home I did walk to a bus stop about 700 metres from my home and took a Helsinki regional bus 519A from Vuosaari shopping mall to HEL terminal 1 where I was at 8. So I had enough time for my check in using the check in machines. Usually I try to use OLCI as often as possible but now I didn´t have any time to print boarding passes the day before because I spent my time at a work meeting.
After security I had plenty of time to drink another cup of dark roast coffee to actually wake up. It was a quite depressing and grey day and I was tired but I decided to make this sunday a nice and memorable one!
Crowded? I don´t think so: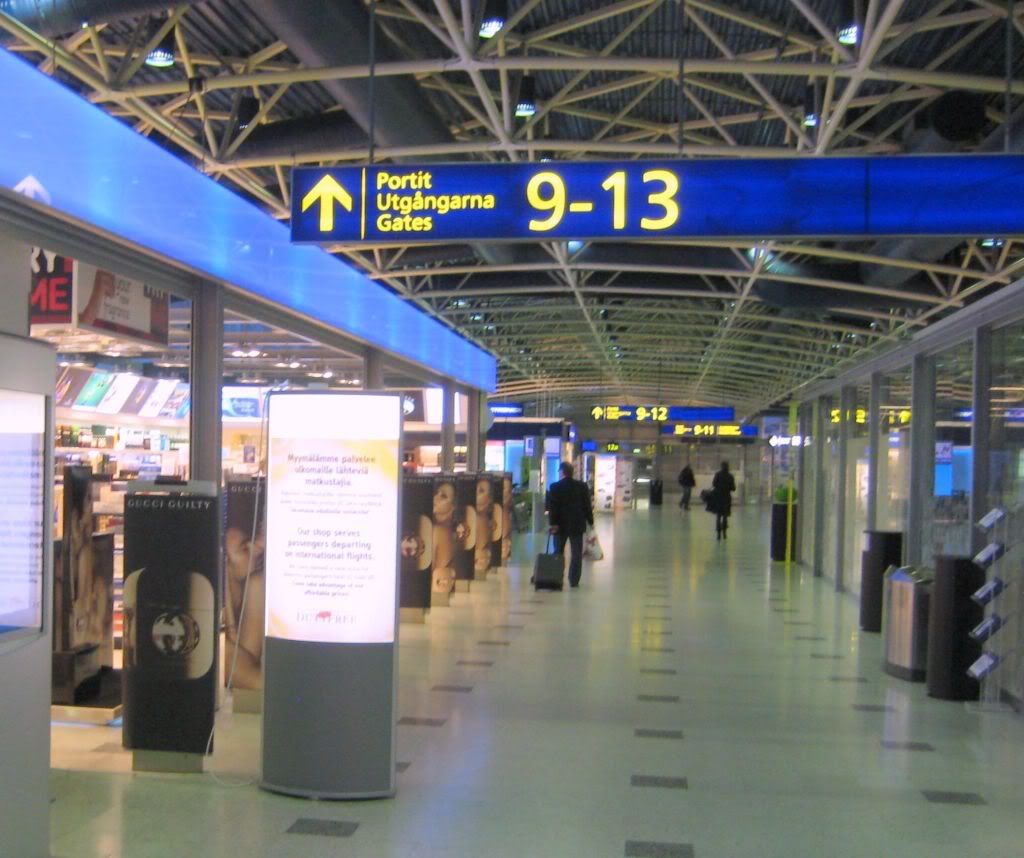 Dedicated for FlyingFinn76:
Blue1 KF441
Helsinki (HEL) – Stockholm Arlanda (ARN)
BAe Avro 85
OH-SAP "Pielinen"
Seat 18F (window)
Scheduled time 9.25-9.25
Nothing much to write about this flight as it was a normal Blue1 flight where only coffee or tea is served free of charge. I was so tired that I don´t have that many memories
Our take off was on runway 22R and both departure and arrival were on time.
And yes, I decided to try the last row as I´ve noticed that some other people here are fascinated by it
My ride OH-SAP after the flight:
Please, return all your weapons here: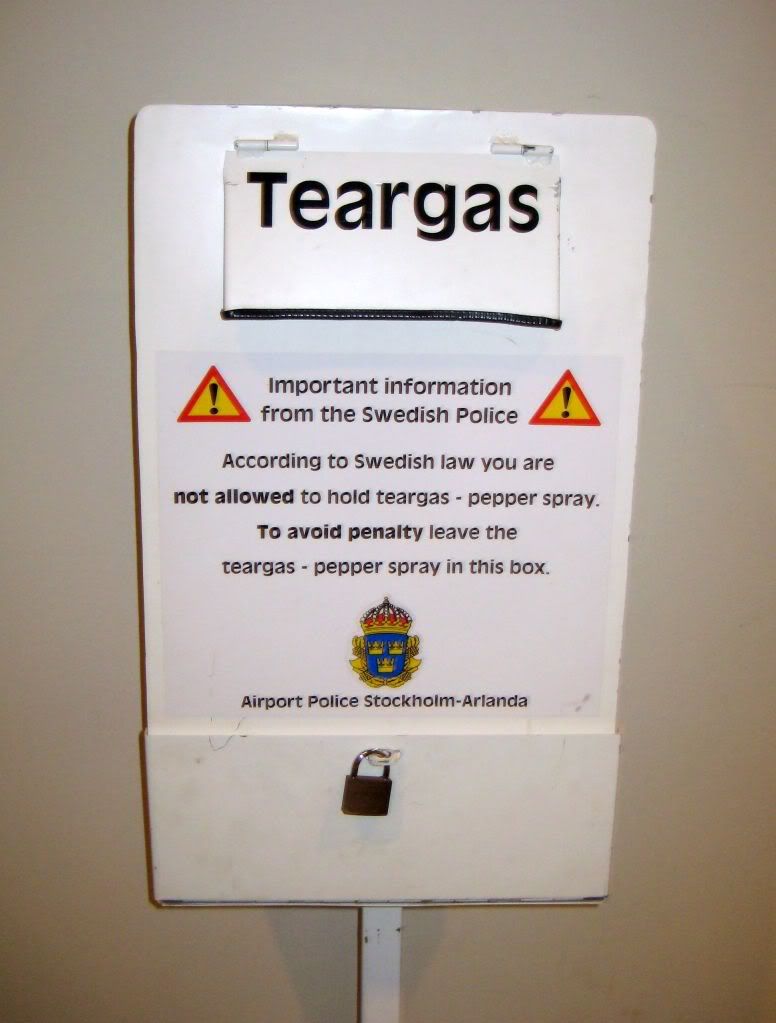 After the arrival I decided not to take the Arlanda Express train to the city. I absolutely adore Stockholm but I was so tired that I thought the wisest thing would be to stay at the airport and either to read something or try to have some sleep. Weather in Stockholm wasn´t that good either.
At first I went to Sky City for a Big Mac meal at McDonald´s and then it was time to head for terminal 2 where I had some coffee and kanelbulle – the most Swedish of all combinations! I also tried reading Haruki Murakami novel I bought some time ago but being very exhausted after a hectic week, I only decided to watch all the people around me. It was very enjoyable after the week I had at work!
Christmas time is soon here: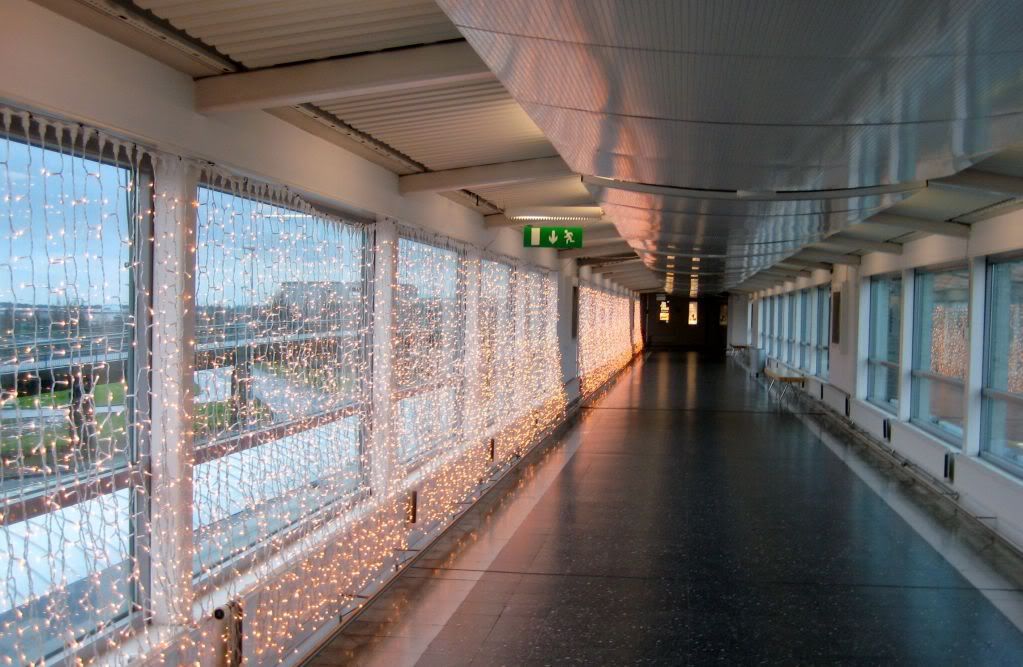 Stockholm Arlanda airport, terminal 2 (dedicated for infodesk):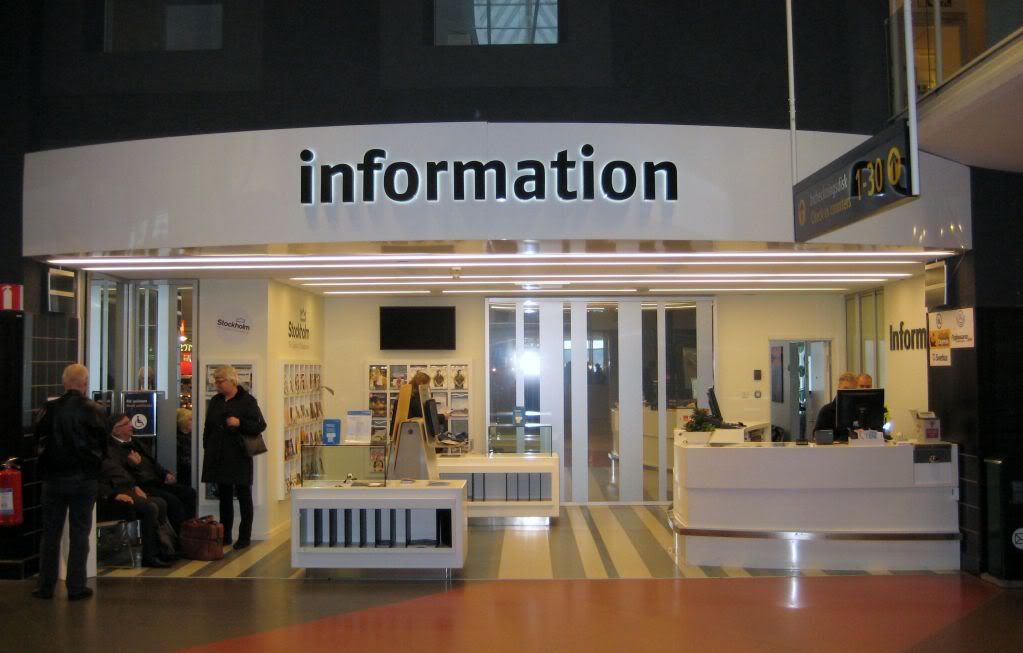 Check in began at 12.45, 2 hours before scheduled departure time and I was third in a row. After seeing my Finnish identity card, the check in agent asked her colleague "Kan man åka med sånt här till Wien?" meaning if I can use it for travelling to Vienna. Her colleague said that she didn´t know and told maybe to ask their boss. At that point I told her that of course it can be used for travelling within Schengen area. She was happy with my explanation and gave me my boarding pass wishing a nice flight. This is the first time my identity card hasn´t been accepted immediately within northern Europe!
Clearing security was a quick experience. So, I had plenty of time for shopping and having more coffee.
Niki A320 OE-LEF arriving from Vienna – what a livery!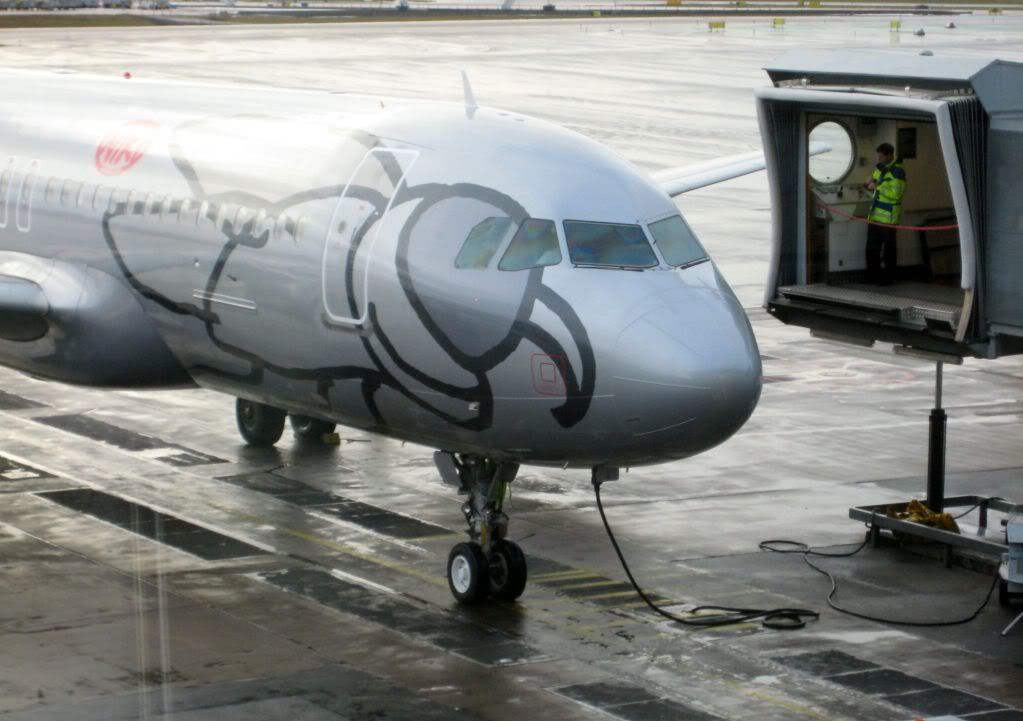 Oh, maybe this flight will depart ahead of schedule?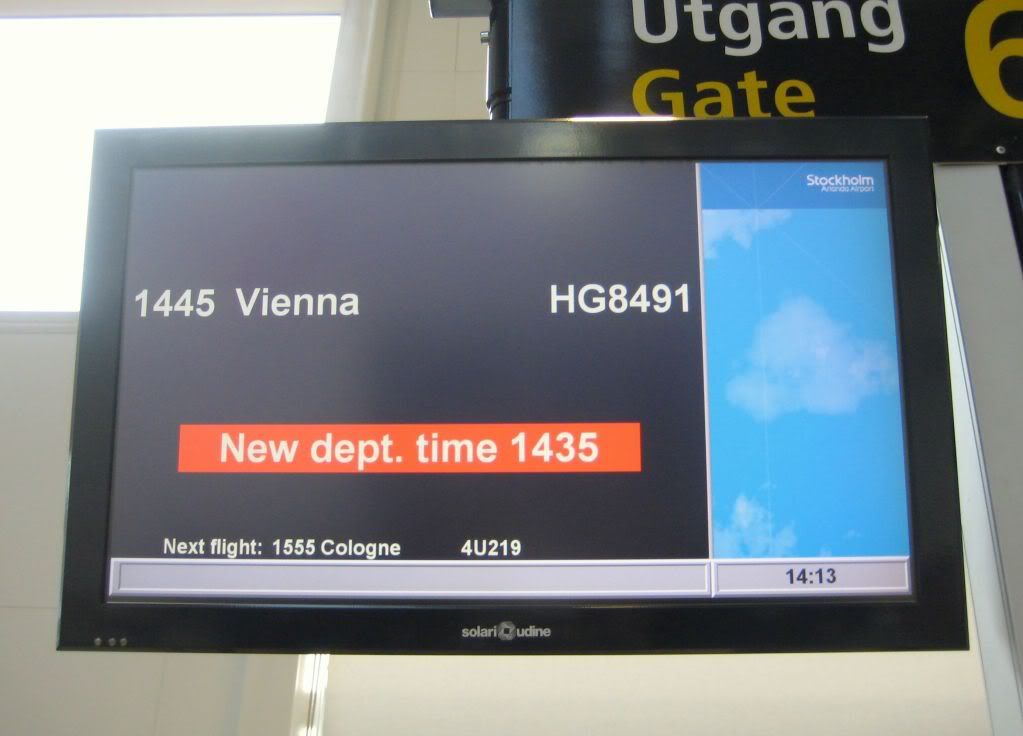 Boarding was announced early. Unfortunately agents had some difficulties with their computers so boarding actually took some extra time.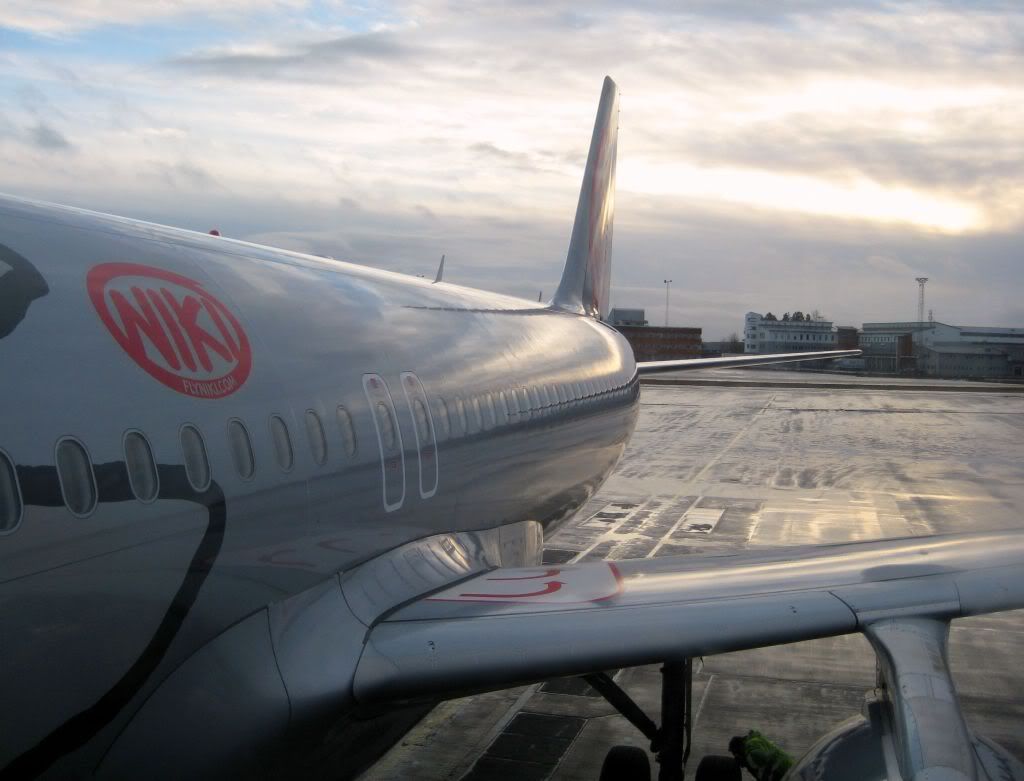 Niki HG8491
Stockholm Arlanda (ARN) – Vienna (VIE)
Airbus 320
OE-LEF
Seat 30A (window)
Scheduled time 14.45-17.00
I was assigned a window seat in the front. While boarding I noticed that the two other seats next to mine were already occupied, so I asked the FA if this flight would be fully booked. She immediately understood and told me that of course I could choose my seat where I wanted. So, I took the last row again and luckily I had the whole row for myself. Very friendly!
Computer problems caused some delay so that our actual time of departure was on schedule and not 10 minutes ahead as was the forecast earlier.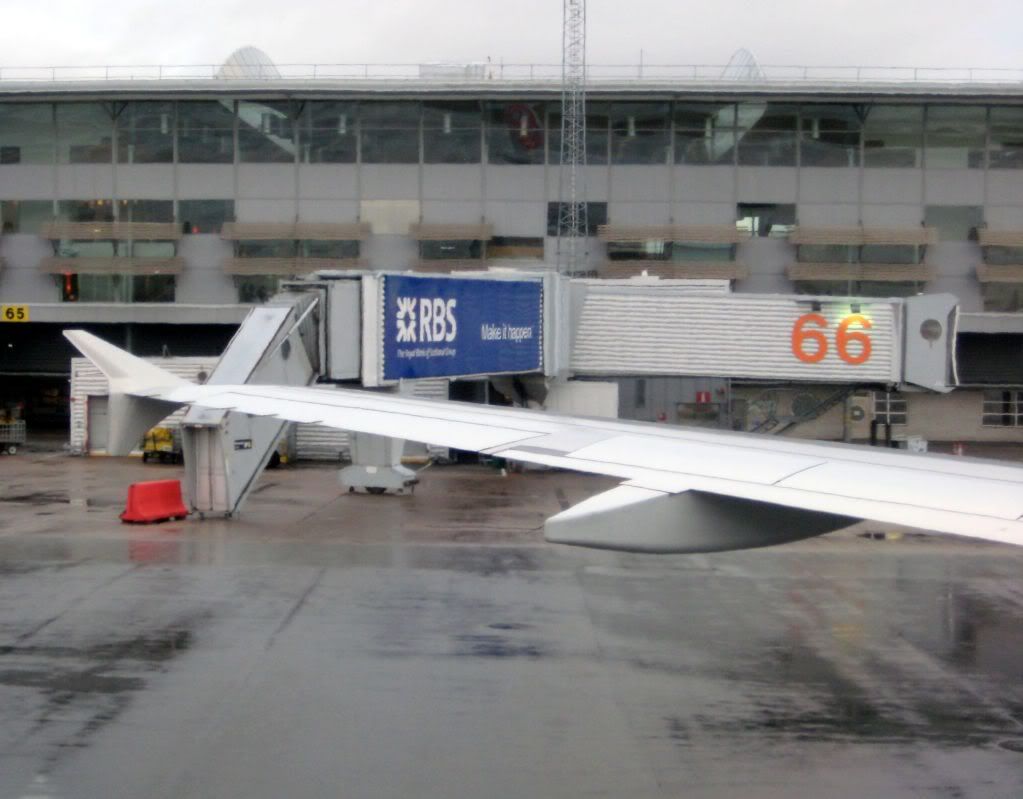 Delta to JFK: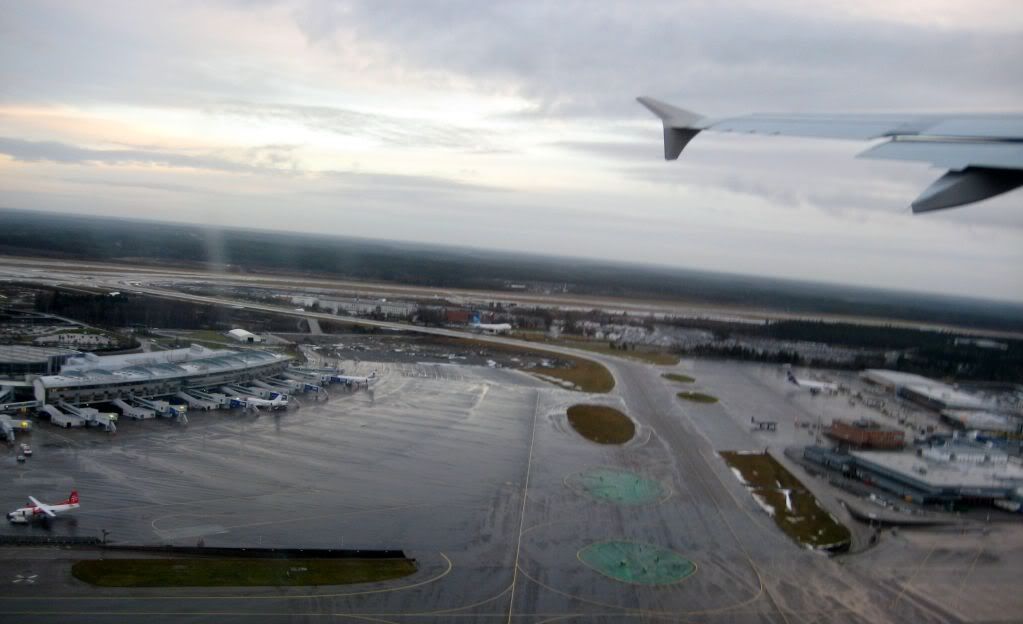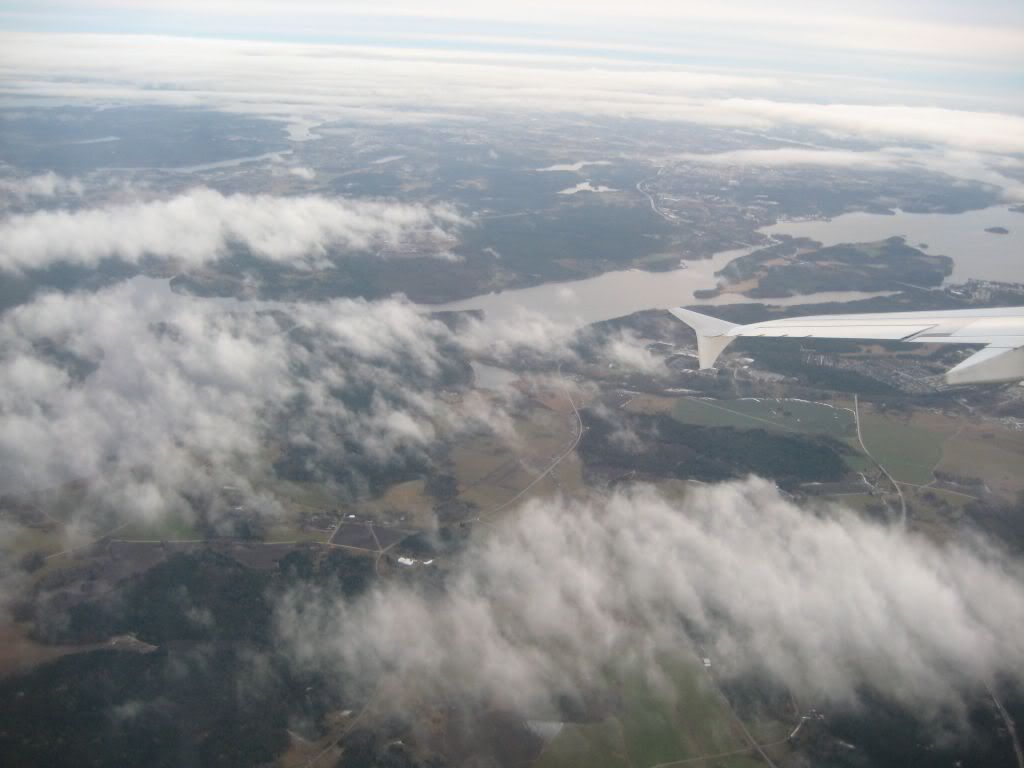 My very first knee shot (actually, my knees do appear in one of FlyingFinn76 reports this spring):
Soon a tasty "double sandwich" (one with ham and one with cheese) and free non-alcoholic drinks were handed by the friendly flight attendants. I have to admit that I was impressed by the quality of service of this airline!
Coke light and a sandwich: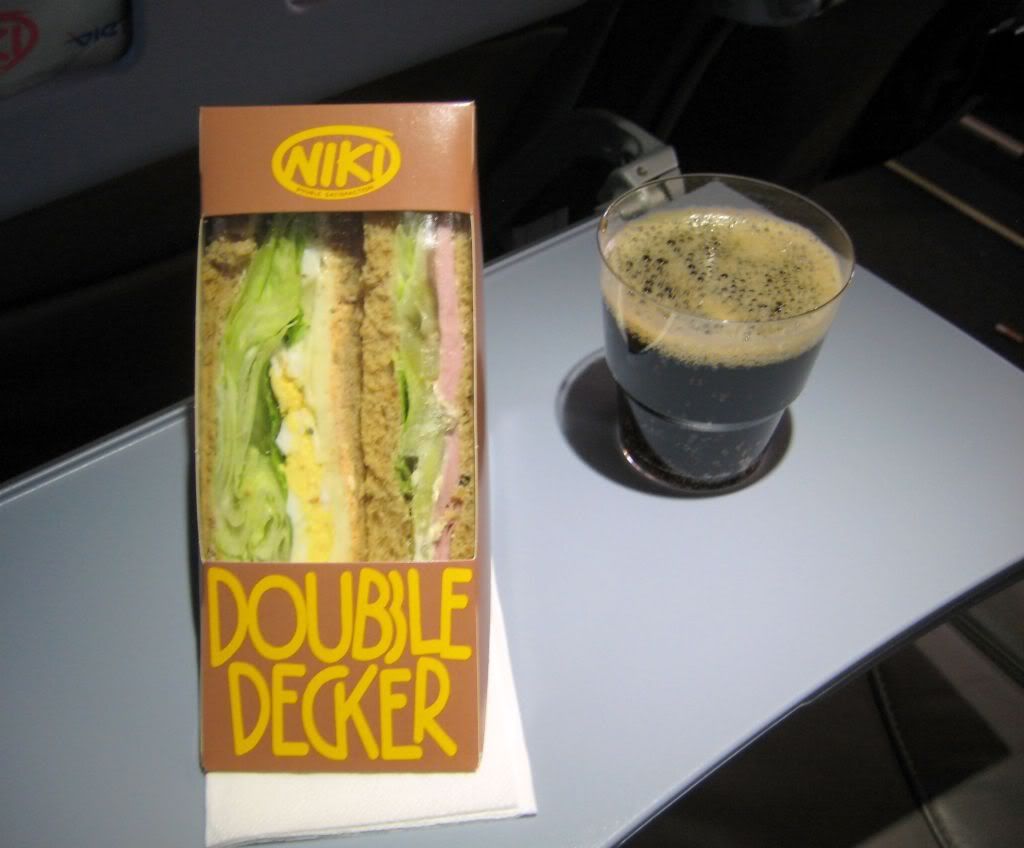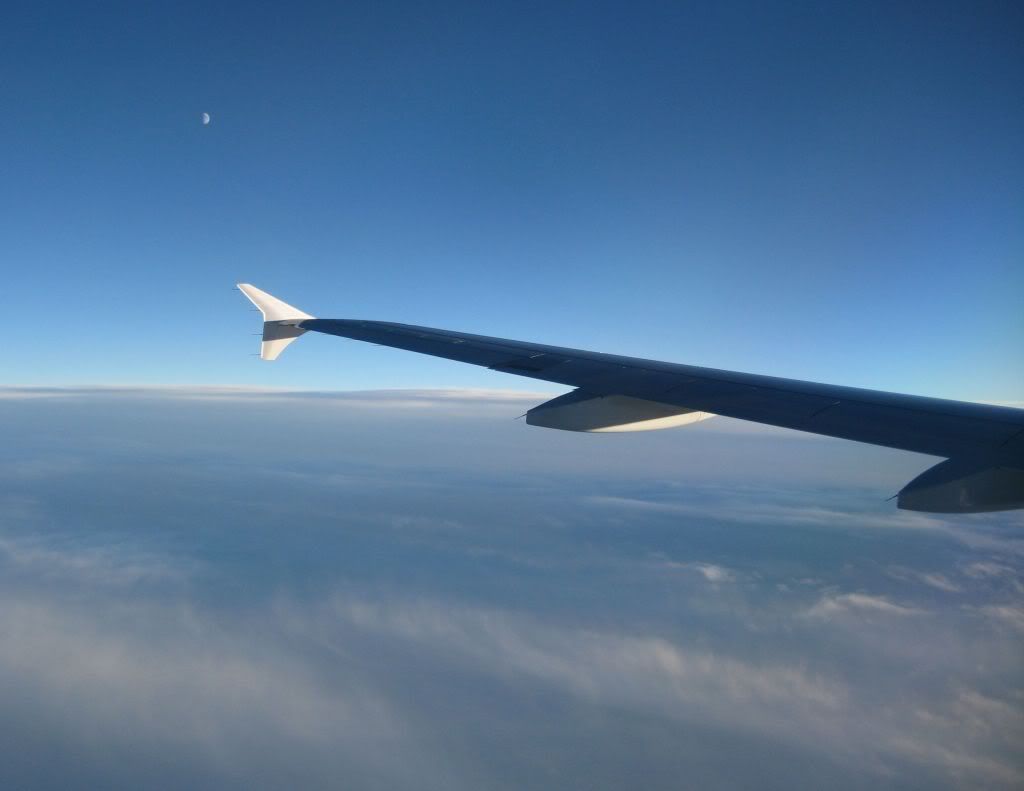 For the rest of the flight I listened to music on my iPod and read my book. These two hours were quickly
vorbei
and we were soon approaching Vienna airport! It was already getting dark when we landed. We were parked to the apron and taken to the terminal by a bus.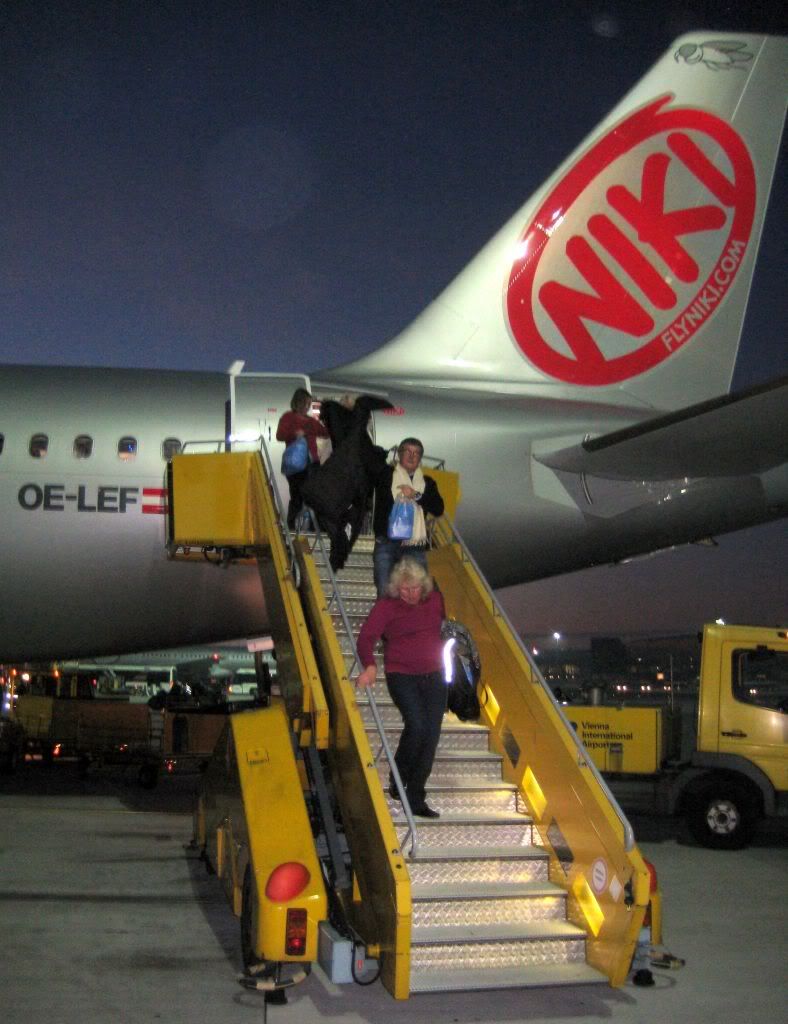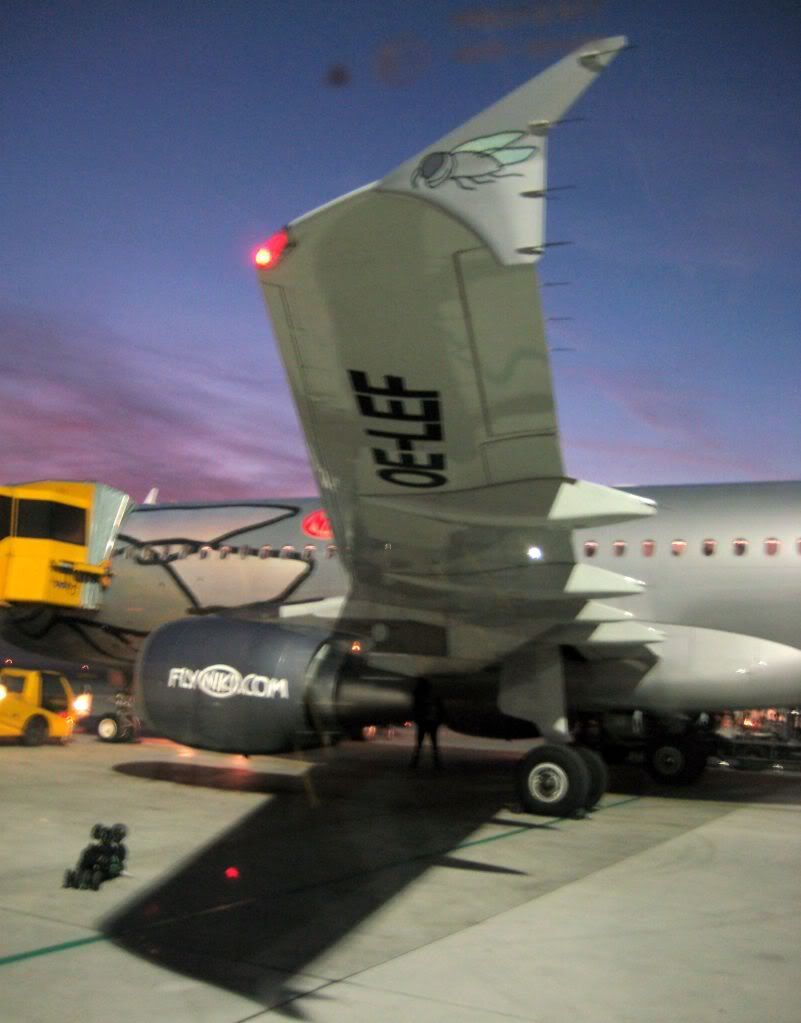 Inside terminal all transit passengers had to enter a new security control. After meeting all not-so-happy Nordic people earlier during the day, I was really surprised to find smiling and friendly personnel by the security control point. I was not in the grey north any more
I headed for the gate B41 and listened to music while waiting for the next flight to depart. It was also very interesting to watch all the lively Italians to communicate with each other. How much I´ve missed that lately!
Our boarding started and we had again bus transportation to our plane. I was surprised to see that instead of a promised A320 there was an Embraer 190 waiting for us. Fantastic to get to fly that beauty in wonderful Niki livery!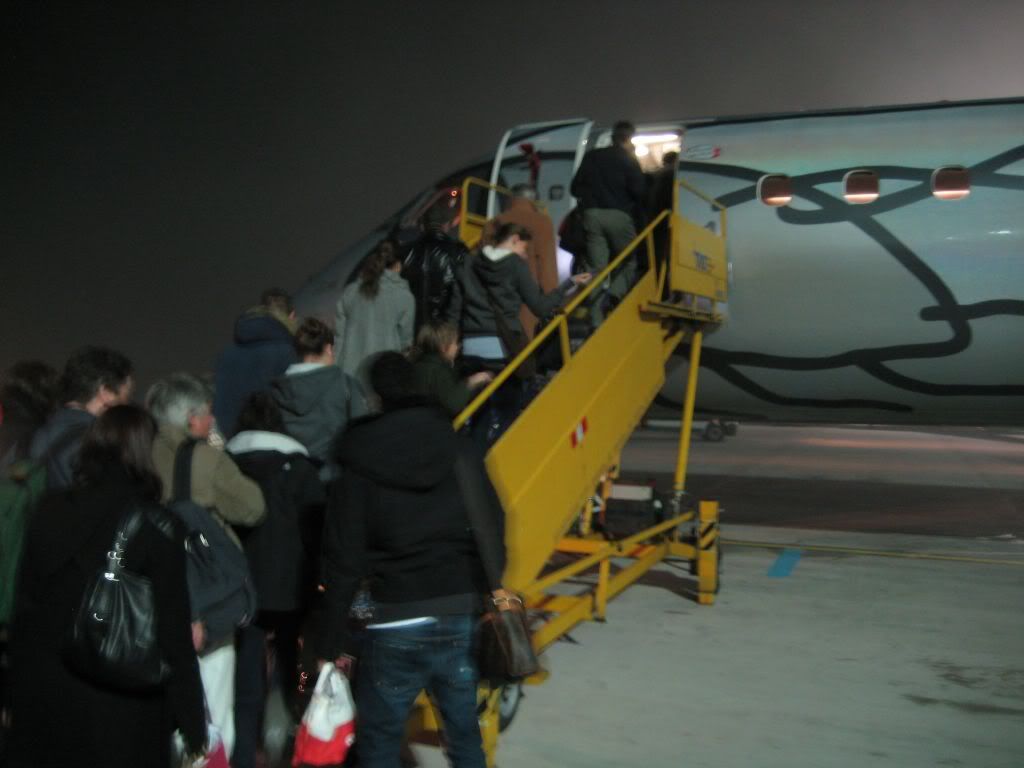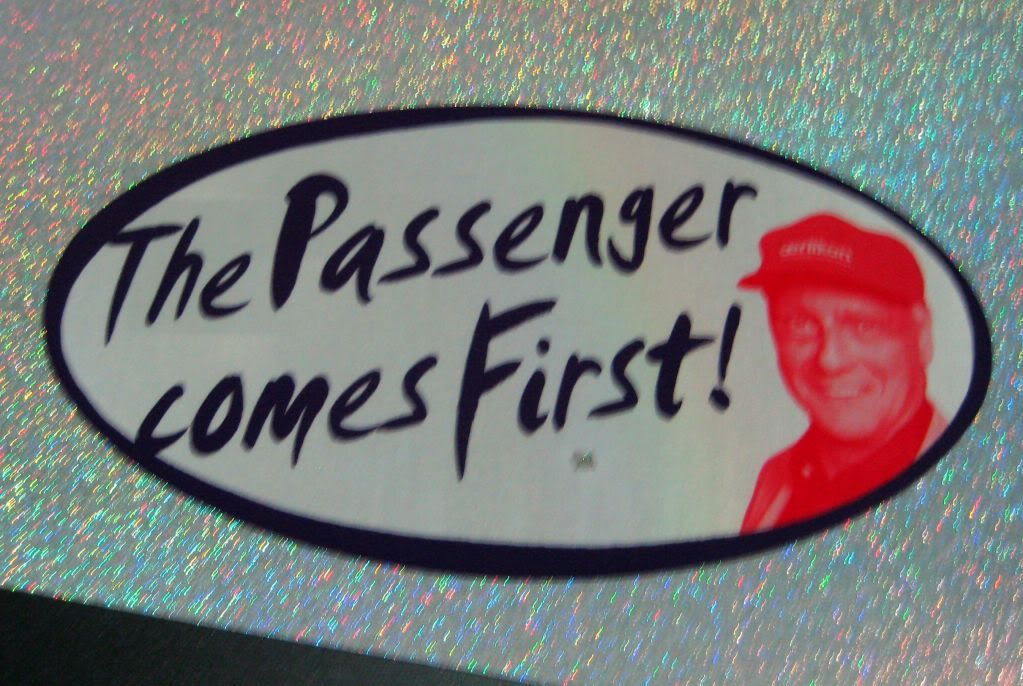 Niki HG8824
Vienna (VIE) – Milan Malpensa (MXP)
Embraer 190
OE-IHB
Seat 2A (window)
Scheduled time 18.50-20.10
This time my seat wasn´t on the last row, but number 2A. And yes, some gentleman was sitting next to me and my seat felt really cramped. But it was only a 1.5 hour flight so I could make it
Flight was on time again, luckily. I was really expecting the much needed sleep that would only be 2-3 hours away in Milan. Luckily I had my iPod with me!
On this second Niki flight there was a friendly and attentive cabin crew again. I have to wonder how Niki does it? Lovely people working for them and the snack service was much above average and the ticket prices aren´t that high either. On this route same kind of tasty "double sandwich" again but with different kind of filling than on ARN-VIE -route. Not bad for sort of a low cost airline!
Legroom could have been better: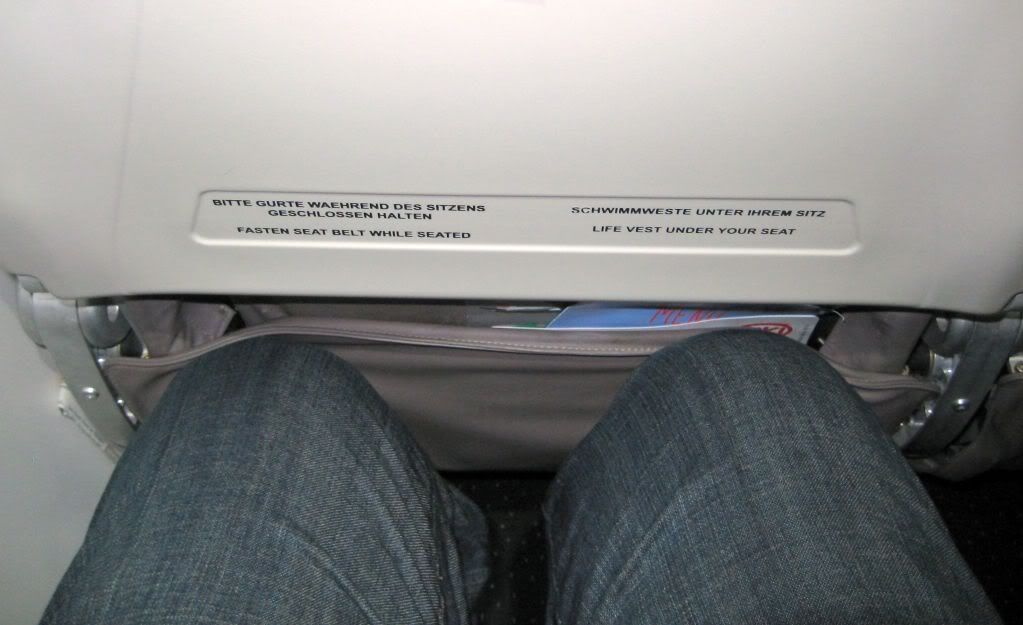 Milan was rainy and dark. There was also a bus transportation to the terminal where I did took care of my check in for my early morning flight to Warsaw by the check in machines.
My morning flight already visible:
Sheraton Milan Malpensa
Sheraton Malpensa is located by the terminal and railway station. There is no need to go outside so the rainy weather was not bothering me at this point.
Walkway to the hotel:
Hotel lobby: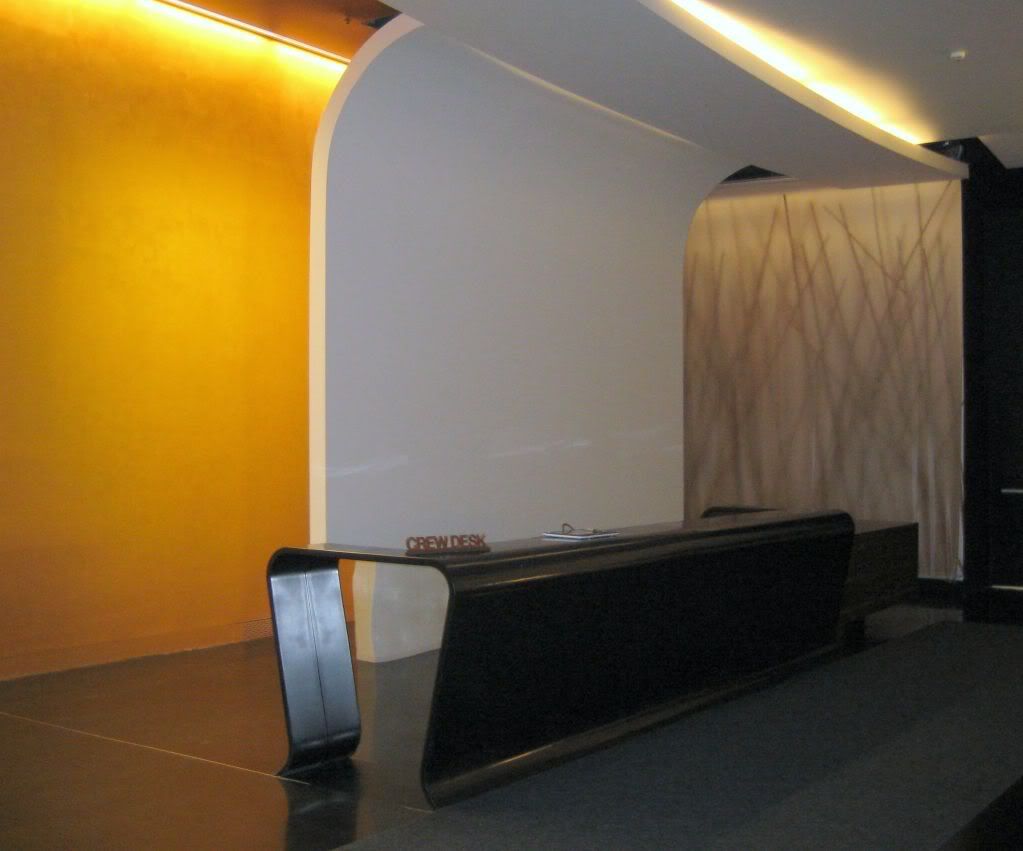 My cosy room: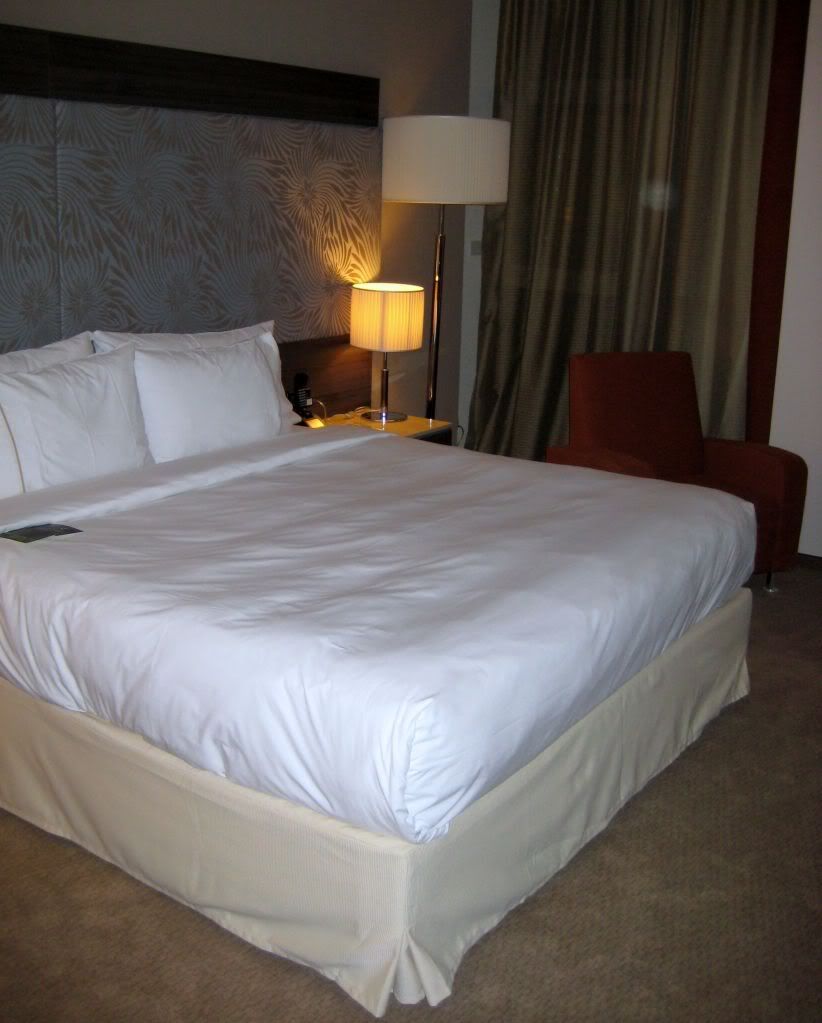 My bathroom: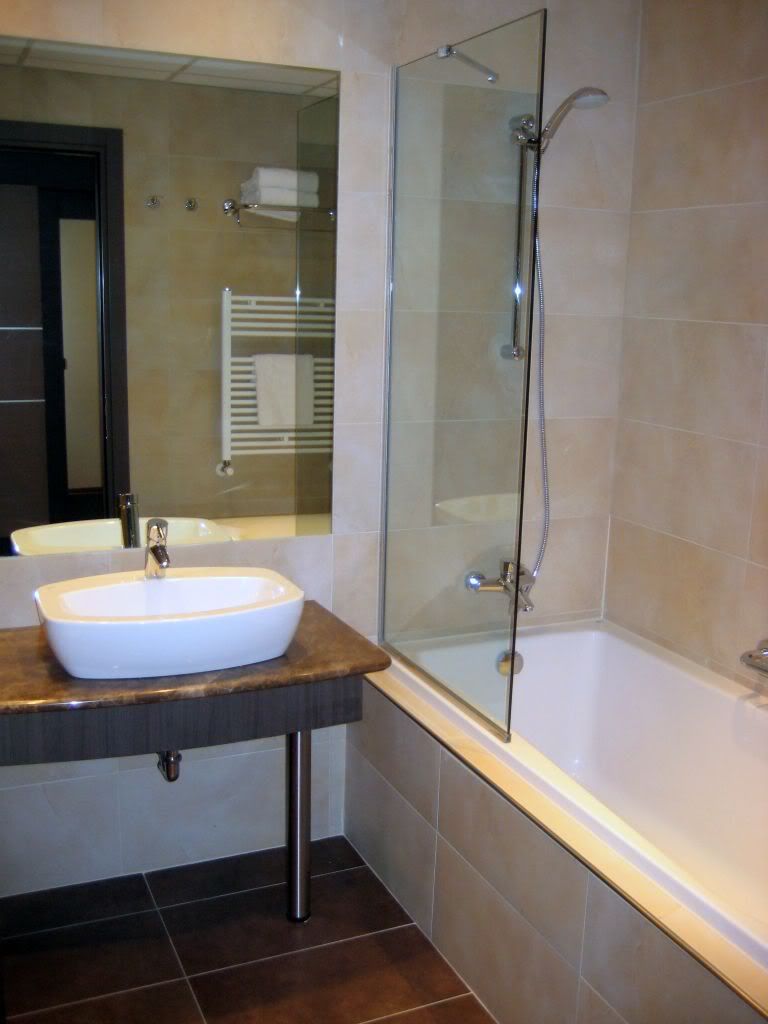 I set the alarm for 4.30 in the morning so that I would have time to take a shower, have a breakfast and find my gate in the morning. Finally it was time for some sweet dreams!
Monday November 15th 2010
Unfortunately I woke up already at 3.30. Well, better too early than too late! After taking a shower, I rushed to the terminal and security control only to find the airport fairly empty. So no queue!
Another empty airport:
My breakfast consisted of Cafe Latte, freshly squeezed orange juice and a croissant. Very Italian and very delicious! After the much needed food it was time for shopping because a friend of mine was having her birthday and I knew she loves all kinds of Italian things! So, Italian coffee for her and some Italian food for me as a souvenir!
My gate A09:
Boarding was commenced approximately 20 minutes before the scheduled time of departure.
Lufthansa Italia LH3748
Milan Malpensa (MXP) – Warsaw (WAW)
Airbus 319
D-AKNF
Seat 27F (window)
Scheduled time 06.55-09.00
This time I had the last row seat again. My worst nightmare came true and the flight was fully booked. So, also the seat next to mine was taken by a young woman and I really felt like I was stuffed inside some can. But luckily this wasn´t a trans-Atlantic flight but a short intra-European trip!
The flight departed on schedule. The all-German crew was less attentive than the one on Niki the previous day. I actually felt that they couldn´t care less of me and my needs. But of course I was served my daily dose of free Coke light and a free sandwich. Sandwich was quite ok but not a one to remember.
an Italian airline?
Horrible legroom again: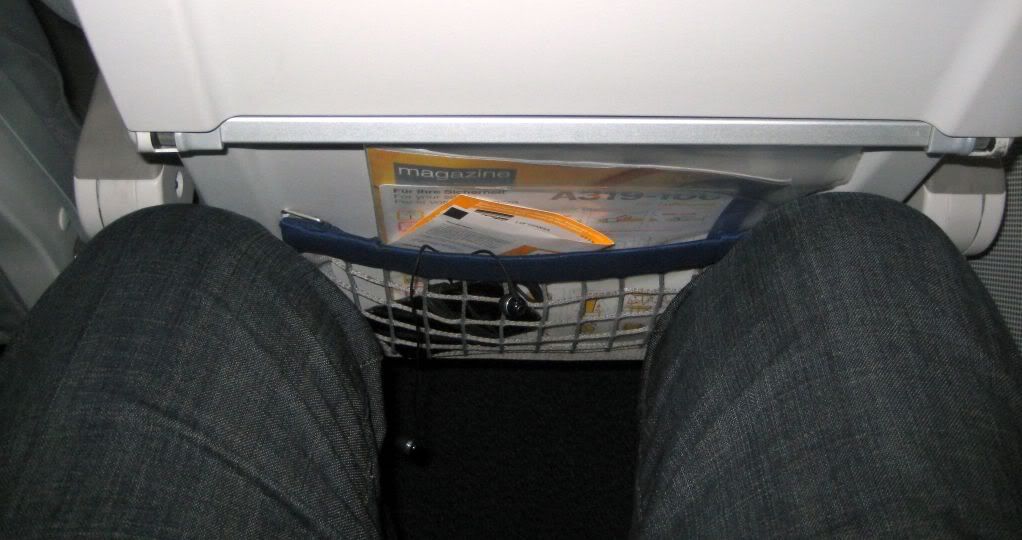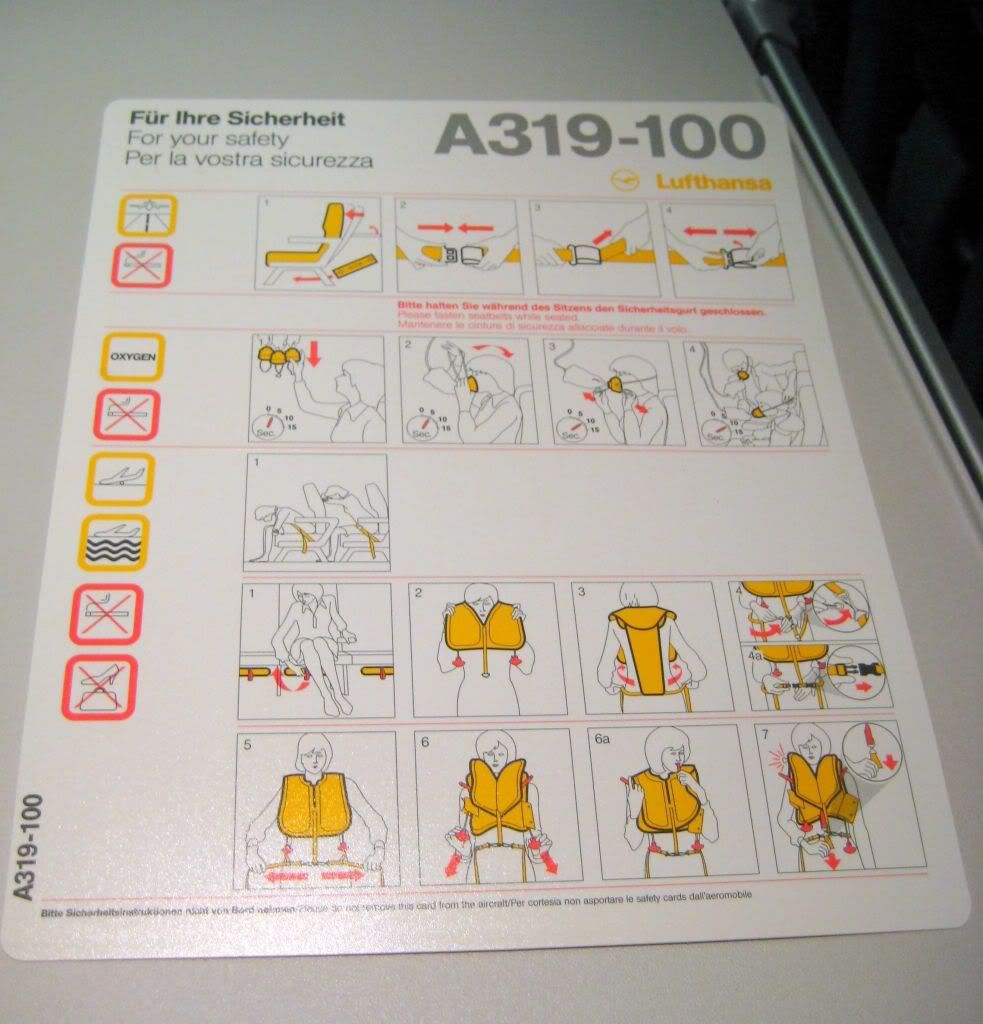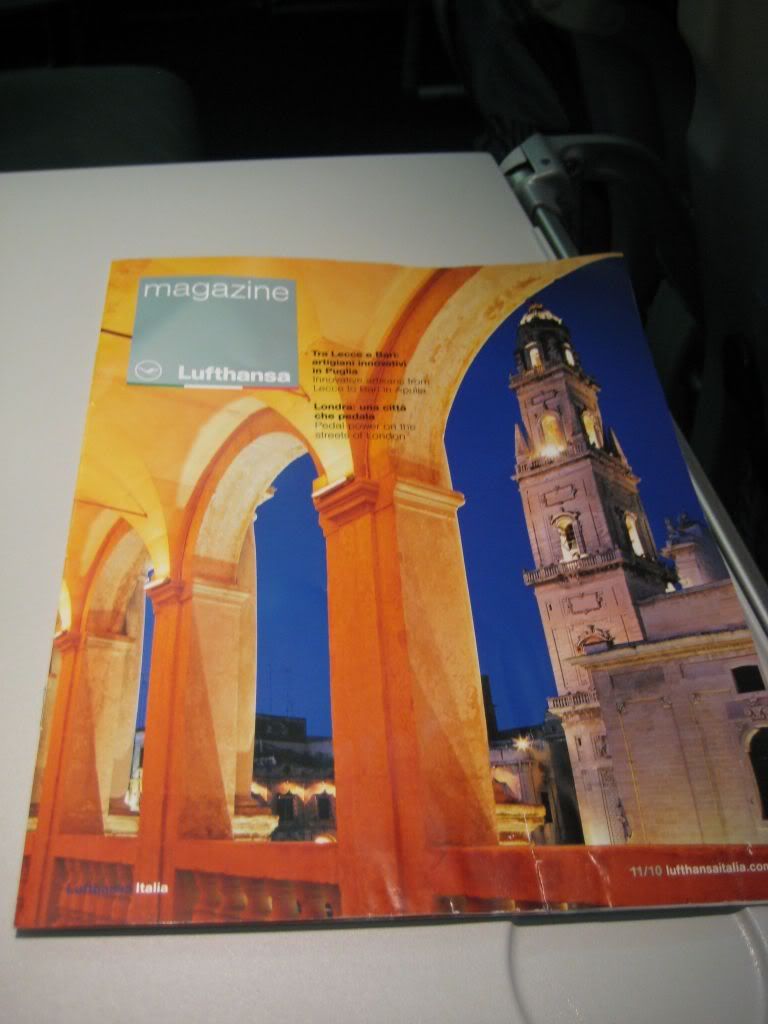 During approach the weather was fine and I was actually able to take some kind of photos of the Warsaw area.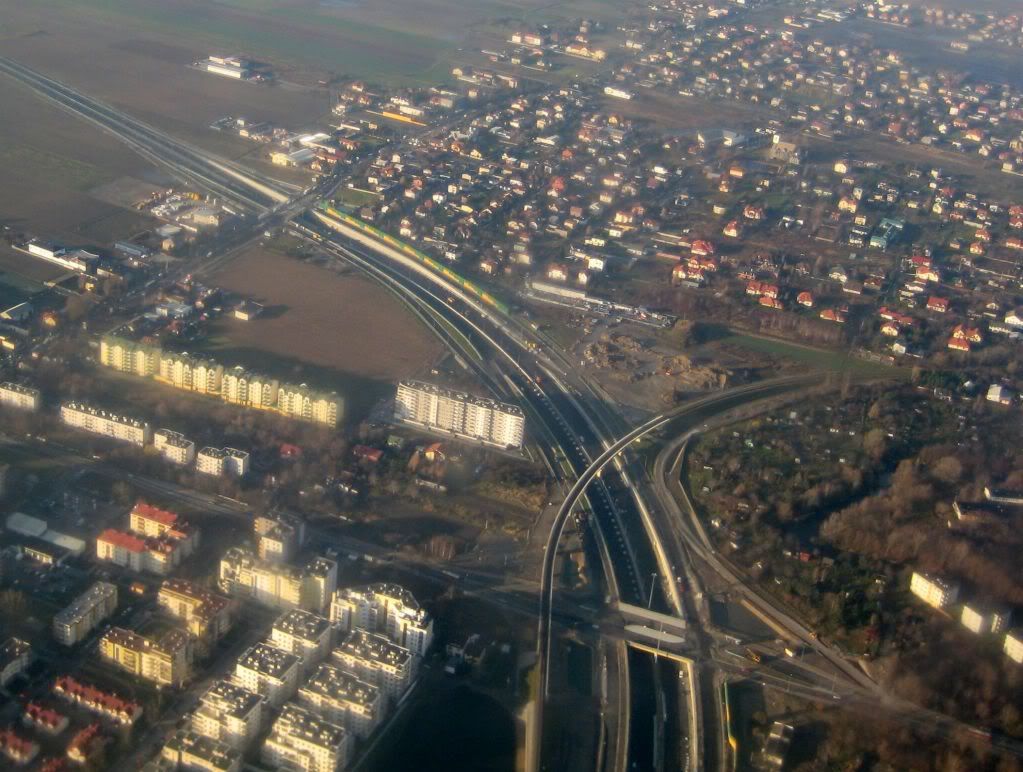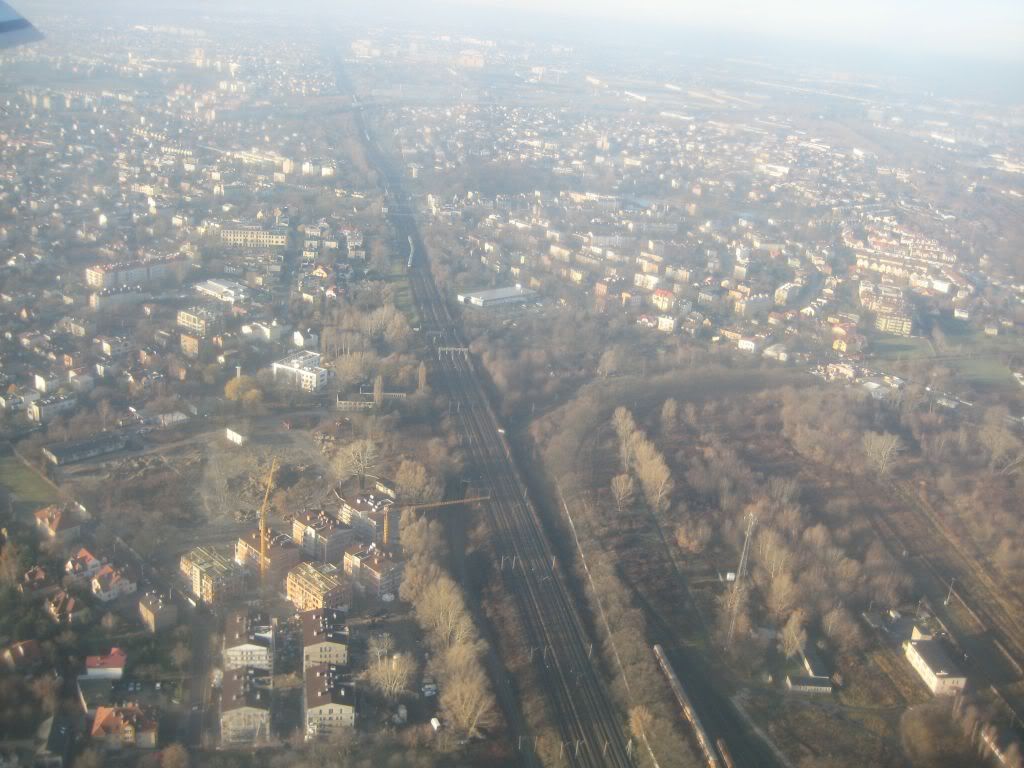 My plane at Warsaw airport: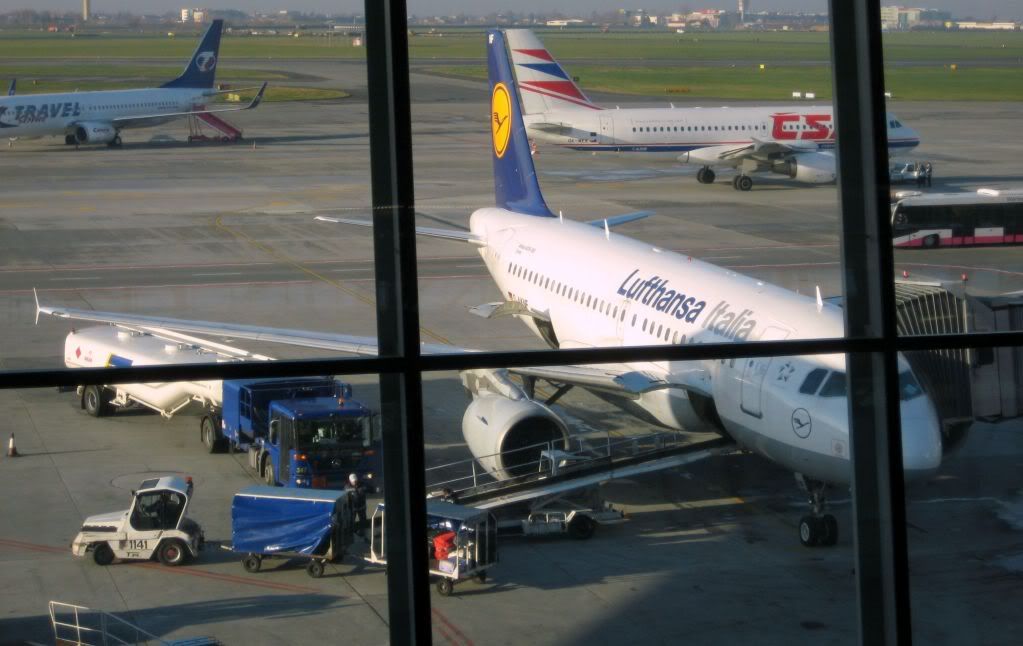 The weather in Warsaw was wonderful and I had more than six hours to spend. So I took bus 175 from airport to the city. The ticket cost 2.8 PLN (0.75 EUR) one way so it wasn´t that expensive.
I spent most of my day around the Palace of Culture and Science because I´ve previously visited the Unesco world heritage listed old town and the area around it. Many people were only wearing t-shirts so as a Finn it was nice to enjoy of the brilliant weather!
Palace of Culture and Science: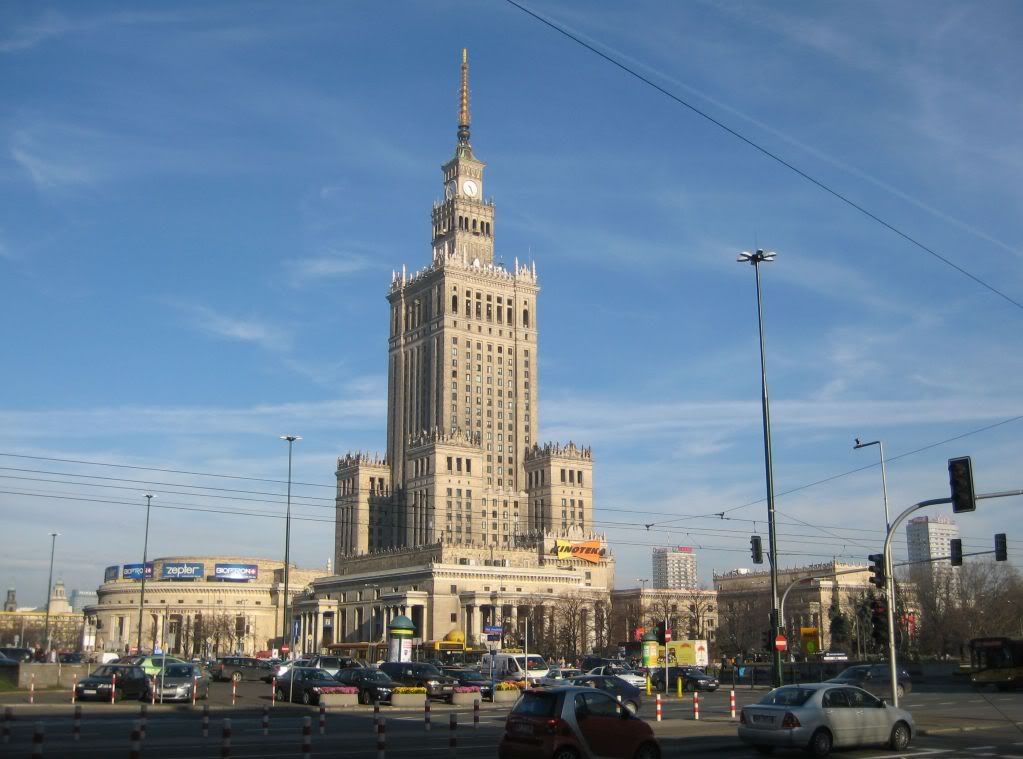 Warsaw Centralna railway station: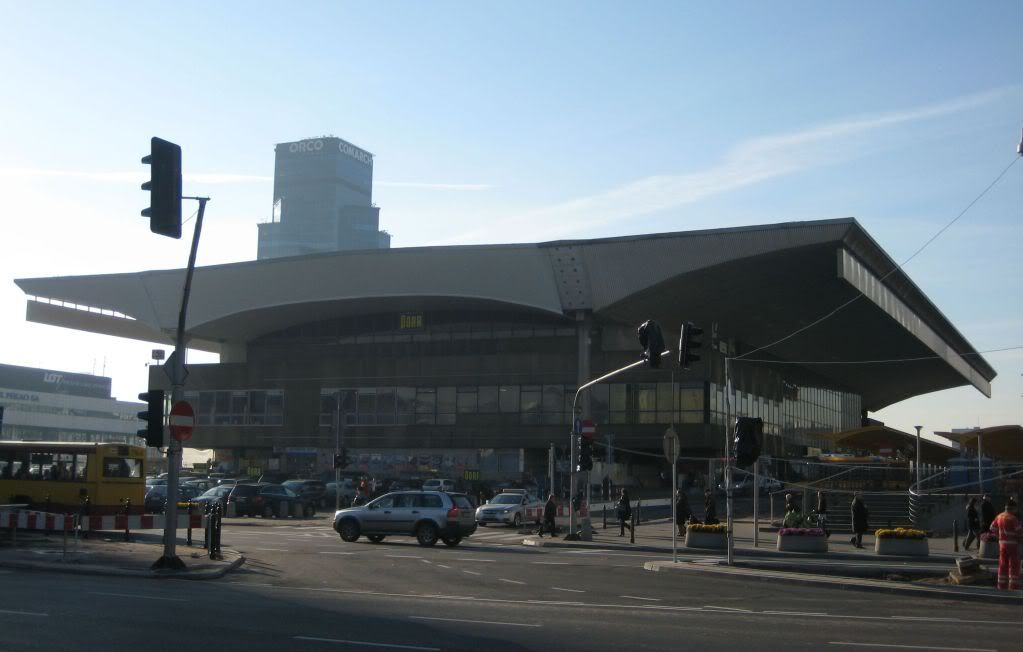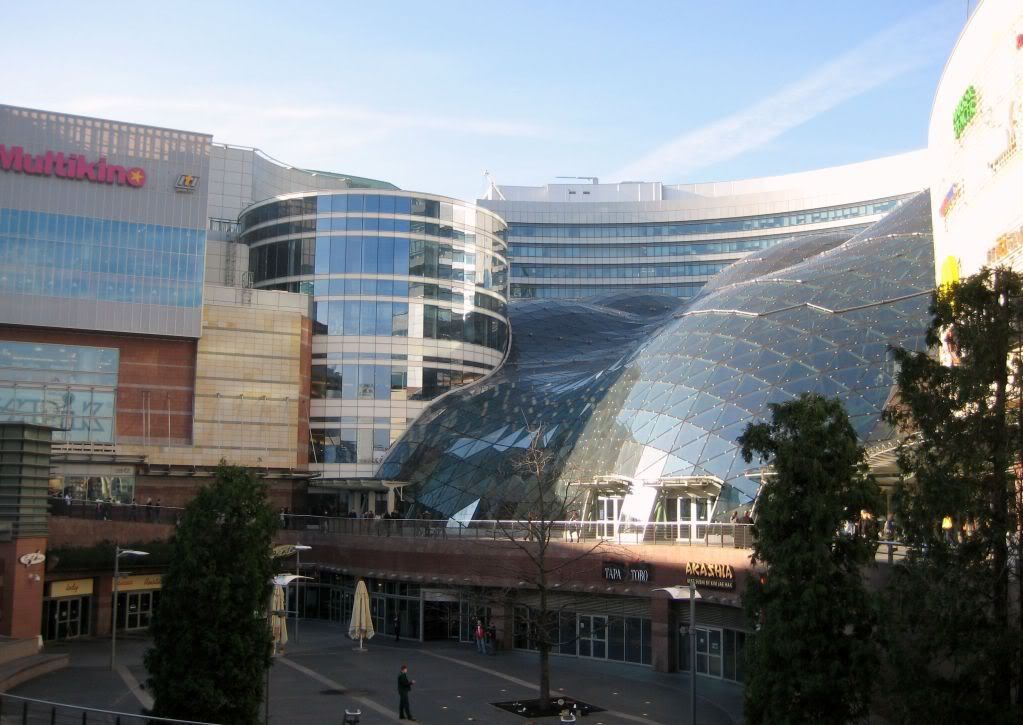 After some hours in the city, it was time to return to the airport. At the airport I had some time to use the free wifi before boarding the plane. There was a bus transportation to the plane. At first there were some problems with a bus door that was out of order and wouldn´t close. Our driver did have to step out of the bus to fix the door.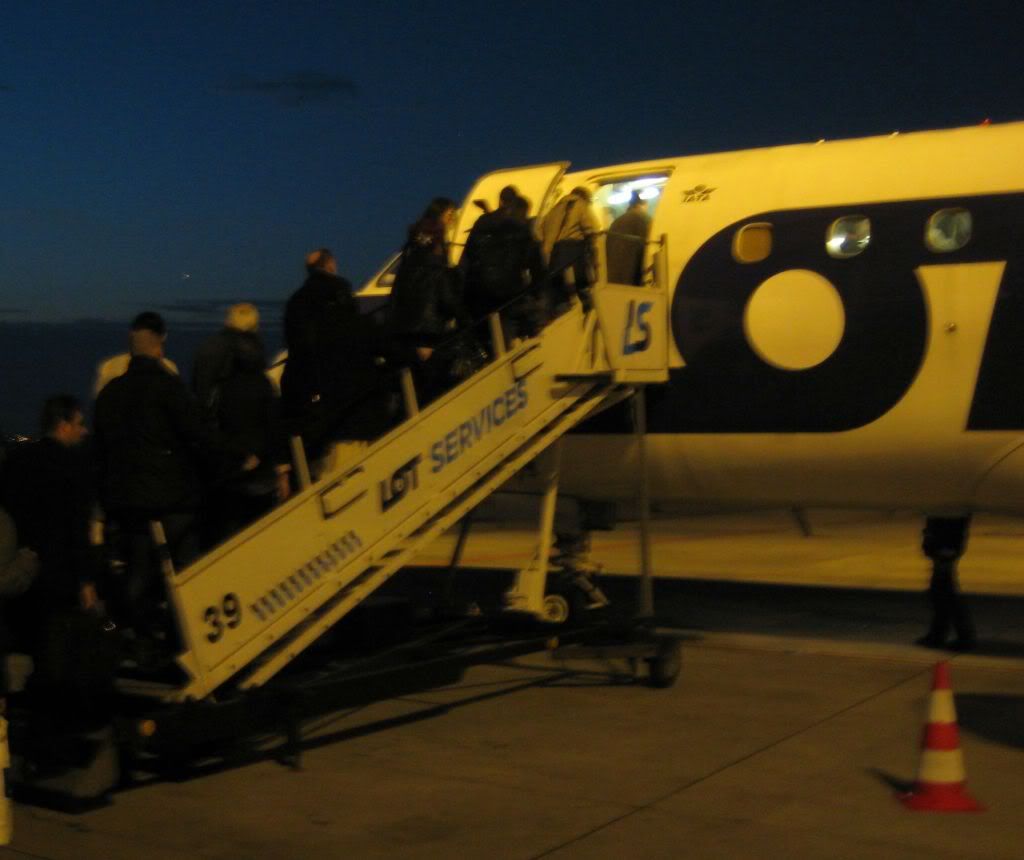 I just love the nose of Embraer 170 and 190: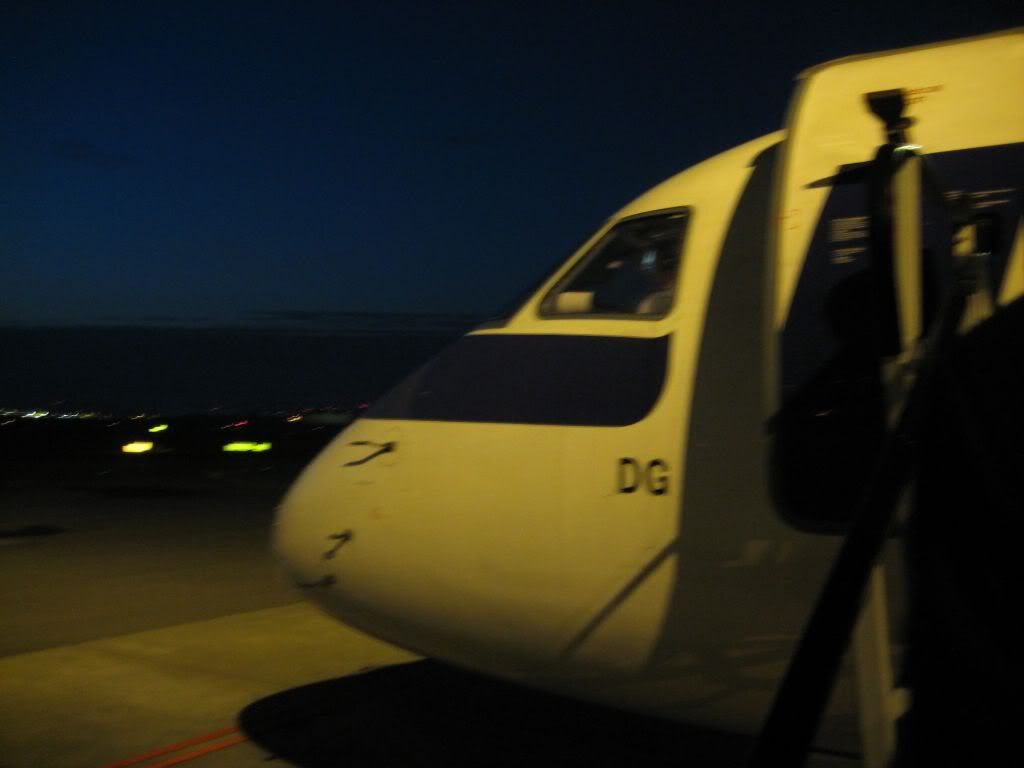 LOT LO471
Warsaw (WAW) – Helsinki (HEL)
Embraer 170
SP-LDG
Seat 18D (window)
Scheduled time 16.35-19.25
Last row seat 18D and this time I had the whole row for myself again. Flight attendants were nice and smiling. So the boarding went well except that I was maybe the last one to board the plane and had to wait for all the people to have their hand luggage stored. Departure was on time.
Really nice legroom for a change:
Service included free drinks and a roll filled with something plus some chocolate. The roll was tasty but I wasn´t sure what it was supposed to be. The rest of time I read my book and listened to music.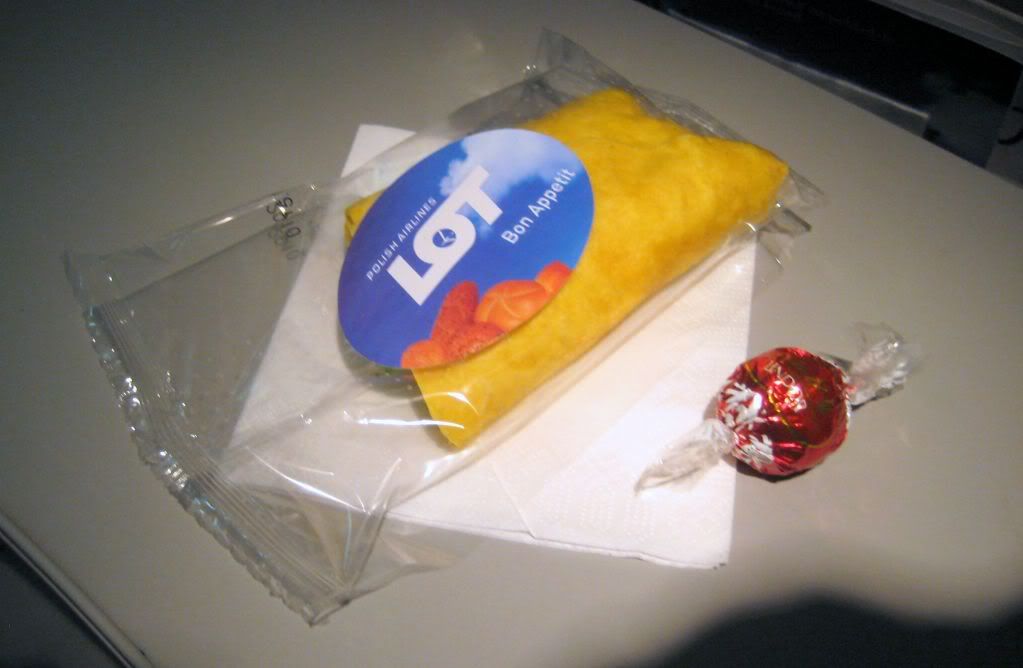 My plane arrived in Helsinki 10 minutes early and since I had no luggage, I was able to walk directly to the bus stop and take a regional bus 615 to center of the town and continue home by metro. I was at home about 20.30 in the evening. So I had plenty of time to sleep well before tuesday and another day of hard work!
Conclusions
I had great expectations for this trip and I sure wasn´t disappointed. Niki is a great airline with great service and it was fun to try both their A320 and E190. Blue1 and LOT were as nice as always. I do have to admit that I expected a lot more of Lufthansa Italia. Their cabin crew wasn´t very much interested in the customers – maybe that had something to do with them being all Germans and not Italians so that they probably didn´t have common language?
Sheraton Malpensa was a nice hotel and the location was wonderful practically inside the terminal building. Maybe it was a bit pricey but really value for money!
My next trip is HEL-SVO on AY in the beginning of December. Return is on a Russian night train Moscow – St. Petersburg and on a Finnish Sibelius train St. Petersburg – Helsinki. It will be on the last week of service for the Sibelius train before it will be replaced by a new high speed train. So possibly there will be another trip report
Have a nice weekend
J