I was in Suriname last March and my cousin (who's a catholic priest) told me that the gorgeous old wooden cathedral in the city centre was to be reopened on November 14. This was a good reason for another visit to Suriname. On top of that, KLM had a great offer (EUR 600, which is as low as it gets for flights to Suriname), so I just had to book. The cathedral had been in renovation for over 20 years, but was finally ready to be reopened. It's the largest wooden building in South America: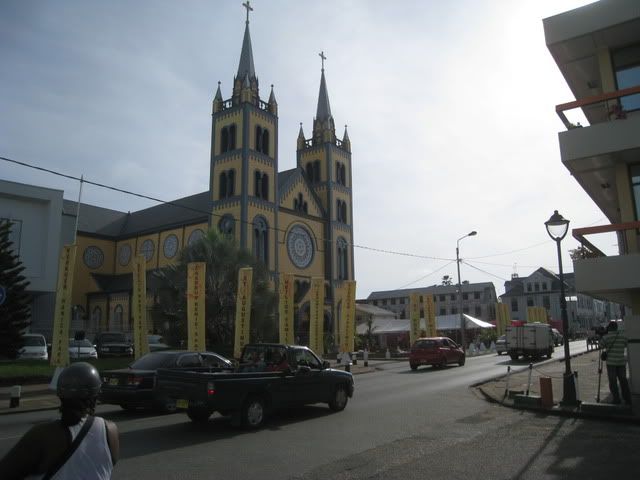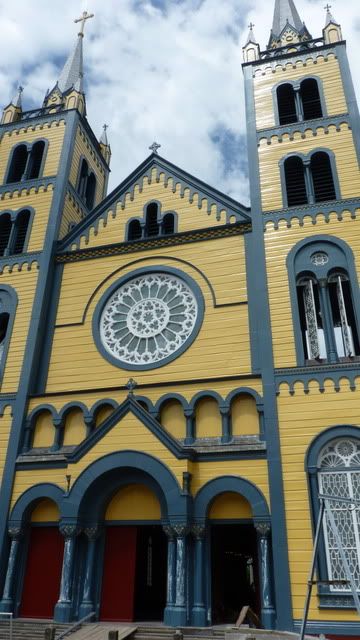 Either way, that TR will come as well, inetersting as a KLM MD11 always is, but as I've already posted 2 PBM trip reports, I thought this one should come first.
The brother of a good friend of mine is a pilot for a local airline called Gum Air. It's owned by the family Gummels, hence the name (so has nothing to do with bubble gum,
). He (and his chief pilot) agreed to take me on a flight to the interior on one of their Twin Otters (he flies those exclusively).
http://www.gumair.com/
They have 3 Twin Otters, 3 Grand Caravans, 1 Islander and 3 Cessna 206's. They fly mostly to the interior of Suriname, but also have regular flights to Georgetown, Guyana. They fly from a small airport in the middle of the capital Paramaribo called Zorg & Hoop airport (so not the international airport about 50 km south of the capital).
My flight would be to Tabiki, which is in the South-East of Suriname, on the border river with French Guyana (the Marowijne river).
The flight was scheduled to leave at 8 am, but they tend to be delayed due to late pax and such. Tabiki is an active gold mining town and just about every morning there are several flights each morning to Tabiki from both Gum Air and their main rival, Blue Wing. The flight was ready to board at about 8:20am. I was actually quite surprised at the amount of cargo that can be fitted in the Twin Otter. They load the nose, tail and main deck also receives some cargo.
The engine seen from seat 1C:
Boarding was done very quickly, as only 13 pax (out of 19 seats) were getting on board. So very soon it was time for engine start:
Engine Start
Takeoff from Zorg & Hoop airport:
Takeoff from Zorg & Hoop
The flight would be about 1 hour 10 minutes. Some interesting scenery of course during the flight. More on that later, as I had a cleaner window on the way back
. Mostly though, what you see is mostly green tropical rainforest with some openings made by gold prospectors (they really ruin the rainforest
). Our flight would cruise at 9,500 ft.
Safety Card: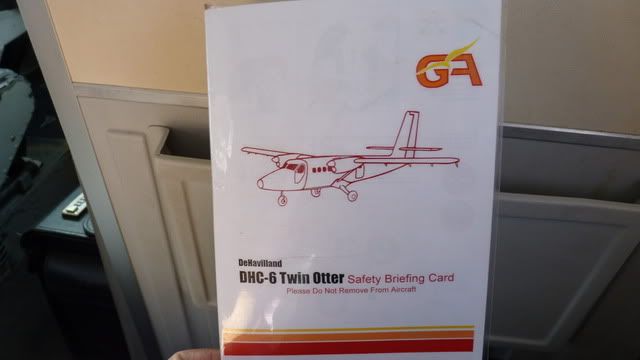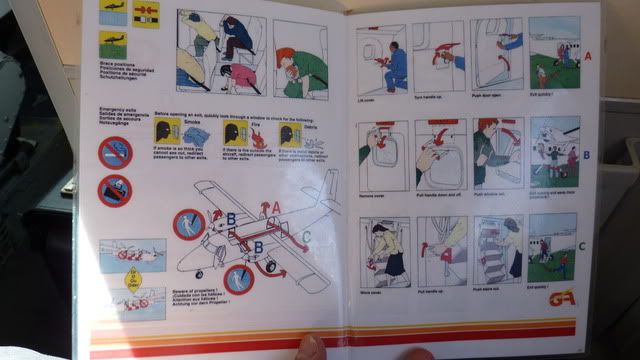 The Gum Air Twin Otters are fully equipped with GPS: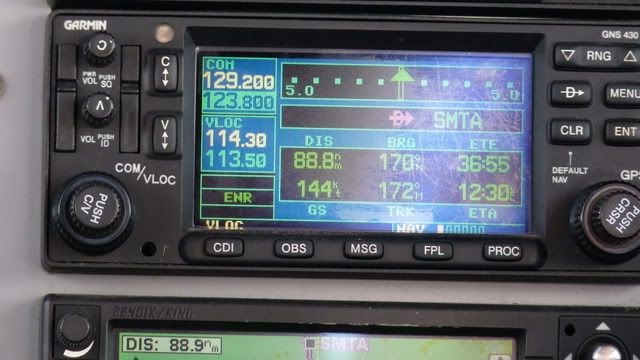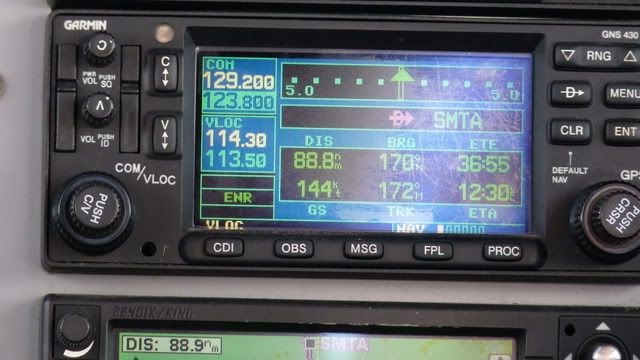 After about an hour, some interesting scenery it was time to land. This would be my first flight to a jungle airstrip so I was quite curious how this would be. The very experienced pilots made it look effortless though, to land on this tiny airstrip:
Landing at Tabiki
Another look at Tabiki airport: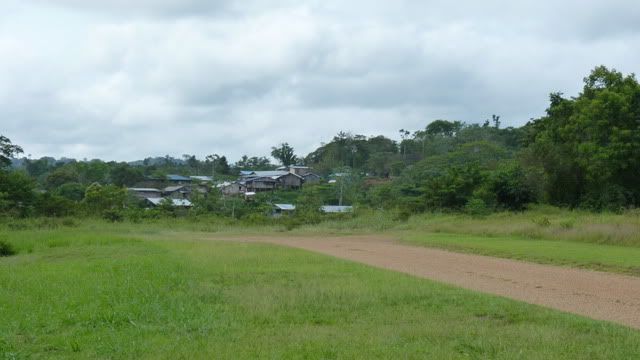 The river next to the airfield. Part of the pax cross the river into French Guyana to dig for gold over there: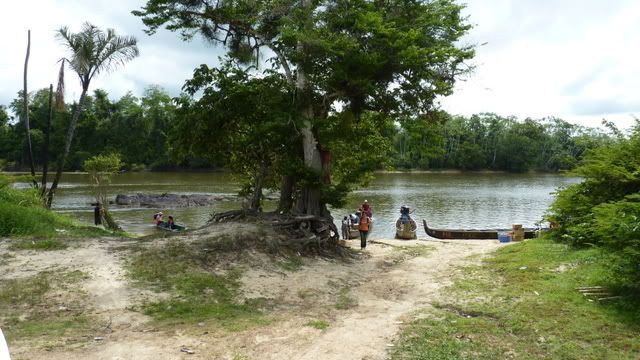 As I mentioned, there is quite some traffic to Tabiki in the morning. When we arrived, there was already another Gum Air Twin Otter there and a Blue Wing Grand Caravan. Just after we landed, a Blue Wing Twin Otter also came in to land:
Blue Wing Twin Otter landing at Tabiki
The Gum Air Twin Otter left right after that:
Gum Air Twin Otter departing from Tabiki
As did the Blue Wing Grand Caravan:
Blue Wing Grand Caravan departing from Tabiki
After a very short turnaround of about 15 minutes, it was time for us to head back to Zorg & Hoop in Paramaribo. This time there were only 3 pax and no cargo, so we were up in the air in no time:
Takeoff from Tabiki
This time we would cruise at 10,500 ft.
The mighty P&W prop on the Twin Otter:
A remote village in the rainforest: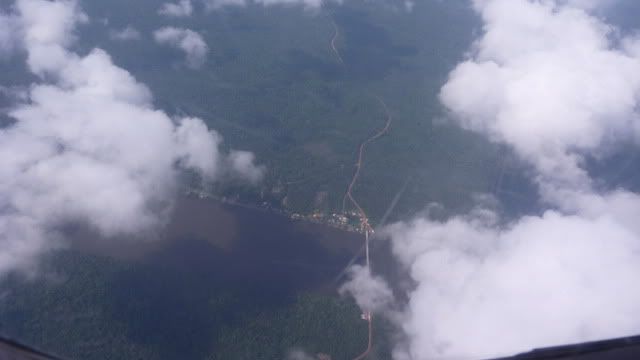 Another one:
An old Bauxite mine, now a lake: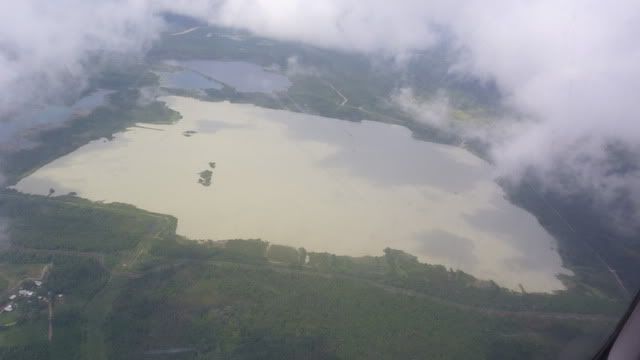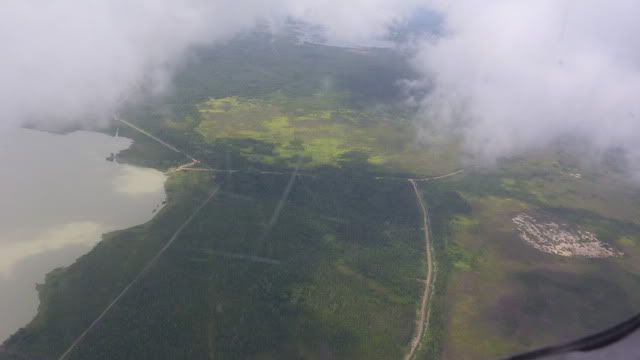 Getting closer to the city, the vegetation changes:
The Alcoa plant. Suriname was a big producer of Aluminium. They now only process the Bauxite, as the production of Aluminium requires a lot of energy and was not deemed worthwile anymore. But for example, during WWII, Suriname was a big supplier of Alumium to the American war effort. There is still an old German warship lying at the bottom of the river in the city (partly above water) as a testament to that fact (the ship is called the Goslar).
Passing the Alcoa plant in Paranam, Suriname
The scenery slowly turned into a more residential area and it was about time to land:
Landing at Zorg & Hoop in Paramaribo
So what did I think? Gum Air is an air taxi operation, so no service onboard. But the pilots were extremely nice and it was a fantastic experience to fly to the interior of Suriname and land on a jungle airstrip. The Twin Otter is definitely perfectly made for these kind of missions. It needs only a very short runway, and is very sturdy. Good thing production is starting up again!! The aircraft also feels very stable. I was curious about this, as the smallest plane I've ever flown is a DC-9-30. So amazing experience! The smallest plane I've flown now is a Cessna 172 (and I flew it myself) but that's another story
.
Hope you enjoyed this TR, definitelty a bit different from what's usually posted here, so I thought it was worth doing. Let me know what you think!!
Best regards,
Sergio
PS, my other TR's can be found over here:
AMS-PBM-AMS On KL MD11
(by
Kappel
Sep 7 2010 in Trip Reports)
Another PBM TR:AMS-PBM-AMS On KL744 In Y And J
(by
Kappel
Sep 21 2010 in Trip Reports)
AMS-EDI-AMS On KL Fokker 70 And Boeing 73Gw
(by
Kappel
Sep 7 2010 in Trip Reports)
To Athens On LH A300-600
(by
Kappel
Sep 8 2010 in Trip Reports)
AMS-MUC-SIN-KUL-SIN-MUC-AMS On LH And MH
(by
Kappel
Sep 9 2010 in Trip Reports)