A Trip of a Lifetime to Europe, AKL-ICN on KE
I've always been fascinated by the Trip Report's you write so I decided to contribute my own. This is my First Trip Report so please be kind with me. Any feedback & comments are very much appreciated.
Background
I've always been fascinated by Europe and there is so much stuff there that you don't find in New Zealand so once I got the OK, I decided to go. I started to have a look for options to get there. Sep & Oct 2010 were my dates and because I was on a budget, I just wanted to look at good cheap options.
The Cheapest option was actually Aeroflot , but I decided to give that a pass and the next cheapest after that was Korean Air. The Korean Air package included a night stop both ways with accommodation provided on the way there by KE but not on the way back. I wasn't too concerned about that though as it would allow me to have a look at Korea and it should also be a jetlag killer, So I decided to book it with the schedule being AKL-ICN-LHR/FCO-ICN-AKL with the price being $2250 return which is relatively good value.
I decided to fly from FCO on the way back because it would be easier for the schedule that we were doing and it didn't cost that much more than a simple return to LHR. Also my father wanted to travel to Europe as well so he came on this trip with me.
Before the Flight
After buying our tickets which we got at a travel agent I had a look at Korean Air's website. It's not the world's best airline website but it does allow you to check your booking, make a seat selection & online check-in but first you had to join their frequent-flyer club SKYPASS. Luckily we had done that before we bought our tickets but for some reason the online seat-selection didn't work but that was soon rectified using their call-centre and we got the seats we wanted.
Date
: September 15 2010
Routing
: Auckland (AKL) to Seoul/Incheon (ICN)
Fli No
: KE 130
Timings (actual)
: 0910-1805 (0914-1750)
Pushback
: 0914
Rotate
: 0926
Flying Time (actual)
: 11hrs 55mins (11hr 36mins)
Seat
: 48J
Type
: Boeing 777-200ER
Reg
: HL7752
Check-in
We arrived at the airport about 3 hours before the Flight. We immediately walked to the check-in area and a couple of minutes later we got called to an economy class desk.
Air New Zealand were doing the check-in for Korean Air and I handed the lady my Online Check-in paper which I had printed off the day before. She did the usual stuff for a couple of minutes but she couldn't get us checked-in for some reason . She called a supervisor who was a Korean Air staff member who told her that we had done online check-in so we didn't have to do normal check-in.
The reason I believe that she didn't understand this was that we got called into an economy class line rather than a normal bag-drop line. Anyway after she had figured that out, she gave us a real boarding pass + the boarding pass for the ICN-LHR flight in exchange for the online check-in paper.
Airport
After check-in I had some greasy breakfast at Mcdonalds and decided to have a look at the Observation deck to see our plane arrive.
Pacific Blue B738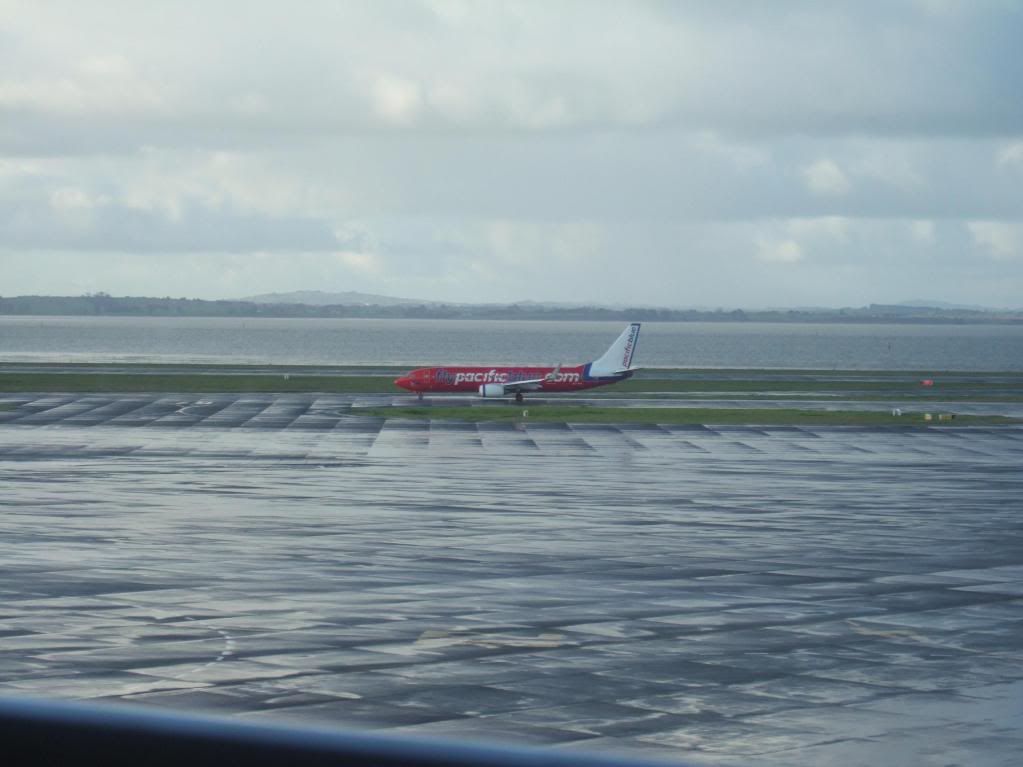 Our Plane for our flight to ICN, KE B772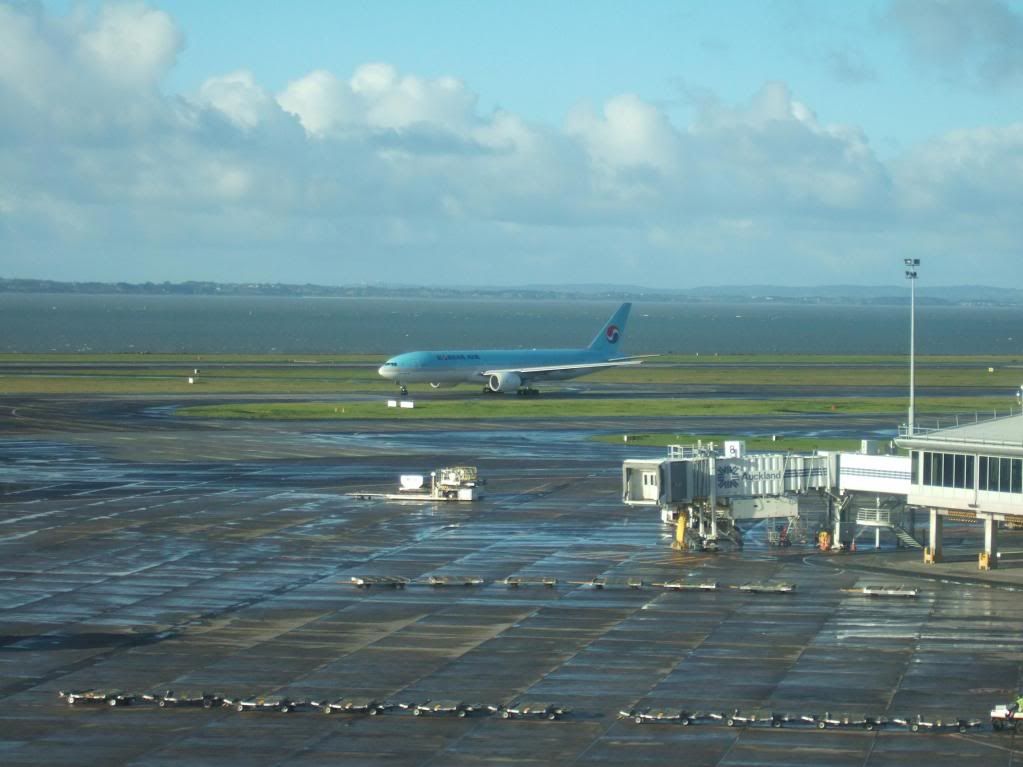 It is HL7752, adorned in the beautiful KE livery.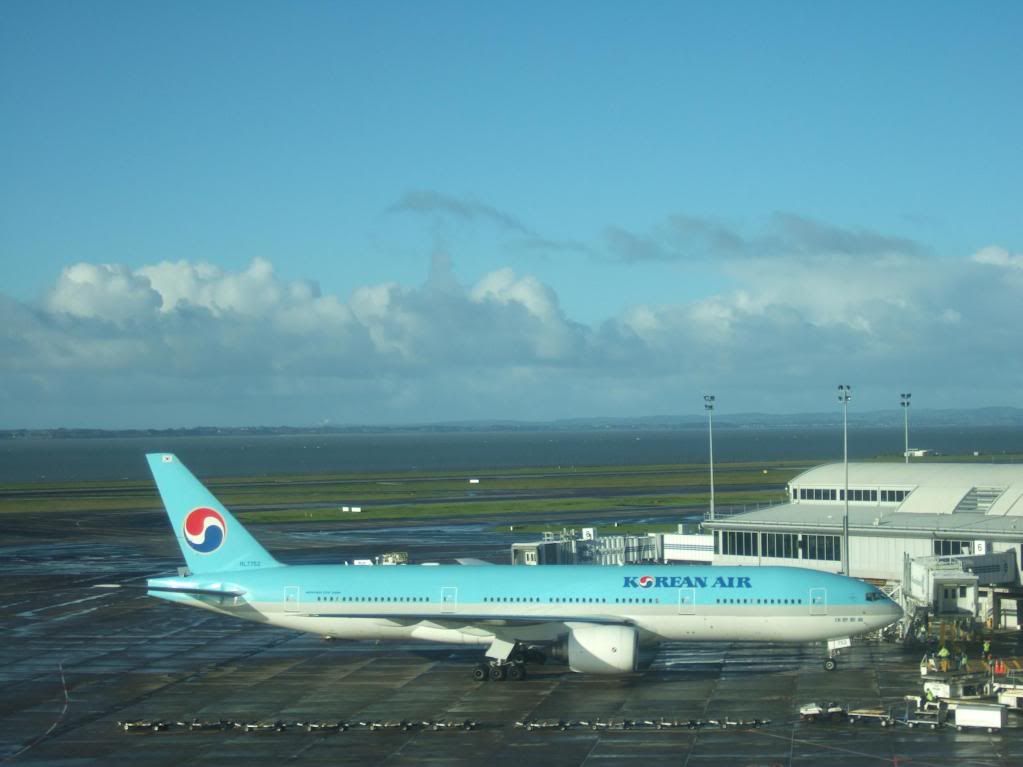 HL7752 is a 2.9-year-old bird and it is one of 18 Boeing 777-200ER's in the Korean Air fleet.
Security & Airside
After our outing at the observation deck, it was time to go through Security. The queues at this time were lightweight and we were soon grabbing our bags and were ready to have a look at the shops but I was surprised to hear somebody calling us over to come this way.
When we came over they told us that they would be testing us for explosives in our bags, which of course came negative. I'm pretty sure that these are random and I couldn't think of anything I had that would cause this but it did come as a surprise.
After that we walked through the tightly packed shops in the duty free area and a small construction area which is part of a big plan to upgrade AKL's duty free area. Compared to about 2 years ago, you can definitely tell the difference in the duty free area. Right now, it's a lot more cleaner and looks very modern, thumbs up for AKL.
Anyway it was time for a coffee and after that it was nearly time board but not before buying the mandatory bottle of water.
NZ 744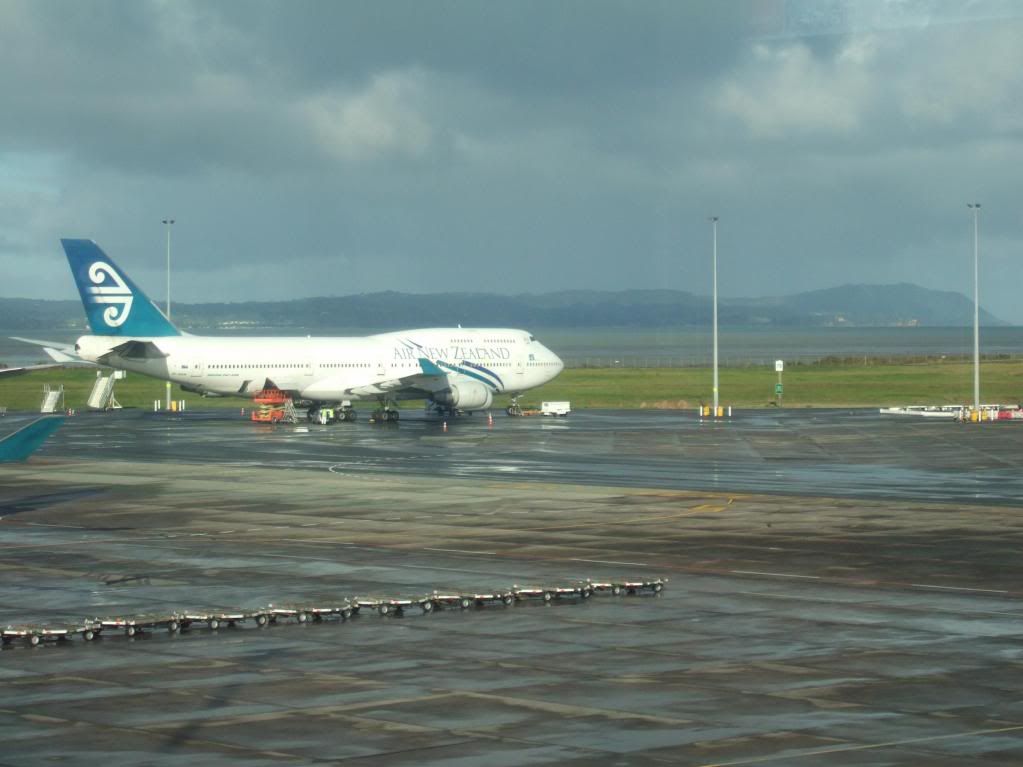 Boarding
After about 5 minutes waiting at the gate, boarding started. Firstly for First, Prestige (Business) and Skyteam Elite Plus members, then for us in Economy Class. When we set foot on the plane two polite KE Flight Attendants in a beautiful light blue uniform greeted us on board. They pointed in the direction of my seat which would be Seat 48J for me.
The first section of economy class was coloured in Blue fabric while the second section which was where we were seated was coloured brown. A bit boring and conservative for my taste, but I guess more and more airlines are turning to these types of colours.
When I arrived at my row there was a blanket, Pillow plus a 330ml bottle of Jeju Pure Water on my seat. There was also a bright blue amenity kit containing slippers and toothbrush + toothpaste which is a nice touch considering how many airlines don't give an amenity kit's anymore.
Sorry about the bag and strap intruding in this photo. It also seems like the water bottle disappeared in this photo.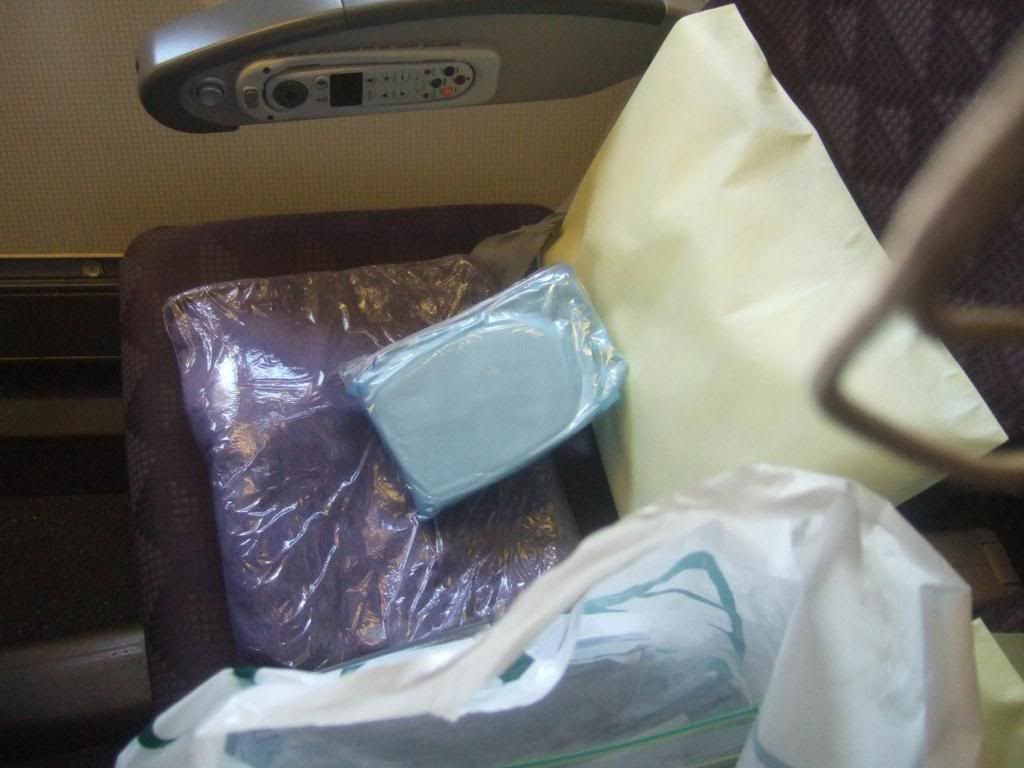 Water Bottle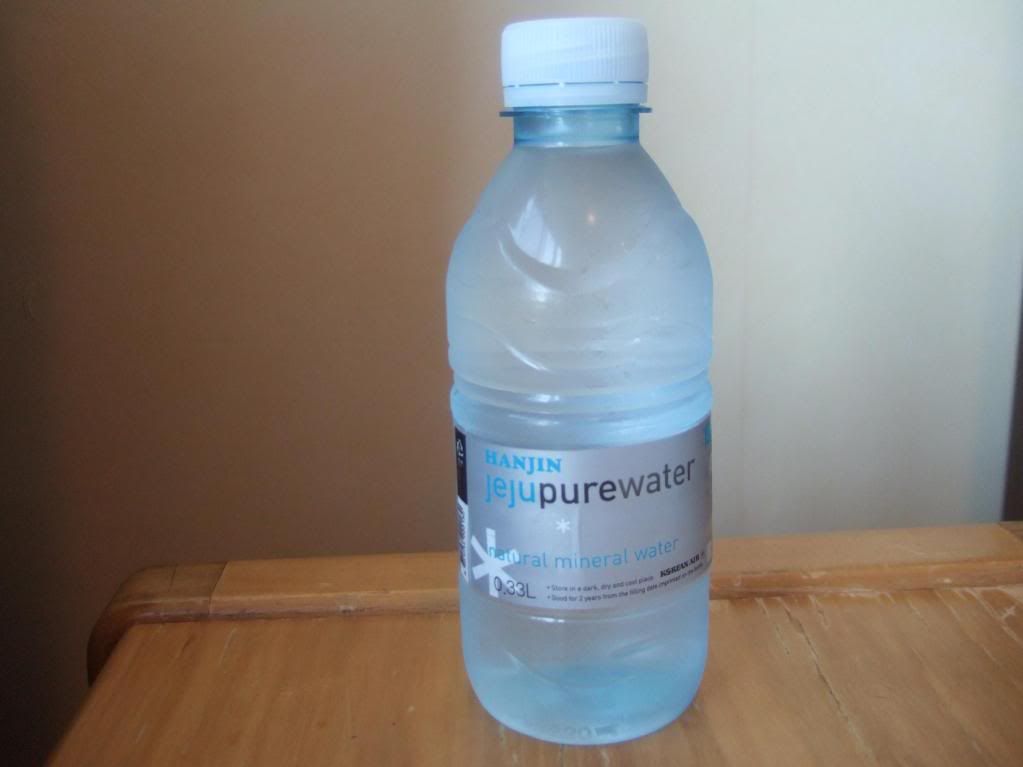 Amenity Kit (Photo taken later in flight)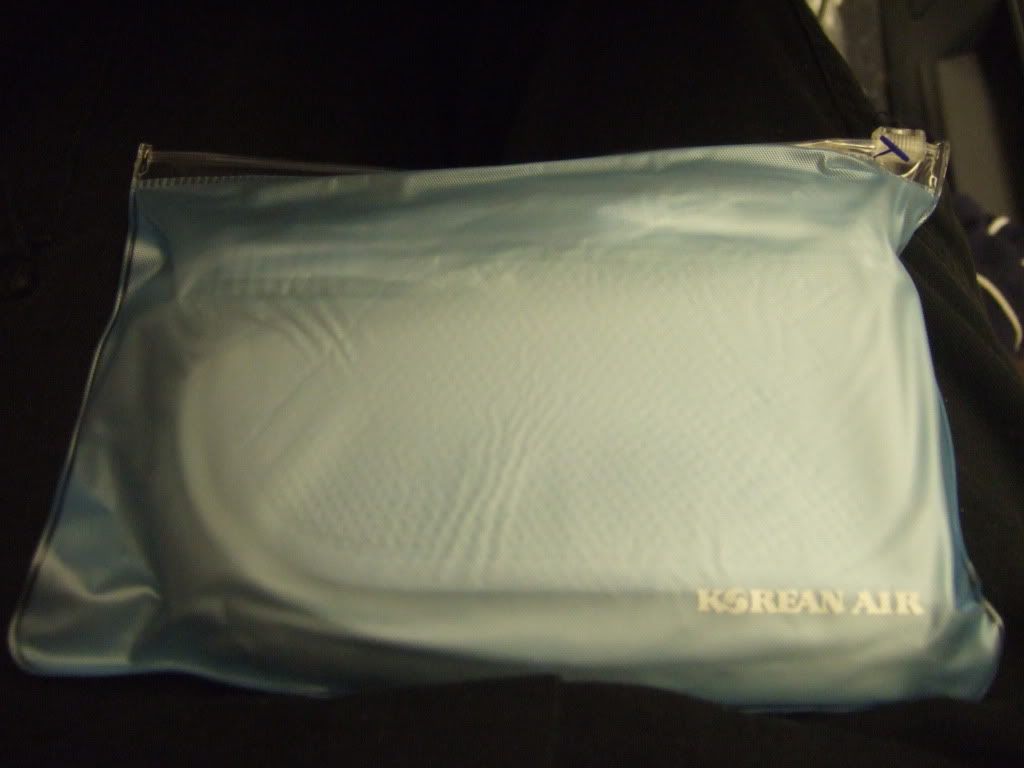 Amenity Kit Contents (Photo taken later in flight)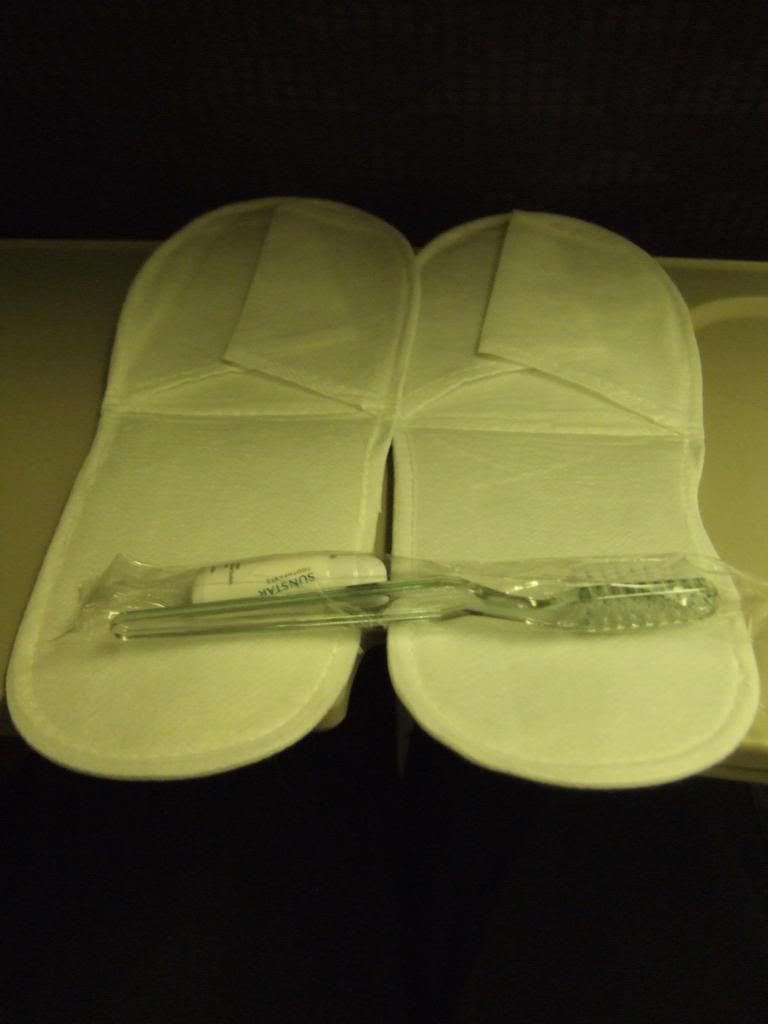 Seat
When I sat down, I immediately noticed how much legroom there was. Korean Air marketed it as 34' inches which is about the highest amount of legroom you get nowadays in economy class. There was only a small IFE box to the left obstructing the legroom. Load for today's flight was very high, probably in excess of 95%.
Legroom is Plentiful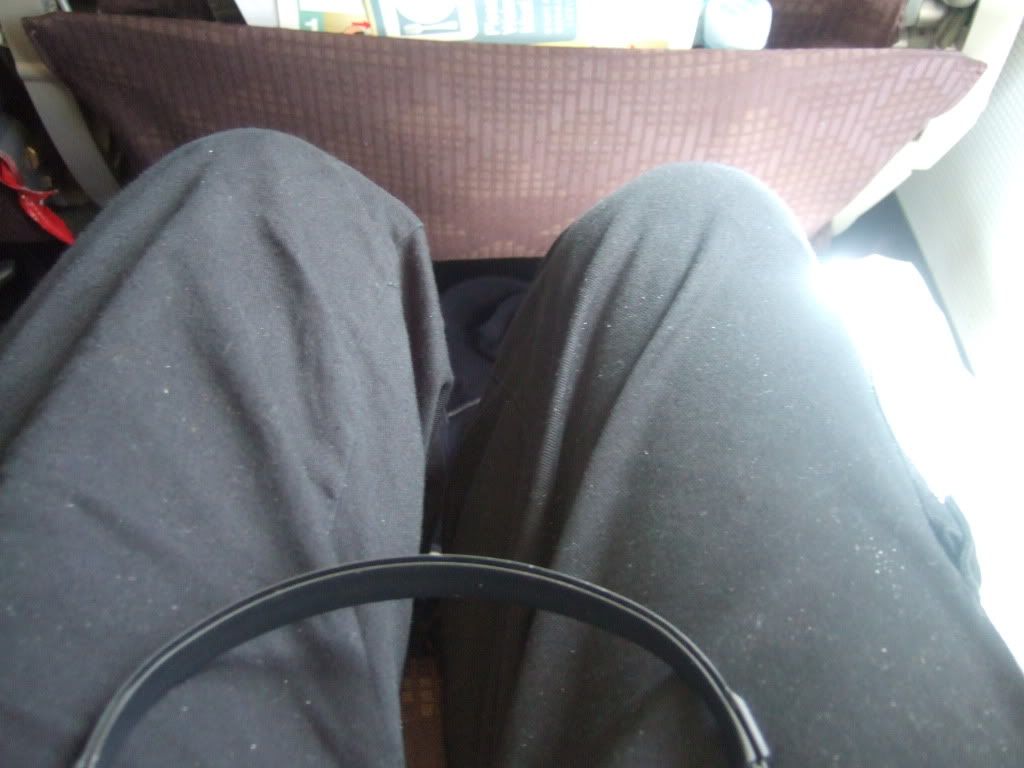 We got ourselves comfortable and at 0914 pushback commenced and after a short taxi we were off into the air.
Auckland in the distance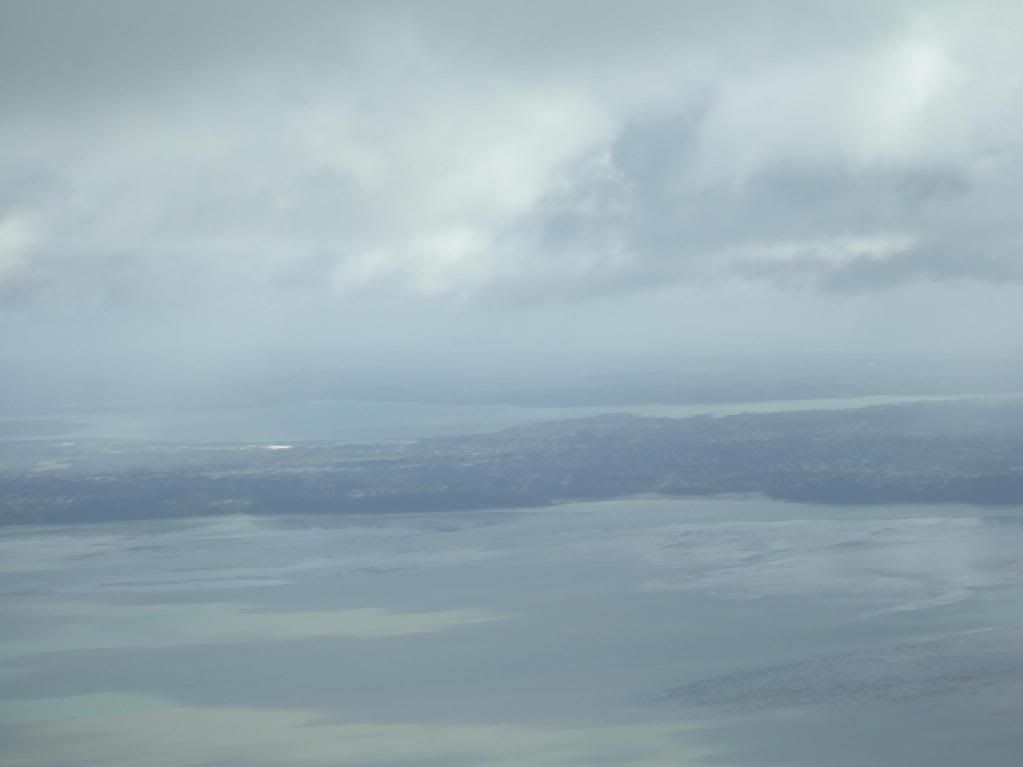 Coastline Surrounding Auckland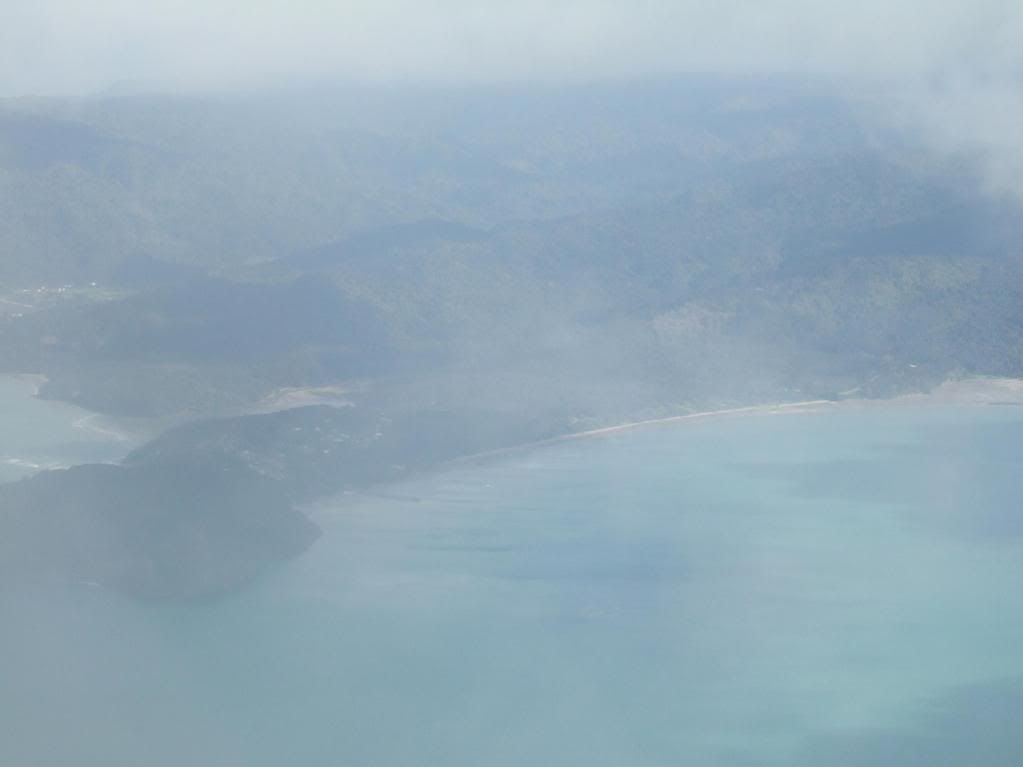 Te Atatu in West Auckland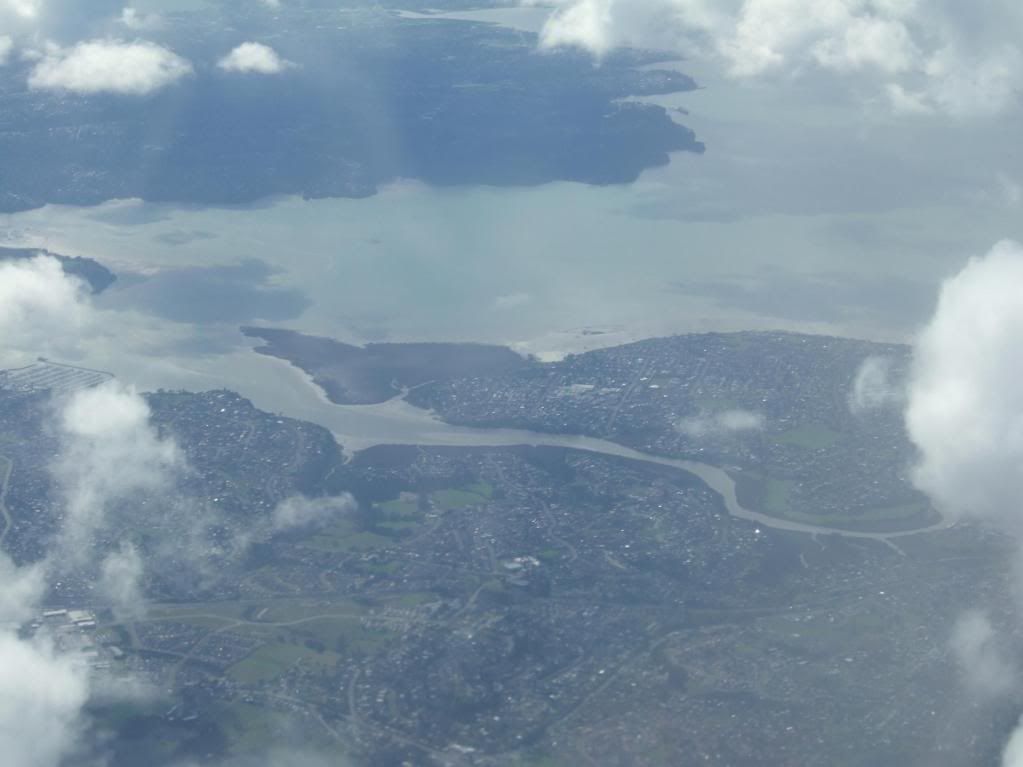 Above the Clouds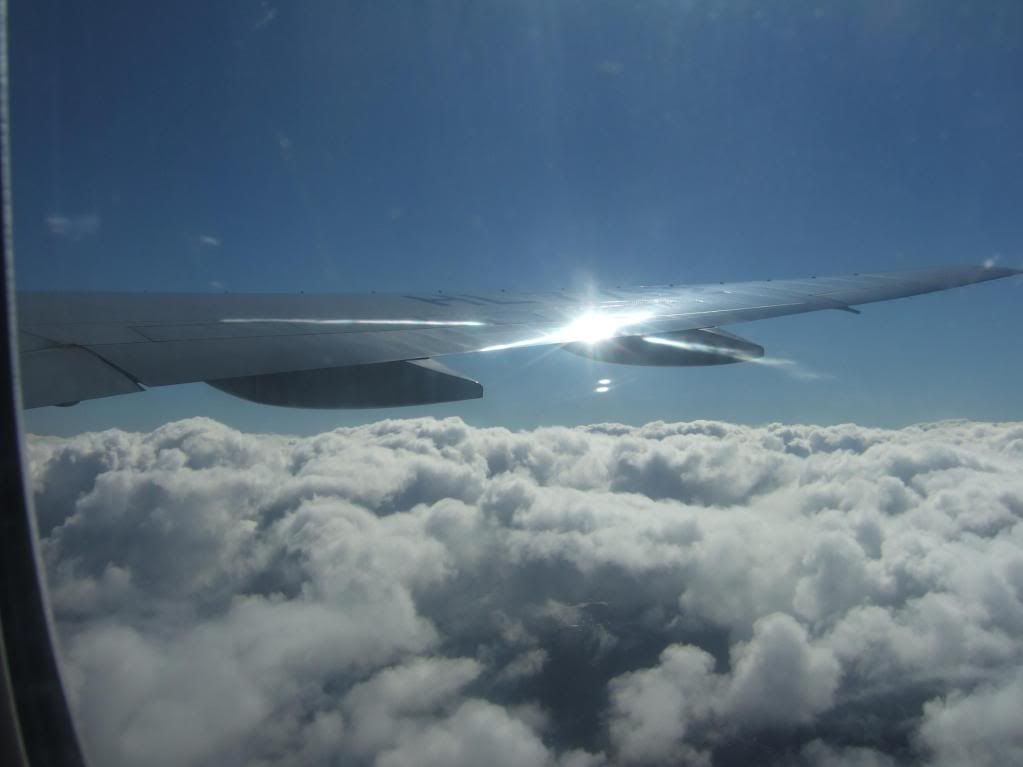 Once the Seatbelt sign was off the Crew handed out Headphones and then I just got myself comfortable until meal service started about an hour after takeoff
Honey Roasted peanuts & a drink was handed out first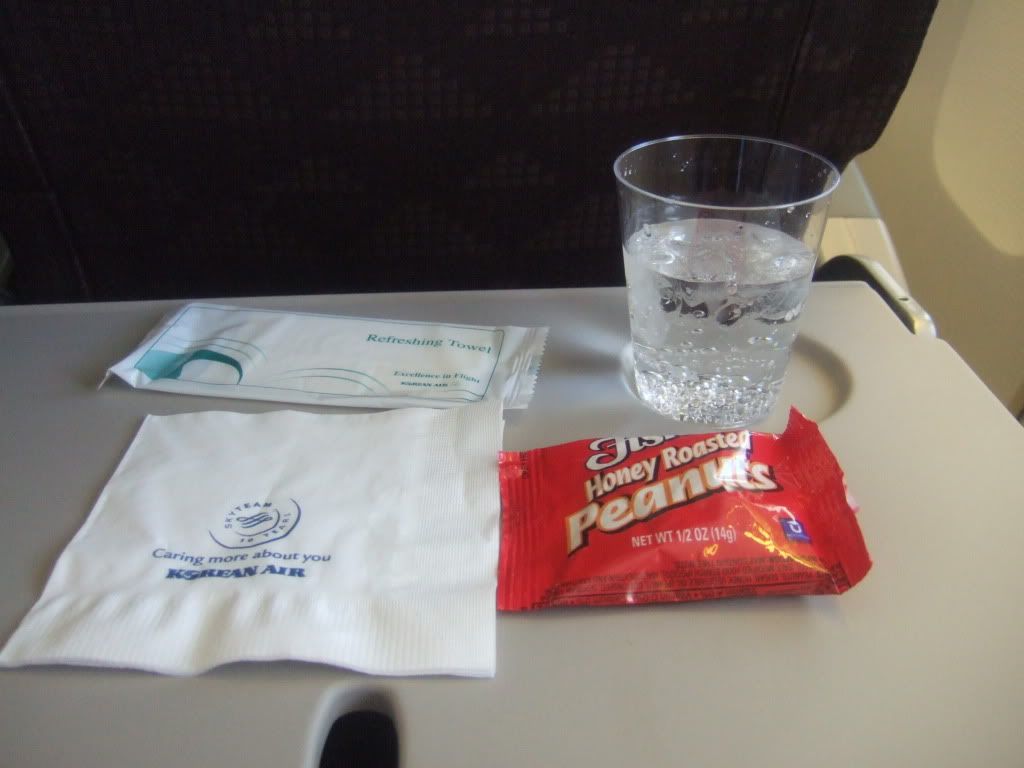 My meal, Bimimbap
The meal choices today were either fish or Bimimbap and as you can see I choose the Bimimbap. Bimimbap is a Korean dish which involves mixing vegetables, meat and rice together. The meal tasted very nice and had a nice mixture of flavours. Even though it's a bit different to the generic airline meal, I definitely wouldn't mind having it again.
Side dishes included an average Seaweed soup, Some sort of pickle and an overly sweet dessert.
After the meals were handed out a tea & coffee service was provided. I decided to have a coffee and when the FA served it she politely said, "It's very hot, please be careful" How caring I thought. This happened on every flight so I guess it is part of the procedure.
IFE
After the meal service the FA's told us to close the window shades (so annoying!!!) so I decided to check out the IFE.
Korean Air's touch screen IFE is called Sky Program I and includes about:
28 Recent Hollywood Movies
20 Other Movies (mostly Classics)
50 Short Features
Airshow
Information about Skyteam and Korean Air.
All in all it was a very good AVOD system and it kept me entertained for all of the 48 Hours I spent on Korean Air planes. The Airshow was pretty good as well and I liked how it was interactive so you could zoom as far or as close as you want.
Korean Air also have an above average inflight magazine MorningCalm and an entertainment magazine, Beyond.
Homepage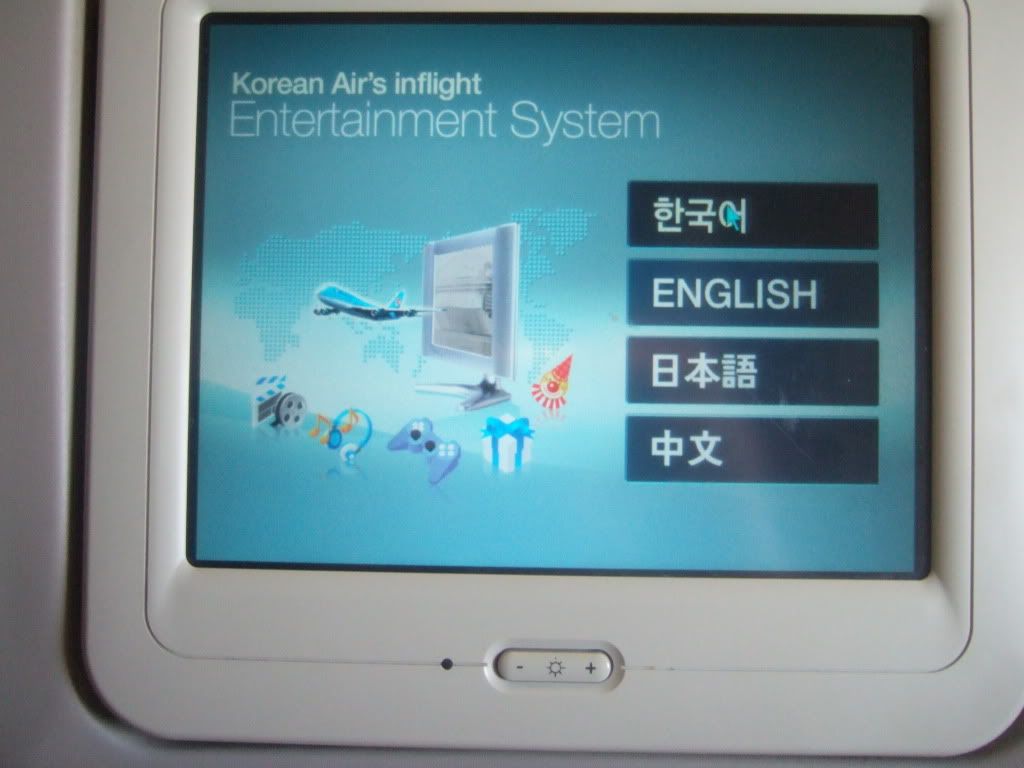 Main Menu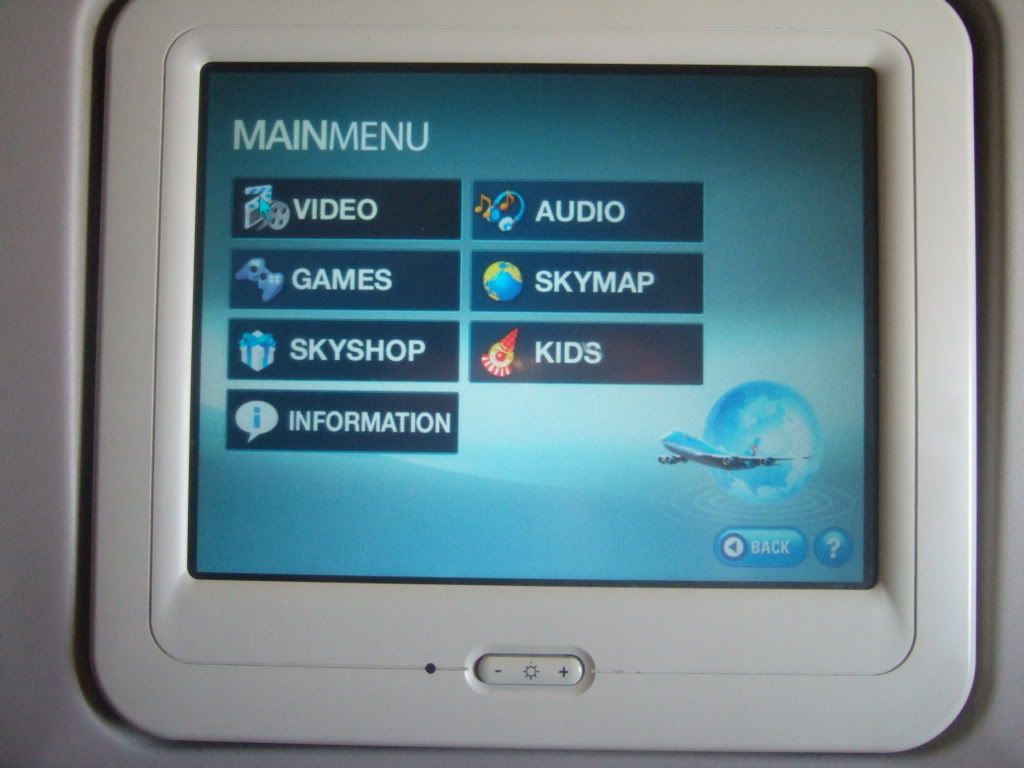 After the first meal service it was a long wait till the next meal service and I spent my time watching a couple of movies and having a wander around the Cabin. Here's some shots I took during that time
Shots
Lavatory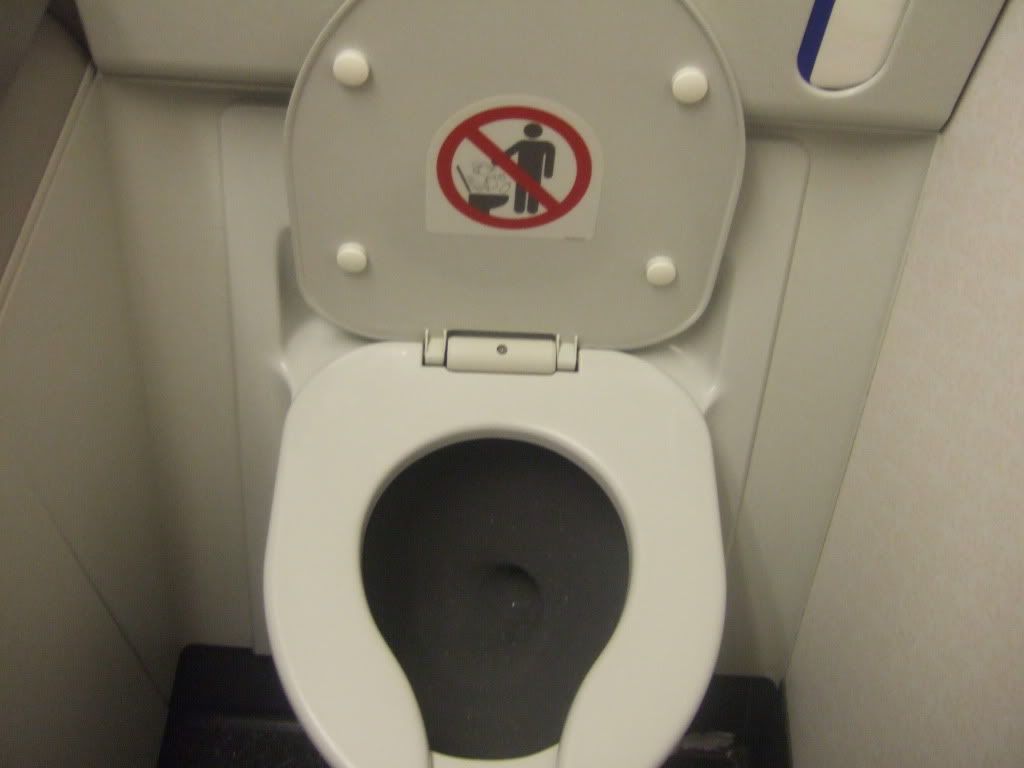 About Halfway there (Sorry about glare)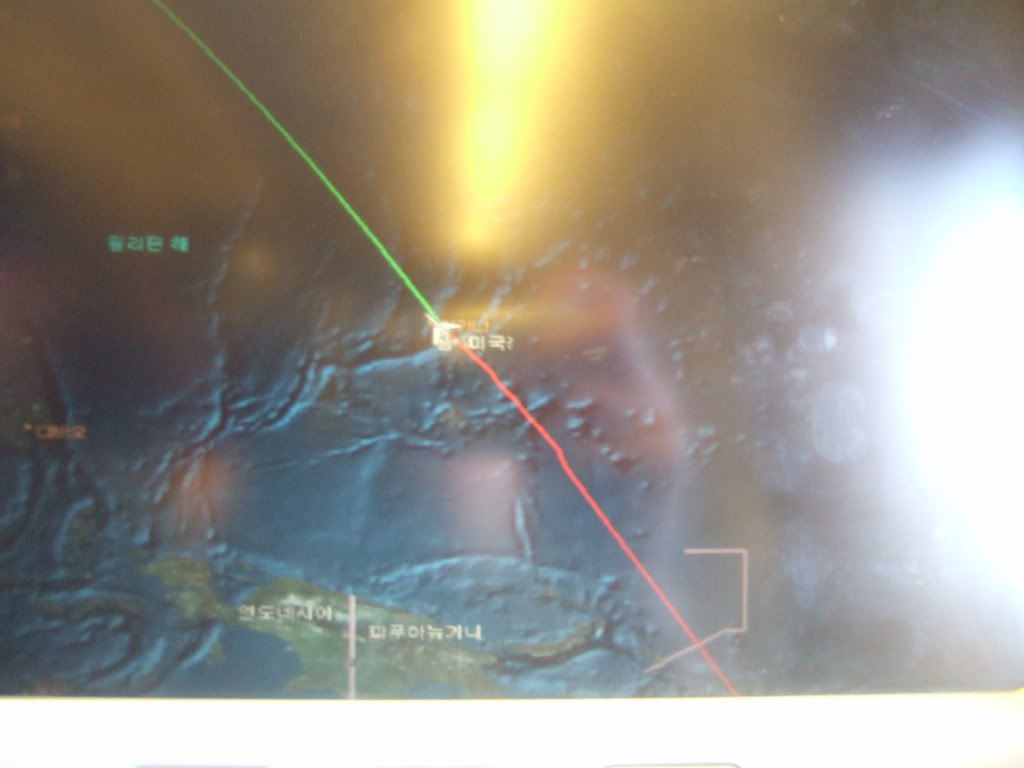 Wing shot, I Like how they paint the Reg on the wing.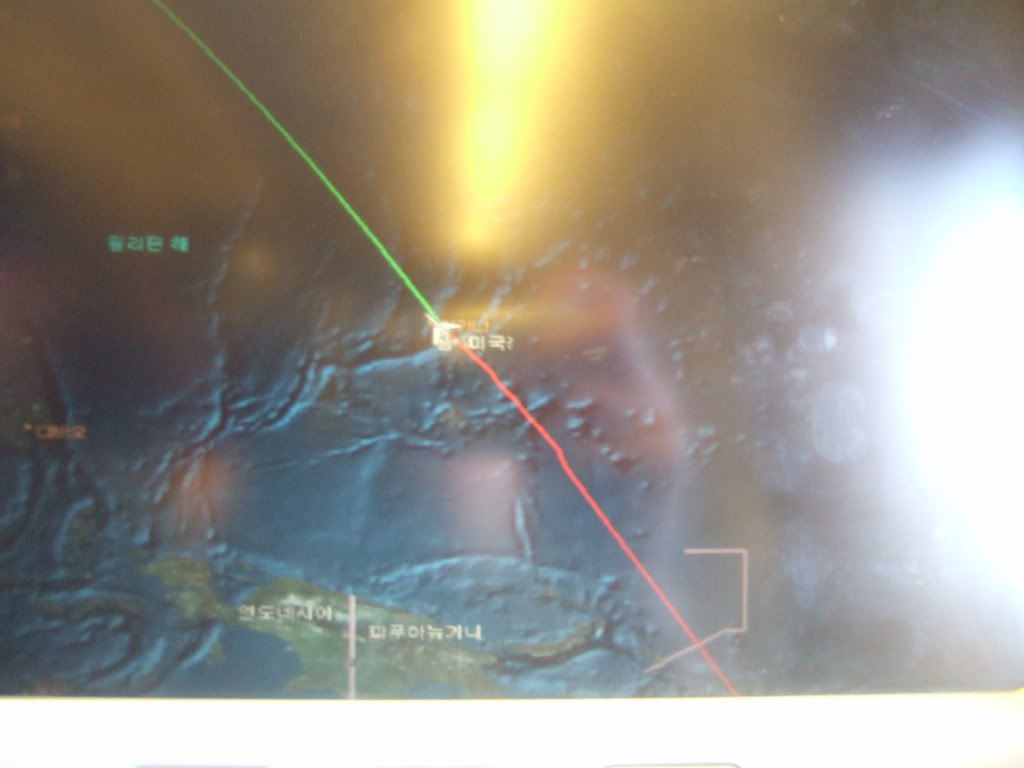 2nd meal Service
The second meal service started about 2 hours before touchdown, firstly there was a beverage service then the meals came. The choices were Pasta or Chicken with beef and rice
I choose the Pasta with Chicken which also included a bread roll, green salad and a cake. Personally this was a pretty average meal. The texture of the pasta was weird though the chicken was nice & tasty. The green salad and the bread were both pretty average though the desert was quite nice.
A glass of OJ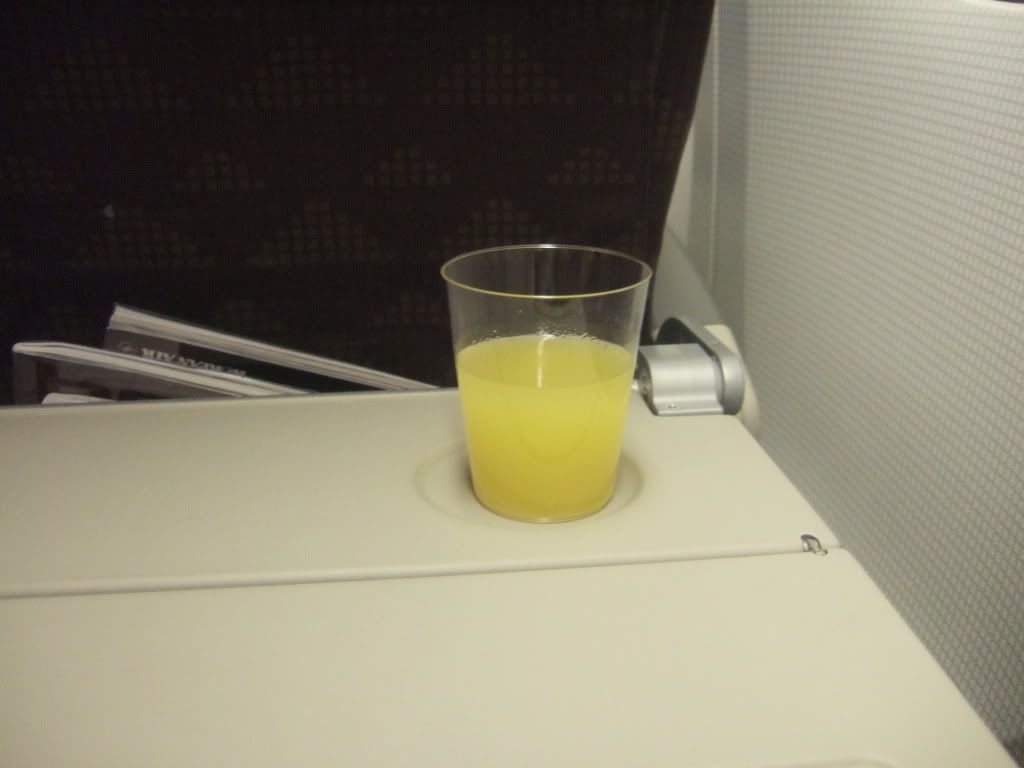 The pasta with chicken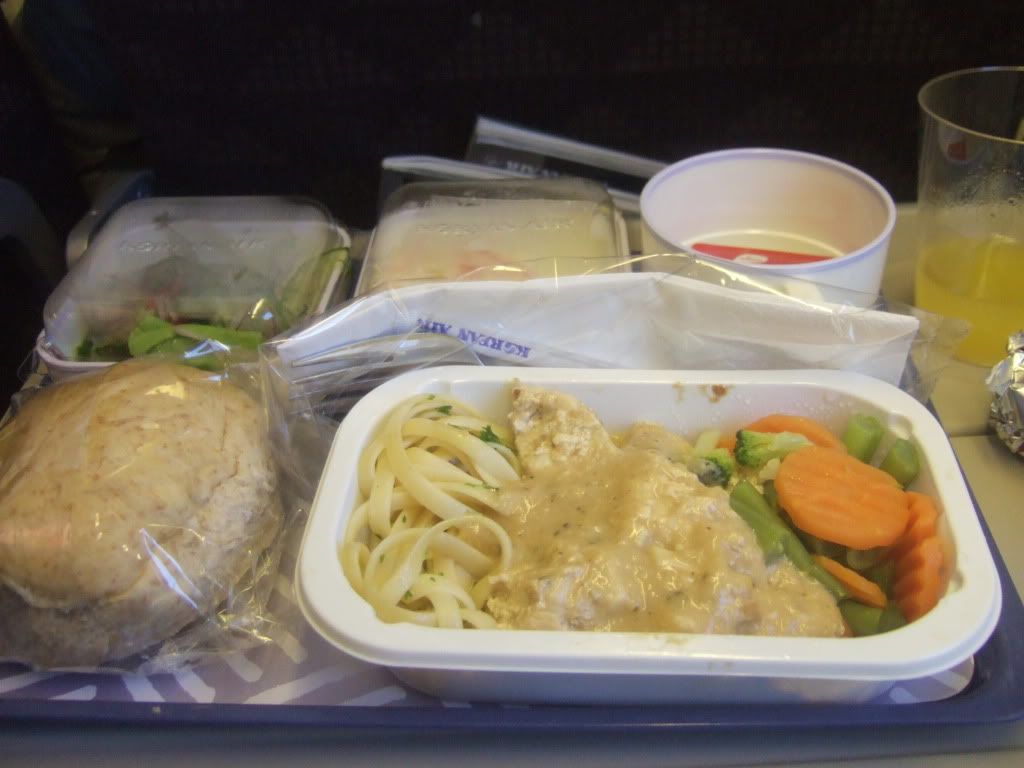 Crew
After the meal service I had a think about the crew and I can only say good things about them. They were all very polite as you would expect and nothing was too hard for them to do. They also didn't seem super robotic and they definitely were a pleasure to have. One problem I did have which hasn't got to do with the crew is that you can barely hear any announcements over the engine noise and passengers which is a nuisance. Hopefully KE can address that little problem sometime.
Anyway it was nearly time to land so the crew prepared for final descent and we slowly made our way to ICN. Luckily the skies were clear so some good views of Korea could be seen
Korean Towns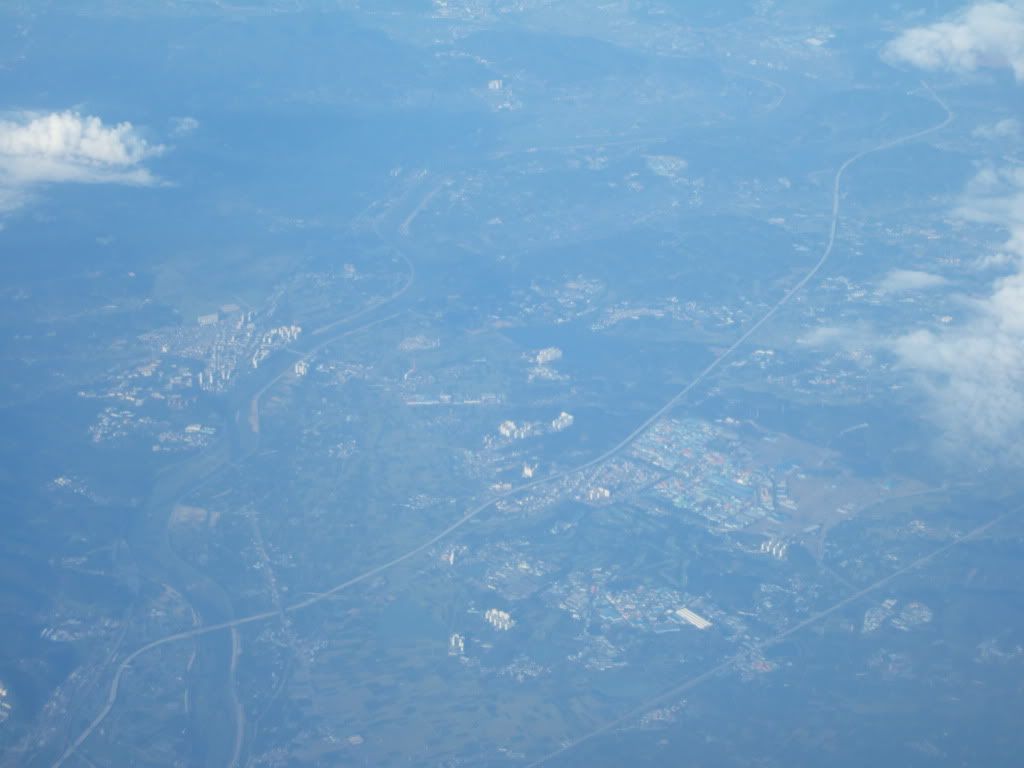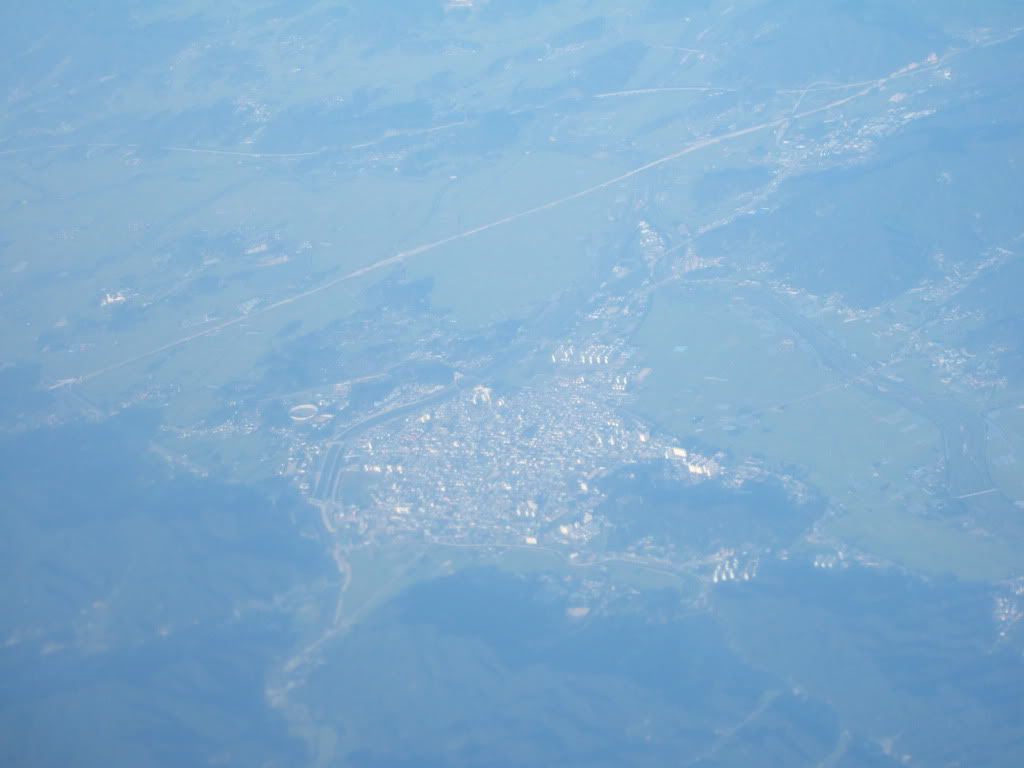 Suwon City with Suwon Airbase (SWU) at the bottom of the picture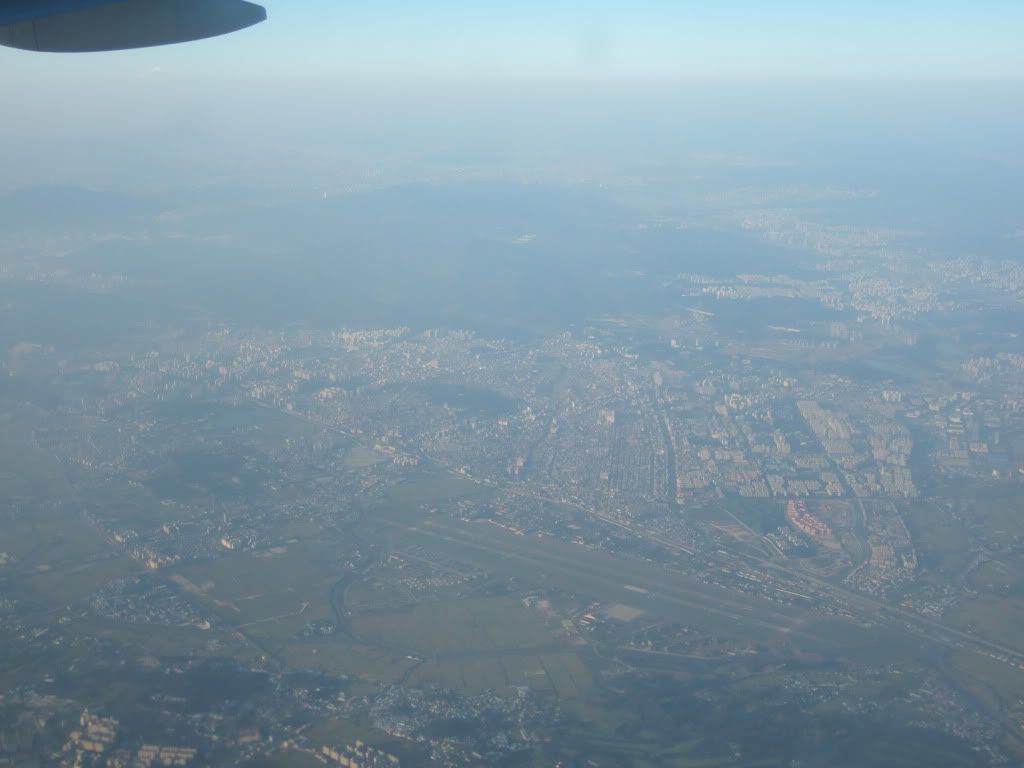 Unfortunately the haze meant that any decent photo's of Seoul couldn't be taken. The routing pretty much bought us over the South of Seoul across the bay (Where there are some very long bridges) onto Yeongjong Island where ICN is located.
Approaching Yeongjong Island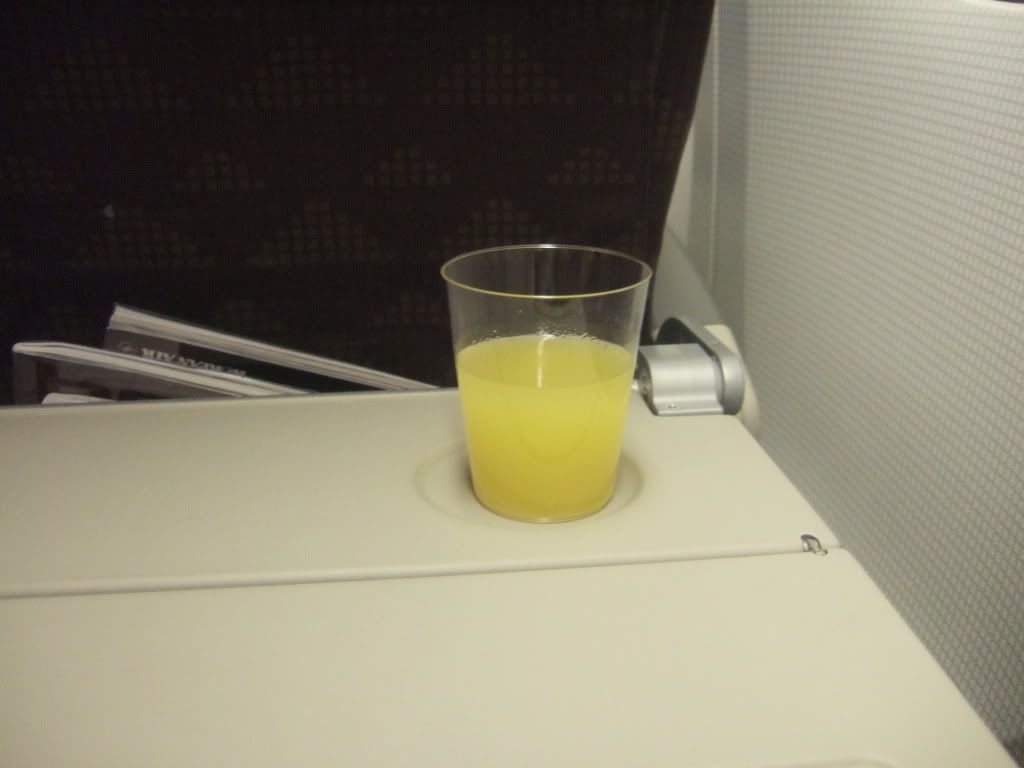 At the Terminal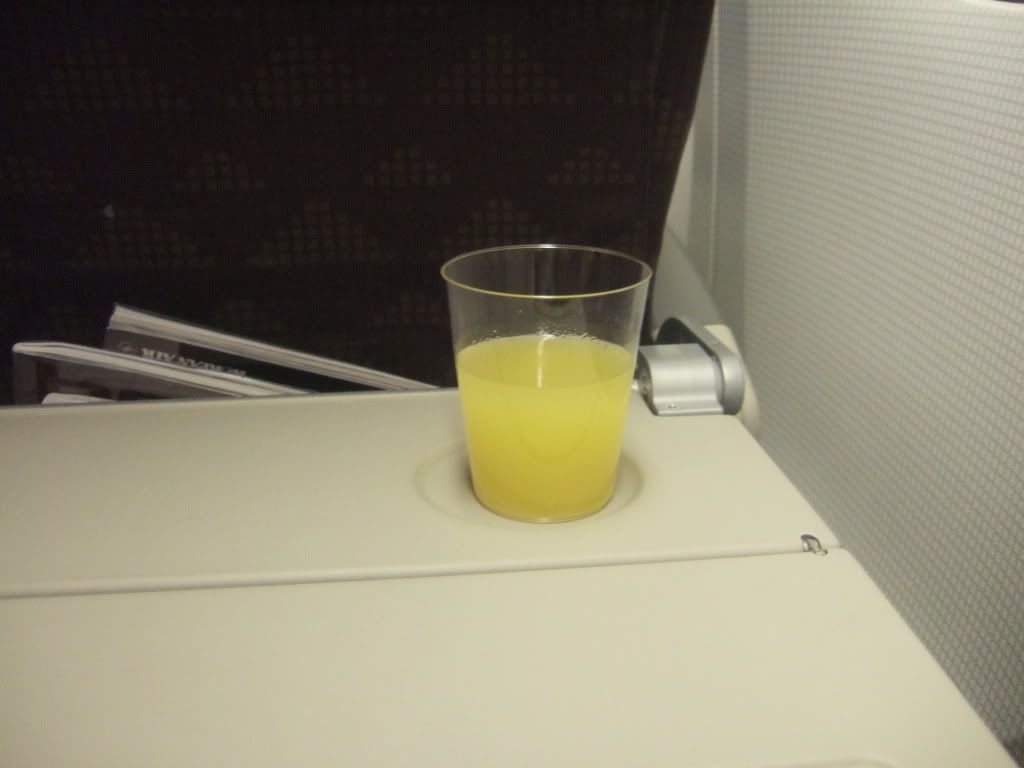 Arrival
Disembarking didn't take too long and we were soonout into the impressive and big Incheon Airport. Immigration was quick & painless & our baggage was out in no time.
Arrivals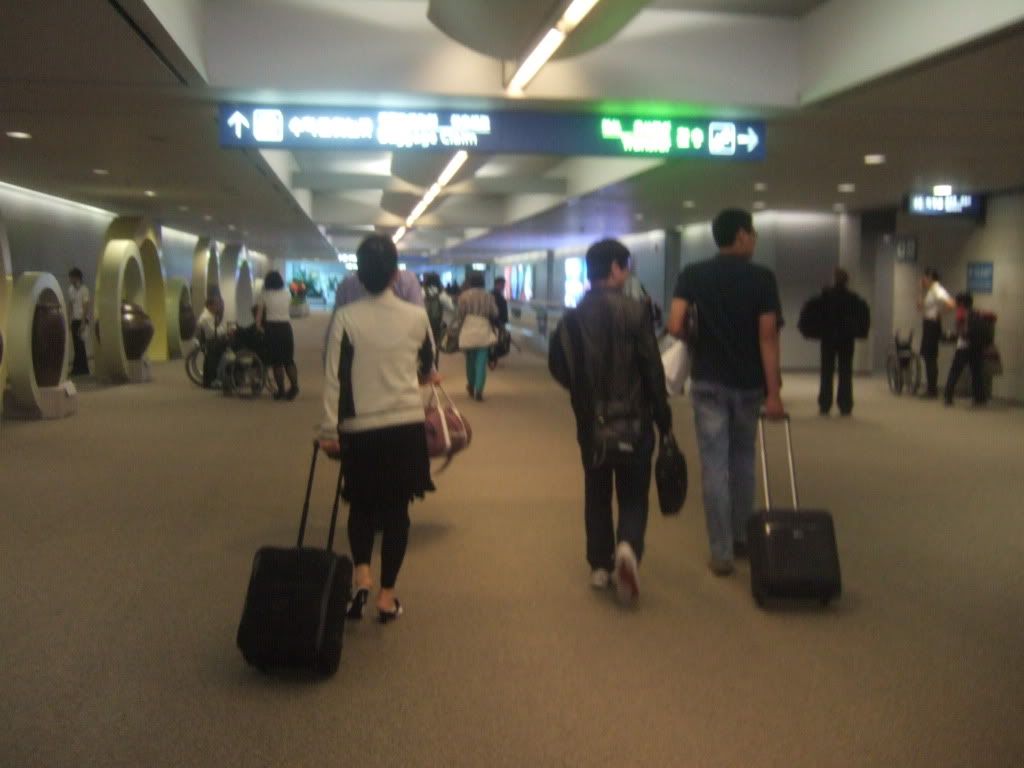 Conclusion
Korean Air have really impressed on this flight and their slogan Excellence in Flight I think is appropriate. There were only minor problems and the impressive product they provide definitely outweighs the negatives. The meals were edible and their IFE system passed the time. The best thing about KE though are the crew, they were always so kind and nothing was too much for them.
Stay tuned for the next trip report which covers the Transit and the KE ICN-LHR leg.