Welcome to my tripreport from Amsterdam to Bangkok and around Asia the long way, including some flying around in South East Asia.
The total trip will be AMS-FRA-DOH-BKK-DPS-BKK-KUL-BKI-KUL-BKK-DOH-FRA-AMS
As it was time for our holiday and family visit in Thailand, I was looking for affordable and interesting flights to Bangkok. Mrs Ozzietukker had only 1 demand, no more 'small KLM' plane from Dusseldorf to Amsterdam. (Although I don't think it was her idea of fun to have 2 stopovers to get to Bangkok).
As I am not impressed with KLM either, only for the good prices with KLM from German airports, I looked around for alternatives.
The natural choice would be Emirates since I have never flown with them to Bangkok, but while they did have promotions, they did not on our selected dates, and there was not much room for changing dates because of already booked flights in Asia. (In the end they did offer very good prices 2 weeks for departure, on my selected dates, but you can't have everything).
Qatar Airways on the other hand had an interesting offer from Frankfurt for 459 euro, eventhough with a long layover (13 hours) on the way out in Doha, but a perfect timed flight on the way back to Europe. And with the good reviews about the entertainmentsystem and the generous legroom, especially on the DOH-BKK legs, I decided to book this flight.
To get to Frankfurt is not so difficult, you can take the train, or fly with Lufthansa, and with Lufthansa in total 4 euro's cheaper compared with the train it was a no brainer which option I took, especially there would be no stress if there was a small delay in any of the inbound flights to Frankfurt.
To get to Amsterdam from my hometown in time to get the Lufthansa 07.15 flight by public transport is not possible, luckily my father is living close to the airport and agreed to let us stay for the night and get us to Schiphol airport on time the next morning.
Lufthansa Check-In was quite busy, but it only took 10 minutes to get served, and the luggage could be tagged all the way to Bangkok, perfect, this saved us some time in Frankfurt, and more important, I hate carrying luggage, I rather see it at the final destination, you won't see me voluntarily carrying more then 3 kg hand luggage either.
The security check can be long when you depart from the Schengen gates, but I cannot complain this morning, only 3 minutes waiting, and they even use common sense nowadays, no more shouting, and they actually appear friendly and try to speed up the process.
The plane is already at the gate since it overnights in Amsterdam.
The boarding started a bit late, and with quite a good load it did take long.
October 13, 2010
Amsterdam (AMS) – Frankfurt (FRA)
Flight number: LH4689
Departure: 07:25 (07:36) – 08:35 (08:45)
Aircraft: Airbuys 320-200 (Unknown)
Load Factor: 89%
Seat: 25 A
The loadfactor was good, but there was no one sitting next to us, they really do fill up the plane in front more then the back, I should really think of selecting the last row for my future flights
Sadly or probably as punishment because of the late departure from the gate we have to taxi all the way to the 'Polderbaan'. This morning it took 20 minutes before we are actually there and able to take off..
Take off, apologize for the bad quality, when there is not enough light, my camera is not good, really time for a upgrade!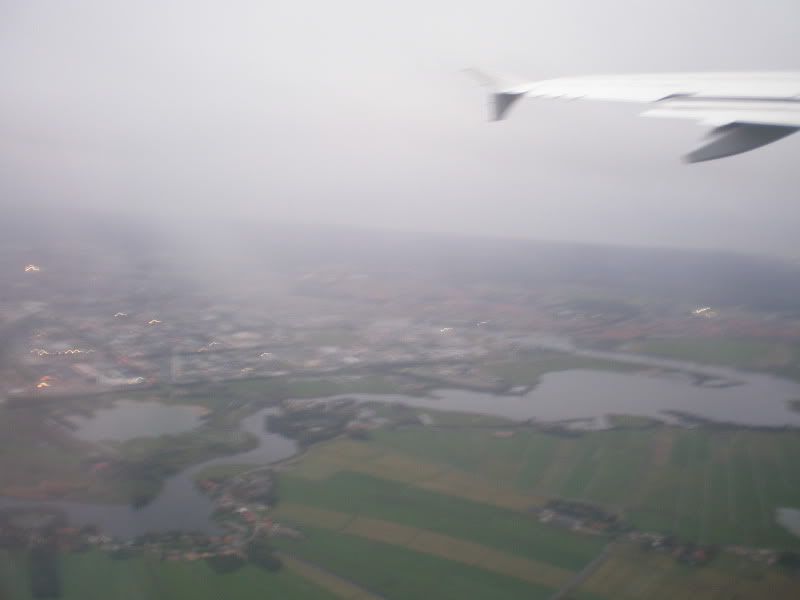 The first sunlight of the day is always nice!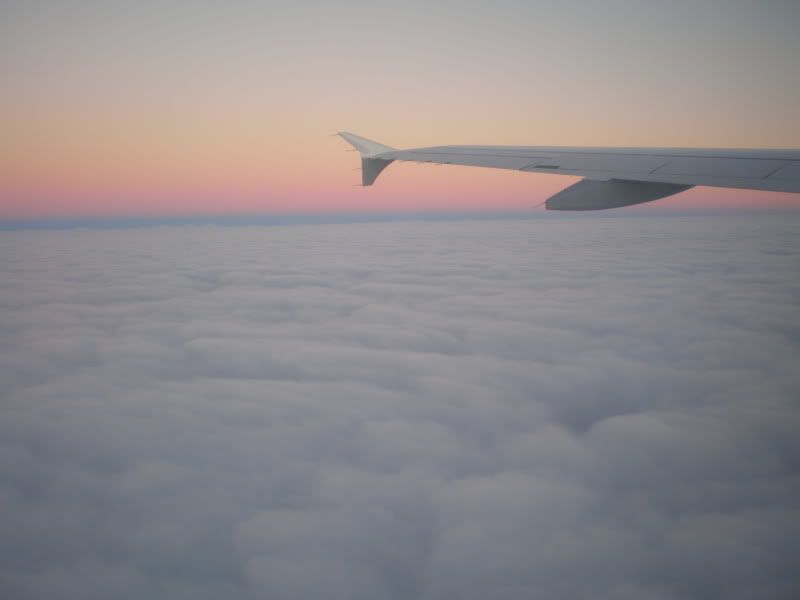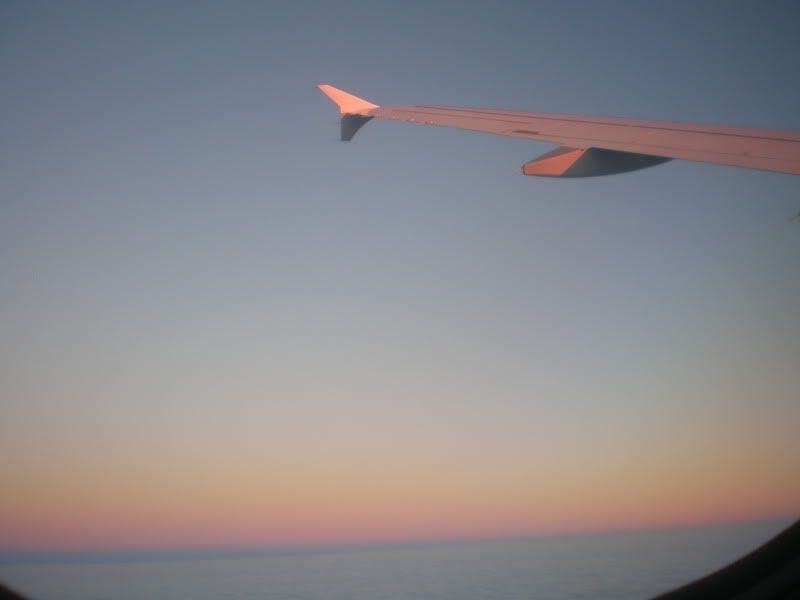 The on board service started
Lufthansa still serves the same sandwich they did since my last trip in 2008, but it is actually not too bad, probably because I was hungry.
Presented in plastic. Cheese and Turkey (?) sandwich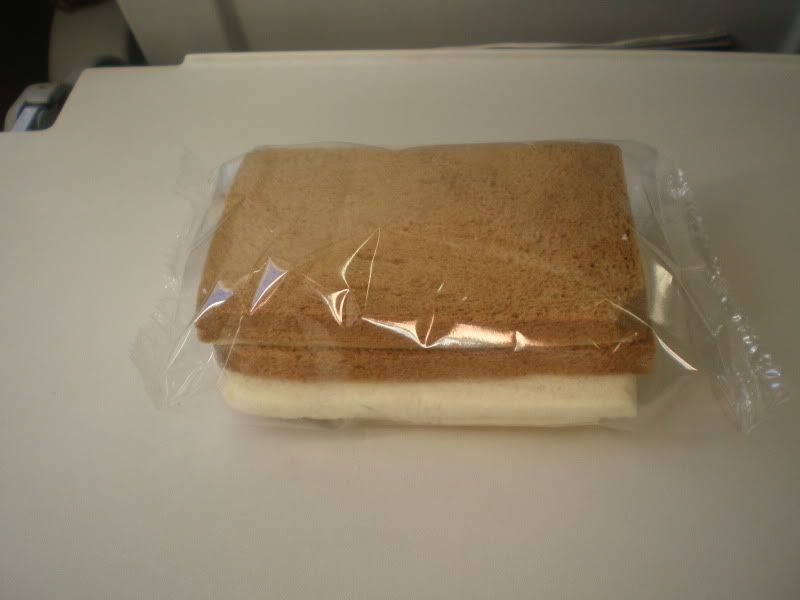 I prefered the Cheese and coke really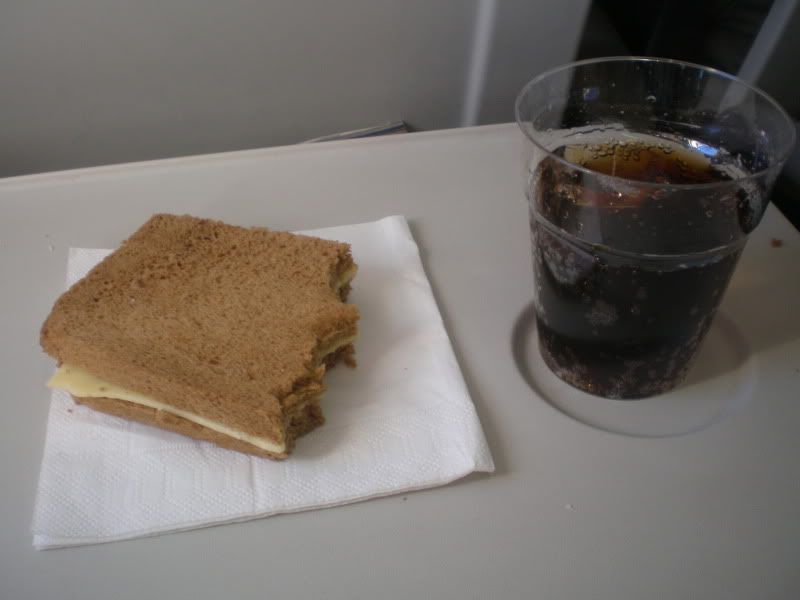 Getting lighter and approaching Frankfurt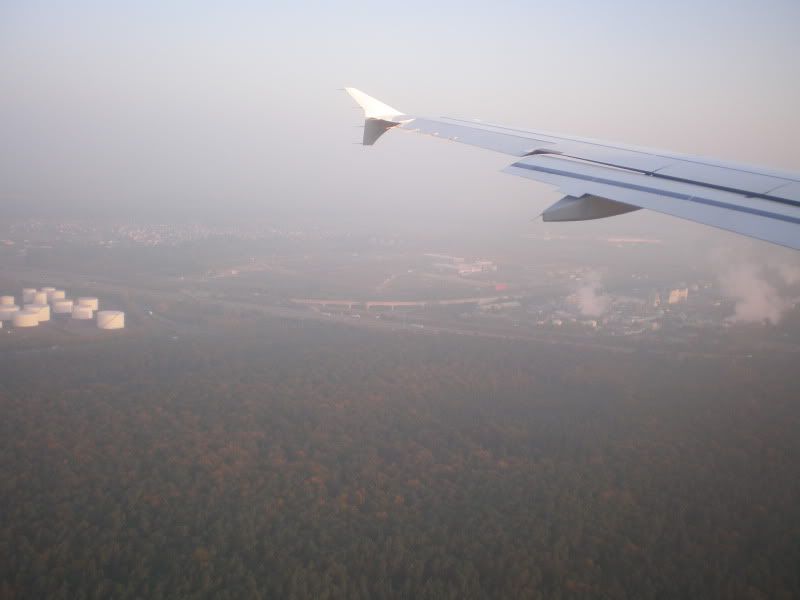 Finals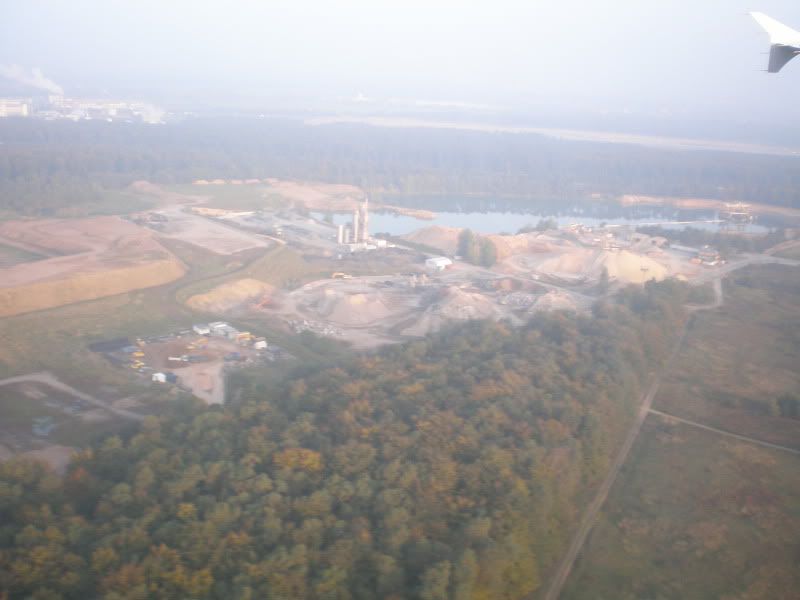 Landing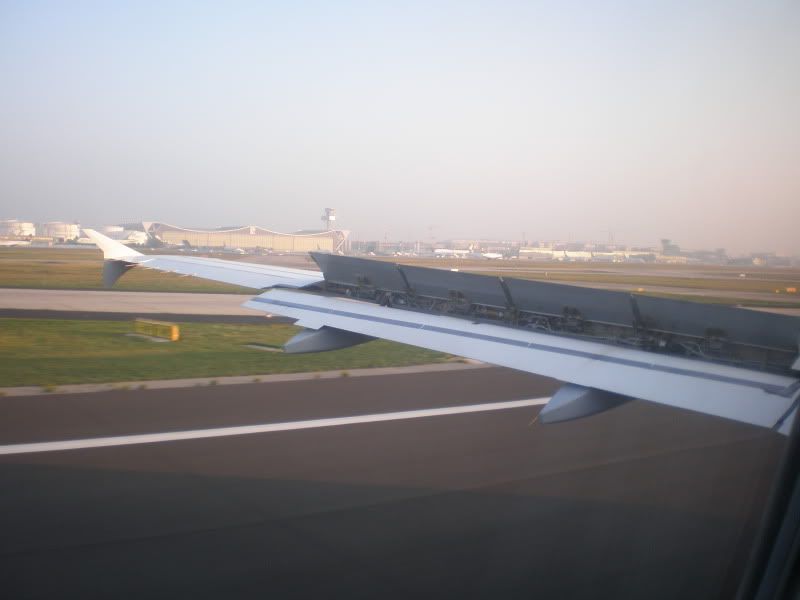 Passing Big Brother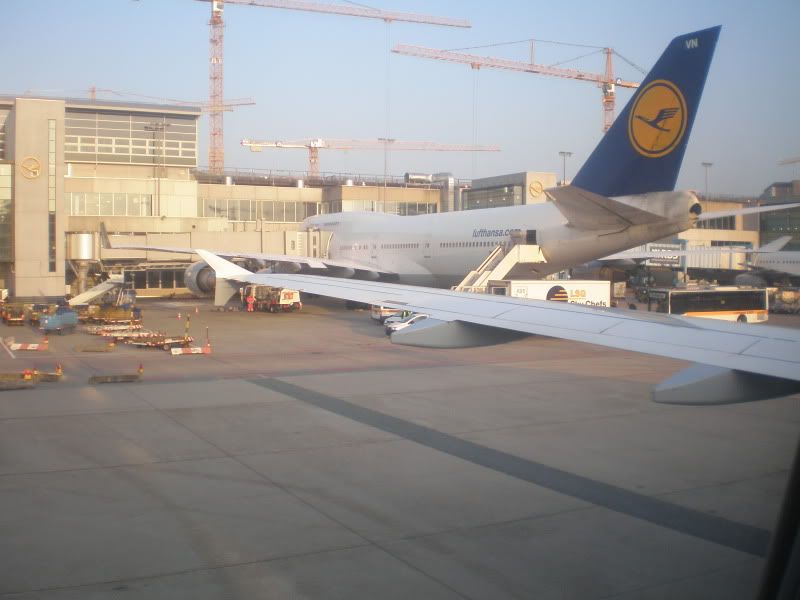 Really the Lufthansa Terminal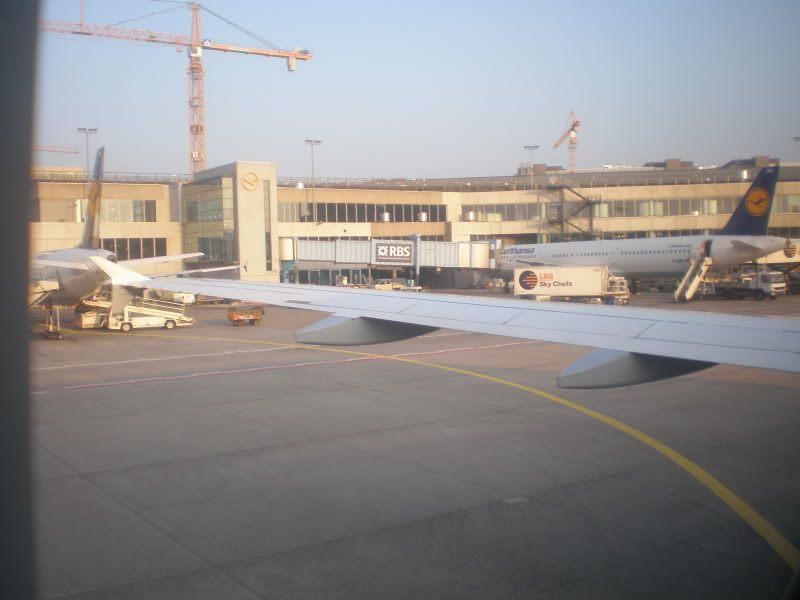 Frankfurt is a big airport, but since we arrived at the B-pier and the Qatar Check-In pier was located there also it was not far to walk at all. We could have used the transfer desk as well, but I prefer to be able to walk around the airport a bit since we have 3 hours for the next flight.
In my best German I greeted the grandmotherly check-in lady, but to my surprise she get back to me in fluent Dutch... With Qatar you have to present yourself at the desk, most probably because of the Credit Card and visa check.
Not busy at all at this moment, but it can be more busy as I saw later.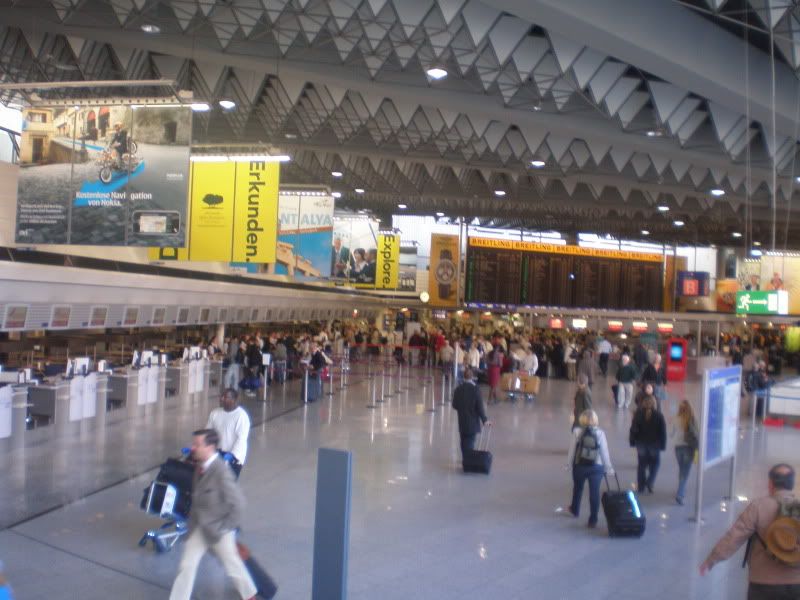 Exploring Frankfurt Airport we end up at the Mc Donalds.... they actually have a nice location and the hot chocolate and pancakes are not that bad. The Schwip Schwap bought at the supermarket is actually my favourite though!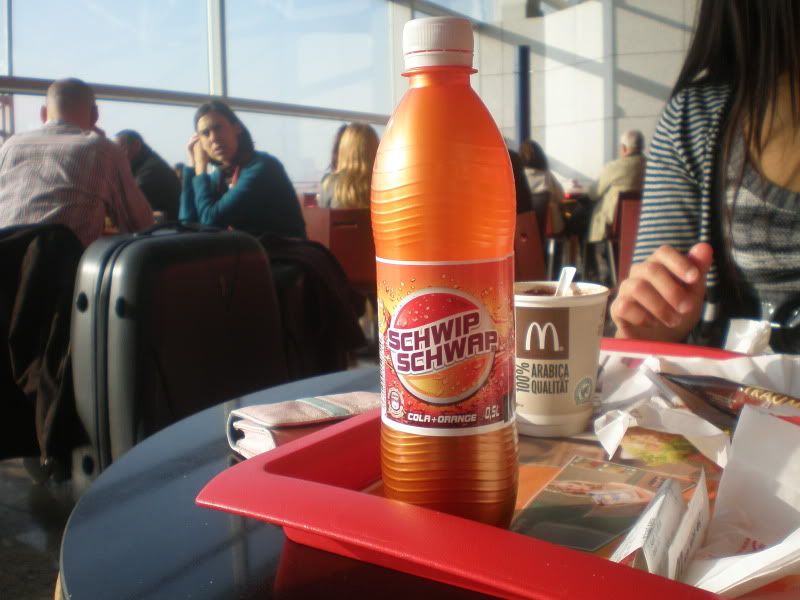 The Skytrain back to Terminal 1
Qatar Airways have arrived!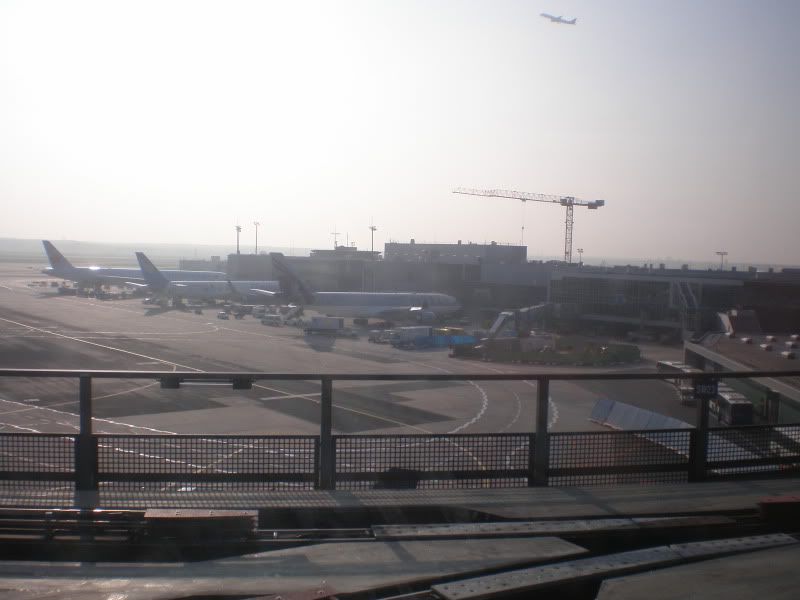 The security is a breeze, 2 years ago I had to wait 30 minutes, now the security staff have to wait for me before I put my coins in the backpack. I dunno what happend since last trip, but the staff is also a lot more friendly.
Qatar Airways up close!
Boarding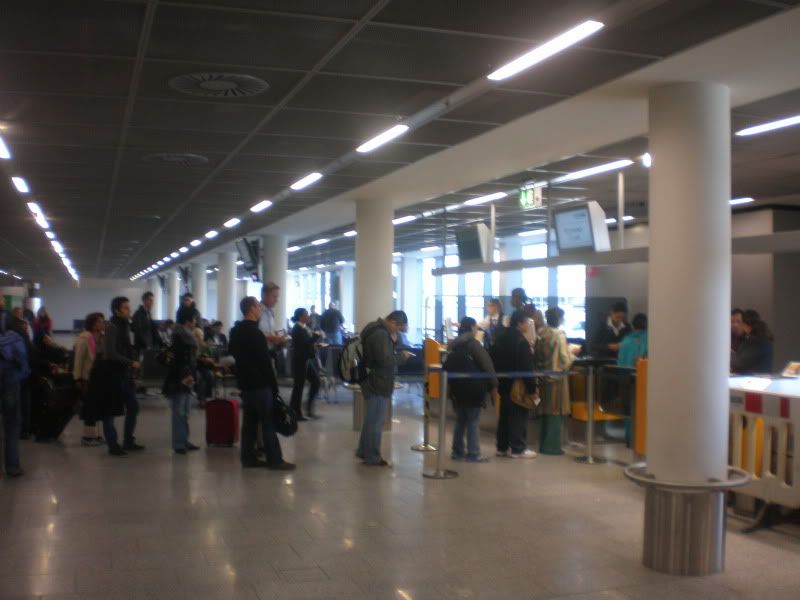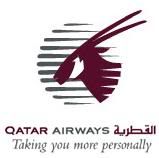 October 13, 2010
Frankfurt (FRA) – Doha (DOH)
Flight number: QR028
Departure: 11:55 (12:10) – 19:00 (19:05)
Aircraft: Airbus 330-200 (Unknown)
Load Factor: 95%
Seat: 37 A
This Airbus 330 was still equipped with the old inflight entertainment, small screens and the controls could only be used from the controller in the chair and could not be moved... Also the entertainment box is quite big and limit the legroom at the window seat, although when travelling together this is not that big of an issue. But compared to the 777 from Qatar this is a step down.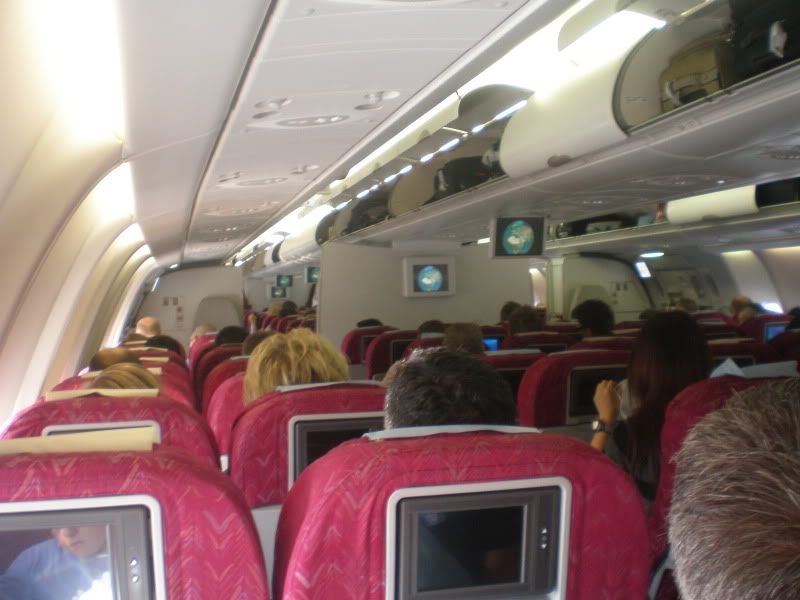 Slightly behind schedule we finally start moving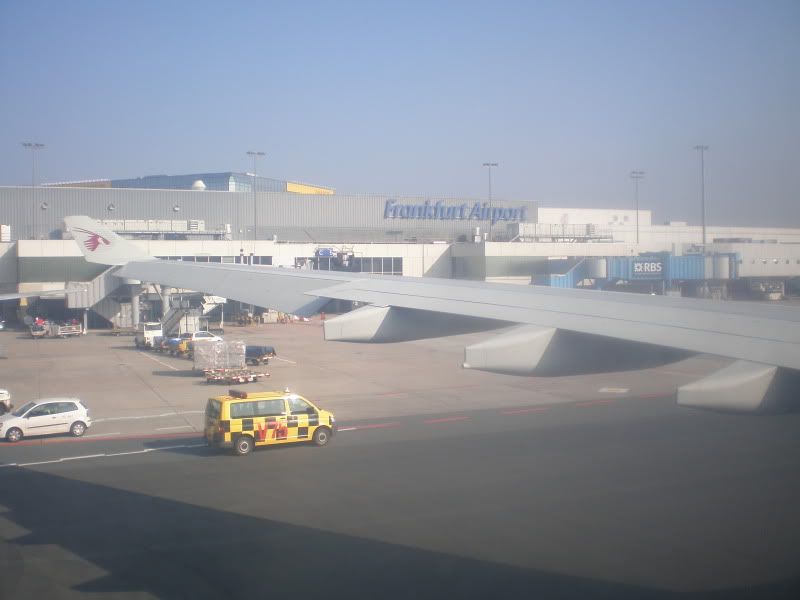 After a slow taxi finally things getting moving faster again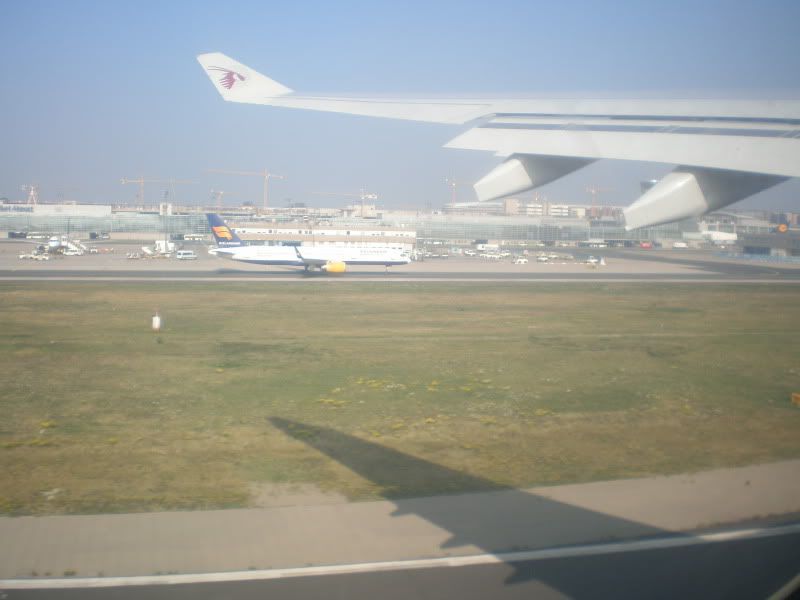 Frankfurt Airport from the sky.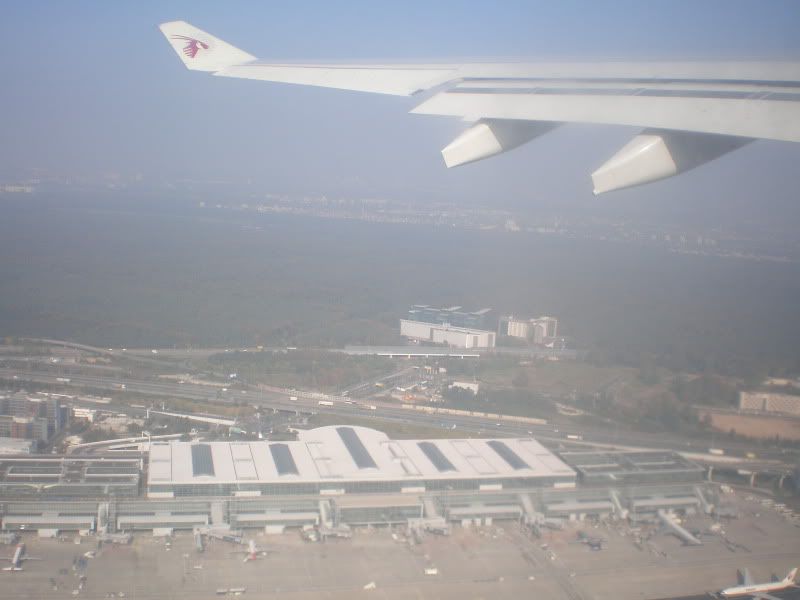 Commerzbank-Arena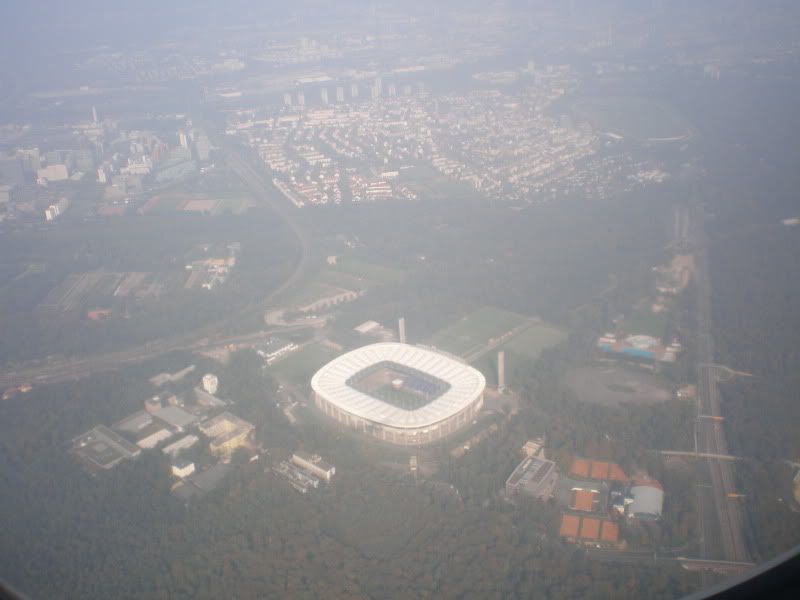 Overview Frankfurt
The first service is a drinks round and a small snack bag. Not the usual peanuts or almonds, but quite a interesting mix, sadly not to see on my picture...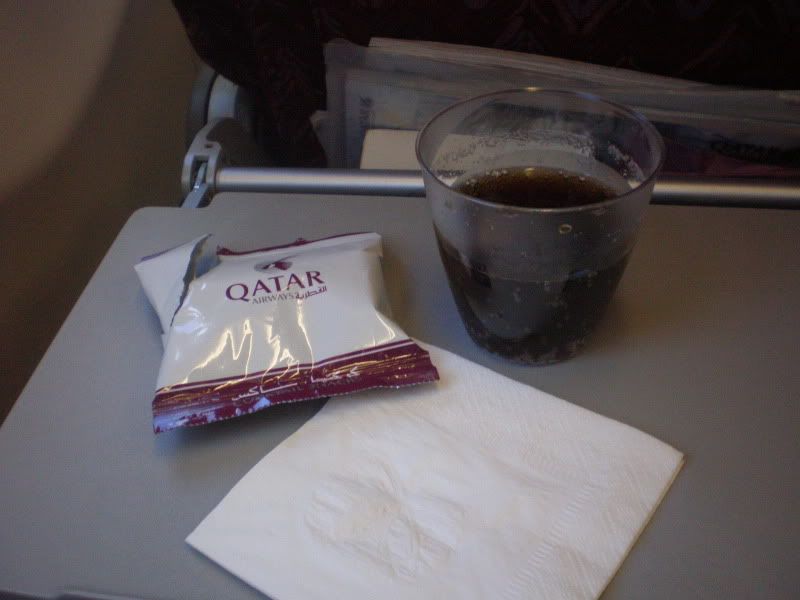 While enjoying the snack, I suddenly see a company plane at the left side.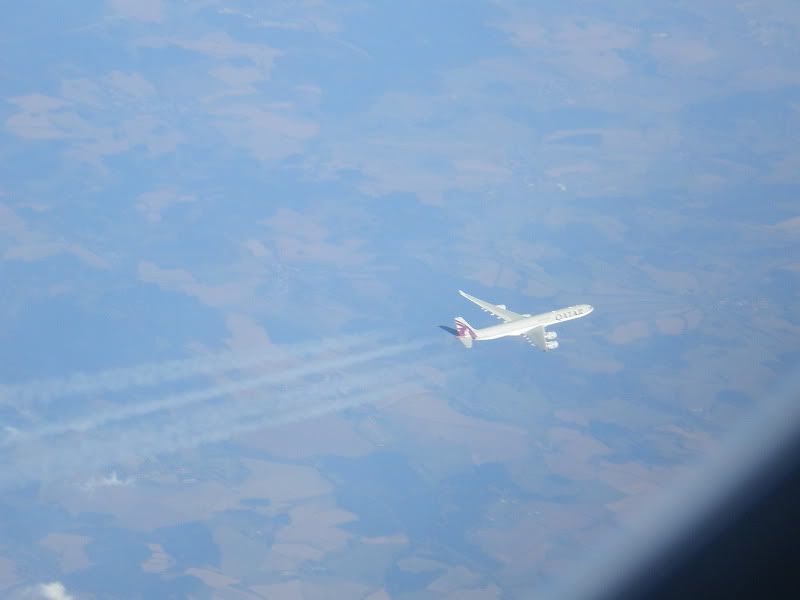 This Airbus 340 does go a bit faster then our Airbus 330, but we keep alongside for quite a while, until they take a more northern route.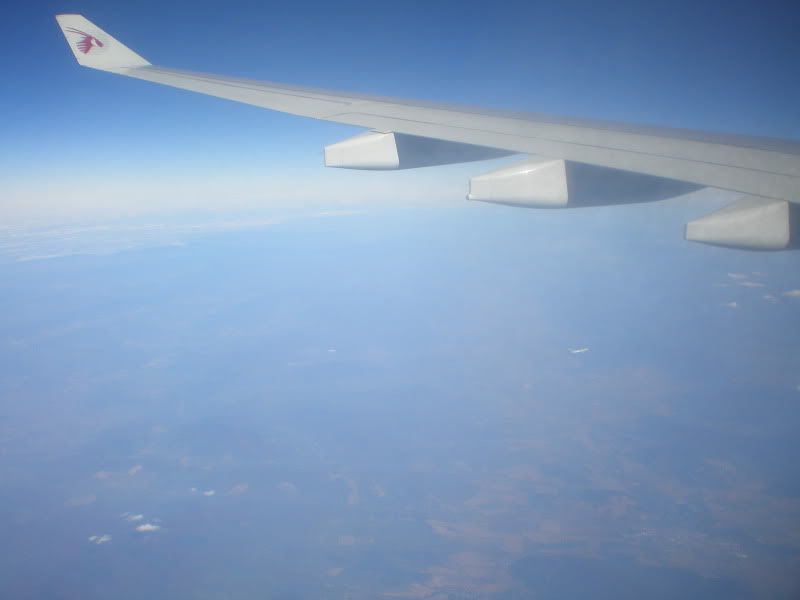 While I am able to eat a sandwich on the plane and eat some snacks, I cannot stand any hot food at all. Even the aroma of the other food around me get my stomach upset.
Good thing is that Qatar Airwas does offer the FPML (Fruit Meal Platter) on its flights. There are airlines out there who as cost cutting measures reducing the options for selecting special meals.
Qatar serve the special meals on the same time as the regular meals, a good policy, since you can eat together with your partner, the downside is that they do forget who have a special meal and you have to actively ask for it.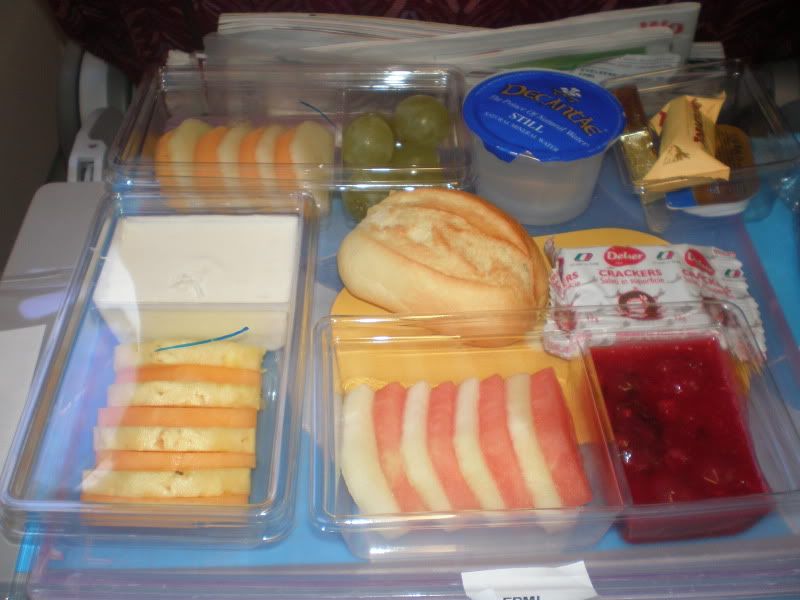 Seafood Pealla for my parter.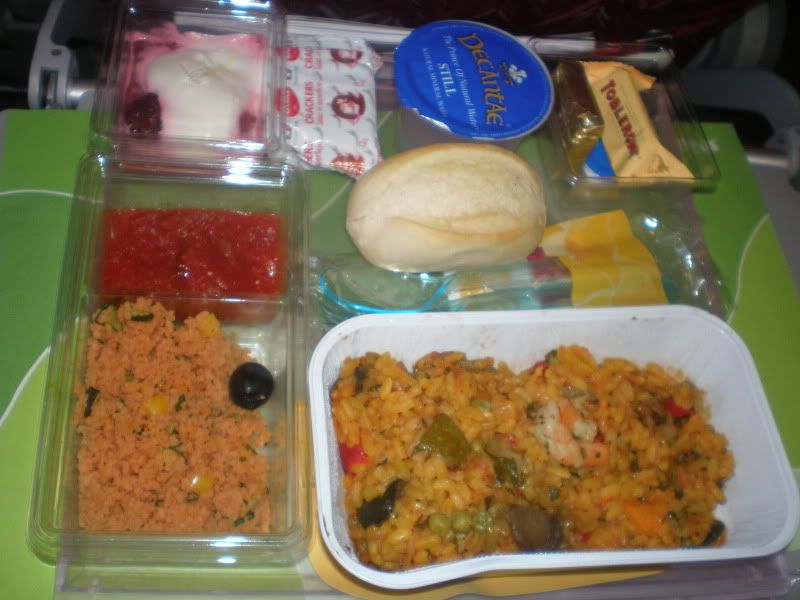 I was informed it did not taste good at all. But the sides, the yoghurt, the bread and the crackers with the cream cheese actually tasted quite good. Also they did serve another drink round when serving the meals, so you would not get thirsty.
Constanta Airport, Romania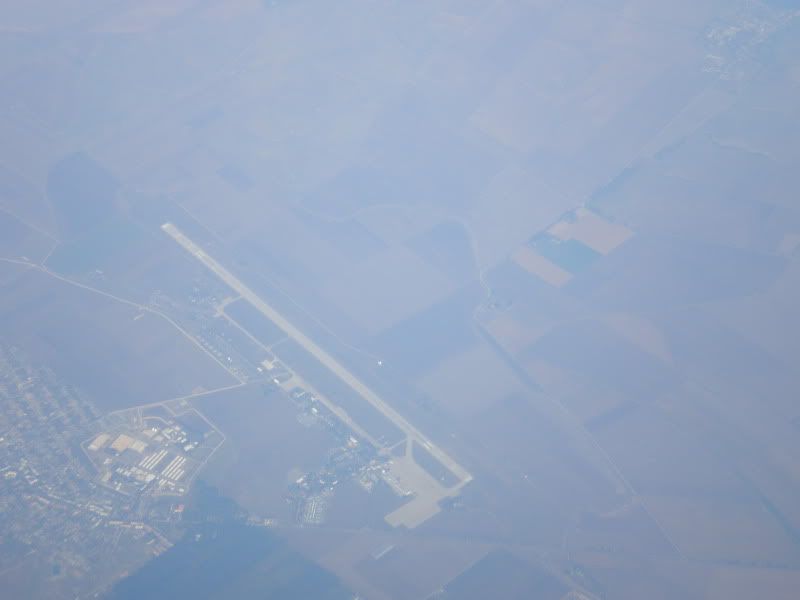 Cabin View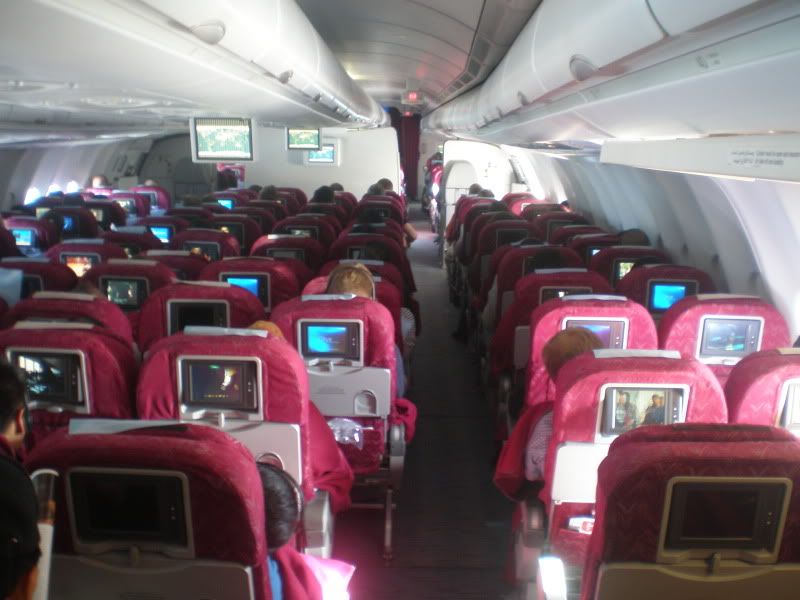 Cruising
Entering Iraq airspace.
Losing daylights, but the mountains still visible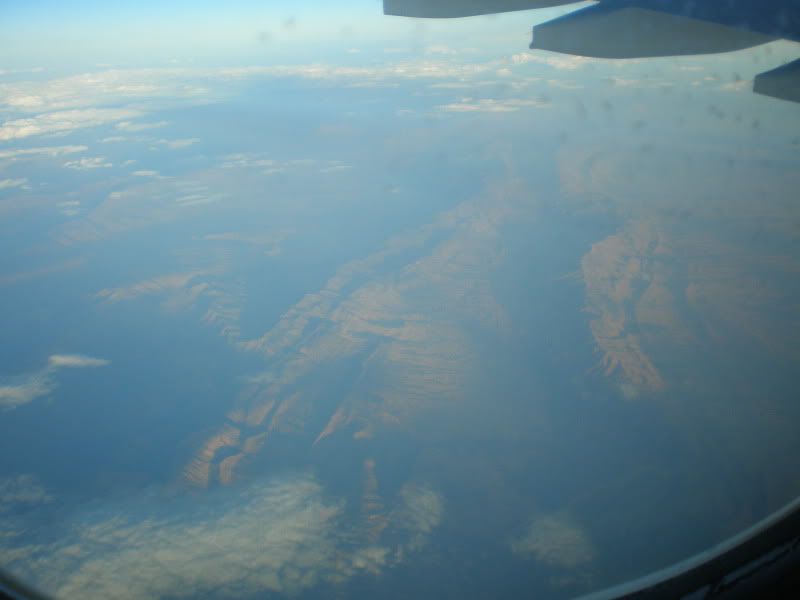 I search around Iraq where this was, but I cannot remember... somebody have the answer?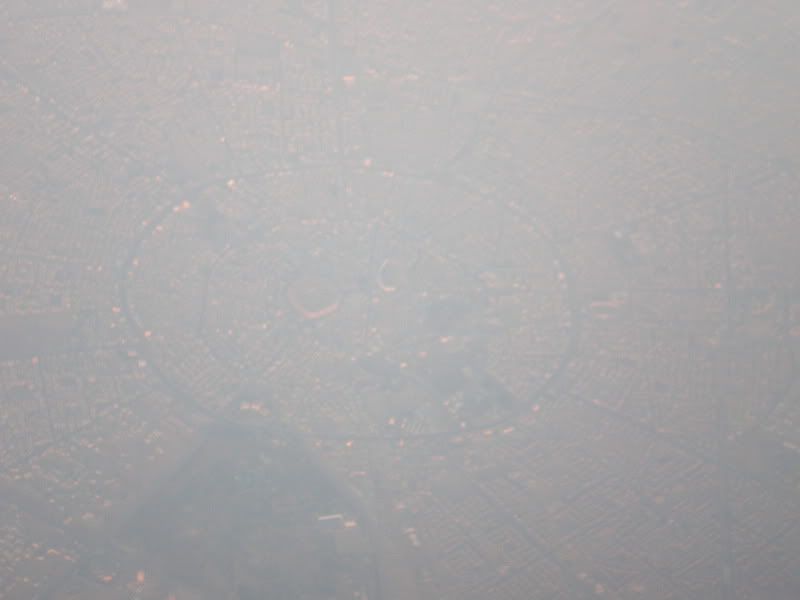 Last daylight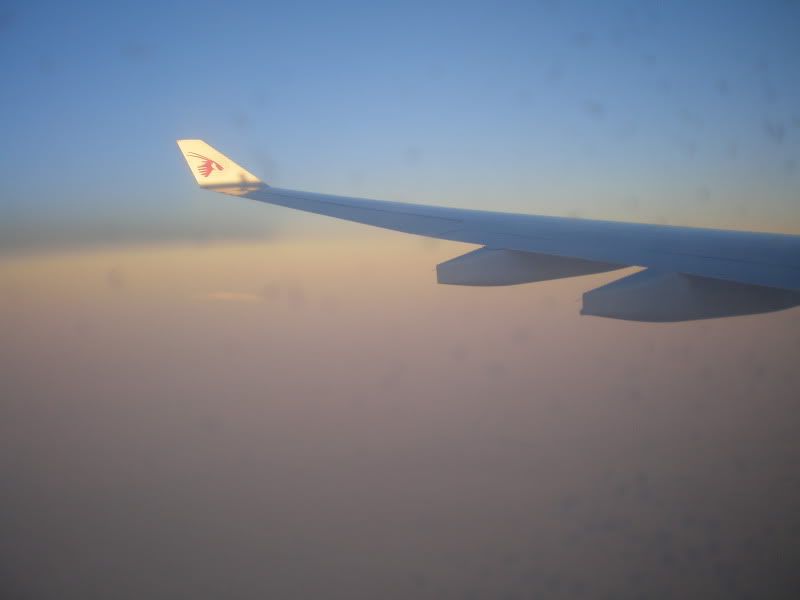 The flightime is only 6 hours, but Qatar don't want the passengers to get hungry, so about 1,5 hour for arrival the crew is back in action handing out an inflight snack.
For me it is a actually quite good yoghurt, kudos for Qatar catering
For my partner, it was a pie...
I looks okay form the outside, but, according to my partner, it is definately really bad, she cannot understand that someone will like this. After her first bite she asked for the lamb version, but that one was even worse. So no points gained for the Qatar catering from my partner point of view.
Getting close to Doha.
As said before, my camera is not good at all for night photographing, and while i did try, all the photo's looked bad, you cannot see a thing.
After arrival, we parked, as far as I could tell in a remote stand. I did not know how remote that stand actually was until the busride was over. I have read about people complaining about the long distance to the terminal, I thought they were a bit overreacting, but they were not. I mean, 13 minutes when the doors from the bus closed until we reach the terminal building without slowing down is really a bit far out of the way, and really there should be some space more close to the terminal available.
7 pm is also really busy, because when I arrived in the terminal I saw this.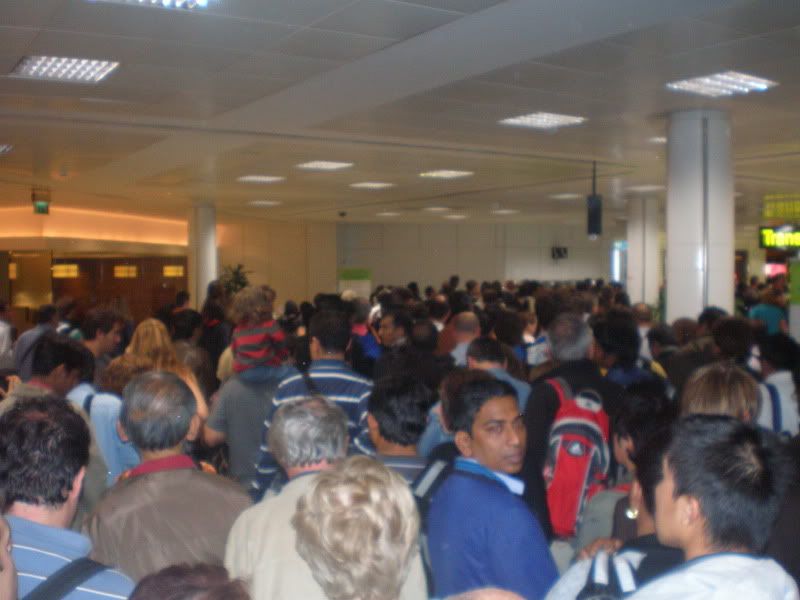 Total chaos, as I had 12 hours until my next flight I had time enough and was in no hurry at all, but people really forcing their way through, shouting, and had no manners at all.
In the end it did took 45 minutes to get through, and there were a lot of announcements for people to come forward if they had short connections. The security checks itself was laughable, I have the idea this was really compulsory and the scanners were set on machinegun before they react, not 1 bag was put asside, and not 1 time the scanner beeped, I doubt if it was even on. (No problem for me, it were al transitpassengers so I did not feel insecure).
One tip, if you have a short connection, try to select a place at the back of the plane if you travelling economy, you will be the first of the plane.
At the time of booking I looked at the options for a hotel for a reasonable price. For me it was not a problem to get into Qatar, for my partner it was, and ofcourse Qatar was happy to help, but 250 euro for 12 hours hotel is a bit over the top.
At the other hand, 12 hours at Doha Airport in the public area is also not really something to look forward to, so I decided to book the Oryx Lounge.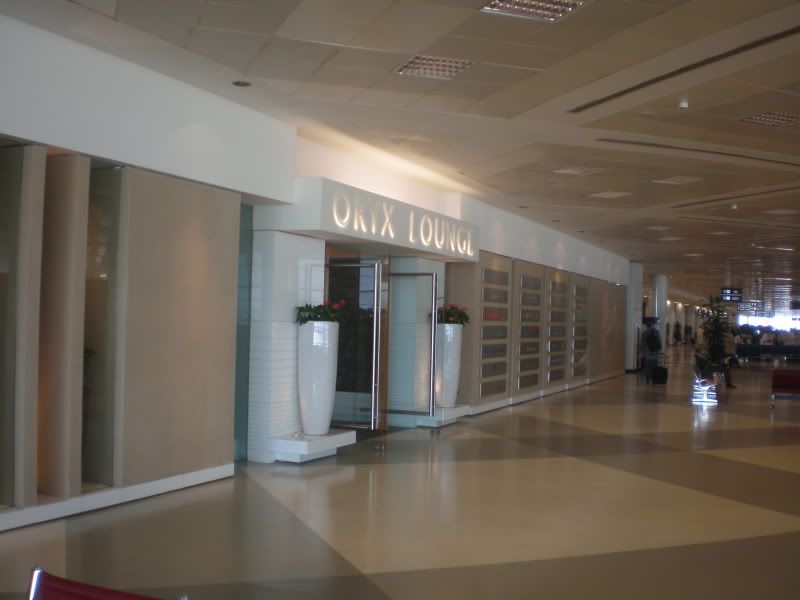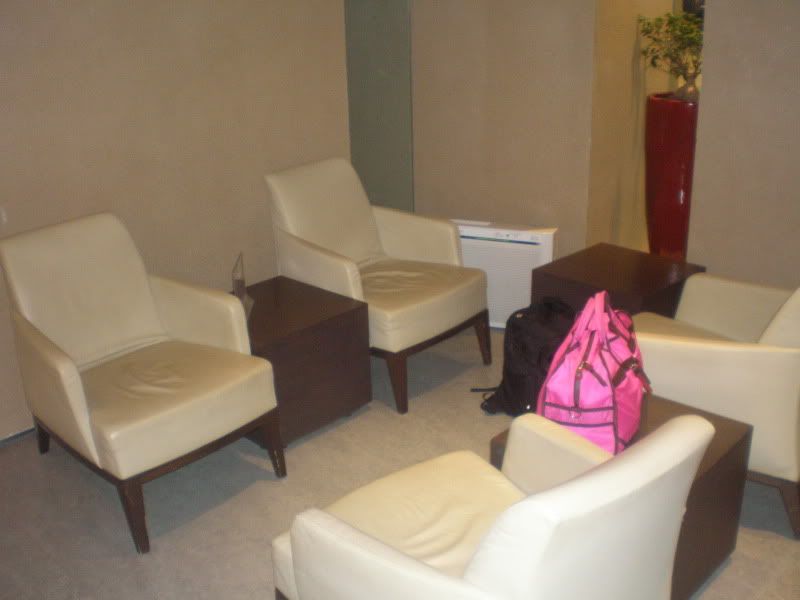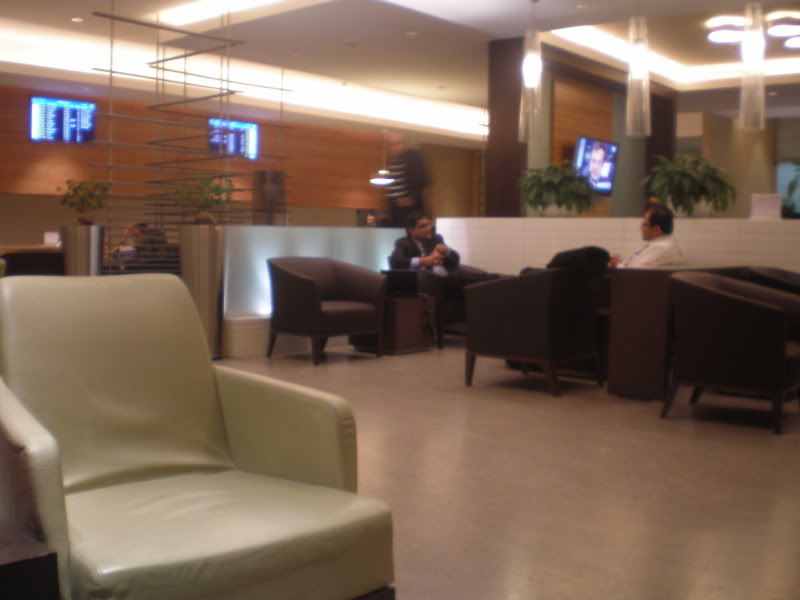 The lounge itself was quite okay, unlimited soft drinks, and alcoholic drinks could be had when asking them at the staff. The food was okay, but limited, and some nice salads run out and could not be refilled. The chairs were comfortable, and when put together you could manage to get some sleep.
The booking was actually only valid for 6 hours, but I read they were not really enforcing that. To be sure they had no chance I asked for a towel before the sheduled end time, sadly my partner did not, and when she was in the shower they asked if wanted to extend my reservation.
Fair enough, since I was in there already for 9 hours, but I did not want to extend for 2 hours really, and since they not forced me to go out before my partner was finished showering we only had to spend the remaning 2,5 hours in the general terminal.
It looks nice and quiet actually
The foodcourts are overpriced though.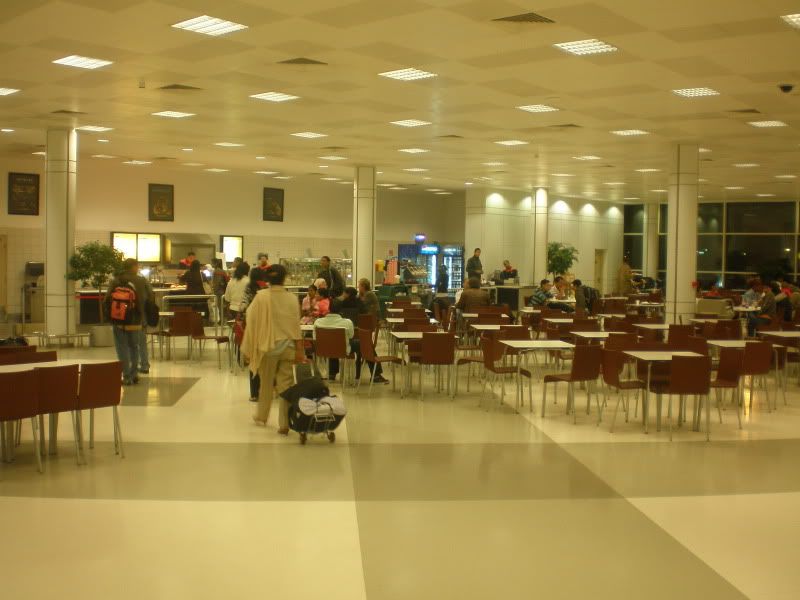 One big (expensive) duty free shop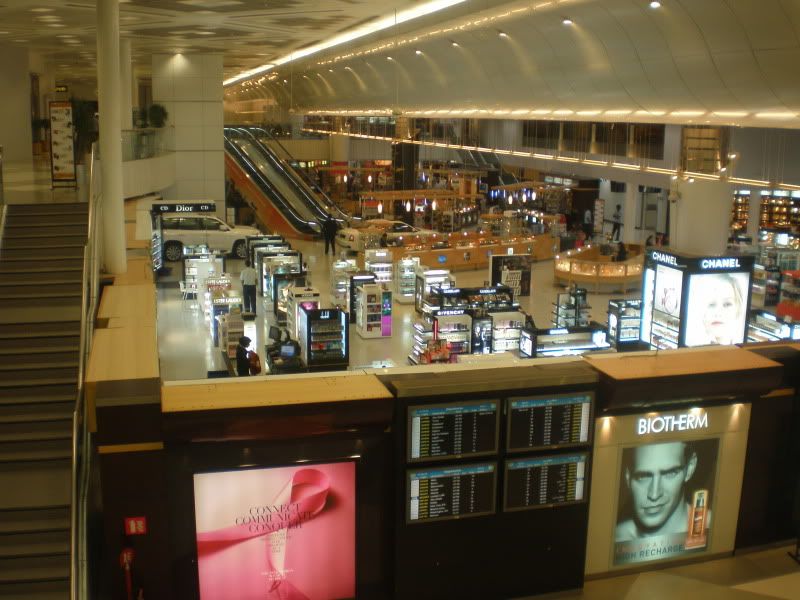 The lower gates seemed to be used for 'local' flights.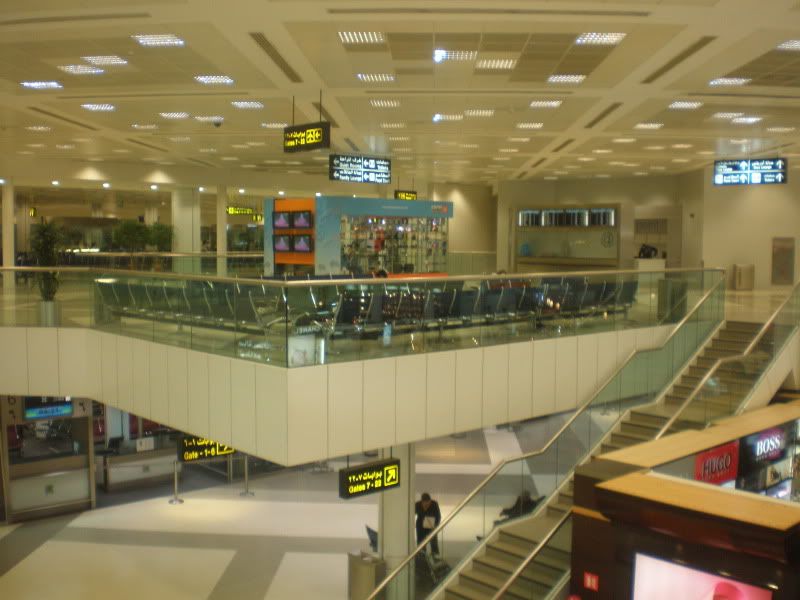 The sun rises early!
Nice and clear sky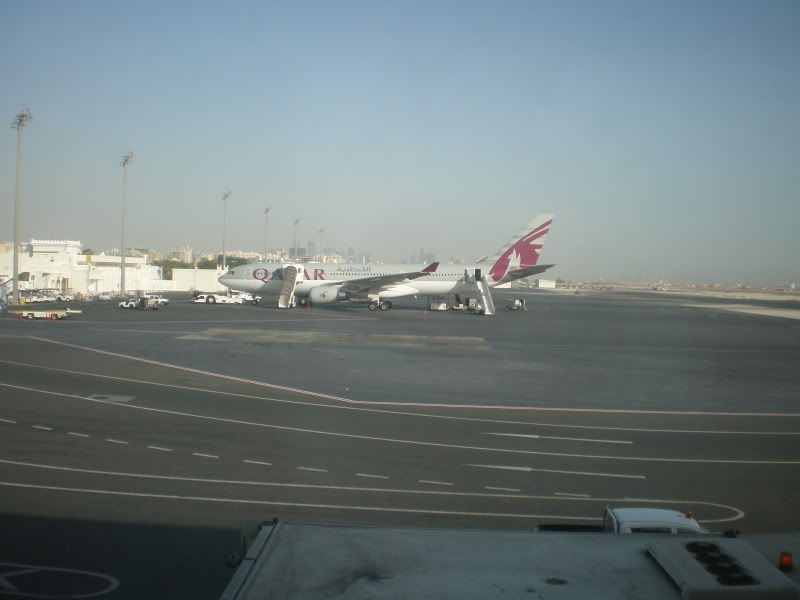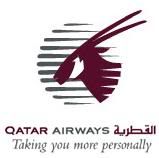 October 14, 2010
Doha (DOH) – Bangkok (BKK)
Flight number: QR610
Departure: 08:10 (08:20) – 18:55 (19:05)
Aircraft: Airbus 777-300 (Unknown)
Load Factor: 91%
Seat: 39 H
The best part of an airport without jetways is boarding by stairs!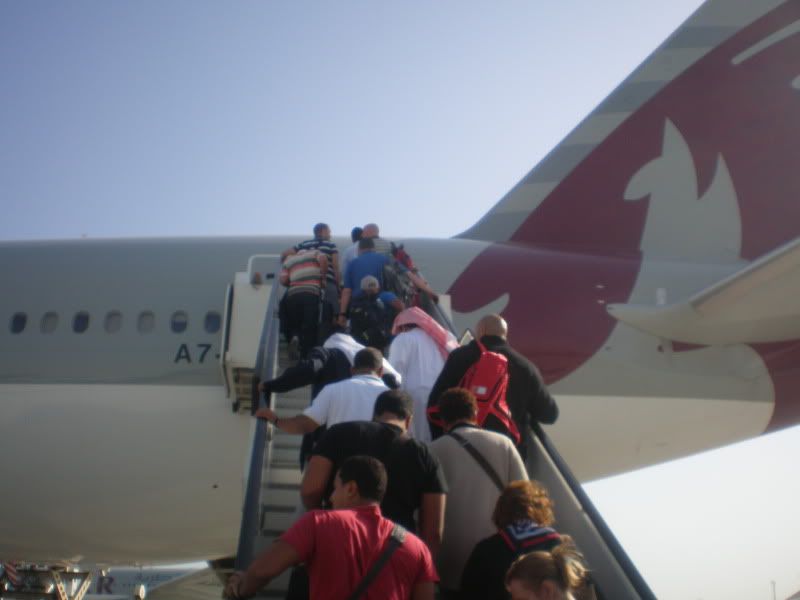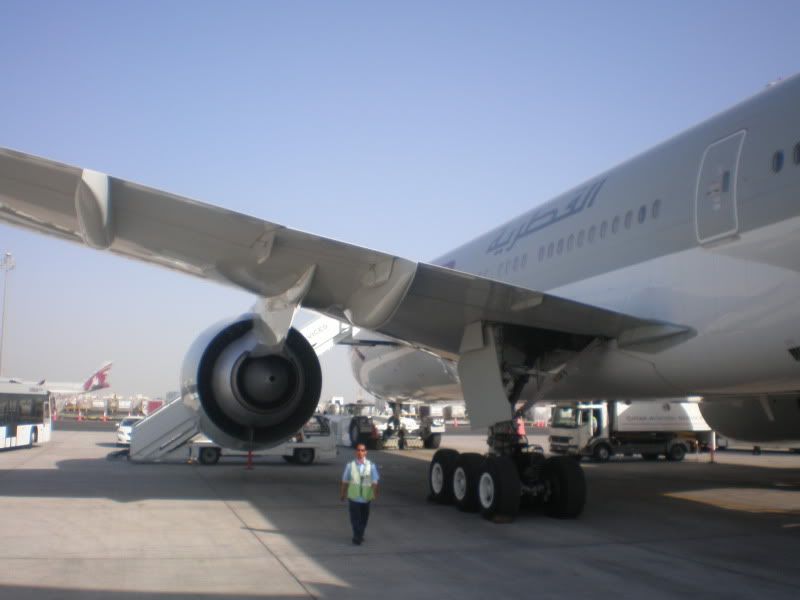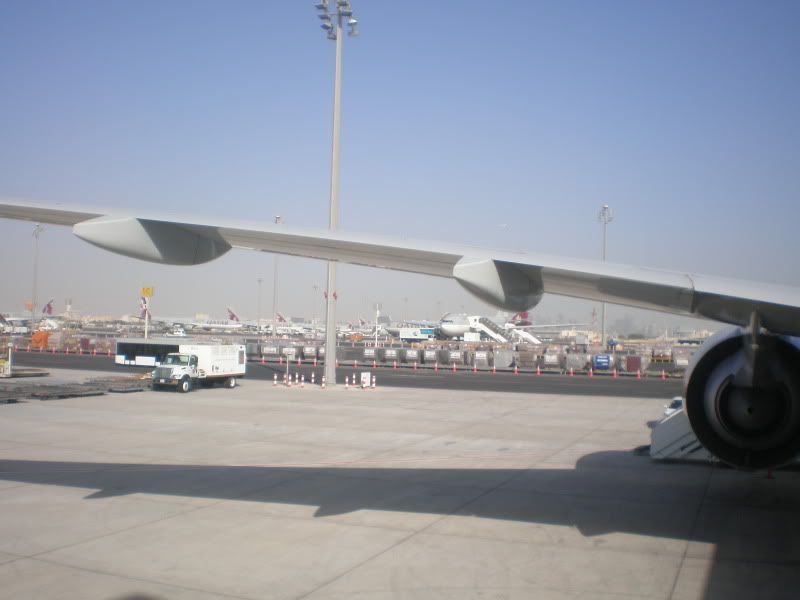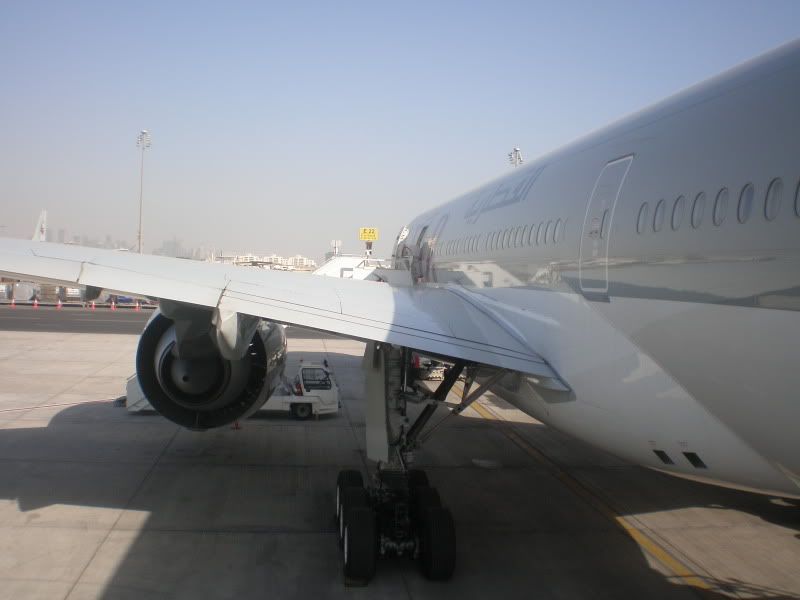 Would that be the plane seen flying around earlier?
Passengers getting seated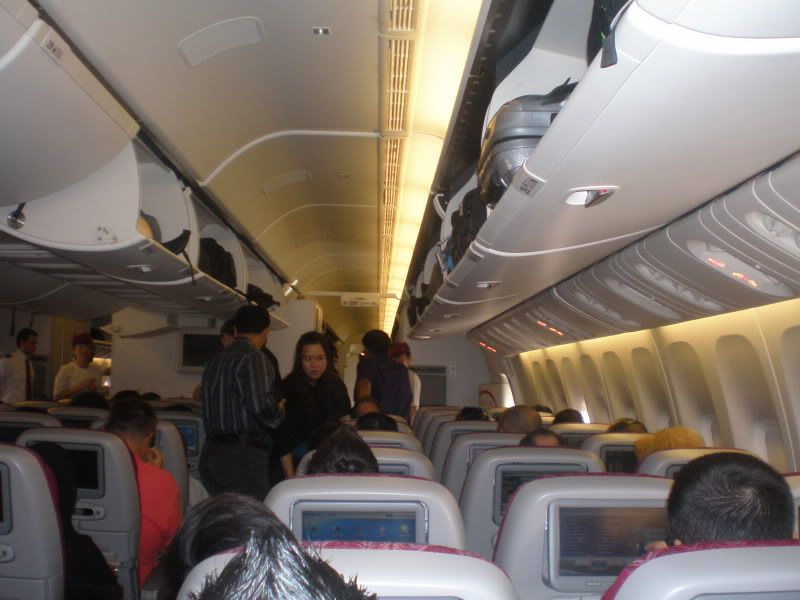 Sadly this flight I could not have a window seat. There was a Thai man, sitting there, and actually I did want to sleep anyway and preffered the aisle seat. It turned out he was supposed to sit Business Class as his daughter working for Qatar Airways, but because it was full he, as non revenue flyer was downgraded.
This would limit my picture taking for this flight.
Just after take off.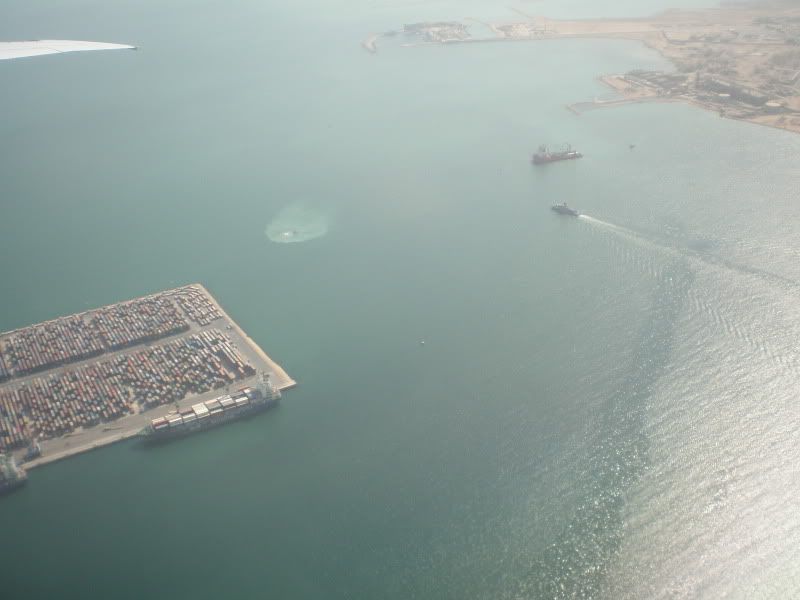 Dinner is served!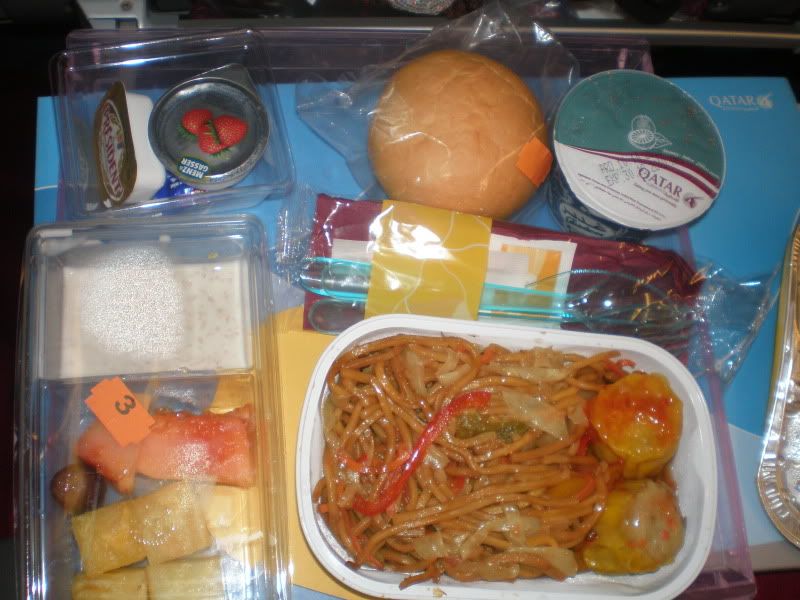 The fruit platter was 3 times the fruit thing in this picture. My partner enjoyed this meal and mention this is the best inflight meal she ever had. The snack service toward the end of the flight was a big dissapointment again for my partner, the exact same pie's were handed out, and for me a small fruit basket. Not too bad actually, although I did give it to my partner.
As it was getting dark no more options to get any nice photo's. The entertainment system in the 777 is superb, big screen, and easy to use controls. The selection of music is big, as is the selection of movies and TV series, and they do add some movies every month.
Arrivel was slightly delayed, but not really a problem, since the most time is getting through customs around 7 pm Thai time anyway, there are actually a load of widebody planes arriving at the same time. But at least the luggage is on the belt once through customs.
As mentioned earlier, there was not much room for changing travel dates since I booked quite a few Air Asia flights for unbelieveable cheap prices. For 2 persons from Bangkok to Bali for a total of 35 euro including tax is cheap and a deal not to be missed.
Getting to Bangkok Airport at such an early time from Chonburi is impossible by public transport, so we had to overnight at the airport. There are many choices in Lat Krabang, and they all offer transport to and from the airport included in the room rate. Silver Gold Garden was my choice, and not bad at all for only 15 euro.
Too early was the sound of the alarm clock, but hey, if you want to fly cheap, you have to make some sacrifices.
Check-in was quick. Self service machine have arrived by Air Asia and by using them you can cut the lines, especially if you have no luggage to check in.
Do make a seat reservation online if you travelling together, it is only 1 euro or so and you are guaranteed to sit together, otherwise the system just assign you a seat, and it might not be together.
Pasport and security control at this time of day is quick, actually, since the new lay out of security at Bangkok airport after immigration it is never busy, and you are able to bring some drinks on board the flight if you wish.
Thai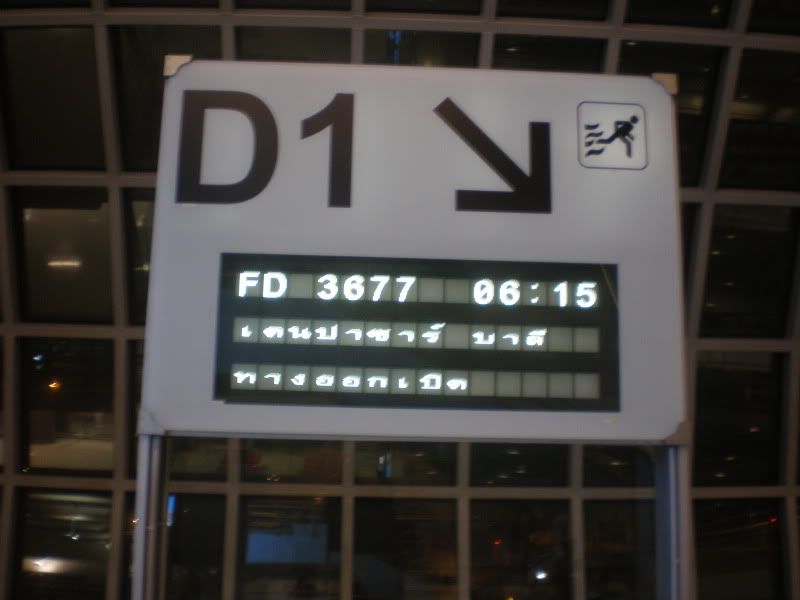 English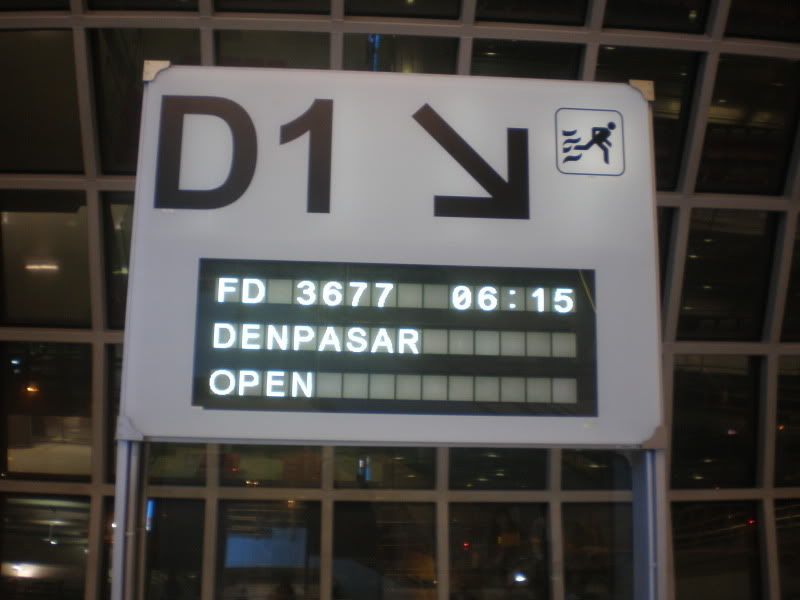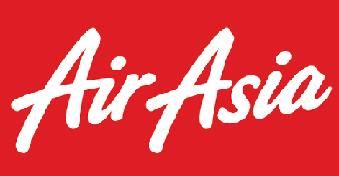 October 18, 2010
Bangkok (BKK) – Denpasar (DPS)
Flight number: FD3677
Departure: 06:15 (06:25) – 11:30 (11:25)
Aircraft: Airbus 320-200 (Unknown)
Load Factor: 80%
Seat: 30 A
The seatpitch in Air Asia is tight, but luckily there is no one in between us, so that saves my knees. I cannot think of sitting 4 hour in this plane with someone beside me.
Finally we are moving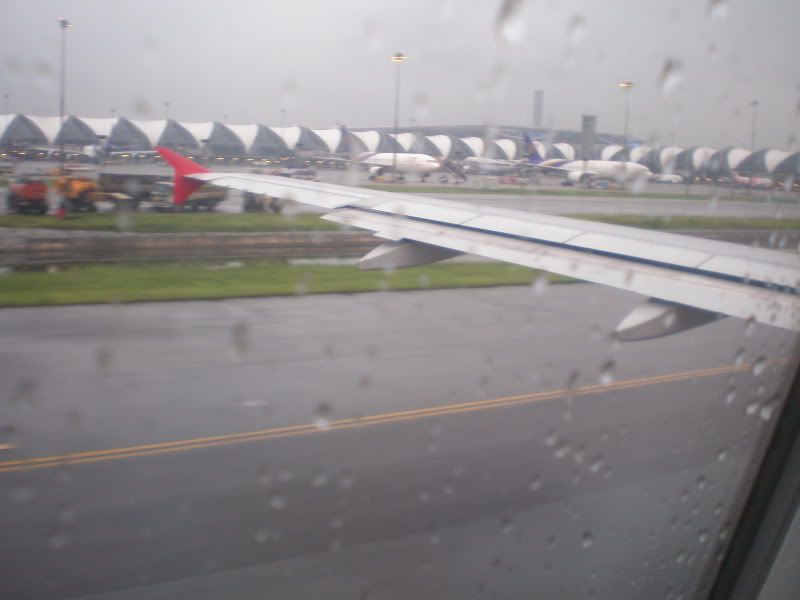 Rainy day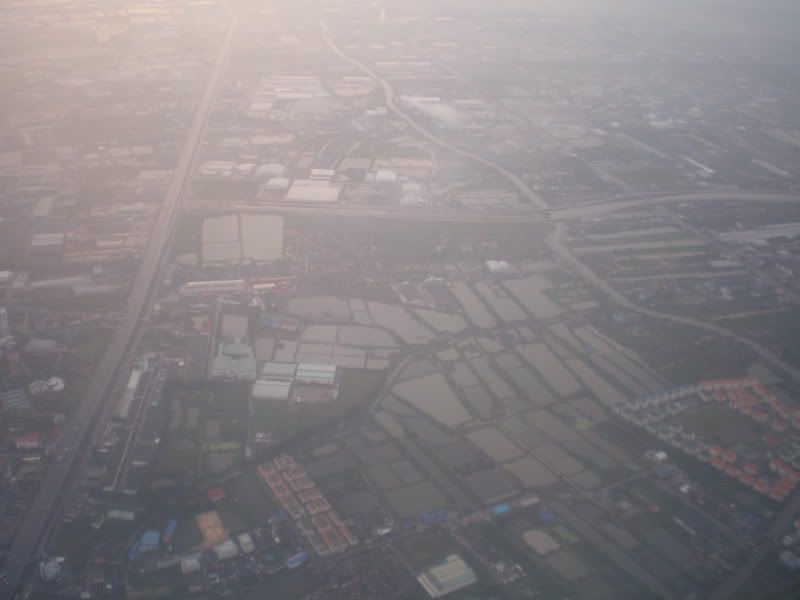 But soon we are through the clouds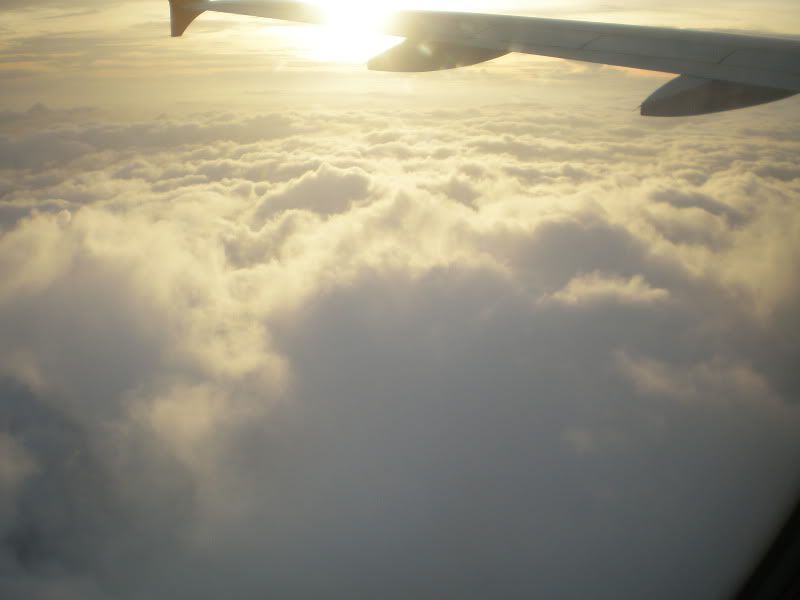 The couple behind us annoy me quite much, well, the male member of them, since he is putting his knees in my seat, which make my seat actually come forward. I understand that you might feel cramped, but this is not the way to gain some space.
After a few hard punches with my seat he gets the message though and change seats with his partner.
Inflight service started
Bad thing is, that eventhough we reserved our sandwich online, we are not on the list, good thing I print out the confirmation and do get the sandwich, but I have heard otherwise. And try to get money back from Air Asia is not something you want.
I love those clouds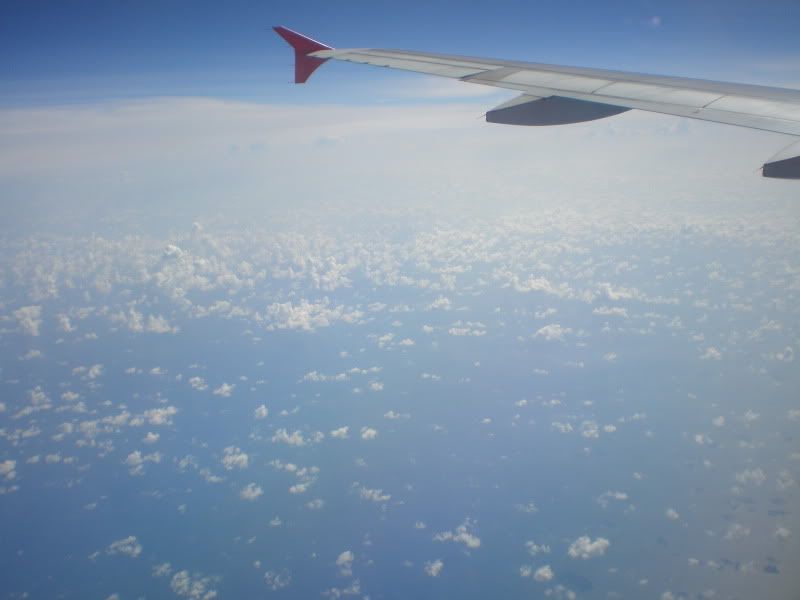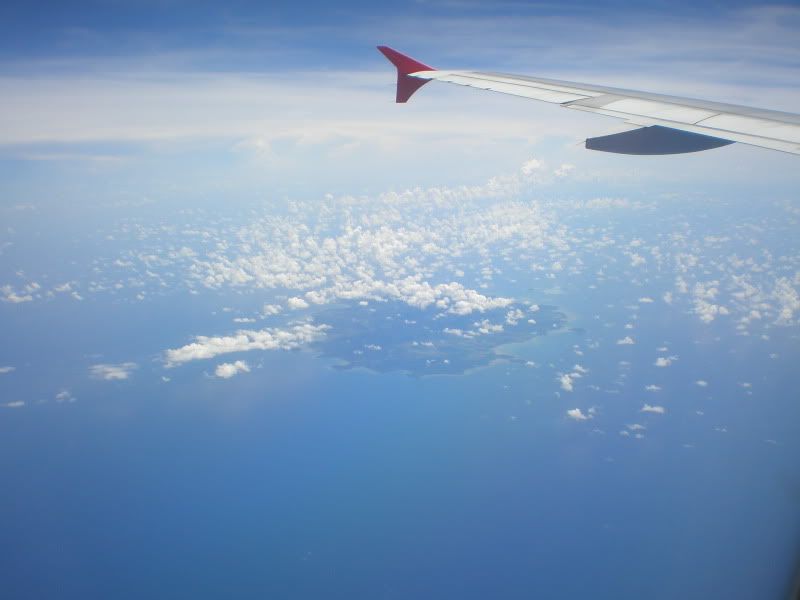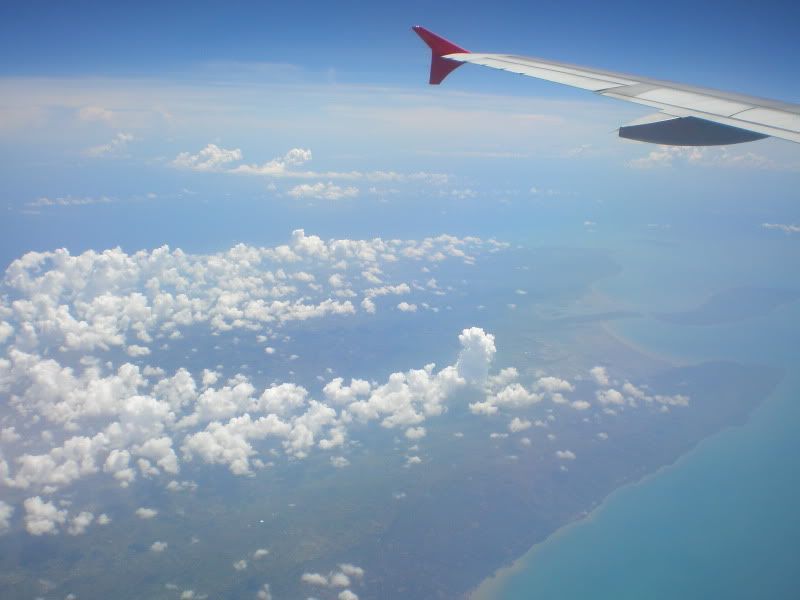 Getting close to Bali, this vulcano appears not to be active, still it is an amazing view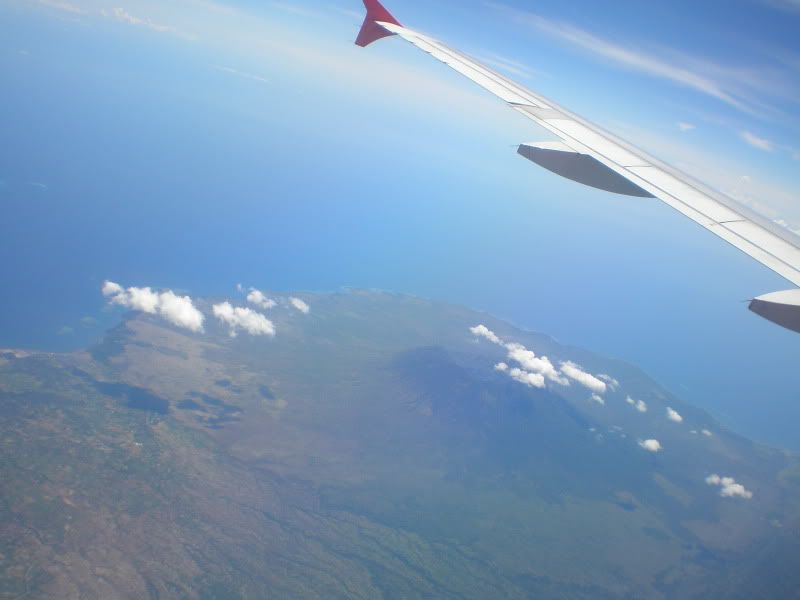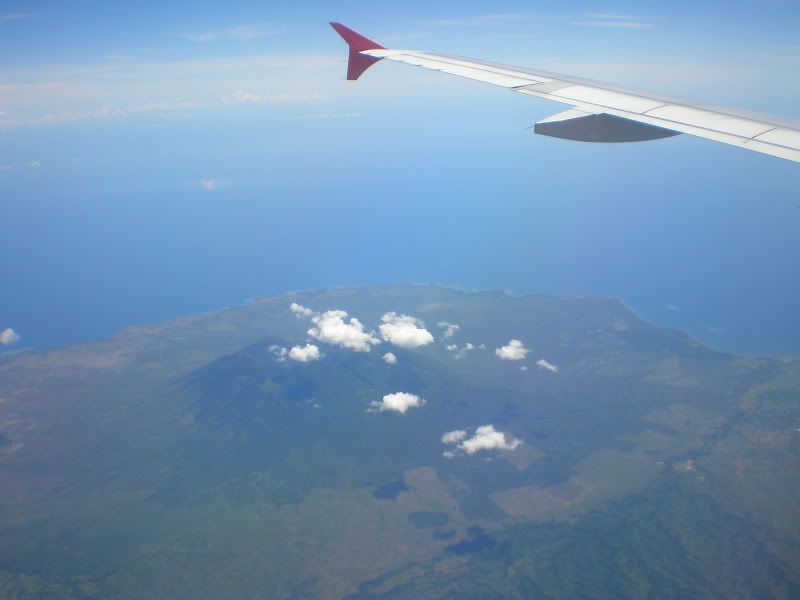 Alongside Bali Island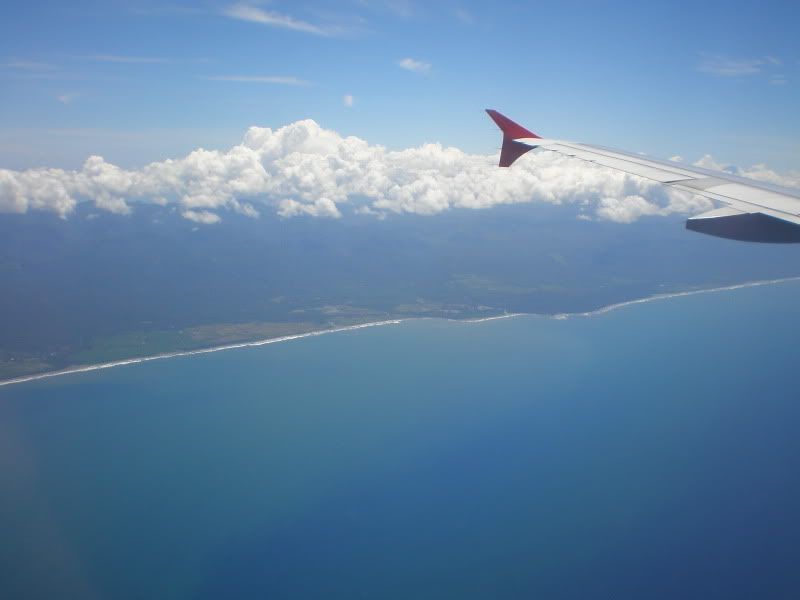 Just after landing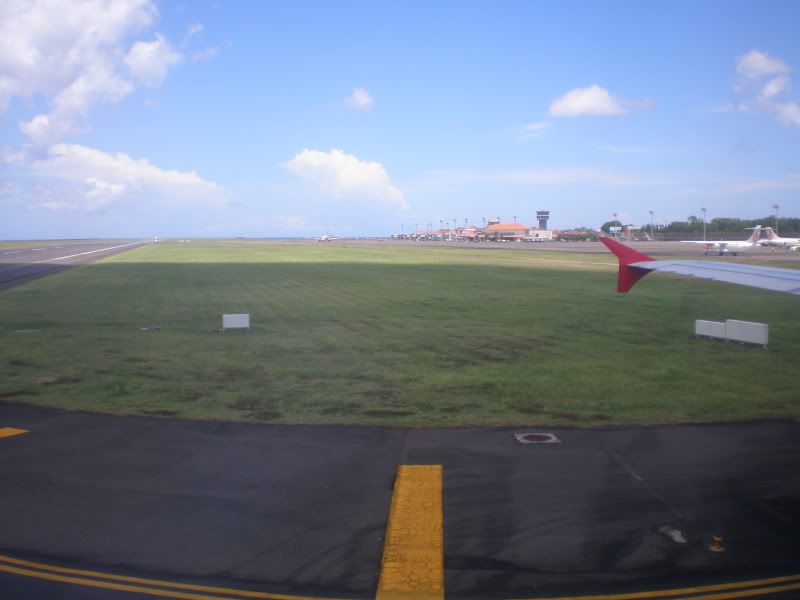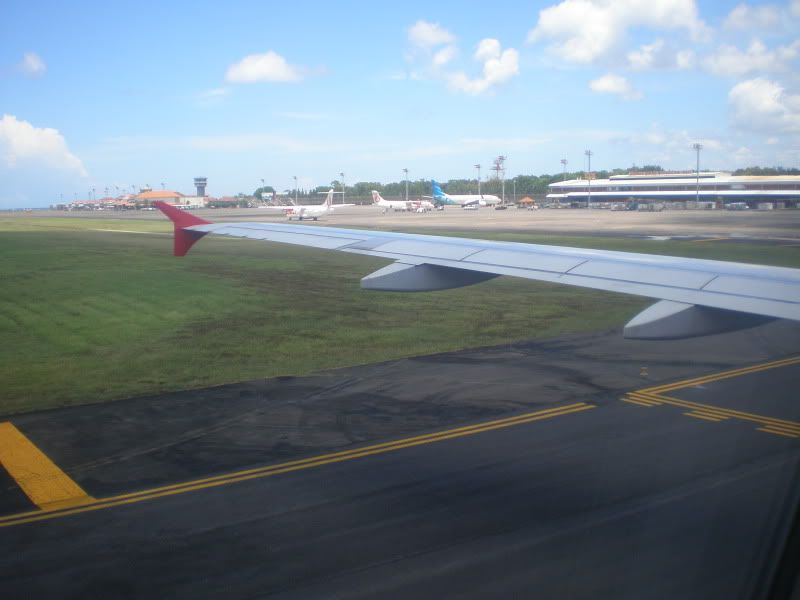 Not busy at all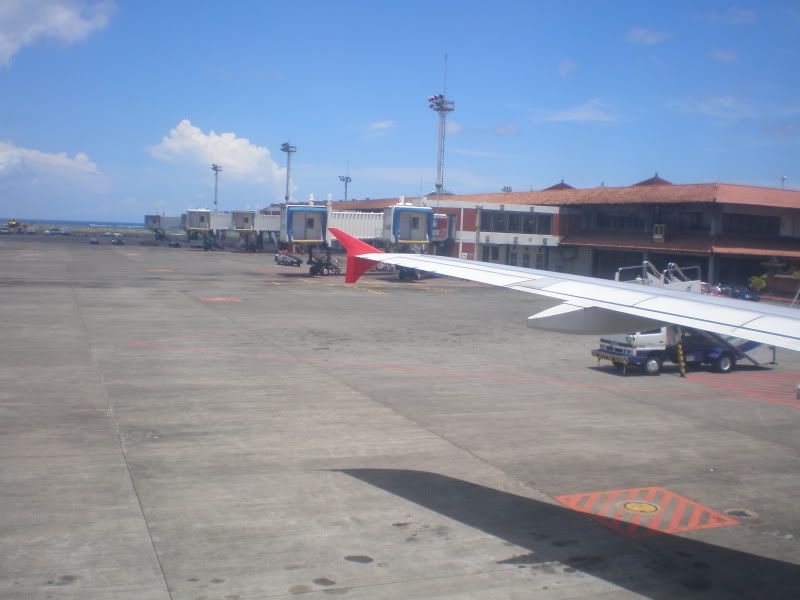 It is indeed not busy at all, and there is no line for the Visa On Arrival office, and there is also no line for immigration. As we have no luggage, we are out in the public 10 minutes after landing.
Relaxed atmosphere.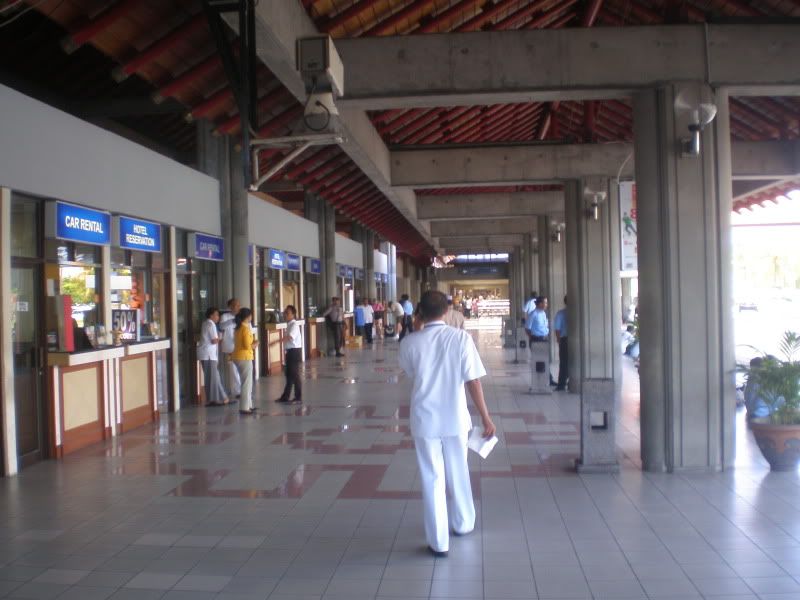 Bali is nice, although getting more and more traffic jams. Taxi drivers sometimes advise to walk rather then to take a taxi to a certain area. There should be a better way of public transport to get the roads less busy. Although outside of the tourist area from Kuta or Seminyak it is much better and you get stunning views of the Island.
To get back to the airport is only possible by taxi, but to get to the airport is about half of what you pay to get from the airport, since to the airport there is not fixed pricing.
Denpasar airport itself is not super busy, although the Air Asia lines can be long, with the new self check-in service installed you can bypass the lines though.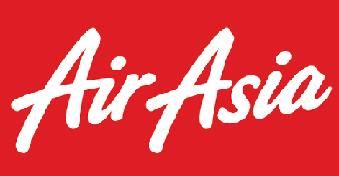 October 18, 2010
Denpasar (DPS) - Bangkok (BKK)
Flight number: FD3678
Departure: 12:00 (12:15) – 15:20 (15:20)
Aircraft: Airbus 320-200 (Unknown)
Load Factor: 90%
Seat: 30 A
The plane was slightly delayed inboud, hence the late departure. The shedule is not like Ryanair that padded, but we managed to more or less make up for the delay.
Sadly I don't have pictures for the way back, the camera battery was dead, and the charger was left in Thailand. But it gave me some time to relax watch outside the window en enjoy my pre orderd hot dog, although the Thai version in Air Asia lacks of any sauce.... But actually not bad at all.
Thailand is nice, but with the Air Asia sale it was also possible to book BKK-KUL-BKI-KUL-BKK for only 30 euro including tax, adding some Tune hotels in it, and you have a rather nice cheap trip around Asia.
To get to the airport was possible by public transport this time, always nice to ride up to Bangkok Airport, much better then Don Muang.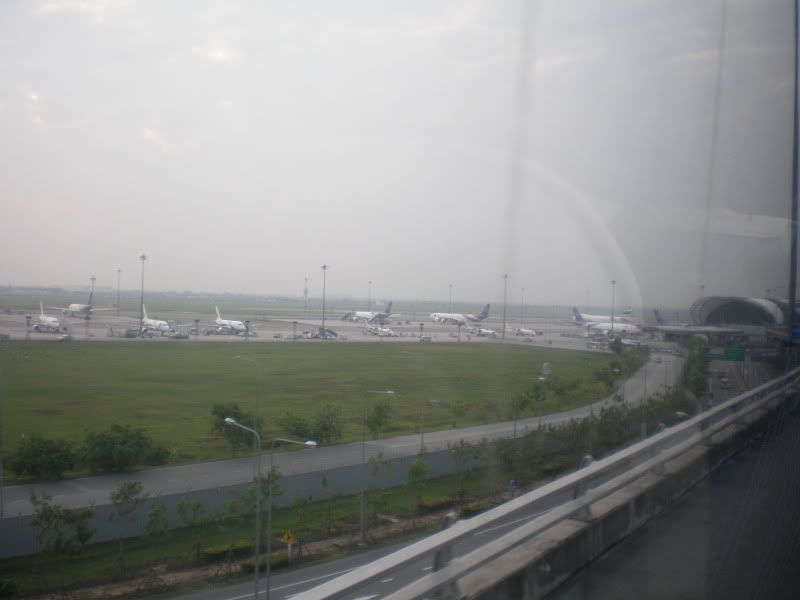 Not looking to busy at this time of hour.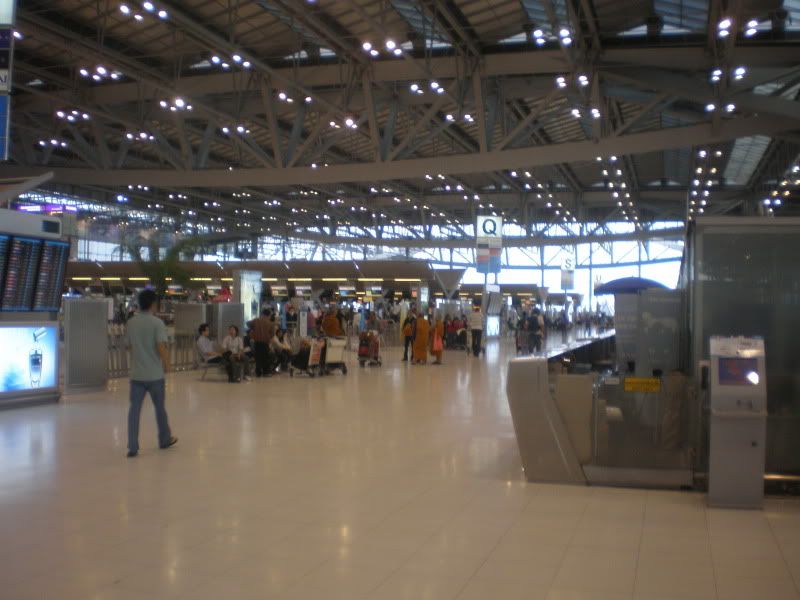 Since I had some time to spare I decided to walk around a bit, and try the small food court downstairs at the left side of the airport, normally I go the bigger one at the other side, but this one is not to bad actually. The weather was sunny, but at this time of day it is actually kinda nice, and walk to the Airport garden.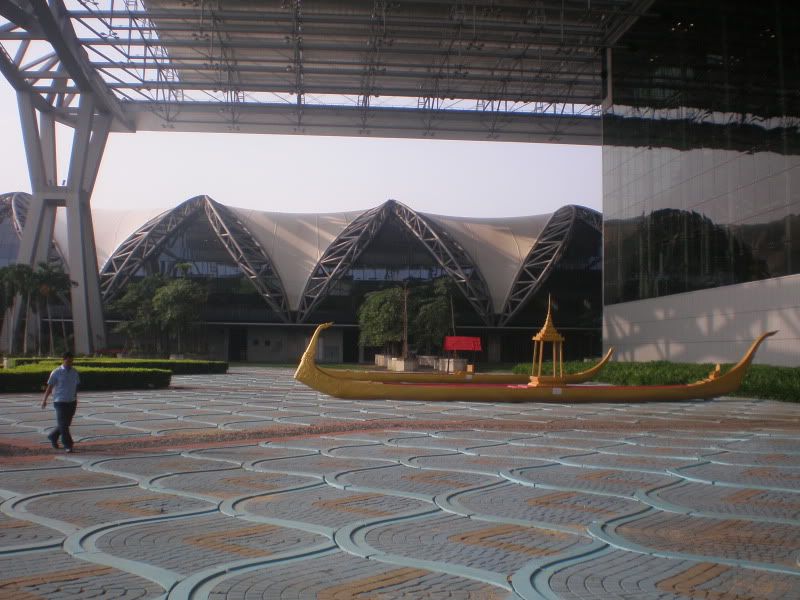 Not many airports where you can have such a scenery.
After a short while outside it was time to get through immigrations and security, this time it was rather busy with russians who where eager to get soon onboard their 11 hour delayed flight, and they were in a hurry to get through.
D8 was the departure gate, and this gate is one of the few gates which make it possible to actually get a decent shot of the airplane.
Just arrived from KL.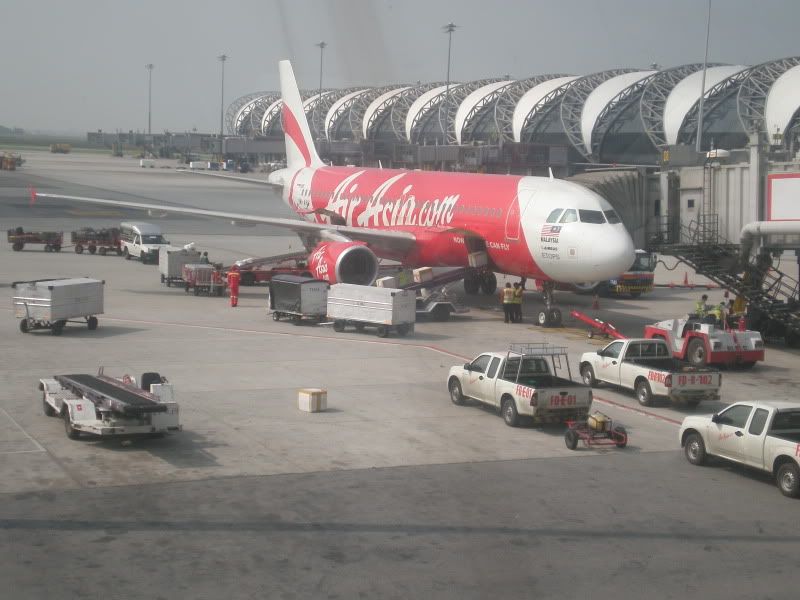 Todays flight not appear to be that busy;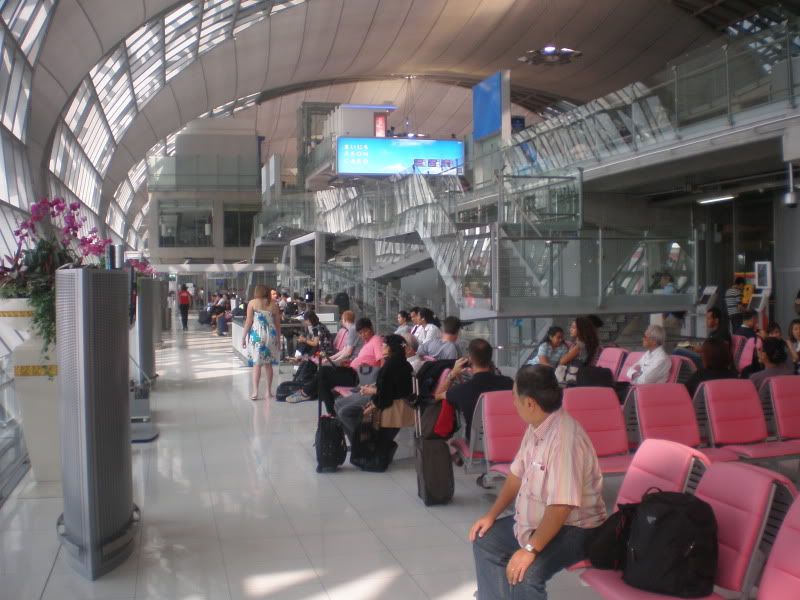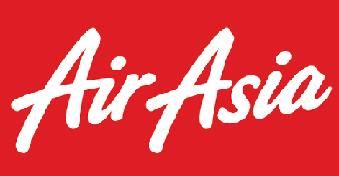 October 26, 2010
Bangkok (BKK) – Kuala Lumpur (KUL)
Flight number: AK735
Departure: 10:00 (10:06) – 13:05 (13:15)
Aircraft: Airbus 320-200 (9M-AHU)
Load Factor: 55%
Seat: 30 A
The loadfactor was not good at all, but I still liked my prebooked seat 30A (It is not adviseable to book the last row on Air Asia, those seats do not recline, and if the one in front of you does recline you not gonna have a good flight).
After a slight delay for no apparent reason we started moving;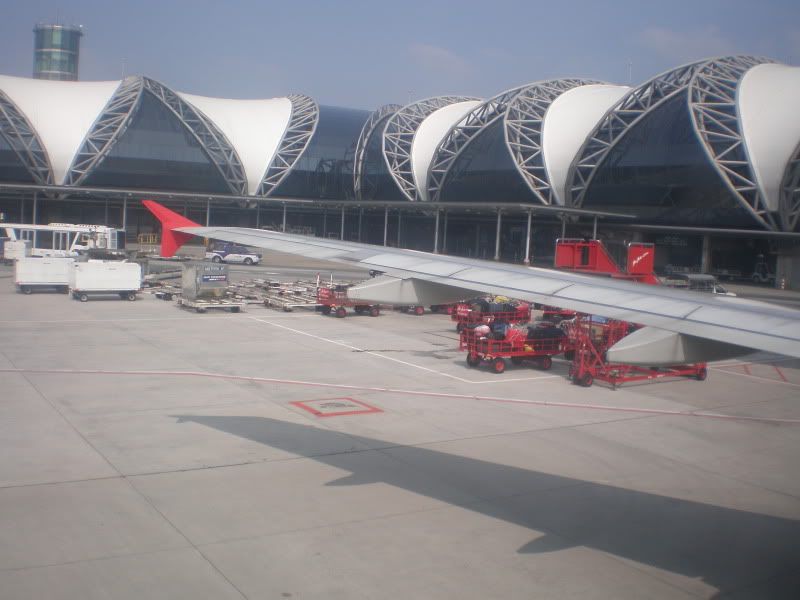 And moving;
And moving;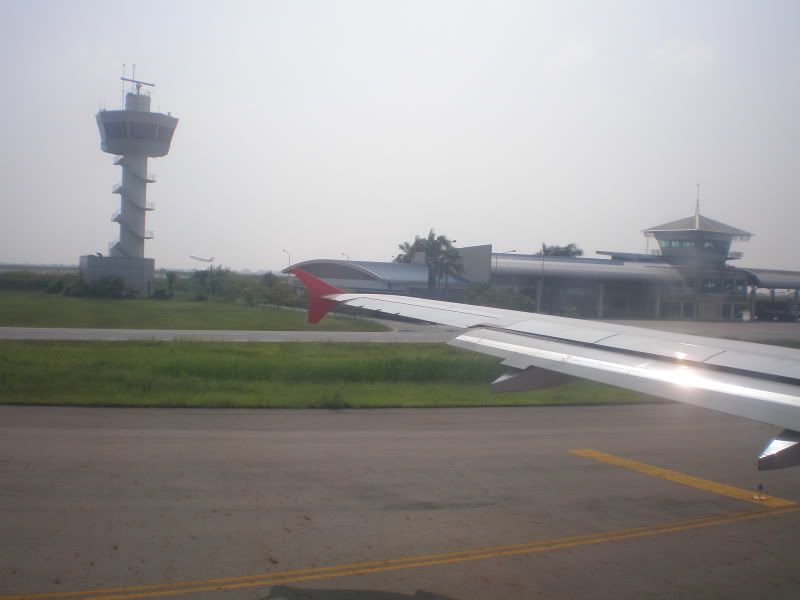 It took us 16 minutes to reach the runway, which is kinda odd because there was an active one not far from out gate.
You can see it did rain quite a lot;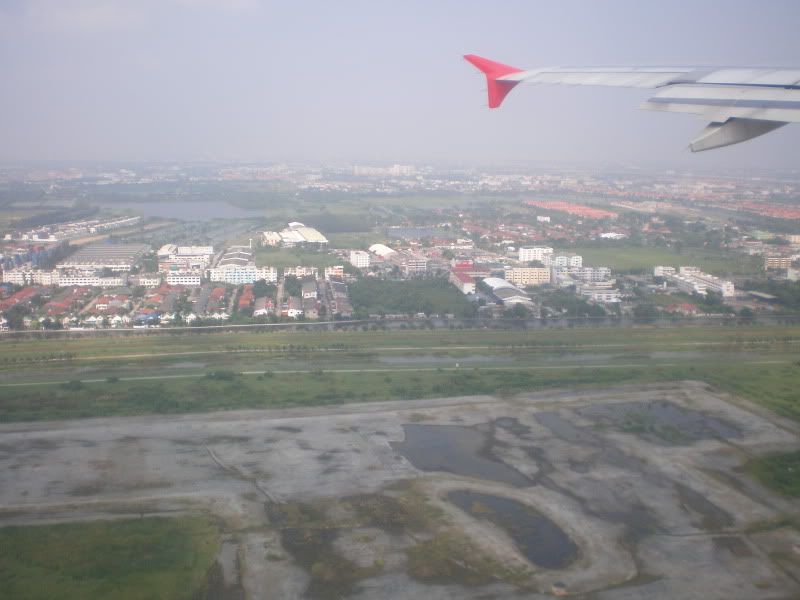 Nice views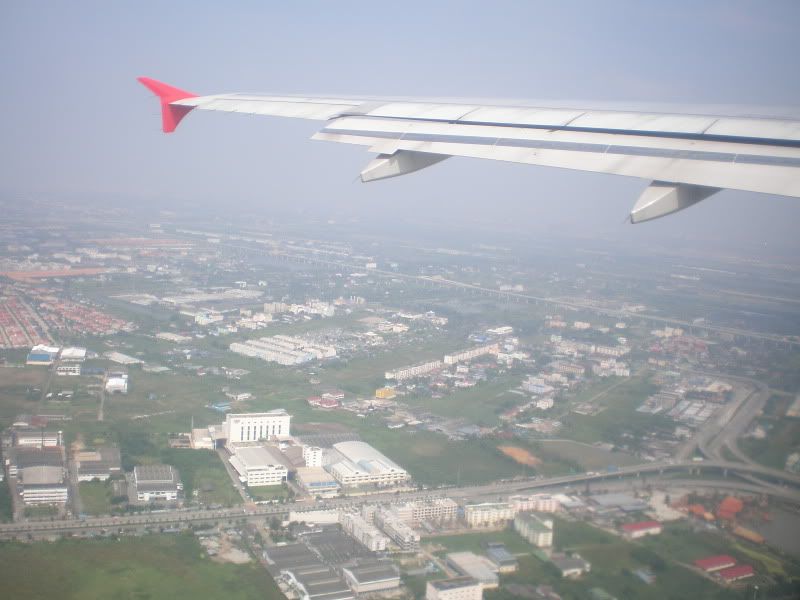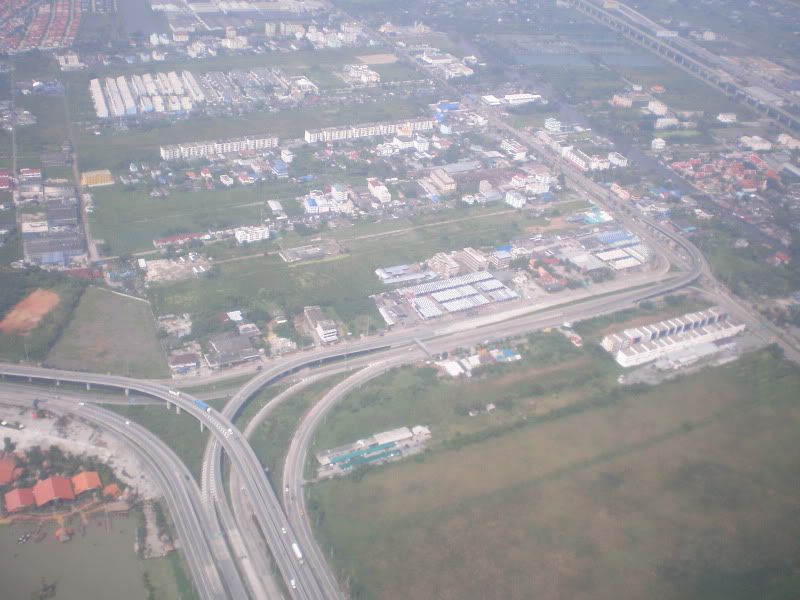 Some clouds building up above sea;
Quire relaxed with only 55% of the seats filled;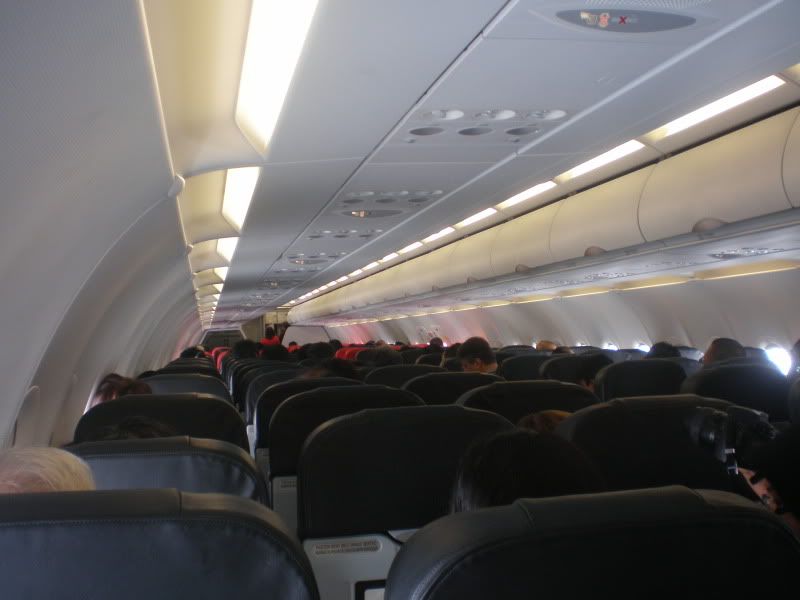 The view outside still was nice;
Lots of residential area around KL
We flew towards the sea before turning into KLIA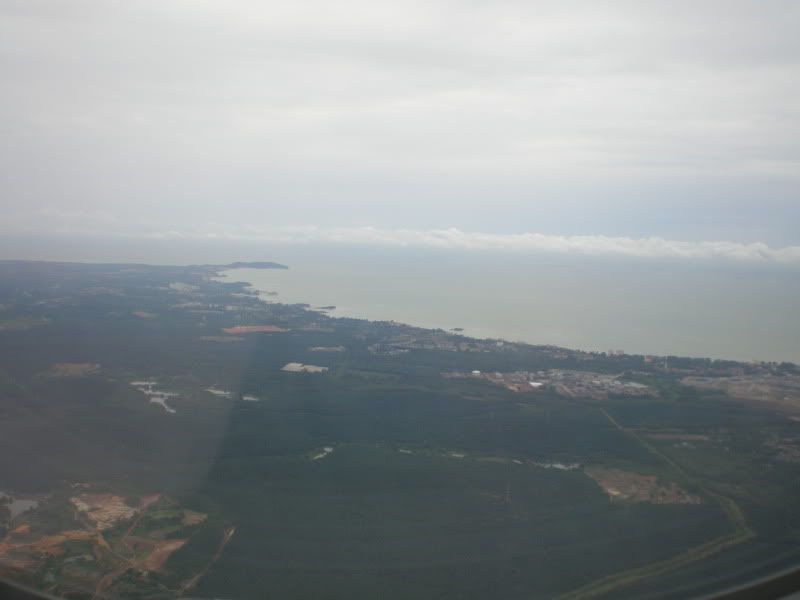 Palmoil factory?
Touchdown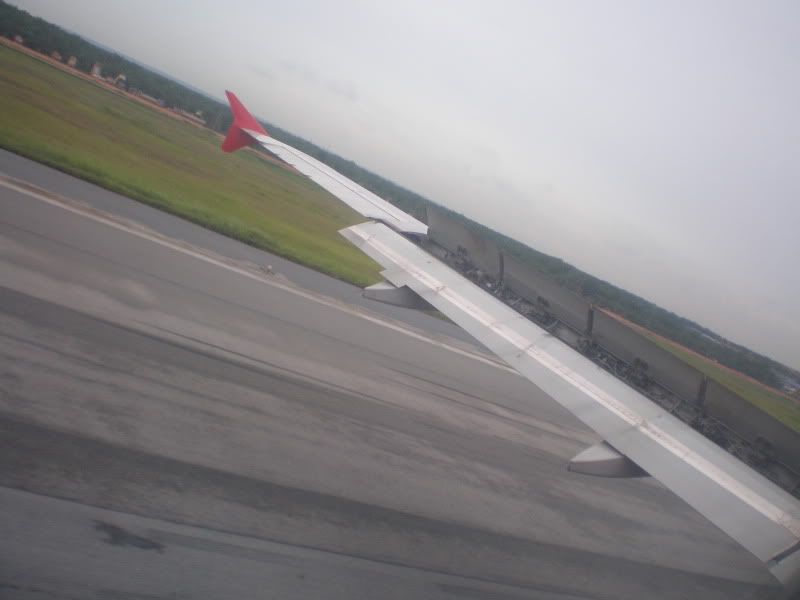 We landed on schedule, but it was quite a taxi to the KLIA LCCT terminal, we Air Asia people do not deserve a nice terminal.
Luckily this meant deboarding by stairs!
One is not supposed to make pictures on the Tarmac in Malaysia, but not once I have been bothered by security staff, probably they understand that they can't fight them all.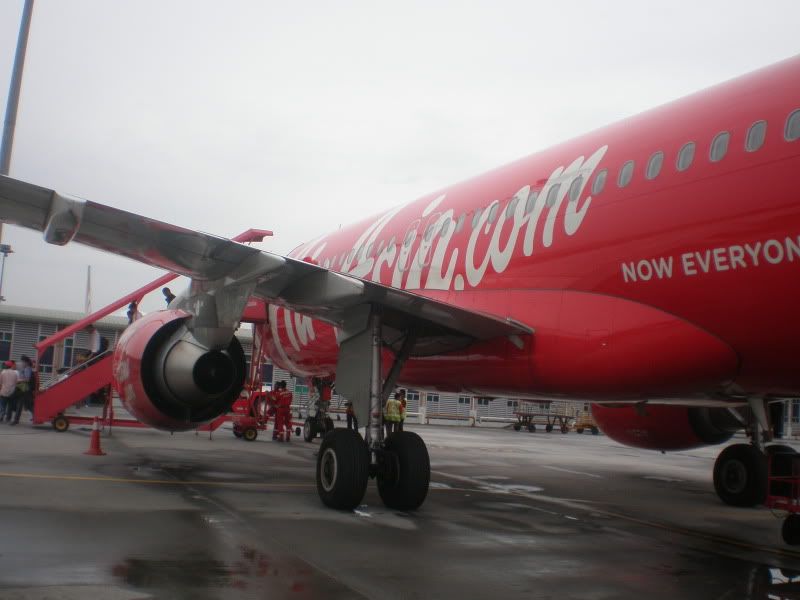 Bye bye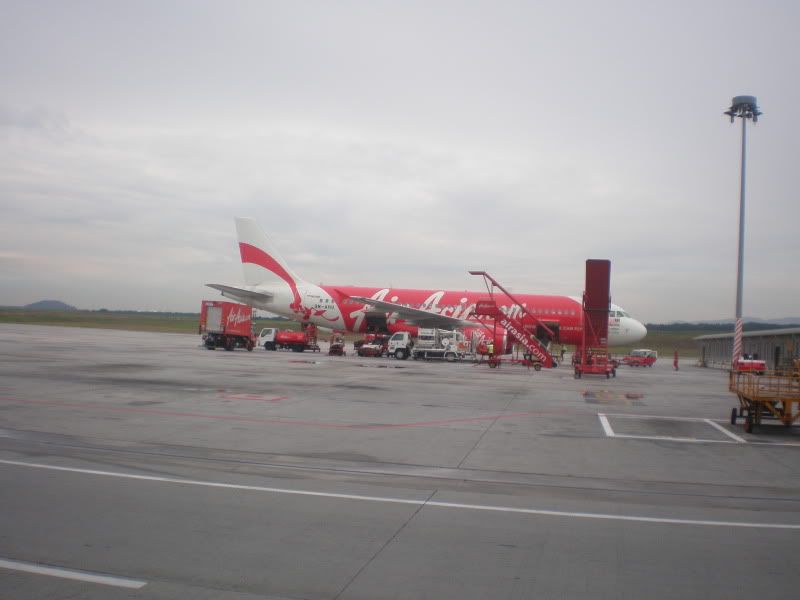 Up close
Will I see one of you anytime soon?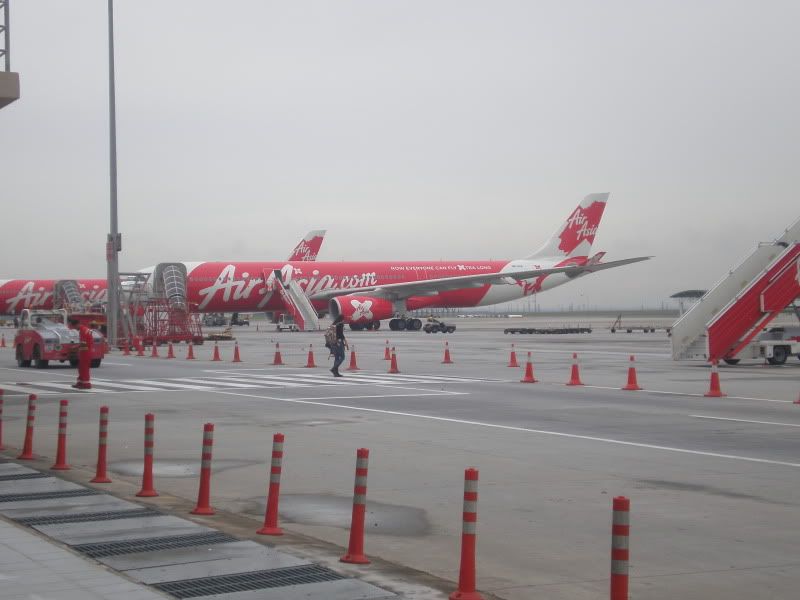 Immigration was a bit more congested since last visit, but finally in 30 minutes I was through. The first 3 ATM's I tried refuse to accept my ATM card, signalling it has a faulty chip, well, it has no chip at all, since if it did, it would not work in other ATM's around Asia.
HSBC Bank outside at arrivels was willing to accept my ATM card though, but it seems Malaysia is more and more trying to do something about fraud with electronic banking. Probably a good thing.
If you want, you can stay at the Tune Hotel at the airport, if you book early the prices are good, but don't expect anything more then a room with shower. At least the walkway to get there is now finalised and you not have to walk at some dirt road.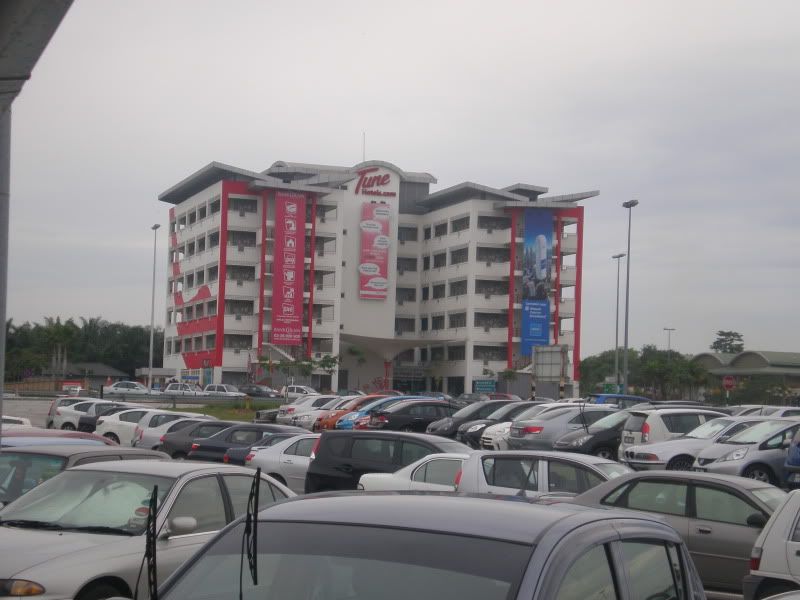 Instead I grapped a bit to eat at the foodcourt. Far better then KFC and the likes.
I then headed to the city, I advise to take the bus and train connection to KL, you know when the bus departs, it is actually on a fixed schedule, unlike all the other 9 RM options to get to KL.
With 12,50 RM it is not much more expensive then the bus, and it only takes 1 hour to get to the city, where only the bus might take double to reach KL city center at certain times.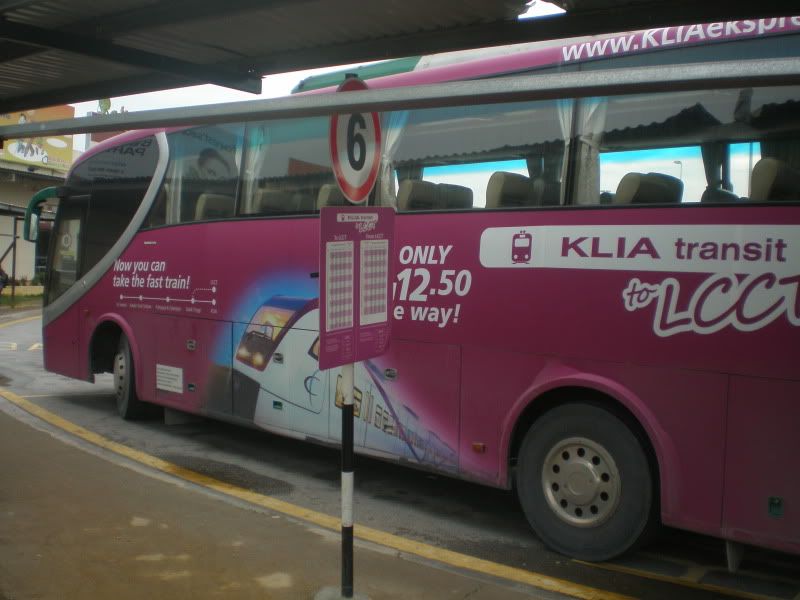 Next day it was time to continue to Kota Kinabalu. At arrival I was shocked to see the former flight to BKI had a delay from 3 hours. (They only show delay, not how much, but we end up following this flight to BKI), but our flight was only 20 minutes delayed.
This flight gonna be busy;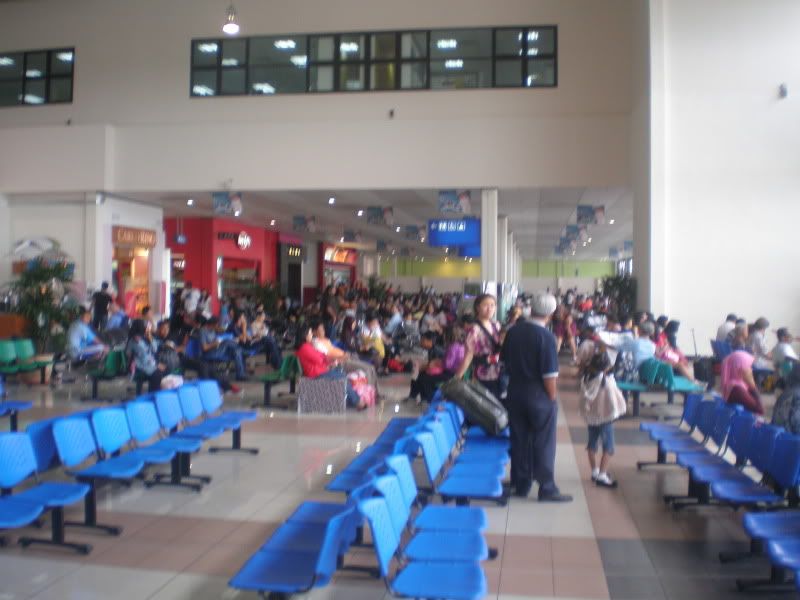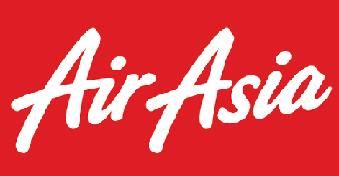 October 27, 2010
Kuala Lumpur (KUL) – Kota Kinabalu (BKI)
Flight number: AK5114
Departure: 16:00 (16:20) – 18:30 (18:46)
Aircraft: Airbus 320-200 (9M-AFT)
Load Factor: 72%
Seat: 30 C, but 30 A was where I actually was seated.
Hello there;
Nothing can beat boarding by stairs;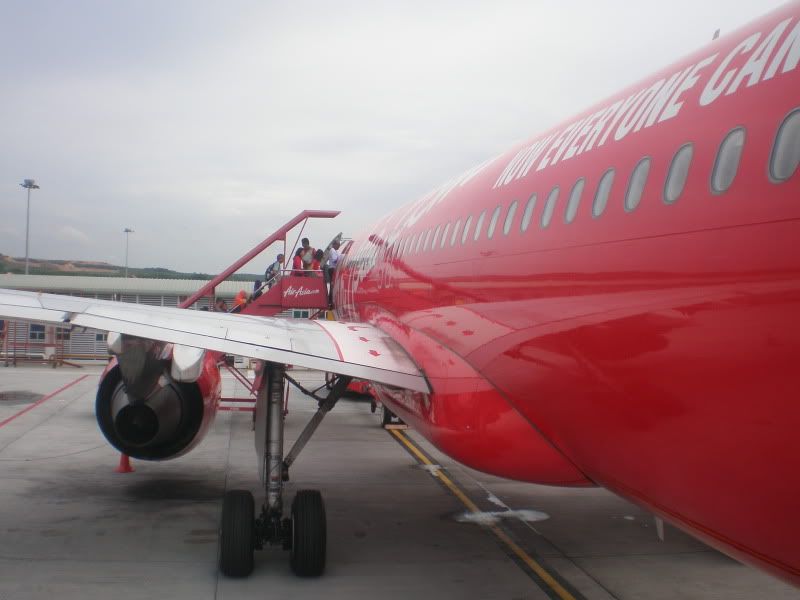 I was the last one to board and someone was sitting in my seat, but the opposite seat was still free, so rather to decide to move that person, I took a row of 3 for myself.
After I sit down we started moving quick, following 9M-AFI to Kota Kinabalu. The low cost terminal is actually next to the runway, so it was not a long taxi at all.
Take off;
KLIA control tower;
Nothing but palmtrees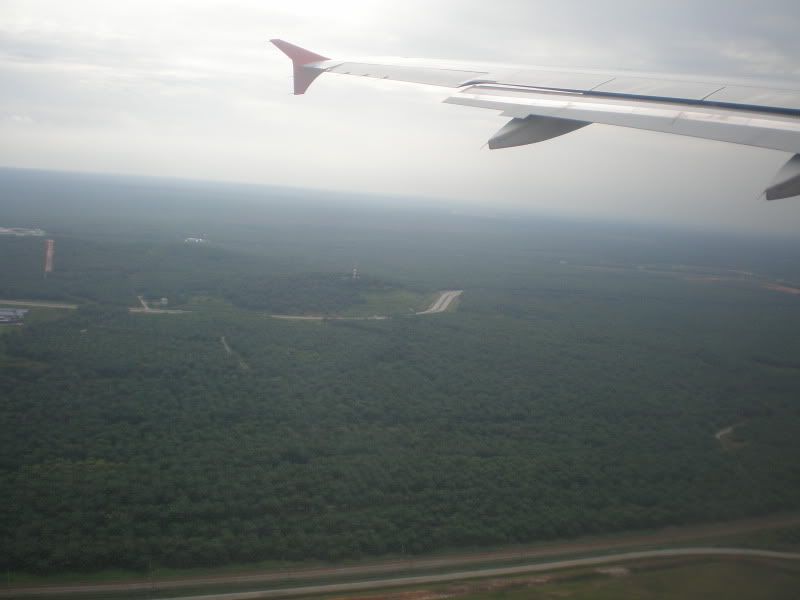 The weather was not so good, and soon we were into the clouds;
Top