Hey Everyone, This is my first trip report, and actually my third or fourth post on this website lol
I've been following A.net since 07 but just recently upgraded to a premium account...So go easy on me
Background:
My whole family and two other friends, had planned a trip to Jordan for the whole summer, since we don't go so often. Me being young and wild, wanted to fly alone with my two other friends on a long trip. I wanted to visit airports I haven't been to and fly on airlines and airplanes that I hadn't flown on before.
These flights took place in mid June of 2010. The trip was planned in February, and was changed a lot over the months leading up to the trip.
Cheaptickets.com is the worst place to buy airline tickets, and later in the report you will find out why!
Original Flight Plan:
RDU-EWR-FCO-AMM
My original flight plan was only to Newark, Rome, Amman. I booked my flight in early February because they had really good fares to Amman, Jordan. I periodically check my flight booking over the months, and one day, the EWR-FCO leg was missing, so I call up their reservations and try to get it sorted out. What this agent tells me is that there was a schedule change and I would be re-booked on a different flight..No problem, the change my first leg to an earlier departure. A week later I get a call saying the flight is overbooked and I would be rerouted on a different flight. My flight plan is the following now:
RDU-EWR-FRA-FCO-AMM with flights on CO, LH, and RJ
I had no problem with the change, I was just thinking yay more flights, more airports, more airplanes! This was cool until about two weeks from my departure date which was June 11th. The FRA-FCO leg is missing. I call cheaptickets again, and the guy i talk to assures me that I'm on the flight, and he calls LH and makes sure, he say's all is well and there should be an updated itinerary sent in the next 24 hours...I didn't take his word, I call Lufthansa reservations, and they tell me there is no booking for me. I flip Sh*t and call cheaptickets again...this time they fix it and put me on my flight....Or do they? My two friends also had problems with their flights and were booked on totally different flights, the would be flying RDU-IAD-FCO-AMM. Our plan would be to meet each other in FCO, and we would board our final flight together.
Leg: RDU-EWR
Date: June 11, 2010
Airline: CO
Flight #: 3342
Equipment: de Havilland Dash 8-400
Class: Economy
Seat: 10D
Departure: 1245PM EST (On Time)
Arrival: 0200PM EST (On Time)
Arrived at the airport around 11:30 AM, Checked two bags, and printed my two of my boarding passes, and passed through security, No body scanners in the older terminal.
I found my gate, got a quick bite to eat, then took photos of the few airplanes at the airport. Terminal 1 is pretty old, and gloomy really, nothing like the newer Terminal 2 which is absolutely beautiful.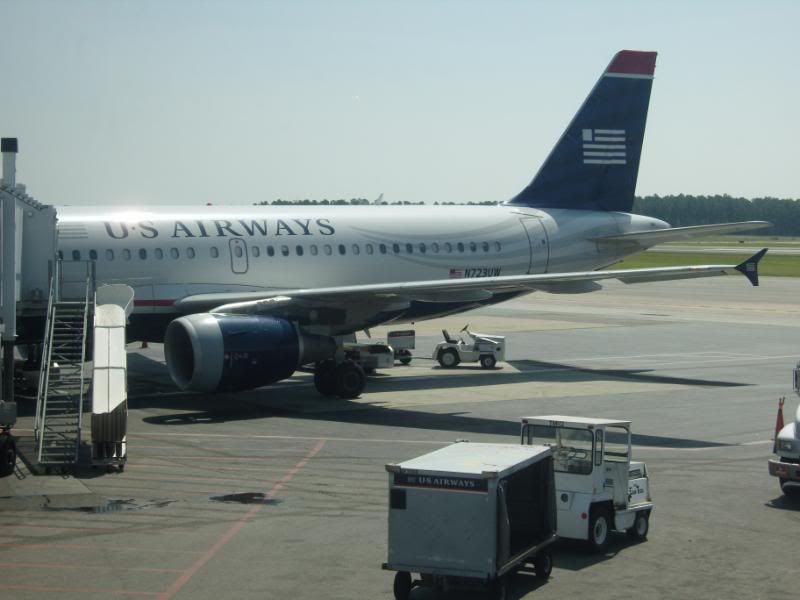 An earlier departure to EWR, same a/c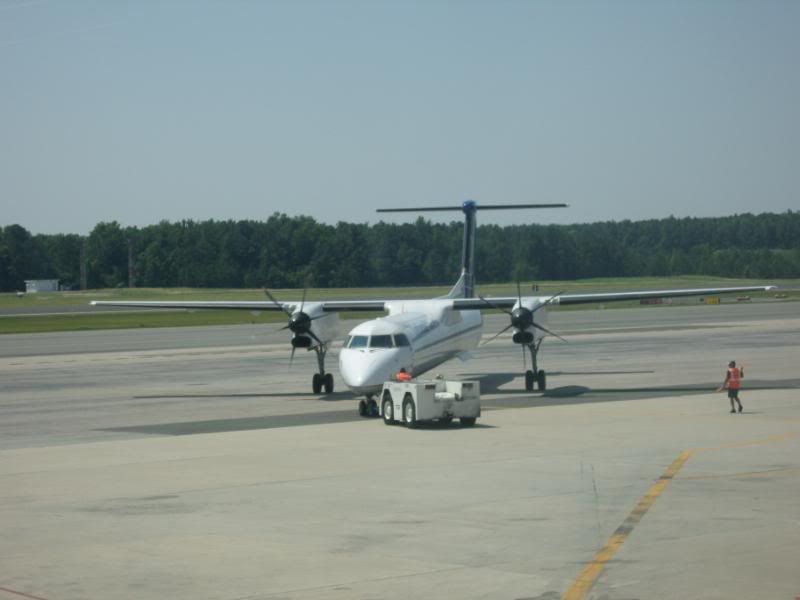 The airport wasn't busy at all, and soon it was time for boarding. I was really excited for this flight, as it had been my first Turboprop flight. Boarding was normal, no crazy rush to get into the flight. The load factor I would have to say was about 80-90%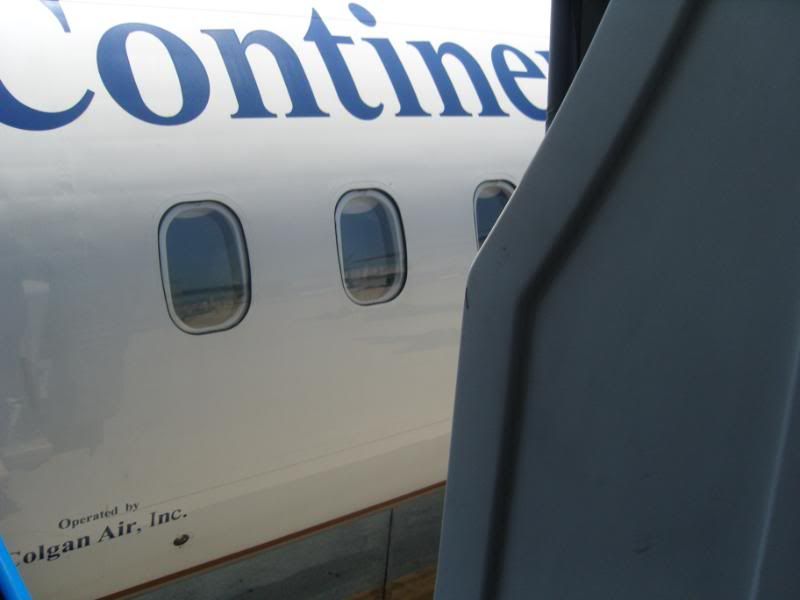 View from my seat
Legroom was pretty cramped,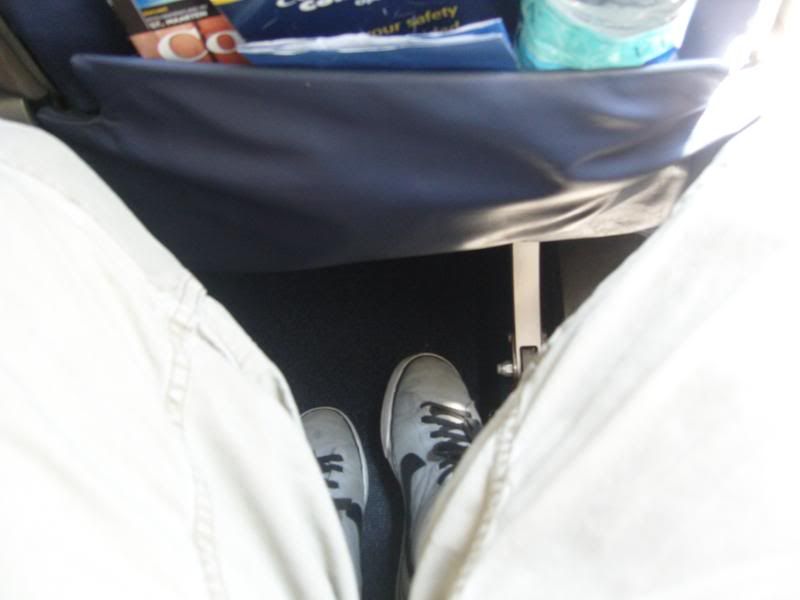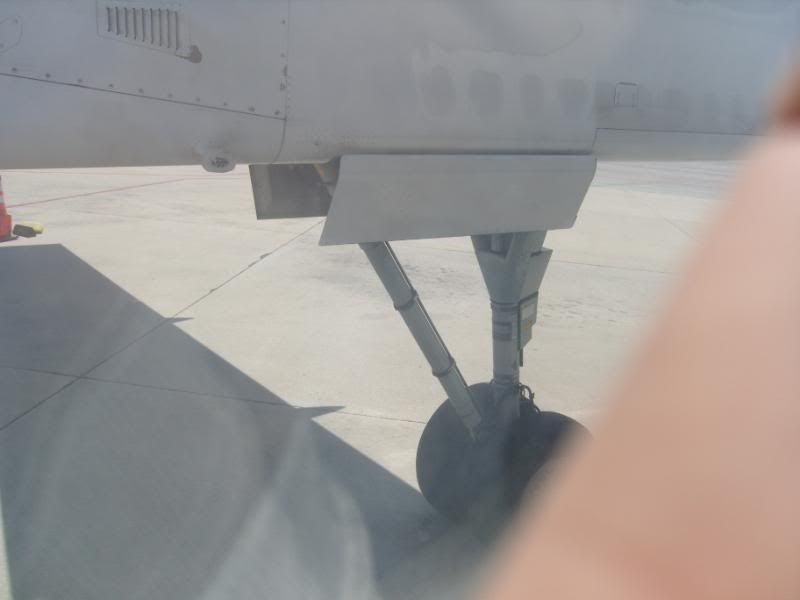 Push-back was on time and we soon left ol' Raleigh for Newark
Video of Takeoff:
http://www.youtube.com/watch?v=2dKAuSiCHr4
The flight was really short, just over an hour long.
The only difference I really felt between a Jet an a TurboProp, is the noise level and the bumpiness of the ride.
About 30 mins into the flight the flight attendants made a quick drink and snack run, and we were soon descending into EWR
In flight pics:
An airbase I spotted while descending.
Landing footage:
http://www.youtube.com/watch?v=1ziGpvjA1Wg
Leg: EWR-FRA
Date: June 11th, 2010
Airline: CO
Flight #: 50
Equipment: Boeing 777-200ER
Class: Economy
Seat: 27L
Departure: 0730PM EST (On Time)
Arrival: 0925AM CET (On Time)
We quickly taxied to our gate, and soon I was wandering around EWR, which I actually really liked. I would be here for the next 5 hours, so I got some food and took pics of Continentals Fleet; talked to friends that I wouldn't be seeing for two months.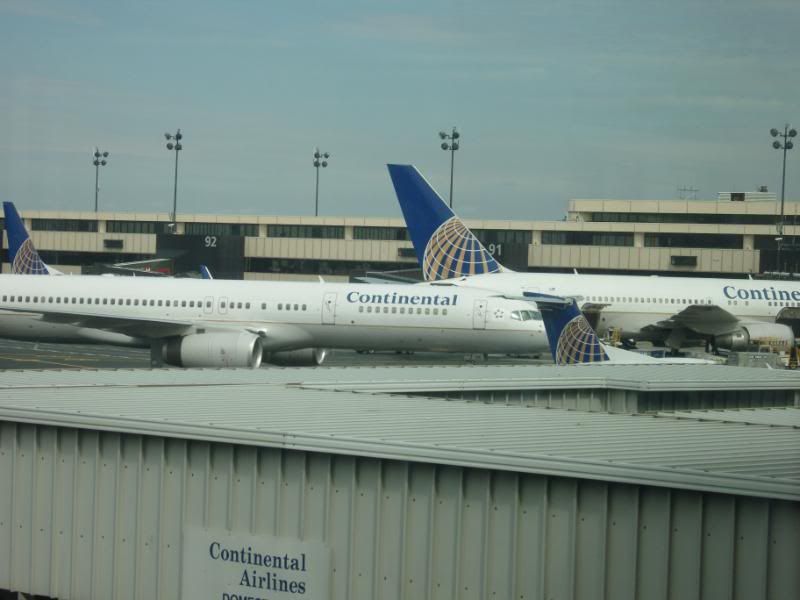 My plane being serviced before its journey!
Around 6:45-7:00PM boarding had commenced, Everybody and their mothers ran to the gate. I wasn't surprised, I would just wait until my section was called. People thought the, gate agent's were calling out seat numbers, It was sorta frustrating, but none the less I boarded when I was supposed to and found my seat quickly.
This was also my first 777 flight! and from the second i got onto the airplane I fell in love. I the A/C was very spacious and clean, and had a mighty feel to it.
View from my seat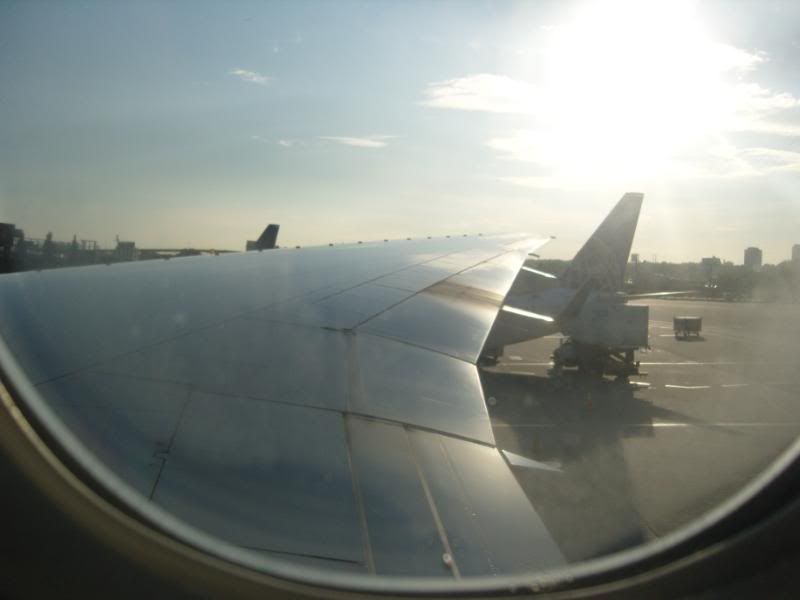 We pushed back a little early actually, but with the evening traffic we departed right on schedule.
There were about 4-5 planes in front of us waiting to depart.
Greasy looking wing
Long queue behind us
Take off!
http://www.youtube.com/watch?v=X5MadED5qGo
EWR from the sky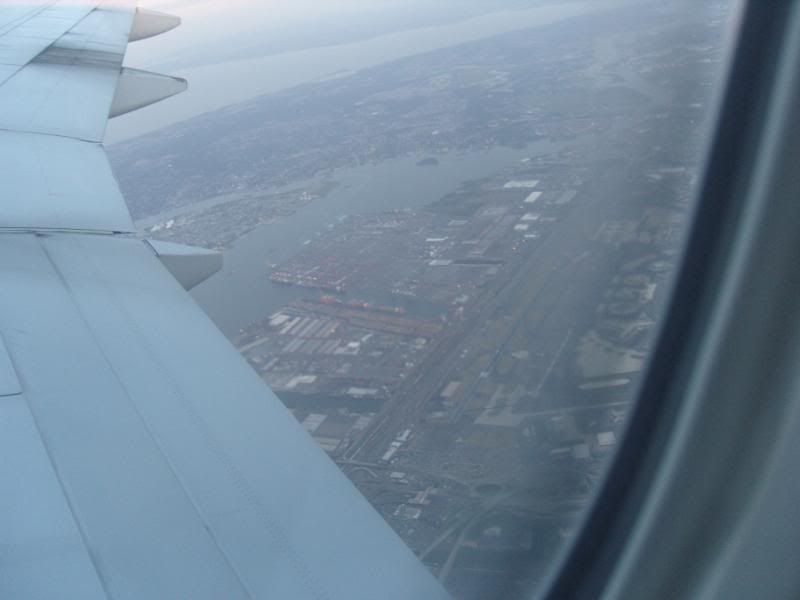 Bye bye USA
30 mins to an hour later the dinner service had commenced
I opted for the Beef and this is what I got: some seasoned beef with veggies and rice, a roll, and a lettuce with cheese salad...The brownie was good.
The IFE on CO is really good, Tons of Movies, Shows and Music. But I liked the Moving map the most hehe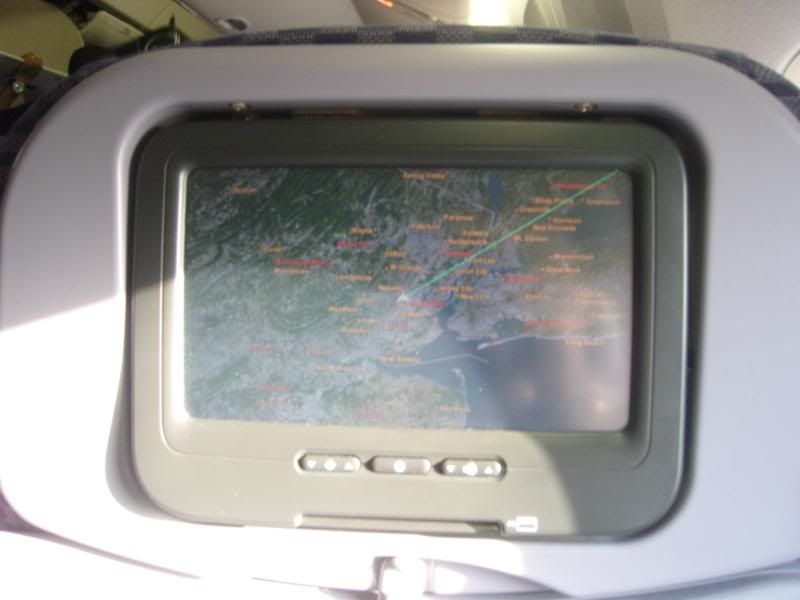 In Flight Pics:
Morning over Europe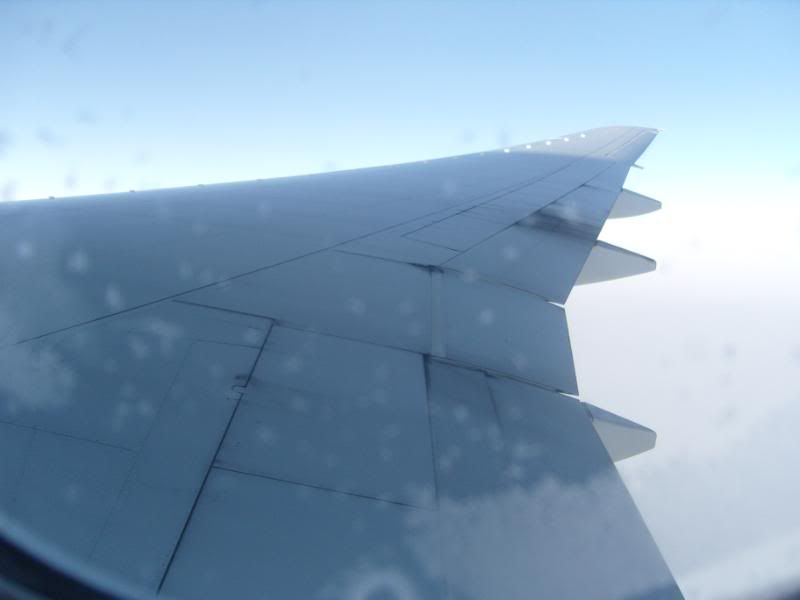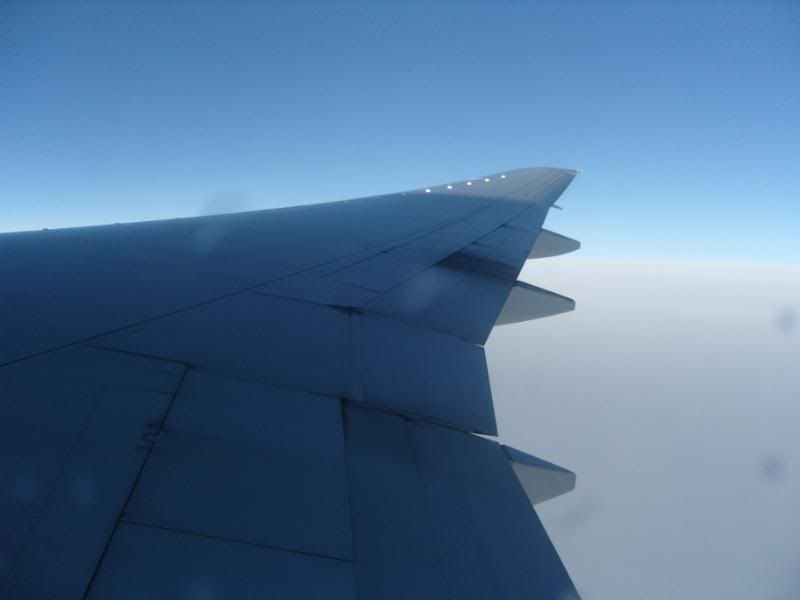 Germany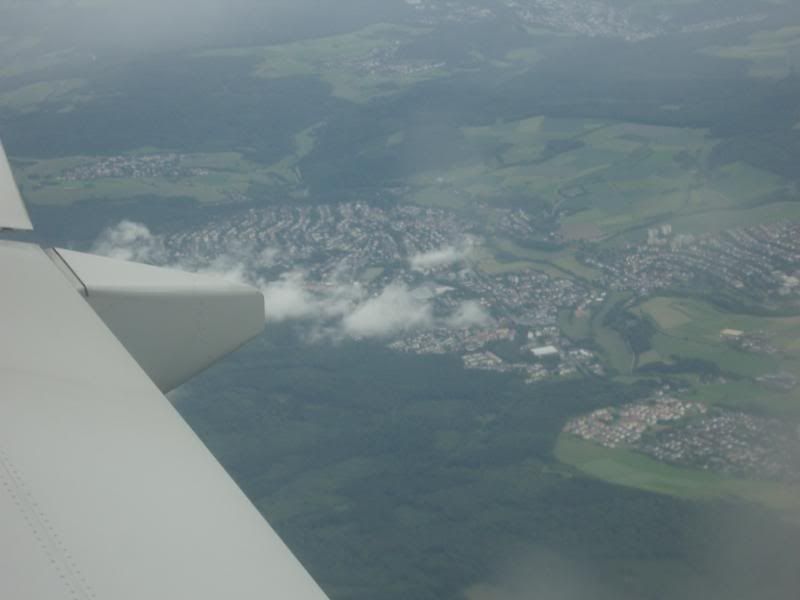 Frankfurt in the distance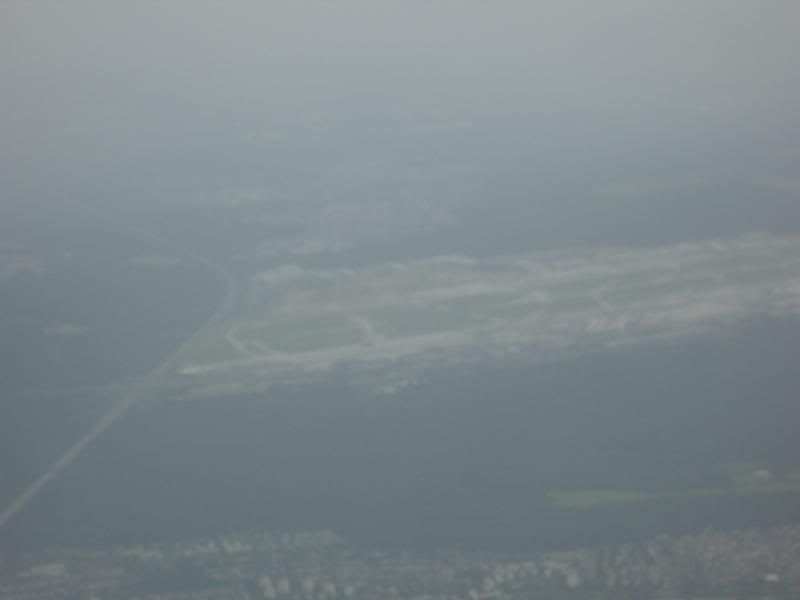 We made an on time Arrival
http://www.youtube.com/watch?v=bWMFgVXxGJo
UA 777
LH A/C
So my next flight is in about an hour, so I'm hauling ass trying to find my way to the gate. I finally get to the LH gate and talk to the agent who is going to print my boarding pass...What do you know, Cheaptickets never reissued my ticket for that leg of the flight...I don't have a seat and I cant board the flight to FCO. I'm freaking out at this point...First time flying alone, I'm in a foreign country and my friends are expecting me to arrive and meet them for our final flight. The agent tells me to go land side and try to find another flight with LH. I go to their ticketing area, and find out that I need to go to the United check in counters and they will get everything straightened out for me, since its a United ticket. I go to the UA check in counter, I explain my situation to the ticketing agent, and she tells me I'm in the system and the ticket was issued, she didn't know why they didn't let me on. Anyways, she gets me a direct flight to Amman with Royal Jordanian, the same day. So I'm cooled down now, I call my relatives back home and now I just need to kill time...I go to Terminal 2E. The rest of the time I just chilled around the airport spotting airplanes. Security in Frankfurt is a lot less stressful than in the US and the terminal was very nice with large windows and good spotting views.
A/C i spotted:
My A/C arriving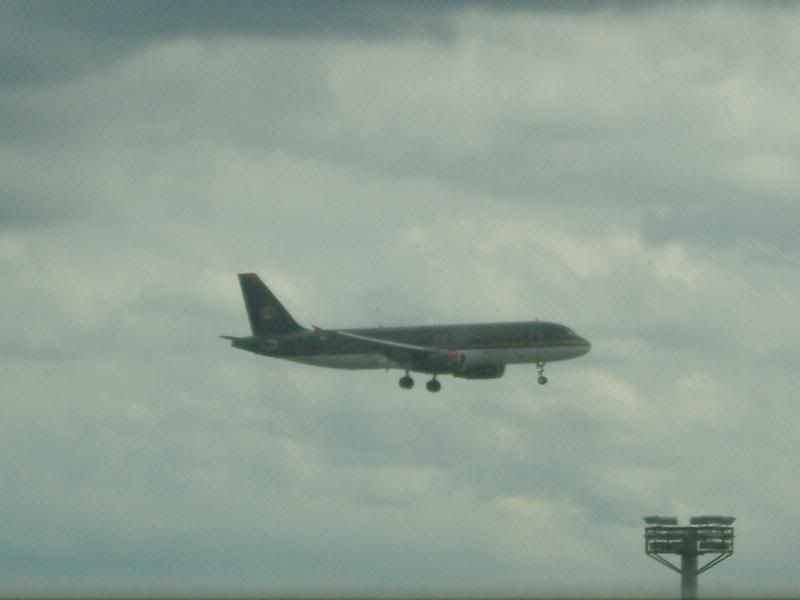 Jordan Aviation?
The Beast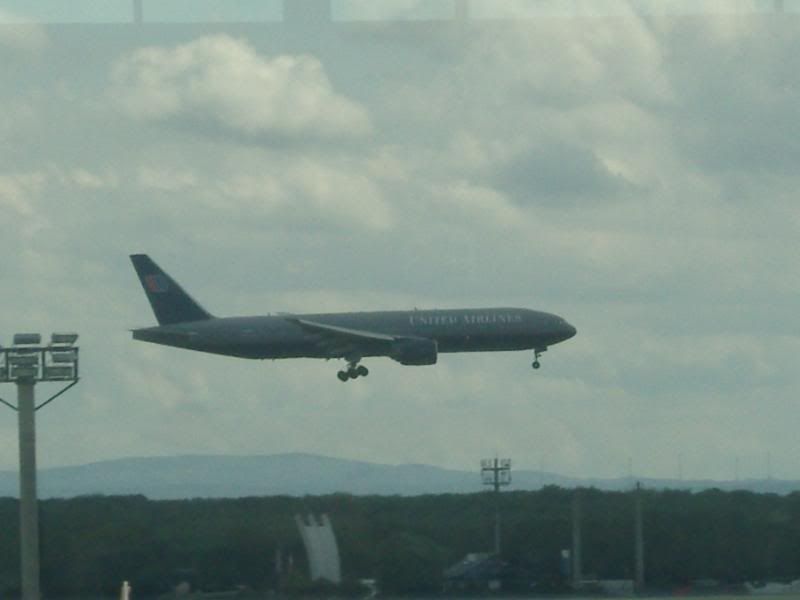 Leg: FRA-AMM
Date: June 12th, 2010
Airline: RJ
Flight #: 126
Equipment: Airbus A320
Class: Economy
Seat: 15 A --> later changed to 13 D
Departure: 1500 CET (On Time)
Arrival: 2030 EET (On Time)
Its was 2:30 and boarding was starting, there were few First Class passengers so we got on quickly. I made my way to my seat and settled, later I was told If I would sit at an exist row seat, because they thought the elderly man wouldn't be able to help out, in case of an emergency. I was getting up to switch seats when someone else took the seat, and the flight attendant apologized and to my benefit someone took my original seat too. So i took an Aisle seat
The Airbus is a very nice A/C and its really quite...I didn't notice the engine noise until we started taxing.
View from my original seat.
Lots of legroom
Baby bus
I took no more pictures because I was extremely tired and I slept through the whole flight. We arrived on time
AMM is a horrible airport, nothing more to add to that. The people working there don't treat passengers like humans. Security was a breeze. The new terminal they are building looks really nice. Excited to use that facility when it's complete.
I hope you enjoyed reading my first trip report.