Hi guys and gals,
KLM recently had a great offer to PBM again, so a great opportunity to visit my home country again. Further, as an amazing birthday present, my parents gave me flying lessons! They arranged that I would get 5-6 (it turned out to be 6) flying lessons at the Aero Club in Paramaribo. More on that later!!
Departure was planned on November 5. After all affairs were made in order (visa etc), it was time to go. After waiting for years for my first opportunity to fly the MD11, this would be my third and fourth flight on the MD11 within a year (I also went to PBM in March on the MD11). Back then I flew on PH-KCC (Marie Curie) and PH-KCH (Anna Pavlova).
When checking in for this flight I got a very nice surprise. When booking I got row 39. However, this was changed to row 6... meaning J! Apparantly I got an upgrade (I'm a gold elite FB member). When checking my bags at AMS, this was again confirmed, only the boarding pass still said "economy class".
Anyway, I went to the crown lounge for a quick bite and drink and then proceeded to the gate. There, PH-KCI (Mother Theresa) was waiting: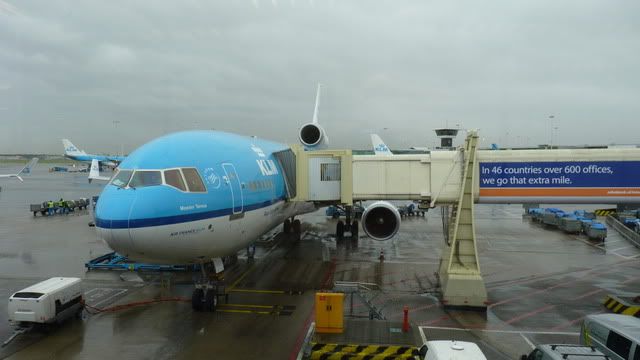 And yes, confirmed, the seat (6D) was indeed a WBC seat. The only downside was that this is an aisle seat and I prefer window seats, but I sure wasn't going back to a Y seat just for the window
.
So I settled in the very comfy seat. I quickly noticed that this was not a full WBC section. There were no pre-flight drinks and such. It turned out that Y was so overbooked, that a section of the WBC cabin was used as a "Y+" cabin, WBC seats, but Y service. but again, no complaints from me.
At least I didn't have to sit in the FA seats, like 2 guys did for the entire flight (I didn't even know this was allowed).
Flight: AMS-PBM
Aircraft: MD11
Reg: PH-KCI (Mother Theresa)
Delivery date: 10 November 1995
Date of flight: 5 November 2010
Seat: 6D (middle row WBC section)
Flight duration:9h20m
Soon after departure it was soon time for the first meal. I had ordered the Asian Vegetarian meal, so was one of the first to be served.
My meal: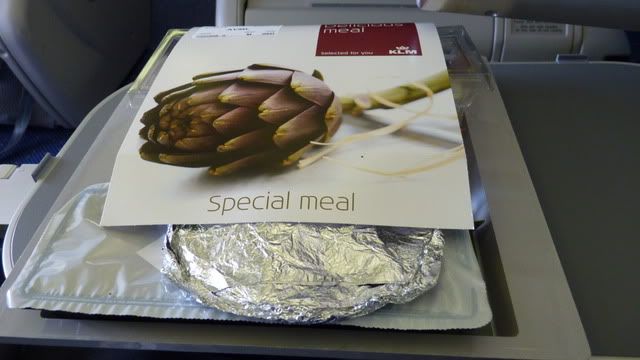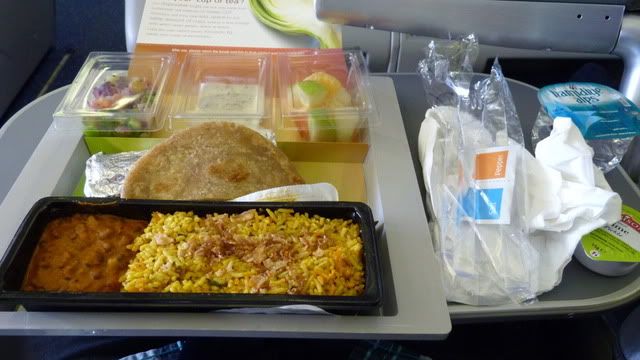 The meal tasted very good. It was spicy, which I like and generally quite tasteful. Definitely better than most airline meals I've had in the past.
The flight went basically without a hitch. The middle row of row 6 seems to be in a bit of an awkward position, as I was frequently skipped during beverage services. Other than that, there's nothing really noteworthy about this flight. We left on time and arrived at about 4pm local time, a bit earlier than scheduled. I spent the flight reading, watching a few movies and taking a short nap. Of course, before arrival there was a second serving. This was not bad, but not as good as the first meal: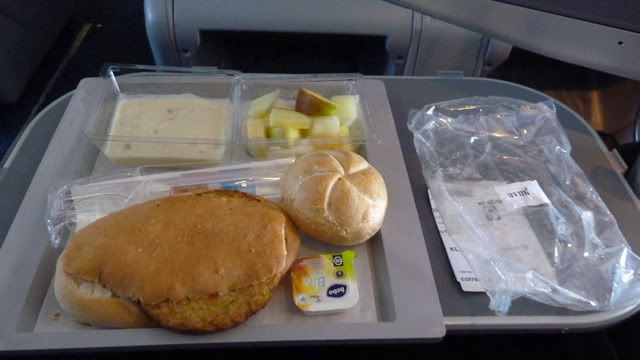 Almost there: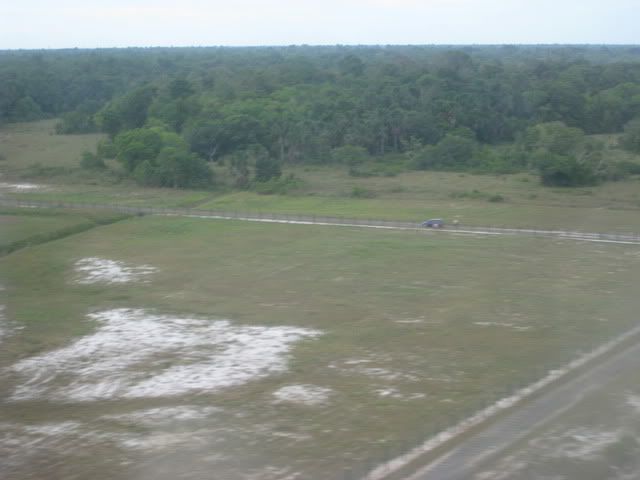 The landing was a real greaser, very nice!!! I've had a very different experience last time I arrived @ PBM, so this was a nice change.
PH-KCI on the tarmac at PBM: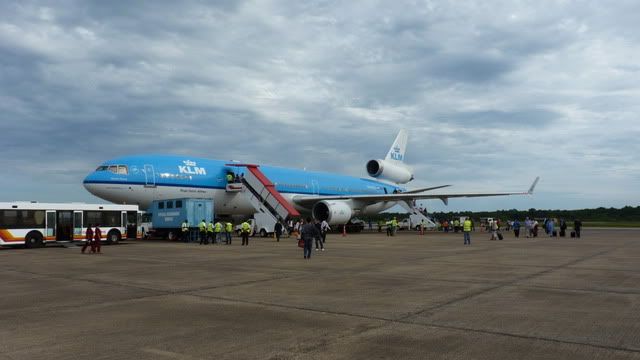 My suitcase arrived very fast and I was one of the first in line at immigration, so I was the first one outside!! This is excellent as the road to the city is not so busy and the trip went very quickly.
Arriving at home: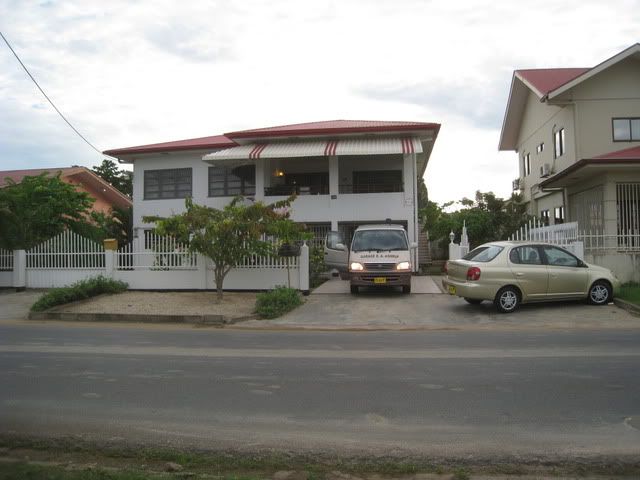 Family left a basket full of delicious fruit:
The next day some relatives of mine called that they were at a river resort south of Paramaribo called Babunhol (Babboon's Lair) and asked if I wanted to come. I didn't have to think, of course!! I'd never been there before, so why not.
This is Babunhol: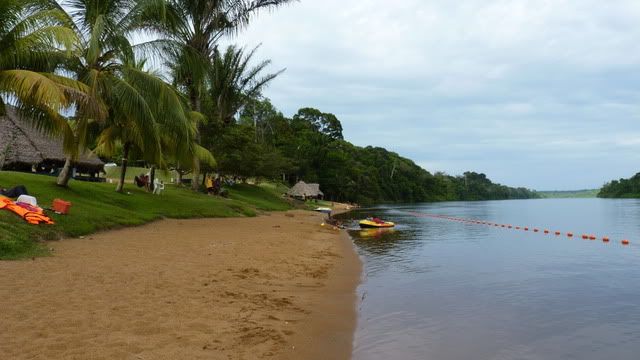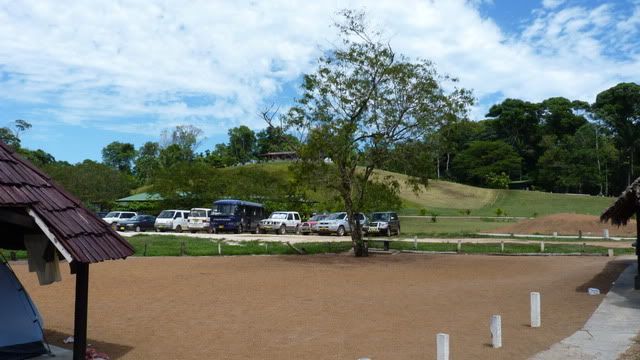 I stayed one night and that evening we went fishing in the river. We saw this amazing sunset:
Unfortunately, all we caught were a couple of Piranha: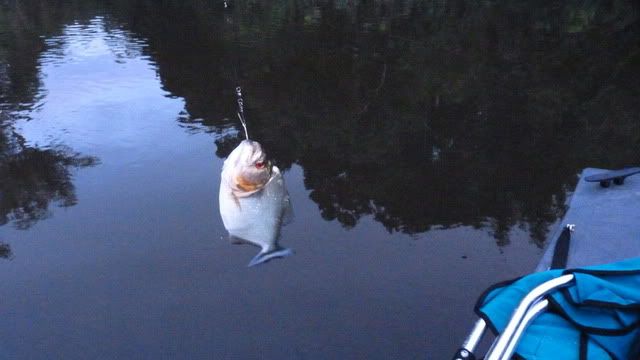 The species of Piranha in Suriname are not aggressive, but it's still not wise to swim in the water with a bleeding wound though...
The next day, we were happy to welcome our Brazilian neighbours
One of the reasons I went to Suriname was to witness the grand reopening of the Cathedral in the city. It's the largest wooden building in Latin America and was under repairs for over 20 years. My cousin is now the preacher of the Cathedral and the reopening was amazingly well done. The Cathedral looks fantastic again and is truly a site to behold, even if you're not Catholic or even religious. It was built between 1883 and 1885 and is really a beautiful building.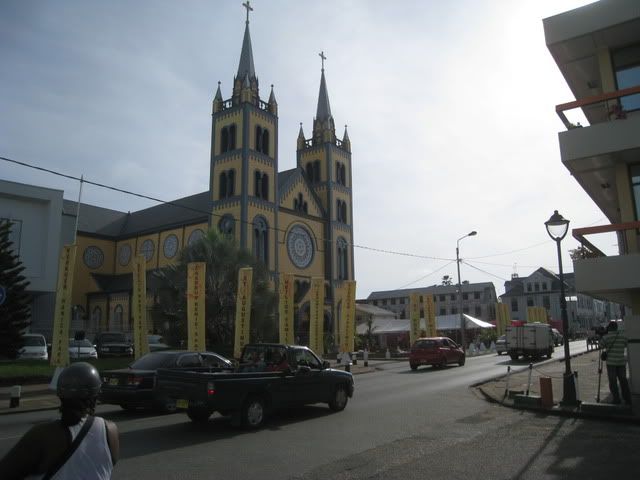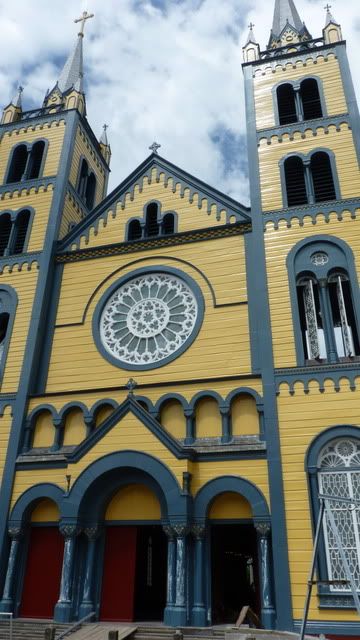 By now it was time to cash in on my parents' birthday gift and go for the flying lessons. I was to take these at the Aero Club at the Zorg & Hoop airport in the middle of the city:
This was really an amazing experience. I got to fly myself as from the first lesson and by lesson 6 I was getting pretty decent at landing the aircraft. The nice thing about GA in Suriname is that there are hardly any restrictions as there is not much in the way of air traffic. Here are some pics I took during a few of the lessons:
Landing at Zorg&Hoop: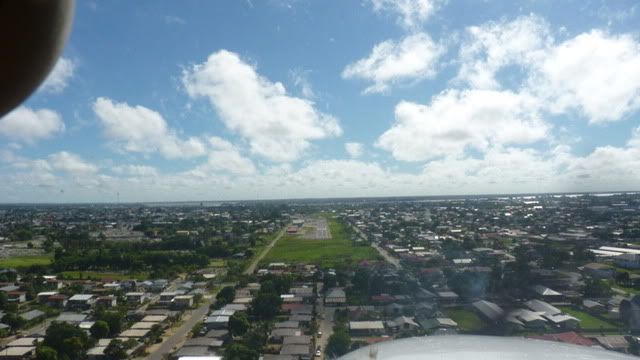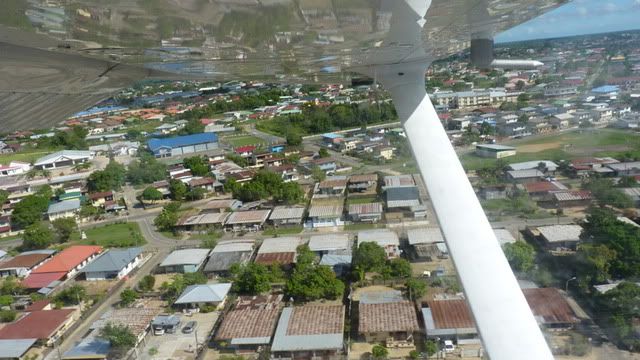 The city of Paramaribo from the air: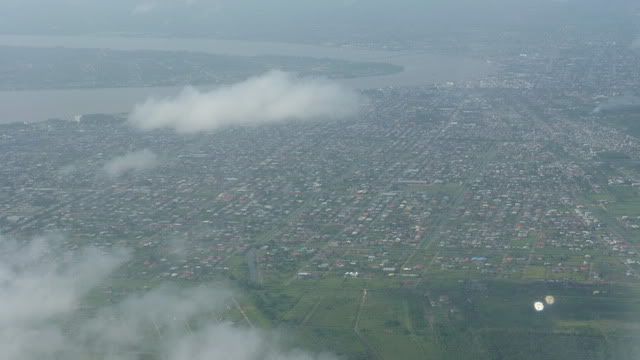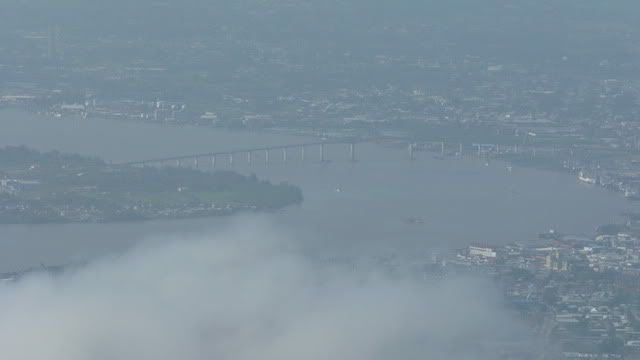 Fort New Amsterdam (the star shape). There are also two rivers merging at this point and you can clearly see the dividing line between the two. It is so clear due to the difference in salt levels in the two rivers.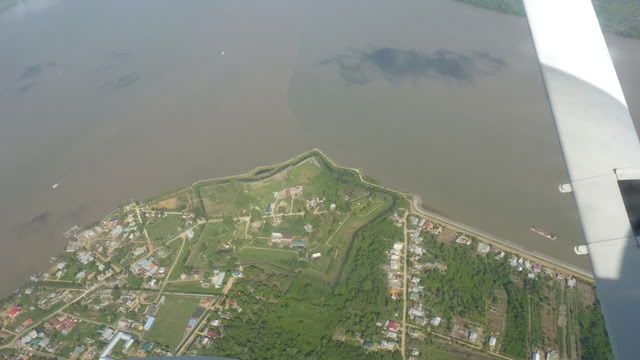 Matapica beach. We were flying at 100ft at this point. It's a really nice beach, but hard to reach due to swamps at the back of it. Further, a large part is protected, as sea turtles come to this beach to lay their eggs:
I also made a video of our fly-by of this beach:
Flying by Matapica beach
This video is of us flying away from the beach and shows the swampy backland of the beach:
Flying away from Matapica beach
PBM from the air: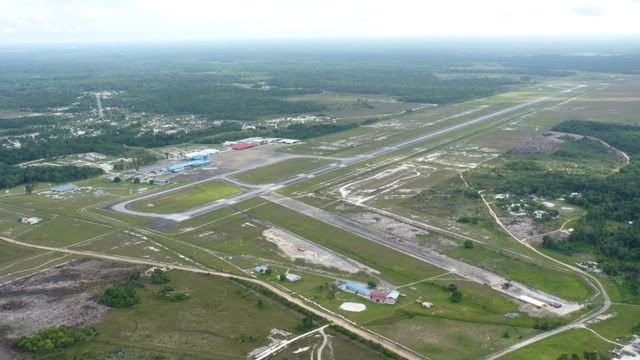 This is the Cessna 172 that I flew. You may notice that the skirt of the nosewheel is missing. This is because when landing during my 4th lesson we found out that the nosewheel was punctured. So the wheel needed to be replaced. This is just a temporary wheel until the original nosewheel has been fixed. I never knew you could do a wheelie in a Cessna, but my instructor showed me it's definitely possible!!
This is a memorial to the Surinam Airways plane crash in 1989 in which a PY DC-8-62 crashed short of the runway at PBM: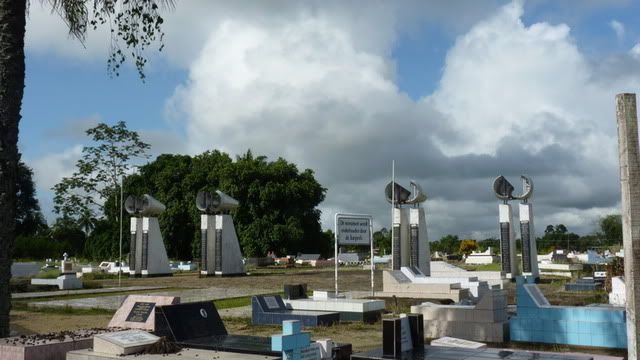 The Grietjebie, a tiny but extremly noisy bird!!: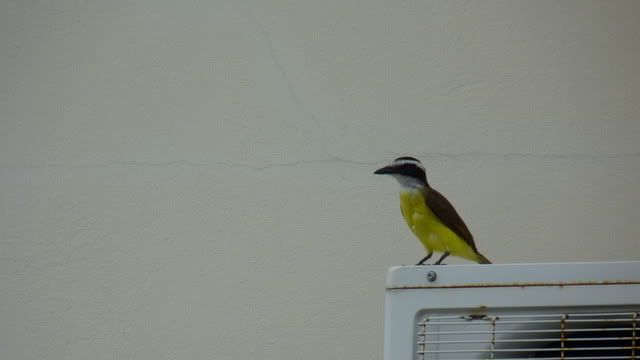 Ever seen a real tropical rainshower? Check this out, taken from the balcony of my parents house in Paramaribo:
Tropical rainshower in Paramaribo
Unfortunately, all too soon again, it was time to leave. This time no surprise upgrade to a WBC seat unfortunately. However, this did mean a window seat.
Flight: PBM-AMS
Aircraft: MD11
Reg: PH-KCB (Maria Montessorie)
Delivery date: 1 March 1994
Date of flight: 23 November 2010
Seat: 34J
Flight duration:8h20m
Checking in was smooth and before we knew it, we were in the lounge at PBM awaiting our aircraft. Turns out that even though it departed on time, it arrived late. This was due to a strike of the Portuguese controllers and the flight had to take a longer route (probably bypassing the Acores). Thankfully this strike was over by the time we left, so we would not be bothered by this strike. The flight back would be a brisk 8h20m.
Arrival of PH-KCB at PBM:
Unfortunately, the late arrival meant a delay of 1h30m for us. This is the difference between a daytime departure and a departure after dark. As I wanted to film the departure, it was quite a disappointment.
Before entering the aircraft: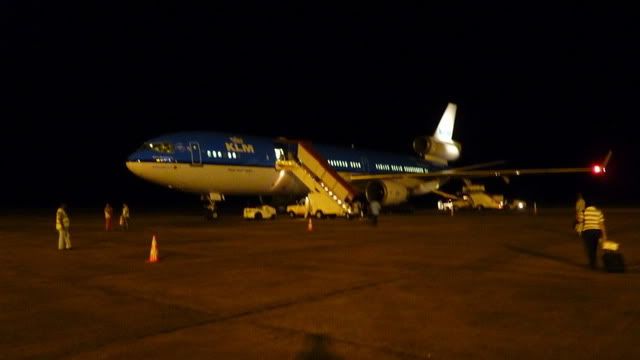 As usual with KLM (in my experience) the cabin looked clean: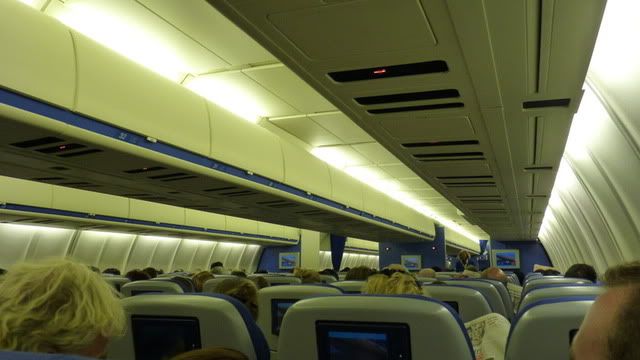 The exact distance between PBM and AMS:
I still recorded the takeoff, but it was quite dark:
Departure from PBM
Soon after departure it was time for dinner. I again had the Asian Vegetarian meal, which was not as good as on the inbound leg, but still not bad:
After the meal I was quite tired, as I had gotten up pretty early for my last flying lesson and had a busy day. So I slept for about half the flight. As the flight was coming to an end, it was time for breakfast. By this time we were flying over England and had a nice view of London:
Inflight over London
Breakfast:
There's really not much to report about this flight either. It was pretty standard KLM fare, good service, nothing above and beyond, but nothing to complain about. What I did notice is that we had an almost all-male cabin crew. Never had that before.
The landing at AMS (on the Kaagbaan, so a short taxi to the gate) was another greaser. Hardly felt the touchdown at all!!
Landing at AMS
After landing: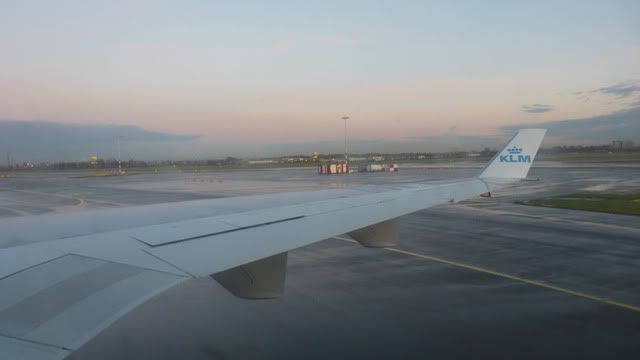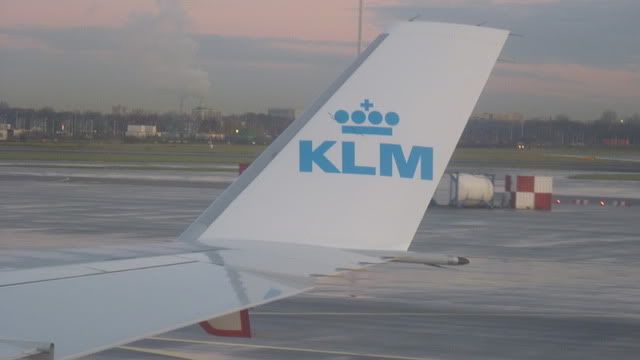 And so, another glorious vacation in Suriname came to an end, with almost a 40 degree C difference in temperature between Suriname (about 35C) and the Netherlands (below freezing point), which made coming back even harder. This vacation was of course made even more special as I got to fly an aircraft myself for the first time!! And I also flew on a Twin Otter to the Surinamese inland. I have a separate report on that over here:
Jungle Flying In Suriname: Twin Otter To Tabiki
(by
Kappel
Nov 26 2010 in Trip Reports)
KLM got the job done again... as usual. In the usual KLM way of not excelling, but delivering what's expected. Which is fine by me. The aircraft were clean, flights were good and mostly on time. It really wasn't KLM's fault that they arrived late at PBM, so can't blame them for that.
I hope you enjoyed this TR (together with the Twin Otter TR) and of course, comments are always welcome!
Regards,
Sergio
BTW, my previous Trip Reports can be found here:
AMS-PBM-AMS On KL MD11
(by
Kappel
Sep 7 2010 in Trip Reports)
Another PBM TR:AMS-PBM-AMS On KL744 In Y And J
(by
Kappel
Sep 21 2010 in Trip Reports)
AMS-EDI-AMS On KL Fokker 70 And Boeing 73Gw
(by
Kappel
Sep 7 2010 in Trip Reports)
To Athens On LH A300-600
(by
Kappel
Sep 8 2010 in Trip Reports)
AMS-MUC-SIN-KUL-SIN-MUC-AMS On LH And MH
(by
Kappel
Sep 9 2010 in Trip Reports)