Hello!
And welcome to my trip-report! This time something new for me. Just going for flying. Otherwise I always have a "target" but this time I just go around southern Scandinavia but with stops on the way of course
This report also include a A-net meeting, my second one
This time I meet up with Petteri- Flyingfinn76 here on A-net.
Anyway, here´s the actual routing: Go by bus from Karlstad to Jönköping. Meet Petteri in JKG and then fly up to Stockholm. The next day I will flew from Stockholm-Bromma to Ängelholm/Helsingborg. Take the ferry to Helsingör in Denmark, then by train to Kastrup Airport in Copenhagen, stay one night in CPH and then continue on home to Karlstad.
Even if I only took one flight per day It was quit intense and I go with almost every kind of vehicles, bus, plane, train and ferry
The last flight, CPH-KSD is with Skyways, so my last TR "last flight with JZ" was wrong
Maybe this was not my last flight with them either. JZ was bought by some Cypriot company a couple of weeks ago and the will reconstruct the company and go back to the "Skyways Express" brand which was used when JZ was "well connected with SAS". Let´s see what happened! The only strange thing about this is that Swedish media haven´t said one word about JZ. It was only a small note on a Swedish travel-site that JZ had been sold.
I planned to travel one more time this year and I contacted Petteri and ask him about his plans in December. At first I would like to visit Helsinkki since I haven´t been there for nine years and I would like to catch AY´s newly open route BMA-HEL on there Embraer jets. When Petteri told me about his plans to fly on Flyglinjen from JKG to BMA I wasn´t late to join since I been curious on that route.
So I quickly book the flight, not that cheap as Petteri, my flight cost me 1200SEK (120Euro) but that´s not that uncommon on thinner domestic routes in Sweden. I quickly decided that I´m going to CPH after that to catch one of Nextjets SAAB´s to Örebro, a city not that far from Karlstad. But the fares rises to over 2000SEK (210 Euros) for a single-ticket so I have to look on something else. Finally I go for a day-flight to Karlstad on JZ.
I was not in the mood to catch a regular ARN-CPH flight on SK so I decided to take a flight with Kullaflyg from Bromma to Ängelholm/Helsingborg-two cities in southern Sweden and then by ferry and train to CPH. I was really happy about this routing
Here´s the routing in picture:
How to go to Jönköping then? There´s no direct-train connections, you have to switch train one or to times and the travel-time for the 250 km trip would take 5-6 hours. There´s a direct bus from Karlstad so I had to take that instead, I´m not a big fan of buses but this time it was the most convenient way. The bus-ride should take around 4 hours with several stops on it´s way to Jönköping.
Day 1, the 6th of december:
My alarm-clock rang at 6 am.My bus was scheduled to 8am. After a shower and breakfast my father pick me up and drove me to Karlstad´s bus station which took 25 minutes this snowy morning. I arrived 20 min before departure and bought some coffee and newspapers to bring on my bus. I walked to the assigned bus-stop and the bus was already there. We left on strictly on time and stop at Karlstad university before going to the highway to start our 4 hour journey to the south. I paid 180SEK (19Euros) for the bus-ticket, quit cheap.
My bus at Karlstad´s bus station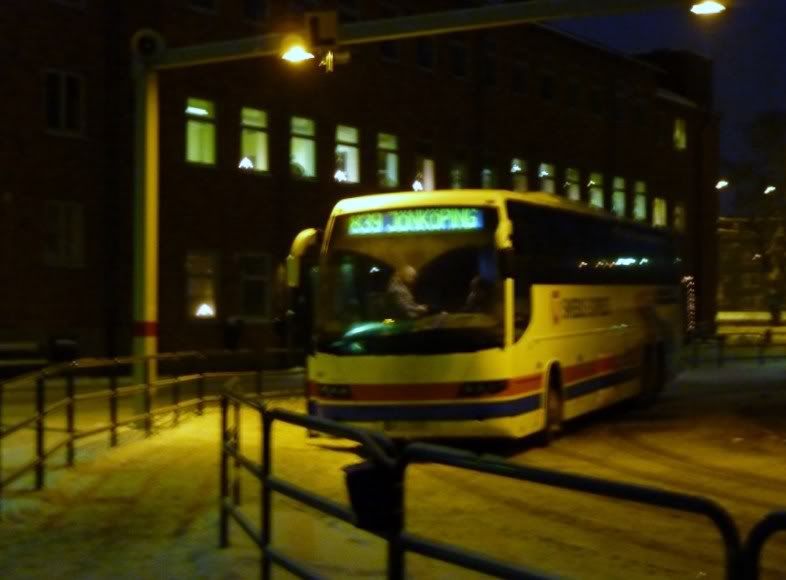 Karlstad´s university:
The snowy-roads on our way to Jönköping:
I arrived 12.20 in Jönköping, 20 min late. Petteri will arrive at 13.00 so I sat down at the station and waited for him.
Jönköping is a town with around 80 000 inhabitants and it´s lays in southern Sweden just next to Sweden´s next biggest lake-Vättern. It´s the capital of the region of Småland. I guess most of you not coming from Sweden never heard of Småland but the world famous child books author Astrid Lindgren was born here and many of here books taking place here and in Småland the worlds first IKEA department-store was opened here also.
Unlike the rest of Sweden Jönköping have a very religious population. In the middle of the nineteenth century they started to call it for "Småland´s Jerusalem" and in the more recent days- "Sweden´s Mecca"
Petteri´s bus arrived on time at 13.00. We walked around a bit and then have lunch on a Thai-restaurant. At first we planned to take the bus to the airport but time passed and I getting a little bit nervous that we will not make it to the airport in time so I convinced Petteri that we should take a taxi instead , which was OK for him
Some pictures from Jönköping:
A church, you find many of them in Jönköpin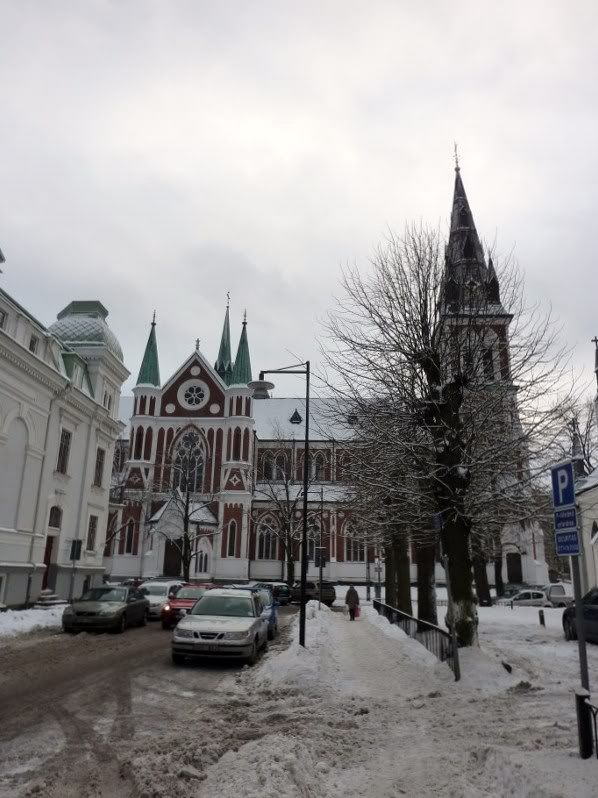 A old fire station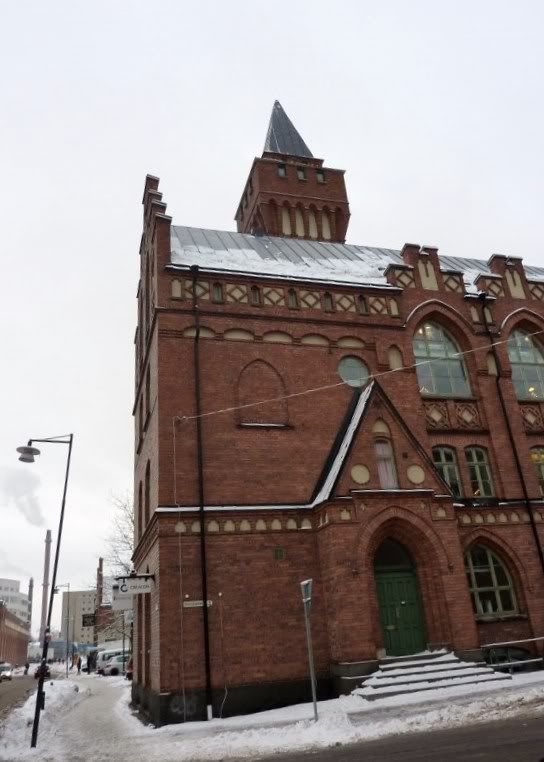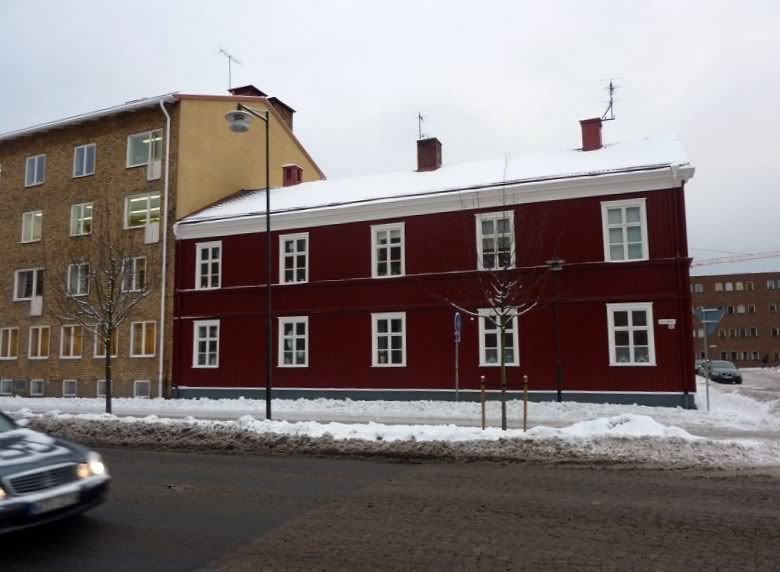 Jönköping´s university:
We arrived at the airport some 35-40 minutes before departure, check-in was done in half a minute and we received our boarding cards with no name on it: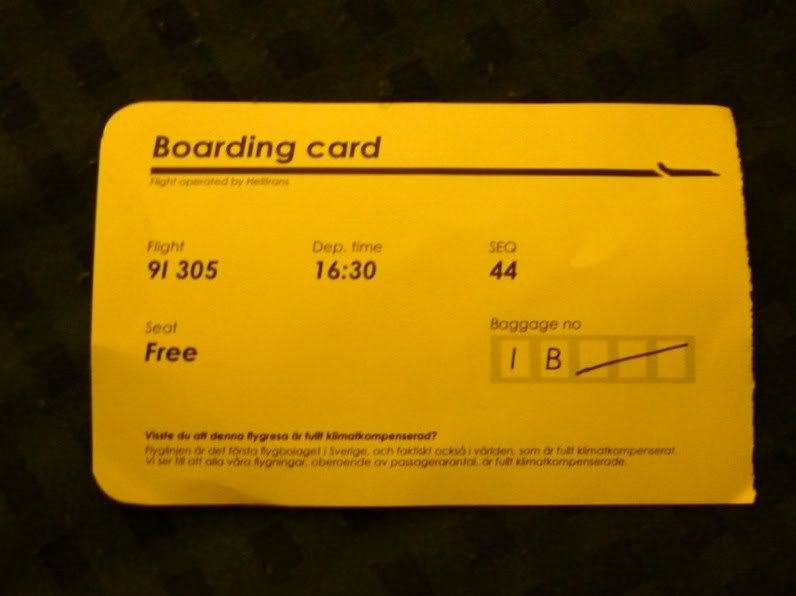 The Airport: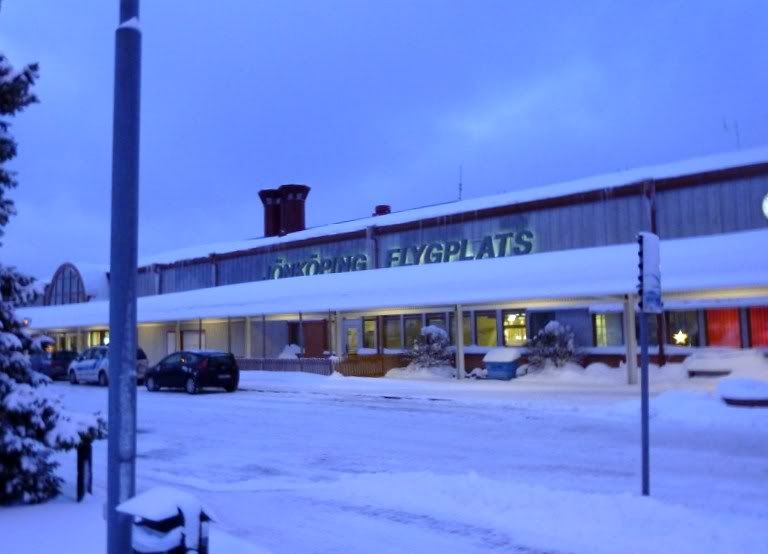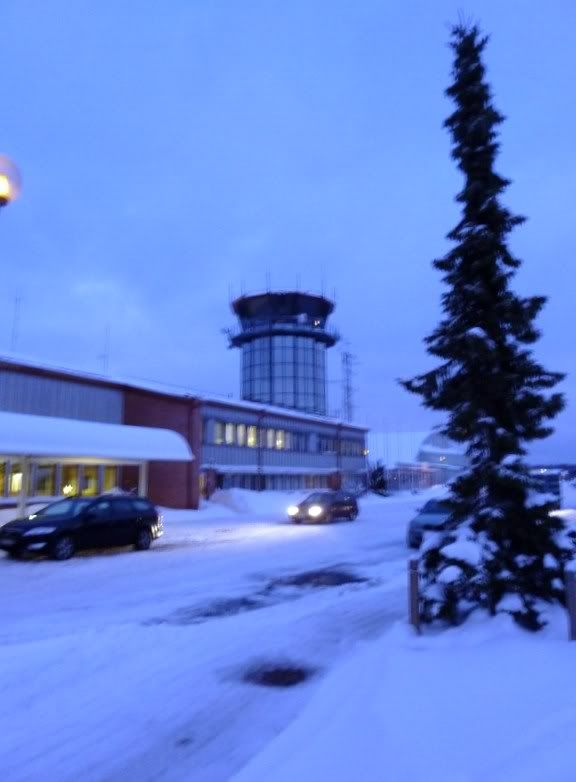 The departureboard: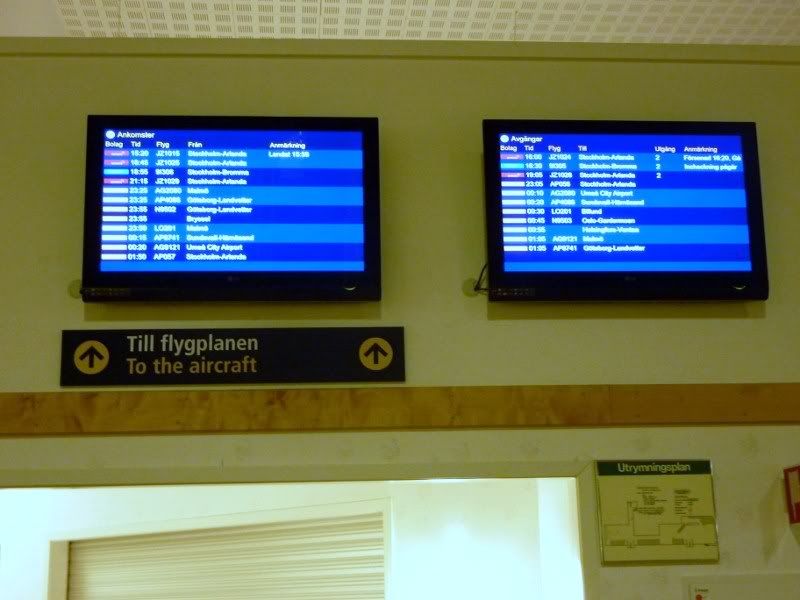 After some photographing outside we went for the gate. No other passenger in security, just the two of us so quickly done.
Boarding started some 10 min before our departure, just after the JZ flight to ARN has board.
Another Jetstream parked at JKG
Skyway´s Fokker 50 to ARN, I flew with this A/C, SE-LED a couple of weeks ago
No gates here at JKG so we walked to our A/C, a Jetstream 32. Next to the stair there was a charming F/A that welcomed us. Interesting with a F/A on a jetstream 32!
Our A/C: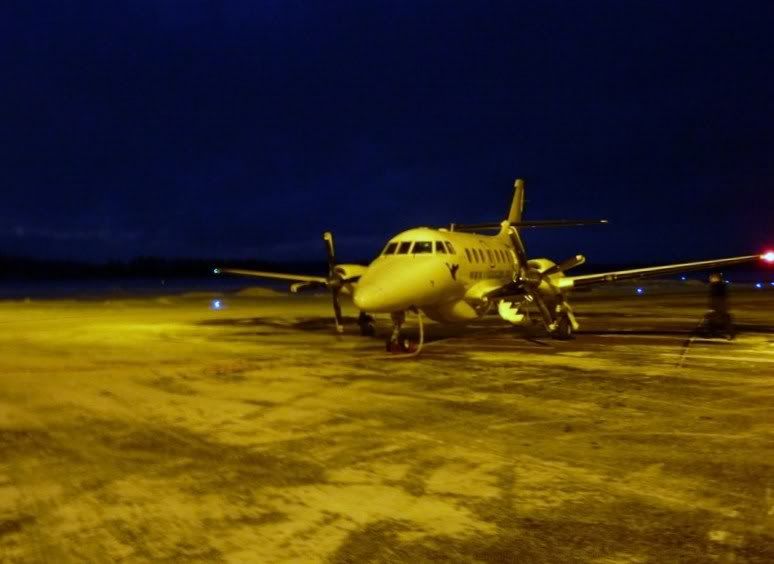 Flightdetails:
Jönköping-->Stockholm-Bromma on Flyglinjen
Flight: 9I 305
A/C: Jetstream 32 Reg LN-FAN
Dep time:16.30
Arr time: 17.25
Load: 41%, 7 pax onboard.
Boarding was quick since the light load. The F/A asked two ladies in the front to move to the rear because of balanced. There´s a guy in row one with headphones, guess some trainee pilot or something.
My seat was 5A on the left side of the A/C. So both window and aisle-seat
View from my seat:
The F/A closed the door and then handed out earplugs but I and Petteri declined. In the basket it was also some sweets, nice
No PA or recorded safety-instructions on the jetstream so the F/A stand in the front and tells us about safety onboard while she demonstrate the use of lifejacket, seatbelt etc.
The flightcrew started the engines and now and then I knew way the handed out earplugs, it was very loudly
But not to bothering
We took off a couple of minutes later from runway 01 and climbed to 19 000 feet.
A couple of minutes into flight the F/A started the cabin-service. We received a bag from a local bakery and there was a sandwich and a "lussebulle" (traditional swedish christmas cake) in it. it was later followed by cooffee. Really nice service
The Cabin:
Notice, no cockpit-door:D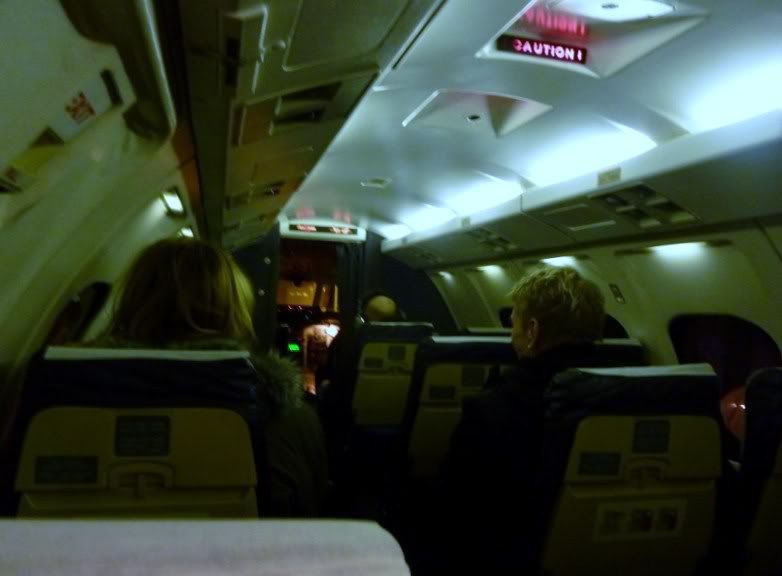 The rear: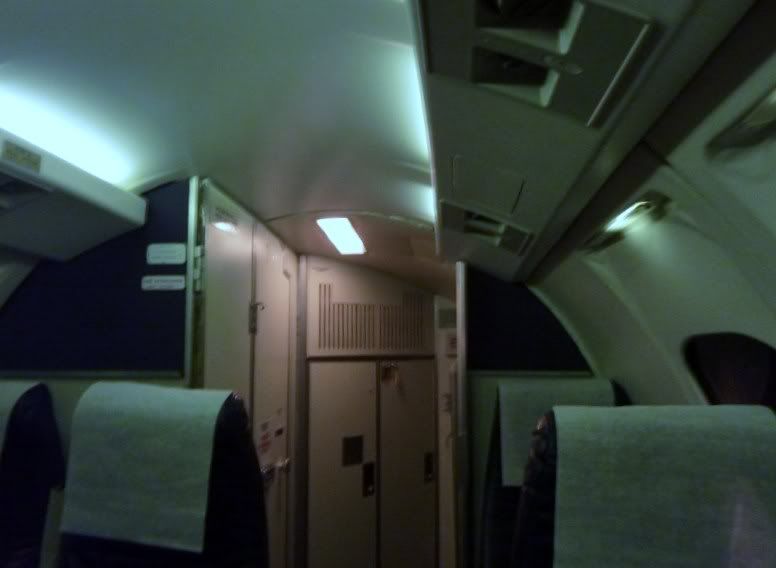 Our F/A Linda on the in-flight magazine´s front cover:
The service:
The snack-bag:
The contents: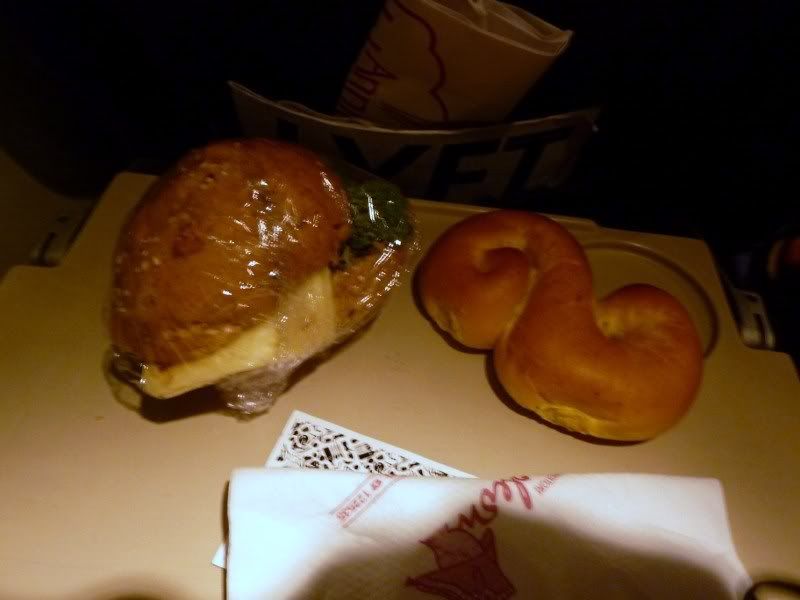 Followed by coffee: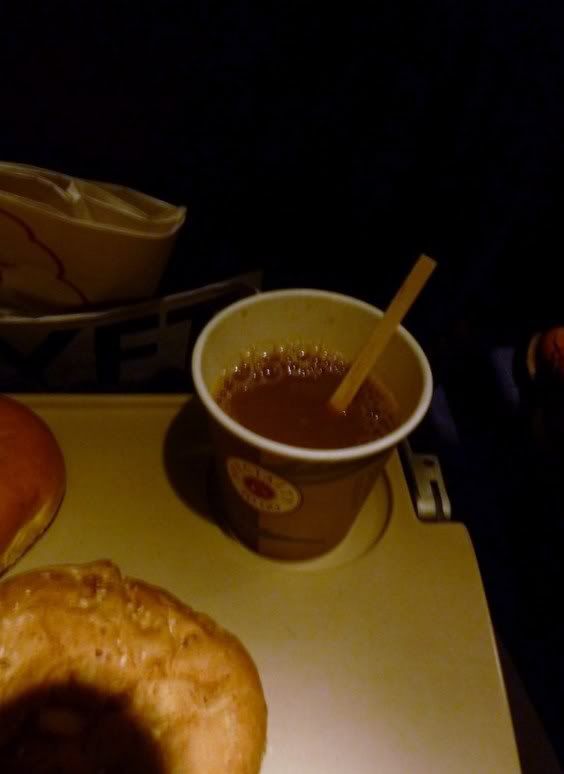 The flight was uneventful and quick. The captain came over the P/A with some in-flight info. I couldn´t here much but I could see in the cockpit that our crusingaltitude was 19 000 feet
The descent was quit bumpy and you coldn´t see anything untill a couple a minutes before landing. It was fun to see the runway through the cockpit window!
We overflew the city-centre and landed on Stockholm-BMA airport runway 30 after 50 minute flight
A short taxi to parking stand and then a short walk to the airport terminal.
Parked at Bromma: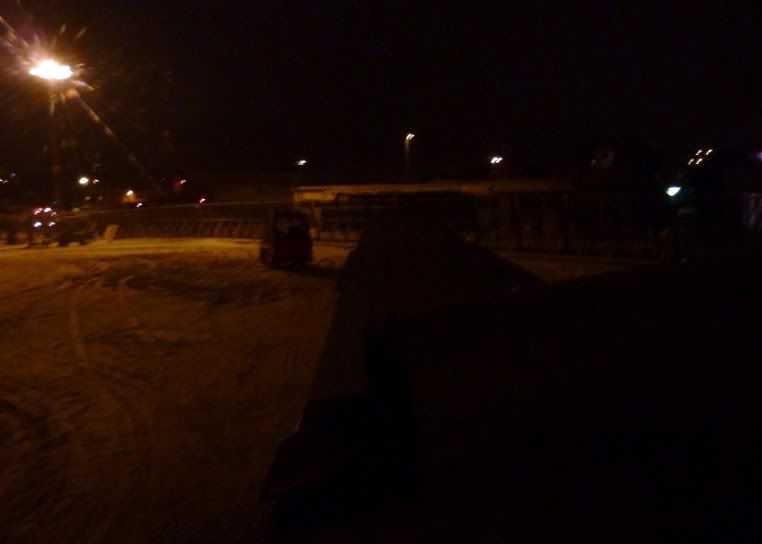 The cabin again after landing: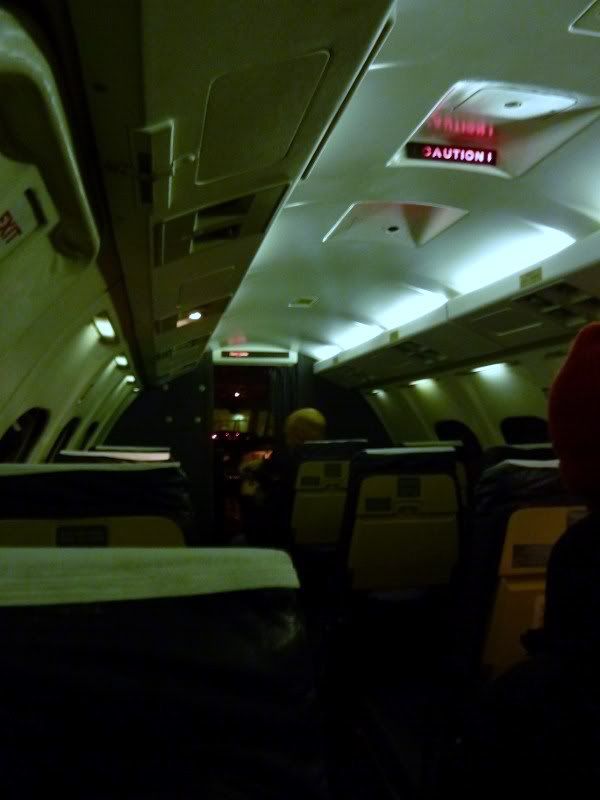 Walking away from the A/C. Byebye LN-FAN- as Petteri wrote in his report, FAN in Swedish means devil and is a common swear-word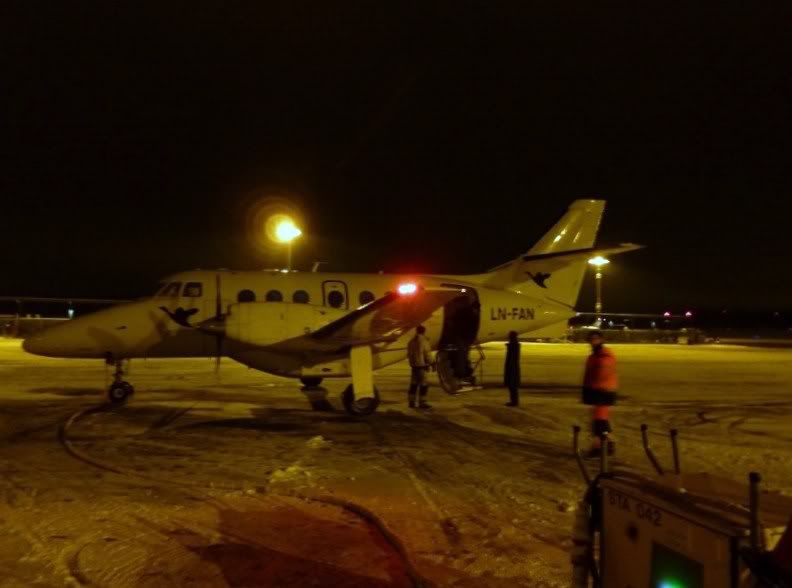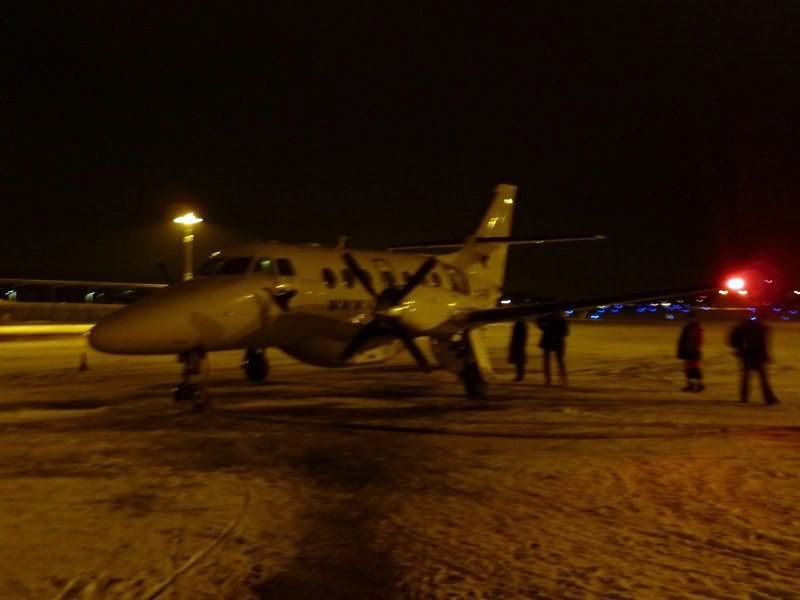 The terminal:
We decided to take the budget-alternative to the city so instead of the airportcoach we took the commuter-bus to the Stockholm-suburb Sundbyberg, also called "Sumpan" and then take the subway from there. On the way to the bus we passed a famous swedish actress named Nina Robertsson.
In Sundbyberg we took a beer before going to the city-centre. A very coosy-bar called "The bishop arms".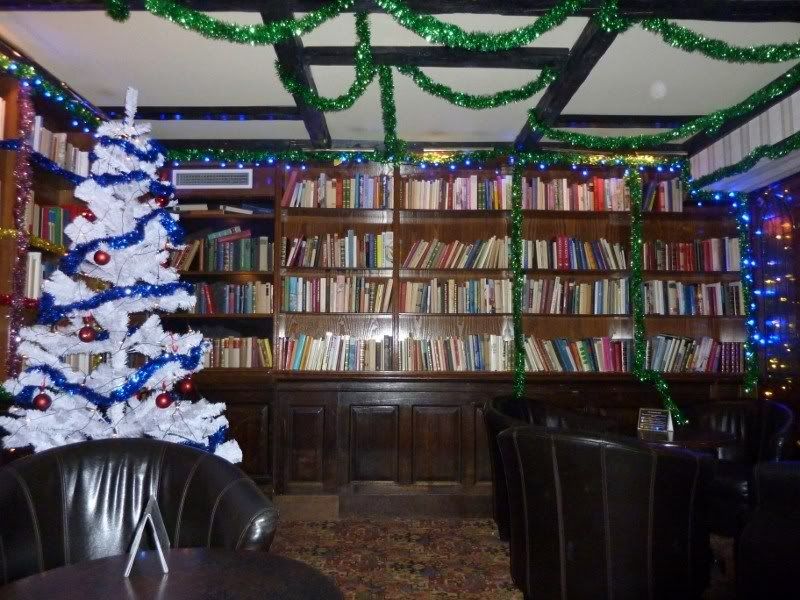 I was booked on the Radison Blu iking hotel just next to the Centralstation so we decided that Petteri will followed me there and have a drink before he´s going to ARN and his Jumbostay
After a drink and talking we said goodbye to each other and I headed for McDonald´s for some dinner
Some pics from Stockholm:
My hotel: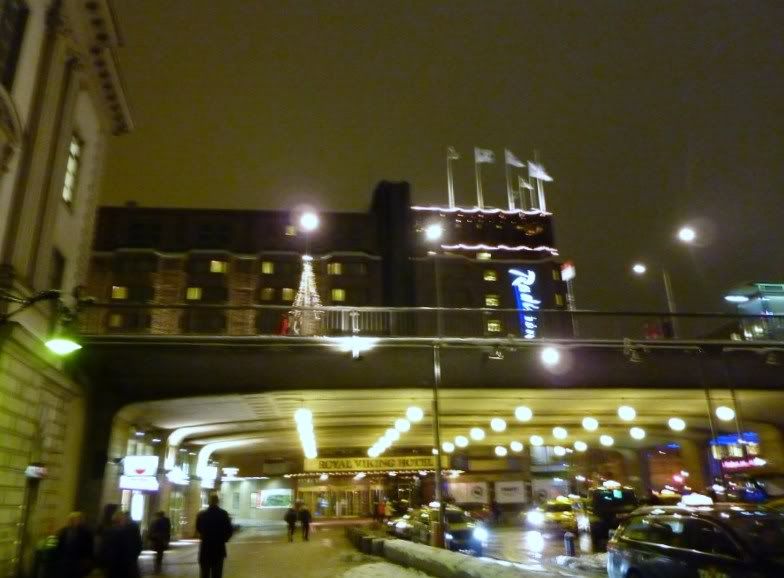 The Centralstation with decorating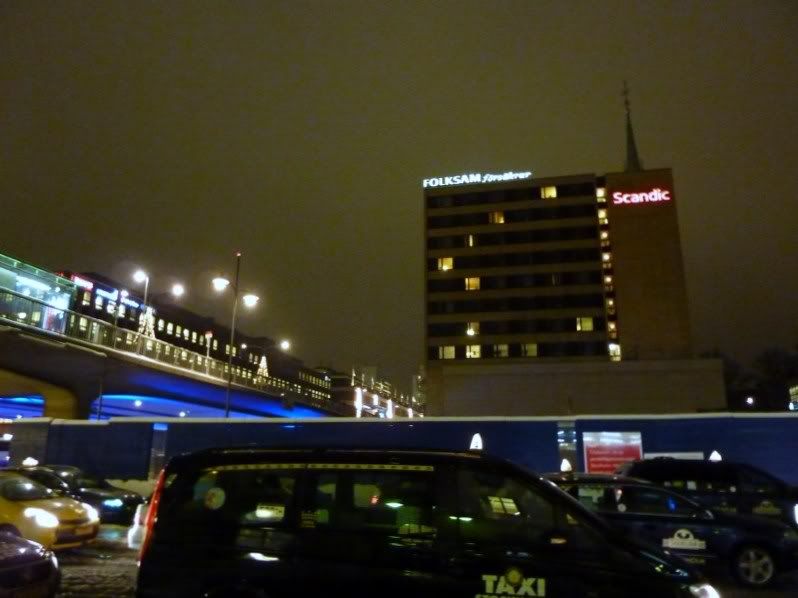 My room: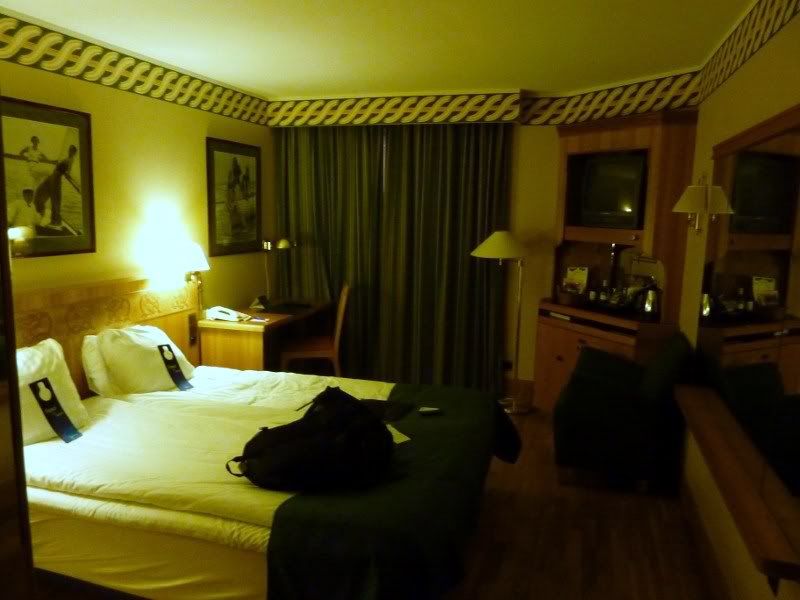 I went to bed early after a intense and fun day with a very early start
The next morning a went up at 8.00 and had a breakfest in the hotel. I notice some Thai Air stuff in the restaurant. The F/A´s have some really good-looking unifroms
I was suprised to see that they had some senior F/A´s. I though they only had young girls and boys
My hotel in daylight: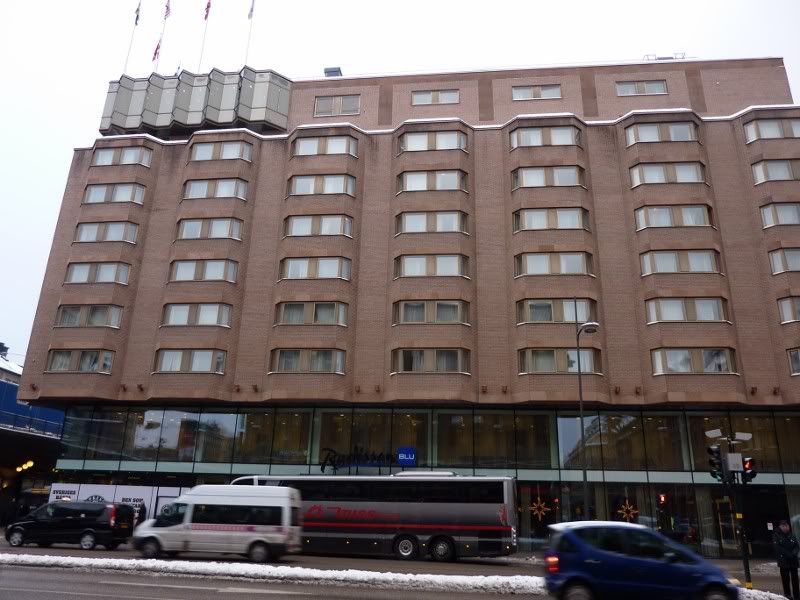 I checked out at 10 and took the airportcoach from Centralstation to Bromma were my next flight will depart from at 12.10.
The Centralstation
I arrived at Bromma around 11.00 and check-in the old fashioned way which was quickly done with only one pax in front of me.
Some pics from BMA: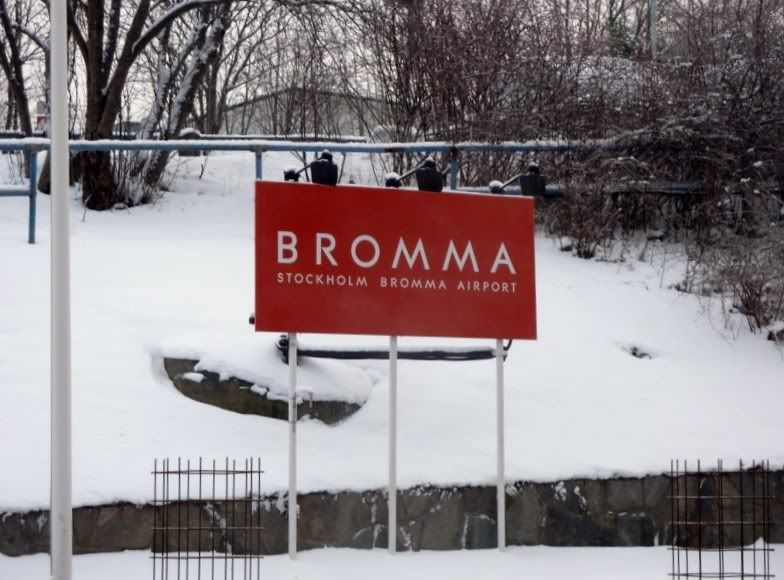 The controltower:
The terminal, not nice
Check-in area: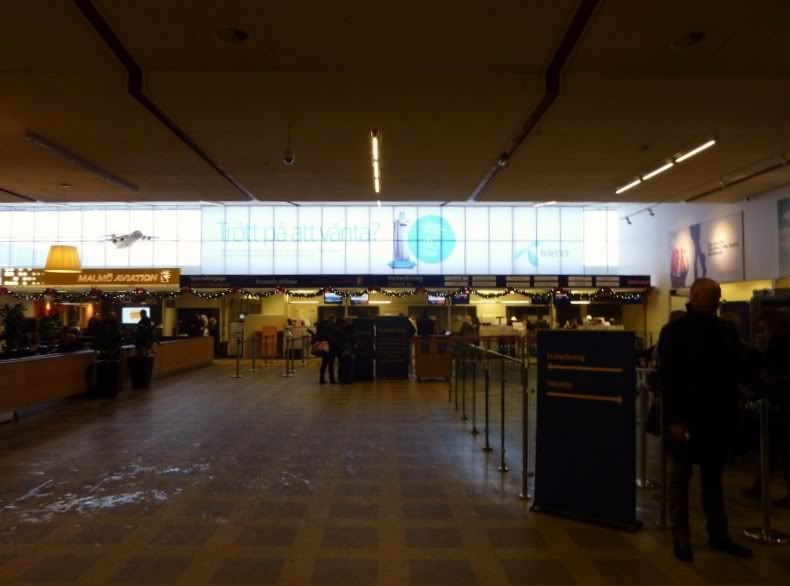 I went directly to security which also was quickly done with only a few pax before me. I walked to my gate and waited for boarding.
Continued below