Background:
Hello everybody and thanks for reading this report.
I fly to Peru in december regularly for the past three years. I always used the services of Delta, flying either PRG-DUS-ATL-LIM or PRG-ZRH-ATL-LIM and the same on the return.
I don´t know what happened this year, but the prices were SOOOO high!! The direct flight from AMS with KL was costing around USD 3,000 (the cheapest fare, with only 25% of the miles), AF via BOG was even more expensive, UX via MAD as around 2500, and my favorite, Delta, was around 2000. Since I am a Flying Blue member, I always used SkyTeam. I have never flown on any other alliance airline. Never.
But since this SkyTeam airlines were sooo overpriced, I checked the others. Oneworld was giving me only the routing via LHR and MIA with BA and AA. Since I hate MIA airport, it was not a choice, also the price was around 2000 USD as well. Star Alliance gave me the option of flying LH via FRA and CCS but for a high price as well. I was getting desperate and checked Continental´s webside. And voila, 1500 USD for the return, flying the routing: PRG-FRA-IAH-LIM and the return would be LIM-IAH-ATL-FRA-PRG. The only "incovenience" was the fact that one was supposed to spend a night in IAH on the way to Peru and in ATL on my way home. Since I have some very good friends in both cities, I took the offer and bought the ticket.
A downfall was, the CO website did not allow me to buy the ticket using a credit card issued in Czech Republic. How is this possible? I had to find the same routing on expedia.com and buy it over there.
Flight number 1
12th of December 2010
PRG-FRA
Lufthansa flight LH1403
Scheduled Departure: 6am
Actual Departure: 6:28am
Scheduled Arrival: 7:15am
Actual Arrival: 7:25am
Flight time: 1hr 15min
Airbus A321 (don´t know the reg)
Gate C2
Seat 24A (exit row)
Waking up sooo early in the morning was a pain. A very good friend took me to the airport. I was very cold that day, it was snowing in Prague as well. Arrived at the airport around 4:30am, check-in was a breeze. I have a friend working as a check-in agent in Prague, so he arranged an exit row for me, which was great! Security was quick as well. The airport was deserted, only who flight departing that early, my flight plus a W6 flight to BGY. All shops were closed, so I just walked to the gate and waited there. The plane was already there, LH flight 1402 arrives at 11pm the day before, sleeps in PRG and departs this early.
Boarding started around 5:35am, I was the totally last passanger on board. The seat was confortable, but a letdown was the fact, that this exit row had no window
well, it was dark outside, so finally I didn´t mind much. The FA´s were friendly, typically Germanic looking.
What I found extremely weird was the fact, that nobody instructed me how to use the exit door in case of an emergency. I don´t get to sit in the exit row often, but it is standart that FA´s have to ask passangers if they are capable of helping in case of an emergency and instruct them how to do so, or am I mistaken? I have seen this being done even in W6 and FR flight, so I was very suprised nobody at LH did this.
We had to be de-iced, because it was still snowing in Prague. It was quick and we took off roughly half an hour late.
The flight was uneventful, everybody was sleeping. The FA´s did a quick drink service and gave everybody a chocolate croissant. We soon started our descent and landed in FRA. We dissembarked via a bus which took us to the terminal.
Transit in Frankfurt:
I arrived roughly at 7:30am to the terminal building. It was still dark outside. My CO flight to IAH was supposed to be leaving at 1:50pm, so I had more than 6 hours to kill.
I have never been at FRA before and has expecting a great airport. Unfortunaly, I was very dissapointed. No free wi-fi, filthy bathrooms, chaotic atmosphere, only very little restaurants with limited seating which were always full, so people were having the coffee on foot. There were these smoking cabins which are designated for smokers. They probably don´t have good filtration, because the smell of cigarette smoke was present in a big radius of these cabins.
I must say, in Europe, the ONLY good airports for transit is AMS and ZRH, all others have been a serious dissapointment for me.
I watched a movie in my laptop and found the only good thing about FRA: secluded from where most people walk are these Lufthansa branded coffee and tea machines, that give you there drinks for free, an unlimited number of times. That was very, very, very cool and cheered me up.
Of course, I spotted as well. There were a lot of LH planes, UA and US planes, but also some exotic ones, such as a UL plane.
LH Jumbo jet: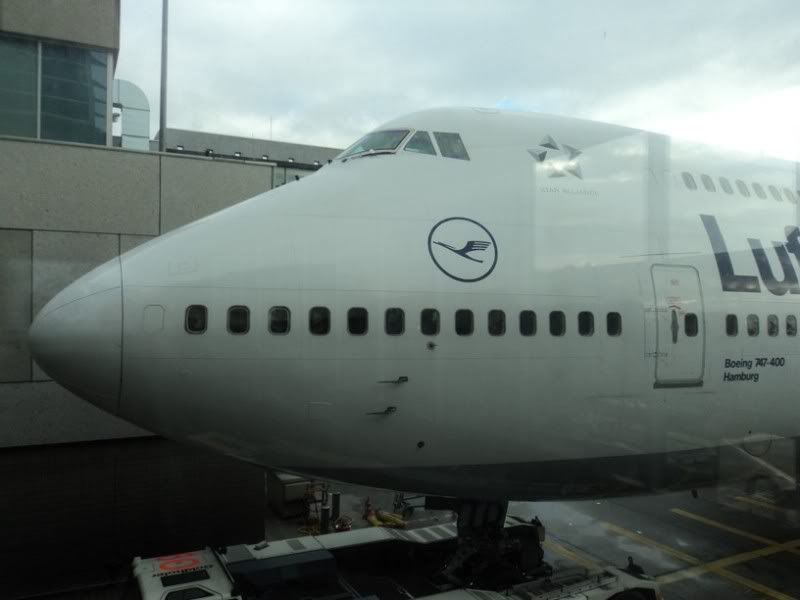 UA bound to ORD: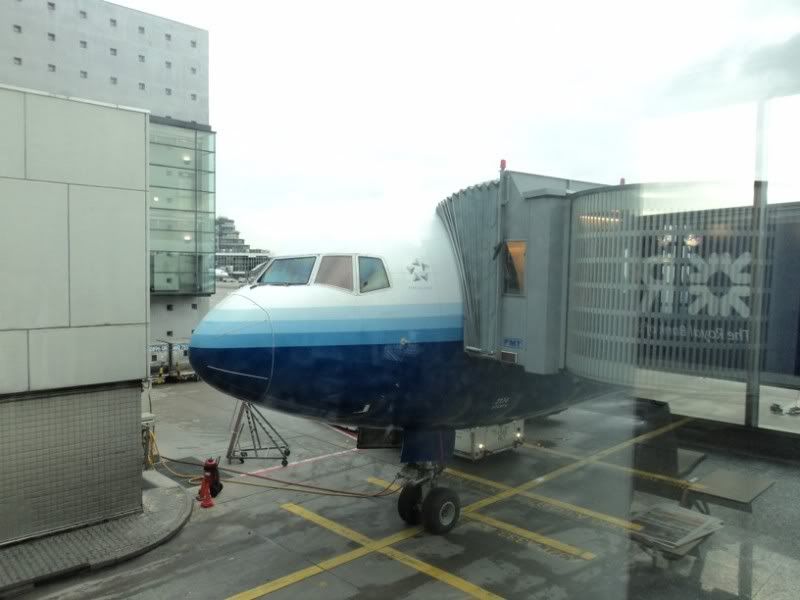 I haven´t seen a EY plane before:
LH A332:
Soon, I saw my plane arrive from IAH, but it parked in the worse gate ever and it was impossible to take a picture of it
Flight number 2
12th of December 2010
FRA-IAH
Continental flight CO47
Scheduled Departure: 1:50pm
Actual Departure: 2:25pm
Scheduled Arrival: 6:15pm
Actual Arrival: 5:58pm
Flight Time: A little more than 11hrs
Boeing 763 (don´t know the reg)
Gate A60
Seat 34A
Boarding was the most chaotic thing I ever experienced. People gathered around the gate area, so pre-boarding for wheelchairs, families with children, BussinesFirst and Elite members was very fight, they literarly had to box their way though, to get to the place where they scan your boarding pass. There were still people that did not had this stamp on their boarding pass which was given after having a short talk with an agent that asked you a bunch of ridicolous security questions. These pax had to return and find these agents, everbody was moaning, since it was completely chaotic. The gate agents did not perform a good job that day. I hope this is not CO standart, because I travel a lot, but I haven´t experienced such terrible boarding in my life.
Once on board, I was greeted by a friendly female FA and was told where my seat is. My seatmate was already at 34B, it was a mexican guy, he was very nice, we chatted a little later on in spanish.
The seat was confy, legroom was very generous. I am 186cm (6.1 feet for Americans) and I still had space before my knees would hit the seat infront. The PTV was small, but better than in DL, where across the pond in their 767s you don´t get any PTV.
We pushed backed just little behind schedule, the safety demo was played and we took off very quickly, almost no taxi time today.
Pictures from my seat: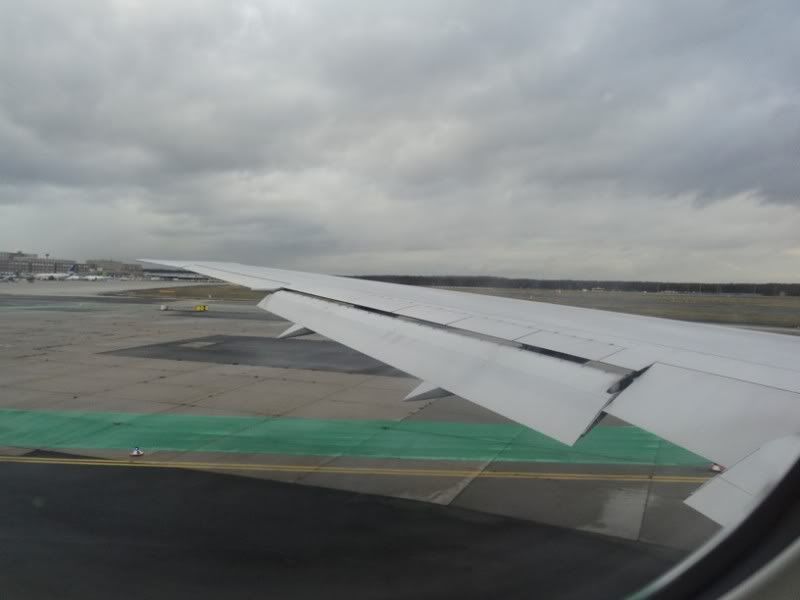 Lining to the runway:
Lift off: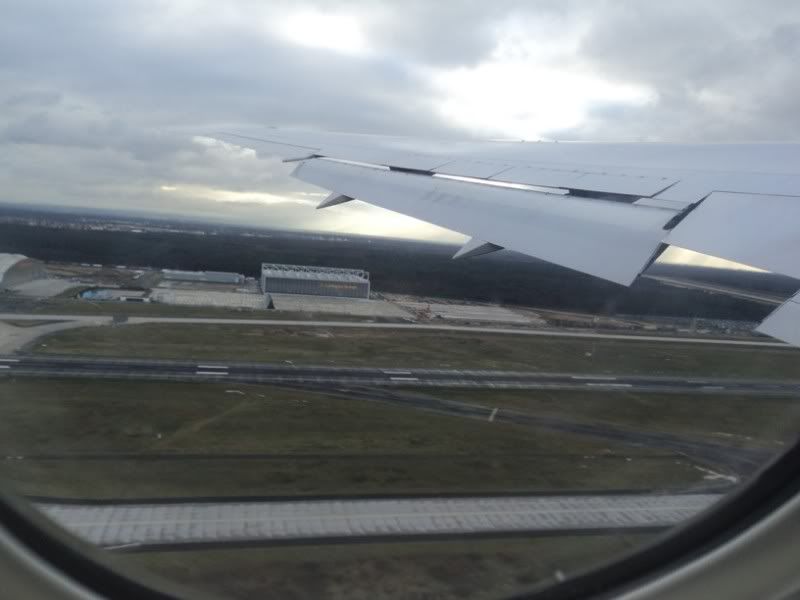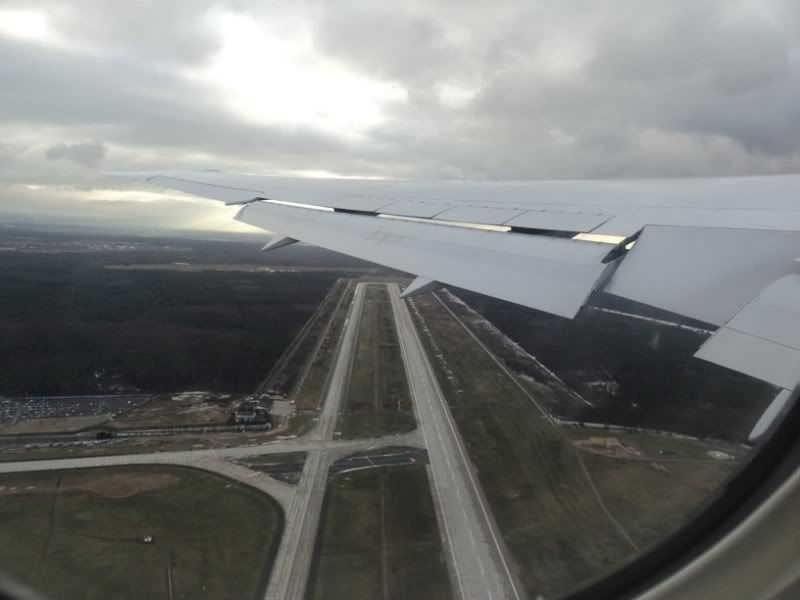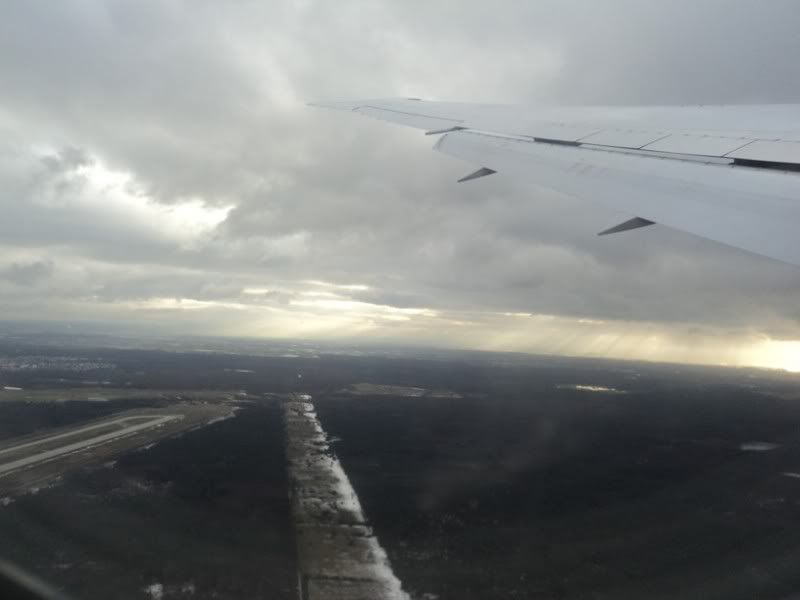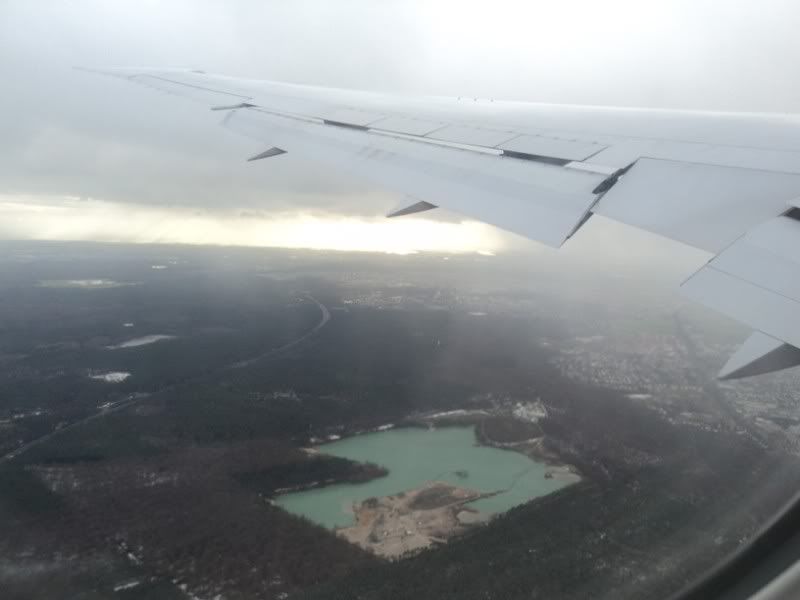 PTV turned off during takeoff: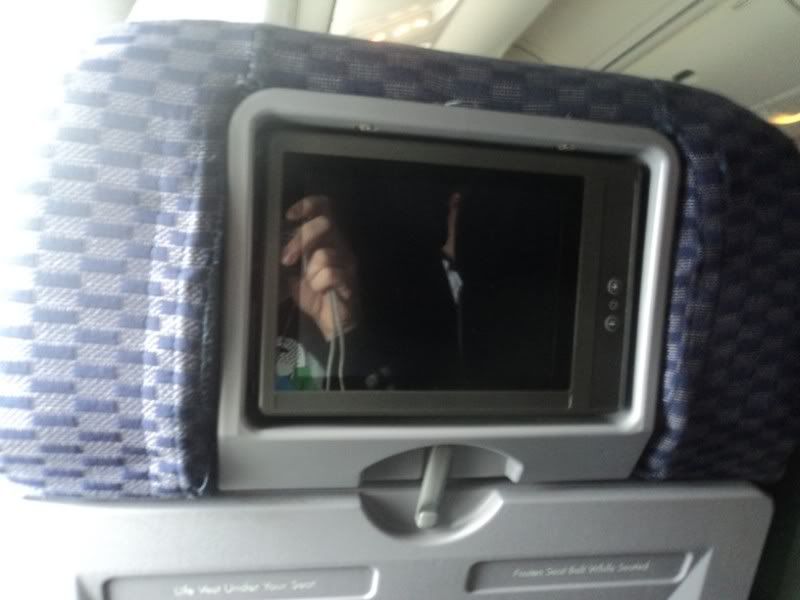 Just above the clouds (I was very exited to see the sun, the weather in Europe was TERRIBLE for the past two weeks and I haven´t seen the sun in at least ten days!!):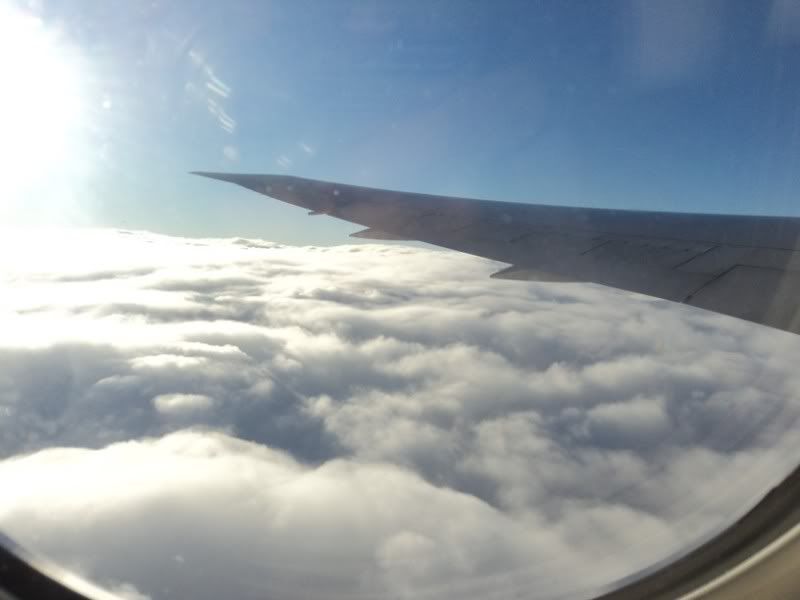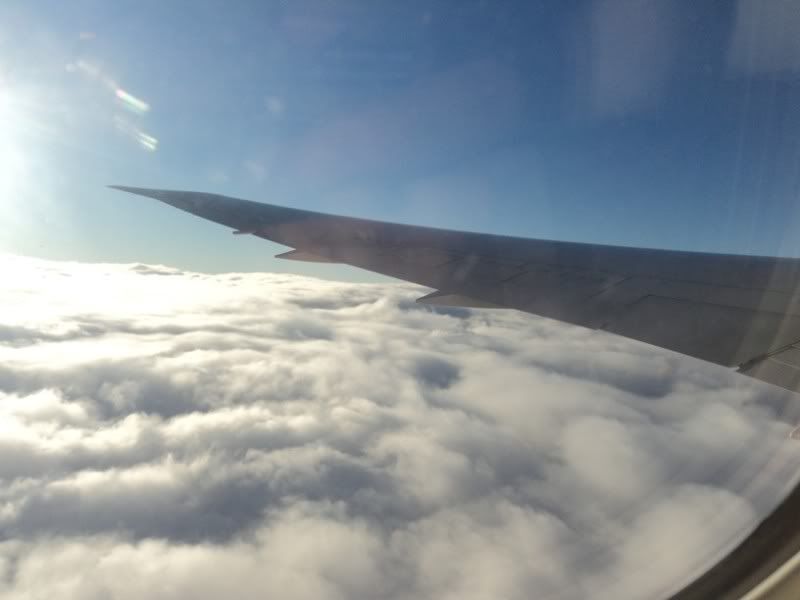 The airshow, my favorite: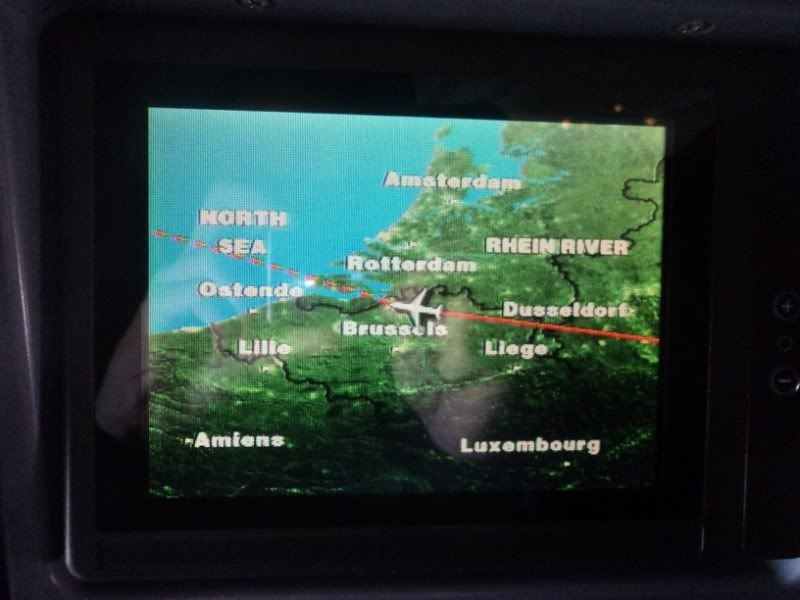 Somewhere over England the service started. First, a round of drinks was made, I almost take cranberry juice. One thing I really love about American airlines is that they offer this most wonderful drink ever. Flying LH or KL, I would have to stick with the boring OJ
Meals followed shortly after, the classic choices, chicken or pasta. I took the past, which was a great looking and smelling lasagna. However, after tasting it, I was very dissapointed. I tasted like nothing. It had no flavor at all. And I am not kidding. It looked and smelled sooo well, but it really tasted like plastic.
Fortunately, the dessert saved it, a brownie (which I loved) and the salad dressing (honey and mustard) was sooo excelent was well, that at the end, I was satisfied and full. On the tray there was a bun, Happy Cow cheese (or Laughting cow, or I don´t know the name in English
) and Irish butter. Sorry about not taking picture of the meal, but I totally forgot it
After the meal, I had tea with milk with the other drink service and then fell asleep. Having woken up at 3:30am and not sleeping since then, I was extremely tired. I woke up just before hitting Canadian territory:
I didn´t watch any movie, since the IFE was not on demand, you had to start looking at a movie, when it finished, it ran again. I was listening to channel 7 (Hit radio) and watching the airshow plus reading a book. The channel 7 was very good, hot music playing, I loved it. DL has better IFE (if you are lucky and get on one of the planes with PTV´s).
Some more airshow pics: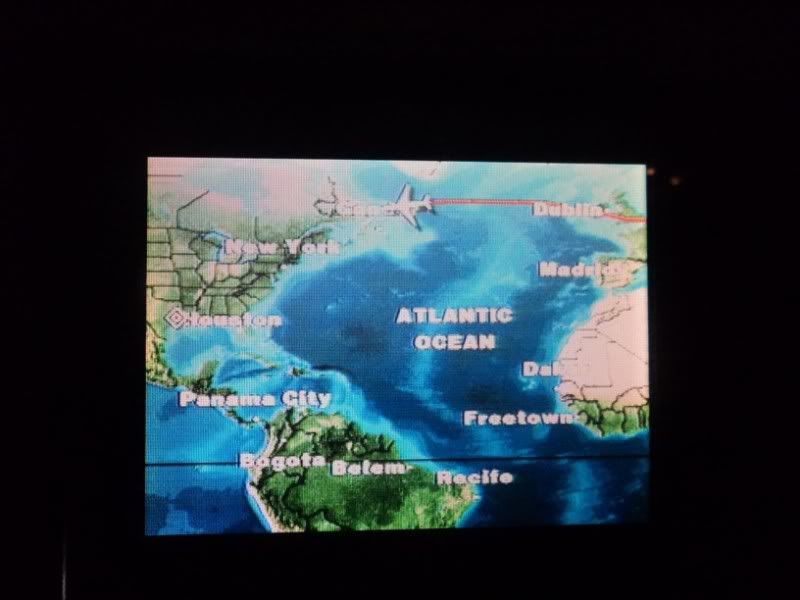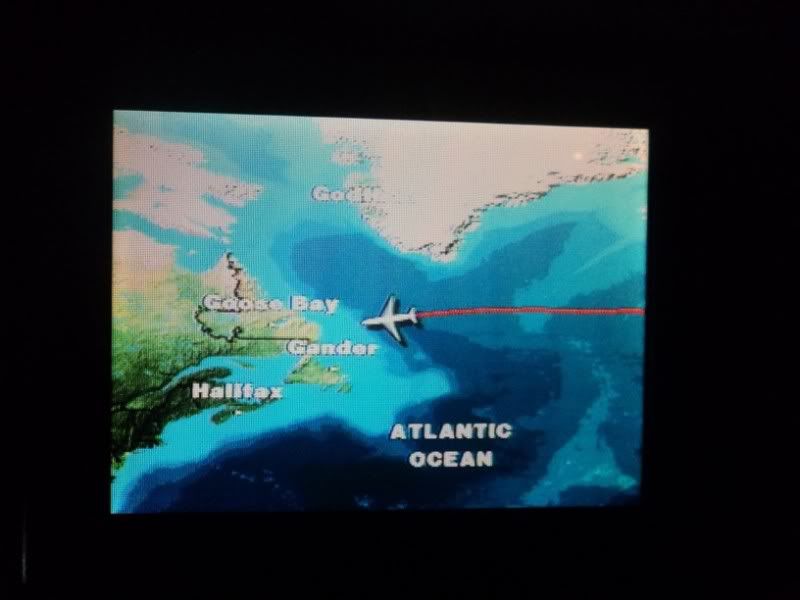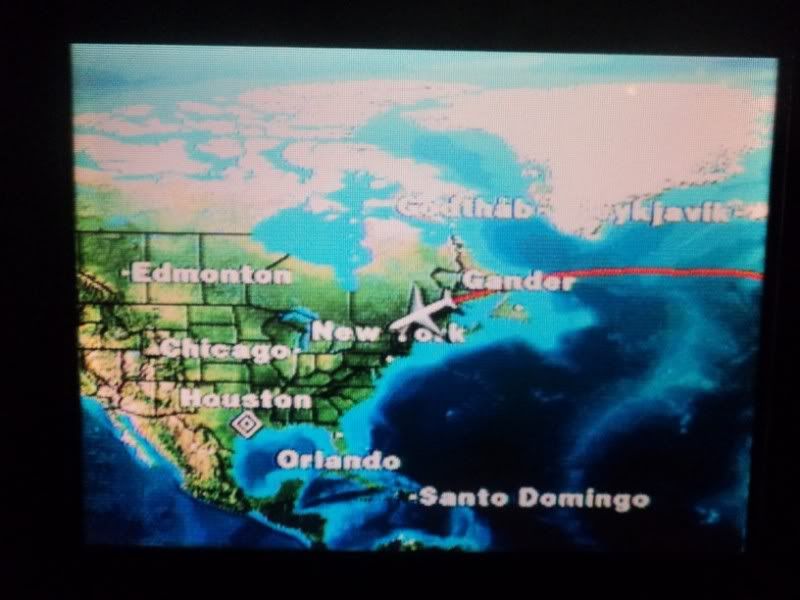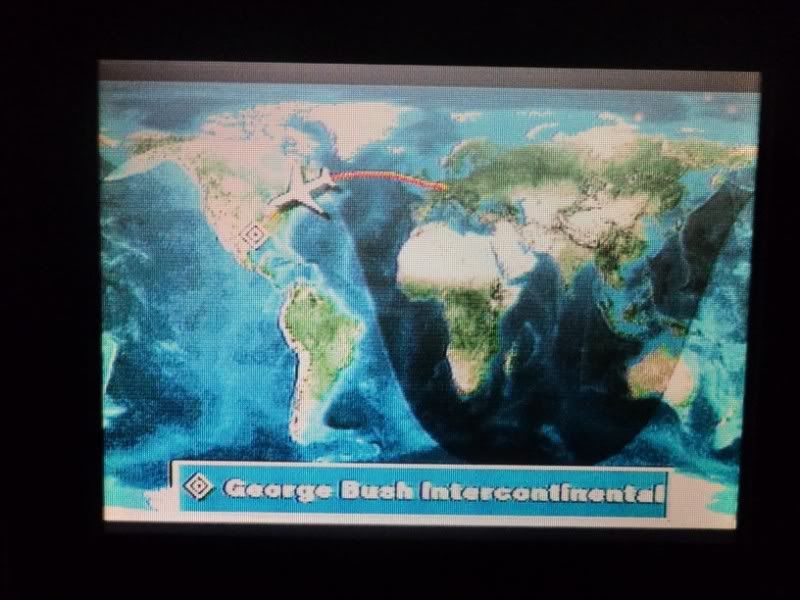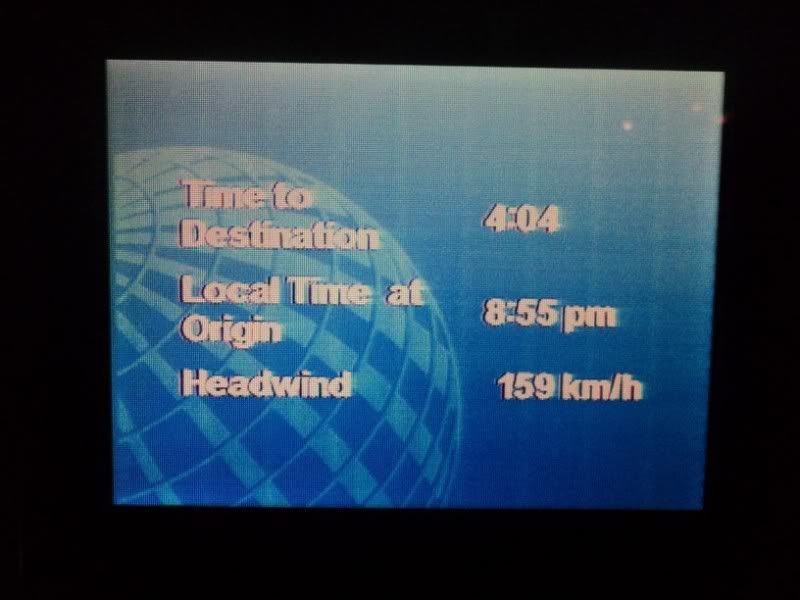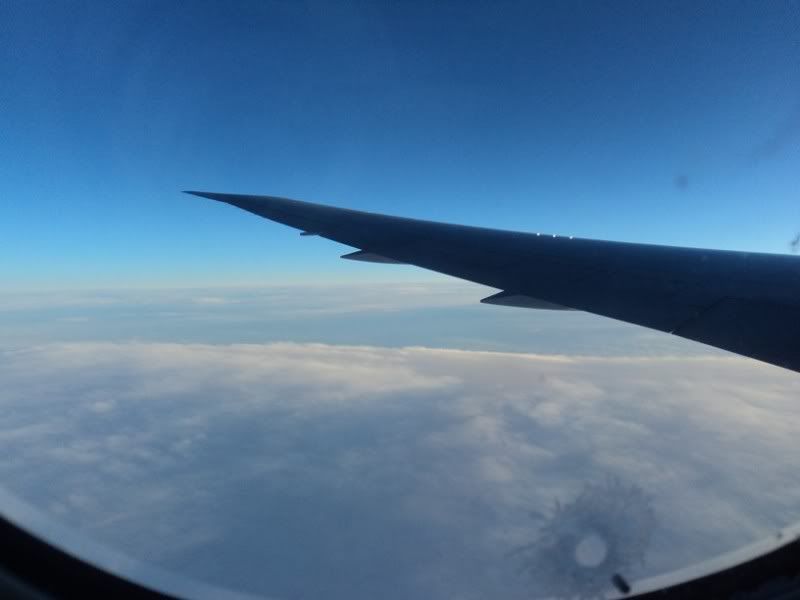 Over US airspace already: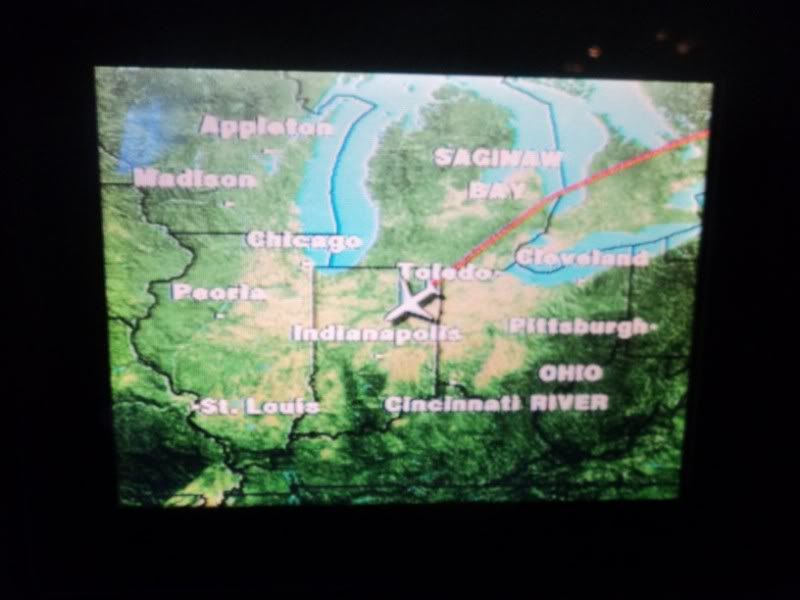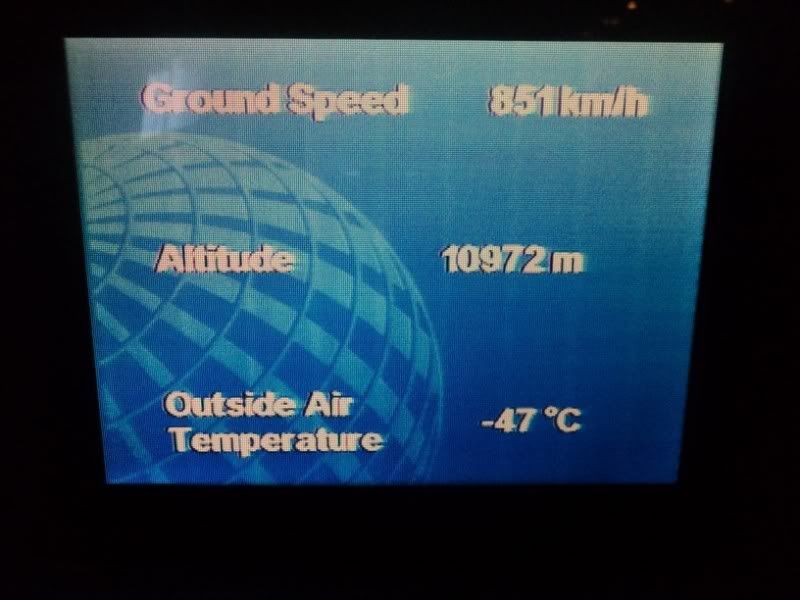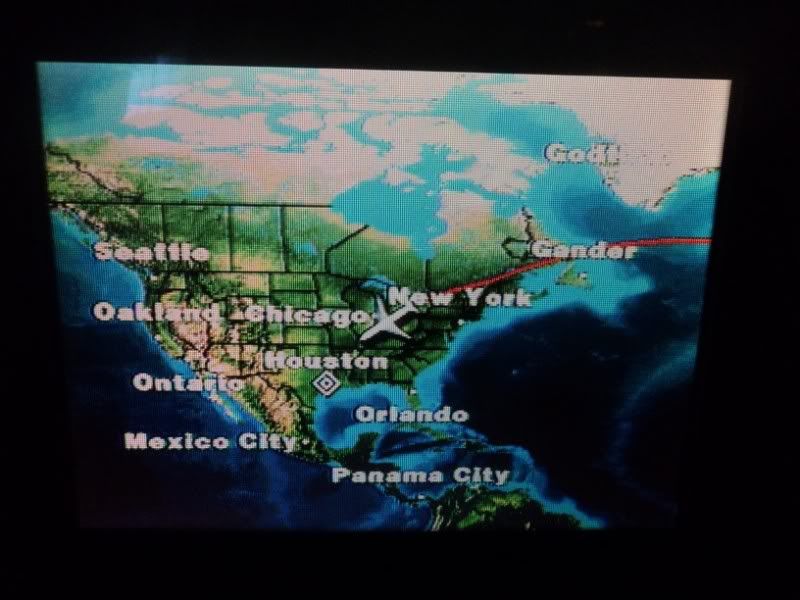 Seats: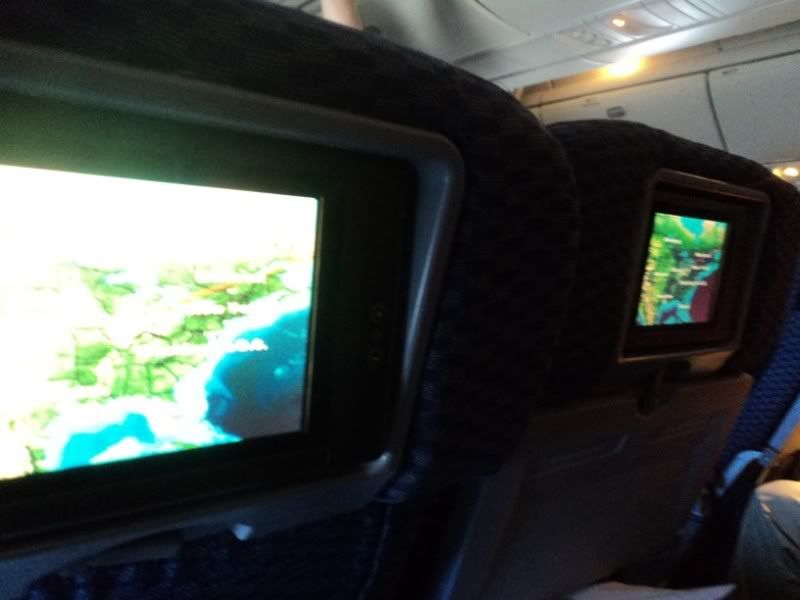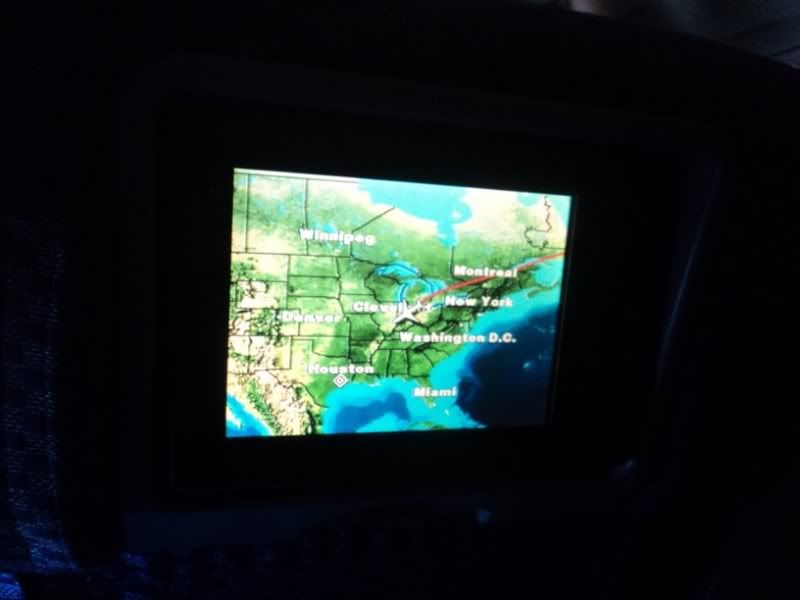 I hate to disturb my neighbor when flying alone, so I just went to the bathroom once during this 11hr flight. The seat was confy, I didn´t even recline (I don´t want to limit the legroom of the person behind me). But I was pissed, because the girl sitting infront of me was moving ALL the time in her seat, but is was so violent and regular, that it was hitting my knees. Uuurg, I have this, she was like jumping in her seat or I don´t know that she was doing, but her seat was in complete movement at 80% of the flight.
Water runs were made regularly, which I gladly accepted everytime. 1hr and 40min before landing the second meal was served, it consisted of a warm turkey and cheese sandwich, a Twix chocolate and salted chips. It was a nice treat before landing.
When overflying the ORD area, the ride got VERY bumpy. I later learned there was a snowstorm in the area, so that is why.
We soon started our descent in the Lousiana/Texas border. A video about US immigration and IAH airport was played, but the quality of the image was so terrible, you could not identify what was going on, you could only guess thanks to the audio.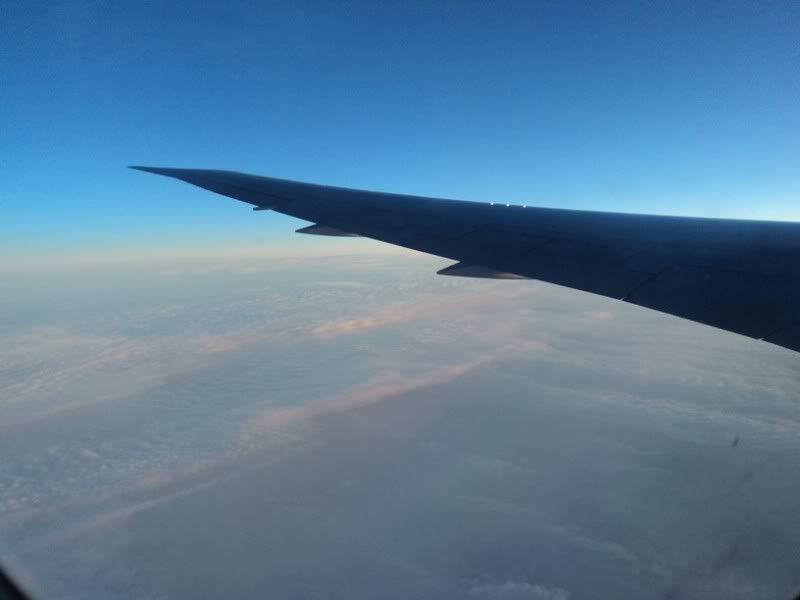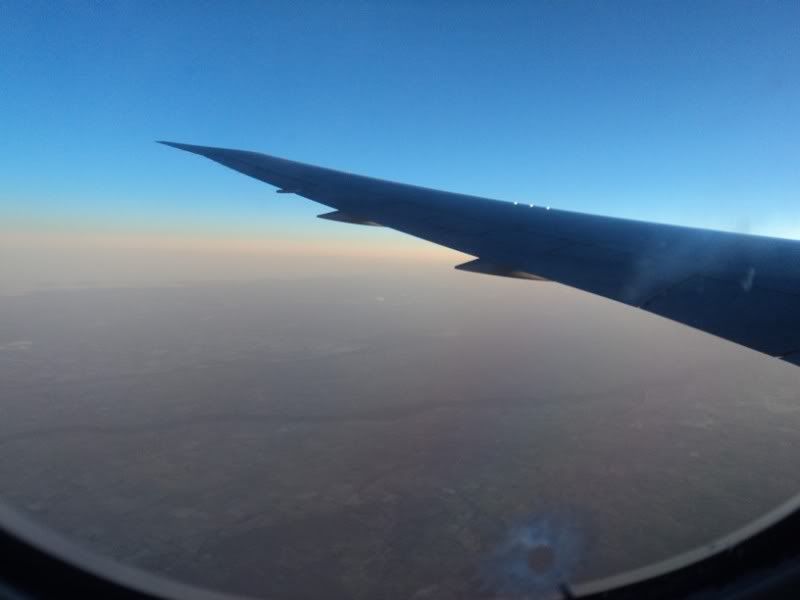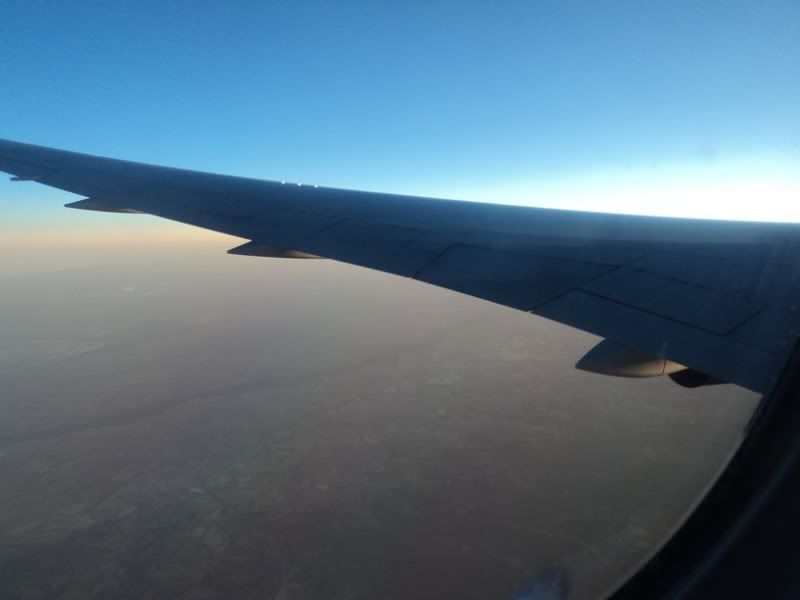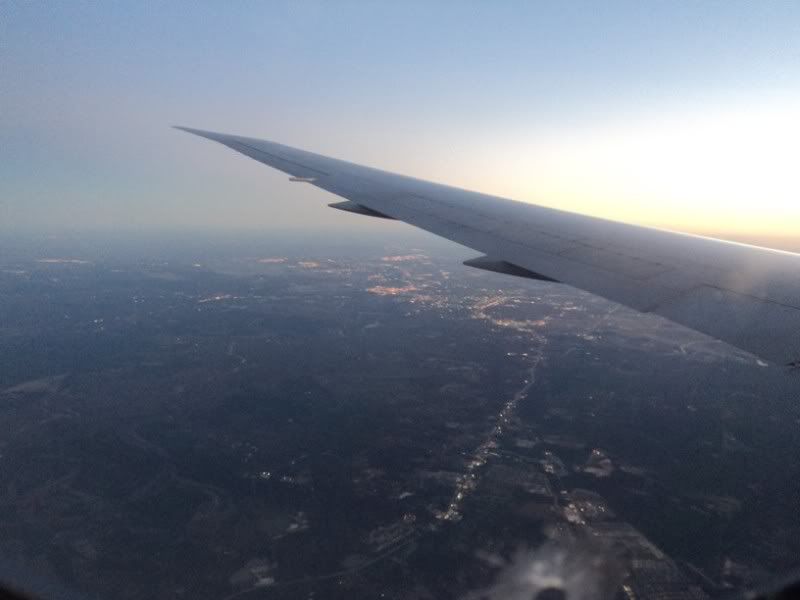 We made a very straight descent into IAH, involving minimum turns, it was nice to land after 11hrs. I love flying and everything around it, but 11hrs is a lot!
Deplaning was slow, and when leaving the plane, no FA was there to say goodbye. I always like to say "Thank you very much, it was a wonderful flight!" but there was nobody, which was disssapointing
We walked for miles and miles until reaching immigration, which was very quick, I picked up my bag which was already on the carrousel and exited the airport where my friends were already waiting for me.
Houston layover:
I arrived at 6pm and my flight to Lima was the following day at 4pm. My friends took me to their place in Spring, a town just outside Houston. They cooked for me, we had some beers and then I went to sleep. The following day we woke up early, because I wanted to shop in the USA! Europe is so expensive, that the prices you see in the US left my mouth open.
We were doing some smorse (aparently, a typical American dessert):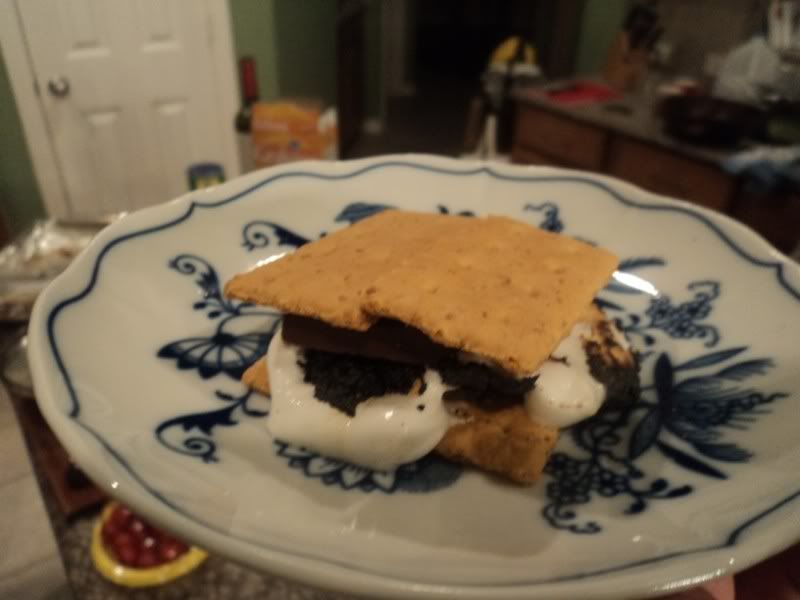 Their neighborhood: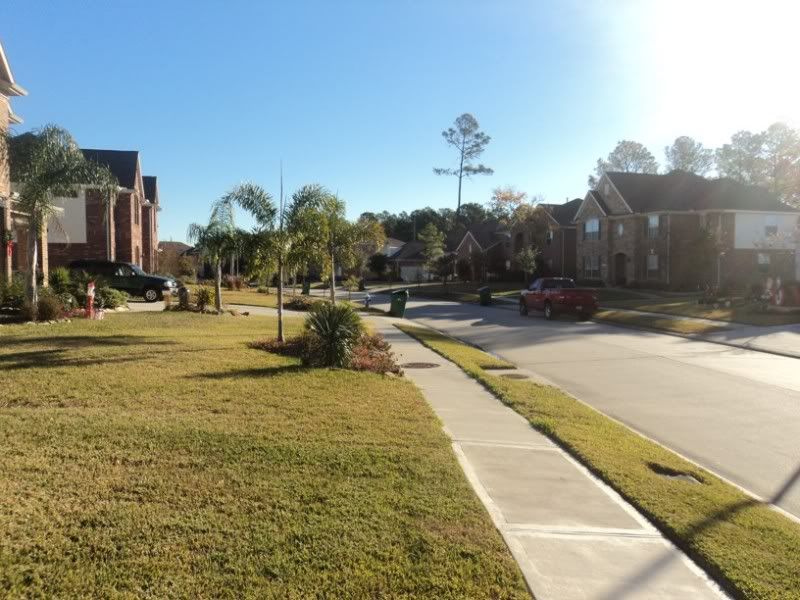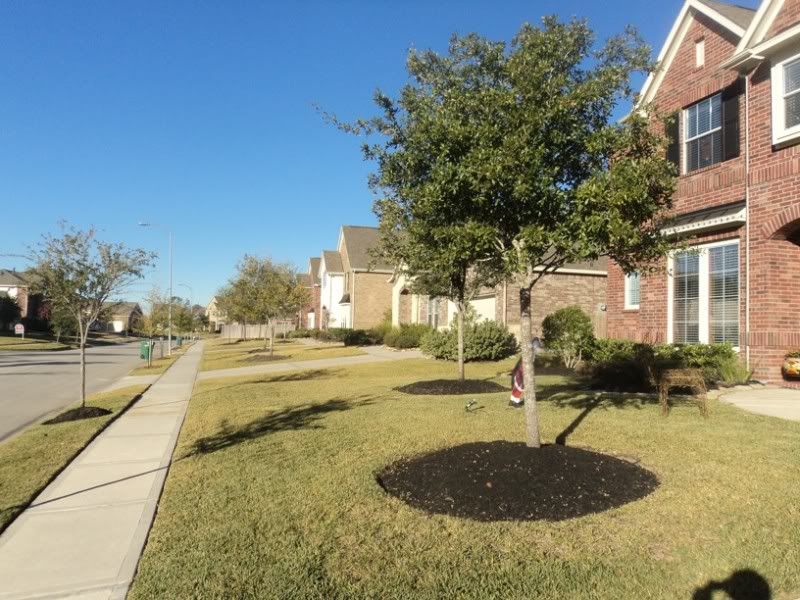 We shoped at Best Buy, Marshall´s and Dollar Tree and it was time for lunch. They took me for a typical Texas BBQ, a restaurant called Rudy´s
It was delicious!!!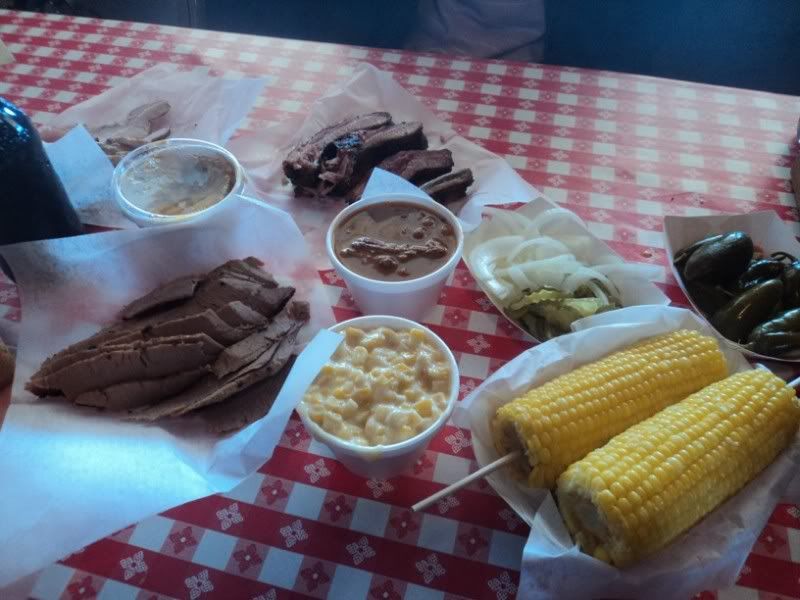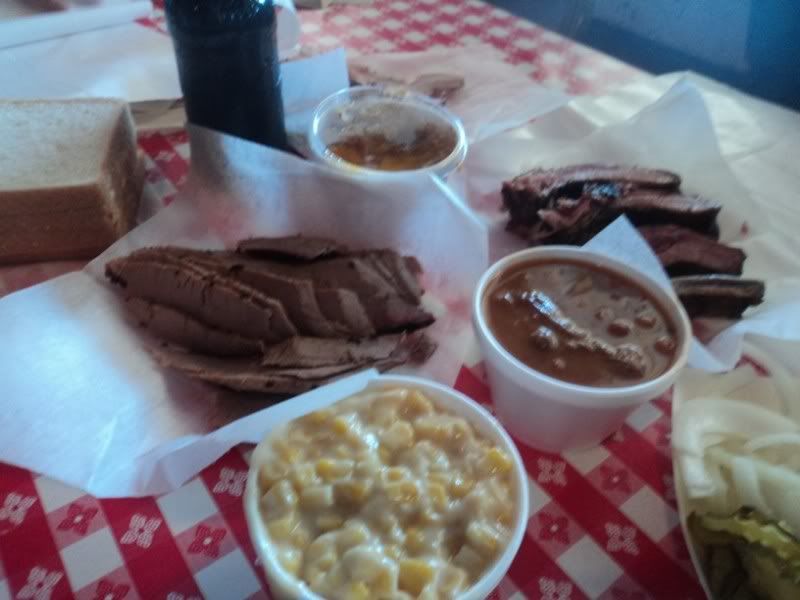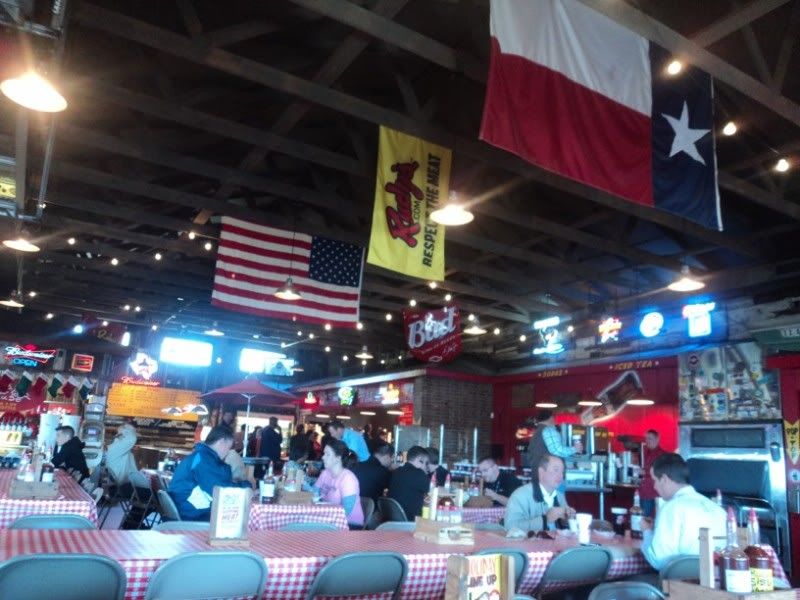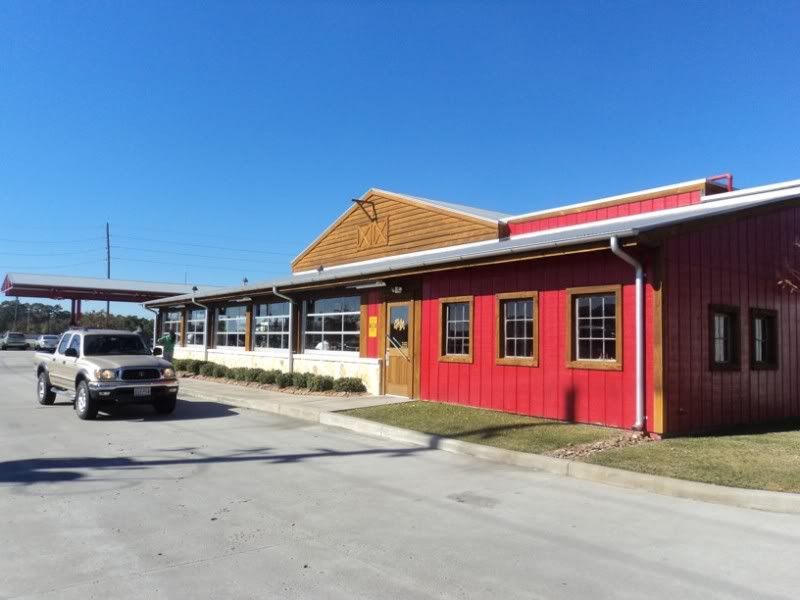 After the meal they were so kind to take me to the airport and we said goodbye and I went to find the CO check in.
Flight number 3
13th of December 2010
IAH-LIM
Continental flight CO590
Scheduled Departure: 3:55pm
Actual Departure: 4:36pm
Scheduled Arrival: 11:30pm
Actual Arrival:11:25pm
Flight Time: 6hrs and 45min
Boeing 753 (don´t know the reg)
Gate E3
Seat 28A
Check in was done in kiosk, but since I was flying international, it said I need to call a CO representative. Thankfully, one was close, and he helped me through the process. I got my boarding pass and even though my bad was 3pounds overweight, it was sent with no words.
Security was slow, because of these really dumb pax that must didn´t know they have to take their laptops out, take their shoes, etc.
After that, I walked around the terminal, checking the airport. I have been in IAH many times before and always liked it. But still, ATL is my US favorite. IAH is a close runner up.
I searched for a wi-fi and to my wonder, there was no free network, but facebook worked. If you attempted to open any other website, it required you to pay USD 8 for two hours. But facebook was free, which was nice, since I wanted to be on facebook, so I kill my time like that.
IAH traffic, CO and CO and only CO
: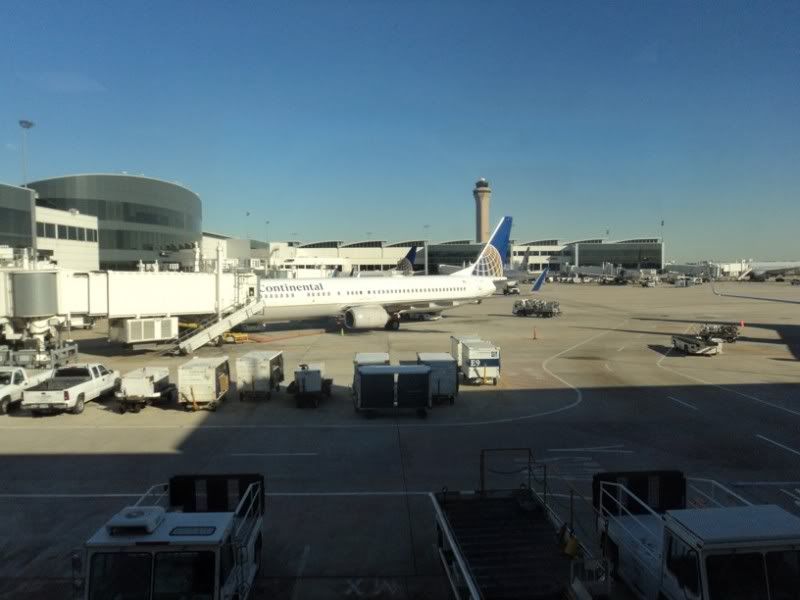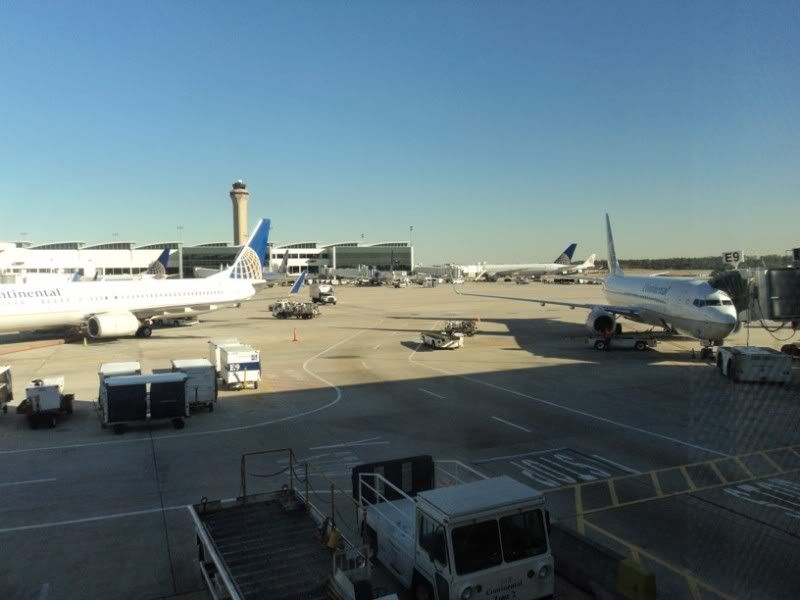 Soon, boarding started and again, it was EXTREMELY slow and chaotic. I don´t understand, everybody again gather around the gate, pre-boarding passangers had to way to pass though, just one agent was scanning the boarding passes. The flight was totally full, to the last seat.
I was the first in the row so I took the window seat. Soon after, a young Japanese guy sited next to me and after that a young American girl took the aisle seat. Our row was veeeery young
People had HUGE carry-ons which did not fitted the overhead bins, that slowed boarding even more. The crew, despite these problems, were smiling and helping people out.
View from my seat:
No PTV today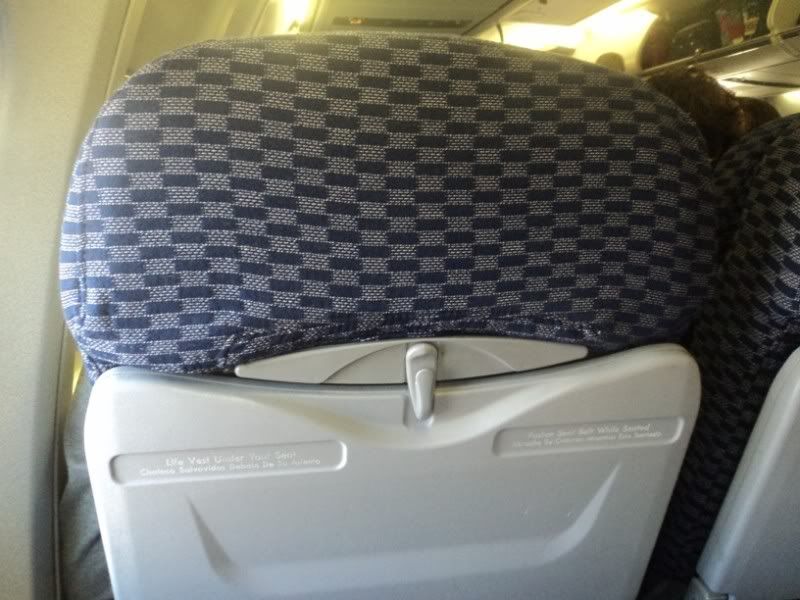 Sloooowest boarding ever: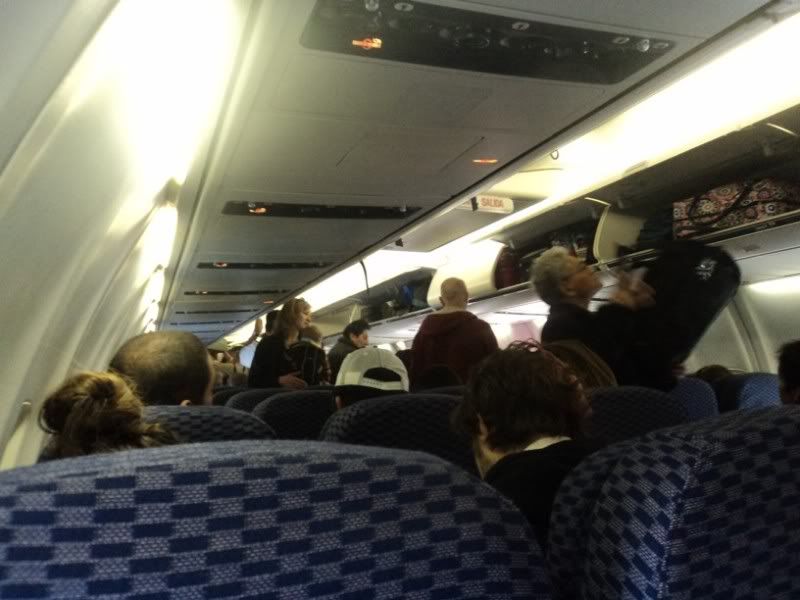 There were like six babies on today´s flight, four of those were crying all the time. If there will be someday a "No-childrens-allowed-airlines" I would pay the extra money, because this is probably the worst thing: crying babies on a narrow-body in which you will be seated from more than 7hrs.
After the boarding finished, the capitain informed us that since we are so full and everybody has a lot of bags we were overweight and some fuel had to be taken off.
We then pushed backed and the safety video was played on the overhead screens. Again, the quality, specially the sound was horrible. You couldn´t understant what they are saying, you heard interference and weird noises. Plus, it was very loud, making me feel desperate. Plus, the babies started to cry even more because of this. I was glad when the video finished!!!
Taxi to the runway: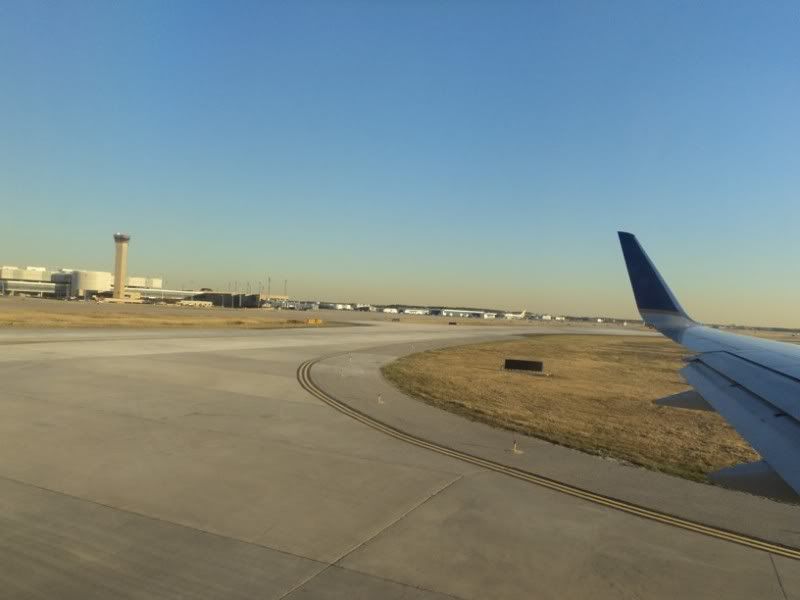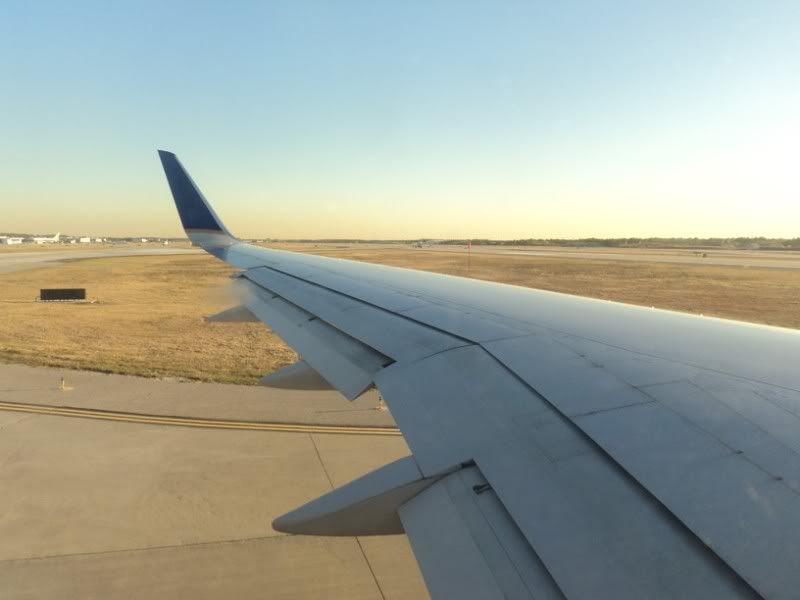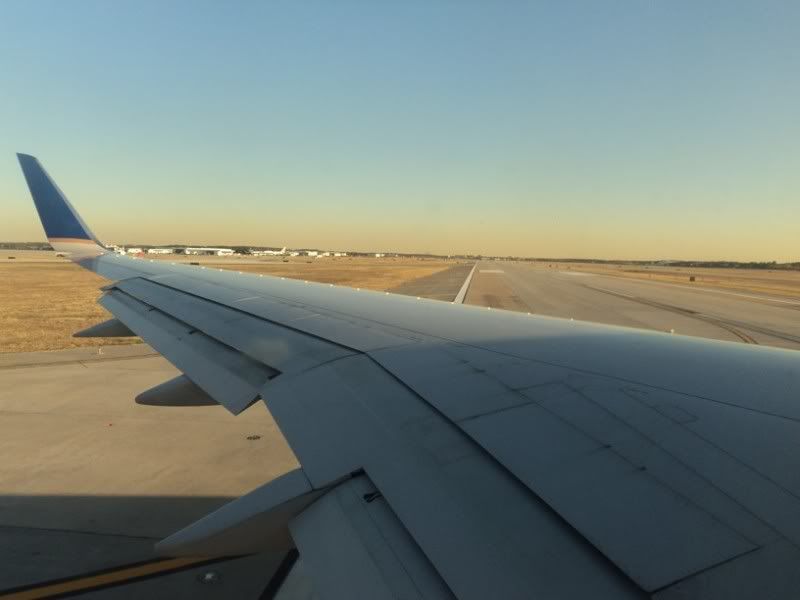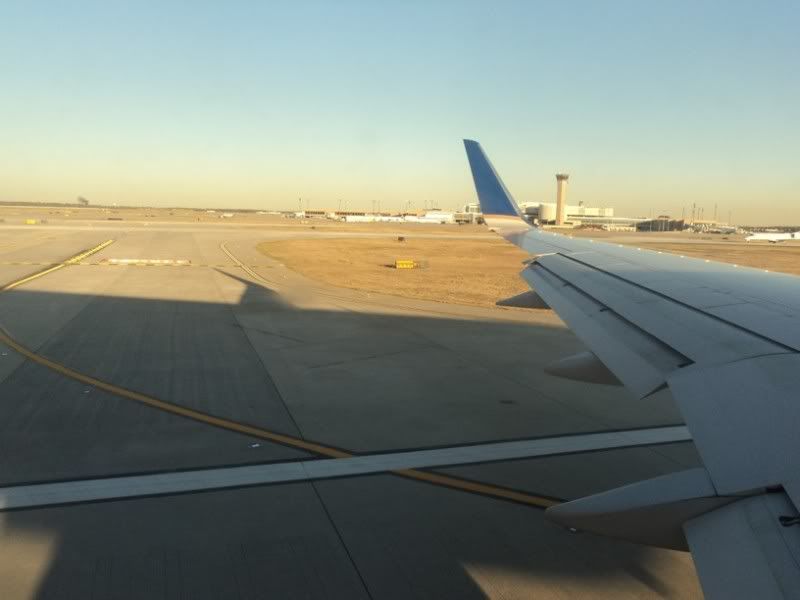 The 757 roared the runway, and since we were at our max take off weight, the take off took forever, and the climb was very long too.
Lift:
Milions of cars: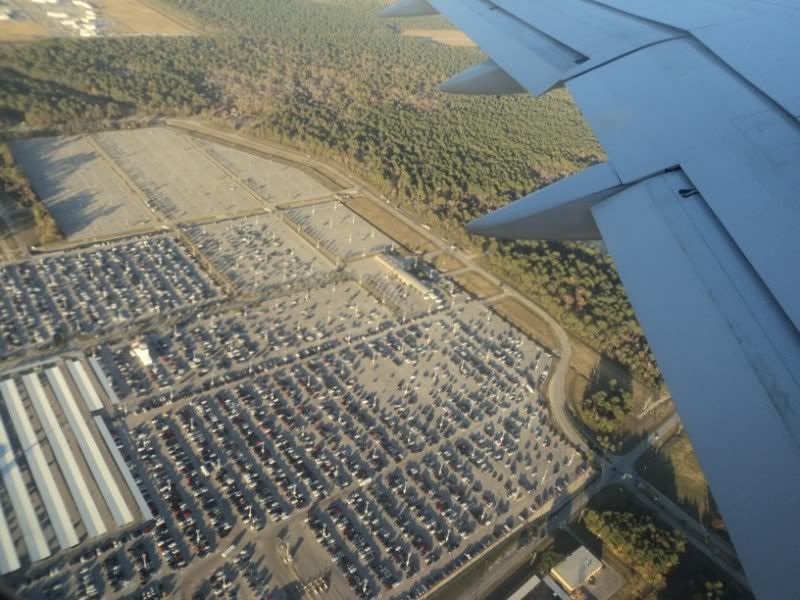 Houston area: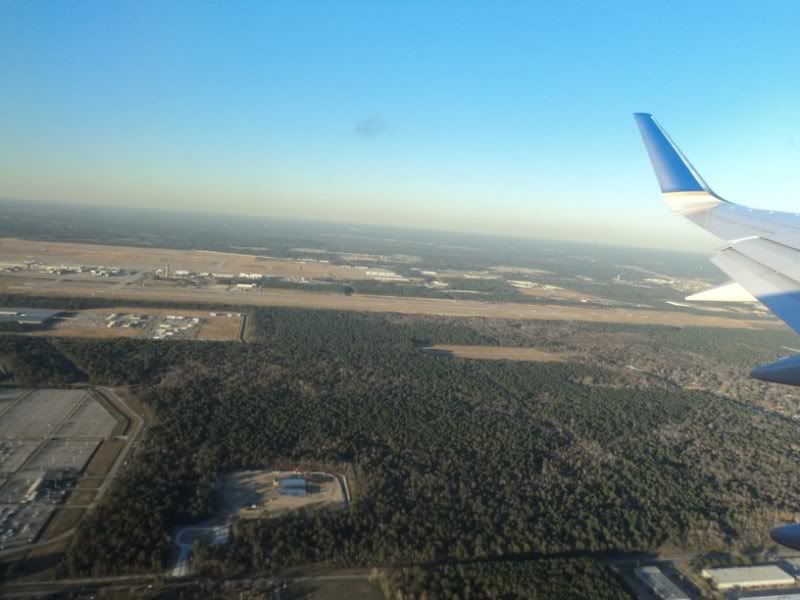 Huuuge intersection, we don´t get much of these in Europe, I always admire US engeneers for constructing such huuuge intersections: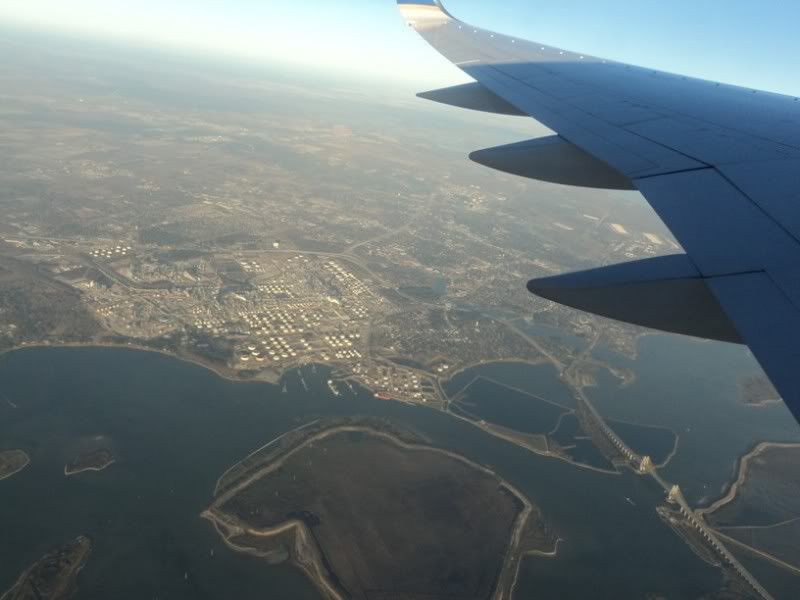 A big fire:
Cabin during climb: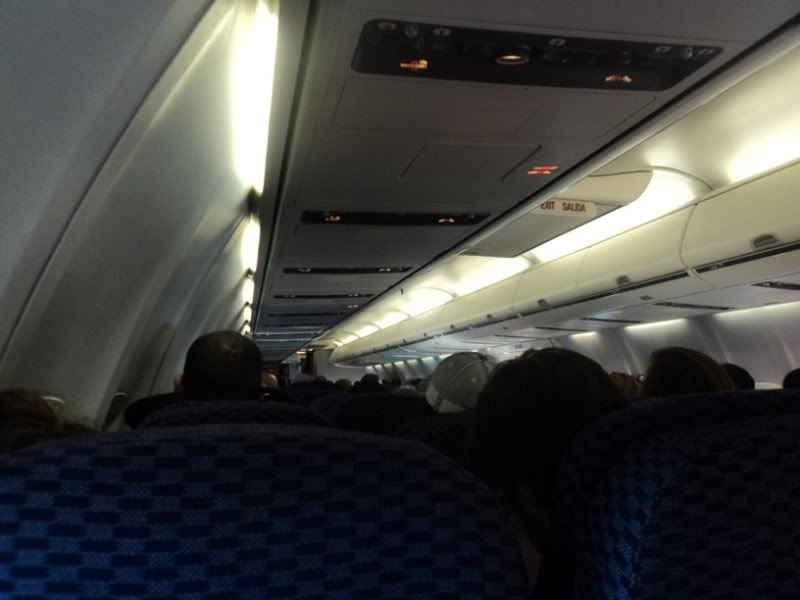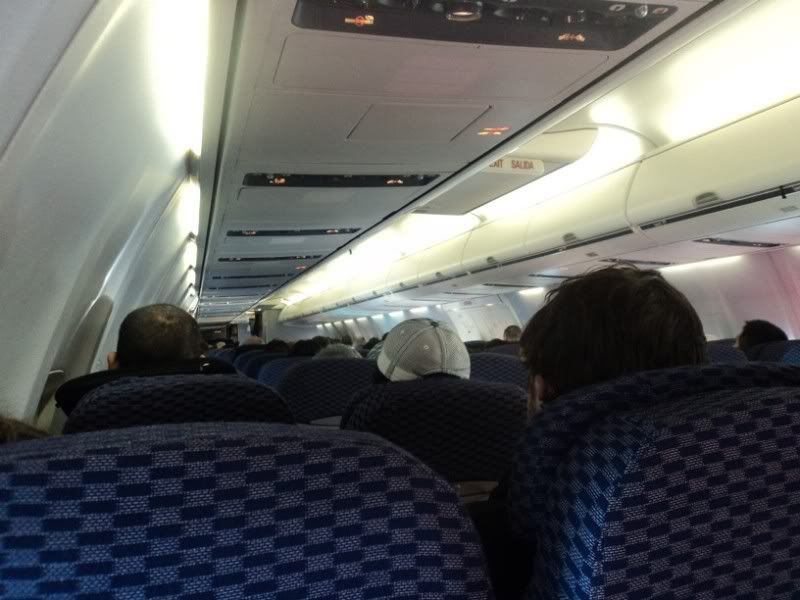 Leaving US landspace: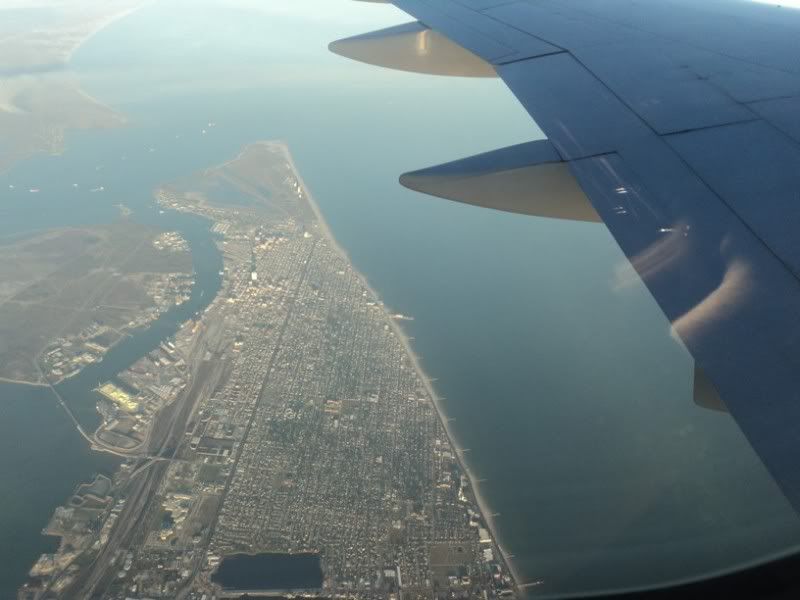 Nice clouds:
People started to move around the cabin shortly after take off even though the FYS sign was still on. The FA went on the PA and reminded the sign is illuminated, in both English and Spanish but these people totally ignored her. Totally. I would say, that maybe even more people standed up and walked around. I never understand this, poor FA´s. Dumb people, if something would happen to them, they would sue the airline. Hate this behavior.
Soon after reaching cruise, the movie Salt started playing and the service began. I had my favority cranberry juice. After that, the meal, either chicken or beef. I had the chicken. I was a teriyakee-like meal. And to be honest, it was the first time I did not finish my meal in an airline. The chicken meat was just horrible, the meat was not white, it was brownish, the sauce was black and it looked terrible. Pieces of skin and fat hanged from the meat. I just ate the rice and did not touch the meat. The salad was excelent again, the bread was nice and fresh and the dessert was nice (a chocolate cake).
After that, I fell asleep. I was dissapointed that no airshow was shown during the flight. I was seeing light from the window during almost the whole flight, meaning we had to me taking a non-direct route, probably copying the coast of Central America before closing the ocean to the coast of Peru. It was a shape I could not know the exact route. DL uses the 764 on the ATL-LIM leg, which is better than CO 753, in the fact that it is a wide-body and that it has PTV´s with AVOD.
An hour or so before landing a second meal service was given, a small cold turkey sandwich together with a bag of baby carrots and a mint.
Shortly after, the FA came on the PA with a slight nervousness in her voice and said "The capitan just informed me we are making a straight and quick landing into Lima, please cooperate with us and put your seats in the upright position and stow your tray tables. As you can see, we are descending very quickly and should be on the ground in 17 minutes."
And yes, she was right. The descent was very quick, my ears even started to hurt a little. I think I haven´t experience such a quickly descent in my life. Of course, more of the dumb (or deaf) people´s stupidity: almost none obeyed the FA´s and still had their seats reclined and their tables down, plus a lot of them were walking around the cabin and looking for things in the bins. Terrible, I admired the FA´s patience, because I would personally had to kill these people
Pictures of the descent (sorry for the bad quality):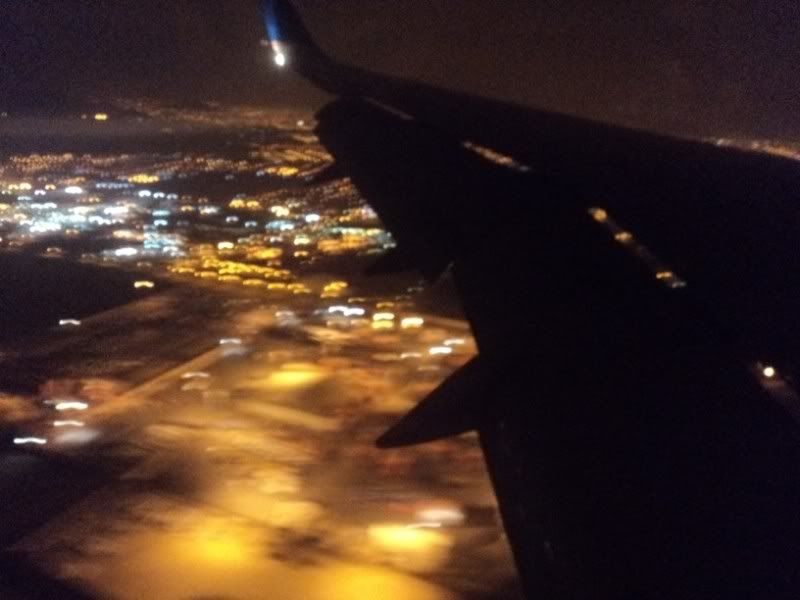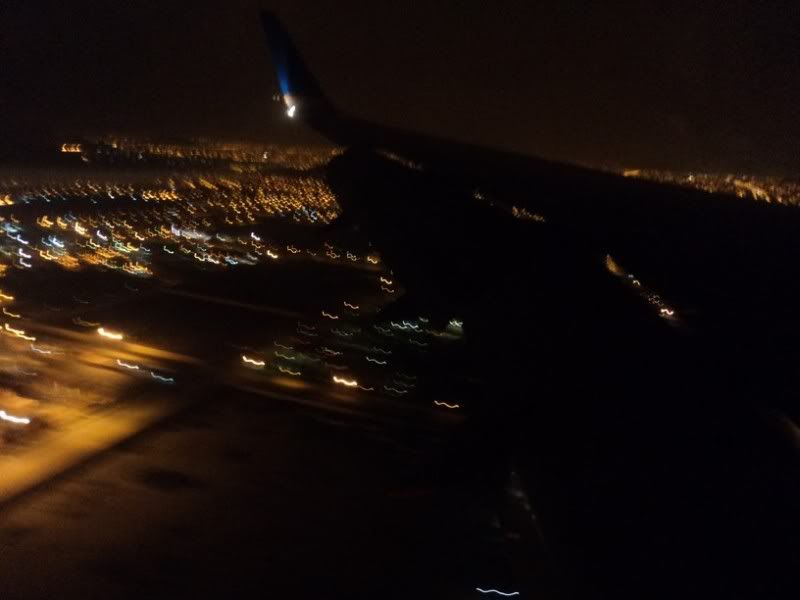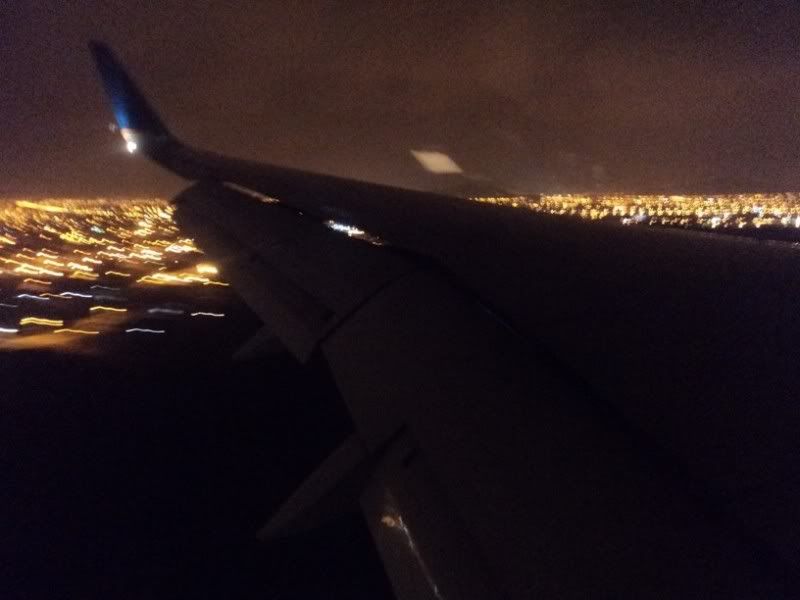 The straight descent was made and we landed in Lima on time, despite the late departure from IAH. A quick taxi to the gate aside a UX A332 that just arrived from MAD: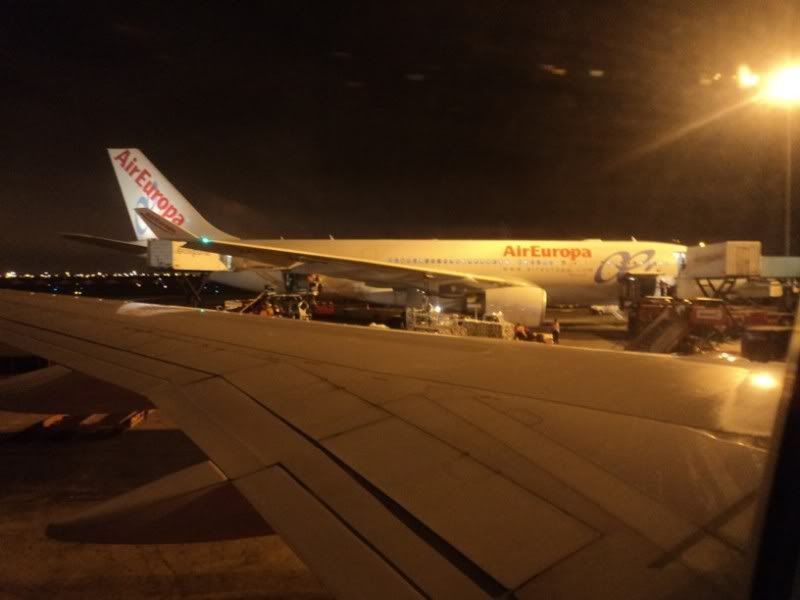 Deplaning was again very slow. At the plane, my dad was waiting for me (he has access to the airport) and I cleared immigration very quickly because we used the Crew and Diplomat line.
My bag arrived very late, among the last ones and soon we were headed home. My two-month vacation has just started.
Stay tuned to my TR, since I am flying in January from LIM to SJO with TA and in February to IPC with LA.
Conclusion:
Star Alliance and Continental has been a slight dissapointment to me. I don´t know why, but I always thought Star is better than SkyTeam, but I kept flying SkyTeam because of my Flying Blue.
The letdown was the boarding organisation in both FRA and IAH, its was a real pain. The food was nothing special and the fact no airshow was show on the IAH-LIM flight was a dissapointment too. FRA airport was a letdown too.
The good things of this trip included the great crews on all flights, IAH airport as CO hub and the PTV on the Transatlantic sector (unlike DL). Also, I became a OnePass member and recived 5000 miles as welcome bonus, plus 100% of the miles flown. That is so much better that Flying Blue, which in most cases, credits you only 25 or 50% of the miles, leaving 100% only to the highest Y class tariffs, which are waaay out of my budget. OnePass is a much better program in this send.
However, to be honest, if I have to choose between DL and CO on the PRG-LIM sector, I would choose DL. In general, DL is better, in my humble opinion.
I would, in general, give this trip a 6 out of 10, if I had to mark it, the biggest dissapointment of all being the terrible organisation of the boarding. DL handles boarding so much better.
Thank you very much for your time reading this report, please leave comments and if you have any question, feel free to ask me
Greetings from Lima,
Adam