Introduction
This trip started again as an impulse purchase from one of the Air Berlin sales. Couldn't find any suitable 29 EUR fares this time, but a 39 EUR fare on a Saturday noon flight in December on HEL-DUS sounded good to me, so I booked it.
While thinking on what to do with this flight I realized that I had not been to the Netherlands at all this year, and as this was probably the last chance to do so and with DUS located close to the border that sounded like a good idea. So I concentrated on the two most convenient Dutch airports nearby, MST and EIN, nowadays quite popular with the low cost carriers (and conversely, not much else...). I found a Ryanair flight MST-GRO for the next morning for less than 30 EUR all-in including priority boarding. As Girona would be another new airport for me, offered the chance of some Spanish sun and lots of onward connections with FR I booked it.
From Girona I ended up booking a flight to Ciampino, the secondary, low cost Rome airport, which would be another new addition to my log. Ryanair again, of course, would be the carrier, and the flight cost 25 EUR all in with priority boarding.
I had initially thought about burning some miles to fly home on the direct Finnair service ex-Fiumicino, but AY had apparently changed the schedules and on Sundays there was only a noon flight available, they used to have a late flight at seven or so which would've been perfect for me. The next option, airBaltic was departing too early as well for me. I finally found a decent fare of 130 EUR again with Air Berlin via TXL, with a convenient departure time of 18.05 and booked it to get home.
Here's what the complete itinerary ended up looking like: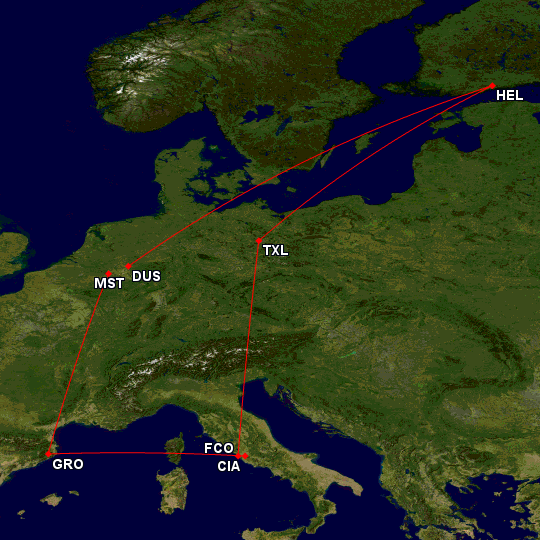 .
Saturday 11.12.2010
A nice noon departure, so I can have a bit of a lie-in, very much appreciated after another very busy week at the office. The day is quite cold and very snowy, but so far no significant delays are posted on the airport website so I stick to my original schedule and take the bus to the airport, arriving there around an hour before departure. T2 through the snow:
I did OLCI the previous day, but due to AB joining Oneworld next year AY is awarding triple miles on AB flights until the end of the year and I want to snag those. The OLCI did not allow one to change the FFP from Top Bonus so off to the check in desks I go to get it done - no queues and a couple of very pleasant agents deal with my request immediately and with good humour thrown in as well.
Security is a bit slow - there's a large bunch of elder and definitely not very well traveled Spanish pax in front of me. It being around lunch time I grab a sandwich from Stockmann - I guess it tells something about the inflated prices at this airport when Stockmann, the "Harrods of Finland" is the cheapest place around to buy food and water!
An Air Åland Saab (operated by NextJet) looking very lonely against the whiteness: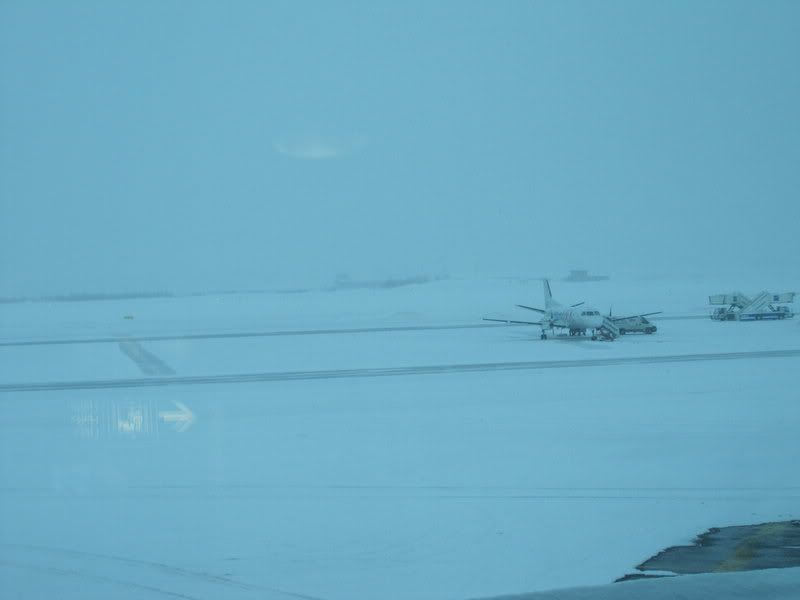 The gate today is 27, so I head towards that general area and decide to treat myself to a nice, if horribly expensive glass of some good quality German Riesling. I kinda like the way this picture turned out:
The inbound plane arrives from TXL a few minutes late at 11.40: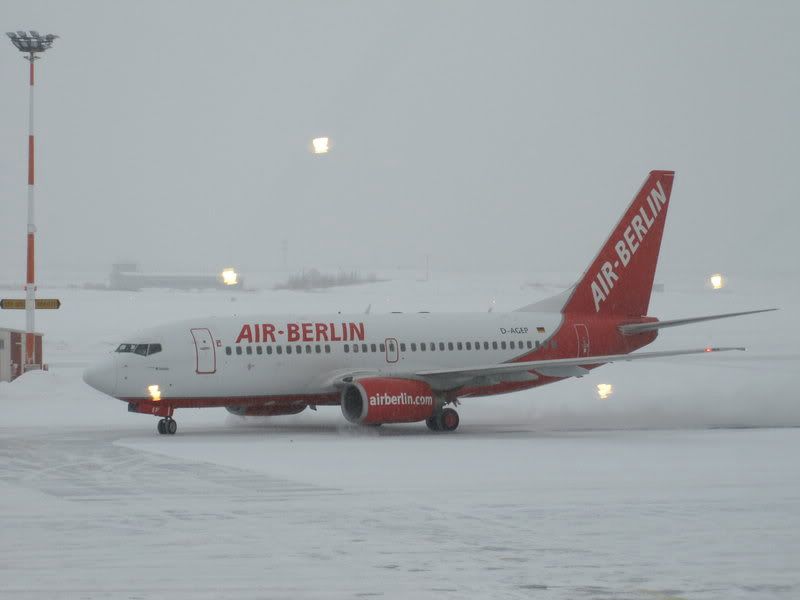 D-AGEP, a new one for my log. I tried to capture a picture of the snowy vortex generated by the engines, but this is the best I could do: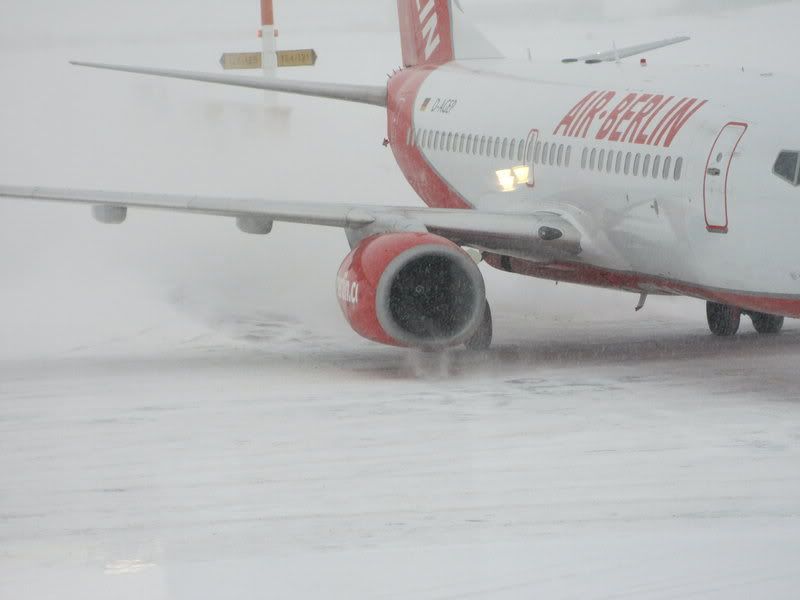 Boarding is called half an hour later - again I'm the first one to board. While walking down the jetway I notice this bird is carrying an "Operated by Germania" sticker under the cockpit windows - yay, unexpectedly this would become my second flight with Germania!
HEL- DUS
AB8921 Operated by Germania
B737-700 D-AGEP
Seat 2A
12.48 - 13.59
Despite the bird being a Germania one and the seats their thick leather ones everything else is Air Berlin: FA outfits, the welcome candies, announcements, the works.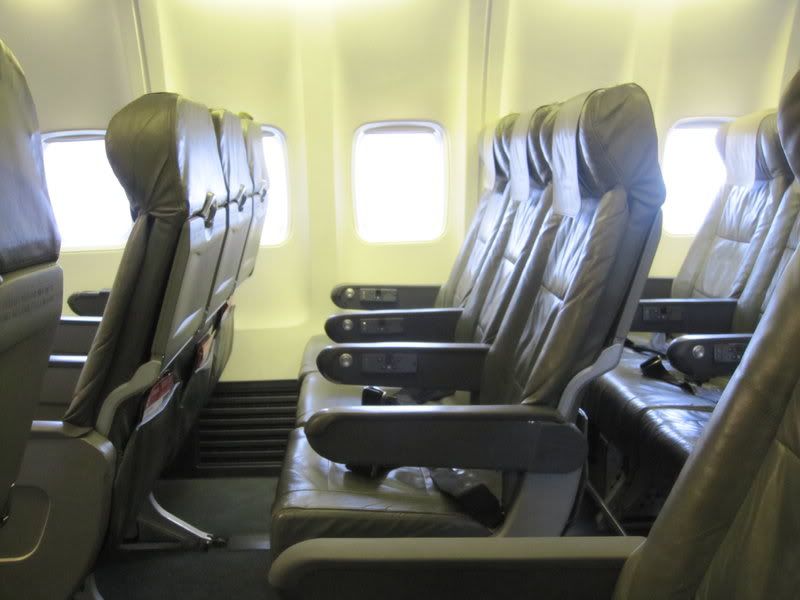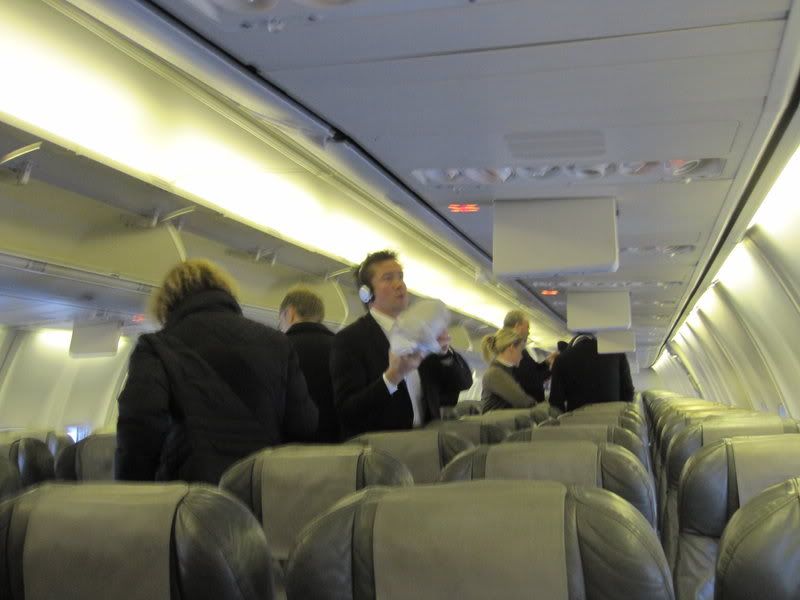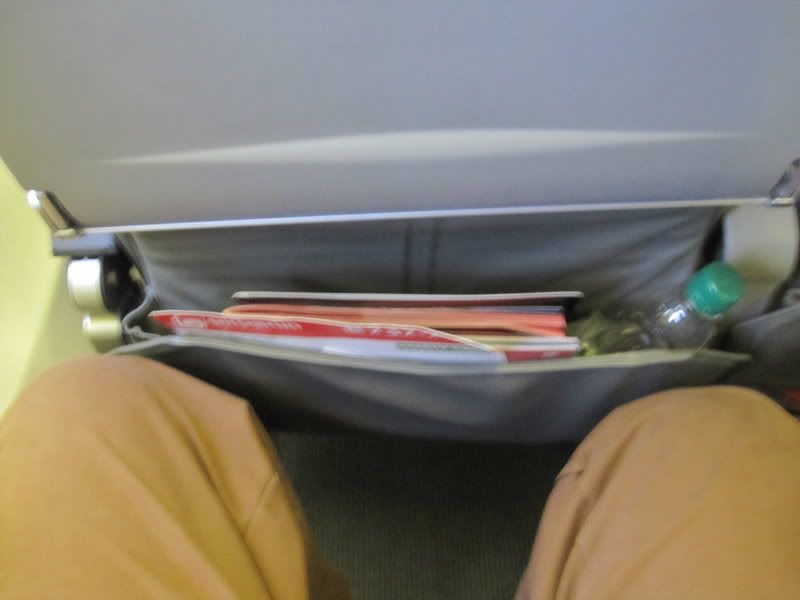 I grabbed 2A from OLCI, 2C was already occupied and I figured out that the middle seat had a good chance of remaining free - which it in the end did, despite a very good load of over 90%!
Boarding takes a long time as most of the travelers again aren't very well versed in the procedures - that's the bad part about traveling on weekends! They make repeated announcements asking people to hurry as we have a slot to make and who knows what happens if we miss it - not that anyone apart from me seems to be paying any attention. They even ask the gate agent who is delivering the pax manifest to make the same announcement in Finnish, but this seems to have no effect either! How I miss domestic German flights on weekdays, especially with LH - all frequent flyers in suits, and everybody knowing the process by heart!
Doors are finally closed at 12.25, five minutes after our scheduled departure time. Flight time is announced as 2h5mins. Of course the praying mantises are here to spray us with some hot stuff:
Deicing takes quite a long time or maybe we are just waiting for our slot - anyway push back is finally 23 minutes later, 28 minutes late. Taxi to runway 04R takes another 7 minutes, taking us past some interesting sights. I wonder how much deicing fluid they have to use on these heavies: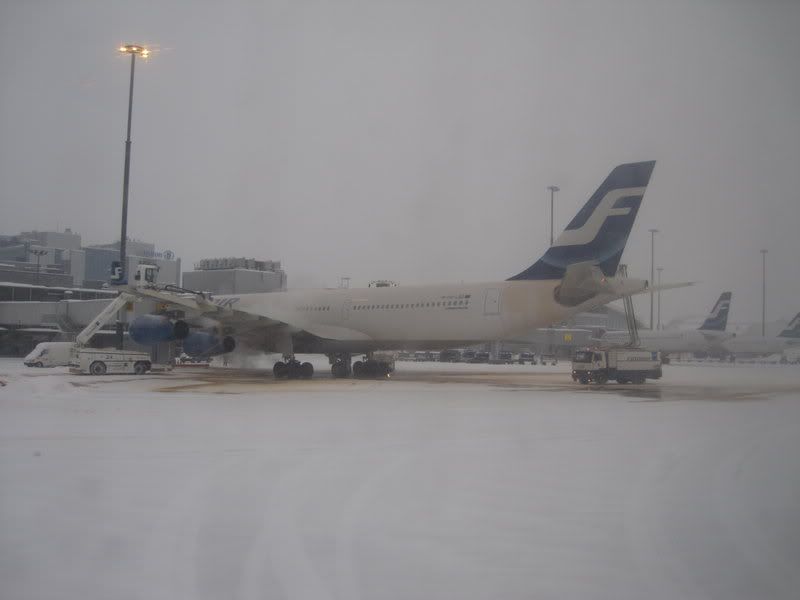 Very snowy AY birds: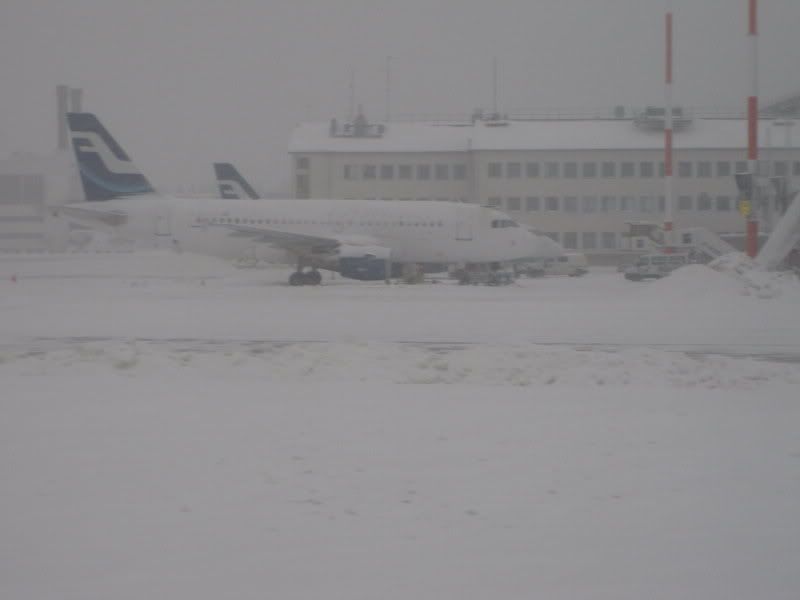 Czech Air Holidays 737 classic, I guess it was subbing for AY during the strike (which luckily just ended):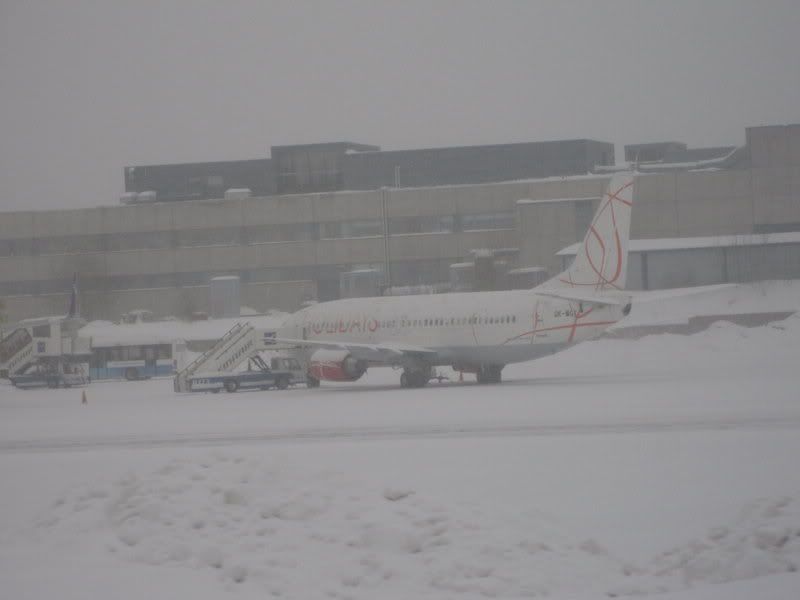 City Airline MD-87 operating for KF and one of the KF 717s in front of their maintenance hangar: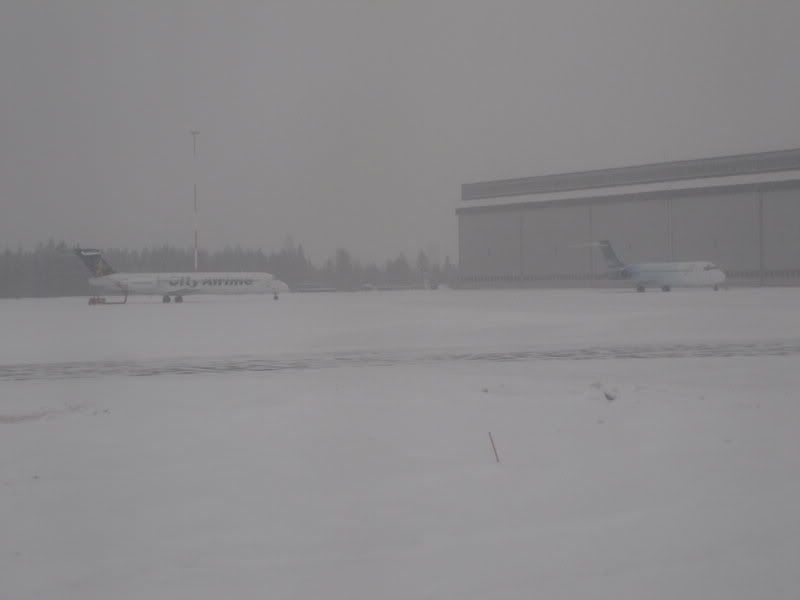 For some reason the captain wants to use every bit of TORA, so we turn left from the taxiway, taxi another couple of hundred meters to the very end before turning around and shooting to the skies: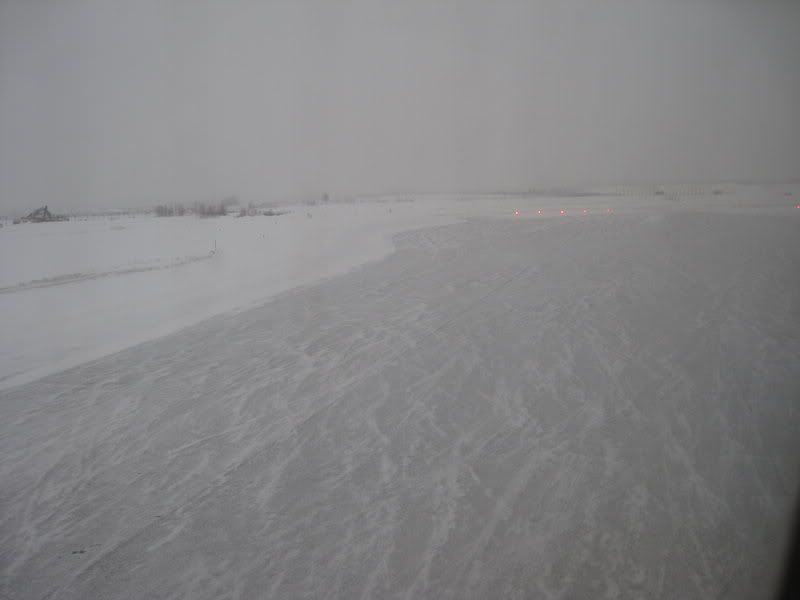 Of course we use only half or so of the available runway, so I have no idea what that was about: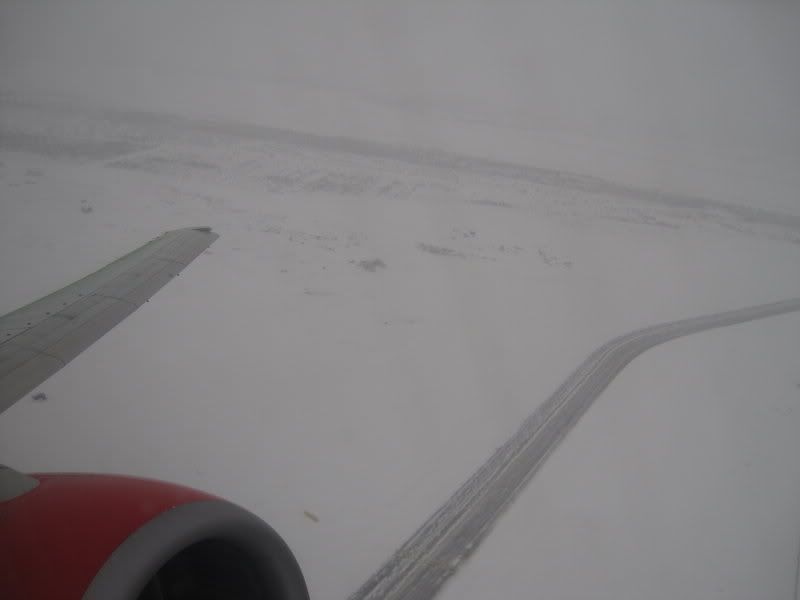 Looks like 15/33 has not been cleared of snow: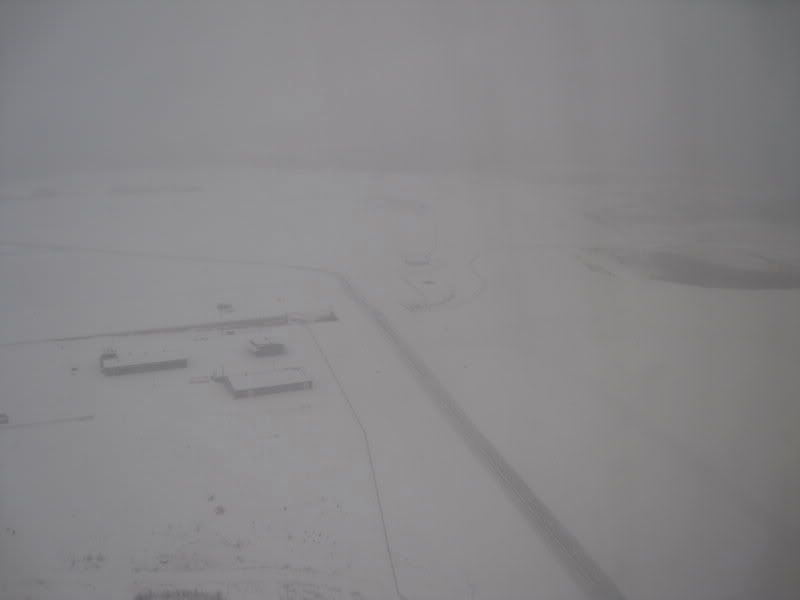 Soon we disappear into the clouds, only to emerge into sunshine a bit later - now that's a welcome sight during these dark months: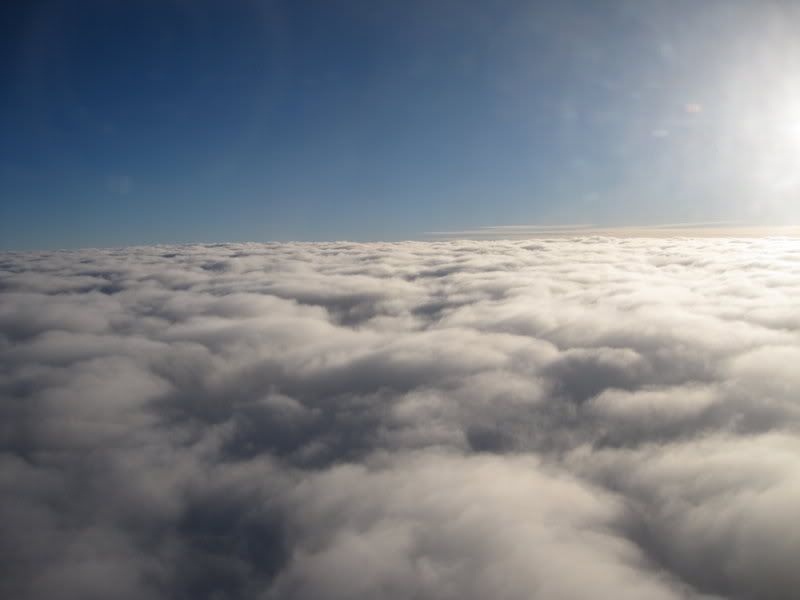 The Germania version of the inflight map is older, but at least it puts Helsinki and Tallinn at the proper places unlike the newer one:
Service is standard AB - turkey or cheese sandwich - cheese always as I've been disappointed far too many times by the meaty one: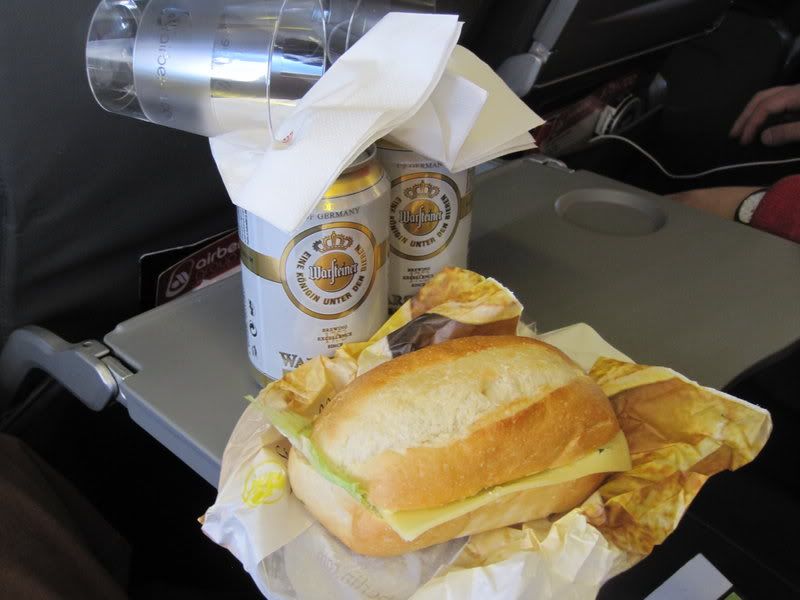 It remains overcast for the rest of the flights, so not much to see, just catching up on some reading. Descent starts right after passing HAJ, around 1h45 mins into the flight:
Far less snow here: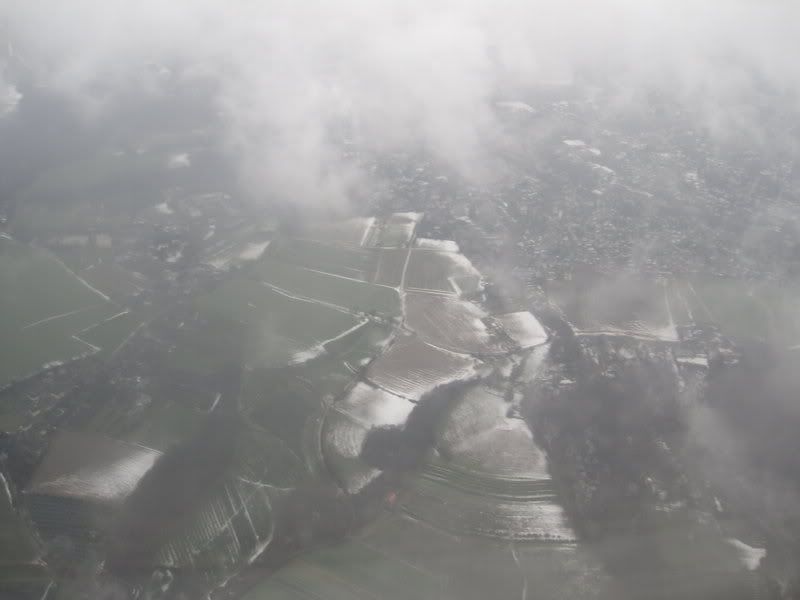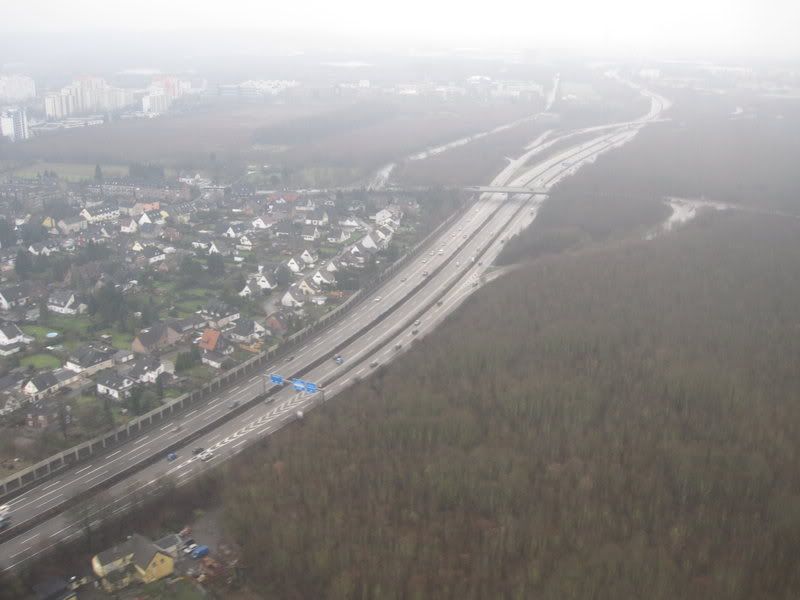 Landing is on 23L after a flight time of 2h2mins, 14 minutes late.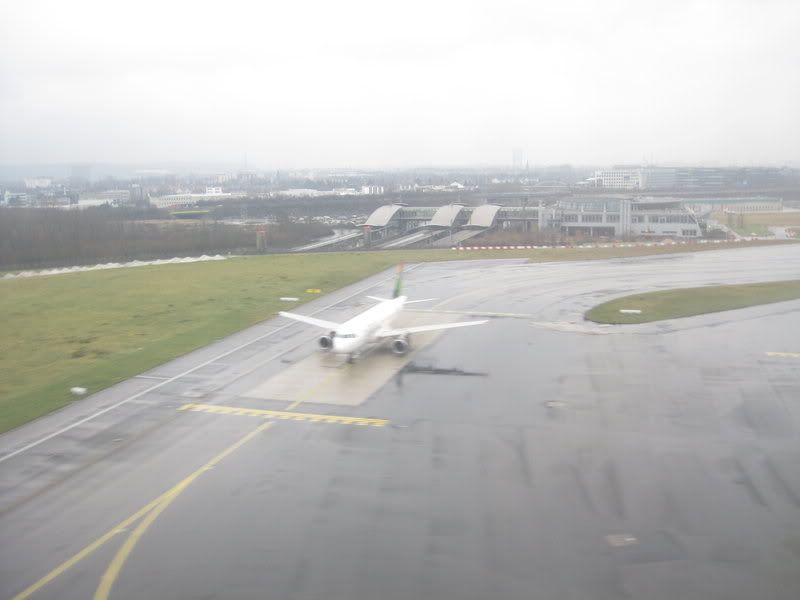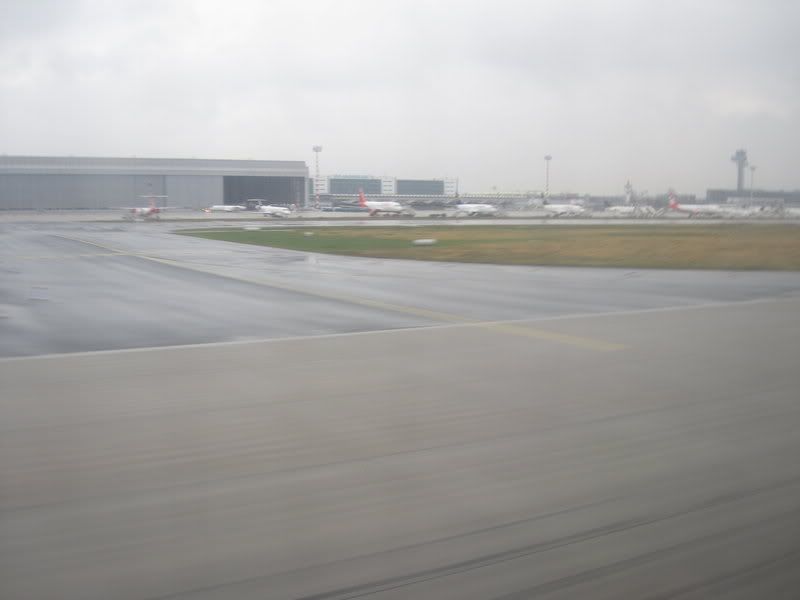 I didn't know MS flew to DUS: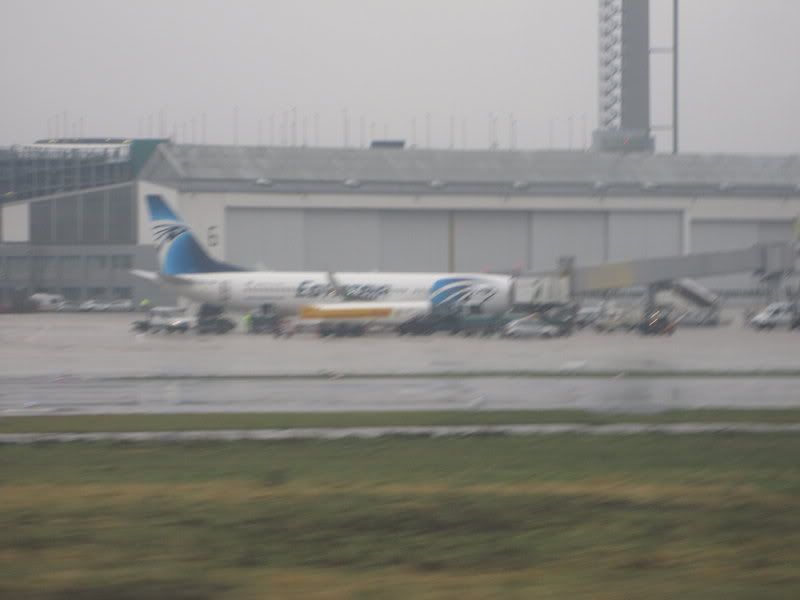 A TUIfly bird in yet another special color scheme:
Cityhopper from AMS:
Deboarding is through a jetway to the B pier. Bye: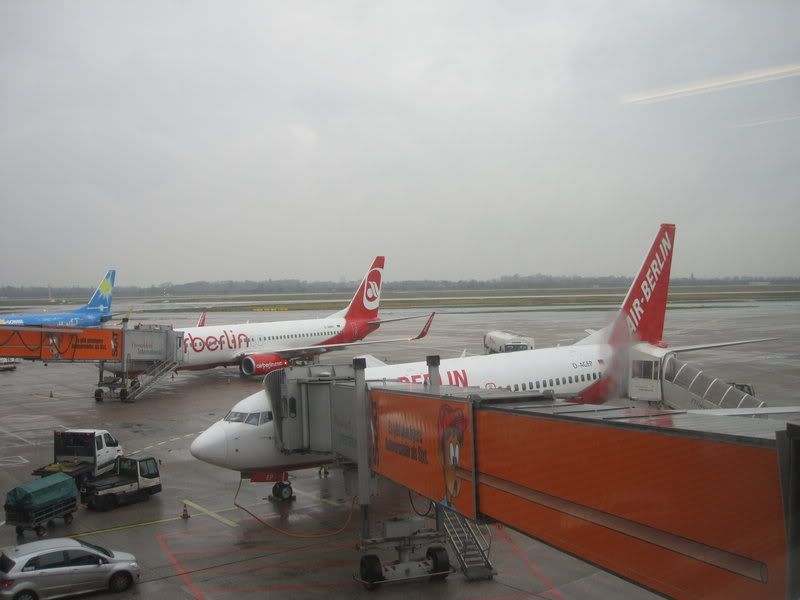 Düsseldorf to Maastricht via Aachen
DUS seems to be in a Christmas mood:
Not very busy this Saturday afternoon: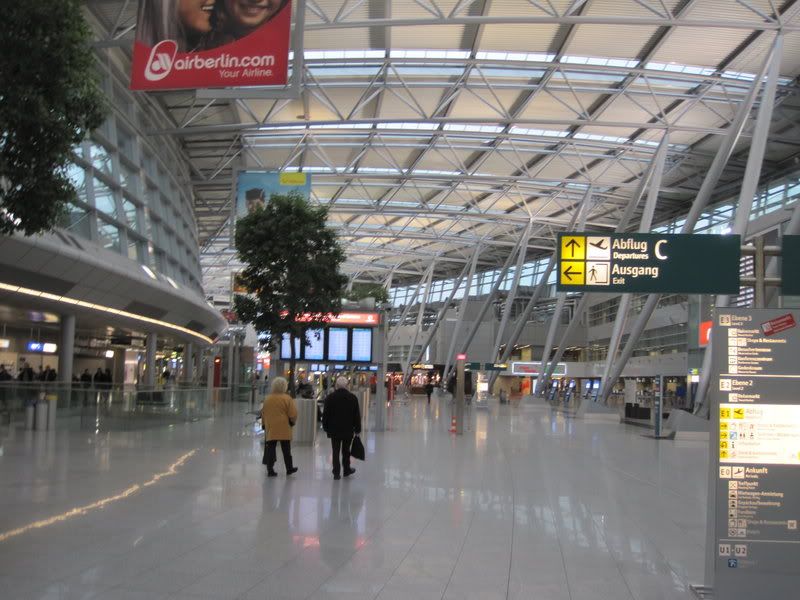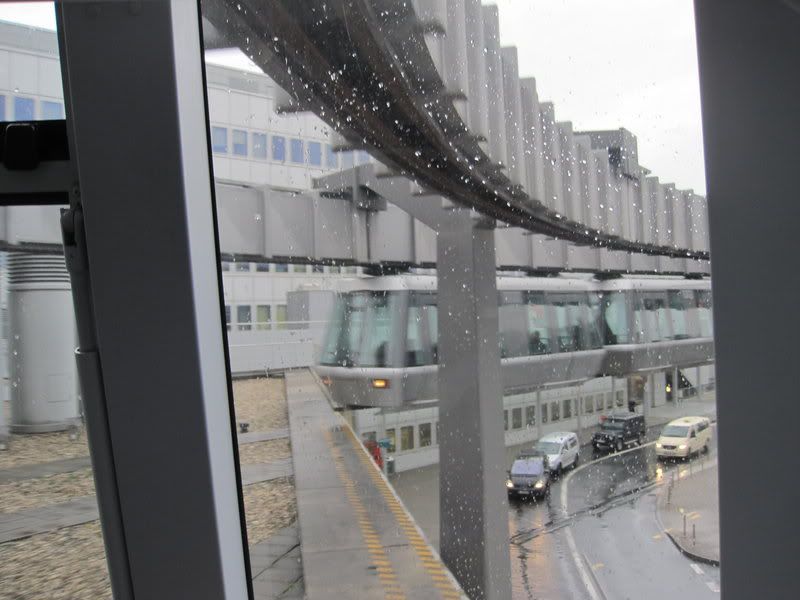 I hurry to catch the sky train to the airport rail station, the next train to Aachen is departing shortly and I really want to make it as these direct services run only once per hour, other services require change of trains somewhere down the line. I buy a ticket from the self service machine (which this time accepts my credit card just fine, whoa!) and make my way down to the platform only to see this:
Yes, I think it is quite obvious what "später" means...
Exactly 15 minutes late (the Germans are sehr pünktlicht even with their delays) the "NRW Express" regional train shows up. It stays completely packed until Köln Hbf, but onwards from there for the last 45 minutes there are far less passengers and it's somewhat more comfortable.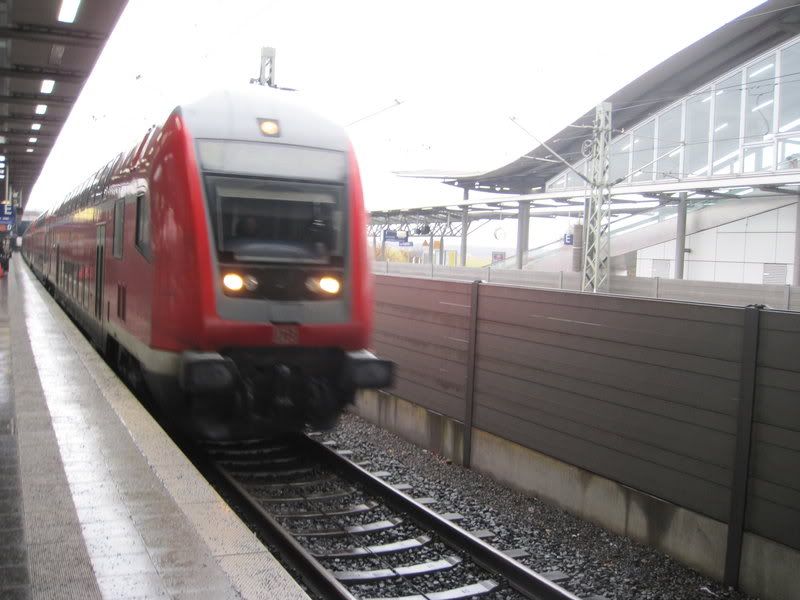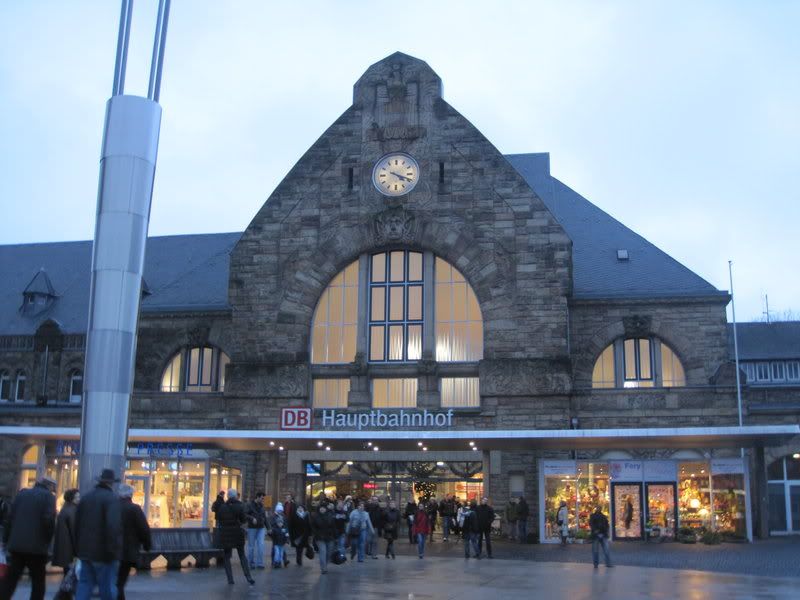 At Aachen Hbf the next bus to Maastricht is just pulling in to the stop when I get there - very good timings. For another 5,50 EUR I get a ticket to Maastricht and hop in. The bus gets packed at Aachen city centre, lots of Dutchmen have been on shopping trips and visiting the famous Aachen Christmas markets (I did as well some years ago and can definitely recommend them!).
It being dark and not much to see outside I use this opportunity to get some more shut eye, and wake up as we are nearing the city of Maastricht. Terminus is the Centraal Station.
Maastricht
By this time I'm starving, so I head off to find a place for some dinner. This being Holland, the old colonial masters, there are of course plenty of Indonesian restaurants around - I find a nice looking one and settle for a very good dinner of spicy Indonesian fish.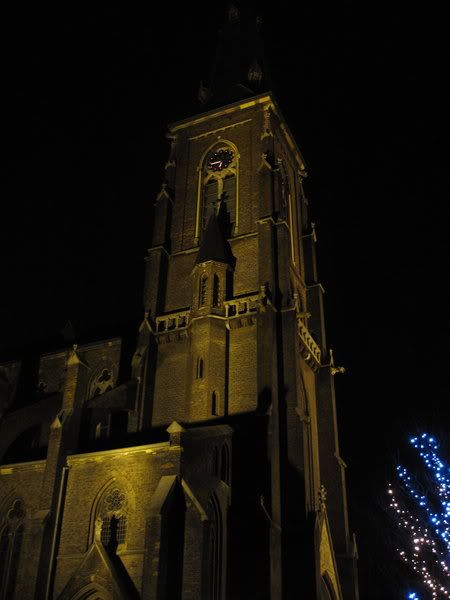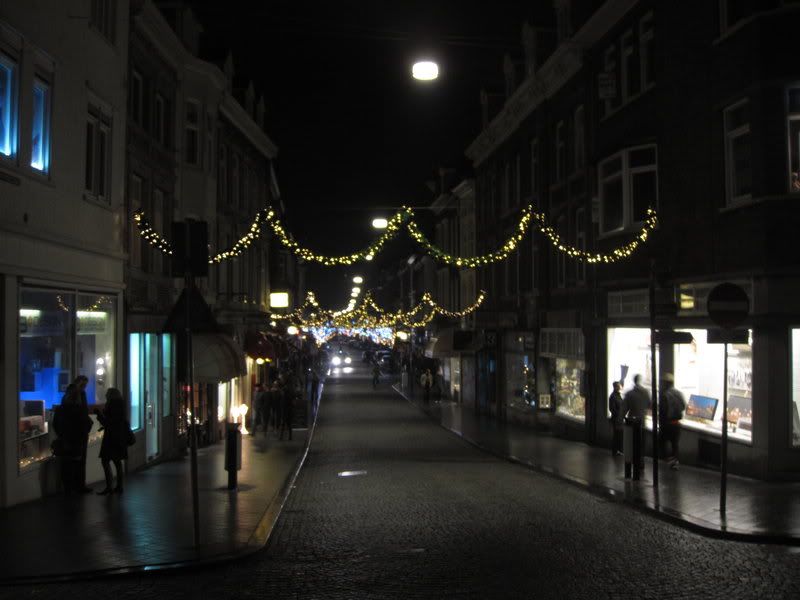 Afterwards I spend a couple of hours walking around, there are a couple of Christmas markets here as well, although they are a bit different from their German counterparts (come 'on, ferris wheels and giant slides - what were you thinking?!).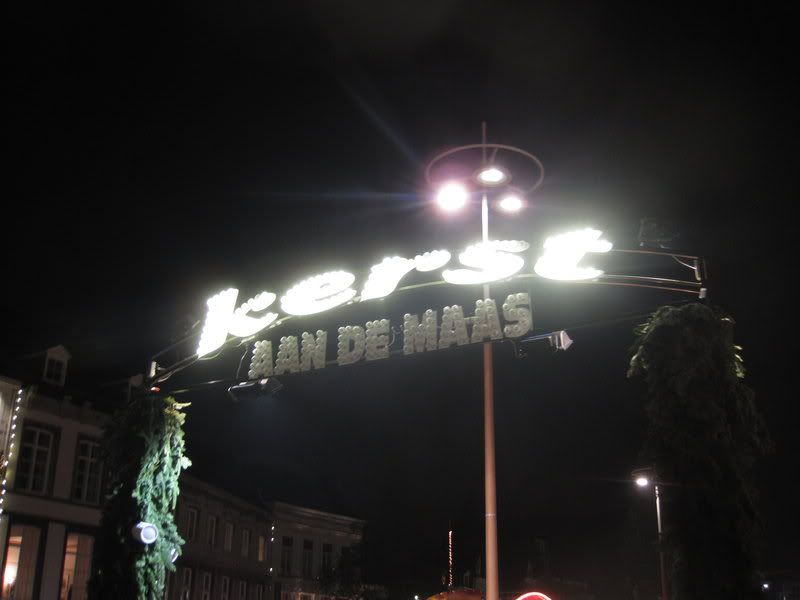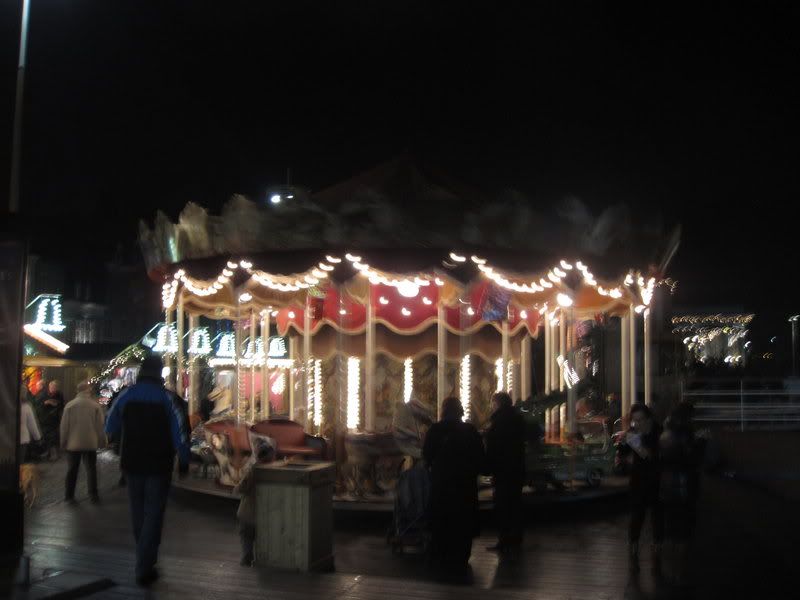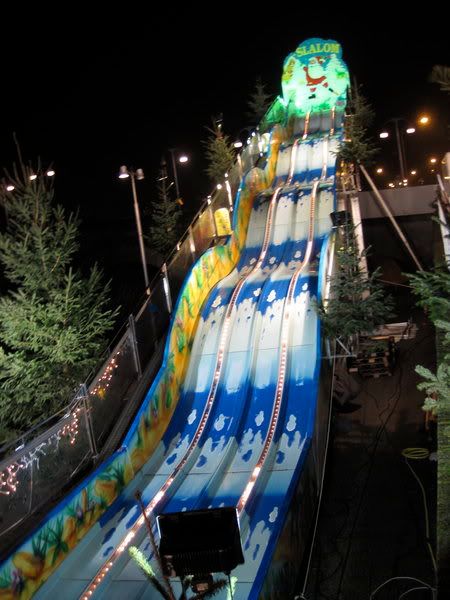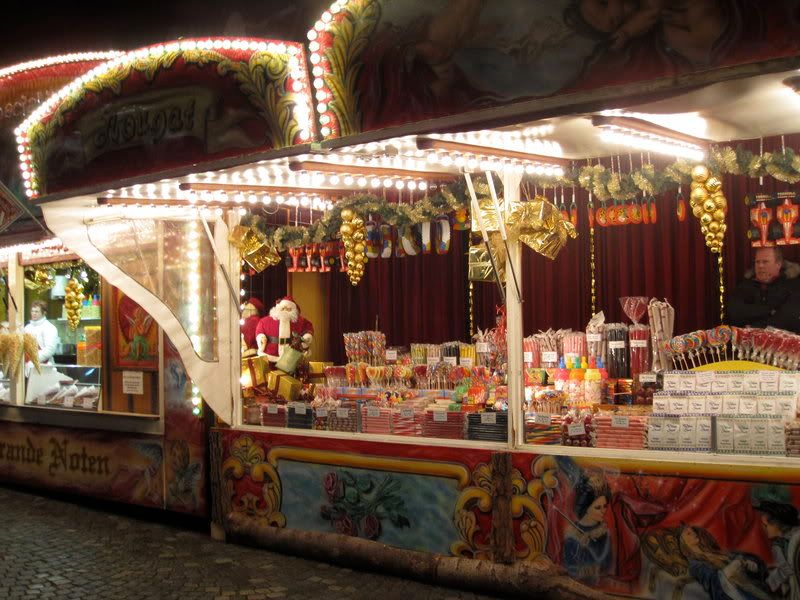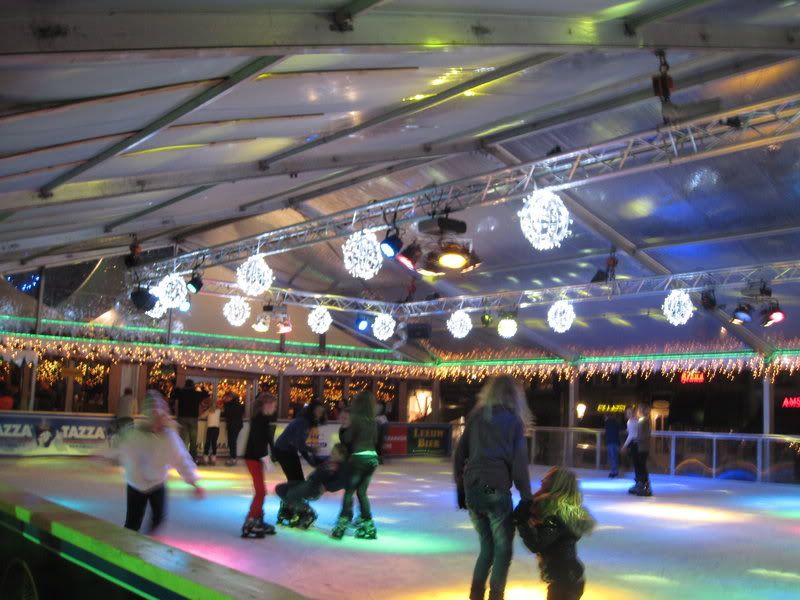 The good old staple, Glühwein keeps me warm: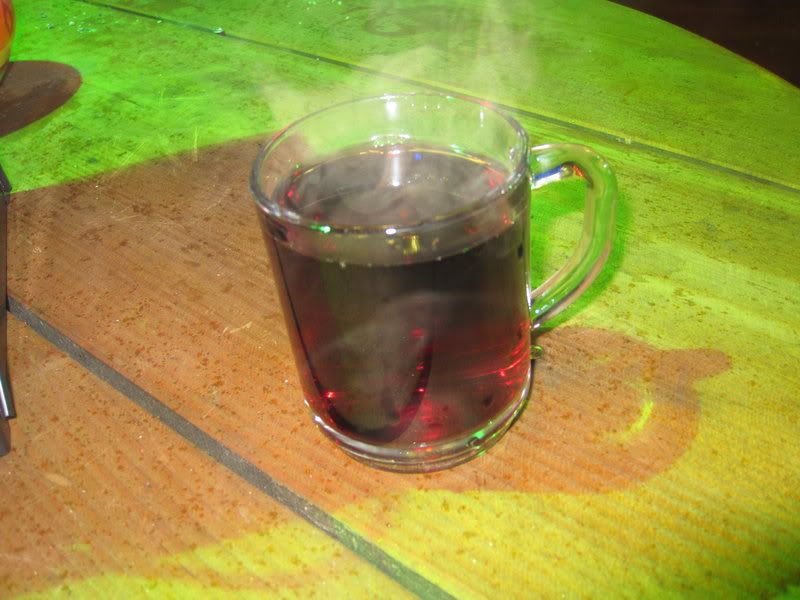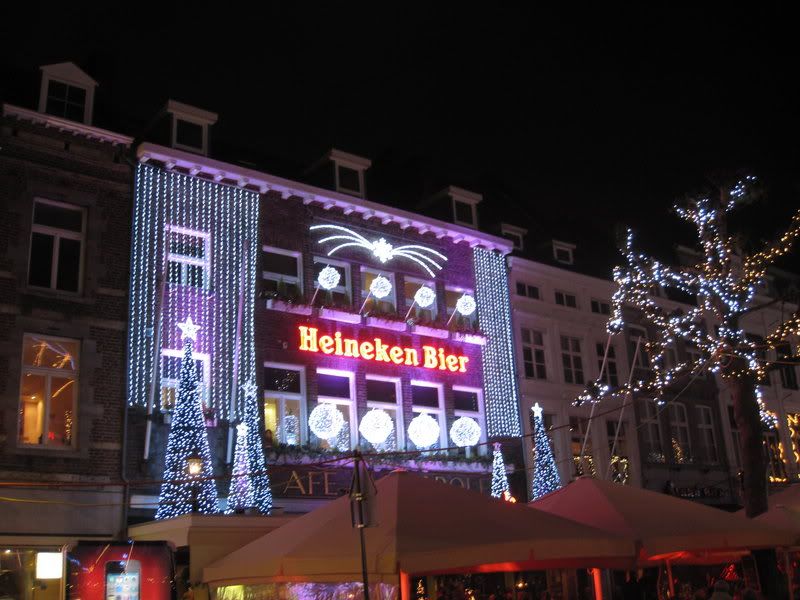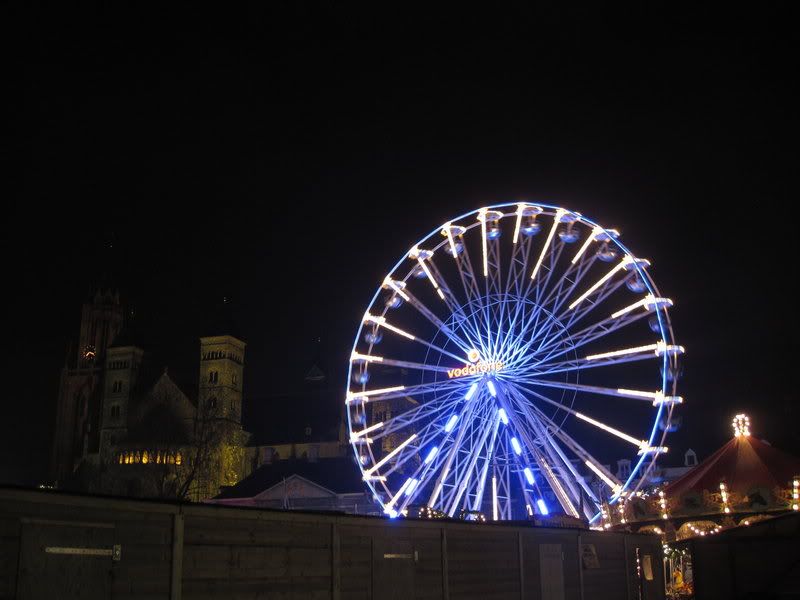 Christmas carols were being sung at many places by various entourages - is this a Dutch tradition?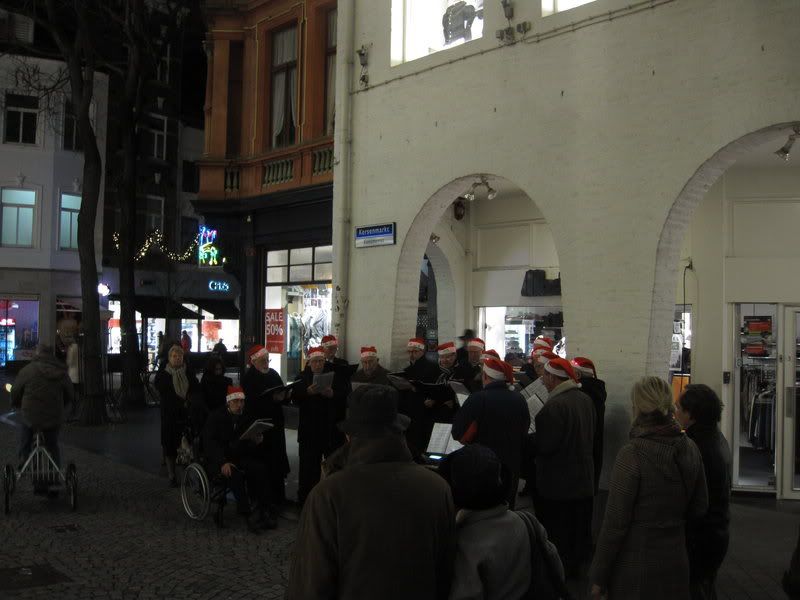 So Dutch: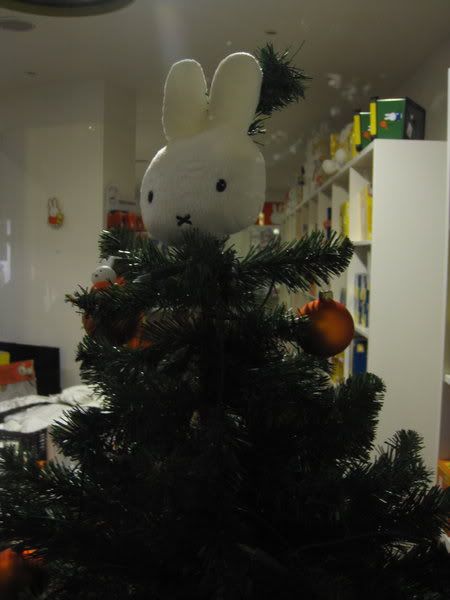 Finally it is time to head to the airport and my hotel there, I catch the bus there from CS. The bus stop is right in front of the terminal, which is then directly attached to my hotel - the Tulip Inn Maastricht-Aachen Airport. Quite a dump if you ask me, probably built back in the 60's or so, and these dire corridors make it look like a motel in rural Iowa: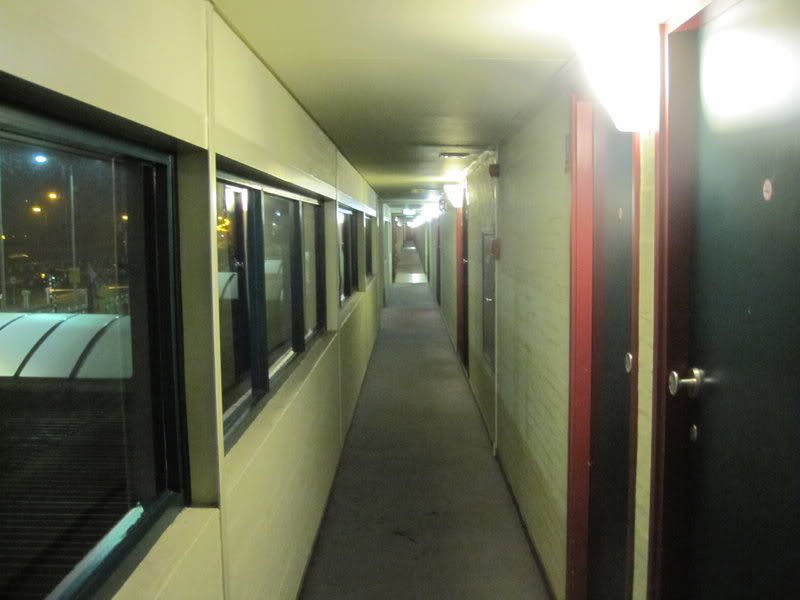 The room is a bit better: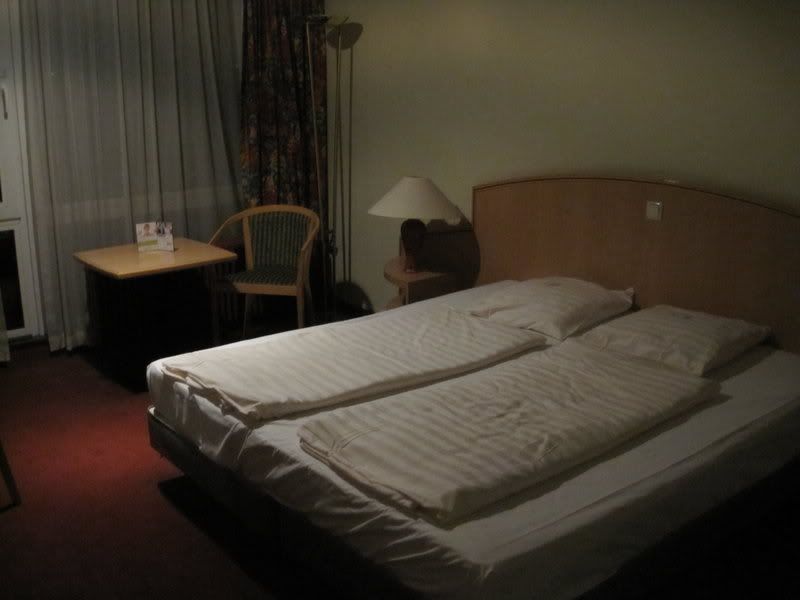 Not sure if I agree with these earthy colors in the bathroom: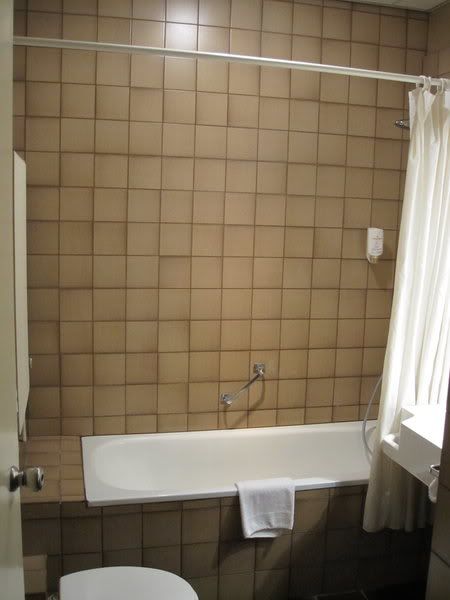 Interestingly I got handed a minibar form, but where's the actual bar: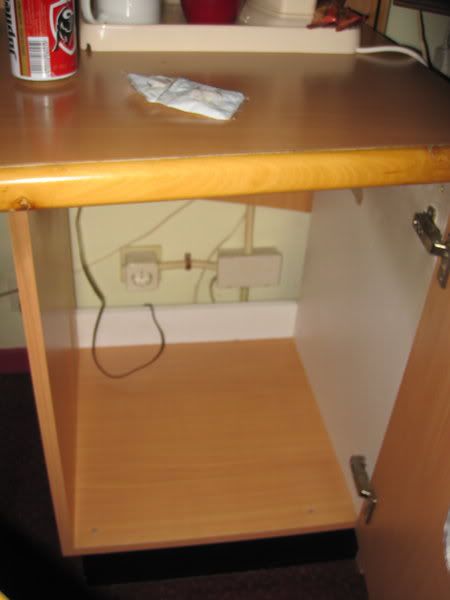 For a second I wonder if I should tick all the items in the list as apparently they all, including the fridge itself have been consumed...
It's been a while since I've had this instead of a key card - I think the last time was in Las Palmas half a year ago: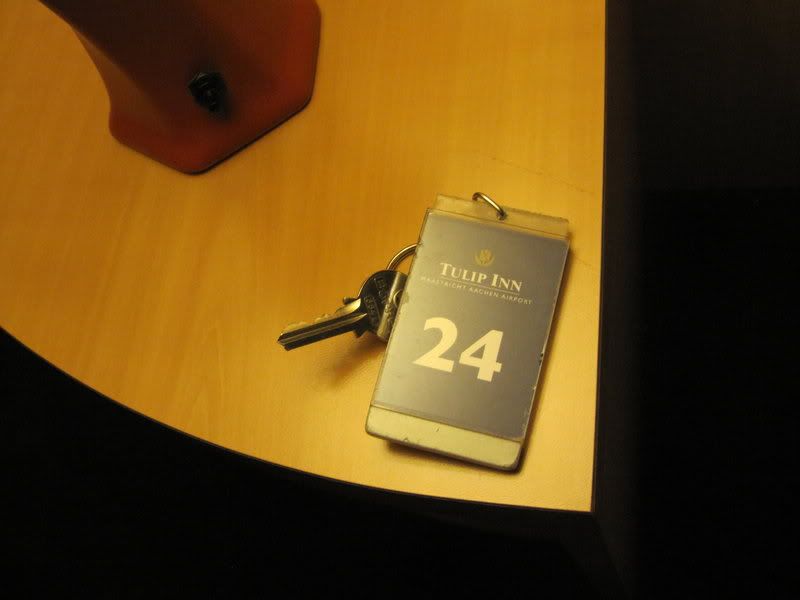 Anyway I discover that the free wifi they so proudly advertised in the room description only works in the lobby and restaurant (oh, there indeed is signal in the room but it is through T-mobile and costs money - cunning folks these Dutchmen). Not having had enough of my online fix today I head to the bar, drink a last tall Heineken and spend some (more or less) quality time online before retiring to my room for some sleep.
Sunday 12.12.2010
Up around seven or so. The very first thing I hear outside is the sound of an approaching jet - I open the curtains just in time to see a Turkish Air Cargo Airbus landing in front of my window - the runway is just a stone's throw away, making this hotel an ideal one for spotters - too bad there isn't much traffic to spot here!
Normal morning rituals and outside, there's a different woman at the reception desk from the previous night - I ask what's the deal with the minibar. She explains that this hotel will be torn down next year or so, possibly replaced with a new one, so they don't bother changing broken equipment anymore. Well, about time I'd say! She's a bit apologetic about it but I say it's fine.
You gotta love these onsite airport hotels - a hundred meters of walking brings me to the terminal entrance:
Why, oh why did they have to use this horrible yellow color?!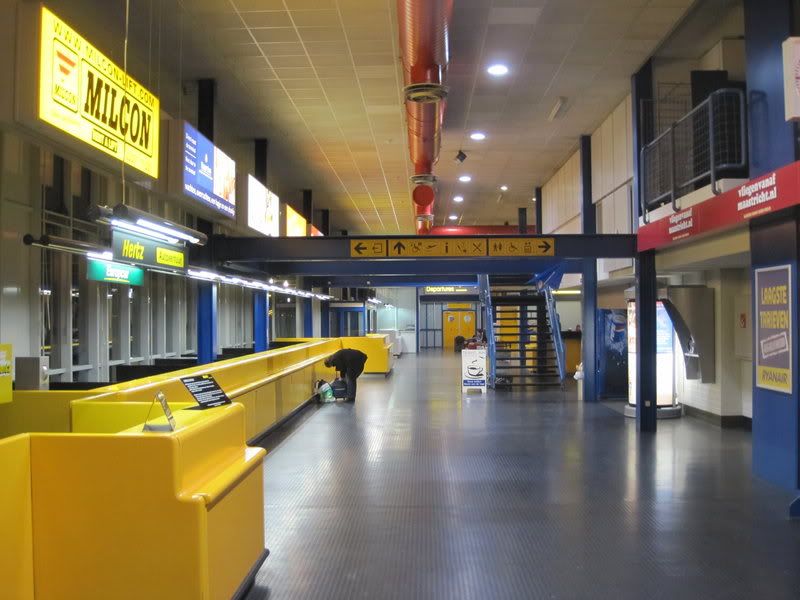 Not too busy: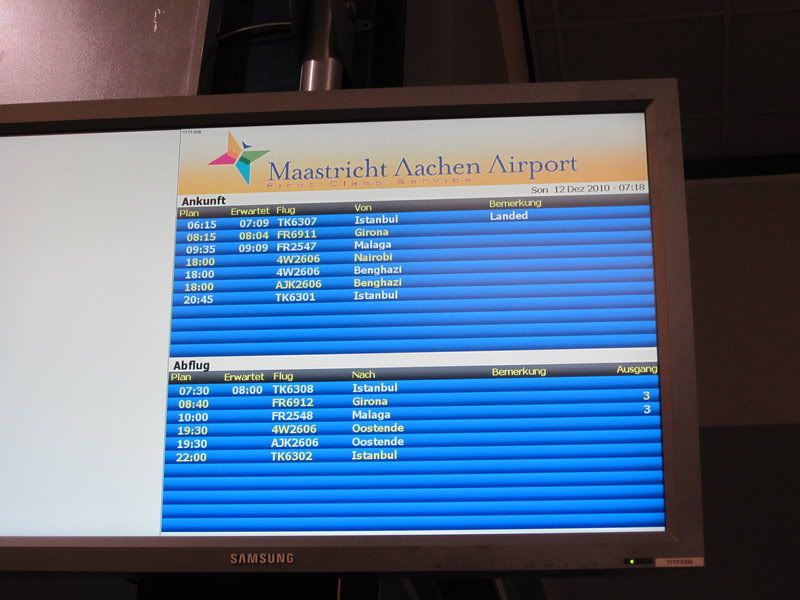 Not much is happening inside. There's an open cafe upstairs, so I head there, grabbing a capucchino and a very Dutch (cheese and lots of it!) sandwich for breakfast.
Back downstairs. The girl guarding the entrance to the security check and checking my ID wishes me a good flight - I answer "It's Ryanair - you just can't have a good flight with them!" - Immediately she snaps back "Well, then it is time for you to fly another airline!" which causes the next pax in line to laugh out loud. Bit of a character on this girl - I like it!
At the security checkpoint there's another boarding pass check - I try to argue that it was just checked less than 20 meters away but the woman just mutters something under her breath.
The airside is as ugly as the landside, at least there's plenty of seating areas (and lots of Dutch wooden shoes on sale - seriously, how cliche can you get?!):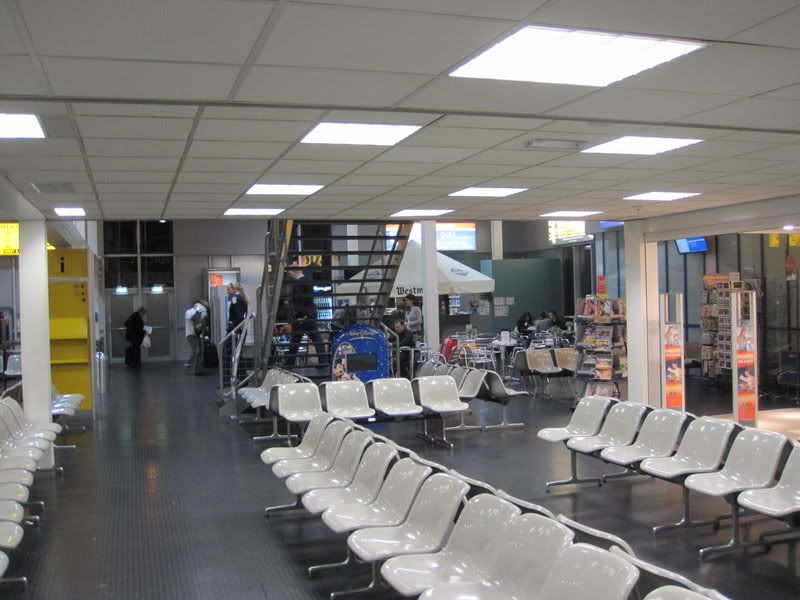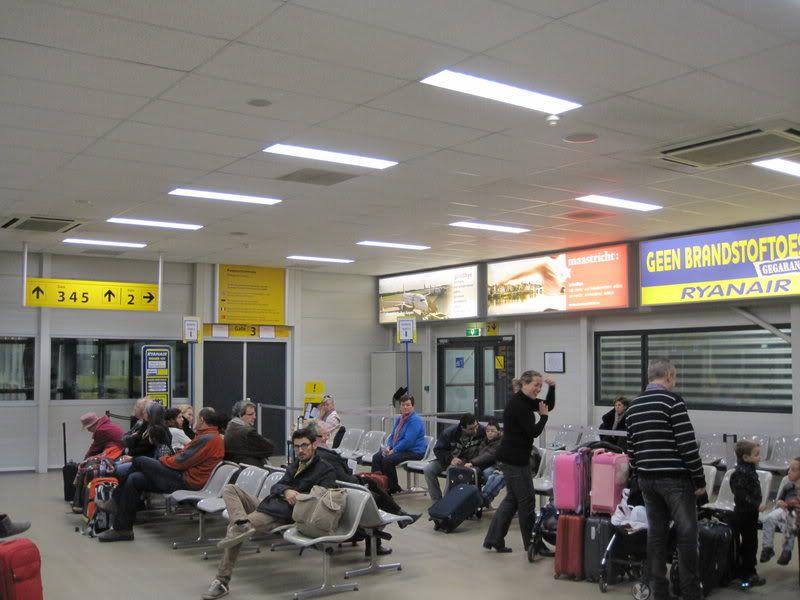 Quite soon priority boarders are called - another boarding pass and ID check follows. And guess what - five meters and yet ANOTHER boarding pass check, this time the bar code is scanned into a machine. I tell the woman "You know, this is the fourth time my boarding pass has been checked, don't you think it's a bit too much?" - "Oh, we just want to make sure you get on board. By the way there's another check in the plane" - I roll my eyes at this.
The handling of priority boarding is very good here - other airports should take note: the seven of us (two more join in a bit later) are led into our own private holding pen (or rather a room as it is very large), separated from the great unwashed by a glass wall: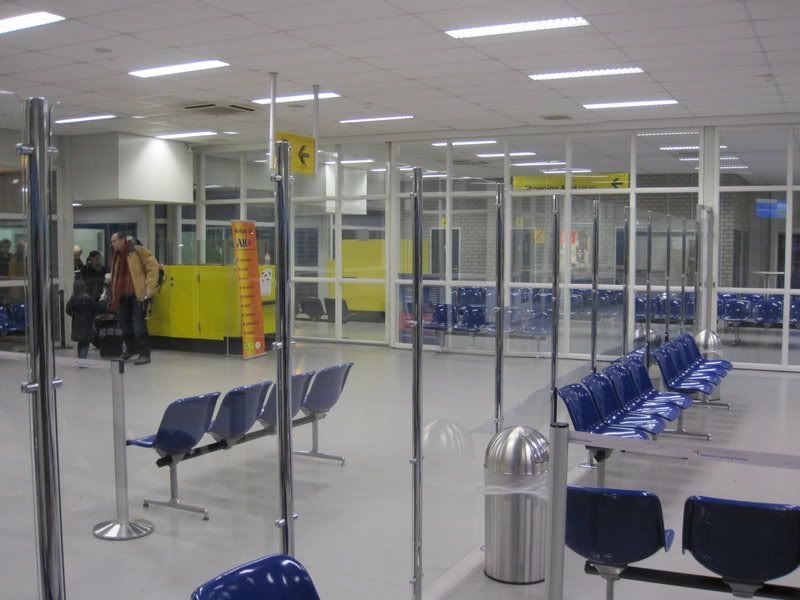 Wow, this feeling of being locked up in my ivory tower is definitely worth the extra 4 EUR I paid for it!
The inbound plane lands around 8.10, half an hour before departure. Too bad these pieces of equipment are blocking the view: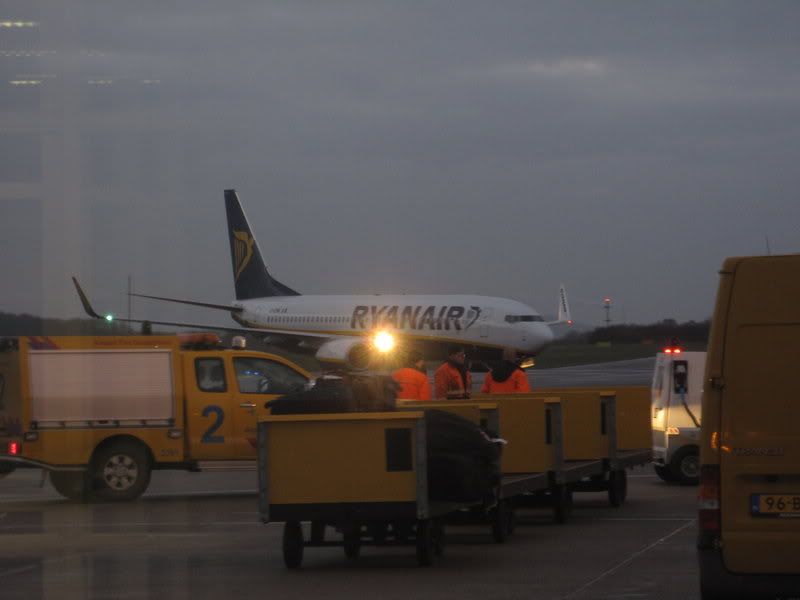 Going head to head with this Transit: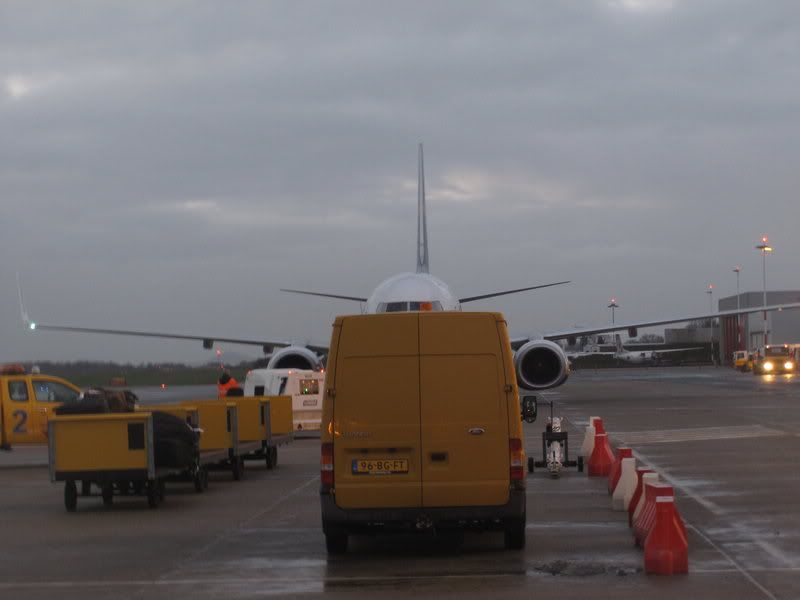 Very soon, less than ten minutes after the plane doors were opened an agent comes and unlocks the door, allowing us to proceed with boarding.
Didn't catch the registration earlier, it turns out to be EI-EMK, a new bird for me and quite a new bird in general, having been delivered to Ryanair seven months prior.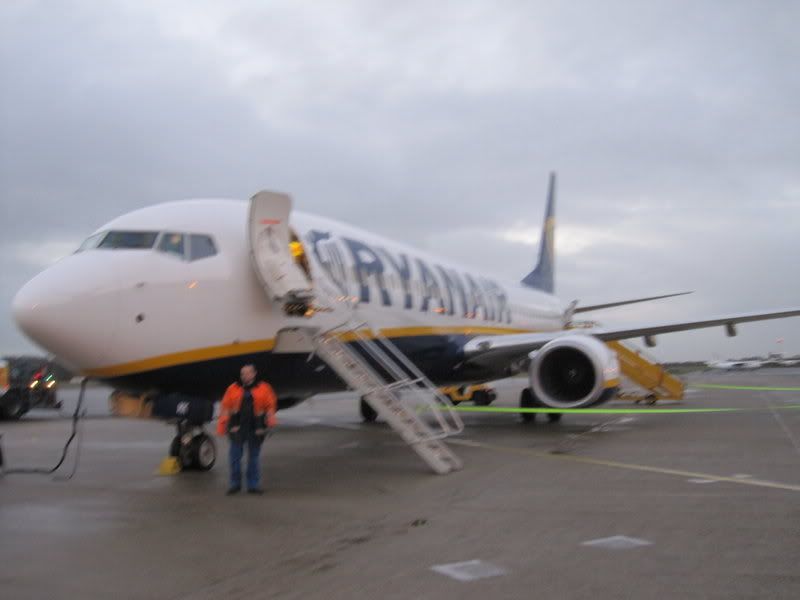 MST - GRO
FR6912
B737-800 EI-EMK
Seat 16A
8.41 - 10.15
Quite jolly Spanish crew on this flight apart from one girl who turns her head away from pax so that she doesn't have to greet them, well good morning to you as well, love. With Ryanair and a flight longer than an hour there's no doubt which seat I end up in: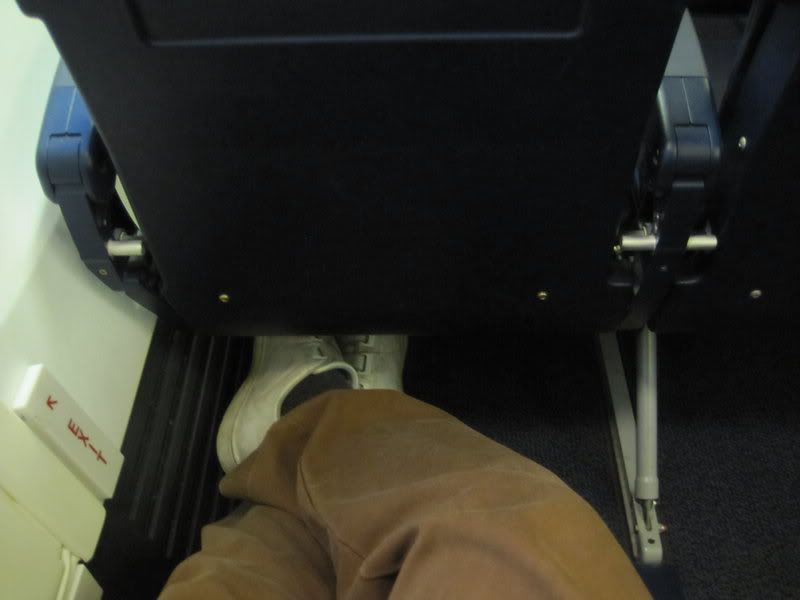 Flight time is announced as 1h40mins with "Nice weather at Girona, plus six degrees and scattered clouds". Load is quite low for Ryanair, less than 70%. An empty middle seat next to me and crew who doesn't care about mine and the aisle woman's stuff lying on the middle seat (some of the crews are very strict about this) ensures reasonable comfort.
Departure is pretty much on time, taxi to runway 21 takes us right past the hotel and my room: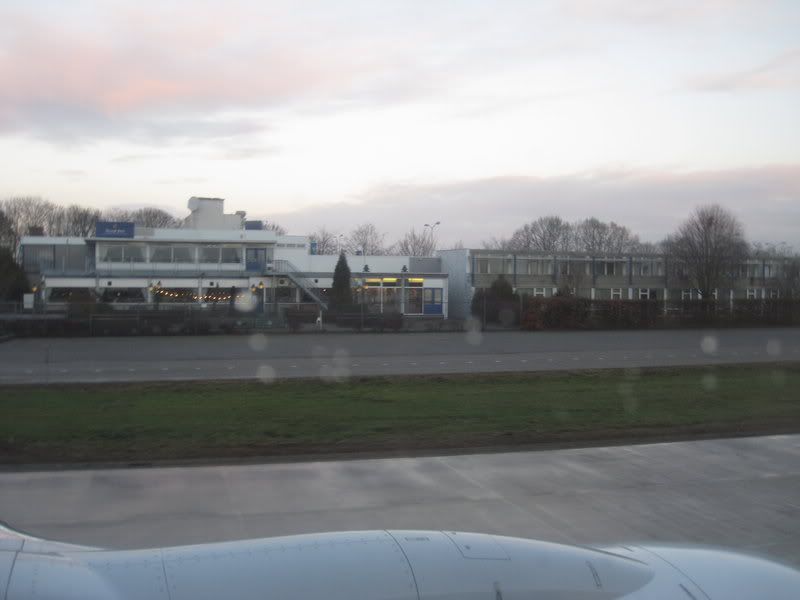 Hmm, a spotter?
What's this - trailer park for the Dutch white trash: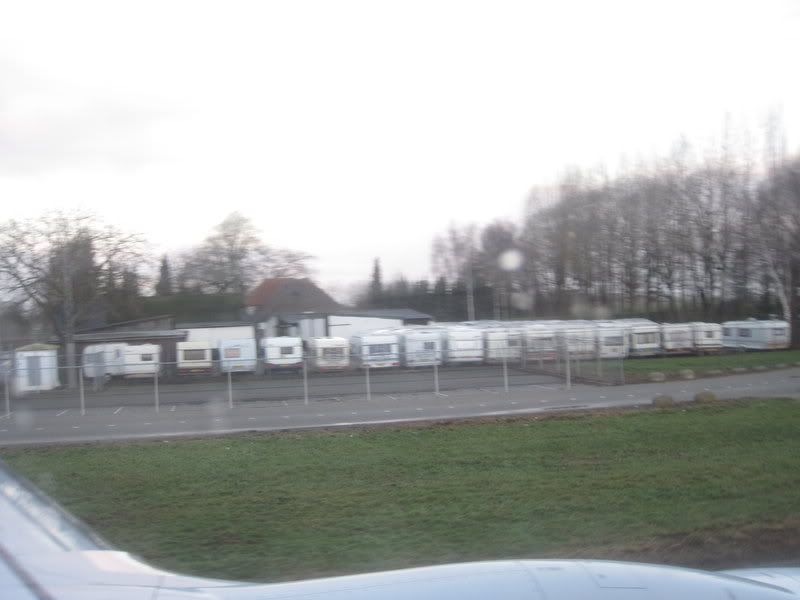 Take off is four minutes after we leave the parking position. Quite a line up of Fokkers here, I guess these are all ex-KL Cityhopper: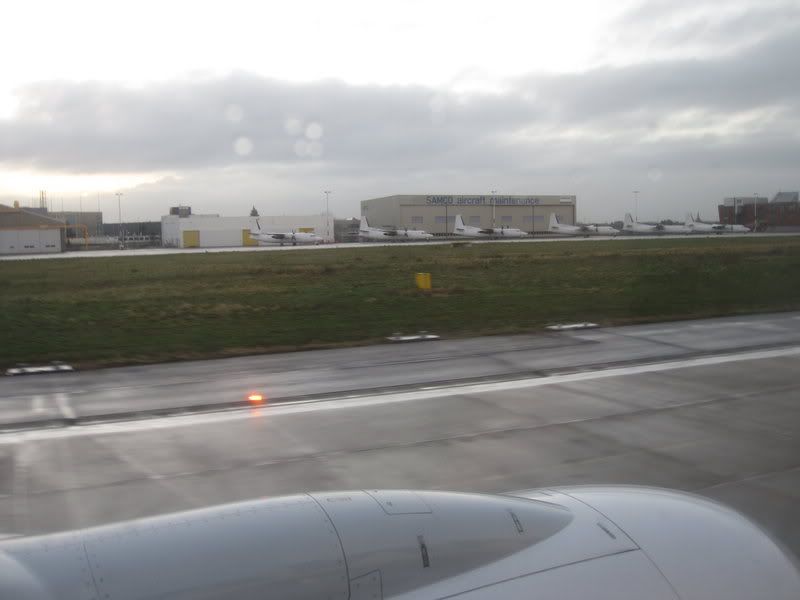 Paint the tails green and sell 'em to BT is what I say!
Limburg is quite hilly for the flat image commonly associated with the Netherlands: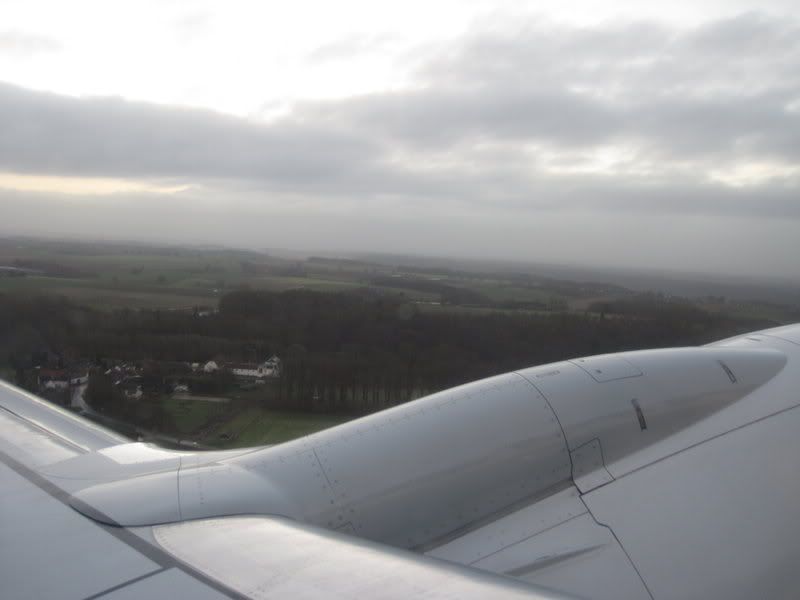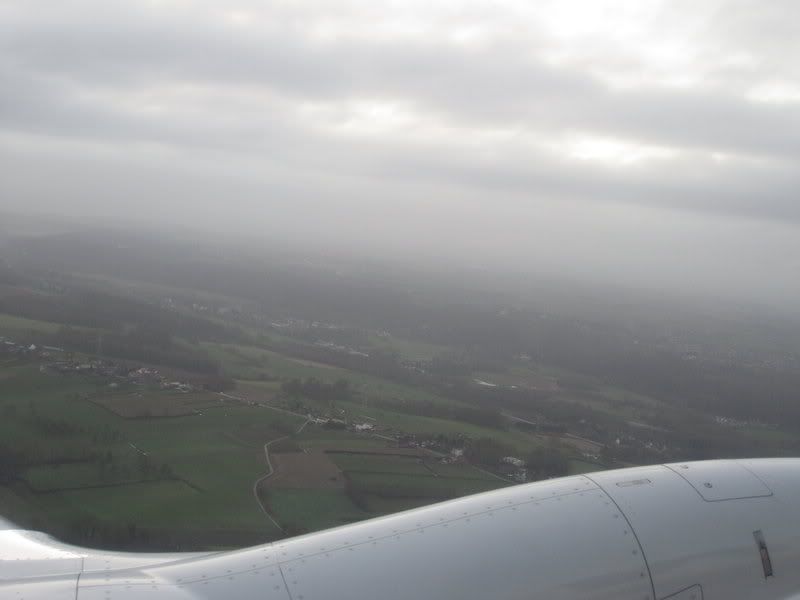 Departure pattern is a bit weird, right after take off we make a very sharp left turn towards the east and fly into what must be German airspace for a while before making a counter turn towards the right which points us southward. I guess this is done for noise abatement reasons to avoid overflying Maastricht city?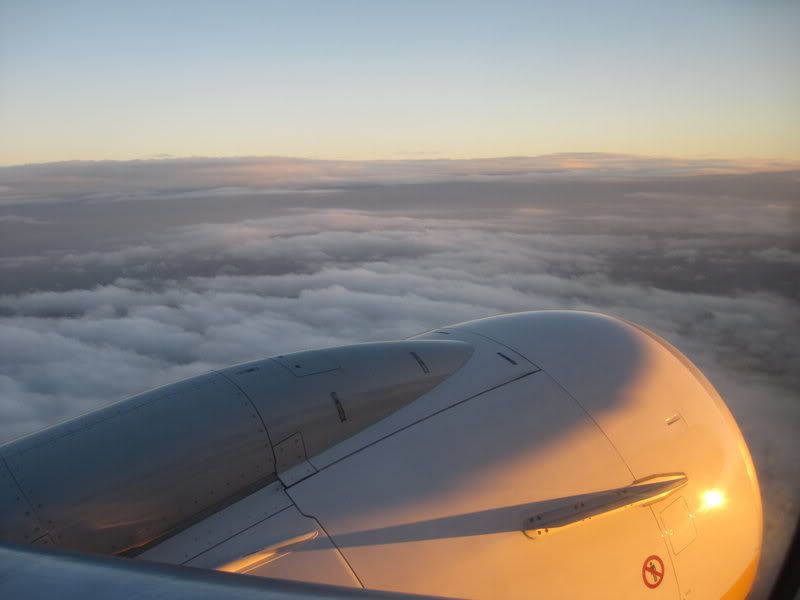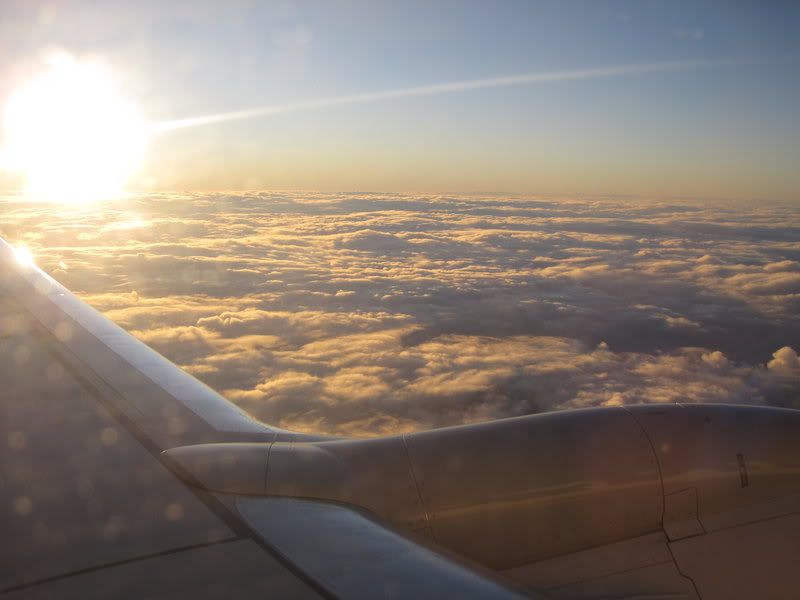 Overcast for the rest of the flight until the Med. The European skies sure a busy, when I took this shot somewhere near Paris I could count the vapor trails of six planes at one time: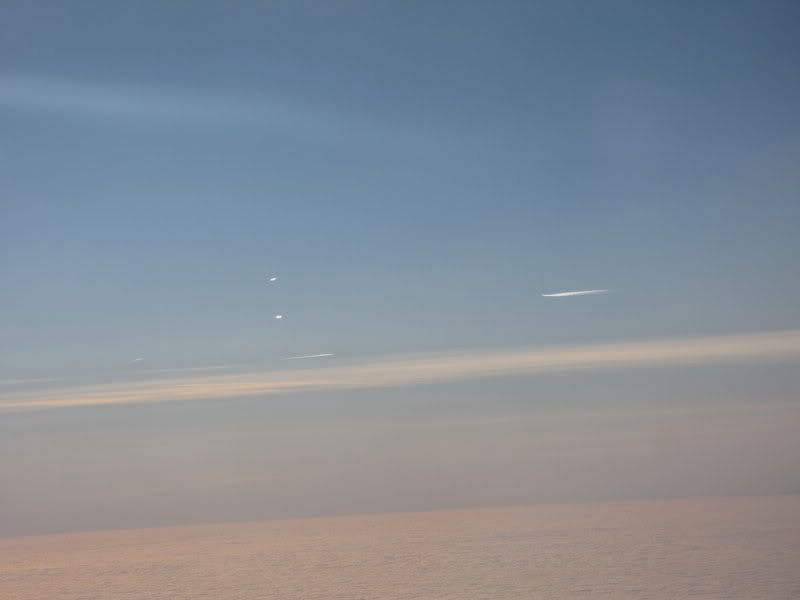 The Alps just barely visible on the horizon:
I decided to get the Ryanair Cabin Crew Calendar - purely because all the proceeds go to charity, mind you, obviously not for the girls in bikinis! Too bad this plane is out of it, let's hope for better luck on the next flight!
Just before descent the FO makes a small announcement, saying that we should be landing at 10.15, a good 30 minutes ahead of schedule. Oh, hello Med, looking good: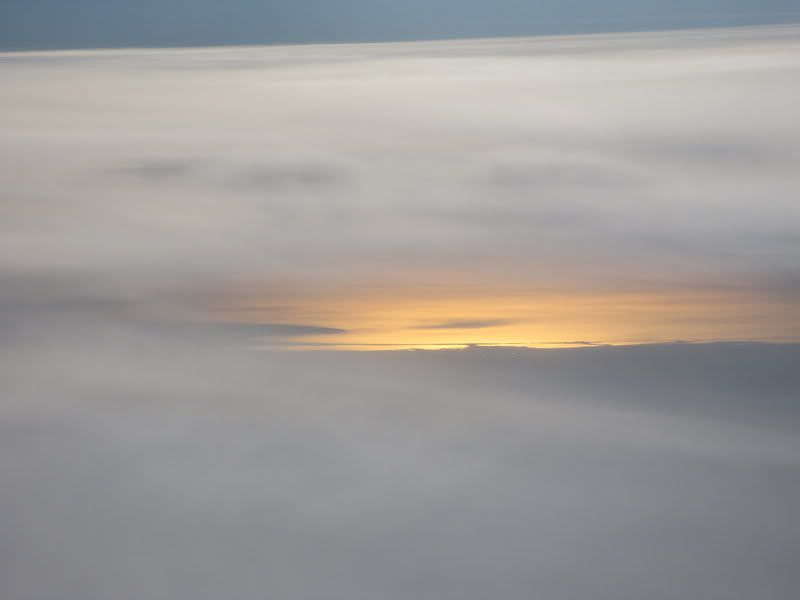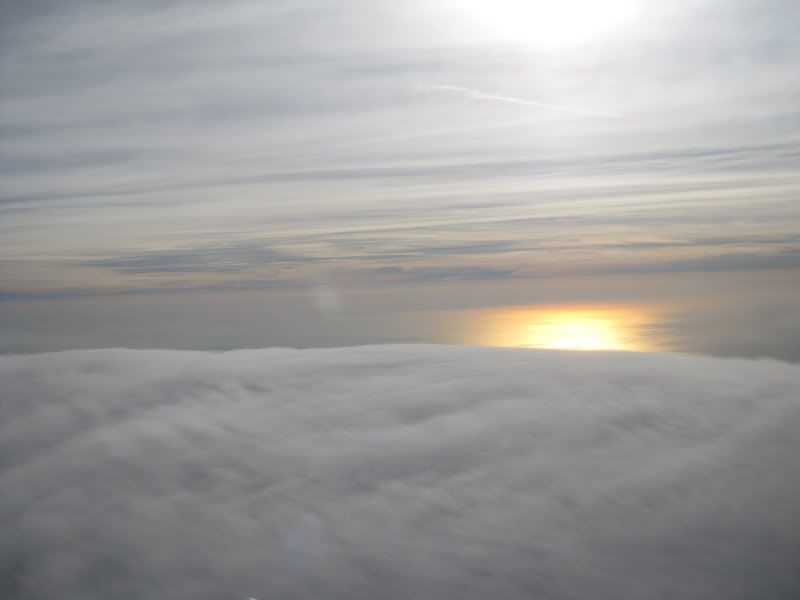 Approach is very pretty as we first follow the rugged coastline: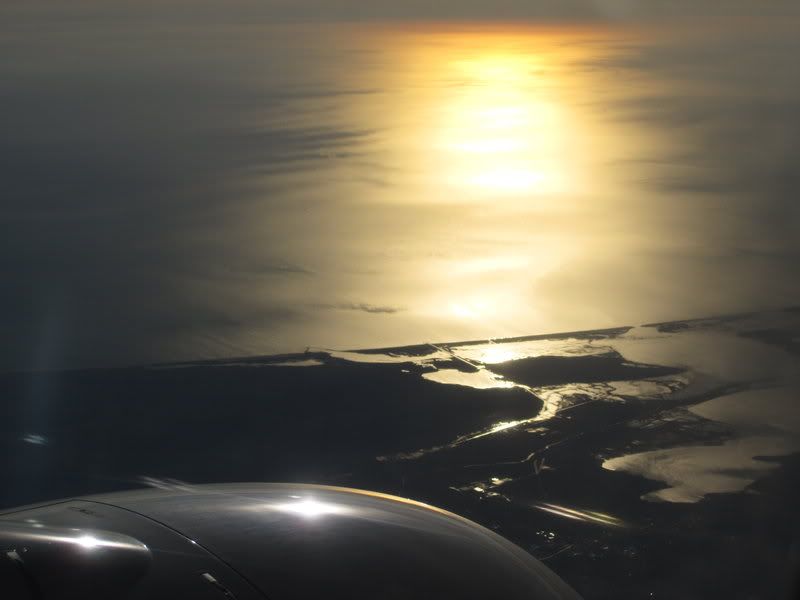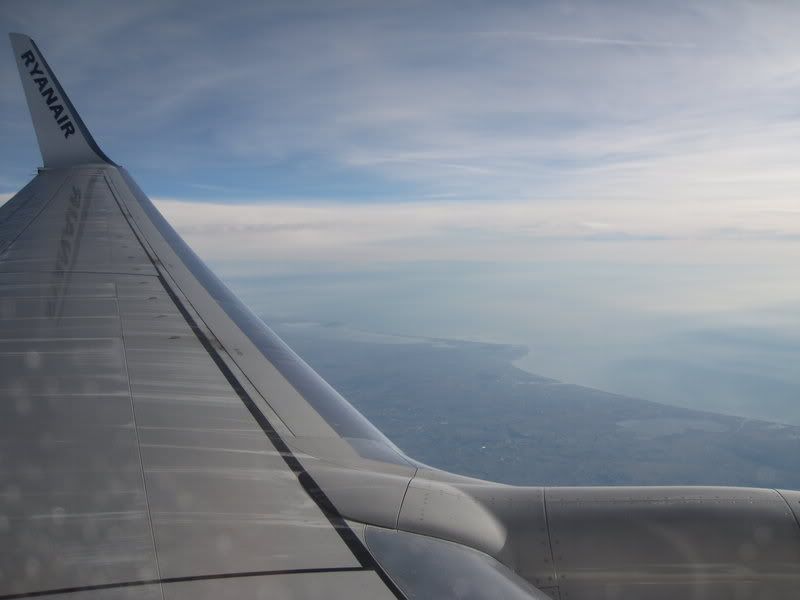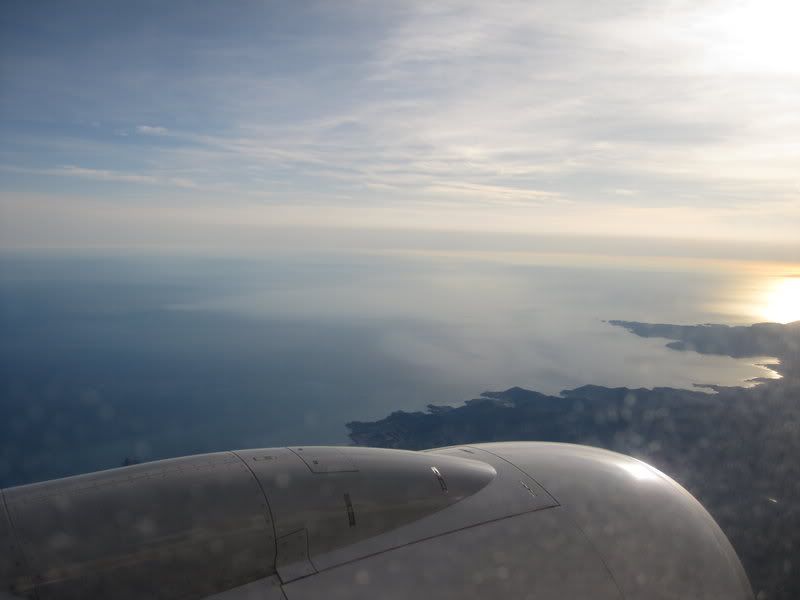 Before heading inland: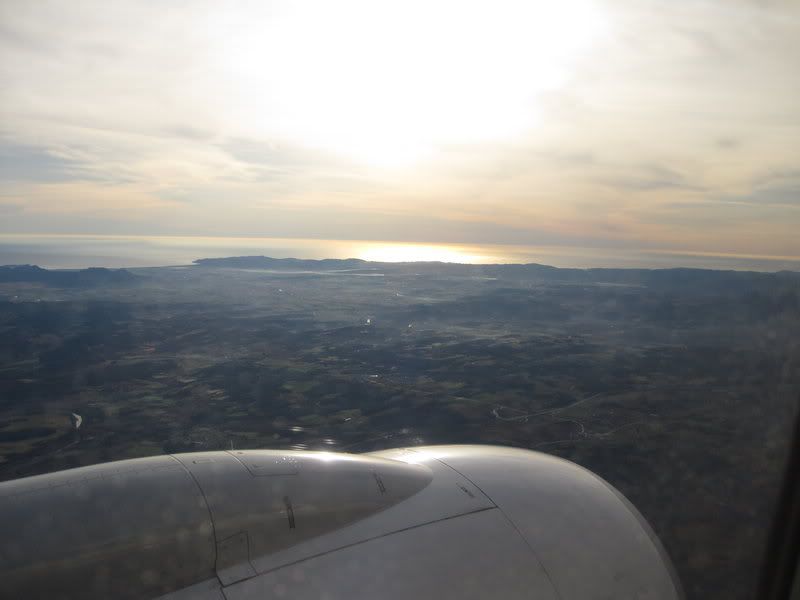 What are they burning?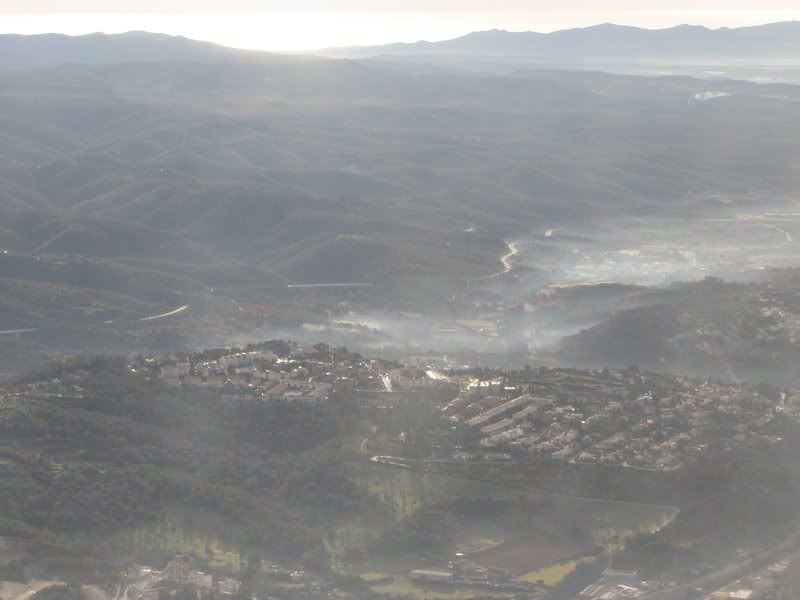 Girona city: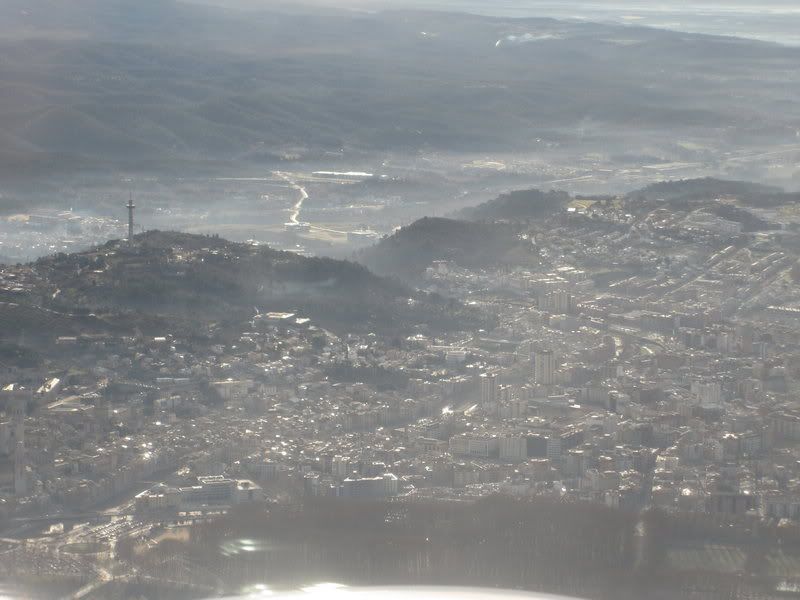 During finals there are some amazing views of the valleys covered with thin wisps of mist: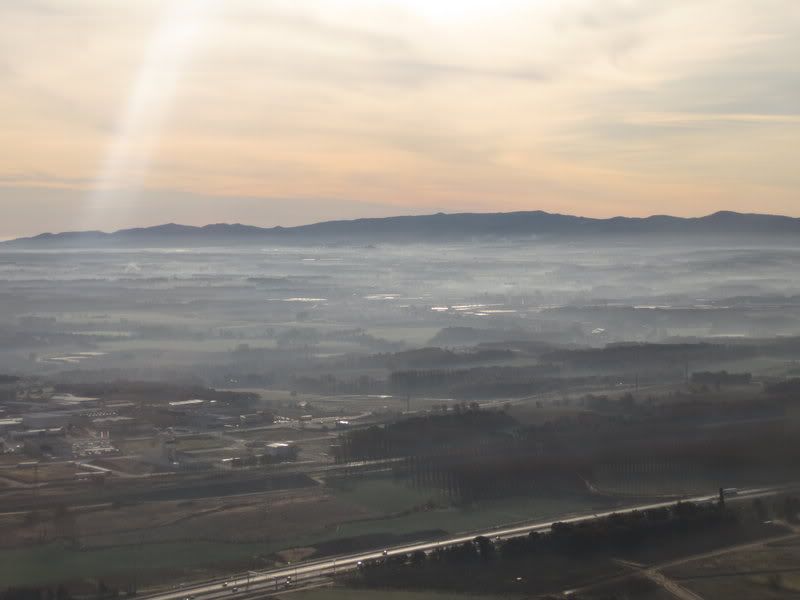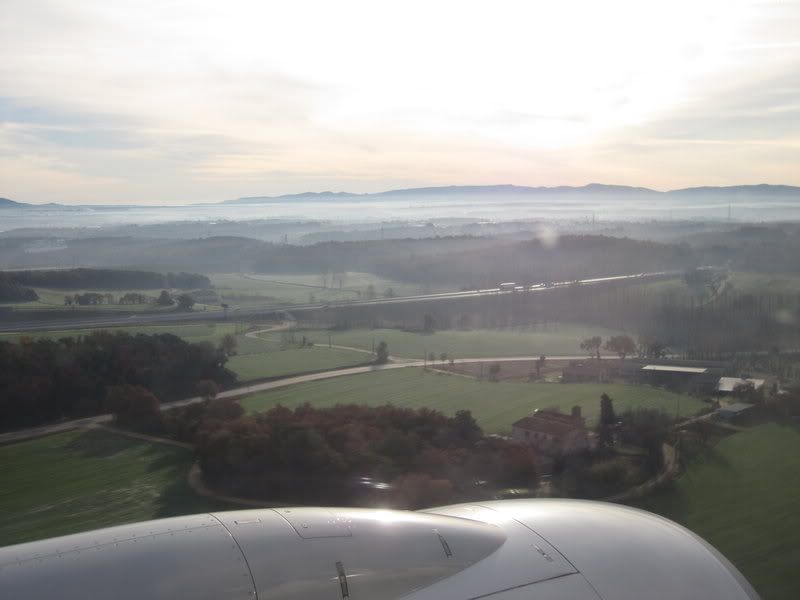 This approach seems to work no matter which side of the plane one sits as other one is treated with very pretty views of the snowy Pyrenees...
Landing is on runway 20 after a flight time of exactly one and half hours.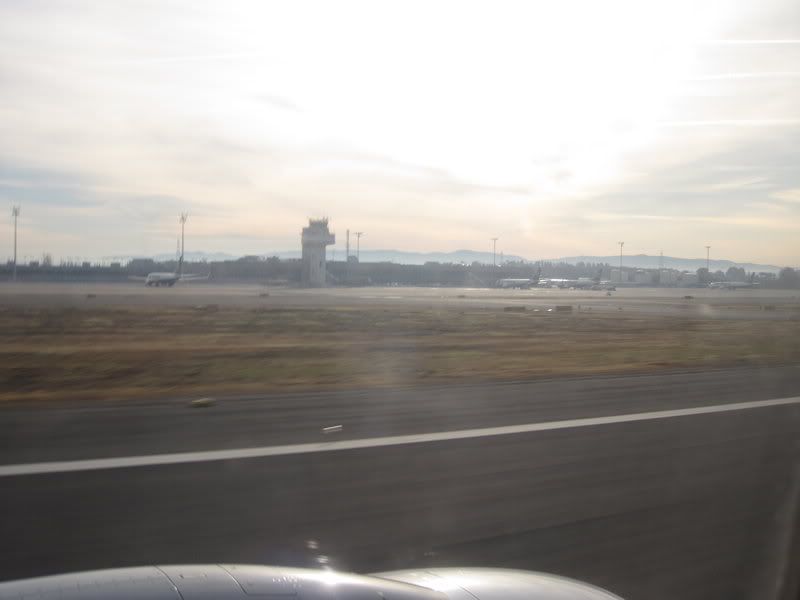 Something landing right after us: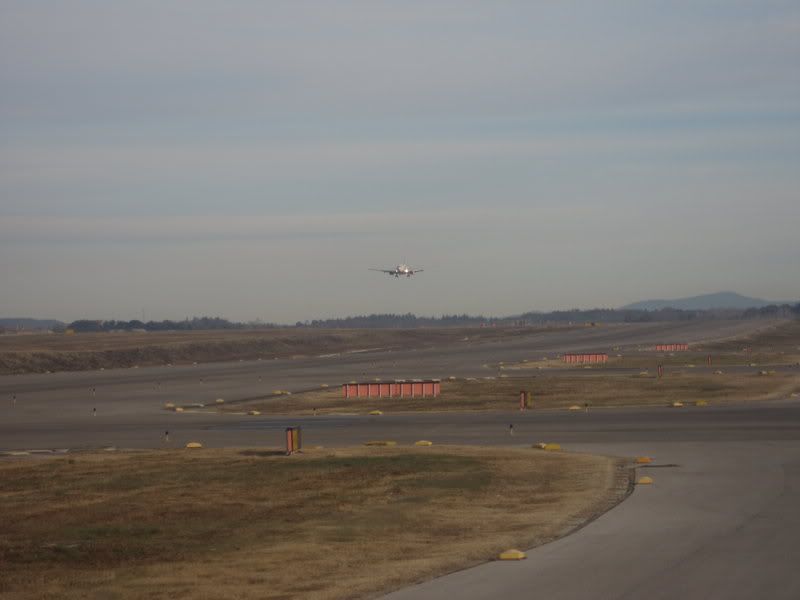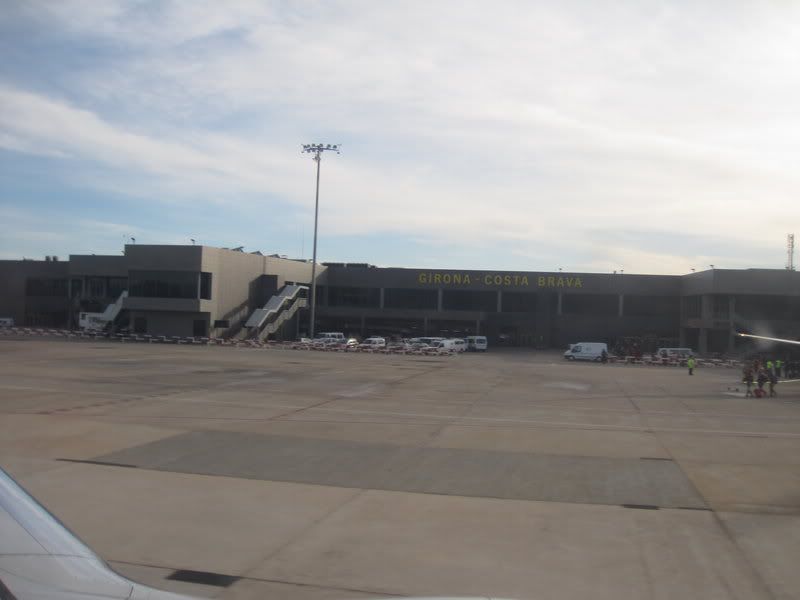 Oh, it turns out to be another flight from Holland, HV from MS: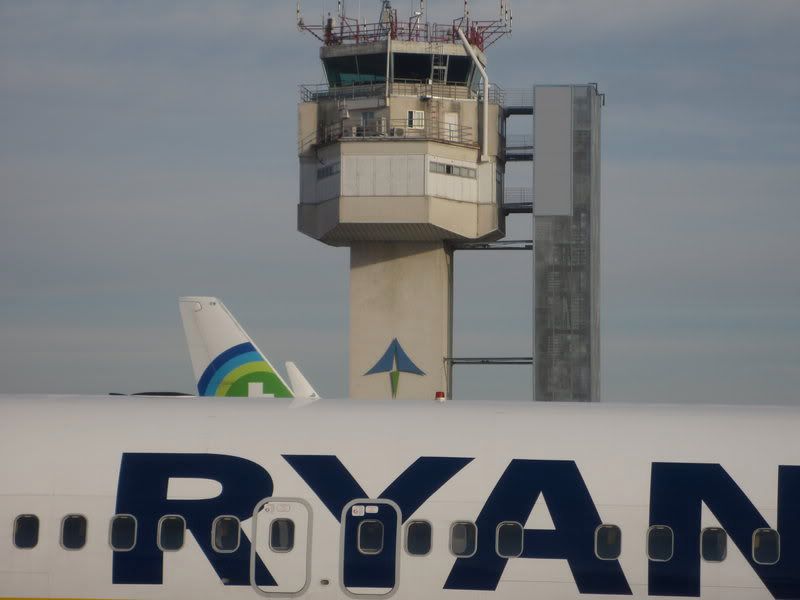 Bye: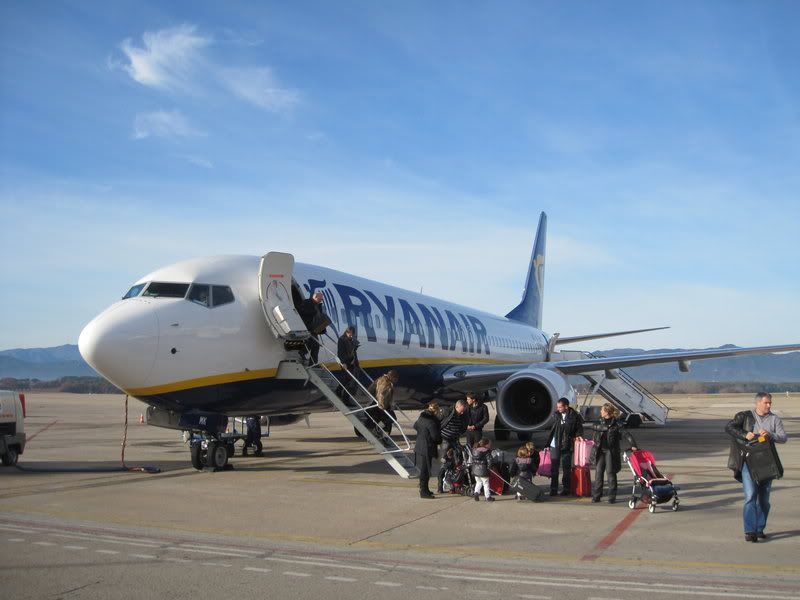 While walking to the terminal I snap this photo of the Transavia bird: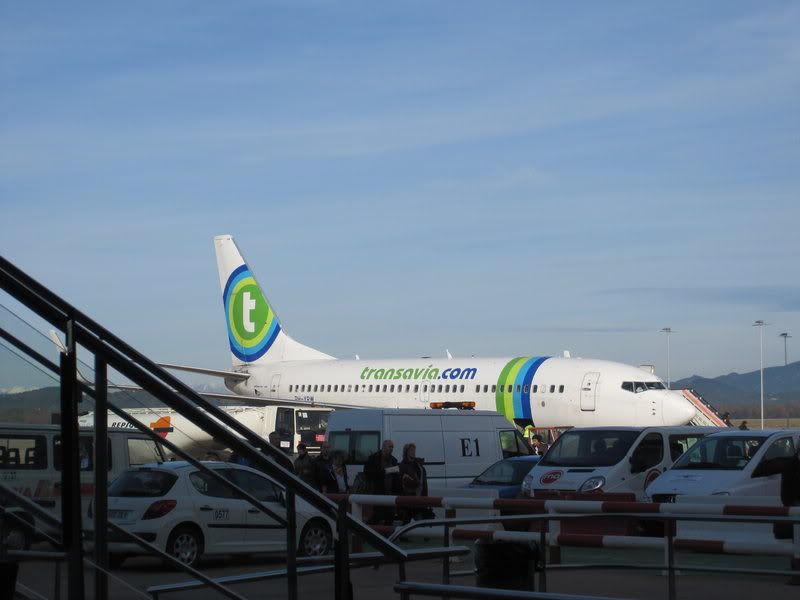 Right after I get yelled by a ramp agent for having the guts to perform such a bold act.
Girona Airport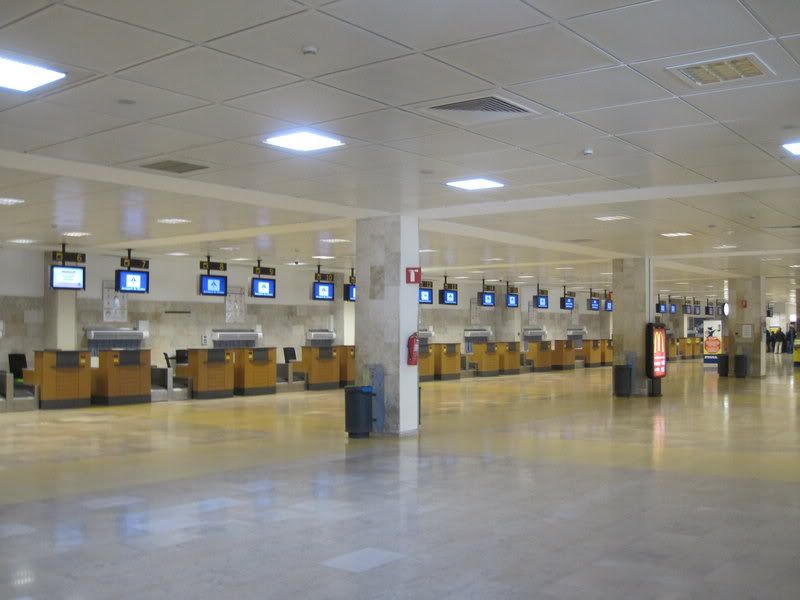 Ryan, Ryan, Ryan:
Top