BRIEFING
1st segment: SIN-HKG
Date: 25 November 2010
Aircraft: Boeing 777-300
Flight no: CX714
Aircraft registration: B-HNG
Aircraft relevant data: First flight date 19/02/1998
Serial number 27505 LN:118
Flight load: 100% full for economy
SEAT: 42K
(Nuggets) - 2nd time taking Cathay's flight, a third time for a Boeing 777, a first for -300 series.
2nd segment: HKG-PEK
Date: 25 November 2010
Aircraft: Airbus A330-300 (corrected)
Flight no: CX312
Aircraft registration: (unsure)
Flight load: 100% full of economy
SEAT: 37K
(Nuggets) -6th time taking Airbus A330, a second time with -300 series.
1ST SEGMENT
(Copy from my previous post to integrate the whole flight)
FOREWORD
This trip had been planned since august this year. It was planned after my O levels, and to travel to Beijing with my friends was a first experience for me. I had been looking forward to this trip because reading about Beijing excites me. (Till now)
Now, some would ask, why don't we take direct flights from S'pore to Beijing with SQ or Air China. The reason was very clear, at least when I had booked the flights. SQ, has the better entertainment, better comfort, food, etc. But the price was much more expensive than CX. Surprisingly, I booked the flight through zuji and was able to get each tickets at $700+ (SGD), whereas Air China would cost about $900+.
It took me a hard time to convince some of my friends who were going that CX provides just as good entertainment as SQ. A quick click to airliners.net and the cabin photos changed their mind immediately.
The main reason for taking CX wasn't about the fact that it was cheapest to fly. However, it was the aircraft that I was taking. (well, at least before 1st september) The flight would involve B777, A330, A340-200, which I really wanted to take that latter aircraft, before major airlines like CX removed it from service.
Anyway, I was quite disappointed after I have booked the flights.
(Its like once-in-a-lifetime-opportunity to take that plane!)
------
CX flights depart from Changi's terminal 1 airport, the first terminal opened in Changi. As of now, the terminal itself is undergoing major facelift, which you can see at one side the 'old' terminal 1 and the 'new' terminal 1. Honestly speaking, the new facelift gave me a yuck feeling. It feels like the new Dublin terminal 2, and it tries to look like terminal 3. But it gave a brighter atmosphere to the terminal instead of that dull-purple paint that it used to have.
Sadly, upon arrival, that old and huge FDIS was covered with steel-construction plates for major renovation, which was a huge disappointment since it gave me a nostalgic feeling whenever I saw that. It was replace with 4 electronic monitors though.
A major disappointment was the inoperative "self-check machines" at Changi's terminal 1. I tried to use all of the 4 machines to check in, but every time I tried to scan the code, the machine would blank out and restart to the welcome page.
After waving goodbye to my anxious mum, and my friends' parents, it was time to pass through the customs. I was excited because this would be my very first time making all the decision alone, without my parents. It was a feeling that I had grown up, ready for this day to come.
I did spot some planes while waiting for the gates to open. I took some snapshots of Bangladesh airways A310, Garuda Indonesia's B737-800 and others as well. (Although I'm not using any DSLR for this trip nor do I own one)
I guess throughout the 'flying' trip, my friends were the most unsupportive friends that I have. Perhaps they didn't understand my hobby in aviation, as they get annoyed when I snapped pictures of planes, the interior, the food, the flight, basically, everything related to aviation. (But I'm not blaming them either.)
Bringing along on board this trip was a bag pack, a small bag and a carry on luggage. Too much for an average traveller, but I had way too many things to pack. (12 days trip)
The new facelift of terminal 1
Together with this miniature rainforest directly after immigration
Clear and understandable signboards
Biman's A310
Garuda's B737-8
Another view of this nice terminal
View of B777-300
Busy day for CX, flight load for economy was 100%
It was finally the moment of truth- to Beijing!
-----
INFLIGHT
After getting in and greeted by the CX wonderful staff, I proceeded to my seat. Since I was one of the last few to get on board this flight, I was expecting that all overhead compartment will be taken up. However I was wrong. Since I had checked in through CX's online check in, I selected my seats at the last row, which had a small but sufficient overhead compartment to squeeze my friend's bag and my luggage and my bag pack. My first look on CX's seats were disappointed, but I understood it as it was a regional flight. At least they're rated 5 stars for something- definitely not the seats or the IFE, which were pre-2007 systems. Or perhaps, I've looking at too many photos of CX's planes fitted with those HD-IFE sets along with mood lighting on board?
The first cabin shot. (Sorry for the blurrrrr images, I didn't utilise the flash)
Boarding was on time and the ground crew left shortly after our schedule departure. The cabin crew welcome us, gave us arrival card and played the safety video.
My flight plan, although the IFE is somewhat outdated and old as compared to Emirates, Qatar and Singapore airlines, but it's enough because you have channel 54!
CX offers good pre-flight management. Kudos for that! My friends included those who can't take beef and one of them is vegan. Definitely worth my effort to select the meals under pre-booked meals. And when on the ground, CX crews were already busy as they had to confirm the meals. (And they get their meals first )
The legroom was more than enough for this regional flight. Decent too.
Flight time 3hrs 19 mins.
Captain XYZ told us that HKG has good weather, which was great when you don't really want to stuck at HKG due to monsoon. Although he told us that there will be haze.
The traffic at changi was low, which we take off not long after our taxi. The take off wasn't the most powerful take off I've heard, or was that a sign of going deaf? Anyway, we climbed rather steep and in less than 10 mins, the seatbelt sign was turned off and cruising at 39000 ft.
Bye Changi, some major renovation at T1.
Lift off
ON BOARD
There seemed to be a problem with my seat. (or is that a normal thing?) On board the plane, I realised that the seat cushion was moving forward, and it revealed the thin and round metallic pipe. It was rather uncomfortable throughout the flight since I felt like it was a wedgie. (You know that sort of feeling?)
I didn't had any sleep for this flight although I was very tired from my previous trip with Airasia on the 24th, which was very rush for me.
Meal commenced 35-40 minutes after take off. First the CX crew had to serve to those passengers who had special request on their meals (Lucky them), then, they had to serve ridiculous people like me- a drink. My lips were getting dried and my throat was feeling uncomfortable. (which made the crew late to serve the meals!)
Another huge disappointment was the lack of menu for economy class. I have noted that CX is not the only airline that does that, but others do. Perhaps to save cost? There were two choices and I opted for the chicken, as it had rice.
(Qatar had menu on board and their choice were very wide. I'm just saying)
Main course was chicken peels with rice and veges, together with a bread and butter, desert was a chocolate-yogurt cake, together with fruits. Also surprising on this flight was Toblerone. Excellent touch!
The movie that I watched was "The special relationship"- portraying the previous PM, Tony Blair and Bill Clinton's close relationship
Customary cabin shot
Another plus on CX was it's extensive soap and moisturisers it had on board. There was a antiseptic soap, a hand moisturiser and face moisturiser. Not only that, it had that iconic floor mat. (Which is really a nice touch)
Window shot
I didn't sleep for this flight, so I chat with my friend, who was seating at 42J. Soon, it was time to land.
Welcome to Hong Kong. This was done in English first then Cantonese. We disembark shortly and went to the transit area for a secondary baggage and ticket check. (Which had only 2 counters to cater a lot of transiting passengers)
-----
2ND SEGMENT
After we transit to the departure level, we walked to the central atrium to shop. (Or not really) It was soon our boarding. On the paper, it said we had 1h30mins to spend at the airport. We only had 30 mins to walk before we have to go to the Gate. Biz class was first called up to enter, followed by long, long queue of economy class. It was the moment, the trip we've waiting for the past few months (or at least I did) - to Beijing.
I never get bored with the HK's terminal. It seemed so open with that white interior, and lacks of artificial lighting. Good for the planet too ;D
The scene on the tarmac
Spacious and yet warm feeling of this '98 terminal.
I settle down at row 37 seat K. Since I had checked all of my friends and I's ticket through the online portal, our seats were already finalised before this flight.
I didn't note the registration of this aircraft however, it belongs to one of the category where Cathay's in flight safety card has that selected A330 and their registration with B-HL* series.
View of my seat. It has that old SQ seats that can be found on B747s.
The plane itself wasn't there earlier on when we checked at Gate 66. (Perhaps it was from another destination) Nevertheless, the plane itself was clean and no sign of dirt on the seats or on the floor, except it shows the ageing of the aircraft, the yellow tinted light covers can be seen. Also noted was a very strong plastic-burning odour. I'm not sure where it came from but when we entered the cabin, I could smell it. My suspect is from the IFE itself.
Beside this A330 is a humble Hong Kong airlines.
Legroom was descent for another regional flight. My seat table seemed to be misaligned as it's tilted towards the left... hmm.
After the usual cross-check and seat belt signed was on, the captain brief us about the weather in PEK and HKG, both were excellent. There was no delay and traffic at HKG at that time was perfect. Good enough to reach there on time at least. Then, the safety video was played.
As we taxi, I came across this B747SP private jet. Owned by the owner who owns Marina Sands resort and casino in Singapore.
It was take off in no time and we made a 360 degree turn to proceed to PEK. With nice views too, however, I decided not to shoot them as the haze has pretty much cover much of Hong Kong. Shortly after that, we cruise to 36000 ft.
Again, those who had special request on their meals get to have them first, as not to disturb the meal distribution later on.
In this sector, I opted for beef cubes with mashed potato with my friend who had the same meal. That blueberry cake for desert was excellent and I craved for more
To note: in this flight and the coming flights, the meal I had selected had ran out, so I had to wait for the flight attendance to pass me the main course.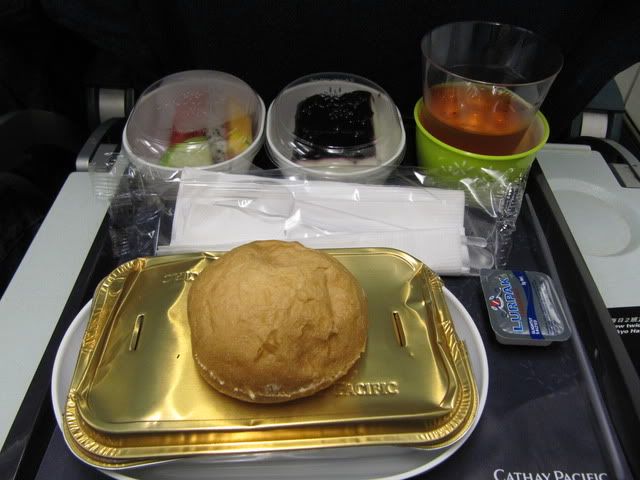 Touching that aluminium foil was very hot, a sign that the food inside is still hot.
After the meal was served, the flight attendance came again to serve "Hot Chinese Tea", which I found it funny. After that, meal trays were removed and I enjoyed my time resting, and watching EPL most funny goal scores, which was great. After that, I watched a recorded version of CNN's world report that was on the 23rd November. I had a short rest then.
Throughout this flight, our flight attendance, Maggie, who served our economy section was very humorous and funny, which I would like to mention her as she had made my day.
Then came the chief purser, judging on the vest she wore and the seniority. She approached my friend and I with a form and explained it to me in Cantonese. Although I don't speak Cantonese, however I could understand what she's trying to tell me. (with the help of my friend who explained it was a survey) I agreed to her request and she passed me a pen and a survey form.
The form was written in tradition chinese, which (thank god) I could recognise some of the words. (Although that didn't really help).
I gave good ratings on the FAs and the food but nasty ratings on the seats and in flight entertainment. When asked about which airline I had taken had the most meaningful impact, I wrote - Qatar Airways.
The F-O-R-M
Above the mountains of Tianjin from the flight path.
Cabin lights were not turned off (since the flight is between 3pm to 8pm) and throughout the flight, I was pissed by the fact that the overhead compartment above us was occupied by the Chinese tourist sitting in the middle section of the cabin. (It was fully stuffed with plastic luggage carrying goods from Hong Kong) Hence, I had to put my luggage at the other side of the aisle, where my other friends were seated.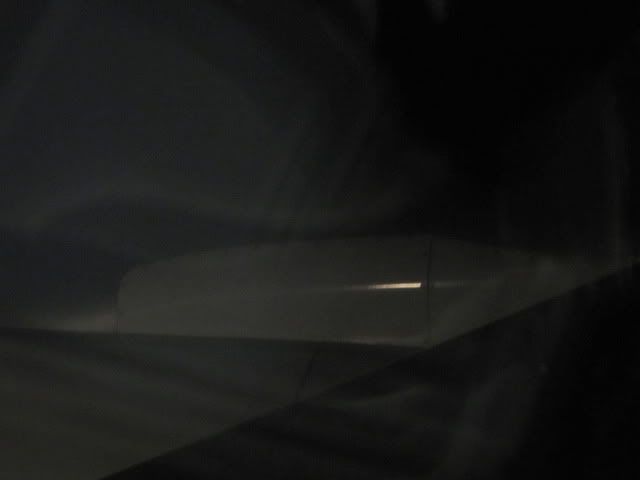 Upon landing to Beijing
Soon, the seatbelt signed was turned off, the captain announced that we're preparing for landing and "Cabin crew cross check" was also announced. Then, the cabin lights were turned off, anticipating our landing to Beijing. The view was spectacular to see the gleaming orange lights from the lamp post. However, my camera is not a DSLR and the image was very bad, hence no picture.
Everyone on board anticipating for landing at Beijing. The atmosphere was tense for some reasons.
As usual, the rolls-royce engines went silent as it tries to decrease it's speed. Then the loud thud and I knew we're on ground. The engines spooled up again, in thrust-reverse mode. We came to a halt as I mistakenly told my friend "That's the terminal 3 my friend", as I pointed out to him the long stretch of the terminal 2. Really bad mistake.
We turned and I recognise the iconic structure of the Terminal 3. The largest and undisputed the best terminal in the world. While taxing, the flight attendance reminded us twice not to remove the seat belt as the aircraft has not come to a complete halt. However, most Chinese tourist didn't seem to be bothered by it and took out their seat belts and opened the overhead compartment. The FAs came and used a stern voice to exert it's control over the Chinese passengers, as they closed the overhead compartment. Then, they went back to their jump seats.
The aircraft came to a complete halt, and the IFE screens were showing "Thank you for flying with Cathay Pacific". Seat belt sign was turned off and everyone stood up eagerly and took their belongings. 5 minutes later, the doors were opened and we started to move.
Ignoring my friend's advice, I wore a thin T-shirt and a jean. As I waked through the jet way, I felt that cold chill, which immediately trigger me to take out my coat and jackets. It was very cold!
After that, we took pictures of Terminal 3 (well, only me) and admiring the structure of T3. We cleared customs easily and took the tram to T3 arrival terminal to collect our baggage. My friend bought a Martell that was to be given to my friend's parents, who provided us free hotel stay, transportation, food and tour guide. It is fun and one-of-the kind experience to be able to travel with your friends, away from parental control.
The structure of T3. I believed that Foster and partners also helped to design the building
After clearing immigration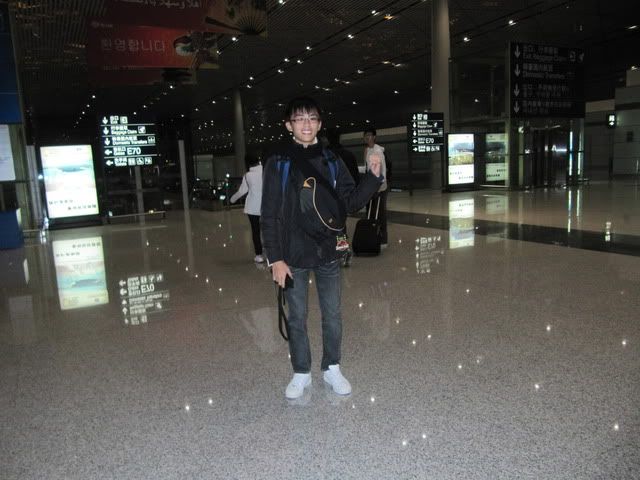 Prior taking the tram to collect our baggage
My ride at the airport was completed and it's time to explore this hidden gem. A bad portray my media, however, I was keen to explore what Beijing had to offer. After all, it's rising rapidly.
BEIJING SEEN
The lobby at the hotel I stayed for the 12 days.
Beijing's 2008 "One world, One dream" at the Great wall of China
Seen here, the long stretch of GWC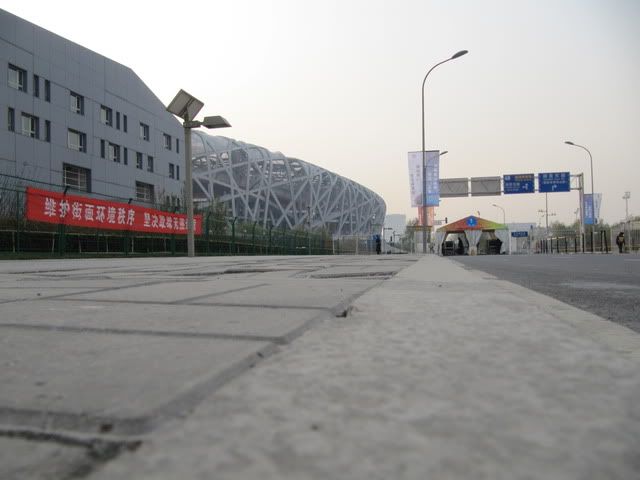 In order to get free access of the bird nest stadium, you had to enter from the back of it to take this shot!
The stalin-era like clothing of this local security guard at a high-end mall
王府井(wang fu jing), a local street full of exotic food found in Beijing. 15 minutes walk from Tian an' men square
Tian an' men and the portray of Chairman Mao, a sign to tell you who's in control of the govt.
And more photos of course
Thank you for reading this trip report, and I hope you had fun reading my ups and downs of this flight sector.
PREVIOUS TRIP REPORTS
1. AirAsia to Jakarta (2009)
To Jakarta (CGK) With AirAsia QZ7783 (09Sept09)
(by
boeingdotcom
Sep 17 2010 in Trip Reports)