Dirty Green and Red.
There are two airlines that I would never, ever, again fly with: Alitalia and Iberia. No matter how cheap or appealing a route, I had promised myself to never pay those two another cent.
Well, I did not keep that promise. In early November I found out that I had to fly urgently to Sofia, of my native Bulgaria, for business-related reasons. After a quick search on Kayak I realized that the only reasonably-priced and reasonably-routed option I had was with AZ. I was to fly Chicago-Rome on Alitalia (AZ) and then on to Sofia with Bulgaria Air (FB). I wasn't thrilled with my options but the prospect of flying with FB was some kind of consolation given that I had never flown with the national carrier (neither in its present form nor it's previous ones) of the country I was born in.
For this trip I had to use my Bulgarian passport for the first time since I was probably a toddler. I quickly realized how differently you are treated by staff in ORD when they see that you are Bulgarian. From the girl at the check-in counter, to the porters, to some of the security stuff, to the ladies that direct traffic in the immigration area (who all, miraculously happened to be Bulgarian) they all sooner or later found out that I was Bulgarian (they either had to see my passport or they managed a sneaky peek at it) and were subsequently very polite and helpful to me, something that doesn't always come naturally to most of my compatriots when in their native land. Even though I had pre-selected seat 15A, I was actually given an exit-row window seat without even having to ask, and all of this thanks to my Bulgarian passport. Who would have thought!
After security I proceeded to the gate which was still completely empty. A few minutes after I got there a bunch of 6 or 7 porters came and sat opposite me, apparently waiting to be taken to the arrivals' level to unload wheel-chair and elderly passengers from the inbound flight that was about to arrive from FCO. Those guys (who were all no older than 20 and surprisingly not Bulgarian but Polish) acted as if I was not there. In the 15 mins that they were there they manged to litter the place with M&Ms (they were throwing them to each other), they arm-wrestled, fought with each other both verbally and physically, burped loud, shouted to each other and mentioned the word "kurwa" more times than I could count. During this time I couldn't help myself think how much these guys reminded me of "chavs". I found it somewhat amusing but it definitely was not appropriate behavior for airport employees, especially in the presence of a passenger.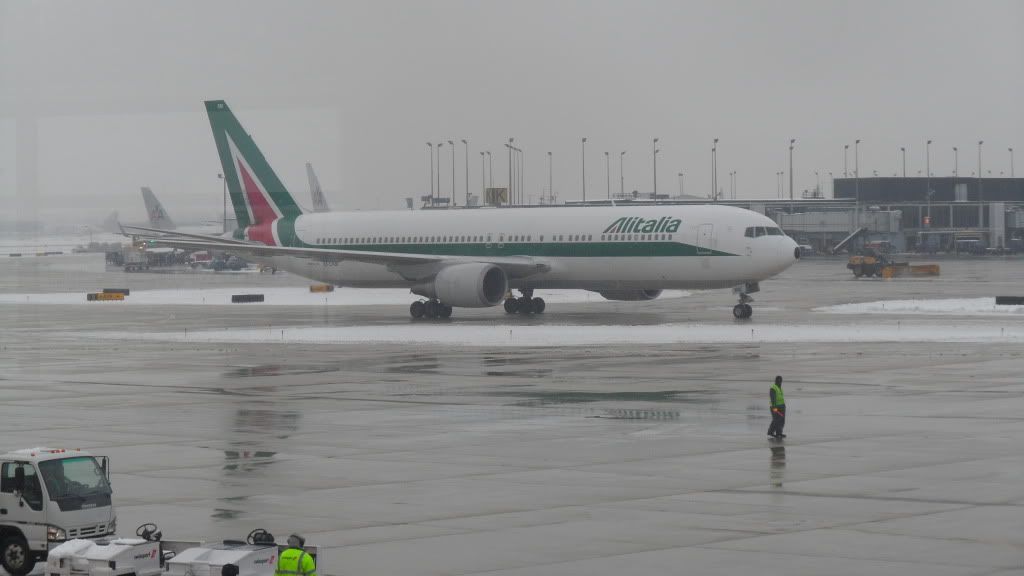 Our 767 aircraft on its arrival from FCO
Despite my horrendous experiences with AZ in the past, I had decided to give them a second chance, so I was trying to consciously not be too critical about their service. However, they wasted no time in testing this decision of mine by carrying out a pretty chaotic boarding, which unfortunately is very common with some carriers and definitely not specific to AZ. Despite the announcement informing the passengers that boarding will take place by class and seat row, pretty much all of them congregated in front of the gate. An Alitalia employee would have to talk in Italian to those right at the front and remind them of the boarding procedure. This led to a back-and-forth of groups of passengers that was amusing to watch from my seat. Again, not AZ's fault I guess, but not a pretty sight. While boarding was taking place the snow flurries outside turned into a snowstorm and before we knew it the wings were covered in snow and we needed to be de-iced before we could leave. Despite my pessimism this was done in no time and our departure was delayed only by 30-35 minutes. The exit row seat I got was very comfortable and spacious but not in such a great a shape itself as you can see from the photos. Not only was my armrest sawed in half, not only did the top part of it kept falling off, but (and not surprisingly) the audio would not work. I tried several times to plug in my headphones to watch the movies shown on the overhead monitors but all I was met with was white noise or nothing at all. Soon after take off my seatmate decided to relocate to one of the, completely empty, middle row seats where he laid down and slept for most of the flight. That gave me the opportunity to move to his seat and try to plug my earphones there in order to watch the movie. Alas, these were not working either. I tried to tweak them, double-checked the sound volume, changed sound channels and even the headphones themselves but to no good; the sound was simply not working on these seats. I eventually gave up and decided to focus on my book and AZ's Ulysses magazine. The Ulysses magazine provided information about some interesting city breaks but it also provided some really ...amusing pieces of information such that the Chicago "Spire" skyscraper is to be completed in a few months (within 2012), when in fact its construction has been cancelled since 2008. Not terribly up to date dear AZ.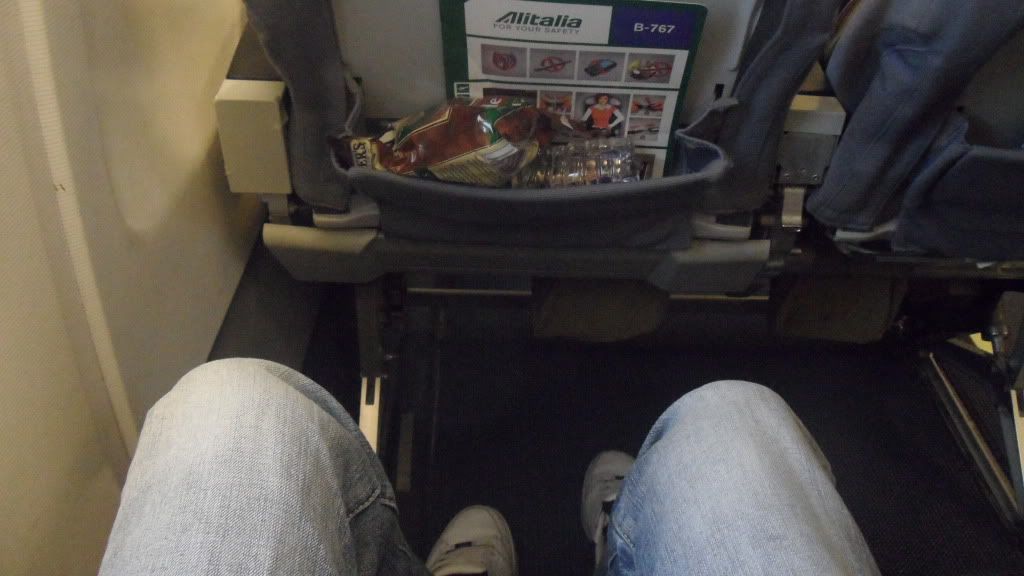 The legroom joys of exit row seats
The sudden snowstorm caught us all by surprise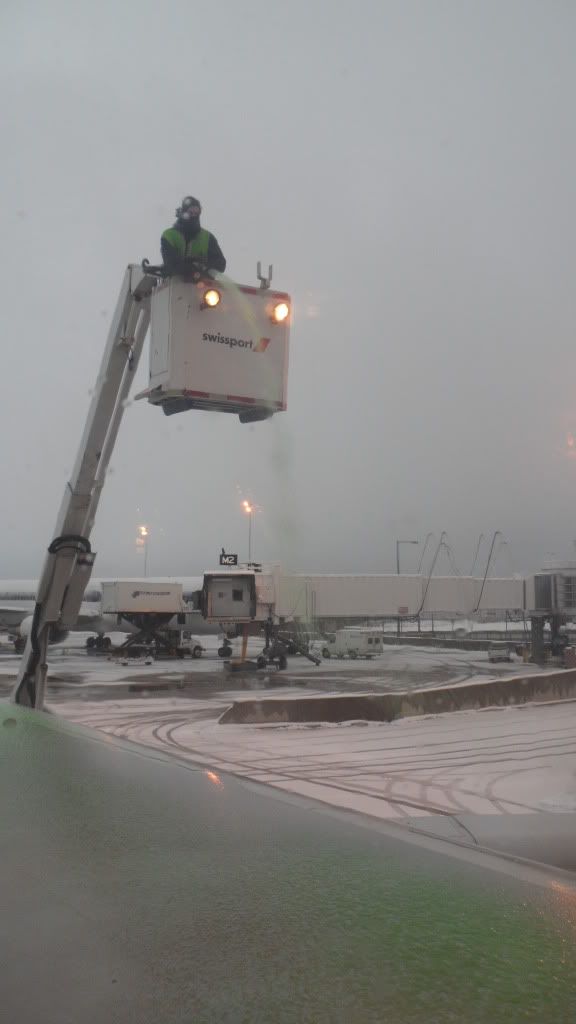 De-icing in progress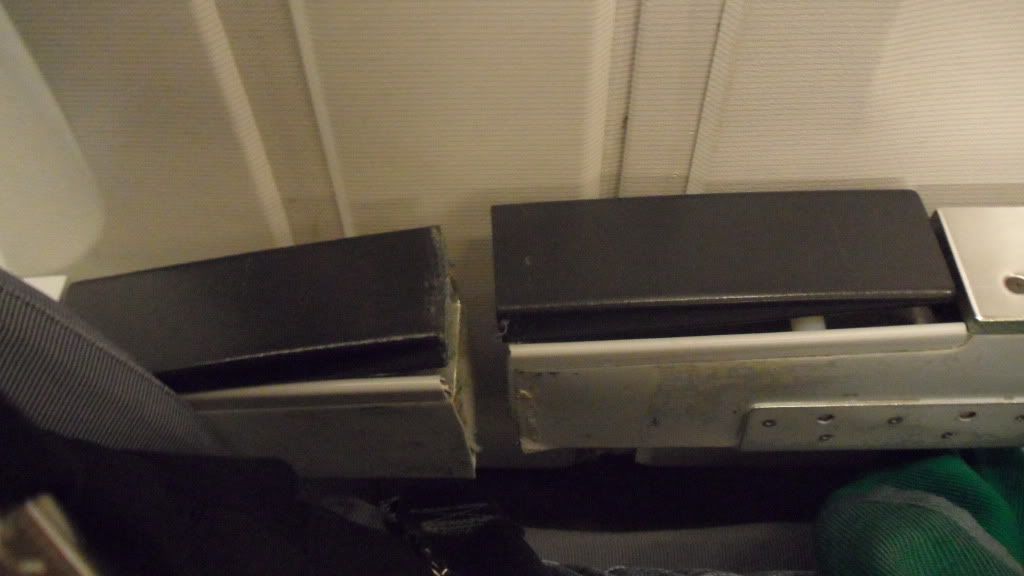 The pretty sad shape of my seat's armrest
The pretty enormously out-of date Ulysses magazine's article about Chicago.
On another interesting note, at no point during the flight were we shown the flight path map. Instead during the periods between movies (2 of them in total, one American and one Italian) we were simply shown the Alitalia logo. When it came to food AZ did not disappoint me. The portions were generous and tasty, and it must have been the first time ever that I felt full on a transatlantic flight. Normally after a couple of hours following the meal I start starving again. After managing a couple of hours of sleep I woke up and waited for the breakfast service. This consisted of my beloved Milano cookies, an apricot pastry and a raspberry yogurt. While this was an excellent breakfast by my standards one could not miss the absence of spoons for one to eat the yogurt with. In amusement I watched people trying to scoop yogurt out using the coffee-stirring stick that came with the tray. I did the same and I must say that it requires some skill. Eventually, just before it was time to pick up the trash, someone brought the lack of spoons to the attention of the crew at which point they handed out a few spoons to those that had not eaten their yogurts yet. An isolated incident you may think (in fact it wasn't because there was more to come) but after having observed the AZ crew over 3 flights on this trip I could tell they were not the most engaged I have come across.
Pre-meal snack of mixed crackers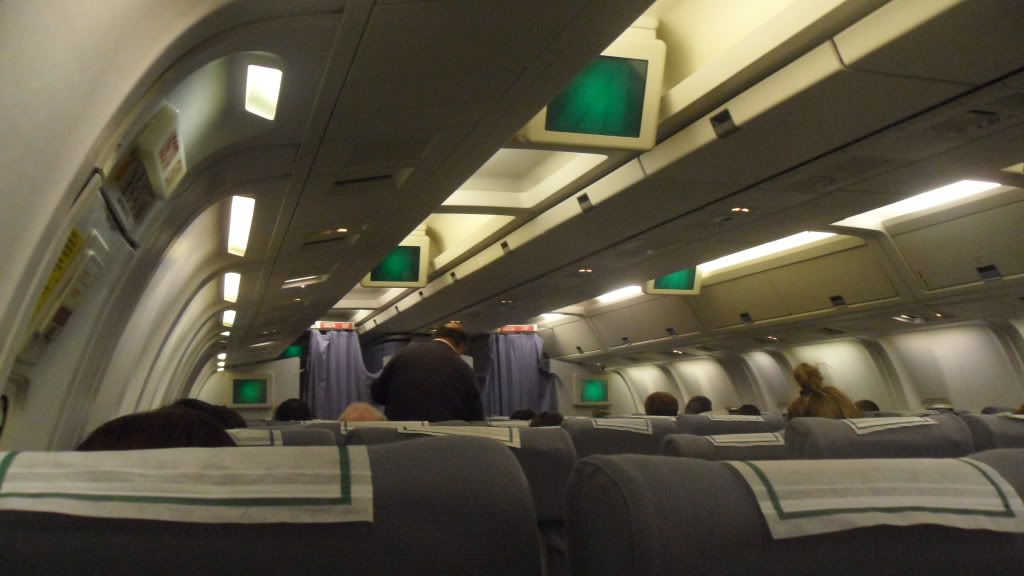 View of the cabin and the overhead monitors with Alitalia's logo on constant display,
Our truly tasty meal. Chicken with beans and other veggies, baked macaroni and cheese, a salad of ham and green beans, Monterrey Jack cheese, crackers and almond-based cake.
Breakfast
After our arrival at FCO, transfer passengers did not go through any passport control but instead we took the shuttle train to Terminals 1/2 and we were immediately met with a security checkpoint before proceeding to our connecting flights. Once I got to the gate for my connecting flight to SOF I was met with a sight that screamed of the Balkans. Here's a space with about 25 seats that, somehow, was occupied completely by no more than 12-14 people, while several others had to stand up. Not only people's bags occupied seats but a certain gentleman single-handedly occupied 4 or 5 seats by laying flat on them and taking a nap. Lack of consideration for other people is one of my pet-peeves and behaviors like these do not make me happy.
A Blue Panorama aircraft at FCO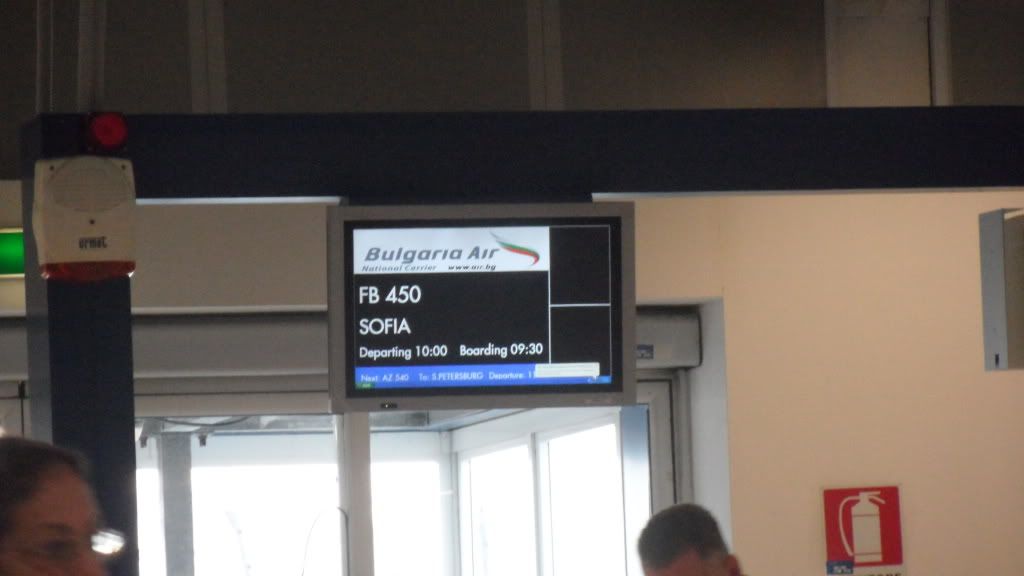 Our Gate
Our FB aircraft in the distance
A quick look of our bird from inside the bus.
The flight was to be operated by a Bulgaria Air 737 but the bus took us instead to a BAe 146 in Hemus Air colors. Hemus Air does not exist anymore (it has purchased and merged with FB) but most of FB's smaller aircraft maintain its livery. The interior of the aircraft showed its age and leg room was scarce. FB's magazine (Bulgaria On Air) was as ...confused as AZ's, and contained route maps that implied the existence of transatlantic routes from Varna and Skopje... The service involved juice of our choice (alcoholic beverages such as Bulgarian red wine and beer were also available), a ham, cheese and cucumber sandwich, and a chocolate wafer. Our path took us over Split and then Bosnia and Serbia before we descended into Sofia.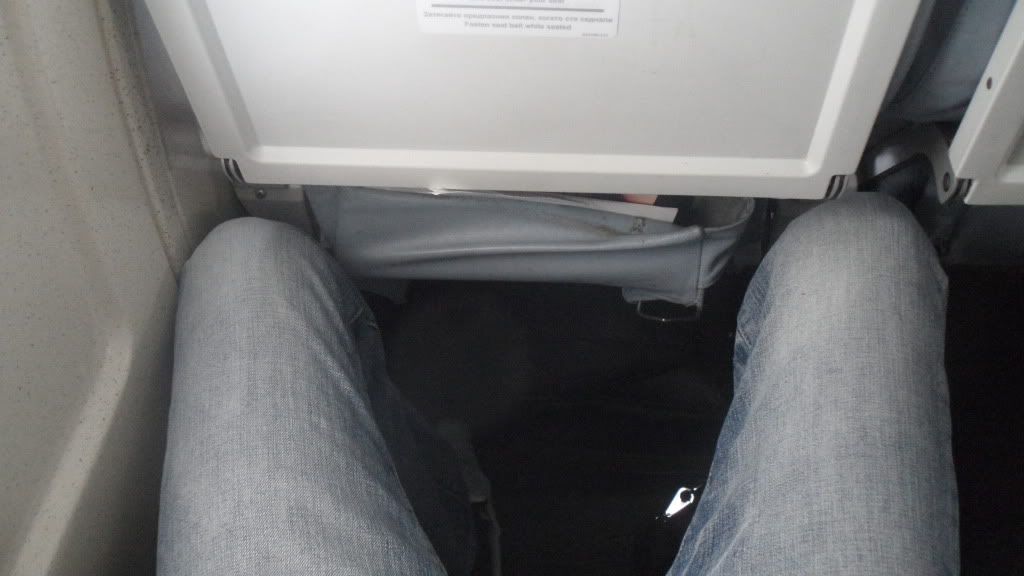 Tight legroom on this one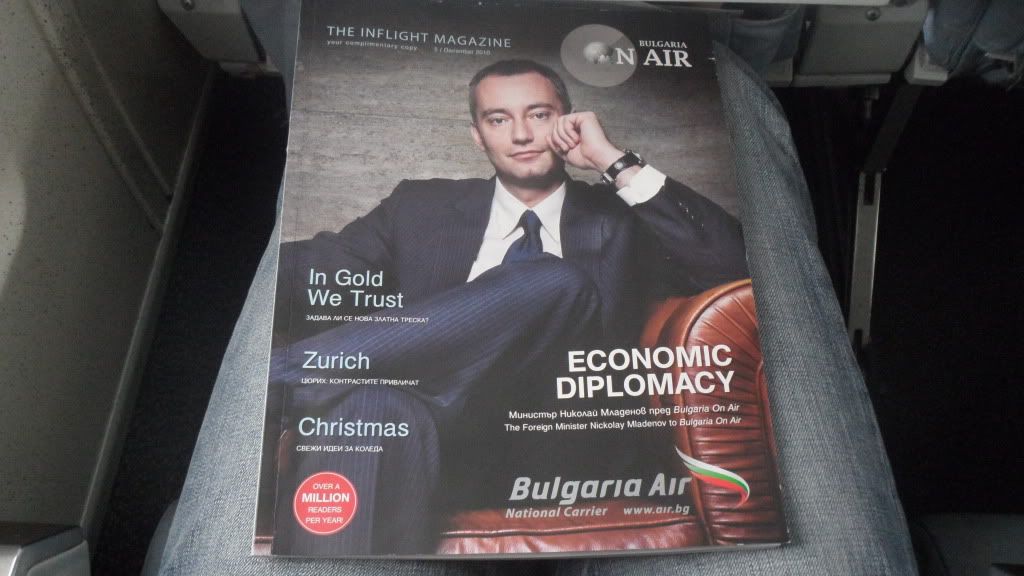 FB's Bulgaria On Air magazine... Notice the extreme similarity of Bulgaria Air's letter font to that of Virgin Atlantic's and also that of their logo with that of Aeroflot...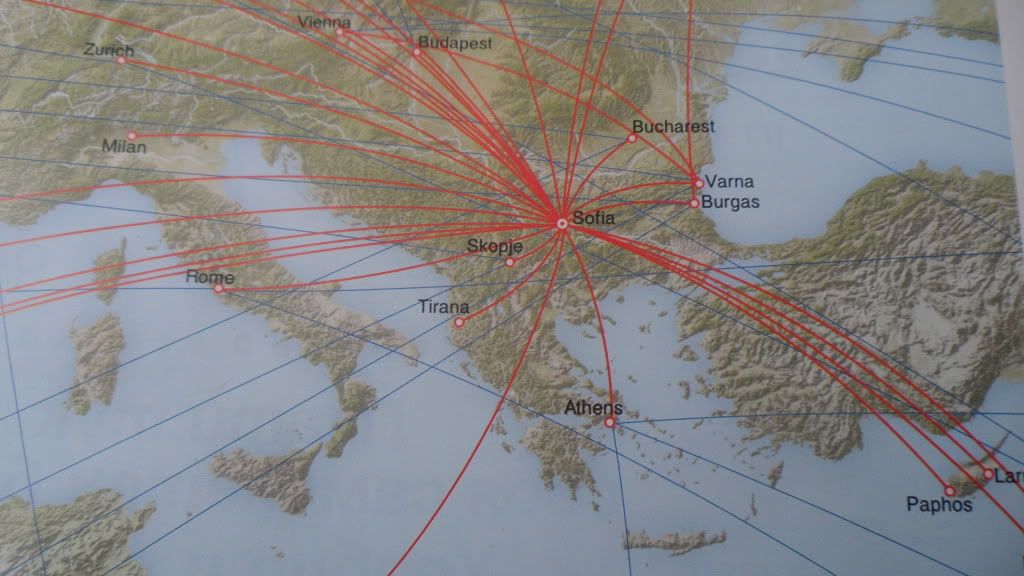 ...and a look at its slightly confused route map
Cabin view. Notice the very colorful bulkhead.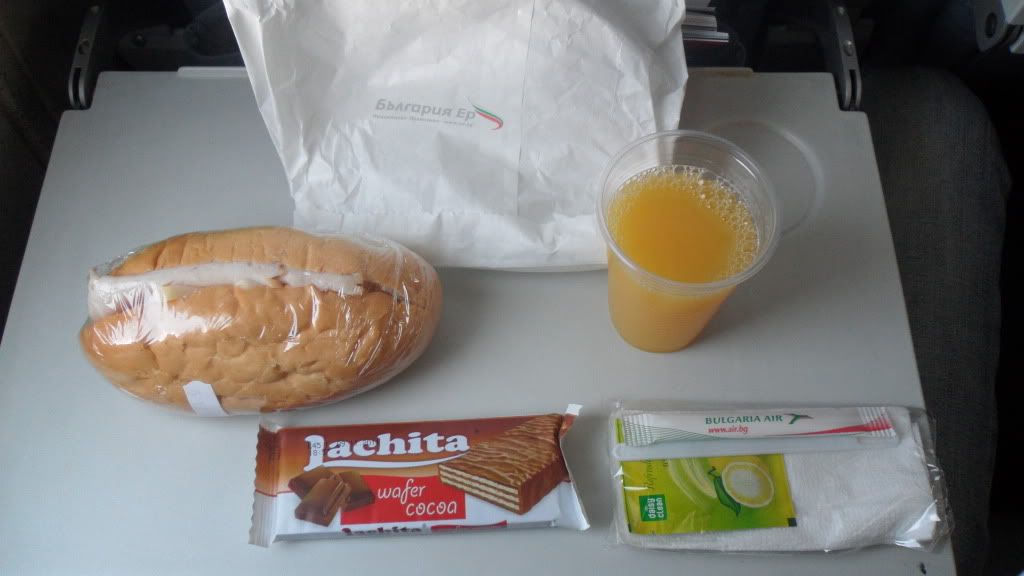 Our meal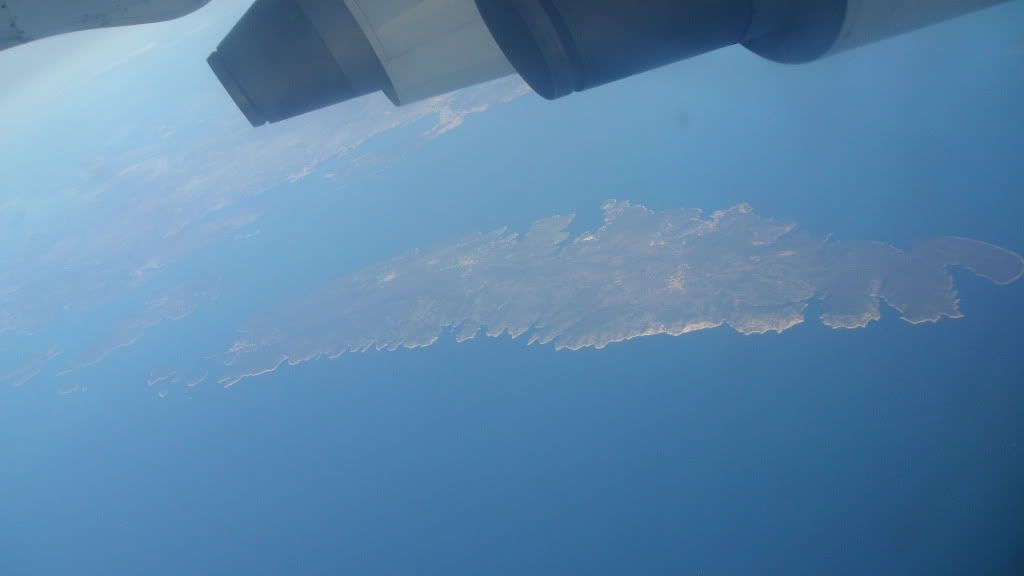 Flying over the Dalmatian coast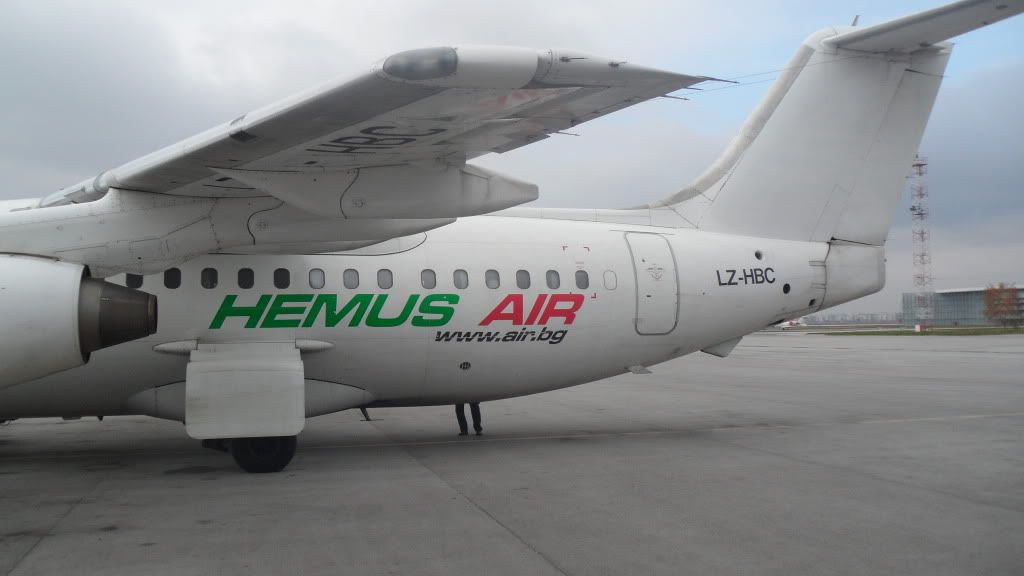 Another look at our aircraft from within the bus at SOF
A FB aircraft in the new livery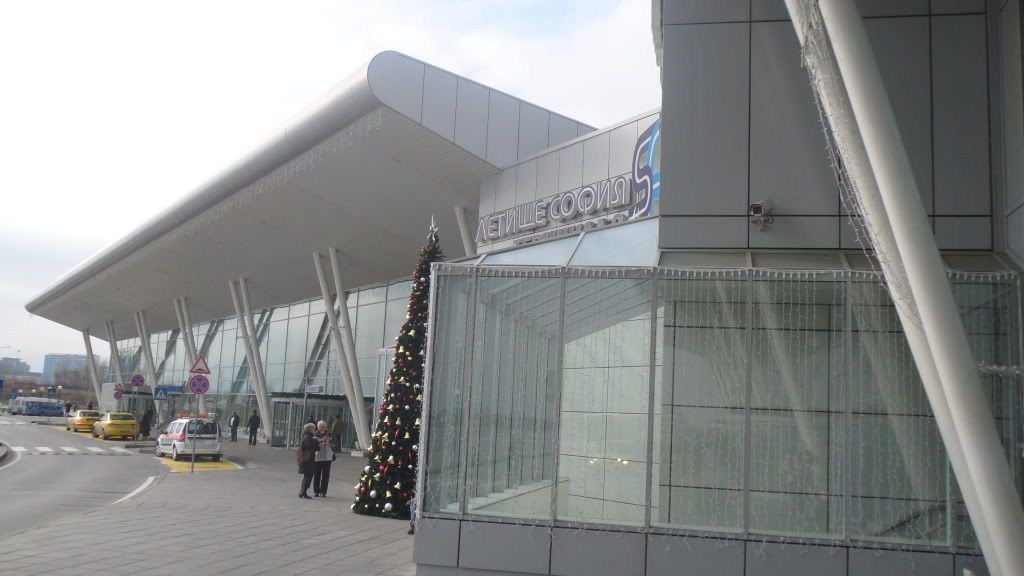 A look at SOF's Terminal 2
After clearing passport control and collected my luggage I was picked up and headed downtown. Normally when I visit Bulgaria I stay with family or friends but this time I decided to stay at a hotel. I chose to stay at the Hill Hotel in the Lozenets area due to its proximity to the business I had to attend and it proved to be a decent enough choice. I don't know how it compares to other hotels in Sofia but I had no complains other than that they need to fix the lights on their roof inscription which at night reads "Hill Ho". On my first night there I decided to take a walk around downtown and shoot some photos.
Below a selection of photos from around Sofia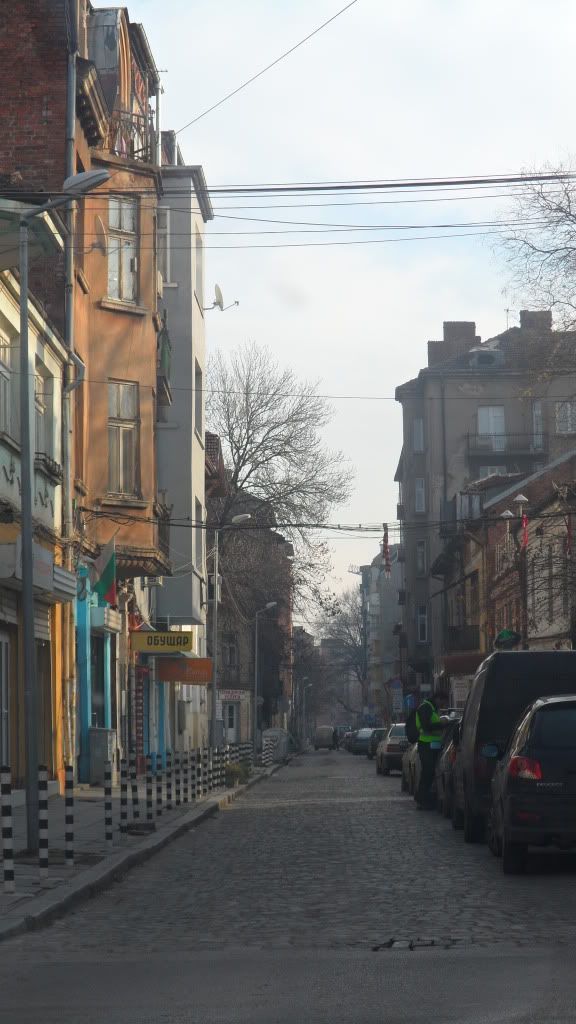 After having finished part of my business in Sofia, I had to head south into Greece and specifically Thessaloniki. For that I was to travel by road. Unfortunately the road that leads to Greece was closed due to erosion following the overflowing of river Struma. As a consequence instead of driving directly south, we had to reroute and go up the mountains, through the towns of Bansko and Goche Delchev and then enter Greece not from the Kulata-Promahonas crossing but from the Ilinden-Exohi one instead. This took us through some pretty narrow roads, full of curves, which combined with the completely insane, inconsiderate and purely criminal way some Bulgarians drive (especially those with slightly expensive cars, who cannot grasp the concept of no-overtake zones) made me cringe for the duration of the trip. After staying in Thessaloniki for a night I had to travel back into Bulgaria a couple more times over the next couple of days, once to go back to Sofia and once to visit the town of Petrich. Finally I returned to Thessaloniki where I was to fly out of SKG and back to ORD, through FCO.
Driving south to Greece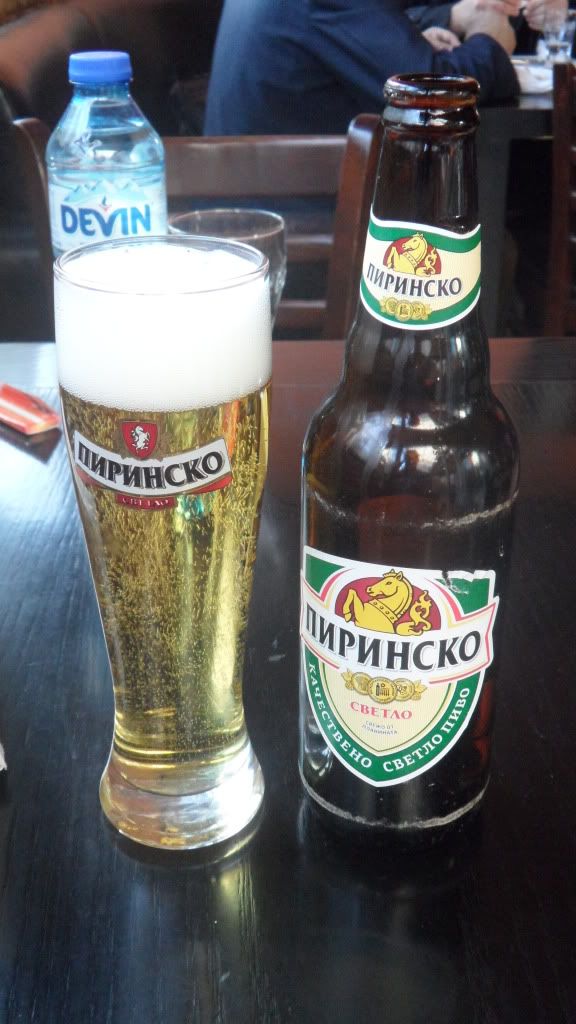 Stopping for a lunch break and some local beer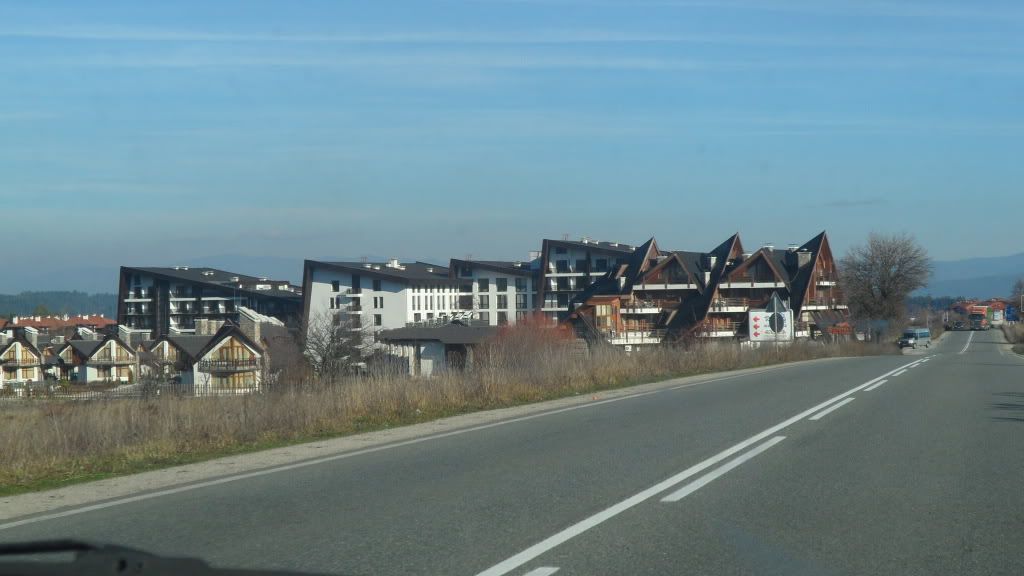 Driving through the winter resort town of Bansko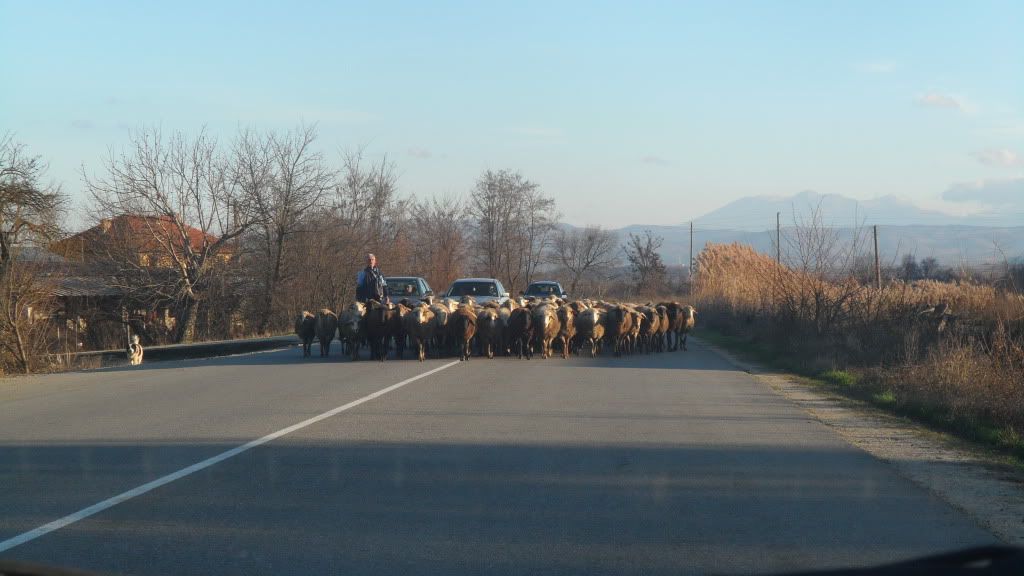 A road block outside Bansko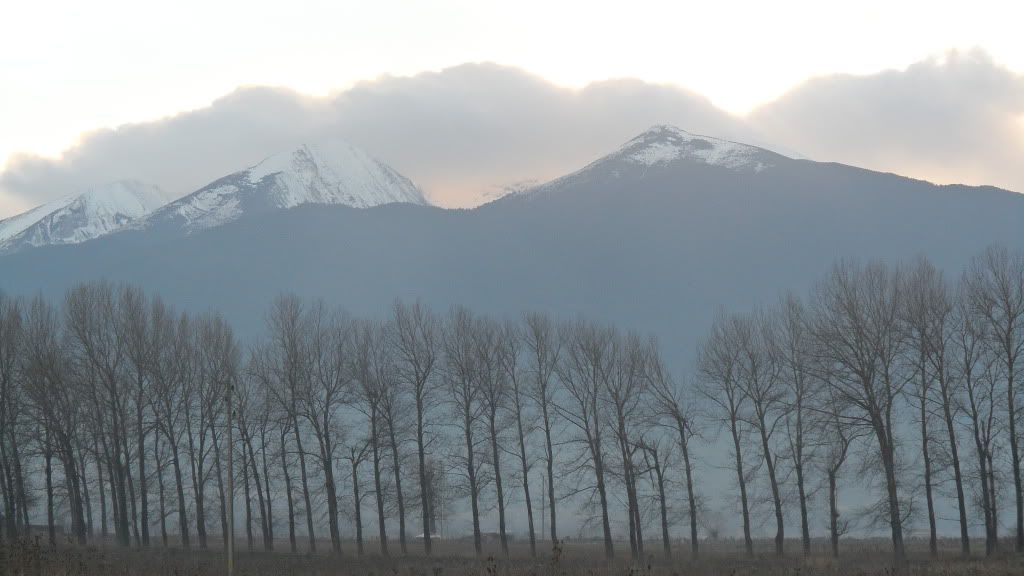 The mighty Pirin mountains
The town of Petrich
The Luda Mara river that traverses Petrich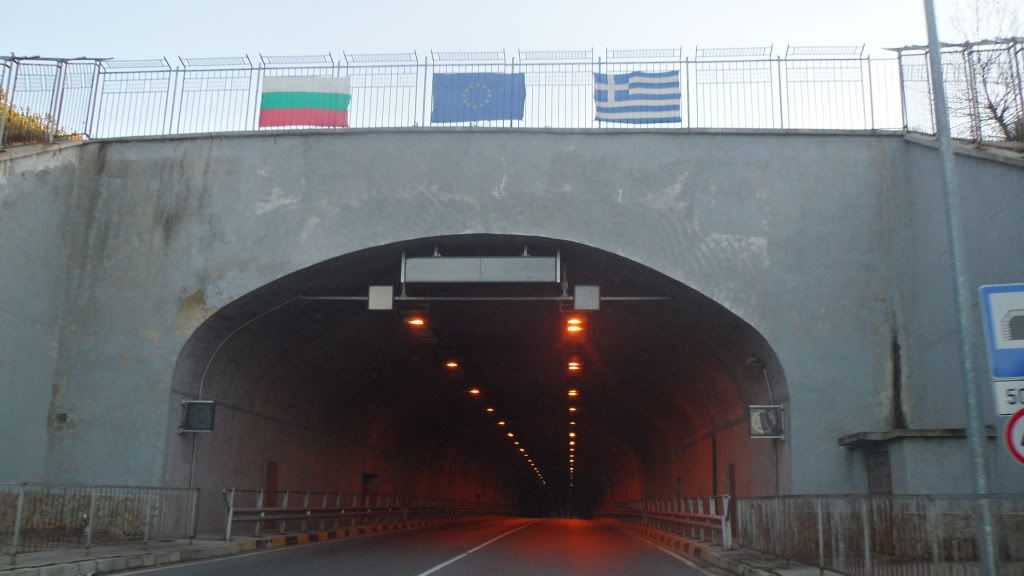 Entering the tunnel within which the Bulgaria-Greece border line is located (Ilinden-Exohi).
I arrived at SKG at about 4am, 2.5 hours ahead of departure. I've always had issues with checking-in at SKG. It seems that they always manage to screw things up in some way, regardless of what carrier I am flying with. A couple of years ago I was flying SKG-OTP-BRU-ORD with TAROM and AA. When I checked in my luggage at SKG, I got a luggage-tag on which BRU was omitted and as a consequence my luggage was to travel SKG-OTP-ORD (no need to say that an OTP-ORD route doesn't even exist). It was only after I got at OTP that I became aware of the faulty tag, at which point I rushed to let TAROM know, return my luggage and re-tag it. This summer, while checking in for a SKG-ZRH flight with my partner, despite being the first ones to check-in we were put at separate seats, despite the fact that there were plenty of available side-by-side seats on the aircraft. The same happened with other couples that had checked-in together. This has happened many times before while checking-in at SKG. Once, on a SKG-MUC flight that was not full, my mom, sister and aunt were put to sit one behind another, despite, once again being one of the very first to check-in. Anyway, on this occasion I was flying alone do I did not have to worry about this.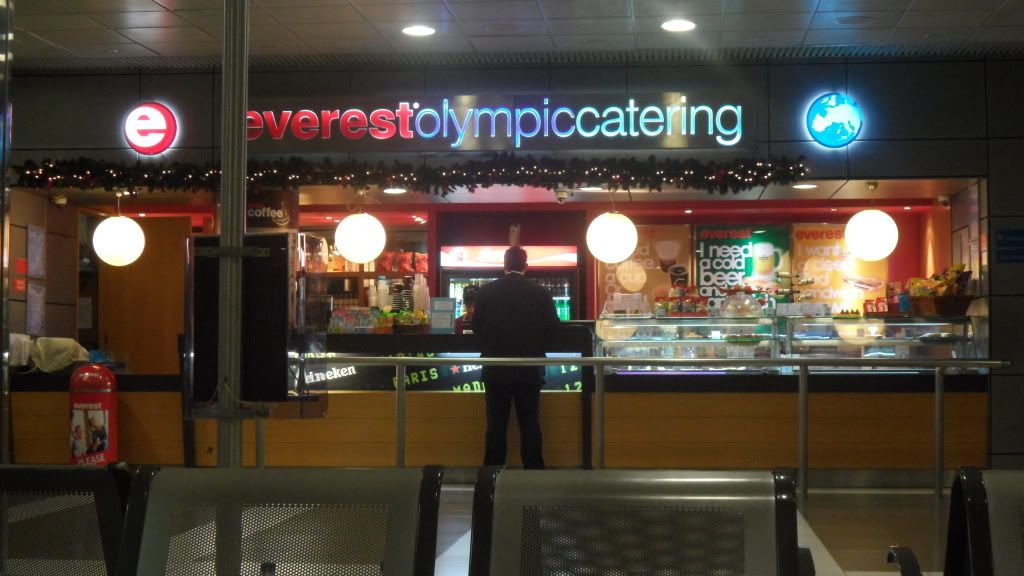 The "Everest" food stand at SKG
Our aircraft was parked south of the terminal and was painted in AirOne colors. The A320 was in a very good state, it was clean and to my surprise the seats had personal screens. Departure was on time and our route took us over Albania and the Adriatic. Soon after take-off a fashion show was shown on the screens and we also had the choice of several music channels. Then came the breakfast service. That is, it came for everybody else except for my row. A food trolley came down the isle with a member of the crew at each side. The first guy served us our drinks but he did not give us any food, despite having done so for other rows. I assumed that it was going to be the second guy to give our row the food but that was not to be. Then I naively assumed that there will be somebody else giving us our snacks so I didn't notify the crew about the lack of food on our row. By the time I realized for sure that we were simply forgotten it was already too late and trash was in the process of being collected. It was partially my fault for not letting the crew know about this but this is again an indication of how unengaged the Alitalia crew was, as two of them failed to notice that our row was not served any food. The old (Greek) couple sitting next to me was similarly perplexed about this but they spoke no English so they didn't notify the crew either. Not a biggie but this is the first time in my 160+ flights that this has happened.
Pretty standard legroom for this kind of aircraft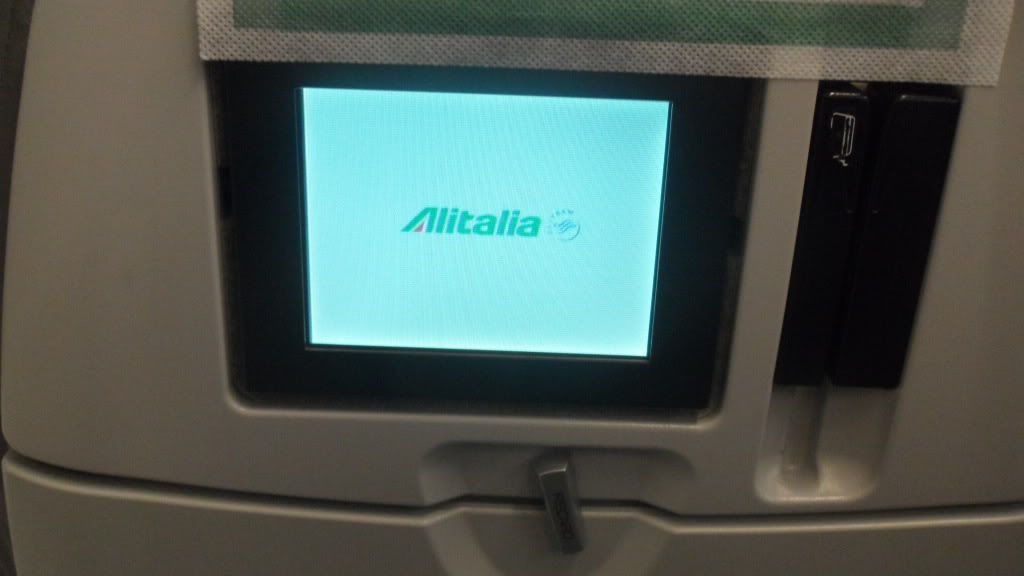 The personal screens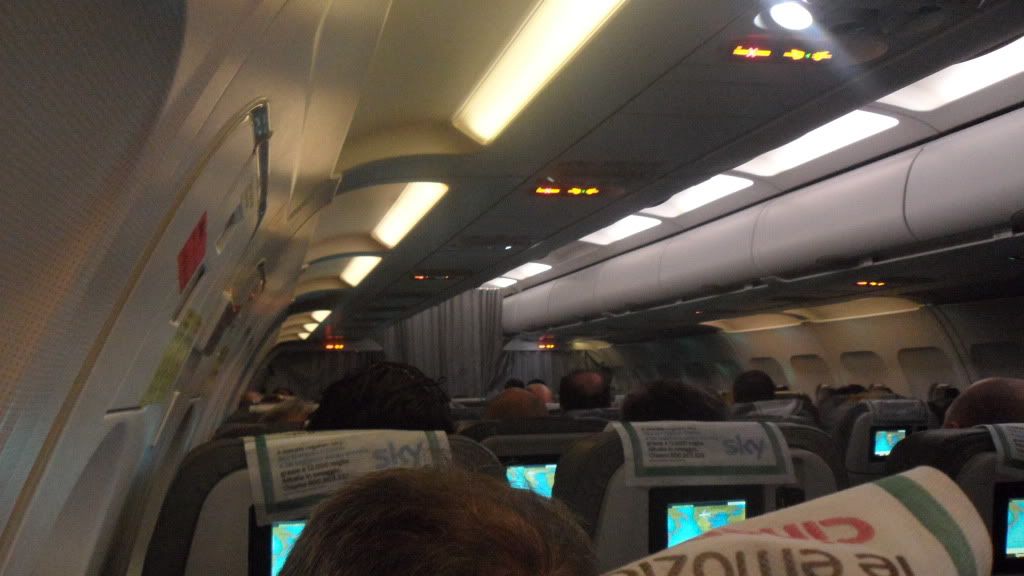 A view of the cabin
The meal that was not to be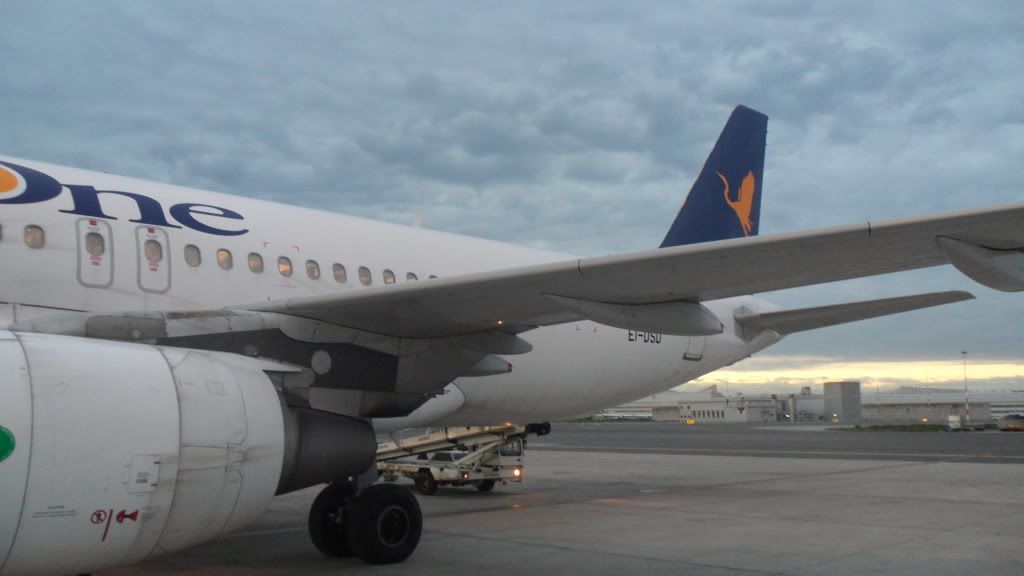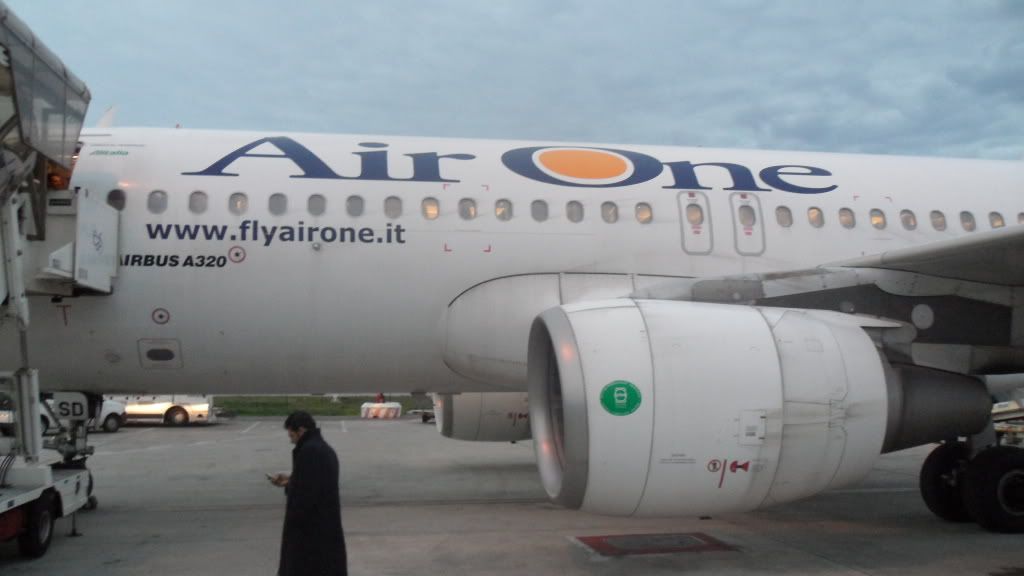 Our aircraft after arriving at FCO
After our arrival in FCO, I proceeded to Terminal 3 where my passport was checked and stamped... Are EU passports supposed to be stamped when traveling through another EU country, even if one is to travel eventually to a destination outside the EU? I thought not, but then again I could be wrong. Once at the gate, I noticed an old Greek couple trying to ask (in Greek) another passenger (who was American) whether this was the gate for the flight to Chicago. After a couple of minutes of failed attempts to communicate I decided to jump in and help. Once this couple found out I could speak some Greek they attached themselves to me and kept asking me questions about the flight, the US and other miscellany and this continued even after we were on board the aircraft. Despite seating 12 rows apart the old gentleman would walk up to my seat at frequent intervals and ask me questions. At one point he asked me if I minded to help them with the customs and immigration forms once they were distributed. Of course I didn't mind and told him to just enjoy the flight and that everything would be taken care of.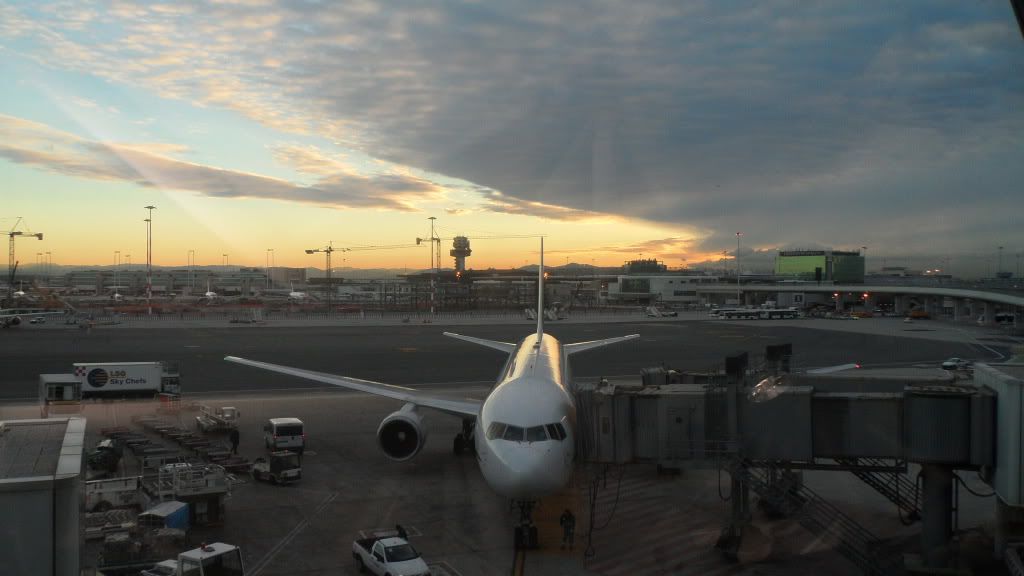 Looking outside the window of our gate at FCO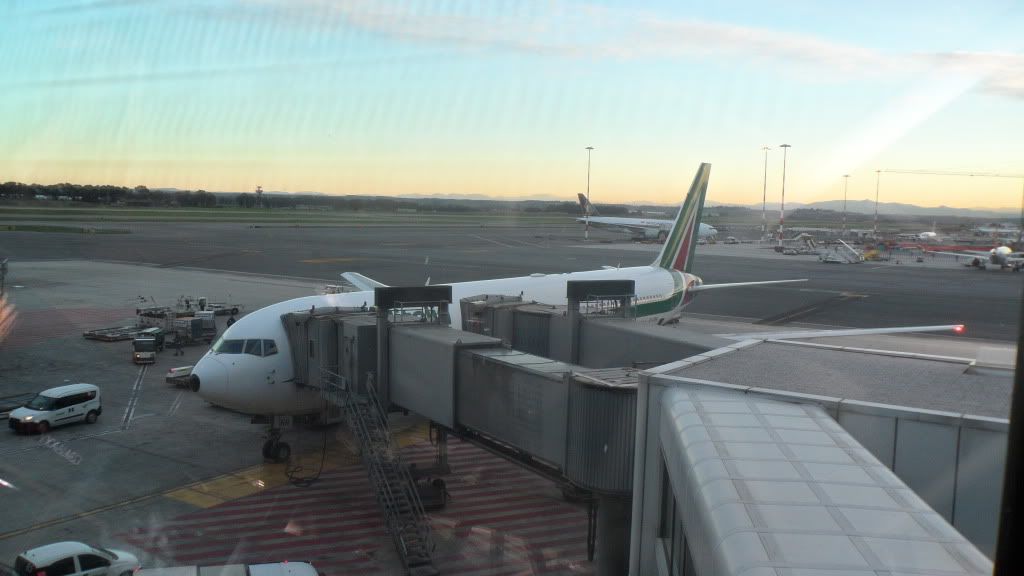 Our AZ's 767 waiting at the gate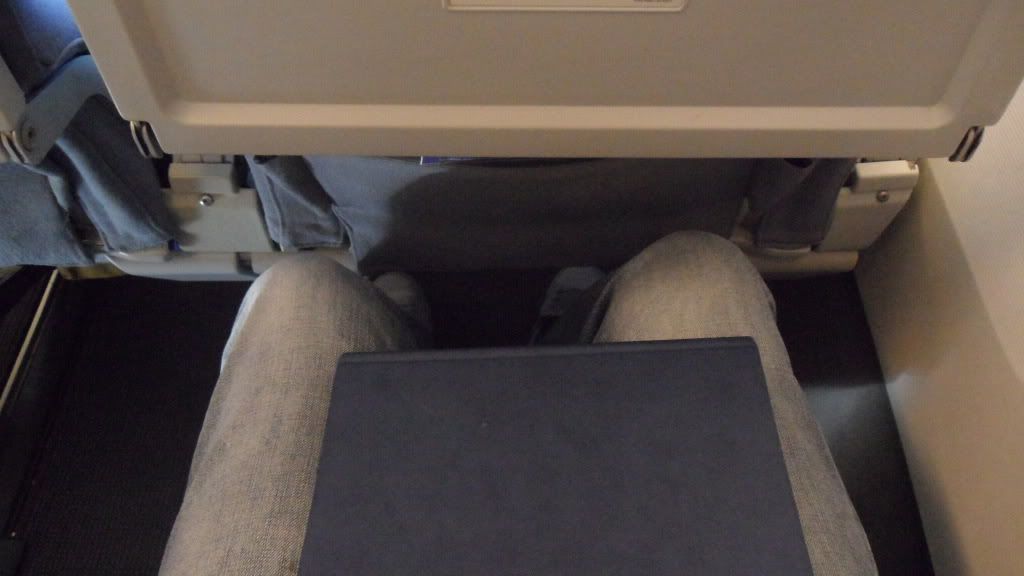 Legroom
Just like in the inbound flight, my seatmate moved to another seat shortly before take-off (the load was no more than 60%, just like in the first flight) so I had both seats to myself. The state of the aircraft was similar to that of the inbound flight a week earlier. Not sure if this was the same aircraft or not (I did not check the registrations). The seats were dirty, the cover of the "ashtray" on my armrest was missing, thus exposing the dirty interior of the tray, the audio panel on my seat was not working AGAIN, but the one on the adjacent seat was functional, despite the fact that it was covered in duct-tape which held it in place. At least I could now watch a movie... It was about time... Out of 4 available seats on the 2 transatlantic flights, only one had a functional audio... The rest of the flight went by fairly smoothly.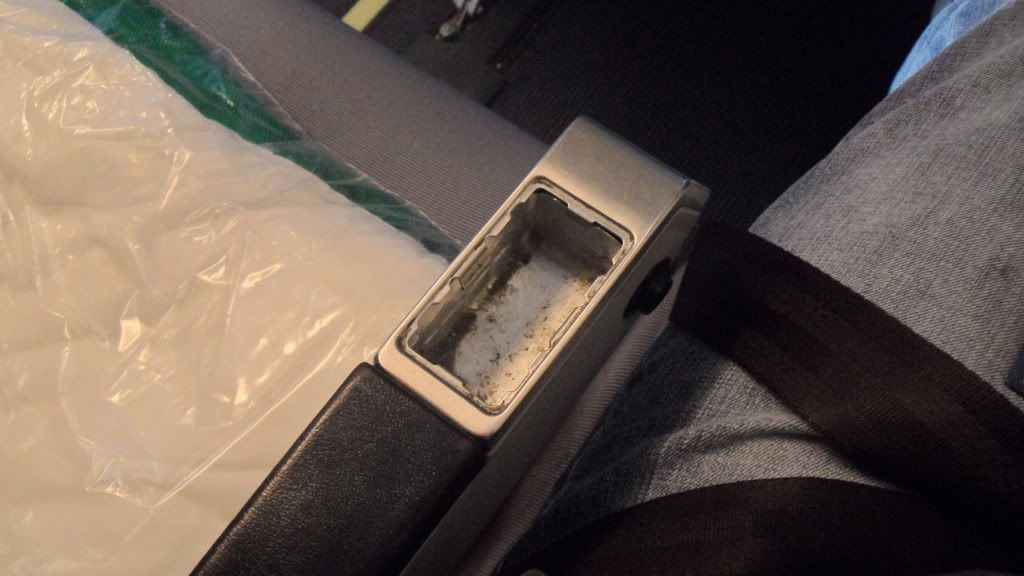 The infamous tray
Not so sticky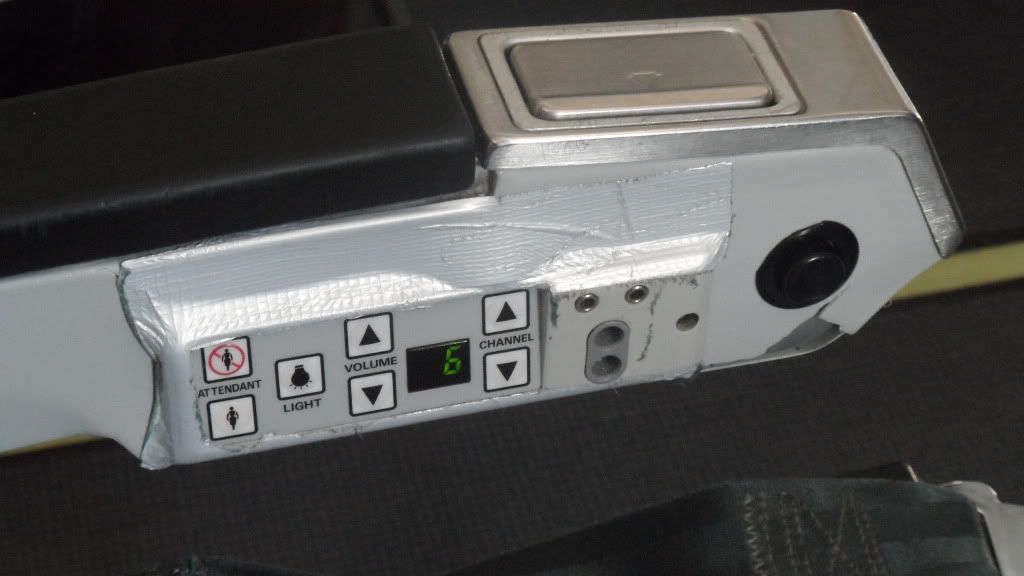 McGuyver-esque duct-tape fix!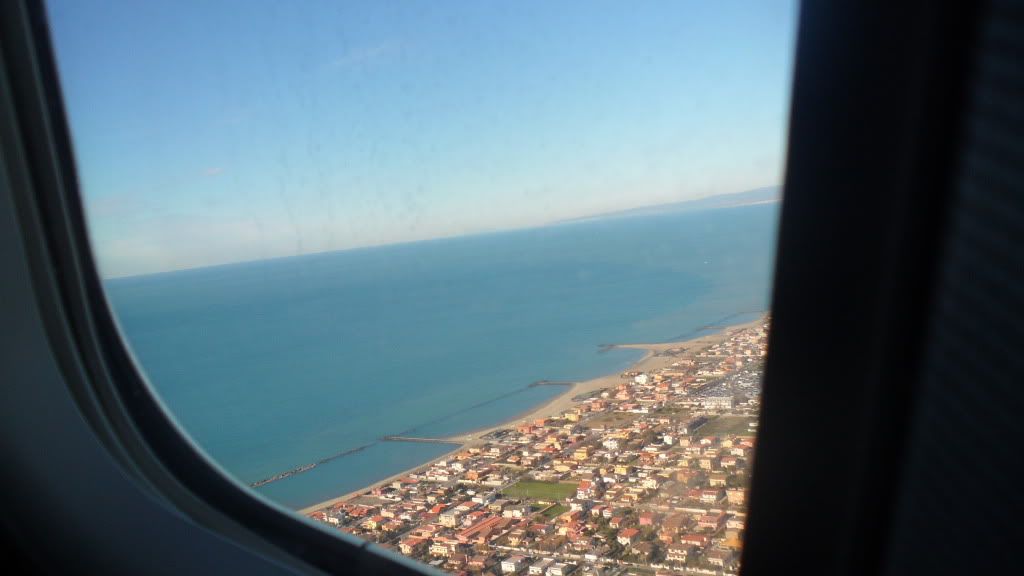 Leaving Rome behind
Unlike the first leg, this time the flight map was occasionally displayed, usually between movies. We were shown "Eat Pray Love", "La Passione" and "Dinner for Schmucks". Dinner was once more excellent (I had chicken with potatoes and smoked salmon salad) and it managed to keep me happy until breakfast was served, which was also pretty satisfying, if a bit small. The breakfast trash was collected about 40 minutes before arrival. By that point we had not been given the immigration and custom forms yet which made me a bit nervous as I knew I had to complete multiple such forms, not just for myself but for the old Greek couple too.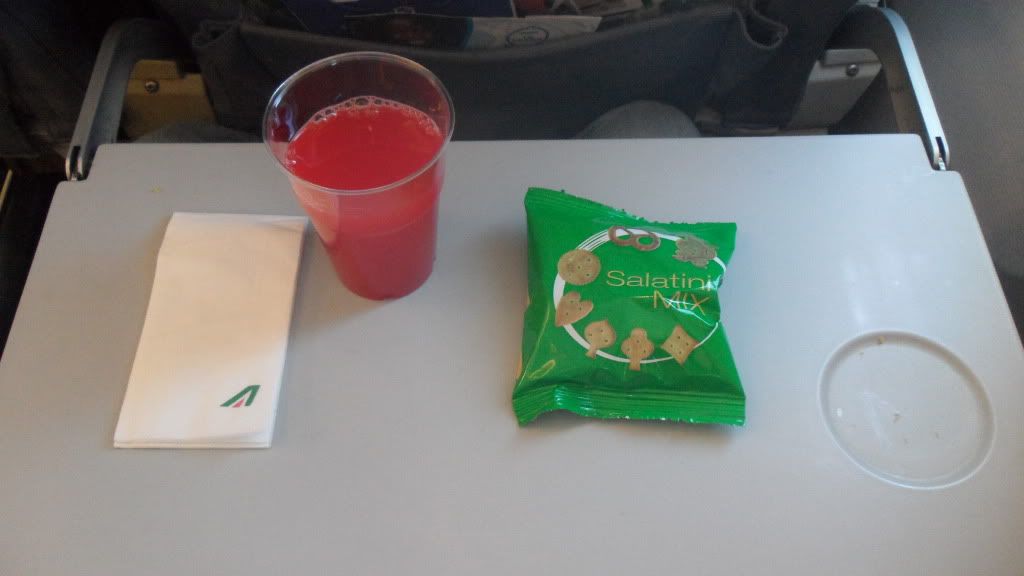 Pre-meal snack and drink (blood orange juice)
Meal of chicken and veggies, salmon and mixed veggies salad, cheese and fruit salad.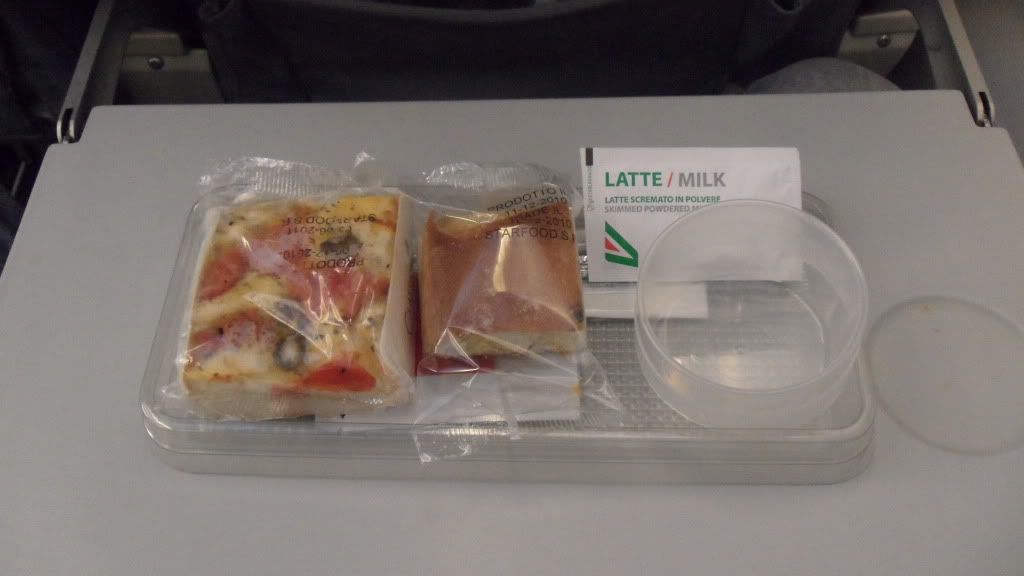 Breakfast pizza and sweet bread
Eventually just before starting our descent we were given our forms and I asked the old guy to sit with me so we could go through all the forms together. We managed to finish them just in time for him to return to his seat. He finally asked me if I could help them with the immigration officer once we landed but I told him that I was not allowed to do so and that if necessary an interpreter would be brought to help them out. The approach to ORD was spectacular but I couldn't get any great photos of the skyline or the frozen lake Michigan given that my seat (12L) lacked a window. Instead I had to lean forward and peek through the window of the seat in front of me.
Arriving at frozen Chicago
I was one of the first to leave the aircraft and I rushed to beat most of the traffic before it reached the lines for immigration. The immigration line was pretty short, but it moved at a very slow rate given that only 2 immigration officers were available for Visitors. This is the fewer I have ever seen in ORD. A Bulgarian lady was directing people to the appropriate lines and despite the lack of traffic I could hear her complaining and mumbling under her breath some rude comments in bulgarian about some of them. Again not terribly professional behavior by an ORD employee.
My final impressions? I know that I have perhaps come across as very whiny about this trip but truth be said the performance of AZ was subpar even if I had started with low expectations. The really nice food and the time punctuality were greatly appreciated. All the rest however left much to be desired.
Thank you for reading. Feedback would be greatly appreciated.